Neutral greiges like SW Agreeable Gray 7029 have always been customers' favorites, but this specific hue beats them all! It remains on top of the list of the best-selling brand's paints for several years already, and their selection is not spontaneous or random.
Since it belongs to quite a wide family of greiges, this tint hits many requirements of an average customer, especially if one does not know what hue will fit his or her home better.
This warm and soft hue won its popularity over the other Sherwin-Williams paint colors simply because it is so universal.
SW Agreeable Gray can suit any chamber, moreover (and that is said to be its primer benefit), it pairs wonderfully with almost any other tint.
Already looking forward to learning more? Then stay tuned!
What Kind Of Color Is Agreeable Gray SW 7029?
What a silly question, some of you might think.
The hue's name states it is gray, so apparently, this is the answer! Nevertheless, we would not hurry up that much.
For an amateur in coloristic, this tint will probably seem to be gray indeed with pretty warm notes but since it is a member of the neutrals family, it has certain specifics.
In particular, according to the credible source Encycolorpedia , this hue belongs to the greige hues family.Generally, it is all about its undertones that make the hue show up in slightly diverse ways hanging upon particular conditions.
In some spaces it may be revealed closer to gray whilst in others, the hue will turn into a more beige-like coating.
But in general, if we take a look at the hue sample applied to the surface, it will show up as warm and relatively deep grey with a noticeable beige tint.
But don't be alarmed, this paint is far from browns so it will not create that "muddy" appearance.
Also, it is not the one that will reveal yellowish hints – another issue that customers are afraid of so much.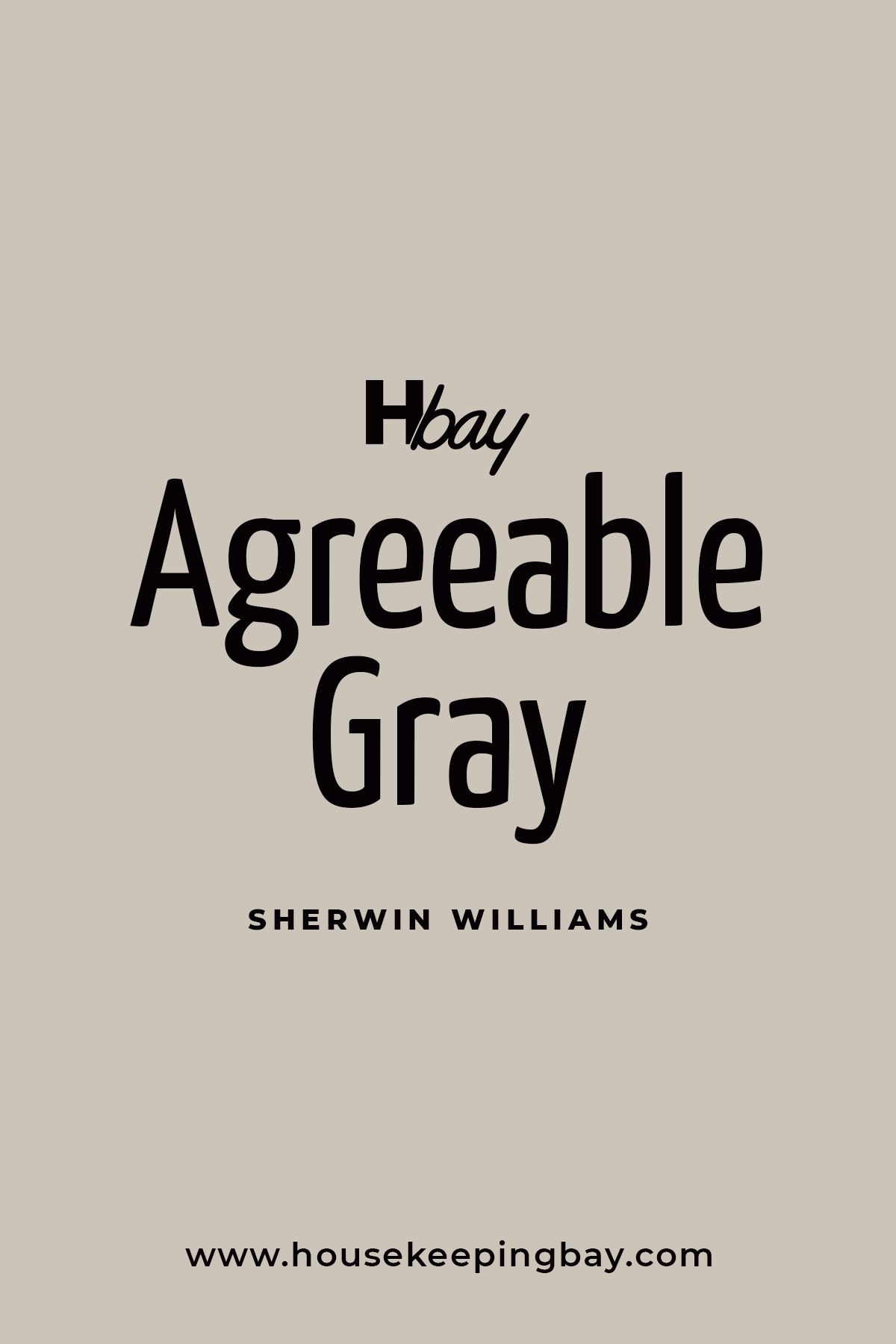 Get a sample of Agreeable gray (get a sample from Samplize )
Agreeable Gray And Light
Like any neutral greige, SW Agreeable Gray strongly hangs upon lighting around.
Its light reflectance value or LRV is sixty (60) which means that the hue is a rather good reflector and it gives back a good amount of lighting. Nevertheless, in a wrongly lit space, it can show up from quite an unexpected side revealing purple and bluish tints!
Also, the type of colors around matters a lot for the undertones of the hue. Oh, those undertones!
They are the biggest pain for those who are not familiar with coloristic nuances and who tend to select and purchase paints randomly.
See, when we buy a can of paint without considering its "background", we take a huge risk of ending up with a surface of a rather different color from what we expected.
So what about the AG? Well, it can be literally called a miraculous hue since its undertones are ideally balanced. No suddenly evoking greens or sneaky blues, just neutral taupe/brown dash with a gentle, almost invisible, and delicate dab of violet. As a result, we have a perfect balance between cool and warm tones.
But still, please take into consideration that the surroundings lighting plays an important role!
It is true that in cooler lighting this hue will be revealed as a cool hue too, nevertheless, wrong lighting can turn it into almost blue paint!
The best what one can do is to memorize how distinct types of light can affect this hue:
In North-facing chambers the AG will be revealed as a muted and cooler tint.
In a South-facing chamber that usually has a consistent warm light during the daytime, this lighting will make the tints more intense. In such a chamber, the AG will show all of its warmth.
As for the West-facing zones, lighting is cooler there in the morning and warmer (nearly overwhelming) early in the evening. Respectively, such hue as the AG will wear its warmth to the full in a red-orange hue of the afternoon lighting.
If applied in a room that faces East, the AG will show a cooler in the morning.
We hope that now it will be simpler for you to figure out how this hue will show up under various lighting conditions.
What is LRV? Read It Before You Choose Your Ideal Paint Color
Colors That Go With Agreeable Gray
Finding proper coordinating hues is not an easy task, especially if one is not a professional painter or designer.
However, it is possible to solve this puzzle. Simply take into consideration the list of hues that pair with the AG best of all.
Even albeit this hue is neutral and can basically be combined with tons of other tints, these ones will reveal their potency way better.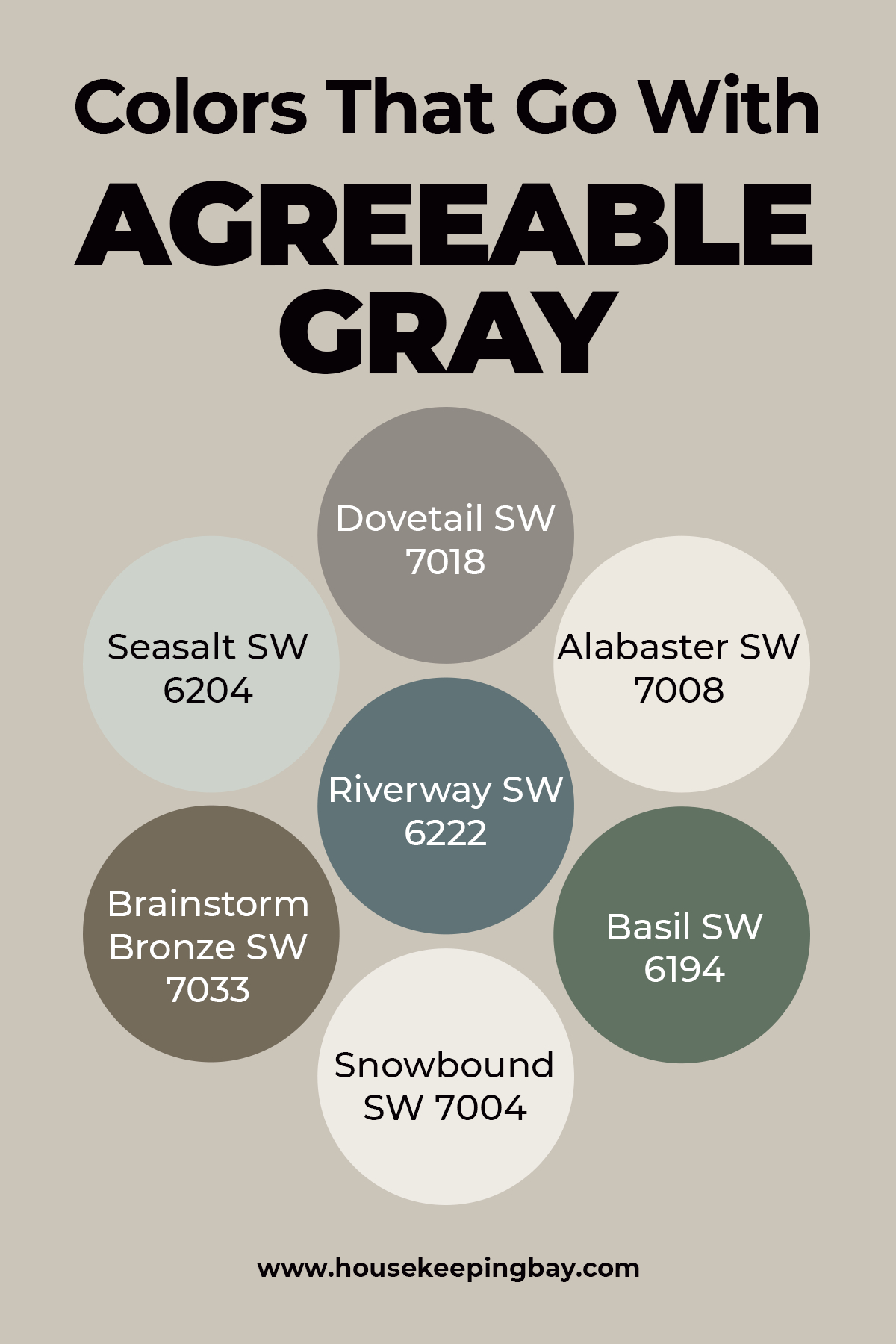 Like with every paint colour, We highly recommend using SAMPLIZE.  Samplize is a peel & stick paint sample that you can easily move around your room for over HALF THE COST of traditional samples – and they deliver right to your front door!
Agreeable Gray Undertones
Agreeable Gray by Sherwin Williams belongs to the family of so-called greige paint colors which means that it is a rather tricky color itself!
Greiges are known for having complicated undertones that can significantly influence the way the certain color shows itself on the wall.
Also, greige paints are often rather sensitive to lighting (again, because of their undertones!).
This is why it is a common issue when, for example, a paint that looks like a nice and balanced beige, reveals its greenish or muddy undertones in a wrong light!
So if you decide to pick up Agreeable Gray paint color for your interior painting projects, we recommend you take its undertones into consideration! What you should know is that Agreeable Gray is technically a gray paint color that has a warm, beige undertone.
Of course, depending on the light, it may lean more into either its beige or gray side.
But generally, it is slightly warmer in warm and bright light. In darker spaces with cool lighting, this paint color will reveal itself as a little grayer shade.
However, Agreeable Gray is one of the purest types of greige.
So if you want to use the traditional greige paint color in your home, this one is definitely the one you are looking for!
What Is the Best Trim Color For Agreeable Gray?
Trims are used for both decorative and practical purposes. On the one hand, they cover the gaps between two areas like a wall and a ceiling, but on the other hand, trims enhance the total look of the room, setting the style and tone to it.
This is why it is so important to choose the trim color correctly!
Since Agreeable Gray belongs to the family of greige colors, it means that white will be the optimal choice when looking for the best trim colors to combine it with your Agreeable walls.
However, knowing that it is white is not enough!
Such a seemingly simple color as white is highly reflective which means you must be very careful when picking the shades of white that will create a harmonious ensemble with your greige walls.
Speaking of SW Agreeable Gray, you can easily pair with such whites as:
SW Extra White (you will get a really bright white trim)
BM Decorator's White (not too bright since this white has a hint of gray in it)
SW Pure White (similar to Decorator's White only being a smudge brighter)
And in addition, you'd better avoid any warmer white shades, such as BM Simply White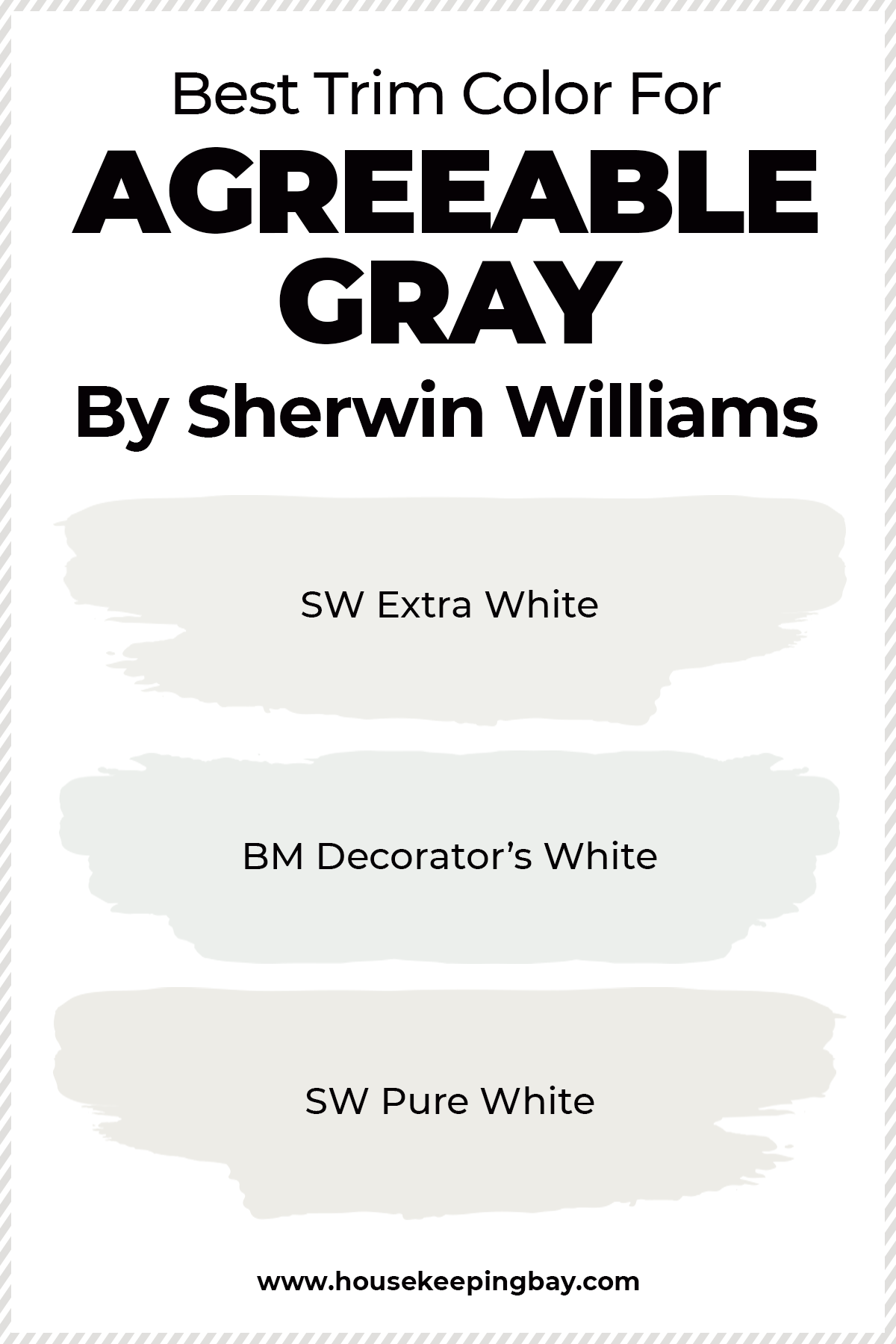 Will Agreeable Gray Look Good With Wood Trim?
The homeowners that have wooden elements in their houses or apartments often wonder whether Agreeable Gray will look good if paired with wood. Since wood is quite a complicated material in terms of pairing it with paint colors, such a concern makes sense.
However, if you want to paint your walls with Agreeable Gray, and you are worried about how it will look if paired with wood, don't get stressed!
Since this paint color goes with almost everything, it will also look really nice if combined with wooden elements, such as furniture or accessories.
This is also possible because Agreeable Gray has warm beige undertones in it that combine well with warm wooden color.
Paint Color Similar to Agreeable Gray
When it comes to greiges, it can be rather challenging to tell the difference between the two hues simply because they are so alike!
But sometimes we might need more diversity and alternatives to make a selection, so check out what other grays are comparable to the AG:
Gossamer Veil SW 9165
Benjamin Moore Rodeo 1534
Benjamin Moore Collingwood OC-28
Among all of them, Collingwood, Rodeo, and Wish stay closest to the AG than others.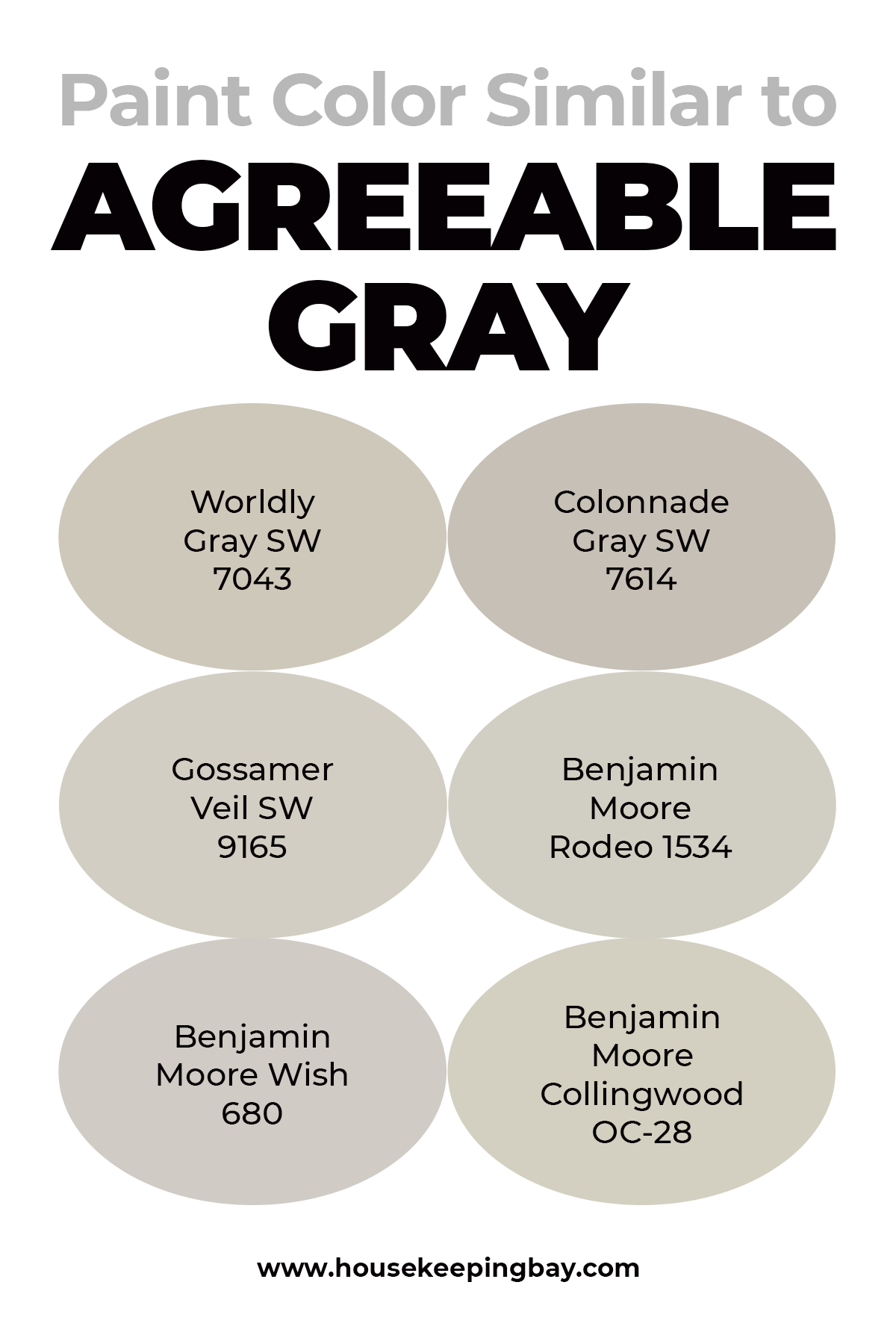 Where to Use Extra White Color?
The Agreeable Gray is a universal hue which means that we can make use of it in any chamber of our living space.
The unique feature of it is that it can be applied even in a basement or ceilings, the places that people usually find the most complicated to select a hue for.
Agreeable Gray In a Living Room
When selecting this hue for the living room, consider the type of lighting in it.
The tint itself looks gorgeous with whites and blacks and also pairs successfully with browns or even the bright and vivid colors like red, green, turquoise, etc.
If the chamber has enough daylight, it is perfect, but if not, ensure it will have enough warm artificial lights to make the hue reveal its warmth, too.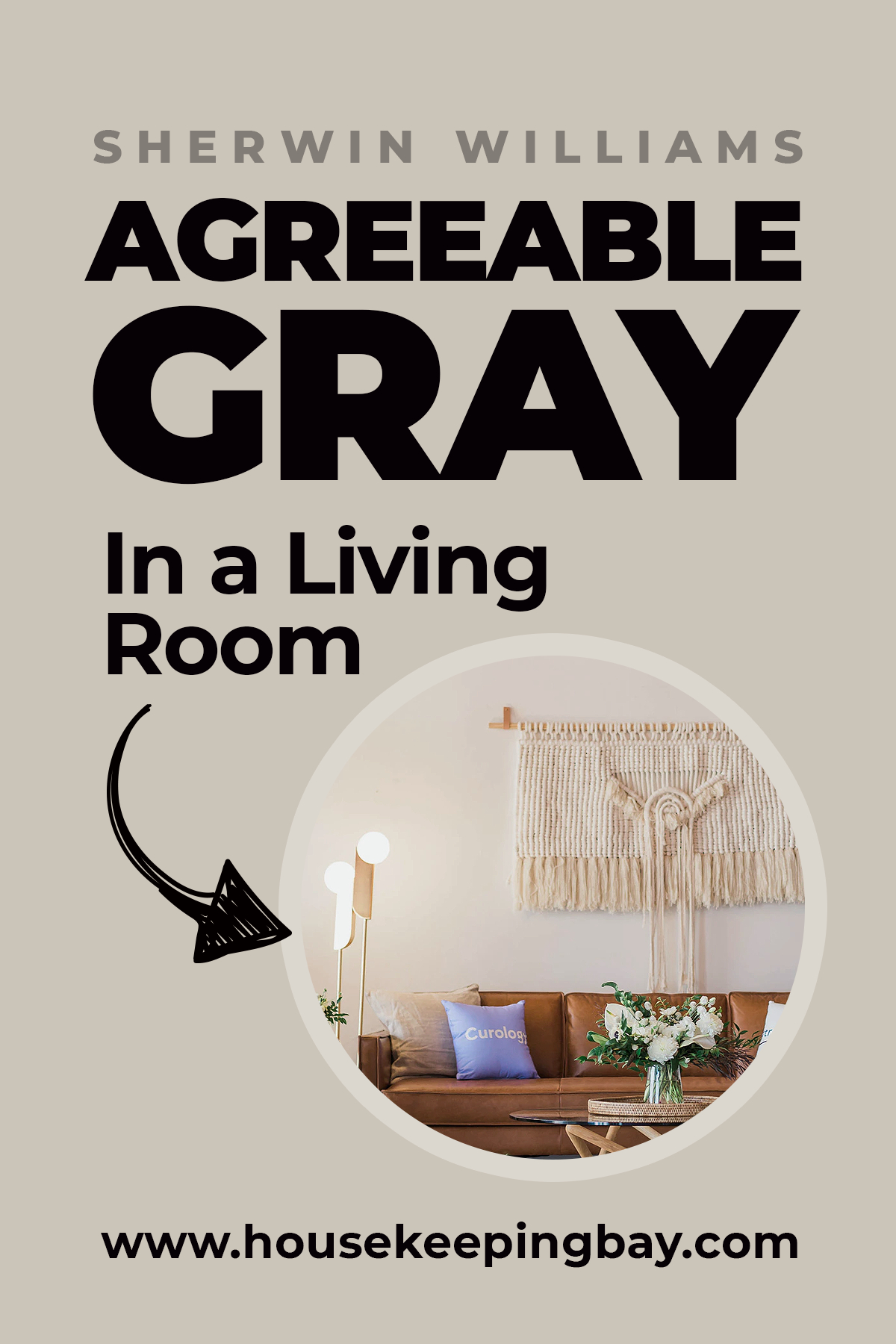 Agreeable Gray in a Bathroom
The bathroom is an ideal selection for applying this hue since this greige is rather neutral which makes it possible to combine with other tints.
It will show up especially stylish and refreshing with a black-and-white scheme that has brighter accents (for instance, red towels or decorations, etc).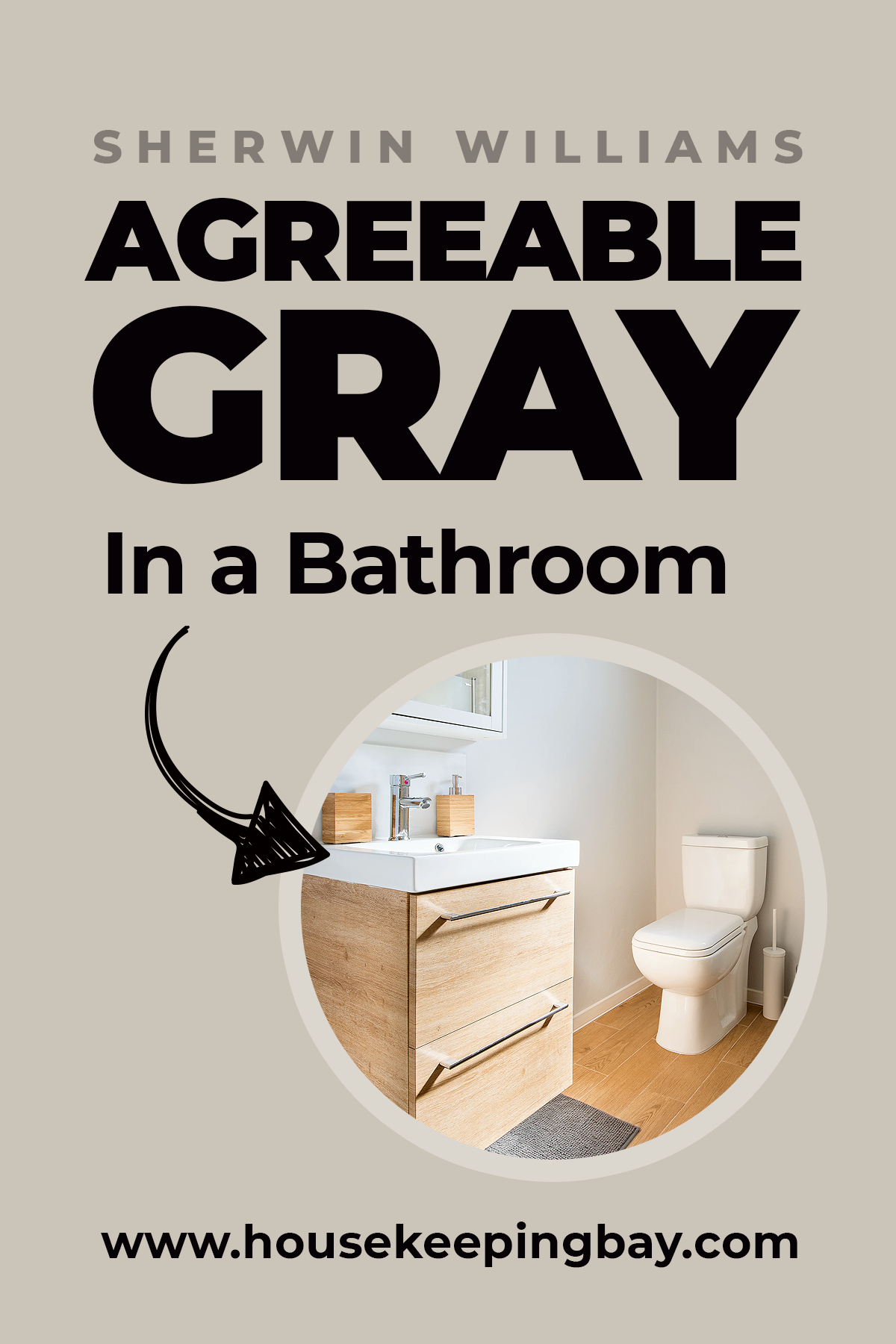 Agreeable Gray In a Bedroom
As a neutral greige, the AG will become a top selection for your sleeping area.
It has that calming warmth that creates a feeling of tranquility, especially when combined with other "warm" objects like wooden chairs or tables, copper-tinted decor items, and so on.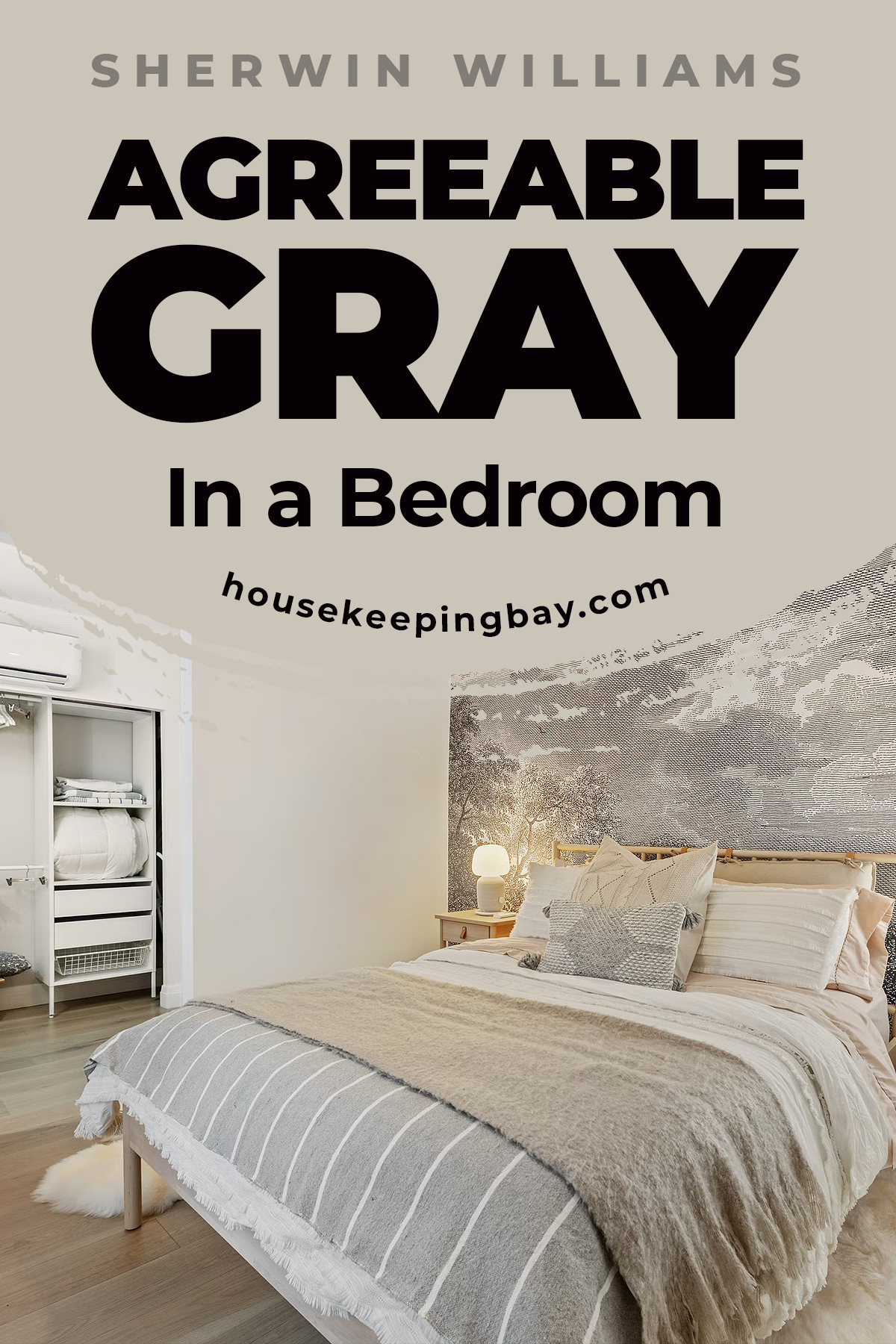 Like with every paint colour, We highly recommend using SAMPLIZE.  Samplize is a peel & stick paint sample that you can easily move around your room for over HALF THE COST of traditional samples – and they deliver right to your front door!
Agreeable Gray in Kitchens
Agreeable grey for the kitchen is another excellent space for making use of this hue.
As a neutral, the AG will provide it with a necessary backdrop for enhancing other, brighter accents like blacks or browns (or any other).
It will also pair successfully with wooden and stone elements like countertops or shelves/cabinets. It is one of the top greiges that we recommend to use in the kitchen,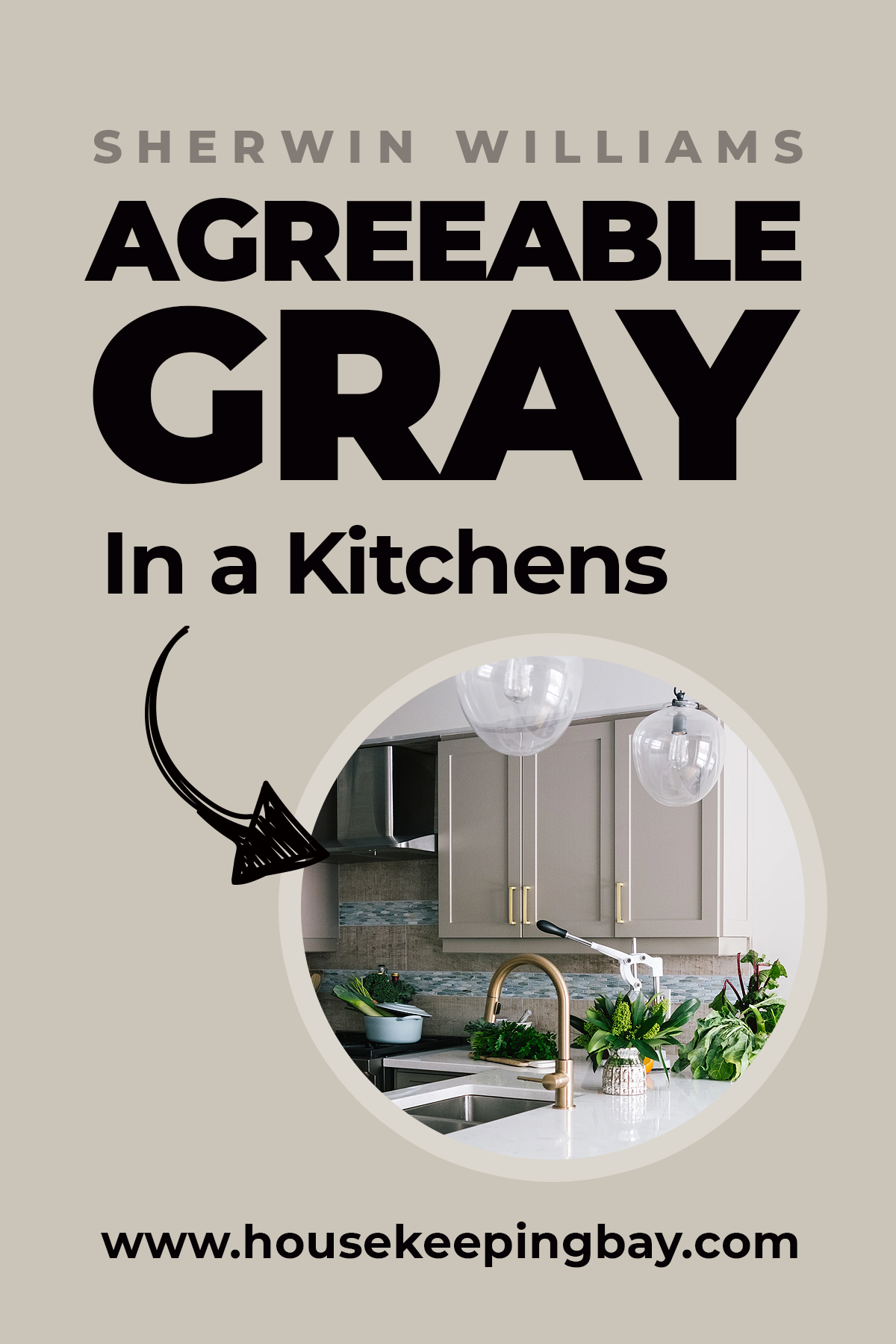 Agreeable Gray For the Nursery Room
When looking for a proper paint color to apply on the walls of a nursery room, most of us would think of something neutral and calm. At the same time, we would not want to have the nursery walls too pale or cool-toned.
This is why most people stick to various shades of gray paint color when going to paint their baby room.
And if you are hesitating whether Agreeable Gray paint color by Sherwin Williams is the suitable choice for this type of painting project, we can assure you that it definitely is!
It is a warm-toned greige which means that this color combines both features of gray and beige paint colors in one.
It makes the color stand in between the coolness of pure gray and warmth of pure beige.
As a result, you have a perfectly balanced warm-toned color that may, however, look slightly warmer or cooler depending on lighting in a room.
In addition, Agreeable Gray pairs well with other warm-toned colors, especially with those that have earth tones.
This feature allows you to choose among the variety of alternative variants and pick the accent color for your nursery room in case you don't want to have it all painted with the same color.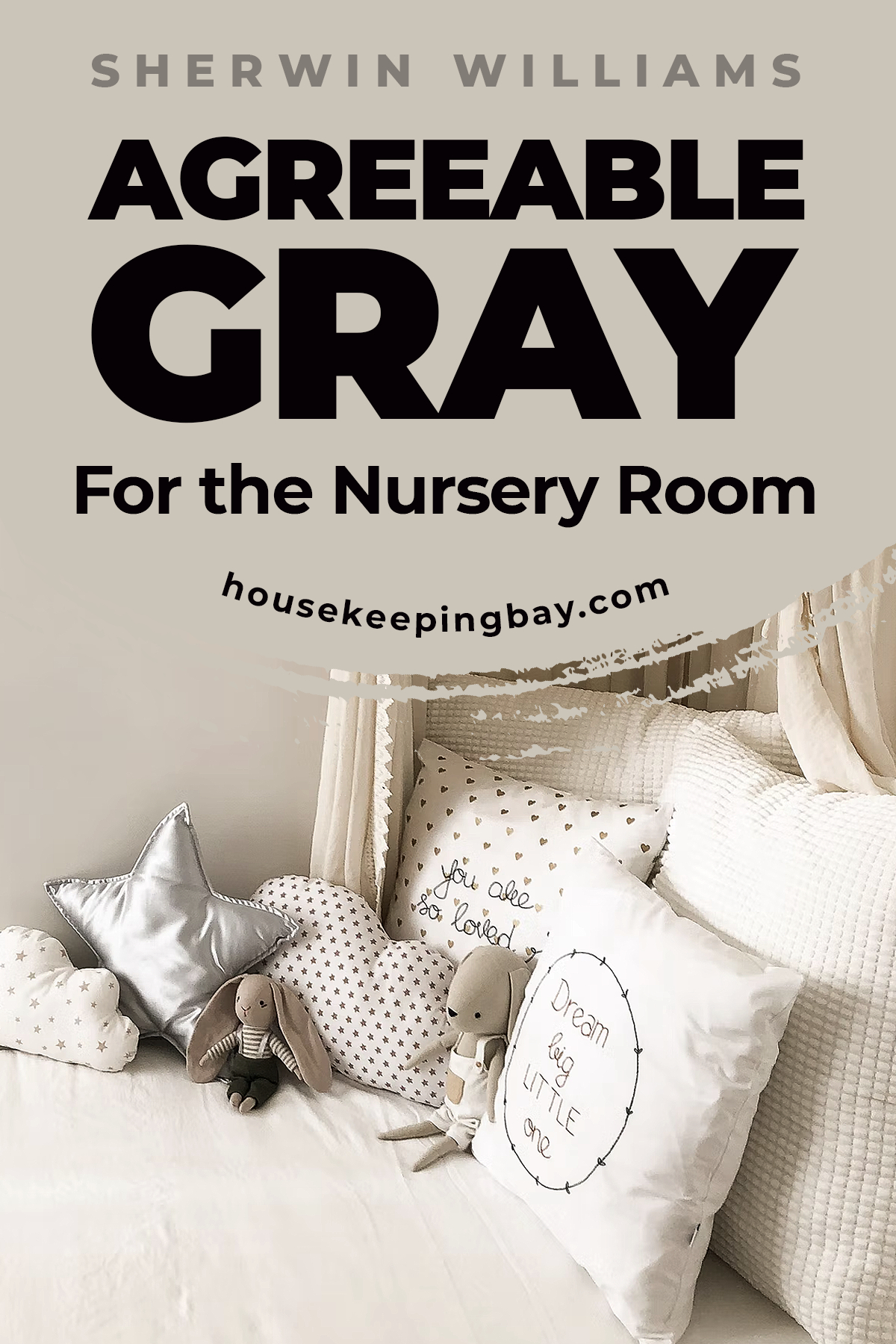 Can I Use Agreeable Gray For the Girl's Bedroom?
When it comes to choosing a paint color to be applied on the walls of a girl's room, many parents hesitate what color to opt for.
Well, we can say that, unless you are going to choose something like pink, painting the walls of your daughter's room with Agreeable Gray is the best solution.
This color is very subtle and delicate on the walls, and also, it is neither cool nor too warm.
It means that the room will not look too dark or too "cold", remaining in a perfect balance. And even if the lighting changes, the most that can happen is that the color of the walls will look slightly cooler or slightly warmer, but definitely not totally different color!
In addition, since Agreeable Gray is a neutral color, it can be combined with decor elements and furniture, as well as upholstery and curtains, of different colors.
This will allow you to play with decoration and the overall design of the space.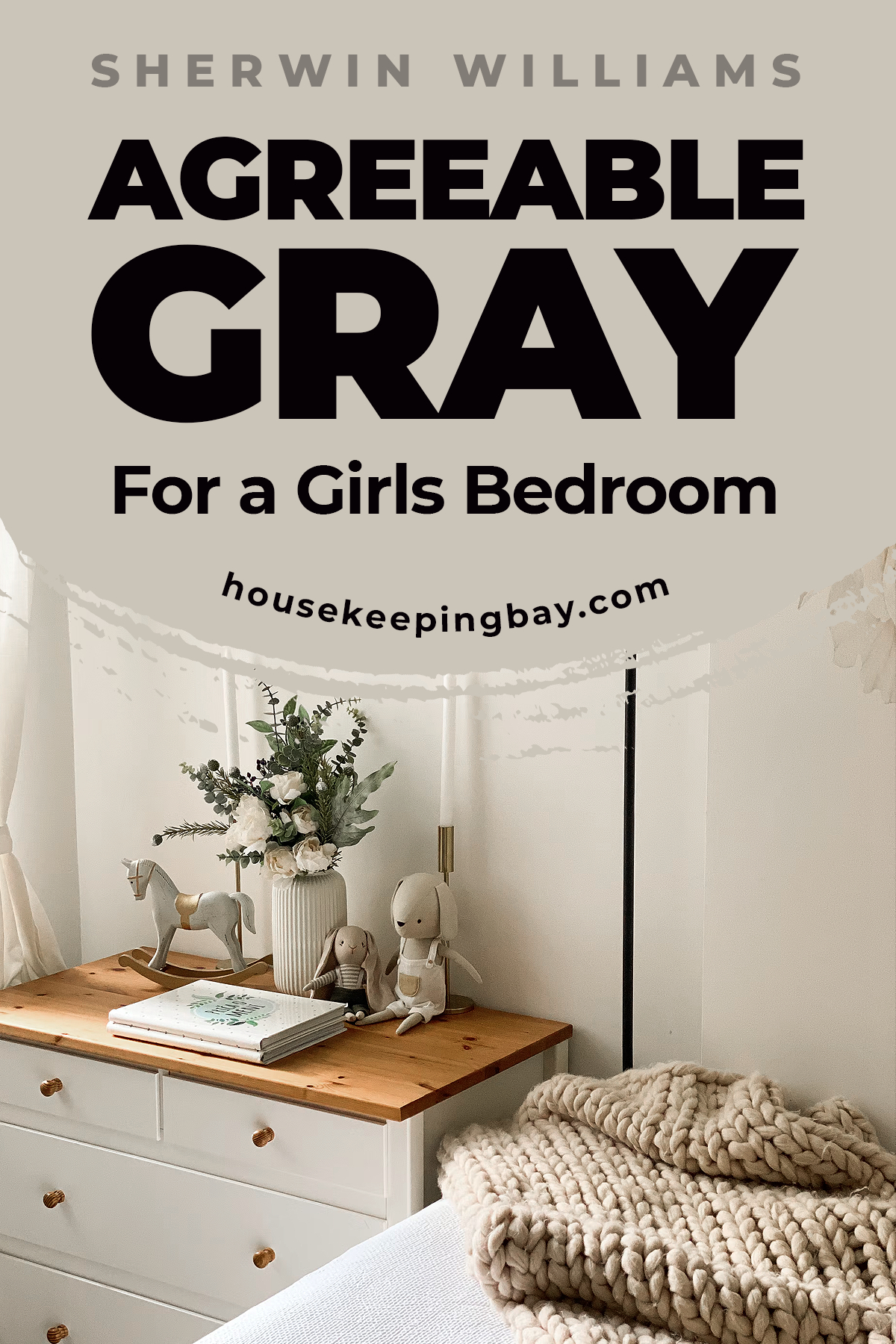 Exterior Use Of a Extra White 
This hue would not be called universal if we could not make use of it for painting facades.
Surprisingly, the AG can cope with that task ideally!
Nevertheless, take into consideration that it will look somewhat lighter than when we apply it indoors, but this is the result of direct sunlight.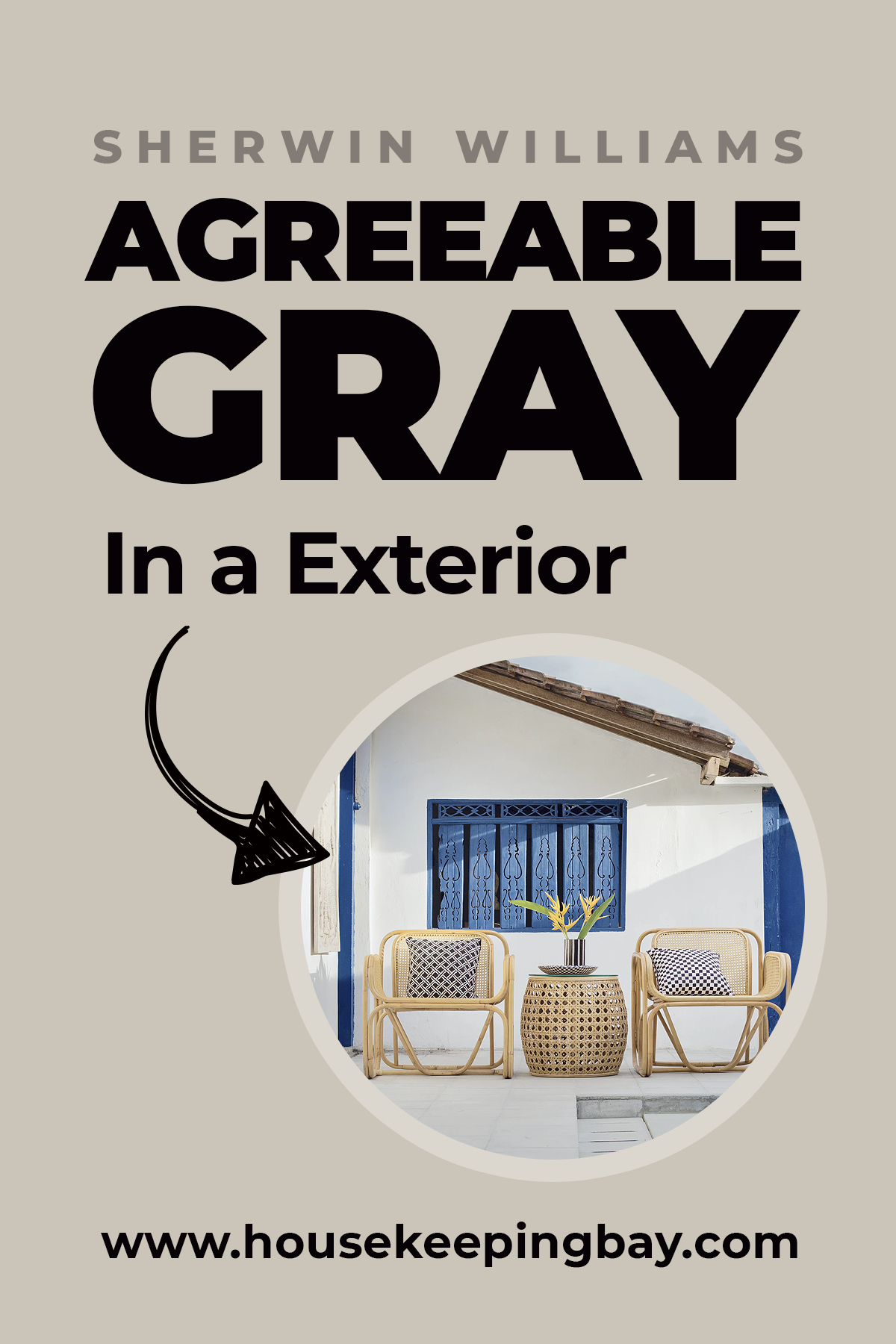 Agreeable Gray VS Other Colors
Finding a well-working hue that will be revealed ideally with the ones that are already being used is a challenging quest.
And even if we are talking about such a universal option as AG, it is still important to see how the hue is compared to other alternative ones.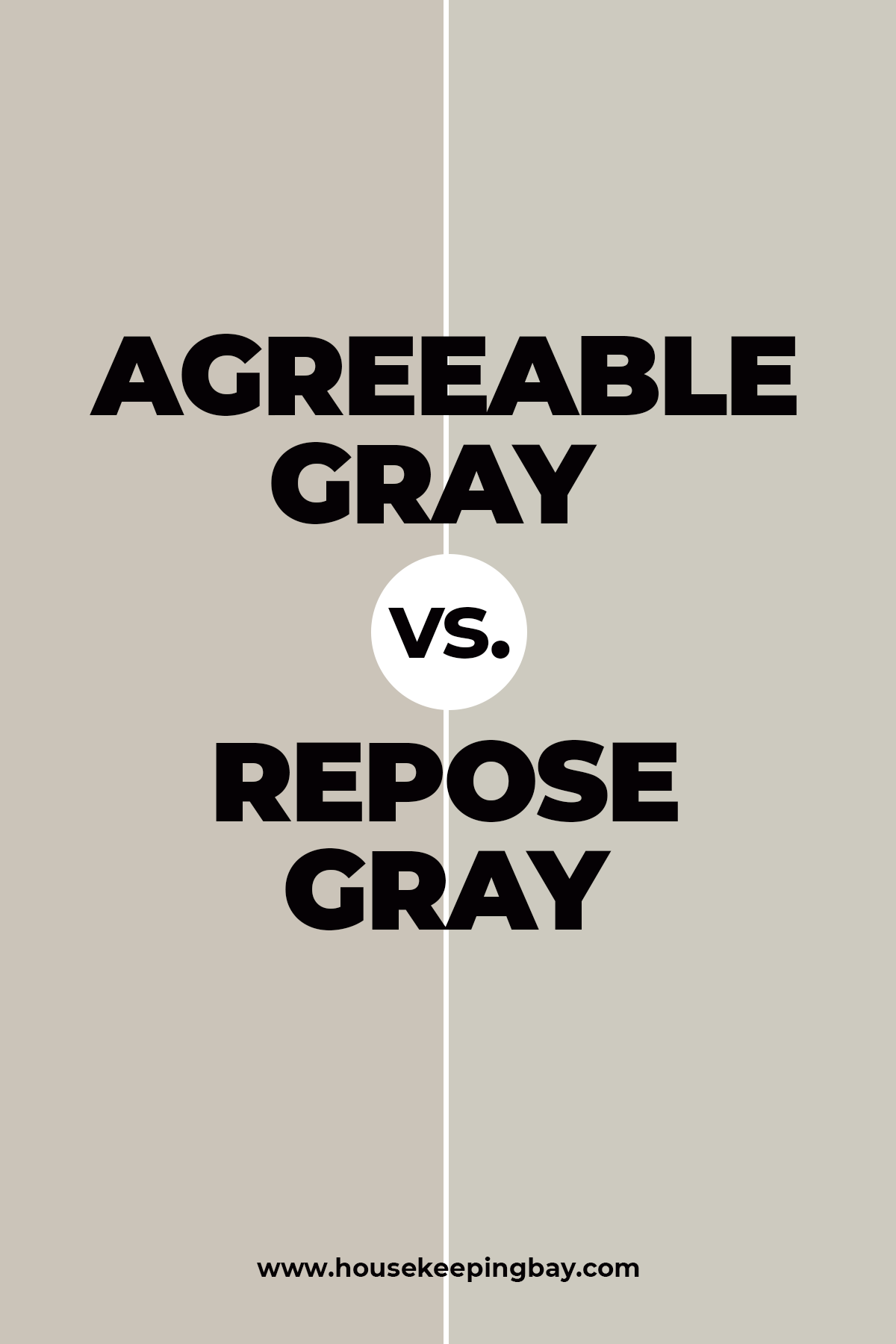 These two are the most sought after.
Repose Gray is somewhat cooler and with a more prominent greyness whilst its counterpart possesses a warmer beige-like tint. Also, the Repose Gray is darker (get a sample) with a light reflectance value of 58, whereas the AG's LRV is 60 (check what LRV is).
In terms of undertones, Repose still tends to reveal its purpleness and blue dashes, unlike the AG that remains greige as it is.
Revere Pewter vs. Agreeable Gray
Revere Pewter looks more earthy, darker, and warm compared to the AG 
With an LRV rate of 55.51, Revere hue can sometimes reveal greenish undertones too. (get a sample)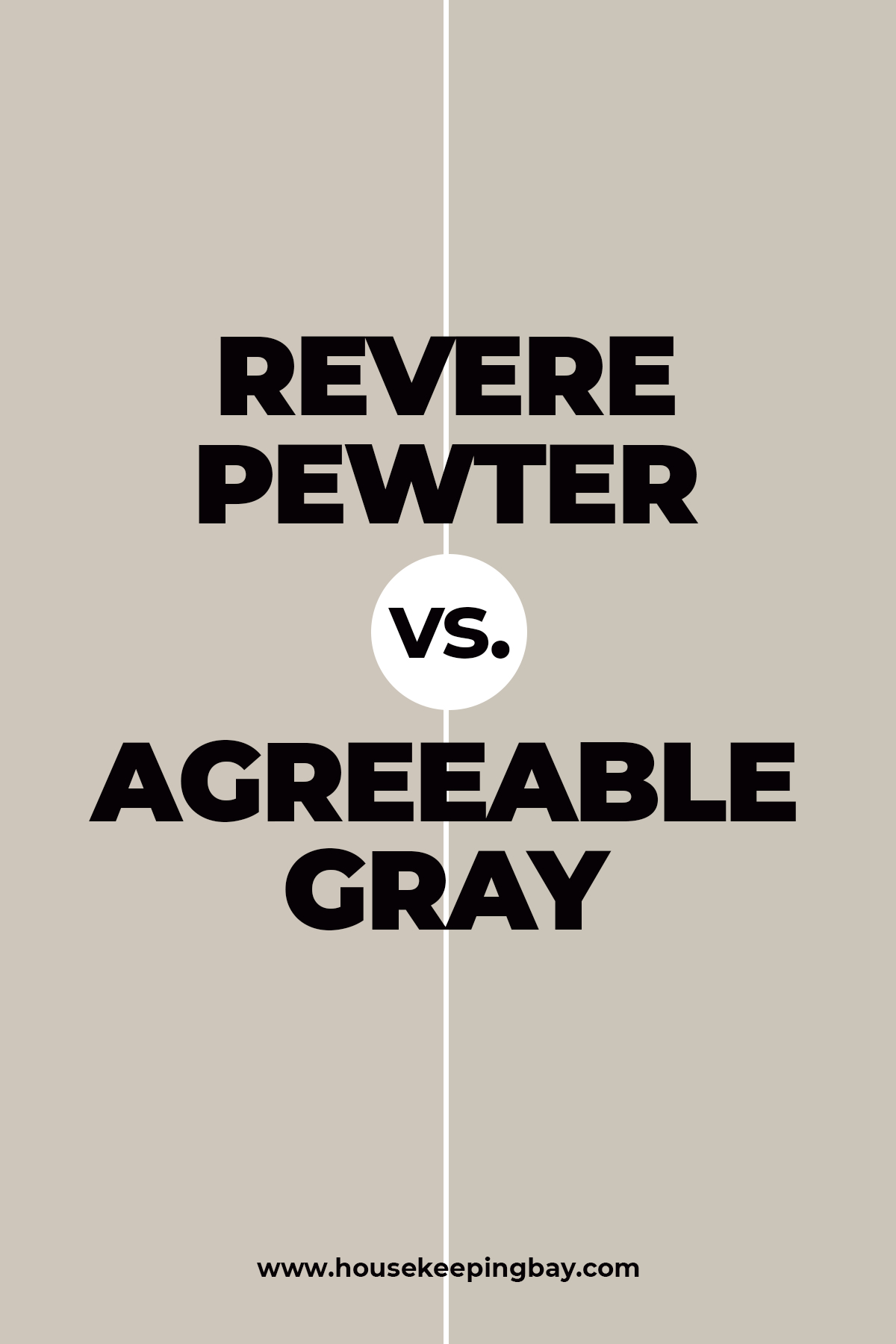 Agreeable Gray vs Accessible Beige
The Accessible Beige option with its LRV of 58 is warmer with a more noticeable beige tint.
The AG, on the contrary, makes a cooler impression with more grayness. Also, Accessible Beige has a very gentle tint of green (get a sample) that, nevertheless, can show up in the wrong lighting.
Agreeable Gray vs Edgecomb Gray
Edgecomb hue (LRV 63) is warmer and has a more noticeable beige dab unlike its LRV 60 "cousin". (get a sample)
Moreover, this hue has no tricky undertones that can suddenly show up and spoil all the appearance of a chamber.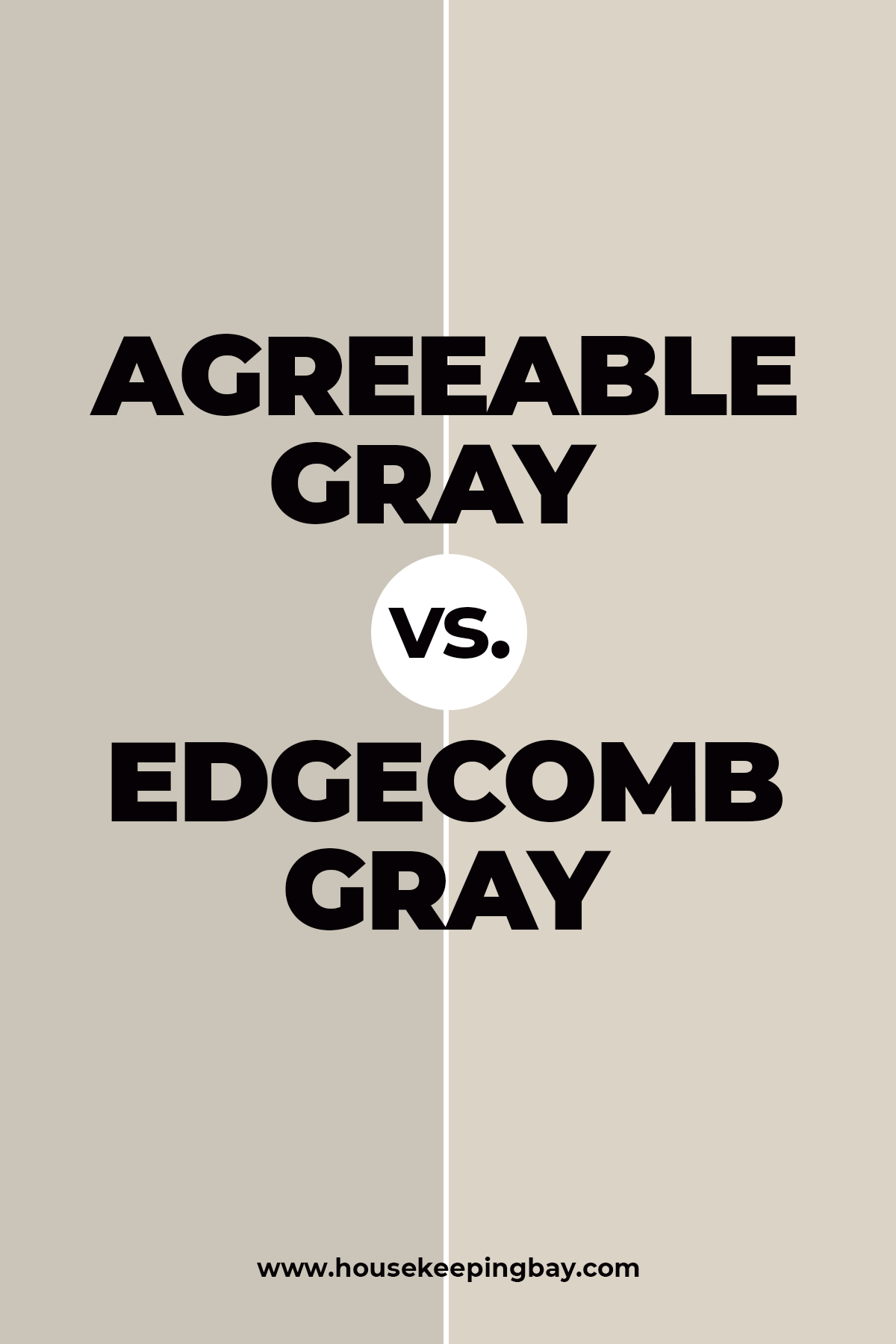 Agreeable Gray vs Mindful Gray
Mindful Gray is darker than its counterpart being a more intense version of grey. (get a sample)
However, it does have a rather prominent hint of beige that makes it warmer.
It will pair successfully with whites creating a fine contrast whilst the AG may seem somewhat pale next to the white item or surface.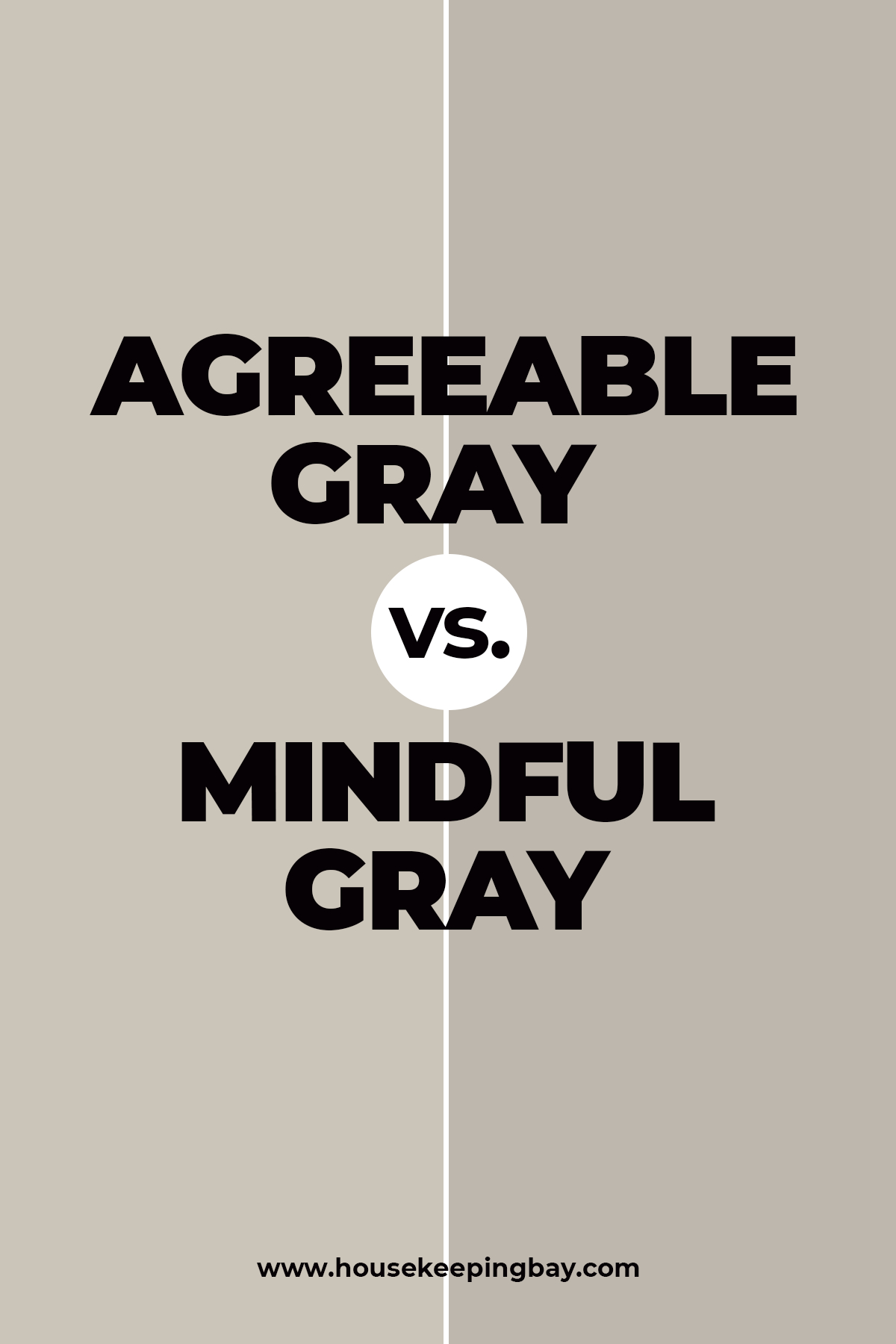 Zircon vs Agreeable Gray
Even though these two colors are distributed by the same brand, they are not the same. You might think that Zircon and Agreeable Gray are similar, but to see that it is not true you just need to put these two colors side by side.
Agreeable Gray is a warm-toned greige that has quite prominent warm beige undertones that come through especially well in warm lighting.
And if you take a closer look at Zircon, you will see that this paint color shows way more of cool gray undertones.
So basically, Zircon can be considered cool gray whilst Agreeable Gray leans more towards warm greiges.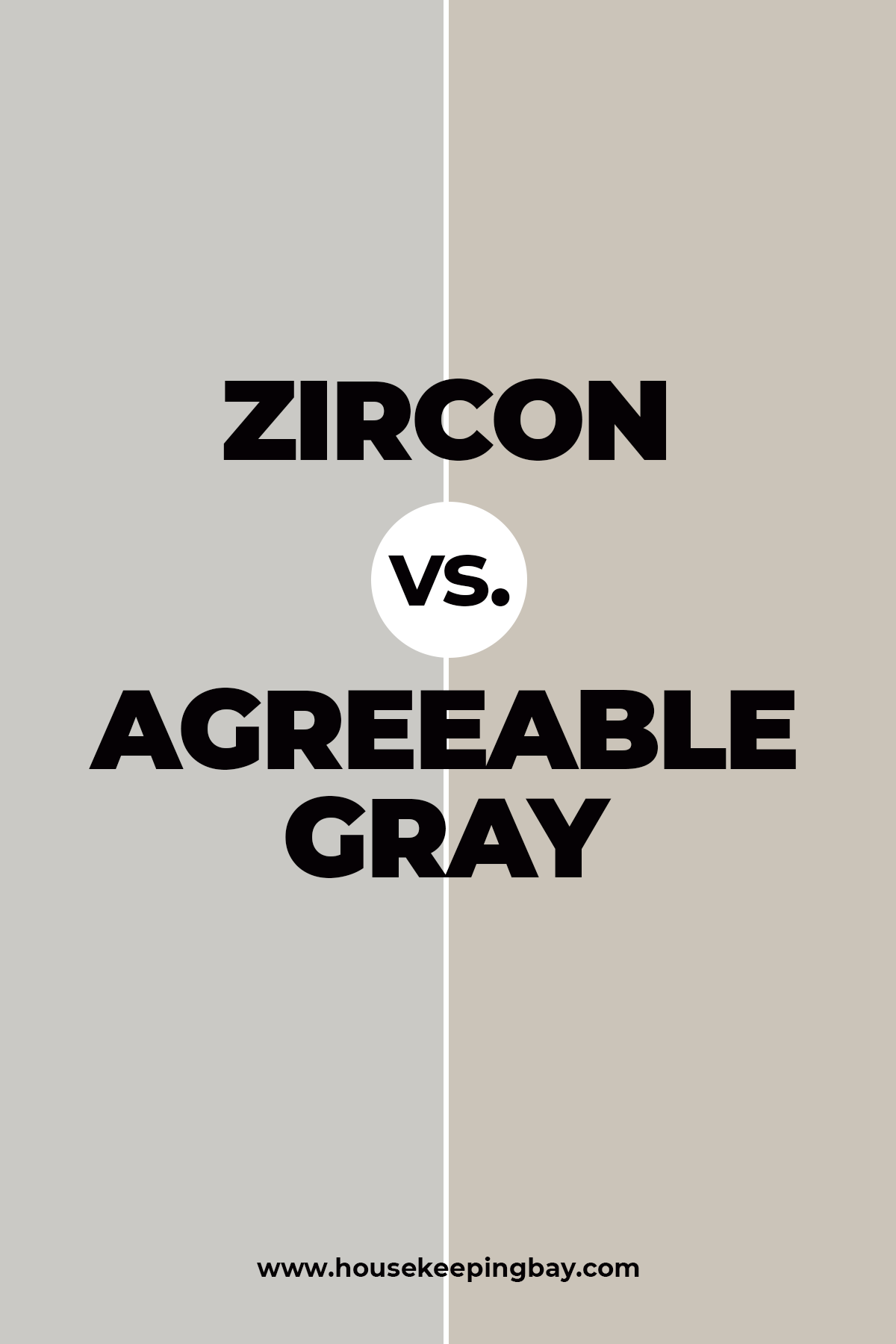 Agreeable Gray vs Amazing Gray
Even though Amazing Gray and Agreeable Gray are both greige paint colors, they look completely different.
If you put them side by side, you will see that Amazing Gray commits more to a green undertone that is subtle, but noticeable.
On the contrary, Agreeable Gray has more beige undertones that are warm.
Apparently, these two will not look harmonious if combined together in the same space.
And surely, you should not take Amazing Gray into consideration if you are not into the greenish tint on your walls!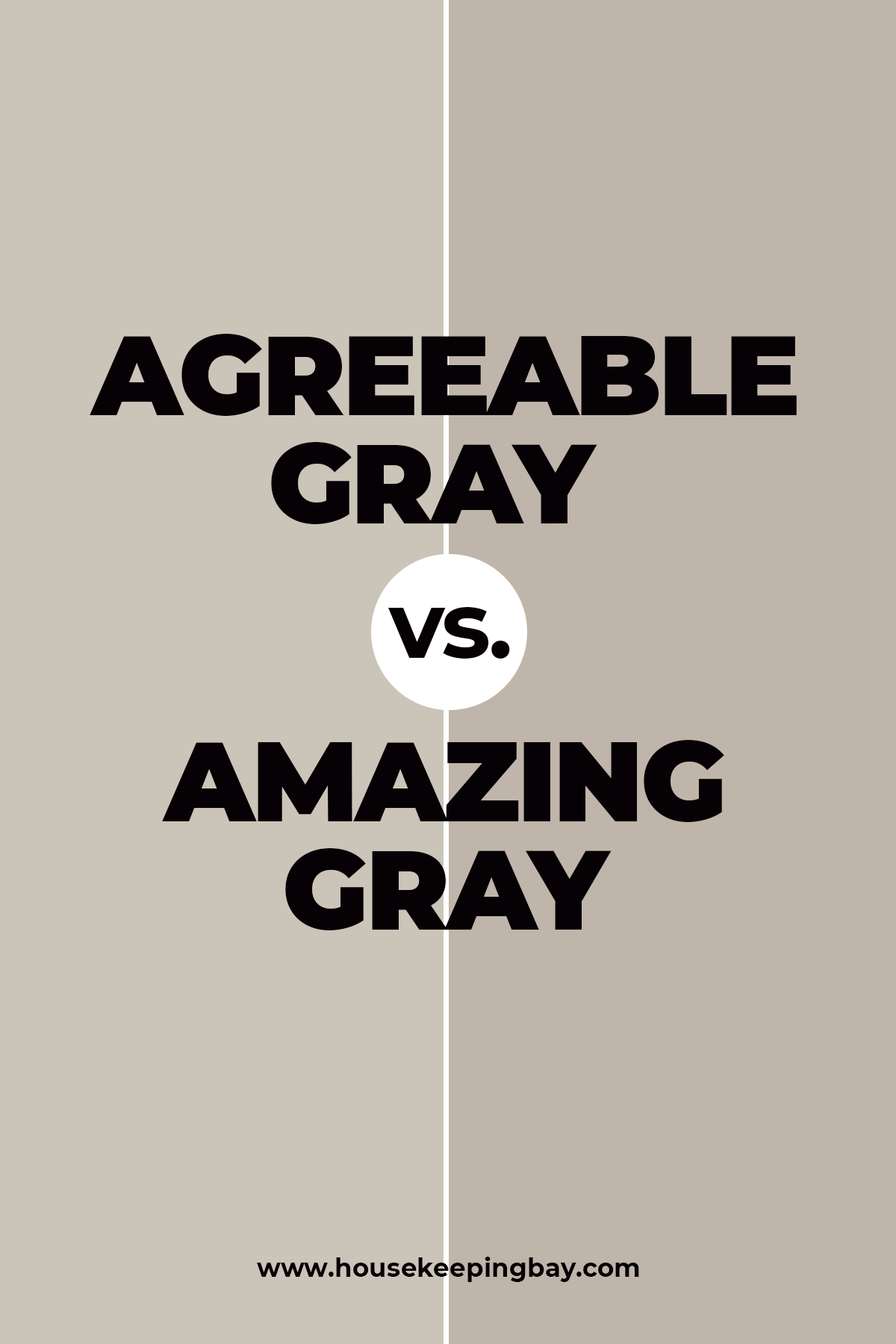 Agreeable Gray vs Balanced Beige
If we compare Agreeable Gray and Balanced Beige, both paint colors by Sherwin Williams, we will see the prominent difference.
Balanced Beige is much warmer with more prominent beige undertones in comparison to Agreeable Gray that has also gray undertones in its palette.
However, thanks to that beige that these colors share, they can be successfully combined in the same space!
So if you want your room to be all beige and cozy, but you're not into having it all painted with one color, consider using Agreeable Gray and Balanced Beige since they will complement each other greatly.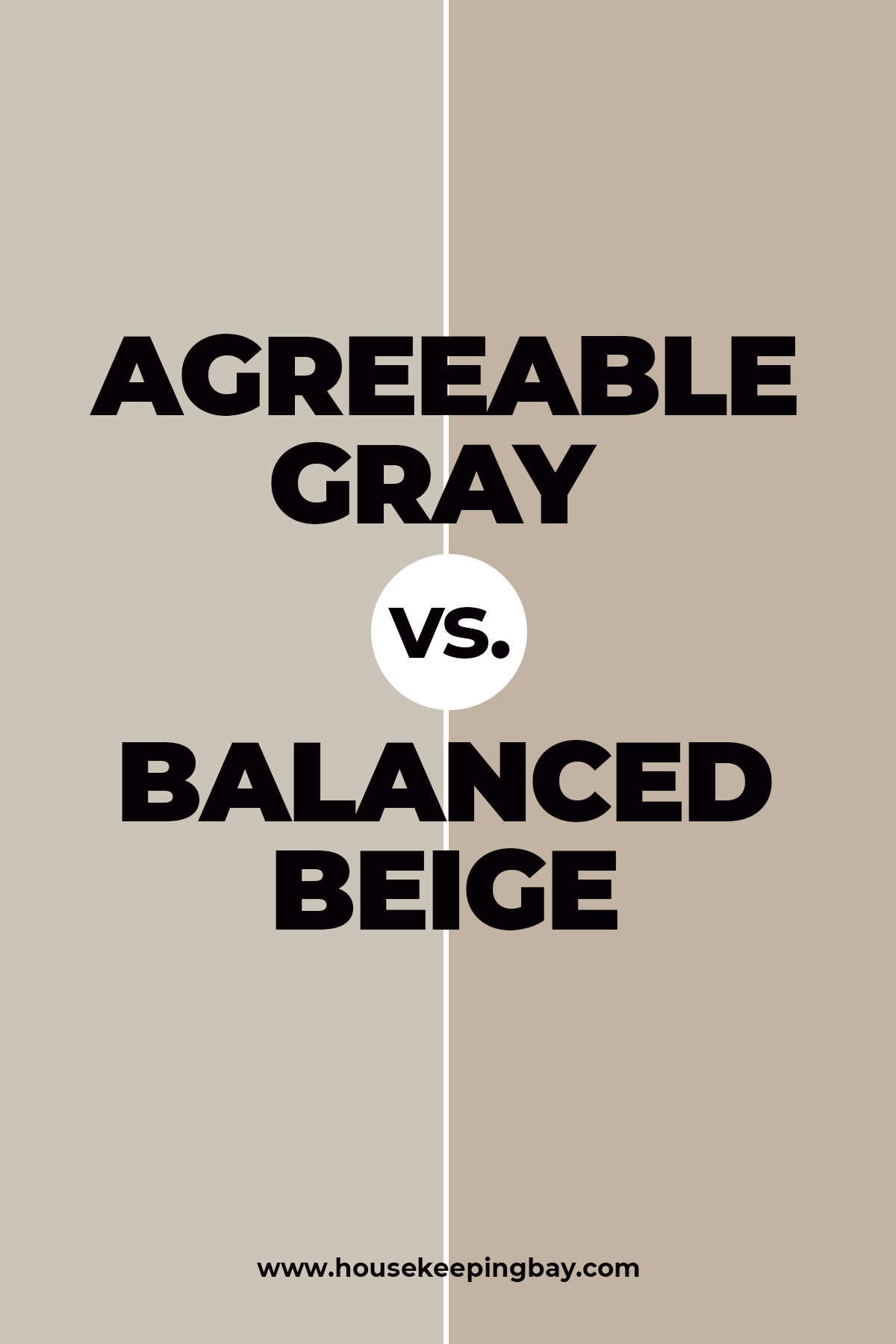 Agreeable Gray vs Dorian Gray
Dorian Gray by Sherwin Williams is a typical and rich gray color.(get a sample)
To be precise, it is a warm, medium to dark neutral gray that has subtly purple undertones. However, in certain types of lighting, it may even reveal a very slight hint of greenish undertones.
In comparison to it, Agreeable Gray is a warm greige that combines both features of gray and beige in it.
And since both of them contain gray color, these paints can be very successfully combined with each other creating a harmonious and stylish pair!
Deep grayness of Dorian Gray will be perfectly highlighted by the lighter shade of Agreeable Gray. And since both colors are warm, there will be no disbalance.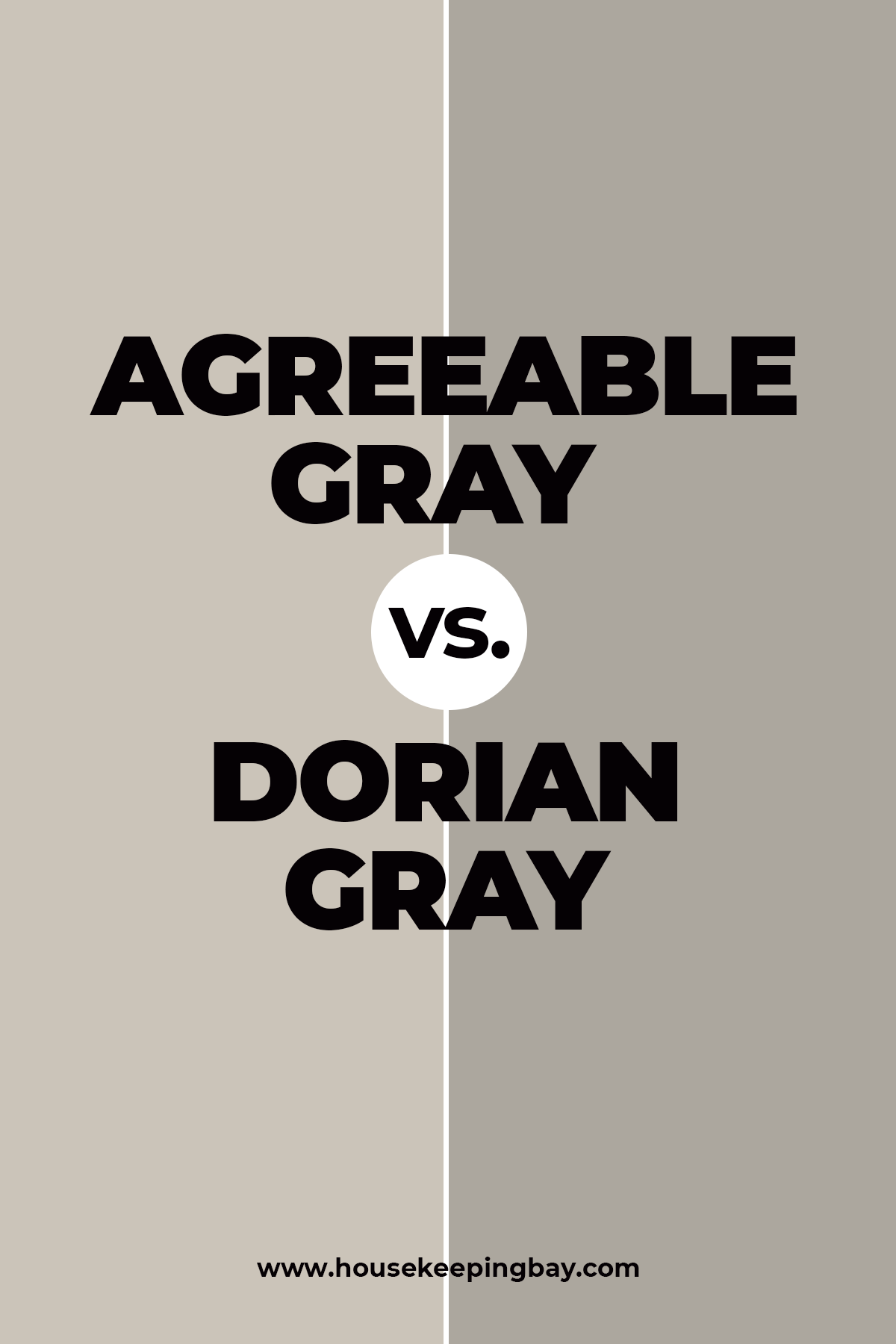 Agreeable Gray vs Eider White
Agreeable Gray and Eider White (also the pair of colors by Sherwin Williams brand) create a very good-looking and harmonious combo. (get a sample)
Eider White being an off white color with a nod of gray in it that pairs just perfectly with Agreeable Gray, a greige color that possesses both features of light and warm beige, and warm gray.
And even though Eider White may sometimes show a cast of purple or pink, if paired with Agreeable Gray which looks way warmer, it creates a nice and harmoniously contrasting color combination where both colors complement each other.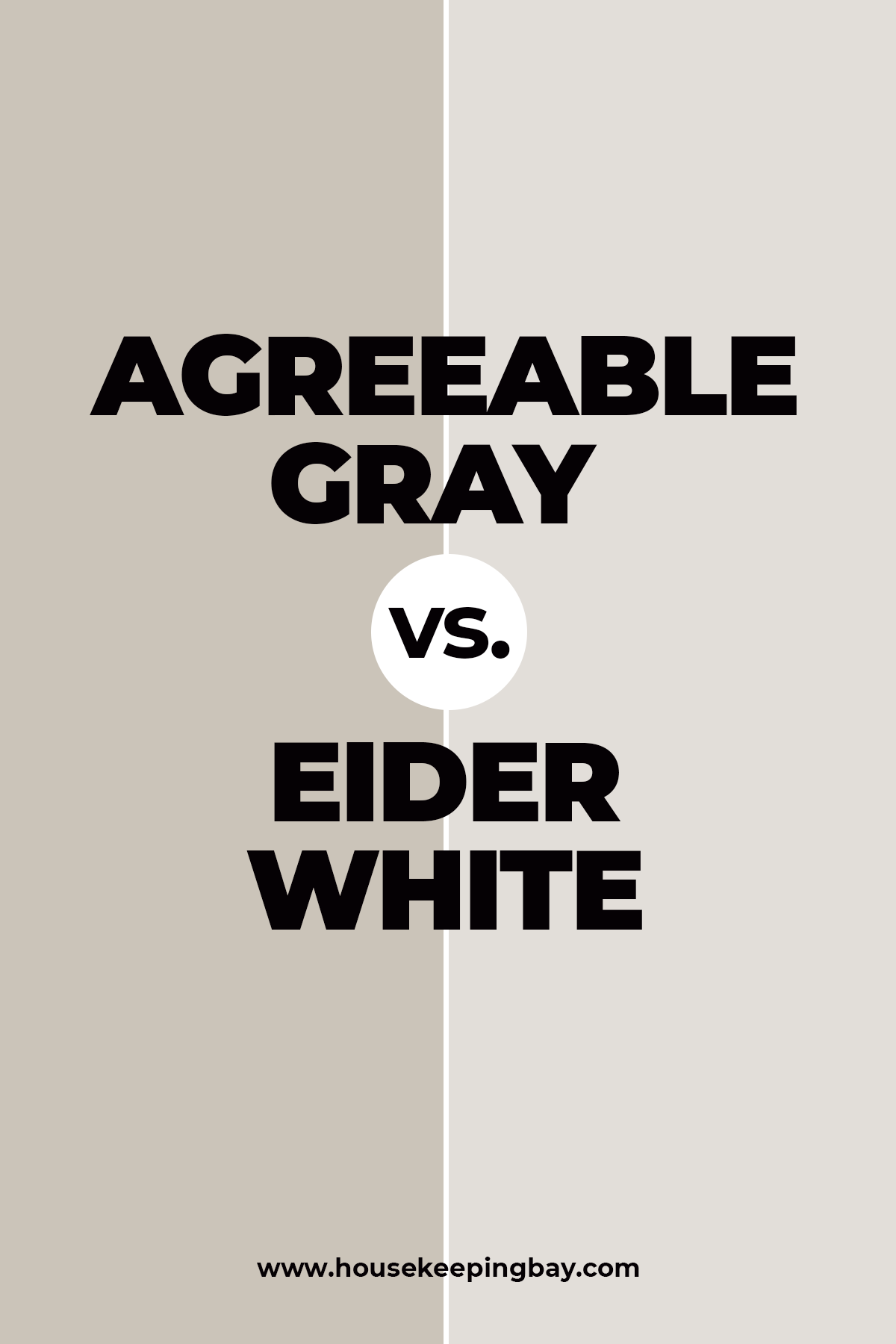 Agreeable Gray vs Functional Gray
Functional Gray is much warmer than Agreeable Gray even though they both belong to the same paint brand called Sherwin Williams.
Functional Gray is a soft taupe, perfectly neutral, that leans on the cool side whilst Agreeable Gray is a warm greige.
However, these two can be combined pretty well! Deep warmth of Functional Gray with its rich beige notes will be elegantly highlighted with the lighter Agreeable Gray that also has beige undertones which makes these two colors a great pair.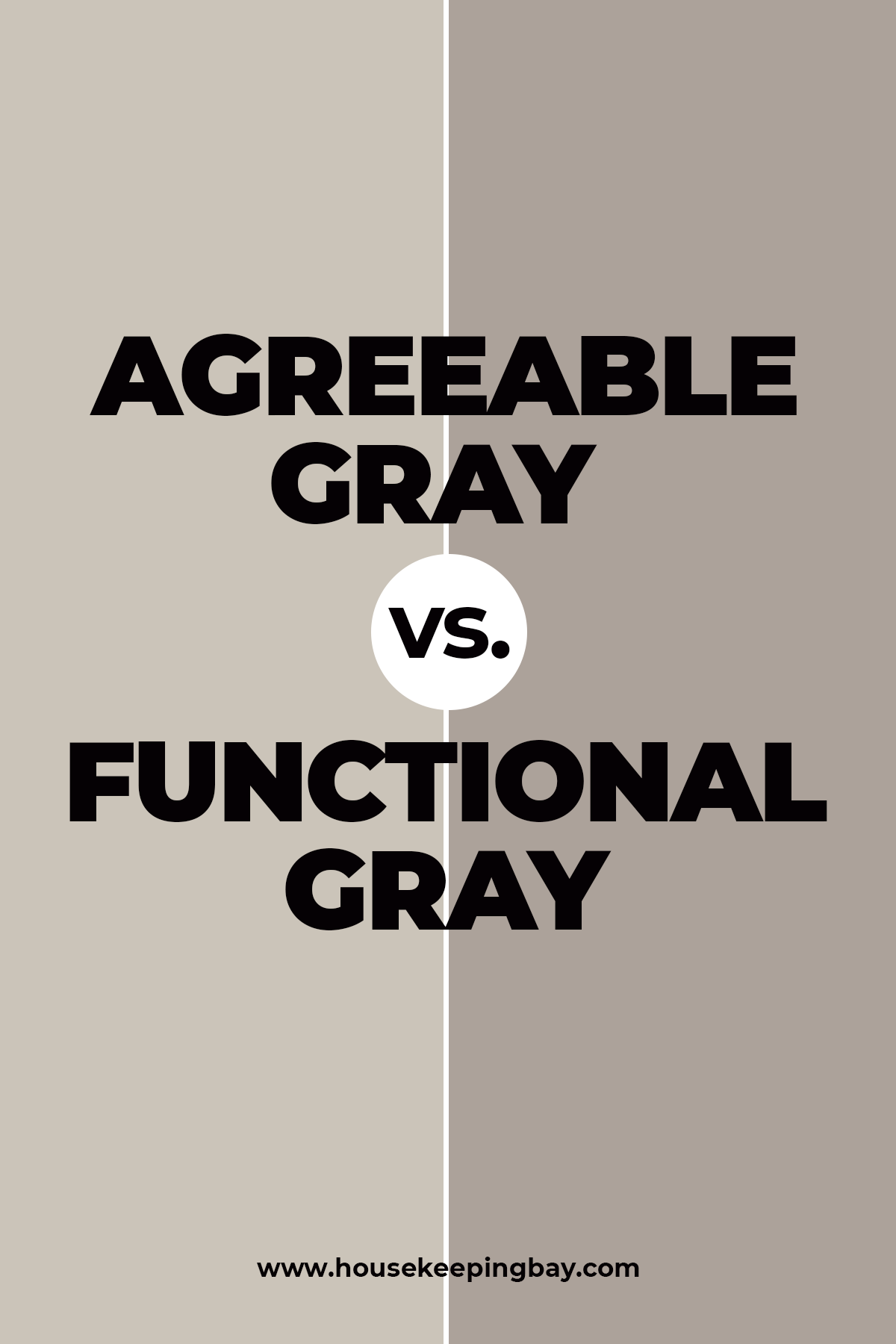 To sum up all this information, we can say that Agreeable Gray is a perfect match for those who are seeking a universal and multipurpose hue for their homes.
Feel free to apply it anywhere both indoors and outdoors, only take into consideration the lighting and the surrounding tints that still influence this hue greatly.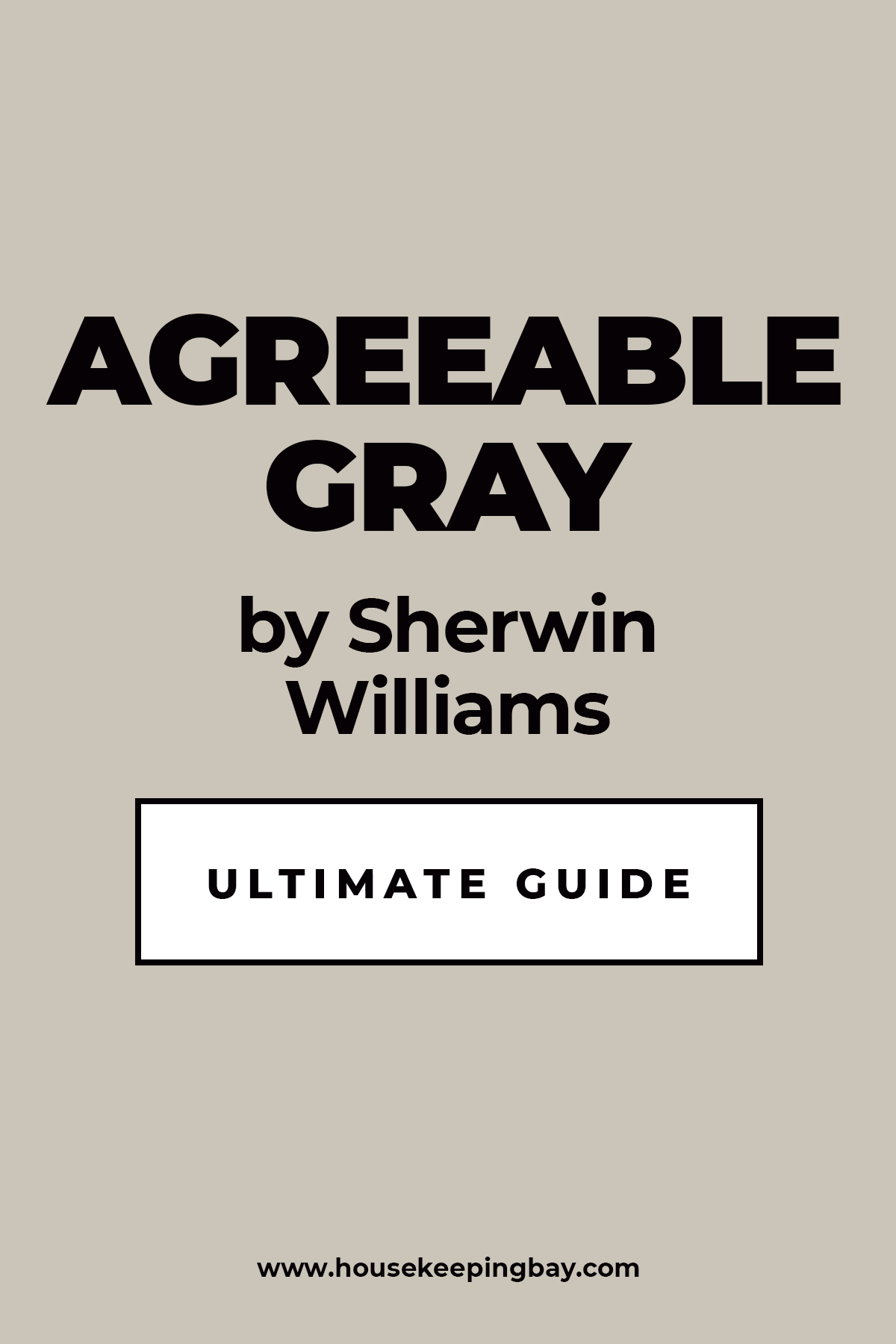 Frequently Asked Questions
⭐ Is Agreeable Gray popular now?
Yes, and its popularity is actually rising.
⭐ What are the undertones of Agreeable Gray?
This color has warm beige undertones.
⭐ Does Agreeable Gray look purple?
It may look a bit purplish in certain qualities of light indeed, but in general, this color belongs to the yellow hue family.
⭐ Does Agreeable gray work well with Alabaster?
These two create a perfect match!