The Benjamin Moore brand offers a vast diversity of hues and tones of paints for different kinds of renovation work from painting interior walls and surfaces to refreshing the facade. One can find literally any hue here from warm ones to bright and vivid, from classy tones that will add chic to your living space to subtle and calming hues that will not distract one's attention and will make the chamber more airy and full of light.
But this is not all! This company also made it unbelievably easy for its customers to pick the right hue of a product. On their website, everyone can browse through the multiple variations of hues that are divided into categories for more comfortable use.
It is possible to find the hue that is needed by the color family it belongs to, or by checking out the color collections that include hues for facades and vinyl, exterior collection, hues for wood, kids' chambers, and many other positions.
And of course, let's not forget about the neutral hues that are getting more and more popular today. In particular, we would recommend everyone to check out the rich collection of greige paint colors that the brand is also famous for. These subtle yet interesting hues, both cool and warm, are all absolutely universal and can be applied to any surface in almost any space whether it is a bathroom or a sleeping area. 
Picking a Color. How to Make a Choice 
If you are new to interior painting, and you feel like a rookie when standing in a store trying to figure out what hue you need, the Benjamin Moore company is the best one to buy from. Indeed, for a person who is not familiar with the specifics of the process, the same as with the paint chemistry, it can be challenging clarifying what product to purchase.
Fortunately, the manufacturing company took care of it, and every customer can use their brief online color insights guide for coping with the task. Here one can find the coloristic basics and key principles that will help to learn more about analogous colors or figure out how to deal with warm and cold hues.
After becoming familiar with such information, it will not only be possible to create your own color palette hanging upon the private preferences and needs but also it will be much simpler to discover how certain hues impact the living areas and space. It is even possible to get deeper into color psychology to be able to create a well-balanced space according to the basic needs (e.g. for making it tranquil and calming or, on the contrary, dramatic).  
Palettes Available
This paints-making brand offers a varied choice of products that can suit any space and any chamber. Respectively, the number of hues available is rather impressive. 
It is possible to focus on colors that belong to a certain family, e.g. greens, oranges, whites, browns, etc, and browse among over one hundred hues!

As a variant, one can go for the bestsellers list that consists of around sixty different hues.

You can also try out one of their color collections that include the trendy hues of 2021, the classical colors, the collection of whites, and many more other options.
However, one of the most popular sections is neutral colors, and greige hue, in particular. The Benjamin Moore company has several top variations of it that are always sold better than others due to their multipurpose, and those are definitely worse checking.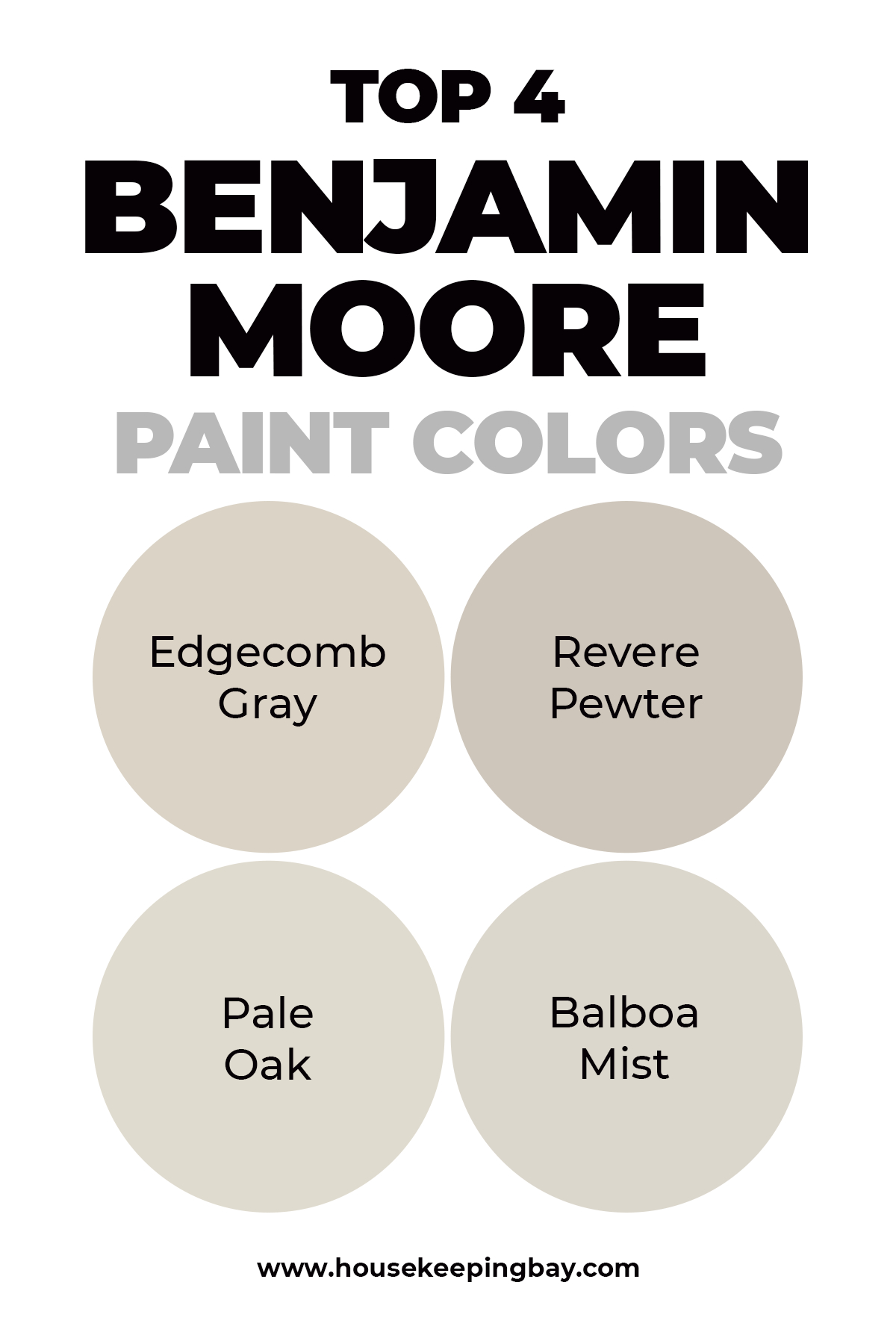 Edgecomb Gray HC-173
This greige is one of the most popular neutrals on the market. It has an earthy and organic look with the hue itself being stylish and elegant in terms of color. Whatever you paint with it, the area will look distinctly personal.
Edgecomb Gray HC-173 is rather warm than cold, with prominent beige notes and a green-gray undertone. It reverberates the lighting pretty well having a reflecting rate of 63, so it won't look too dark anyway. However, with a lack of decent lighting (no matter artificial or not), it may seem somewhat dingy.
This hue can be successfully used with other colors of gray and beige-greige palettes. In particular, it pairs nicely with such colors as White Dove, Nickel, Revere Pewter, and White Chocolate. 
Also, this hue is slightly like a chameleon: if your chamber faces the light from the north, be ready that this paint will show more of its gray and cool side, whereas in a south-facing area it will lean a dash warmer. The same happens in the differently lit areas: with proper lighting, the paint will seem cooler and lighter compared to the low-light chambers where it can gain more beige notes. 
Since this hue is very versatile, it can be applied to many surfaces in different areas. But the general concept is that it creates an ideal fresh, slightly soft, and warm look, so better go for it when renovating areas that are supposed to be cozy.
Related: Detailed Guide Edgecomb Gray HC-173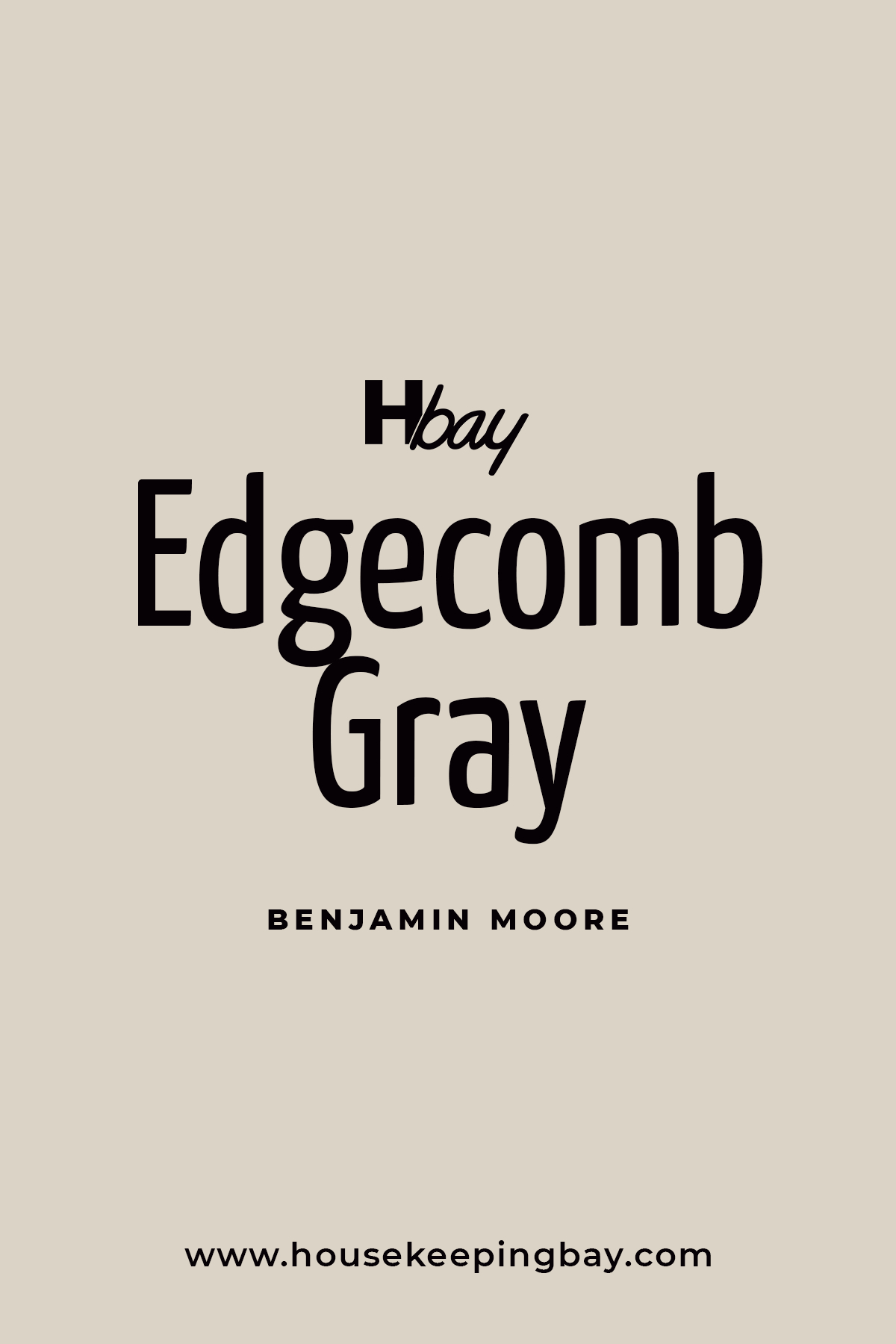 Revere Pewter HC-172
This hue is ideal for those who are seeking paint that will not be too dark or too cold.  As with any greige, this one can be paired with different other colors, for example, it suits bold accents successfully, but it will also complement calm and cool colors like blue or green becoming soothing and relaxing. The good news is that it also unites well with other greige colors of this brand
Revere Pewter also has pretty much beige notes and warm undertones, and its light reflectance value is 55 which means it reverberates lighting moderately. For this reason, this hue often plays the same old trick turning greyish in a north-facing area, and being nearly taupe under other circumstances. 
Related: Detailed Guide Revere Pewter HC-172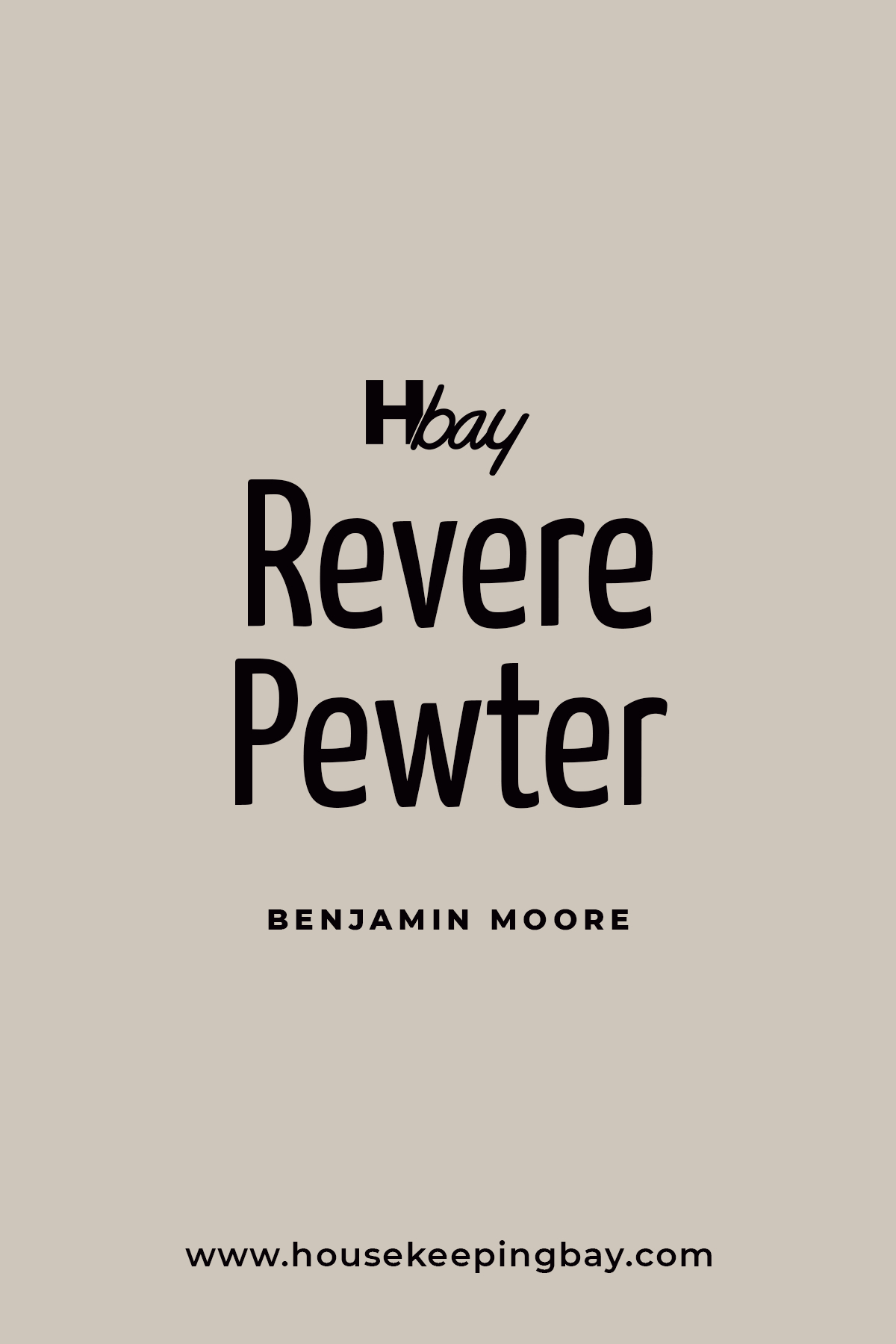 Pale Oak OC-20
This hue belongs to the so-called neutral greiges, it is warm and fair, and surprisingly multipurpose. Its noticeable feature is that in richly-lit spaces with inartificial lighting this color tends to become more like a warm-off white. But in a chamber with little natural lighting, it will turn into a beautiful warm greige. This is probably the only nuance one must keep in mind before applying this paint since the final result hangs strongly upon how the area will be lit.
This is probably why Pale Oak can be equally successfully used in bathrooms, bedrooms, dining rooms, and basically any other areas. Its undertones are warm enough to make it feel cozy but not immerse into brown tones too much. On the other hand, gray shade is also not too prominent here which makes the overall color perfectly balanced.
Related: Detailed Guide Pale Oak OC-20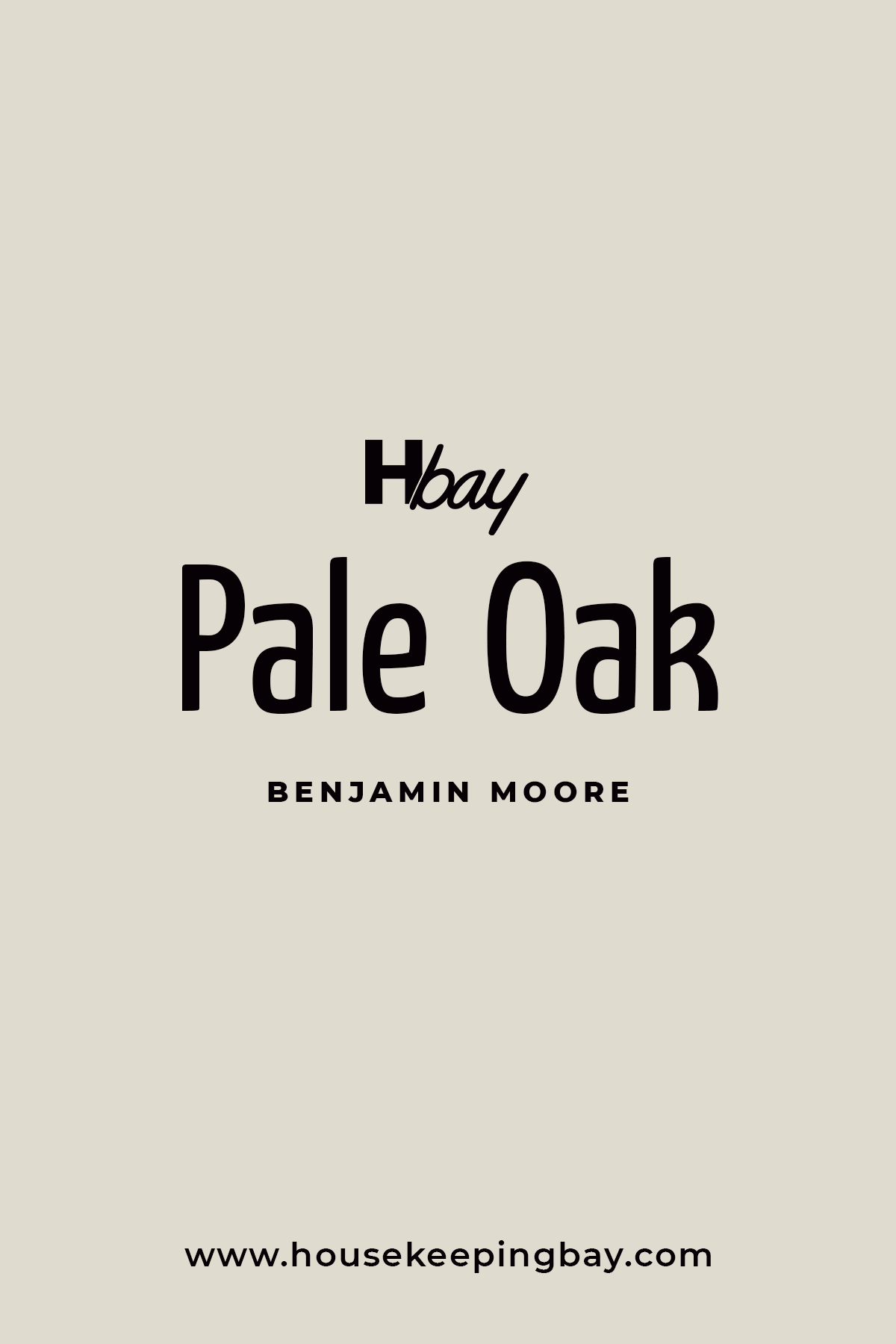 Balboa Mist
Even though it's greige, the hue itself reminds us more of a warm gray. However, everything hangs upon the lighting in a room since in a north-lit chamber it will show more of a grey tone whilst in a south-facing space the shade will become closer to warm greige.
Its light reflectance value is 67 which means the paint belongs to fair colors, nevertheless, it pairs with white and lighter greys charmingly. When adding contrast black notes, you will manage to get even better and more chic results.
Related: Detailed Guide Balboa Mist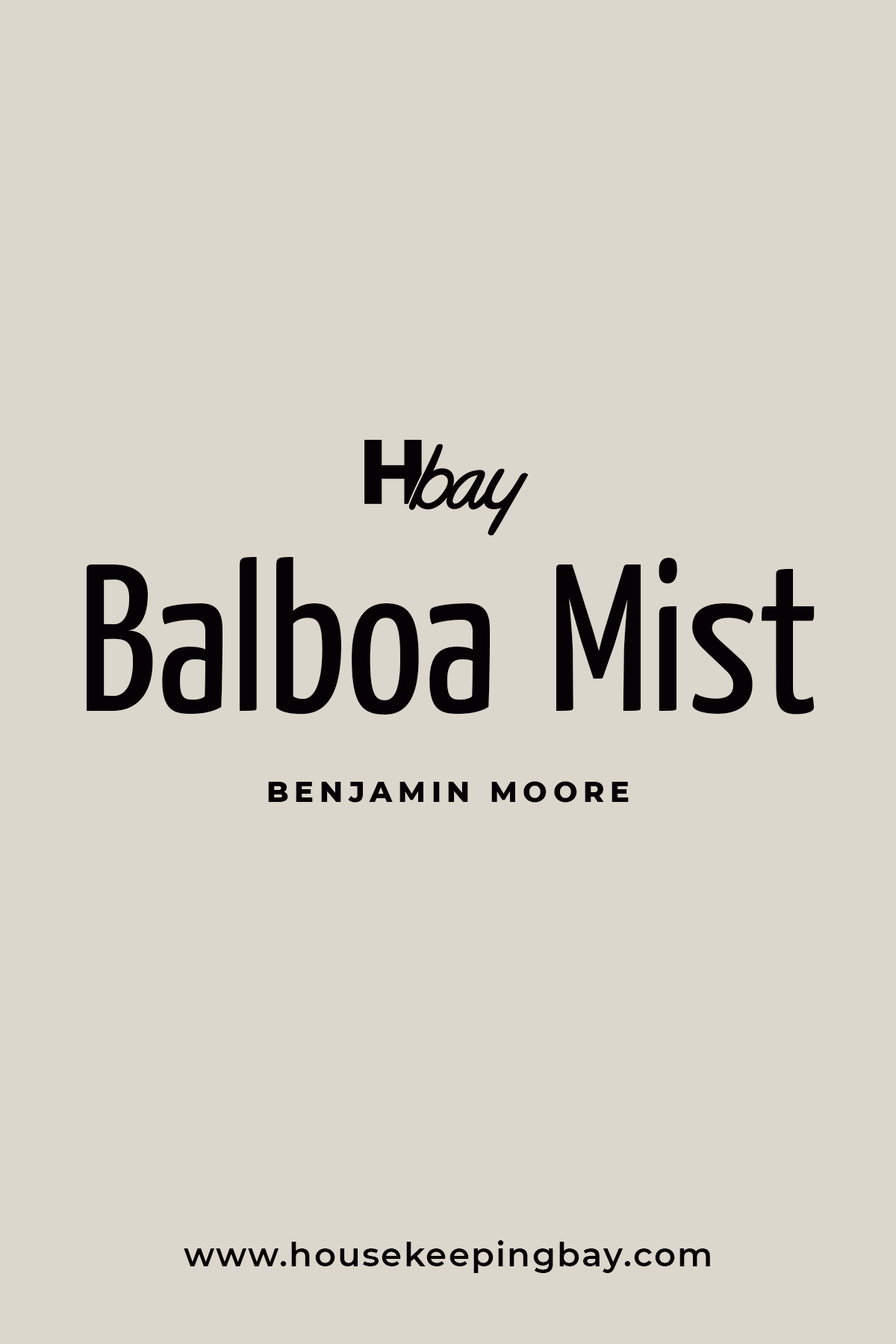 However, these are not the only greiges one can find on the market.
Another manufacturer, Sherwin-Williams & Co., also produces astonishing universal paints that we will tell you about next time.
Frequently Asked Questions
⭐ What is Benjamin Moore's most popular paint color now?
There are several in fact: White Dove, Cloud White, Chantilly Lace, Swiss Coffee, White Heron, Classic Gray, Calm, and Pale Oak.
⭐ What are the most popular paint colors for indoor application?
BM Classic Gray, BM Century Darjeeling, BM Gray, BM Aegean Teal, BM Palladian Blue, Intense White, Salmon Peach, Revere Pewter,Manchester Tan, and BM Chantilly lace.
⭐ What are the recent BM paint colors?
They are Aegean Teal, Gray Cashmere, Atrium White, Muslin, Foggy Morning, Amazon Soil, Silhouette, and Kingsport Gray.