Finding a proper paint for your interior is always a challenge, especially if you are not much knowledgeable in home decor and paints in particular. And the task becomes even more complicated when it comes to choosing a suitable neutral paint color for your home!
With all the variety of neutrals and greiges, it may seem to be nearly impossible to pick up the right shade. But if you are looking for a really universal option, we would recommend you pay attention to Balboa Mist by Benjamin Moore. This warm grey is very versatile, and after you read this article, you will understand why it is so.
What Color Is Balboa Mist By Benjamin Moore?
First of all, before we proceed to a more detailed and precise description of this paint color viewing it from different angles, let us explain to you what it actually is. So in general, Benjamin Moore Balboa Mist belongs to the brand's go-to neutrals. It can be considered a warm, even slightly pale greige since it sits somewhere in between gray and beige.
This paint color amplifies the light in open and large spaces creating an airy and light effect, as Encycolorpedia says. Also, thanks to an understated hint of greige, this neutral is perfect for being used as a unifying wall color around the house. In addition, it is literally timeless since it looks crisp, clean, and modern. Due to this, by the way, it fits rustic wood tones ideally, and also it is a top and stylish companion to a crisp white trim!
Many homeowners often wonder how certain paint will react to lighting in their house. It makes sense since certain paints can get darker or, on the contrary, release their undertones when being differently lit!
As for the BM Balboa Mist, the light reflectance value of this paint color is sixty seven. It means that this paint can be considered light without even approaching a light-medium range. Since it reflects light pretty well, you can easily make use of this paint color in any space in your house from the hall or the kitchen to staircases or the living room!
In a north-facing room, for instance, it will show more of its gray undertones, and in a room that is facing the south, this greige will reveal more of its greige tones. Besides, the same effect can be seen in a warm afternoon sunshine!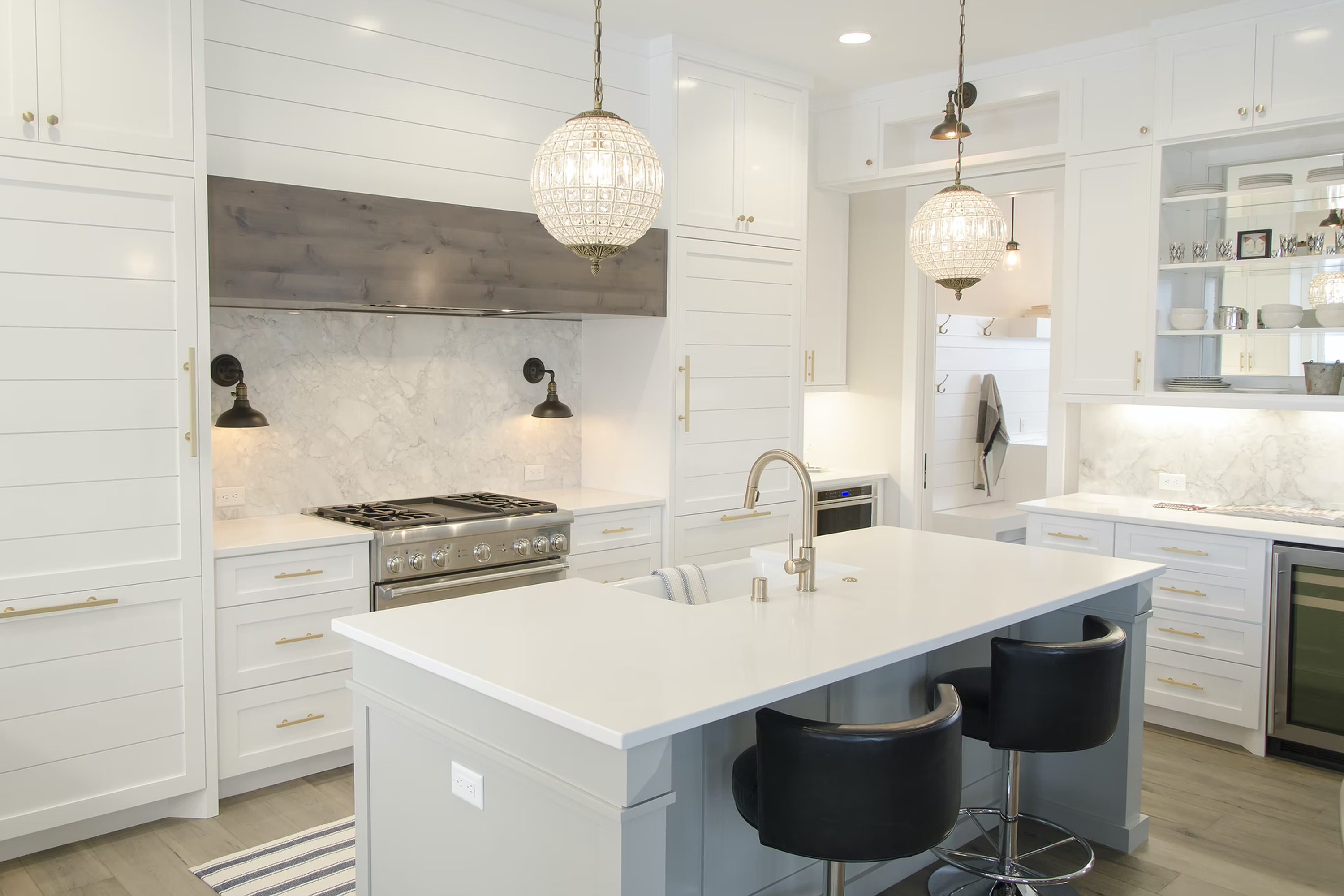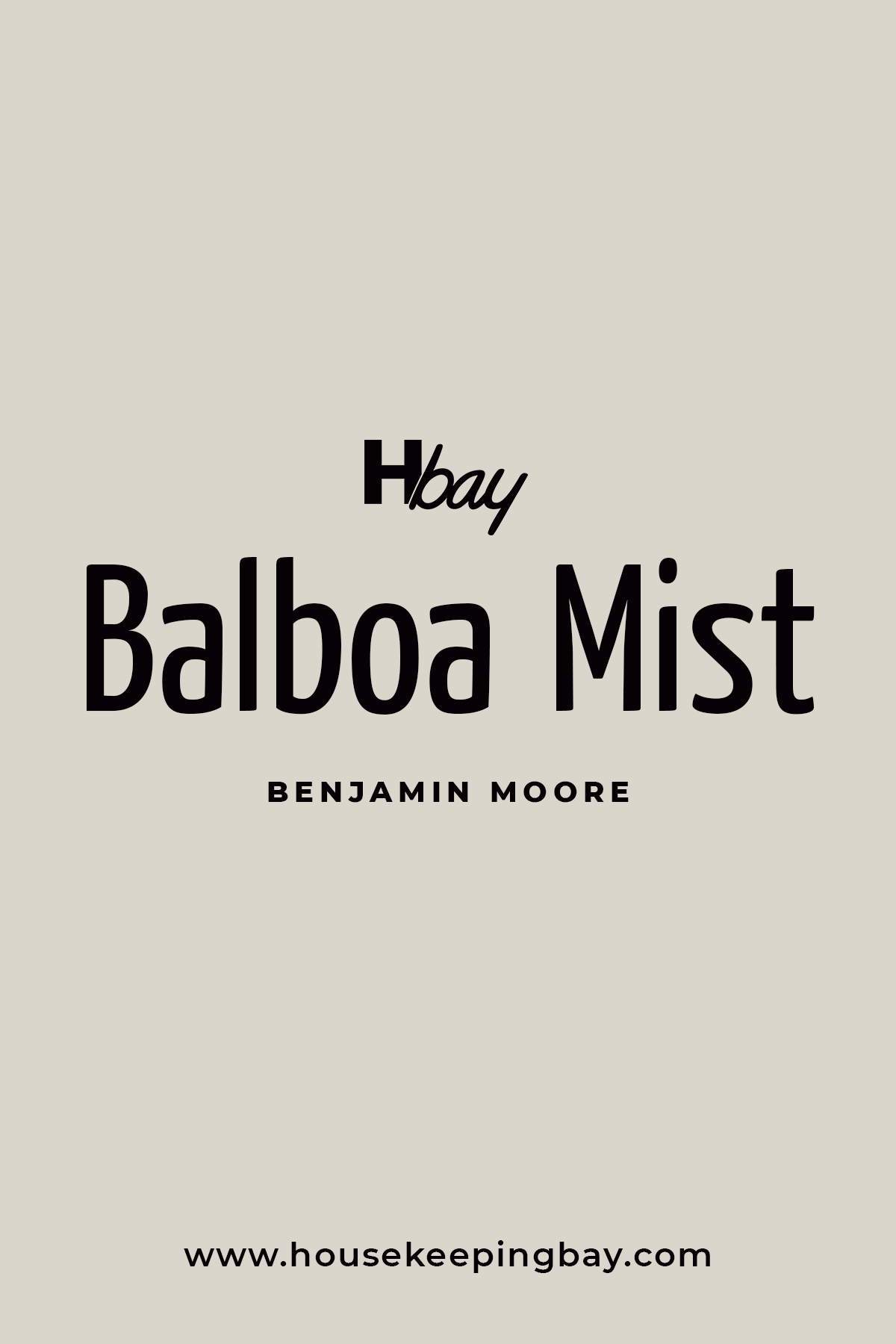 Balboa Mist By Benjamin Moore Undertones
To be able to pick up the paint correctly, you always need to pay attention to its undertones. As for the Benjamin Moore Balboa Mist, this paint color is much warmer than a classic gray even though it is a part of a gray family.
To be precise, it is a neutral greige that has slightly warm undertones which means that, hanging upon the lighting in a room, it will favor its warm tones more or less. However, the warmth that beige tones give this paint color provides a reliable greige tint most of the time.
This is why Balboa Mist is a very versatile color that works well in any room and can fit quite many design styles from farmhouse to modern or coastal styles. It is especially good in open plan homes, and in addition, it looks astonishingly amazing throughout the day!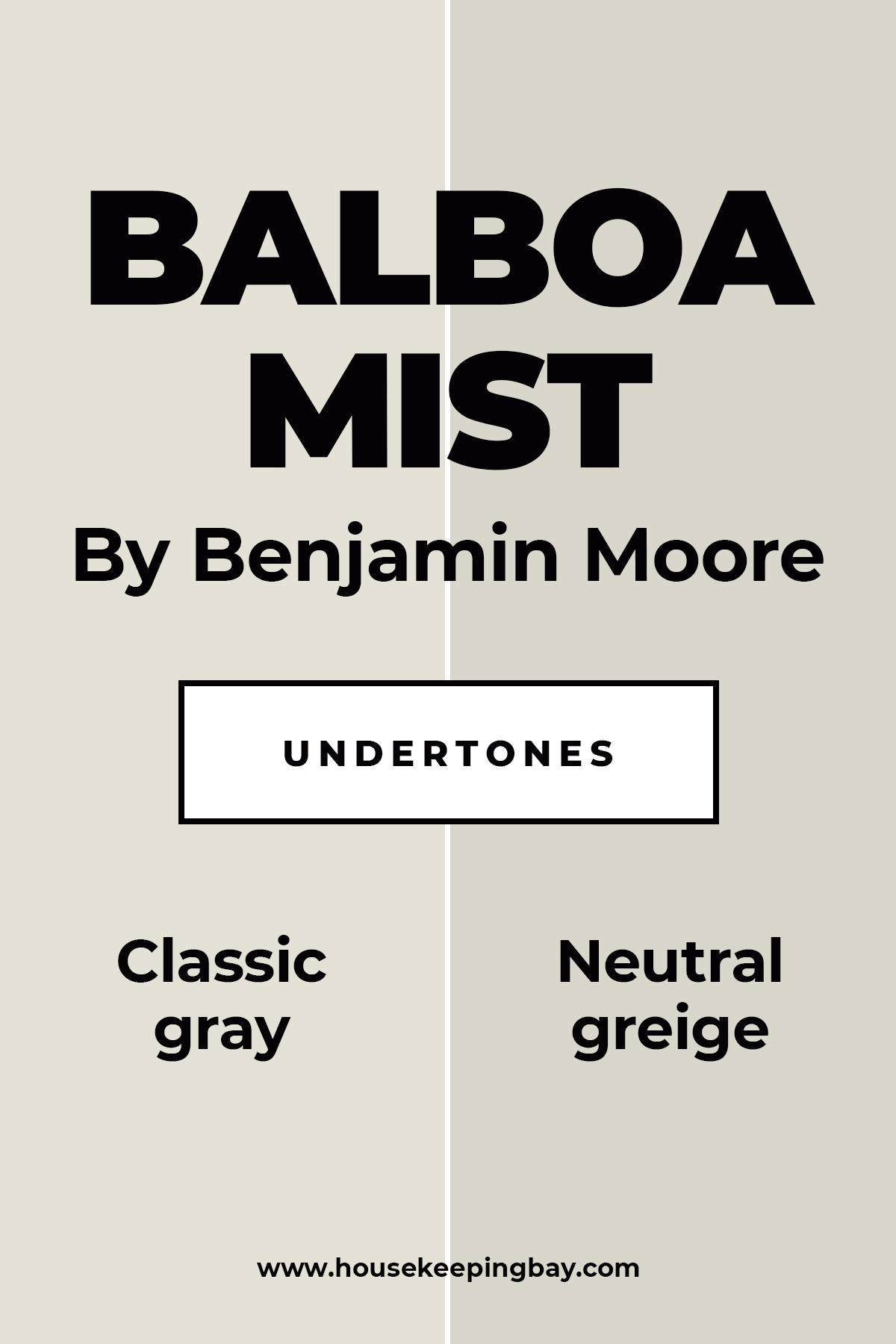 Best Coordinating Colors For Balboa Mist By Benjamin Moore
Picking the correct paint for your home renovation project is only half of a task! Finding proper coordinating colors – that's a challenge! It might seem to you that it is difficult to do with such bright colors as red, yellow, or pink, but more subtle neutrals are no less difficult.
Fortunately, colors that Balboa Mist goes well with are quite easy to pick. For instance, this warm and neutral greige pair especially well with whites making this combo really pop! But if you need to know the exact names of the paint colors that Balboa Mist will blow up with, here is a short list of hints for you!
BM November Rain
BM Manchester Tan
BM Dragon's Breath
BM Grant Beige
BM White Dove
BM Horizon
These colors include both warmer and cooler alternatives, but since Balboa Mist is very flexible with reflecting light, you can be sure that it will pair exceptionally well with each and every of these colors!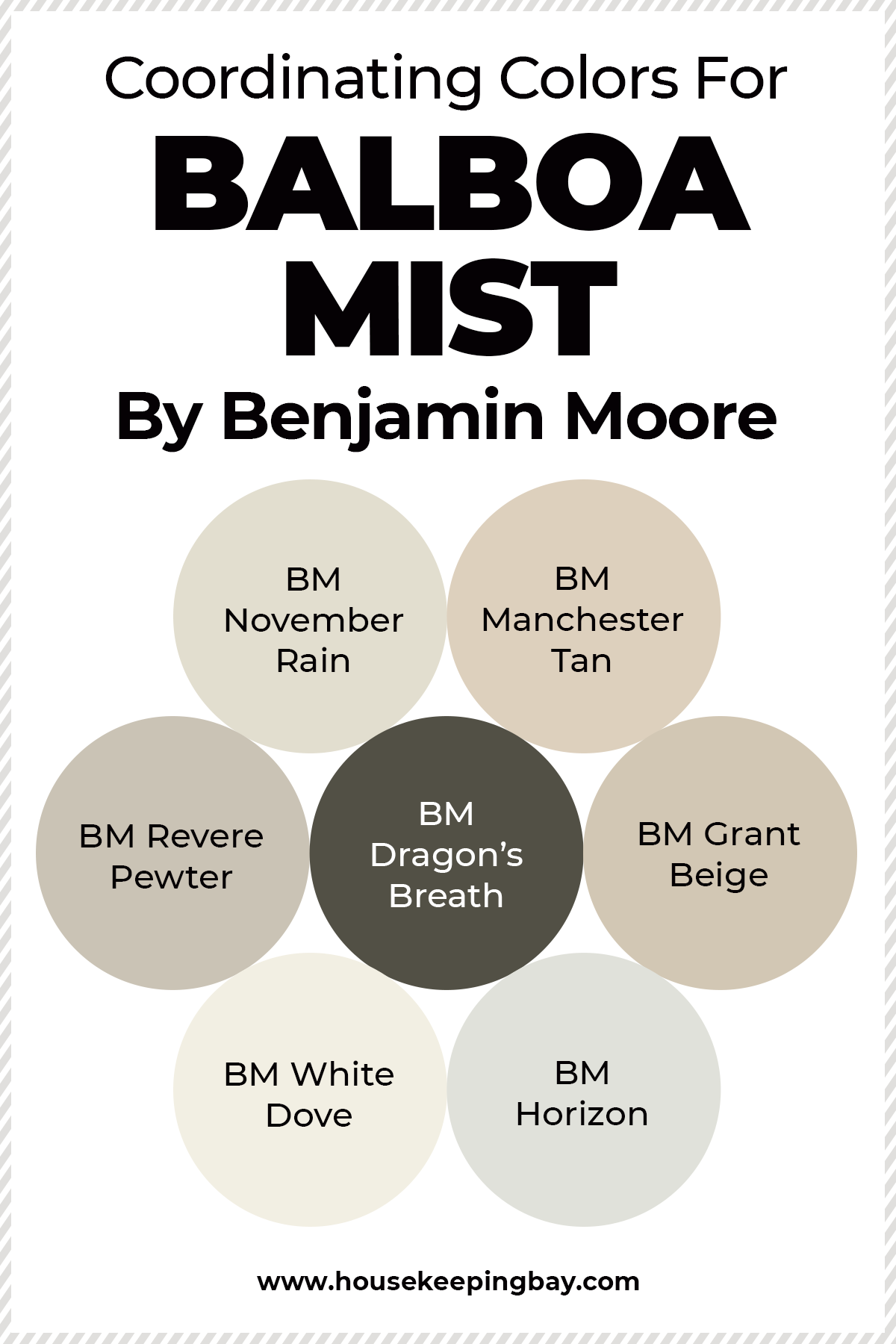 What is LRV? Read It Before You Choose Your Ideal Paint Color
What's The Best Trim Color For Balboa Mist By Benjamin Moore?
Selecting a trim color for your home repainting project is not an easy task, we agree. But since you are working with such a versatile paint as Balboa Mist from Benjamin Moore, you will have no troubles with the trims!
Usually, BM Balboa Mist works best of all with the trims painted with White Dove paint from the same brand. Nevertheless, other whites can work well, too, for instance, BM Simply White, BM Horizon, BM Cloud White, BM Swiss Coffee, BM Chantilly Lace, as well as BM White Heron or BM Decorator's White.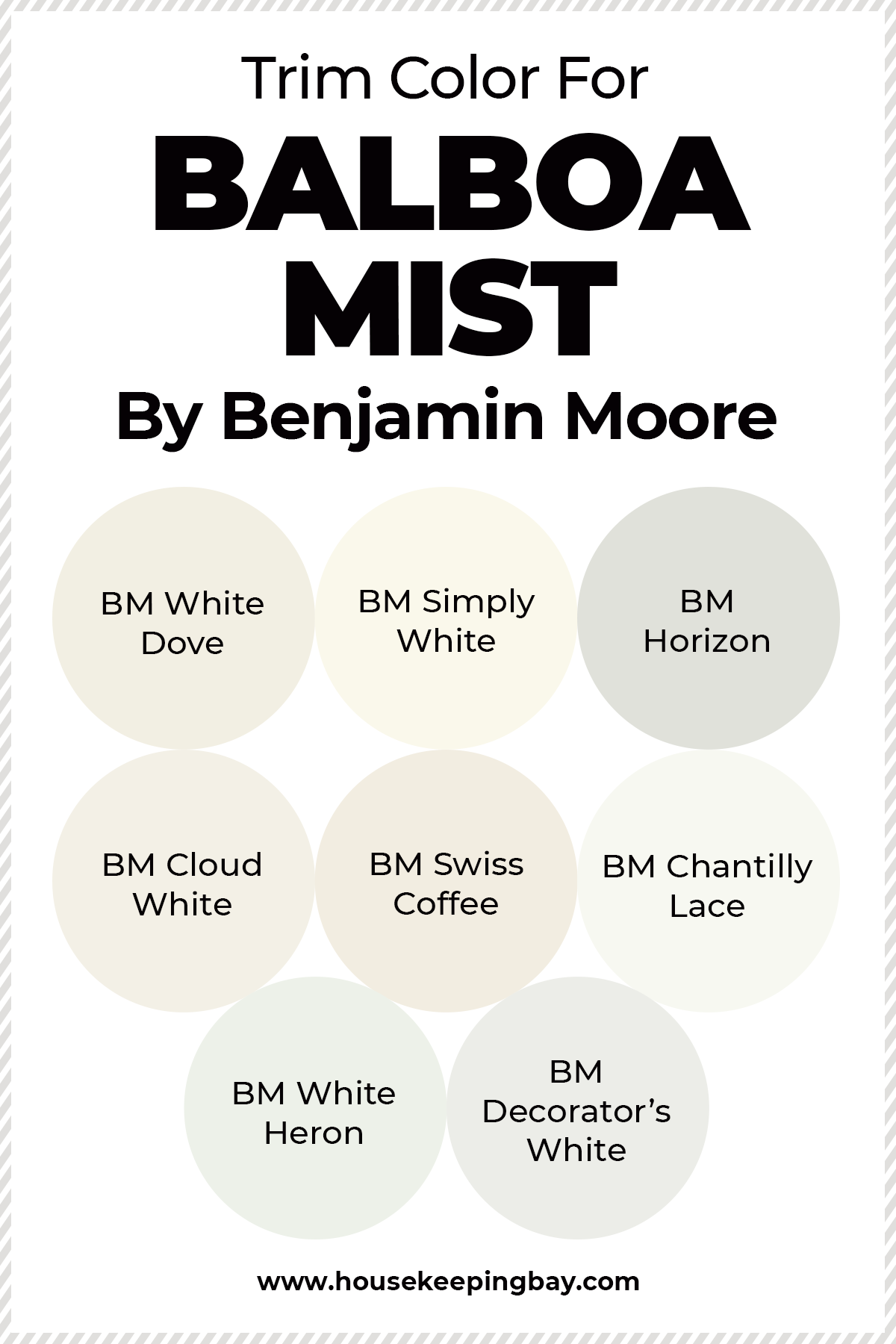 BM Balboa Mist Similar Paint Colors
Why would you decide to make use of a similar paint color instead of applying BM Balboa Mist? Well, the reasons may vary.
For instance, you were initially going to use this paint but they didn't have it at the store. No matter the reason, knowing what alternative paint colors exist is always a good thing to keep in mind before starting any painting projects in your home!
So can we substitute Balboa Mist for something else? Of course, we can! You can successfully use BM Pale Oak paint or BM Classic Gray instead of Balboa Mist since these colors are almost the same with Pale Oak having a bit more prominent beige tone.
If you don't mind a slightly more noticeable distinction, we can recommend you Sherwin Williams Repose Gray which will be slightly darker than Balboa Mist by Benjamin Moore with somewhat cooler undertones that are closer to gray rather than beige.
By the way, if you are looking for a warmer substitution, try out Agreeable Gray by Sherwin Williams!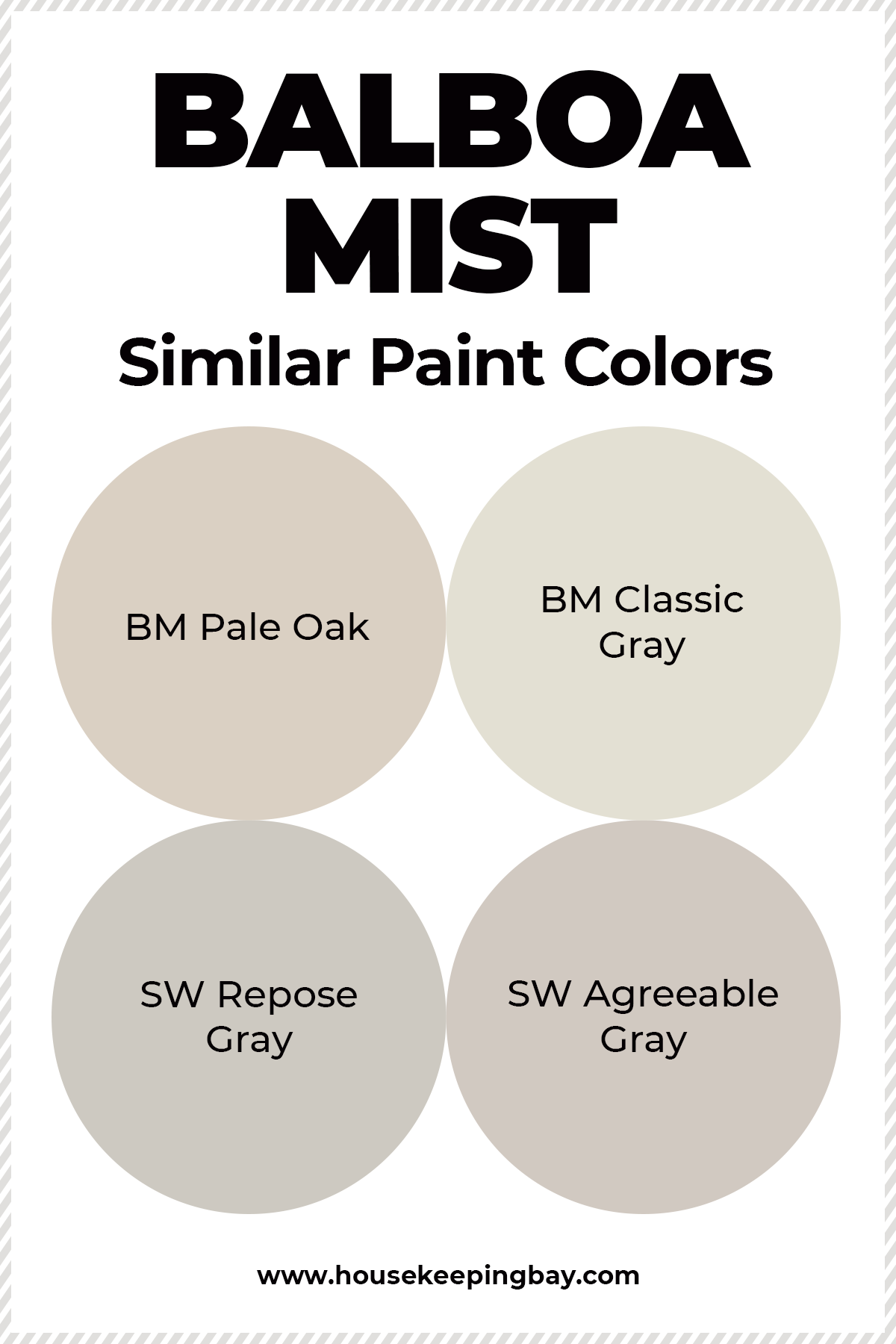 Where to Use BM Balboa in Your Home?
Balboa Mist is an exceptionally versatile paint color since it can be used anywhere in your house or apartment! Thanks to its light reflectance value and a mixed gray and beige nature, this color will fit any room or space. You can apply it in a living room, in your bedroom, in the kitchen, or in the bathroom. This paint will even look great in a hall or on the walls of your staircase!
To show you exactly how this paint will show itself in different rooms, check out our detailed description of how BM Balboa Mist looks when being applied throughout the house.
Using BM Balboa Mist In the Living Room
When thinking of painting your living room with Balboa Mist, you will surely make the right choice! No matter where your living room is faced, this paint will reveal its best features in any type of lighting.
For example, in the room that faces North, this neutral and warm greige will reveal more of its cool gray undertones, whereas in a living room that faces South, it will look more like beige showing its warm undertones more intensively.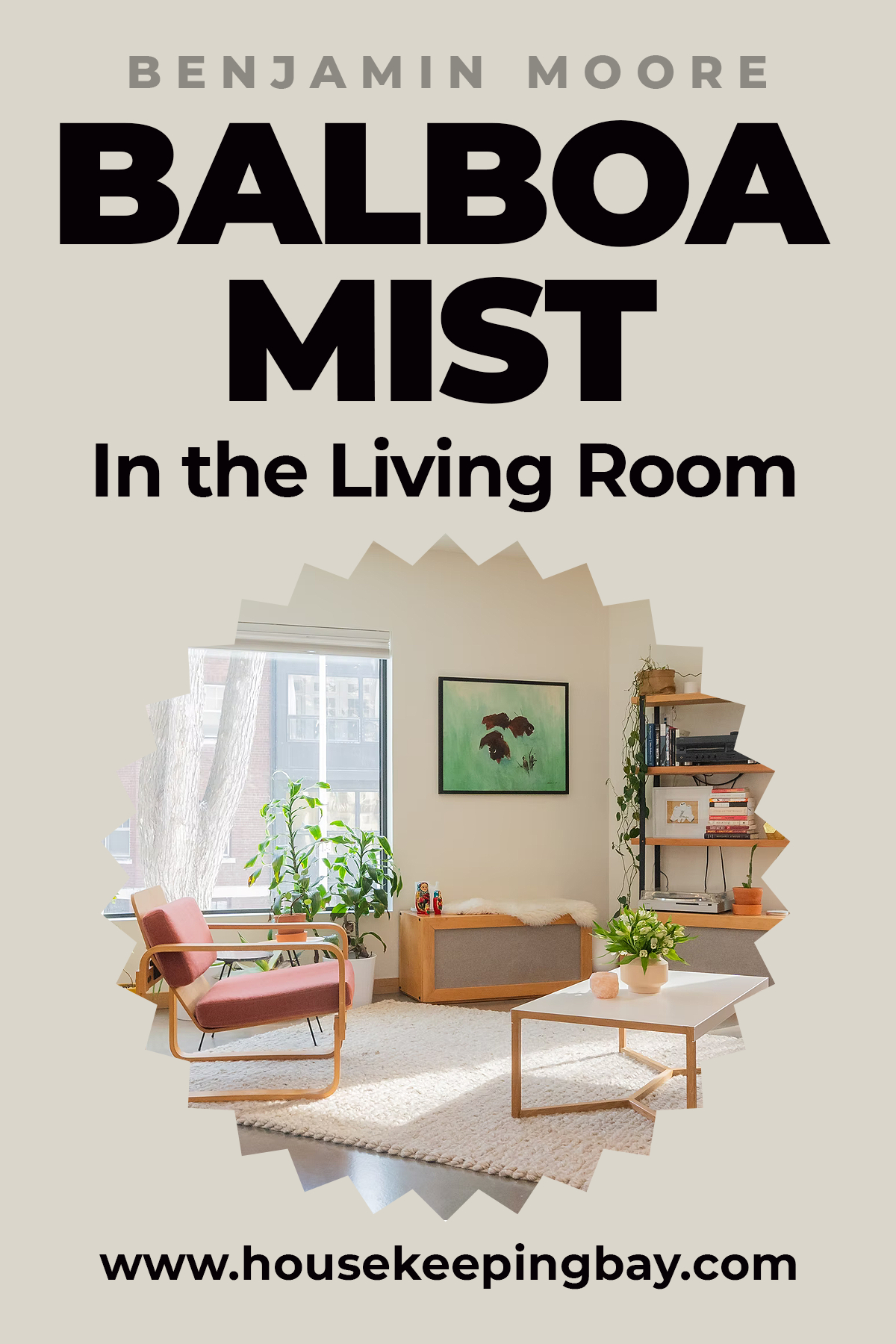 BM Balboa Mist For Bedrooms
Balboa Mist is a very calming and tranquil paint color in terms of the tones it has.
It is not too cool and not too warm being a perfectly balanced neutral and warm enough greige.
And since it has no expressed lightness or darkness in it, this color can be successfully used on your bedroom walls.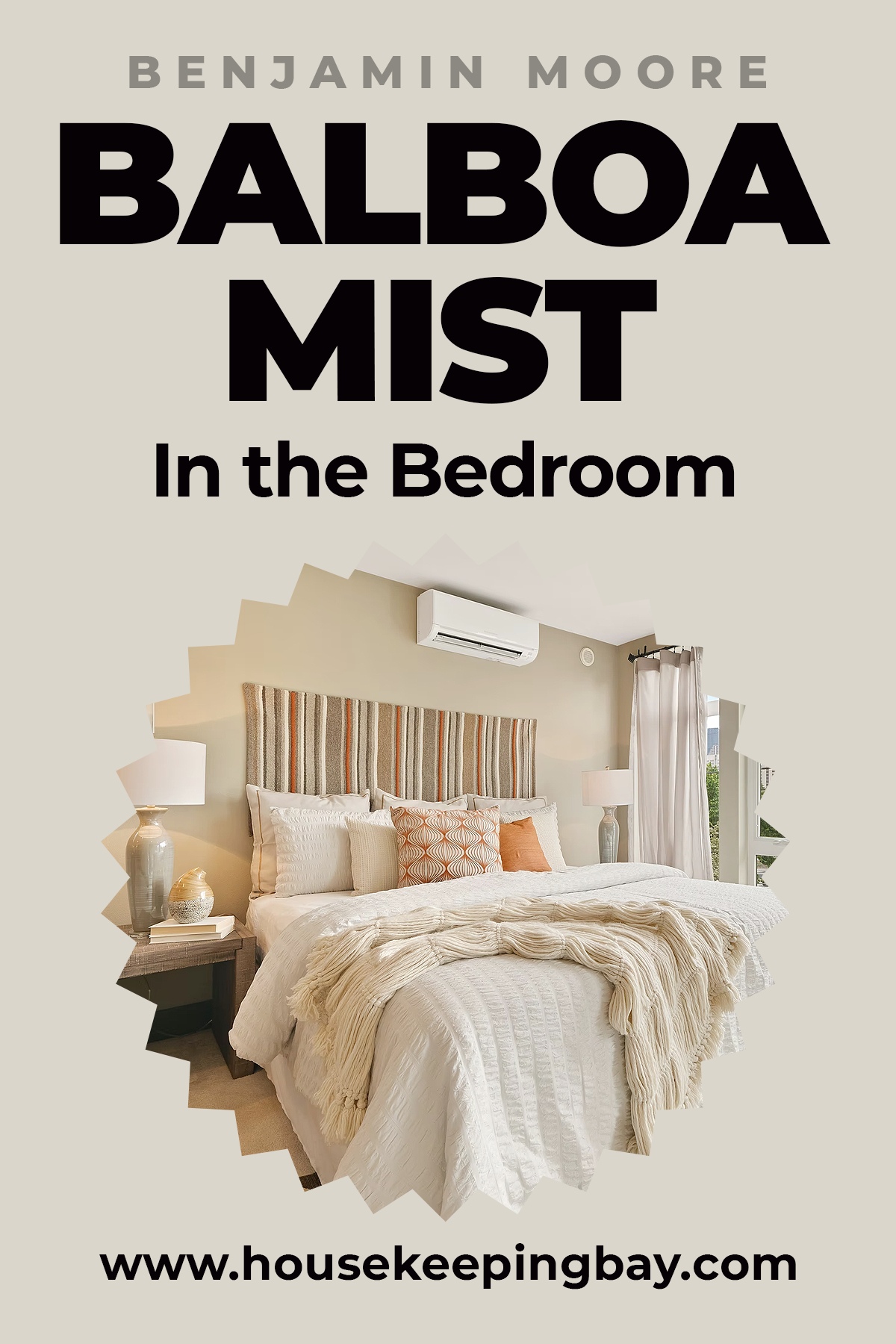 Can I Use BM Balboa Mist For Painting Kitchen Cabinets?
Painting kitchen cabinets requires us to pick up the colors especially carefully since the color of the cabinets must fit the color of the ceiling and walls. And of course, it must complement all the other colors in the room, such as the color of furniture, textile, etc.
So can BM Balboa Mist be used for this purpose, you may wonder?
The answer is yes! Especially if your kitchen is painted in gray and white colors. Since Balboa Mist belongs to neutral greige colors that have rather warm undertones, it will fit both a cooler and a warmer interior when applied on the kitchen cabinets.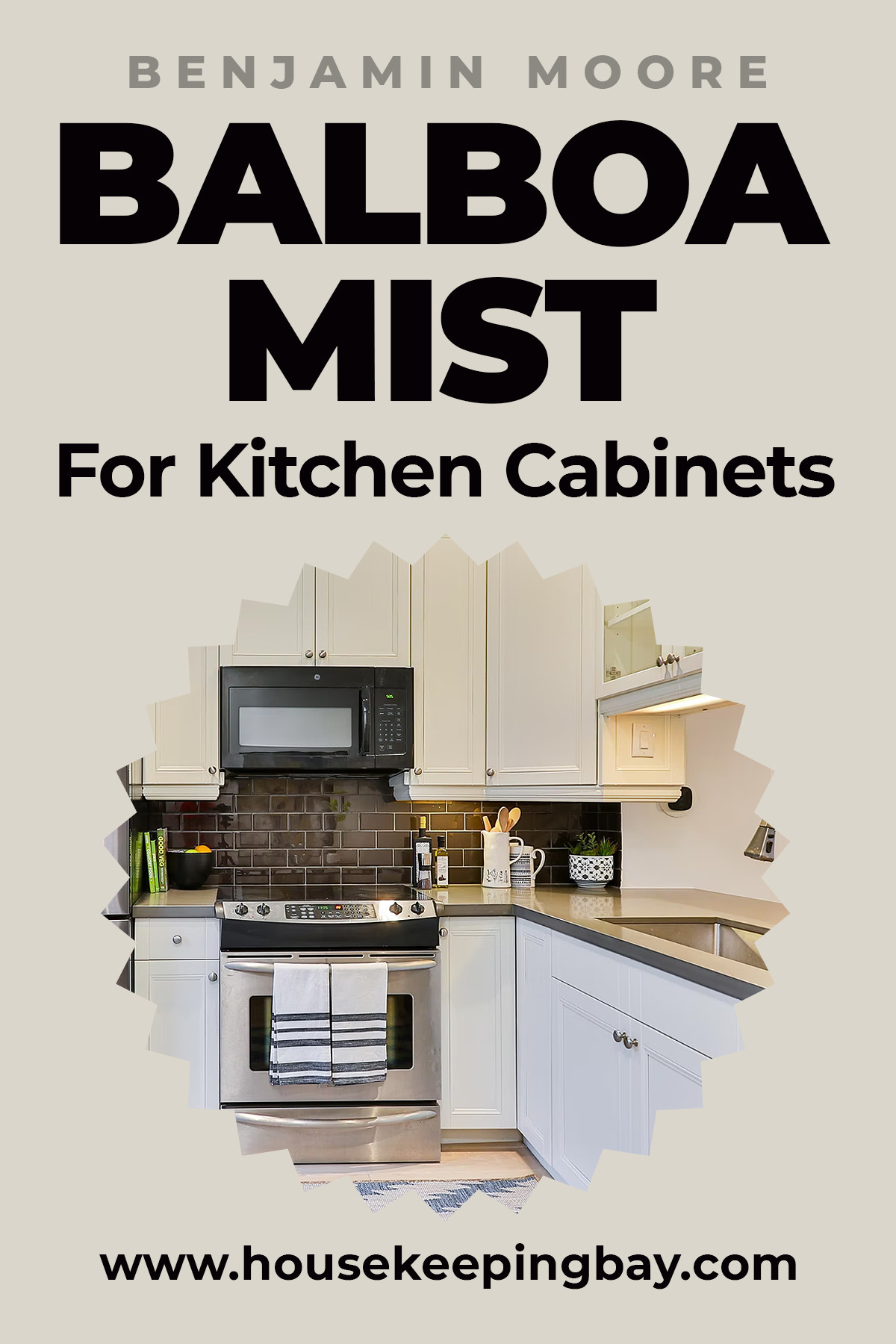 Is BM Balboa Mist Suitable For the Kitchen?
Most of you are probably not sure whether such a paint color can be used for painting the kitchen walls. It may seem way too light for such a room, but believe us, this is just your imagination!
BM Balboa Mist will perfectly fit your kitchen, especially if you combine this wall color with white elements, for instance, trims or even white furniture, textile, or decor.
Since Balboa Mist tends to create an airy and light atmosphere in a room, it will make your kitchen look more spacious. Besides, in warm lighting, the room painted with this color will look cozy and homey!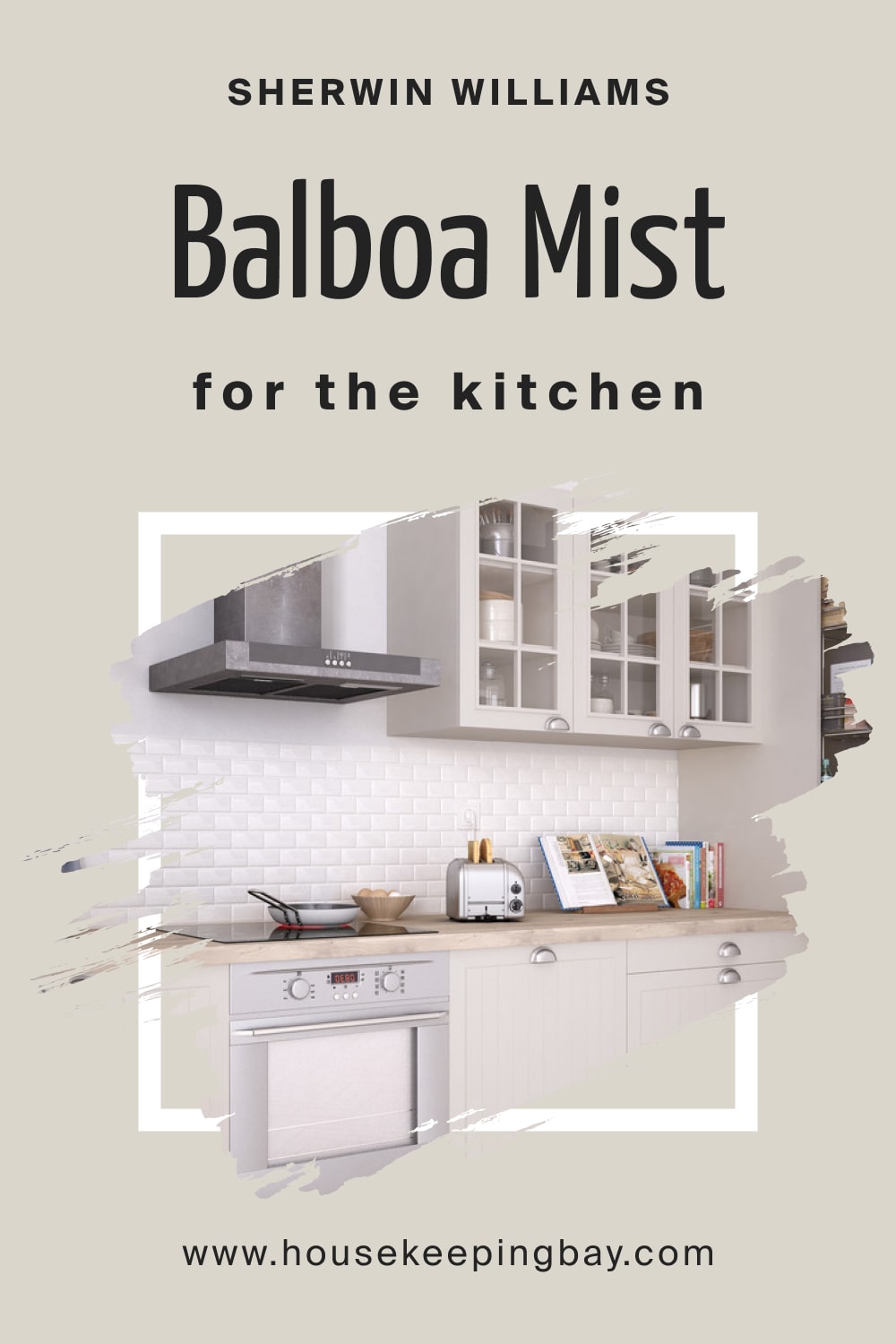 Exterior Use Of BM Balboa Mist
As you probably know, not all paint colors that look gorgeous indoors have the same stunning appearance when applied outside of the house.
This is why, if you are going to paint your house from both inside and outside using the same paint color, we would recommend you make sure first that the shade you chose will be suitable for this purpose.
Luckily, if you laid your eyes on BM Balboa Mist for repainting your house facade, you don't have to worry about how it will look.
This color can be successfully used on both internal and external walls! Of course, you will need to take into account that your facade might change its color a bit depending on the lighting outdoors, but don't expect any dramatic changes since Balboa Mist does not tend to "shapeshift" that drastically! It will simply look a bit cooler on a cloudy day, and will reveal more of its warm beige undertones in the sun.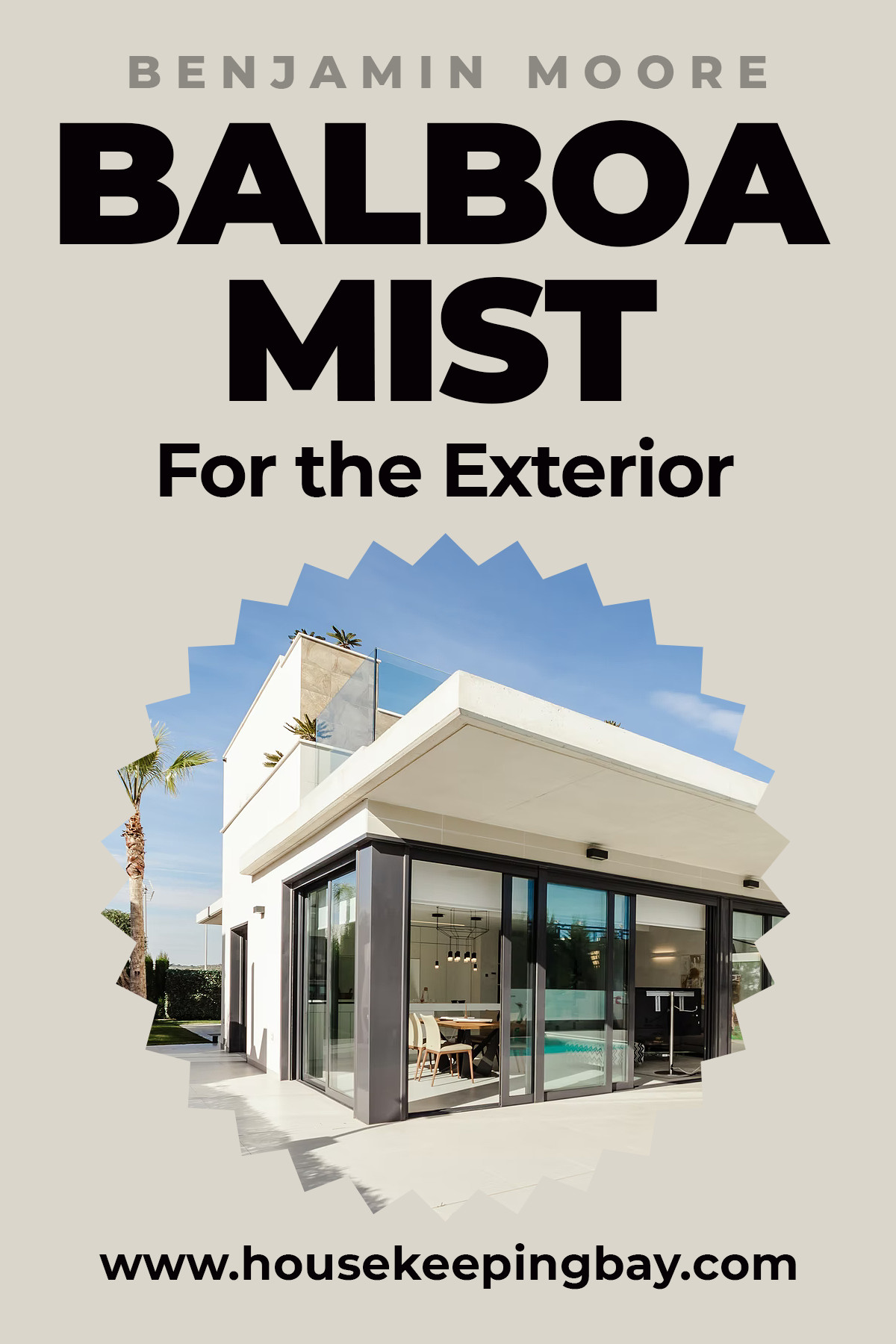 How Does Balboa Mist Work With Other Greiges?
It may seem at first that all neutral greiges are the same (well, except for a few really distinct variants), however, if you take a closer look at these paint colors, you will see that they differ from each other even when being pretty close in terms of undertones.
So, to help you out with making a correct choice when buying such a paint, we prepared a comparative analysis of several pairs of paint colors that look pretty much alike but still have distinctions.
Balboa Mist vs. Pale Oak
If we compare Pale Oak to Balboa Mist, it may seem that they are totally the same since Pale Oak is also a light gray. But this is not true!
Upon closer examination, we will easily see that Pale Oak is slightly less concentrated. Besides, if we look really close, we will notice that Pale Oak has a somewhat more brownish tint in it compared to a slightly more gray Balboa Mist. It also has a little less blue in it.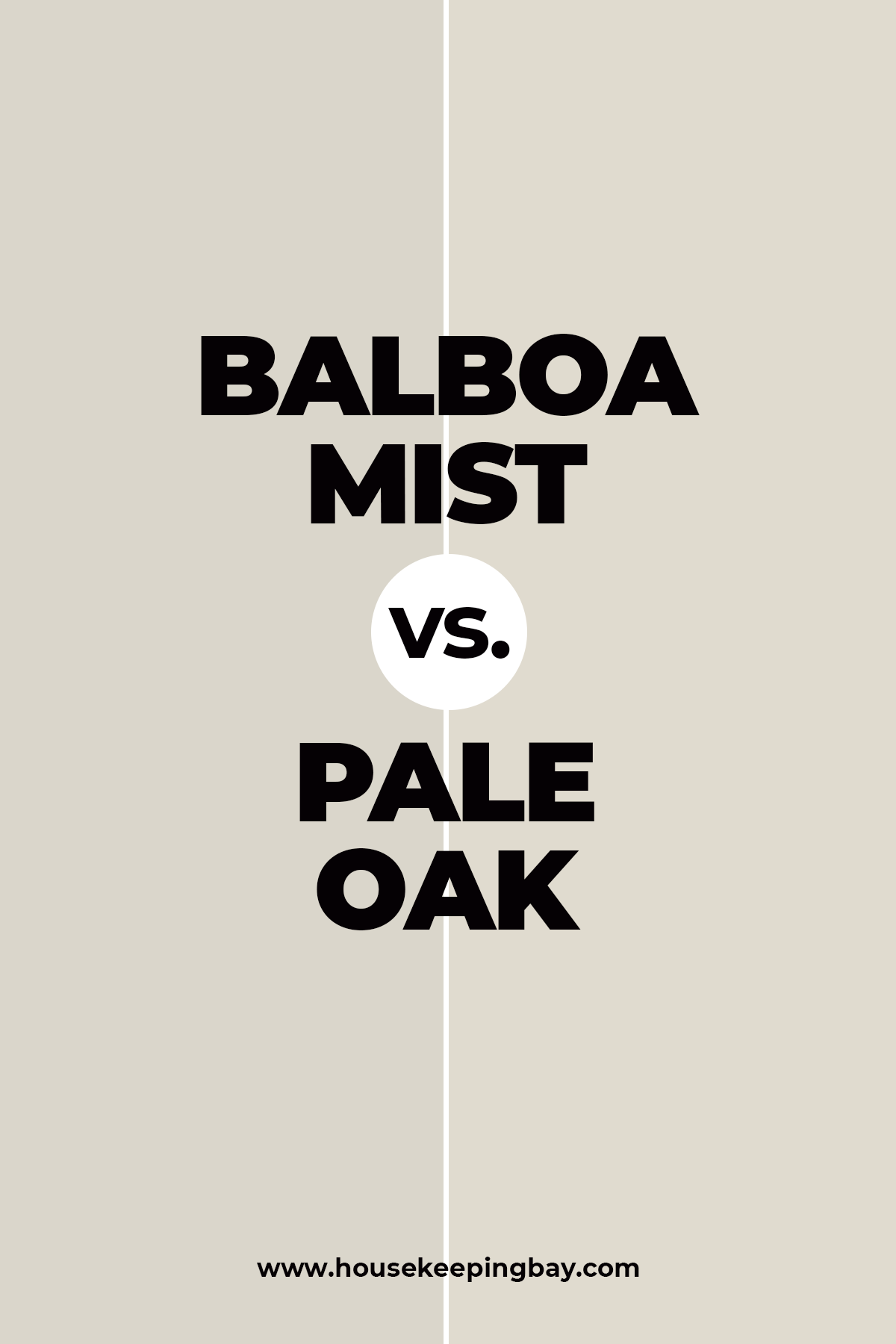 Balboa Mist vs. Agreeable Gray
When compared to Balboa Mist, Agreeable Gray looks way more beige and warm. That's because Balboa Mist has more of greener undertones whilst Agreeable Gray possesses more of brown and purple notes in it. So yes, Agreeable Gray is darker but it is also warmer.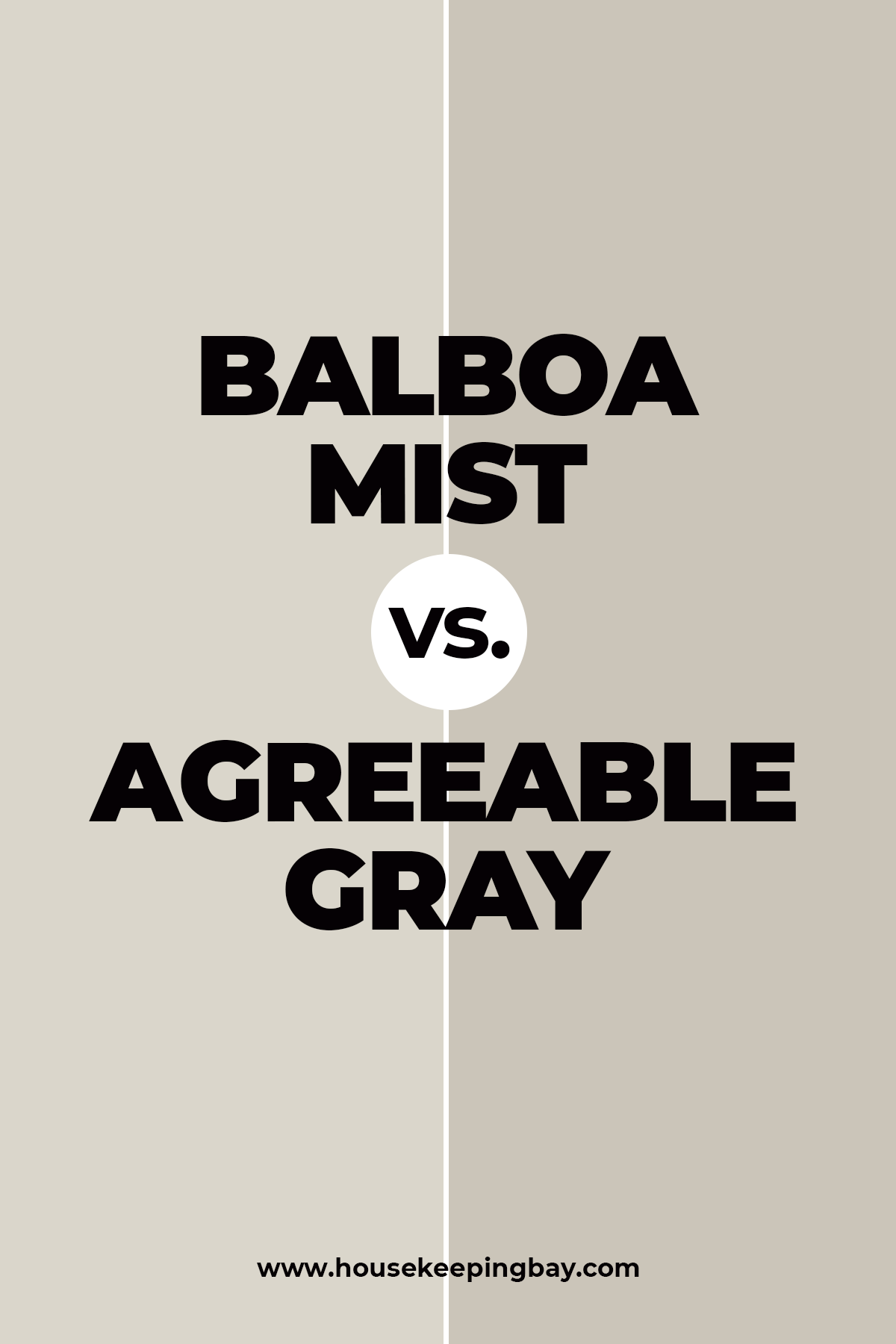 Balboa Mist vs. Edgecomb Gray
These two paint colors have similar light reflectance value, but still, Edgecomb Gray looks darker since it has more of brownish undertones. It is way more taupe than Balboa Mist which also looks significantly greener!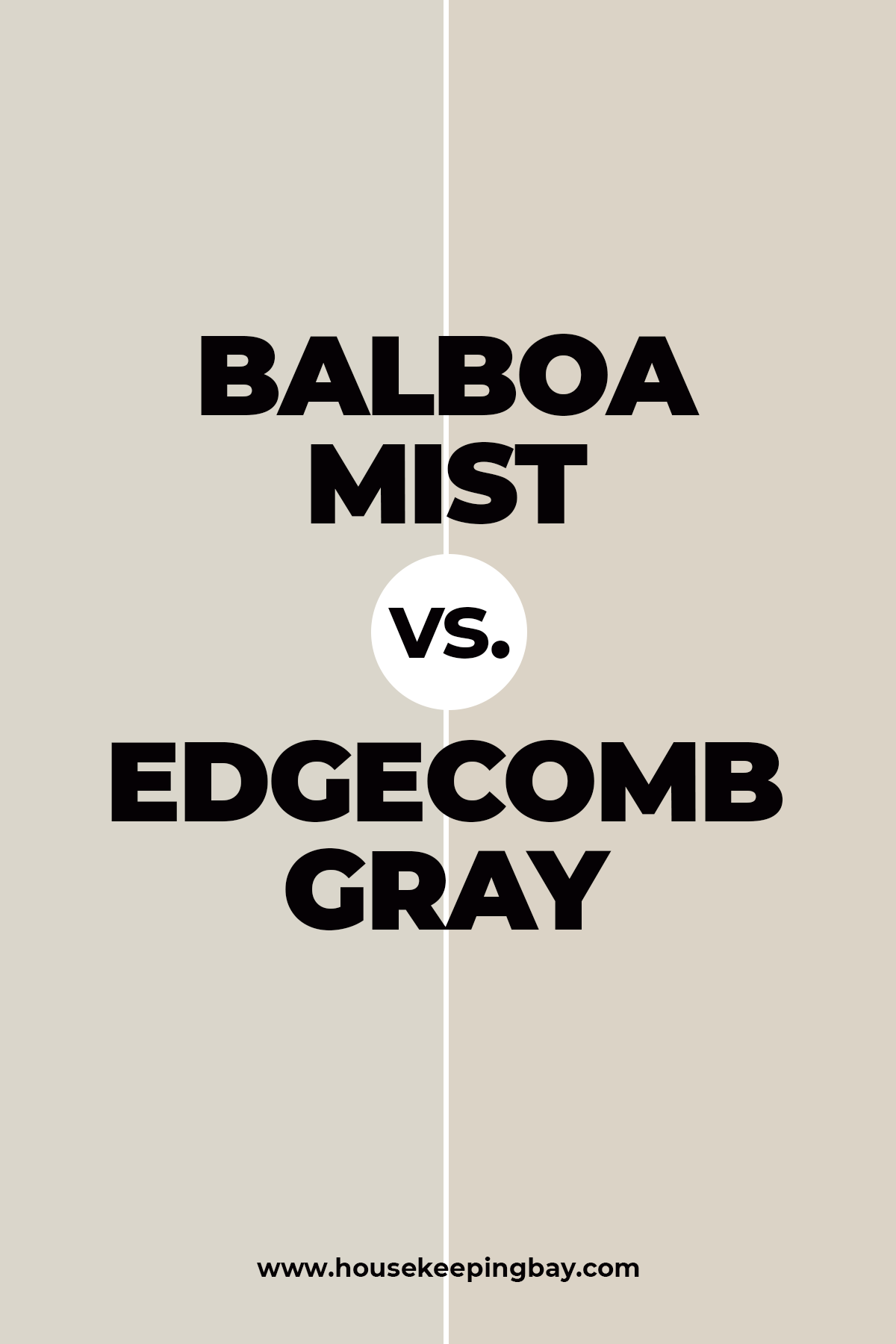 Balboa Mist vs Classic Gray
Balboa Mist is a warm greige with the same warm purple undertone. If we compare it to Classic Gray, we will see that this paint color is warmer and more delicate with the soft and dusky undertone that picks up a faint purple-pink hue at times.
But in general, these two look pretty much alike so, if you are thinking of an alternative paint color to be used instead of Balboa Mist, consider Classic Gray.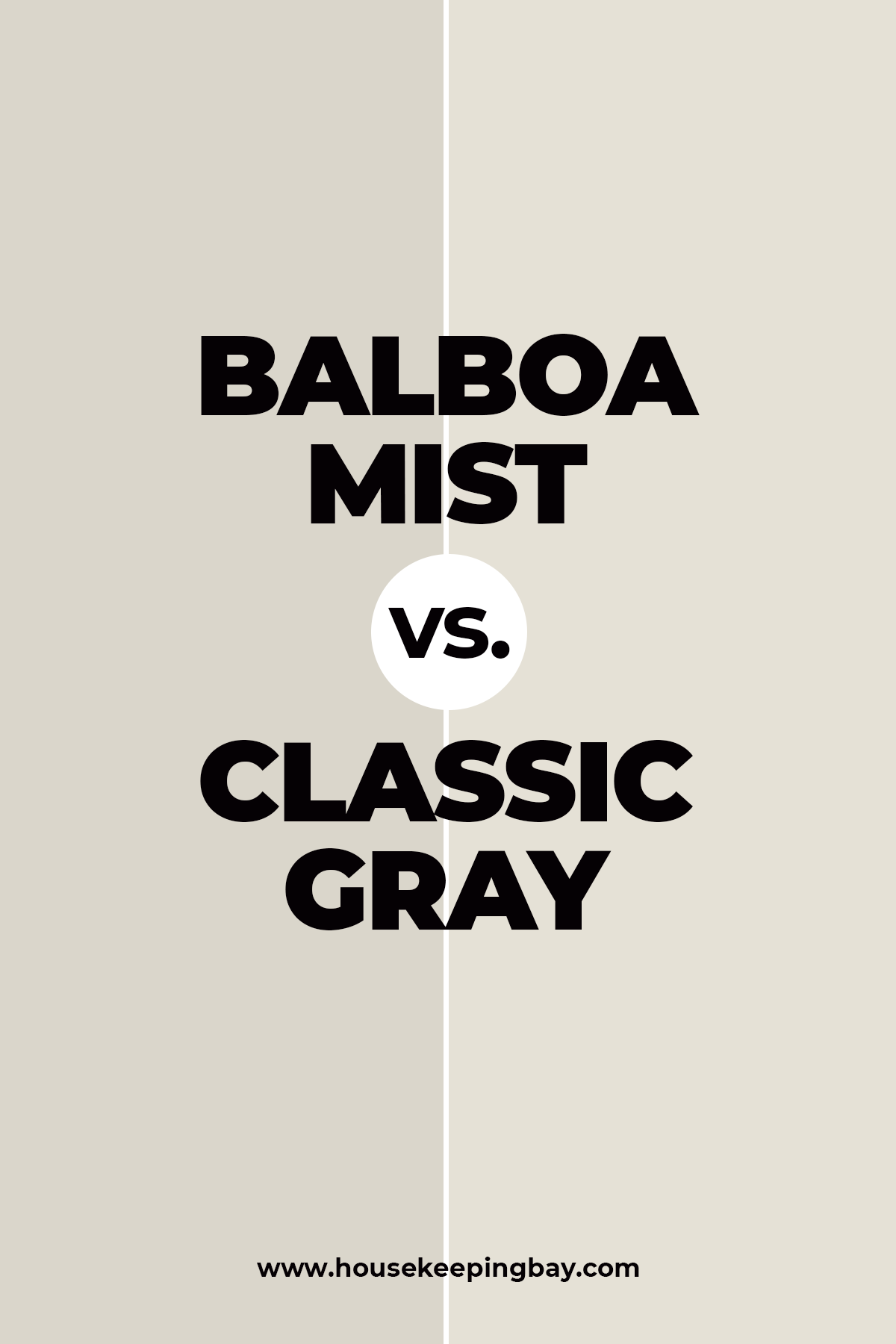 Balboa Mist vs Repose Gray
If we compare these two, we will easily notice that repose Gray is significantly greener and bluer. In general, it looks even darker than Balboa Mist!
The light reflectance value of these colors is also different. The LRV of Balboa Mist is 67 and LRV of Repose Gray is 58 meaning it tends to reflect less light thus looking a bit darker and dusk.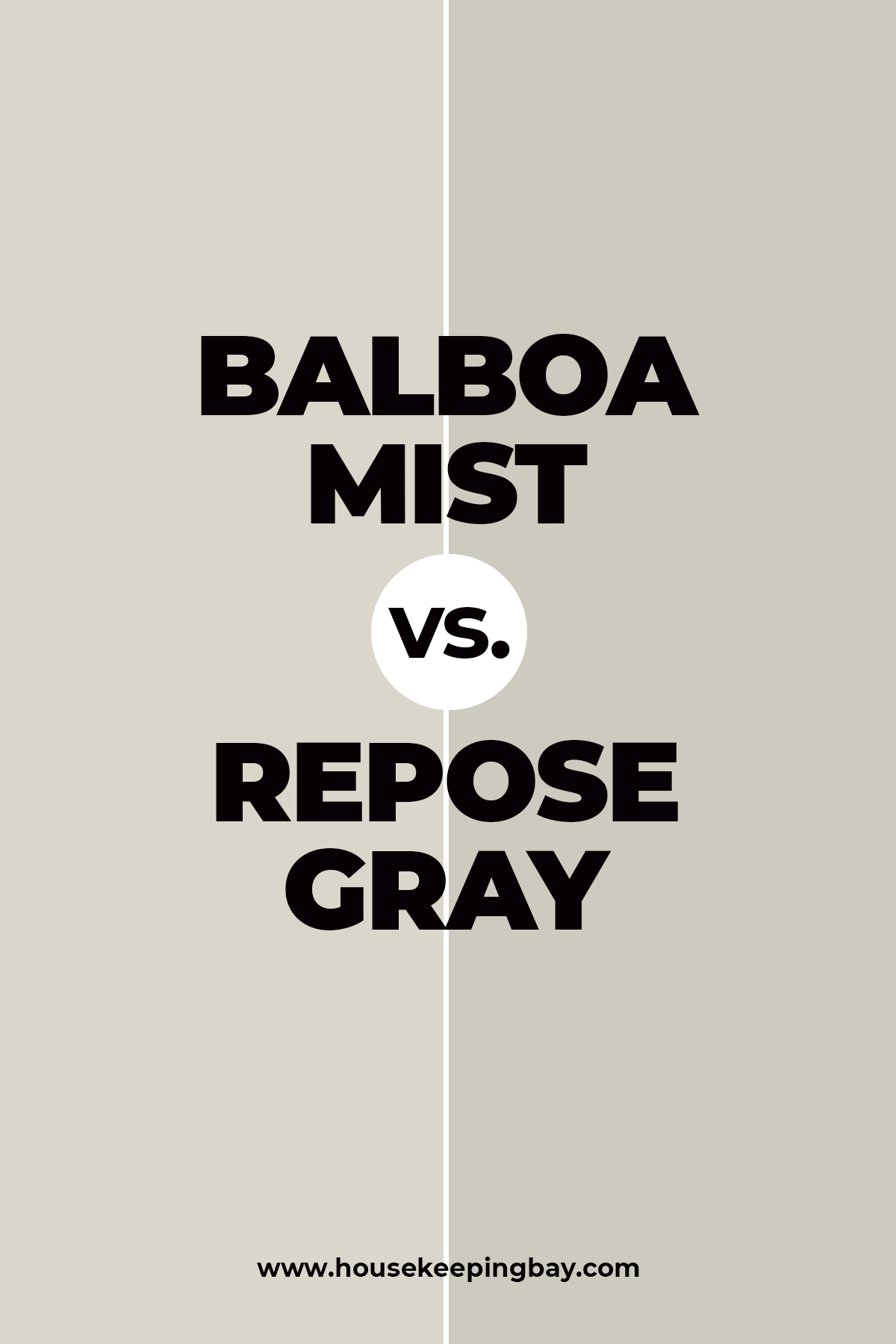 Balboa Mist vs Revere Pewter
If we put these two paint colors side by side, we will see how darker Revere Pewter is. That's because this paint color has more brown undertones that make it warmer in comparison to Balboa Mist that looks significantly more gray with a slightly greenish hint.
In addition, these paints have another distinction. Even though both of them are considered warm, Balboa Mist belongs to warm neutral greiges whilst its counterpart is a warm gray.
So now you know what BM Balboa Mist paint color is, and where in your home it can be applied.
Since it is a neutral greige, this color is very versatile which enables you to apply it in any room with almost any type and intensity of lighting. In any case, it will look gorgeous and stylish.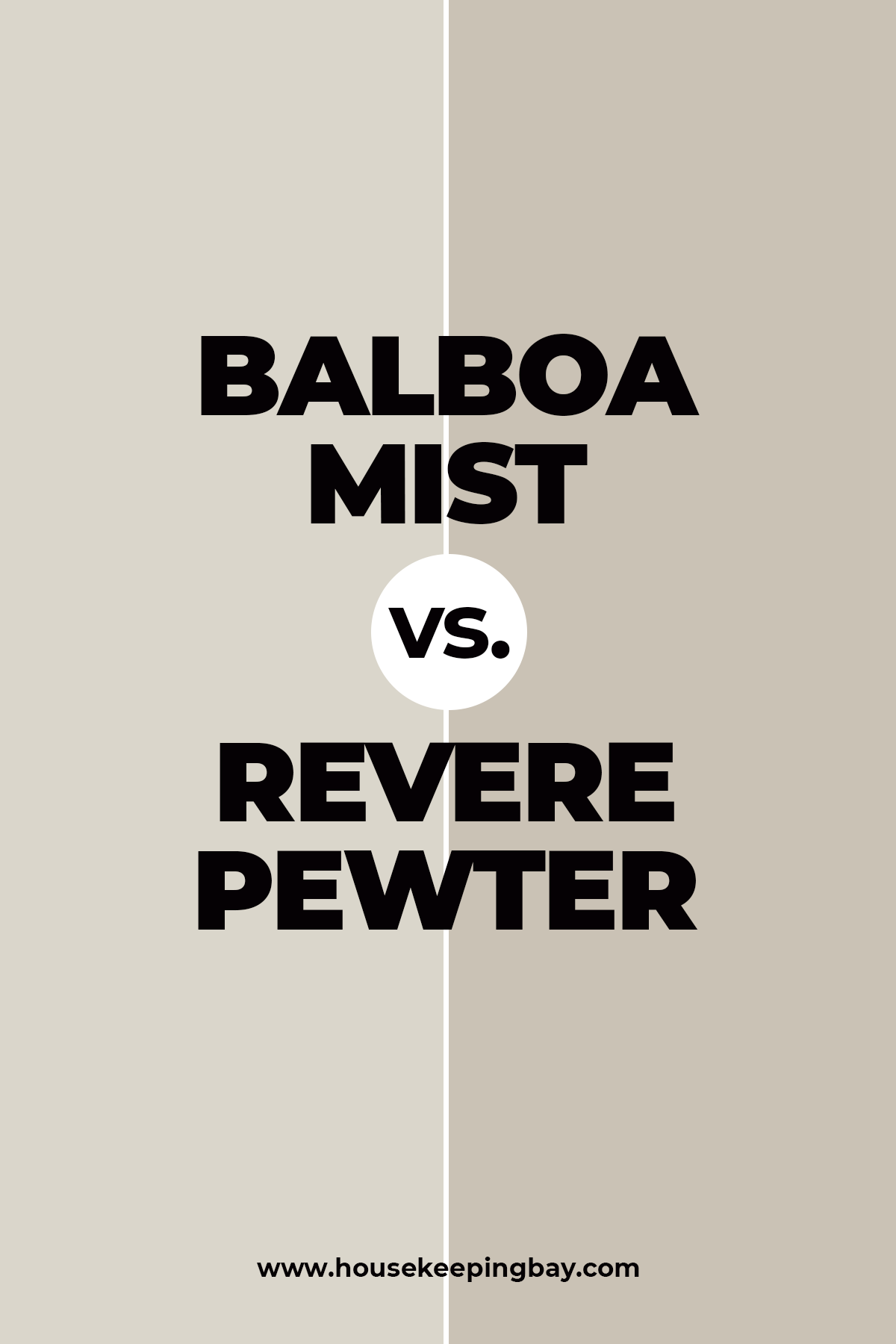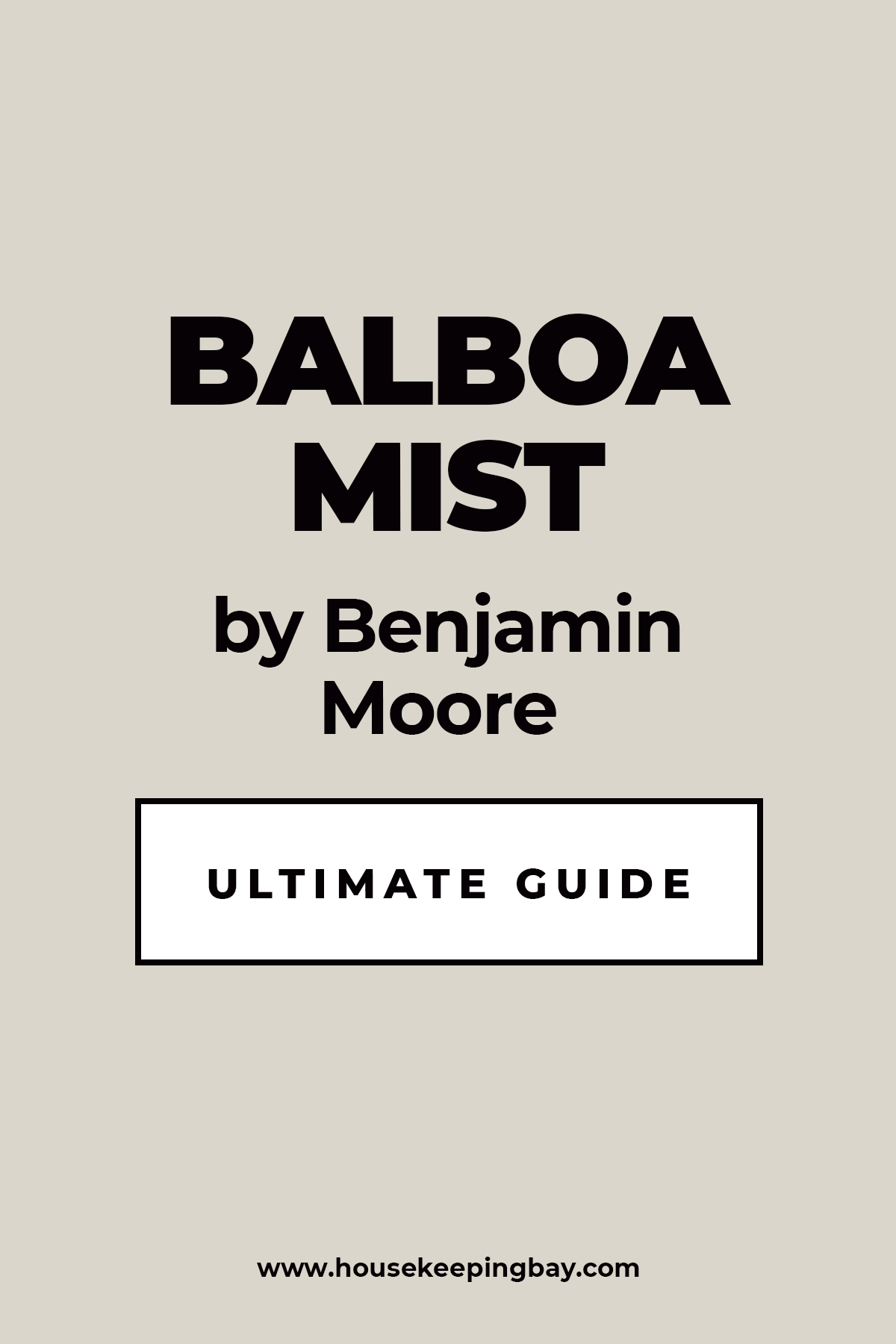 Frequently Asked Questions
⭐ When to avoid using Balboa Mist paint color?
If you have products that have green undertones in them.
⭐ What are the most popular Benjamin Moore exterior paint colors?
They are China White, Seapearl, Edgecomb Gray, Balboa Mist, Revere Pewter, Stonington Gray, Sag Harbor Gray, Foothbay Gray, and Cape May Cobblestone.
⭐ Is Balboa Mist warm or cool?
It is a warm greige color.