If you think of gray color, what do you imagine first of all? We bet it has something to do with dull and boring gray shade that reminds of cement pretty much! Such gray looks and feels cold, flat, and, well, just GRAY.
However, if you still want to give it a try and paint your interiors gray, you might have made an investigation and found out that there are grays that are way more vivid and varied on the walls! For instance, such as Colonnade Gray paint color by Sherwin Williams brand.
And if you are one of those who still believe grays can be great as interior paints, you have our support! And today we are going to introduce SW Colonnade Gray to you in detail, in and out, to give you a complete understanding of what this absolutely gorgeous color is!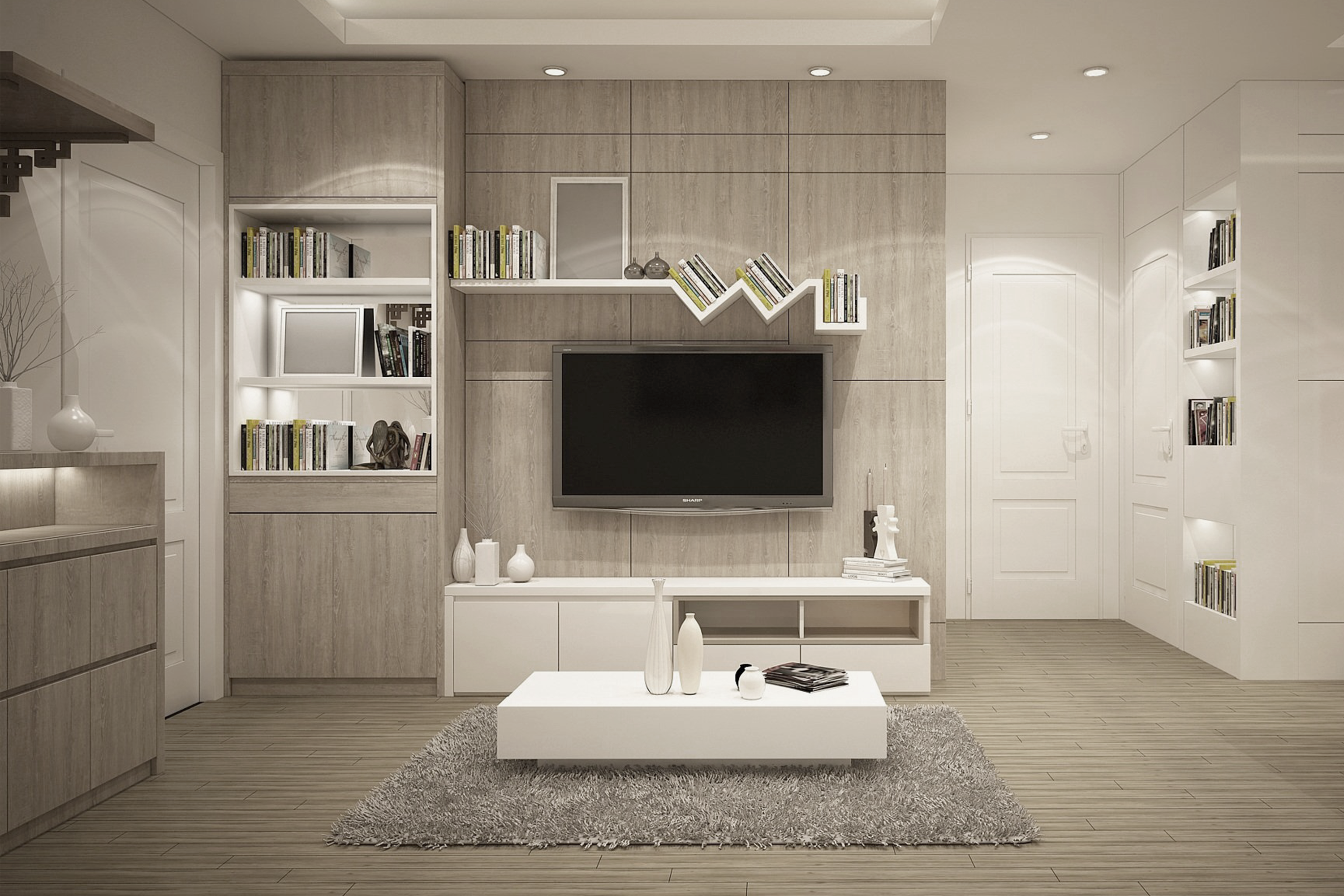 Colonnade Gray By Sherwin Williams. What Kind Of Gray Is It?
Before we proceed to a more detailed description and, well, we would even say color analysis of SW Colonnade Gray, let us introduce you to this astonishing color first. So, to begin with, Colonnade Gray is a warm gray paint color.
As Encycolorpedia says, it sits somewhere in between light and light-medium in terms of its depth, and if you are already familiar with other grays of Sherwin Williams paint colors brand, you may find Colonnade Gray a sort of mix between two other gorgeous grays – SW Agreeable Gray and SW Repose Gray. You can't say that Colonnade Gray has that typical bright freshness of a light color. But you can't also claim that it is too weighed down, which is how some light-medium colors may look.
Since this paint color also has some warmth in it, some people refer to it as a greige color. But since greiges are quite tricky paints that can lean more either to beiges or to grays, or display the features of both equally, let us make it clear at once and talk of SW Colonnade Gray as of gray color according to the official classification.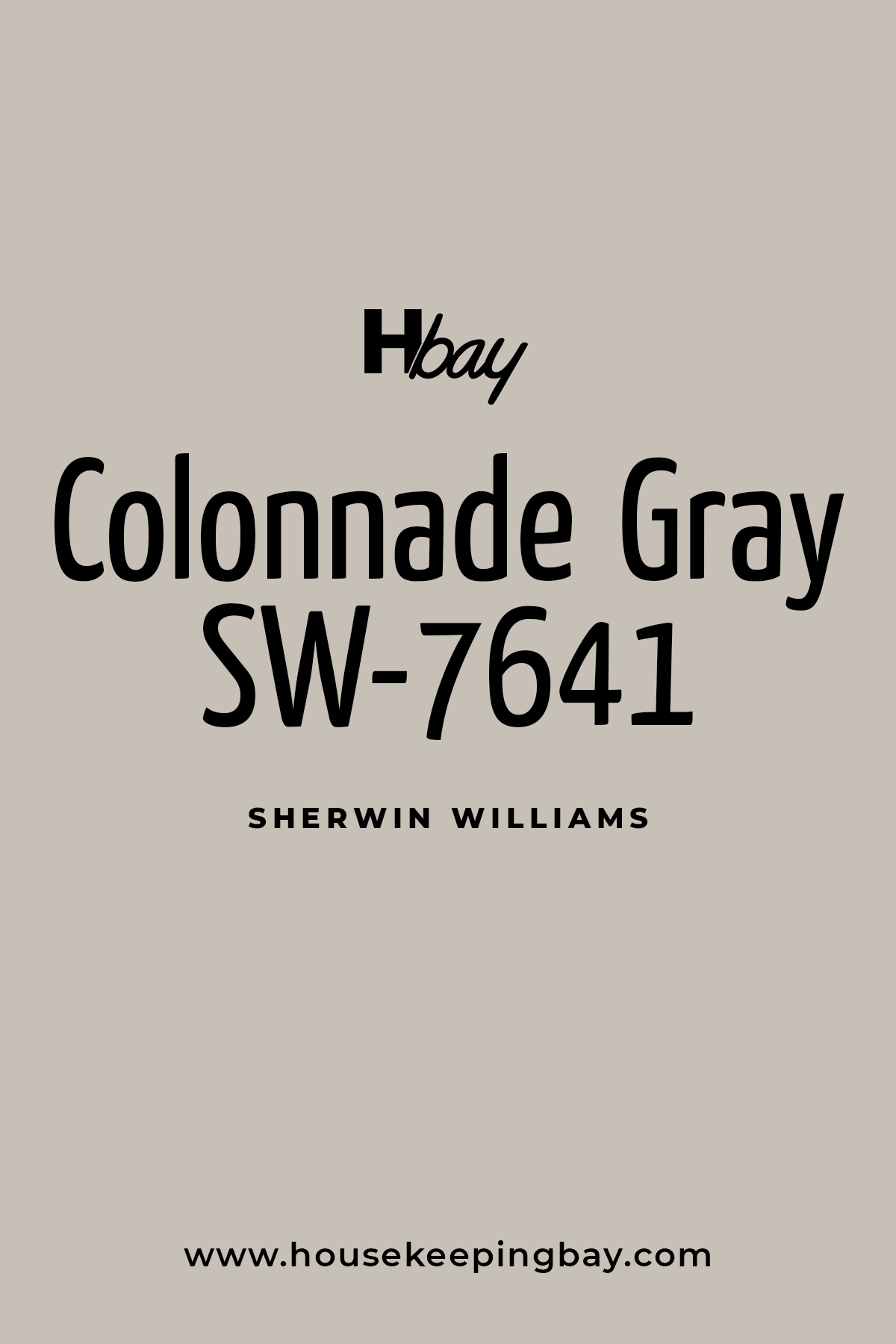 SW Colonnade Gray. Cool Or Warm?
Well, in terms of warmth or coolness, SW Colonnade Gray is just a perfect color choice since it sits right in the middle of the scale! Since it can be considered a mix of Agreeable Gray and Repose Gray, it is good to remember that Agreeable Gray is slightly warmer in comparison to Colonnade Gray. At the same time, Repose Gray is somewhat cooler.
This is why SW Colonnade Gray is a well-balanced mix of them both being a great color option for those tricky areas in your home where you need them to look neither too warm nor too cool. However, do please note that, in rooms with more natural light, this color will reveal itself lighter than in the rooms with less light where it will look darker.
What Are The Paint Color's Undertones of Colonnade Gray?
Undertones become very essential when you need to pick up a proper paint color for your home painting project! Since some paint colors, for instance greiges, have rather tricky undertones that may show up quite unexpectedly and transform your room's appearance dramatically, it is important to consider this aspect to be able to choose the paint that will look exactly as you want it to be.
As for the SW Colonnade Gray, since it is gray, it can display itself rather tricky on the walls. It has brown undertones, however, when being applied in a North facing room, it can lean more to blueish shades. Also, depending on the time of a day, this gray color may reveal the teeniest amount of green, and sometimes you can even notice a tiny hint of purple!
This is why you need to take quite many factors into consideration prior to applying this paint color.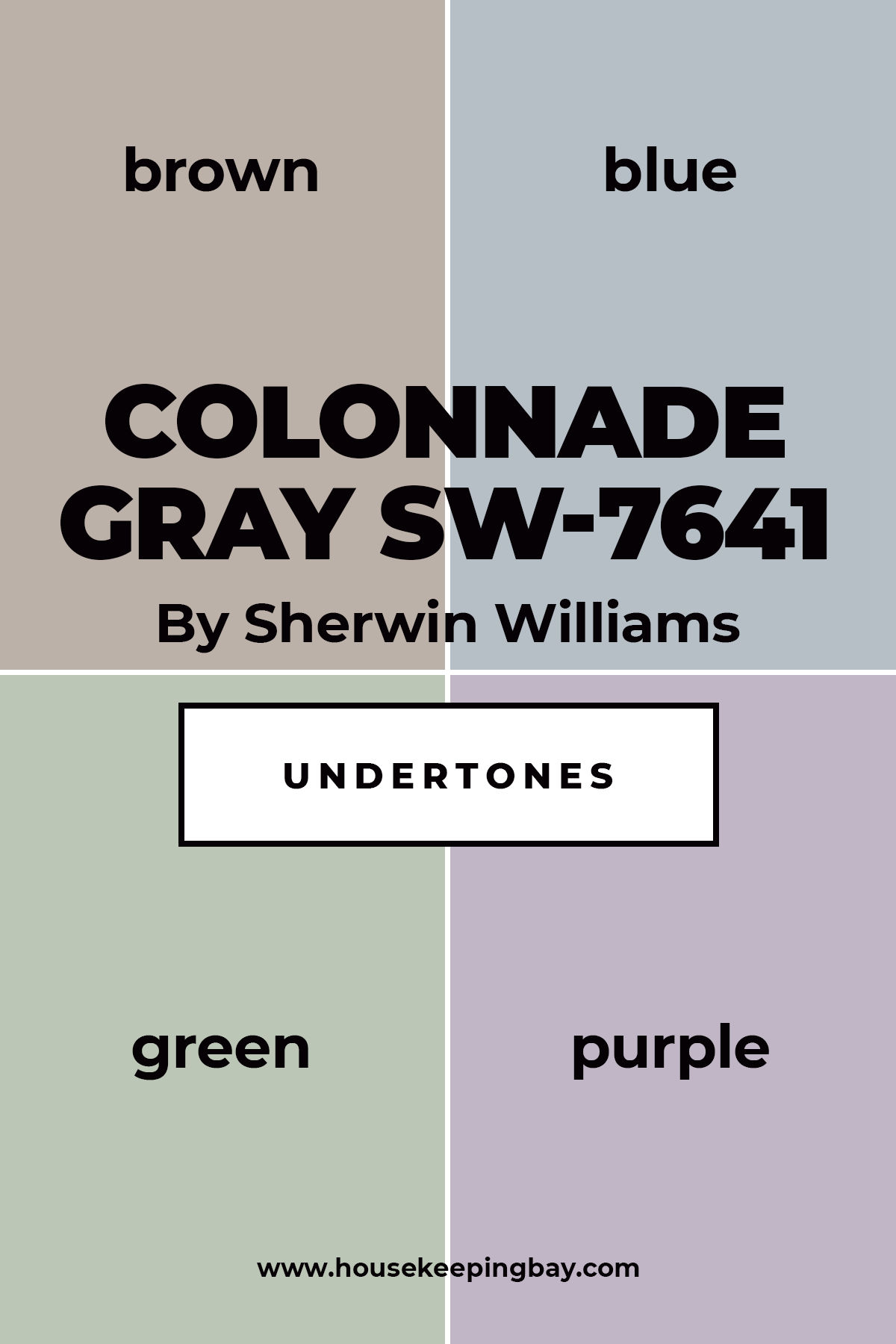 Colonnade Gray Best Coordinating Colors
Picking coordinating colors is a tricky task since they need to be the colors that create a harmonious and balanced ensemble with the main color. However, when it comes to choosing such colors for gray paint, most of us will feel stumbled.
Regarding SW Colonnade Gray, this paint has three main colors that coordinate with it much better and effectively than others creating astonishing combinations!
SW Pewter Tankard (SW-0023)
SW Resounding Rose (SW-6318)
SW Origami White (SW-7636)
Even if you combine them all in the same room, they will look gorgeous, but these colors can also work ideally when being used in pairs.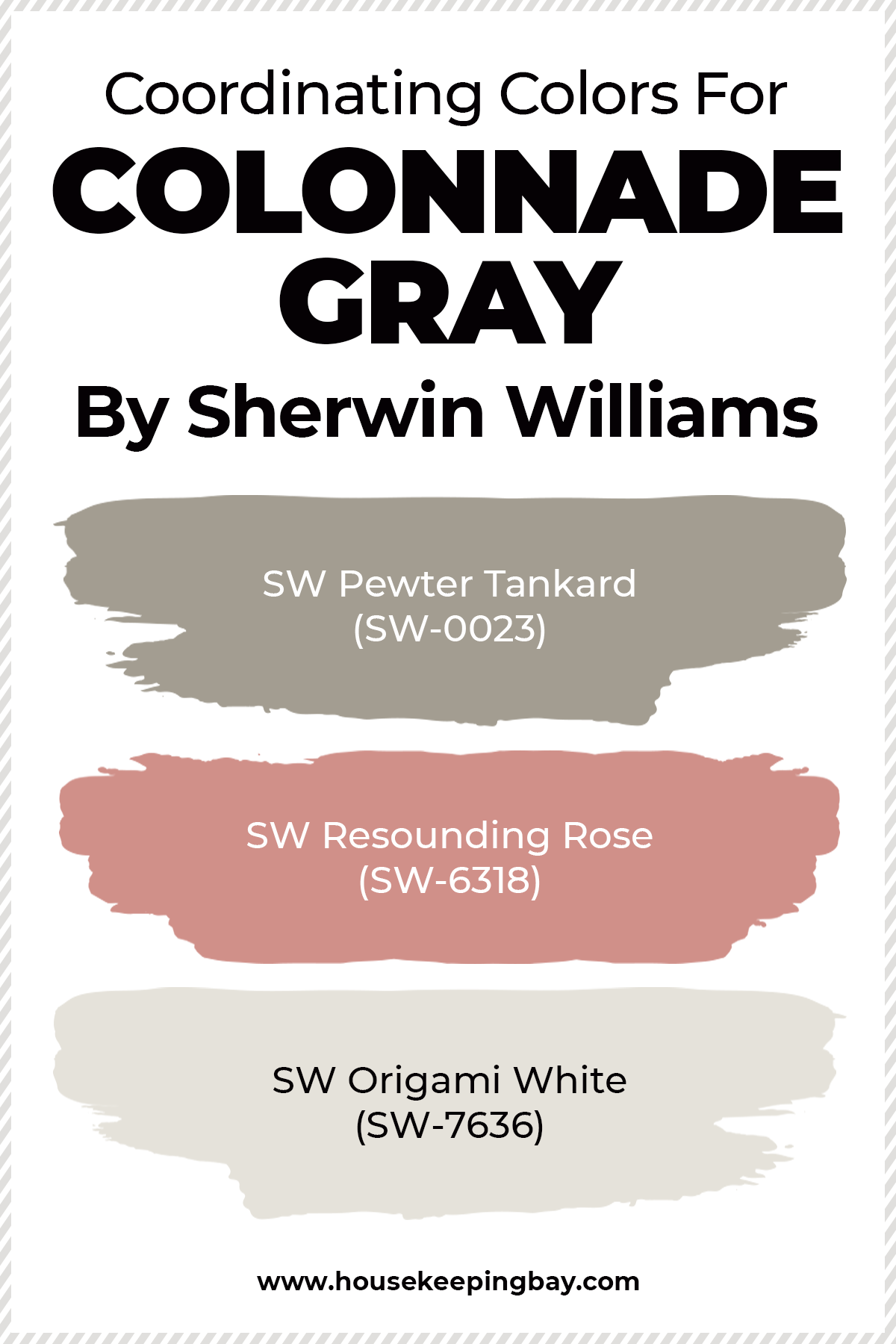 Sherwin Williams Color SW 7641 Colonnade Gray
What Trim Color(-s) Shall I Pick For Colonnade Gray?
Picking a suitable trim color (or colors) is the same important when working with grays as deciding on what colors will coordinate with it best of all. Usually, white is the optimal color choice. The only nuance is to pick up the correct shade of it to end up with a harmonious look in the room.
But if you decide to paint your interior walls with SW Colonnade Gray, you can be considered lucky since you can choose your trim color out of six different shades of white! They are:
Simply White by Benjamin Moore
Decorator's White by Benjamin Moore
SW Extra White
These paints will be suitable for trims and doors, but anyway, you shall still remember that all of them are highly reflective! This is why take the room's lighting into consideration, as well as the color of its walls, ceiling, and furniture since whites can take on quite bizarre undertones we did not expect.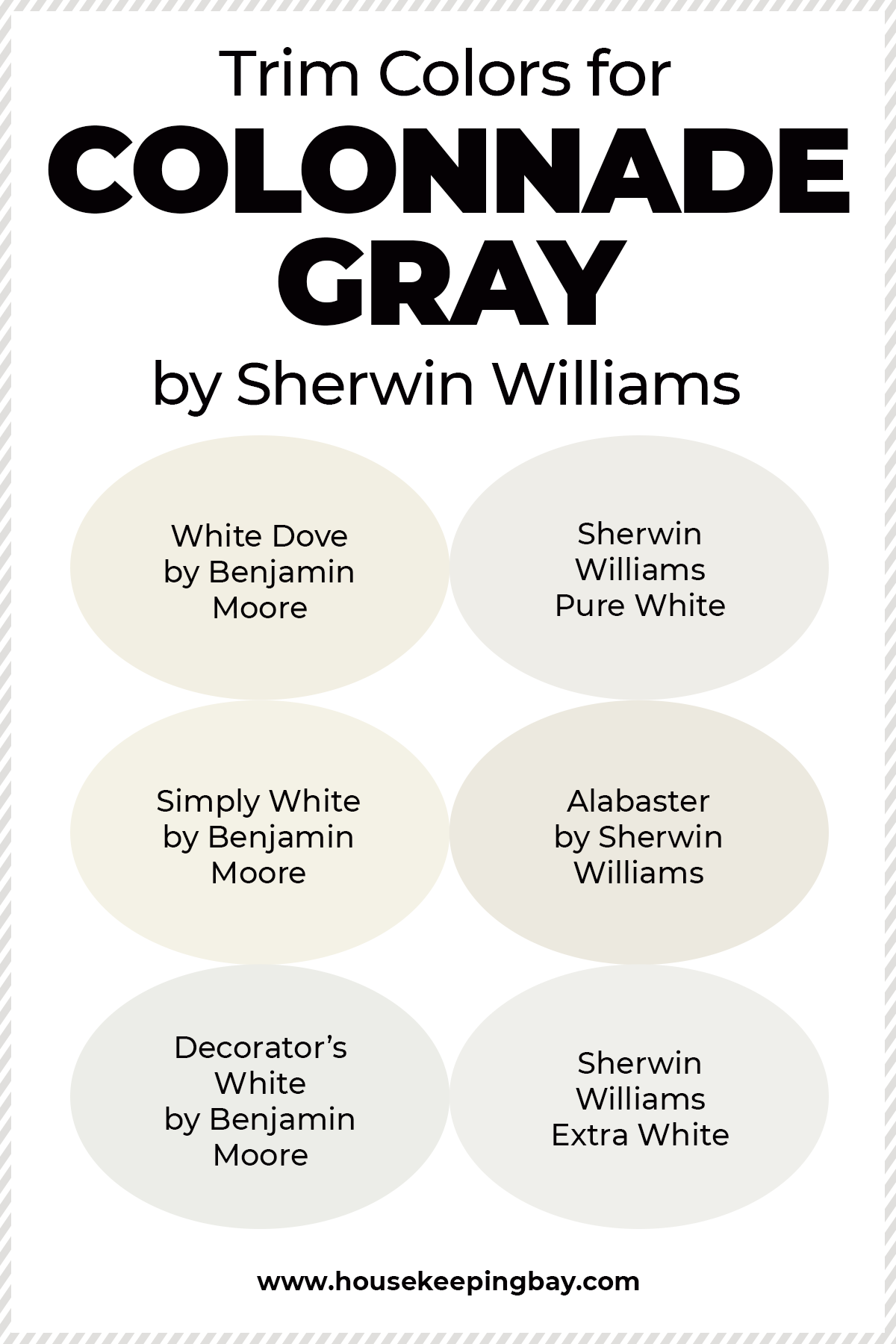 The Effect Light Has On Colonnade Gray
If you are sure you want to apply gray onto your interior walls, be ready to consider the light in this room before you even buy the paint. Grays, as well as greiges, are rather tricky when it comes to the way they react to light. So, if you don't want to end up with quite the opposite color effect on your walls, let us explain how SW Colonnade Gray will feel and look when being differently lit.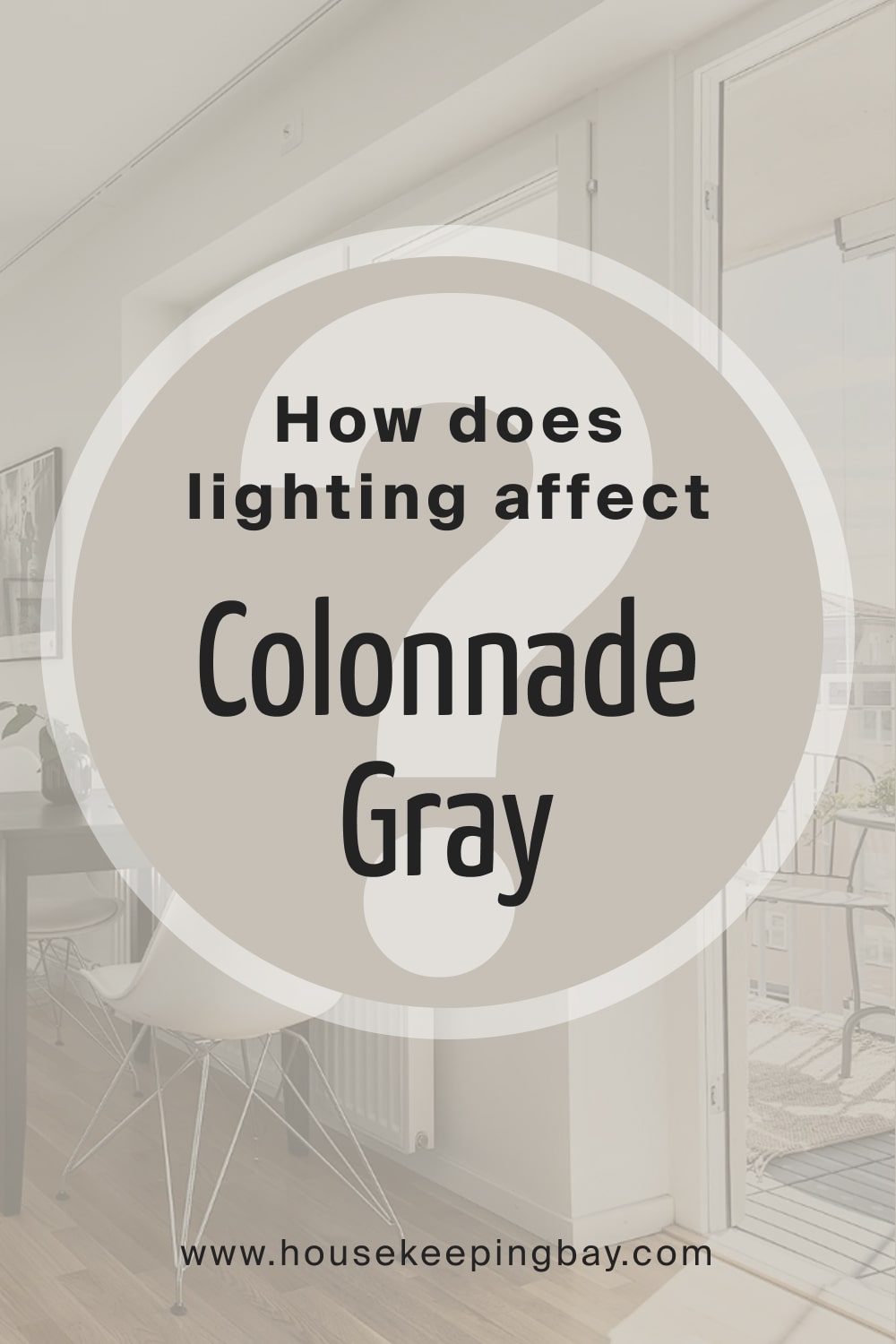 Since Colonnade Gray LRV is 53, it means that this color is pretty reflective which makes it a light color. Nevertheless, it has depth to it which is why it will not be washed out completely in natural light.
If you apply Colonnade Gray in a south-facing room, for example, this light will warm the color up adding soft tones to it and making it look cozier. As for the north-facing spaces, it will be harder to pull that warmth out of Colonnade Gray there. In this type of light, the color will lean more into its gray side.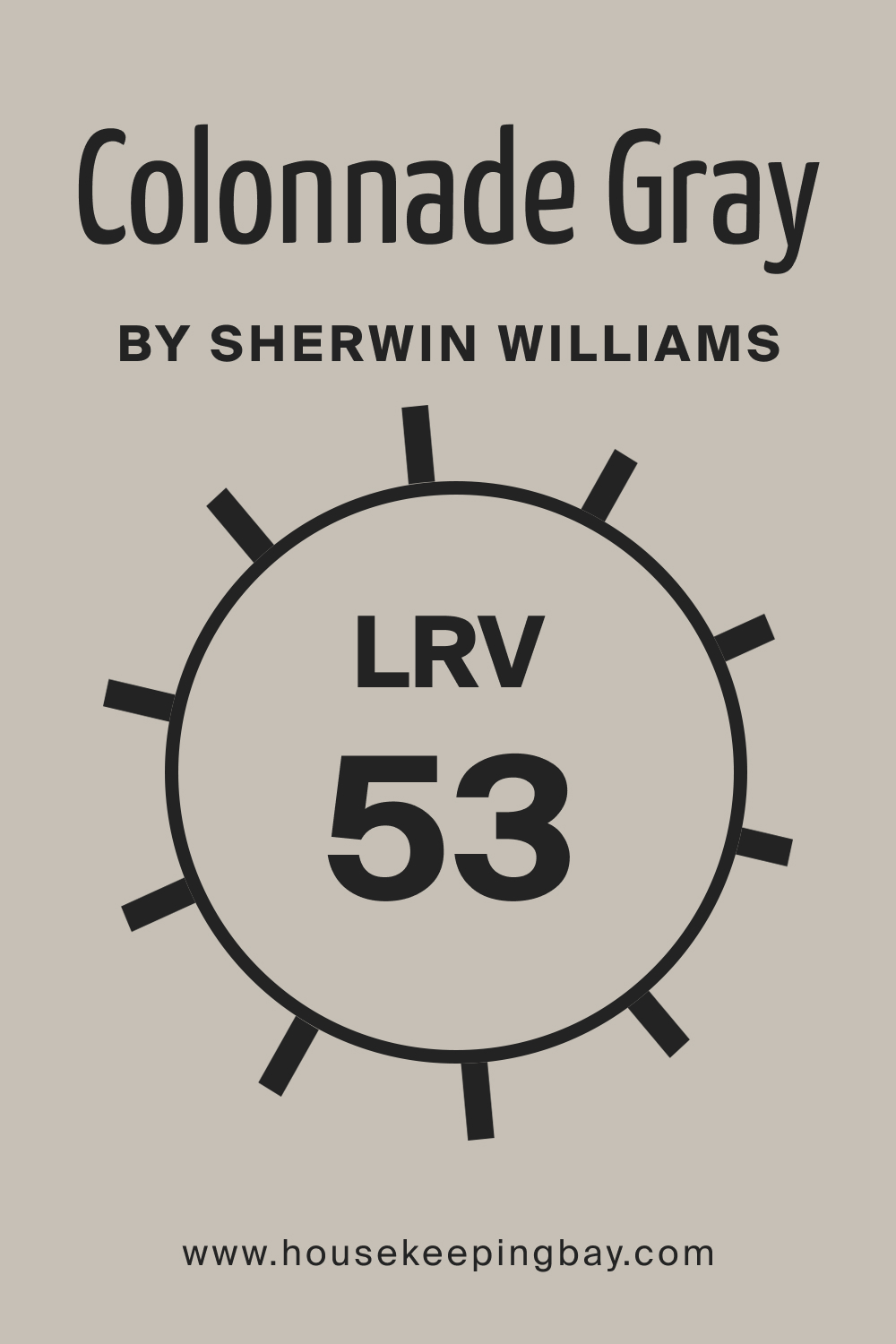 What is LRV? Read It Before You Choose Your Ideal Paint Color
Where In Your House Is It Best to Apply Colonnade Gray Paint Color?
Colonnade Gray is a very popular paint color among the homeowners since it is very versatile. It can be successfully used in a variety of spaces since this color is a good, middle of the road neutral. It pairs really well with almost anything from light or dark wood furniture and gray or brown fabrics to white trims and doors, and much more.
Colonnade Gray in the Living Room
This color can become a perfect pick for your living room walls, but only if you take the lighting into consideration. See, in a living room that has southern light in it, Colonnade Gray will be displayed as a warm gray. However, if your room has more of the colder northern light, be ready for those purplish undertones to show up!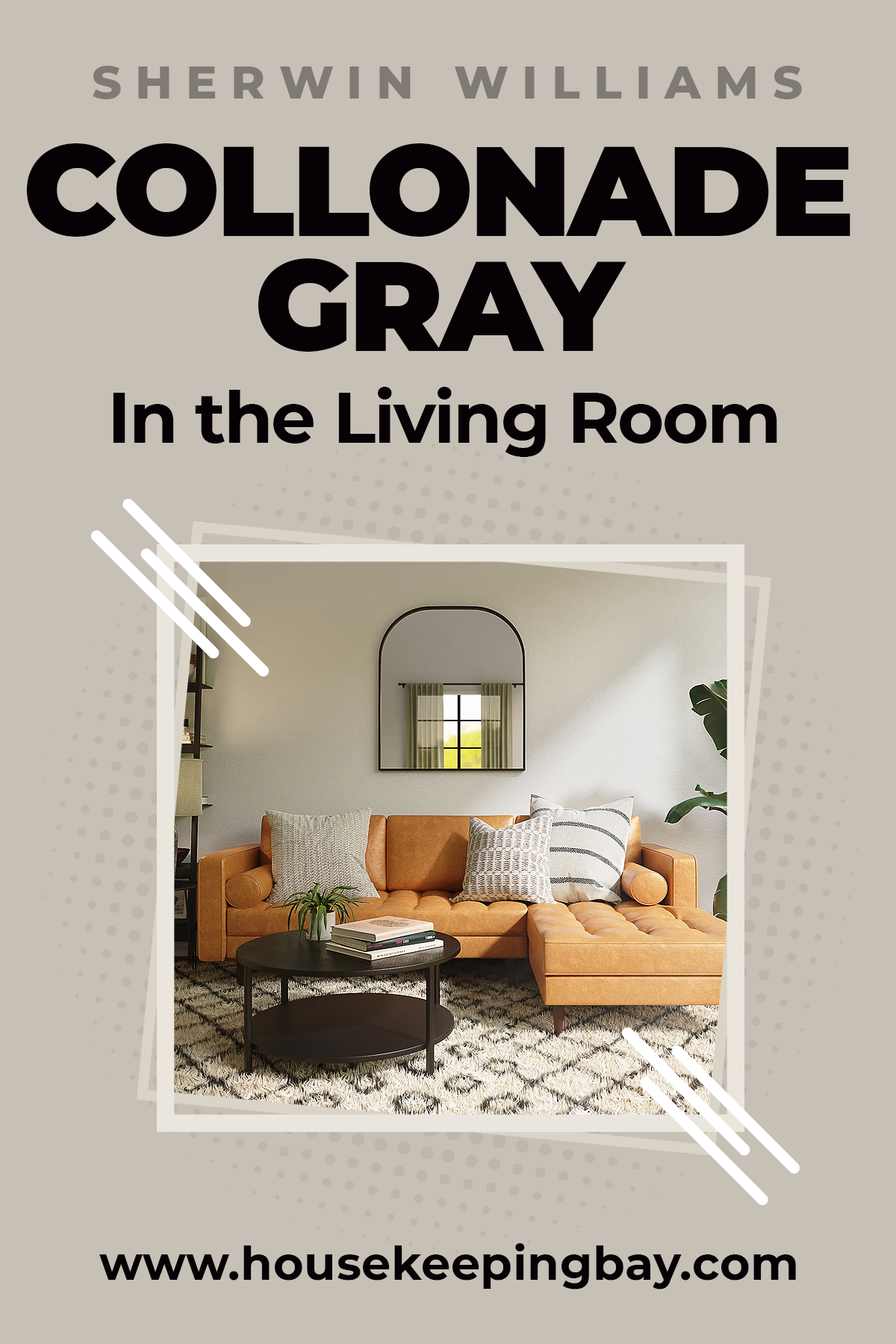 Colonnade Gray in the Bedrooms
This color also works pretty well on the bedroom's walls, especially if the room receives enough warm daylight. And since it can be combined with quite many other colors, don't hesitate to experiment with upholstery or bed covers, as well as other accessories. Colonnade Gray allows that easily!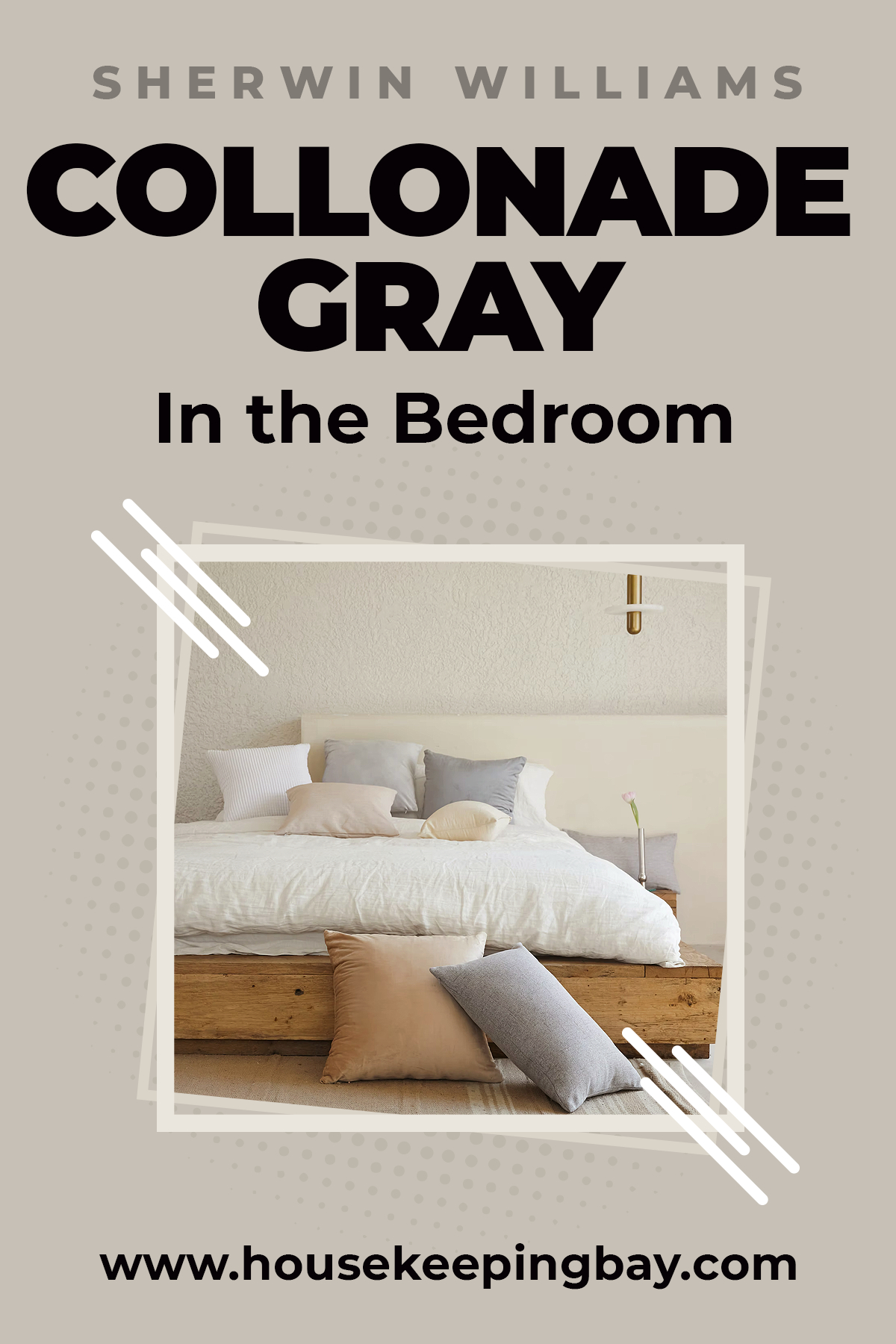 Colonnade Gray in the Bathroom
This color is so versatile that you can apply it even in your bathroom! It will not make it too dark or too light. However, consider its lighting and surrounding colors to be sure that no unexpected undertones will show up.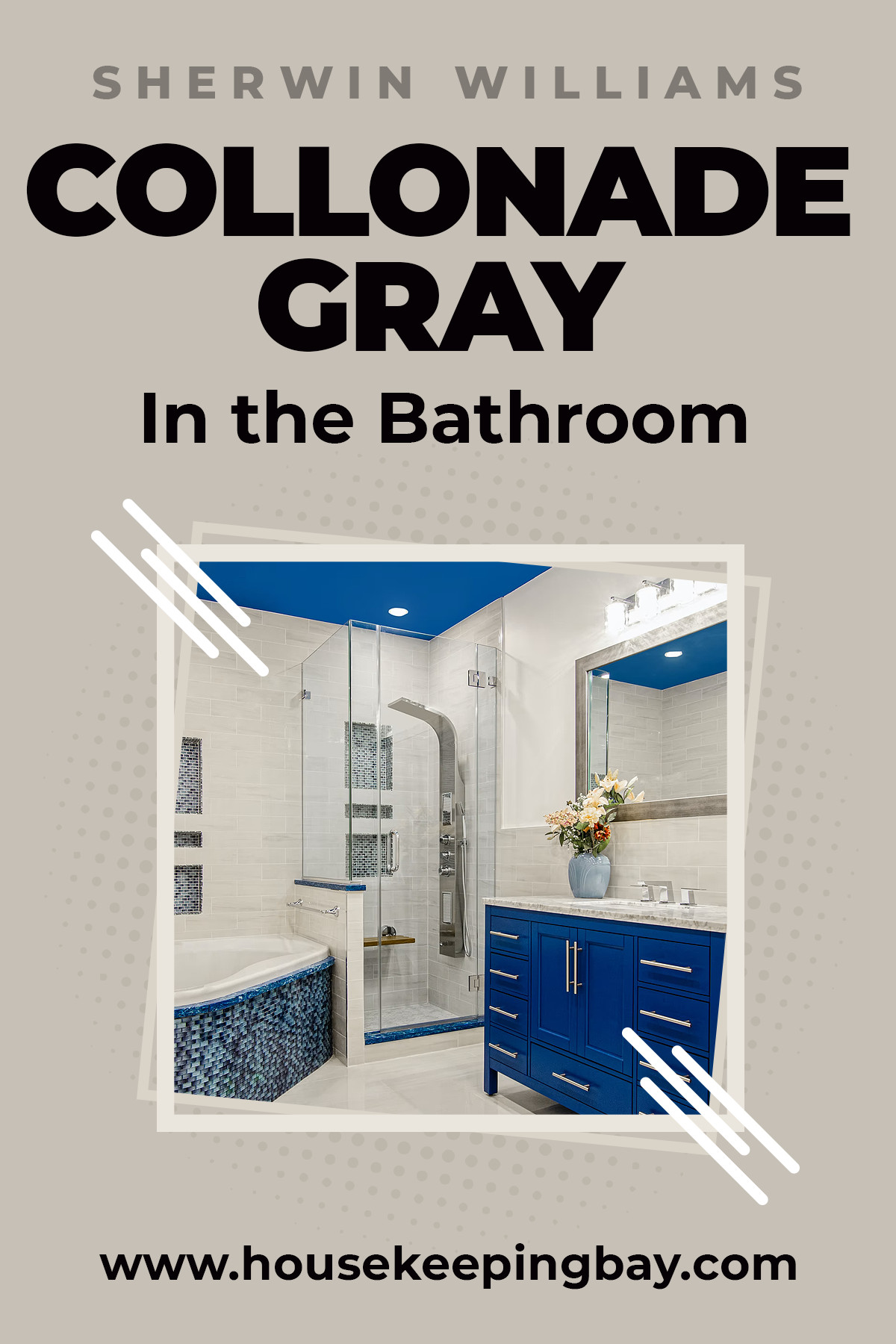 Colonnade Gray in the Kitchen Cabinets
On kitchen cabinets, this color creates a nice and very peaceful escape. And since it is a neutral color, it will look especially effective along with black tile floors or other black objects that will allow the room to avoid looking too light.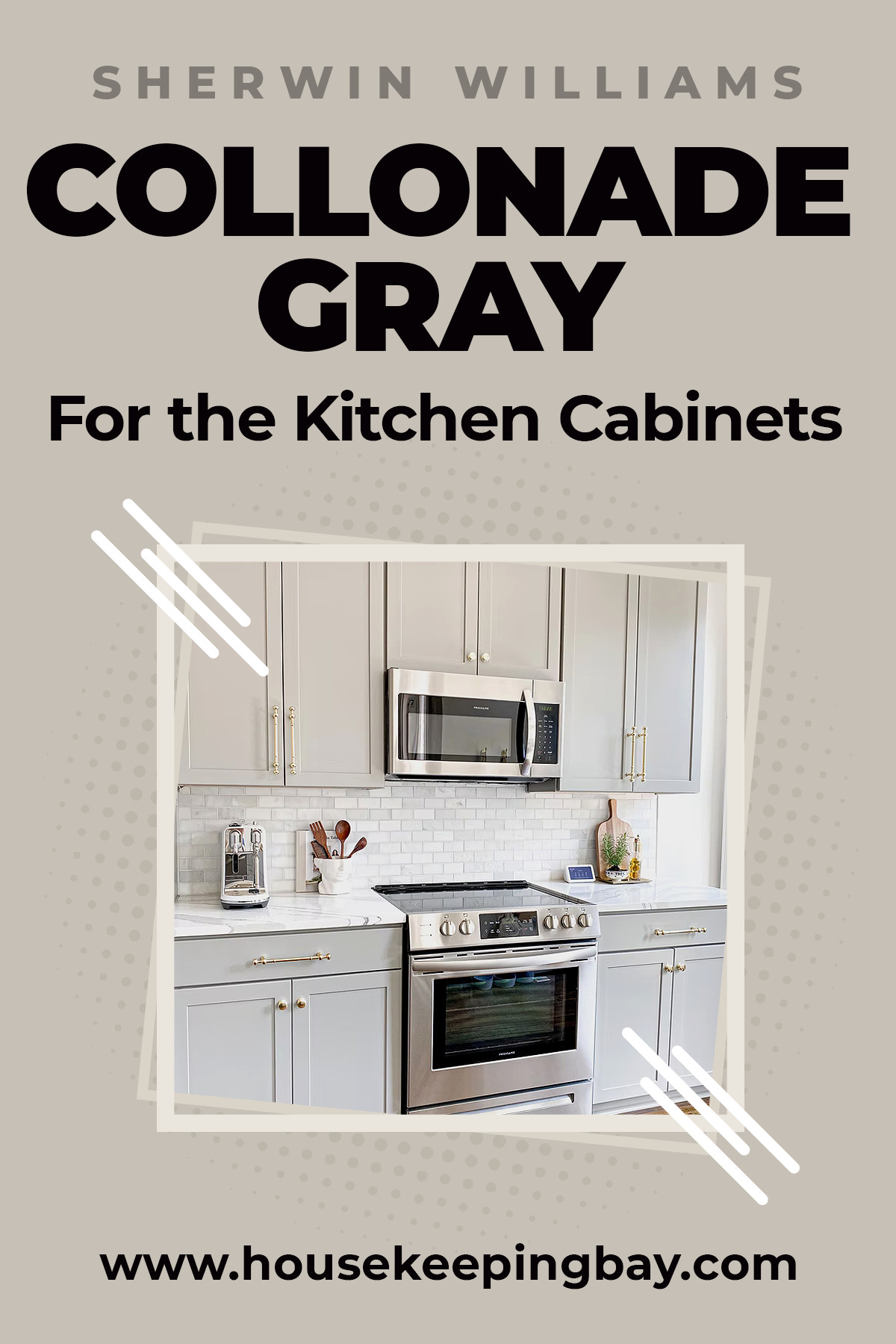 Related: BEST Greige Colors for Kitchen
Colonnade Gray for the Exterior Use
This paint color is so versatile that people use it even for painting their facades! However, light plays an important role here since, when being lit in a certain way, this color may reveal slightly greenish shades of it which might not be the exact result you expected.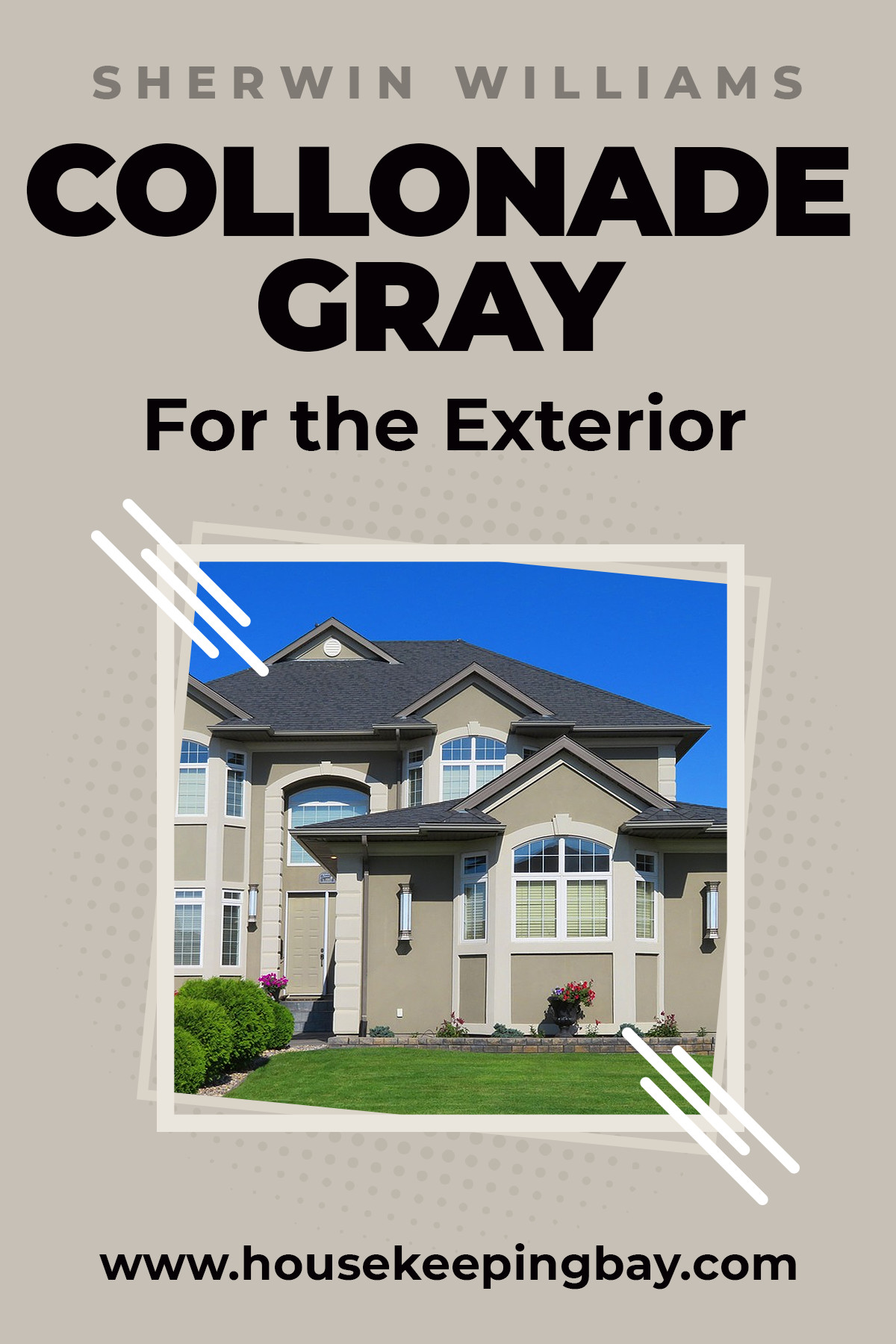 SW Colonnade Gray And Other Paint Colors
Have you ever thought that combining a grey paint in the same interior with a few other colors of the same color family might be tricky? If you have, then you were right! It is indeed quite tricky to do since a lot of grays look pretty much similar.
This is why, in order to end up with a balanced color ensemble after your painting project is ready, we advise you to check out our Colonnade Gray color comparisons to see how this color will work and look with other shades and whether it's worth combining them at all.
Collonade Gray vs. Agreeable Gray
They look almost the same with Agreeable Gray being slightly closer to beige. But if you compare them applied on a wall, you will hardly see much difference. This is why using these two colors in the same room is not recommended.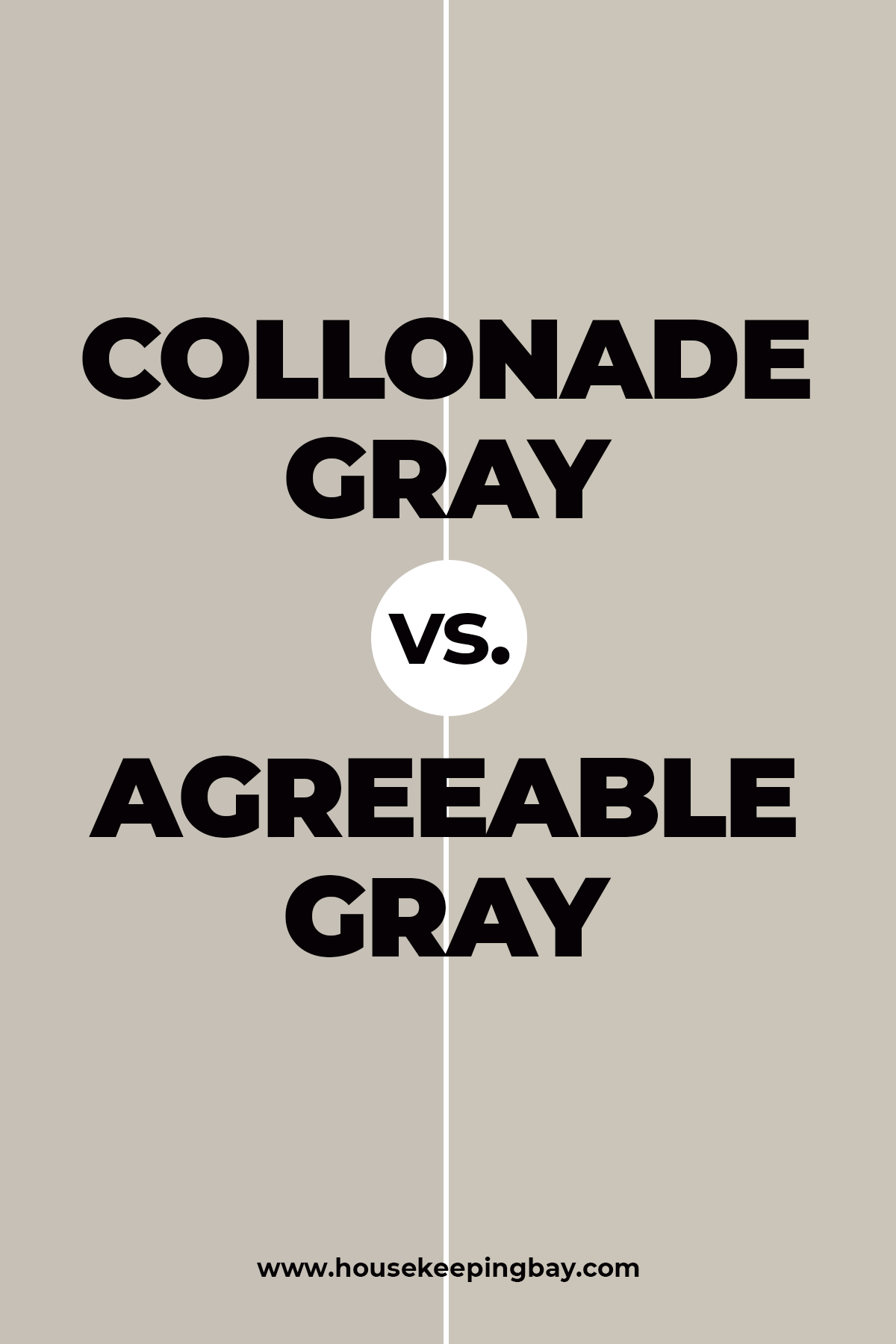 Related: BEST Agreeable Gray Colors for Living Room
Collonade Gray vs. Revere Pewter
Colonnade Gray and Revere Pewter can create a harmonious combo! Revere Pewter is much lighter though it's still a warm paint color, and Colonnade Gray has significantly more warmth and beige undertones in it. When paired, these paints look well-balanced and complement each other.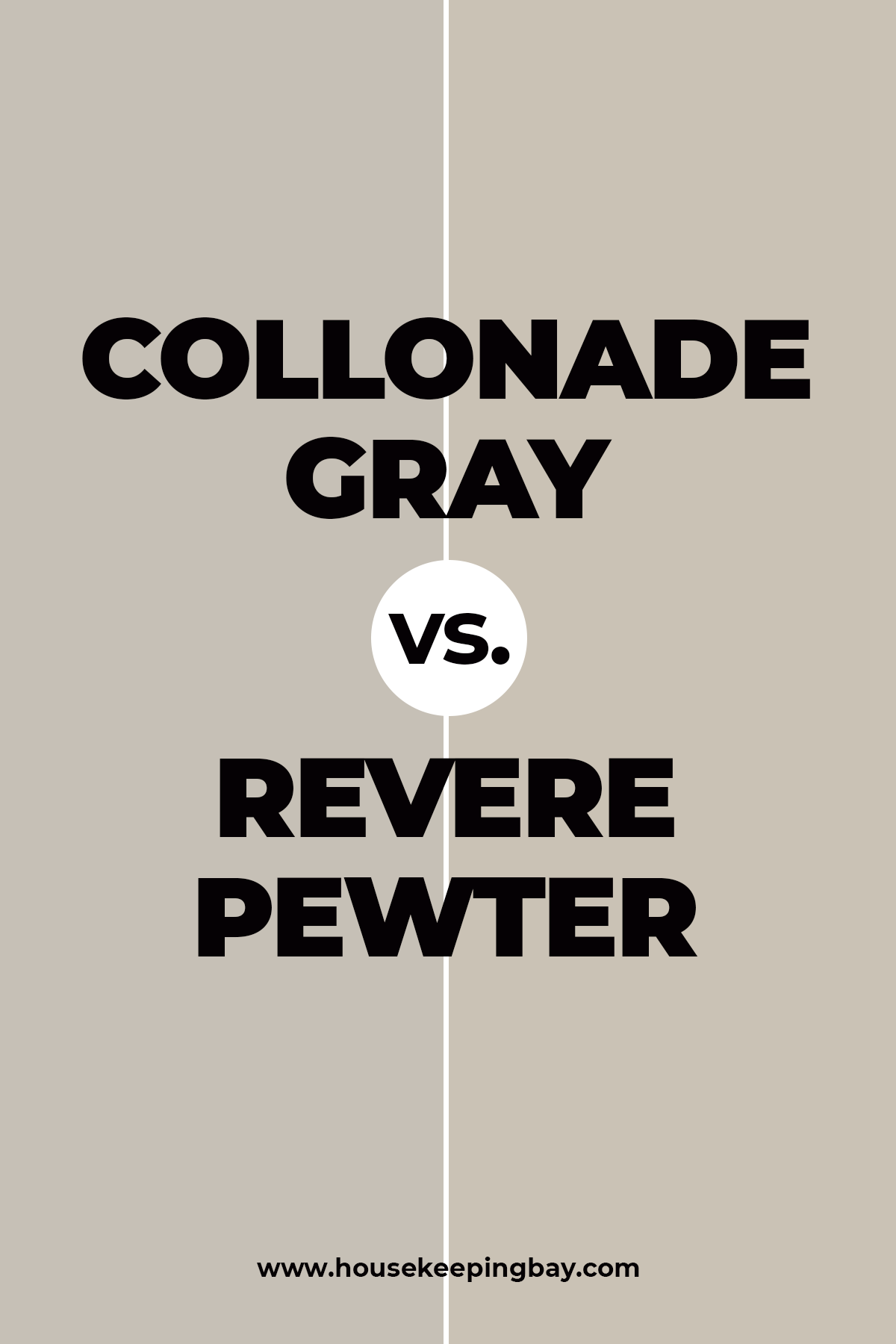 Related: BEST Revere Pewter Colours for Living Room
Collonade Gray vs. Anew Grey
Anew Gray and Colonnade Gray are also nearly the same which doesn't make them good partners on the same wall or even in the same room. Even though Anew Gray looks a bit warmer and also has beige undertones, the two colors are way too alike to be combined.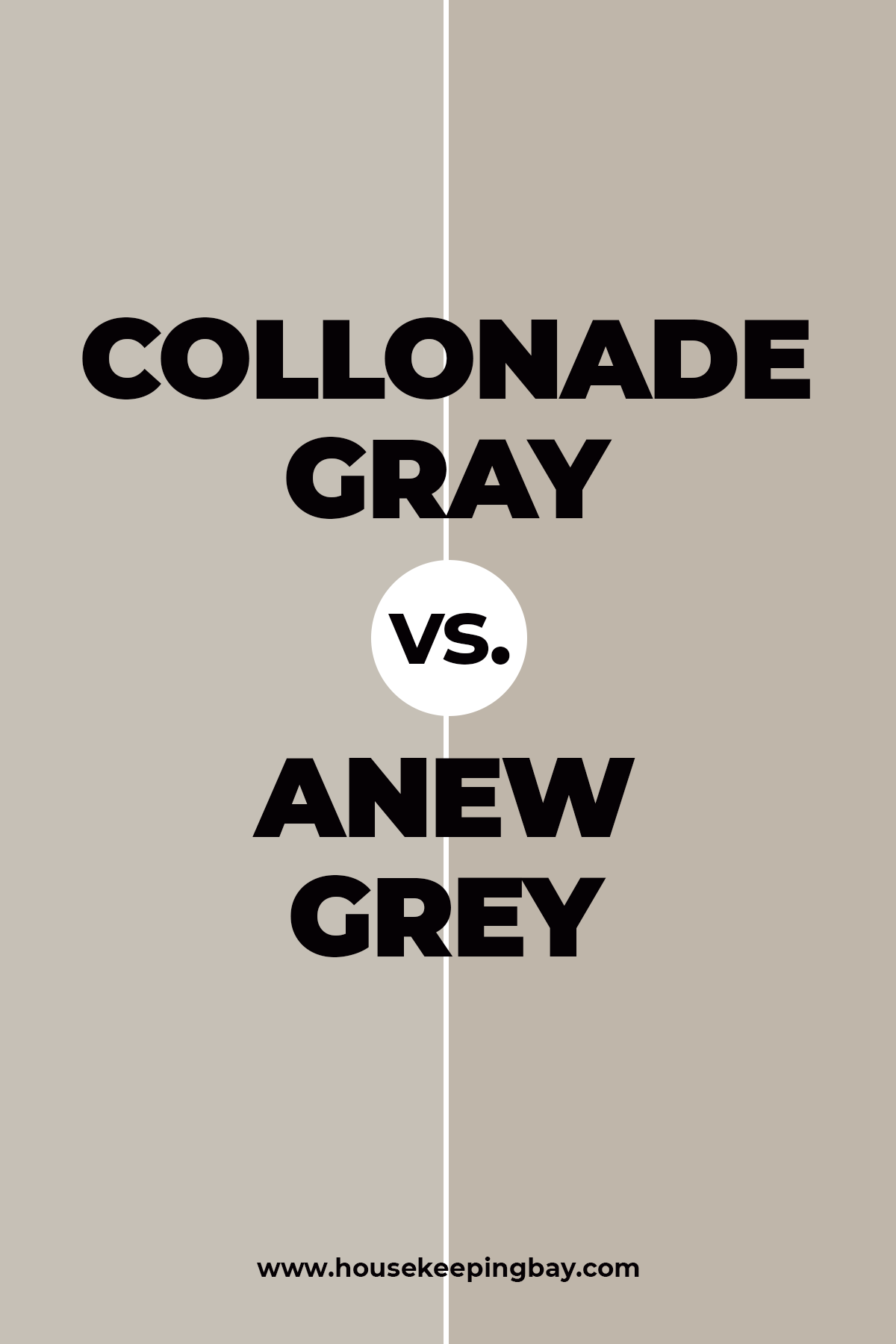 Collonade Gray vs. Mindful Gray
These colors have very few distinctions, and those that they have are so minor that using them together in the same room makes no sense. They will simply make almost no difference.
Upon closer examination, we can see that Mindful looks a bit cool-toned and reveals more of purplish undertones, and Colonnade Gray is warmer and leans towards beige more. However, when being put side by side, they don't create a harmonious combo.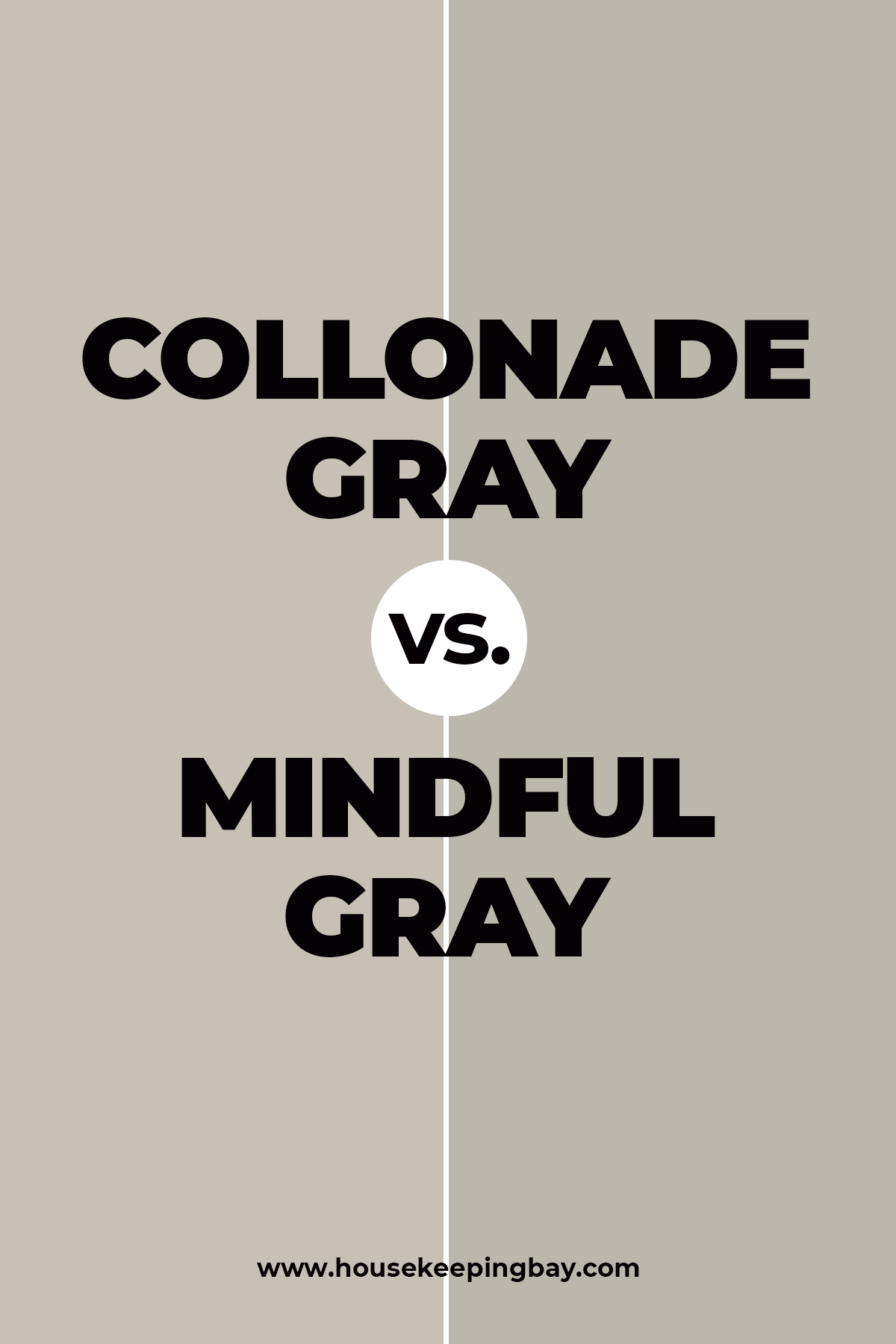 Collonade Gray vs. Worldly Gray
Both colors are too light to have at least some contrast when used together even though Colonnade Gray is cooler and Worldly Gray looks somewhat warmer on a wall. So if you apply them side by side, your room will most likely have that cement look.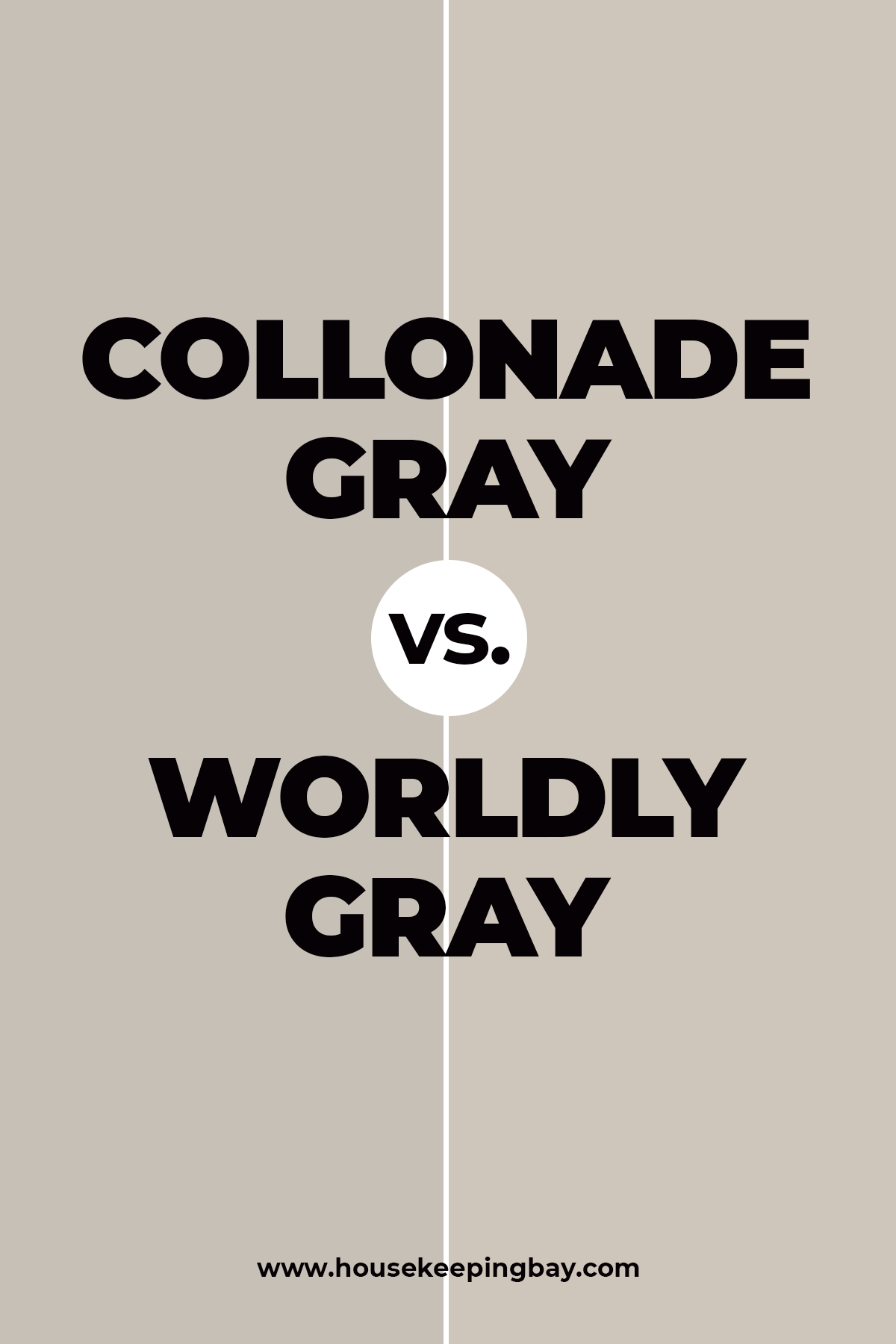 Collonade Gray vs. Repose Gray
These two are pretty the same, only Repose Gray is somewhat lighter with less prominent beige undertones.
However, it doesn't mean you can't use them together! These colors look surprisingly well when applied side by side creating a warm and balanced look in the room.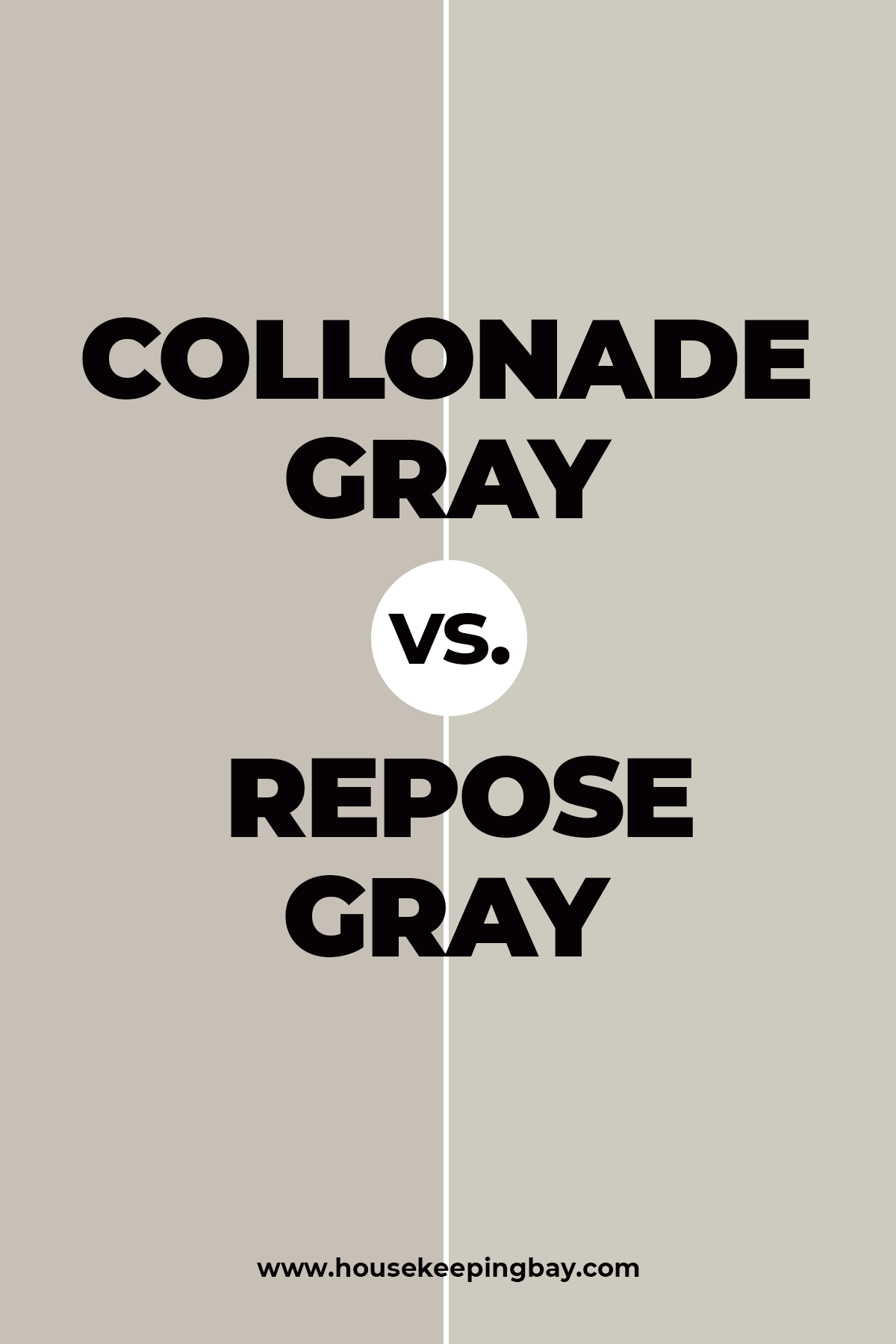 Related: BEST Repose Gray Colors for Living Room
Well, this was all that we wanted to share with you on the subject of SW Colonnade Gray paint color. Now you know what kind of color it is, what undertones it can reveal and under what conditions, and also, you can now tell in advance how this paint will feel and look when being differently lit.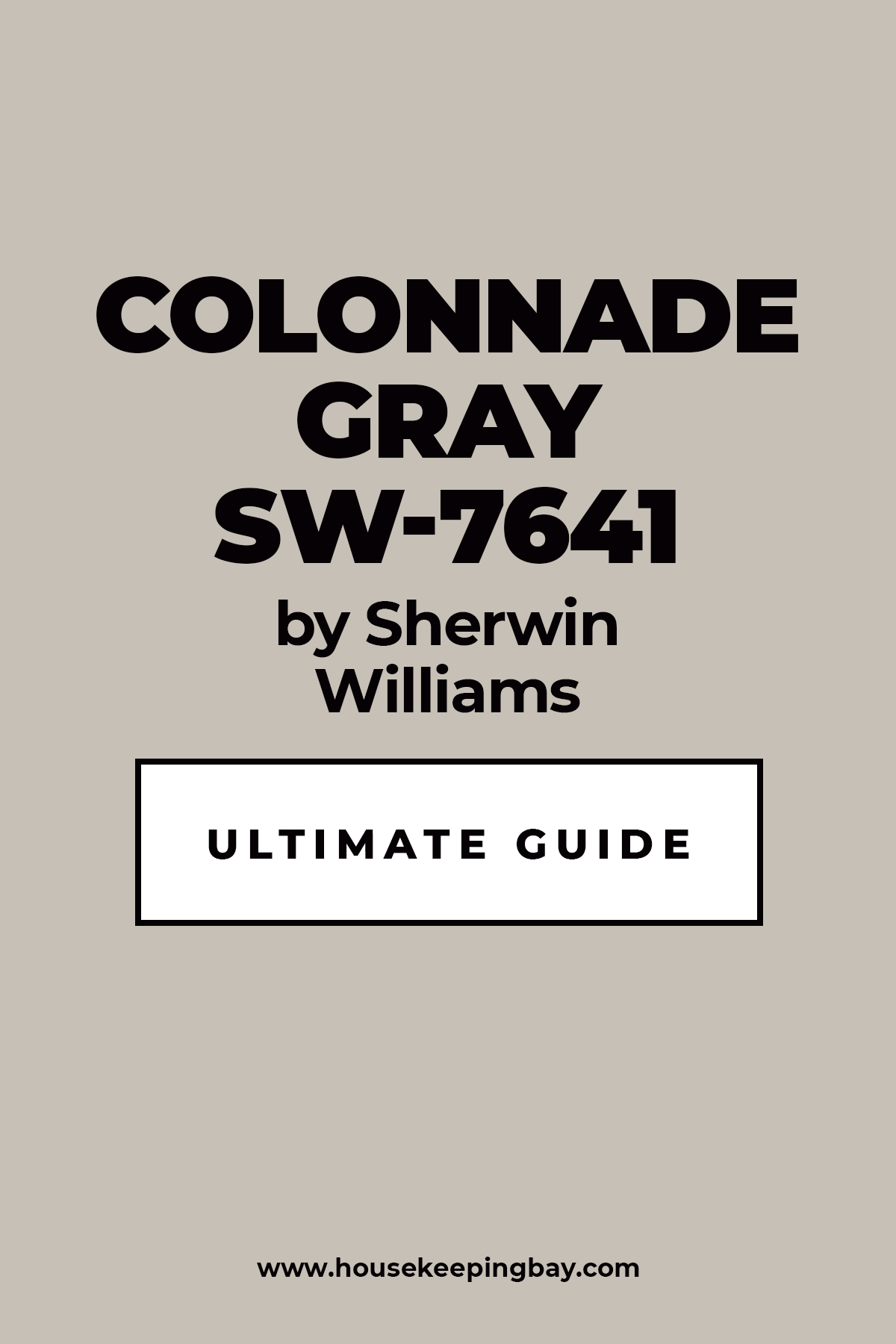 Frequently Asked Questions
⭐ Is SW Colonnade Gray greige or gray?
It's greige that leans more beige than gray.
⭐ Will pink color pair well with Colonnade?
Yes, but not all pink shades will be suitable. Stick to calm and subtle tones.
⭐ Is gray going out of style?
No, gray color still remains trendy!