Designing your apartment is such an exciting path.
Interestingly, you can either fully rely on yourself in this question or take advice from your friends, family, or professional designers.
However, the modern tendency is that bright colors are back in fashion!
Moreover, even any perfect monochrome idea is recommended to be diluted with a colorful bright accessory.
In this article, we`re going to cover how to use the trendy color Riverway by Sherwin Williams!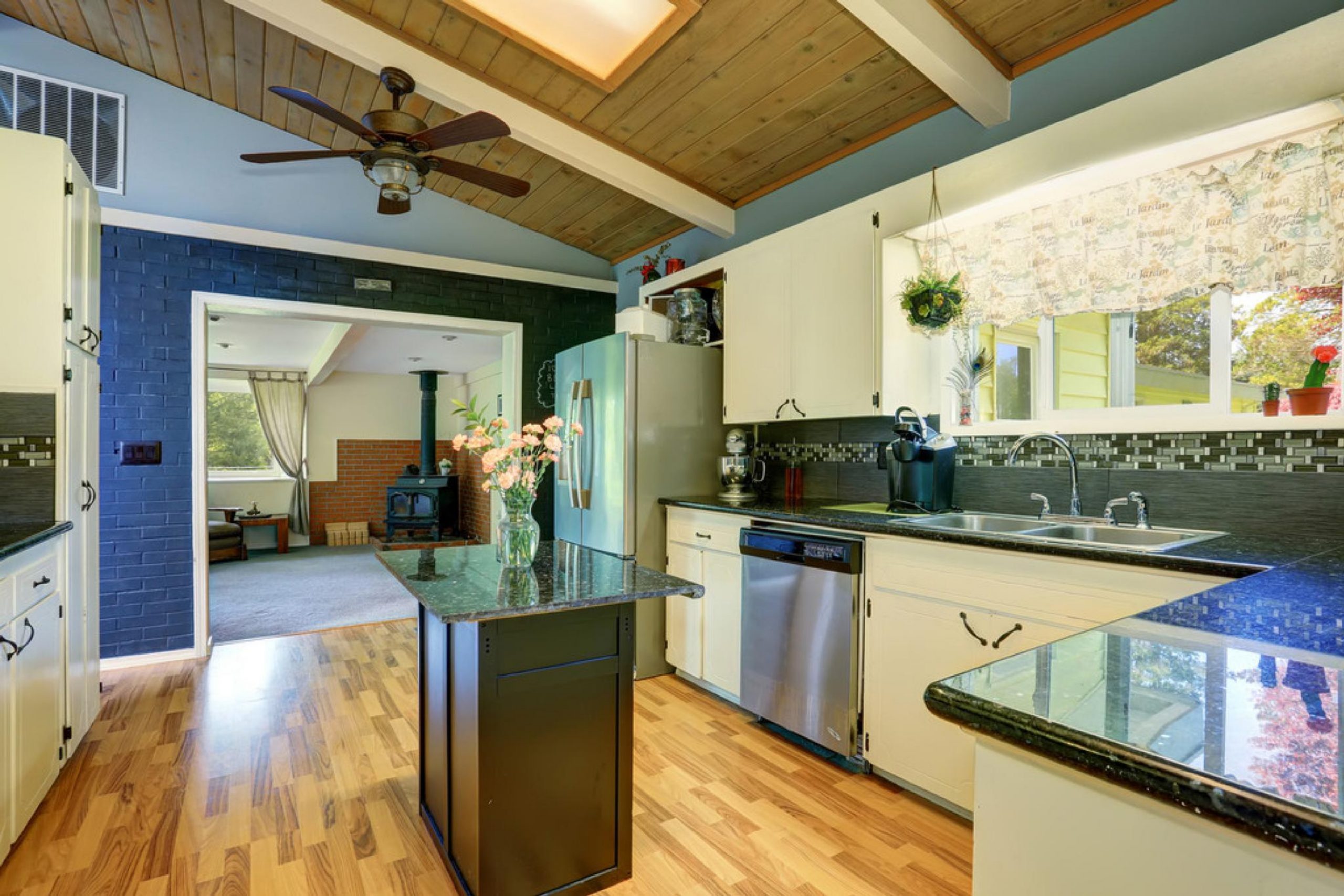 Riverway by Sherwin Williams Paint Color
No matter what style you have chosen, a color like Riverway will fit anyway!
So, Sherwin Williams Riverway is definitely not a color you could describe with one word.
Some people see it as gray mixed with green, others consider it to be closer to blue mixed with green, and to some of you it might look like gray with green, as Encycolorpedia says.
It is also ambiguous to say whether it is dark or light. It really depends on the colors you are going to mix it with.
One thing that we can tell is that it has already stolen our hearts and we can not wait to use it as much as possible in interior and exterior design.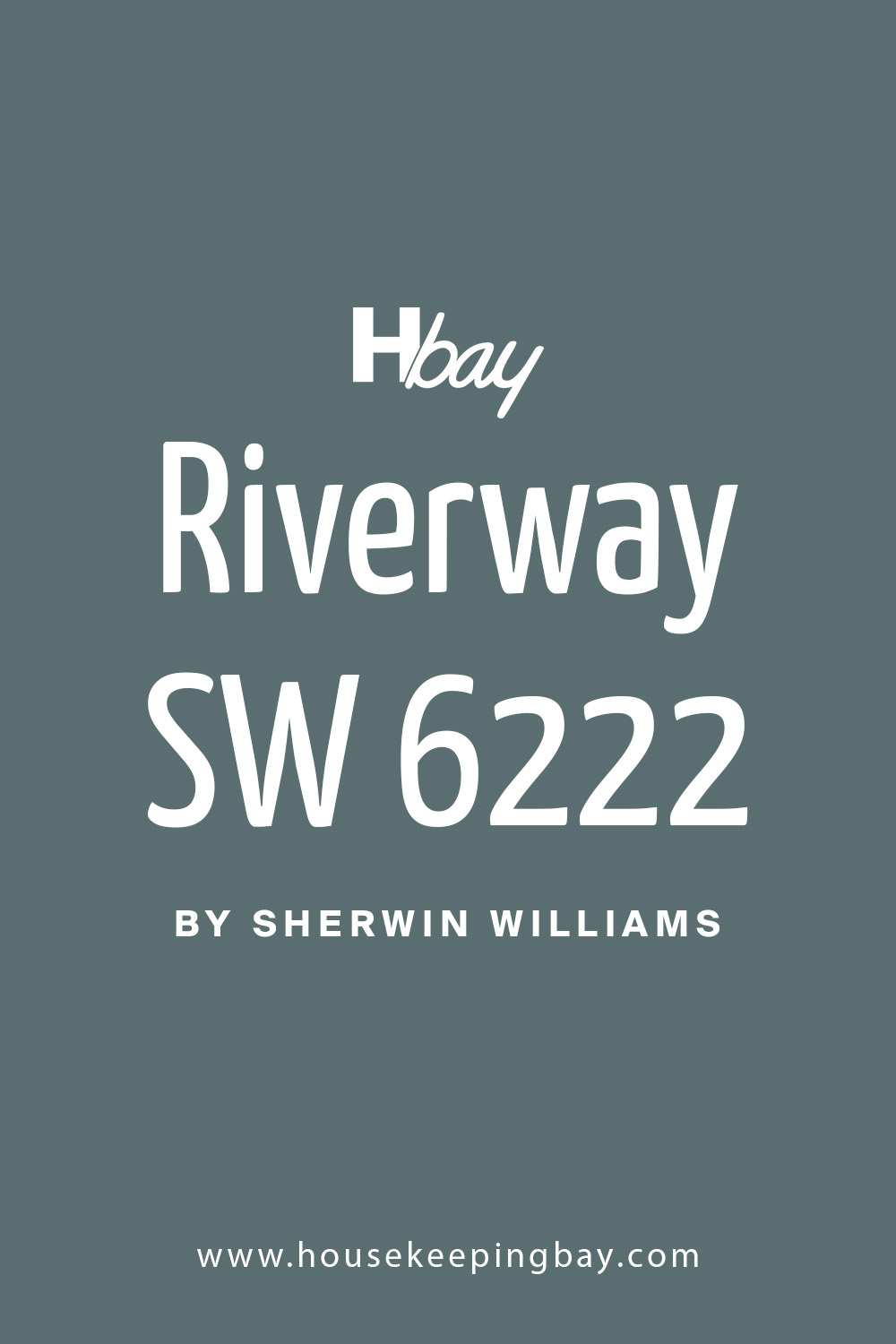 Riverway by Sherwin Williams. Color Undertones
As we already mentioned, there are so many shades in this beautiful color that you can really tell which one it is at the first sight. However, the official manufacturer has the answer to our question.
So, Riverway is a shade of cyan. Its formula consists of three colors: 36.47% red, 44.71% green and 45.49% blue. Consequently, if we can rely on percentage, then Riverway may be called either green or blue.
However, the official resource of the manufacturer states that Sherwin Williams Riverway paint has an undertone called Tradewind, which is close to a light minty color.
The next is Rain and Interesting Aqua, which are the two colors that are pretty similar to each other.
Next goes Moody Blue, which is the closest one to the Riverway. It is way darker than all the previous colors in the paint line.
Interestingly, all names of the colors are somehow connected to the water, so it means that they intended to look both green and blue.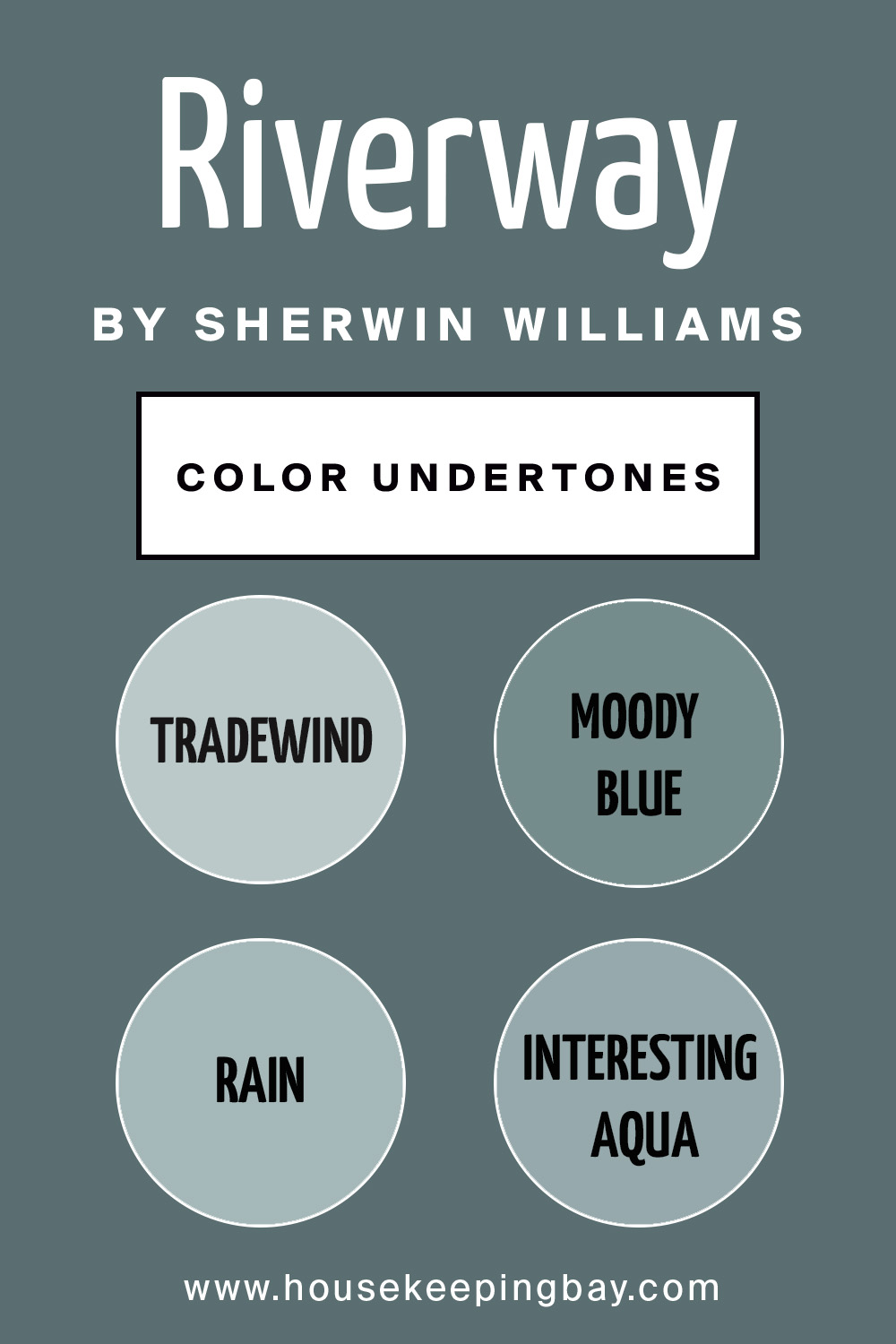 Riverway by Sherwin Williams. Paint Color LRV
So, moving on to LRV (Light Reflectance Value), you should note that Riverway has it of 16.
Now we guess that we should explain what LRV is. Basically, it is the amount of light that the paint is able to reflect when it is applied onto the surface.
And not to get you confused, the Light Reflectance Value scale goes from 1 to 100, where 1 is the darkest and 100 is the lightest color.
Since Riverway LRV is 16, it means that it's from a darker side of colors and it will match and contrast well with light colors.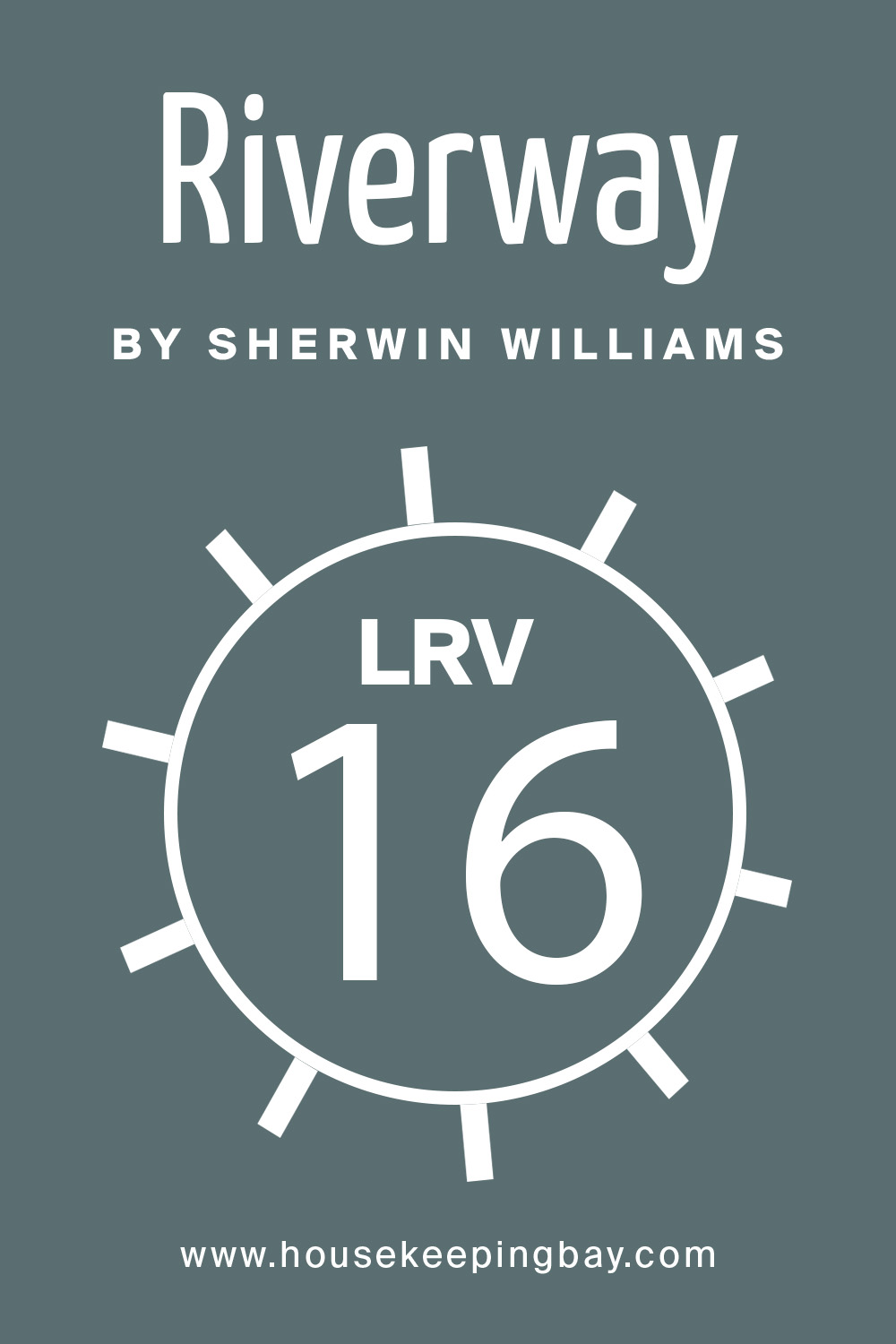 What is LRV? Read It Before You Choose The Right Color
Coordinating Colors for Riverway by Sherwin Williams
So, the official Sherwin Williams website gives us their recommendations on how to coordinate Riverway with other Sherwin Williams colors. First of all, they offer to match it with Restful White.
This color is a warm sandy light color. It is calming and will work well with Riverway in contrast, emphasizing each other's depth.
The second perfect matching color is called Ecru. It is a paint color which could be described as a bronzy hue that is mixed with gold.
Such a combination will be exactly what you need if the interior style of your home is Boho.
The other color recommended by the manufacturer is Topsail.
Obviously, you can create a perfect monochrome design using these two together, since Topsail is really close to Riverway and is only a few shades lighter.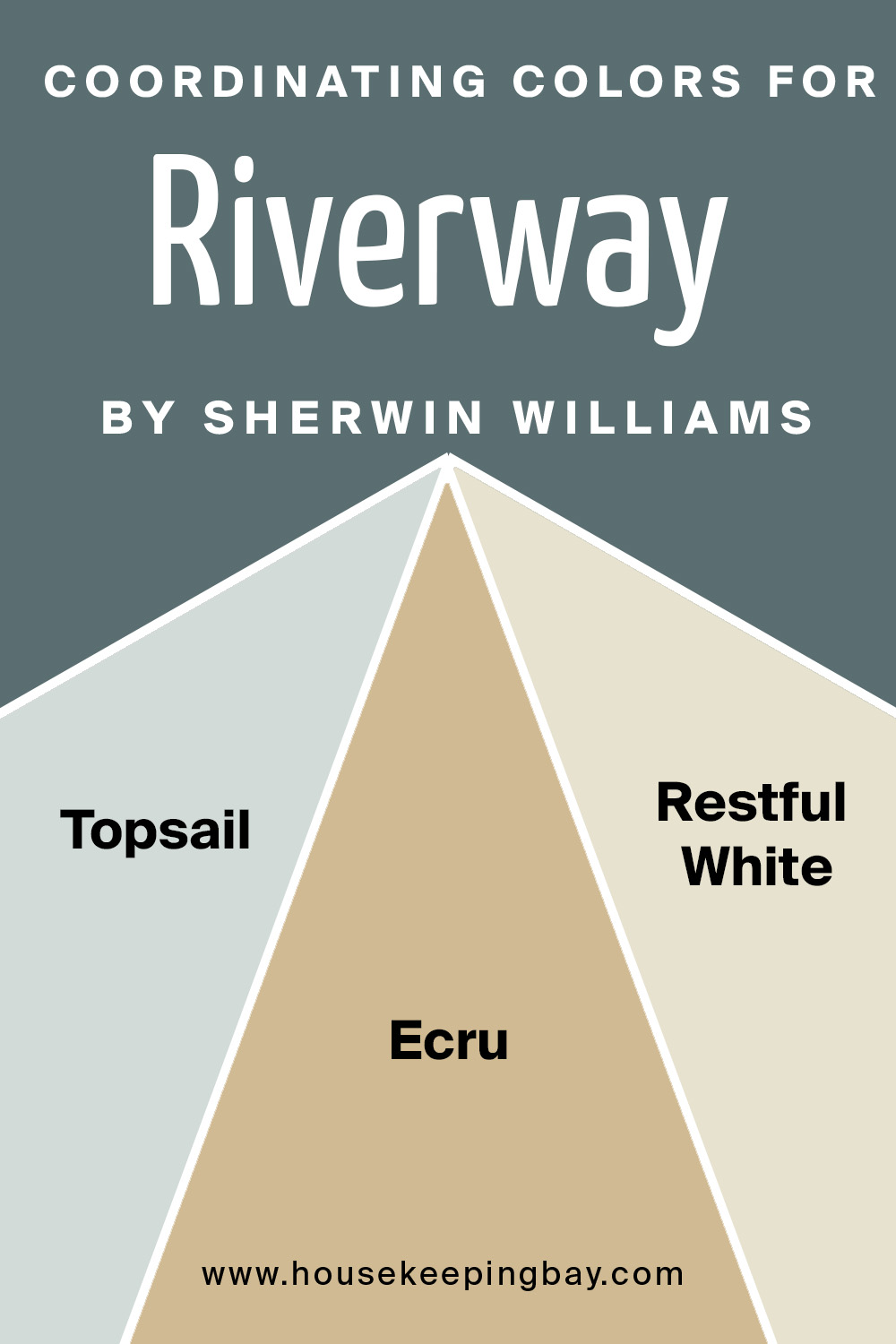 Trim Colors for Riverway by Sherwin Williams
Another step in planning your design is choosing a paint trim. So, since Reverway is a cool dark color, using warm white such as Creamy White would be really good. This color is a natural white with subtle undertones, but it will look great without feeling too yellow.
Mixing Riverway with either gray or brown is also a good idea. Both of the colors are so neutral and universal that they may be combined with almost any color. We would recommend such shades as Urban Bronze or Dovetail.
Each of them will provide you with a versatile combination that can create a peaceful and relaxing interior.
Also, you should consider that the most winning option for the Riverway color would be a color finish with furniture and decor with matte black and white surfaces, as well as products made from cotton, linen and other natural materials.
You can also play with contrasts. For example, put black interior items and purchase white decor items, or decorate the walls and ceiling in a gray-blue hue.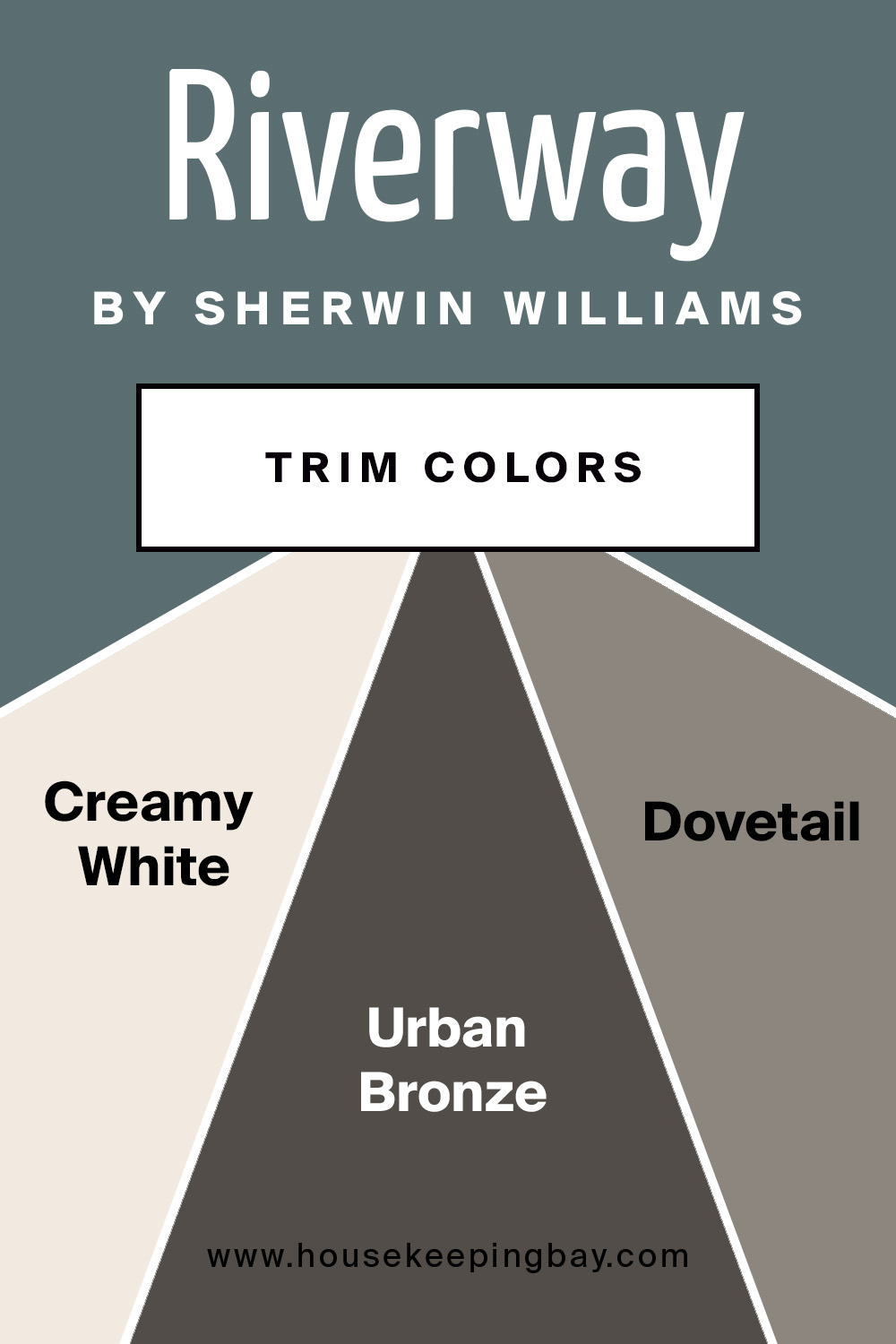 Paint Colors Similar to Riverway by Sherwin Williams
If you`re a fan of a monochrome color palette in interior or exterior designs, then you might be looking for colors similar to Riverway if you decide to use it as your major paint color.
The official website of Sherwin Williams suggests us a few options, and some of them are:
Morning at Sea
Mediterranean
Mountain Pass
Slate Tile
Rocky River
Labradorite
Refuge
Rookwood Sash Green
Smoky Blue
Waterloo
So, even from their names you see that all of these colors have either green or blue shades and undertones.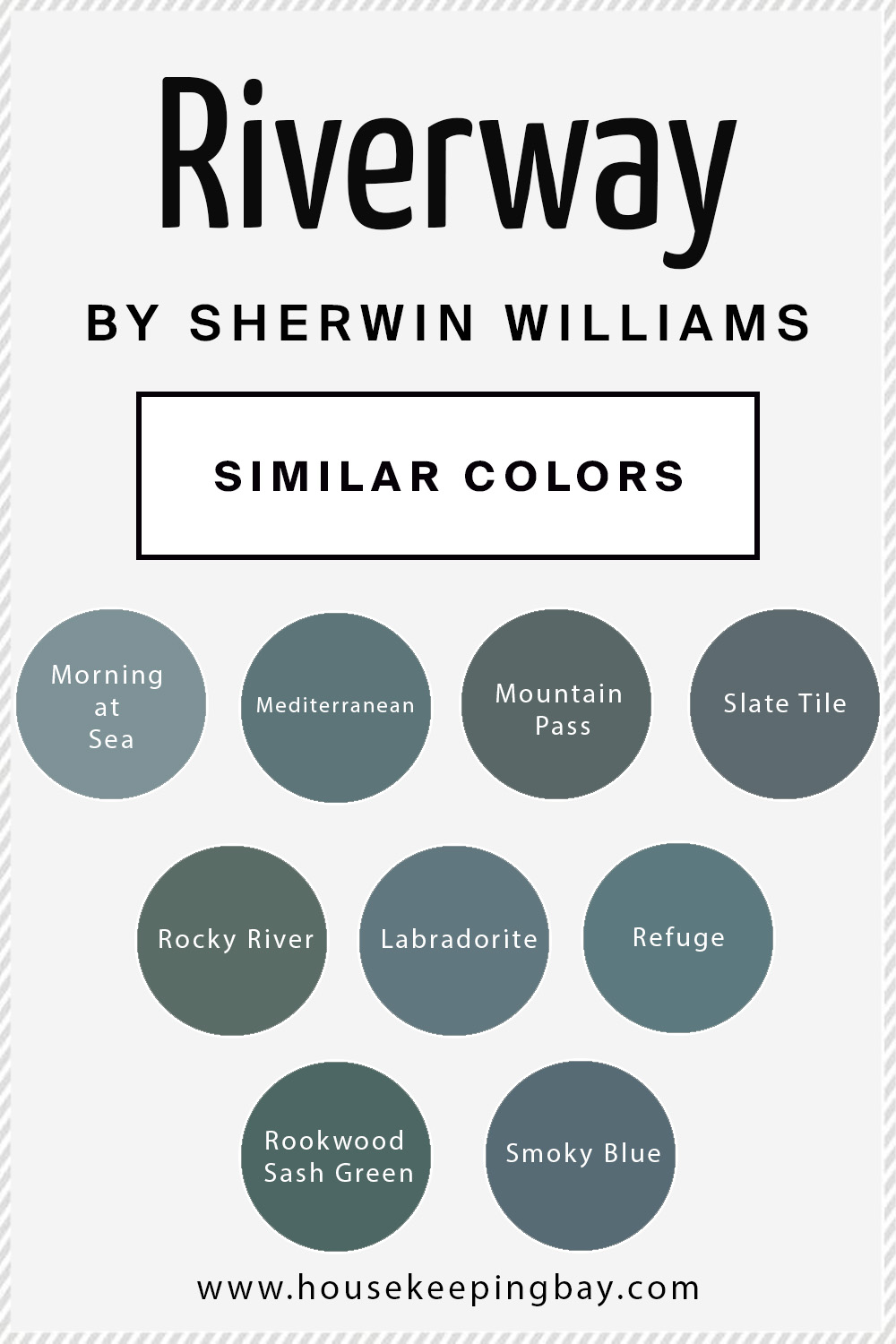 How to Use Riverway by Sherwin Williams?
Gray-blue colors, such as Riverway, typically include two colors, so this particular one looks quite self-sufficient in a monochrome design and does not require the use of additional colors or hues.
But if you want to dilute the interior with another color, you need to consider which shades of gray and blue are best to be used.
The variety is determined by the vast palette of blue. It can be heavenly, turquoise, aquamarine – both more pastel and rich dark. Gray usually has a beige undertone and is close to white, or asphalt or graphite.
It all depends on the amount of white and black. Thanks to variations in combinations, gray-blue can look both gentle and romantic, as well as strict and elegant.
Gray and blue, with their lightness and at the same time restraint, are used to decorate any room in the house.
With the right choice of complementary palette, textures and decor, a space where these colors are used will become a place to return to.
Related: Sherwin Williams White Paint Colors | Detailed Guide
Riverway by Sherwin Williams In the Living Room
A cool and fresh combination of gray and blue in the living room gives austerity and peace. If the windows of the room face the north side, then it is worth choosing a lighter color.
Orange, yellow and red accessories in the Sherwin Williams Riverway living room will do it best.
If the windows face south, then there is enough natural light in the room. Therefore, it is quite acceptable to take cold gray and rich turquoise as a basis.
If the area of ​​the room is small, then a light palette is also preferred. Saturated colors should be added only in the form of point accents and small interior items.
If you have more than 20 sq. m., then deep colors are good for finishing. They can make the area a little smaller, without making it look scary.
You can easily make a design with graphite gray and cornflower blue.
The furniture that goes well with this color is usually neutral, made in soothing colors to match the walls or ceiling.
Wood and other natural materials look appropriate in the room painted with Riverway.
Textile details are preferably selected from velvet, genuine leather and silk.
Textures can be varied: do not be afraid to combine transparent glossy or frosted glass, bronze, soft fleecy carpets.
Related: 12+ Ideas For Your Living Room Color Palette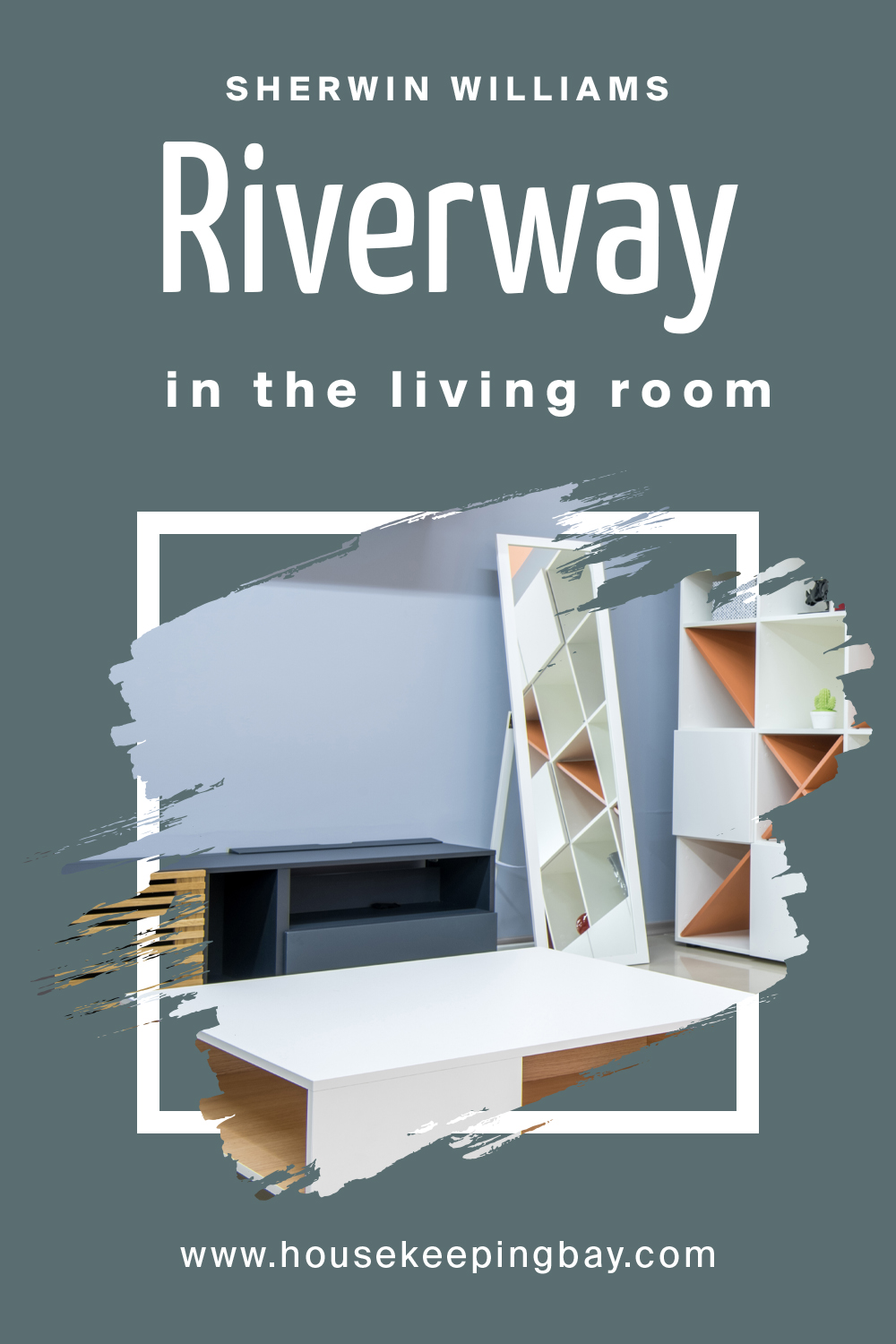 Riverway by Sherwin Williams In Bedroom
Riverway is a great option for a bedroom where an atmosphere of calmness and relaxation is important. It is necessary to use soft, unobtrusive colors that will be pleasing to the eye.
To prevent the decor from being boring and too simple, the interior is best to be diluted with white details.
They help to visually enlarge the space and add light. For this purpose, snow-white chairs and poufs, shelving and decor are good in Sherwin Williams Riverway bedroom.
Yellow, green and pink palettes are also welcome in accessories. In the Art Nouveau style, it can be replaced with chocolate-beige, as an option. This will bring a little elegance and chic to the decor of the room.
The interior will be well decorated with olive, which will add home comfort.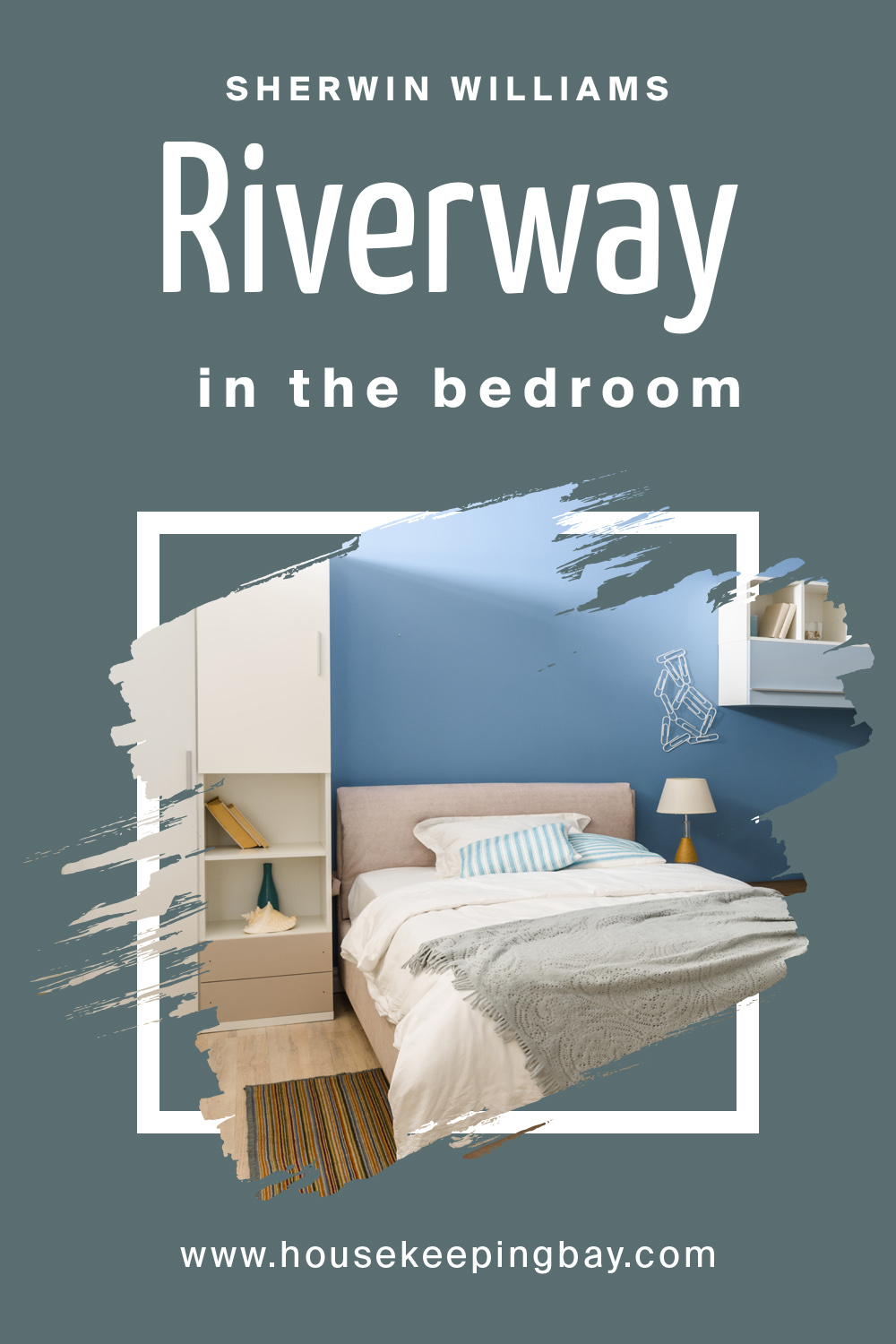 Riverway by Sherwin Williams In the Kitchen
For neoclassical interiors, deep blue colors are well suited, which looks advantageous against a silvery background with a pearly sheen.
Riverway paint color in the interior of the kitchen in the classics perfectly complements the golden decor elements.
He allows you to effectively combine modern restrained forms with the sophistication and luxury of guilding.
When arranging the kitchen so that it is less cool and boring, the ratio of gray and blue should be unequal. Moreover, the heavenly blue is best to be chosen as juicy as possible, but not defiant: turquoise, sea wave, and aquamarine are your best choice colors.
Also, accent chairs might look advantageous against the background of a gray kitchen. The facade is preferable to be left glossy.
In this case, the reflection of it visually increases the area and looks elegant.
But you need to take into account one caveat – the coating requires careful maintenance, as it attracts dirt and leaves fingerprints on itself.
Related: What Color Paint Goes With Brown Granite?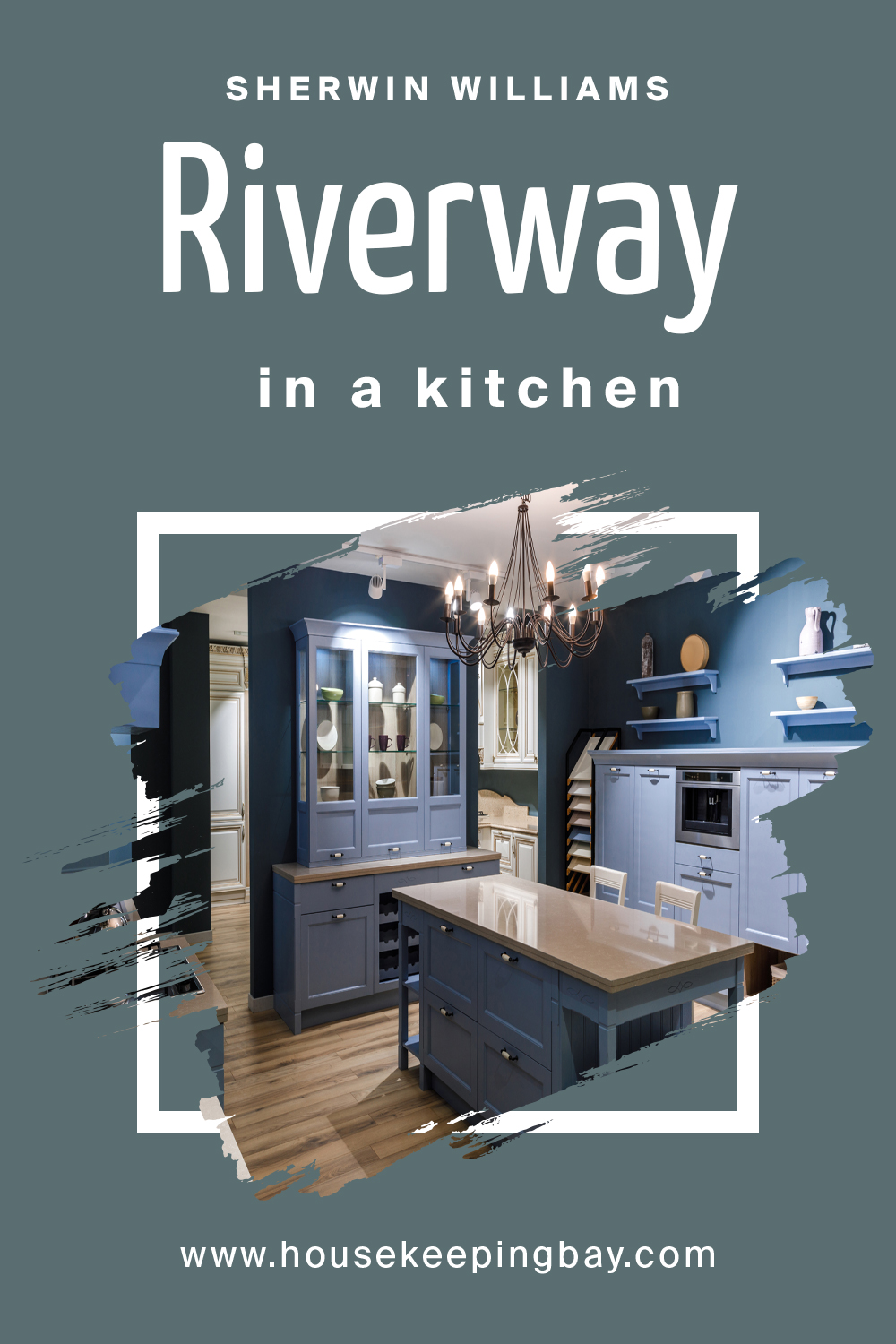 Riverway by Sherwin Williams In the Exterior
Basic and predictable colors such as yellow, red or white are somehow boring on the walls. Gray has been on-trend for the past few years, especially when it is properly used in the exterior.
However, it works best when it is mixed with green-blue colors such as Riverway.
So, designing a home in blueish colors will look very creative. You should be careful with style and think twice before using Riverway in your exterior. We would recommend making a choice for Sherwin Williams Riverway exterior if your style is Boho, Loft, or Art Deco.
At any rate, design is only developing and new styles like modernism and minimalism, contemporary are welcoming of such shades as Riverway.
Related: 65+ Benjamin Moore Exterior Paint Colors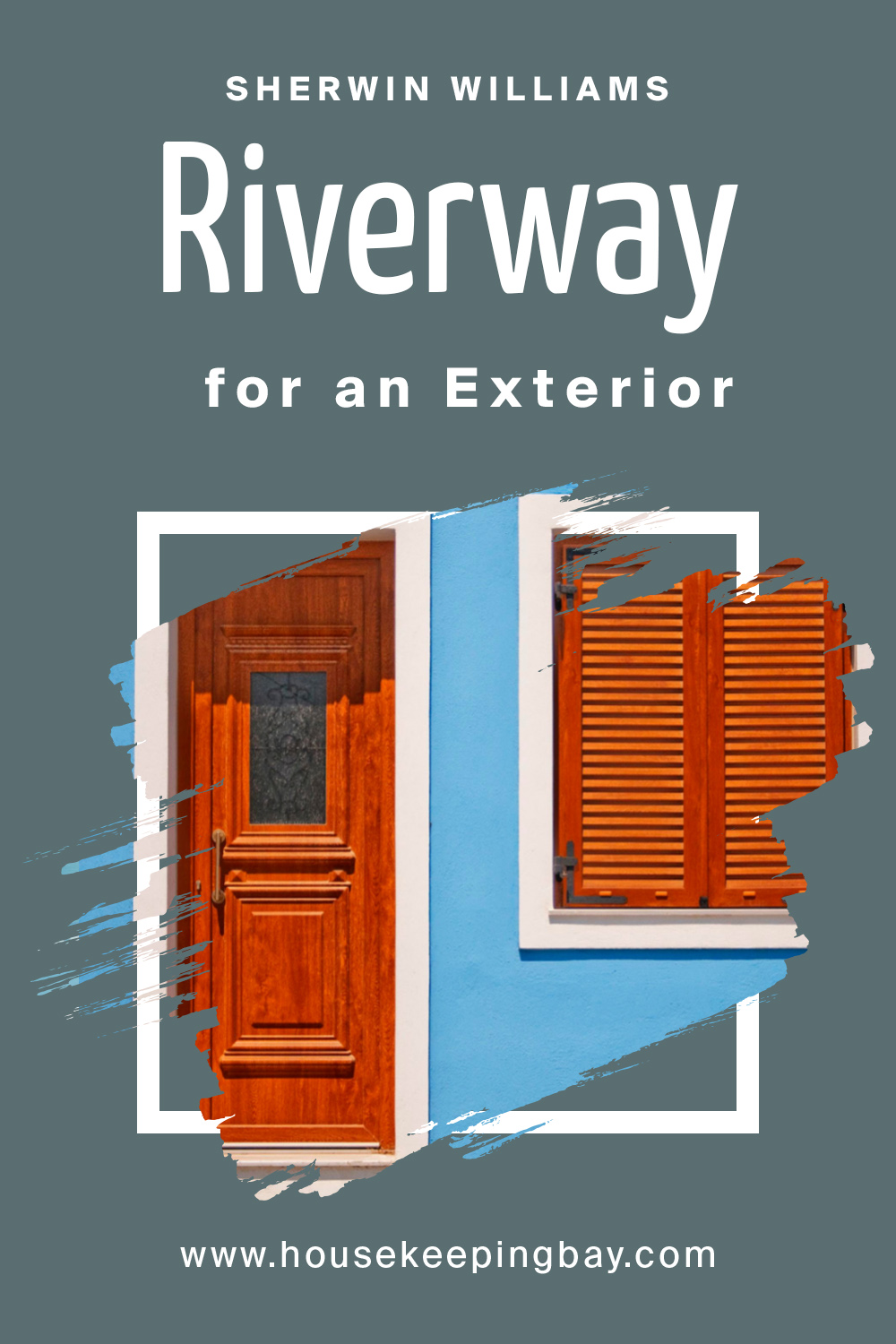 Riverway by Sherwin Williams In the Bathroom
The best combinations in the bathroom are gray-white with azure, as well as beige with turquoise and pearl gray with pastel blue.
For the main color, you should choose blue. Using it, you can easily carry out zoning if the bathroom is combined.
Then the bath area is separated from the toilet and sink with sky tiles and decorated with mosaics.
Bathrooms are usually small. To visually correct this, designers recommend using the method of combining glossy and matte textures. A large mirror at the entrance is usually placed for this purpose.
To emphasize the reflective surface, it is preferable to lay out the opposite wall with matte tiles. It can also be added to the edges of the mirror.
The remaining walls are best to be decorated with white or heavenly glossy tiles in this case.
The most beneficial color combinations with gray-blue in the interior of the bathroom are yellow and orange, which add liveliness to the space and fill it with energy.
Combinations with white also look impressive, which visually enlarges and refreshes the room. Green and red details can also be added to the strict monochrome of colors. Well, if you can pick up accessories in one subtone.
The warmth and softness of the blue will be pretty well highlighted by a beige and milky palette.
Furnishings and textiles in these colors can completely remove the coldness of blue ceramics.
In a blue bathroom, a marine theme is especially appropriate. A curtain with a picture of raging waves or marine life will help to bring it into the room, as well as a floor mat, a glass for toothbrushes, a soap dish and towels with refreshing marine pictures.
So, Riverway could be easily designed into a bathroom.
And now that you know in what rooms this color will look the most suitable and harmonious, let's check out how it can be compared with a few other paint colors that are pretty similar to it.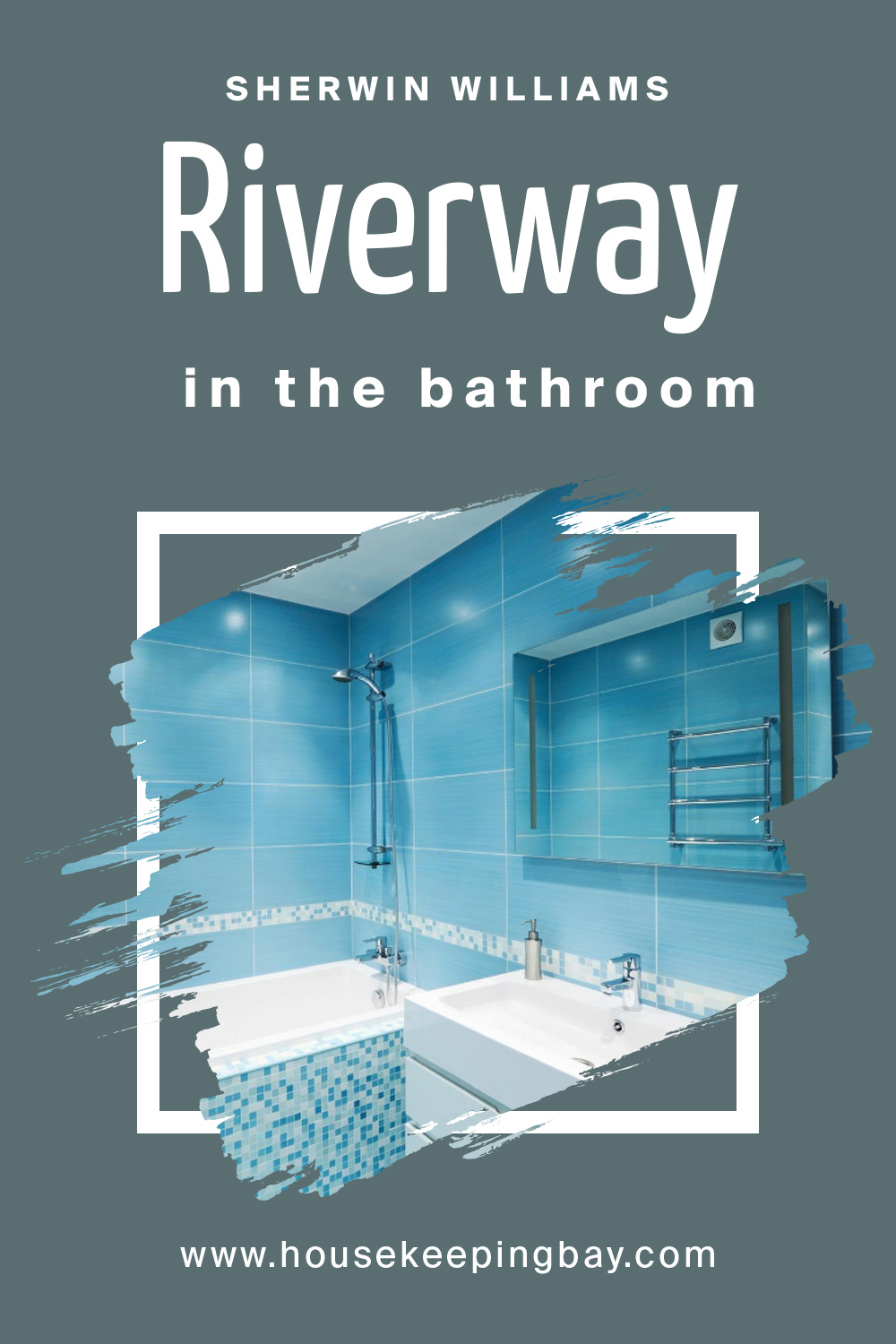 Riverway vs. Slate Tile
It is fair to admit that Slate Tile is actually a similar color to Riverway.
Combining these two will work in a monochrome design really well.
The only difference is that only a professional colorist could notice that Slate Tile is slightly more blue than Riverway.
Riverway vs. Aegean Teal
The first thing you need to know when comparing these two is that Aegean Teal is a paint color by another manufacturer called Benjamin Moore.
However, if you are looking for a perfect dupe for Riverway, then this one is exactly what you need.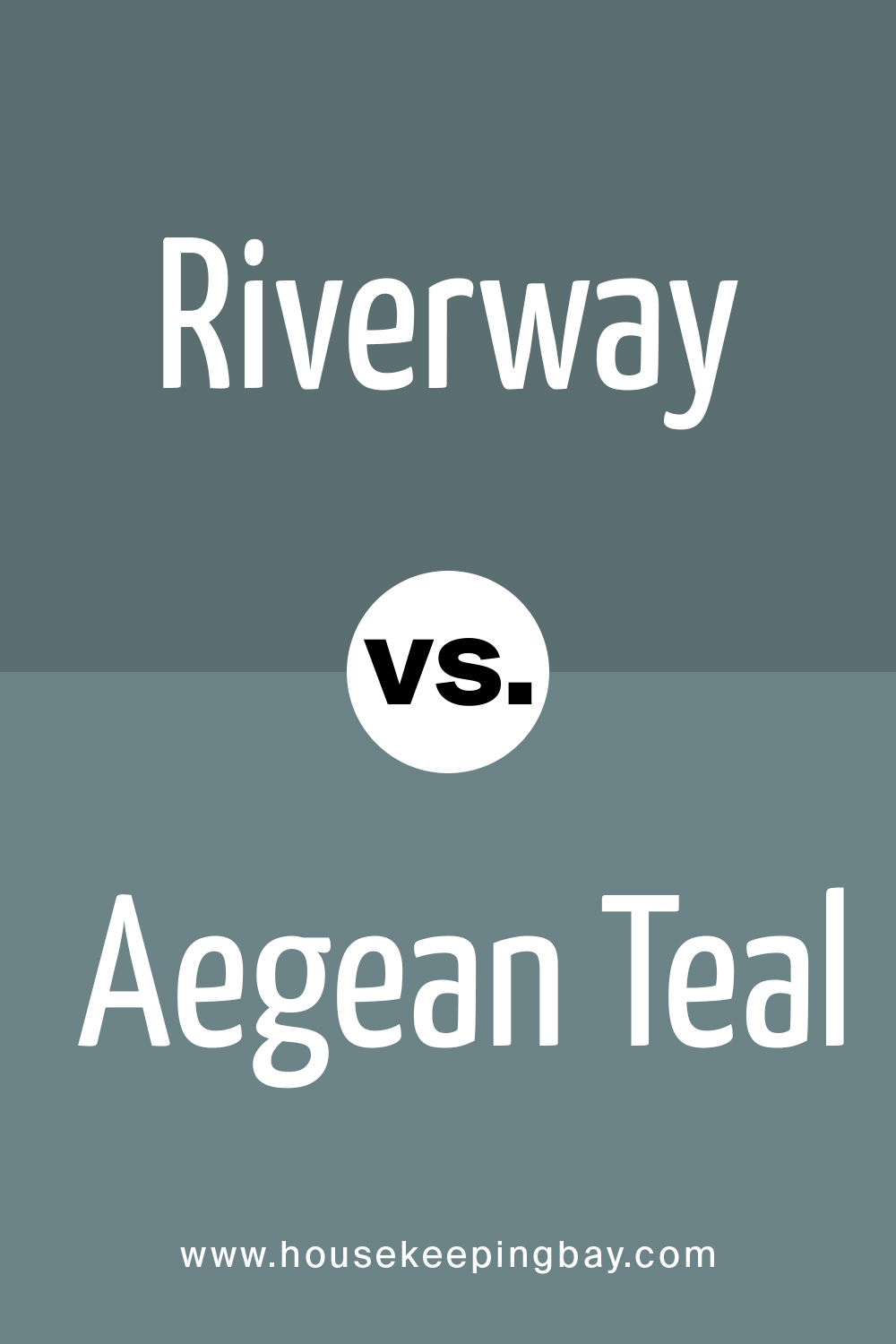 Riverway vs. Still Water
These two will perfectly match since in one design. However, there is a slight difference between them.
Still Water is more of a deep green color rather than blue as Riverway.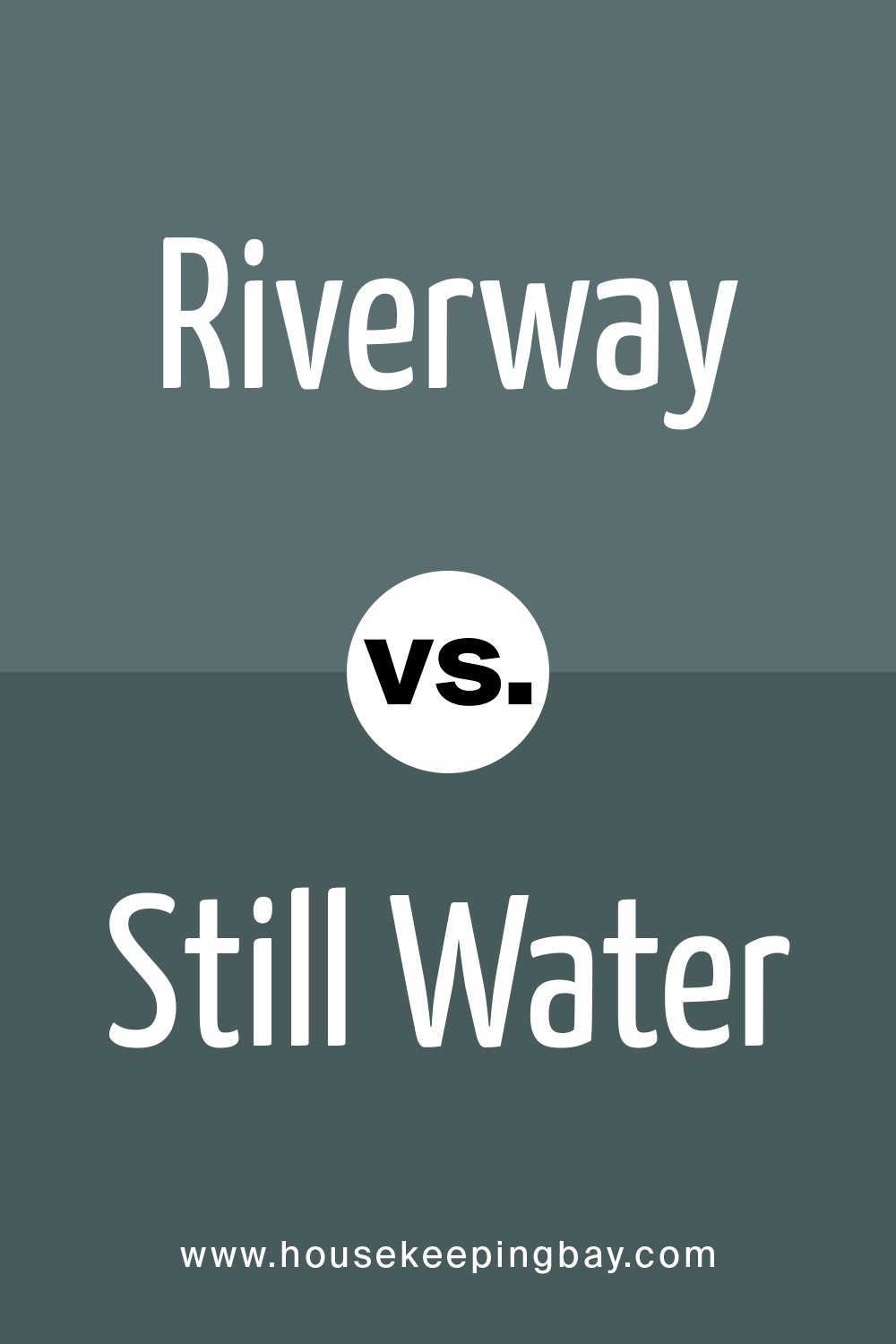 Well, now you know much more about the paint color called Riverway.
We told you about its undertones, and trim colors that go well with this beautiful greenish blue, as well as explained in what rooms this color will work best of all.
With all that, and thanks to all the nuances that you are now aware of, using this color will definitely be easy for you, and you'll manage to make it work perfectly in your interior no matter of its design or style.
Frequently Asked Questions
⭐Is Sherwin Williams Providence blue similar to Sherwin Williams Riverway?
No, Riverway is slightly lighter. However, they have the same undertone.
⭐What is Riverway by Sherwin Williams undertones?
It's a complex color which has a mix of two undertones: blue and green.
⭐What is Riverway Light Reflectance Value?
Riverway has a meaning of 27 of LRV. It means that it's from a darker side of colors and it will match and contrast well with light colors.