If you don't have much experience in choosing paint colors for your home interior renovation projects, picking up proper colors may be quite a challenging task for you.
Especially if you have to deal with such a color as Alpaca by Sherwin Williams. Why is it, you may wonder? Well, because upon closer examination, you will see that this paint color is a true ninja!
And since it is rather tricky even for the professional painters and home renovators, we decided to provide you with as much useful information about this paint color as we can.
So today you will learn about its undertones and coordinating colors, about the wall paint colors that suit SW Alpaca most of all, and also we will tell you how this color will look when being differently lit and used in different rooms in your home.
What Color Is Alpaca By Sherwin Williams?
This question is not that easy to answer! Whilst the majority of interior paint colors are more or less simple, certain ones, for example, greiges and neutrals, are rather tricky. The reason is hidden in their undertones.
See, it's the undertones that make each paint color what it is. And when we are choosing a paint to apply onto our walls, we basically pay attention to its undertones in fact.
As for the Alpaca paint color by Sherwin Williams you can't say at once and for sure what type of color it is. At first sight, you may think it is a warm gray, and then, that it is a taupe paint color. But in fact, it is neither gray nor taupe! As Encycolorpedia says, that's because it has a bit more going on than the average warm gray or taupe.
If we take a closer look at this paint color, we will see that it is warmer than a traditional warm gray, making it more of a taupe.
However, at the same time, it has a bit more undertone than you will find in some of the most popular taupe or greige paint colors.
So generally speaking, we would refer to SW Alpaca as a warm neutral and a taupe paint color that has strong undertones.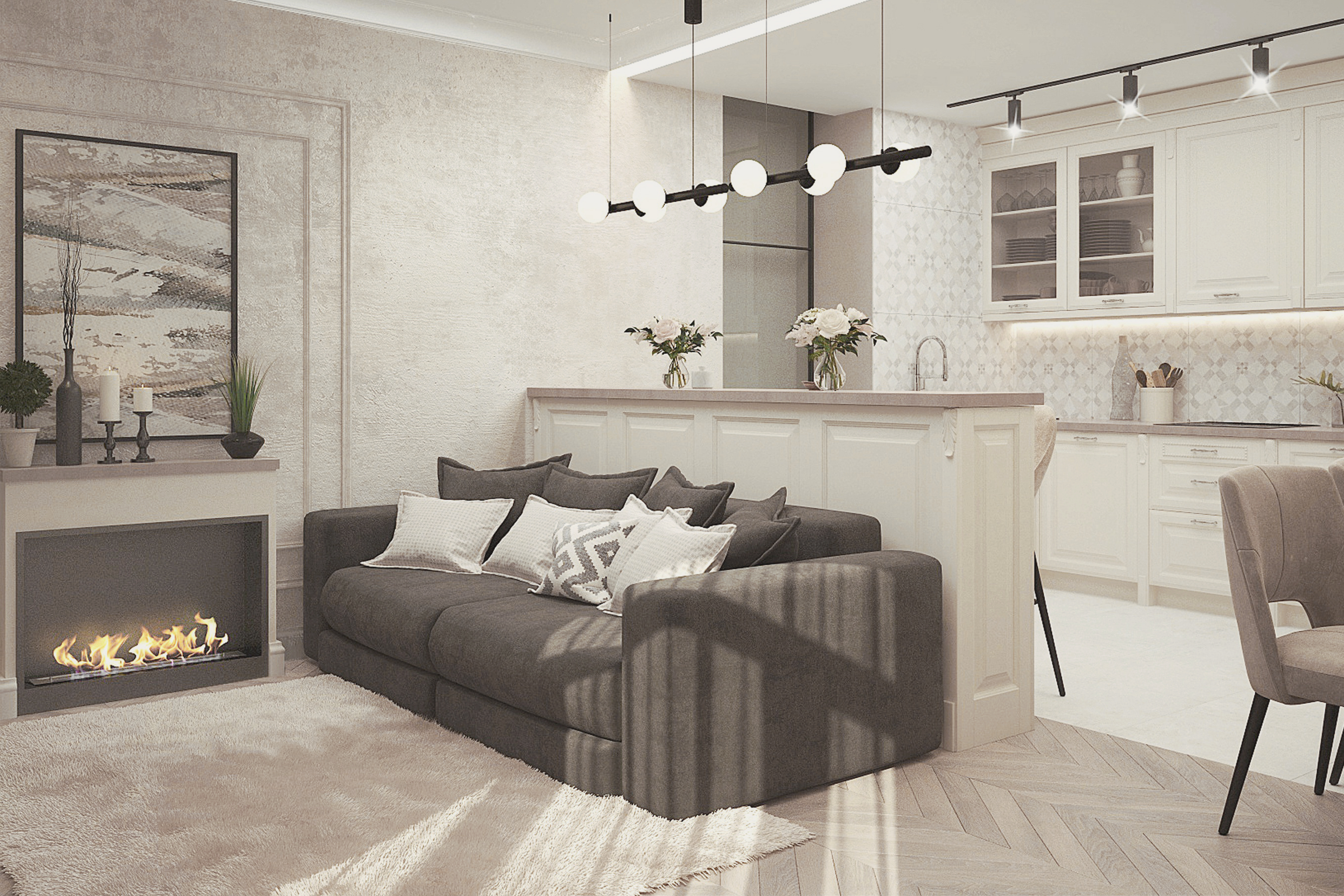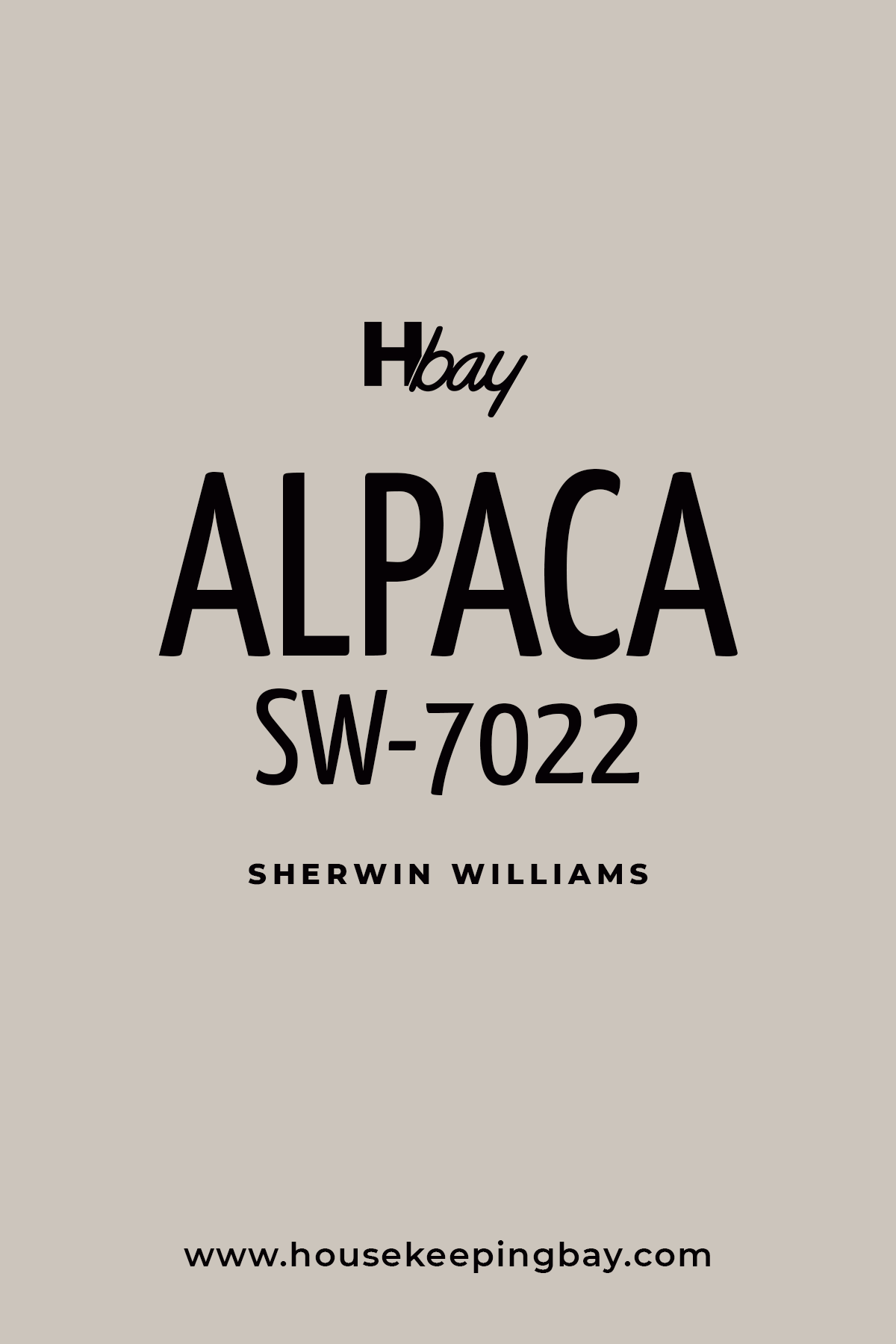 Sherwin Williams Alpaca Undertones
Speaking of undertones, they play an important role in choosing what paint color to apply in a certain room. That's because they will influence the way the paint color reveals itself on the walls in different types of lighting.
Speaking of the SW Alpaca, on the one hand, this paint color does have quite noticeable hints of purple with a more slight pink hue in them. But on the other hand, this paint also contains brown undertones which make it a part of the warm colors family.
However, if you are not very sensitive to undertones, you will most likely notice only those purplish notes, and that's all. Nevertheless, we would recommend you consider the purple side of this paint color as well since it may come out quite unexpectedly when you are not ready for this at all!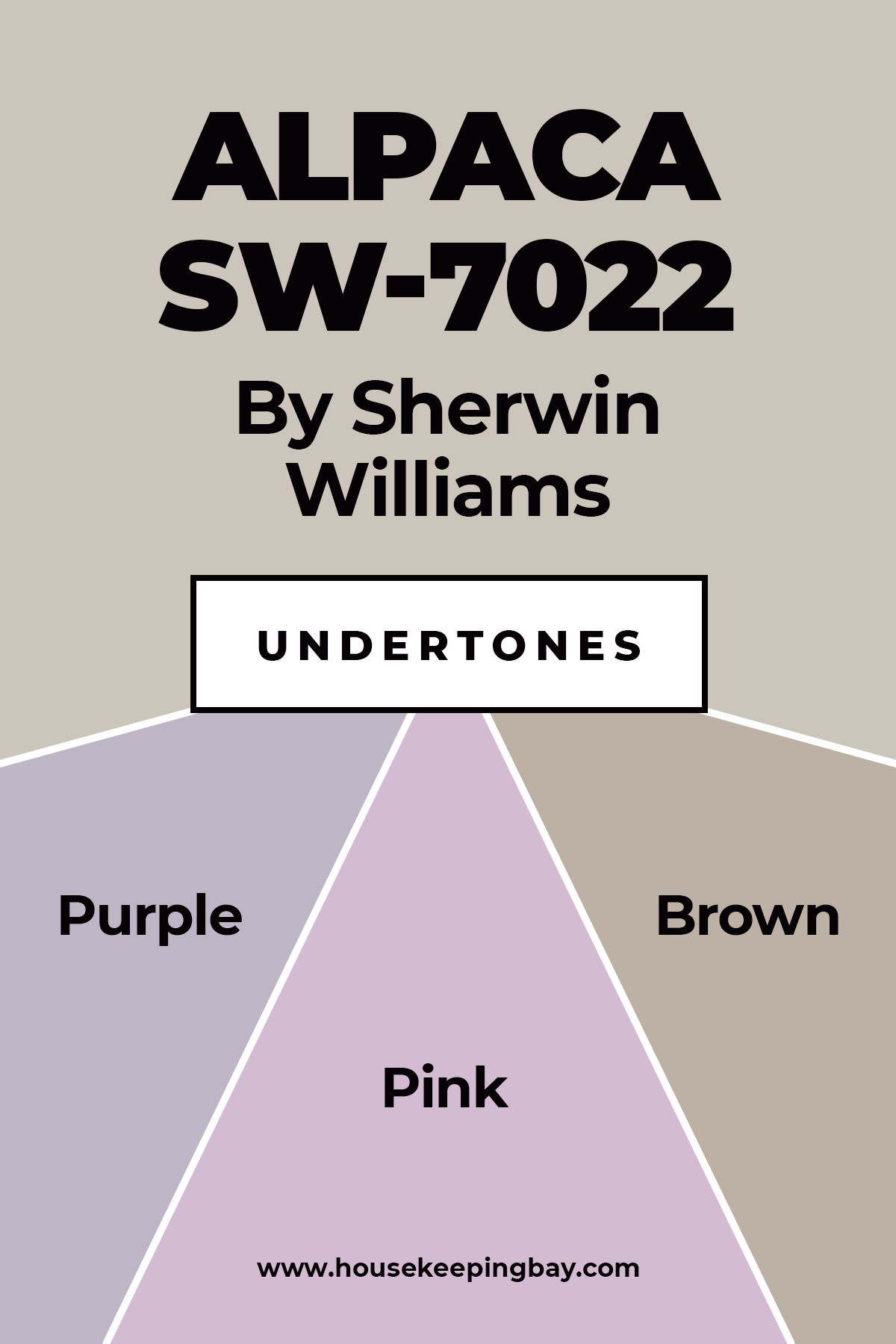 Alpaca And Lighting
Since this paint color is so tricky and rather complicated in terms of its undertones and thus the way it may react to different types of lighting, you need to know exactly how it will look and reveal itself when being differently lit in your home.
In terms of this, you also need to know what light reflectance value (LRV) this paint color has. Like this, you will know how dark or light it will be in different rooms with the different amount of light.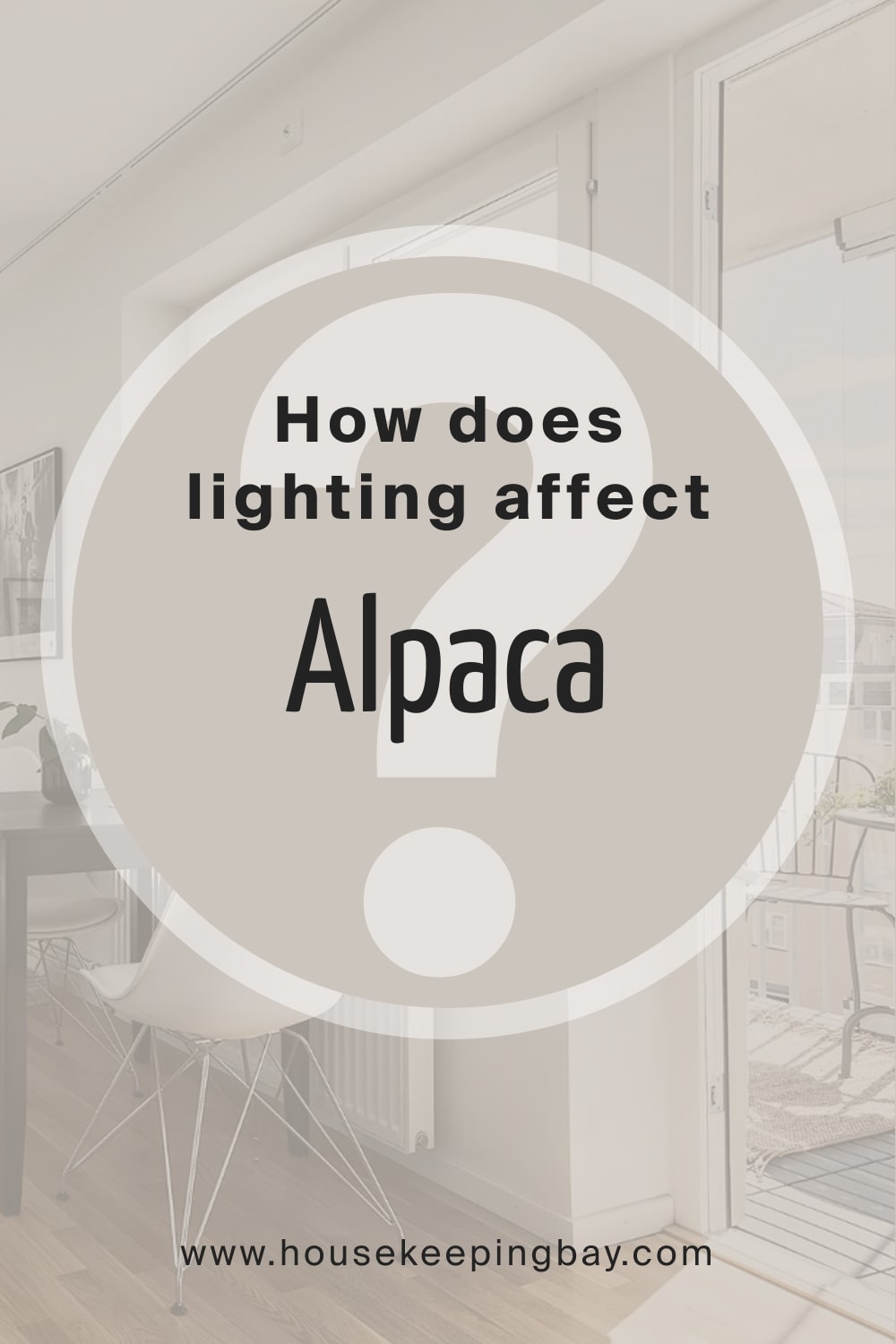 So, as for the paint color's light reflectance value, SW Alpaca has an LRV of 57. It means that this paint color is situated on the low side of the light range. Also, it means that it has more depth and body than a more typical light neutral paint color.
In addition, when being applied in different rooms, SW Alpaca will reveal itself differently as well.
For example, if you paint the walls in your north facing room with this paint, it will flash a bit gray while still keeping a soft backdrop. On the contrary, in a south facing room, SW Alpaca will lean more into its taupe side.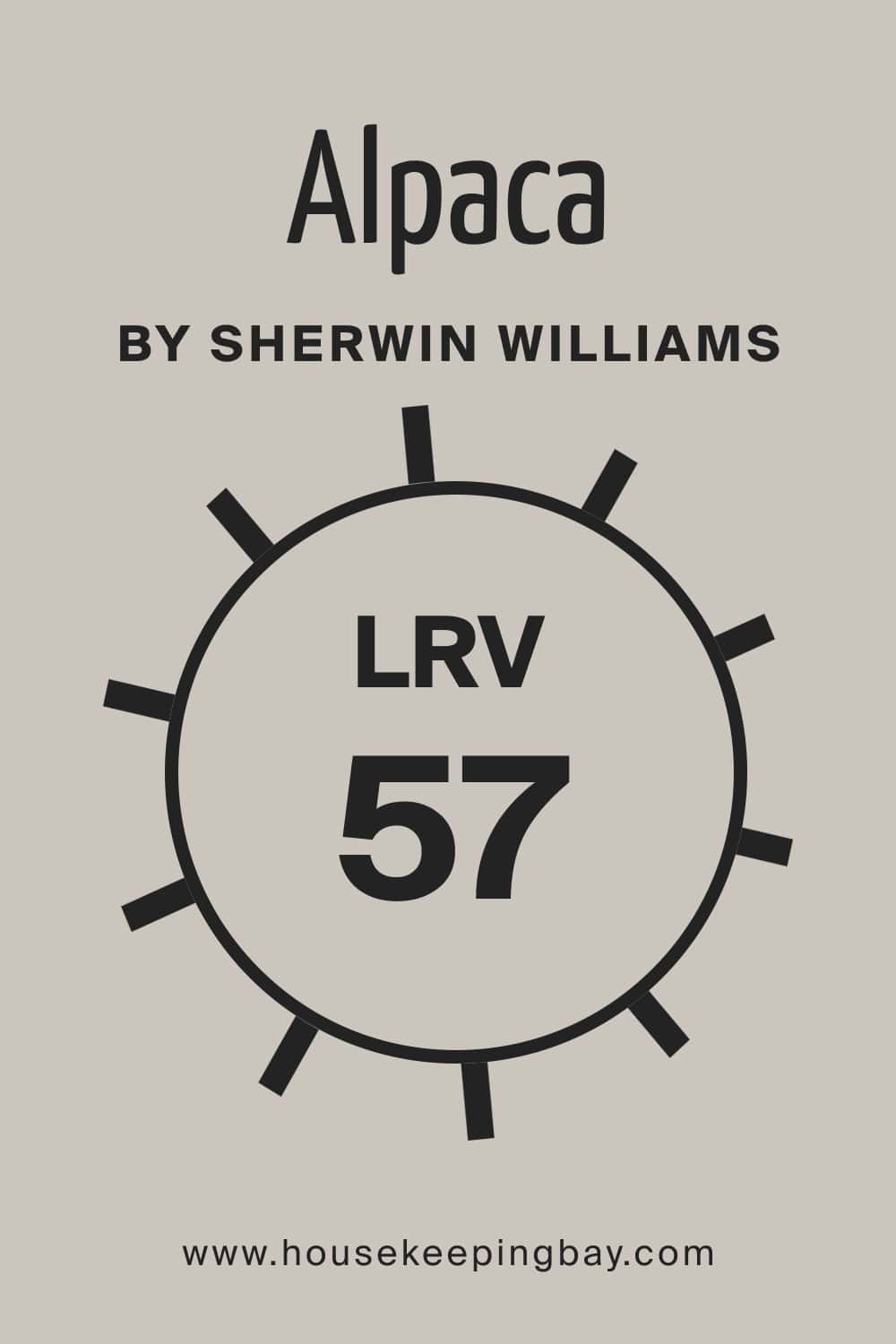 What is LRV? Read It Before You Choose Your Ideal Paint Color
Sherwin Williams Alpaca Coordinating Colors
If you don't want to paint the walls in your home with the same color, you will have to choose so-called coordinating colors. They are the colors that are used with the major color to create combinations that will be aesthetically pleasing.
As for the Alpaca color, its best coordinating colors will be the following:
Sherwin Williams Moonlit Orchid
Sherwin Williams Simple White
Mink by Sherwin Williams
So as you can see, Alpaca pairs well with both lighter and darker colors. Even such a dark greige as Mink looks great when being paired with this warm neutral.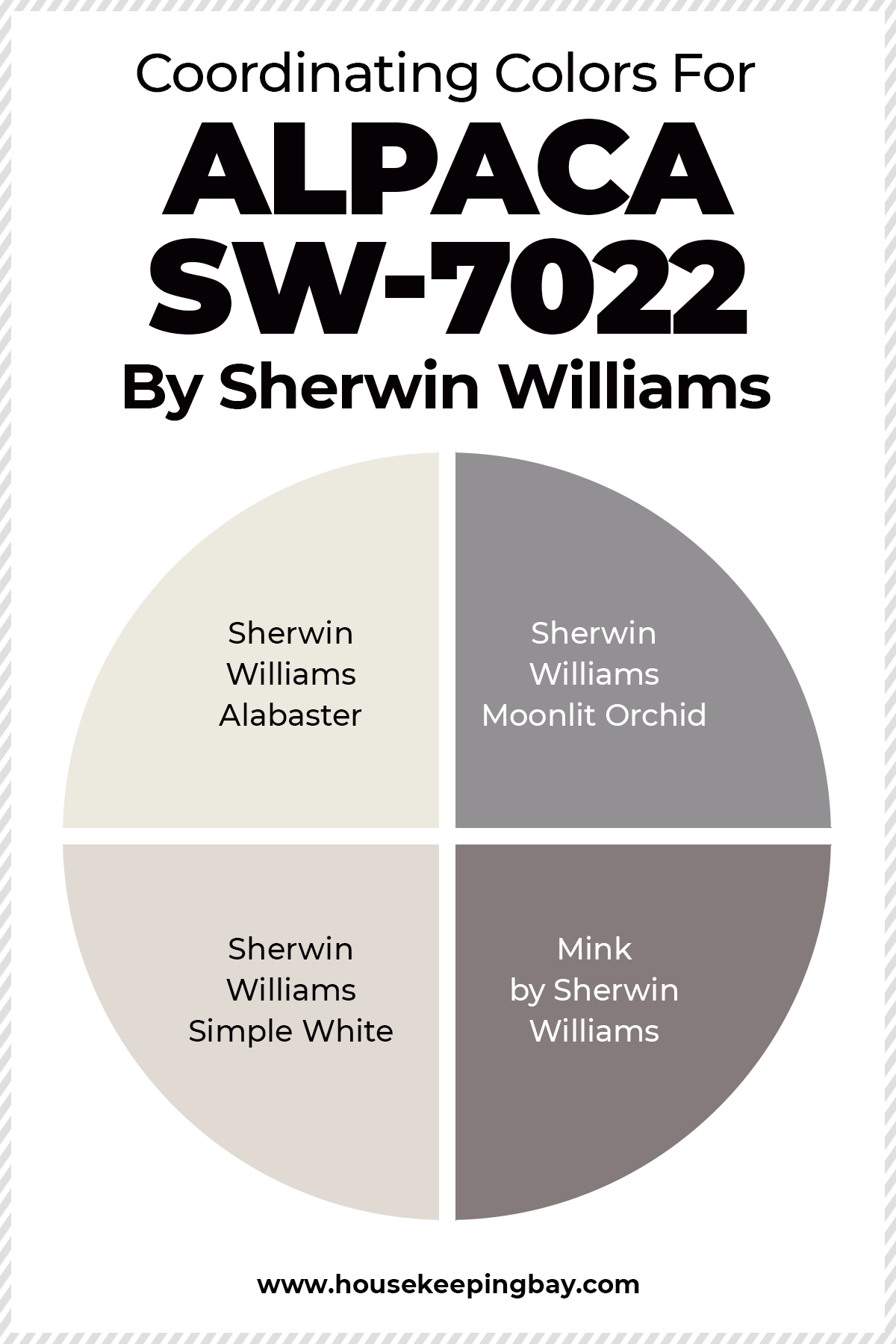 What Are the Best Trim Colors For Sherwin Williams Alpaca?
Since Alpaca belongs to neutral paint colors, the best trim paint for it will be white. However, white is not that simple color as you might have thought of it! Some whites are more reflective whilst others are duller and reflect less light after you apply them on the walls.
This is why it is good to know what shades of white will suit such a complex color as Alpaca better than others in order not to mess up with your room's look.
First of all, we would like to warn you: when painting your interior walls with Alpaca, avoid trimming it with whites that are too creamy. It could hit an odd note with the purple undertone in Alpaca. Instead, stick to such white paint colors as:
Nevertheless, take into consideration that you should not get too excited and use these trims, especially Showbound, all around your home! As for the Snowbound in particular, it would limit you significantly in other rooms.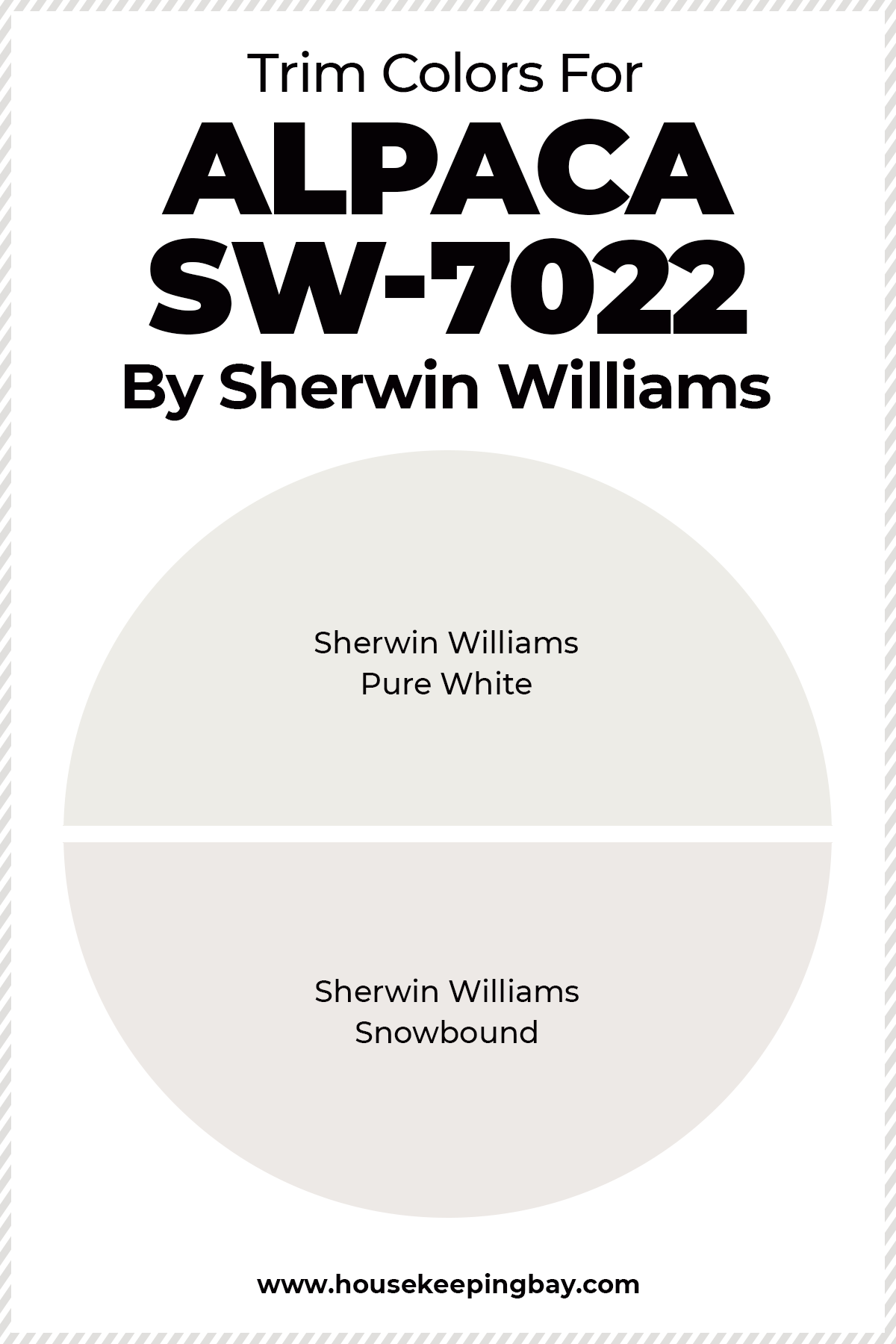 What Colors Can Be Considered Similar to Sherwin Williams Alpaca?
Sometimes we can't make use of exactly the wall paint color we thought of first. There might be different reasons for this, for example, you might not be able to find the paint in the nearby stores and you have to start your painting project right now!
No matter the reason, in such a situation, you need to think of all the similar colors that can be used as substitutes for the initial paint you chose. And this is when you need to realize that there won't be an exact match for any color between brands!
There will anyway be shifts in undertones, color temperature, and depth. However, you can still find the closest matching colors that will look almost the same as the paint you wanted to use.
Speaking of Sherwin Williams Alpaca, the most similar-looking paint colors will be the following:
Benjamin Moore Nimbus
Benjamin Moore Cumulus Cloud
So if for any reason you can't find SW Alpaca on the shelves of your store, stick to one of the options we have just suggested.
AWESOME Sherwin Williams Color! | Alpaca Color Review
Where In Your House Is It Best to Apply This Color?
Since Alpaca belongs to neutral paint colors, it can be considered pretty versatile in terms of the area of its application in your home. It can be combined with quite many other colors, as well as used in many different rooms in the house. However, unlike greiges, for instance, this interior color must be used with extra care in terms of lighting of the space you are going to use it in!
And just to show you how versatile it is, check out what rooms and what objects in your home will surely benefit from having their walls painted with Sherwin Williams Alpaca:
Bedroom
Kitchen
Kitchen cabinets and cabinets in general
Living room
This paint can even be applied on your house's facade! And now let us tell you more about each of these options in detail.
SW Alpaca For the Living Room. Is It a Good Choice?
In general, yes, it is a good choice. Only you still need to take into consideration the type of lighting in your living room. And also, the furniture, its upholstery colors, and the overall color scheme of the space matter a lot.
For instance, Alpaca will look great if applied in the living room with gray-colored furniture and subtle purplish or pinkish decor elements, such as cushions, curtains, lamp covers, etc. Silver or metal elements (e.g. handlers, hangers, etc) will also complement this color on the walls.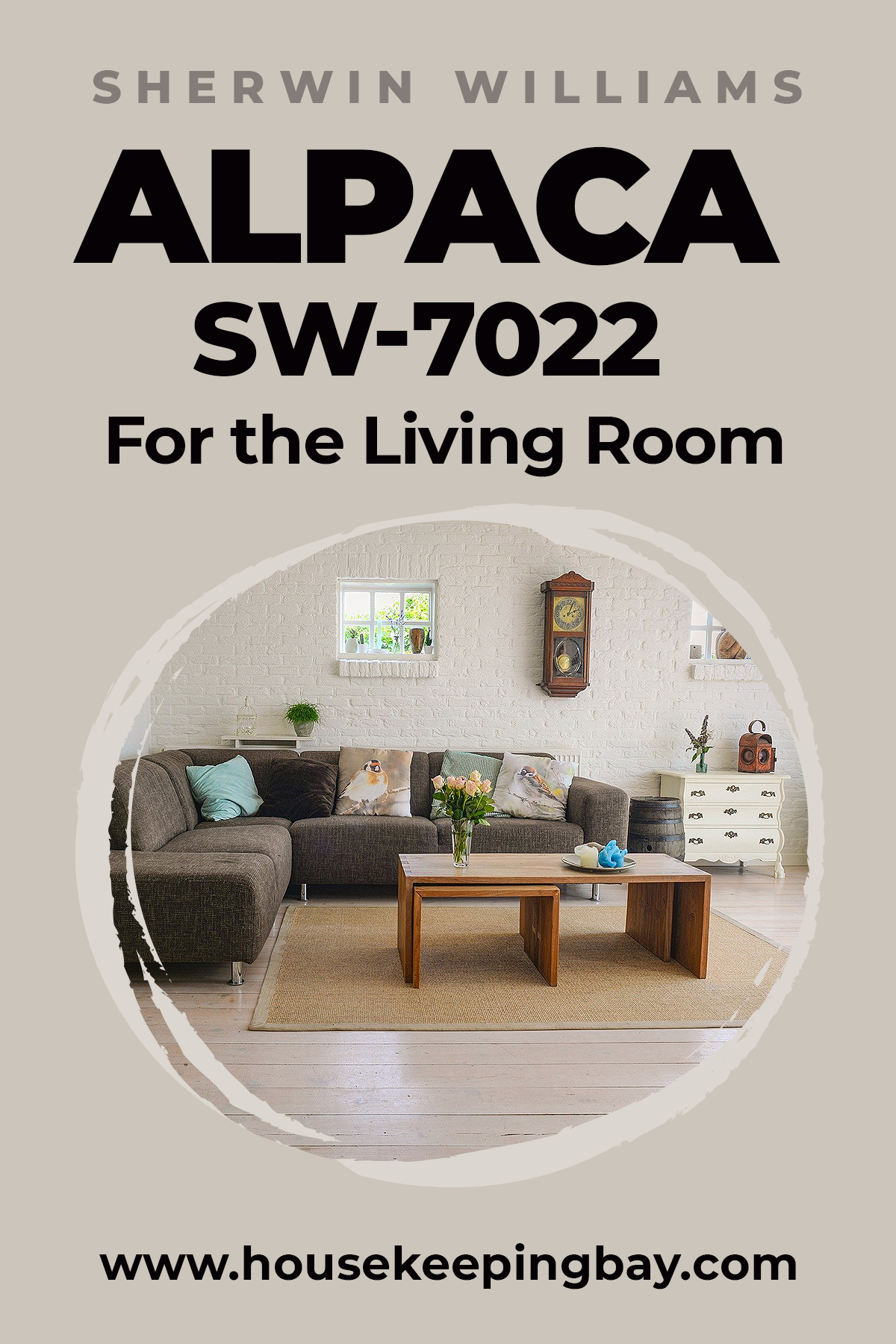 How Will This Color Look If Applied In Your Bedroom?
Sherwin Williams Alpaca is a really great color pick for a bedroom, especially if it is paired with the terracotta pieces of furniture as a backdrop! This color is also a pretty choice for both board and batten.
However, do take the lighting in your bedroom into consideration, otherwise, purple undertones may come out quite unexpectedly. It's ok if you don't mind seeing them, but if you do, this might become a problem.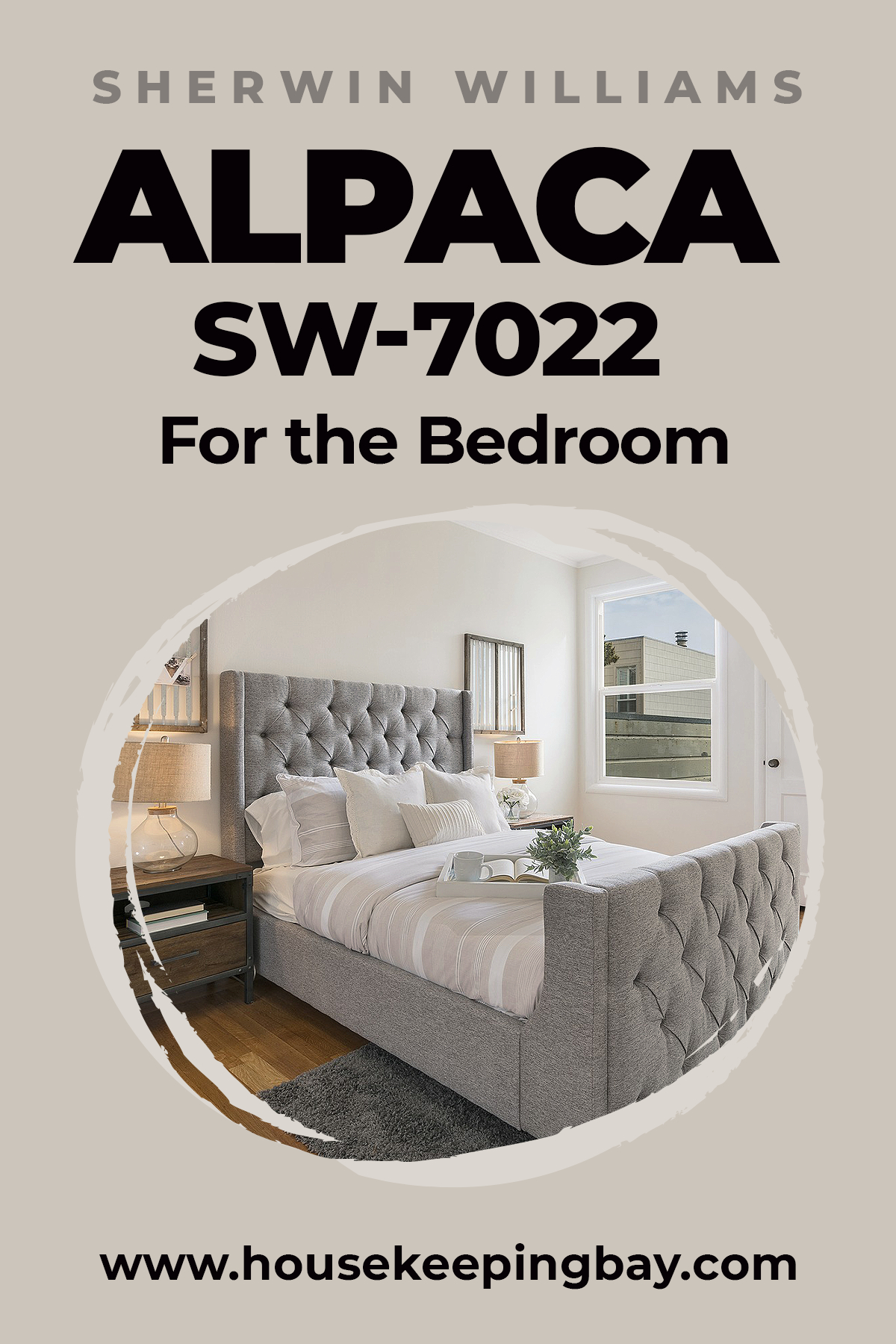 Is It Worth Painting Cabinets With SW Alpaca?
As a paint for cabinetry, SW Alpaca can be a nice choice if the room has plenty of natural light, and the overall color scheme in it is neutral. However, if you have bright or accent colors that differ much from this warm neutral, we would recommend you look for another color instead.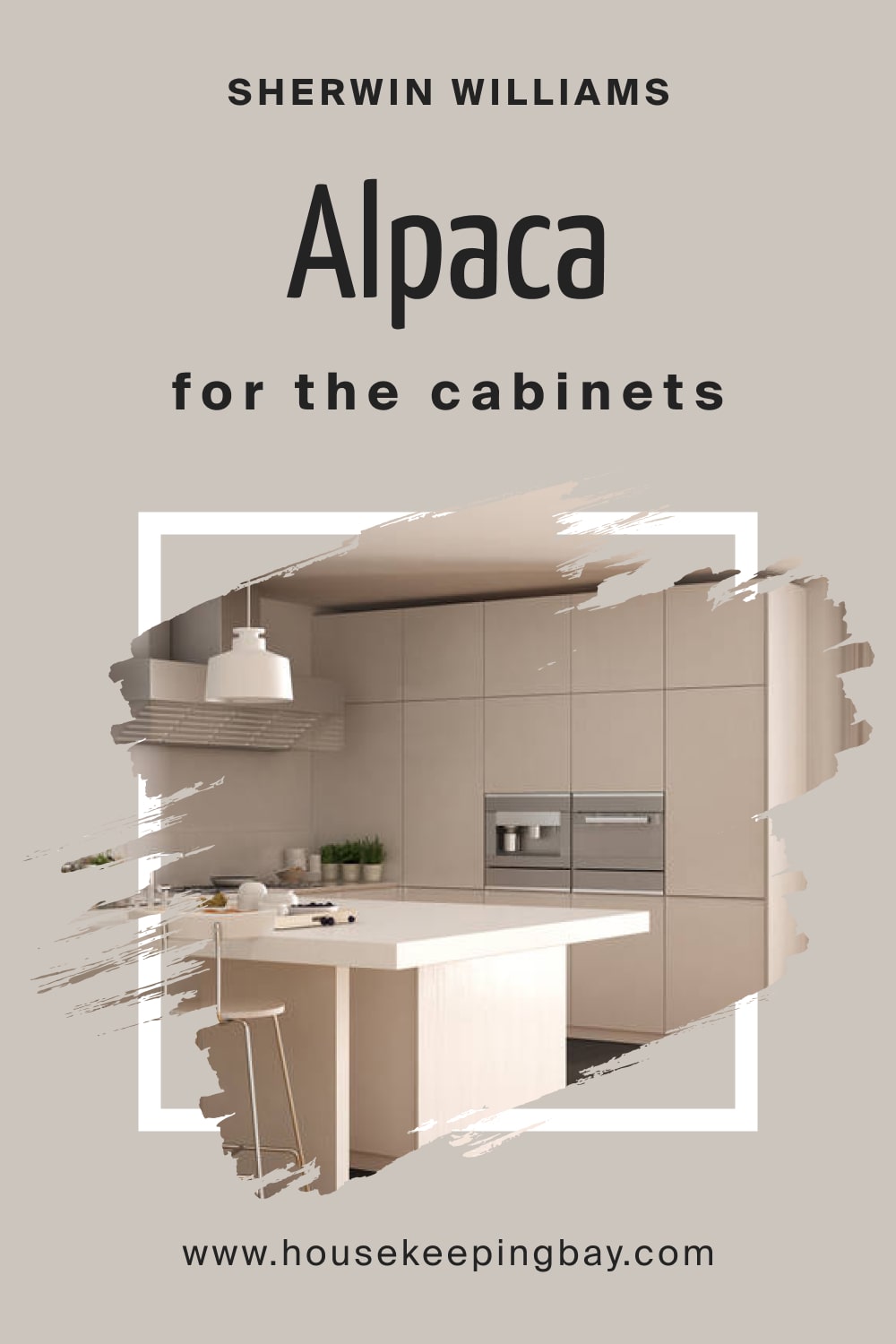 SW Alpaca For the Kitchen
Many people wonder whether SW Alpaca is a good color choice for their kitchens. What we can say is that, if your kitchen is brightly lit and has enough natural light during the day, feel free to paint its walls with this color. In this case, the Alpaca will look like a light, slightly warm gray.
However, with a lot of warm, especially artificial light, this color may start leaning more into its taupe and brown sides. But if you like creamy look and calming effect, this is exactly what you need!
Related: How to Choose Proper Greige For The Kitchen?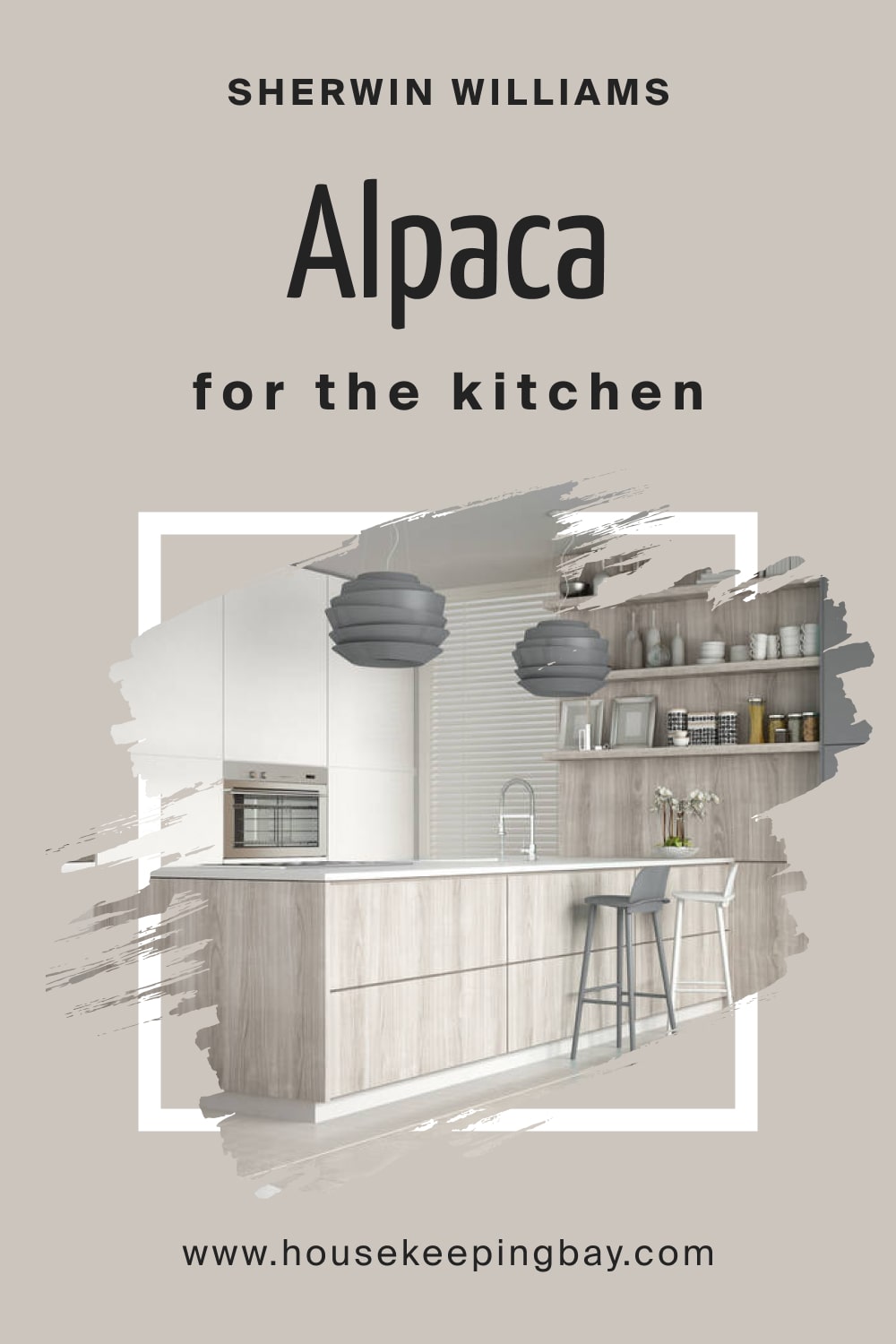 Kitchen Cabinets Painted With Alpaca. Yes Or No?
Shall you paint your kitchen cabinets with Alpaca? Definitely, you shall! This color will look perfect on your kitchen cabinets, especially if paired with white or light neutral walls.
But if you have similar neutrals applied on the walls, be careful with Alpaca since it may simply get lost in front of them!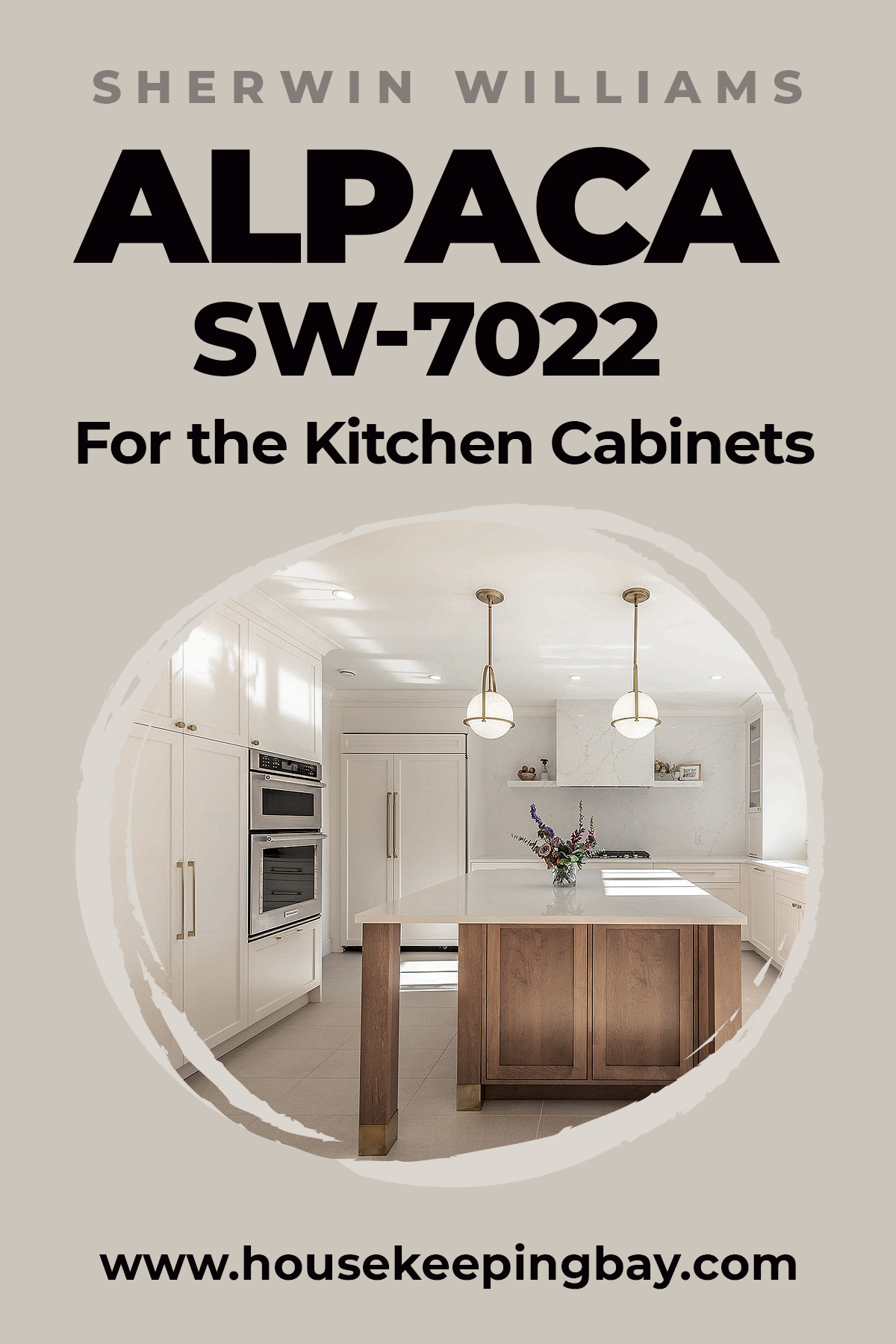 SW Alpaca For the Exterior Use
Not all the interior paint colors can be used for painting your house from outside. And one of the reasons is that undertones may play differently when being exposed to direct sunlight.
Speaking of Sherwin Williams Alpaca paint color, we could say that you can make use of it as of the exterior paint color, but do please note that the final result you get will most likely depend a lot on the color of your roof and stone/brick.
Also, take into consideration that this paint color will most likely reveal more of its purple undertones when being applied outdoors. In addition, colors like this tend to look significantly warmer on the outdoor walls.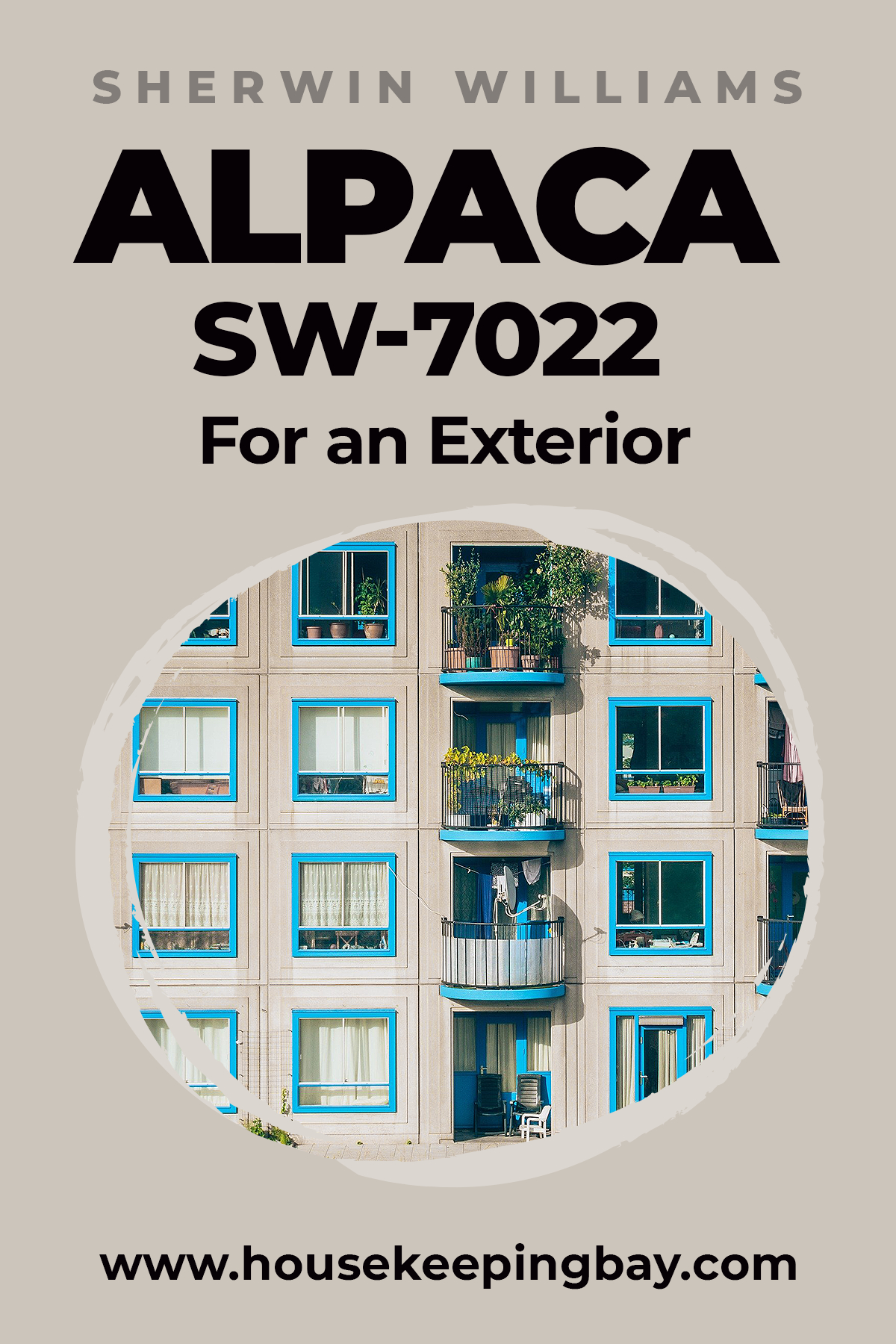 Colors That Alpaca Goes With
If you already have rooms in your house painted with other neutrals and/or greiges, picking up the shade of such color that will harmoniously pair with all the others will always be a challenge unless you have a perfect and a sharp eye for it.
To help you cope with the task and create a balanced ensemble in your living space, we prepared descriptions for a few paint color pairs that have Sherwin Williams Alpaca in them, and that will work great with each other.
Alpaca vs. Edgecomb Gray
If we compare Alpaca to Edgecombe Gray, we will see that Alpaca looks somewhat cooler thanks to its purple and pinkish undertones that come out more significantly when these two colors are put side by side.
In addition, Edgecombe Gray leans more into pale greenish tones in comparison to Alpaca. So if you were thinking of combining these two in the same room, our opinion is that you should not do that.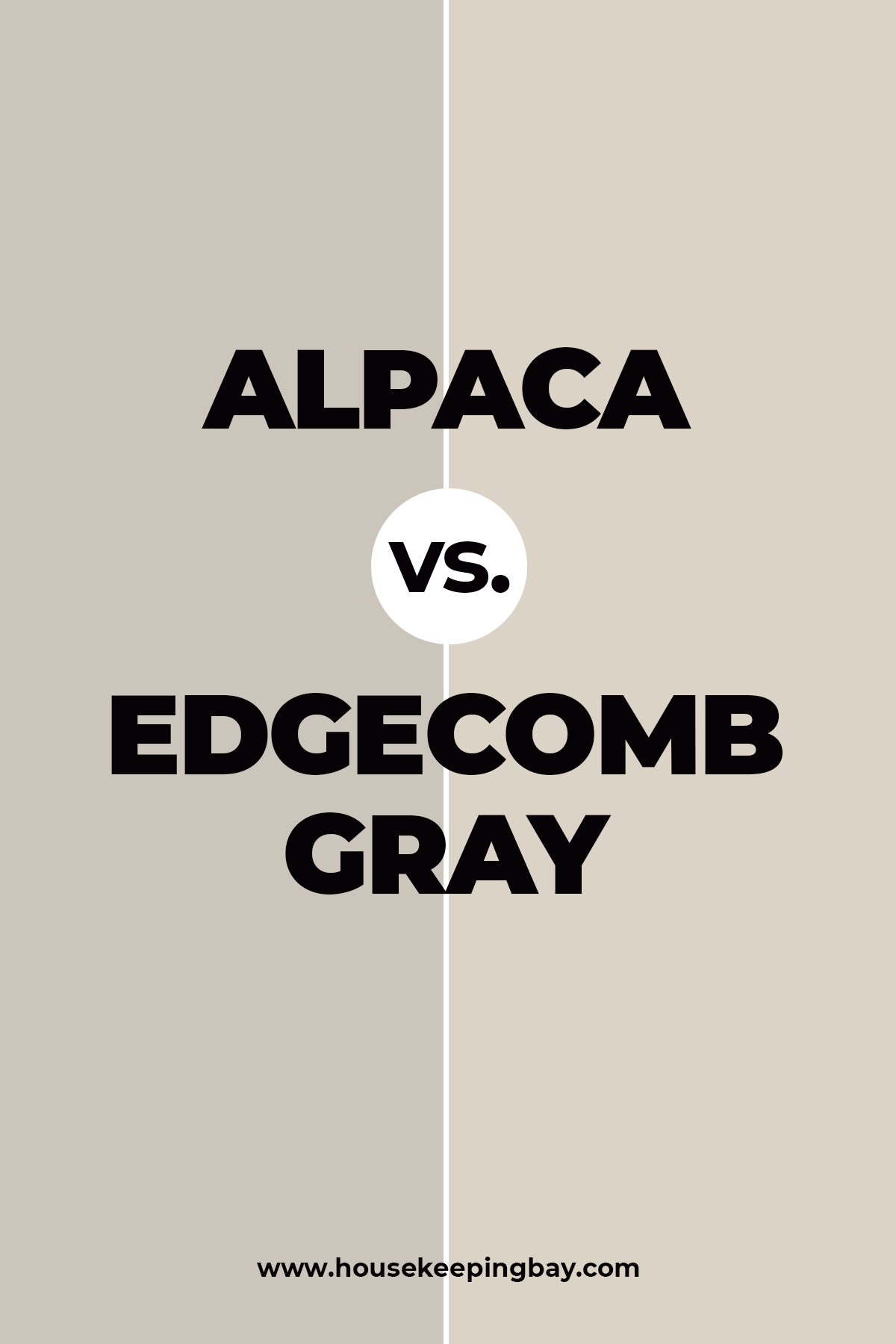 Related:  Edgecomb Gray HC-173 by Benjamin Moore
Alpaca vs. Agreeable Gray
This pair of colors looks way more harmonious in comparison to the previous one. When put beside Agreeable Gray, Alpaca looks warmer revealing its brownish side of a warm neutral. Agreeable Gray, on the contrary, looks cooler leaning more into gray tones.
However, despite such a seeming dissonance, these two colors look pretty nice together! So if you were thinking of whether it's ok to use them both in the same room, don't be afraid to do that.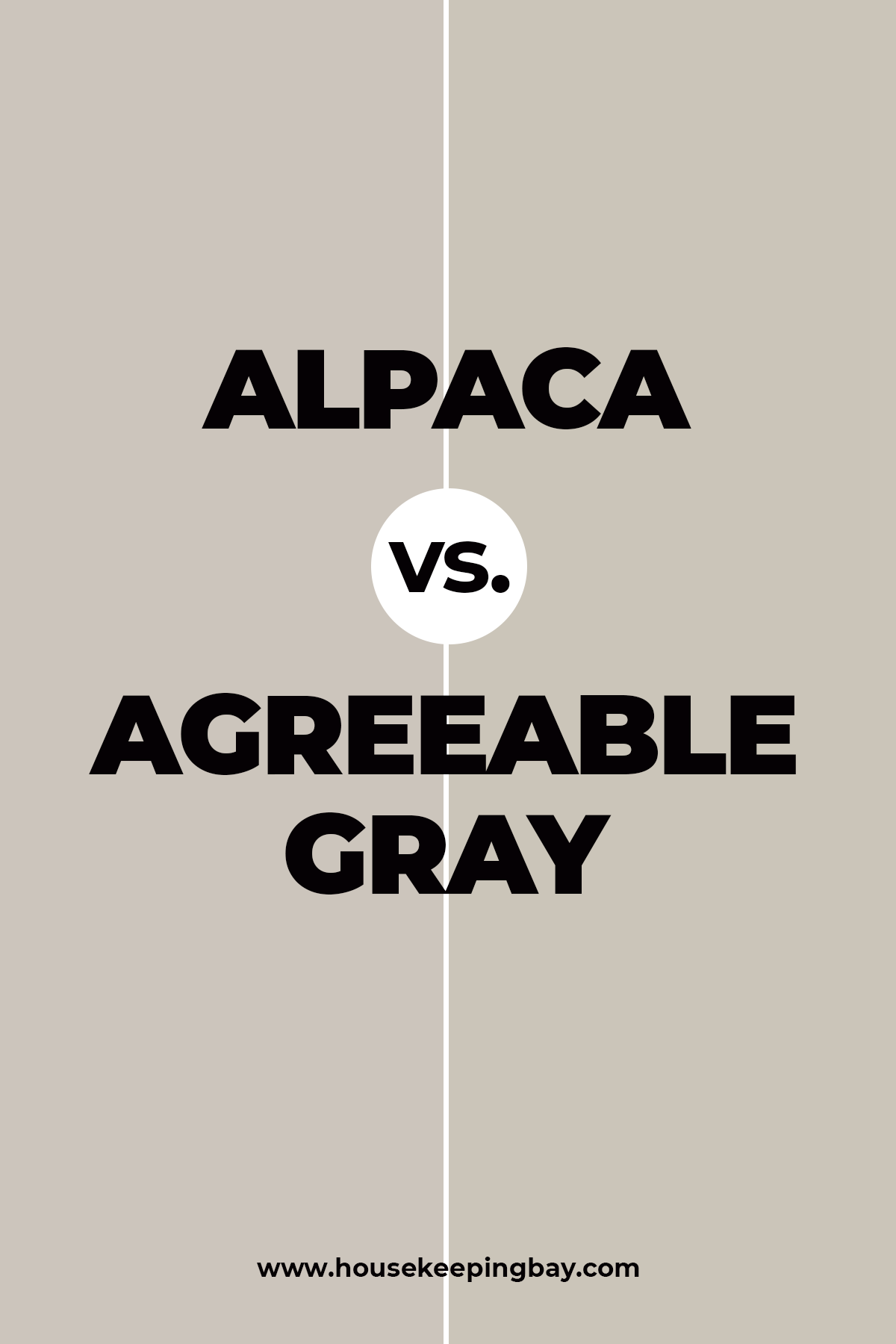 Related: Agreeable Gray SW 7029 by Sherwin-Williams
Alpaca vs. Accessible Beige
This pair of paint colors is another example of a harmonious combination. Warm-toned Alpaca leans more into its gray side whilst Accessible Beige reveals all of its warm beige beauty when put beside its "companion".
And together they create quite a nice combo, not too contrasting, but at the same time, not too similar thanks to the fact that both colors are warm.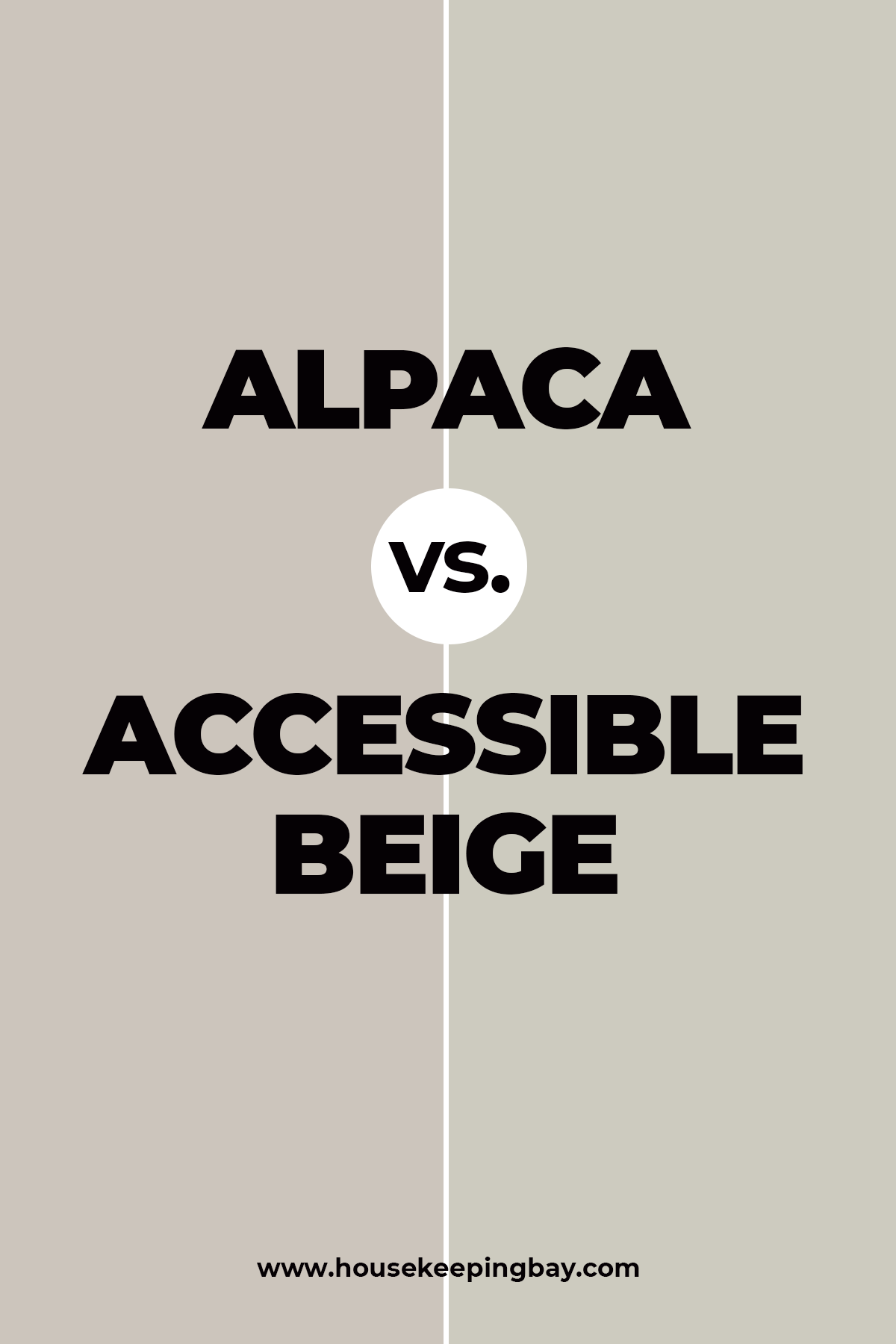 Related: Accessible Beige SW 7036 By Sherwin Williams
Alpaca vs Repose Gray
Alpaca and Repose Gray both belong to the palette of Sherwin Williams paint colors. If we put them side by side, we will see that Alpaca looks warmer revealing more of its warm brown tones. Repose Gray, on the other hand, leans more towards cool gray tone.
Nevertheless, they look surprisingly balanced together since the colors are not too distinct in fact. A nice combination to apply in a room where you'd like to highlight certain elements (e.g. cabinets).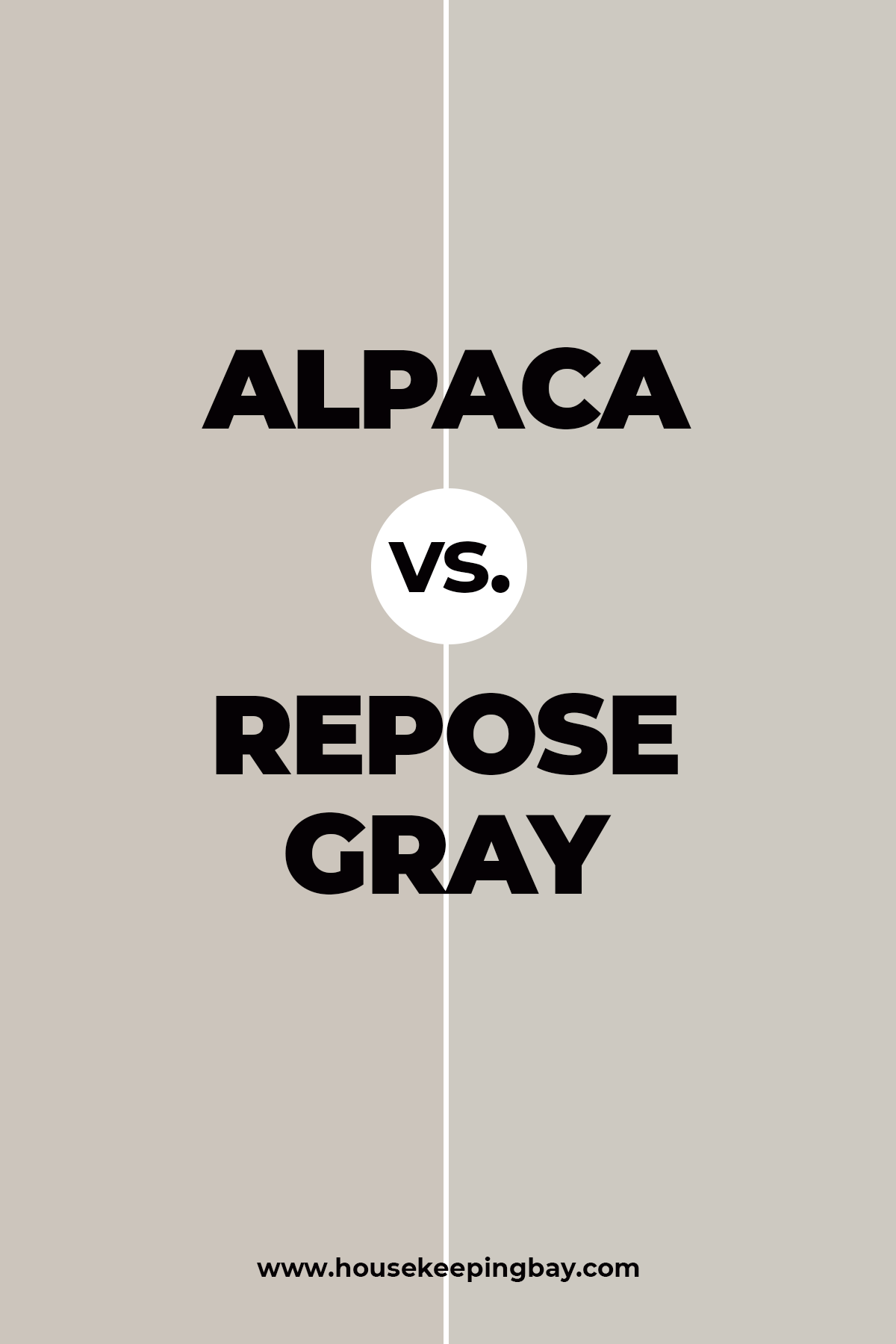 Related: Repose Gray SW 7015 by Sherwin-Williams
Alpaca vs Revere Pewter
This pair can hardly be called harmonious since Revere Pewter has too prominent greenish undertones that shine through when you put this color side by side with purplish Alpaca.
Instead, you could try to pair Alpaca with something like Requisite Gray or Anew Gray since they are closer to it in terms of undertones and general look on the wall.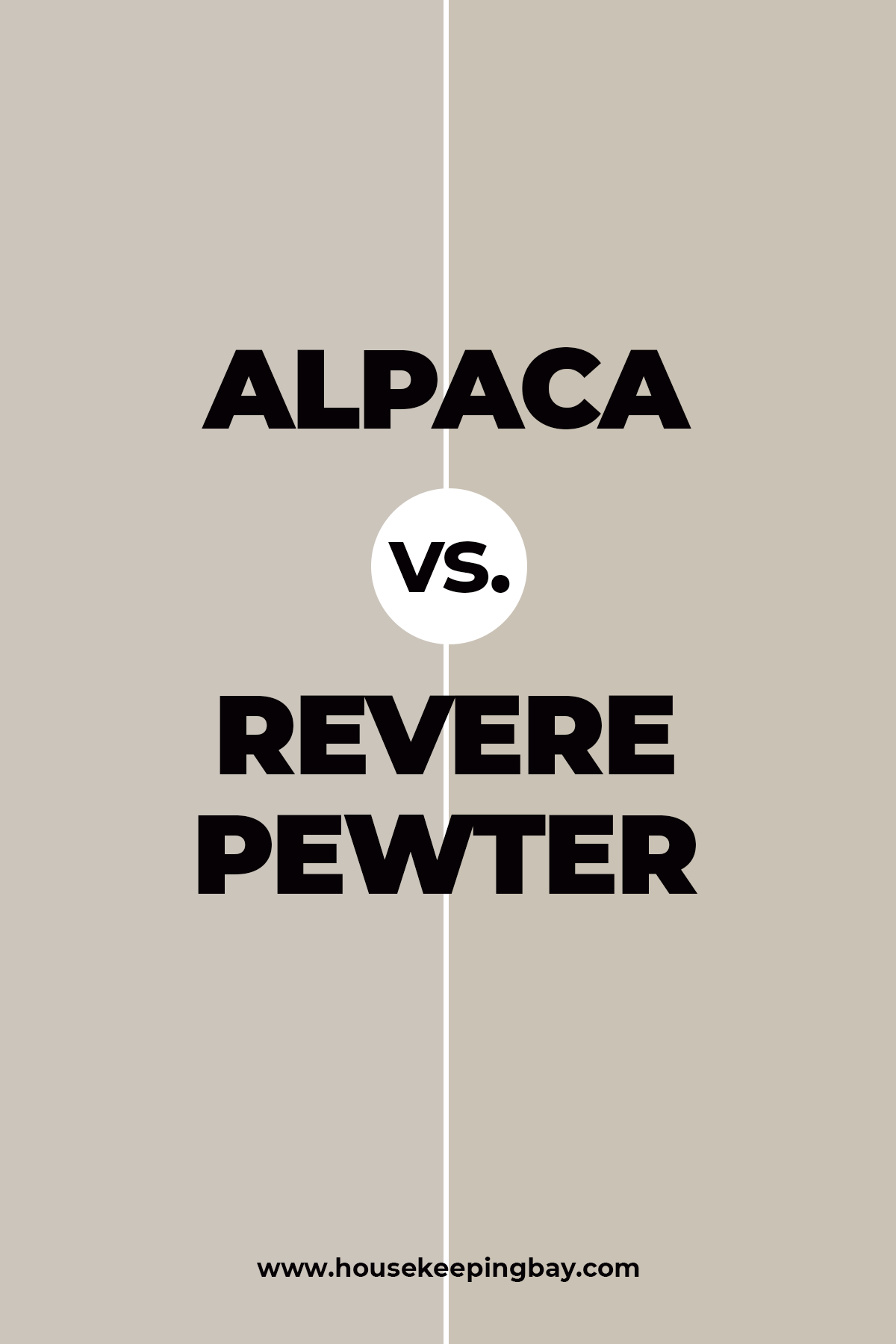 Related: Revere Pewter HC-172 by Benjamin Moore
So, this was the complete guide on what SW Alpaca paint color is, where to apply it in your home, and what colors it is best to be combined with. With all that in mind, you will definitely feel less pain when choosing wall paints for your next home renovation project!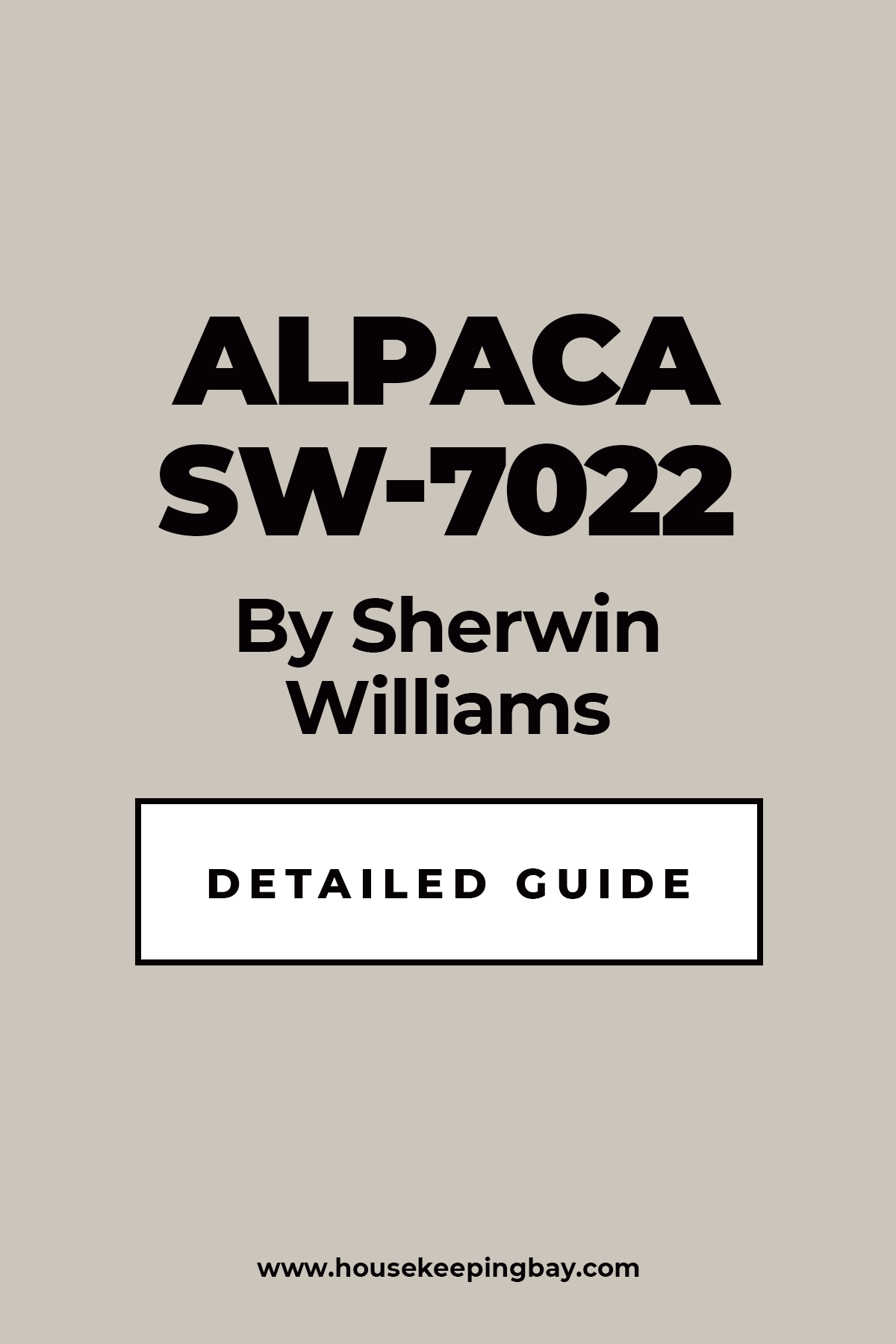 Frequently Asked Questions
⭐Is SW Alpaca a greige color?
No, Alpaca is a warm neutral paint color.
⭐ Will Alpaca on the walls look nice with a lot of green plants in a room?
Hardly it will. This color doesn't have green undertones, which is why it pairs better with grays, and also with metal and silver decor elements.
⭐ Can SW Alpaca be used for painting the garden furniture?
It's hardly the best color choice for this purpose.