Greige is not the name of one particular paint color. It is the name of a whole group of amazing neutrals that combine both features of grey and beige tones.
Thanks to this specific feature of this color, greiges are often used for all kinds of rooms and surfaces in our homes, from the hallways to bedrooms, from kitchen cabinets to shelves.
This group of colors is especially popular for painting kitchens and various kitchen surfaces, such as cabinets, etc., since they can be combined with many other tones and shades including the contrast ones.
So today we will share a few ideas with you on what greiges are the best for the kitchens, and where they can be applied in this space.
What Is Greige?
So what type of color do we usually refer to as greige? As it comes from the name of the color, greige is a combination of such widespread colors as grey and beige.
This color is very variable and includes many different shades both cool and warm. It makes all the greiges perfect for literally any space in your house or apartment!
Cold greiges make rooms look clean and crisp whilst the warmer shades of this color will add softness and coziness to the living space making it look casual. This is why greige shades are so much adored by those who want to create a homey feeling in their house.
This paint color is universal not only because of its multi-fractiousness. Greiges can be successfully applied both indoors and outdoors. Thanks to this significant feature, they are often considered to be multipurpose colors.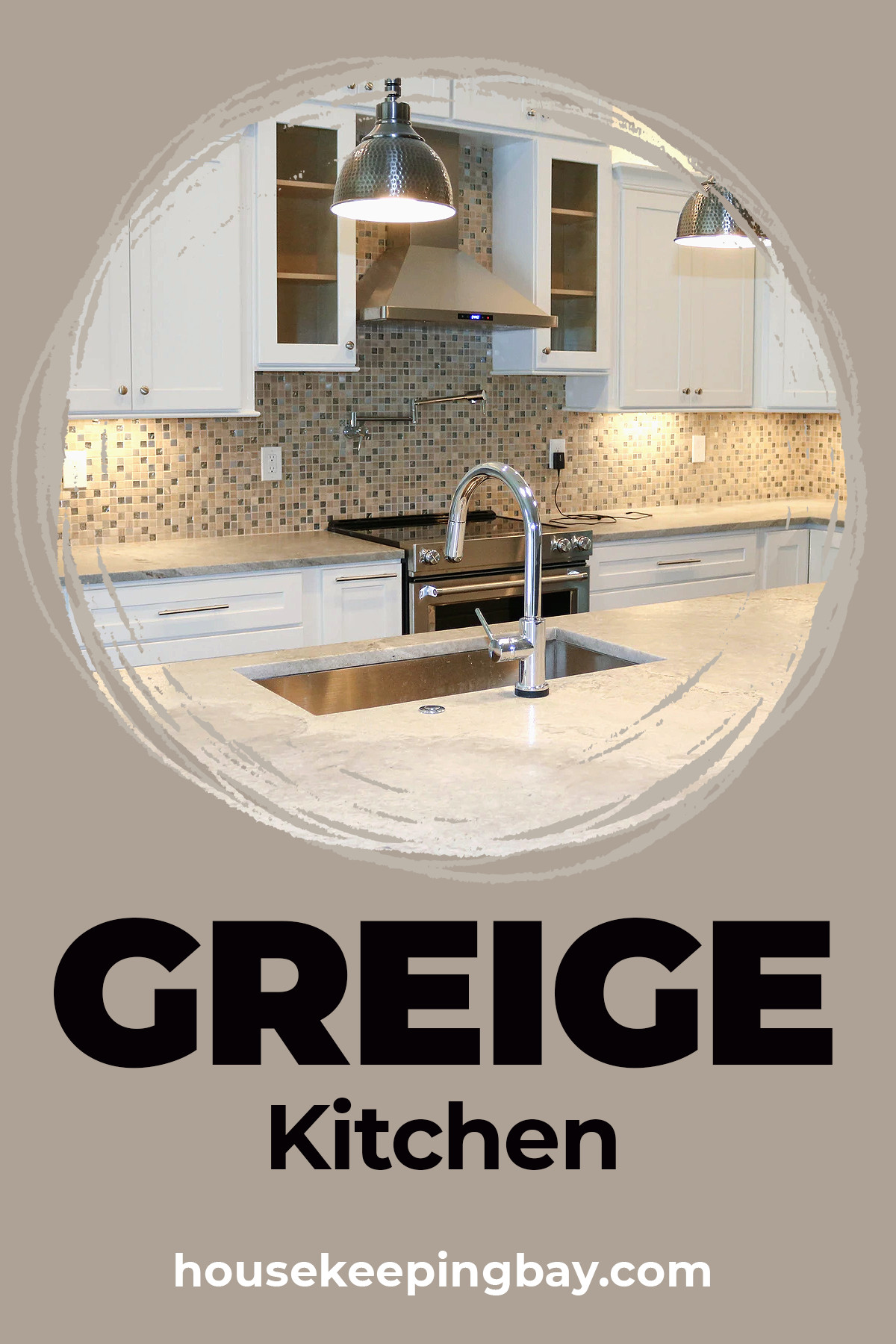 Greige Paint For the Kitchen Cabinets. Best Ideas
Painting your kitchen greige is what most people think of when they decide to make any renovations in their cooking space. And since for remodeling the kitchen it will be enough to simply repaint its cabinets, greige is what we often apply on them to refresh the look of the whole space.
Of course, you might be wondering whether this paint color will be in style in your kitchen since color trends tend to change so quickly these days! Our answer is yes. Relax and pick up your favorite greige since greige kitchen cabinets were and will be timeless!
And to assure you even more, we offer you a bunch of greige kitchen ideas that can make your cooking space look brand new with just a few strokes of a brush.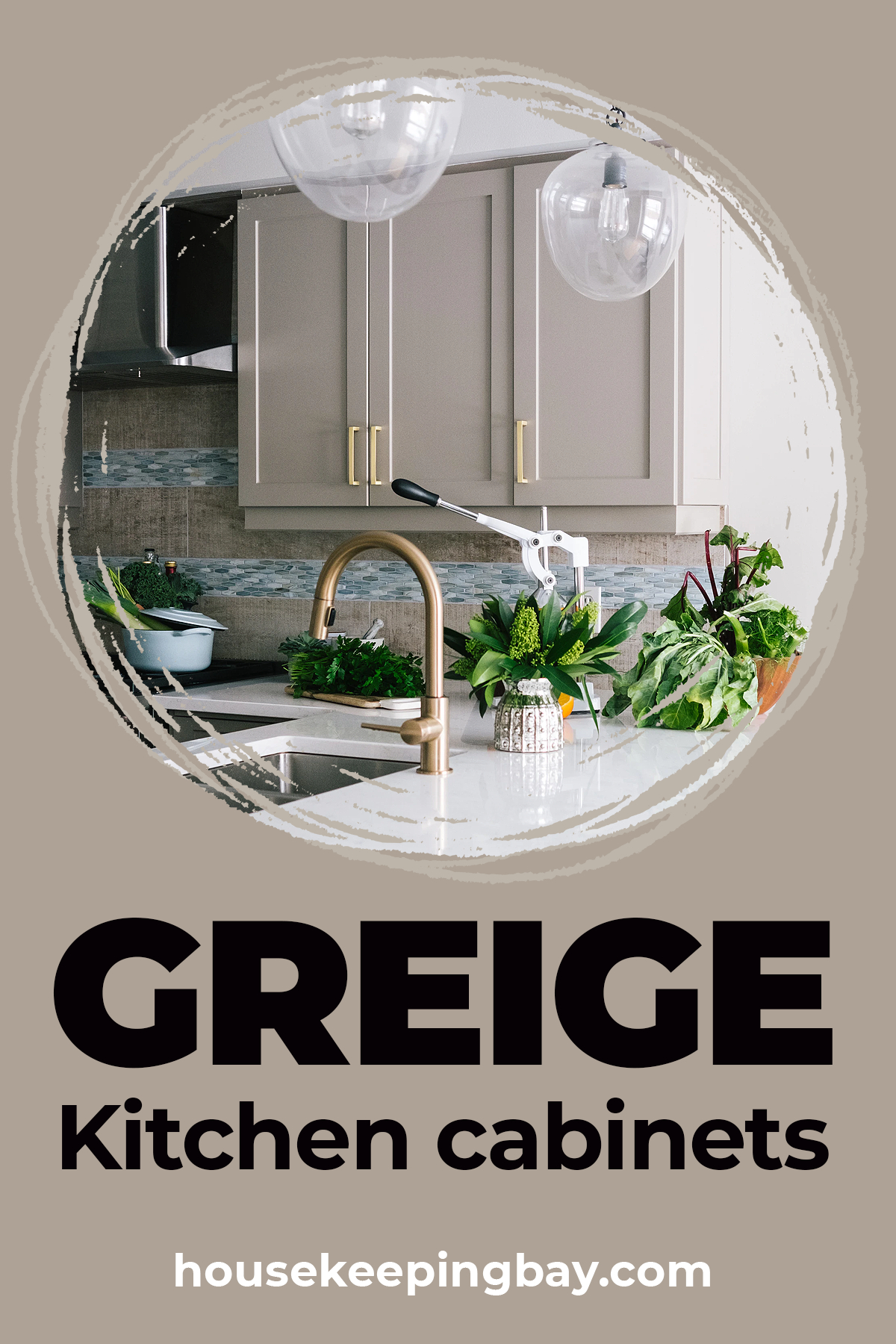 Greige With Stark White
Using greige as a kitchen cupboard paint can be a great option if your whole kitchen including walls and the ceiling is painted stark and cold white. In this case, if you add some greige, it will add a bit of warmth that is so much needed in such a space.
Besides, greige cabinets will create a stylish contrast with the white walls and ceiling, appliances, and other items in your kitchen. If you accompany it with rugs, wooden shelves, and gold hardware, your kitchen will turn into a true design masterpiece!
Contemporary Greige
The best feature of this type of color is that it can be successfully used with any designs and styles!
For instance, if your kitchen has a lot of modern decorative elements, stainless steel appliances, or lighting, repainting the cabinets in warm greige will not only refresh the total look of the room. It will make the room look cozier and at the same time stylish.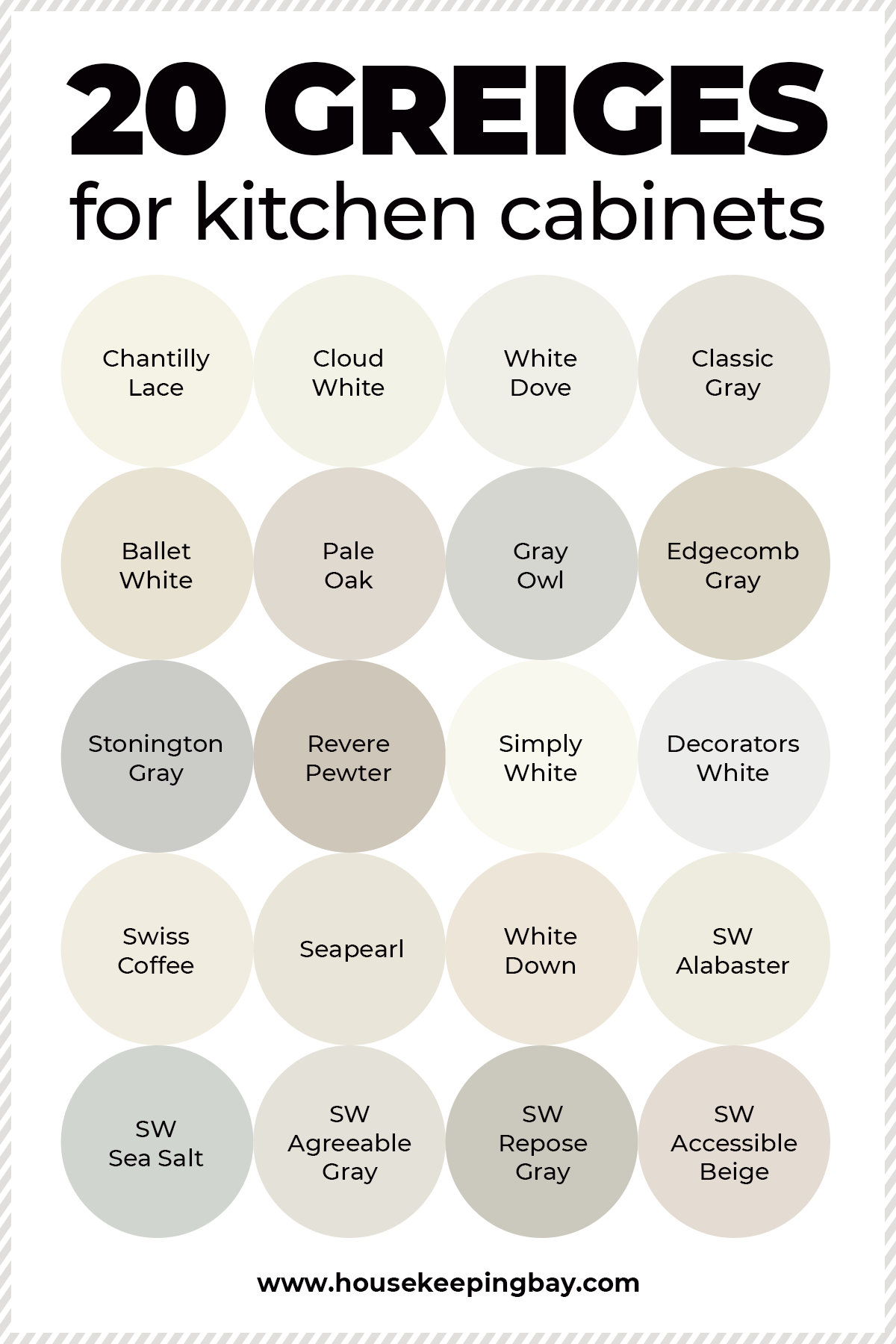 Beige And Grey
Another option you can use for your kitchen is to paint the cabinets greige if the rest of the room is painted grey. Such a color combo will pair perfectly with brass hardware and marble surfaces creating an elegant yet not too cold look.
Greige And Black
Surprisingly, quite many greiges are perfectly combined with black! Especially if we talk about the massive elements, for instance, kitchen islands. Paired with antique white walls and wooden items (e.g. chairs or table), such greige accents will make the whole kitchen look more varied.
Taupe-Greige For More Coziness
To add your kitchen more warmth and cozy notes, make use of greige that expresses more greige notes than grey. When combined with the wood flooring and nickel hardware, such color accents will make the kitchen look sweet, spacious, and modern.
Make use of any of these ideas, and your kitchen will look both elegant, modern, and home-like.
What Greige to Use For the Kitchen Cabinets With a Black Countertop
If your kitchen has black granite countertops (or the countertops made of any other material), painting cabinets greige is the perfect way to create a stylish contrast. As for the shades of greige you should use, you should take into consideration the lighting in your kitchen, both bulbs and the daylight.
But in general, there are a few win-win variants that will complement black in your cooking space:
According to your preferences and the lighting in the kitchen, you can choose either colder or warmer shades, but each of them will pair with black ideally.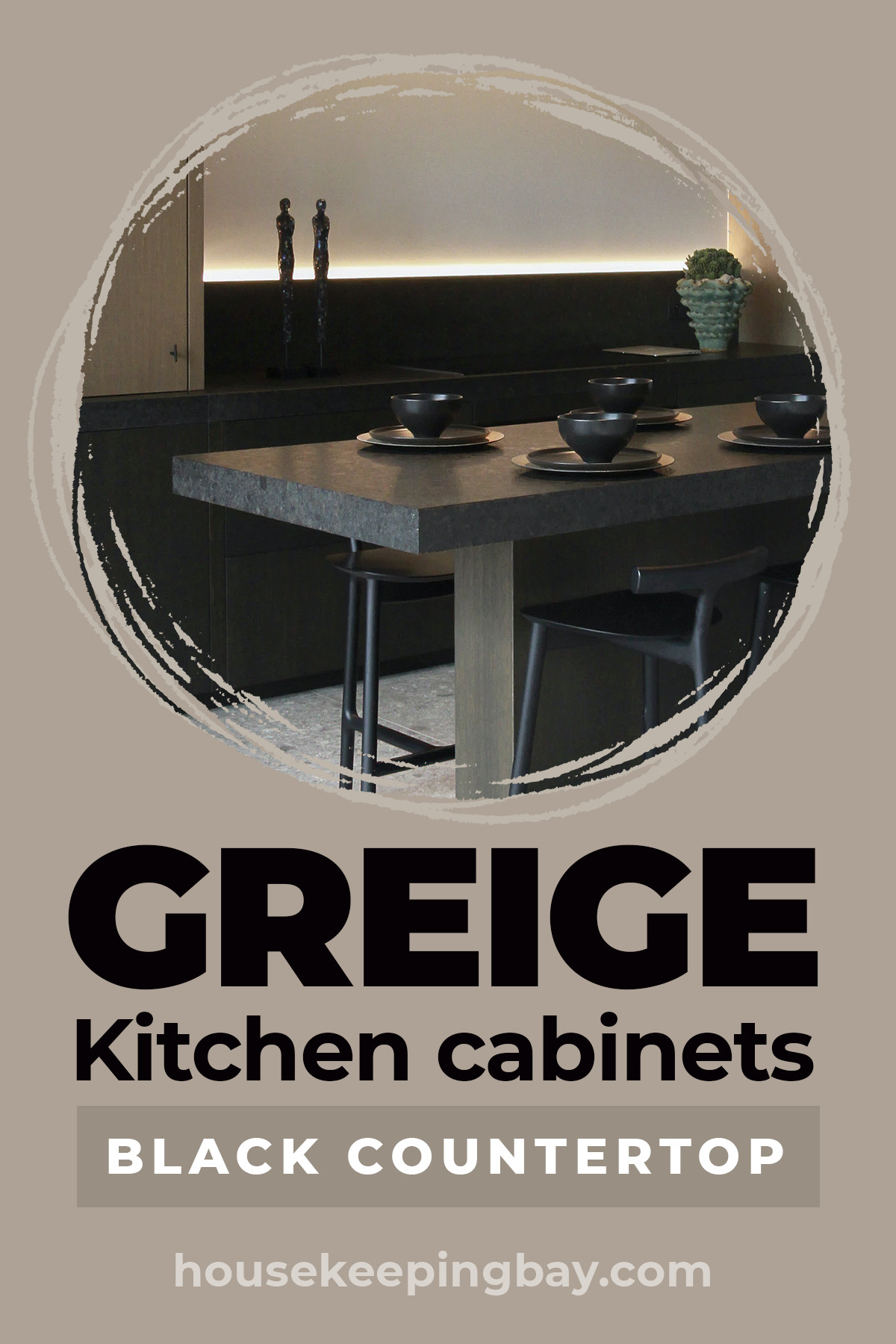 Greige For the Kitchen Cabinets By Sherwin Williams
Sherwin Williams has a lot of shades of greige that can be used for painting kitchen cabinets.
For instance, if you want your kitchen to have a warmer look, opt for Agreeable Grey, Accessible Beige, Amazing Grey, or Colonnade Grey. If your goal is to create a darker look, stick to such paint colors as Gauntlet Grey or Dovetail.
Anyway, always pay attention to other colors present in the room to make all of them complement each other harmoniously.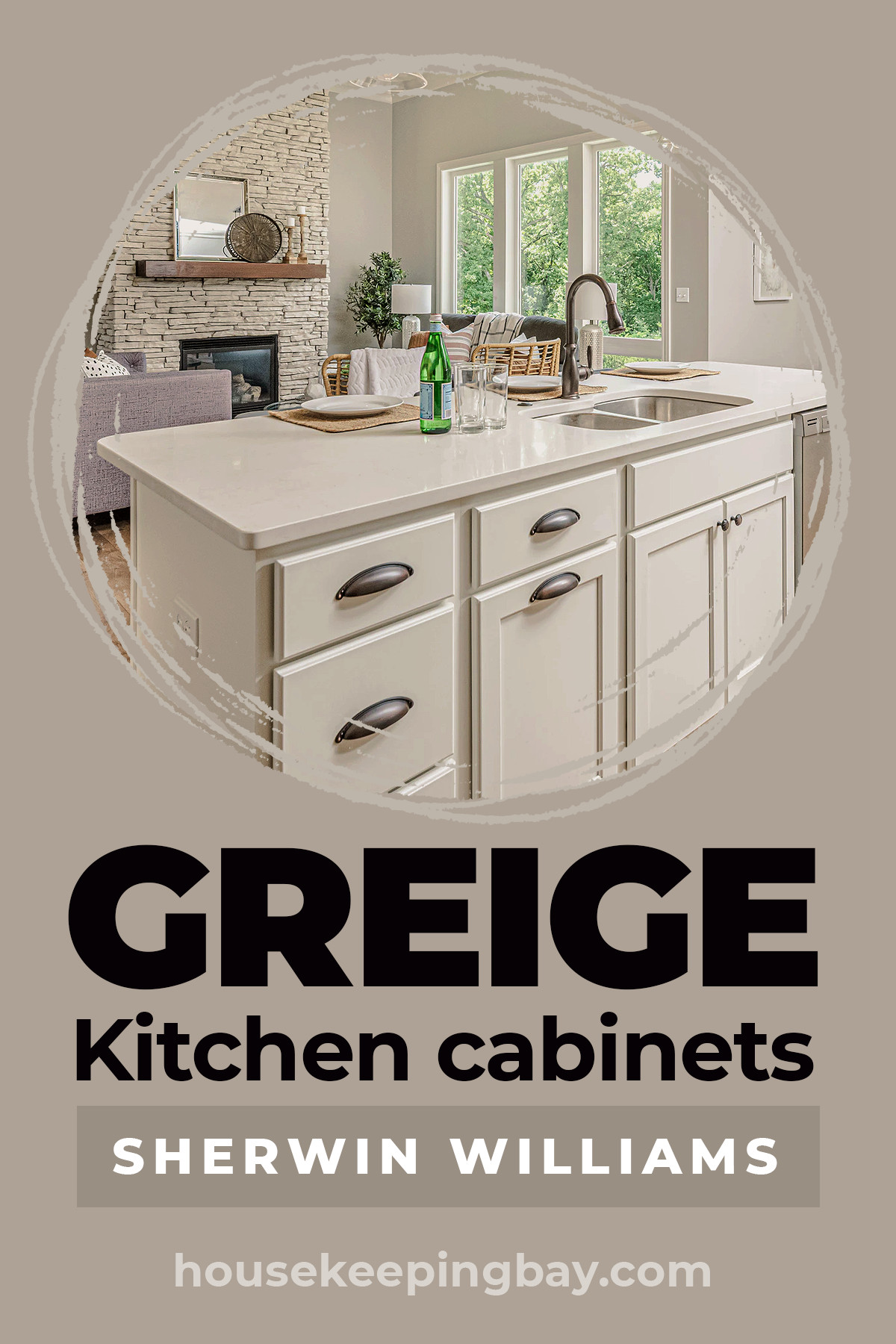 What Greige to Use For the Kitchen Walls
To choose the perfect greige for the walls in your kitchen is not an easy task, we agree. However, you can consider a few simple tips to better understand what type of this color and which shade of it might be the most suitable for this room in your house.
take lighting into account
consider other colors that are present in this space
don't forget about decorative elements (e.g. vases, lamps, hangers, etc) and kitchen appliances
With this data, your choice of greige may vary rather significantly.
But if you want something universal, don't hesitate to try out such shades as Repose Grey, Agreeable Grey, Anew Grey, and Mega Greige by Sherwin Williams paint brand.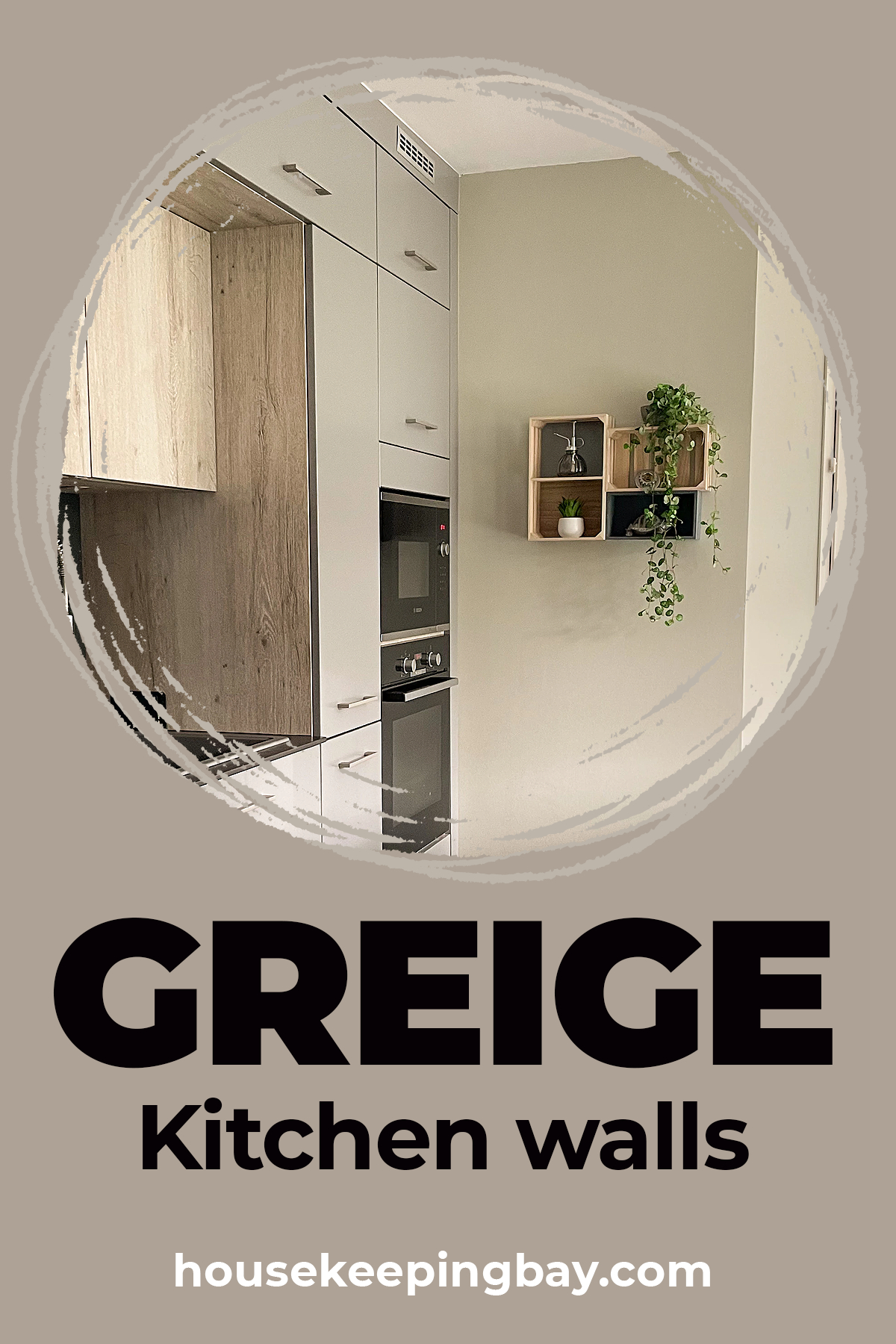 The Best Greige Color For the Kitchen Island
Most people prefer painting their kitchen island with different shades of blue, with black or white color. However, if you want something lighter, we recommend you think of greige. For this particular piece of kitchen furniture, you can opt for the following shades of greige:
SW Gauntlet Grey if you want something darker
SW Amazing Grey (somewhat lighter version)
SW Dorian Gray
SW Analytical Grey
They are pretty universal and will fit almost any interior and design. Besides, even the darkest ones of them will still not look too gloomy. On the other hand, if you choose one of these shades, you will not end up with a too pale kitchen island as well.
So we hope now you understand way better what greiges are more suitable for the kitchen, and for different areas in it in particular. In any case, when using greige, you will not miss since this color is always trendy!