People often think black is a too dark color to use in their homes, which is why they use it only for smaller color accents. however, today we want to show you how gorgeous and luxurious this color can look in your interior!
In this article, we will talk about the color called Tricorn Black by the Sherwin-Williams brand.
You will learn what kind of black it is (yes, there are different types of black!), what undertones it has, and how it works in different rooms and lighting. Also, we will explain how to coordinate this paint color and what colors to use for this purpose.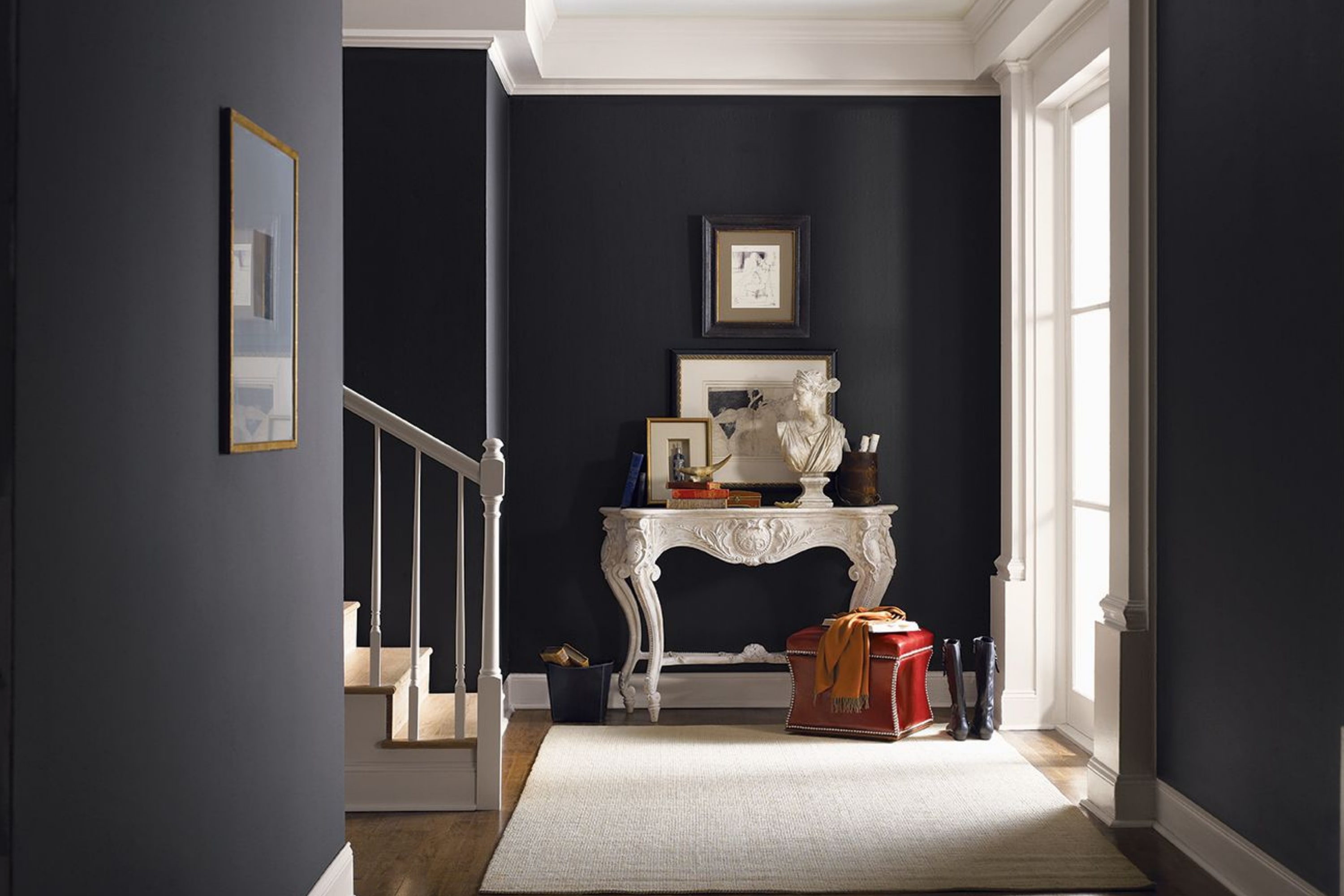 What Kind of Color Is SW-6258 Tricorn Black?
People tend to believe black is a depressing and "heavy" color that will turn any space into a tomb. However, SW Tricorn Black is definitely not like that! If you take a closer look at this color, you will see that this true black doesn't look cold or depressing at all.
As Encycolorpedia says, this deep dark black paint color will bring a pinch of drama and a note of pure elegance to any space where it is used. With this moderately moody, dark, dramatic, bold, full-bodied, and timeless paint color, your home interior will stand out for sure.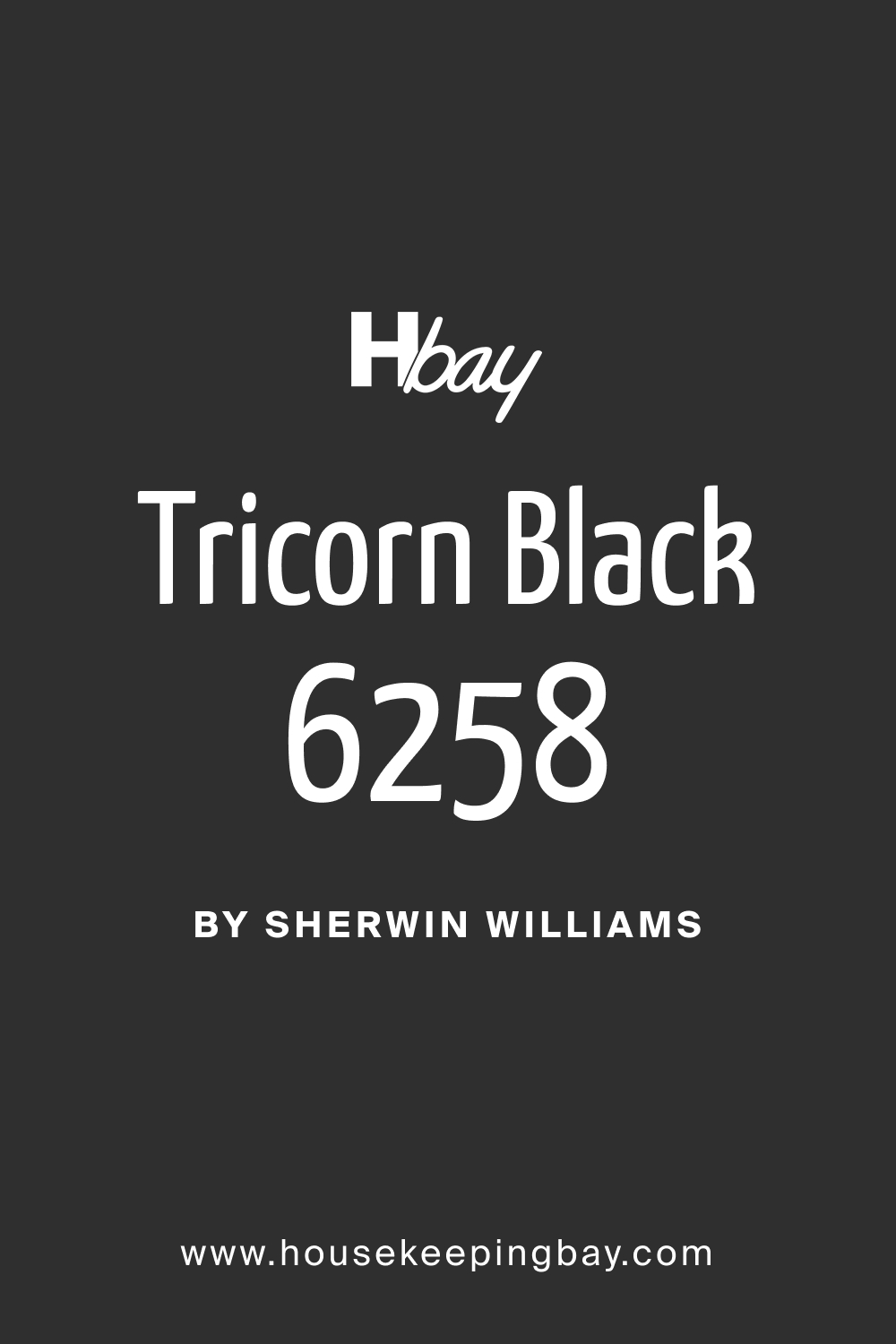 Is It a Warm or a Cool-Toned Color?
Let's be honest, we prefer using warmer colors in our homes because they make the space read cozy and welcoming. On the contrary, cool-toned colors add a crisp and cold note to any room where they are used, which is not always desired.
But SW Tricorn Black is an exception because it doesn't really read warm or cool. This color stays neutral in any space and with any colors.
Are you wondering how to determine whether or not a paint color is warm or cool in tone?
All you need to do is compare it to another paint color to see the tone better.
Depending on the color you compare it to, it may potentially read cooler or warmer in tone. For example, if you compare SW Tricorn Black to SW Black Fox, you will see that the Black Fox color looks noticeably warmer. However, SW Tricorn Black doesn't read either cold or warm next to it. It just stays perfectly neutral.
SW Tricorn Black Undertones
Why is it essential to consider undertones when you choose the right paint color for your home? See, almost every color has undertones. They can be invisible most of the time, but the second you apply the paint to the walls, light and other colors in the area will make those undertones appear! And this is when many homeowners get surprised because the color they chose often looks utterly different from what they expected!
Luckily, with SW Tricorn Black, you won't get such surprises. Although this paint color is technically considered purple-black, it has no notable undertones. It means this color will read the same in any area with any colors around it, as well as in any type of light. Simply speaking, no matter where you apply it, SW Tricorn Black will read black and only black.
SW-6258 Tricorn Black LRV
LRV stands for Light Reflectance Value, and this acronym shows the measurement of light the color can reflect when it is applied to the wall. The higher the LRV value, the lighter the color will read in a room, and vice versa.
SW Tricorn Black has an LRV of 3, which makes it a very dark color that will not reflect much light. This is why you should use it with caution in smaller rooms and areas with poor or dim lighting. In such spaces, SW Tricorn Black will work reversely: instead of making the room read elegant and classy, it will enclose it and make it small and overloaded with color.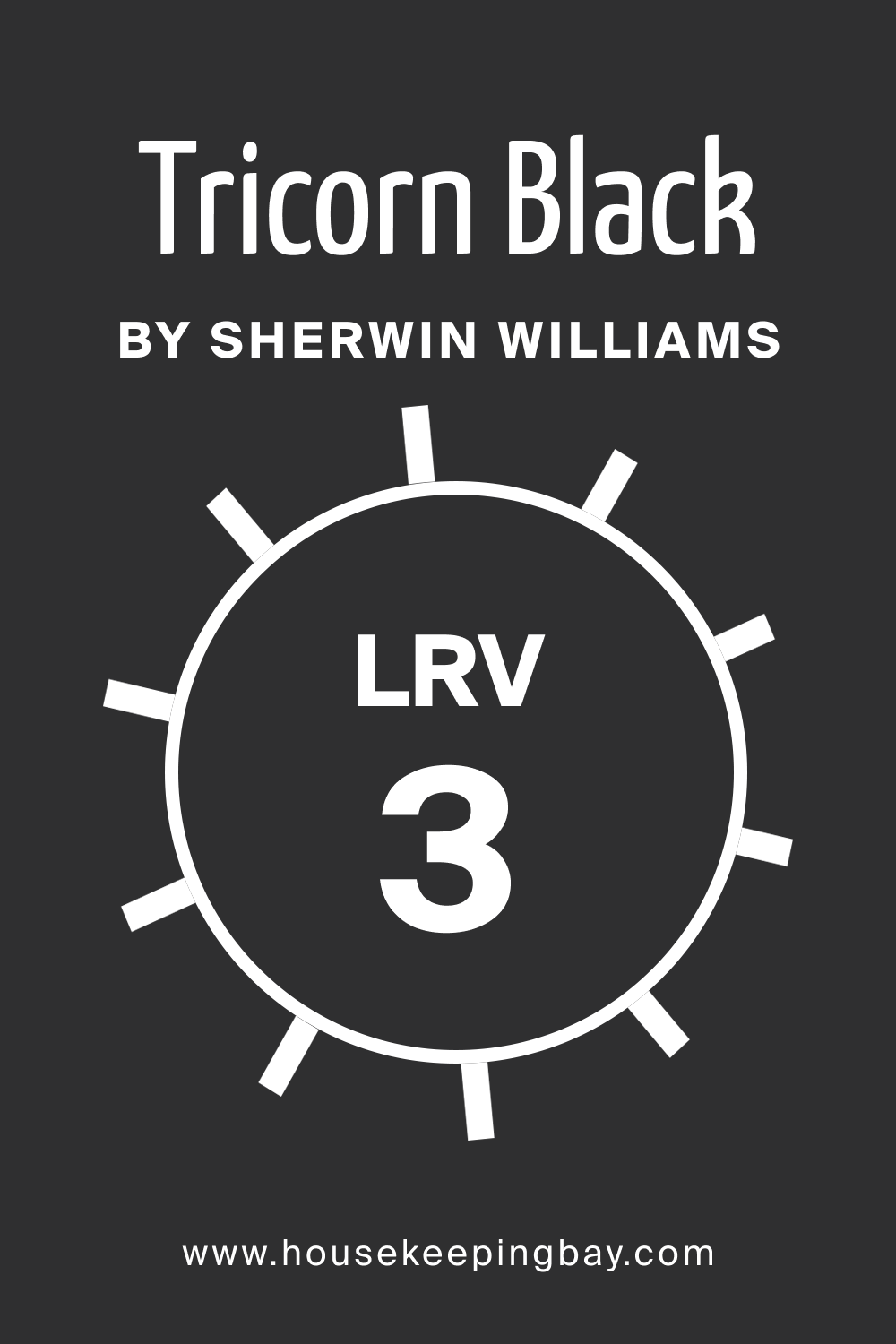 What is LRV? Read It Before You Choose Your Ideal Paint Color
How Does Lighting Affect SW Tricorn Black?
Light is typically one of the most crucial factors that affect how the color will read on your walls. However, SW Tricorn Black is a very neutral black, and this feature makes it a great paint color to use if you are worried about any unwanted colors. No matter what type of lighting you have, artificial or natural, this bold and sophisticated black will read the same balanced in any case.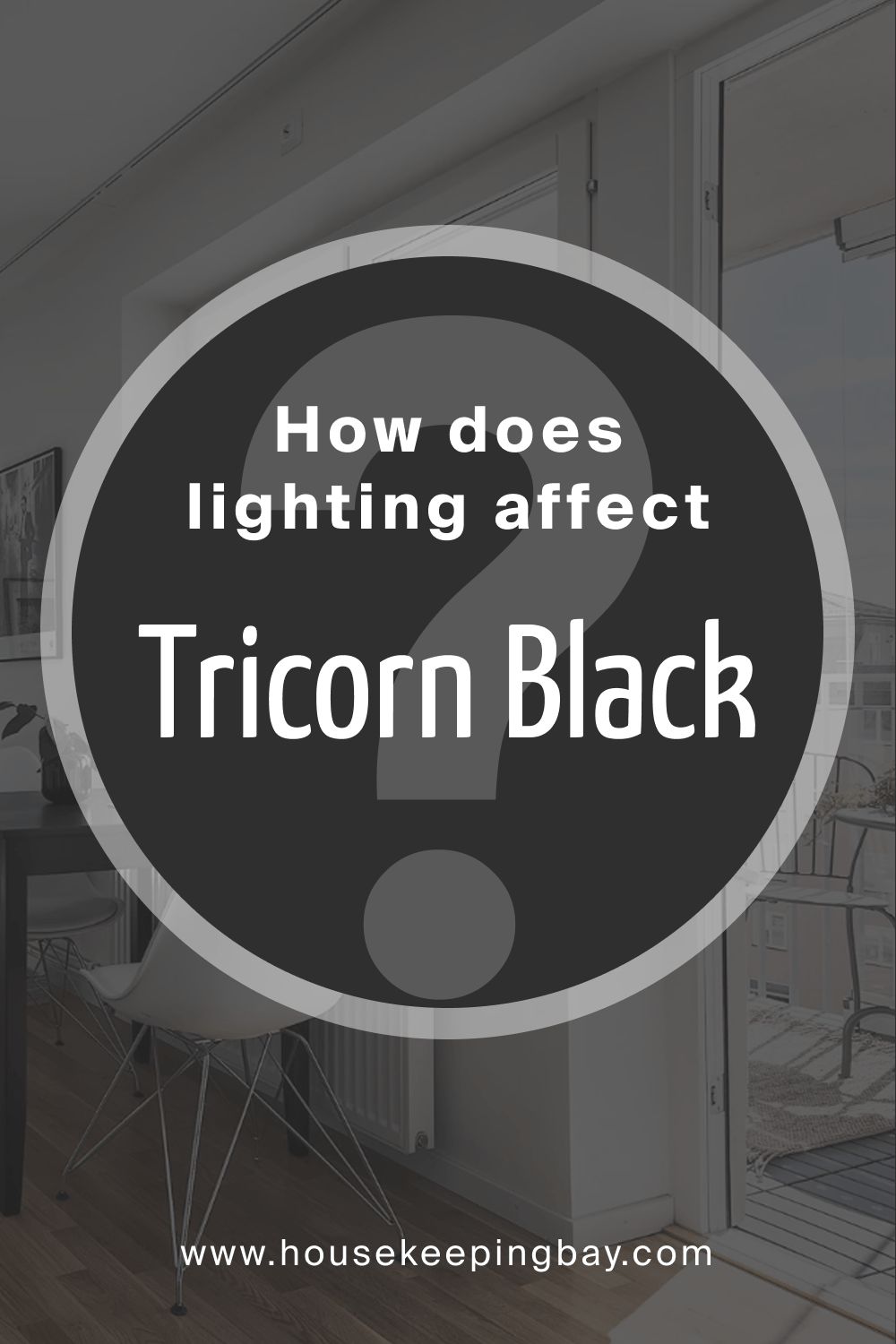 SW Tricorn Black Coordinating Colors
Knowing the right coordinating colors means that you can make a color palette that will read perfectly balanced in terms of tone and undertones in your home. For SW Tricorn Black, you might want to consider using the following coordinating colors:
SW Ice Cube
SW Classic Light Buff
SW Blithe Blue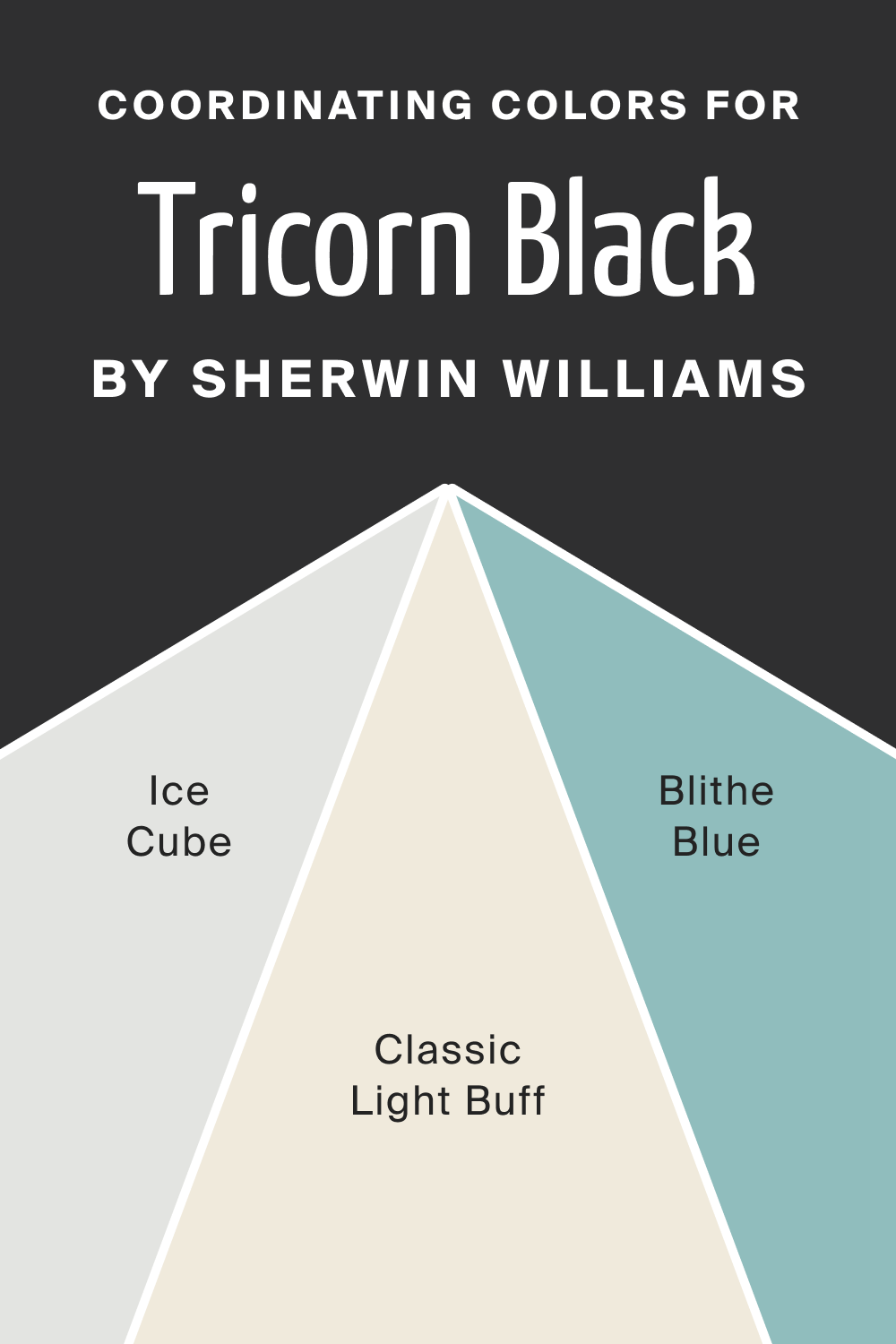 SW Tricorn Black Similar Colors
Why is it important to know what similar colors can be used instead of the color you already have (or plan to have) on your walls?
See, you might change your mind suddenly due to many reasons and decide you need a bit different color. You might need another tone or another shade, a lighter or darker one. This is why it's good to have a couple of alternative colors in mind.
For SW Tricorn Black paint color, the following paint colors can be successfully used as substitutes:
Benjamin Moore 2117-10 Carbon Copy
Farrow and Ball Pitch Black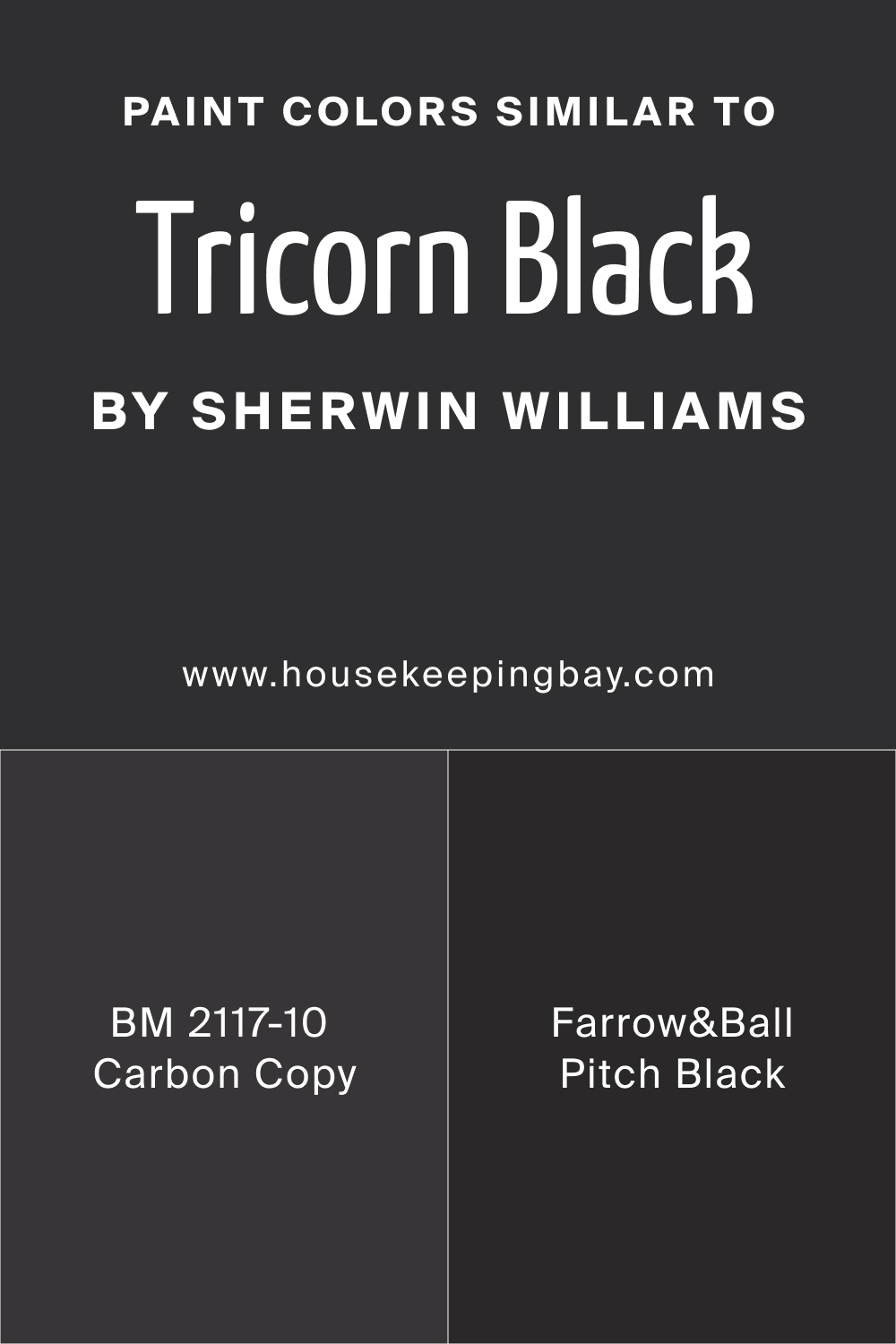 What Is the Best Trim Color to Use With SW Tricorn Black?
Traditionally, white is considered the best trim color since it is versatile. However, you should anyway choose the right shade of white to pair it with the wall color. Plus, it is essential to pick the trim color that correlates with the wall color in the tone.
The great thing about SW Tricorn Black is that it is so neutral that it will work with any white paint color! You can pair it with whatever white paint colors you want, and each time it will look amazing.
Since you can't go wrong with any shade of white paint color, we would love to share a few of our favorites:
SW White Flour
SW Divine White
But except for whites, you can also do it all black! Yes, you got it right! We mean that you can use SW Tricorn Black both on the trim and the walls. It is a big trend now, so why not to make it easier for you?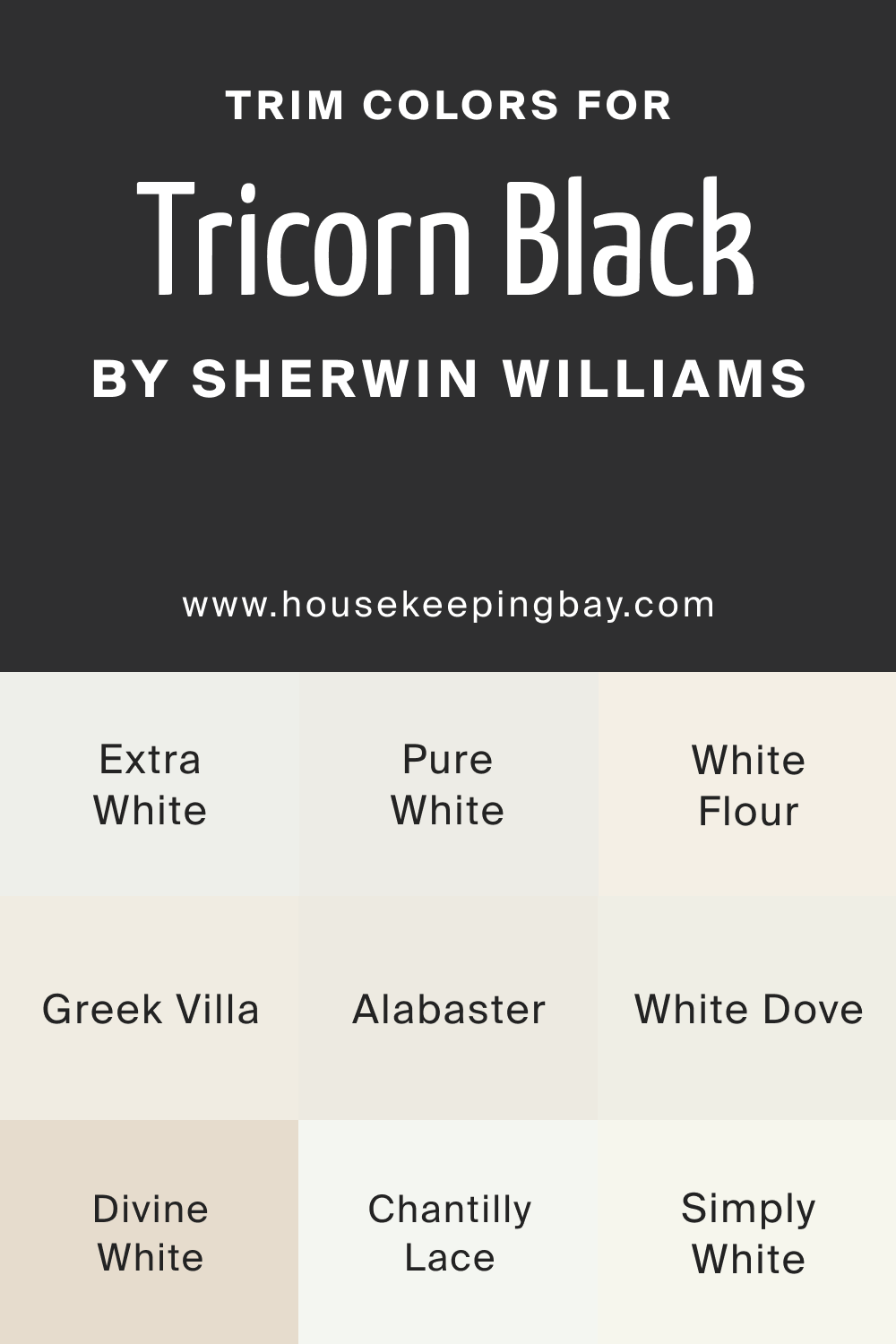 Colors That Go With SW Tricorn Black
SW Tricorn Black is one of those paint colors that are super adaptable, being able to work with any color. However, there are colors that go with SW Tricorn Black exceptionally well:
BM White Dove
BM Caldwell Green

SW City Loft

SW Riverway
SW Dovetail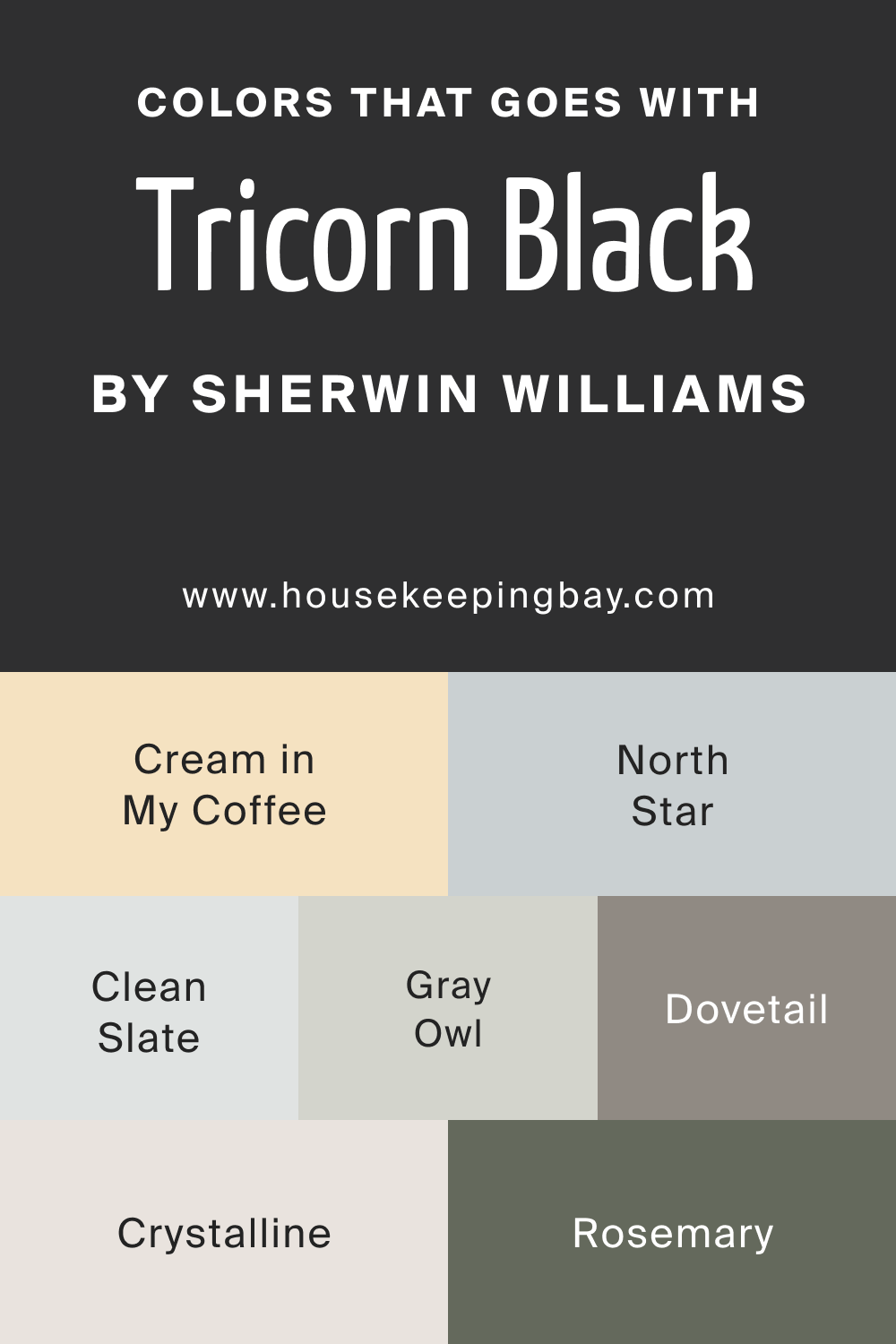 If you want a bit darker and bolder palette, you might also want to try the following color options:
SW Cavern Clay
SW Rosemary
SW Gray Owl
SW Backwoods
For a more delicate and relaxed atmosphere in a room, consider pairing this classic and elegant black with lighter and way more subtle colors:
SW Cream in My Coffee
SW Crystalline
SW Clean Slate
SW North Star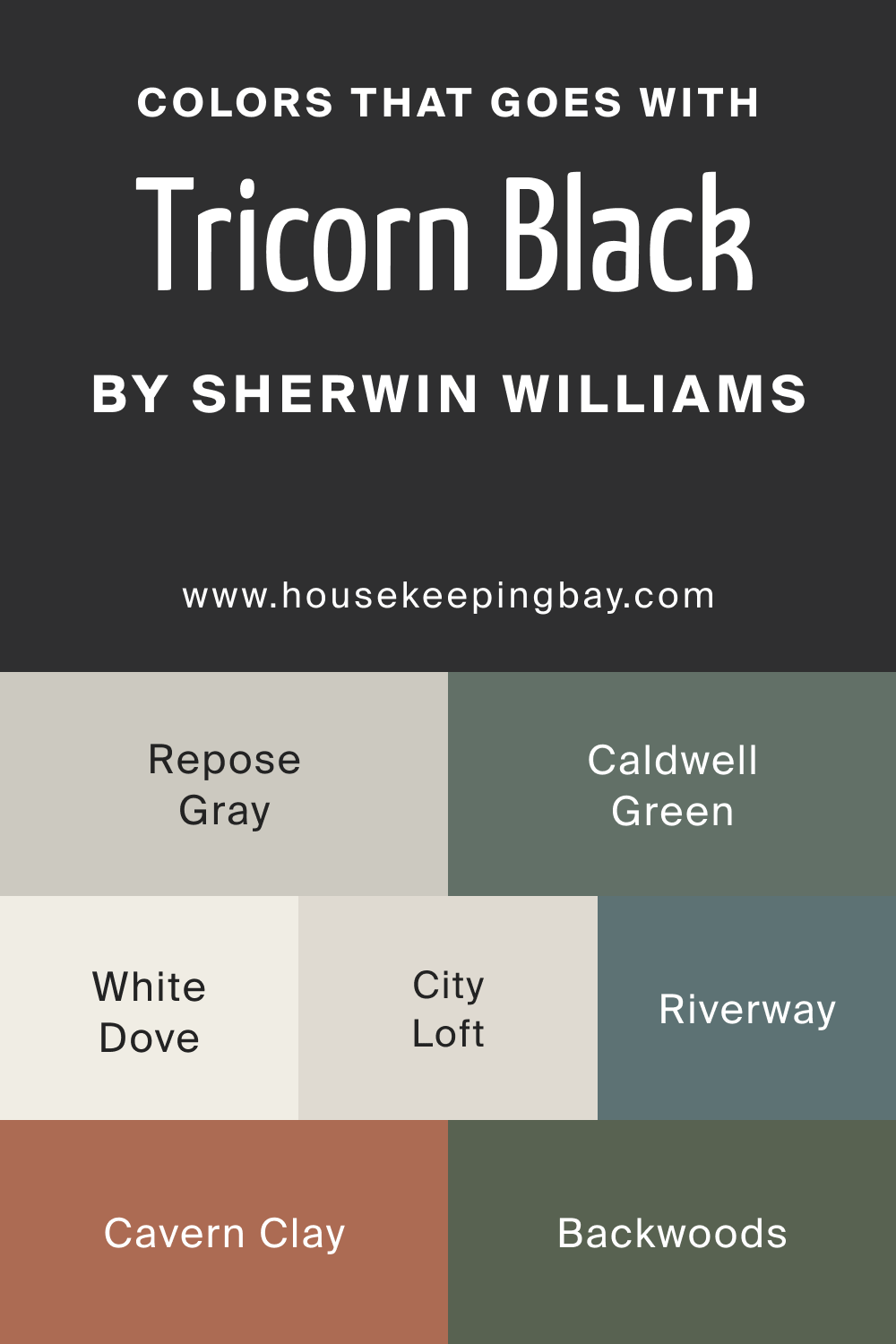 Wher In Your Home to Use Tricorn Black SW-6258 Paint Color?
This black is so versatile that you can literally use it anywhere. The only exception would be small and poorly-lit rooms since black will make them feel smaller. Except for that nuance, feel free to paint your home interior or even exterior walls with this color, use it on accent walls, or just touch up some areas to create eye-catching color accents.
Tricorn Black SW-6258 in the Living Room
As a wall color for your living room, SW Tricorn Black will be great if the room is large and has plenty of light. If you pair it with white furniture and curtains, golden elements, and light wooden textures, this will add life and vividness to the space, making it read less dark. But for small living-rooms with dim light, we would not recommend this color except for using it on an accent wall.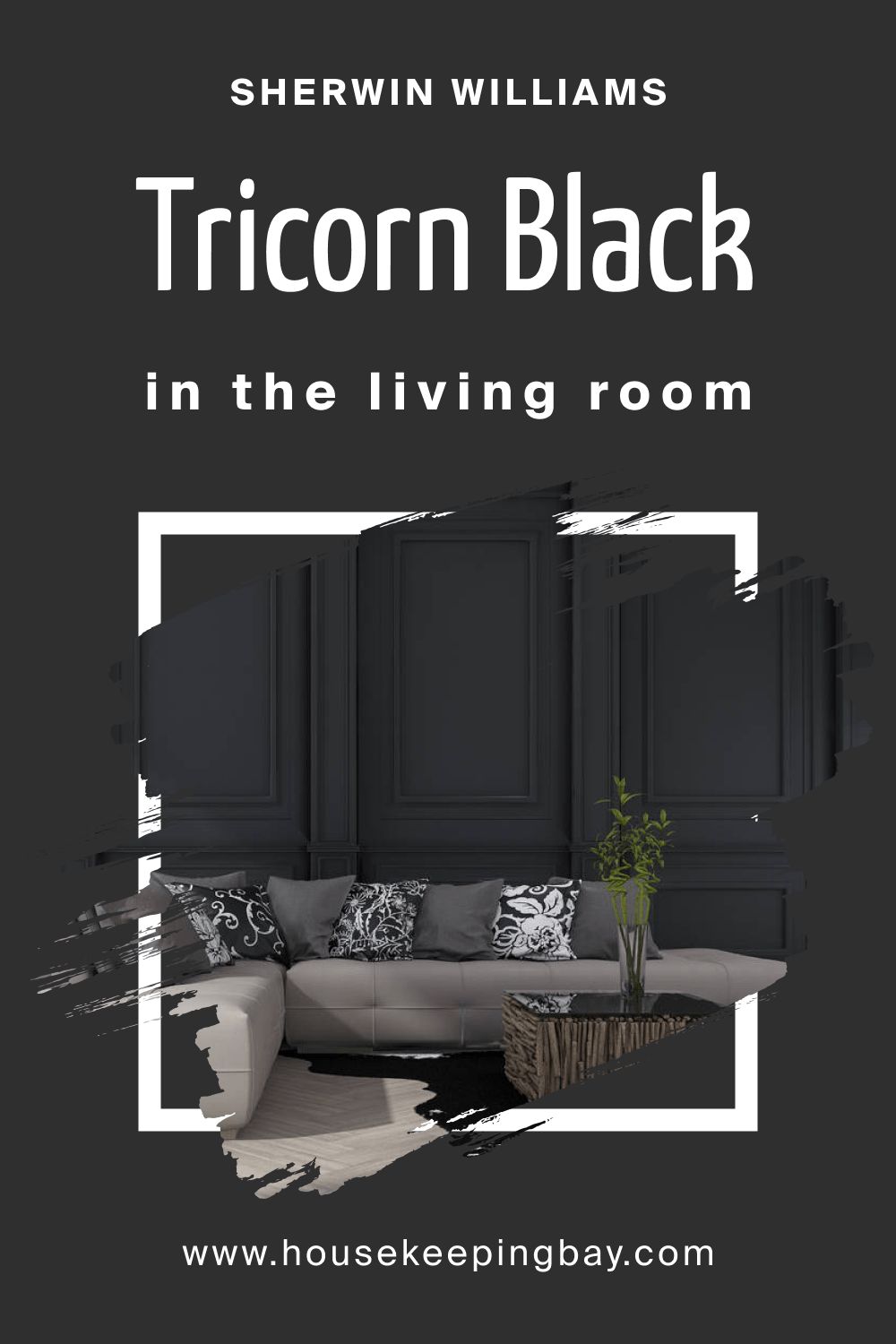 Bedroom with Tricorn Black SW-6258 Paint Color
This black will look gorgeous in your bedroom when you pair it with lots of white! White will add air and space, and by using golden and warm-toned colors like neutrals or light beiges, you can make the space read cozy. By the way, natural textures (e.g., wood) and fabrics will also contribute to a homier vibe.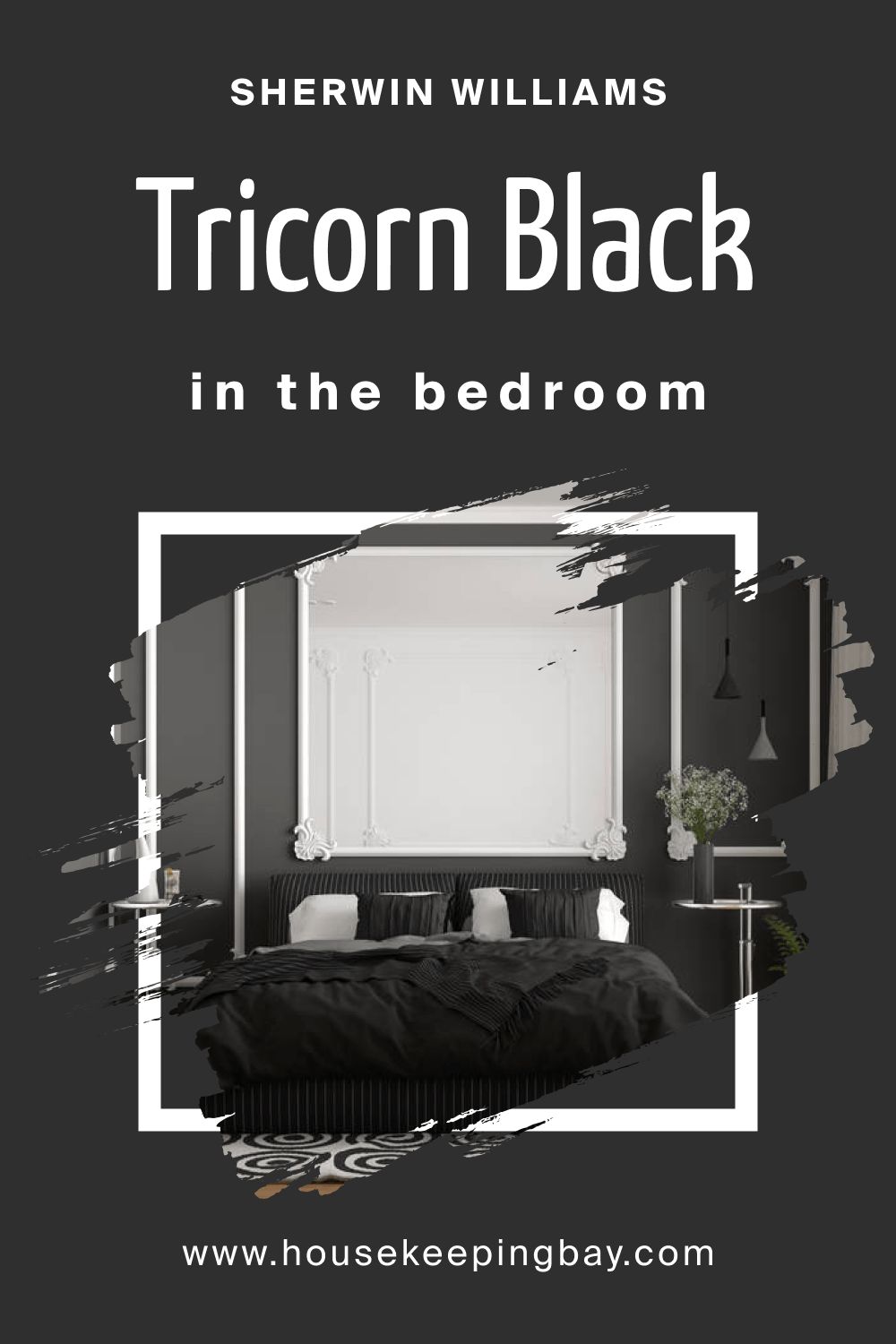 Tricorn Black SW-6258 for Bathroom
For your bathroom, use a traditional black-and-white color combination, and you will not miss it! Even if your bathroom is not large, you can still use SW Tricorn Black on cabinets or your vanity sink.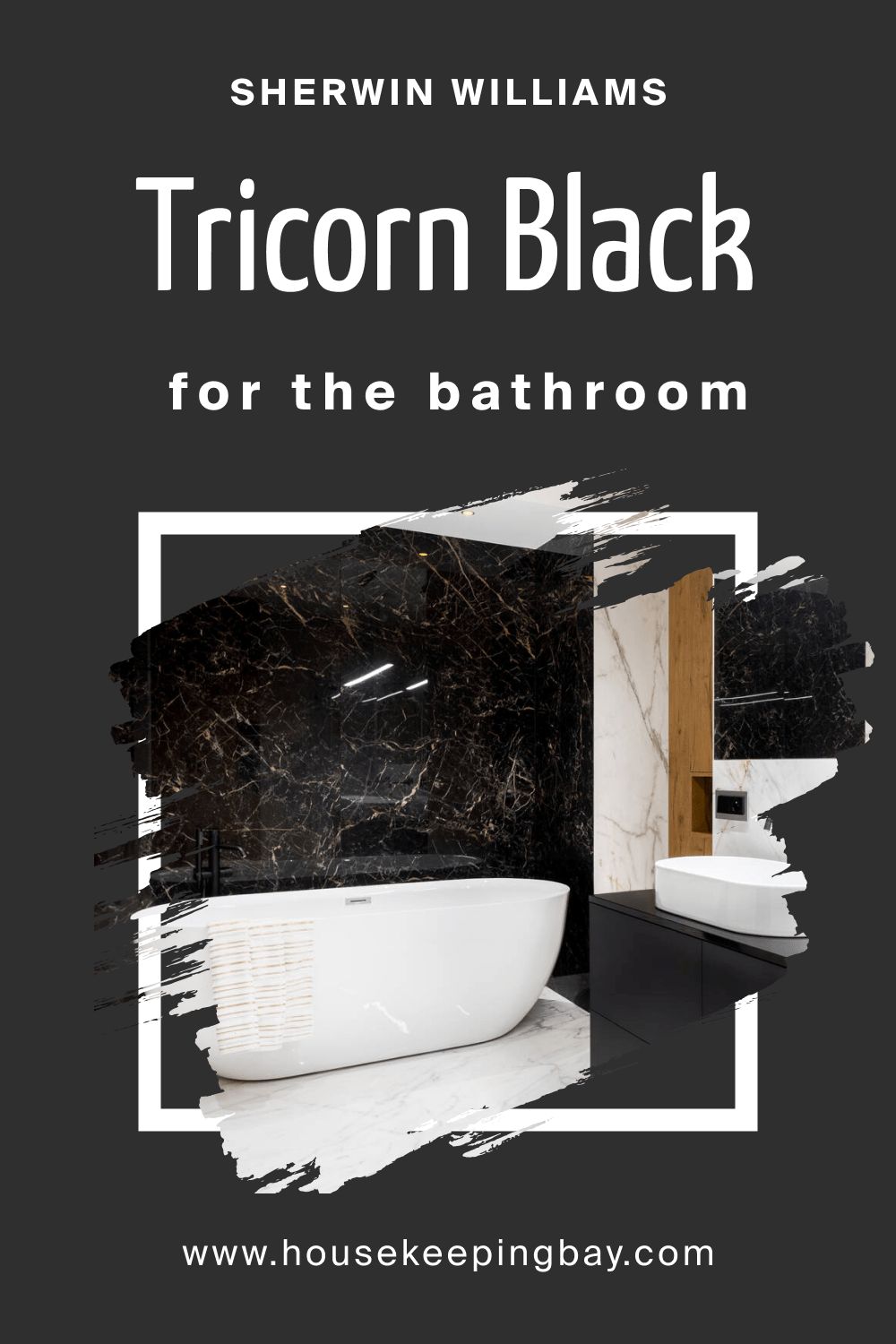 Tricorn Black SW-6258 and Kitchen/Kitchen Cabinets
SW Tricorn Black looks slick on kitchen cabinets, making the space read reserved yet vivid and energetic. The versatility of this bold black allows for pairing it with any materials like brass or metal, as well as using it with any textures. It will look great with marble or wooden countertops, brass kitchen hardware, or tile backsplash!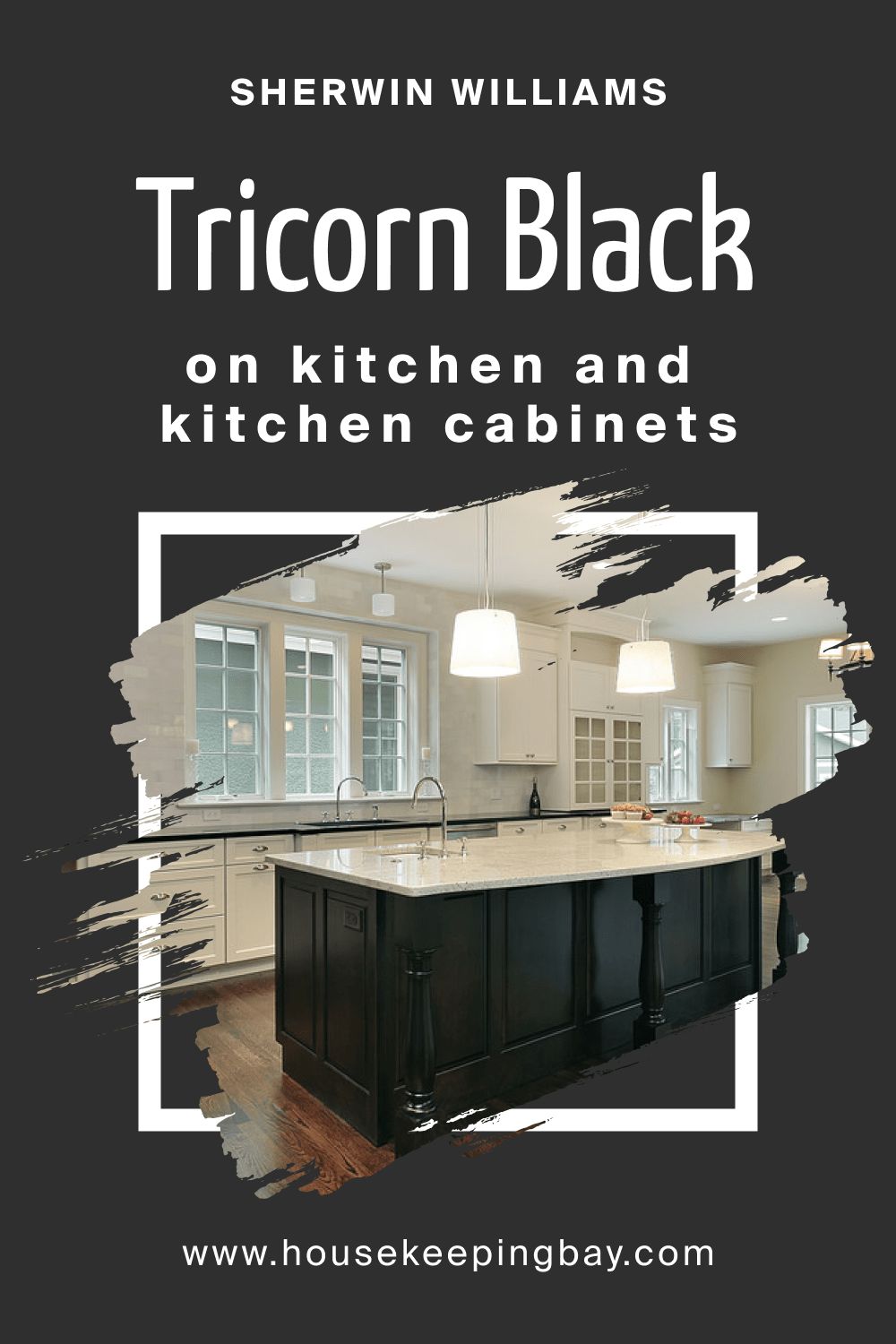 Tricorn Black SW-6258 for the Exterior Use
This black will work on the exterior of a home. Moreover, you can use it not only as a base color but for shutters, doors, trim, etc. In any case, it will make a very strong visual statement. SW Tricorn Black will add drama and depth to your home, giving it a modern feel.
And even if you are not a fan of a whole black exterior, you can use SW Tricorn Black as the color of your front door or for highlighting the architectural designs of your home. The only thing you must take into account before you use this black on the exterior is that it will fade faster than lighter paint colors.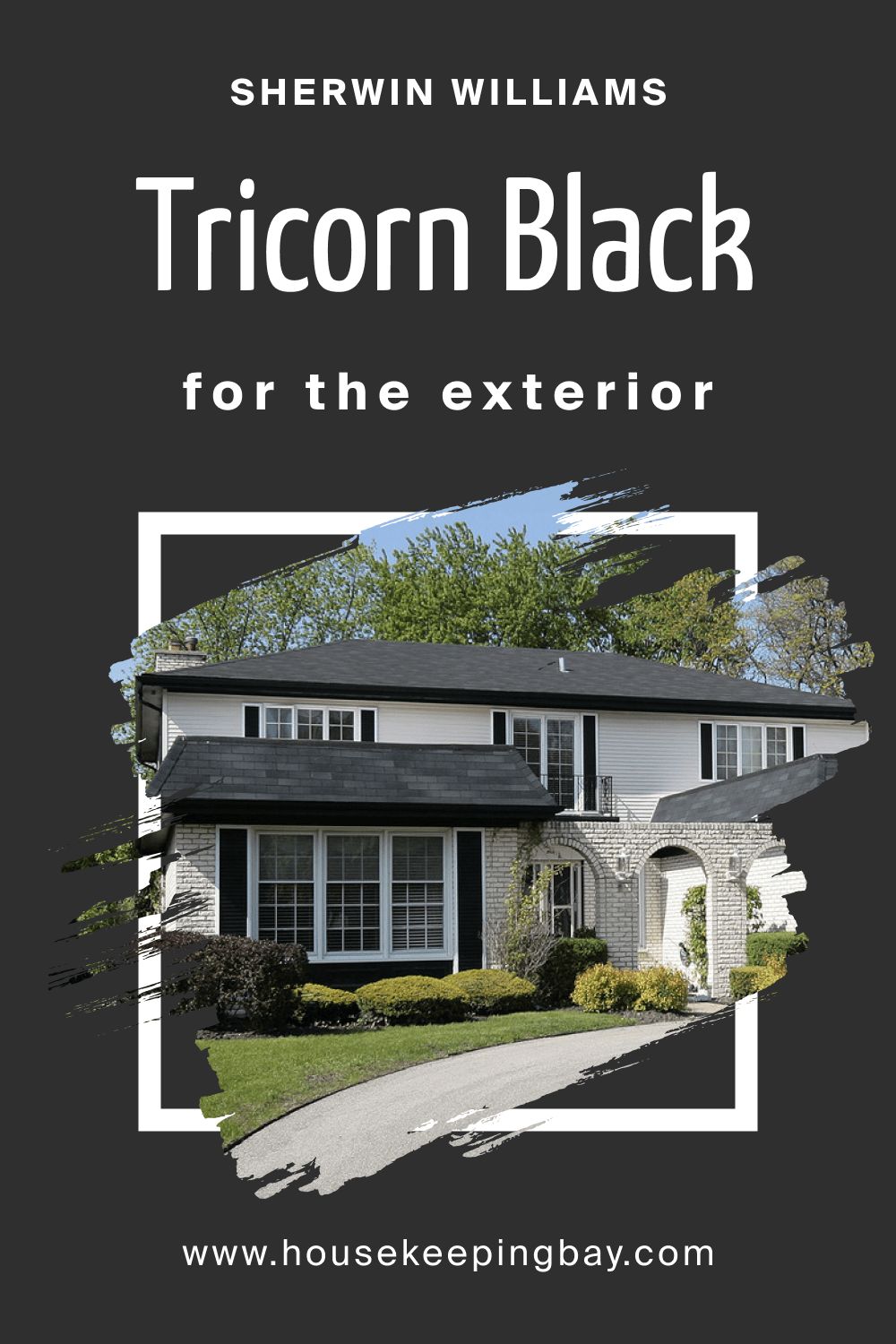 Comparing SW Tricorn Black With Other Colors
You may think that all blacks are the same, but in fact, they do have particular distinctions. And below, you can find which ones exactly. Read on to learn what makes SW Tricorn Black different from several popular black paint colors.
Tricorn Black vs. Iron Ore
The significant difference between these two is that SW Iron Ore has an LRV of 6, which is higher than the LRV of SW Tricorn Black (which is 3). Also, SW Tricorn Black is from the purple-blue hue family, whilst SW Iron Ore is from the green/yellow hue family. This is why compared to SW Tricorn Black, SW Iron Ore reads lighter and more of an off-black/ charcoal gray color.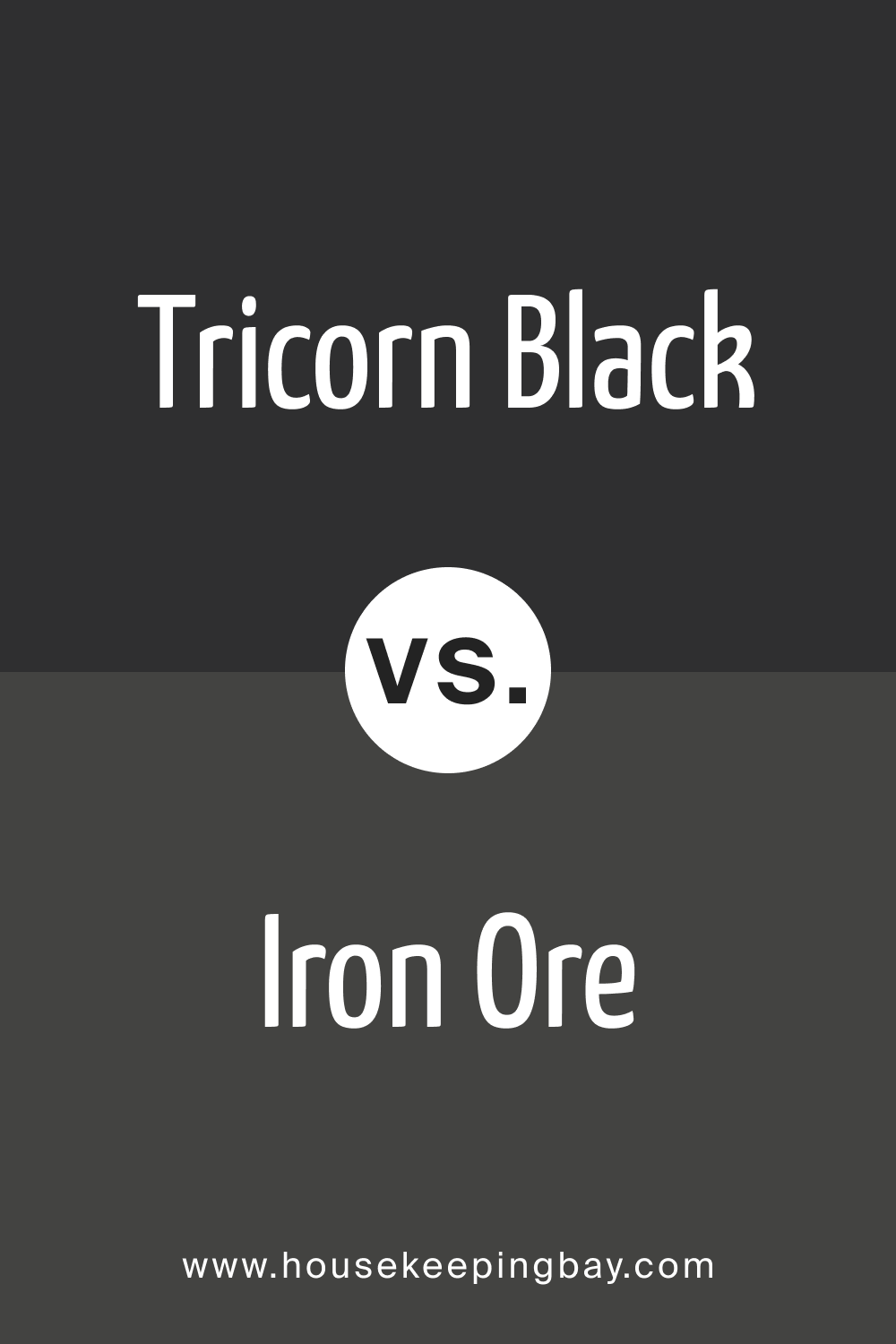 Tricorn Black vs. Black Magic
SW Black Magic has the same LRV as SW Tricorn Black, which is 3. However, they do have distinctions. SW Tricorn Black is from the purple-blue hue family, and SW Black Magic is from the red/red-purple hue family. So, in general, SW Black Magic is slightly lighter, with some warmth, whereas its counterpart is relatively neutral and significantly darker.
Tricorn Black vs. Caviar
The Sherwin-Williams Caviar paint color has an LRV of 3, the same as SW Tricorn Black. However, they come from different hue families: SW Tricorn Black is from the purple-blue family, and SW Caviar is from the purple/purple-red family.
Compared to SW Tricorn Black, SW Caviar is slightly lighter, with the potential to look a bit warmer. Nevertheless, you can say that these two are similar in how dark they are. The only thing where they differ is the warmth.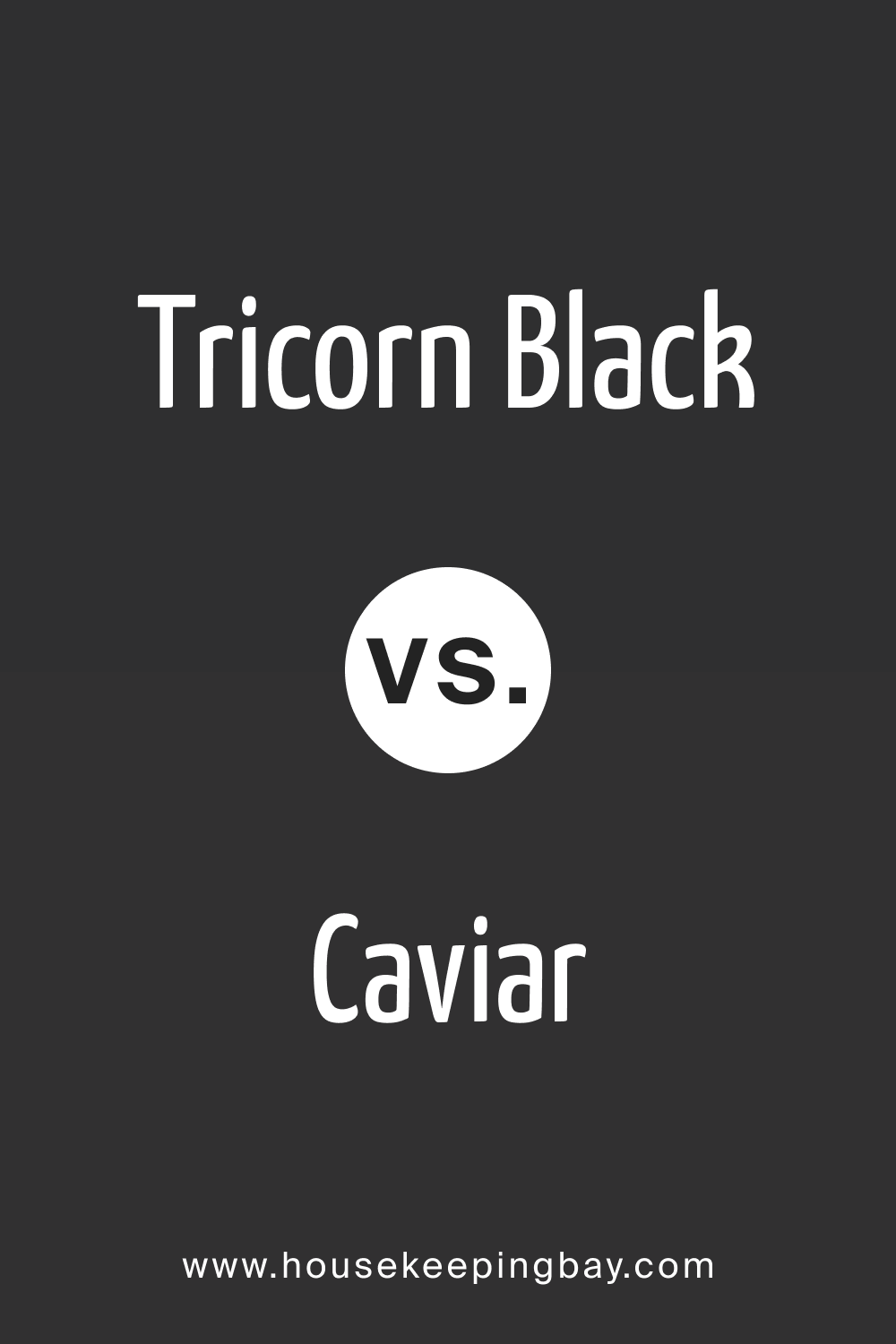 Tricorn Black vs. Urbane Bronze
SW Urbane Bronze While has a greige base, but at the same time, it does have a reasonable green undertone. Compared to it, SW Tricorn Black has no undertones at all, being perfectly neutral. If you compare them, you will see that SW Urbane Bronze reads much warmer and browner than its black and deep counterpart.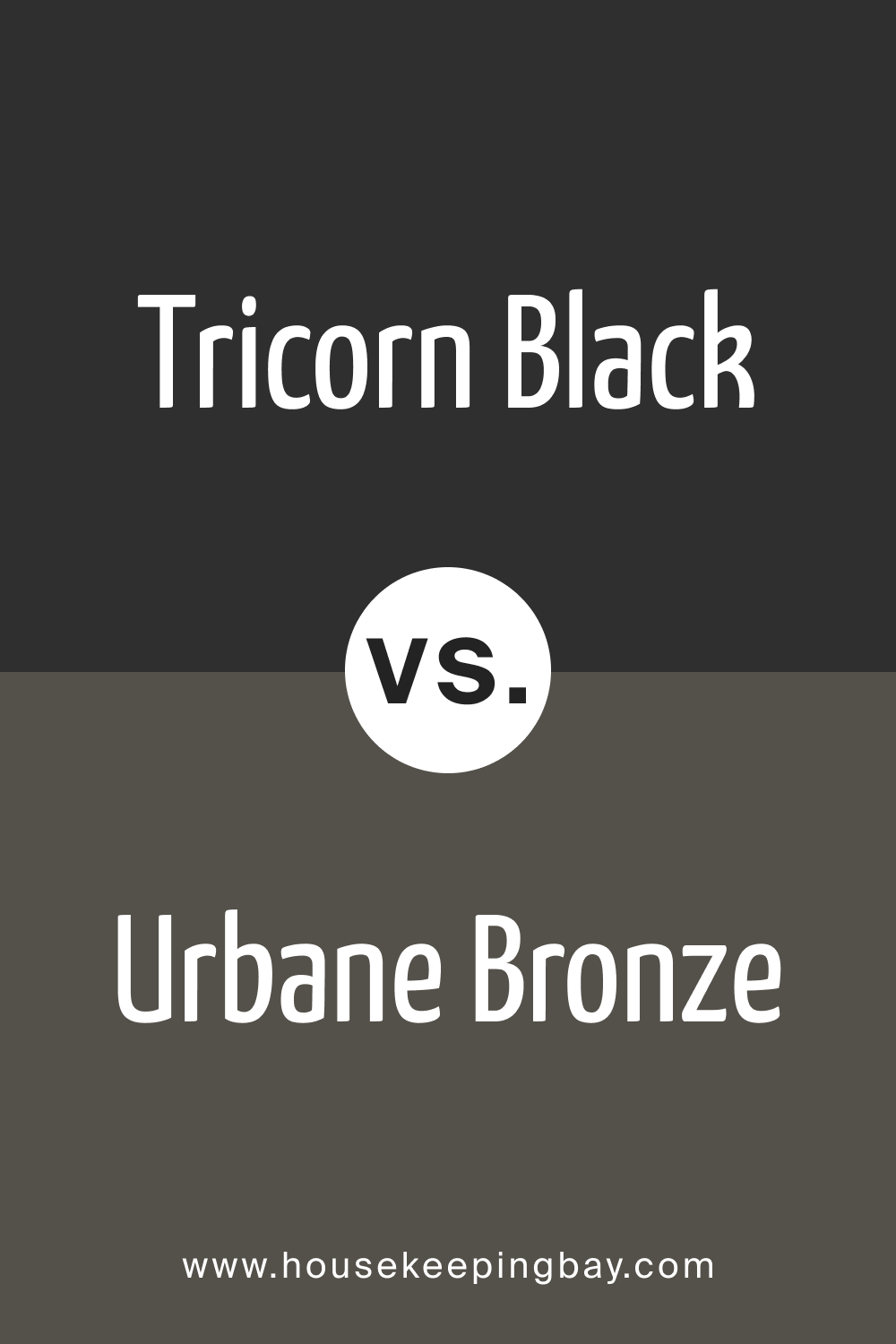 Now you know what kind of paint color SW Tricorn Black is. You can see now that, although it is black, it's not that scary! This color may read gorgeous and classic on your interior walls, making your home look elegant and timeless.
Also, it will work great on the exterior of your house. Now that you know how to use it correctly and what colors it works best with, you can fully enjoy the beauty of this bold, sophisticated, and noble black.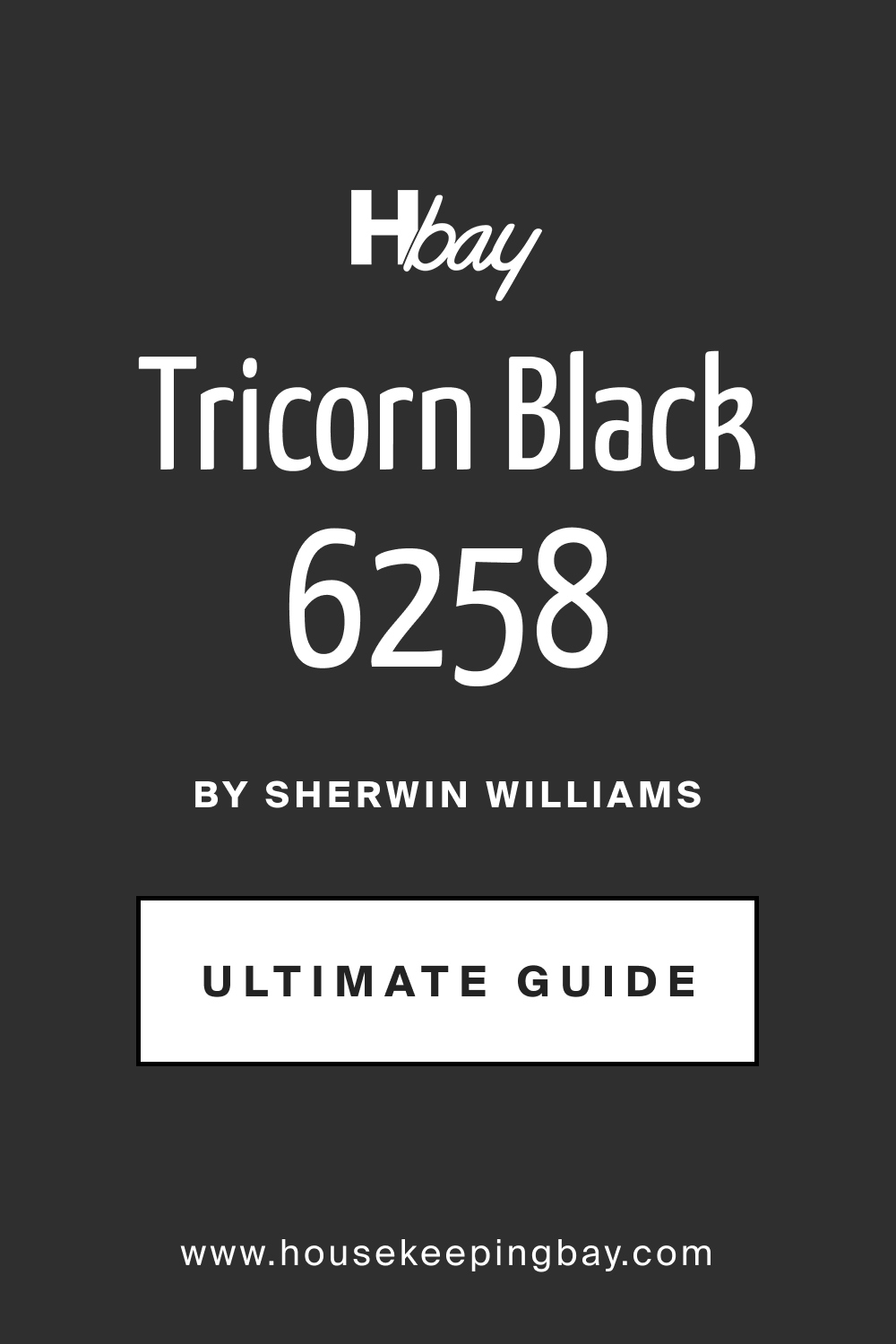 Frequently Asked Questions
⭐Is SW Tricorn Black the blackest black?
According to the Sherwin-Williams brand, this color is indeed the blackest black they have.
⭐Will SW Tricorn Black work with beige colors?
Yes, this color can work nicely with beiges.
⭐If you pair SW Tricorn Black with the green color, will this black read greenish?
No, it won't since it has no green undertones.