When one needs a neutral tint for painting a chamber, it is often gray that becomes people's top choice. In particular, Repose Gray by Sherwin-Williams company is extremely popular these days. It is actually one of the brand's bestsellers!
Why so? Well, this hue is very versatile since we can make use of it in almost any area in our house, besides, this hue is suitable for nearly any color scheme which is especially important if you are one of those who enjoys colorful patterns and bright accents in where you live.
But of course, if grey tones seem to be too cold for you (even though there are warmer variations of them), it is easy to select Sherwin-Williams paint colors that will match your demands and requirements.
The brand offers a wide variety of diverse tints of all kinds from warm to cool, from pastels to dramatic hues, so finding a suitable solution for the particular interior will not be an issue.
What Kind Of Color Is
Repose Gray SW 7015

?

Some might be surprised at such a question since the answer seems to be present in the hue's name already. If it's a Repose Gray, so apparently, the hue is gray. But everything is not that simple here!

From first sight, it is indeed a fine neutral gray tint with a very slight coolness added to the otherwise warm hue. Nevertheless, we can't say it is close to a traditional gray hue.

It is rather a perfectly balanced combination of taupe base, gray, brown, greige, and a slight hint of purple.

It works surprisingly effectively with any decor styles and other colors, not necessarily from the gray or neutral range, which means this hue can be chosen for any home renovation tasks, in any chamber, with any hues being parallelly used.

As we already mentioned, it looks rather grayish, but if we take a closer look, we will see very delicate and gentle warm notes hidden in its depth.

Those warm dabs make the overall hue less cool in comparison to other gray alternatives.
Is Repose Gray a Warm Or a Cool Color?
This question bothers many of us, especially those who are not good at defining colors and their coolness or warmth.
So if that is you, just remember that Repose Gray is a warm gray hue, that is what trustworthy sources Encycolorpedia can tell you, but compared to other similar tints, it may indeed seem somewhat cooler owing to that note of purpleness it possesses.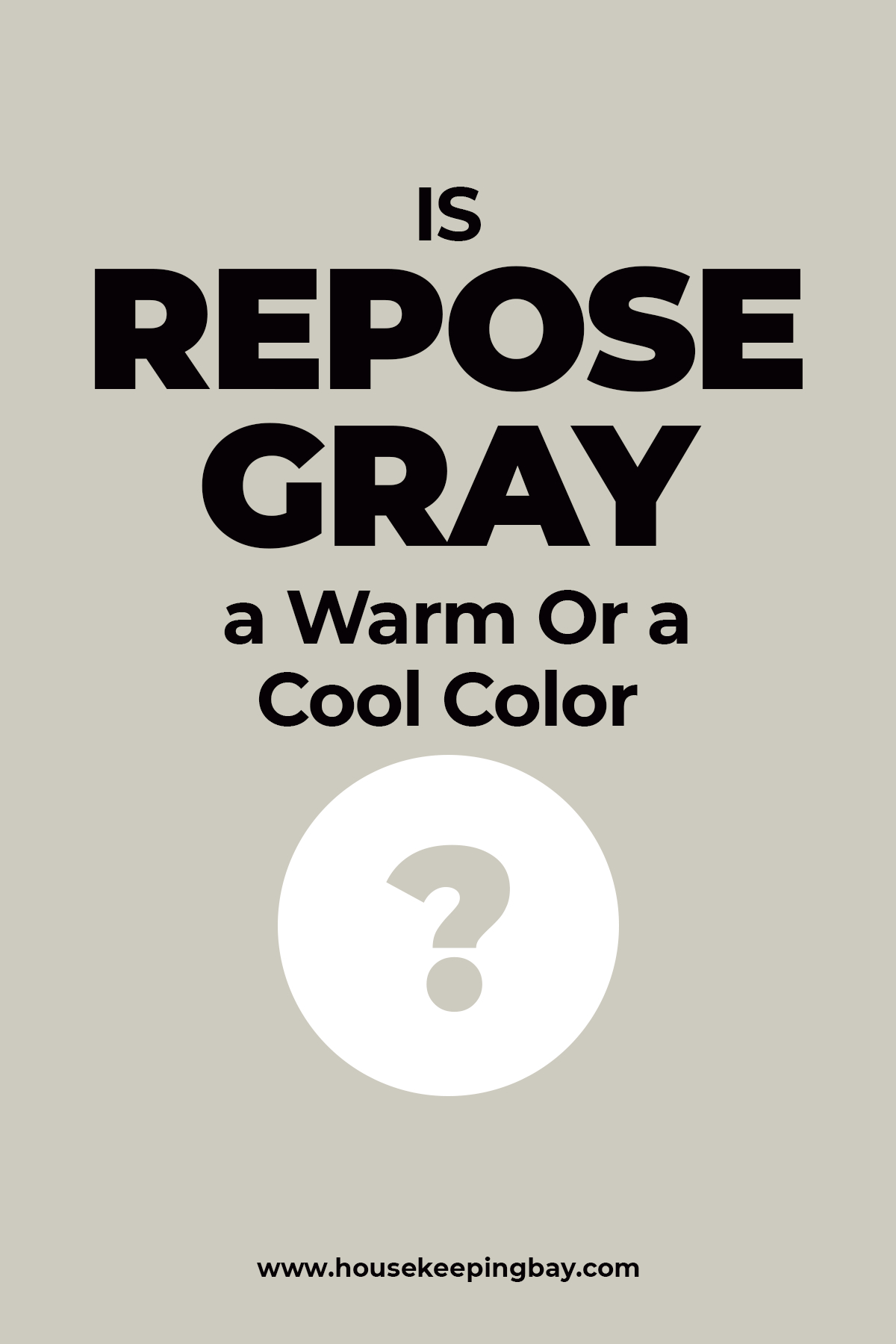 Repose Gray Undertones
Since Repose Gray is often classified as a greige hue, it has the same feature common for all of these hues.
Yes, we are talking about undertones.
Despite being a seemingly simple hue, The Repose GrayG by Sherwin-Williams has a complex combination of undertones which consists of brown, gray, purple, and greige.
And if you are worried that those purple notes will make your walls look, well, purple, there is no reason for worries or doubts!
The purple dab the hue possesses only prevents it from turning flat, dull, and boring.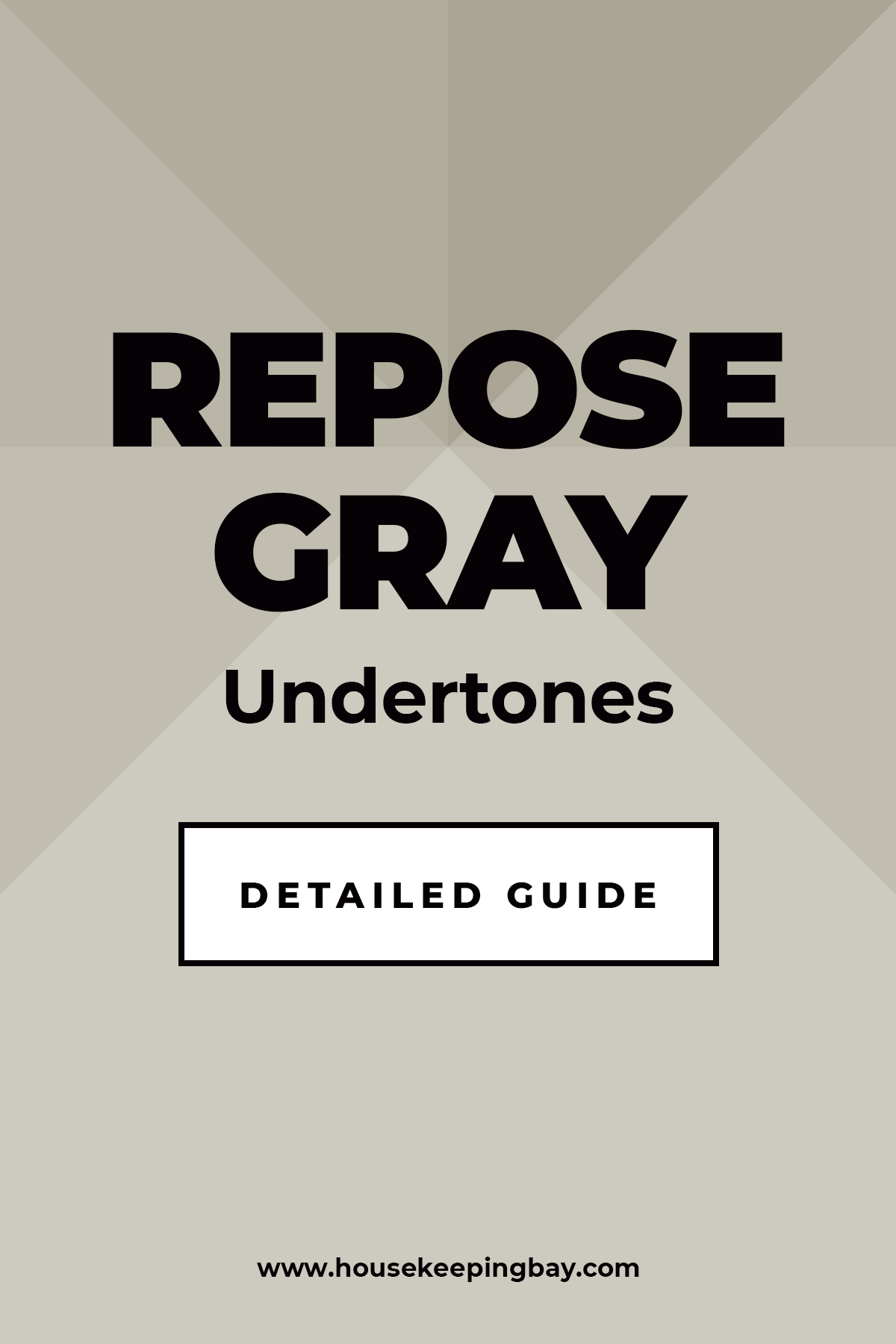 Get a sample of REPOSE GRAY (get a sample from Samplize )
How Does Lighting Affect Repose Gray?
Picking hues like The RG might be tricky stuff all because of those magical undertones it possesses.
See, like all greiges and, in general, neutrals, Repose Gray is rather selective when it comes to lighting around. As everyone probably knows, the way we perceive a certain color strongly hangs upon how this color is being lit by the surrounding lighting.
That said, some tints tend to look darker and "muddier" in poorly-lit areas whilst others will turn way too pale when applied in a chamber lit by artificial lighting. And moreover, the hue itself can also change!
As for the neutrals and greiges, in particular, these hues can react to light in quite an unpredictable way.
As for Repose specifically, it is able to reveal some of its undertones that are usually not seen.
So it simply means that in a North-faced chamber, the RG will show off more of its coolness and a bluish tuit, and sometimes even the slightest hints or purple may come out.
At the same time, don't be scared with those yellow and orange stuff! It doesn't mean your walls will turn lemon-yellow or tangerine-orange, of course.
There will be just a tiny bit more of these notes visible.
What is LRV? Read It Before You Choose Your Ideal Paint Color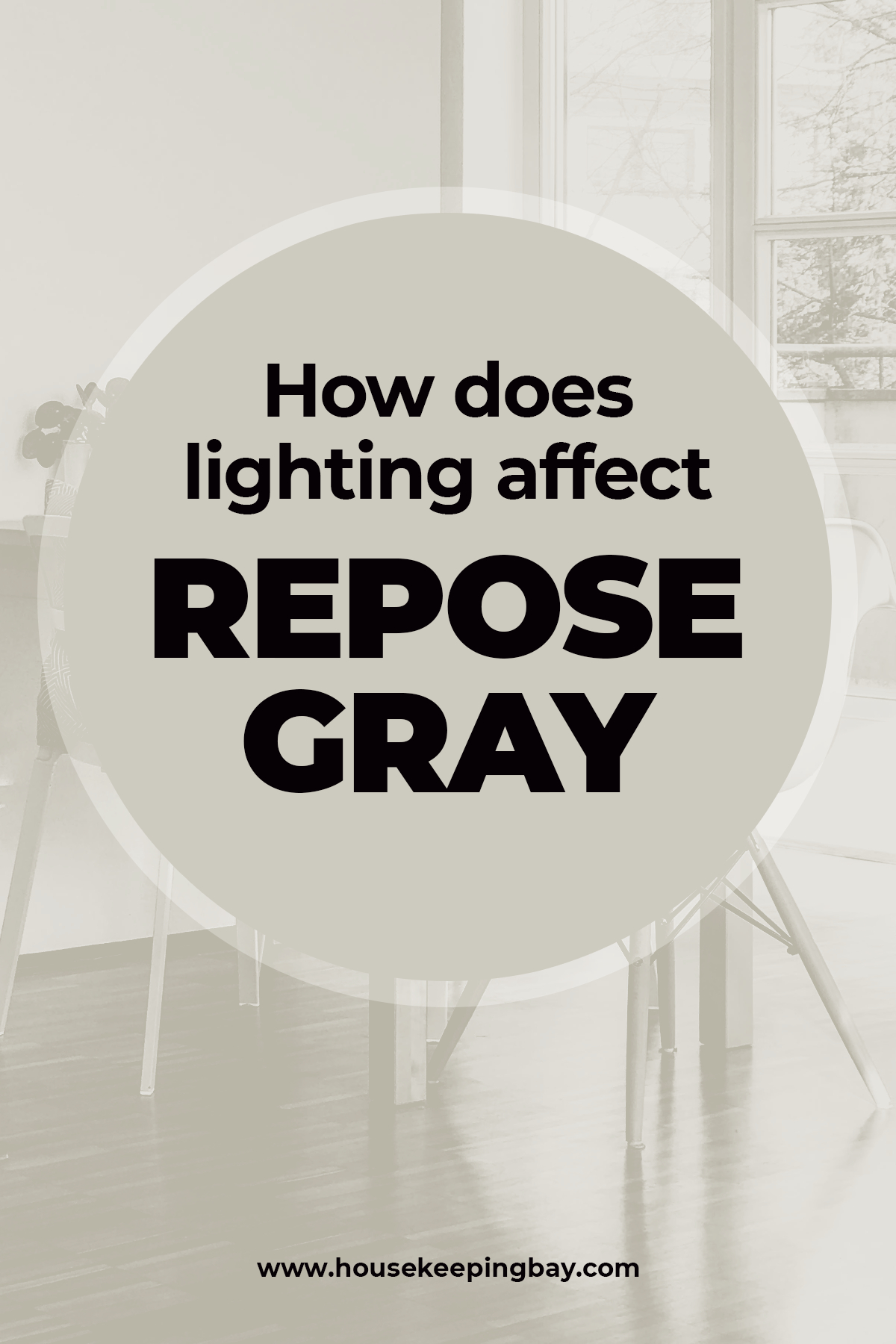 Coordinating Colors
In terms of finding proper coordinating hues to match the RG, this hue is a true miracle since it can be literally paired with almost anything! Blue-gray hues will work with it especially fine, to the point.
Nevertheless, if you need more ideas, take into consideration that the following hues will make an ideal match too:
If you take a look at the samples of the paints listed above, you will see that they belong to the greens, grays, and beiges both fair and dark.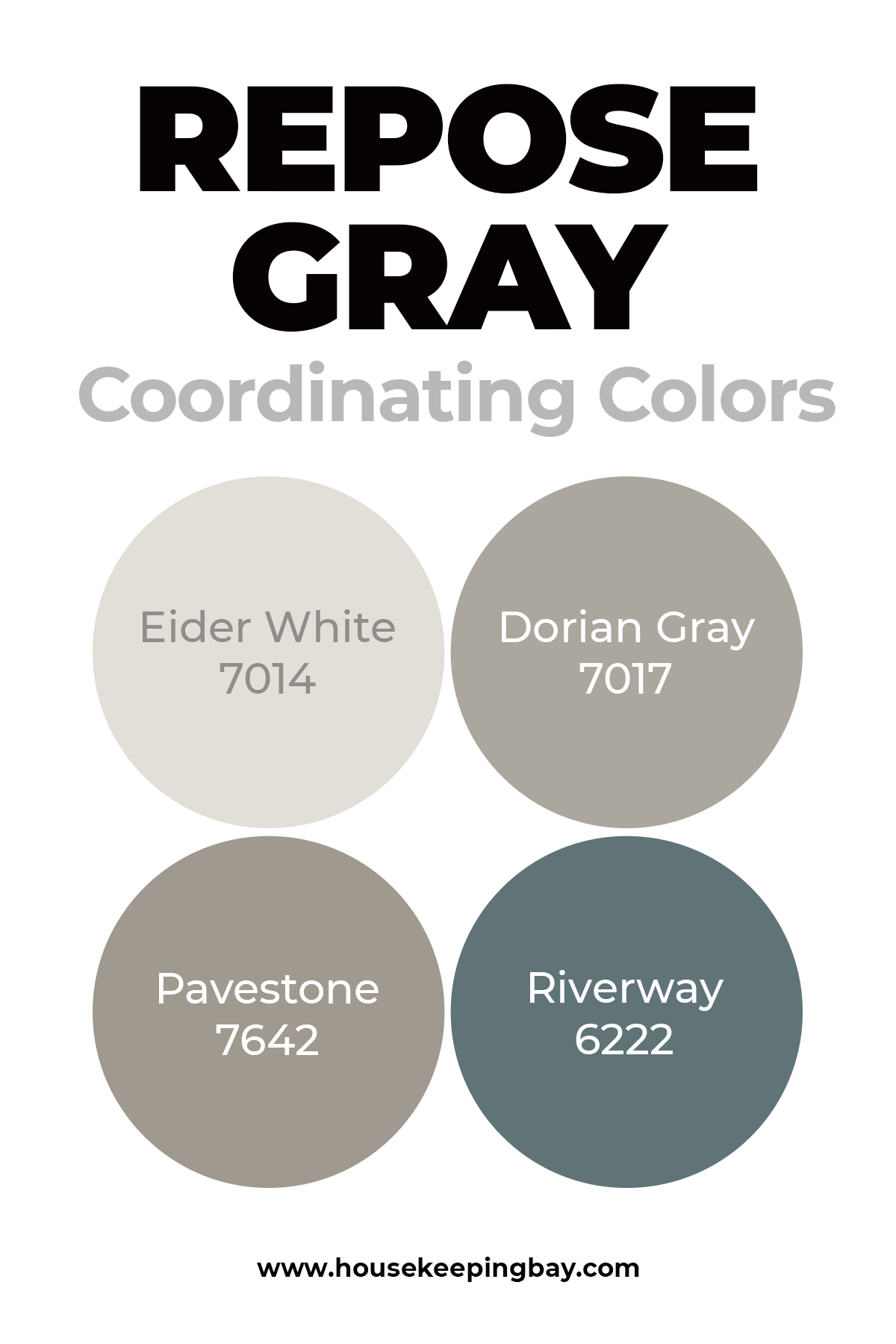 Like with every paint colour, We highly recommend using SAMPLIZE.  Samplize is a peel & stick paint sample that you can easily move around your room for over HALF THE COST of traditional samples – and they deliver right to your front door!
How Does Repose Gray Work With Other Color?
Repose Gray vs Agreeable Gray
When a question arises which one of these colors is the best, finding an answer might be tricky since both shades are pretty much alike. However, certain distinctions do exist.
If we compare Repose Gray with Agreeable Gray, we will see that the first one is somewhat darker than its "cousin". Nevertheless, the difference is very insignificant.
Also, Repose Gray can sometimes take on a greenish tint if painted in certain areas.
In addition, the color contains more gray notes in it in comparison to its counterpart which, on the contrary, has a slight hint of beige. (get a sample of Agreeable Gray)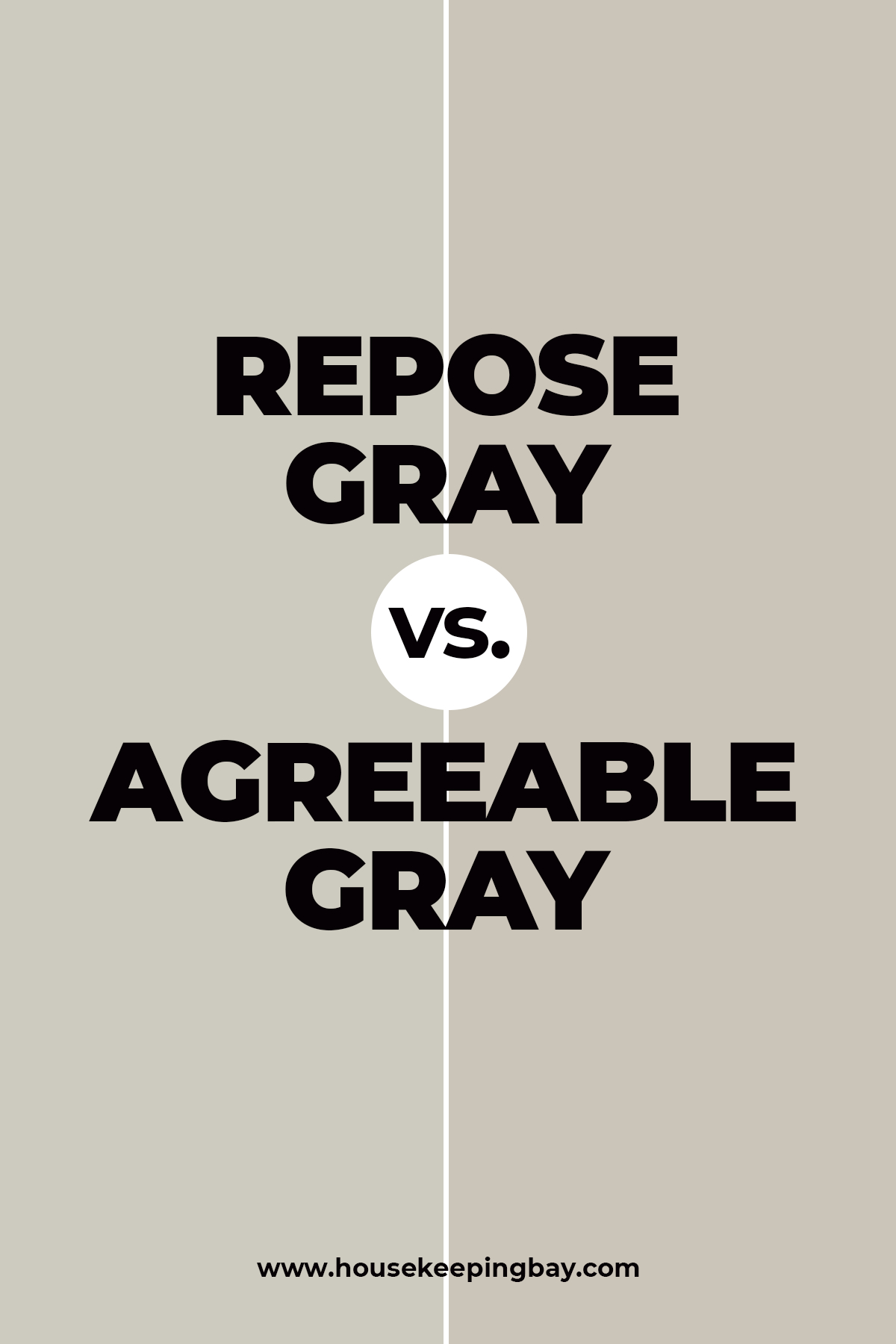 Repose Gray vs Revere Pewter
It may seem that these two colors are almost the same, but if we put them side by side, we will clearly see that Repose Gray has much cooler bluish and purple undertones.
Moreover, since it has its LRV being of 60, it can be considered as a light shade that reflects more light.
In comparison to it, Revere Pewter with LRV of 55 is somewhat darker, but not very dark, of course, and it has way more prominent beige notes. (get a sample of Revere Pewter)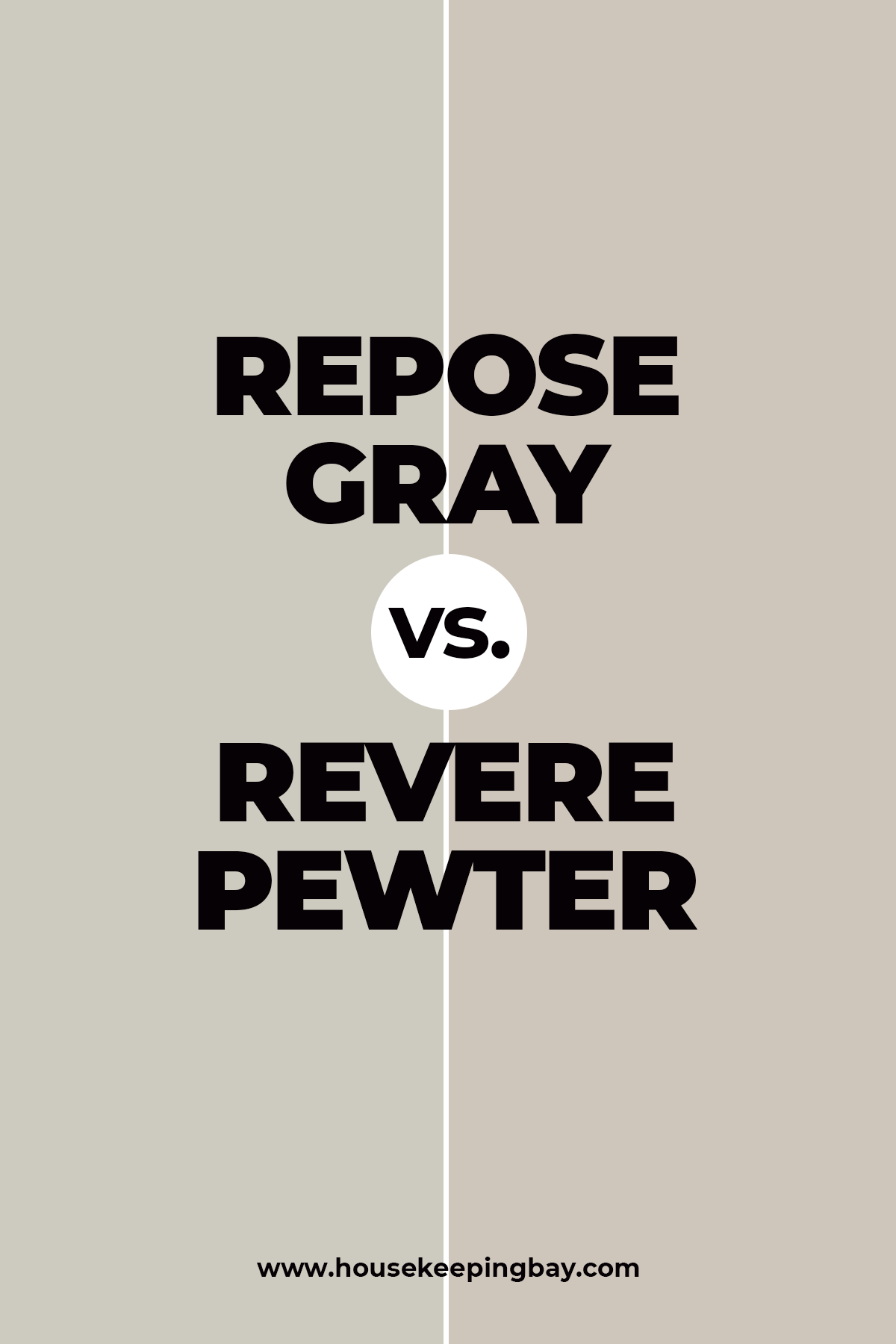 Repose Gray vs Mindful Gray
When being compared, these two shades can be easily distinguished.
Mindful Gray is closer to medium-tone grays whilst Repose Gray belongs to the family of medium to light gray tints having way warmer undertones. (get a sample of Mindful Gray)
Also, Mindful Gray is one tone darker than its counterpart.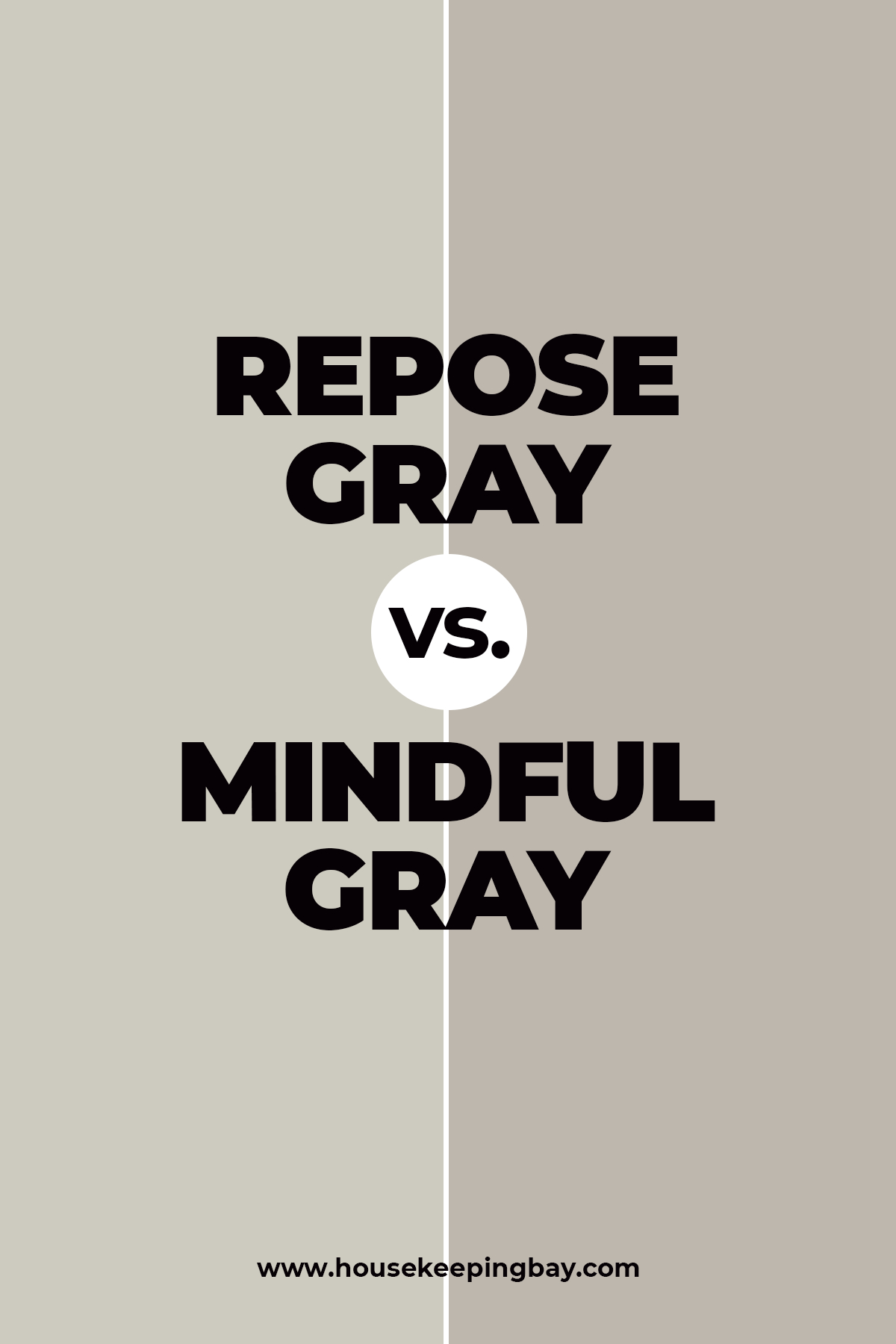 Repose Gray vs Light French Gray
If you are up to painting your walls with either French Gray or Repose Gray, and you still can't make a decision which one to pick, take the following fact into consideration. Light French Gray looks quite cool (meaning cold) being a light gray tint with no outstanding undertones. (get a sample of Light French Gray)
It has almost perfectly balanced warm and cold tones in it which makes it very close to the pure gray.
These features make it super versatile for being painted in almost any room.
Repose Gray, on the contrary, is significantly warmer having brown, gray, and greige undertones.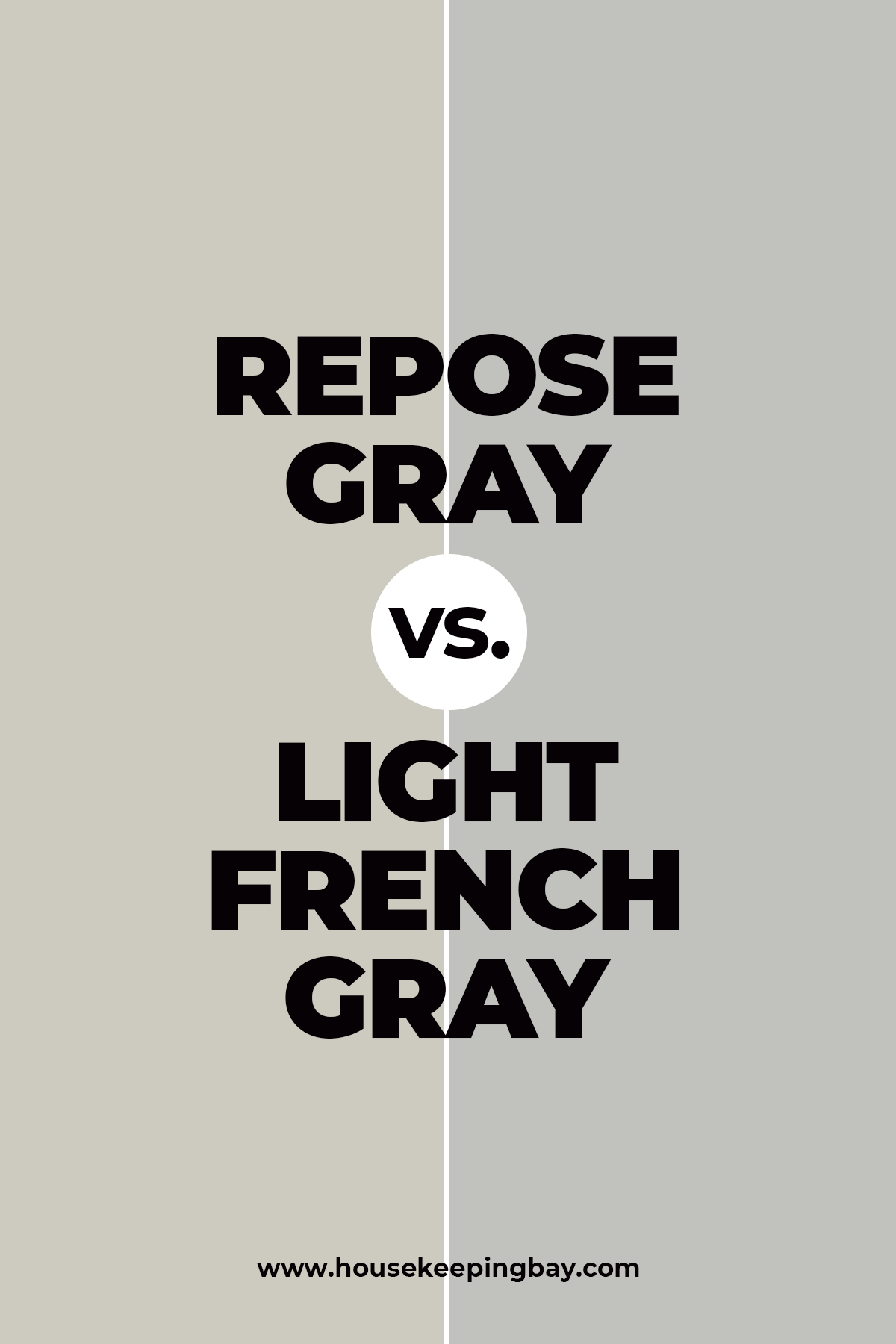 Repose Gray vs Gray Owl
The Gray Owl shade, even despite being called gray, has rather prominent greenish undertones which makes it rather tricky for application.
If we compare it with the Repose Gray, we will clearly see that the Gray Owl looks cooler and greener in comparison to its counterpart that is more greige. (get a sample of Gray Owl)
In addition, the greenish undertones of the Gray Owl color can even look a bit blue in certain light.
Because of this nuance, this paint has to be used very carefully considering the lighting of the room you are going to use it in.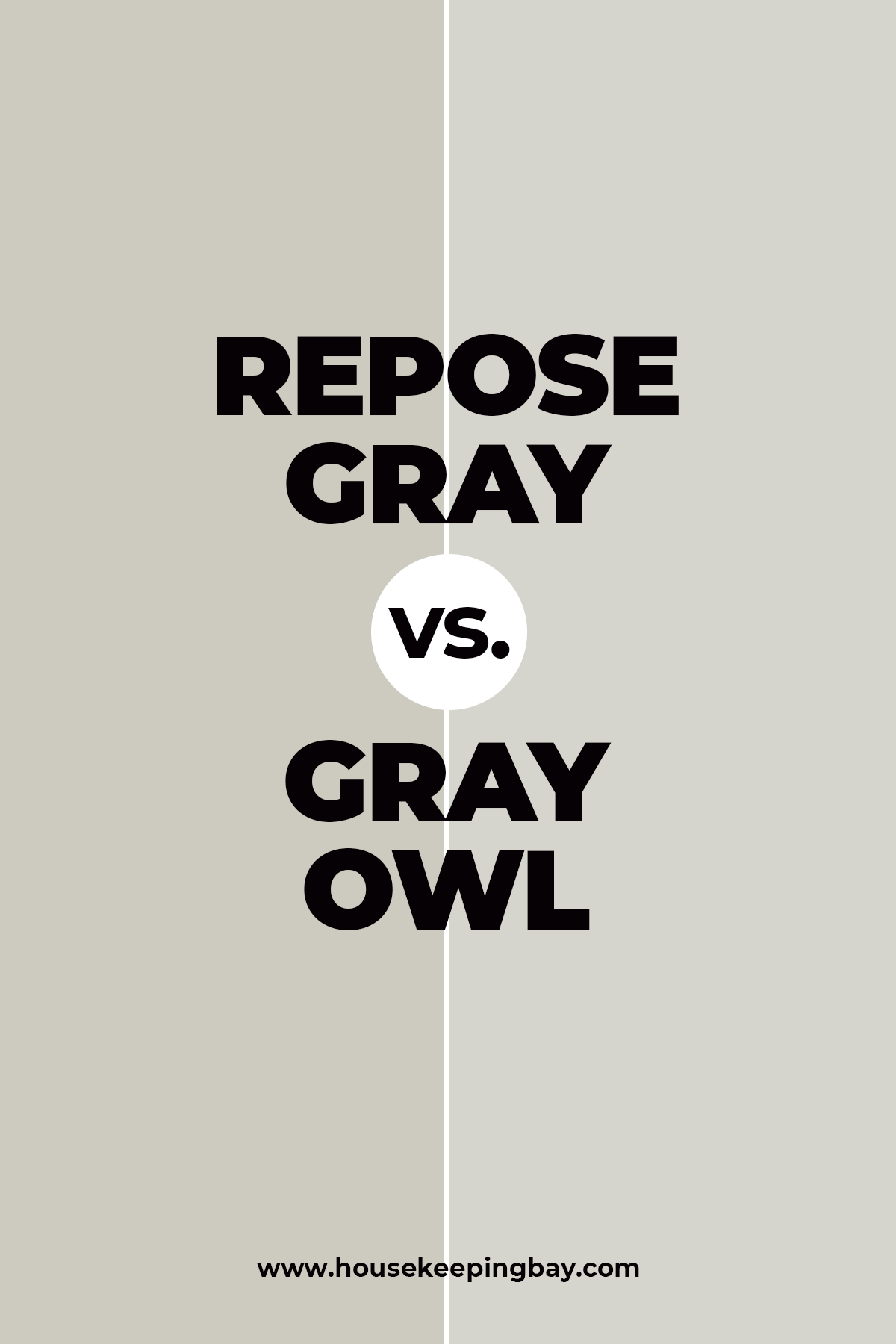 What's the Best Trim Color For Repose Gray?
When selecting paint for any indoors renovations, the most crucial part of the process is to pick up the hue that will go well along with the color trim.
And even if you chose to make use of such a universal neutral as Repose, we would advise you to take into consideration that white trim, and also bright light and fair colored furnishings will allow favoring the cooler side of this hue.
The same is true for blue tints, especially the cool ones.
But in case your goal is to reveal its warmth more intensively, opt for warmer colors like intense beiges, browns (both light and dark), and maybe even certain tints of yellow or orange!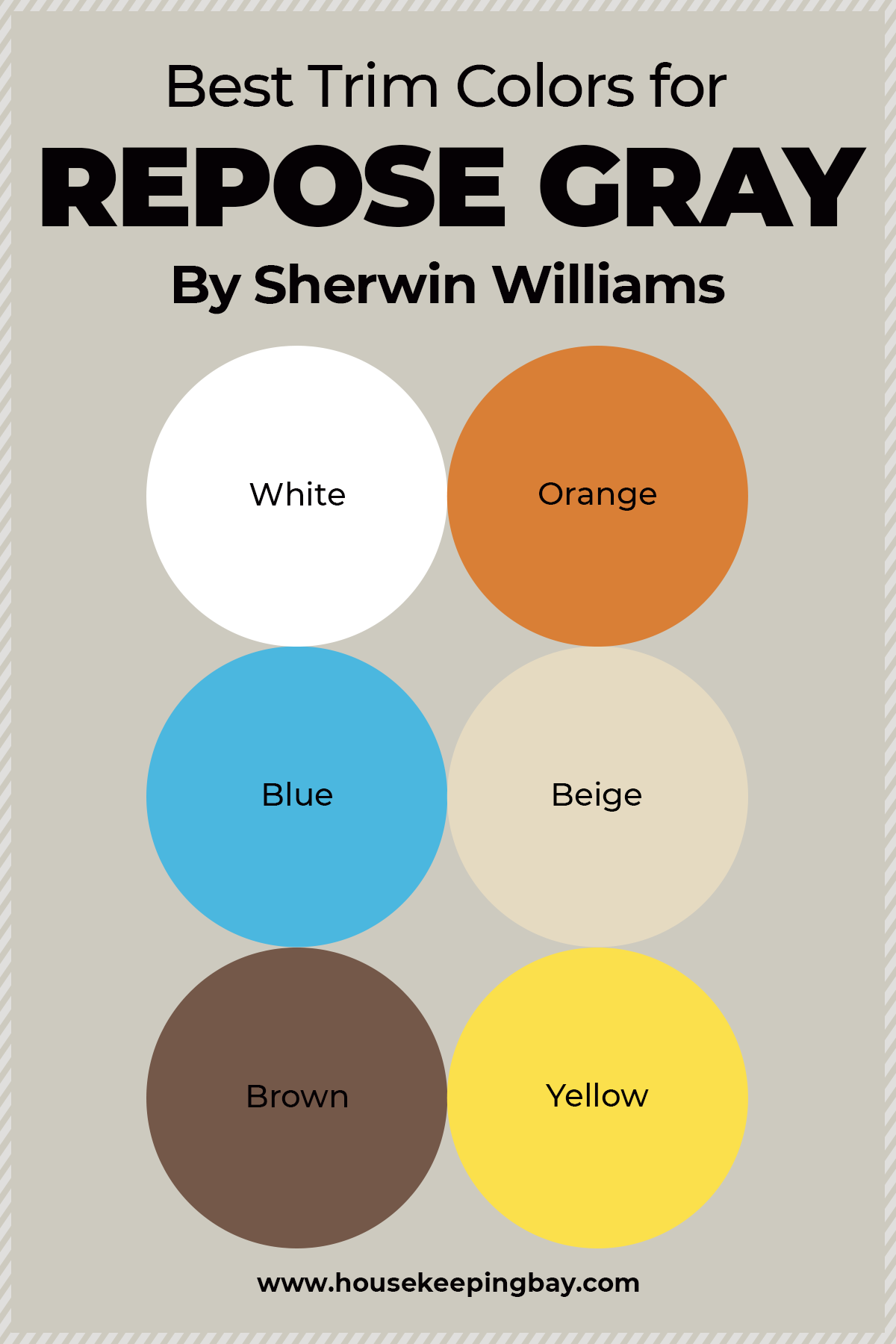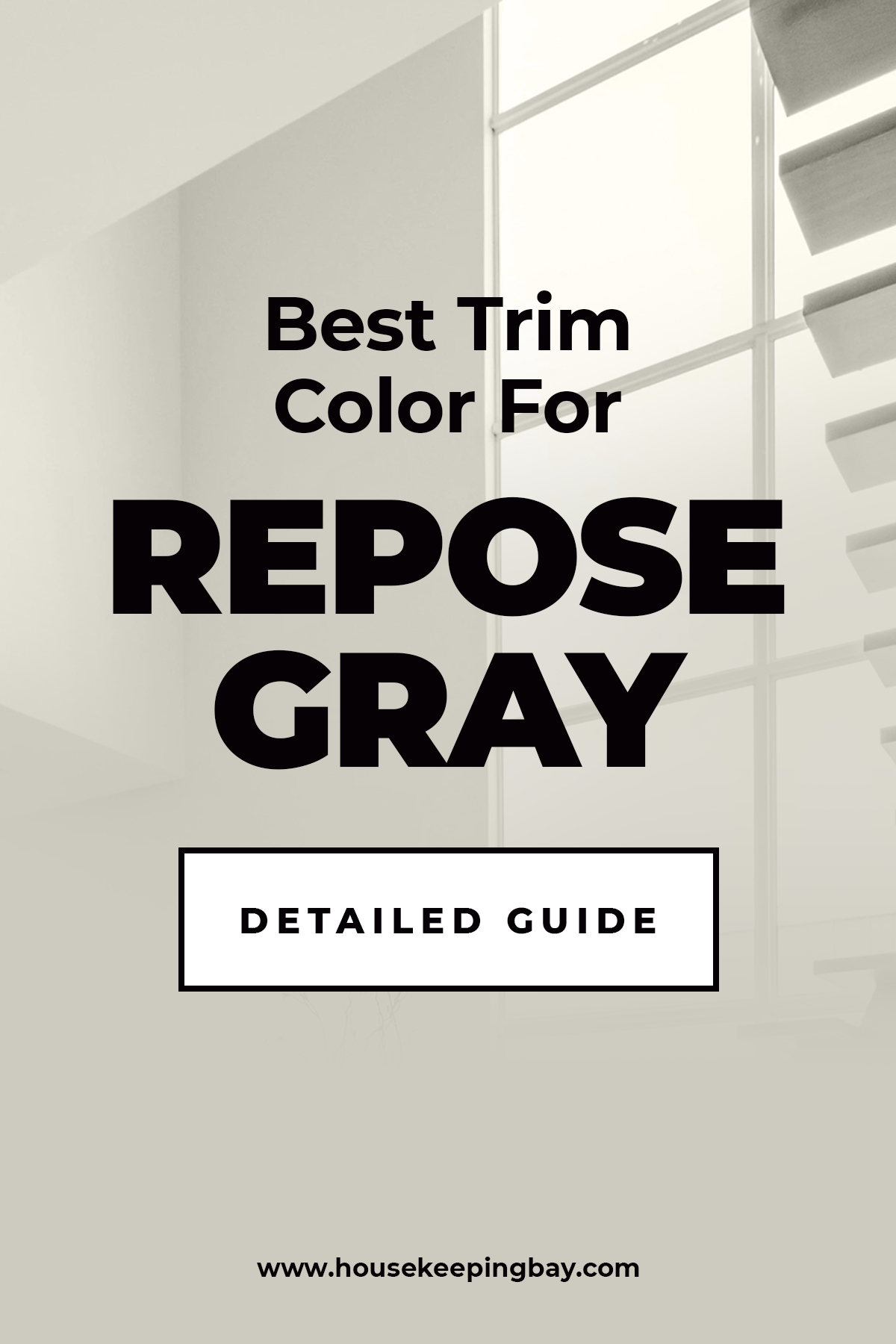 Where Repose Gray Color Can Be Used?
As we just said, the RG can go to any chamber and space in a house including stairways, corridors, and other areas of that kind. However, in diverse spaces, it will reveal itself in a different way, and that must be taken into account.
Repose Gray in the Living Rooms
This hue is an ideal option for this chamber since in a well-lit area it will create that airy and refreshing feeling that makes any room look more spacious.
Nevertheless, consider the lighting: if a chamber has tons of daylight, that's fine, and the hue will show up as a perfectly balanced neutral. But in a poorly or artificially lit space, it can reveal its beige notes and look warmer and even slightly darker.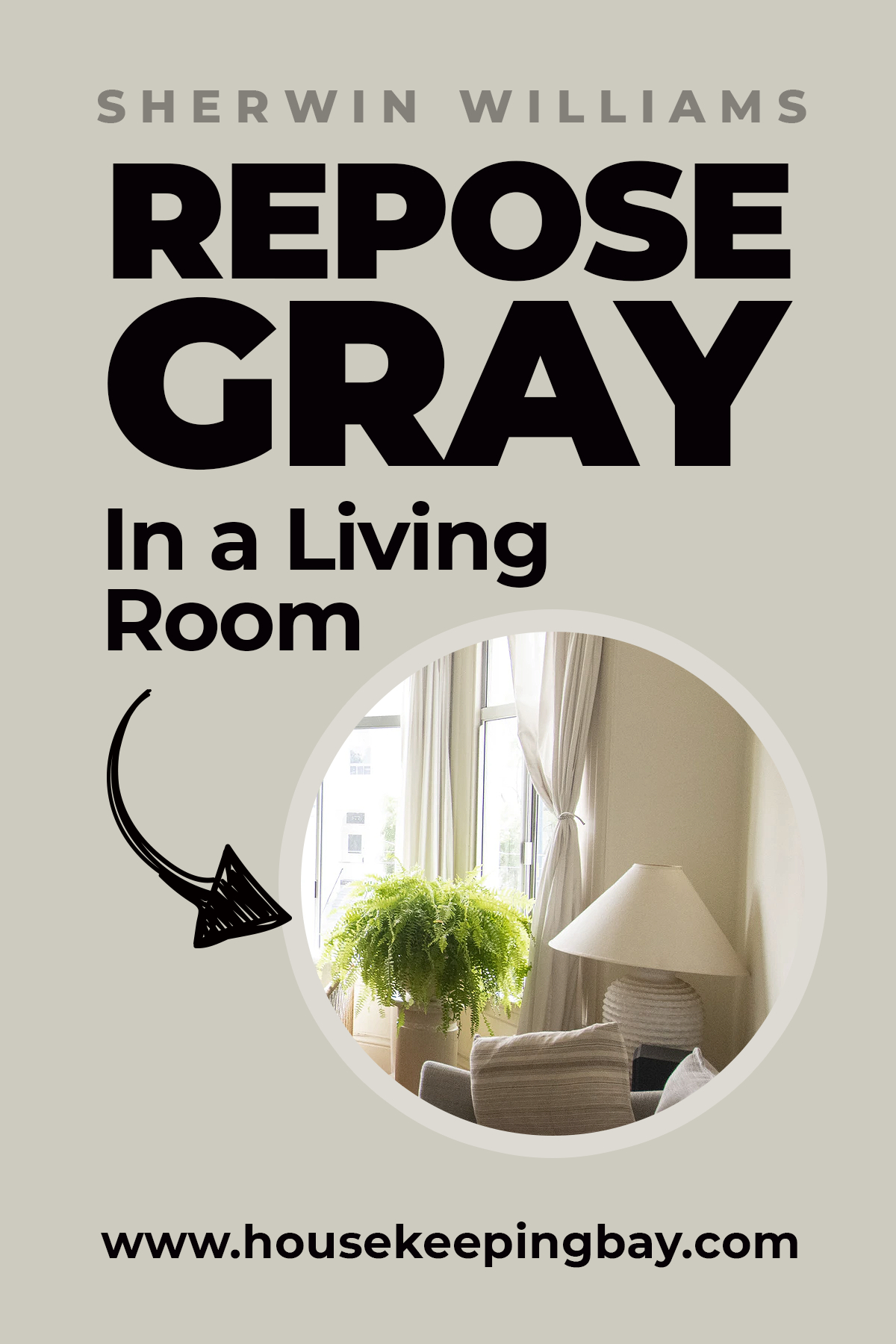 Repose Gray in a Bedroom
For your bedroom, Repose Gray is one of the best colors. Since this hue belongs to the group of warm tints, it means that the walls of your sleeping space will not look too cold (which is, let's agree, not the best solution for the room that is supposed to be as cozy as possible).
In addition, it can be successfully combined with other grays and whites which allows us many more experiments with the appearance of our bedroom.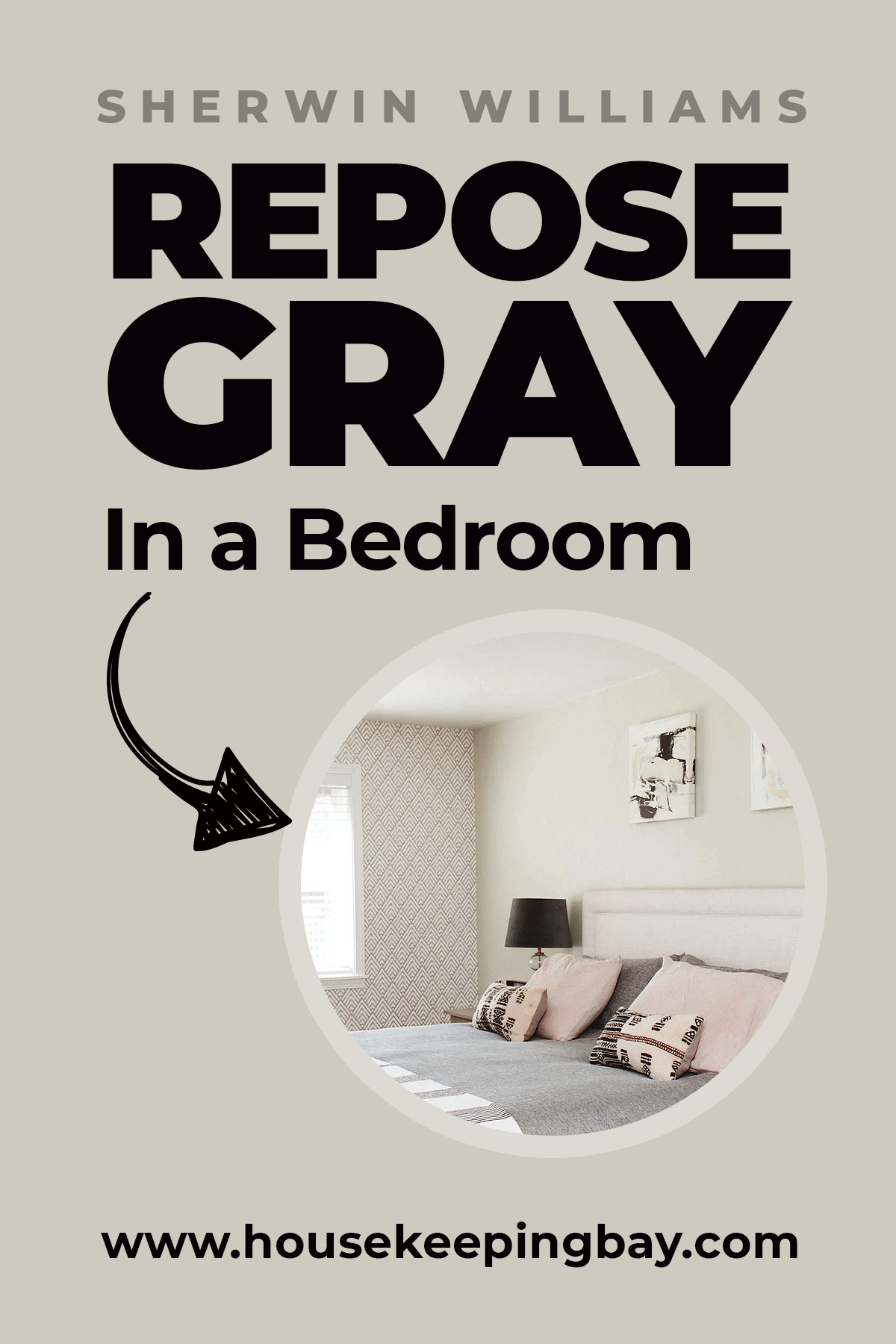 Repose Gray in the Kitchen Cabinets
A Repose hue is a super choice for painting cabinets since it pairs with any hardware no matter whether it is brass, metal, black, or silver! Besides, it will definitely not look pale after being applied which means you will get nice greige accents in your cooking area.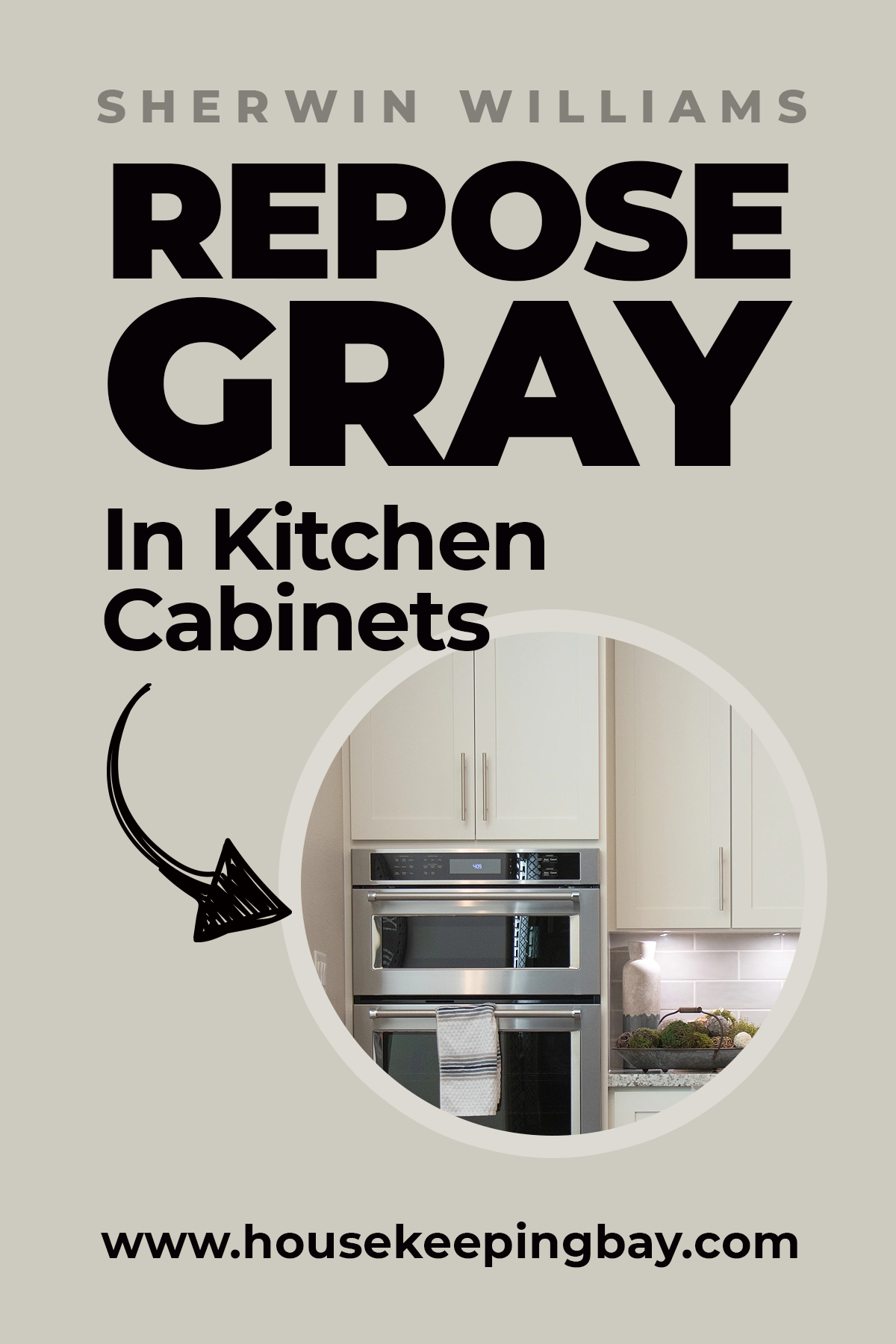 Repose Gray in the Bathrooms
If you prefer calming hues in a bathroom, the RG is a fine option. It will never look cold, moreover, this hue pairs wonderfully with so many finishes and tints!
Even with artificial lighting, it will make the area look more spacious and airy.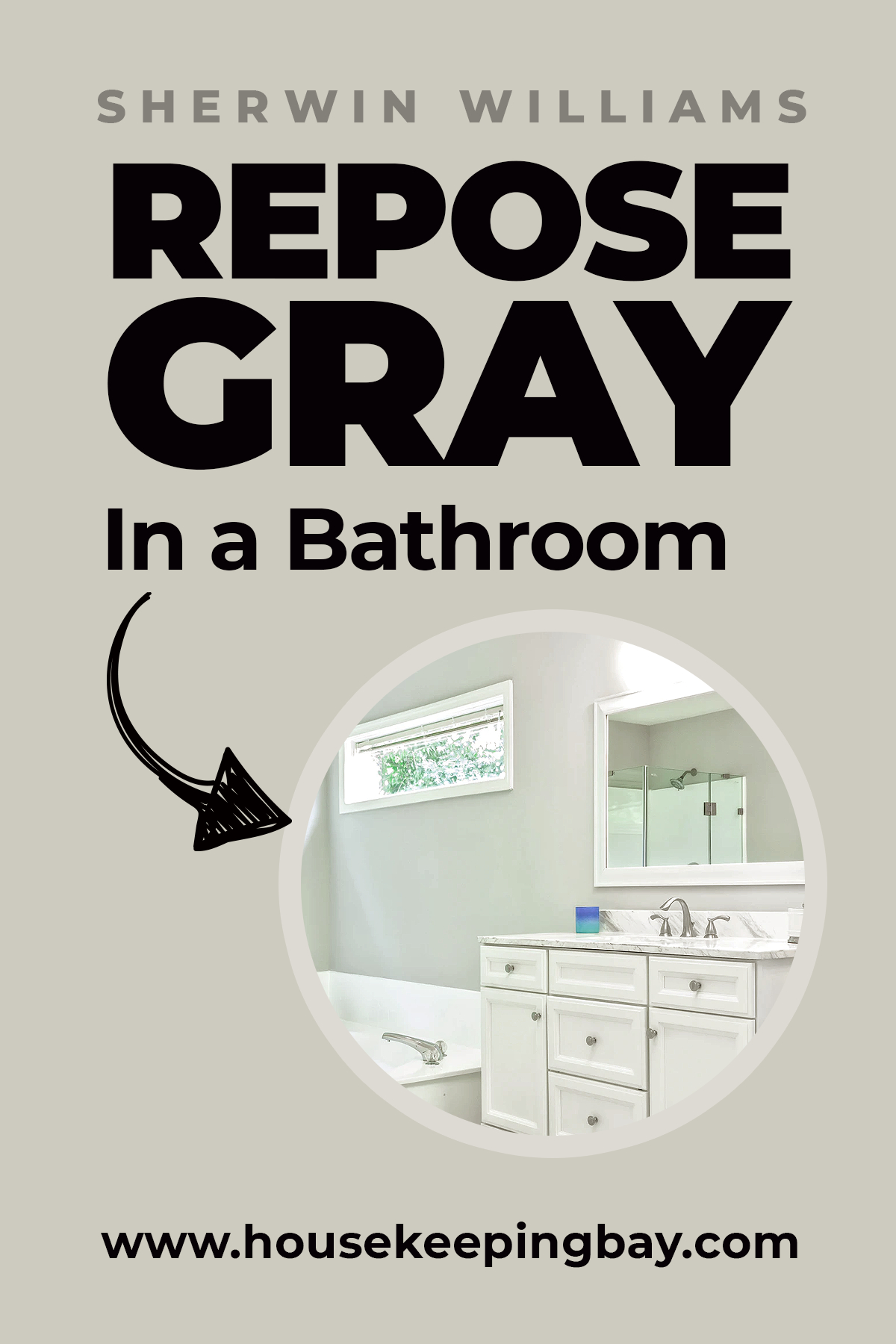 Repose Gray in the Exterior Application
When being painted on the facade, this hue will most likely seem lighter and closer to its gray side unlike the interior tint it reveals when applied indoors.
However, both under the direct sunlight and in a more gloomy area, it will anyway show up nicely.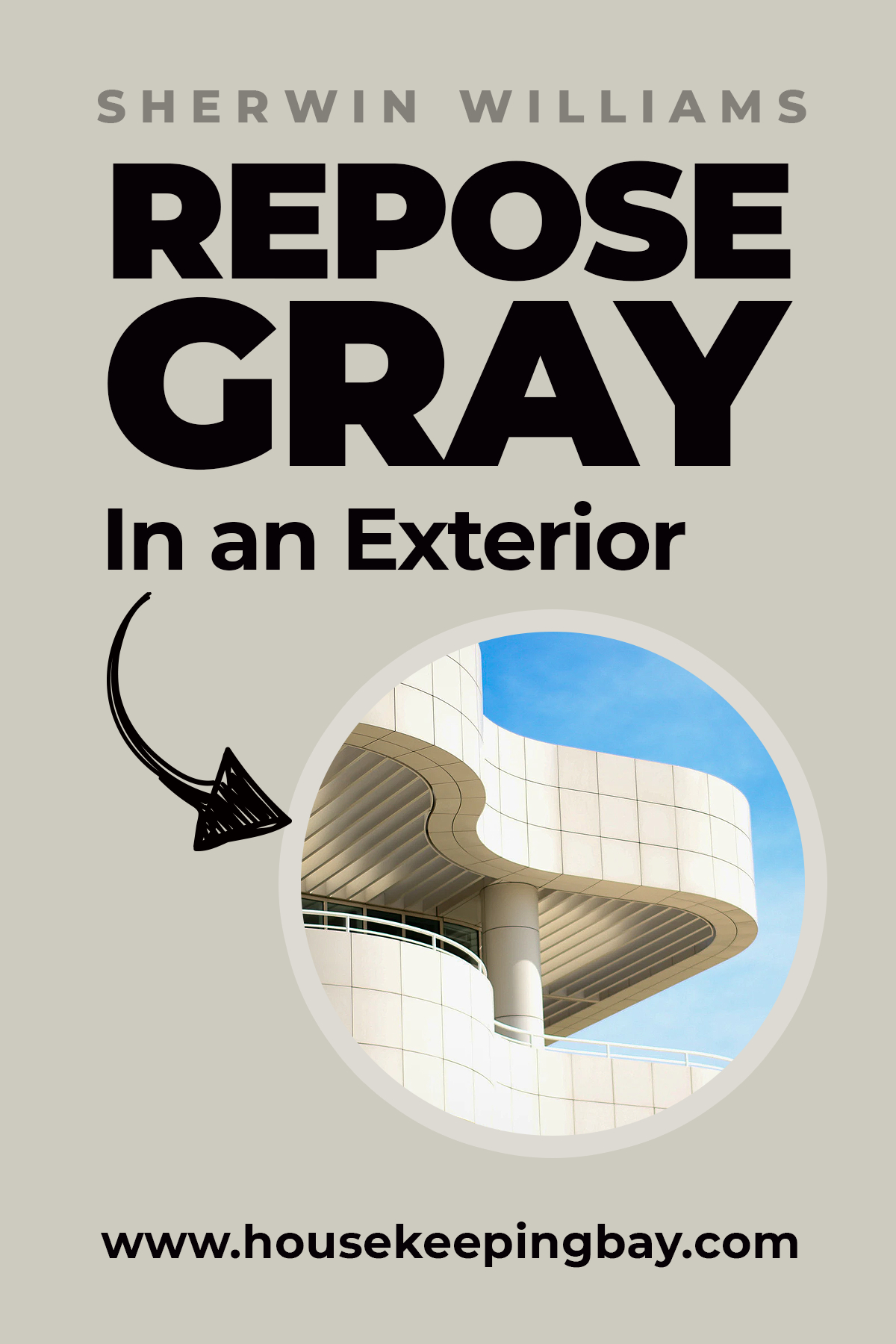 Get a sample of REPOSE GRAY (get a sample from Samplize )
So, as you can see from all we have described, the RG is a truly universal hue that suits any design, any color scheme, and quite many trims. Use it indoors or outdoors, in any chamber you feel like, and feel free to add more colorful accents to combine with it.
The hue will complement such a decision easily!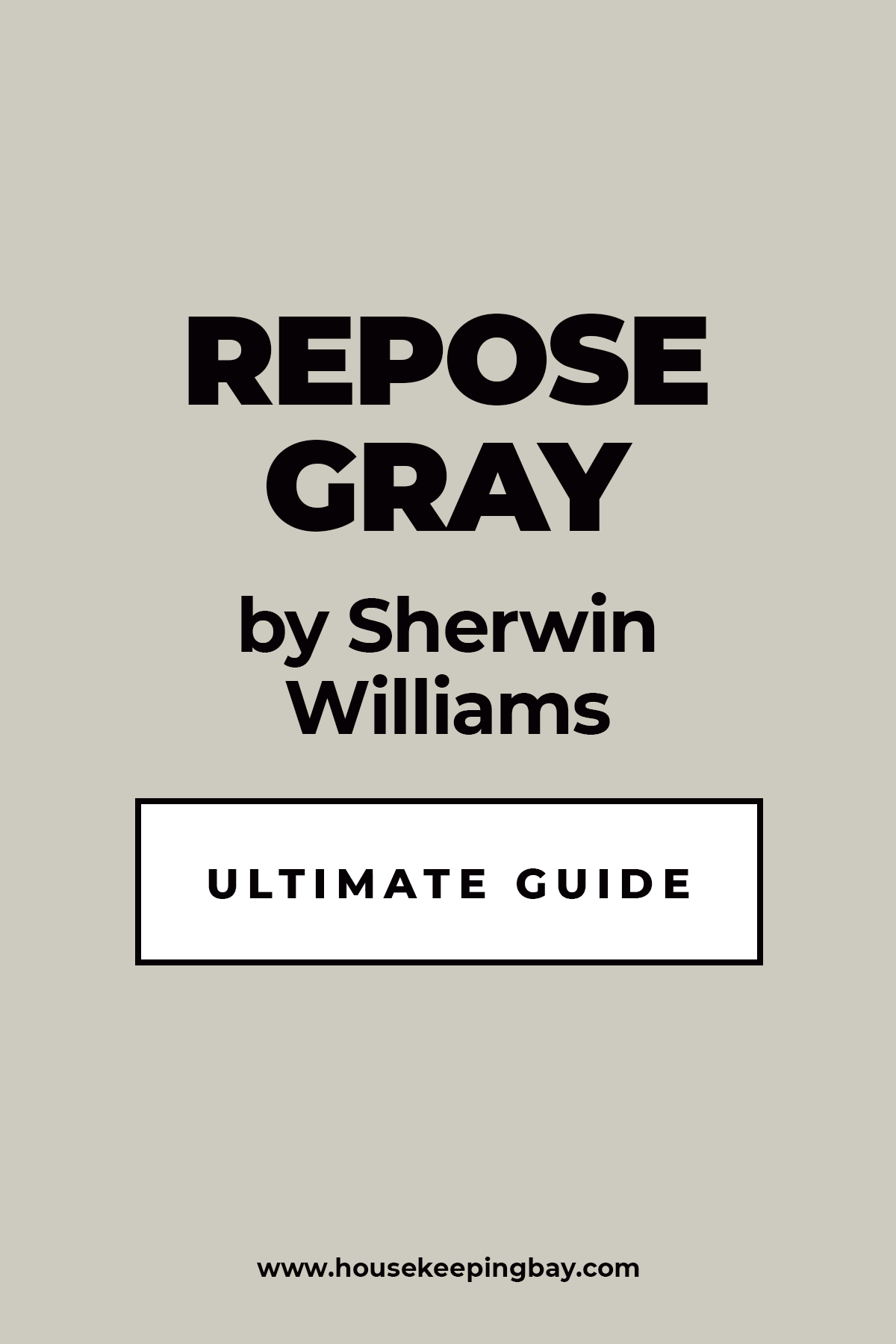 Frequently Asked Questions
⭐ Is Repose Gray good for exterior application?
⭐ What colors will look nice if paired with Repose Gray?
Try Pure White, Urbane Bronze, and Tidewater.
⭐ What is the most popular exterior gray of the Sherwin Williams?
They are Agreeable Gray, Mindful Gray, Amazing Gray, Mega Greige, Dorian Gray, Anew Gray, and Worldly Gray.
⭐ Does Repose Gray look blue?
In very rare cases, it may indeed reveal a very little bit of bluish hue since this color does have a slight blue undertone among others.
⭐ What dark grays go well with Repose Gray?
They are SW Dovetail, SW Peppercorn, and SW Black Fox.
⭐ Will Repose Gray look well together with Sea Salt?