If you think that gray hue by Benjamin Moore is simple, let us assure you that it is not true! This seemingly simple hue has tons of variations that include warm and cool tones, dark and fair shades of it, and basically, if we take a look at the gray palette, we can easily count around twenty different shades there, if not more.
But there is one more category of this hue that people adore so much, and it is called greige. Apparently, as it comes from the name of the hue, it combines both beige and gray notes which results in a deep and interesting color.
Typically, greiges vary from those with more prominent grayish notes to the ones with more beige in them, and Revere Pewter belongs to the latter group.
This hue is usually classified as light to mid-toned gray, with warm undertones, and it is an astonishing neutral since it will work perfectly in diverse spaces.
But of course, except for gray shades, Benjamin Moore paint colors include tons of other hues from bright and vivid ones to more calm and tranquil pastels and neutrals. So whatever your painting task is, you can easily pick up the fitting hue from this brand.
👉Take a sample of BM Paint Colors by Samplize – Check ALL Samples
Revere Pewter HC-172 Color Description
To give you a brief but complete description of this hue, let's start with the fact that RP belongs to the family of warm grays. According to the credible source, Encycolorpedia, its light reflectance value (LRV) is 55.51 which means it is in the middle of an LRV scale.
What does that mean, you may ask? Well, LRV shows how well the certain hue reflects light, so speaking of our guy, Revere Pewter does it well enough, but we can't definitely call it super radiant!
Also, people often wonder whether it is closer to beiges or grays since the hue is pretty much similar to each of those two. Well, both suggestions will be correct, in fact, since RP is what we call greige – a combination of gray and beige that results in an astonishing neutral hue that has the features of both "parent" colors.
👉Take a sample of Revere Pewter – Check Sample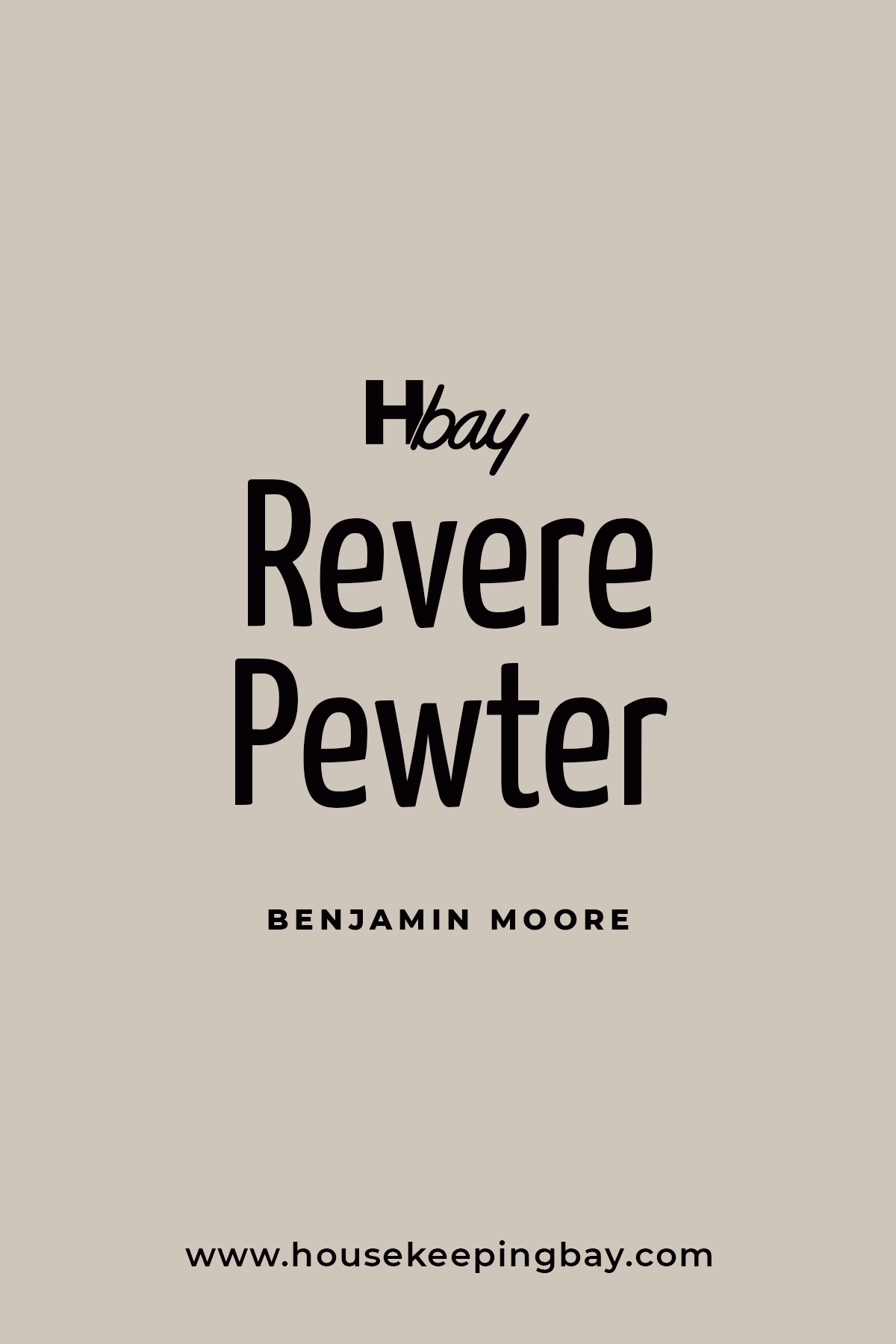 What Kind Of Color Is Revere Pewter HC-172 ?
Generally speaking, RP is a greige hue, nevertheless, it is often referred to as gray that possesses warm undertones.
Both definitions are correct so you decide which one suits you better. And don't be alarmed when you hear it has a dash of beige! This hue is very delicately incorporated and almost invisible, so your interior will not be too brown if that is what you are afraid of.
Since it belongs to neutral greiges, this hue has the same features and specifics which are basically focused on its reaction to lighting.
So if the major issue one faces is about how the hue will reveal itself on the surface, we must state that everything hangs upon how space is lit.
Neutrals are tricky because this type of hue tends to change the color revealing (or not) its undertones, and as a result, you may never guess that your walls can actually become slightly…green! Or blue, hanging upon the shade you chose.
With the RP, this hue can show up more of its grayness with even a slight hint of green under certain conditions, for instance, in a north-faced space, or hanging upon the palette of the furniture, so consider that when choosing this paint.
Color Undertones of Revere Pewter HC-172 
Undertones are what bothers and scares the customers most of all when they decide to try out one of the greige options. Indeed, this type of hue is like a chameleon with its ability to "shapeshift" and show up as a rather different hue than the one you purchased.
This is why, to be prepared, we suggest everyone pay attention to the undertones the paint has.
For instance, the RP is basically said to have warm undertones that make the hue look earthy, natural, and even slightly rustic with those fair beige notes (but with no yellowness, no!).
However, this hue can also reveal quite prominent greenish undertones, so be careful and always compare it to your floors, furniture, and ceilings, and also to the fixed interior elements like countertops to ensure that this greenness will not show up.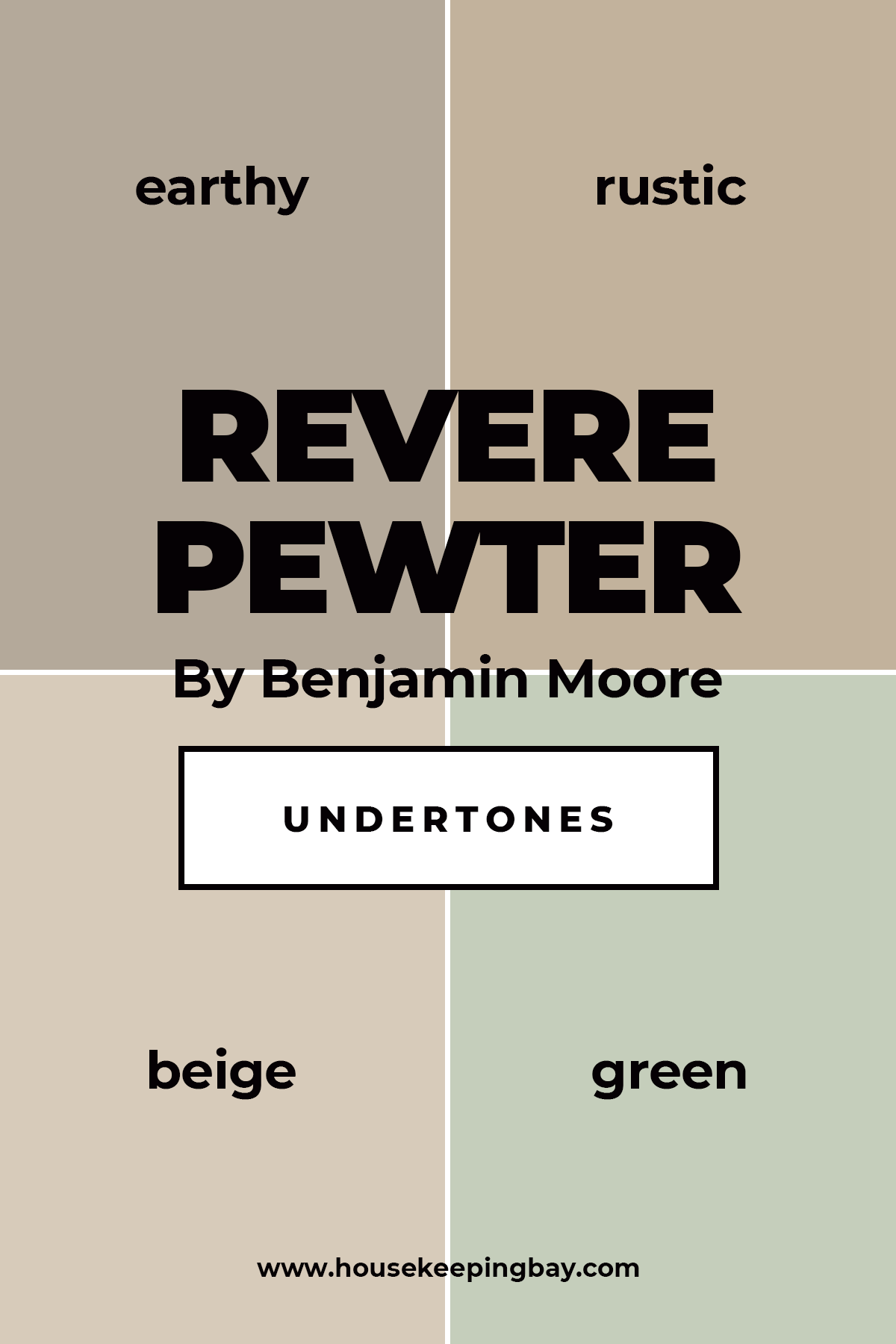 Where Revere Pewter HC-172 to Apply To?
Most people are usually not that familiar with all the paint-choosing nuances and specifics. We may think it is easy, and we just need to pick a can of paint and apply it to the walls.
But no! Not all the hues can be used that simply.
Perhaps, this is the crucial reason why so many customers decide to go for the Revere for various house renovations.
This hue is literally universal (actually, like any other neutral from the greige family), and one can successfully make use of it in any space in a house from kitchens to even corridors. Only take into consideration that you must consider lighting, and everything will be fine.
👉Take a sample of Revere Pewter – Check Sample
Revere Pewter In a Living Room
If the chamber is spacious and light, with lots of natural daylight that comes from the sun, this hue will reveal itself to the best in it.
You will see those warm and delicate beige undertones that conceal the coolness of gray making the whole look of a space stylish, fresh, but definitely not cold.
The hue also looks well when paired with white trims and wooden elements, for instance, floor or furniture, especially if the wood is rather dark.
If your living room lacks natural lighting, make sure it has enough artificial one, and that the lighting is warm enough, but not too yellow, otherwise, that yellowness will be reflected from the walls.
Related: Revere Pewter In A Living Room | Huge Guide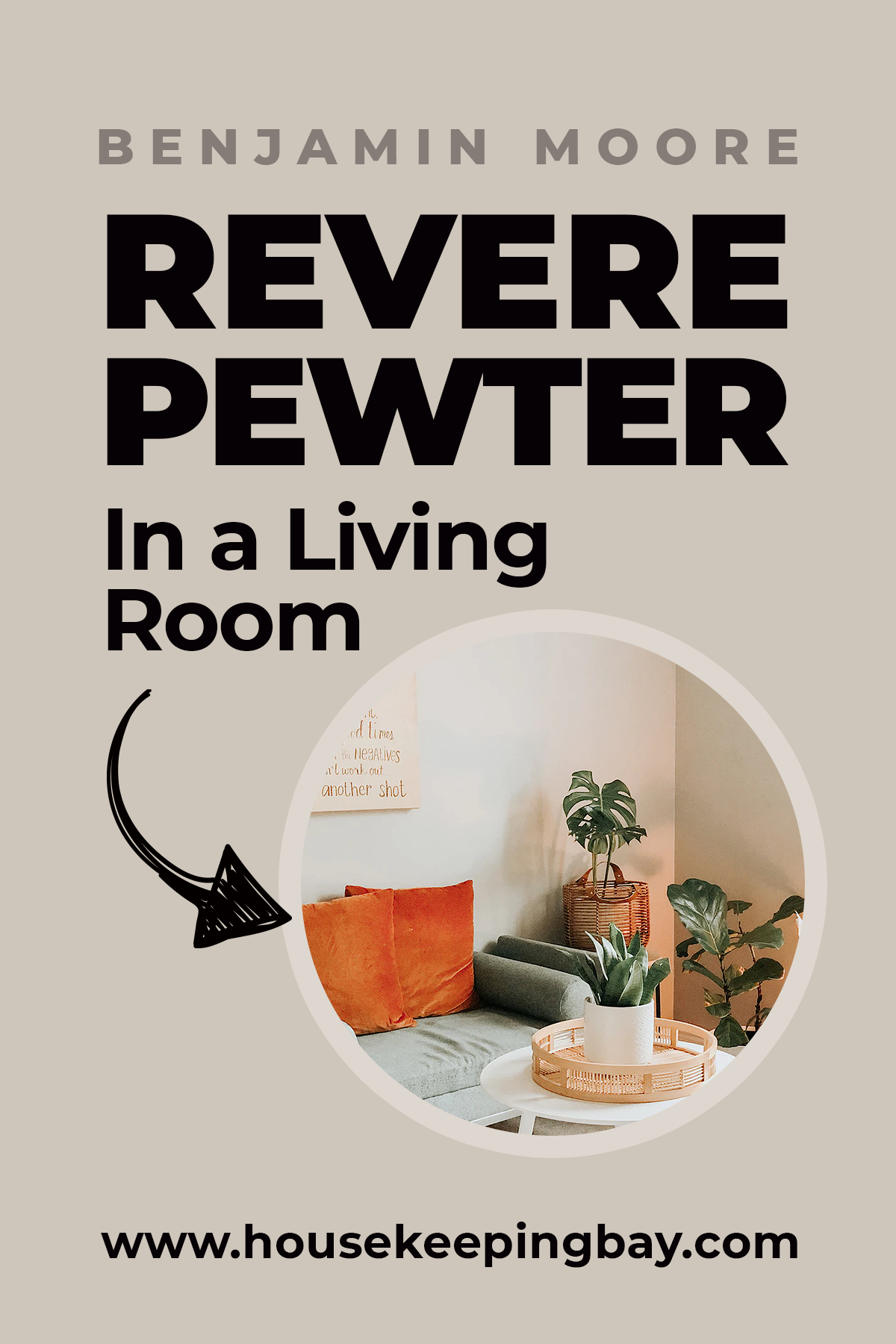 Revere Pewter In a Bedroom
Some might say that the RP is too "muddy" for a sleeping area, but we can't agree with that. Again, if it has enough daylight, the hue will look smooth and warm, but not dark or muddy.
It can be well combined with copper-hue items like lamps, or other warm-colored objects in a bedroom to better reveal its warm undertones, to the point.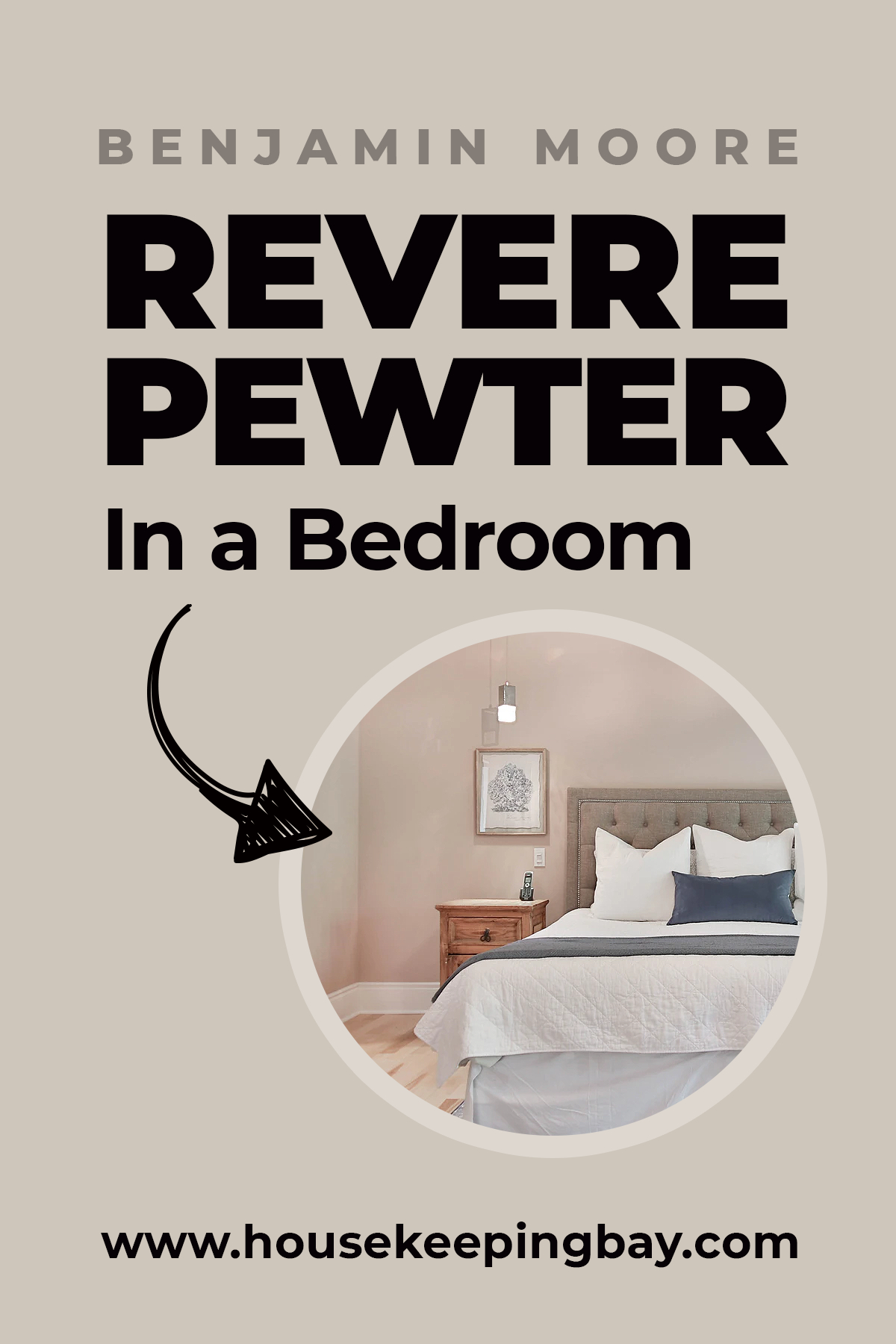 Revere Pewter In a Kitchen
It may sound surprising, but this hue works successfully, like many other greiges, even in this area! In fact, your kitchen is an ideal space for applying it since Revere will create an awesome background for other, more colorful, and bright details and accents.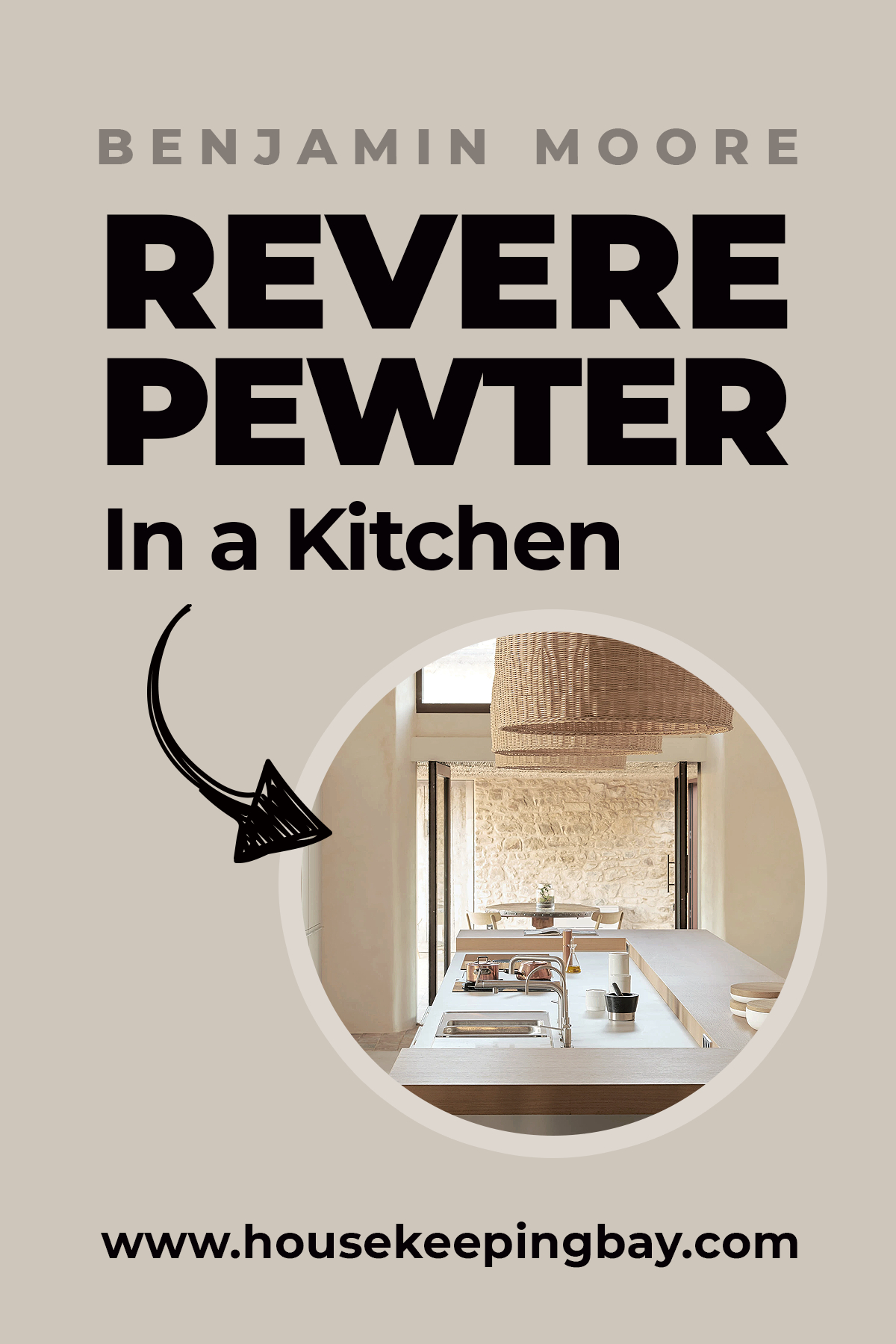 Revere Pewter For Painting Cabinets
Another option of using this hue is to paint kitchen cabinets with it. The warm neutral greige, especially if combined with other, lighter or darker greiges, will create an ideal ensemble that will make the whole space look stylish and airy.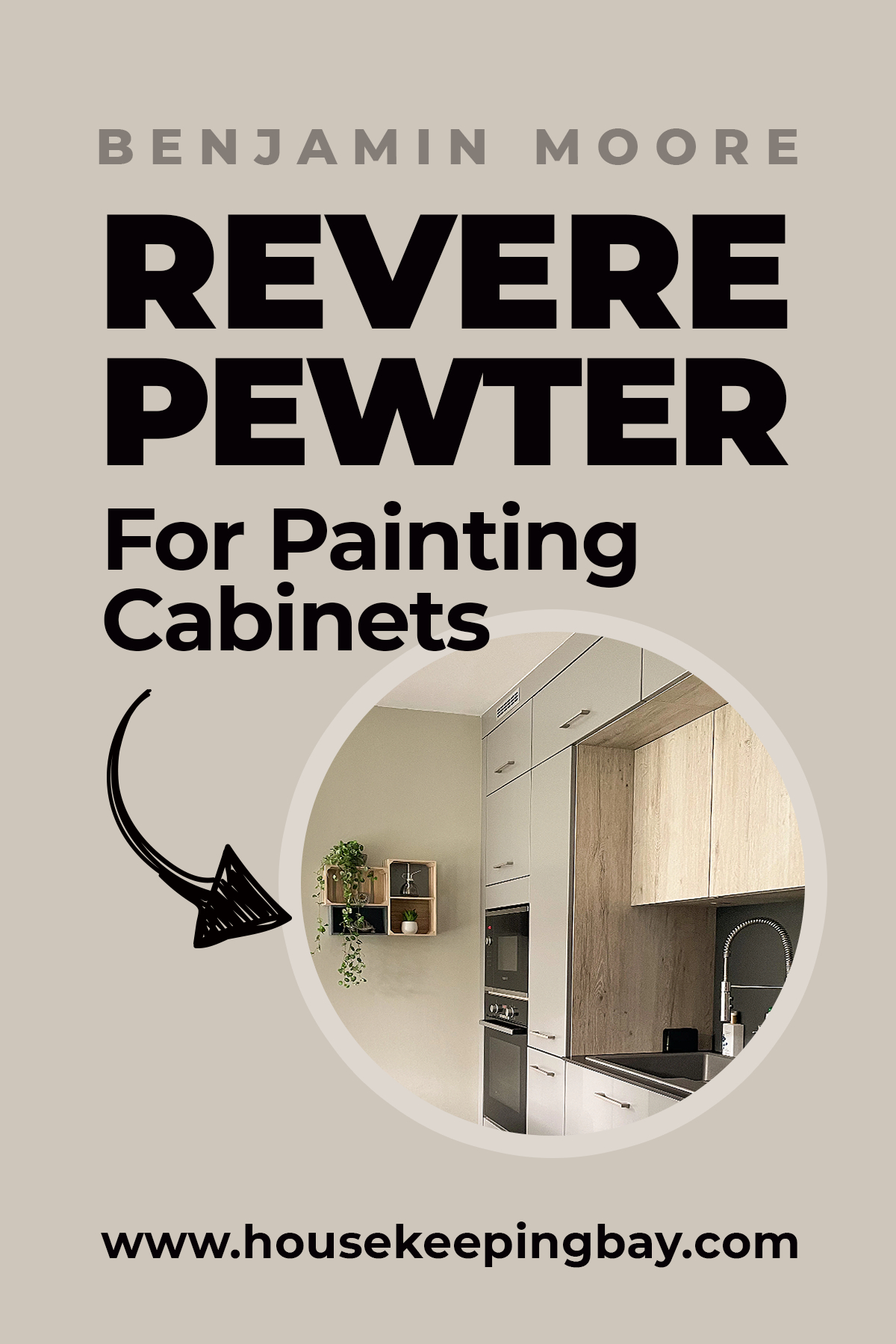 Exterior Application
As an exterior paint, RP can be used for refreshing facades. However, pay attention that it can look somewhat lighter on the outside compared to the indoors surfaces, especially if your house is located in a sunny area.
👉Take a sample of Revere Pewter – Check Sample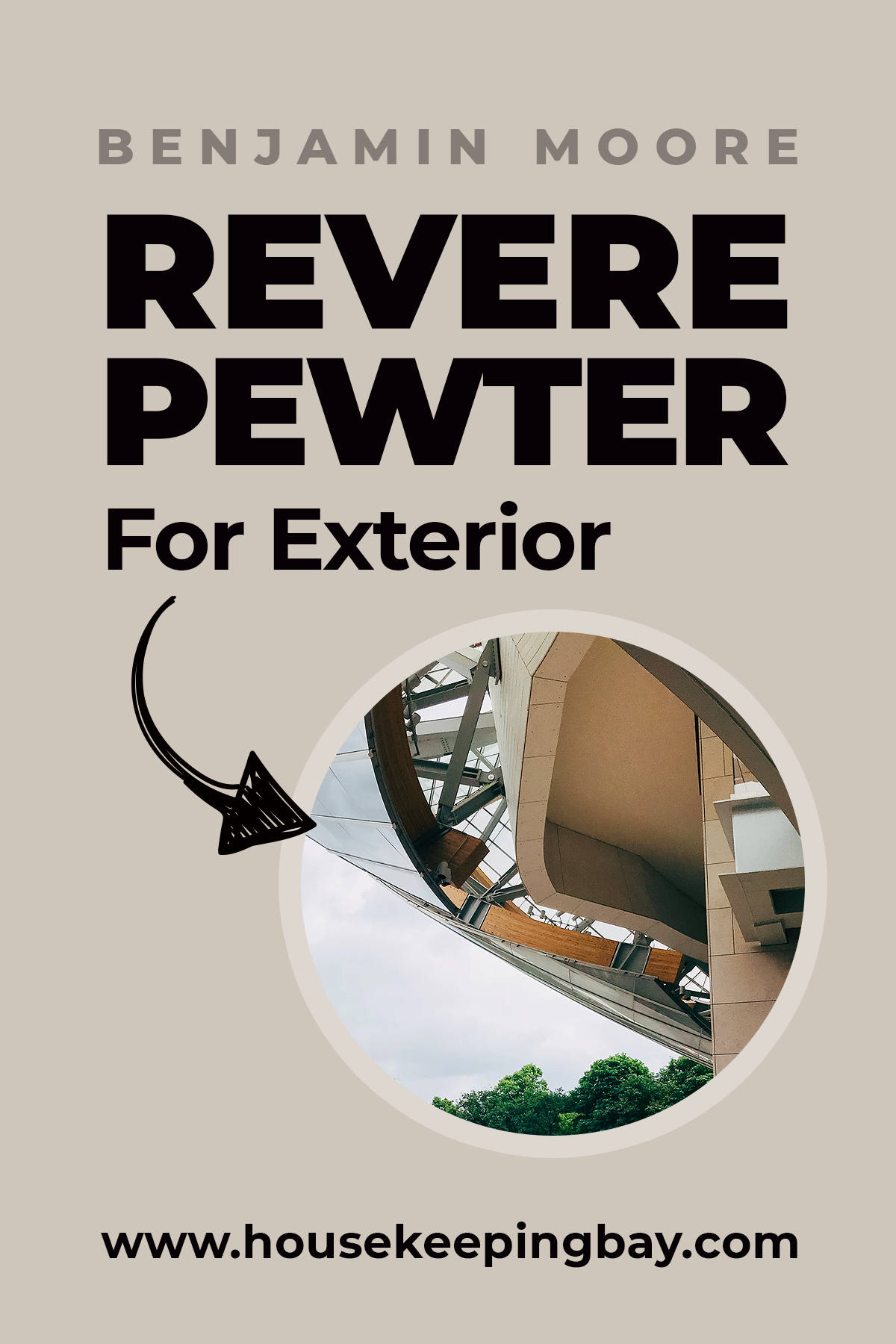 Color And Lighting of Revere Pewter
As you could already guess, greiges, like all other neutrals, are highly dependent on lighting around them. And that lighting can significantly influence the way we see the hue. This is why, when applied in areas with not suitable light, the RP can start playing tricks on you and show itself in quite a different way. So what to consider prior to buying a can or two of this paint?
The hue reflects light pretty well, but still, it will not look too fair under the bright lighting. However, if you apply it on your facade or in a very well-lit chamber, be ready that it may seem somewhat lighter than in a shaded or dusk space.
In chambers with North exposure and lots of light, this hue will show up its gray side with some dashes of green.
Under certain lighting conditions, this hue can look almost taupe.
The colors of your furniture, upholstery, ceiling, and floor also matter since they will affect the final shade the paint will show to you.
What is LRV? Read It Before You Choose Your Ideal Paint Color
Coordinating Colors of Revere Pewter Color
To pick up the proper colors that will be used along with the RP, it is essential to know for sure what other hues will join well with this one. Fortunately, since it is greige, it can be paired with quite many other hues.
BM Mink 2112-10
BM Silver Gray 2131-60
BM Chelsea Gray
BM Raccoon Hollow 978
BM Winding Vines 532
BM Soft White
BM Cloud White
BM Simply White
BM Coral Gables
BM Turquoise
The optimal way to see and compare how this hue works in pairs with another one is to put the two together. Nevertheless, it is possible to get a quick sneak peek.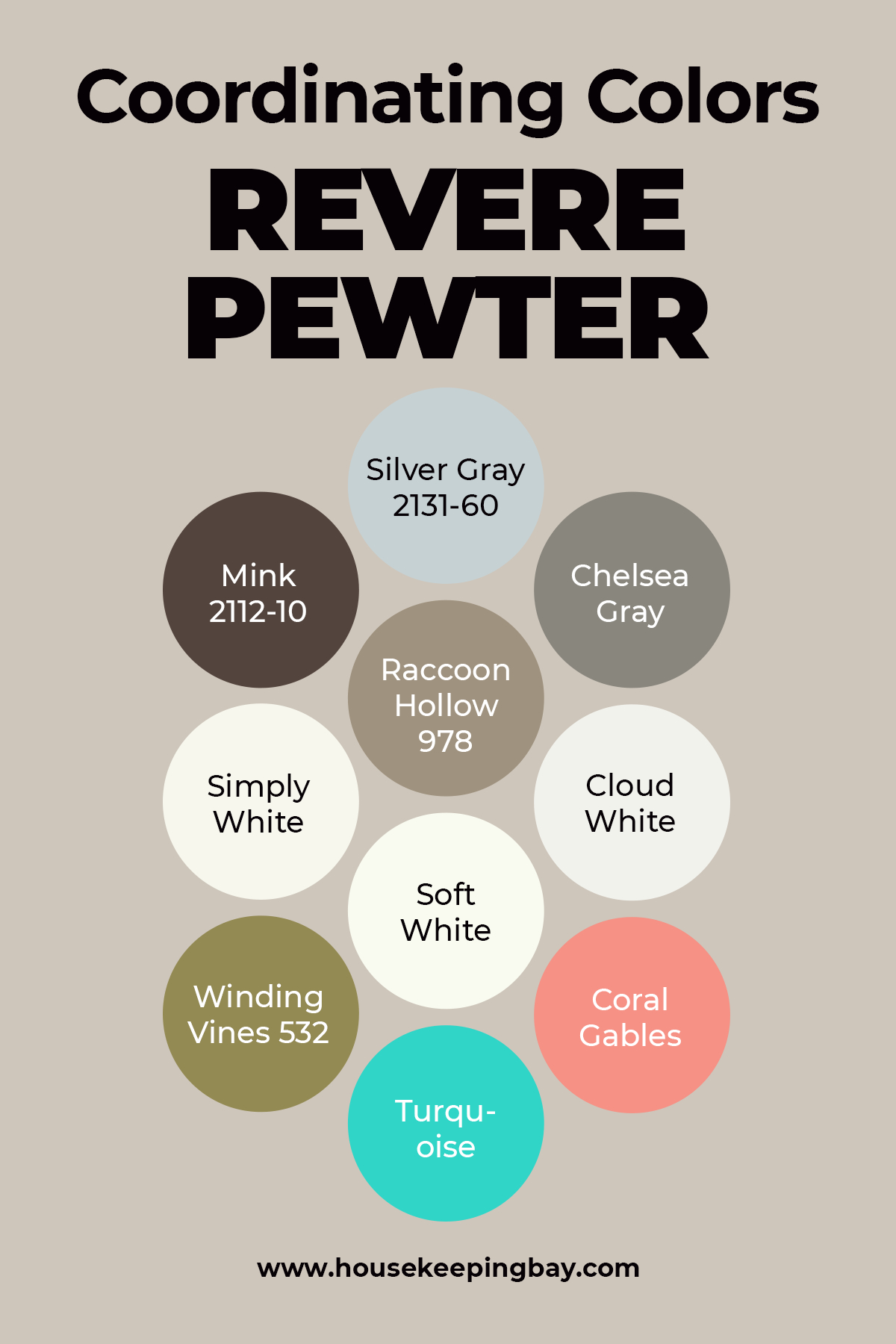 Revere Pewter vs. Edgecomb Gray
Both of them belong to the same greige family, but their distinctions are very clear though.
The Revere Pewter leans more to gray having that slight greenish undertone whilst its counterpart is closer to beige with the creamy undertones. Also, the light reflectance value of Edgecomb Gray is 63.88 which makes it significantly lighter and a better reflector compared to its "cousin".
👉Take a sample of Edgecomb Gray – Check Sample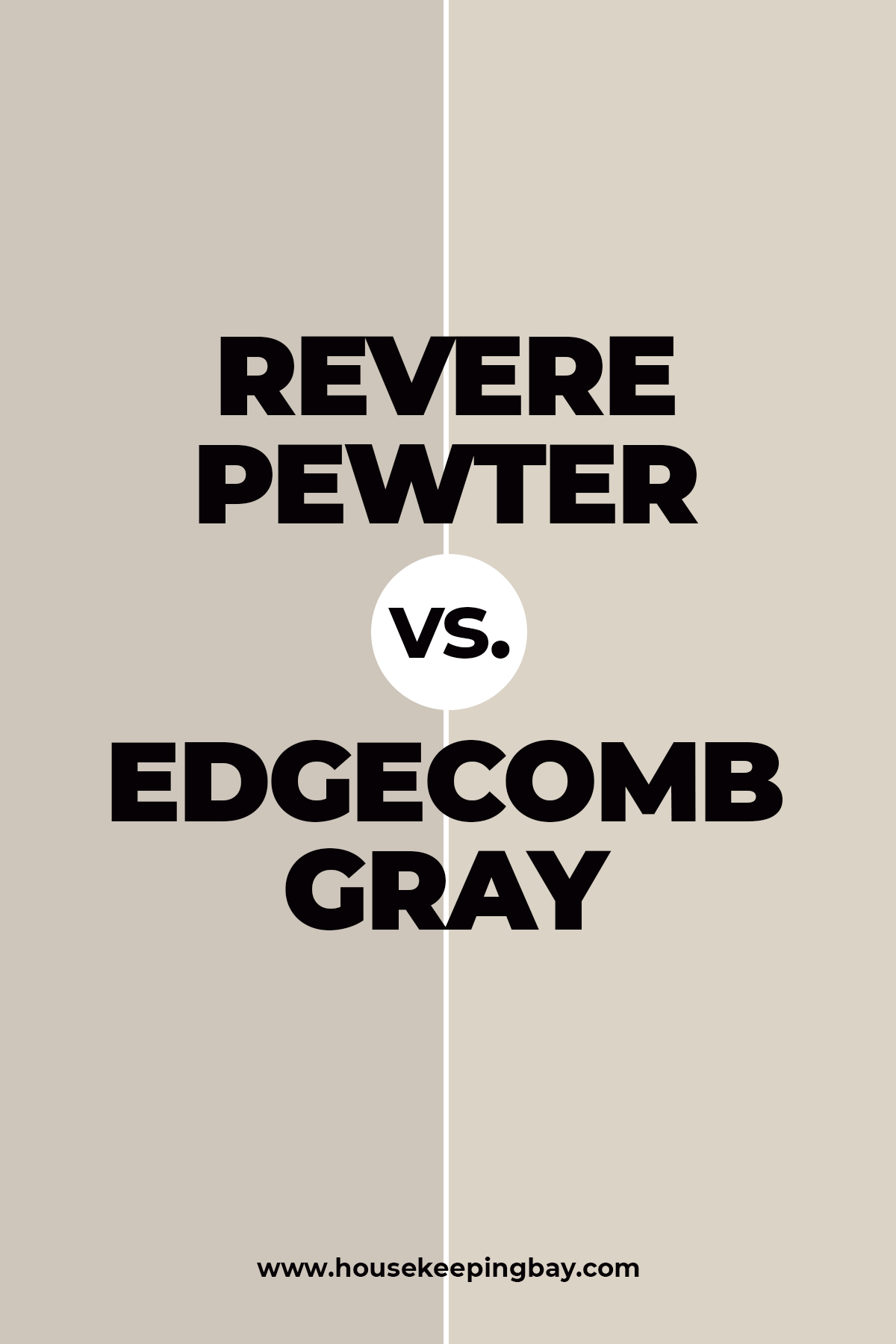 Revere Pewter vs. Repose Gray
These two share the same greenish undertones, but if we compare them side by side, we will see that RG has a somewhat purple and definitely much cooler dash.
In terms of light reflectance value, the Repose Gray has 60 whilst the RP has 55.51 which means the first one reflects lighting somewhat better and it is basically a lighter hue. SO if you are looking for a hue that is cool and with little warmth, RG is your choice.
👉Take a sample of Repose Gray – Check Sample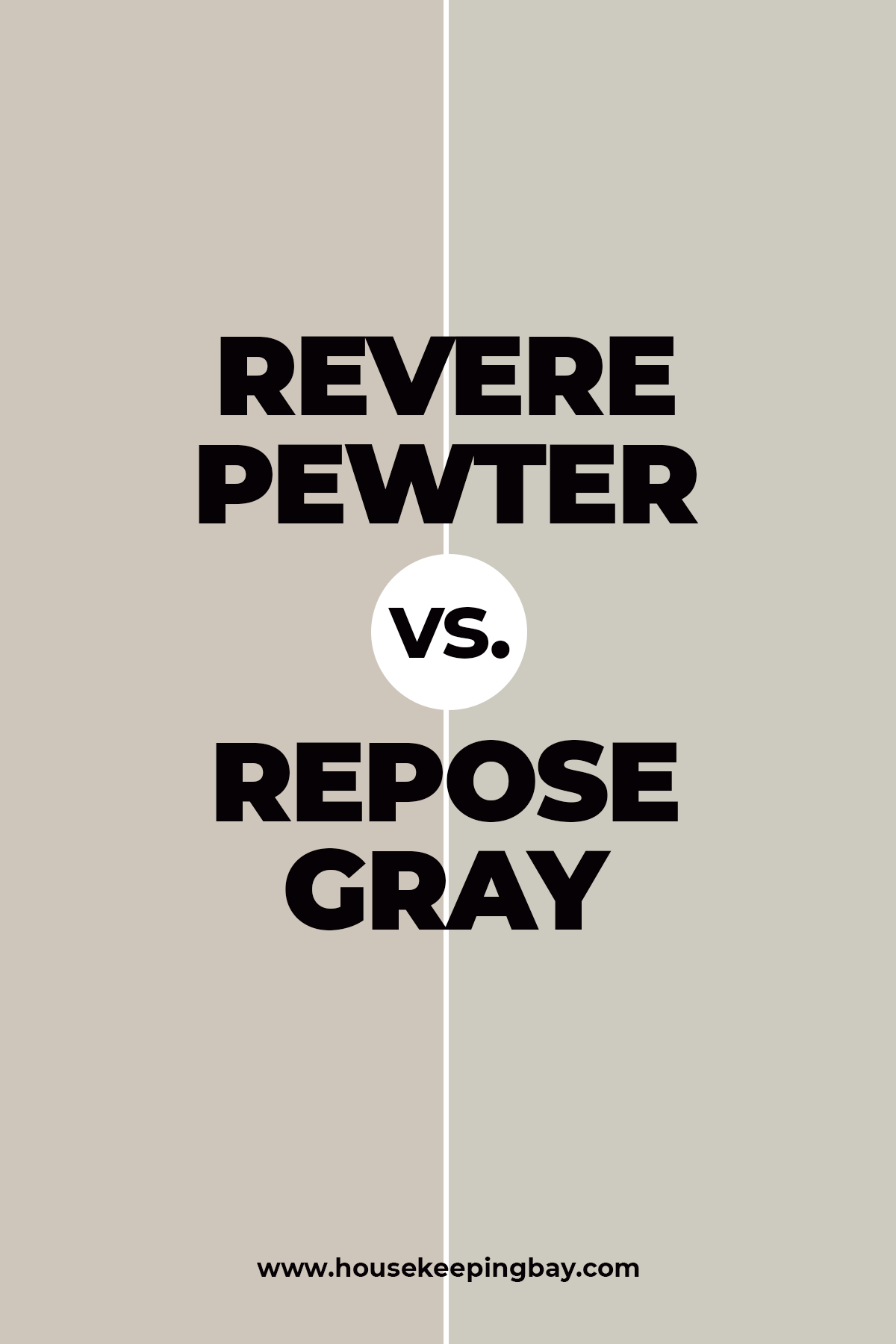 Revere Pewter vs. Agreeable Gray
These two are almost similar, but Agreeable Gray is slightly cooler because of its green-gray undertones, and with more prominent grayish notes than its warmer counterpart.
Also, AG is lighter, and its LRV is five points higher than of its "cousin" being 60 against 55.5 of the RP.
👉Take a sample of Agreeable Gray – Check Sample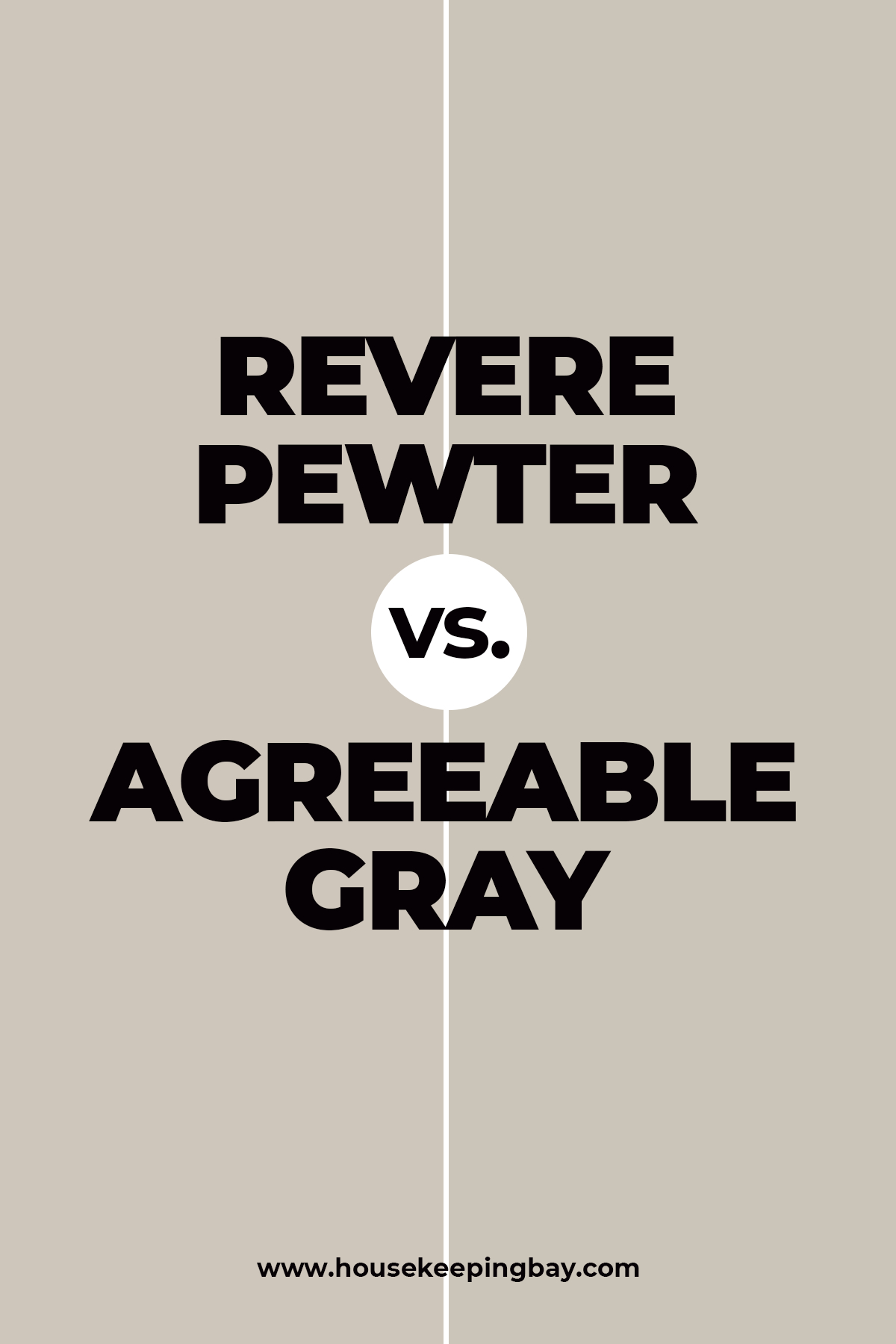 Revere Pewter vs Pale Oak
These two can be successfully combined together in the same space since both are warm grays that only have different saturation. The RP is darker and more dramatic with more gray notes whilst the Pale Oak is lighter and reveals more beige hints creating the airy feeling. A perfect match!
👉Take a sample of Pale Oak – Check Sample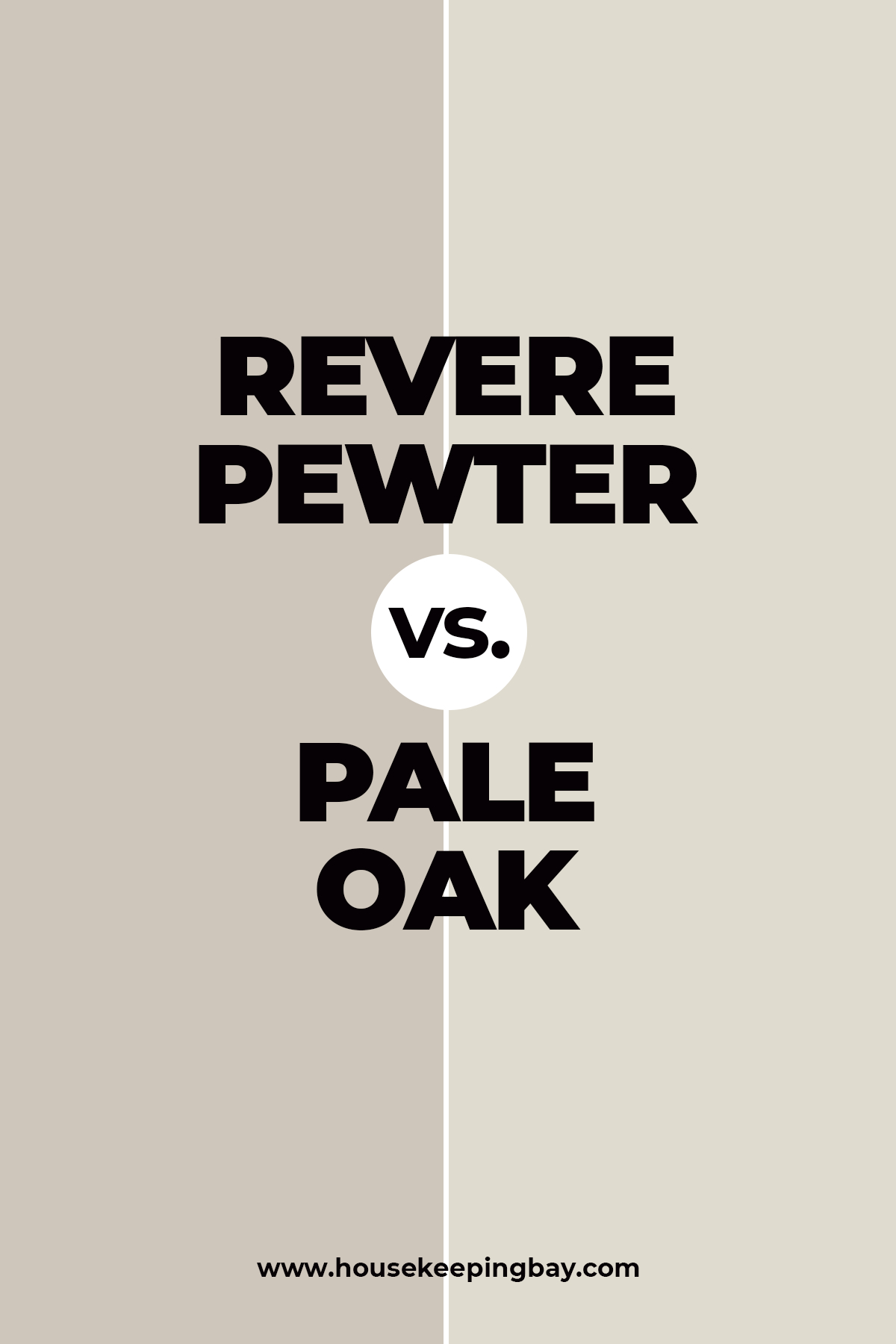 Revere Pewter vs Balboa Mist
If we compare these hues, we will see that Revere is way more saturated and has more taupe and beige notes compared to its counterpart. Visually, Balboa Mist is lighter and looks cooler when being put together with the RP.
👉Take a sample of Balboa Mist – Check Sample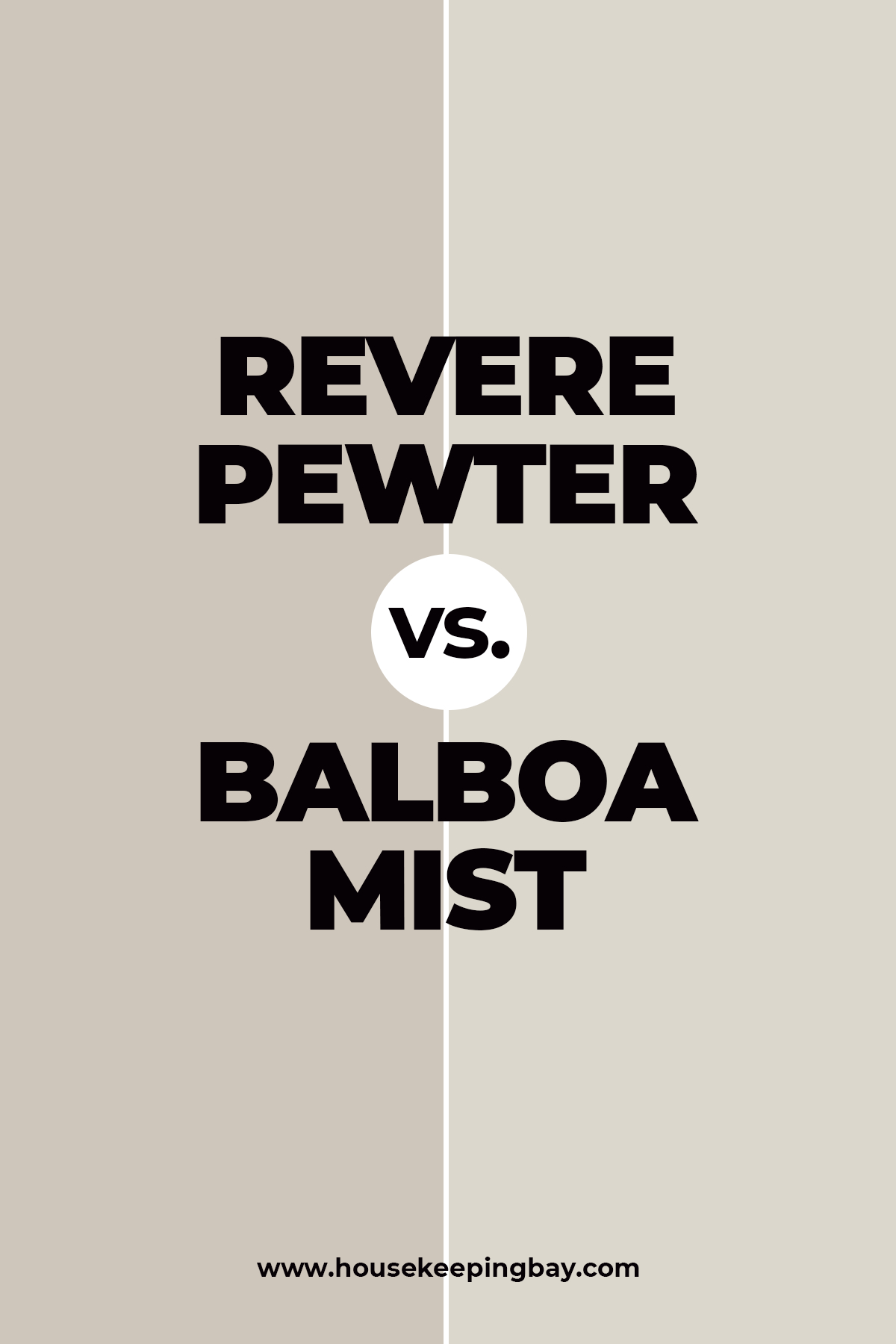 So in general, the Revere Pewter is another universal hue of a greige family that can be used in any room and even outside the house for painting the facade.
However, like any neutral, it is tricky in terms of lighting, so be careful and always take samples home to see how the paint will reveal itself in your particular surroundings.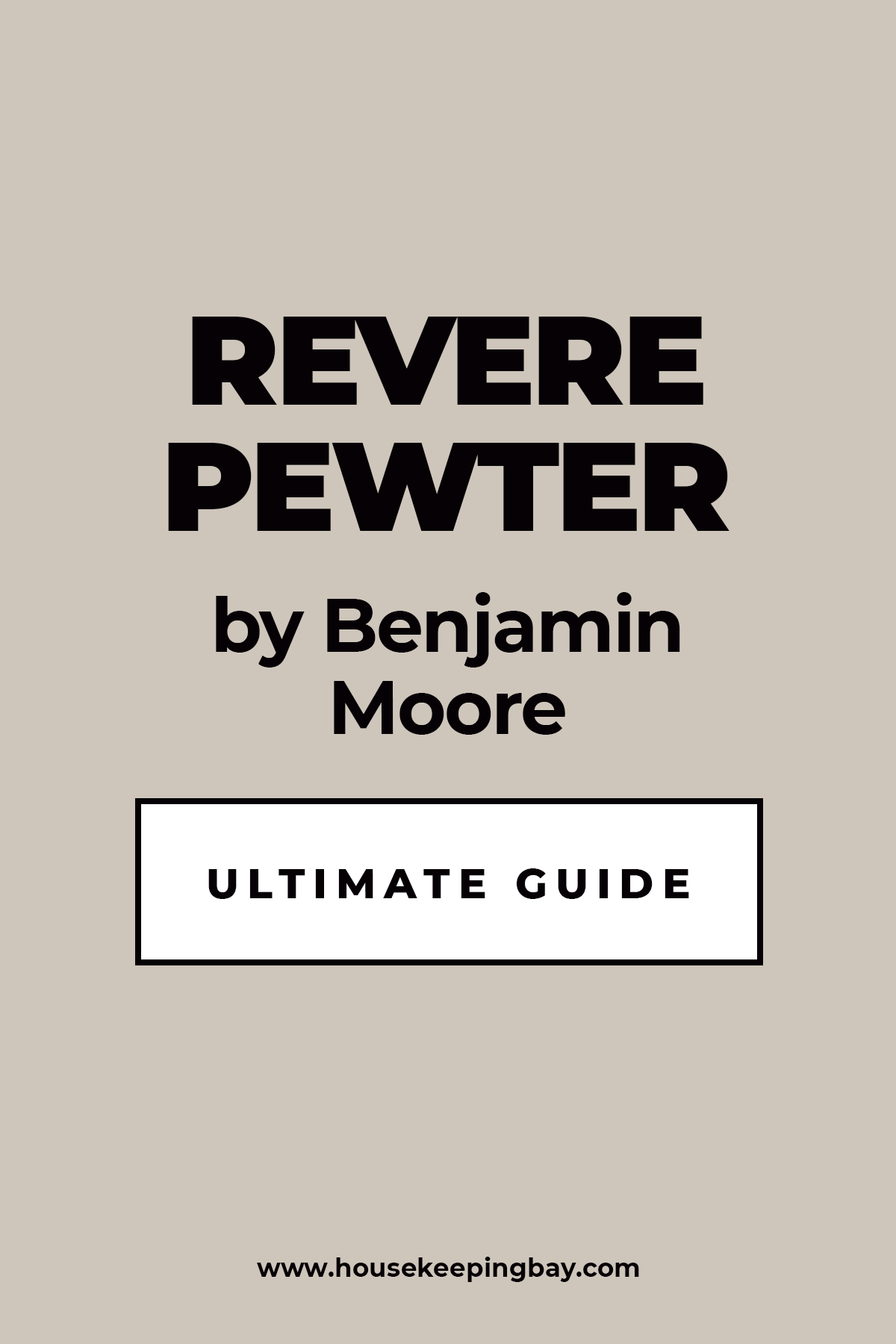 Frequently Asked Questions
⭐ Is Revere Pewter a gray or a beige color?
It's neither one nor another. It's greige.
⭐ Is Revere Pewter still popular?
⭐ What colors will Revere Pewter work well with?
It works well with blacks and other neutrals, as well as with pink, coral, green and teal paints.
⭐ What is the paint color that is most similar to Revere Pewter?
It's Sherwin Williams Worldly Gray.
⭐ Does Revere pewter work with yellow?
Yes. Yellow will drag out that warmth out of this greige.