The better we choose the paint colors to use in our homes when we are up to any renovation and painting projects, the better the final results will be. However, many of us find it difficult to figure out what paint colors to use since many of them are rather complex in terms of shades and undertones, as well as the way they react to light and appear on the walls.
One of such colors is Iron Ore by Sherwin Willaims brand. And today we are going to introduce it to you better. From this article, you are going to learn what type of color it is and what undertones it has.
Also, we will tell you how this color reacts to light and what light reflectance value it has. In addition, you will learn more about the best trim color and coordinating colors of the Iron Ore paint.
And as a bonus, we will tell you how this color will work in different rooms in your home.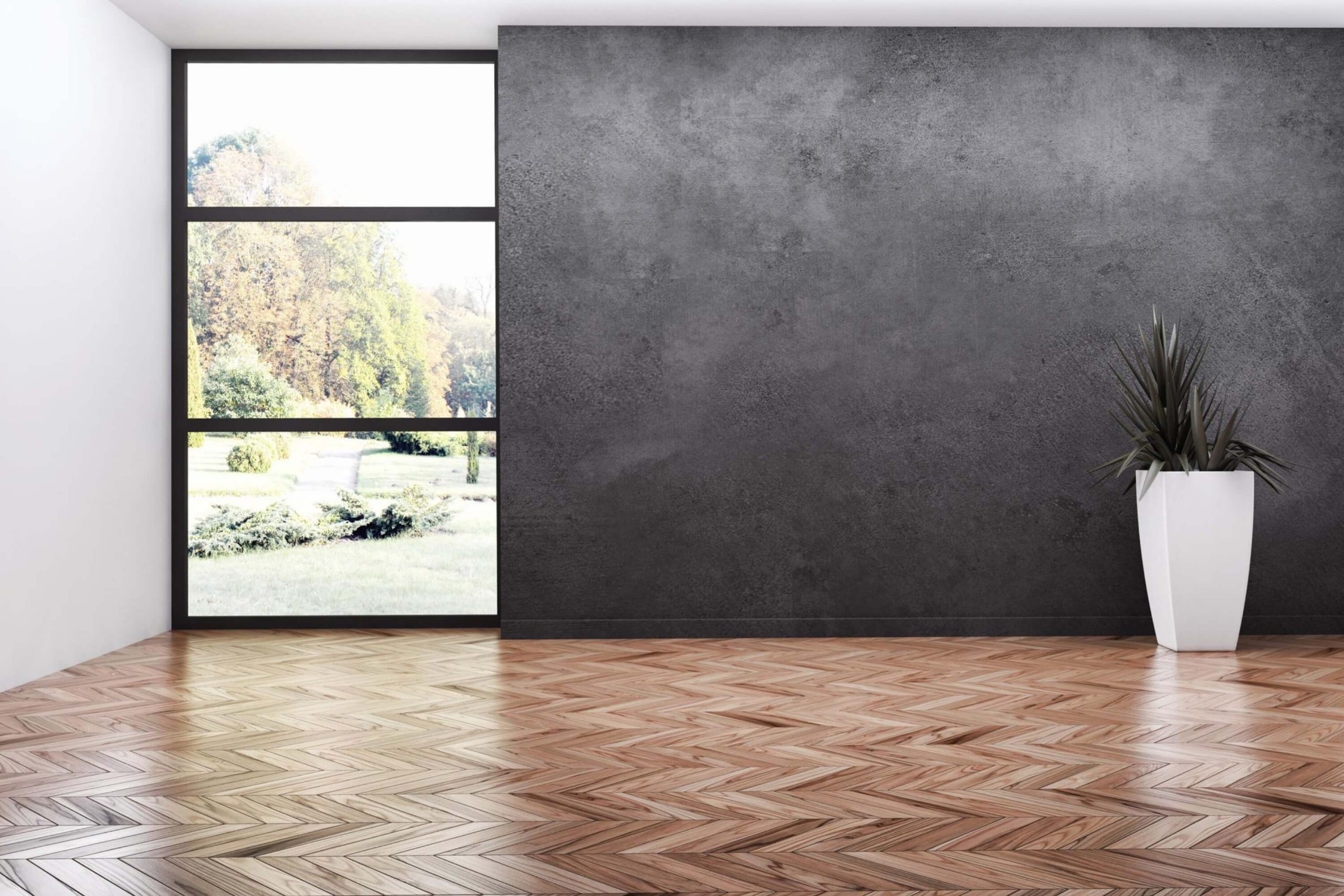 What Type Of Color Is Iron Ore SW-7069 By Sherwin Williams?
So what color is Iron Ore by Sherwin Williams, you may be wondering? Well, Sherwin Williams Iron Ore paint as Encycolorpedia says  is typically considered a dark dark gray. However, in certain types of light or when it is paired with other colors, it can pick up and reveal various undertones. As a result, this deep and rich color may look slightly different, but this happens to all paint colors.
As we have already mentioned, Iron Ore is a rather dark color. Because of this, it is usually best if you use it as a paint pick for your accent walls, or on smaller cabinets.
For example, this deep gray will look amazing in bathrooms such on vanities, exteriors, or when used in combination with wainscoting that is painted a white to provide a nice contrast.
If you want to add some depth and moodiness to your interior without painting all the walls dark, this paint color will be perfectly fine to use in a small study room, or even for painting the ceiling! However, be careful with it since you don't want to go wild with such a dark color like Iron Ore!
If you do this, the paint color will feel and look too dark and overwhelming! This is why we recommend you stick to smaller spaces or limited walls to make it work the best for you.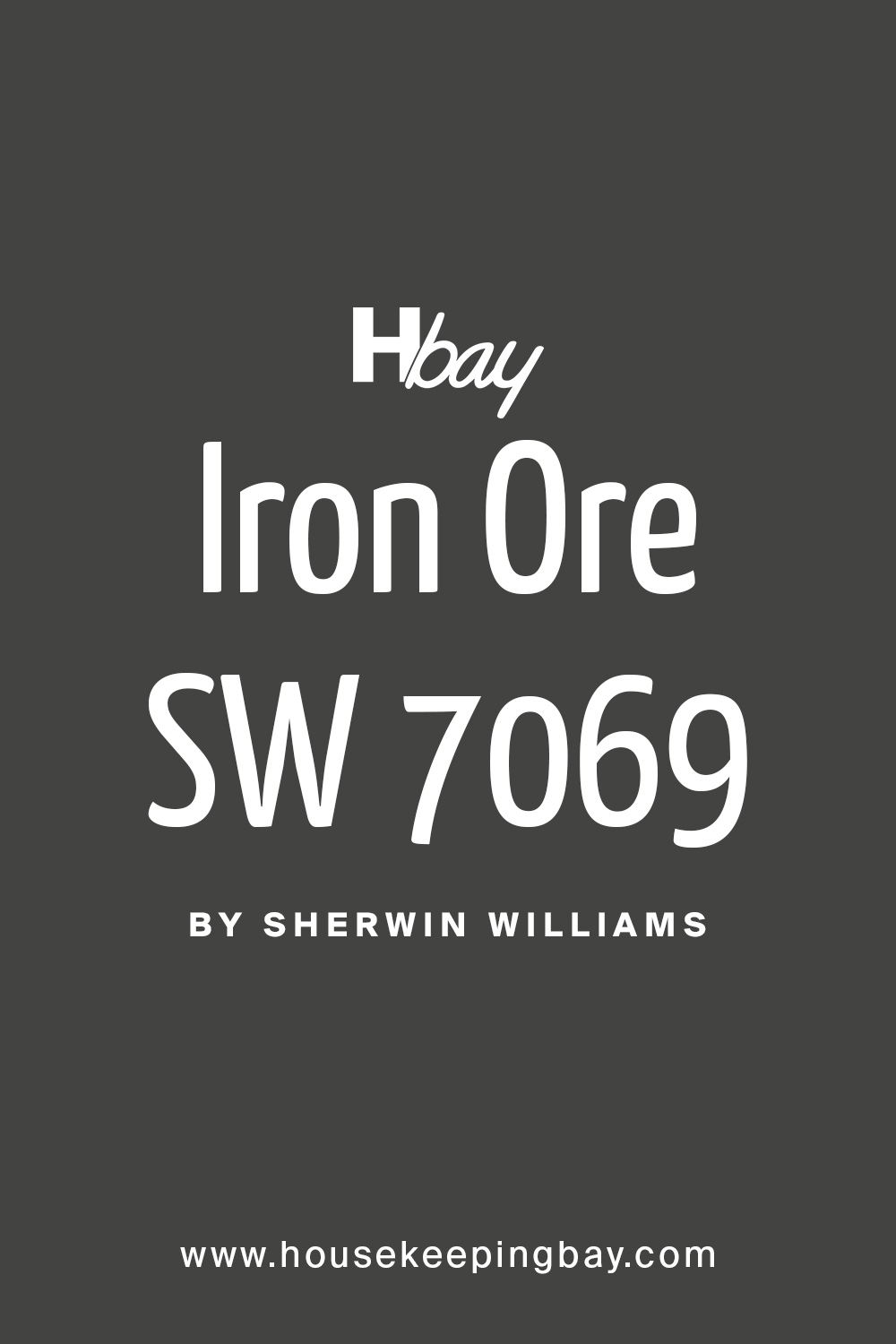 Iron Ore SW-7069 By Sherwin Williams Undertones
Defining what undertones a certain paint color has is always tricky and complicated, especially if you are not very knowledgeable in paints. Undertone can be affected by the way the light hits the paint, as well as by the rest of the color palette and more.
This is why it often happens that a paint color can look one way in the hardware store when looking at paint swatches, but when you test a sample on your wall, it can turn out to be totally different! Doing it to Iron Ore by Sherwin Williams is no simpler!
Basically, this color has blue and gray undertones. But when Iron Ore is used as a part of a warm palette with white trim and warm light wood, it clearly looks dark gray.
On the other hand, if your room has plenty of natural light, Iron Ore may pick up a little more of blue and navy undertones. On rare occasions, you may even notice a hint of purple undertone! But that will depend on the light and its surrounding colors as well.
However, before you buy a few cans of this paint, we recommend you consider the rest of the colors you are going to have in the room where Iron Ore is planned to be applied. Also, considering the type of light is a must.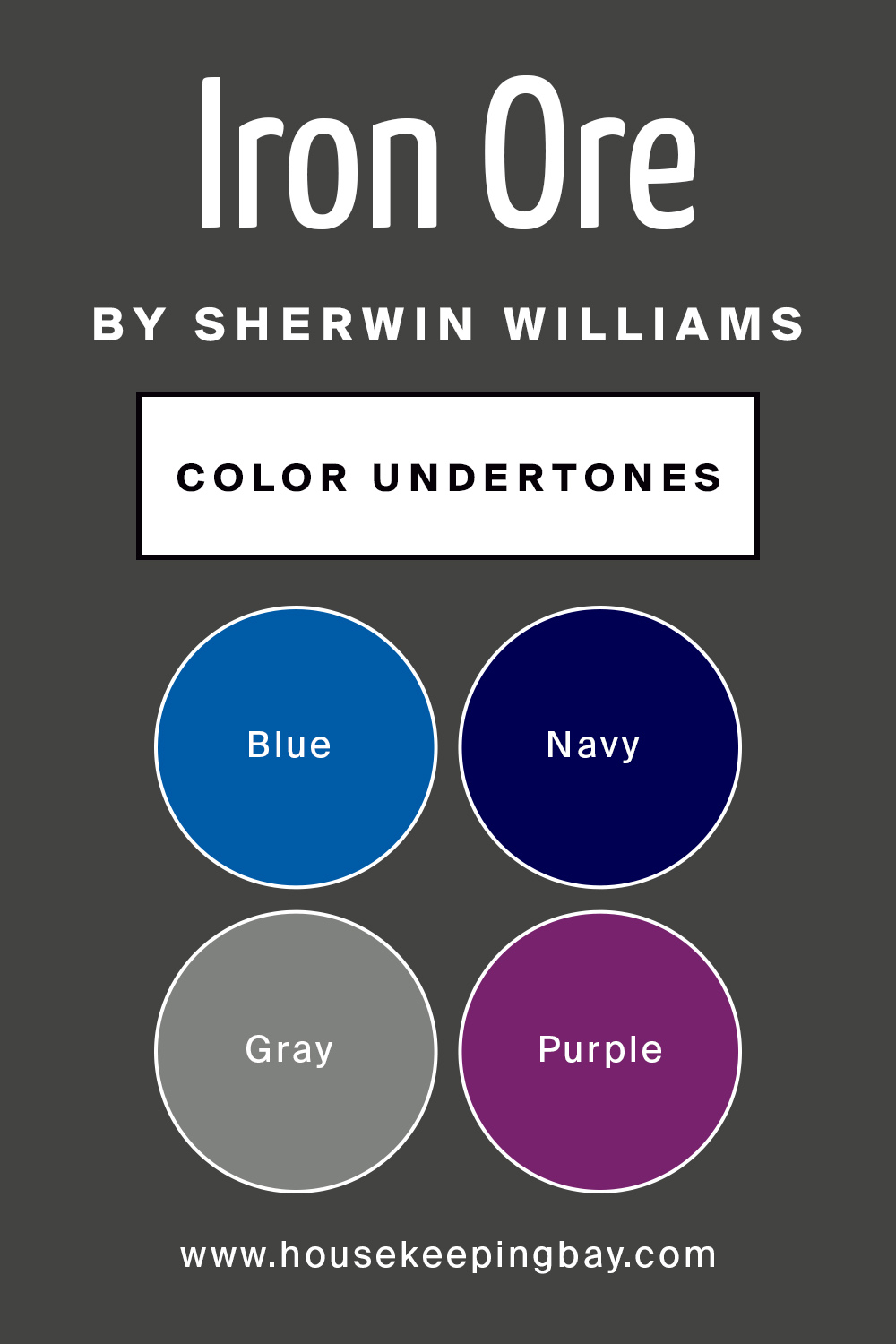 Sherwin Williams Iron Ore Coordinating Colors
Deciding what coordinating colors will be suitable for the paint color that you are going to use as a major color is always a handful. Especially if you are going to use such a complex color as Iron Ore. But the more harmonious the coordinating colors will be, the more balanced in terms of color your living space will look.
So as for the Iron Ore paint color, grab a few ideas on what paint colors might work the best as its coordinating colors:
SW Extra White SW-7006
SW Cityscape SW-7067
SW Nebulous White SW-7063
These three will look the most harmoniously when paired with the dark and deep gray shade of Iron Ore.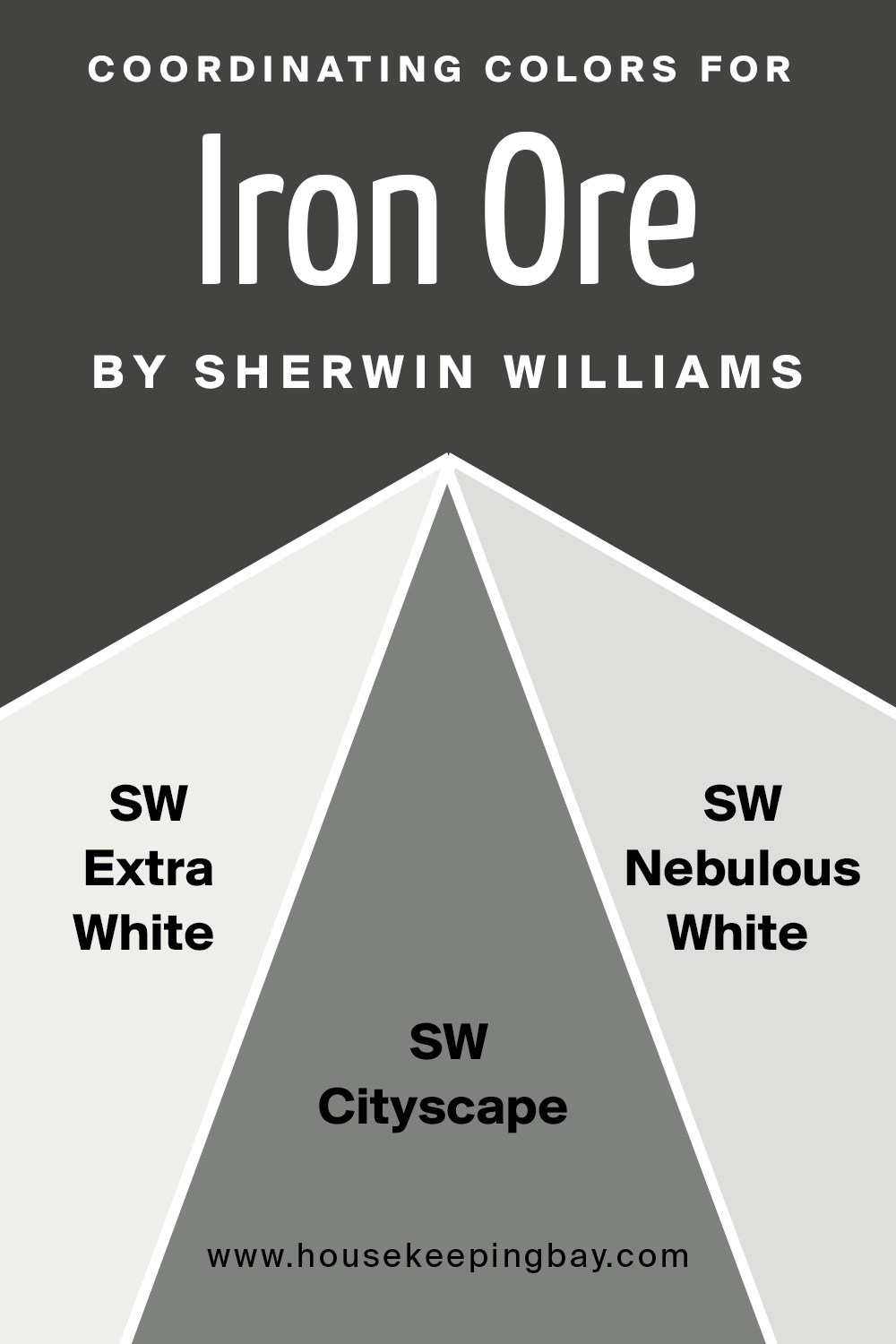 Colors That Iron Ore Goes With
When you choose a certain color to be used in your home, you should be aware of a few other colors that might look good along with it. Like this, you will be able to create a more harmonious color palette in your home space.
For the Iron Ore, folks often find it difficult to figure out what colors will pair well with this rich and deep gray. Luckily, we are here to give you a hand if you are also a bit lost about this issue! So if you are going to use Iron Ore in your home, consider these colors as those it will go well with:
BM Gray Owl
SW Dorian Gray
SW Passive
SW Cityscape
SW Nebulous White
SW Extra White
With this color list at hand, you will be able to easily define what paint colors it is best to combine with Iron Ore in one space to get stunning results.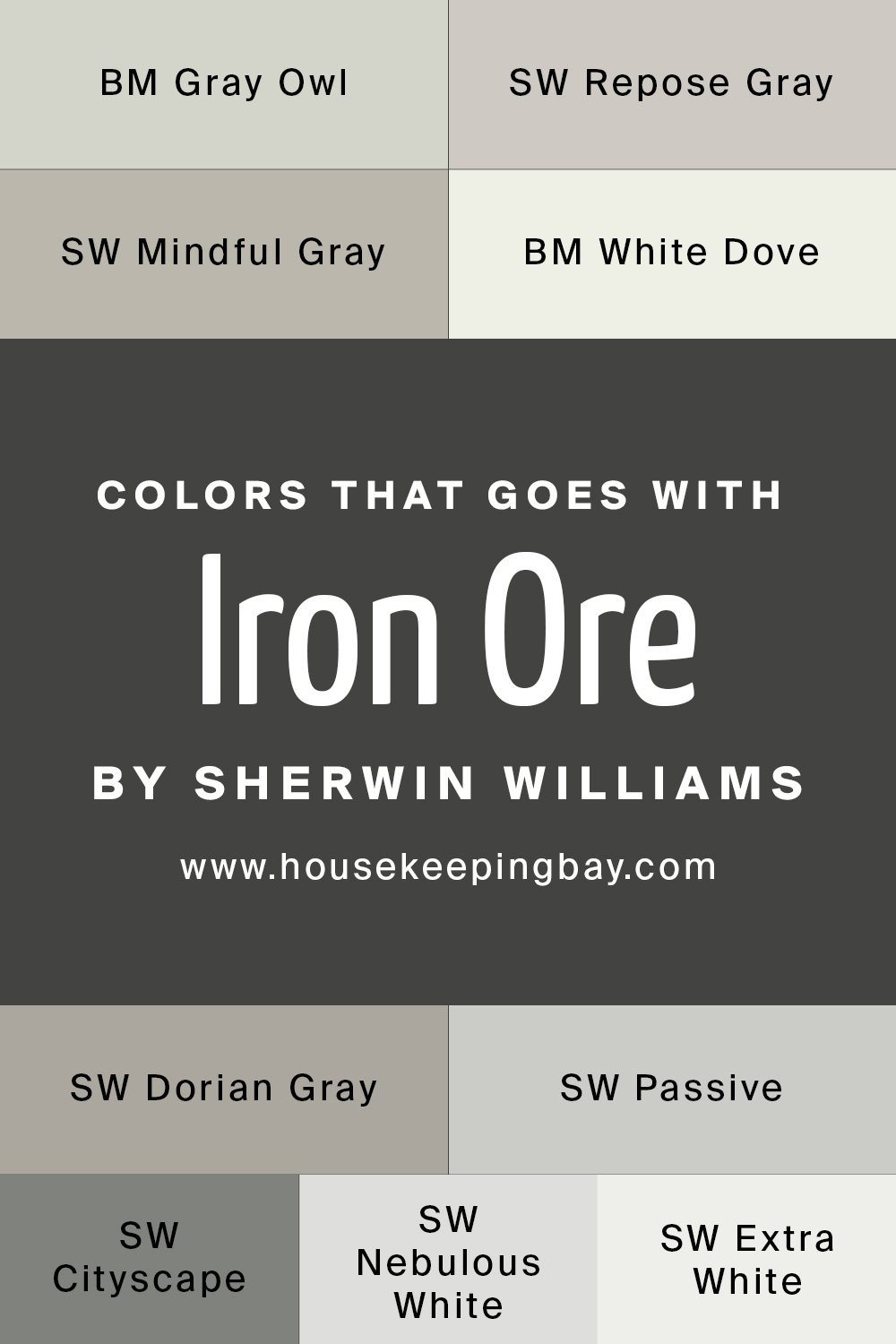 What Is the Best Trim Color For Iron Ore?
Like with many other interior paint colors, for Iron Ore by Sherwin Williams, white would be the optimal and the best choice in terms of trim color.
Since Iron Ore itself has rather noticeable cool toned undertones, we would suggest you opt for warmer whites, as well as off-whites unless you want to support that cool atmosphere in a room. In that case, cool-toned whites would be your best choice.
For example, one of the best white paint matches for Iron Ore would be Sherwin Williams Pure White since it is neutral and can fit almost any other color. Alabaster paint color by the same brand is another good option, by the way.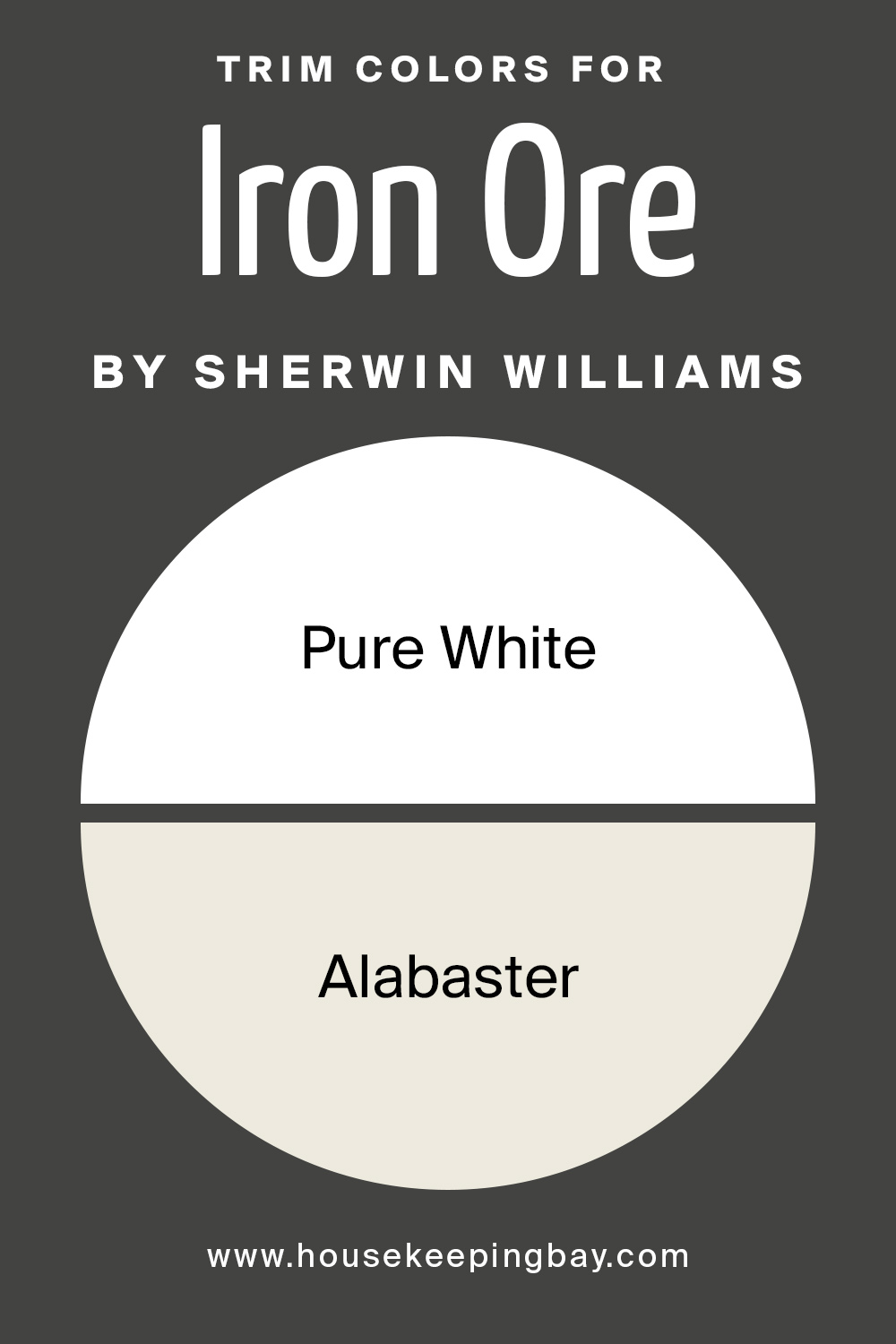 How Iron Ore SW-7069 Color Reacts to Light?
Knowing how exactly the paint color reacts to light will help you to tell in advance how it will look on your walls. To define that, you need to know the paint's LRV, or light reflectance value. This is the amount of light that the paint reflects when applied onto the wall.
A higher value that is closer to 100 means that color will reflect back more light. In comparison, a lower value that is closer to zero means that color will absorb more light rather than reflect it.
As a result, such a paint color will appear darker. Just to make it clearer for you, keep in mind that pure white is 100, while pure black is zero.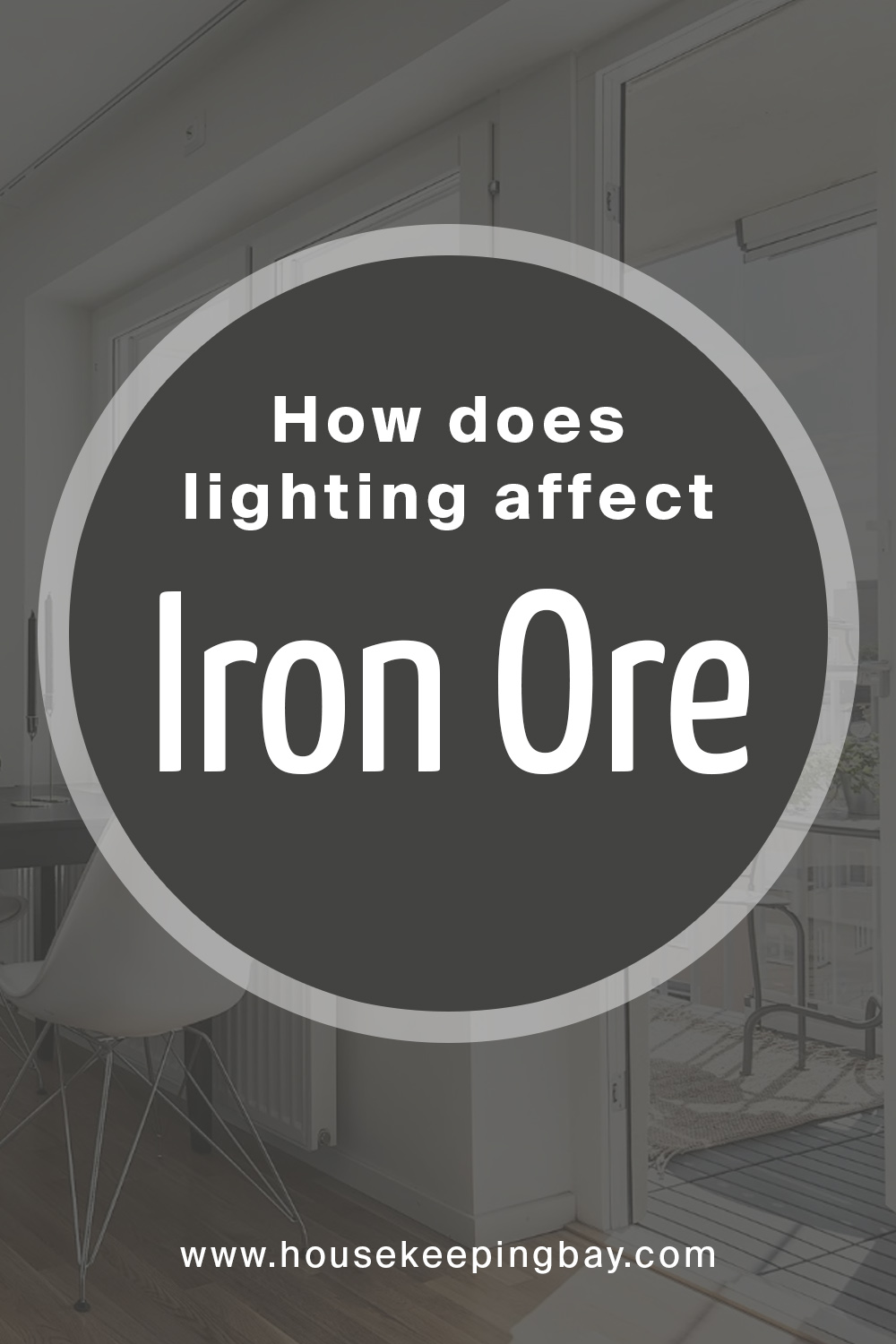 Iron Ore LRV
As for the LRV of SW Iron Ore, it is 6.15. It means that the color is extremely dark, however, it is still not pitch black. Also, this color is definitely located on the cool side of the color scale.
But if you pair it with the right colors, as well as with the right furniture and textures or materials, Iron Ore will reveal its whole beauty! For example, it looks wonderful paired with a crisp white trim and natural wood tones.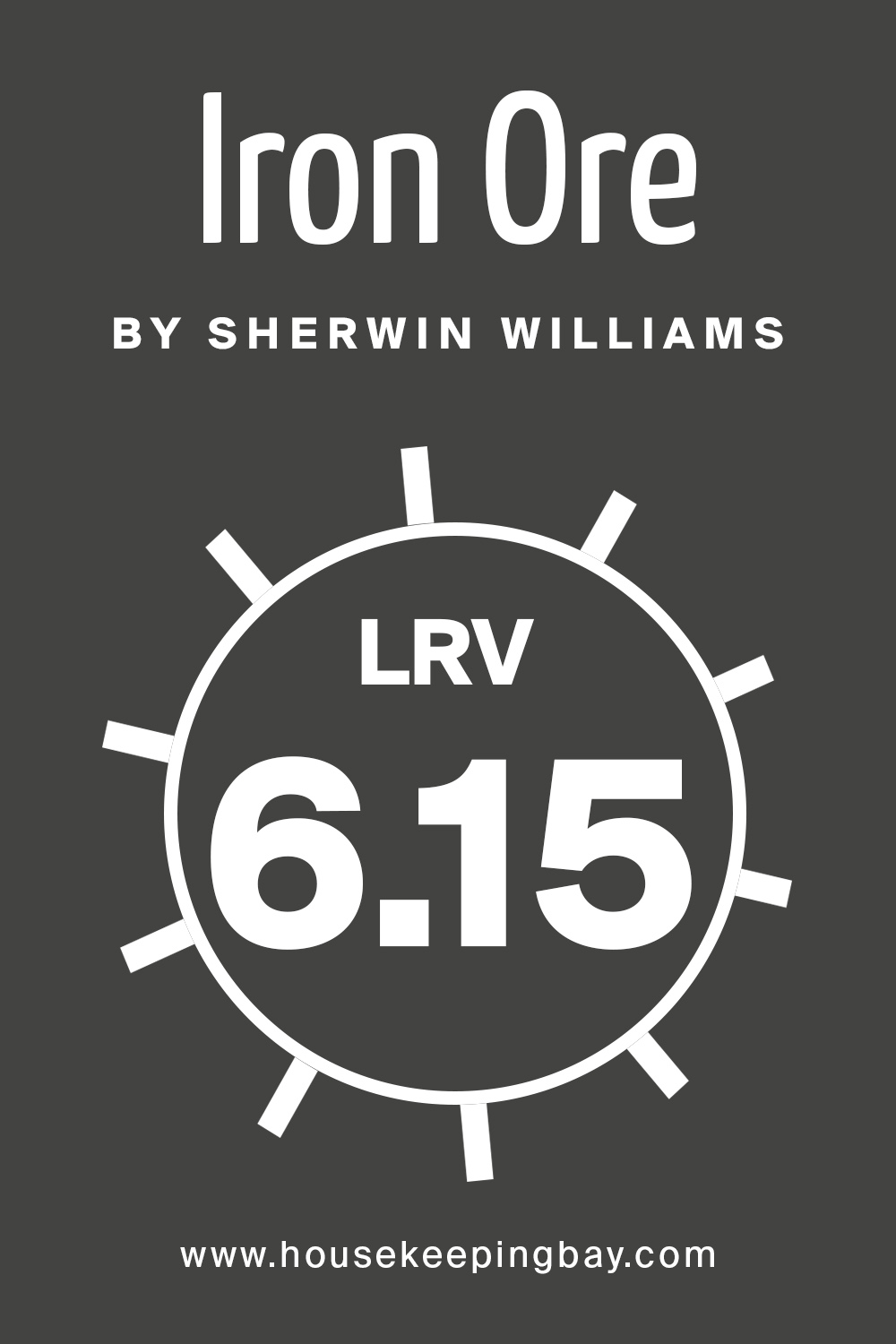 What is LRV? Read It Before You Choose Your Ideal Paint Color
Paint Colors Similar to Iron Ore
Sometimes we might need to use other colors instead of the one that we considered at the beginning. With the Iron Ore, it might be a bit difficult so we decided to help you out a bit. Below you can find a list of paint colors that are similar to SW Iron Ore and they look more or less the same. Of course, note that they are not literally the same, so you still need to choose carefully!
SW Black Fox
SW Tricorn Black
SW Black Magic
SW Caviar
SW Greenblack
SW Inkwell
Where to Use Iron Ore SW-7069 In Your Home?
There are colors that can be used in particular rooms only whilst others can be applied anywhere in your home. As for Iron Ore, you have to be careful with this deep and dark gray since for some spaces, it might not be the best choice.
For example, you should not use it in very small rooms, closets, or small lavatories/bathrooms. As for other rooms, this magnificent gray might work just fine!
Iron Ore in the Living Room
To add a prominent note of statement to your living room, paint it all with Iron Ore. To some of you, this color may seem way too dark, but if you pick up the right trim color, and if the rest of the colors in the room are light enough, this dark gray will not look overwhelming.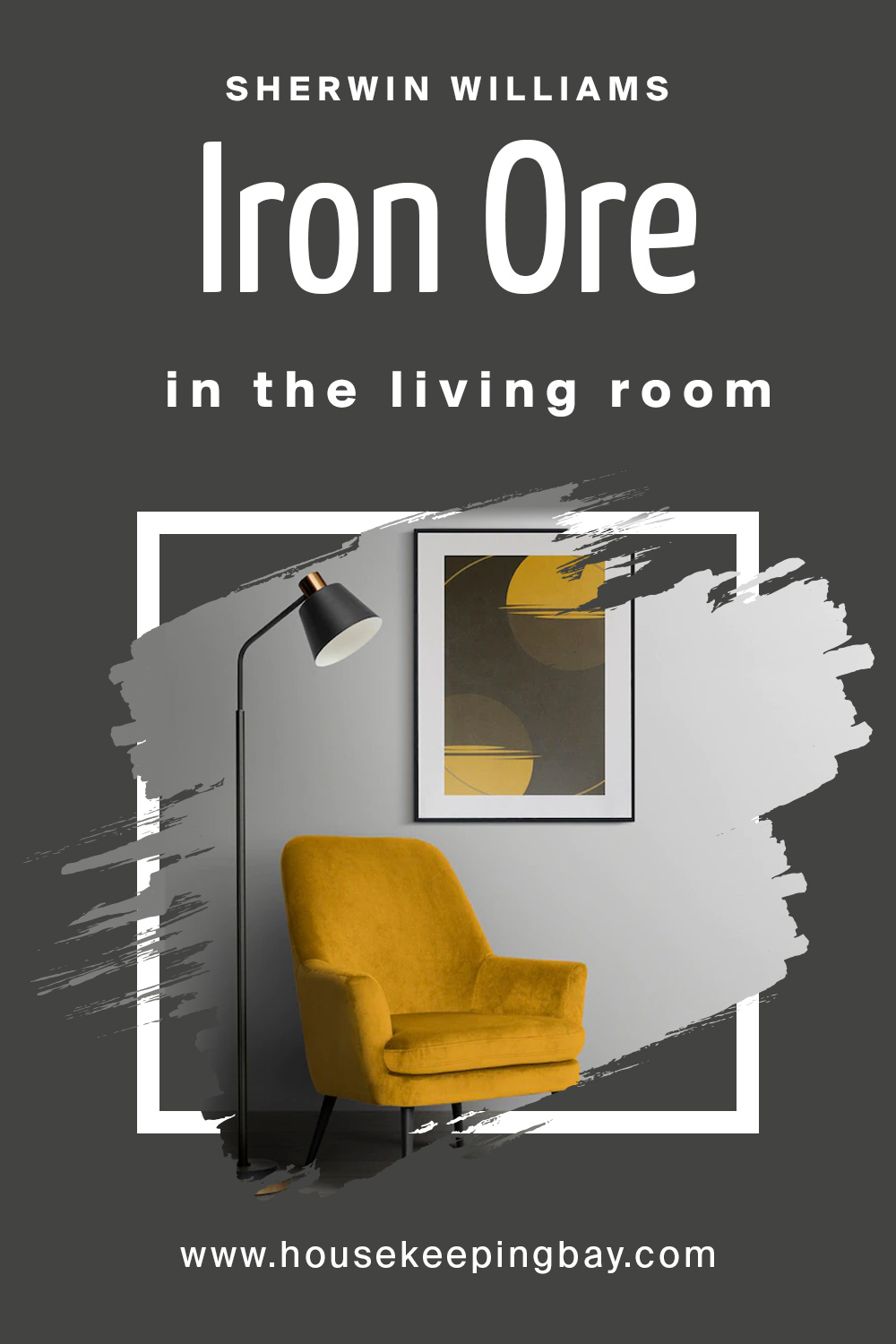 Iron Ore in the Bedroom
If you enjoy pretty dark spaces, consider using Iron Ore in your sleeping area. Only make sure that the bedroom has enough of warm natural light, or at least that it has plenty of warm-toned artificial lighting.
Like this, you will prevent the cool undertones of this color from showing up.
Iron Ore in the Kitchen And for the Kitchen Cabinets
As for the kitchen, Iron Ore is definitely way too dark and gloomy! But only if you decide to apply it on all four walls.
If you, let's say, paint only one accent wall with it, or if this paint is applied onto the cabinetry/drawers/kitchen island only, this will add to your kitchen that chic and stylish look that everyone will envy!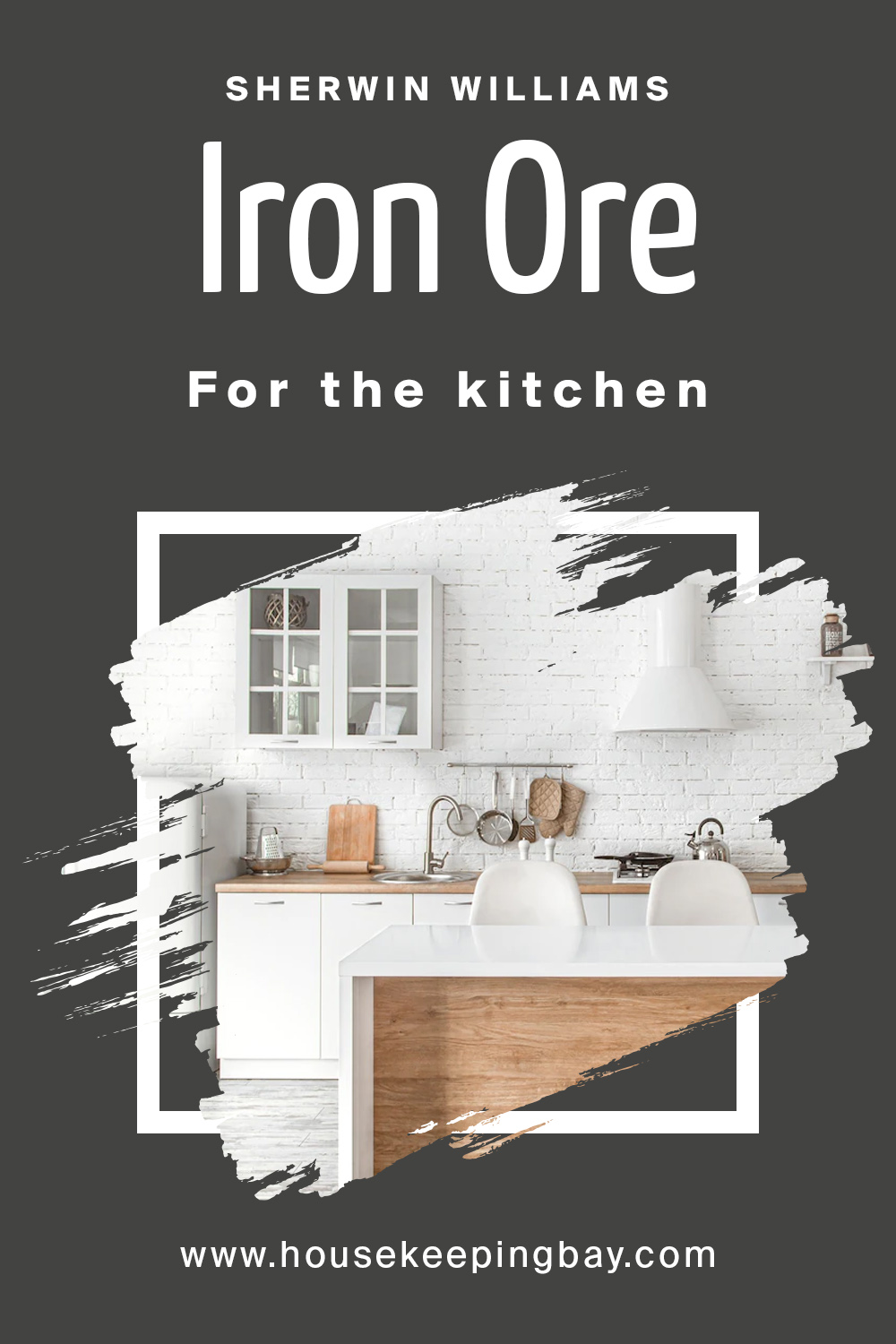 Iron Ore in the Bathroom
For bathrooms, stick to the recommendations we gave regarding your kitchen. Iron Ore is dark enough, so unless your bathroom is huge and it has large windows, we would not recommend you paint it all over with this color.
Instead, choose one wall to apply Iron Ore to, or paint your drawers or shelves instead to create visual accents.
Iron Ore in the for an Exterior Use
As an exterior paint, SW Iron Ore is a great choice. Of course, you need to remember its undertones and consider the type of light you have in the area where you live. In cooler lighting, this gray will reveal its blue and cool gray undertones whilst in warmer daylight, it will look pretty warm toned.
By the way, this deep gray pairs well with the white trims, so unless you want to make your house look really dramatic, we would suggest you think of adding a few white accents.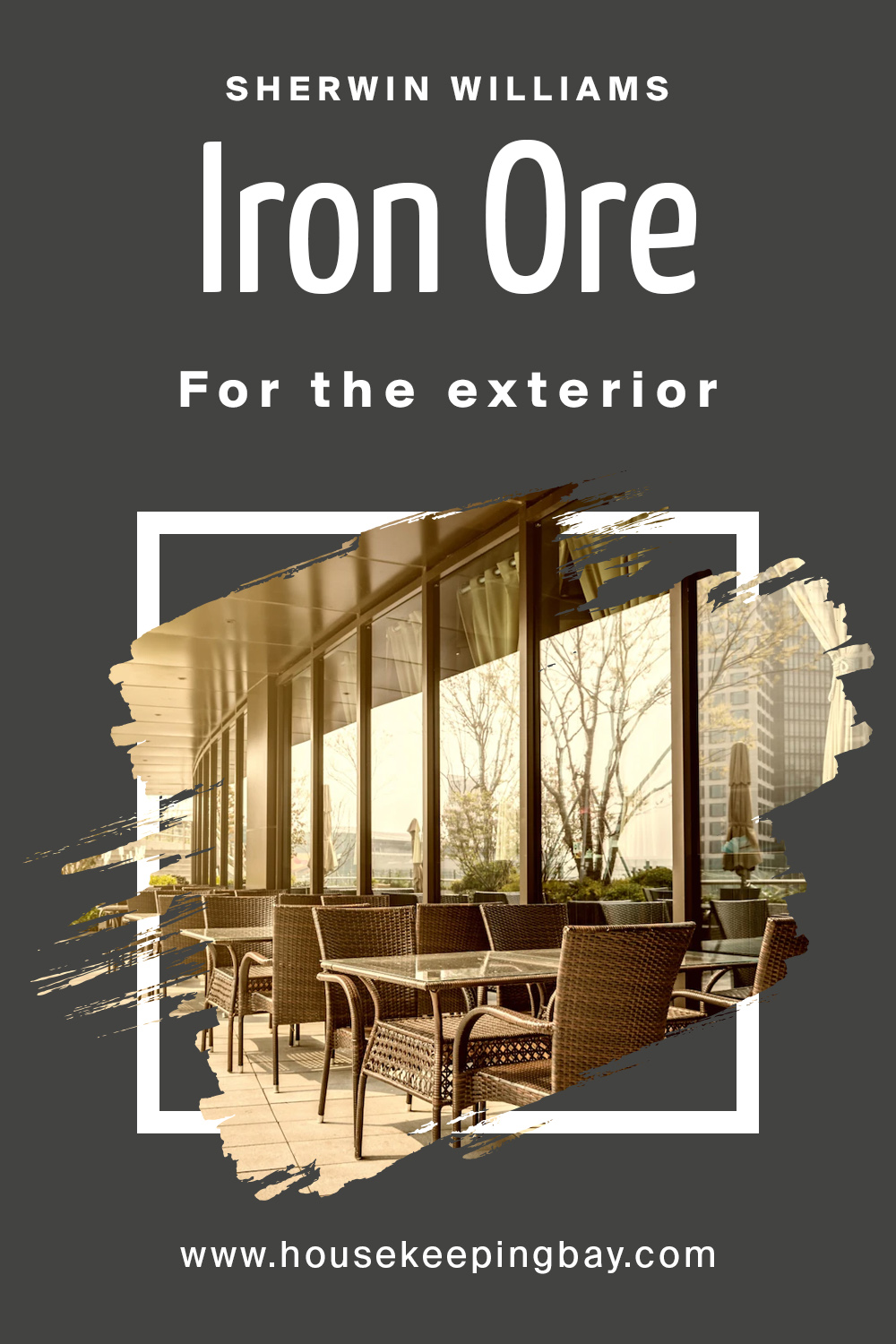 Comparing Iron Ore to Other Colors
We know it can be difficult to decide what color to choose when it comes to your home painting project. So below you can find a comparison of Iron Ore to a few other similar colors – just in case you decide to use another, alternative gray.
Iron Ore vs. Tricorn Black
Tricorn Black by Sherwin Williams is a very popular black that is used for doors, trim, stair railings, and exteriors mostly. It has an LRV of 3 so it is three shades darker than Iron Ore.
However, this color is still not quite a true black. If you want a color that is noticeably darker than Iron Ore and looks black, tricorn black might be the one for you.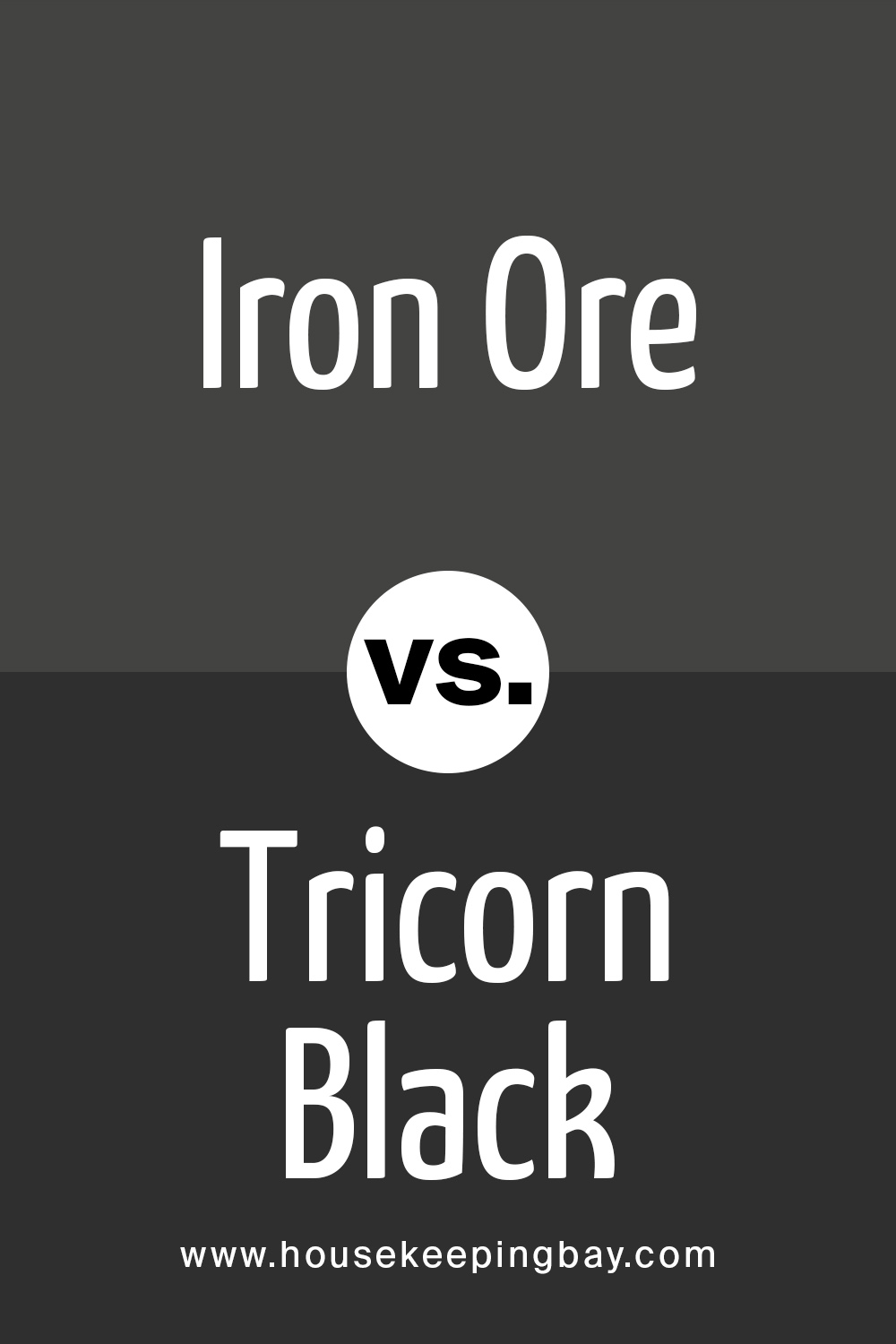 Iron Ore vs. Urbane Bronze
Urbane Bronze is also rather dark. But unlike Iron Ore, it looks way greener revealing its muted green undertones paired with a grayish hue.
Both colors go well with white trims, and in terms of their tonality, they are also more or less similar, being able to show cooler or warmer undertones depending on the light.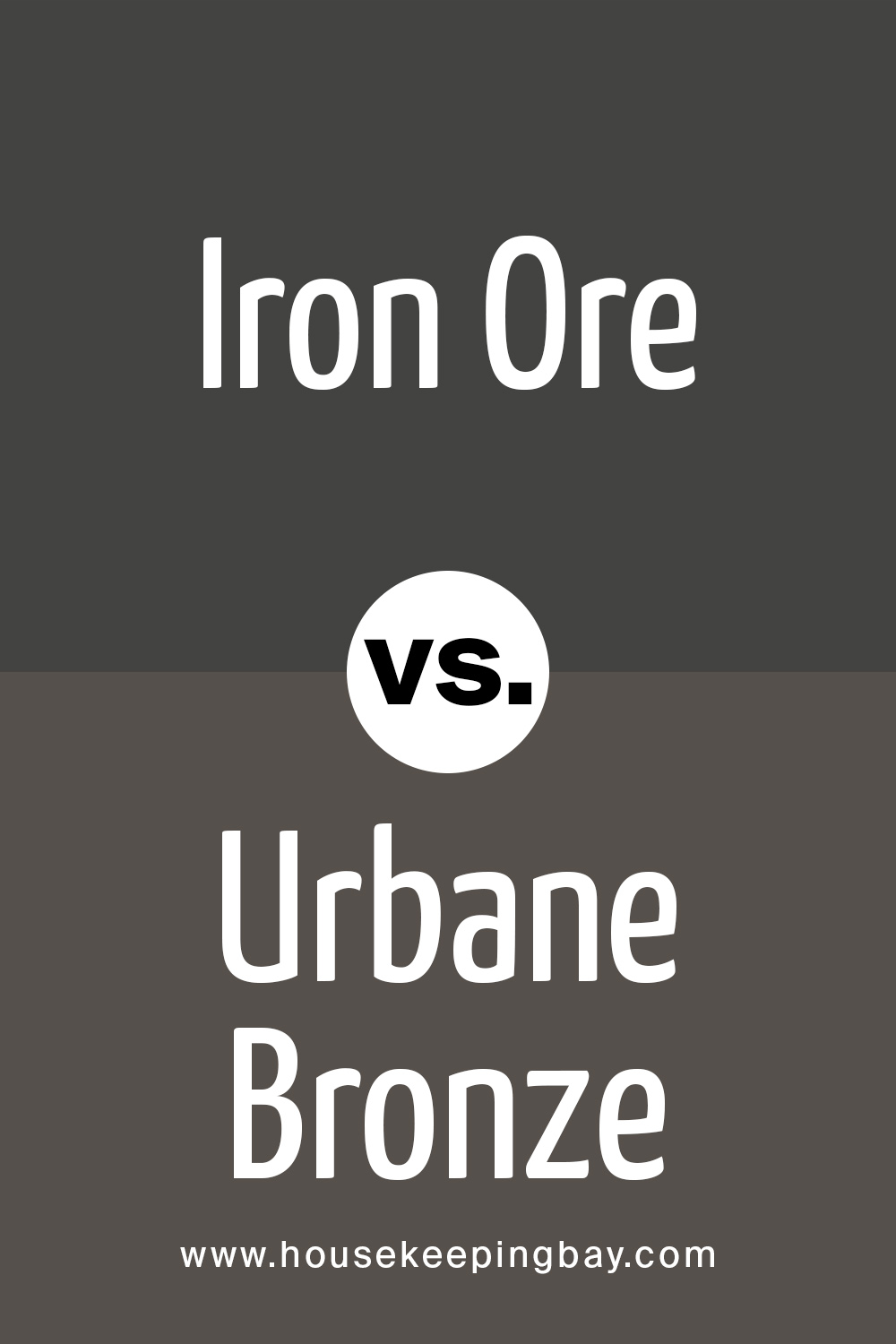 Iron Ore vs Peppercorn
Iron Ore is a couple of shades darker than Peppercorn with the LRV of 10.07. Peppercorn is a perfect soft charcoal black, so if you want to go in the darker direction, but you feel too scared to really go wild, Peppercorn is your option.
Peppercorn may also look quite blue in a certain light, so if that is not what you are looking for, better stay away from it!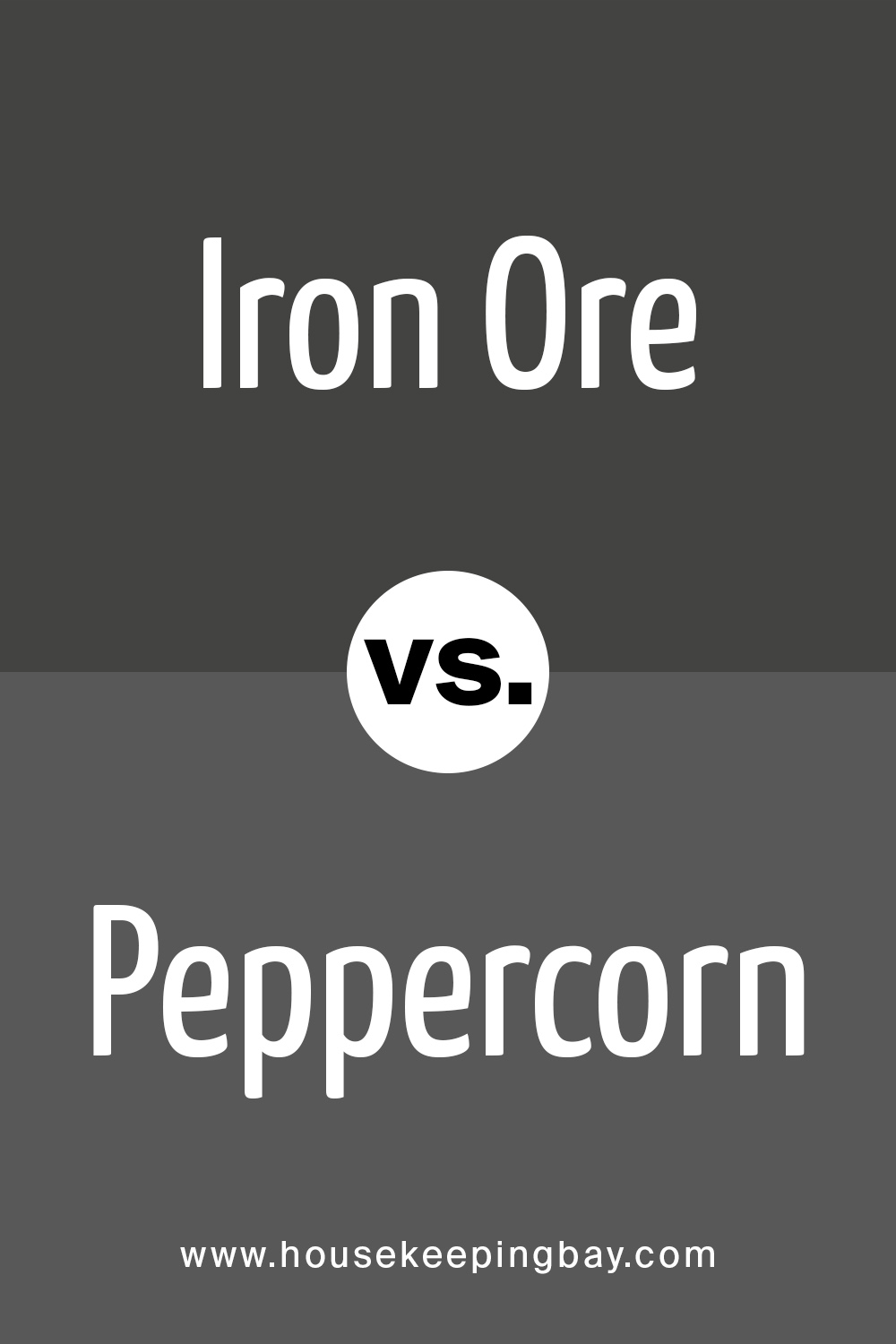 Iron Ore vs Wrought Iron
Wrought iron by Benjamin Moore has an LRV of 6.16 so it's extremely close to iron ore. Even side by side swatches it's hard to see the difference. Light paint color and iron ore on the trim and garage doors for high contrast.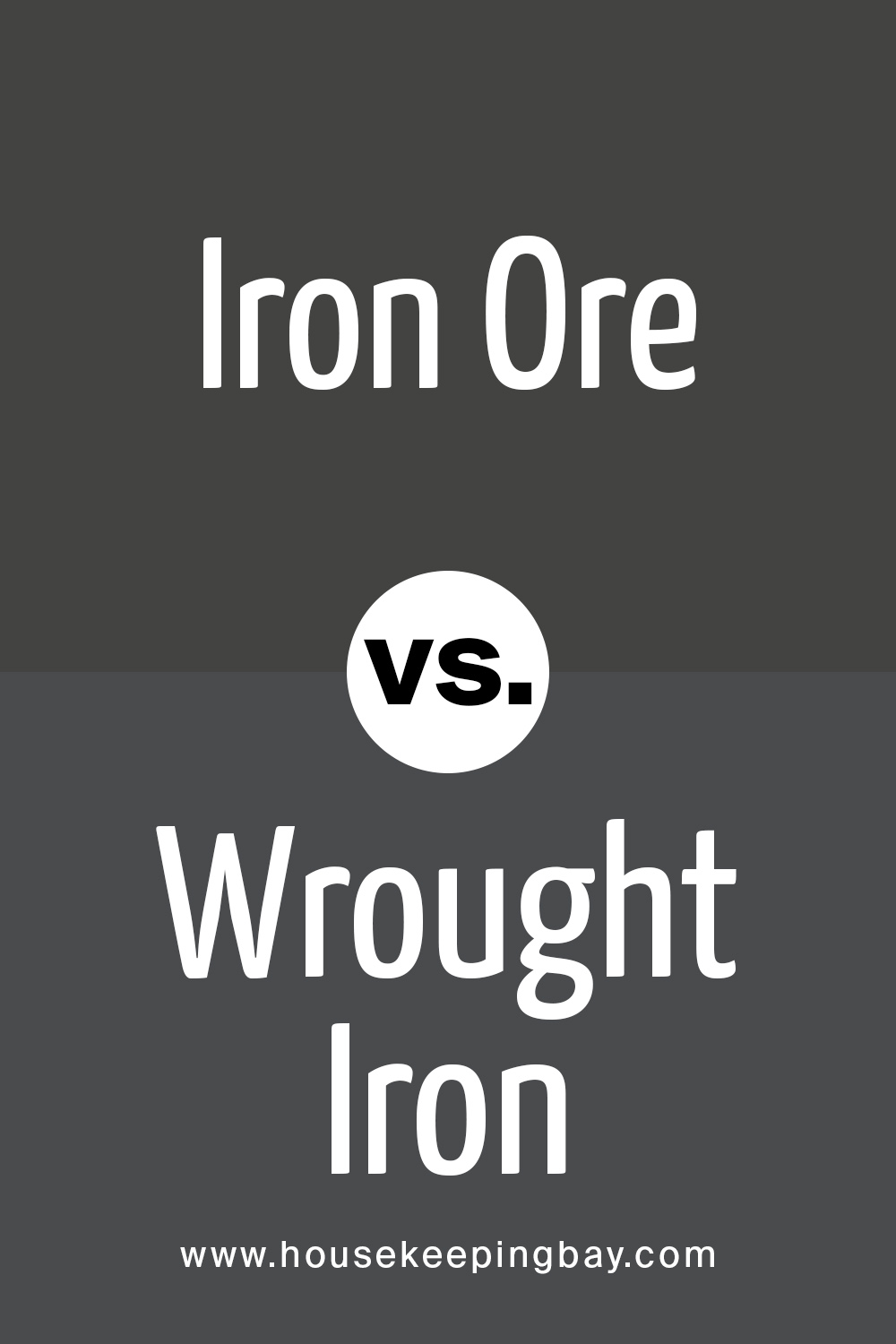 Iron Ore vs Black Magic
These two are both very dark, but if you put them beside, you will see that Black Magic is significantly warmer and a bit less dark. However, since these colors are pretty much similar, you can use one instead of another. No matter which one you choose, either of them will go well with white trims.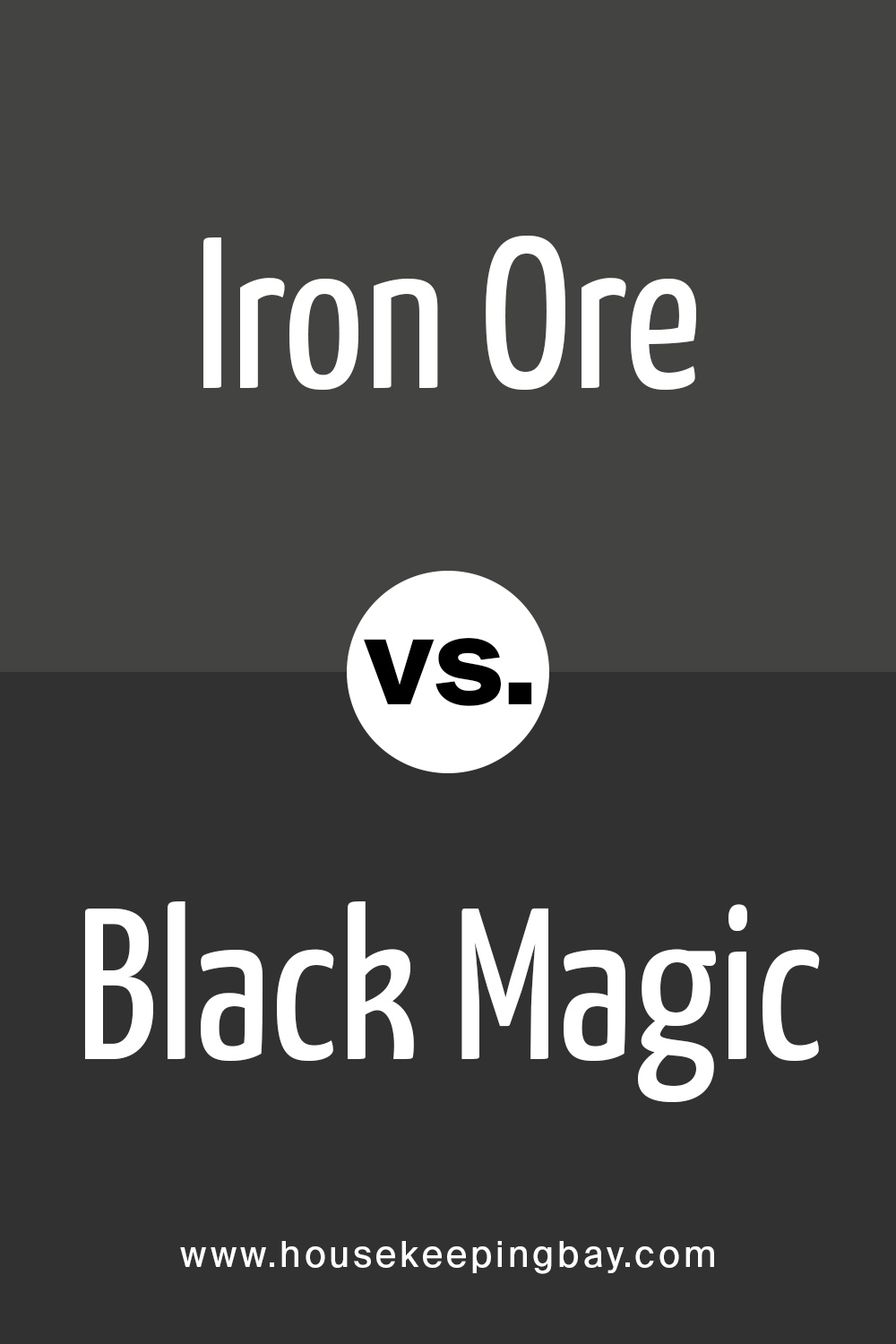 Like this, you know more about the Sherwin Williams Iron Ore paint color now. With the information about its undertones, LRV, trim color, and similar colors, it will be easier for you to define whether it is the color you want to apply to your walls or not.
Frequently Asked Questions
⭐Is it ok to paint my entire house with Iron Ore?
Of course, it is. Just make sure that you also use lighter shades of similar color, otherwise, the building will look too gloomy and overwhelmed.
⭐Is Iron Ore a cool-toned color?
Basically yes, it is. It's on the cooler side of the color scale. But when used with warmer colors, it won't look that cool.
⭐Can Iron Ore be paired with brass hardware in the kitchen?
Absolutely! This color combination is very fitting, as well as Iron Ore paired with golden elements.