When you are in search of subtle and calm color shades for your home, it can be rather complicated to pick the right one that has the desired vibe and suits your home color palette at the same time. So today we would like to introduce one of such colors to you.
In this article, we will be talking about the SW Rainwashed SW-6211 paint color. You will get a complete and detailed guide that will lead you through the specifics and features of this color, immersing you in the very depth of it.
You will learn what kind of color it is, what undertones it has, what LRV stands for this color, and how it will read in your living space. Also, we will tell you how this color will react to light and what rooms can be more suitable for using it.
Finally, you will learn what colors go with Sherwin-Williams Rainwashed paint color. In the end, you will have a detailed understanding of the color and its specific features.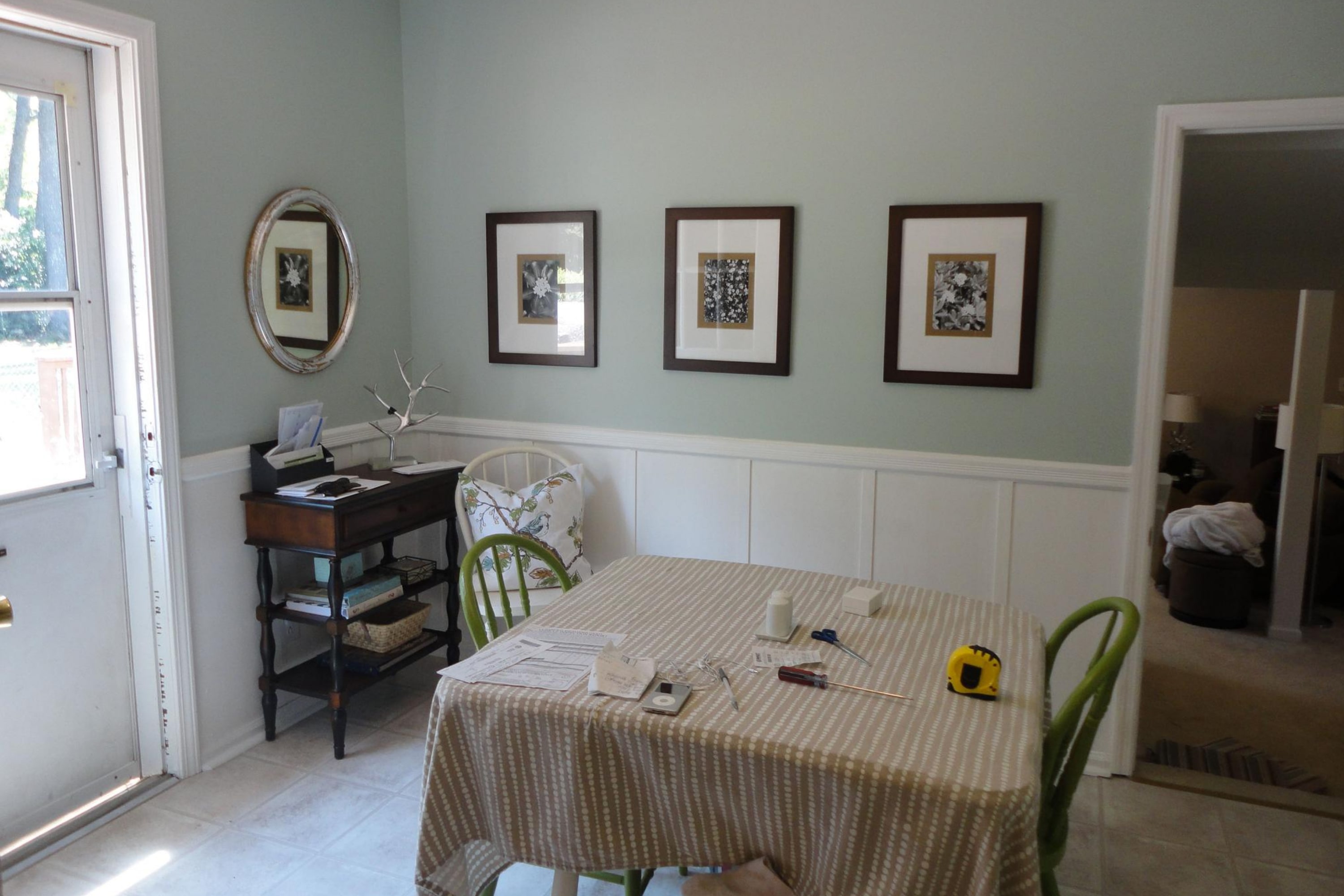 What Kind Of Color Is SW Rainwashed?
If we try to describe this color in a few words, we will say that Rainwashed by Sherman-Williams is a green paint color. However, it is neither a deep forest-like green nor a vibrant leafy green. As Encycolorpedia says, color is light-toned, sharing both muted and subtle features, and it is also very soothing and tranquil.
In particular, Rainwashed paint by Sherwin-Williams can be considered blue-green, but at the same time, it is not teal. It also leans toward green more than toward blue.
If you are looking for a cool-toned and crisp color for your walls, you should consider this one since it will give your home that pleasantly "chilly" look, making the rooms feel larger and airier.
This color does have some grey to it as well, which calms it down, giving SW Rainwashed paint a very organic look. Thanks to this feature, this paint color is perfect for a beach or coastal-style home.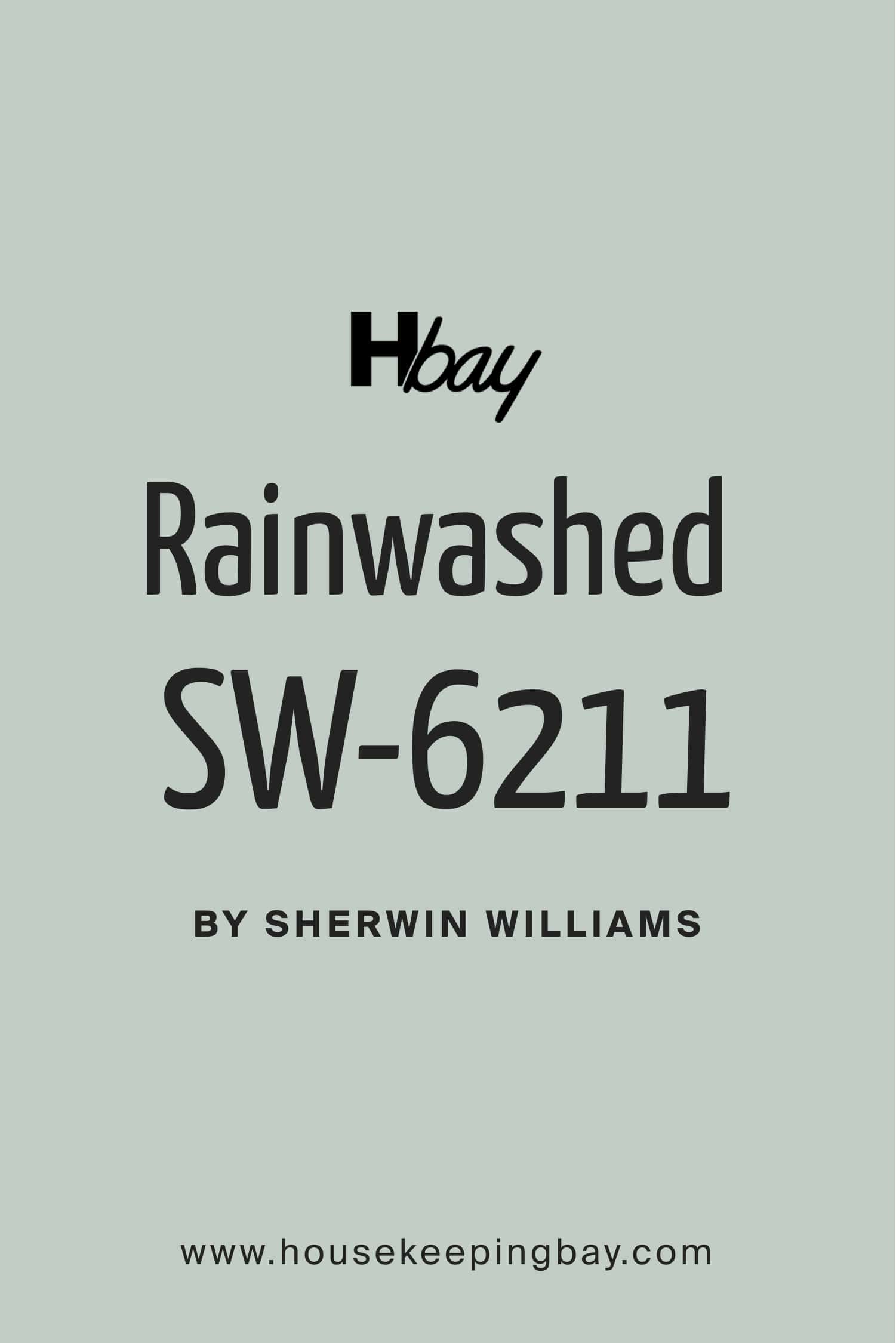 What Undertones Does Rainwashed SW-6211 Paint Color Have?
Being aware of undertones is important since it helps you to figure out how the color you choose will read on your walls and cooperate with the rest of the colors in a room. Speaking of the Rainwashed paint color by Sherwin-Williams, it has undertones of blue, green, and gray. Nevertheless, Sherwin-Williams classifies this color as green.
Due to such complex undertones, you should be cautious with this color since it can lean toward either the blue-gray or green side. Of course, the way the color reads on the walls will depend on the lighting and the rest of the colors it is paired with.
The general rule of thumb is like this: If you have cooler light and a lot of white in a room, it will make the blue-gray side in the SW Rainwashed color more apparent. On the other hand, warmer sunlight or incandescent lights will make the green come out.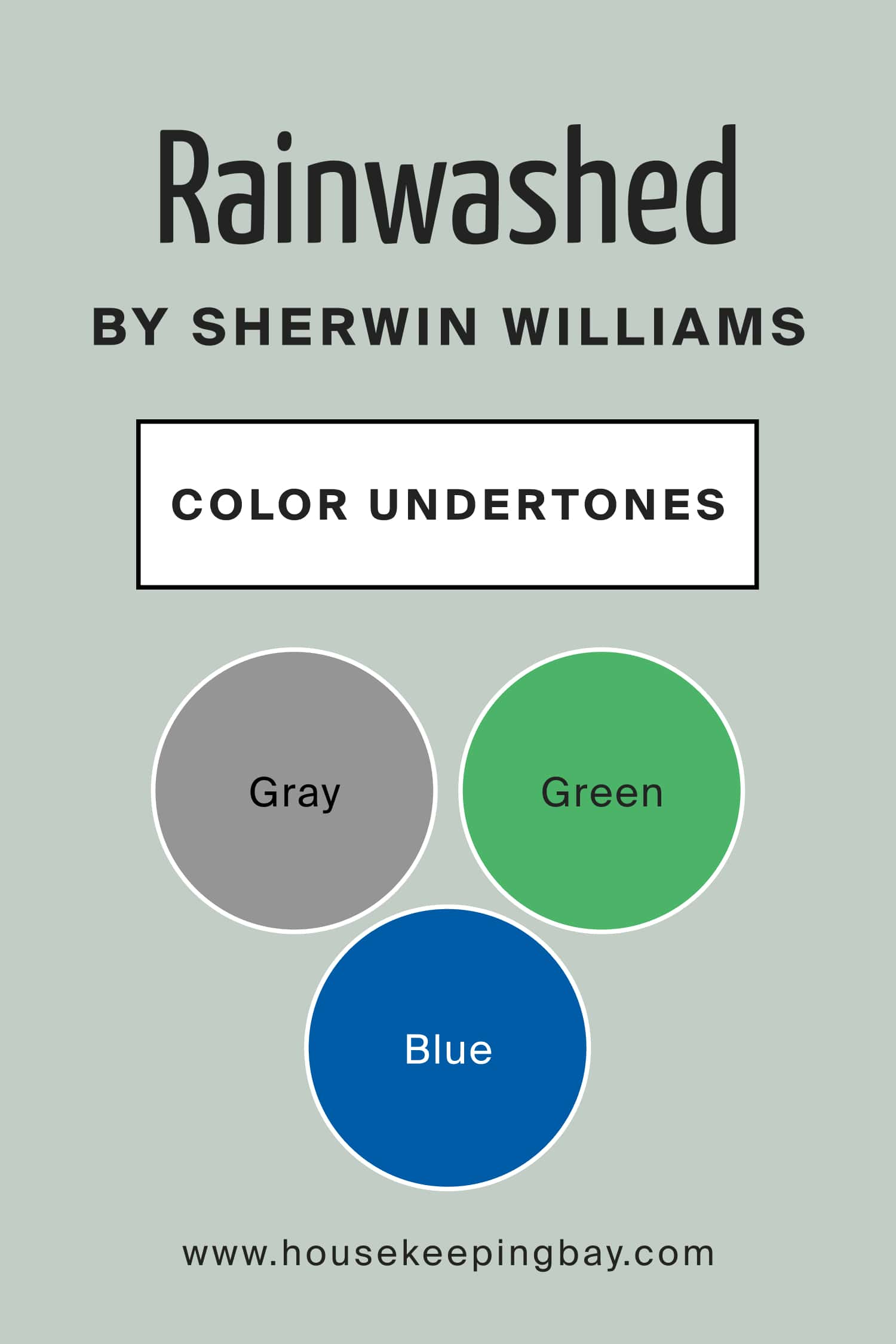 Rainwashed SW-6211 by Sherwin-Williams Coordinating Colors
It can be rather difficult to choose proper coordinating colors, especially when your main paint color has complex undertones just like SW Rainwashed. In this case, chances are high that you make a mistake and select a color that won't coordinate with your wall color properly.
So for a successful color combination, keep in mind that Sherwin-Williams Rainwashed paint color has the following coordinating colors:
SW Pewter Cast
SW Window Pane
No matter which one you choose to use in your home, you will never mess up since each of the listed colors coordinate SW Rainwashed perfectly well!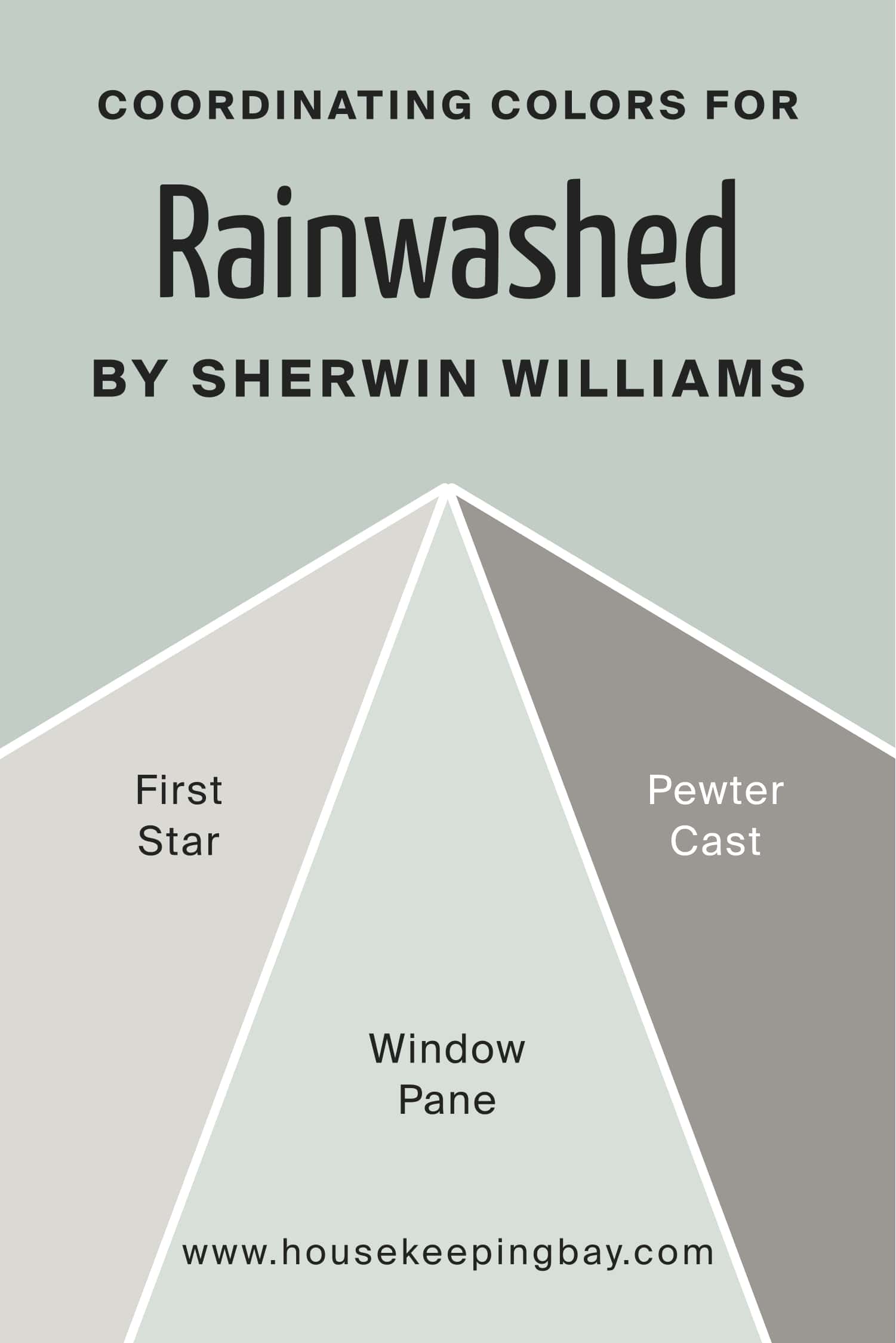 What Are the Similar Colors to SW Rainwashed?
Why would you need to know what colors read the same or nearly the same as the Rainwashed paint color by Sherwin-Williams? Well, who knows, maybe you suddenly decide to use a darker or a lighter shade of this green. Or maybe you realize that you need a color with other undertones that nevertheless reads almost like SW Rainwashed.
Anyway, it is always good to keep a few alternative color ideas in mind! And for this purpose, we have prepared a list of paint colors similar to Sherwin-Williams Rainwashed for you.
Although they are all of the same brand, you still need to remember that you won't find an ideal 100% match here! Each color will have certain distinctions anyway.
SW Copen Blue
SW Piedmont
SW Slow Green
SW Pine Frost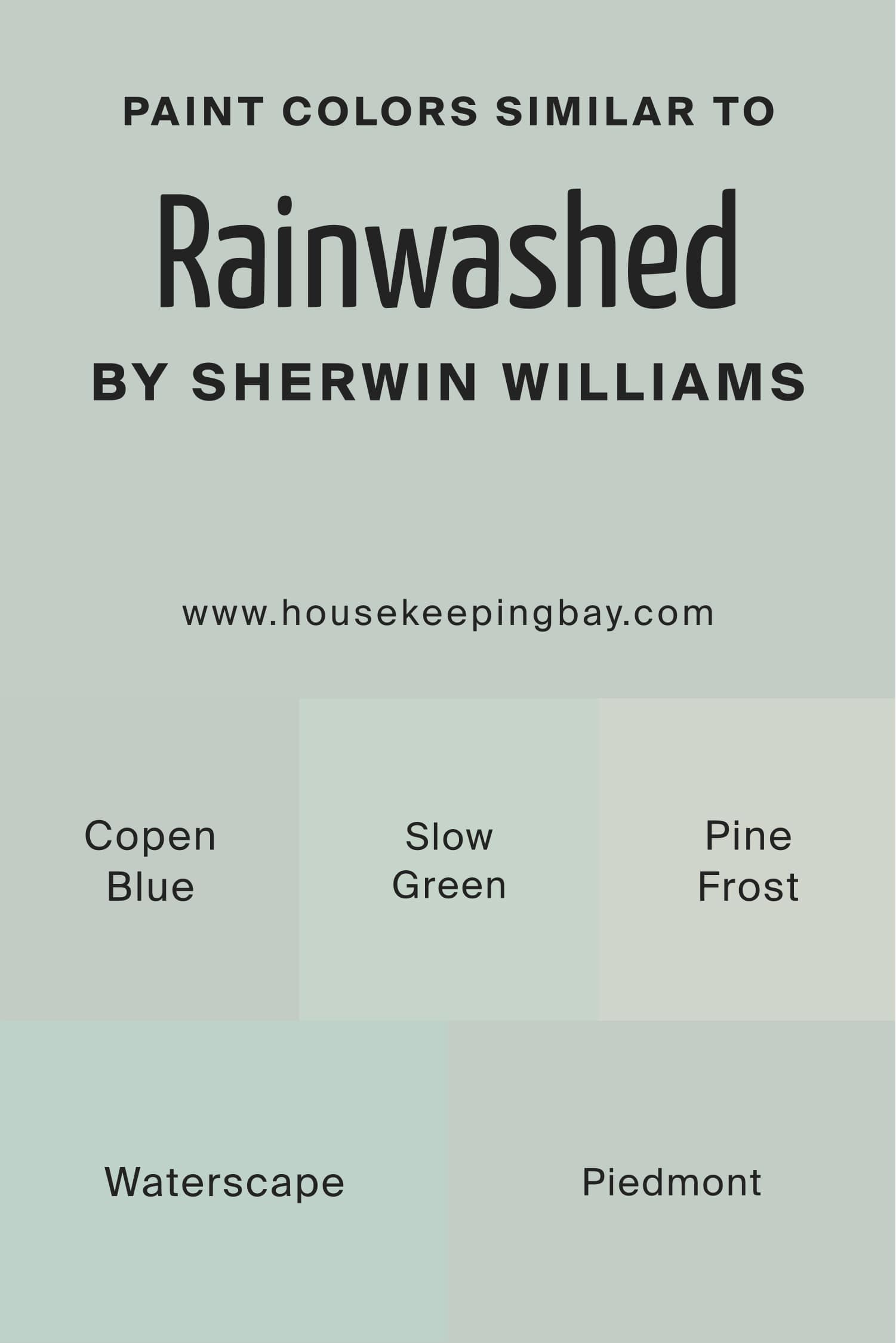 LRV For Rainwashed SW-6211 Paint Color
For those who don't know or forgot, LRV stands for Light Reflectance Value and shows the amount of light that a paint color can reflect when it is applied to the surface and illuminated by a light source.
The LRV scale ranges from 0 to 100 where numbers of a higher value (closer to 100) mean that color can reflect more light back at you. Respectively, numbers of a lower value (closer to 0) show that color will read darker, absorbing more light.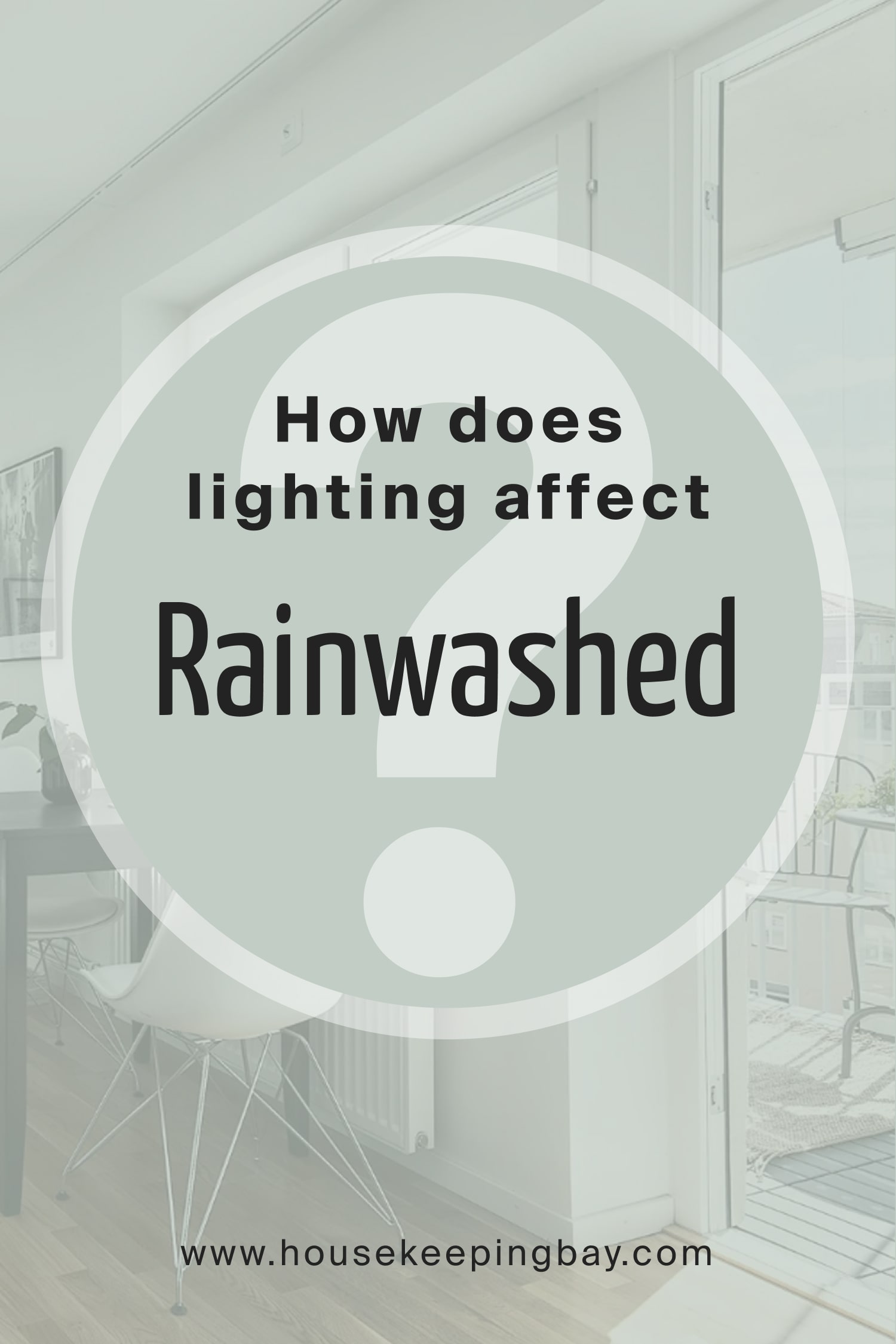 Speaking of SW Rainwashed paint color, it has an LRV of 59. In other words, it means that this is a light-depth color. It is not on the high end of the LRV light range though, simply because it has more depth to it.
How can you see the LRV works in real life?
For example, if you have a very bright room, this paint will hold its color well. However, even in a dark room, it will still read a nice-looking color. Also, if you use SW Rainwashed in a room with a lot of natural light, it will read lighter than it is. Respectively, in a room that is poorly lit or doesn't receive any natural light at all, this color may appear darker.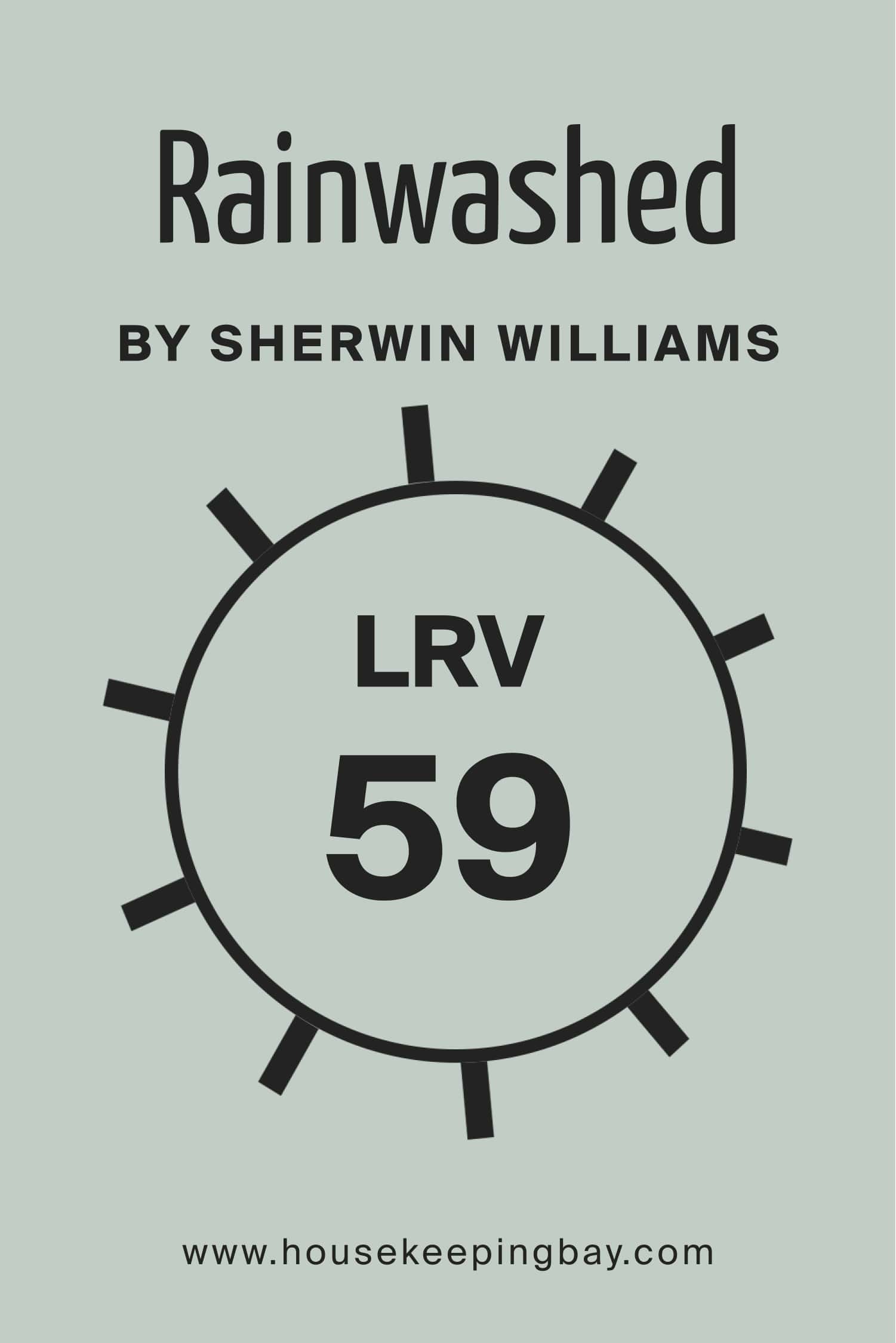 What is LRV? Read it Before You Choose Your Ideal Paint Color
What Is the Best Trim Color For Rainwashed SW-6211
Everyone knows that the win-win trim color option is white, and this rule of thumb also works for the SW Rainwashed color. For trim, we'd recommend you opt for Sherwin-Williams Pure White since it is always a safe bet.
See, Pure White color is a bright white that has just a tiny bit of warmth. It means that this white never looks cold, but it will not give you that warm "buttery" feeling as well. Of course, if you want a really bright, crisp white to use as a trim color, then Sherwin-Williams High Reflective White or Extra White would be your options.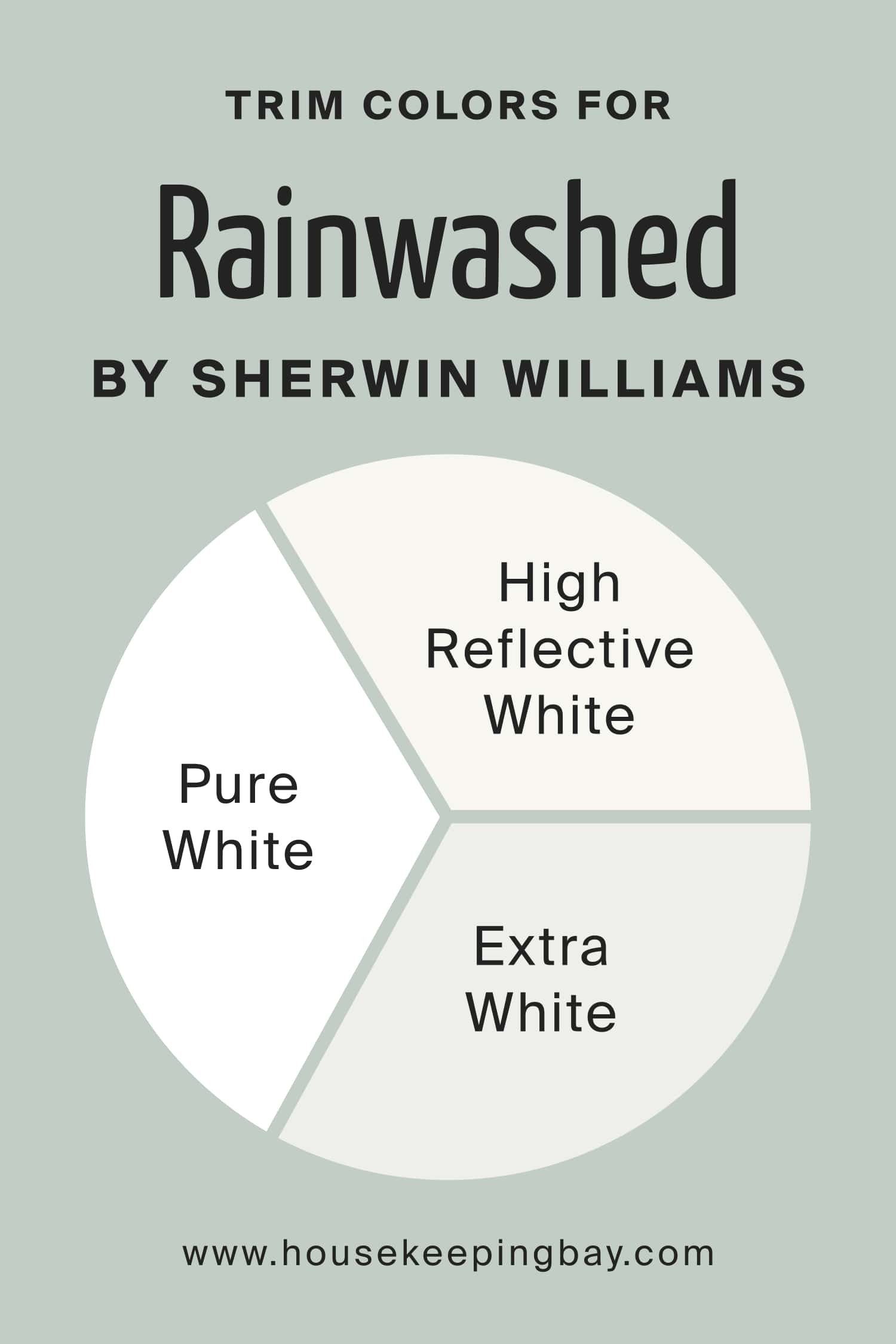 Colors That Go With Rainwashed SW-6211 by Sherwin-Williams Paint Color
To be able to create a balanced color palette in your home, you need to know what other colors will work nicely with the main color on your walls. For this purpose, we suggest you learn what colors may go well with SW Rainwashed since this tricky green can be difficult to pair with other hues due to its complex undertones.
SW Meditative
SW Creme
SW Rocky River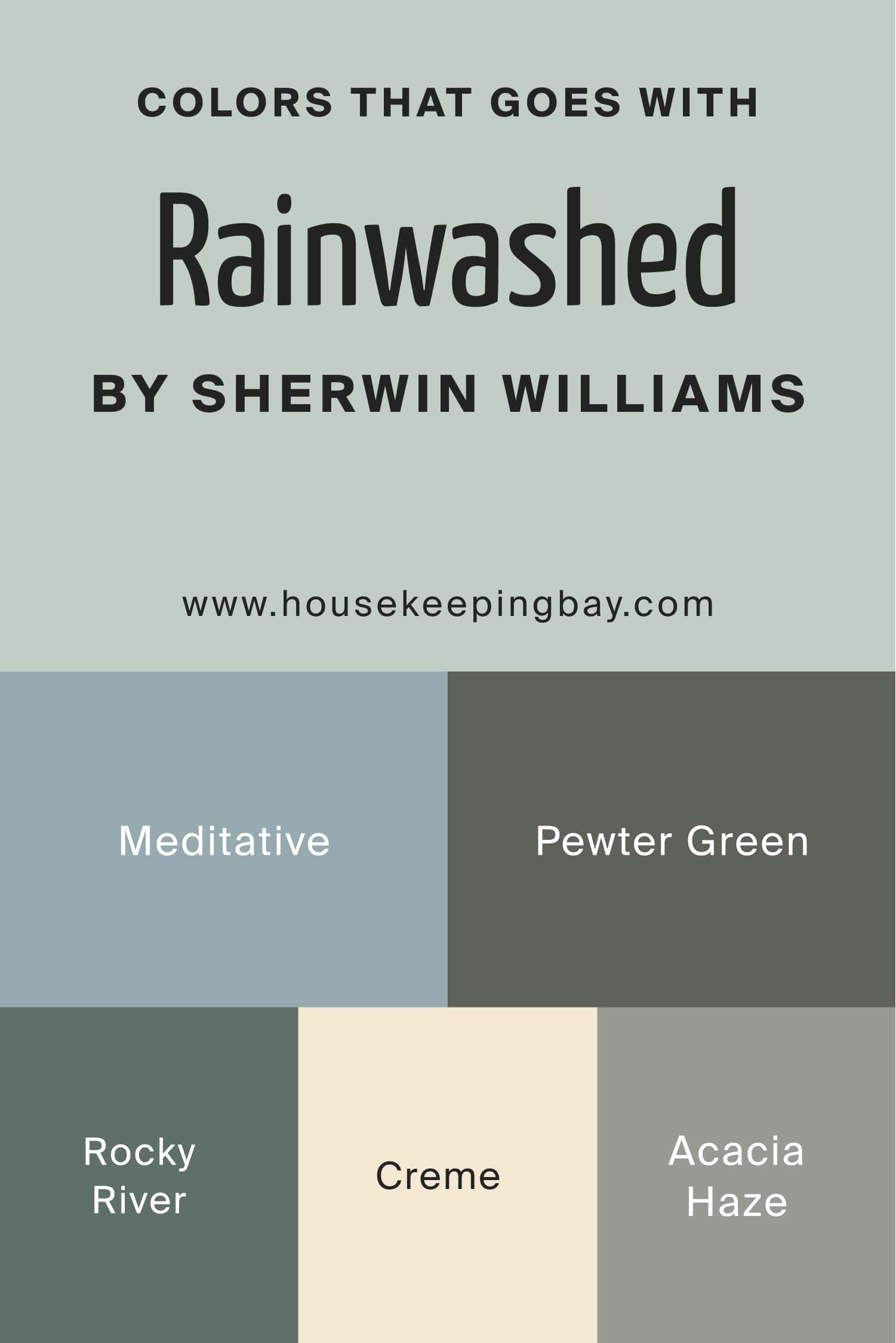 Where to Use This Color In Your Home
If you are using such a complex paint color as SW rainwashed in your home, you might be wondering in what rooms it will work the best. Its complex undertones that can pop out unexpectedly often make homeowners worry about the way this color may read in their rooms.
This is why we are going to help you out and explain how this beautiful and tranquil green may read in different rooms of a house and what atmosphere it can create.
How Rainwashed SW-6211 Will Work In a Living Room
This color is hard to call a traditional choice for a living room, but if you want to create a cooling and tranquil atmosphere there, as well as make the room feel airier, this is definitely your color choice!
SW Rainwashed will add space and light to your living room, but you should keep the lighting in mind. See, if your living room has cool daylight, this color will also read cool and crisp on the walls. Respectively, in a room with warmer daylight, this green may read warmer.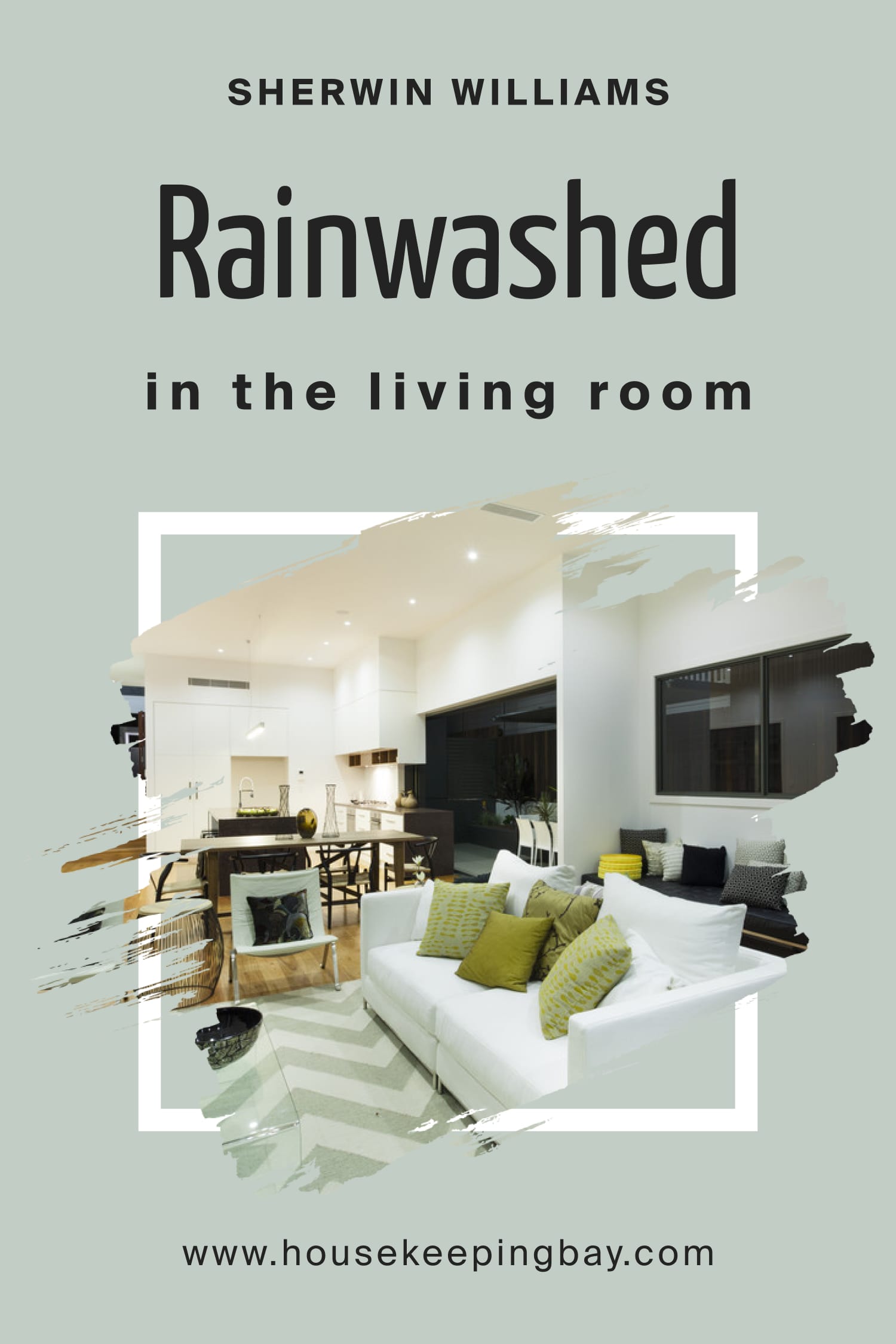 How Rainwashed SW-6211 Looks In a Bedroom
Rainwashed SW-6211 can be a great color choice for your bedroom if you don't mind having a bit crisp vibe there. But even if your bedroom has cold northern light, you can still make the space feel warmer by using warm-colored upholstery, carpets, and curtains there (e.g. beige or creamy).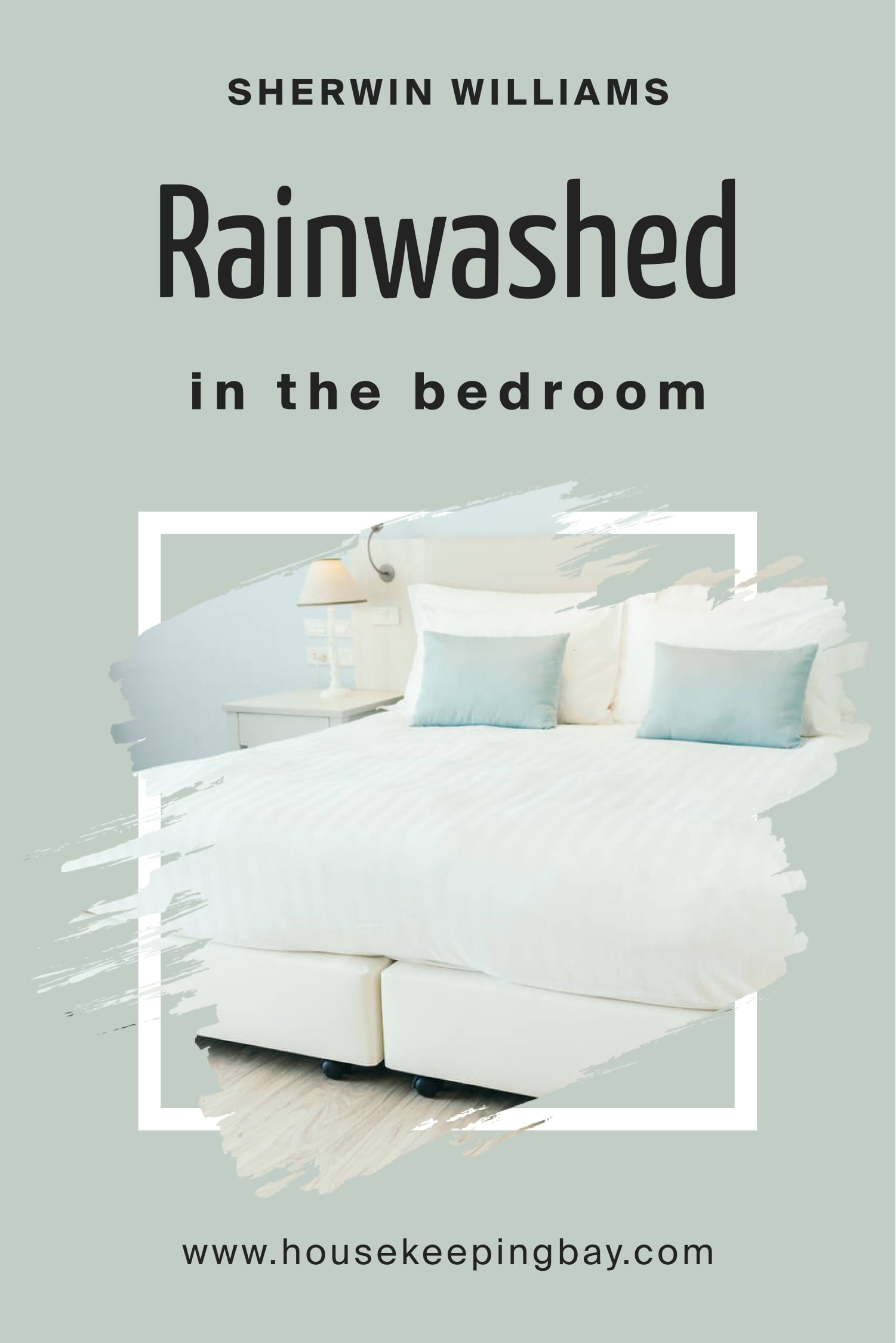 Is Rainwashed SW-6211 Suitable For Kitchens?
This color is a nice option for your kitchen if the room is properly lit and the light is fairly bright. In this case, SW Rainwashed color will look nice either on the walls (with white cabinets) or on the cabinets (with white walls). But if you have unpainted wooden furniture in your kitchen, be ready that SW Rainwashed paint may read yellowish-green!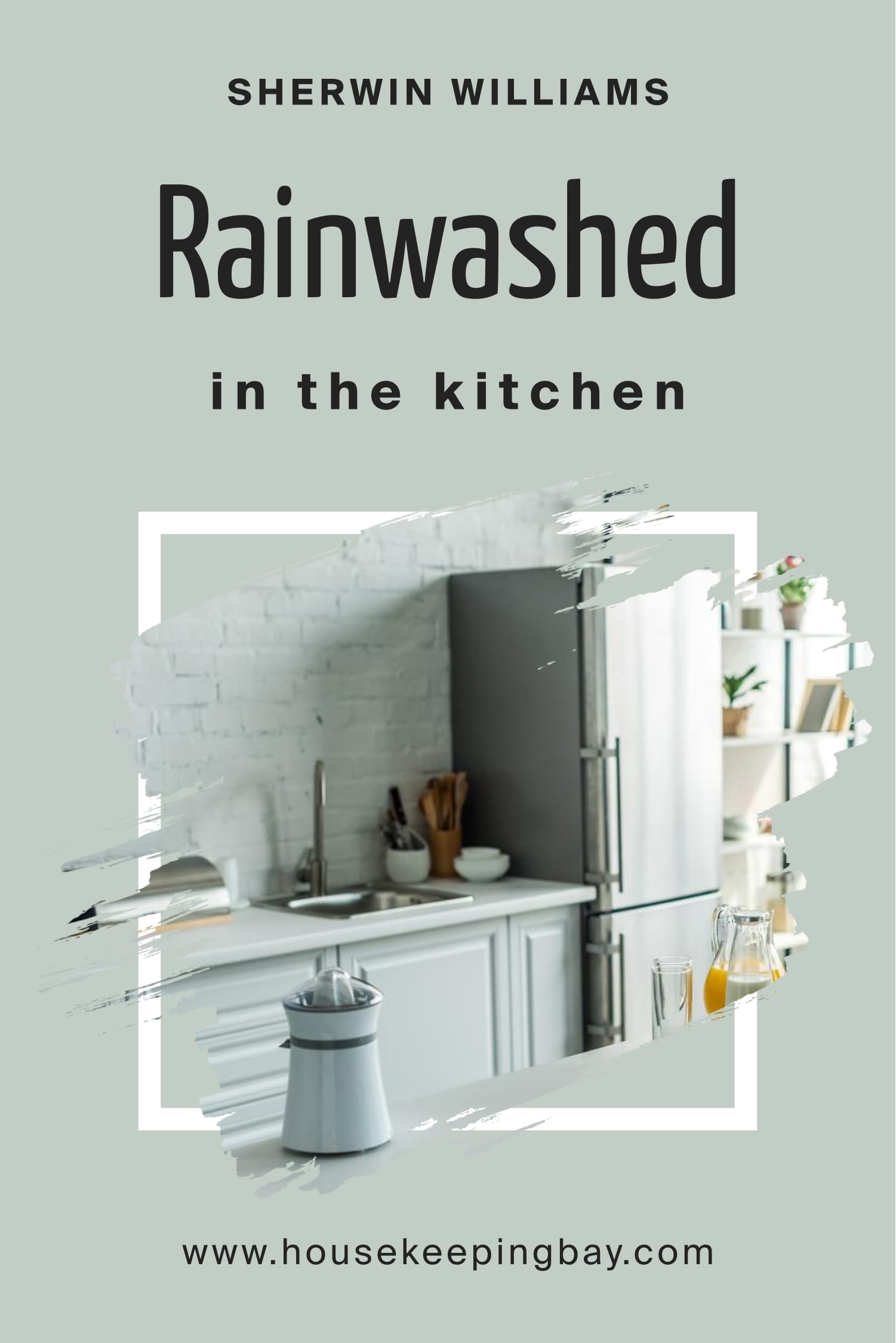 Rainwashed SW-6211 For Bathrooms
This color is one of the best options for bathrooms due to its cool tones. However, note that the surrounding colors are also important! SW Rainwashed color is best to be used with cool-toned whites and grays since this color has such undertones. Any warm colors can make SW Rainwashed paint read slightly warmer.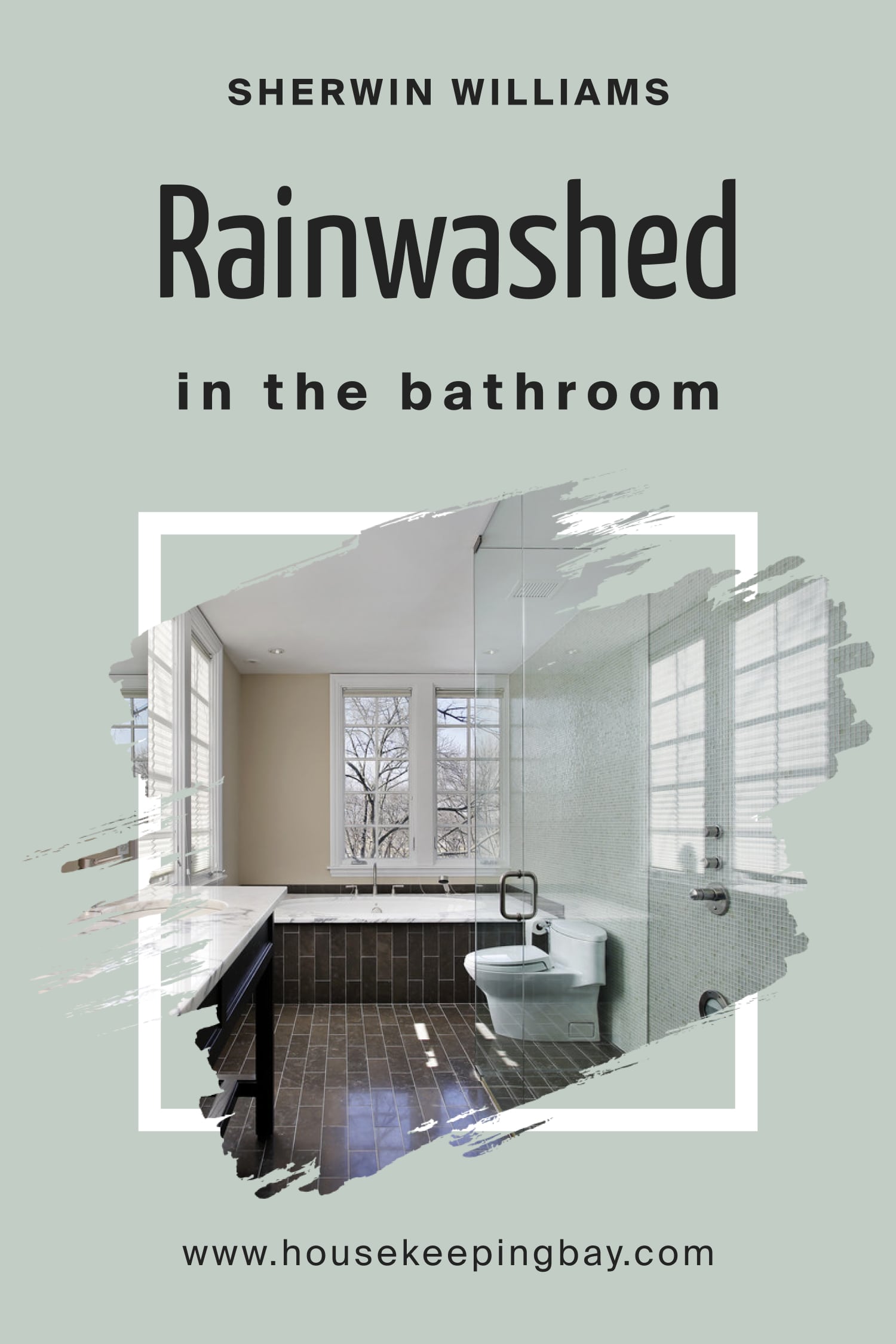 How Rainwashed SW-6211 Works For the Exterior?
You can use this color on your exterior walls, especially if you have a coastal-style home. But this color would also work great on your front door if you just want a little pop of color there. There is only one thing you should keep in mind when you use this green: SW Rainwashed will look lighter than it is when you use it on the exterior of your home.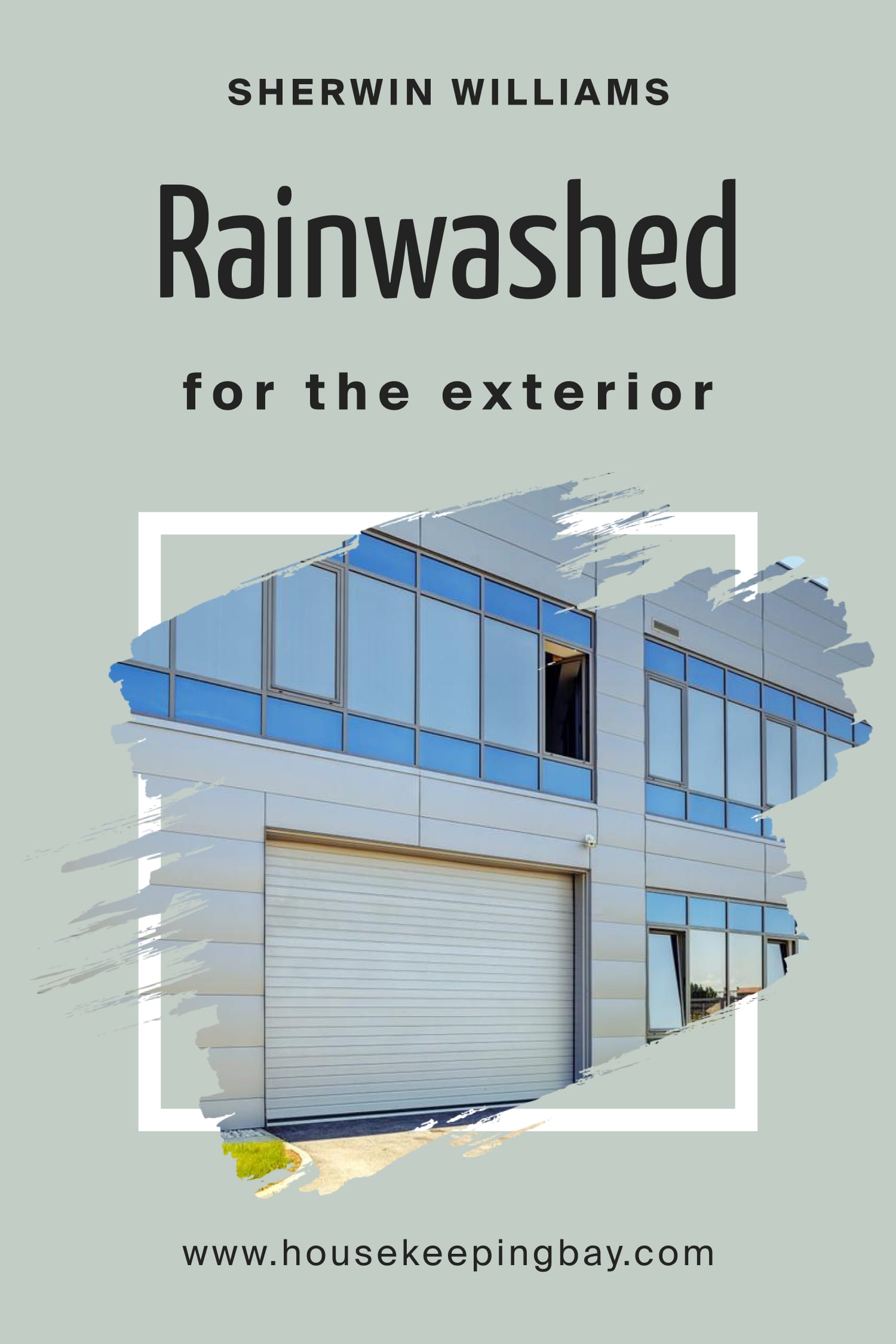 Color Comparisons For Rainwashed SW-6211
Well, we are almost there! Now it's only left to learn more about how SW Rainwashed reads beside other similar colors. It will help you see the specifics of this paint much better.
Sherwin-Williams Rainwashed vs Sea Salt
Sea Salt and Rainwashed are very similar. At first glance, they both are blue-green, but the difference is in the amount of blue and green. Sea Salt is more muted being mainly green with blue undertones. Rainwashed is bluer with green undertones and it looks more vibrant and colorful compared to Sea Salt.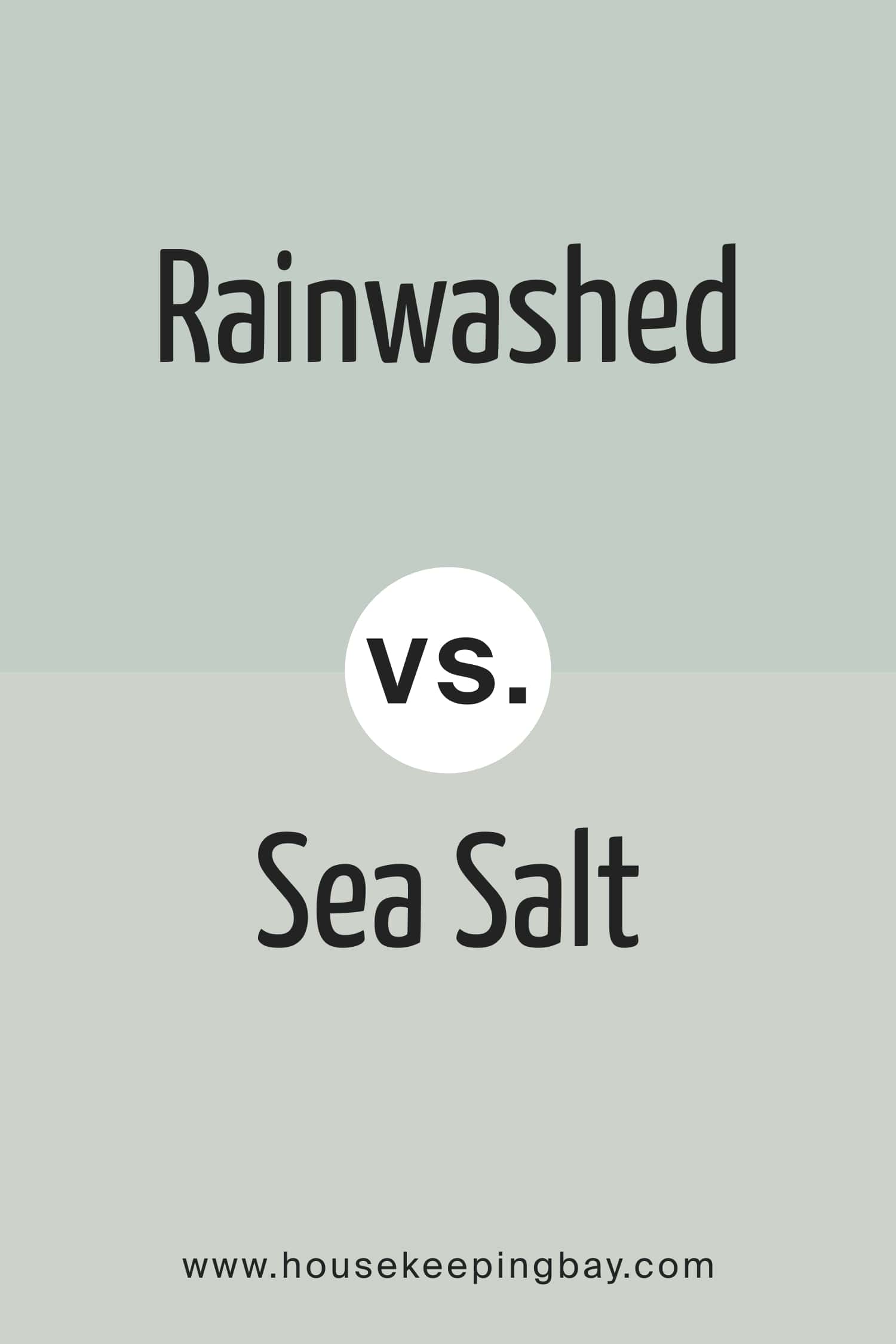 Rainwashed vs Comfort Gray
The similar feature these colors share is that both have a green and blue undertone. The difference is that Rainwashed reads greener and Comfort Gray reads grayer. And of course, there is another distinction which is the gray undertone the Comfort Gray color has.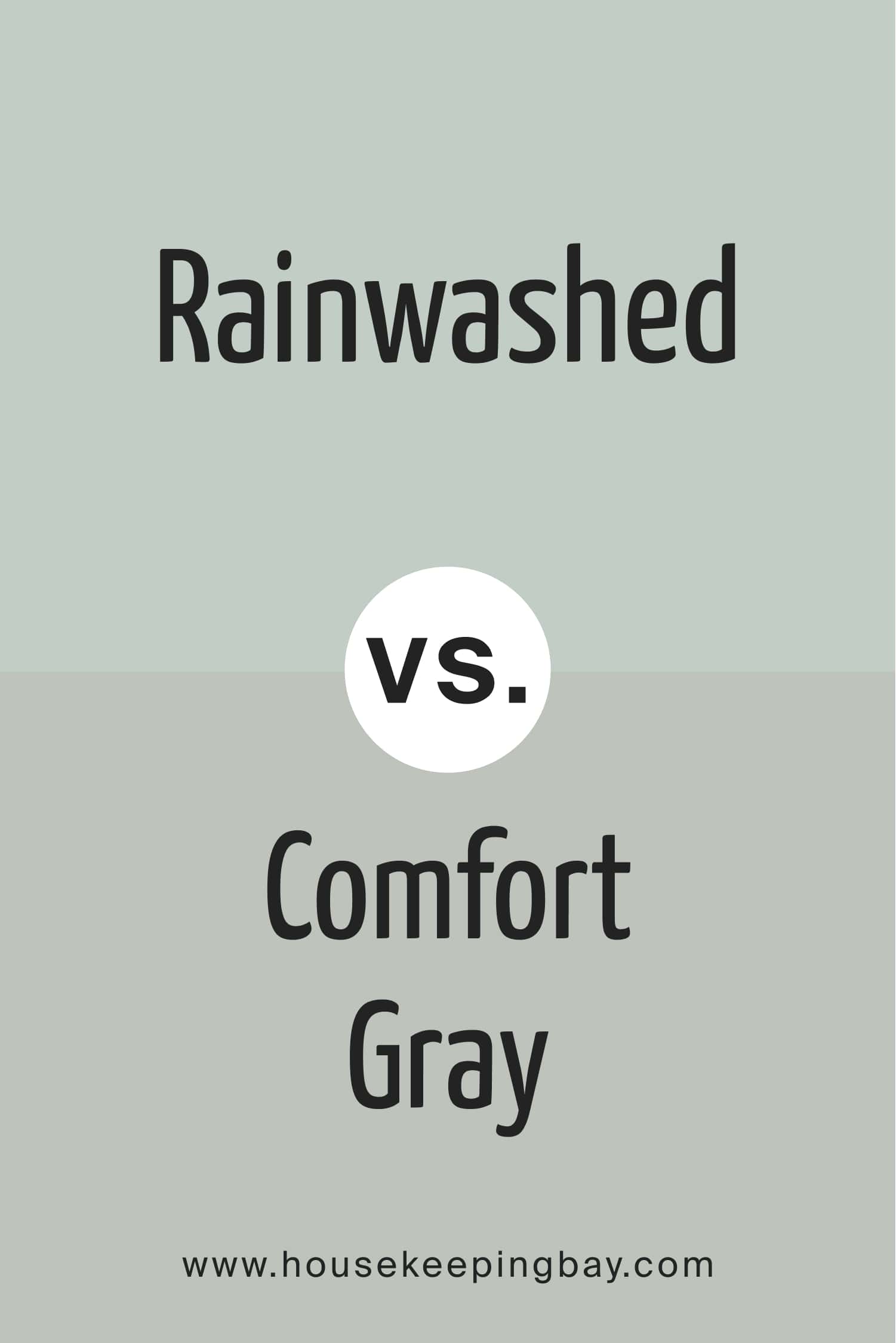 Rainwashed vs Palladian Blue
Palladian Blue color also has a blue and green undertone just like Rainwashed paint. This is also why these two look almost the same. However, if you take a closer look, you will see that Palladian Blue is a bit lighter and bluer whilst Rainwashed reads slightly greenish.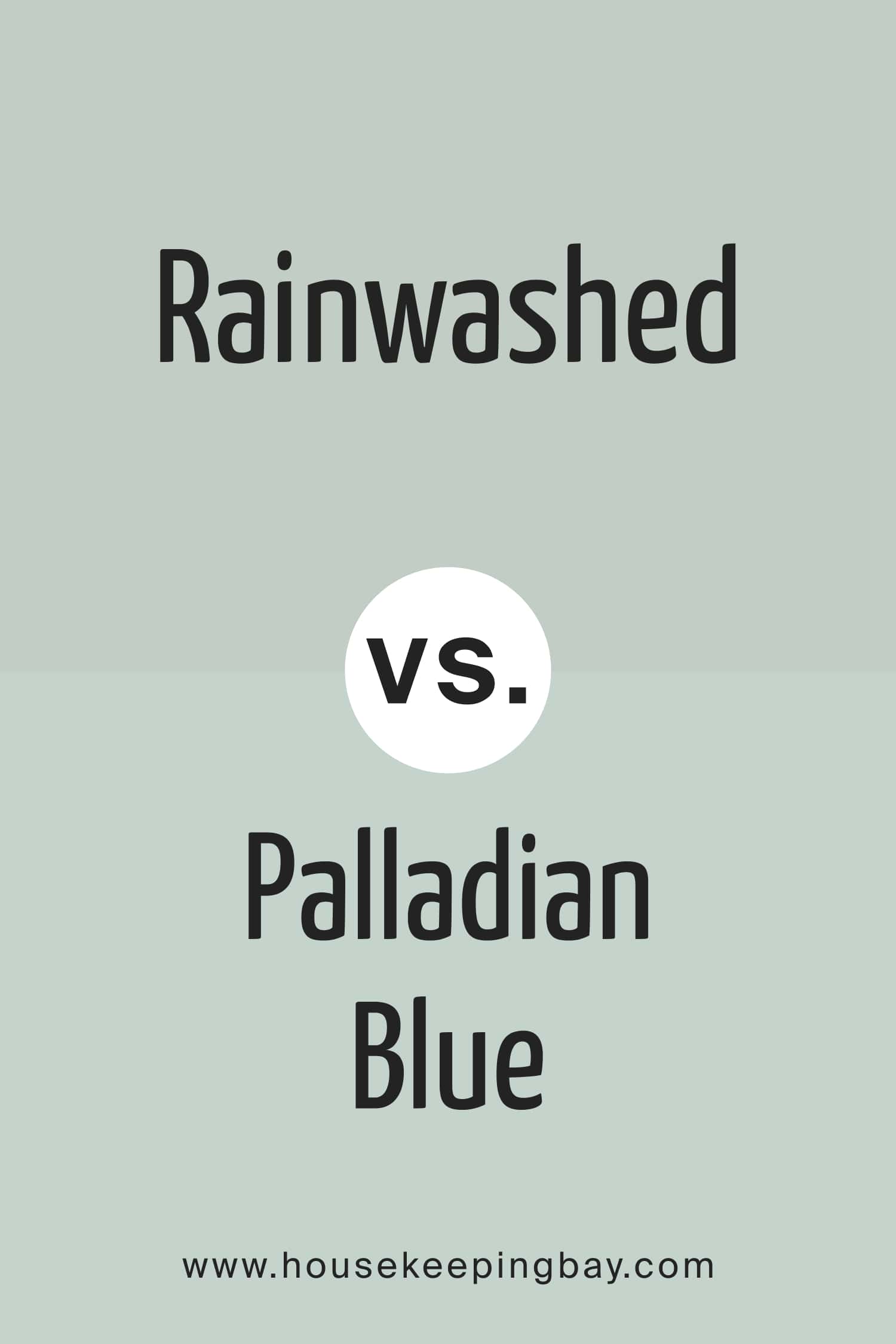 Rainwashed vs Tradewind
These colors are quite distinct. Tradewind reads cooler than Rainwashed. Also, Tradewind is blue that has a gray undertone, whilst Rainwashed is green with a blue undertone. If we compare them side by side, we will see that Tradewind reads clearly bluer and Rainwashed reads greener.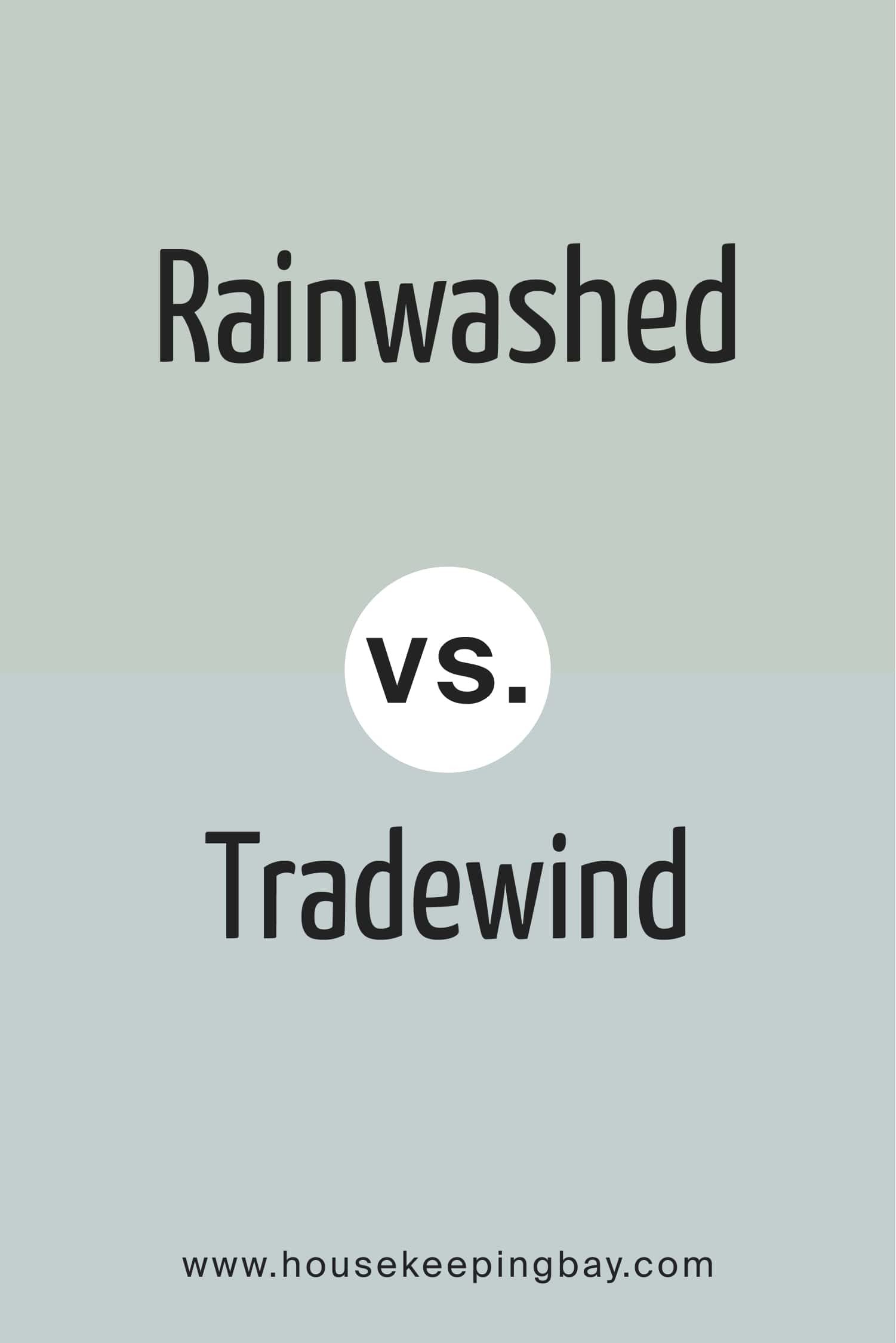 Rainwashed vs Oyster Bay
Both colors are green but Oyster Bay is darker with cool gray and blue undertones. In comparison, Rainwashed reads much lighter with "minty" notes in it. The two look quite nice together, but can only be used interchangeably (e.g. if you need a lighter or a darker green).
Well, now you have a complete and detailed understanding of a beautiful green paint color called rainwashed by Sherwin-Williams. You learned what kind of color it is, what undertones it has, and what LRV it has as well.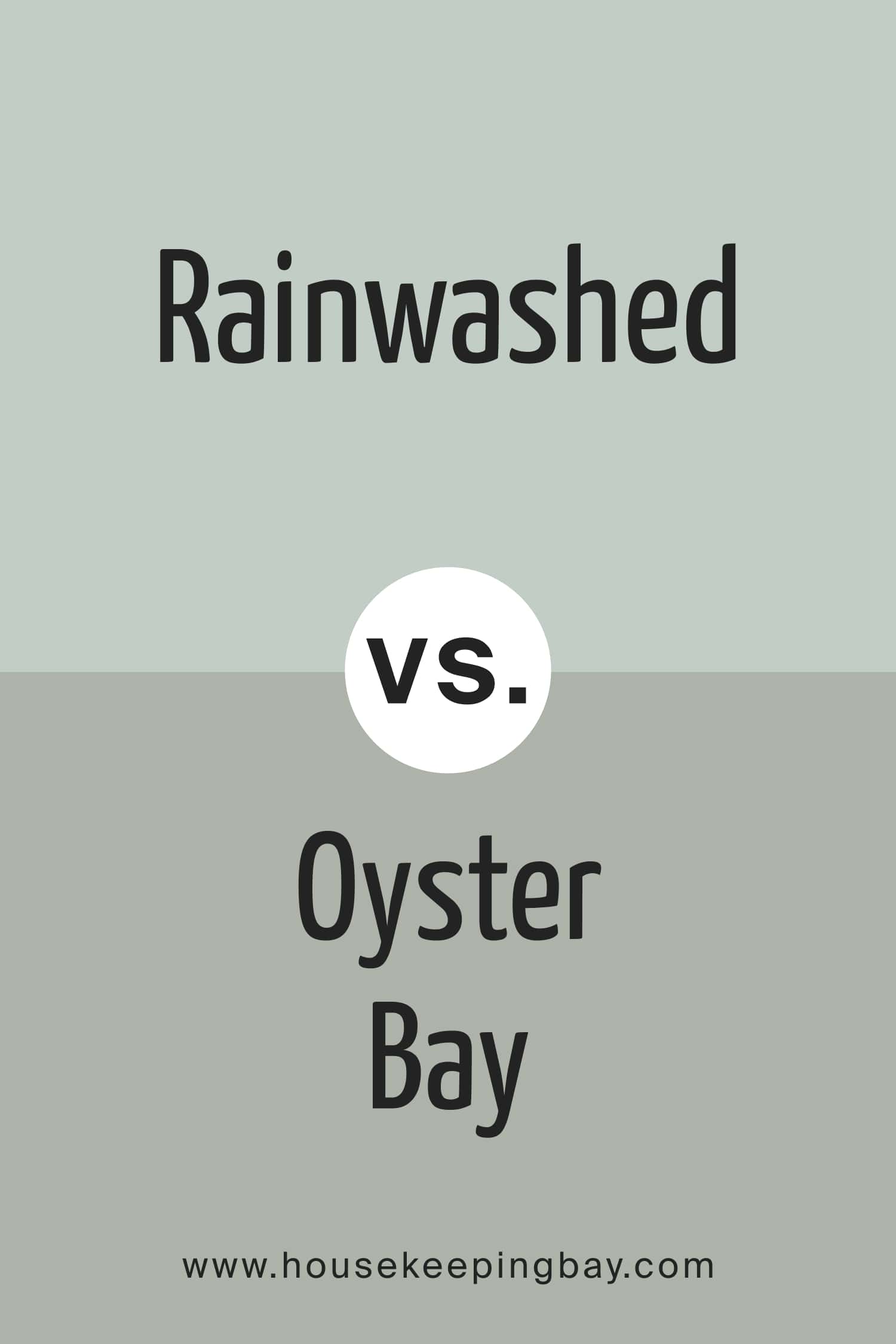 Also, we explained how this color reads in different rooms and lighting, which will help you choose the best area of use for it in your home.
In addition, now you know what colors can be used for trim and what colors you can coordinate with SW Rainwashed best of all. This information will allow you to use this wonderfully calm and natural green in your home to its full power!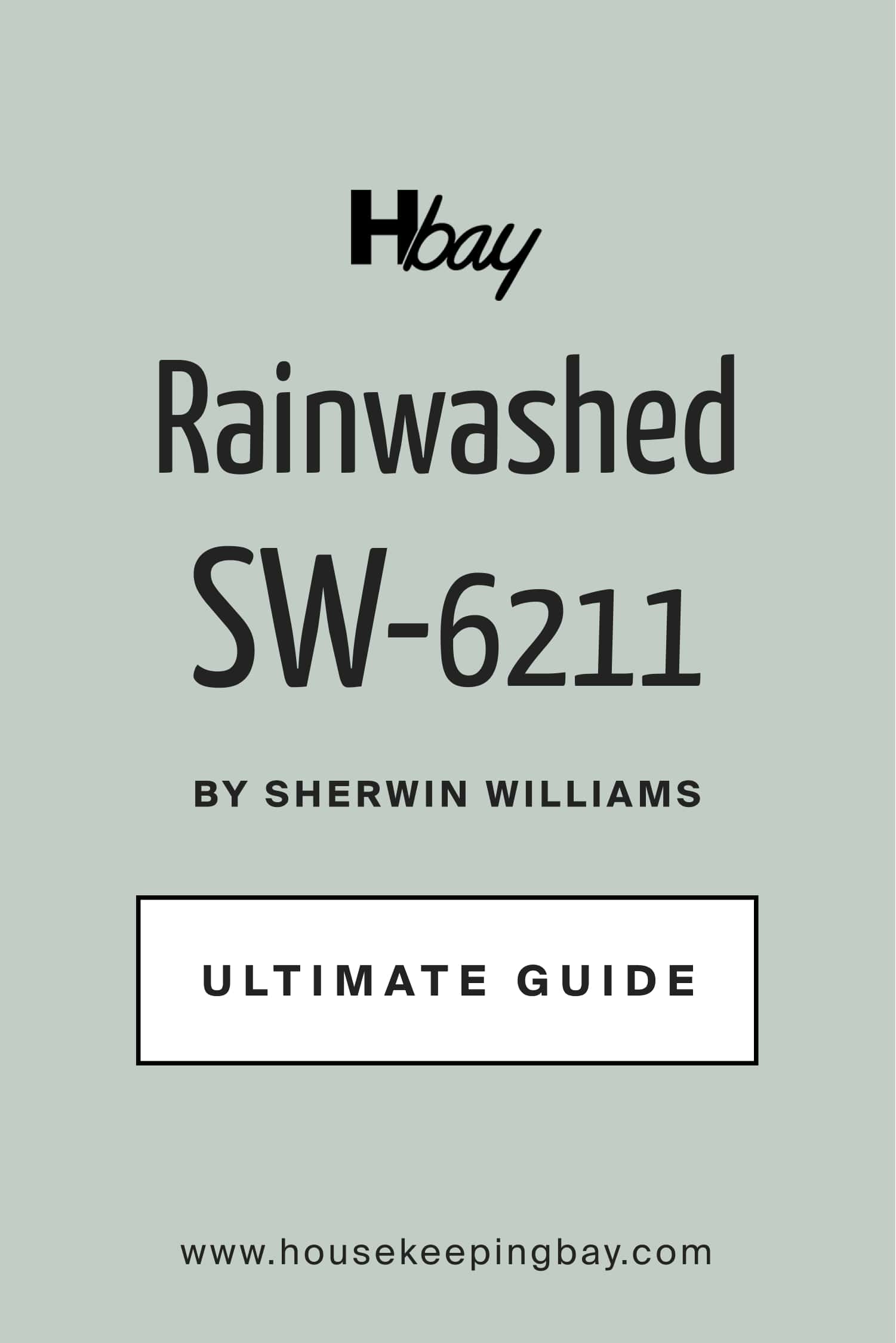 Frequently Asked Questions
⭐Is Rainwashed a popular color now?
Well, Rainwashed is not a hit on exteriors, but it's indeed a hit on interior walls!
⭐War Benjamin Moore colors are the same as Rainwashed or similar?
From the Benjamin Moore colors, you can use Benjamin Moore Palladian Blue (it's very similar) or Benjamin Moore Bali.
⭐What types of colors look great with Rainwashed paint?
You might want to try some warm and cool gray paint colors, as well as greige and a whole range of off-white colors.