People often stay away from gray colors when they choose paint for their home renovation projects. This is often explained by the tendency to lighter and more versatile colors like white or neutrals, for example. Those are easier to use and simpler to combine with other colors in a room.
But today, we would like to tell you about a magnificent gray color by the Benjamin Moore brand. This color is called Chelsea Gray. You will learn what kind of gray color it is, what LRV and undertones it has, and how it may react to different types of light in your home.
Also, we will explain how to coordinate this shade of gray and in what rooms it will work best of all.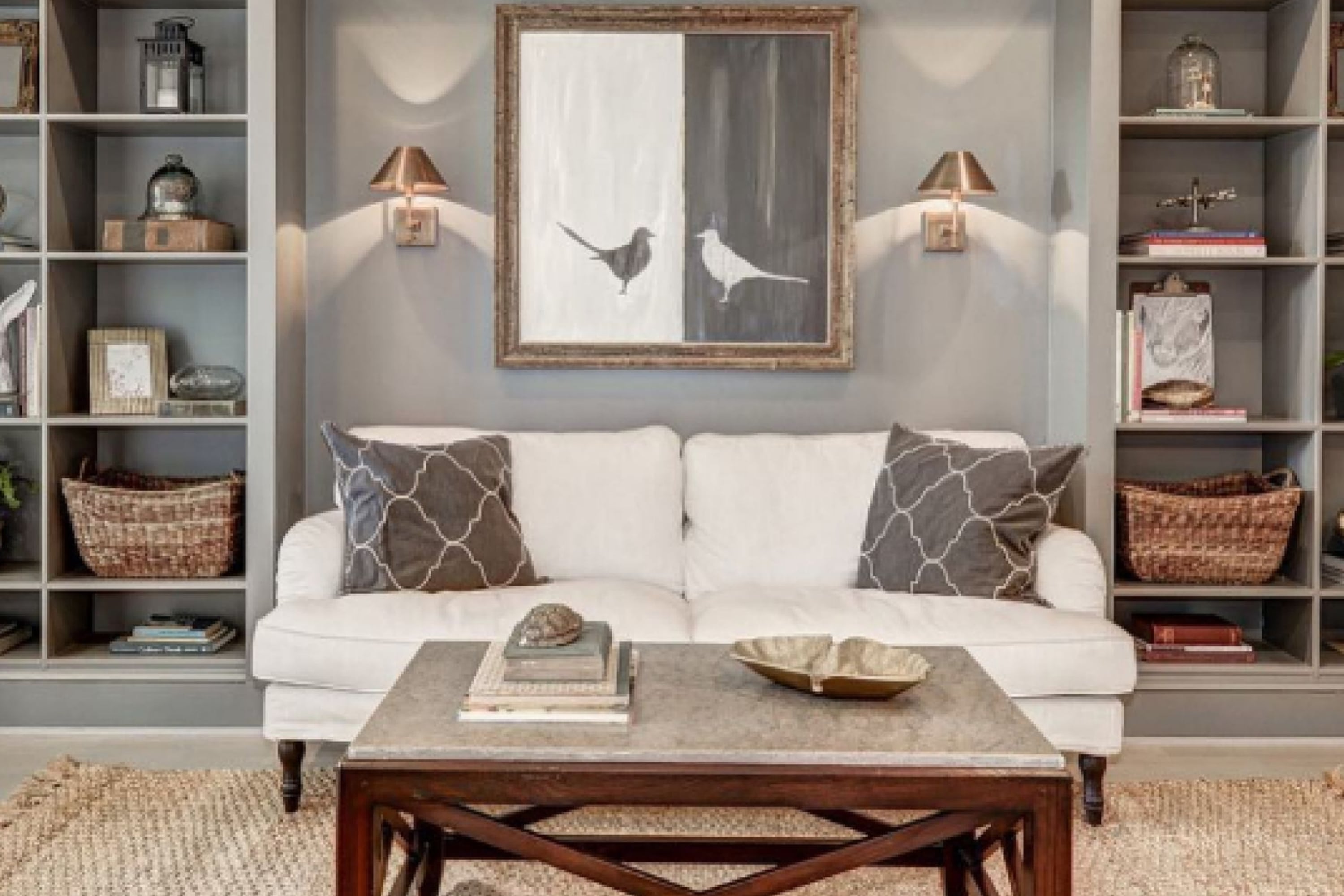 What Kind of Color Is BM Chelsea Gray HC-168?
If you take a look at BM Chelsea Gray paint color , you will see that it is a deep charcoal hue with an earthy tone that has some warmth to it. The color may seem too dark at first, but you should keep in mind that it can easily be made less heavy by adding more light colors like whites, for example.
As Encycolorpedia says, this shade of gray is medium-dark, and it will be suitable for those who love soft and velvety colors. And despite being quite dark, BM Chelsea Gray is very versatile! You can use this gray color on walls, cabinets, and exterior walls, as well as bathroom vanities and kitchen islands.
Be sure that this color will give your home that elegant and sophisticated vibe!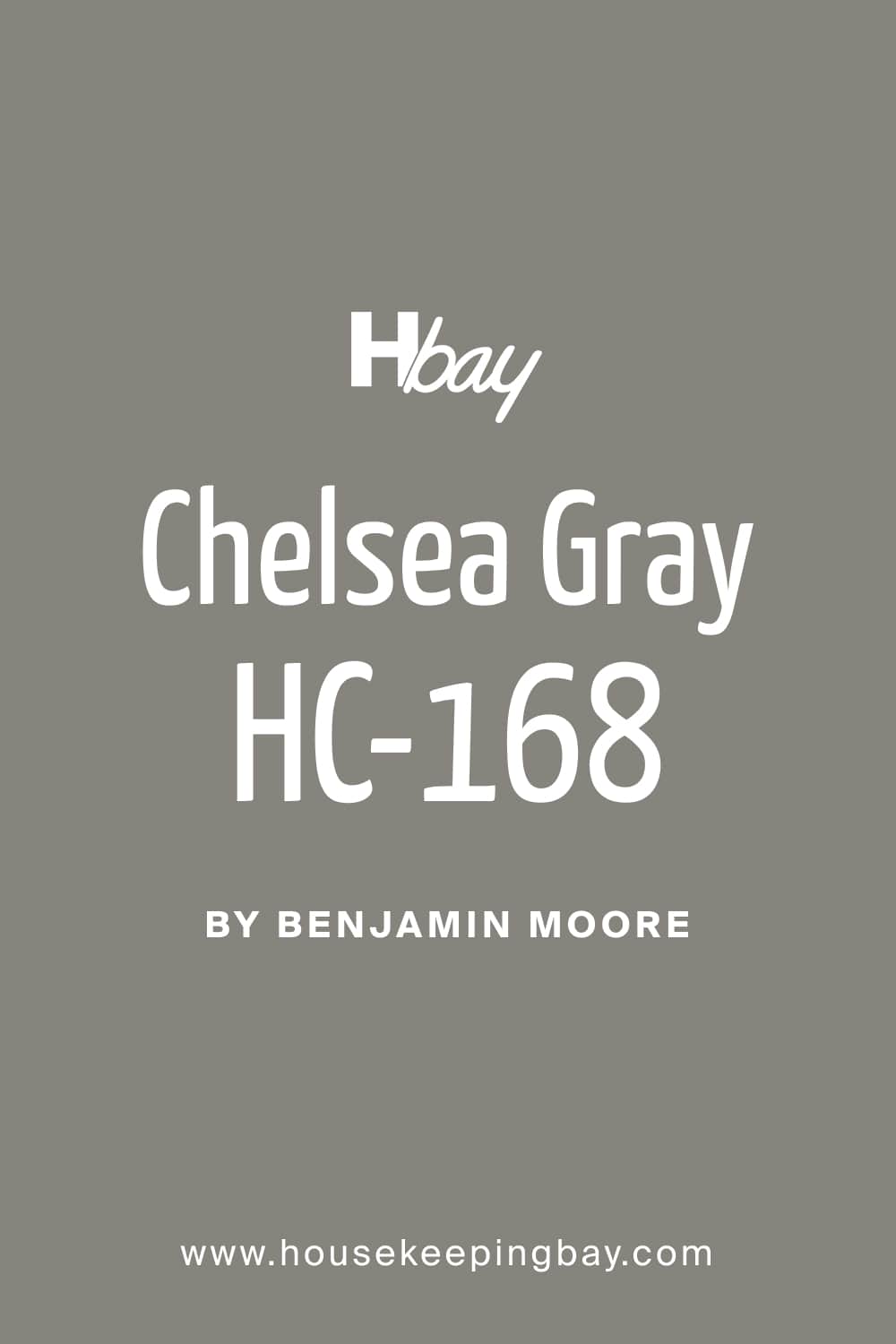 BM Chelsea Gray Color Undertones
As we have already said, BM Chelsea Gray is a warm and rich color. This warmth is achieved thanks to rich brownish undertones, but the color also has cooler violet undertones to it. Although they are secondary, they still keep the color from reading too warm.
However, you should note that these violet/purple undertones can stand out a bit more if you pair this gray color with cool-toned paint colors. Moreover, this gray hue also has the slightest green undertone, which is typically barely seen. However, it can make your exterior appear warmer, depending on how the sun hits it.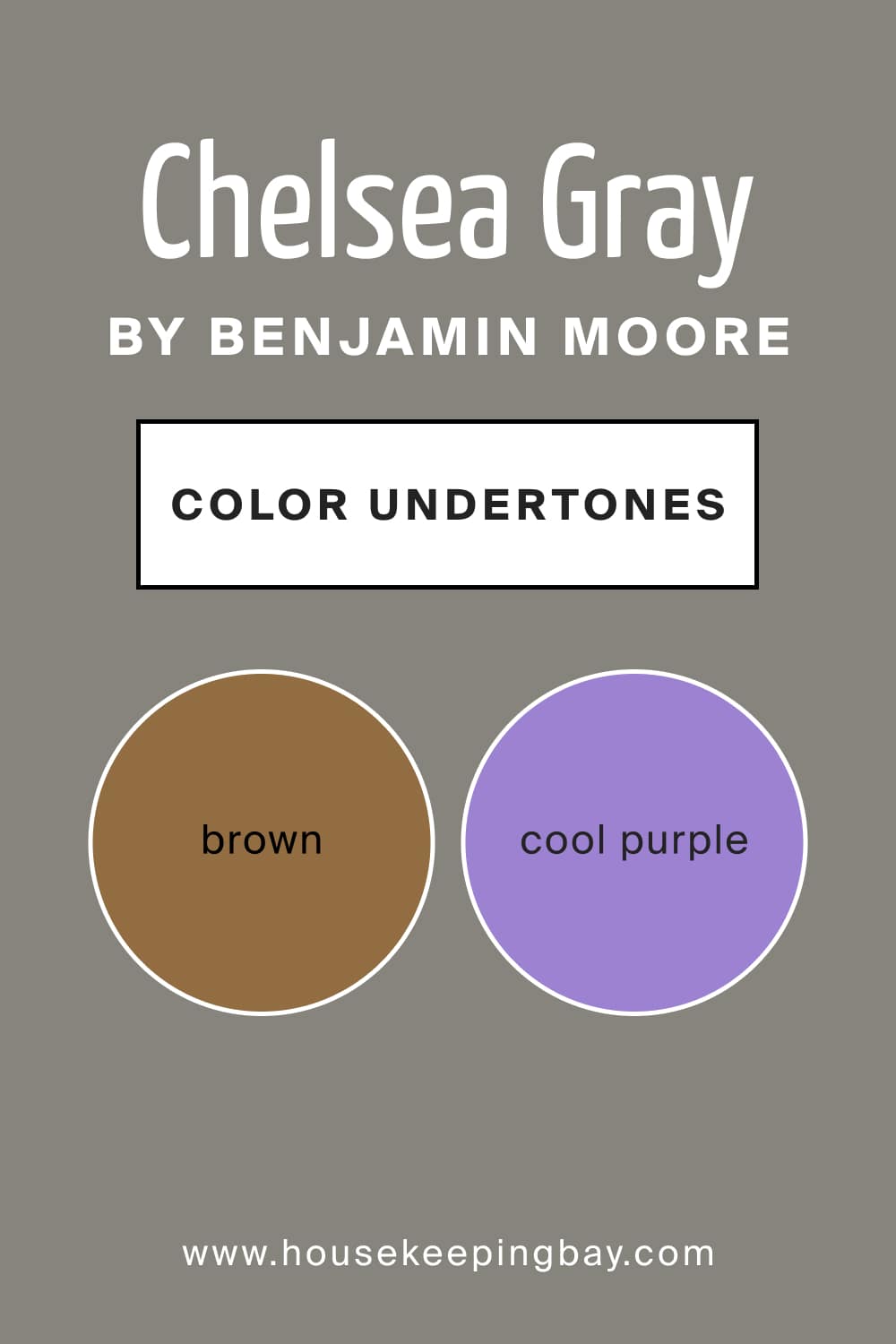 BM Chelsea Gray Coordinating Colors
When you know what colors can coordinate the color used on your walls, you know how to make the entire space read as well-balanced and harmoniously stylish by just using the correct palette. In case you want to have (or already have) BM Chelsea Gray color on your interior walls, consider the following color options as coordinating ones:
BM Concord Ivory
BM Lemon Chiffon
BM Angelica
BM Sanctuary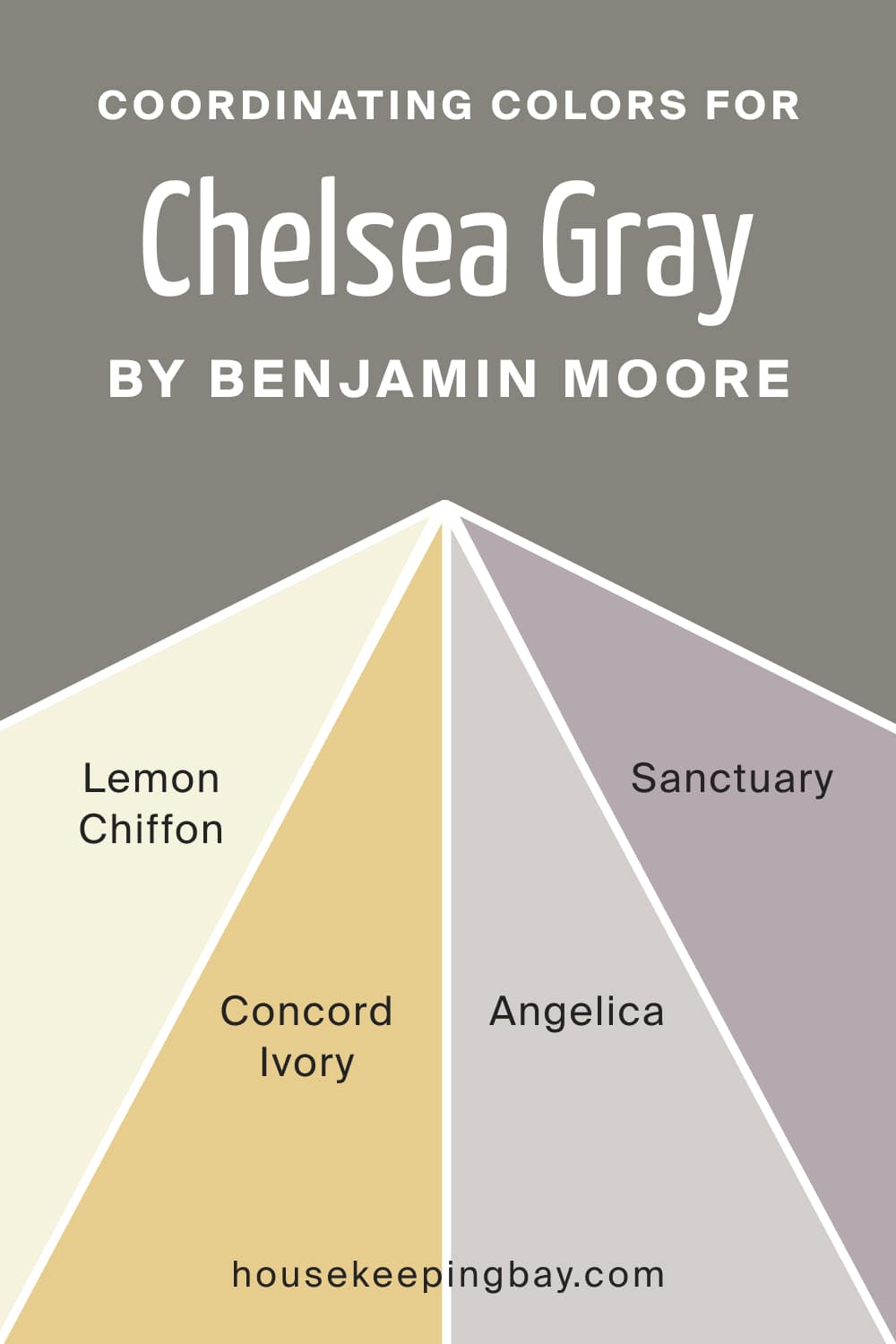 What Is the Best Trim Color For BM Chelsea Gray?
Since BM Chelsea Gray is quite a dark gray color, you want something light on your trim to create a proper contrast. For this purpose, white will be the best option since this color pairs with most other colors.
Since BM Chelsea Gray is a warm color, we would recommend you opt for warmer whites for the trim to create a lovely soft contrast. But you can also use stark whites like the Pure White paint color, for example.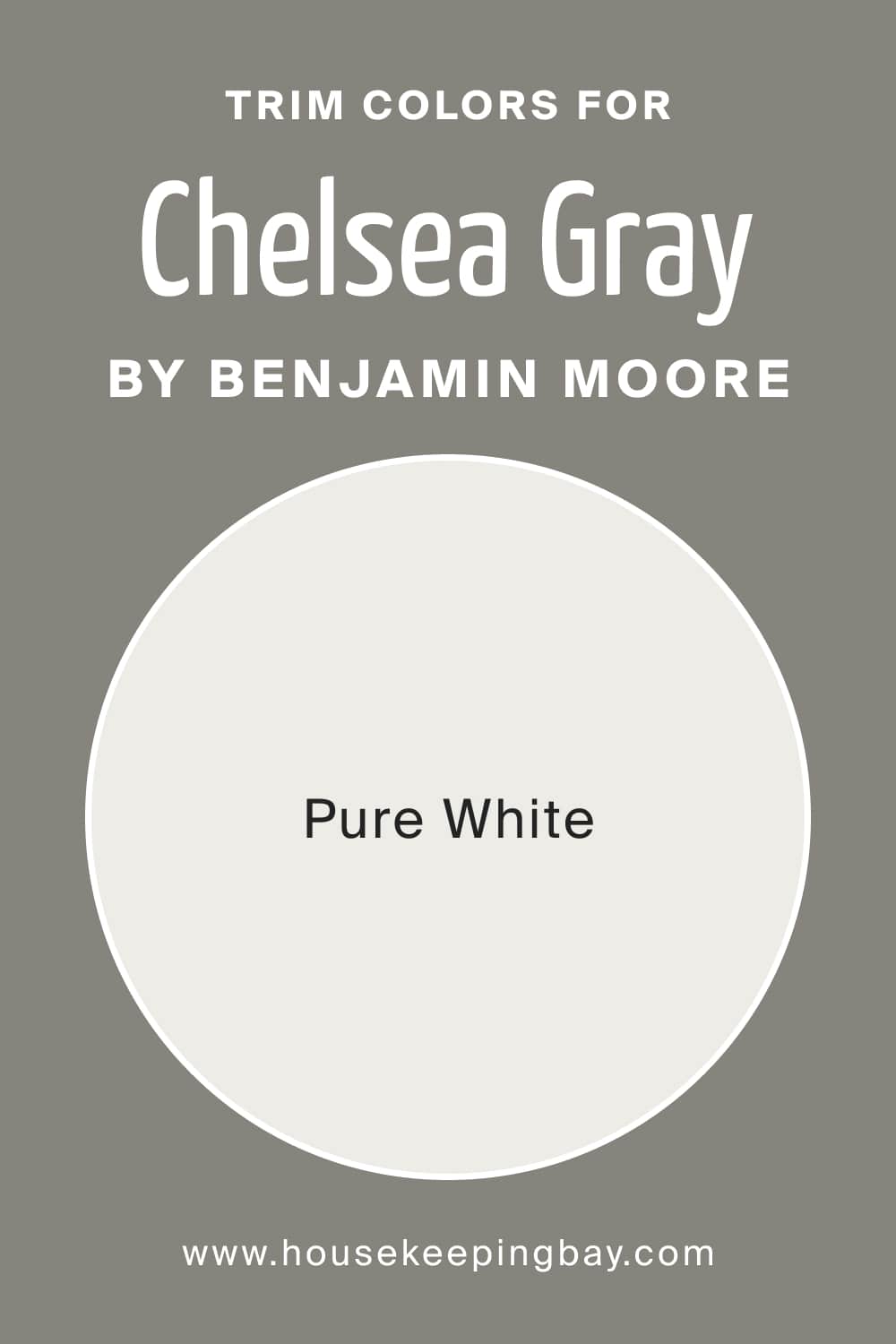 Colors That Go With BM Chelsea Gray
You will be surprised to learn how many colors can be used with this warm and charcoal shade of gray! Except for the apparent color combinations like gray-white or gray-black, BM Chelsea Gray paint color pairs nicely with golden colors.
Also, warm colors like coral, copper, pink, and even red will create great combinations if you pair them with this sophisticated gray.
For example, you might want to consider the following colors to use with BM Chelsea Gray in your home:
BM Chippendale Rosetone
BM White Mountains
BM Wythe Blue
BM Brittany Blue
As you can see, even blue and green colors can work well with this gray, but only if you stick to muted and soft shades.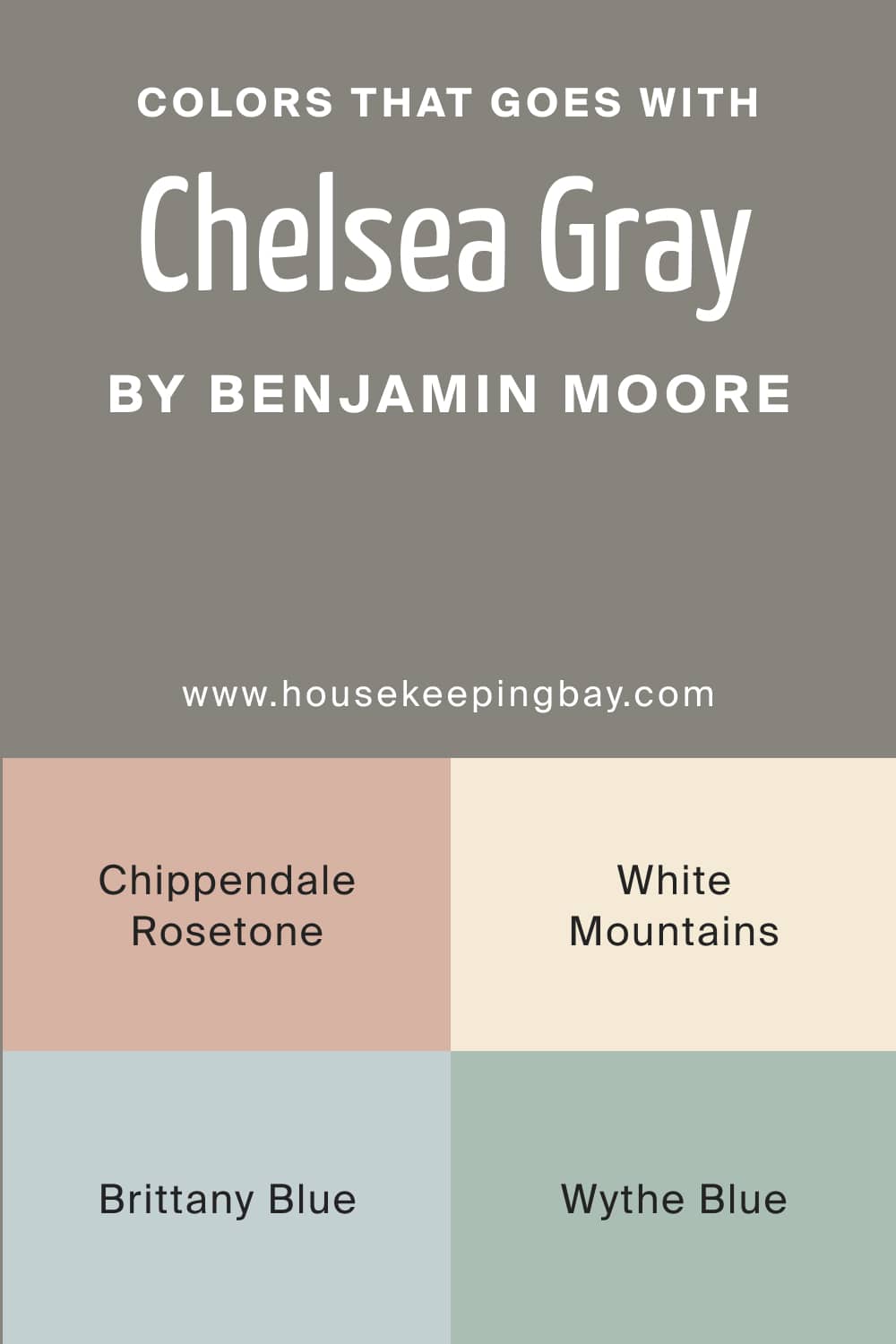 LRV of Chelsea Gray HC-168
BM Chelsea Gray has an LRV of 22.16, which places this gray on the heavier side of the medium-depth range. What does LRV mean? It is a measurement that shows how much light a color can reflect when it is applied to the wall.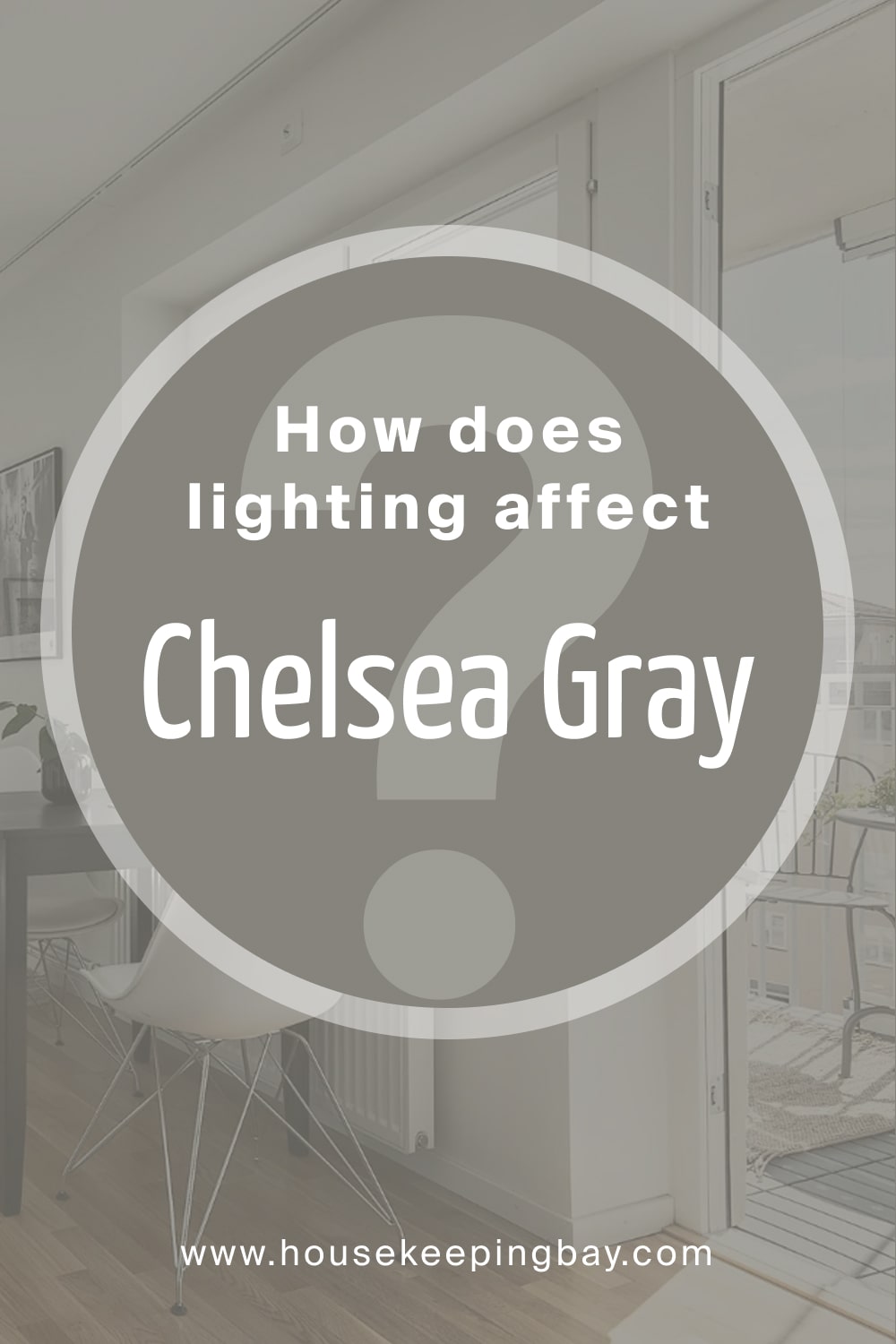 Depending on the percentage of reflected light, the color is considered light, medium, or dark. On the LRV scale that ranges from zero to 100, zero stands for black, and 100 stands for pure white.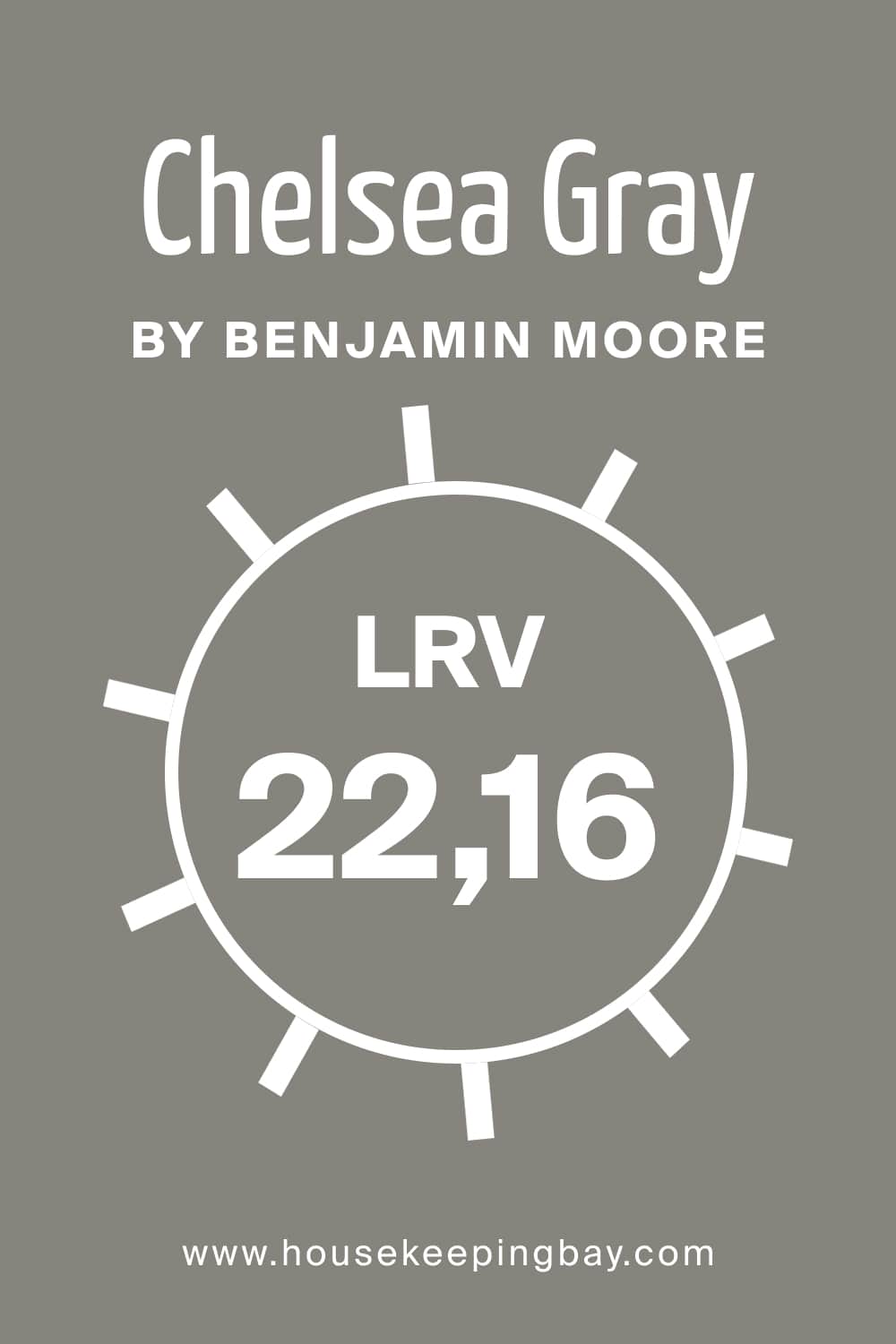 What is LRV? Read It Before You Choose Your Ideal Paint Color
Paint Colors Similar to BM Chelsea Gray
Chelsea Gray by Benjamin Moore is a versatile shade of gray. It can easily adapt to different color schemes and design styles. Thanks to such versatility, you can incorporate it into almost any home.
But, if you are not sure that it is precisely the color you have been searching for, there are a few alternatives you might consider:
BM Dolphin
BM Secret
BM Eagle Rock
BM Squirrel Tail
BM Amherst Gray
Any of these colors can be used instead of BM Chelsea Gray successfully, but we still recommend you sample the color before applying the paint to the walls.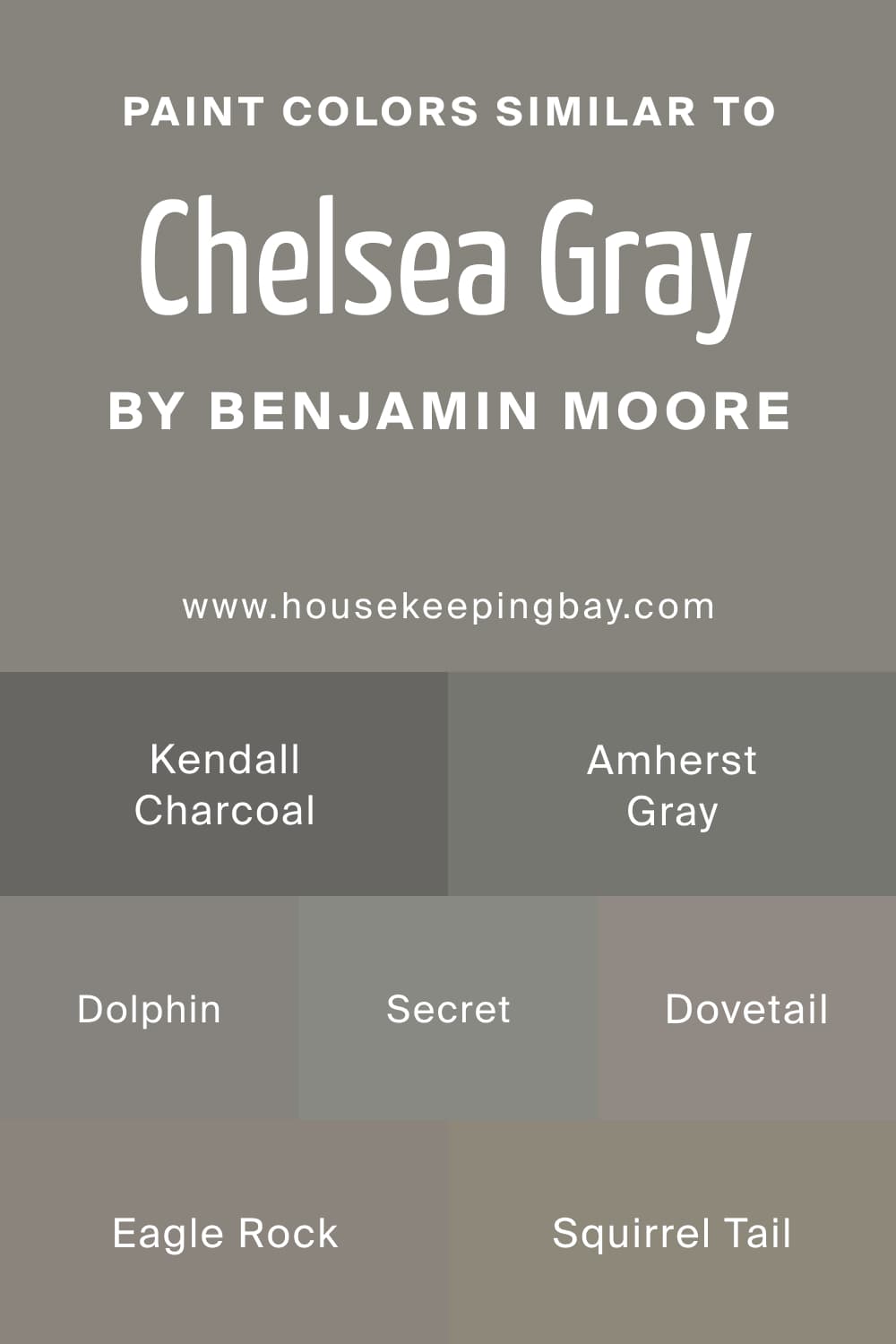 Where to Use Chelsea Gray HC-168 Color In Your Home?
BM Chelsea Gray is versatile not only in terms of its ability to work with other colors in a room successfully. This charcoal and warm-toned gray can also be sued in many rooms and areas of your home! Below, you can check out where exactly.
Chelsea Gray HC-168 in the Living Room
For a living room, this color is a win-win option if you strive for a sophisticated and elegant look. BM Chelsea Gray creates a noble vibe, especially if you pair it with golden decor elements like handlers, lamps, or candlesticks. You should only consider the light in the room! In a poorly lit space, this gray may read darker than it is, making the room look and feel smaller and heavier.
Luckily, if this is your case, you can fix that by adding more whites (e.g., white carpet, white ceilings and trims, white cushions, etc.).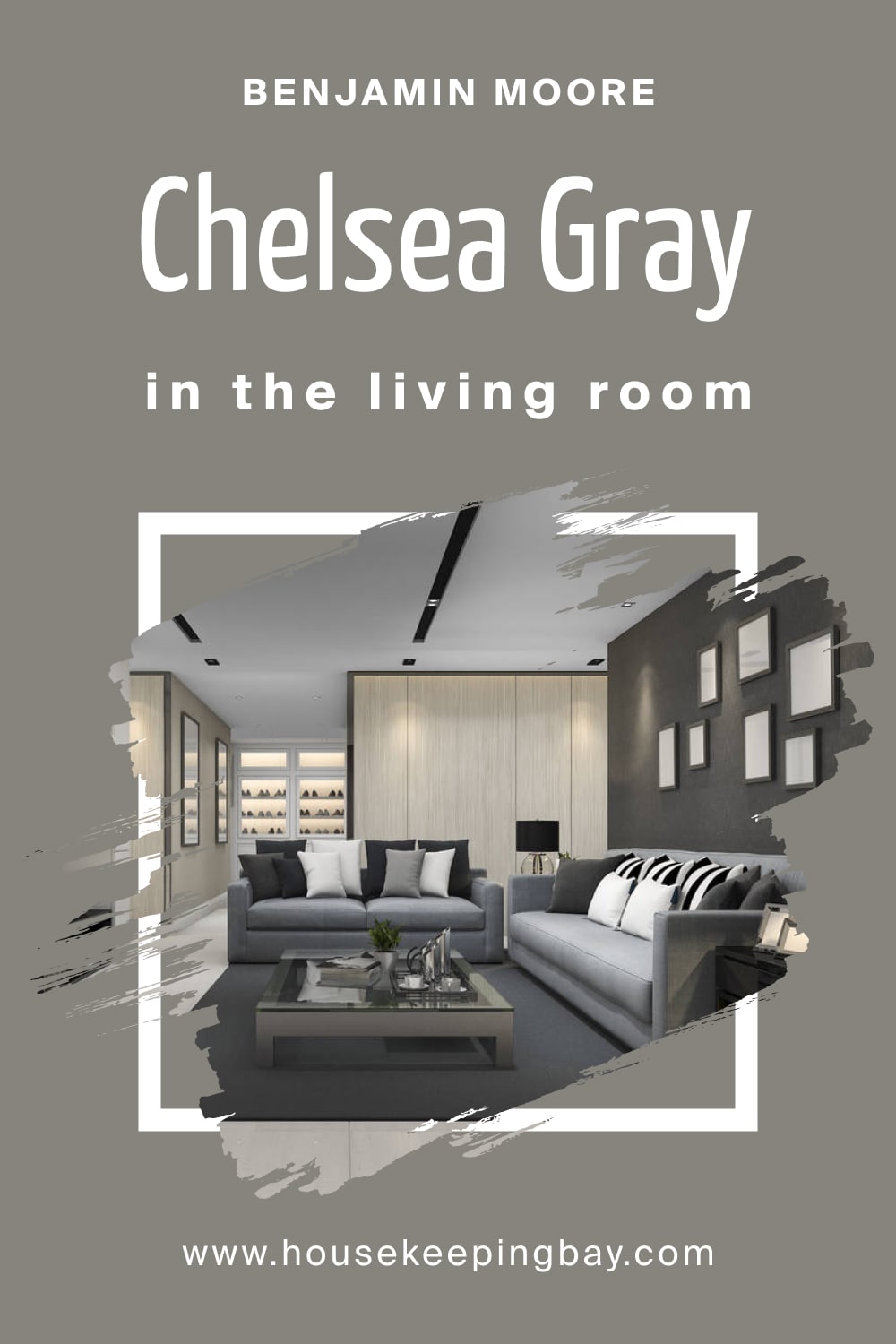 Chelsea Gray HC-168 for the Bathroom
You might think gray is not a suitable color for bathrooms, but BM Chelsea Gray can prove you the opposite. This soft and warm gray will look marvelous on bathroom walls if the room is large enough and has enough natural light.
But even in a smaller bathroom, you can paint the walls white and use BM Chelsea Gray on your vanity sink or cabinets to add chic!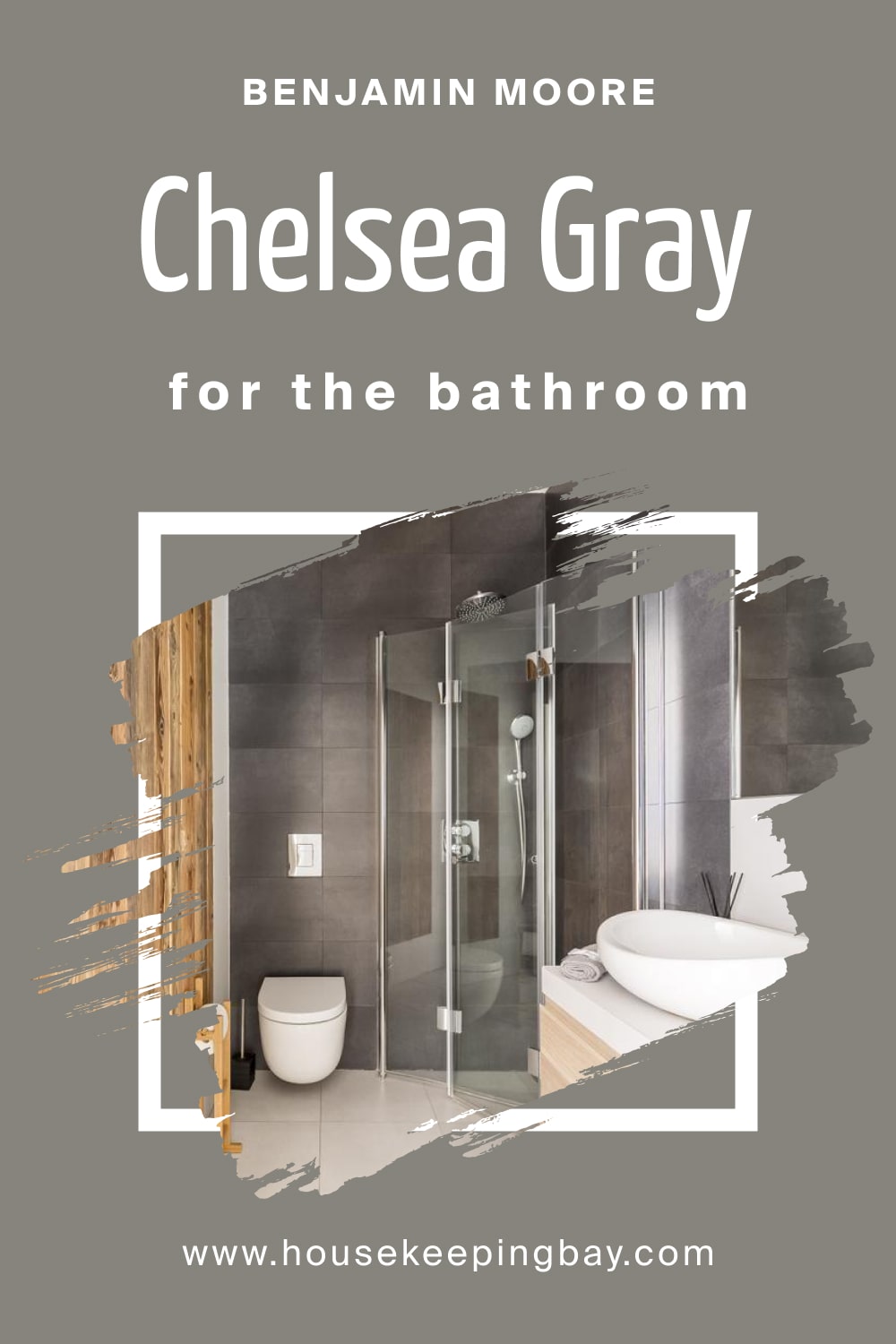 Chelsea Gray HC-168 and Bedroom
BM Chelsea Gray can work perfectly well in your bedroom if you pair it with lots of warmer whites. It is essential to use colors that are also moderately warm-toned! If you pair this gray with cool-toned colors, BM Chelsea Gray will also read cooler, making your bedroom feel less cozy and more formal!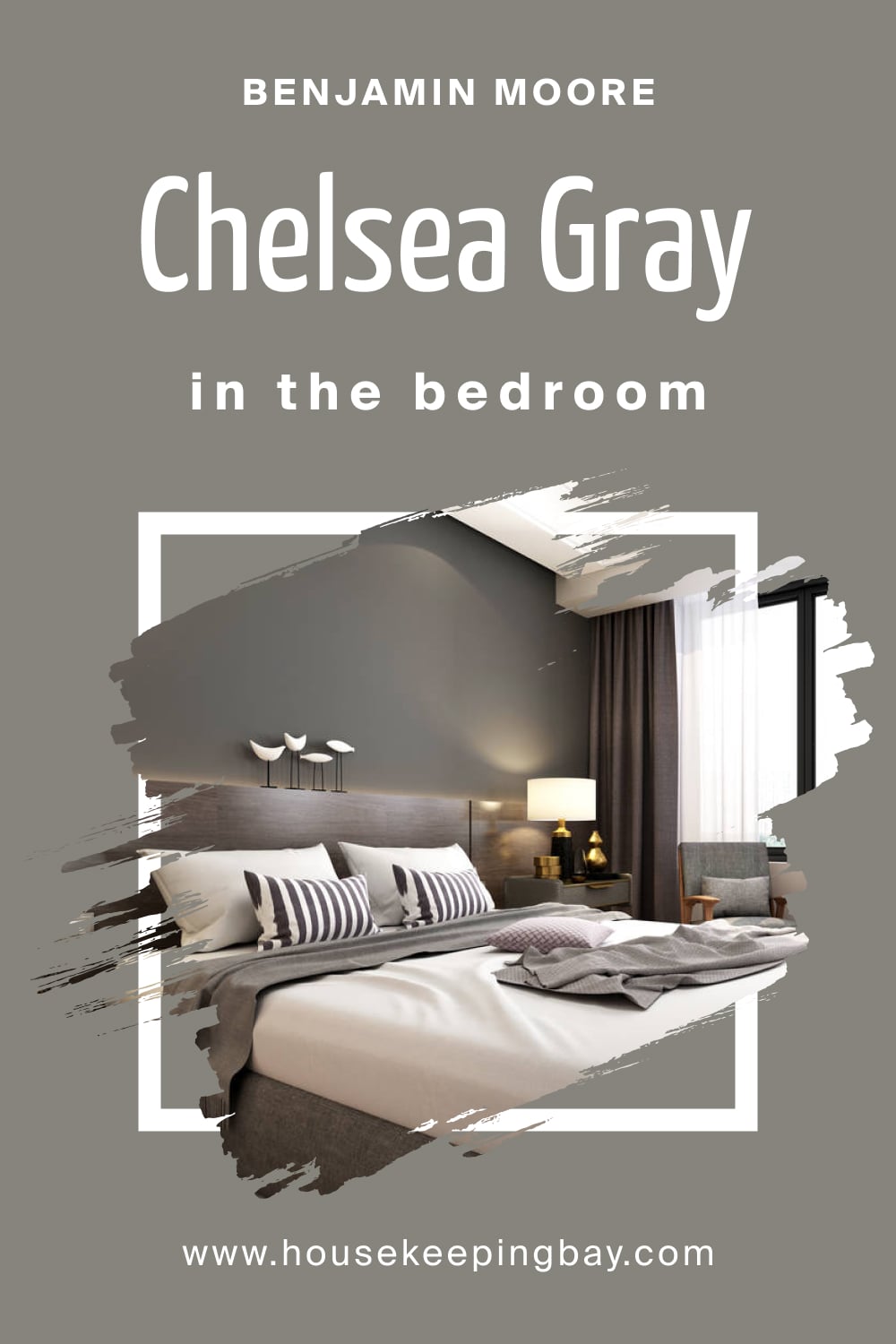 Kitchen/Kitchen Cabinets of Chelsea Gray HC-168
For a kitchen, this color may work nicely if you have a warm-toned white on the walls that coordinate well. In this case, BM Chelsea Gray will look fantastic with the white walls and brass kitchen hardware. Also, don't hesitate to use this color if you have wooden furniture in your kitchen! BM Chelsea Gray pairs with many textures and materials!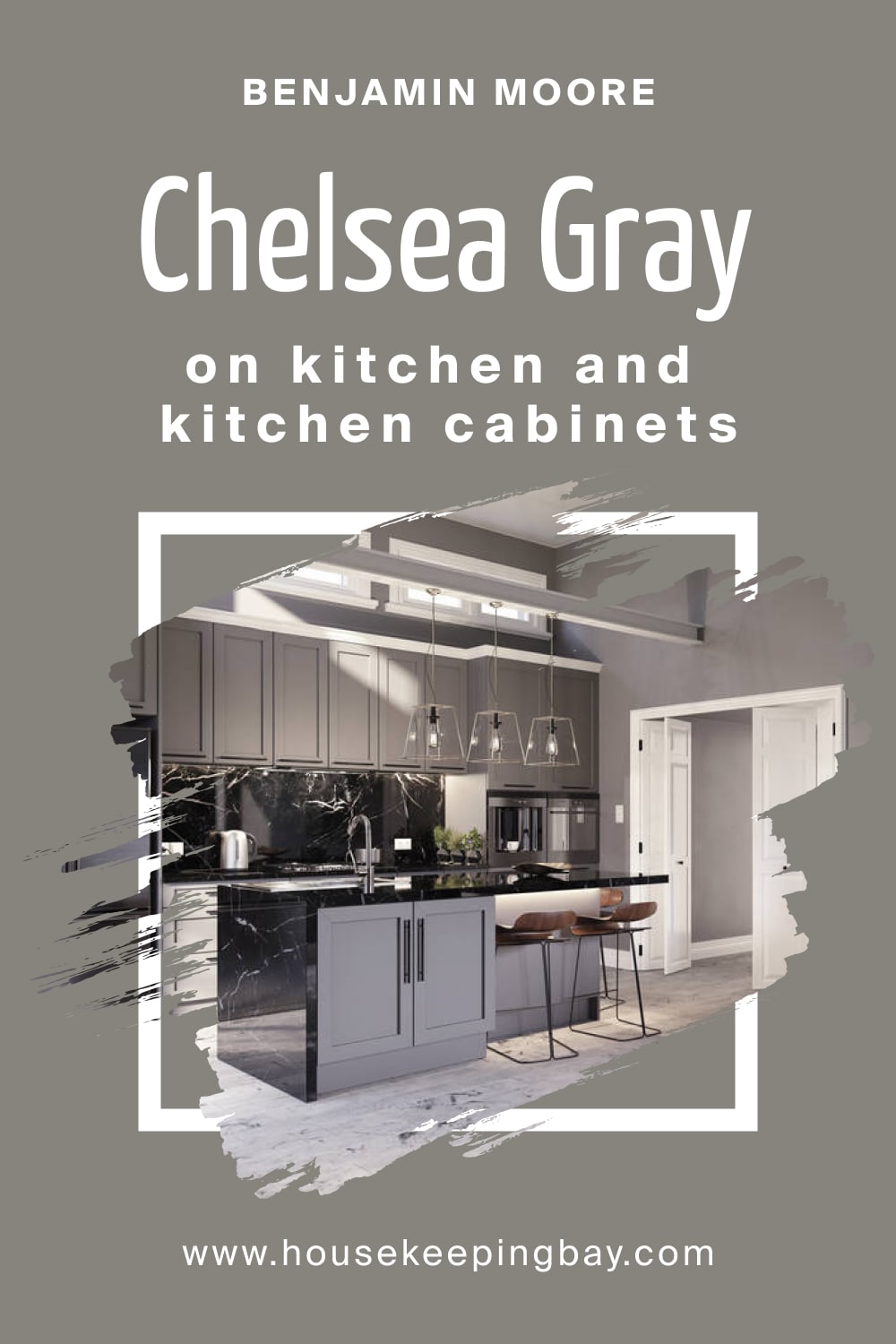 Chelsea Gray HC-168 for the Exterior Use
Chelsea Gray by Benjamin Moore is an excellent color choice to be the primary color on any exterior. Also, it looks great on any texture, so you should not worry about the material of your walls.
There is another benefit of using this color on exterior walls. BM Chelsea Gray is a fabulous hue for an exterior that's one solid color! Because of its depth, this gray paint color pairs well with natural elements like stone, wood, and iron.
Now you know more about the specifics of BM Chelsea Gray paint color that can help you use it correctly in your home. Let's check out now what makes it distinct from similar shades of gray.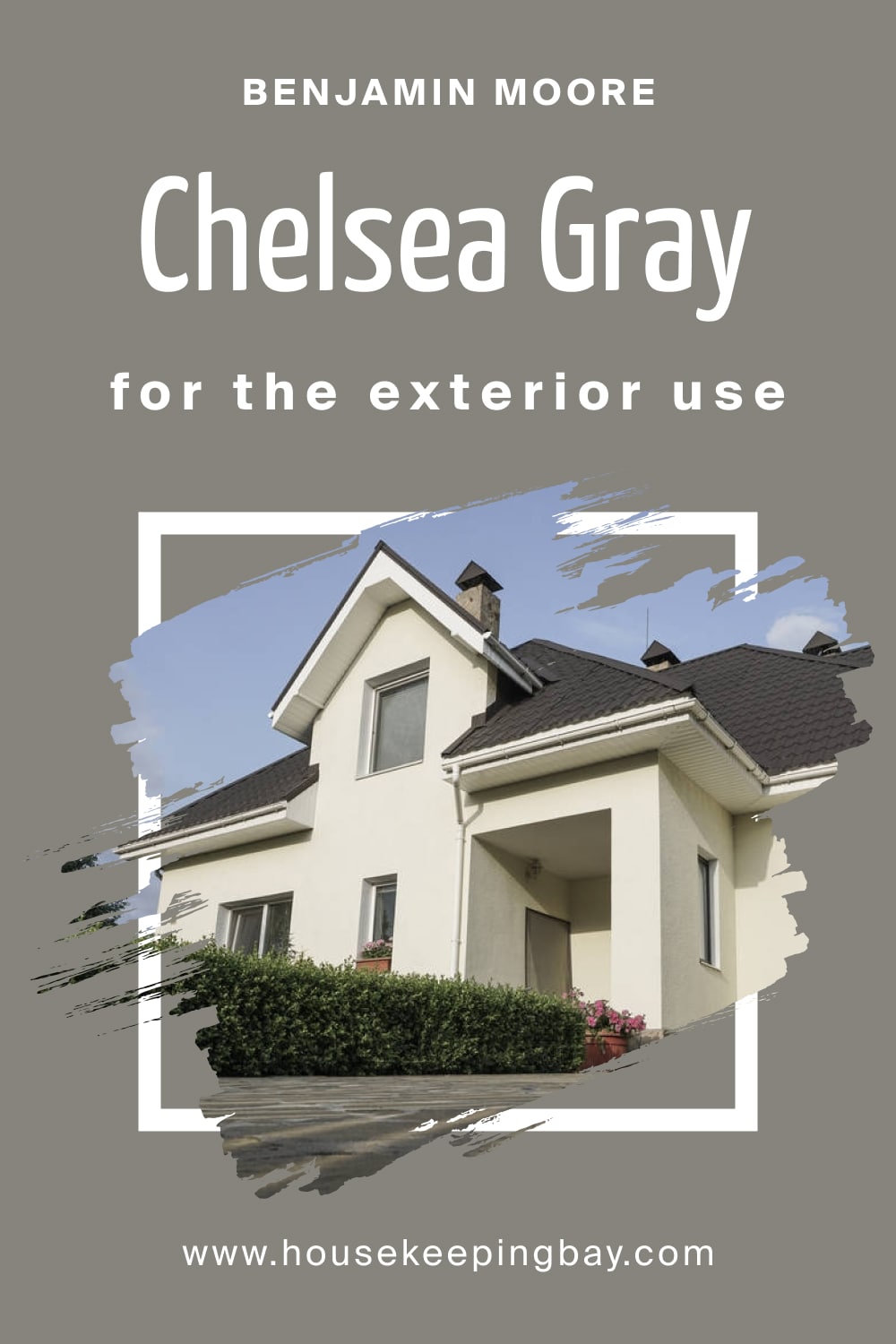 Comparing BM Chelsea Gray With Other Colors
There are so many shades of gray paint color that people often can't figure out which one could be more suitable for their home. This is why below we have compared BM Chelsea Gray with several other grays to help you see the differences better.
Chelsea Gray vs. Kendall Charcoal
In this pair of colors, Kendall Charcoal is like a more highlighted and enhanced version of Chelsea Gray. It is also a medium-dark warm gray with some brown mixed in. However, Kendall Charcoal is darker and has more brown than its counterpart.
When you look at Chelsea Gray by Benjamin Moore, it looks like gray, but Kendall Charcoal is definitely closer to the smokey charcoal territory and is a richer color.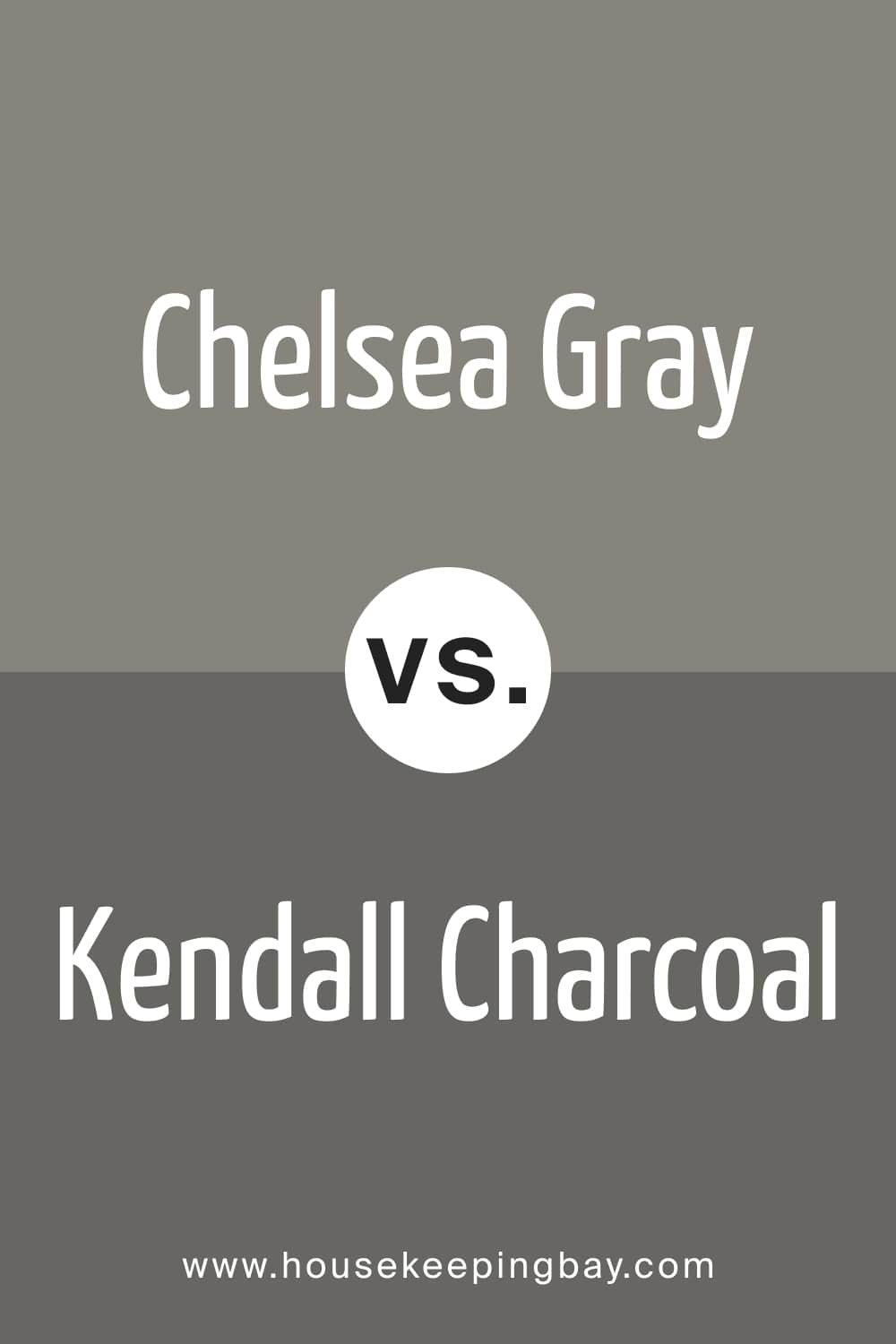 Chelsea Gray vs. Gauntlet Gray
From these two, Gauntlet Gray is darker and browner than BM Chelsea Gray. In fact, Gauntlet Gray reads deep and chocolate brown, which is why folks often think it actually is brown! In addition, Gauntlet Gray has violet undertones that are more pronounced than a violet hue in BM Charcoal Gray.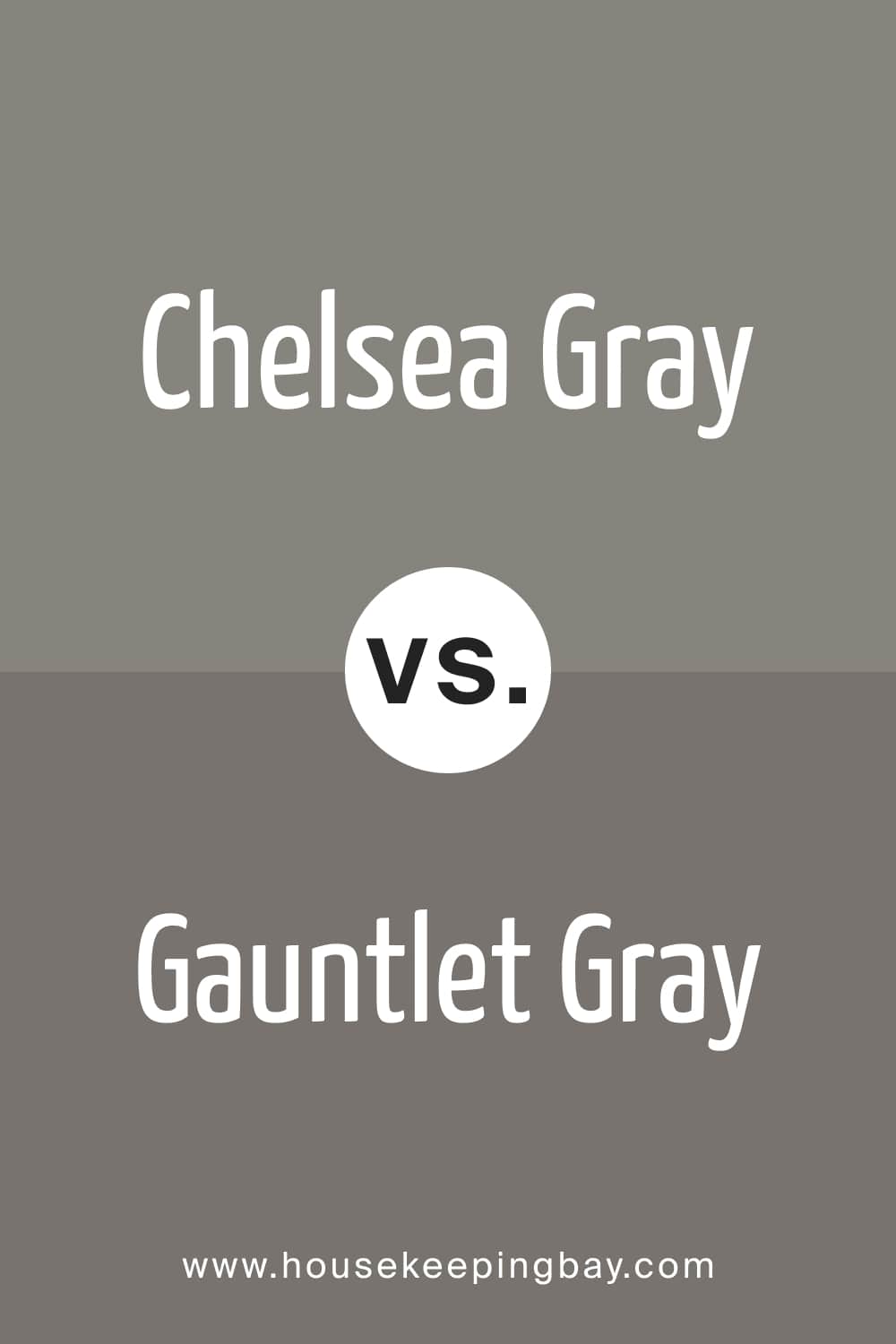 Chelsea Gray vs. Dorian Gray
These are pretty similar in terms of undertones since the Dorian Gray color also has a trace of purple in it, may read a bit brown, and can also pick up some green. However, compared to BM Chelsea Gray, it reads less dark and brown, revealing its purple hue more prominently.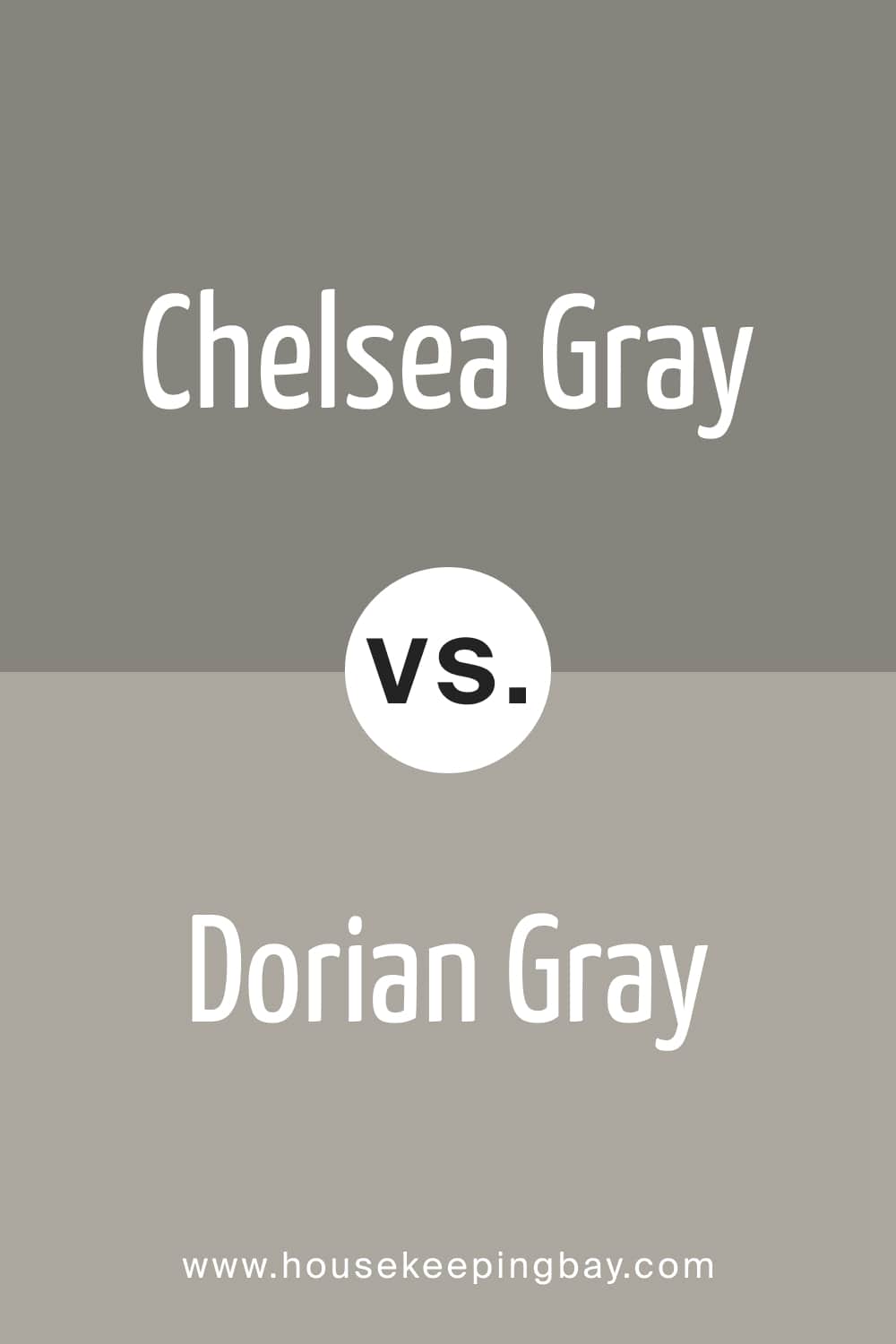 Chelsea Gray vs. Mindful Gray
SW Mindful Gray color has gray and greige undertones and some very subtle bluish/green undertones. Compared to BM Chelsea Gray, it reads lighter, and its greige and blue undertones are better seen. BM Chelsea Gray looks much darker and browner on the other side.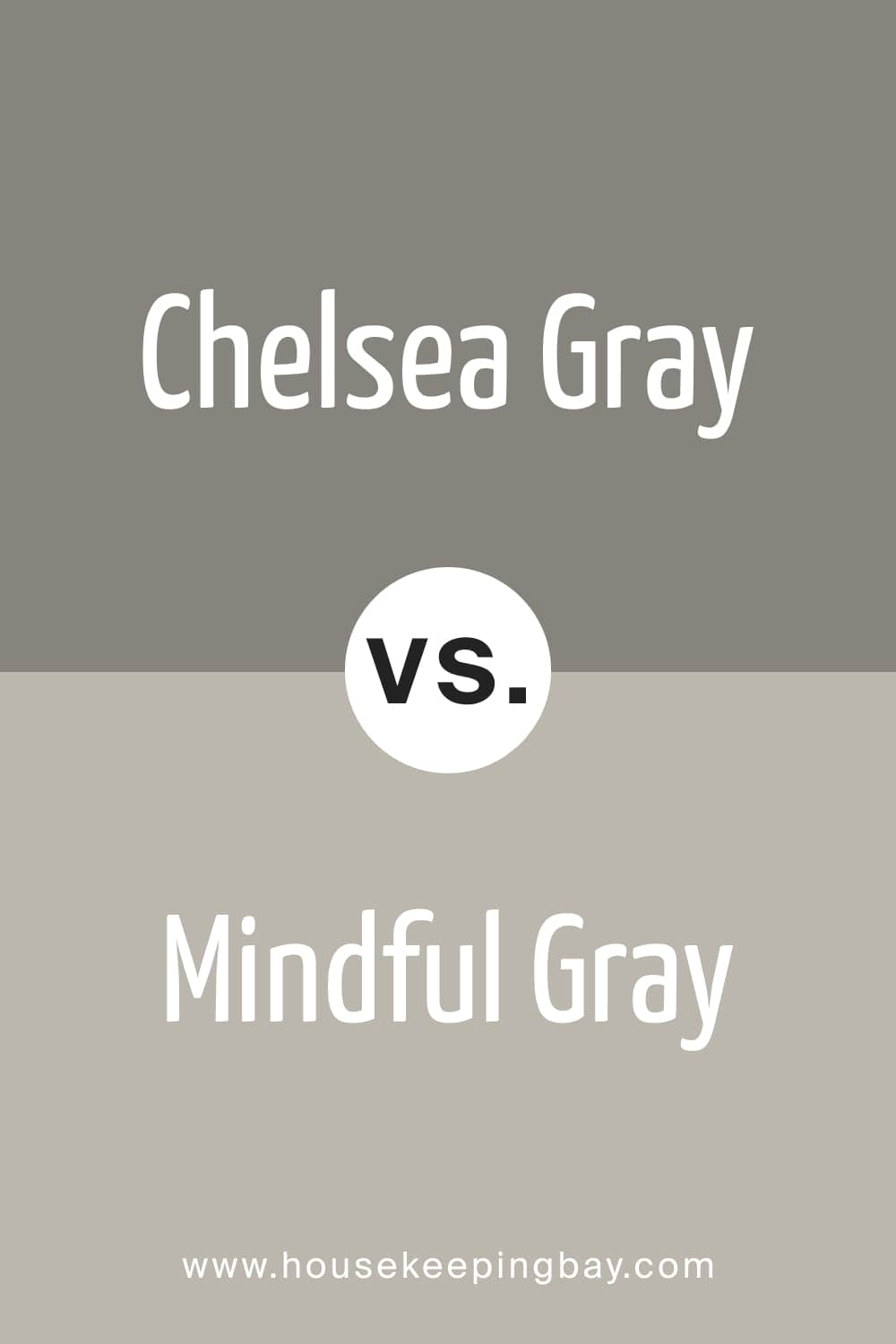 Chelsea Gray vs. Dovetail
SW Dovetail has gray-brown undertones, whilst BM Chelsea Gray has brown and slight violet undertones with a slight hue of green. If you put these colors side by side, you will see that BM Chelsea Gray reveals its green side more and SW Dovetail reads much browner.
Chelsea Gray vs. Repose Gray
SW Repose Gray has blue and slight violet undertones, but they are very minimal. Compared to BM Chelsea Gray, this color reads lighter, and its bluish nature is seen pretty well. Next to this color, BM Chelsea Gray also shows its cool-toned undertones more prominently.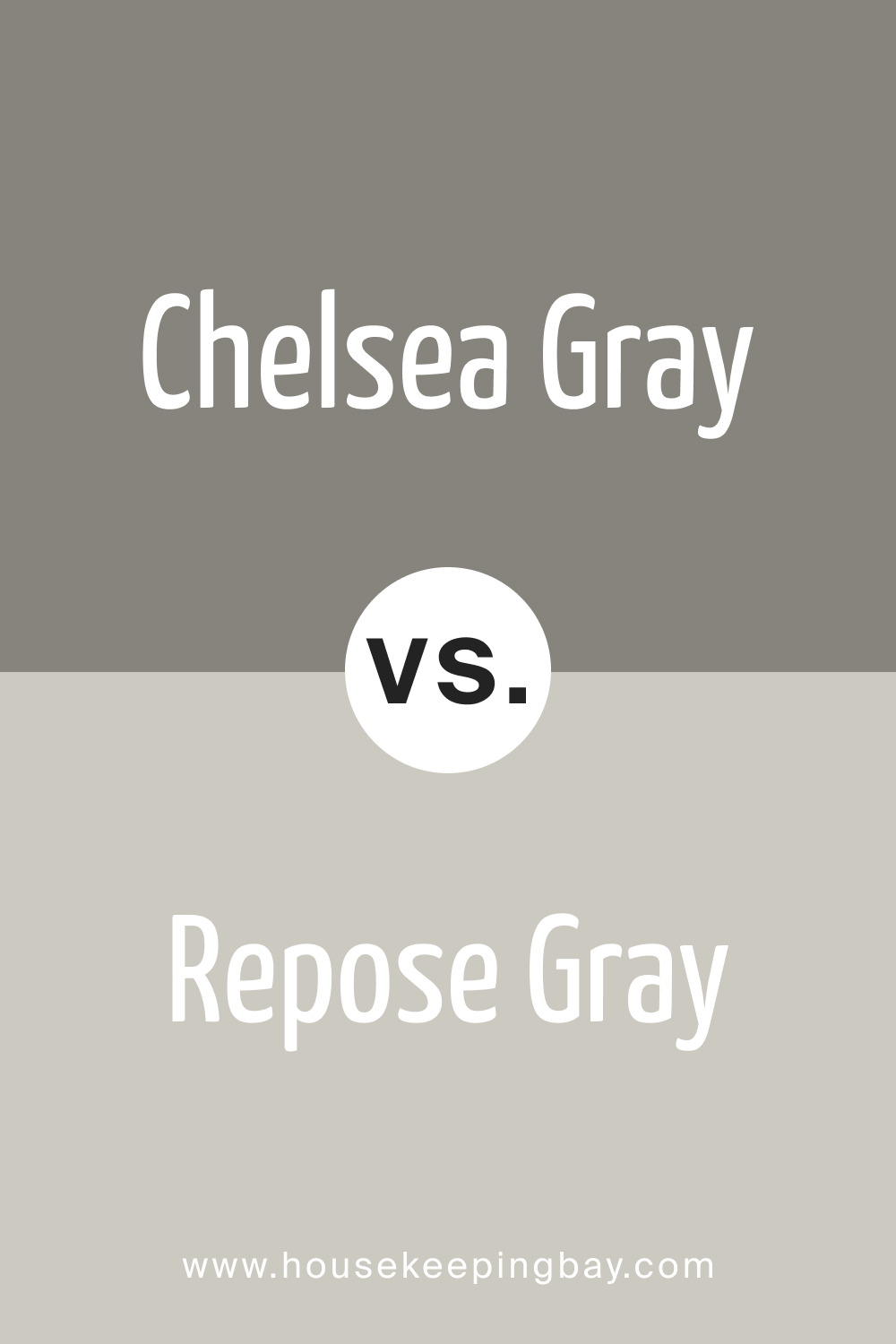 Now you know all about the paint color called Chelsea Gray by the Benjamin Moore brand. With all the information we shared, you can use this color correctly in your home interior and incorporate it into almost any room and color palette.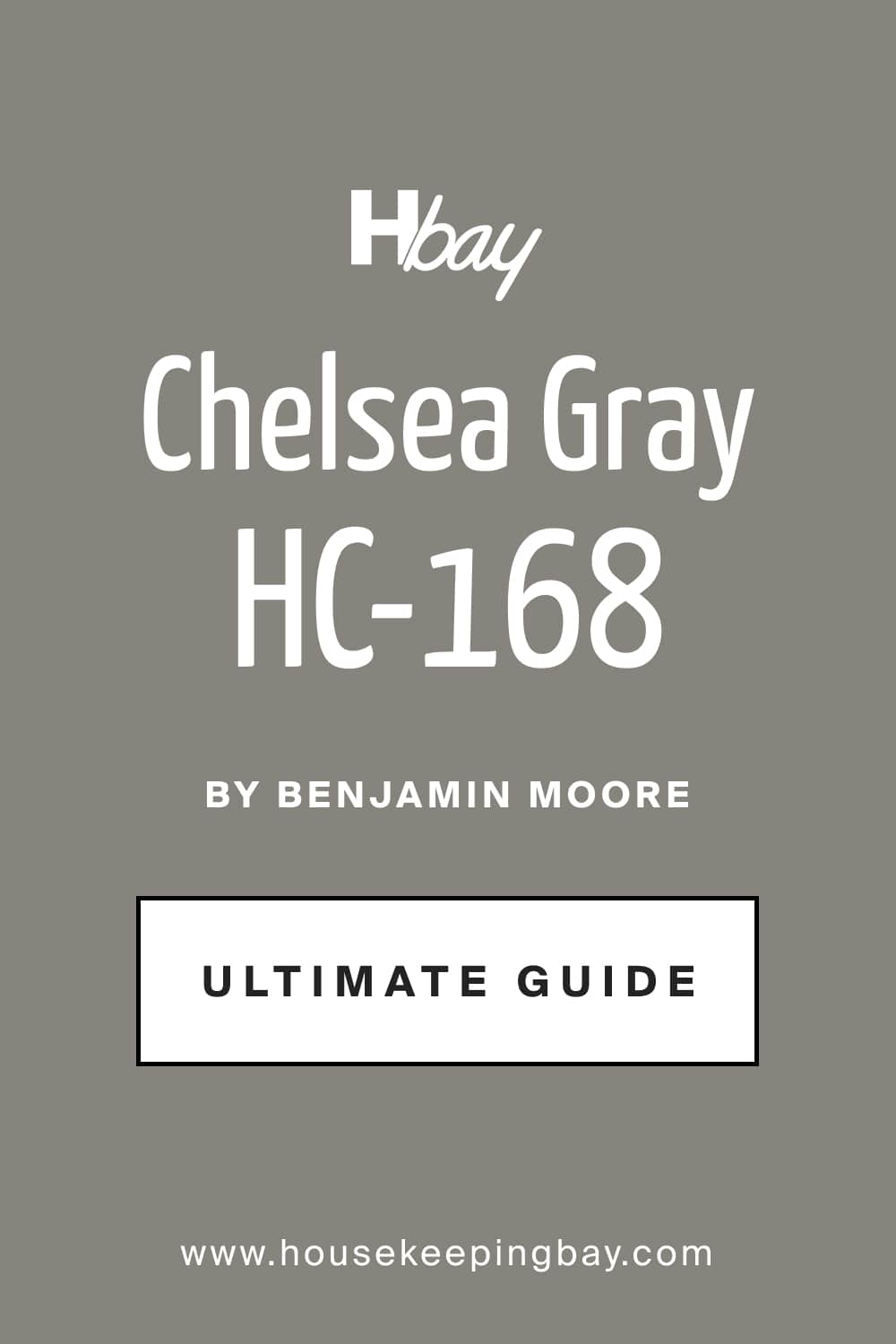 Frequently Asked Questions
⭐Is BM Chelsea Gray too dark?
No, it's not too dark. But the color is pretty deep and rich charcoal gray.
⭐Will BM Chelsea Gray look good with brass elements in a room?
Yes, warm brass tones will make this gray read a bit warmer and highlight its soft depth.
⭐Does BM Chelsea Gray look good with yellow?
If it's a muted and soft yellow, then this color combination might work.