Neutrals may seem easy to incorporate into your interior due to their versatility. However, even with neutrals, you must know the color's undertones, LRV, and other nuances that can affect how it works in your home!
Today, we will tell you about the color Gossamer Veil by Sherwin-Williams.
You will learn what kind of color it is and how it can work in different rooms of your home. Also, we will explain how to coordinate it and what colors will work best with this beautiful and cozy hue.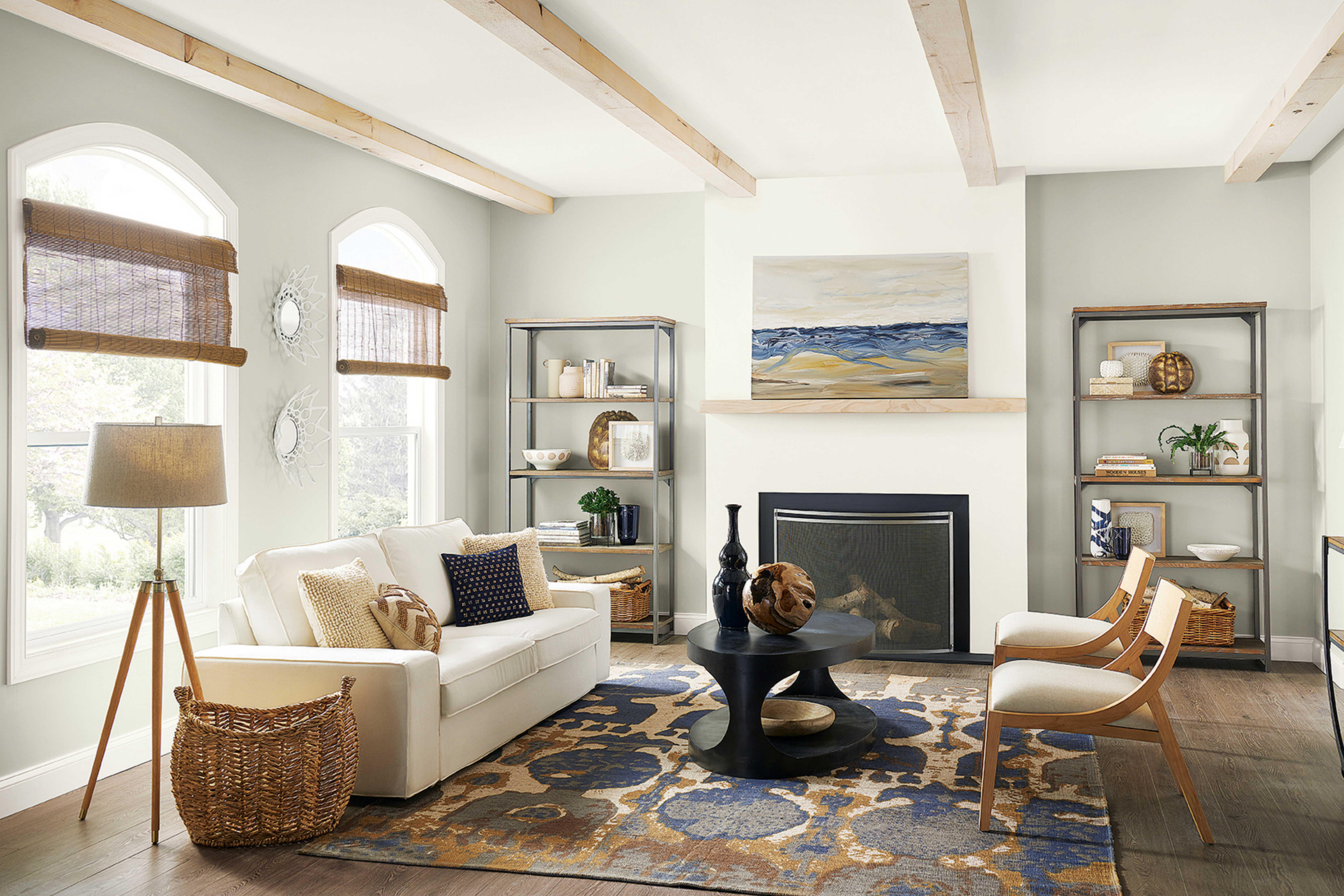 What Kind of Color Is Gossamer Veil SW 9165?
At first sight, you may think that SW Gossamer Veil is beige or greige. As Encycolorpedia says, this color is technically cool-toned, neutral gray. Thanks to its misty appearance, SW Gossamer Veil creates an airy and relaxing mood, especially if used in bedrooms and living rooms. Also, this color belongs to the neutral color family (hue).
In your home, SW Gossamer Veil will look absolutely timeless and elegant, helping the space feel homey and warm. So, if you don't like reserved and classic interiors that look too official, you might like this relaxed hue. With a nice and warm creamy touch, this color can make your spaces inviting and welcoming.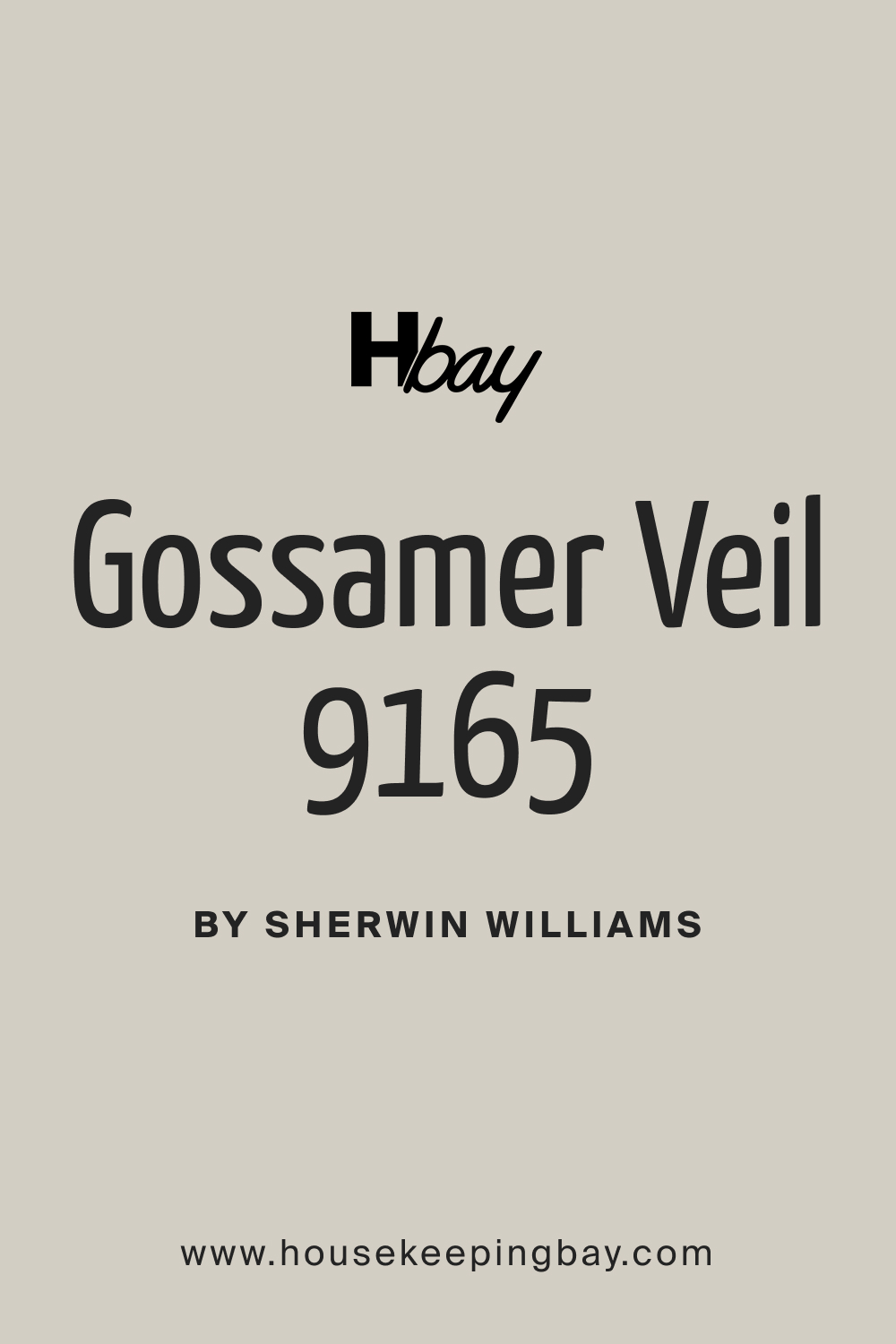 Is It a Warm or Cool Color?
Speaking of its tone, SW Gossamer Veil is definitely warm-toned. There is no place for hesitation about it! However, you should not be afraid of its warmth. SW Gossamer Veil looks clean and light enough not to read yellow.
However, you still recommend you sample this soft gray before using it on the walls. Due to its undertones (which we will talk about soon), this color is quite a chameleon! It can read greige and sometimes look gray or even lean towards beige!
What Undertones Does SW Gossamer Veil Paint Color Have?
SW Gossamer Veil has slight green and violet undertones. Also, this color reads warm enough, which is why we would recommend using it in homes that are located in northern or colder regions. In such interiors, SW Gossamer Veil can work perfectly well as a base or neutral on interior walls.
When used in the living space, SW Gossamer Veil feels pure, warm, welcoming, and extremely cozy! In addition, this color works great in spaces that are smaller in size as it tends to push away the walls, making the space seem larger and airier.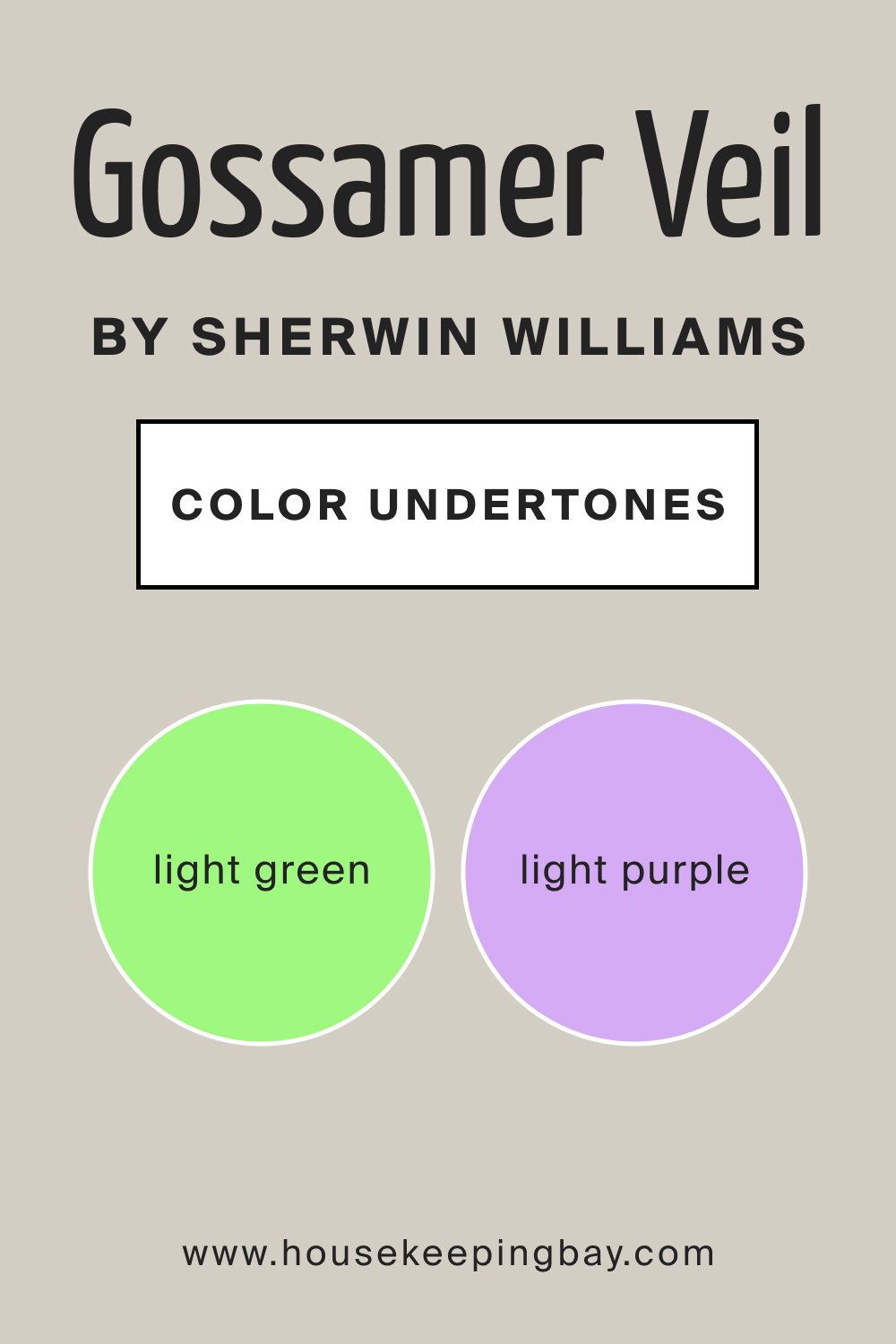 Coordinating Colors For Gossamer Veil SW 9165
Searching for the proper coordinating colors can be a fun task to do, but only if you are knowledgeable in color theory or have a sharp eye for color shades and tones. But most of us find this task too challenging and complicated. The mission may become even more tricky if you deal with such chameleon colors as SW Gossamer Veil!
Luckily, we have prepared a few coordinating colors to check out should you get lost in a wide variety of hues!
SW 9162 African Gray
SW 9179 Anchors Aweigh
You can also either choose from a contrasting or a monochromatic color palette, depending on the interior design style.
For example, for a monochromatic palette, consider using the following colors to coordinate SW Gossamer Veil:
SW 7654 Lattice
SW 7659 Gris
SW 7660 Earl Grey
For a contrasting color palette, use the following colors instead:
SW 6282 Mauve Finery
SW 6284 Plum Dandy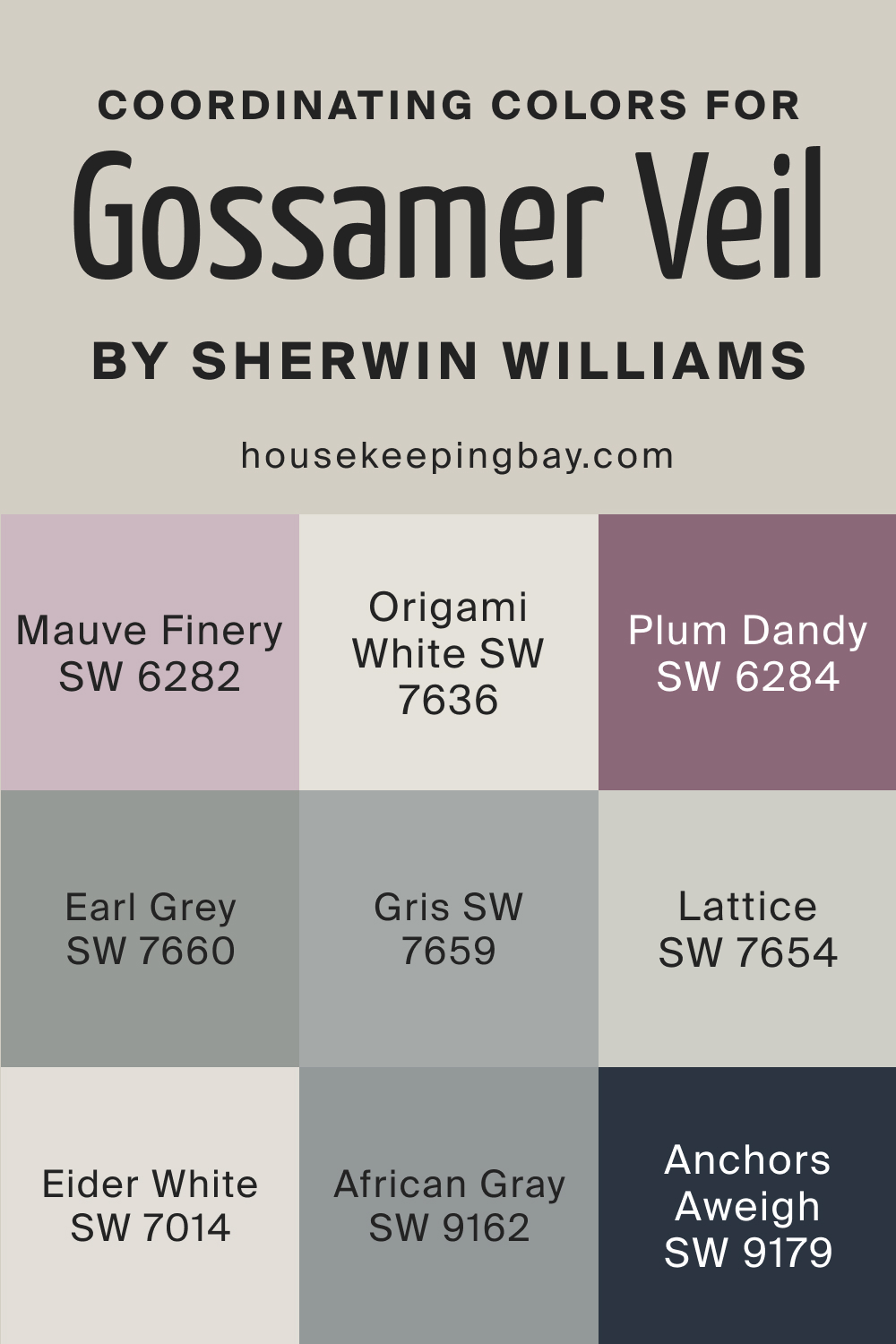 What LRV SW Gossamer Veil Has and How This Color Reacts to Light?
Light Reflectance Value (LRV) indicates how light or dark a color will look on a scale of 0 (black) to 100 (white). Gossamer Veil SW 9165 has an LRV of nearly 62, which means that it is a light color.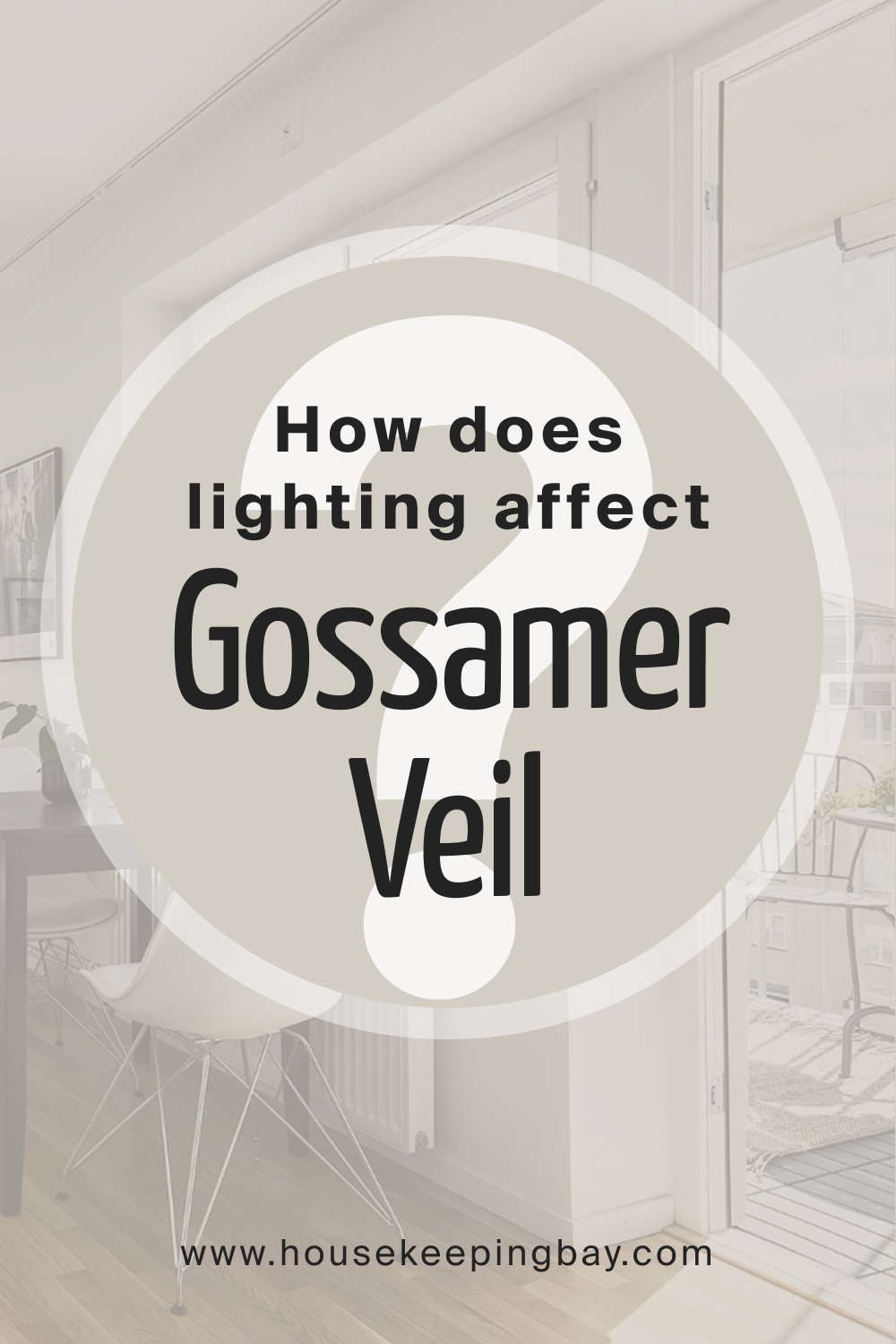 If you are planning to use this clean paint color in your home, try to use it in rooms that are either north-facing or south-facing. In these rooms, the warmth of this paint can neutralize the incoming natural light.
Also, we would recommend choosing this paint for rooms that receive little or even mid-sized natural light. Should your room has little to no light, this color will feel much darker than it is. However, it won't read too dark as it is a highly reflective color.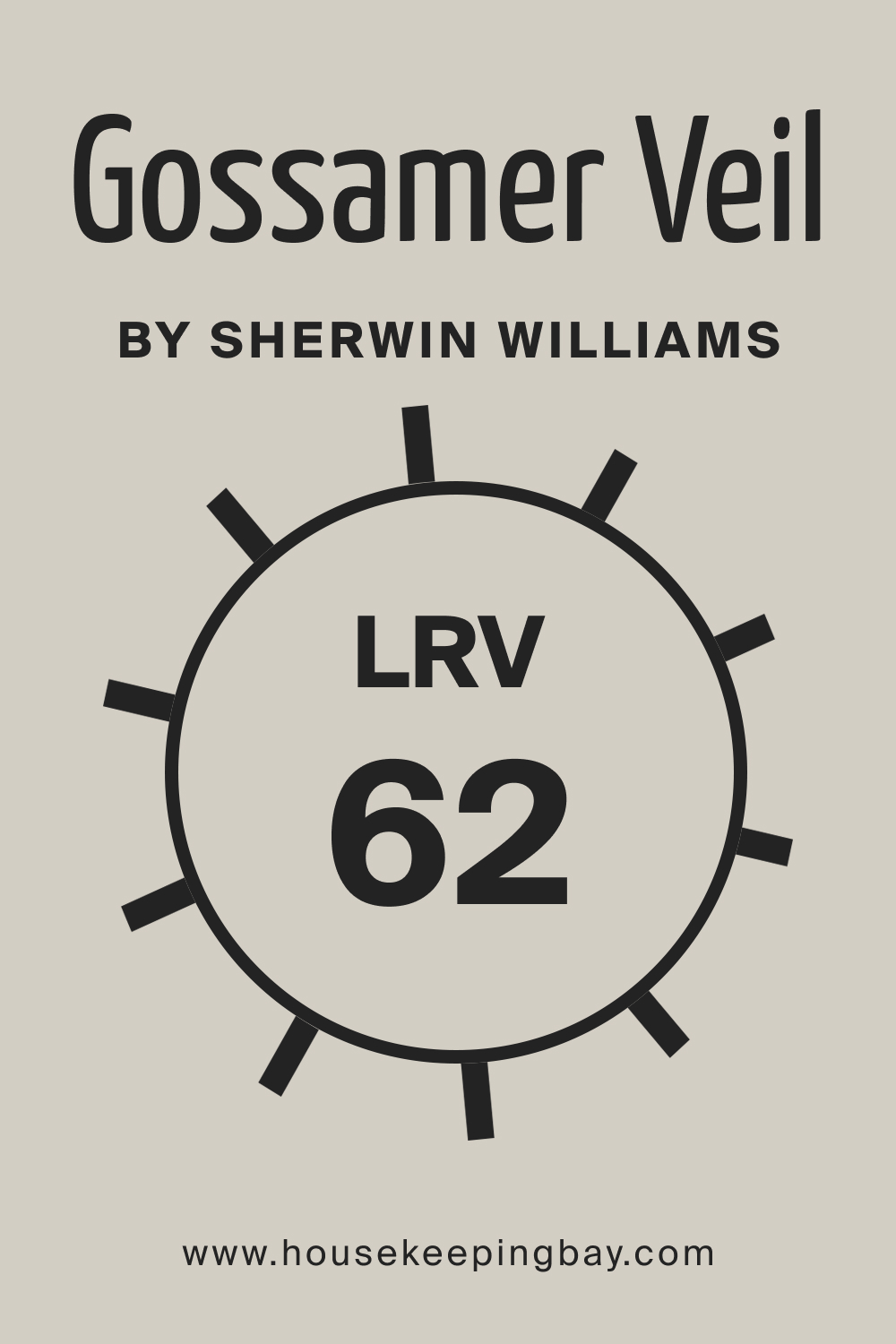 What is LRV? Read It Before You Choose Your Ideal Paint Color
What Is the Best Trim Color to Use With Gossamer Veil SW 9165?
If you can't decide what color to use on your trim to make it look good with SW Gossamer Veil on the walls, opt for white, and you won't make a mistake! White is the universal and go-for color that always works on trim successfully due to its versatility.
For your ceilings, trims, and moldings, we would recommend using the following whites:
SW High Reflectance White
SW Pure White will help you to achieve a creamier look in a room, and SW High Reflectance White will work best if you want a crisp look.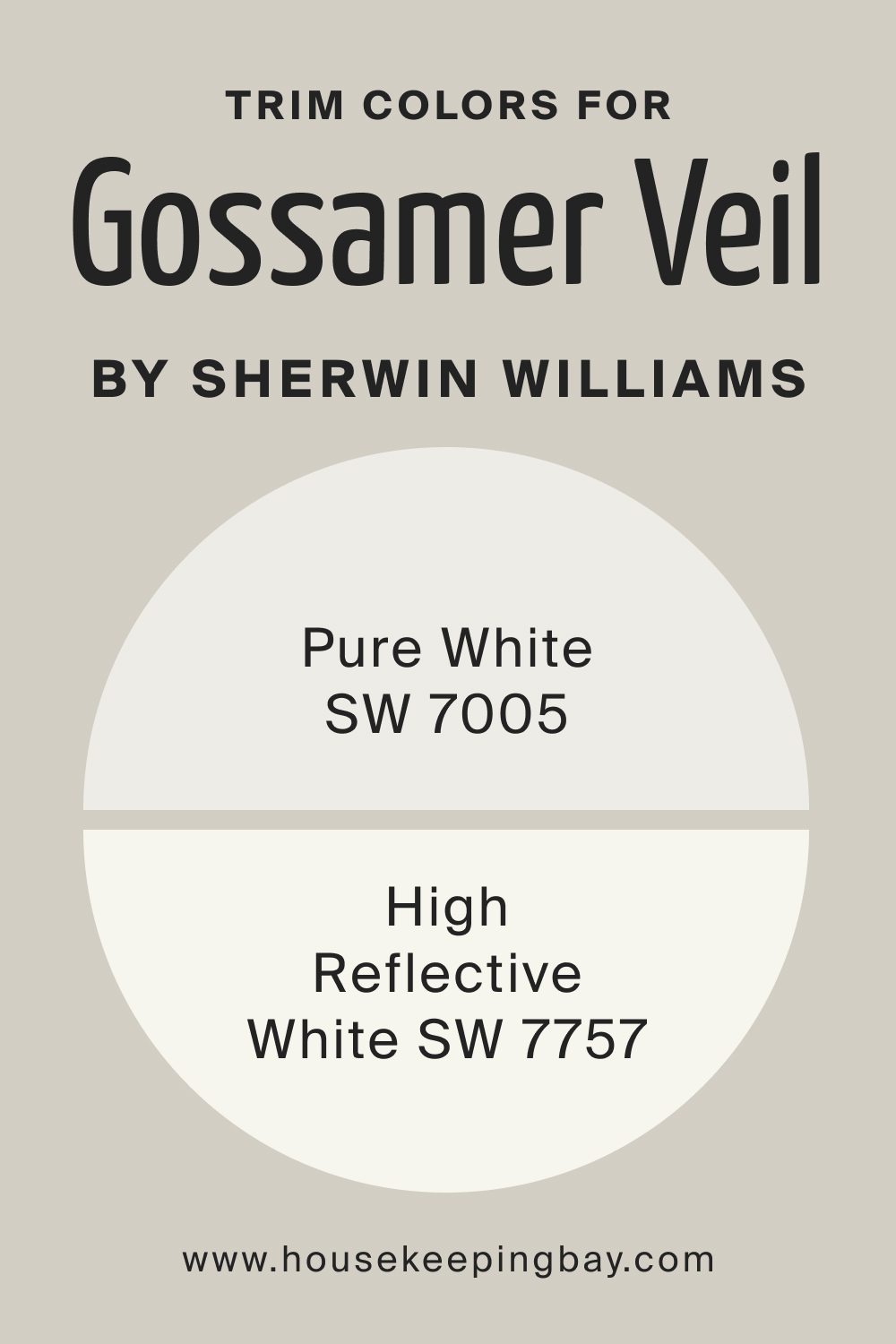 Colors Similar to SW Gossamer Veil
If you are not quite satisfied with how SW Gossamer Veil works on your walls, consider choosing another color that looks nearly the same. By using the color with slightly different undertones or LRV, you can achieve the look and vibe you need. In particular, you might want to check out the following alternative colors to use instead of SW Gossamer Veil:
Valspar Bay Sands
Valspar Goose Feathers
PPG Whiskers
BM Rodeo 1534
BM Barren Plain 2111-60
Behr Dove Gray
Behr Moth Gray
SW Timberwolf
PPG Swirling Smoke
BM Abalone 2108-60
BM Bruton White CW-710
However, note that each of them will still vary a bit since these colors have distinct undertones and LRVs. As a result, there is no 100% matching color on this list.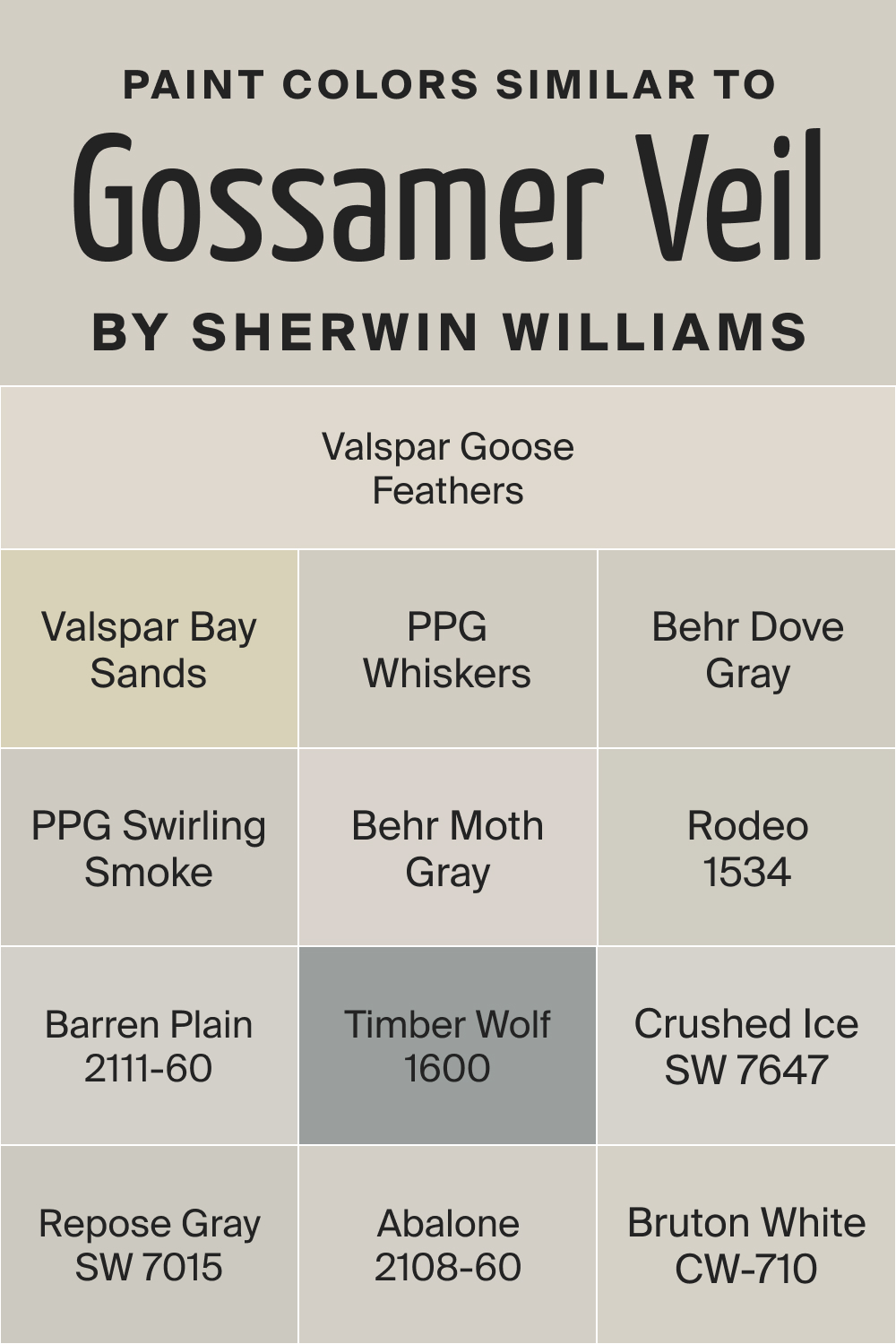 Colors That Go Well With Gossamer Veil SW 9165
SW Gossamer Veil is pretty versatile and flexible when it comes to using it with other colors in the living space. In particular, you could pair it with plum hues, grays, navy blues, off-white, and blacks. But some other colors can also work well with it. E.g., check out the following options:
SW 9655 Mountain Pass
SW 9685 After the Storm
SW 9635 Stargazer
SW 6194 Basil
SW 7048 Urbane Bronze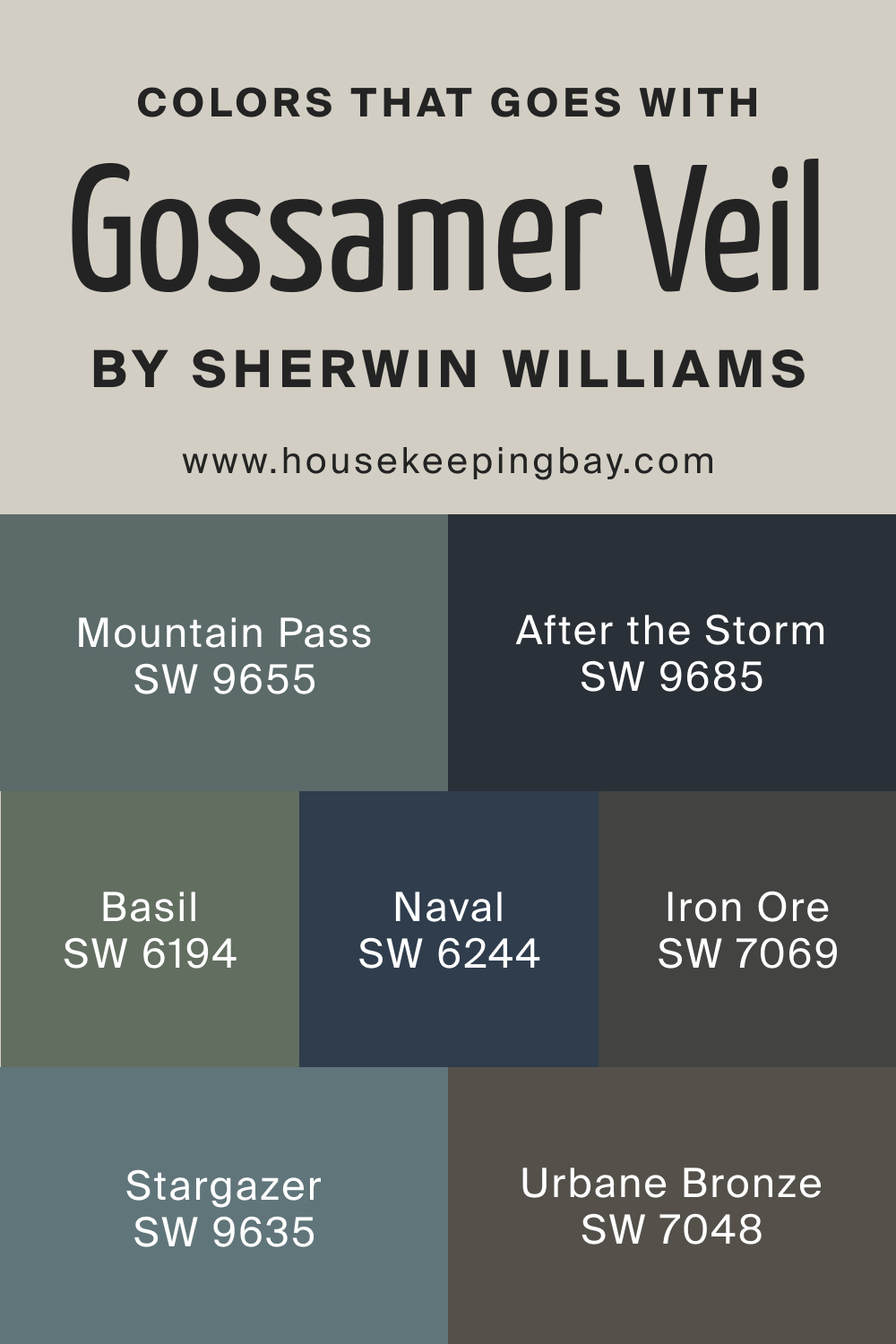 Where Is It Best to Use Gossamer Veil SW 9165 Color In Your Home?
SW Gossamer Veil is flexible not only in terms of cooperation with other colors. It can also work great in almost any room of your home! This neutral will make a great base in your bedrooms, bathrooms, laundry rooms, living room, and kitchens. It can even be used on exterior walls!
Regarding the interior design styles this color will fit, we recommend you pay attention to Scandinavian homes, Modern Farmhouse homes, and Bohemian backdrops. Below, you can read how SW Gossamer Veil works in different rooms.
Gossamer Veil SW 9165 in the Living Room
Opt for this warm-toned color if you want to add a cozy touch to your living room. Its warm undertones add a welcoming vibe, making the room feel homey and relaxed. Moreover, you can always add neutral upholstery and plum and purple accents through throw blankets, accent pillows, and rugs to make the space look more appealing.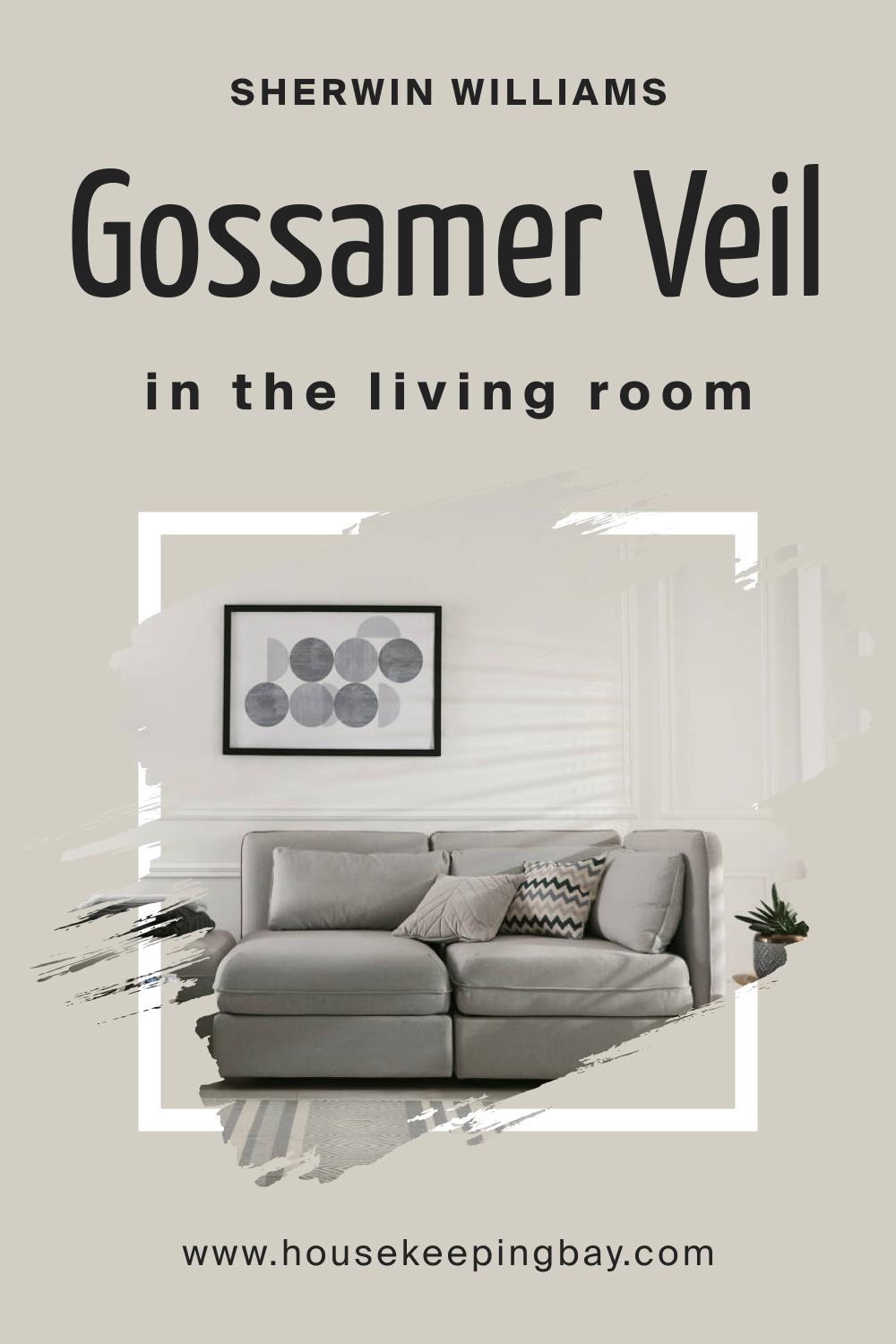 Gossamer Veil SW 9165 in a Bedroom
To make your bedroom soothing and cozy, you can absolutely use this paint. However, we highly recommend you pair it with bolder and more saturated hues to refine the palette. By the way, SW Gossamer Veil will look awesome if you use gray blackout curtains and accents with it to add depth.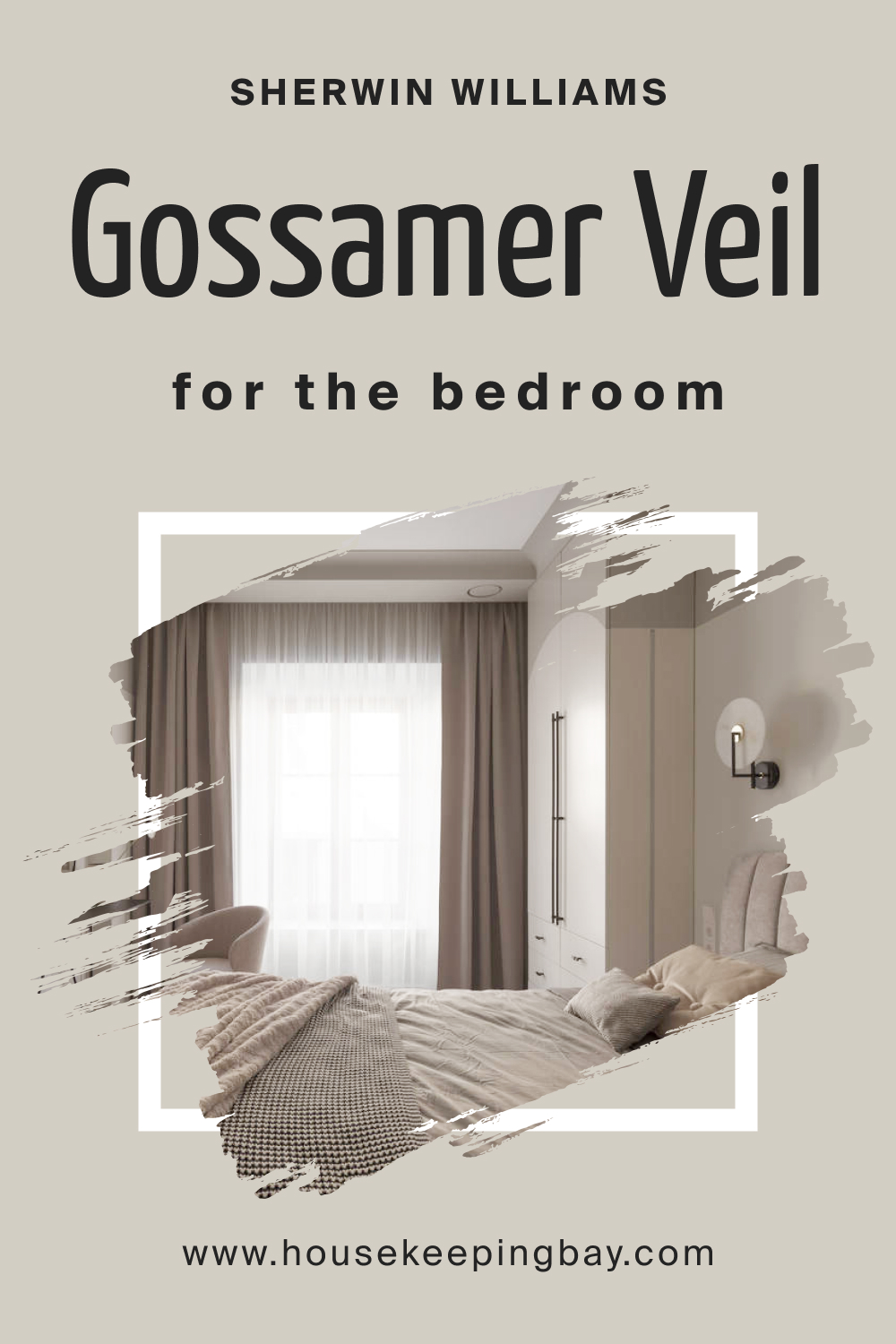 Gossamer Veil SW 9165 on the Bathroom
Although this color is warm-toned, it can still work in your bathroom. If it's spacious and light, use it on all the walls, but if your bathroom lacks light, you'd better use this gray on your vanity or drawers (or an accent wall).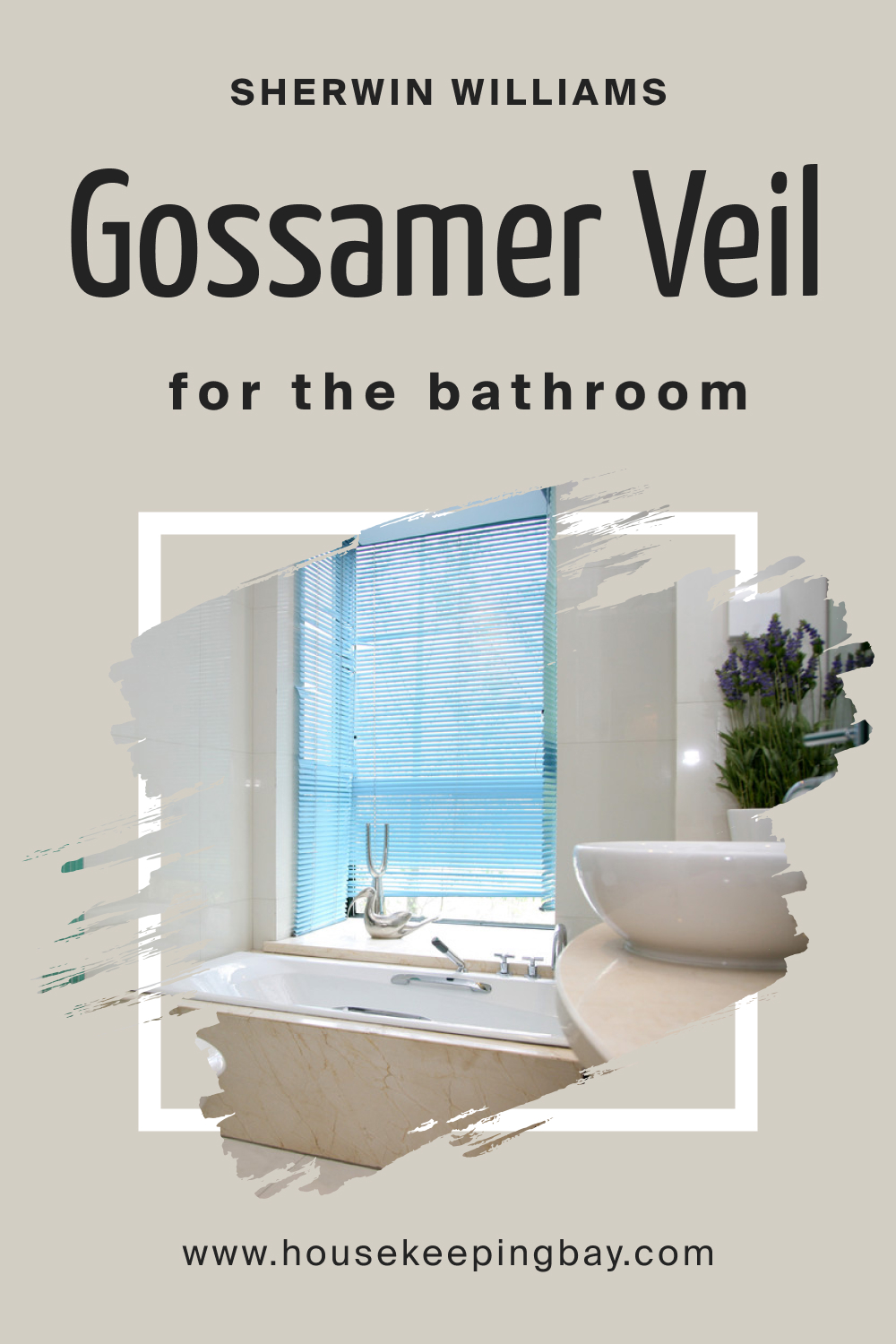 Gossamer Veil SW 9165 and Kitchen
This color can be an excellent option for smaller kitchens, especially if you prefer muted tones there. To make it work even better, try to pair this warm neutral with chrome finish fixtures and pull handles while using lighter-toned backsplash tiles.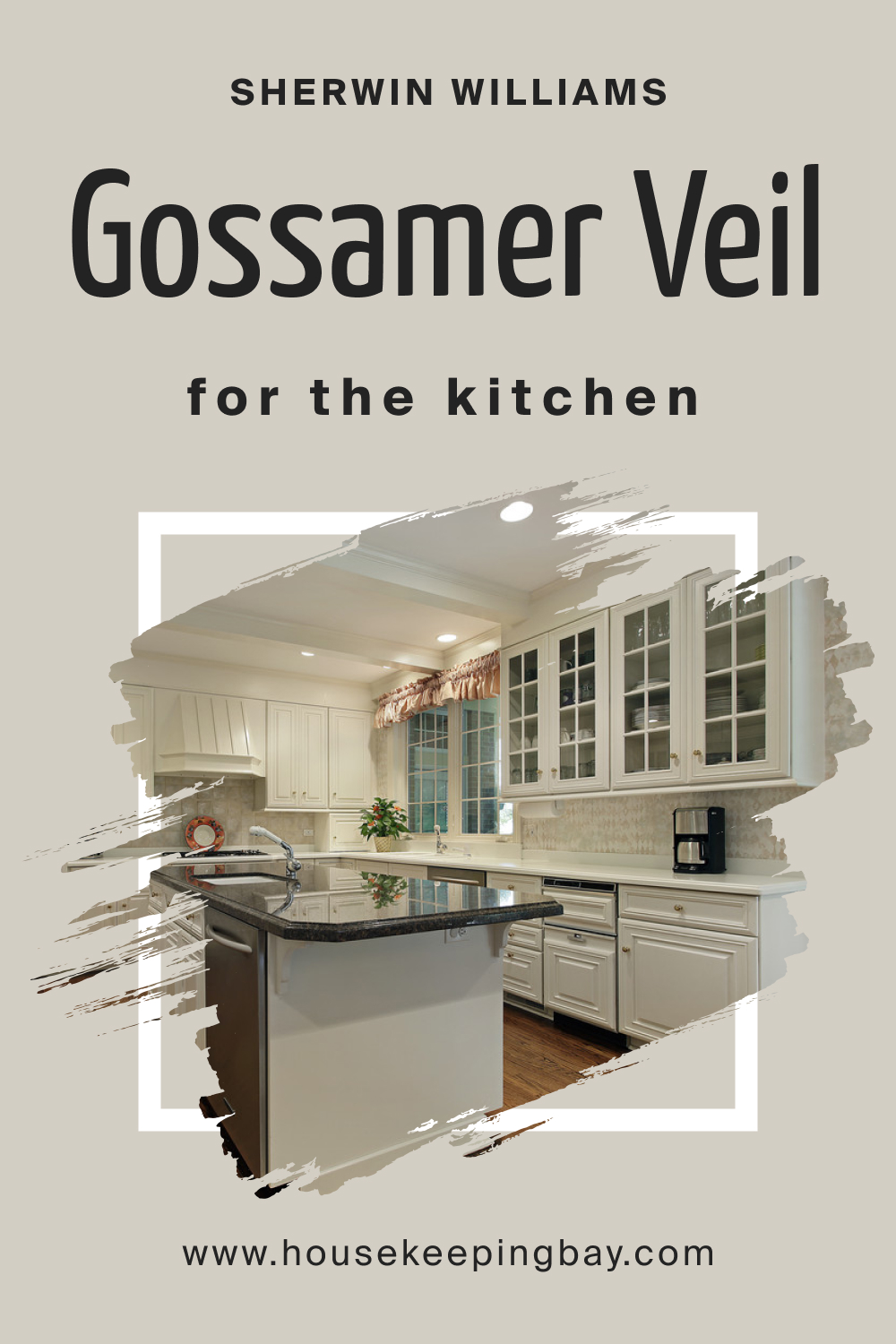 Gossamer Veil SW 9165 for Exterior Use
This color will work on exterior walls as well. In particular, we would recommend this color in Cape Cod or Farmhouse-style homes. For a more contrasting and attractive look, you can definitely pair it with charcoal blacks or steely grays on the trims, moldings, and door and window frames.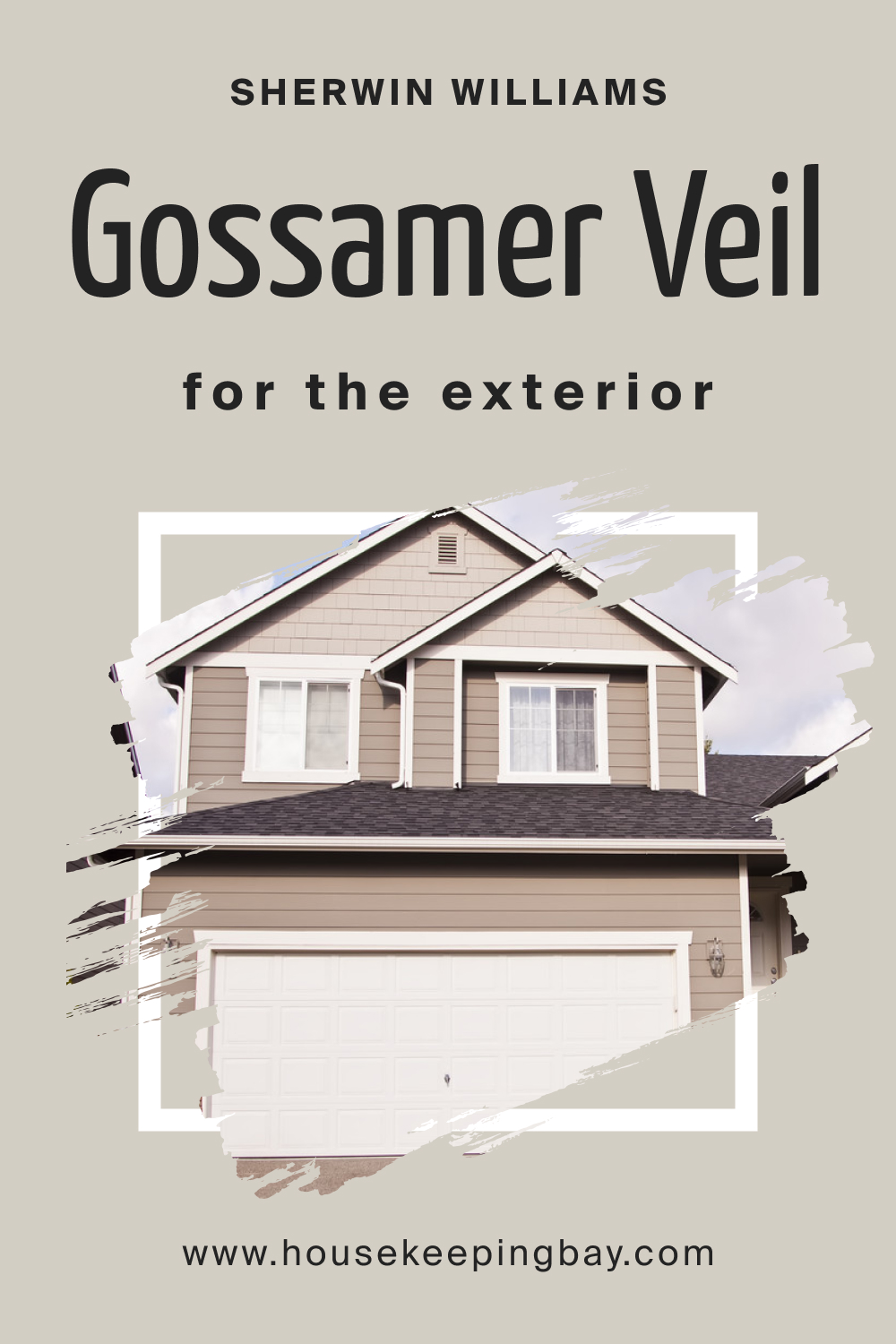 Comparing Gossamer Veil SW 9165 With Other Colors
In this section, we describe how this color looks compared with other similar hues. This will help you better see the distinctions and understand how LRVs and undertones can affect the color and how it reads in your home.
Gossamer Veil vs. SW 7029 Agreeable Gray
SW Agreeable Gray has an LRV of 60, which means it's light enough and can be used in smaller spaces. Also, this LRV value means it's pretty close to SW Gossamer Veil, whose LRV is nearly 62. However, the only difference is the undertones – the latter is a pure gray with warm undertones that slightly align with the browns.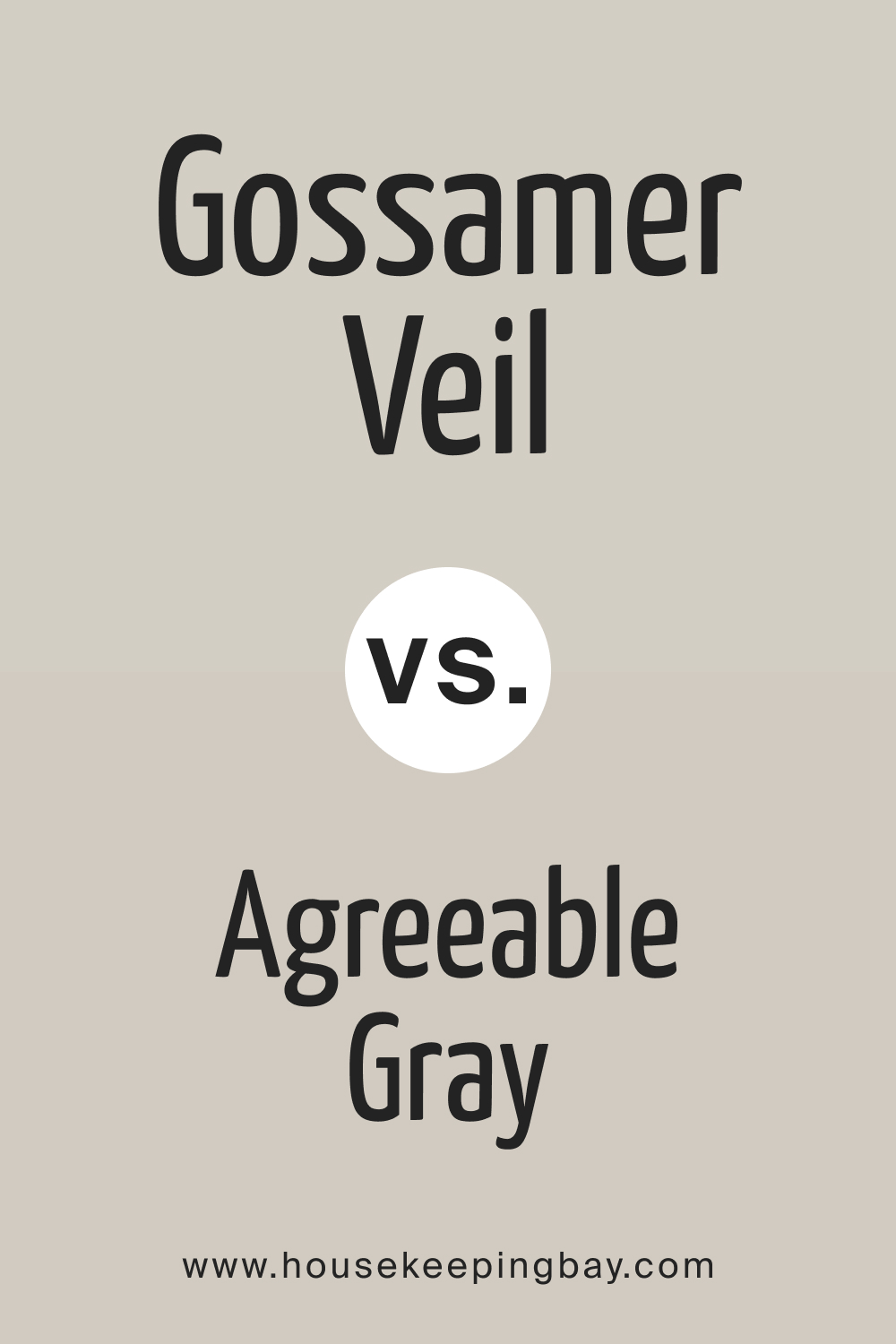 Gossamer Veil vs. SW 7015 Repose Gray
SW Repose Gray has an LRV of 58, which is why it is a bit darker and less reflective than SW Gossamer Veil, whose LRV value is 62. Also, these colors look different. SW Repose Gray shows way more of a gray hue, whilst its counterpart reads noticeably warmer and greige-like.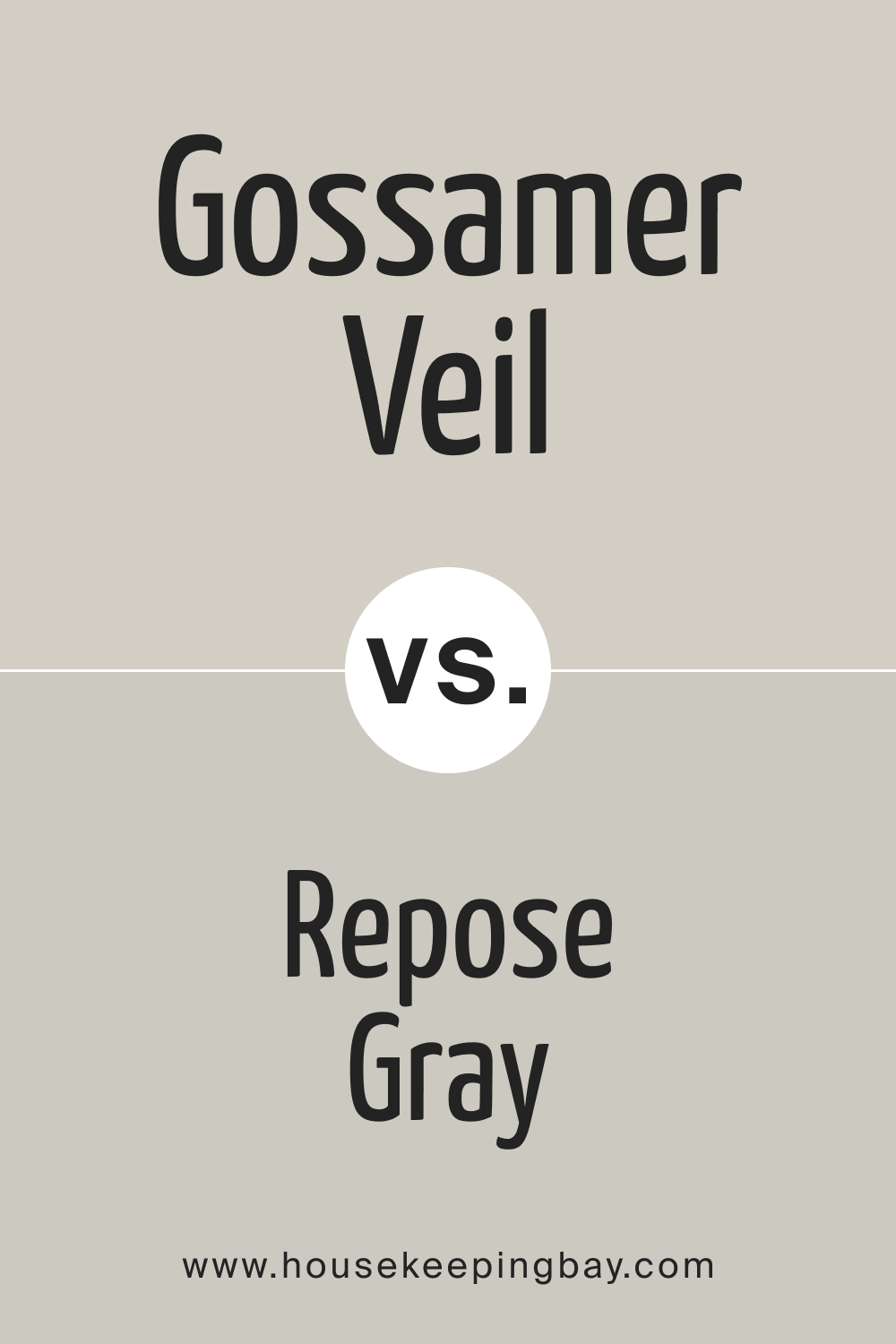 Gossamer Veil vs.  SW 9166 Drift of Mist
SW Drift of Mist is lighter than SW Gossamer Veil because it has an LRV of 69 (compared to the LRV value of 62 the Gossamer Veil color has). Also, SW Drift of Mist looks not only lighter but clearly grayer than its counterpart, which reveals a very slight hint of purplish undertones.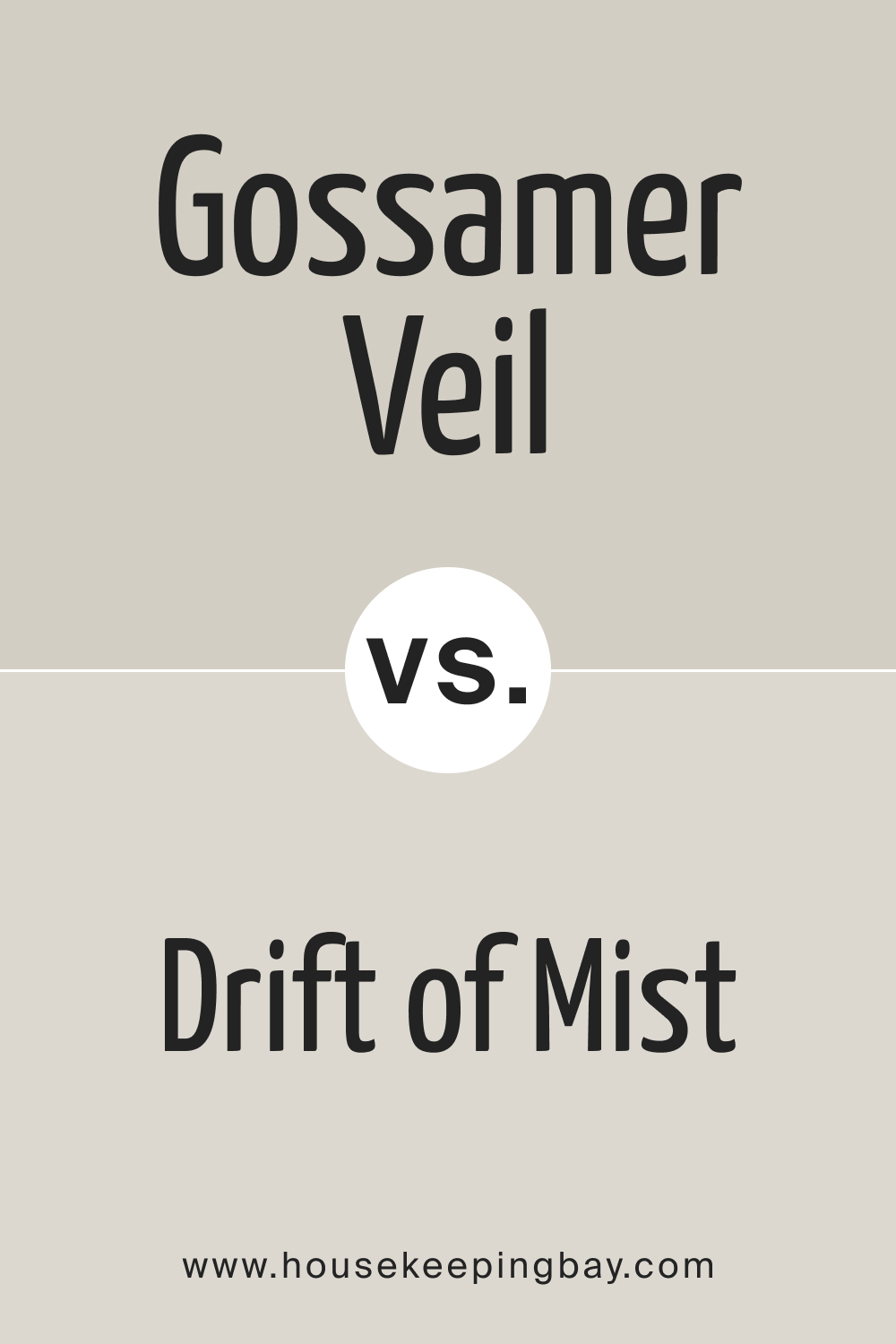 Gossamer Veil vs. SW 7036 Accessible Beige
SW Accessible Beige looks much warmer and beige than SW Gossamer Veil, although the latter one can be considered greige to a certain point too. In this pair of colors, SW Accessible Beige shows its warm beige undertones very clearly, unlike its gray-toned counterpart. The only similar feature they share is that both colors look warm and soft.
Gossamer Veil vs. BM HC-172 Revere Pewter 
Compared to SW Revere Pewter, SW Gossamer Veil reads grayer and shows its purple hue a bit more noticeably. But if you look at the counterpart of SW Gossamer Veil, you will see it displays its greenish hue more prominently.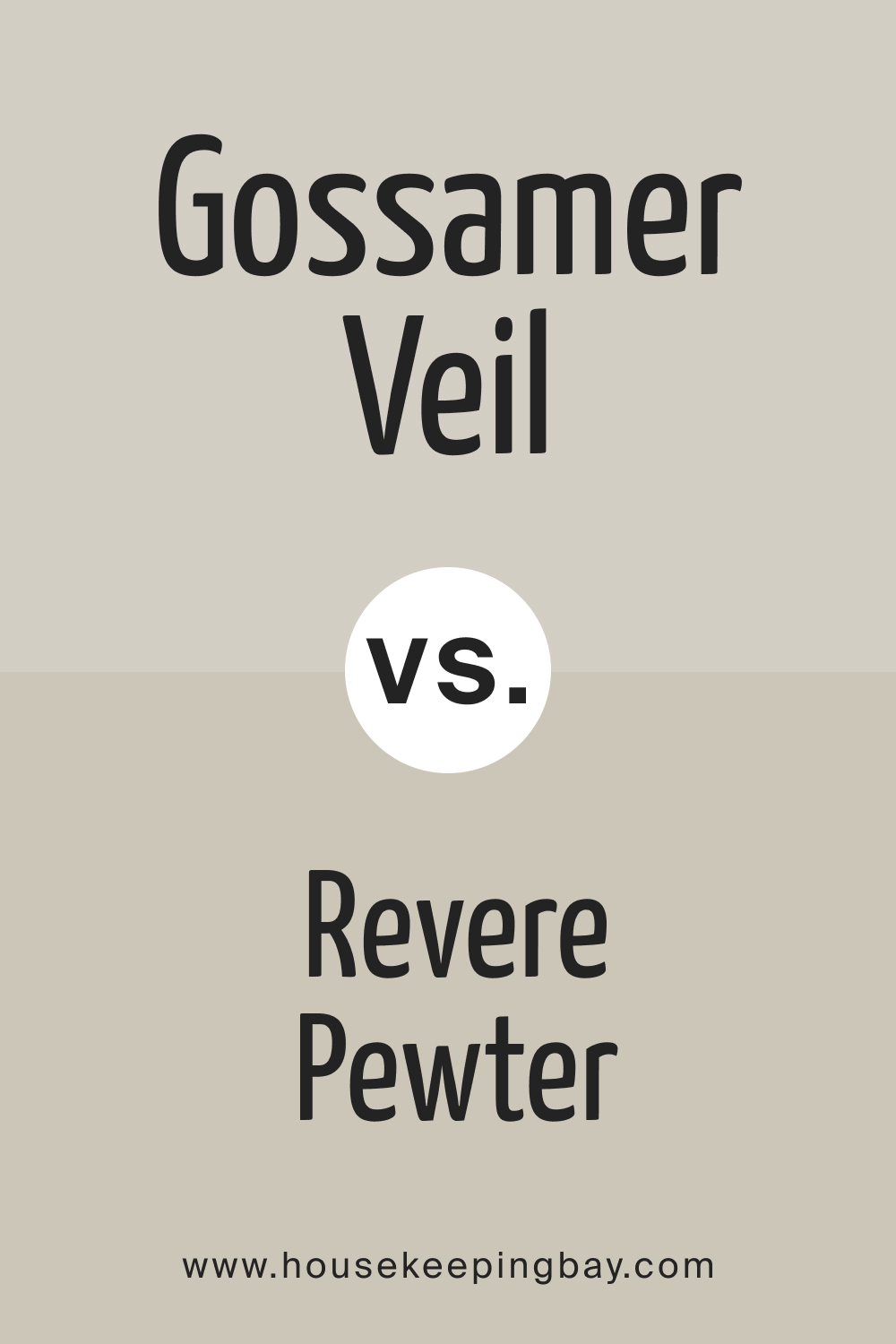 Gossamer Veil vs. BM OC-20 Pale Oak 
Although both colors can be considered greige, they are distinct. The major difference between these colors is their undertones. BM Pale Oak has slight yellow undertones, whilst SW Gossamer Veil has green and violet undertones. Also, they have different undertones. BM Pale Oak has an LRV of 69, and its counterpart's LRV is almost 62. It means BM Pale Oak is lighter.
Now you know SW Gossamer Veil color much better!
You learned what undertones and LRV it has, which means you can now tell in advance how this hue may work in different rooms and various lighting conditions. Also, you know what colors work best with it and how this color differs from other similar hues.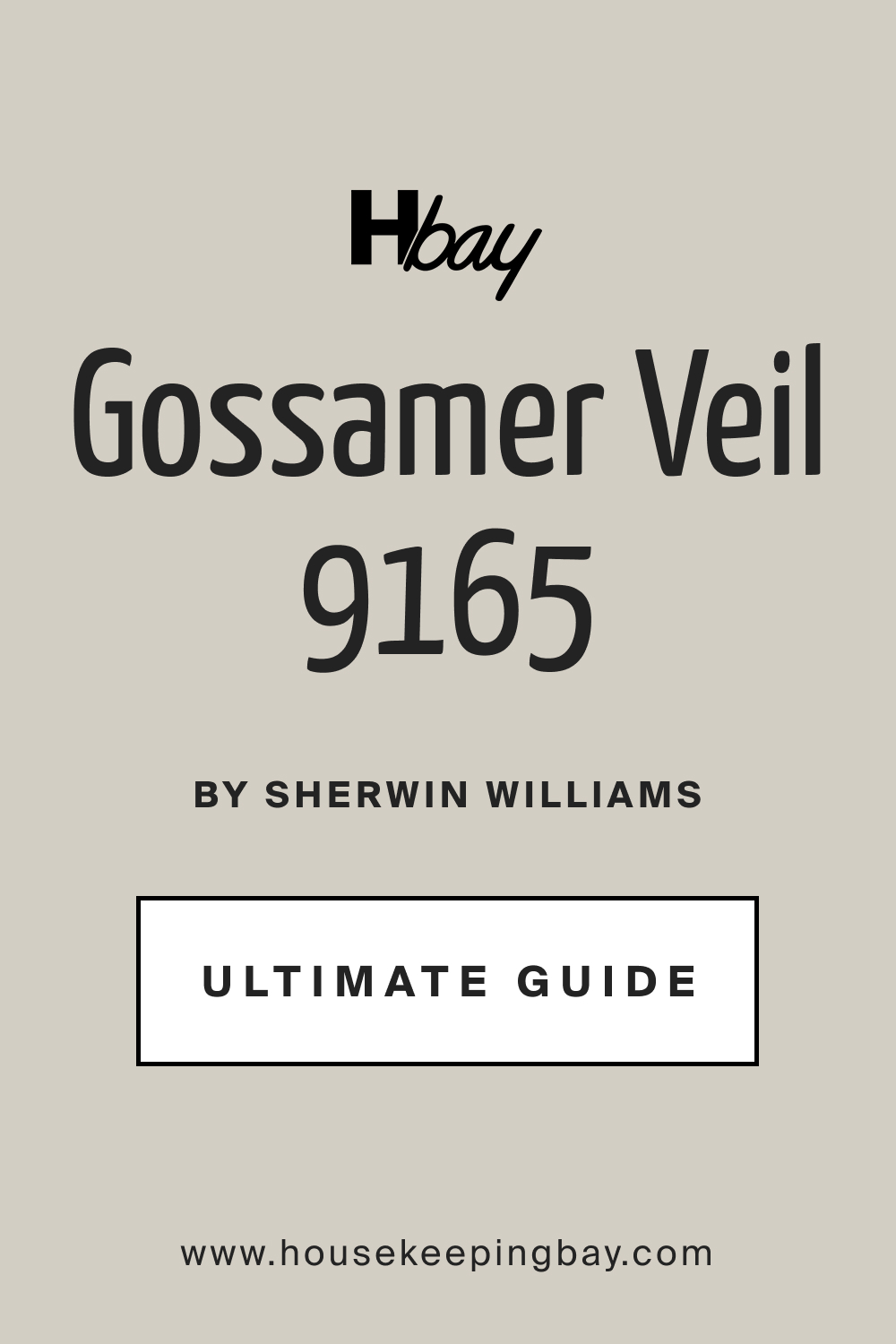 Frequently Asked Questions
⭐Does SW Gossamer Veil look yellow?
No, it doesn't. This color has no yellow or creamy undertones.
⭐Does this color work with white well?
Absolutely! White can highlight its warmth and make this hue look lighter and cleaner.
⭐How does this color look on exterior walls?
Depending on the light, it may look soft and greige or read a bit grayer. But it'll always look pleasantly soft.