It is quite complicated to choose the correct paint colors when you are drawing on paper, so naturally, if you are going to refresh your interior walls a bit, picking the suitable shades of interior wall paint may turn into a challenge, if not a nightmare for some of you!
Especially if you prefer using quite dark and taupe paint colors and hues like Brainstorm Bronze SW-7033 by Sherwin Williams brand.
Fortunately, you have this article to help you to navigate all the complications connected with this particular paint color and its specifics.
Read it carefully and attentively to learn what type of color it is, what rooms it can be used in, and how it may work when paired with other colors.
In addition, we will explain this color's light reflectance value to you, as well as the undertones so that you could not be fooled by the light when applying Brainstorm Bronze in different rooms of your home.
Finally, you will learn more about its trim color and coordinating colors.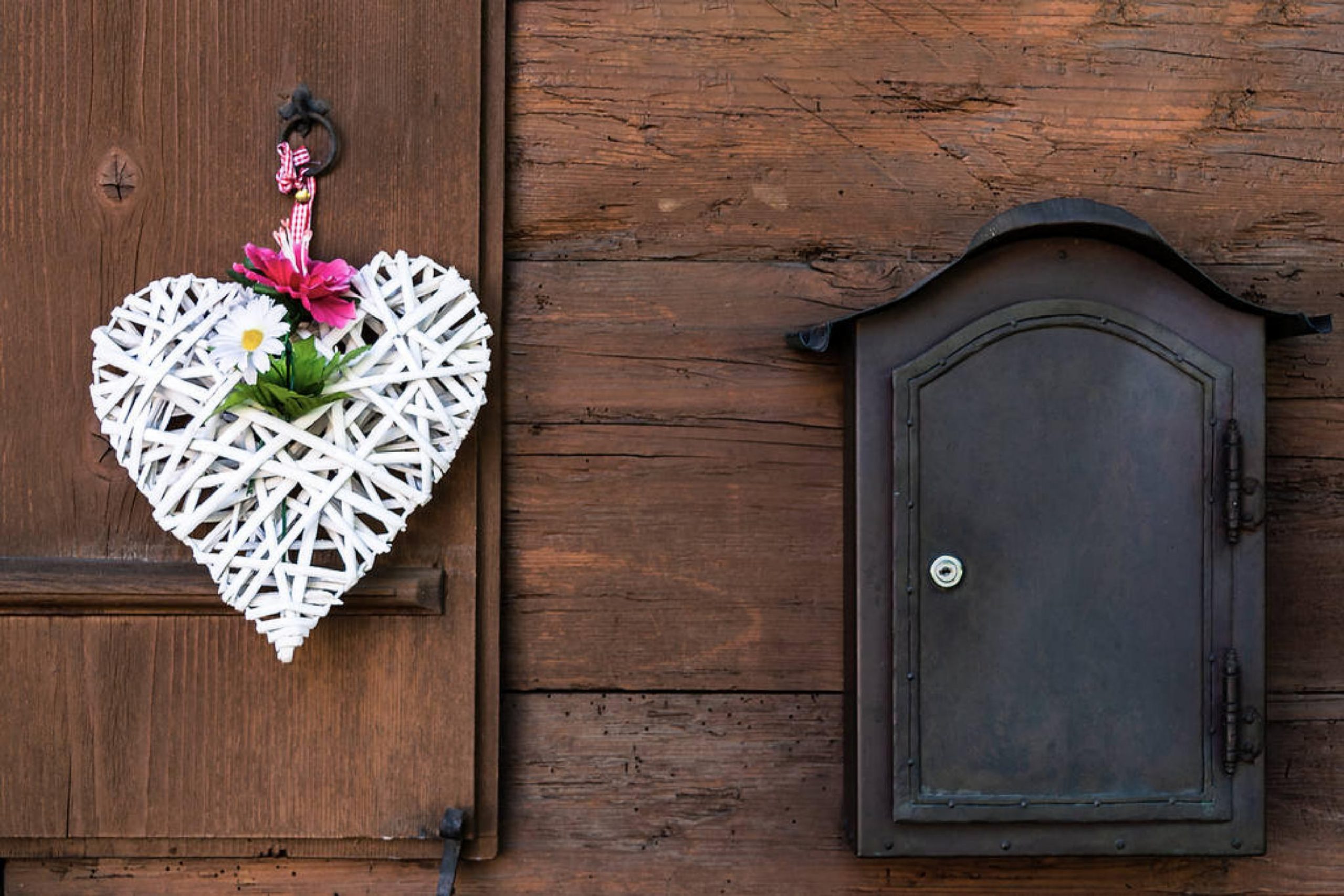 What Color Is SW Brainstorm Bronze?
Well, let's get to know Brainstorm Bronze and check Encycolorpedia color a bit closer for the beginning. This color is rather dark first of all. It belongs to the family of taupe paint colors which means that it has brown tones in it, and speaking of SW Brainstorm Bronze in particular, it also possesses quite significant green tones.
Brainstorm Bronze is rather deep as well since the color does not reflect too much light.
So if you are thinking about using this color in your home, consider first, what room you are going to apply it.
If the space is initially small or has little light during the day, perhaps, you should consider looking for a much lighter alternative.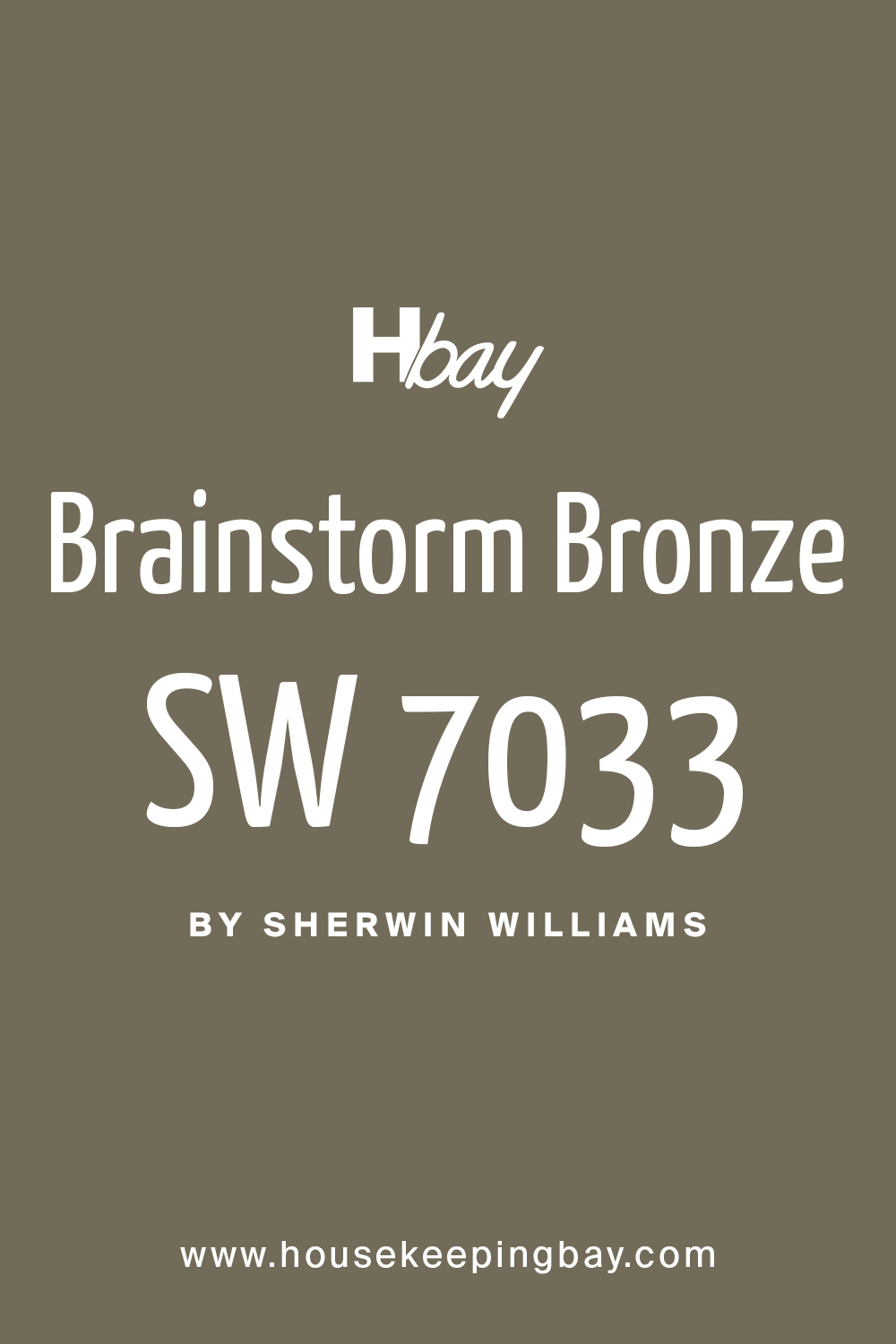 Brainstorm Bronze Undertones
Dealing with the undertones of the interior paint is always the trickiest part of the paint selecting process. With SW Brainstorm Bronze paint color, it is more or less the same.
The color is deep and can't be called simple in terms of undertones. It initially looks brown, but if you apply it to the sample and take a closer look at it, you will see that Brainstorm Bronze also has quite visible green undertones.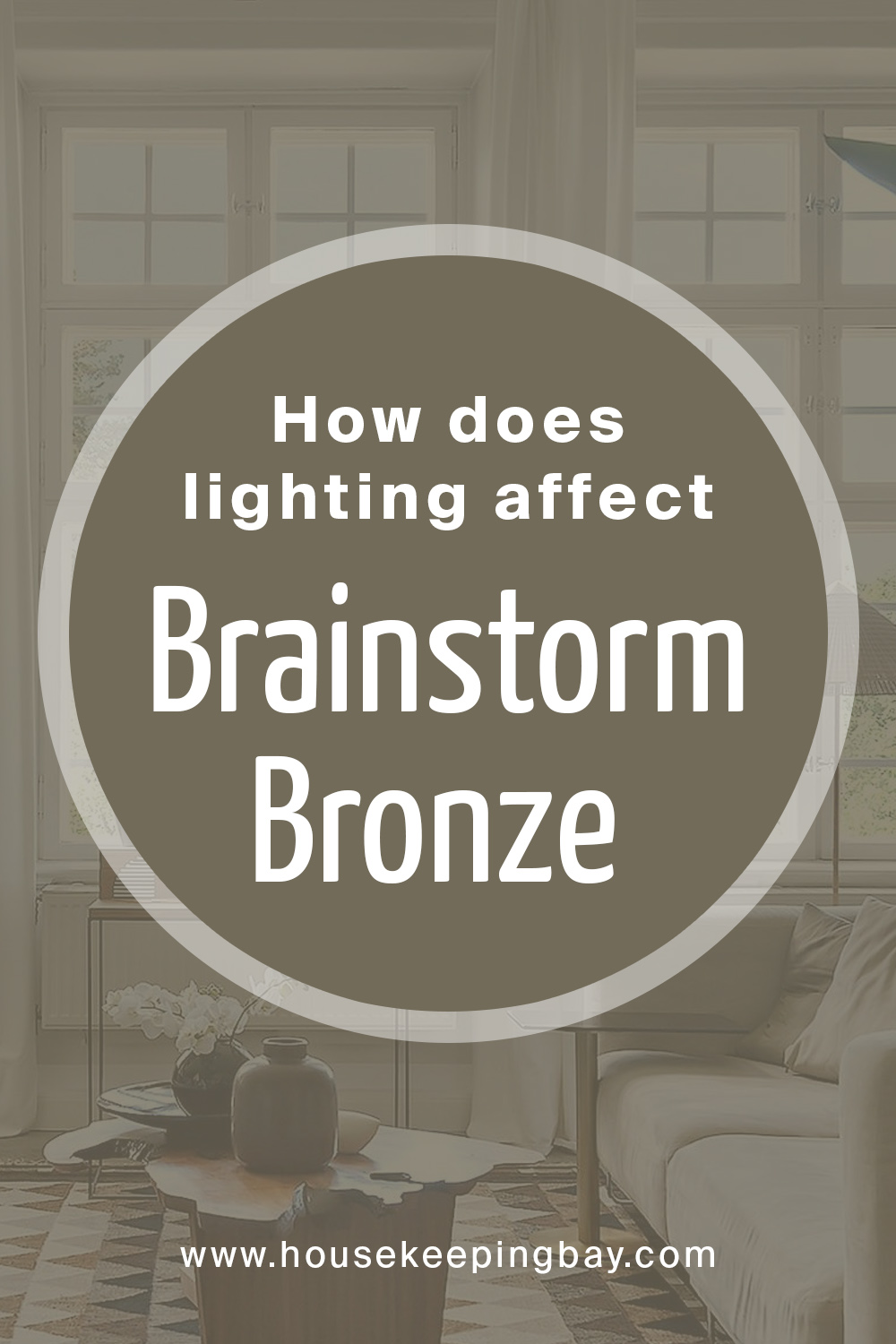 There is also quite a significant hint of gray in this paint color that should be considered.
Because of such a "layered" structure, this paint appears to be rather tricky when applied in different rooms that have distinct types of lighting.
In warm artificial light, it will look almost cacao-brown, whilst in cooler daylight (for example, in a north facing room), you will see way more of its green side.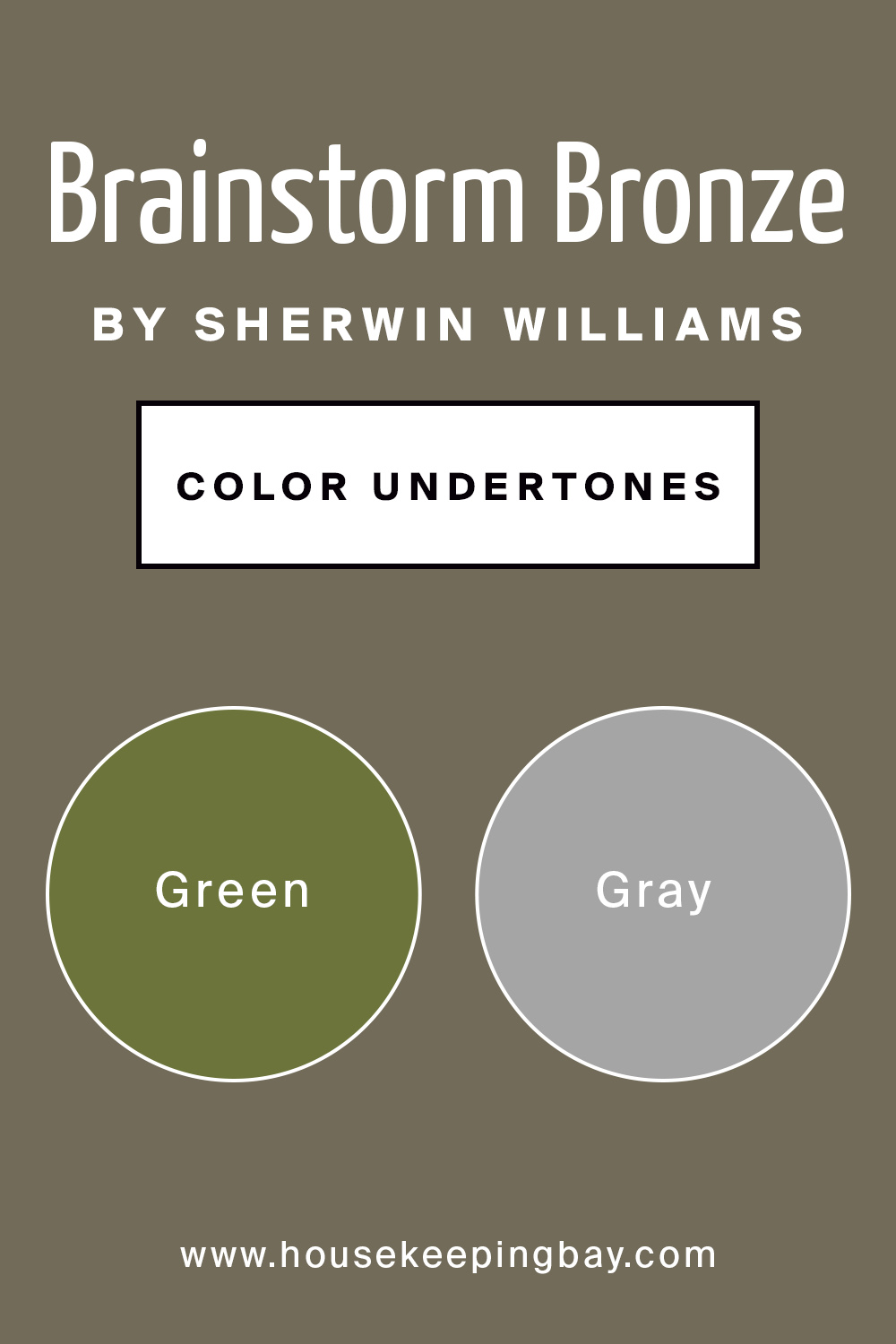 The LRV Of the SW Brainstorm Bronze
The light reflectance value of SW Brainstorm Bronze is 14.
That means that this paint color is pretty dark, being unable to reflect much light.
This nuance must be taken into consideration before you apply it onto your walls since in small rooms that have poor lighting, this basically gorgeous paint color may appear to look way too gloomy making the entire space look even smaller!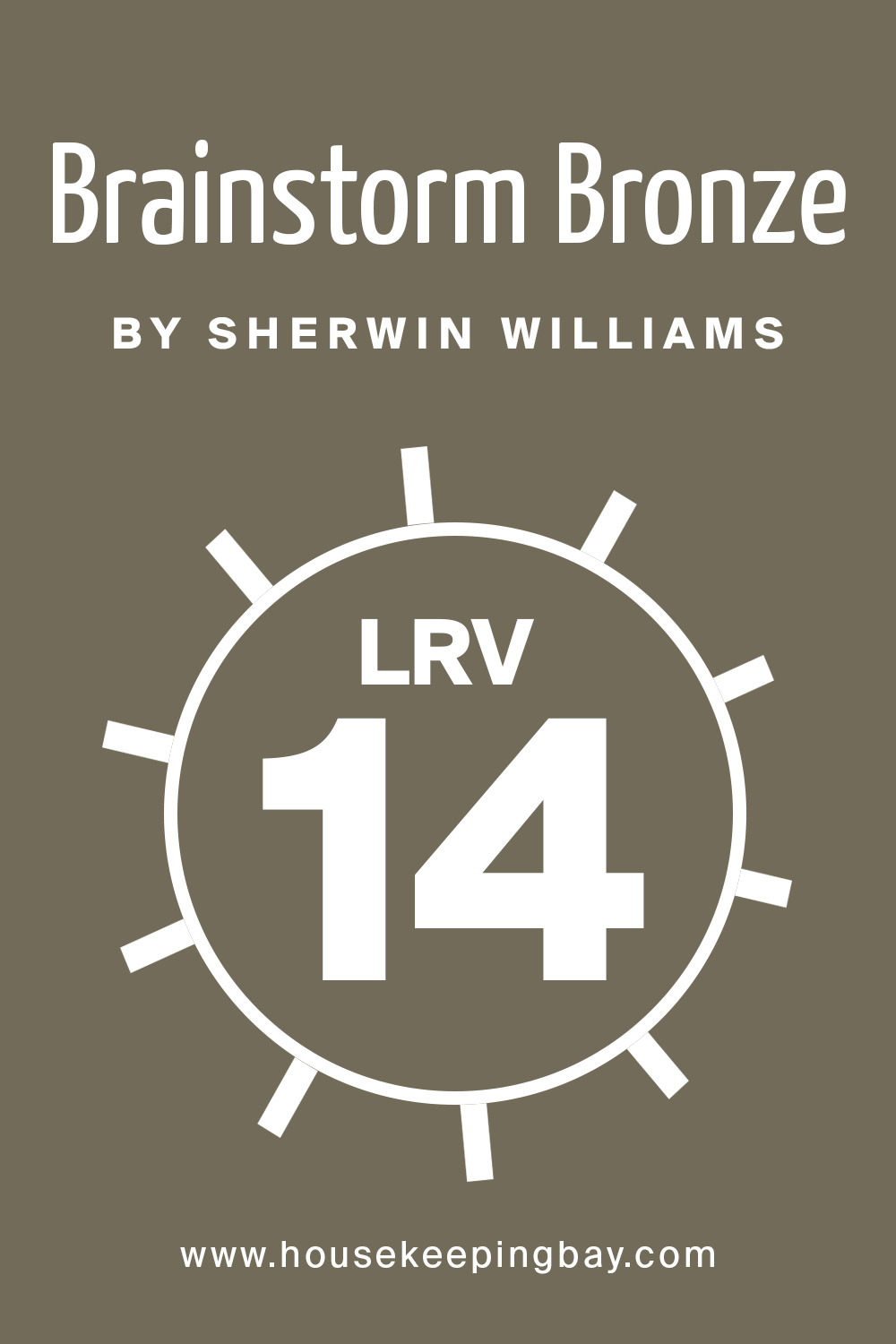 What is LRV? Read It Before You Choose Your Ideal Paint Color
Coordinating Colors of the Brainstorm Bronze
Choosing coordinating colors that will suit the major color applied on the walls is a difficult task. Especially if the leading color is so uneasy as Brainstorm Bronze! However, this issue is easy to fix!
If you need to choose a suitable coordinating color that will pair with this deep taupe perfectly, we would recommend you stick to one of the following options:
SW-7679 Cottage Cream
SW-6401 Independent Gold
They can be used interchangeably with the major color which is Brainstorm Bronze. That means that you can use either one of the coordinating colors, or several of them in the same space.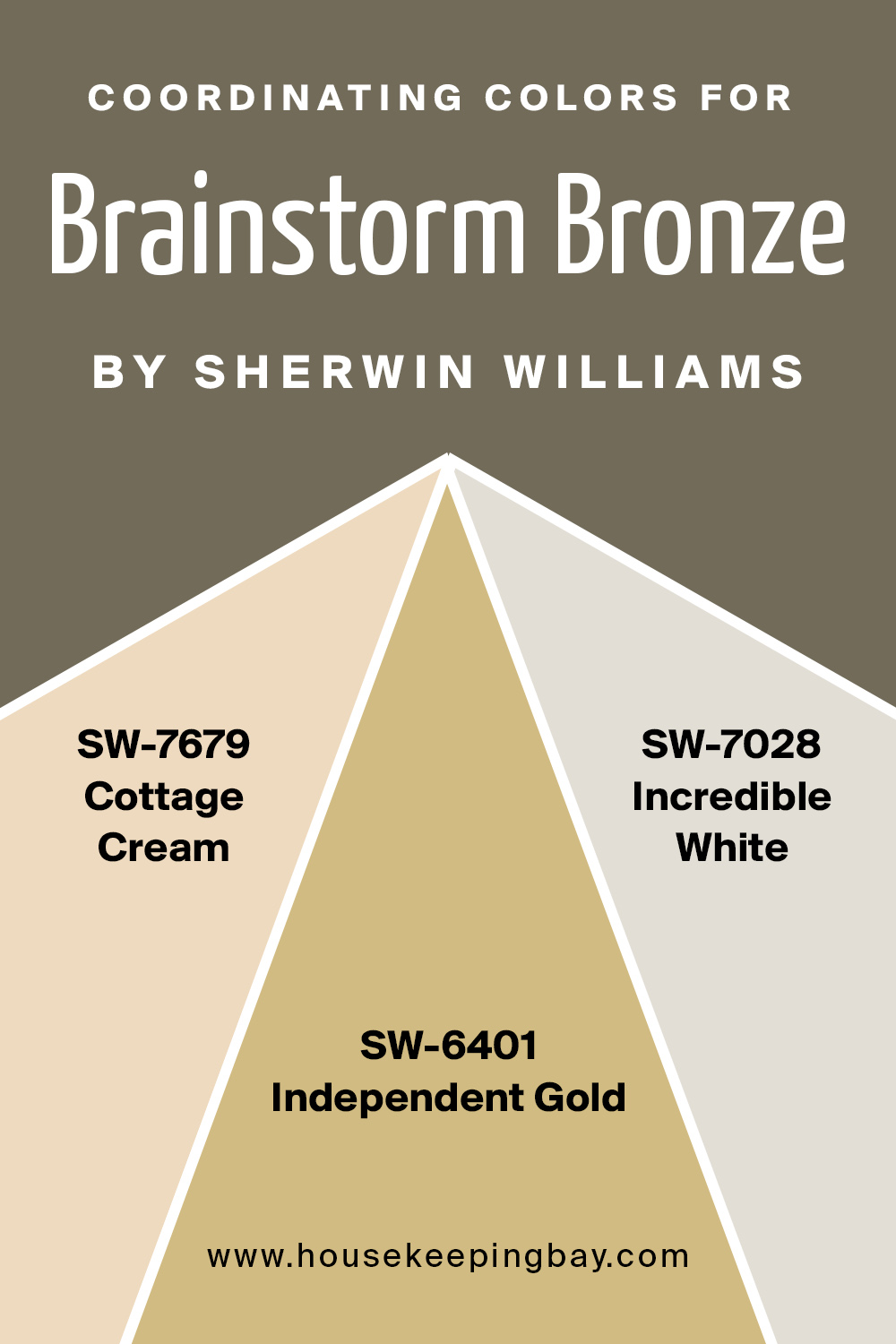 What Is the Best Trim Color For SW Brainstorm Bronze Paint?
We are used to the idea that the ideal and always winning option for a trim color is white, and well…with the Brainstorm Bronze paint color, it will also work ideally!
However, since SW Brainstorm Bronze paint color is warm by its nature, we would suggest you stick to the warmer shades of white. For example, off-white trims will look absolutely amazing when paired with it!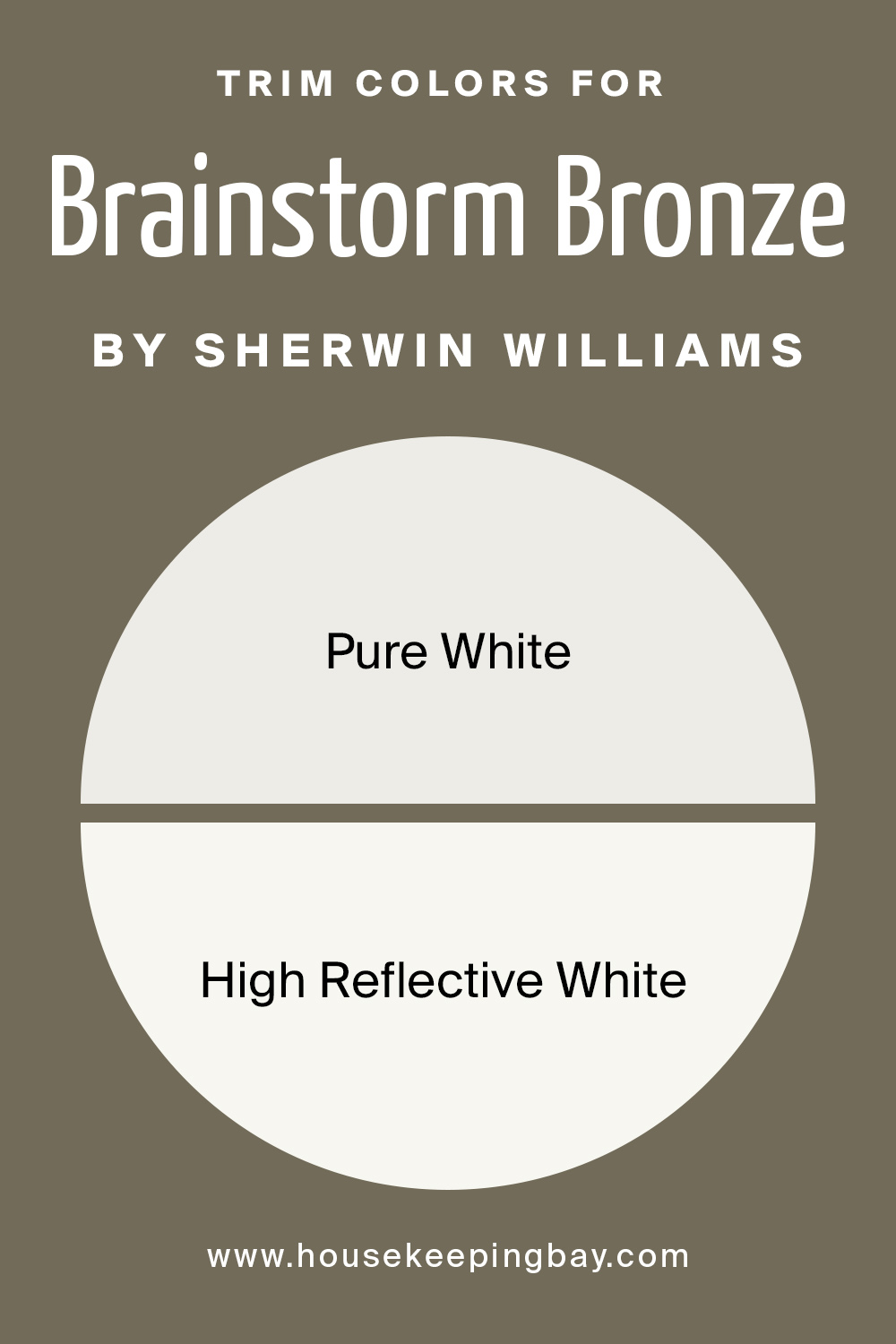 Paint Colors Similar to Brainstorm Bronze
If for any reason you can't use SW Brainstorm bronze exactly, there are several more alternative paint colors that can be used as a substitute.
Of course, you need to take into consideration that you will not be able to find the precise and fully matching variant, however, some of the following paint colors are pretty close to the Brainstorm Bronze in terms of shade and undertones!
SW-9609 Landmark
SW-7040 Smokehouse
SW-7515 Homestead Brown
These colors are the closest to the Brainstorm Bronze and unless you have a sharp eye for colors and their tones, you will hardly notice a significant distinction.
However, except for these paints, we can name a few more you can choose from. These, nevertheless, might look somewhat less similar to the SW Brainstorm Bronze!
SW-6152 Superior Bronze
SW-7026 Griffin
SW-6173 Cocoon
SW-7047 Porpoise
SW-0038 Library Pewter
With that wide range of colors, you will be able to find a perfect match for your home depending on the room's color scheme and your preferences.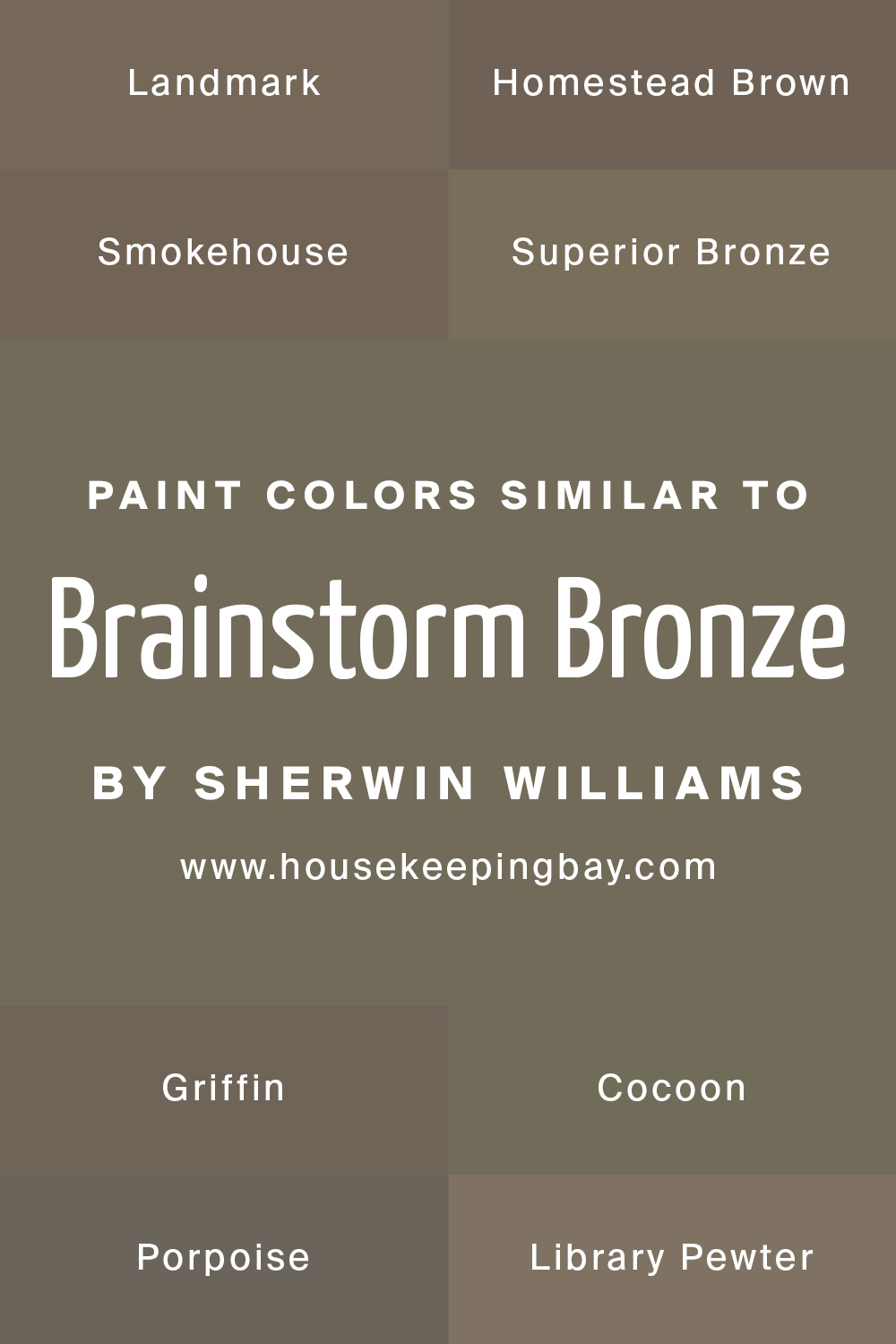 Where Brainstorm Bronze SW-7033 Can Be Used In Your Home?
Despite the fact that this color is rather dark and not very easy to use because of its undertones, it is still pretty versatile in terms of use!
You will be surprised to learn that SW Brainstorm Bronze can be used in almost any room of your home, of course, unless it is very small and lacks light.
Brainstorm Bronze SW-7033 in the Living Room
Your living rooms done in Brainstorm Bronze will look stylish and very traditional, especially if you also use off-white trims and golden decor elements there! However, you should consider the type of lighting you have in this room.
If your living room faces North and thus has plenty of cool daylight in it, this paint color will show more of its greenish undertones being less warm.
But if the room has a lot of warm light, or if it faces South, for example, this paint color will reveal its wonderful cocoa-brown tone!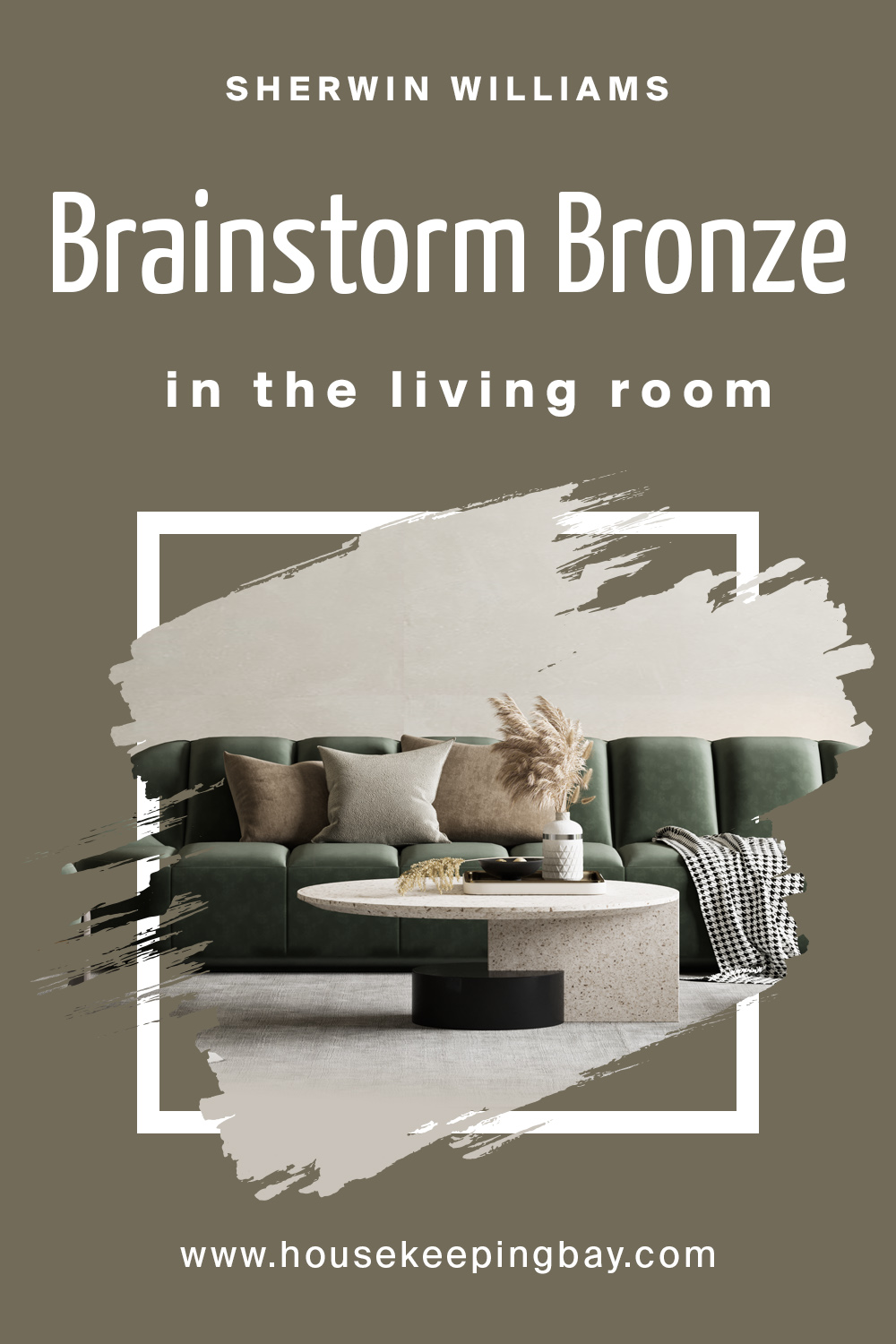 Brainstorm Bronze SW-7033 in the Bedroom
This paint may seem to be quite an unusual choice for the bedroom since we are used to painting this room with much lighter and neutral shades.
However, Brainstorm Bronze is still an option!
Only make sure that the room has enough warm light so that the paint could show all of its best warm side to you.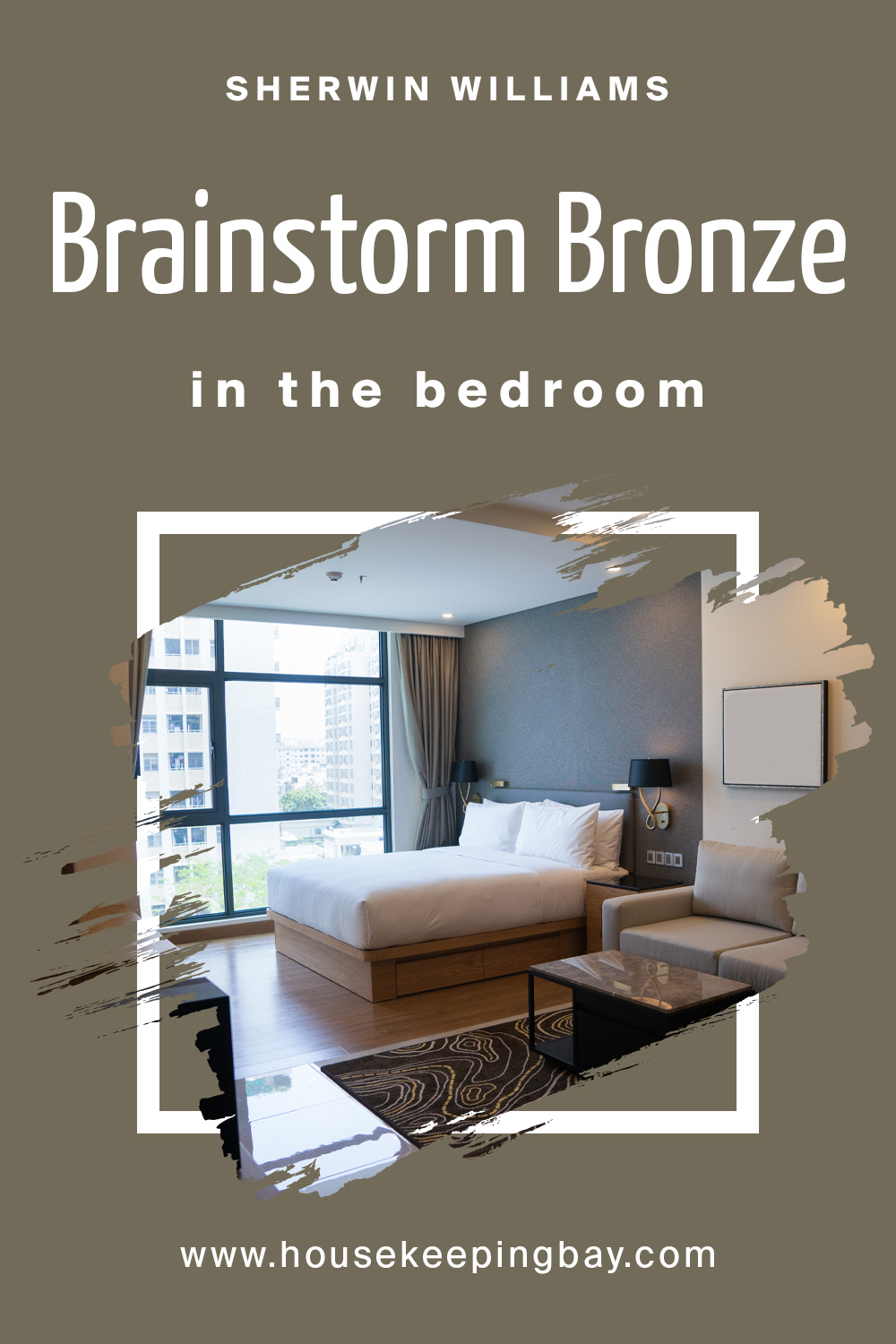 Brainstorm Bronze SW-7033 in the Kitchen 
If you are going to use this color in your kitchen, make sure it is well lit first of all.
Second, the room should be spacious enough. And third, we would not recommend you paint it all with Brainstorm Bronze!
Touching the cabinets will usually be enough to highlight visual accents and make the space look interesting. And the walls are better to be left white.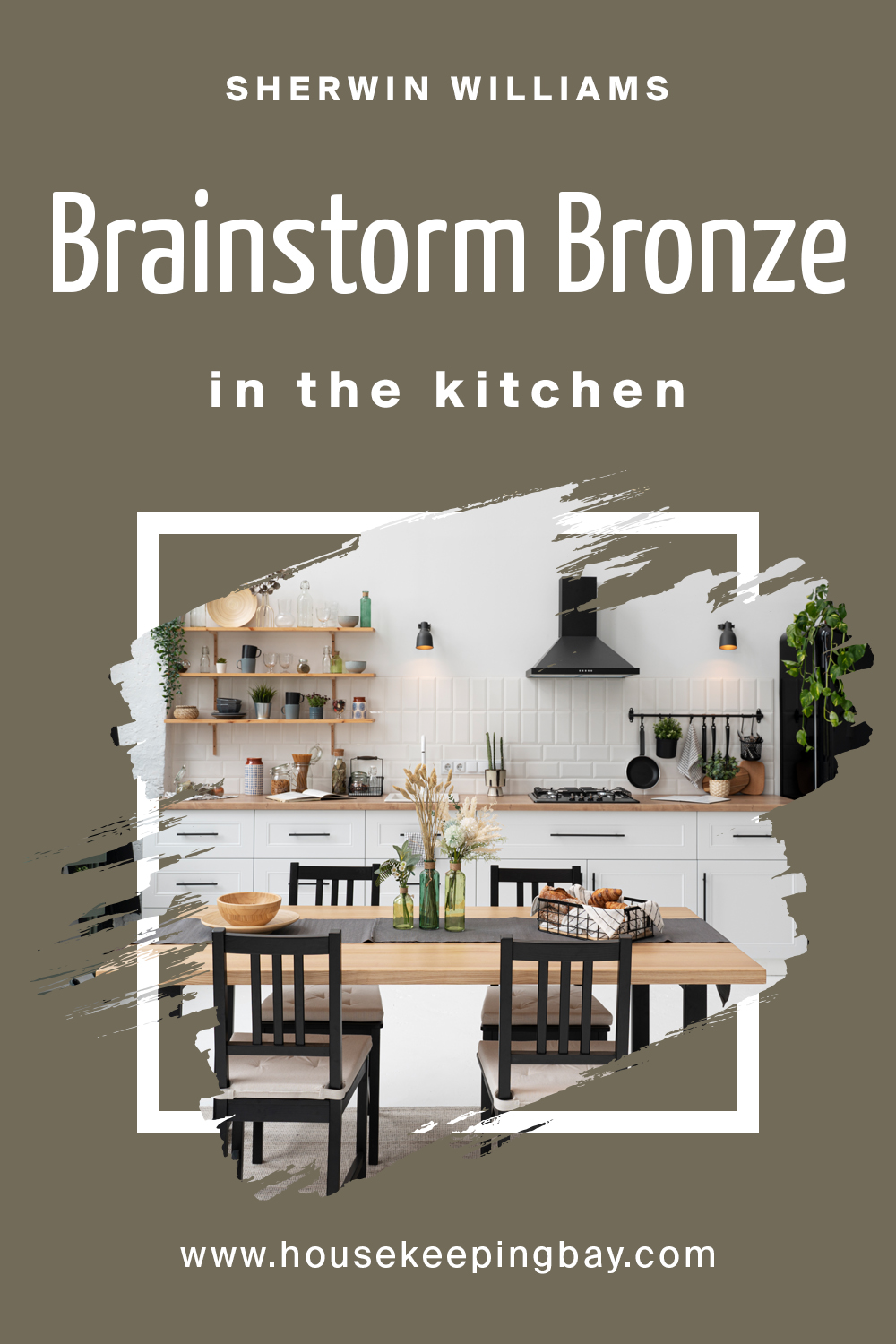 Brainstorm Bronze SW-7033 in the Cabinets
Painting cabinets with SW Brainstorm Bronze? Why not? This color pairs well with whites and especially with off-whites, as well as with several other neutral and saturated colors.
So if you want to emphasize some areas in a room by painting cabinets dark, this color can be a good option.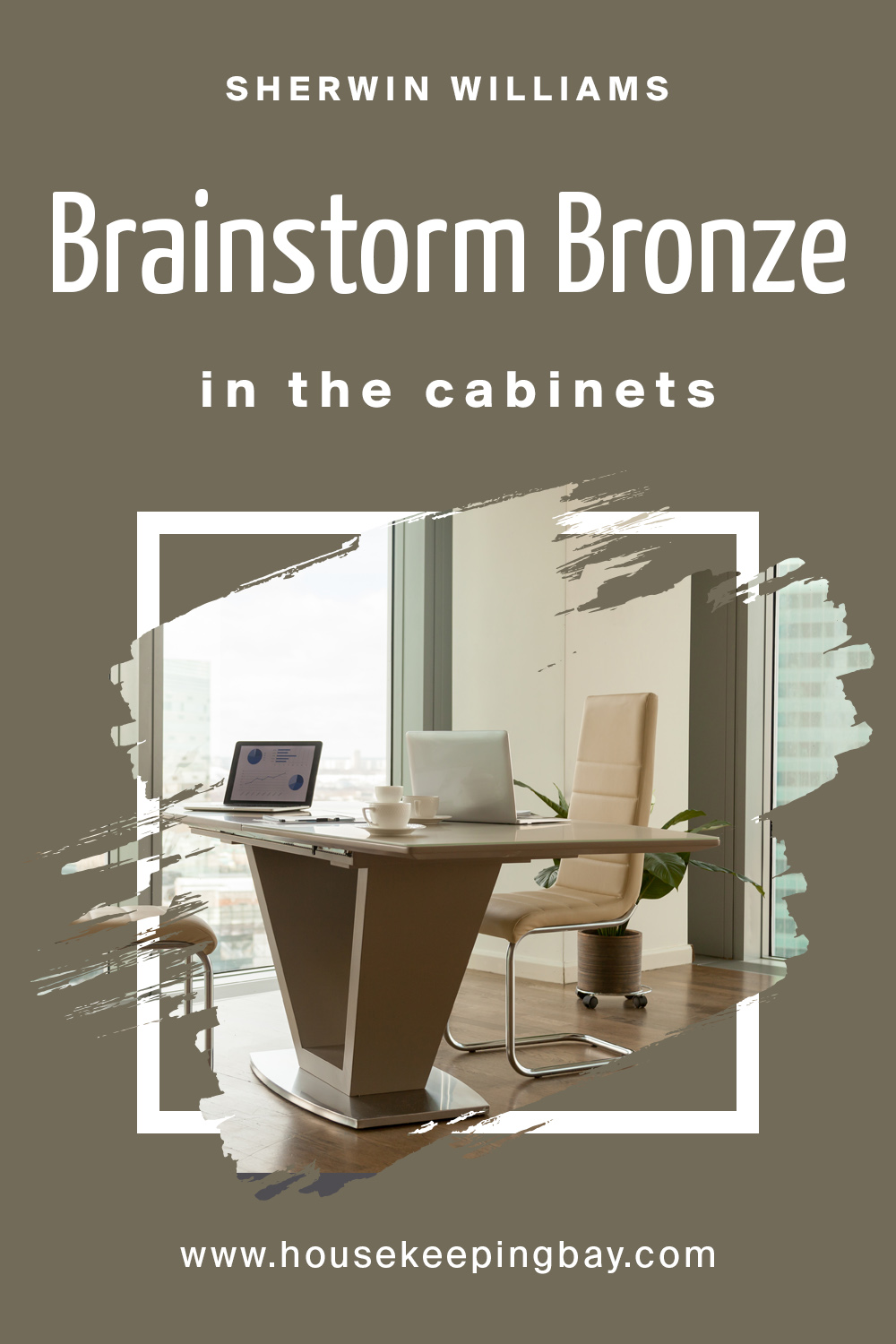 Brainstorm Bronze SW-7033 for the Exterior 
This color is so versatile that it can even be used on your house's facade!
And if you pair it with warm white trims and window frames, the building will get an elegant and reserved look.
The only aspect you should consider is light. If your house is located in the area with a lot of sun and warm daylight, expect the color to look warmer and closer to brown.
In comparison, in cooler daylight, Brainstorm Bronze will show more of its greenish undertones.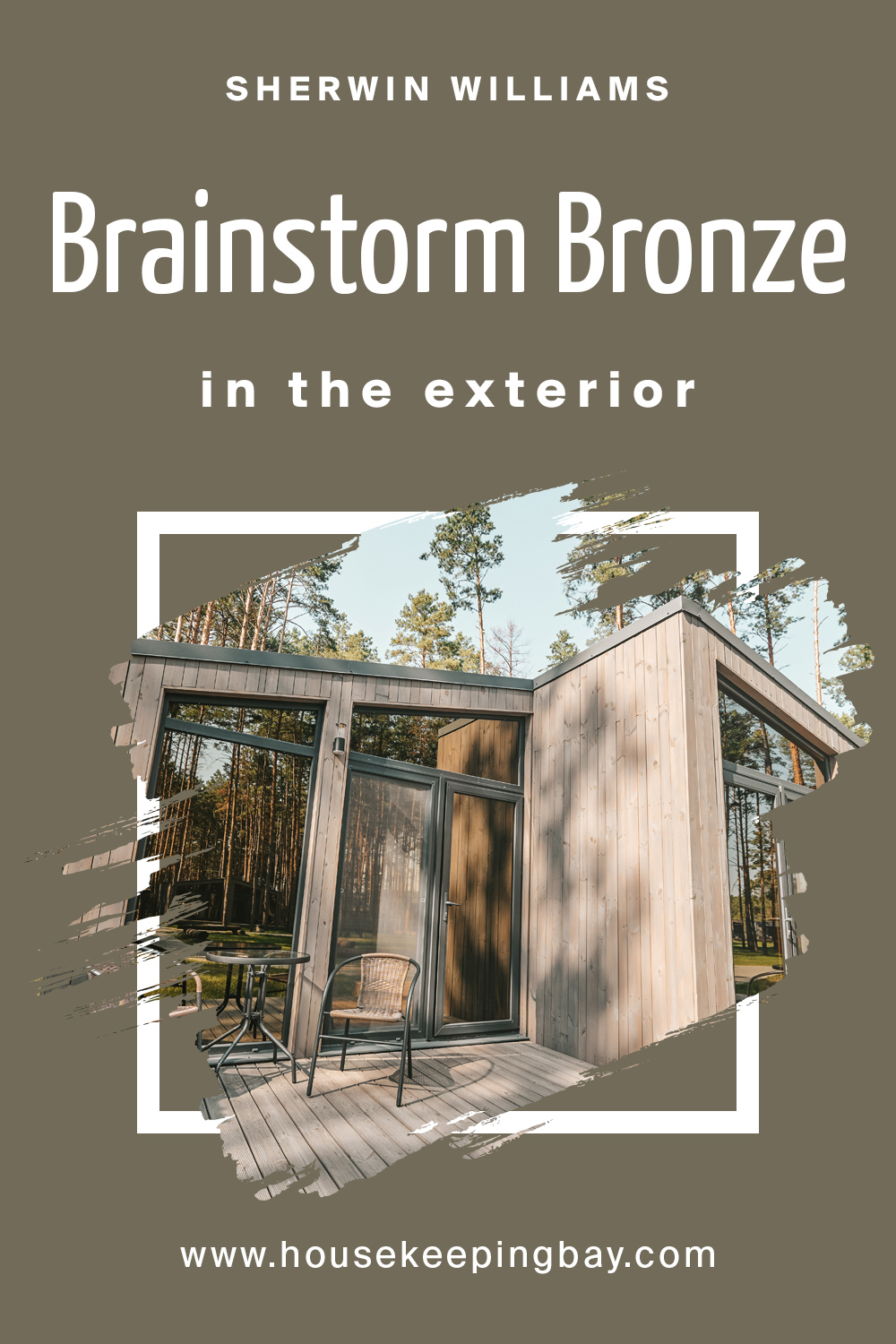 Colors That SW Brainstorm Bronze Goes With
One of the most difficult things in choosing and using paint colors indoors on the interior walls is to combine them with other colors that already exist in the same space or that will be applied along with them.
Let's take a look at SW Brainstorm Bronze as an example. Imagine you decided to paint your living room with this color. Alright, you checked the lighting in the room and you know the paint will look good.
But now here is the question: how well will the paint color work with other colors you have in your living room? How harmonious will the entire color palette of the room be?
This issue becomes even more bothersome if you have to repaint the entire room meaning that you have to choose the color for everything, starting from the walls and ending with the ceiling and window frames!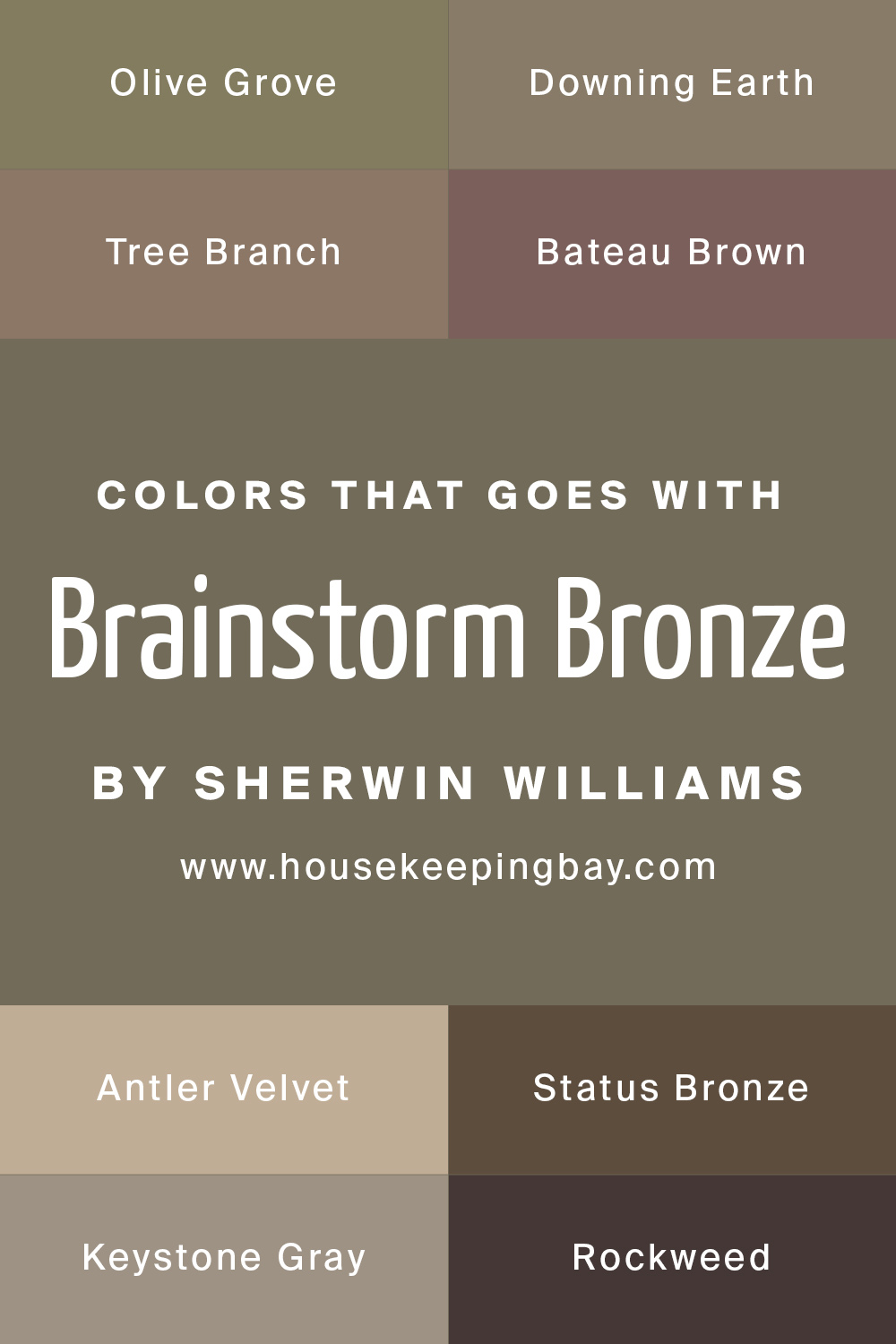 Luckily, we can help you out with that!
If you don't know what colors SW Brainstorm Bronze will look good with, we have prepared a few color schemes for you so that it will be easier for you to navigate and make a choice.
For the analogous color scheme, choose one of the following paint colors to pair it with the Brainstorm bronze:
SW-7734 Olive Grove
SW-2820 Downing Earth
SW-7525 Tree Branch
SW-6033 Bateau Brown
If you prefer a monochromatic color palette, the following colors will work just fine:
SW-9111 Antler Velvet
SW-7034 Status Bronze
SW-7504 Keystone Gray
SW-2735 Rockweed
For the complementary color scheme, any of the listed paint colors will be a great choice:
SW-7032 Warm Stone
SW-6037 Temperate Taupe
SW-0032 Needlepoint Navy
Finally, we have picked a few colors for the triad color scheme for you:
SW-0010 Wickerwork
SW-9179 Anchors Aweigh
SW-2811 Rookwood Blue Green
As you can see, this paint color is not as simple as you might think at first! Yes, it has several undertones and it is essential to pay attention to the lighting before you decide where to use this color in your house.
But if you follow all the recommendations given in this article and use this information reasonably, you can be sure that even this tricky color will work best for you making your home look cozy, elegant and attractive.
Frequently Asked Questions
⭐Is Brainstorm Bronze brown?
No, it's taupe with brown undertones. Bold brown color has more prominent chocolate-brown undertones or hue.
⭐Will SW Brainstorm Bronze pair well with green color?
Yes, especially with muted shades of it. Since both colors are natural, they combine pretty well (remember the color of wood and green leaves).
⭐Brainstorm Brown on kitchen walls - good or not?
Depends on how well the kitchen is lit and how large it is. If the room is spacious enough and it's well lit, then this color will make it look quite cozy and comfortable.