Gray is one of the most commonly used colors in people's homes. It is pretty versatile and besides, gray works well with most interior design styles and color palettes. However, due to the wide selection of gray hues, it can be challenging to pick up the one that suits you most.
Today, we will tell you about the gray color by Sherwin-Williams that can refresh your interior a bit.
This color is called Gray Screen and you are going to discover its features from undertones to LRV and trim colors. Also, we will tell you how to coordinate this hue and in what rooms it is best to be used.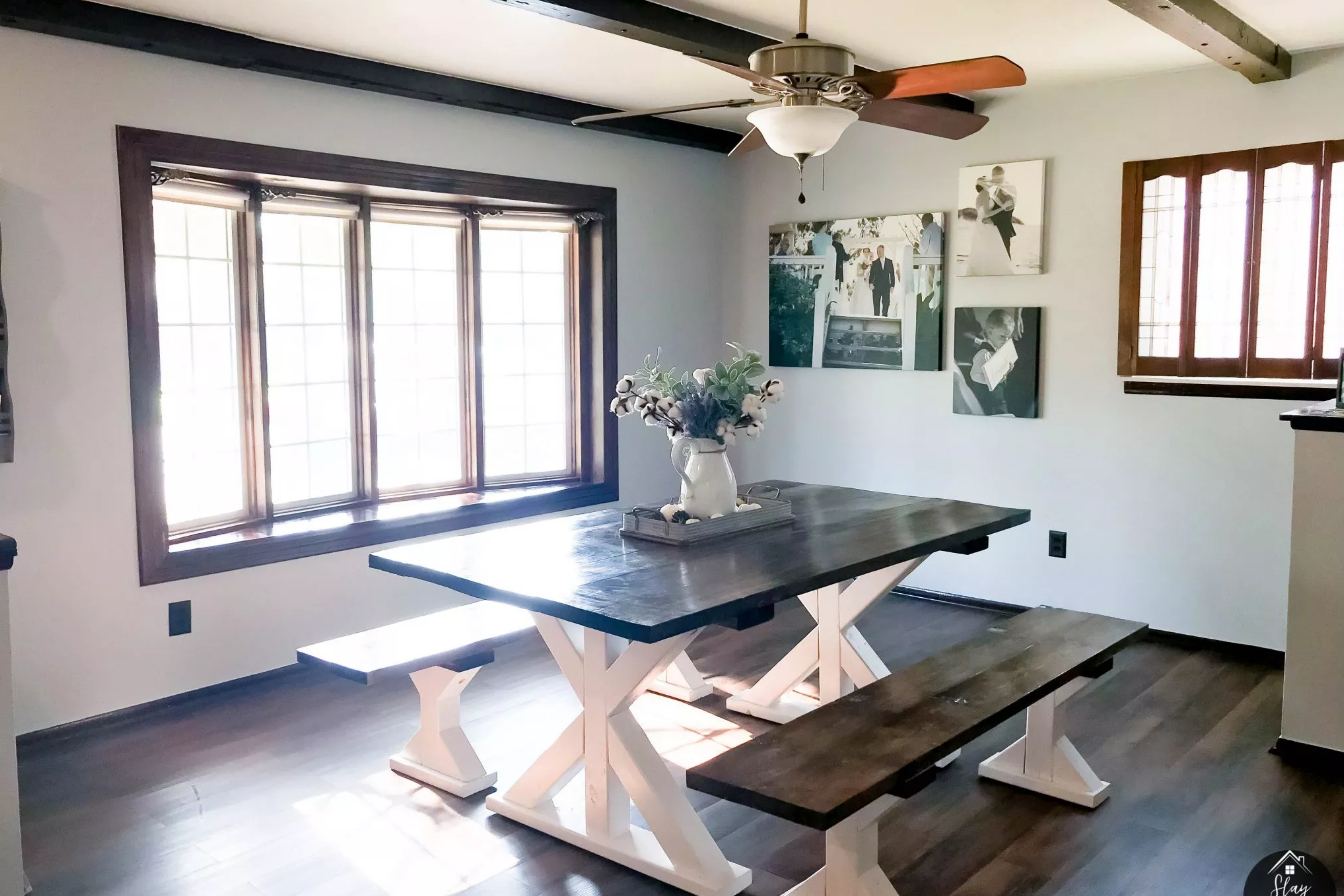 What Kind of Color Is Gray Screen SW 7071?
SW Gray Screen  is a wonderfully calm and cooling neutral gray. It is often used for bedrooms, but this delicate hue will work equally well in other rooms of your home. As Encycolorpedia says, this color reads crisp yet not sterile or cold. It is clean and calm, creating a tranquil atmosphere in a room and making the whole space read more composed.
Also, SW Gray Screen has a cooling feel, which can be especially noticeable when this color is used in rooms with little natural light. This neutral paint color also displays notable depth and character to it.
Hence, you should definitely consider this color to make your space stand out and highlight its identity.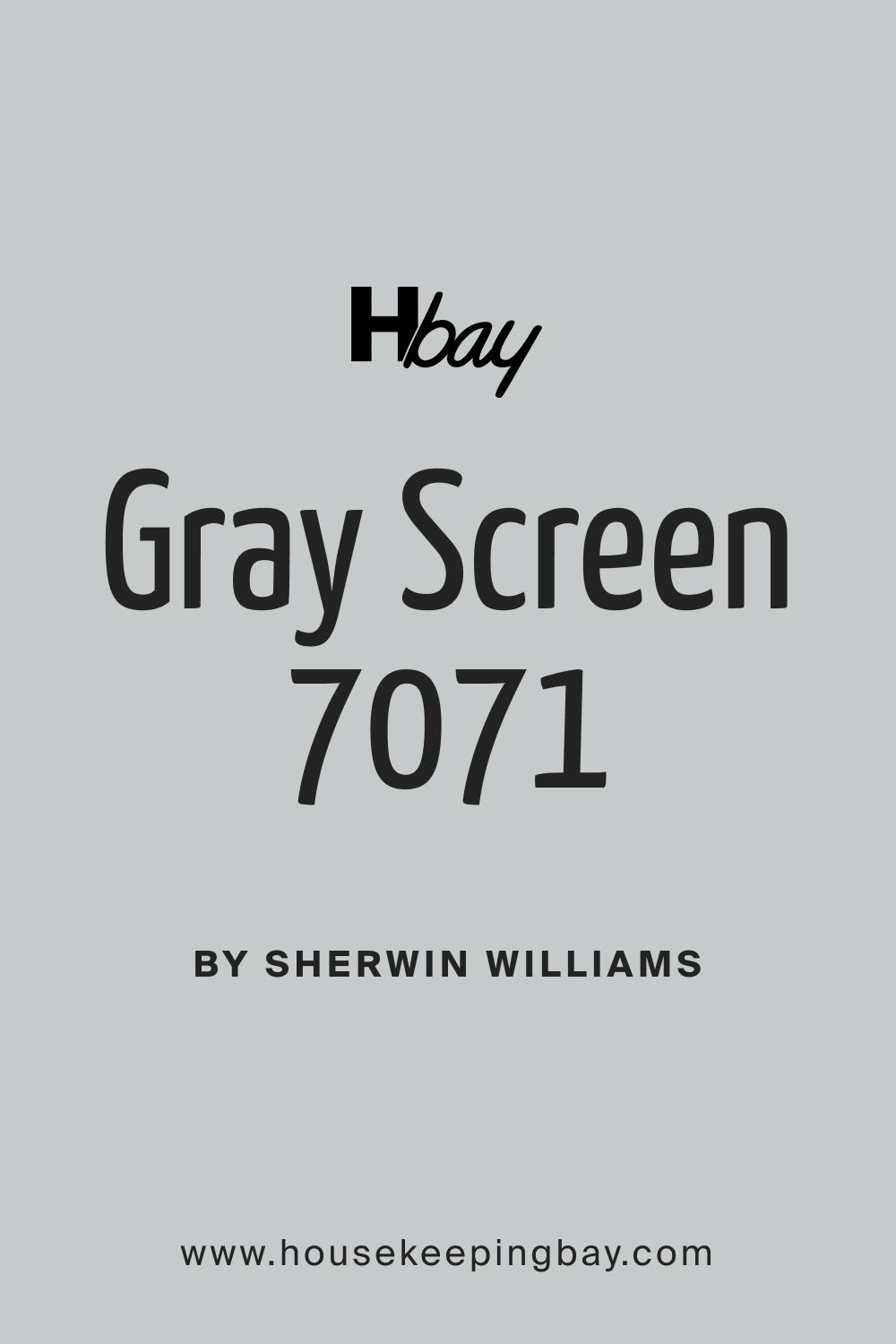 Is It a Warm or Cool Color?
SW Gray Screen is definitely a cool-toned color. However, there is no icy feel to it at all! This neutral gray won't make your space feel chilly, giving you shivers. Instead, it will add a reasonable amount of freshness to any room where it is used.
However, you should note that SW Gray Screen may occasionally show a bit of bluish hue! But this bluish tint is what makes this hue quite a popular option – only because of how well it pairs with the hardwood floors and surfaces, as well as crisp white paint.
What Undertones Does Gray Screen SW 7071 Have?
Undertones can be the biggest stumbling stone for most homeowners! Quite many paint colors have complex undertones that don't come out at once. As a result, the color you choose may read differently after you apply it to the wall.
Speaking of SW Gray Screen, this true gray has a gorgeous and deep blue undertone that makes this light and neutral hue express itself with lot of personality and color. On the other hand, this blueness may show up in specific lighting conditions, so consider this and sample the color in advance!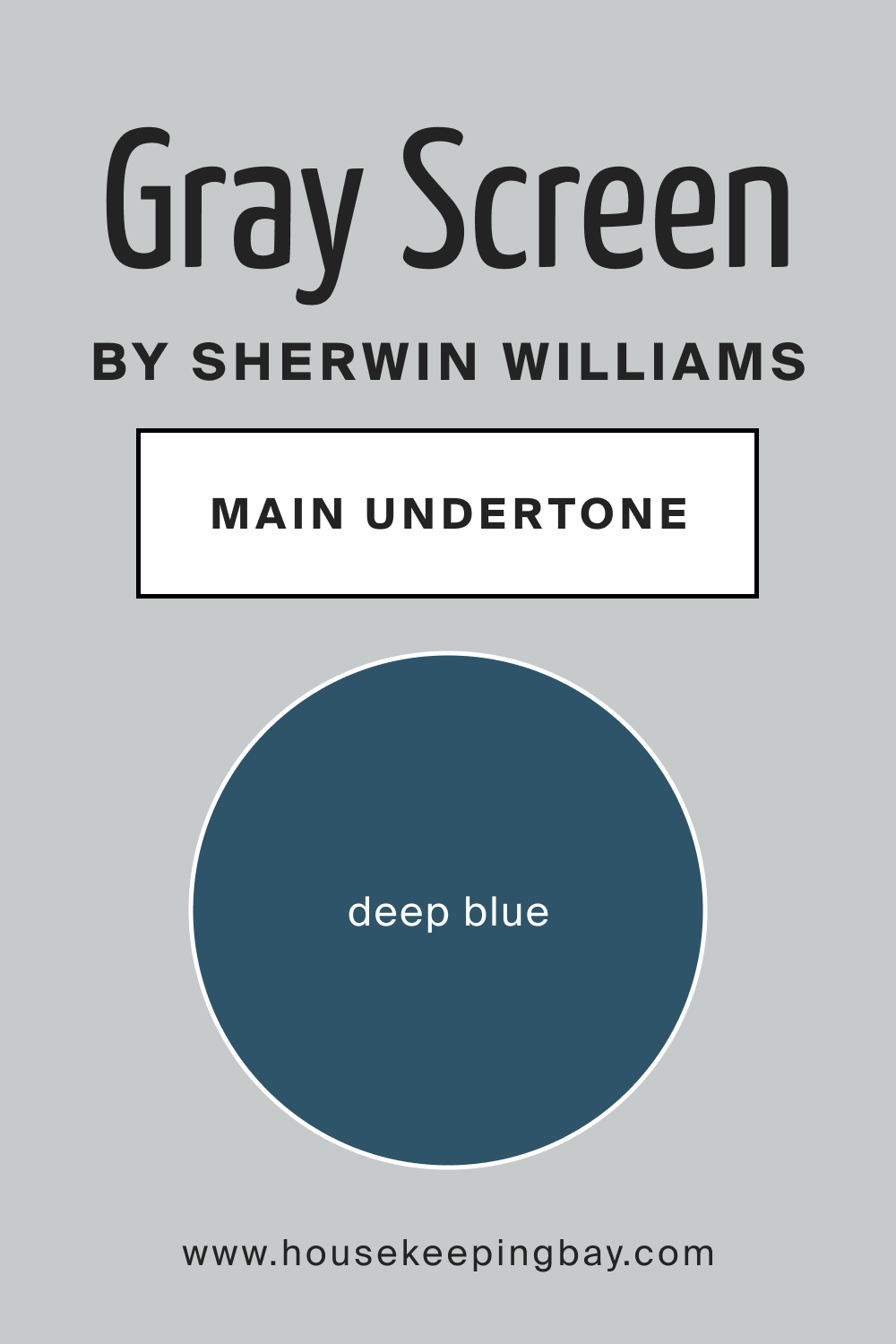 Coordinating Colors to Use With Gray Screen SW 7071
Playing with colors and trying to select the most suitable coordinating ones can be a fun task to accomplish, but only if you have at least some basic understanding of color theory. If you don't, this process might turn into a tough challenge!
So, if you are not sure what colors will coordinate SW Gray Screen, check out several helpful ideas we have prepared:
SW 7070 Site White
SW 0046 White Hyacinth
SW 0047 Studio Blue Green
For the monochromatic color palette, we recommend you the following colors to coordinate SW Gray Screen:
SW 7073 Network Gray
SW 7075 Web Gray
SW 7072 Online
SW 7074 Software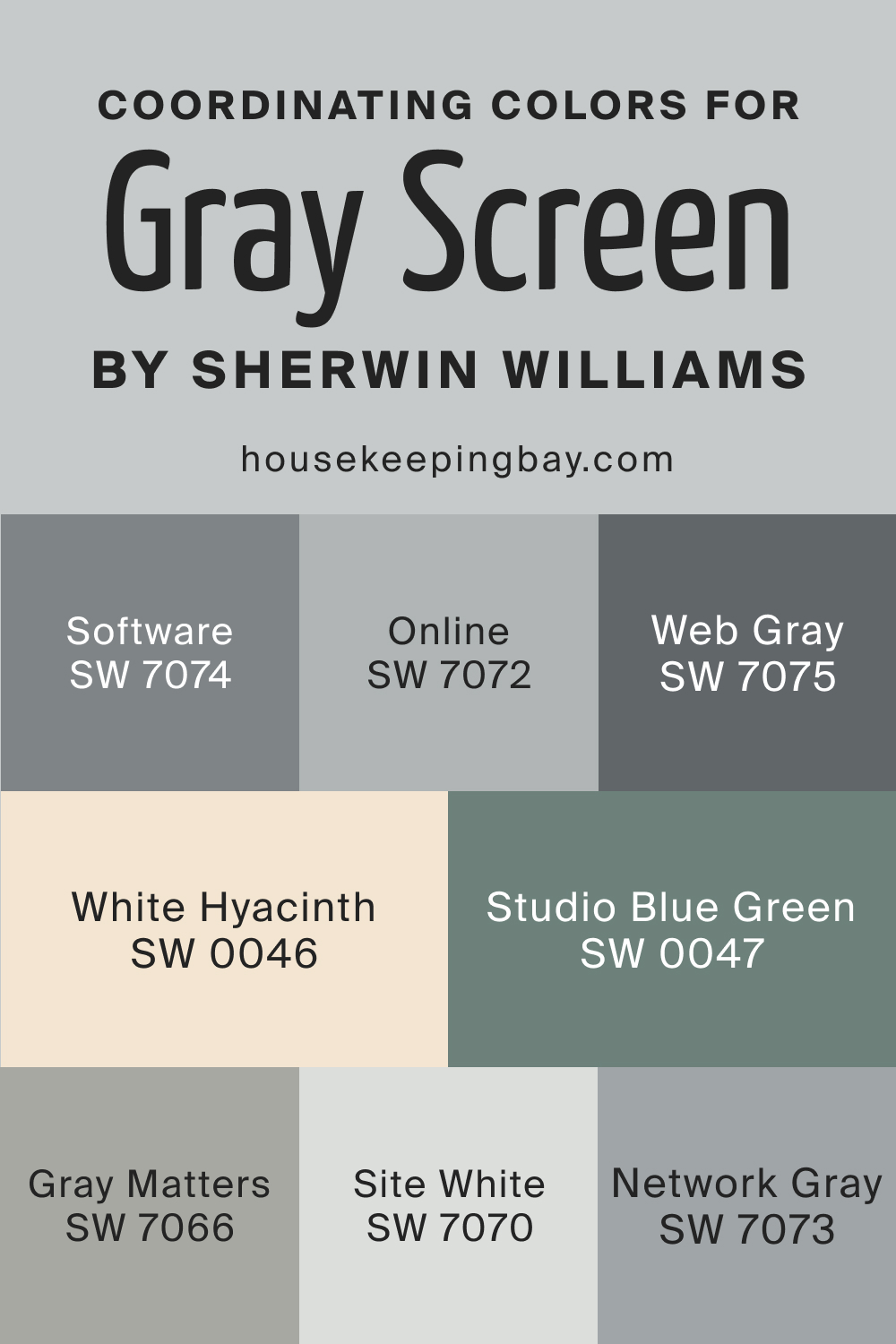 Should you strive for a more colorful palette in your home, you might find the following coordinating colors interesting:
SW 7066 Gray Matters
SW 6191 Contented
SW 9162 Coastal Plain
SW 7067 Cityscape
SW 7076 Cyberspace
SW 7045 Intellectual Gray
SW 7070 Site White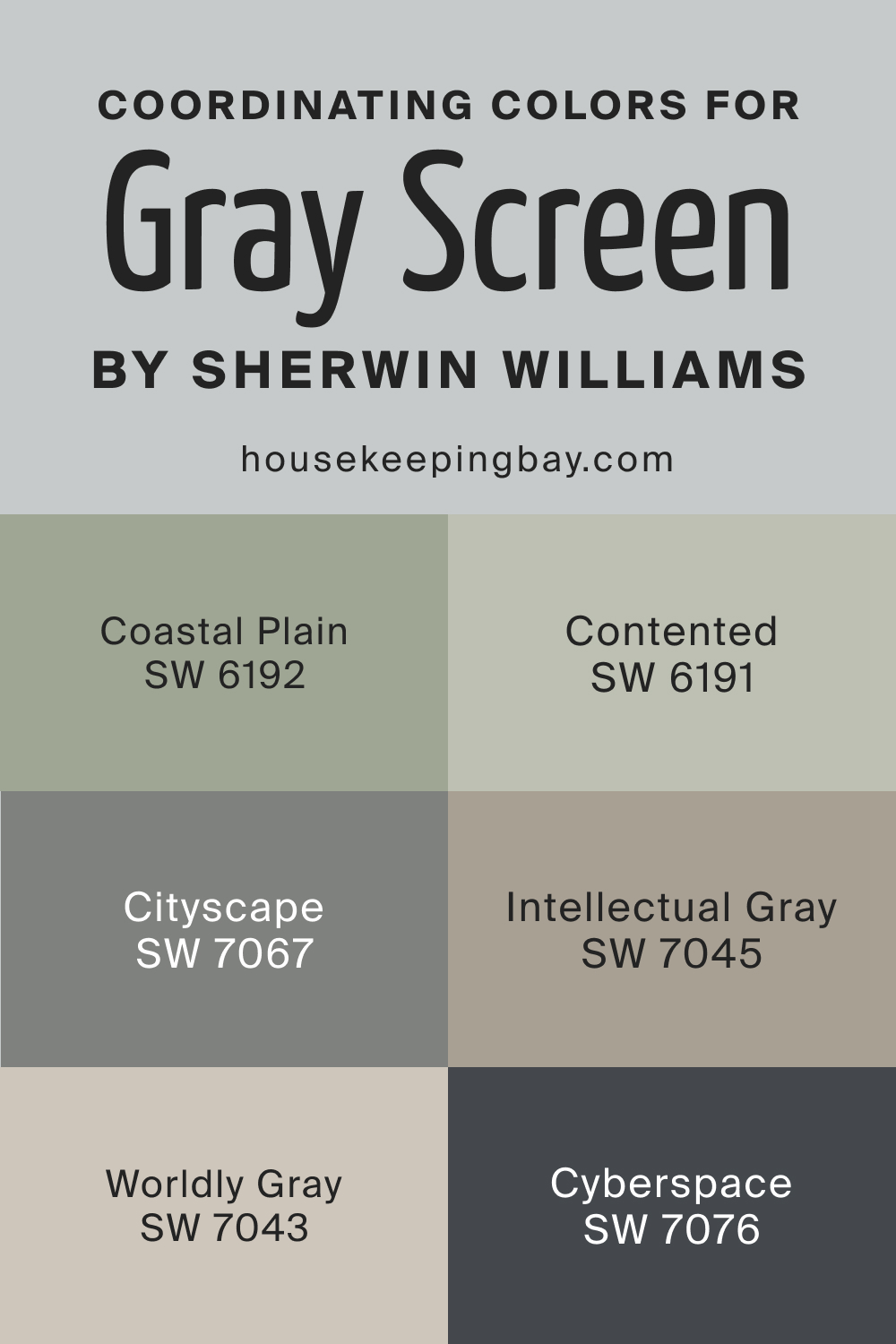 What LRV Does SW Gray Screen Paint Color Have and How It Reacts to Light
The LRV (light reflectance value) of SW Gray Screen is 59, which means this color falls on the medium end of the scale, somehow aligning on the lighter end. As you probably remember, the closer the LRV value to 100, the lighter the color. Respectively, paint colors whose LRVs approach zero are dark and reflect less light.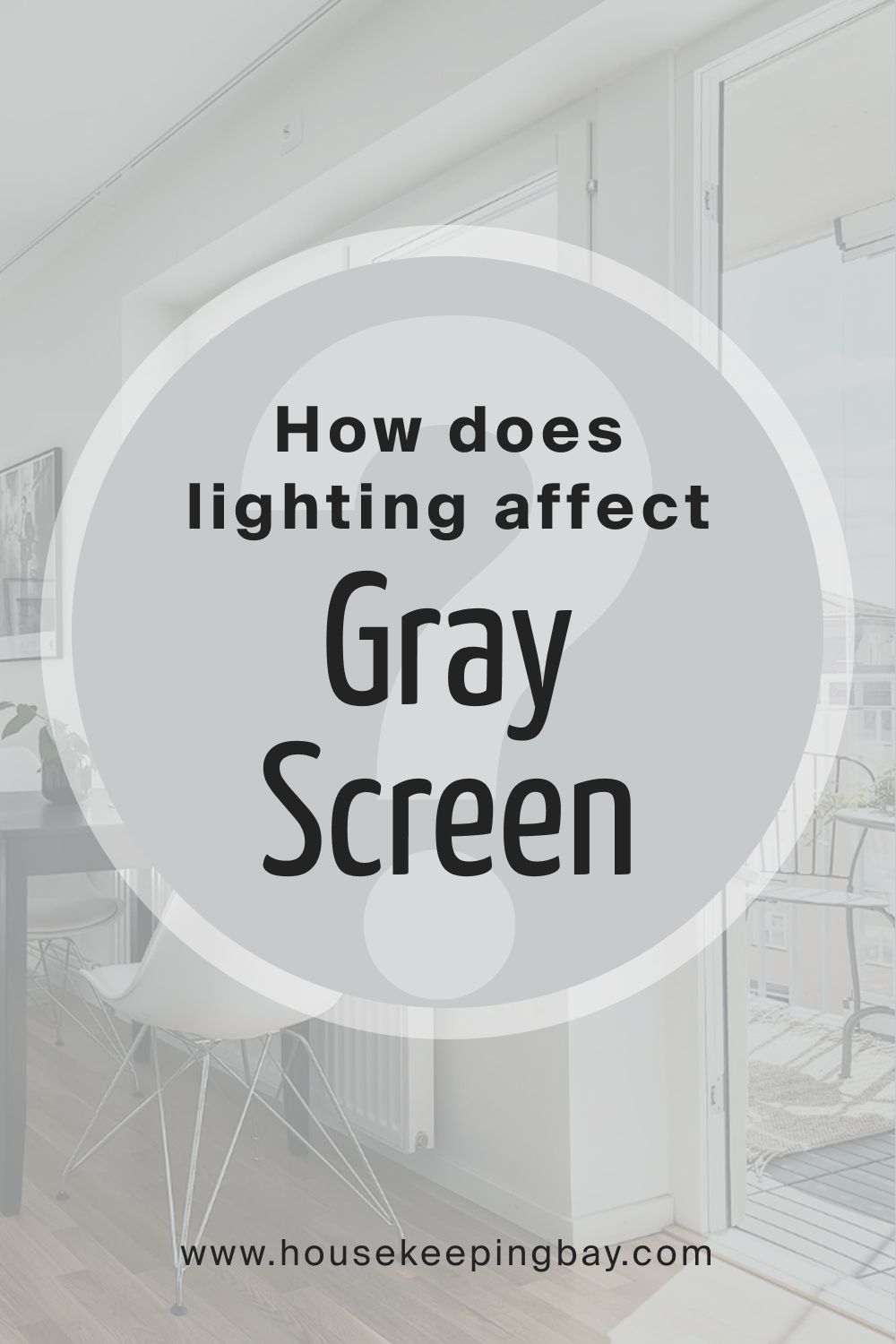 With this medium LRV value, SW Gray Screen reads light enough in a room, looking crisp, chilly, and quite refined. Also, due to high reflectivity and deep cool undertones, this neutral paint color will create an illusion of a larger space, pushing away the walls.
At the same time, you should note that SW Gray Screen goes hand in hand with the light in your home! The more ample natural light is there in a room, the lighter and brighter this gray will feel. On the other hand, in a room with little to no light, this color will read shady and give off a dingy feel.
In general, we would recommend you use this true gray in west, south, or east-facing rooms. In the north-facing rooms, it may feel too cool and unwelcoming!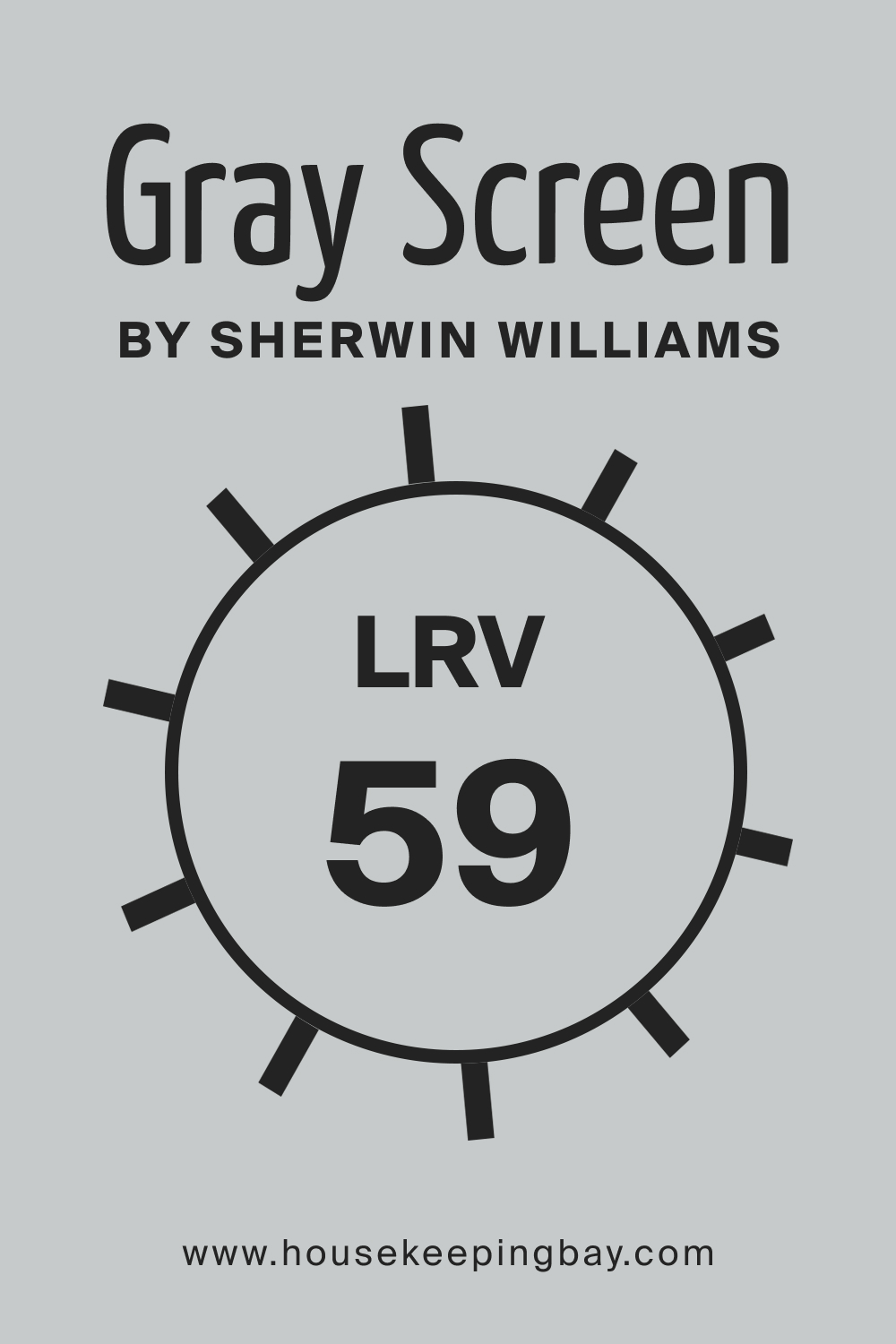 What is LRV? Read It Before You Choose Your Ideal Paint Color
What Is the Best Trim Color to Use With Gray Screen SW 7071?
White is the best trim color due to its versatility, and you will hardly make a mistake if you choose white to paint your trim. For SW Gray Screen, this rule of thumb works as well. For your ceilings, trims, and moldings, try either SW Extra White or SW Pure White. Both will help protrude a true hue of SW Gray Screen.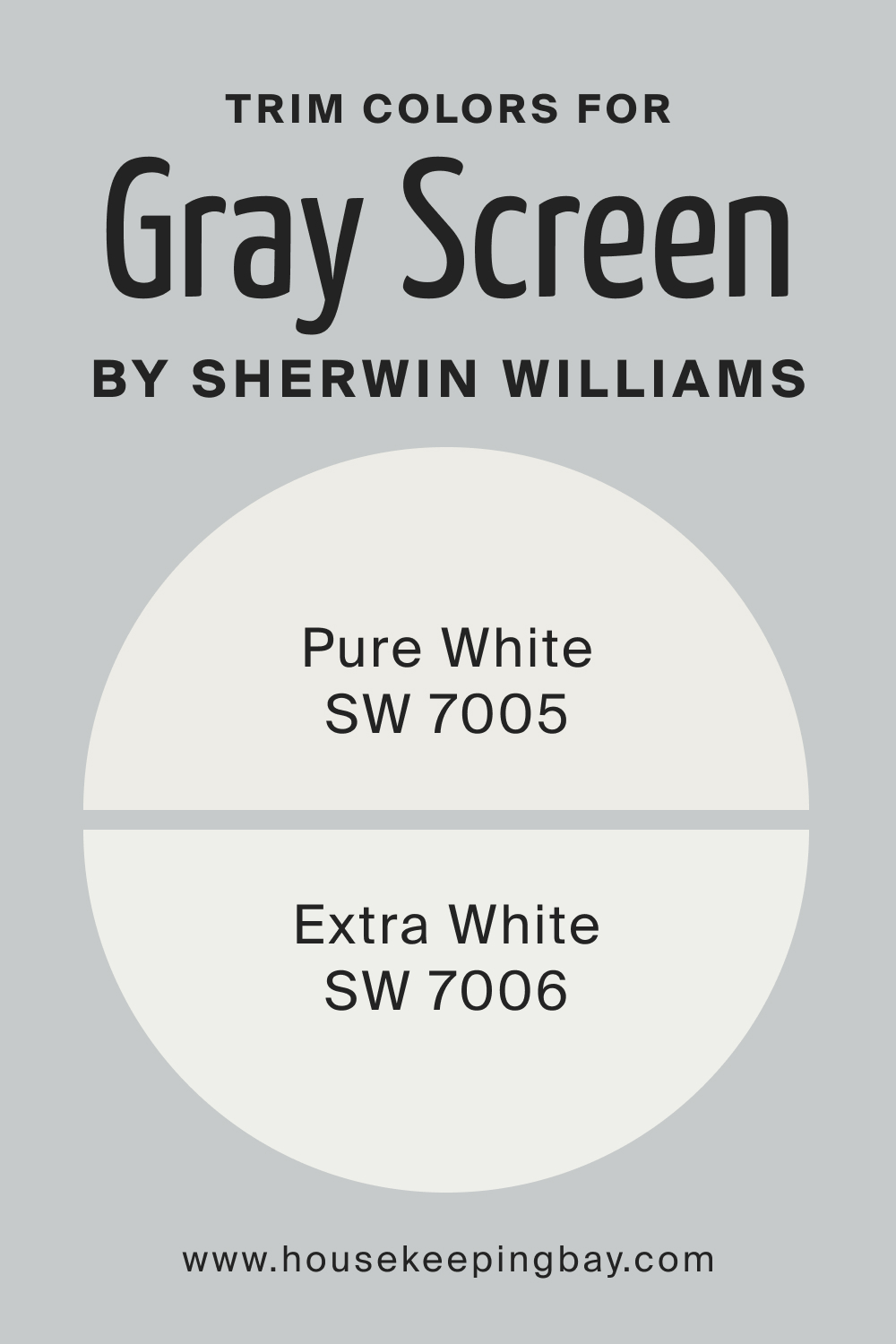 Colors Similar to SW Gray Screen
If you are not satisfied with how this calm and light gray works in your home, you might want to try another gray hue that reads similar. For this purpose, we have prepared a list of colors that look nearly the same as SW Gray Screen on the walls.
SW 7662 Evening Shadow
SW 6246 North Star
SW 6232 Misty
SW 6254 Lazy Gray
SW 9642 Silver Tipped Sage
BM 1604 Silvery Moon
However, you should keep in mind that none of them is an ideal match. Each hue will still differ in LRV and undertones a bit.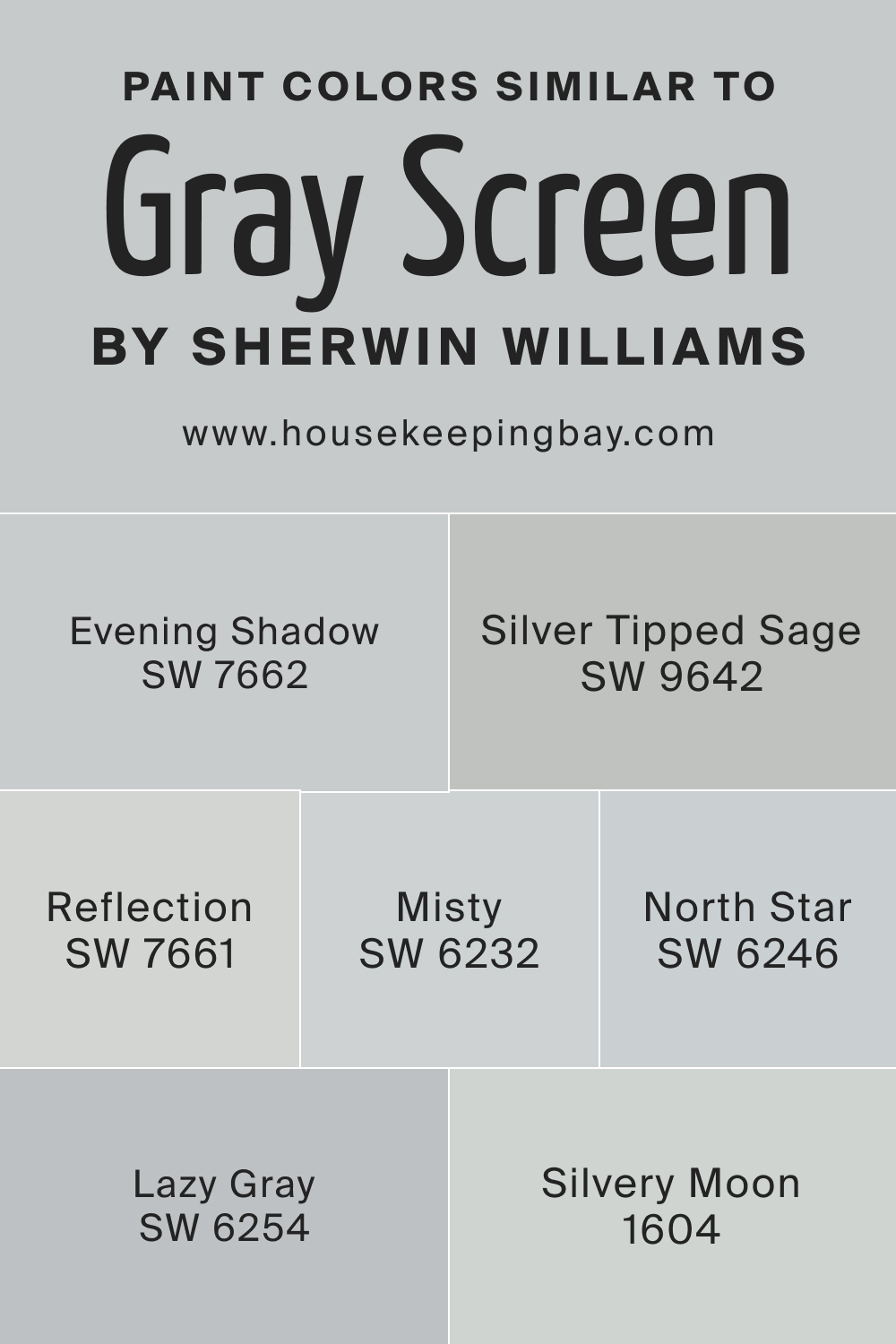 Colors That Go Well With Gray Screen SW 7071
To achieve a well-balanced yet varied palette in your home that looks welcoming and harmonious, you should know what colors will work best with the hue used on the walls. For SW Gray Screen, we recommend you use the following colors:
SW 6219 Rain
SW 6224 Mountain Air
SW 7619 Labradorite
SW 6242 Bracing Blue
SW 2740 Mineral Gray
SW 2739 Charcoal Blue
SW 6413 Restoration Ivory
Since they are all muted and calm, they will result in a space that looks very pleasing to the eye.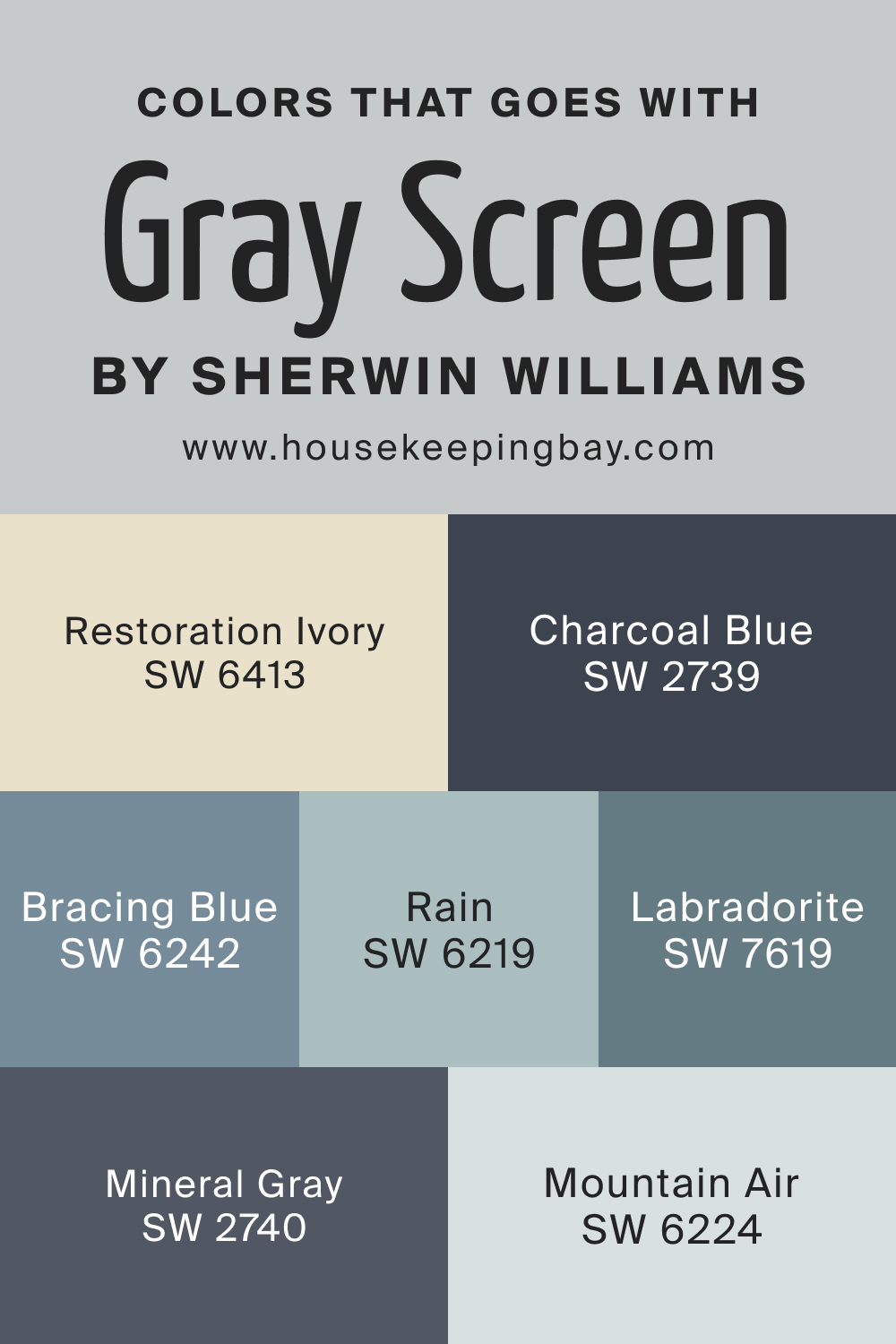 Where to Use This Gray Screen SW 7071 Color In Your Home?
This shade of gray is surprisingly versatile when it comes to choosing the best room for it in your home! You can use SW Gray Screen in almost any room if you want to make a great soothing and subtle statement there. Below, we describe how it can read in different spaces.
Gray Screen SW 7071 in the Living Room
You can incorporate this light paint color on all the walls of your living room, adding a bit of contrast with the help of an accent wall painted bold gray, for example. Should you need more warmth, try shag rugs, faux and fur on the pillows, and blankets. Finally, your living room will look somewhat more vivid and playful if you add a few tinges of mustard through pillows.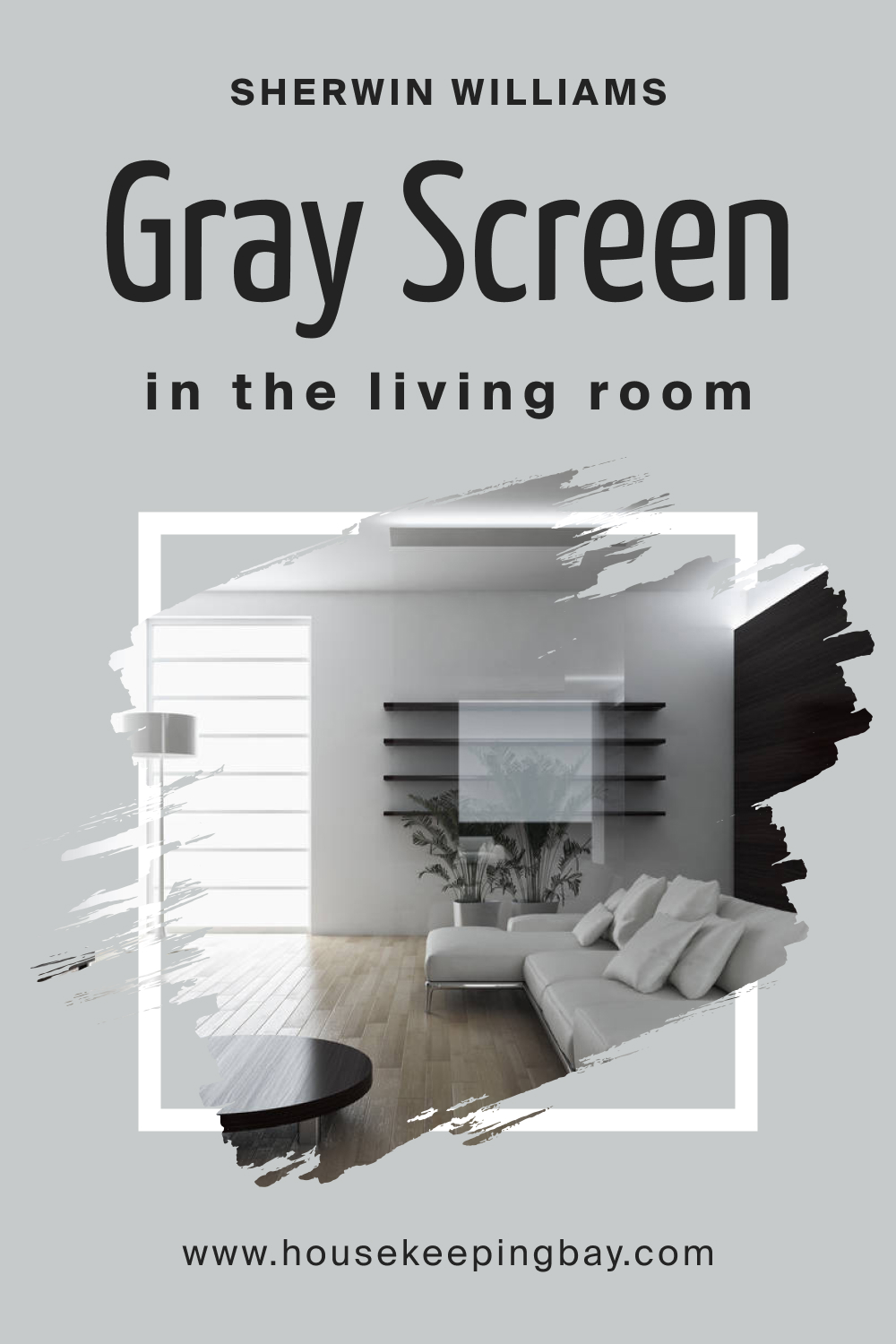 Gray Screen SW 7071 in a Bedroom
This delicate and light gray works perfectly well if you want to make your bedroom feel calm, cool, and composed. However, don't forget the deep blue undertones this color has! To balance this depth, you might want to use crisp whites on the trims and molding, and ample faux fur. This will create a more harmonious and contrasting look.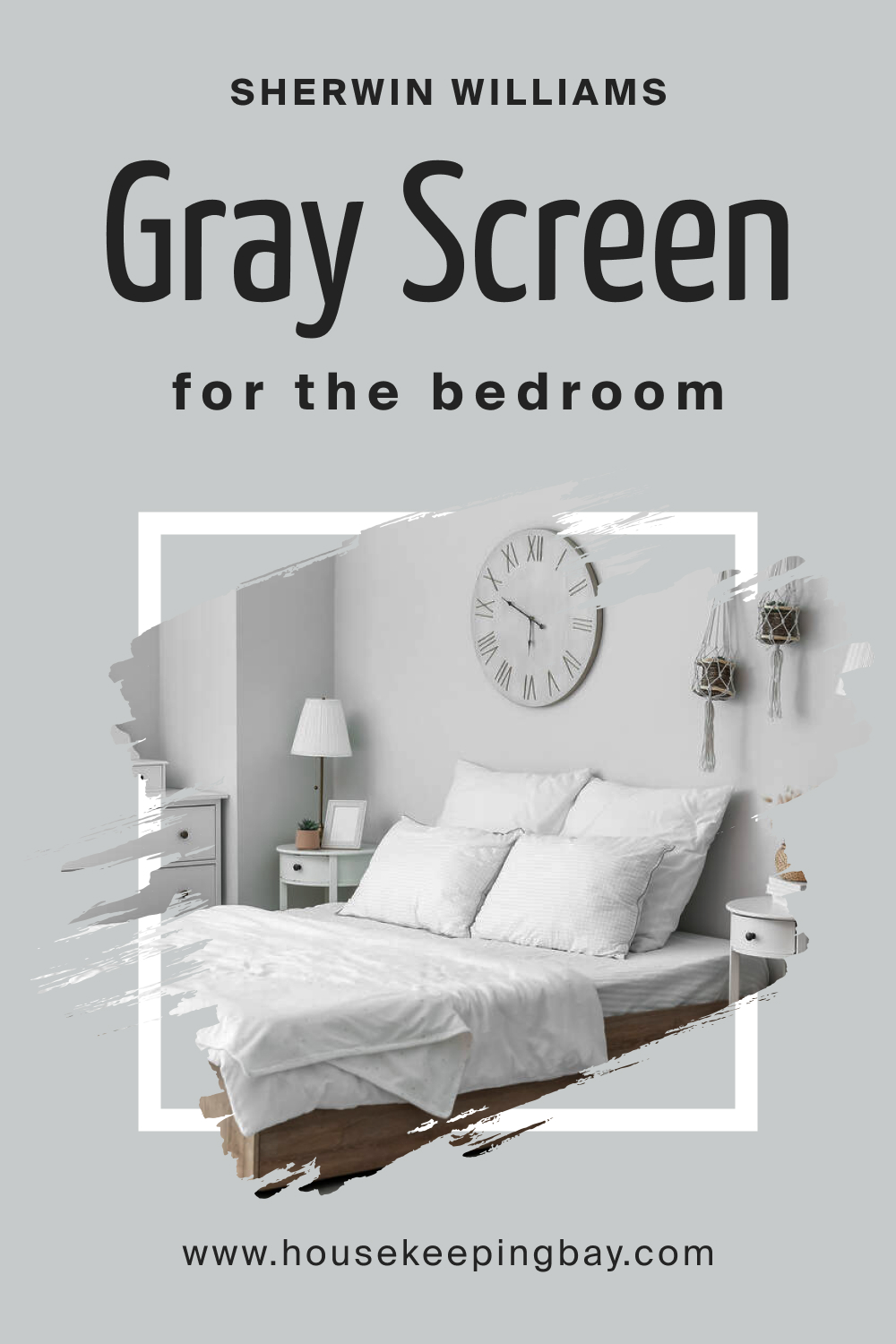 Gray Screen SW 7071 and Kitchen
With this hue, your kitchen will always be trendy! Especially considering the fact that it can complement any interior design style. This gray color will add a fresh and airy vibe to the space. And if you want a catchy effect, paint your lower cabinets in bold blue.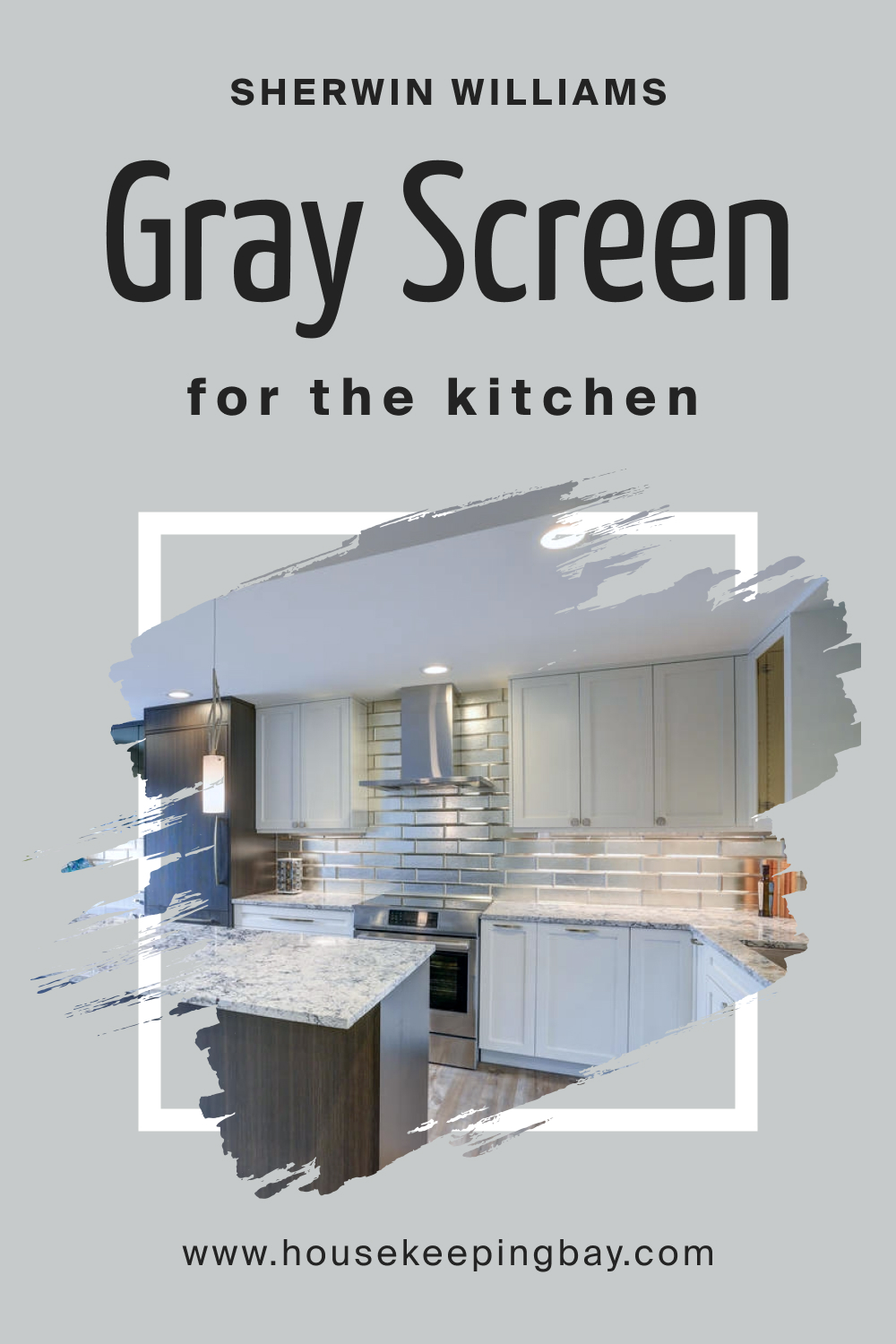 Gray Screen SW 7071 and Bathroom
With its chilly and crisp look, SW Gray Screen is perfect for bathrooms. use it on the vanity or paint one of the walls in this hue, leaving the rest white. It will make the space read less pale and monotonous. Of course, in a large bathroom with ample natural light, you can try this gray on all the walls.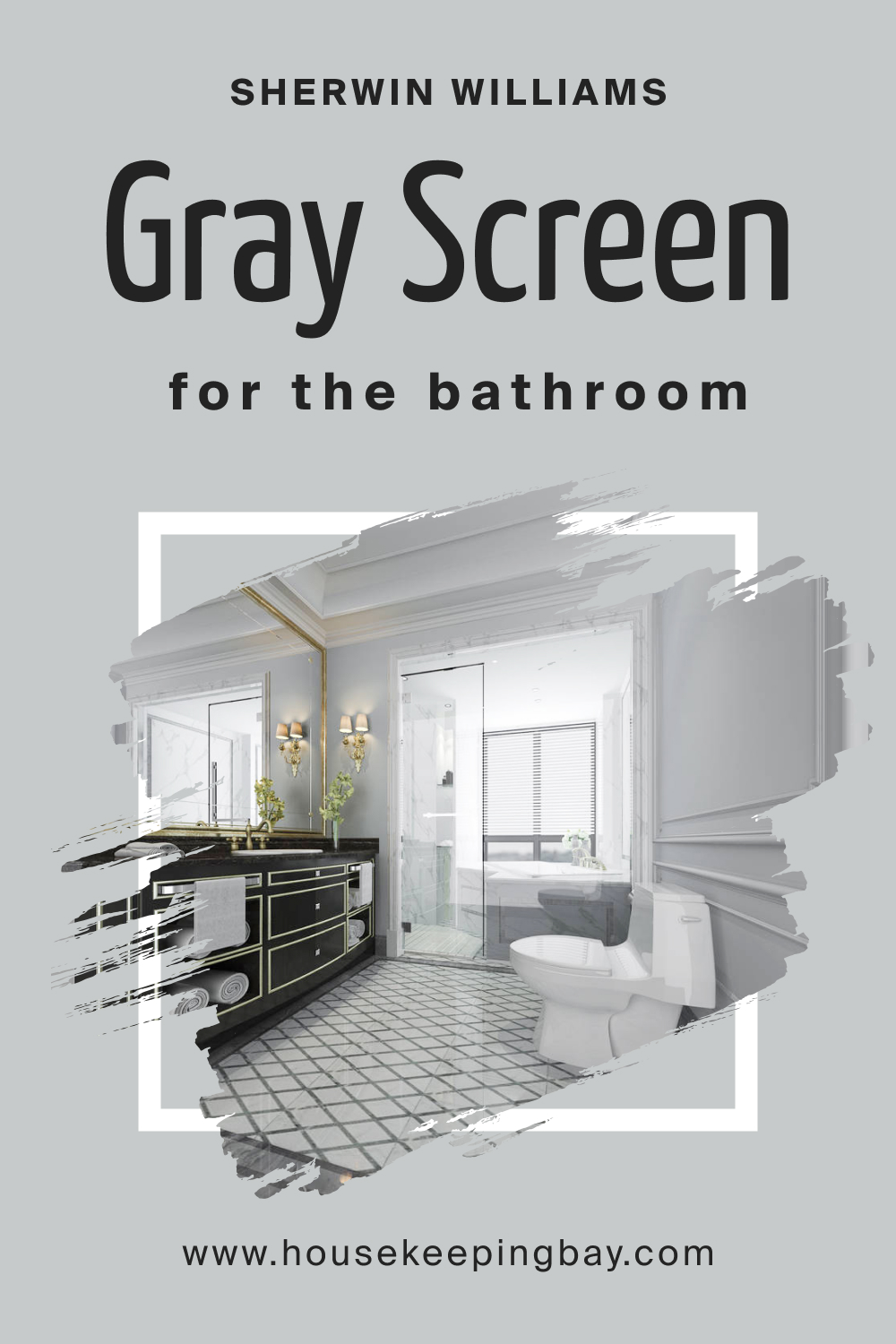 Gray Screen SW 7071 for the Exterior Use
This hue will work specifically well for the Craftsman, Ranch-style, Mid-Century Modern, and transitional homes. Used on the exteriors, SW Gray Screen adds a timeless and elegant vibe to your home, especially if you pair it with black or dark gray-colored tiles along with crisp white for the moldings and trims.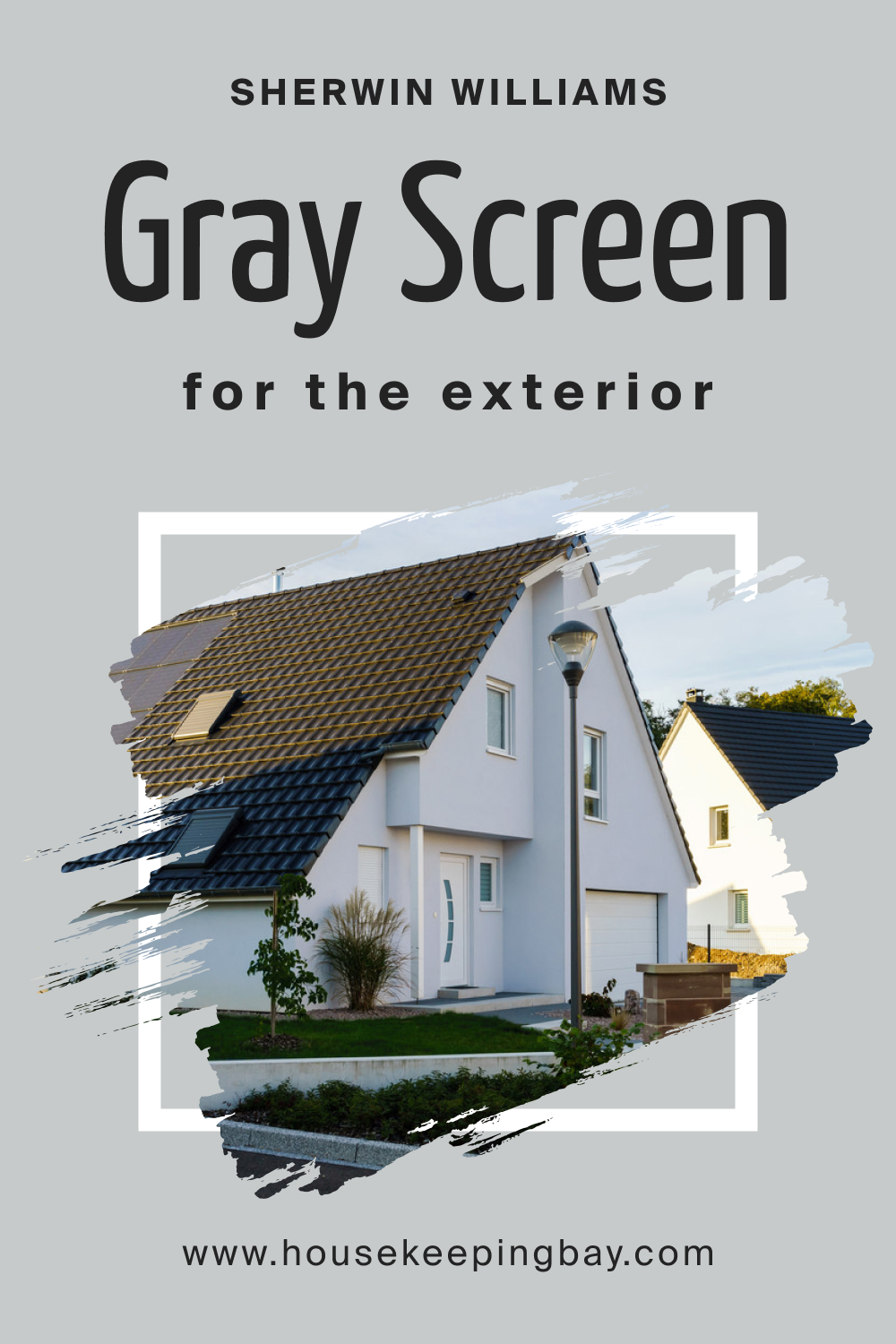 Comparing Gray Screen SW 7071 With Other Colors
Below, we have compared SW Gray Screen with several colors that look almost like this clean and light gray hue. This will help you see distinctions between similar colors more clearly and understand what to pay attention to when choosing the color for your home.
Gray Screen vs. SW 7015 Repose Gray
Although Repose Gray and Gray Screen are both considered cool paint colors, they are two totally different grays. SW Gray Screen has a Light Reflective Value of 59, and SW Repose Gray has an LRV of 58, which is extremely close. But these colors read completely different.
SW Gray Screen looks grayer and cooler than SW Repose Gray, which reads greige-like. Also, SW Repose Gray has blue and slightly violet undertones unike its counterpart, whose undertones are blue.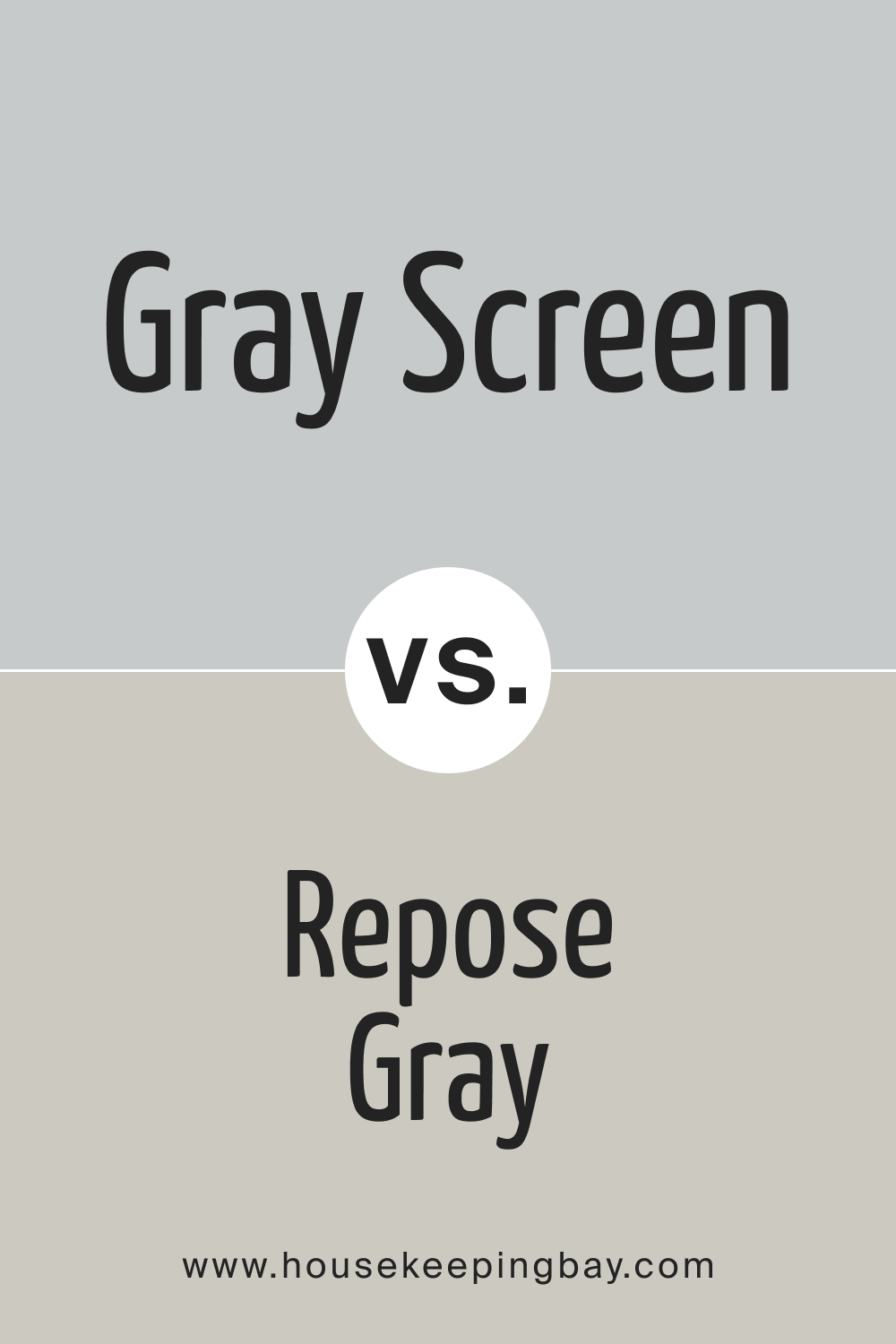 Gray Screen vs. SW 0055 Light French Gray
SW Gray Screen has nearly the same depth as the Light French Gray color. They also have very similar LRVs. But, when you compare these colors side by side, you will see SW Light French Gray reveals purple undertones and SW Gray Screen displays its blue undertones very clearly. In general, these two highlight the true tones of the other.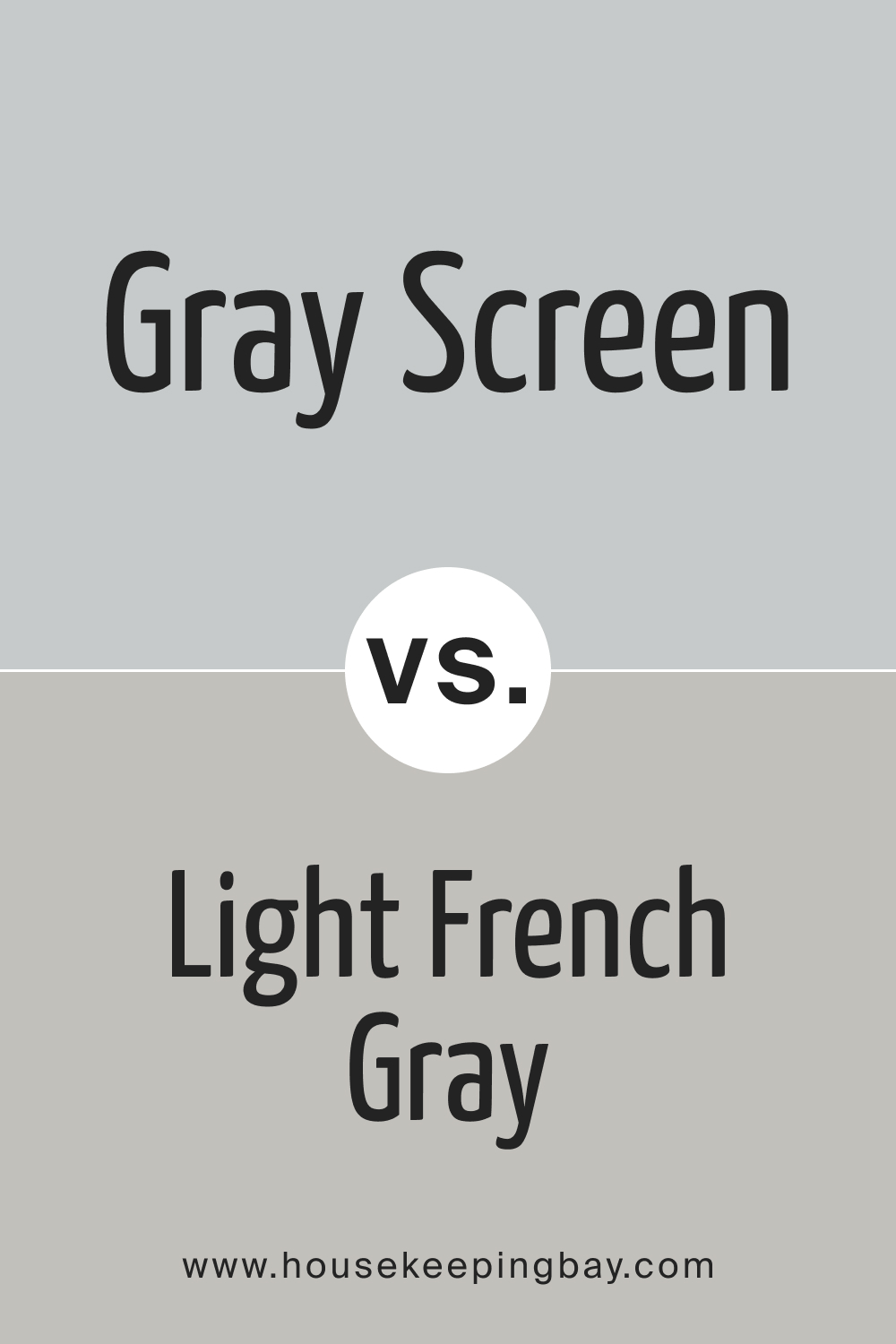 Gray Screen vs. SW 7064 Passive
SW Gray Screen has an LRV of 59, while SW Passive has an LRV of 60, so they don't have too much difference there. But when you compare them side by side, you can see how distinct they are. SW Gray Screen has a much more pronounced blue undertone to it, whereas blue undertones of SW Passive are more muted.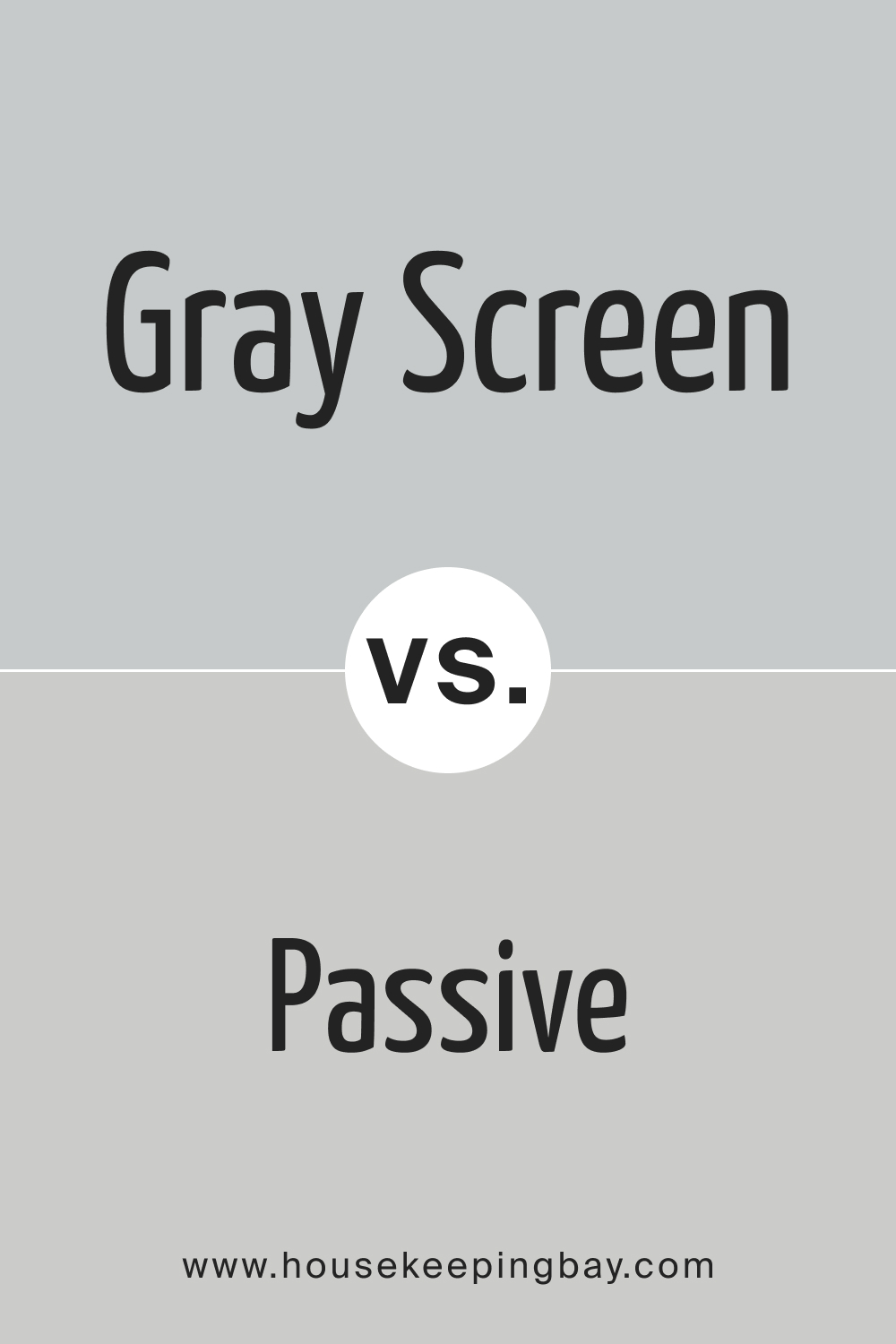 Gray Screen vs.  SW 7029 Agreeable Gray
SW Agreeable Gray is greige, which is why it reads warmer than SW Gray Screen. Also, SW Agreeable Gray has very slight greenish undertones unlike SW Gray Screen, whose undertones are blue. However, their LRVs are very close (59 for SW Gray Screen and 60 for SW Agreeable Gray). As a result, both colors look the same muted.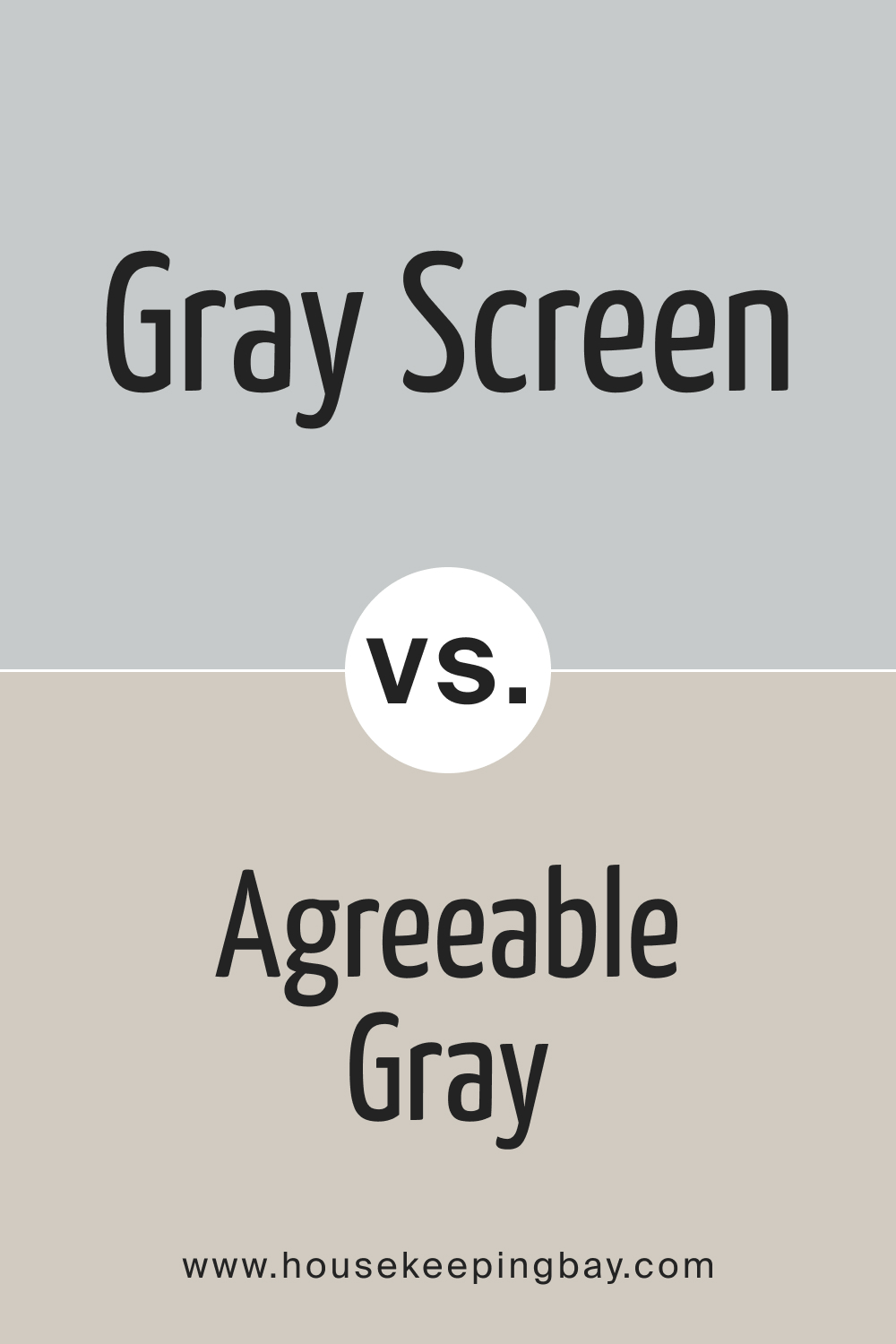 Gray Screen vs. BM HC-172 Revere Pewter
BM Revere Pewter has a warm and neutral beige undertone, which is why it reads warmer and softer than SW Gray Screen, whose undertones are blue and cool. Also, with an LRV of 55, BM Revere Pewter is less light and reflective than its counterpart, whose LRV is 59.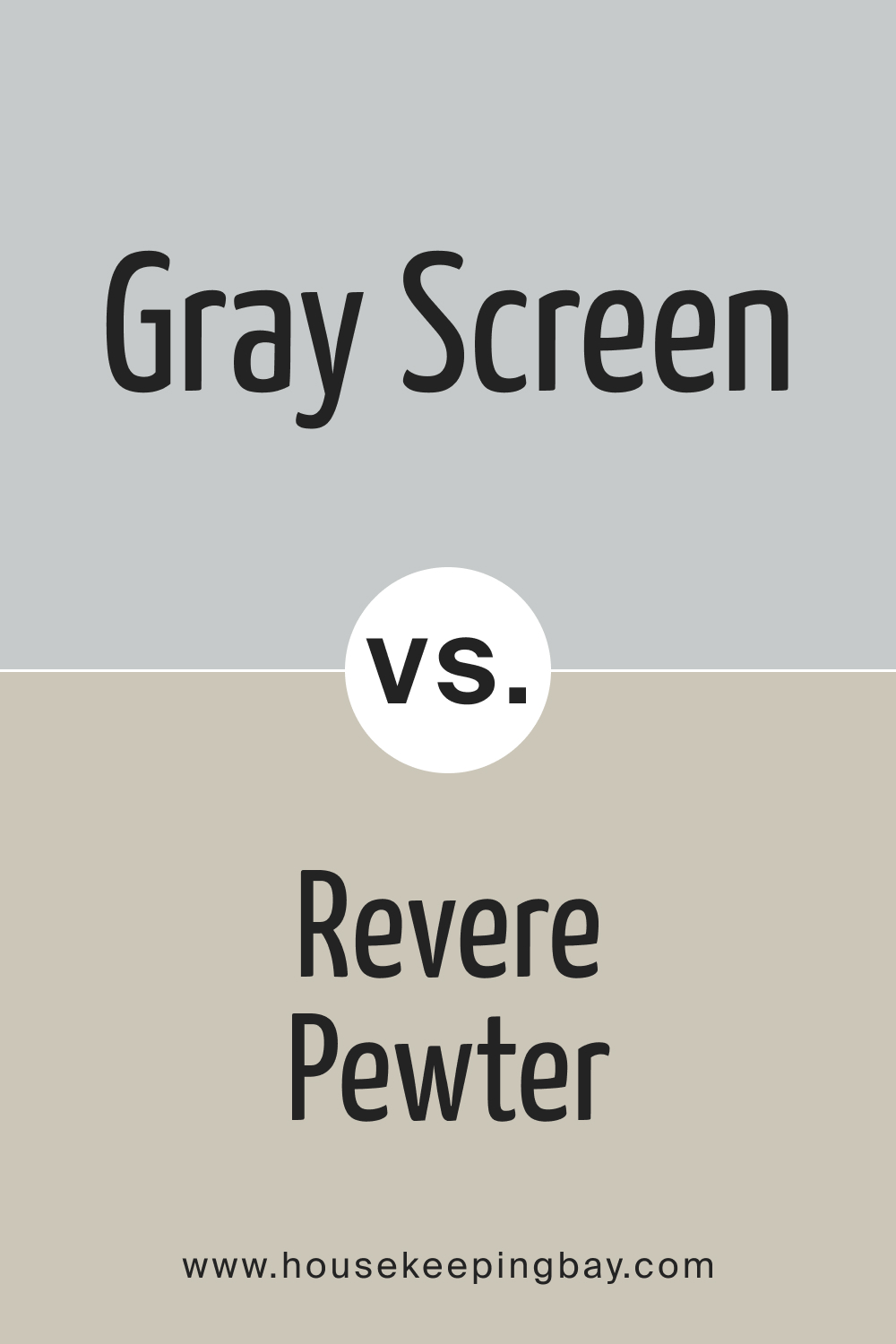 Gray Screen vs. SW 9165 Gossamer Veil
SW Gossamer Veil is a cool-toned gray with an LRV of 62 and greenish-violet undertones. Compared to it, SW Gray Screen (whose LRV is 59) reads much cooler with its chilly blue undertones that are very clearly seen. Their difference in LRVs is not very dramatic, but these colors look different due to their undertones.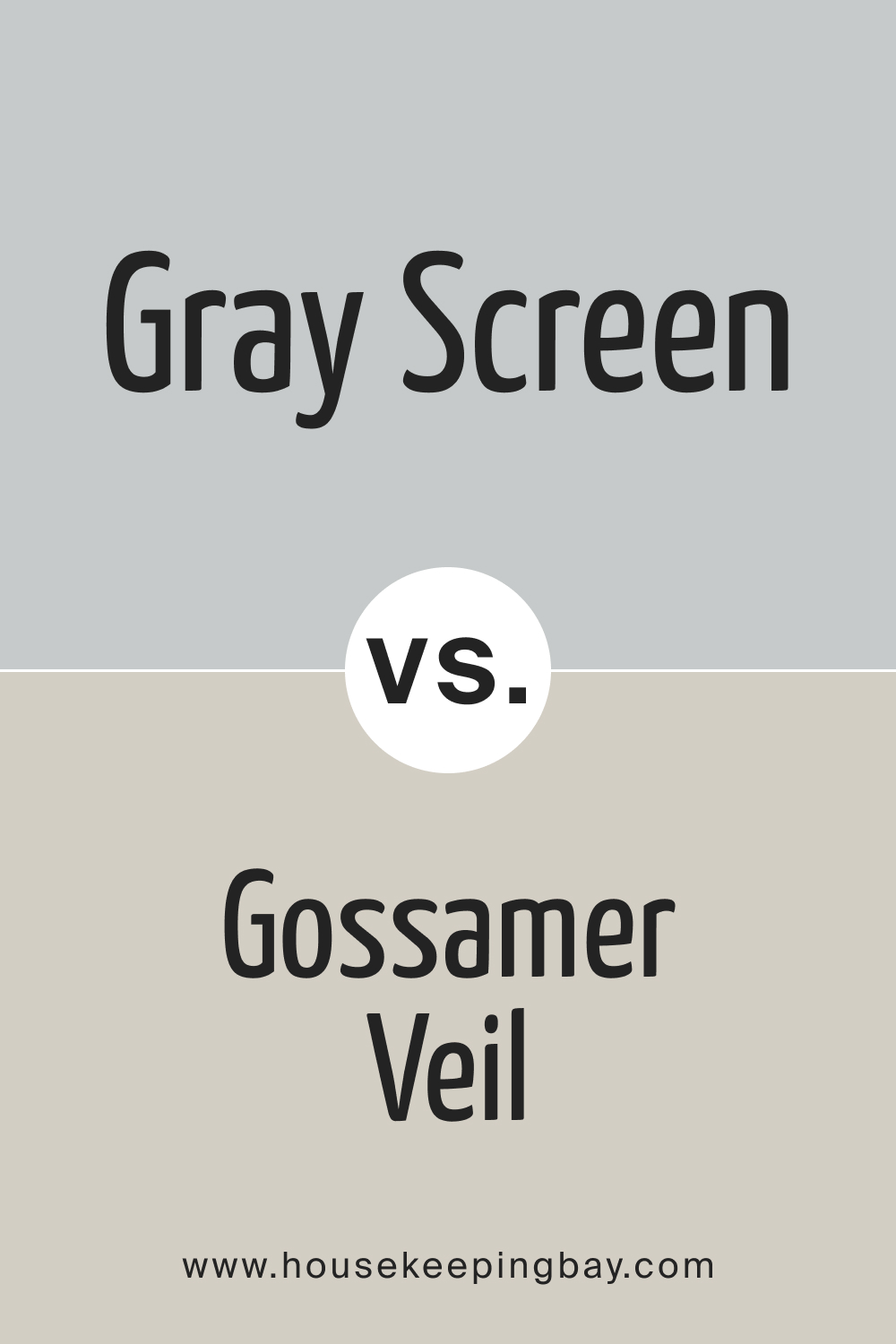 Now you can see that even within the same color family, different hues may vary quite significantly because of varying undertones and light reflectivity. In particular, now you know what kind of gray SW Gray Screen is.
Also, you know how it works in different rooms and how this clean and crisp hue may react to light. With this and other helpful information we shared, you will use this beautiful and elegant color in your home properly.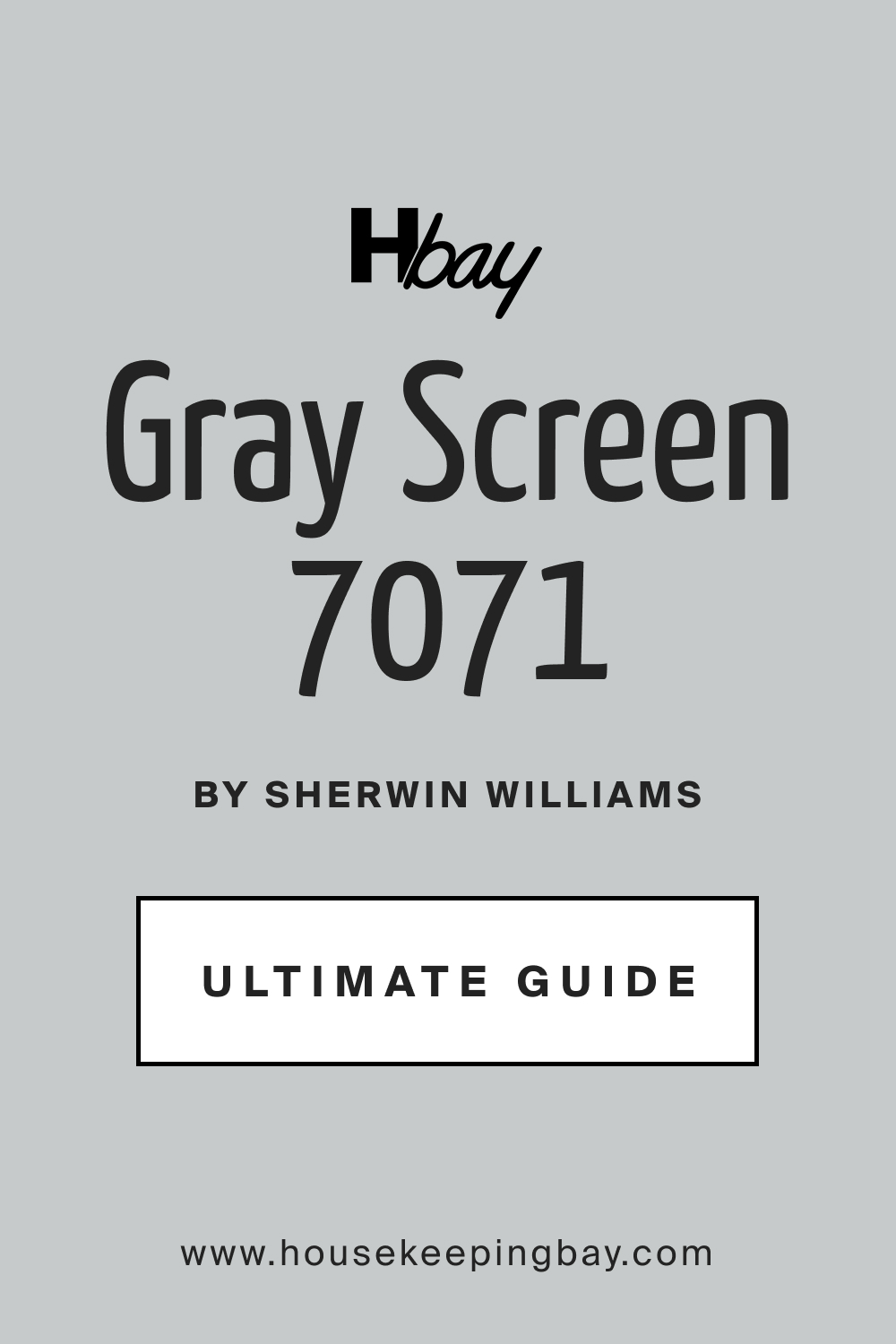 Frequently Asked Questions
⭐Does SW Gray Screen read blue?
No, it doesn't. But in specific lighting conditions, its bluish hue may show up more noticeably.
⭐Is SW Gray Screen a cool-toned color?
Technically it is, but in fact, it's closer to neutrals.
⭐Can this color make a room seem smaller?
No, it can't. This gray hue is too light for this.