Any home painting project requires at least the minimal knowledge about the paint you are going to use. You need to know what kind of color it is, what undertones it contains, how this particular color will react to different types of light in your home, and of course, what other colors it will work the best.
So if you are thinking about using Kendall Charcoal paint color for your upcoming painting project, we are here to help you out and provide you with some more information on this subject.
From this article, you will learn more about this color, its undertones and coordinating colors. Also, we will tell you what rooms this BM paint color is best to be used and how this color reacts to light.
Finally, we are going to compare it to several other popular colors so that you can see the difference.
What Color Is Benjamin Moore Kendall Charcoal?
If you are still hesitating whether or not to use Kendall Charcoal paint color in your home, we would say: yes, use it! You will not regret it! Benjamin Moore Kendall Charcoal HC-166 is a deep and luxurious gray that has been steadily gaining in popularity. And no wonder that it has been popular for quite a long time!
We would describe this color as a rich, deep, and perfectly luxurious color that pops beautifully when you pair it with crisp white room accents and trims. It is also a versatile neutral that works well with most color schemes. Thanks to that, you can use this paint color with almost any interior design!
If you want more detailed and precise data regarding the color scheme of this hue, according to Encycolorpedia.
This is quite a warm shade of gray that works exceptionally well with brown and stone colors and shades which is why it can be combined so well with whites, taupes, brown and creams. By the way, Kendall Charcoal is a fantastic gray paint color to use as a feature or accent wall!
However, to be able to get the most out of it, you need to know how this particular color will react to different types of light. Also, it is essential to know what undertones it contains.
See, when you are aware of the color's undertones, you can predict how this paint will work in different rooms in your home and so you can define what spaces it will look better.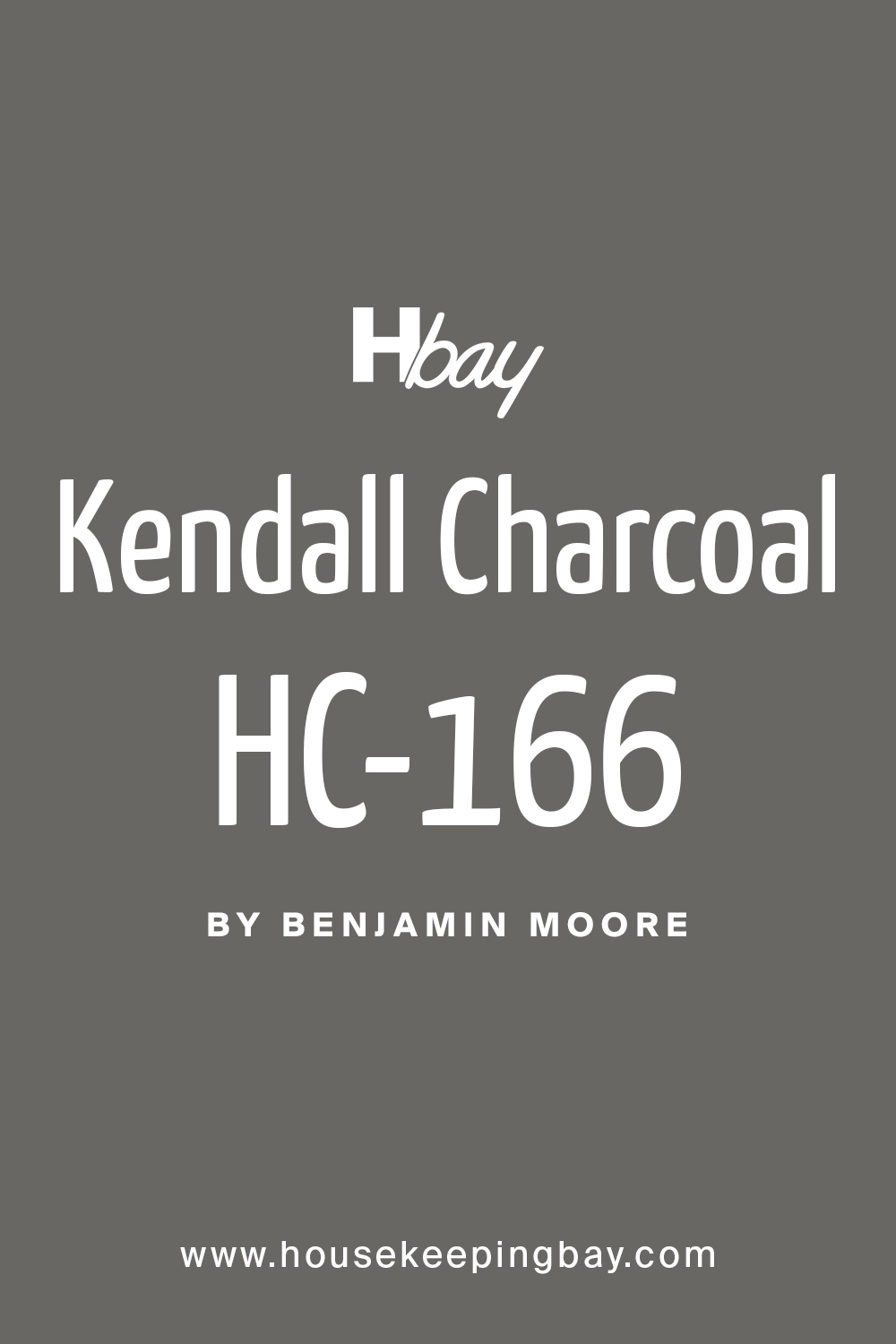 How Kendall Charcoal HC-166 by Benjamin Moore Reacts to Light?
Benjamin Moore Kendall Charcoal LRV is 12.96 which makes it quite a dark color actually putting this paint very close to the dark range, however, not too dark.
Indeed, this paint color does not reflect much light which means that you will have to use light and/or white colors in the same space to make it look less dark.
Also, it is essential that the room painted with Kendall Charcoal has enough daylight since it will reduce the dark vibe the paint might create if used in a room with poor lighting.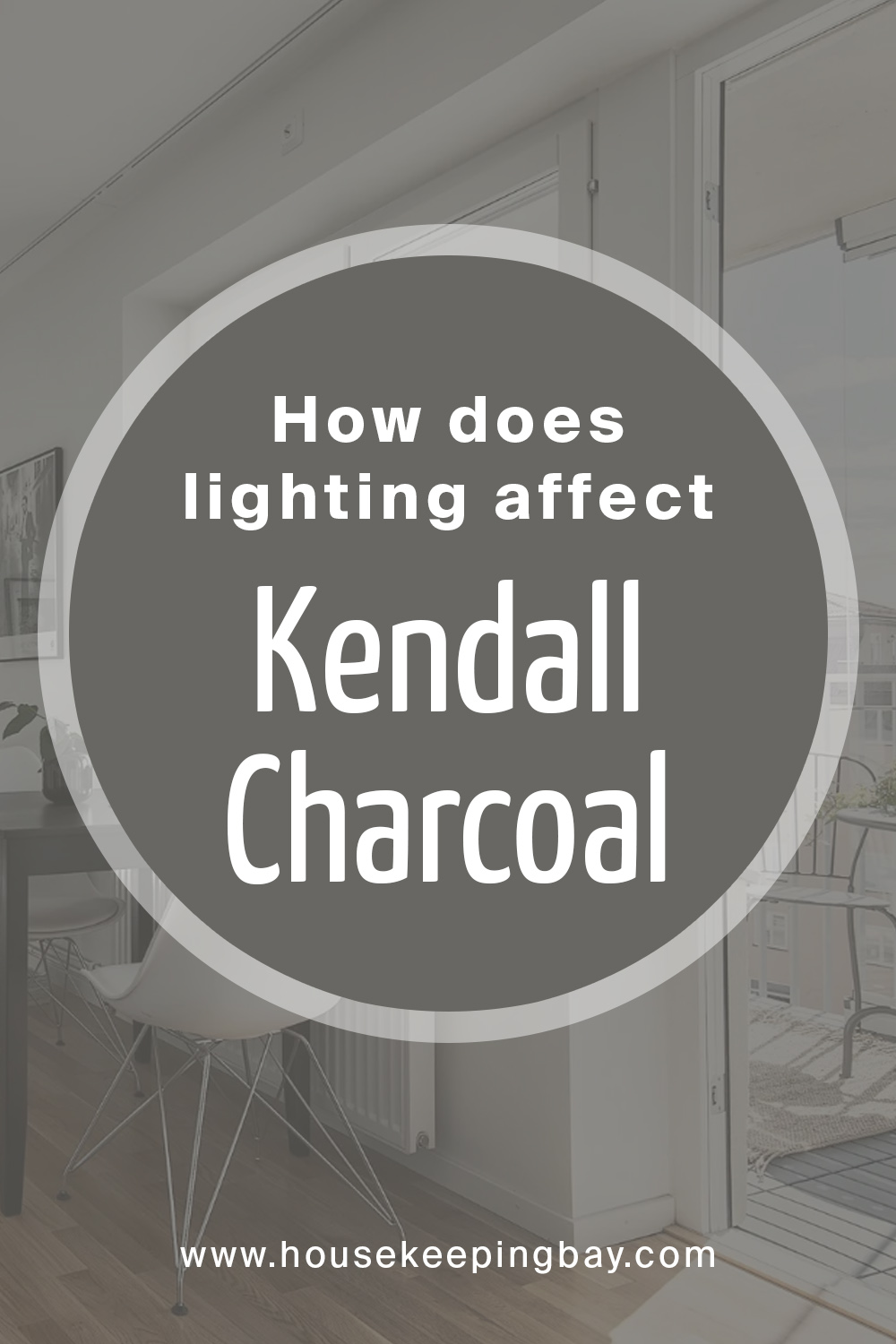 If you use this color in a room that has south facing light, you should expect Kendall Charcoal to lean more towards its warm side without going remotely greige at the same time.
However, in a room that has north facing light, this paint will commit to its gray base showing no visible warmth (well, unless you pair it with an icy cold gray!).
Basically, in light rooms, this paint color will look pretty lightened up whilst in gloomy spaces with poor light it may look almost black!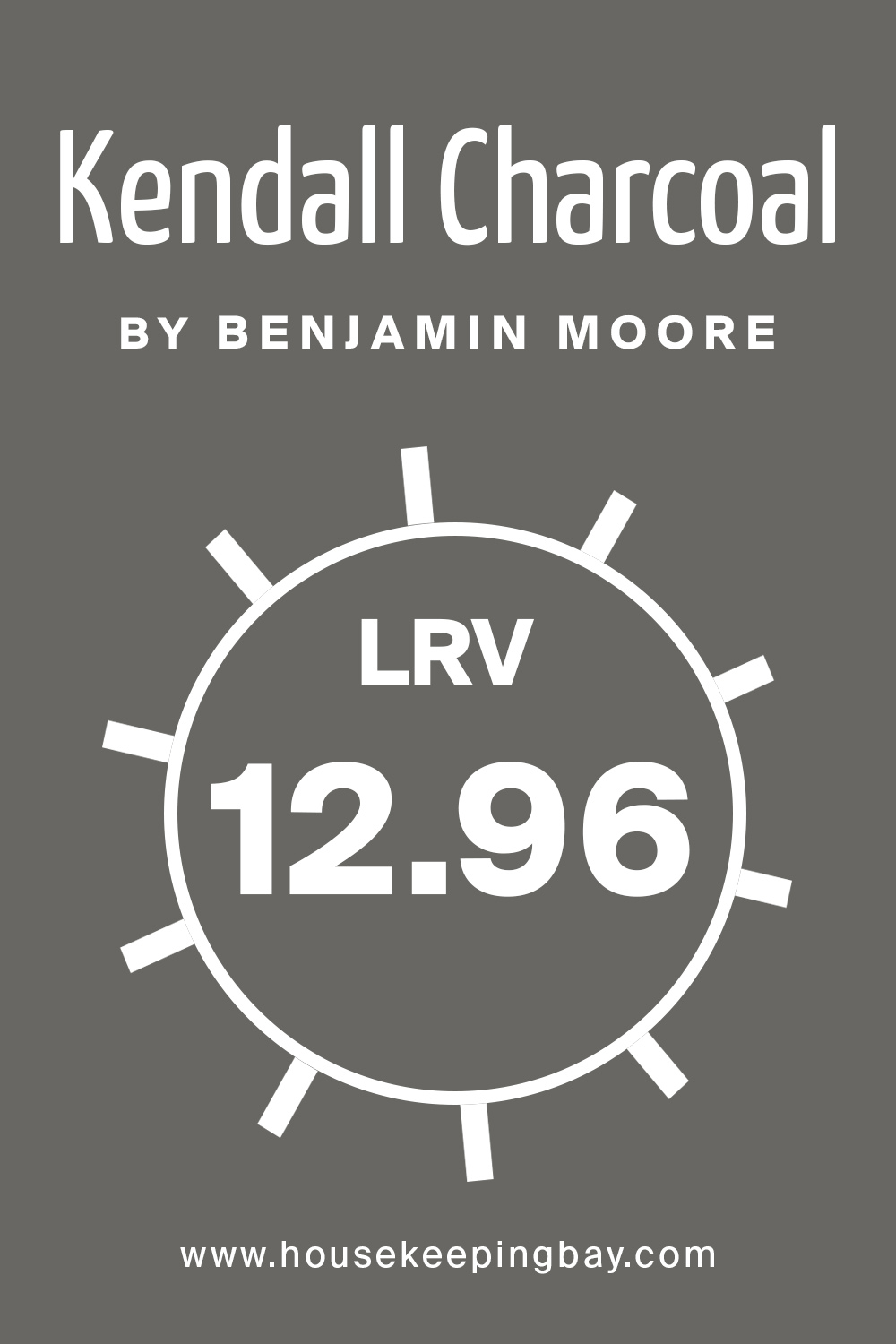 What is LRV? Read It Before You Choose Your Ideal Paint Color
Kendall Charcoal HC-166 Undertones
In order to be able to predict how Kendall Charcoal paint color by Benjamin Moore will work on your walls, knowing its undertones is a must. Just for you to know, every gray color has undertones, sometimes blue, sometimes green or purple. And since Kendall Charcoal belongs to the family of gray colors, it also has undertones.
As for this particular color, it commits mostly to green undertones even though the majority of grays would typically easily flex into any of the three (green, blue, purple) we have listed above. Unlike those colors, Kendall Charcoal's undertone is subtle, but it still tends to not go purple or blue.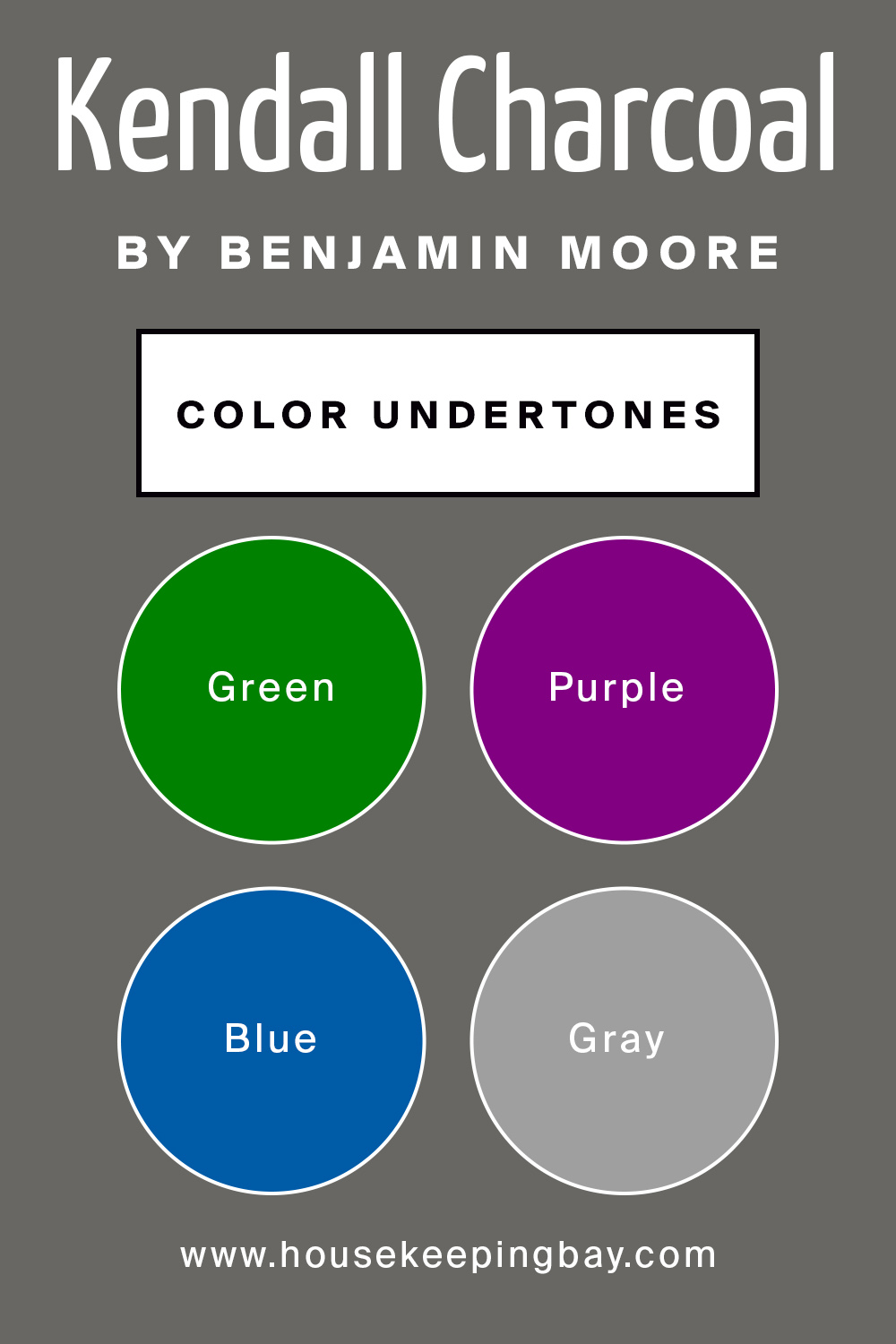 Kendall Charcoal HC-166 Coordianting Colors
In order to be able to create a harmonious and well balanced color palete in your home, it is essential to make use of proper coordinating colors to match them with the major color on the walls.
If you are going to apply Benjamin Moore Kendall Charcoal to your walls, and you are looking for the correct coordinating color or colors, you might find the task a bit difficult. This is why we suggest you to opt for one of the following paint colors since all of them pair perfectly well with BM Kendall Charcoal in a room:
Benjamin Moore Mascarpone AF-20
Benjamin Moore Van Deusen Blue HC-156
Benjamin Moore Whirlpool 1436
Benjamin Moore Coventry Gray HC-169
These colors will create the most harmonious combinations when paired with the Kendall Charcoal on the walls and other interior surfaces.
What's the Best Trim Color For Benjamin Moore Kendall Charcoal Paint?
Choosing a suitable and well matching trim color is often a tricky task. As for the BM Kendall Charcoal paint color, it is pretty friendly with a wide range of other colors that could be used for trim. Especially if we are talking about whites.
However, you need to take into consideration that this gray color will not work well with super cool whites, as well as with excessively creamy ones.
In order to be able to choose the best trim color for Kendall Charcoal, we would recommend you stick to one of the following paint colors: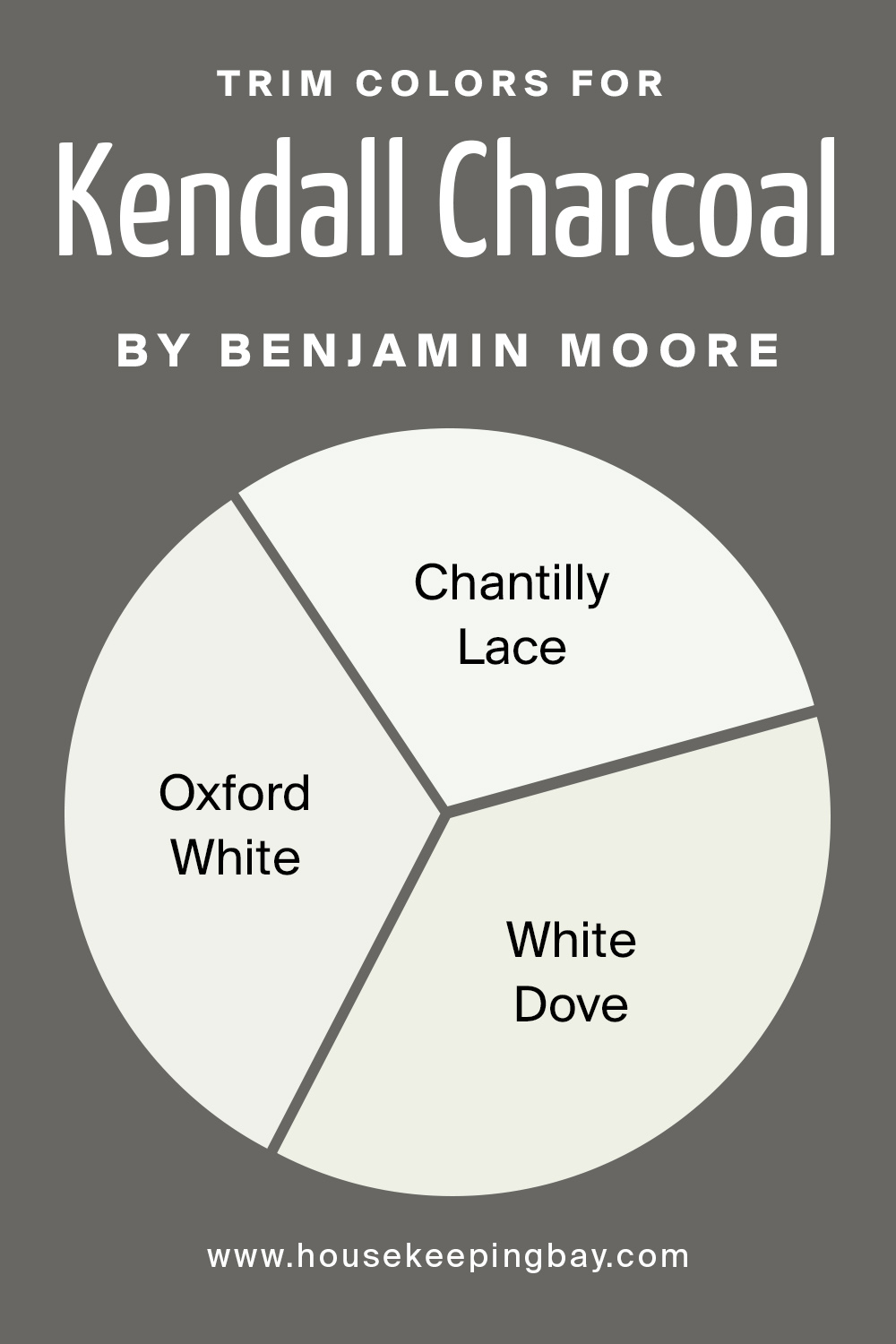 Paint Colors Similar to Kendall Charcoal
If you are looking for the paint colors that look very close or similar to Benjamin Moore Kendall Charcoal, we have a few options to offer to you.
Of course, you need to keep in mind that there will never be an ideal match! There will be shifts in undertones, temperature and depth anyway. However, you can opt for the following colors to substitute them for the Kendall Charcoal:
Sherwin Williams Peppercorn which is another dark gray. However, it is way more flexible in terms of undertones being able to pick any of them!
That simply means that it is way more unpredictable than Kendall Charcoal.
Sherwin Williams Gauntlet Gray
Sherwin Williams Deep Creek SW-1477
Sherwin Williams Kitty Gray SW-1589
Sherwin Williams Stormy Sky SW-1616
Sherwin Williams Bear Creek SW-1470
Each of these colors would be the optimal choice if you are looking for a paint color to use instead of the Kendall Charcoal for any reason.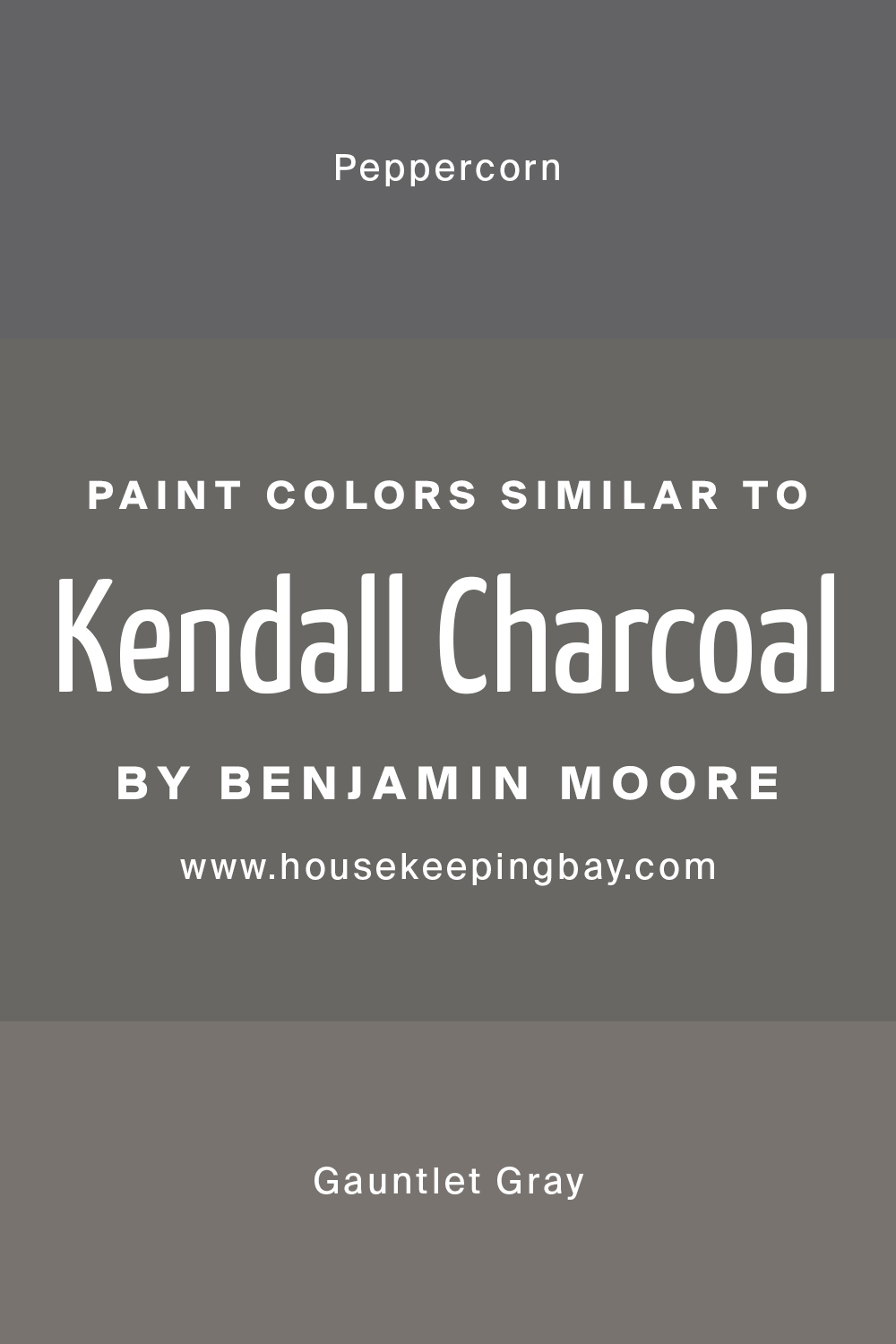 What Rooms to Use It In?
When it comes to deciding what rooms you can apply the color you chose, most of us get stumbled. Of course, it mostly depends on your personal taste and preferences, as well as on the vibe and atmosphere you want to create in a particular room.
However, you also have to consider the overall color palette there to be sure that the paint you choose will fit the entire color scheme.
So let's see how Kendall Charcoal will work in different rooms (luckily, this color is pretty versatile in terms of use!).
Kendall Charcoal HC-166 by Benjamin Moore in the Living Room
This color is a great choice for a living room if the room is spacious enough and has plenty of warm daylight. In this case, the paint will reveal its warmer side, and if you use light and warm greiges and whites in addition, and/or incorporate brass or golden decor elements, the space won't look too dark at all.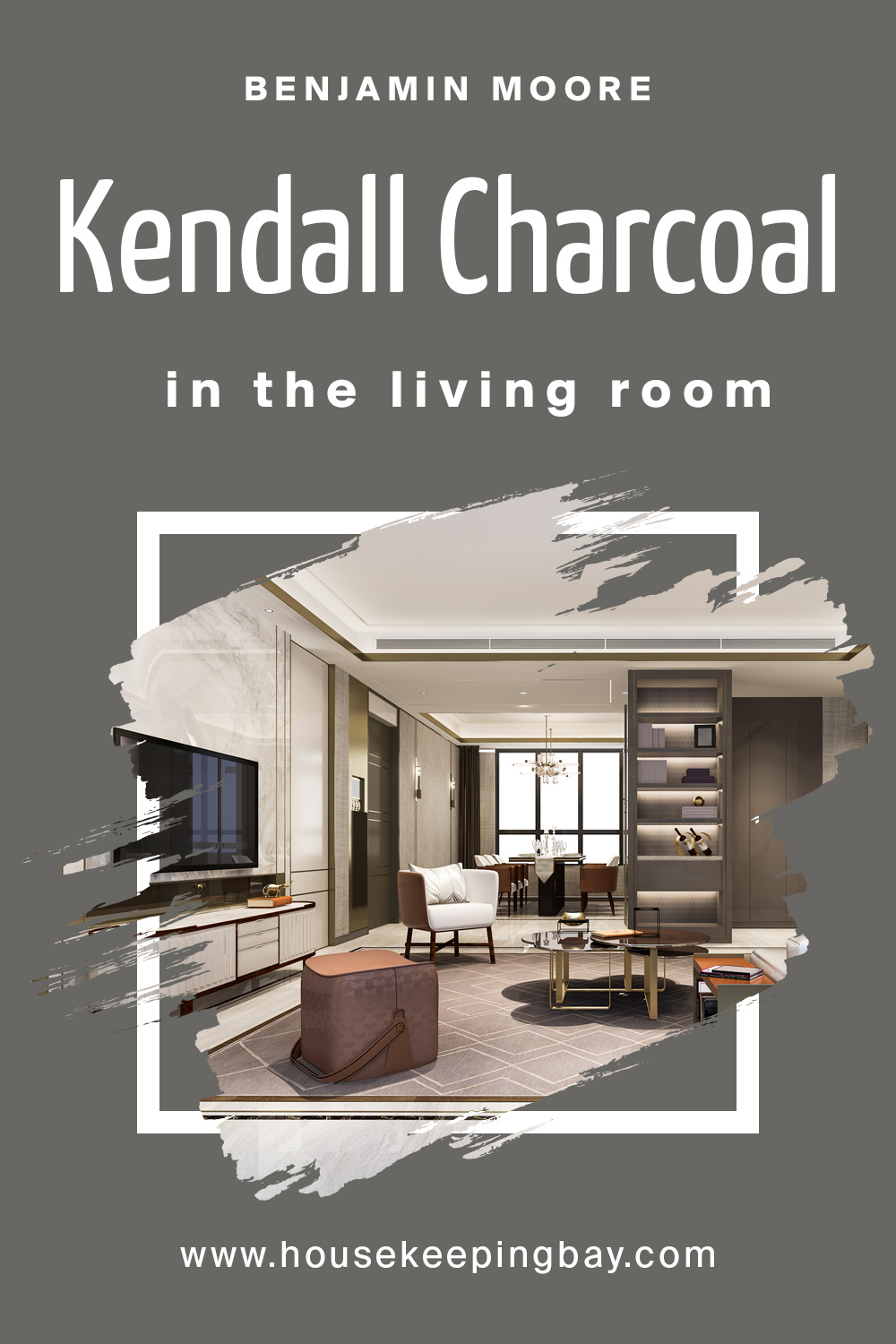 Kendall Charcoal HC-166 by Benjamin Moore in the Bedroom
Kendall Charcoal can also be used in a bedroom. However, do consider the light in the room! If it's facing North and has cold light mostly, the paint might look cooler. However, if this is what you want in your bedroom, then it's ok. As an option, use this color for the accent wall only.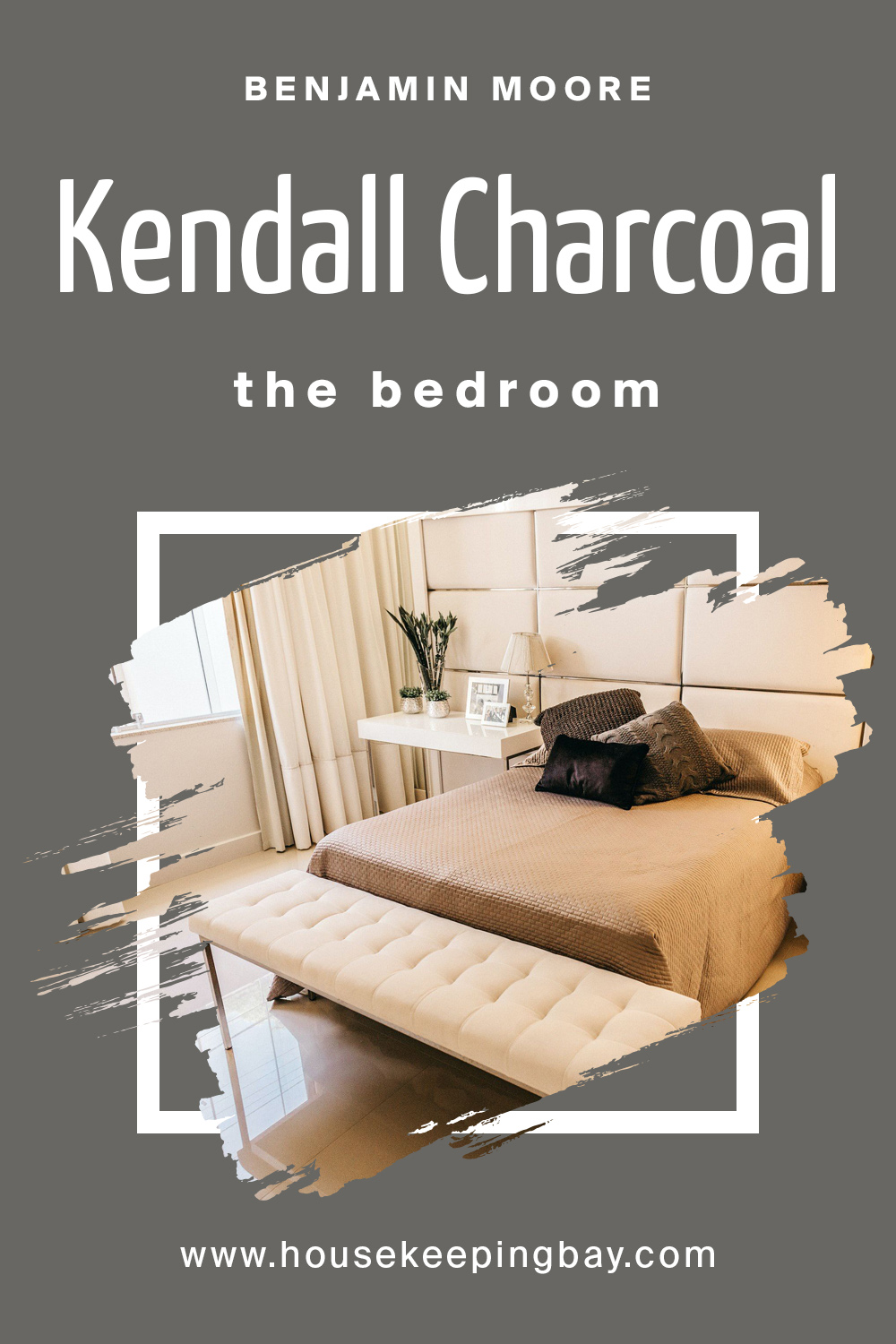 Kendall Charcoal HC-166 by Benjamin Moore for the Kitchen
You might hesitate as to the use of this color in the kitchen, but Kendall Charcoal will look great on kitchen cabinets and kitchen islands!
No need to paint the entire room with this color unless you want to! If you leave the walls being warm white, this awesome gray will create stylish accents here and there, especially if paired with brass hardware.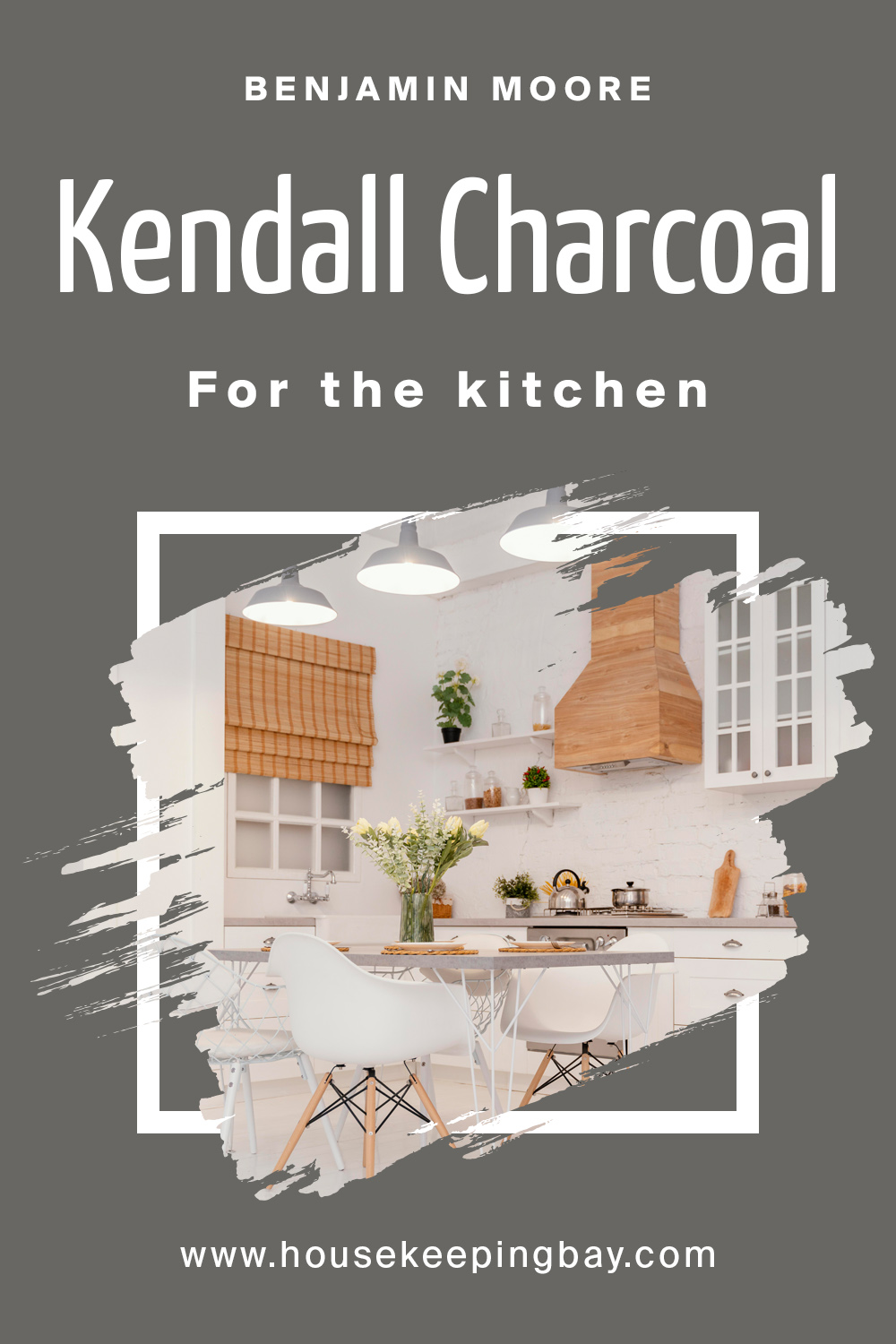 Kendall Charcoal HC-166 by Benjamin Moore for the Exterior 
Want to know if Kendall Charcoal is good for the exterior of your house? Yes, it is! Benjamin Moore HC-166 Kendall Charcoal is often used as an exterior paint color for creating that lovely cottage style home.
The gray paint color gives your home a modern twist, and if you also use white on window frames, it will freshen up the entire look of the building.
So, as you can see, this paint color is pretty versatile. Even though it is pretty dark, it will fit in almost any room (well, except for the nursery, perhaps).
Be sure to pair it with suitable colors, and you will turn your home into a modern and chic place!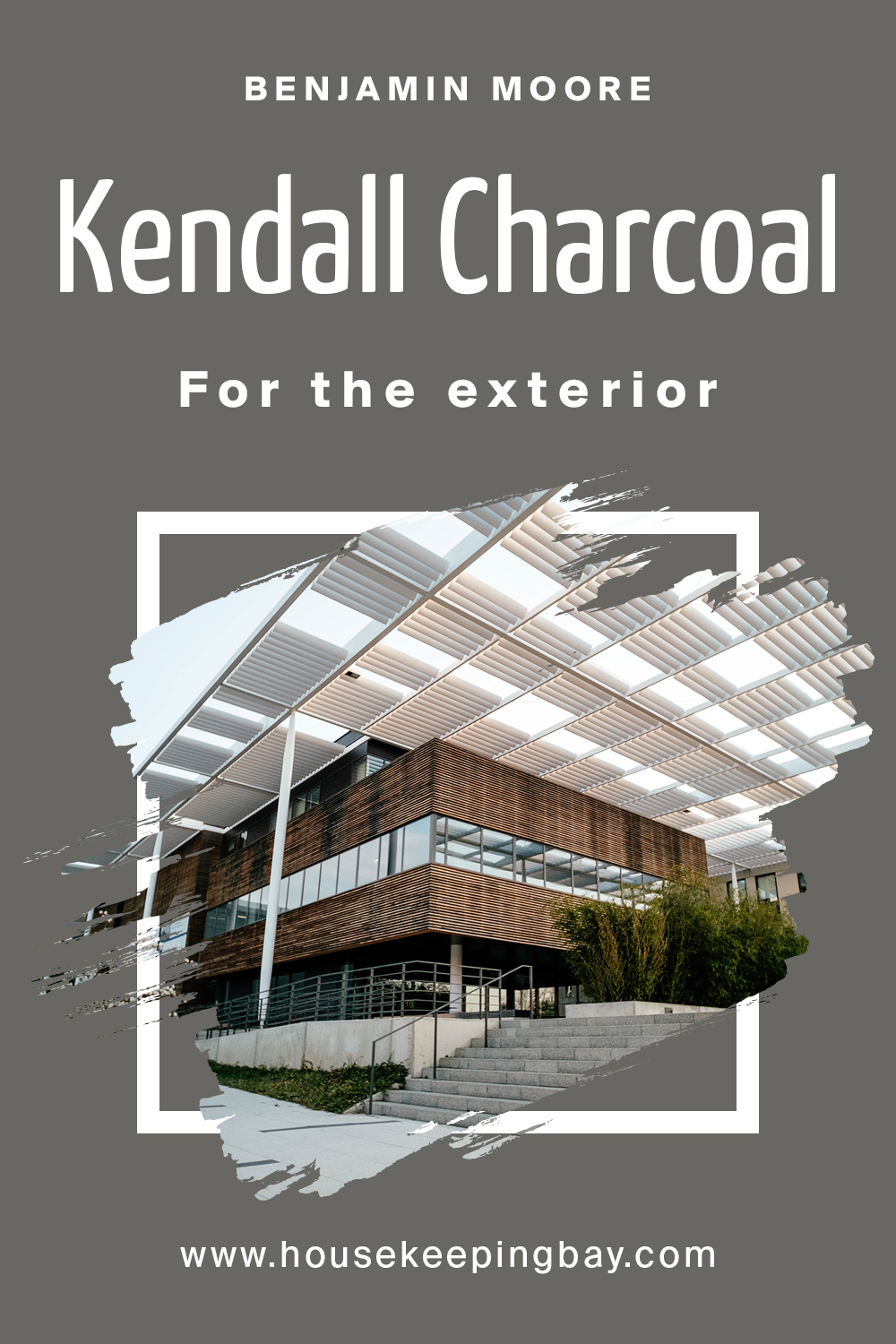 Colors That Go With Benjamin Moore Kendall Charcoal
Sometimes it is good to know what other colors your major paint color will look well and go well with in order to create a harmonious and balanced color palette in your home.
So below we would like to provide you with a few comparative pairs of colors so that you could see the difference between the Benjamin Moore Kendall Charcoal and a few other paints.
Kendall Charcoal vs Peppercorn
Peppercorn with its LRV being 10 is just a smudge darker in comparison to Kendall Charcoal.
However, Peppercorn does have a tendency to show more of its purple and blue undertones unlike Kendall Charcoal which has a mostly greenish base which can be perfectly seen if you put these two colors side by side.
Those blue and purple undertones also make Peppercorn cooler than Kendall Charcoal.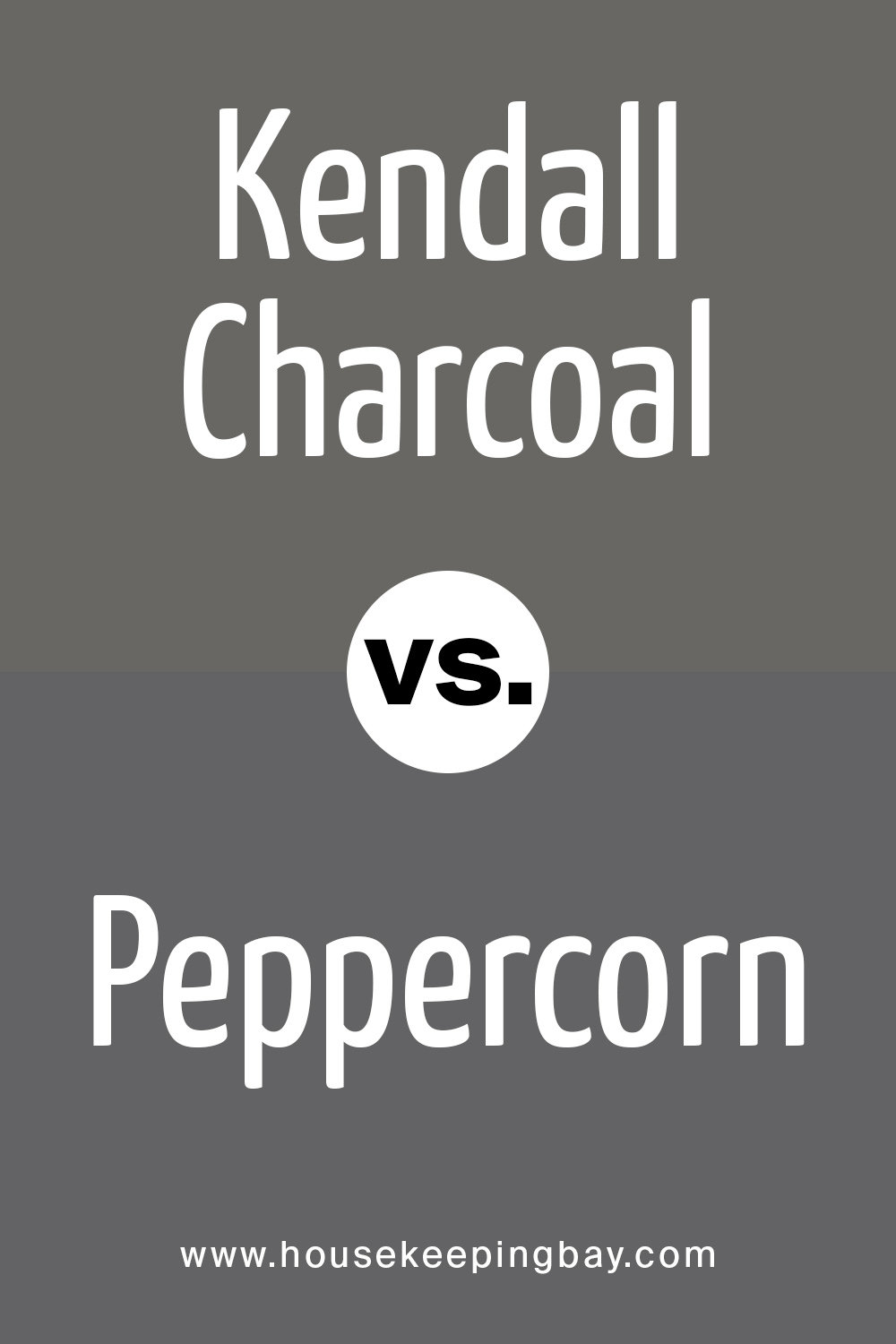 Kendall Charcoal vs Revere Pewter
If we compare Kendall Charcoal and Revere Pewter, we will see that Revere Pewter is on a totally different side of the scale! Kendall Charcoal is a deep and rather warm toned gray whilst Revere Pewter is a light and neutral greige, also warm toned.
These two colors can be used together but only if you use other similar ones, for instance, White Heron or Horizon to harmonize and balance the palette.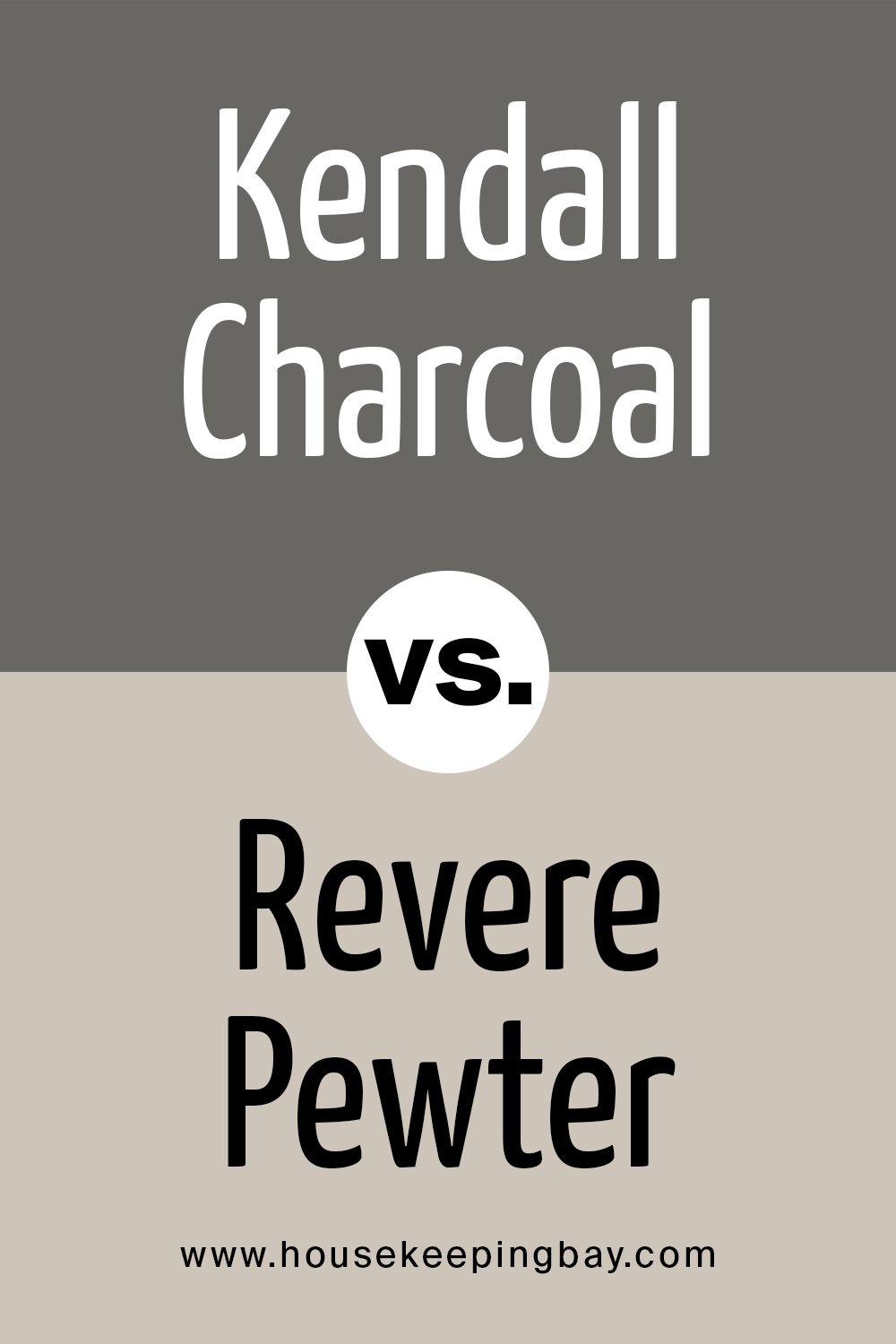 Kendall Charcoal vs Gauntlet Gray
SW Gauntlet Gray is lighter than BM Kendall Charcoal being a warmer and a much lighter shade of gray.
In comparison to Kendall Charcoal which stands almost at the edge of the dark color range, Gauntlet Gray is in the medium-dark range.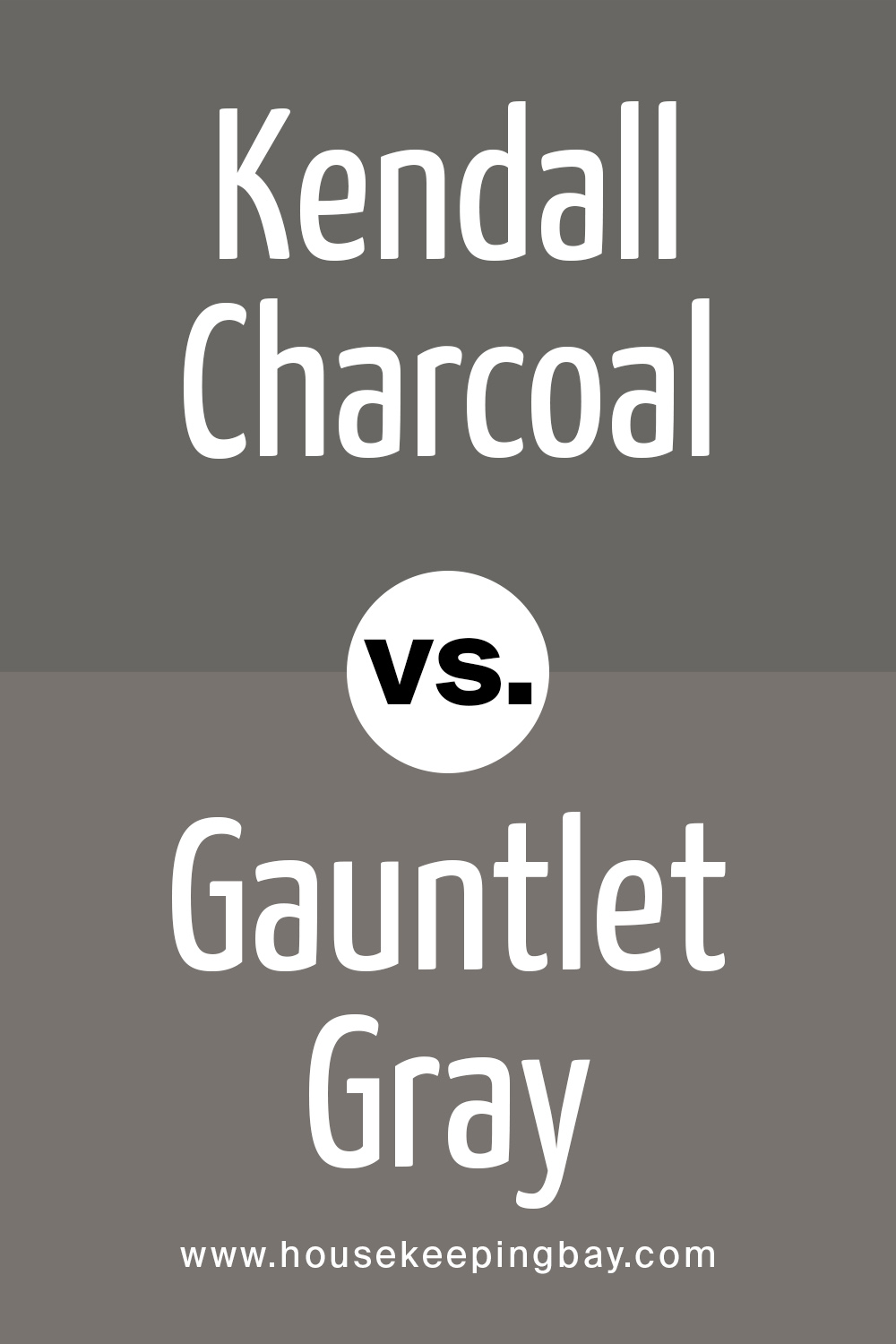 Kendall Charcoal vs Iron Mountain
Iron Mountain is even darker than Kendall Charcoal. This color reveals more of brownish undertones whilst it is still a dark gray.
It looks warmer in comparison to Kendall Charcoal, but these two are too similar to be used in the same room.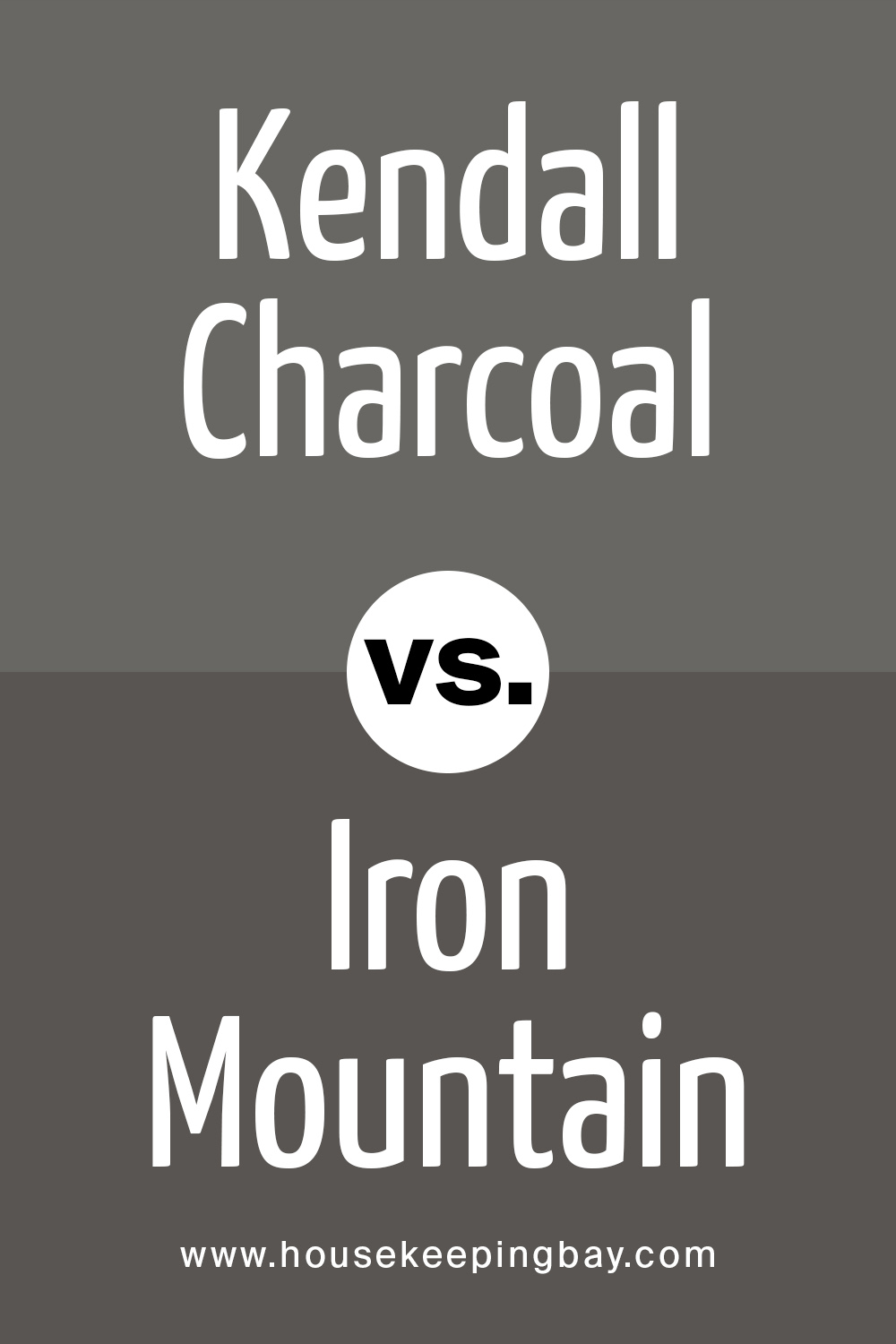 Kendall Charcoal vs Urbane Bronze
Urbane Bronze has way more of green undertones that are perfectly seen if you put this color side by side with the Kendall Charcoal.
Urbane Bronze in this case will look much warmer and deeper, with a prominent greenish base whilst Kendall Charcoal will look cooler with a significant gray base.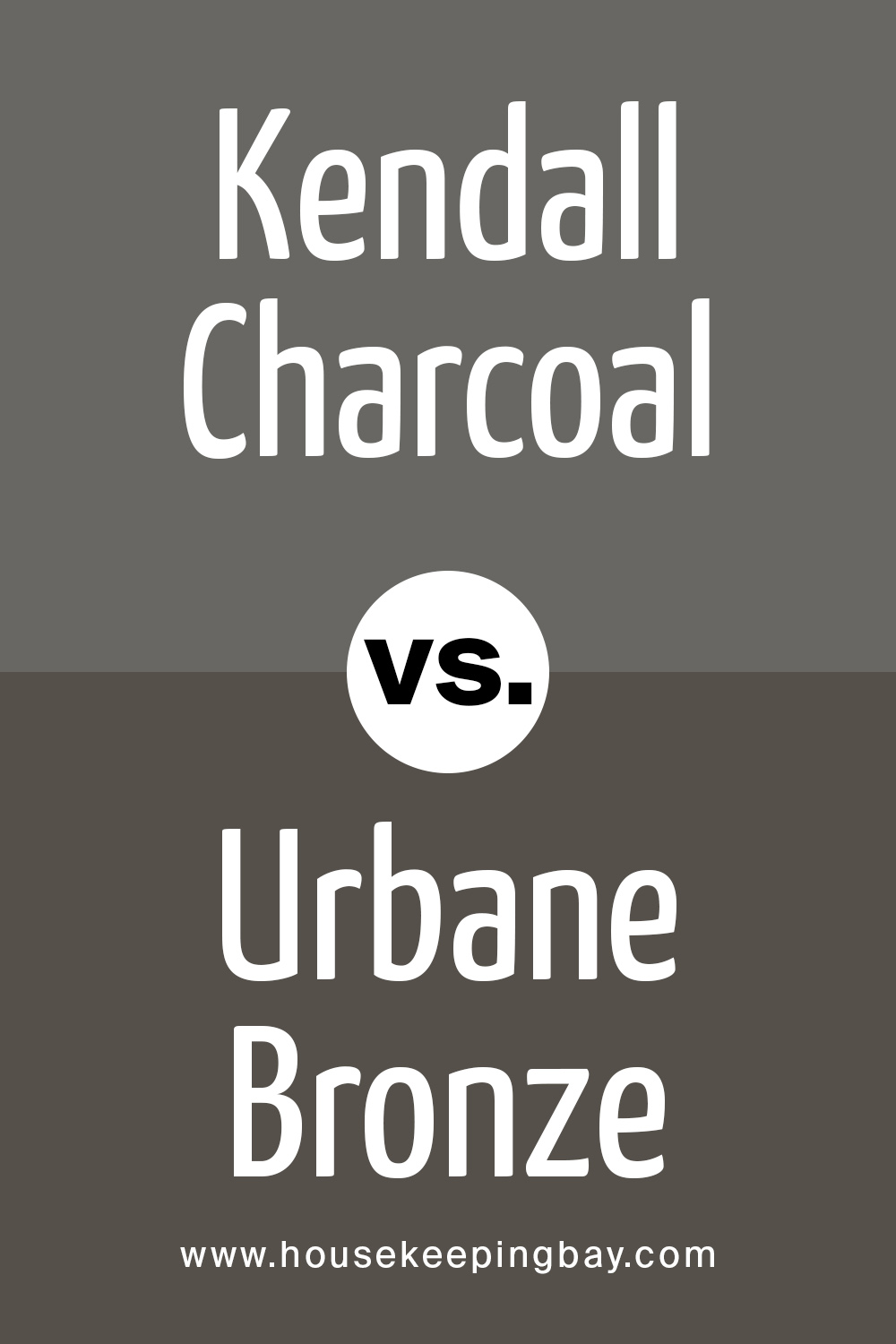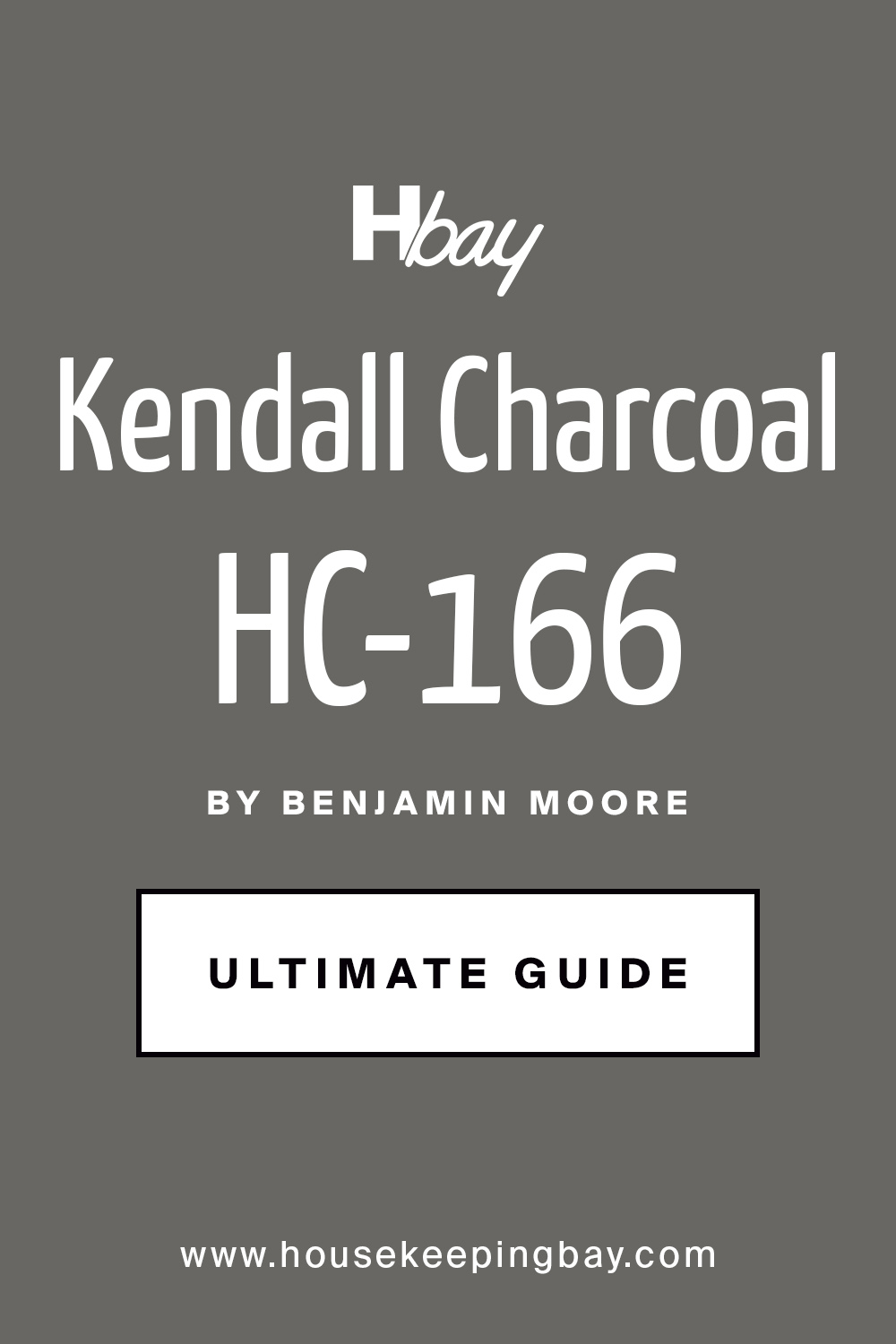 Frequently Asked Questions
⭐Is Kendall Charcoal good for the kitchen island?
Yes, it's a suitable color for it.
⭐Can I use Kendall Charcoal color in my bathroom?
Yes, if it has enough daylight.
⭐Is Kendall Charcoal a warm or cool color?
Kendall Charcoal is a warm cplor