Home interior painting projects can be very creative and fun occupations but only if you are well aware of colors and you can tell for sure which ones to combine to get harmonious pairs/triads of colors.
But for the majority of homeowners, painting their interior walls often turns into a challenge!
For most of us, figuring out what color to use for our interior home painting projects, as well as what other colors it is best to pair it with is always some kind of a russian roulette.
We strive to guess how the color we chose will work on our walls and whether it will complement the color of the curtains and upholstery!
This is why in today's article we suggest you learn more about such a popular interior paint color as Pure White by Sherwin Williams.
You will learn what type of color it is, what its undertones are, what other colors it will look great on your walls, and also, we will share a few coordinating colors with you.
Finally, we will provide you with several pairs of colors to compare so that you could see the difference between SW Pure White and a few other paint colors.
What Color Is Sherwin Williams Pure White SW-7005?
White colors are so madly popular among the homeowners because white is basically a universal color. You can pair it with almost any other paint color and be sure that the color combination you get will look nice.
As Encycolorpedia says, its combining white with other colors is definitely much simpler than trying to pair violet and blue!
However, if you do decide to use white paint color on your interior walls, and you consider SW Pure White as an option, we recommend you first learn more about this shade of white.
It only seems that white is a simple color. In fact, there are plenty of shades it has, and choosing the proper one is essential for the entire living space of your home!
As for the SW Pure White, it is one of the favorites on the market which is no wonder.
This white is extremely versatile and flexible. However, we would not call it a pure white since this color has quite a significant warmth to it which remains passive and soft at the same time. Absolutely wonderful feature!
The color doesn't look creamy as many other warm whites do, which means that it can be successfully applied on your interior and exterior walls, cabinets, and it can even be used as a great trim color!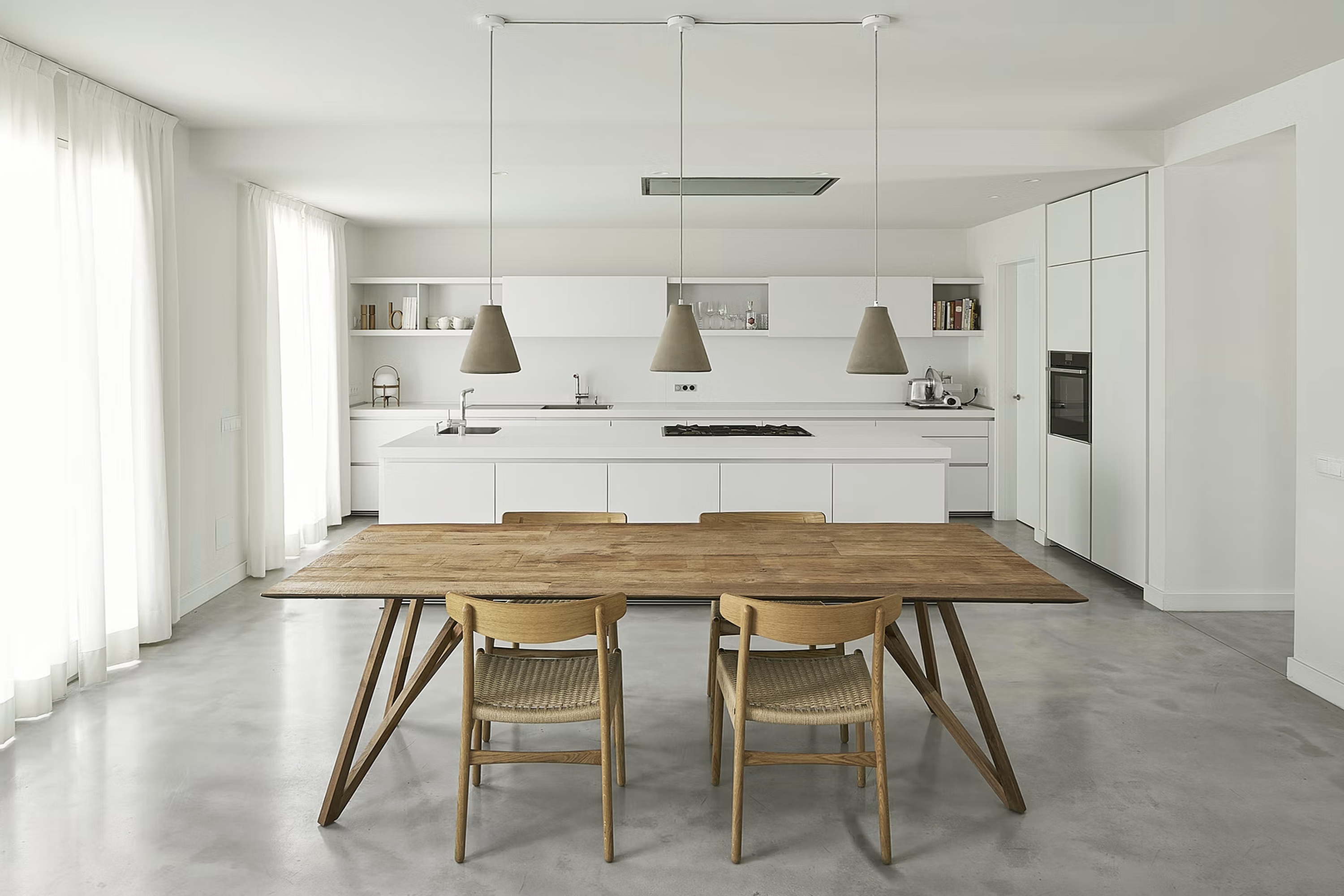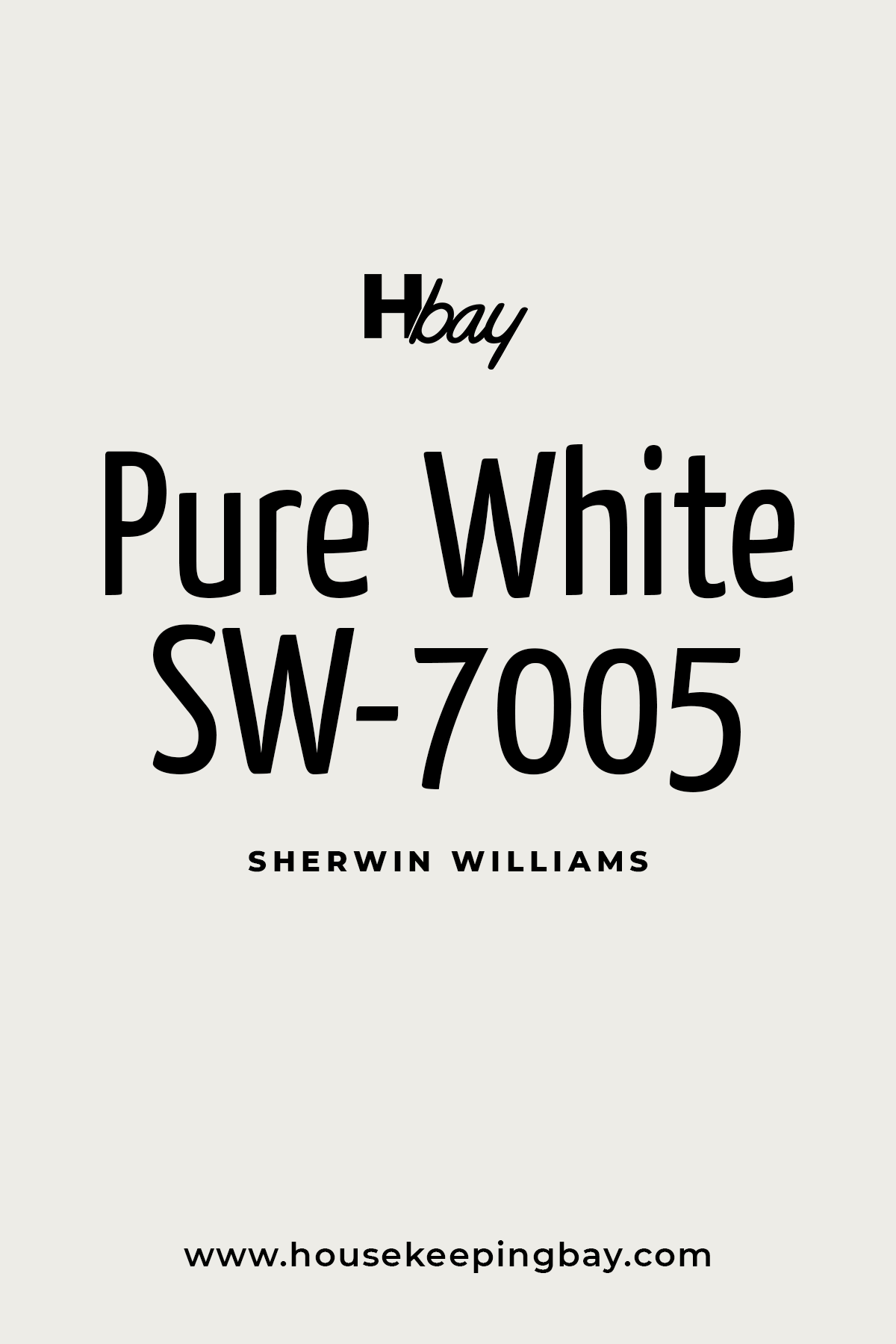 Get a sample of PURE WHITE (get a sample from Samplize )
SW Pure White LRV
When using white colors, it is essential that you know how well your paint reflects light.
Depending on its light reflectance value (LRV), it will make your room look either lighter and more spacious, or darker and smaller.
SW Pure White has LRV equal to 84 which makes this color a sort of soft white – not too start, but at the same time not overly creamy (great news for those who are afraid of having buttery-yellow walls!).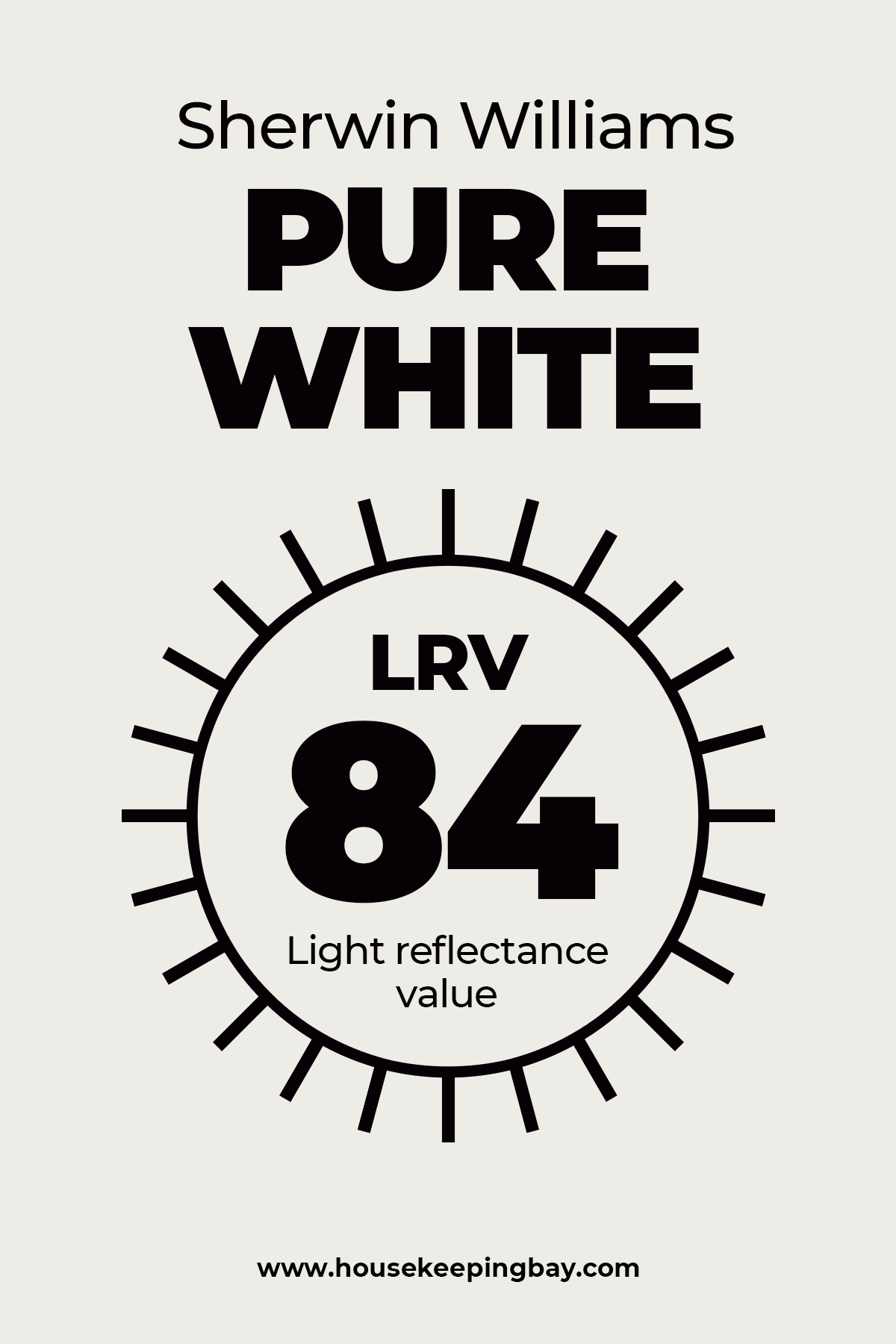 What is LRV? Read It Before You Choose Your Ideal Paint Color
Undertones of Pure White SW-7005 by Sherwin Williams
Sherwin Williams Pure White may look different on your walls depending on the type of lighting the room has.
This color is great since it has a certain warmth to it, but it is not excessive. And one more great feature of it is that this white does not have any prominent undertones in it!
It does contain a slight hint of yellow and a touch of black in it, but basically, Pure White is known for its neutral base.
Depending on other colors being present in the room, this soft white may pick them up easily. So, for example, in a room with a cold northern lighting and many blue items around, this white will look crisp and cool-toned.
On the other hand, in a room full of warm daylight or with lots of warm-colored items (wooden furniture, brown carpets, etc) it will look warmer and softer.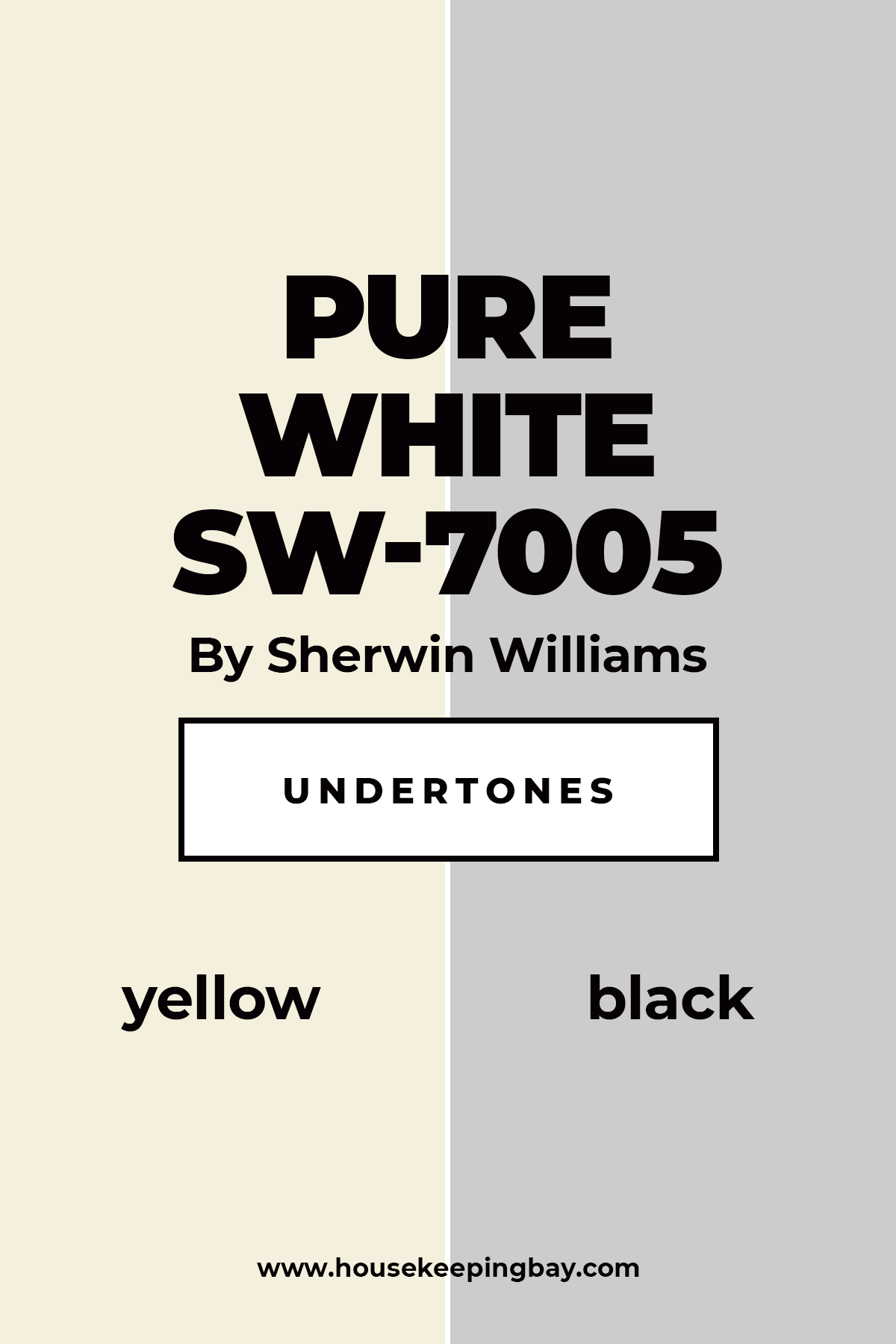 Coordinating Colors of Pure White SW-7005 by Sherwin Williams
If you are looking for the best colors to coordinate them with Pure White paint by Sherwin Williams, you might get a bit frustrated and lost at first.
To help you out, let's remember what coordinating colors actually are.
If you take a look at the color wheel, you can find coordinating colors being situated next to each other.
So for the white color like Pure White, the best coordinating colors of the same brand will be:
Sherwin Williams March Wind SW-7668 (a nice mid-toned gray color)
Sherwin Williams Perle Noir SW-9154 (soft and warm-toned black)
These two will create the most harmonious pairs with the warm and neutral white like SW Pure White.
However, this white can be the same successfully coordinated with the following favorites:
And surely, let's not forget about the black color since Pure White goes extremely gorgeously with it creating a timeless and absolutely classic combo!
Like with every paint colour, We highly recommend using SAMPLIZE.  Samplize is a peel & stick paint sample that you can easily move around your room for over HALF THE COST of traditional samples – and they deliver right to your front door!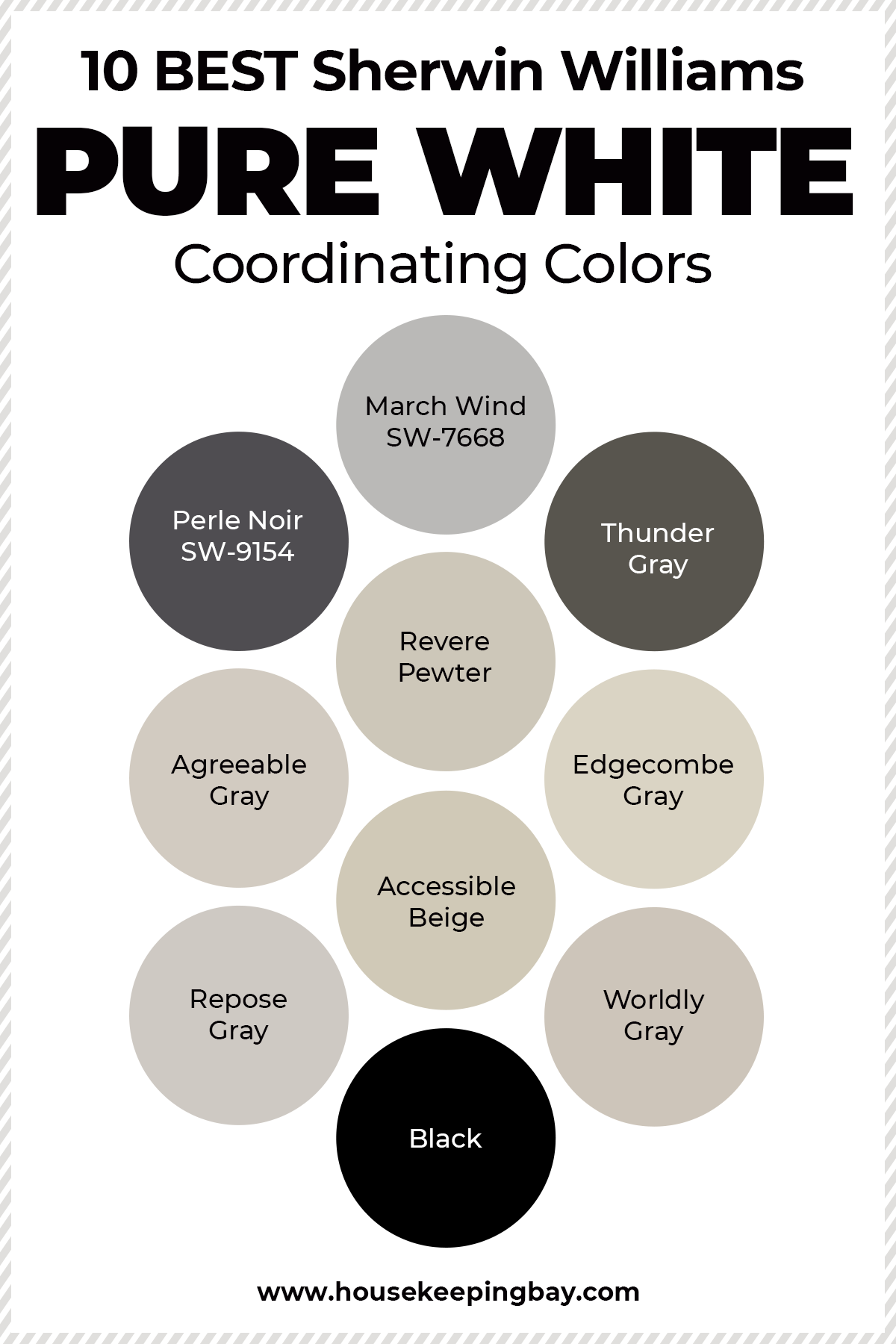 Neutral Paint Colors – Sherwin-Williams
What Is the Best Trim Color For SW Pure White Paint?
Even for a white paint color, you might want to use another white as a trim color!
And if you are looking to enjoy the warmth of SW Pure White paint color to its fullest, we recommend you pair it with a clean white shade, for example, with SW High Reflective White. (get a sample) or a Sherwin Williams Snowbound  (get a sample of Snowbound)
However, Pure White is such a versatile paint color that you can easily use it for everything including trims!
It will catch other colors from around and reflect light so that it will create an absolutely amazing play of colors and shades on your walls!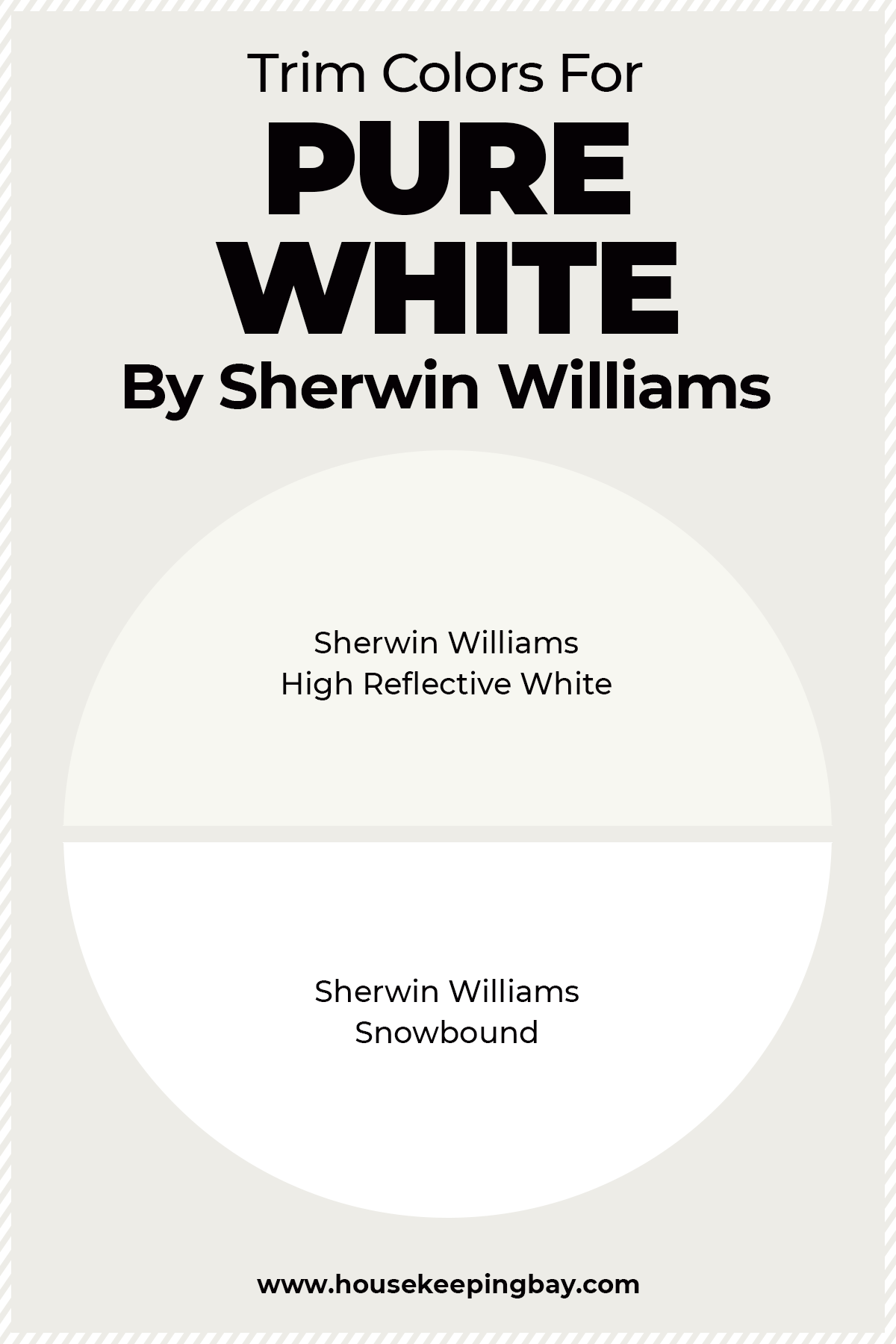 Colors That SW Pure White Goes With
If you can't decide what paint color to use on your walls, you might find it useful to compare them between each other. Below, we have prepared a few such color pairs for you to check out.
1. Pure White vs. Alabaster
LRV of Pure White is 84 and Alabaster's is 82 which makes Pure White a bit lighter.
Also, Alabaster is warmer and significantly creamier which makes Pure White almost look cool-toned beside it. In addition, Alabaster has greige undertones. (get a sample of Alabaster)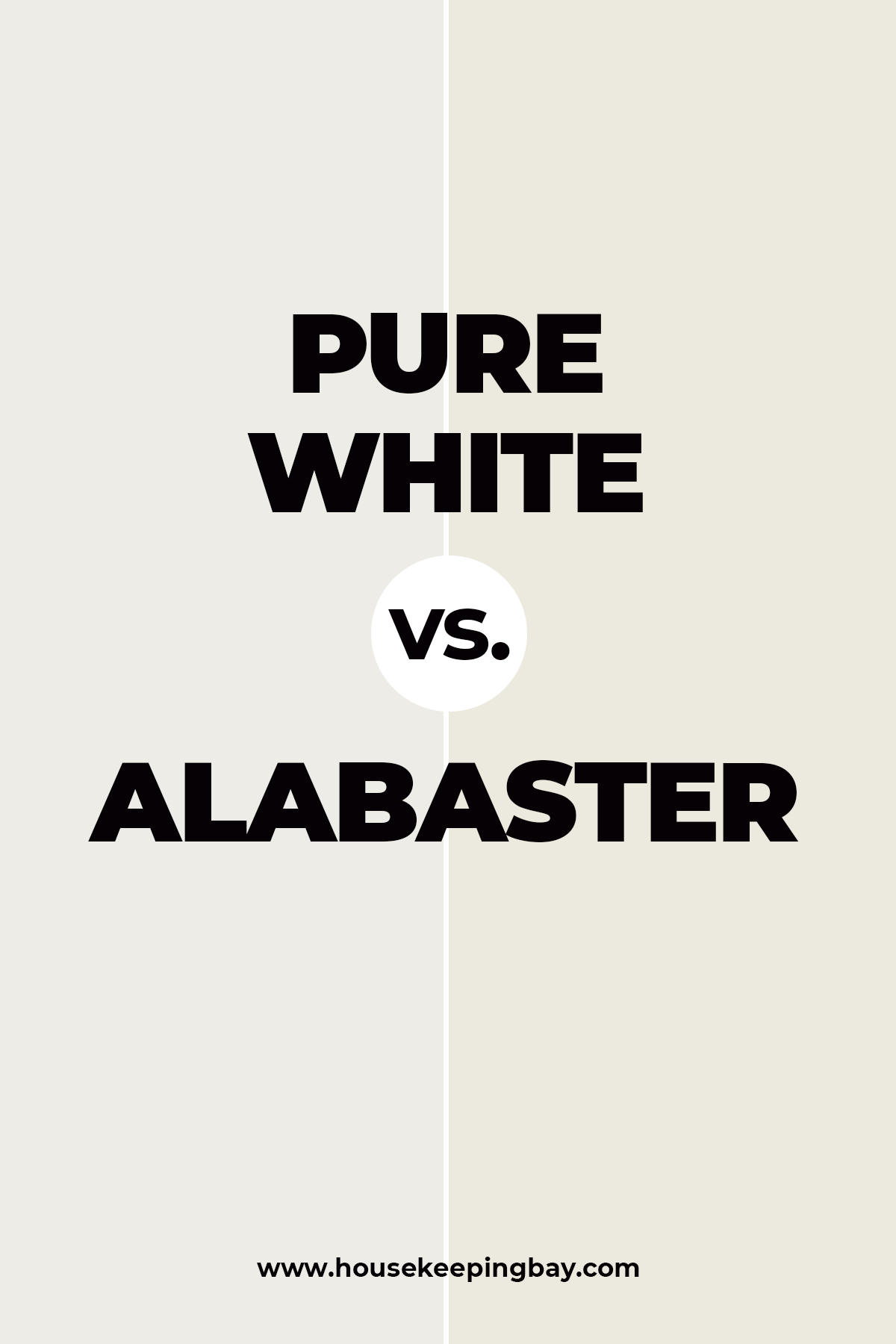 2.Pure White vs. Extra White
If we compare these two, we will see that Pure White looks a bit warmer with a slightly more noticeable yellowness in it.
Extra White, on the contrary, shows more of its cool undertones.
However, both colors are almost similar in terms of lightness.(get a sample of Extra White)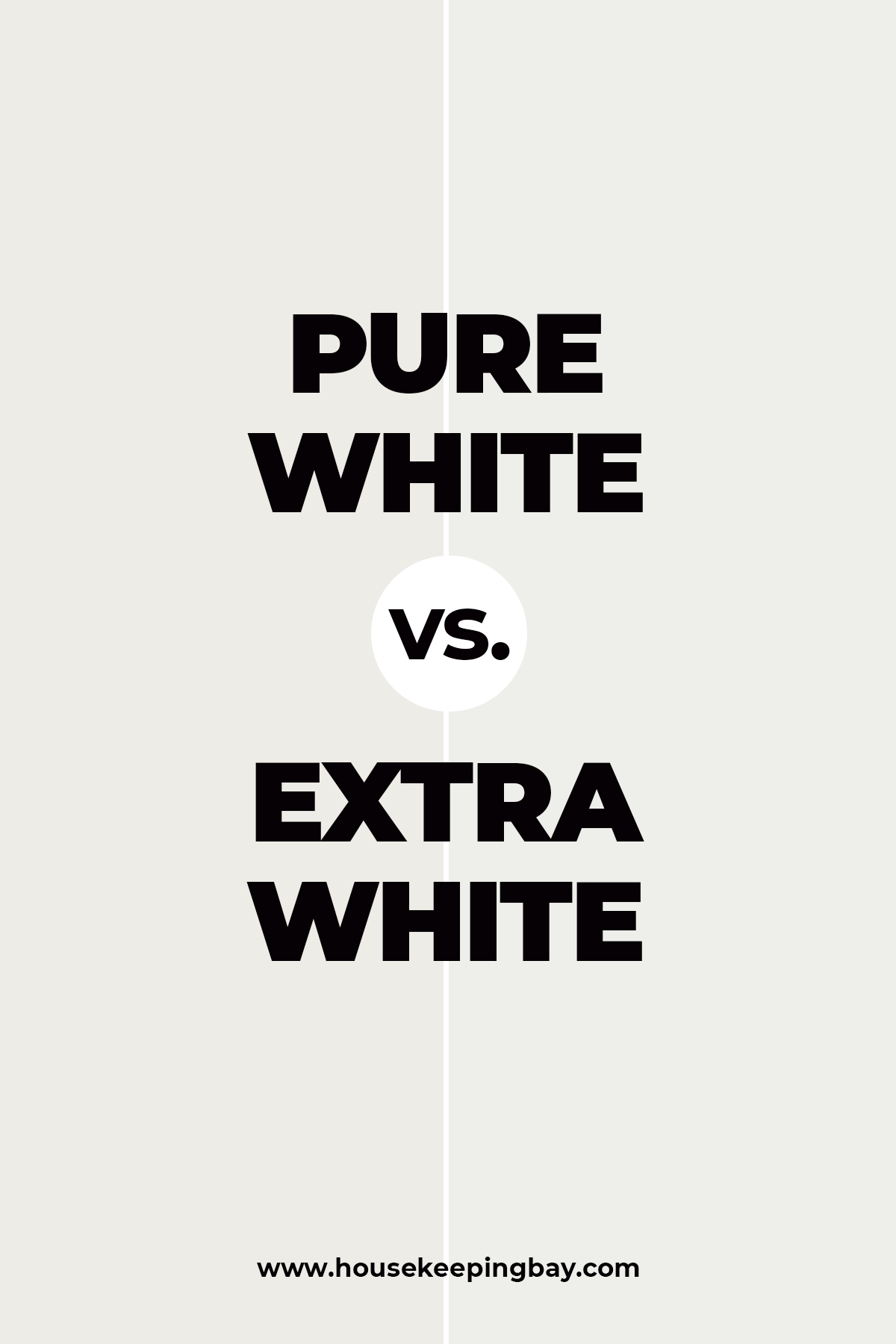 3.Pure White vs. Snowbound
This pair of colors is somewhat similar to the previous one. Snowbound looks more cool-toned than Pure White which reveals more of its warmth if put beside the counterpart.
However, except for that warm/cool distinction, these colors have nearly similar level of lightness.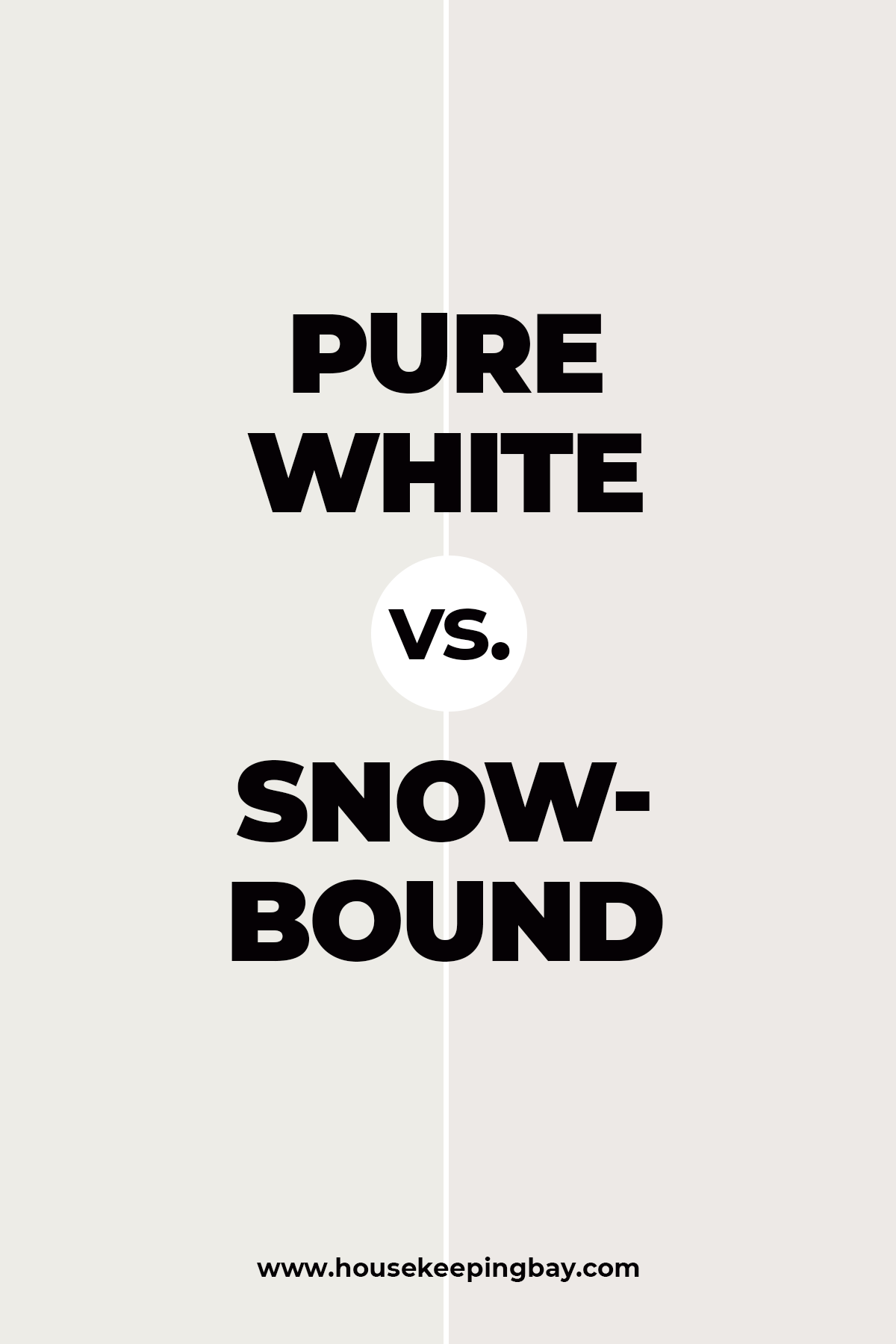 4.Pure White vs Simply White
LRV of BM Simply White is 91.7 which makes it way lighter than Pure White by Sherwin Williams.
Also, the neutral undertones of Pure White can barely be seen in comparison to those of Simply White which has soft yellow undertones. (get a sample of Simply White)
All that makes Simply White a typical warm white with a noticeable yellowish hue.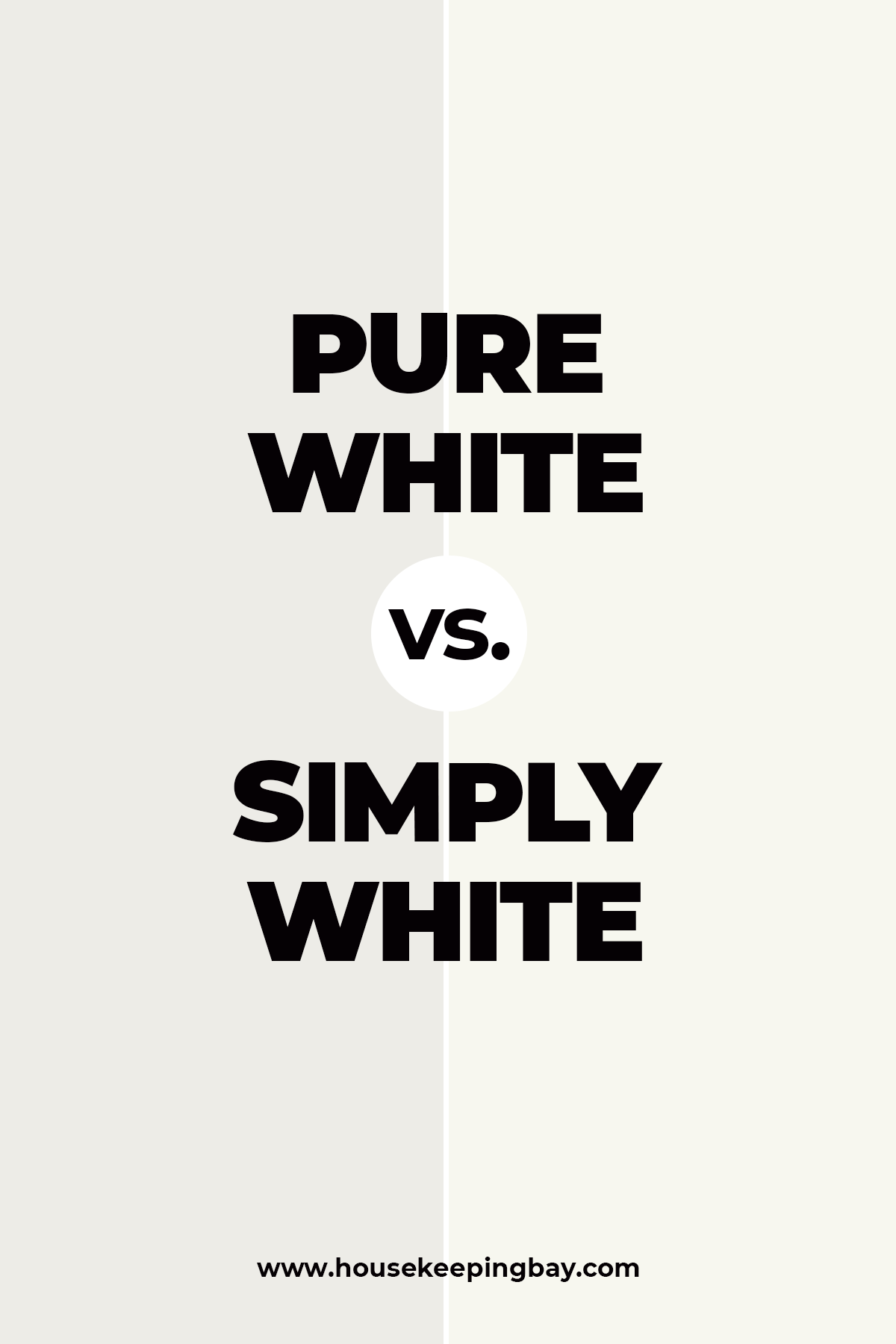 5.Pure White vs Chantilly Lace
If we compare these two, we will see that Chantilly Lace looks significantly lighter than Pure White which reveals more of its black undertones that make it look almost like a light gray! (get a sample of Chantilly Lace)
However, in artificial lighting, these colors have less prominent distinctions.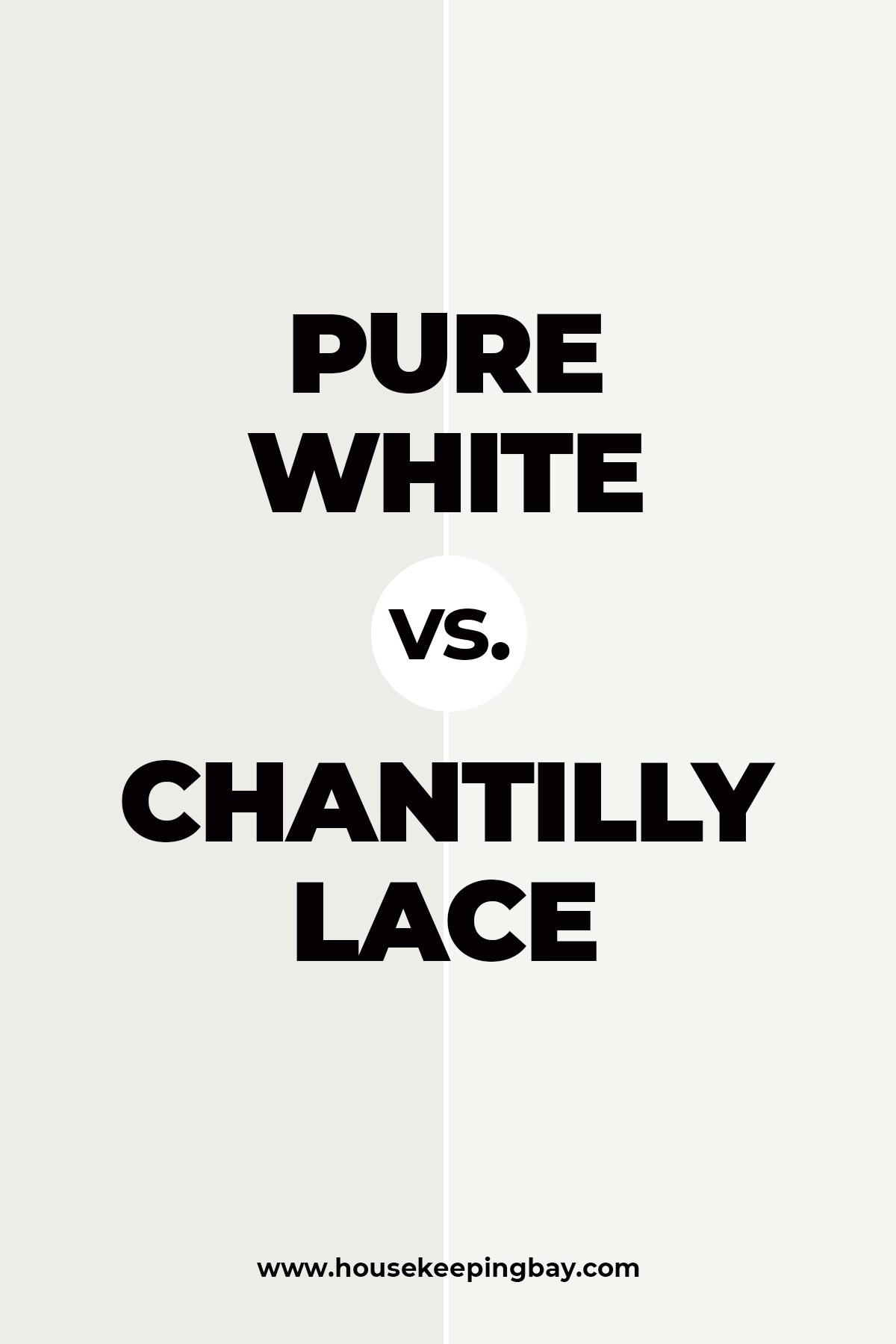 7.Pure White vs White Dove
These two are almost similar in terms of lightness since their LRVs are 84 and 85.38 respectively.
White Dove is a bit warmer and creamier though, whilst Pure White looks better balanced thanks to its very small amount of yellow. (get a sample of White Dove)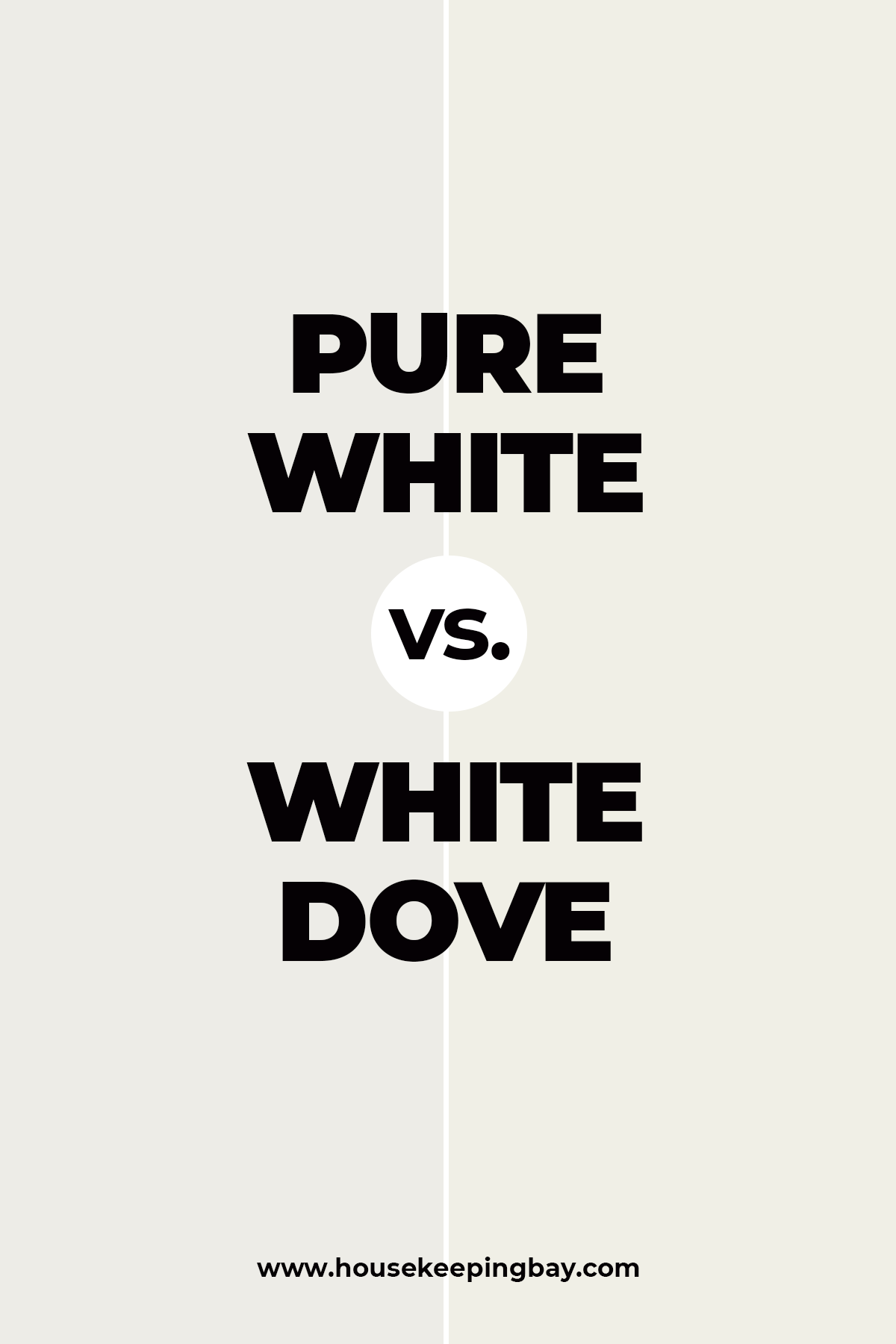 8.Pure White vs Decorators White
Decorators White is a more cool-toned paint color than Pure White.
It also has more gray undertones with a very slight bluish tint.
If placed beside Pure White, it looks a bit lighter and cooler whilst Pure White appears a bit warmer. (get a sample of Decorators White)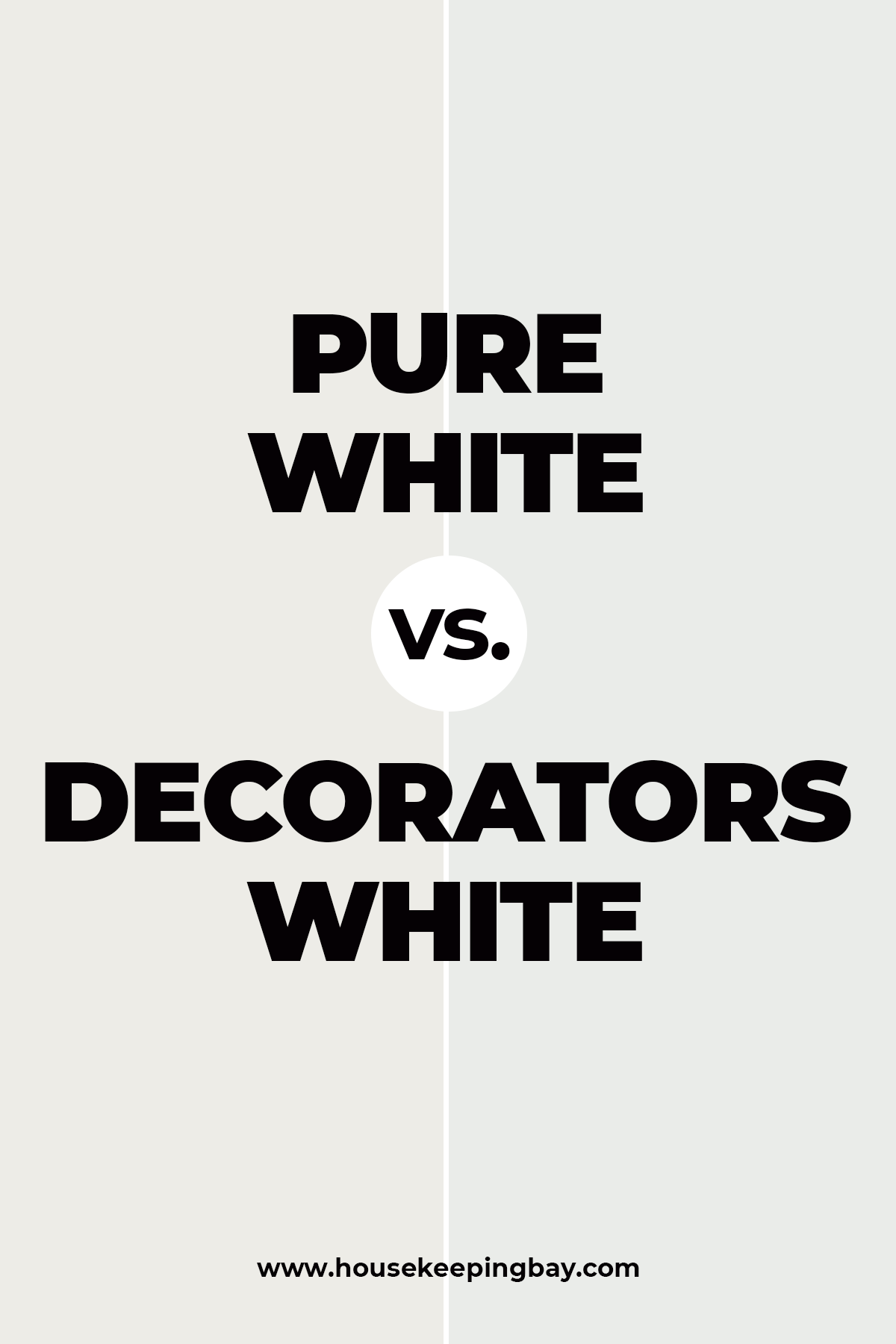 Paint Colors Similar to Pure White
We want to note at once that it is impossible to find an exact match to the color you want between the brands. However, if for any reason you can't use SW Pure White and you are looking for its substitute, you can opt for one of these:
Benjamin Moore White Dove
Benjamin Moore Oxford White
Benjamin Moore Cloud White
These colors will, of course, have distinctions in their undertones, temperatures, and depth.
And this is what you have to consider! For instance, BM White Dove and BM Cloud White are similar to SW Pure White but both are a little bit warmer.
BM Oxford White is somewhat brighter in comparison to Pure White, but it works the same way on the walls.
Like with every paint colour, We highly recommend using SAMPLIZE.  Samplize is a peel & stick paint sample that you can easily move around your room for over HALF THE COST of traditional samples – and they deliver right to your front door!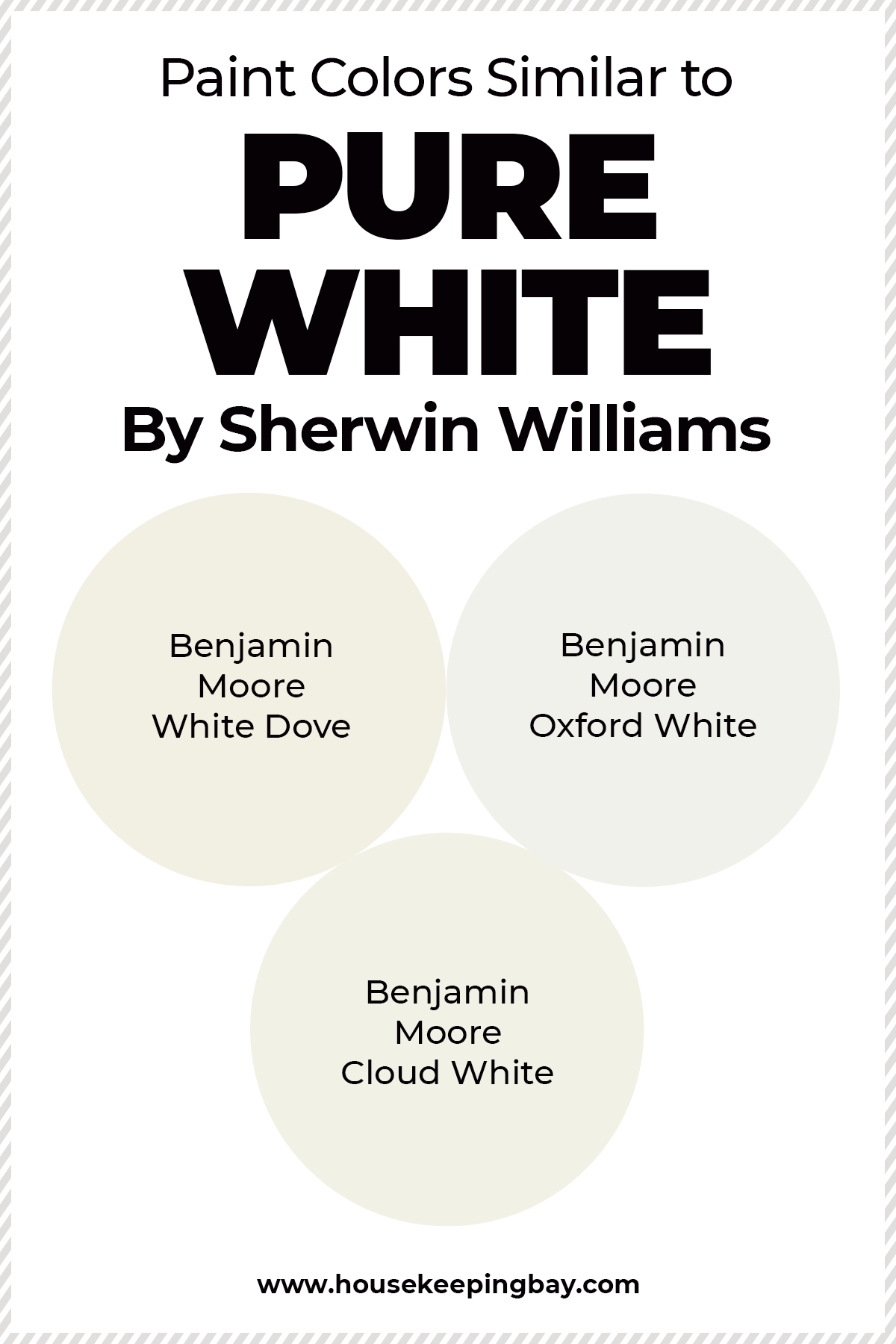 Where In Your Home to Use Pure White SW-7005?
SW Pure White is extremely popular mostly due to its supernatural versatility! This soft white can be used in any room in your home, moreover, it will look gorgeous even on the exterior walls!
However, let's get back indoors and see, what rooms this warm white will fit and how it will show itself there.
But in general, feel free to apply it anywhere, from your living room and to your bedroom or even nursery.
Pure White SW-7005 by Sherwin Williams in the Living Room
If you decide to apply Sherwin Williams 7005 Pure White in your living room, do consider its type of lighting and other colors present in the room!
Depending on that, this white may look cooler or warmer thus creating a completely different atmosphere in the space.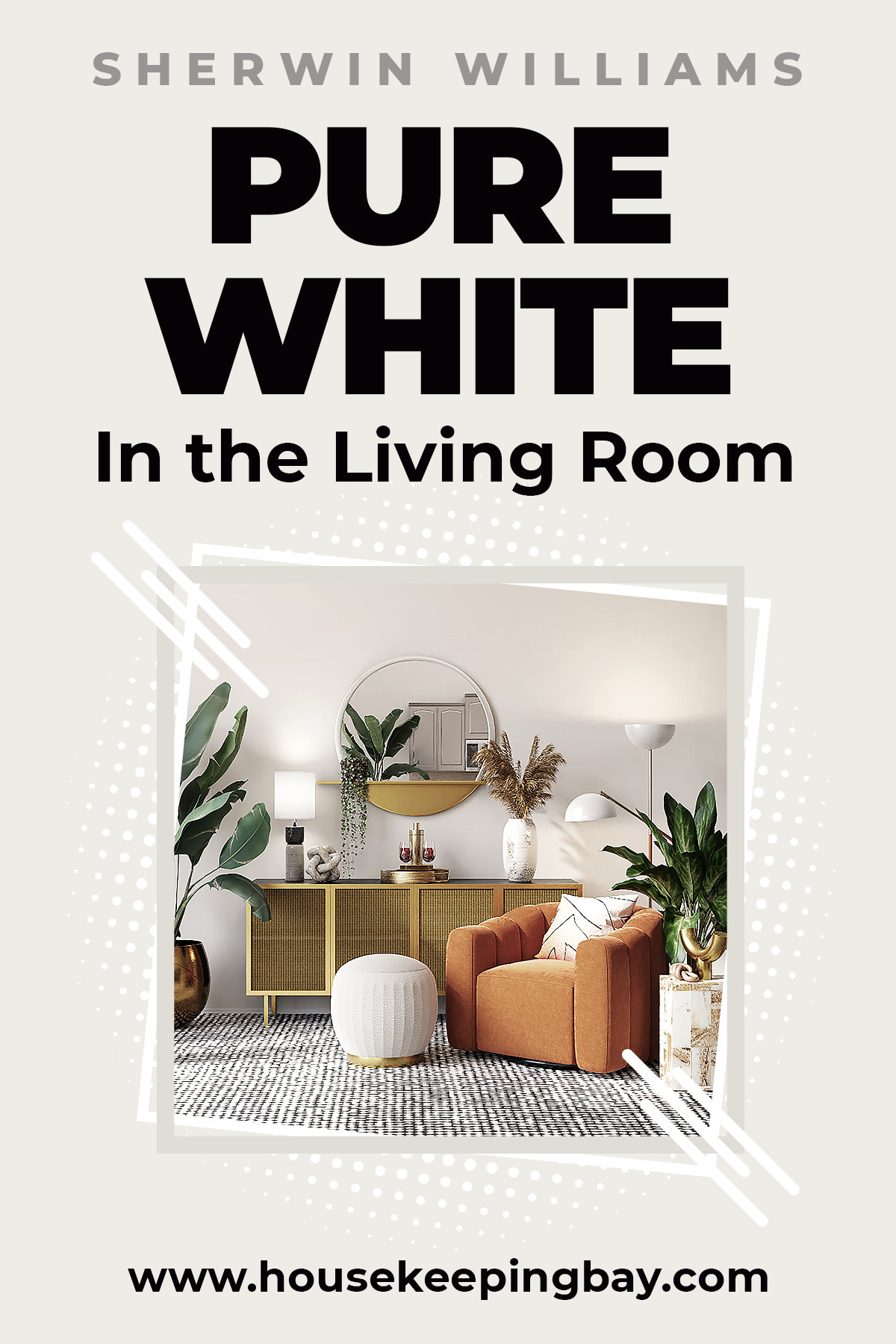 Pure White SW-7005 by Sherwin Williams in the Cabinets And Kitchen Cabinets
If you are in doubt whether or not SW Pure White will be a good fit for your cabinets, be sure that it will!
This neutral-base white is super versatile so chances are that it will suit your kitchen greatly.
Besides, Pure White by Sherwin Williams on your kitchen cabinets will suit the majority of designs and styles, so it will look suitable in a country house-style kitchen, as well as in a Scandinavian style one.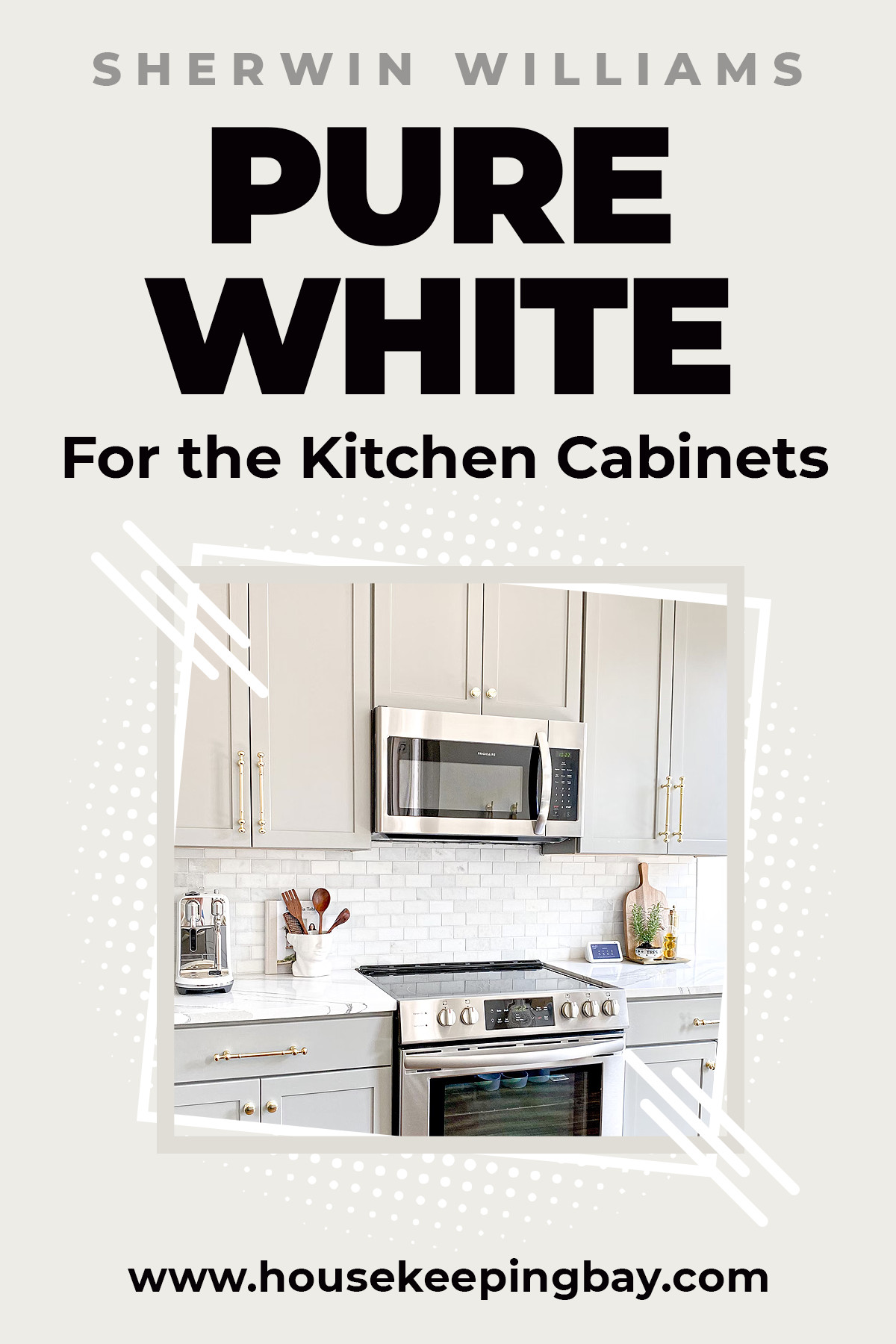 Pure White SW-7005 by Sherwin Williams in the Bedroom
You could never find the best and the most suitable color for the bedroom walls than SW Pure White!
Its versatility allows you to use it both if you prefer cool-toned designs, and if you are more into a cozy and warm interior.
Just make sure that the lighting and other colors in the room complement this white and create a proper atmosphere you want!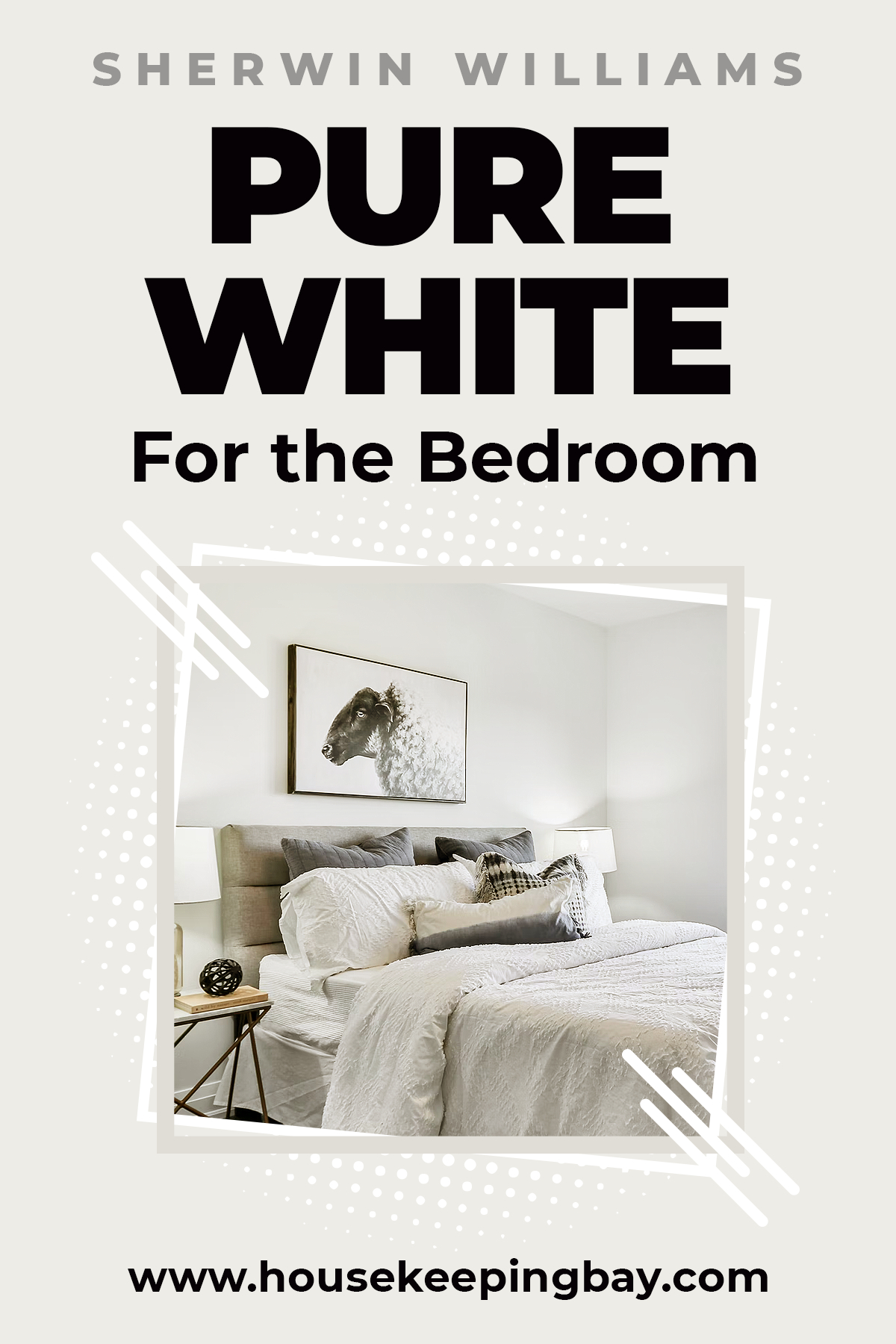 Can I Use Sherwin Williams Pure White For The Exterior Of My House?
The versatility of Pure White by Sherwin Williams is so great that it looks awesome even on the exterior walls! It will create that classical white exterior since this color is not one of those super stark whites.
Instead, it has a great balance of warm and cool tones which will make this color look great on your exterior walls in any lighting.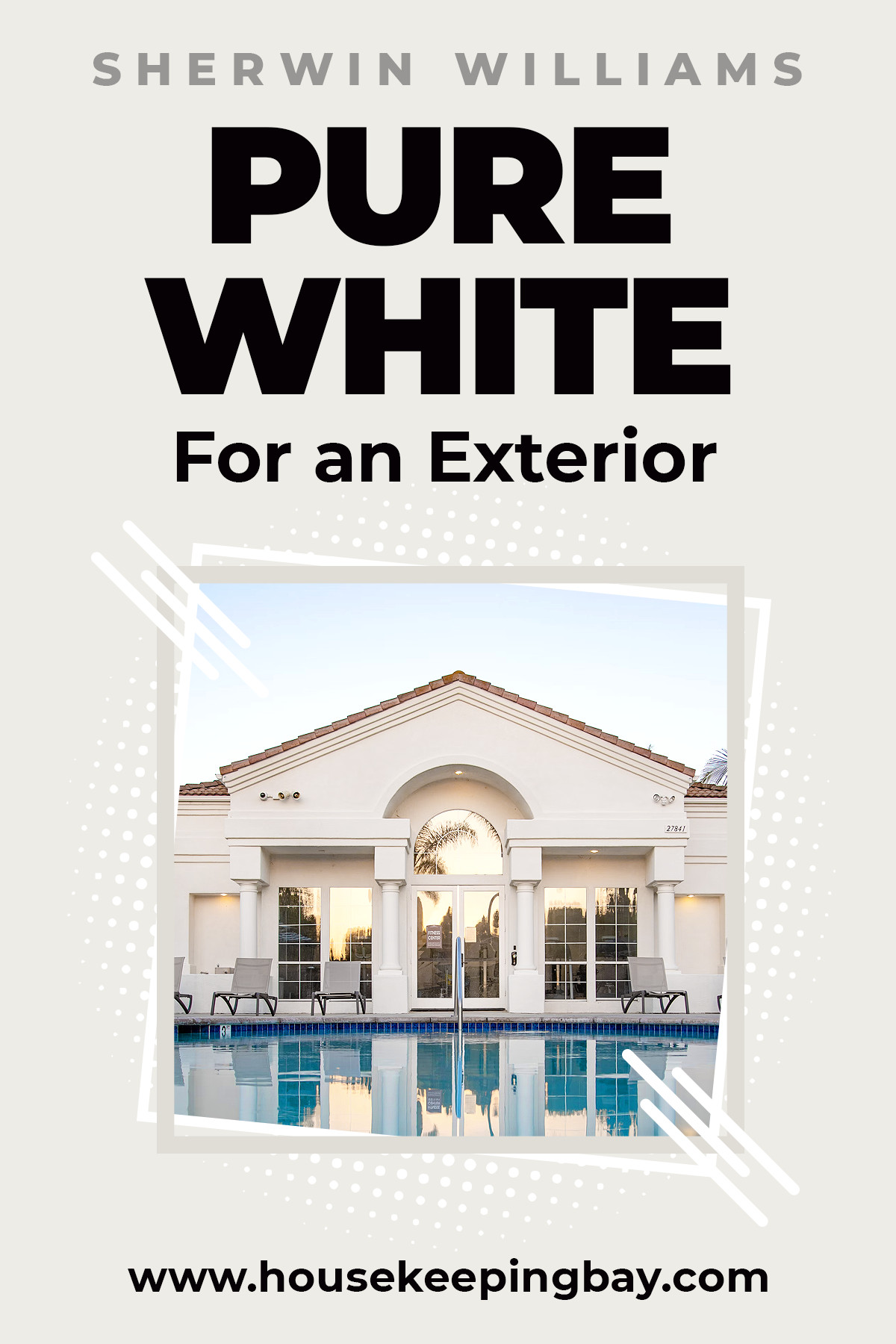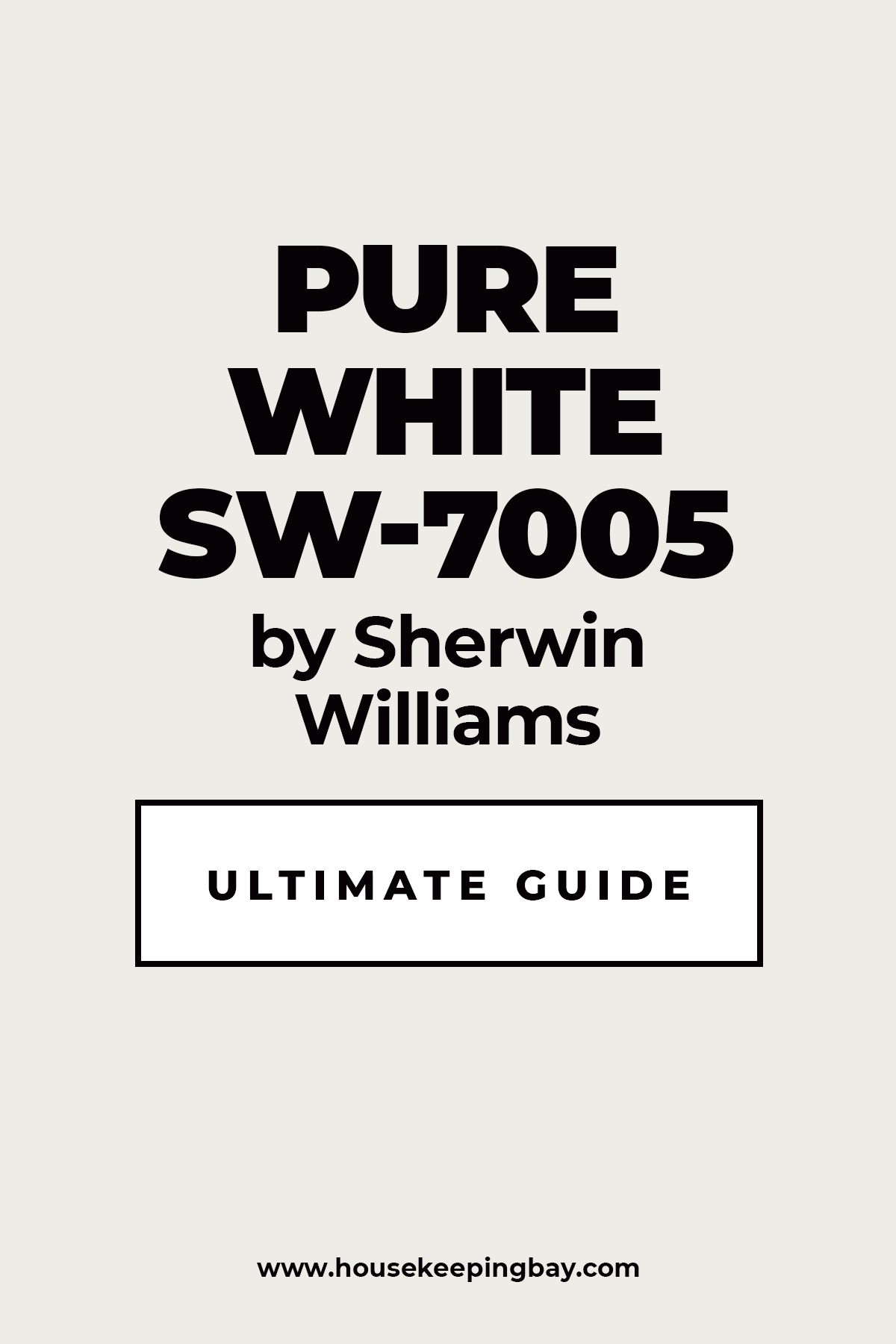 Get a sample of PURE WHITE (get a sample from Samplize )
So, with all this in mind, you will be able to easily decide whether or not SW Pure White is that very unique and suitable color for your interior or exterior painting projects.
However, since this color is very versatile, you should not have any issues with it!
Frequently Asked Questions
⭐ Can SW Pure White be used in bathrooms?
⭐ Is SW Pure White warm or cool?
⭐ Can Pure White be used in small rooms?
Yes, if they have enough light.