There are so many paint colors available on the market today that you can often feel puzzled when you need to choose one particular paint color for your home painting project. Perhaps, this is why people prefer choosing neutral and universal colors, for example, White Dove paint color by Benjamin Moore.
If you are not familiar with this color, you should read this article for sure! We will explain what kind of color White Dove is, what undertones it has and how it can help you when using this paint on your walls.
Also, you will learn what color (or colors) are best to be used as trim colors for this paint. Moreover, we will tell you more about its light reflectance value and how you could use this information.
Finally, you will learn in what rooms this paint can be used more successfully. With all this in mind, you will be able to make full use of it, turning your home into a stylish, cozy, and elegant place with just a few brushstrokes!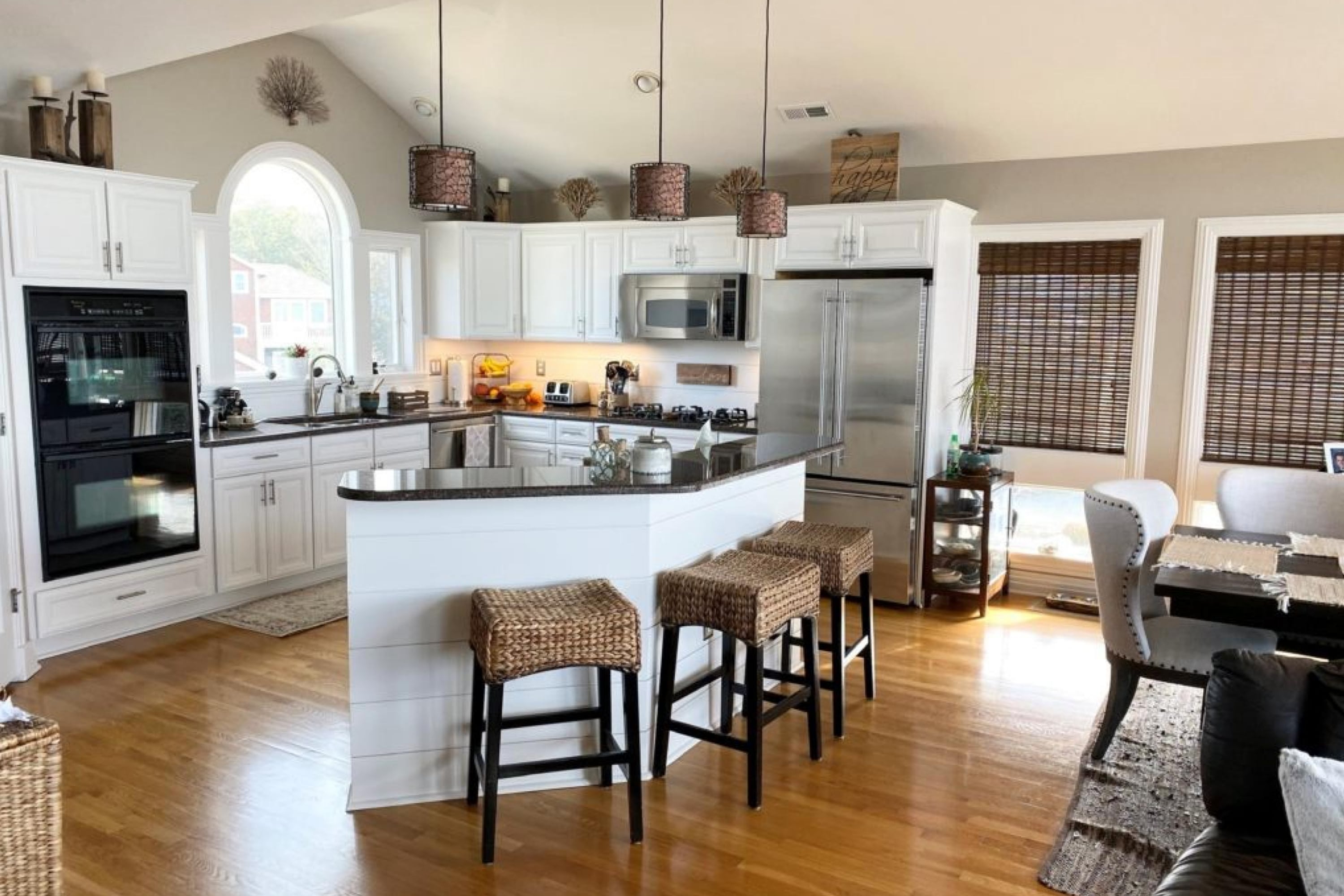 Benjamin Moore White Dove Paint Color
It may seem like all white paint colors look the same. But if we take a closer look at the White Dove color by Benjamin Moore, we will see that this color is not just a regular and boring white! It is classic and softly shaded warm white. As Encycolorpedia says, this white is light and luminous. Some color specialists also categorize it as off-white, creamy and soft, and indeed this paint does have some creamy notes in it.
These characteristics make the color very multipurpose: you can use it literally anywhere in your home from trims and moldings to interior walls and cabinets. Some people consider this white a neutral color since it can fit the majority of other colors.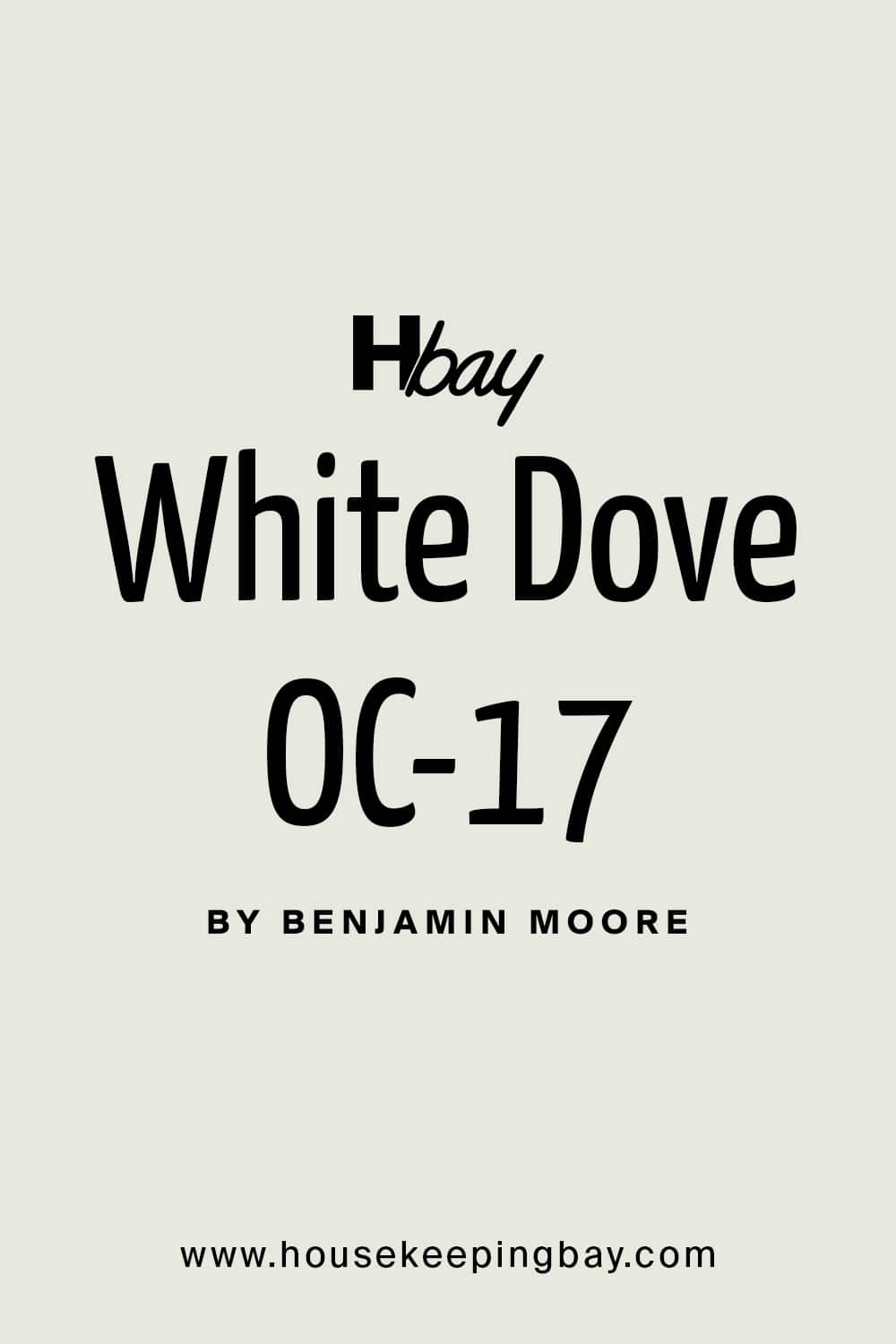 Benjamin Moore White Dove Undertones
Undertones of paint are often considered one of the most tricky things about paint colors when it comes to choosing what shade exactly you would like to see on your walls! You definitely know that the color of paint we see on a sample or the color that we see when we open a can is not the color we get when applying that paint to the wall. This is where undertones come up to the stage! And often, they are exactly what ruins the entire look of the room.
Speaking of Benjamin Moore White Dove paint color, it also has undertones even though it is white. This color has surprisingly tricky and complex undertones, in fact, since it contains greige undertones.
As you already know, White Dove is warm white paint color. That warmth comes from the bit of yellow in it. But this white doesn't look too yellow – all thanks to a tiny bit of gray it contains. That tiny bit of gray helps balance out the warmth of the yellow.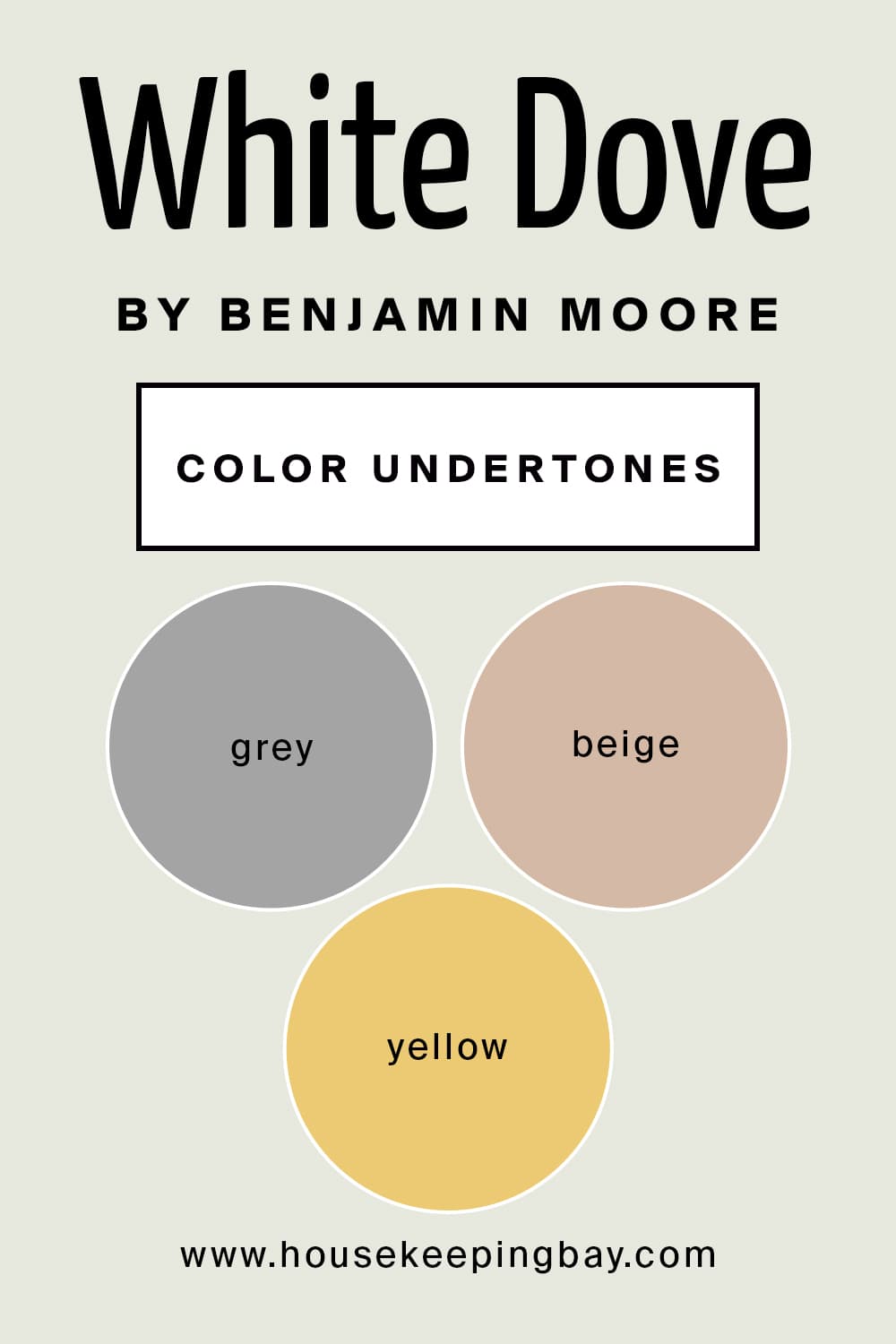 Coordinating Colors of White Dove OC-17
Being aware of coordinating colors will help you to choose the right color palette for your home and make the entire space look harmonious and well-balanced in terms of color. But since not all of us are knowledgeable in paint colors and shades, as well as their combinations, defining coordinating colors can be tricky.
As for the White Dove color, this warm off-white has quite a wide range or colors to coordinate with:
BM Silver Lake
BM Chantilly Lace
BM Sea Haze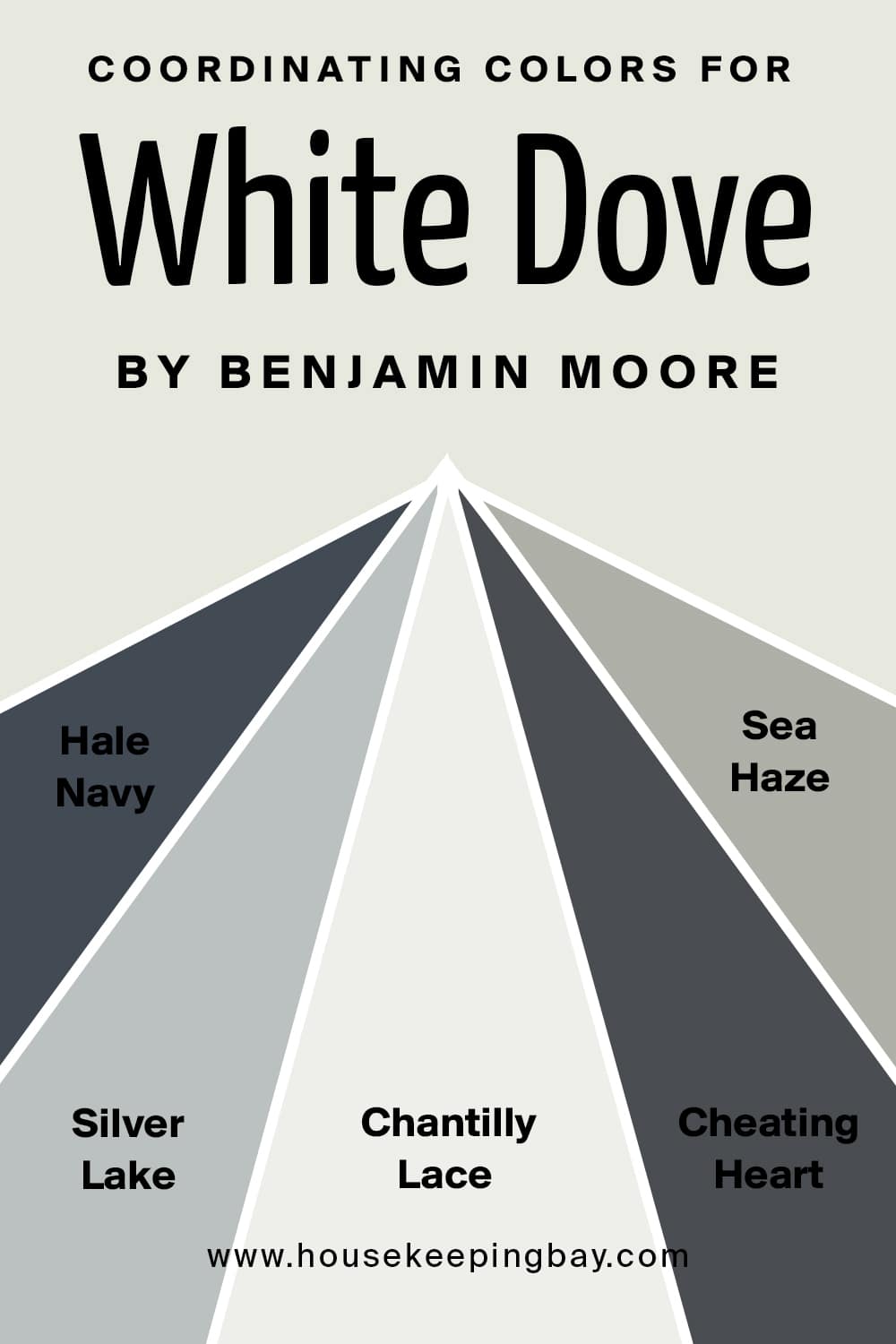 LRV White Dove OC-17
The White Dove color has an LRV of 85.38. That's considered high up on the LRV scale, and this is what we should be expecting because it is white paint color. In case you forgot what LRV or Light Reflectance Value is, to explain shortly it is a measurement that measures the amount of light reflected from a surface.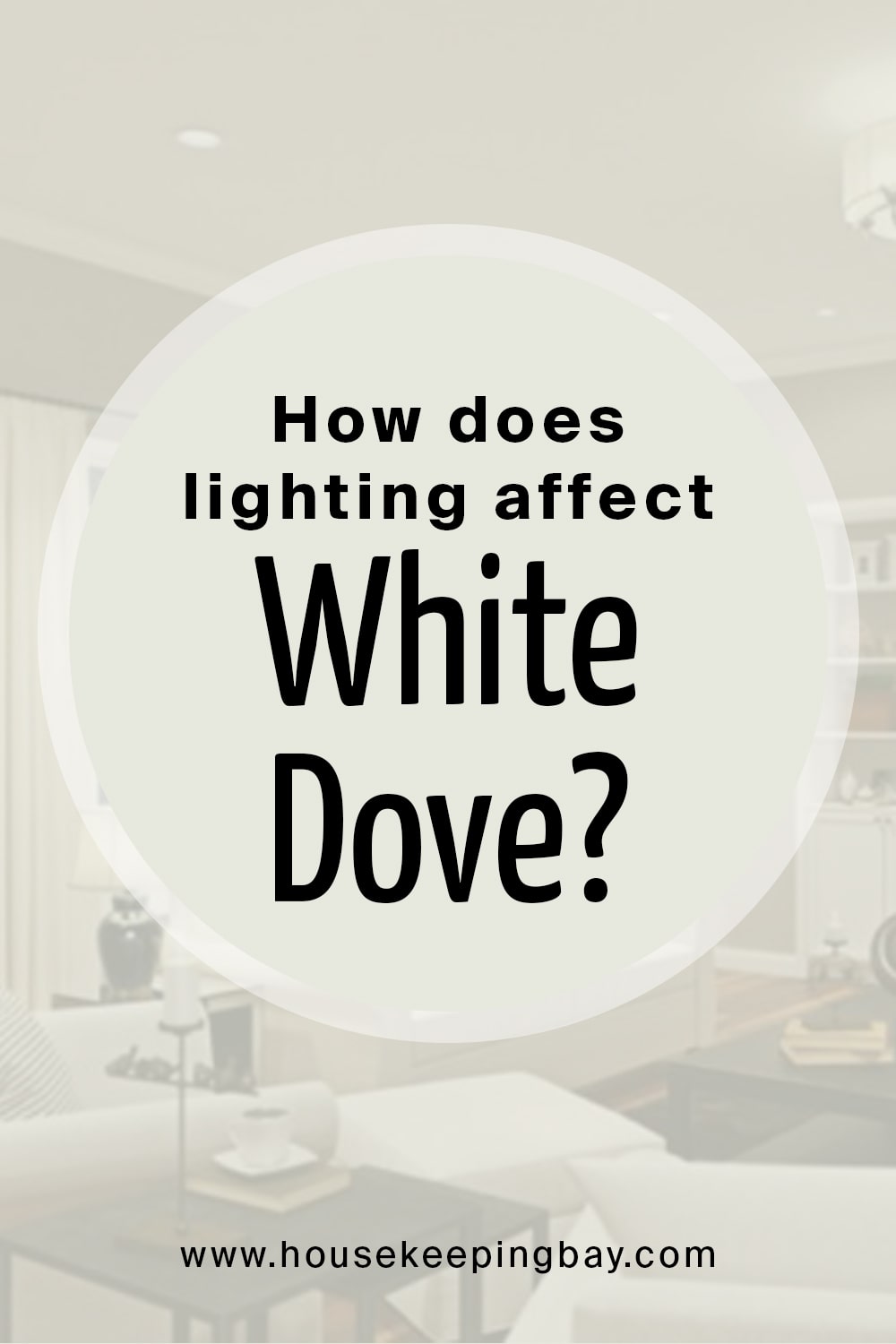 LRVs range from 0-100, with 100 being pure white and 0 being absolute black. Basically, higher numbers reflect more light and lower numbers do the opposite, they absorb light.
So now you know more about this color "anatomy". Being aware of its LRV, undertones, and coordinating colors, you will already be able to select a color palette that will suit your interior much better than if you chose those paint colors without knowing all this.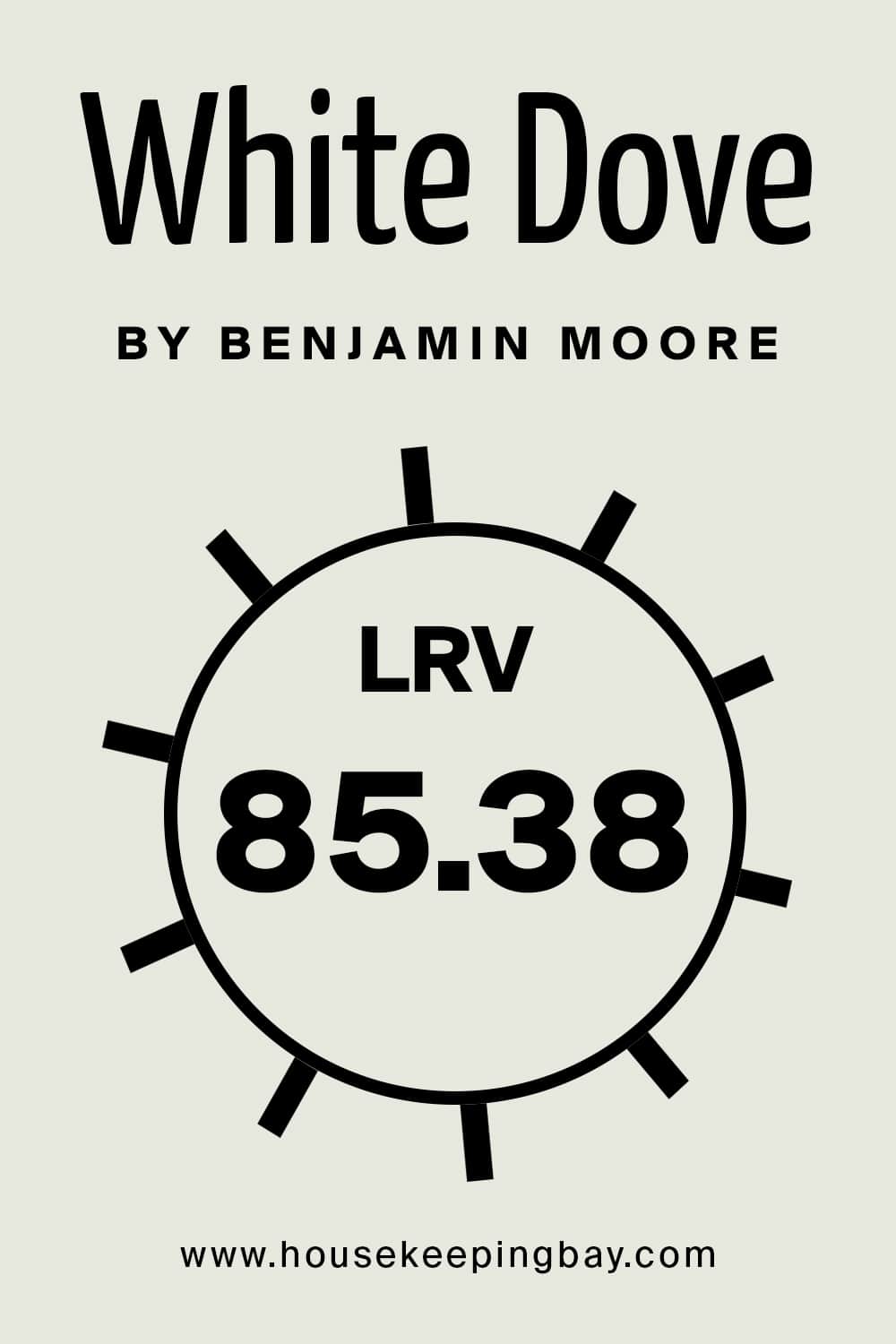 What is LRV? Read It Before You Choose Your Ideal Paint Color
How Benjamin Moore White Dove Will Work On Your Trim?
Choosing a proper and well-matching trim color is almost as important as figuring out what undertones the paint color has and how it will work with other colors in a room! And here we can give you a handy hint: you will never go wrong with pairing white trim to any paint color!
But if you decide to paint your walls with Benjamin Moore White Dove which is white, you may be stuck on what color to paint your trim. Well, a great trim color that goes with White Dove is…White Dove! No, there is no mistake here! See, this paint color works on the trim as well as on the walls. You may want to add a little variation though, so feel free to use a flat finish on your walls and a semi-gloss on the trim.
But if you don't feel like using White Dove for both the walls and trim (which can be too much), you can try Benjamin Moore Simply White color instead. Yes, yes, you are right, it is also a white paint color! But at least it has a subtle warmth to it. And besides, when you apply this white color to the surface, it will definitely read a bit lighter than White Dove.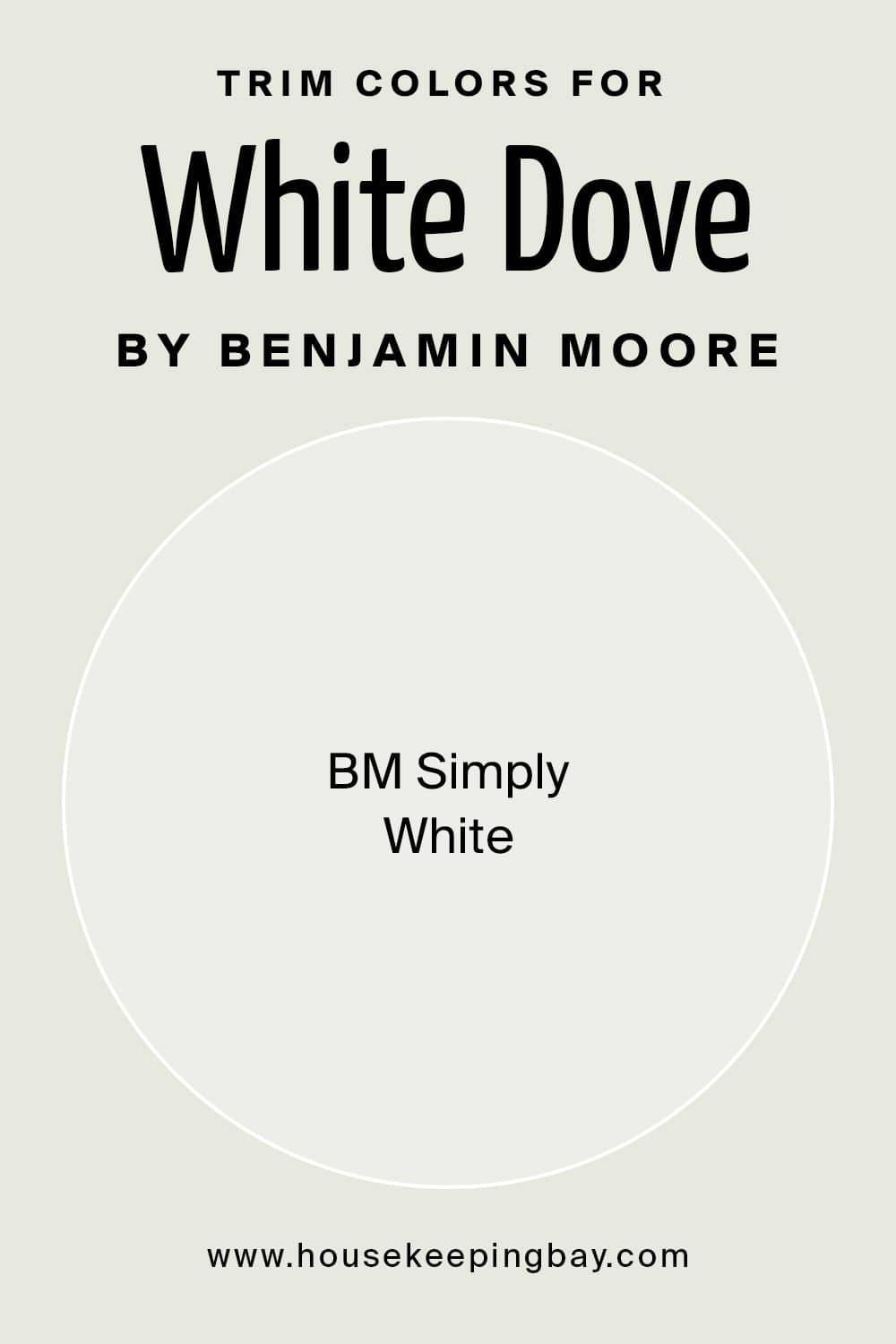 Paint Colors Similar to BM White Dove
Sometimes, you might want to use another color, not exactly the one that you have previously chosen. The reasons for doing that might be different, but the fact remains: it is always good to know what other similar colors exist that look the same or nearly the same as the color that you picked.
So if you are looking for the paint colors that read almost the same as BM White Dove, you might want to consider the following options (but keep in mind that none of them will give you a 100% match!):
Oxford White 869
Benjamin Moore Simply White OC-117
Sherwin-Williams Pure White SW 7005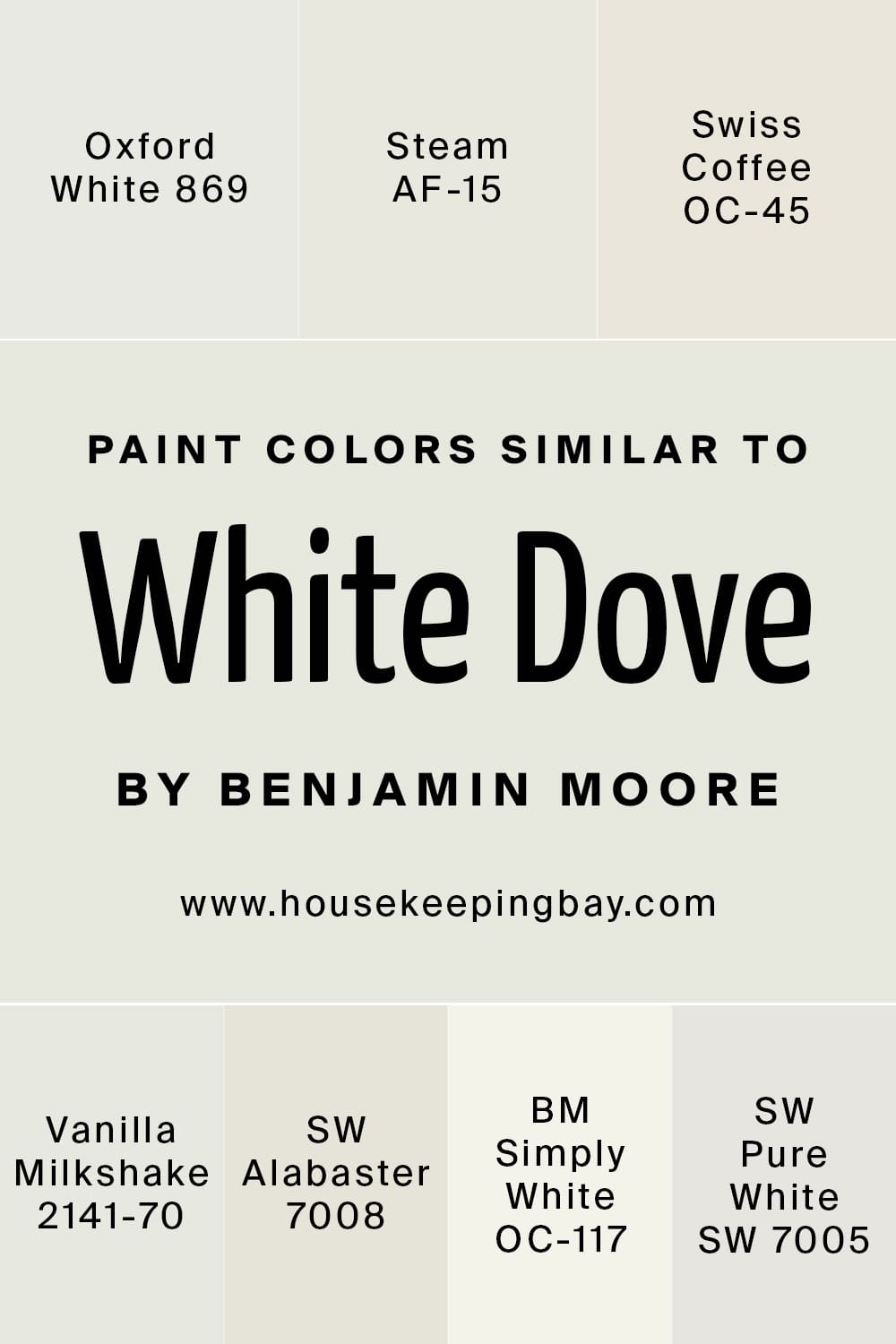 Сolors That BM White Dove Goes With
If you feel uncertain about the colors that BM White Dove might pair well, we have a few recommendations for you to check out.
You can use one of these colors or several of them depending on your overall color scheme in a room.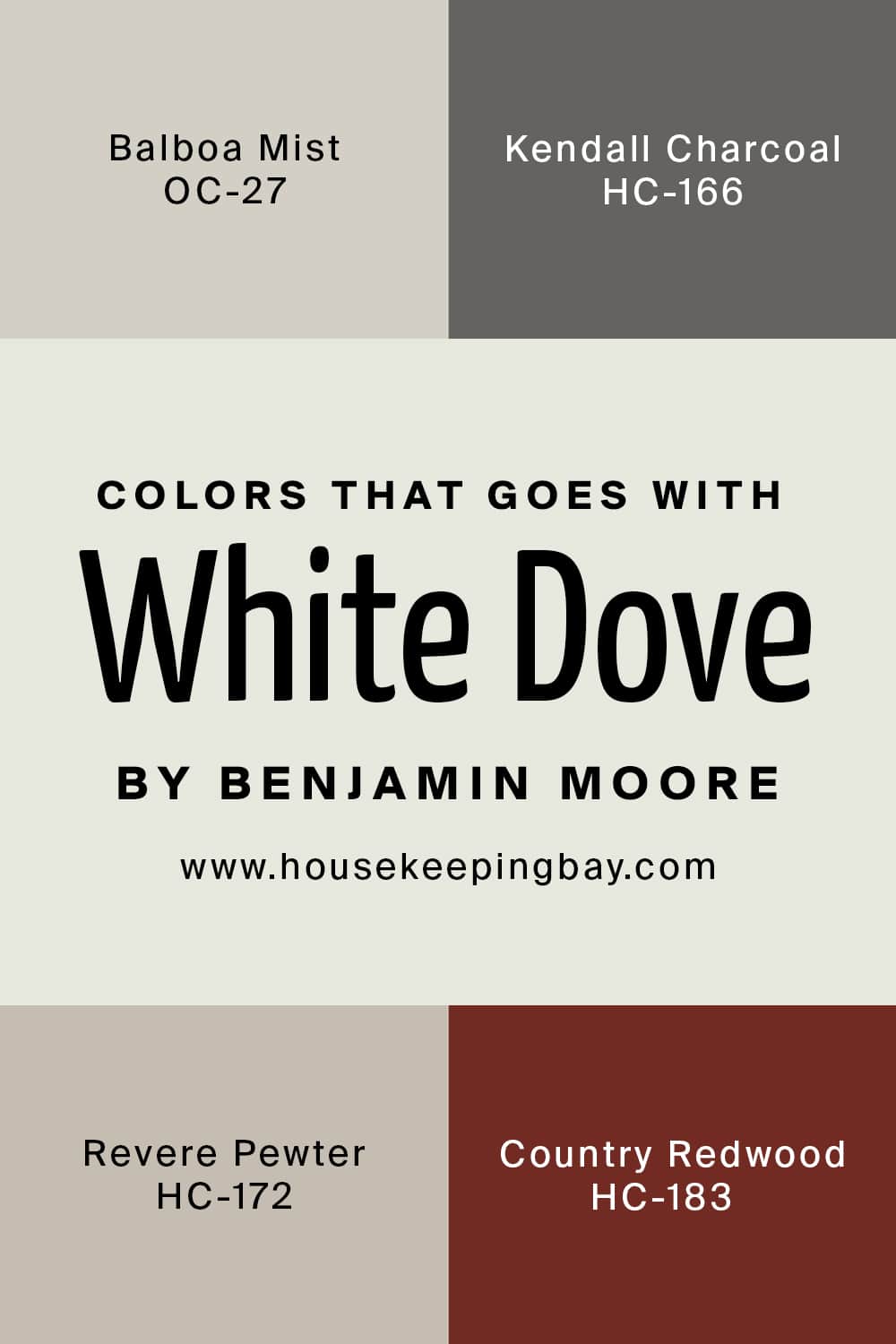 Comparing BM White Dove to Other White Colors
White is a tricky color because people seldom see any difference between two shades of white. So the best way to learn to see the difference is to compare several whites. Below, we offer you a comparison of BM White Dove and a few other white colors.
Sherwin-Williams Simply White vs Benjamin Moore White Dove
When comparing Simply White to Benjamin Moore White Dove, there are a few features that make the two colors very close to each other:
Both are considered off-white paint colors
Both paint colors are very light and have high LRVs. Alabaster has an LRV of 82 and White Dove is a tiny bit higher at 85.38
BM White Dove has a hint of gray in its undertone, which prevents the color from going too warm.
Both colors have the perfect balance of warm and cool undertones
But they also have some distinctions. For example, White Dove is closer to white than Sherwin-Williams Alabaster. Plus, their LRVs are not the same (though being rather close).
White Dove vs Simply White
What's the difference between White Dove and Simply White?
Simply White has an LRV of 91.7 White Dove's LRV of 85.38
Simply White is a little cleaner and crisper
But they have much more in common. For example, both have a good balance of warm and cool in them. Also, Simply White has a hint of warmth, just like White Dove.
In addition, Simply White also has some yellow in it. This is what makes White Dove and Simply White work well together!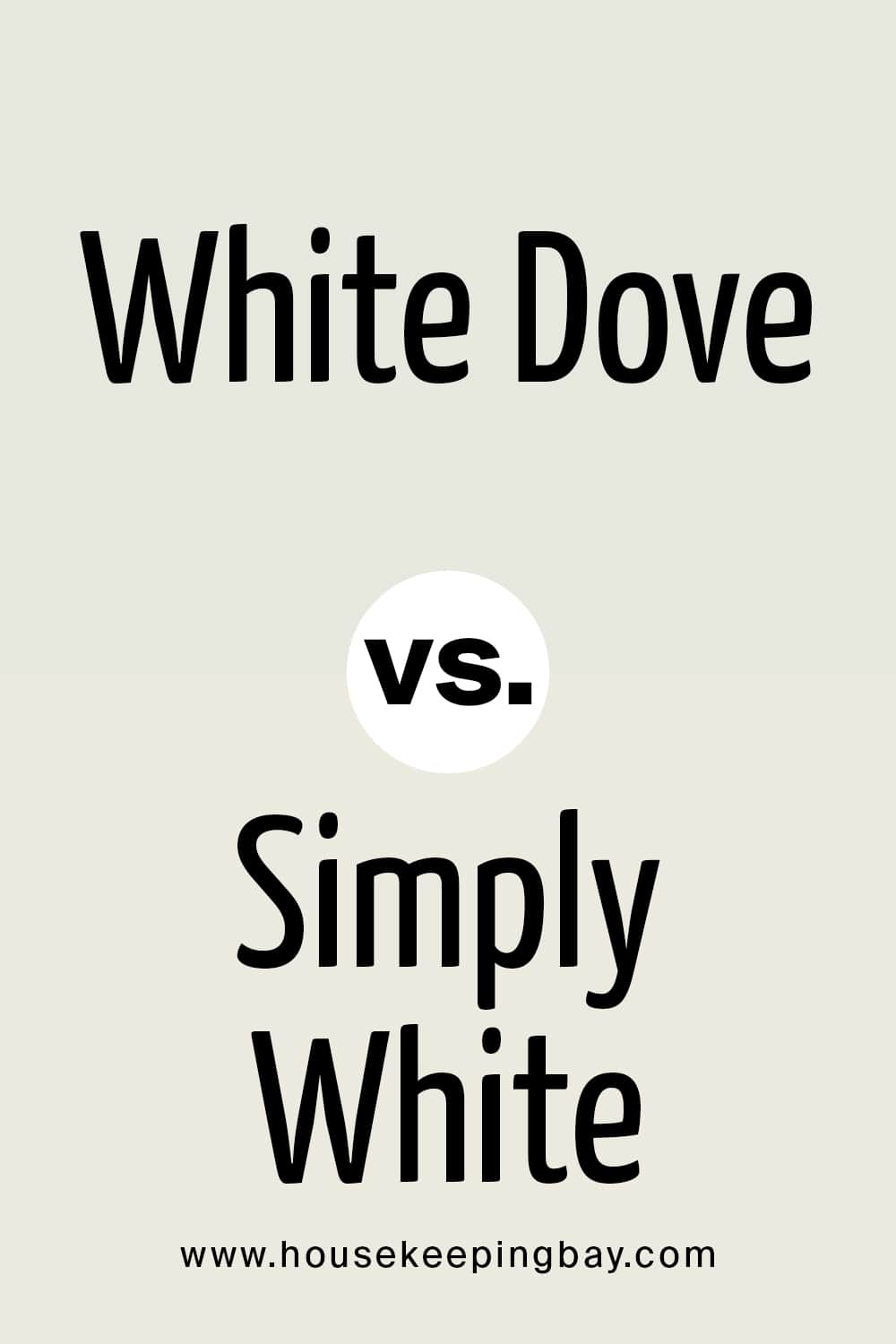 White Dove vs Chantilly Lace
Compared to White Dove, Chantilly Lace is whiter and brighter. In fact, it reads more white than the White Dove paint which reveals a slight hint of greige tone in it. However, since both are warm-toned, they read and work very well together.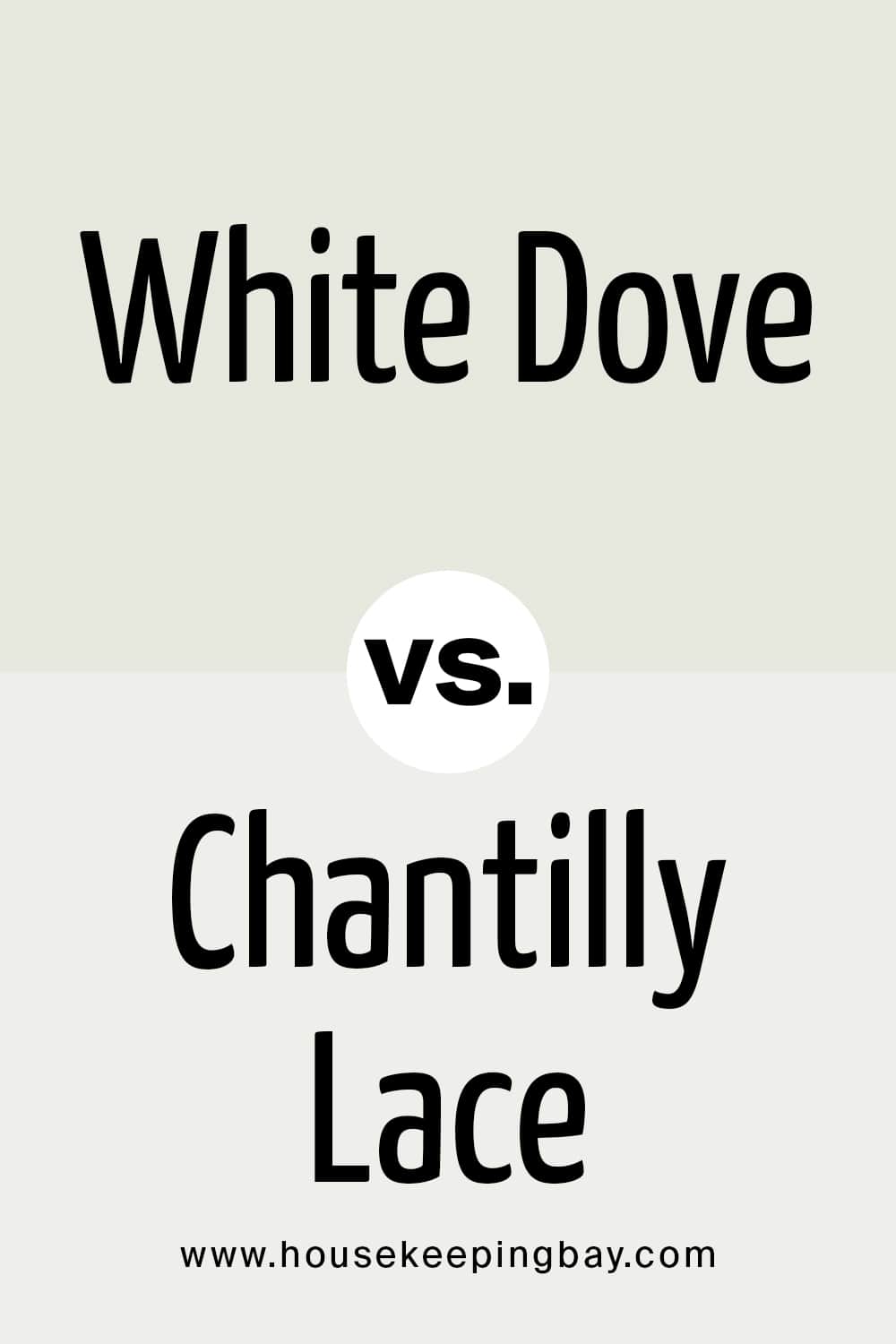 Benjamin Moore Cloud White vs White Dove
At the first sight, these two look almost the same. Upon a closer examination, you can see that White Dove reveals its grayish side more in comparison to Cloud White which reads slightly more beige.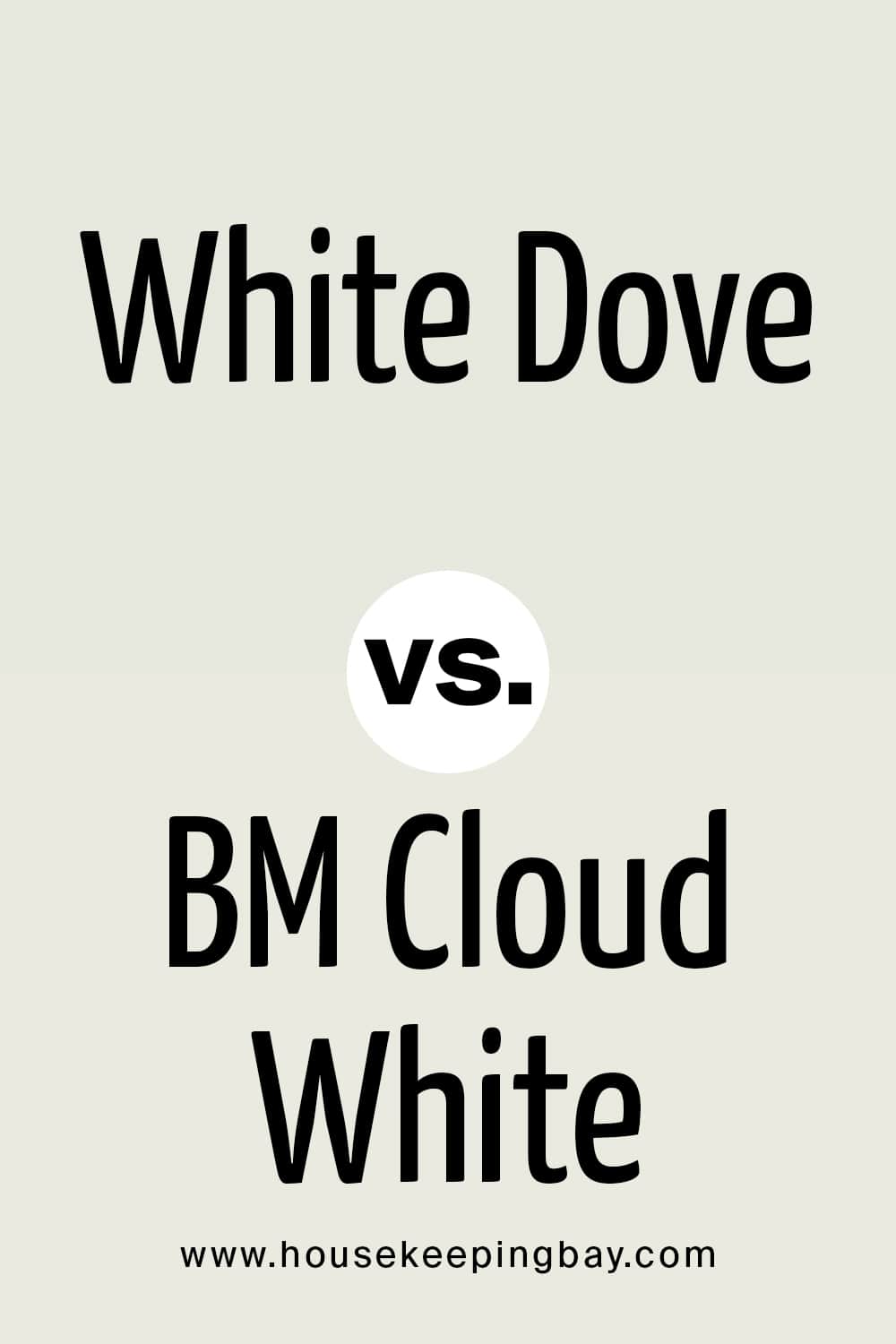 White Dove vs Greek Villa
Just like White Dove, Greek Villa also has a yellow undertone. But the thing that makes these two colors distinct is the feature Greek Villa has: though it doesn't have pink undertones, it can look a bit pink if it's around pink, rose, peach, coral, or other similar colors. And this is exactly what happens if you place this color next to White Dove paint.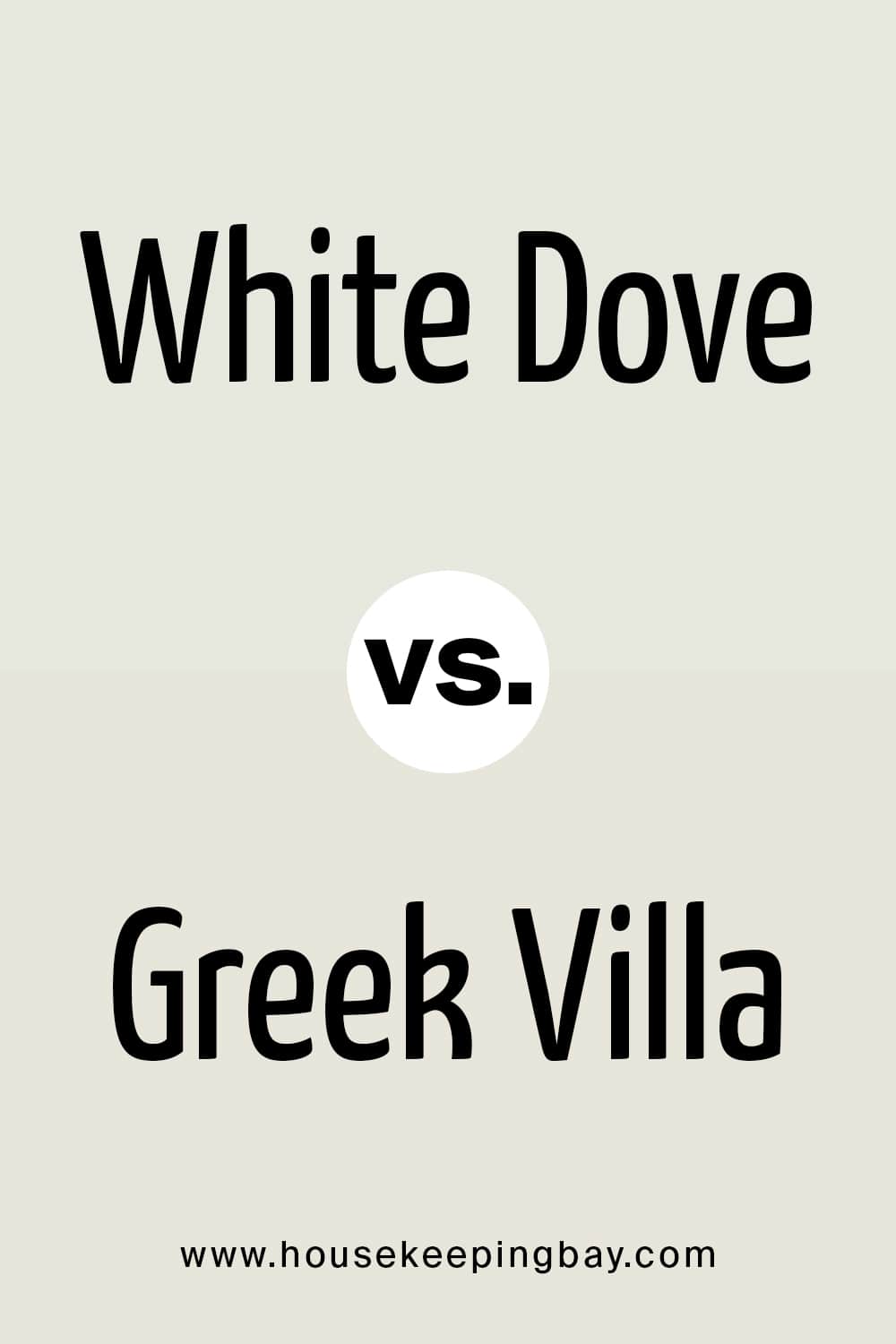 Where to Use Benjamin Moore White Dove In Your Home?
Since BM White Dove is considered neutral, it can be used in almost any room in your home. However, we would like to provide you with several detailed descriptions so that you could see how exactly it might work there.
Benjamin Moore White Dove Exterior
Benjamin Moore White Dove will work really nicely on your exterior walls! In fact, the exterior of your home is another spectacular place to use this off-white. The color has that touch of gray in it that will keep it from looking too blindingly bright.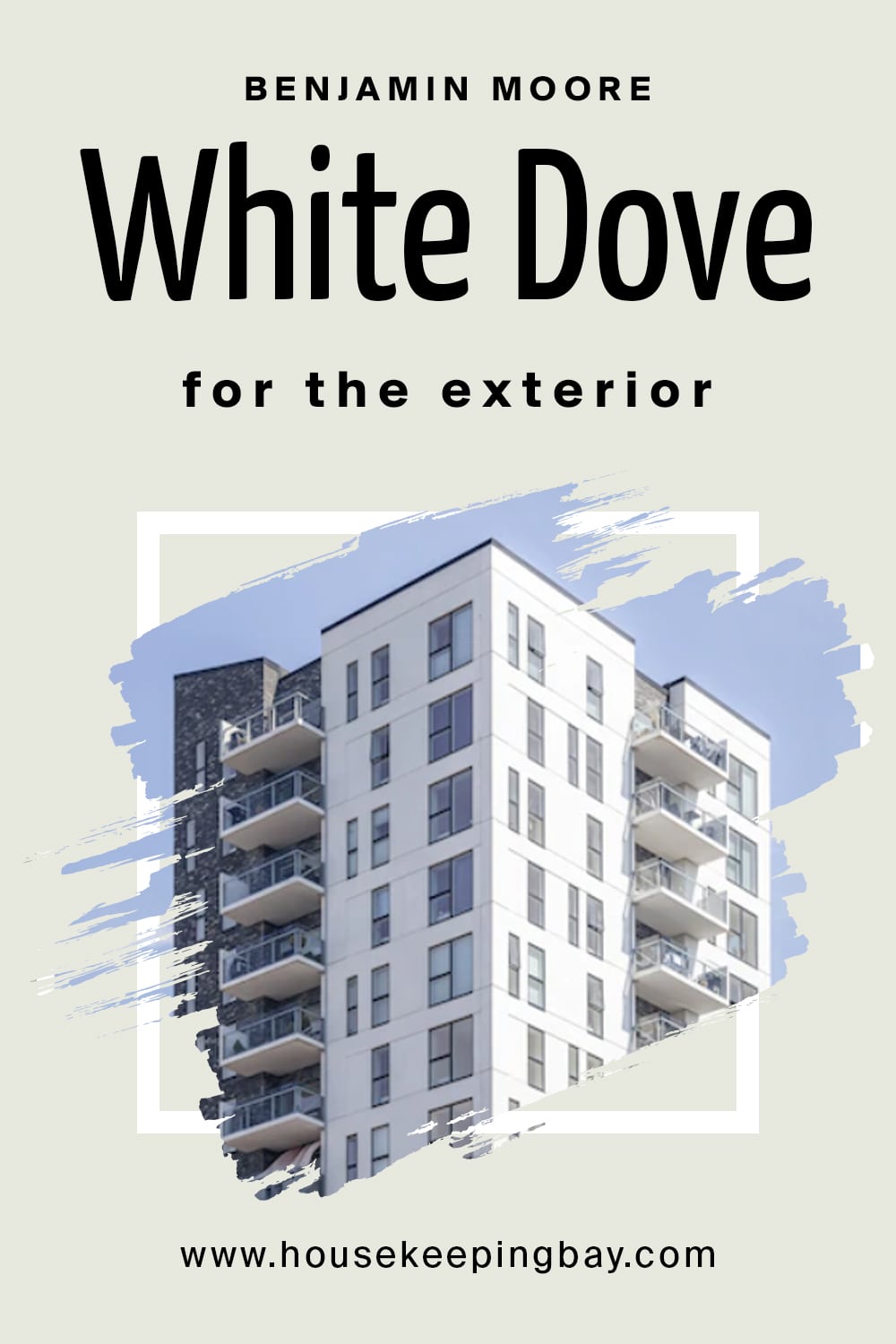 How Benjamin Moore White Dove Will Work On Cabinets And Kitchen Cabinets?
If you wonder whether the White Dove paint color by Benjamin Moore can be used on kitchen cabinets, the answer is yes! Using white in your kitchen will make it look timeless and classic.
So if you decide to use White Dove on your kitchen cabinets or on your kitchen walls one day, don't worry: this color will refresh the space, making it feel light, bright, and airy.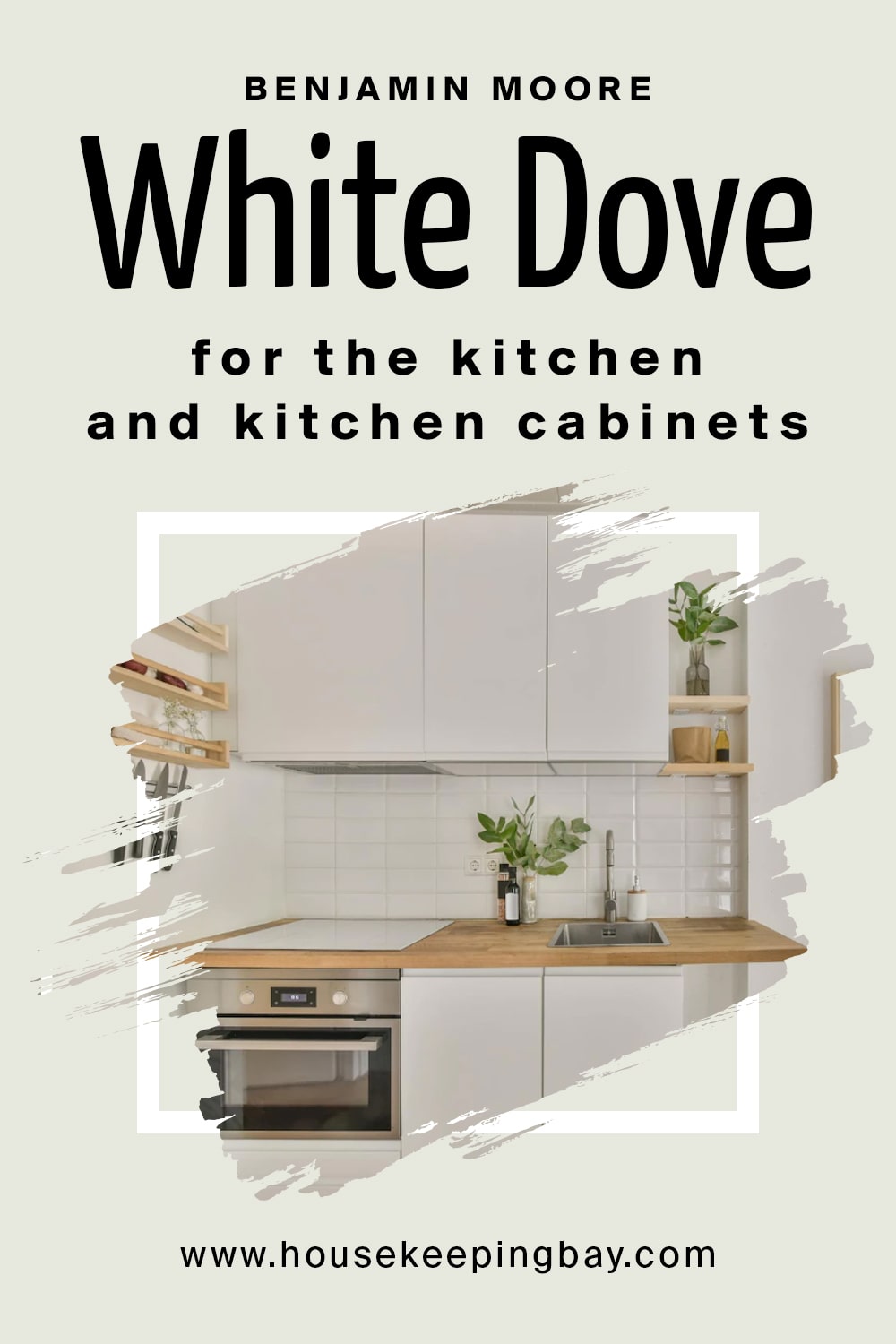 White Dove OC-17 in the Living Room
White Dove is a very nice white color for your living room. It will make the space look bigger and airier, besides, since it is a neutral off-white, it can be paired with quite many other colors and textures. In particular, this white will look great with wooden furniture, brown and beige colors (e.g. on your upholstery) gold decor elements.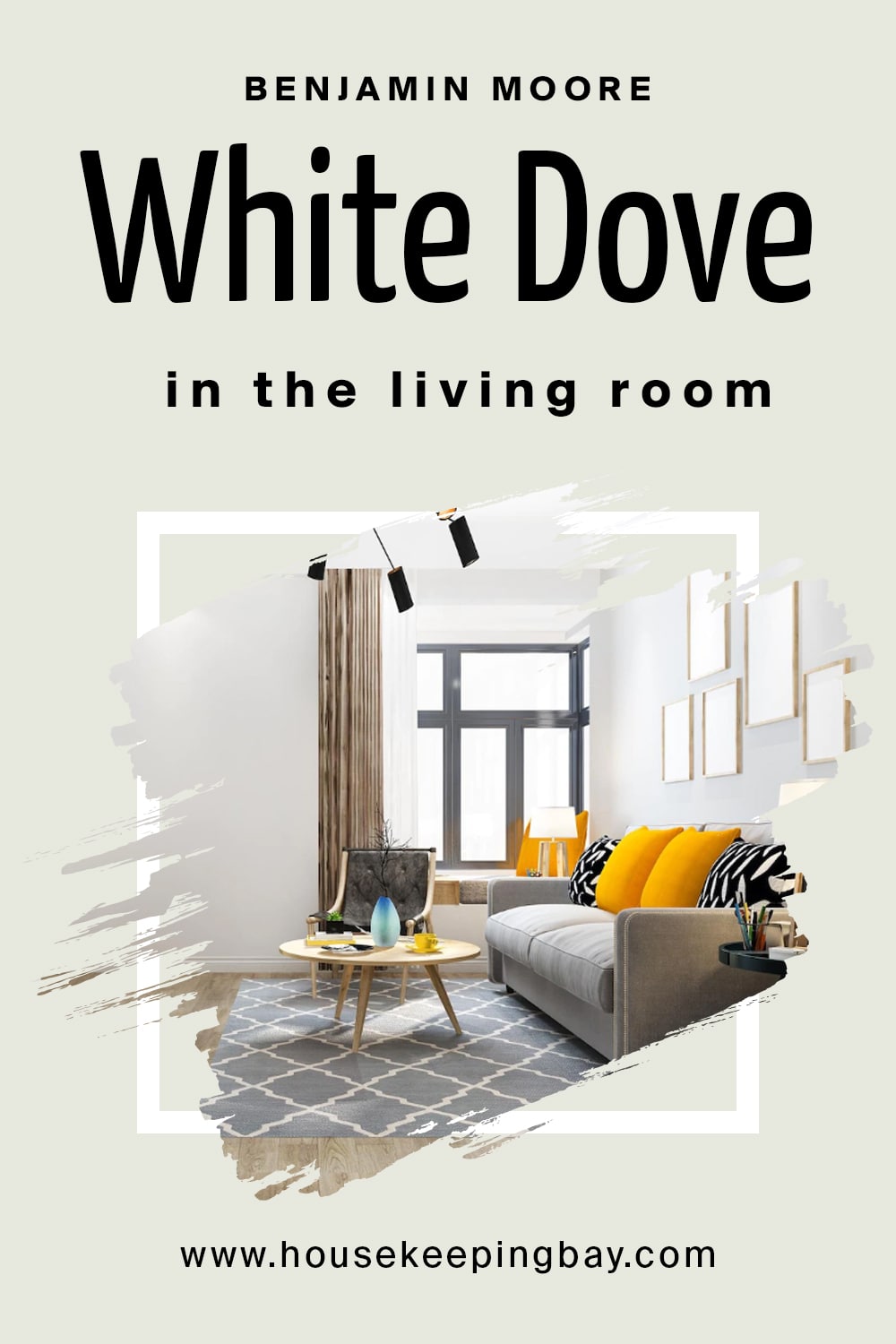 White Dove OC-17 in the Bedroom
If you're looking for an ideal warm white for your bedroom, consider this one. BM White Dove won't make your sleeping space look too cool, instead, remaining white, it will bring in the necessary warmth and tranquility.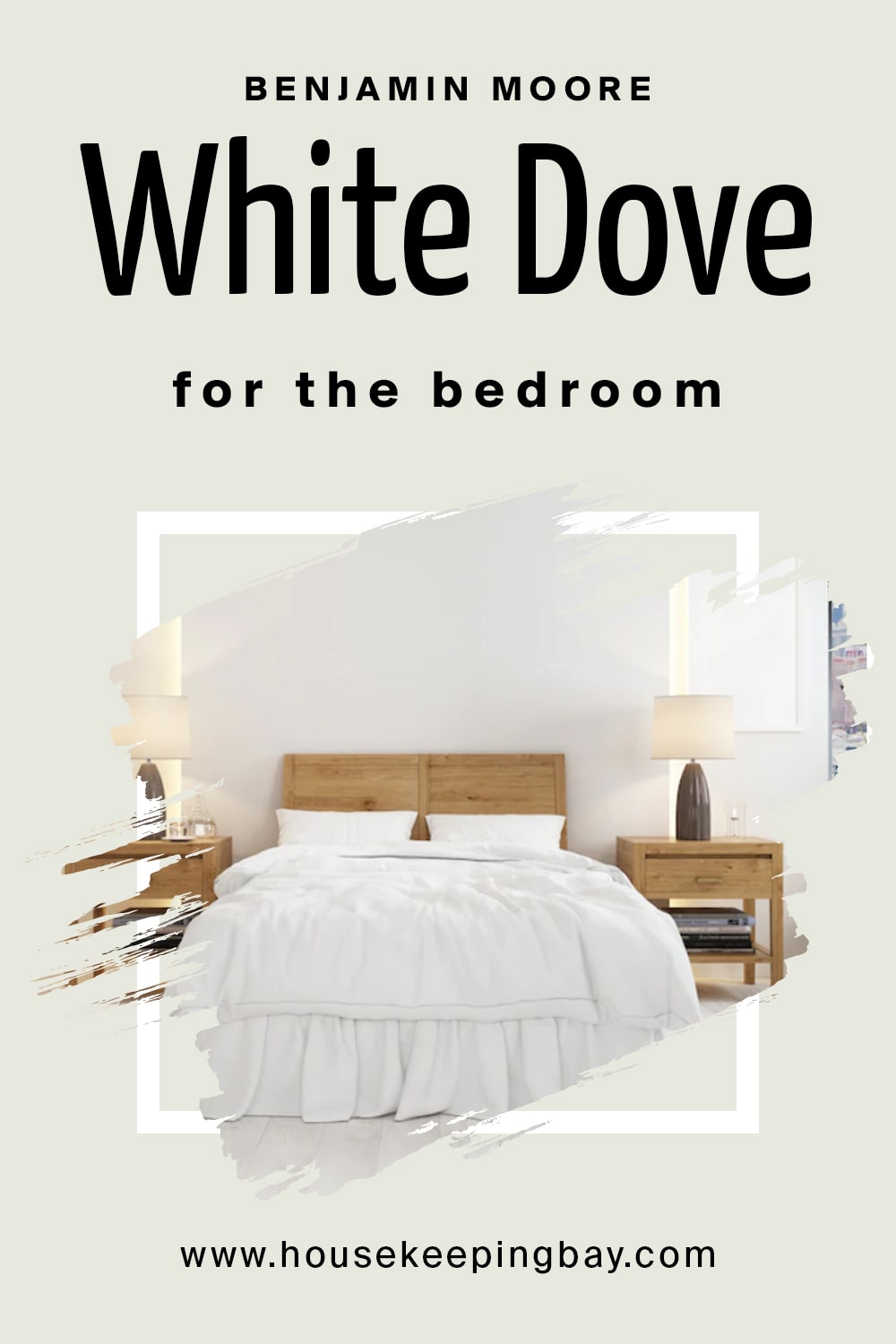 So, this was a complete introduction of BM White Dove paint color to you. Now you know what color it is, where in your home it is best to be used, and what colors you can pair it with to benefit.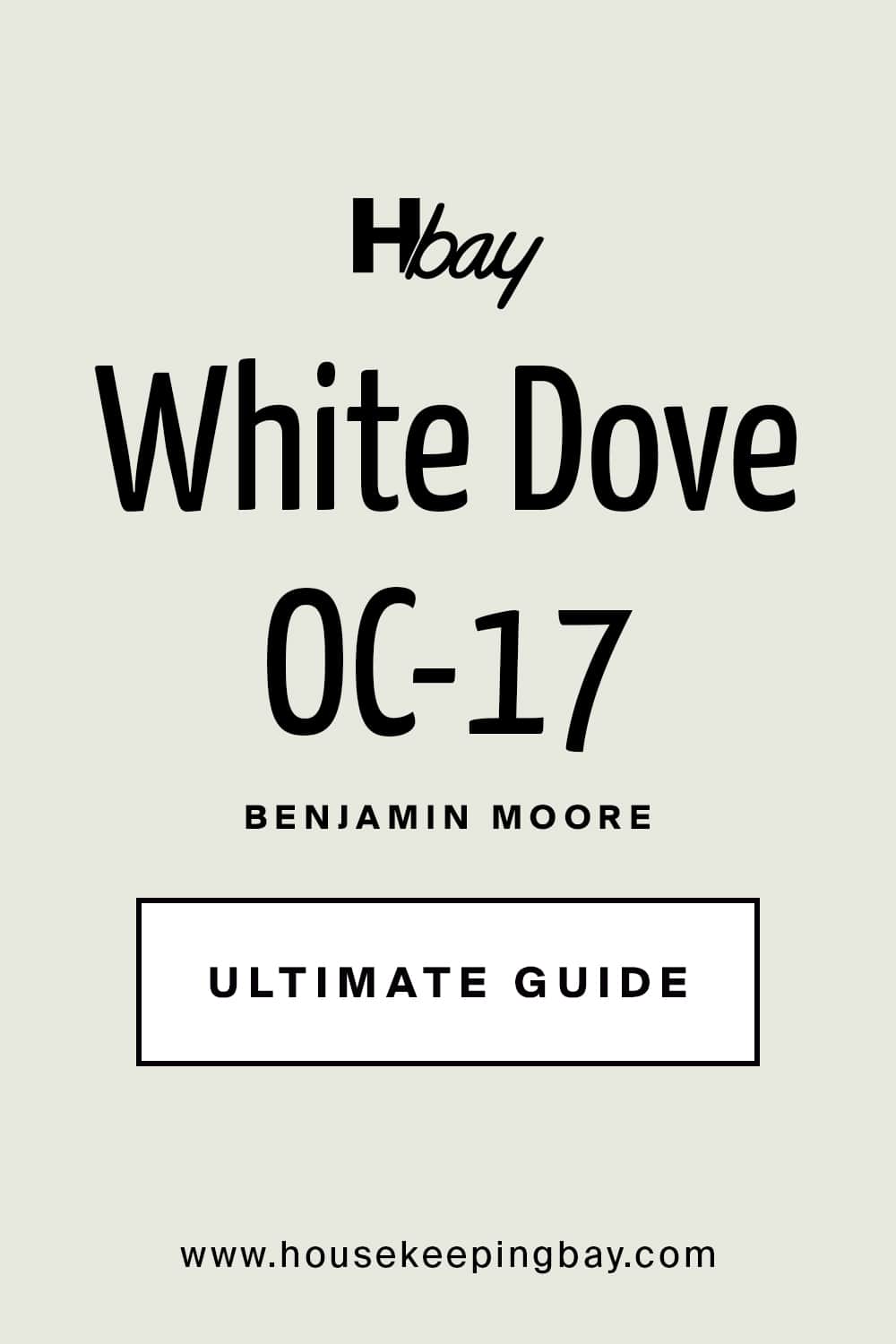 Frequently Asked Questions
⭐Is White Dove warm or cool white?
Benjamin Moore White Dove is a warmer white rather than a cool one. But it's not overly warm or yellow looking. And it's certainly not an icy, stark white.
⭐Will BM White Dove pair with the light shades of blue?
Yes, this white works well with some clear blue shades. For example, with BM Silver Lake.
⭐Is BM White Dove a neutral?
in fact, yes, this off-white is considered neutral.