Looking for a suitable wall paint color that will fit right into your interior is always a challenge, especially if you are not much knowledgeable in home decor and paint palette in particular. And the mission becomes even more impossible when you need to find a suitable neutral paint color for your home!
See, with all the variety of neutrals and greiges, it may seem to be almost impossible to pick up the right shade. Moreover, this family of colors makes most people pretty confused because of their similarity.
This is why, in case you are looking for a really universal option, we would recommend you pay attention to Mindful Gray wall paint color by the famous Sherwin Williams brand. This warm greige is very versatile, just like any color that belongs to this family, and after you read this article, you will understand why it is so.
So off we go!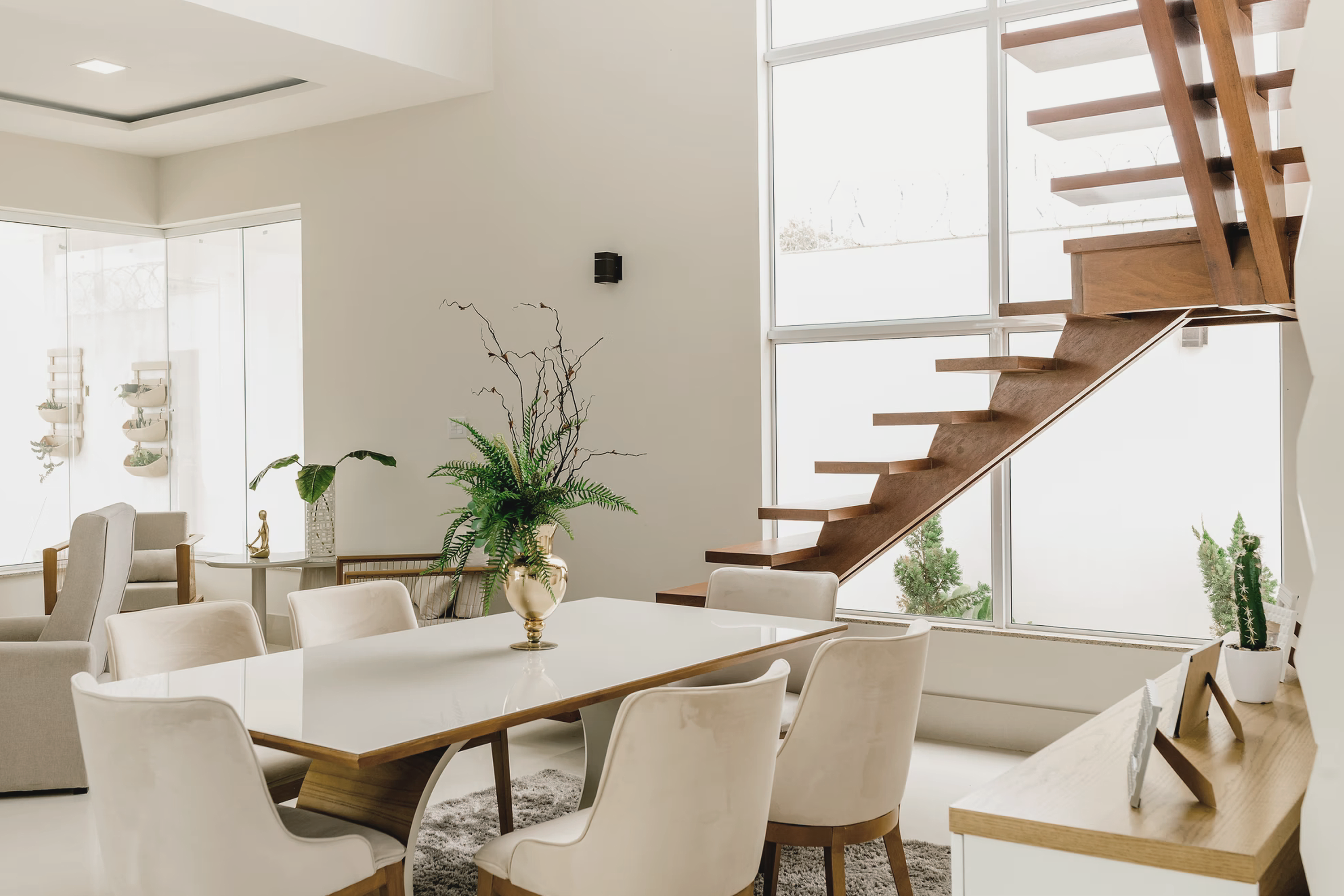 What Color Is Mindful Gray By Sherwin Williams?
Before we proceed to a more detailed and precise description of this paint color viewing it from different angles and sides, let us explain to you what it actually is. Like this, you will be able to better understand what you are dealing with, and it will be simpler for you to define whether this color will fit your painting goals or not.
So in general, Mindful Gray by Sherwin Williams can be considered one of the brand's best greiges. It presents a beautiful mix of warm gray that makes this color as neutral as it can only be. Moreover, there are no strong undertones in this paint, such as mauve, peach, or green that can often be noticed in similar colors, as Encycolorpedia says.
This paint color is also dark enough for contrast which makes it a perfect choice for cabinet painting projects. And since it possesses a transitional warm/cool base, Mindful Gray works very well with any color combinations which makes it an absolutely stunning greige!
This is the major reason why so many homeowners choose applying Mindful Gray on their cabinetry by the way. This color is so versatile that you can easily use it throughout your house, for instance, to paint the bar or the built-in buffet, and it will anyway look great. And of course, since Mindful Gray is one of the greiges that are known as tricky colors, it is good to learn more about its undertones since they often become a stumbling stone for the home painters.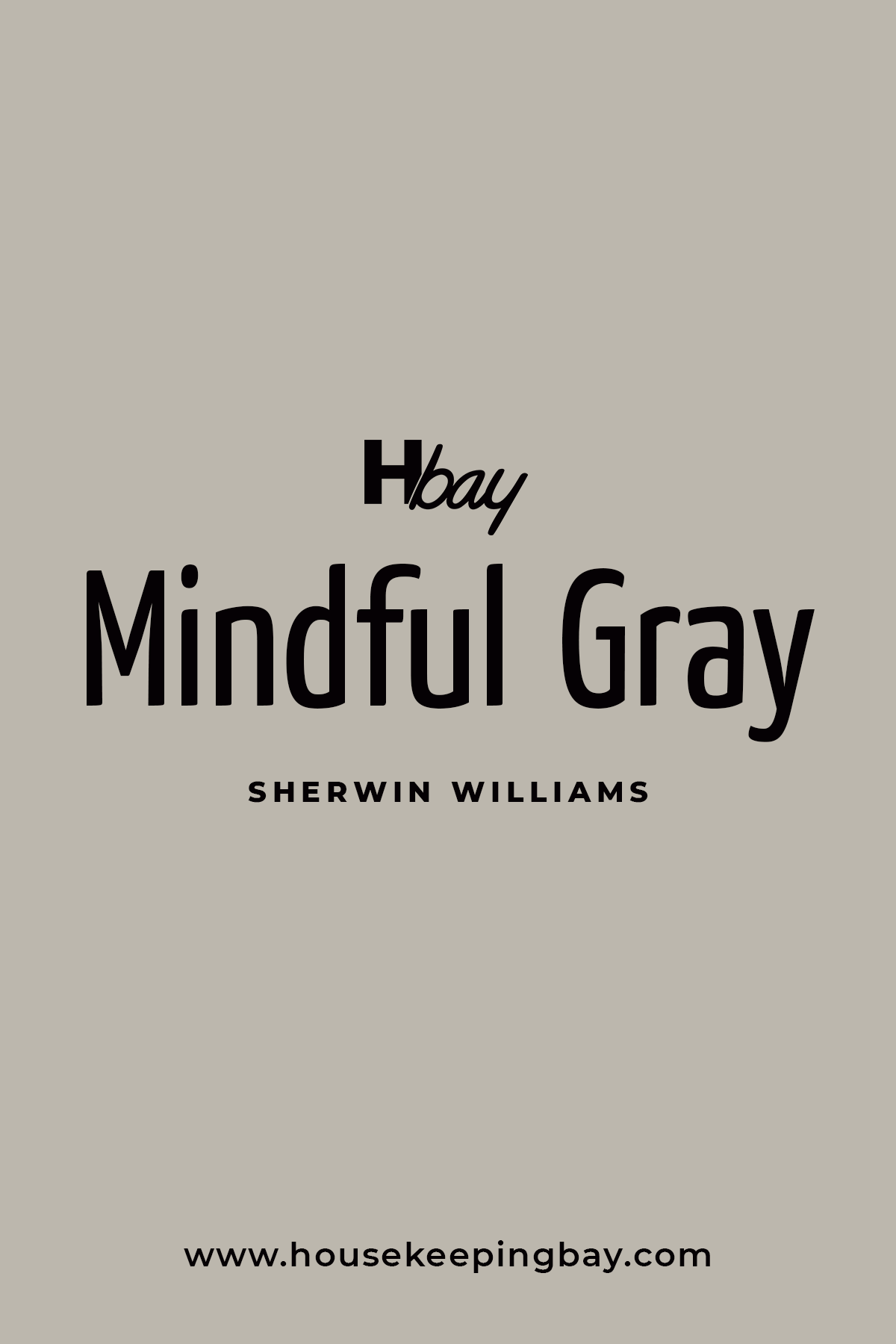 Related: Best Greiges By Sherwin Williams
What Are the Undertones Of SW Mindful Gray?
This paint color is a true find for those who are afraid of too stand undertones since Mindful Gray has none of those! Its undertones are mostly gray and greige with a very slight and subtle hint of green and bluish that are almost invisible!
However, do not be afraid of those green and bluish notes! They are here just to keep the overall color away from turning way too warm. As for the greige undertones, they protect Mindful Gray paint color from turning icy and cold on the walls.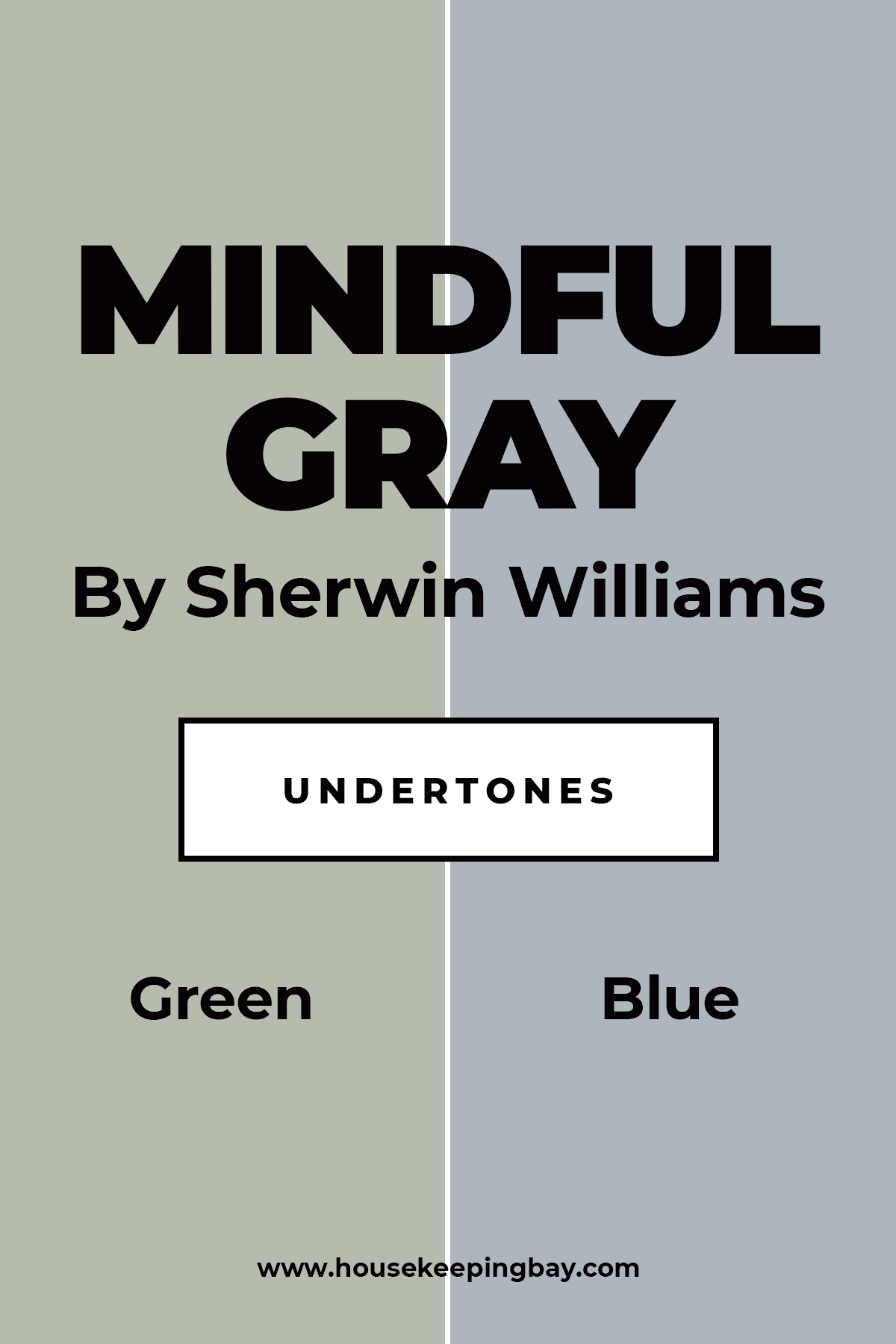 The Best Coordinating Colors For SW Mindful Gray
Of course, if you paint all your house with one color, it will be the easiest way to deal with the painting task. However, to make our home interiors look more vivid and diverse, it is better to make use of a few other colors.
However, picking the suitable coordinating colors that will harmoniously complete each other is not easy. Especially if you have to deal with the greige paint color, such as Mindful Gray by Sherwin Williams.
This is why we decided to make it easier for you, and we made a list of the best coordinating colors that Mindful Gray goes well with. Just check this out!
Pearly White,a warm-toned off-white
Hamburg Gray, a darker gray color
Eider White, a grayish off-white
SW Black Fox, a very dark color to coordinate
But if you want general advice on what colors can work as coordinating ones for SW Mindful Gary, stick to blues and greens that have some gray in them, as well as to oranges, pinks, and other neutrals.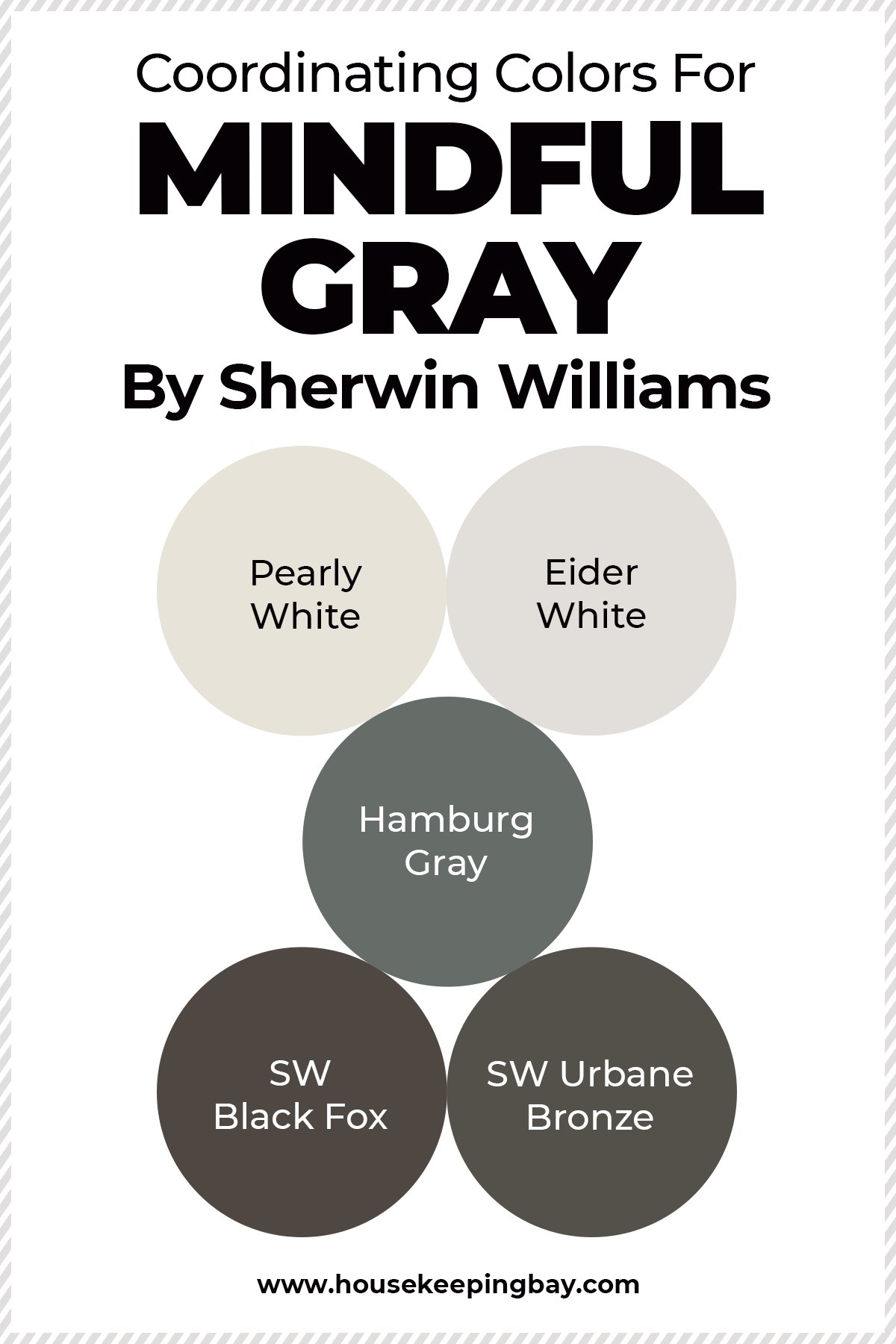 What Is the Best Trim Color For SW Mindful Gray?
Being greige, Mindful Gray looks really great with trims. However, it may be complicated for you to pick up the correct trim color unless you know exactly what paints will serve best for this purpose.
Depending on what effect you are planning to achieve in the room, we can suggest a few alternative options of paint colors that will become excellent trims for SW Mindful Gray!
For a clean and crisp trim color, opt for High Reflective White or SW Pure White. The first one is the brightest white that exists in paints helping to set off Mindful Gray perfectly. And the second one will allow you to create a bright white look with a bit of a softer edge.
Also, for more whiteness, pair Mindful Gray with BM Chantilly White or BM Simply White.
In case you are looking for more creaminess, feel free to use SW Alabaster or BM White Dove.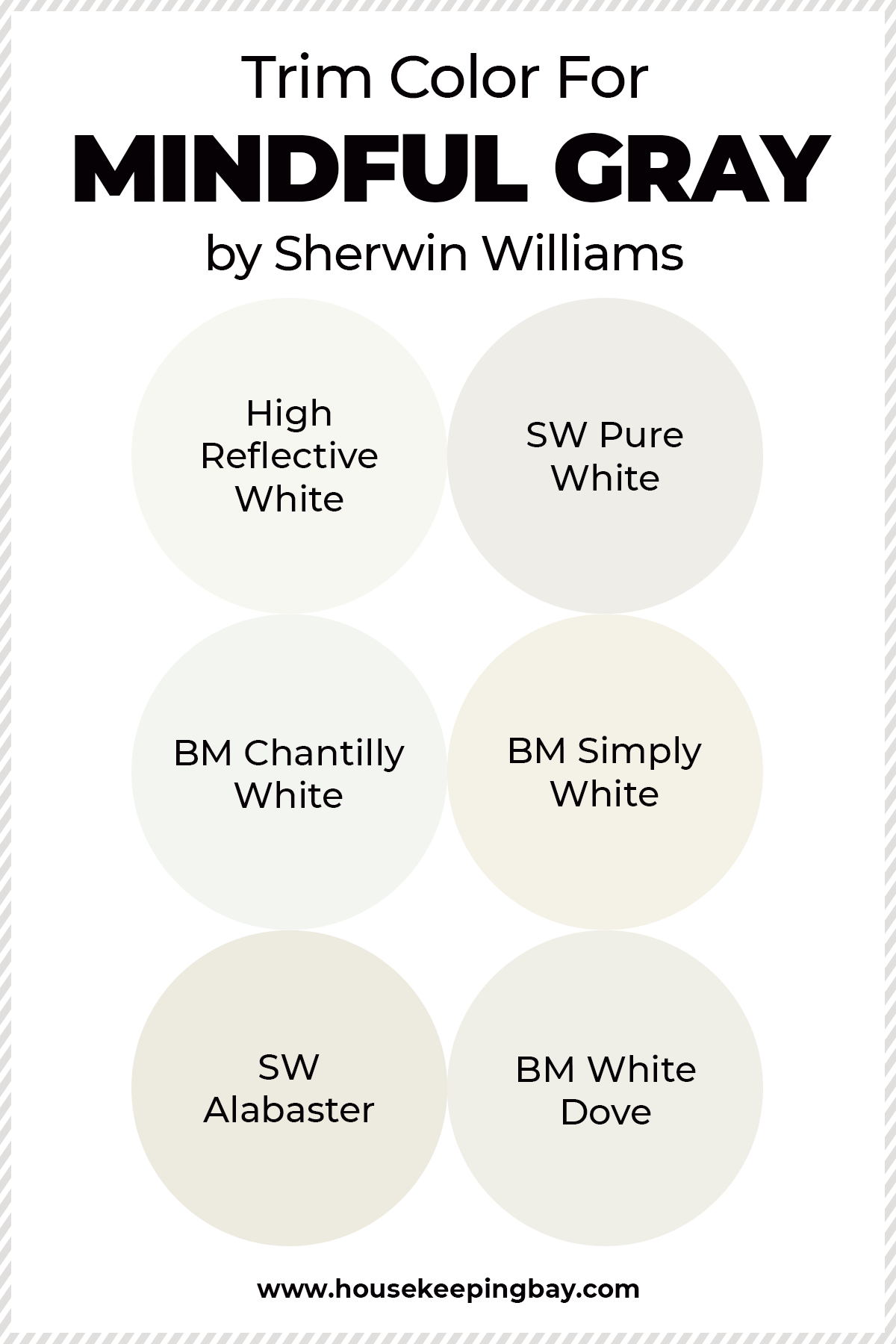 Is Mindful Gray a Warm Or a Cool Color?
This question bothers the majority of us when we need to pick up the right paint color for our home. If we choose the paint that is too cool on the walls, the whole room will look way too chilly. But if we opt for an excessively warm shade, it may turn out to be too muddy! So how to be sure that we hit the point with Mindful Gray?
Technically speaking, Mindful Gray can be considered a warm paint color. Nevertheless, thanks to its perfectly balanced color tones, it stays away from turning too warm. Its greige and bluish-green undertones keep this color in the middle of the scale, preventing it from getting too cool or too dark.
How Does Lighting Affect SW Mindful Gray?
When you deal with neutrals or greiges, lighting always matters a lot since these colors are rather tricky! When being differently lit, some greiges may transform into quite unpleasant muddy shades whilst seemingly perfect neutrals begin to look way too cool and chilly!
As for the Mindful Gray color, it will also react differently to distinct types of lighting.
In a North-facing room, this color will tend to look cooler showing more of its subtle bluish undertones. This is because in a north-facing space, the light comes off cooler and somewhat bluish.
In a South-faced room with a lot of bright light, it will reveal itself as a perfect neutral gray. That's because south-facing areas work perfectly with warm and cool colors. They intensify these colors making darker colors look brighter, and softer colors look nearly glowing.
If it's applied in a room that faces East, Mindful Gray will hold its own. The warmth this color has in it will help give the room more balance in the evening.
In a West-facing room, Mindful Gray will show all of its warmth since the light in such a room is red-orange which makes warmer tones seem almost overwhelming.
With that in mind, you will now be able to easily decide in what room it is best to apply Mindful Gray in your home to make the space look harmonious and cozy.
What is LRV? Read It Before You Choose Your Ideal Paint Color
Paint Colour Review: Sherwin Williams Mindful Gray SW 7016
What Rooms Is Mindful Gray SW 7016 Best to Apply This Paint Color In?
As one of greiges, Mindful Gray is truly fabulous in almost any room. And since it can be combined with quite many other colors, it can be considered pretty versatile. And just to show you how universal it is in use, check out what rooms will surely benefit from having their walls painted with this color.
Mindful Gray In the Living Room
When using it in your living room, consider its lighting. Remember that a lot of bright daylight will make the color look neutral gray. But in general, it is a perfect color choice for any living room with any design.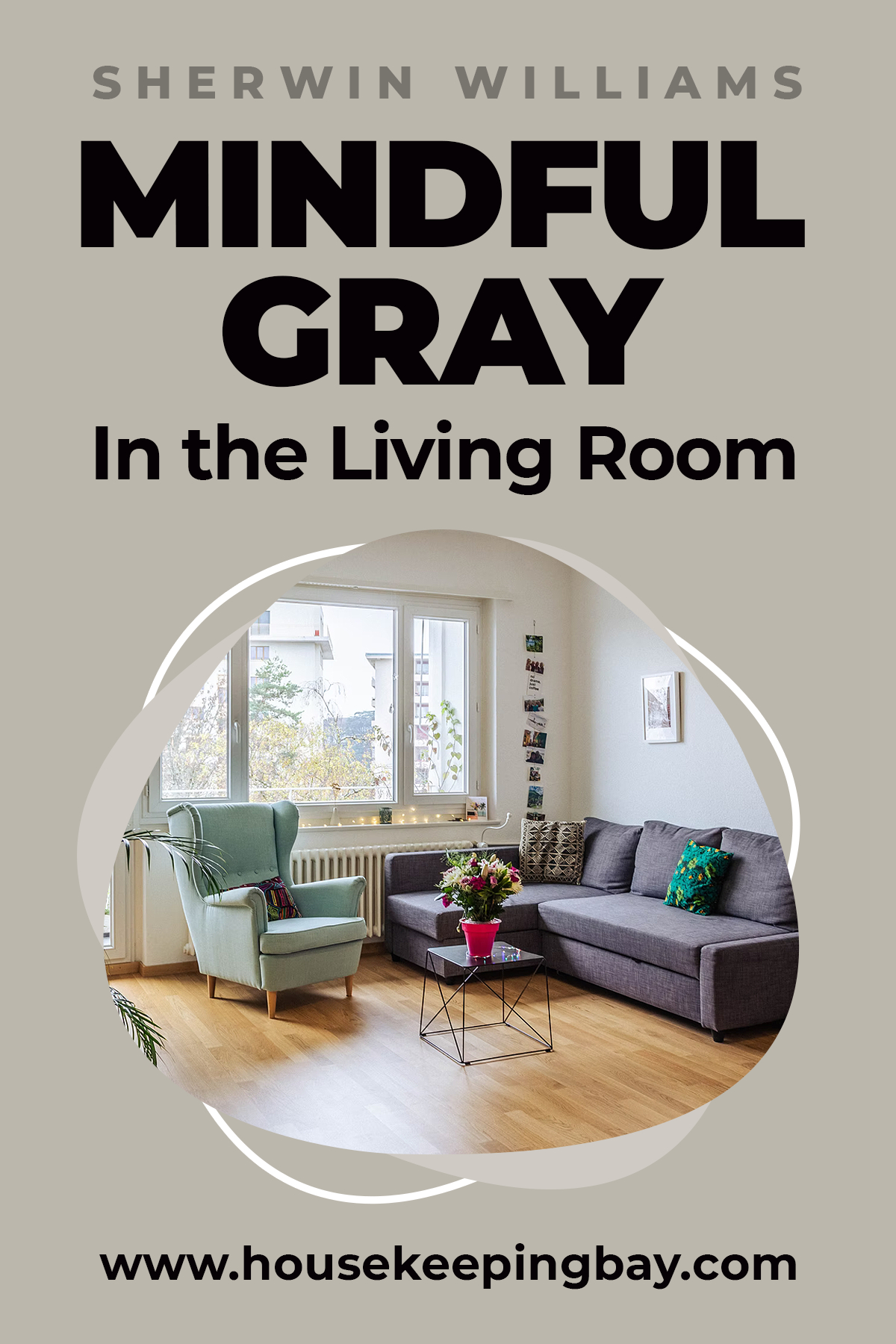 Mindful Gray In the Kitchen
In the kitchen, Mindful Gray is just awesome! Especially if paired with whites, marbling, and dark hardwood floors. Its light and mid-tone gray will perfectly contrast the light, white objects in your kitchen (e.g. cabinets), as well as dark flooring.
Related: Best Greiges For The Kitchen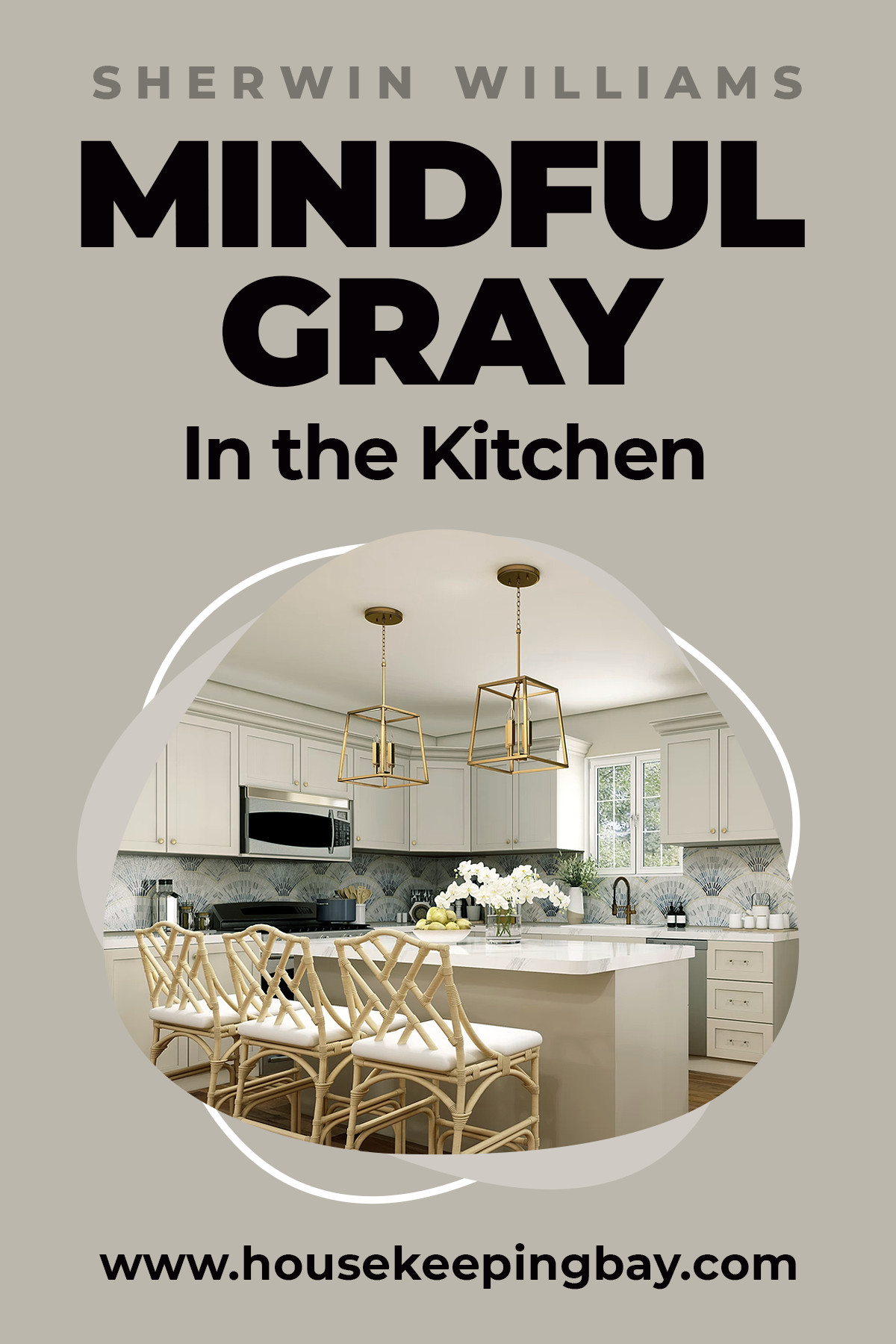 Painting Your Kitchen Cabinets With Mindful Gray
If you decide to paint your kitchen cabinets with Mindful Gray, you will not regret it! Cabinets will be the right place to show off this fantastic gray! By the way, it is an ideal pick of color if you want to make the cabinets stand out without being too overbearing at the same time.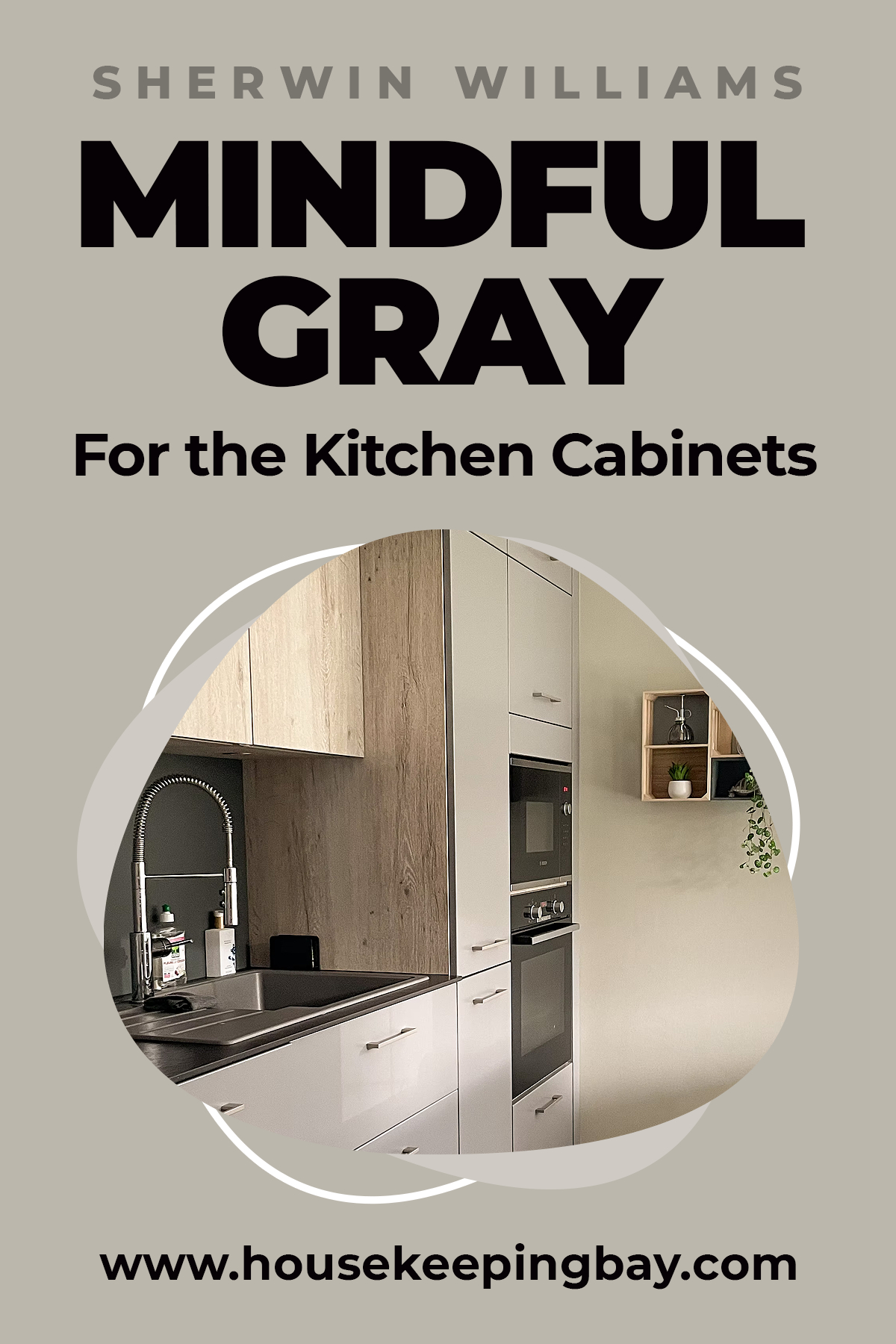 Is It OK to Use Mindful Gray As An Exterior Paint?
Yes, Mindful Gray is one of those paints that can successfully be applied outdoors on your house's facade. This light mid-tone gray is an ideal choice since paints always look much lighter when applied outside. As for Mindful Gray, it will give the effect of a lighter gray color, without appearing too light.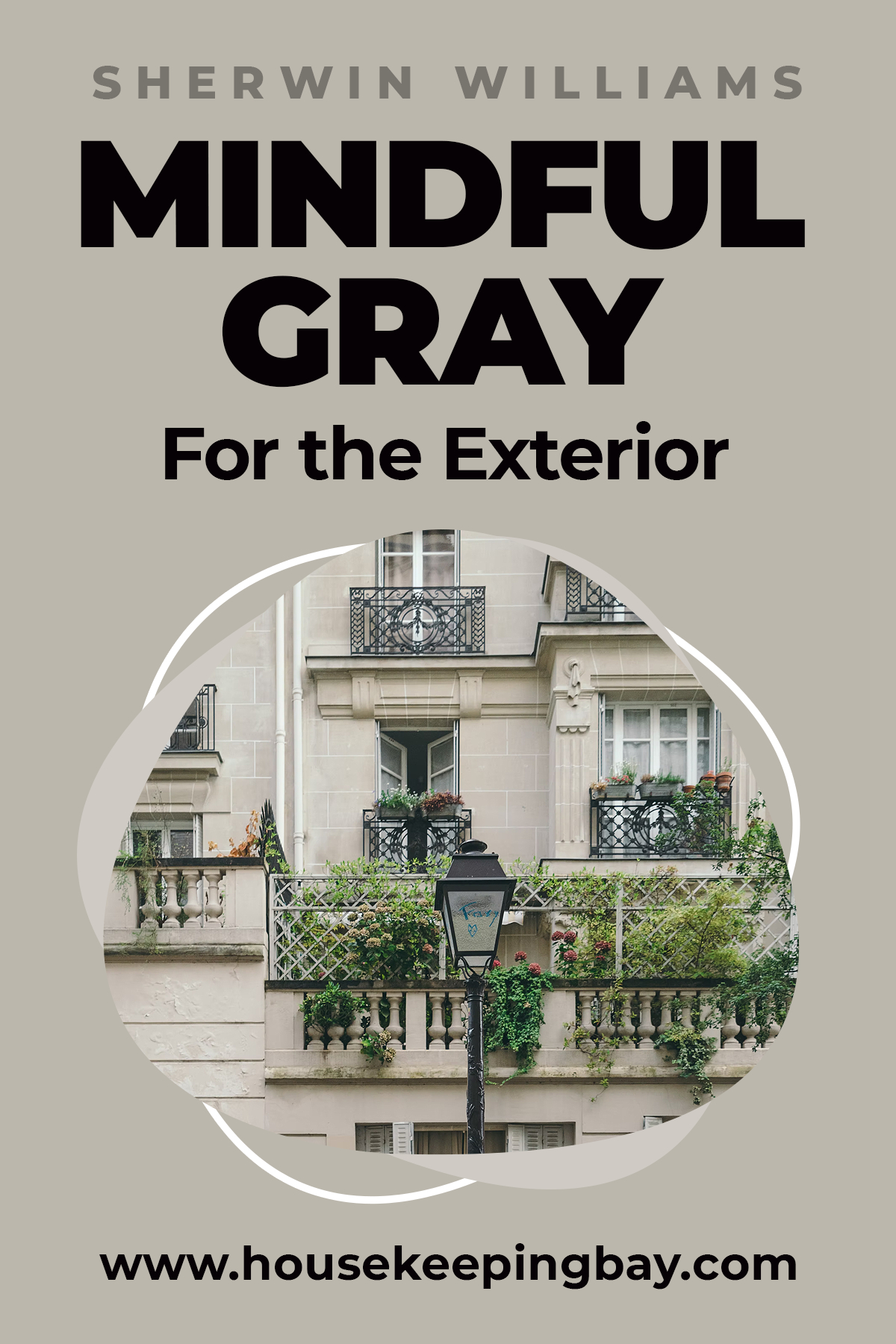 How Does Mindful Gray Work With Other Colors?
In case you have rooms in your house that are painted with other greiges, picking up the color that will harmoniously fit them will always be complicated. This is why, to create a balanced ensemble, check out the descriptions for a few paint color pairs that include Mindful Gray, and that will work great with each other.
Mindful Gray vs. Dorian Gray
If compared to Dorian Gray, Mindful looks way more greige with noticeable purple or pinkish undertones coming out. Dorian Gray, on the contrary, will reveal undertones that look closer to greenish shade in this color pair. So basically you can combine these colors, but only if there will be the third one to harmonize them.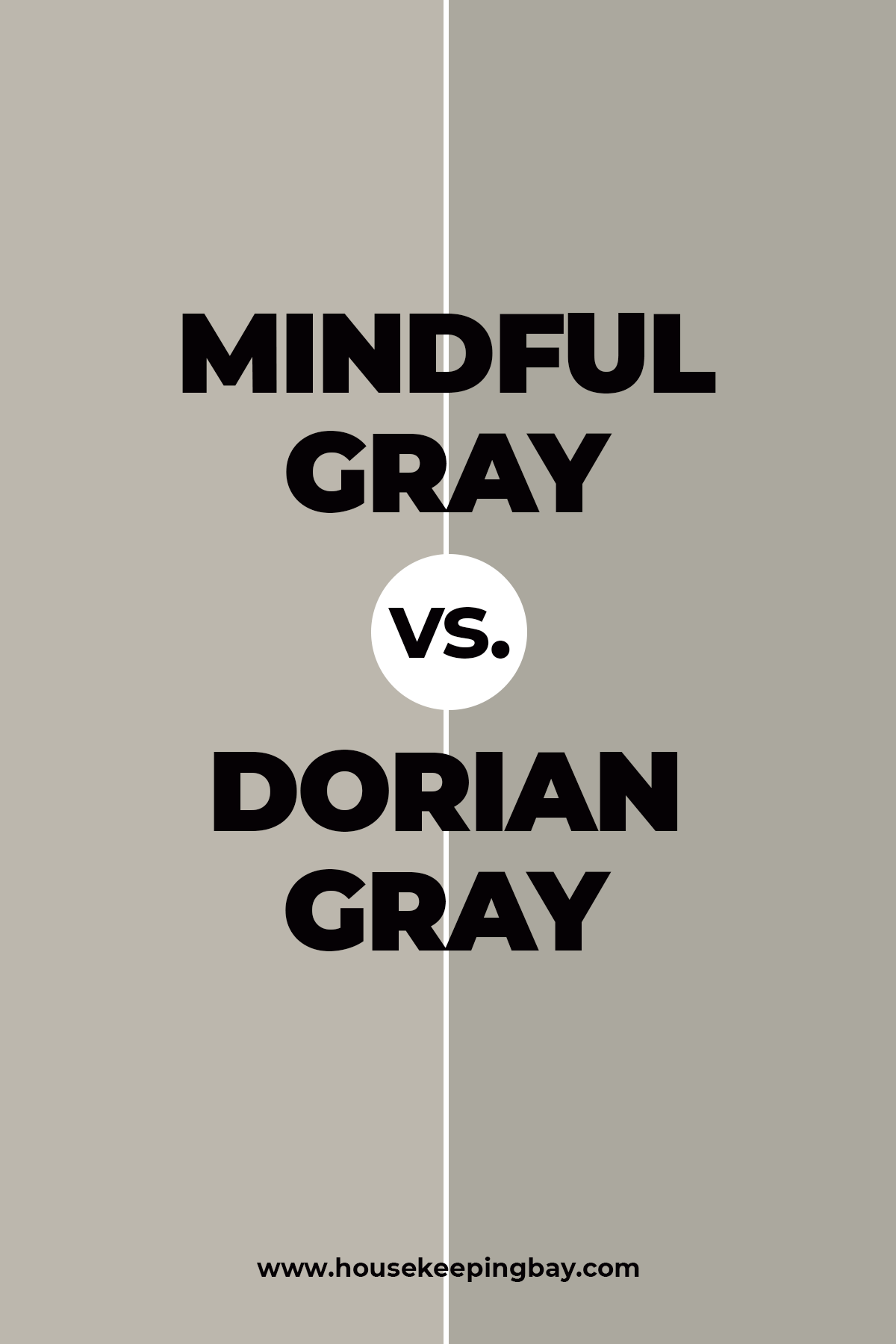 Mindful Gray vs. Agreeable Gray
These two are pretty much alike with Agreeable Gray being slightly lighter. This is why they basically pair pretty well, but you will need to use a contrasting trim, preferably white, to prevent these colors from mixing into one solid greige mixture.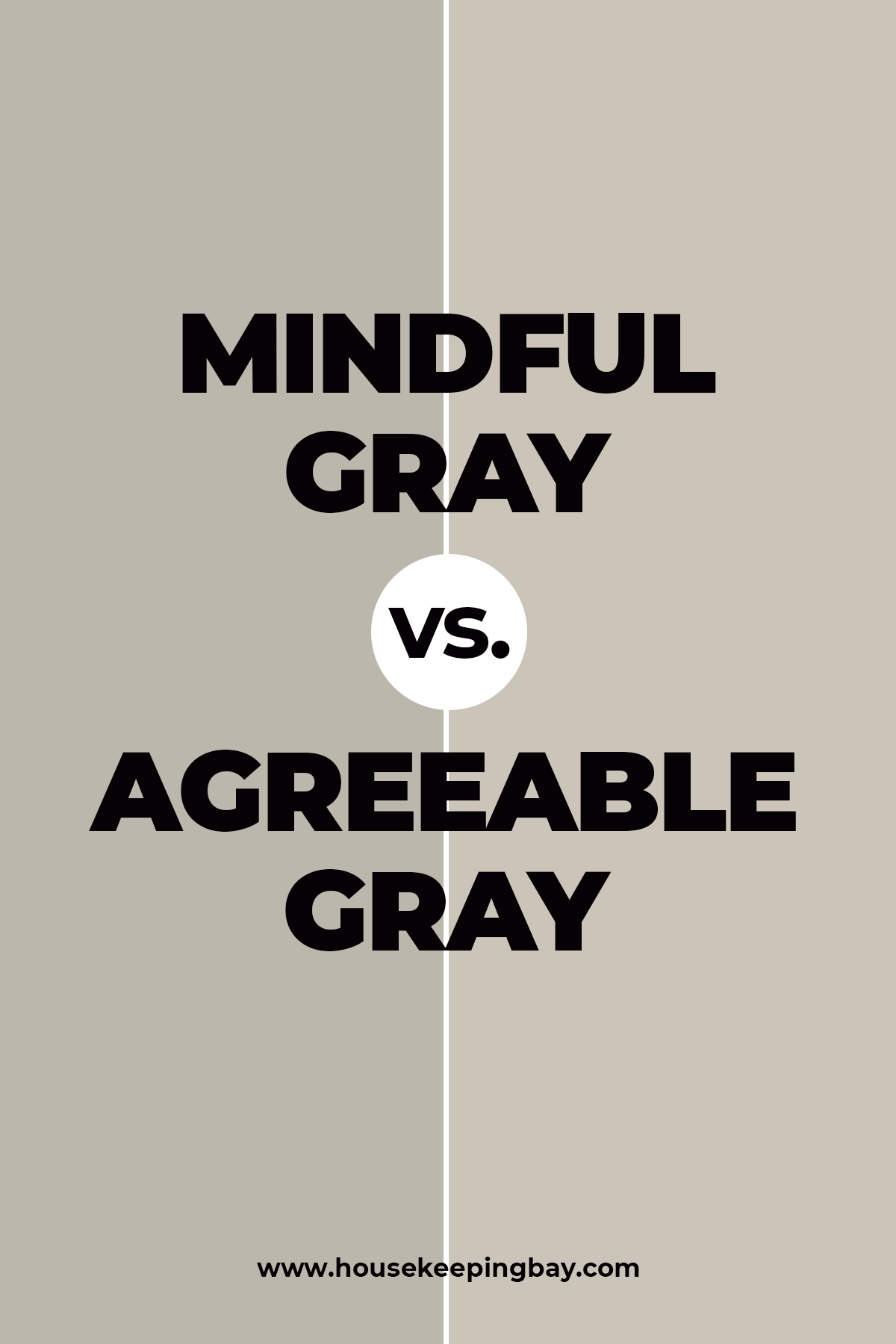 Mindful Gray vs. Anew Gray
If put side by side, Mindful and Anew Gray will look almost the same. You will have to take a really close look to notice that Anew Gray has more greige undertones whilst Mindful looks more greenish when placed beside.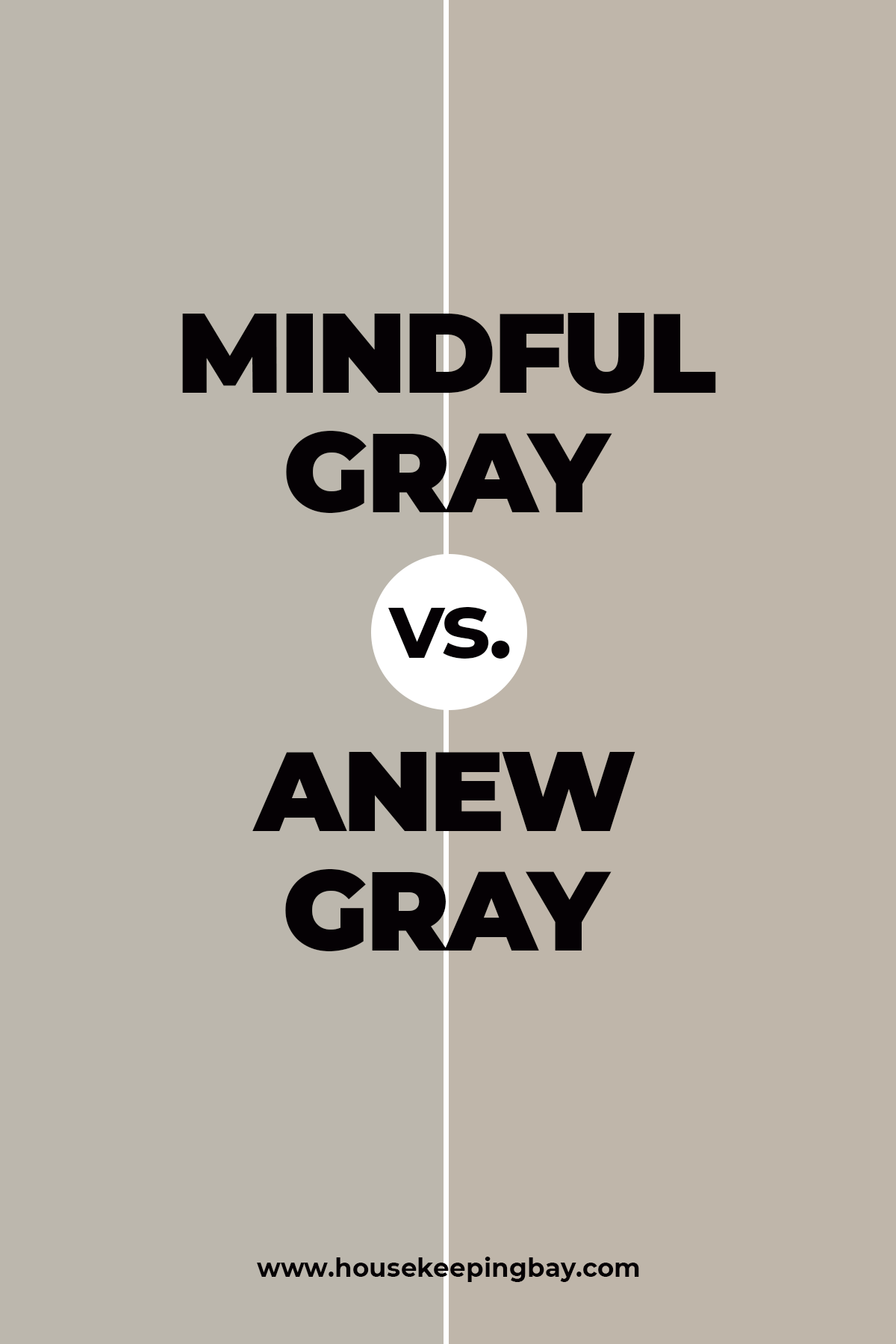 Mindful Gray vs Light French Gray
These two can create a balanced combo since French Gray is significantly lighter thus being able to create a noticeable contrast. In the interior use, Mindful can even be used for painting a contrast wall whilst all the rest will be touched with French.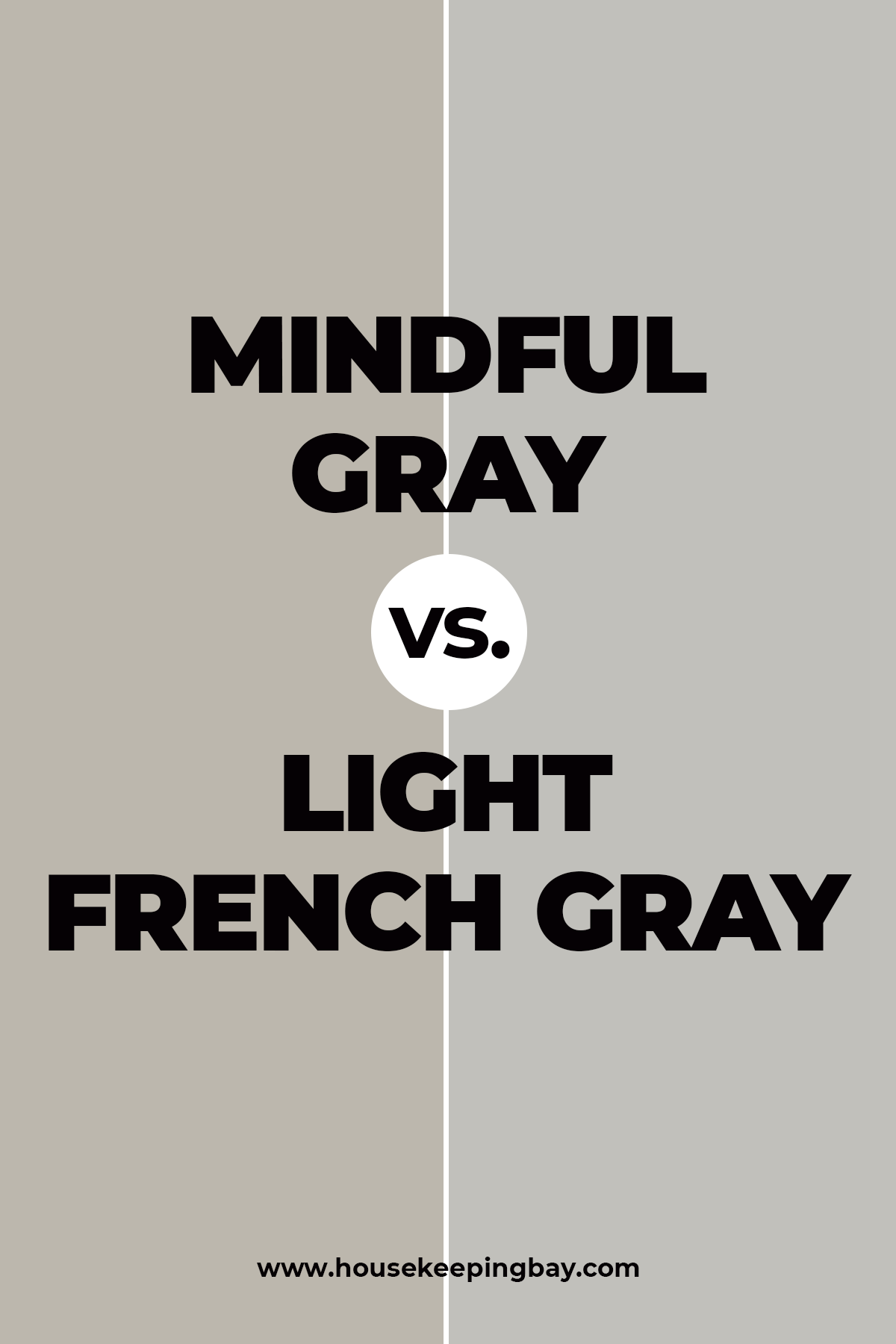 Mindful Gray vs Revere Pewter
Mindful Gray and Revere Pewter may seem to be similar, but upon a closer examination, you will notice that revere looks cooler with its grayish undertones whilst Mindful shows more of its purplish undertones.
However, they both pair very well since these colors create quite a noticeable contrast. Nevertheless, using a trim color will definitely make them look much better together!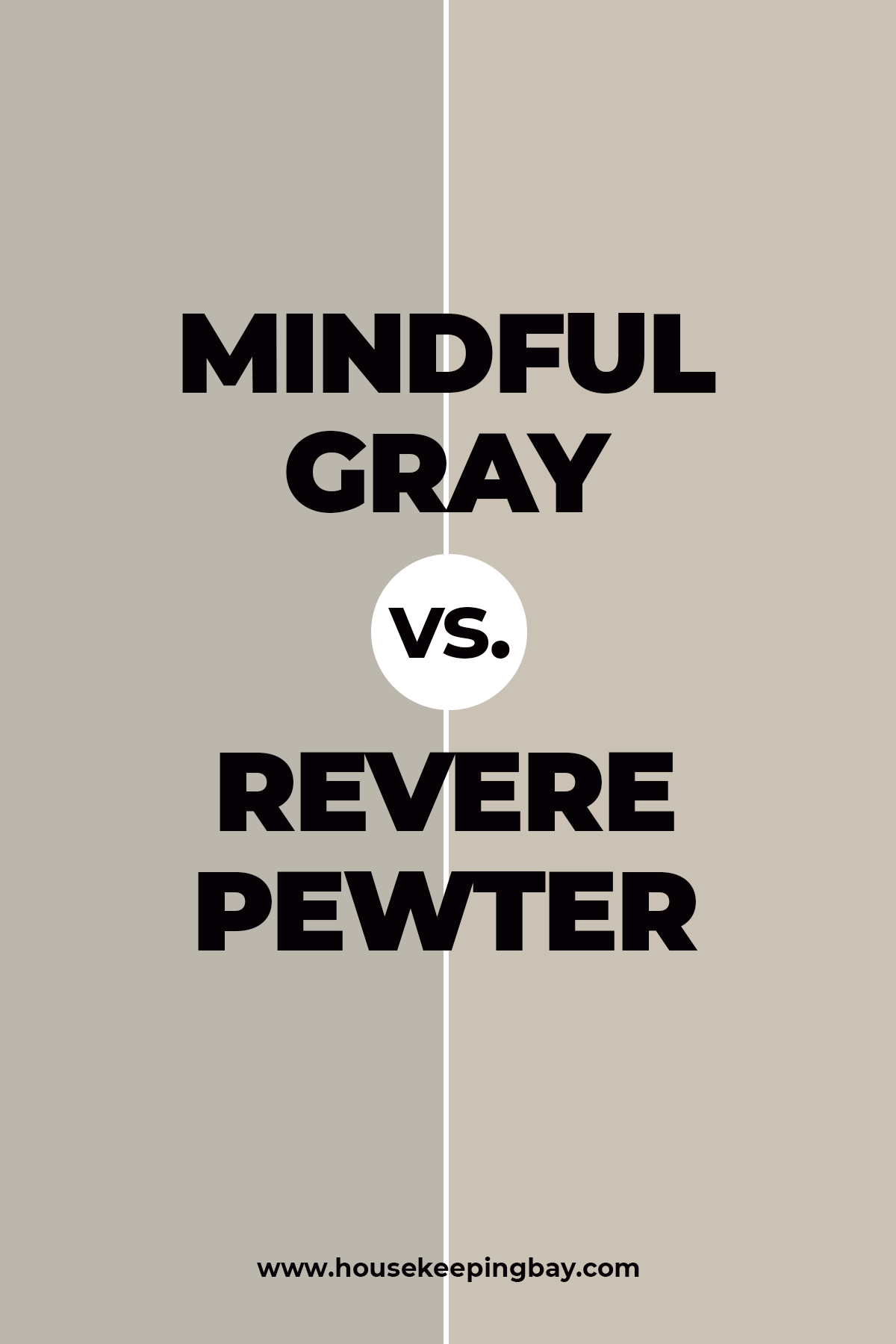 Mindful Gray vs Repose Gray
These neutral grays have different undertones, Mindful having greenish and blue, and Repose Gray having purple, but both of them possess a great balance between warm and cool undertones! In addition, Repose is a bit lighter than Mindful. In general, these two are amazing colors for any home and room!
Now you know almost everything about the Sherwin Williams Mindful Gray paint color. We told you what coordinating and trim colors it has, and also, you are now aware of all the rooms this paint can be used in your home! With that in mind, you will easily pick up matching paint colors to turn your house into a stylish and cozy space that you will always enjoy staying in.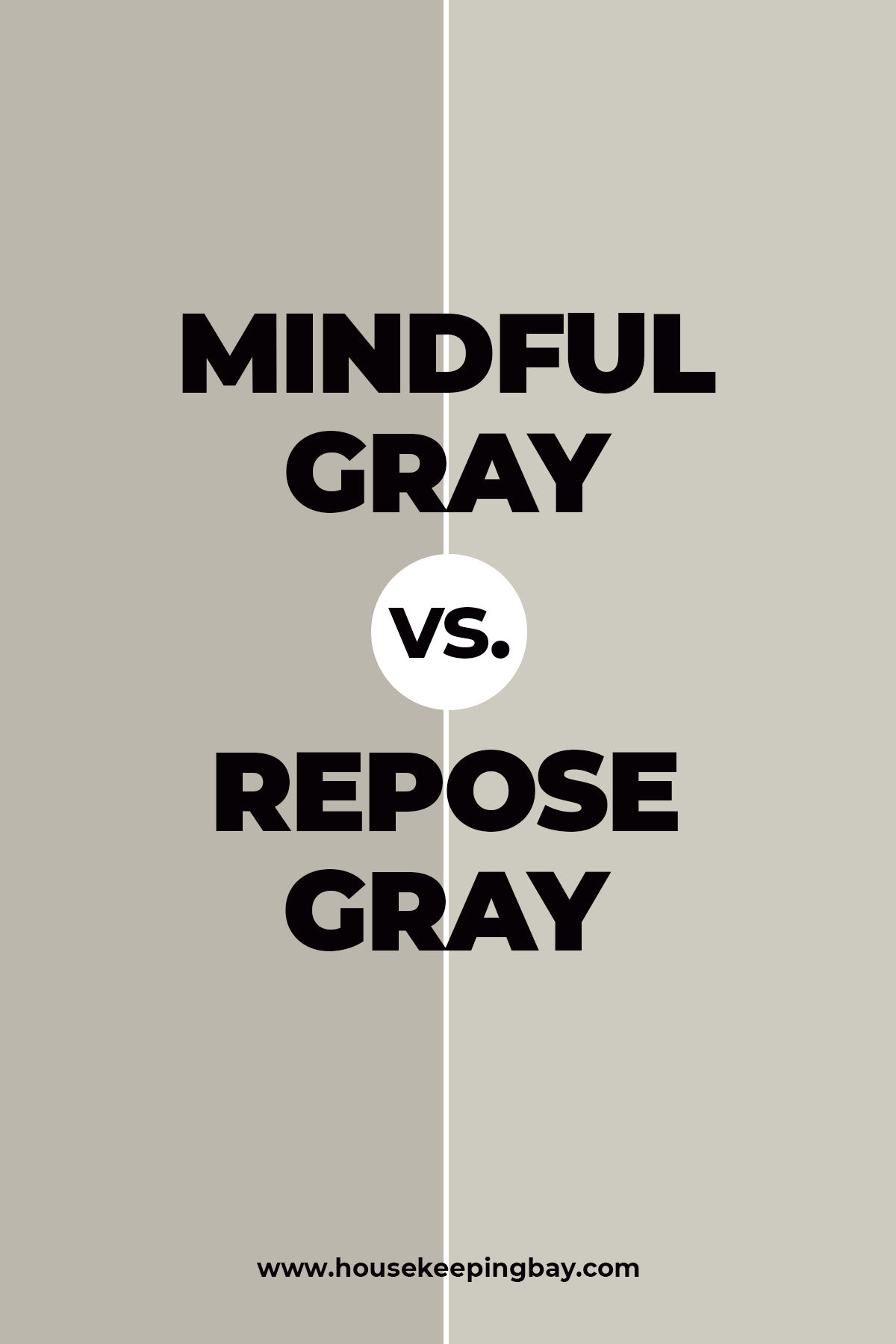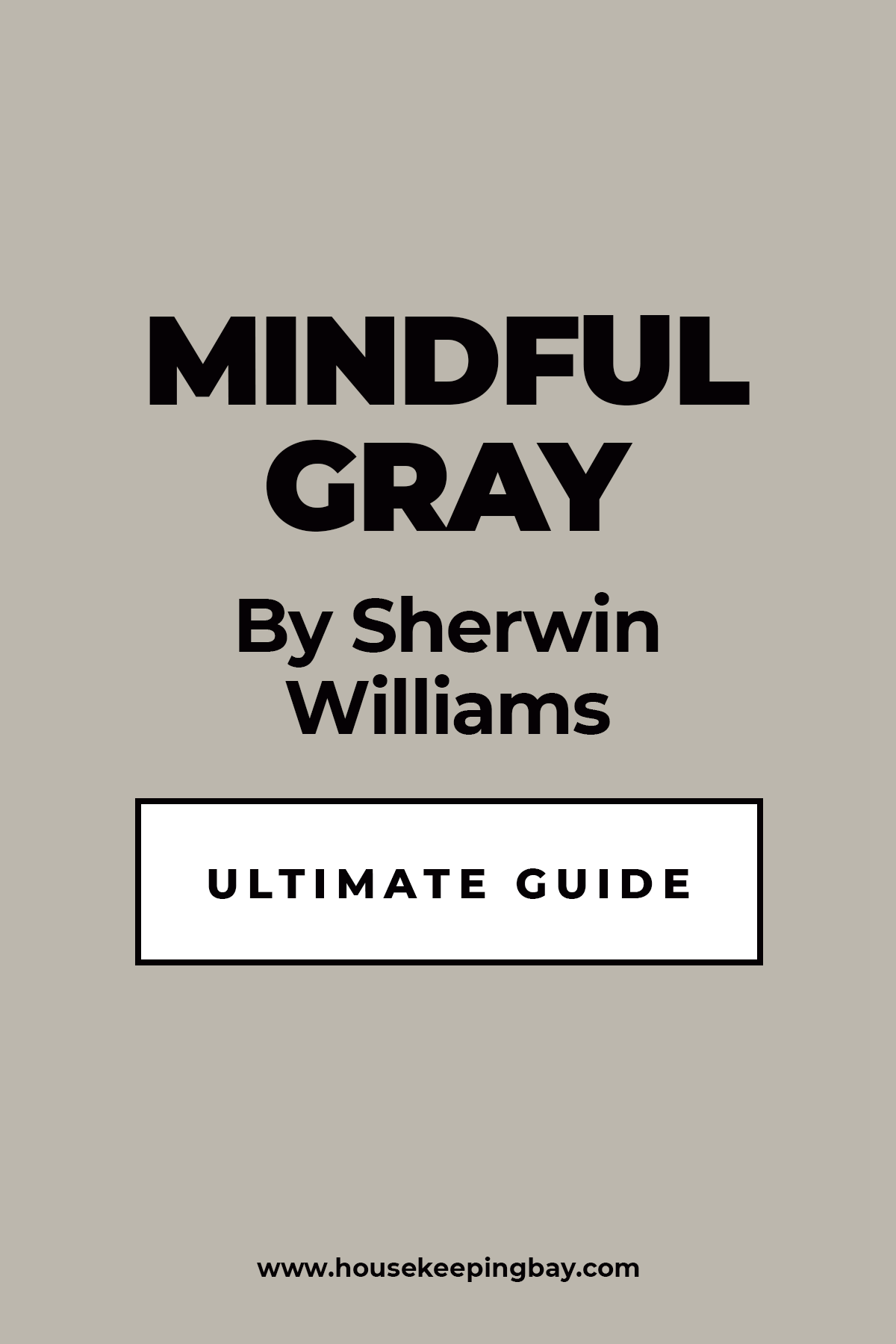 Frequently Asked Questions
⭐ Is SW Mindful Gray a greige or neutral?
It is a greige paint color.
⭐ Can SW Mindful Gray be used for painting outdoor objects, e.g. garden furniture or garage?
⭐ Is it ok to paint my staircase walls with Mindful Gray if we have no daylight there? Won't it look too dark?
It may look darker than in a brightly lit room, but it will surely not look very dark.