Neutrals are among the most popular colors we use in our homes. They are versatile and easy to incorporate into almost any interior design or palette. This is why we would like to introduce you to one of these beautiful colors today.
Meet SW Passive! You will learn what kind of color it is and how it works in different rooms.
Also, we will explain how this color reacts to light and what makes it behave this way. Finally, we will provide detailed information on this color's specific features that will help you understand it much better.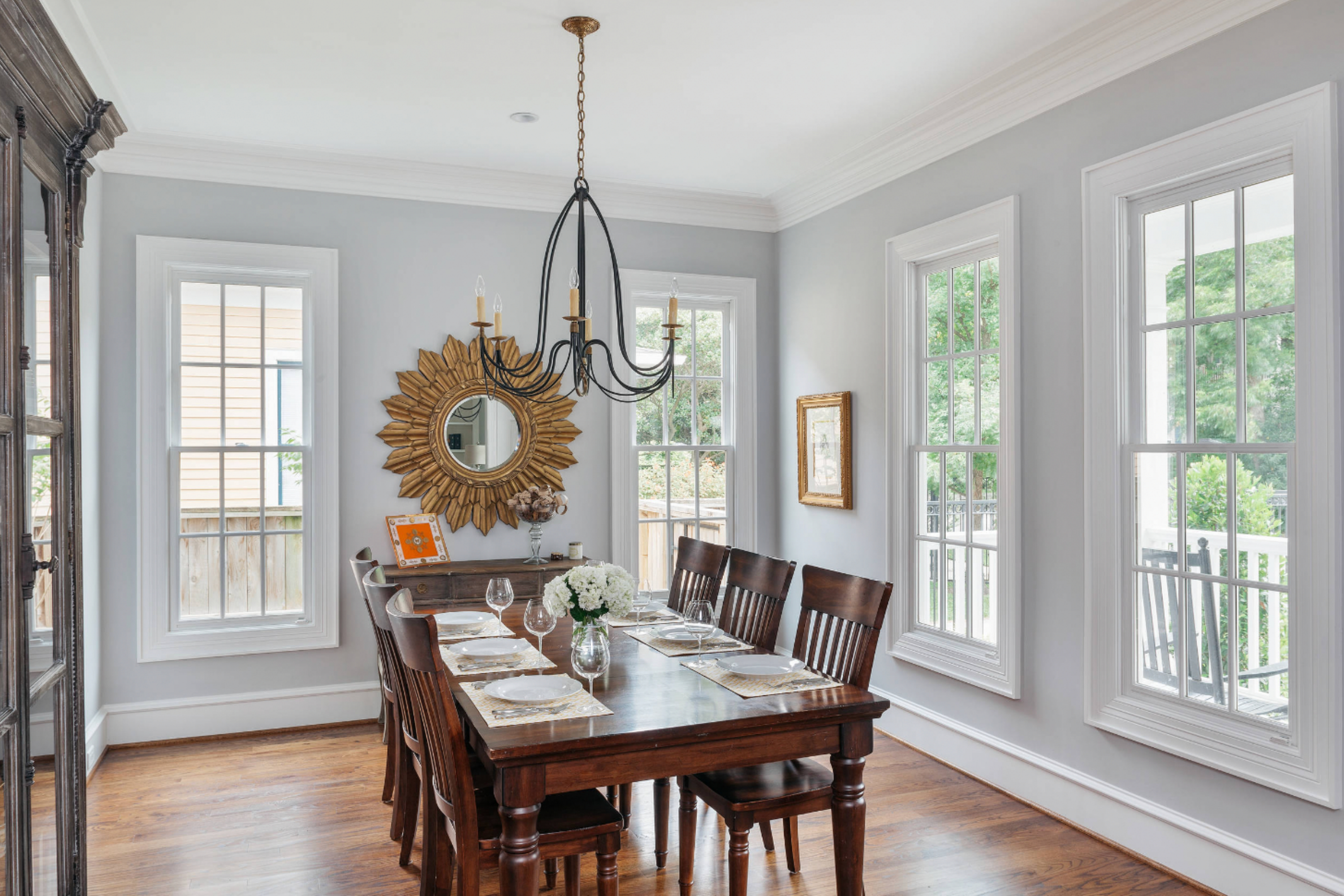 What Kind of Color Is Passive SW 7064?
SW Passive is a light gray color. However, despite being light in tone, this neutral hue doesn't look pale or washed out.  As Encycolorpedia says, it exhibits some depth with the help of its cool blue undertones.
This delicate and calming color is perfect for creating a light, relaxed vibe in any home! To enhance this feeling, you can pair it with cool white trim. Since Sherwin-Williams Passive is pretty versatile, this cool-toned gray paint color can work well within all decor styles. Add a calming presence anywhere in your home with this cool gray hue.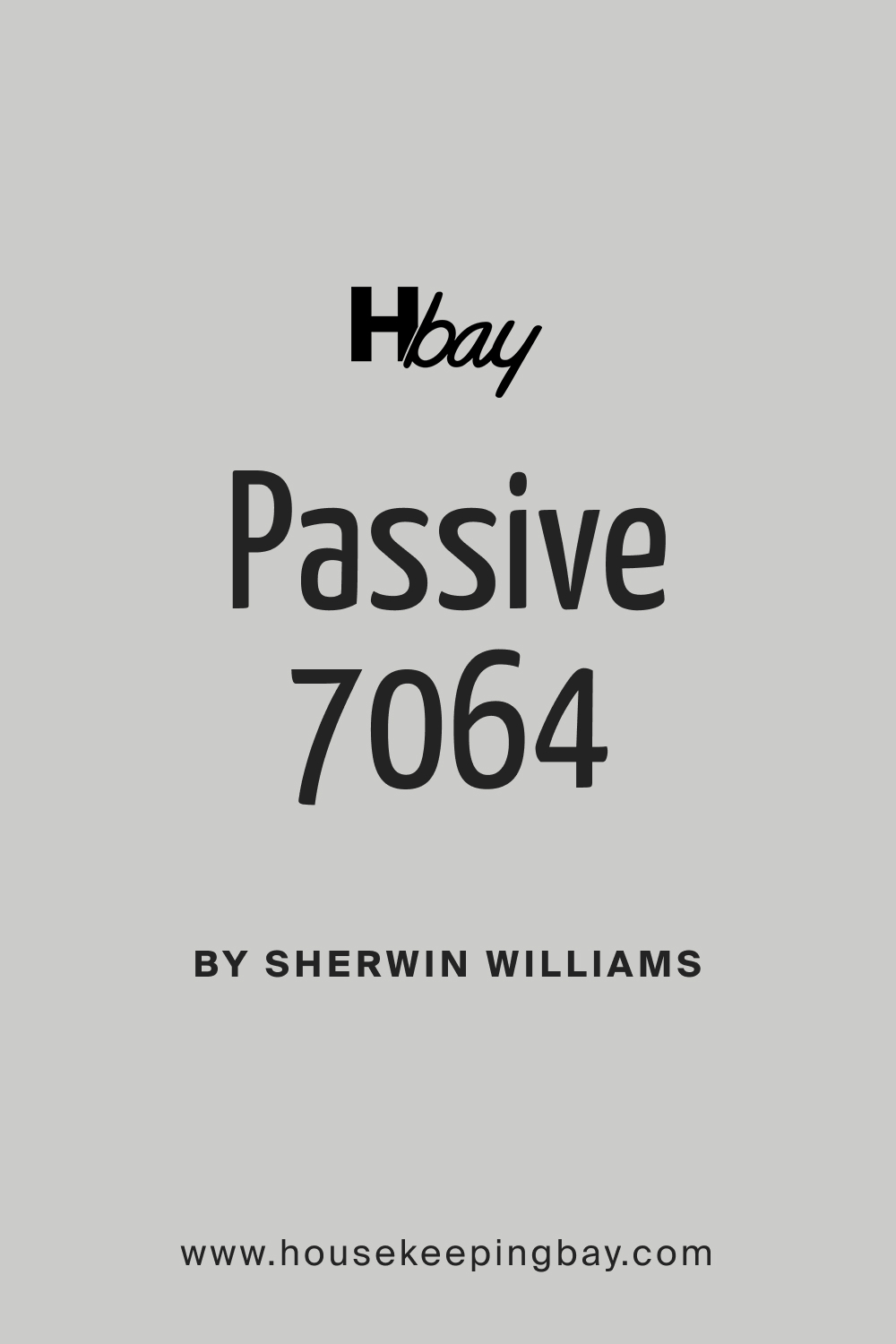 Is It a Warm or Cool Color?
SW Passive is absolutely cool-toned. This light gray hue has cool blue undertones that make the color read tranquil and, at the same time, pleasantly chilly. Because of this, you should use it in rooms where you need to achieve a cooling effect (e.g., in rooms with plenty of warm daylight or south-facing rooms filled with the sun).
Generally, SW Passive is a good color option for making a space feel chilly and fresh without dropping down to the icy-cold hue.
What Undertones Does Passive SW 7064 Paint Color Have?
Any color has undertones, but sometimes, they can be more or less visible. There are even colors whose undertones are nearly invisible! But SW Passive is not one of them. This neutral and light-toned gray has blue undertones that make it feel so chilly and pleasantly fresh on the walls. Thanks to this bluish hue, SW Passive doesn't feel dusty on the walls. On the contrary, this color is so gorgeous that it shines no matter where you use it!
However, blue is not the only undertone that SW Passive has! Also, like all grays, this neutral color has purple and green undertones in it. But in most cases, the blue undertone is what is seen most often.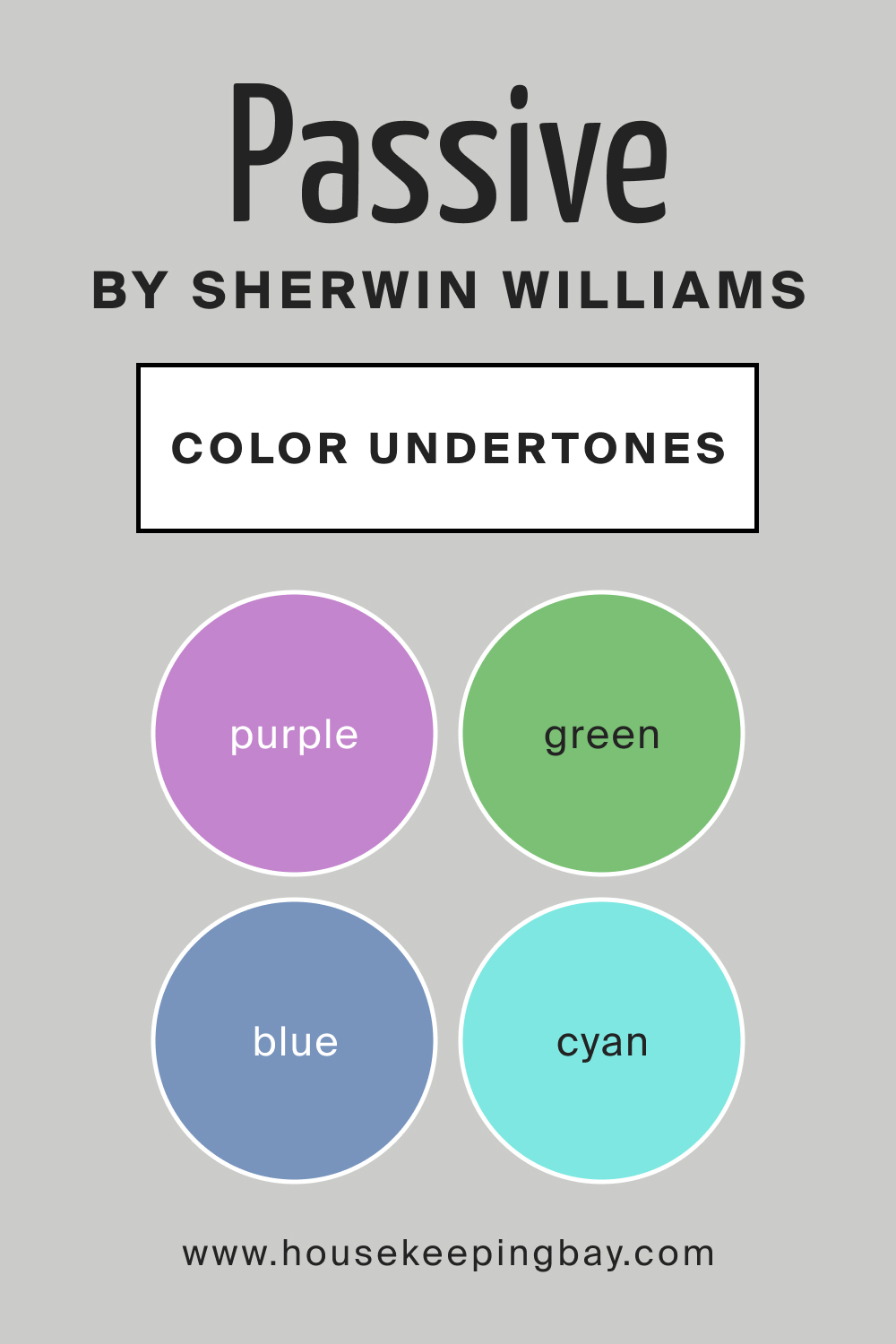 Passive SW 7064 Coordinating Colors
Choosing coordinating colors can be a fun task, but only if you are at least a bit knowledgeable in color theory. If you are not, it might be more of a challenge to pick up the colors that can highlight the beauty of the wall color and make it work.
For SW Passive, we have selected several coordinating colors you might want to check out.
They will definitely work in your home paired with this gorgeous and delicate gray! Some of the paint colors that coordinate well with Passive are:
SW 7063 Nebulous White
SW 8917 Shell White
SW 9128 Green Onyx
SW 7064 Peppercorn
SW 7067 Cityscape
SW 7068 Grizzle Gray
Generally, this cool-toned gray will work well with crisp whites and blue-gray colors, especially if they are a few shades darker than it. SW Passive also looks lovely with dark wood tones like walnut.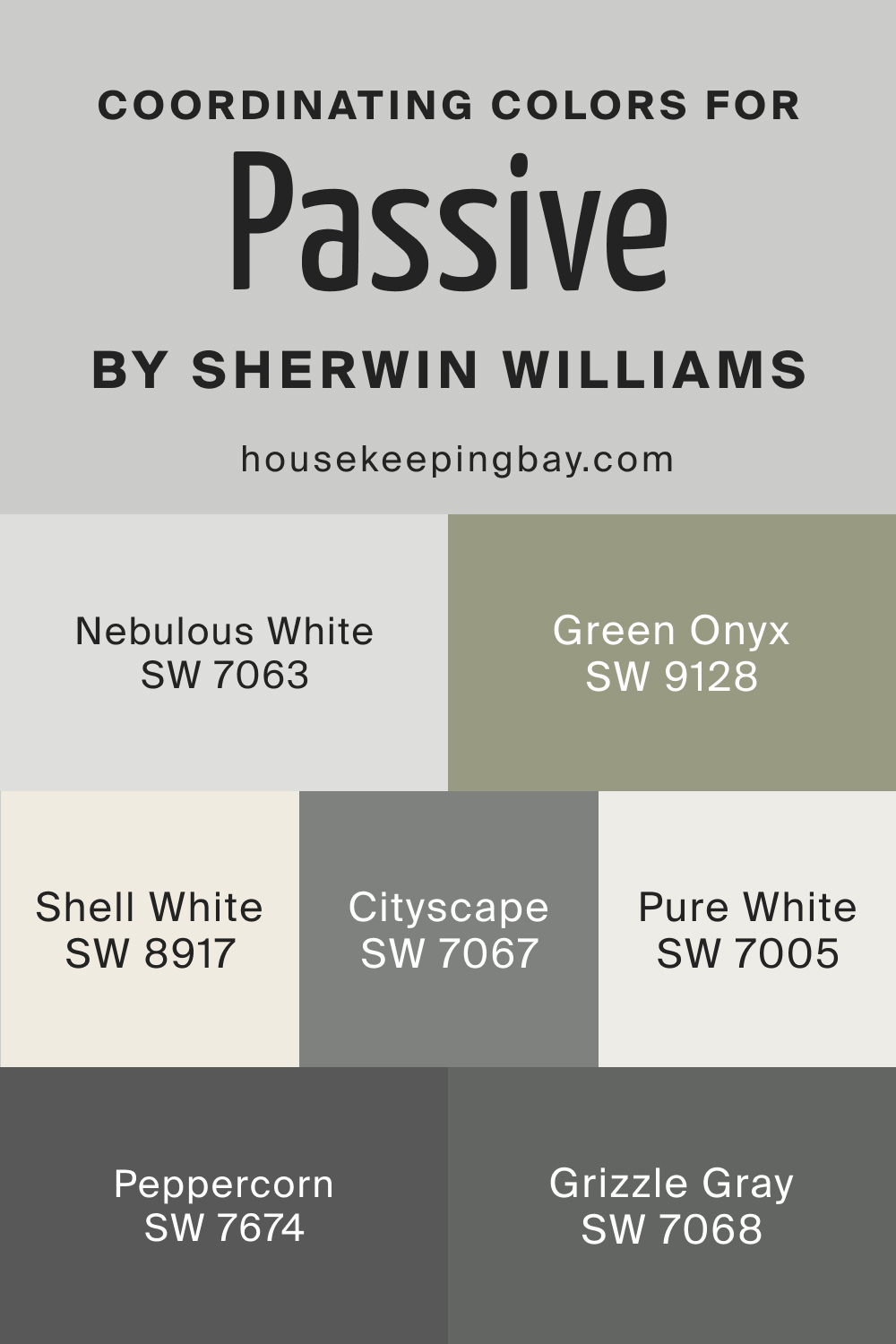 What LRV Does SW Passive Paint Color Have?
LVR ( light reflectance value) is the amount of light the paint color reflects from the wall. The higher the LRV value on the scale from zero to 100, the more light it reflects. Respectively, colors with lower LRVs tend to be darker and less reflective.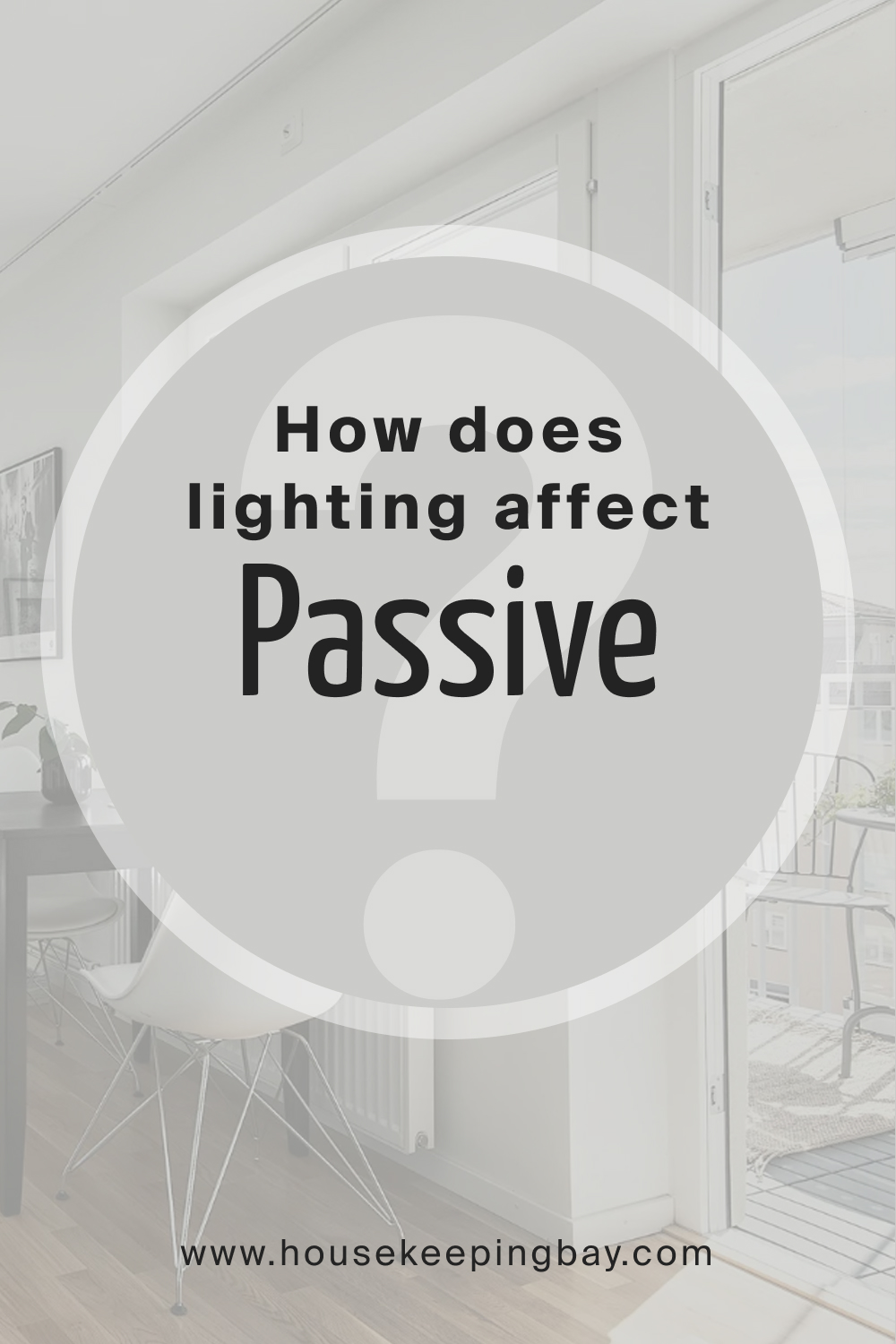 The LRV value of SW Passive is 60, which means this color is reflective and light enough.
With this gray on the walls, your rooms will hardly look dark, cave-like, or enclosed. However, this color is not light enough to be used for brightening the space up and making it feel spacious!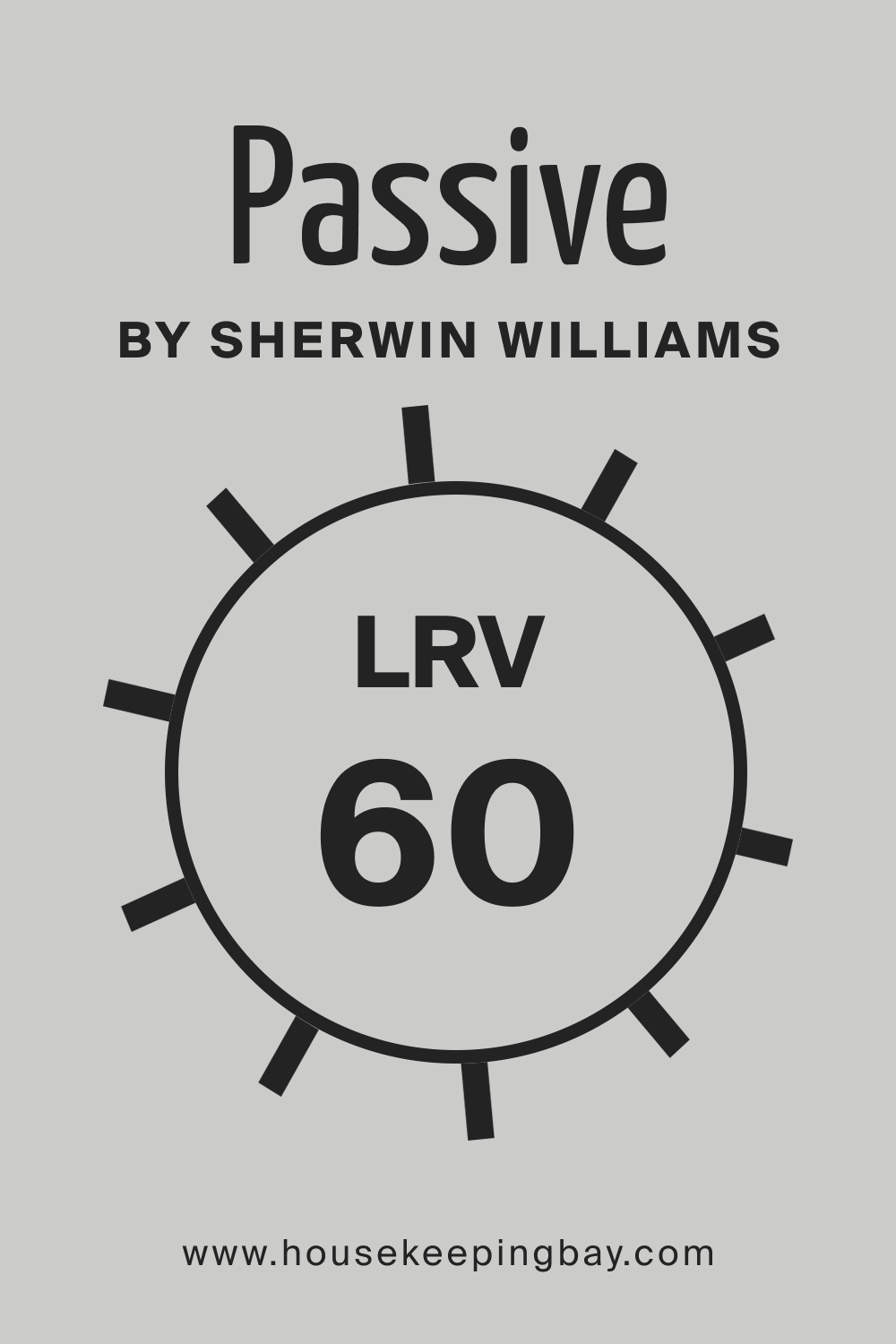 What is LRV? Read It Before You Choose Your Ideal Paint Color
What Is the Best Trim Color to Use With SW Passive?
White is an optimal trim color that works with any paint color on the walls. Due to its versatility, white will help you to highlight the wall color and create a lovely contrast in a room. However, you should still be aware of the correct shade of white and its tone if you want to achieve the best effect!
For SW Passive, we recommend you the following whites, depending on the effect you want to get: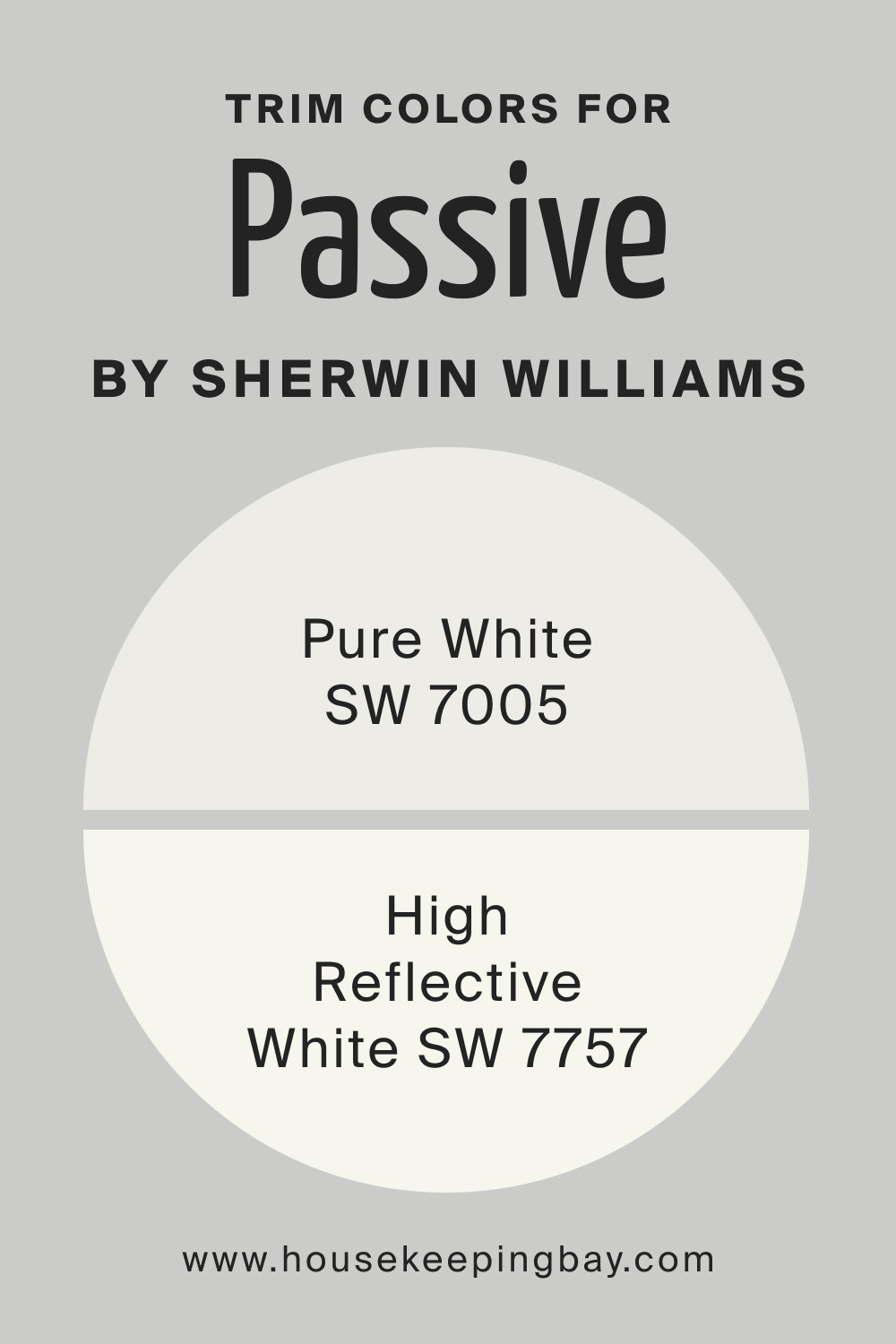 Colors Similar to SW Passive
It may seem that SW Passive has plenty of alternative colors, but in fact, it's not true. This gray appears to be fairly unique, which makes searching for the best substitute colors a bit challenging!
There are two similar colors that can work best as SW Passive alternatives. They are:
Zircon SW 7667 (LRV 59)
Tinsmith SW 7657 (LRV 57)
These colors are similar in lightness, and they all have LRV values within five points of one another. Also, all these colors are cool-toned. The difference you can notice is that the undertones of these colors are different. It means that some undertones are more prominent than others. For instance, the undertones of SW Zircon lean slightly more towards violet, whilst SW Tinsmith has blue-green undertones.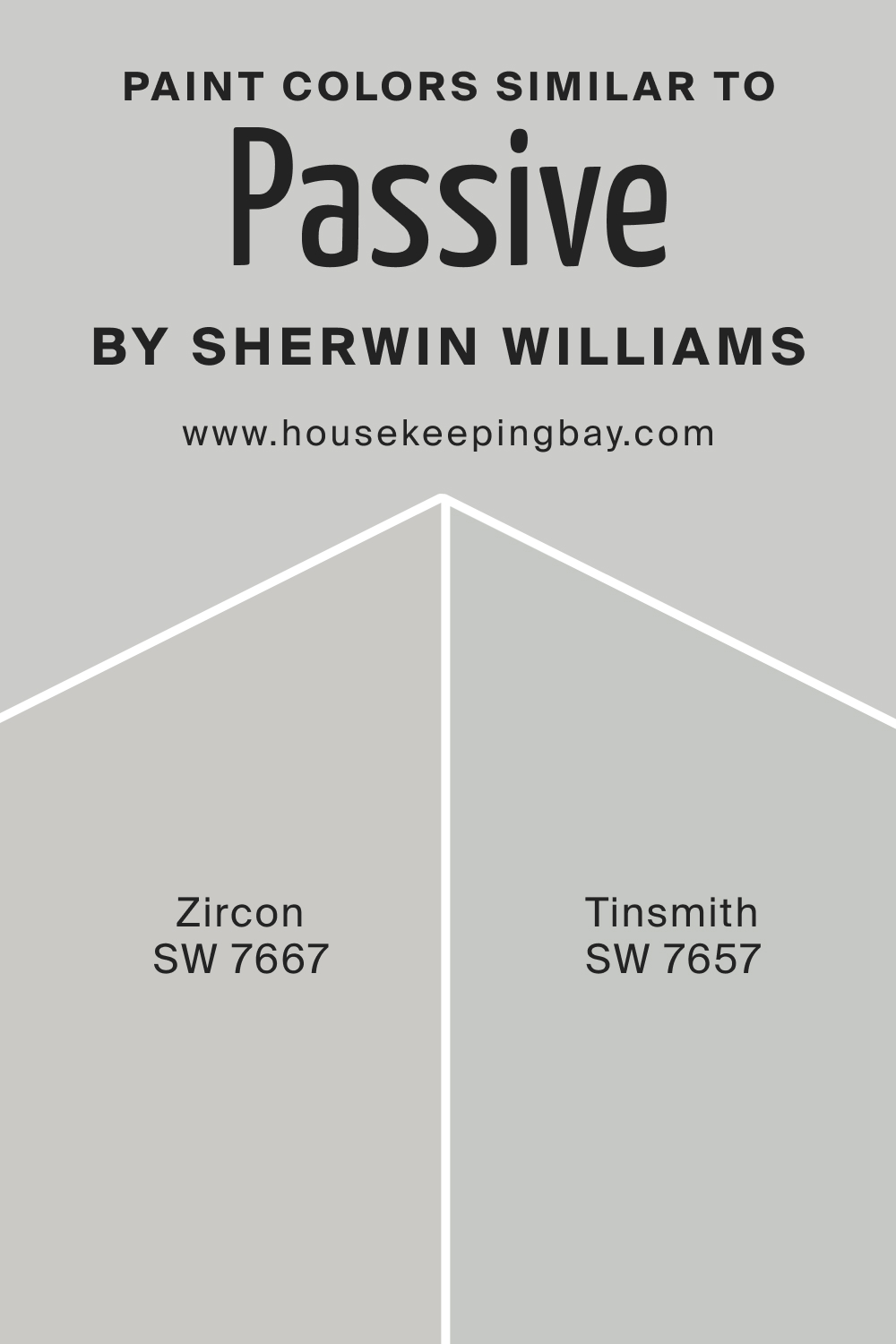 Colors That Go Well With SW Passive
To achieve a well-balanced and welcoming palette in your home, you should know what colors can work well together and what colors are best never to be paired in the same room! If you want to use SW Passive with its tricky undertones in your home, it's crucially important to get ready in advance and learn what colors it can work with.
For example, we recommend you pay closer attention to the following color options:
SW 6218 Tradewind
SW 6243 Distance
SW 9178 In the Navy
SW 6395 Alchemy
SW 7008 Alabaster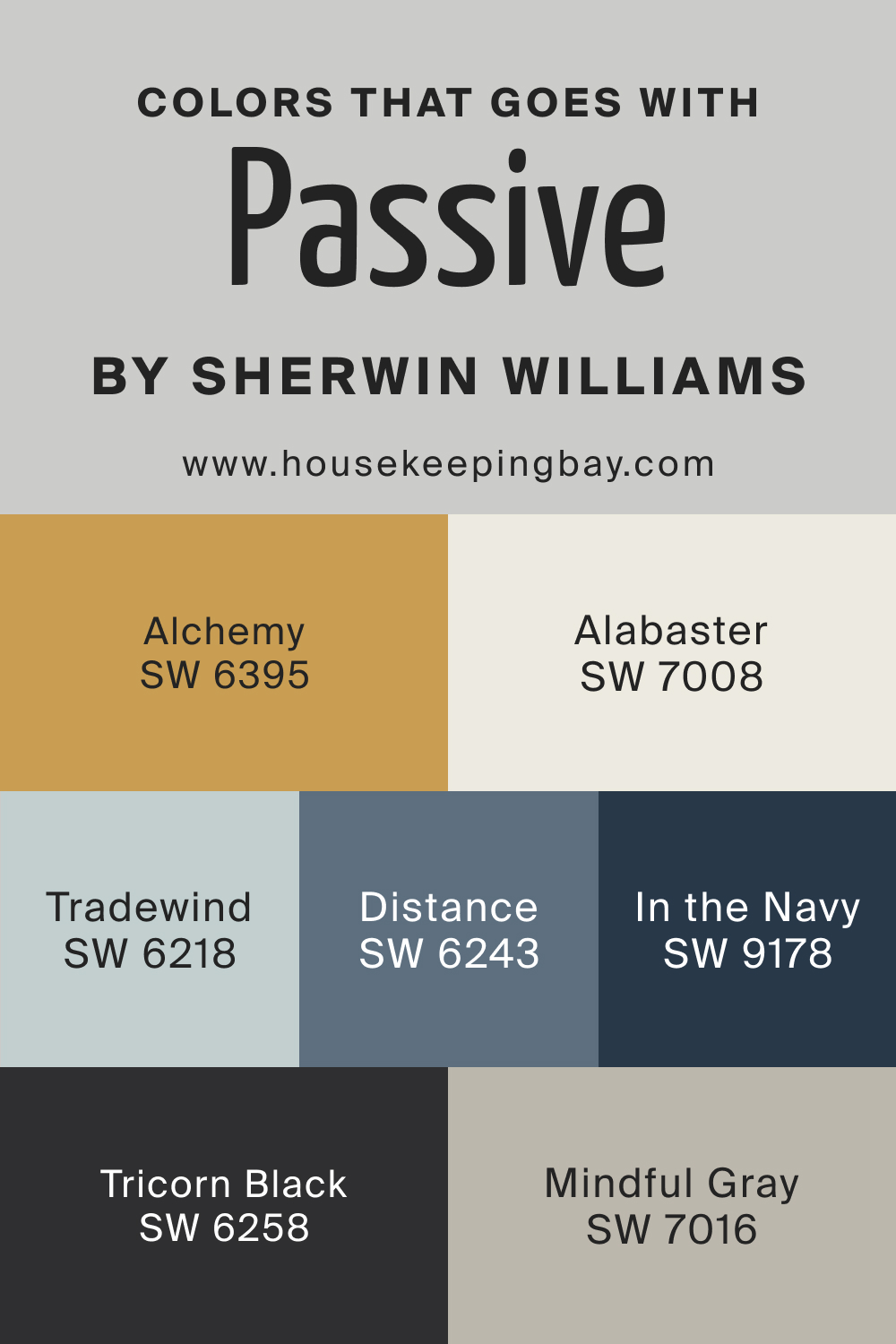 Where This Color Can Be Used In Your Home?
The best thing about this cool-toned gray paint color is that it's fairly versatile. As a result, it can be used successfully in many different places. Below, we describe how this color may read in different rooms of your home.
Passive SW 7064 in the Living Room
The living room is a great place to use SW Passive. Since it's a cool-tone neutral shade of gray, this paint will work well with most decor styles. Besides, it will add a relaxing and elegant (yet cozy) feel to the space without making it look too cold.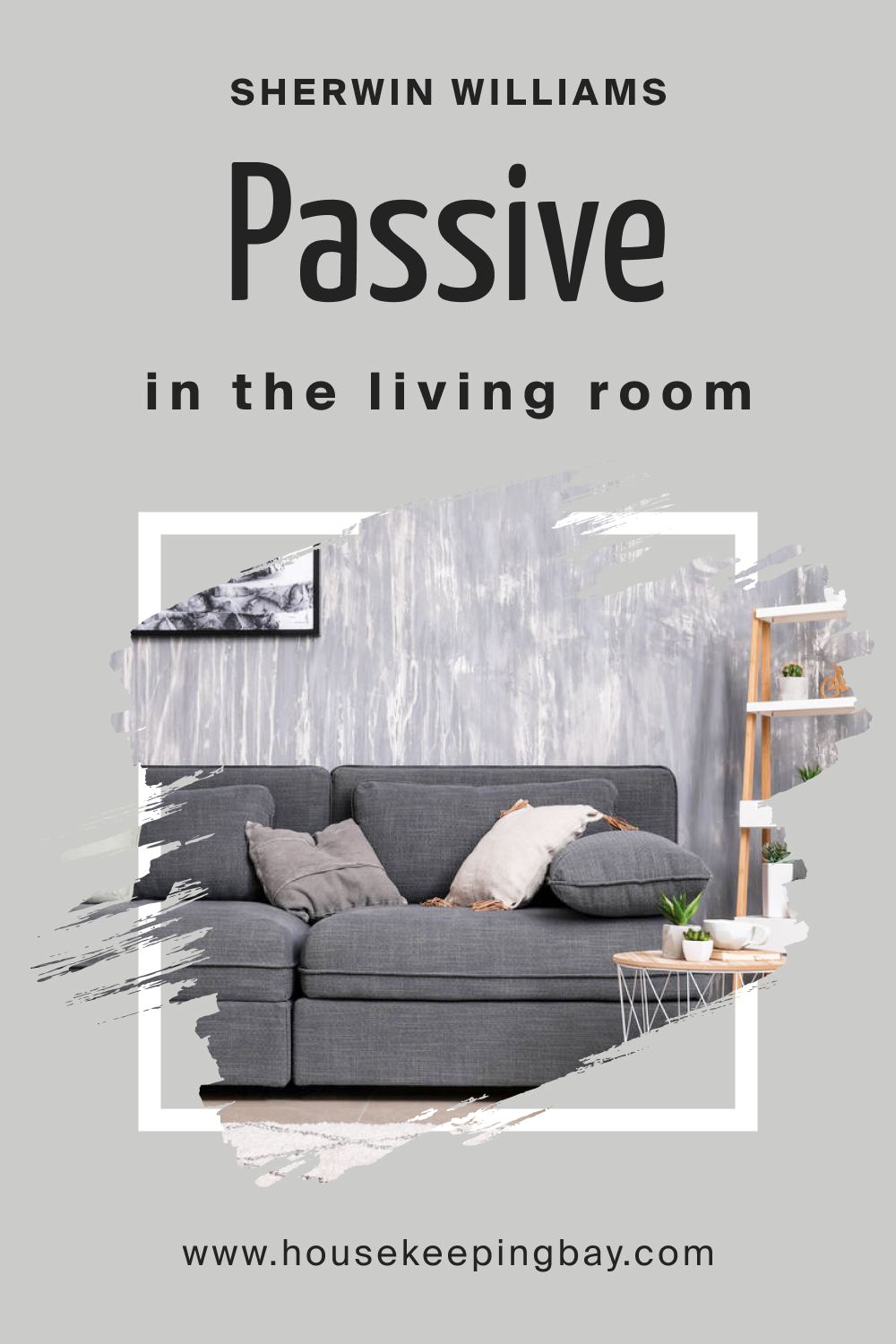 Passive SW 7064  in a Bedroom
Thanks to its cool blue undertones, SW Passive works great in a bedroom. Cooler tones have calming properties, which is why this neutral color will promote rest and relaxation in this room.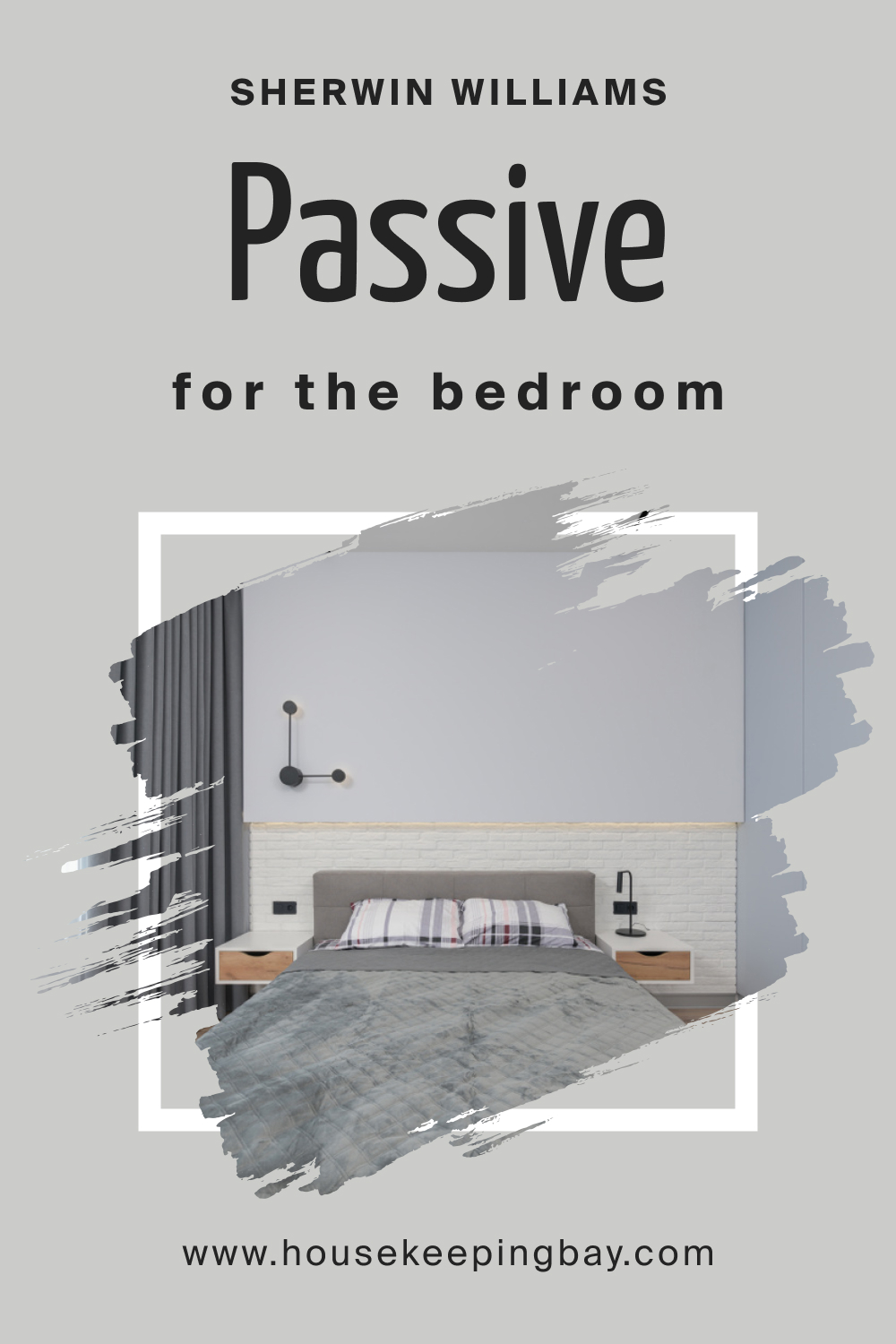 Passive SW 7064  on the Bathroom
If you want to make your bathroom feel spa-like, you should definitely use SW Passive! Since SW Passive is a cool-toned gray, cool tones will make your bathroom feel relaxing and soothing. Also, this refreshing color will look beautiful with cool-toned tiles like marble and white subway tile.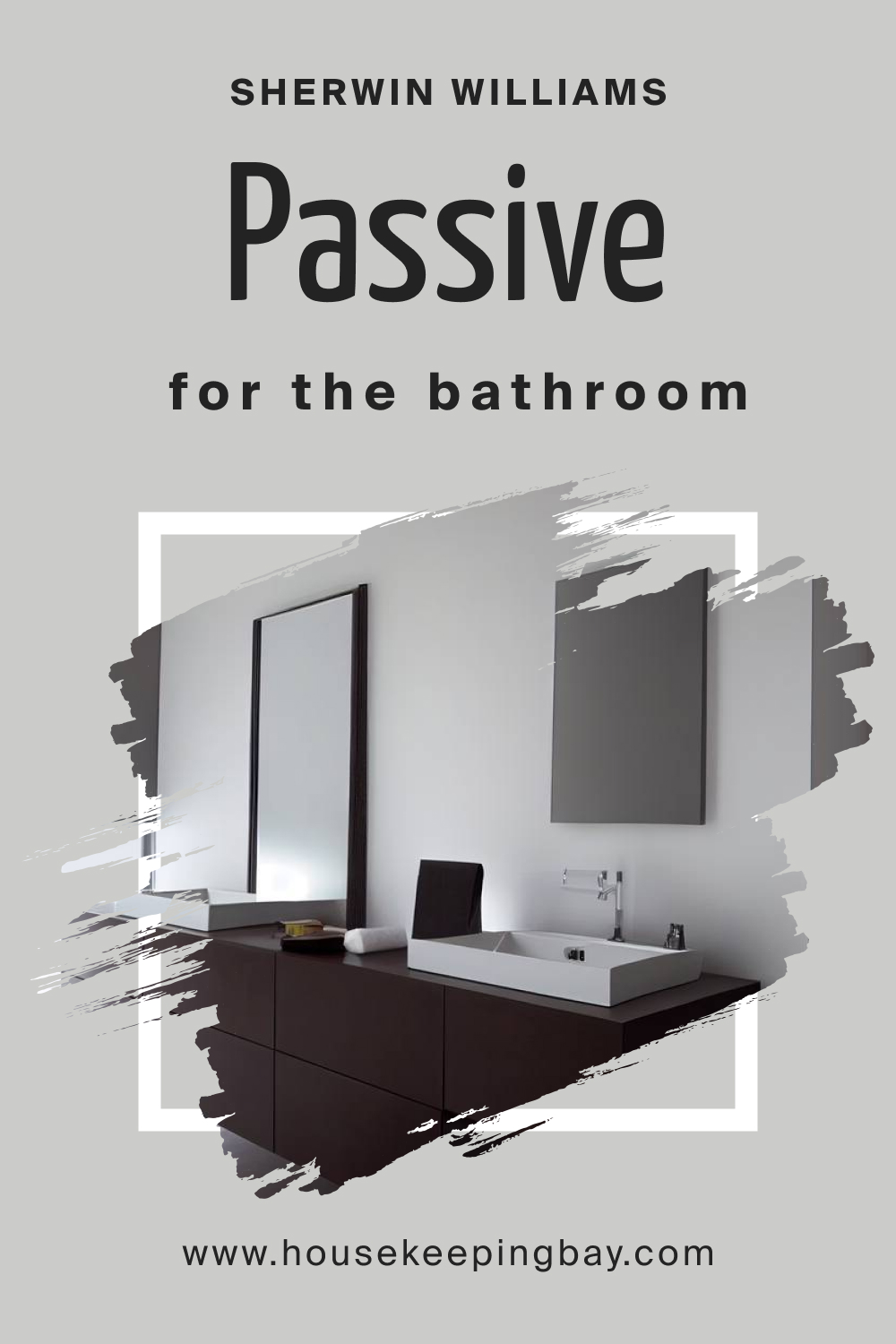 Passive SW 7064  and Kitchen
Don't hesitate to use SW Passive in your kitchen, especially with darker wood cabinets. The cooler tones from this neutral gray paint color will coordinate perfectly well with the darker wood tones.
But if you're afraid of making your kitchen feel too chilly, you can always use SW Passive to paint your kitchen cabinets only (lower and upper). This is a good alternative option if you are not into the idea of using it on all the walls.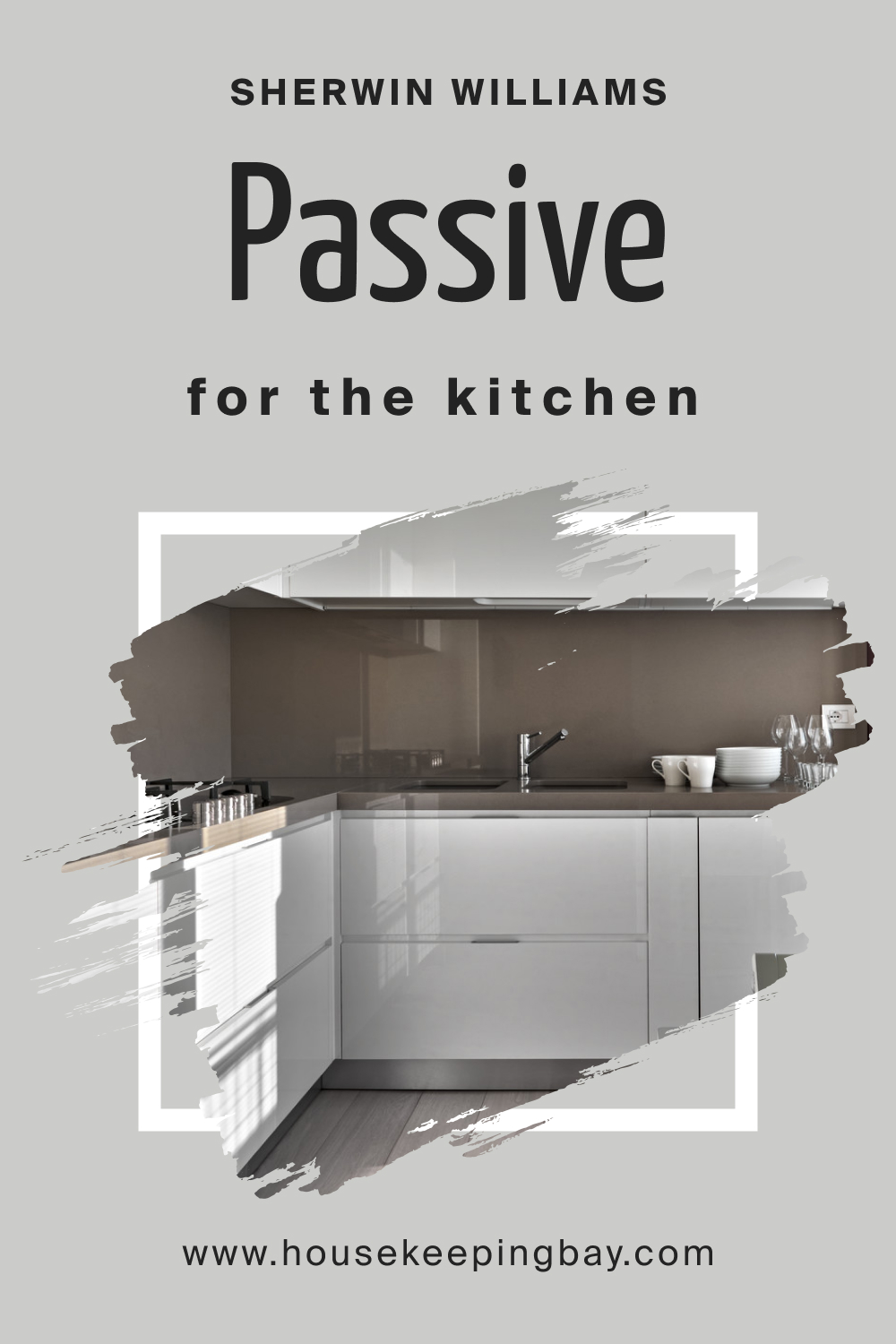 Passive SW 7064  for the Exterior Use
It's ok to use SW Passive on exterior walls. But keep in mind that it will look lighter on the exterior because of the direct sunlight! So, if you use SW Passive on the exterior on very sunny days, it's possible the color will look washed out.
Also, its undertones can be a bit unpredictable. SW Passive has too much undertone, which is why it can be challenging to pair it with many of the common stones and bricks. However, it can work well with some of the gray-toned asphalt roofs!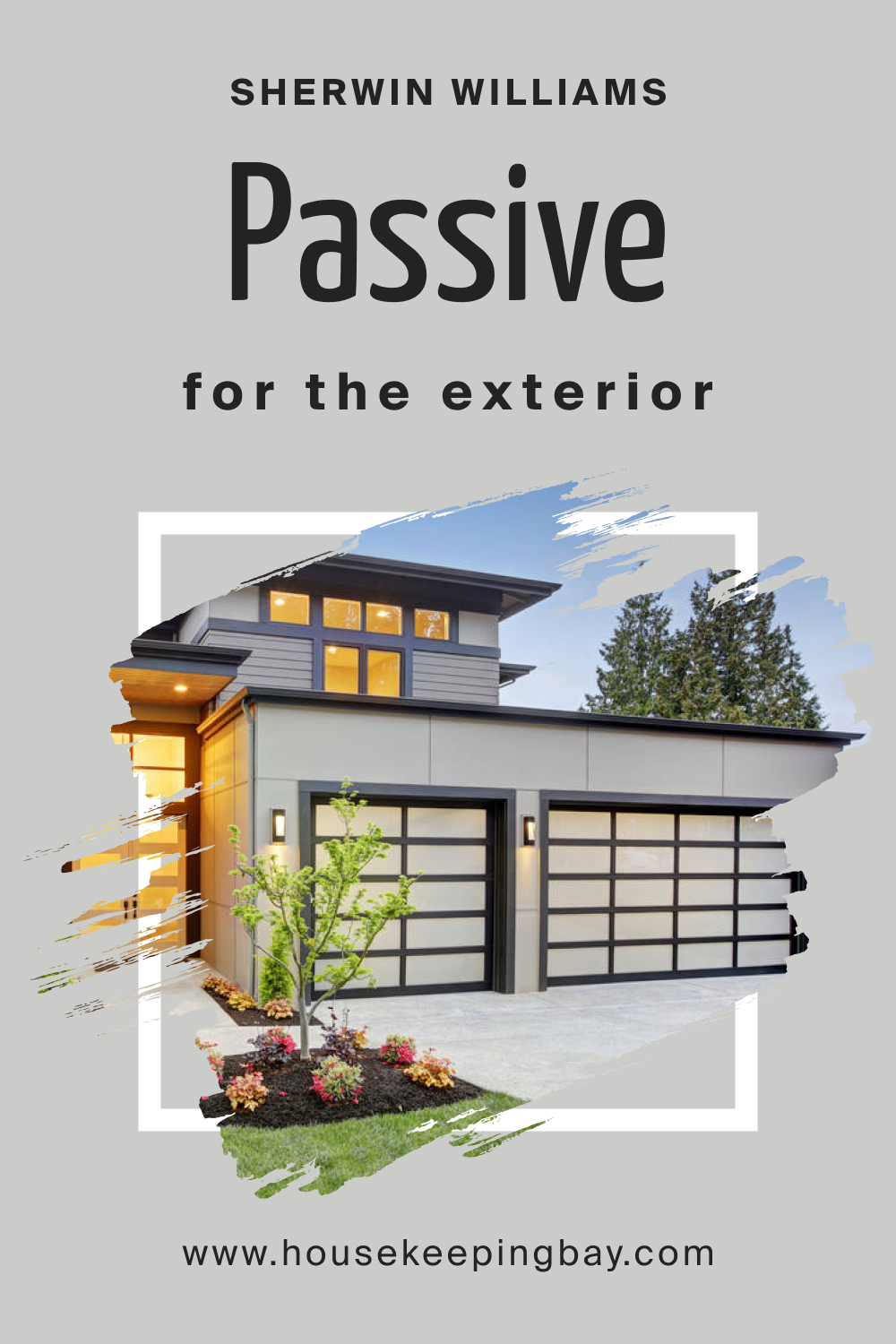 Comparing SW Passive With Other Colors
Below, we compare SW Passive with several other colors that look nearly the same or very close to this neutral gray. Read carefully to see how different LRVs and undertones can make two similar colors read unique.
Passive vs. Light French Grey
Light French Gray has an LRV of 53. It is a bit lower than the LRV value of SW Passive, whose light reflectivity value is 60. Another distinction is that SW Passive is a light gray shade, whilst Light French Gray is more of a medium gray. However, the Light French Gray color also has a subtle blue undertone and reads neutral.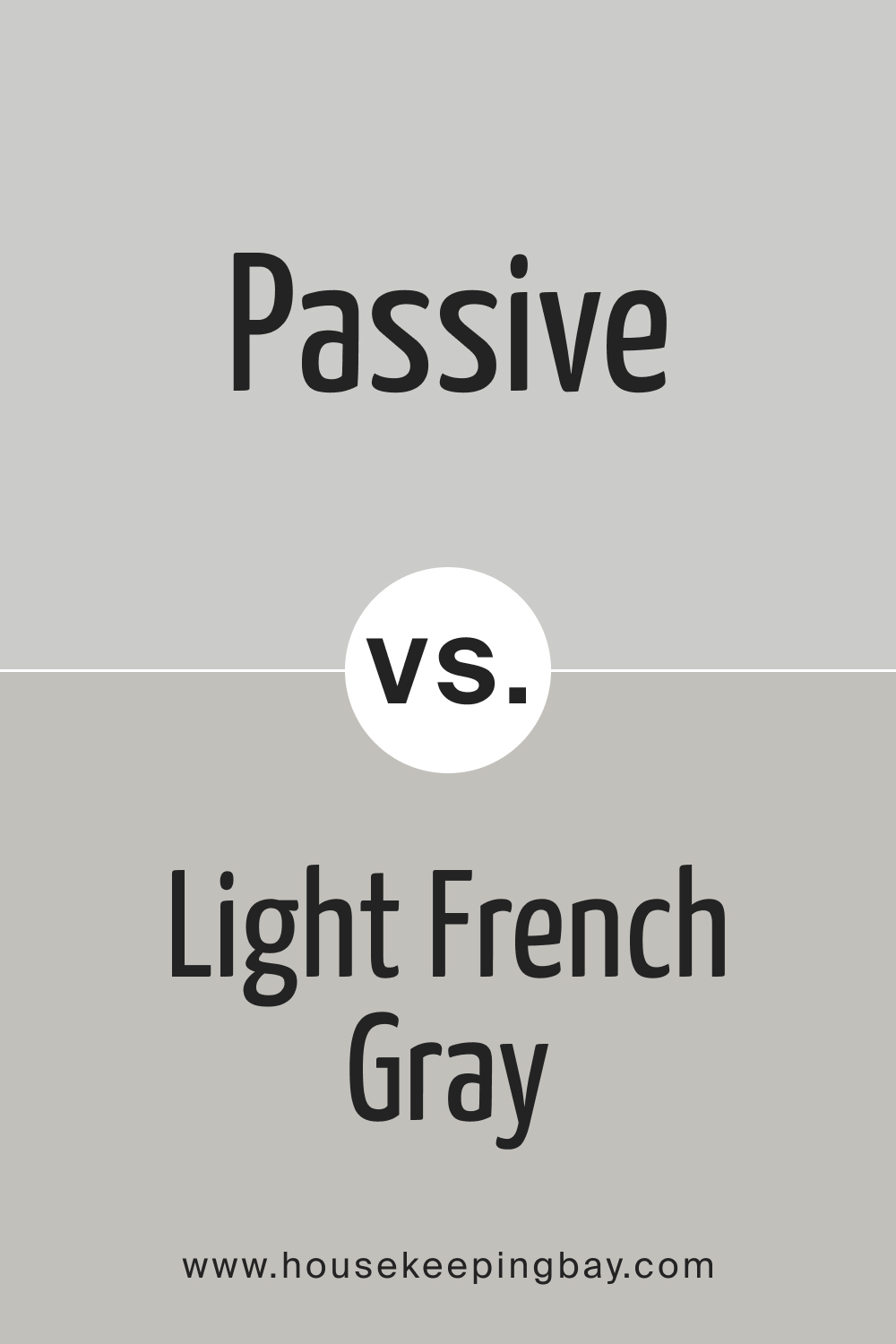 Passive vs. Agreeable Gray
The Agreeable Gray color looks much softer than SW Passive, although its LRV value is 60, just like the LRV of the SW Passive. There is another distinction. Since Agreeable Gray is a greige, it is more versatile than SW Passive, whose undertones are rather tricky.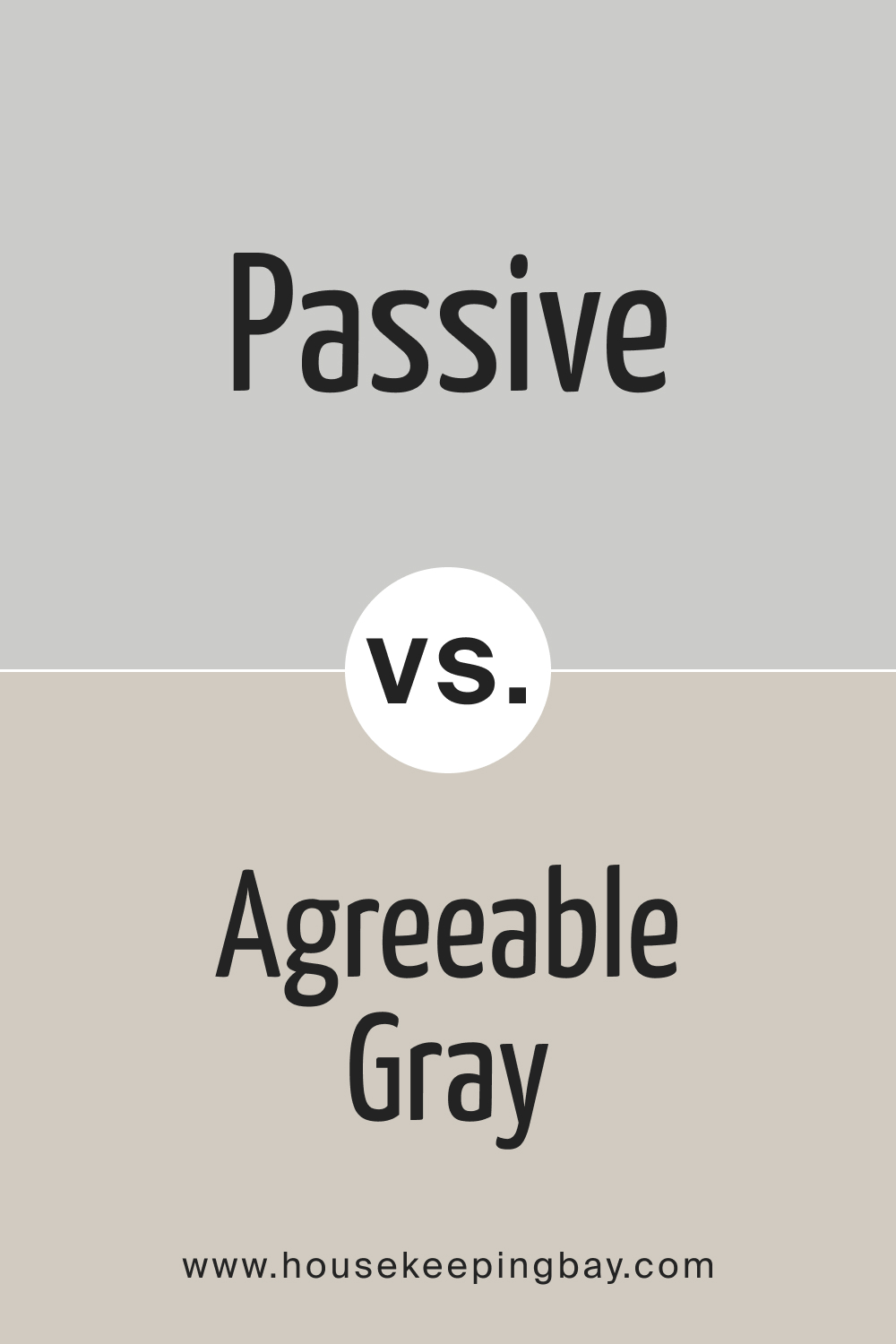 Passive vs. Repose Gray
Repose Gray has an LRV of 58. This is lower than the LRV of 60 that SW Passive has. When compared side by side, SW Passive is more cool-toned, and Repose Gray reads significantly warmer. This is probably because the Repose Gray color is more on the greige side, and SW Passive is gray.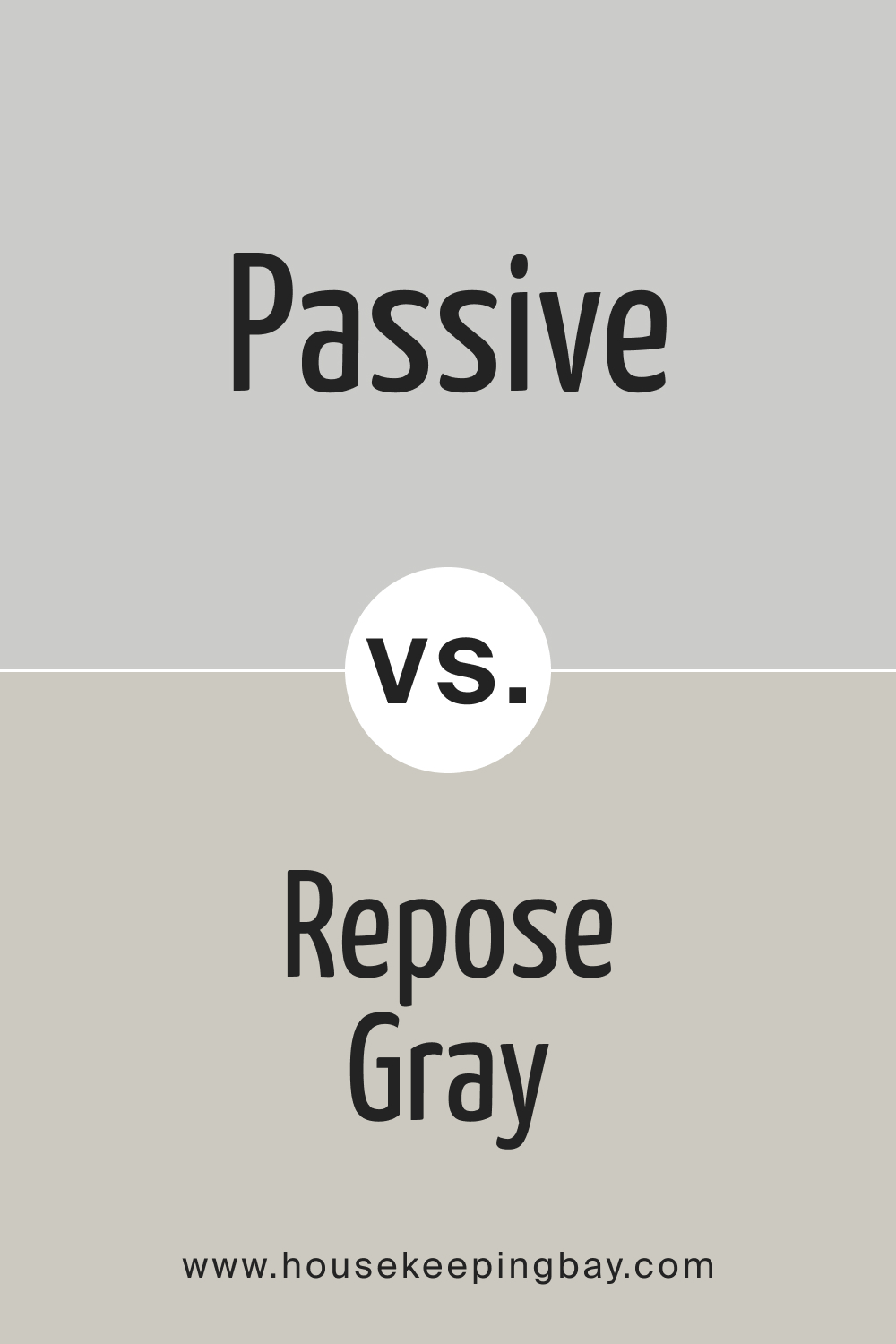 Passive vs. Reflection
The Reflection color has an LRV of 66, which is higher than the LRV value of 60 that the SW Passive has. It means that SW Passive is somewhat darker than its counterpart.
If you compare these colors side by side, you will see SW Passive looks darker, revealing its undertones more. Like SW Passive, the Reflection color is also light, bright, and airy, but it has more of a blue undertone to it.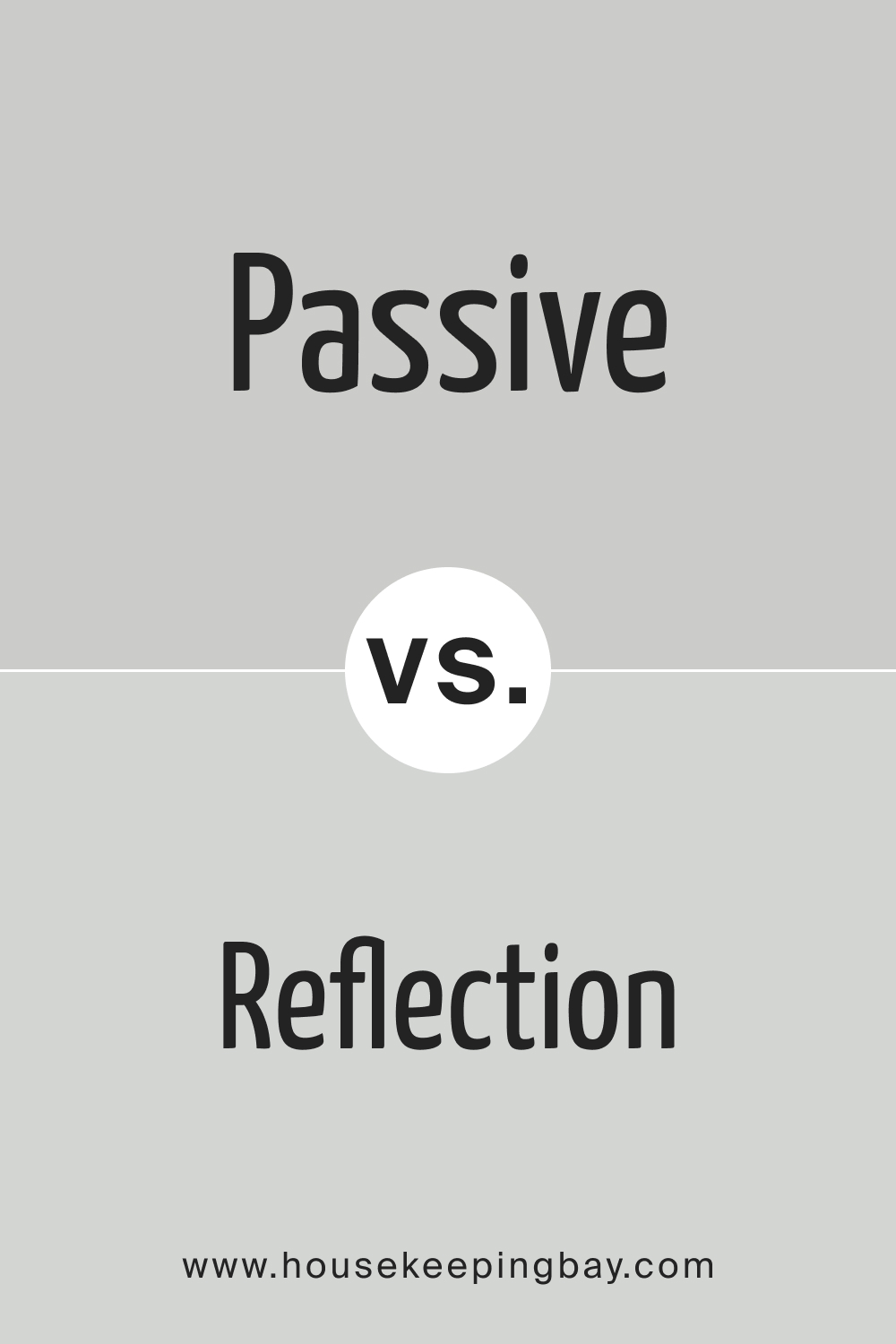 Passive vs. Gray Matters
SW Gray Matters reads grayer and darker than SW Passive because of the lower LRV of 39. Also, SW Gray Matters reads more solid gray, being a medium to darker-toned hue. Finally, the undertones of these colors differ. SW Gray Matters has deep green undertones, whilst its counterpart has blue undertones.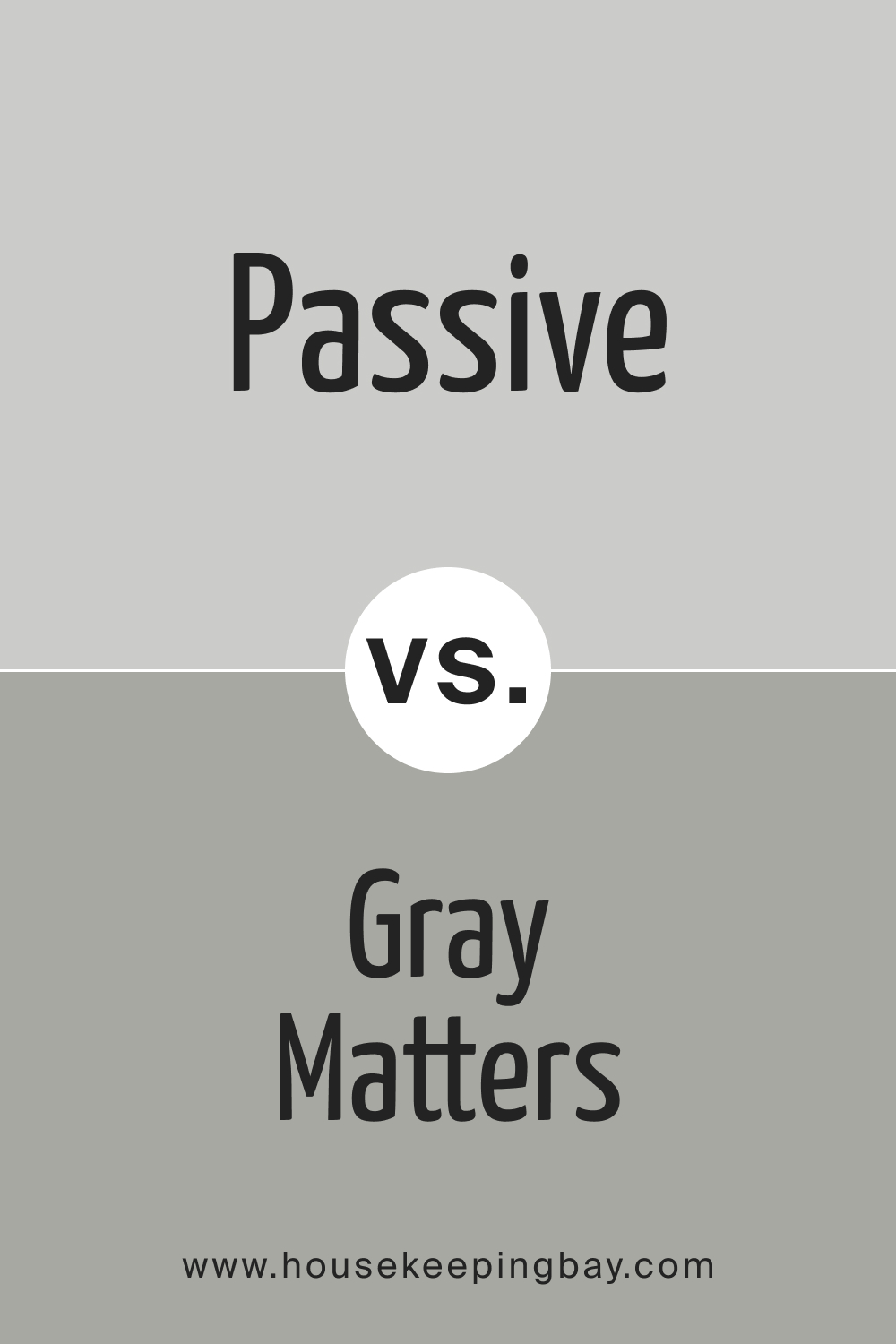 Passive vs. Peppercorn
These two create a lovely contrast due to the much darker appearance of SW Peppercorn. SW Peppercorn reads almost charcoal and is rather soft. Besides, it doesn't have pronounced undertones, which is why it's considered a true gray. However, deep within, this color hides very slight green, blue, and even purple undertones! Compared to it, SW Passive looks much lighter and less saturated.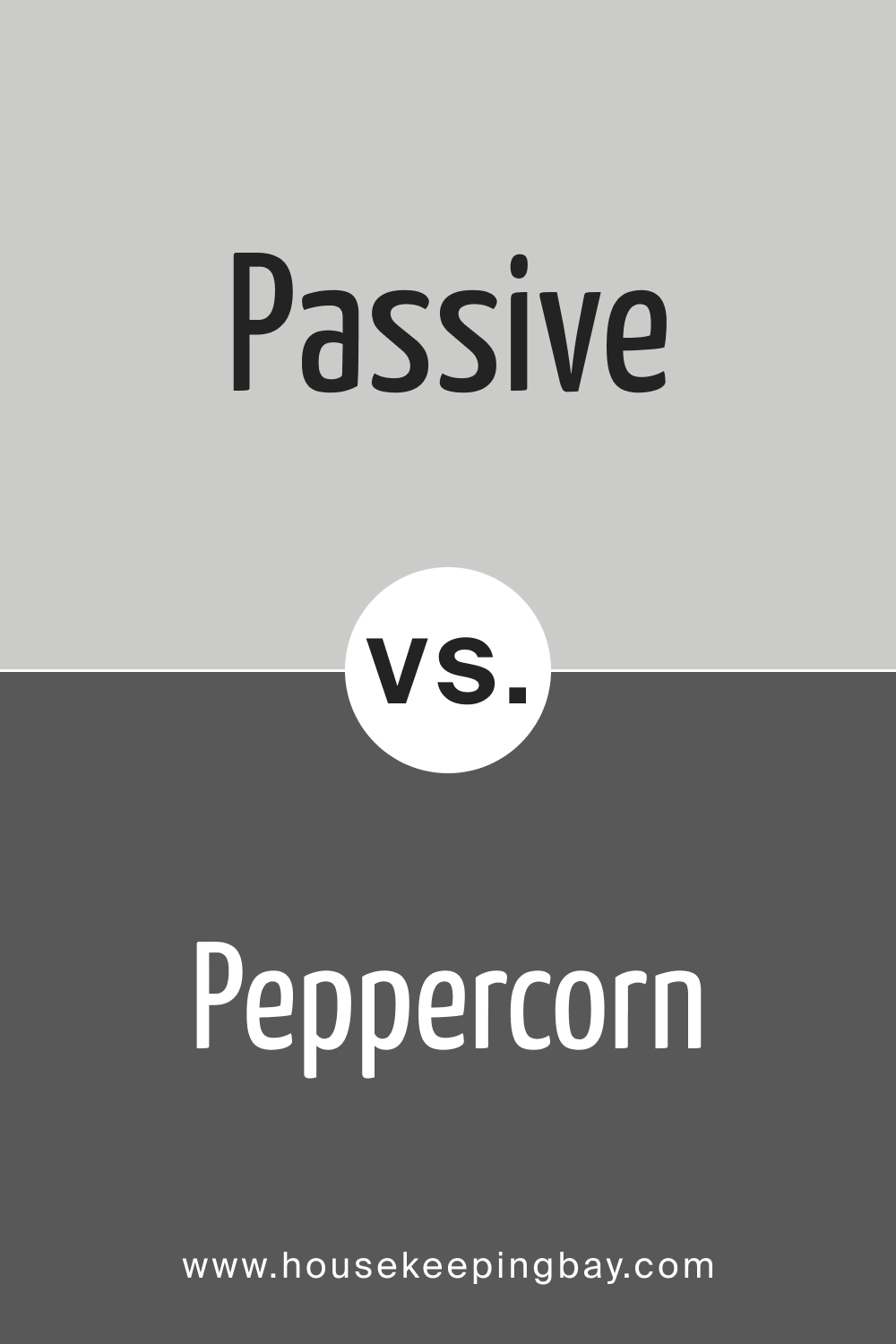 As you can see now, SW passive is not only challenging but also beautiful and versatile. This color can make your home interiors look fabulous and delicate with its tranquil and balanced appearance. Now that you know how to use this neutral gray correctly, you will make it work in your home like a pro!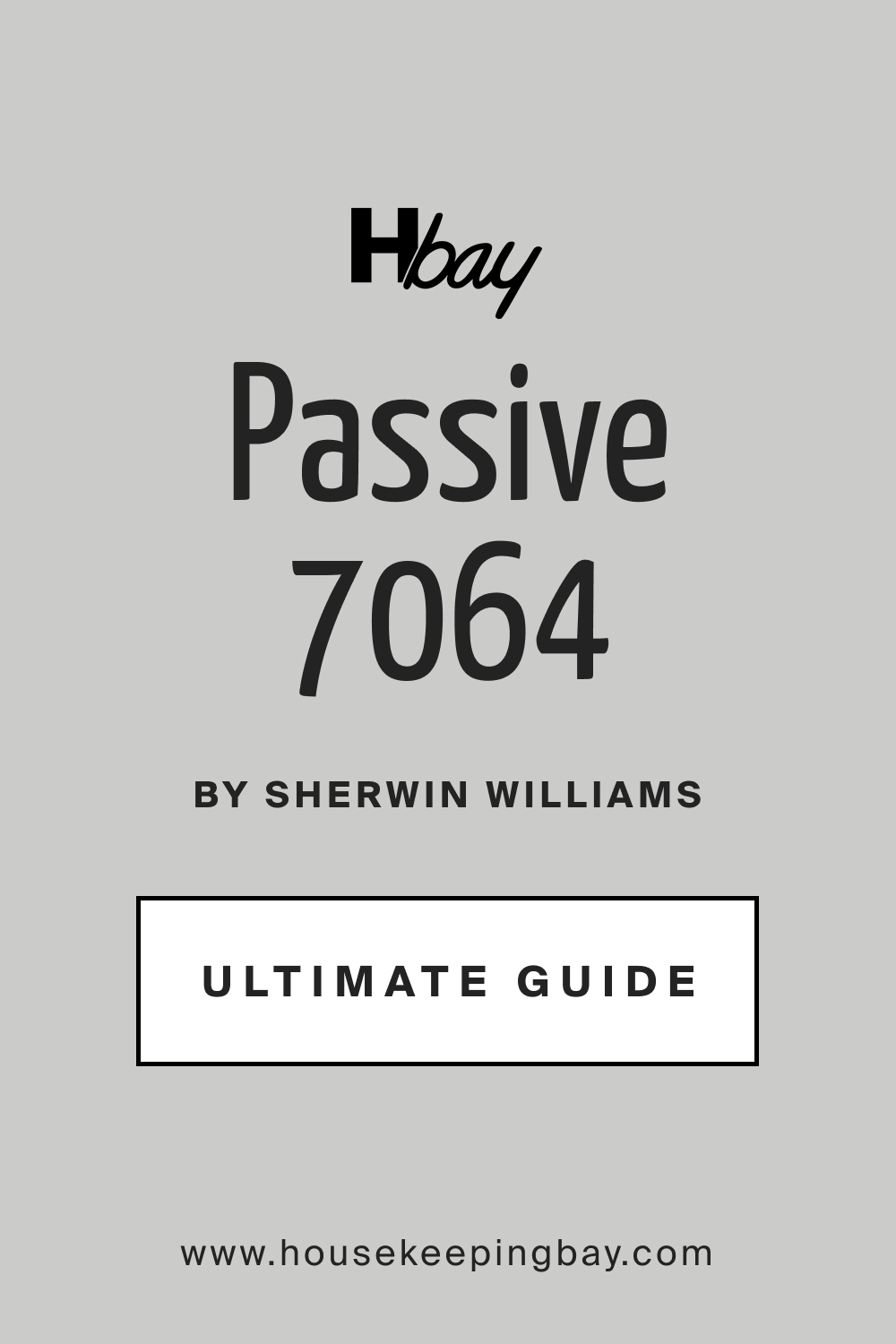 Frequently Asked Questions
⭐Does SW Passive look blue?
Sometimes it can, but SW Passive isn't blue. It is a stormy gray.
⭐Can SW Passive be used on a shiplap?
Yes, SW Passive will work on it. It can be used as an accent or like all the other walls in your home.
⭐Will different sheens affect how SW Passive reads?
Yes, they will. A higher sheen will reflect more light, making the color appear lighter. A lower sheen will make it look a bit dark.