Whenever we are up to a home renovation project that involves the use of paint, this is always about a challenge for most of us! Since most people are pretty far from even the brief knowledge regarding paints, their colors "anatomy", and the nuances of color combinations, picking the correct wall paint turns into a russian roulette.
Fortunately, there is an option that can become a beacon of salvation to such home painters, and we are talking about neutral colors.
For instance, such as Accessible Beige by Sherwin Williams. This paint color belongs to neutrals, but to be more precise, it can be considered a light warm greige. Unlike most beiges, this one also has gray notes in it, thanks to this, it is not that "dirty" beige as you might think of!
And since it is a rather versatile color, we will tell you what rooms it can be used in, what colors it is best to combine it with, and we will also provide you with the basic information on this neutral greige to convince you that this is exactly what you need for making your home always stylish and cozy!
What Is Accessible Beige As a Paint Color?
Well, before we lead you through the detailed and precise description of Accessible Beige paint color, its nuances of use and its "anatomy", let us first of all introduce you to it briefly and explain what this color actually is.
So, in general, Accessible Beige by Sherwin Williams is one of the brand's top warm and neutral greiges.
The color is rather light and it doesn't have that dirty look that quite many beige paints are known for. It is possible because Accessible Beige also contains quite a significant note of gray, as Encycolorpedia says. Thanks to it, the paint looks well balanced with beige and gray tones being equally shown.
But if you are worried that Accessible Beige will look yellowish on your walls, be sure that it will not happen! Even though this paint still has more of beige than gray in it, there is not enough yellow which means that it will never be that beigey-beige.
In addition, this paint color is rather versatile being able to look different depending on the exposure and lighting. For instance, if you paint it onto the walls in a north and east-facing room, you can expect the paint to look more on the gray side.
On the other hand, when being painted onto the walls of a south or west facing room, Accessible Beige will reveal way more of its greige warmth.
This is the major reason why so many homeowners prefer this paint color for their interior paint projects. And if you are fond of warm interiors, consider taking this color into account when choosing paint for your home.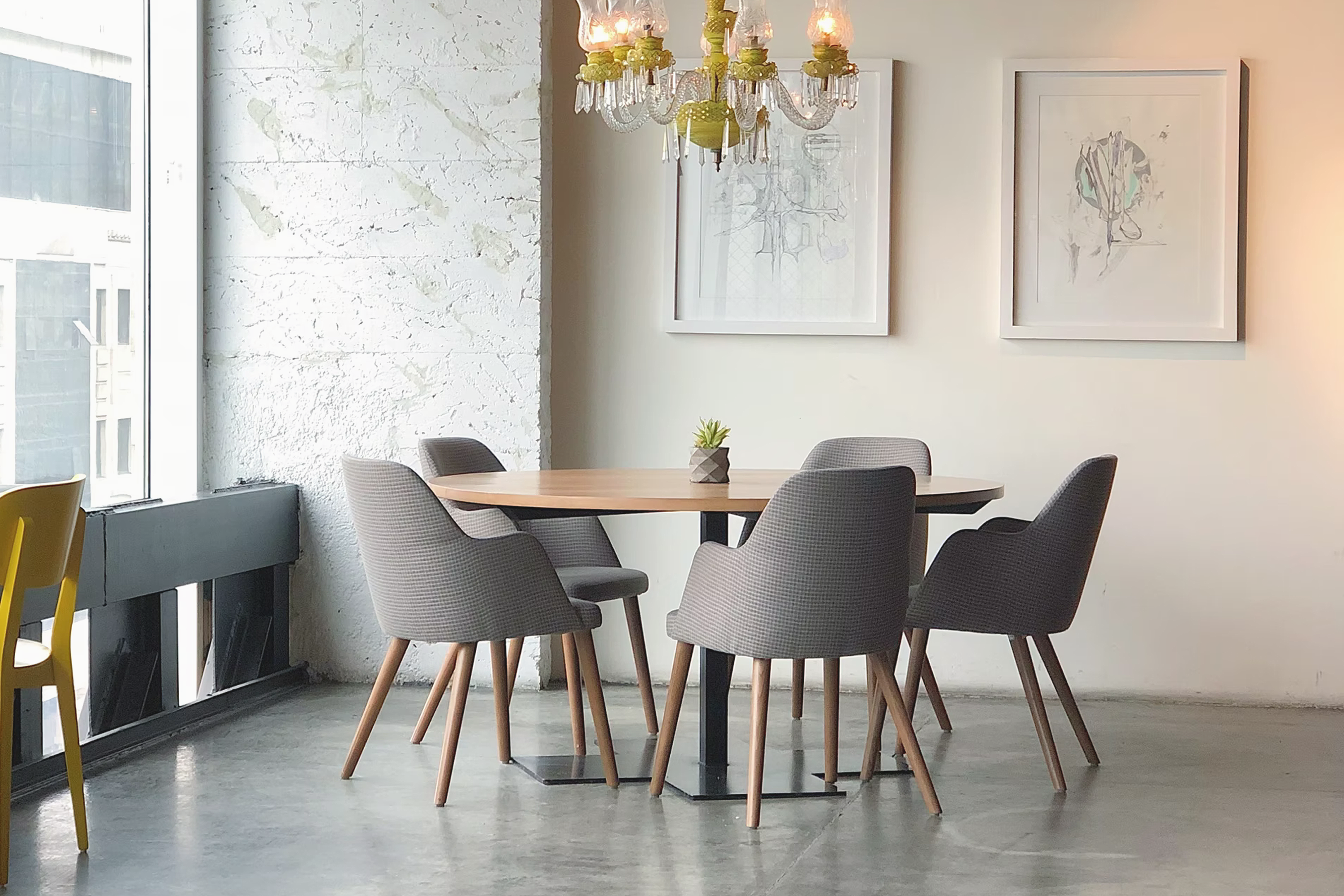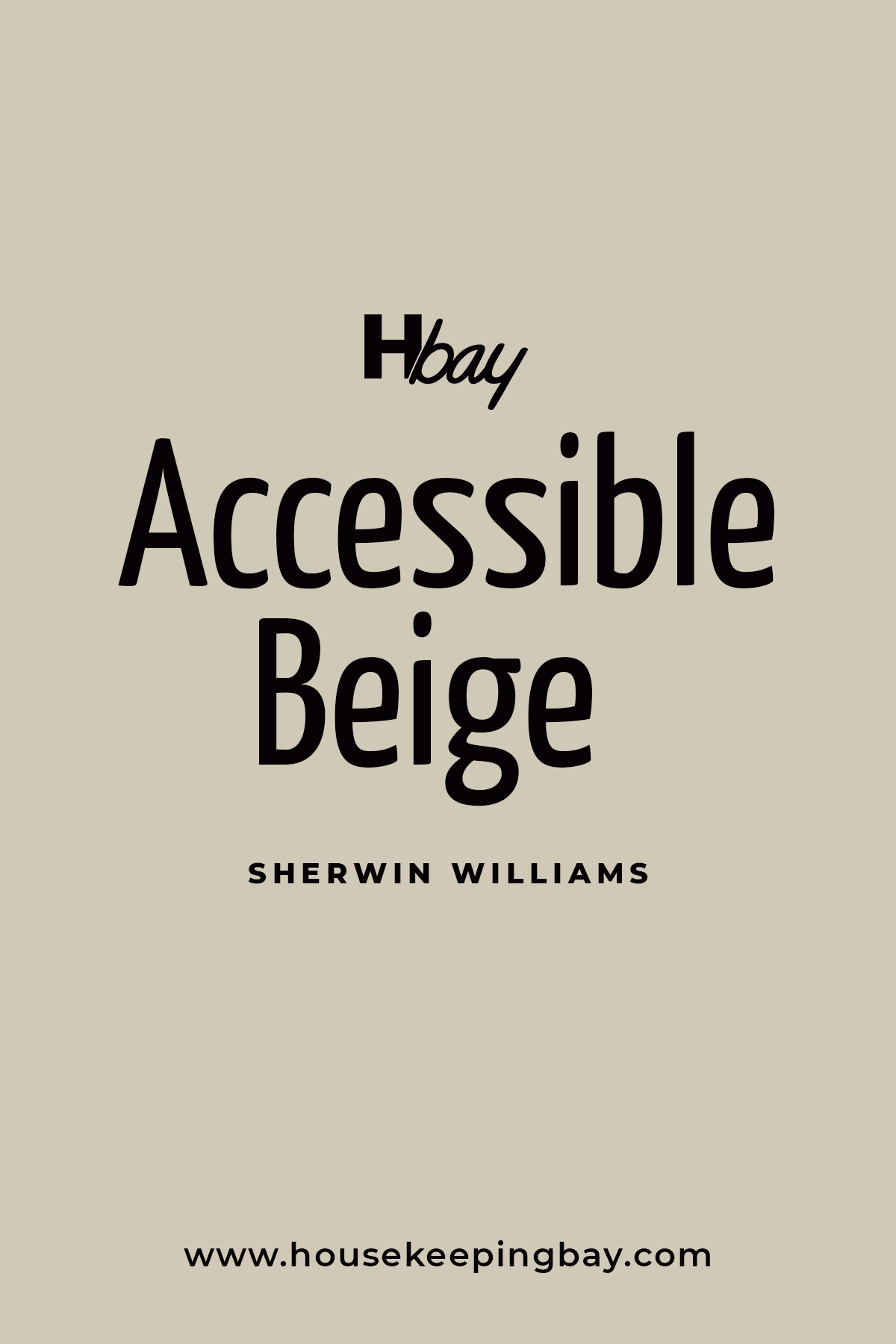 Is Accessible Beige Warm Or Is It Cool?
It's warm, definitely warm! Accessible Beige is a warm neutral being significantly more yellow and warmer than the other greige paints that have a bit of gray and green in them.
However, it still does not have enough yellow in it to be considered pure beige. This is why Accessible Beige is an ideal pick if you need a paint to update your earthy color schemes!
But even though Accessible Beige is warm itself, if compared with other colors, it may sometimes look a bit like a cool shade or greige. This is why we always recommend you compare the paint you are going to use with other paints used in the room to see how it will look beside them.
Accessible Beige By Sherwin Williams Undertones
When choosing a proper paint for your home, paying attention to its undertones is a guarantee that you will not end up with something completely different from what you initially expected.
If we don't know for sure what undertones our paint has, it will be pretty hard to predict how it will look on the walls in different lighting and if combined with other colors.
With neutral paint colors, however, it is not always that simple! Quite many of them do have rather clear undertones that are easy to notice, but there are also colors whose undertones are way more sneaky.
As for the Accessible Beige by Sherwin Williams, its basic undertones that you will easily notice and recognize are yellow.
But in addition, this paint color has green undertones as well! Well, greens mostly come out in the southern exposure. And of course, you should not expect any prominent green, only a slight hint of it.
Nevertheless, pay attention that, if you have many green objects in the room painted with Accessible Beige, the paint will reveal its green background more actively!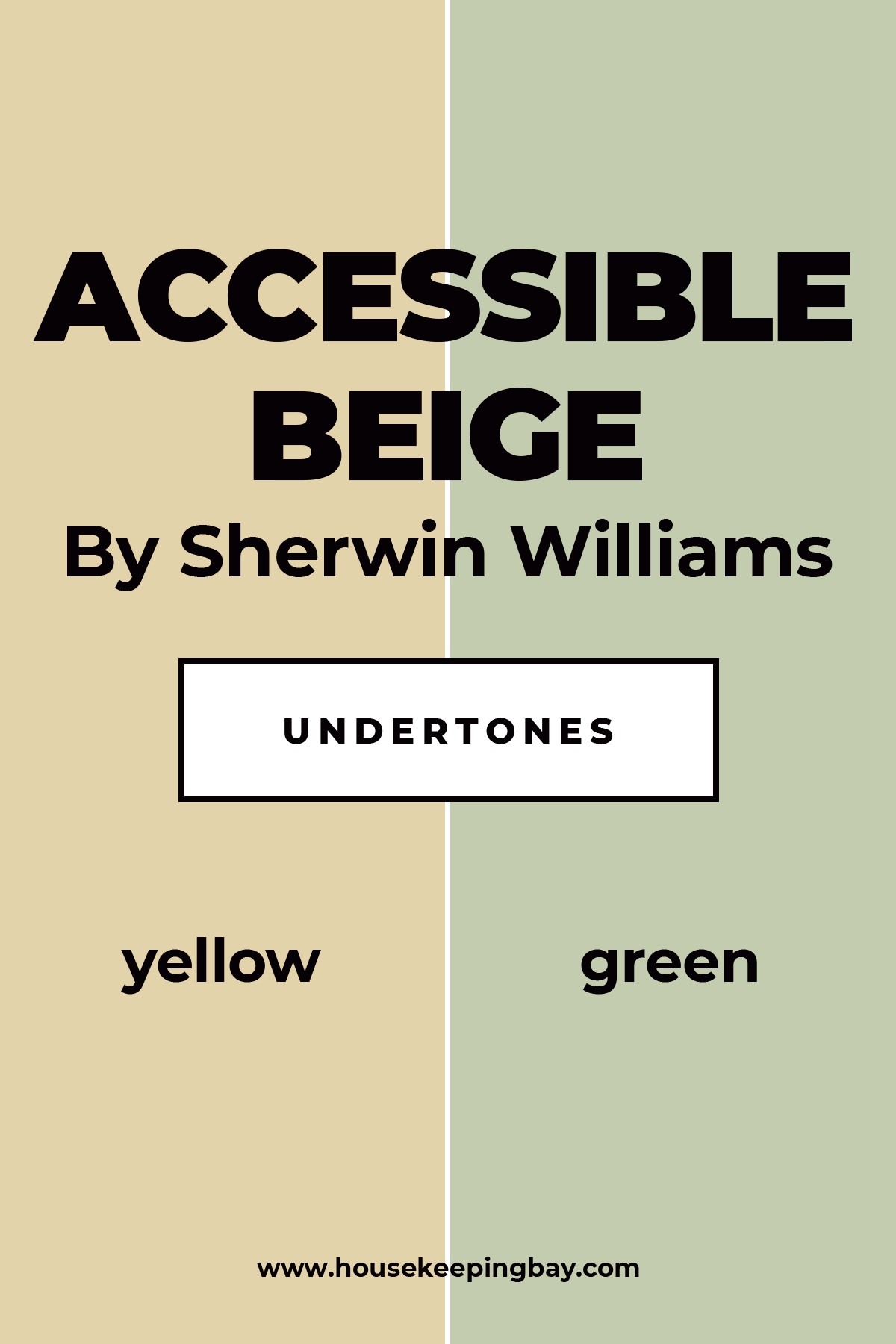 What Are the Best Coordinating Colors For Accessible Beige By Sherwin Williams?
If you do not want your home to look monochromatic, you should think of using other paint colors in your interiors as well. But when it comes to greiges and other neutrals, finding suitable and fitting coordinating colors can become a real challenge!
As for the SW Accessible Beige, its best coordinating color matches will be SW Sanderling, SW Cadet, and SW Aesthetic White. The first two are more intense and have way deeper tones being closer to brown (Sanderling) and deep blue (Cadet). But also, you can make use of such colors of this brand as:
When combined with Accessible Beige, they will create contrast yet harmonious pairs and color combinations that will allow you to put proper color accents in your rooms.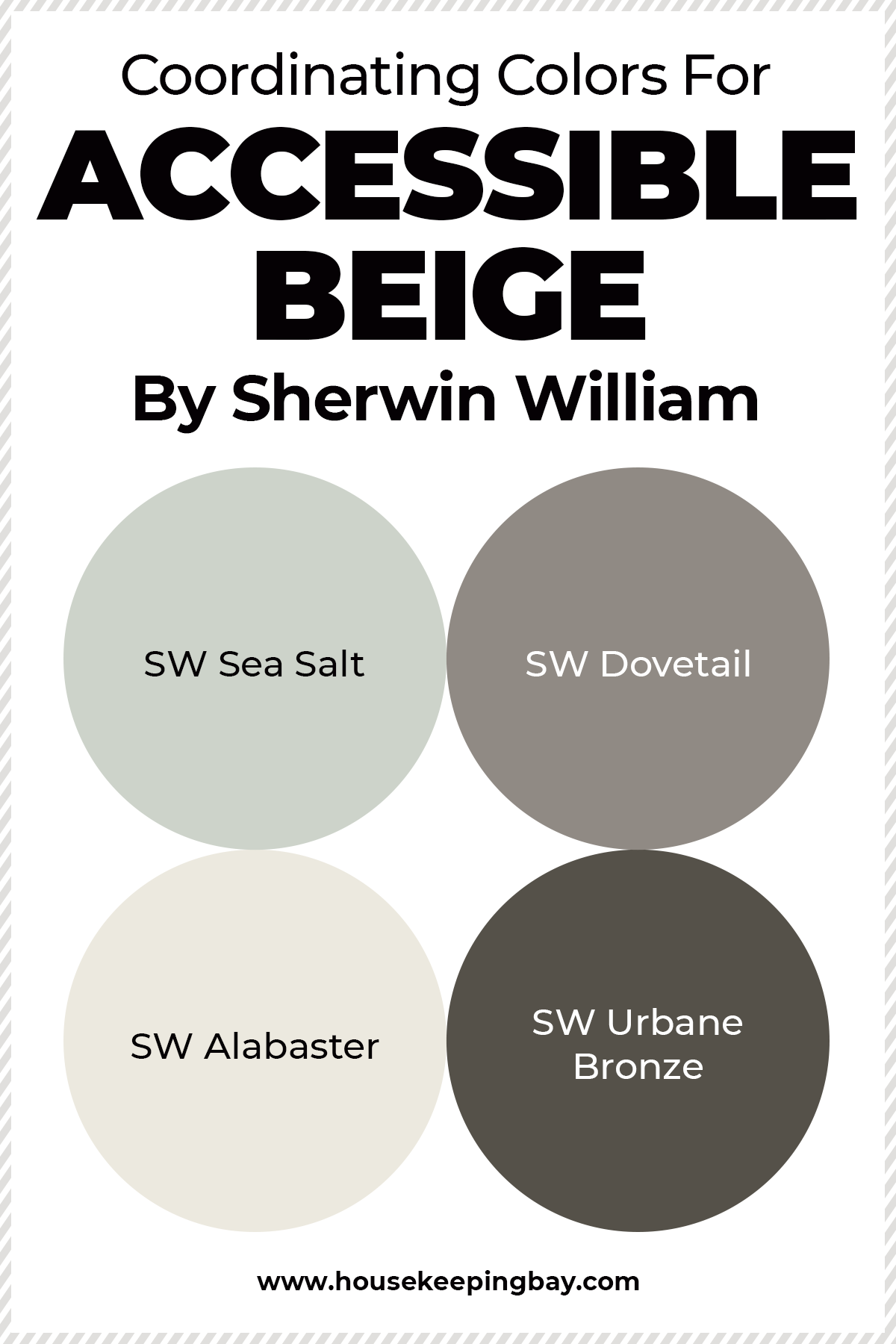 What is LRV? Read It Before You Choose Your Ideal Paint Color
The Optimal Trim Color To Use With Accessible Beige
Neutrals go especially well with trims, everyone knows that. And Accessible Beige is not an exception. And just like any other neutral, it goes exceptionally well with white colors, with off whites in particular, for instance, SW Alabaster that has a slight creamy tint.
However, if you need to get a cleaner and more crisp look, stick to SW Pure White or SW Aesthetic White as a trim color.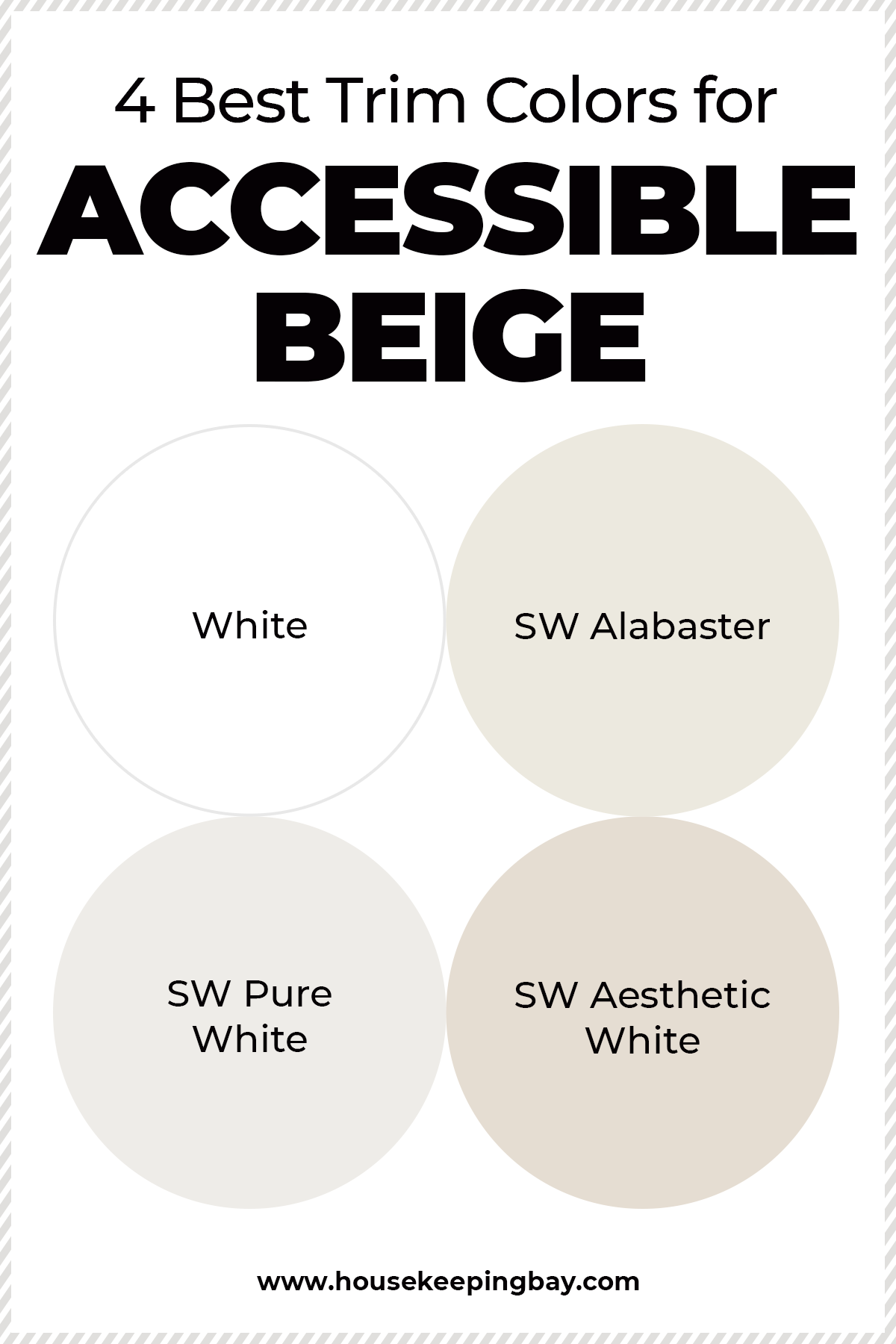 Are There Any Similar Paint Colors to Sherwin Williams Accessible Beige?
Sometimes, we just can't buy the paint color we were initially going to use for our home painting project. The reasons can be different. For example, the store ran out of this particular paint shade or it is only possible to order it online and we can't wait that long until the paint is delivered.
No matter the cause, it is always good to know what alternative colors we can make use of to refresh our interiors!
Luckily, the Accessible Beige paint color by Sherwin Williams has quite many similar colors that look almost the same on the wall which means that you will be able to easily find a substitute for it whenever you have that need.
To make a right choice, we would recommend you pay attention to such paint colors as:
SW Soft Suede
SW Slumber Sloth
SW Mushroom
SW Symmetry
SW Worldly Gray
SW High Sierra
SW Realist Beige
SW Grecian Ivory
SW Accolade
All these colors are more or less similar to Accessible Beige in terms of tones with only a few of them being slightly cooler than it is.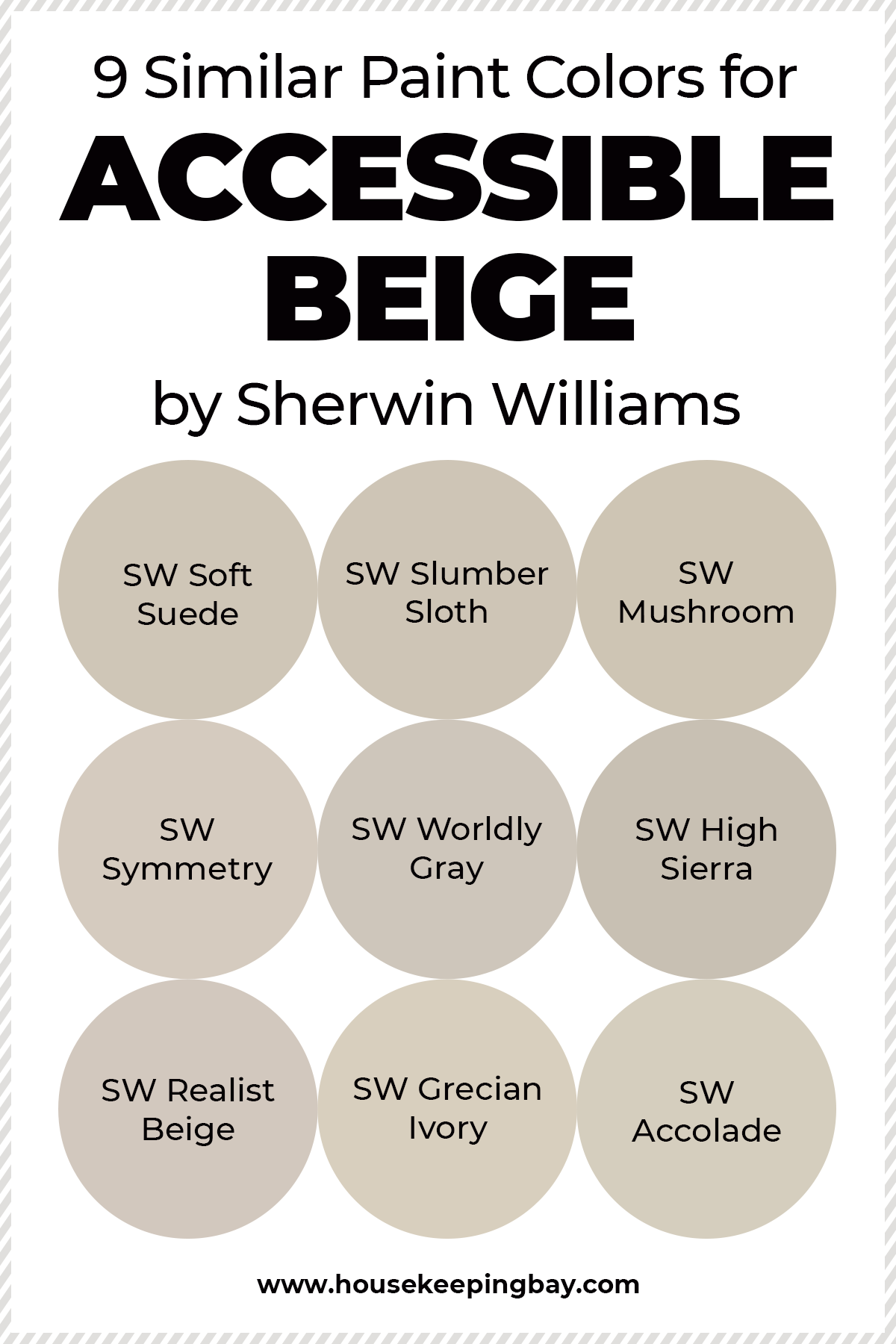 Where Can I Use This Paint Color In My Home?
Sherwin Williams Accessible Beige is a very versatile paint color just like any other neutral greige. Thanks to its mixed gray and beige nature, it can be successfully used in any room or area in your home. It also almost doesn't matter what the lighting is in there!
Just to make you see how multipurpose it is, we will name you the list of rooms and areas where this paint color will look astonishing:
living room
bedroom
kitchen
bathroom
hall
staircases
entryway
It can even be used for painting the facades and other exterior buildings, for instance, your garage! And by the way, the cabinets in your kitchen will look really good and refreshed if painted with this color.
Using Accessible Beige In Your Living Room
In a living room, Accessible Beige is exceptionally good as an accent color. Yes, we know that most of us are used to using darker colors for the accent wall, but Accessible Beige works really well as an accent because it is so super neutral.
It means that it will work well with many other colors both on the walls and in the room interior (for example, upholstery, carpets, curtains, etc.).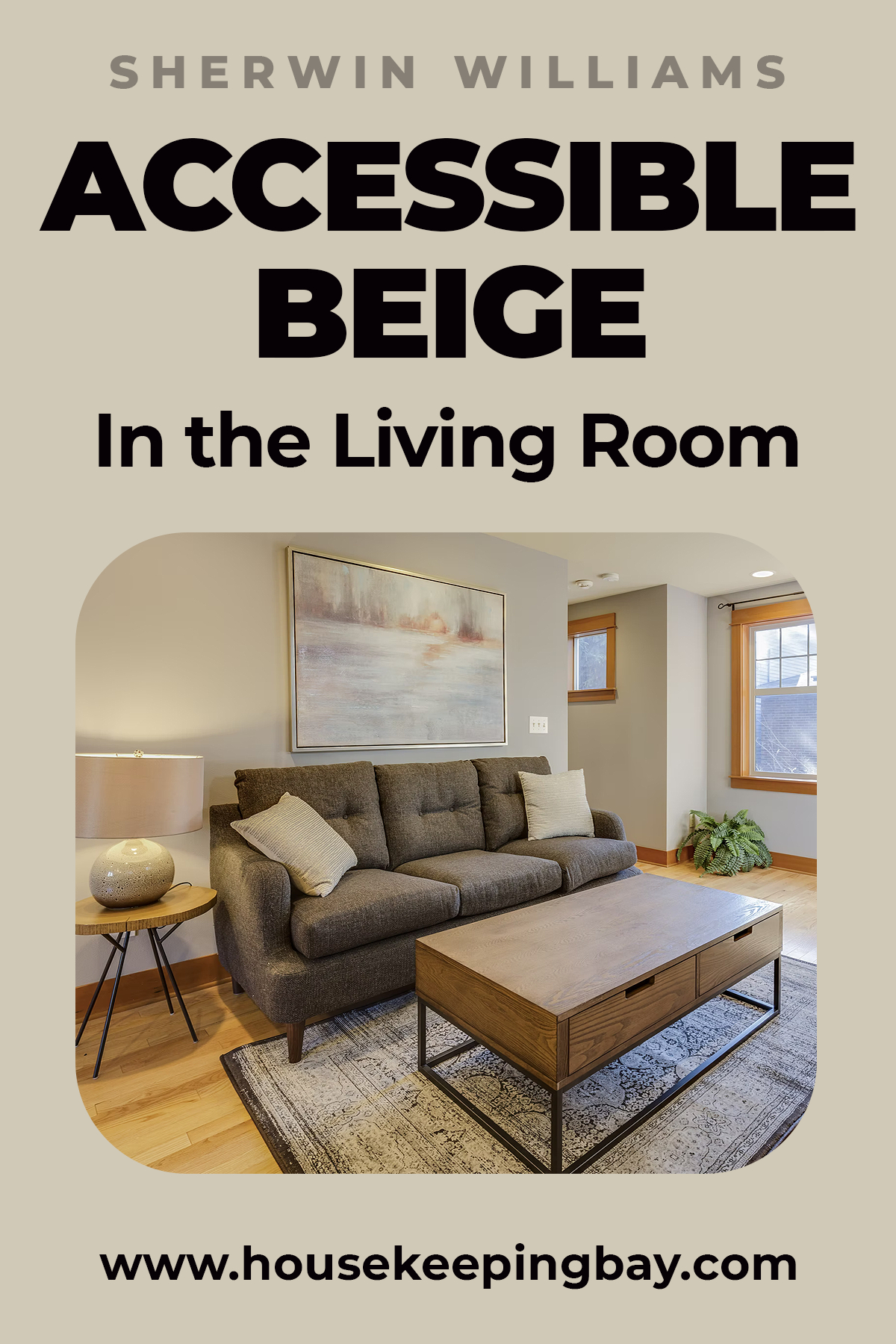 Is Accessible Beige Suitable For Bedrooms?
This is also a good wall color for your bedroom, especially if you like warm-toned and tranquil shades. Accessible Beige will create that soothing and cozy atmosphere thanks to its warm beige tones.
And if you choose the right lighting, you can expect to have a perfect space for sleep.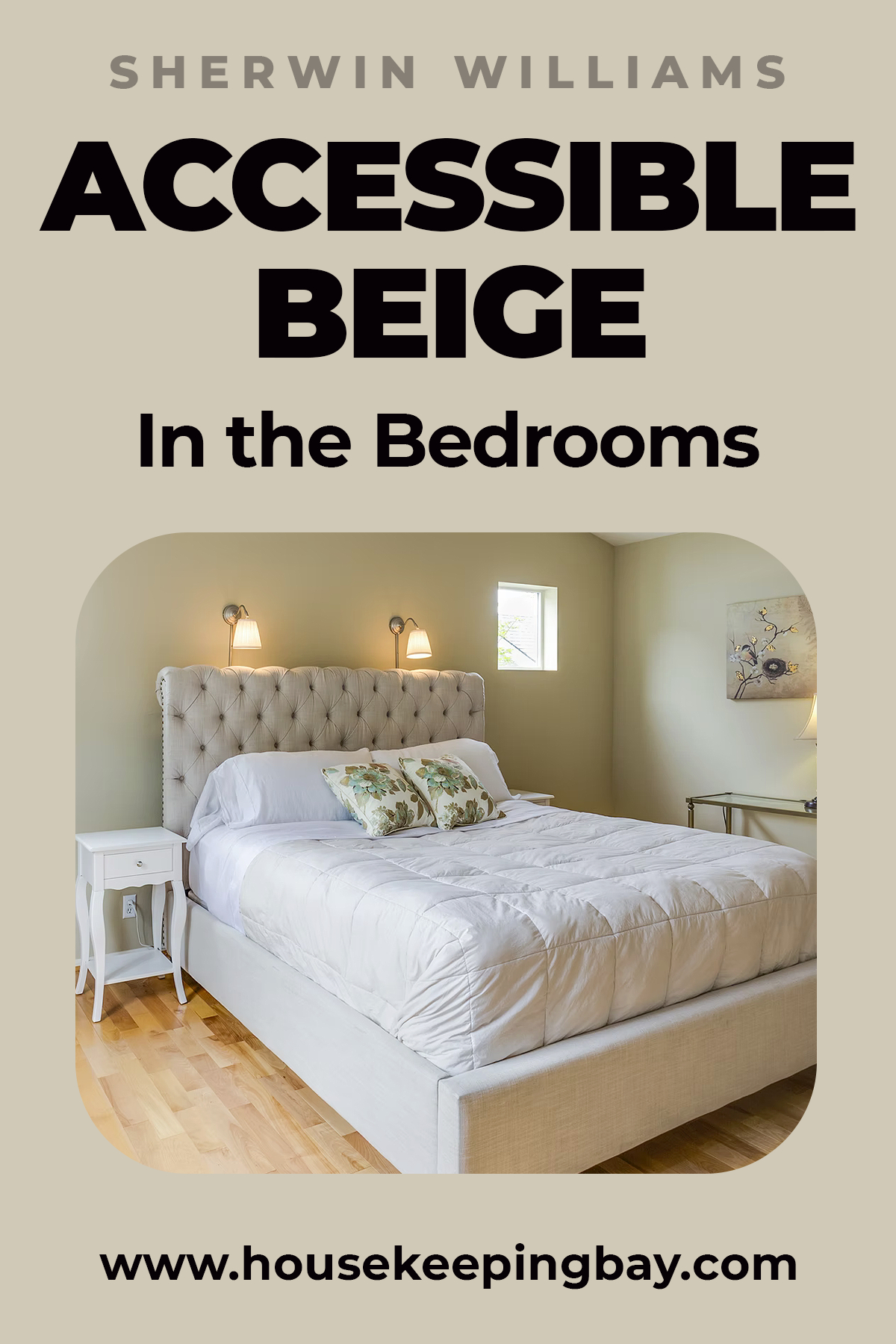 Can Accessible Beige Be Used In A Kitchen?
Definitely, it can! Moreover, kitchen walls painted with this color will look great both in a lighter and in a darker room. Since this color reflects pretty much of light, it will make the room look more spacious and airy so that your kitchen will never look too gloomy if painted with Accessible Beige.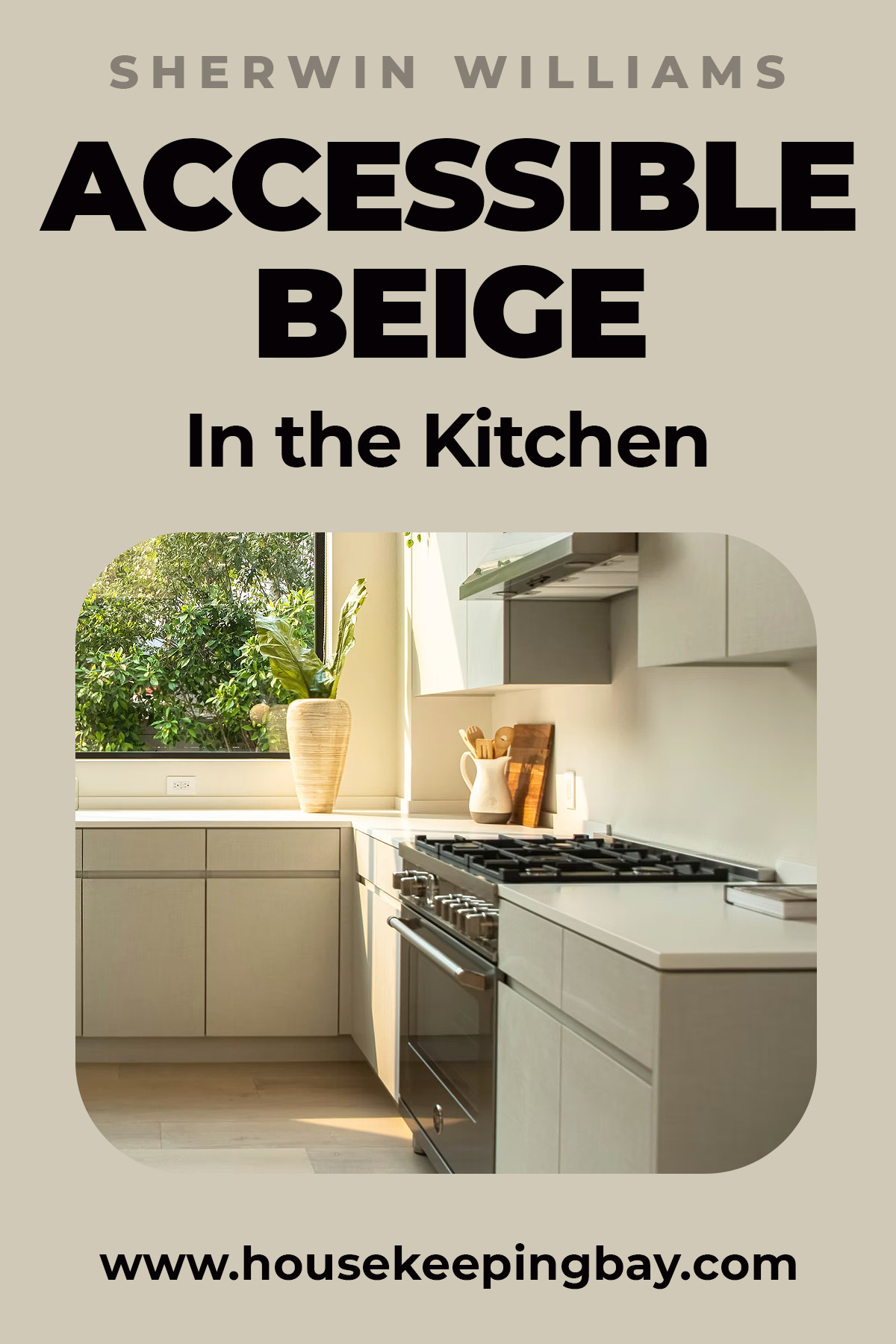 Related: Best Greige for Kitchen. The Ultimate Guide
Painting Kitchen Cabinets With Sherwin Williams Accessible Beige
But if you don't feel confident enough to apply this paint onto the kitchen walls straight away, we recommend you start with kitchen cabinets.
Believe it or not, Accessible Beige will create very nice and stylish color accents if used this way.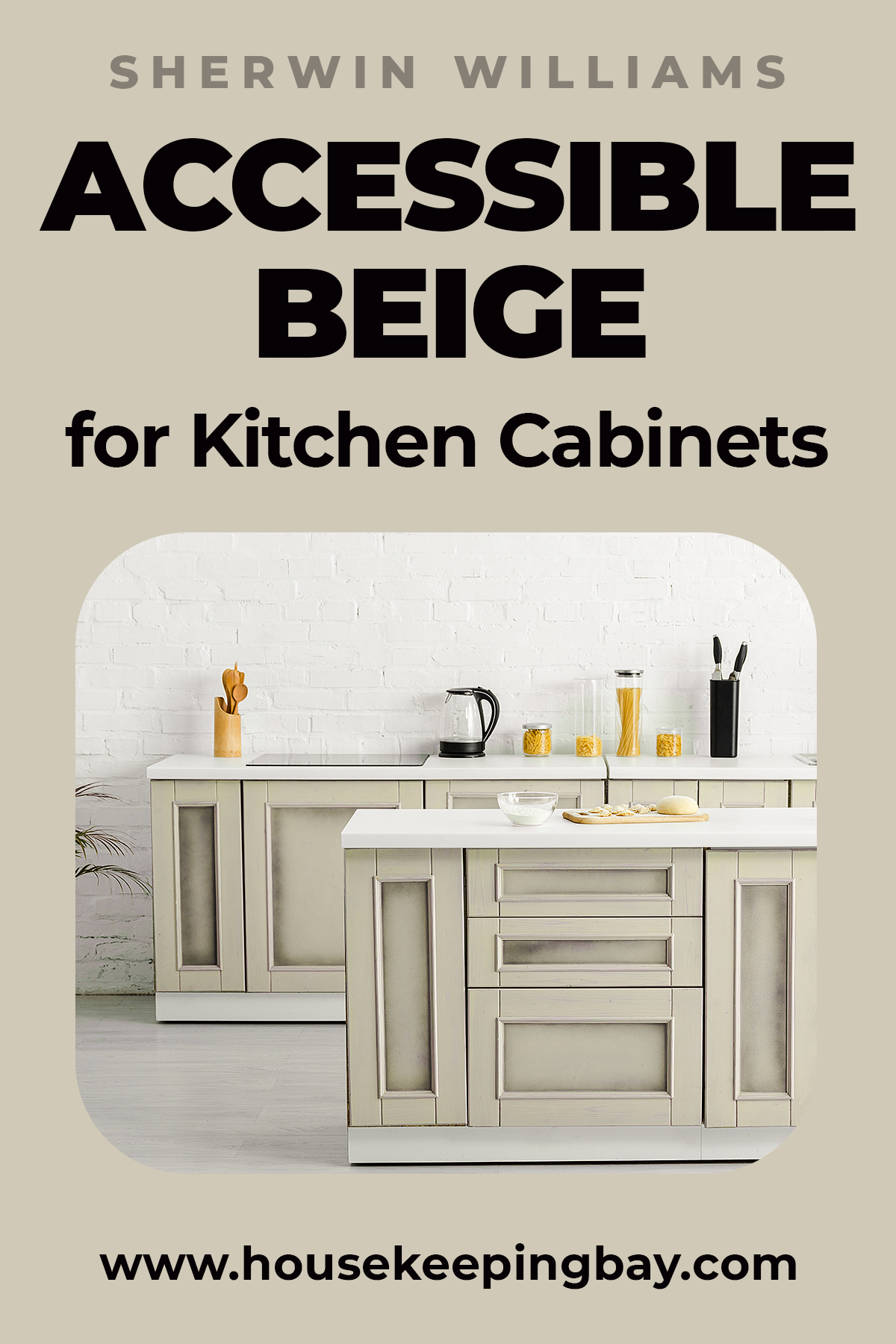 Exterior Use Of Sherwin Williams Accessible Beige
There is one more benefit of SW Accessible Beige that you need to know about. This paint can be used both indoors and outdoors!
Yes, it means you can paint your house facade with it! And moreover, it will work well as both a trim color and an all over color. On the exterior, it will look more like it is the palest creamy limestone.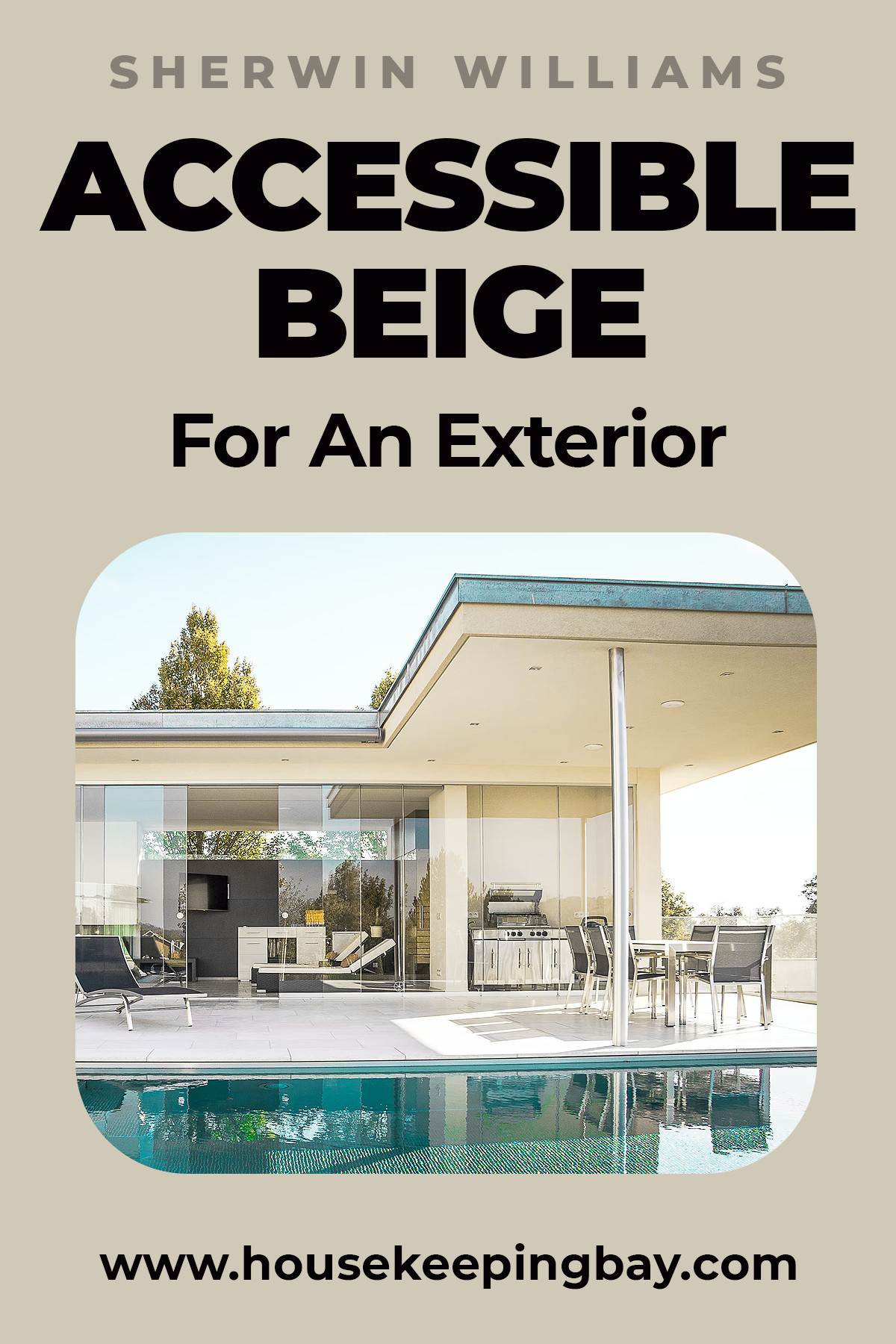 How Well Does Accessible Beige Work With Other Greiges?
If you have your interiors painted with neutrals and/or greiges, it may seem to be challenging to combine several of such colors to end up with a harmonious ensemble.
To help you out with this task, we have prepared the descriptions for several pairs of neutral paint colors that will look great with each other.
Accessible Beige vs. Edgecomb Gray
When put side by side, these colors may look almost the same. However, Edgecomb Gray is noticeably lighter carrying more gray undertones than Accessible which has way more of beige and brown in it.
The light reflectance values of these colors are also distinct. Edgecomb Gray's LRV is 63 and Accessible Gray's LRV is 58.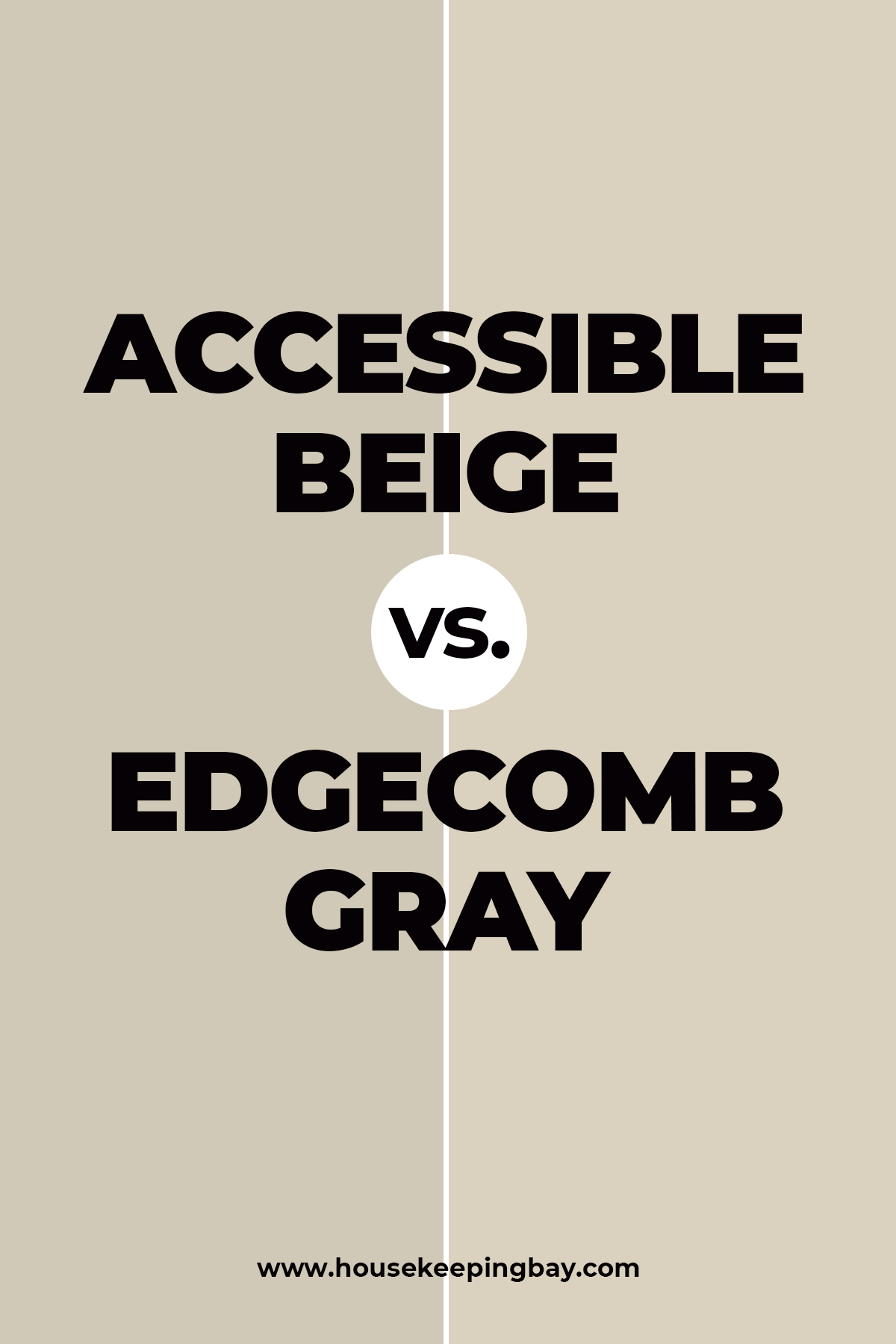 Related: Edgecomb Gray HC-173 by Benjamin Moore
Accessible Beige vs. Agreeable Gray
If you compare these two, you will see that Agreeable Gray is cooler than the Accessible Beige color mostly because it has more of purple and gray undertones in it.
In general, AB looks more beige and AG is more gray with their light reflectance value being almost equal.
Also, AG will look like greige in natural lights, and it will turn grayer in lower lights.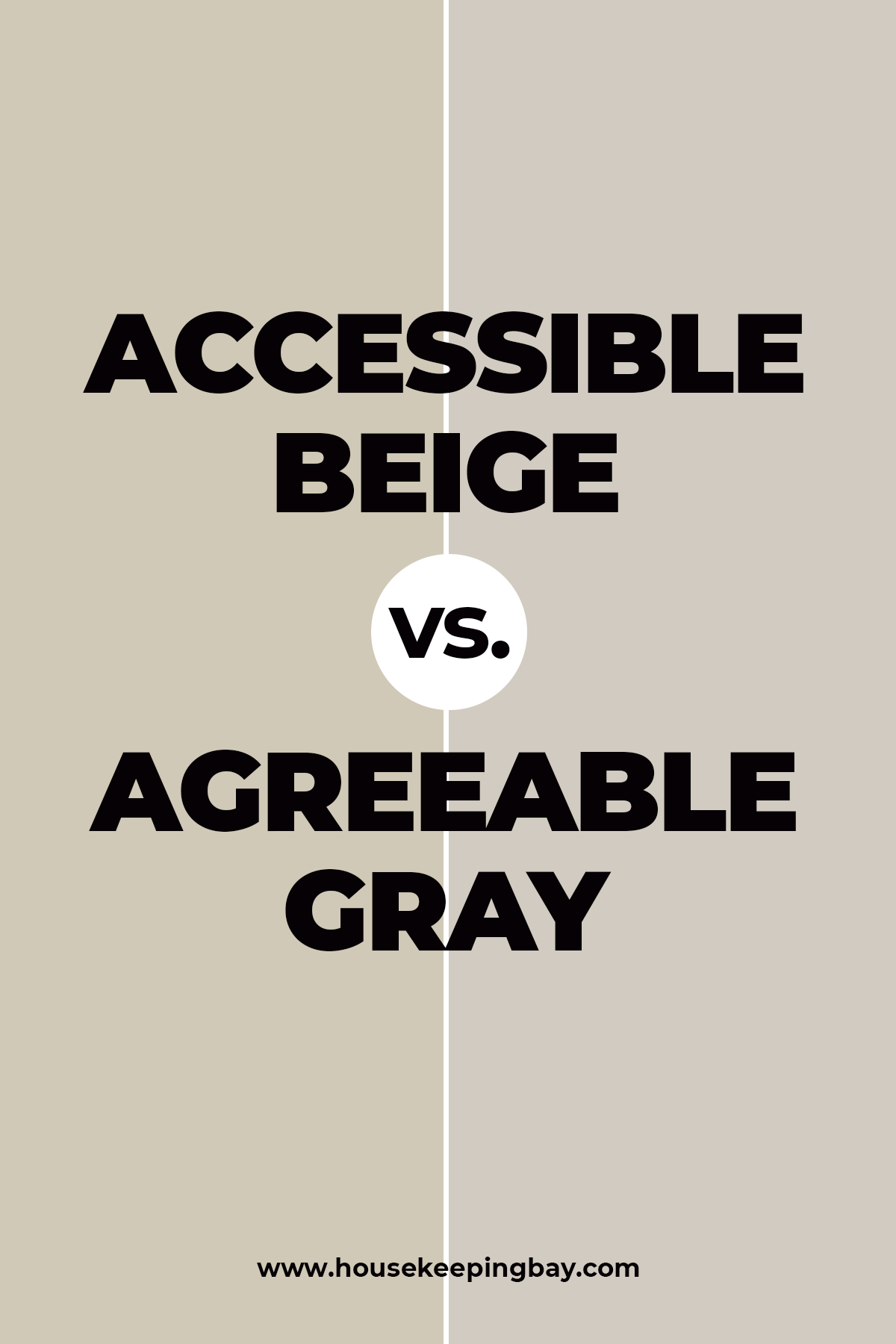 Related: Agreeable Gray SW 7029 by Sherwin-Williams
Accessible Beige vs. Balanced Beige
These two beiges are quite distinct despite their similar names. BB looks more brown, being also more intense than its "colleague". AB, on the contrary, shows more of purple and gray undertones that makes it look cooler.
In general, AB is significantly lighter since BB has a significant taupe undertone.
Their LRVs are also different being 46 for BB and 58 for its counterpart.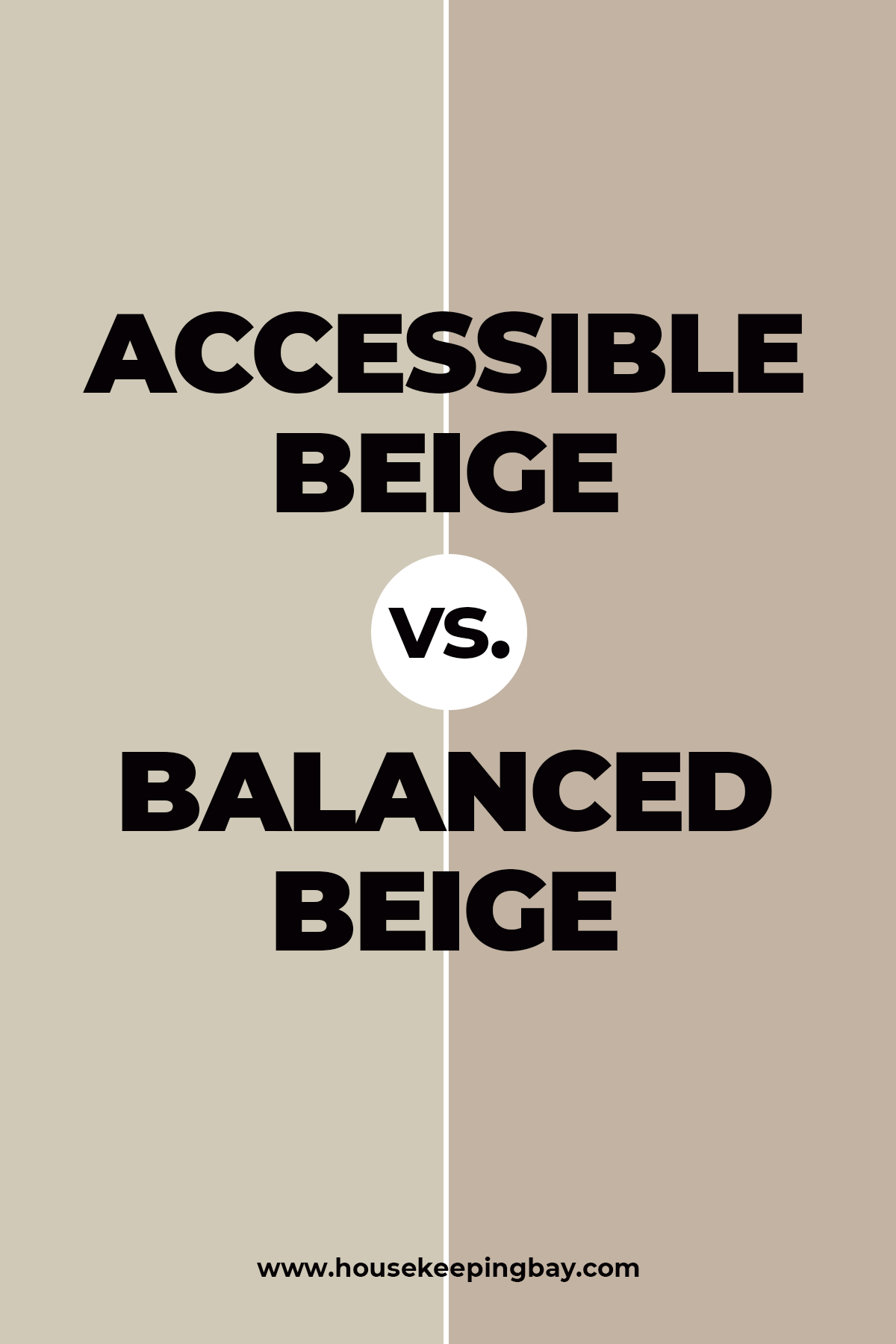 Accessible Beige vs Kilim Beige
These colors are hard to be called similar! AB looks way more gray if compared to a Kilim that has a significant sandy beige look. Also, Kilim Beige is much warmer even though it is also considered a light beige color.
Perhaps, because of such a distinction, they don't look that great if used together in the same room.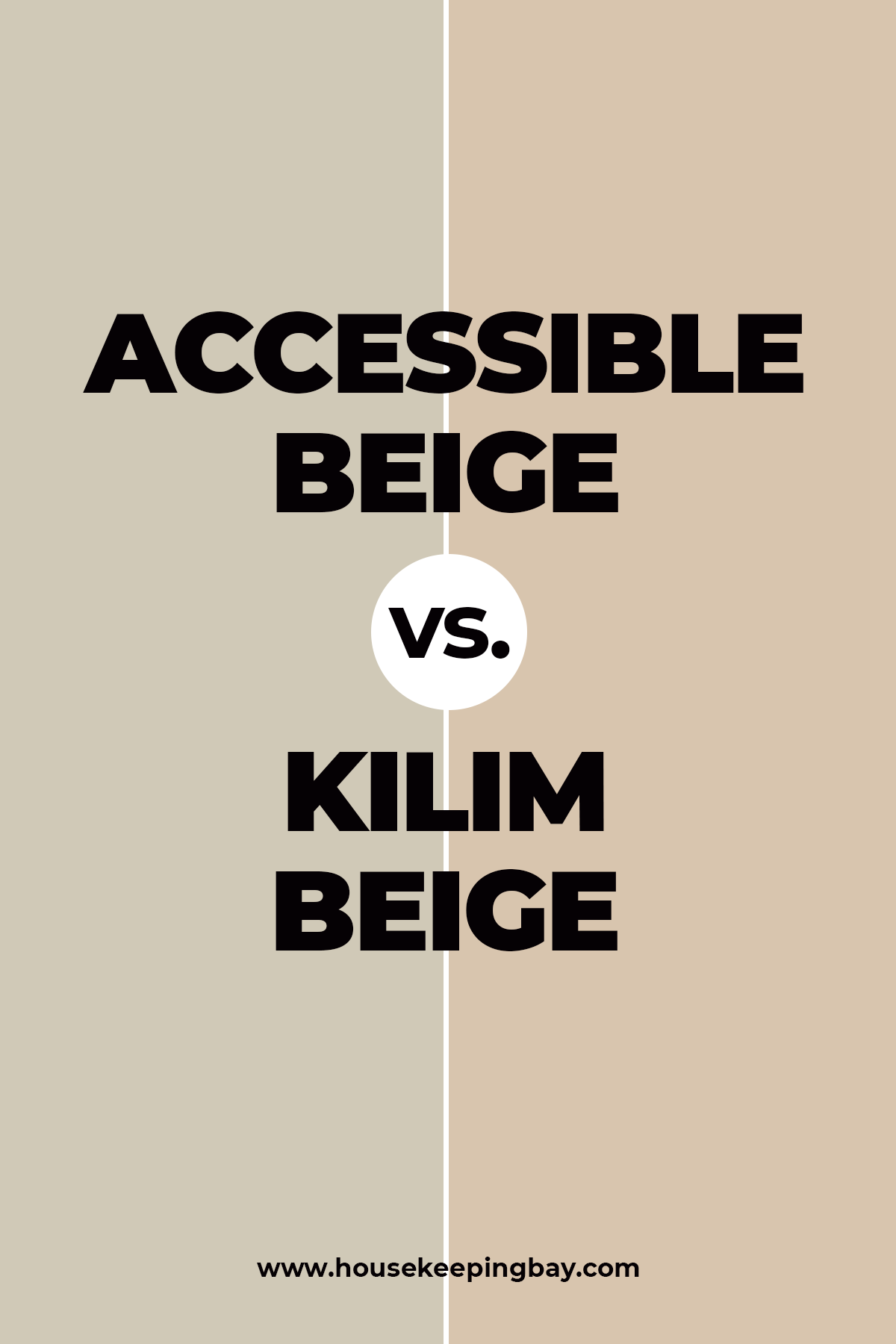 Accessible Beige vs Repose Gray
If we compare these paint colors, we will see that Accessible Beige shows more of its beige and even brownish undertones when being put close to the Repose Gray which looks cool with a prominent gray base.
However, if used together in the same space, these two will not make a perfect match since both colors are rather pale and light.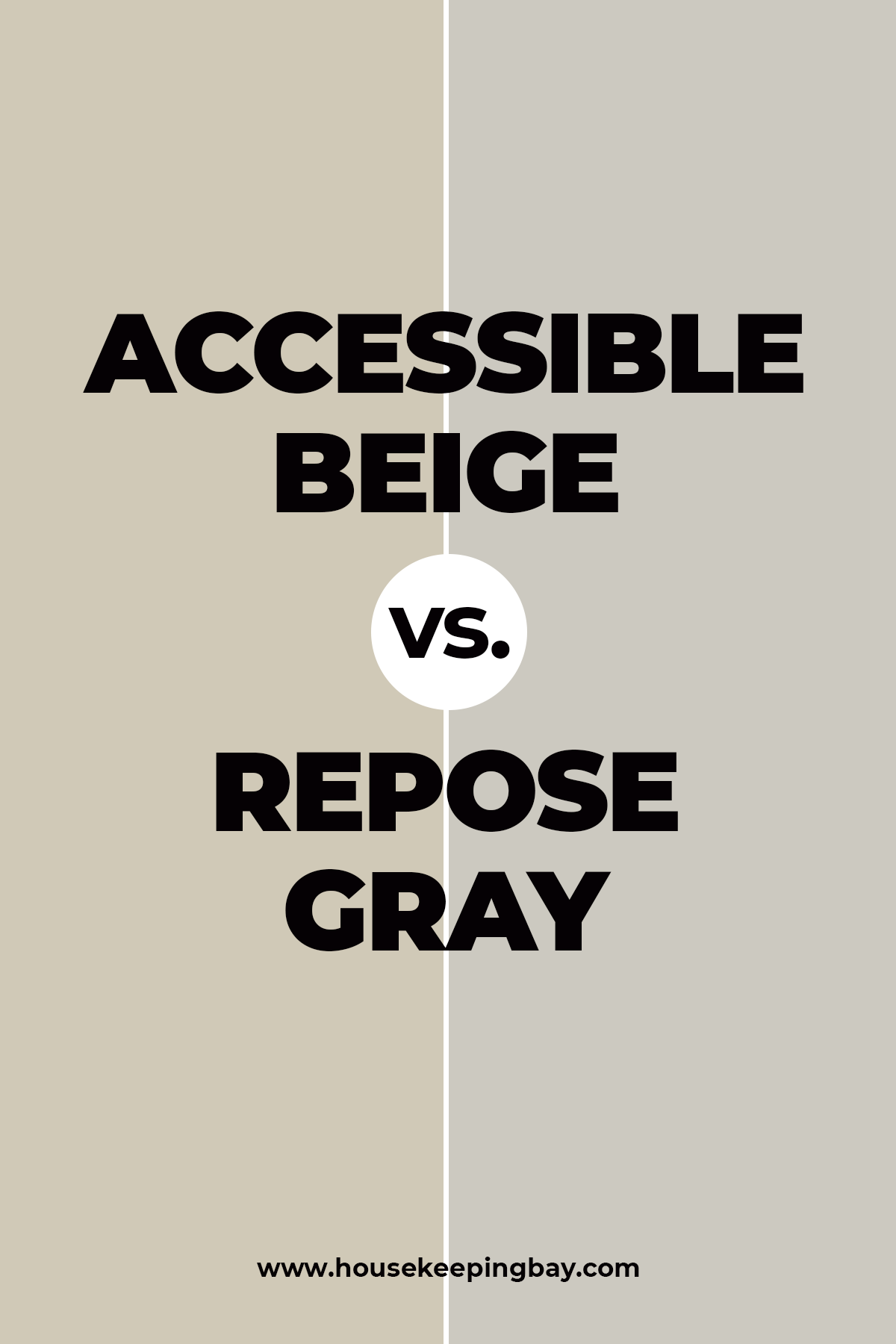 Related: Repose Gray SW 7015 by Sherwin-Williams
Accessible Beige vs Revere Pewter
Accessible is more warm-toned in comparison to Revere Pewter color, but their light reflectance value is nearly the same being 58 and 55 respectively. Also, AB has more of gray undertones whilst RP looks more gray itself. Nevertheless, both have green undertones that can be revealed under certain lighting conditions.
So, now you know everything about Accessible Beige paint colors, its use, color nuances, its strong and weak sides.
We told you what colors it can be paired with better than with others, and also, you are now aware of all the possible places this paint can be used in your home! With that in mind, you will easily pick up matching paint colors to turn your house into a stylish, modern, and cozy space.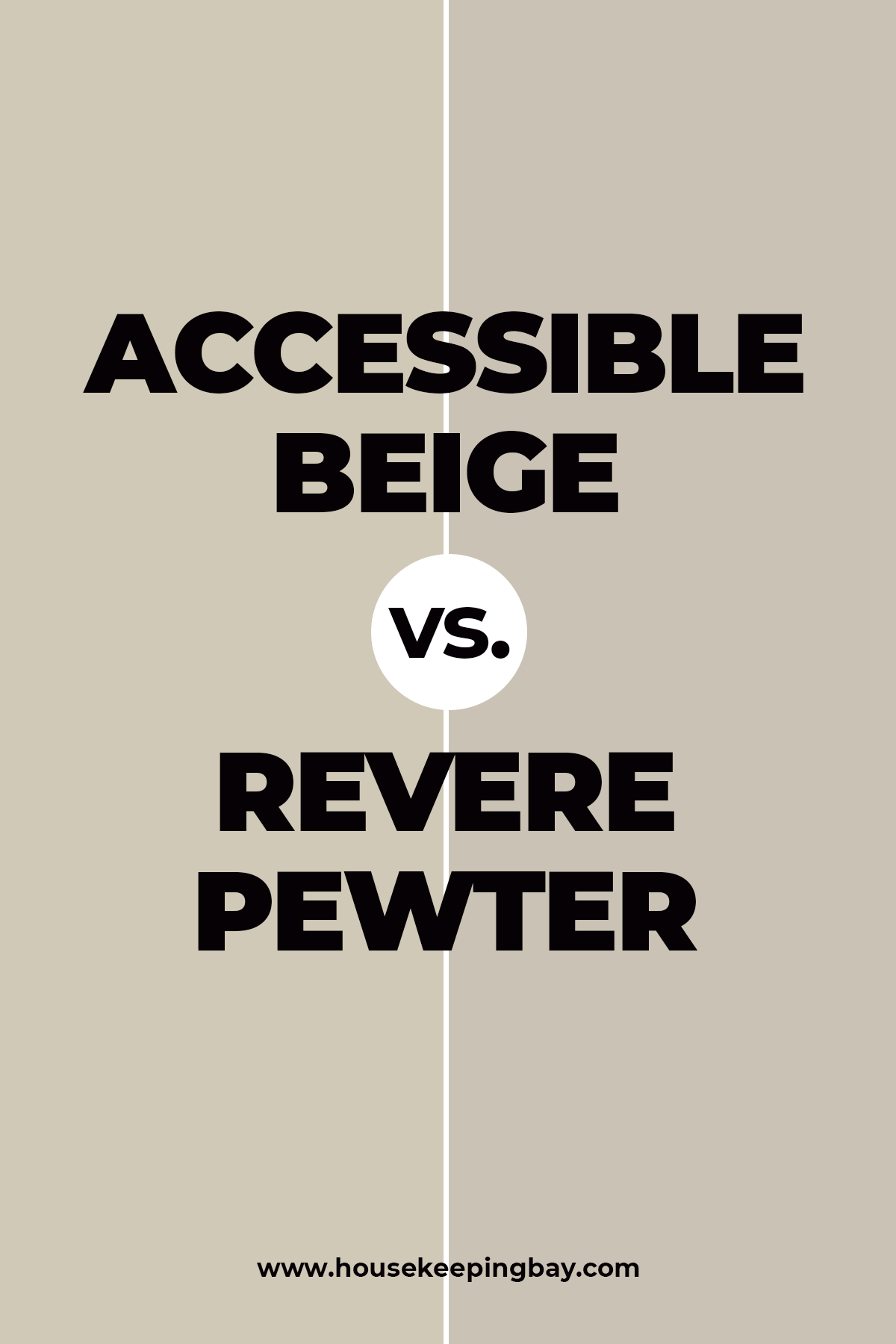 Related: Revere Pewter HC-172 by Benjamin Moore
Frequently Asked Questions
⭐ Is Accessible Beige warm or cool?
⭐ Can I use SW Accessible Beige to paint my garage outer walls?
Yes, this paint will be ok for that.
⭐ Can Accessible Beige be used with very dark colors like deep navy blue or even black?
Yes, this neutral will pair well with such dark colors.