Any home painting projects usually require at least a minimal knowledge of color theory to enable you to figure out what colors will look best on your interior walls and which ones are better to be avoided for good.
It becomes even a more essential issue when it comes to such tricky colors as Eider White paint by Sherwin Williams!
This white is known for having rather tricky undertones that often make people steer away from this paint.
However, with some more information on this color, you will see that it is pretty versatile and can be successfully used in quite many areas and rooms in your home! You only need to be aware of certain peculiarities of it.
And today we will tell you more about Sherwin Williams Eider White interior and exterior use.
In addition, you will learn what trim colors will fit this white better than others, and we will also compare this shade of white with a few other paints by the same brand to see the difference.
And of course, we will tell you about its undertones and the way the paint reacts to different types of lighting! All this will help you to make use of this white and make it work in your home just perfectly!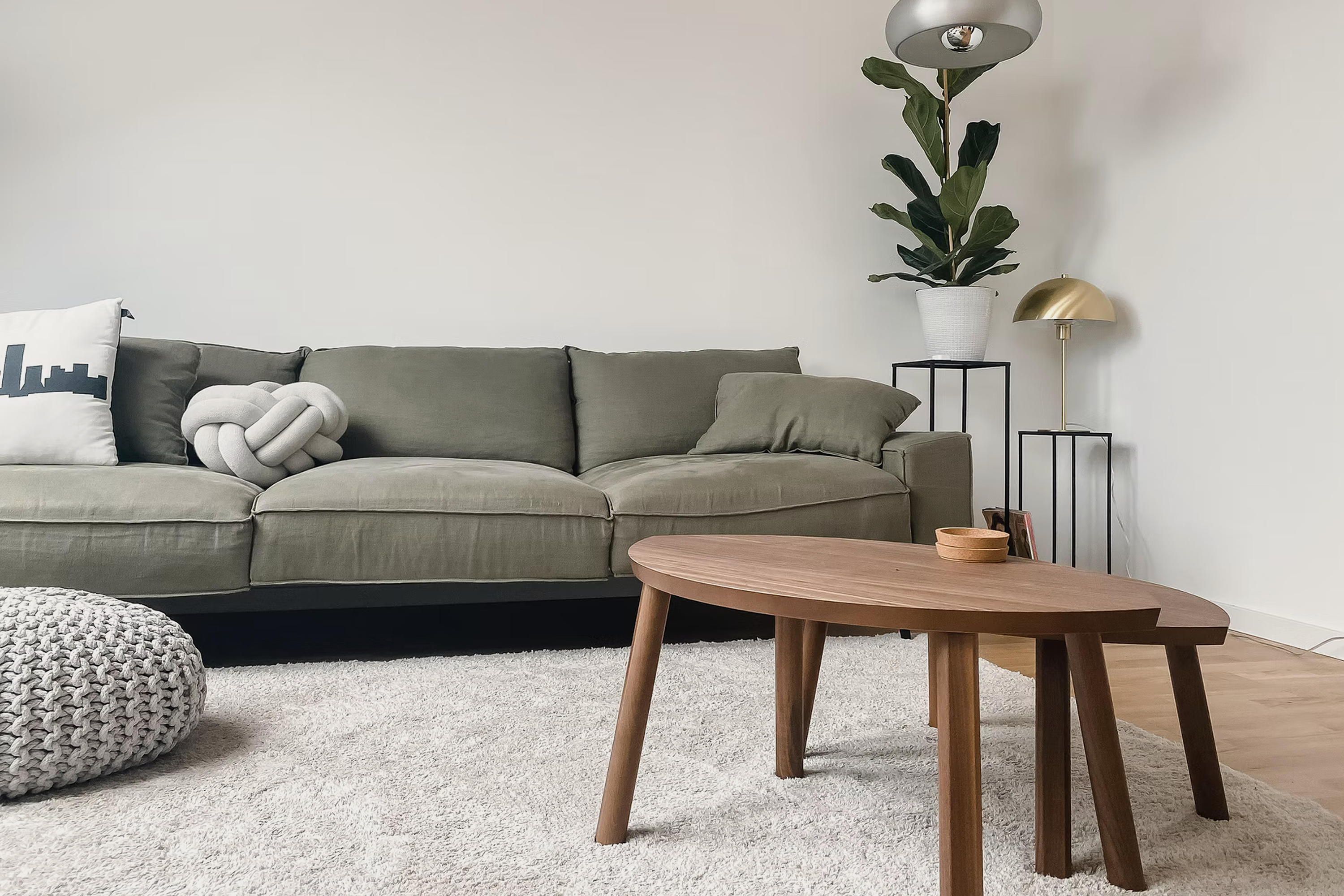 SW Eider White. What Kind Of Color Is It?
What color is Sherwin Williams Eider White? Well, people often call it white, but in fact, technically the Eider White paint color by Sherwin Williams is classified as an off-white paint color.
As Encycolorpedia says, this paint color has an off white in it with quite a noticeable hint of gray, but still we would say that it does fall on the warm side. It definitely has gray undertones, too, but you will often see a stroke of purple or even pink.
Yes, we know, now most of you would be like "What? Pink?!".
But in fact, this is what makes SW Eider White so tricky and nuanced that it often scares people away making them search for other whites!
The LRV of this color is 73 which means that it is a fairly light paint color. It is very close to looking white by itself, but when it is paired with white paint trim, there is the contrast that comes out.
This is why, if you decide to make use of SW Eider White for your home interior projects, we would recommend you take into consideration that this color tends to react to different types of lighting and change quite significantly.
Add the tricky undertones, and you will see why it is important to know this color both in and out to be able to imagine how it will work on your walls!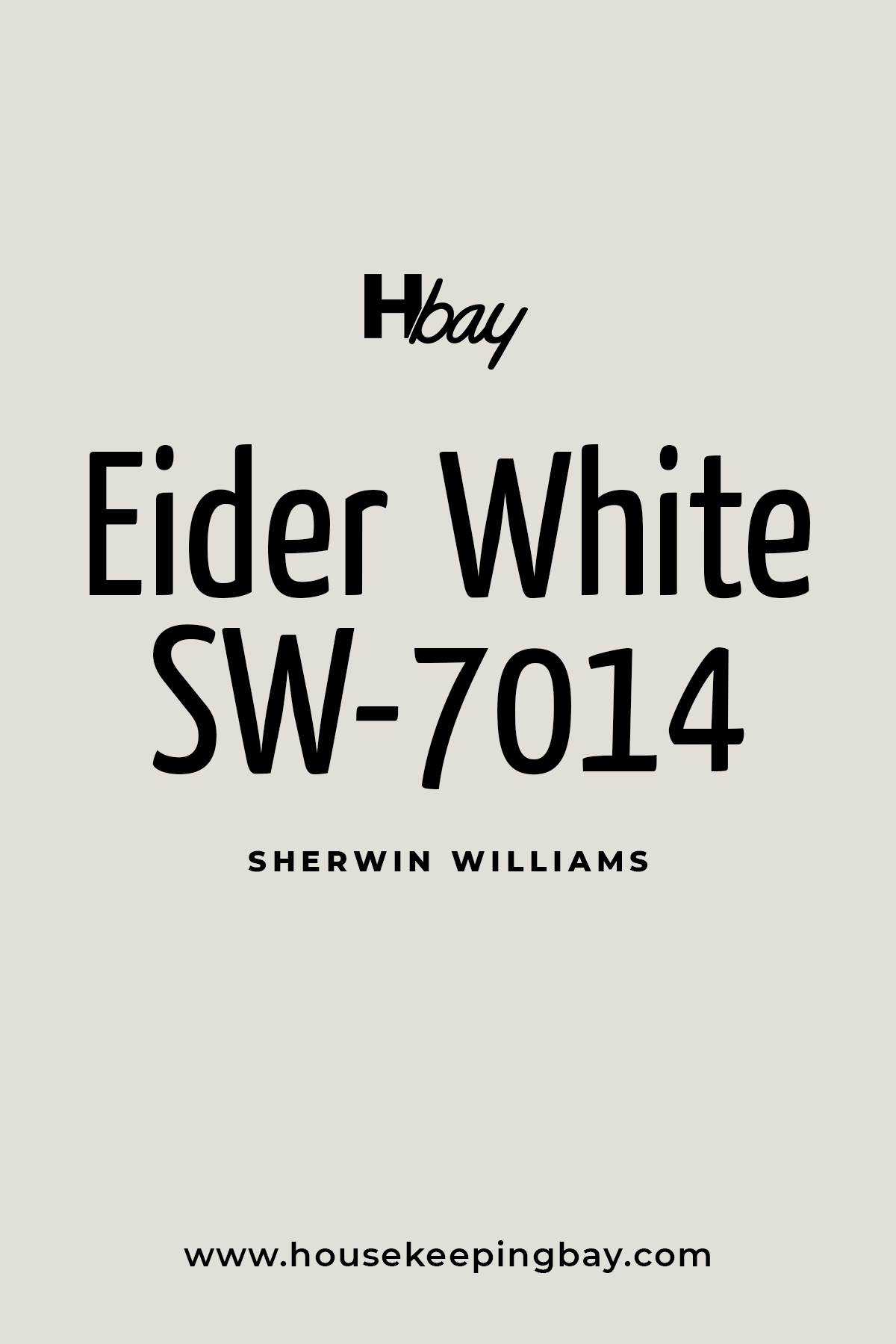 Get a sample of EIDER WHITE (get a sample from Samplize )
What Are the Undertones Of Sherwin Williams Eider White?
As we have already mentioned above, Sherwin Williams Eider White paint color has significant gray undertones.
However, slight hints of pink or purple may also show up. And this is the trickiest thing about them since, depending on the type of lighting in a room, this color's undertones may or may not show up.
Or only part of them can be revealed. That makes it rather difficult to choose the proper location for this paint color in your home!
In addition, you always need to remember about other colors in the room. See, Eider White reacts not only to lighting, it may also "shapeshift" depending on what colors it is surrounded with!
For example, it will look almost like pure white in a room with a lot of natural lighting, but if you apply it onto your basement walls or in a room with little light, it may display itself as muddy and flat.
The same effect will appear if you use this paint color in a room with brown furniture or carpeting.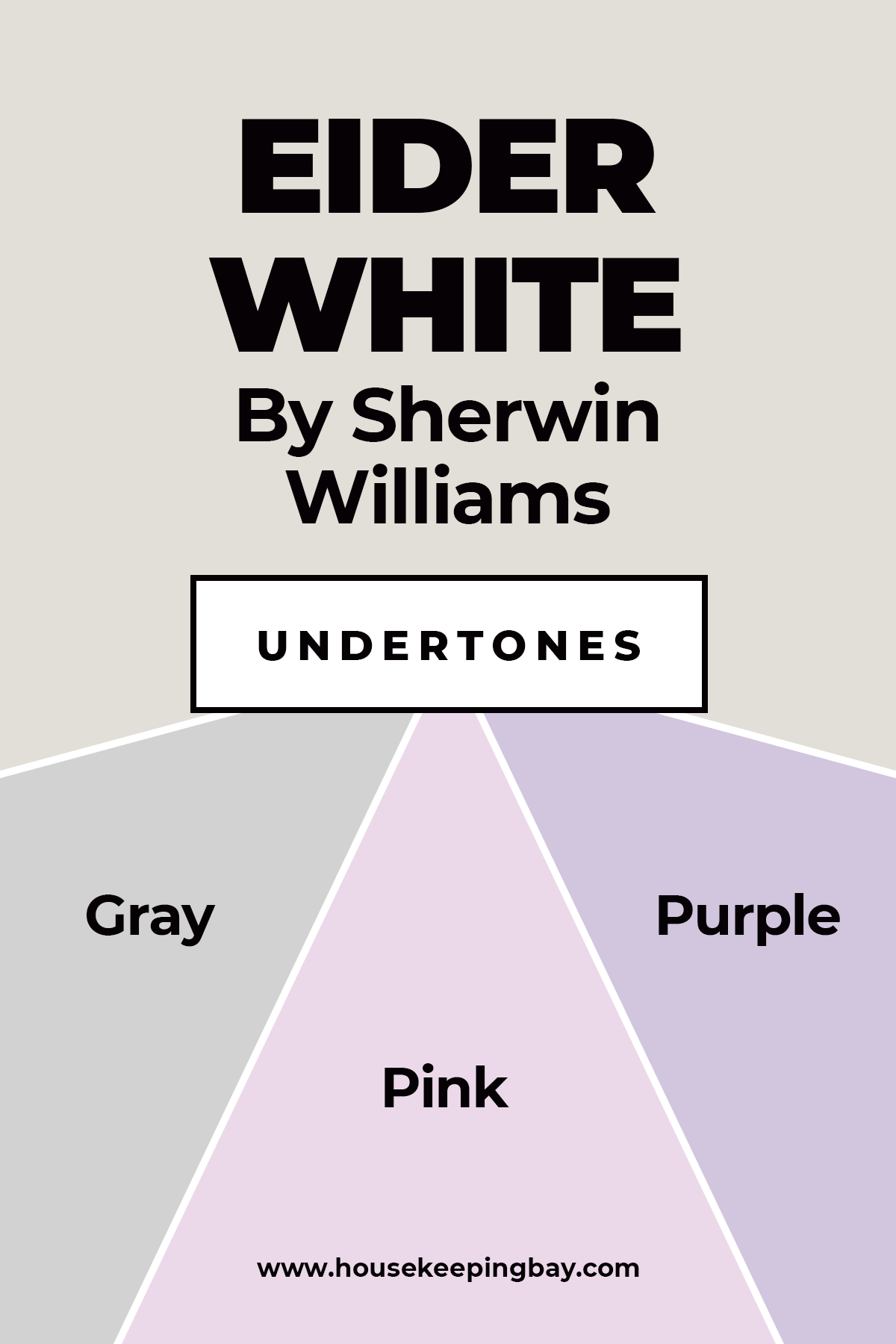 How Does Lighting Affect Eider White?
The light reflectance value (LRV) of this paint color is 73 which tells us that Eider White is a fairly light paint color.
This is why, if applied on the walls of a room with plenty of daylight, it looks almost all white! On the other hand, if you pair it with white trim, you will see the difference.
In addition, Eider White reacts to light. In well-lit spaces with a lot of natural lighting, it will look almost like white, making the room look airy and even more spacious than it is now.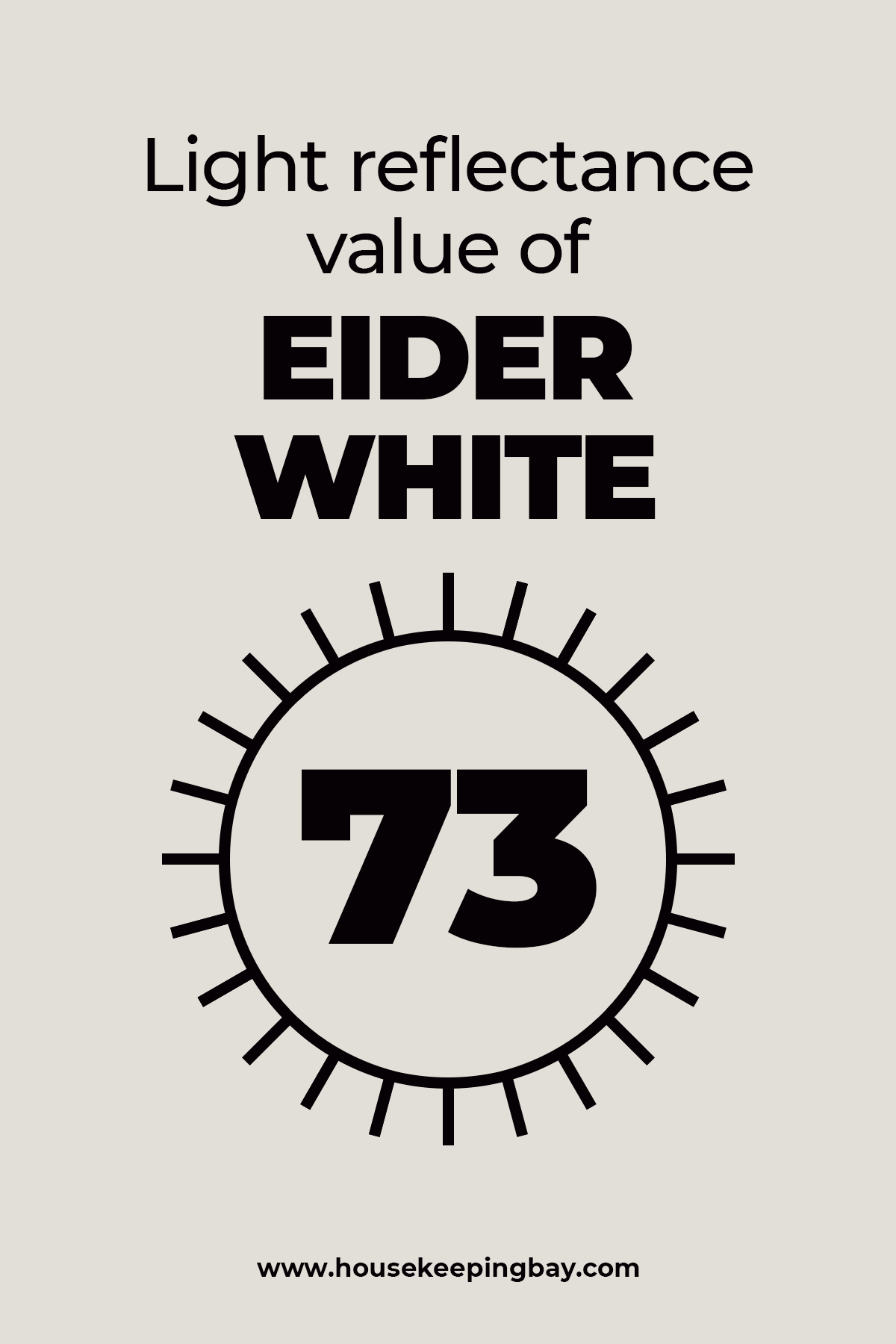 However, if you try to apply it in a dark room or in an area with little or no natural light, be ready to see how this fair color turns into a muddy and flat one!
This is why it is recommended to always test Eider White by Sherwin Williams before you start painting your walls with it. Like this, you will be able to see how the walls and the entire room will look with this color being used.
Empty House Tour | Sherwin Williams Greige Paint Colors (Repose Gray, Dorian Gray, Urbane Bronze)
What is LRV? Read It Before You Choose Your Ideal Paint Color
Is Eider White a Warm Or a Cool Color?
Not all of us enjoy cool-toned colors, especially in our homes! The majority of people like their interiors to look warm and cozy, this is why they prefer choosing warmer shades to apply onto their walls.
And if you are thinking about using SW Eider White, you might ask yourself whether this color is cool or warm-toned one.
Basically, we would say that this off-white color is pretty close to the warm tones rather than to the cool ones.
Even if you apply it in a room with cool lighting, you will see how this color displays more of warmer undertones.
Coordinating Colors For the Eider White
Since painting an entire room with a single color is not an option, you need to know what colors are considered coordinating.
Like that, you will know what color scheme will work best for your room specifically.
As for the SW Eider White, we can name several colors that can be considered coordinating for this paint:
SW-0037 Morris Room Gray
SW-7613 Aqua Sphere
As you can see, Eider White pairs especially well with colors that belong to blue shades, as well as darker grays with significant brownish undertones.
However, fair greiges will look nice with it, too.
Like with every paint colour, We highly recommend using SAMPLIZE.  Samplize is a peel & stick paint sample that you can easily move around your room for over HALF THE COST of traditional samples – and they deliver right to your front door!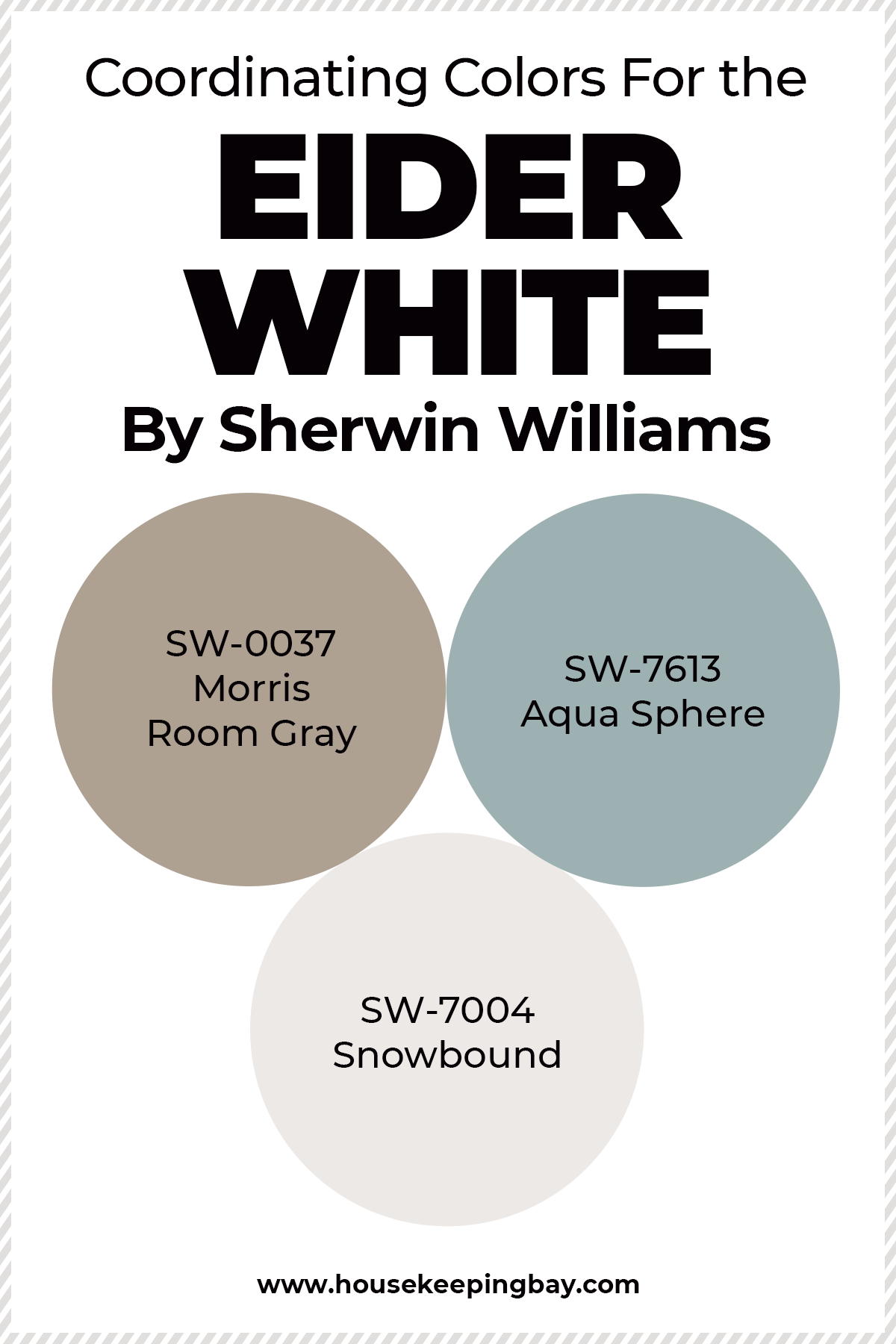 What's the Best Trim Color For SW Eider White Paint?
If you don't want your room to look boring, it is recommended that you paint the trims. Like that, you will visually divide the space into areas that will catch your eye and make the entire space look better organized and more spaciously harmonious.
But even though white is believed to be an ideal trim color for the majority of paints, with Eider White by Sherwin Williams color combinations, you need to be especially careful with whites!
See, when paired with white, Eider White tends to show more contrast. This is why test both paints before choosing the trim color. For example, you can use SW Pure White since it goes well with Eider White. (get a sample of Pure White)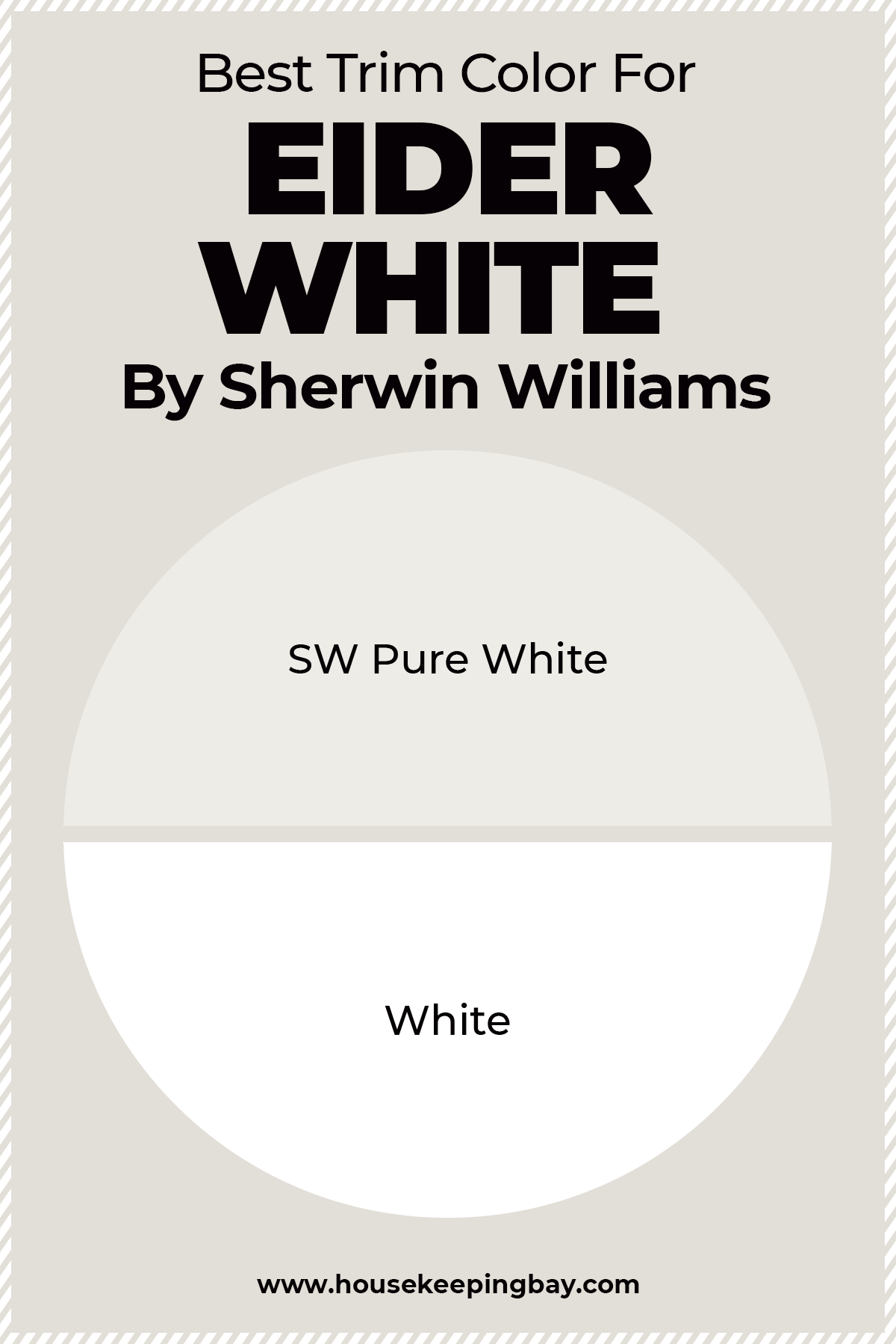 Where to Use Eider White SW-7014 Color In Your Home?
Even though Eider White has rather tricky undertones, this color still remains pretty versatile.
Basically, it can be used in almost any room in your home, however, we would like to describe in more detail how it might work in the most common areas of our homes.
Eider White By Sherwin Williams For the Walls
If you use Eider White by Sherwin Williams on the interior walls, do please consider the lighting in the room!
In a room with lots of natural light, Eider White will look almost pure white whilst in a room with less or no natural light at all (for example, a bathroom), it may show up darker and muddier!
Also, the type of lighting matters a lot when choosing what room to apply this paint in.
For instance, if you paint it over the walls in a north-facing room, expect the paint to reveal more of its purplish undertones that might look rather cool.
On the other hand, in a south-facing room or in afternoon western light, it will reveal its warmer undertones mostly.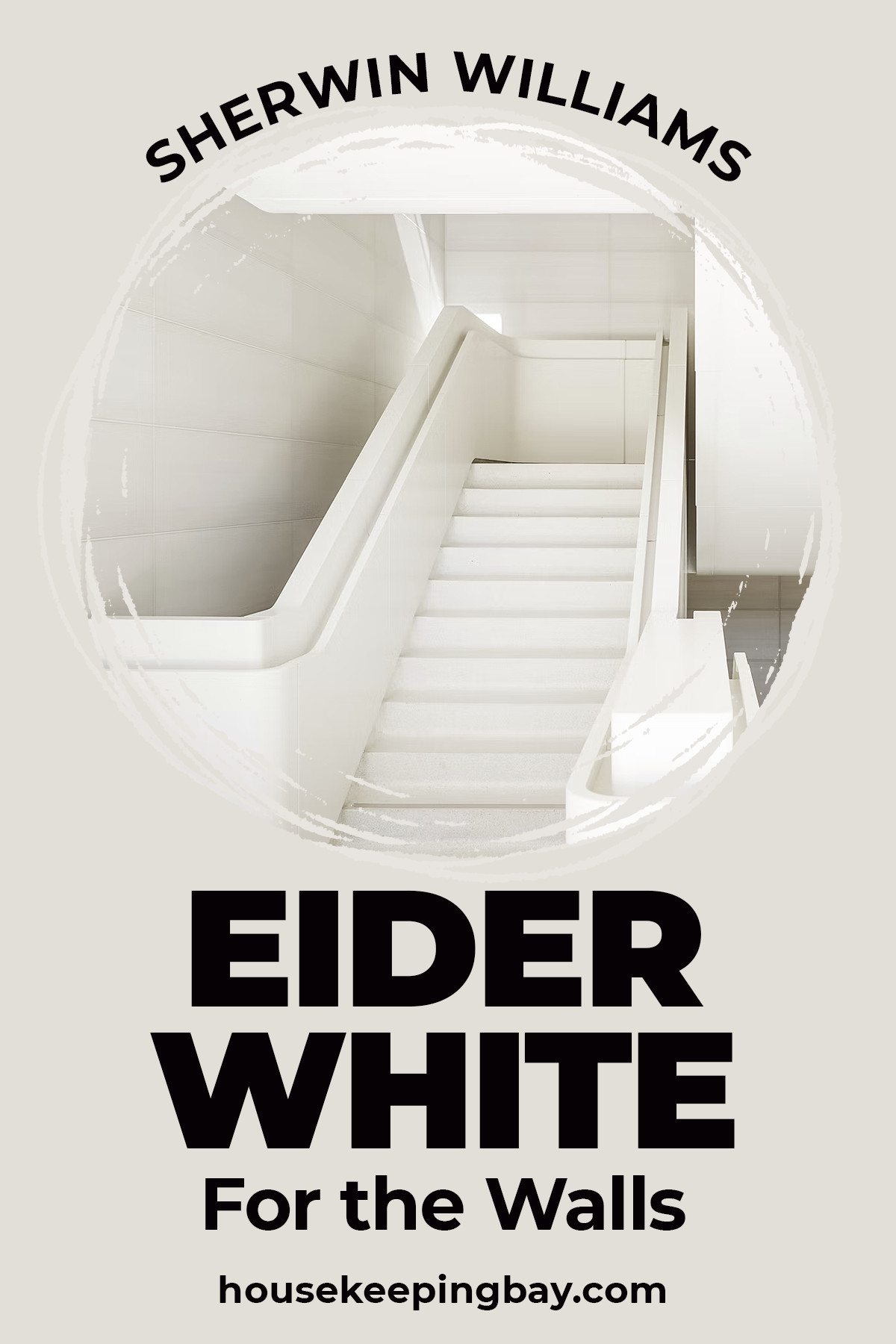 Is Sherwin Williams Eider White Good For Exterior Use?
Can Sherwin Williams Eider White be used as an exterior paint? Absolutely! This off-white paint color is multipurpose and it can work well on both interior and exterior walls.
However, if you decide to paint your exterior house walls with it, take into consideration one important nuance: this color will most likely reveal some of its soft purple undertones that will be pretty noticeable.
So perhaps you would want to opt for a more neutral gray paint color instead?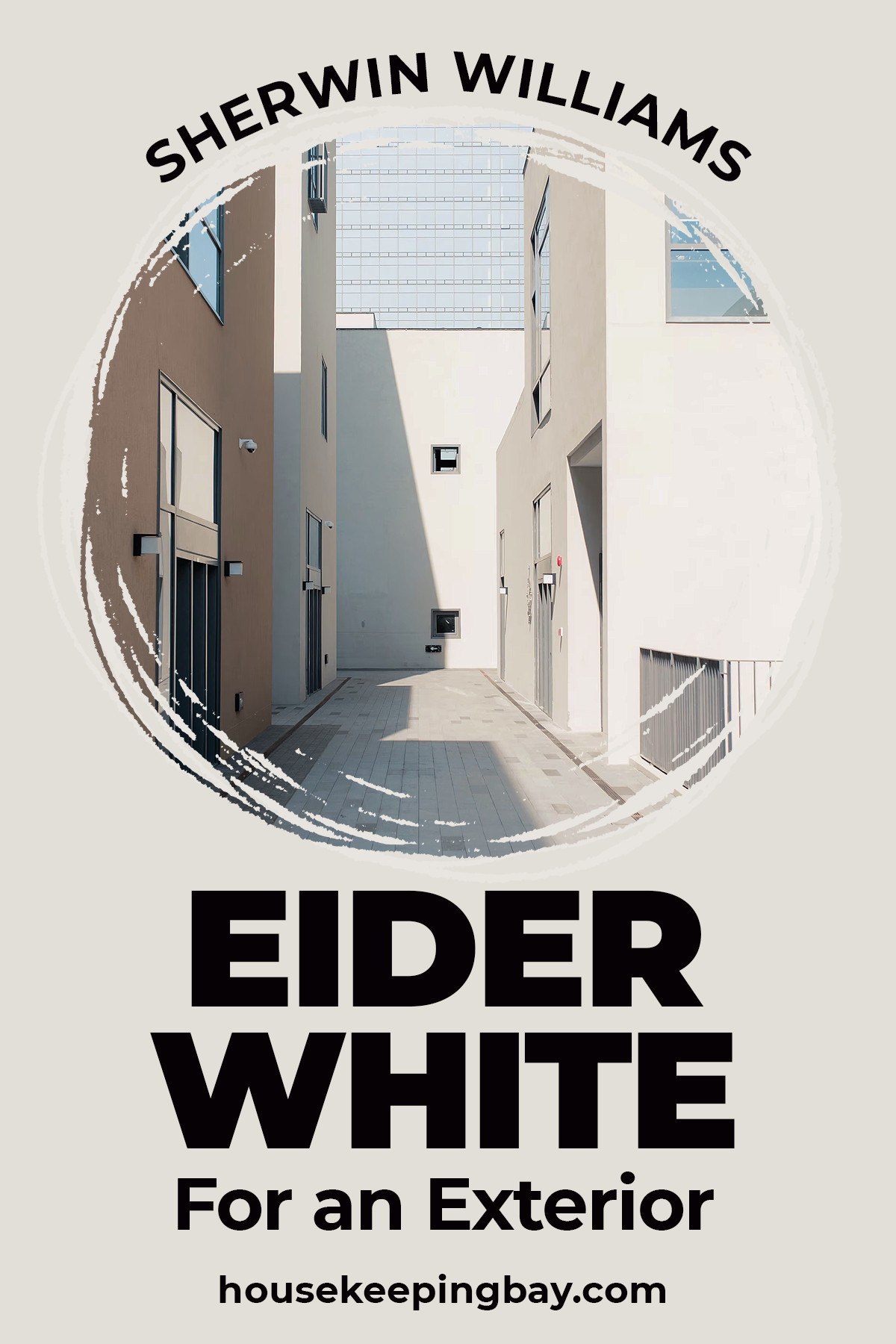 How SW Eider White Paint Color Will Work On Cabinets?
Painting cabinets often turns into a tricky task, especially if the color chosen has complex undertones. But if you choose SW Eider White for the cabinetry in your home, there is nothing to worry about!
Basically, this off-white looks great on cabinets.
You just need to remember about lighting and make sure that your kitchen or whatever room you have cabinets in has enough daylight.
Otherwise, the cabinets painted with Eider White might look too dark, flat and muddy!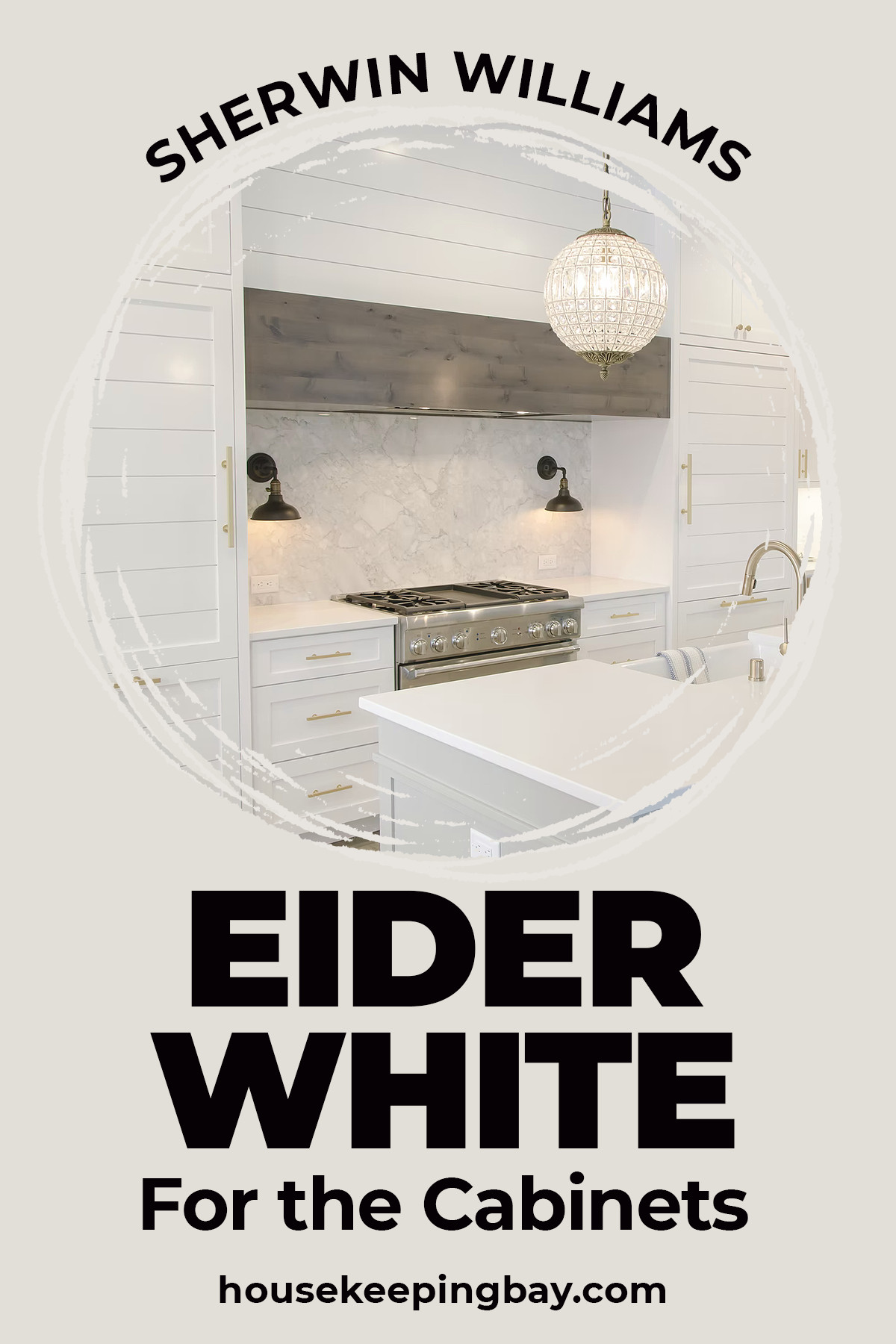 Living Room And SW Eider White
Eider White by Sherwin Williams looks pretty nice on living room walls, especially if the room has a lot of natural light during the day.
Also, this off-white paint color will display itself really well in south-faced rooms.
However, if your living room faces north, or if there is not enough natural light in it, you might want to look for another similar color that will work better under such conditions, since Eider White will most likely look pretty dark.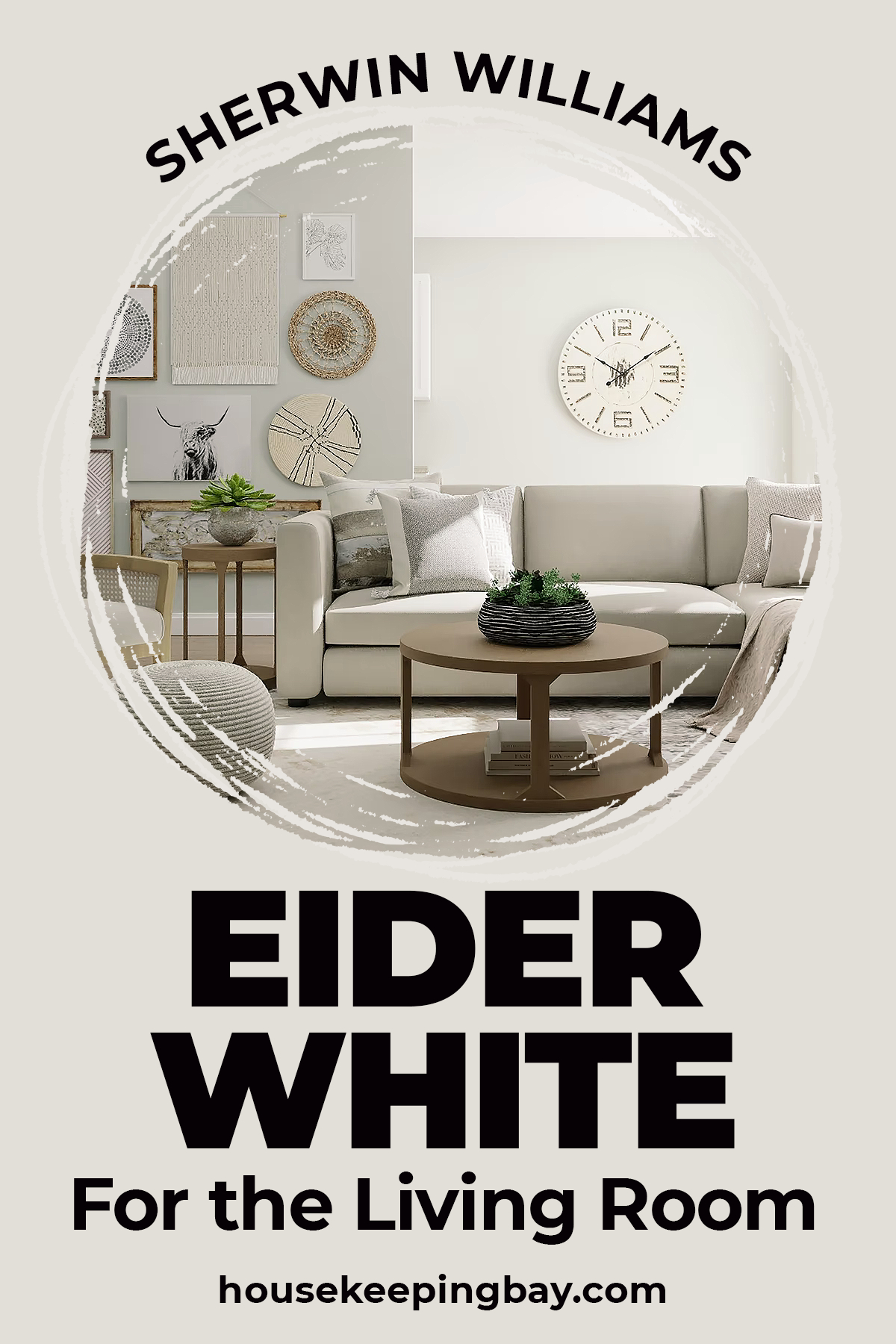 SW Eider White For Kitchens
As you could already guess, Eider White by Sherwin Williams is a good color for the kitchen walls. It will pair well with certain gray colors, as well as whites and blue shades.
However, you must always remember about its tricky pink and purple undertones and not allow them to come out by considering the lighting in your kitchen!
If it is too dusk or there is not enough daylight in the room, you might want to opt for another, more suitable color instead.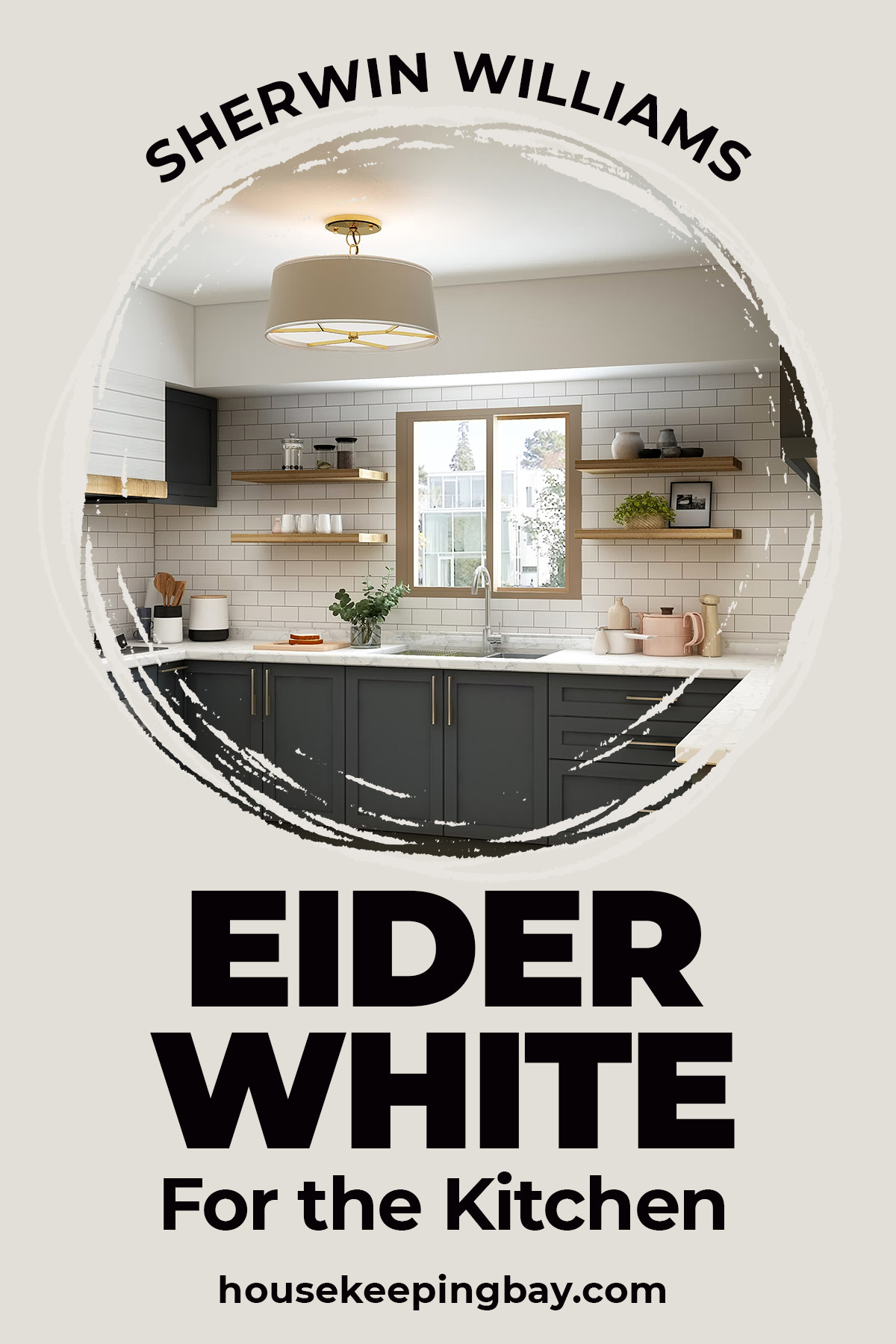 Comparing SW Eider White With Other Colors
Since SW Eider White belongs to the off-white group of colors, it combines the features of both white and gray in it. As a result, people often wonder what other whites and grays might look good along with it.
And since it can be pretty difficult to see the difference sometimes, especially if the colors are pretty similar, we have prepared descriptions of the most widely used pairs of colors for you.
Each of them contains Eider White, so you can see how it will work with different paints.
Eider White vs Agreeable Gray
These two are pretty much alike.
The only significant distinction that catches you eye is that Agreeable Gray is much darker and it has more of brownish undertones than its counterpart. (get a sample of Agreeable Gray)
However, the two colors look very balanced and harmonious together.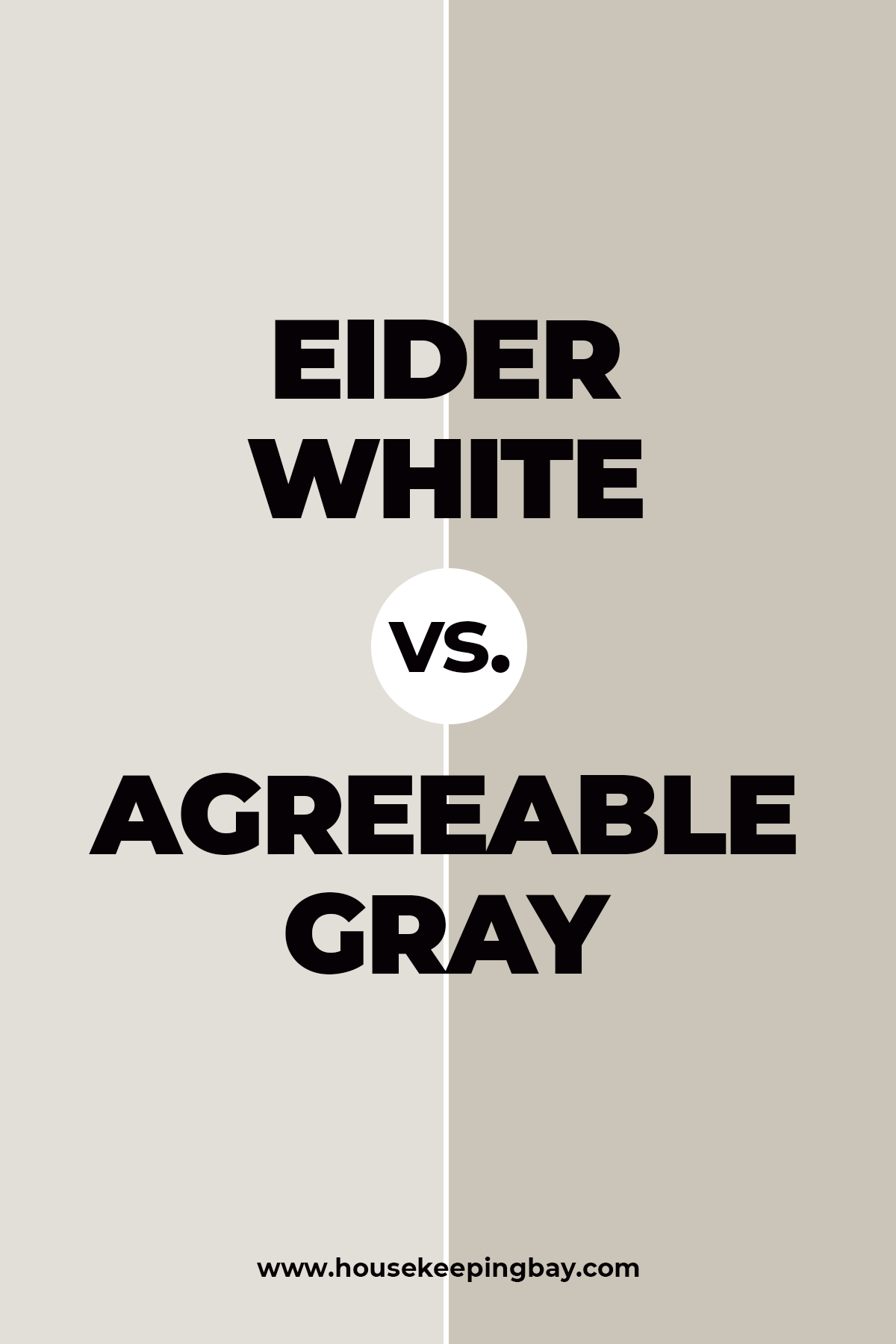 Eider White vs Snowbound
Snowbound is lighter than Eider White, and it is also cooler. You might even say that Snowbound looks like a lighter version of Eider White! (get a sample of Snowbound)
Also, if you put these two colors side by side, you will see how significant the purple undertones of Eider White become.
This is why most homeowners prefer not to use this combo together, well unless they don't mind having a very cool-toned room.
But except for that, these two colors pair rather well together.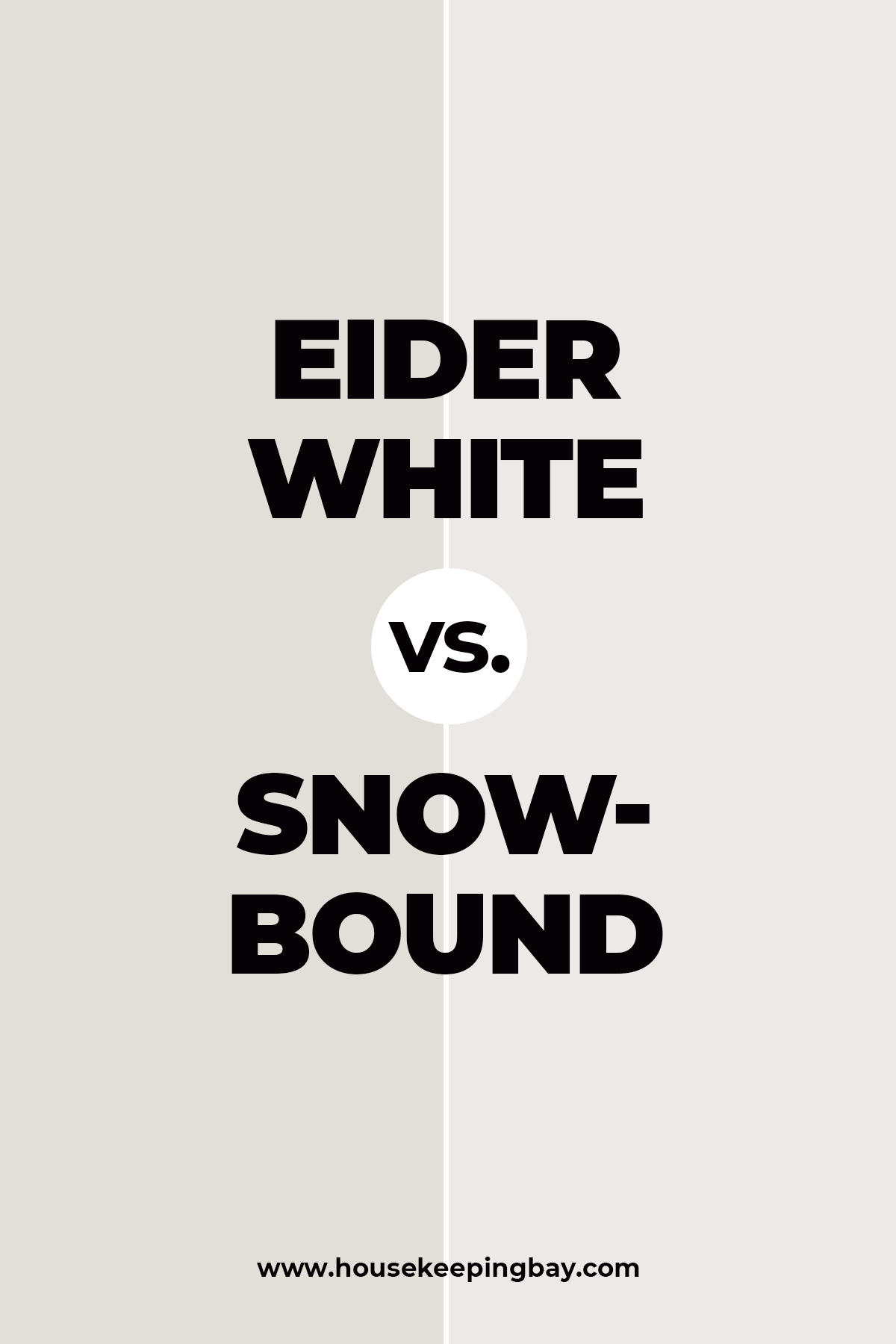 Eider White vs Alabaster
In this pair of colors, Alabaster is much lighter looking almost white whilst Eider White shows way more of its gray undertones if you put it side by side with the Alabaster paint color.(get a sample of Alabaster)
However, such a significant distinction does not ruin this duo! Instead, these two paint colors might look pretty nice on your walls if you need to create a contrast.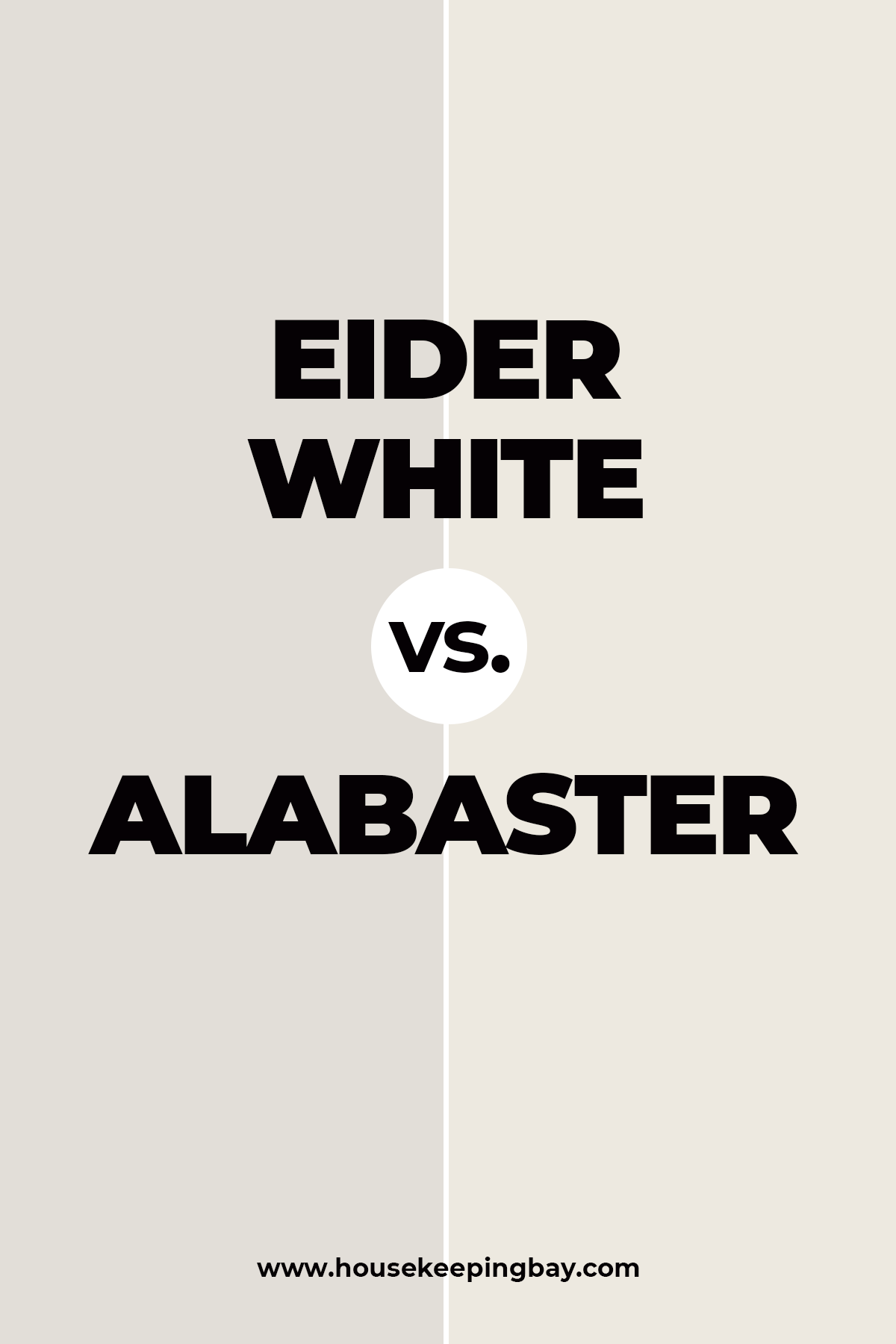 Eider White vs Mindful Gray
These colors are way too contrasting! If you compare them, you will see that Eider White looks almost, well, white in comparison to Mindful Gray that will display itself as nearly light brown! (get a sample of Mindful gray)
This is the major reason why these two should not be used together.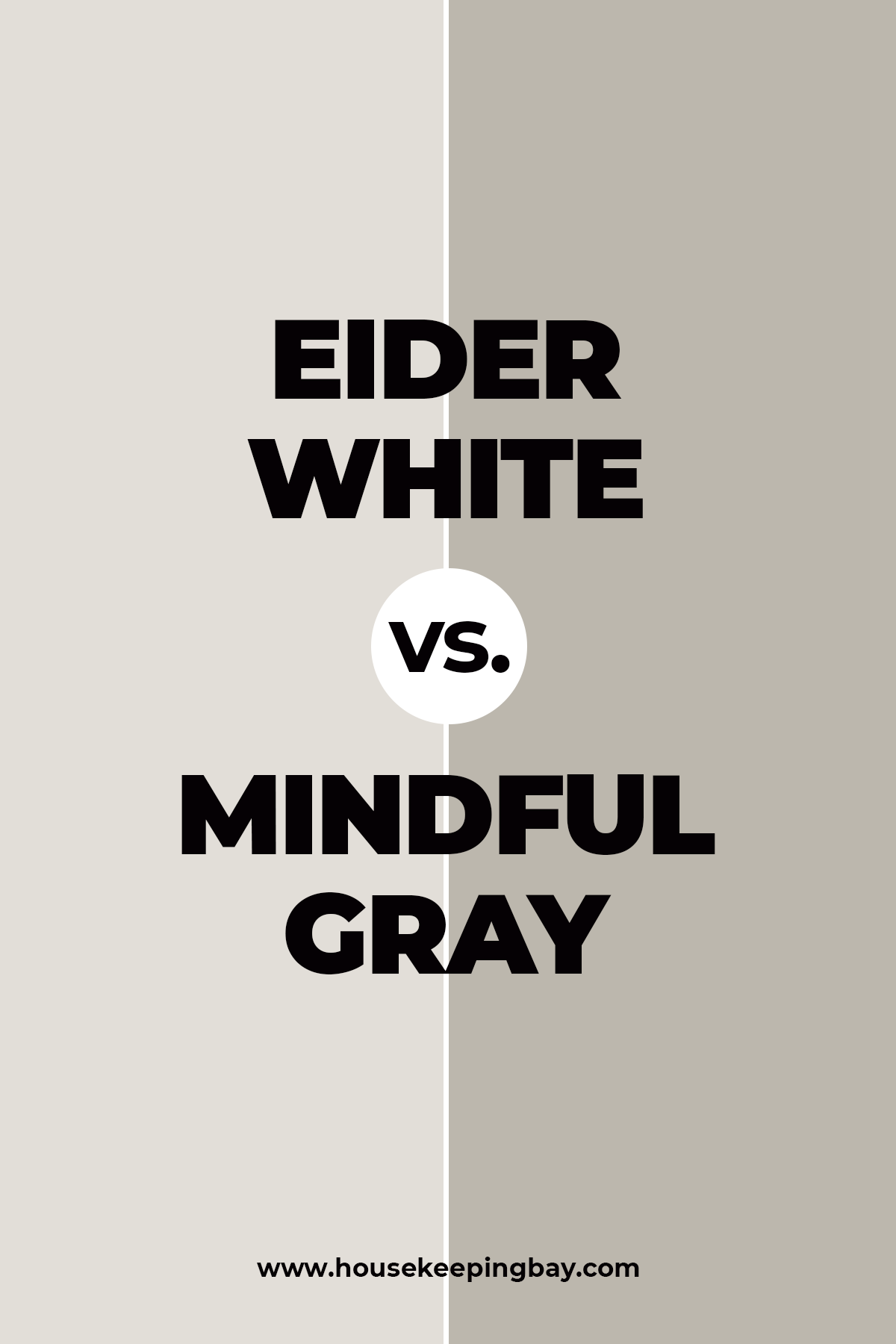 Eider White vs Tricorn Black
These colors might look nice together, but only if you add one more color to balance their duo. If you don't do this, the contrast will be way too obvious!(get a sample of Tricorn Black)
So something like SW Agreeable Gray could balance these two different paint colors and create a homogeneous color palette.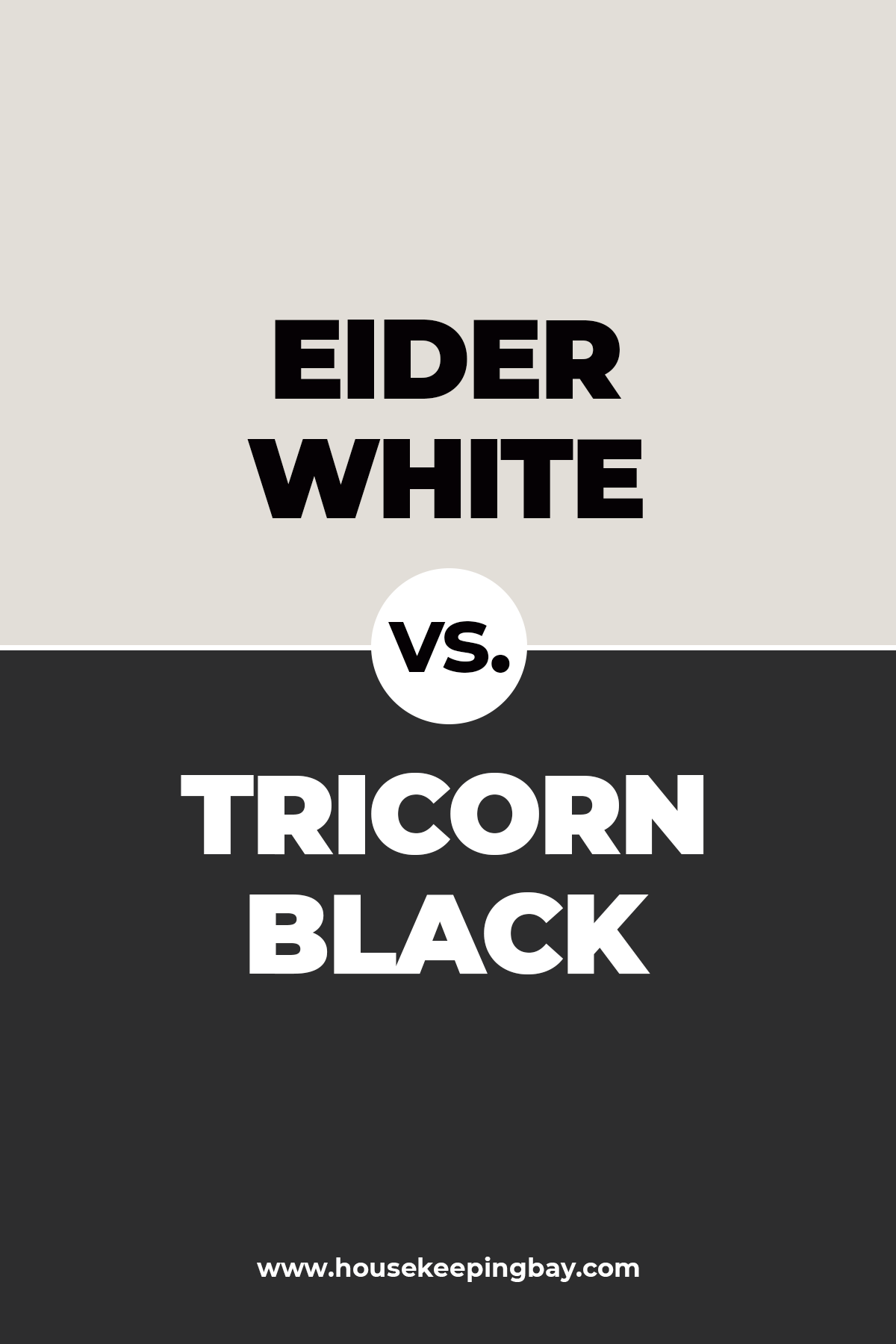 Eider White vs Pure White
Don't be distracted by the word white in the names of these paints! It does not mean that they are absolutely the same!
In comparison to Pure White, Eider White is darker and cooler at the same time, and it also reveals its purple undertones rather significantly. Pure White, on the contrary, looks lighter and somewhat warmer. (get a sample of Pure White)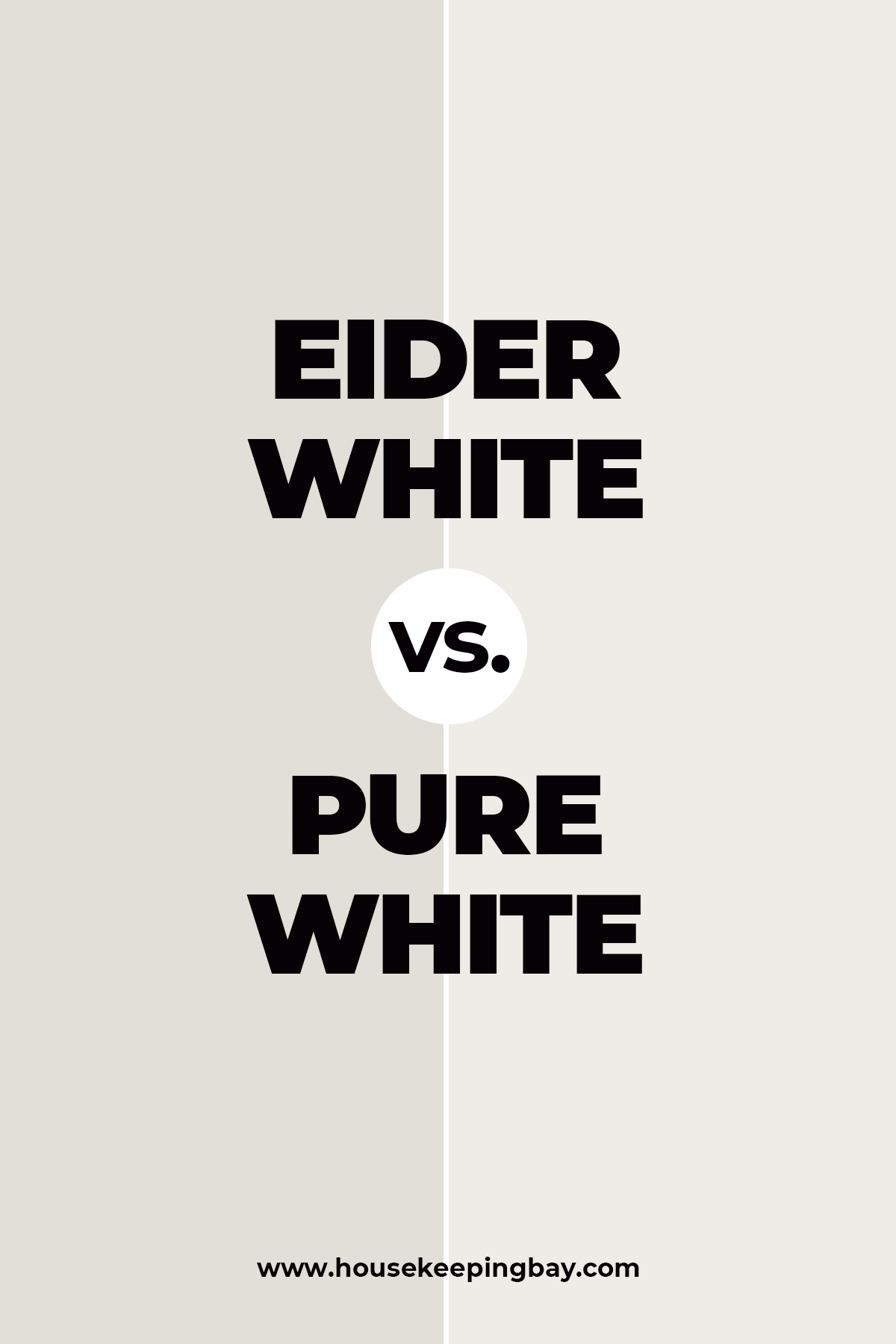 Eider White vs Iron Ore
Iron Ore can be used along with Eider White, but only if you add one more color to "dilute" this way too noticeable contrast.
As an option, you can use items of light brown colors in the room painted with Iron Ore and Eider White. (get a sample of Iron ore)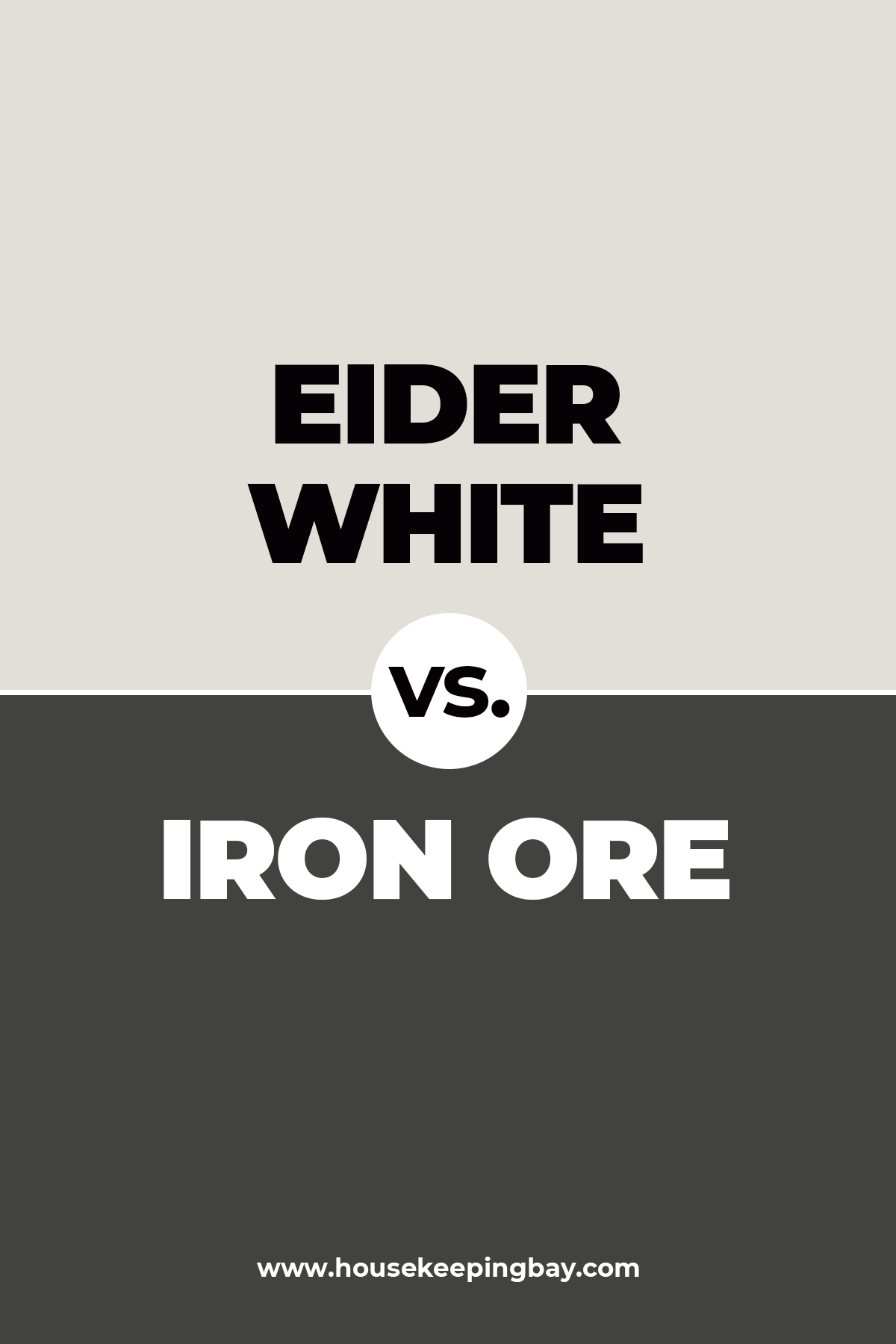 Eider White vs Extra White
These two are better not to be paired in the same room!
See, Eider White has purple and pink undertones, as well as gray ones, whilst Extra White reveals its greenish undertones quite significantly if you put it side by side with the Eider White. (get a sample of Extra White)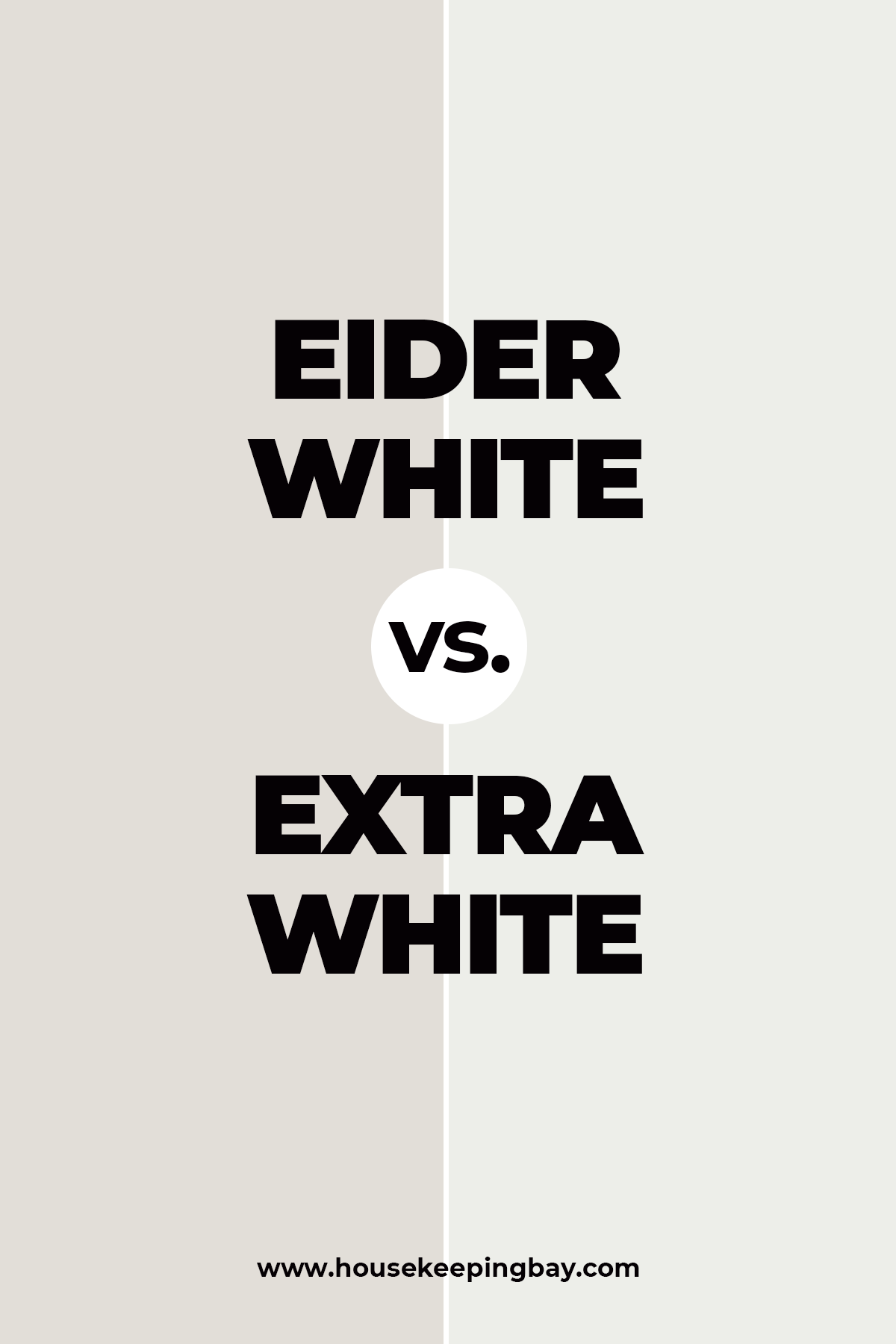 This was all the information that we wanted to share with you about SW Eider White paint color today.
Now you know not only what kind of color it is, but also you have learned what undertones it can reveal, and under what conditions those undertones would come out.
And also, you can now tell in advance how this paint color will feel and display itself when being paired with other colors.
With that in mind, deciding whether or not you should apply it onto your walls must be very easy for you.
Get a sample of EIDER WHITE (get a sample from Samplize )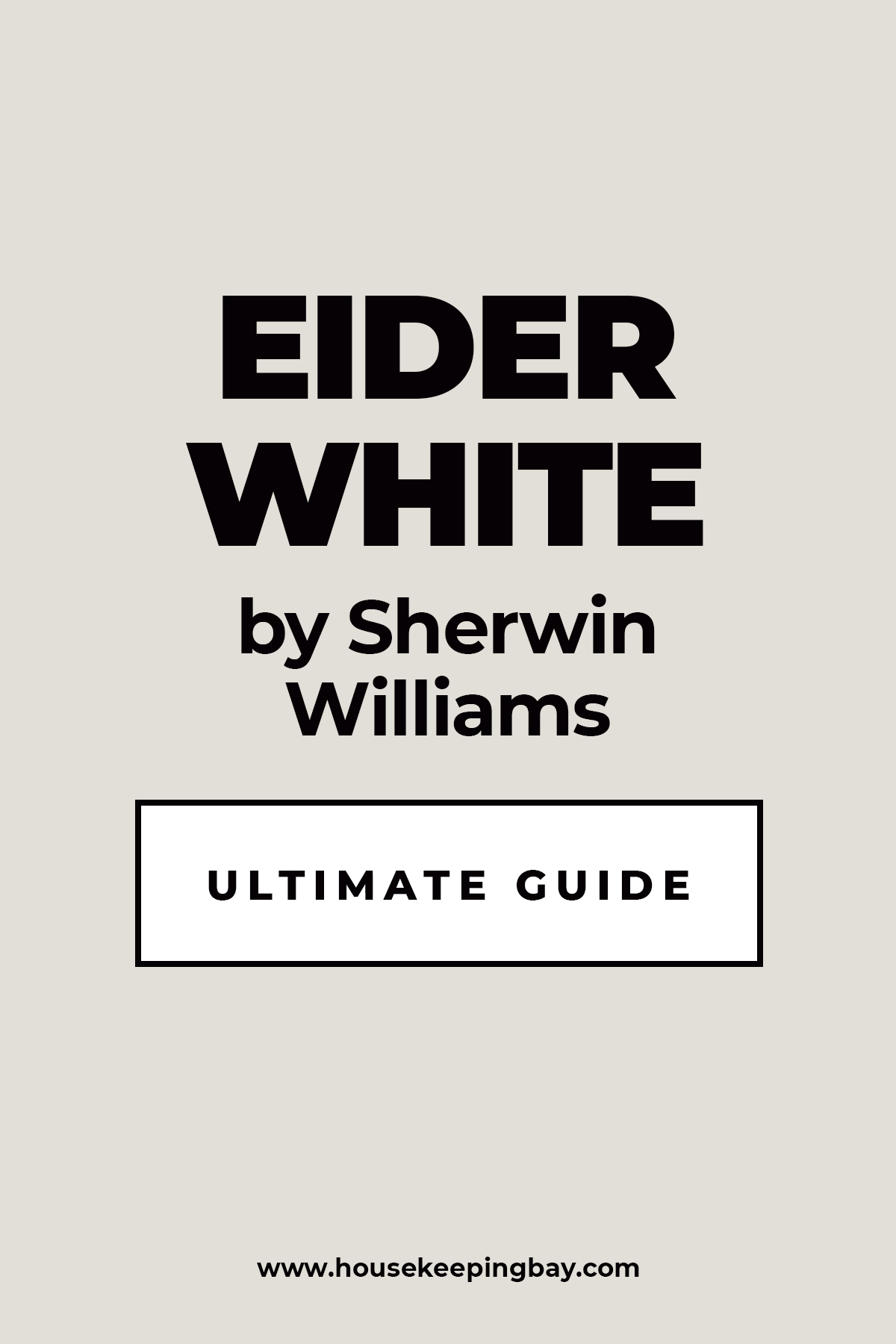 Frequently Asked Questions
⭐ Does Sherwin Williams Eider White have pink undertones?
⭐ Can Eider White be used with black color?
Basically, yes, if the black is paired with one more, third color.
⭐ Is Eider White greige or white?