If you are searching for the right white paint color to use in your home interior, you might want to check out BM Decorator's White paint color. In this article, we will explain what kind of white it is, what undertones it has, and how to coordinate it using the correct colors.
Also, you will learn in what rooms this white should be used to work better and how it might react to light. As a result, after you read this article, you will know how this color worlds in different spaces and how to pair it with other colors correctly.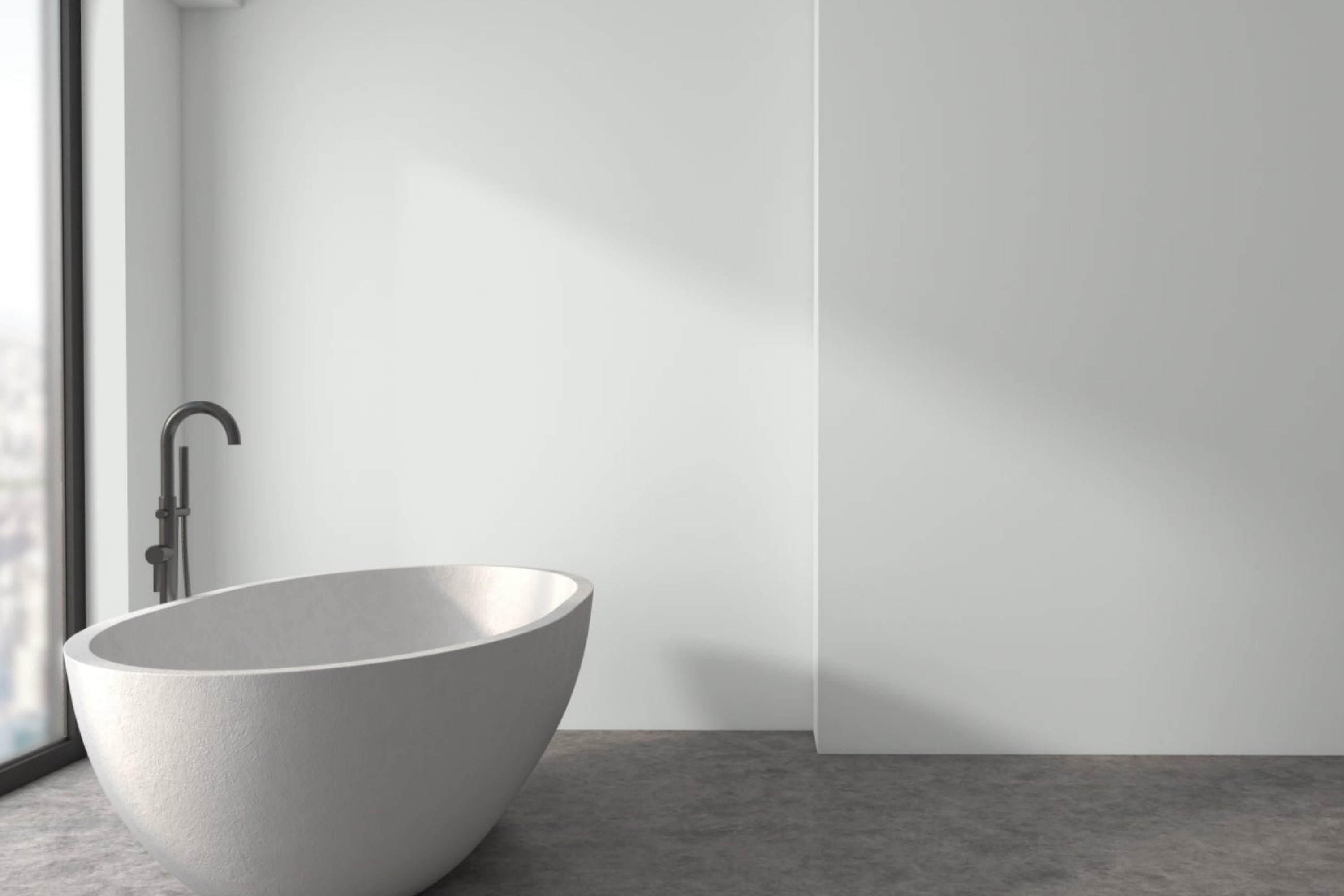 BM Decorator's White Paint CC-20. What Kind Of Color Is It?
To use any paint color correctly in your home, you should know what kind of color it is. Speaking of BM Decorator's White, this is a white color, as it comes from its name.
As Encycolorpedia says, it's not just some white. BM Decorator's White is a bright white paint color with just the slightest touch of gray. Due to its light appearance, it is an excellent color choice for trim, baseboards, doors, and cabinets.
If you take a closer look at how this color works in a room, you will notice that Benjamin Moore Decorator's White feels and reads like a true, bright white. However, it doesn't give that "plastic" feeling!
On the contrary, this white has some depth that makes it more unique than clear white. With a barely-seen soft gray undertone, it is a great color option for many places in your home.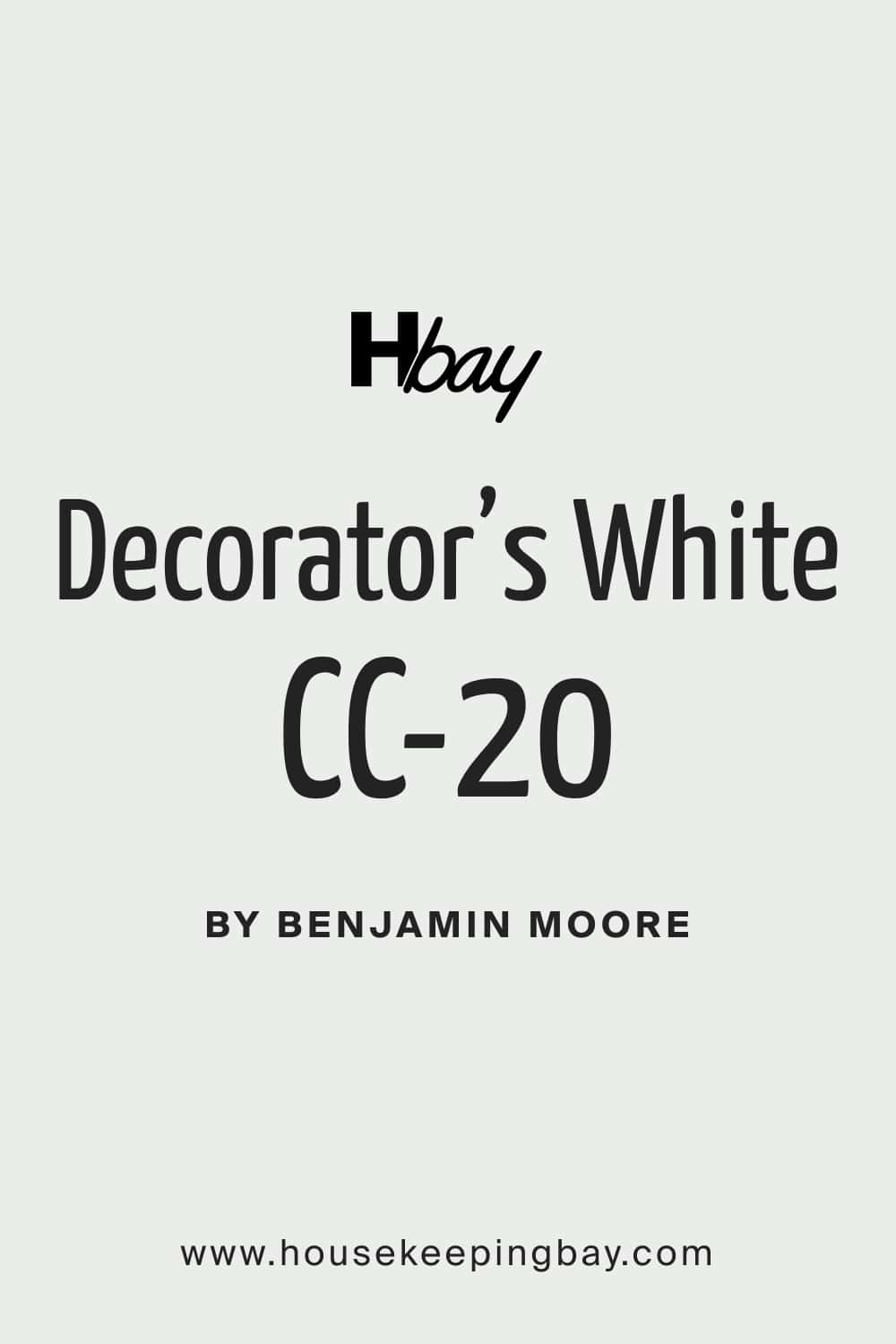 BM Decorator's White Paint Undertones
When you know the undertones of the paint color you use on the walls, you can tell in advance how this color will read in different lighting and paired with different colors. See, many paint colors have complex undertones, containing two or even more of them!
When differently lit, the paint color may reveal some of those undertones, which will affect the way the color looks.
As for the Decorator's White paint color, this white has very delicate and slight gray undertones. But also, it may show cooler blue and purplish undertones as well. This is why in cooler lighting, this white may also read cool-toned, whilst, in warmer light, it will appear to be warmer.
However, you will never see it look too warm yellowish white!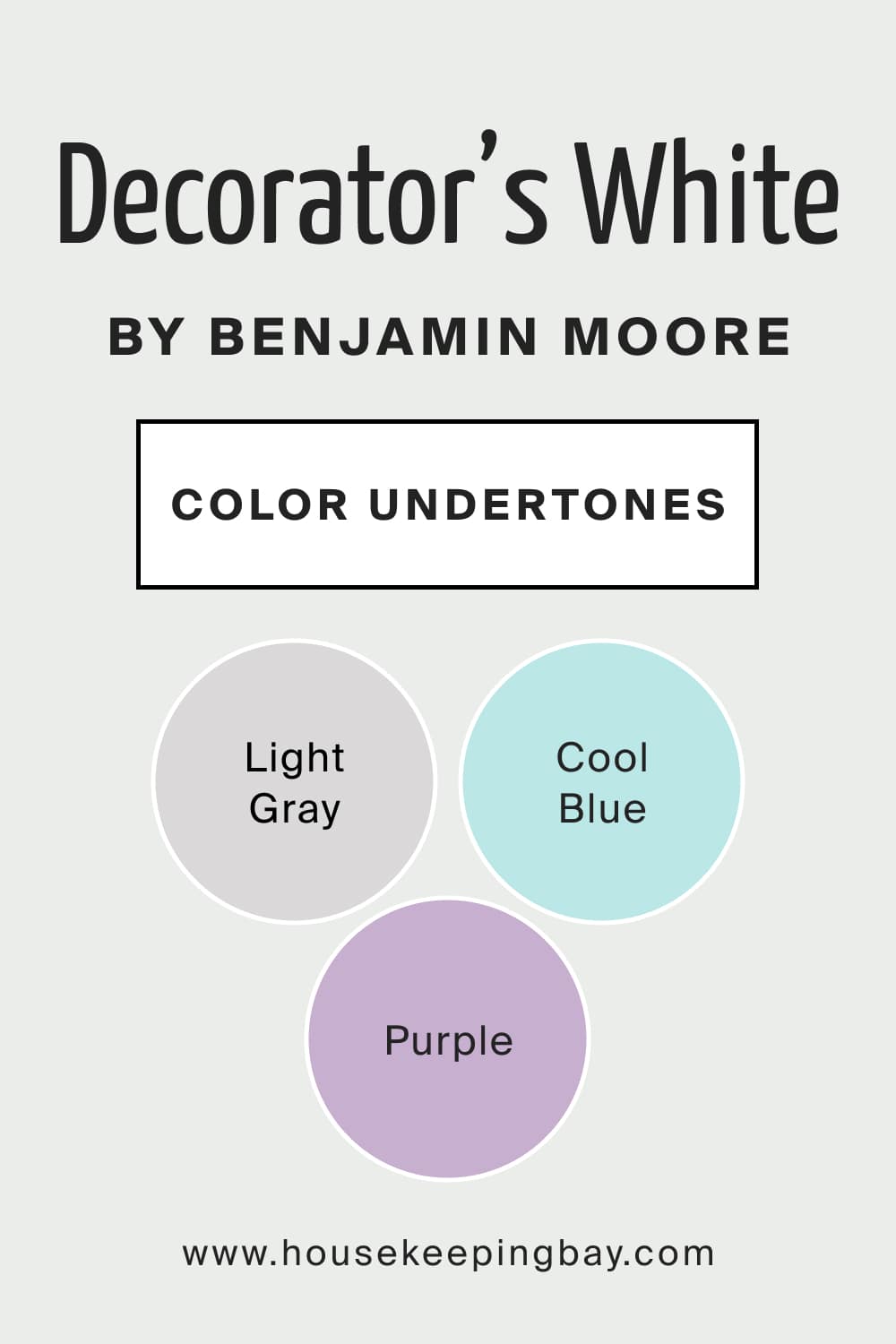 How Does Lighting Affect This Decorator's White CC-20 Color?
Do you know what helps you figure out how this or that color will read on your walls? It's called LRV, and it stands for Light Reflectance Value. Simply speaking, LRV shows what percentage of light the color can bounce off when it is applied to the wall. The higher the LRV of color, the lighter the color, and vice versa.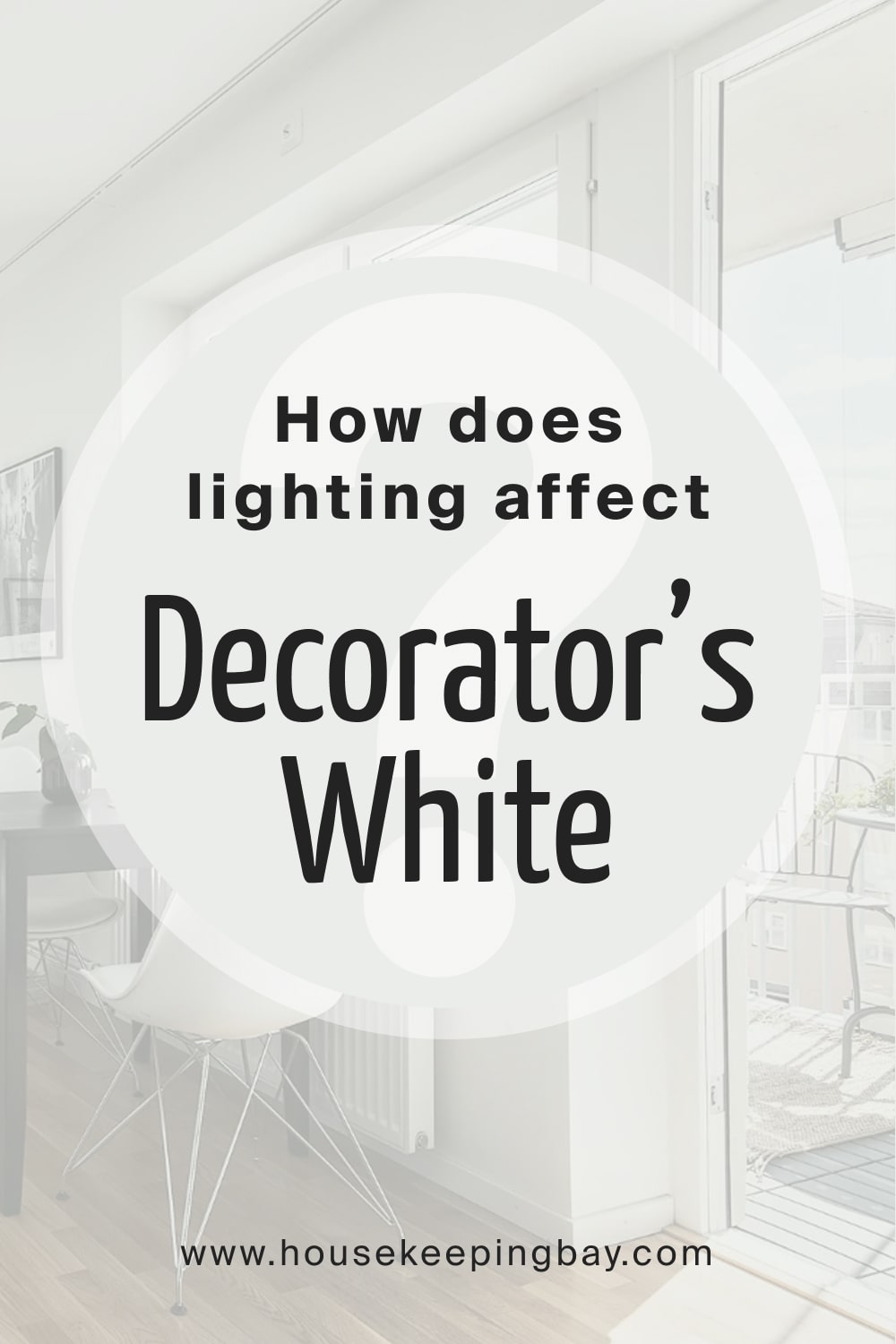 BM Decorator's White has an LRV of 82.68, which means it is a bright enough color. However, it will not read sterile or cold on the walls. Thanks to the warmer gray undertones it has, this white looks pleasantly warm with a perfect balance of crispness and softness in it.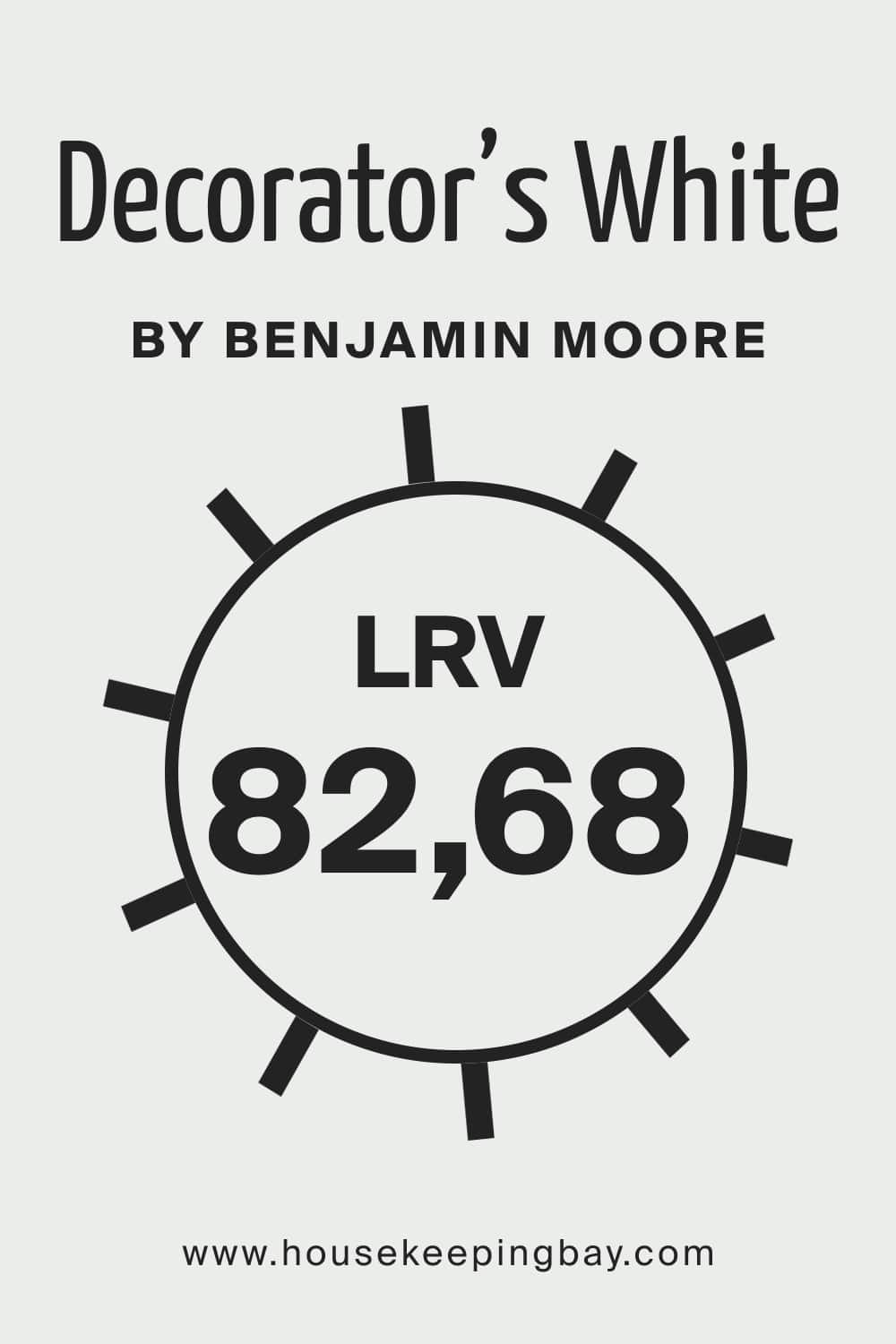 What is LRV? Read It Before You Choose Your Ideal Paint Color
Trim Colors to Use With BM Decorator's White Paint
This white is so versatile that you can use it on your trim as well. Yes, we mean that the same white can be used on the walls and on the trim! The only thing you should consider is using different sheens. It will help you create the needed contrast. For example, use matte sheen on the walls and glossy sheen on your trim, or vice versa.
Also, avoid using creamy whites with yellow undertones and the Decorator's White color. Such colors will compete and make this lovely white look dirty or gray! Instead, you might want to pair BM Decorator's White with true bright white or cooler whites:
Benjamin Moore Super White OC-152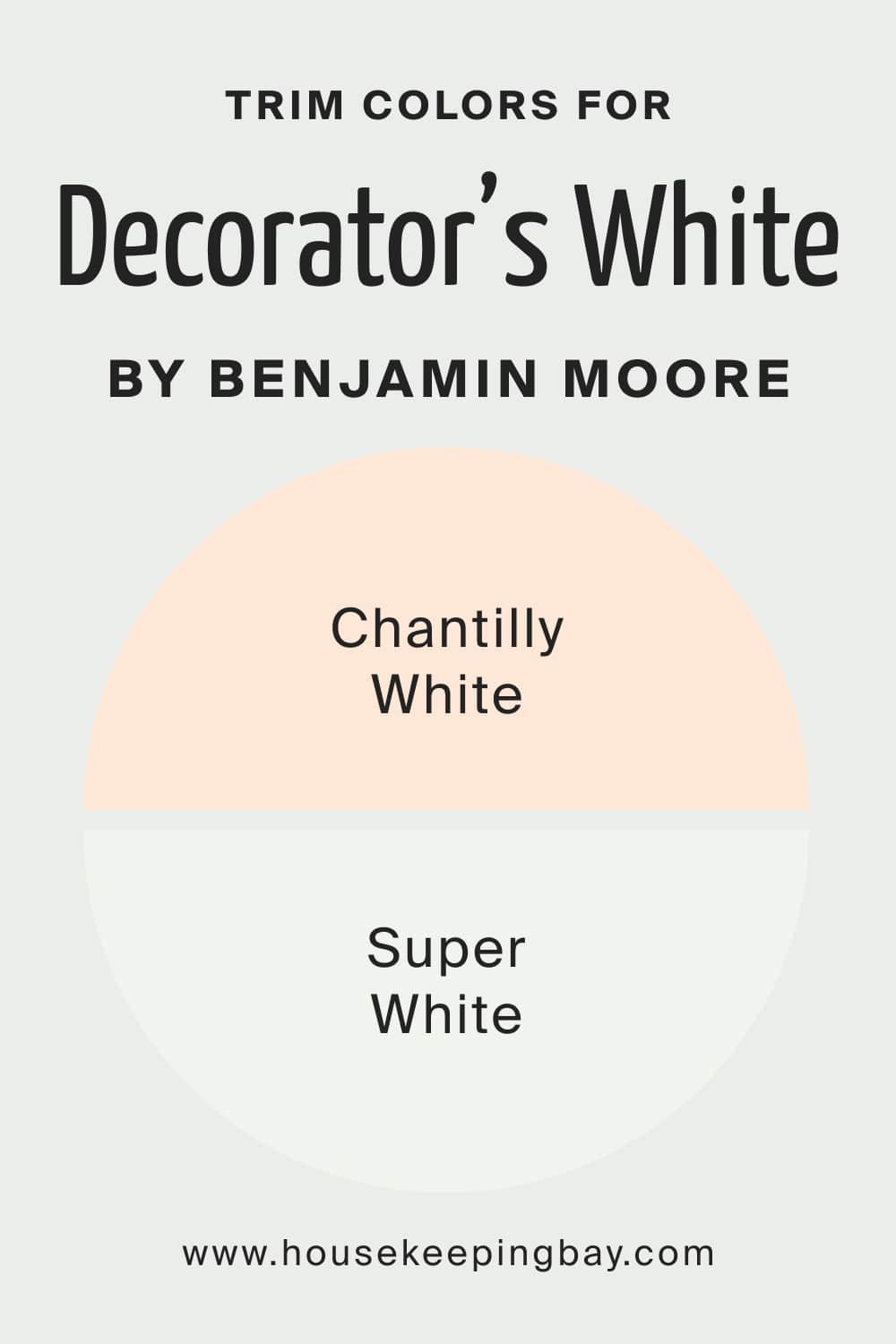 BM Decorator's White Coordinating Colors
Coordinating colors help you to create a well-balanced interior color palette, making it look varied and lively. As for BM Decorator's White, you might want to pair this white color with shades of gray and greige, as well as colors with blue undertones. Some great colors include:
BM Blue Note
BM Oxford White
BM Raindance
Knowing the right coordinating colors, you will create a welcoming and eye-pleasing space that unites all the colors used in it harmoniously.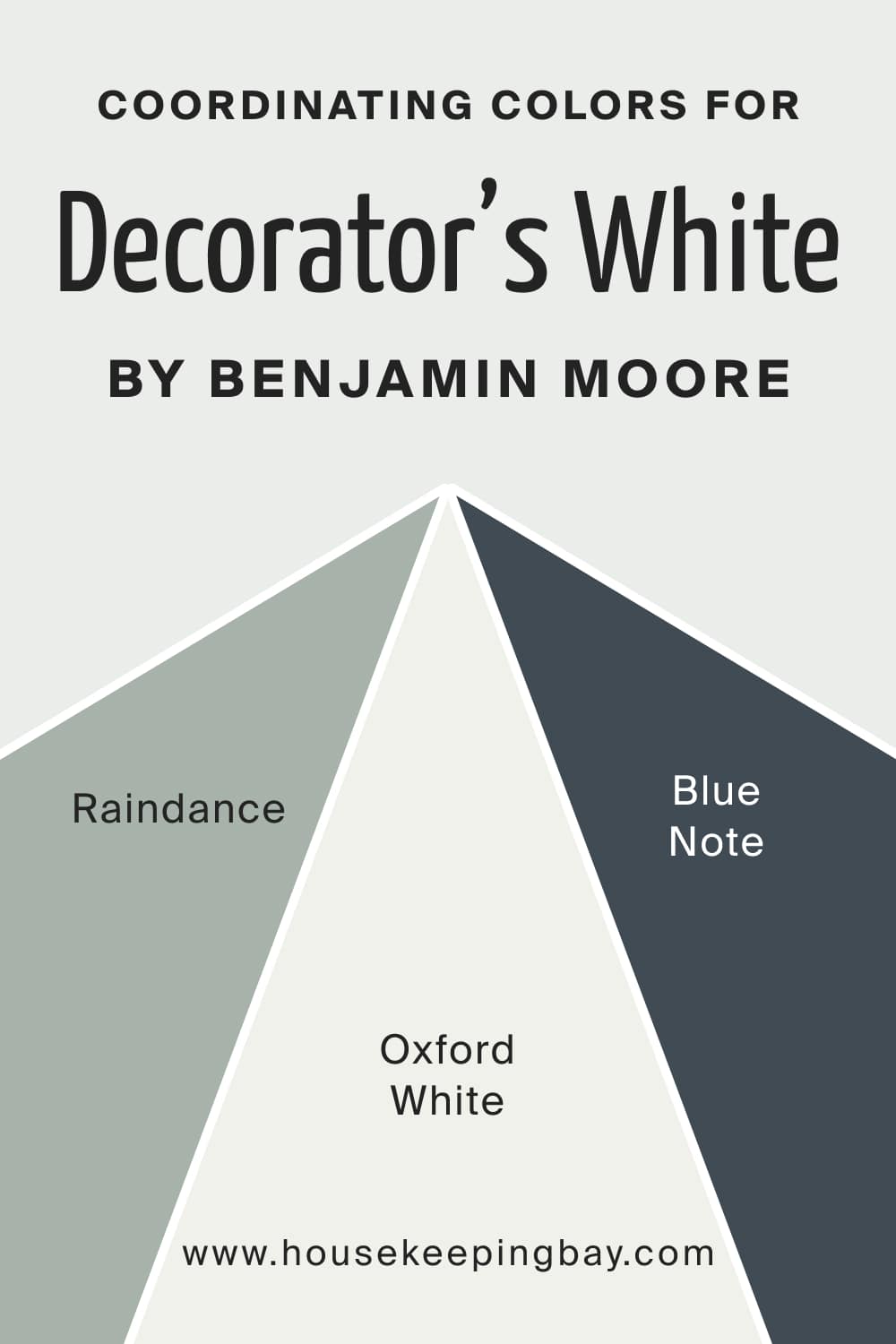 Colors That Go With BM Decorator's White Paint
Since this is a slightly cool white, it pairs beautifully with all your favorite cooler grays, greens, and blues. In particular, you might want to pair this white with the following paint colors in your home:
Classic Gray
Benjamin Moore Smoke
BM Stonington Gray
Behr Light French Gray
With these colors or similar ones, you can be sure your home interior will look properly matched, with the colors used in it having the right balance. In addition, knowing the colors that this white goes with will help you avoid some common mistakes people make when choosing paint colors for their homes.
As a result, you will pick up the right palette from the first attempt, spending less time selecting colors and less money on possible repaintings.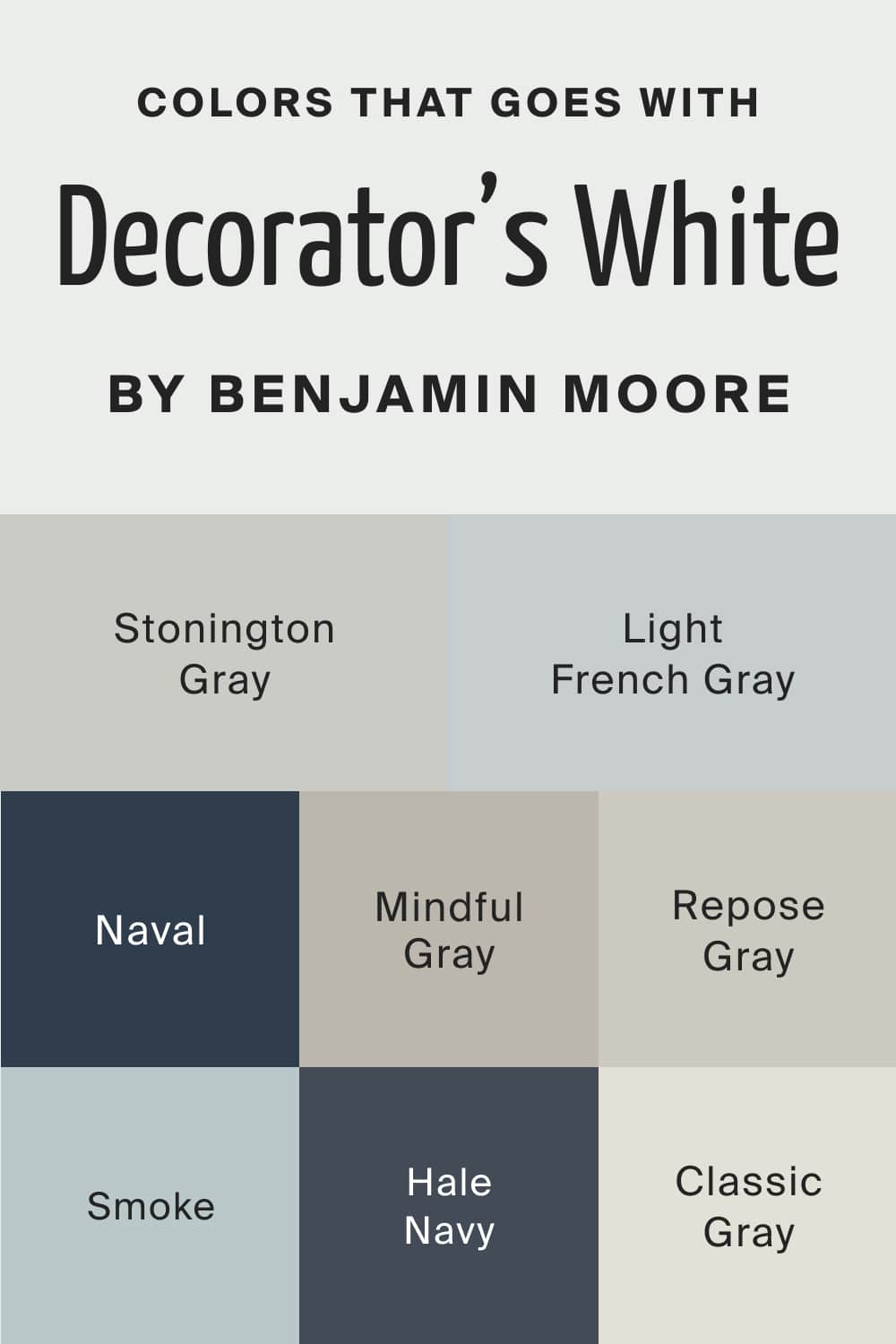 Similar Colors of Decorator's White CC-20
When you know at least a couple of similar colors that look the same or nearly the same as the color you initially chose, it will be easier for you to shift between the colors should you decide to use a lighter or a darker shade. For BM Decorator's White, we recommend you use the following whites as substitute colors:
BM White Christmas
BM White Diamond
BM Ultra White
Since some of these colors look almost like BM Decorator's White, whilst others differ a bit, you will be able to choose the correct substitute color to match your room's palette.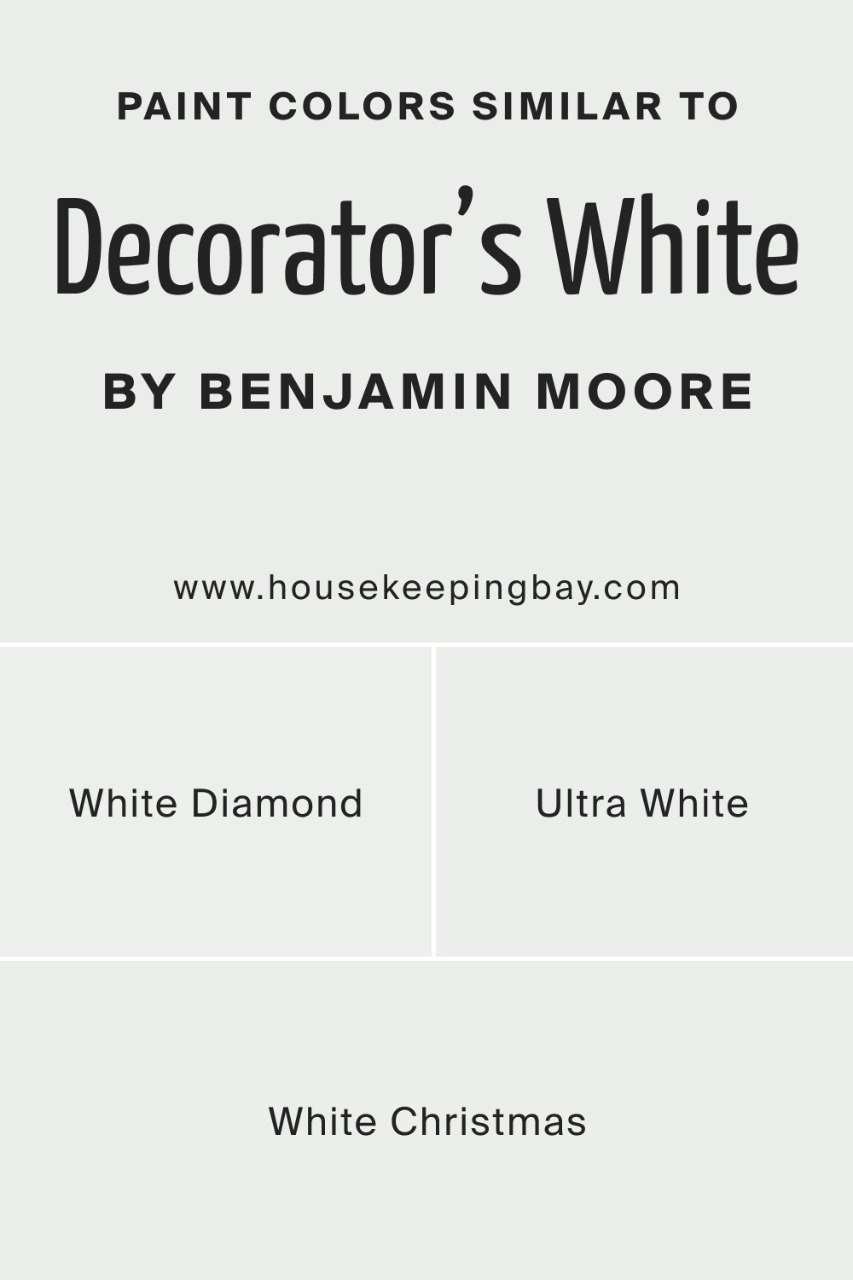 In What Rooms You'd Better Use This Decorator's White CC-20 Color?
You may think that white is so versatile that it can be used in any room with any color, but it's not always like that. Even white, which typically pairs with most colors should be used carefully depending on the room. Below, you can see how BM Decorator's White may work in different spaces in your home.
Decorator's White CC-20 in the Living Room
This is an ideal color option for your living room! This color can make it read airy and clear, adding that bibe of freshness and relaxation. And since this color pairs nicely with many textures and colors, you can use it in living rooms of different styles, e.g., classic, countryside, coastal, etc.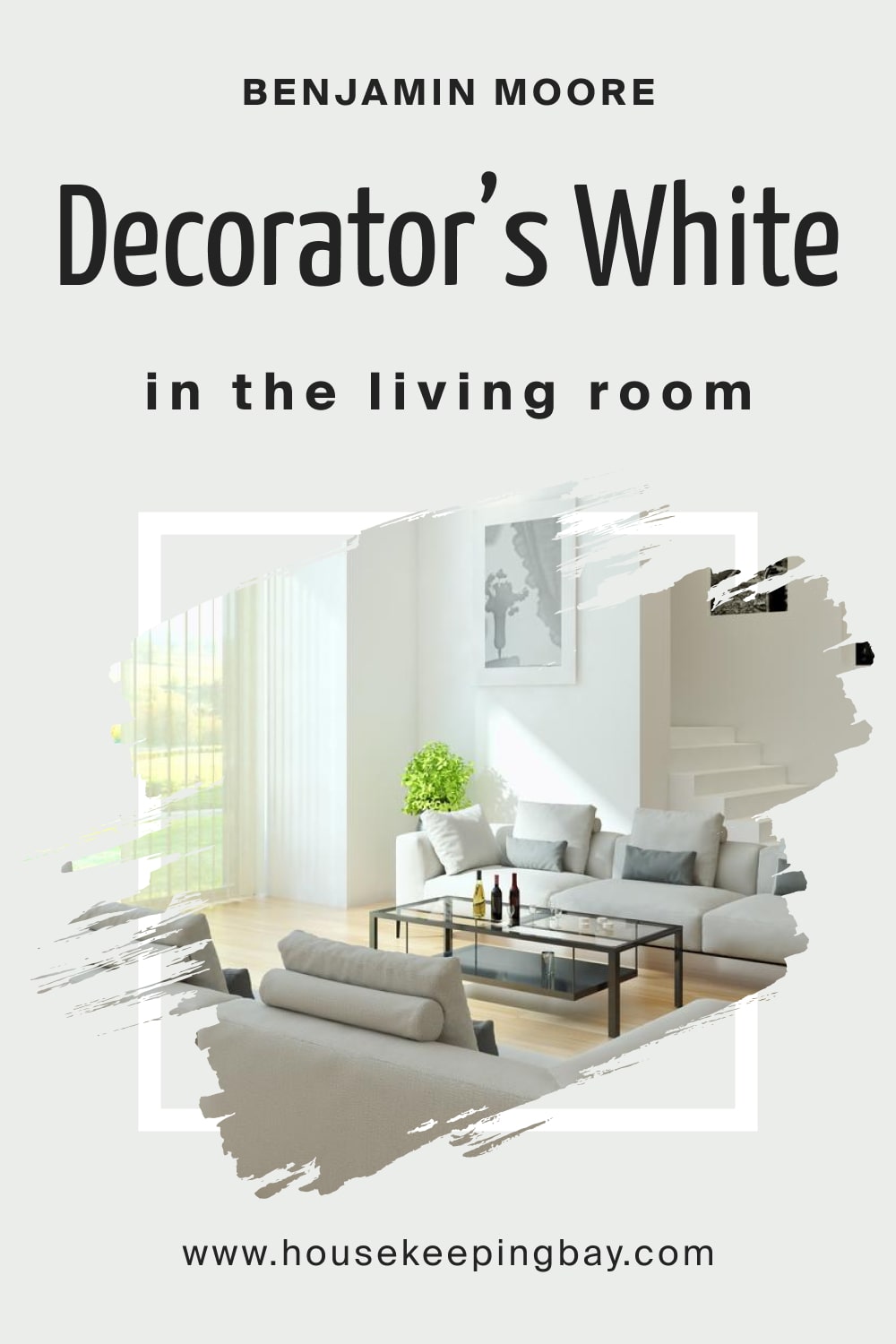 Decorator's White CC-20 and Bedroom
Din't be afraid that this color may read cold on your bedroom's walls! Due to slight gray undertones, BM Decorator's White has a touch of softness and delicate warmth to it. That means this color will look fresh and bright but, at the same time, soft enough not to make the space seem sterile.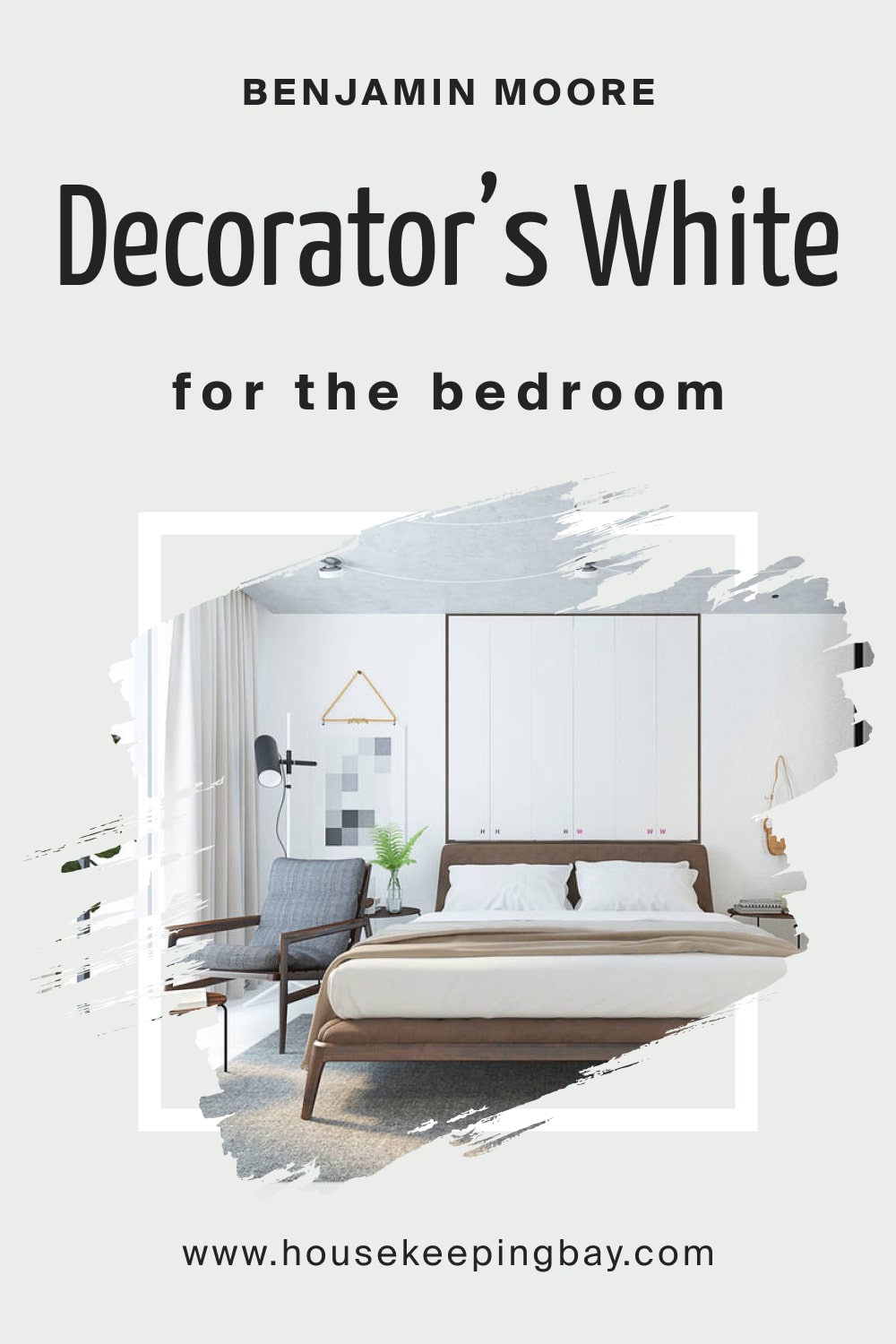 Decorator's White CC-20 of Kitchen/Kitchen Cabinets
BM Decorator's White is a beautiful color choice if your kitchen has gray tones of marble countertops! But even if it doesn't, you can still use this white on your kitchen walls since it will pair nicely with many other materials and textures like stone, marble, wood, brass, etc.
But if you have another color on the walls and want to paint kitchen cabinets with BM Decorator's White, consider both colors have the same level of brightness. That means warm-toned walls will look somewhat better with this white than cool-toned walls.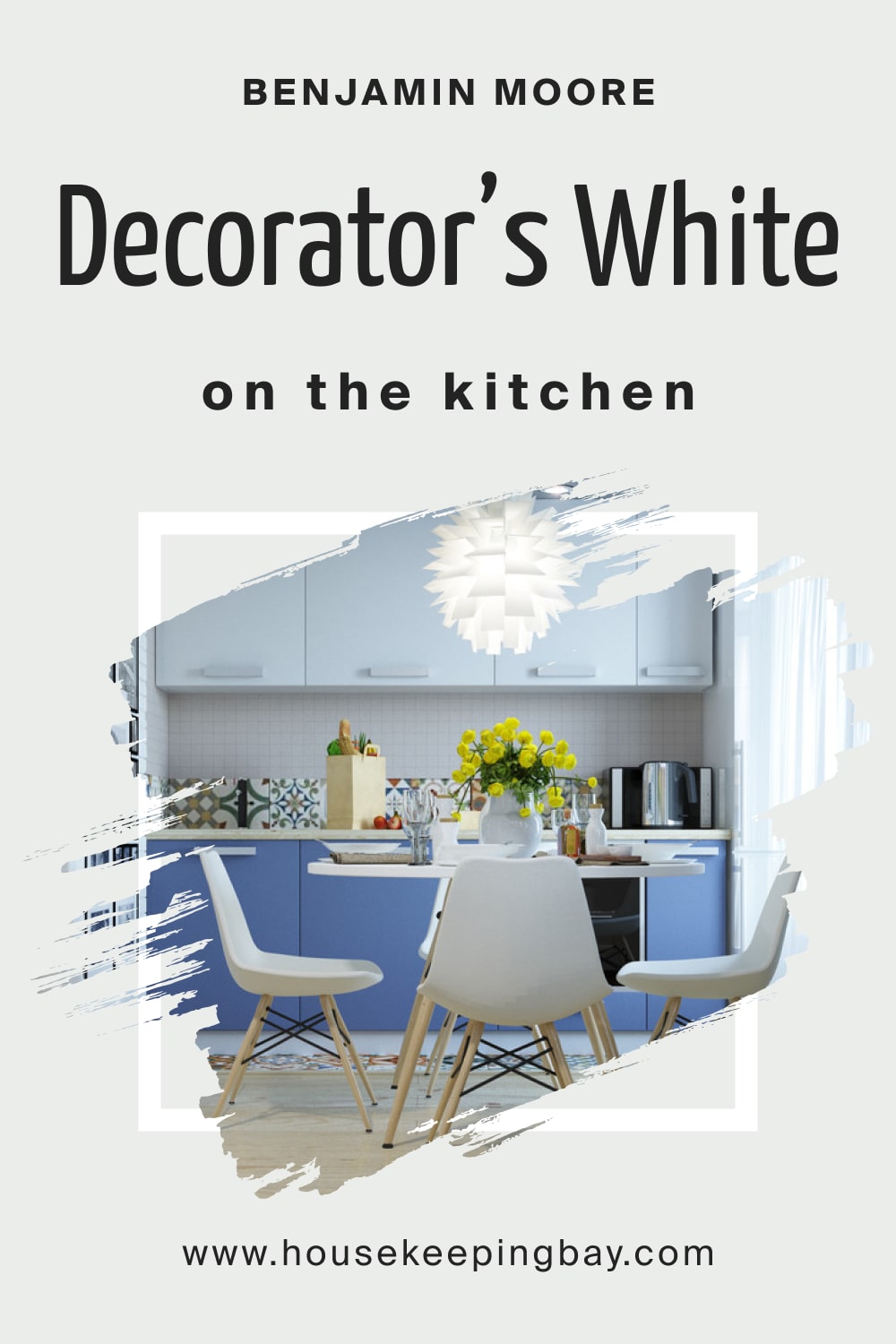 Decorator's White CC-20 for the Exterior Use
Use this color without a doubt if you are searching for the right shade of white for your exterior walls! BM Decorator's White will fit perfectly well! This white is not too stark, so your house won't shine in the sun.
But at the same time, thanks to its varied undertones, BM Decorator's White may read differently in a different light. E.g., in warm daylight, it will read clear white, but in the evening light, it may show its blue-gray undertones more.
Now you know in what rooms and spaces of your home this white will work best of all. As you can see, it is pretty versatile and can be used almost anywhere. But still, we recommend you sample it before applying the paint! This way, you will ensure the color reads exactly how you need it.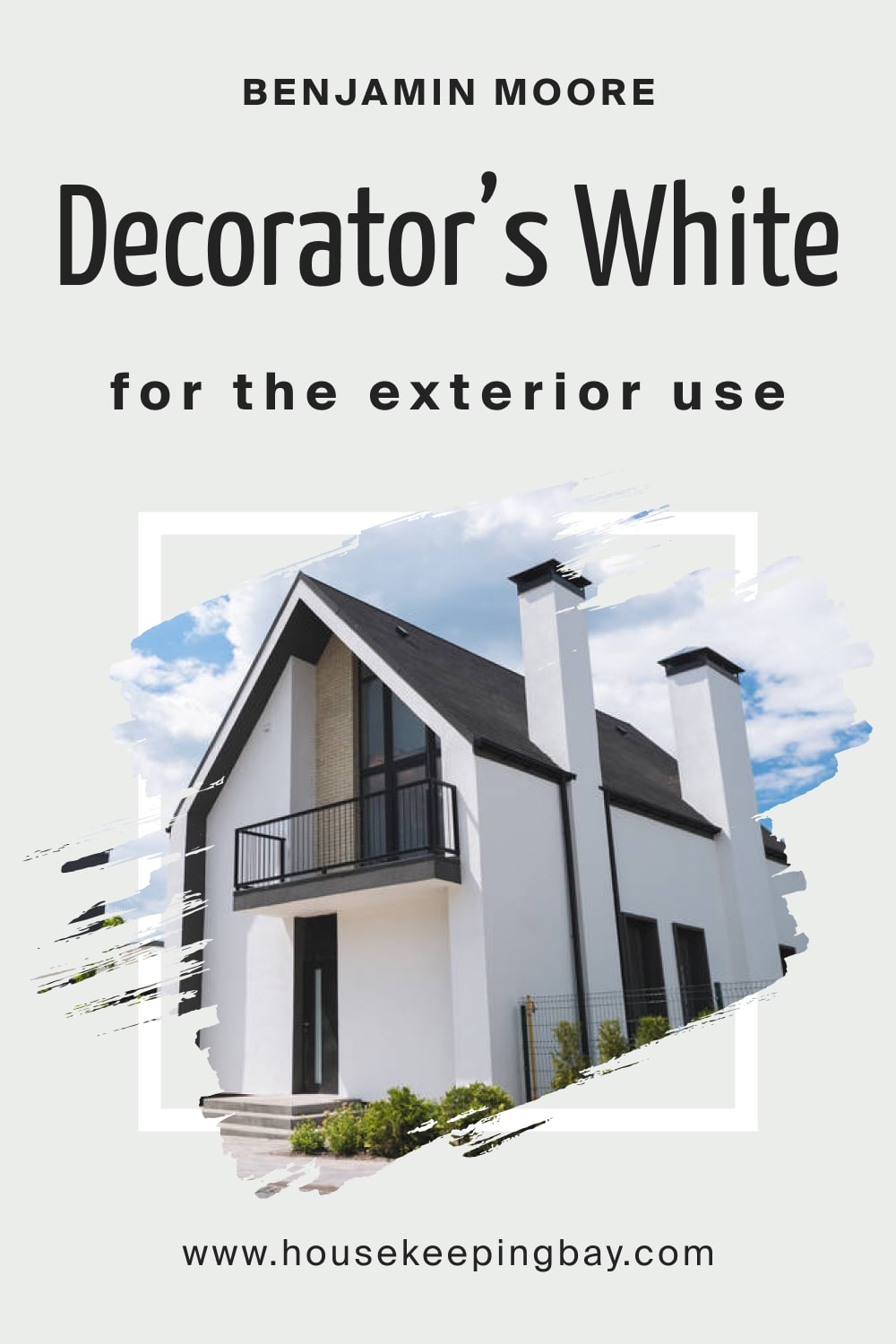 Comparing BM Decorator's White Paint With Other Colors
To help you see how varied a white color can be, check out how differently various shades of this color may read if you compare them with each other closely.
BM Decorator's White vs. Sherwin-Williams Snowbound
SW Snowbound and BM Decorator's White have similar LRVs of 83 and 84. They also have similarly cool gray undertones, so you can easily use them interchangeably!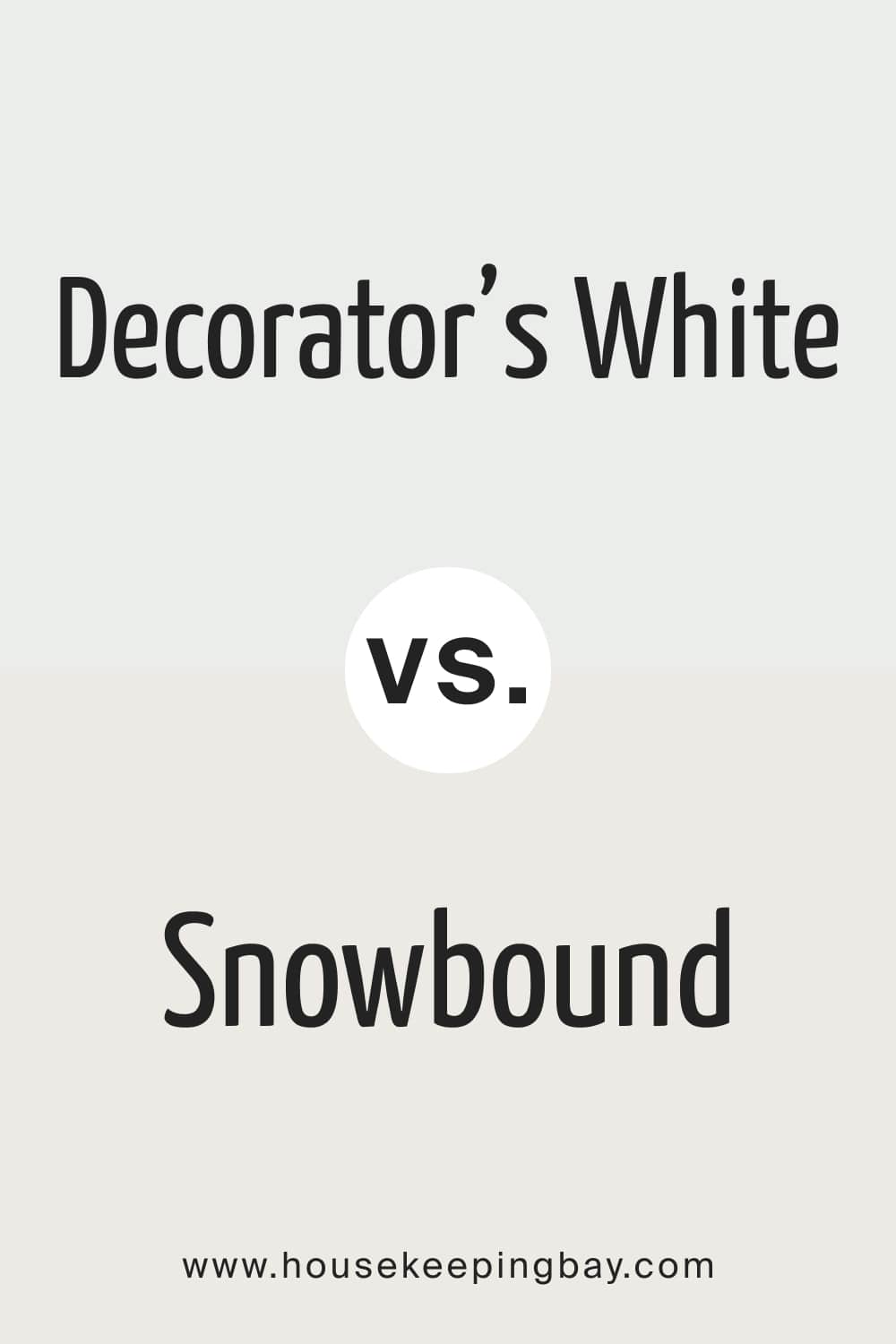 BM Decorator's White vs. White Dove
White Dove has an LRV of 85, which is also very close to BM Decorator's White. However, the undertones of the White Dove paint color are a bit warmer and greige. As a result, BM Decorator's White reads much grayer compared to its warmer counterpart.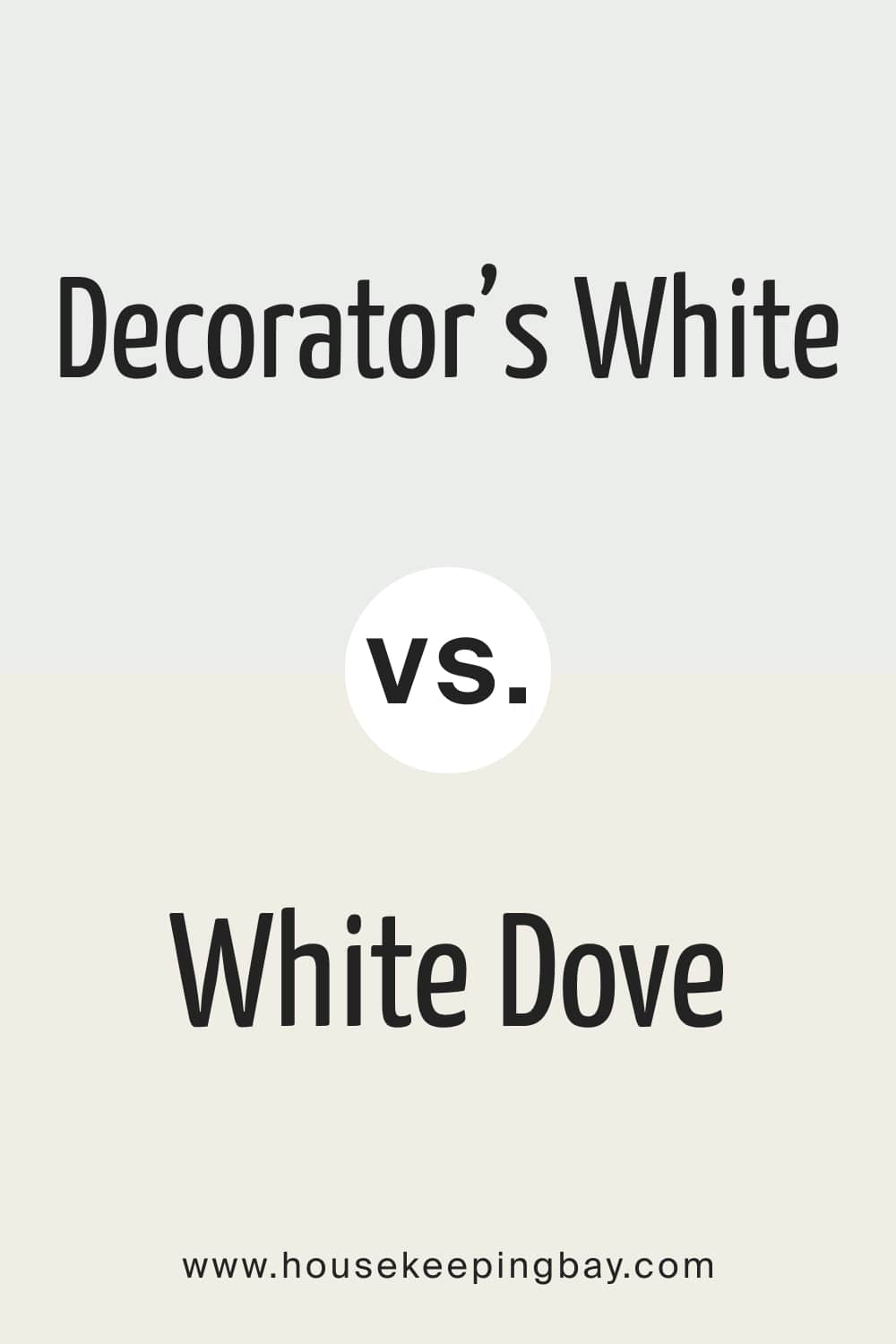 Decorator's White vs. Chantilly Lace
Chantilly Lace has a significantly higher LRV, which is 92. However, it has a very similar cool-toned white background. Thanks to this feature, these whites pair well together for trim and walls.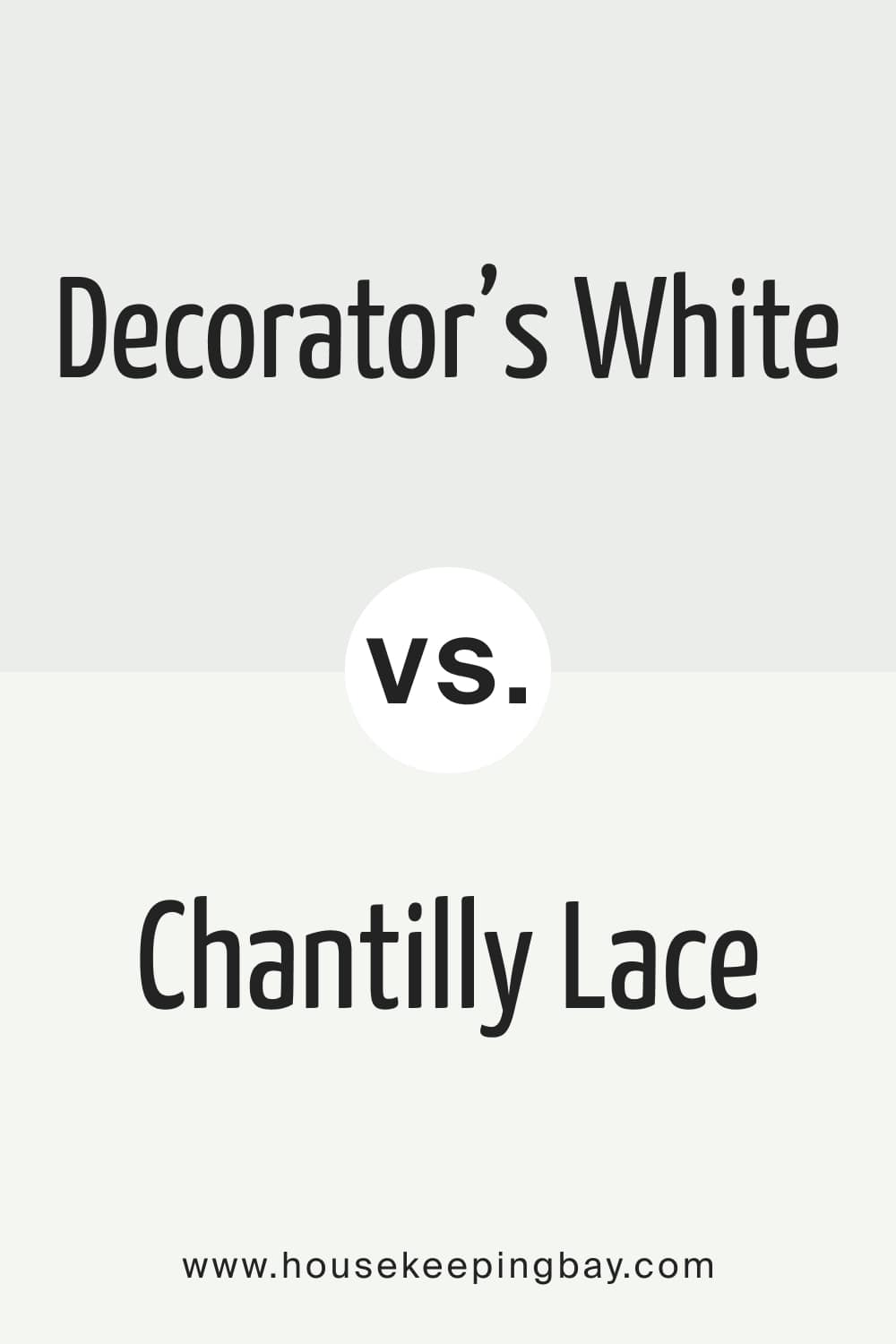 Decorator's White vs. Simply White
If you compare these two colors of Benjamin Moore, you will see that they don't match well together. All because of the paints' undertones: BM Decorator's White reads pronounced gray whilst BM Simply White shows its yellow undertones too clearly.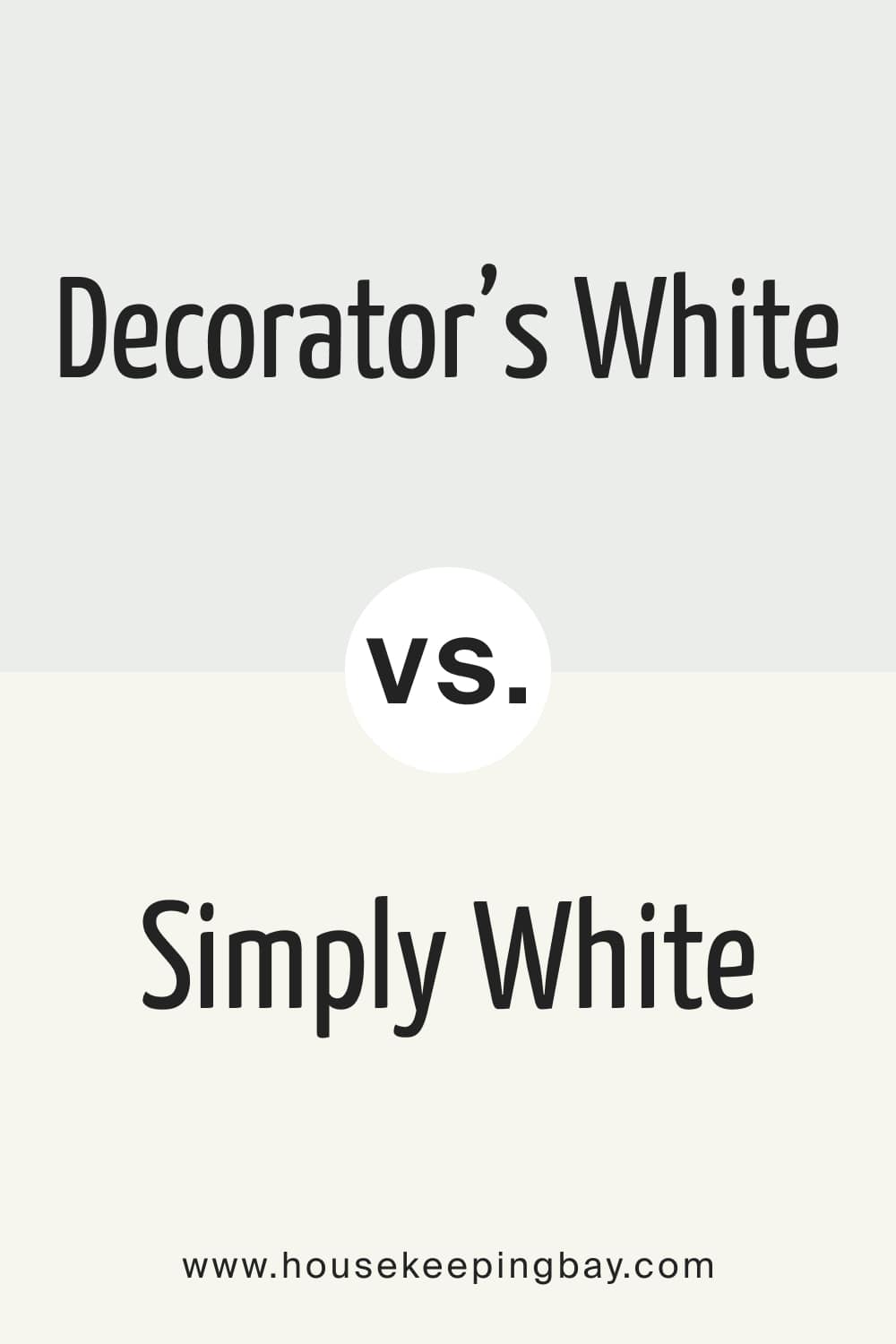 BM Decorator's White vs. SW Pure White
These colors look very much alike thanks to the SW Pure White, which has no clearly seen undertones. But if you take a closer look at each color separately, you'll see that SW Pure White reads warmer than its counterpart.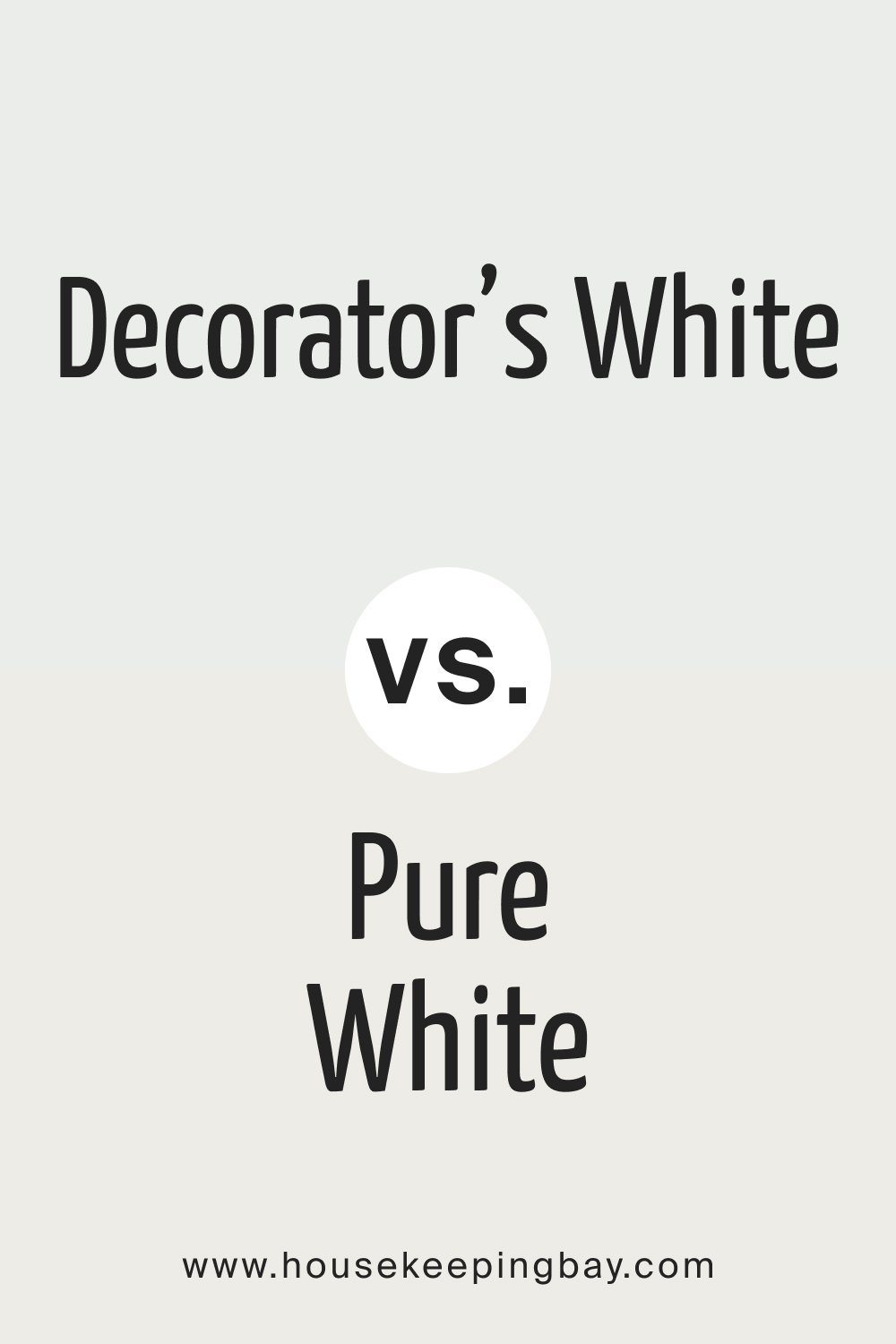 Decorator's White vs High Reflective White
The High Reflective White color is lighter than BM Decorator's White. Also, unlike its counterpart, High Reflective White doesn't have pronounced undertones since the color is neutral.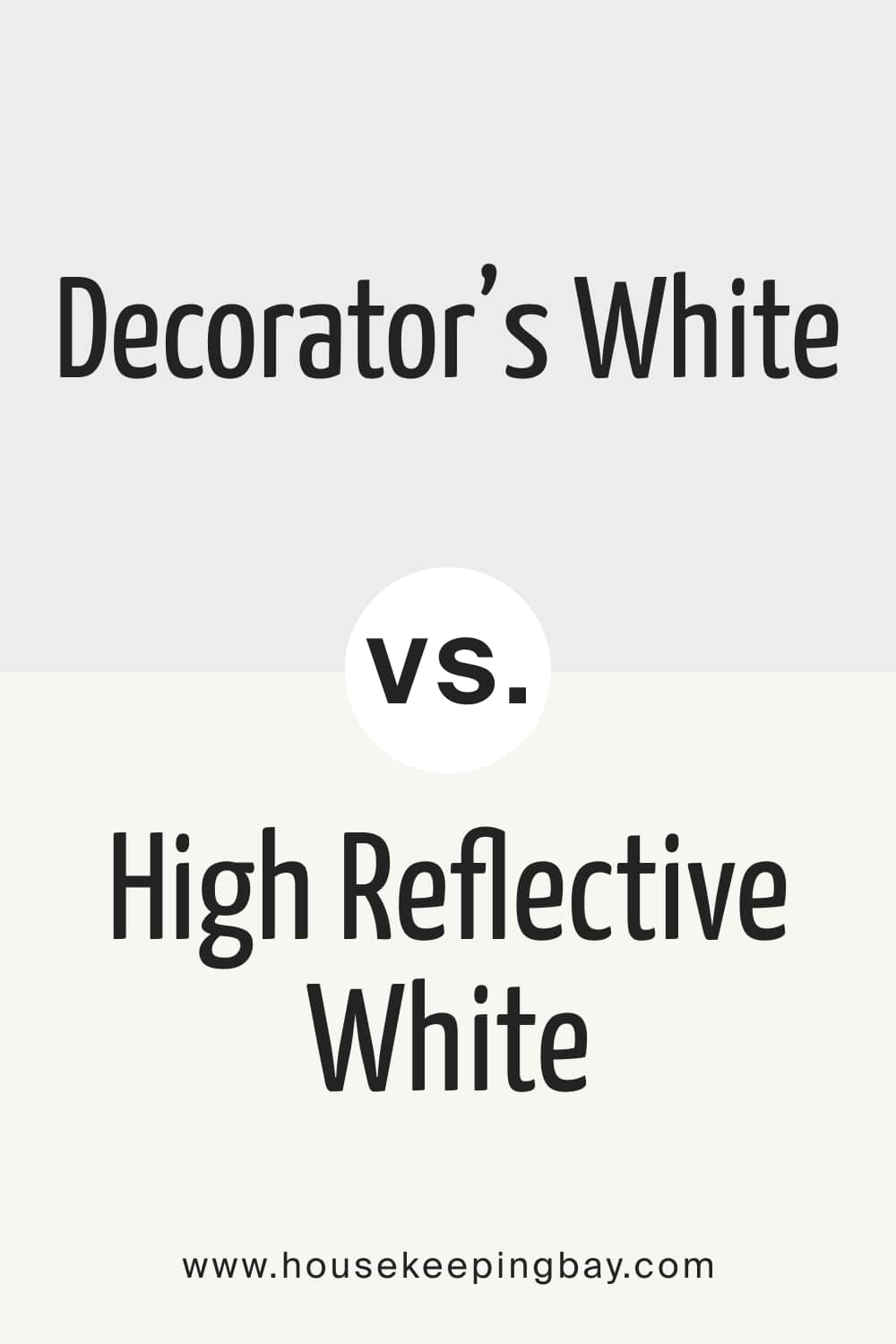 Now you know what kind of white BM Decorator's White is. You know its undertones and LRV; you know what colors coordinate it and what whites are best used on your trim with this white on the walls. You also learned how this color may read in different rooms and what to expect from it in different lighting.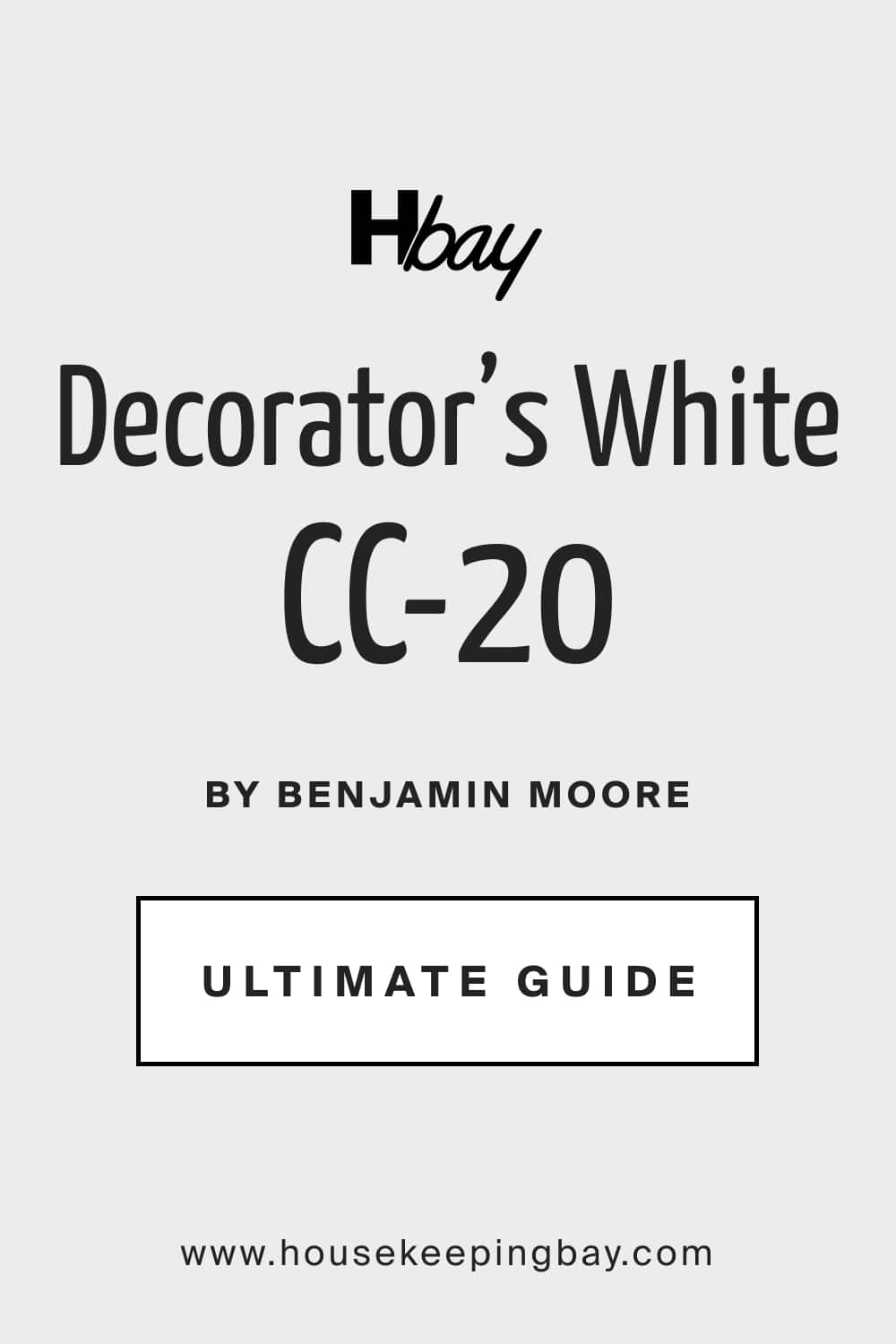 Frequently Asked Questions
⭐Does BM Decorator's White look blue?
This white does have a very slight hint of blue in it, but it can be seen only in certain types of light, and anyway, the color won't read literally blue, but rather a white with a barely-seen bluish hue.
⭐Is Decorator's White too white?
No, it's not. This color has a moderate LRV compared to other whites. So it won't read stark white.
⭐Is Decorator's White a good color for the walls?
Yes, it is. Especially if you need a calm, cool white. It has no yellow undertones, so it works beautifully in spaces with a variety of gray colors.