Redecorating your house is always an exciting stage when you can change not only the way your house looks but also the whole vibe and mood you get in the room.
Sherwin Williams Dovetail is a popular paint color that can be used anywhere from the exterior of your home to even furniture items.
Keep on reading to learn more about this Dovetail Sherwin Williams paint review.
Sherwin Williams Dovetail Paint Color
So, if you're looking for a warm and versatile paint color which will fit every style of both interior and exterior design then Dovetail by Sherwin Williams is exactly what you need.
Not only is it a modern gray color, as Encycolorpedia says, but it is also such a popular shade to highlight other pieces of furniture in the room!
Dovetail may be described as a quite natural shade of gray, one of the most calming and minimalistic colors which really adds that special rich vibe into the design.
It will perfectly go with any style: from classic style or loft.
Gray color is called an office color. But the office color does not have to be dull at all.
Neutral grays, whites, blacks and shades of brown are a win-win for creating stylish commercial interiors.
Gray refers to quite universal colors.
All its shades are interesting, but you should not take its dark shades as the main color in the interior so that the room does not look stiff and gloomy.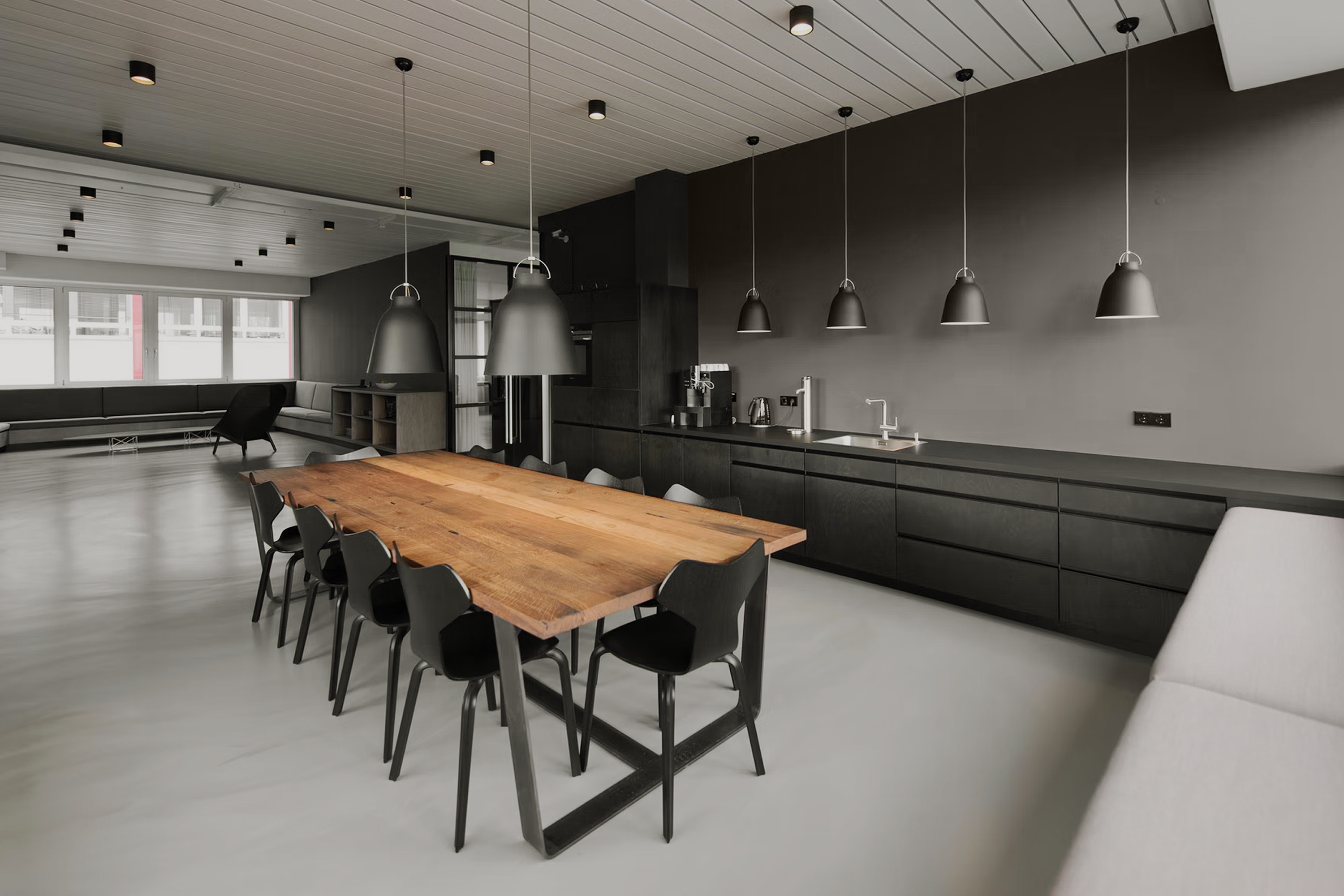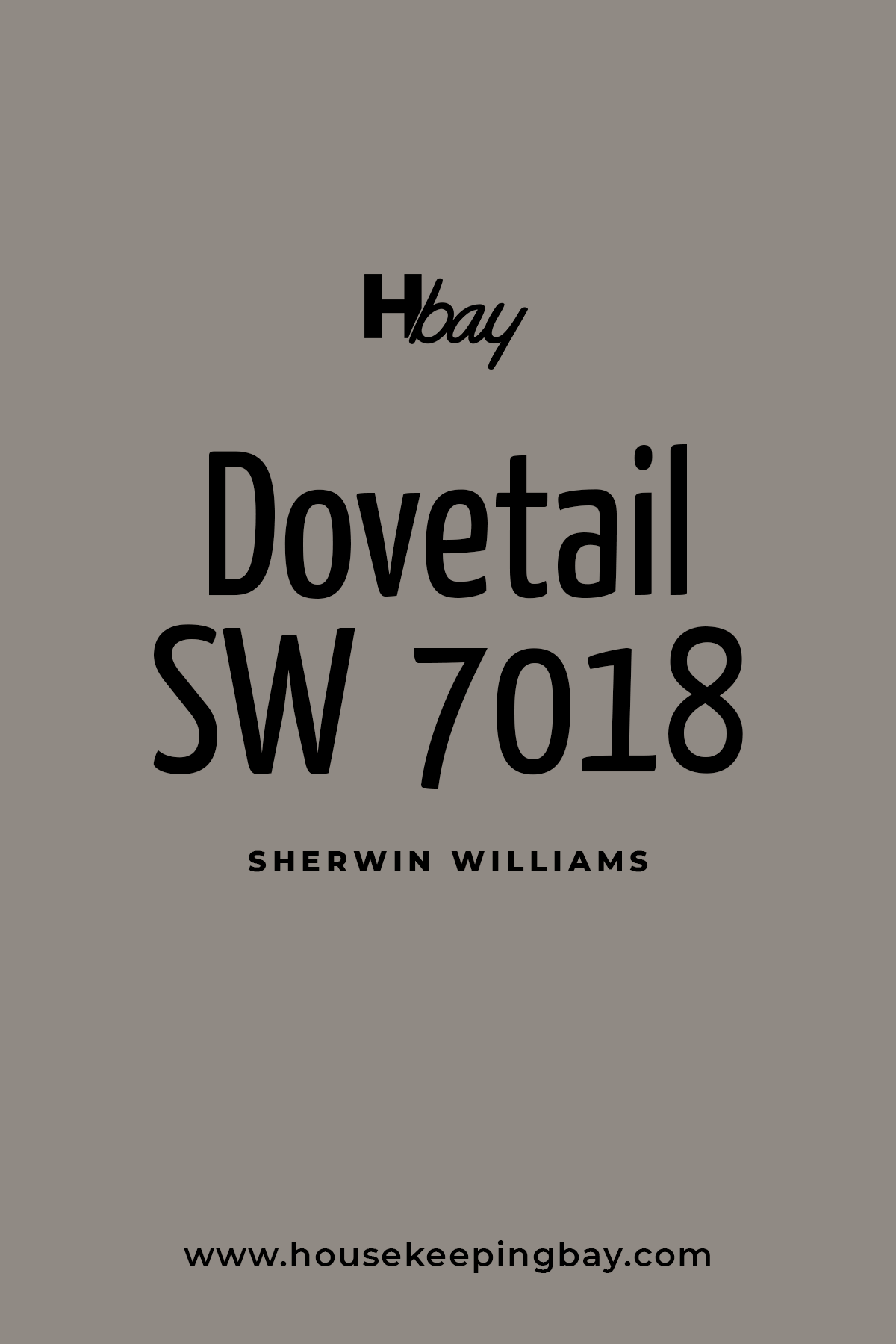 Sherwin Williams Dovetail Paint Color Undertones
Interestingly, some people call Dovetail just light brown or bronzy, others see it as gray or cappuccino color! You`re likely wondering what color Dovetail really is?
So, the official resource of the manufacturer states that the Dovetail Sherwin Williams color strip actually comes from gray!
It starts with Repose Gray, which can be described as a milky light gray color.
Then the next are Mindful Gray, Dorian Gray, and Ancier which are three pretty similar colors, they look quite warm and close to gray mixed with beige, where one is a tiny bit darker than the previous one.
It is fair to say that in contrast to its undertones, Dovetail looks not a little bit darker but like two steps ahead.
Though, it is still associated with light gray paint color.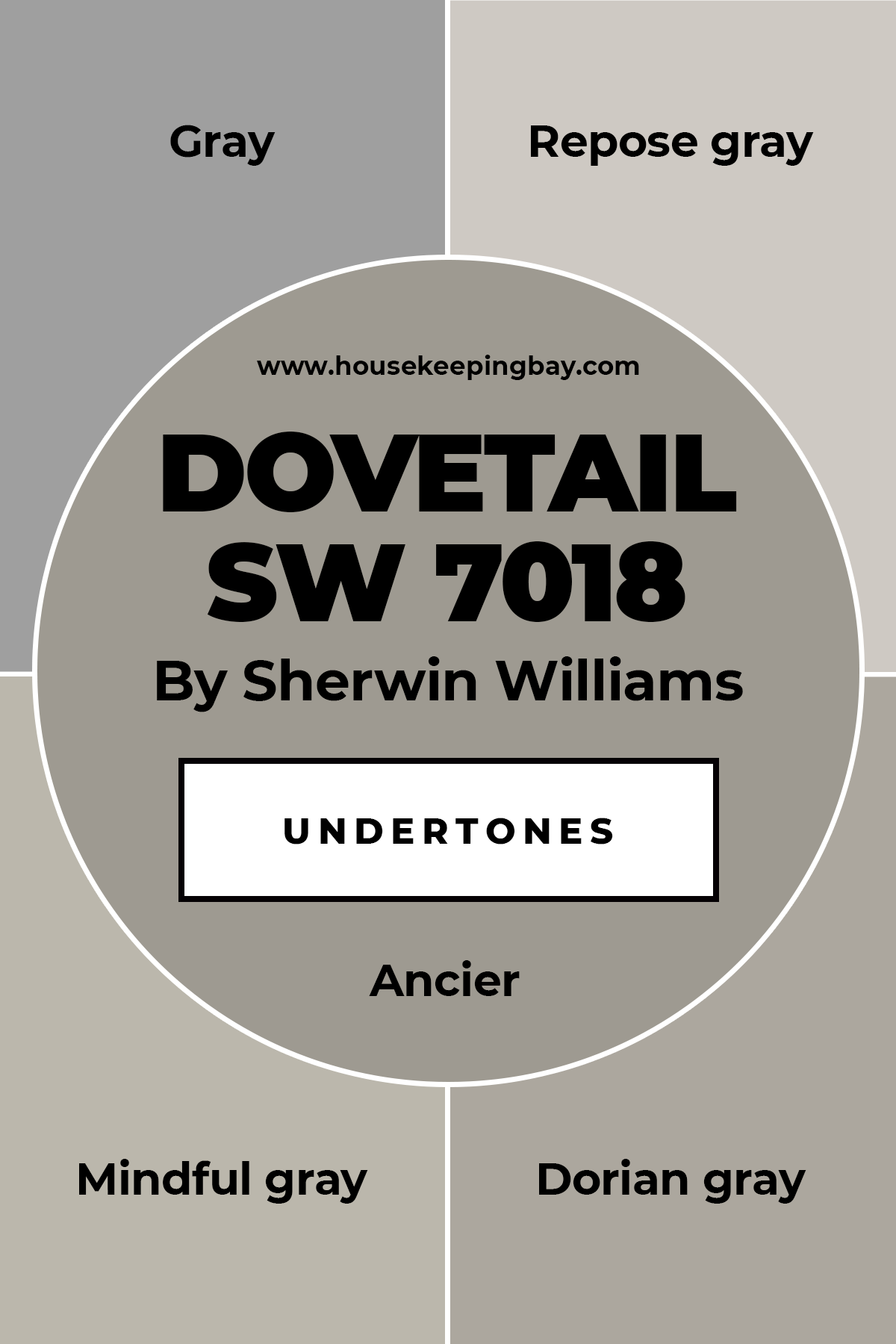 Coordinating Sherwin Williams Dovetail Paint Color with others
Since we already discovered that Dovetail is from the light color family and has rather light gray undertones it means only one thing – it will go well with darker colors. The question is still open: what colors does Dovetail Sherwin Williams look good with?
So, the official Sherwin Williams website gives us their recommendations on how to coordinate Dovetail with other Sherwin Williams colors.
They offer to match it with Eider White first of all, which will help to discover the whole depth of the Dovetail in contrast with white.
If Eider White is too light and cold for you, and you want to have something more calming, then the other option they have is Skyline steel, which is way darker than the Eider White.
However, it's still lighter than Dovetail. Using these two together will help you to create a perfect monochrome design.
In contrast, if you want to add a bright accent into your room, then a recommendation from a manufacturer is Inky blue.
And it is not a surprise, since inky blue looks actually like they mixed classic blue with a tiny drop of a gray.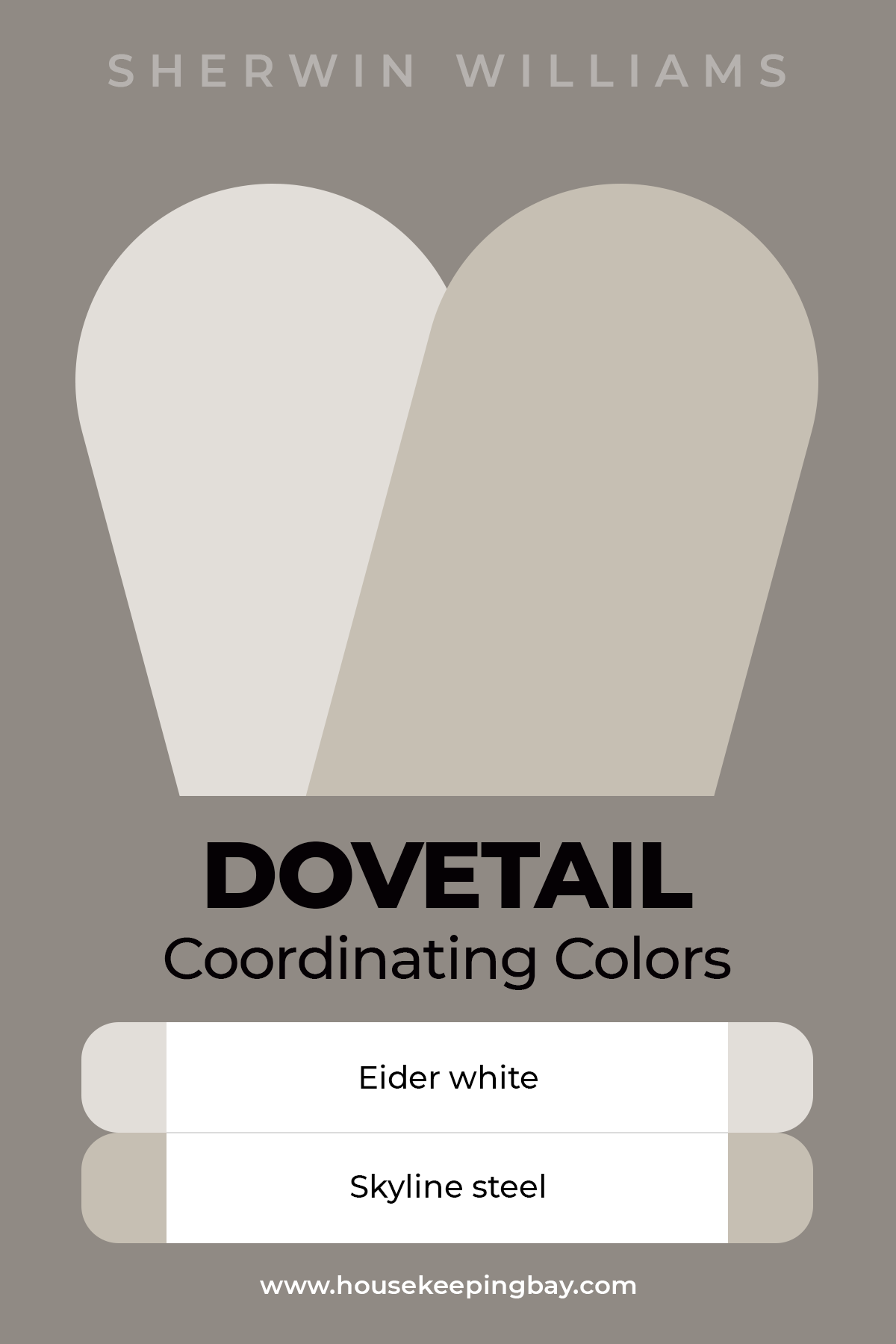 Dovetail SW 7018, Agreeable Gray SW 7029 – Sherwin-Williams SuperPaint®
How does lighting affect Dovetail Paint Color (LRV)?
So, moving on to LRV (Light Reflectance Value) which Dovetail has a meaning of 26 and it is not that low. So, not to get you confused, the Light Reflectance Value scale goes from 1 to 100, where 1 is the darkest and 100 is the lightest color.
Since Dovetail LRV is 26, it means that it definitely has depth and isn't overly light or dark so it will contrast well with both dark light shades.
So, you`re likely wondering whether is Dovetail a warm or cool color?
It is definitely more of a warm sandy color with a tone of gray.
Another step in planning your design is choosing a paint trim.
So, since Dovetail is a warm color, using creamy white may make the trim look yellow, whereas cool white such as extra white would be way better.
This color is a "neutral" white with subtle undertones, but it will look great without feeling too cold or sterile because of its crispness.
If you're a fan of monochrome in interior or exterior designs, then you might be looking for colors similar to Dovetail.
The official website of Sherwin Williams suggests us such, and some of them are:
Alloy
Elephant Ear
Classic French Gray
Studio Clay
Hammered Silver
Felted Wool
Quarry Stone
Timeless Taupe
Going Gray
Summit Gray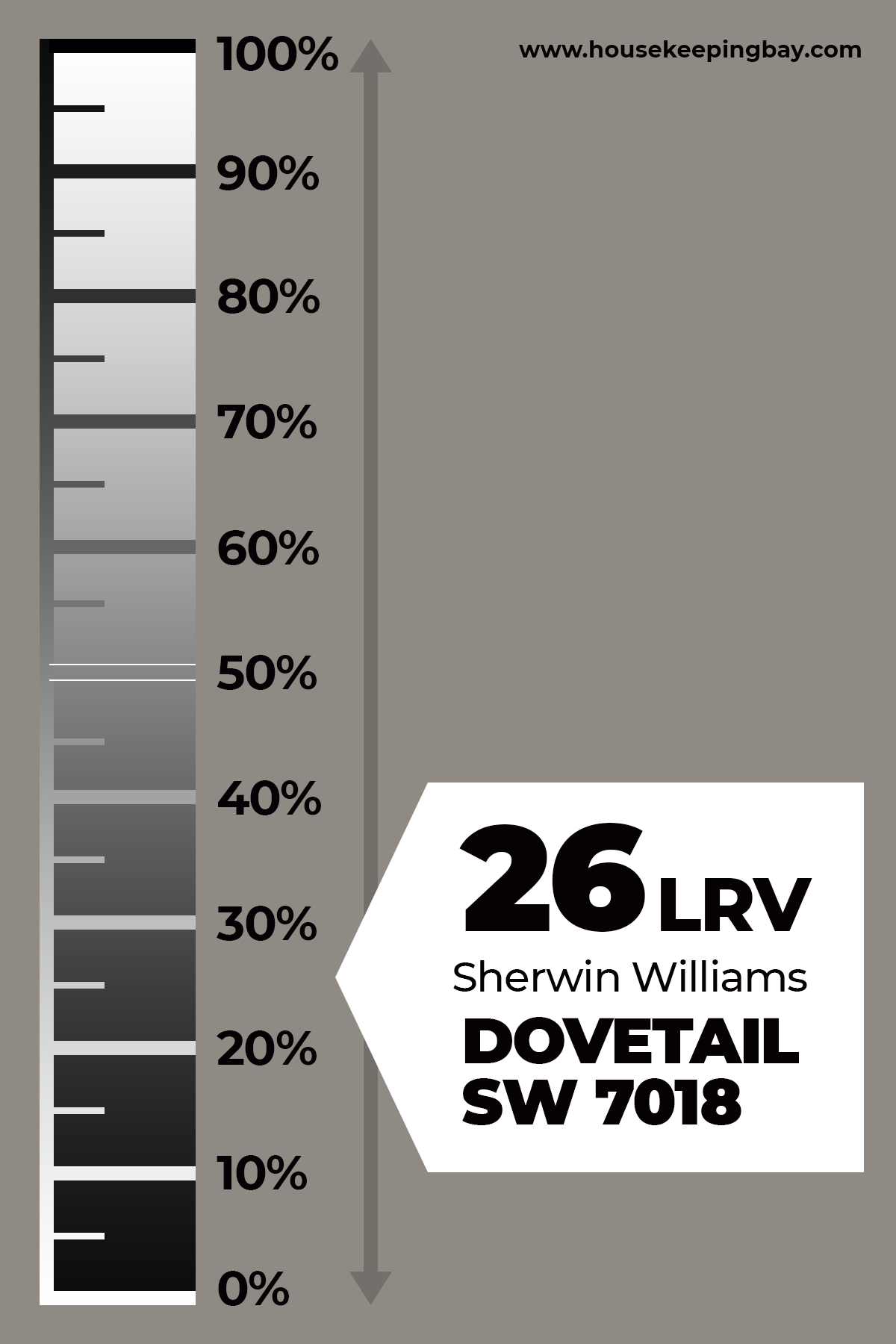 What is LRV? Read It Before You Choose Your Ideal Paint Color
Where to Use Sherwin Williams Dovetail Paint Color?
One of the most popular gray paint colors for painted kitchen cabinets, island, bathroom vanity, exteriors, doors, whole rooms, feature walls and more is definitely SW 7018 Dovetail Sherwin Williams!
So, as you have understood, Dovetail actually fits everywhere in any style and any room no matter who is going to live in this place or even work or train.
This color may seem to be boring and nondescript, but it is only at first glance, and only in poor lighting.
In fact, the versatility of the shade allows you to use it in any style: from modern to Scandinavian. And that's not the only reason for its popularity.
The main advantage of gray is its versatility and amazing possibilities.
Dovetail can be soft and serene, cool and elegant. That's why designers love it. However, be careful, try not to complicate the combination.
And that the room does not look dull. All pastel shades, wood and metal are in perfect harmony with it.
The palette is suitable for creating an interior in a modern and Scandinavian style.
A combination of several soft shades is suitable for both spacious and small rooms.
Using this technique, you can add air and volume to the room, enliven the space and highlight interesting architectural elements.
Light gray shades are ideal as a neutral background. Take advantage of this to highlight bright accents.
A great way to draw attention to special items and create a "wow" effect.
Keep in mind that with a lack of light, gray looks gloomy and lifeless.
In order for the color to reveal itself in all its glory, it needs a lot of light.
If the windows of the room face the shady side, give preference to a lighter tone and add white to the palette.
For lighting fixtures, choose lamps with the inscription "cool white", as in "warm yellow" this unusual color loses its charm.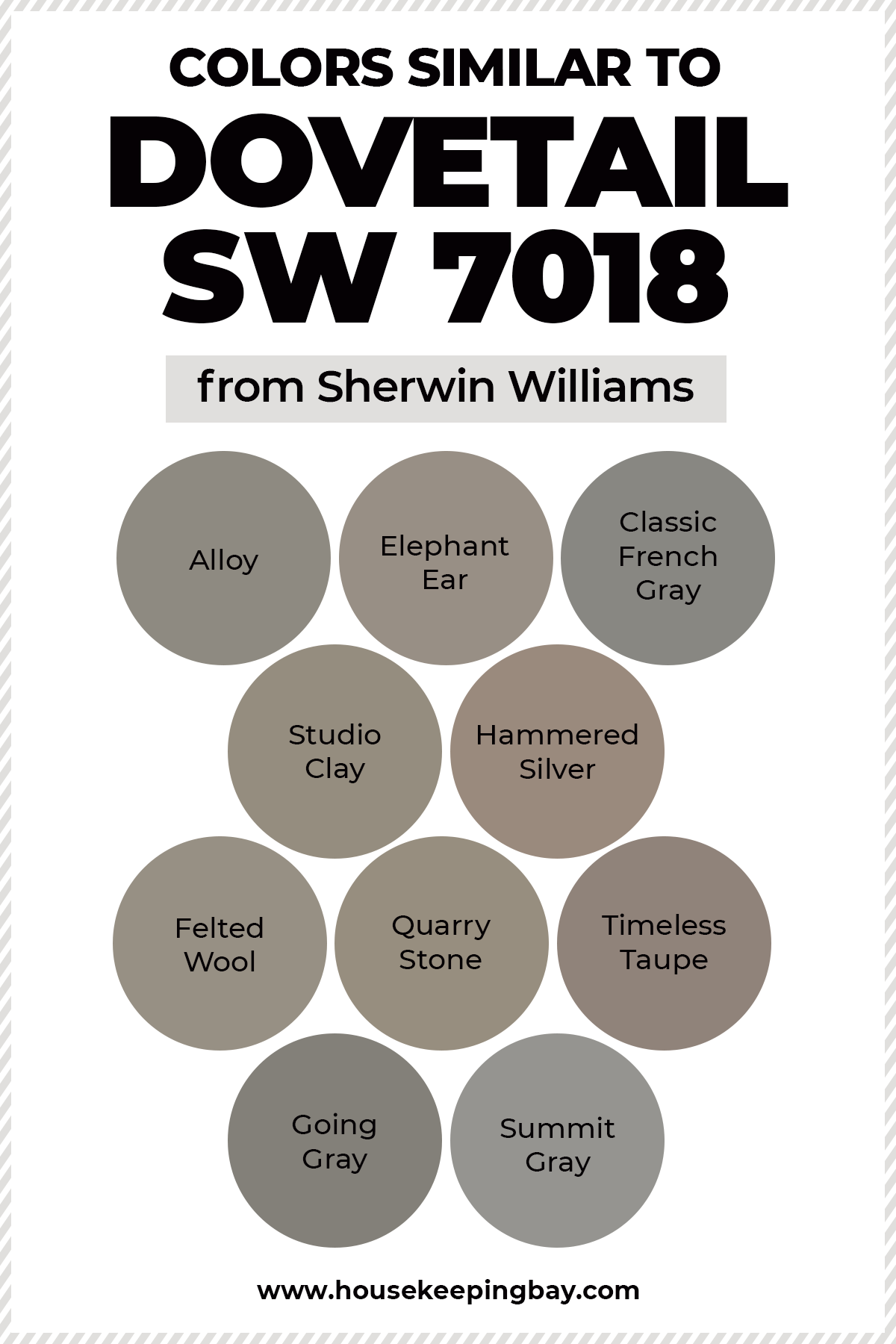 Sherwin Williams Dovetail Paint Color for living room
Combine patterns and sunny hues to break the monotony.
Contrasting prints and a yellow central object, as in the photo, create a cheerful atmosphere in the living room.
Experiment with different depths. By using the same color in different tones, you can create a very special living room.
Dark gray suede upholstery is perfectly complemented by luxurious blue, while glass coffee tables add a touch of glamor.
Gray and beige are the perfect combinations for an elegant living room.
The color scheme works well in a modern style. Don't be afraid to add a third color, like blue. The shade will act as a unifying link in the gray-beige interior.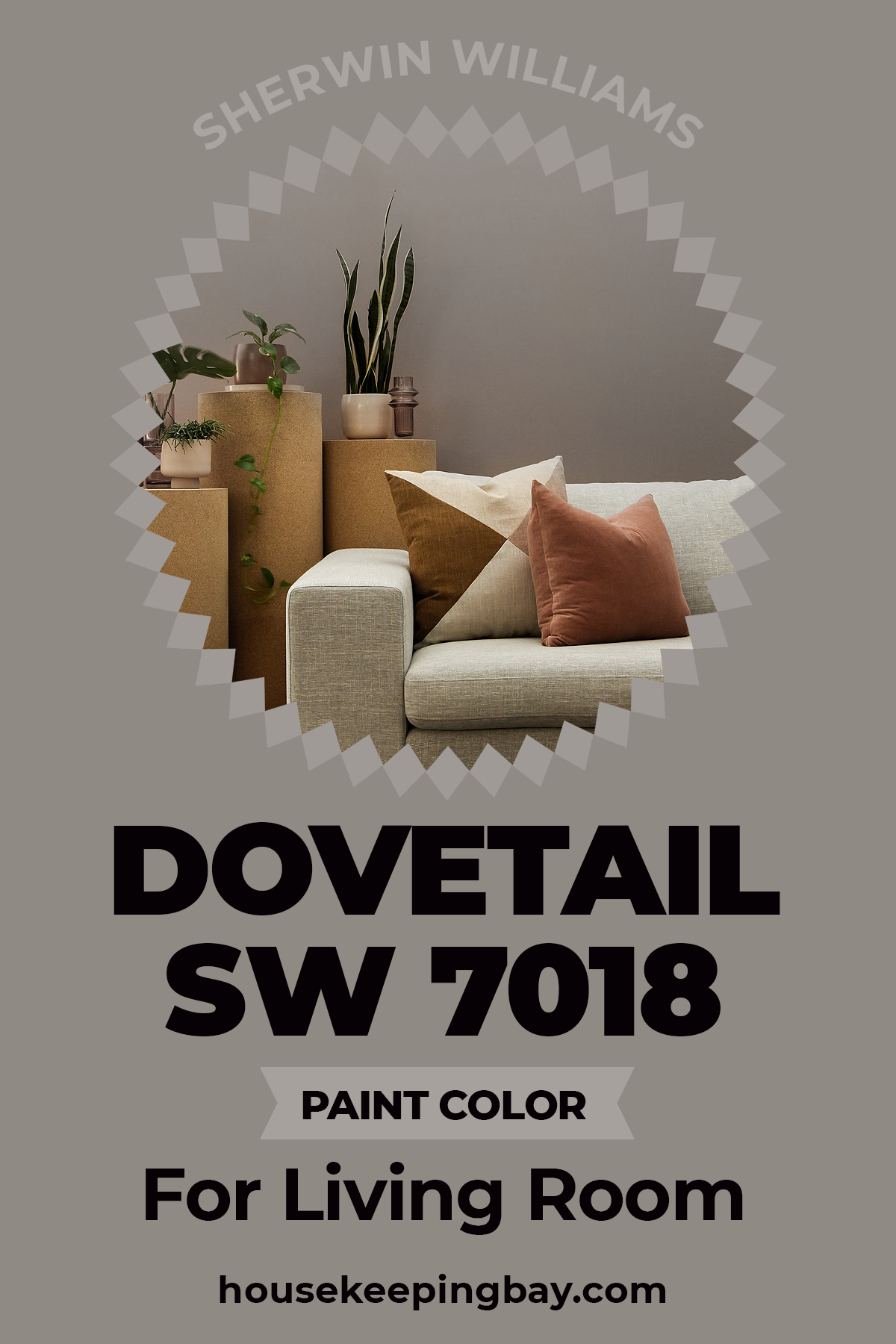 Sherwin Williams Dovetail Paint Color in offices
Dovetail is ideal for offices because it creates a favorable atmosphere and helps to put your thoughts in order. To create a brutal men's office, a combination of gray with brown or black is suitable. In tandem with blue and green, it will increase efficiency and set you up for work.
Gray and blue is a rather strict combination. It looks great in your home office or cabinets.
Blue color calms and suppresses aggression, and also increases concentration.
Take note – the darker the blue, the lighter the gray should be. And vice versa.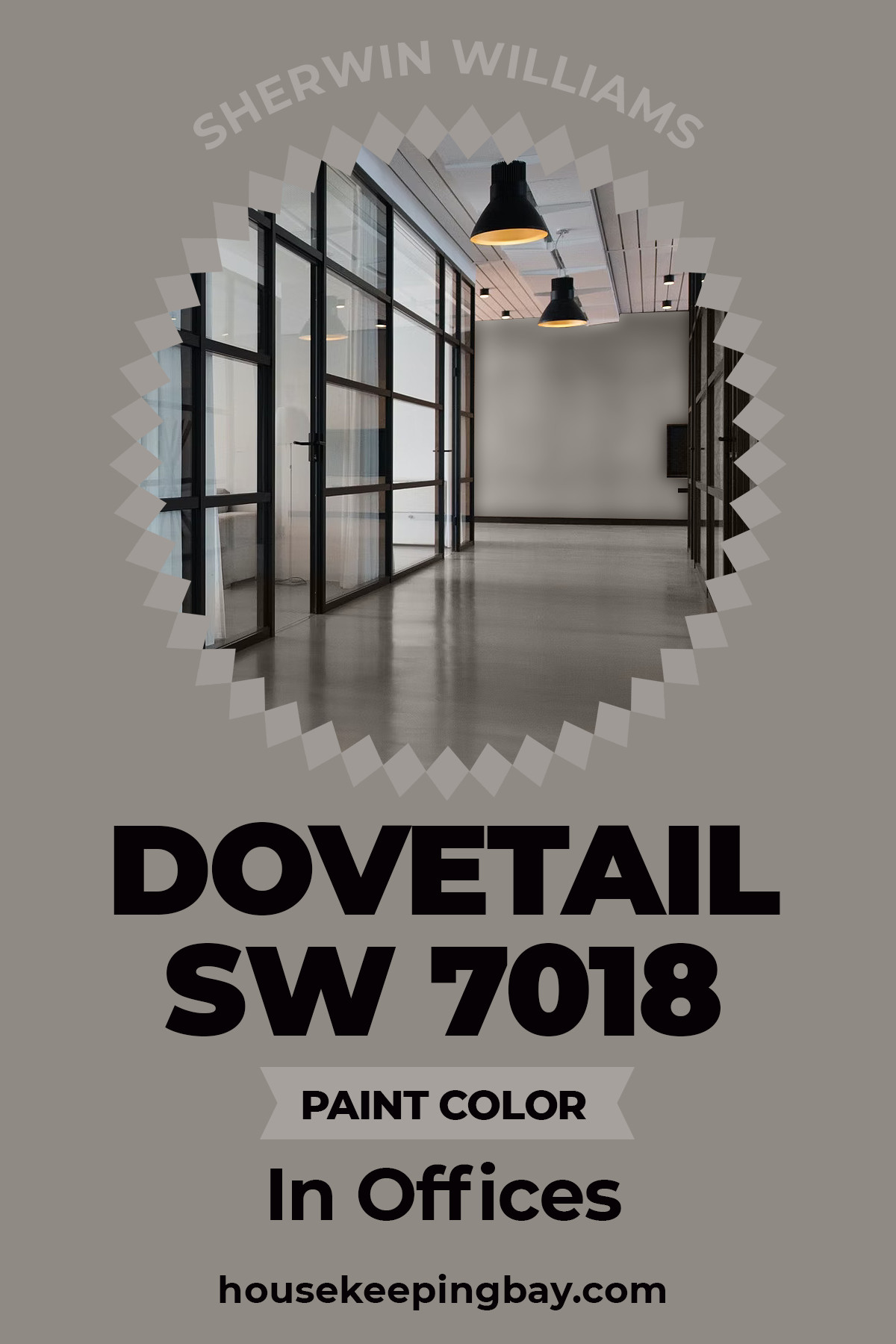 Sherwin Williams Dovetail Paint Color in bedroom
Dovetail in the bedroom creates an aura of calm and tranquility.
In the bedroom it is better not to experiment with different shades, it is worth taking as a basis only one or two tones of gray.
For this room, a combination of light gray with white, pearl with beige or cream, gainsborough with pale green, purple and nickel are suitable.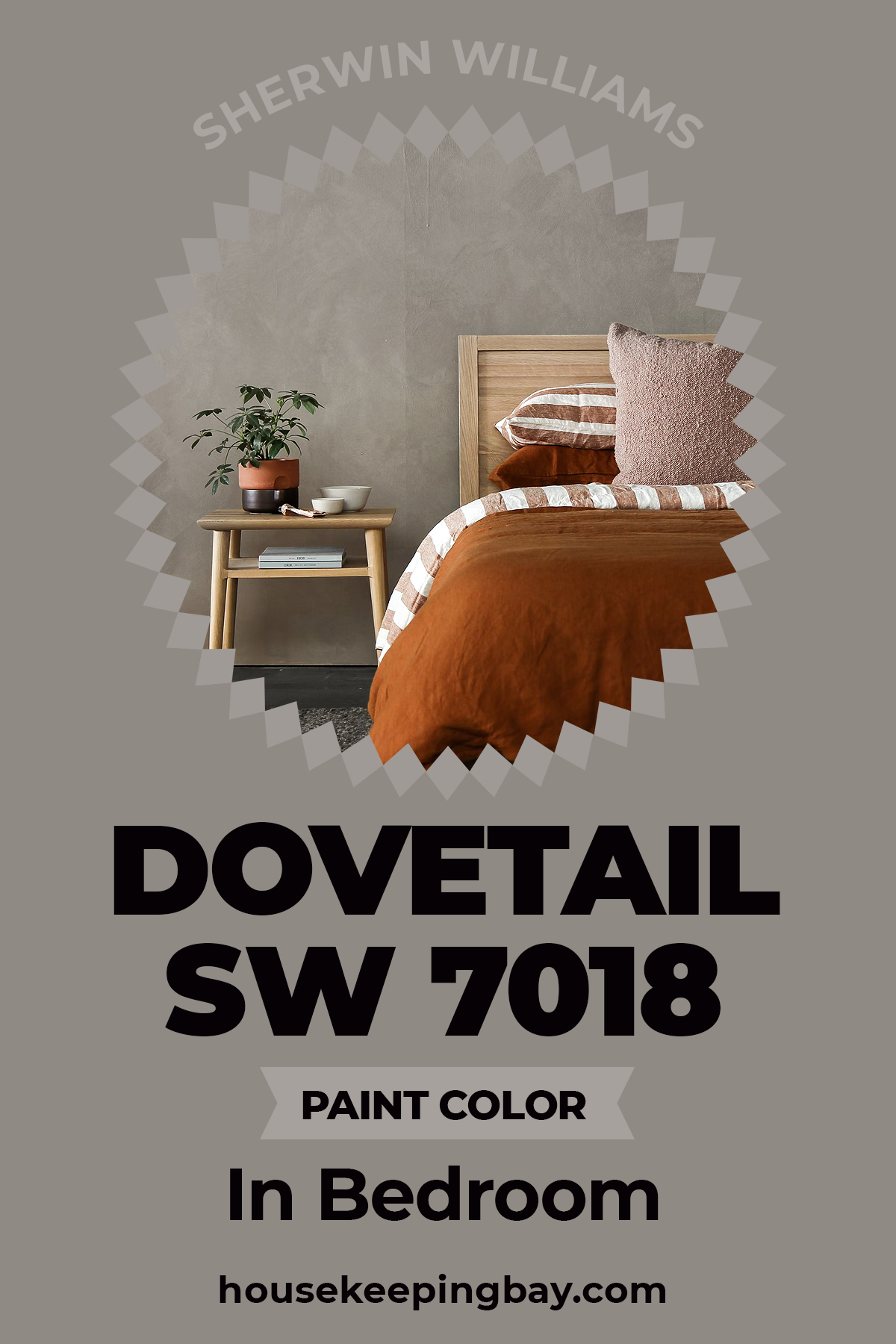 Sherwin Williams Dovetail Paint Color in kitchen and kitchen cabinets
Designers often use gray as a Dovetail in kitchens. The kitchen with gray facades brings peace and warmth to the room.
The coverage may be either glossy or matte.
Gray glossy finishing will make the furniture luxurious, and the matte surface will emphasize severity.
A gray-white kitchen is a popular solution to using gray.
A gray-blue palette makes the kitchen romantic and light. A gray countertop in a blue set emphasizes the cooking place thus diluting the too dark interior.
The gray-green kitchen gives freshness, filling the room with a summer atmosphere. A gray kitchen with wood countertops is a popular design choice.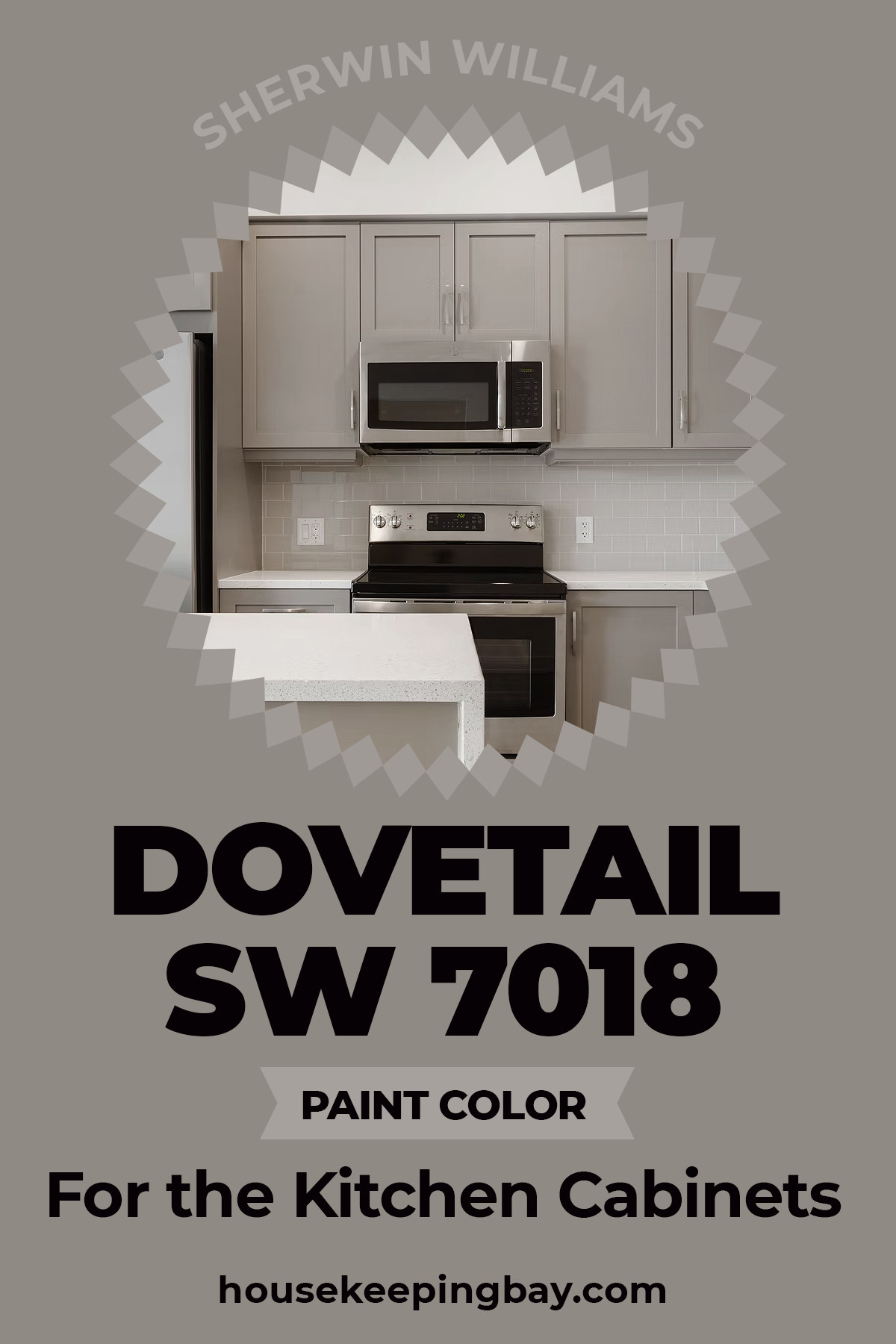 Sherwin Williams Dovetail Paint Color in exterior
Because the color combinations generate the overall impression of the future structure, this is one of the most essential components in the development of house design.
Light colors are especially popular, as they have a positive effect on the appearance of the building, creating a visual extension of the house.
That is why Dovetail is especially popular. It can look both light and dark, while being combined with other colors, this option will look very attractive.
Consider the main advantages of using a gray facade, how to combine colors correctly, what to consider during design.
Here it is important to take into account the chosen style, which is why it is worth considering the following arrangement factors:
Scandinavian Exterior Style. If you choose the presented direction, then it is best to use a light shade of color in combination with white. This is due to the fact that the main rule of design is to create a warm atmosphere;
Environmentally friendly style. A very popular option for the exterior, as natural shades make it possible to create good conditions for living and relaxing in the backyard. The best combination is with green or blue. Please note that there should be less bright colors, this allows you not to create brightness, the bulkiness of the building;
Country style. Also a very common direction for designing an exterior. It is also important to consider the naturalness of each material and shade. That is why it is recommended to combine a gray surface shade with dark brown.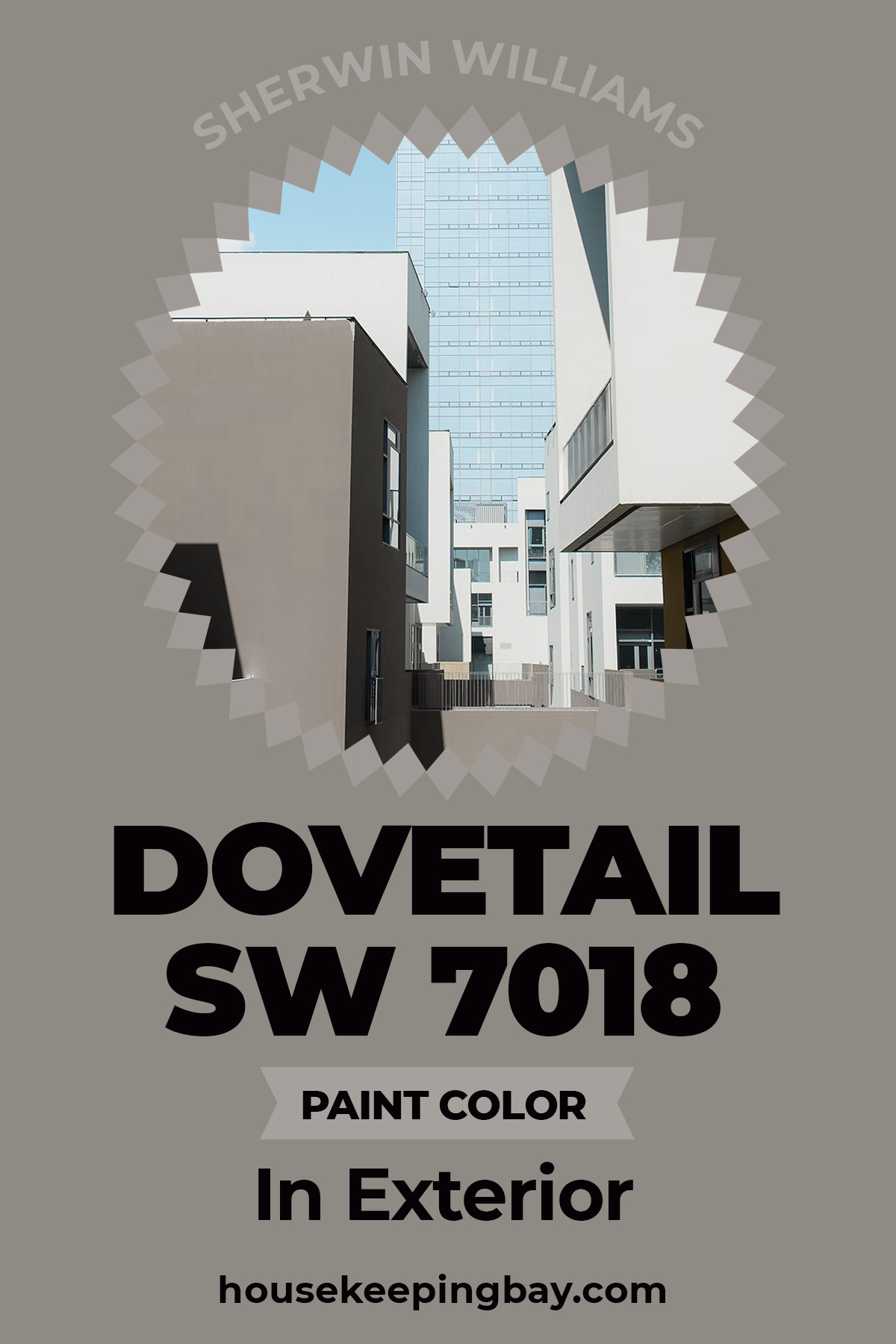 Sherwin Williams Dovetail Paint Color vs Gauntlet gray
As we already mentioned, Dovetail has a gray undertone.
So the difference between this one and Gauntlet gray is that the second one has definitely more beige undertone and is way warmer.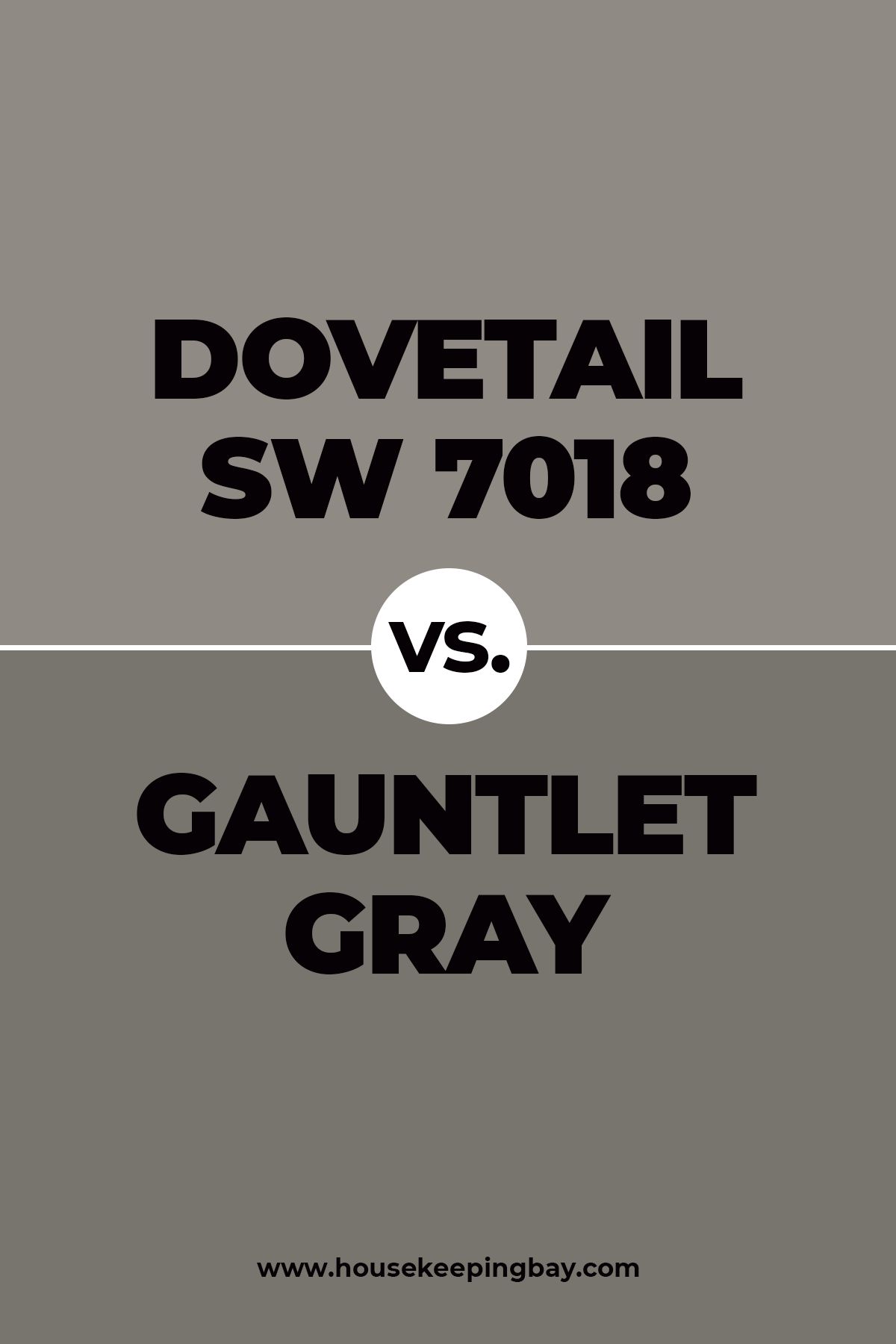 Sherwin Williams Dovetail Paint Color vs Dorian gray
There is not much difference between Dovetail and Dorian gray, since Dorian gray is actually in the color palette for Dovetail and it is only three shades lighter than Dovetail.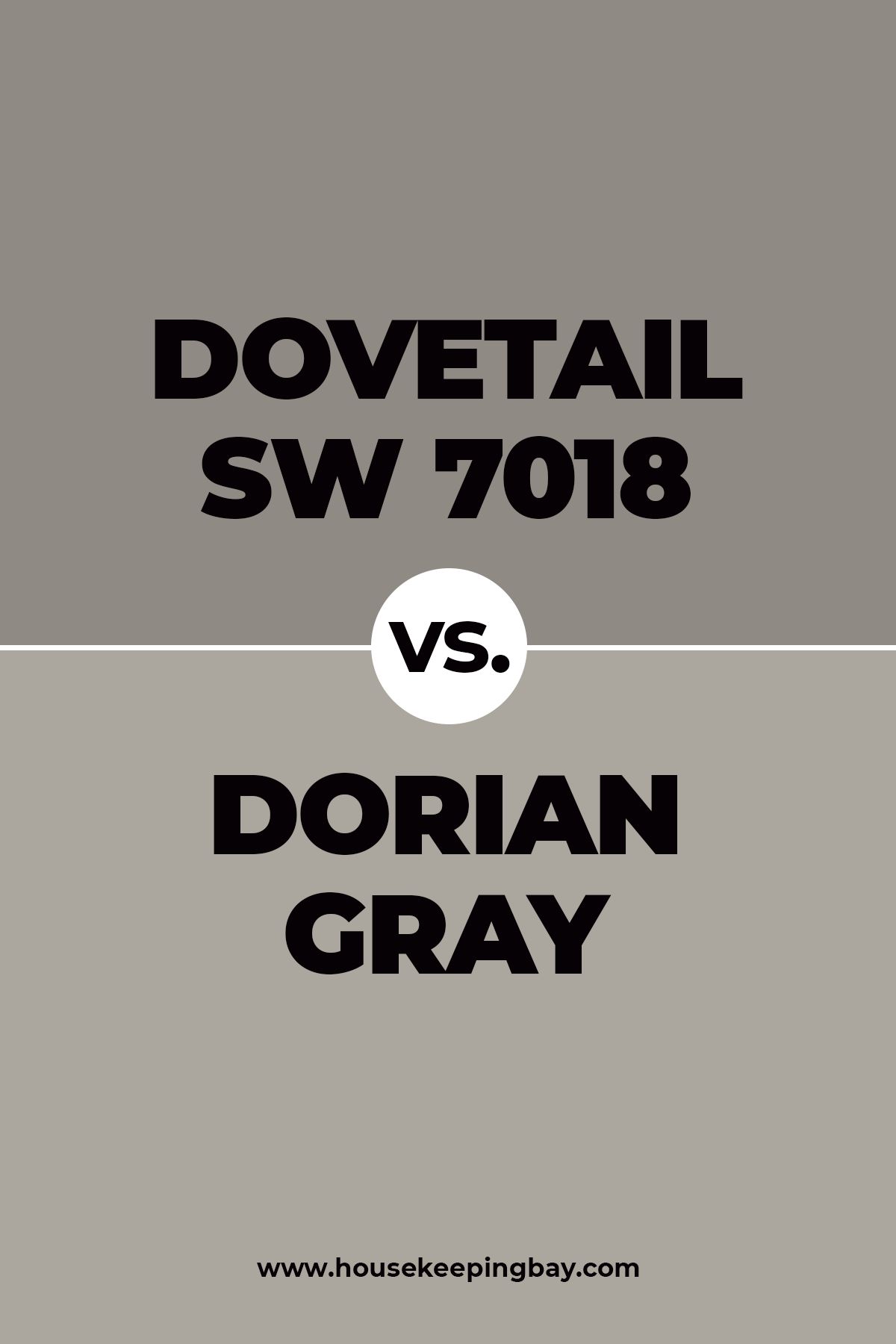 Dovetail vs Mindful gray
You couldn't see the obvious difference between Dovetail and Mindful gray from the first sight.
It is also from the Dovetail color palette and is only two shades lighter than Dovetail itself.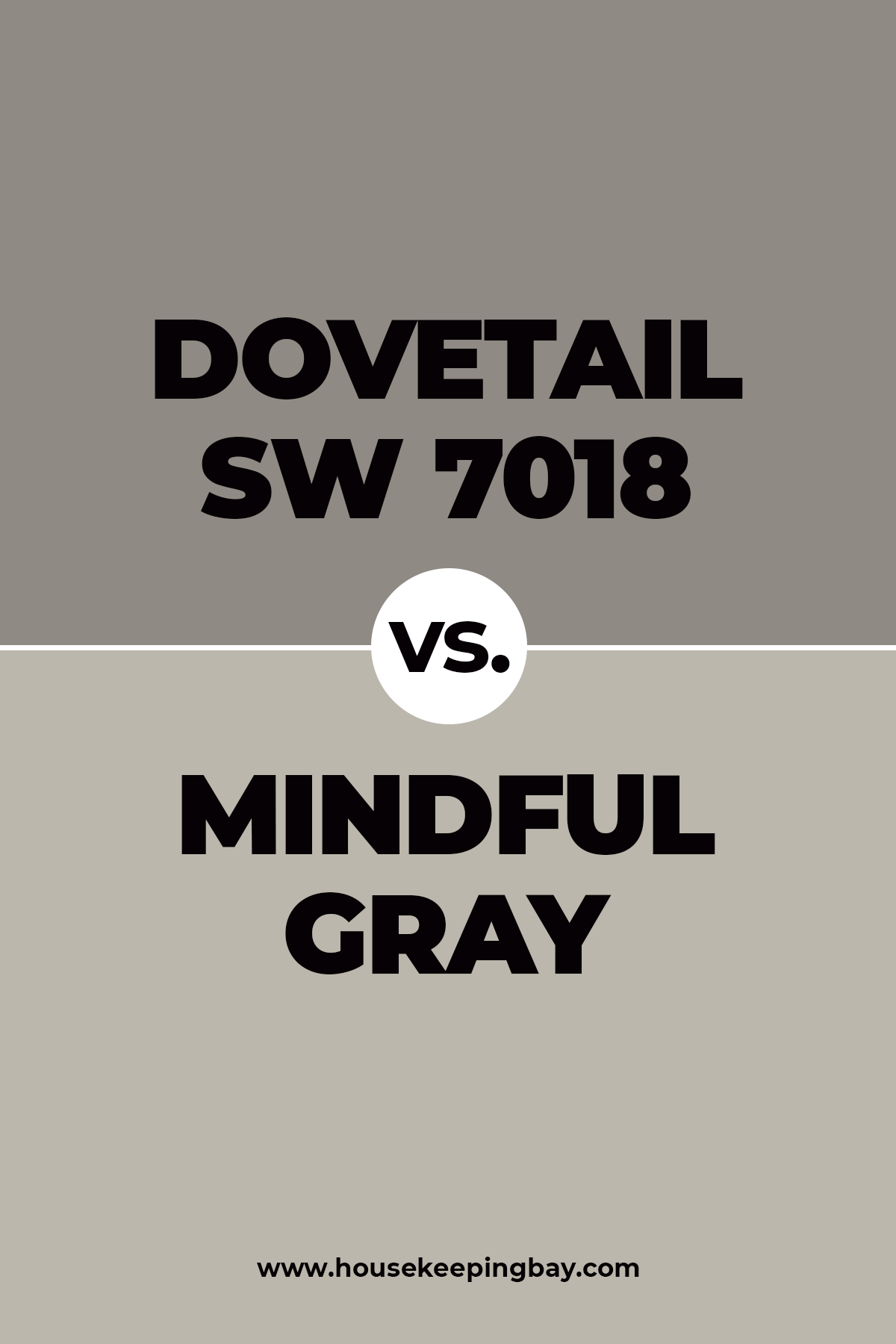 Related: Mindful Gray SW 7016 By Sherwin Williams | Ultimate Guide
Dovetail vs Functional gray
Even though it is called Functional gray it is not much of a gray in it.
A human eye would rather call it beige or sandy. In contrast to Dovetail, it's way warmer.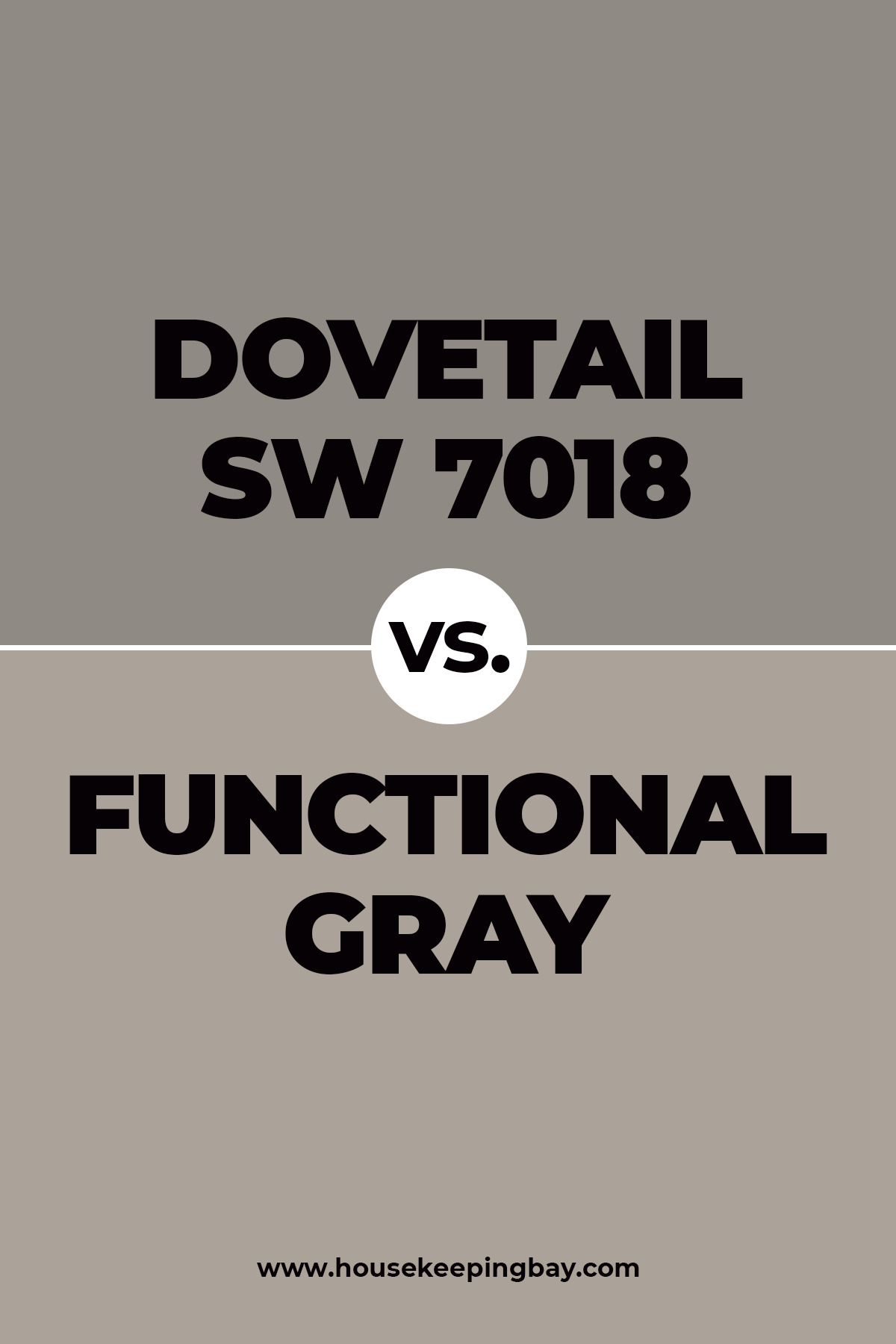 Dovetail vs Peppercorn
So, Peppercorn will go well with Dovetail since these two have different undertones and Peppercorn is more similar to bronze.
These two will contrast each other and subtly highlight the depth of each color.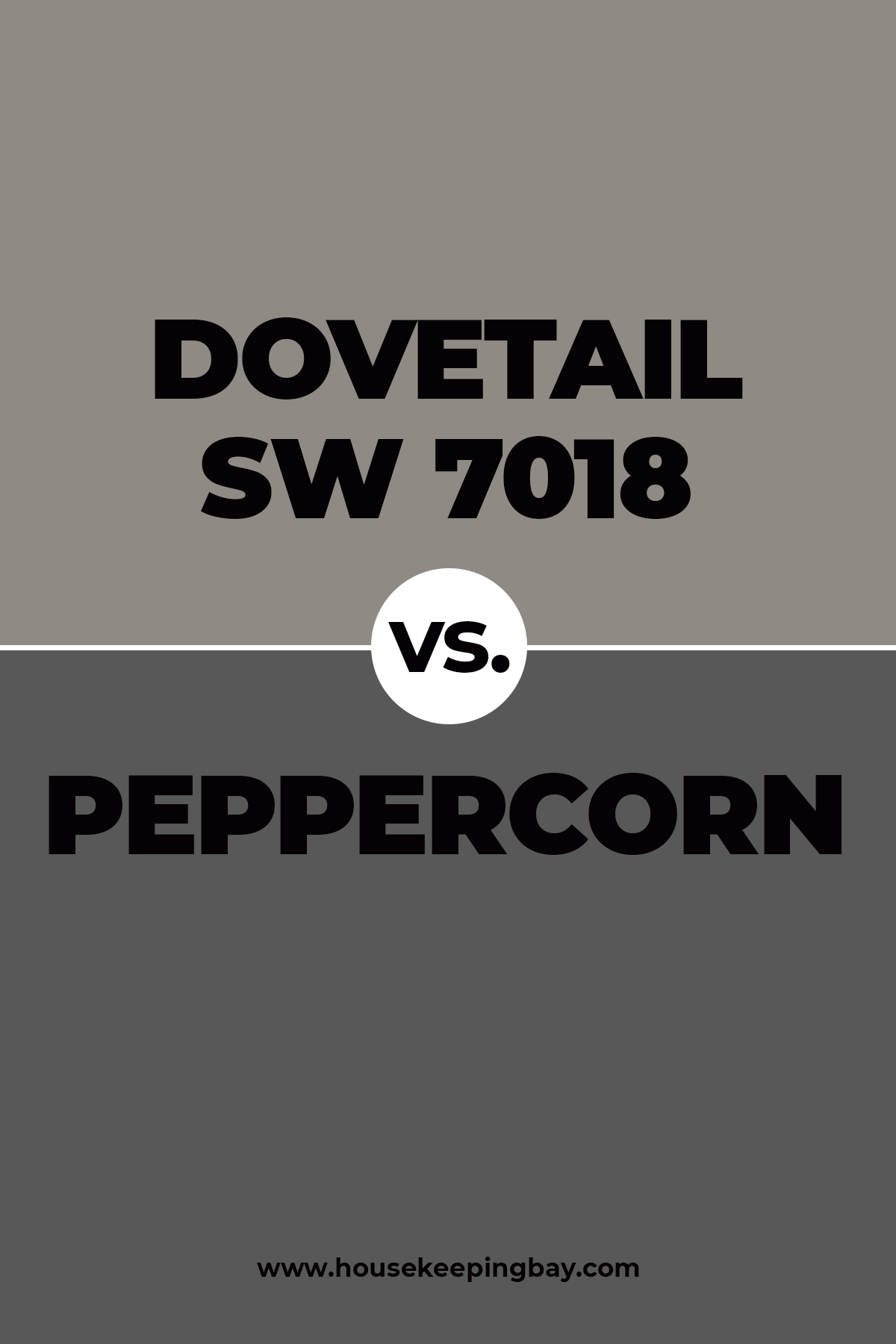 Dovetail vs Mega Greige
It is fair to admit that these two are completely different from each other. Mega Greige is rather beige and nude.
It is warm and light.
However, both of them work well with such white shades as Windfresh White, Incredible White, and Extra White.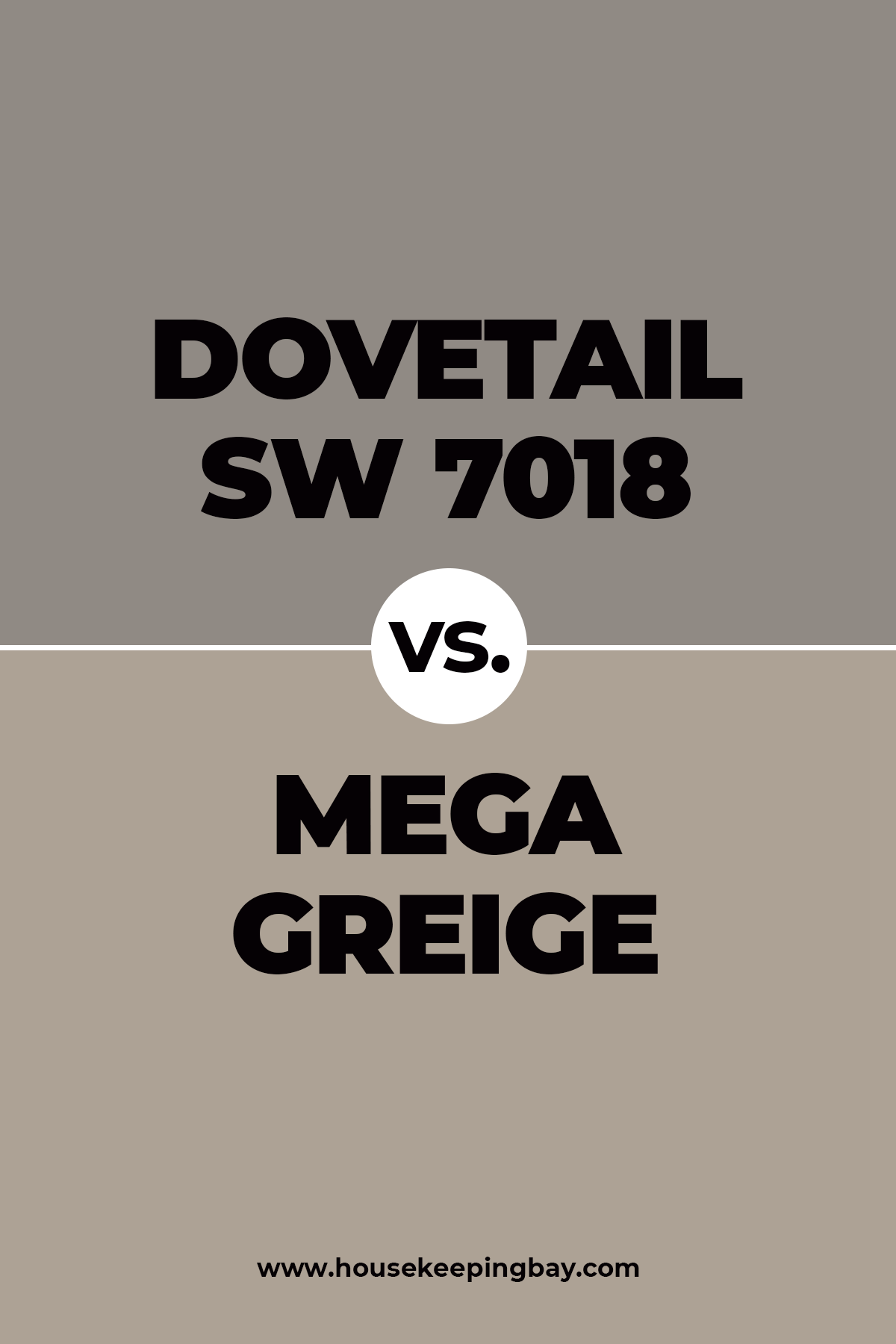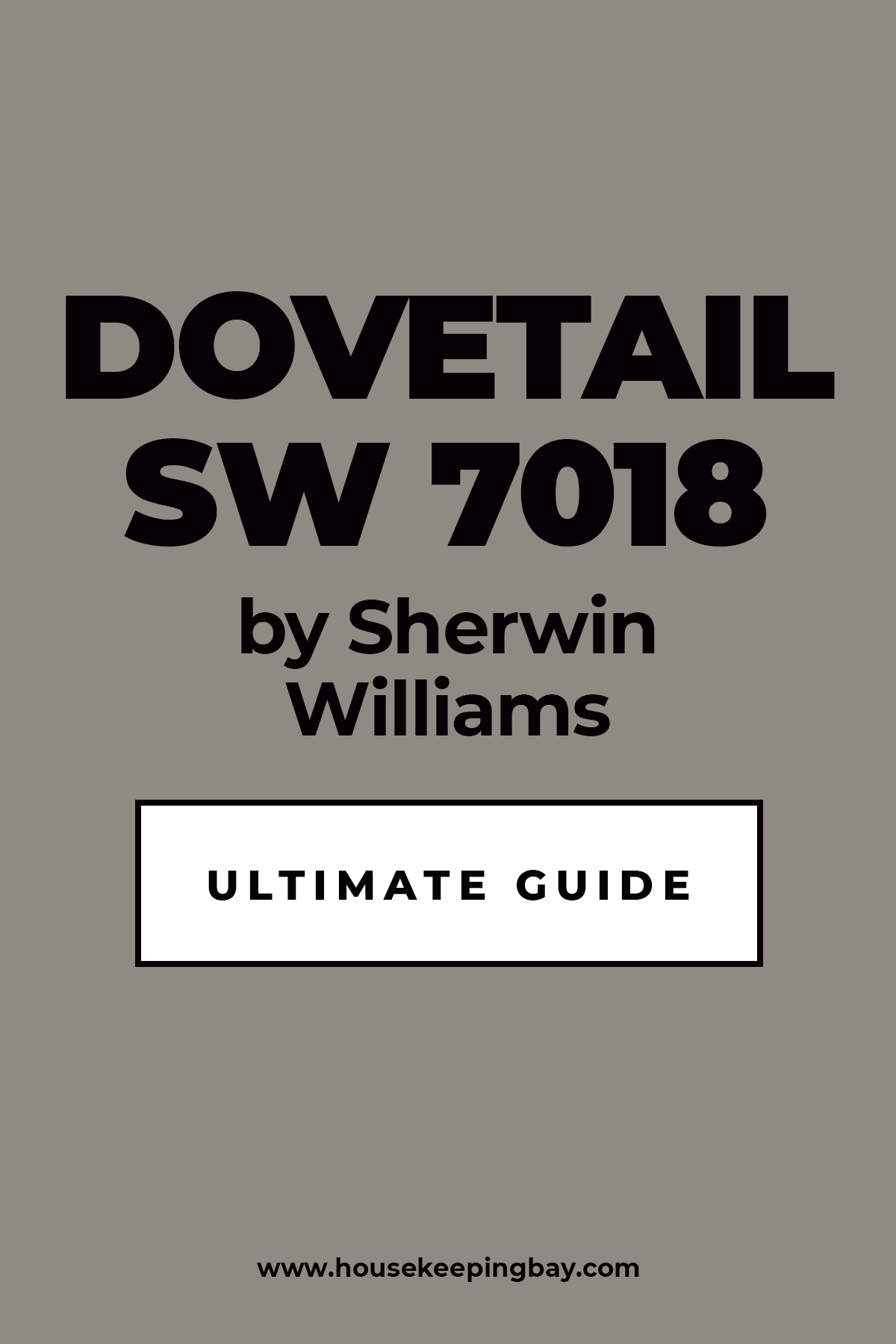 Frequently Asked Questions
⭐ Is Dovetail a warm or a cool color?
It is definitely more of a warm sandy color with a tone of gray.
⭐ What is dovetail sherwin williams color strip?
The official resource of the manufacturer states that Dovetail sherwin williams color strip actually comes from gray!
⭐ What colors does dovetail sherwin williams look good with?
The top three colors which will work best are Eider white, Skyline steel and Inky blue.