Not everyone of us is able to pick bright and bold colors for our home and have them all different in different rooms so that they create a well-balanced ensemble.
You need to really have an eye for colors to be able to do that trick! Perhaps, this is the reason why so many homeowners opt for calming neutrals and greiges when they decide to refresh the interiors of their house or apartment.
However, this group of paint colors only seems to be so simple! Both neutrals and especially greiges appear to be rather tricky, for example, when it comes to how they react to different lighting. And the undertones of such paint colors is another reason for one's headache. One of such colors is Wish by Benjamin Moore (AF-680).
At the first sight, it may seem to be a warm grey, but in fact it is a neutral color that is often also considered greige! Of course, it will fit almost any space in your home, but be ready that it may reveal itself quite differently under distinct circumstances!
So today we decided to introduce this seemingly simple grey to you, and tell you more about this paint color by one of the most famous paint brands.
You will learn its "anatomy", figure out how it reacts to different types of lighting, and what to expect from its undertones to make them work for you.
What Is BM Wish Paint Color?
Before we proceed and dive into the depth of this color structure and its application, as well as its use nuances, we would like to briefly introduce you to it. Like this, you will be able to better understand what Benjamin Moore Wish is as a paint color, and how it is better to be classified since it is important for picking the wall paint color properly.
So, Benjamin Moore Wish is typically referred to as warm grey, as Encycolorpedia says. However, due to its color scheme specifics, it can be rather considered neutral gray, or even closer to greige. Why greige? Well, because, if you take a closer look at it (and if you have an eye for colors), you will see that this paint has yellow and grey tones in it as well.
By the way, because of this feature, this color will look especially nice, warm, and cozy in south-facing rooms!
Some of you might be worried because of those yellow undertones thinking that they can come out as a significant yellow tint, but this will hardly happen. Even in a suitable lighting, this color will look more like greige with a significant beige hue, but there won't be that bright yellowness.
Except for this aspect, BM Wish is an ideal color pick for your home since it will suit almost any room, of course, if you take its lighting into consideration!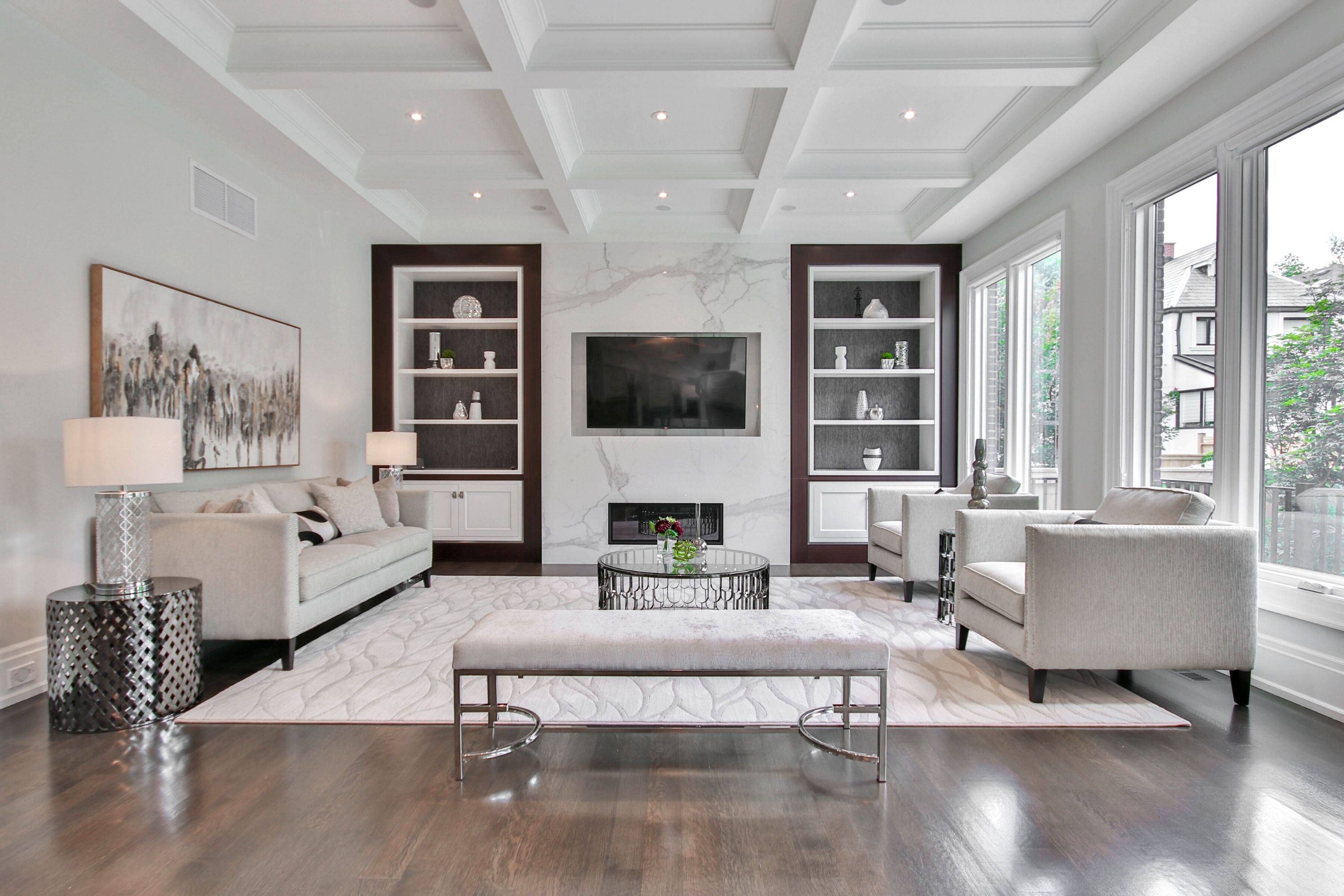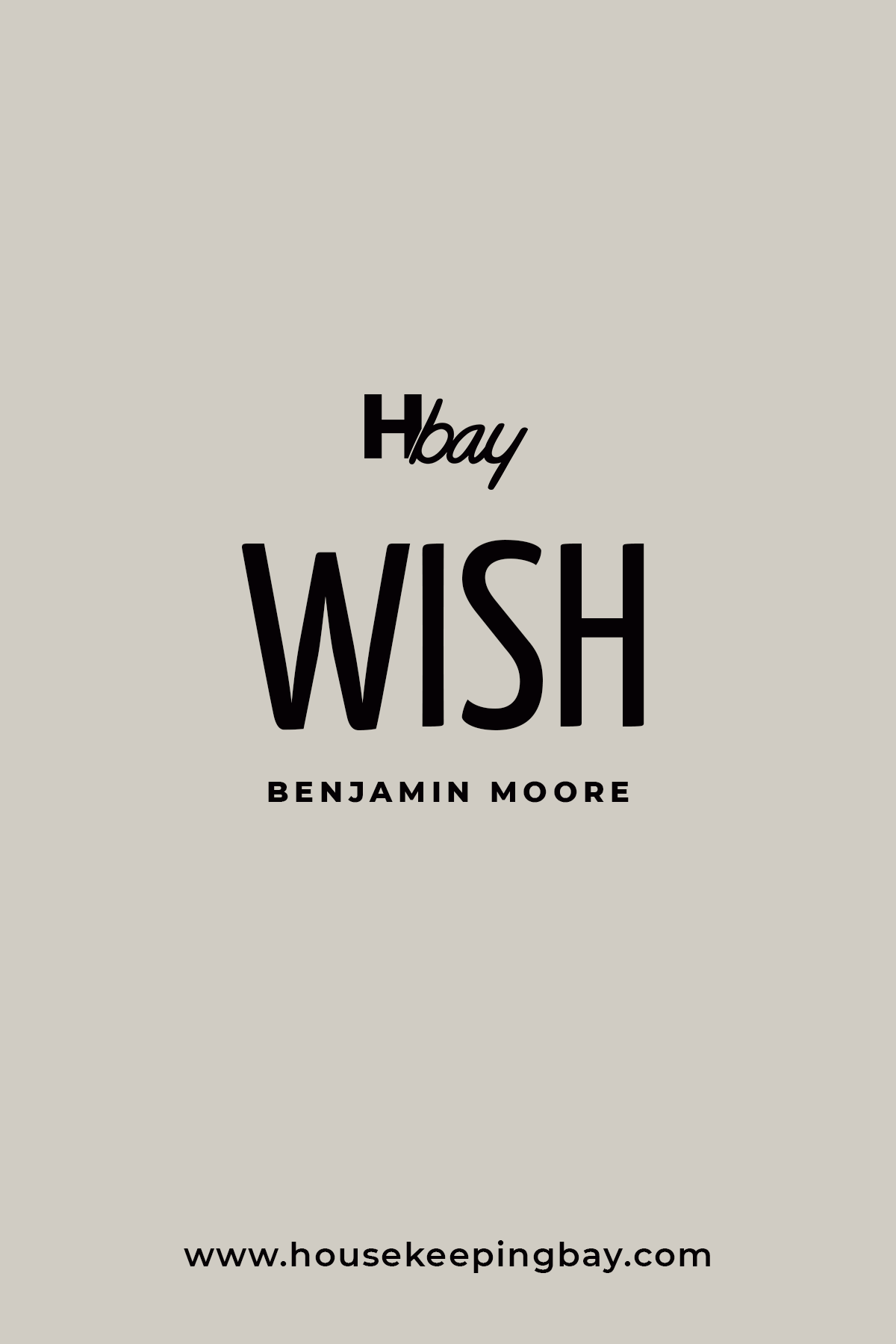 Is BM Wish a Warm Or Cool Color?
The warmth or coolness of a paint color means a lot since it will influence the overall appearance of the space after being applied on the walls. Some of us prefer warmer color tones since they make the room look cozier. Others, on the contrary, stick to cooler shades that will make the space look more airy and thus spacious.
So, depending on your own preferences, you might be wondering whether Benjamin Moore Wish paint color is warm or cool. And the answer is: it is warm. Wish can be classified as rather warm neutral grey, to be precise. The grey that is fairly light in addition.
However, do please take into account that, if you apply this color on the walls of a south-facing room, it will most likely reveal its yellow undertones which will make this paint look closer to greige and seem warmer!
BM Wish Undertones
Undertones is a huge stumbling stone for everyone who is not a painting veteran. Especially when it comes to dealing with such a tricky group of colors as neutrals or greiges!
Quite many of these colors have undertones that become visible only in a certain kind of lighting, which means you must be really careful when deciding on what color exactly you want to apply on to your walls! Believe us, sometimes a wrong choice may lead to quite an unexpected effect!
As for the Wish paint color by Benjamin Moore, it can be called quite a simple case regarding undertones. See, this color only has yellow undertones that become noticeable in a south-facing room only. In other rooms, this color will look more like neutral and rather warm grey.
So you should not expect any dramatic transformations when using this paint color on your walls. Don't worry, it's not going to happen that you suddenly find out your dining room turned yellow instead of being grey!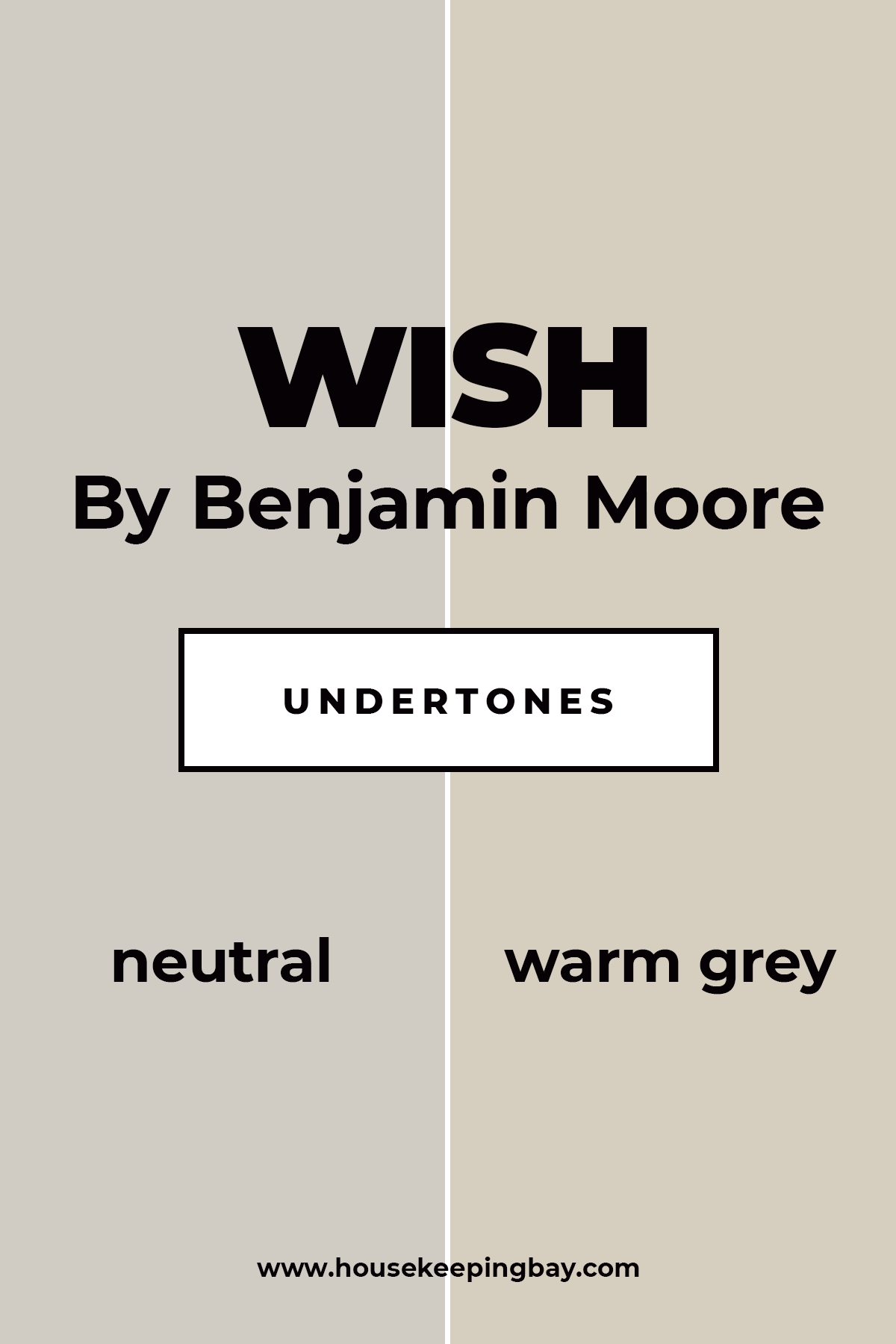 Best Gray Paint Cololurs by Benjamin Moore
The Best Coordinating Colors For BM Wish Paint
Knowing the coordinating colors for the wall paint you chose to paint your home with is essential as well. That's because these colors will help you to make the whole space look way more varied and vivid without using a too complex color palette at the same time.
However, if you decide to paint your home with neutrals and/or greiges, picking proper coordinating colors may appear to be rather difficult for you. This is why we are going to provide you with the list of the most suitable coordinating paints that will pair with BM Wish ideally:
London Fog
Stonington Grey
Grey Owl
Grey Cloud
Chelsea Grey
Coventry Grey
Silver Satin
This coordinating palette includes both more greyish and more beige-like colors, consisting of cooler and warmer shades which allows you to play with color combinations and pick up the most suitable combo for your home.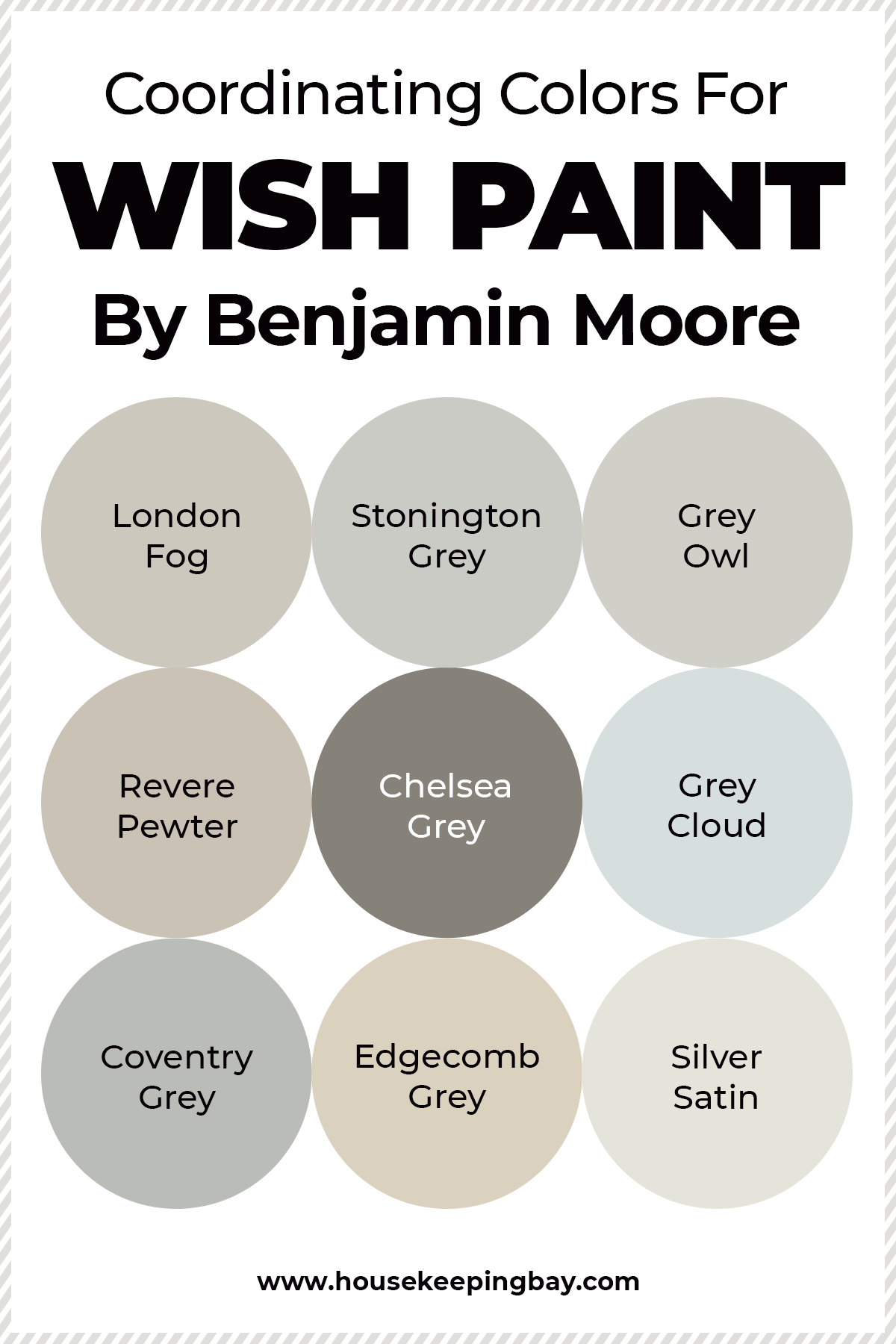 What's the Best Trim Color of BM Wish?
Since Benjamin Moore Wish is a neutral color that stands pretty close to greiges, it will look astonishing with white trims just like all the greiges do. Nevertheless, it is important to pick up the right white shade so that it can be combined with Wish harmoniously.
So for trimming your Wish in the interior, we would recommend such whites as Benjamin Moore Simply White, Chalk White, and Distant Gray. But there are some homeowners who swear that they used both Wish as a major color and Wish again for the trims, only applying another formula.
How Does Lighting Affect BM Wish Paint Color?
When you are dealing with neutrals or greiges on your home interior walls, lighting matters A LOT for how the color will reveal itself. For instance, Wish paint color, that is technically fairly light and neutral grey, will look pretty greige with significant warm beige hue in it if being lit with warm-light bulbs. Also, when applied in a south-facing room, this astonishing and elegant color will look warmer than in a can or on a sample.
However, if you use it in a room that has cooler lighting, the color may lean more to its neutral greyish side. Thanks to this versatility, BM Wish can be successfully and beautifully used in any type of design!
What is LRV? Read It Before You Choose Your Ideal Paint Color
Where Can I Use This Paint Color In My Home?
Benjamin Moore Wish paint color is pretty versatile thanks to its mixed nature with yellow undertones that make this color reveal beige notes under certain circumstances. Due to this, you can make use of Wish in any room in your house or apartment. Nevertheless, we still recommend you take the lighting into consideration! That's because Wish can change its appearance quite significantly in warmer and cooler lighting.
But in general, this light and neutral grey color can be applied in your living room, bedroom, or even bathroom, and of course, let's not forget about your kitchen and even the kitchen cabinets! Some even use it as a trim color!
Using BM Wish In Your Living Room
When applied in a living room, BM Wish reveals itself as a universal color. If your living room has a lot of southern light in it during the day, you can expect this color to show more of its beige side creating a cozy and warm atmosphere.
But even in a cooler light or when being lit with artificial lighting, BM Wish still remains a calming and balanced neutral that is fairly light which means your living room will not look too dark.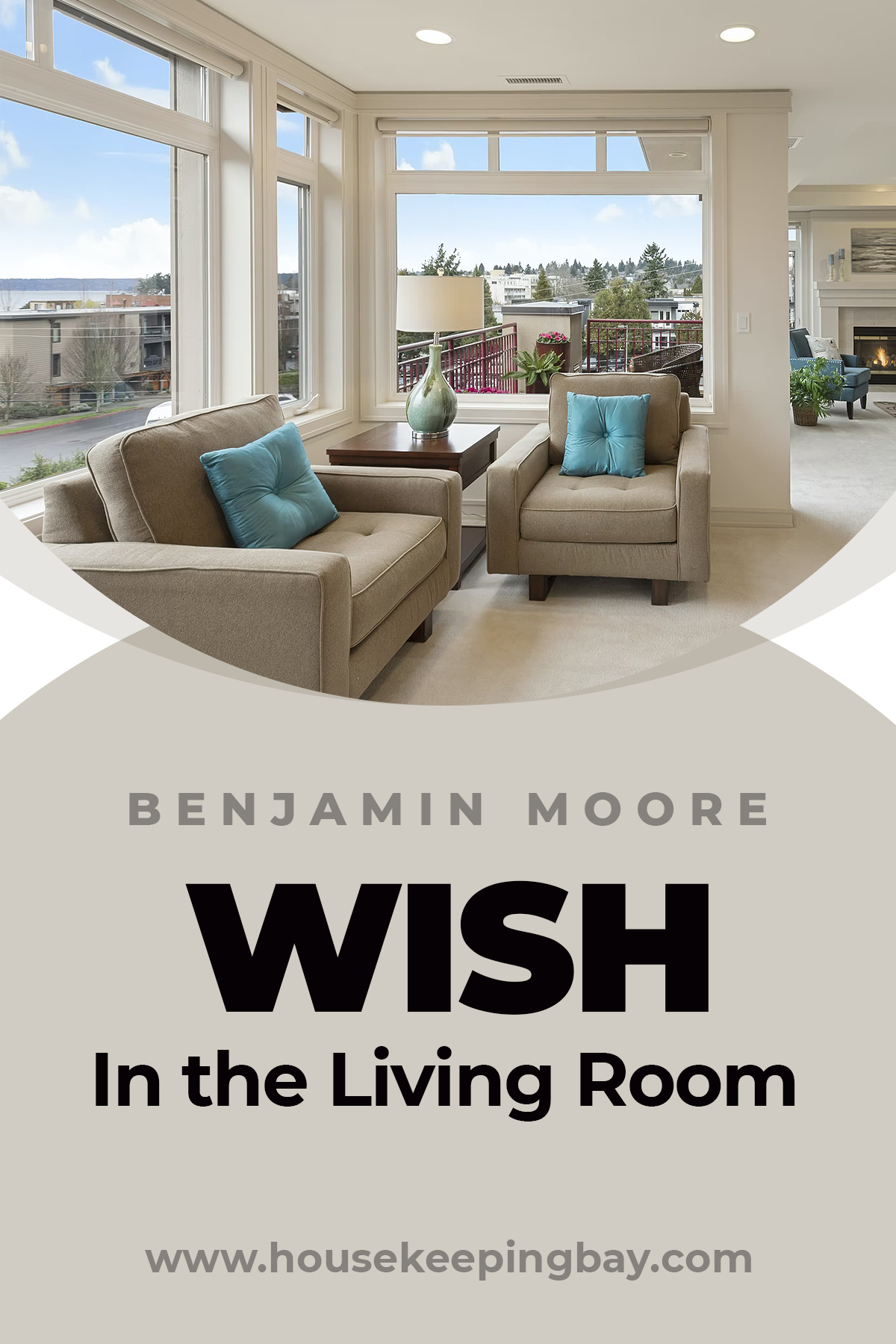 Is This Color Suitable For Bedrooms?
Yes, this color is definitely a good choice for the bedroom! It will make the room look more spacious and airy if you provide it with enough natural light. And in the artificial lighting, BM Wish will add more warmth and comfort to your sleeping space.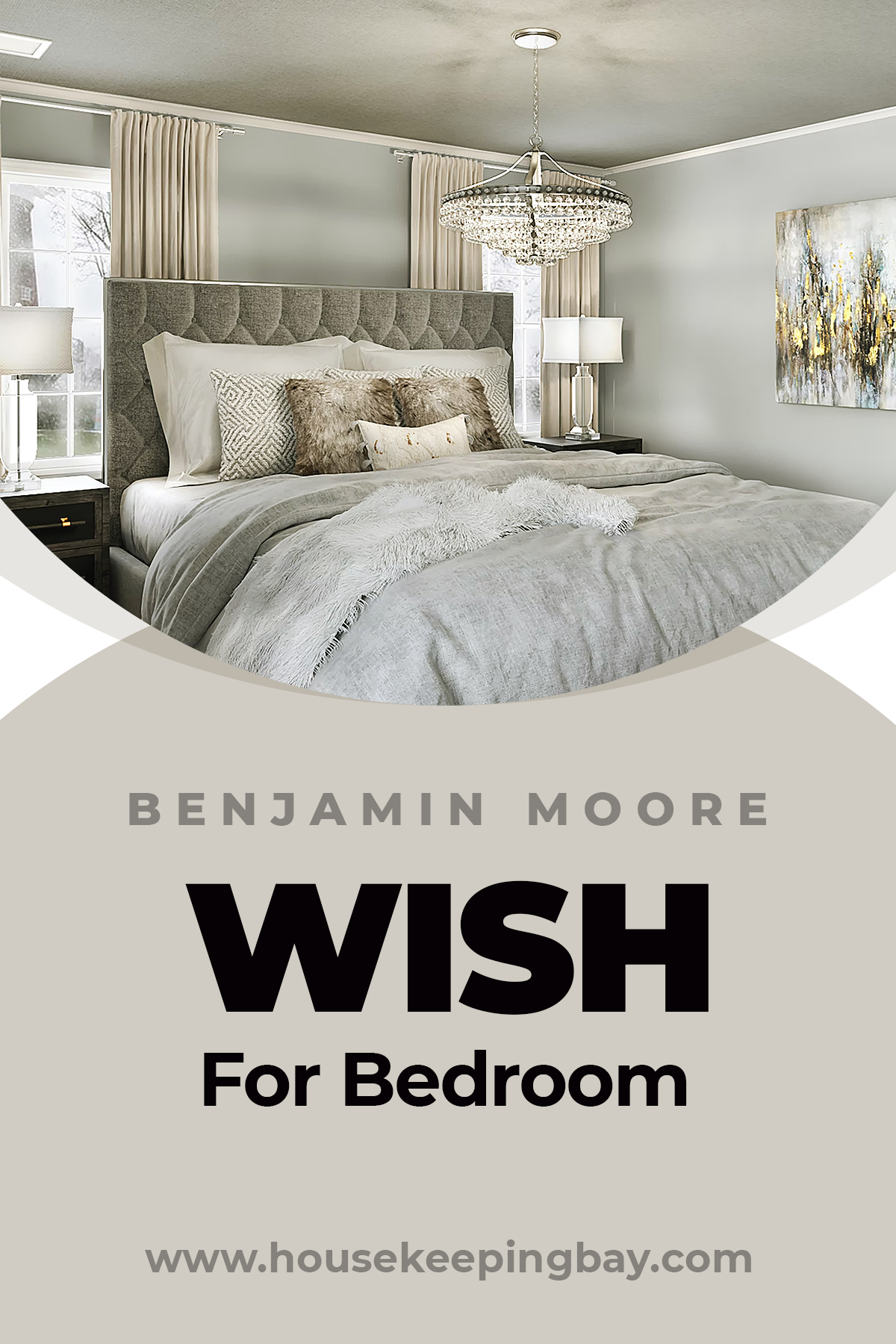 Bathroom And BM Wish Paint Color
We mostly use cool paint colors for our bathrooms, but BM Wish can become a pleasant exception! Depending on the lighting there, it may look either closer to fair neutral grey or to a warmer beige, but in both cases, your bathroom will definitely not get that cold and sterile look that everyone tries to avoid!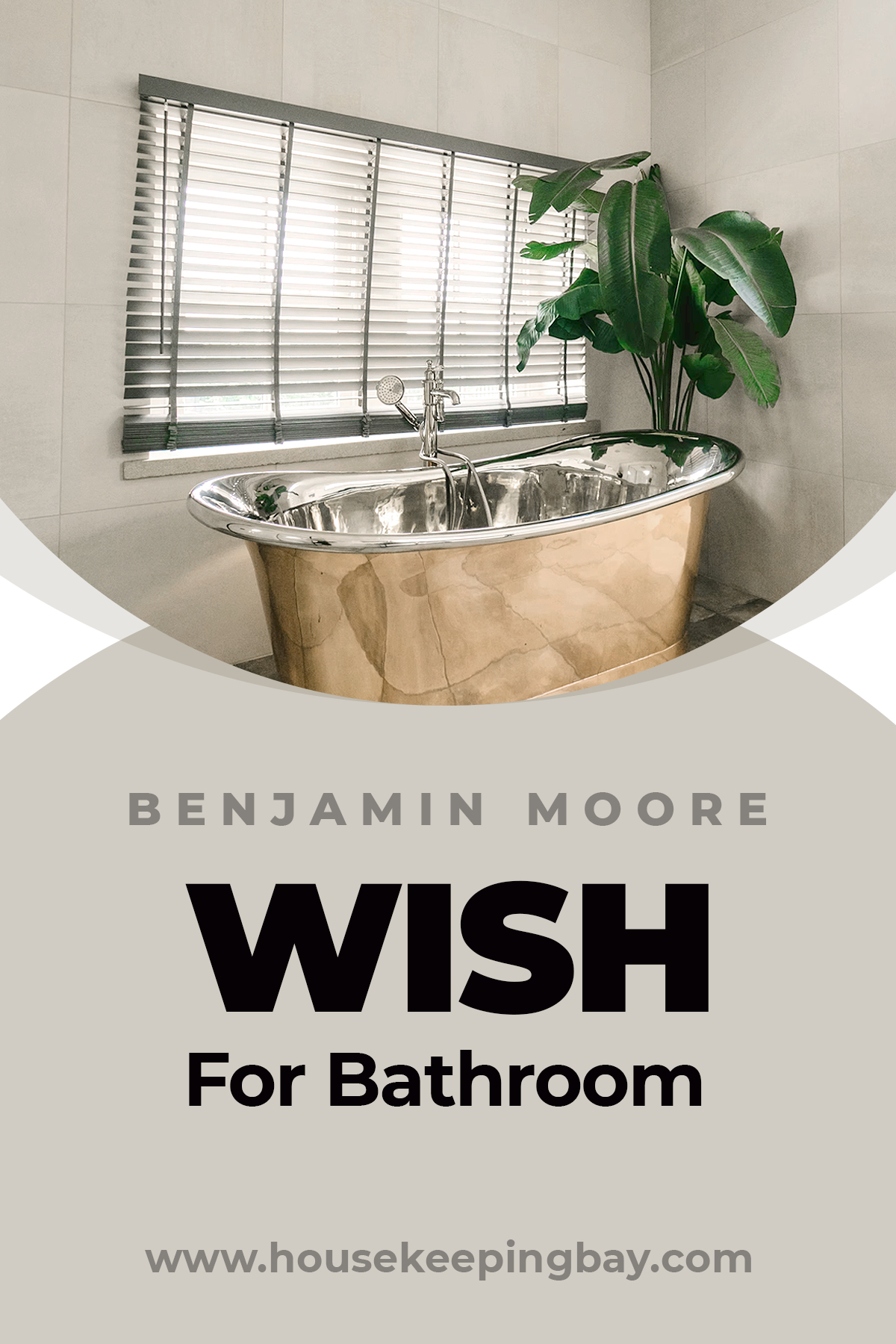 How Will BM Wish Look On Your Kitchen Cabinets?
For touching the kitchen cabinets, Wish is one of the best options. Besides, it can be harmoniously combined with many other neutrals and even greiges thanks to its yellow undertones that bring this color closer to beige in a warm artificial light.
However, the classic color combo that the majority of the homeowners pick is white kitchen walls with the cabinetry being painted with Wish. Always a win-win solution!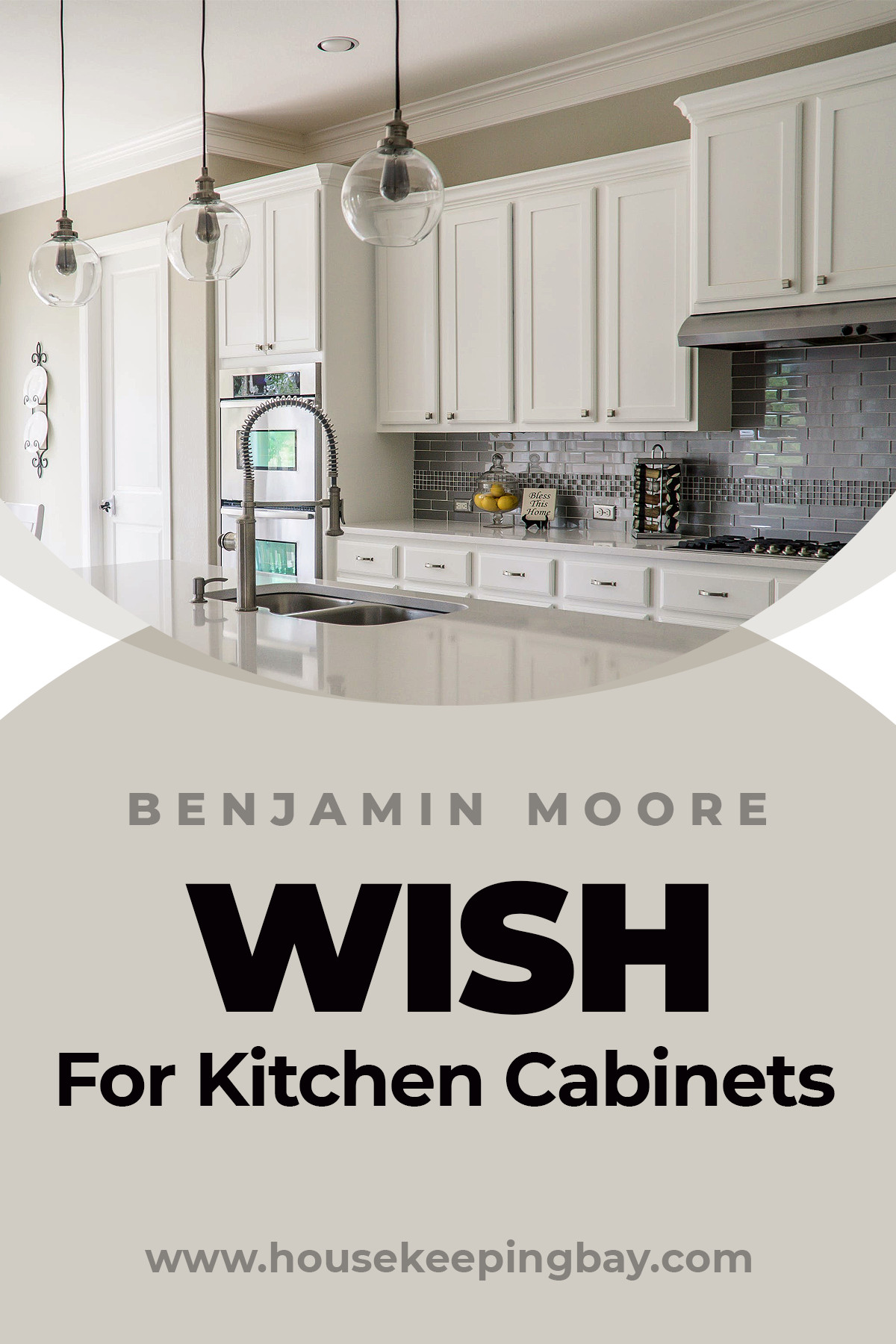 Can BM Wish Be Used As An Exterior Paint?
Sometimes we may like certain paint colors so much that we want to apply them all over the house both indoors and outdoors! But can BM Wish be used for painting the facade, for example?
In fact, yes, quite many people use it successfully for exterior application! However, when doing so, you need to keep in mind how this color reacts to light. Like this, you will be able to better imagine the total look of your house from outside and decide whether you want it to look more beige or neutral grey.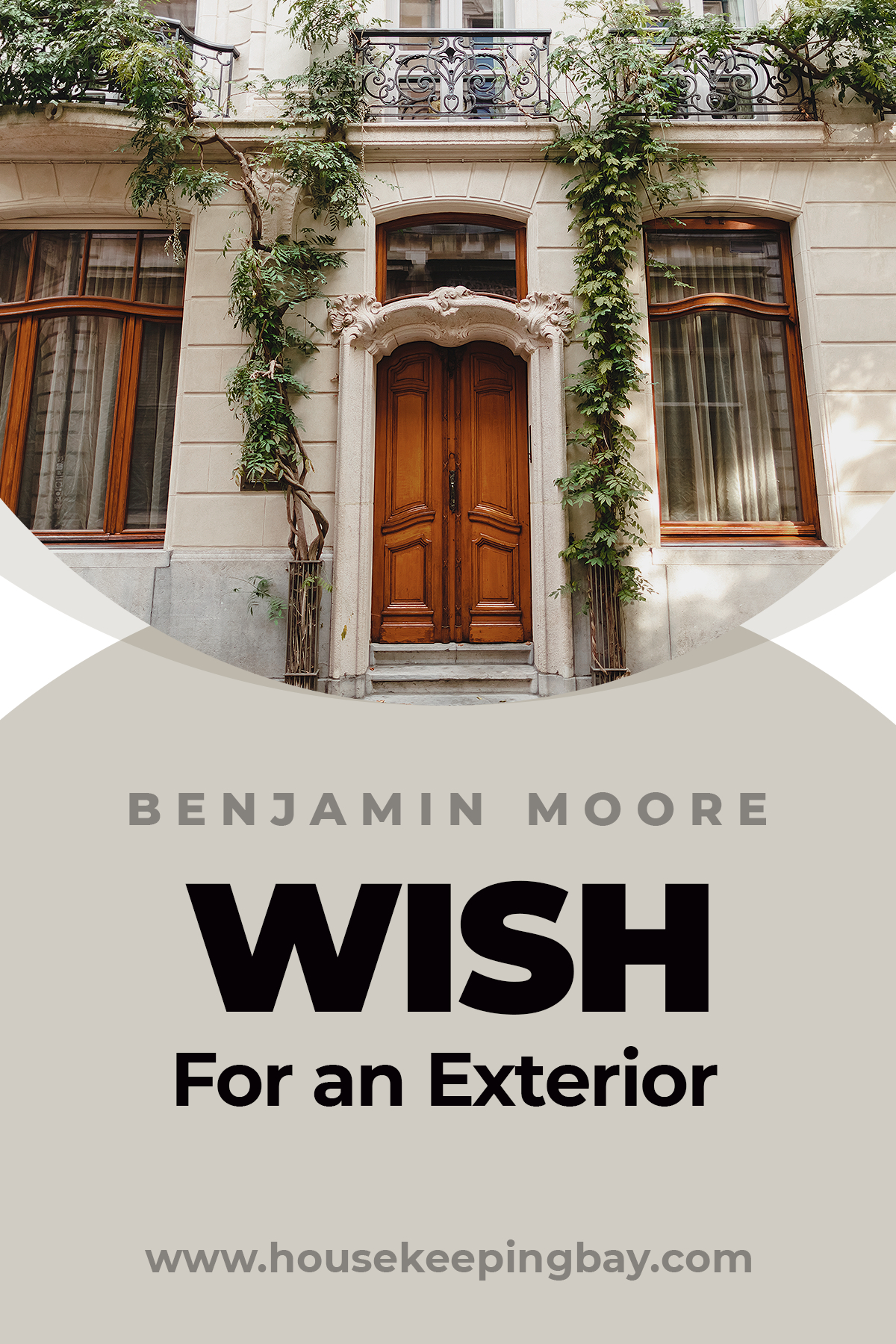 Paint Colors that Benjamin Moore Wish Goes With
If you have your home interiors painted with neutrals or greige colors, it may seem to be quite challenging to use several of such colors at the same time to end up with a harmonious ensemble. This is why we decided to prepare the descriptions for several pairs of paint colors that will look great with each other. By the way, all of them contain Wish by Benjamin Moore!
BM Wish vs. Agreeable Gray
These paint colors look pretty similar, but if you take a closer look, you will see that Agreeable has more prominent beige tints in it with a slight hint of purple undertones. Wish, on the other hand, looks a little bit cooler revealing more greyish tints.
Related: Detailed Guide Agreeable Gray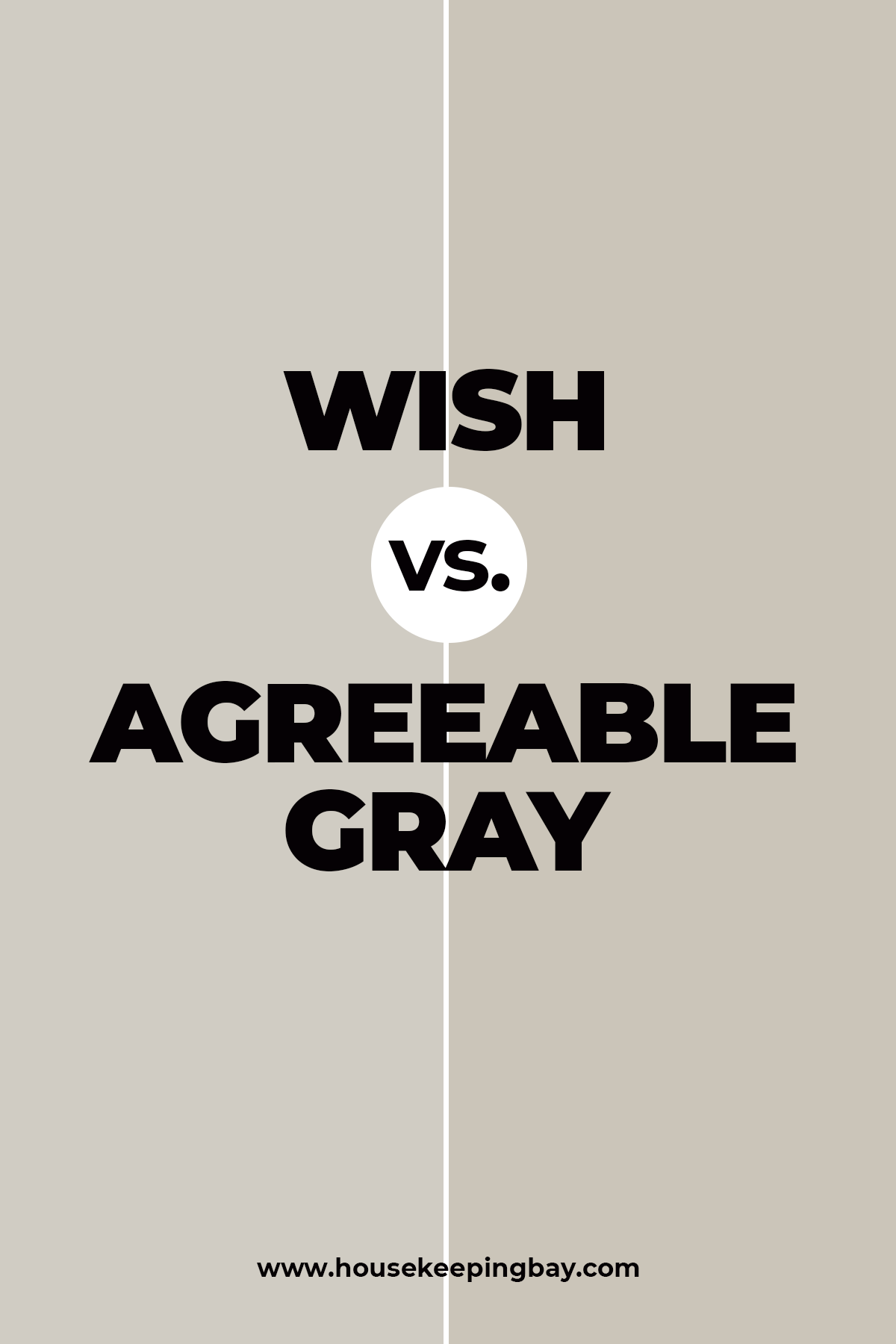 BM Wish vs. Revere Pewter
If we compare these two, we will see that Revere looks almost like beige beside the Wish color which shows quite significant grey notes in it. However, since Wish contains yellow undertones that makes it stand closer to greiges, these colors can be successfully paired.
Related: Detailed Guide Revere Pewter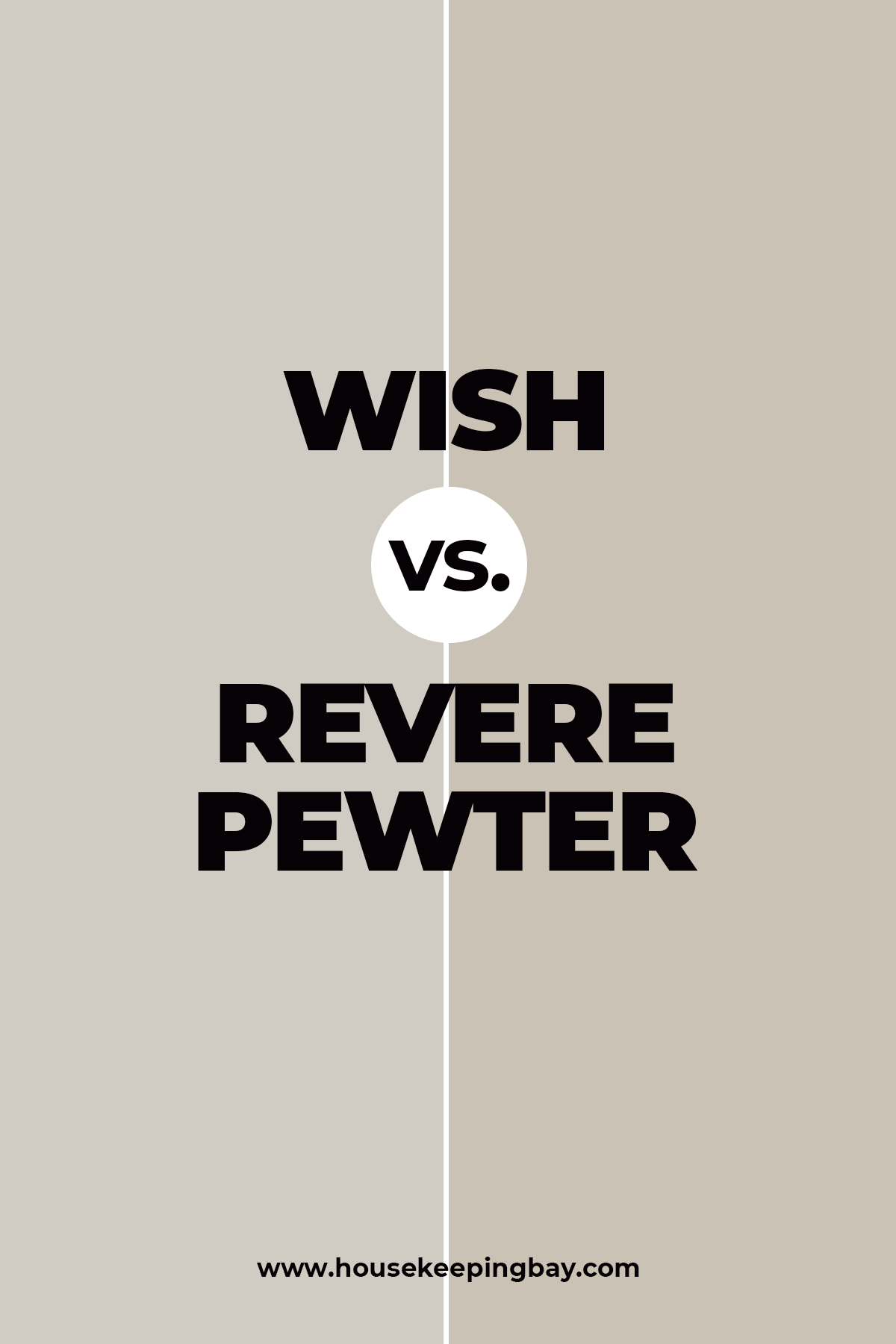 BM Wish vs. Balboa Mist
This pair of colors is so alike that it is almost impossible to tell the difference! Only upon a closer examination can we notice that Balboa Mist is somewhat lighter than Wish. However, since these colors are not completely the same, don't be afraid to combine them in the same room (you only might need to use different formulas for each to achieve more contrast!).
Well, friends, now you have learned all the basics about BM Wish paint color including its use, undertones, coordinating and trim colors. We also told you what colors it can be paired with better than with others, and you are now aware of all the possible places this paint can be used in your home. Even including the facade!
With that in mind, you can now effortlessly turn your house into a modern, always stylish and cozy space with just a few brushstrokes!
Related: Detailed Guide Balboa Mist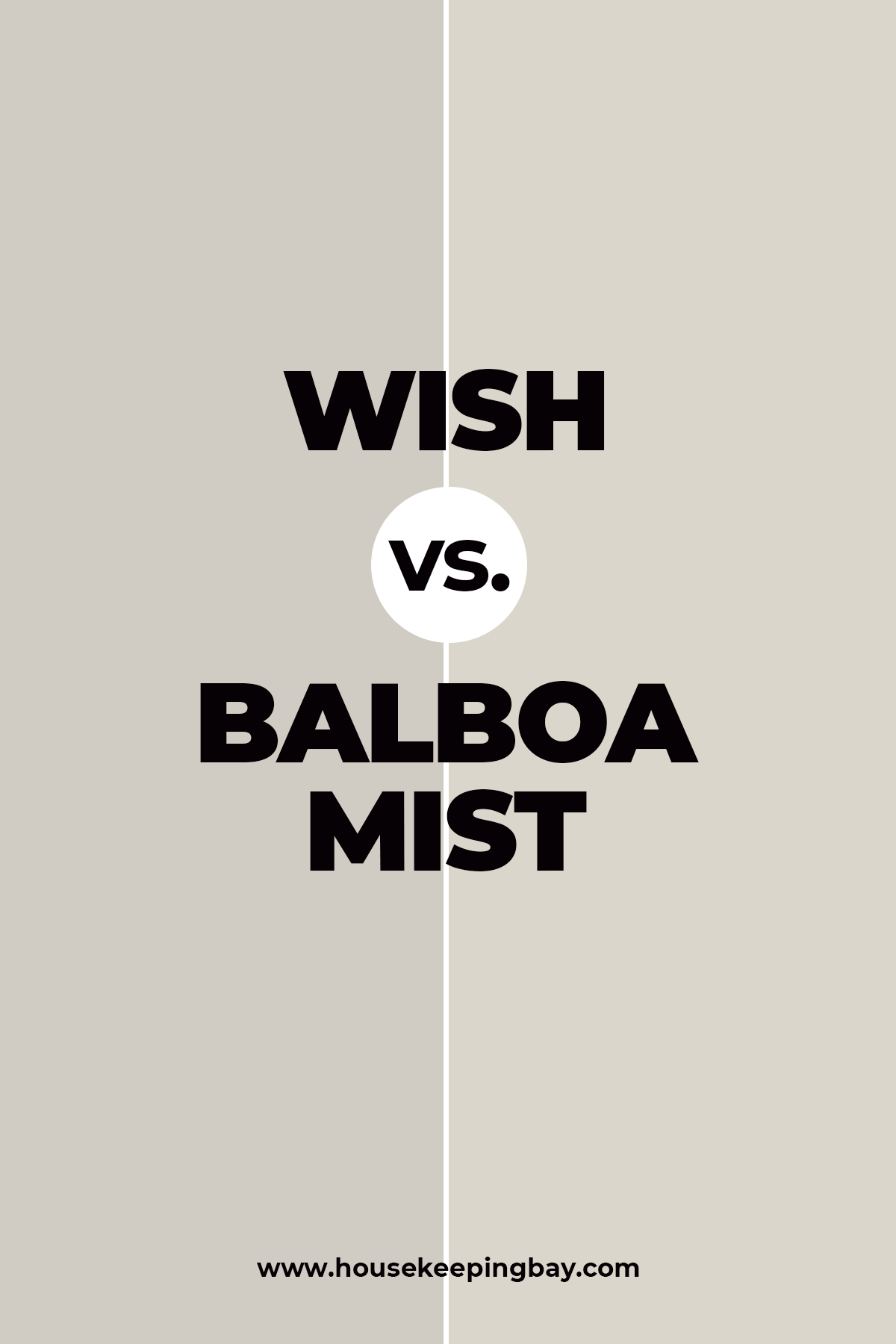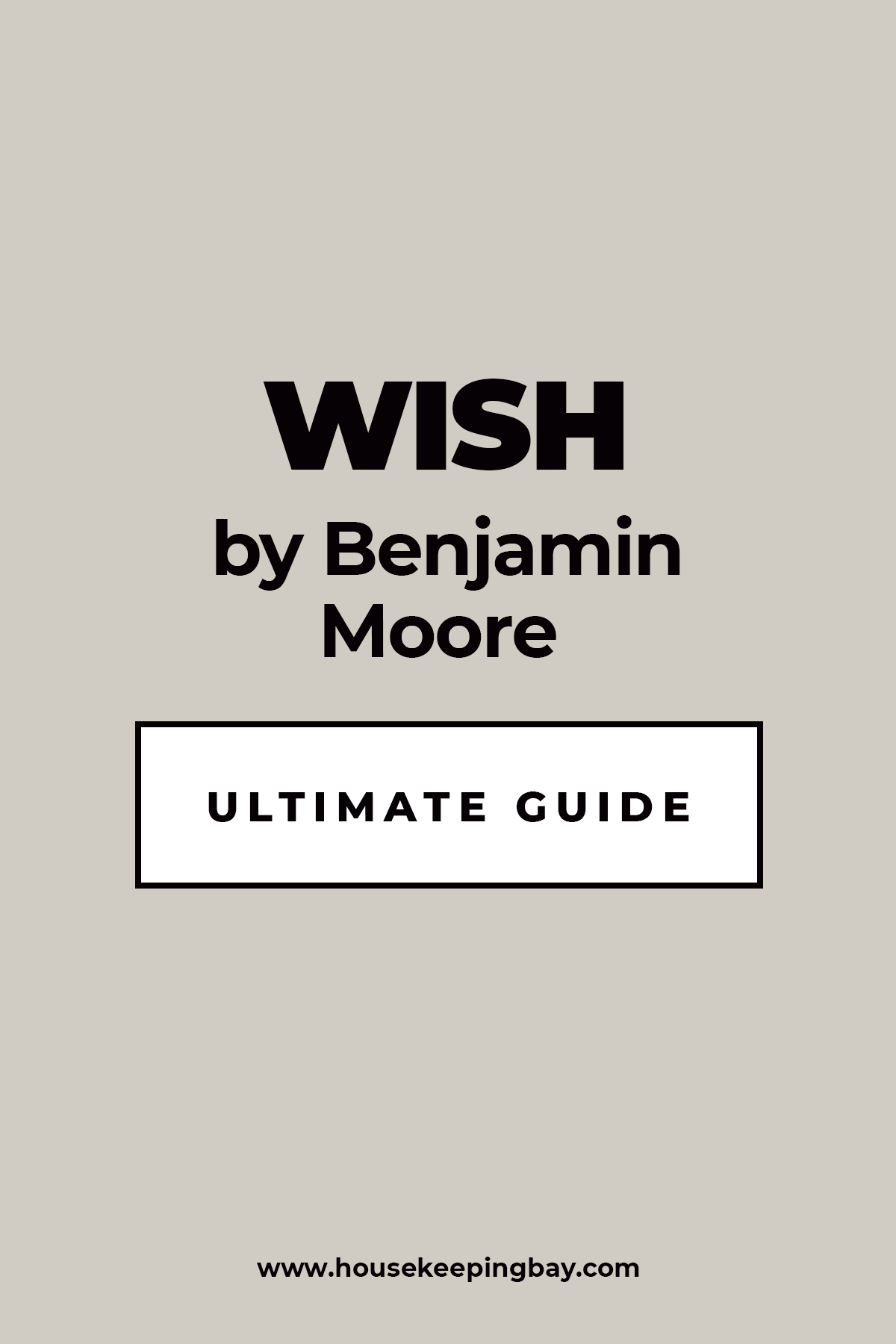 Frequently Asked Questions
⭐ Is it possible to paint all rooms with only BM Wish?
Technically, yes, especially if they have different types of lighting.
⭐ Can BM Wish be used for painting a ceiling?
Yes, it can, Only consider what type of lighting your room has so that the color doesn't look too dark.
⭐ Is BM Wish a grey or beige?
It's a warm neutral grey that evenleans towards greige a bit.