Choosing paint colors for your home is a responsible task since you are going to live with those colors on your walls for quite a while. And since repainting your home interiors and surfaces (and especially repainting the exterior walls!) is quite a bothersome business, most homeowners prefer to figure out what paint color they need in advance.
It is much easier to find matching paint than messing around with endless cans of paint and brushes each time you don't like your new wall tint.
This is why this article will be handy for those who think of using a paint color called Shoji White by Sherwin-Williams brand in their homes. We will tell you what kind of color it is, what its undertones are, and how this paint may react to light after you apply it to your walls.
Also, you are going to learn what rooms this color will look the best in, and what similar colors can be used.
Finally, we will tell you more about the paint colors that go well with Shoji White paint, as well as what color can be used for the trim along with it.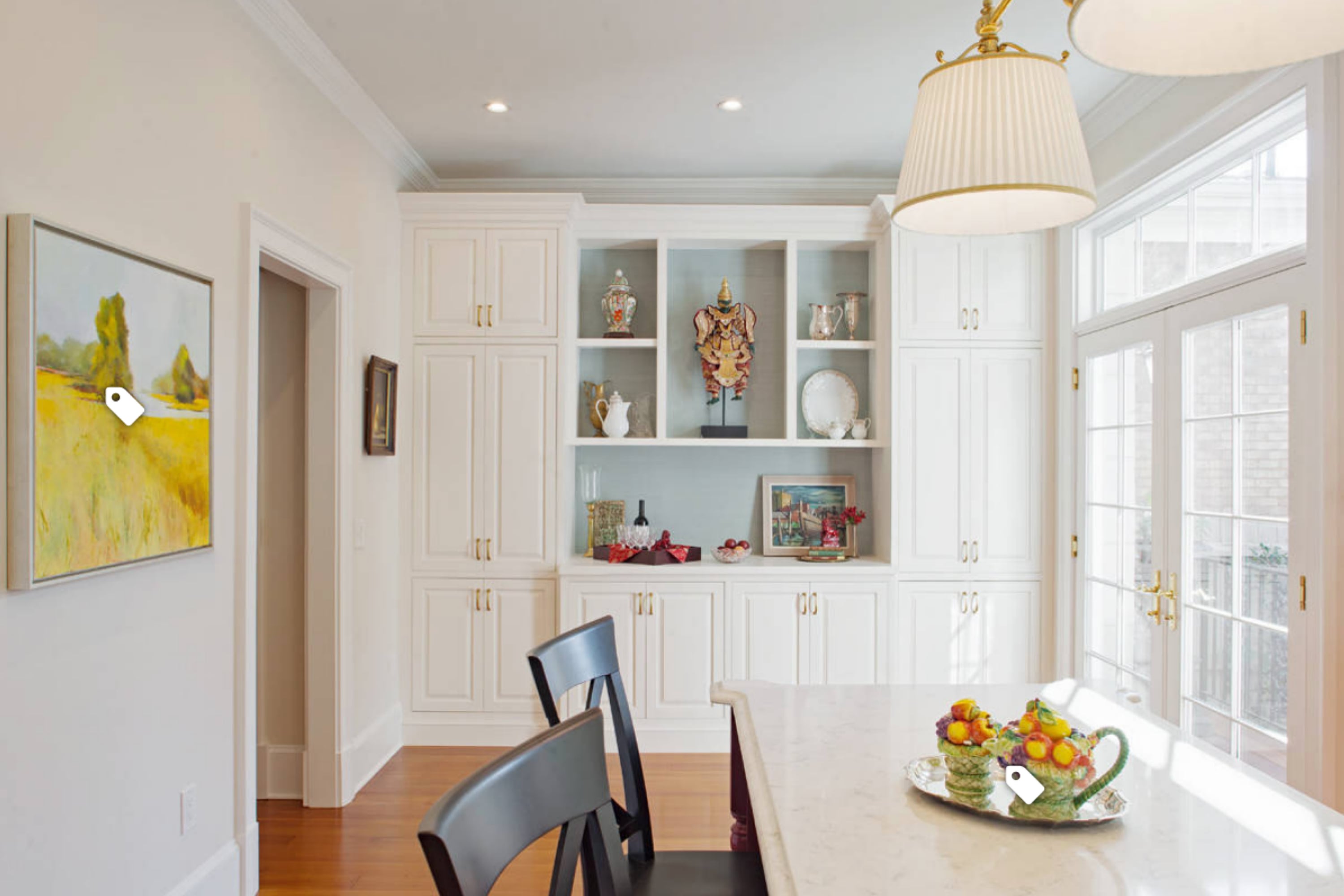 What Kind Of Color Is Shoji White SW-7042?
Shoji White paint color by Sherwin-Williams brand  is quite a tricky color! See, even though its name contains the word "white", Shoji White is a creamy and very pale shade of beige. As Encycolorpedia says, it can sometimes look close to white, that's true, but you should keep in mind that it is never greige!
This is quite a soft and muted color, warm-toned and cozy, so if you are looking fo a bright white or a crisp white shade to have on your walls, this color is definitely not what you need!
But if you are looking for a very classical and pretty beige paint color that can sometimes look like whiye on your walls, Shoji White might be your best choice. It looks equally as lovely in a living room or dining room and works perfectly with most hardwood floors.
Also, Shoji White is pretty versatile in terms of use. You can apply it in many other rooms except for your living room, and it can be successfully combined and paired with many other colors and textures in your home.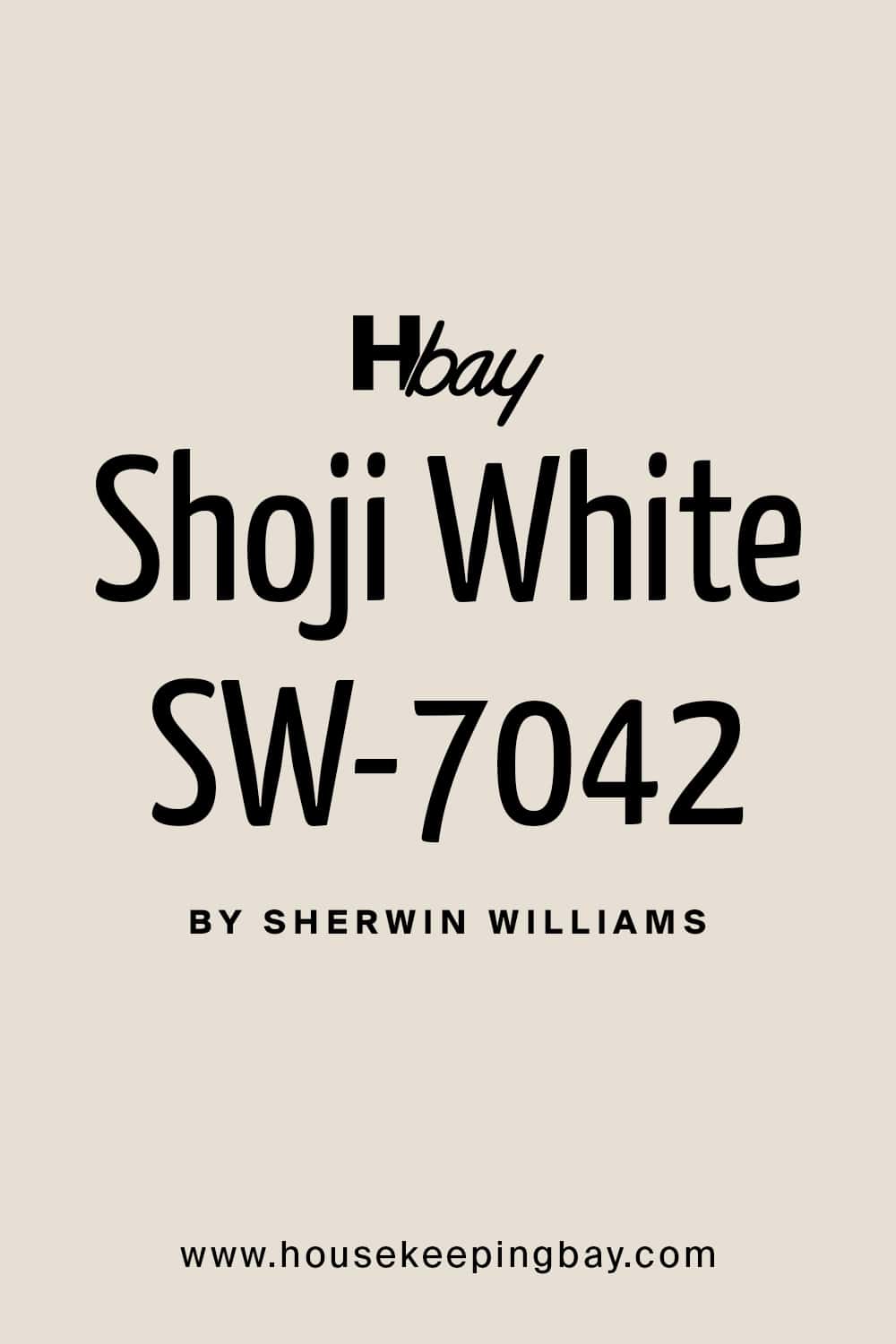 Shoji White Undertones
Undertones can make your paint color a bit tricky in terms of how it looks on the walls. This is why it is important to consider them before you decide to buy a can or two of certain paint color. In particular, this is an essential thing to do when you are dealing with such a complex and tricky color as Shoji White!
As for the Shoji White paint color by Sherwin-Williams, you need to know that this color is in the orange color family, so it has creamy beige undertones. However, some homeowners report it looking a little pinkish or peach, so you will definitely want to check how it will work and read all over your home, and in your particular type of lighting.
Also, you should keep in mind that Shoji White by Sherwin-Williams has no hint of a gray undertone in it! So don't be tempted to consider this color greige. Additionally, on exterior walls, it never looks pink or even beige. It looks creamy white. Besides, this beige has a great feature: Shoji White almost never looks yellow, which makes it easier to use.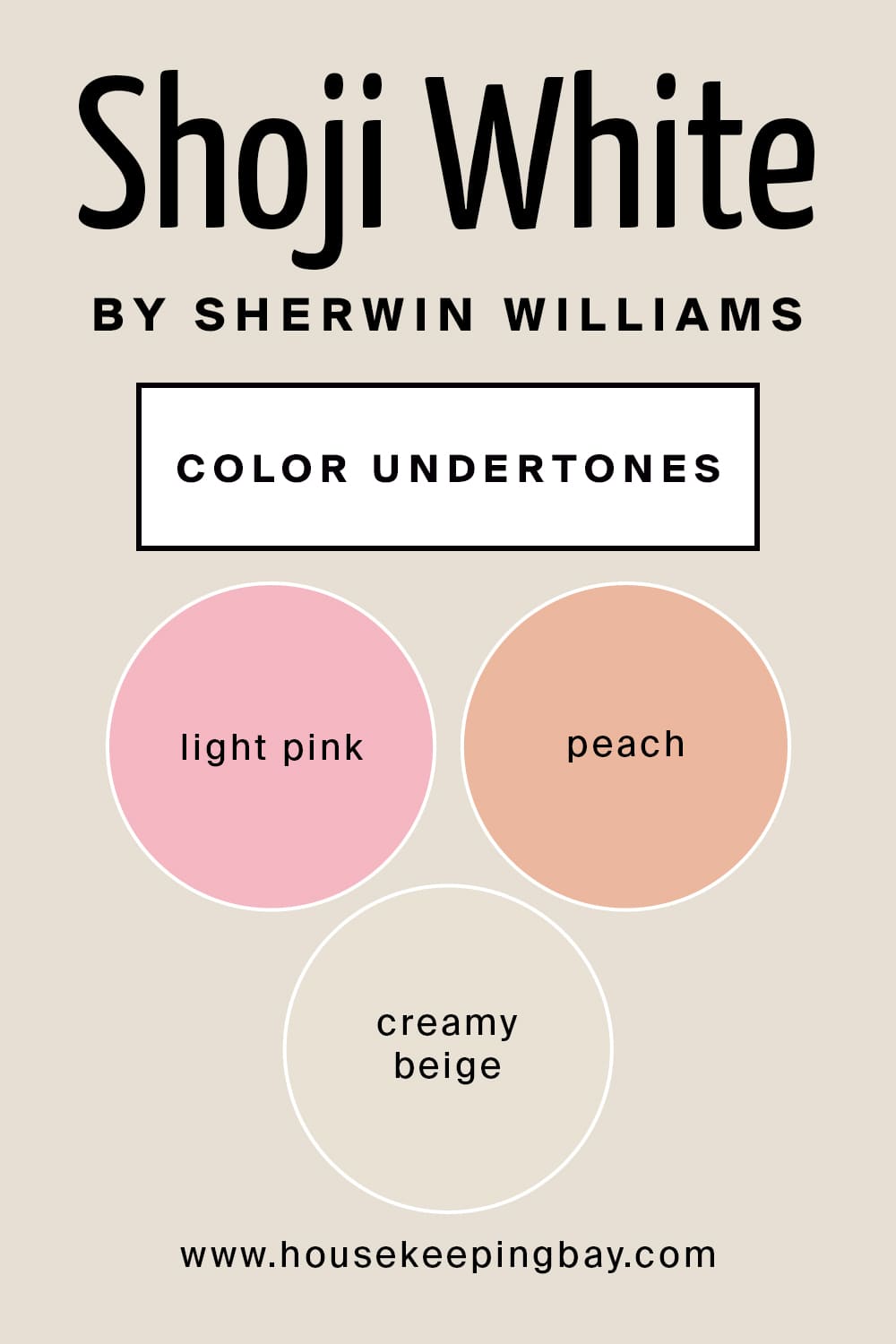 How Shoji White SW-7042 Color Reacts to Light?
Being aware of how certain paint colors might react to light can be very helpful. Like this, you can tell in advance how this or that color will show itself on your home walls. But to be able to do that, you need to know what LRV the paint color has.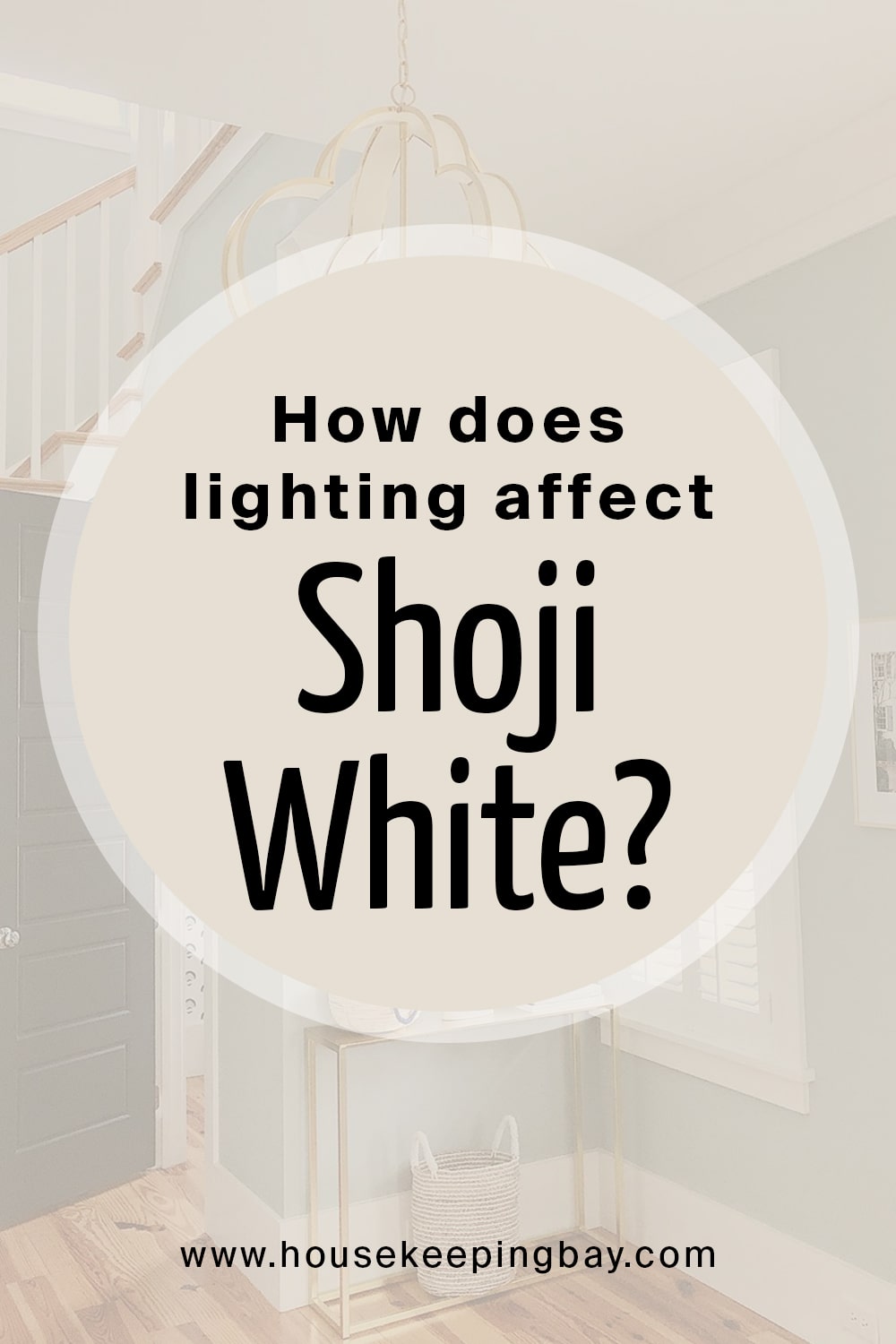 For those of you who don't know what LRV is, here is a brief explanation. LRV is an abbreviation for Light Reflectance Value. It shows how much light paint color is able to reflect.
LRV runs on a scale from 0% – 100%, and 50% is a mid-value paint color. The higher the LRV, the more light a color reflects back into the room. On the LRV scale, zero means the darkest black, and 100 means pure white.
Shoji White color has an LRV of 74. What does this mean, exactly? Well, you need to know that true white colors usually have an LRV of about 84 or higher, and off-whites have an LRV below 84. With the LRV of 74, SW Shoji White is in the darker off-white area of the color scale, which makes it close to beige/tan.
Like this, now you have a bit better understanding of this white paint color by Sherwin-Williams brand. And to help you figure out what other colors it might look good with, we recommend you check out a section below where we will tell you about the paint colors that might go well with Shoji White paint color.
What is LRV? Read It Before You Choose Your Ideal Paint Color
Colors That Go With Shoji White Paint Color
Being a nice, warm-toned beige, Shoji White color looks well with most other colors. But if you don't have enough experience in matching paint colors, you might find this task challenging. This is why we suggest you use the following paint colors that Shoji White goes well with should you need that:
SW Haven
SW Smoky Blue
SW Stardew
SW Poolhouse
SW High Reflection White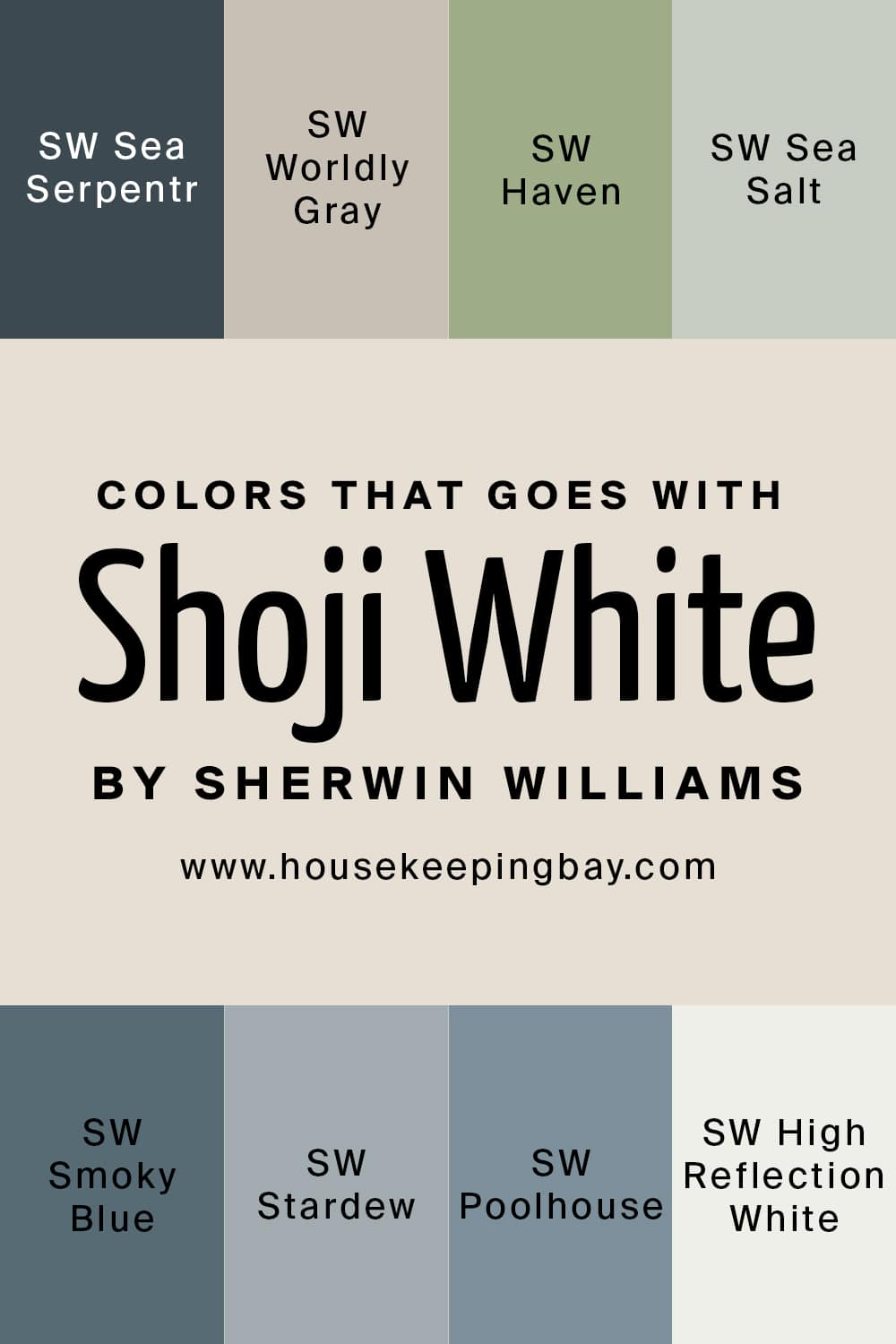 The Best Trim Colors For Shoji White Paint
Usually, white is an ideal and universal trim color no matter what paint you have on the walls. But still, choosing a trim color that will pair well with the existing color on the walls can often be complicated! With Shoji White, the best white paint for trim totally depends on your goal.
If you want this beige to look as white as possible, use it on everything, including the trim, ceilings, and doors. If you do want it to look white, choose a creamy white like Greek Villa or Alabaster. Snowbound could be a good option as well.
But if you want your trim and doors to pop, you should choose something like Sherwin-Williams High Reflective White, or Behr Ultra Pure White.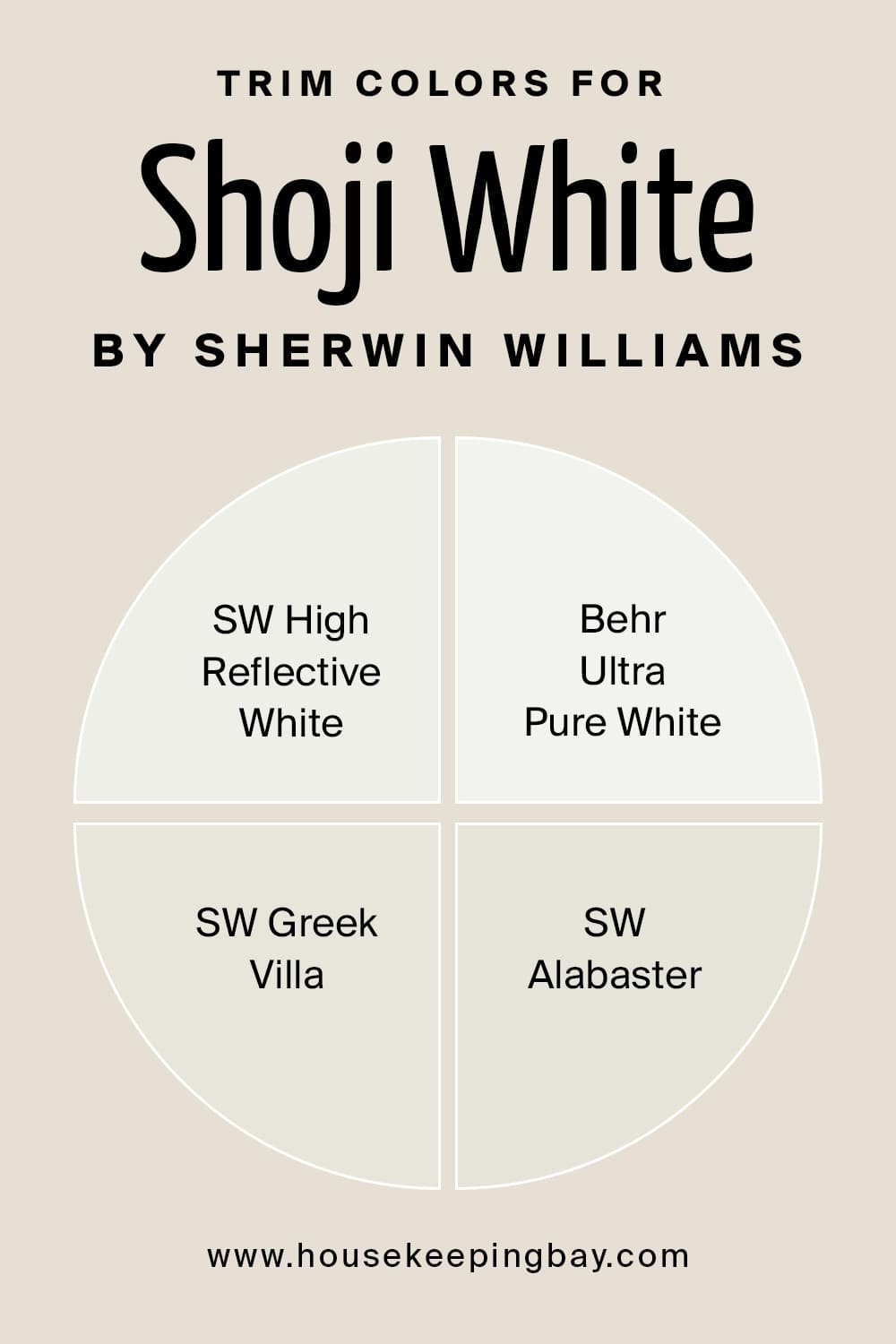 Where Shoji White Color Can Be Used?
SW Shoji White is rather versatile as we already told you. You can basically apply it in almost any room in your home. But still, we would recommend you check out the descriptions below in order to see how exactly this white can show itself in different spaces.
Shoji White in the Living Room
This beige will look stunning in a living room if the space is well lit and has plenty of daylight. But even in a smaller living room Shoji White will read and look wonderful! And since it is white (which means it is versatile), this color can be a great background for any interior design and decor.
Shoji White in the Bedroom
If you are looking for a paint color to have a cozy and airy yet not too cool vibe in your bedroom, try painting its walls with Shoji White. This color soft and warm-toned will make the room look more spacious and at the same time airy and bright. And since this white is warm-toned, you will not feel the "coldness" that cool-toned colors give.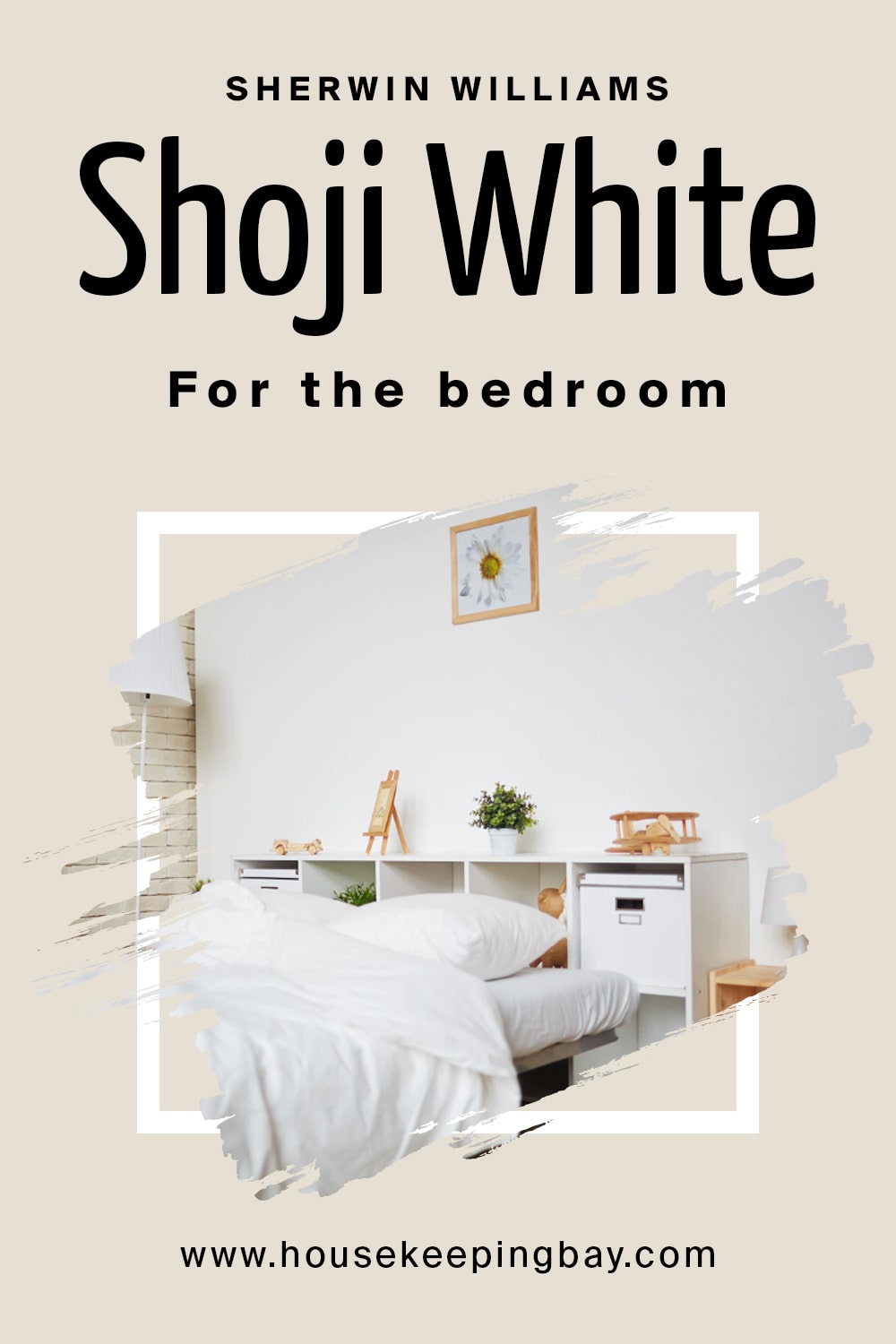 Shoji White in the Kitchen
Even for the kitchen, this paint color is a good choice. It pairs well with brass or gold hardware, metal elements, as well as wooden furniture. Since it is rather versatile, Shoji White will create a harmonious combo with contrasting colors, such as black.
Besides, it looks really nice with wooden furniture and other objects made of this material. So don't hesitate if you feel like experimenting!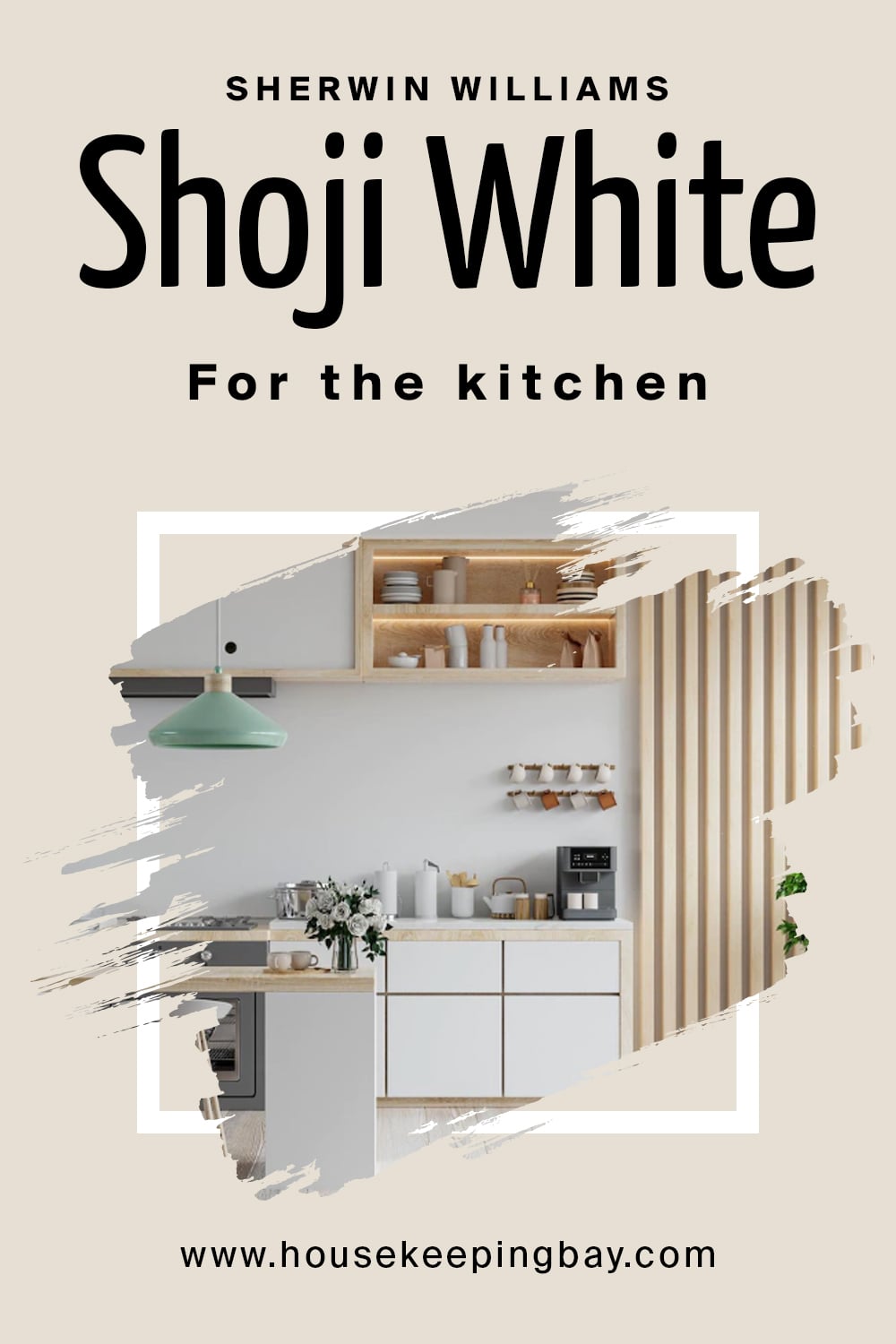 Shoji White in the Bathroom
For your bathroom, Shoji White is one of the most optimal color solutions. The color is bright and clear enough, but at the same time, it does not create a feeling of coolness due to its warm tones. Besides, this shade of beige can be combined well with different bathroom decor and stuff like handlers, holders, etc.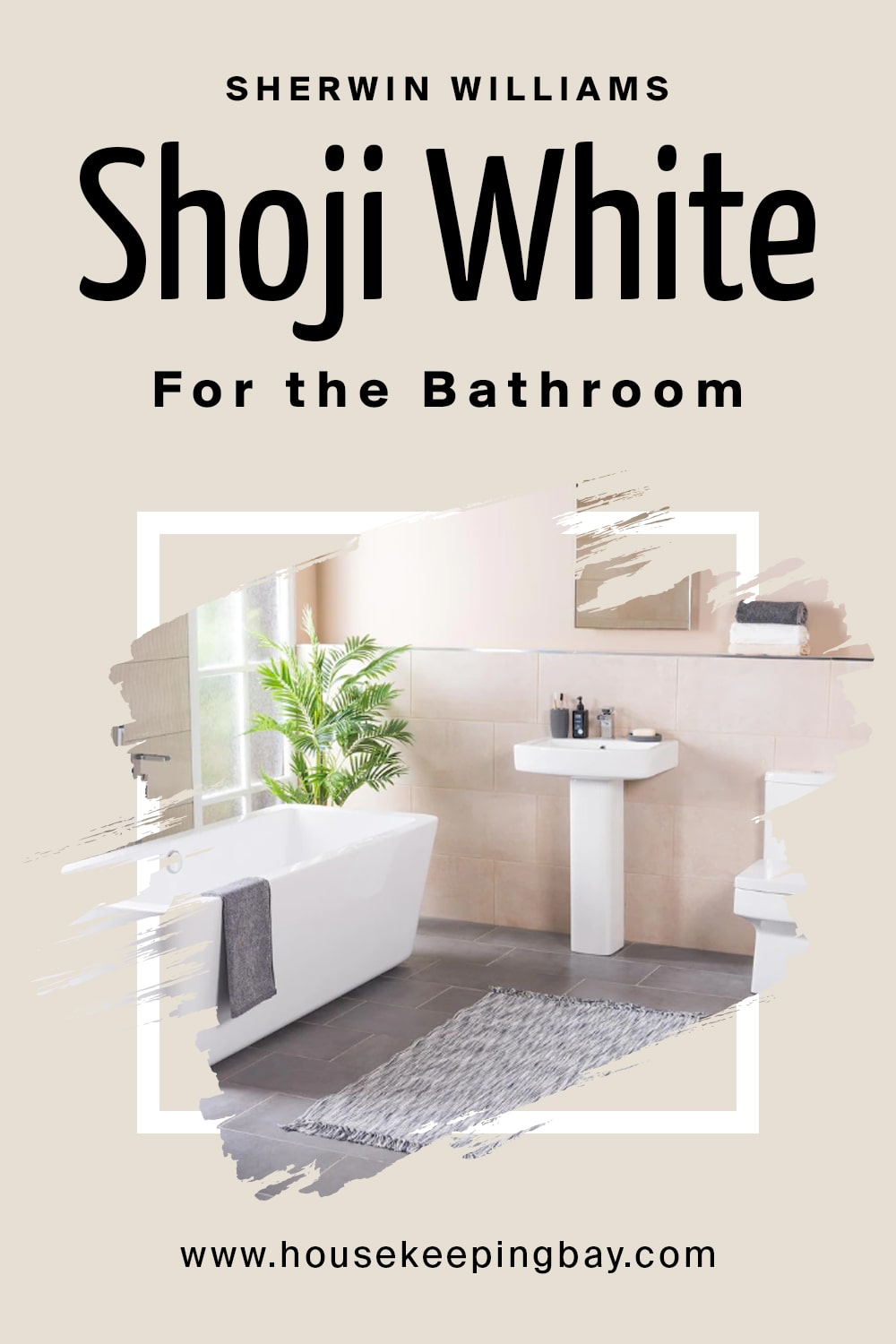 Shoji White for the Exterior
While some whites don't work well when applied outdoors, Shoji White is an exception. It works surprisingly well on exterior walls! It reads nice and clean white that looks great on your home's exterior siding or as an exterior trim color!
So, as you can see now, the Shoji White paint color by Sherwin-Williams is quite a versatile color even though it is white. So if you decide to refresh your home interior next time, don't skip this color as one of the options!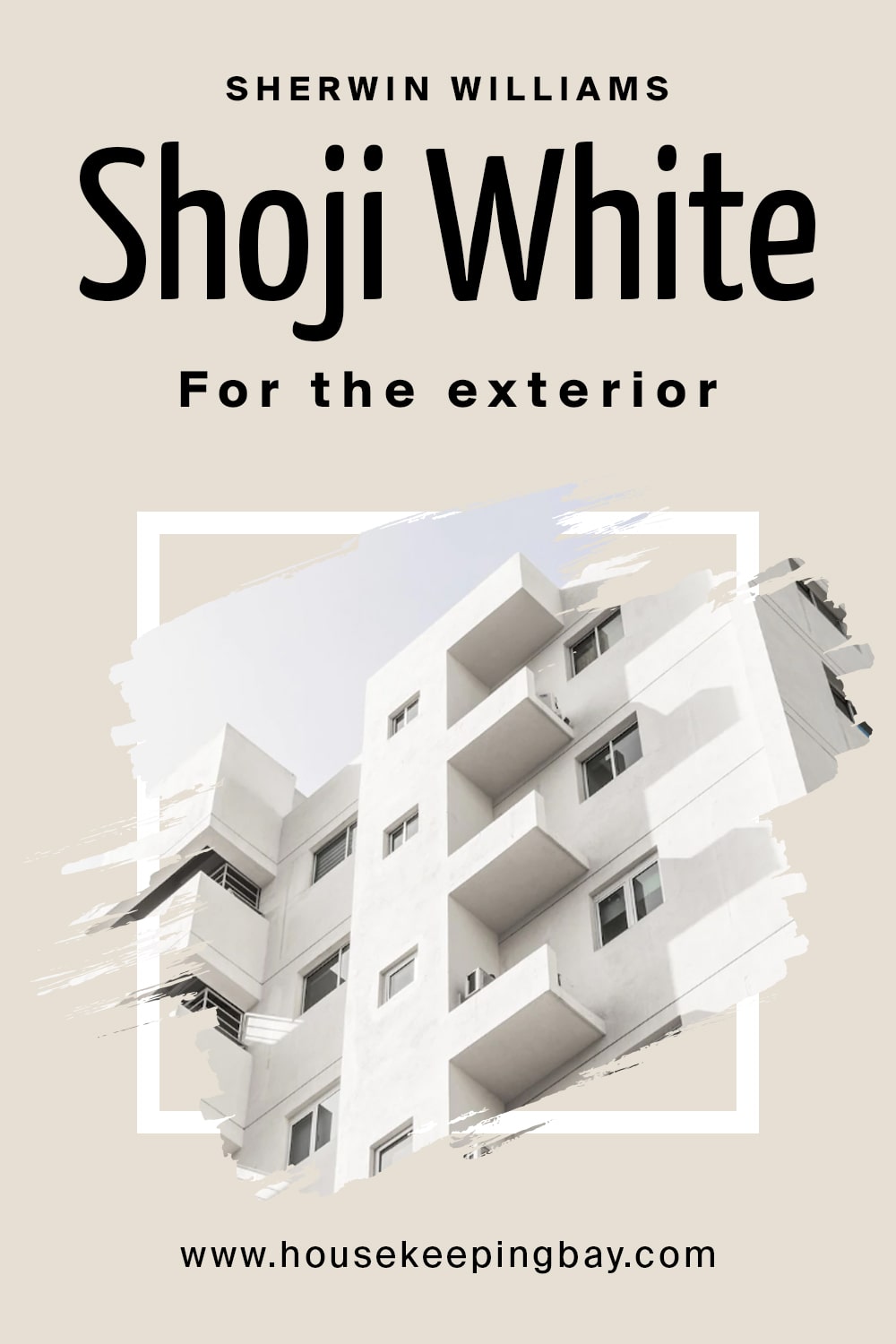 Paint Colors Similar to Shoji White
If you happen to change your mind and decide that you need a slightly different shade of paint color than Shoji White, you will want to know what other similar hues can be used as alternatives and substituting colors.
Below, you can check a few such colors. Some of them a lighter than Shoji White whilst others are more or less darker. Some are warmer whilst others are cooler. It will allow you to pick the optimal color for your home, design, and color scheme of the space.
Amazing Gray
Aesthetic White
White Flour
Taupe of the Morning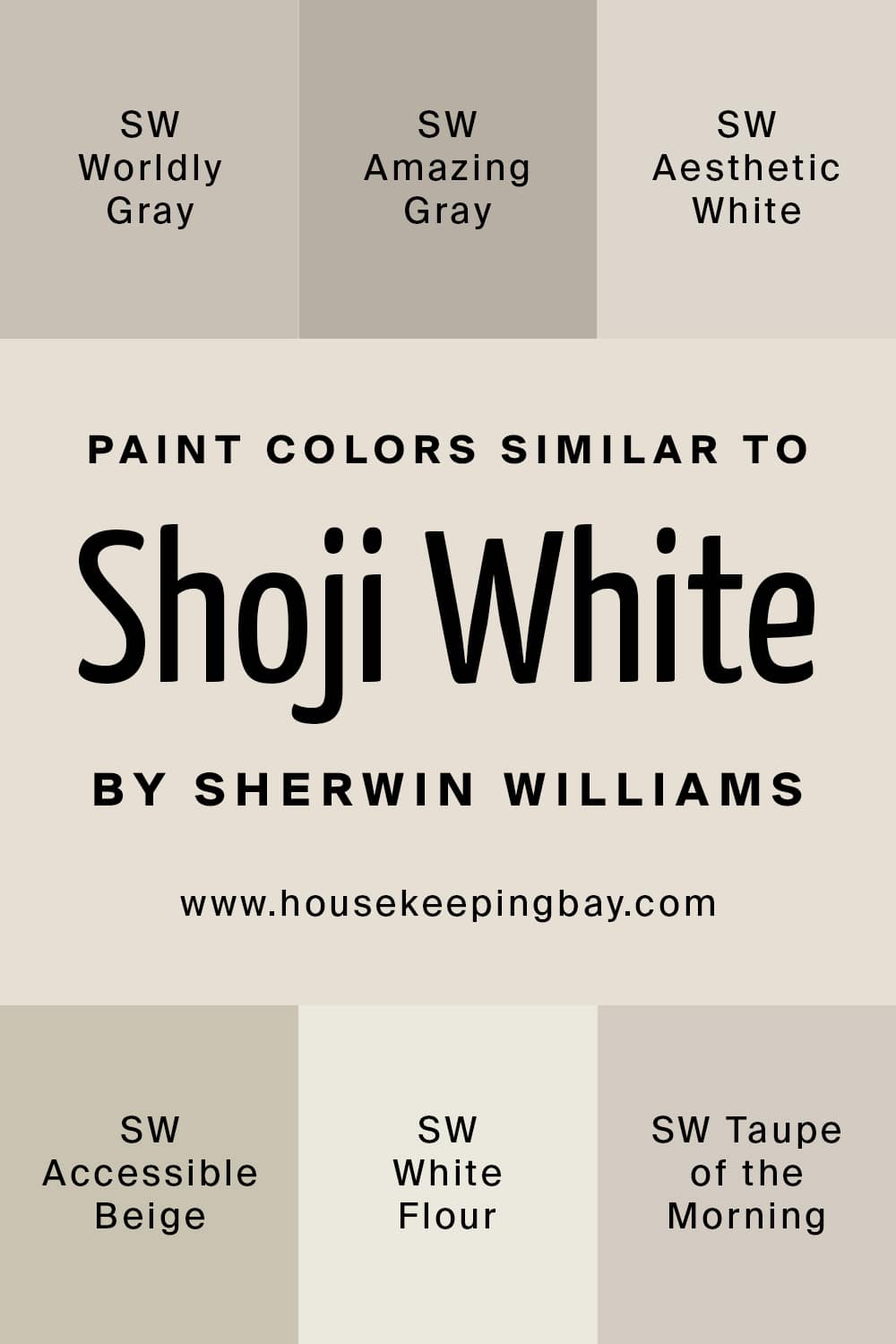 Shoji White Coordinating Colors
SW Shoji White looks really great with Tricorn Black if you are going for a modern farmhouse color scheme. Another paint color to coordinate with Shoji White is Sherwin Williams Clary Sage which is a nice complement to any creamy white. Also, Accessible Beige will be a nice choice for a monochromatic palette.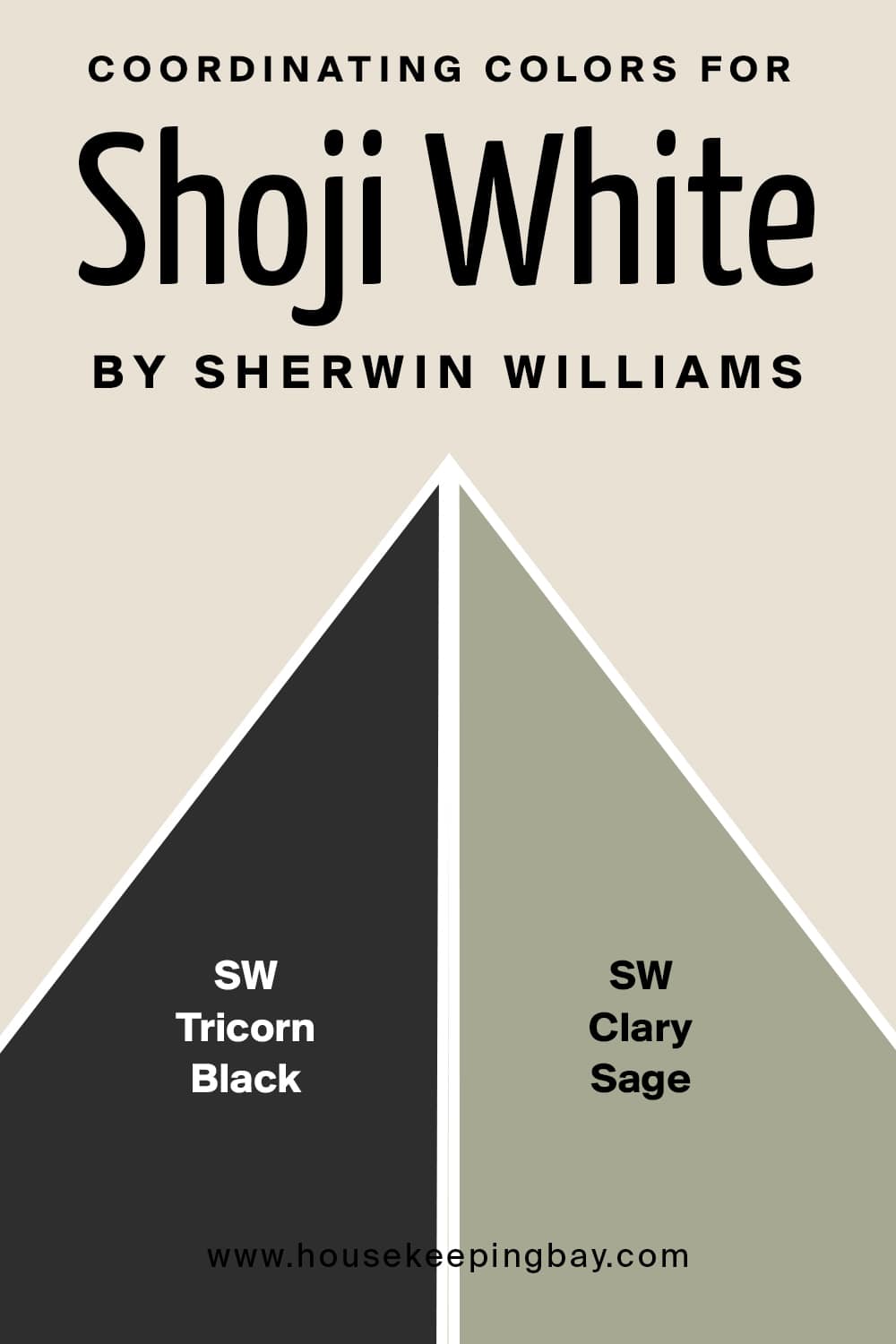 Comparing Shoji White With Other Colors
White colors may seem the same to quite many of us. But they are still different because there are warmer whites and cooler whites, as well as brighter and duller ones. Below, you can read and compare Shoji White with a few other white shades so that you could have a better understanding of the subject.
Shoji White vs Alabaster
In comparison to Alabaster that looks very subtle greige, Shoji White reveals its pinkish undertones quite prominently if placed side by side with the other color. Besides, Shoji White reads somewhat darker too.
In general, the two colors look rather balanced togeher, especially if you divide them with a sart and bright white to zone the space. But you might not want to use them in the same space since they don't have a proper contrast.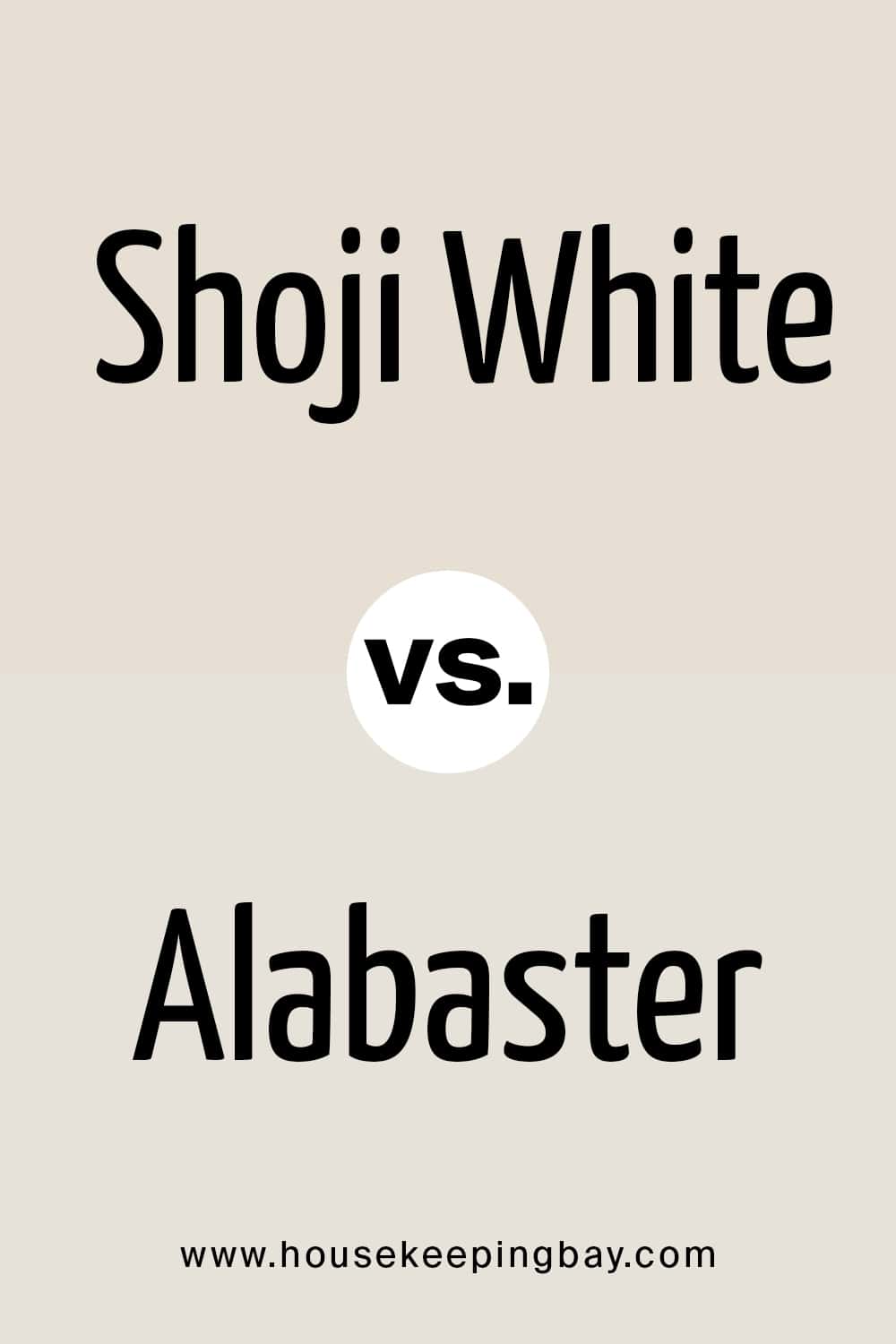 Shoji White vs Swiss Coffee
Swiss Coffee reads lighter in comparison to Shoji White. Besides, Swiss Coffee shows its creamy undertones quite significantly whilst Shoji White reads noticeably pinkish.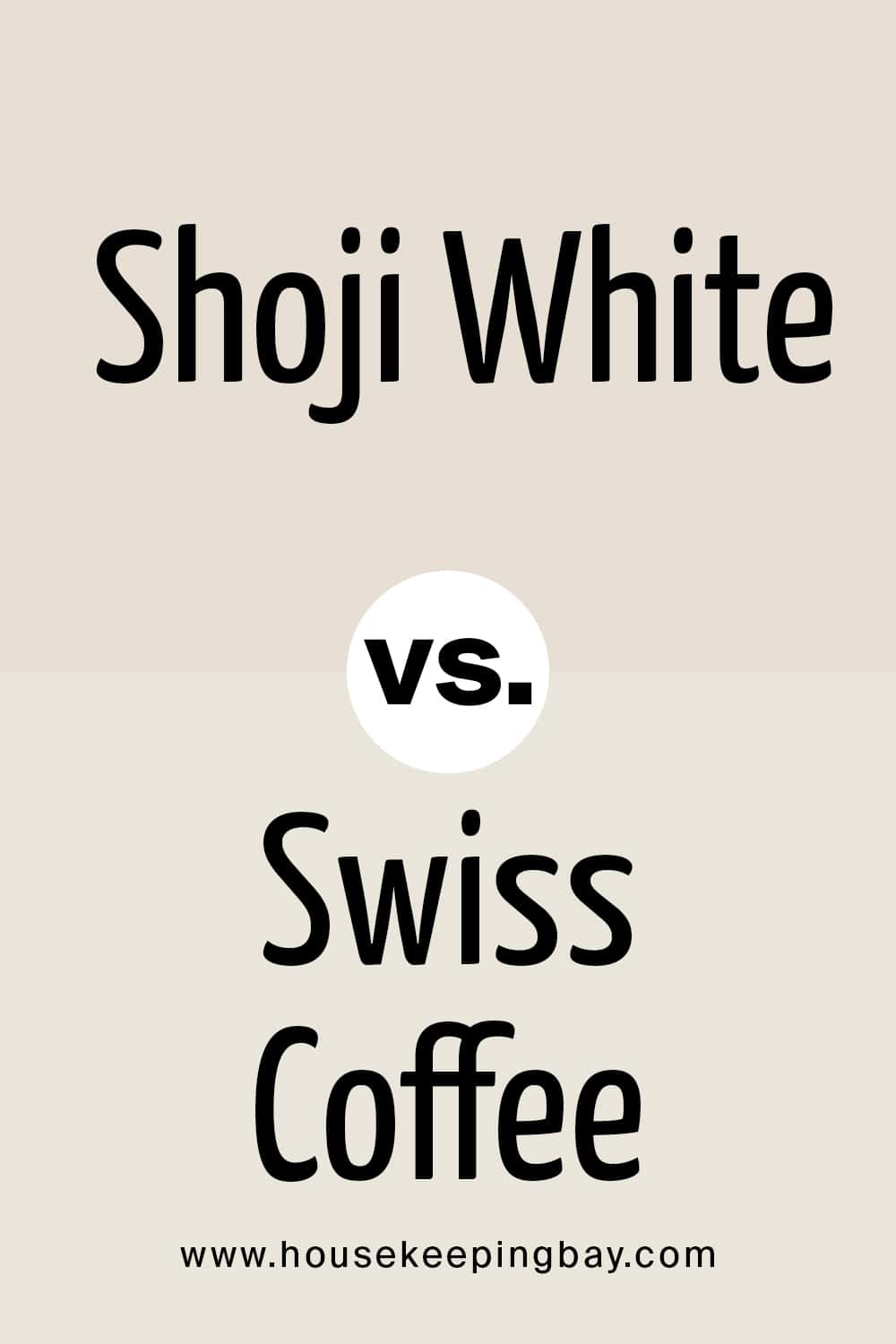 Shoji White vs White Duck
These two are pretty much the same. The only distinction that you can grasp is that White Duck reads a bit greige with its very beutral undertones whilst Shoji White has a slight yet noticeable hint of pink in it.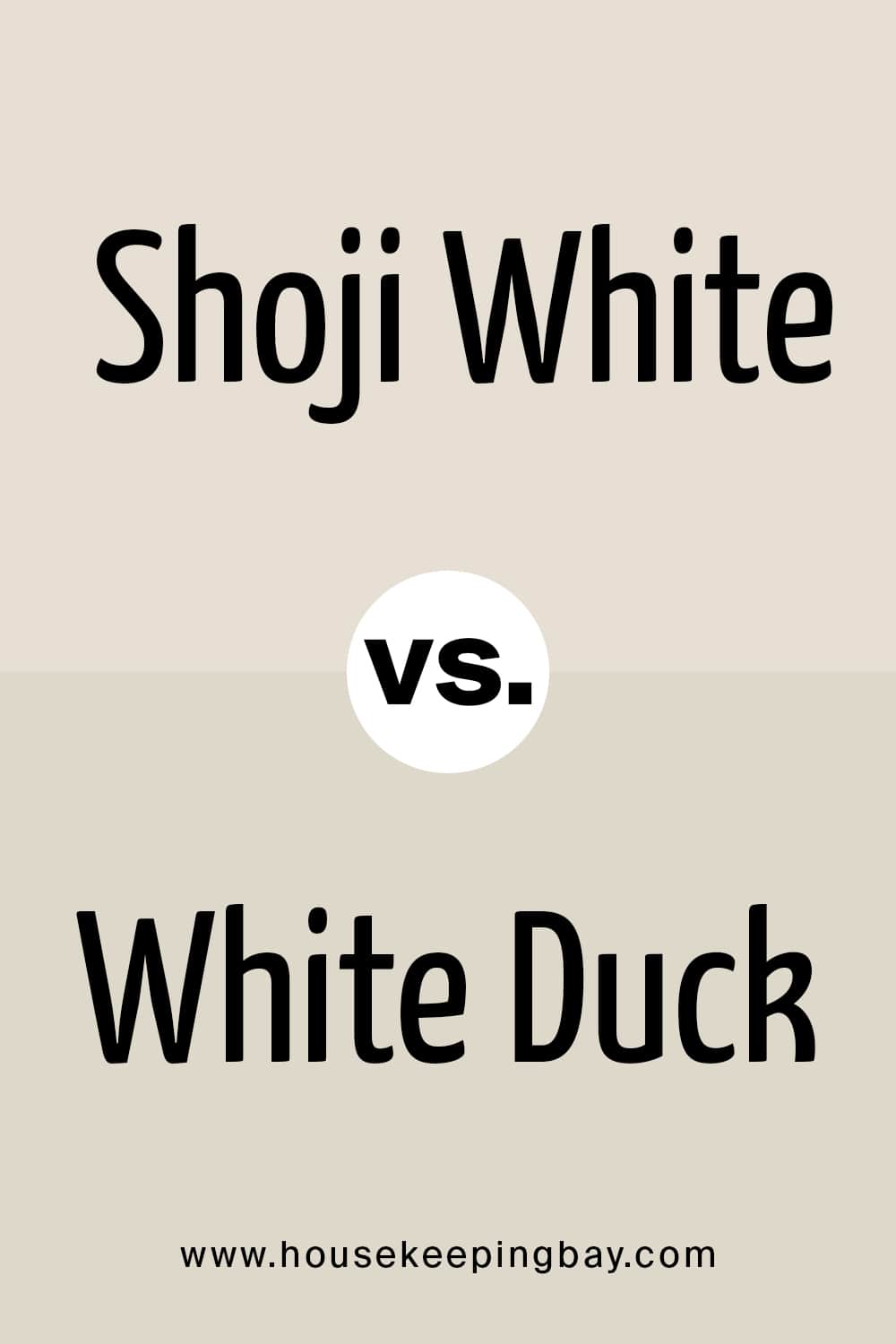 Shoji White vs Greek Villa
Greek Villa is a warm white that has a yellow undertone. If compared to Shoji White, you might notice that very slight yellow hue in it whilst its counterpart reads noticeably more beige.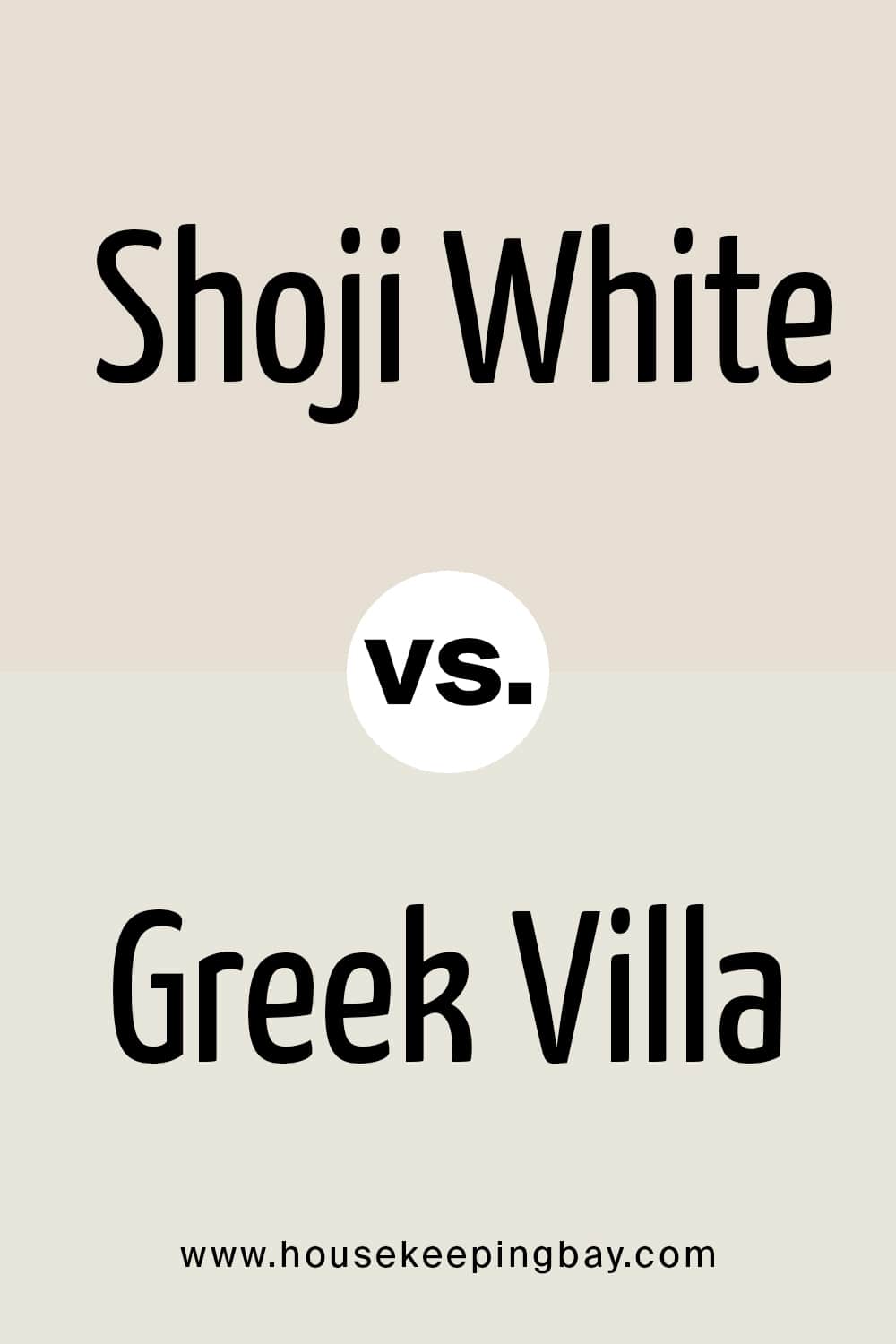 Shoji White vs Oyster White
These colors are so alike that you can hardly see the difference. But it exists. Oyster White is a light warm greige with soft green undertones. SW Shoji White is beige that in this case reads slightly pink.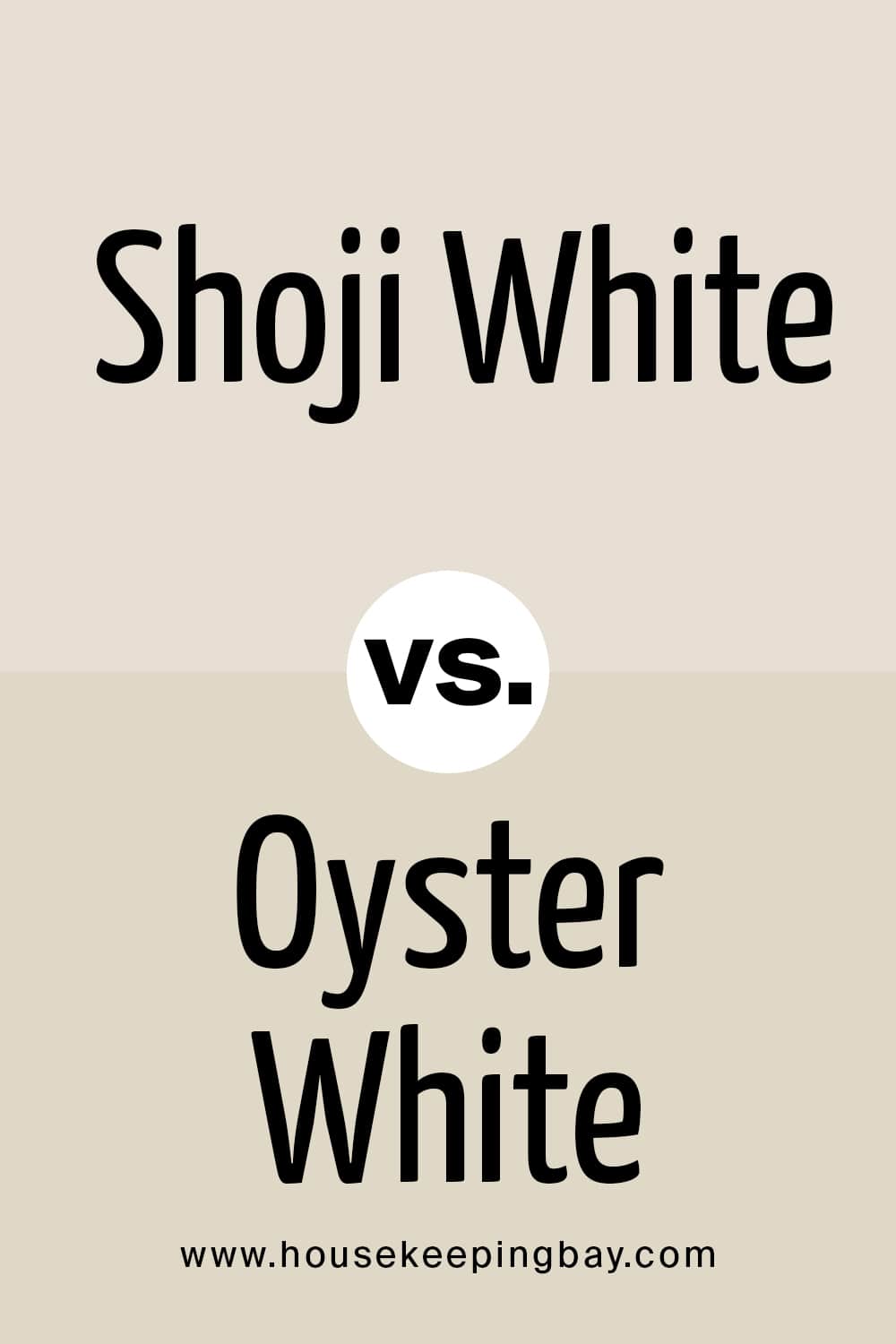 Now you know how SW Shoji White paint color look and may even somewhat change is appearance being close to a few other white paint colors.
And in general, today you have learned much more about such a complex and a bit tricky beige paint color as SW Shoji White. You can figure out what room it will look better and why, and how this color may react to light on your walls. And since you know what exactly makes this paint uneasy to use sometimes, you will surely be able to make the most out of it.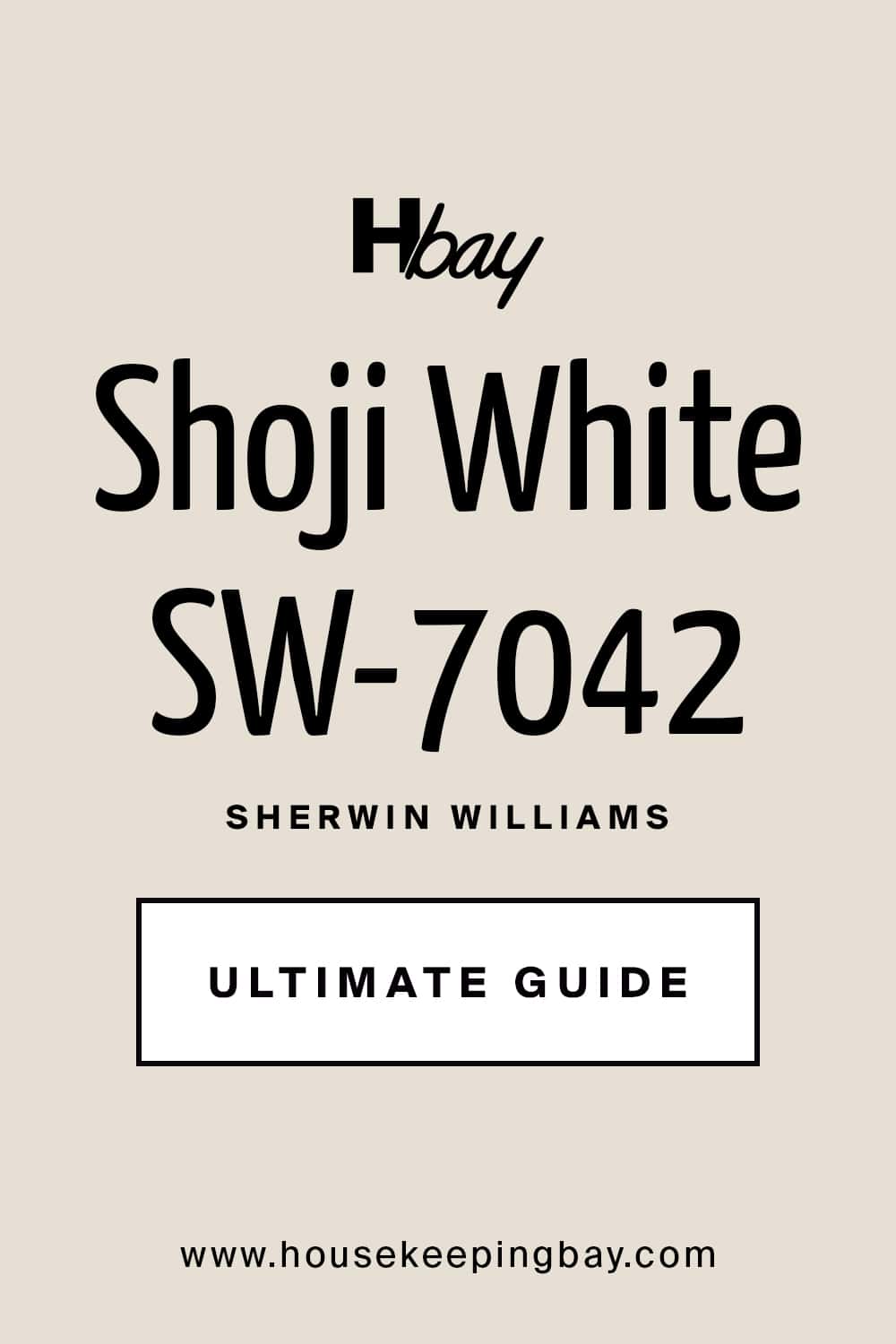 Frequently Asked Questions
⭐Is Shoji White a warm or cool color?
Shoji White is a beautiful blend of cream and greige, making it a WARM paint colour.
⭐What other colors can coordinate with Shoji White?
Coordinating colors for this paint can be SW 7640 Fawn Brindle, SW 9154 Perle Noir, and SW 7005 Pure White.
⭐Can Shoji White be considered a neutral?
Technically, yes. Shoji White has a warm greige undertone and is considered a "white" in the Sherwin-Williams paint deck. So if you have a space that needs a light off-white neutral, Shoji White could work for you!