This time we will focus on a pretty and versatile color that looks great in any room.
Alabaster by Sherwin Williams is a nice, subtle shade of white. It is by no means simple, but rather special, which makes it worthy of your attention.
First time this tone appeared in the collections of Sherwin Williams in 2016. In 2019 it became very popular, and is still relevant today. To give you an understanding of this color, we need to go a little deeper into history.
The shade of white got its name thanks to the mineral alabaster, which is used to create gypsum powder and carve statues.
This mineral has been used by mankind for thousands of years, is well known and popular.
When was the last time you happened to be in a white-toned room, did you feel comfortable or, on the contrary, felt bad and couldn't relax?
White and it's shades is one of those colors that many homeowners avoid because they are afraid that the room will not look cozy and welcoming.
In fact, white is the most refreshing color. It makes the home clean and smart-looking and brings a touch of sophistication to the interior.
Alabaster by Sherwin Williams is a white shade that will bring you a luxury and opulence atmosphere.
Alabaster Undertones
Sherwin Williams Alabaster is white color. It is not cold, rather warm, as Encycolorpedia says.
The shades closest to it are ivory, off-white, and taupe. Unlike beige, alabaster does not have yellow-brown blotches.
Though alabaster is a special shade of white, it can also be tinted cream, pale pink or greenish, depending on the lightning options and coordinating colors.
Alabaster is a wonderful color that blends perfectly with almost all shades in the interior. However, one of the most interesting combinations will be neutral colors, i.e. white, gray and black.
A wonderful combination of alabaster with slightly softer shades, such as powdery pink or blue, is an idyllic decoration if you look for options to design a child's bedroom.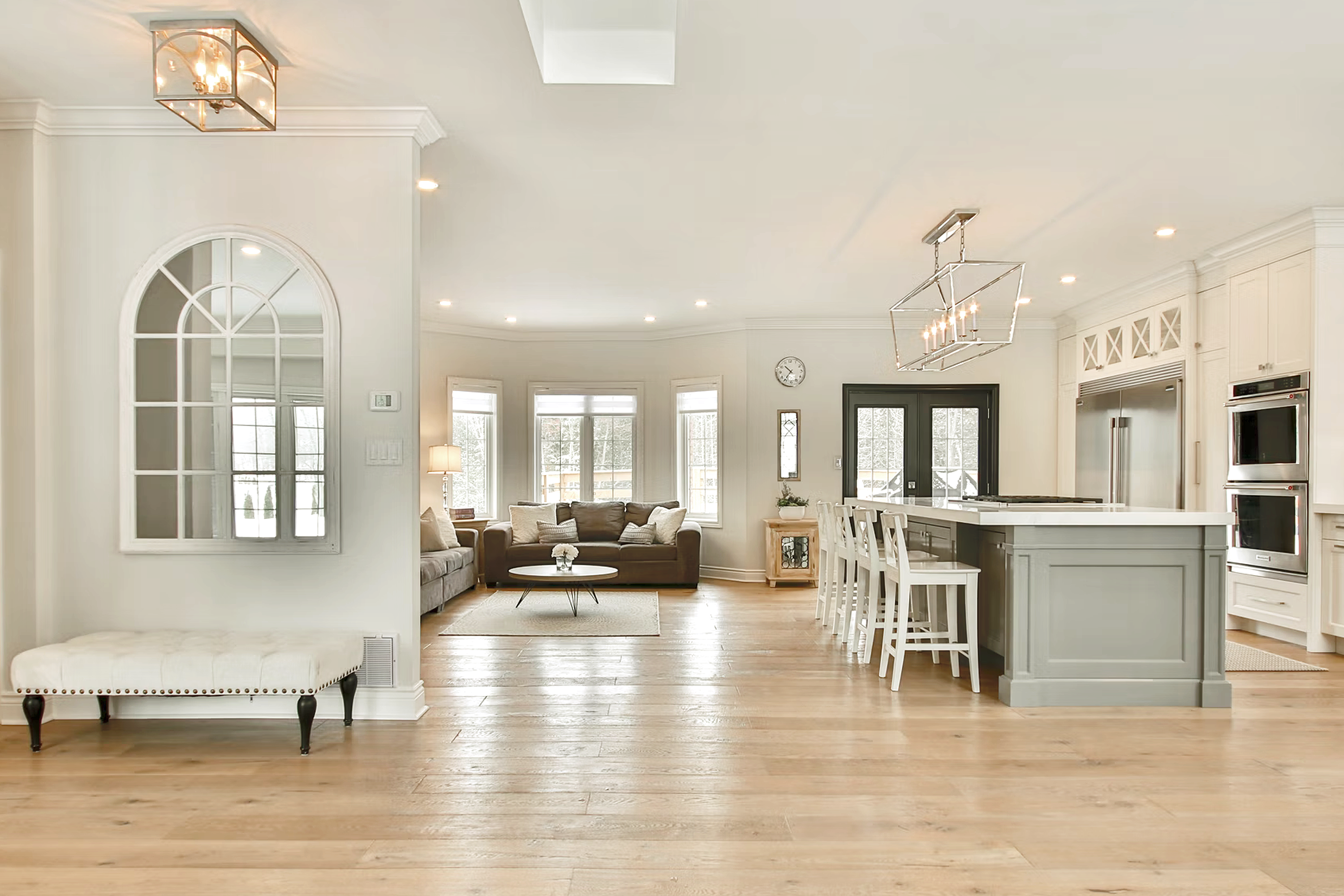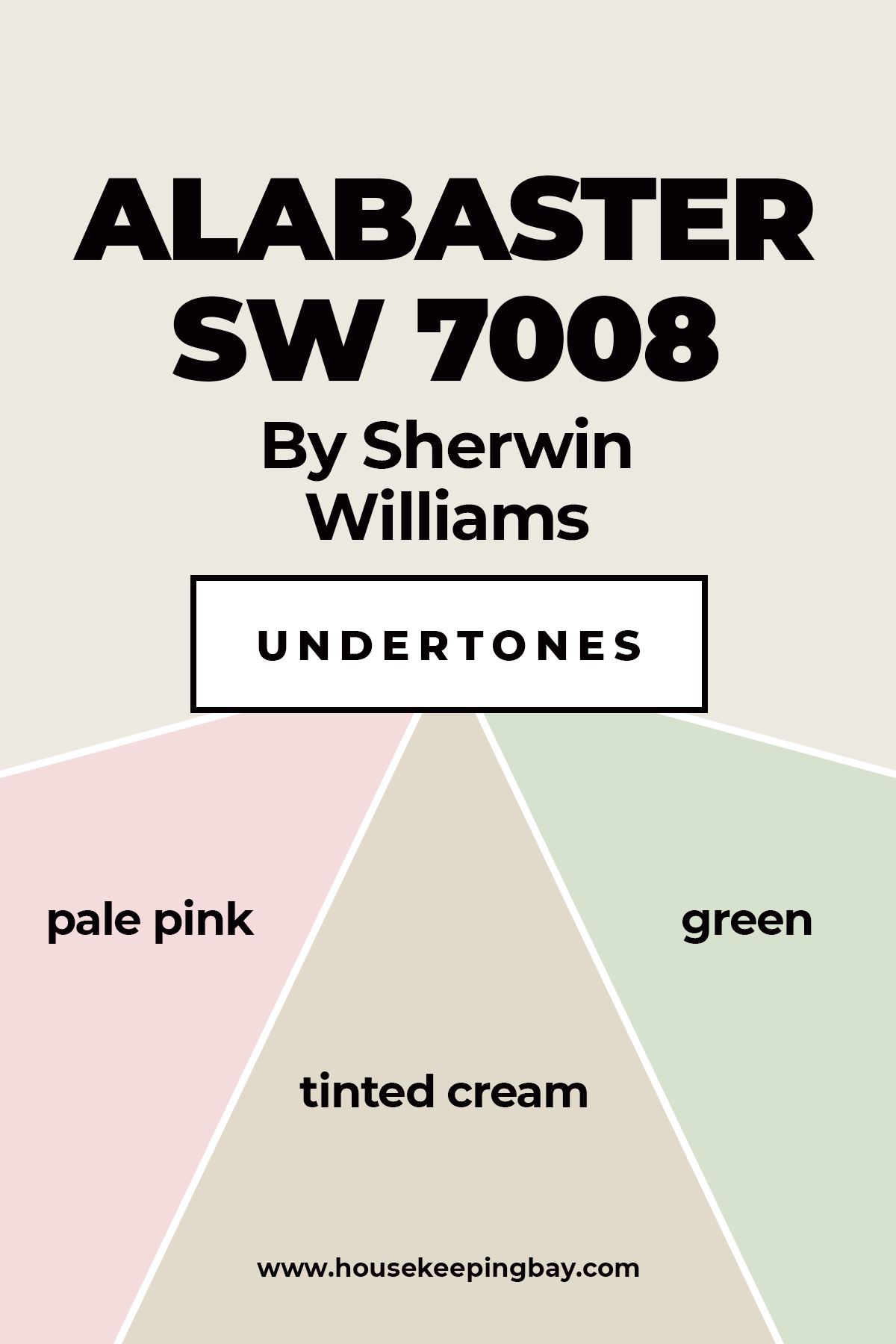 How Lightning Influences Alabaster?
To understand how different alabaster is from pure white, let's compare their light reflectance.
Keep in mind that the basic snow-white color's LVR is 100, that is, it completely reflects the light.
Alabaster's LVR is 82. It is at the upper end of the spectrum, it reflects a lot of light, visually expands the space, but at the same time it is warmer than pure white.
What is LRV? Read It Before You Choose Your Ideal Paint Color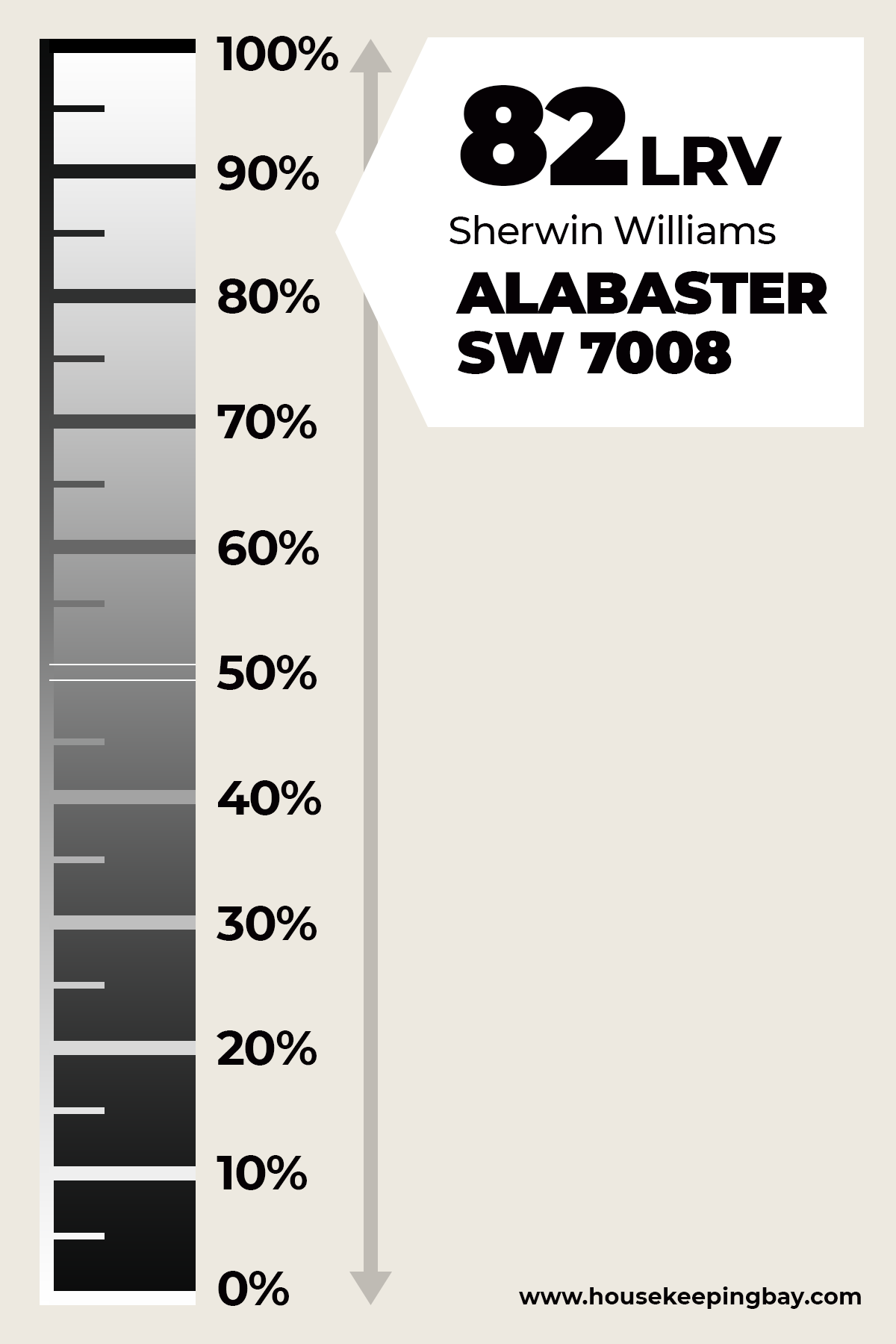 Colors that go with Alabaster
With various shades of white and beige, on the one hand, alabaster will create a gentle and soothing composition. On the other hand, alabaster will look great in the company of black and its shades.
The contrast created by the two colors will be expressive and sophisticated.
Alabaster, of course, belongs to neutral shades, so it goes well with any colors.
The manufacturer recommends the following combinations:
SW 7690 Townhall Tan, a variation of beige color with LVR 42. This is a soft and harmonious combination of shades.
SW 9023 Dakota Wheat, a yellow-beige shade with LVR 54. This combination creates warmth and unobtrusiveness at the same time.
SW 9651 Sea Spray with LVR 61. Fresh, light, cool soft blue.
However, these are just recommendations.
You can combine alabaster with anything from pure white to rich Oxblood color.
According to the designers, alabaster needs to be next to something brighter so that the interior does not turn out to be too neutral and boring.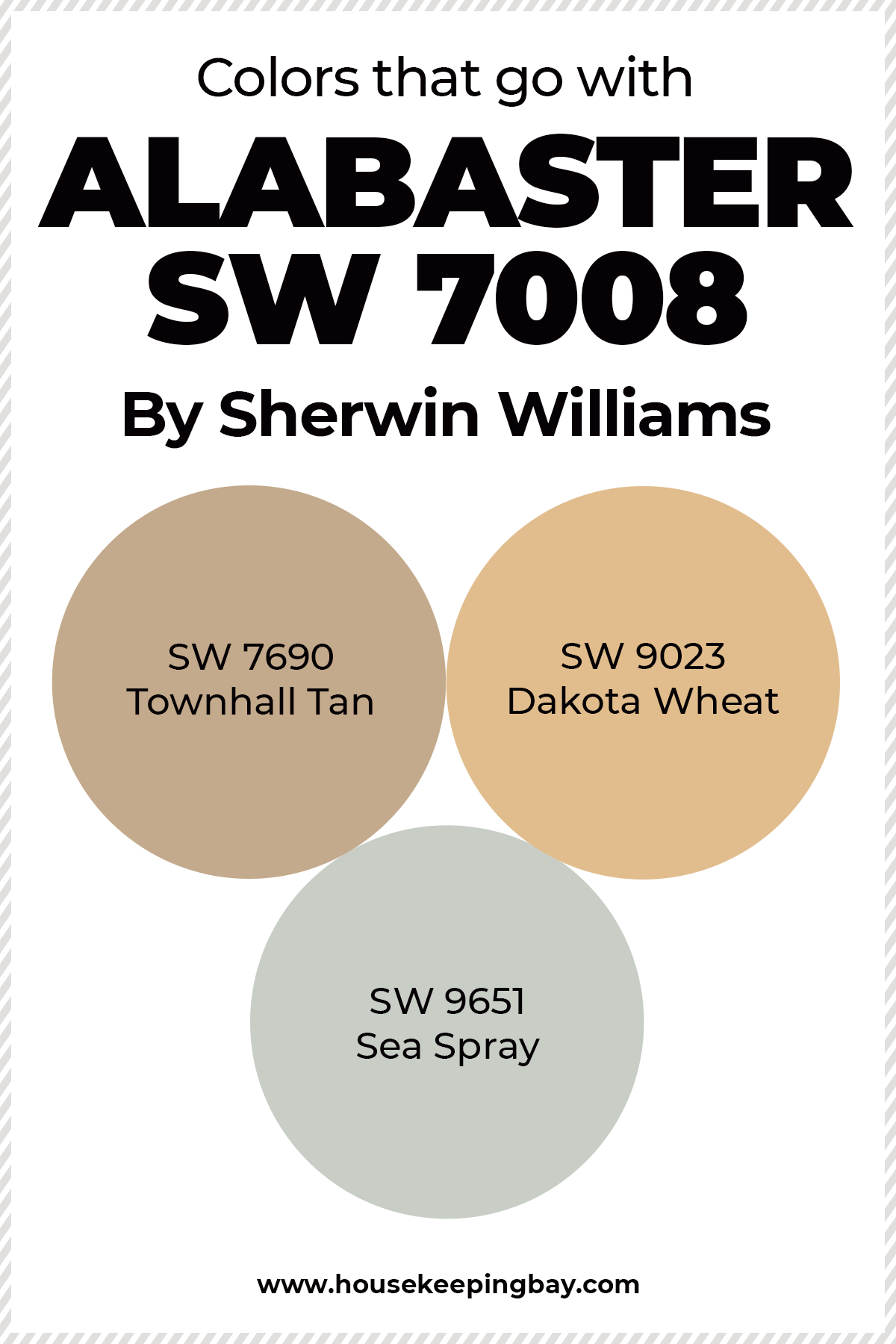 Colors similar to Alabaster SW 7008
A neutral color palette of these tones creates a peaceful space that still feels luxurious enough.
These soft tones work well with natural wood tones and dark metallic accents for a balanced space.
Alabaster vs. Chantilly lace (by Benjamin Moore)
Chantilly lace is a perfect equivalent of Sherwin Williams Extra White.
They're both coordinating with alabaster color and can be used to create an airy, light-toned room of any design.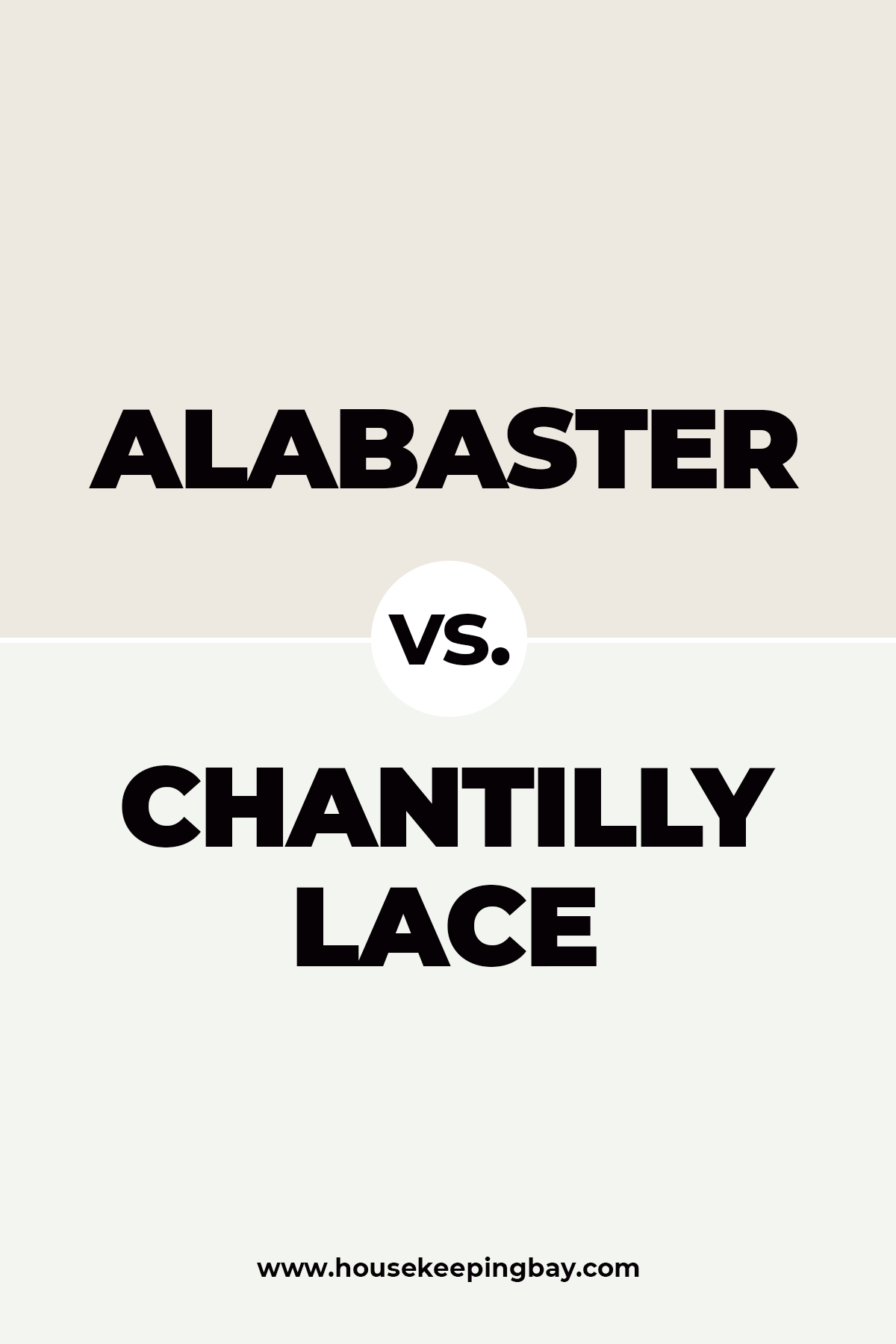 Alabaster vs. Dover white
The shade of yellow gives Dover White a brighter, softer and more attractive look.
This warm neutral color is great for any space where you want to add a touch of subtle color.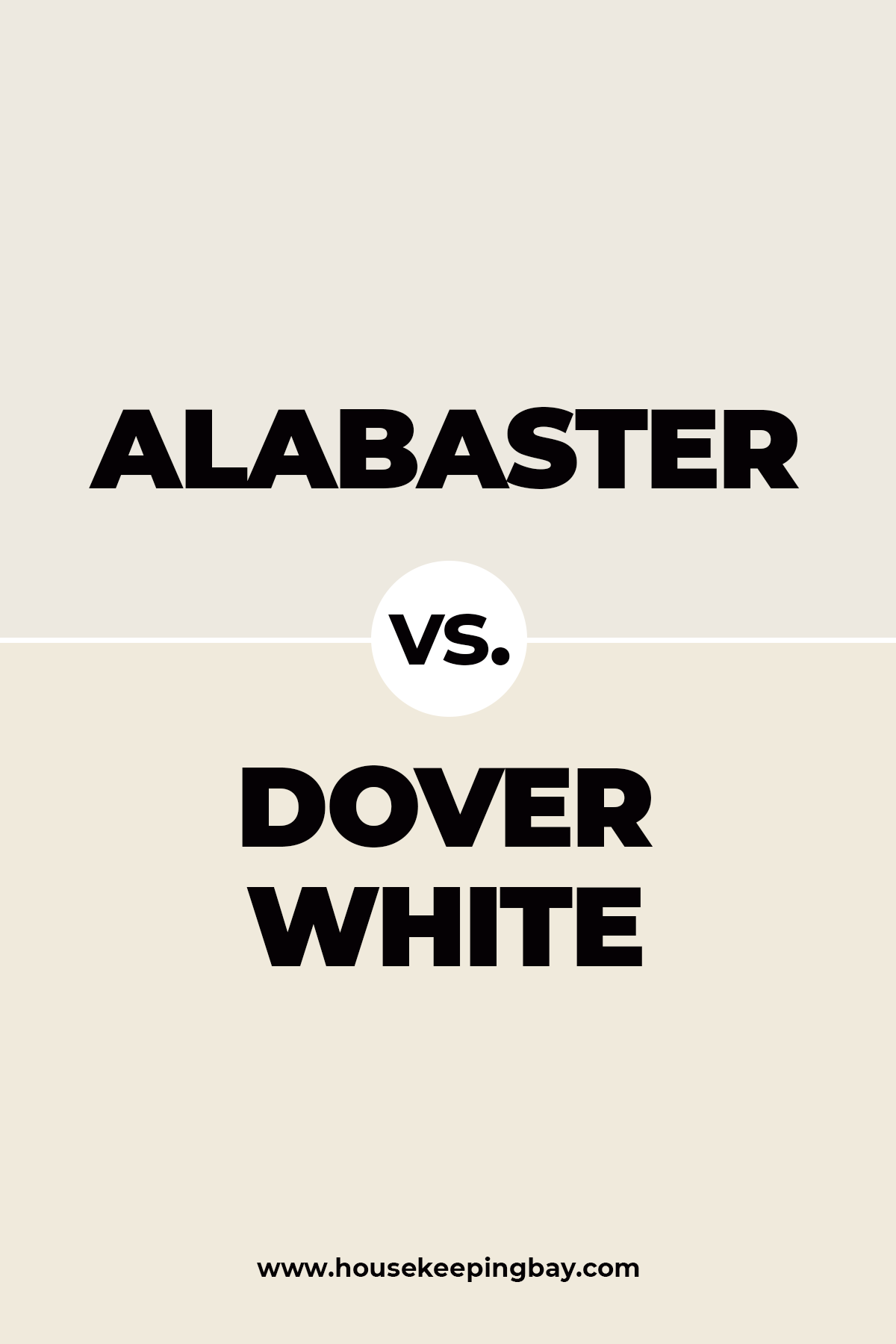 Related: Dover White SW-6385 By Sherwin Williams
Alabaster vs. Greek villa
An off-white hue like Greek Villa features warm tones that create an inviting feel that is full of comfort.
Its nostalgic richness is perfect if you love luxurious beiges from the past.
This shade pairs especially well with traditional spaces due to its affordable quality that feels timeless.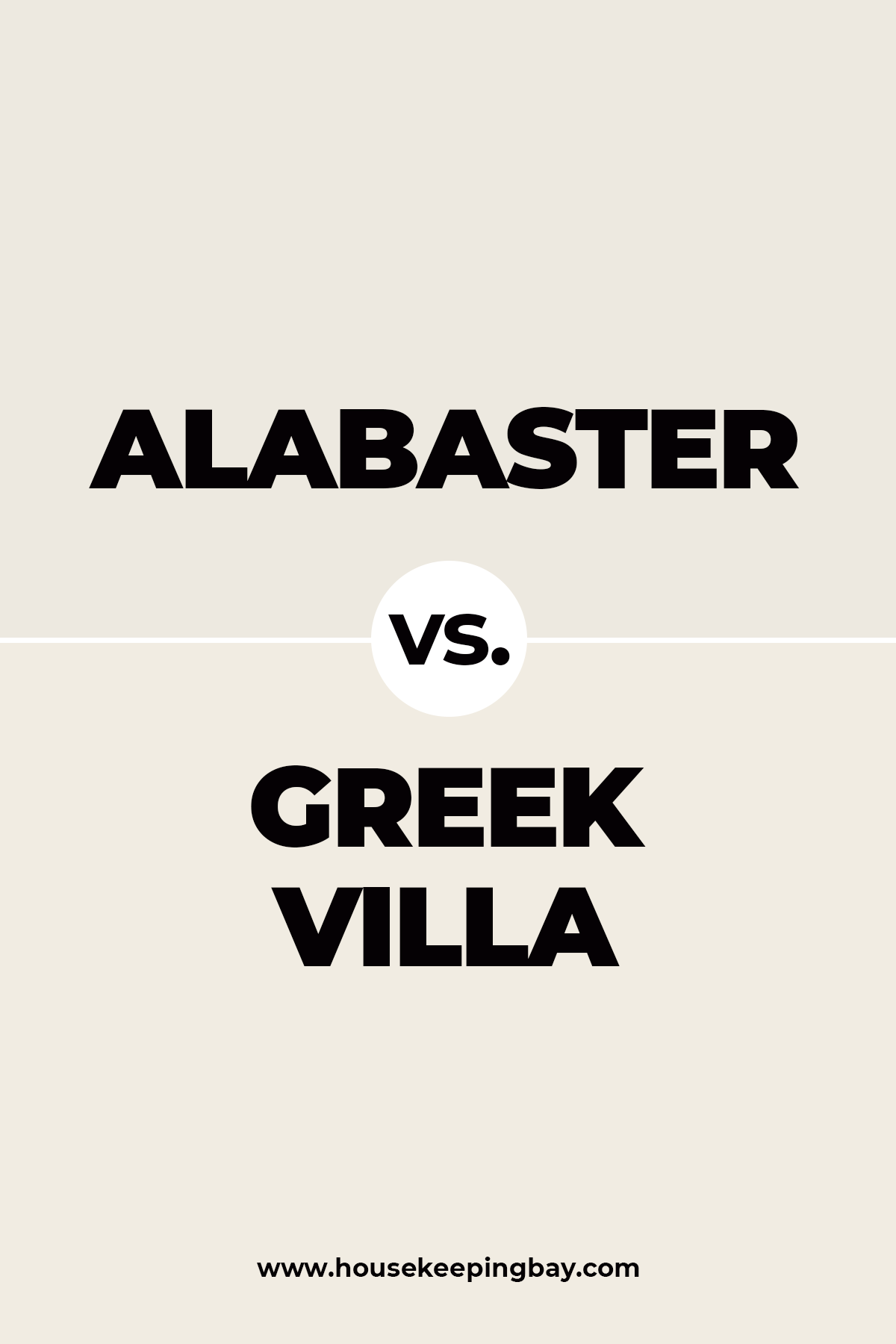 Alabaster vs. Pure white
With its gray tint, Pure White creates a softness that makes rooms bright without being harsh.
It can be difficult to find true neutral colors.
This tone sits right in the middle between warm and cool beiges and looks classy.
This fine balance helps create a versatile space that works with many different design styles.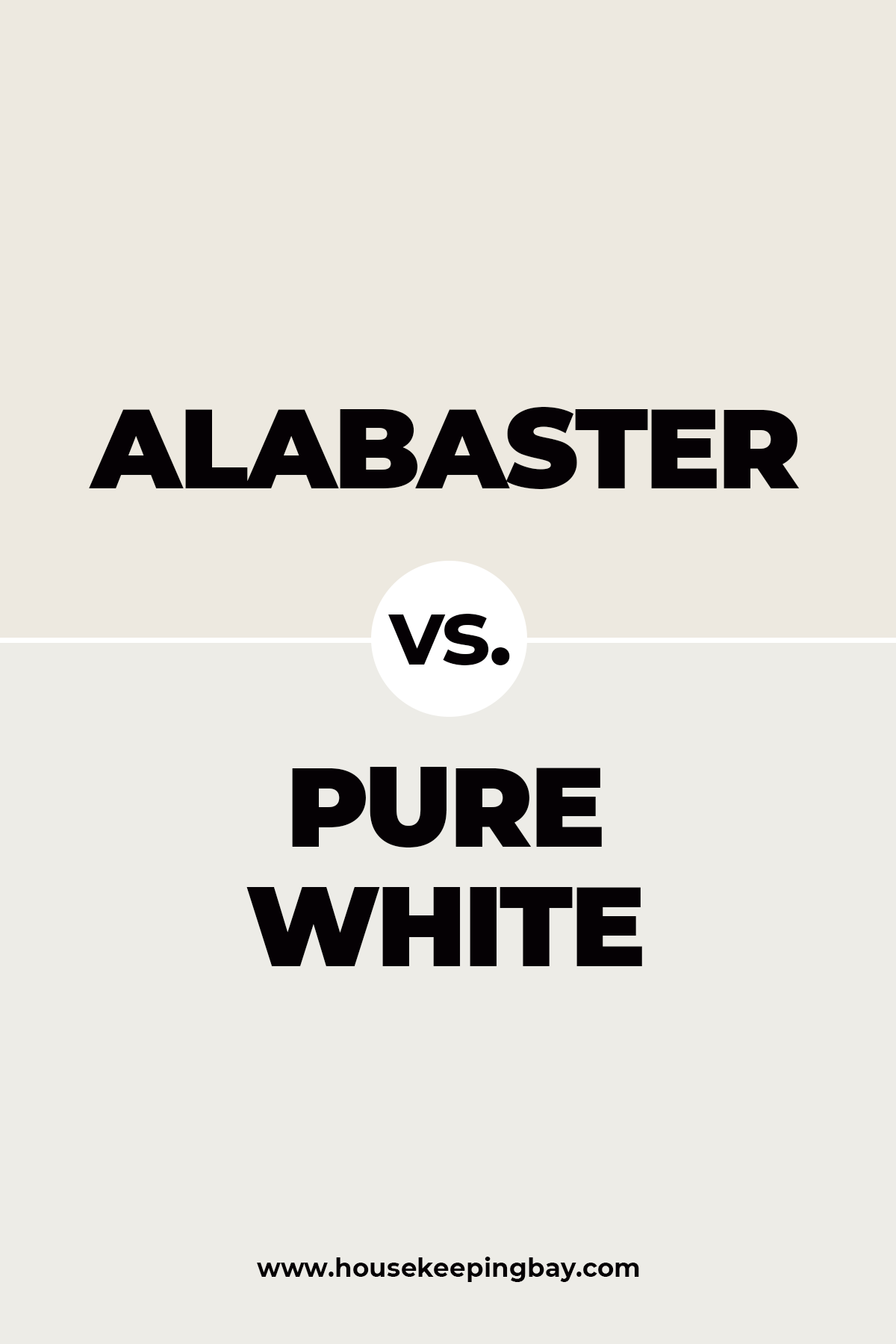 Alabaster vs. Snowbound
If you're looking for a shade that feels a little cooler, look no further than Snowbound.
This neutral color has gray undertones that are perfect for enhancing a space where furniture and décor are mostly cool tones.
This is a neutral mid-tone color, great for creating a monochromatic color scheme.
Use snowbound as your middle color, opting for lighter and darker shades to complete your interior paint scheme.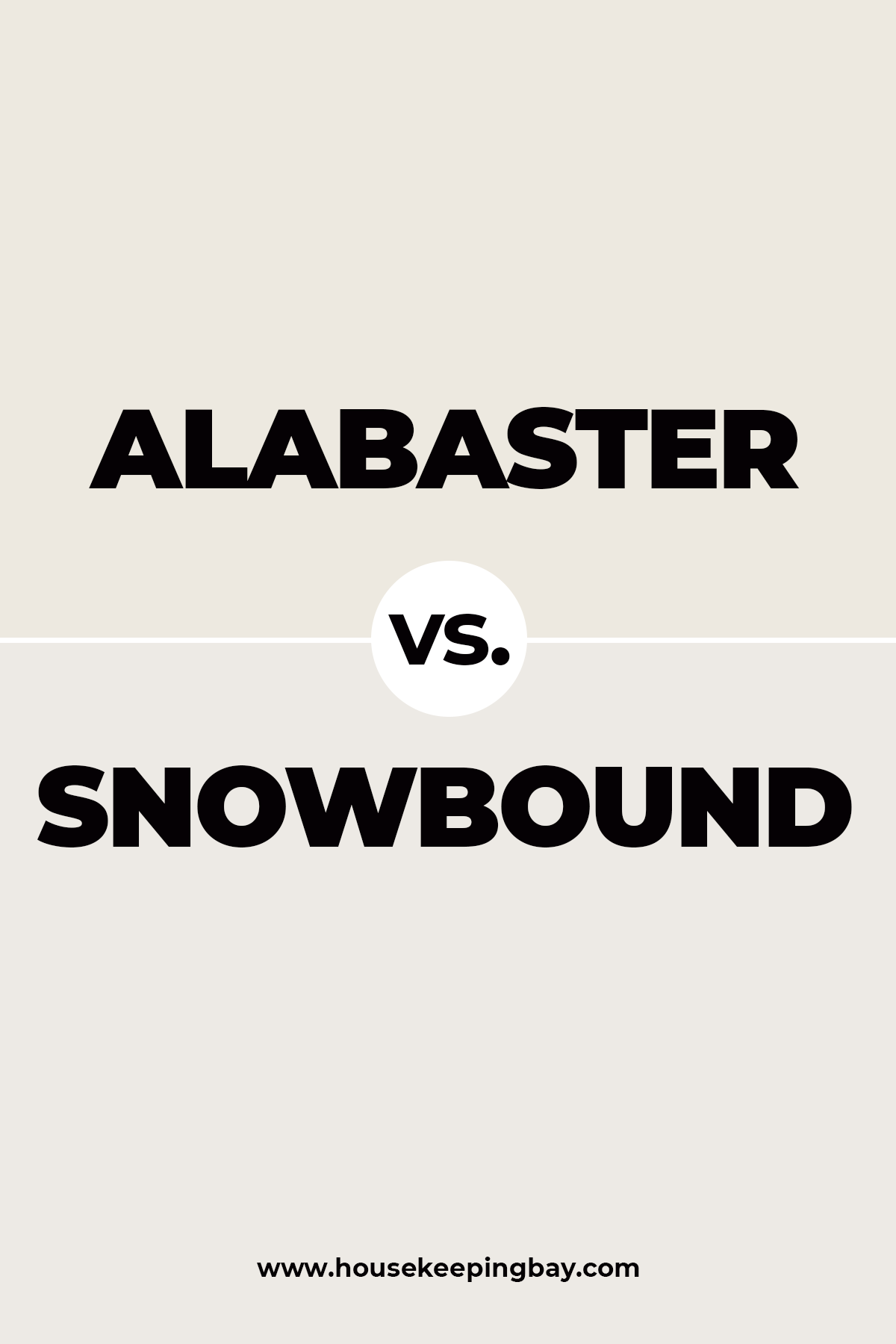 Related: Snowbound SW-7004 by Sherwin Williams. Detailed Guide
Contrast colors for Alabaster
Alabaster color can be considered as a universal base.
It can be combined with saturated bright colors. Fuchsia, mustard or sunny lime, sea turquoise or juicy eggplant are perfect companions for alabaster if you like bold and exclusive designs.
For example, by placing a sofa in rich color against an alabaster wall, you create an intriguing focal point.
Natural wood looks great against such a background, including furniture made of wood.
Green, blue and yellow scales will also add a special chic to the alabaster.
In any case, this shade from the family of whites is a good choice for interiors in any style.
Some options you might like to compliment the alabaster in your design:
SW 6178 Clary Sage
SW 9579 Timeless Taupe
SW 6842 Forward Fuchsia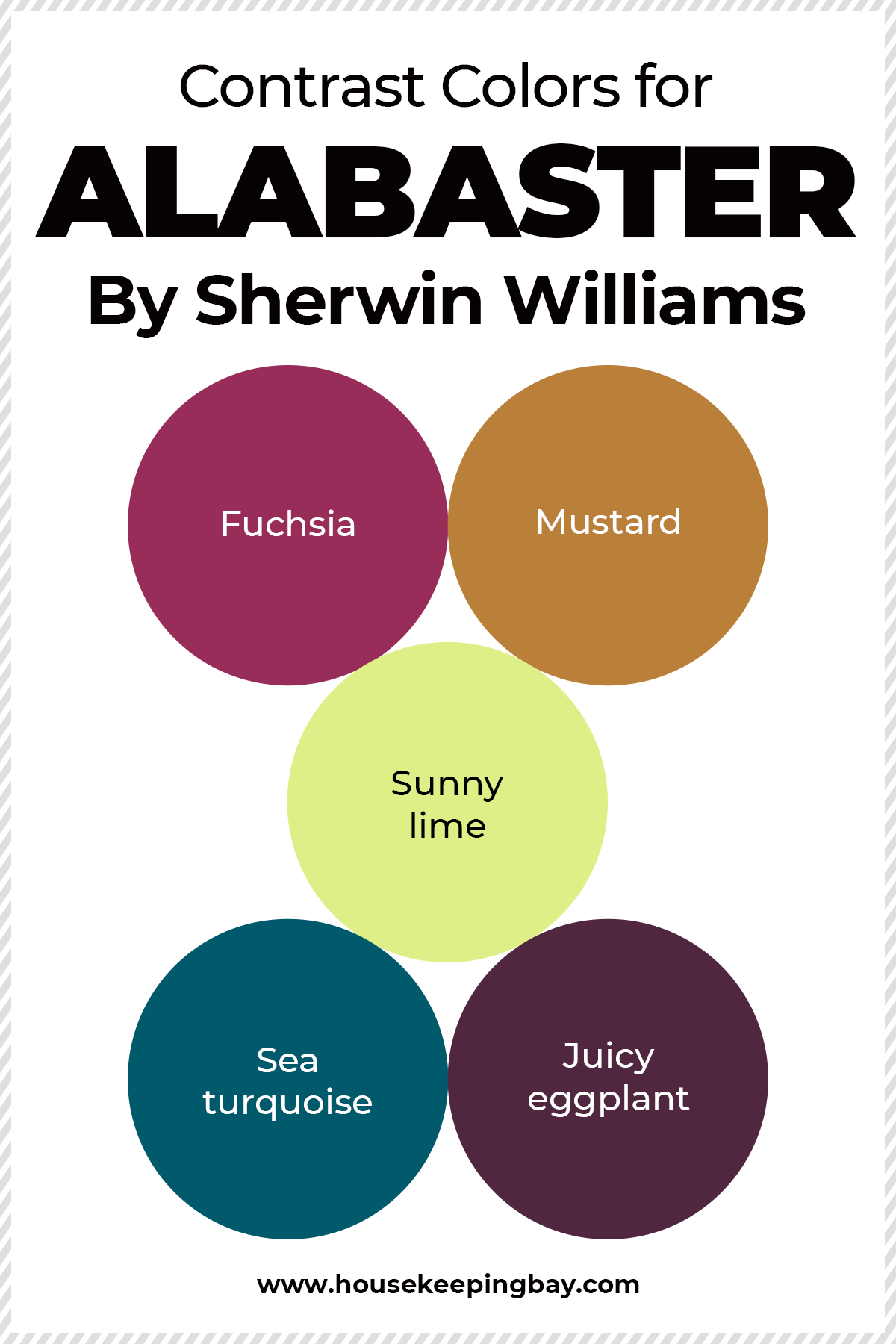 How To Use Sherwin Williams Alabaster In Your Bedroom
Best Ways to Use Sherwin Williams Alabaster
In fact, there are no rules that impose or prohibit the use of alabaster in your house or apartment. Professional designers recommend using it in small rooms because it makes them larger.
However, it is also an excellent background in a spacious living room, literally connecting all its parts together.
Alabaster is a great companion for a variety of designs and styles.
You can use combinations of alabaster and its go-to colors and shades in modern designs like Fusion, contemporary, pop art, neoclassicism, postmodernism, futurism, eclecticism, boho, hi-tech, scandinavian… and many others.
Alabaster in a Living room
Off-white living rooms look great in large houses and small apartments. Designers recommend using this tone in the design of flooring, walls or ceilings.
The interior with beige and alabaster is great for any style: it makes the shade versatile and popular.
Off-white color palette is considered the most calm and relaxing. It is positively perceived by a person and has a good influence on the nervous system. For many, a living room in beige tones is associated with home comfort and an atmosphere of peace.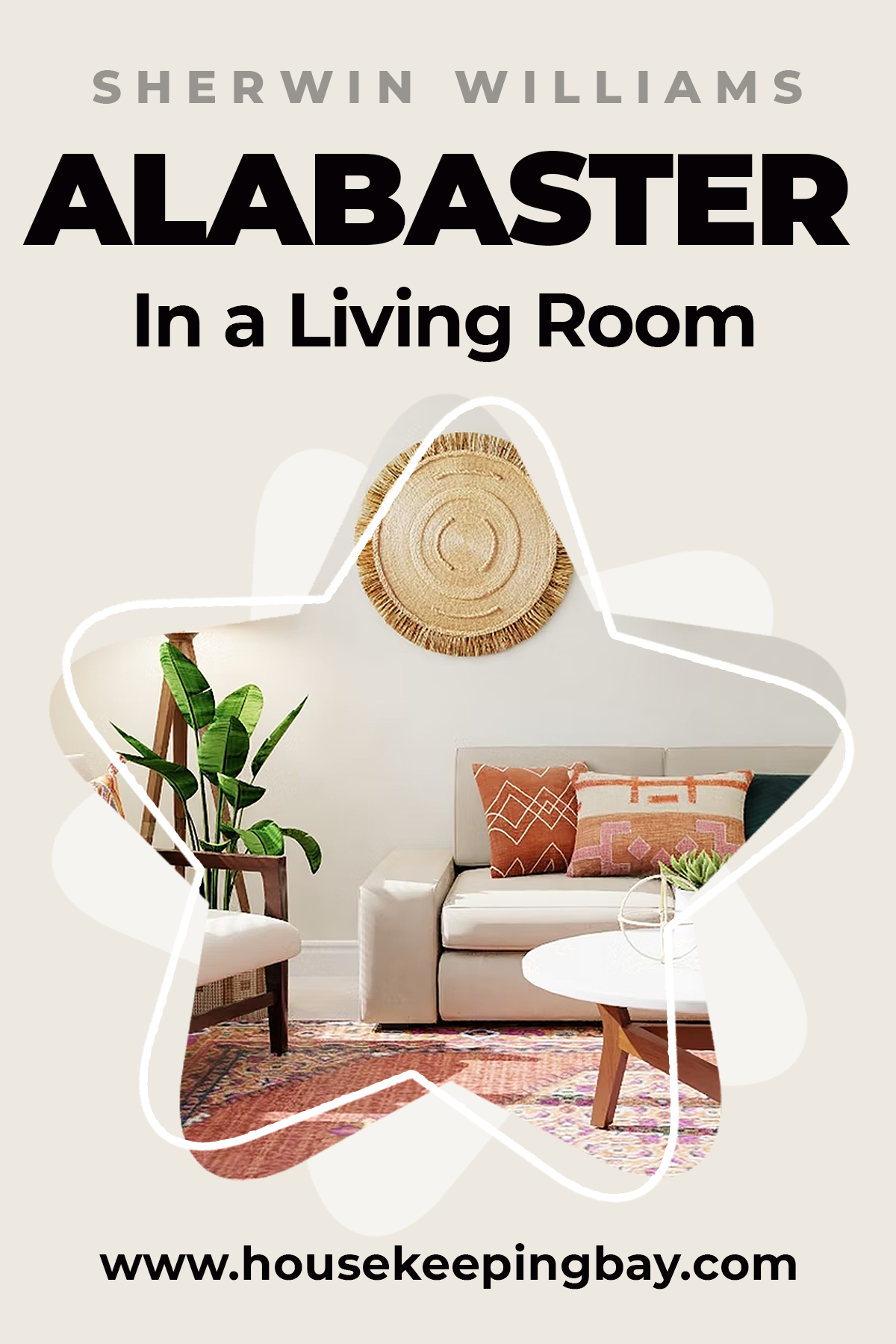 Alabaster in a Bedroom
White color has always been considered a symbol of calmness and balance.
It is easy to create an original interior design in light colors if the bedroom is decorated with off-white shades like milky, creamy, creamy, and alabaster.
They smoothly blend into each other, even when using seemingly contrasting colors, and bring freshness and softness to the atmosphere at the same time.
A bedroom in neutral colors like alabaster and beige or cream is an ideal option for people who value their peace most of all.
A bright and serene interior will allow the owners of such a room to enjoy sleep, and the morning awakening will become really pleasant.
Alabaster in a Kitchen
Every owner of the house dreams of a kitchen, which would become not only a space for preparing delicious food, but also a cozy place for a good time with family and friends.
Alabaster and its coordinating colors is the perfect combination of harmony, comfort, coziness and elegance.
If you don't want to decorate the kitchen in one color, then you can vary the caramel and sand halftones.
They will place the necessary accents and will not disturb the overall bright atmosphere.
Caramel shades will make the kitchen luxurious, creamy ones will give warmth, wheaten ones will visually expand the room.
The following color combinations will also be harmonious: beige with brown, beige with green, beige with pink, beige with gray.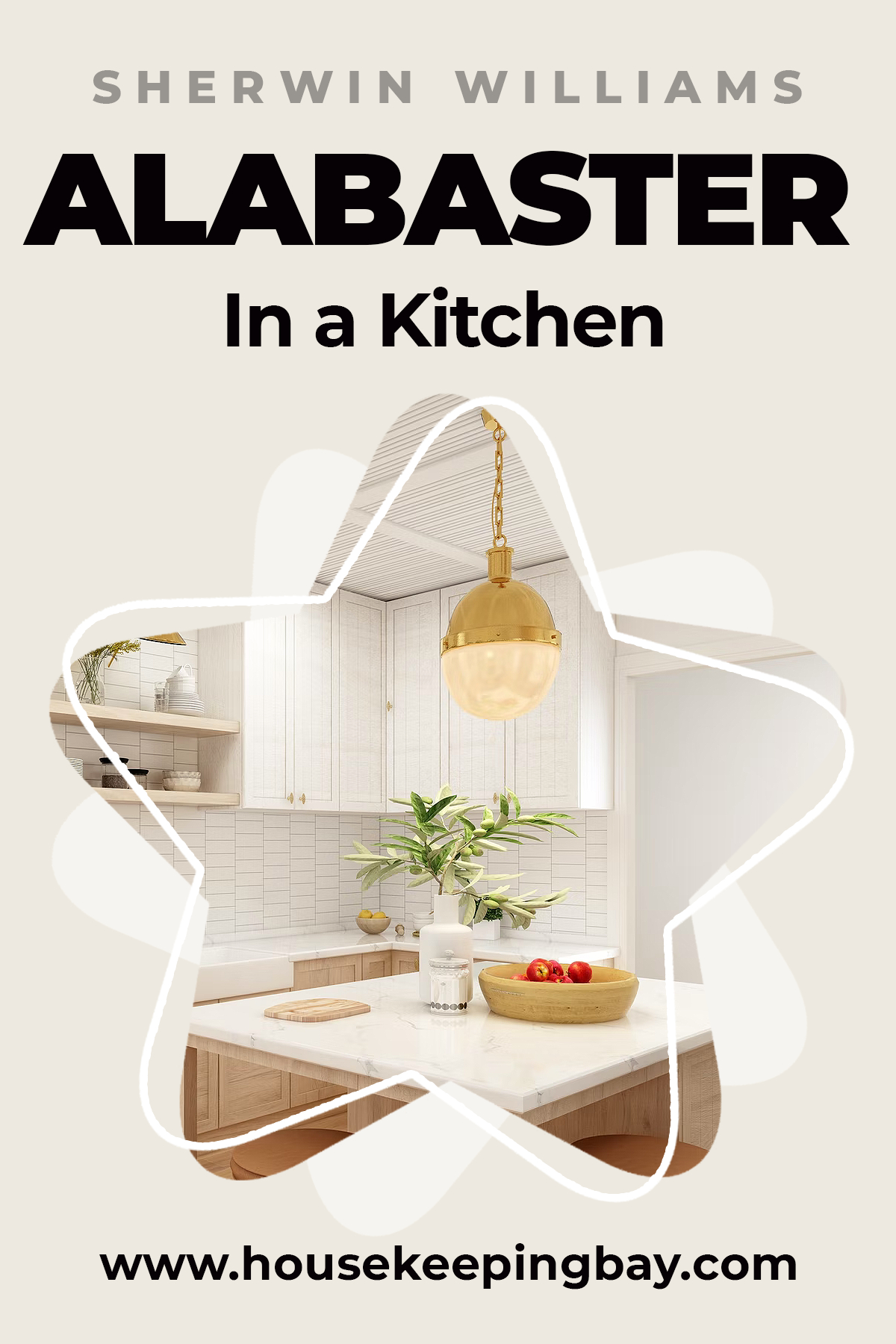 Alabaster in a Bathroom
Bathroom design in white tones attracts with its versatility, neutrality and elegance.
It is the perfect backdrop for an original sanitary ware or an exclusive wall mural.
A classic off-white bathroom or a modern loft in gray-beige tones will look great in any option.
Alabaster is able to balance bright colors and neutralize the presence of too dark tones.
Luxurious natural stone, matte and glossy tiles, brick and wood are just a small part of the materials that will be appropriate in an alabaster bathroom.
This color scheme is chosen for small typical apartments and country houses, used in hotels.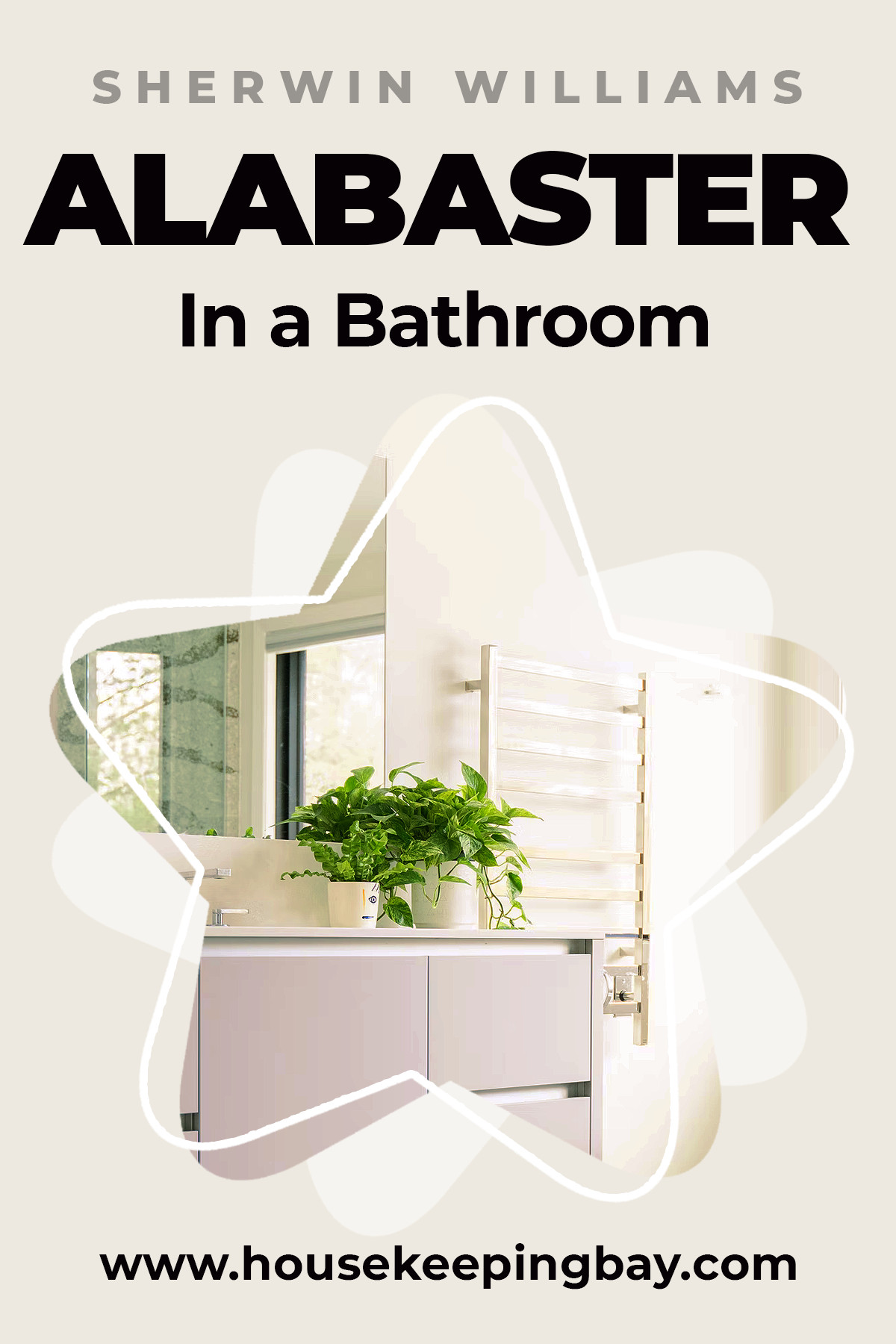 Alabaster in an Exterior
The choice of the color of the facade and its other elements is influenced by their shape, surface (texture), material from which it is made.
The right choice of color can completely change the perception of the building, visually increase or decrease the house.
Combining the color palette, you can make the house deeper, looking up, or vice versa, the main thing is to feel the measure.
The brighter the color, the shorter its lifespan, as it is more susceptible to the effects of sunlight on it.
Black color is the worst option, as it attracts the most ultraviolet rays, which means that the period of its operation is minimal.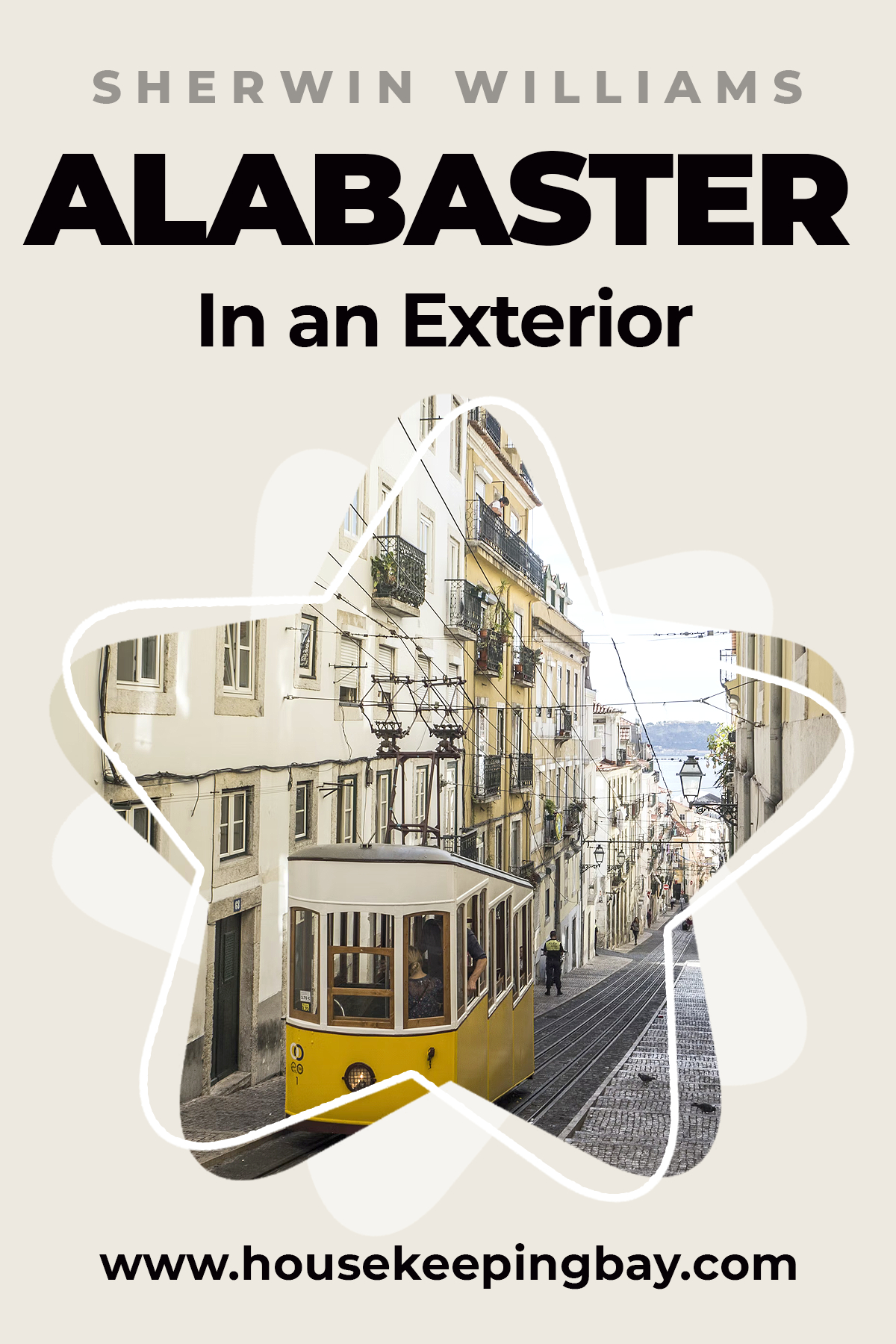 The best option would be to use white and light colors that can last for many years.
A pure white color looks elegant, but also cannot look beautiful for a long time, it will quickly begin to fade and turn yellow.
It is best to use alabaster color and its shades.
This Sherwin Williams paint color does not fade, it does not turn yellow, and dust on such a facade will not be noticeable.
Now you have a full guide on Alabaster paint color. You know not only what type of color it is, what undertones it has, and how it reads in different lighting.
You are also aware of the optimal color combinations this paint will work with. All this will help you use this paint in your home not only wisely but also effectively since we explained what rooms it might be best to use in.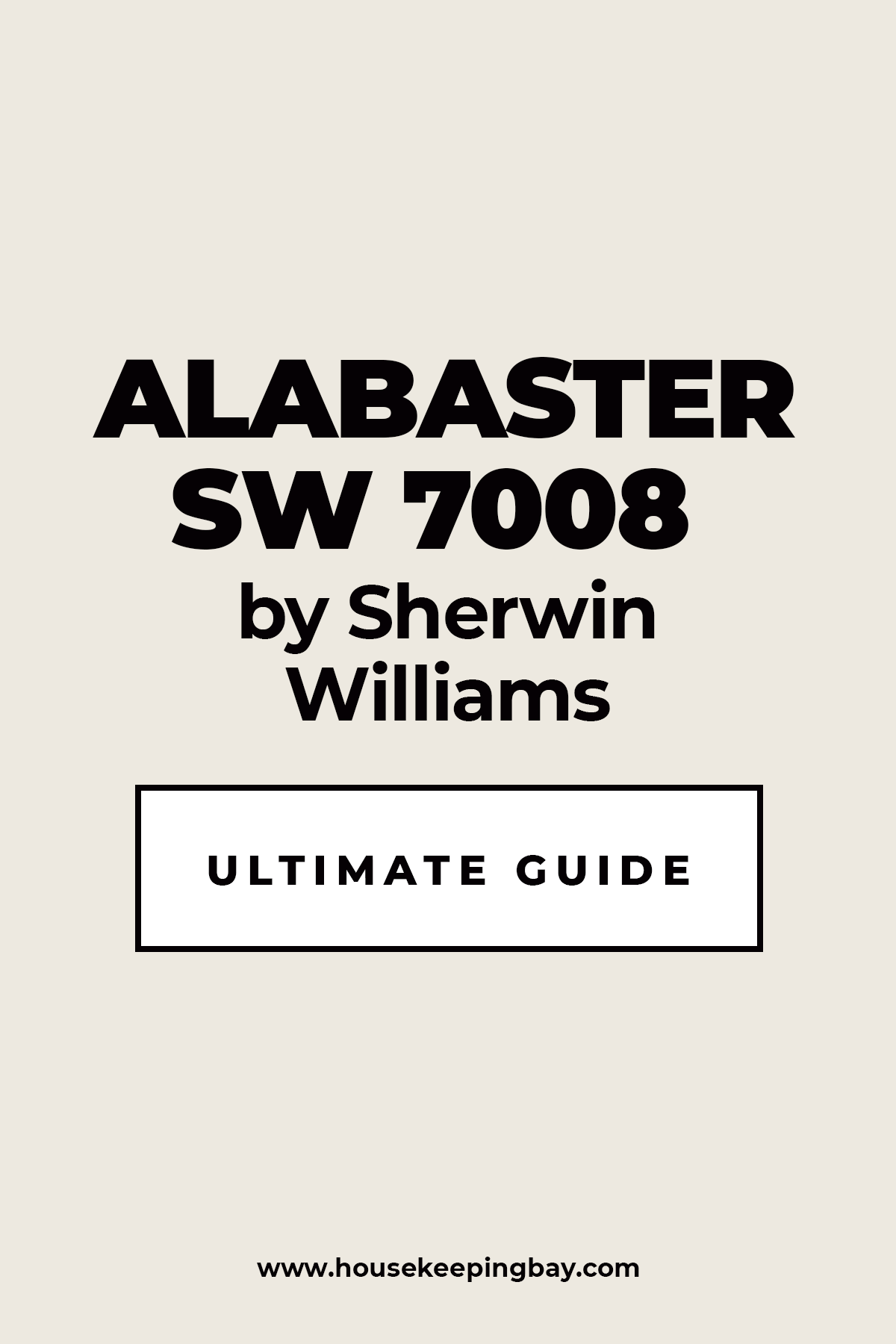 Frequently Asked Questions
⭐ What is Alabaster LRV?
The Sherwin Williams Alabaster SW 7008 color has an LRV of 82.
⭐ What paint colors are similar to Alabaster?
The manufacturer offers SW 9503 Cheviot, SW 7100 Arcade White, and SW 7102 White Flour.
⭐ Is Sherwin Williams Alabaster color suitable for an eco-friendly house?
Most Sherwin Williams paints are good for eco-friendly designs and sustainable living persons.