Edgecomb Gray HC-173 is one of the bestsellers of this brand, and it remains among the sought-after neutral hues year after year. And indeed, the hue of this paint can be called an ideally balanced mixture of beige and gray which means we can consider it to belong to the greige family. To the point, there are tons of other Benjamin Moore paint colors available to order from the brand, and one can find any tones and shades on their website, from vivid and bright to warm and classy pastels and neutrals. All easy to browse and check out, the hues are collected into categories according to the color family or the level of popularity of a certain hue.
But now, let's take a closer look at this crowd-pleaser called Edgecomb Gray, and try to figure out what makes it so outstanding and desirable among the customers.
Edgecomb Gray HC-173 Color Description
At the first blush, this hue may seem to be an ideal neutral, but don't let it fool you! Like any neutral (and greiges also belong to this color group), it has several undertones that can be invisible at first, but they will definitely show up later under certain types of lighting, for instance.
If you want more detailed and precise data regarding the color scheme of this hue, according to Encycolorpedia , this one is made of red (80%), yellow (85%), and blue (77%). The color's saturation is 10, and its lightness level is 85.
As for the light reflectance value also known as LRV, this paint color has it of 63.88 which means that the hue is a pretty good reflector of light when applied to a surface, and it will not likely look dark on your walls.    
What Kind Of Color Is Edgecomb Gray HC-173 ?
So what about Edgecomb Gray as a color? What is it like? Well, it looks like a soft and somewhat airy gray hue with a slight dash of beige in the depth of it. But don't be alarmed, the presence of beige notes does not mean the paint will appear to be yellowish or brownish after you apply it to something! In this particular case, that beigeness only adds more delicate warmth to the overall color.
Of course, like any greige, EG hue can lean more gray or beige hanging upon the lighting conditions. This is an important thing to take into account when buying the paint since you need to double-check how the space you are going to use it in will be lit. Otherwise, the result can be rather unexpected for you: some customers report that EG sometimes looks almost a putty hue with quite a noticeable dash of creaminess!
Edgecomb Grey Color Undertones
This is the trickiest part of dealing with neutrals since all of them usually have several undertones that are normally hidden until certain lighting is used. And then you suddenly realize that your gray walls start looking beige or even yellow!
What about the EG? Well, this hue has green and gray undertones, but relax, it does not mean the paint will end up being green on the walls. However, the color of the upholstery in the chamber does play an important role, and also lighting and the colors of fixed elements in the room matter. They all will influence the undertones of the hue that will be revealed.
The optimal advice for those who want to buy this paint is to make a sample in a store and bring it home to see how it will work in the surrounding. The color we see on the computer screen is usually far from what it truly is in real life.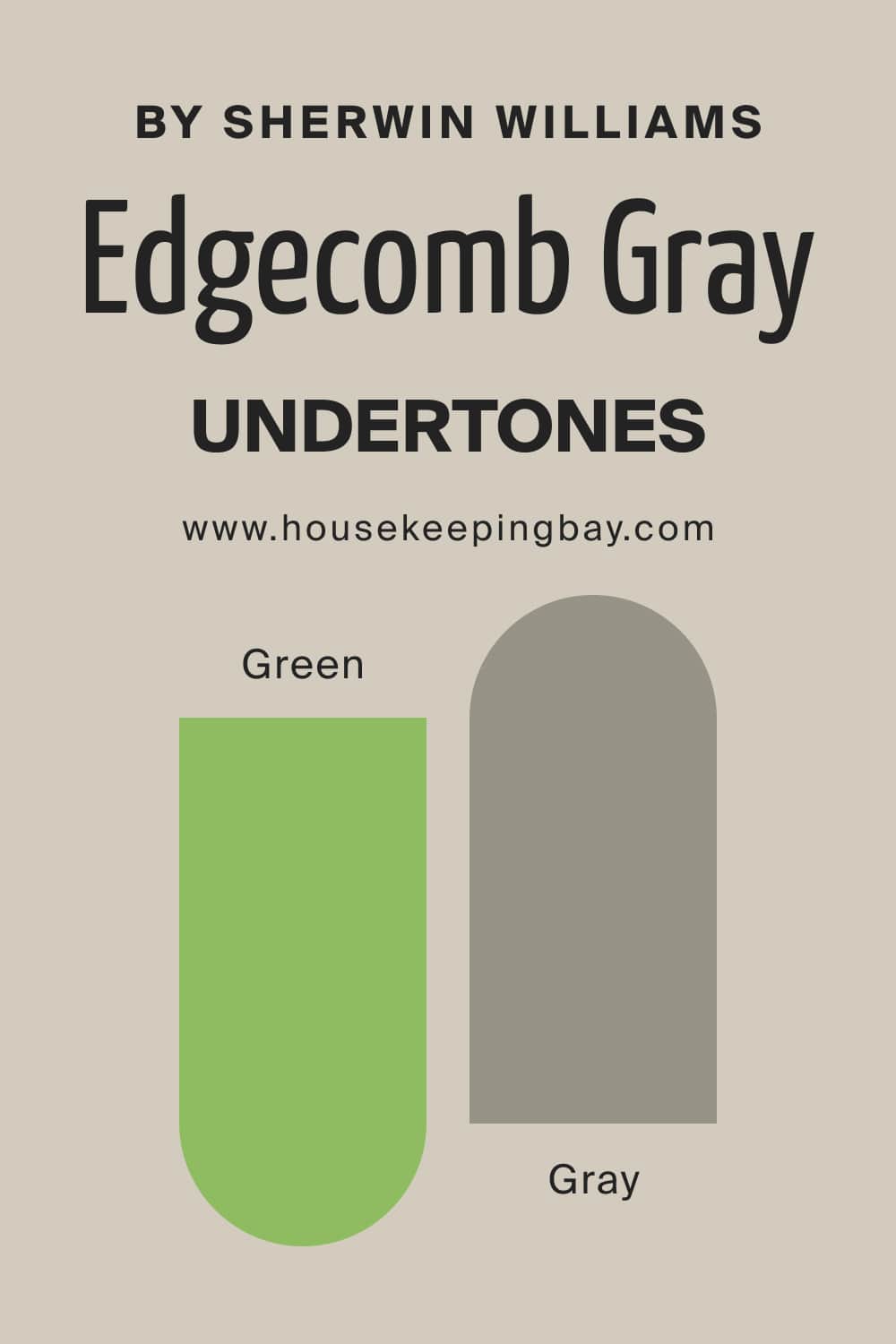 Where Edgecomb Gray HC-173 to Apply To?
People, that are not familiar with paints and colors enough frequently get stumbled upon the same issue: where can this hue be applied to? And nothing changes when it comes to neutrals, and greiges, in particular.
These hues are known for being universal, and so is the EG. It can be successfully used anywhere, one only needs to keep in mind the lighting issue since in badly-lit areas the color may become pretty dark making the space even duller. And now let's see how it will work in different living zones in a house.
Edgecomb Gray In a Living Room
When used in a living room, this hue combines well with beige upholstery because of the perfect gray and beige balance in the paint. If you have any white trims there, the effect will be even better. 
Also, the area must be well-lit and have lots of natural lighting, otherwise, the effect this hue makes will be terrific. So opt for this paint hue if your living room is spacious and light, preferably with large windows looking south.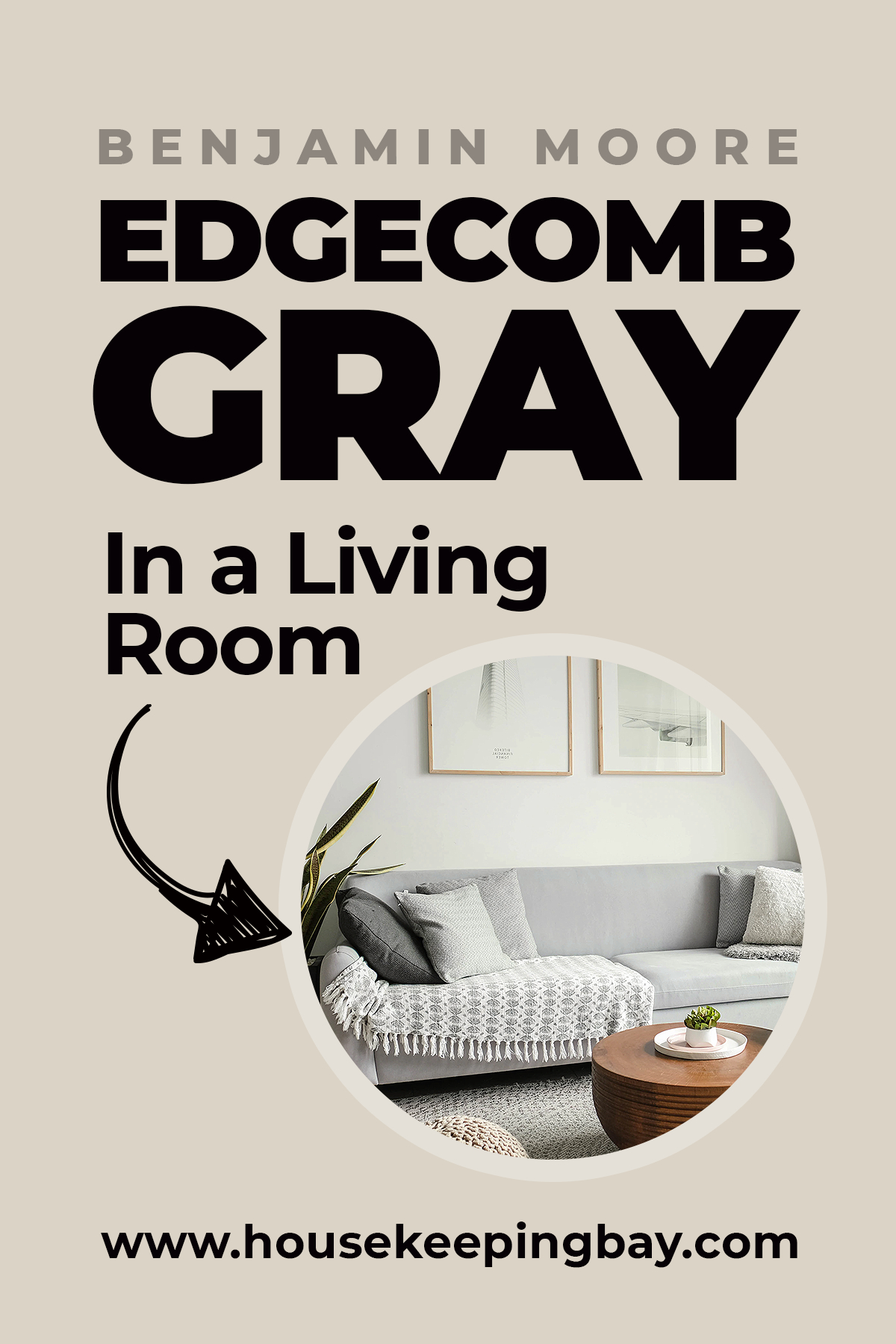 Edgecomb Gray In a Bedroom
This hue is a fantastic option for sleeping areas since it makes them look calming and neutral, exactly what is needed for such a space! Besides, EG will let you add other color accents easily, and it will look especially elegant with wooden items like beds, tables, chairs, or decorative elements.If you pair it with darker browns or beiges, you will also get an astonishing result.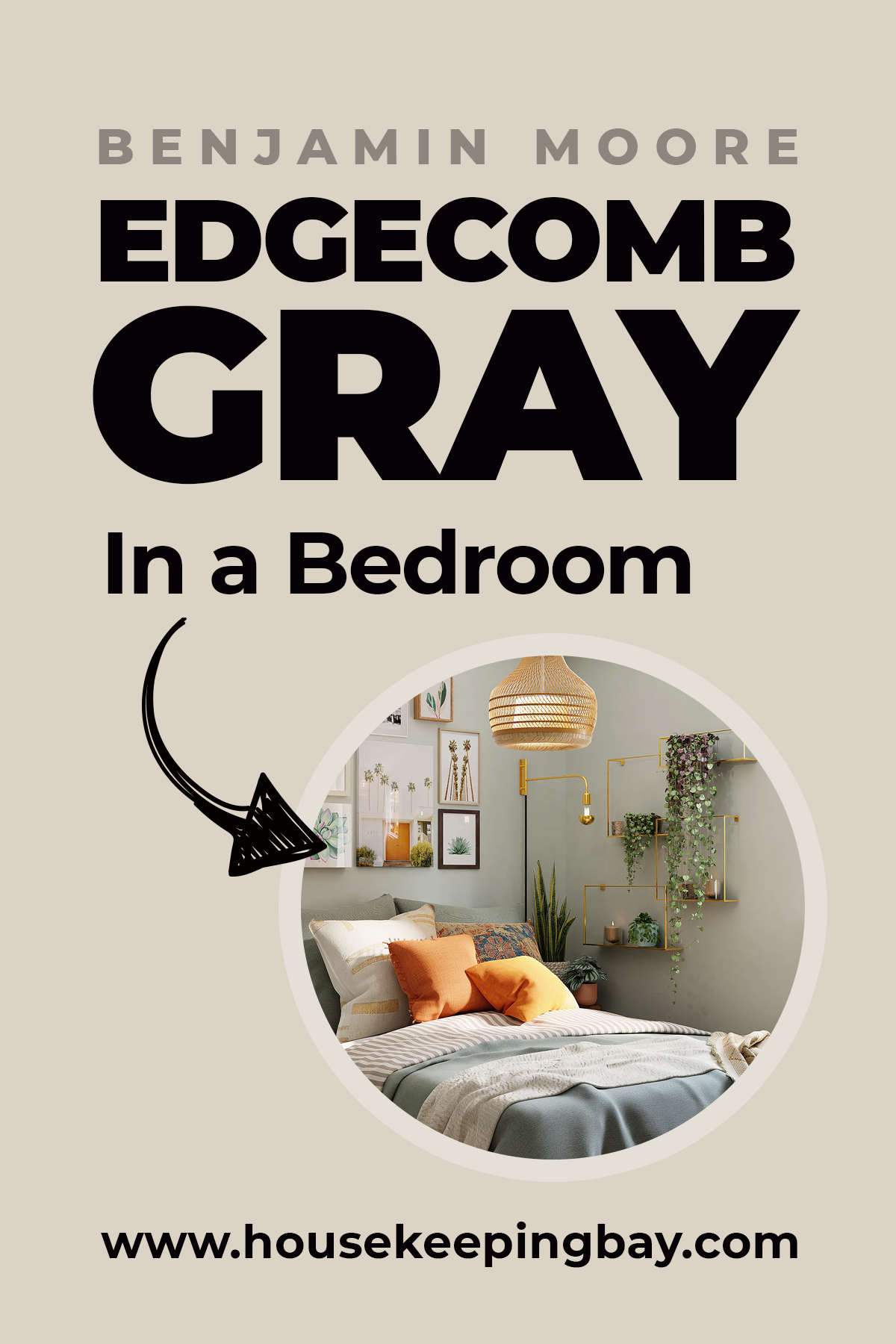 Edgecomb Gray In a Kitchen
A kitchen is an ideal place for applying this paint. It will become a right neutral background for incorporating more colors in other parts of this space.
The hue will pair well with blacks and whites, and also it will definitely win from being combined with earthy beige tones, so let yourself be creative and experiment.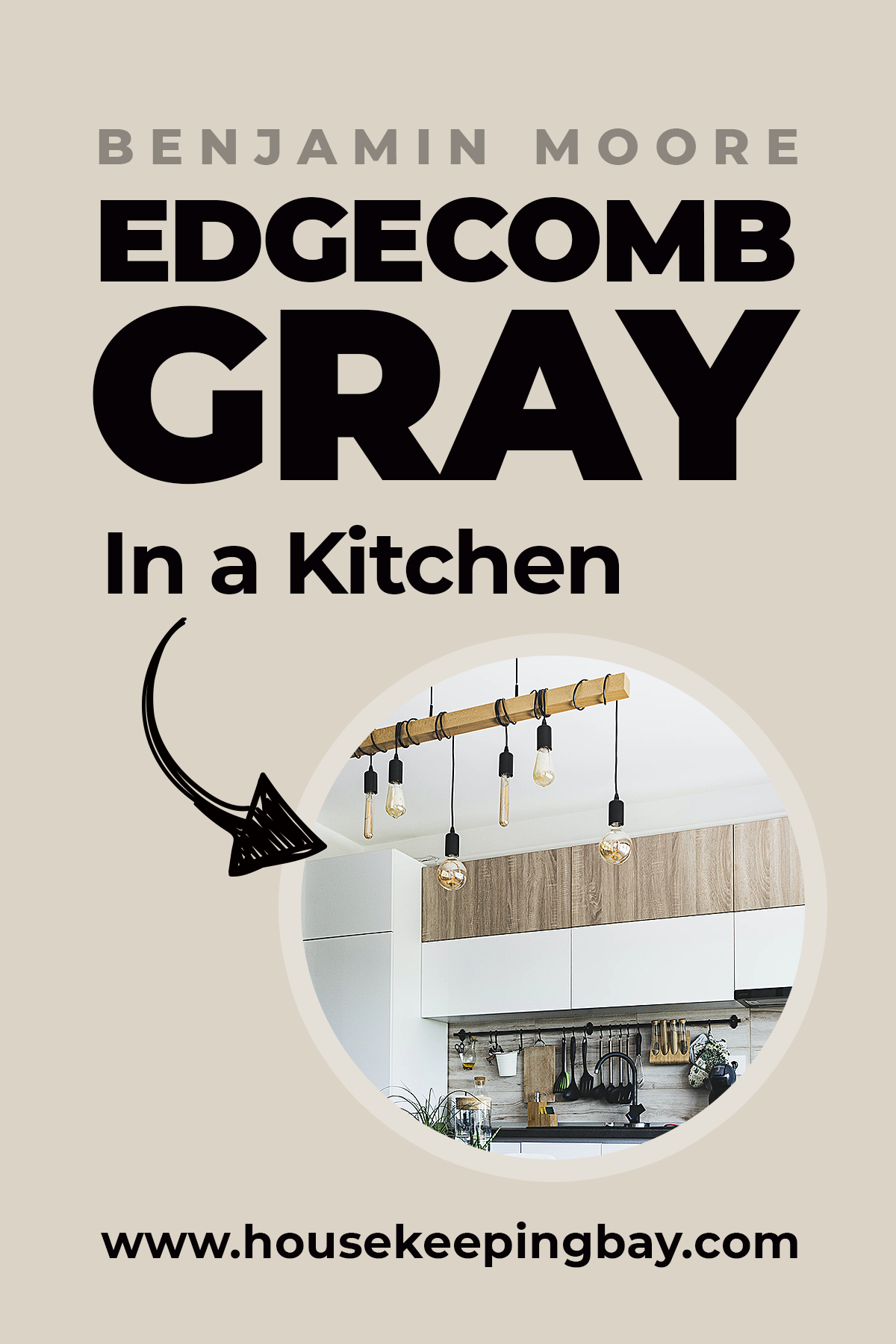 Edgecomb Gray For Painting Cabinets
Painting kitchen cabinets with EG is another way of using the hue. Such paint will add a fresher look to them, and besides, it will make space look newer.
Related: Best Greiges For Kitchen Cabinets | Ultimate Guide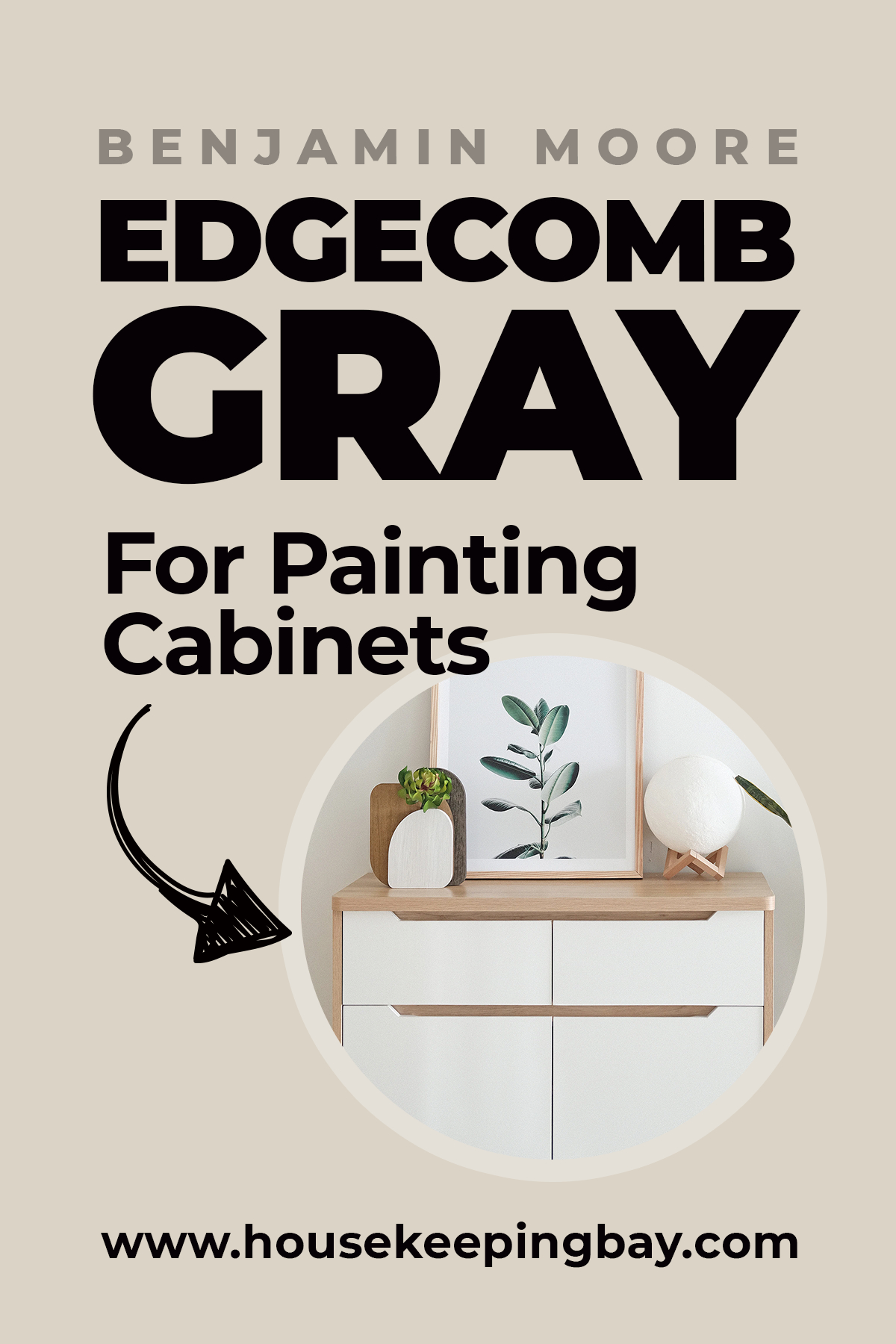 Exterior Application
This hue is incredibly fitting for any exterior works, but note that it will look somewhat lighter than indoors, especially if your house is located in a very sunny area. But even if it is not, don't be afraid of picking this hue.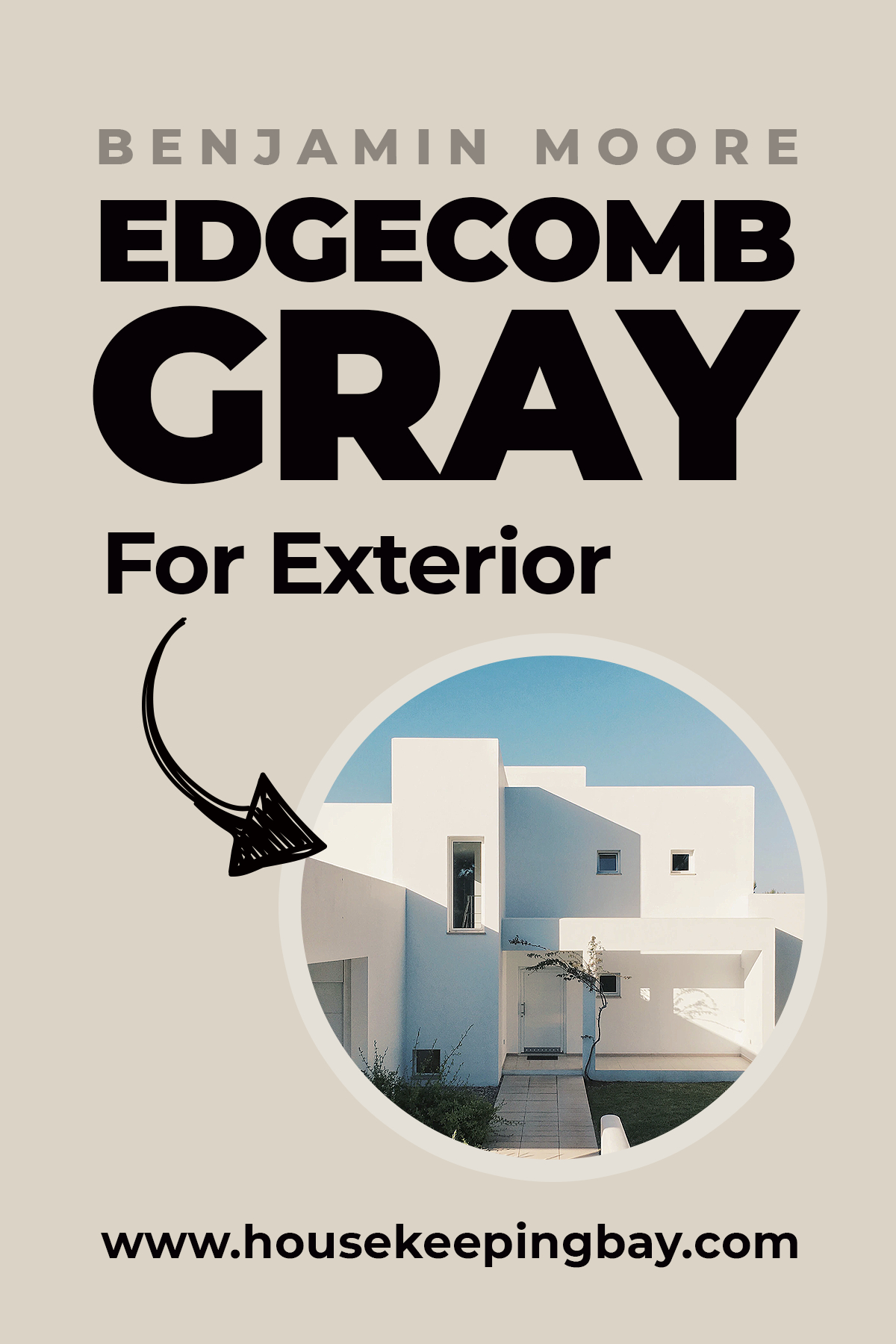 Color And Lighting of Edgecomb Gray HC-173 
The light tends to play tricks with all the neutrals, including greiges. As for the EG hue, it looks grayer, and thus cooler, in naturally lit areas and turns more into warm beige in the chambers that lack lots of natural sunlight.
Moreover, in darker rooms and hallways that usually have very little or no light at all, this hue will show up as a rather dark and dull one. So, to not make a mistake, we suggest everyone make a sample of this color and bring it home to see how it will show up in different areas under the distinct lighting conditions. 
What is LRV? Read It Before You Choose Your Ideal Paint Color
Coordinating Colors of Edgecomb Gray HC-173 
If your task is to pick up proper coordinating colors to be used with the EG, we have a piece of good news for you! This neutral hue coordinates well with quite many other colors:
BM Chelsea Gray

BM White Chocolate

BM Nickel
The optimal way to see and compare how this hue works in pairs with another one is to put the two together. Nevertheless, it is possible to get a quick sneak peek.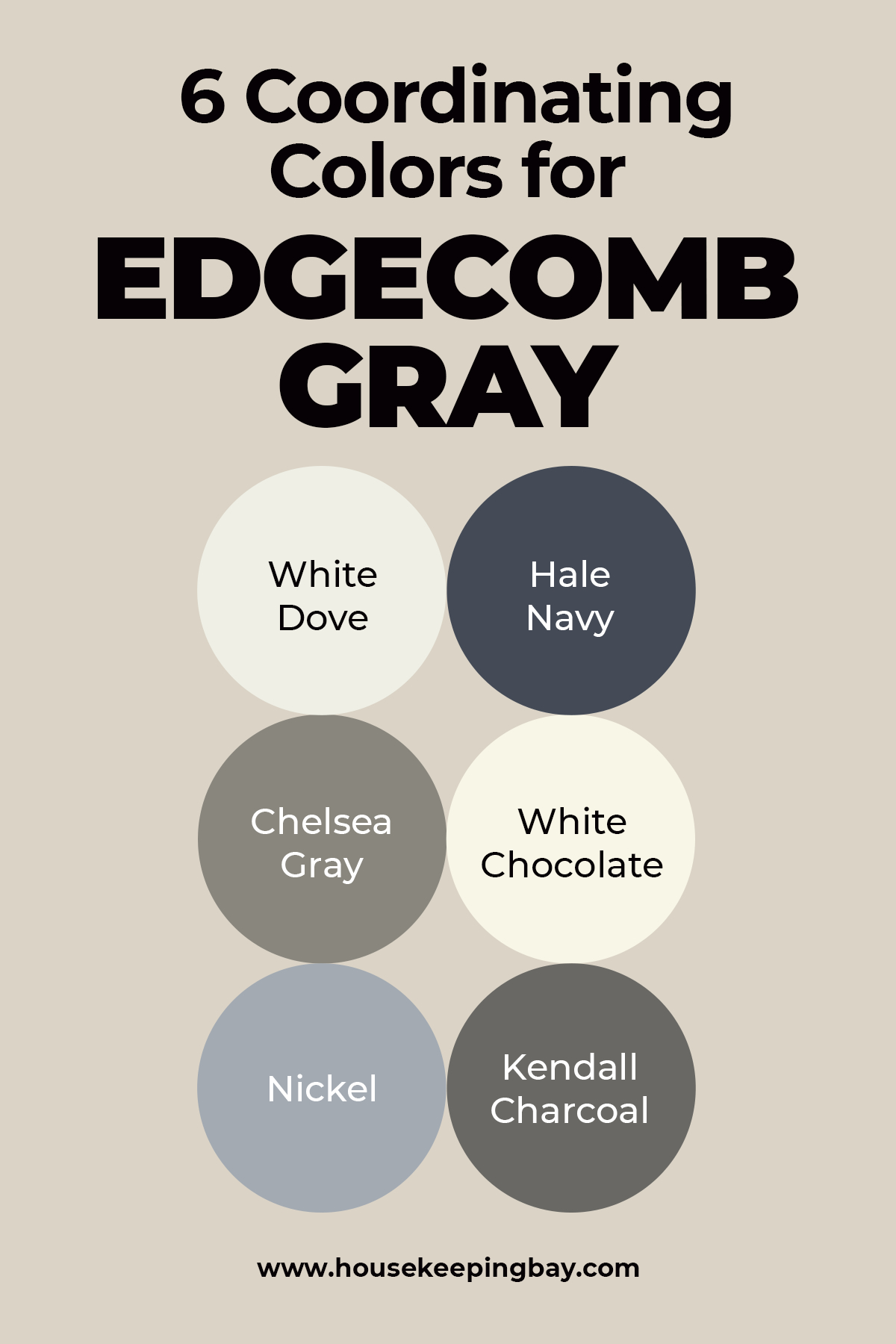 Edgecomb Gray vs. Revere Pewter
The Revere Pewter is a shade darker than the EG with the paints' LRVs of 55.5 and 66.8 respectively. The common traits of both hues are that each has green-gray undertones, and also, both paints have an earthy and natural feel. So basically,  these two complement each other ideally.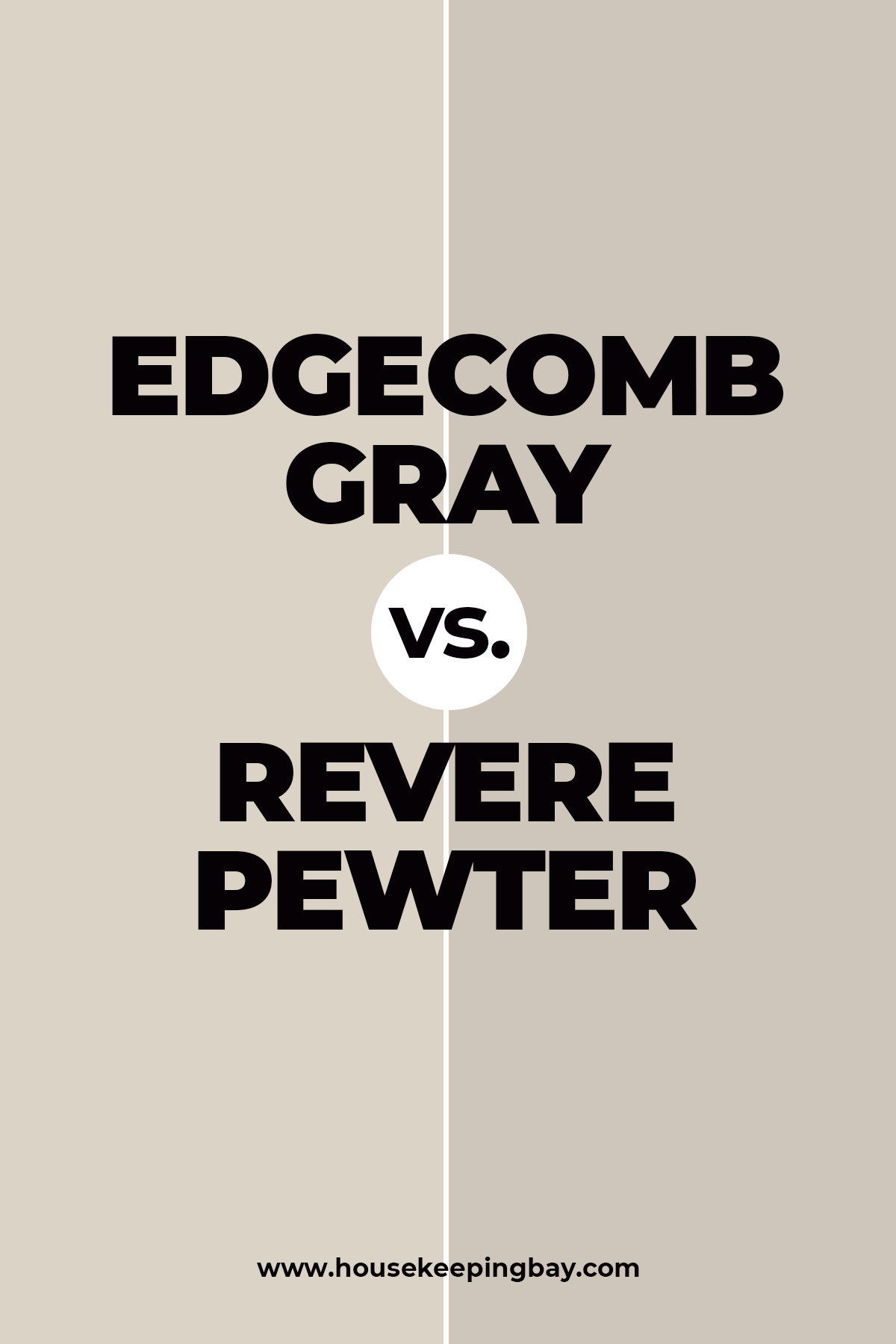 Edgecomb Gray vs. Pale Oak
Pale Oak is a warm light gray paint, and people often confuse it with EG. This pair, however, has certain distinctions. Pale Oak is slightly cooler, and the hue has more blue notes in it compared to its counterpart which is way warmer.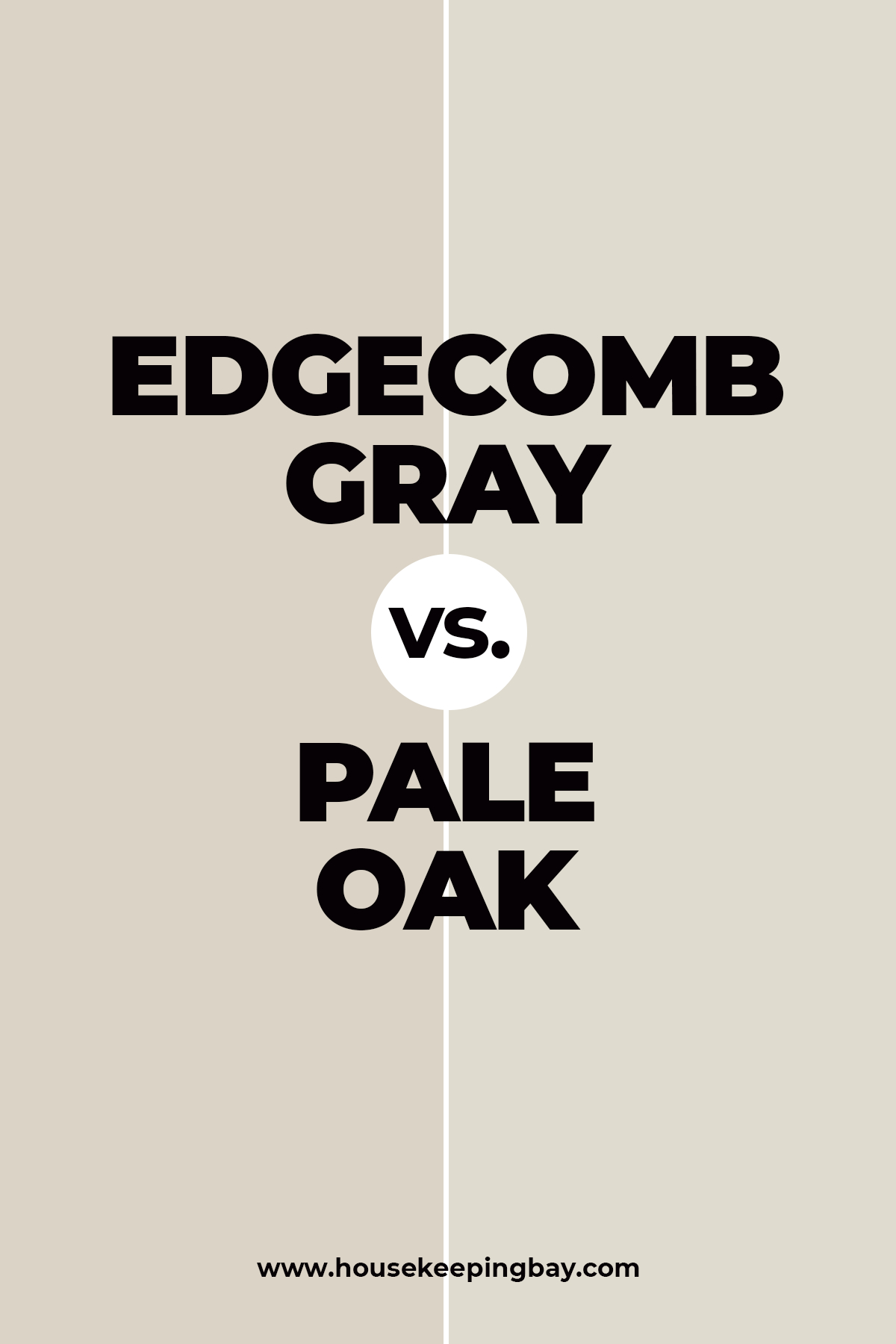 Edgecomb Gray vs. Balboa Mist
These two are pretty difficult to tell the difference between since the shades are very alike. However, when taking a closer look, one will see that Balboa Mist is cooler with more grayish notes and blue undertones than its warmer beige "cousin". Respectively, Balboa Mist is rather fair compared to EG.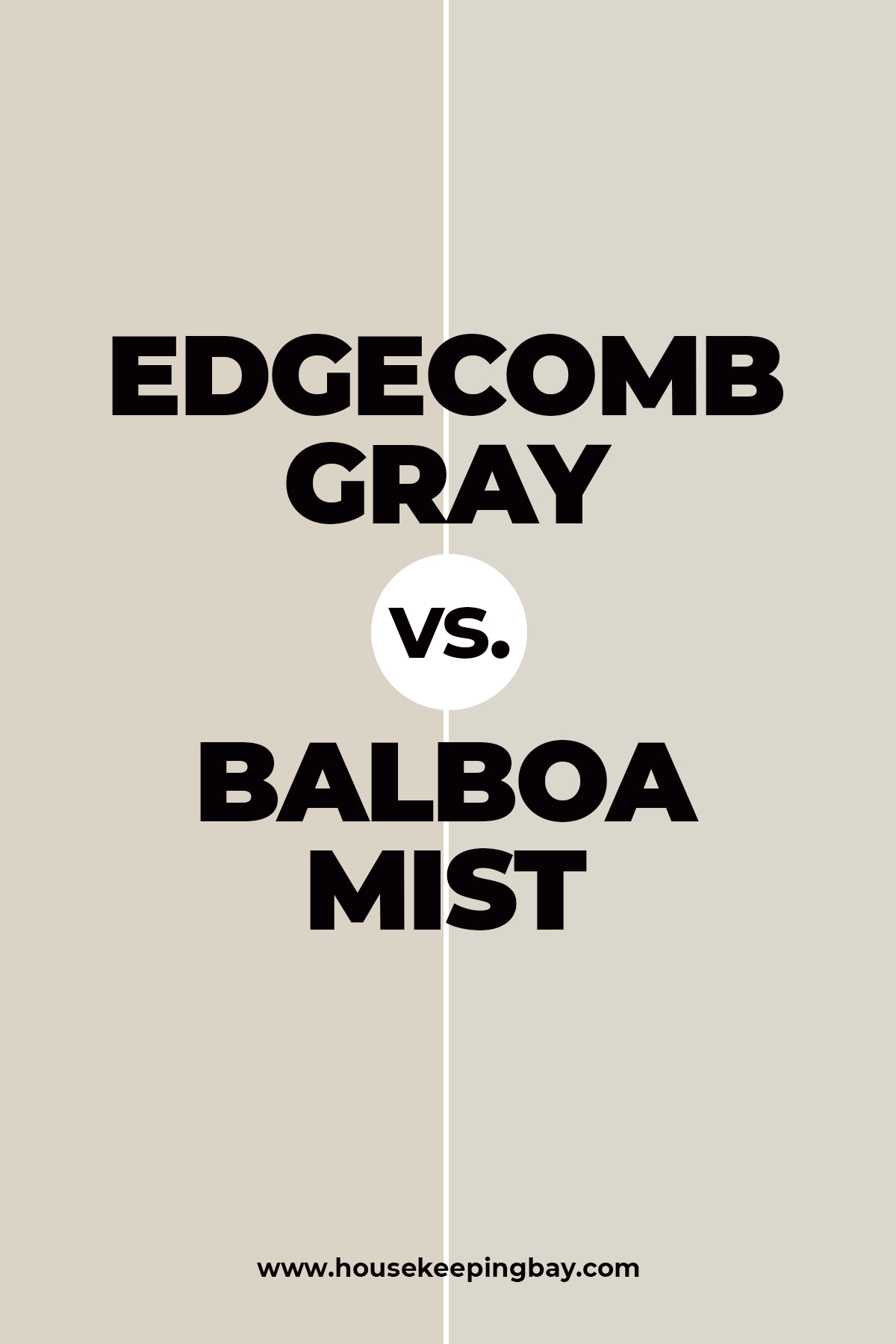 Edgecomb Gray vs. Agreeable Gray
When put together, these two hues are almost alike. Nevertheless, Agreeable Gray is a bit darker and looks slightly cooler because of the presence of purple and gray undertones.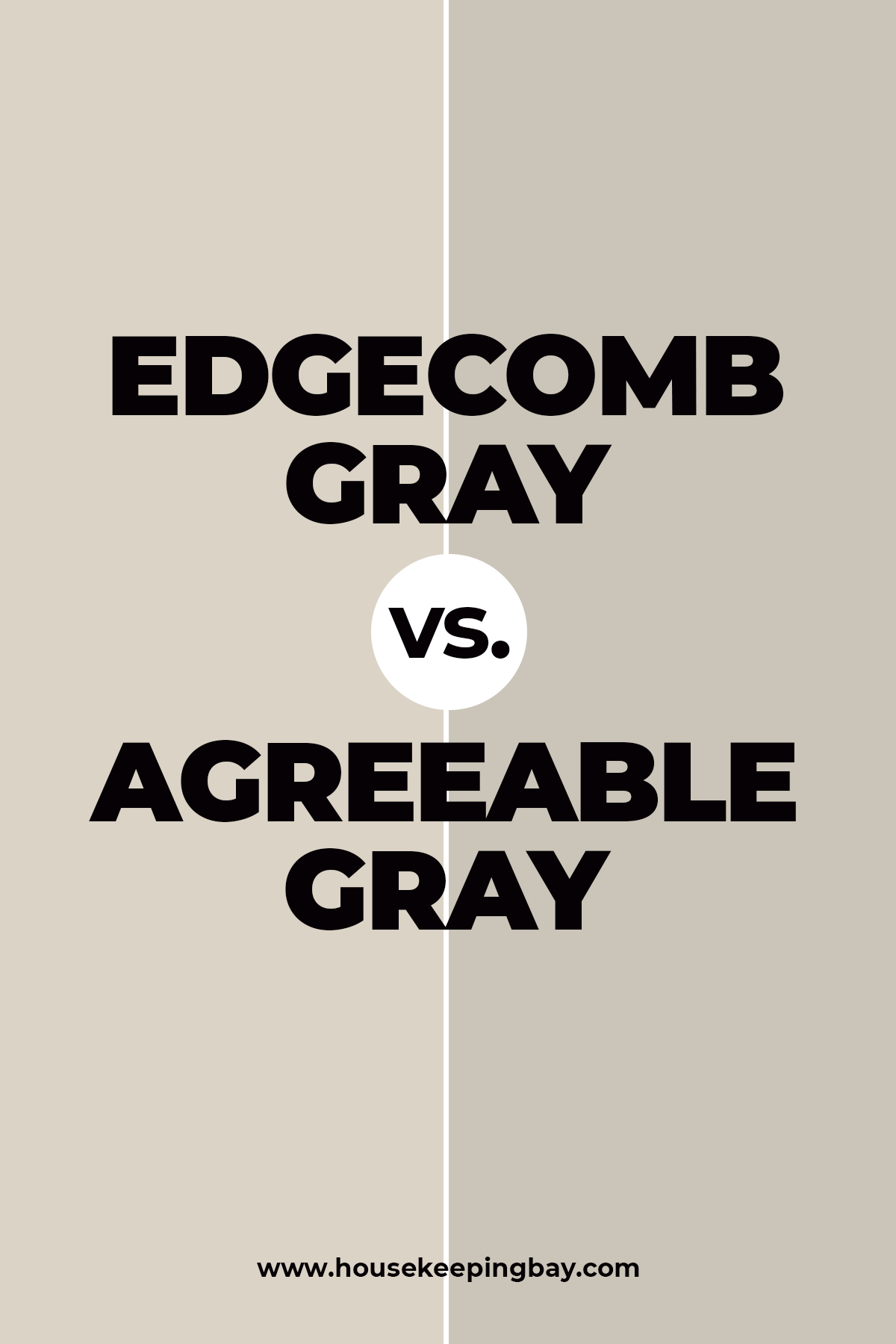 So, as you can see, the Edgecomb Gray hue produced by Benjamin Moore is a multi-purpose paint that can suit any painting task from refreshing your kitchen cabinets to giving a facade a new life. It's pretty easy to combine with other shades, and the color gives tons of opportunities for incorporating brighter accents into the space it's used in. So, whenever you're in doubt of what paint to choose, opt for this one, and you won't make a mistake!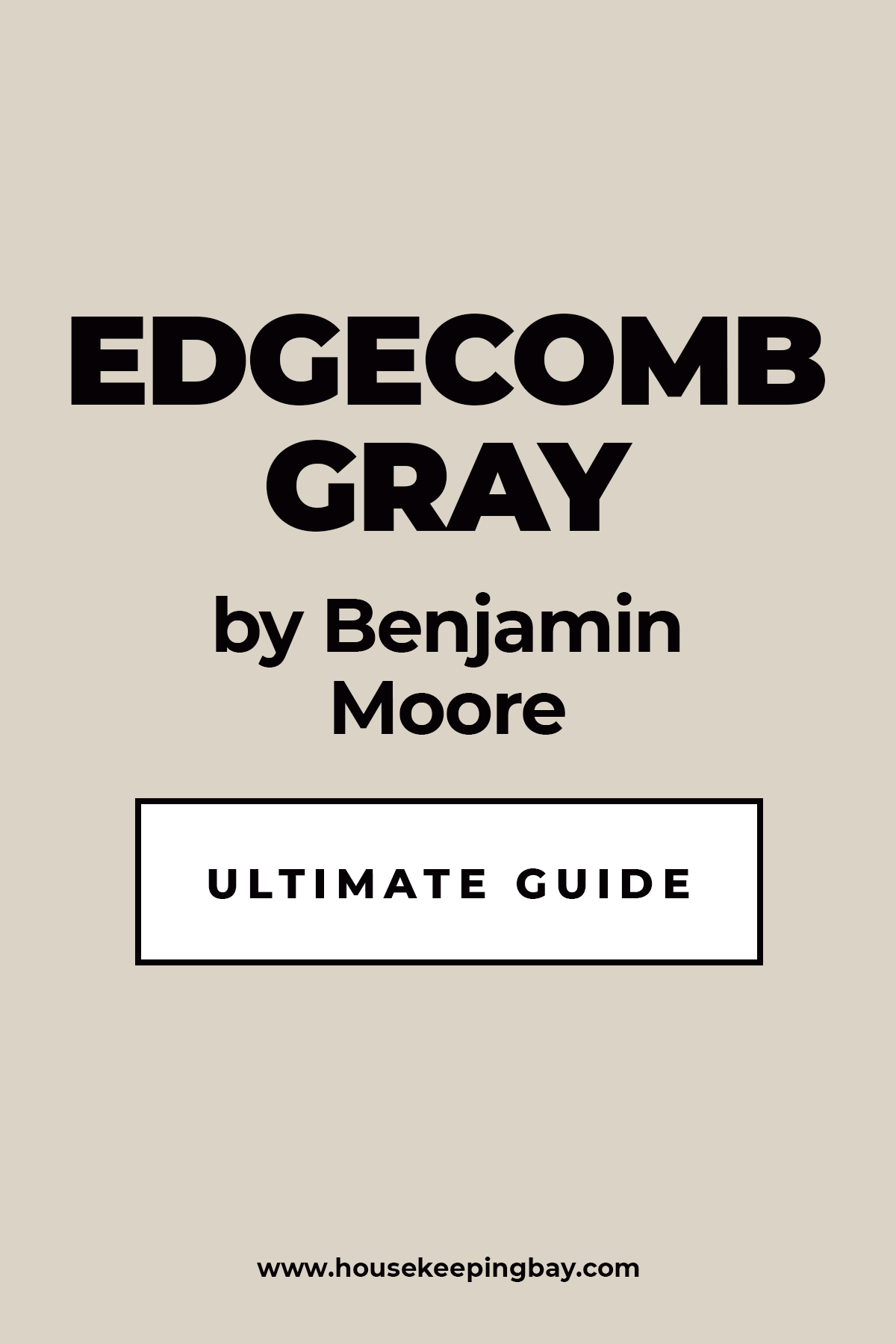 Frequently Asked Questions
⭐ Is Edgecomb Gray a cool or warm paint color?
It is a warm-toned greige color.
⭐ What colors go well with BM Edgecomb Gray?
You can try out Nickel, White Dove, Chelsea Gray, Ashley Gray, Hale Navy, White Chocolate, Revere Pewter, and Simply White.
⭐ Does Edgecombe Gray look purple?
In some types of lighting, it may reveal purplish undertones indeed.
⭐ What color is a bit darker than Edgecomb Gray?
⭐ Will Edgecomb Gray work well on cabinets?