When looking for an ideal paint for your home interior walls, quite many people lean more towards neutral gray shades and greige colors since they are very versatile and can fit almost any space and design. However, sometimes you may run into a color that combines features of both, greige and gray! For instance, such as Worldly Gray by Sherwin Williams.
This color is a true chameleon, and no wonder that so many homeowners get lost when trying to figure out on their own what category this paint color can be referred to. This is why, today we are going to tell you more about it. You will learn whether it is greige or gray, find out what undertones it has, and we will surely give you tips on how and where in your home it is best to apply it.
Stay with us, it's going to be interesting today!
Worldly Gray By Sherwin Williams. What Kind Of Color Is It?
A greige or not a greige? Or, maybe, gray? Or a neutral?! We bet you will be asking these questions again and again in pointless attempts to figure out what that Worldly Gray is! The color is indeed tricky, it's like a chameleon, which makes it quite a complicated task for a painting newbie to define whether it is greige or gray. Or neutral, perhaps?
We are just joking, relax! As Encycolorpedia says, Worldly Gray by Sherwin Williams is actually a warm gray. At least, according to the official color classification by the brand. However, since it is one of those tricky colors we all love so much, it can also be classified as greige!
Since it is quite a complex paint color, it can change slightly depending on the lighting situation in particular. But if you are looking for a little more color saturation on your walls, do take this color into consideration!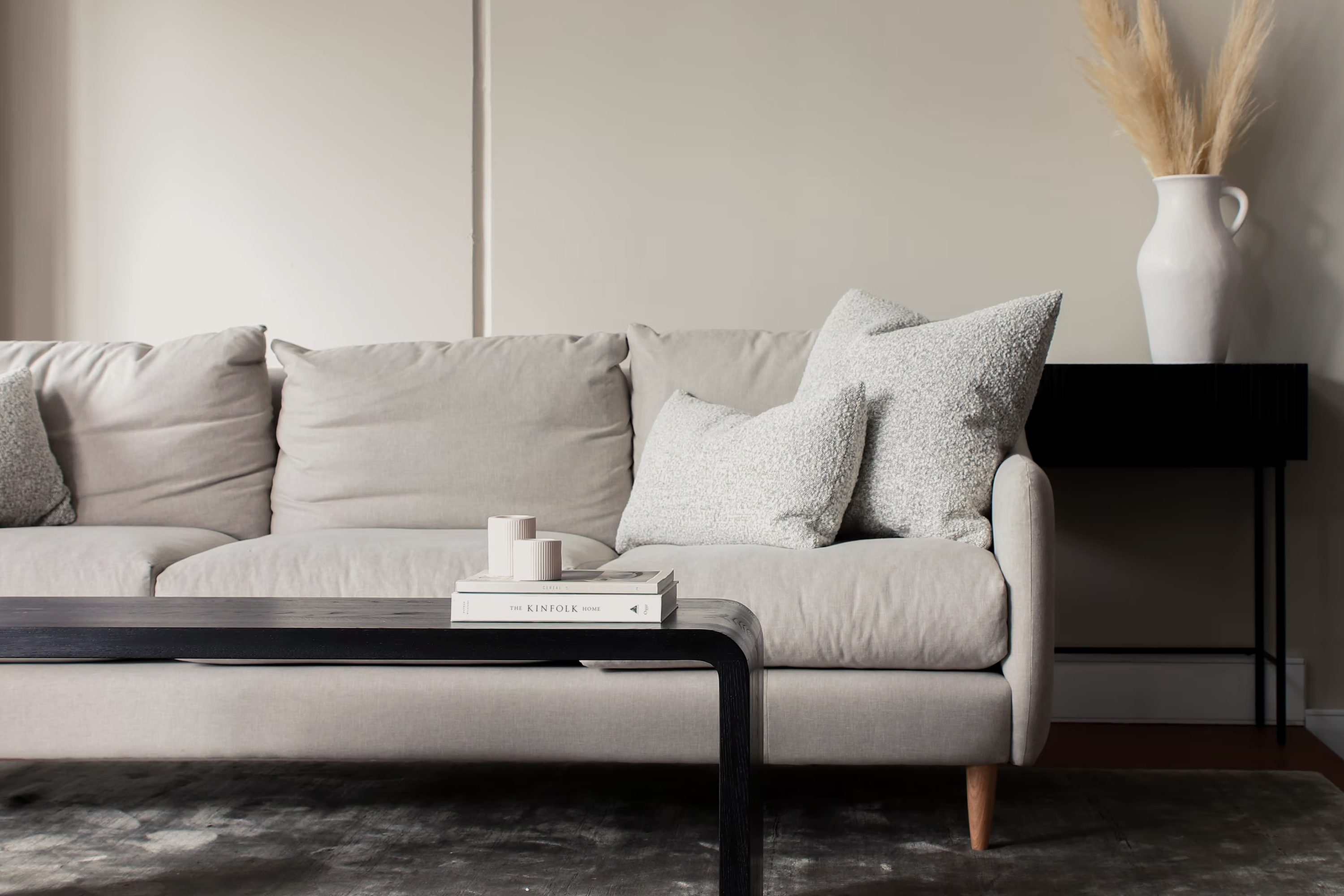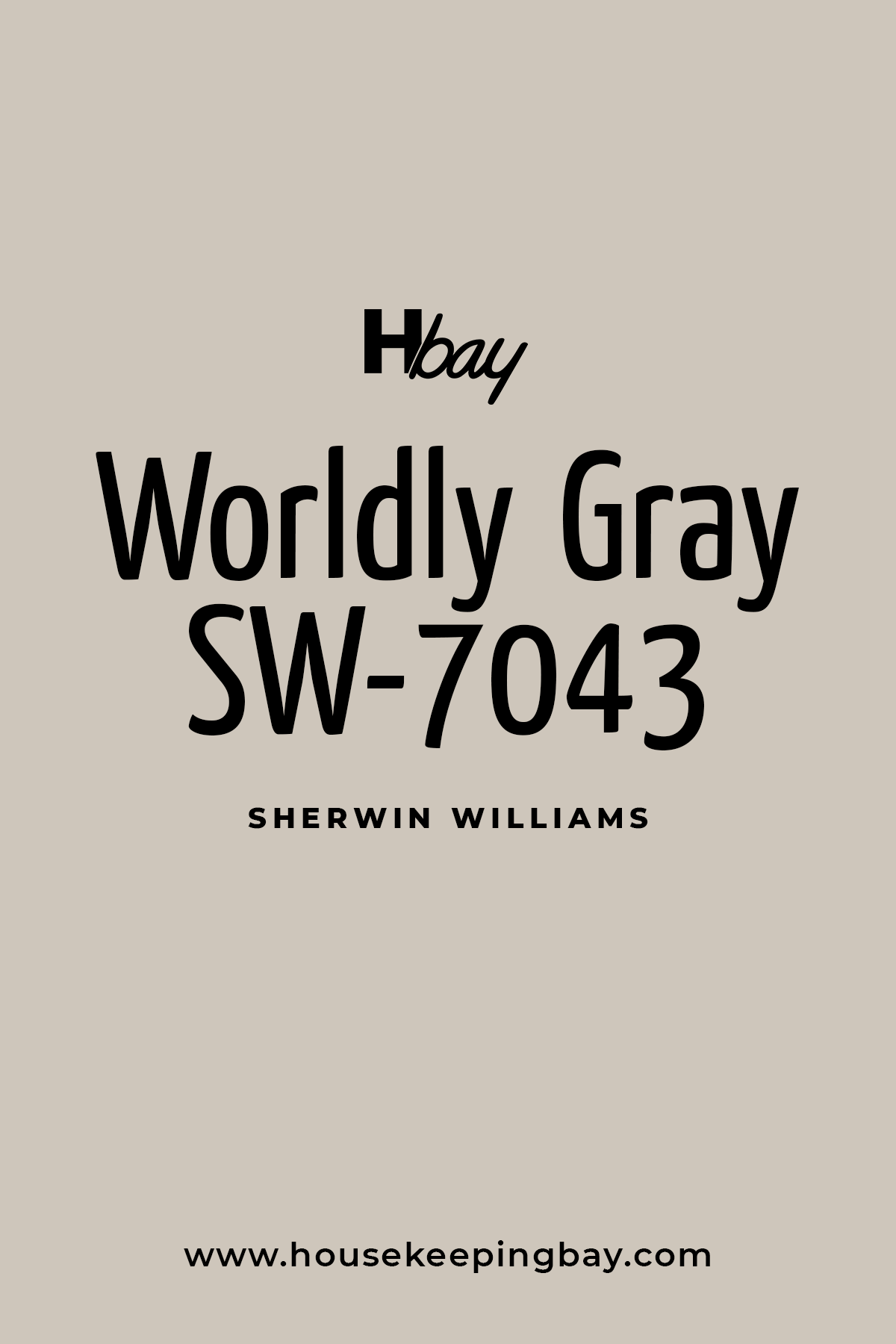 What Are the Undertones Of Worldly Gray?
This paint color has undertones that are mostly green with just a slight hint of violet in it. And this is the trickiest thing about them since, depending on the type of lighting in a room, this color's undertones may or may not show up. Or only part of them can be revealed. That makes it rather difficult to choose the proper location for this paint color in your home!
What also influences the way Worldly Gray will show its undertones is your furniture, decor, and all the fixed elements in the room.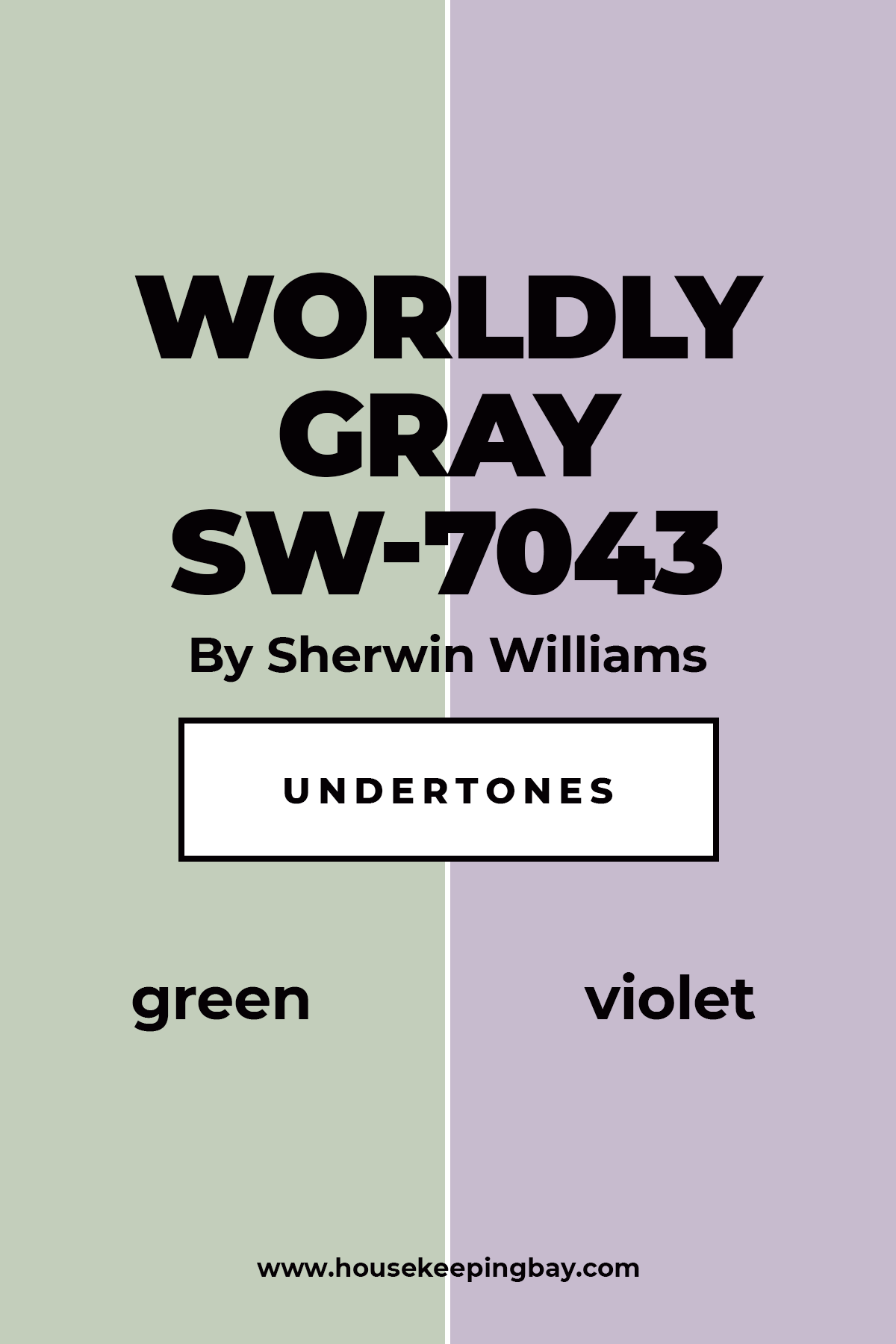 Light Reflectance Value of Worldly Gray SW-7043
Worldly Gray paint color has LRV of 58.
It means that this paint color will reveal itself and act as a fairly light color on the walls in a room with enough daylight.
But if the room is darker, you might find this color somewhat muddy!
What is LRV? Read it Before You Choose Your Ideal Paint Color
Best Coordinating Colors of Worldly Gray SW-7043
Since Worldly Gray belongs to neutral colors (a neutral warm gray with a slight hint of greige, to be precise), it will work pretty well with quite many other paint colors. That, of course, makes it a good choice for your interior.
As for the colors of the same Sherwin Williams brand, you can coordinate Worldly Gray with:
It will also look astonishing when paired with blue or blue-gray paint colors. And of course, remember to make use of a proper trim color to make a whole ensemble ideally balanced.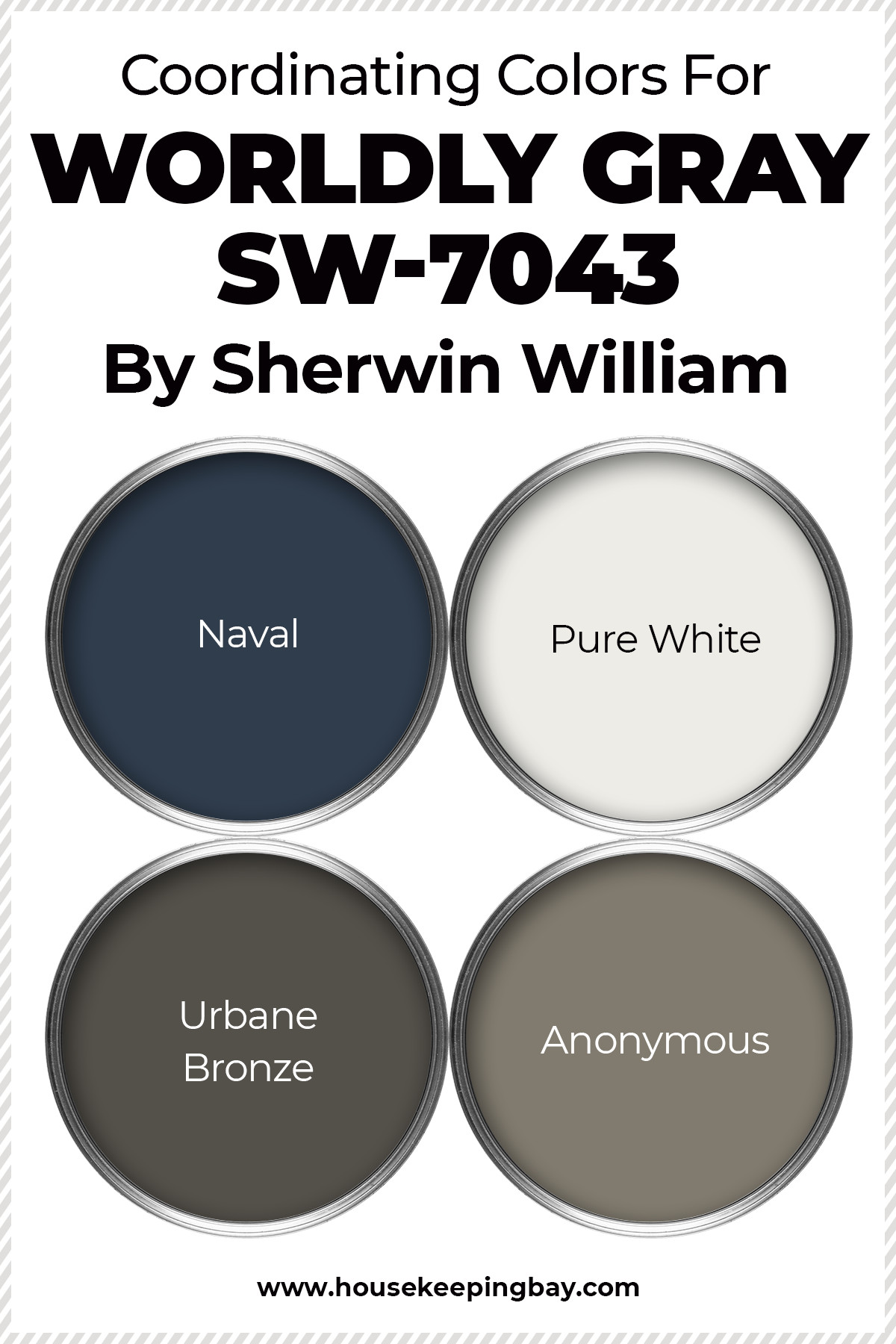 What Is the Best Trim Color For Worldly Gray?
Choosing a fitting trim color or colors is the same important when working with grays or neutrals as deciding on what colors will coordinate with it best of all. Usually, white is the optimal color choice in this situation. The only nuance is to pick up the correct shade of white to end up with a harmonious look in the room.
So regarding the SW Worldly Gray color, we can say that you might need pretty bright whites since the color itself is not dark or even intense. We can suggest you the following options:
BM Simply White
BM Decorator's White
SW Extra White
But of course, this is not a complete palette! These colors will be suitable for both trims and doors, but since they are rather reflective, consider the lighting in the room and the surrounding colors (e.g. furniture, etc). Whites may show quite unexpected undertones sometimes!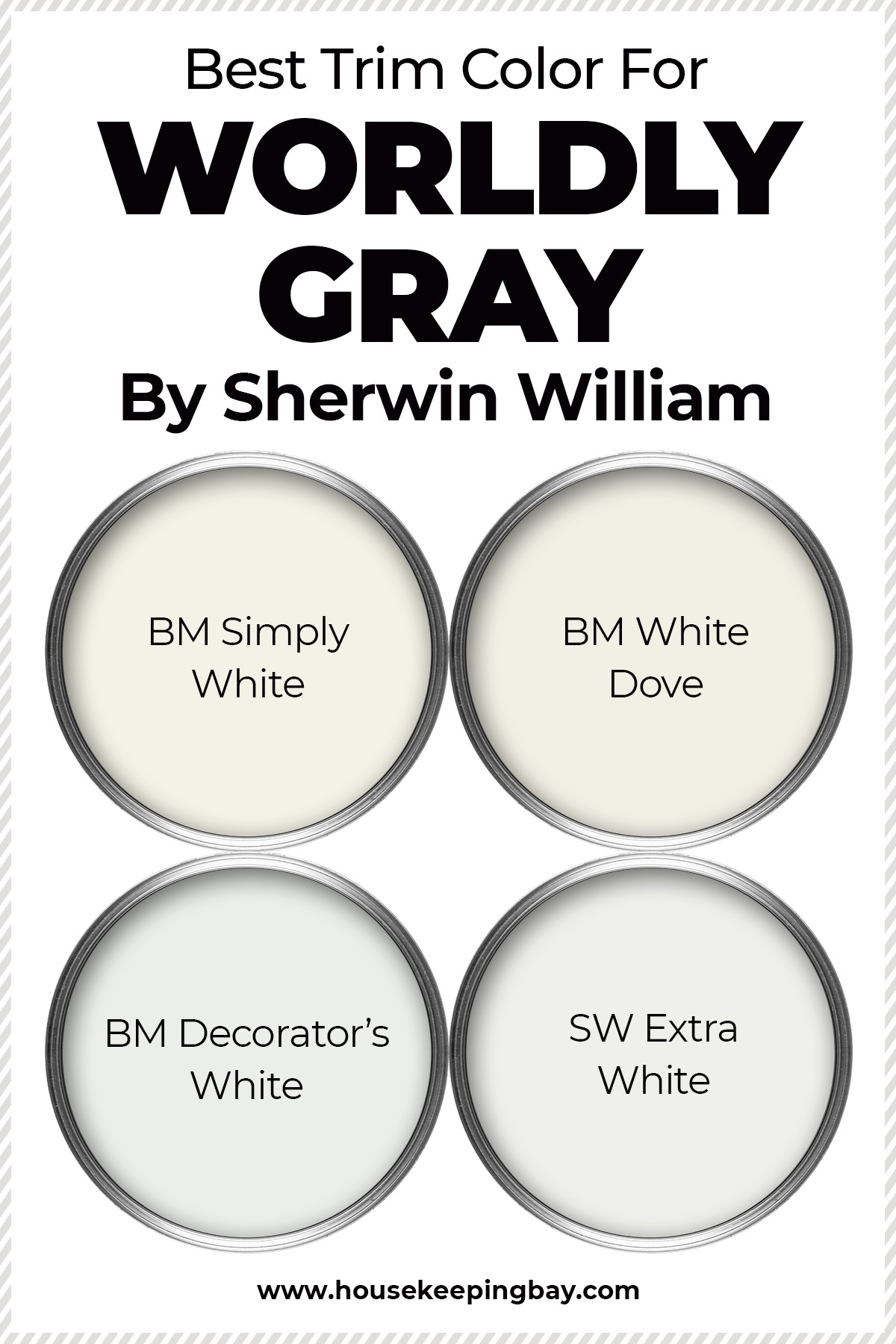 Similar Colors of Worldly Gray SW-7043
If you need a color that looks almost the same as SW Worldly Gray but it's not it, consider looking for its similar colors instead. They will look almost identical or very very similar to each other. Of course, they will not be completely the same since it makes no sense, but the resemblance will be pretty close.
These colors can be called comparable to Worldly Gray:
SW Popular Gray
SW Skyline Steel
Sherwin Williams Worldly Gray Color Review
Areas Of Use In Your Home of Worldly Gray SW-7043
Since this color is considered both greige and neutral, like any other greige or neutral, it can be pretty versatile. You can literally use it anywhere! But of course, the interior walls are the most suitable place for it.
Worldly Gray SW-7043 in the Bedroom
Don't hesitate to paint your sleeping space with this color since it will give the room that perfect warmth without being excessively warm. You will enjoy cozy vibes with this fantastic and neutral gray that will make your dreams even sweeter than ever!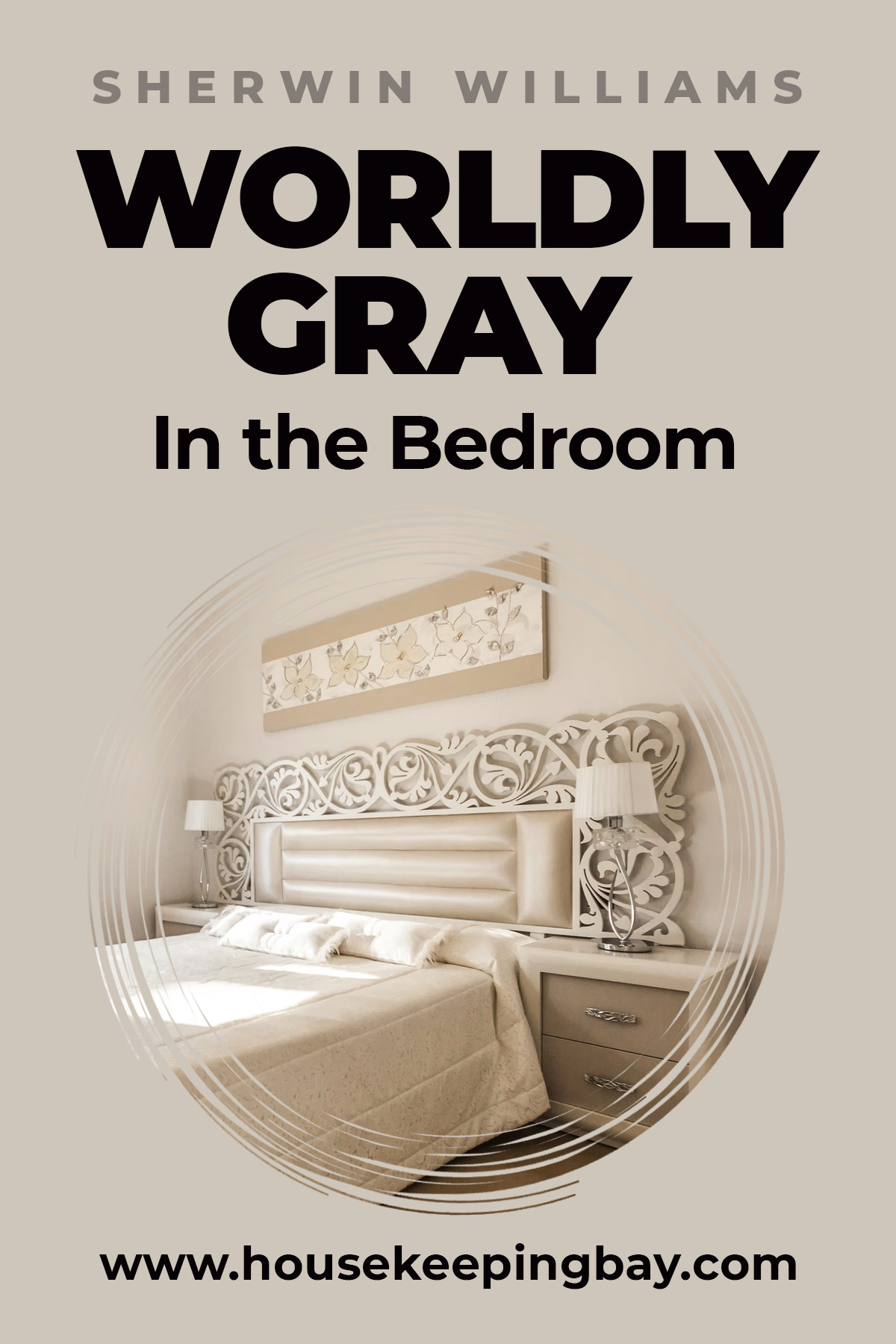 Worldly Gray SW-7043 in the Kitchen
This is a great place to apply this color. It is not only a great solution for the walls, but for the kitchen cabinets as well. And since this color is more of a heavier gray, it will hold itself well making it an ideal color for the cabinets.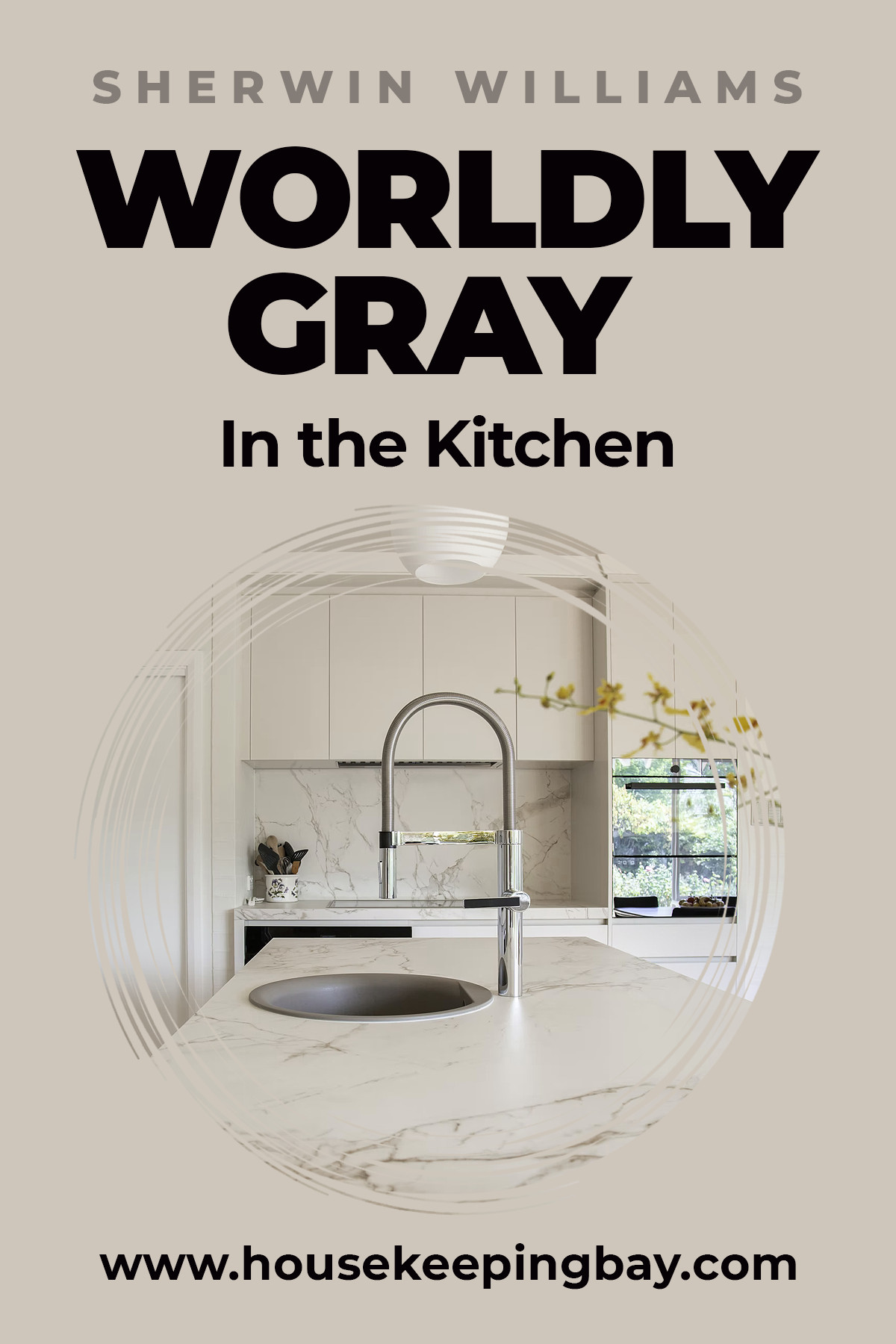 Worldly Gray SW-7043 in the Kitchen Cabinets
On the kitchen cabinets, it will look especially good! And if you pair this color with black objects in your kitchen (e.g. black countertops or a black kitchen island), you will see how gorgeous that contrast is!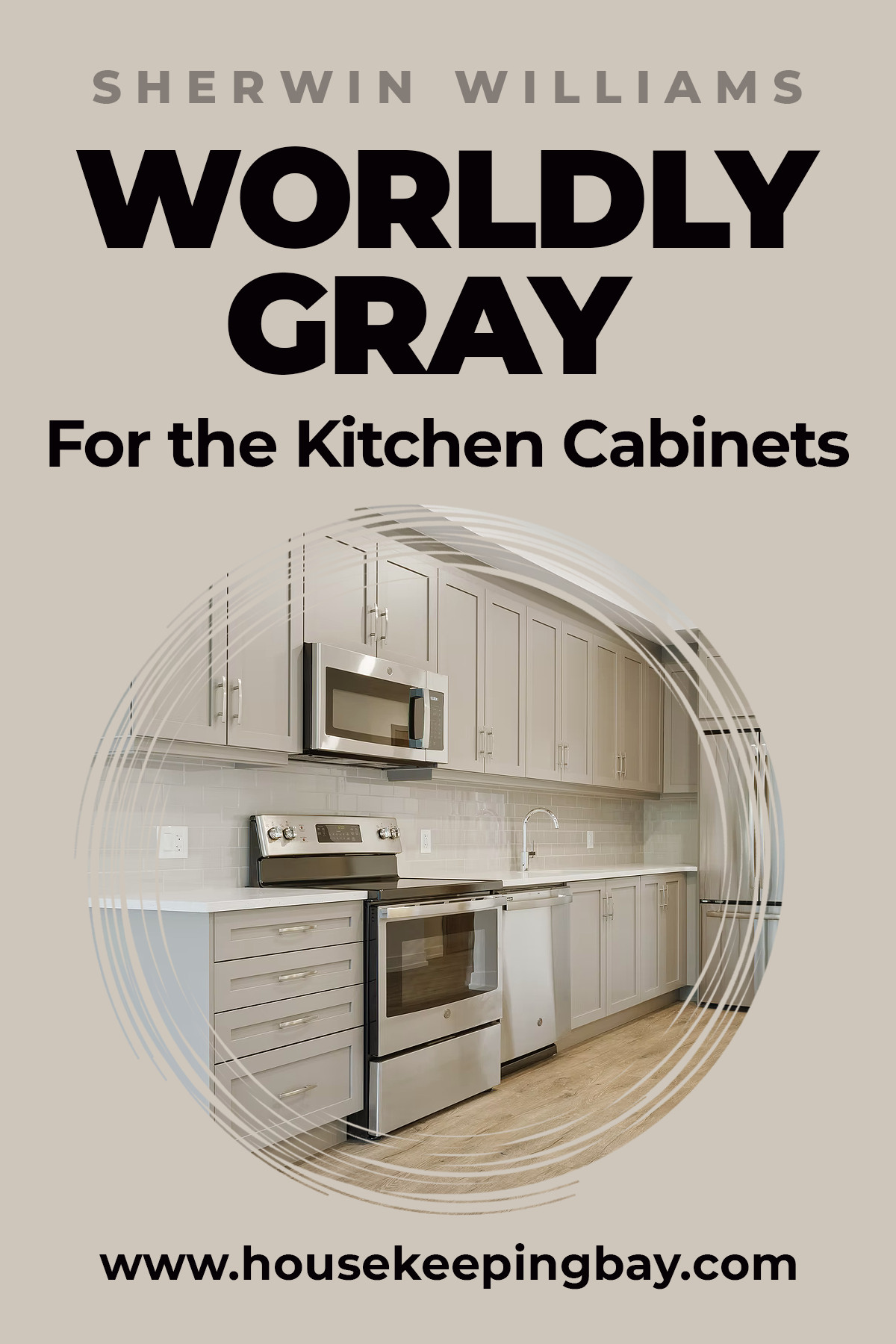 Related: BEST Greige Colors In the Kitchen
The Exterior Use Of the Worldly Gray SW-7043
Though Worldly Gray does not belong to the top colors for exterior use, it is still quite popular. Of course, you need to keep in mind that it will lighten when being applied outdoors. This is why it will most likely look nearly like a white with gray undertones.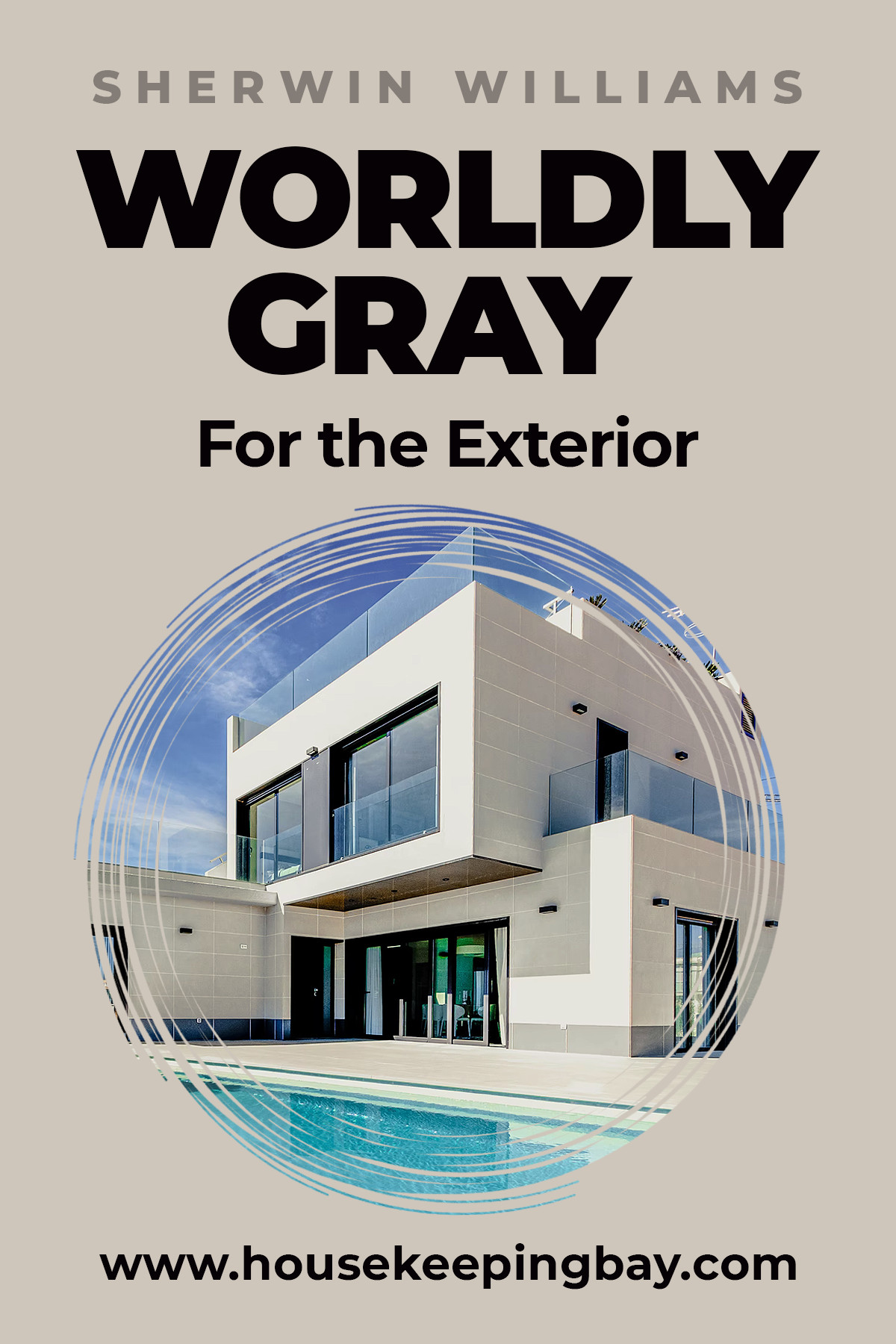 Colors That SW Worldly Gray Goes With
When using neutrals, greiges, and gray colors in the same space, it is important to know how exactly they will look if combined together. This is why we suggest you look through the following color pairs to see whether or not you shall use these paint colors side by side.
Worldly Gray vs. Edgecomb Gray
When put side by side, Agreeable Gray will reveal more of its purplish undertones whilst Edgecomb Gray will look more of light beige. It makes Agreeable seem cooler, but still, these two colors can be paired in one room, only don't forget about white trims!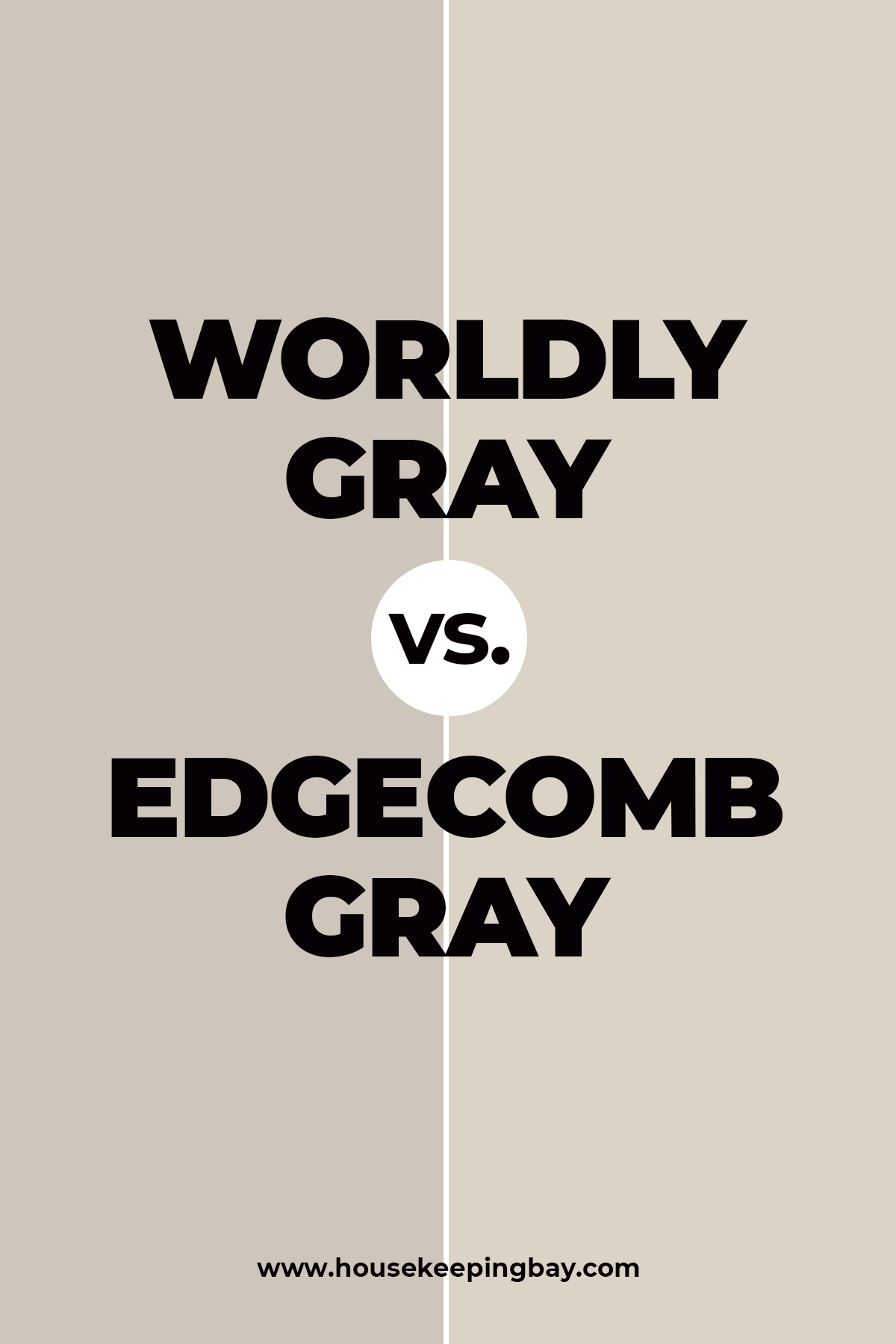 Related: Edgecomb Gray In Living Room
Worldly Gray vs. Agreeable Gray
Worldly Gray is much warmer than Agreeable Gray which is way closer to gray. And if you compare them side by side, you will notice the slight greenish tone poking through.
Worldly Gray is also a touch darker than Agreeable Gray. It means that the latter one can be used in darker rooms still giving the feeling of warmth and light.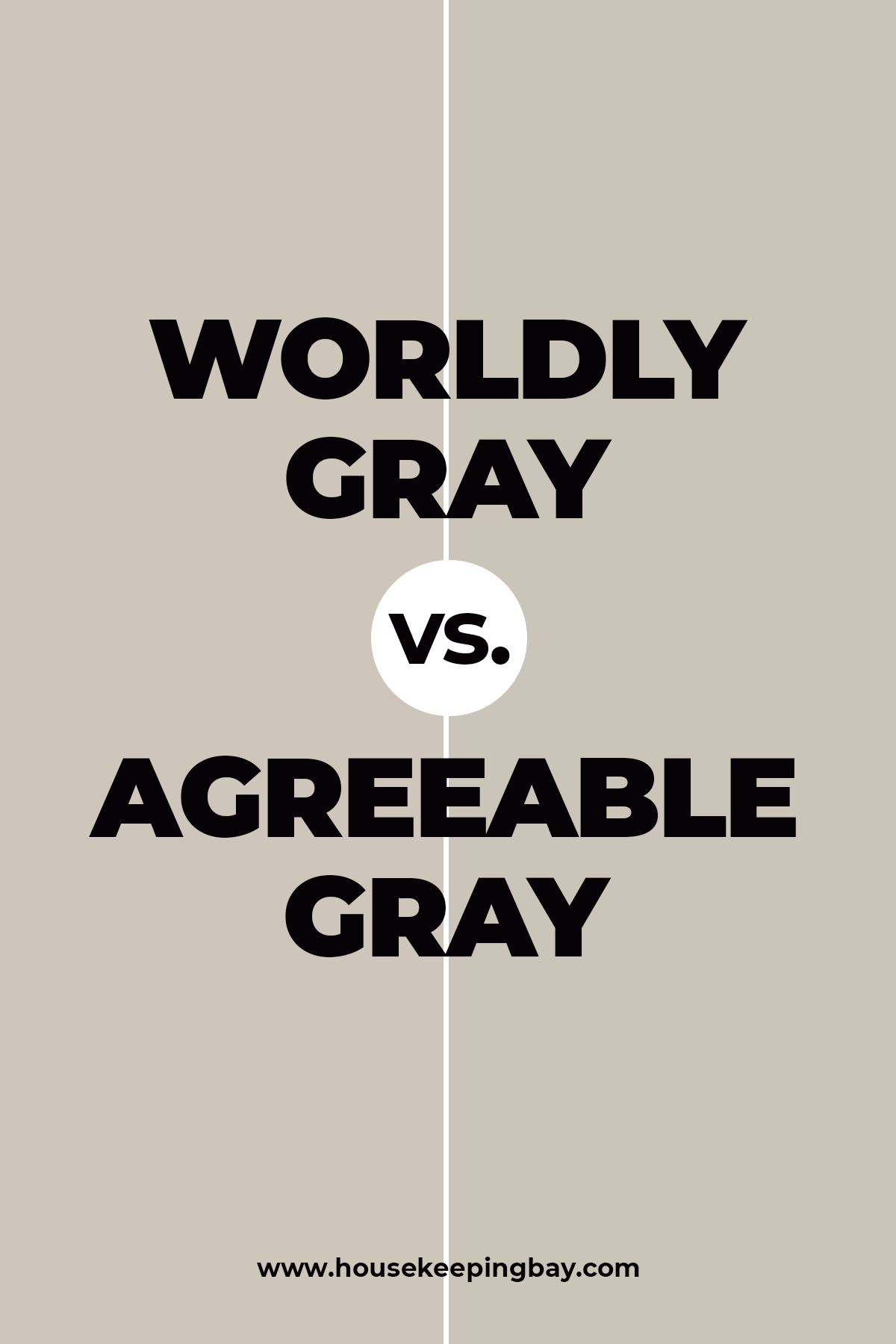 Related: Agreeable Gray In Living Room
Worldly Gray vs. Revere Pewter
Revere Pewter is a touch more warmth to it than Worldly Gray having the same greenish touch as Worldly Gray has. And even though Revere Pewter can sometimes look a bit muddy, these two are very similar if you put them side by side.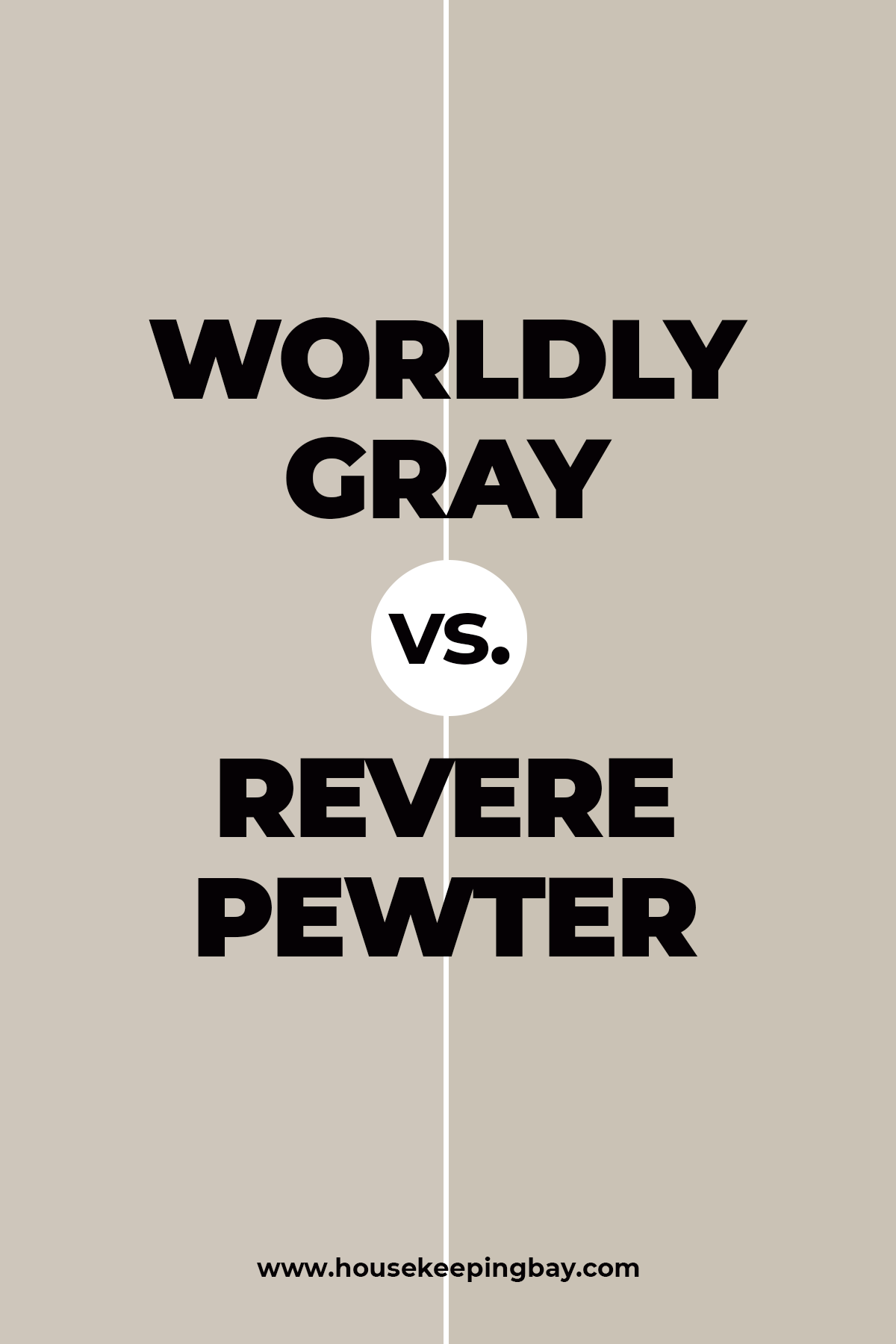 Related: Revere Pewter For the Living Room
Worldly Gray vs Mindful Gray
Mindful Gray looks like a true gray with cool undertones. In comparison to it, Worldly Gray looks almost like white! However, this is what makes this pair look really nice together.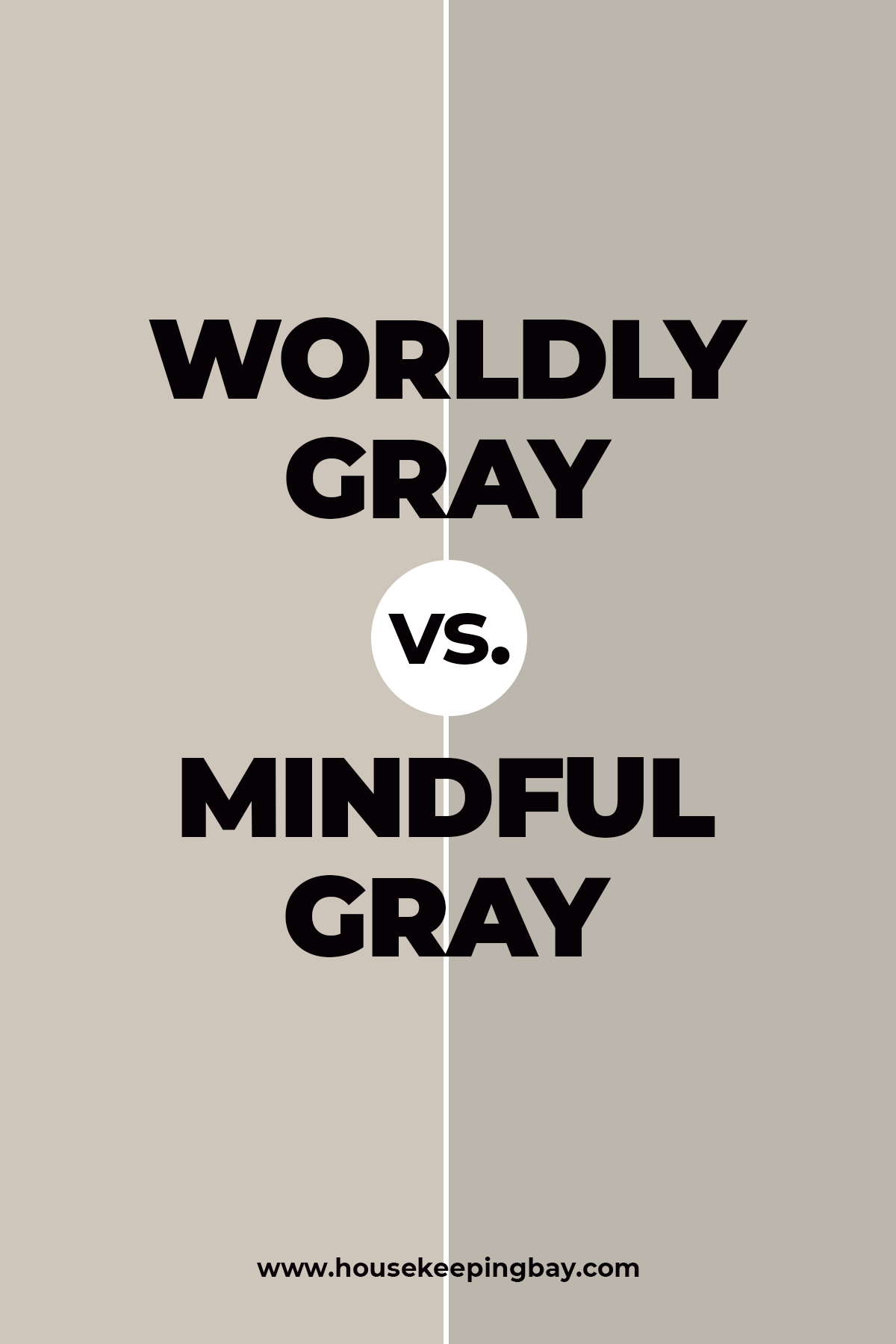 Related: Mindful Gray SW 7016 By Sherwin Williams
Worldly Gray vs Repose Gray
Repose Gray has an LRV of 58 and Worldly Gray has LRV of 57 which makes them pretty close to each other. However, Repose Gray is cooler with violet and blue undertones whilst its opponent has more of greenish ting being closer to greiges.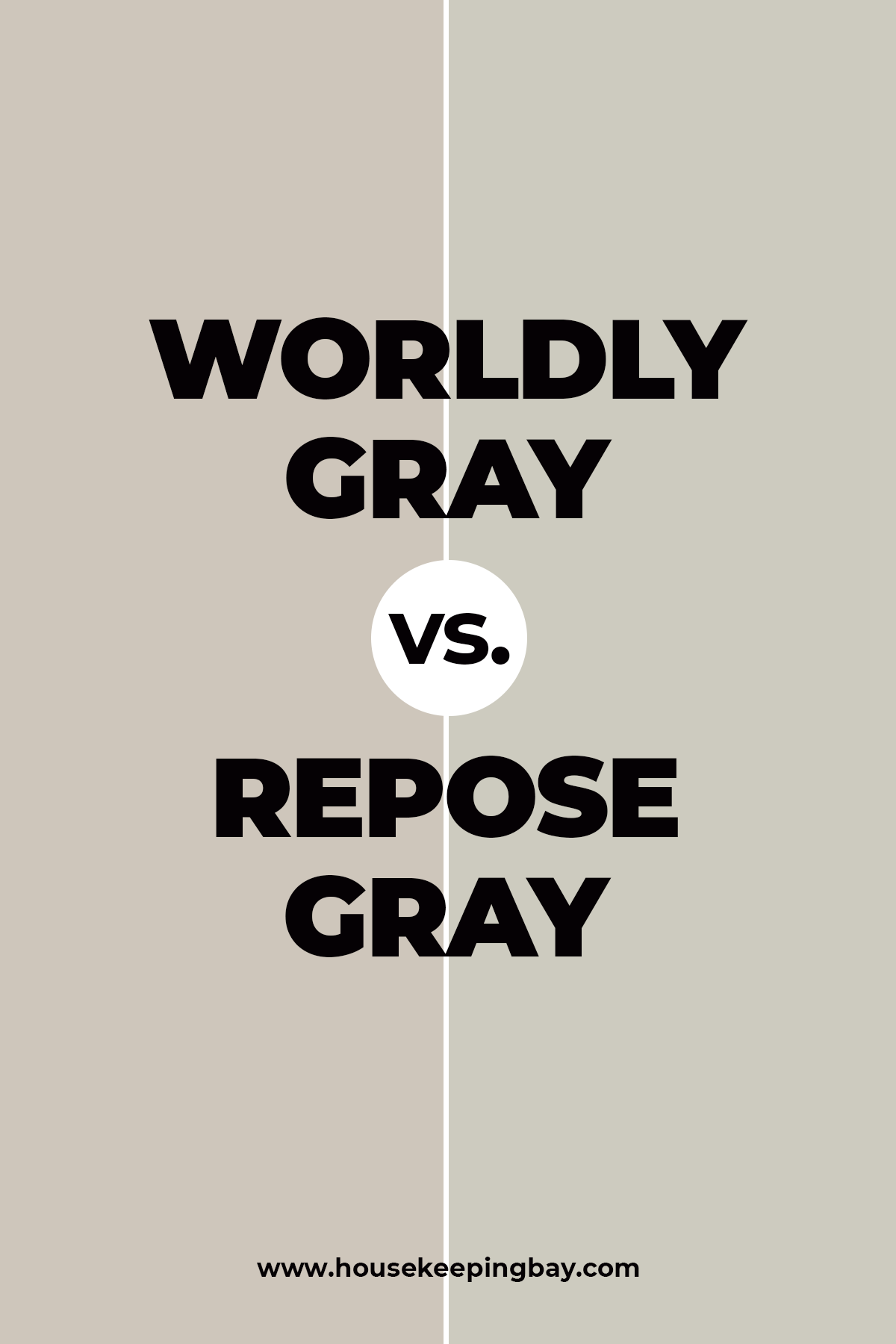 Related: Repose Gray For the Living Room
Worldly Gray vs Accessible Beige
These two look almost the same having almost identical warmth and tones. This is why using them together in the same room makes no sense at all.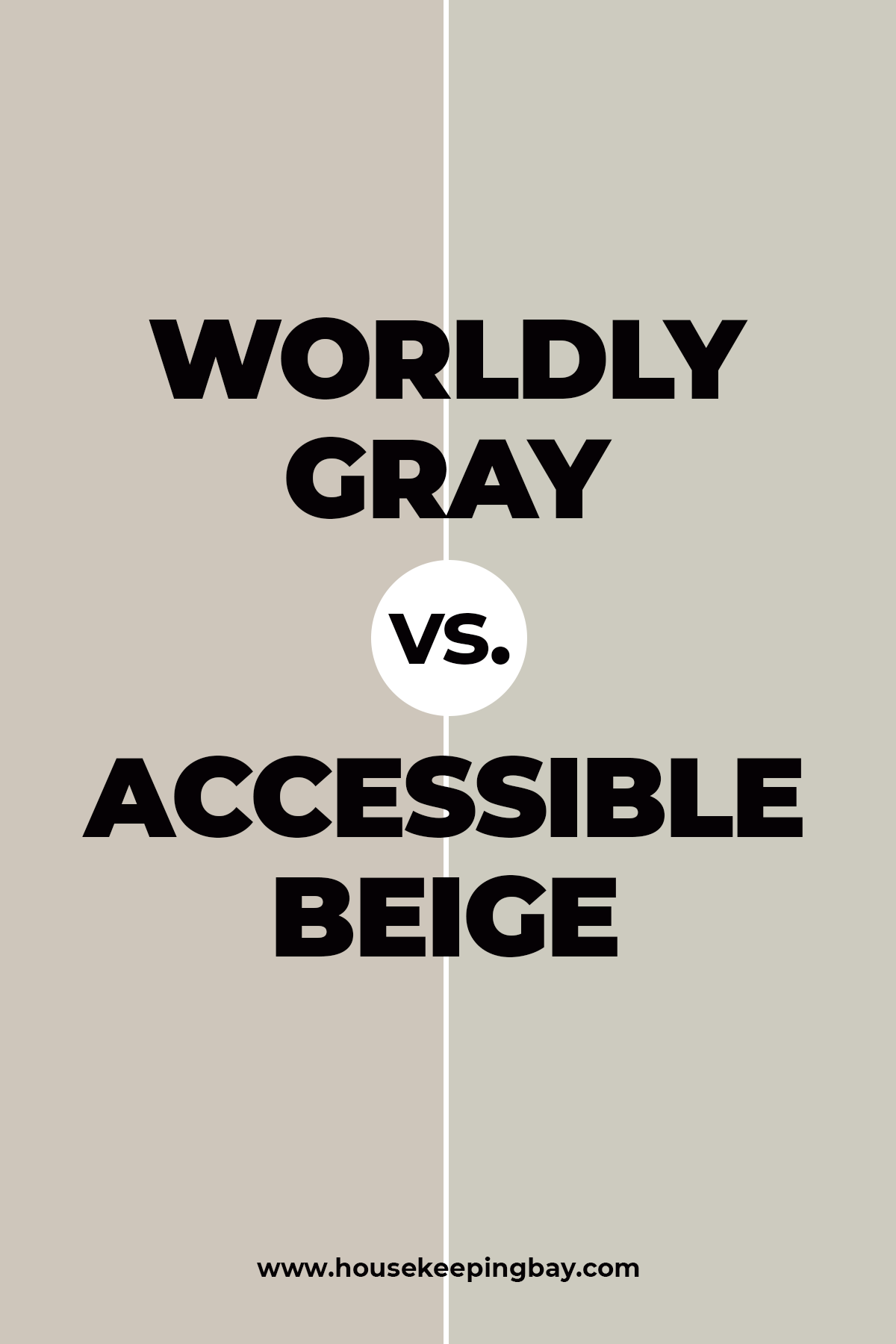 Related: Accessible Beige SW 7036 By Sherwin Williams
Worldly Gray vs Modern Gray
They look rather similar with Worldly being warmer with more noticeable greige undertones and Modern Gray showing more of purplish undertones and thus looking a bit cooler. However, if you decide to use them both in the same room, you will surely need a white trim!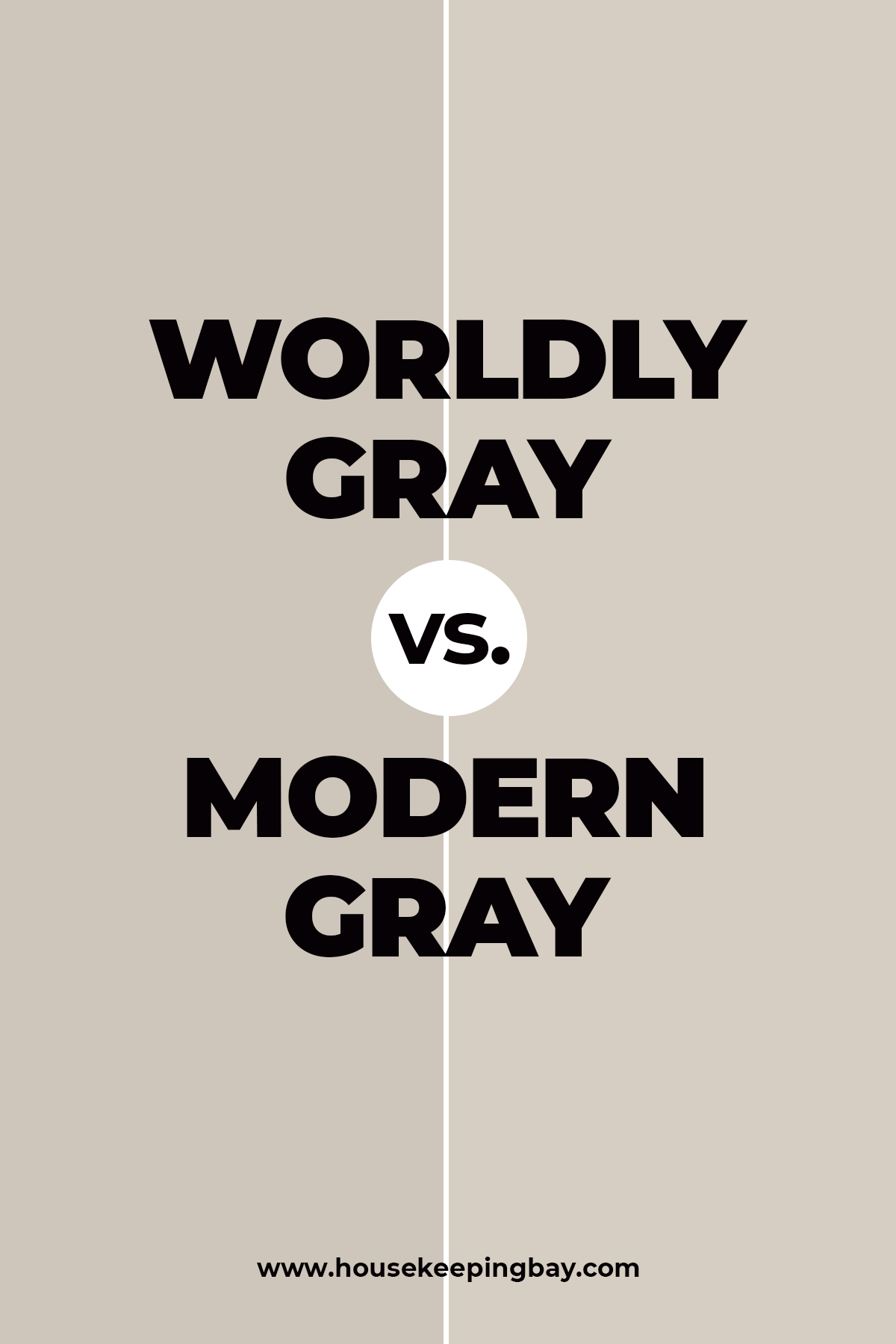 This was all that we wanted to share with you about SW Worldly Gray paint color. Now you know what kind of color it is and how tricky it can be, what undertones it can show, and also, you can now tell in advance how this paint will feel and look when being paired with other colors.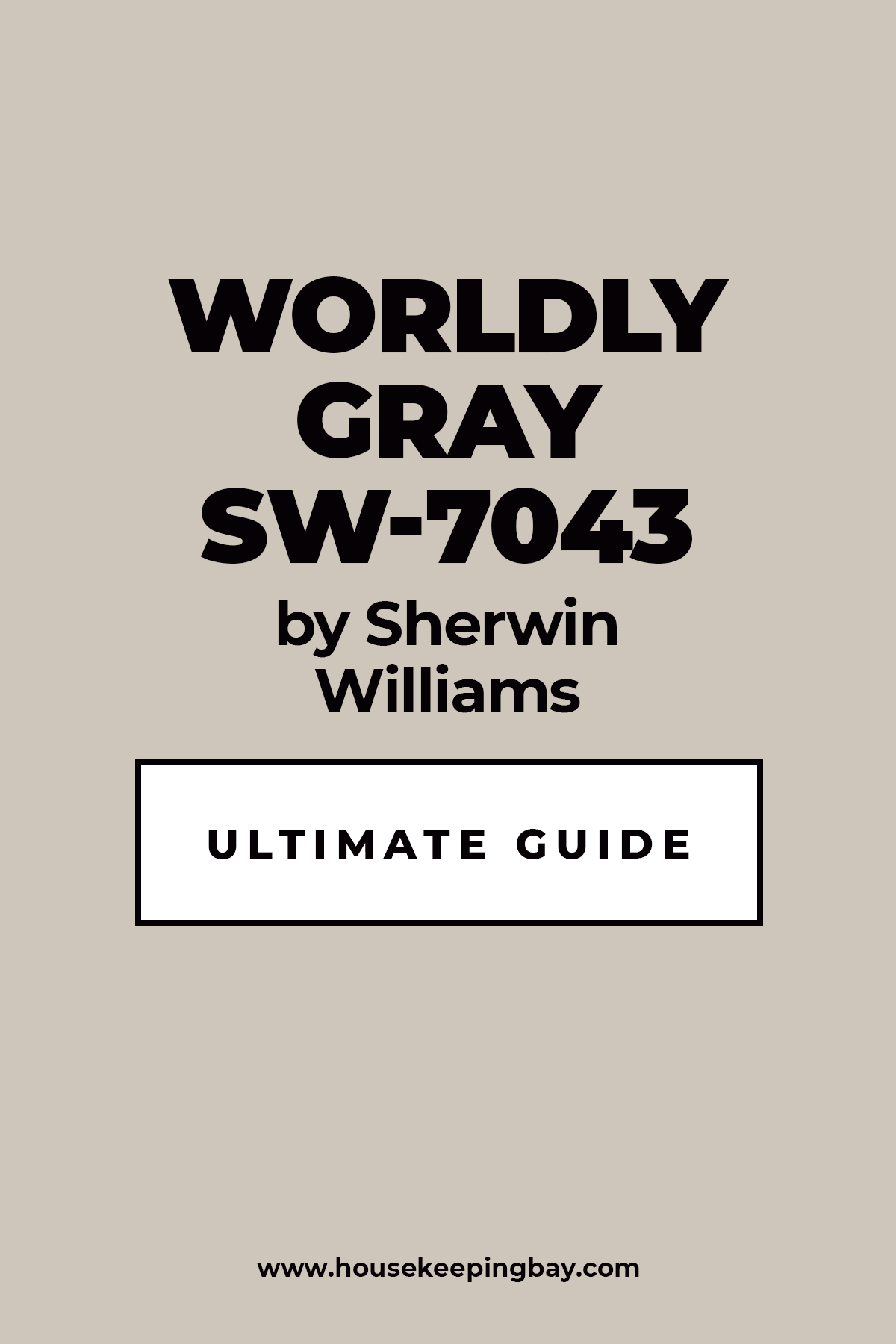 Frequently Asked Questions
⭐ Can Worldly Gray be combined with brown colors?
Yes, it looks quite nice with certain browns.
⭐ Is Worldly Gray a warm or a cool color?
⭐ Can I use Worldly Gray in my living room?
Yes, you can if the lighting allows that.