Sherwin-Williams SW 6070 Heron Plume is a versatile neutral that strikes a beautiful balance between warmth and coolness. This in-depth article will take a closer look at this color, delving into its undertones, coordinating colors, how it's affected by lighting and more.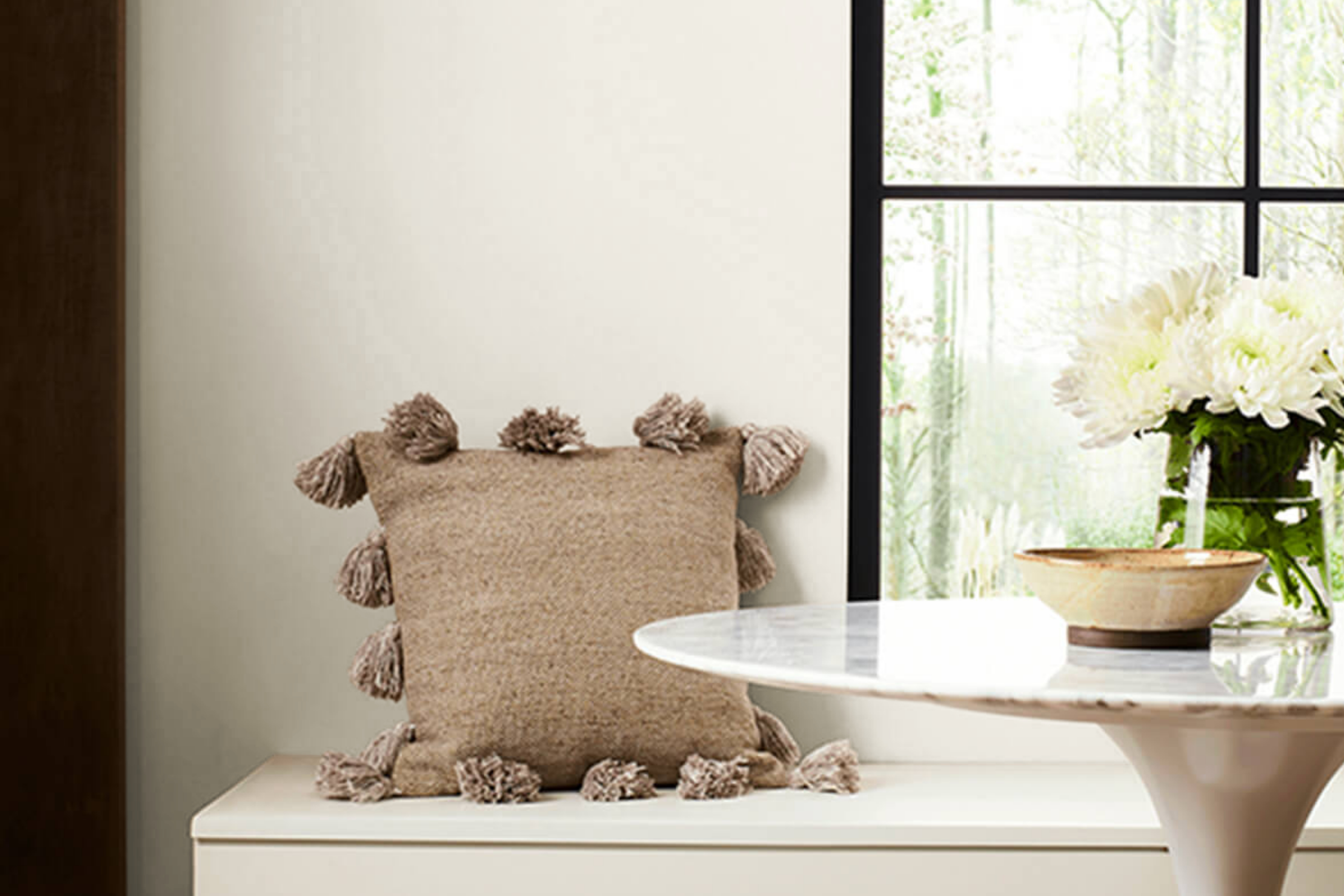 What Kind of Color Is SW 6070 Heron Plume?
To use paint colors correctly, you should know their details. As Hextoral says, SW Heron Plume is a soft, neutral color that beautifully harmonizes warmth and coolness. It leans slightly towards being a warm gray, but it's subtle enough to pass as a soft white in certain lighting conditions.
SW Heron Plume's versatility makes it a favorite among designers for its ability to blend effortlessly with a wide range of color palettes and interior styles.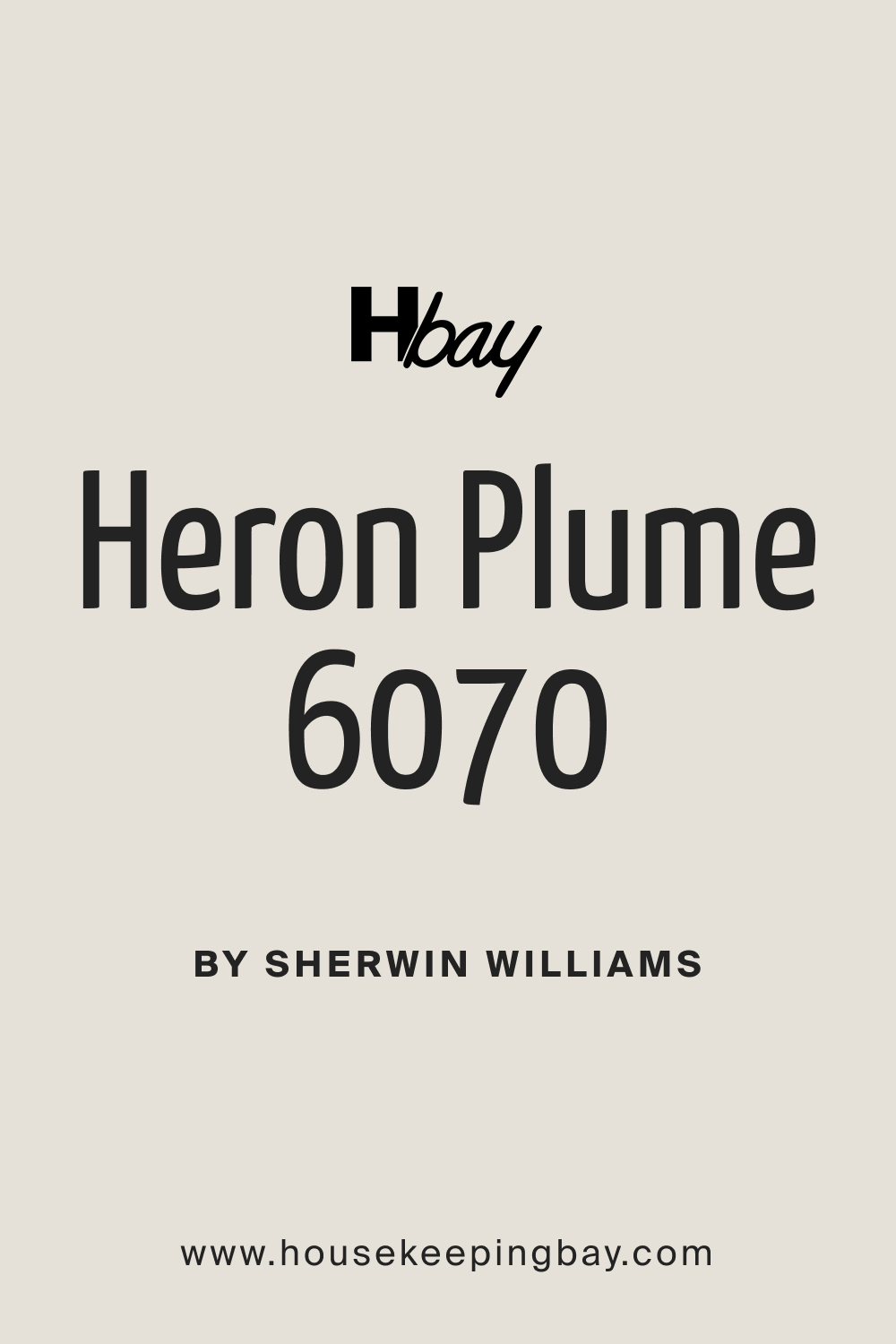 Is It a Warm Or Cool Color Color?
Although SW Heron Plume leans more towards warm undertones, it strikes a delicate balance that allows it to play well with both warm and cool hues. As Encycolorpedia says, Its slight warmth brings a comforting and cozy vibe, while its hint of coolness keeps it fresh and modern.
Undertones of SW 6070 Heron Plume Paint Color
Undertones play an essential role in how colors read in your space. Speaking of SW Heron Plume, it is defined by its complex interplay of undertones. Here are the three most prominent that can be found in depths of this color:
Gray: The gray undertone is the most pronounced, giving SW Heron Plume its neutral base.
Beige: A subtle beige undertone adds warmth and earthiness to the mix, allowing the color to read as a warm neutral.
White: A touch of white undertone lightens the color overall, pushing it toward the light side of the spectrum.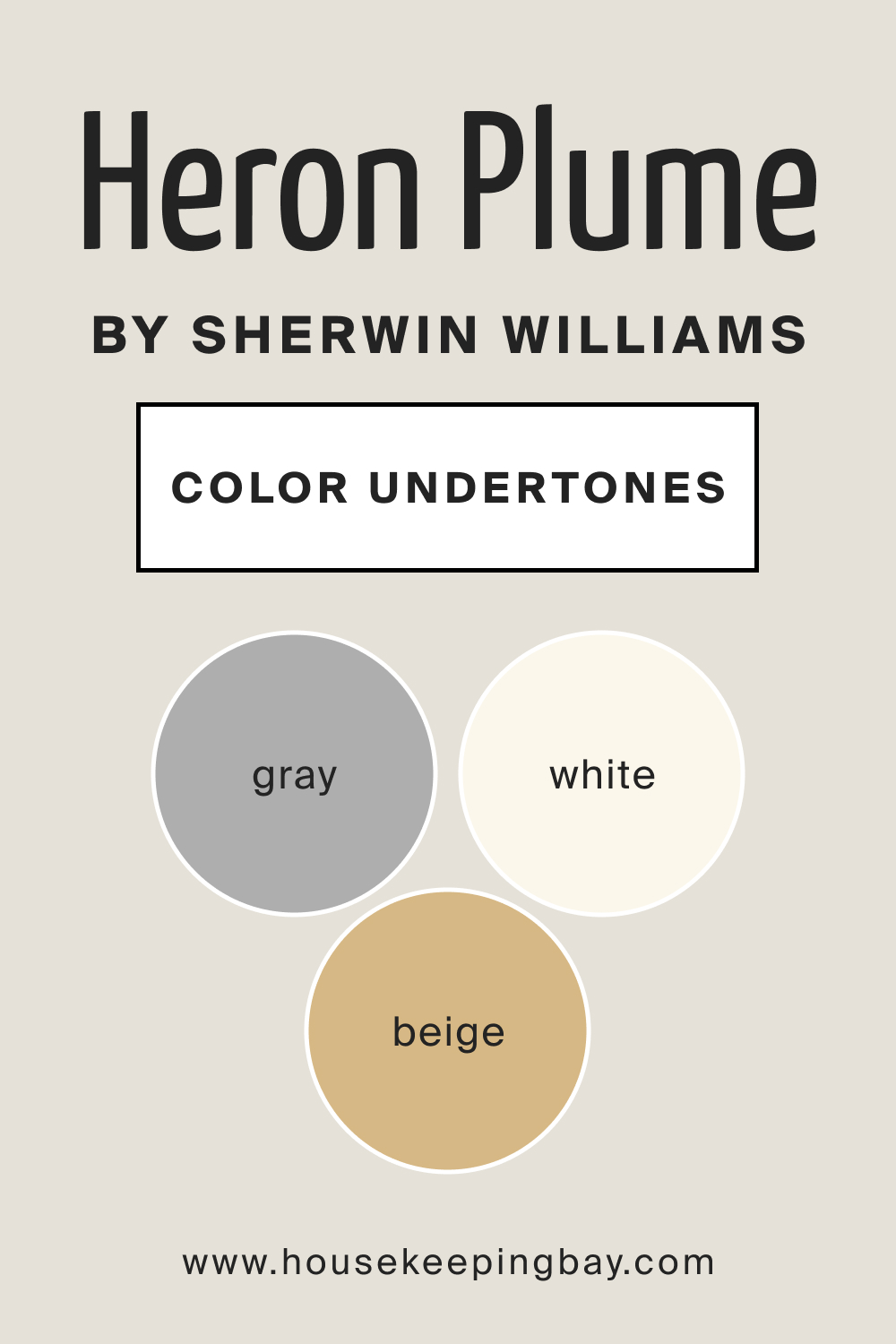 Coordinating Colors of SW 6070 Heron Plume
SW Heron Plume's balanced undertones make it a versatile choice that coordinates beautifully with many other colors. Below, you can find the universal coordinating colors for this white:
SW 6072 Versatile Gray
SW 6271 Expressive Plum
Also, you can use such paint colors as:
They will also coordinate this soft and calm hue perfectly well.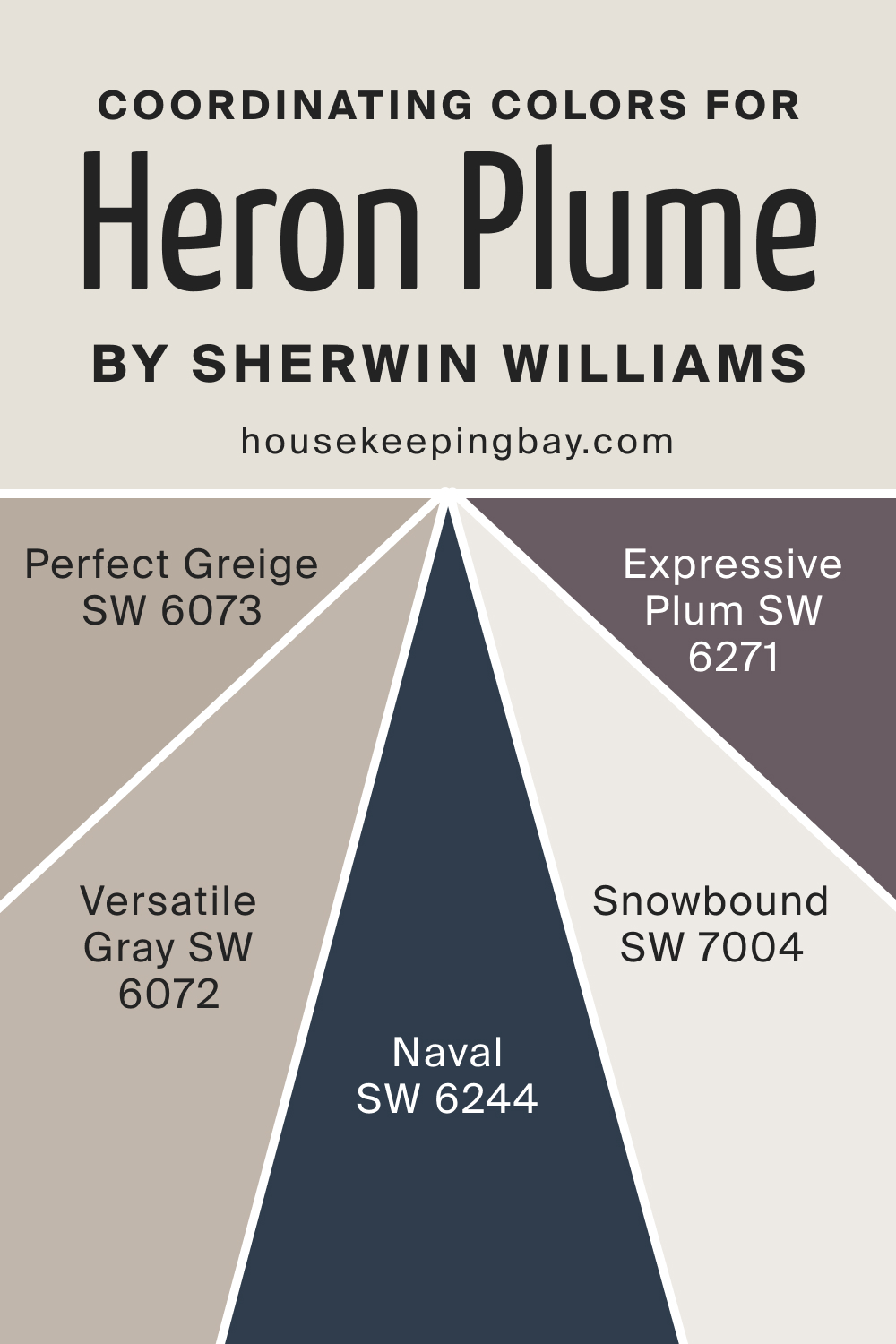 How Does Lighting Affect SW 6070 Heron Plume?
As with any paint color, lighting can have a significant effect on how SW Heron Plume is perceived. In spaces with abundant natural light, it can appear very light gray or even off-white. In lower light conditions, the warm beige undertones may become more noticeable, giving it a slightly darker appearance. At times, it can also reveal a pinkish hue under certain artificial lighting conditions.
LRV of SW 6070 Heron Plume
Light Reflectance Value (LRV) measures the amount of light a paint color reflects. SW Heron Plume has an LRV of 75, which is relatively high. This means it reflects a lot of light, making it a great choice for smaller spaces or rooms without much natural light, as it can make these spaces feel larger and brighter.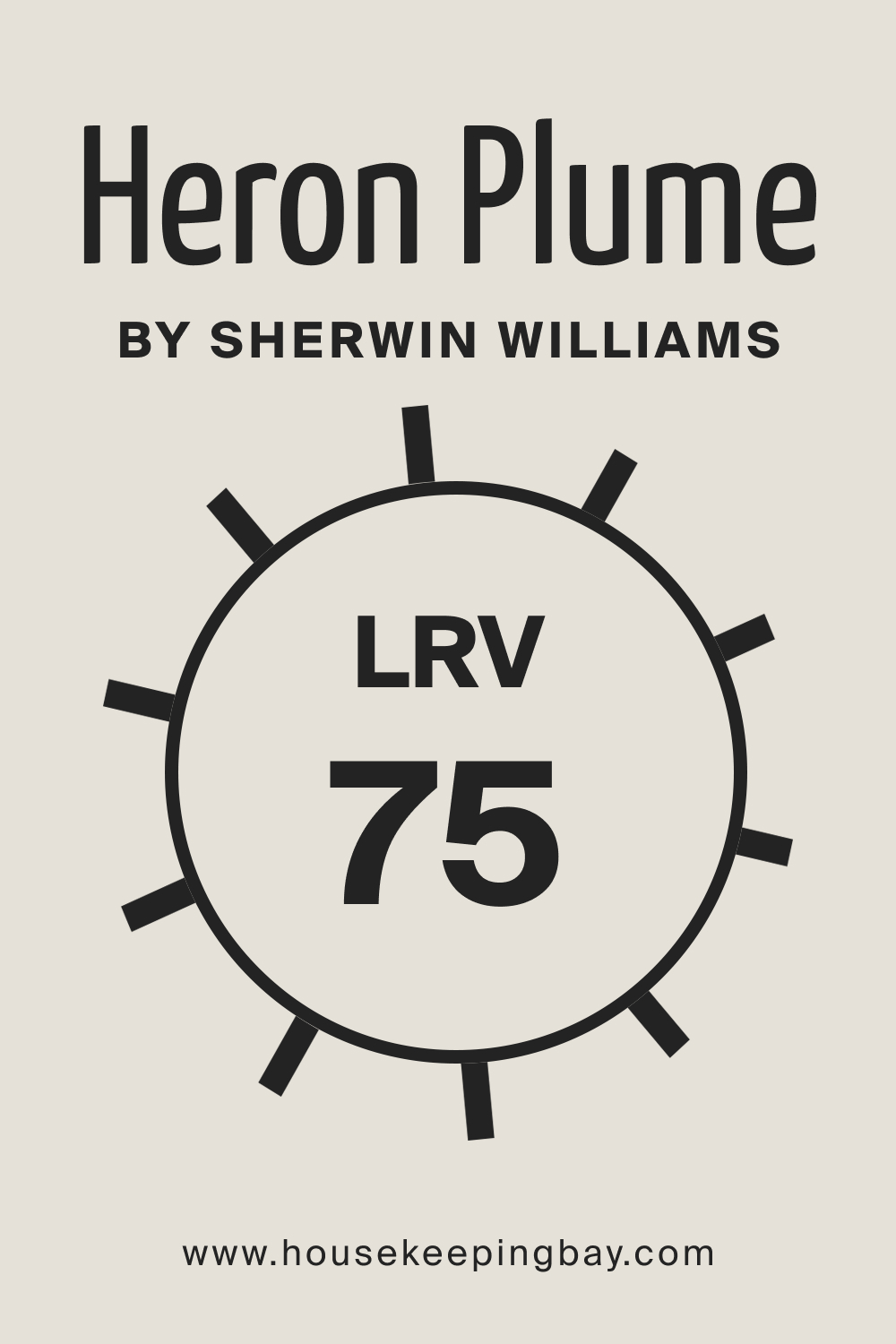 What is LRV? Read It Before You Choose Your Ideal Paint Color
Trim Colors of SW Heron Plume
When choosing trim colors to complement SW Heron Plume, consider these three options:
SW 7005 Pure White: This crisp white trim color provides a classic contrast to Heron Plume's warm undertones.
SW 7012 Creamy: A soft, off-white that harmonizes with the warmer tones of Heron Plume.
SW 7551 Greek Villa: A slightly warmer white, which emphasizes Heron Plume's cool undertones.
As an all-purpose trim color, we recommend you stick with SW High Reflective White. It's neither warm nor cold, being a simple white.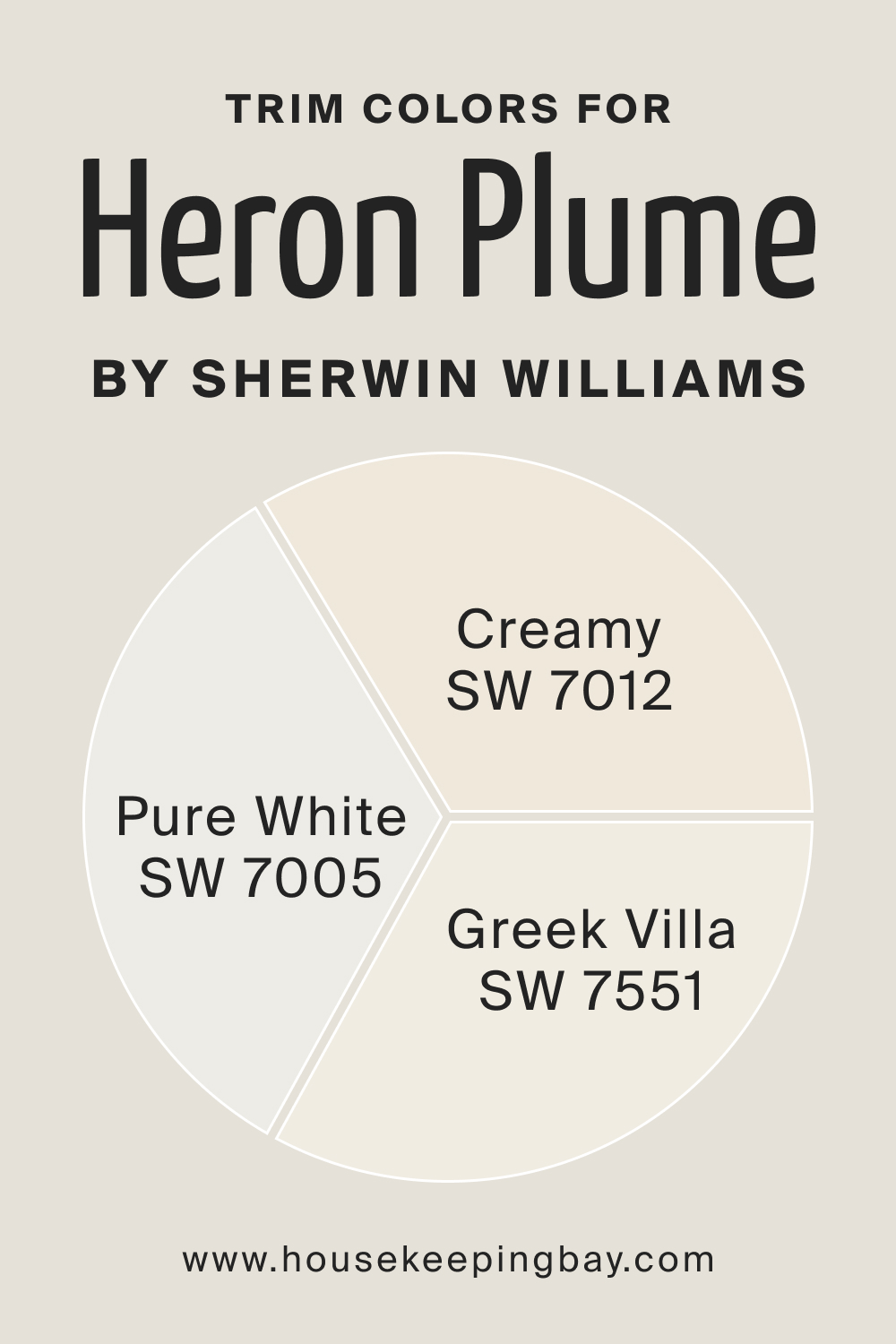 Colors Similar to SW Heron Plume
Here are several colors that are similar to SW Heron Plume, though each brings its unique twist. Use them if you see that SW Heron Plume doesn't read as you want in your space.
BM Classic Gray OC-23
SW 7042 Shoji White: A touch lighter with similar gray undertones
Behr Painter's White
Farrow & Ball Strong White
PPG Paraffin
Valspar Wispy White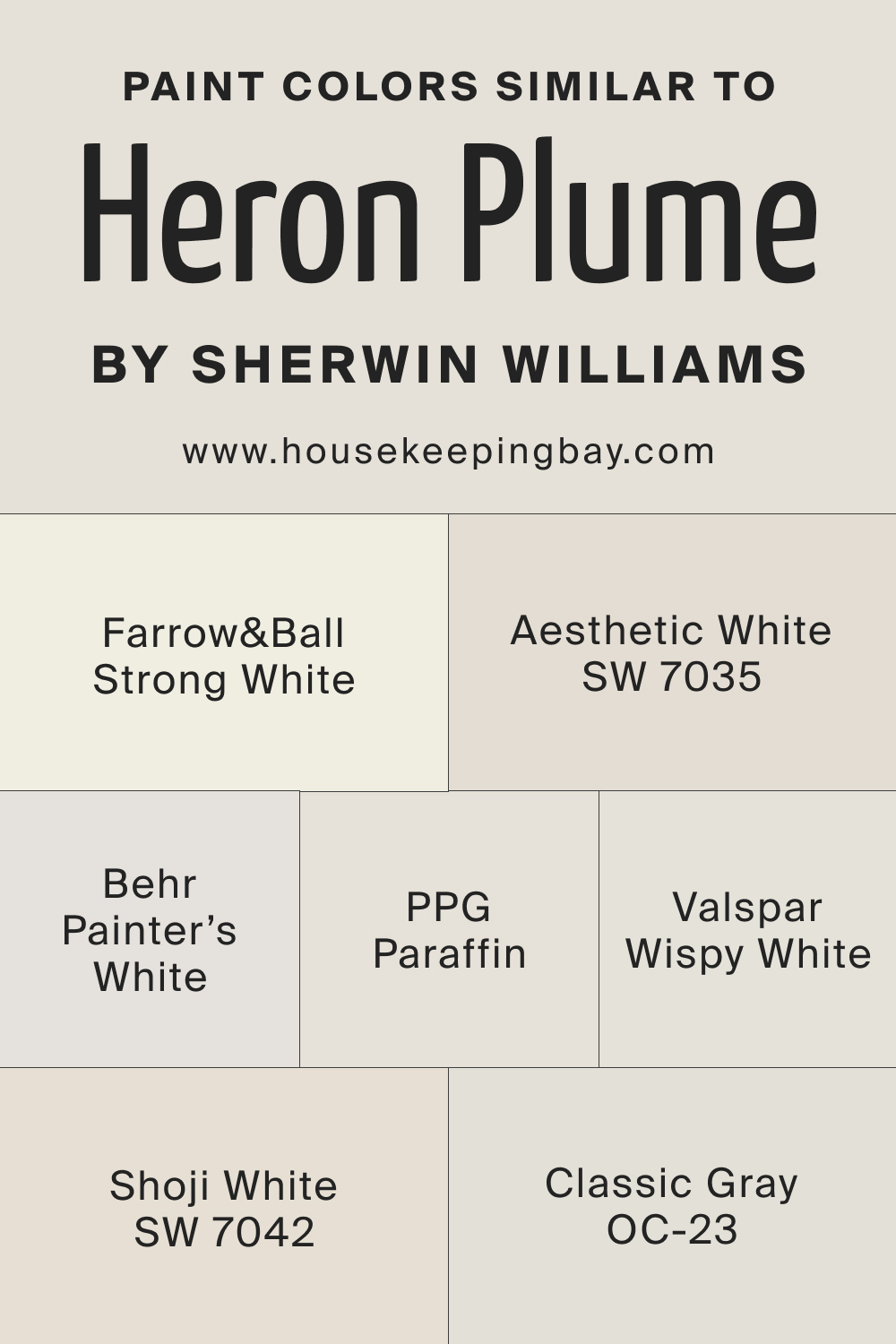 Colors That Go With SW Heron Plume
SW Heron Plume's balanced tones allow it to pair well with a wide variety of colors. Here are six complementary color choices:
SW 6211 Rainwashed: This muted, airy blue adds a calming, coastal feel when paired with Heron Plume.
SW 6174 Andiron: A rich, warm charcoal gray that provides depth and drama.
SW 6207 Retreat: An earthy green-gray that brings out Heron Plume's warmth.
SW 6127 Ivoire: This light, creamy yellow creates a sunny and cheerful atmosphere.
SW 6262 Mysterious Mauve: This soft mauve offers a delicate contrast to Heron Plume's neutrality.
SW 6186 Dried Thyme: A muted olive green that harmonizes with Heron Plume's warm undertones.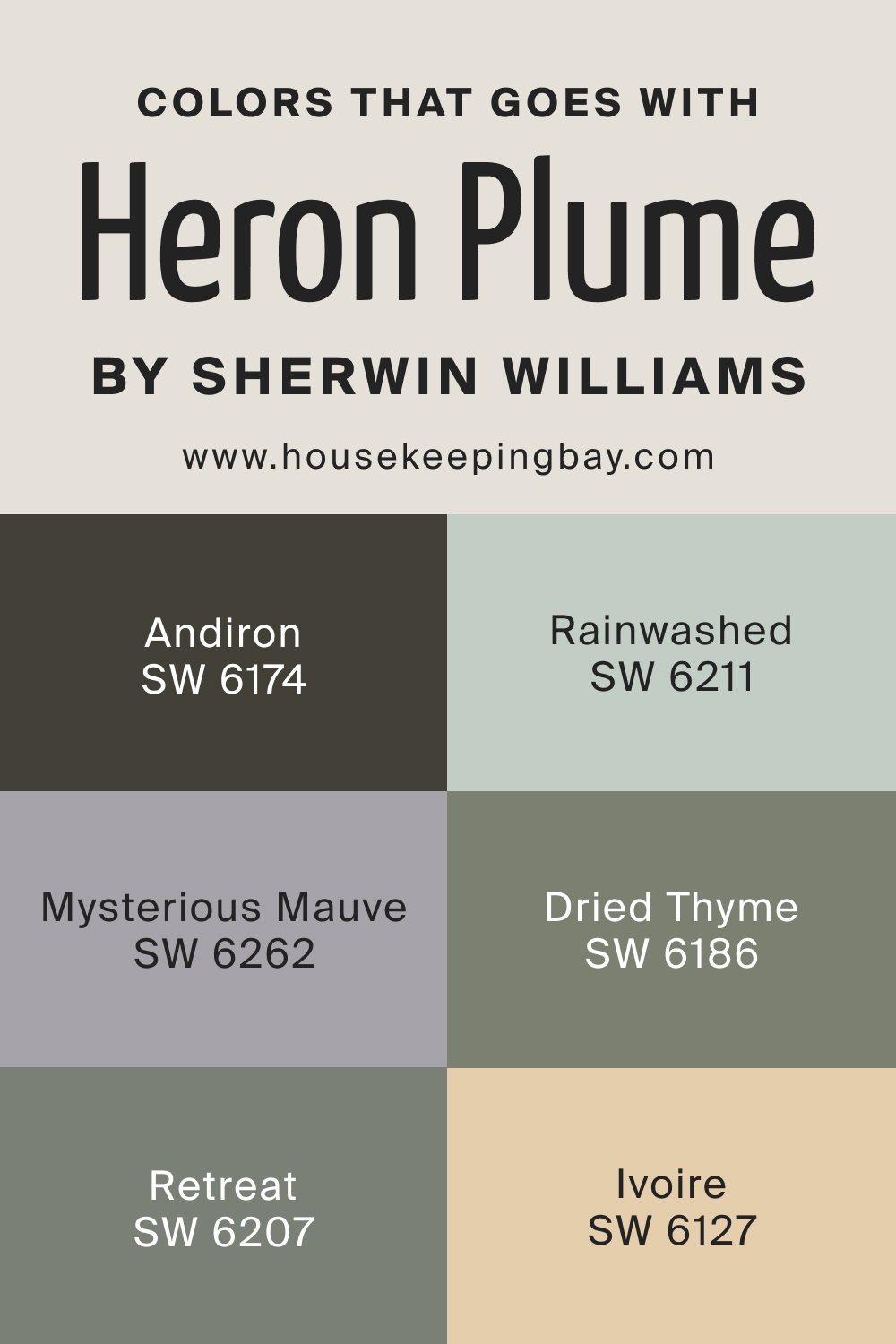 Where This Color Can Be Used In Your Home?
SW Heron Plume is surprisingly versatile and can work in many rooms of your home. Below, we describe how exactly this soft and delicate hue may read in different spaces and what effect it will create there.
How to Use SW Heron Plume In the Bedroom?
SW Heron Plume is a fantastic choice for a bedroom. Its calm and comforting undertones can create a peaceful and restful atmosphere. Try painting the main walls with Heron Plume and complementing it with trim in SW 7012 Creamy. If you have a feature wall, consider painting it with a deeper color, such as SW 6207 Retreat, for added depth and interest.
As for the furnishings, lighter woods like pine or maple can accentuate the warmth of Heron Plume, while darker woods like walnut can contrast beautifully, bringing out the color's cooler tones. Soft furnishings in complementary colors like mauve, light blue, or even a muted yellow can add interest and personality to the space.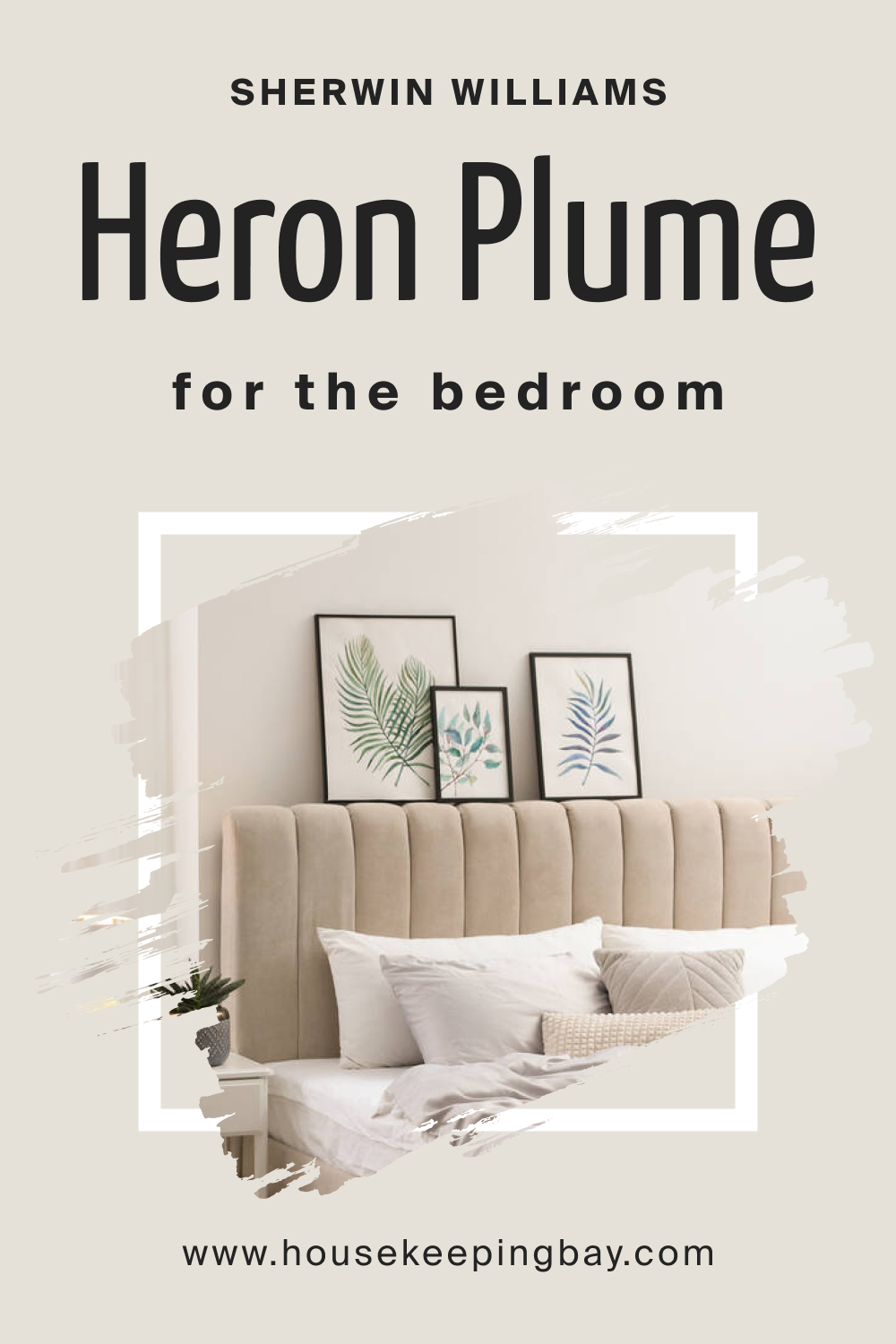 How to Use SW Heron Plume In the Bathroom?
SW Heron Plume is a great choice for a bathroom as it can make the space feel bright, airy, and larger than it actually is, thanks to its high LRV. You can paint the entire bathroom with Heron Plume and add accents with tile work or fixtures in deeper hues like SW 6186 Dried Thyme or SW 6174 Andiron. This can create a spa-like ambiance, making the bathroom feel like a serene retreat.
On the other hand, you can pair SW Heron Plume with chrome or brushed nickel fixtures for a modern, clean look. If you want to create a warmer, vintage ambiance, pair it with brass or bronze fixtures and accents. Tiles in soft blues, grays, or beiges will harmonize beautifully with Heron Plume.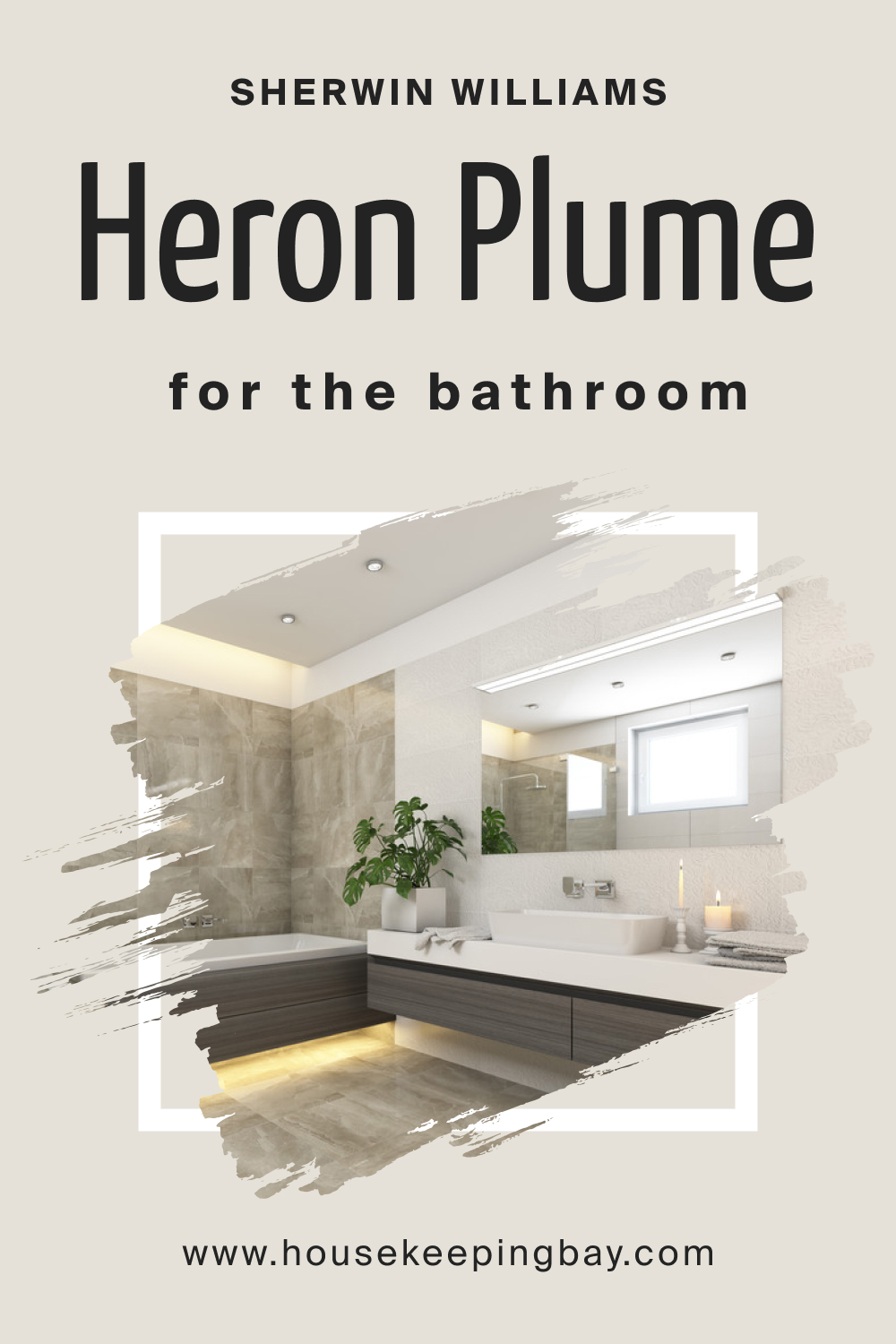 How to Use Heron Plume In the Living Room?
A Heron Plume living room can be the perfect neutral backdrop for a variety of design styles. Because of its balanced undertones, it works equally well with warm or cool colors. You can pair it with deep charcoal gray furniture for a sophisticated, modern look or with warm woods and earth-toned fabrics for a cozy, rustic appeal.
Art and accessories can also be used to bring in bursts of color. Consider using warm, earthy tones for a harmonious feel, or use cool blues and greens for a touch of contrast. A rug with warm tones can tie the whole room together, while drapes in a cooler tone can bring a crisp freshness to the room.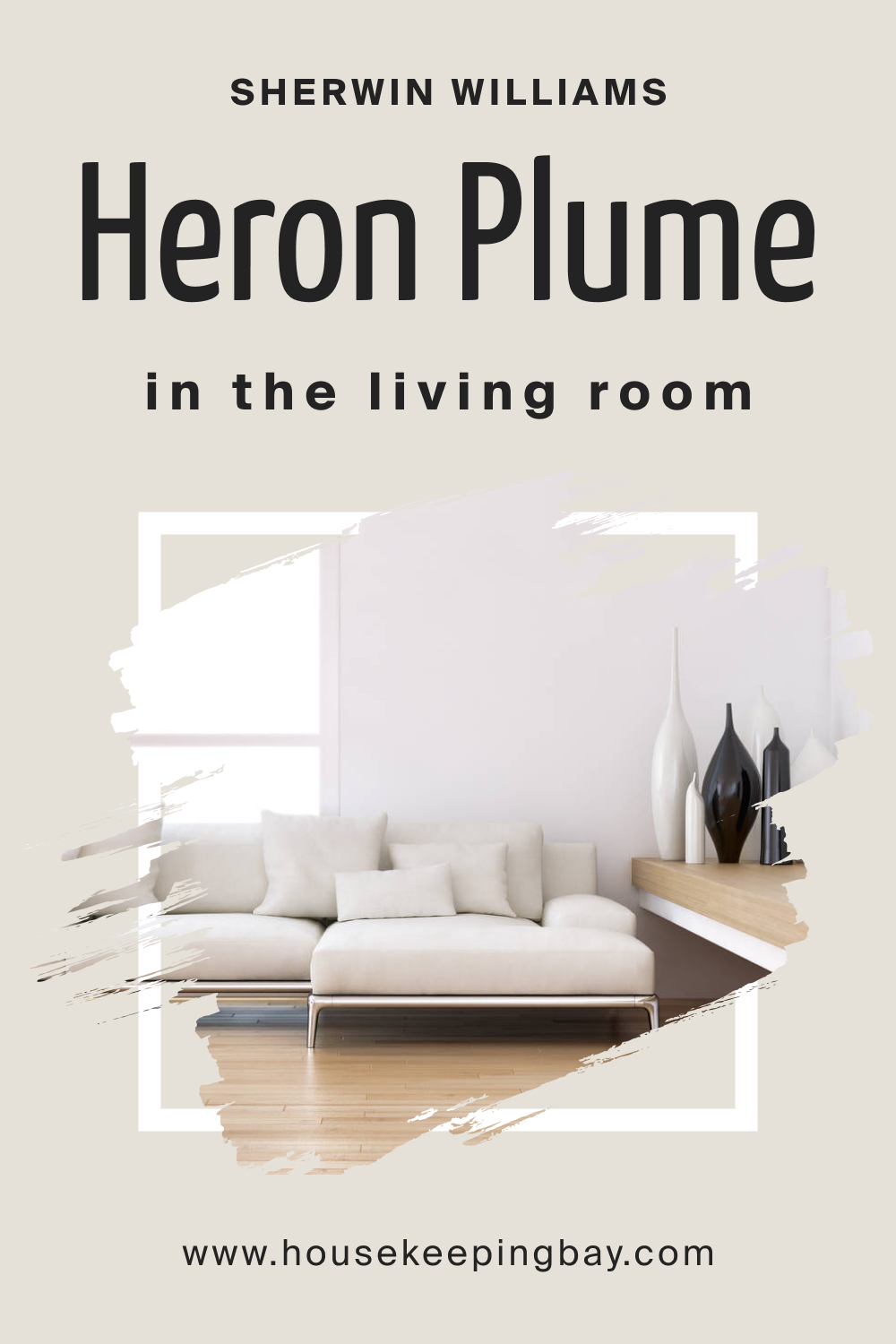 How to Use SW Heron Plume for an Exterior?
SW Heron Plume is also a beautiful choice for an exterior paint color. Because of its high LRV, it can help make a home look larger and more inviting. SW Heron Plume can be used as the main body color with trim in a crisp white like SW 7005 Pure White. For the front door, consider a bold hue like SW 6211 Rainwashed or SW 6174 Andiron for a pop of color.
Additionally, SW Heron Plume can also be an excellent choice for a porch or patio. The color's light, warm undertones make it a great backdrop for lush green plants and vibrant outdoor furniture. Whether your home is modern, traditional, or somewhere in between, Heron Plume's versatile nature makes it an easy choice for any exterior design.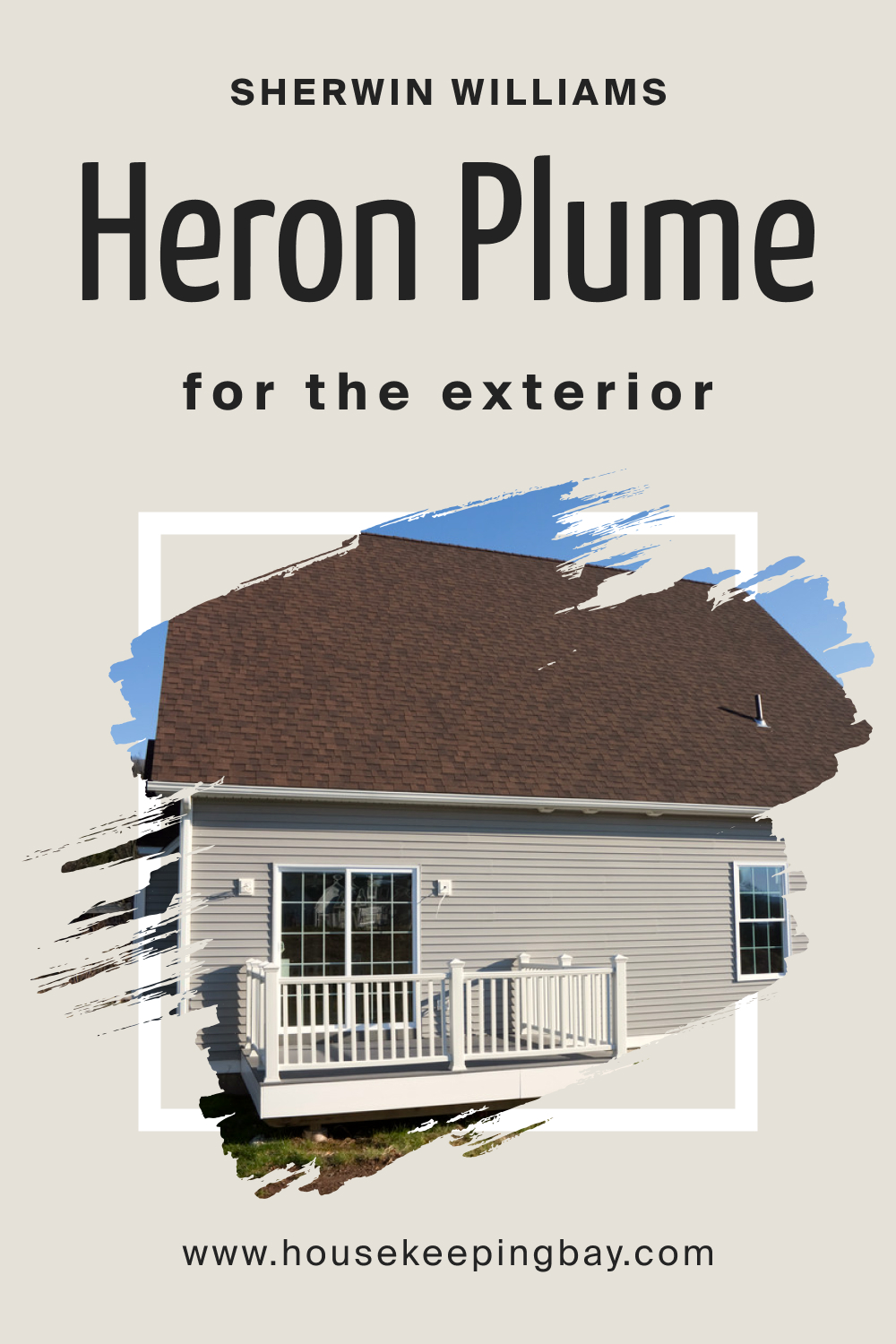 Comparing SW Heron Plume With Other Colors
Below, you can compare SW Heron Plume with several paint colors that have very similar appearances. This will help you better see the smallest distinctions and teach you what to pay attention to when you are choosing between two colors.
SW Heron Plume vs SW 6003 Proper Gray
Proper Gray is a medium-toned gray color that is darker and grayer than Heron Plume. While SW Heron Plume is a warmer light gray with beige undertones, Proper Gray is cooler and has more blue undertones. This gives Proper Gray a more pronounced gray look, whereas SW Heron Plume can sometimes read as off-white.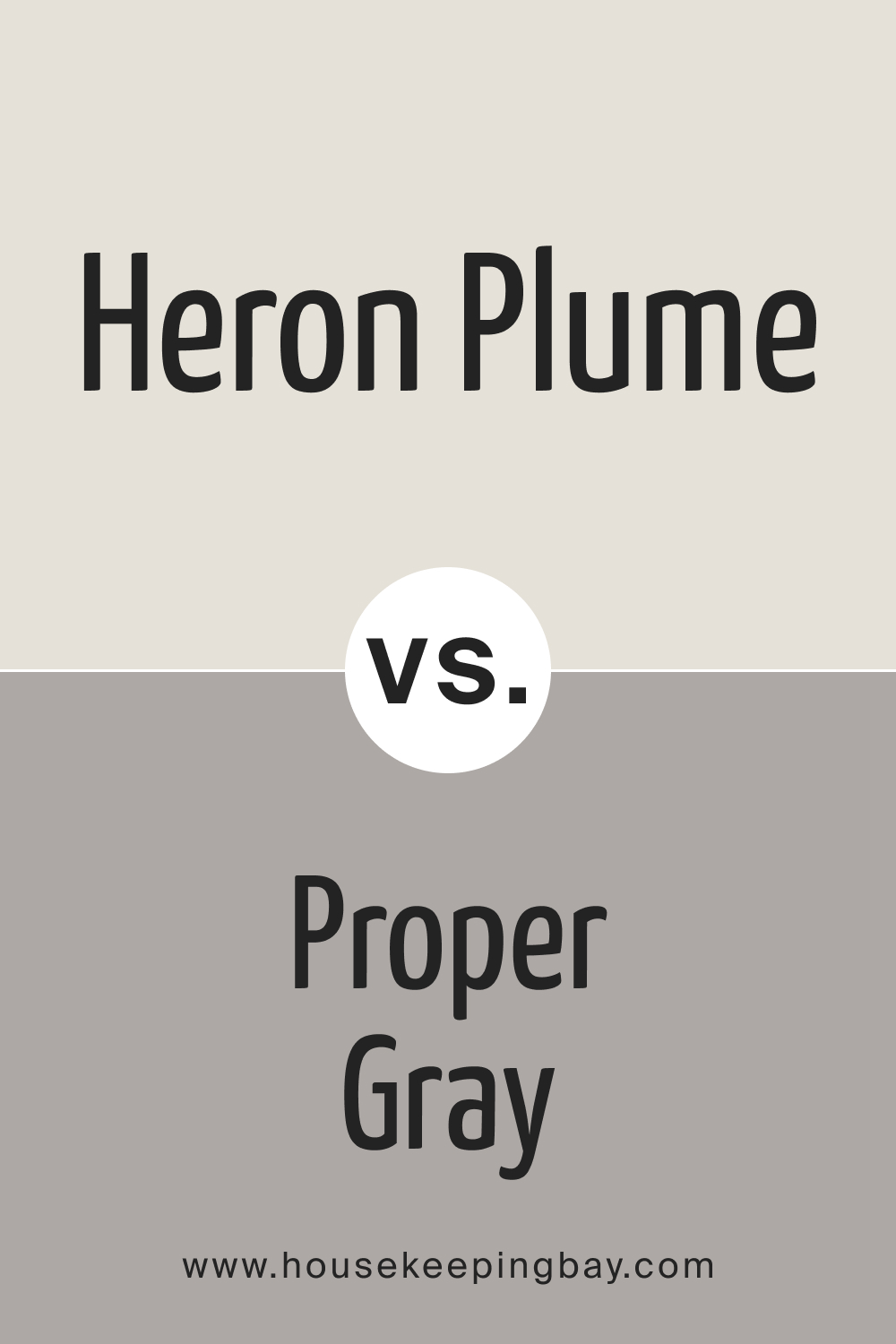 Heron Plume vs SW 7042 Shoji White
SW Shoji White is a very light gray with green undertones. It is lighter than Heron Plume, and its green undertones give it a more muted, soft appearance. Shoji White works well in rooms with lots of natural light, where its light and airy feel can truly shine, while Heron Plume is more versatile in different lighting conditions.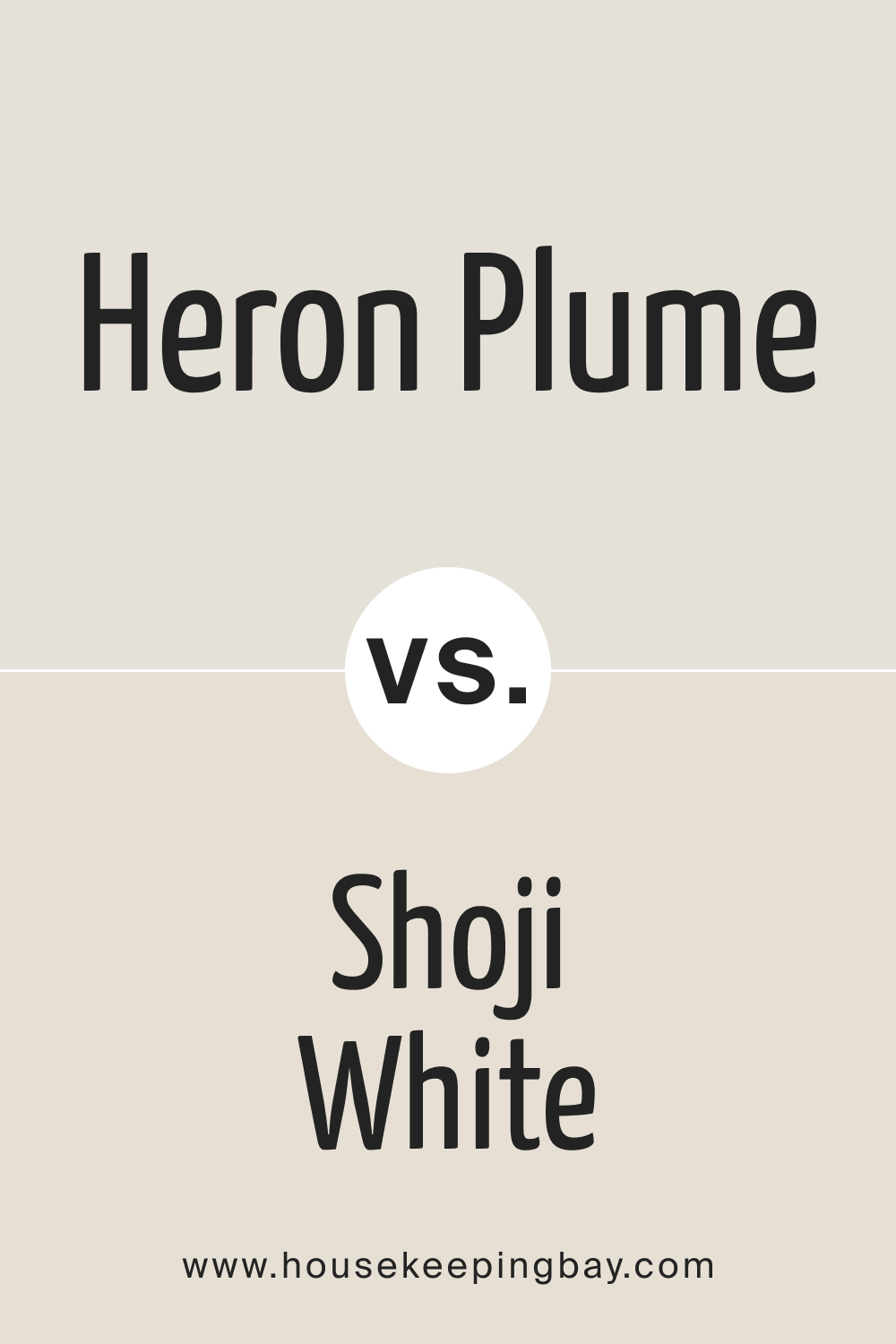 Heron Plume vs SW 7658 Gray Clouds
SW Gray Clouds is a medium gray with blue undertones. It is significantly darker than Heron Plume, and its blue undertones give it a cooler feel. In comparison, Heron Plume is a softer, more neutral color that can work in a wider range of spaces and lighting conditions.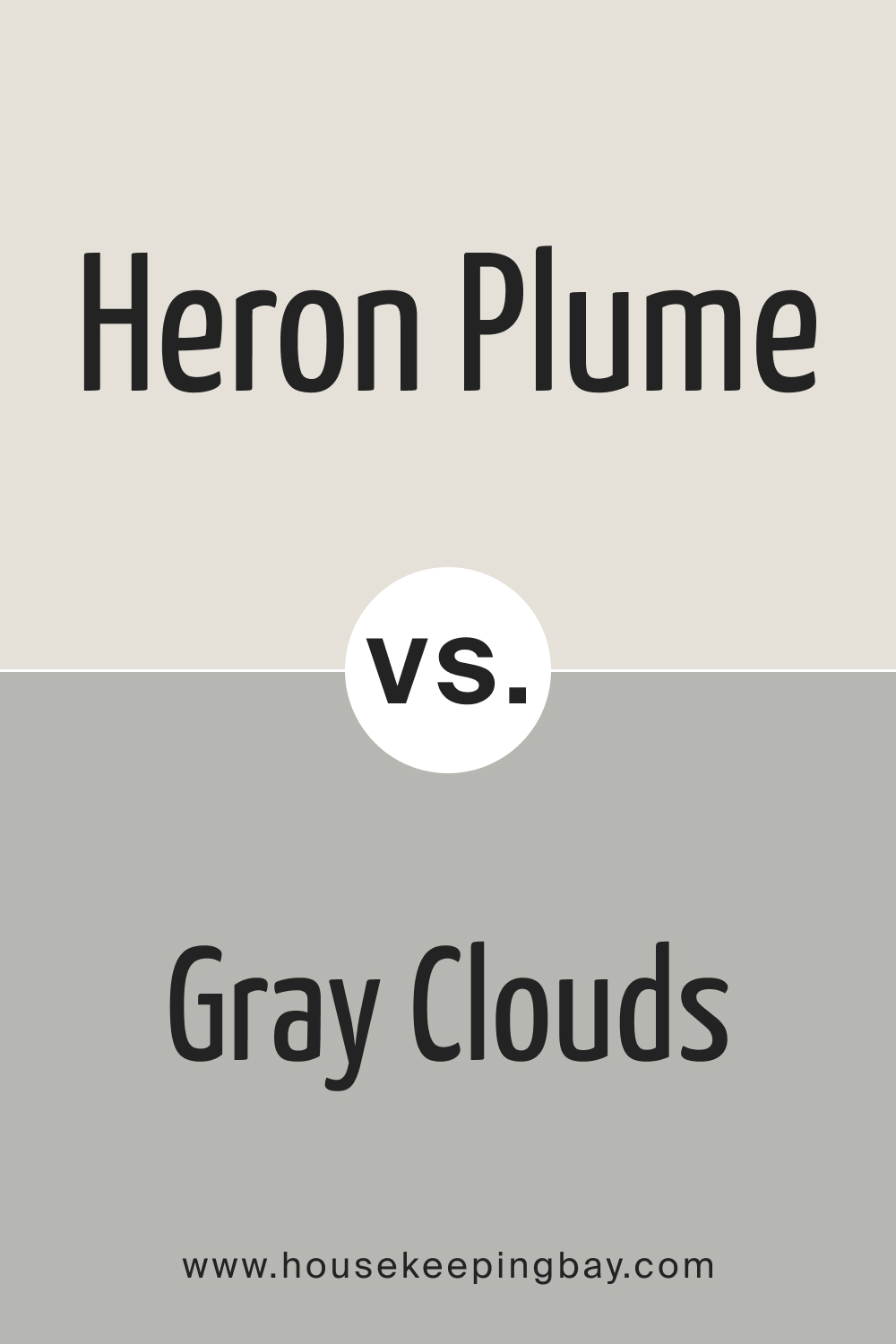 Heron Plume vs SW 7029 Agreeable Gray
SW Agreeable Gray is a warm, medium gray with taupe undertones. It is darker and warmer than Heron Plume. The taupe undertones in Agreeable Gray give it a cozy feel, while the lighter and more neutral Heron Plume has a more airy and fresh vibe.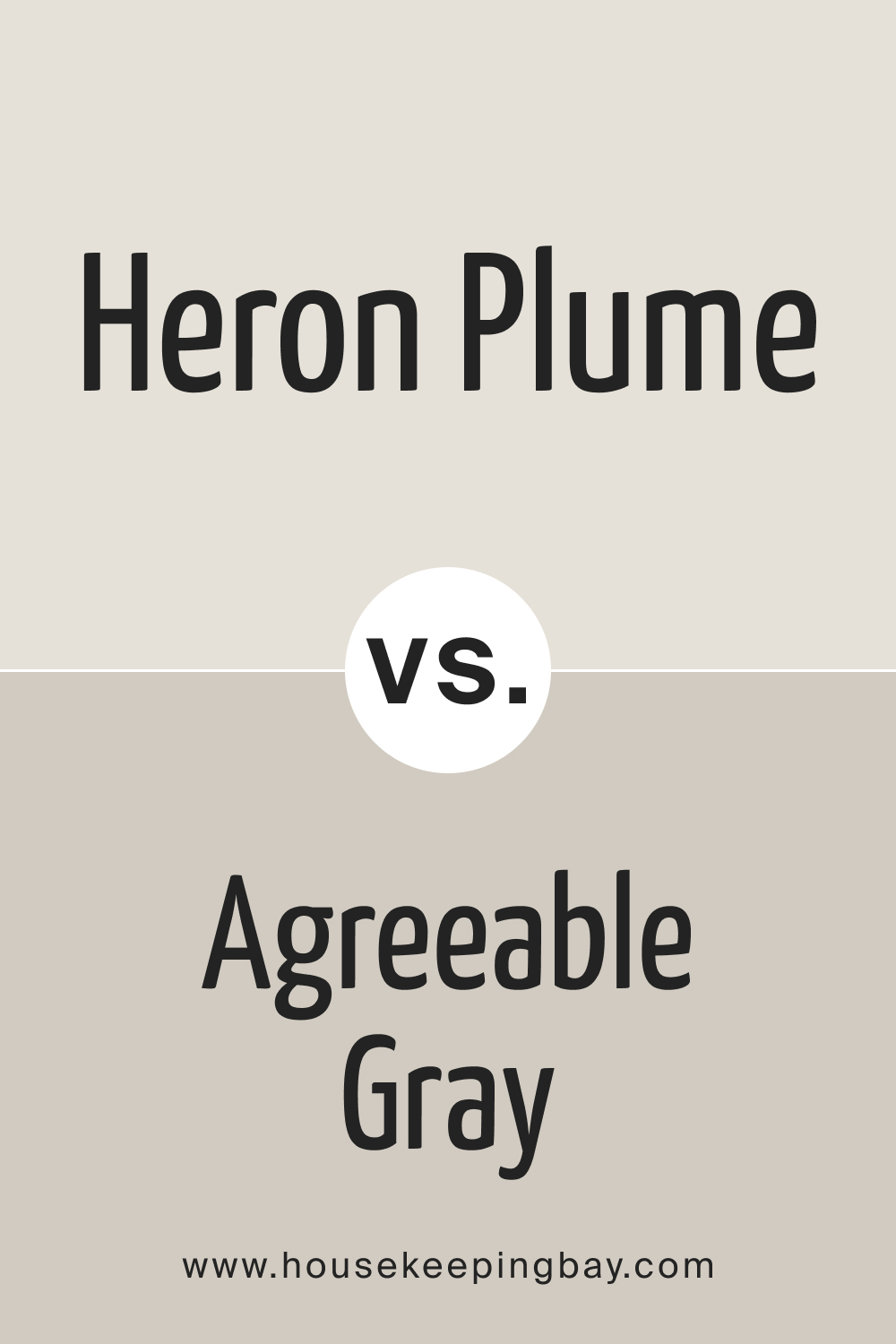 Heron Plume vs SW 7015 Repose Gray
Repose Gray is a light to medium gray with warm undertones. It's a bit darker and grayer than Heron Plume. Although both colors are warm grays, Repose Gray leans more toward gray, while SW Heron Plume leans toward a warm off-white.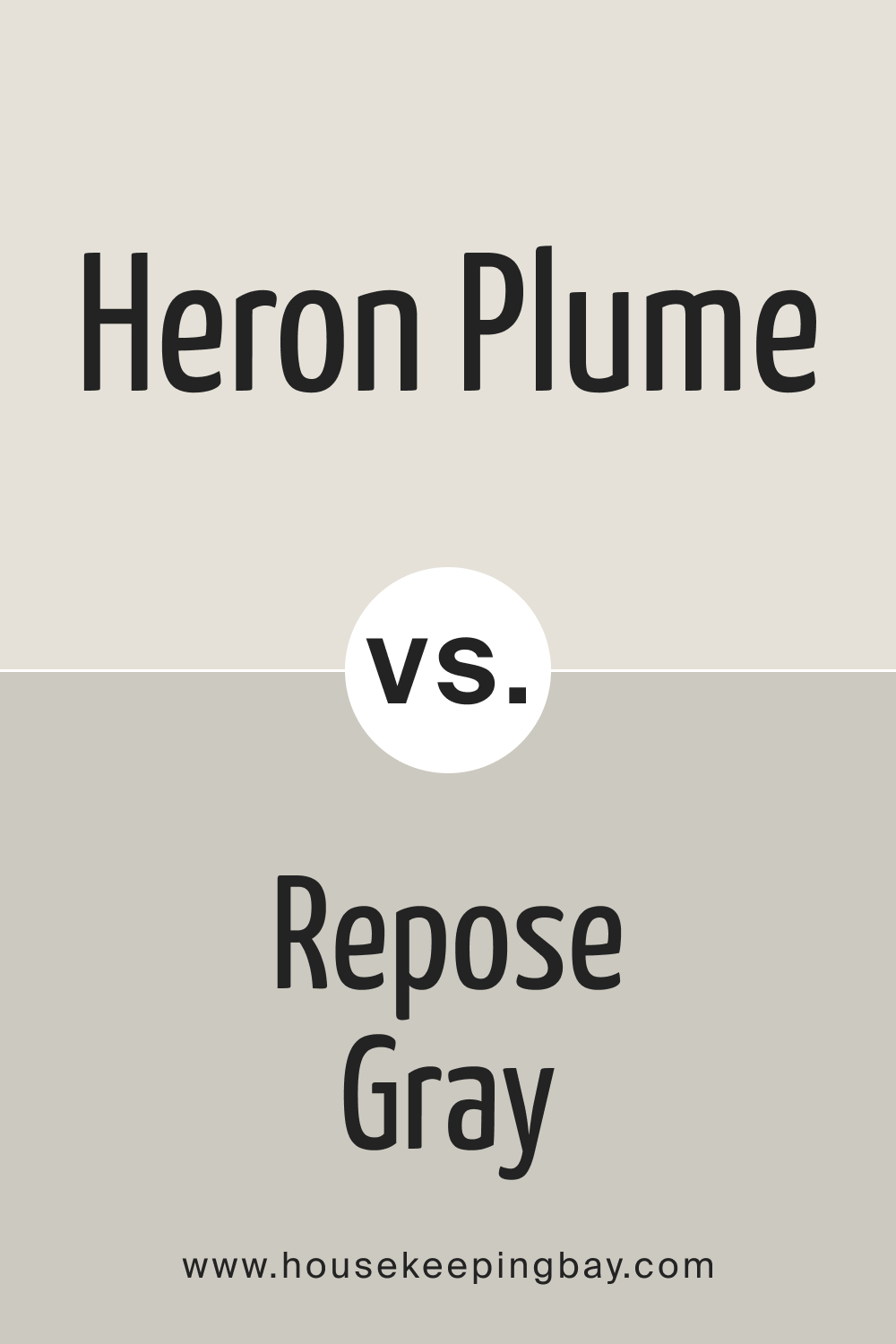 Heron Plume vs SW 6038 Truly Taupe
Truly Taupe is a medium to dark gray with brown undertones, making it a true taupe. It's much darker and warmer than Heron Plume. If you're looking for a deeper, more pronounced color, Truly Taupe might be a good choice. If you want a light, neutral color, Heron Plume would be better.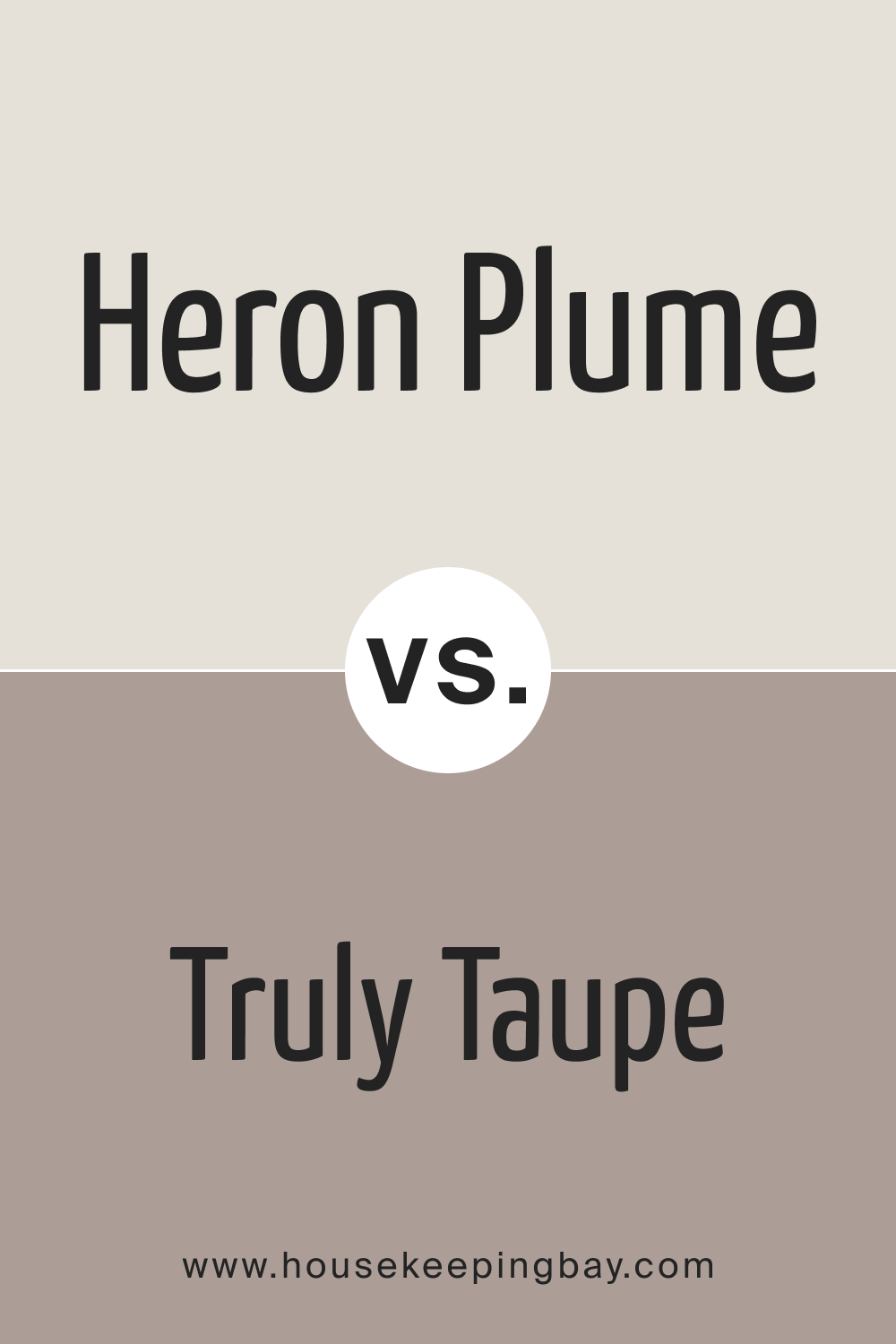 Conclusion
In conclusion, SW 6070 Heron Plume is a versatile neutral color that can bring warmth and coziness to any space while still keeping things light and airy. Whether you're planning to use it in a bedroom, bathroom, living room, or even for your home's exterior, this color has the potential to bring a subtle elegance to your design.
The beauty of SW Heron Plume lies in its ability to adapt to a variety of palettes and styles, making it a timeless choice for any home.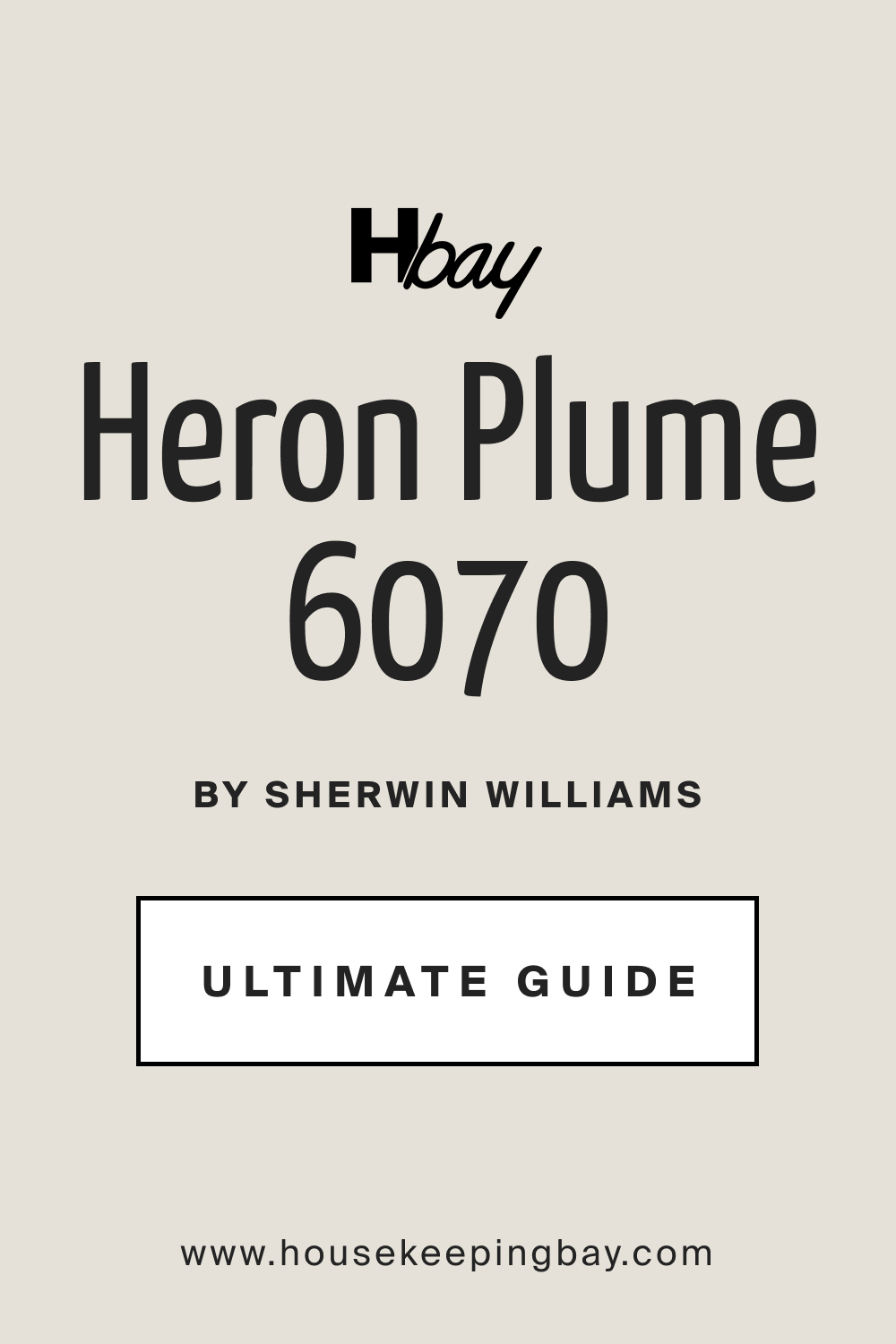 Frequently Asked Questions
⭐What are the undertones of Heron Plume SW 6070?
This could assist customers in understanding the subtle undertones of the Heron Plume paint color to better match it with other elements in their decor.
⭐What rooms or spaces work best with Heron Plume SW 6070?
This question could help potential buyers envision how this color might look in various settings in their home, such as a bedroom, bathroom, kitchen, or office.
⭐What finish do you recommend for Heron Plume SW 6070 and how does it impact the color's appearance?
The finish (e.g., matte, eggshell, satin, semi-gloss, high gloss) can significantly change how a paint color looks once it's on the wall. Customers might find it useful to know what finish is suggested for this color and why.
⭐What colors pair well with Heron Plume SW 6070?
Many customers might be interested in knowing what colors coordinate well with Heron Plume for accent walls, trim, or other design elements in their home.
⭐Is Heron Plume SW 6070 available in all Sherwin-Williams paint varieties?
This question could provide information about whether this color can be found in all the different types of paint that Sherwin-Williams provides (e.g., interior, exterior, primers, etc.).