In the realm of interior design and decor, the selection of color sets the stage for the ambiance, mood, and overall aesthetic of the space. One color that brings a serene harmony and timeless elegance to any room is Sherwin-Williams' SW 7010 White Duck.
This comprehensive guide will delve into the intricacies of this intriguing color, helping you understand why it could be the perfect choice for your next painting project.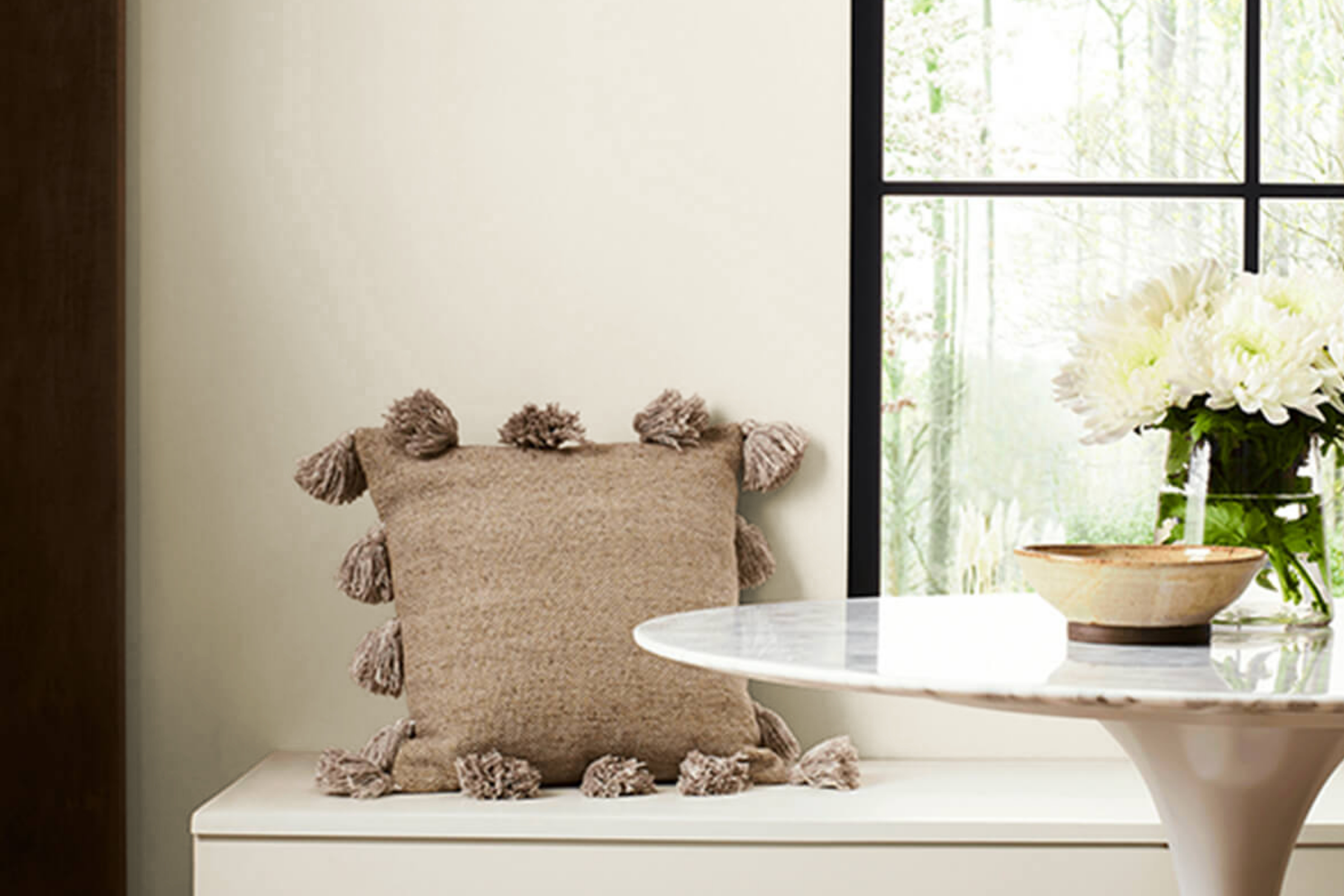 What Kind of Color Is SW 7010 White Duck?
SW White Duck is an alluring off-white paint color that leans toward a light greige, offering a beautiful blend of gray, beige, and white.  As Encycolorpedia says, This fusion results in a versatile, soft, neutral tone, making it an ideal choice for those seeking a white with depth and warmth.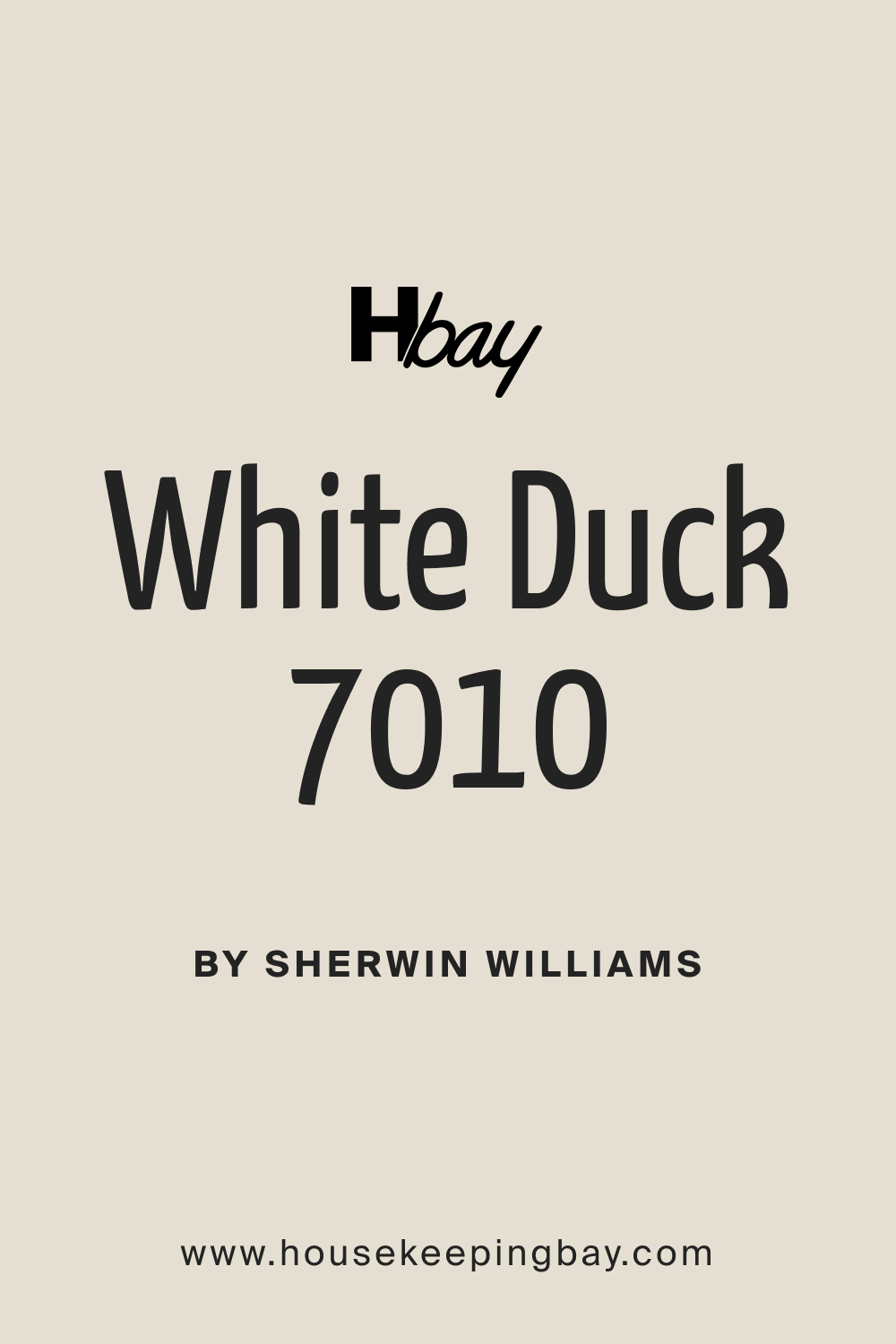 Is It a Warm Or Cool Color?
SW 7010 White Duck is categorized as a warm paint color. It tends to draw in the room, creating an inviting and comfortable atmosphere. While cool colors can sometimes make a room feel larger but impersonal, warm colors like SW White Duck can make a space feel more intimate and cozy.
Undertones of SW 7010 White Duck Paint Color
Undertones play an essential role in how colors read in our homes. SW White Duck has a subtle complexity that emerges from its three underlying undertones:
Beige: This is the most prominent undertone, providing the color's warm characteristic.
Gray: This undertone softens the warmth of the beige, creating a balance that leans toward greige.
White: The underlying white lightens the color, ensuring it remains versatile and crisp.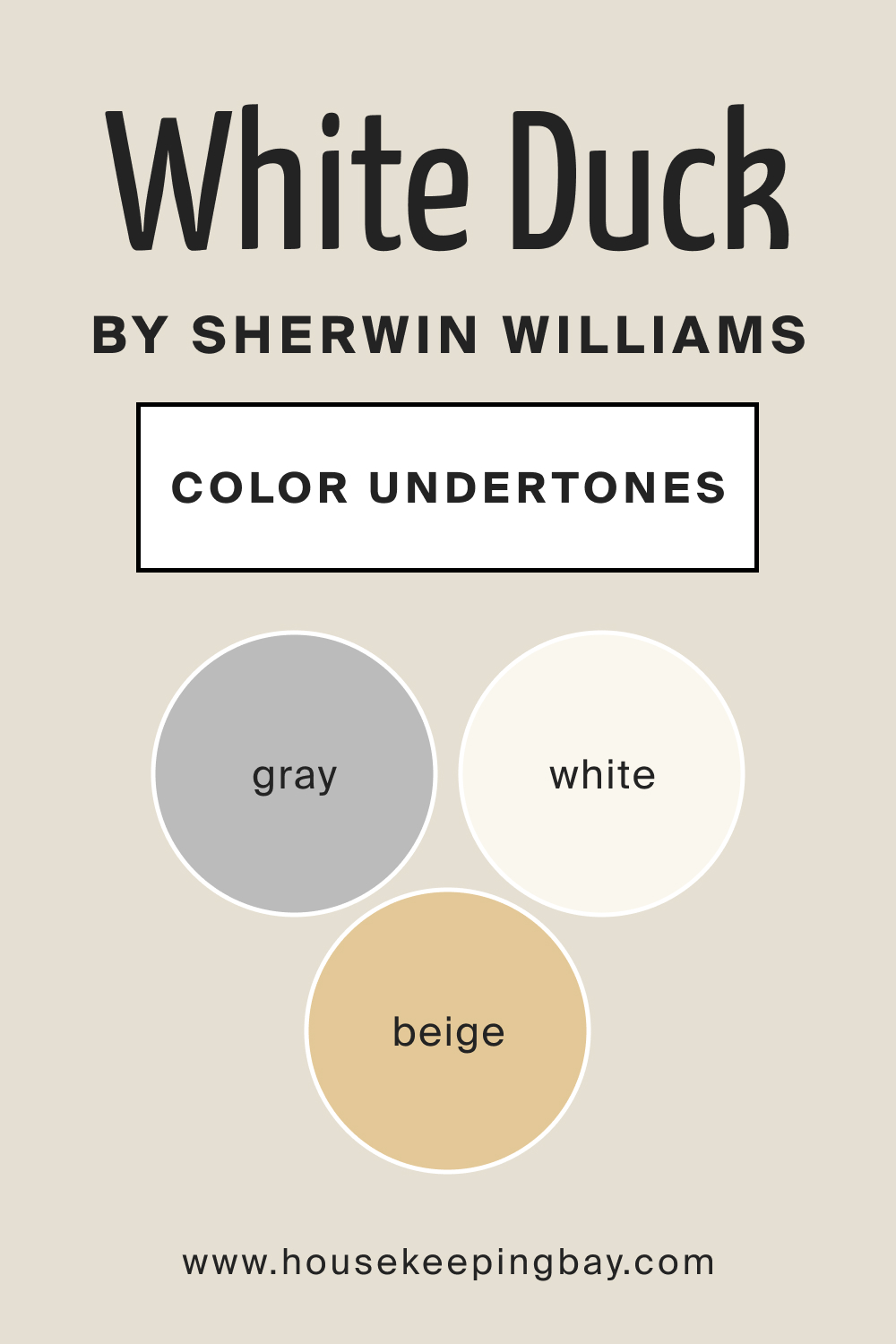 Coordinating Colors for SW White Duck
Picking coordinating colors for SW White Duck can be tricky due to the color's complexity. Besides, the coordinating colors for SW White Duck range across a spectrum of light to dark shades. To help you choose the best ones, we have prepared two options:
SW 7550 Resort Tan
SW 7548 Portico
Should you prefer monochromatic palettes, opt for these coordinating colors instead:
SW 7032 Warm Stone
SW 7034 Status Bronze
In case you are looking for a more varied and colorful yet calming and balanced color palette for your home, these coordinating colors will help you to achieve it:
SW 6277 Special Gray
SW 6275 Fashionable Gray
SW 6221 Moody Blue
SW 6218 Tradewind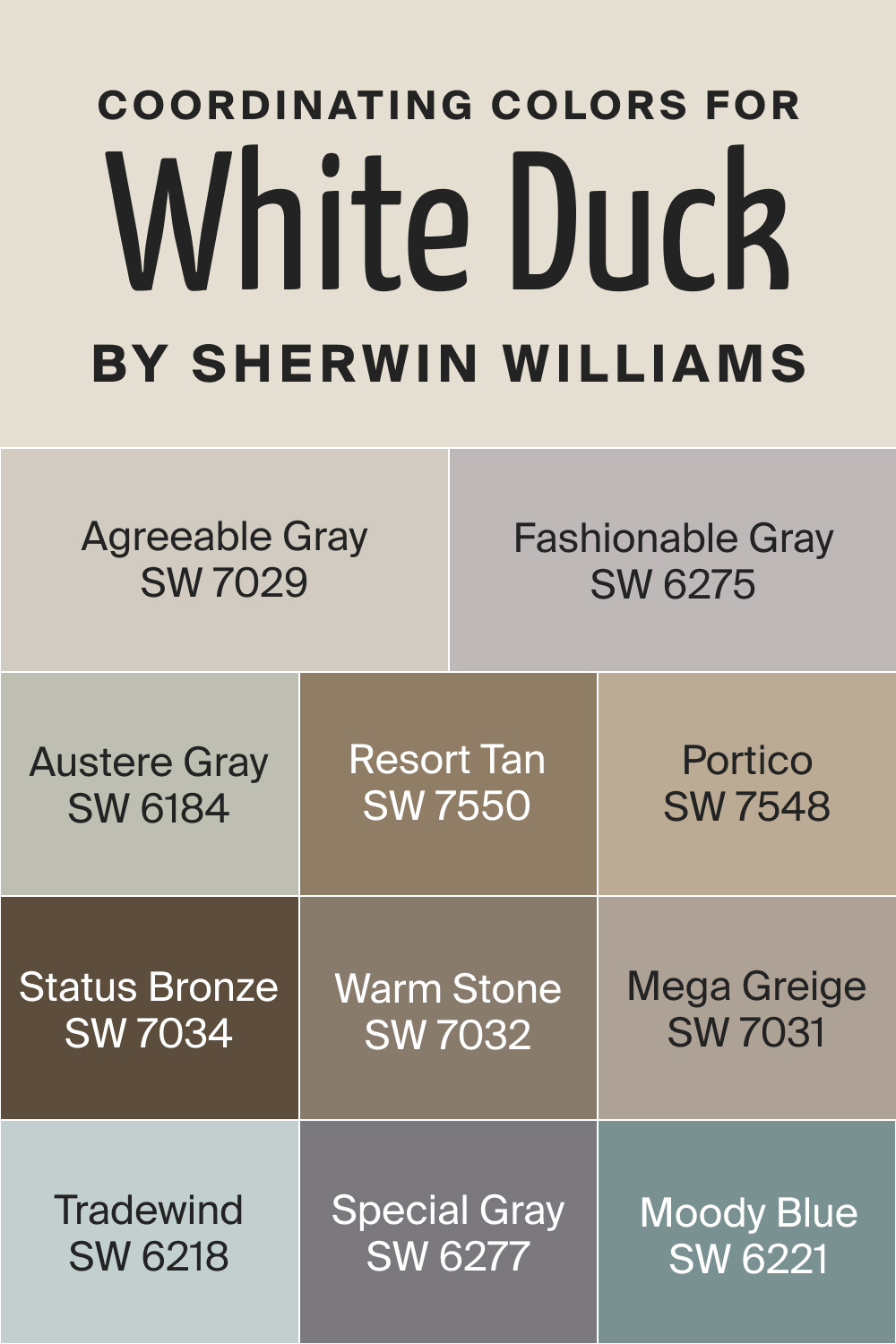 How Does Lighting Affect SW 7010 White Duck?
Lighting significantly impacts how a paint color appears. In abundant natural light, SW White Duck's beige undertone becomes more apparent, giving the color a warmer, creamier appearance.
In artificial light, especially warm bulbs, the gray undertone is more pronounced, making it appear greige. Depending on the time of day and the type of lighting, SW White Duck can appear slightly different, adding to its charm and versatility.
What LRV Does SW White Duck Paint Color Have?
The Light Reflectance Value (LRV) of color indicates how much light it reflects. The closer the LRV value is to 100, the lighter the color. The closer the LRV value is to zero, the darker the color is.
SW White Duck has an LRV of around 74, which makes it a relatively light color that can brighten up a space and make it appear more open and airy.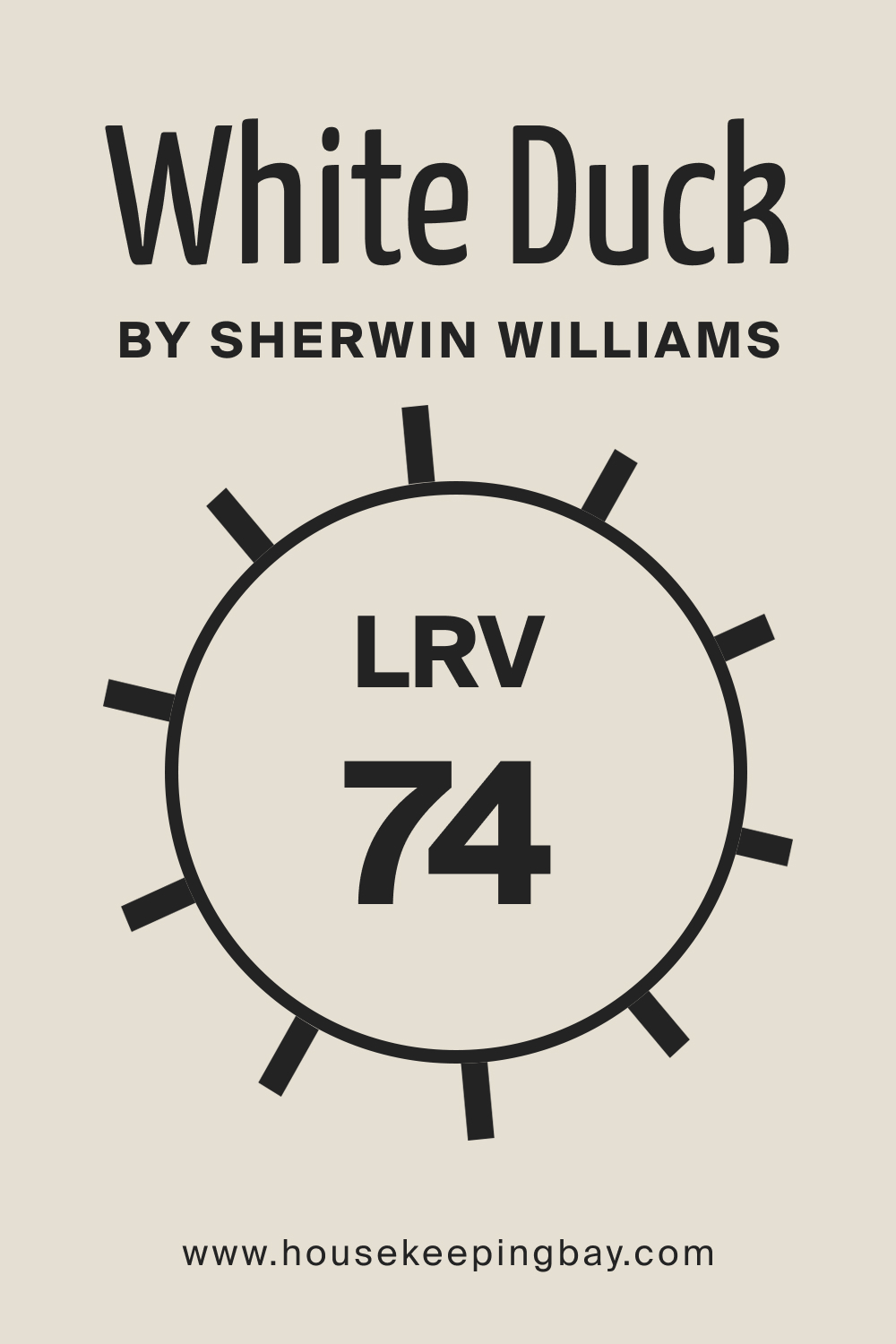 What is LRV? Read It Before You Choose Your Ideal Paint Color
Trim Colors to Use With SW 7010 White Duck
Choosing the perfect trim color can beautifully accentuate SW White Duck. Here are three color suggestions you might want to consider: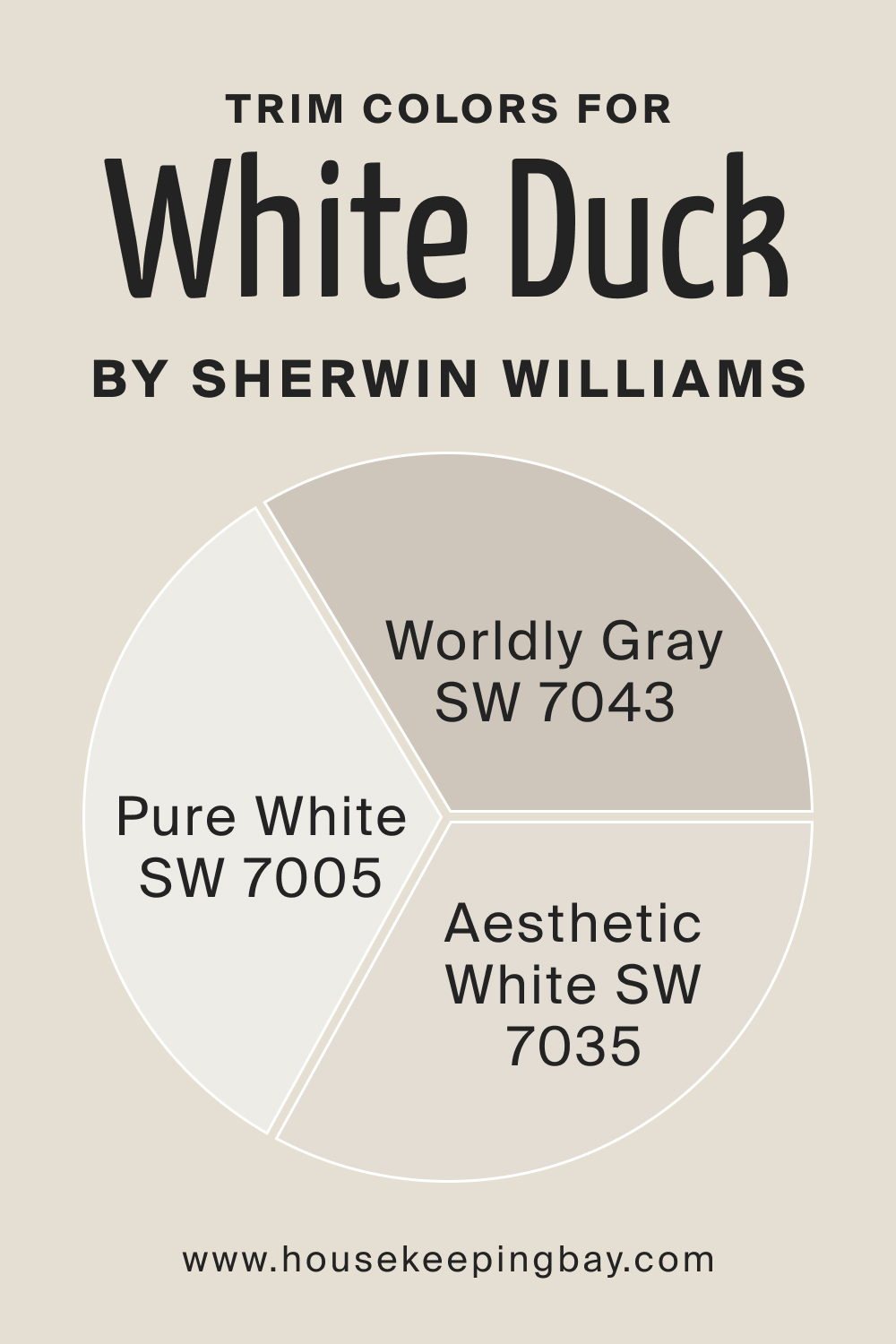 Colors Similar to SW 7010 White Duck
Several colors resemble SW White Duck. You might want to check them out if you realize SW White Duck is not exactly the hue your home's interior needs!
SW 7035 Aesthetic White
Behr Swiss Coffee
Behr Cotton Knit
Dulux Natural Hessian
Farrow & Ball School House Whit
PPG Focus
Valspar Oyster Pearl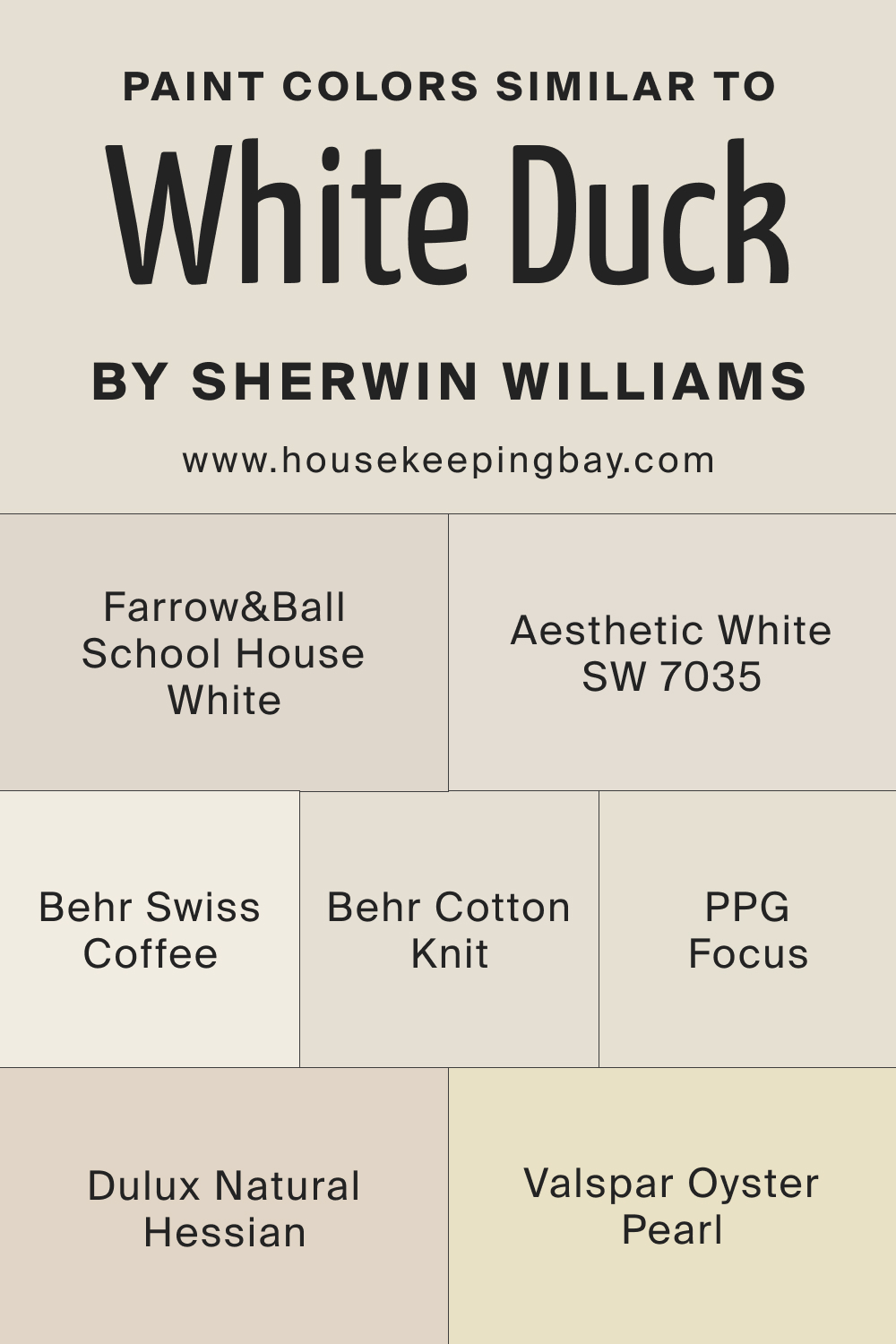 Colors That Go With SW 7010 White Duck
SW White Duck pairs well with many colors:
SW 7029 Agreeable Gray: A lighter gray that brings out the gray undertones of White Duck.
SW 6108 Latte: A mid-tone, creamy beige that harmonizes with White Duck's warmth.
SW 6044 Doeskin: A rich, warm taupe that provides a contrasting depth to White Duck.
SW 6247 Krypton: A soft, soothing blue that offers a subtle contrast.
SW 6050 Abalone Shell: A muted pink, offering a gentle splash of color.
SW 6343 Alluring White: A soft, white hue that can brighten spaces when used with White Duck.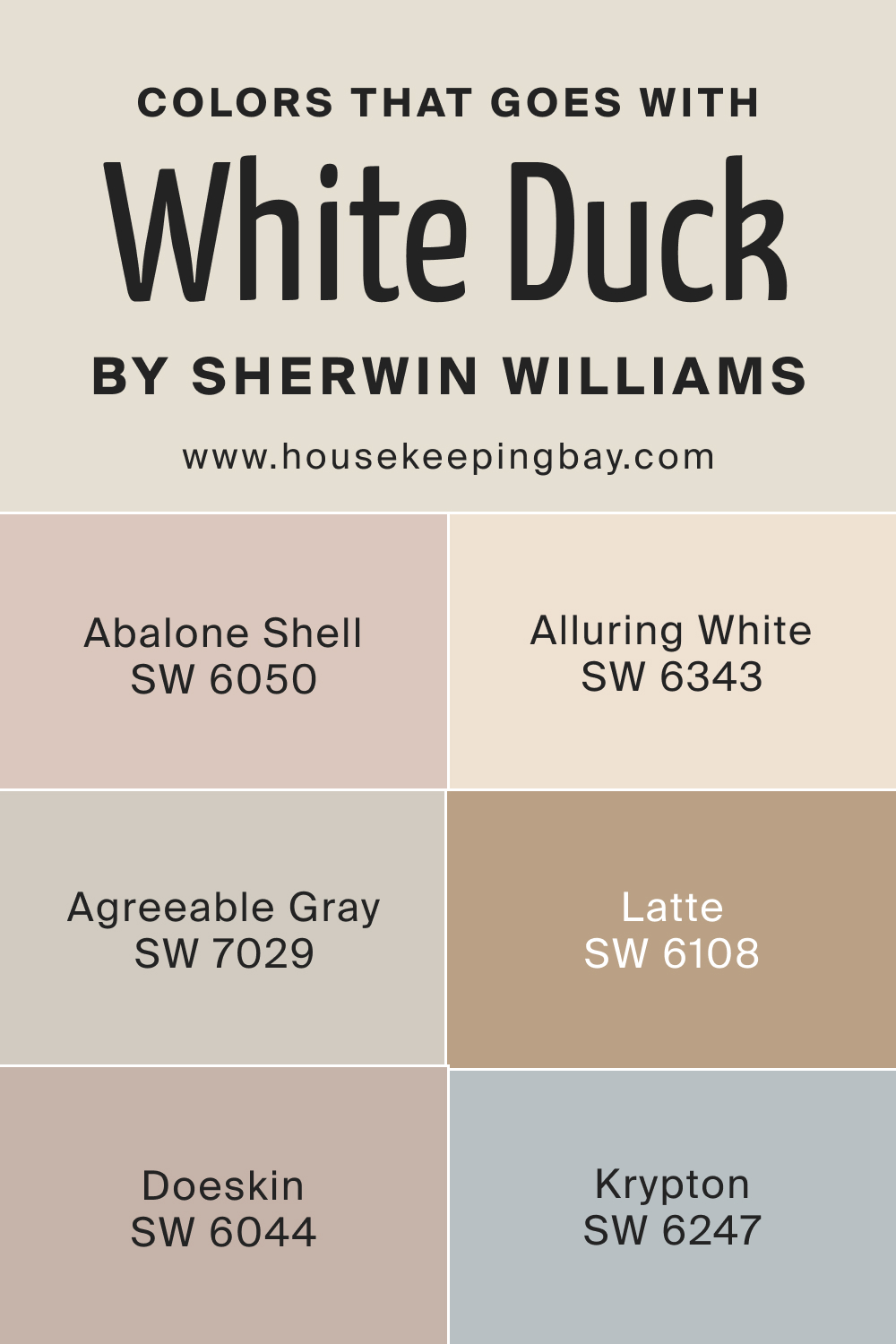 How to Use SW 7010 White Duck in Different Rooms?
To understand how SW White Duck may read in your living space, we describe how this soft hue works in different rooms, as well as on exterior walls.
White Duck SW 7010 in the Bedroom
SW White Duck in the bedroom is like enveloping yourself in a warm blanket. Its soft, neutral tone promotes relaxation and serenity, while the warm undertones evoke a sense of comfort. Pair it with soft, earthy tones in your bedding and accessories for a cozy feel.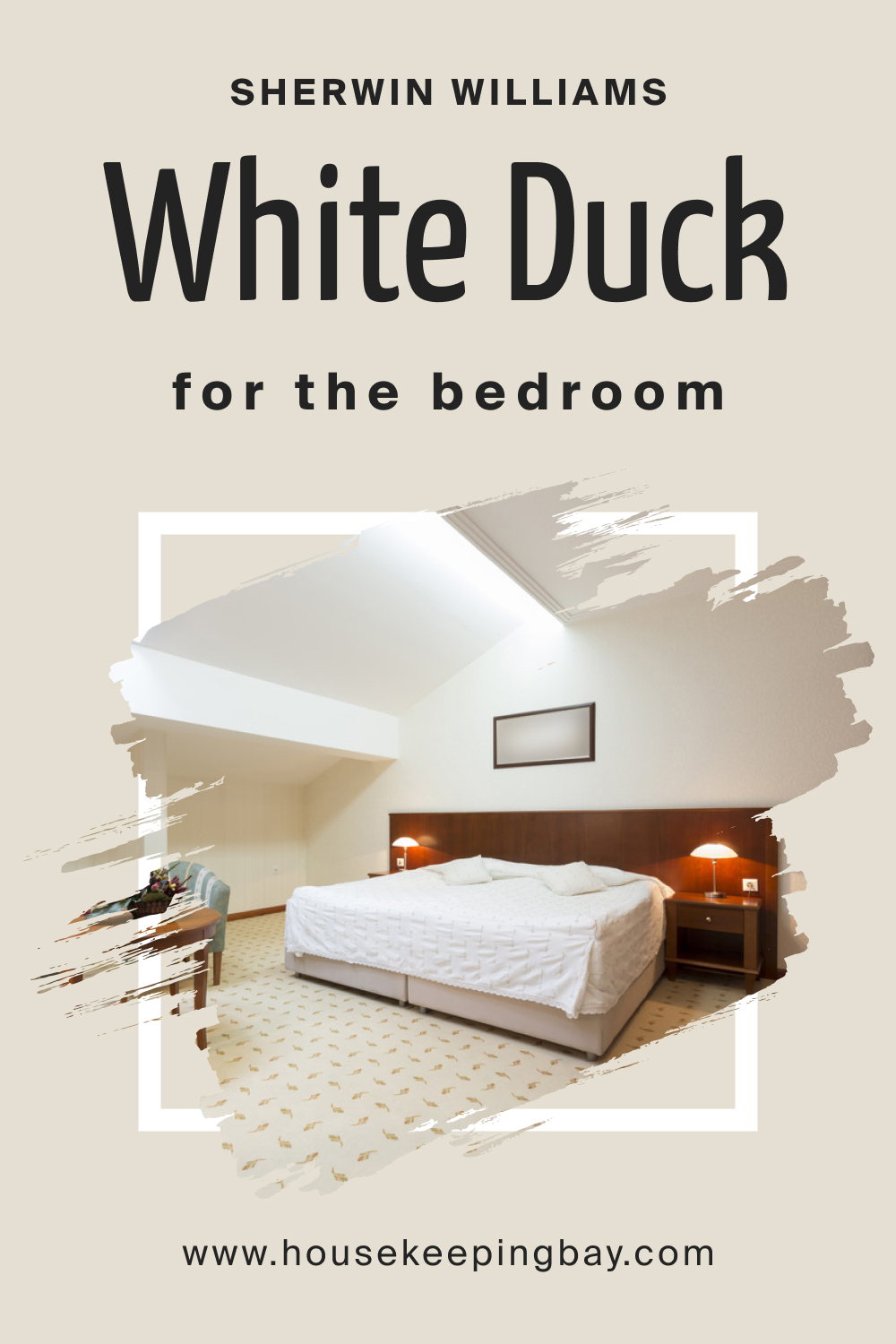 White Duck SW 7010 in the Bathroom
SW White Duck in the bathroom brings an organic, clean feel. It complements most bathroom fixtures and tiles, and when paired with metallic accents like brass or copper, it adds a modern, chic touch.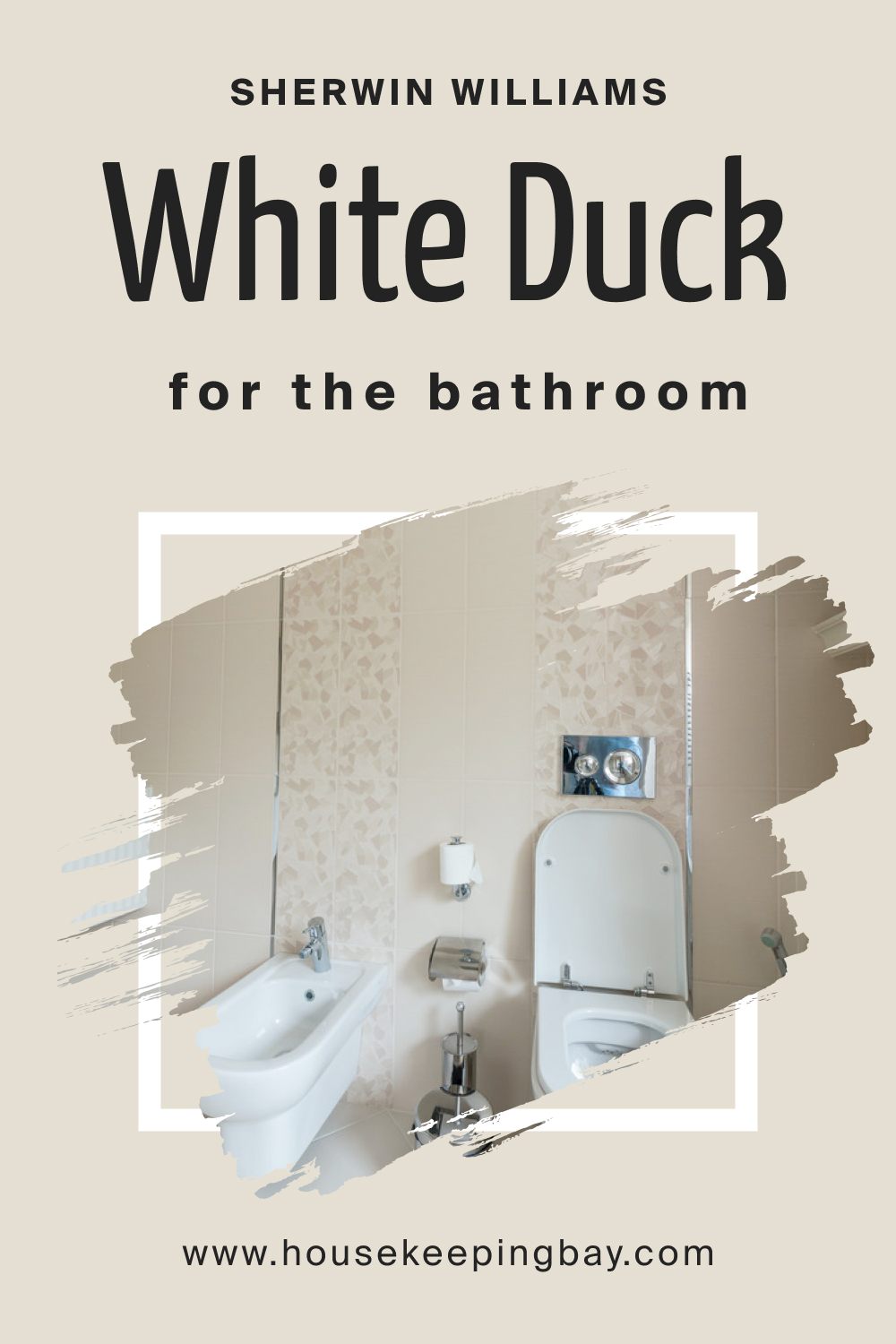 White Duck SW 7010 in the Living Room
SW White Duck provides an ideal backdrop in living rooms. Its warm undertones work well with natural wood tones, while its lightness helps keep the space feeling open and airy. Combine it with bold, rich colors for a striking contrast, or keep it soft with pastels for a calm, tranquil space.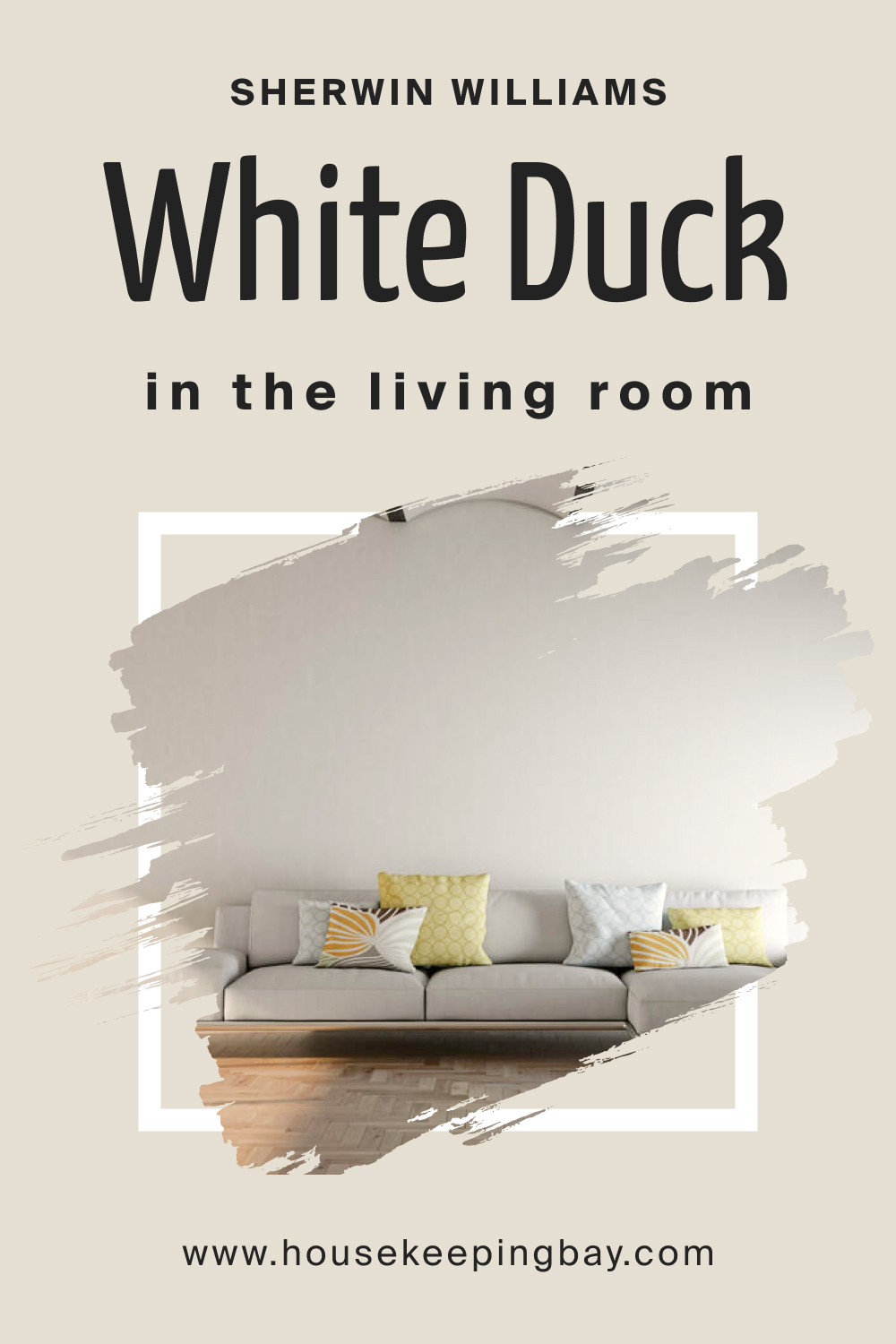 White Duck SW 7010 for the Exterior Use
As an exterior color, SW White Duck adds timeless appeal to any home. It pairs well with a range of other exterior colors, from bold, dark hues to softer, lighter shades. Whether you're aiming for a modern or traditional look, SW White Duck is versatile enough to meet your needs.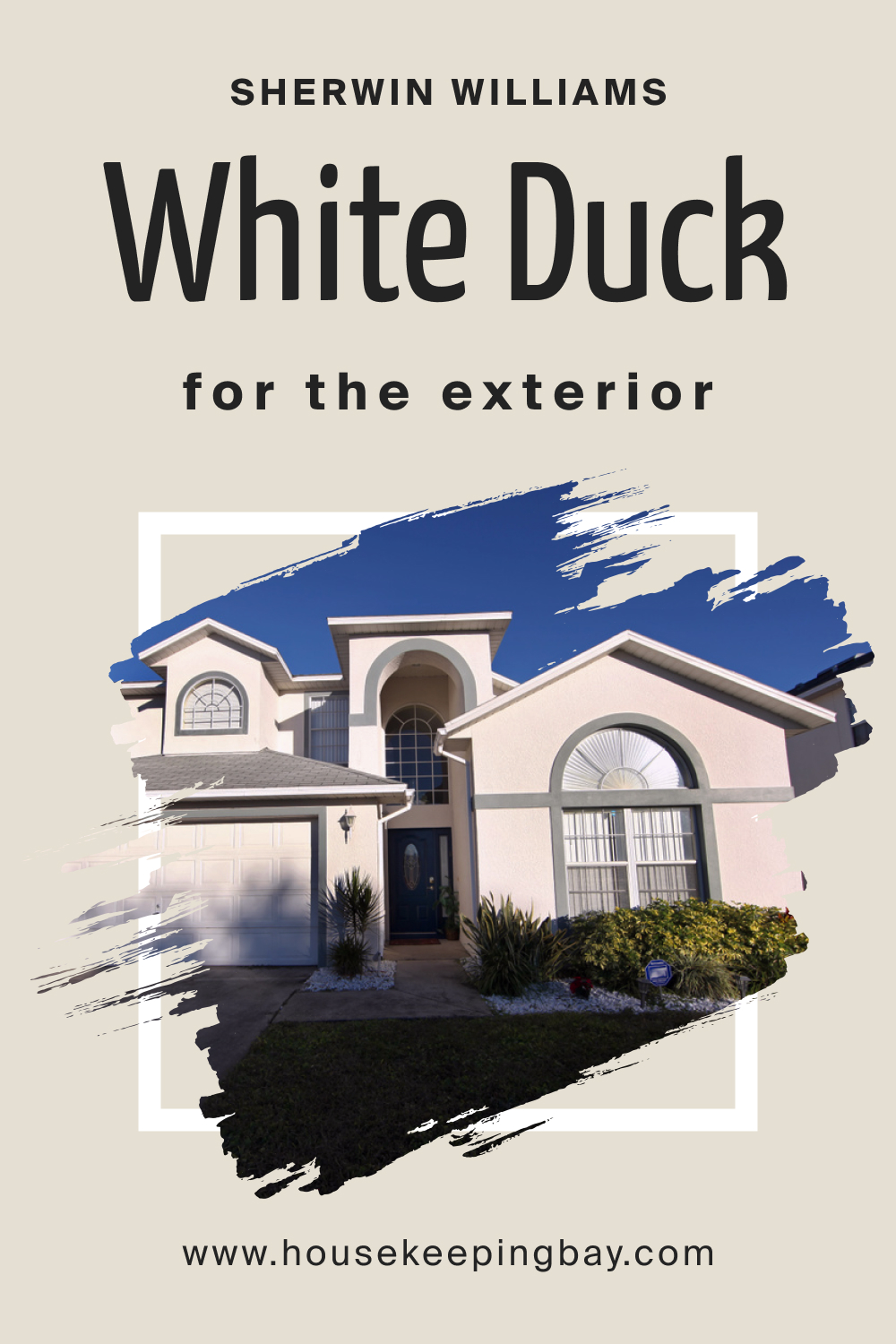 Comparison of SW White Duck With Other Colors
Here you can check out how SW White Duck compares to several other colors. This will help you see the unique features of this delicate and warm hue better.
SW 7010 White Duck vs BM CSP-40 Museum Piece
Museum Piece is a soft beige, slightly darker than White Duck. While both colors share warm, beige undertones, Museum Piece leans more towards brown, making it warmer, while White Duck maintains a balance between beige and gray, leaning towards greige.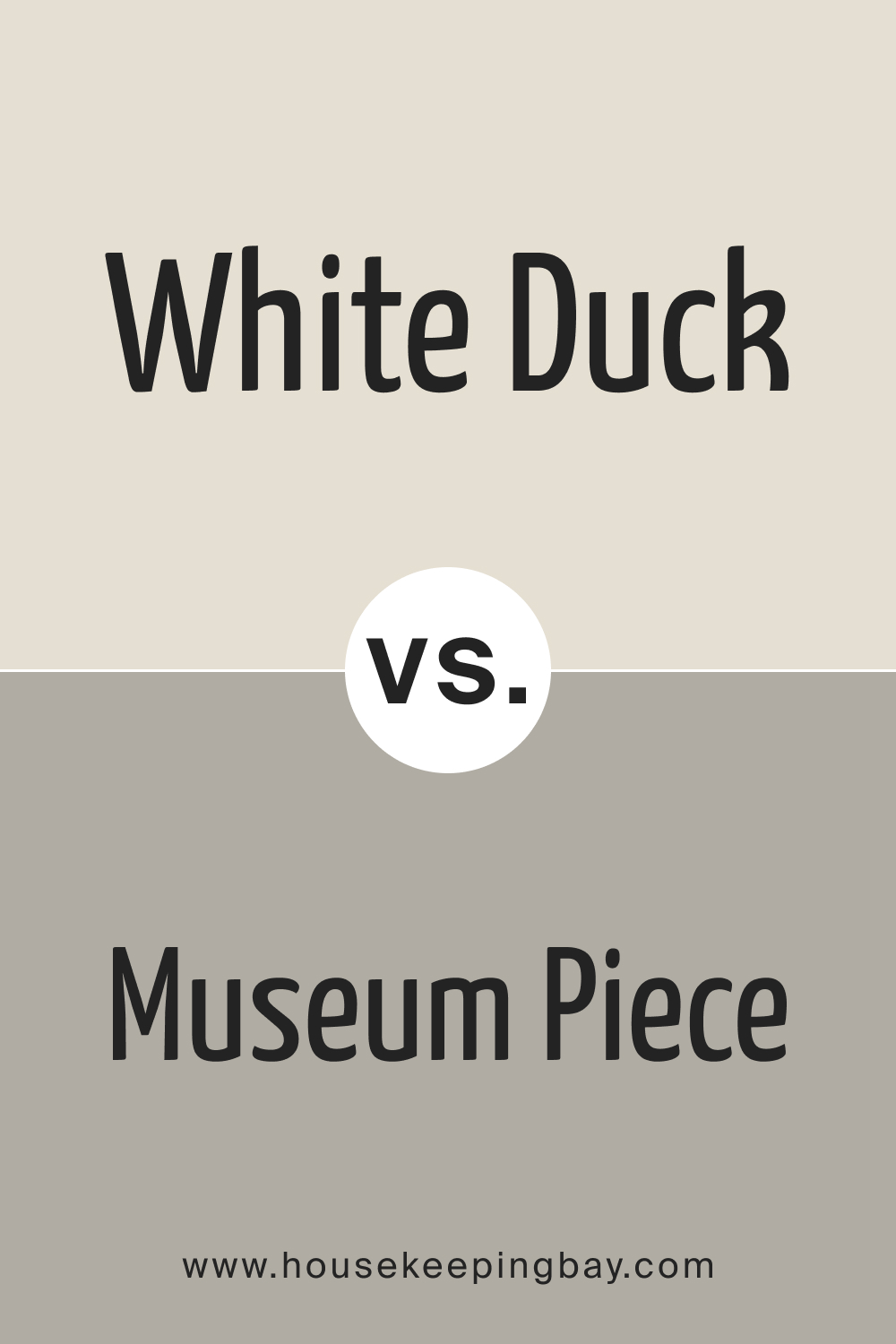 SW 7010 White Duck vs SW 7035 Aesthetic White
Aesthetic White is lighter than SW White Duck, with more of a gray undertone. While both colors have a warm, inviting appeal, Aesthetic White offers a slightly cooler appearance, with less of a beige influence compared to SW White Duck.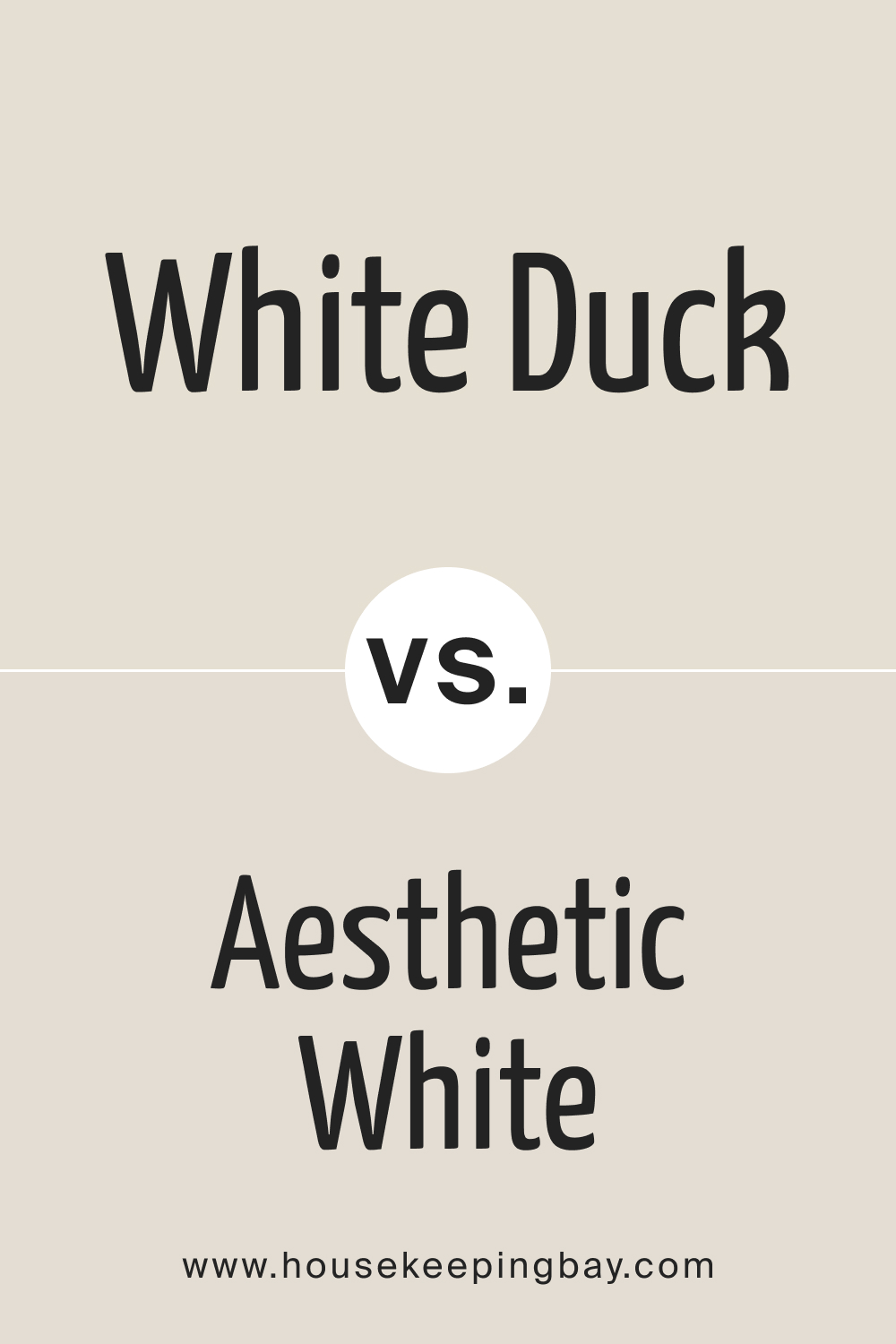 Conclusion
Sherwin-Williams' SW 7010 White Duck is a versatile, charming, and stylish color choice for any room or exterior. Its complex undertones and adaptable nature allow it to harmonize with a variety of decor styles and color palettes.
Whether used as a base color or an accent, White Duck adds a touch of sophistication, tranquility, and timeless appeal, making your space a cozy, inviting sanctuary.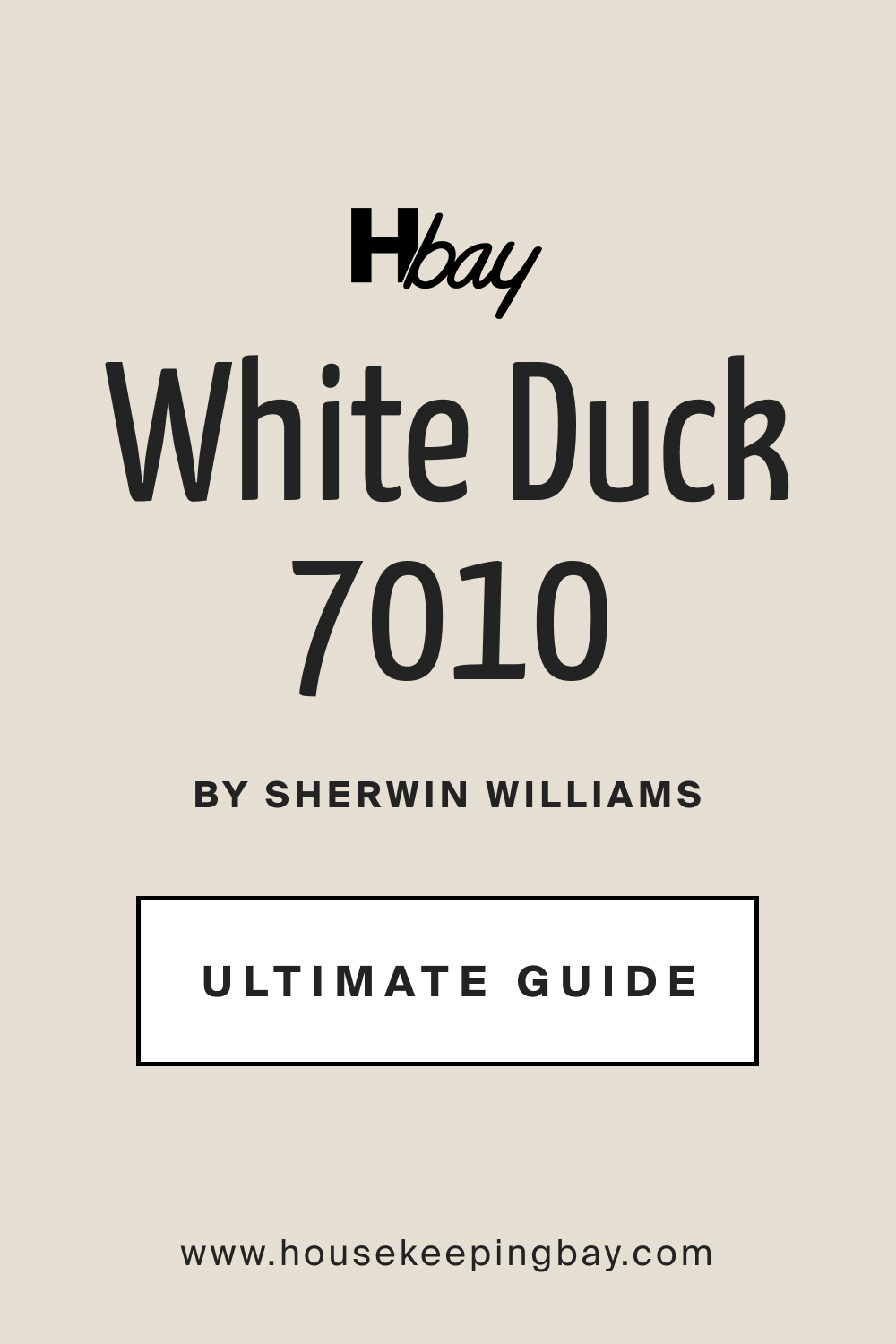 Frequently Asked Questions
⭐I'm interested in using SW 7010 White Duck for my kitchen, but I'm unsure about how it might look. Can anyone share their experience?
I used SW 7010 White Duck in my kitchen, and it turned out fantastic! This color has a subtle warmth that makes the space feel cozy and inviting. It's a clean and fresh off-white color that pairs beautifully with my dark kitchen cabinets. It also contrasts well with my stainless steel appliances. The great thing about this color is its adaptability; it can shift based on your kitchen's lighting and other colors in the room, which adds a nice depth to the overall design.
⭐What kind of undertones does this color have? I'm trying to avoid anything with a yellow undertone.
SW 7010 White Duck has a very neutral base but it does carry a slight greige undertone. This means it leans more towards a blend of beige and gray rather than yellow. This makes it a very versatile color as it can blend with both warm and cool color schemes.
⭐How does SW 7010 White Duck look in low light? I'm thinking of painting my small, dimly lit study room with this color.
Despite being a lighter shade, SW 7010 White Duck performs quite well in low light conditions. It has enough depth to prevent it from appearing too stark or washed out in dim lighting. However, its warm undertones can become a bit more noticeable, adding a comforting coziness to a small study room.
⭐Can I use SW 7010 White Duck for exterior projects? I'm considering it for my home's siding.
Absolutely! SW 7010 White Duck is quite versatile and can be used for both interior and exterior projects. On the exterior siding, it provides a crisp, clean look while still offering a touch of warmth. It's also a great choice because it reflects sunlight well, preventing it from absorbing too much heat.
⭐Is SW 7010 White Duck a good color for a modern aesthetic? I'm redesigning my living room with a minimalist theme.
Answer: undertone adds depth and interest to the room without overpowering your chosen accents and furniture pieces.