This incredible soft white color has won the hearts and minds of homeowners all over the world and became a real top favorite for home interior renovations!
People choose it for the interior walls mostly, as well as a trim color. However, Dover White can be successfully used both inside and outside.
In this article, we will tell you what rooms it will look best in, and also, you will learn more about its undertones and coordinating colors. We will explain how it will work on your walls depending on the type of lighting, and what similar colors you could use instead of Dover White.
What Kind Of Color Is Dover White?
Nobody can stay indifferent when seeing this gorgeous white color for the first time!  As Encycolorpedia says, this cozy white with a delicate creamy hue became extremely popular as a trim color and a paint color for the interior walls.
However, it is also often used for decorating and painting various surfaces (e.g. doors, stairs, cabinets, etc.) in homes and apartments nowadays.
But even though the name of this paint color says "white", in reality, Dover White should rather be called light creamy. All because this color contains quite a lot of that soft creaminess in it.
This is also the reason why you need to be very careful when using it as your main color unless you want your entire room to look buttery-yellow!
However, the paint specialists still consider it as a timeless and mostly classic type of white which will suit many designs and interior types.
So if you have a traditional apartment or a farmhouse-style home, Dover White can become your color choice if what you want is to make the living space look cozier and more calming.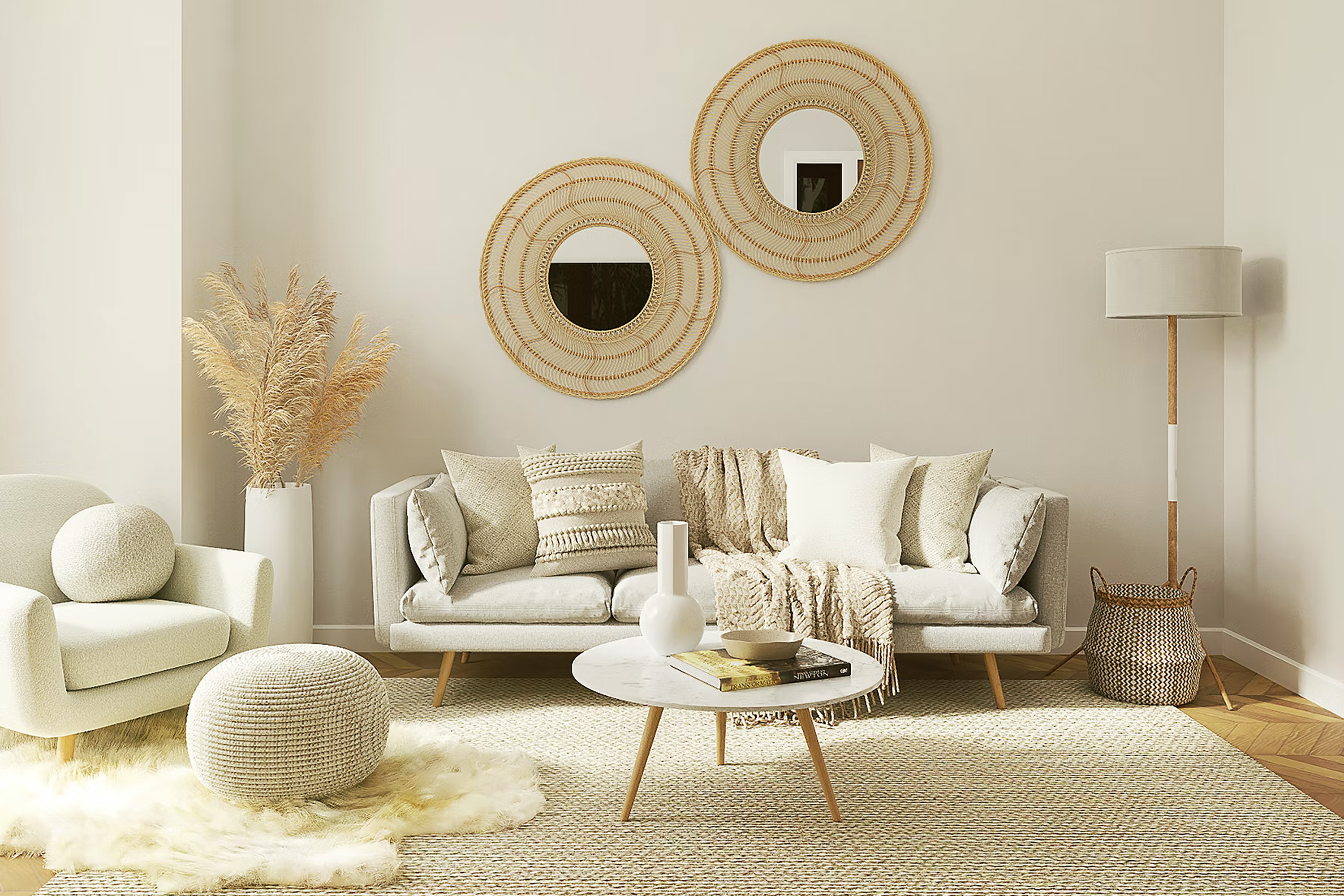 Dover White Undertones
If you take a closer look at this color, you will see that this paint is what we call warm or soft white. It means that there are quite visible yellow tones in it with a creamy hue.
This is why, if we pair this color with any of greiges, beiges, or even tan paint colors, those creamy and yellow tones will show up even more.
However, if you use this soft white correctly, you can make it work and turn your room into a calming and sunny space!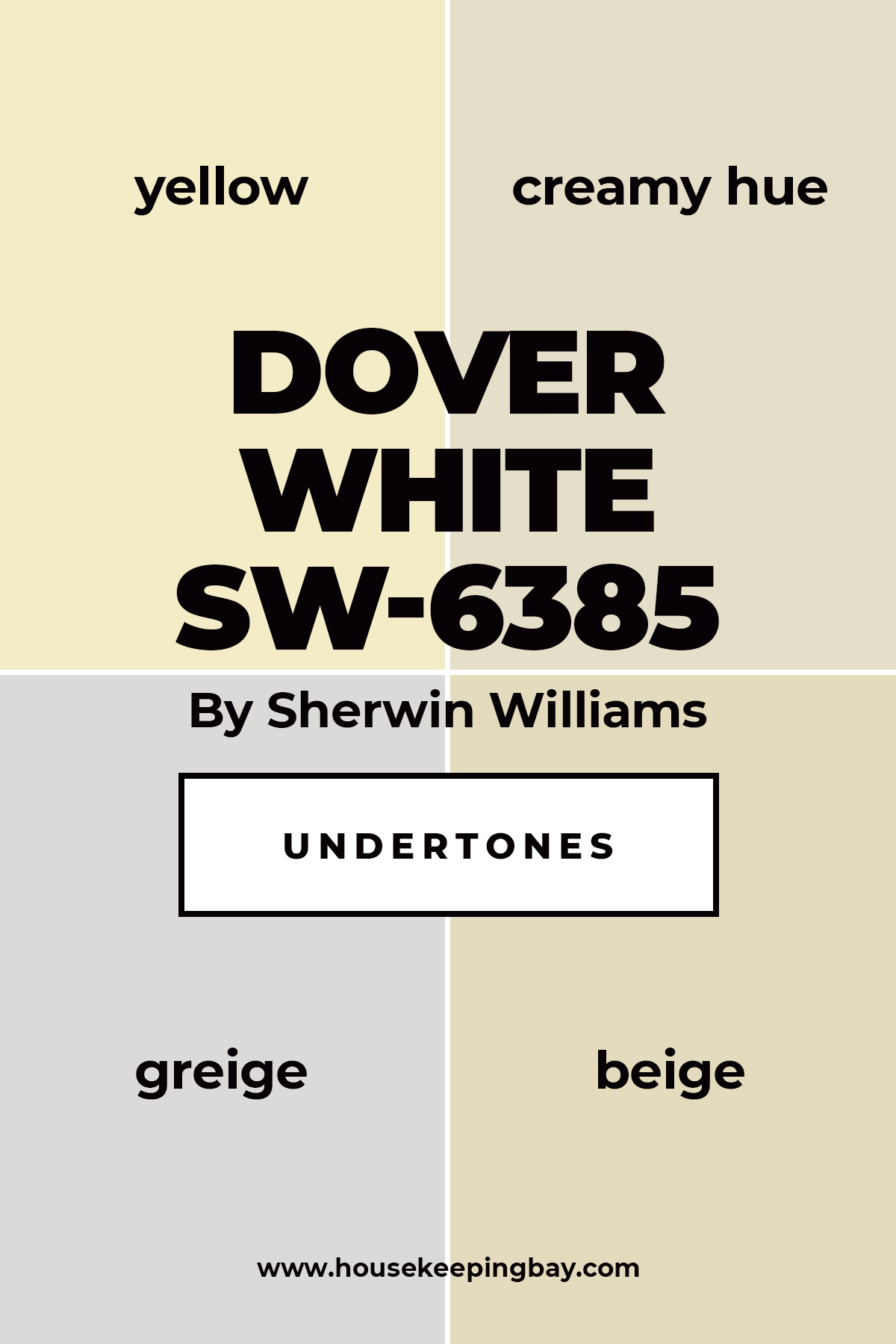 Dover White LRV
This particular white color has an LRV (Light Reflectance Value) a bit over 82. It means that SW Dover White is not a bright white but it's rather a considerably soft white paint color. Some would even say that it's close to off-whites.
Also, such an LRV shows the Dover White's light nature.
In practice, this color reflects quite a lot of light thus creating the tendency of shadowing.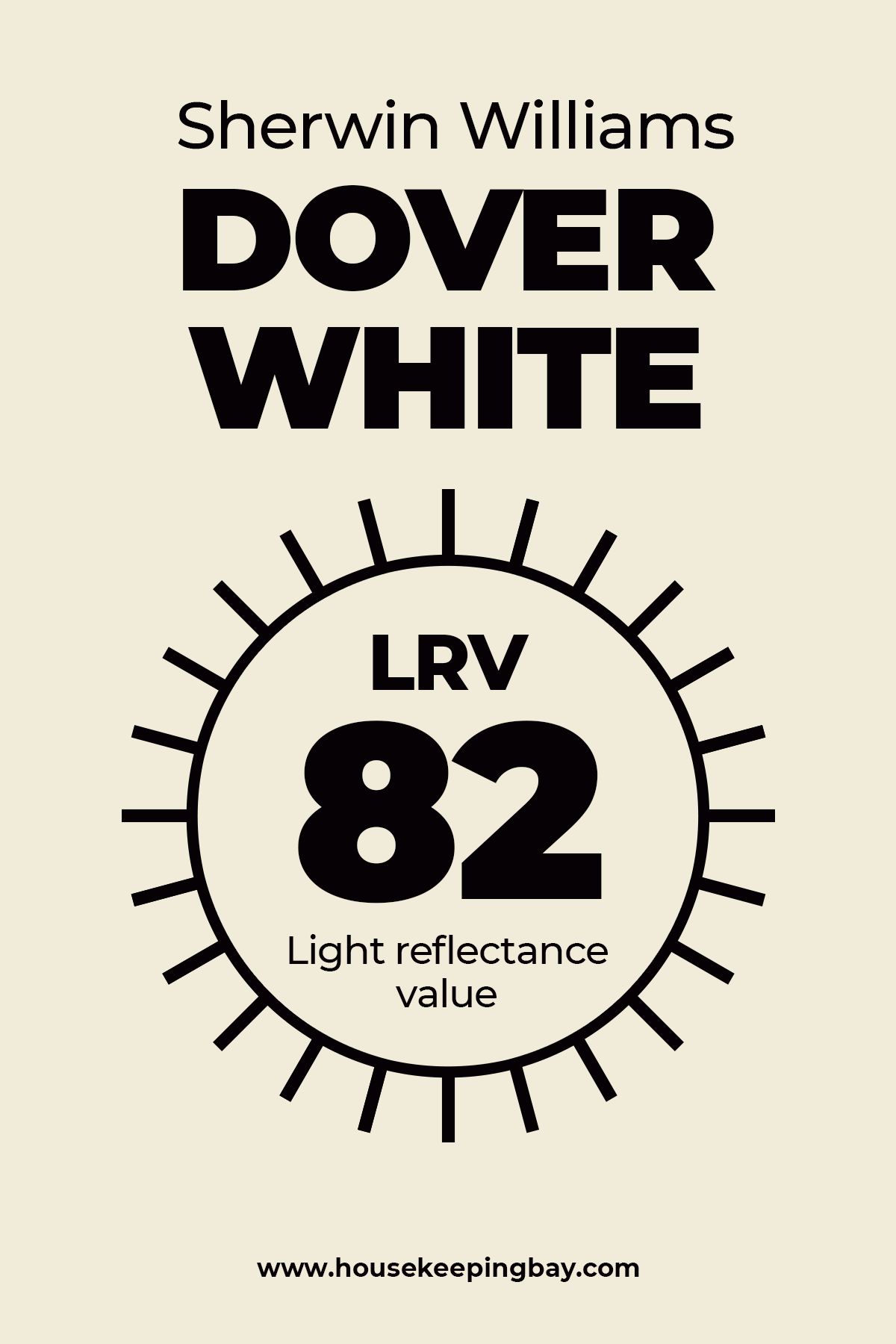 What is LRV? Read It Before You Choose Your Ideal Paint Color
Dover White Coordinating Colors
If you are looking for the matching colors that will pair well with SW Dover White, we suggest you take the following ones into consideration:
green colors
red colors
medium to dark blues
rich yellows, browns, or grays
The Sherwin Williams brand which produces this paint recommends its customers to pair Dover White with Waterloo and/or Dakota Wheat paint colors which are a dark and deep rich bluish green and a nice golden respectively.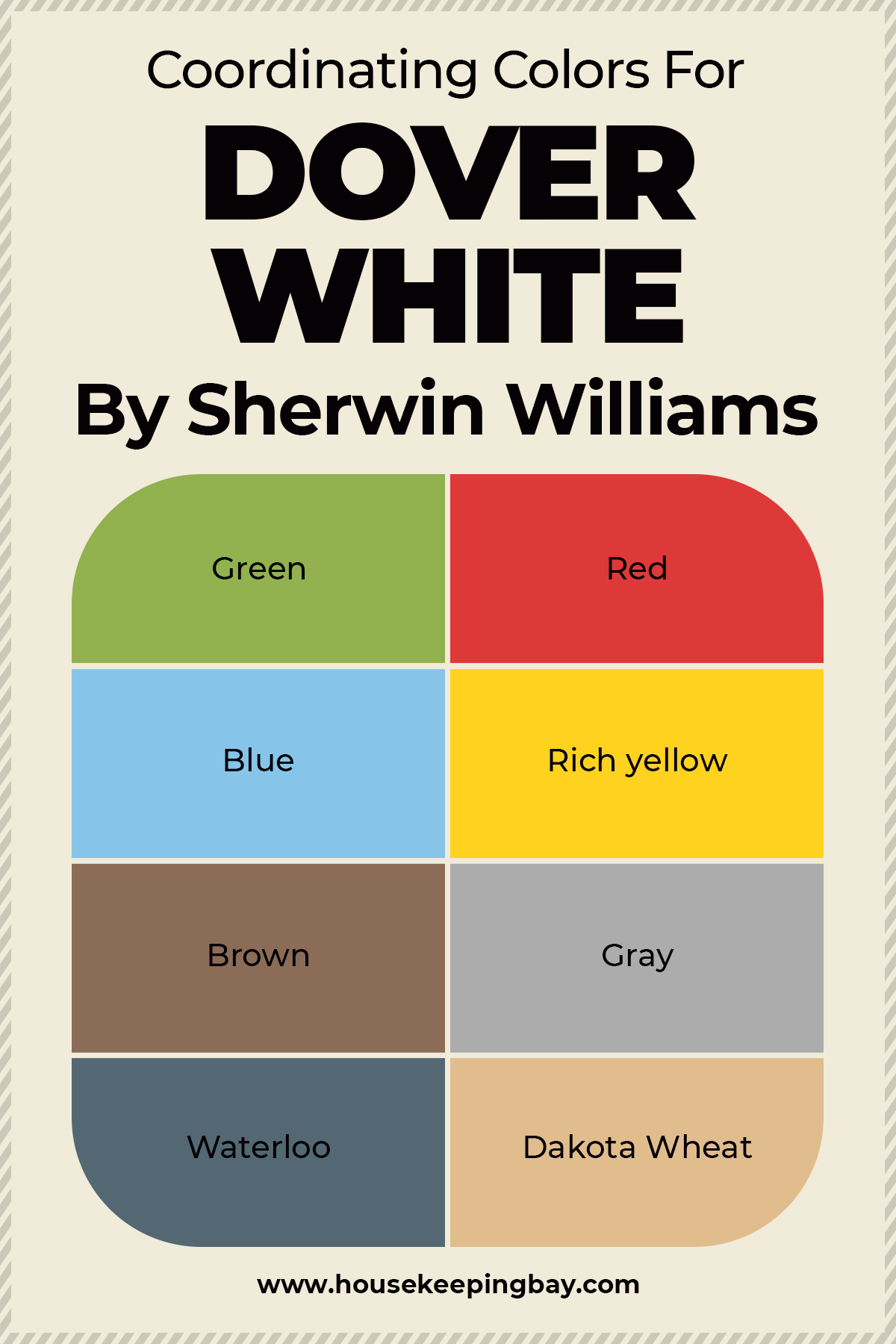 Sherwin Williams Dover White Color Review
What's the Best Trim Color of Dover White?
When choosing a trim color, don't use Dover White with softer whites. The difference is rather slight so you'd better opt for the colors that will create a more distinct contrast.
Except for that nuance, Dover White is known as a real favorite for trims. It is more universal and can suit many areas and rooms in your home.
Pair it with bright and intensive colors including reds, blues, yellows, greens and purple if you want to incorporate more colors into your interior.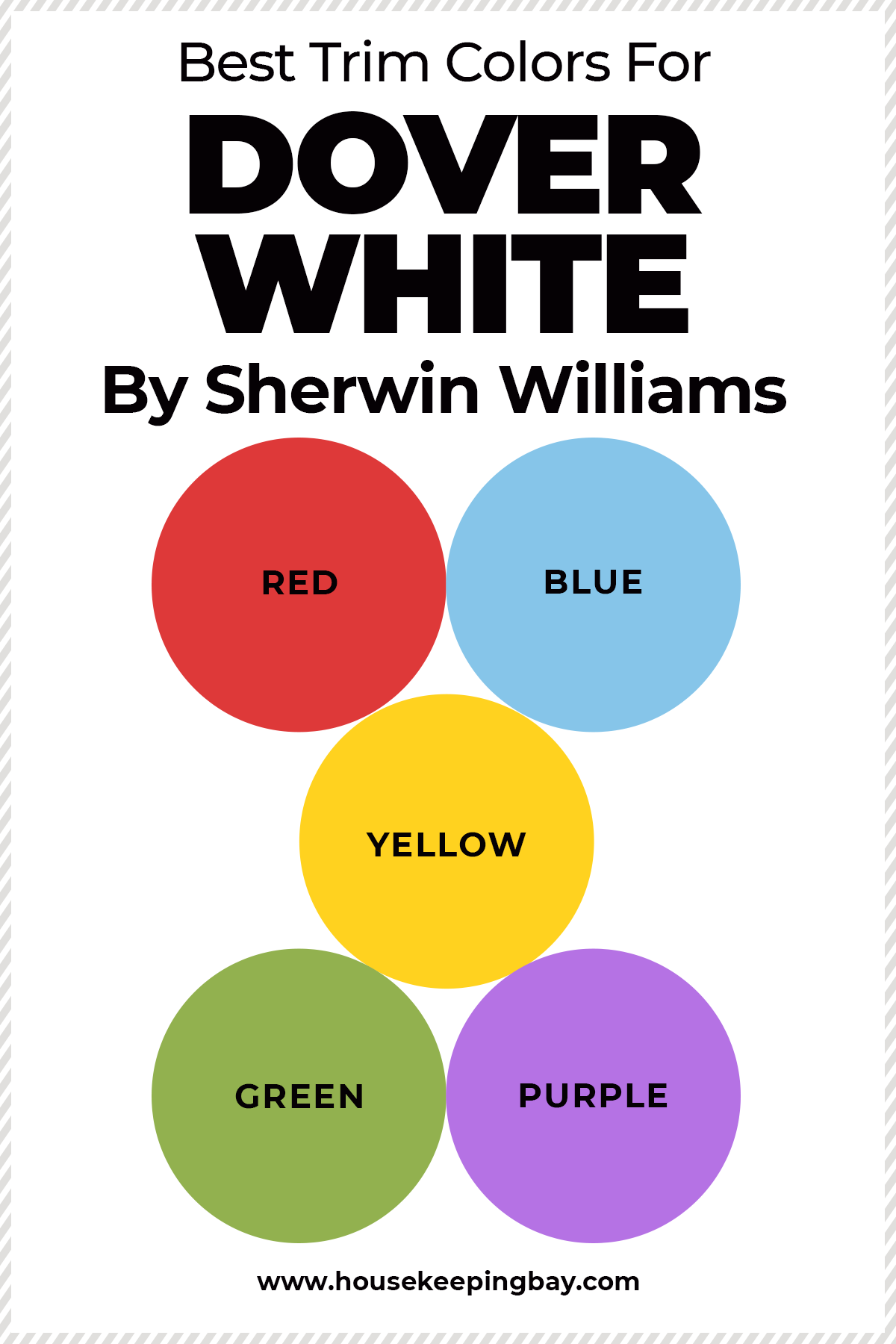 What Colors Are Similar to SW Dover White?
If you are looking for another paint color to use it instead of Dover White, check out Creamy, Napery, and Navajo White.
They are all pretty much close to each other in terms of lightness which can be seen from the following comparison of colors:
Navajo White → one shade lighter than Ivoire SW 6127 (a buttery yellow)
Dover White → one shade lighter than Napery SW 6386 (a butterscotch yellow)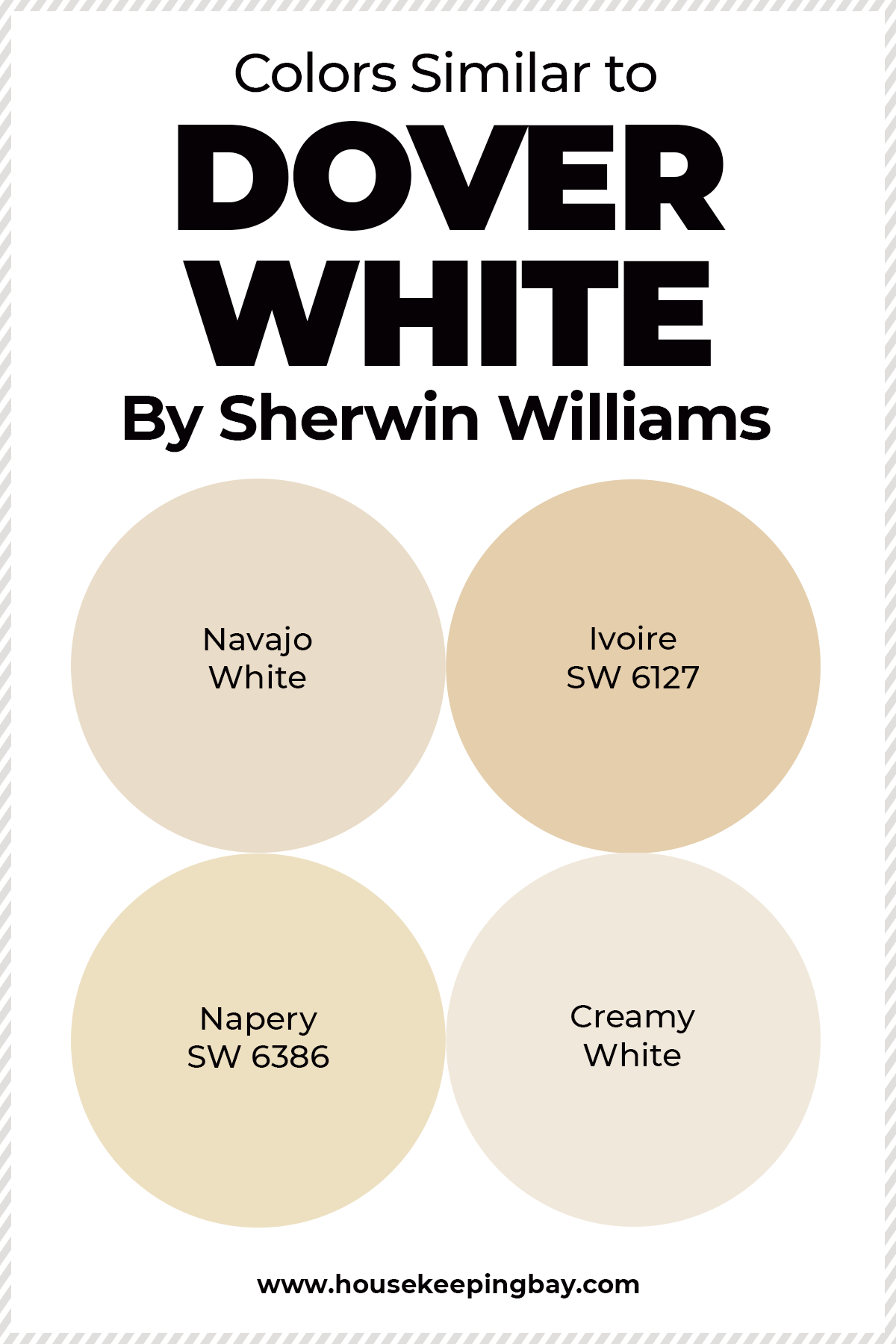 Where to Use This Paint Color In Your Home
In the house or apartment, you can use SW Dover White pretty widely because this color is rather universal.
However, we would still recommend you keep in mind other factors, such as lighting in the rooms, the color of your furniture, and even the type of surface the paint will be applied to.
The lighting is especially important since it can boost the effect of this soft white paint color.
Dover White Color in the Living Room
The walls of the living room can look fabulous with Dover White due to its undertones.
You can also use the brighter accents (e.g. the furniture of different colors) to match your wall color better.
This creamy white will add comfort and make your living room feel fresh and cozy!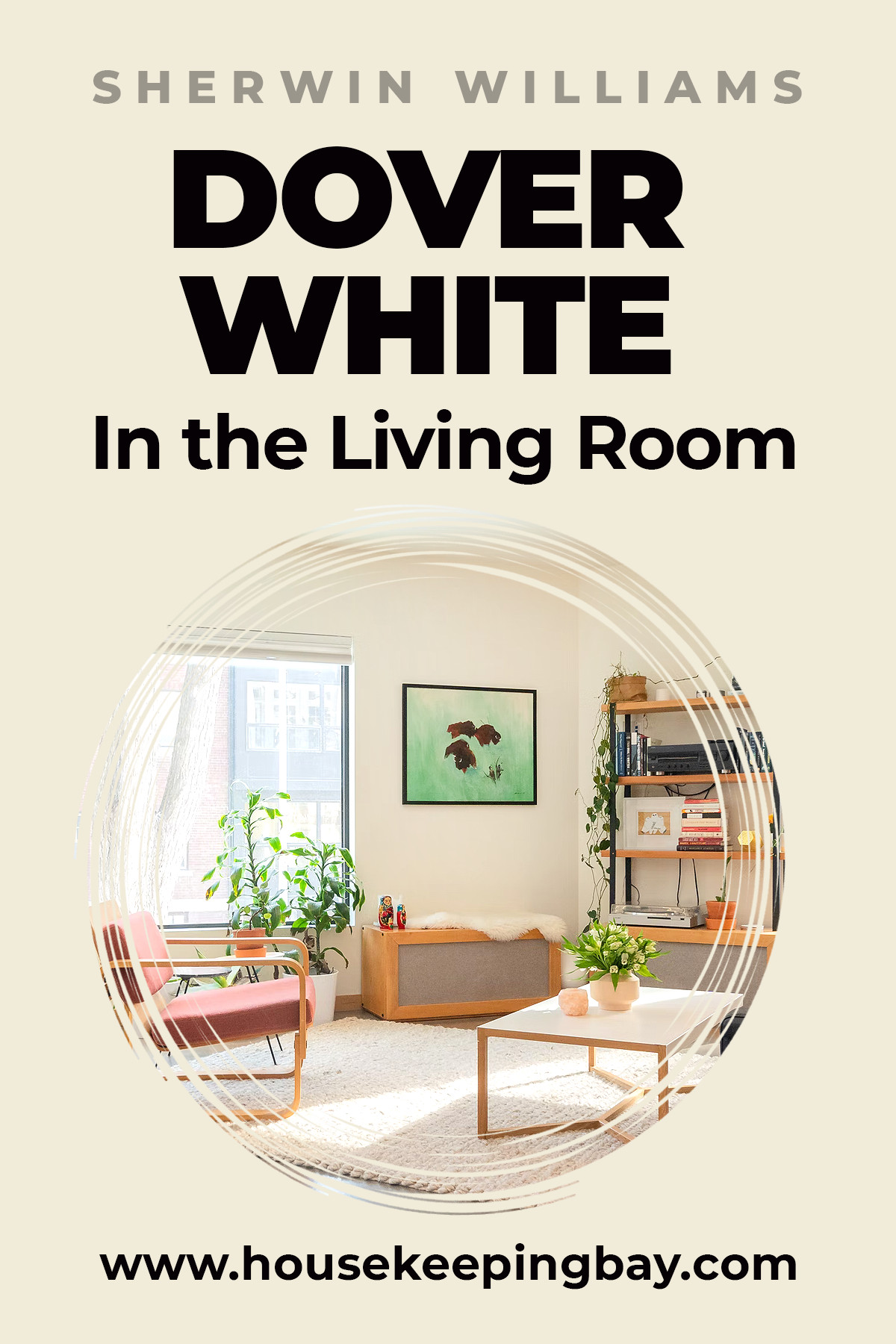 Dover White Color in the Cabinets
Even though Dover White is rather warm with prominent creamy undertones, your cabinets can greatly win if painted with it.
Warm white paint color is a good choice to use on many surfaces.
Moreover, this particular one will work well with other colors like brown, blue, red, yellow, purple and even green. The soft-white cabinets will add the light spark to the room they are in.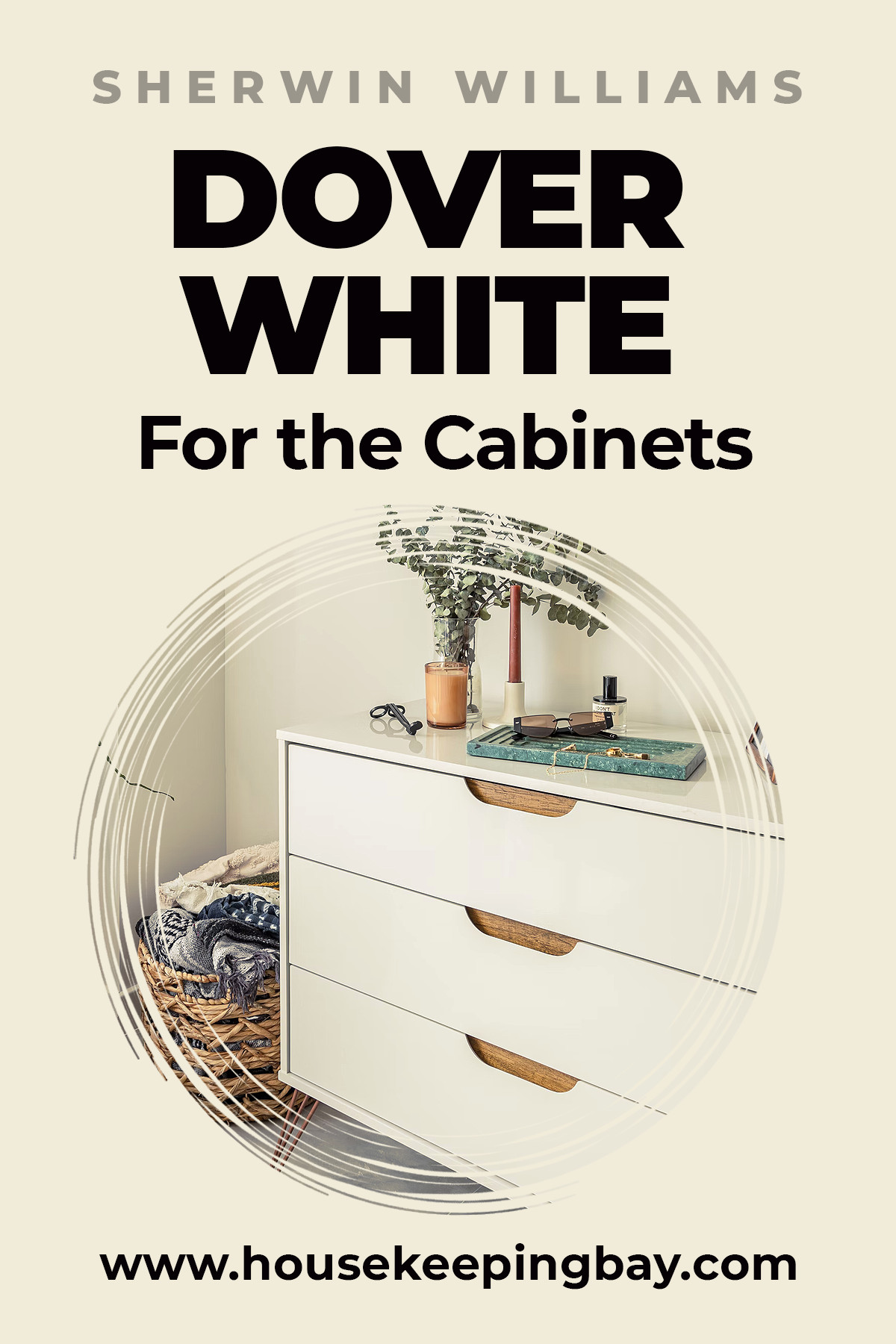 Dover White Color in a Bedroom
Do you think about the color for the bedroom walls? Why not add some soft and subtle warmth with creamy white as the main wall color then?
It will give that happy and warm vibe to the room, especially if you combine it with brighter whites in case your entire bedroom is going to be painted white.
You may also play with that fresh and cozy feeling by adding Dover White in your transitional home bedroom as well.
It will work even better when paired with green plants and colored shelves or picture frames.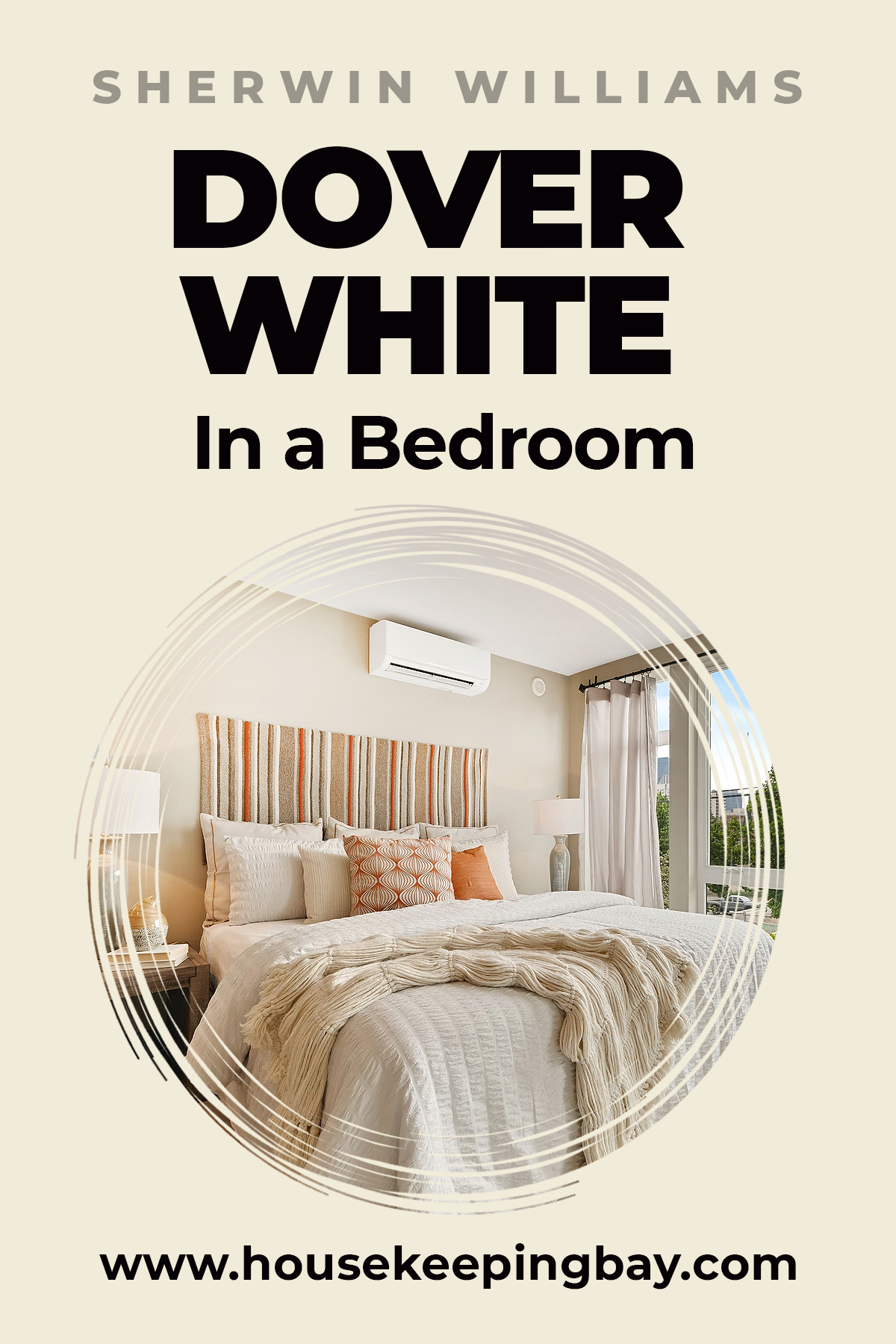 Dover White For the Kitchen
SW Dover White paint color is not only good-looking on the kitchen walls, it is also more practical than any bright white shade in fact.
And since it has that creamy undertone and it depends on the lighting in the room, you can play with trims and furniture to create the mood you want to achieve.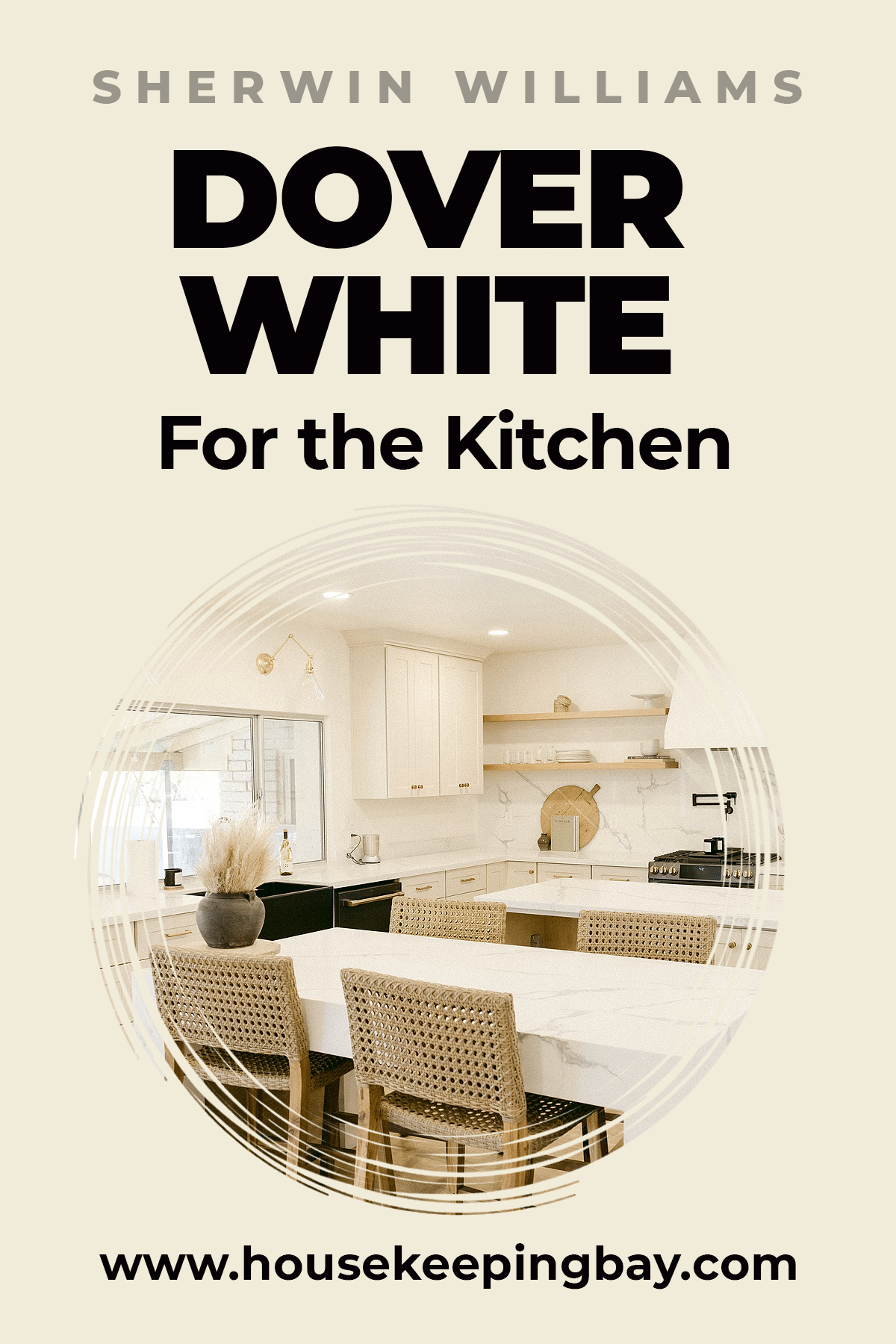 Dover White For Kitchen Cabinets
Impress your visitors with this gorgeous creamy white on your kitchen cabinets! And you can make it even more irresistible by adding more colors, for instance, a dark-colored floor and decoration elements like holders or hangers to make this white a love from the first sight!
SW Dover White on your cabinets together with windows will also be your light sources.
Don't forget to use the lighting as well, both natural and artificial, for creating a necessary vibe during the day and in the evening.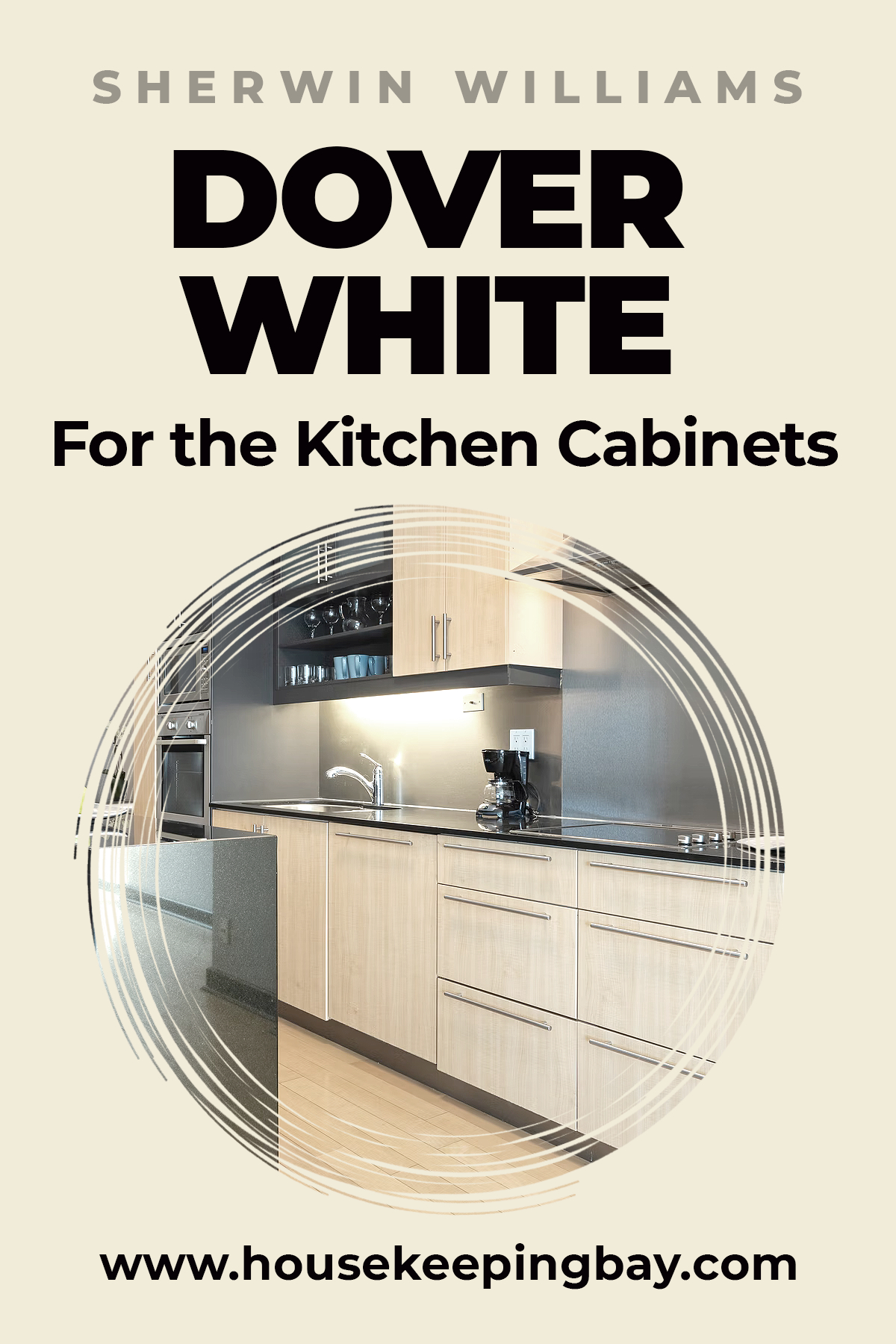 Dover White Color for the Cleaning Room
SW Dover White on the walls can add coziness not only to the main rooms for rest and entertainment where this color looks so comfortable and invites relaxation.
Using this soft white is a great opportunity to make your home warm and relaxing for the daily routines as well!
The paint color is really universal and awesome looking in the rooms and spaces.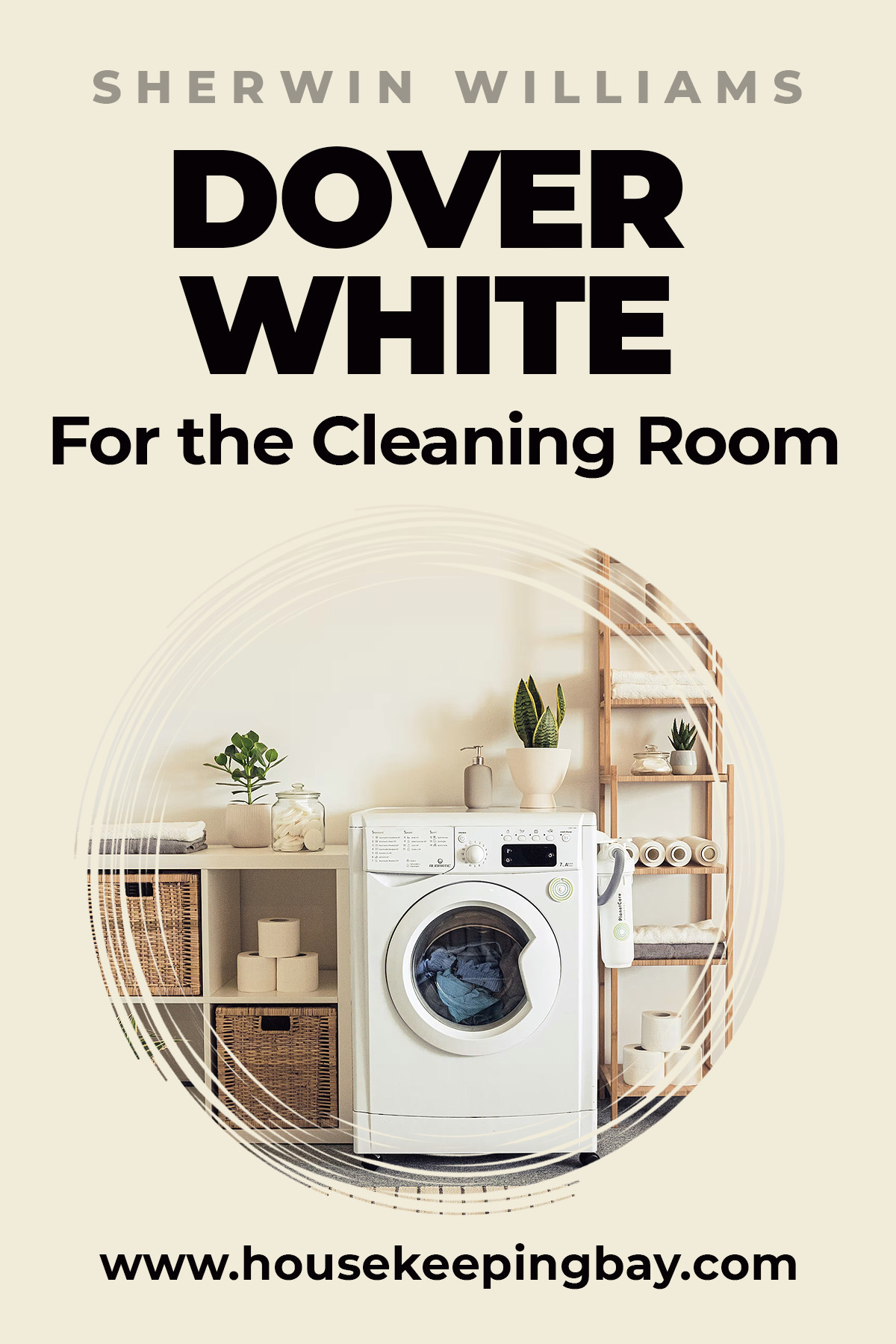 Exterior Use Of SW Dover White
Dover White is indeed the king of exterior paints! It not only matches the surrounding and greens in your garden, but it also adds mood if the weather is not always sunny.
Use the additional colors for creativity though, such as for painting trims and other elements.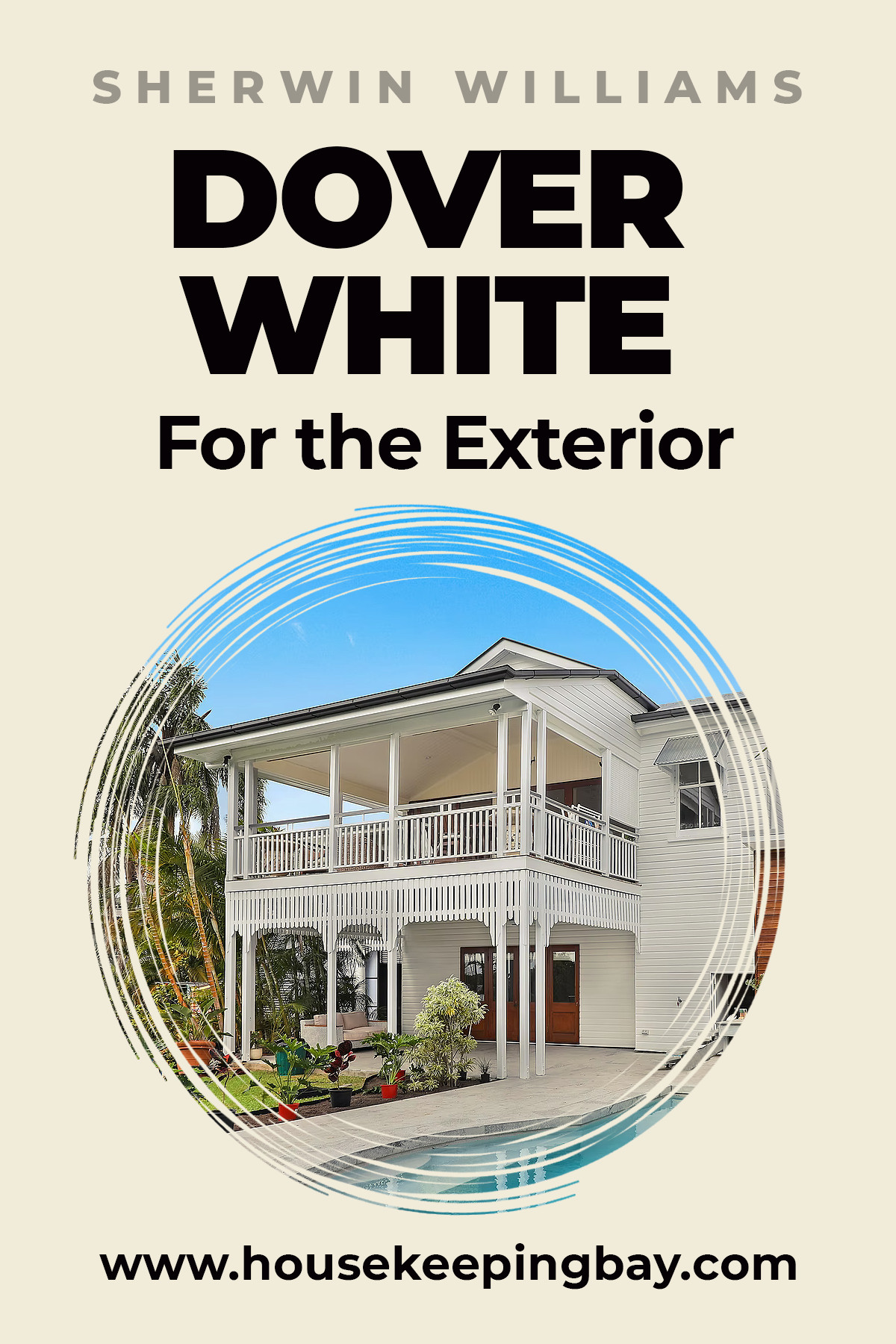 Colors That Dover White Goes With
Before you start the painting project, you have to figure out which colors to choose to pair them with the major color.
See, if you accidentally take the wrong tone or use colors that match the main onne badly, you will spoil the entire room!
To avoid the mistakes, start from checking which of the colors can go together.
Dover White vs. Alabaster
Dover White and Alabaster are both ideal for the surfaces and interior walls, as well as for the trims.
Alabaster and that creamy white color give the warm vibe to the room.
However, we would even say that Dover White adds a creamier tone due to the more yellow appearance.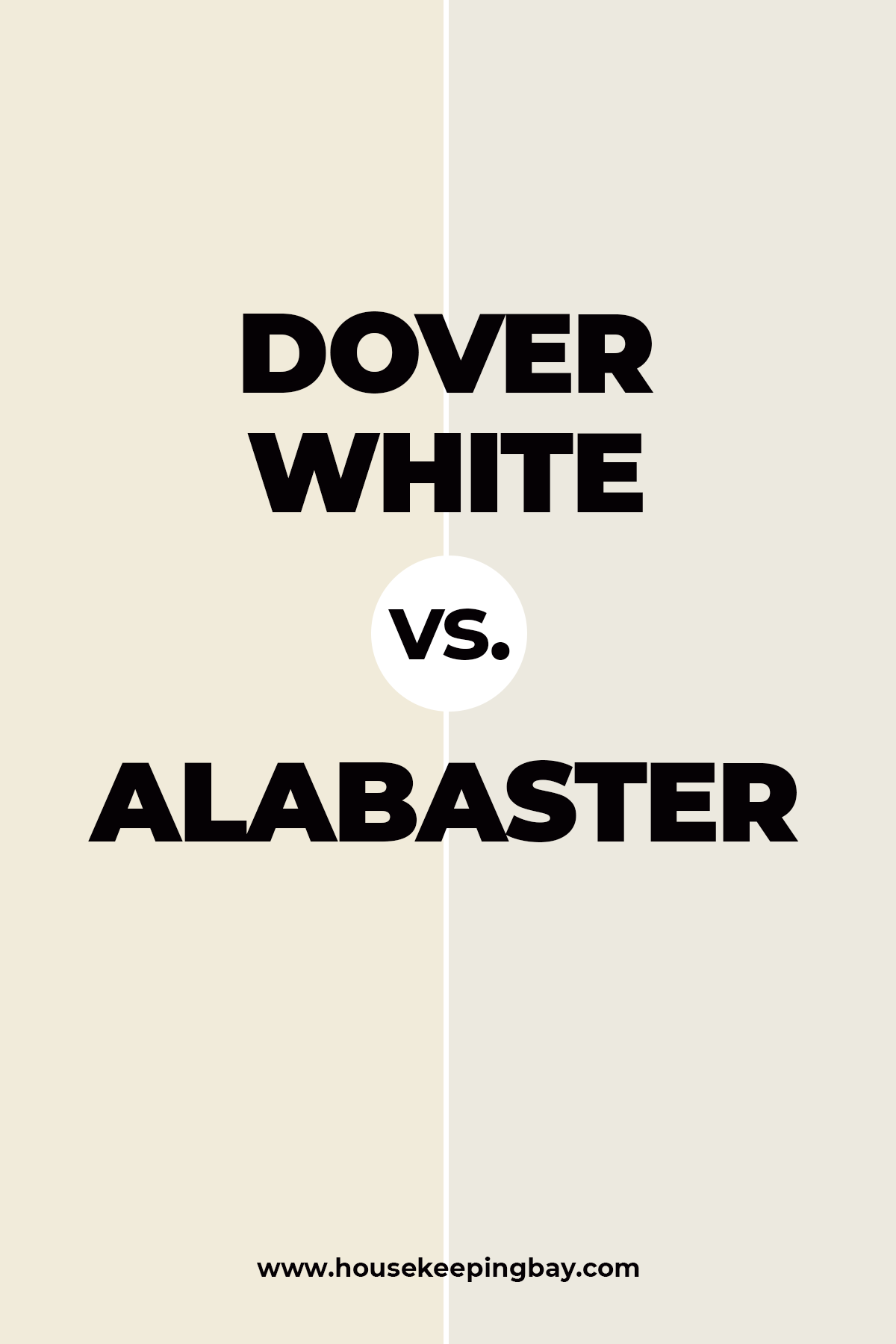 Dover White vs. Agreeable Gray
If you compare Agreeable Gray with the creamy Dove White, you will see that the first one isn't white at all.
They are the paint colors that will work great if applied as a matching pair.
Their mutual work adds warmth and brightness to any space through the combination of Dover White's creamy tone with Agreeable Gray's darker greige.
Use Dover White for the perfect trims in this combo if you like the idea of darker walls.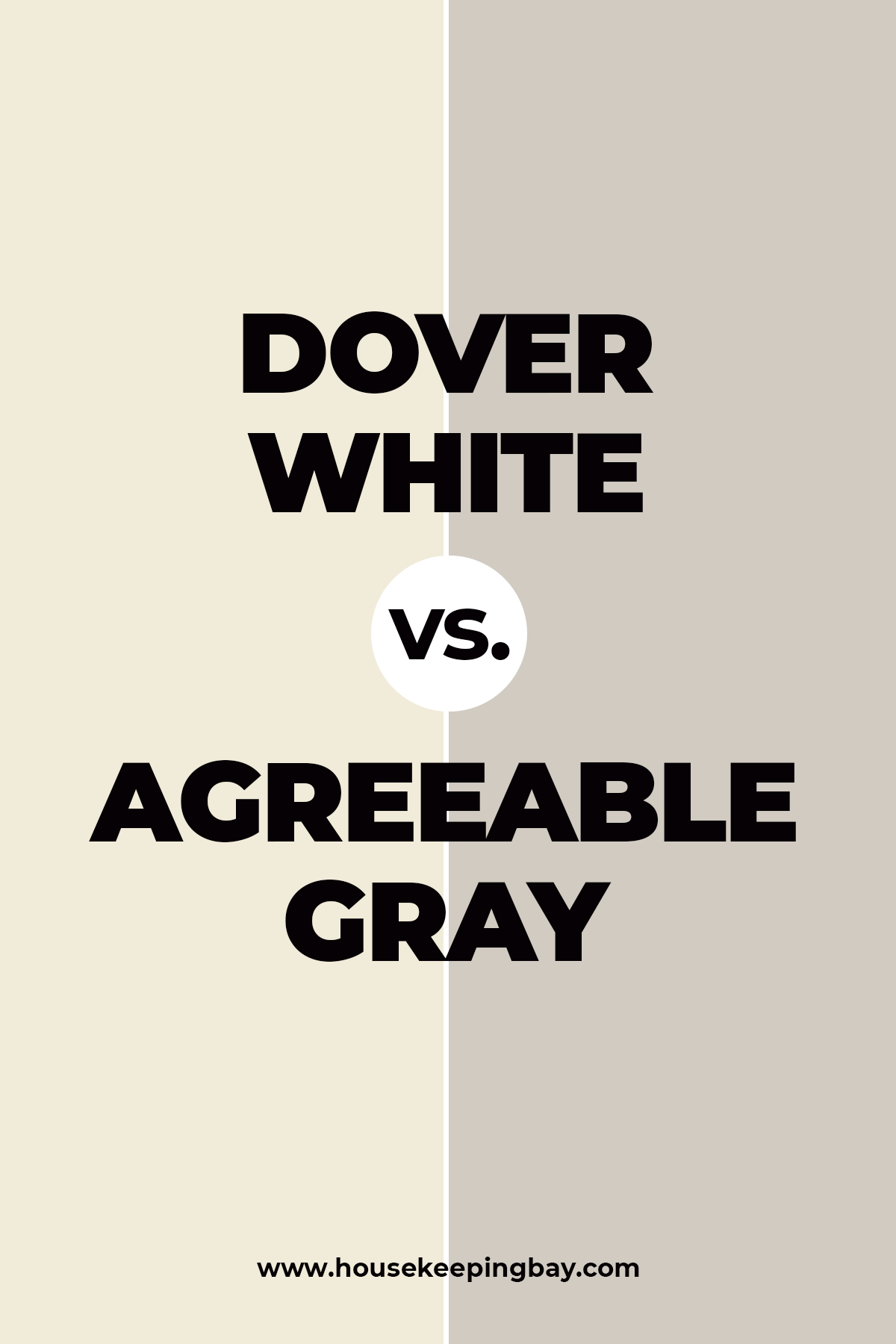 Related: Agreeable Gray SW 7029 by Sherwin-Williams
Dover White vs. White Dove
Dover White and White Dove look like they have no difference at all.
They are from different palettes, as well as from different brands – Benjamin Moore and Sherwin Williams – but both are white paint colors.
But though they may differ by name, they work nearly the same.
Both are warm creamy whites, but there is a slight difference. Dover White is a bit creamier. The undertones of the both are the same, however.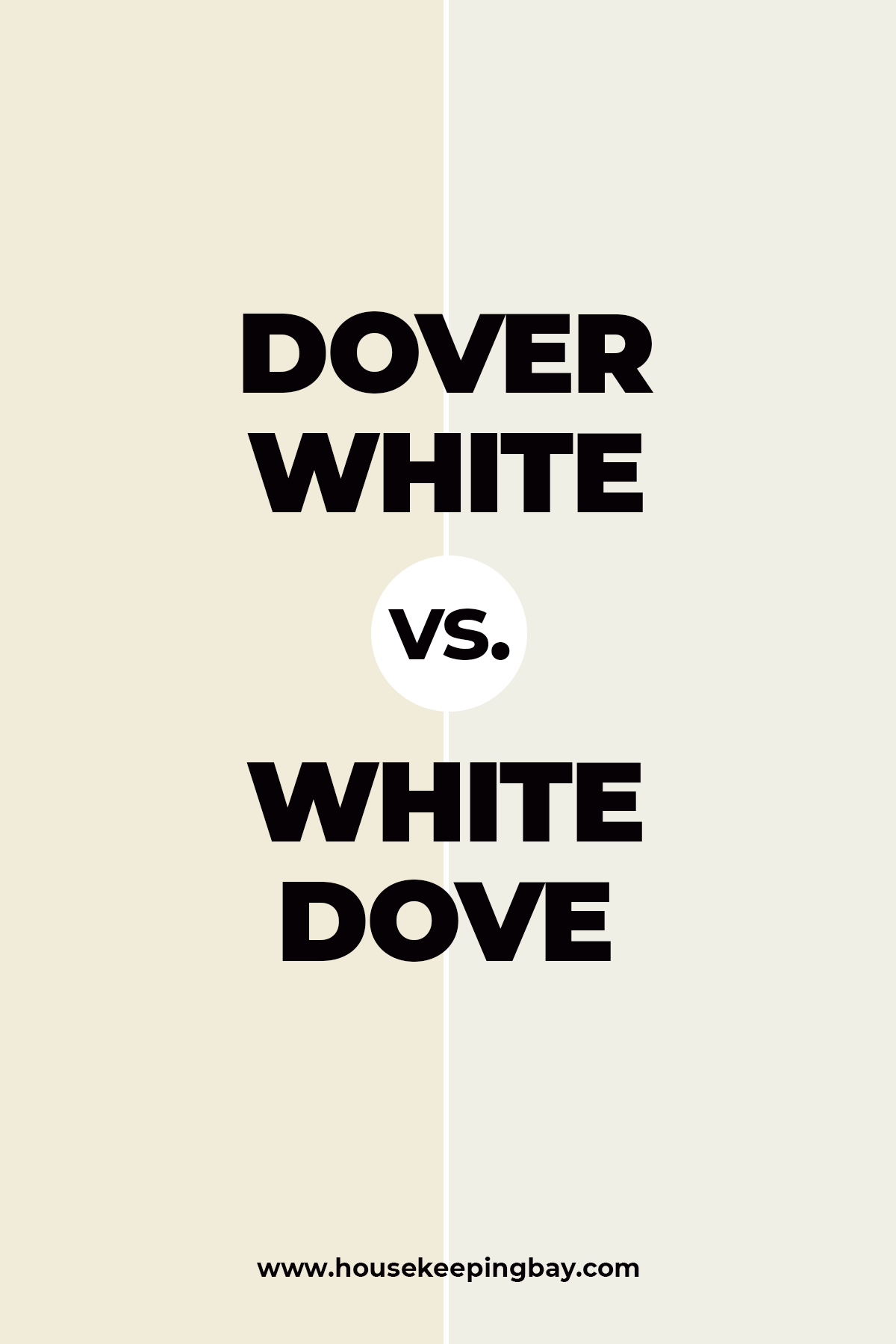 Dover White vs. Creamy
Comparing Dover White with Creamy, we will see two warm white colors.
We can also state that they are neighbors on a paint strip.
When you take a closer look at them, you'll see that Dover White shows its yellow tones more.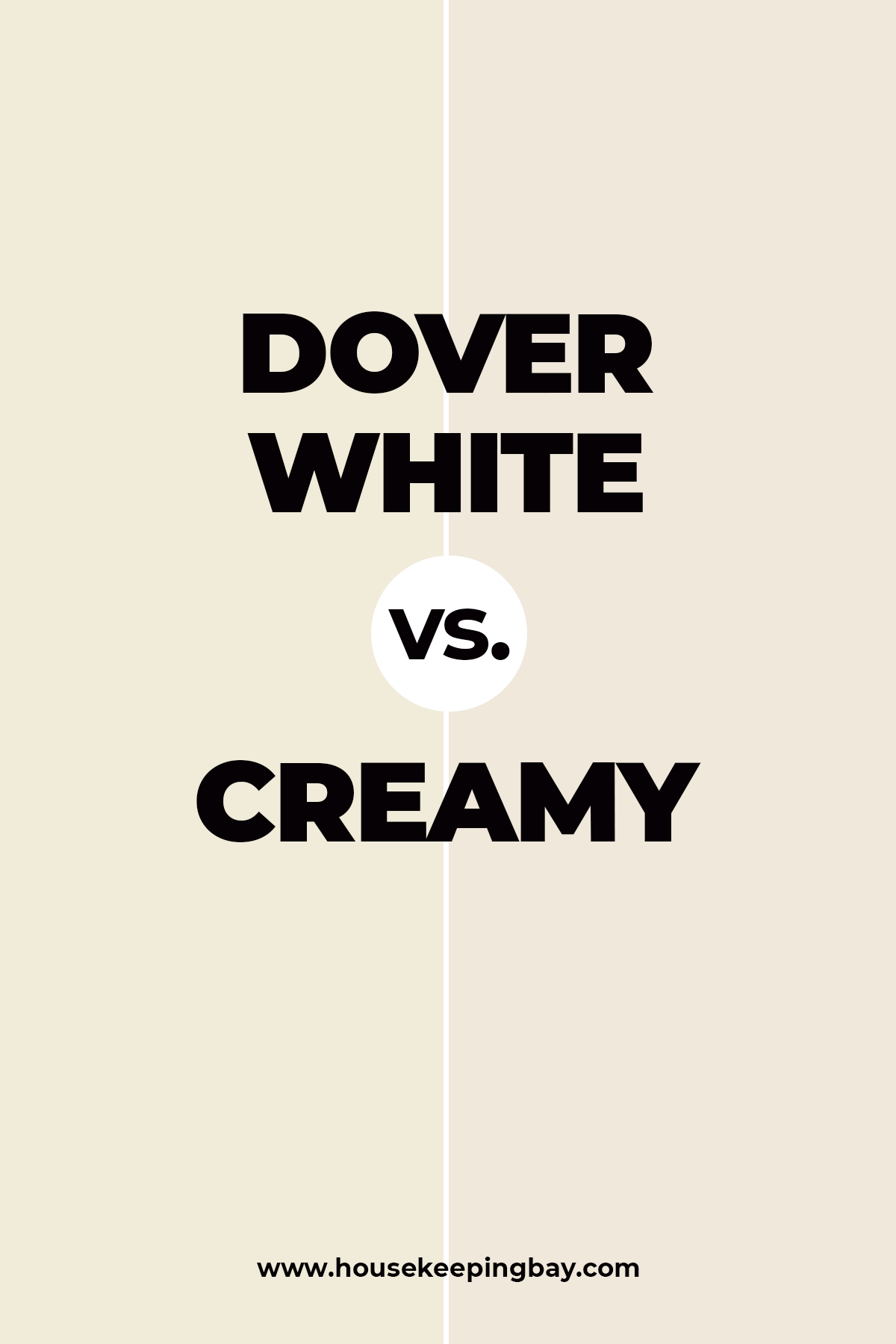 Dover White vs. Swiss Coffee
Swiss Coffee paint color is from Benjamin Moore's off-white collection, and it looks like a twin with Dover White! These colors have their LRV of 83.93 and 83 (Dove White).
The mildly warm undertones of yellow and gray in these colors will work well for creating a calming and cozy atmosphere in the rooms of your house. In both palettes, these colors are meant for giving light and a happy mood!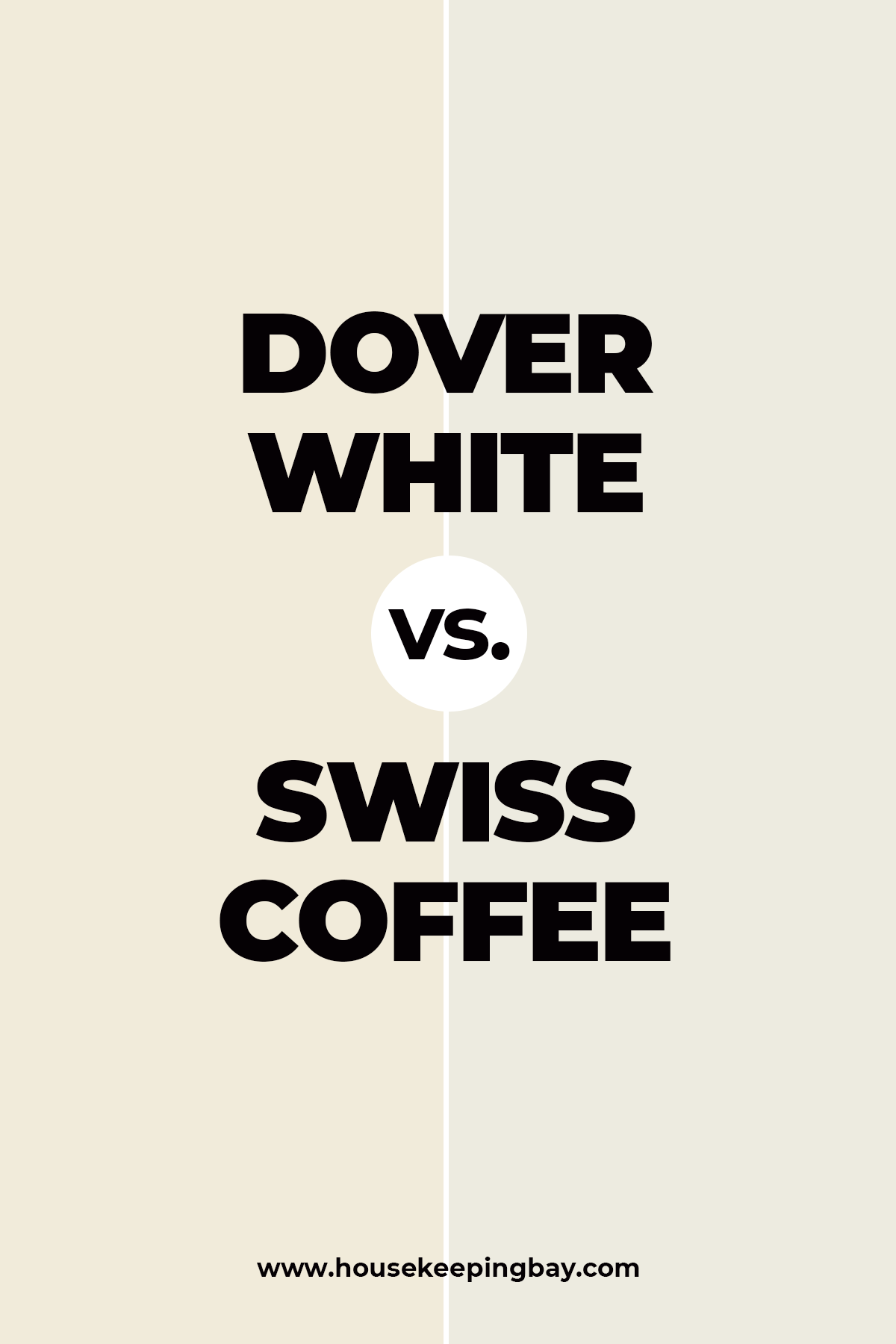 To sum up, SW Dover White paint color can be your perfect choice on the walls, cabinets or home exterior, especially if you combine it with other brighter colors.
It is a universal and tender creamy white for walls and trim. So feel free to use our recommendations in order to add a cozy and relaxing vibe, as well as a creative look to the rooms both for the family members and guests.
This soft white color will give your home that awesome feeling of enjoyment and happiness!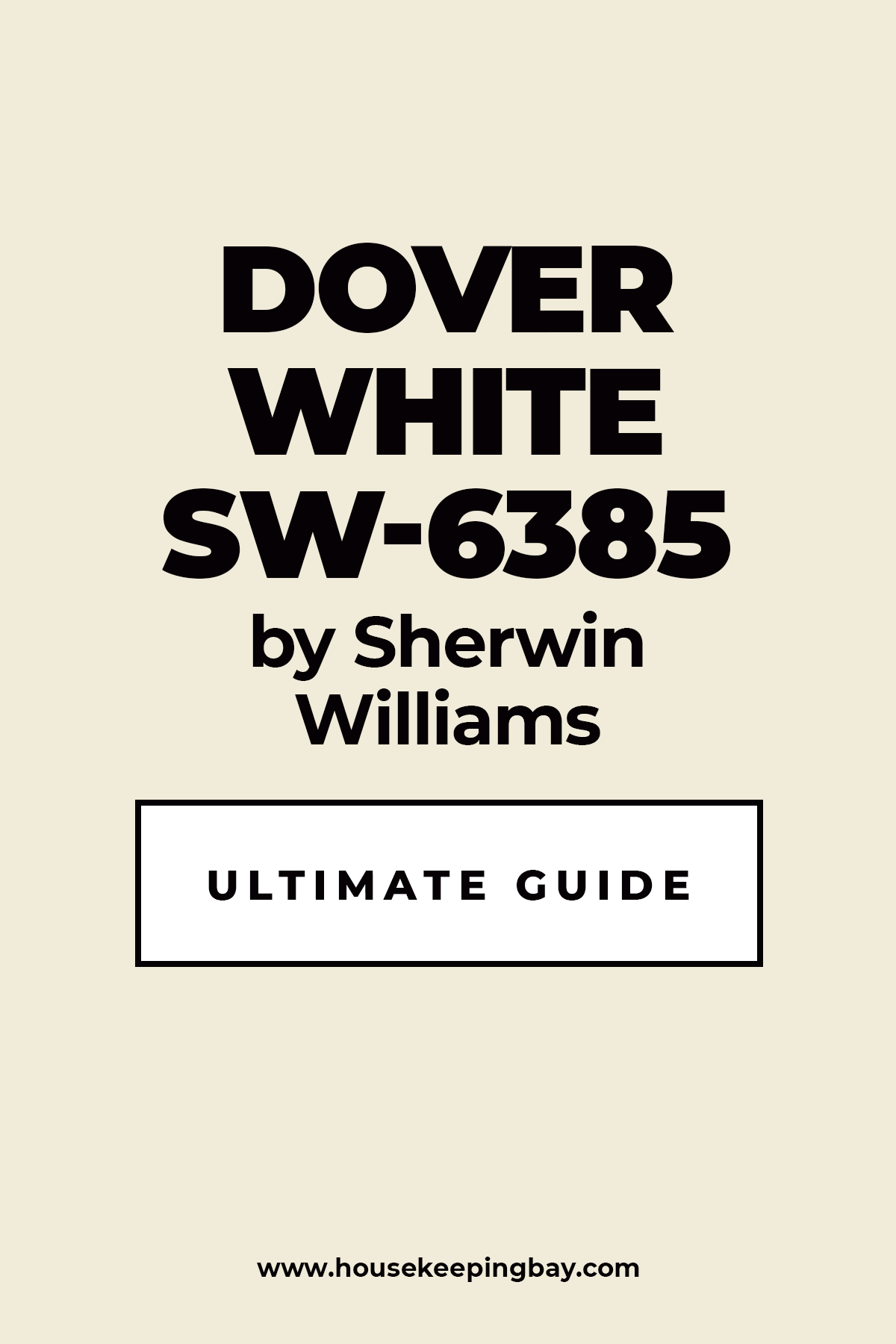 Frequently Asked Questions
⭐ What are Sherwin-Williams Dover White complementary colors?
Dover White complementary colors are soft browns and tan colors like Dakota Wheat (SW 9023). Here also come best paired muted blues or a blue like Waterloo (SW 9141). Brighter whites work great with it too.
⭐ Is Dover White too yellow?
The paint can look yellow or just like a creamy white depending on the light in your space. With warm Southern light it is going to really bring out the yellow. In a cool light coming in from the exterior, you get the warmth, bright and cheery color without being overly yellow.
⭐ What undertones will be for Dover White under the cool natural light?
It will give gray undertones as a slight shadow coming with freshness and warmth.