White may seem to be an easy color, but in fact, the family of whites is pretty varied! And there are white hues that require a bit of skill and knowledge if you want to use them correctly in your home. Today, we will tell you about one of such white paint colors by Sherwin-Williams.
The white we will describe in this article is called SW White Flour. You will learn this color's specifics and discover features that make it unique among similar hues. Also, we will explain how this white works in homes and how it reacts to different lighting conditions.
After you read this, you will be aware of SW White Flour coordinating colors, trim colors, and hues that pair best with it. With all this in mind, you will be able to use it like a pro, even if you have no idea of the color theory!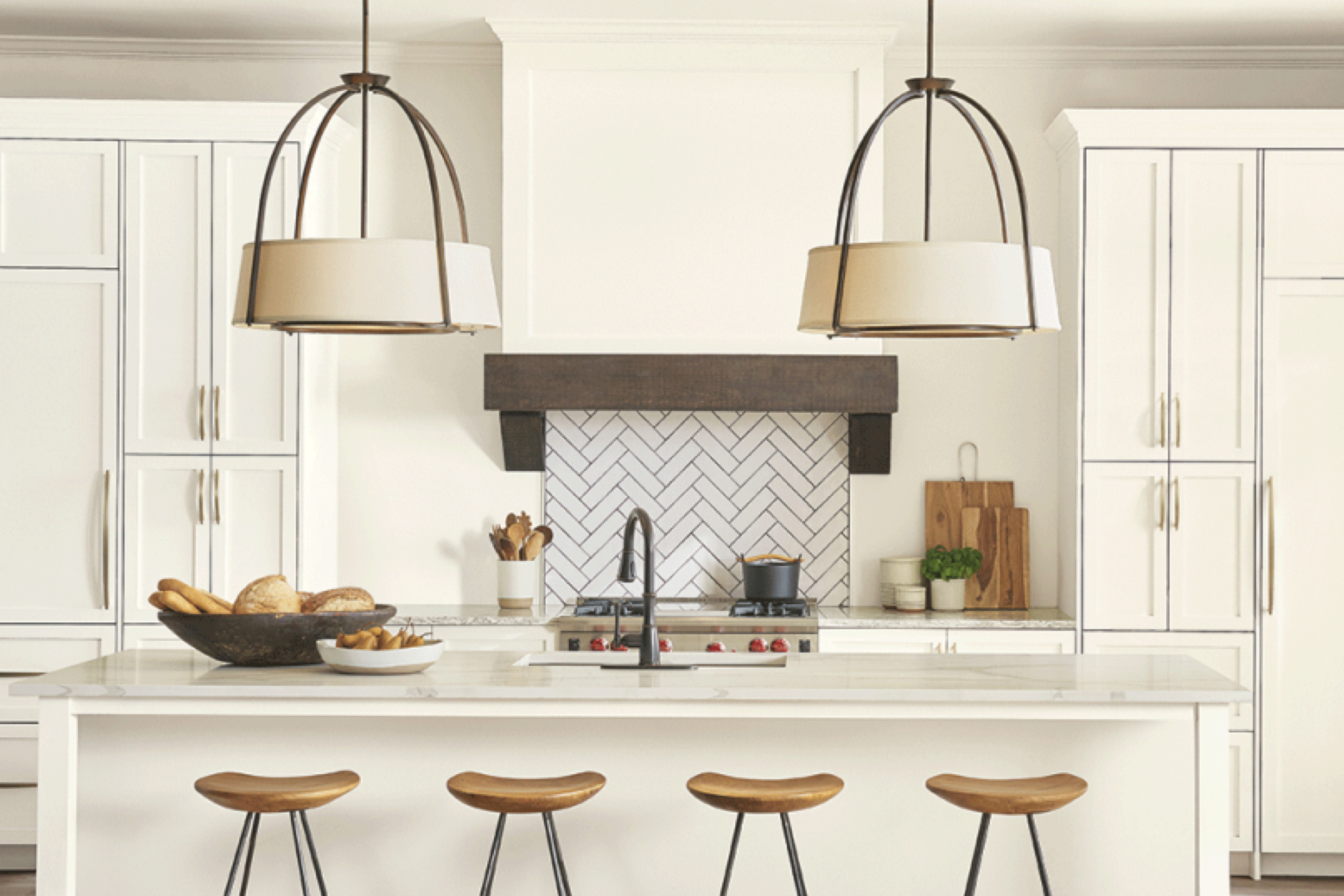 What Kind of Color Is SW 7102 White Flour?
SW White Flour  is a clean white color, which can brighten your space while giving it a subtle warmth. As Encycolorpedia says, this white is considered neutral, but it reads light and airy enough, working as a creamy off-white in most spaces.
Use this hue if you want to make a room feel lighter and airier, as well as add a note of coziness and softness to it.
With SW White Flour on the walls, your space will feel relaxed, homey, and bright without a hint of chill or icy crispness!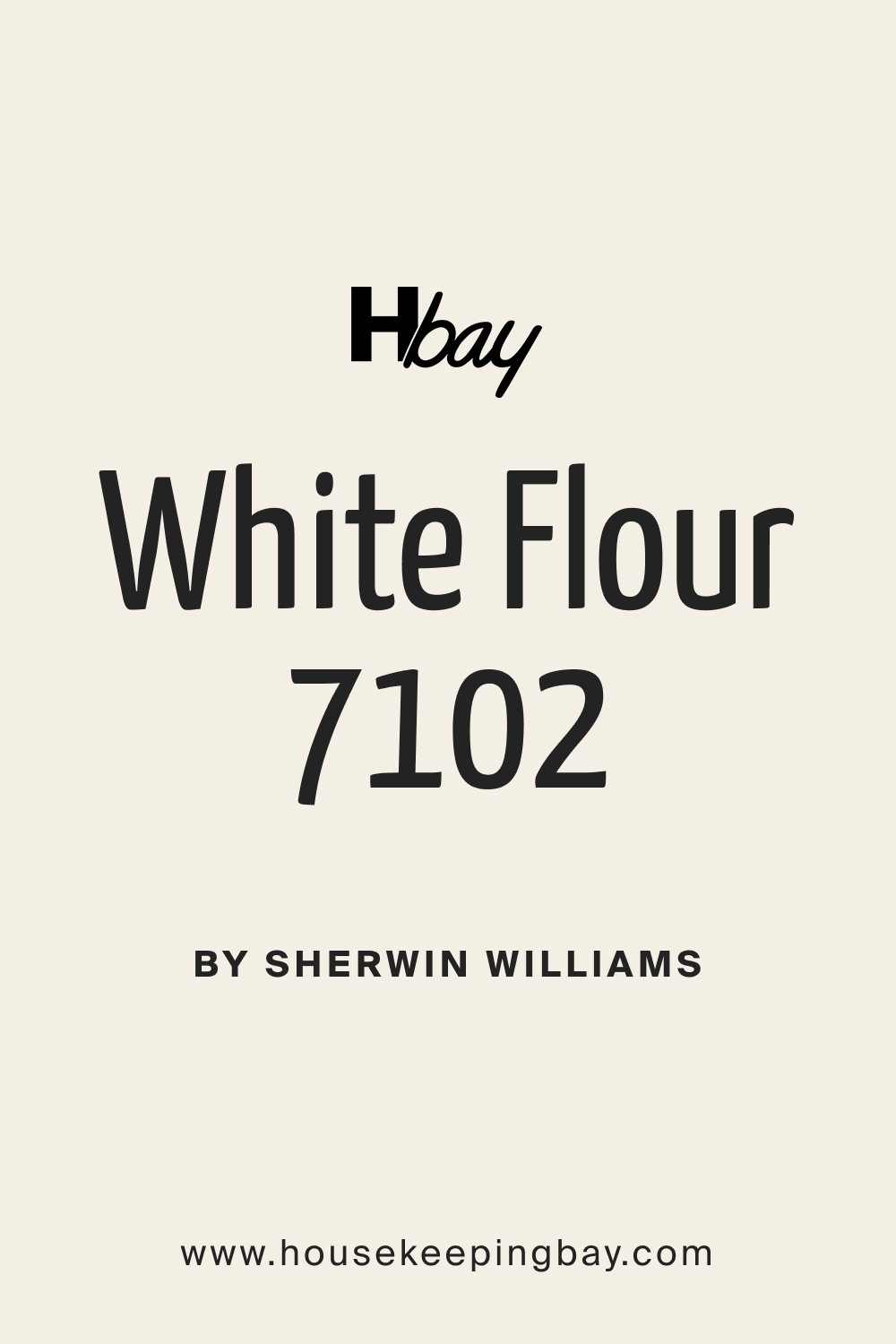 Is It a Warm or Cool Color?
Without any doubt, SW White Flour is a warm-toned white! At this point, some of you may express concern regarding the warm hue this color has. But don't worry, this off-white will never read butter-like on your walls! Yes, it is warm, but it's a fairly balanced warmth.
Nevertheless, you should note that in certain lighting conditions, SW White Flour may indeed display a more enhanced yellow hue! This is why remember to sample it!
What Undertones Does SW 7102 White Flour Paint Color Have?
It's a rule of thumb that knowing paint colors' undertones is essential when you are choosing paint for your home projects. When you know what undertones the color has, you can tell in advance how it will read on the walls and how it will work with other colors in the space.
Speaking of SW White Flour, this off-white mainly displays soft cream undertones. However, you should know that in specific lighting conditions, this creamy off-white paint may also reflect a deep pink or yellow undertone!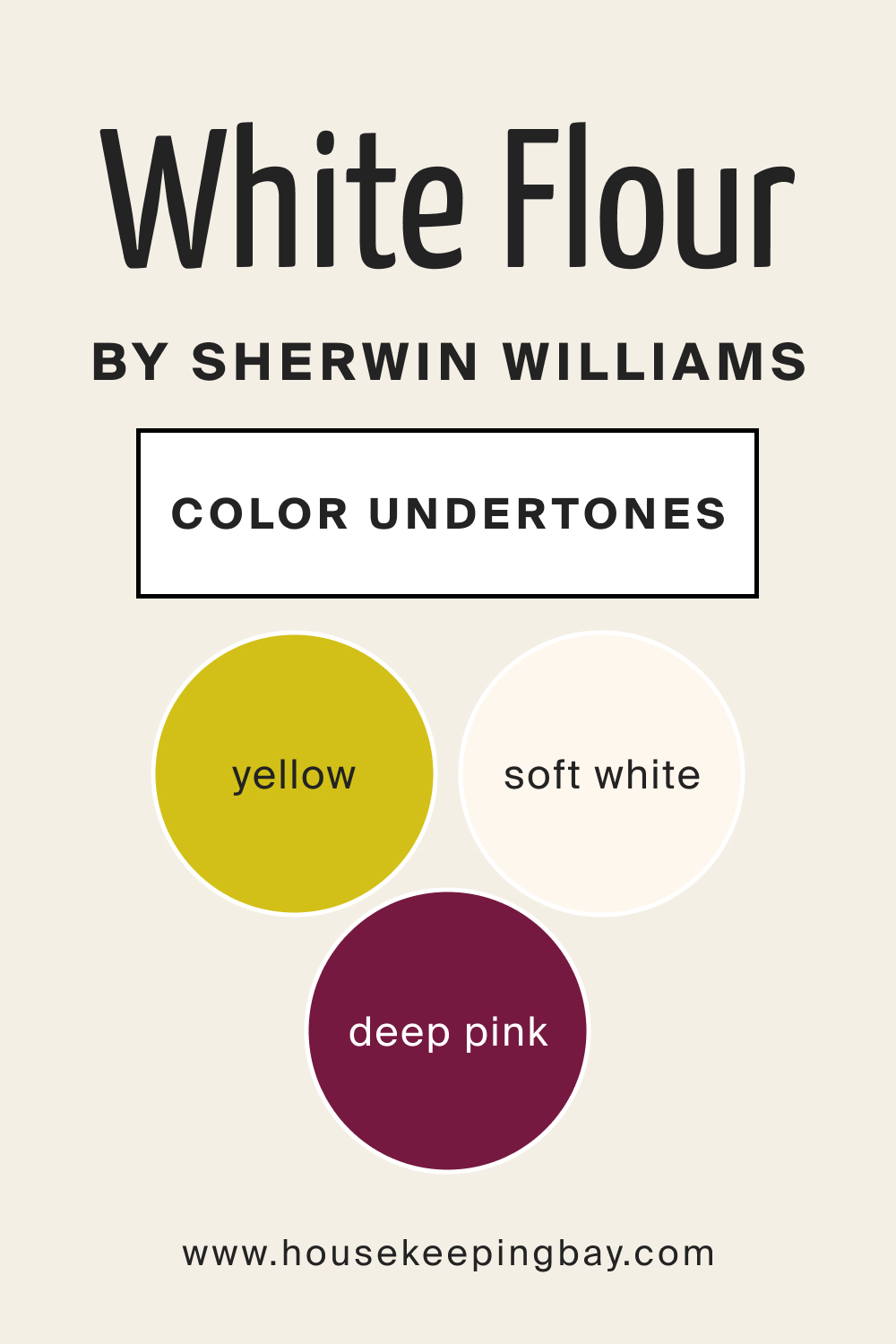 Coordinating Colors For SW White Flour
People often think that picking coordinating colors for white hues is easy. However, despite being rather flexible and universal in terms of use, white color can sometimes be quite confusing to create a coordinating color palette!
So, if you consider SW White Flour as your interior wall color, you may benefit from these hues that will coordinate it perfectly well! We share a couple of color options with you that will work harmoniously and well with this off-white:
SW 7555 Patience
SW 9126 Honed Soapstone
For a monochromatic palette, try out these colors:
SW 7719 Fresco Cream
SW 7518 Beach House
SW 7519 Mexican Sand
For a contrasting color palette, we recommend you pay attention to these ones instead:
SW 9051 Aquaverde
SW 1668 Pineapple Cream
SW 9173 Shiitake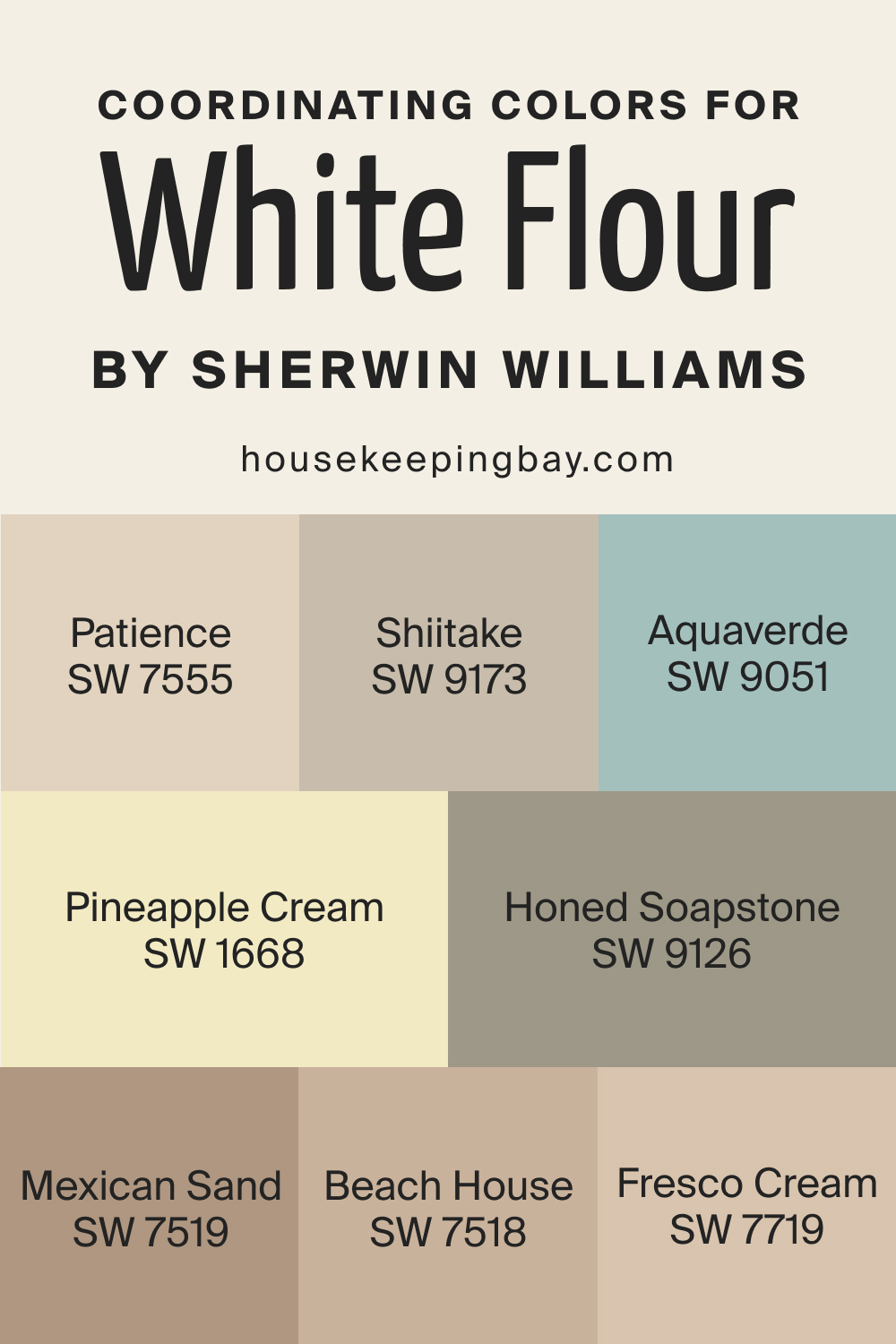 What LRV SW White Flour Has and How It Reacts to Light?
LRV, or Light Reflecting Value, is the number that indicates how light or dark a color is on a scale of 0-100. The LRV scale ranges from zero to 100, with white being the lightest and black being the darkest. The closer the LRV number is to 100, the lighter the color. The closer the LRV number is to 0, the darker the color.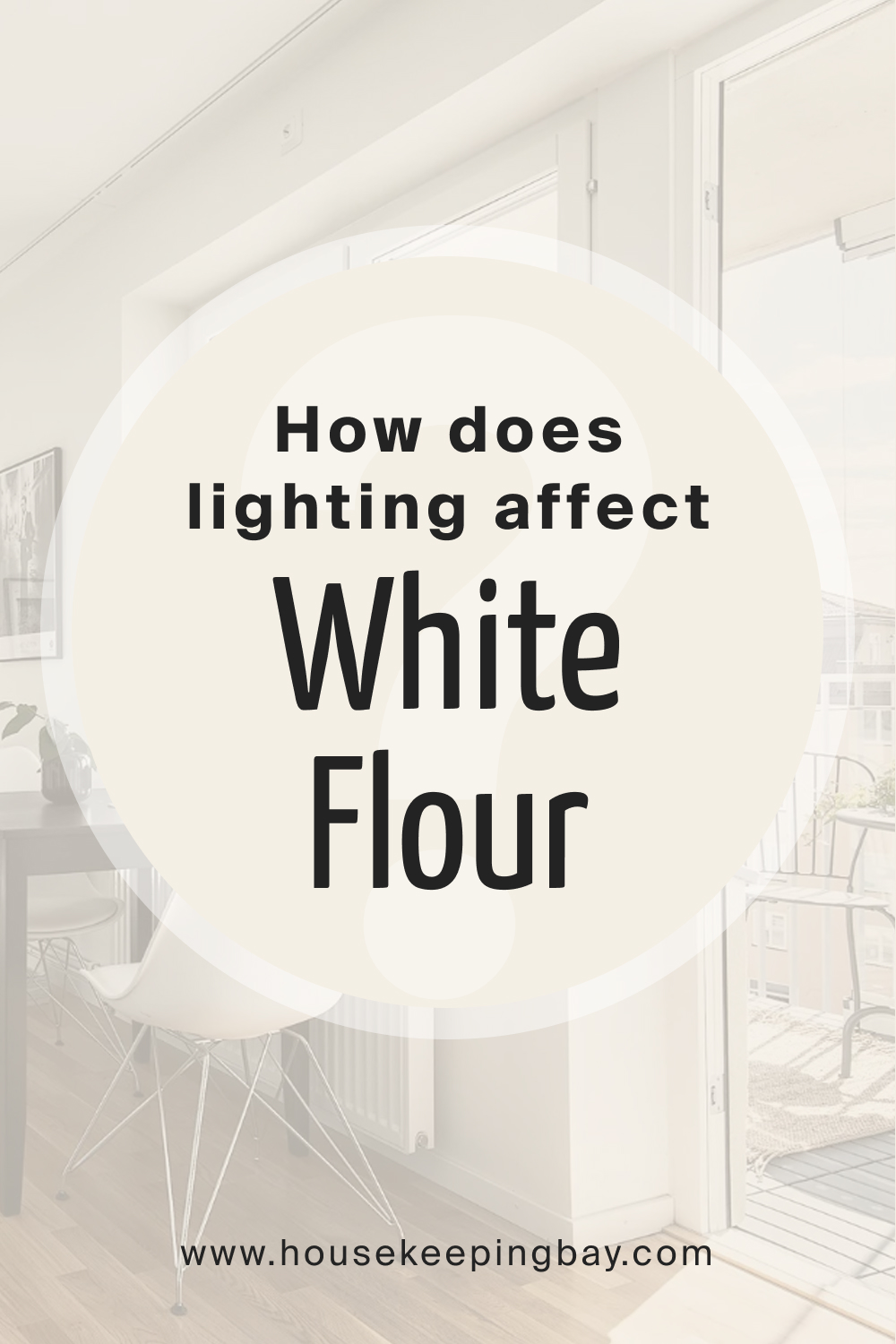 The LRV value of SW White Flour is 87, which makes it a very light off-white color. Thanks to this high light reflectivity, this hue will help you make a room seem more spacious and bright. Also, it's a nice white color for making a space feel airier and more enhanced.
At the same time, SW White Flour can be rather tricky, depending on the lighting conditions! With ample light, this paint color may look washed away, and the sneaky pink or yellow undertones may not be very dominant.
Also, note that this color may read slightly differently in different compass directions! In the north-facing rooms, it will be slightly cooler in tone. Also, its soft creaminess will be less expressed in such lighting. But in the south or west-facing rooms, this neutral will reflect a little yellow undertone.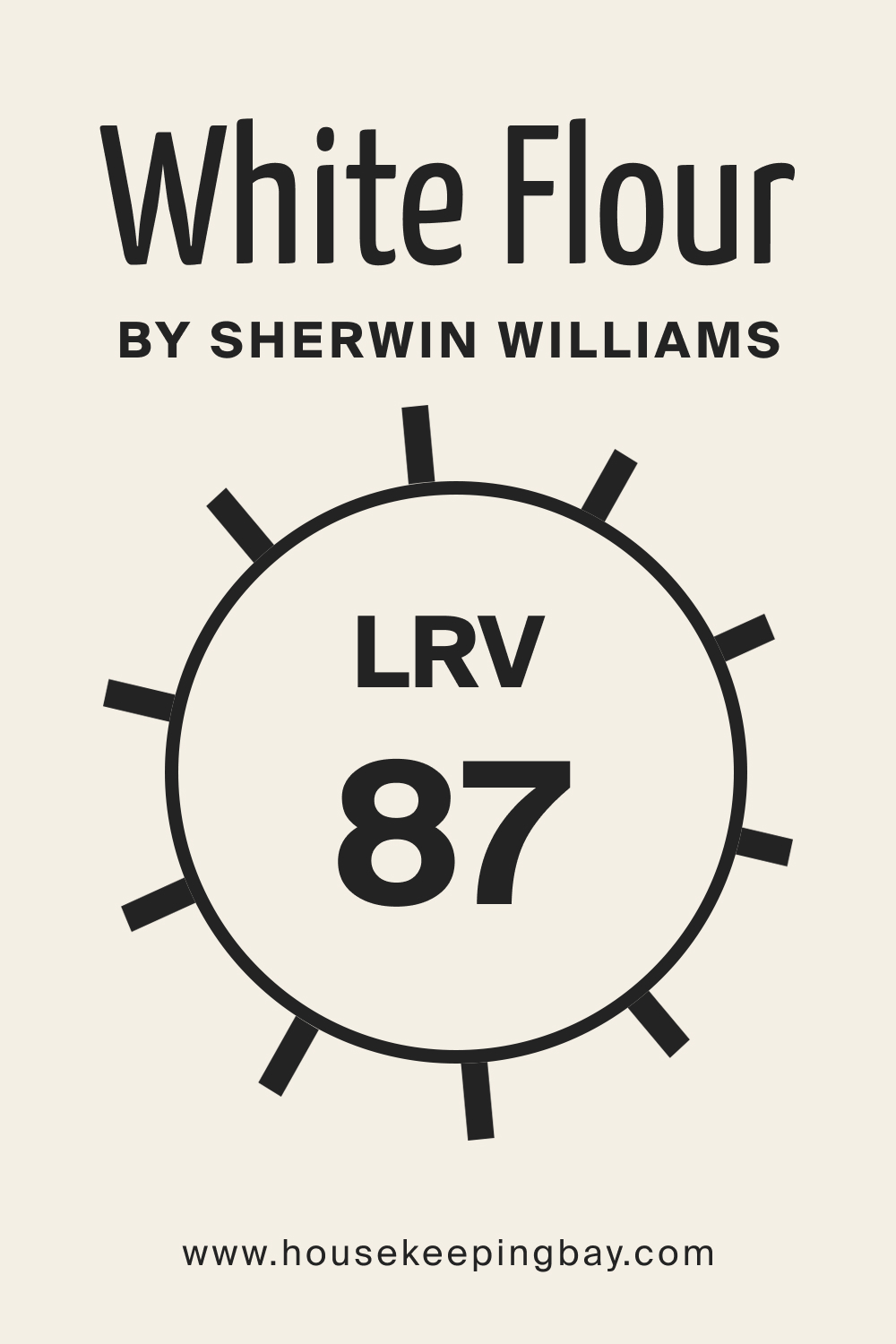 What is LRV? Read It Before You Choose Your Ideal Paint Color
What Is the Best Trim Color to Use With SW White Flour?
It might be a bit challenging for you to pick up the correct trim color to use with SW White Flour, so we decided to help you out a bit.
In case you consider this warm off-white as your wall color, we recommend you SW Extra White or SW Pure White for your ceilings, trims, and moldings. These whites will help protrude a true hue of SW White Flour.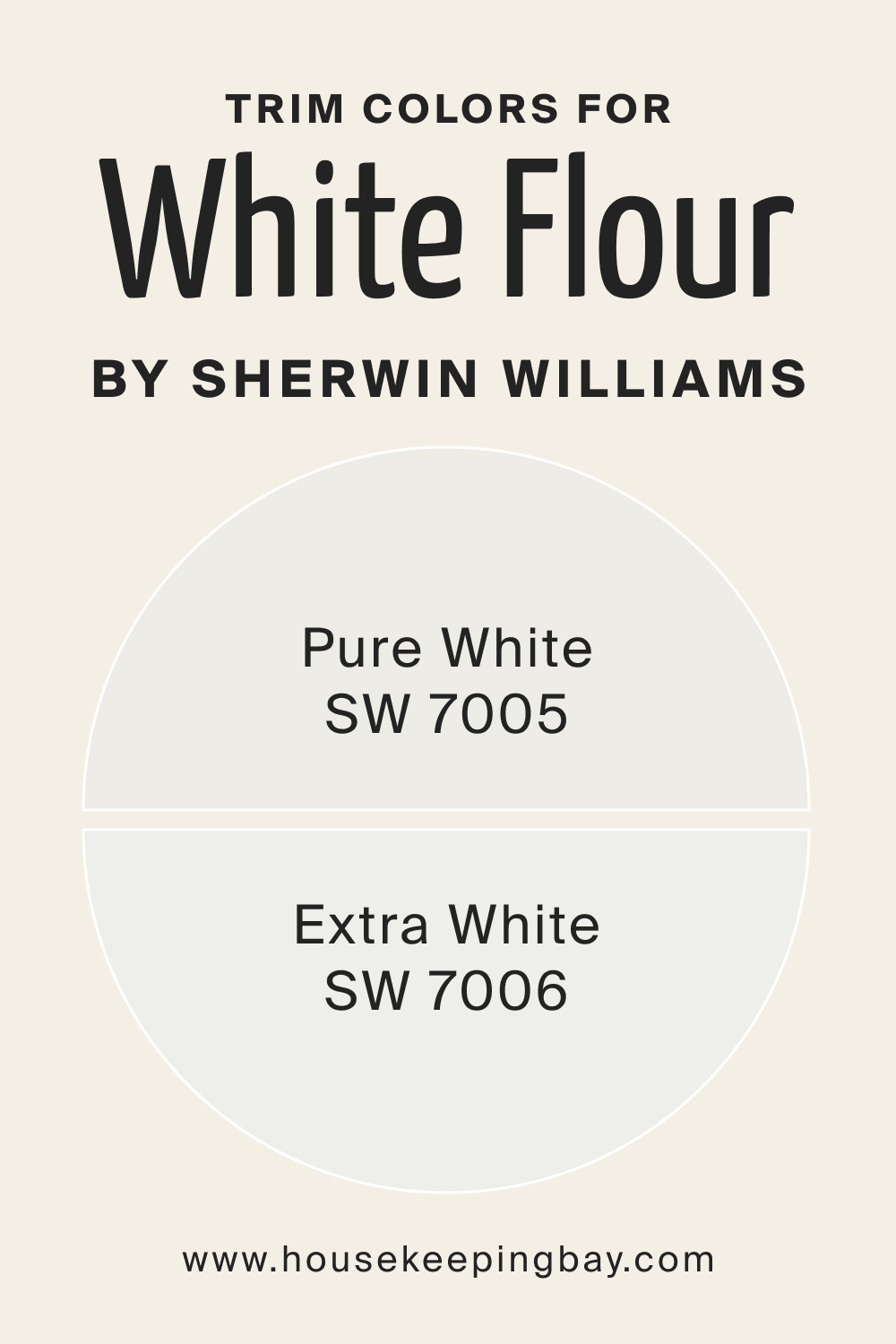 Similar Colors of SW White Flour
If you are not satisfied with how SW White Flour reads in your space, it's a reasonable decision to try another hue that reads close to it but has certain distinctions. This way, you can get the desired color without adjusting or changing the whole concept of the space and palette!
For SW White Flour, there are two closely related colors:
SW 7104 Cotton White
BM OC-122 Cotton Balls
But also, you might want to check out the following color alternatives that can work successfully instead of SW White Flour on your walls:
Behr Malvavisco
Farrow & Ball Pointing
PPG Crumb Cookie
Valspar Pale Bloom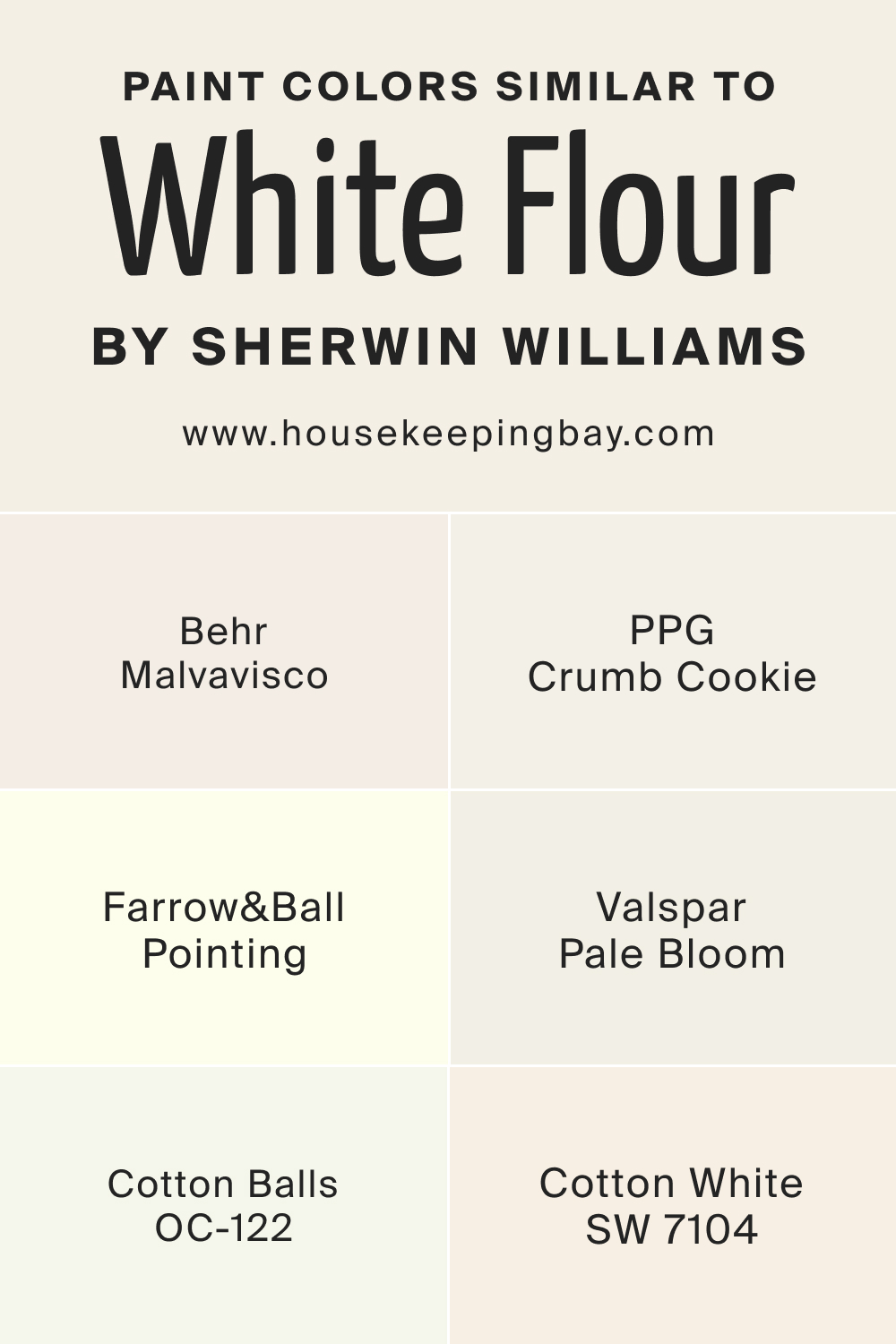 Colors That Go Well With SW White Flour
Despite its warmth, SW White Flour works well with quite many colors. You can successfully pair this soft and creamy off-white with shades of taupe, greige colors, midnight blues, sea blues, lighter yellows, beiges, and olive greens.
For example, you might want to try the following colors to use them with SW White Flour in the same space:
BM 2122-20 Steep Cliff Gray
BM 700 Enchanted Forest
SW 6994 Greenblack
BM Sage Wisdom CSP-75
SW 7604 Smoky Blue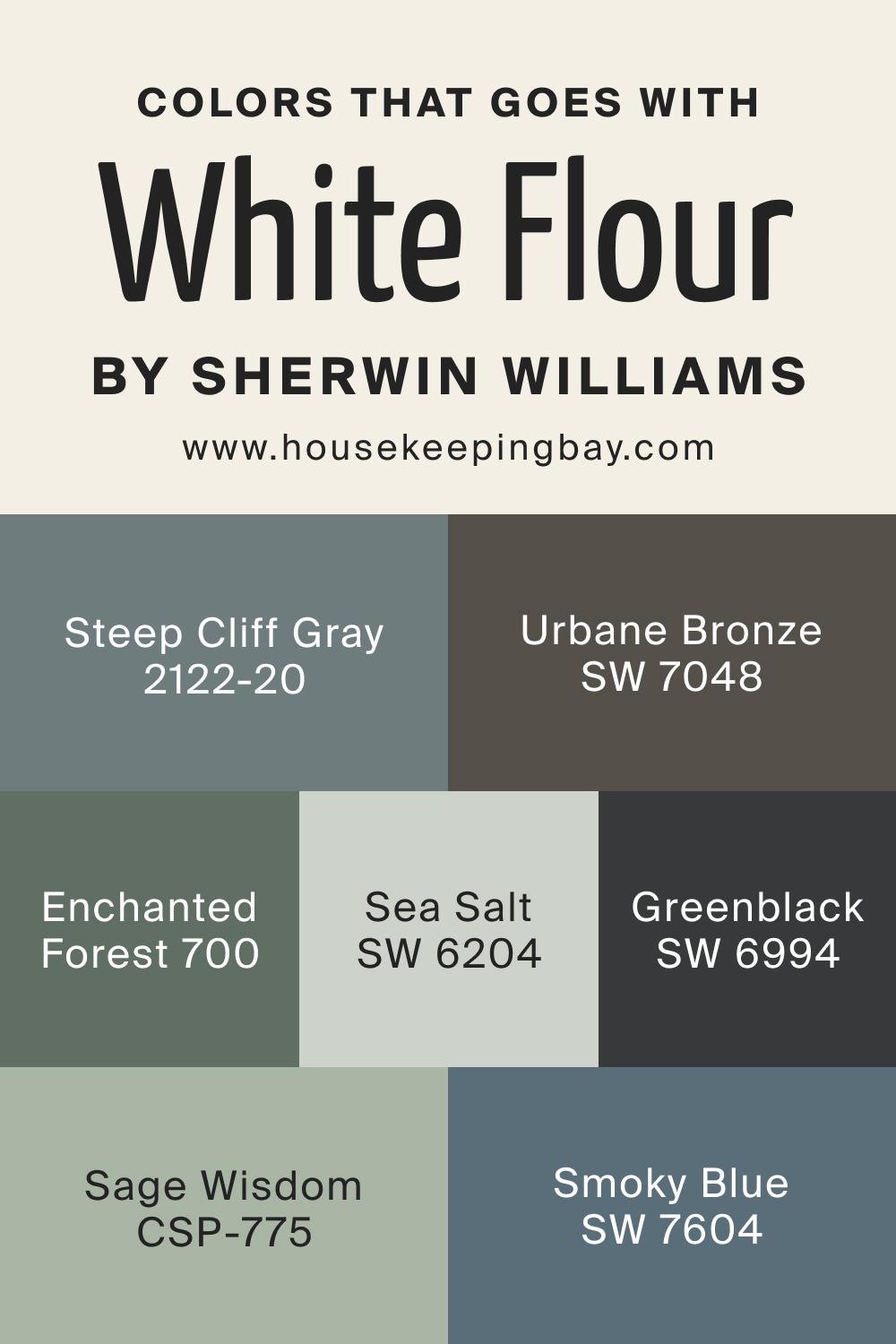 Where This Paint Color Can Be Used In Your Home?
SW White Flour is surprisingly versatile when it comes to using it! This soft and creamy off-white will make a lovely statement in almost any space of your home. Below, we describe how it may read in different rooms.
White Flour SW 7102 in the Living Room
In a living room, this paint color will look flawless, especially if there are ample wooden accents. If you have hardwood floors, rustic wooden furniture, and/or barn doors in your living room – this white will create a great backdrop!
By adding tinges of sea blue and yellow, you will make the space read more interesting and cheerful.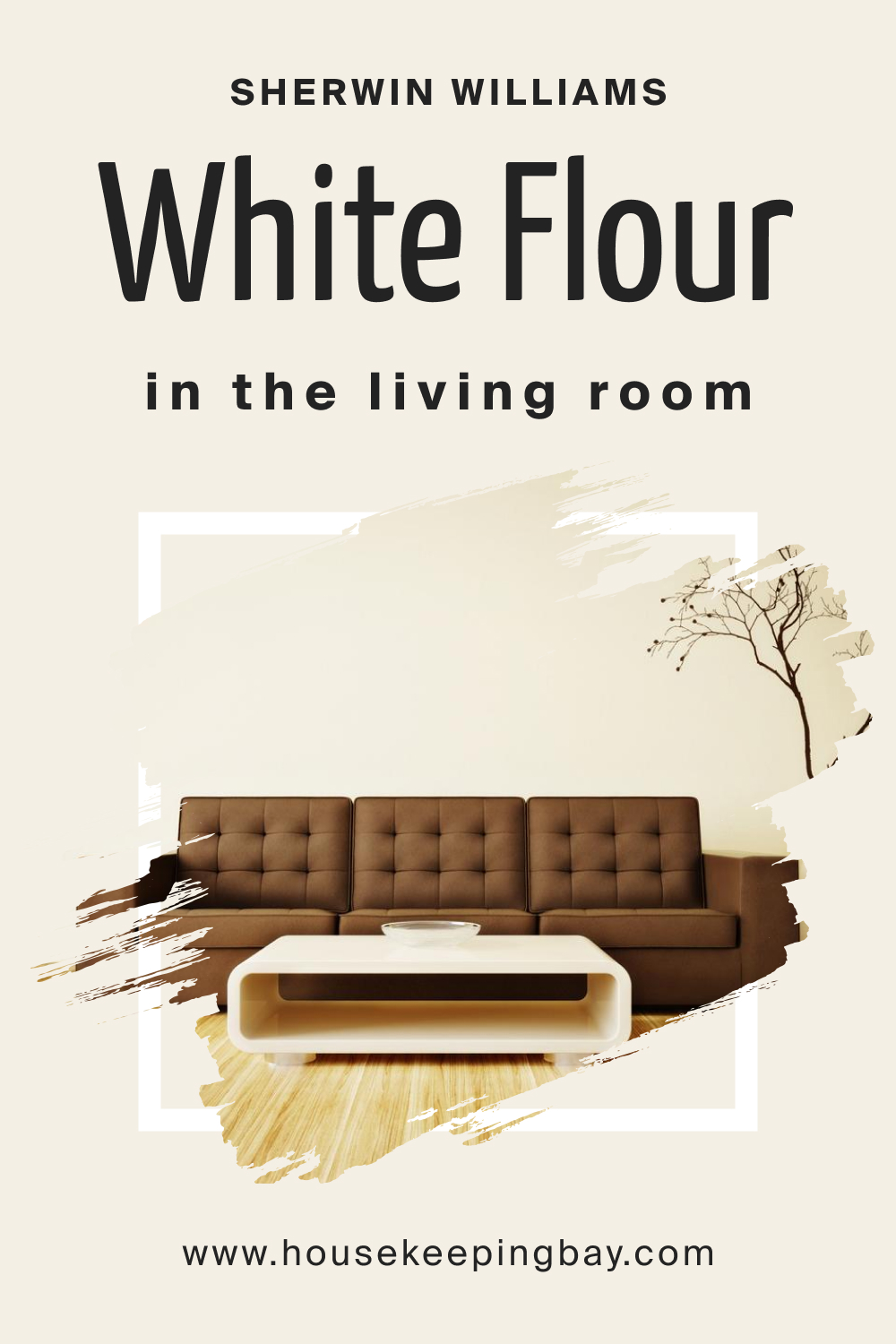 White Flour SW 7102  in a Bedroom
In bedrooms, this white works exceptionally well on all the walls if you have bold colors through furniture and accessories. Also, consider rugs with beiges or taupes in them, or get a shag rug to make your bedroom feel extra cozy and comfortable.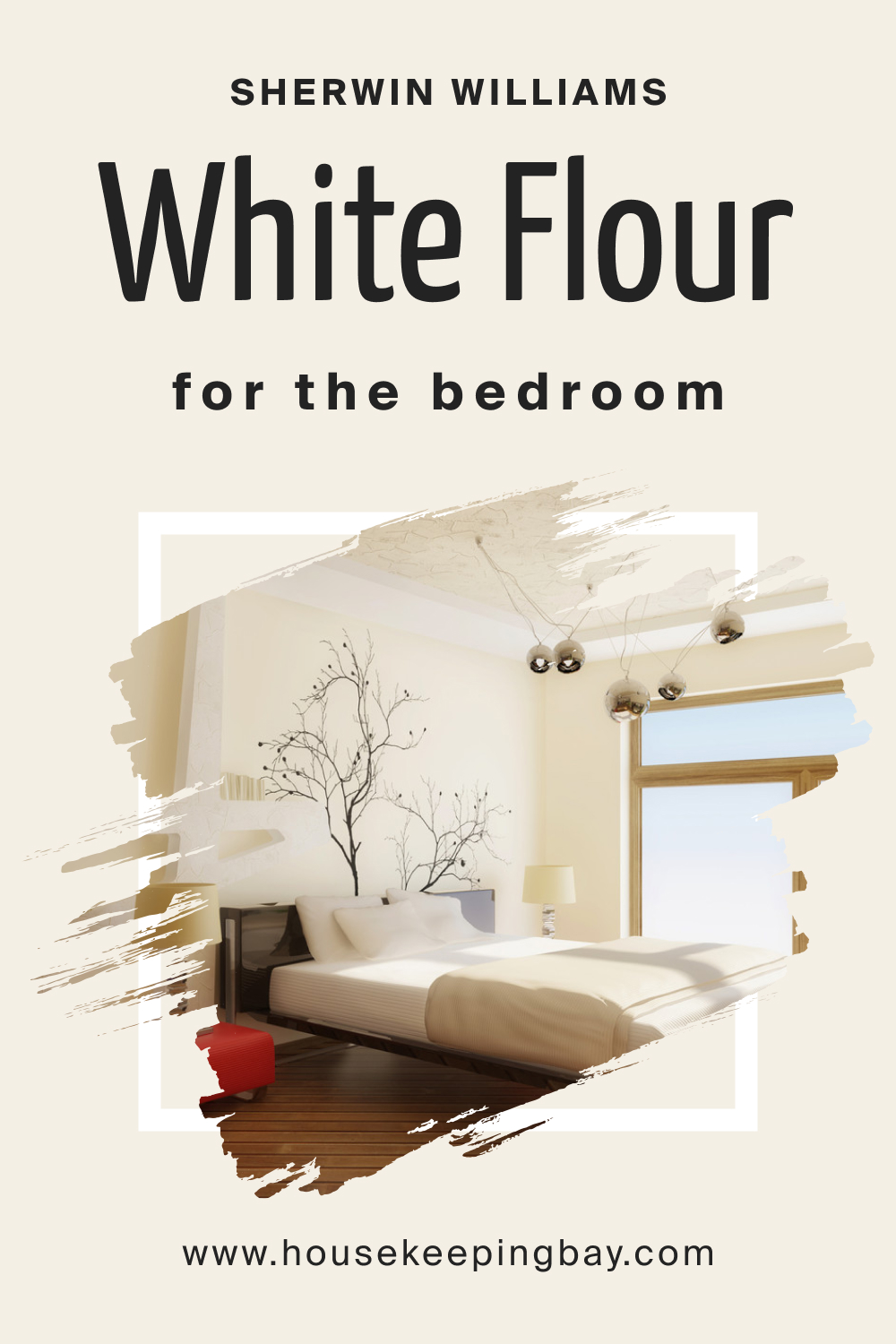 White Flour SW 7102  on the Bathroom
In bathrooms, this warm color works well only if the room has plenty of natural light and is spacious enough. In this case, you can use it on the walls. If you want it in a smaller space that lacks light, ensure this white won't display its yellowness more!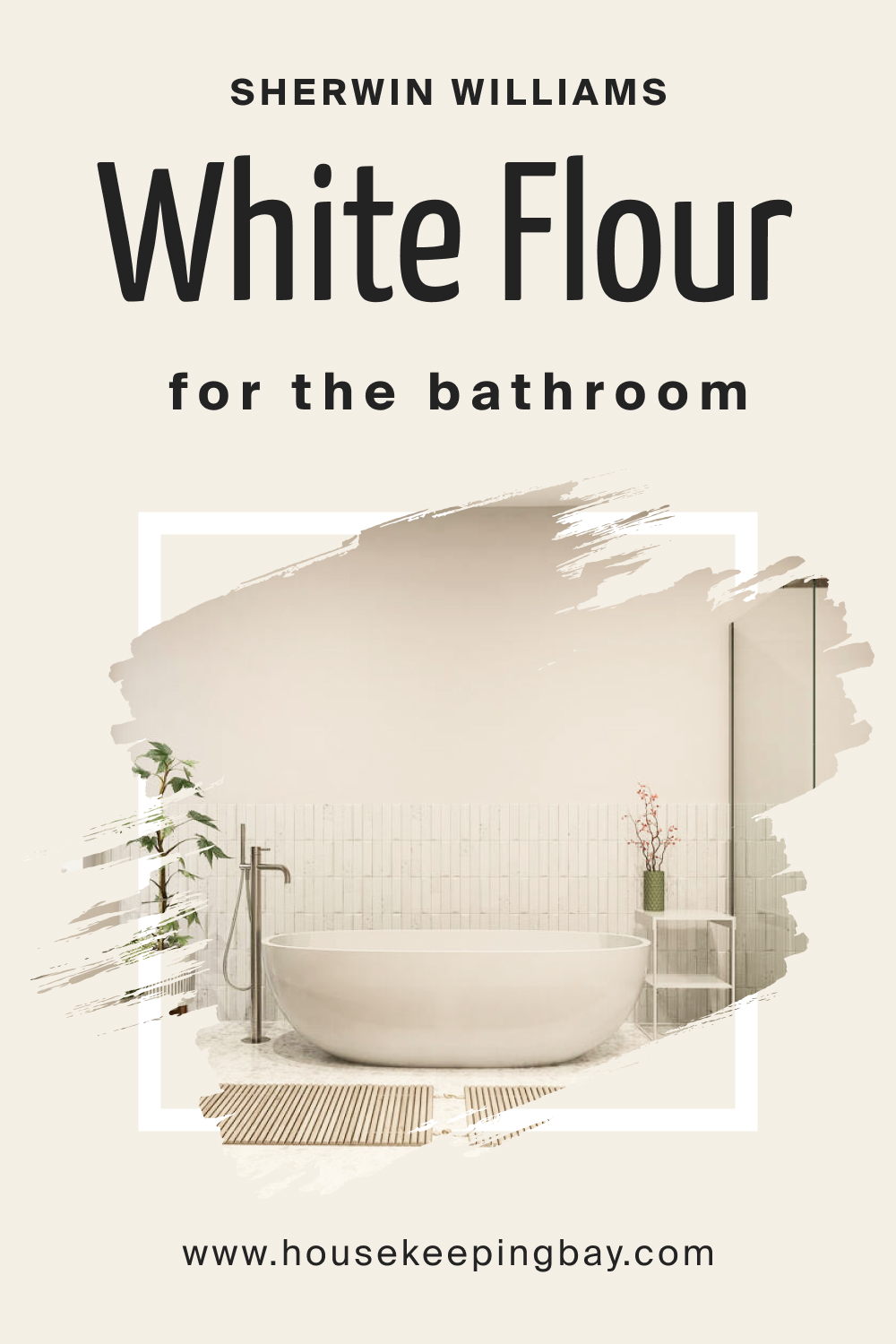 White Flour SW 7102  and Kitchen
In your kitchen, use this white color on cabinets to give a warm and soft touch to your space. Also, choose matte black or satin brass for the pull handles. Such accents will create a lovely Farmhouse look!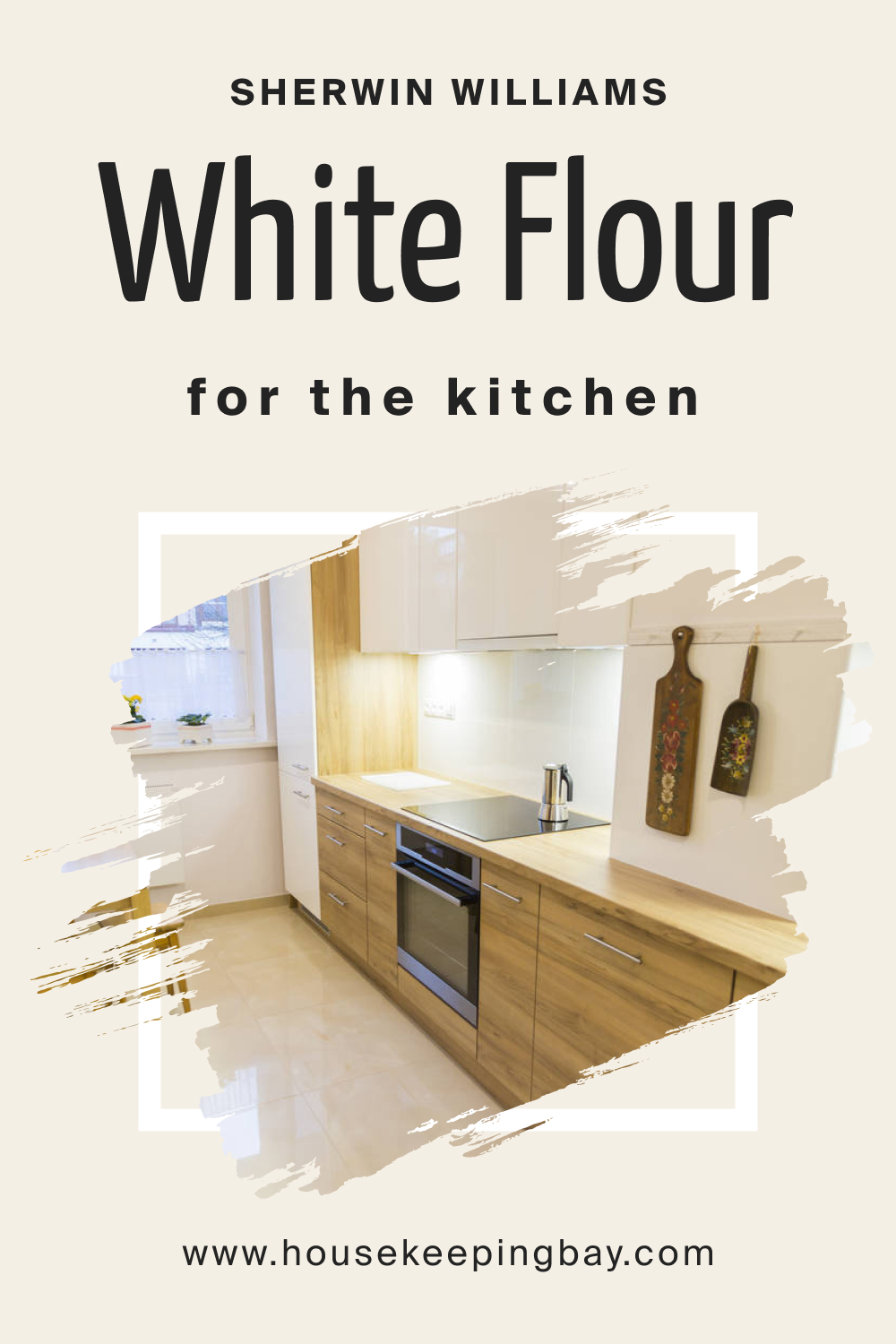 White Flour SW 7102  for the Exterior Use
On exterior walls, SW White Flour creates a subtle vibe, which makes it a great color choice for Craftsman, Mid-Century Modern, and ranch-style homes. Consider pairing it with red brick or black and brown accents to add character and expression to your exterior.
For contrast, you can even add bold blue, cherry red, or bold purple on the front door!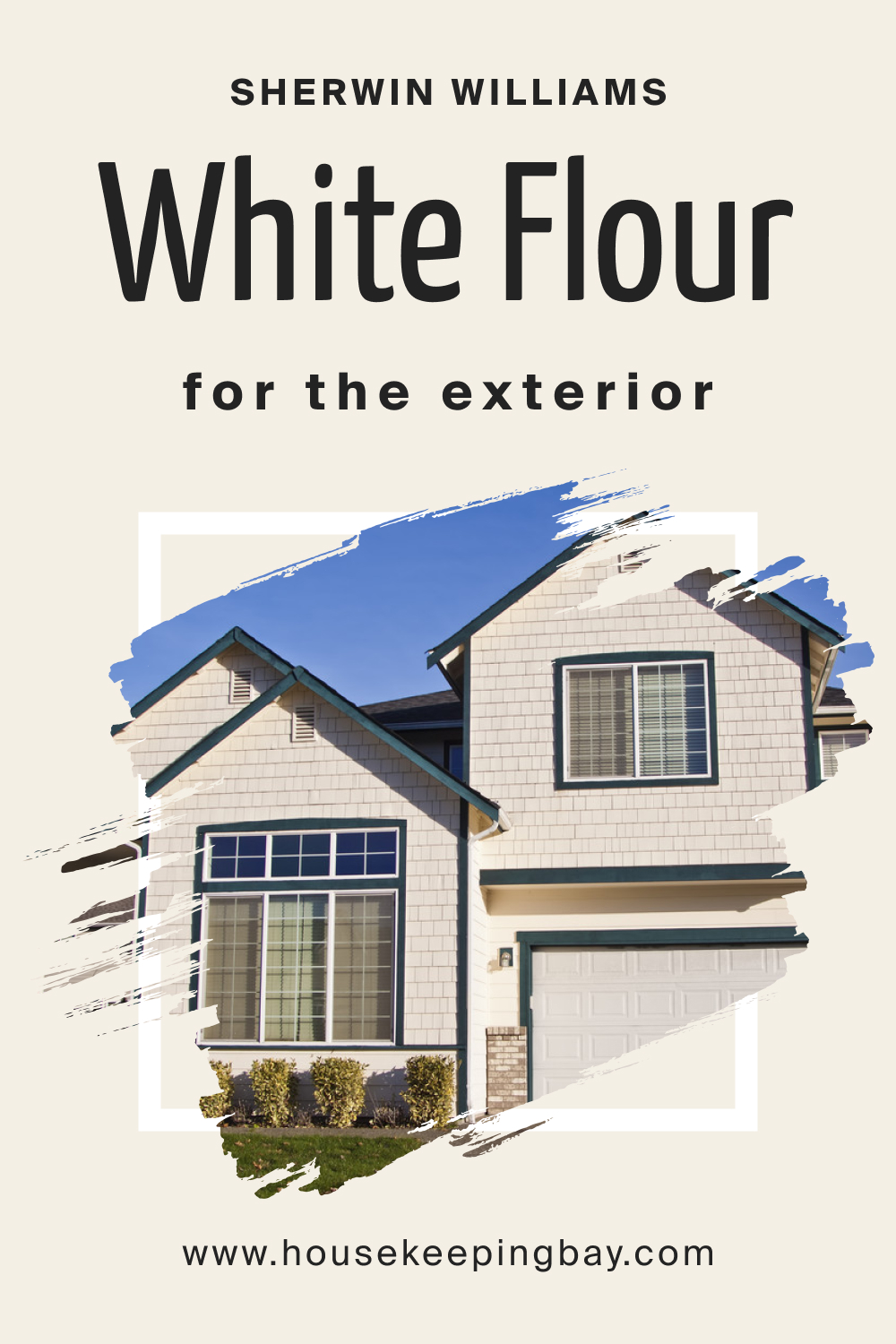 Comparing SW White Flour With Other Colors
It's true that colors from the same hue family may differ. To help you see what makes similar colors and colors from the same hue family distinct, we compared SW White Flour and several related hues below.
White Flour vs. SW 7008 Alabaster
SW Alabaster reads more muted than its brighter counterpart. Also, unlike SW White Flour, SW Alabaster displays more beige undertones. SW White Flour, in its turn, looks creamier and lighter.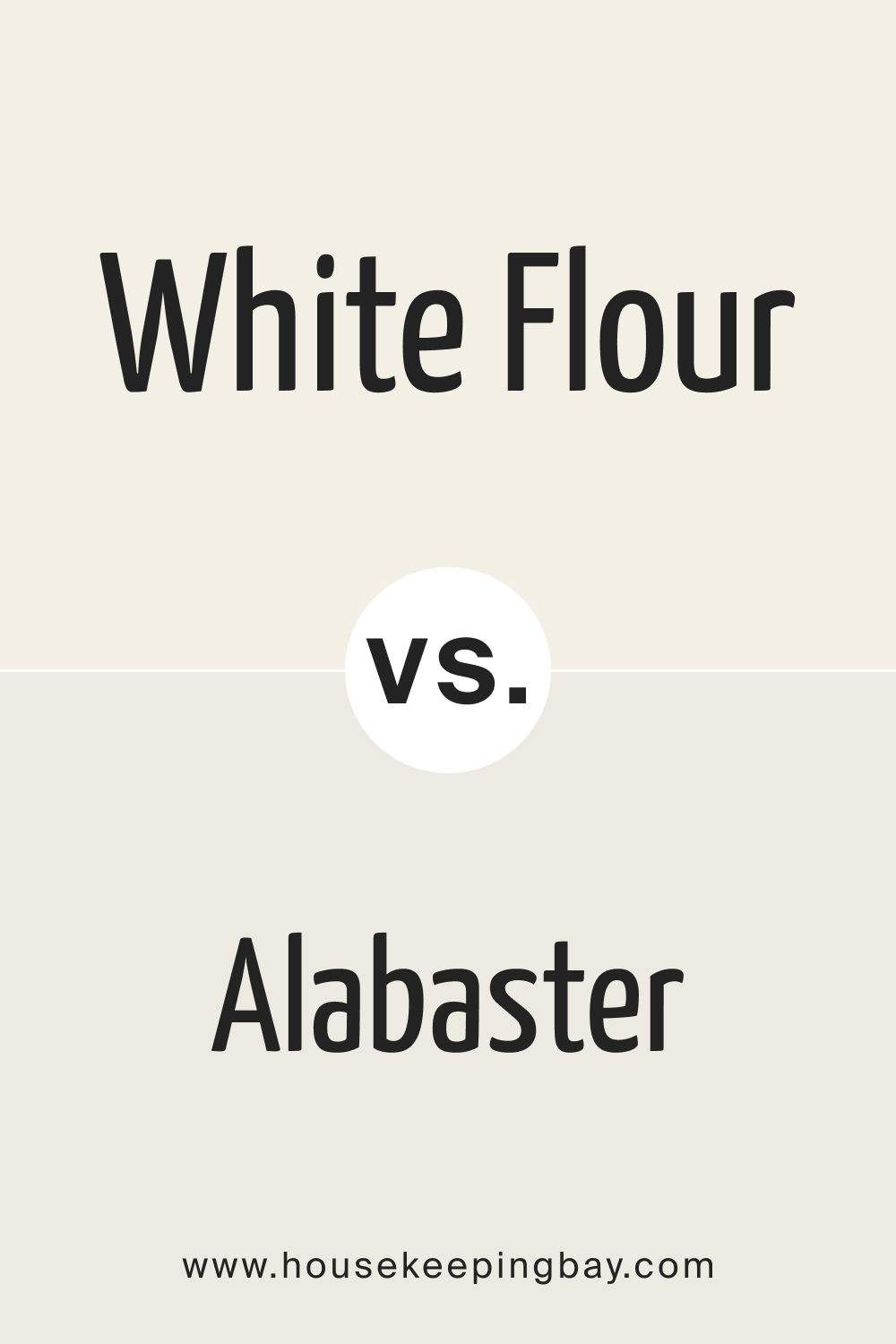 White Flour vs. BM OC-17 White Dove 
The White Dove color by Benjamin Moore shares yellow undertones with SW White Flour, reading the same soft. However, if you compare them, you will see that SW White Flour reads creamier and displays a noticeable pinkish hue, whilst its counterpart looks almost white.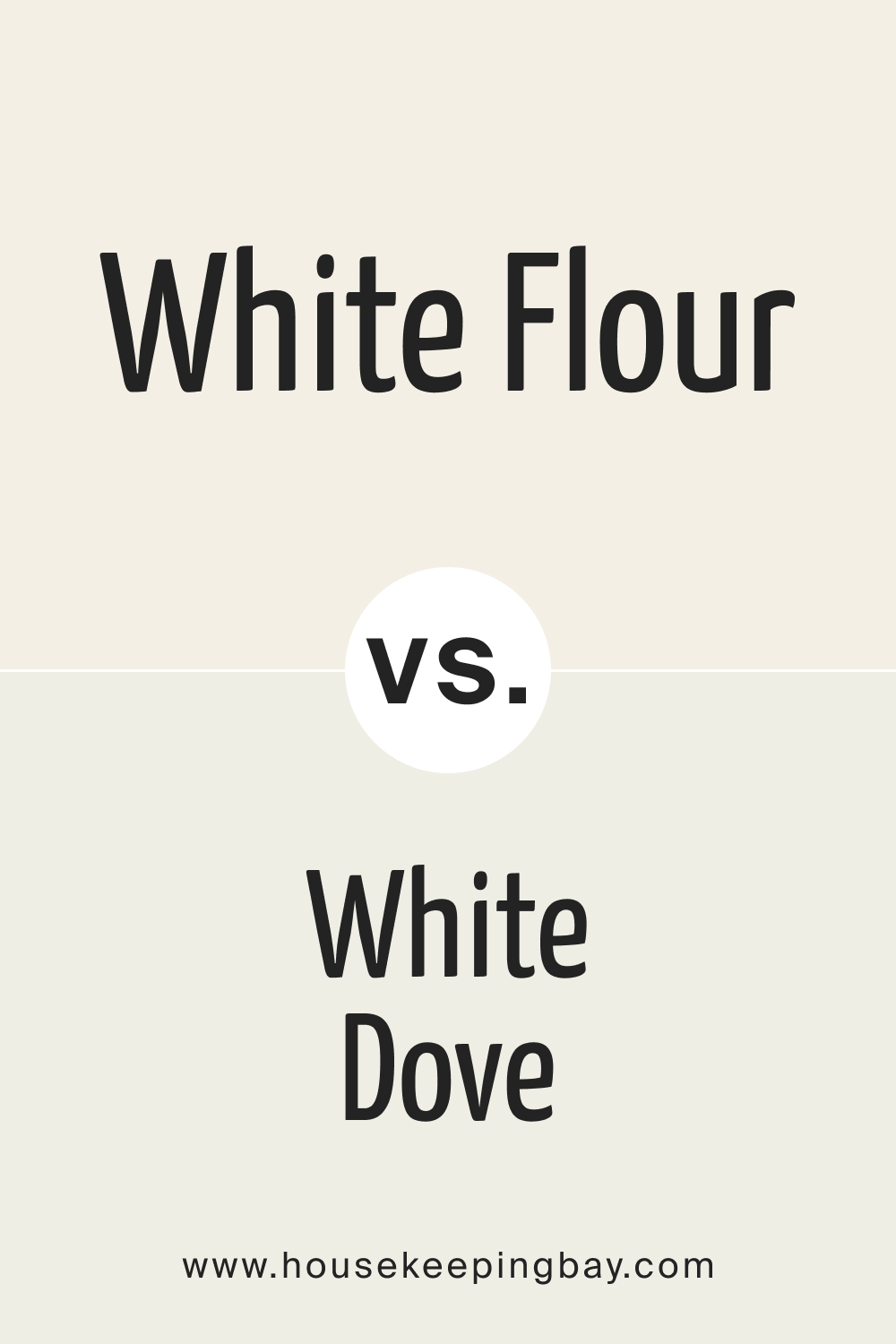 White Flour vs. SW 7551 Greek Villa
SW Greek Villa has mild yellow-beige undertones, but despite that yellowness, it reads differently than SW White Flour. SW Greek Villa shows more of its beige base, whilst SW White Flour looks creamy and displays a noticeable pink tint!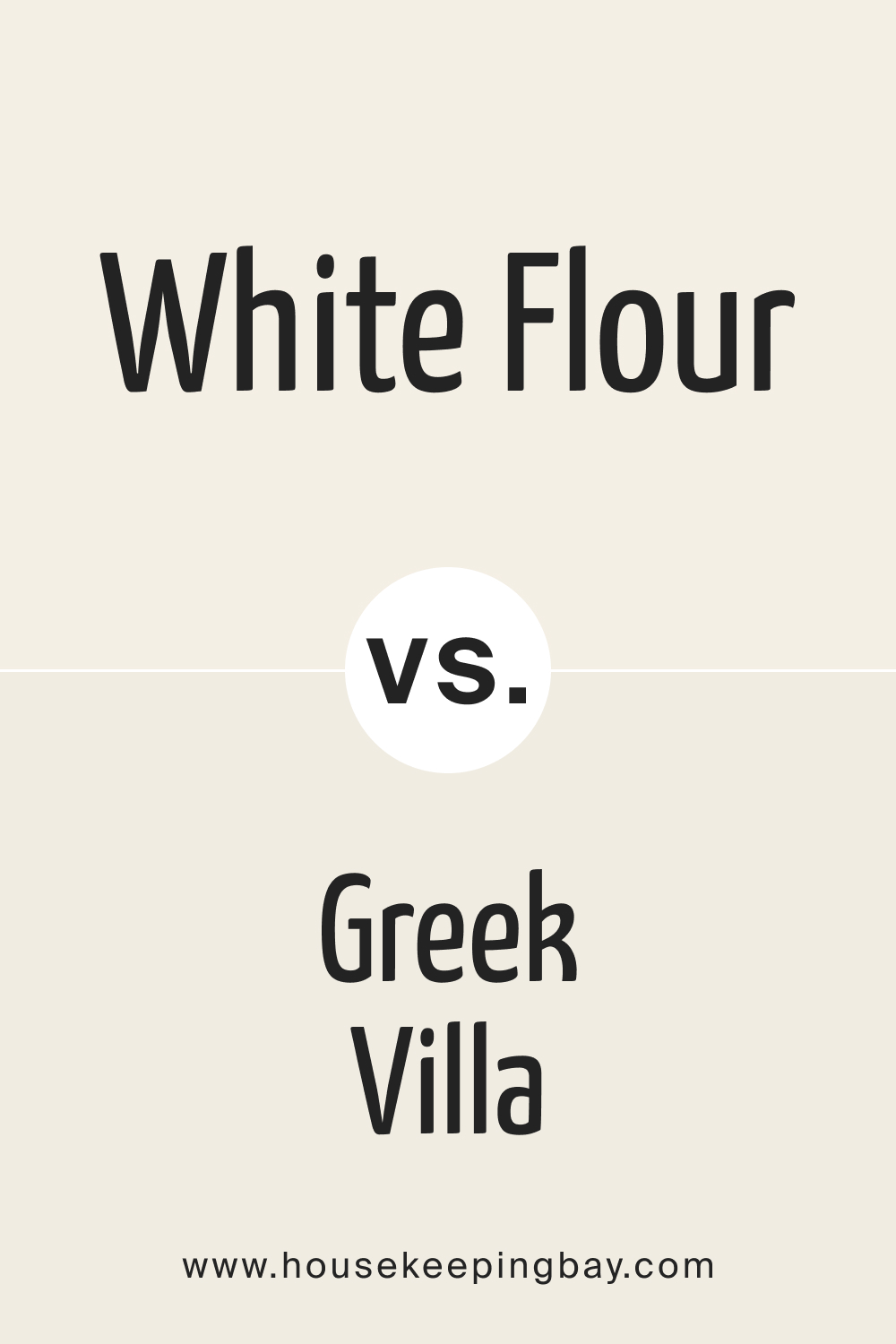 White Flour vs. BM OC-117  Simply White 
BM Simply White is a very bright off-white color with an LRV 91 and yellow undertones. Compared to SW White Flour, it reads lighter and whiter, which is why its counterpart seems even creamier, displaying a more visible pinkish tint!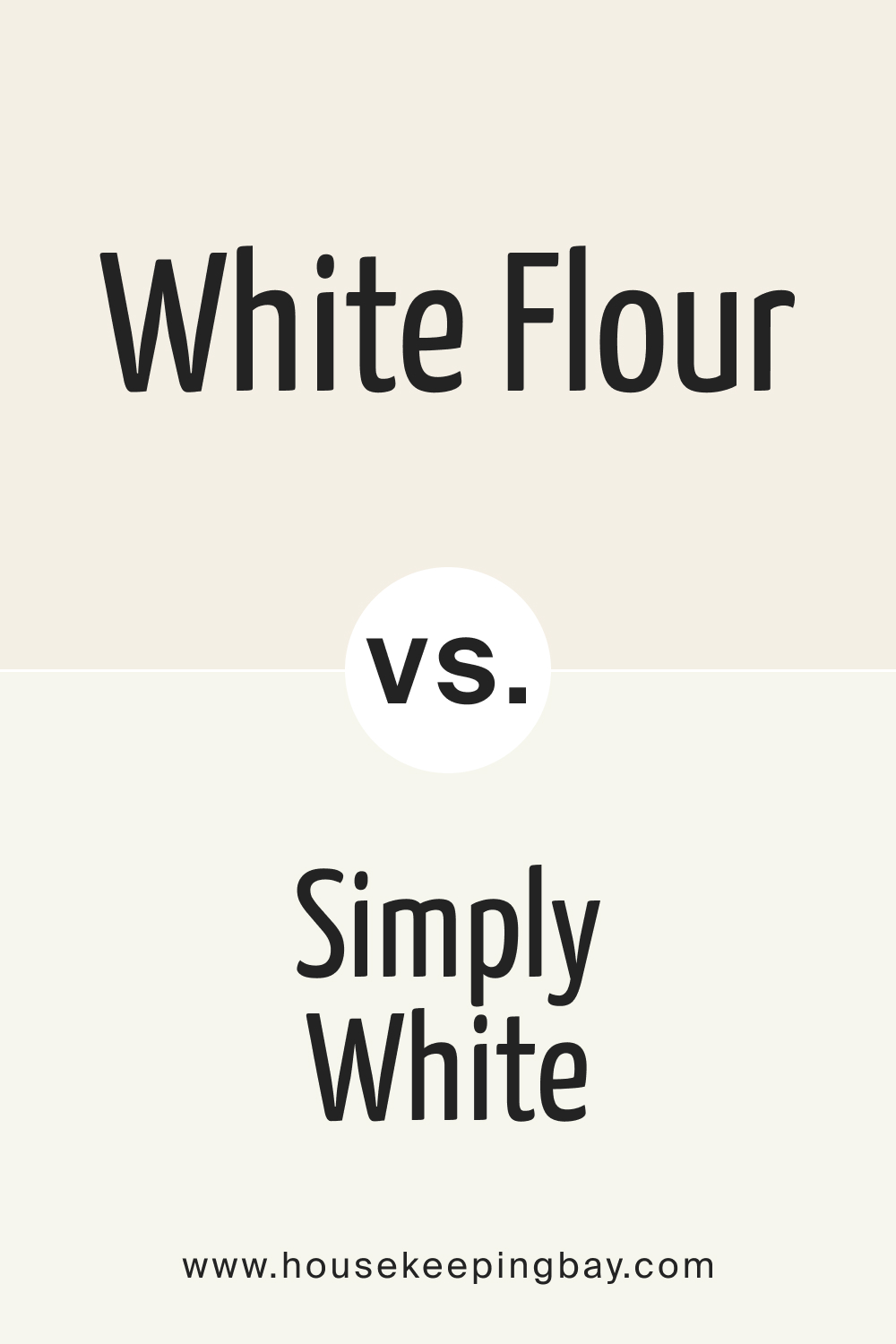 White Flour vs. SW 7005 Pure White
BM Pure White has bluish and gray undertones. Compared to SW White Flour, it reads almost light gray! Also, BM Pure White has a lower LRV of 78, which makes it darker than SW White Flour, whose LRV is 87.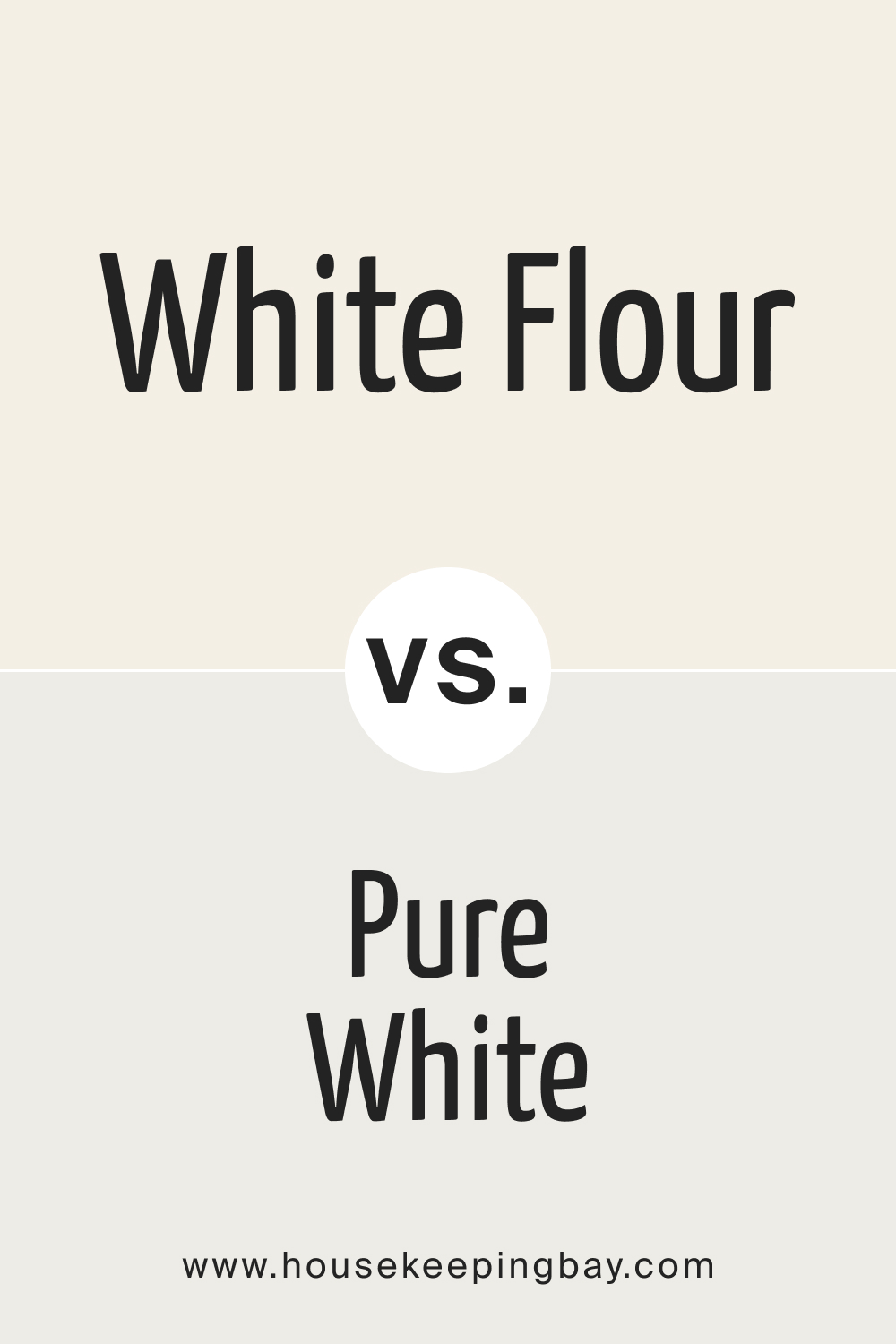 White Flour vs. SW 7004 Snowbound
Although these two come from the same color collection, they read differently. Compared to the creamy tint of SW White Flour, SW Snowbound reads taupe due to its violet-pink undertones. However, the LRVs of these colors are pretty close on the scale, being 87 for SW White Flour and 83 for SW Snowbound.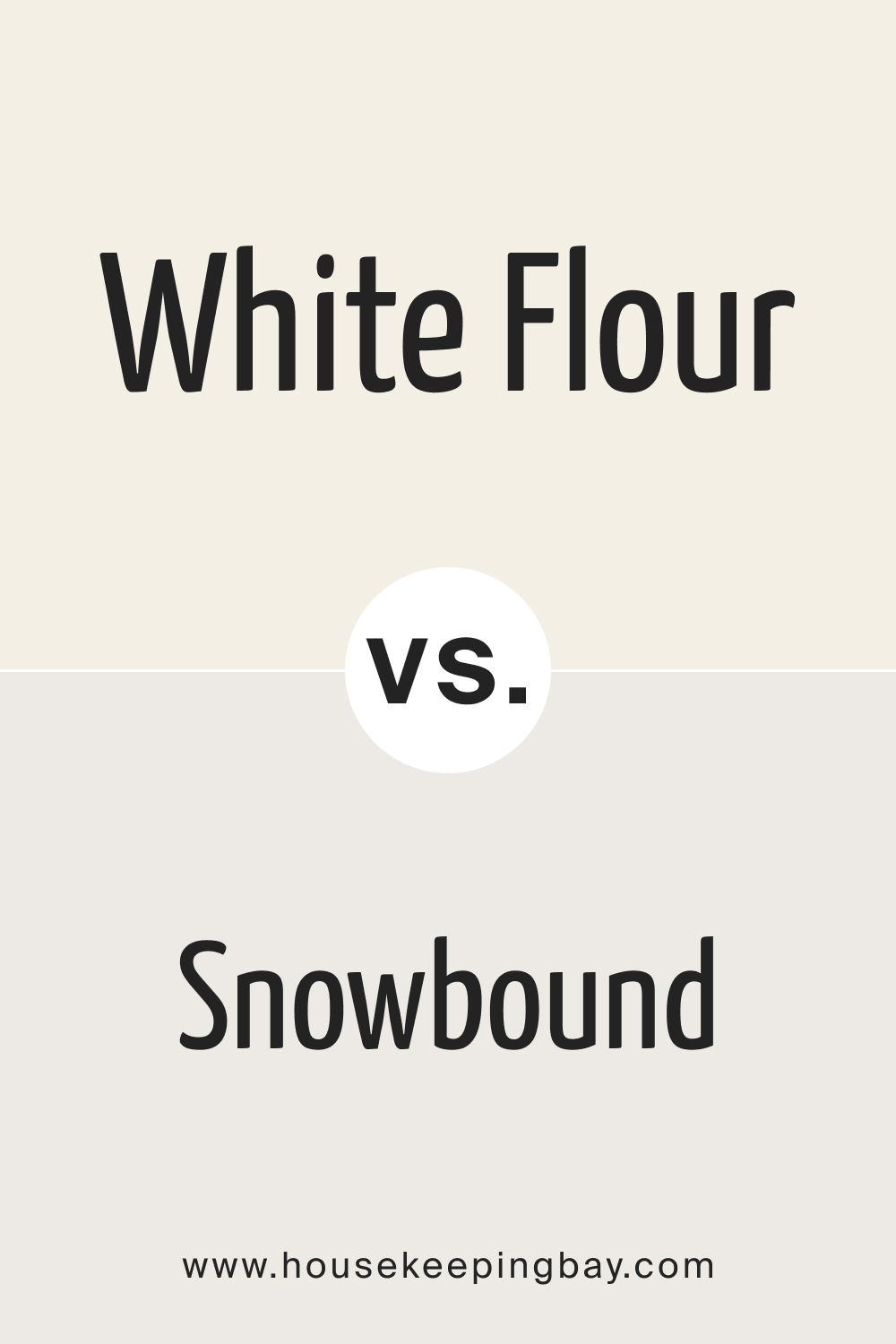 Now you see how complex and beautiful white colors can be! SW White Flour is the best proof of this.
You have learned more about this color today, as well as discovered its specifics and unique features. Thanks to this information, you will easily use this white in your home, revealing its beauty.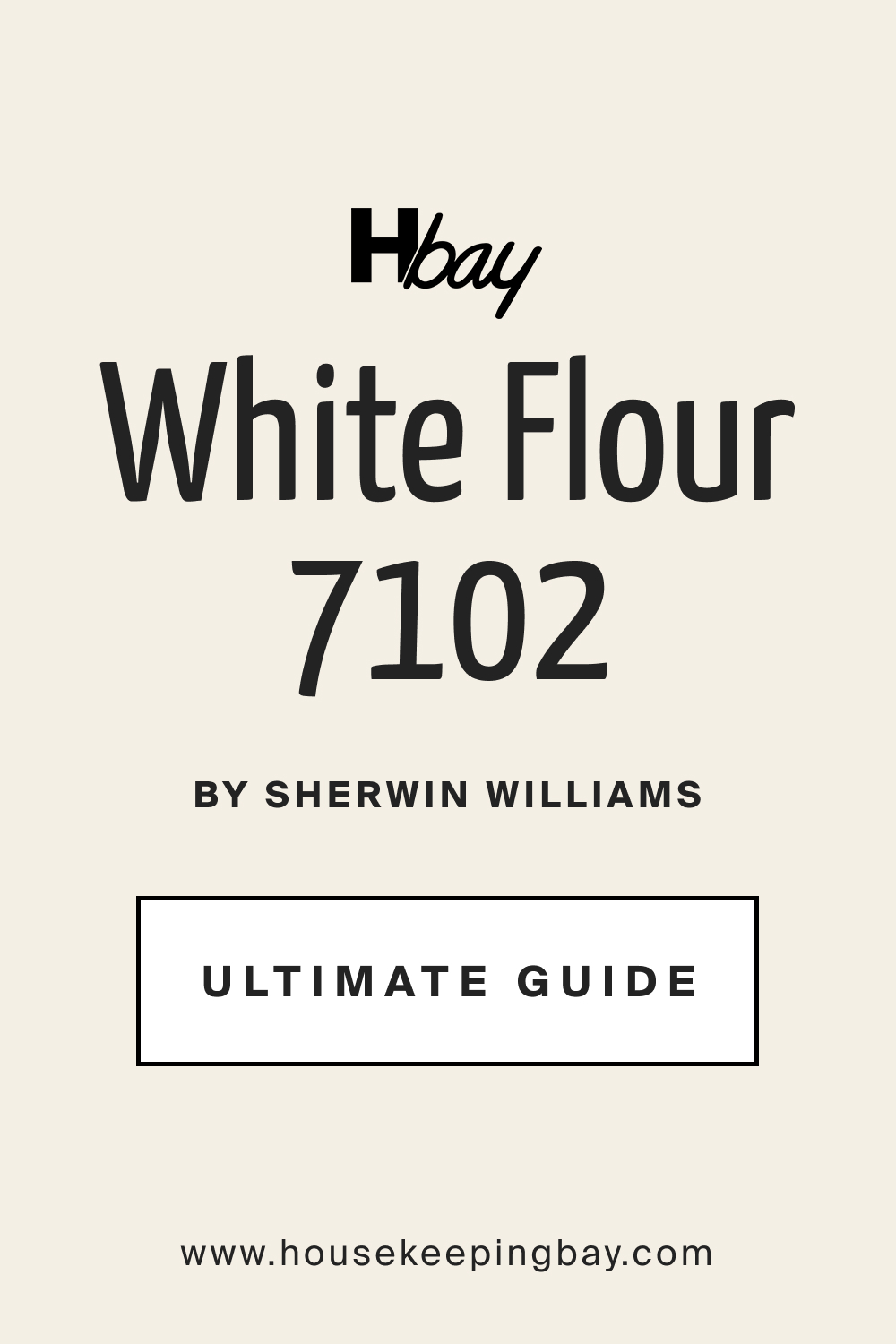 Frequently Asked Questions
⭐Can SW White Flour be used anywhere in my home?
Yes, it can. This white is very versatile.
⭐Does SW White Flour read pink?
This off-white has pink undertones, but they're so delicate that the color doesn't read pink.
⭐Will this white work with black?
Yes, it will! The contrast will be lovely!