There's nothing more stressful than thinking over the future design of your new apartment.
Many people still tend to do a quick repair to move to a new place, but others are ready to make designers suffer until they get the best result.
Which group do you belong to?
Yet, it doesn't really matter, because choosing the right color palette is an essential for everyone doing repairs or renovation.
If you struggle with finding the best color to paint your bedroom or update the whole apartment, you're in the right place.
We want to introduce you to Benjamin Moore Ballet White color.
The paint has a number of benefits and features that will please any homeowner and even the most demanding client of an aspiring designer.
Do you want to learn more? Proceed to read this article and check our complete review on Benjamin Moore Ballet White OC-9 luxury paint.
What Color is Benjamin Moore Ballet White OC-9?
The Ballet White Benjamin Moore paint is a neutral shade with a nice, cream tint, as Encycolorpedia says.
It is very delicate and sophisticated, and will complement any room in your house.
This creamy shade is very pleasing to the eye. It does not irritate with its brightness and will not bother you even after a considerable amount of time.
If you want to create a calm and cozy interior, then the Ballet White is what you need.
This is also one of the reasons why it is very popular for painting bedrooms.
The noble Ballet White shade by Benjamin Moore always looks very dignified.
The Ballet White Benjamin Moore is the color of airy cakes, whipped creamy desserts, delicate and light.
This color will complement almost all shades of the color palette, creating a relaxed and warm atmosphere.
This is a multifaceted alternative to white, beige, gray, which is easily perceived, has endless possibilities for experimentation and the implementation of new ideas in the interior.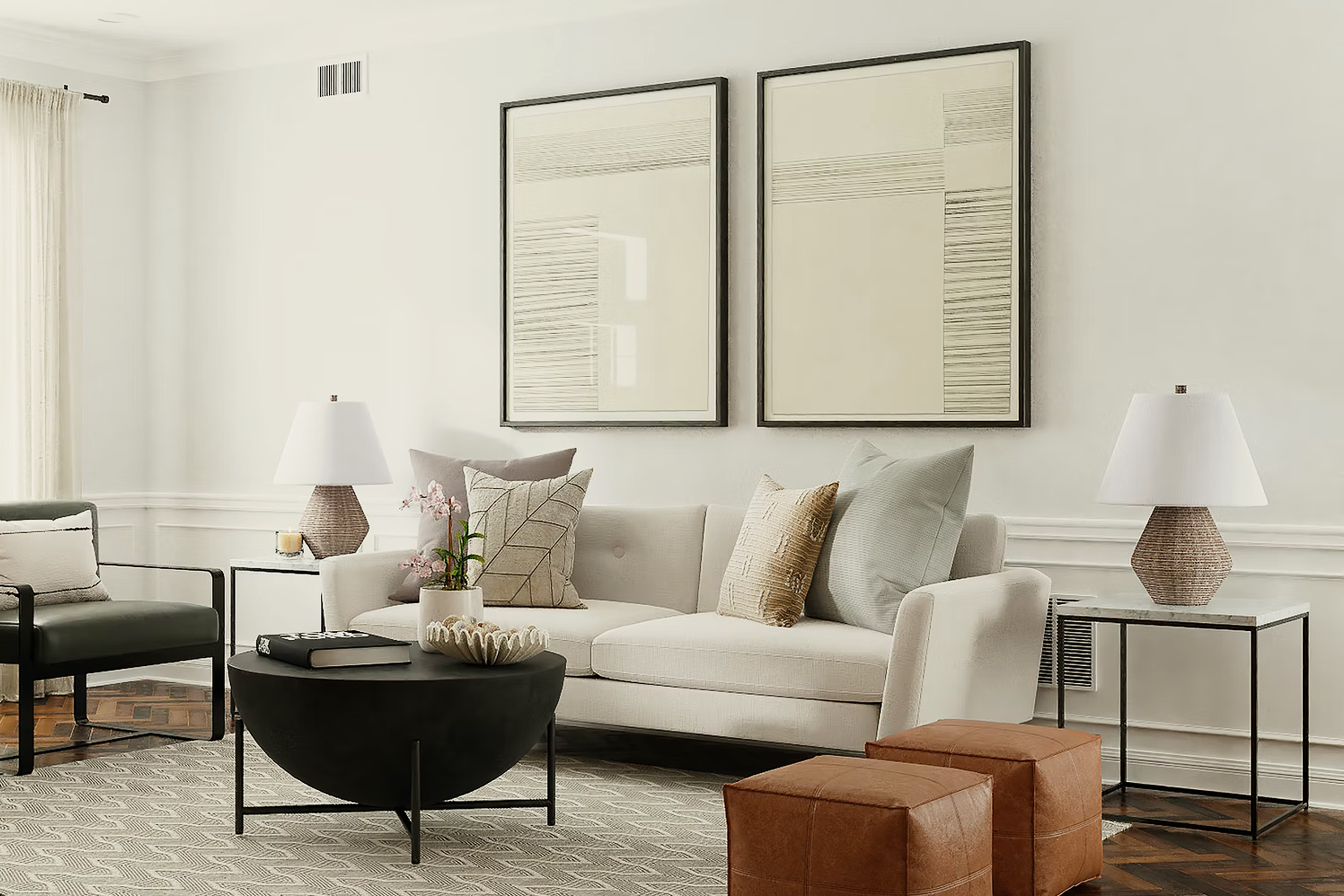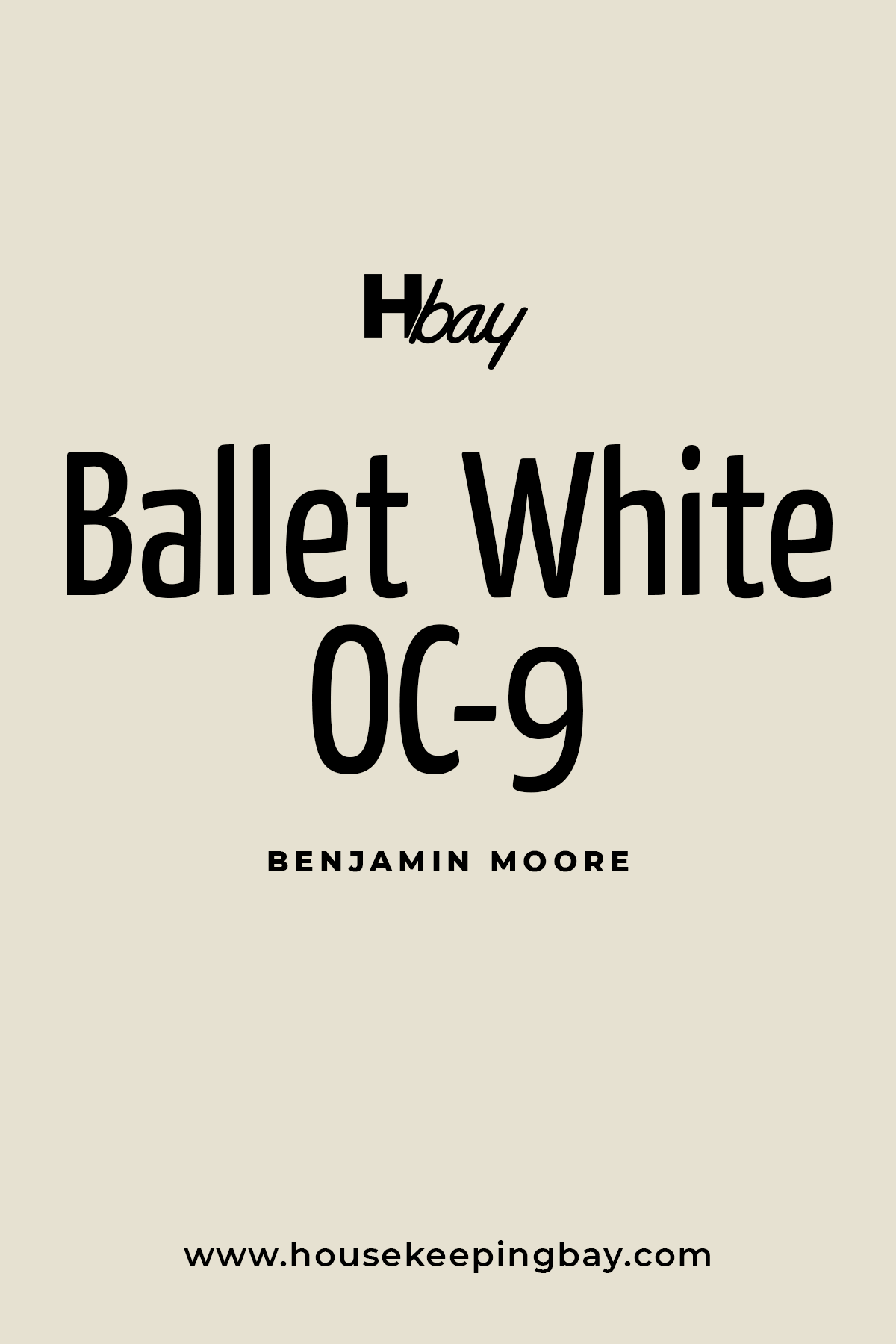 Is Ballet White a Warm or a Cool Color?
Using the Benjamin Moore Ballet White in your interior, you will give it a pleasant, warm atmosphere of coziness.
Since the shade belongs to the warm color palette, it will look amazing in the sunsets and with natural lightning in both big and small rooms.
Choose Ballet White by Benjamin Moore to create the unique and sophisticated design of your living room or bedroom.
This shade is quite versatile and can be used for decorating any room of the apartment.
How does lighting affect Ballet White?
No design development can happen without knowing the LRV of the paint.
According to the official resource, the LRV (Light Reflectance Value) of Ballet White by Benjamin Moore paint is 73.54, which means it is an amazing option if you want to add more light in your room.
Such a level of LRV means that a room painted in Ballet White shade will look spacious and airy, creating a light and comfy atmosphere.
Using this shade in your interior will make rooms seem more spacious and free.
It does not load space, does not draw all attention to itself. This amazing shade will fill the room with light and air. Even the ceiling in an unusual creamy Ballet White shade will not "pressure" you.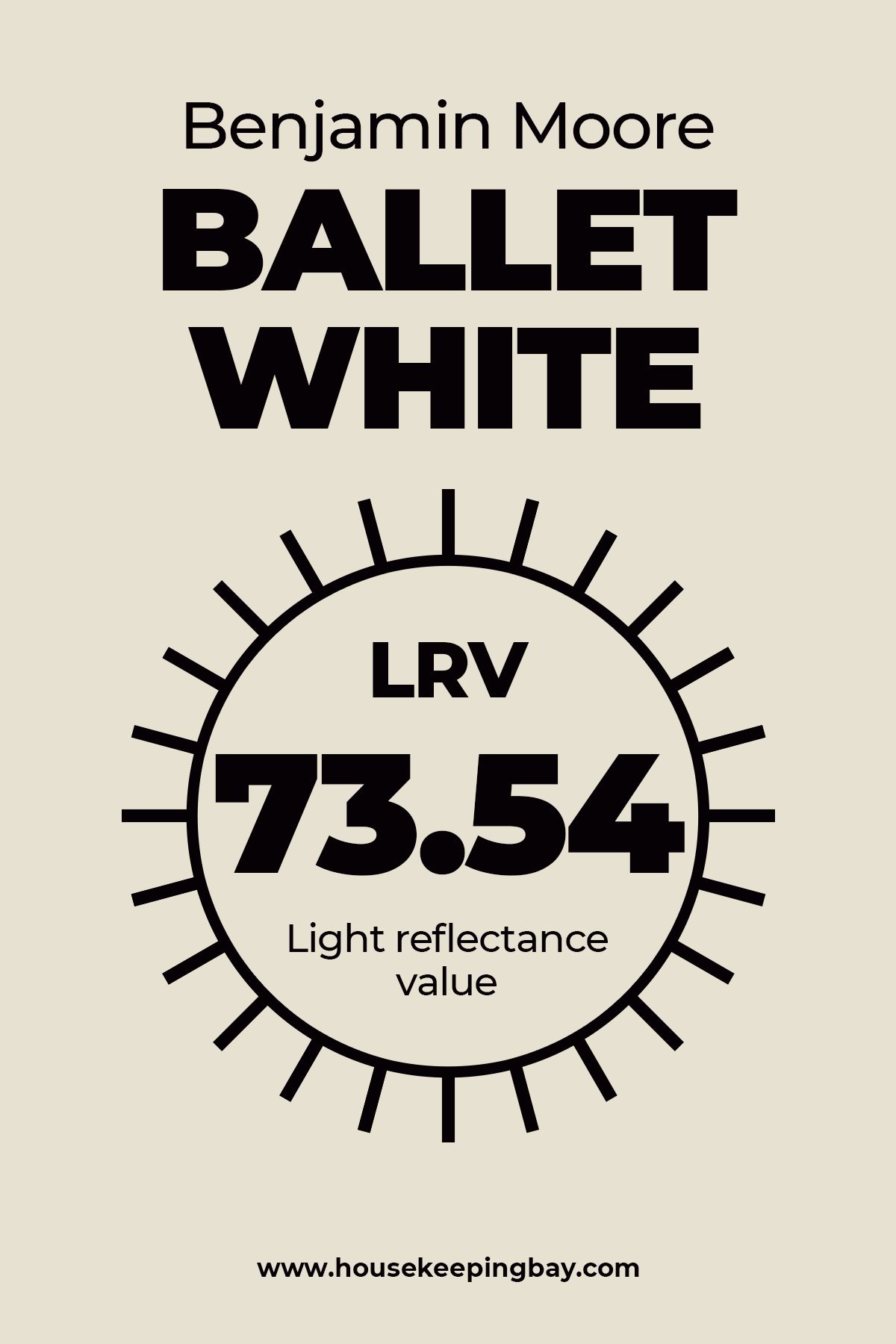 What is LRV? Read It Before You Choose Your Ideal Paint Color
Undertones of Ballet White
Benjamin Moore Ballet White OC-9 is no doubt a great choice. It is considered neutral because it is neither cold nor warm, and is the best option if you want to create a nice atmosphere in the house.
It is a good choice for any of the traditional interior styles, and it is also great in any other modern styles, even the wildest and most electric spaces.
And it can look completely different depending on the design and lighting.
Beige and cream-colored interiors are all about the excellence of light and softness, so they love good lighting.
When choosing lighting for interiors in Ballet White shade, you should pay attention to models of chandeliers, floor lamps, lamps made of glossy stone, chrome surfaces, and brass parts.
Thus, you can focus on the midtones, diverting attention from excessive brightness.
The interaction of cream shade and light is natural, since it is the color of warmth and the sun, the main thing is to skillfully emphasize the sophistication of the interior, using lighting of various powers and shapes.
To do this, you need to divide the room into zones.
Light zoning is a well-known design technique that allows you to achieve the desired effect based on your goals. For example, using lamps, a dining area and a place to relax stand out.
For a beige interior, chandeliers and lamps are mainly used, which have simple shapes, without tracing specific images.
Ballet White OC-9 shade will look especially stylish and interesting in tandem with yellow, orange, mint, peach, emerald and other warm and cold muted colors. Bright notes are also welcome.
For example, crimson, red glass shades with patterns or textures look great.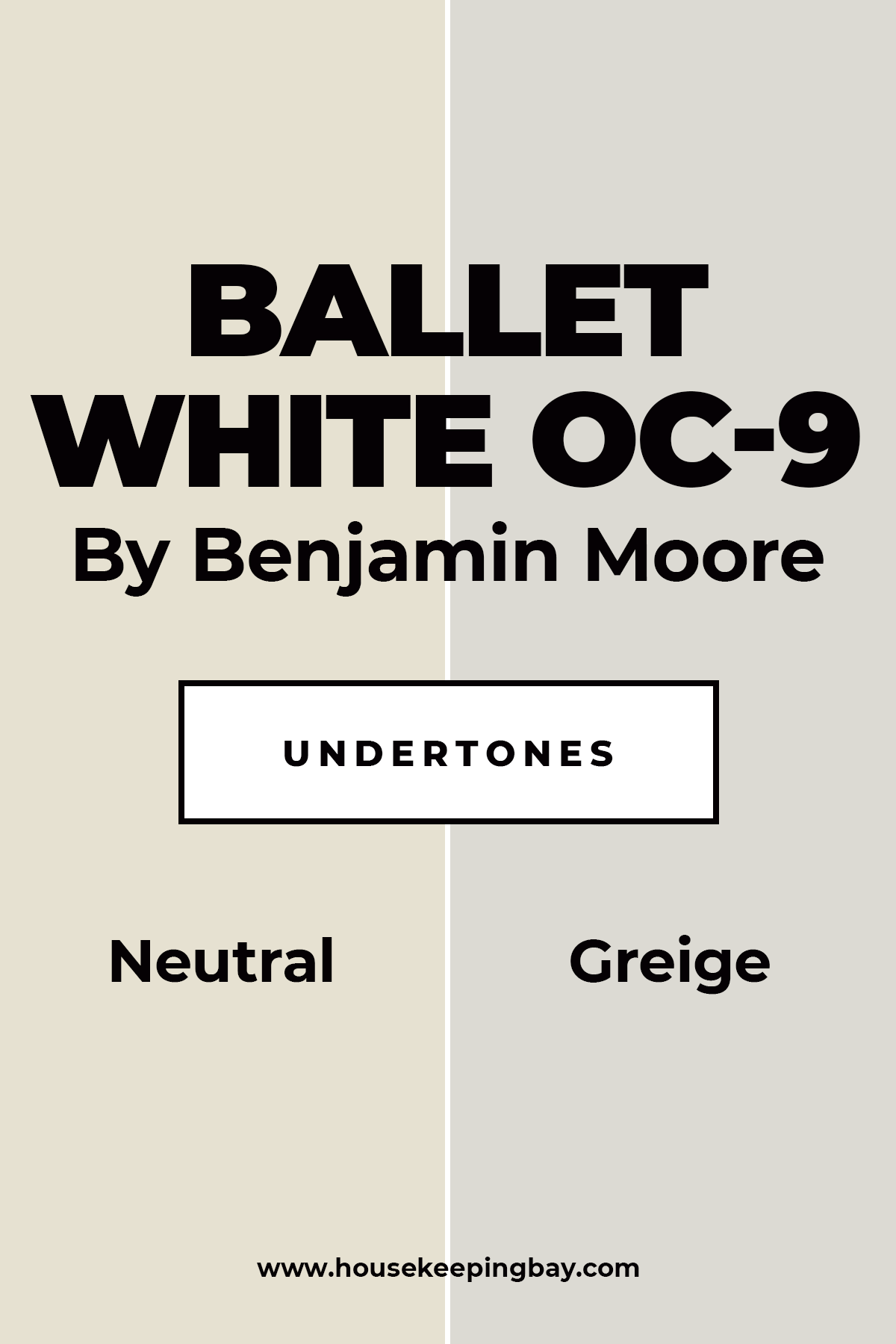 Benjamin Moore BALLET WHITE | Best White Paint Colors
Coordinating Colors of Ballet White OC-9 by Benjamin Moore
This color is a real godsend for the realization of the most daring design decisions. It can be a great backdrop for bright accents if you decorate walls and floors with it.
And you can make a completely monochrome design of the room in these shades by using Benjamin Moore Ballet White complementary colors.
Hot Chocolate CC-484
White Sand 964
Metro Gray 1459
Combination of creamy beige and chocolate colors already sounds very sweet.
You can create cool interiors using these two colors.
Despite the fact that brown is much darker and could be classified as a contrasting combination, belonging to the same color palette makes this combination monochrome. In addition, both colors can be used in light saturation.
Combinations with gray and beige colors are good for Scandinavian interior style. The combination of gray and beige can visually reduce or enlarge the room.
So, for example, light gray and light beige will visually make the room wider and more spacious. Accordingly, dark gray with Ballet White narrows and reduces the room size.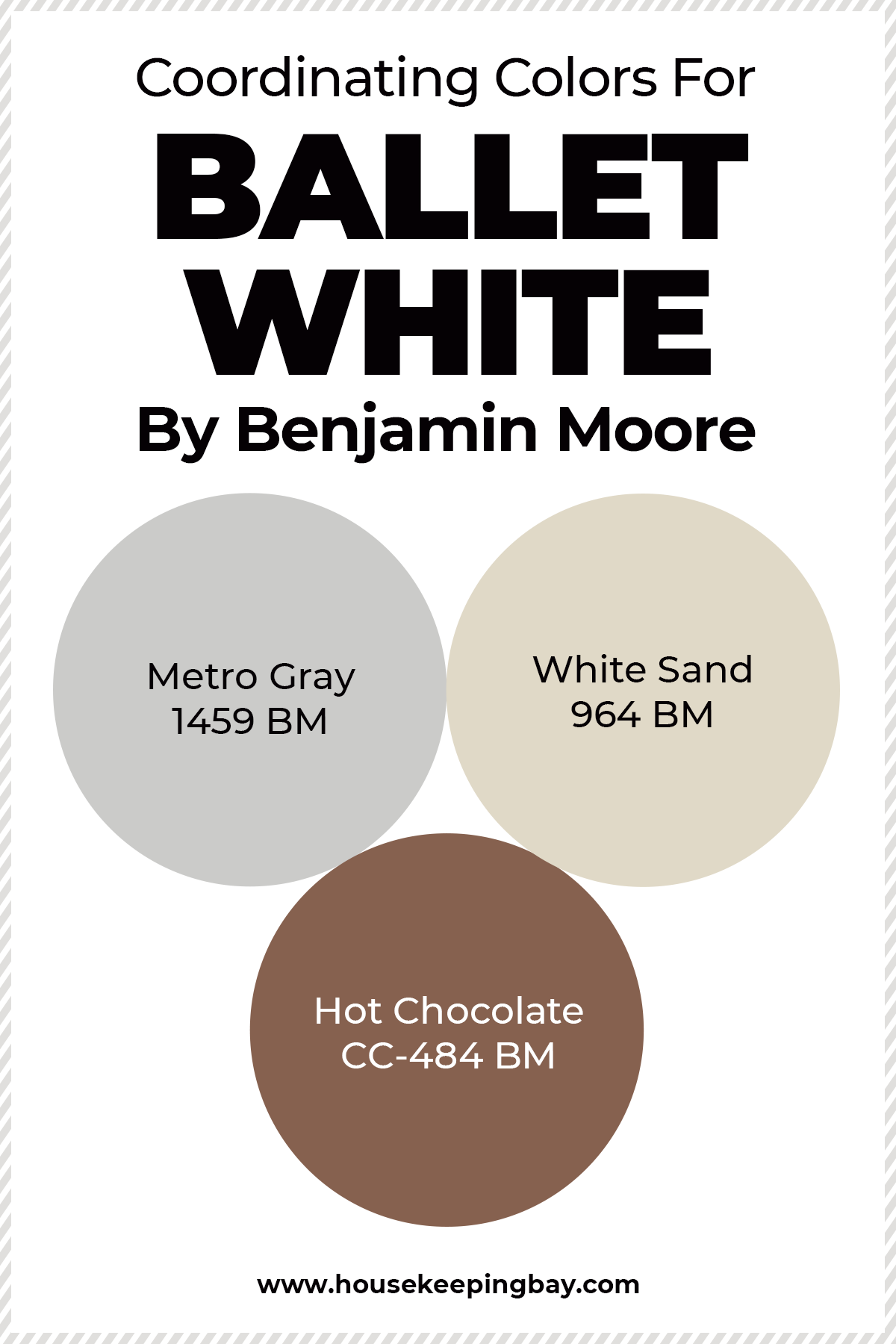 What's the Best Trim Color for Ballet White?
Check out these options from beautiful Benjamin Moore collections:
Greenhow Blue CW-655
Louisburg Green HC-113
If you want to mix Ballet White with Greenhow Blue, you will get a natural effect of sandy shore and sea waves.
This is one of the most successful options, which visually makes the room larger and brighter, and saturates the room with air. Cool undertones of blue and warm beige look amazing and fashionable.
The second option is the most natural, familiar to the human eye combination.
Various shades of green in combination with Ballet White tone will give the room a light, cheerful, positive atmosphere.
In this design, furniture with dark brown accents looks great.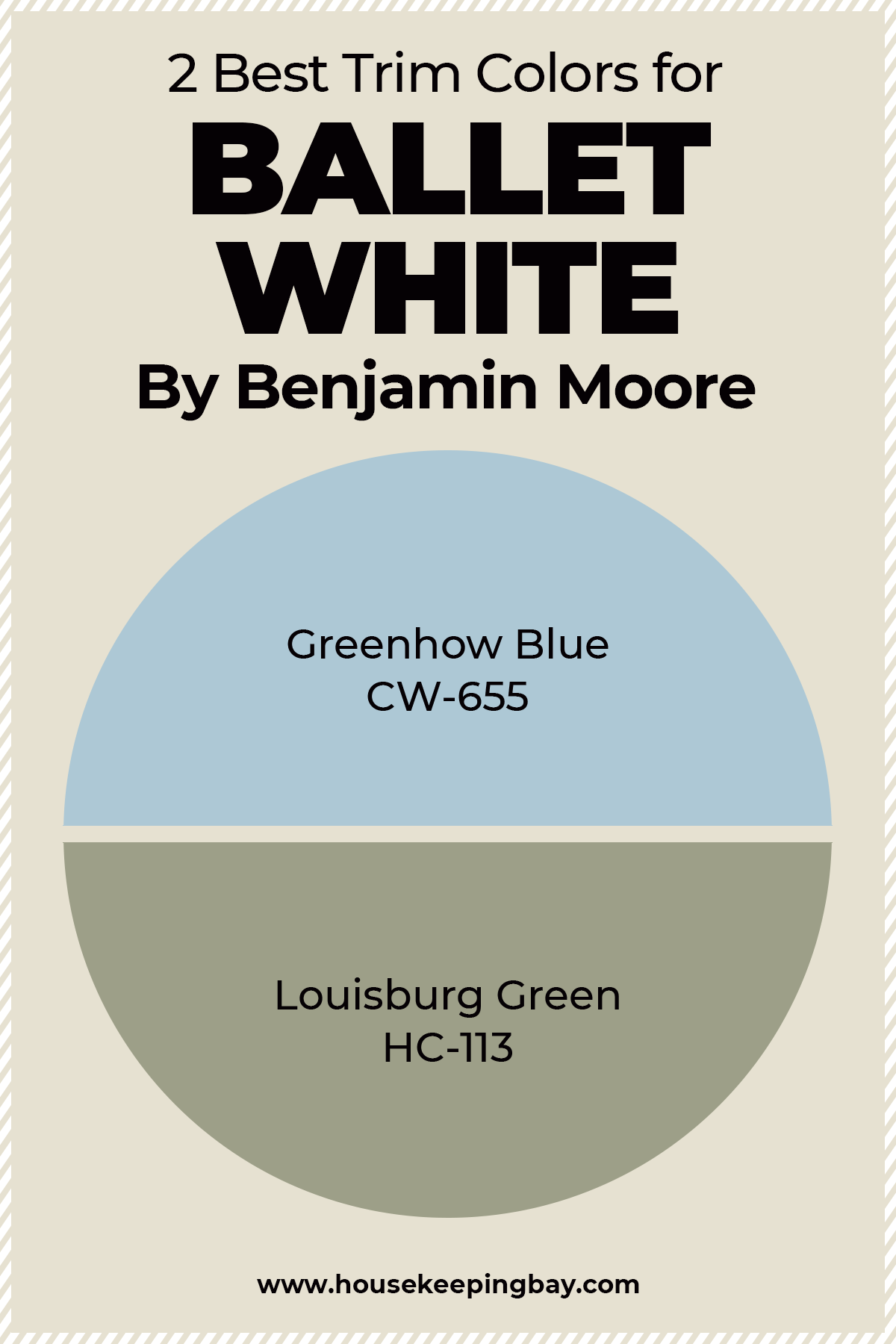 Where can You Use Ballet White Shade?
Delicate creamy color of Ballet White paint by Benjamin Moore is perfect for decorating any room.
It can be easily adapted to the design of the entire apartment or one of the zones, regardless of what semantic and functional load the room carries.
Ballet White in a bedroom
Benjamin Moore OC-9 color is a great addition in the design of this room.
It's calming and makes the bedroom look rich and sophisticated. A good addition to this color in the bedroom will be light brown colors and gold trim.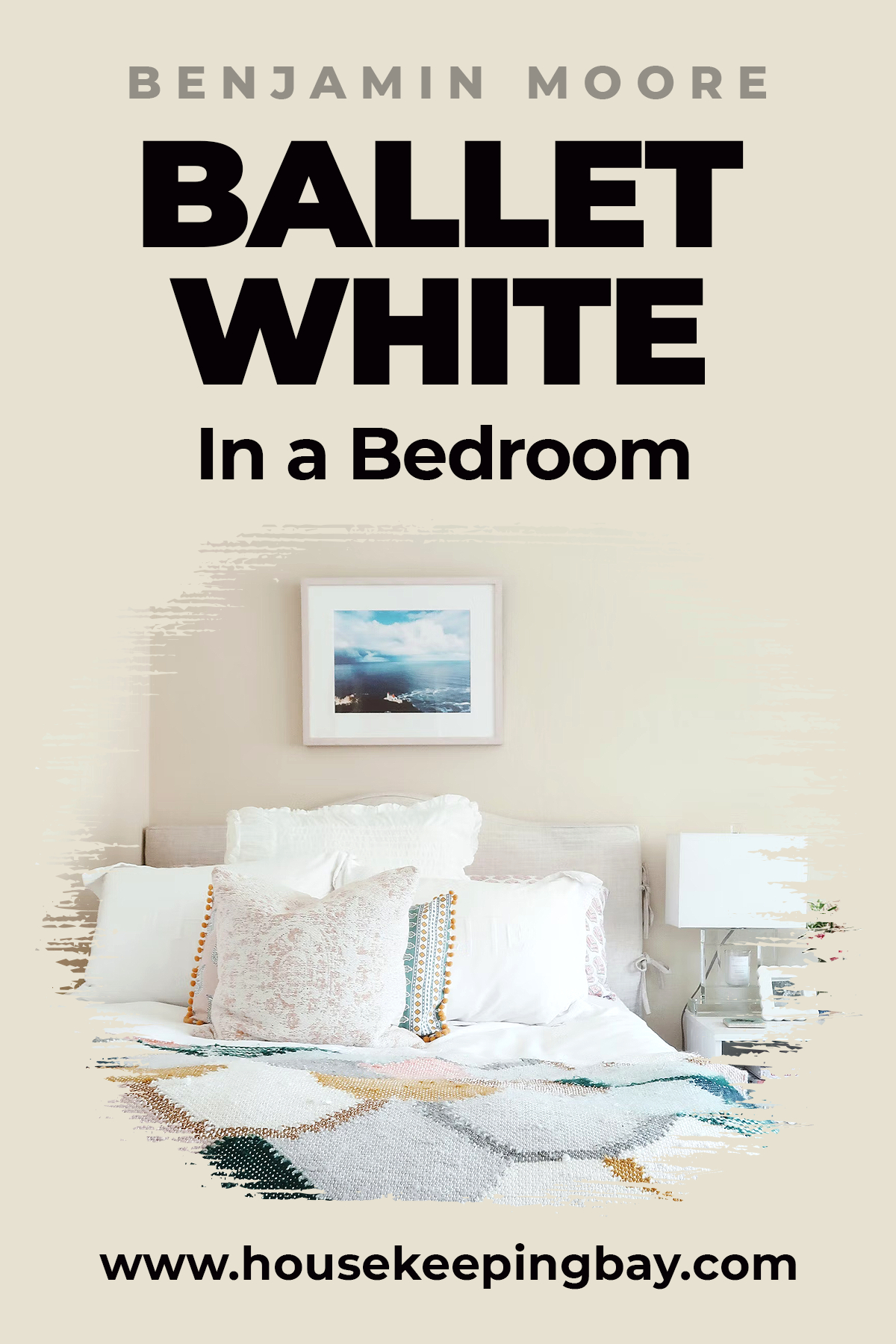 Ballet White in a living room
The living room is the heart of the house.
Here you can meet your family after a long day, take a break from the hustle and bustle, have leisurely conversations and host parties.
The Ballet White will be a perfect complement to your living room because it is neutral, looks elegantly, subtly and beautifully combined with various additions and gives a feeling of harmony and tranquility.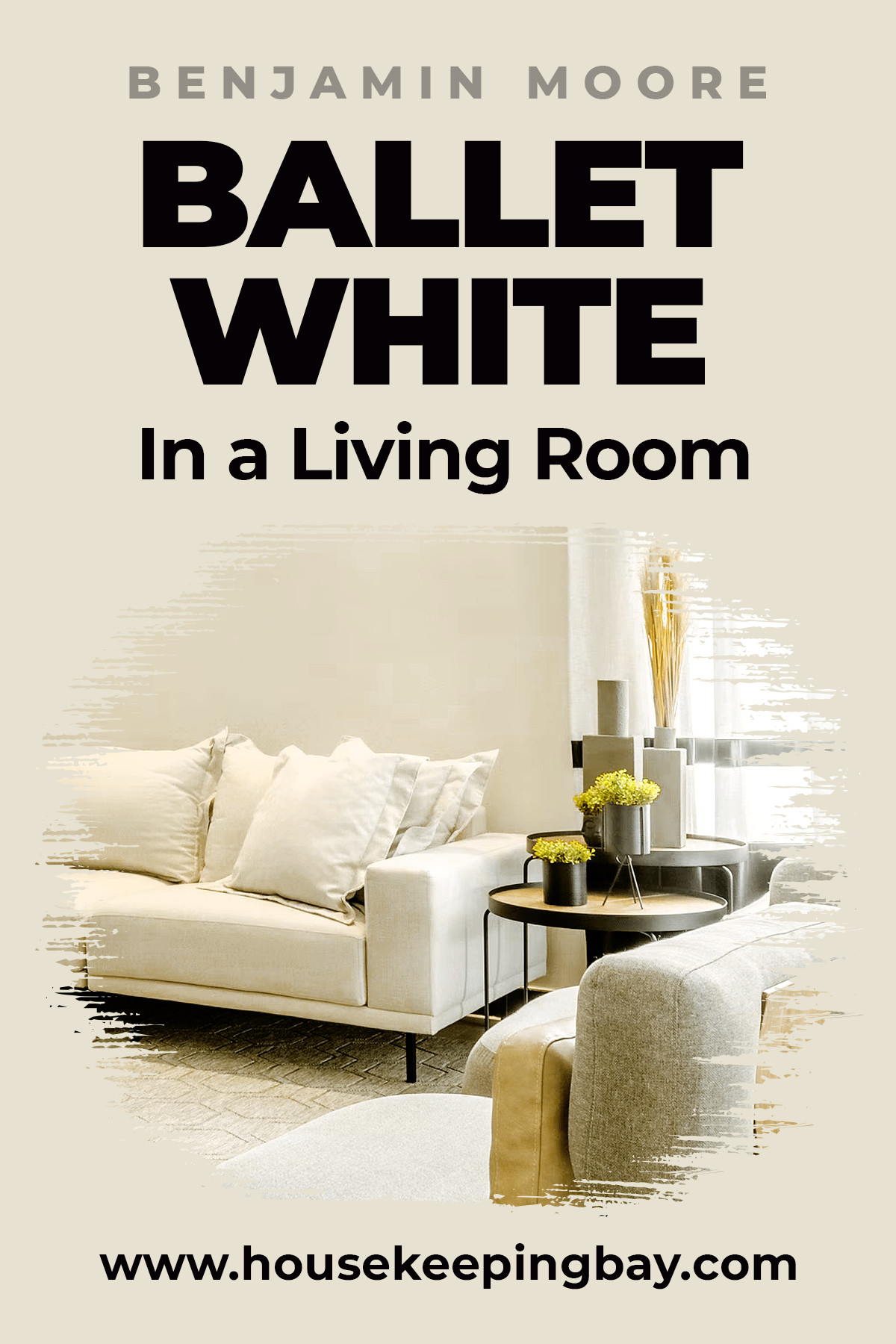 Ballet White in a cabinet
If you plan to create a calm atmosphere in the office, then the Ballet White by Benjamin Moore interior will be an ideal option.
A relaxing atmosphere can be achieved by creating a calm, soft interior in a gray-beige color palette.
This design is relaxing and at the same time has a "cold" character. As a rule, these colors are used in rooms that face south.
Thanks to this approach, you can make the interior more restrained and "cool" the atmosphere.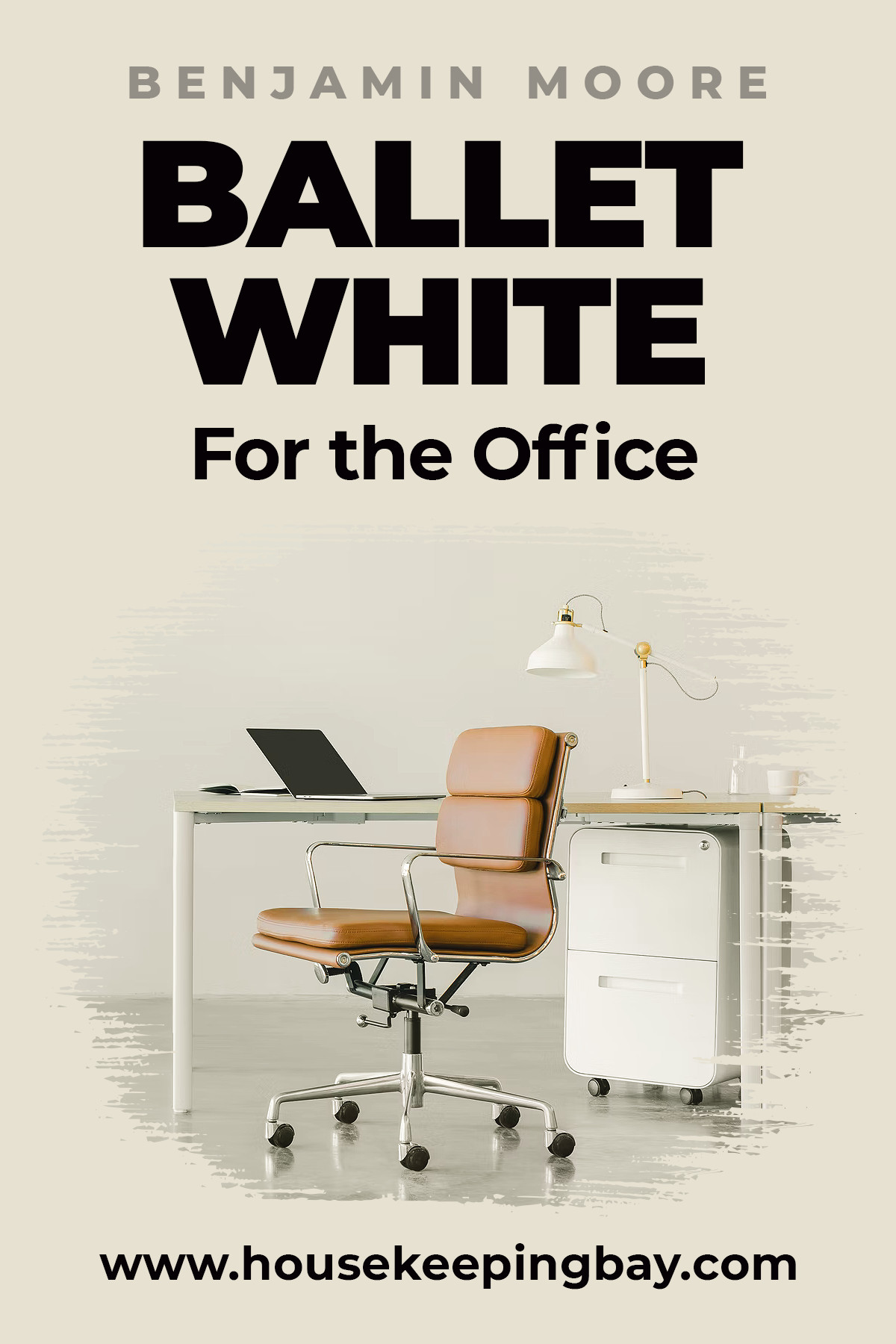 Ballet White in a kitchen
The sophistication and airiness of creamy toned kitchen strikes with impeccable cleanliness and nobility.
Using Ballet White color for your kitchen will create an atmosphere of ease and tranquility, beckoning with comfort and warmth.
A creamy interior can be a game changer without companion shades. A kitchen in pastel colors always looks elegant. Here you can play with undertones and lightning.
Ballet White in a bathroom
The color is very warm, helps to relax, attracts coziness and comfort.
Choosing the design of your bathroom in Ballet White, you can be sure of the win-win of this option, and by adding it with your favorite shade, you can make the room as comfortable as possible for yourself.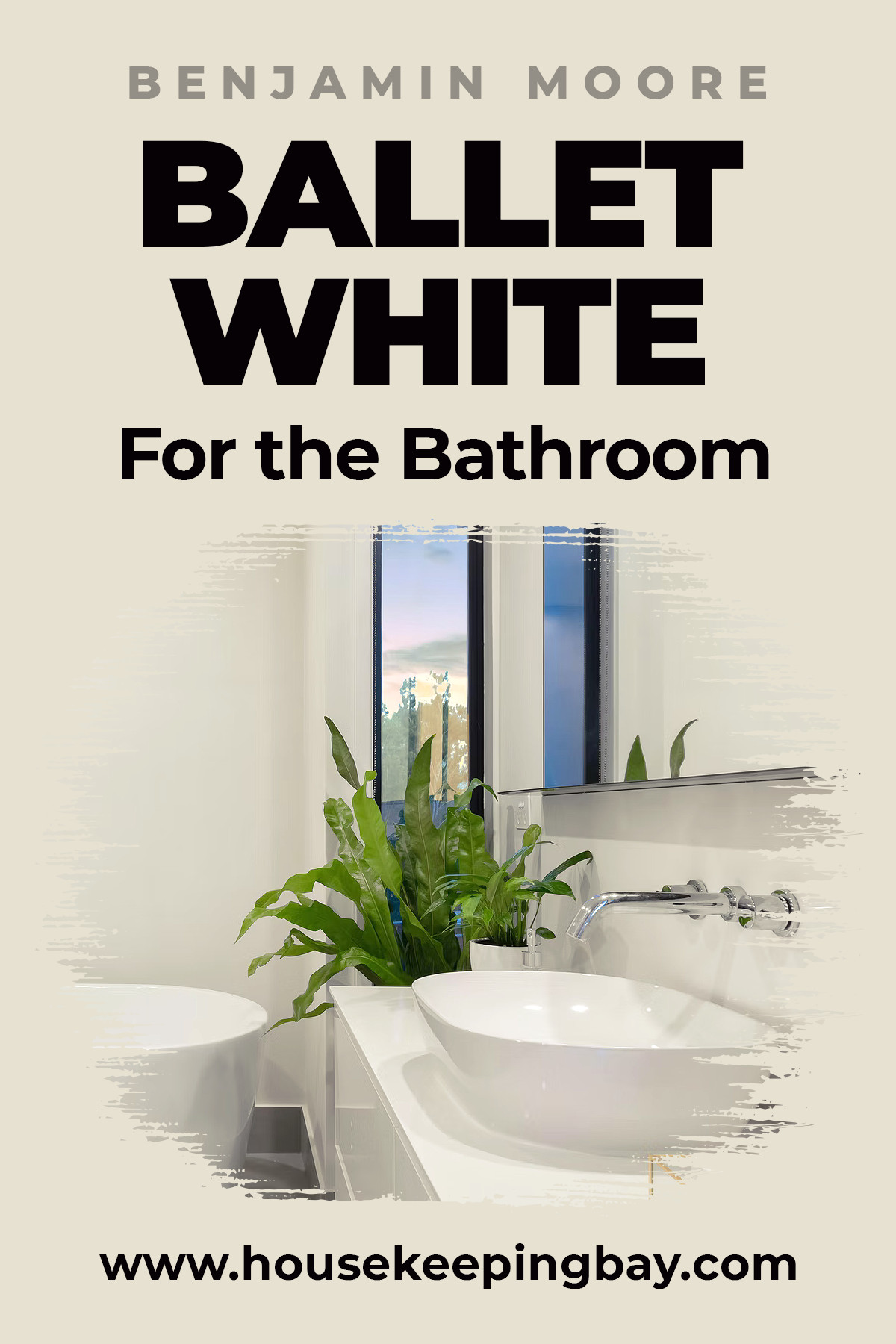 Ballet White in a hall
Not every person entering the house will be invited into the living room or kitchen. But they will certainly see the hallway.
Often this room is called a "business card", providing basic information about the owners.
The desire to give it an ideal look, to emphasize your taste, sense of style, and worthy status is understandable.
But this is not easy to do, the room is operated intensively, usually limited in size, devoid of natural light.
A good option in this case can be a hallway made with Ballet White paint by Benjamin Moore.
This color has unique qualities, and is well suited for such spaces.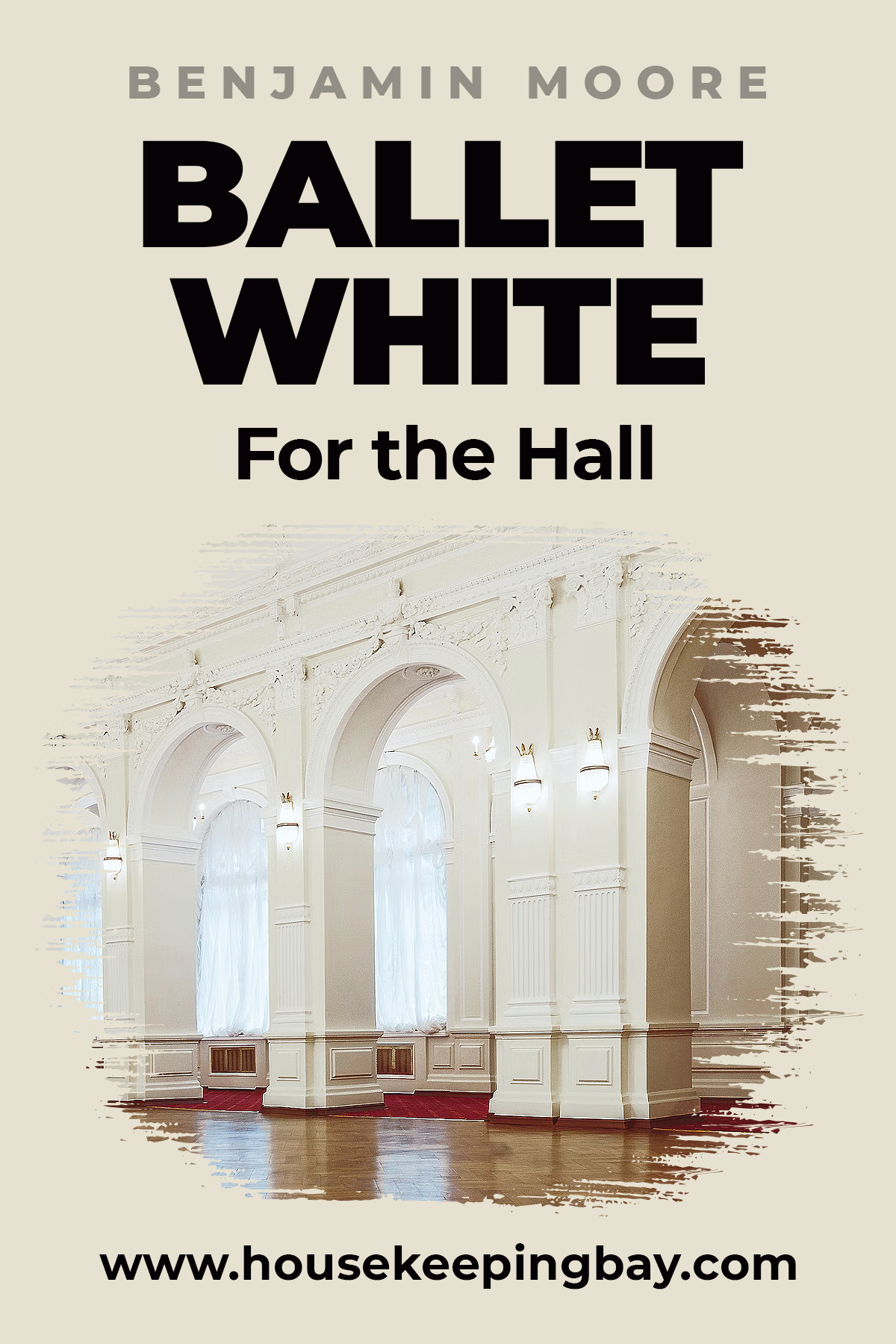 Ballet White in exterior design
Using Benjamin Moore Ballet White in exterior is a good decision.
It suits both palettes of warm and cold tones, so you can experiment with colors and textures.
Colors Comparison of Ballet White OC-9 by Benjamin Moore
The Benjamin Moore Off White color collection offers a great palette of subtle, sophisticated colors that can be used together or separately.
Let's see what are the other options.
Ballet White vs. Swiss Coffee
Swiss Coffee is a stunning white shade with a yellowish undertone.
It's a warm color that will be a good complement for Ballet White in any room of your house.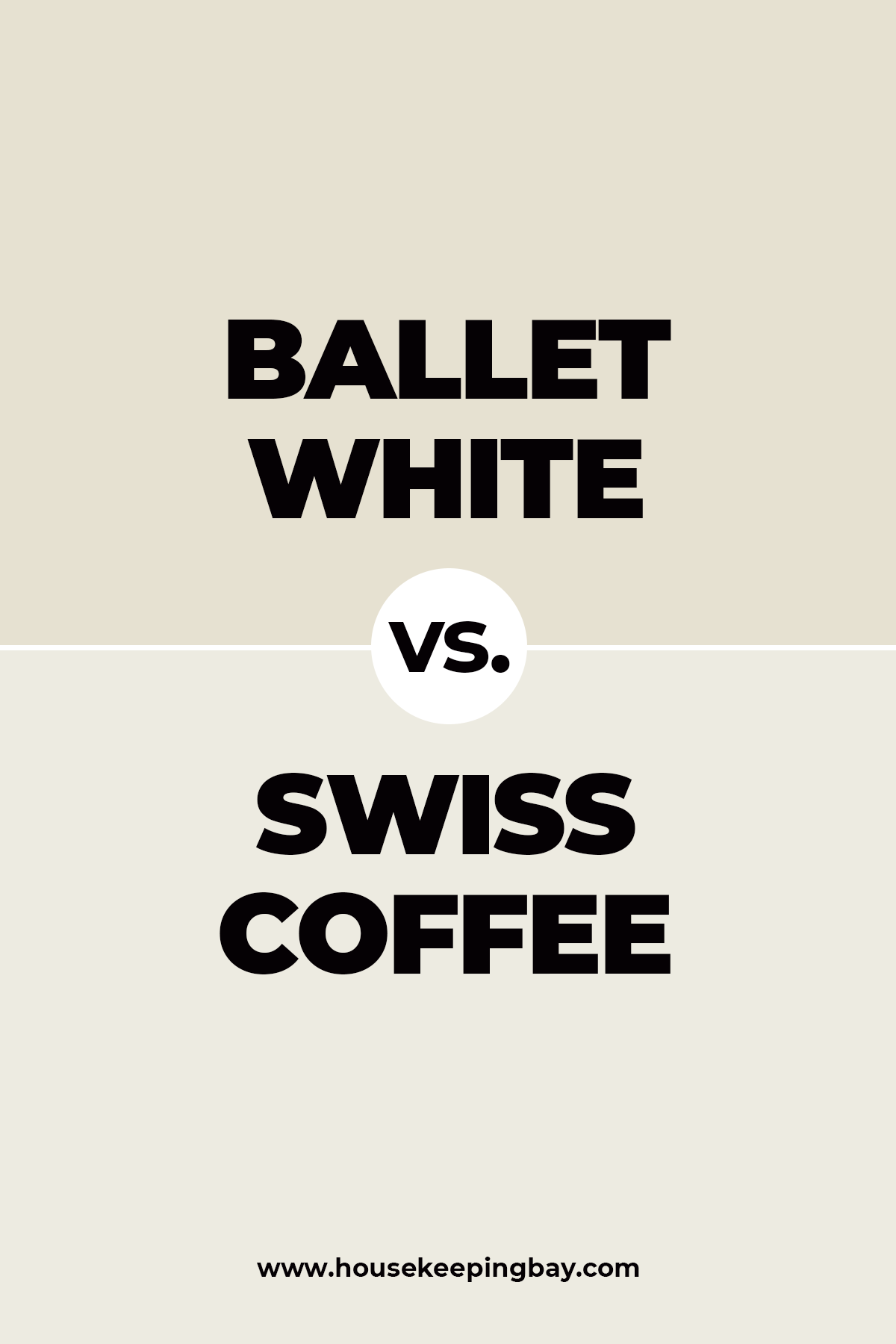 Ballet White vs. White Dove
Also known as White Dove OC-17, it is a classic, softly shaded white.
Light and luminous, it is a favorite choice for moldings and trim.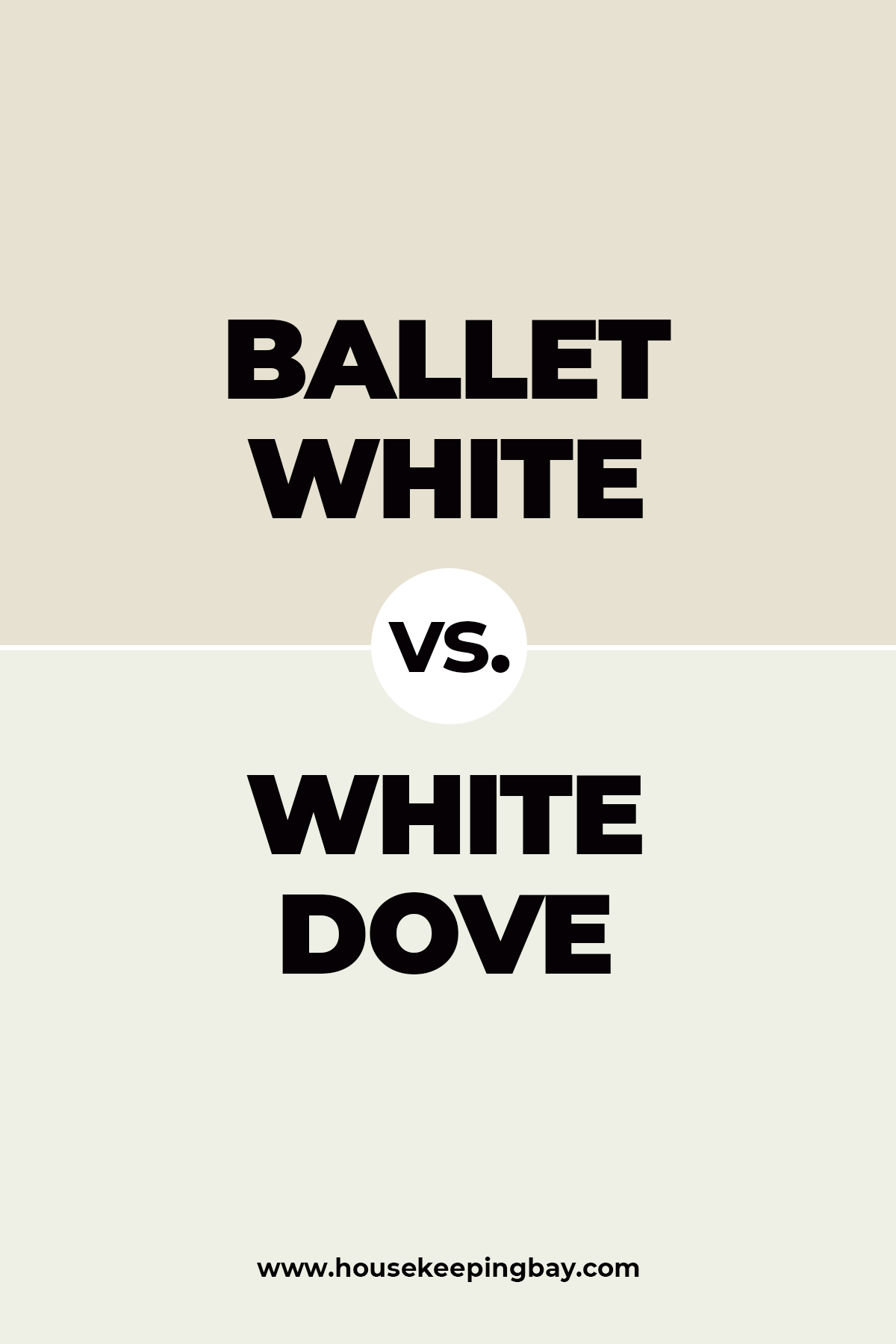 Ballet White vs Pale Oak
This is a beautiful neutral shade that looks graceful and elegant, conveying a sense of style and quiet restraint.
You can use Pale Oak to add a touch of classic to your interior or exterior design.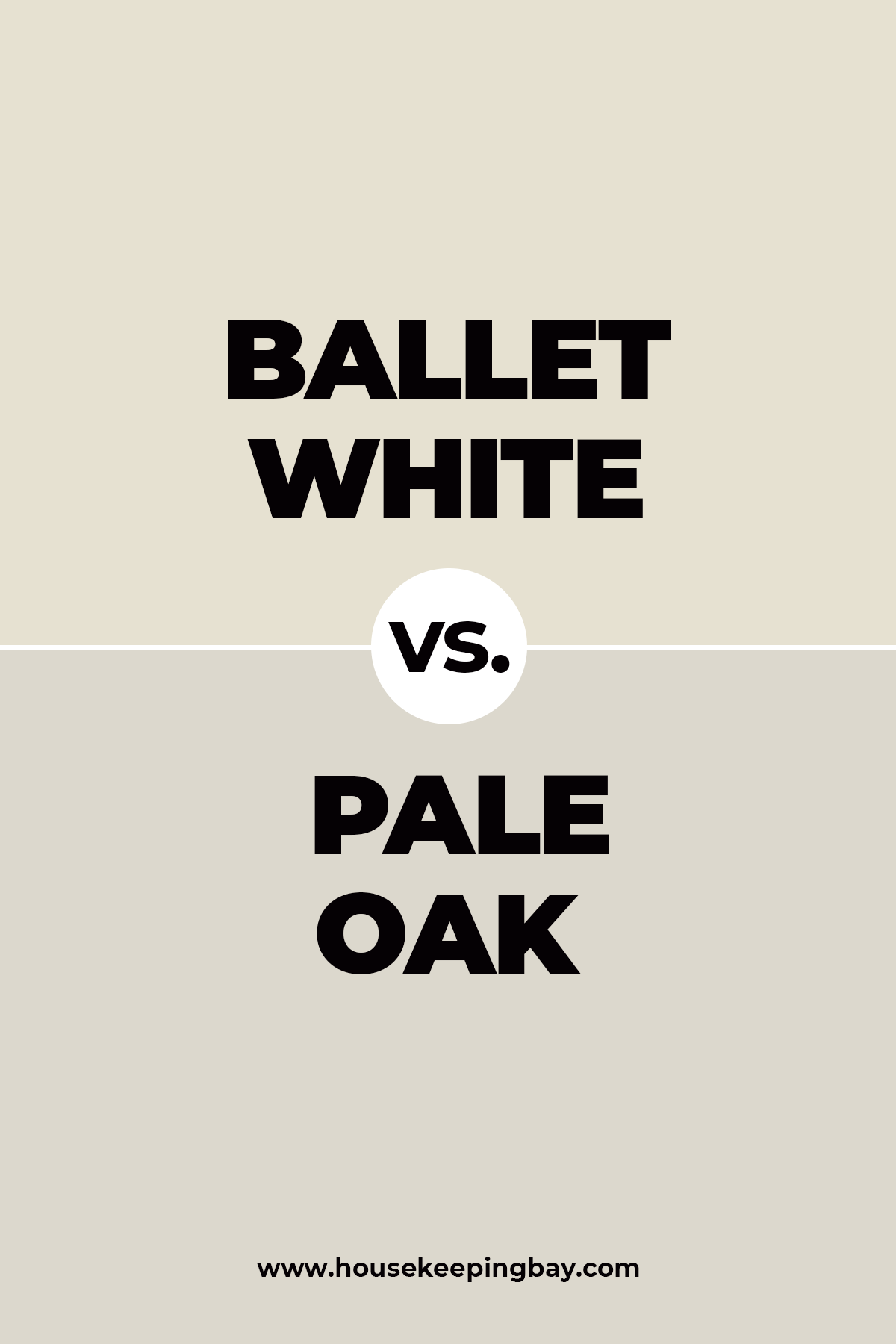 Ballet White vs Edgecomb Gray
Mixing Ballet White with Edgecomb Gray in your design will create an atmosphere of minimalistic, yet very fashionable living space.
Get neutral, soft, and stylish apartment design.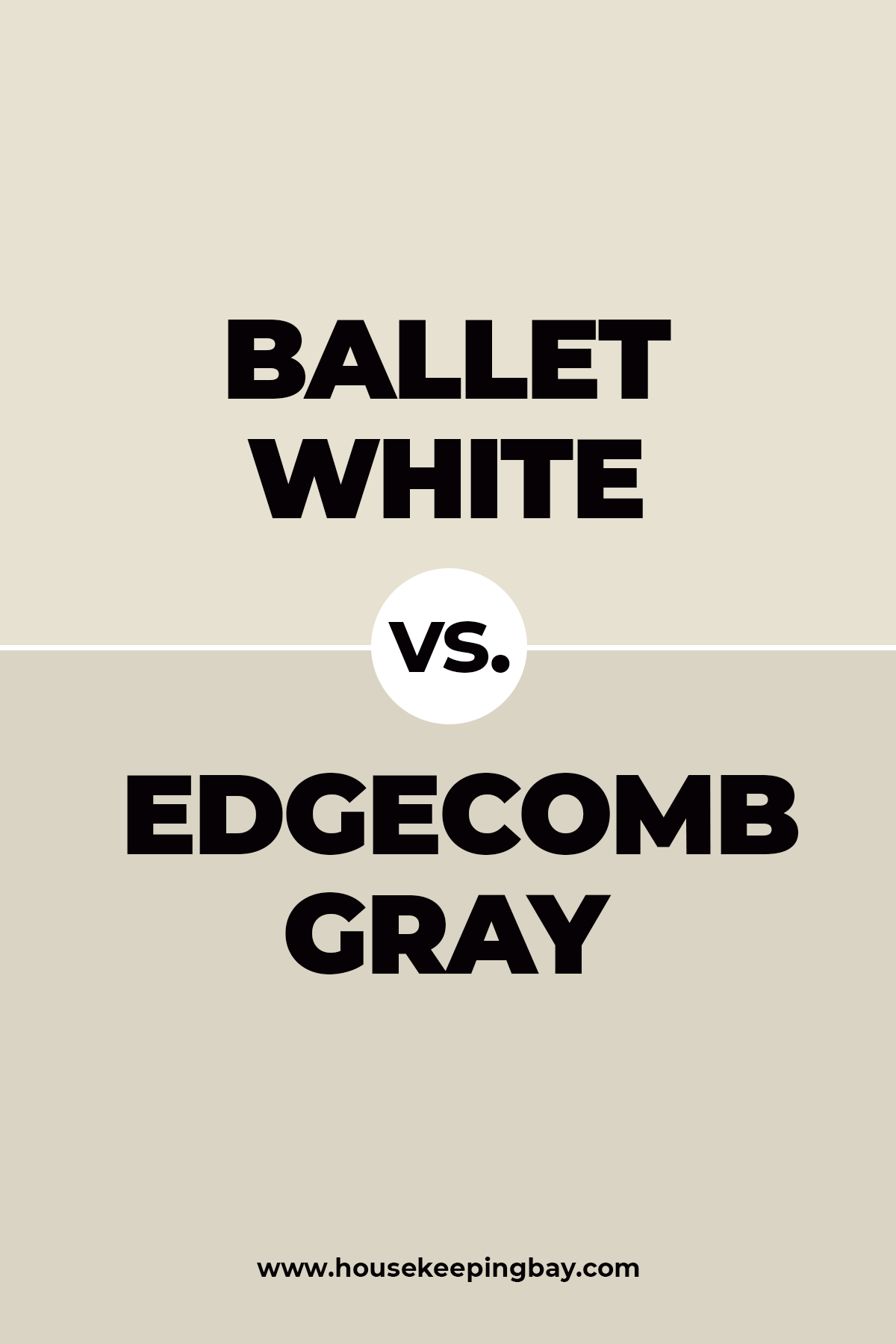 Ballet White vs Alabaster
Timeless and elegant, Alabaster shade is a versatile addition to any beige palette color.
Using it together with Ballet White, you can achieve a classy, sophisticated design.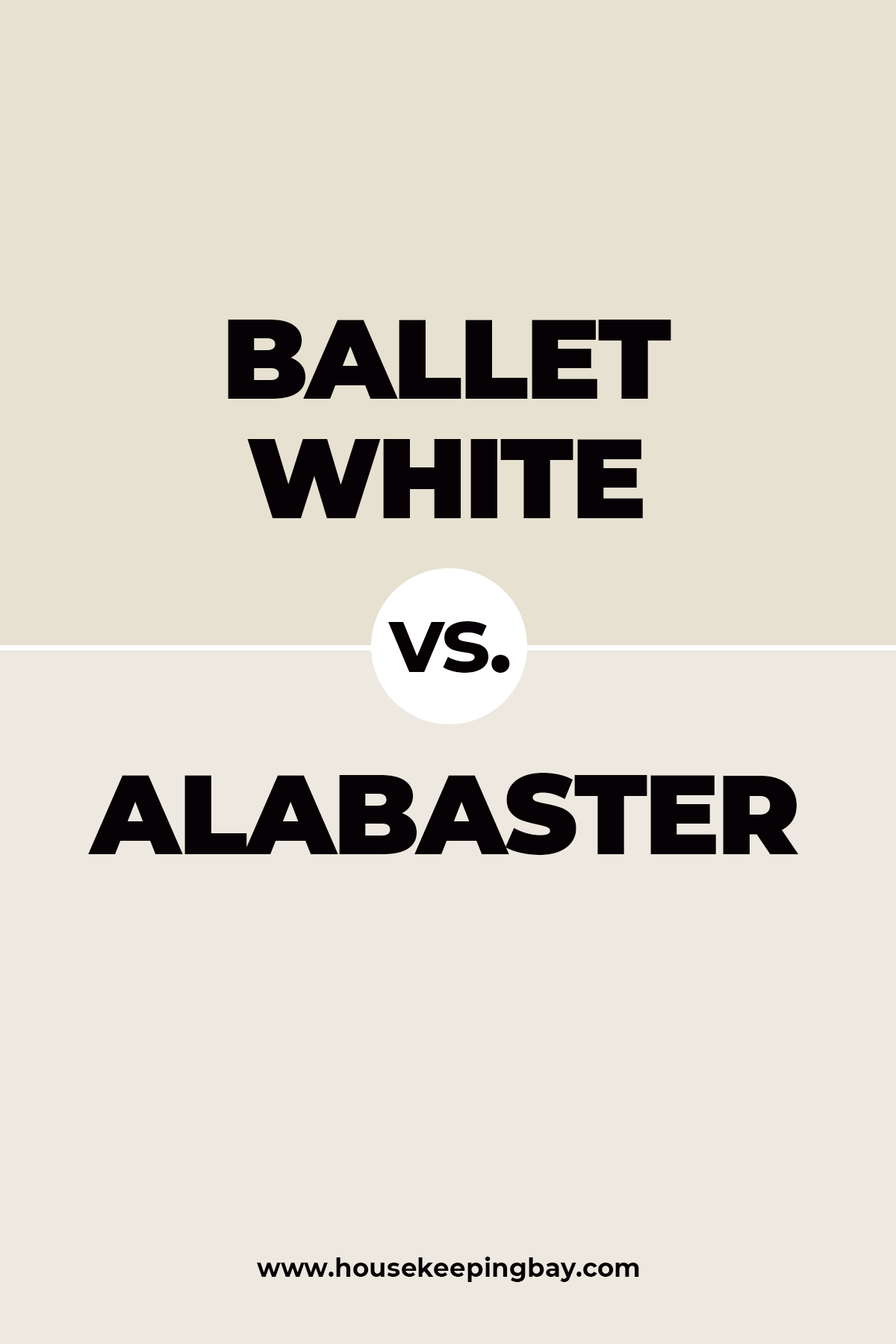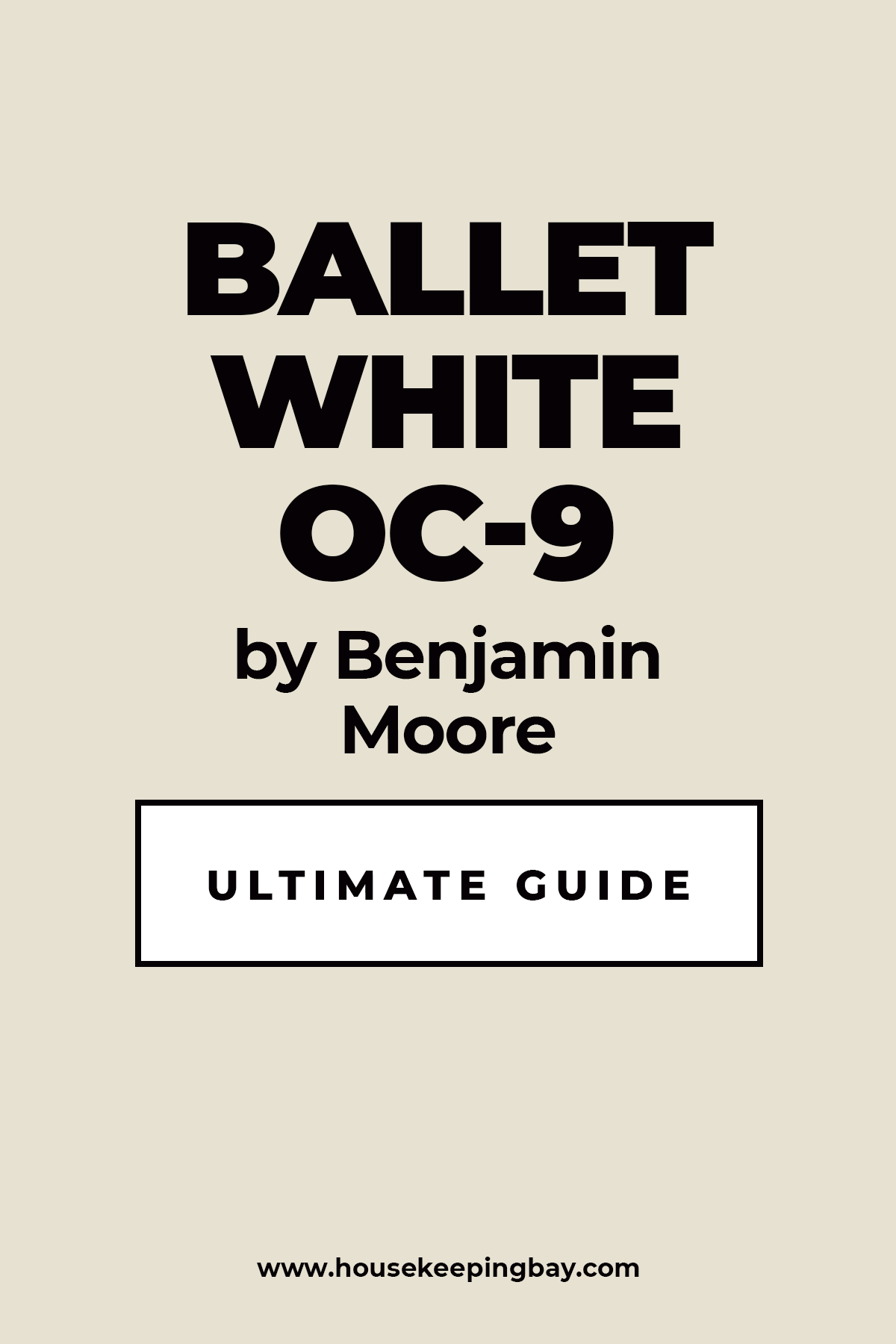 Frequently Asked Questions
⭐ How to choose Off White color between Benjamin Moore White Cloud and Ballet White?
White cloud has a saturated yellow undertone. You should choose based on your requirements.
⭐ Is Benjamin Moore Ballet White similar to Sherwin Williams?
Every color shade is unique and beautiful, but you can probably find similar shade in Sherwin Williams collection.
⭐ Can you design a total Benjamin Moore Ballet White interior?
Monochrome interiors are the best and you can feel free to use Ballet White all over your apartment.