Heading off for a home renovation project is always somewhat challenging since you need to take way too many factors and things into consideration. However, if this project includes painting, things usually become even more tangled for most of us!
Picking up proper paint colors for the walls, making sure that they fit the color of the ceiling and the furniture as well, checking how those colors will react to different lighting – prepping your home for painting work may seem to be like preparing decorations for the theater stage!
Because of this, quite many homeowners decide that, if they choose to apply greige paint colors in their rooms, they will save time and nerves since greiges seem to be so universal and easy to deal with!
However, this group of colors is far from being simple, and today we will introduce you to one of them, Anew Gray SW-7030 in particular, so that you could see what exactly we mean.
Anew Gray By Sherwin Williams. What Color Is It?
So, Anew Gray SW-7030 by Sherwin Williams is what we usually call greige paint color.
As you might already guess from the word "greige", this color possesses both features of gray and beige colors as long as it contains each of them being a mix of the two, as Encycolorpedia says.
As for the Anew Gray in particular, this beautiful greige leans more heavily towards gray, but the beige undertones of it still remain clearly apparent.
In general, Anew Gray can be considered a warm greige since it is not a true gray but it is also not a true beige.
Anew Gray paint color has quite a noticeable warm feel to it, which is why it goes really well with warm greiges, as well as taupe, and gray color palettes.
Especially if these colors are present on other objects in a room, for instance, on the countertops, backsplashes, tile, etc.
So if you would love to go as far away from golden beiges, but you also don't feel like approaching too cold or full gray side, Anew Gray by Sherwin Williams is your ideal paint color choice.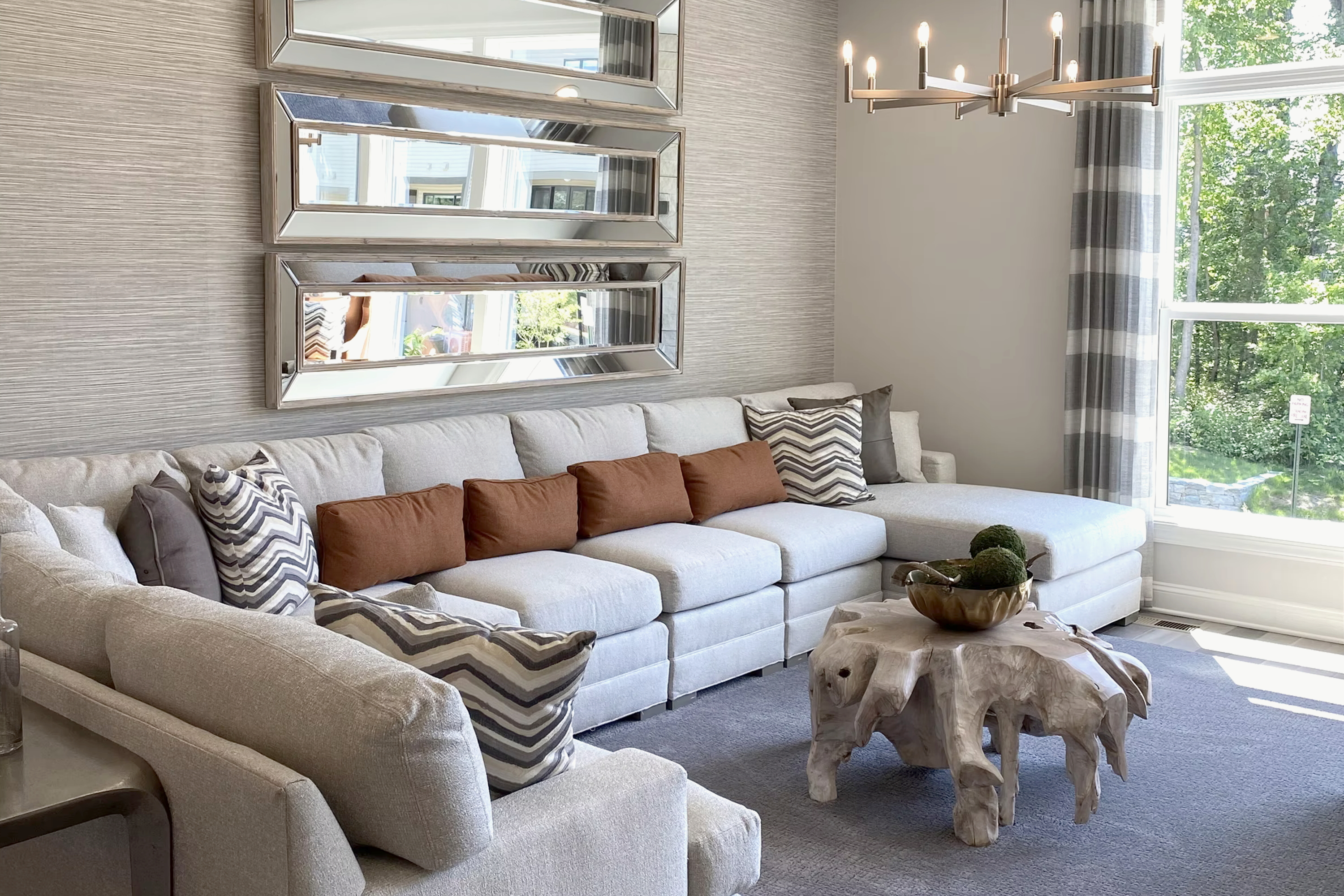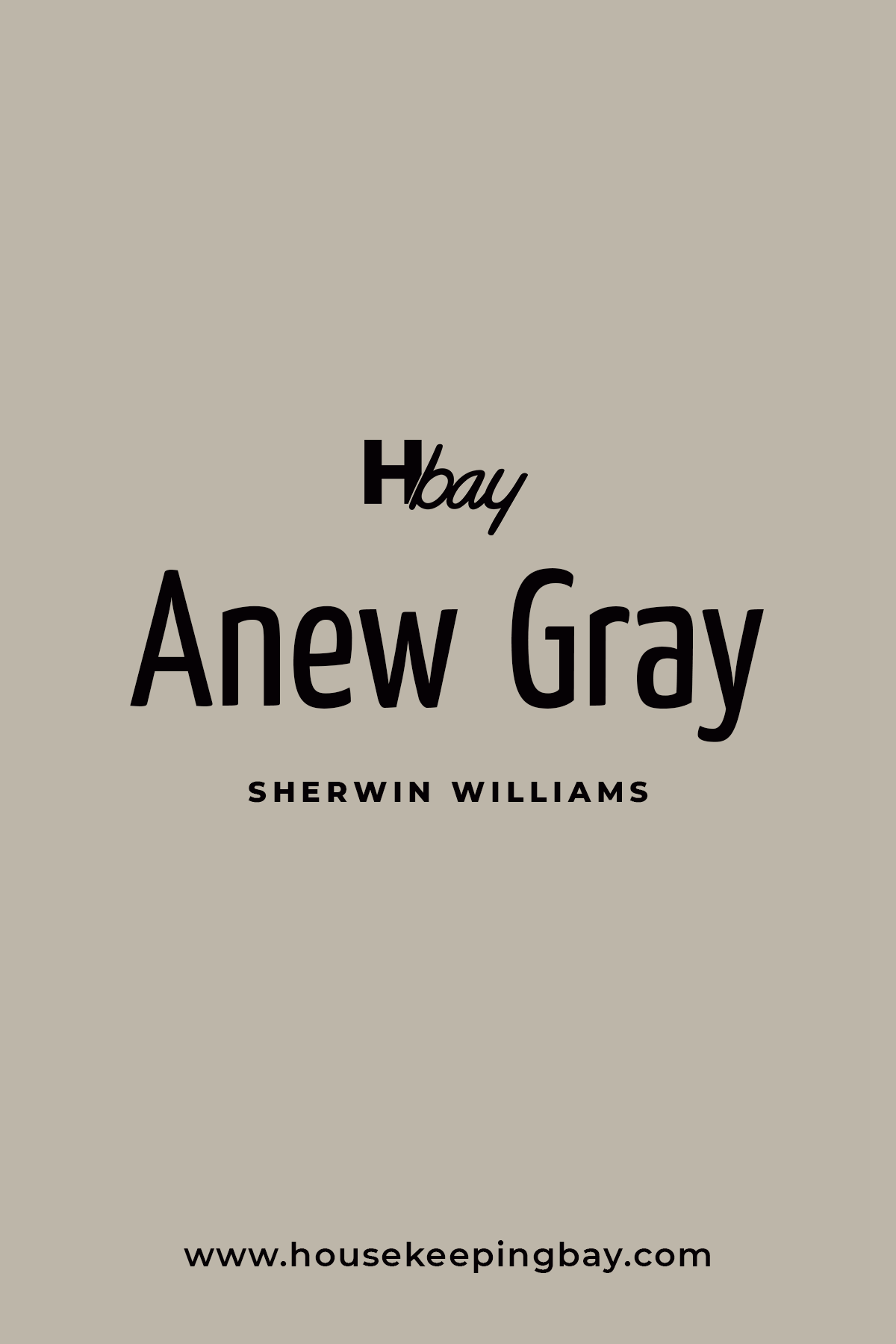 Anew Gray Undertones
Undertones is what makes all the greiges (as well as neutrals) rather tricky regarding the appliance. Quite many paint colors that belong to this color family may have undertones that are almost invisible when the paint is in a can, but they reveal themselves fully right after you apply the paint onto the walls!
Moreover,undertones may often lead to color transformation making it look not quite like you expected.
But if you are afraid that SW Anew Gray will turn into a cool gray or way too warm and sandy beige, those fears are groundless. Since this paint color has both gray and beige undertones that are pretty well balanced, it will look more or less the same on your walls.
Of course, the shade will depend on the lighting in each particular room, but in general, the way the paint reveals itself after being applied is rather predictable.
In addition, you should keep in mind that Anew Gray has also a very slight hint of purple undertone in it which makes this color a bit less versatile in comparison to some other greiges of Sherwin Williams brand.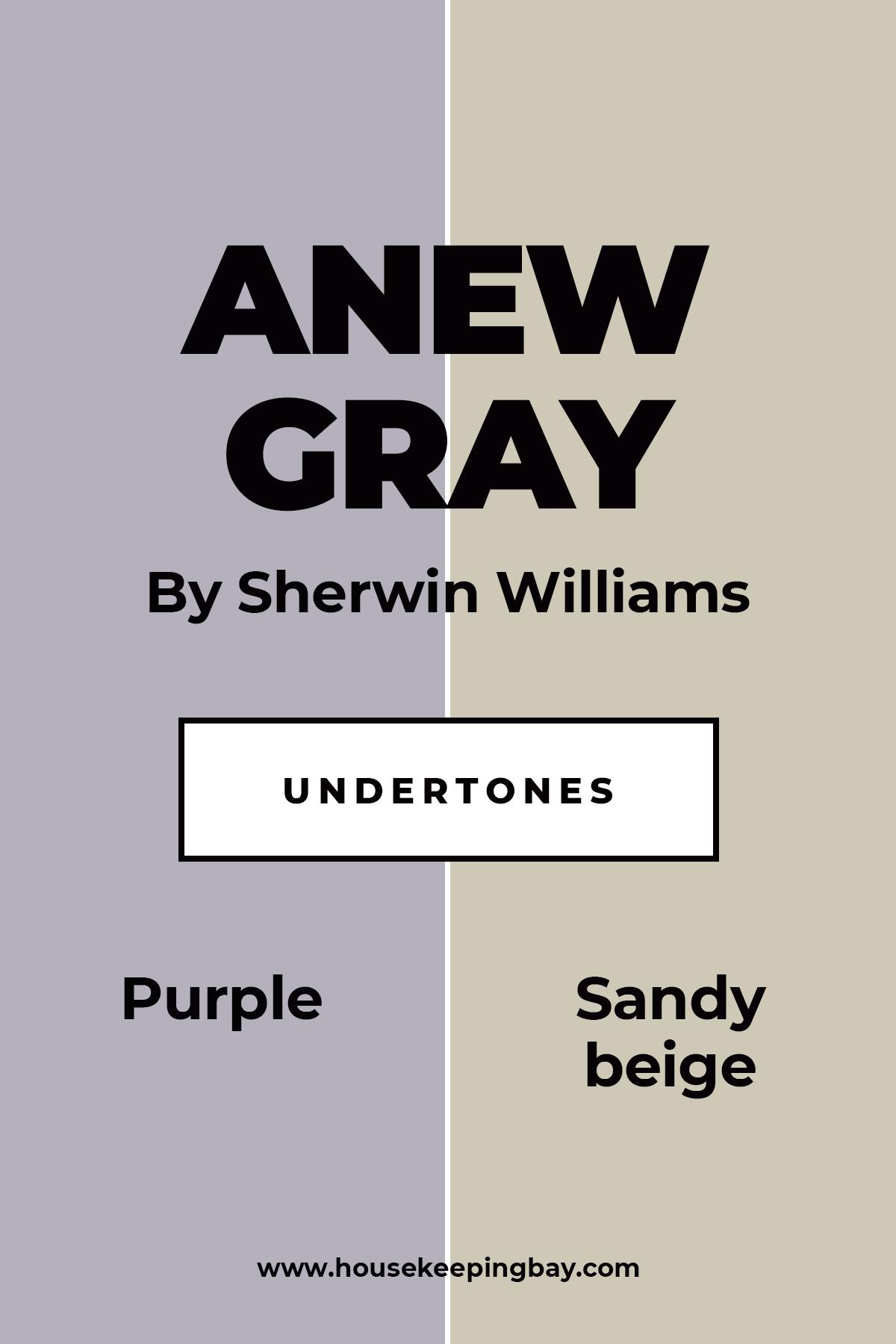 Most Suitable Coordinating Colors For SW Anew Gray
Coordinating colors are the colors that go well with the major paint color being harmoniously combined by colors.
And since having all of your house painted the same color is way too boring, it is a good idea to pick a couple of extra colors to add them to your interiors.
However, when it comes to greiges, you may stumble upon such an issue as what colors can be considered coordinating. Yep, picking the suitable coordinating colors that will harmoniously complete each other is not an easy task!
This is why we are here to give you a hand and recommend the optimal color picks that will coordinate ideally with SW Anew Gray. Besides, this color goes well with quite many of them, so you won't have any problems when deciding on your favorite paint color combo!
SW Incredible White
SW Little Blue Box
With these three options, you can play with color combinations and paint, let's say, your accent wall with the Little Blue Box, and use thePure White as a trim color with Incredible White being the coordinating one.
Or feel free to combine them to your own choice.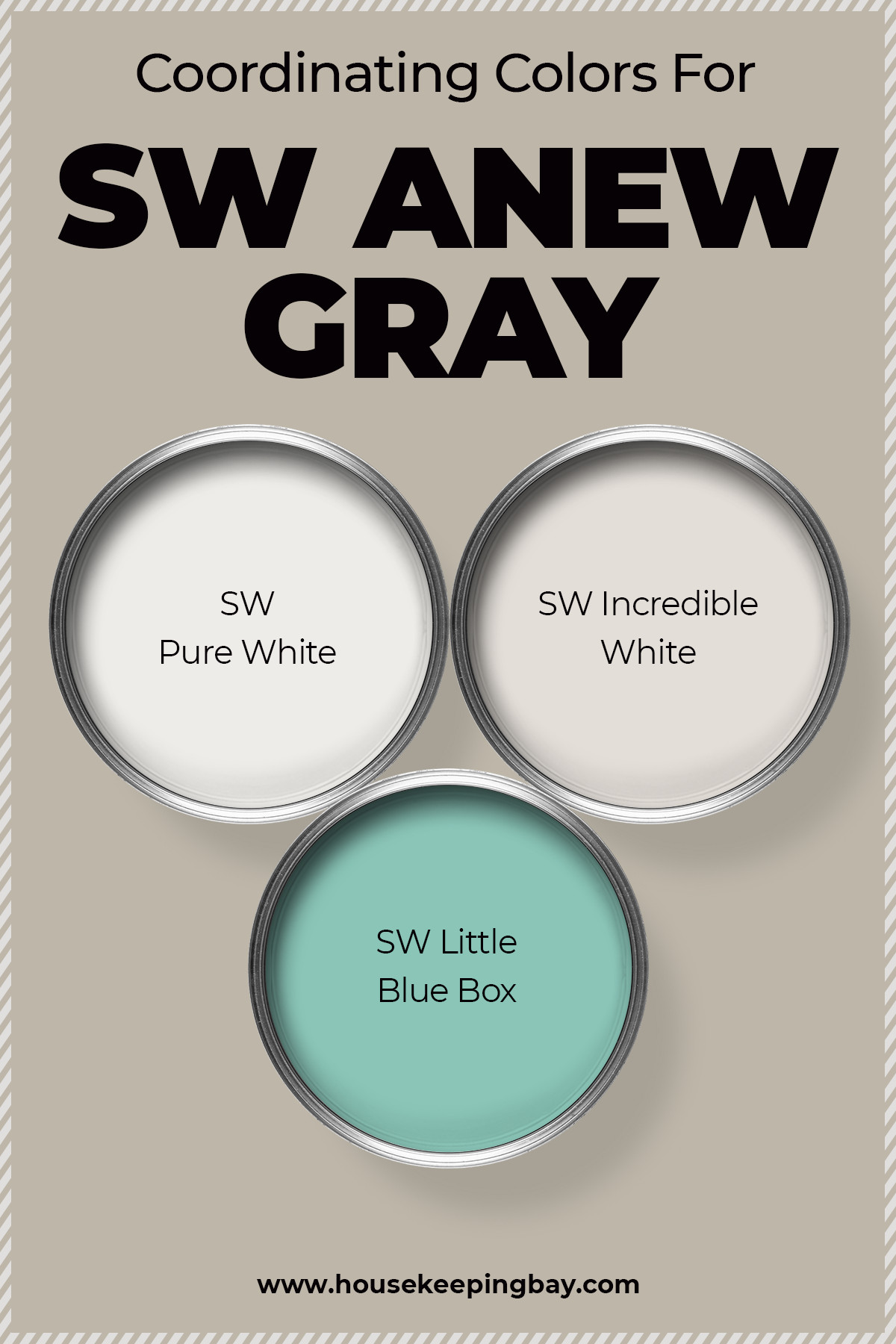 Lovely and Rich Wall Color: SW "Anew Gray"
What Is the Best Trim Color For SW Anew Gray?
Being greige, Anew Gray by Sherwin Williams looks really great with trims, especially if they are white.
However, it may be complicated for you to pick up the correct trim color from the first try unless you know exactly what paints will serve best for this purpose. As for the Anew Gray, it pairs really well with another paint by Sherwin Williams which is Pure White.
However, if you feel brave enough, you could try and apply SW Agreeable Gray as a trim color even though it is not white!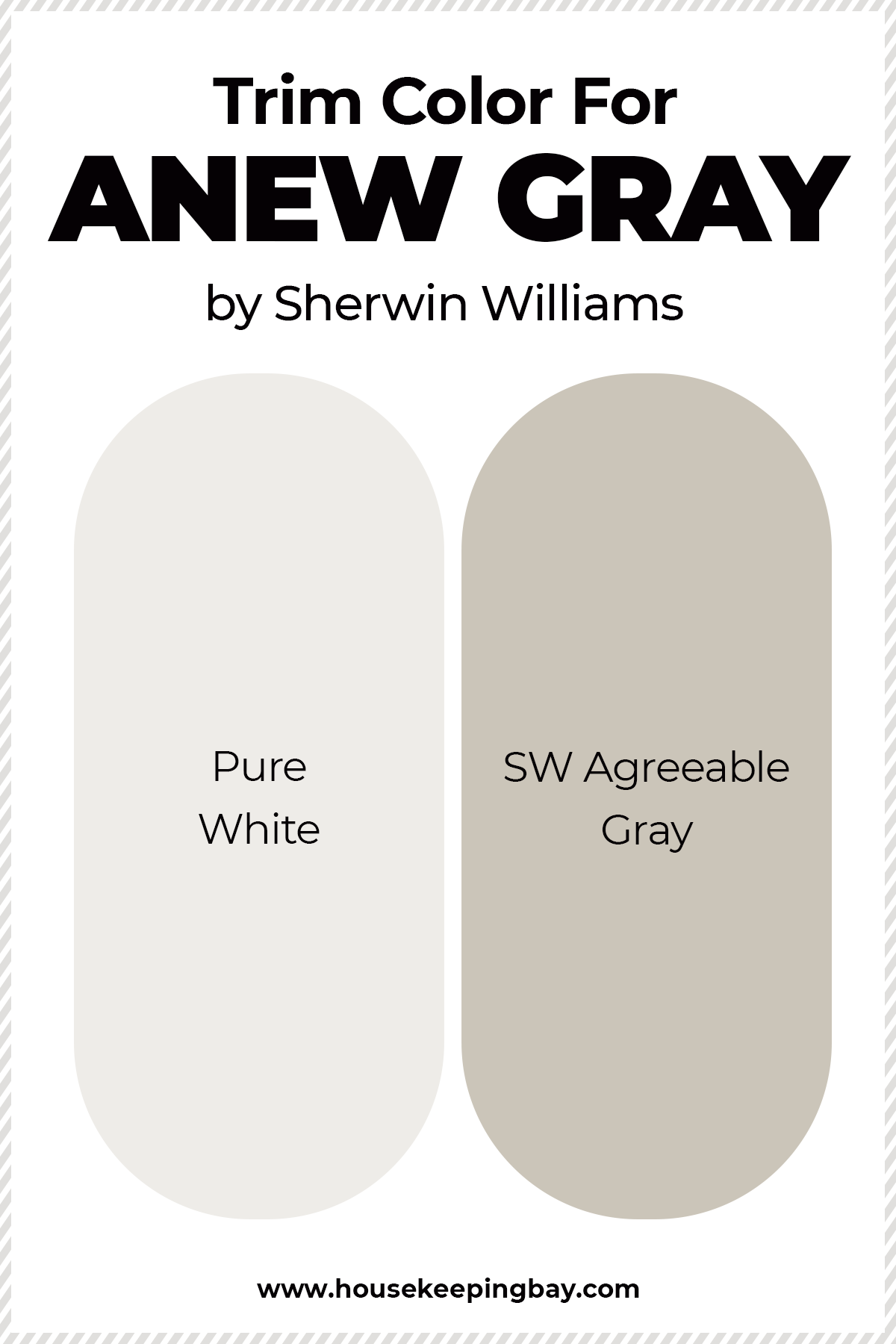 Is SW Anew Gray a Warm Or a Cool Color?
The issue of the color warmth or coolness matters a lot for those who have strong preferences regarding the overall feeling the space develops in you when you are there.
Some of us prefer warmer rooms whilst others get more delight from being in a space colored in cooler tones.
What about SW Anew Gray? Is it warm, or is it cool? This paint color can be considered warm in fact. Why is that, you may be wondering?
Well, you see, we can't call it pure gray because the color contains greige undertones as well. So these beige hues make Anew Gray a warm paint color.
And even when being differently lit, it will not turn into a cooler shade. So feel free to use Anew if you are an absolute fan of cozy and warm-toned interiors!
Impact That Lighting Has On SW Anew Gray Paint Color
Since SW Anew Gray belongs to greiges, the way it is revealed on your walls is highly dependable on the type of light in the room.
Like any other greige, Anew has undertones that show up differently in different light making the color look darker or lighter. In addition, the color's light reflectance value (LRV) also plays an important role.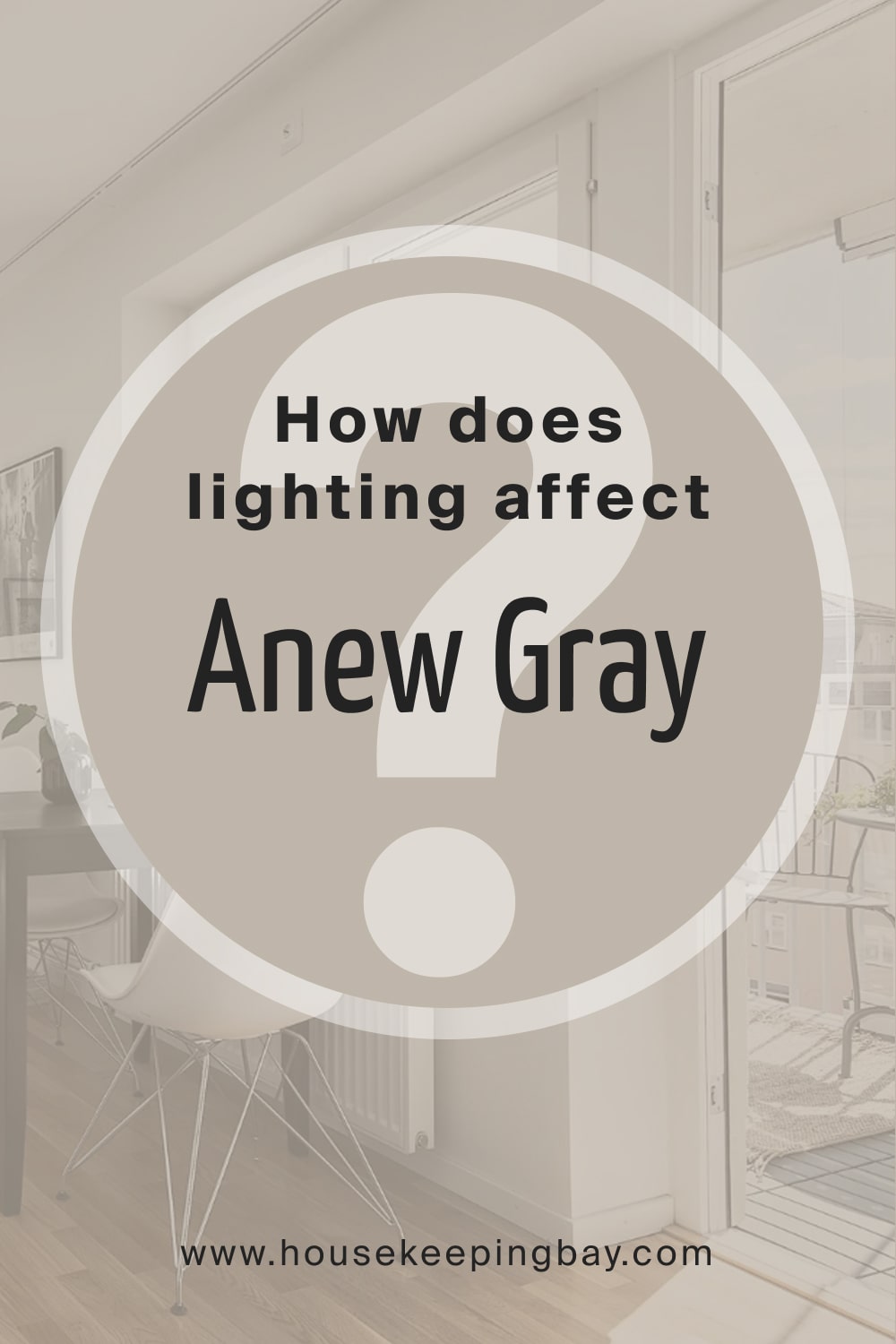 As for the Anew Gray, Sherwin Williams defines its LRV as 47 which means the paint can be referred to as light color according to the brand's color categories.
However, if we take things realistically, we will see that Anew Gray is indeed light enough to be applied as a whole room paint color.
Nevertheless, it is rather dark for being used as the only paint in your whole home. This is why, it would be more correct to call this paint color a light medium one.
As for the different types of lighting, if you have rooms with north-facing, morning western or afternoon eastern light, be ready that your
Anew will lean more into the gray in its base. On the other hand, in a room that is facing south or has afternoon western light, this paint color will reveal itself as a perfect soft greige.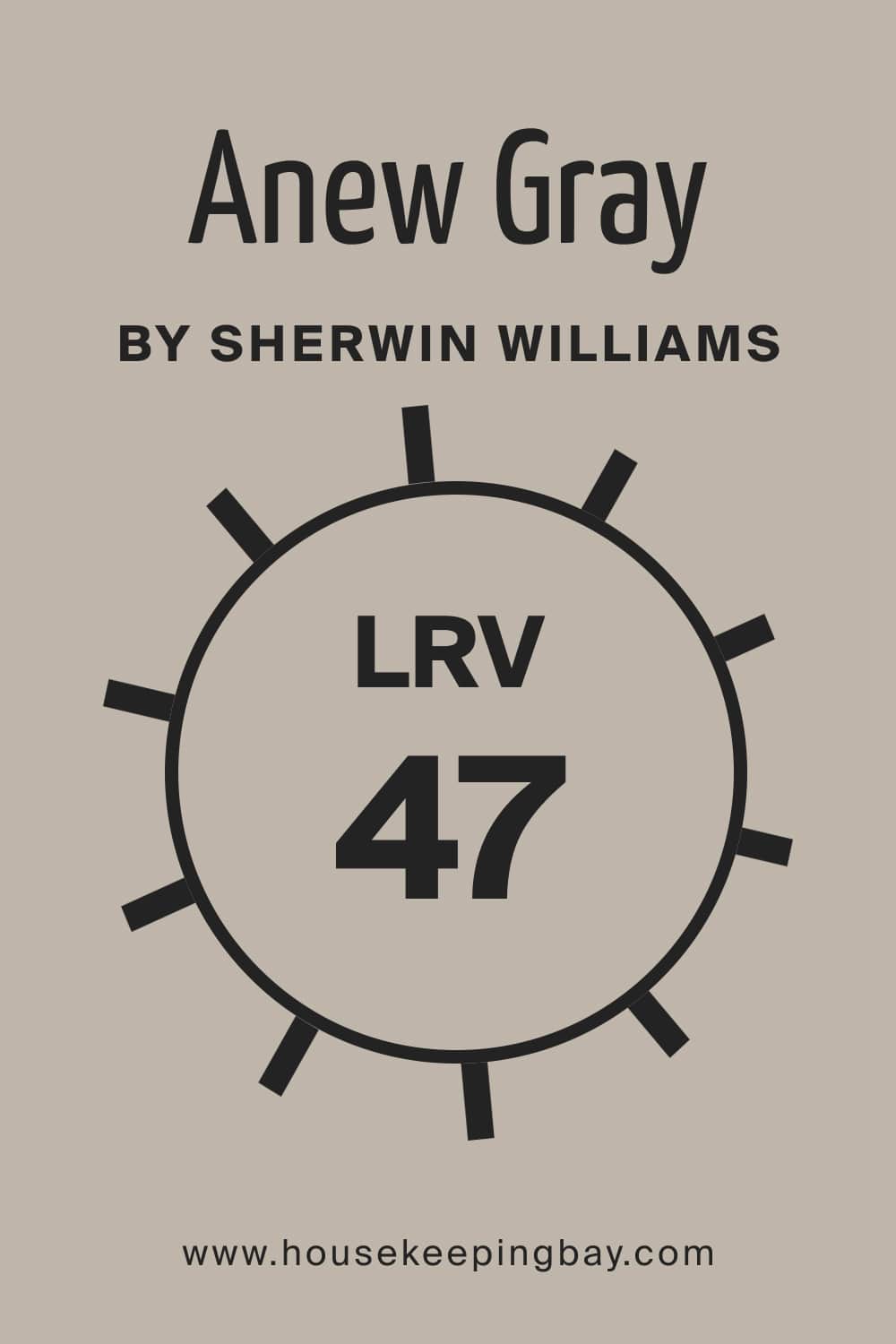 What is LRV? Read It Before You Choose Your Ideal Paint Color
What Rooms Is It Best to Apply This Paint Color In?
Some paint colors, even such universal as greiges, can only be successfully used in certain rooms or areas of your home. This is why it is always good to figure out in advance how the color you chose will show itself in your living room or in the bathroom, for example, since the result might be rather distinct!
Fortunately, even though Anew Gray is a bit less versatile than the rest of its greige "cousins", this paint color can be successfully applied in almost any space in your home, from bathroom to the kitchen. Let's see how exactly it might look in each of them now.
SW Anew Gray In the Living Room
When choosing this color for the living room, remember to take its lighting into consideration since it will influence the way the color reveals itself. But in general, this warm and balanced greige is a perfect choice for this room in your home!
It will make it look both stylish and cozy with that delicate greige warmth still making the space look airy and spacious enough.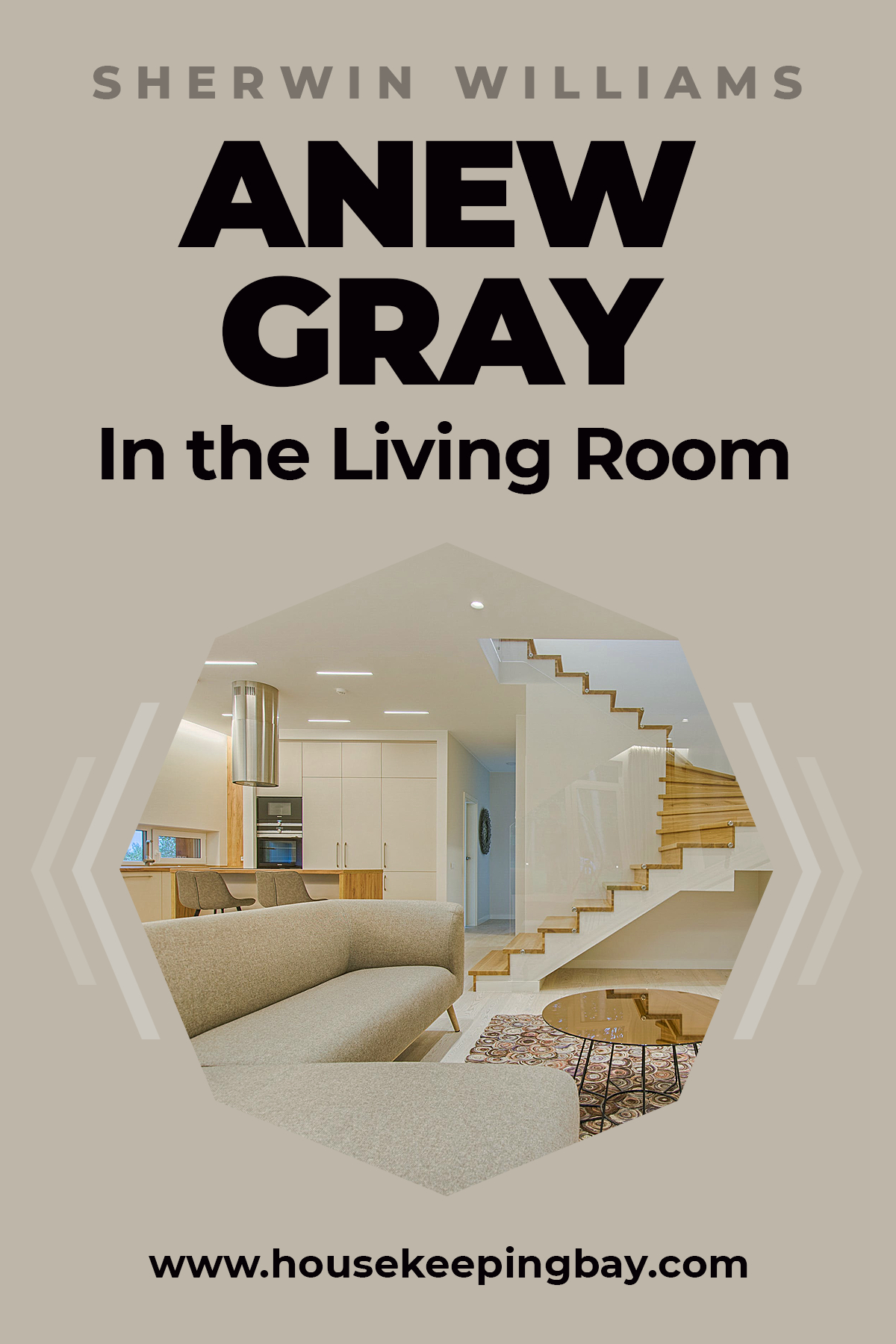 Is SW Anew Gray Suitable For Bathrooms?
Do not skip this color if you need to repaint your bathroom walls since Anew Gray can be the right thing for you.
With this paint on the walls, your bathroom will not look cool-toned, but it will also remain far from that "dirty" look that greige paints often gain when applied in such areas.
And if your bathroom has a large enough window that lets daylight in, be sure that SW Anew Gray will show its best!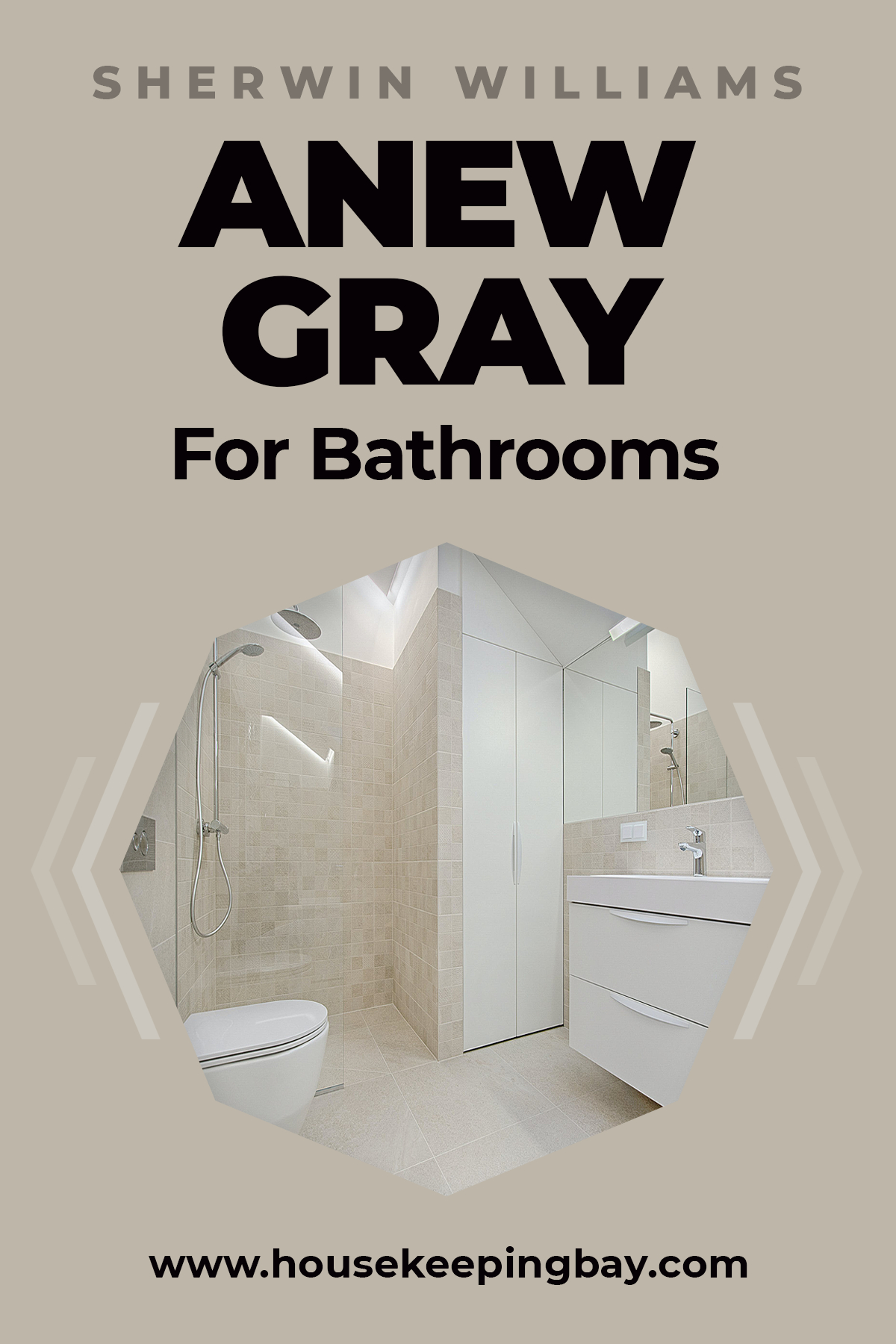 Anew Gray In the Bedroom
If you are looking for the color to turn your sleeping space into a calming and soothing area, SW Anew Gray is exactly what can make it happen for you.
When applied on the walls, this color will give your bedroom more coziness and warmth with the soft greige notes.
However, it won't make the room seem smaller or darker.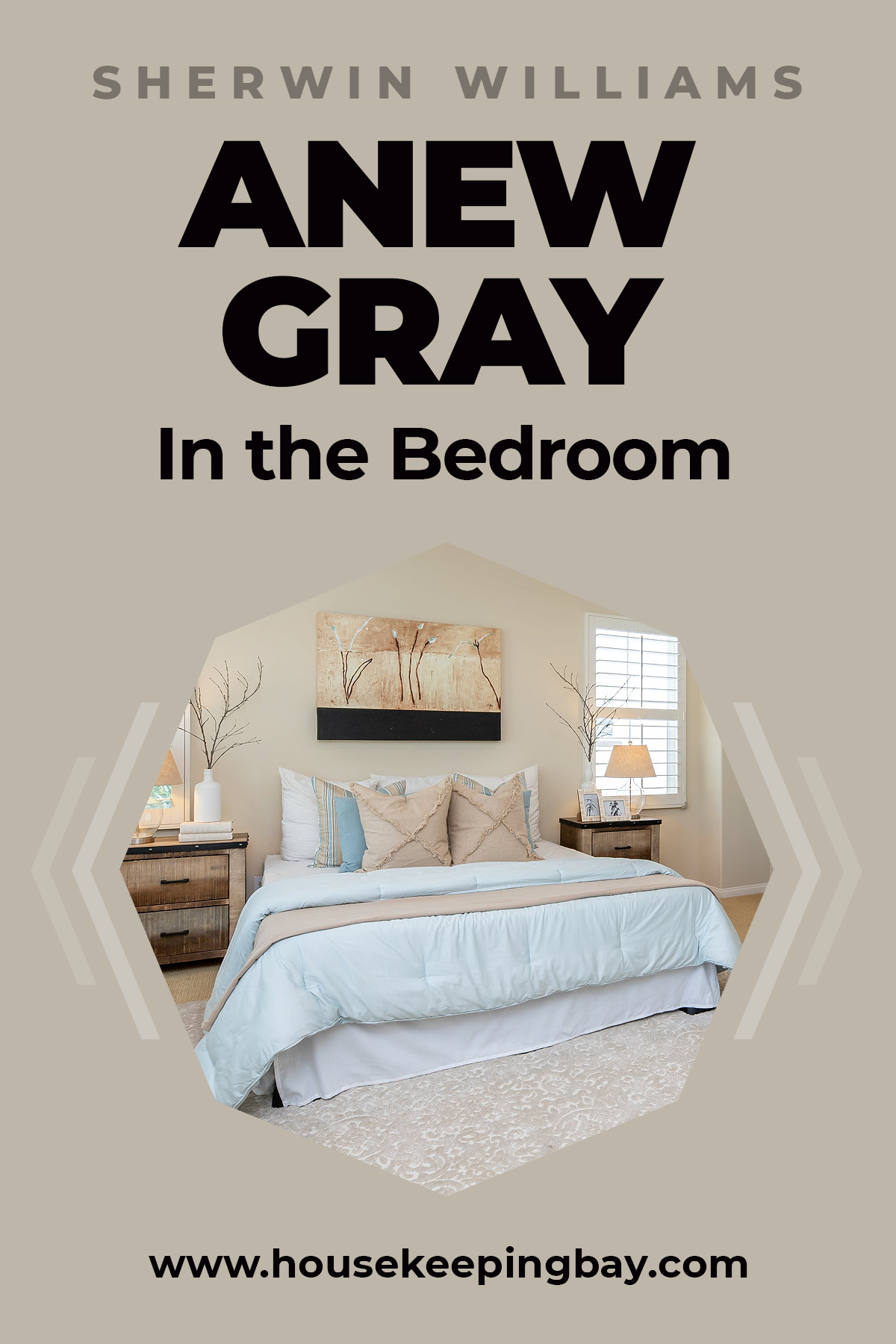 How Will SW Anew Gray Look On Your Kitchen Cabinets?
On your kitchen cabinets, this greige will create a warm feel and give the cabinets some character as well.
And if you can pair it with brass or copper details like handlers or hangers, Anew will be able to reveal its warm greige notes even better.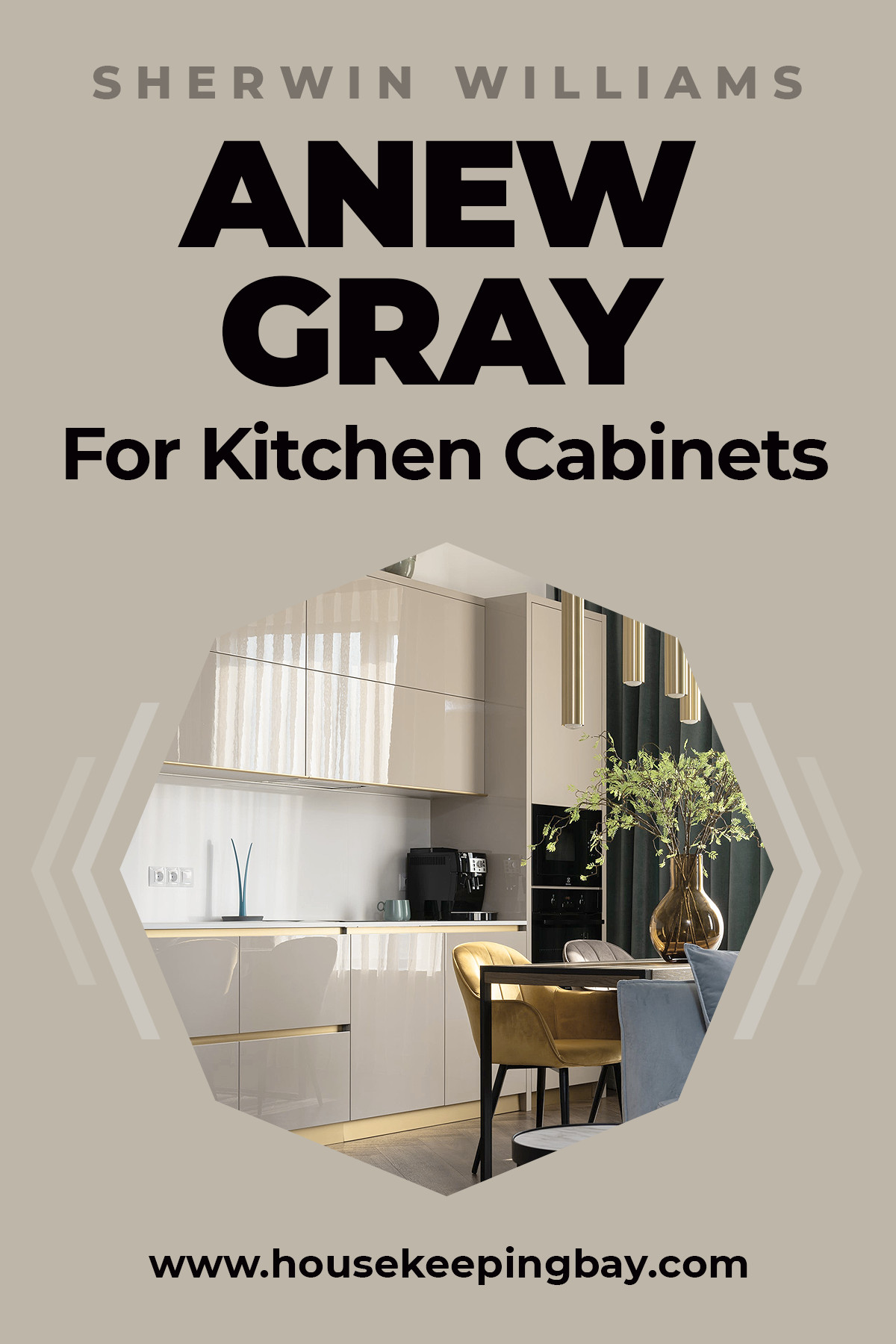 Is It OK to Use Anew Gray As An Exterior Paint?
You might not be aware of that, but Anew Gray can even be used as exterior paint!
When paired with bright white trim, it creates a perfect combo.
Besides, this color will suit quite many types of brick and stone, as well as different exposures.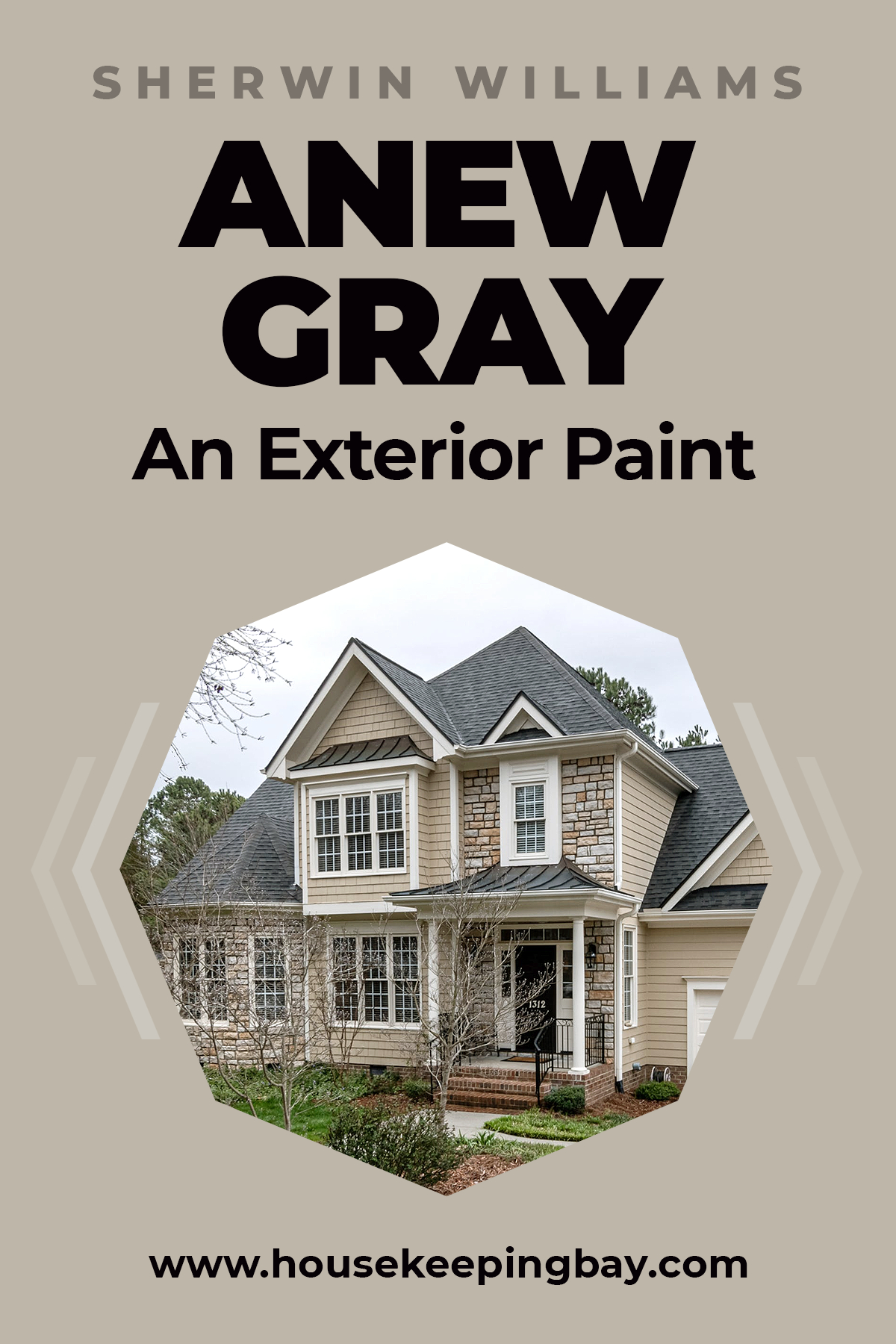 SW Anew Gray And Other Paint Colors
If you think of combining greige color in your home interior with a few other colors of the same group, you may find it tricky to do this since quite many greiges look pretty much similar.
So, to be able to end up with the balanced color ensemble after your painting project is ready, we recommend you check out our Anew Gray color comparisons to see how this color will work with other shades and whether it's worth combining them at all.
Anew Gray vs. Agreeable Gray
Agreeable Gray pairs well with Anew since it is lighter and it looks more cool-toned in comparison with the darker SW-7030 Anew that shows more greige and warm undertones.
But this distinction is what allows you to combine these two in the same room with no doubt!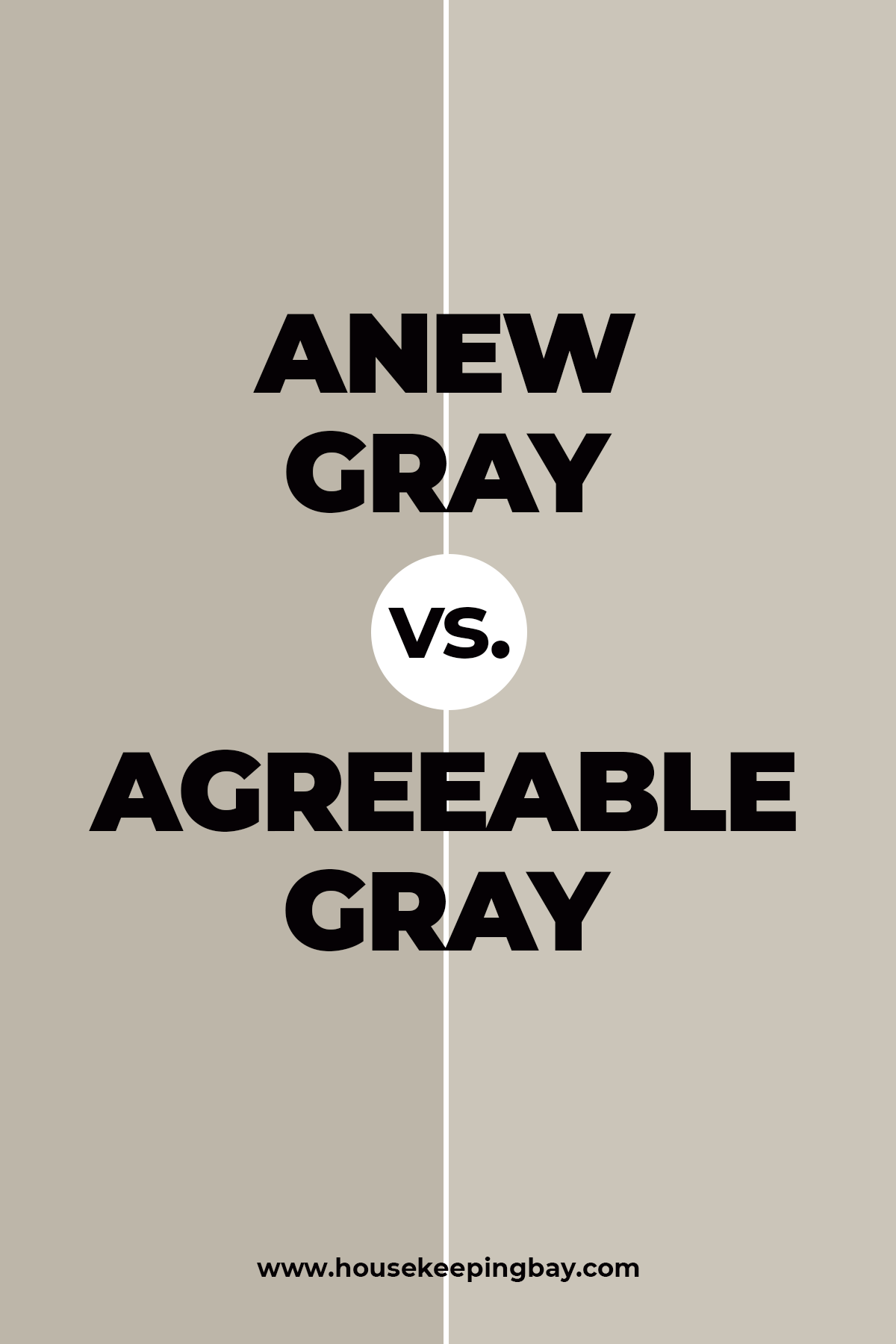 Anew Gray vs. Revere Pewter
Revere has LRV of 55 which means that it will be able to reflect more light than Anew Gray whose LRV is 47. This is why Revere Pewter will appear lighter on the walls. Also, while Anew Gray has slight purple undertones in addition to beige and gray ones, Revere has a tint of green in it. This is the major reason why you should not use them both in the same room.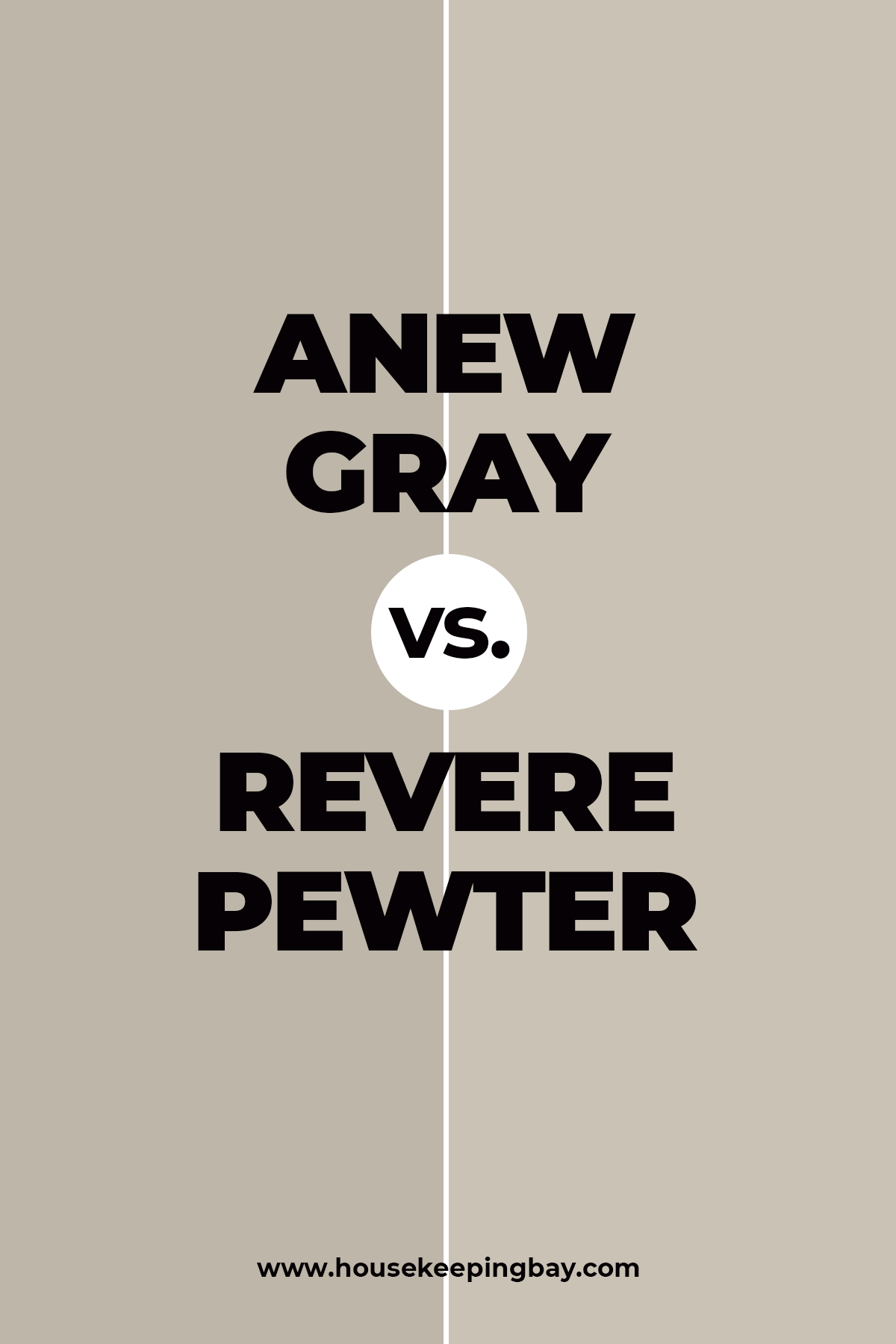 Anew Gray vs Repose Gray
These colors look pretty warm, but Anew is significantly warmer which may also make it look darker on the walls. Especially in artificial lighting. Also, Repose Gray has more greyish tint in it whilst Anew leans closer to beige side. Nevertheless, you'd better not combine them in the same room since it will look almost monochromatic.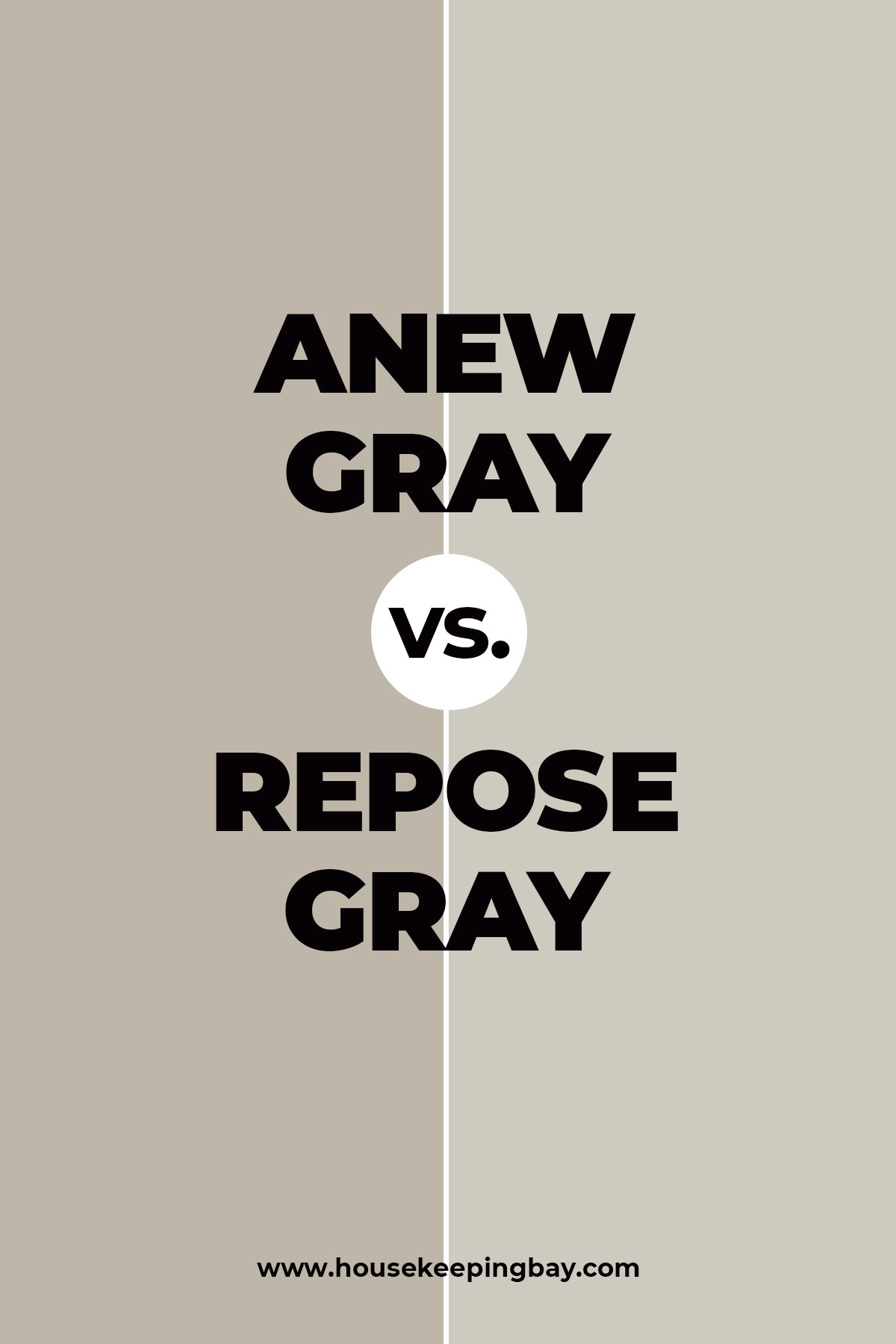 Anew Gray vs Mindful Gray
These two are pretty similar due to the similarity of their LRVs that are 47 and 48 respectively. While Anew is a very warm greige, Mindful Gray leans more towards a cool greige with more gray than beige and with green undertones.
Both colors are pretty good for the rooms with high ceilings and lots of natural light, but Mindful is a more versatile color with a better ability to coordinate with quite many accent colors.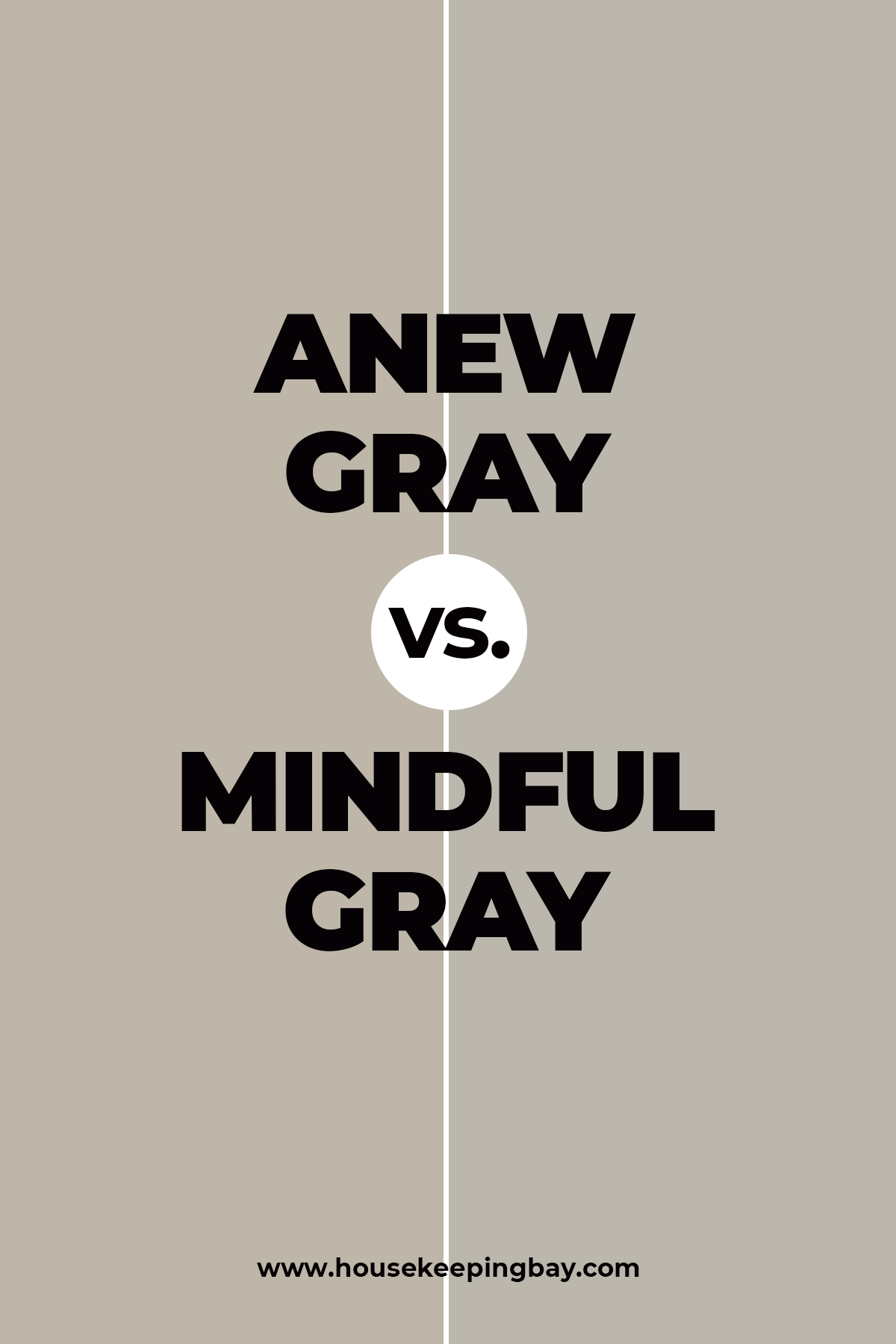 Well, today you have learned quite a lot about the Sherwin Williams Anew Gray paint color. We told you what coordinating and trim colors are suitable for it, and also, you are now aware of all the rooms this paint can be used in your home!
Finally, knowing what other colors it can be successfully paired with, you will easily pick up matching paint colors to turn your home into a cozy space that you will enjoy staying in.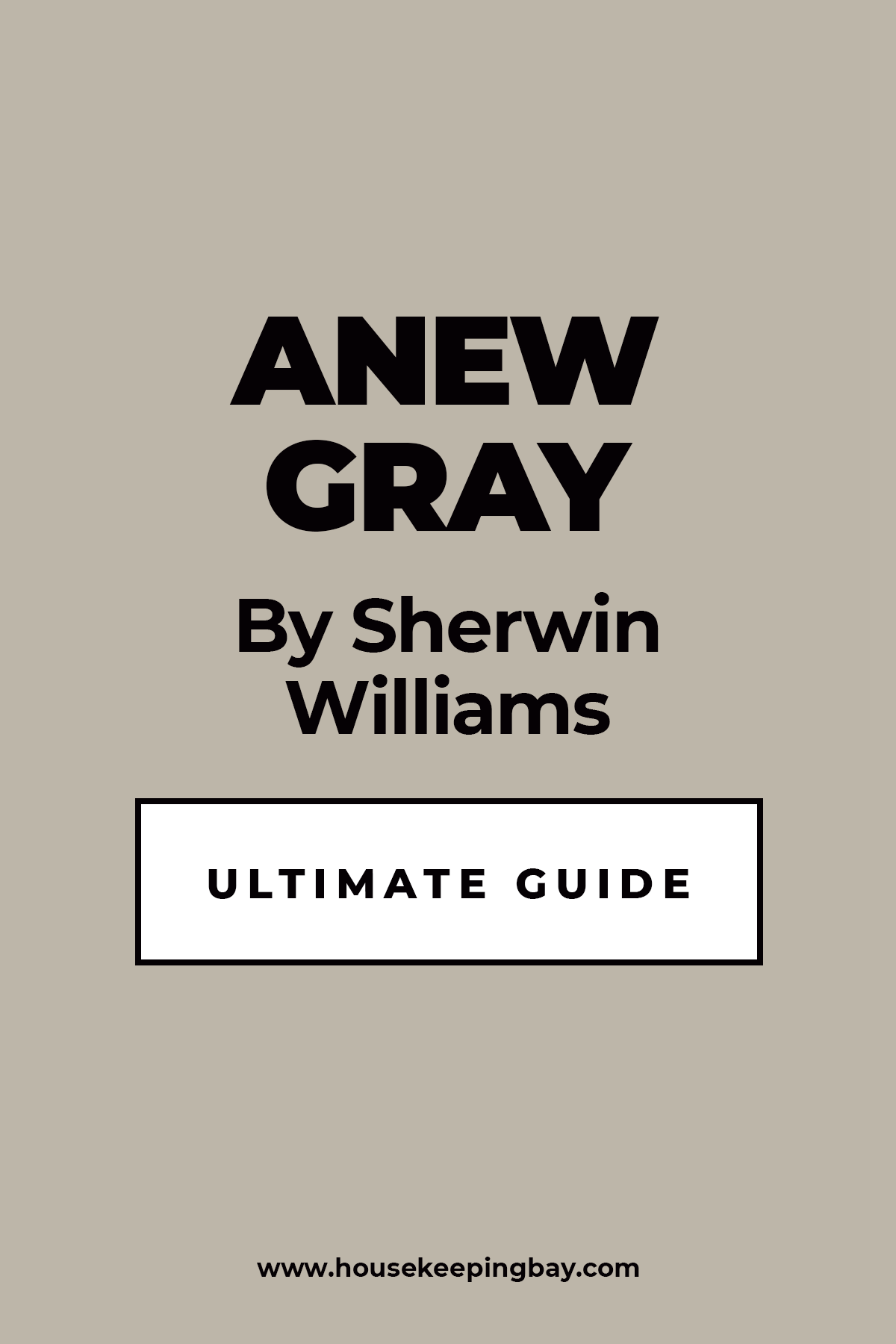 Frequently Asked Questions
⭐ Is Anew Gray a good exterior color?
Yes, this greige can be used for painting facades.
⭐ Is Anew Gray the most popular greige?
No, but it's among the most popular ones along with Agreeable Gray and Edgecomb Gray.
⭐ What Benjamin Moore colors are the same or very close to Anew Gray?
They are BM Himalayan Trek and BM Plymouth Rock.