When you are choosing what paint color to use in your home interiors, most of you tend to stick to more neutral and universal colors. For instance, such colors include all kinds of greiges, light beige hues, and other similar ones that will fit any design and interior.
This choice is pretty easy to understand: these colors are easier to integrate into almost any interior design and color palette. Also, these shades are typically easy to combine with other colors, so people usually have no complications with that.
However, if you are more into a bit complicated colors and shades, you might be interested in using such paint as Acacia Haze by Sherwin Williams. However, if you choose it, you will need to learn more about this color and its specifics in order to make full use of it.
In this article, we will provide you with all the basics regarding this paint. You will learn what type of color it is, what undertones it has, and how to use that information when planning the look of your interiors. In addition, you are going to learn in what rooms of your home this color will work better.
Moreover, from this article, you are going to find out more about this paint's light reflectance value (LRV) and how LRV might help you when using this color on your walls. Finally, we will provide you with a list of colors that can be used instead of the SW Acacia Haze.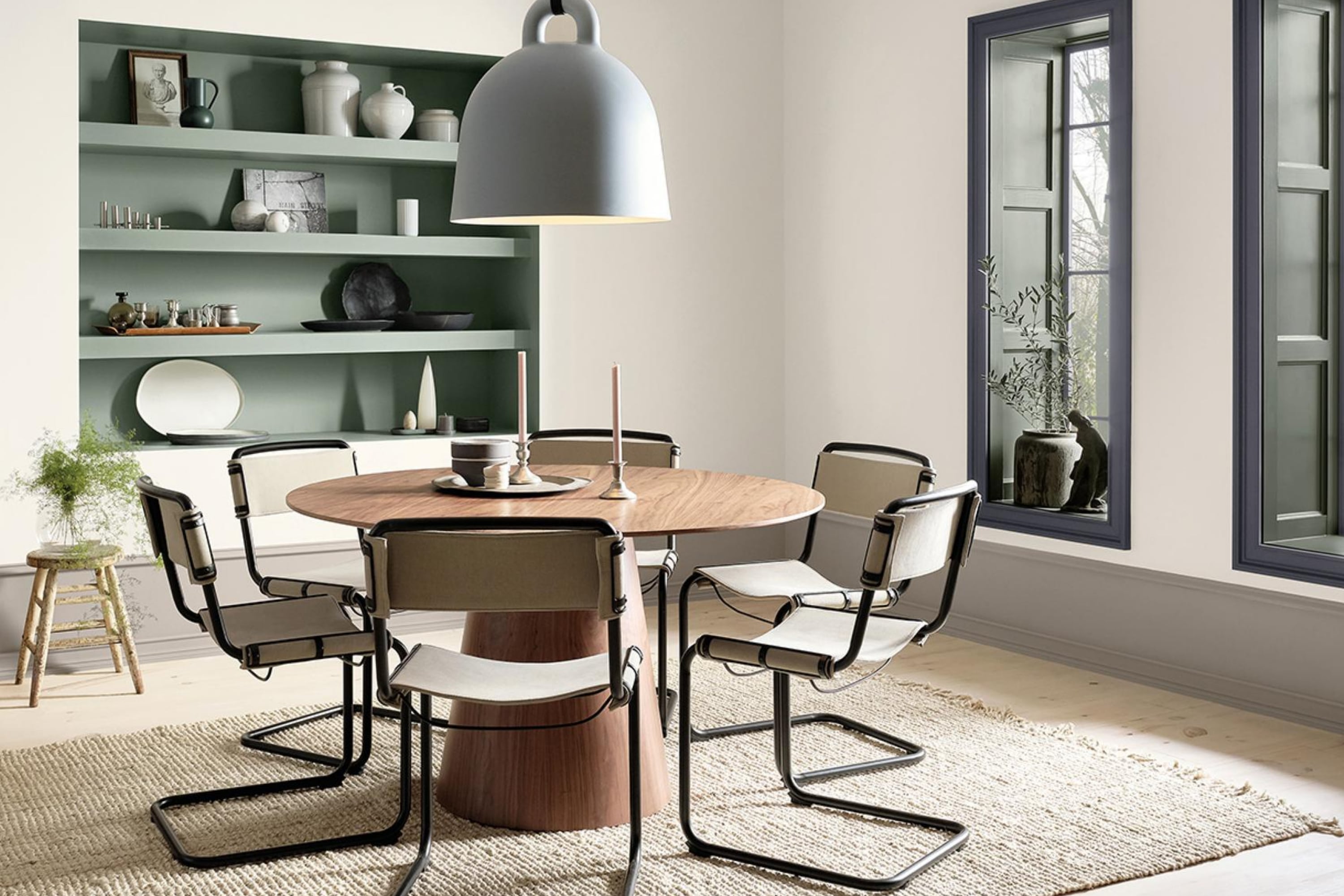 What Type Of Color Is Sherwin Williams SW-9132 Acacia Haze?
Sherwin Williams brand has plenty of beautiful interior paint colors, from all-fitting neutrals to elegant greiges, and of course, they have brighter palettes as well. However, if you are seeking something calming and relaxing, something close-to-nature, Acacia Haze is the color you need.
Sherwin Williams Acacia Haze paint color is a wonderful and light green, but it has nothing to do with the bright green of fresh grass or young leaves!
Acacia Haze is a beautiful splash of natural calmness with a slight hint of gray in it. As we have already said, it is a light green color that possesses absolutely amazing refreshing and soft effect, as Encycolorpedia says.
Even though some of you might think that such a color would be hard to use in a home interior, Acacia Haze is surprisingly versatile! It can be used in different interior styles and with various color schemes. Moreover, this soft and soothing green paint color is great for both indoor and outdoor applications.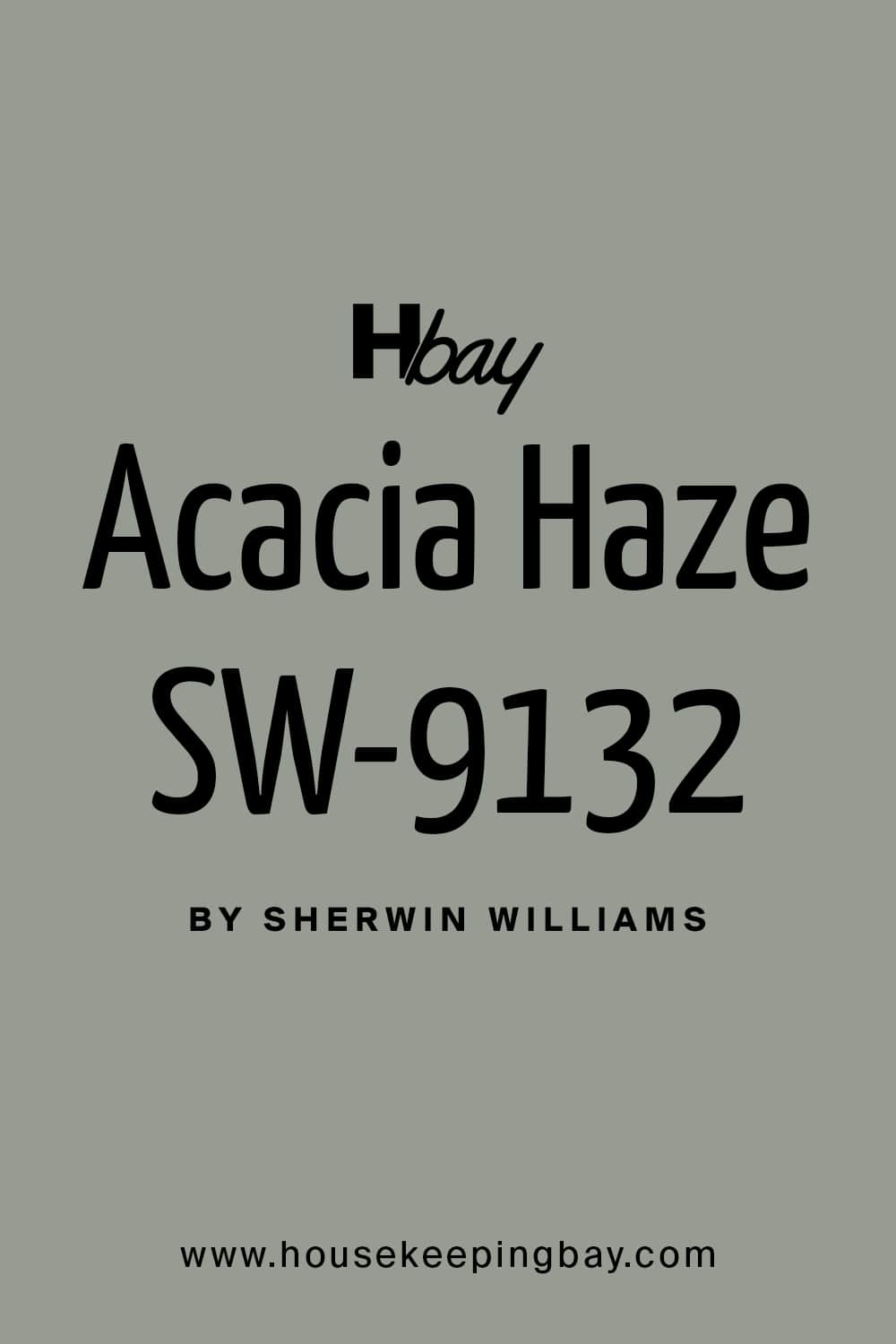 Undertones of Acacia Haze SW-9132
Even those of you who don't have a sharp eye for the color shades will easily notice that SW Acacia Haze has gray undertones.
Those gray undertones are some kind of the key elements since they fill this color with cool notes. As a result, the color gets its effectiveness and it doesn't feel too simple and bold (or boring!).
It may appear to some of you that this is a shade of gray in fact. And if you take a look at this color on its own, without any other colors around, you will probably be right to a certain point. Nevertheless, if paying attention to other colors in the space as well, you will notice that Acacia Haze is not that much about gray but green.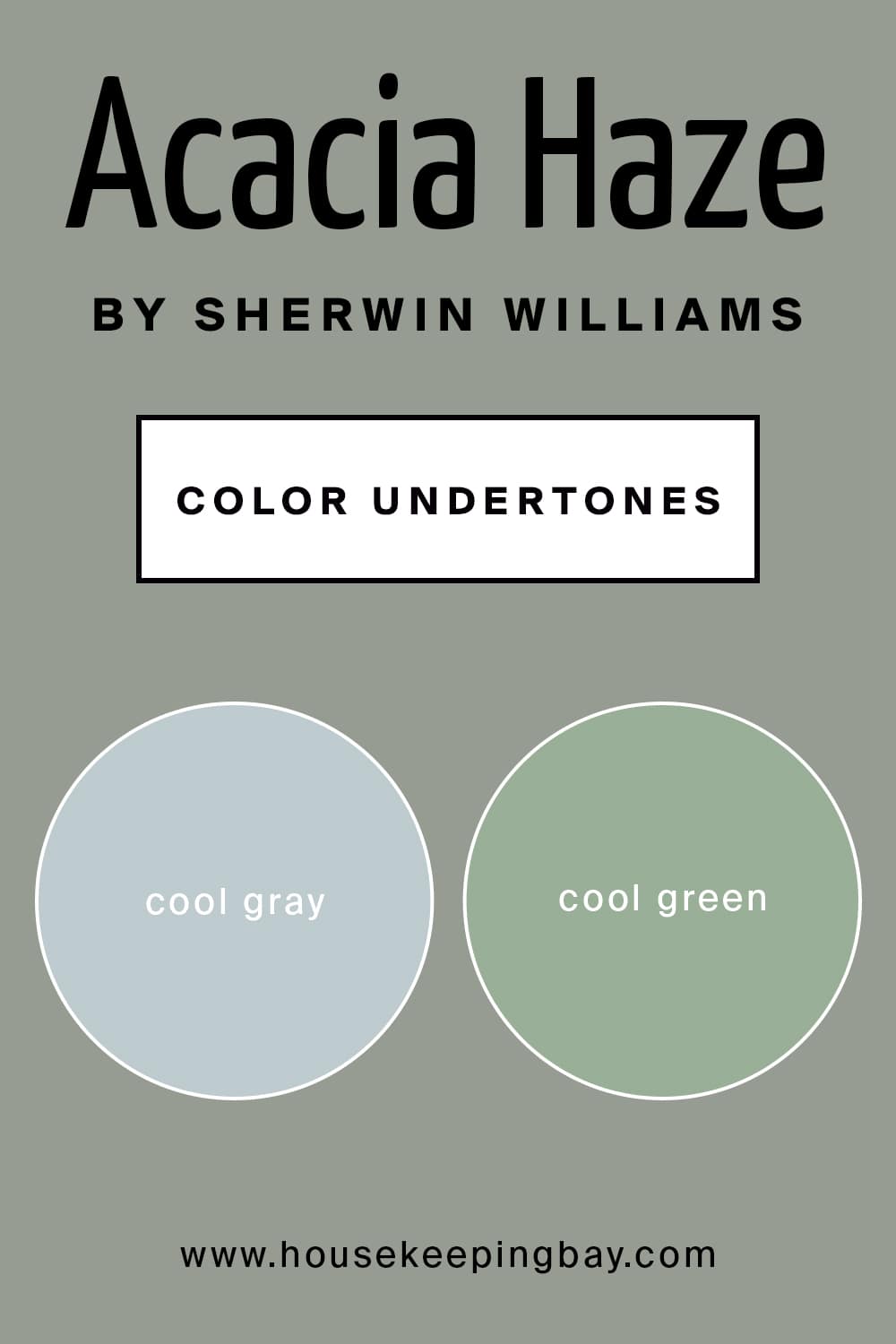 Coordinating Colors of Acacia Haze SW-9132
Choosing the correct coordinating colors is a must if you want your home to have a harmonious color palette. If you decide to use SW Acacia Haze on your walls, and you are looking for the colors to coordinate with it, we would recommend you take the following options into consideration:
Dover White SW-6385, creamy white with soft notes of beige
Spare White SW-6203, crispy white with subtle gray undertones
Favorite Tan SW-6157, light brown color
Each of them will create a balanced and harmonious color combination with this gorgeous green color!
In general, Acacia Haze is a friendly color when it comes to using it with other shades. For a neutral contrast, you can use cool or warm shades of white. But if you feel that a little bit of boldness will not spoil the space, opt for the shades of brown, particularly soft ones.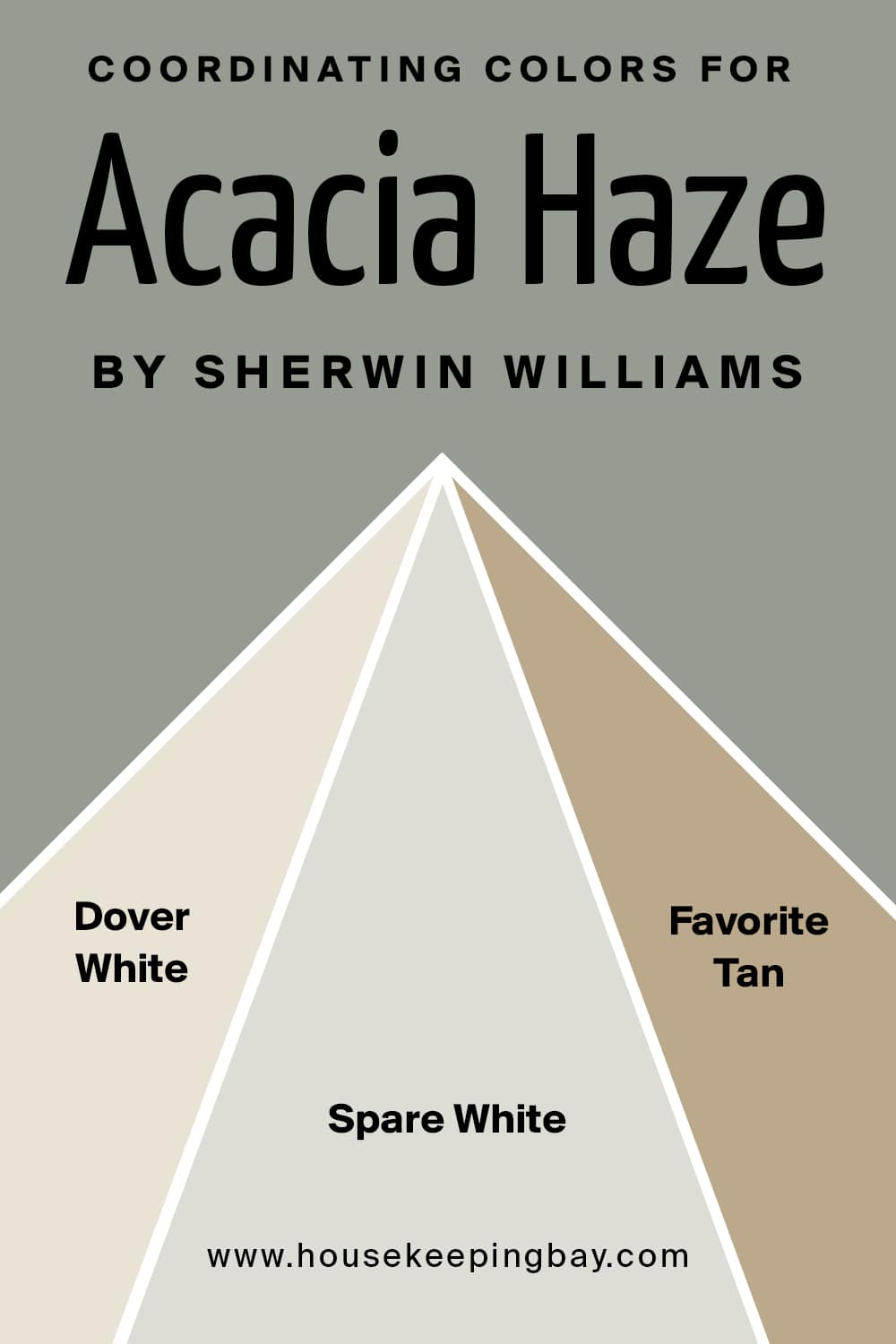 LRV of Acacia Haze SW-9132
The light reflectance value that is also known as LRV shows how much light the paint color is able to reflect. Respectively, if the LRV is low, the paint is considered to be dark, and vice versa.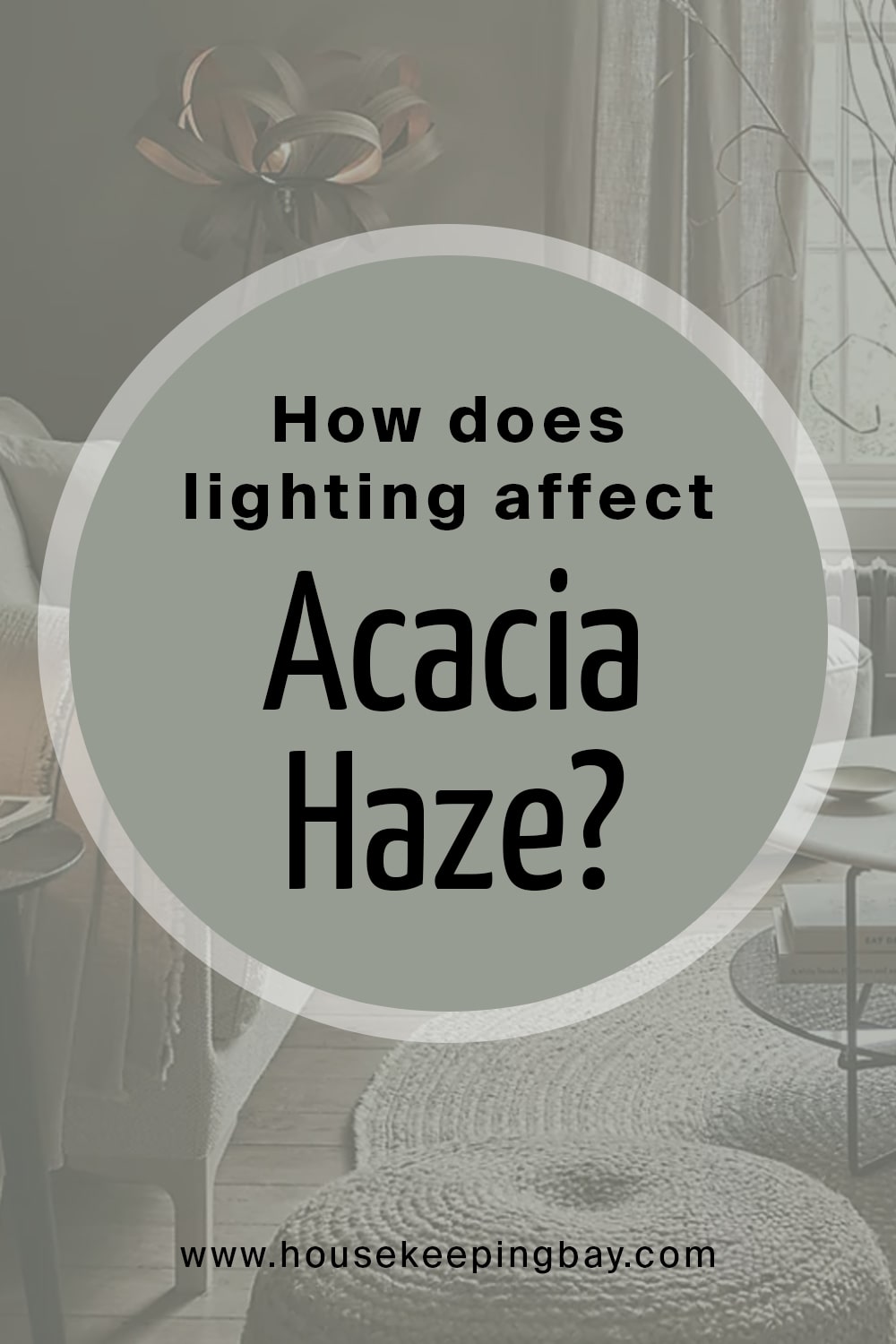 The LRV of Acacia Haze is 32. This places the color a bit behind the medium-light tones. Of course, it is still able to reflect light, however, a great amount of that light won't return once it penetrates the color on the wall.
And even though this effect is not much noticeable, Acacia Haze does have a tendency to darken the space. This is the major reason why this beautiful color is not that easy to work with. Nevertheless, if you opt for this color in an east-facing room, or if you use a substantial amount of light sources, it will help to reveal the features of this color.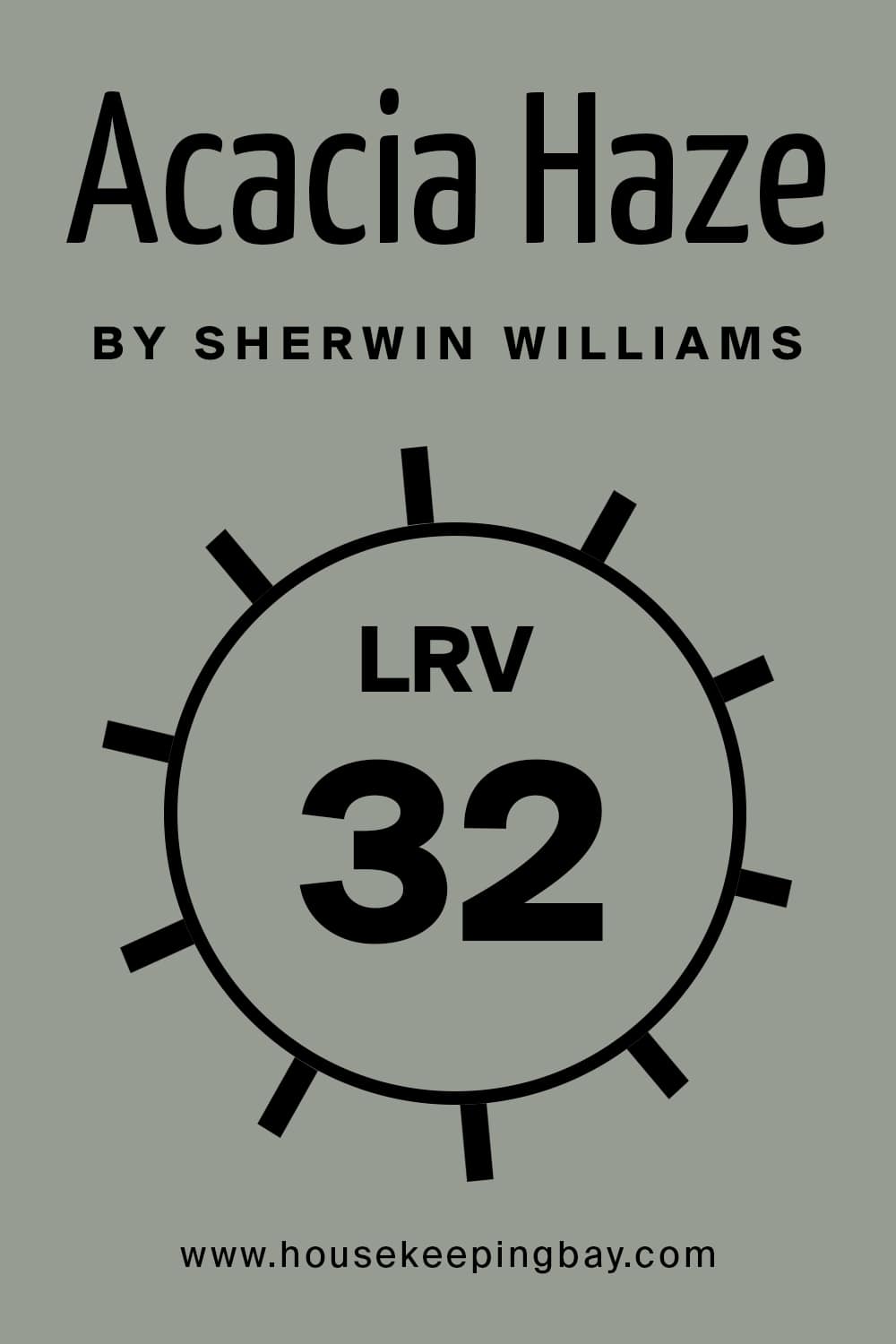 What is LRV? Read It Before You Choose Your Ideal Paint Color
The Best Trim Color To Use With SW Acacia Haze
There is a rule of thumb: if you are not sure what trim color to use, stick to white. With SW Acacia Haze, this rule works the same way. For the Acacia Haze, the best trim colors would be the following:
SW Shell White
Only, unlike quite many other colors, this green pairs well with both cool whites and warm whites equally. If you use a cool-toned white for trimming, Acacia Haze will reveal its gray undertones more, thus making the color look cooler on the walls. On the contrary, when using it with a warm white as a trim color, this green will also read warmer and more greenish.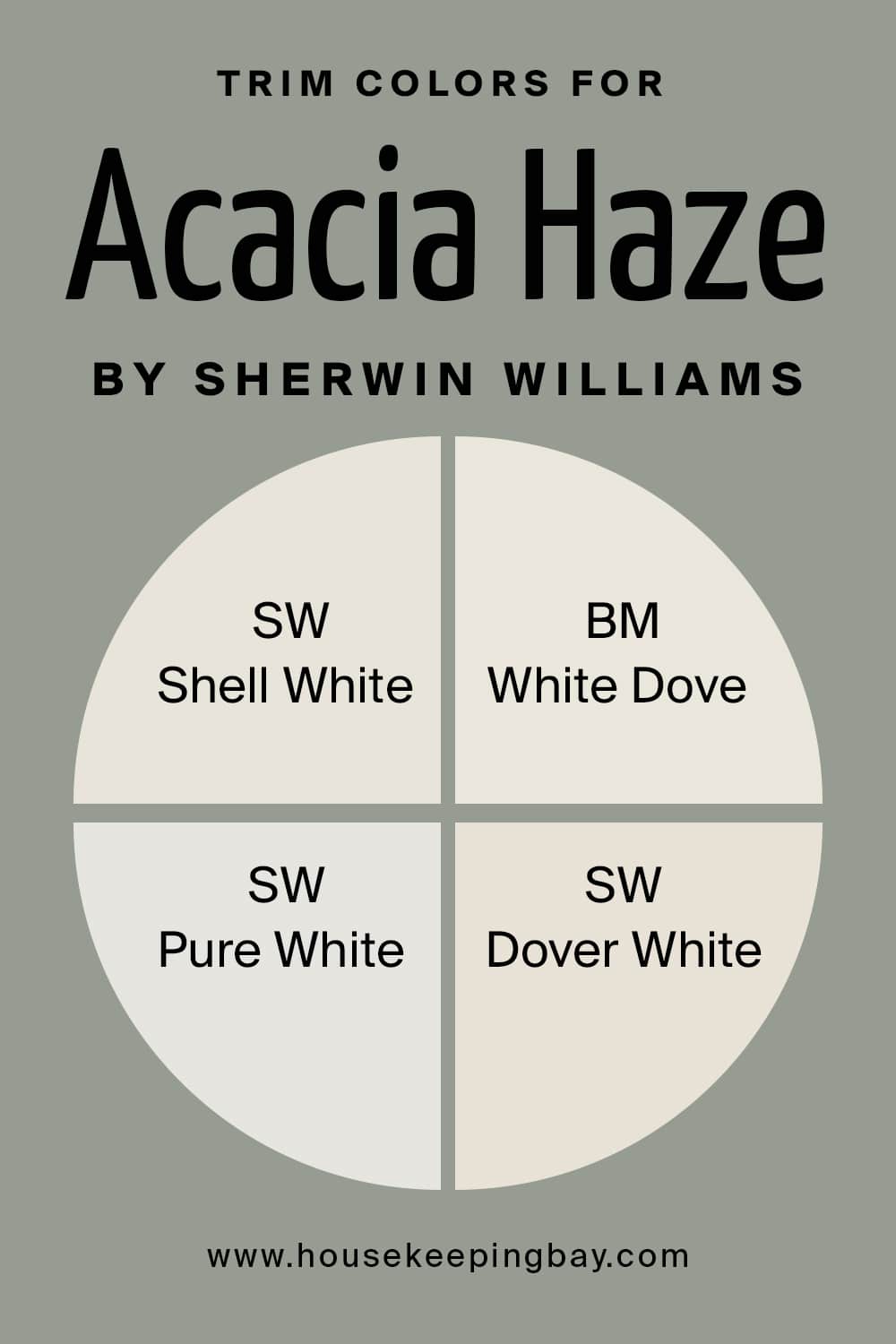 Paint Colors Similar to SW Acacia Haze
You might be surprised to learn that in fact, there are quite many shades of green-gray paint colors out there, and Acacia Haze is not the only color like that. This color has plenty of similar colors both within the native brand and outside of it.
Of course, we find it necessary to remind you that you will not be able to find an ideal match! Nevertheless, we can suggest you a list of paint colors that are the most similar to the SW Acacia Haze:
Earl Grey SW-7660
Illusive Green SW-9164
Heather Gray 2139-40 by Benjamin Moore
Oil Cloth CSP-760 by Benjamin Moore
Steel Curtain PPG 0994-5 by PPG Paints
Green Tea Leaf PPG 1128-5 by PPG Paints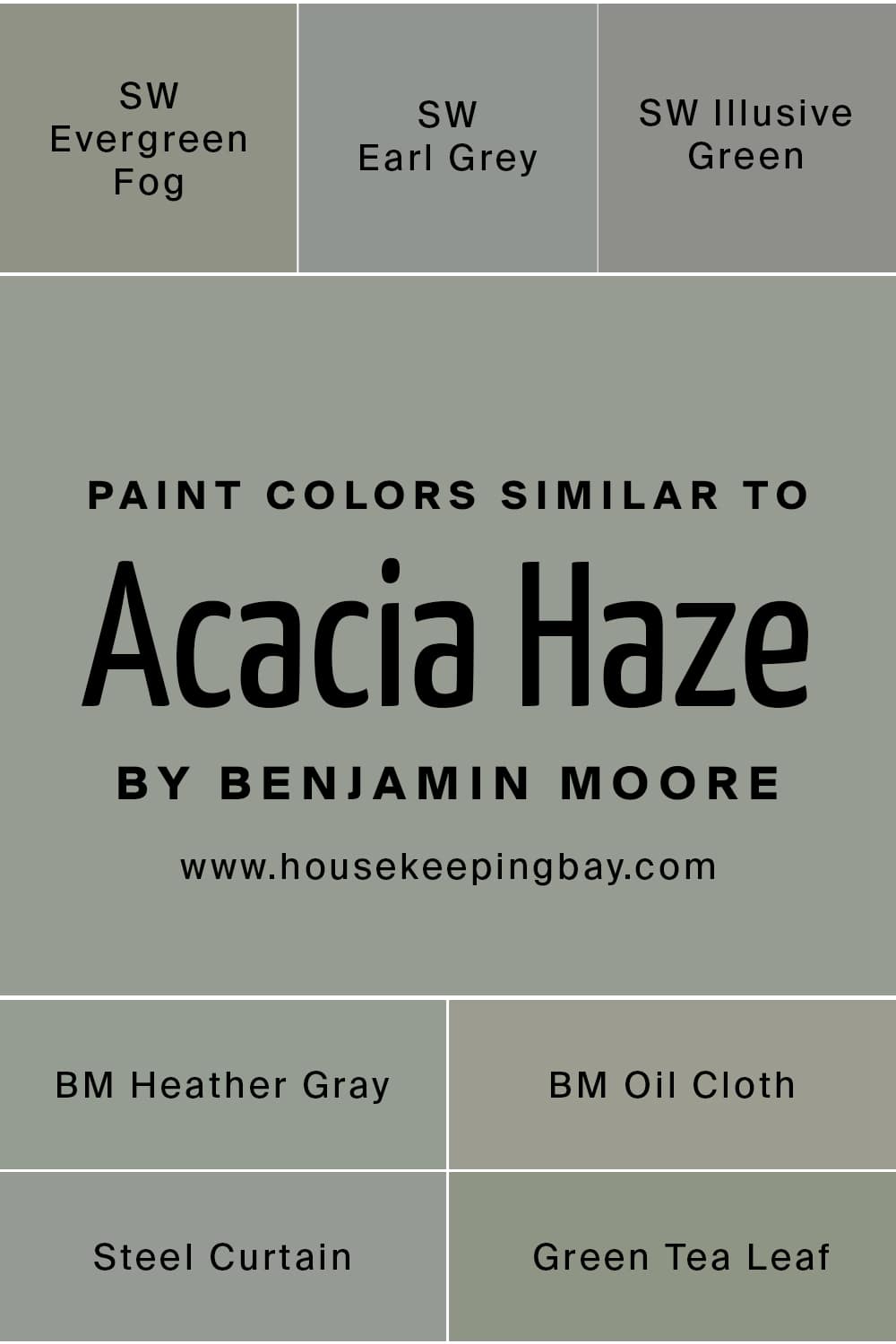 Where This Color Can Be Used In Your Home?
You might think that SW Acacia Haze paint color is pretty hard to use in your interior, and you are right. However, if you take its specifics and nuances into consideration, this color can be used in almost any room and on nearly any surface. This paint is even used as exterior paint to apply on houses' facades!
Below, you can find out a bit more about how this gorgeous green-gray natural paint will work in different areas of your home.
SW Acacia Haze In a Living Room
Such an interesting color as Acacia Haze can be effectively used in your living room. Be it a space with a vintage vibe, a rustic room with lots of texture, or a modern space with a simple design, this gray-green shade will work great in each of them.
Note that wood is particularly winning in such environments since it emphasizes the natural effect when combined with this shade of green. Furthermore, such textures will help Acacia Haze reveal its warm undertones and add comfy notes to the space.
SW Acacia Haze In a Bedroom
It is not a secret that the green color and most of its shades create an atmosphere of relaxation. And the bedroom is the ideal place for this color to be used in! Of course, it will depend on your perception, since not all of us would like this rather dark shade on our bedroom walls.
But Acacia Haze is definitely a bedroom color. You can use it as a covering for all the walls, or just for an accent wall, it doesn't matter. The effect will be the same. Also, this green-gray will pair great with wooden furniture, soft contrastive colors, and lots of texture.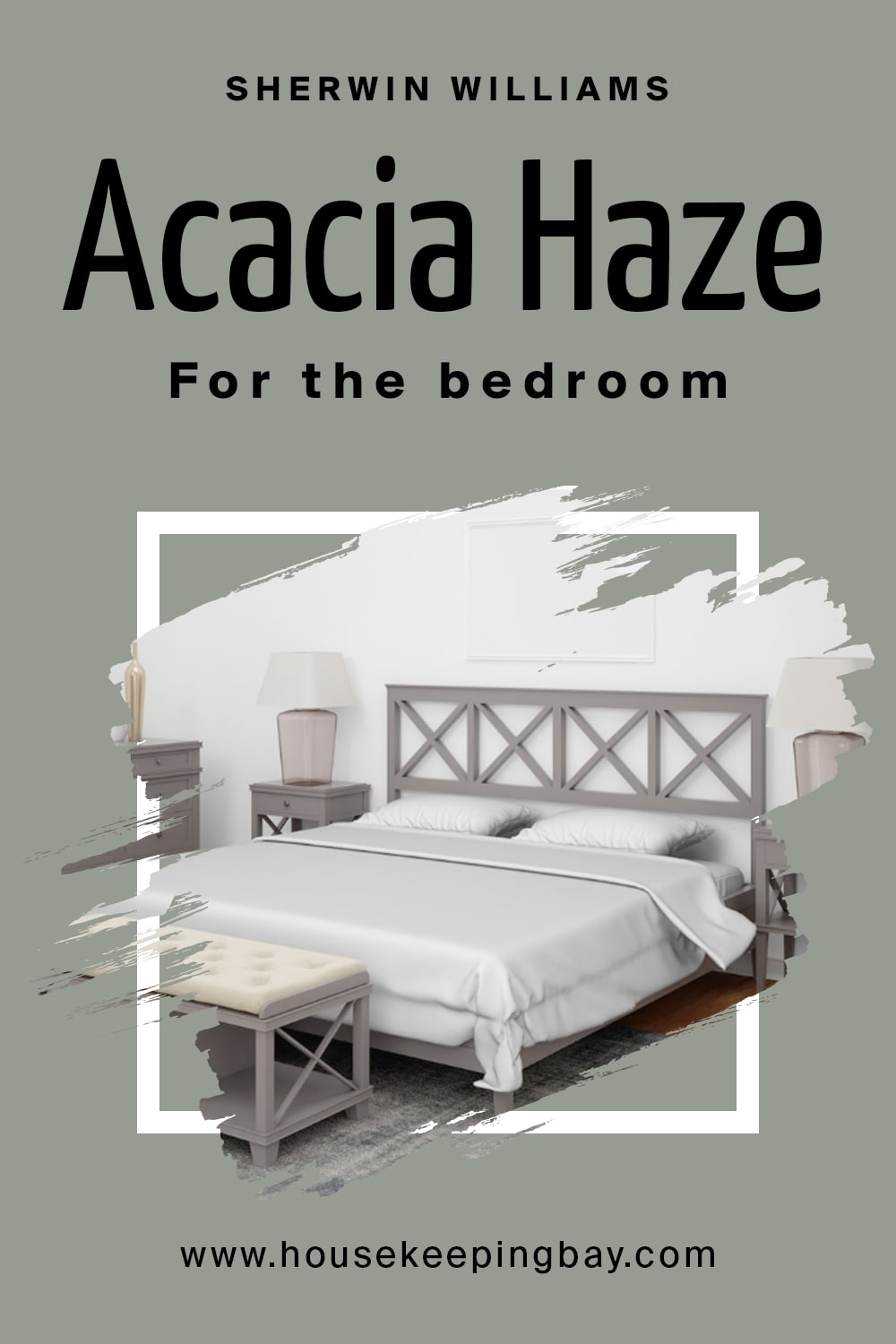 How Will SW Acacia Haze Work In a Kitchen And On Kitchen Cabinets?
In case you decide to paint your kitchen with this color, we would recommend you take a few nuances into consideration. First of all, make sure that the space is not too small! Otherwise, the paint will make it look smaller.
Second, your kitchen should have enough light to make this awesome green reveal its best. Finally, you need to decide whether you want your entire kitchen to be green, or you only want an accent wall, for example. By the way, consider painting the cabinets or the backsplash!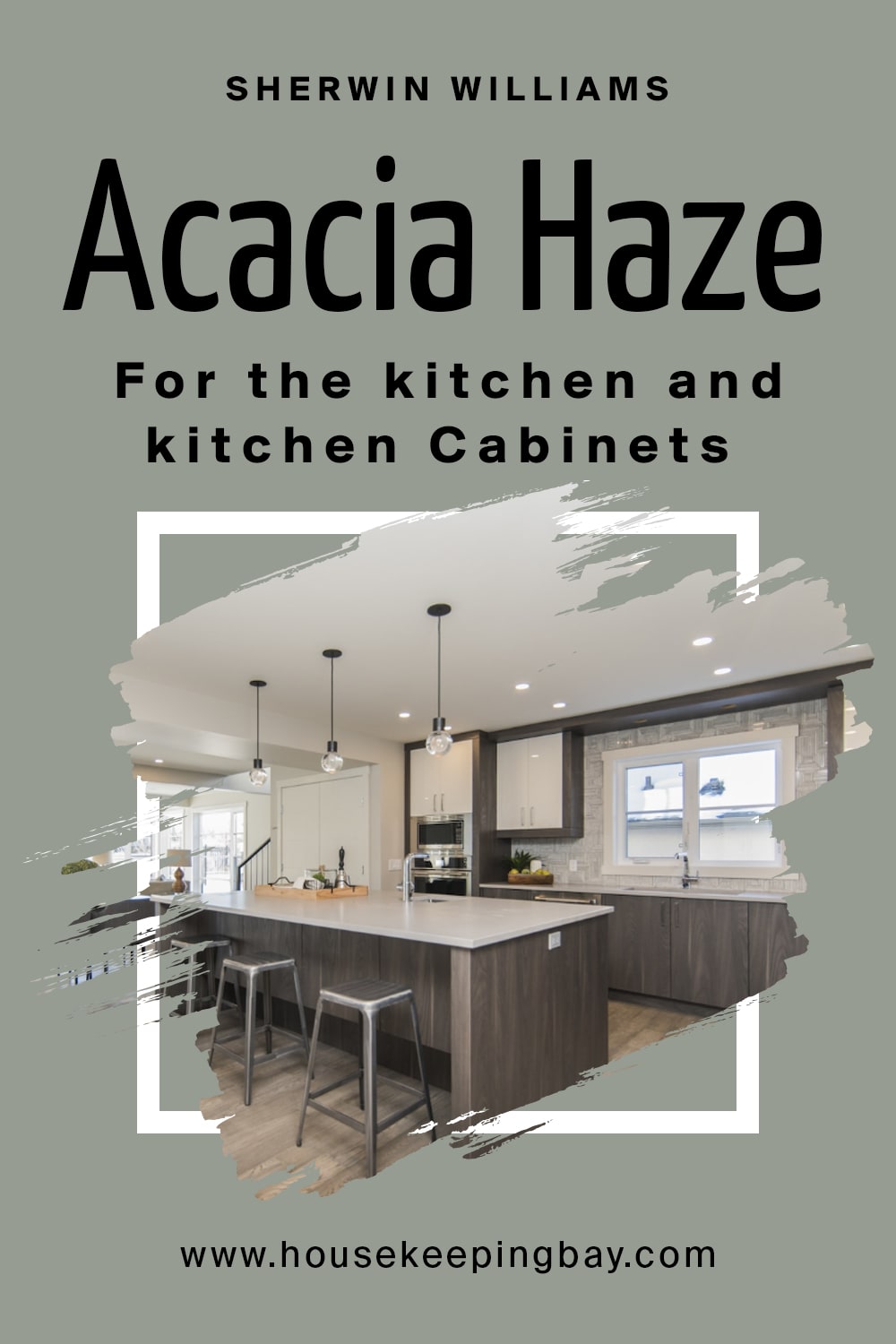 SW Acacia Haze in the Cabinets
SW Acacia Haze paint color is so versatile that it even looks great on cabinetry. But before you paint your cabinets with it, check out the entire color palette of the room. Even though Acacia Haze is a pretty versatile color, it will not match any color palette!
Exterior Use of a SW Acacia Haze
This green paint with gray undertones will work great on your exterior walls! In fact, Acacia Haze is one of the leading colors for exterior use. It is suitable for any climate and it will work great on any texture. We only warn you that lighting will matter greatly should you decide to use this shade of green.
If you live in an area with a lot of warm daylight and sun, SW Acacia Haze will reveal more of its green side. But in dim and dusk lighting, as well as on cloudy days, it will look almost gray with way cooler undertones.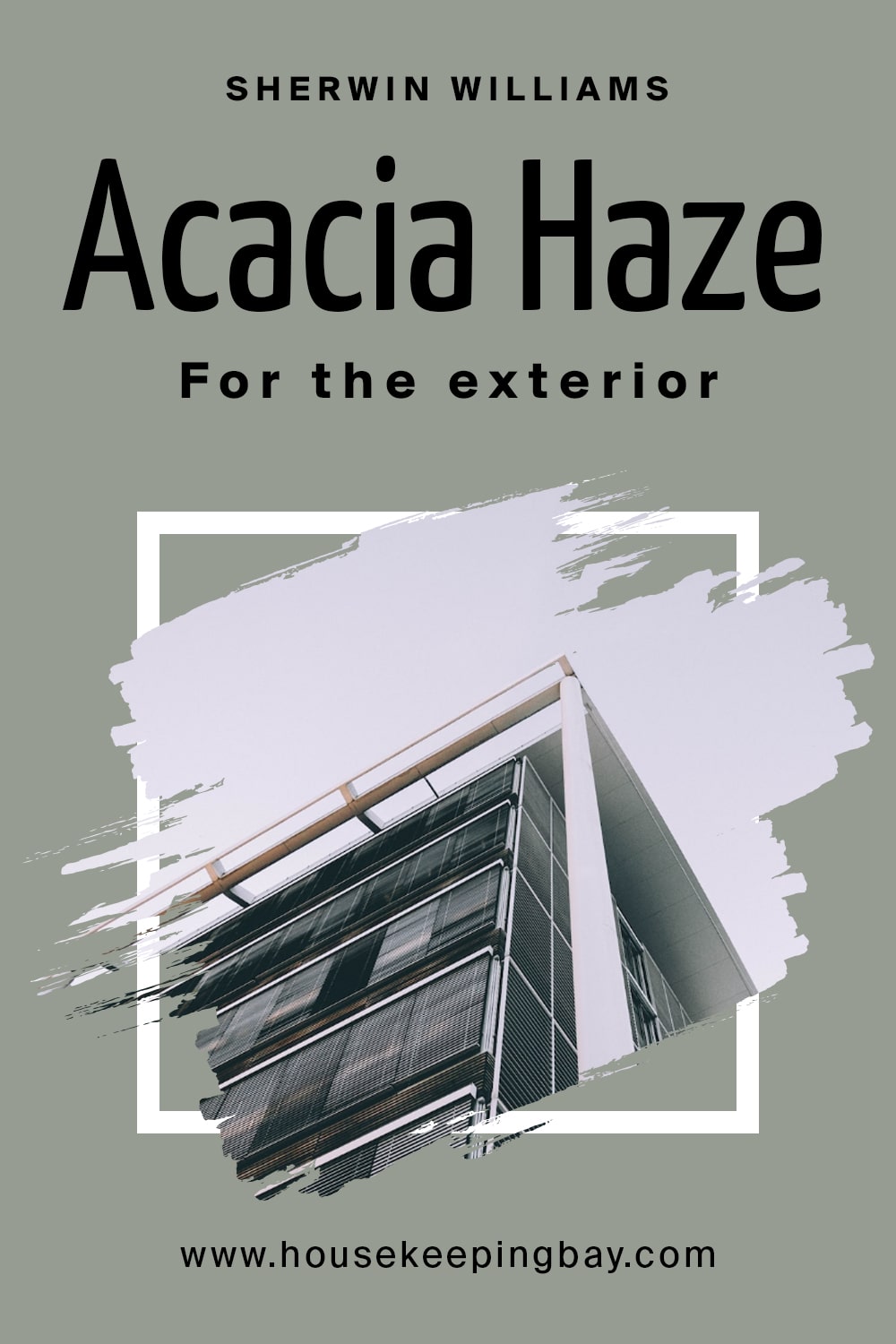 Paint Colors That SW Acacia Haze Goes With
No matter what paint color you choose for your home, you always need to pay attention to what colors it will go with. It will help you to create not only a balanced color palette, but also end up with a harmonious atmosphere.
As for the SW Acacia Haze paint color, it can be paired with quite many other colors! And below, you can check out which ones exactly will work better than others with it:
SW-7060 Attitude Gray
SW-7633 Taupe Tone
SW-6140 Kaffee
SW-9006 Rojo Dust
SW-9109 Natural Linen
In addition, we would like to compare this paint color to the most similar paints in order to see whether there is any visible difference between them. And also, this will help to see clearer how Acacia Haze differs from the most similar colors.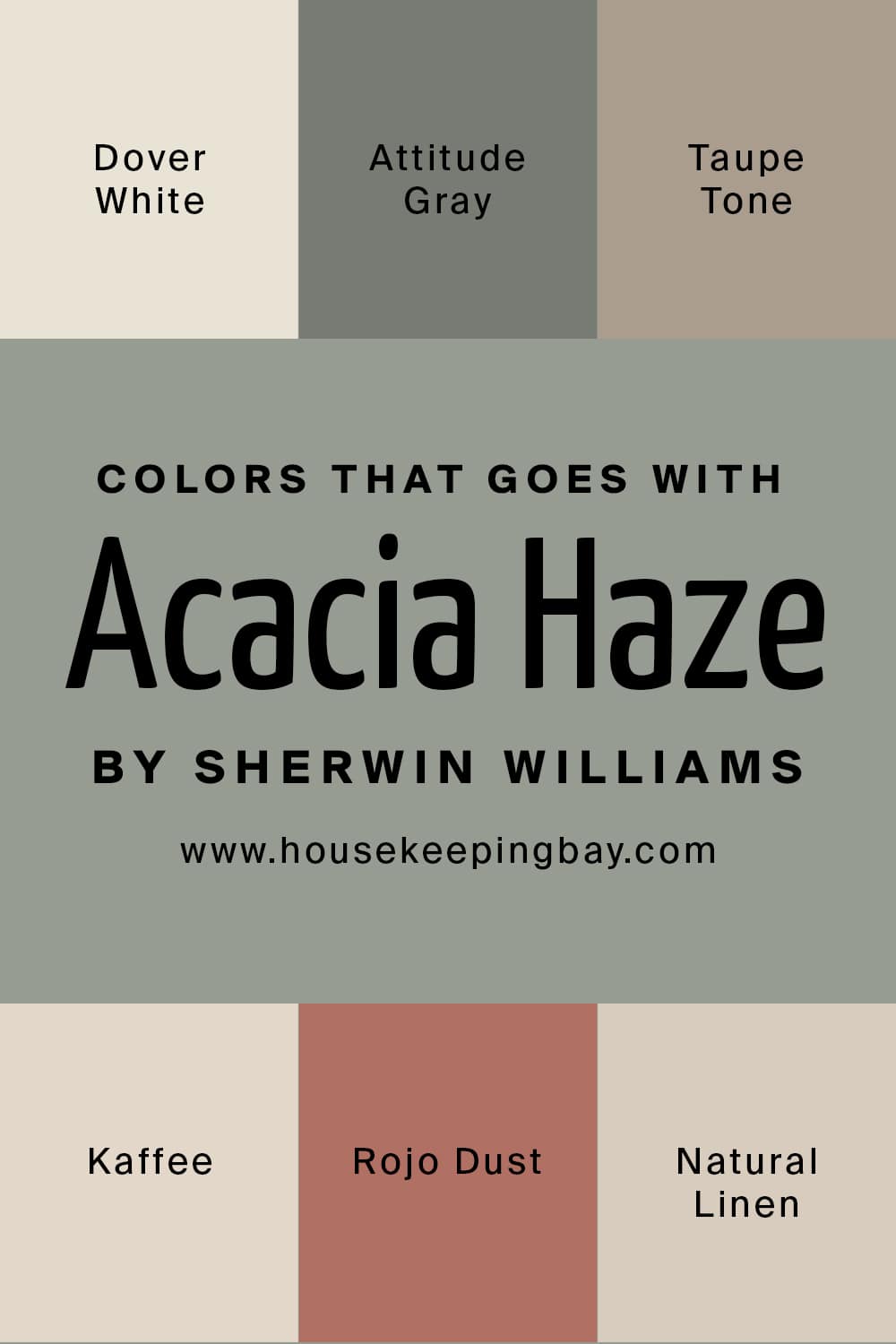 Acacia Haze vs Evergreen Fog
If you compare these colors, you will see that Evergreen Fog is significantly greener whilst Acacia Haze looks almost gray beside it. Both are not bright and they have approximately the same amount of warm tones. However, using them in the same space is not recommended since the room will look too gloomy.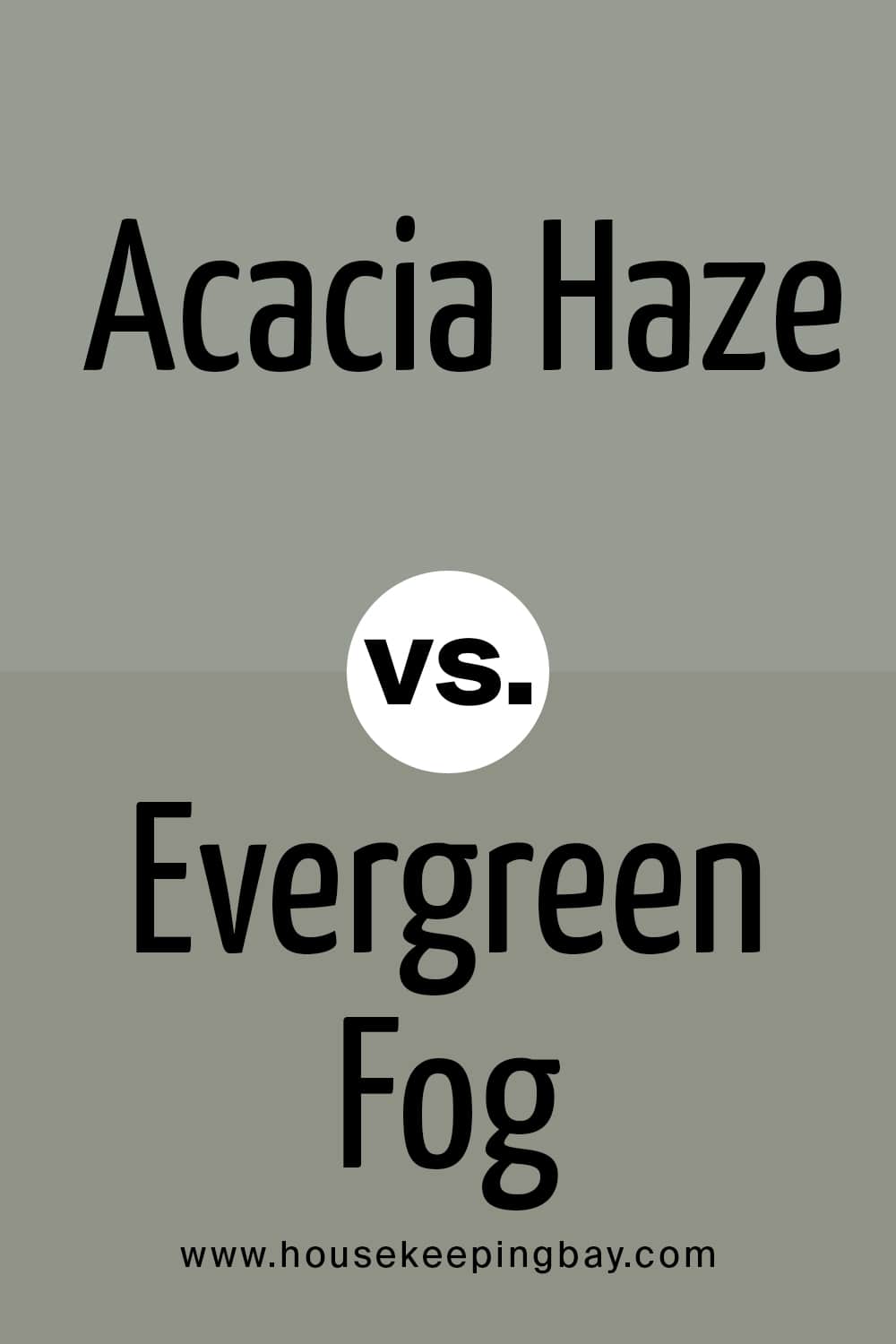 Acacia Haze vs Retreat
Retreat reads way more green, a green of darker shade in comparison to Acacia Haze which looks closer to gray. Also, Acacia Haze reveals more of its cool grayish undertones if placed beside the Retreat paint color.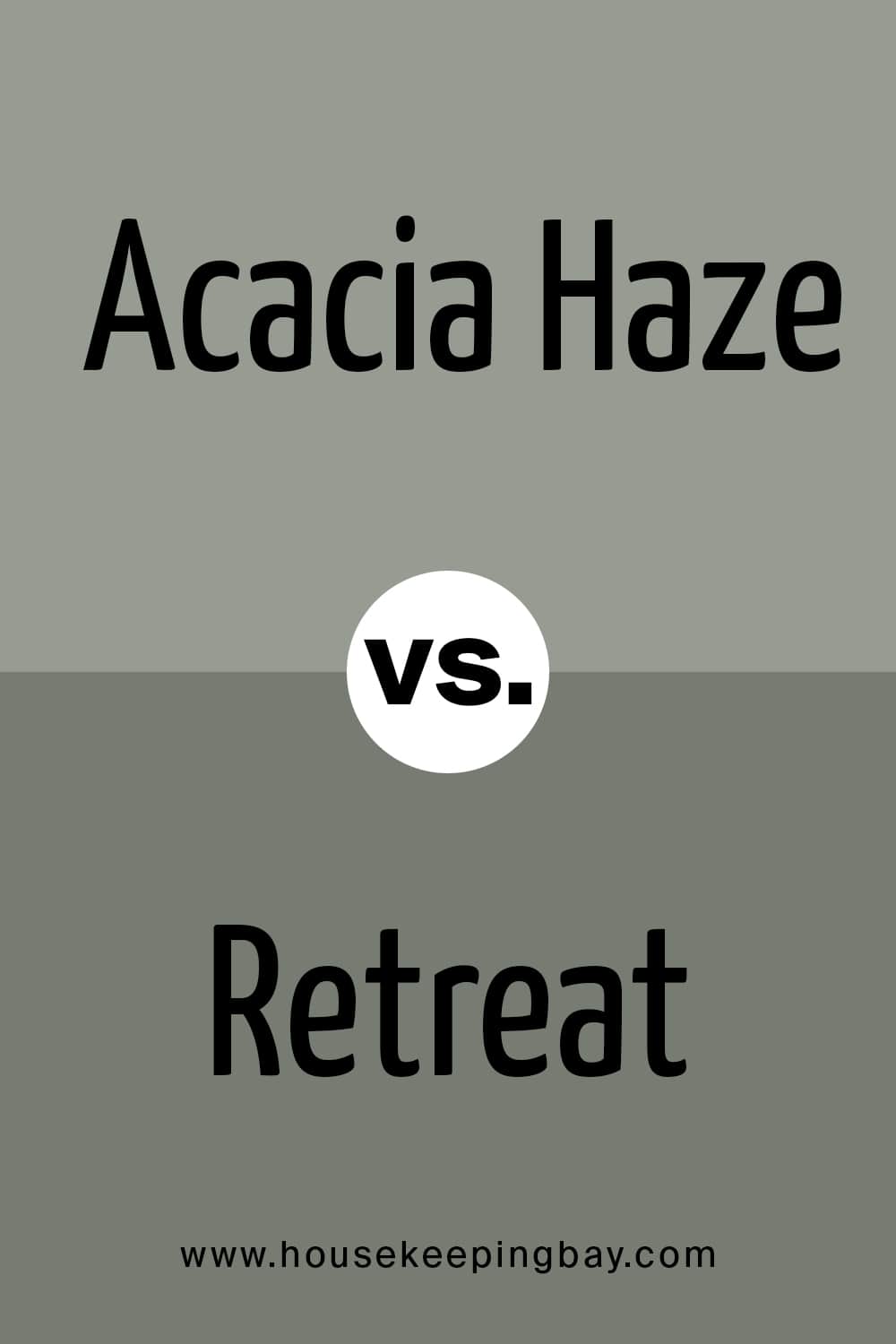 Acacia Haze vs Oyster Bay
Oyster Bay is like a lighter version of Acacia Haze. That color is also greenish-gray, but unlike Acacia Haze, Oyster Bay has more prominent gray undertones. The two look so similar that you might not want to use them both in the same room though.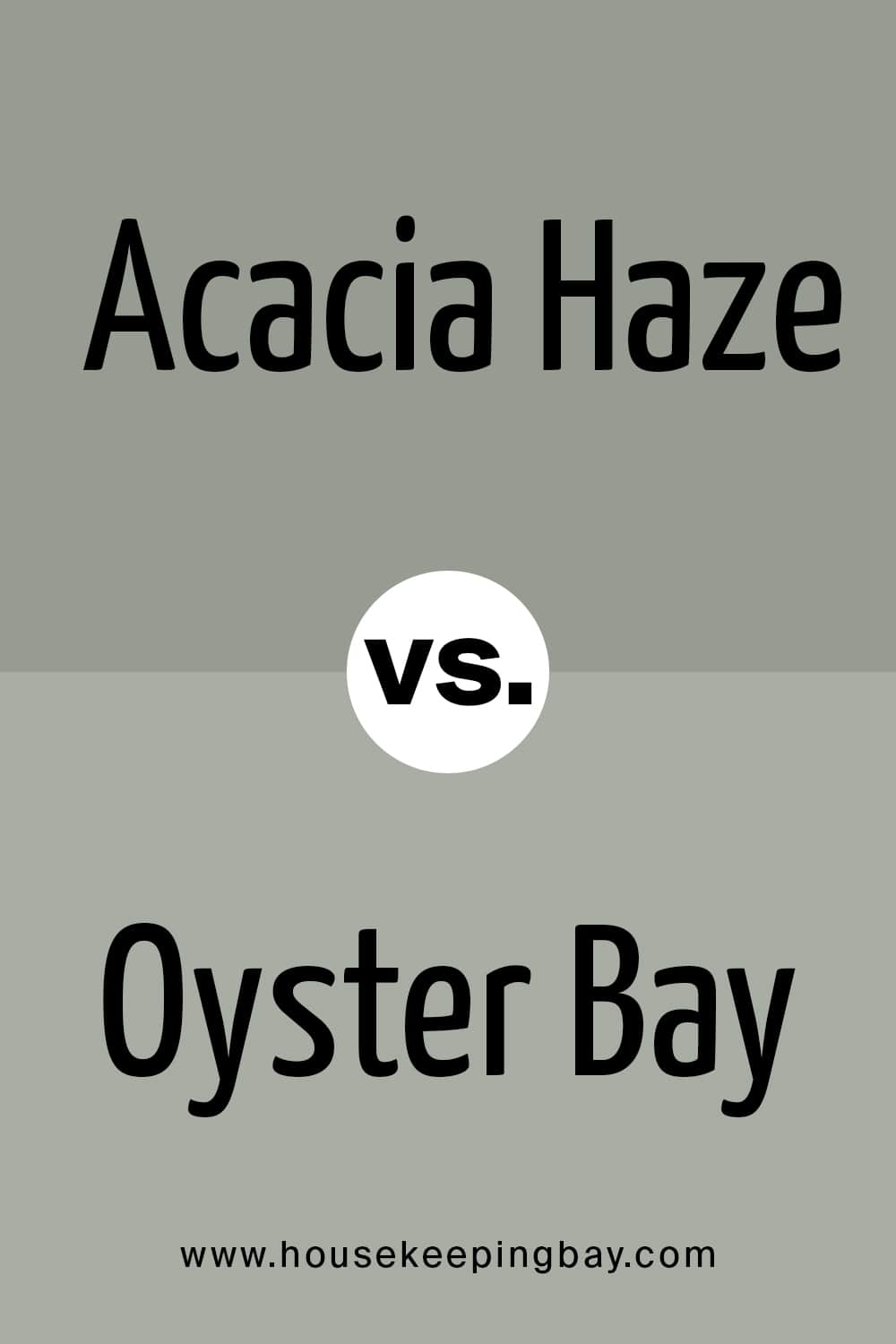 Acacia Haze vs Pigeon
Pigeon color has green undertones that make this paint look almost sage-green or fern-green sometimes in certain lighting. Acacia Haze with its gray undertones looks cooler and somewhat darker, but these two paints don't create a balanced combo.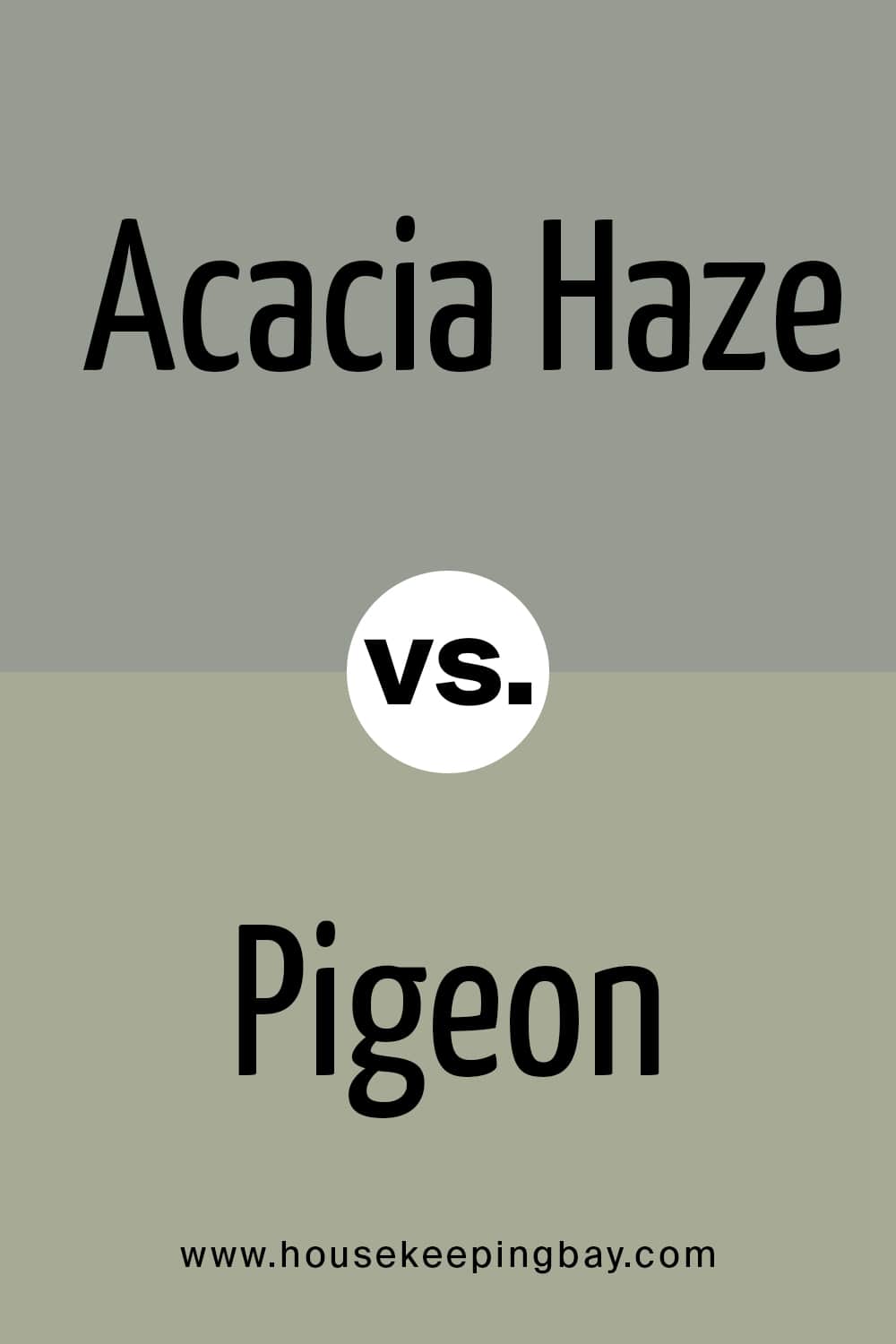 Acacia Haze vs Clary Sage
Clary Sage is a light green with a somewhat yellowish hue in it. In comparison to Acacia haze, it looks more delicate and warm-toned as well. The two might be pretty good if used together, but you would have to consider the lighting in a room, in this case, to make sure that undertones won't ruin everything.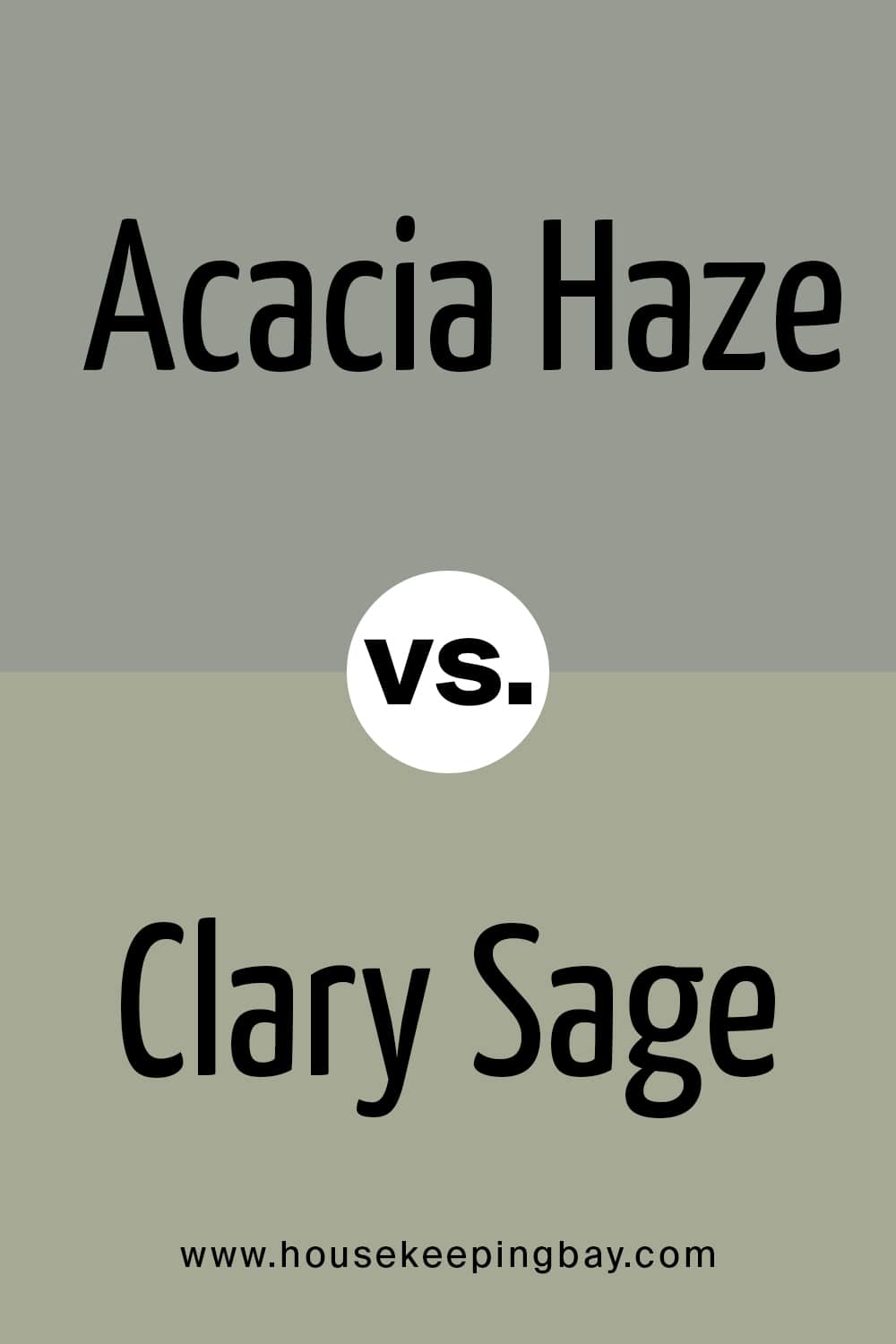 Well, like this, you are now informed about all the specifics and nuances that go with such a wonderful and gorgeous paint color as SW Acacia Haze. This warm color can successfully match quite many interior designs and fit in many color schemes which makes it a versatile option.
However, it's also rather tricky, so make sure you're ready for that. In addition, this paint color can be used both indoors and outdoors. It allows you to find way more areas and options for its use in your home.