In the vast universe of paint colors, Sherwin-Williams SW 7013 Ivory Lace holds a distinct position with its gentle, creamy appeal that delivers a soft, sophisticated aesthetic to any space. But you need to learn more about it to be able to use this white in your home correctly.
This article dives deep into understanding the nuanced characteristics of SW Ivory Lace, its undertones, coordinating colors, and how it responds to various lighting conditions.
We will also explore the diverse uses of this color across various spaces and compare it with similar colors.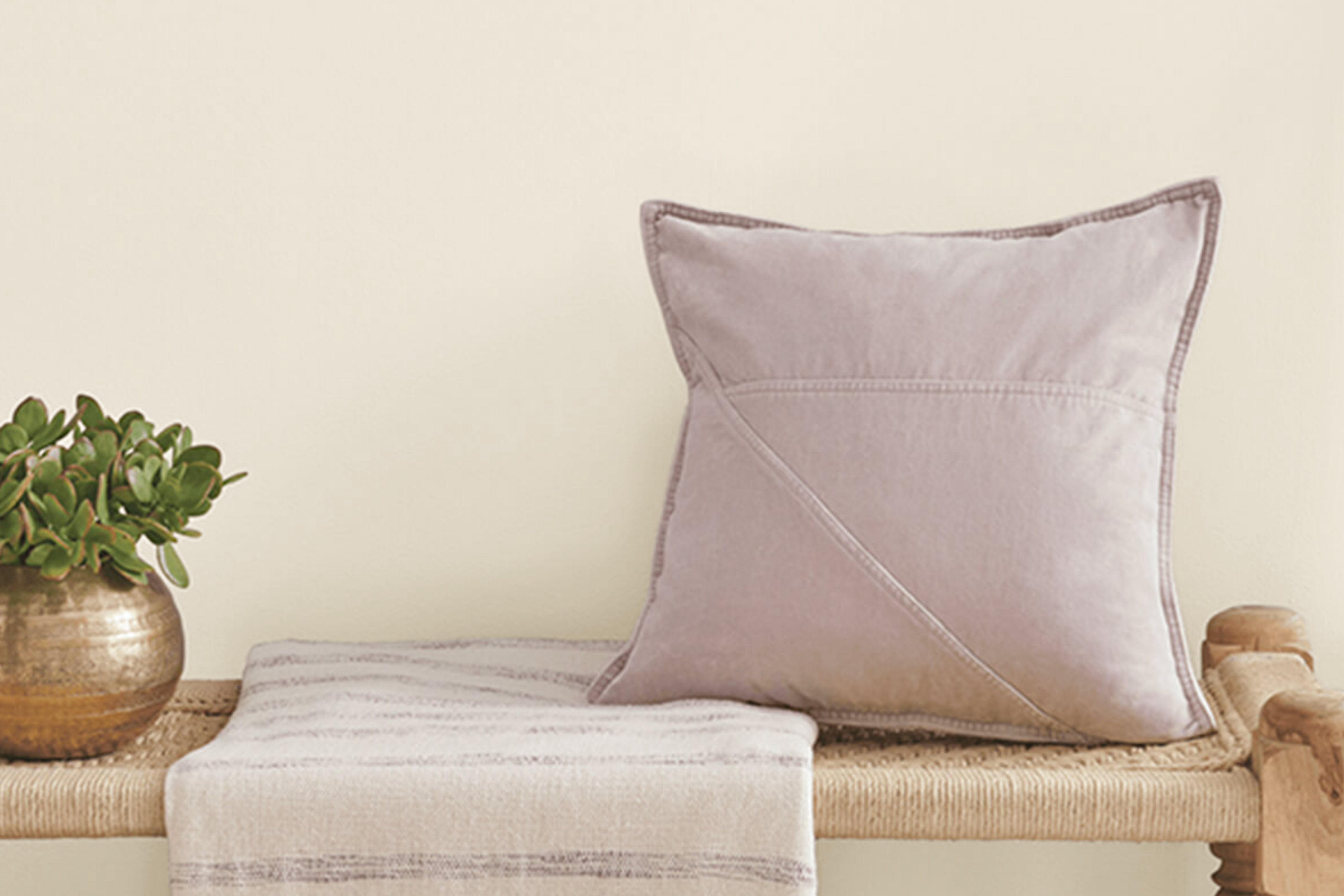 What Color Is SW 7013 Ivory Lace?
Sherwin-Williams SW 7013 Ivory Lace is a soft, delicate off-white hue that leans towards the creamy side. It balances between the starkness of pure white and the warmth of a cream color. Thanks to this balanced nature, this white embodies an elegant and sophisticated vibe, offering a light and airy feel to any space it is applied to.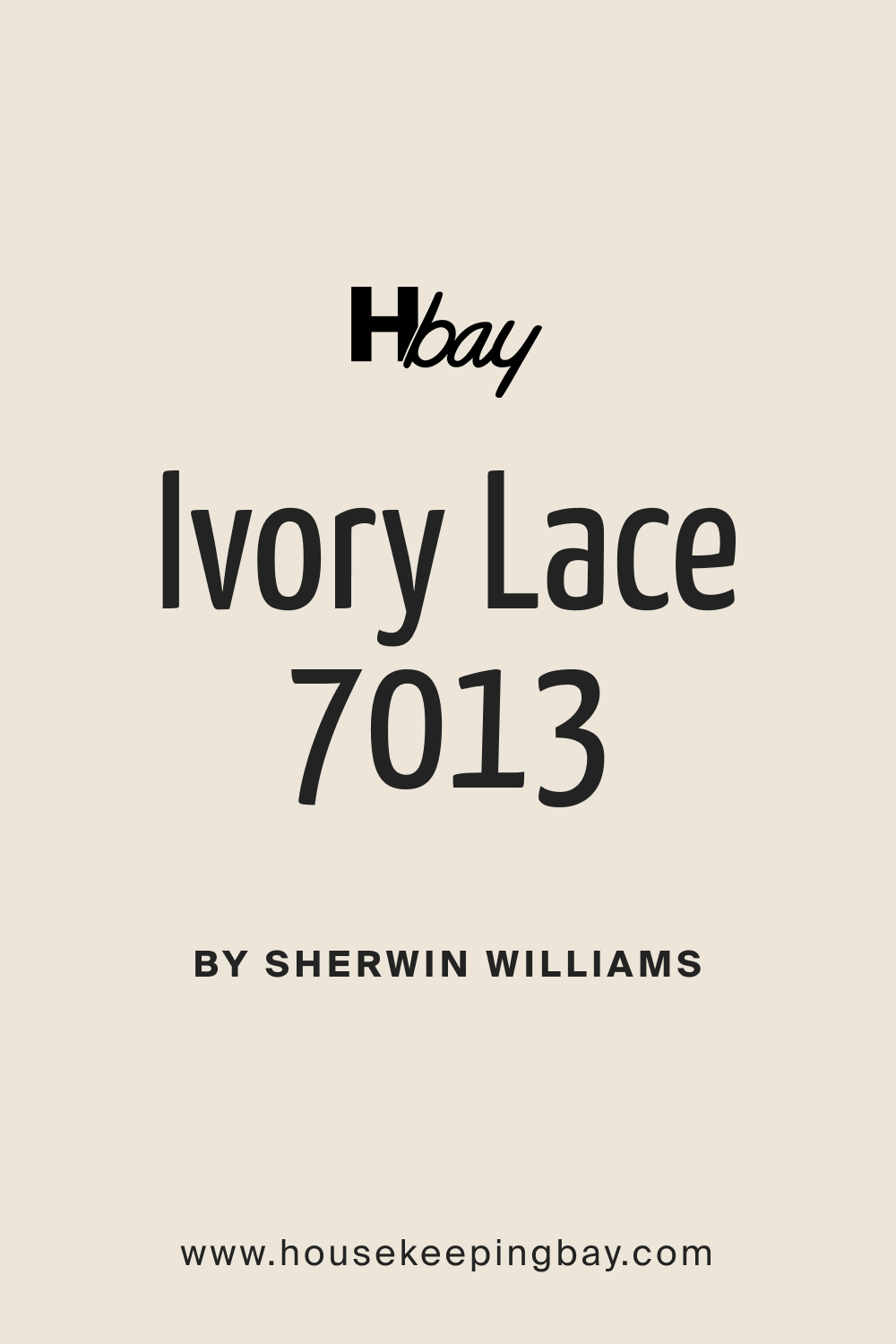 Is it a Warm Or Cool Color?
SW 7013 Ivory Lace is considered a warm color. Its subtle cream undertones lend it a comforting warm tone that is not as stark as a true white. However, despite its warmth, this color is not too yellow or overly creamy, retaining a beautiful balance that ensures its versatility.
Undertones of SW 7013 Ivory Lace
Ivory Lace has a gentle yellow-beige undertone with a very slight and barely-there hint of pink. This underlying hue is what gives this color its warm, inviting characteristic. Unlike other warm whites that may lean too yellow, SW Ivory Lace maintains a quiet sophistication, primarily appearing as an off-white color with a hint of soft creaminess.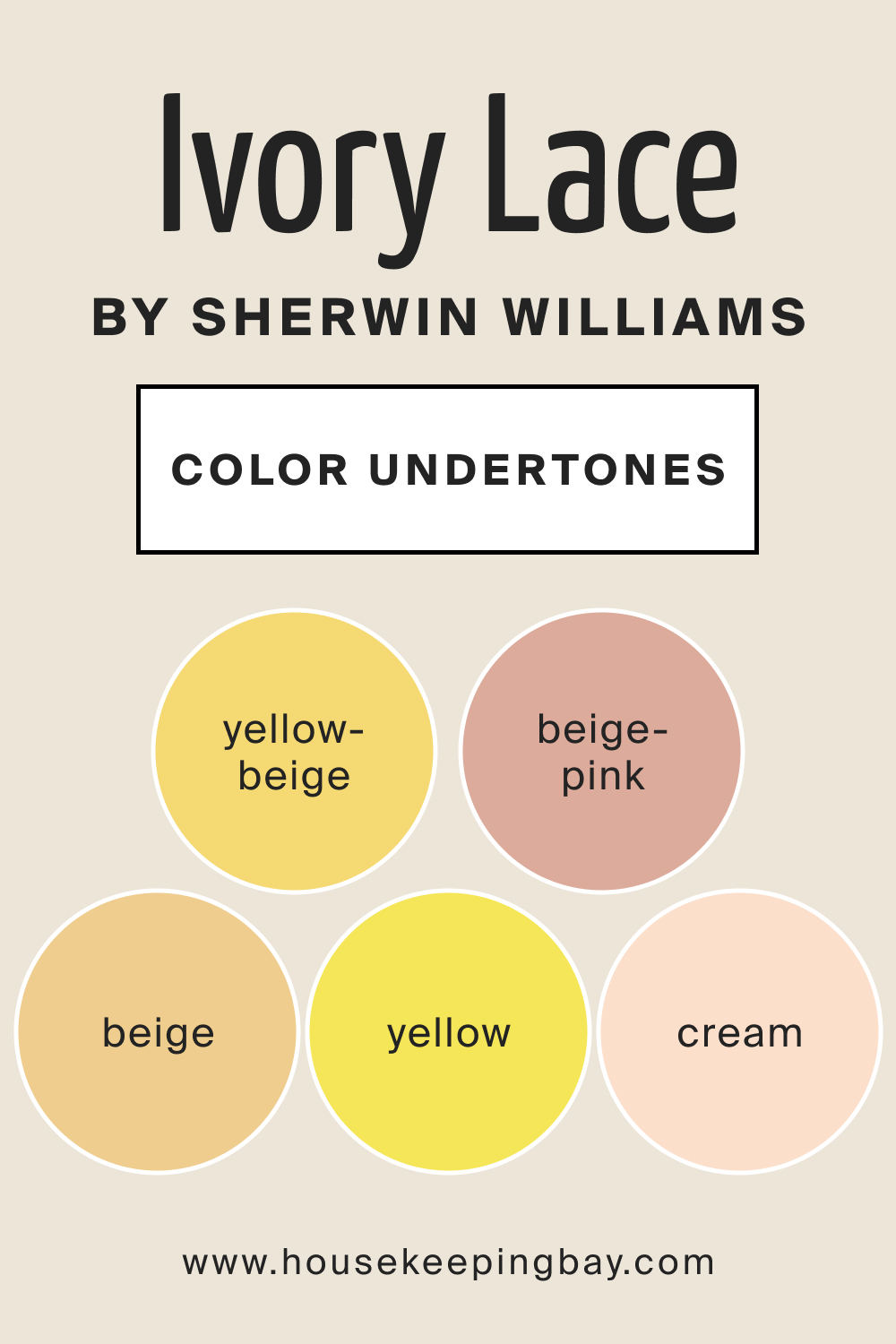 Coordinating Colors of SW 7013 Ivory Lace
SW Ivory Lace is incredibly versatile and pairs beautifully with a range of other colors. For a harmonious look, you might consider combining it with warmer neutrals or earth tones like beiges, soft browns, and muted greens. For a more contrasting, vibrant palette, richer colors like navy blue, deep greens, or even bold reds can create an appealing juxtaposition.
SW 7013 Ivory Lace pairs beautifully with a wide range of colors. Consider these six Sherwin-Williams and Benjamin Moore hues:
Sherwin-Williams Accessible Beige (SW 7036): A warm beige that creates a harmonious look with Ivory Lace.
Sherwin-Williams Kilim Beige (SW 6106): Another beautiful beige, slightly warmer than Accessible Beige.
Sherwin-Williams Sea Salt (SW 6204): A soft, muted green with gray undertones.
Benjamin Moore Manchester Tan (HC-81): A versatile beige that complements Ivory Lace nicely.
Benjamin Moore Quiet Moments (1563): A gentle, grayish blue that pairs well with the soft warmth of Ivory Lace.
Benjamin Moore Muslin (OC-12): A versatile, warm neutral.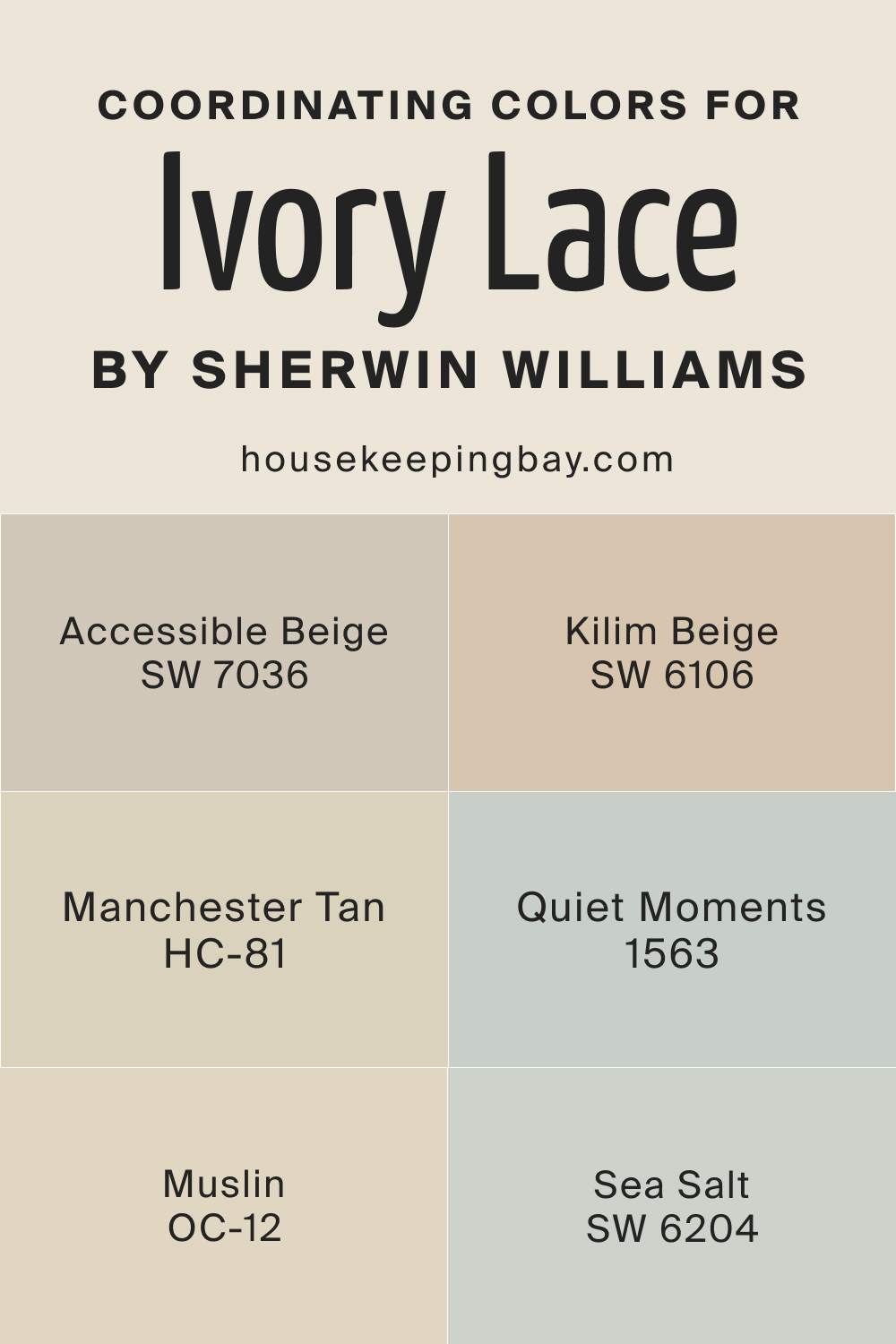 How Does Lighting Affect SW Ivory Lace Paint Color?
Like any paint color, SW 7013 Ivory Lace can work differently depending on the lighting conditions. In spaces with ample natural light, it may appear slightly lighter and brighter, with its creamy undertones more apparent. In artificial light or in rooms with less natural light, it may read a bit more muted, leaning more towards off-white.
What LRV SW 7013 Ivory Lace Has and How It Reacts to Light?
The Light Reflectance Value (LRV) of a paint color measures how much light it reflects. Ivory Lace has an LRV of 74, making it a relatively light color that reflects a substantial amount of light. This high LRV means that SW Ivory Lace can help make spaces feel more open and airy, which is especially useful in smaller rooms or areas with limited natural light.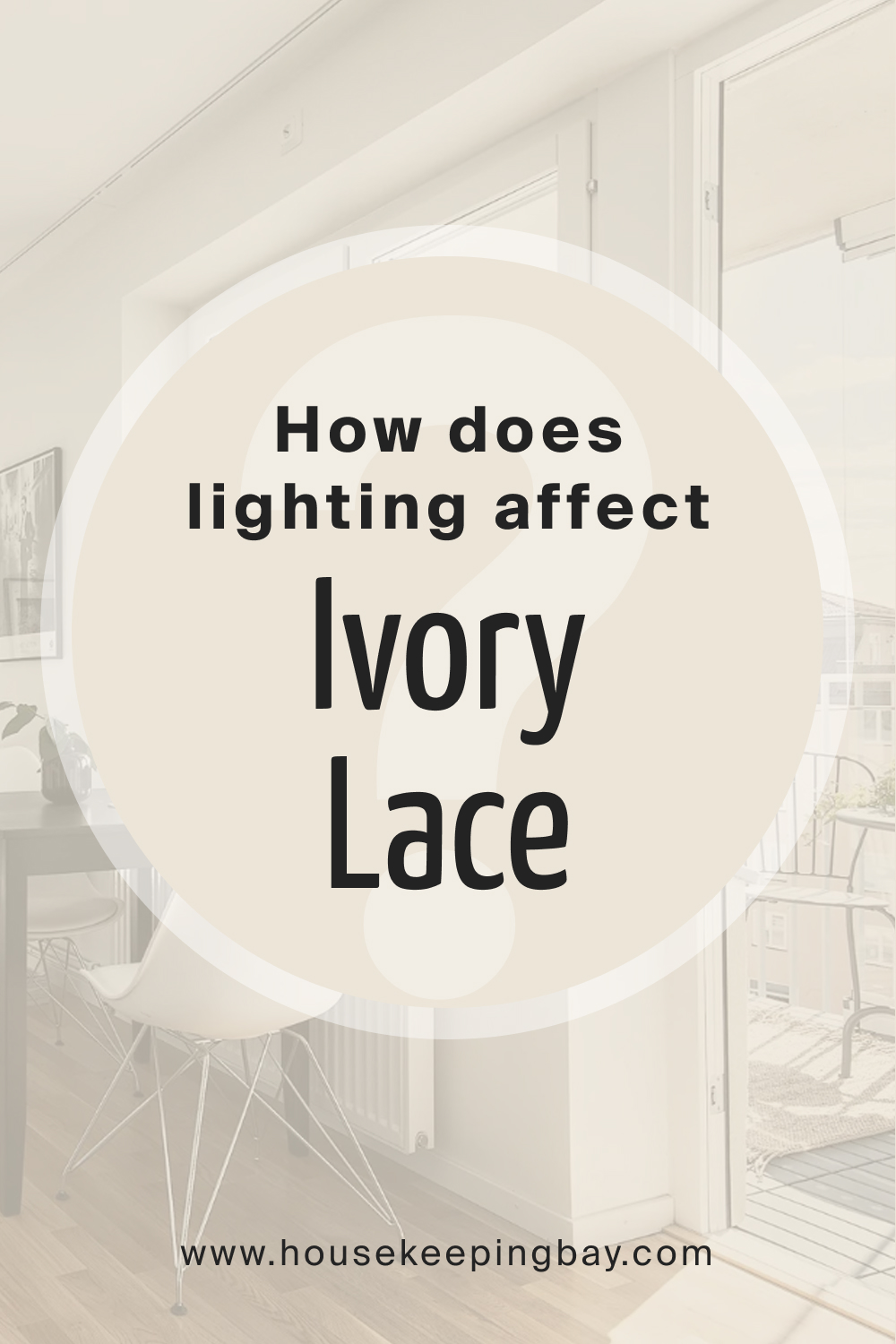 Also, this color is rather picky and challenging when it comes to light. In a south-facing room, SW Ivory Lace will lean into its yellow-creamy base, making this off-white look warmer. In north-facing rooms, this color is lit by the soft and cool light, which makes the color display more of its cooler pink undertone.
This is why northern light often makes Sherwin-Williams Ivory Lace look less warm than it is.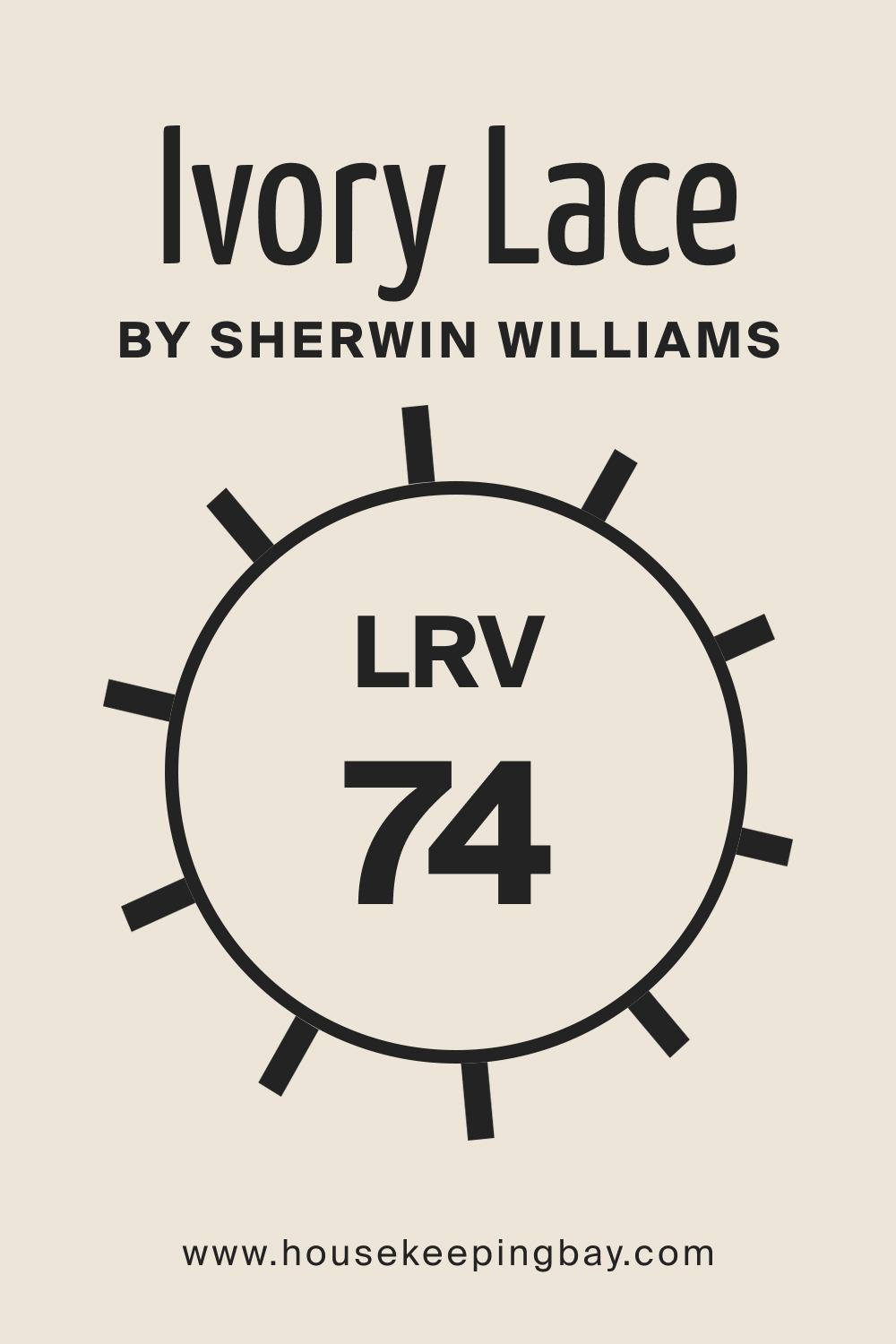 What is LRV? Read It Before You Choose Your Ideal Paint Color
Trim Colors of SW 7013 Ivory Lace
For a monochromatic look, SW Ivory Lace on the trim pairs wonderfully with SW Ivory Lace walls, creating a seamless, unified appearance. If you're seeking contrast, darker neutrals like taupe or gray can provide a pleasing juxtaposition. The right trim color can enhance the elegant appeal of SW Ivory Lace. Consider these three colors: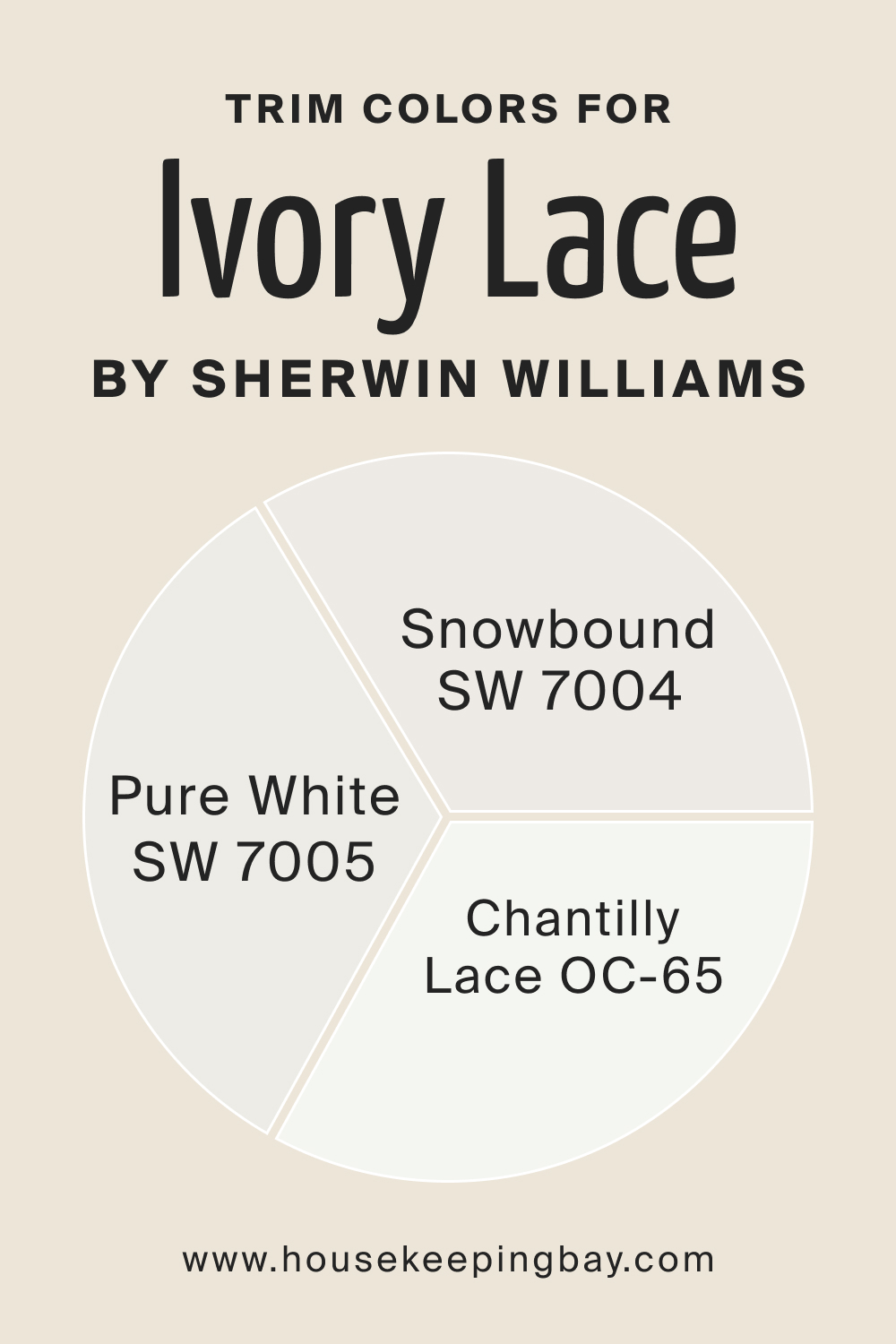 Colors Similar to SW 7013 Ivory Lace
Several colors share similarities with SW Ivory Lace. If you love the warm, soft vibe of SW Ivory Lace, consider these six similar colors:
Sherwin-Williams Creamy (SW 7012): As its name suggests, it's a creamier off-white.
Benjamin Moore Swiss Coffee (OC-45): A soft off-white with a touch of warmth.
Sherwin-Williams Dover White (SW 6385): A warm, creamy white, similar to Ivory Lace but with stronger yellow undertones.
Behr Sail Cloth
Farrow & Ball James White
PPG String of Pearls
Valspar Bubble Bath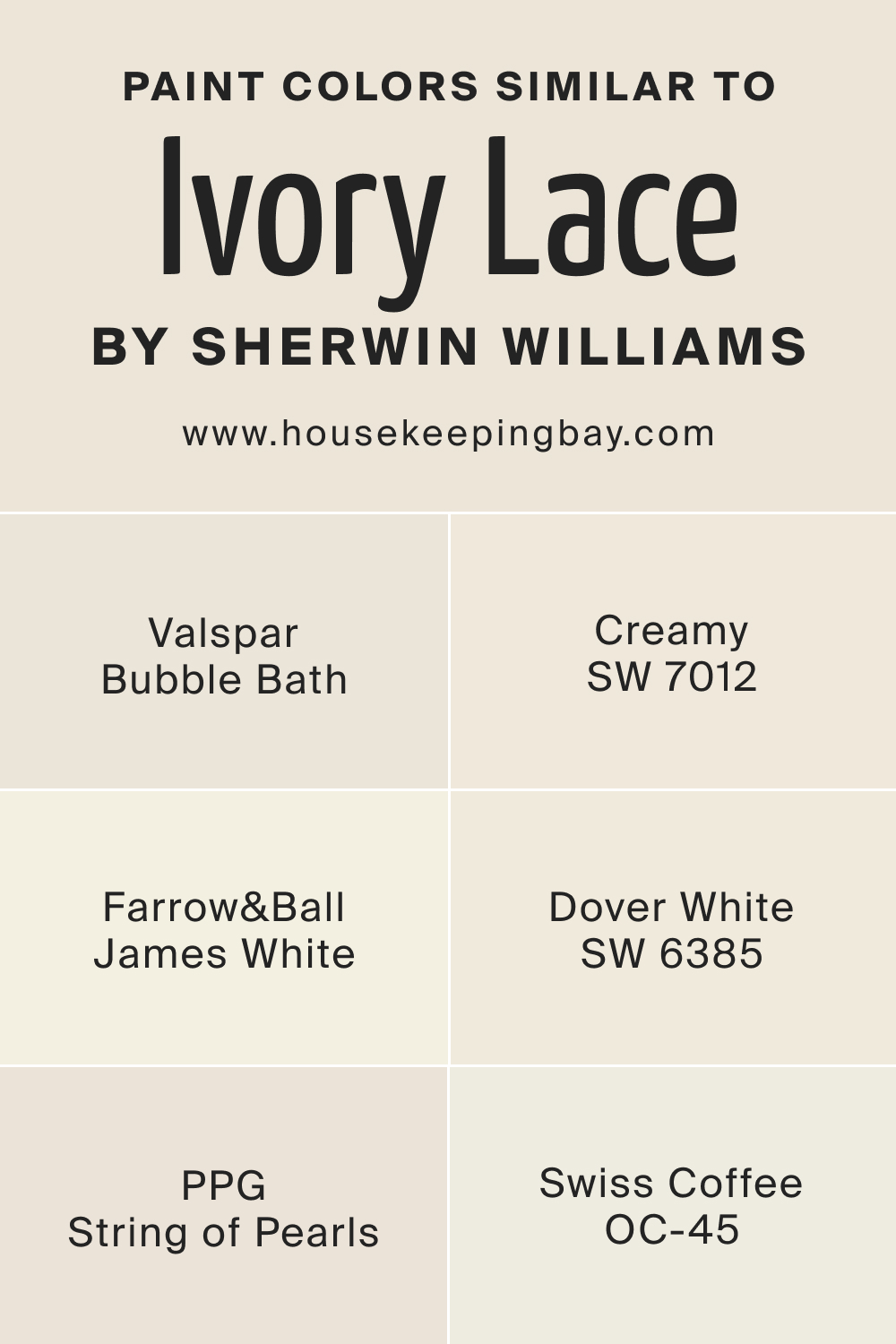 Colors That Go With SW 7013 Ivory Lace
Colors that pair well with SW Ivory Lace include soft beiges and warm grays for a neutral, harmonious palette. On the contrasting side, deeper colors such as navy blue, forest green, or rich burgundy can offer a stunning juxtaposition against the soft backdrop of SW Ivory Lace.
SW Ivory Lace's versatile nature allows it to complement a wide array of colors. Here are six colors that go particularly well with this off-white color:
Sherwin-Williams Naval (SW 6244): A rich navy blue that provides an elegant contrast with Ivory Lace.
Sherwin-Williams Cavern Clay (SW 7701): A warm terra cotta color that adds a hint of earthy warmth.
Sherwin-Williams Dustblu (SW 9161): A muted blue that complements the softness of Ivory Lace.
Benjamin Moore Kendall Charcoal (HC-166): A deep, rich gray that offers a striking contrast.
Benjamin Moore Wythe Blue (HC-143): A soft blue with a touch of green that pairs well with Ivory Lace.
Benjamin Moore Hawthorne Yellow (HC-4): A sunny yellow that adds a vibrant pop against Ivory Lace.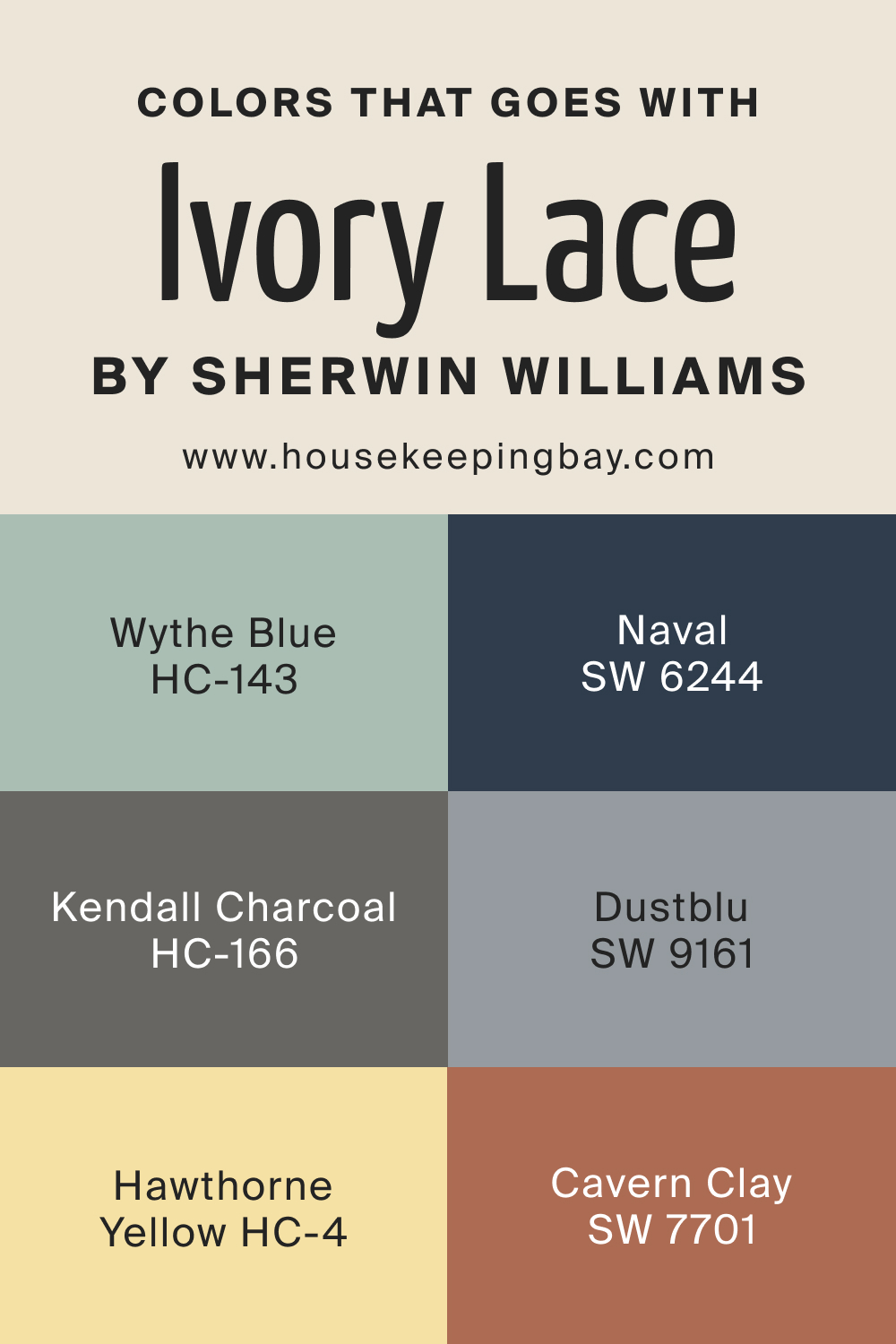 How This Color Works In Your Home?
SW Ivory Lace is pretty versatile despite its warmth and creaminess. To show you how exactly this off-white may read in your home, we described several most common spaces in homes where you can use this white. Read on to figure out where it might work best for you!
How to Use SW 7013 Ivory Lace In the Bedroom
SW Ivory Lace creates a serene, calming atmosphere in a bedroom. Its soft, warm tones evoke a sense of relaxation and restfulness. Pair it with soft, pastel textiles for a light, airy look, or use richer, deeper shades for your bedding and accessories to create contrast.
In addition to the walls, consider using SW Ivory Lace on your bedroom furniture, such as dressers or bedside tables, for a chic, unified look. This soft off-white also works well for a feature wall, where it can be paired with more vibrant colors or textures to add visual interest.
Textured fabrics in the room, such as velvet or linen in a rich, contrasting hue, can complement the softness of the Ivory Lace color while adding a sense of luxury and comfort to the space.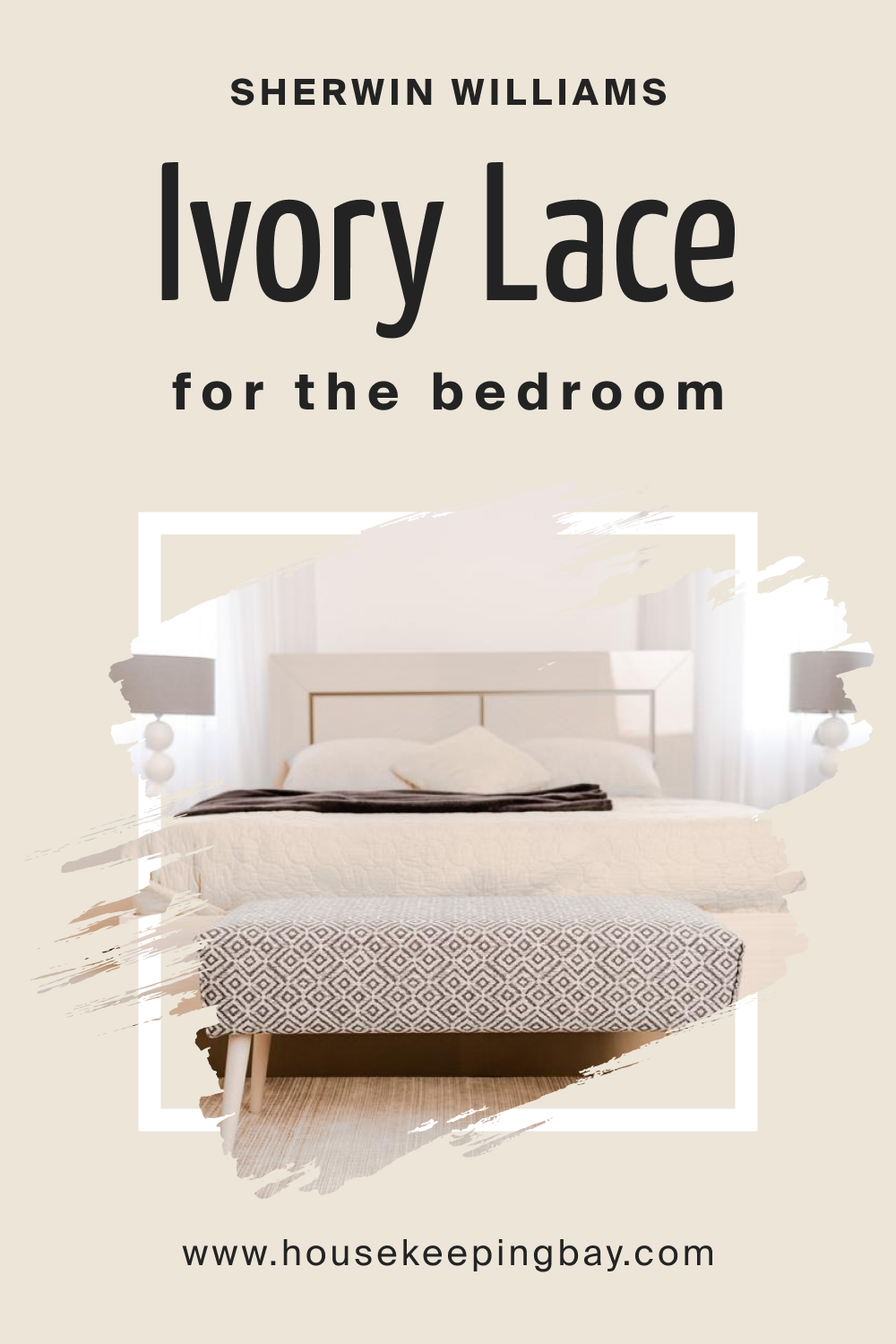 How to Use SW 7013 Ivory Lace In the Bathroom
In bathrooms, SW Ivory Lace can help create a clean, fresh feel. Pair it with white fixtures for a crisp, seamless look, or consider dark, contrasting hardware for a more contemporary vibe.
SW Ivory Lace's high LRV makes it an excellent choice for smaller bathrooms or powder rooms without much natural light, as it can help the space feel larger and brighter.
Additionally, consider pairing this white with marble or other natural stone elements. The warm undertones in SW Ivory Lace can help to highlight the natural veining in the stone, creating a cohesive and luxurious aesthetic.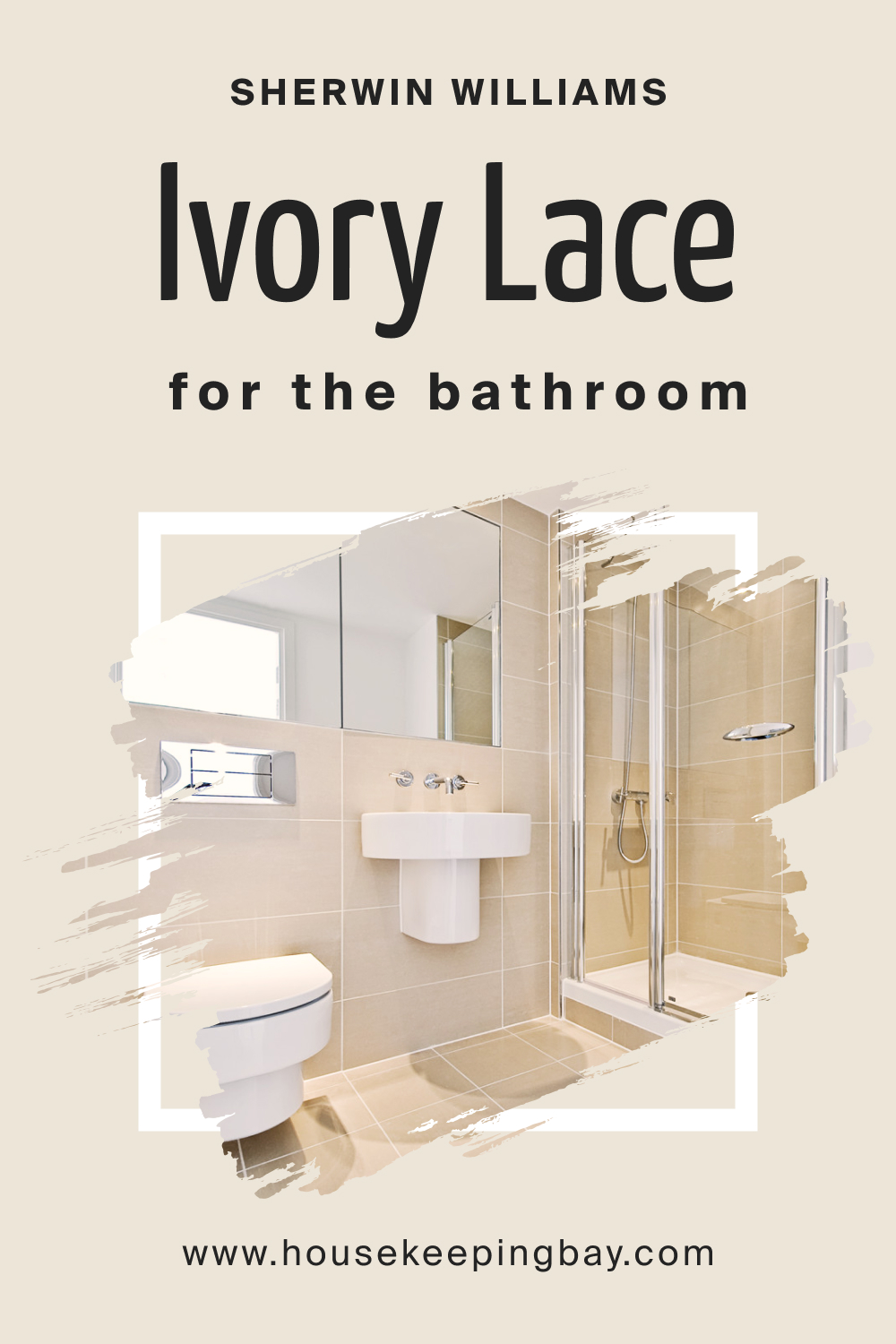 How to Use SW 7013 Ivory Lace In the Living Room
SW Ivory Lace is perfect for a living room as it offers a neutral backdrop that works with any design style. Use warm wood tones for a rustic look, incorporate vibrant color accents for a playful vibe, or stay within a neutral palette for a sophisticated, modern aesthetic.
This white color is also a great choice for built-ins or shelving in the living room. The warm off-white provides a beautiful contrast against books or decorative items, making them pop.
Additionally, if your living room has architectural elements like wainscoting or crown molding, SW Ivory Lace can highlight these features beautifully, adding a touch of timeless elegance to the space.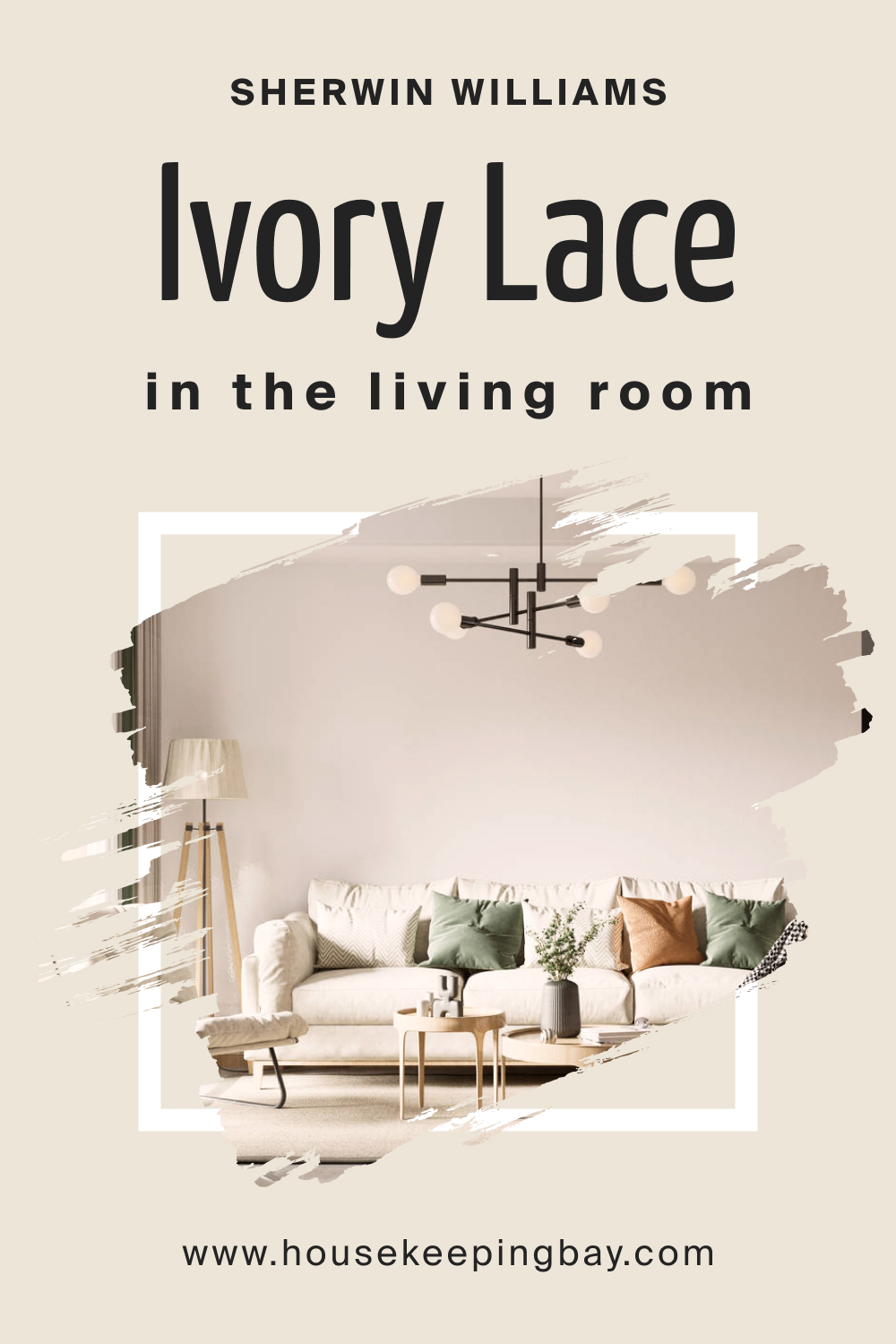 How to Use SW 7013 Ivory Lace for an Exterior
On exterior walls, SW Ivory Lace provides a timeless appeal. It pairs beautifully with dark trims or shutters for a striking contrast. For a monochromatic exterior, consider off-white or beige trims.
In addition to the walls, SW Ivory Lace is an excellent color choice for exterior elements such as fences, garage doors, or garden sheds. Its warm undertones reflect beautifully under natural sunlight, and it harmonizes well with both natural landscapes and more urban settings.
The color is also versatile enough to work with various architectural styles, from traditional to modern, adding a touch of warmth and sophistication to the home's curb appeal.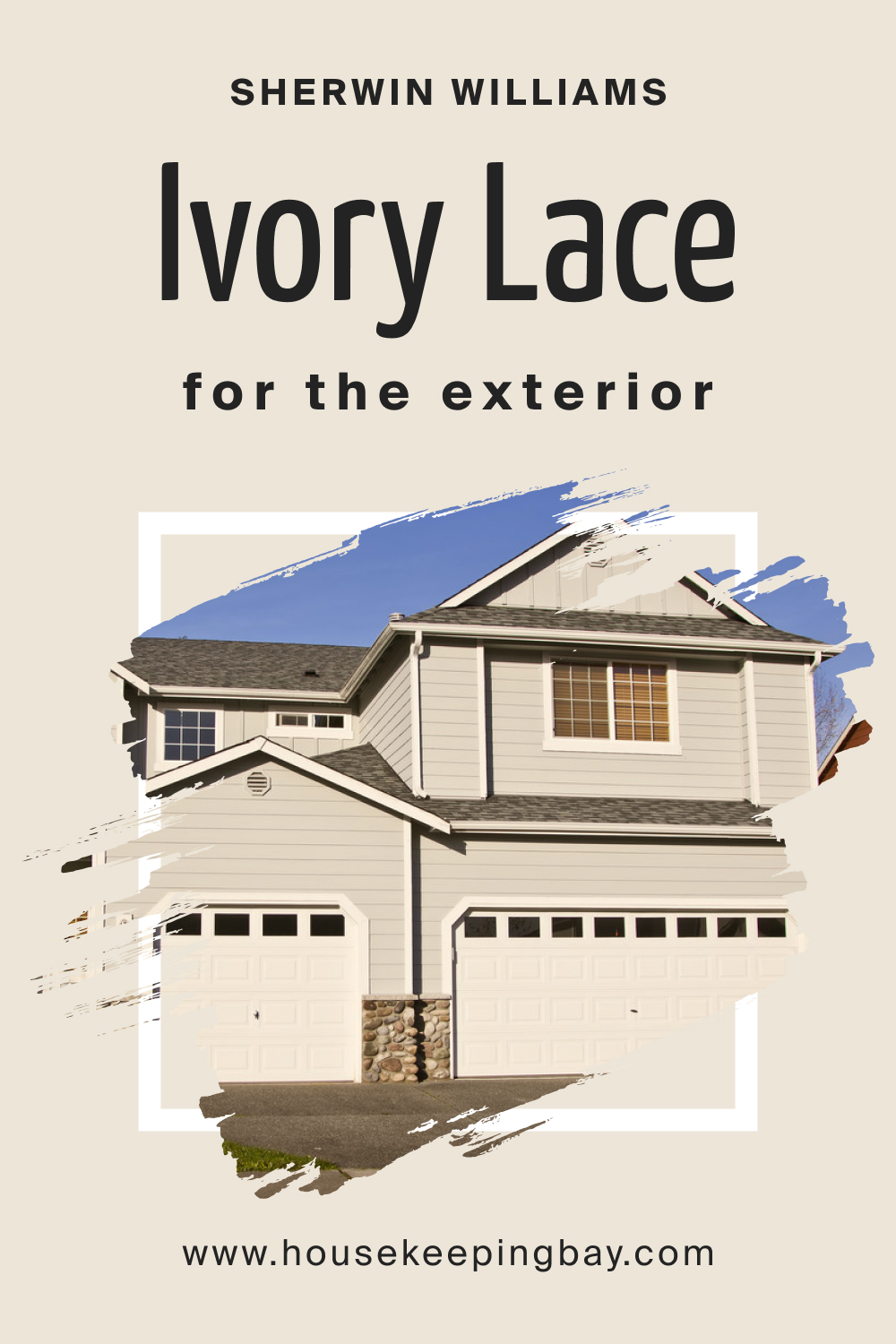 Comparing SW Ivory Lace With Other Colors
Even if colors come from the same hue family (e.g. white), they don't necessarily read the same or similar. Sometimes, such colors may look very different due to the distinct LrV values and undertones. Below, we compare SW Ivory Lace and several warm whites with a similar appearance to show you how it works.
SW 7013 Ivory Lace vs SW 7008 Alabaster
Alabaster is a touch warmer than SW Ivory Lace and has stronger beige undertones. Both offer a soothing off-white palette, but Alabaster leans more towards the beige side, while Ivory Lace holds a subtler creaminess.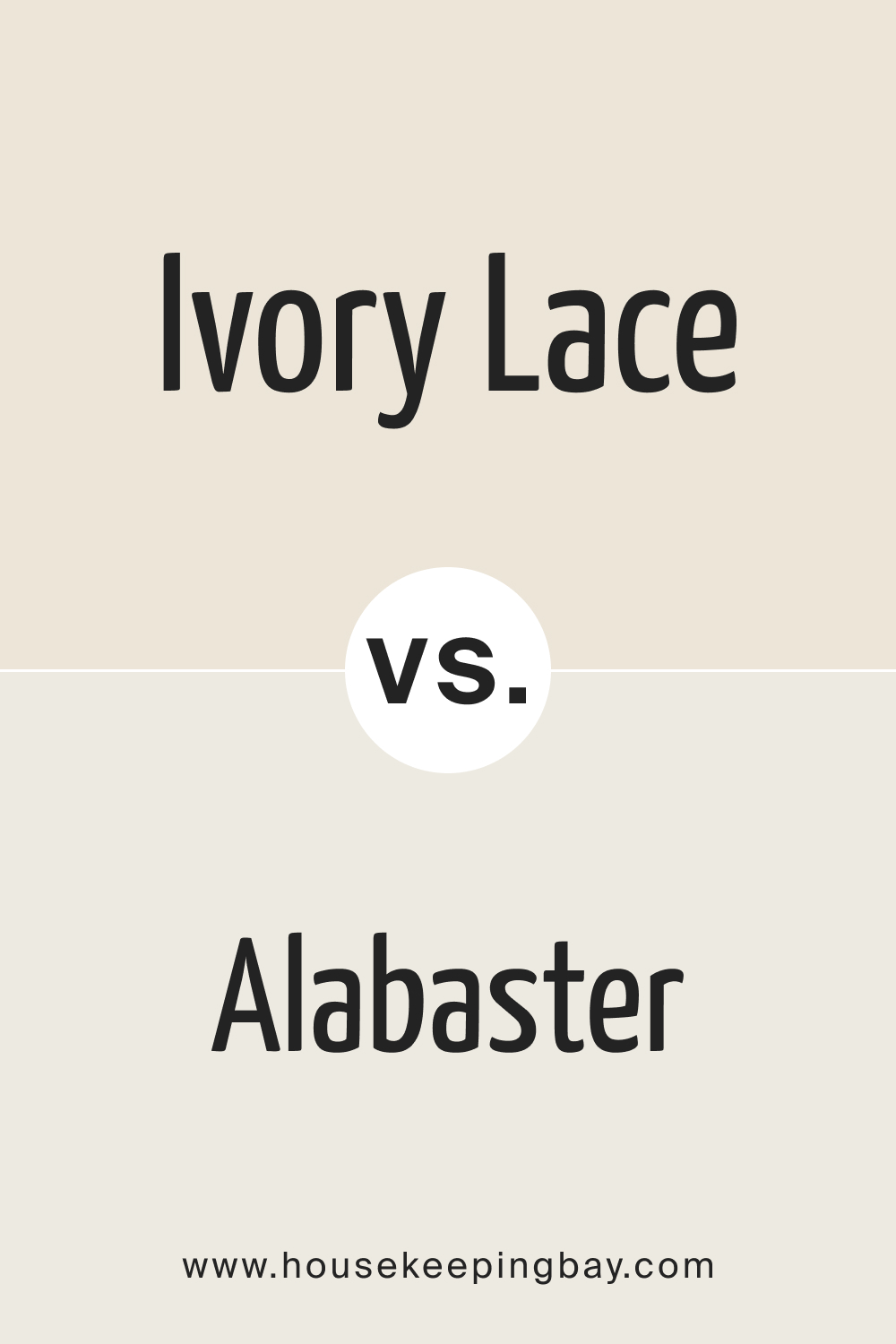 SW 7013 Ivory Lace vs SW 7012 Creamy
Creamy, as the name implies, is a creamier off-white than Ivory Lace. It leans more towards yellow, offering a richer warmth compared to the more muted warmth of SW Ivory Lace.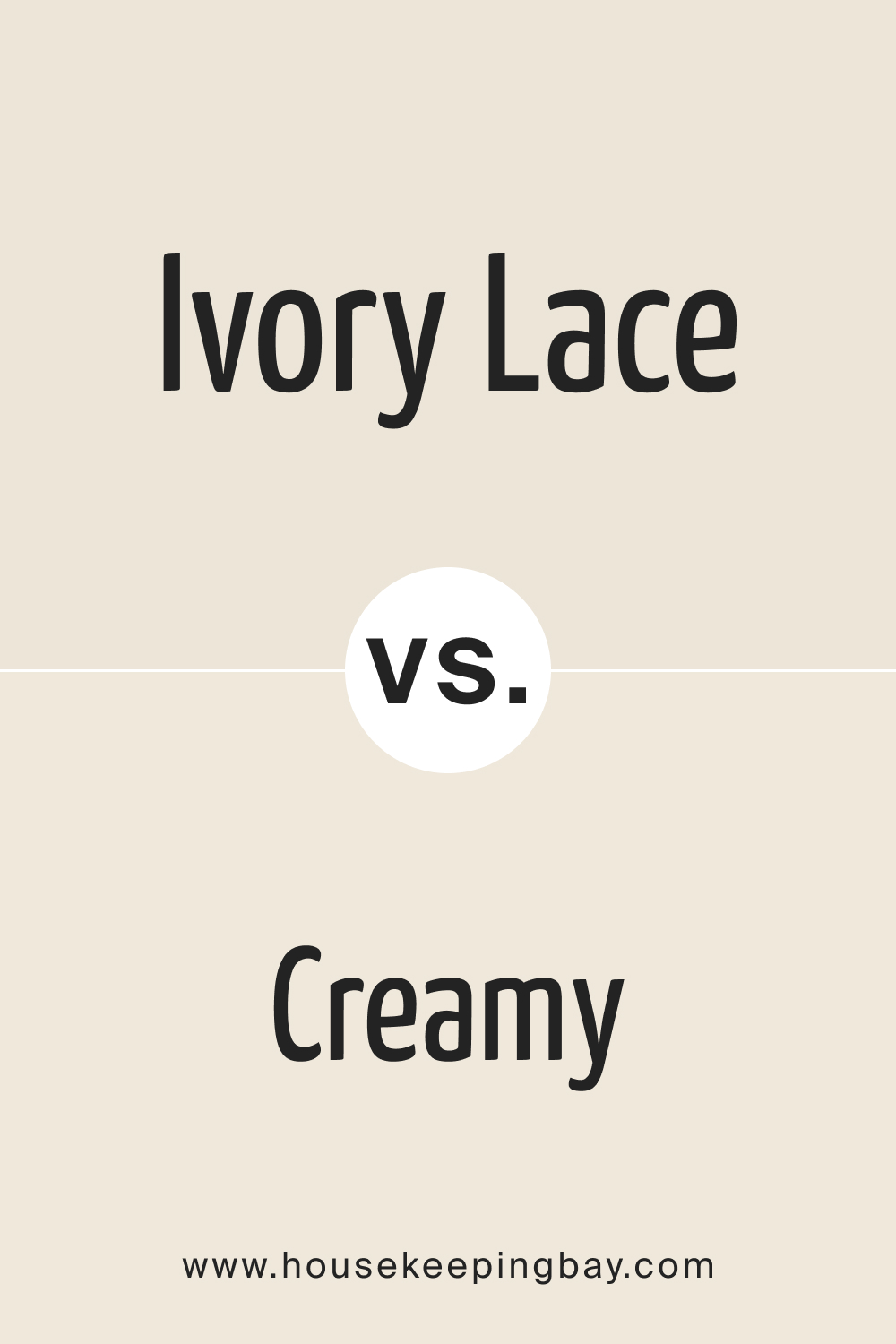 SW 7013 Ivory Lace vs  SW 6385 Dover White
Dover White is another warm neutral, but it has a slightly more prominent yellow undertone compared to SW Ivory Lace, making it appear warmer overall. In contrast, Ivory Lace maintains a more balanced off-white appearance.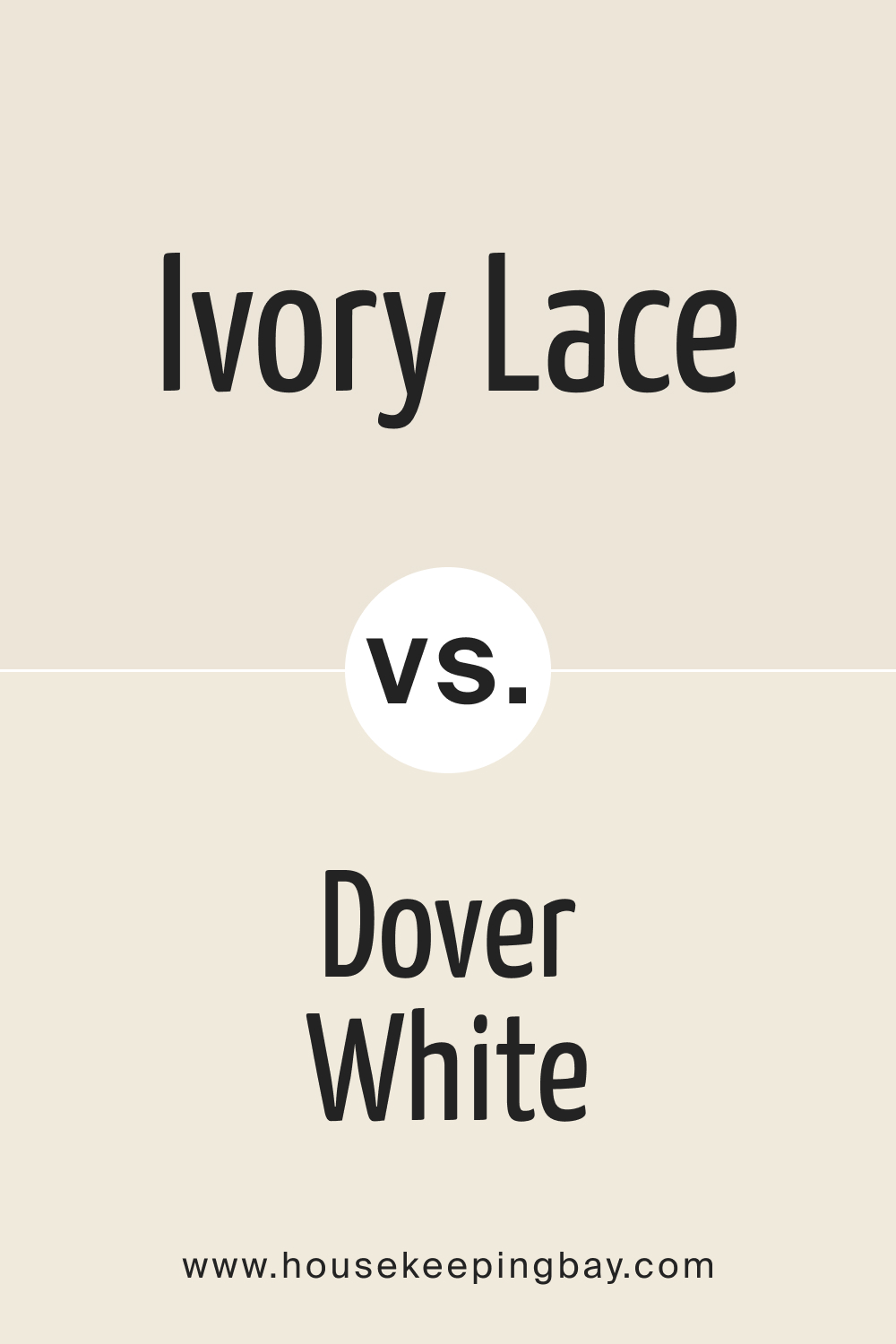 Conclusion
Sherwin-Williams SW 7013 Ivory Lace is a warm, off-white paint color offering immense versatility and subtle elegance. Its ability to pair harmoniously with both contrasting and coordinating colors makes it an excellent choice for any room or exterior.
Whether you're aiming for a serene bedroom, a vibrant living room, or a timeless home exterior, SW Ivory Lace is a color that can truly do it all.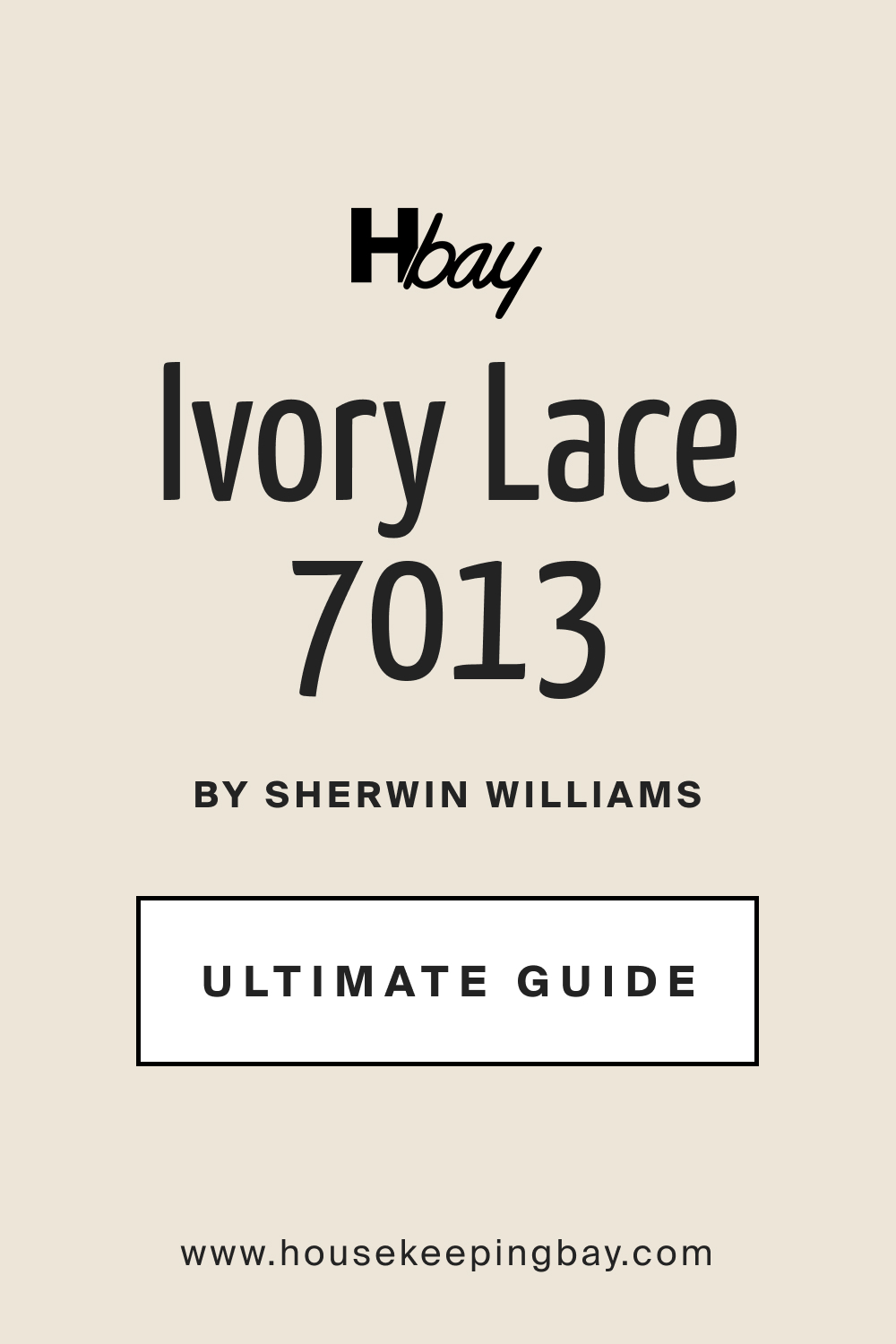 Frequently Asked Questions
⭐What type of rooms and surfaces is SW 7013 Ivory Lace suitable for?
This question is important because customers often wonder where they can use the paint color. This could include specific rooms, furniture, exterior or interior use, and so on.
⭐Does SW 7013 Ivory Lace paint color need a primer?
Some paint colors require a primer to show their true color, while others do not. This question could help clear up any confusion for customers about the paint application process.
⭐How does SW 7013 Ivory Lace change in appearance under different lighting conditions?
Lighting can significantly affect the way a paint color looks. This question addresses how SW 7013 Ivory Lace may appear under natural daylight, fluorescent light, and incandescent light.
⭐What colors complement SW 7013 Ivory Lace?
People often struggle with choosing colors that pair well together. This question offers guidance on what other paint colors work well with SW 7013 Ivory Lace.
⭐What is the coverage rate for SW 7013 Ivory Lace?
Understanding the coverage rate can help customers determine how much paint they will need for their project. This question could also include information about the number of coats typically needed for this color.