When people are searching for an ideal paint color to apply to their interior walls, they often prefer to skip those colors that have yellow hue in them. It makes sense since yellow-tinted paints often show that yellow side of them quite significantly in certain types of light, and you may end up with yellow walls though you didn't plan it!
However, there is a paint color you can use if you like creamy shades but hate yellowness, and it's called an off-white. Sherwin-Williams Creamy Paint Color SW-7012 is one of them.
In this article, you can find more information on this color's undertones, LRV, trim colors it will match, and more. In addition, we will explain in what rooms this off-white will work best of all.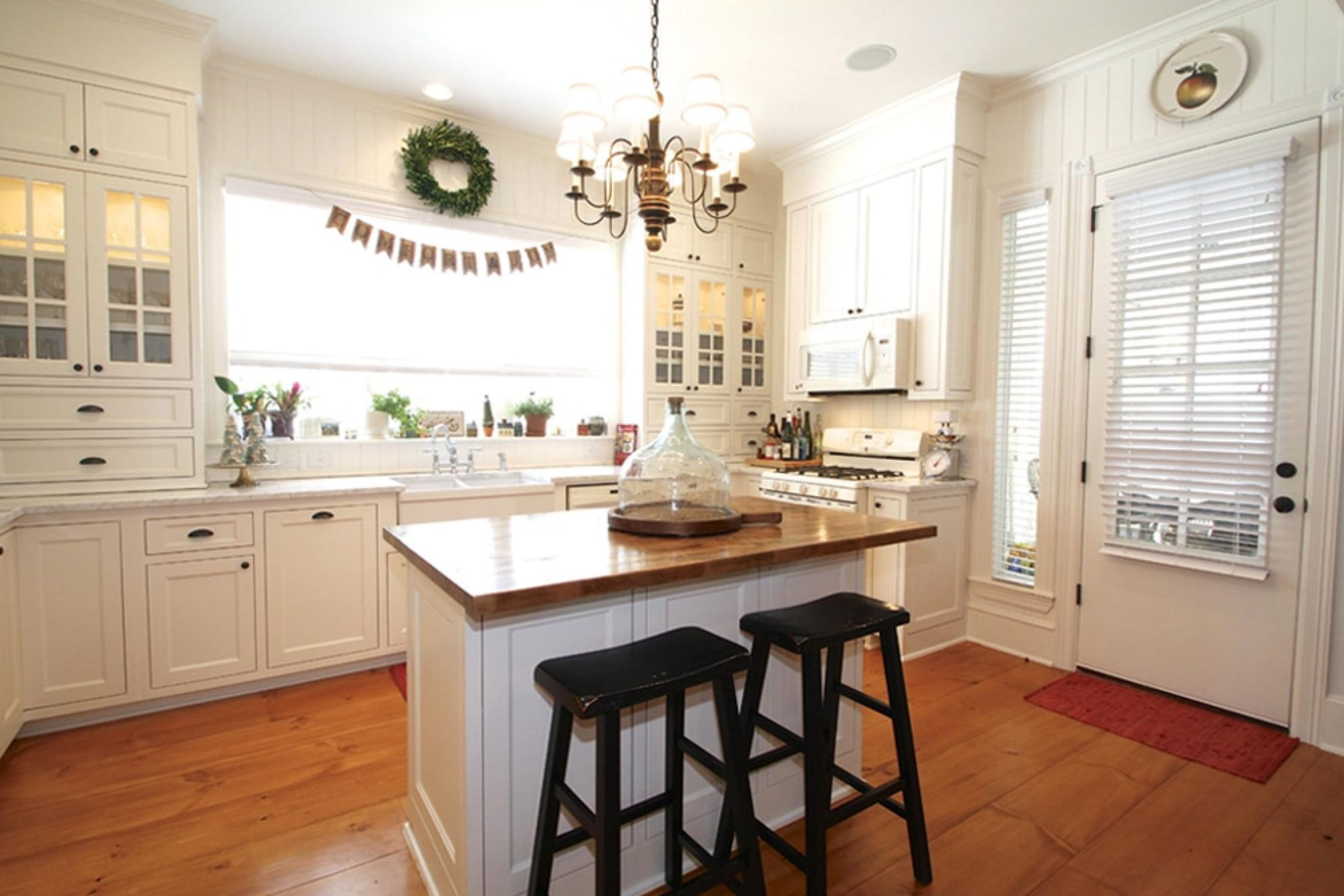 What Color Is Creamy Paint Color by Sherwin-Williams?
To be able to use a paint color correctly using all benefits it can offer, you need to know what this color is in fact.
Sherwin-Williams Creamy Paint Color SW-7012 is an off-white color. Do you what that means?
Off-white is a pale, gray, caramel white that has a bronze undertone, as Encycolorpedia says.
At this point, some of you might get worried after we said "bronze" since people often prefer to avoid paint colors that might read even a bit yellowish on their walls! But no worries, if you decide to use this off white in your home, you will not have an egg yolk yellow!
Yes, SW Creamy is an off-white cream paint color. However, it is not light enough to be considered a white, although some people treat it like one, using it on trims and cabinets. Also, this off-white doesn't read yellow as many of you might have thought. That makes this paint color rather versatile in terms of use.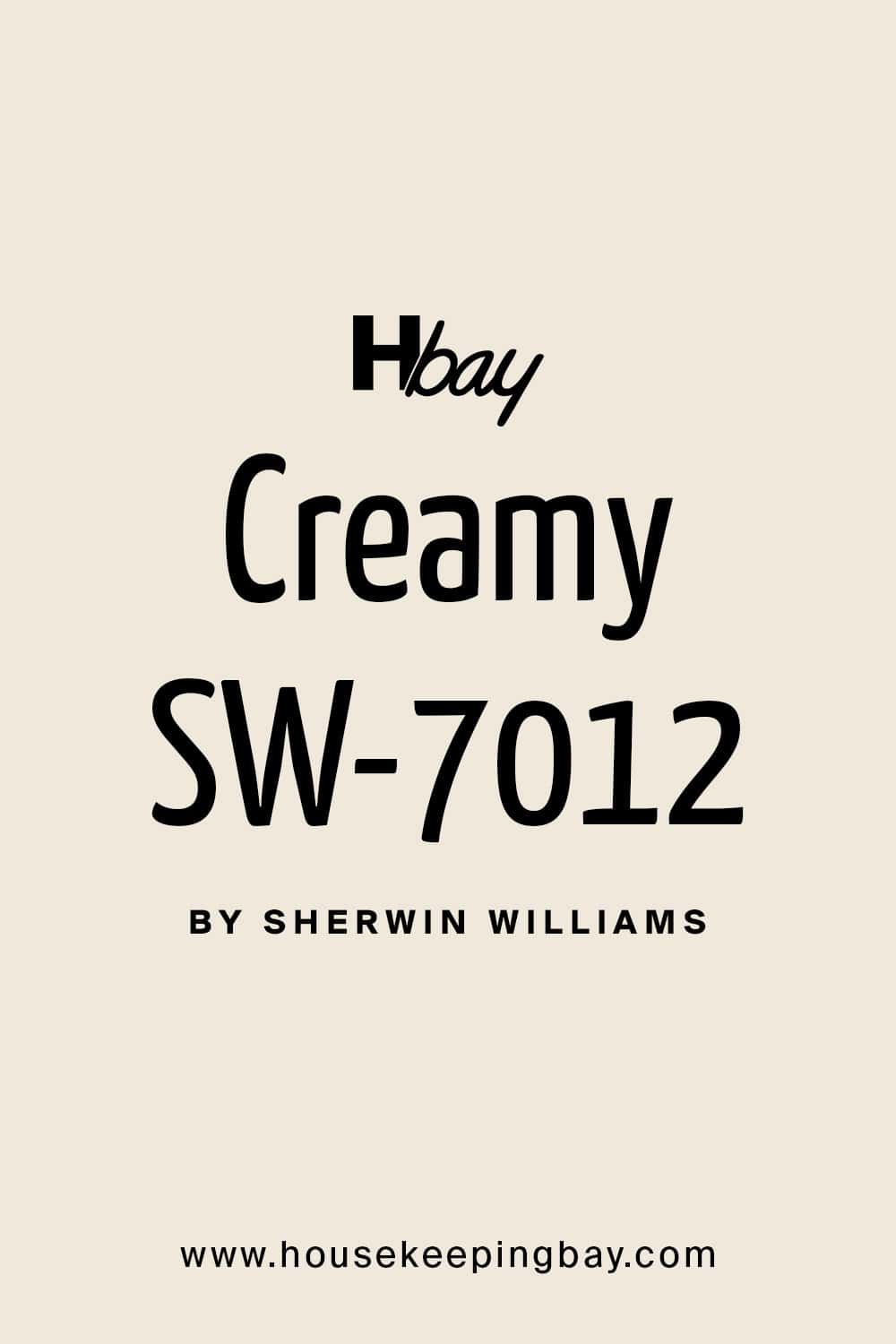 LRVof Creamy Paint Color SW-7012 
LRV is the light reflectance value of paint color. It shows how much light the paint is able to reflect when it is applied to the wall. SW Creamy has an LRV of 81, which means that this color is in the off-white range and it is pretty light since the basic rule of the LRV is this: the lighter a color is, the higher the lower the LRV number, and vice versa. Darker colors have lower LRV meaning.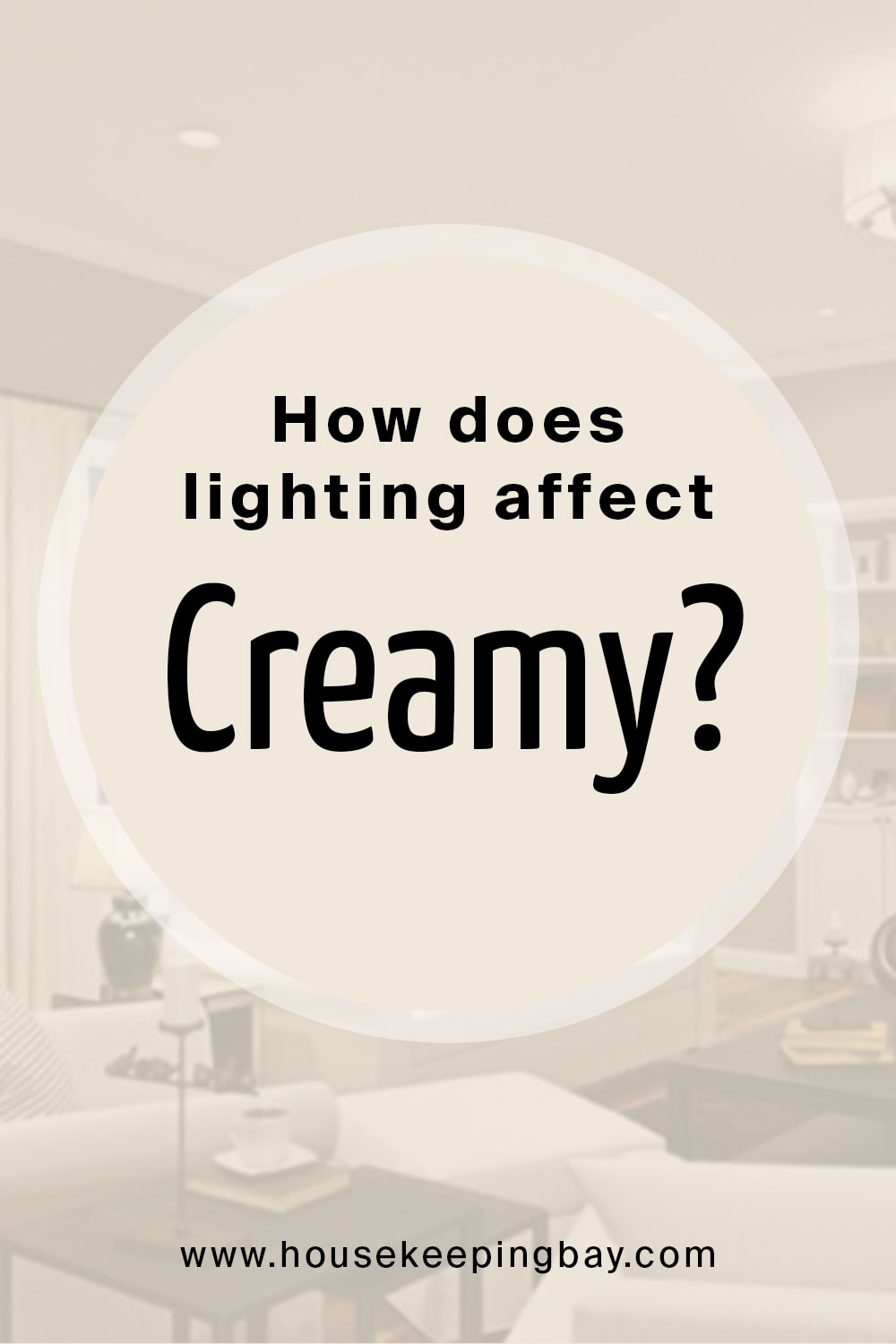 And since LRv affects the way the color reads on the walls, you might be wondering how SW Creamy wil work in a living space. Well, it depends on the lighting there. When you use Creamy in a south-facing room, the creamy yellow warmth will rise up and become more noticeable. You may see a similar effect in the afternoon in a west-facing room.
Northern light works the opposite way. It is a gray light with a hint of blue so this cool natural light will calm SW Creamy down, making it work like a soft, subtle, warm color.
But this is what you should note: in a poorly lit room with the lack of natural or artificial light, this off-white will not look very well and for sure, it will not make the room look lighter. As for the use in a brightly-lit spaces, Creamy will wash off due to its high LRV.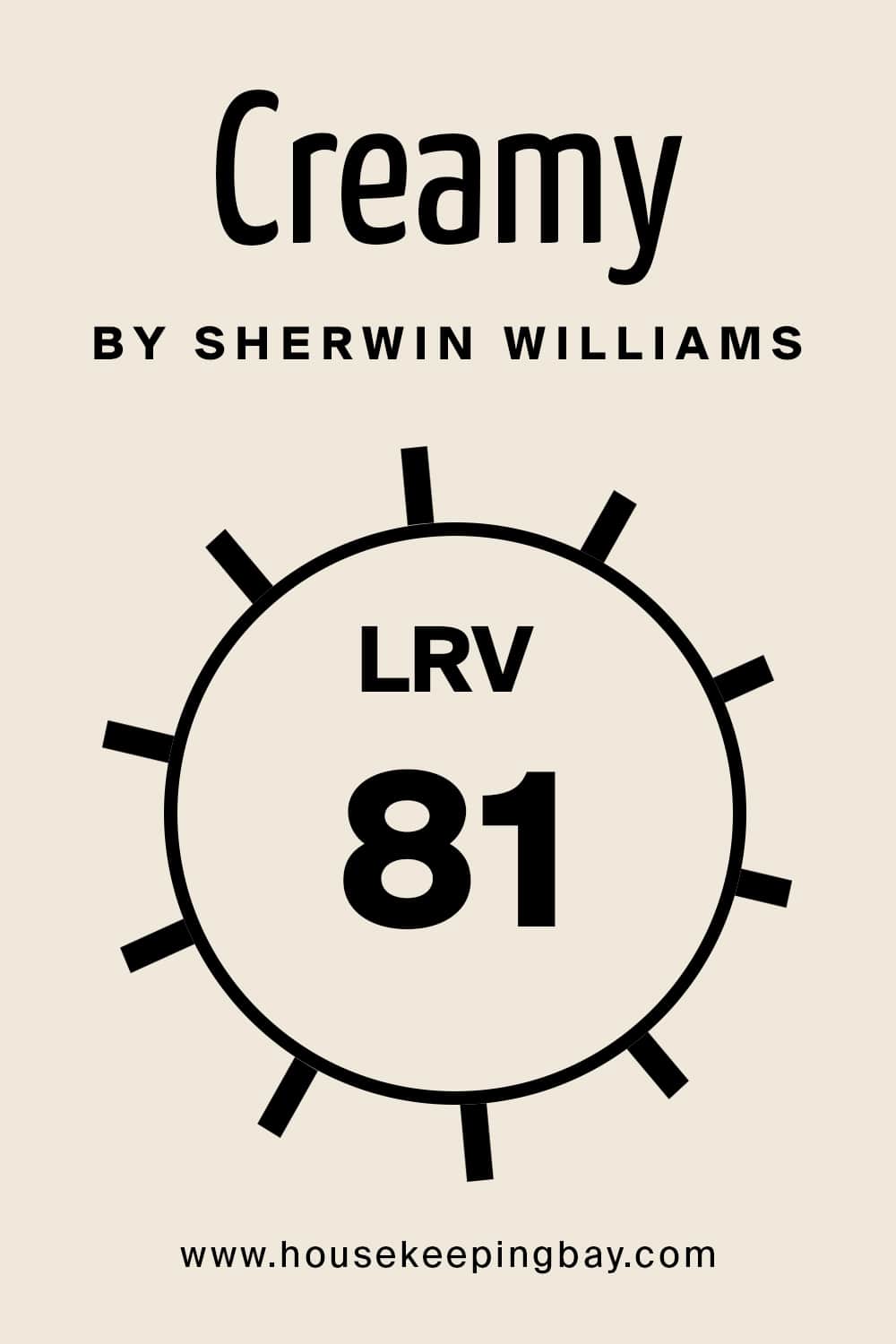 What is LRV? Read It Before You Choose Your Ideal Paint Color
Undertones of Creamy Paint Color SW-7012 
Paint color's undertones often become the worst stumbling stone for homeowners when they decide to repaint their interior or exterior walls or other surfaces in their home.
See, undertones can make your paint read differently on the surface, and if the color you use has complex undetones, chances are high that you might end up with the color you didn't expect at all!
Speaking of SW Creamy paint color, people often think that yellow i sits major undertones. Well, it's true to a certain point. See, in fact, it has a neutral undertone that calms it down so that it doesn't read a glowing yellow. Instead, this color reads cream.
So if you are afraid that SW Creamy may look too yellow on your walls, relax. It is not going to happen. Also, the lovely neutral base this off-white has helps it stay a bit softer and more neutral compared to other colors that also have yellow undertones.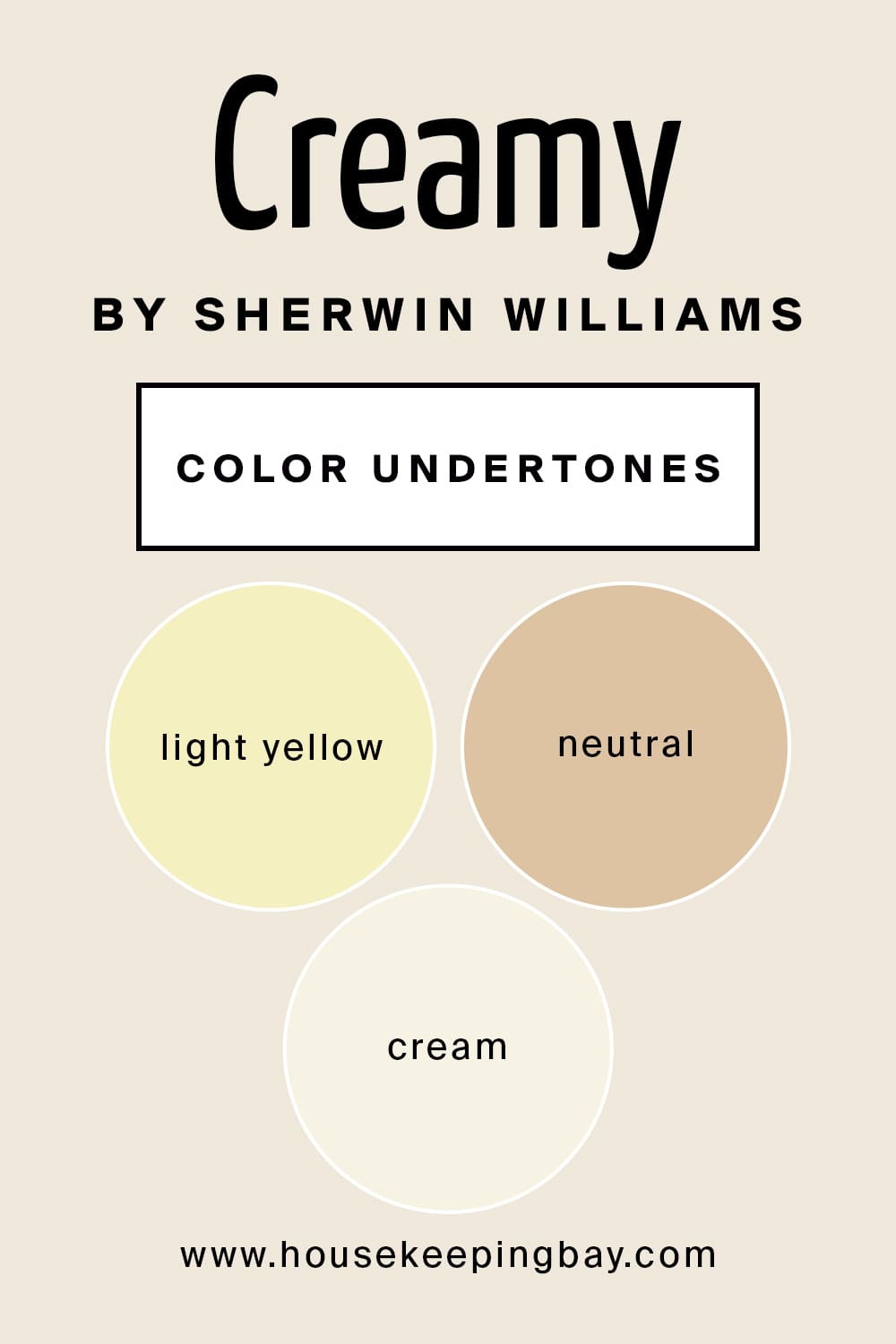 The Best Trim Color For SW Creamy Paint
SW Creamy is not the best option if you need a white for your trim since it is hard to pair with other colors on the walls. But you can easily find trim colors that will work with Creamy if it's your wall color! Just use one of them:
Benjamin Moore Cloud White
And one more thing: avoid partnering Creamy with cool crisp white colors like Sherwin Williams Extra White.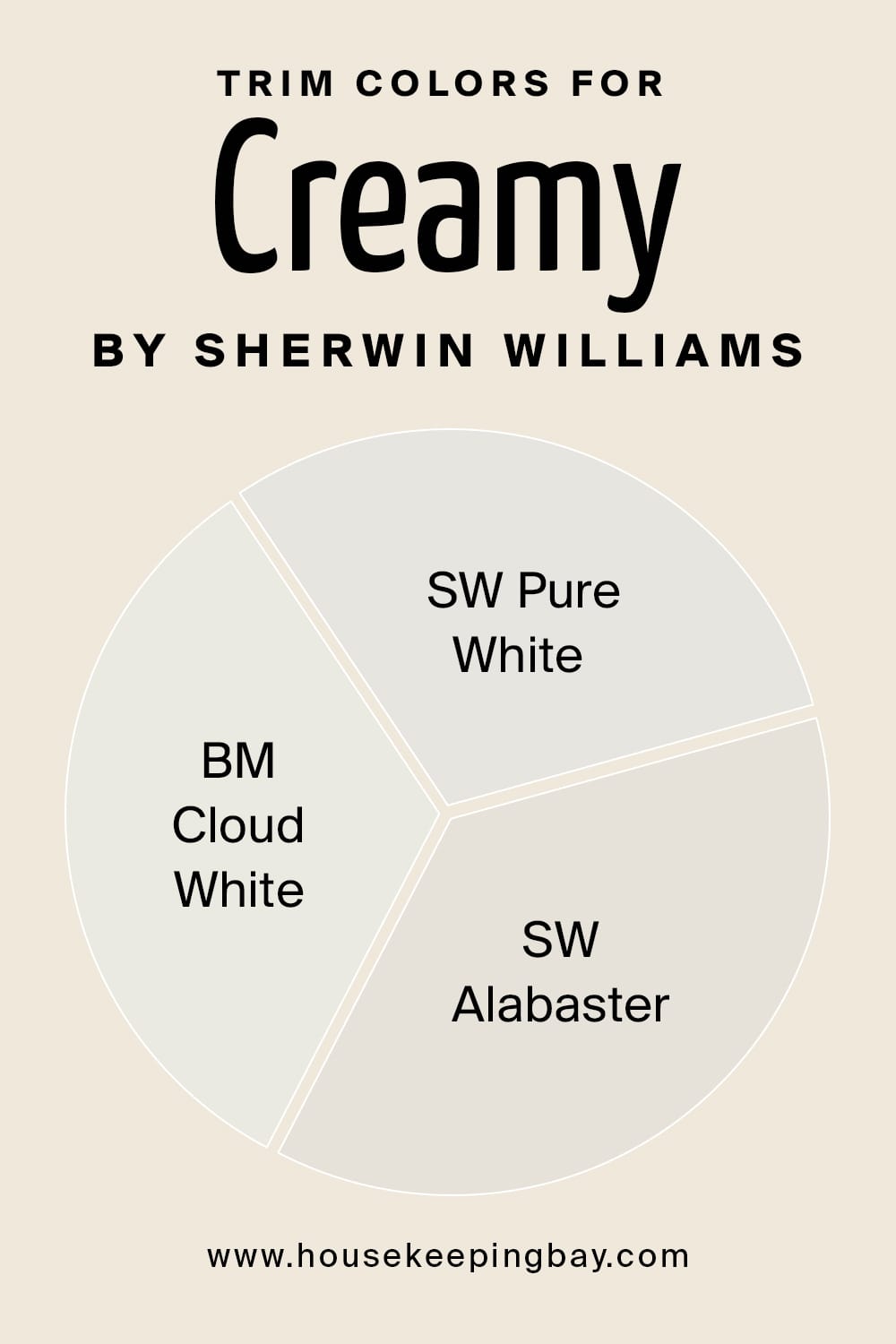 Coordinating Colors of Creamy Paint Color SW-7012 
It can be hard to find paint colors that can coordinate well with the color on your walls. So if you find it challenging to coordinate Creamy paint color, grab a few ideas:
SW Studio Taupe
SW Reynard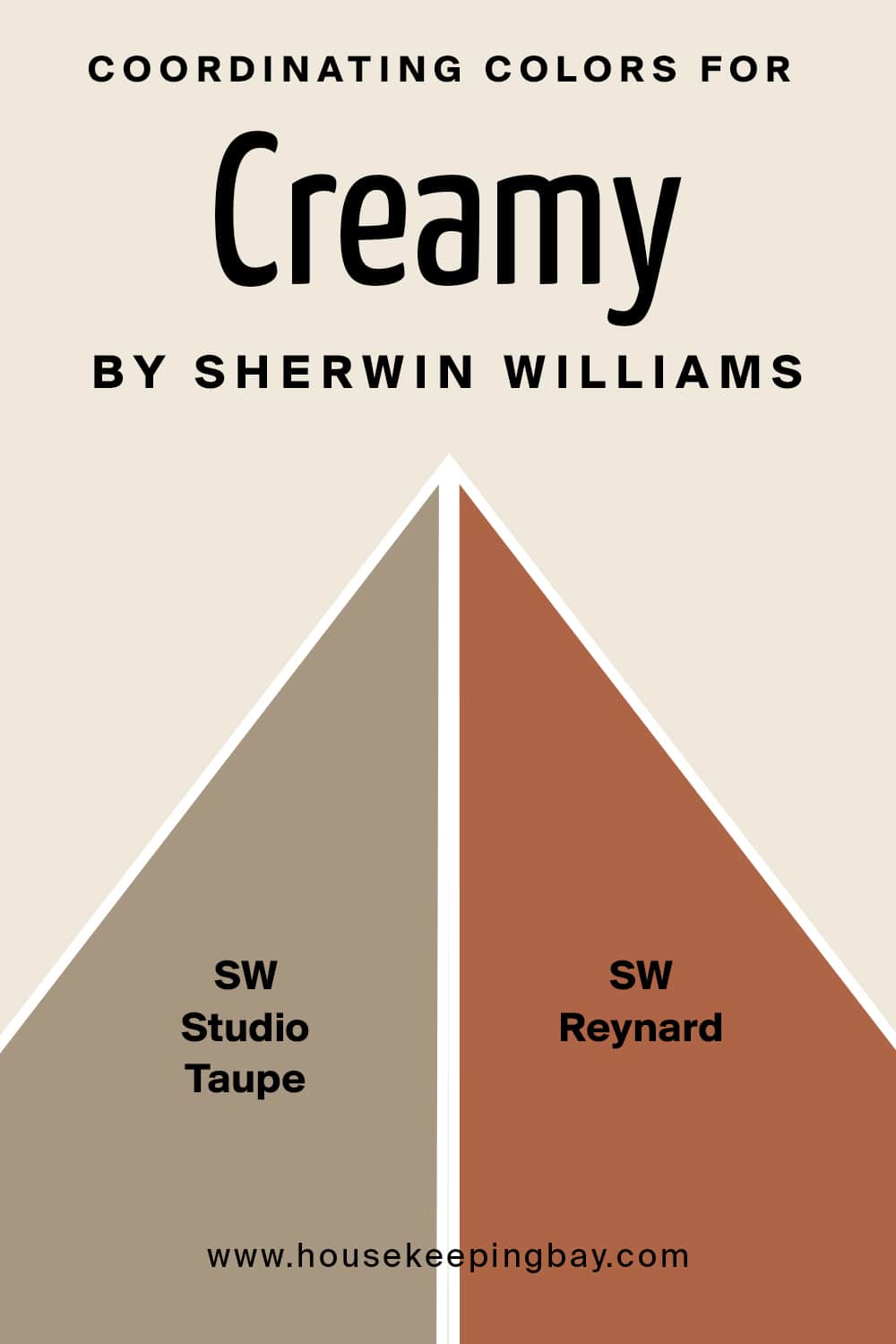 Colors That Go With SW Creamy Well
In order to choose a palette that will work with the color of your walls well, you should know what colors might go well with the major color. The better these colors pair the more balanced color scheme your living space will have.
Speaking of SW Creamy, this off-white goes well with the following colors:
SW Cityscape
BM Hamilton Blue
BM Decorator's White
SW Tricorn Black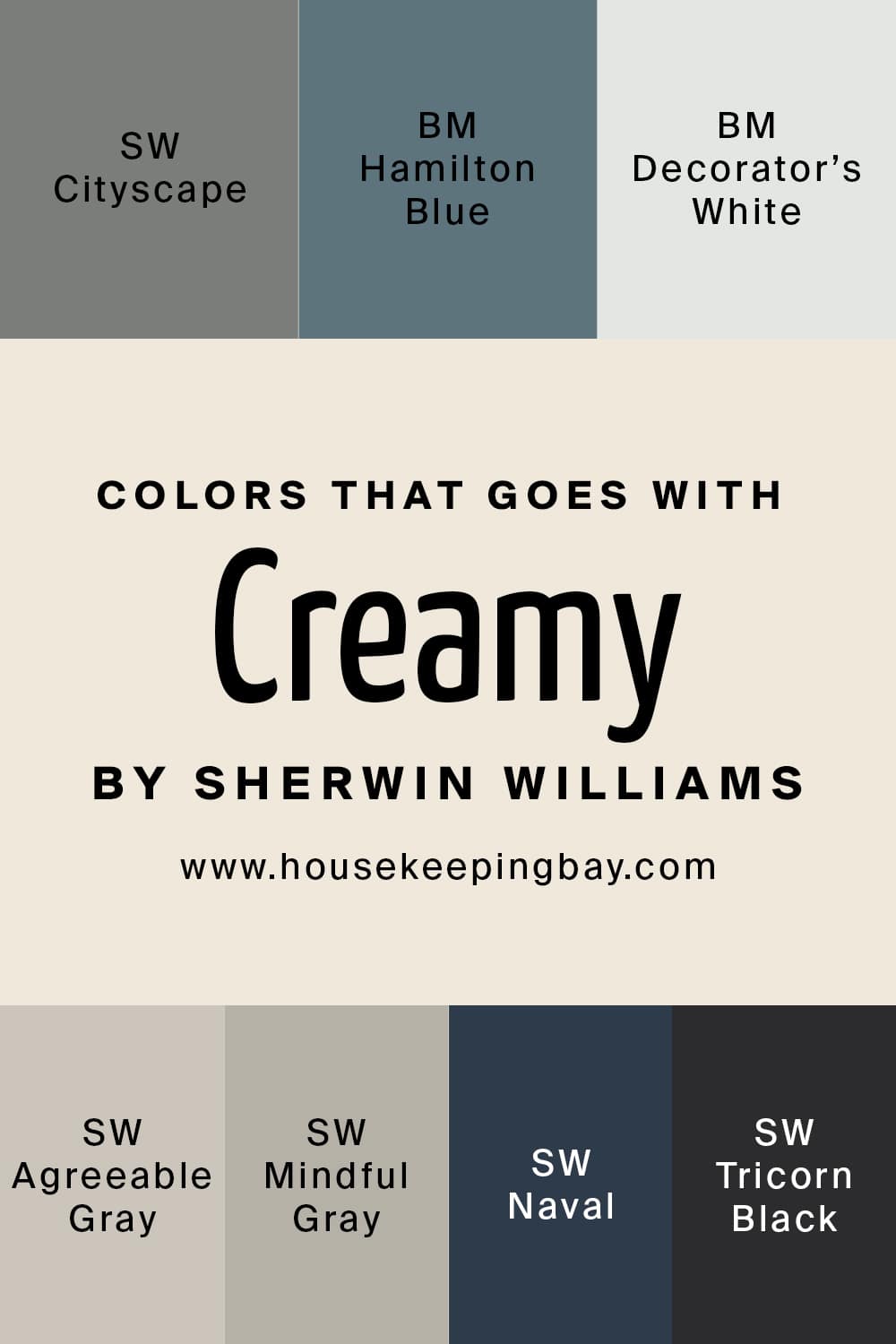 Paint Colors Similar to Creamy
If you need to have a few alternative paint colors that might be able to replace the color you initially want to use on your walls, you are at the right place. Since SW Creamy is quite a tricky shade, you might find it complicated to pick the most suitable similar colors. So here are a few ideas for you:
SW Ivory Lace
SW Downy
SW A La Mode
SW Nacre
SW Shell White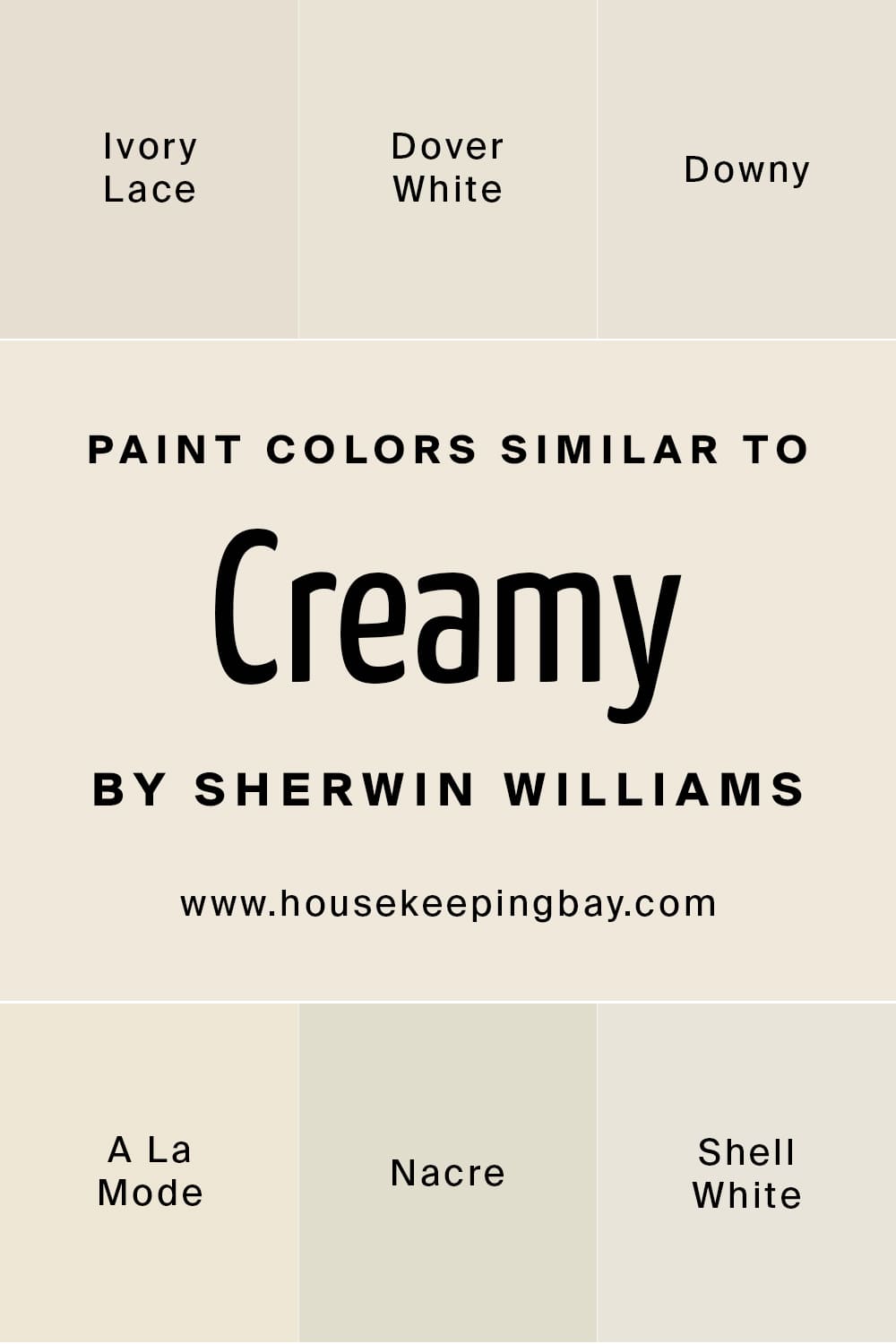 Where to Use Creamy Paint Color SW-7012 In Your Home?
Despite yellow undertones and certain nuances in use, this off-white is pretty versatile! You can use it in many rooms and on many surfaces, you just need to know where it willl work best of all!
Creamy Paint Color SW-7012 in the Living Room
To use this color in your living room, make sure it has plenty of light. But also, you need to double-check the lighting is not too bright! Otherwise, Creamy will be washed off. But in general, this warm-toned off-white looks beautifully cozy on the living room walls!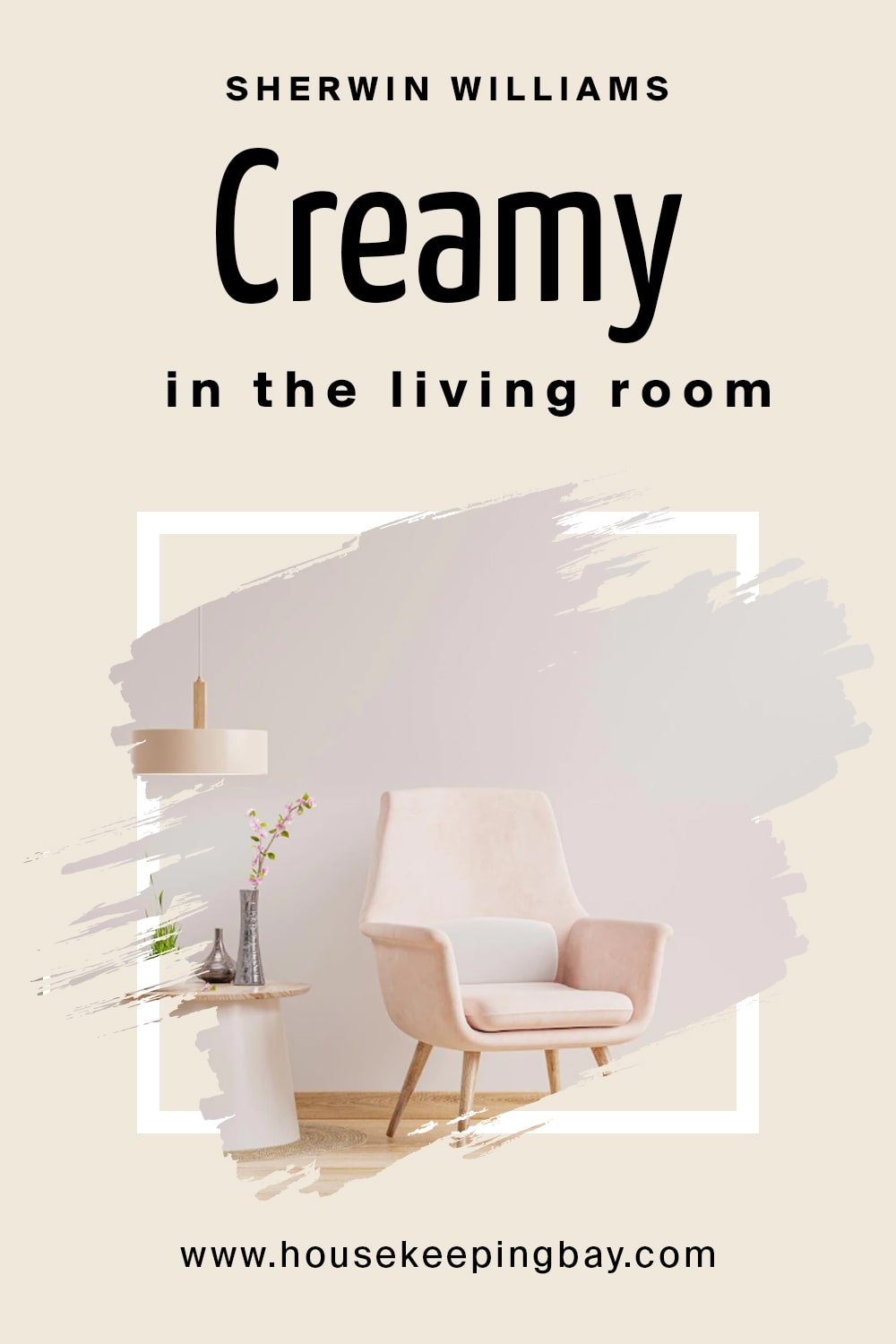 Creamy Paint Color SW-7012 in a Bedroom
This color is also very nice for your bedroom. But you should consider the lighting in it! If you have warm light (e.g. bulbs) in your bedroom, Creamy may read rather yellowish. Except for this nuance, this off-white suits bedrooms really nice!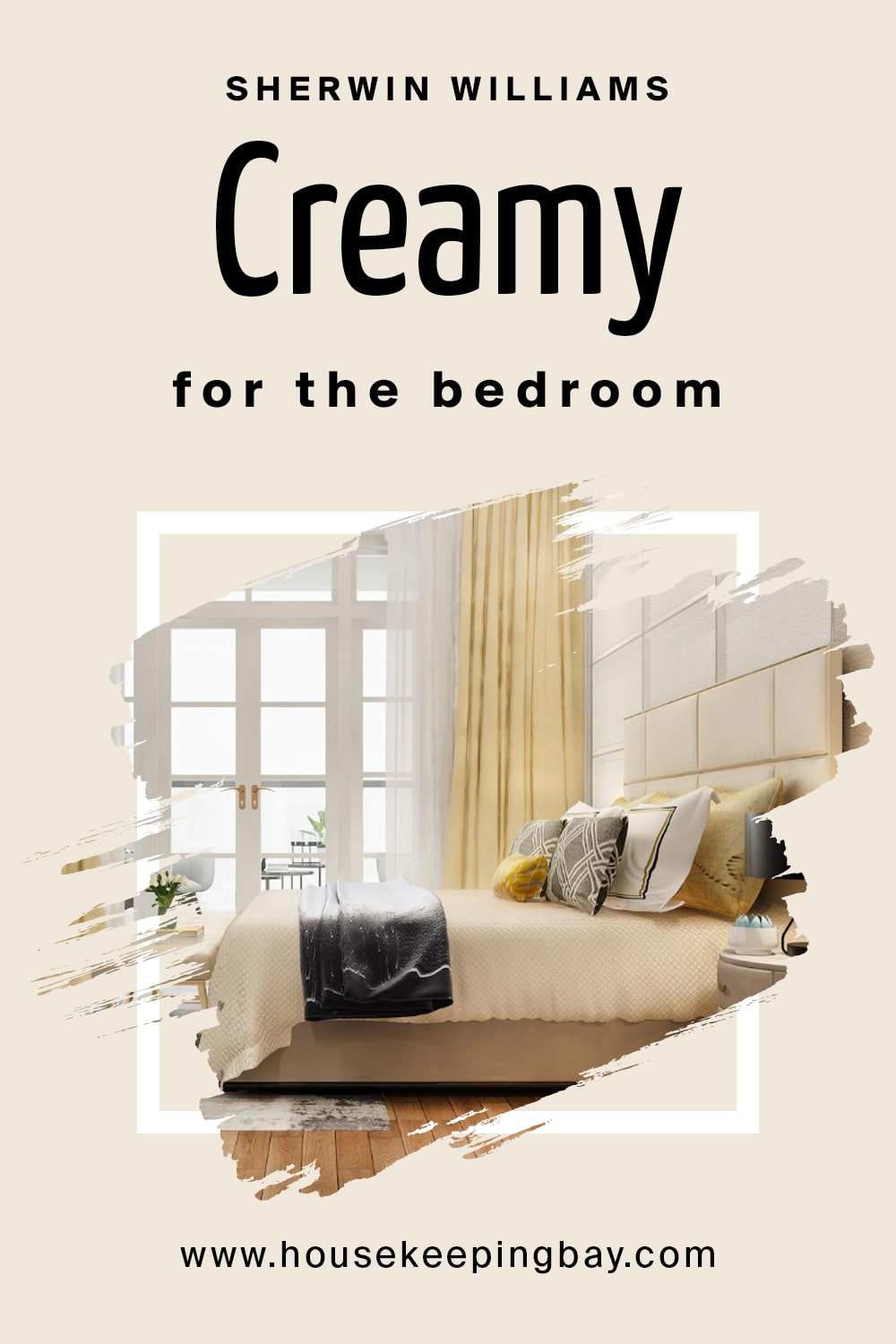 Creamy Paint Color SW-7012 in the Kitchen
This color looks good in kitchens no matter whether you use it on the walls or on cabinets only. It is light enough to make the space look airier and at the same time, it doesn't read cool unless your kitchen has plenty of cool light.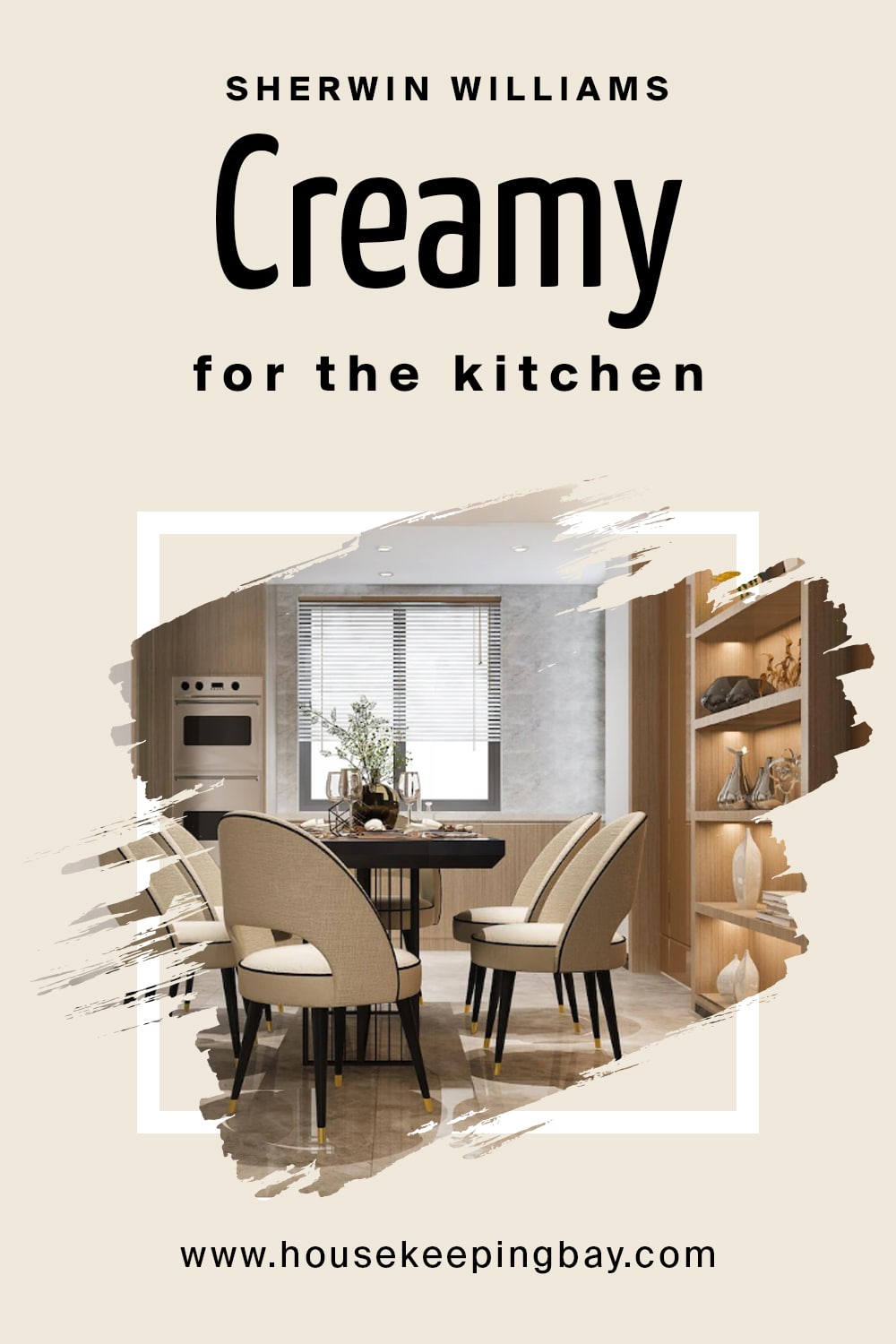 Creamy Paint Color SW-7012 for the Exterior Use
Is Creamy a good paint colour for the exterior of a home? Not quite, to be honest. Cream does have a reasonable amount of yellow that can come up significantly more on the exterior walls, especially on your south or afternoon-west facing side.
So if you want to paint your home with a warm soft white or an off-white, you should search for another color instead. But if you are not afraid of those yellow tones – then you are welcome!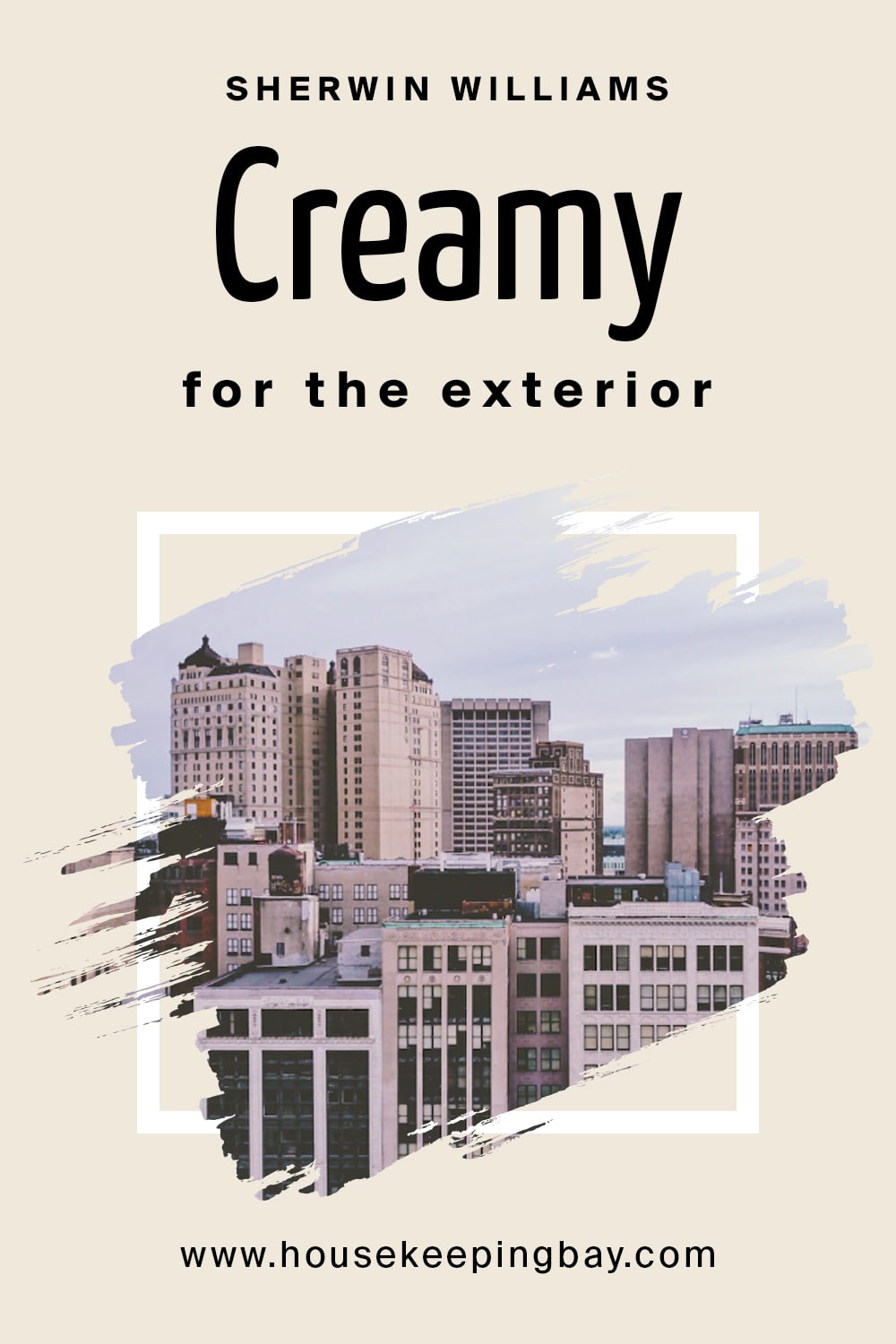 Color Comparison of Creamy Paint Color SW-7012 
To better understand the distinctive features of a paint color, it's best to compare it to other colors that look more or less the same. This will help you see the specifics of the paint better, thus enabling you to understand its details deeper.
Creamy vs Alabaster
Alabaster is also white, warm and soft, but unlike its counterpart, it has subtle beige undertones. In comparison, Creamy has yellowish and neutral undertones. You can easily see that Creamy reads warmer and yellower than Alabaster, which looks lighter, having noticeable beige hue in it.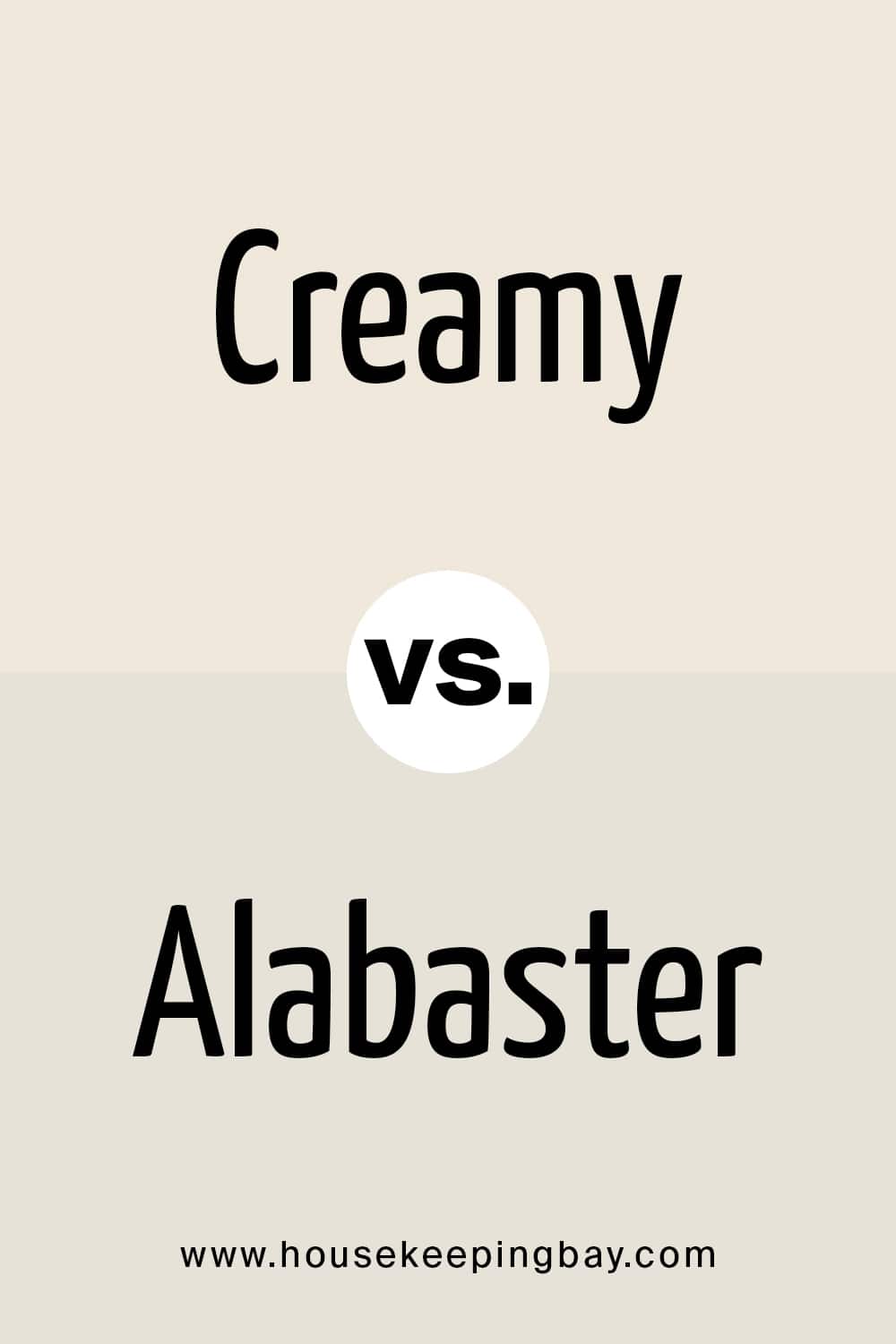 Creamy vs Dover White
These two are nearly the same – all because of those yellow and creamy undertones of Dover White. If you have a sharp eye, you will see that Dover White reads a bit lighter and yellower whilst Creamy looks slightly "darker".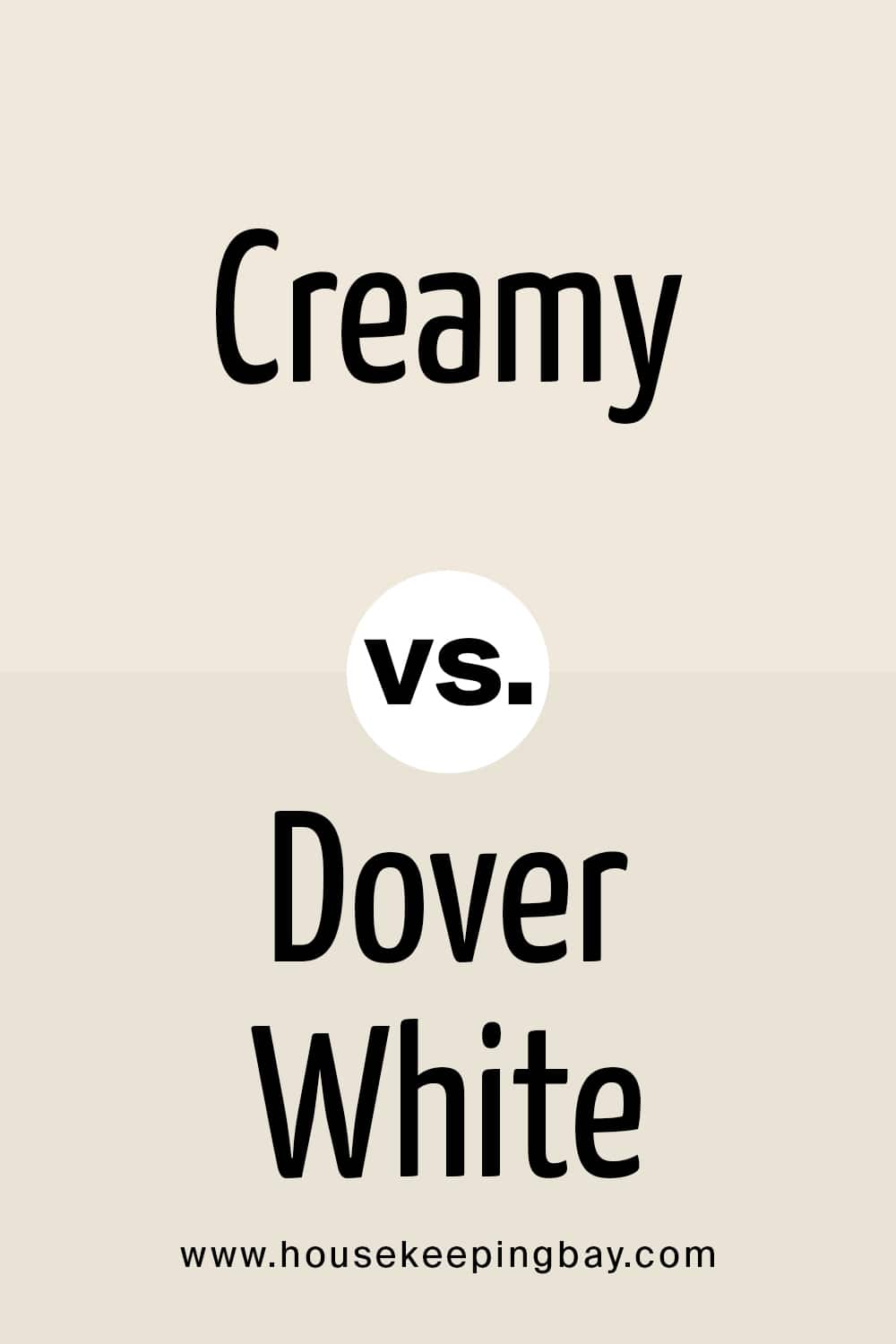 Creamy vs White Dove
These colors are pretty much alike because BM White Dove has yellow undertones mixed with a slight hint of gray. Altogether, they make this paint read a beautiful soft creamy off-white color. In fact, the only distinction these two colors have is that gray undertone of White Dove which comes out in comparison to yellow tones of Creamy.
Creamy vs Shoji White
Shoji White is a warm white with beige and greige undertones. They come out very noticeably in comparison to Creamy because Shoji White reads more greige and it also looks "darker" unlike its counterpart.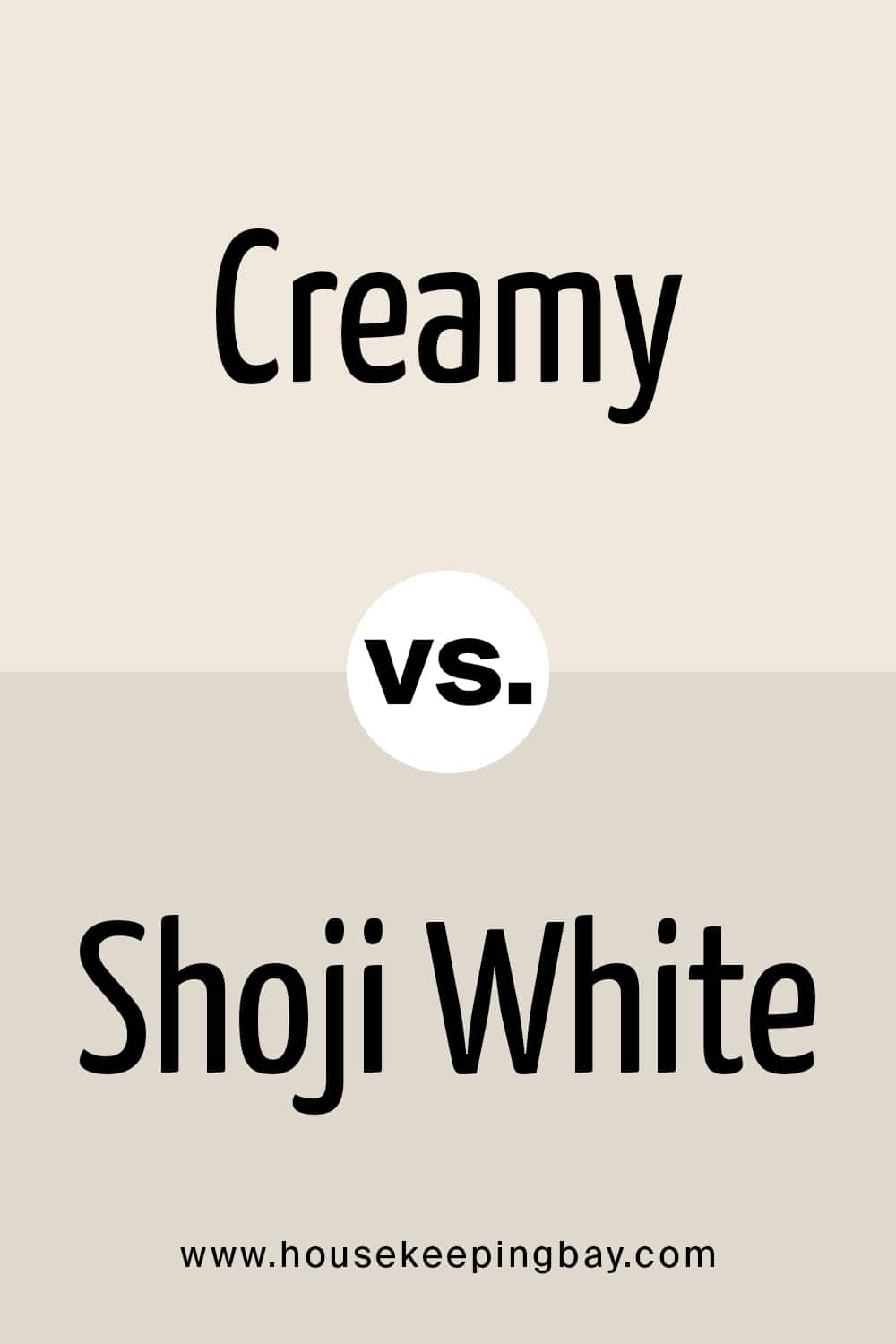 Creamy vs Natural Choice
The undertones of Sherwin-Williams Natural Choice are yellow and orange, making this color the warm beige-white paint. No wonder it reads darker in comparison with Creamy, plus, Natural Choice shows its beige side quite significantly.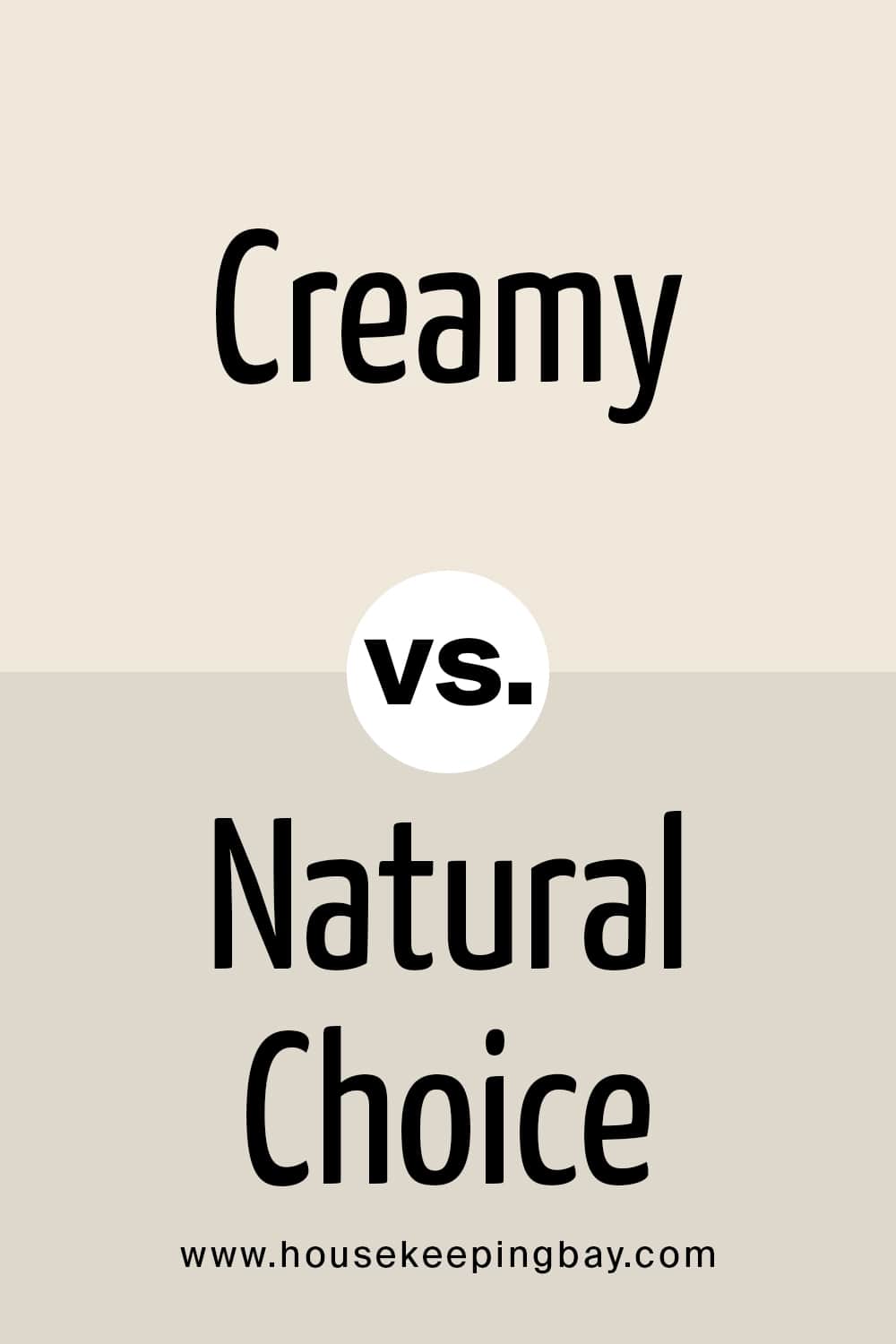 So, now you know a lot about this beautiful yet somewhat tricky paint color. SW Creamy might seem to be difficult to incorporate into your interior, but if you use all the tips and life ahcks we shared with you today, you will be able to make this color bloom in your home, turning it into a super cozy place!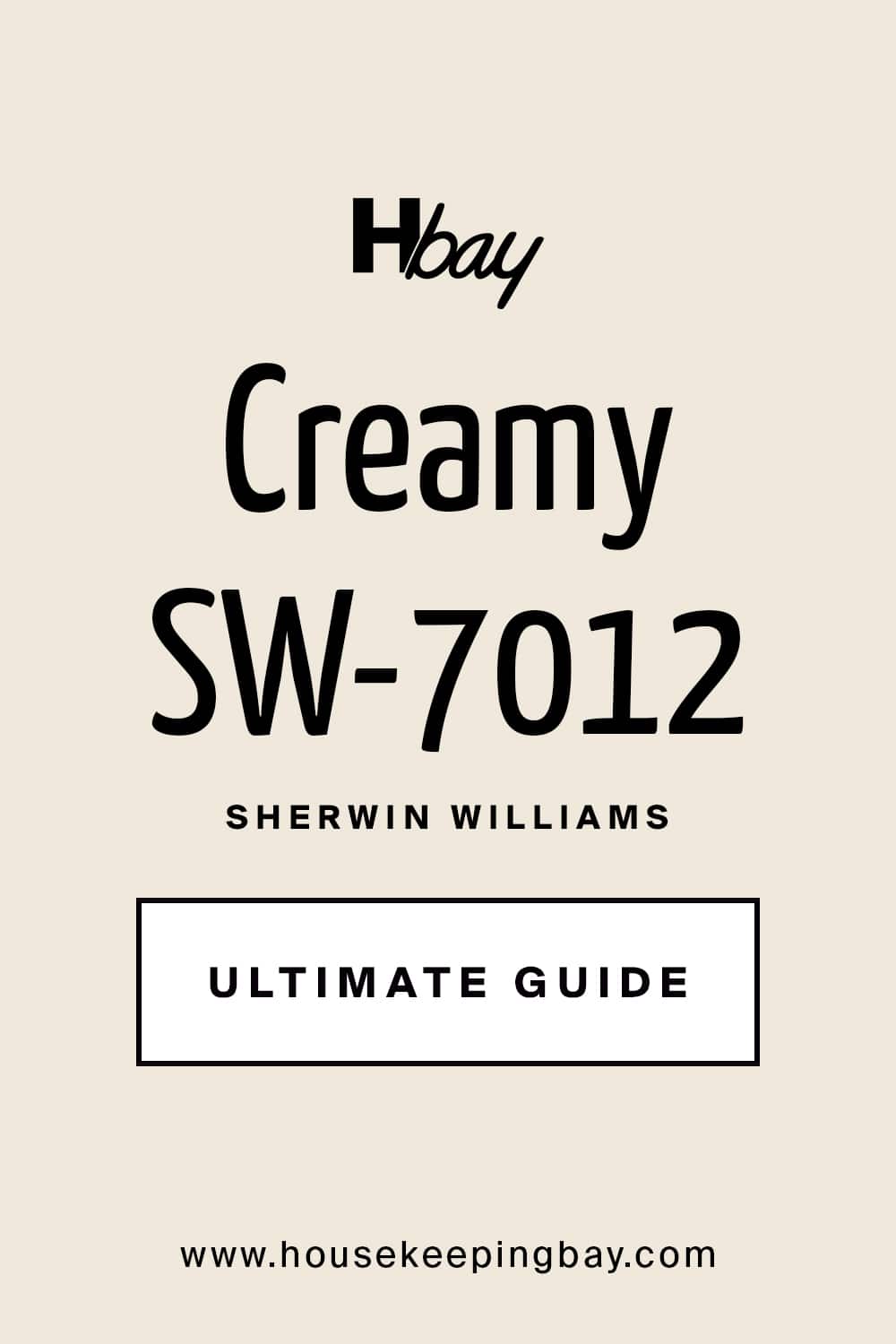 Frequently Asked Questions
⭐Is Creamy color the same as Creamy White?
No, they're not the same. Creamy is a color by Sherwin-Williams and Creamy White is by Benjamin Moore brand.
⭐Can SW Cream read true white?
No, it won't read like that. It has yellowish undertones in particular which will add warmth to this off-white.
⭐Does SW Creamy color work with black?
Yes, it does! Just ensure the black you use is also warm-toned.