There are so many interior paint colors these days, that people often find it rather complicated to pick the best and optimal shade for their home walls. This is why it is important for every homeowner to understand at least a bit the difference in how paint colors work on the walls.
Being aware of such nuances becomes especially important if you prefer using complicated shades for your interior paint projects, for example, such as Sea Serpent SW-7615 by Sherwin Williams. And if you decide to make use of this color, this article will be very useful for you.
You are going to learn what type of color the Sea Serpent is, what its undertones and coordinating colors are, and also, how this color reacts to different types of lighting. In addition, we will tell you what rooms it is best to be used in, and what similar colors you can use instead of this particular one.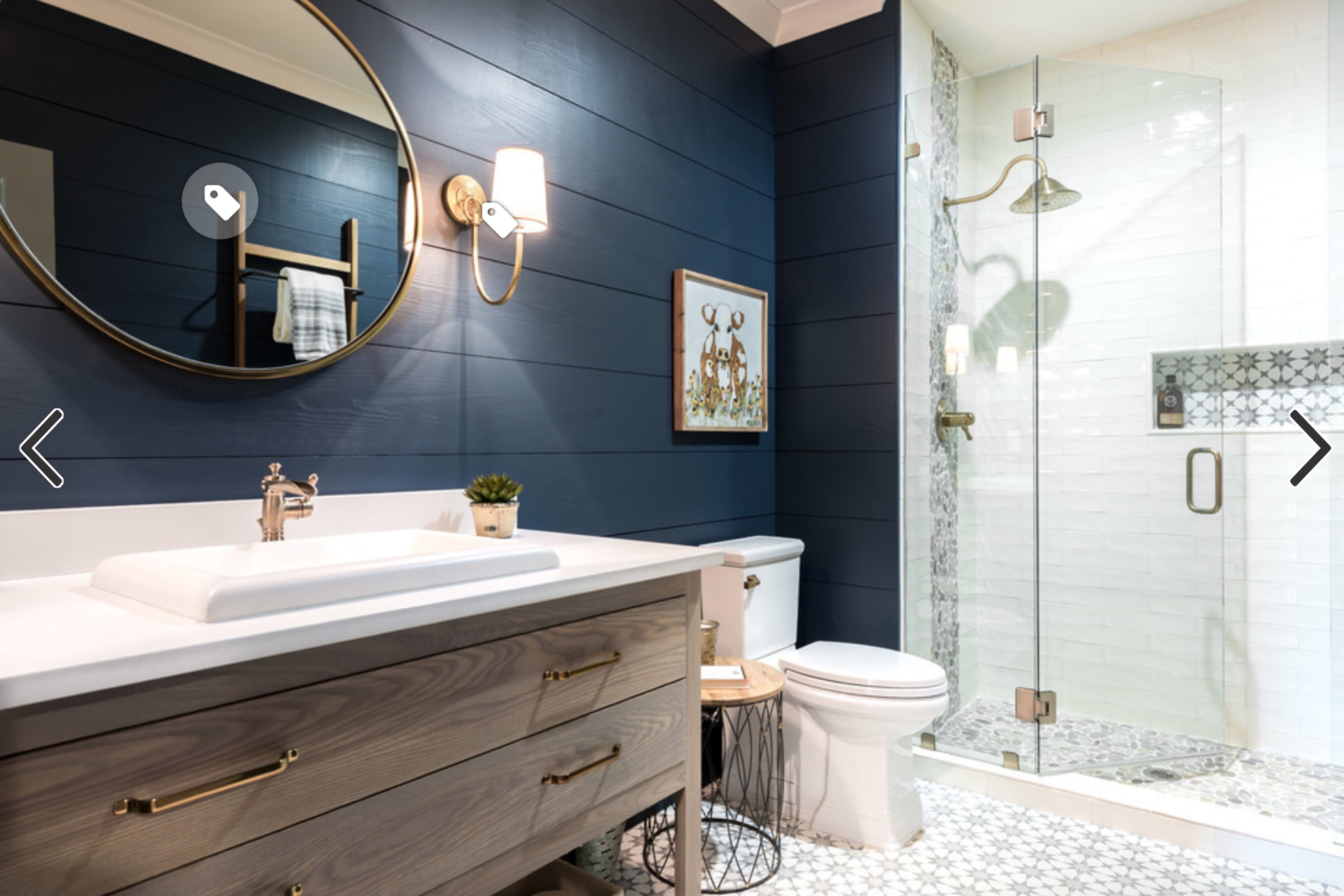 What Kind Of Color Is Sea Serpent SW-7615?
When you decide to repaint your interior walls, it is essential to figure out what color exactly you would like to see on them. And since nowadays the majority of interior paint colors are quite complicated, having multiple undertones and various shades, defining the color from the very beginning is a must.
If you take a closer look at the Sherwin Williams Sea Serpent color SW-7615 , you will see that it is a beautiful shade of blue. But it is not just blue. This particular shade is very complex, being at the same time a bit dramatic and a bit posh, timeless and elegant.
This color is in fact so versatile that with its help, you can easily transform your living space into a magical space with a touch of character, as Encycolorpedia says.
The Sea Serpent paint color by Sherwin-Williams is that dark blue shade that has a tinge of gray, which makes it a worthy statement. So, if you have the personality to experiment with color to make a bold and daring status – this deep and stark blue has the answer.
This blue is so versatile that one can easily pair it with other brighter hues in order to create a contrast, or simply choose it as a clean base for a sense of subtleness.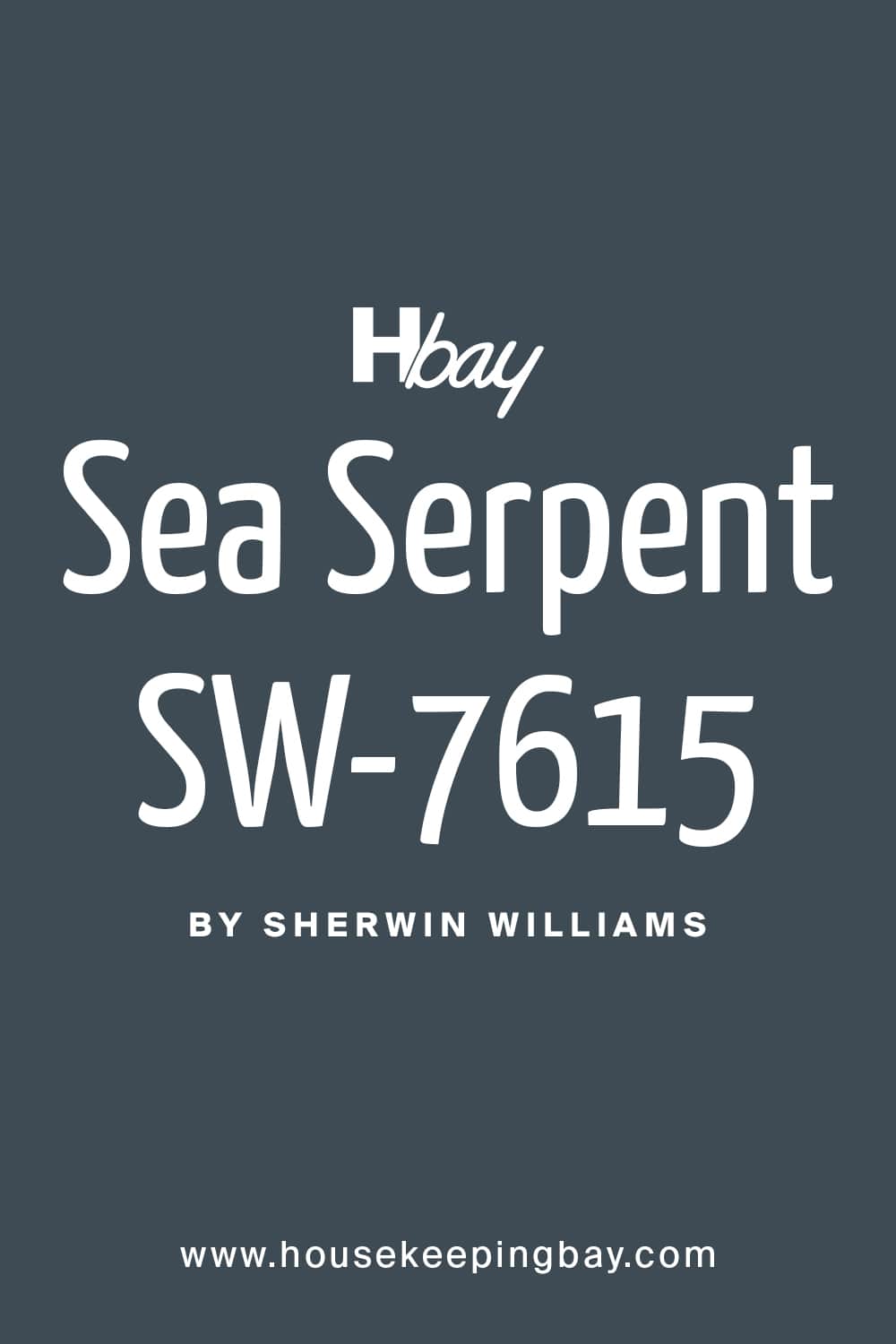 SW Sea Serpent Undertones
Being aware of the paint color undertones is very important even before you buy this paint. Like that, you will be able to foretell how exactly the particular color will look on your walls.
As for the Sherwin Williams Sea Serpent paint color, this deep blue has rather prominent blue-green undertones with a slight hint of gray, which may come out more noticeably in certain types of lighting. So before you buy a couple of cans of this magnificent blue paint color, double-check what types of lighting the room has that you want to apply it in.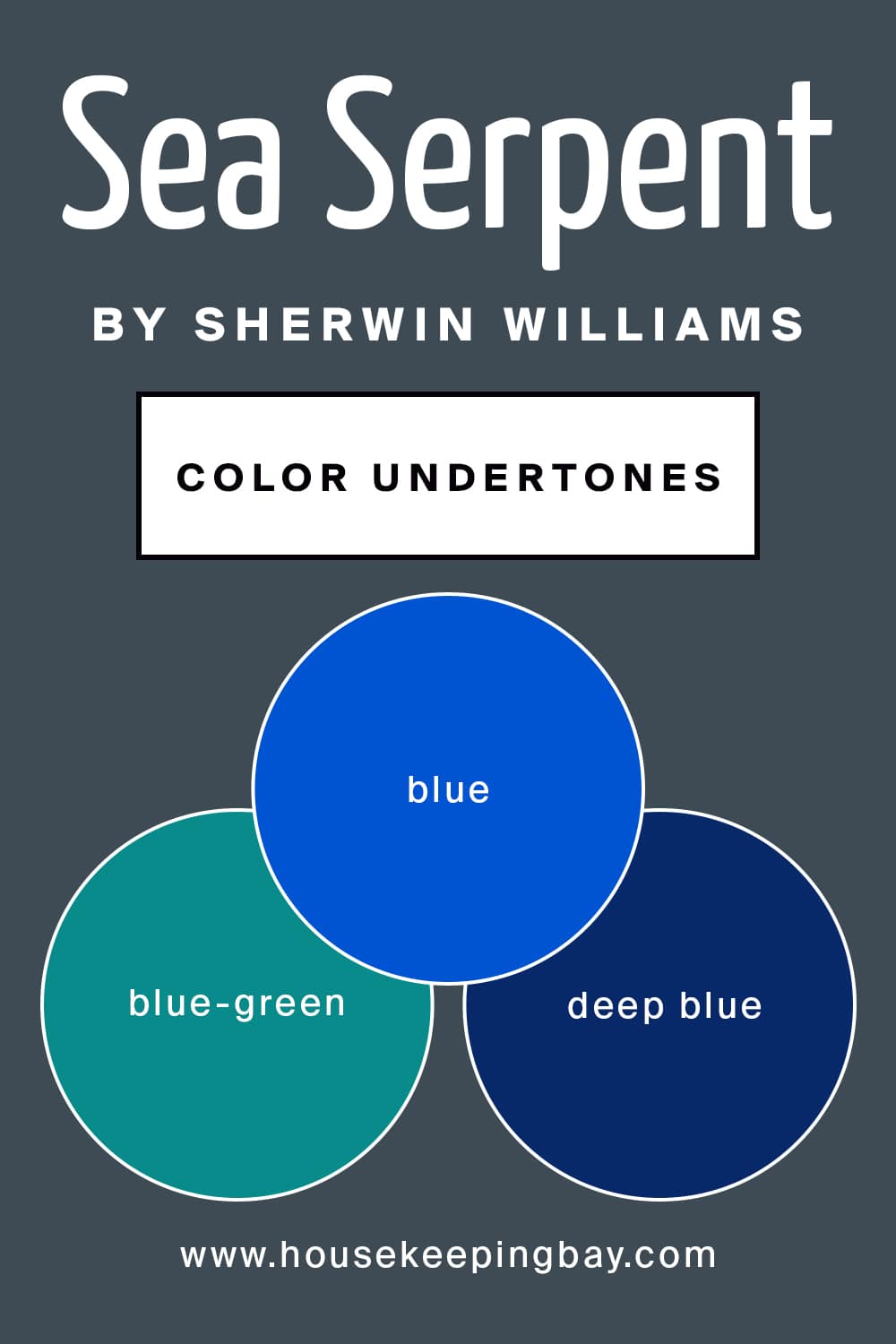 How Does Lighting Affect Sea Serpent Color?
Before you apply any paint color to your walls, you should double-check how it will react to different types of light. Some colors remain almost with no changes no matter how well they are lit, whilst others react to light quite dramatically, being even able to transform quite significantly! So if you don't want to find completely another color on your walls, make sure you consider this nuance in advance.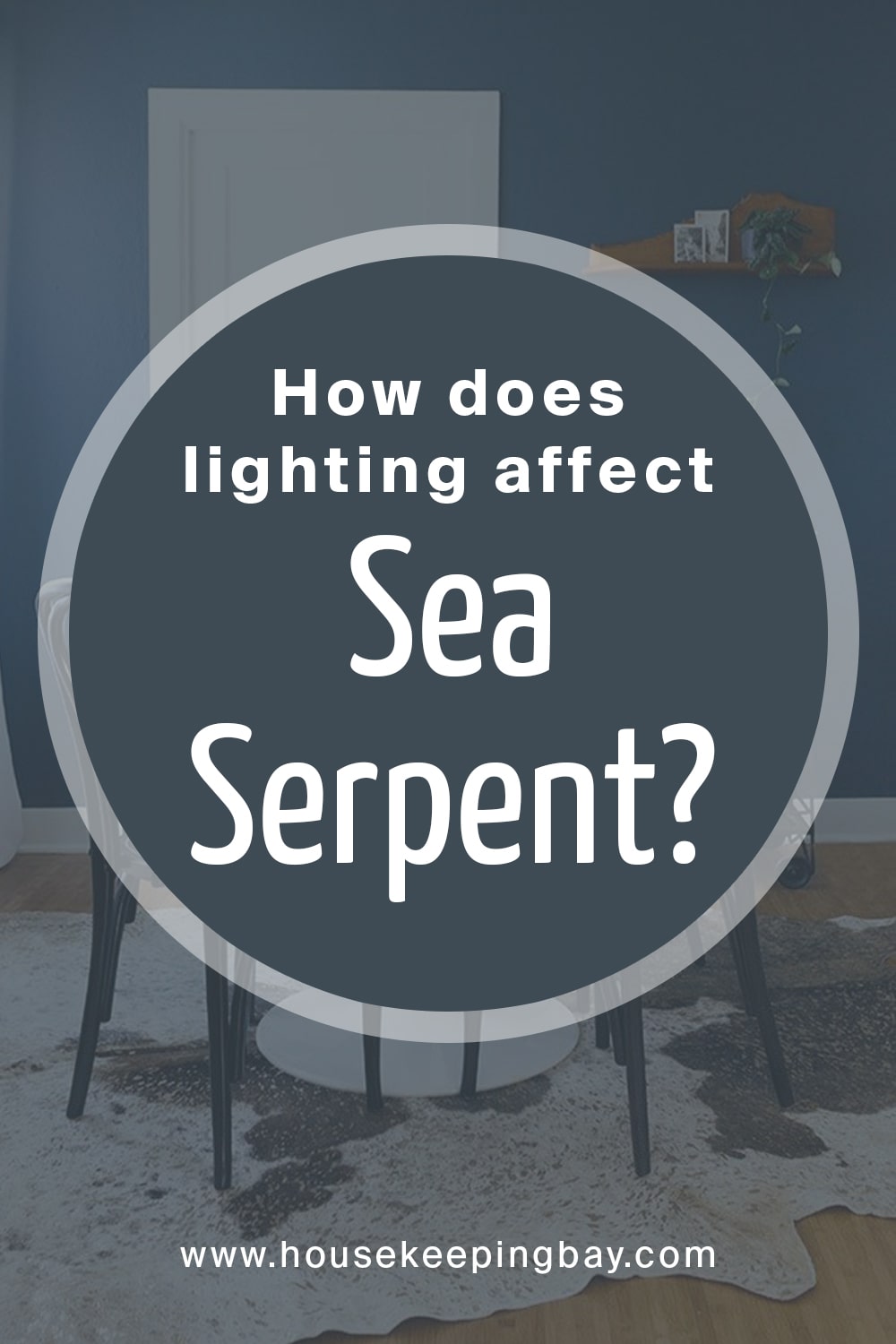 And the very first thing you should take into consideration is the LRV (light reflectance value) of the chosen color. For Sherwin Williams Sea Serpent, the LRV is 7. It means that this blue color falls on the darker end of the color scale, and somehow very dark. At this point, you should remember that, the lesser the LRV value, the darker the paint color is, and vice versa.
So speaking of SW Sea Serpent, due to low reflectivity, this paint color will most likely bring the walls visually closer and create an illusion of a smaller space. This is how all dark colors work in fact. So pay attention to this nuance when thinking of using this color in your home.
In general, the more natural light you have in your room, the brighter the room will be with this blue paint on the walls. And vice versa. In a room with excessive heights and ample windows, for example, this blue plays exceptionally well!
However, you should not be discouraged in case you have a small space. In that situation, try to make use of an accent wall. Also, artificial lighting might play a great role too.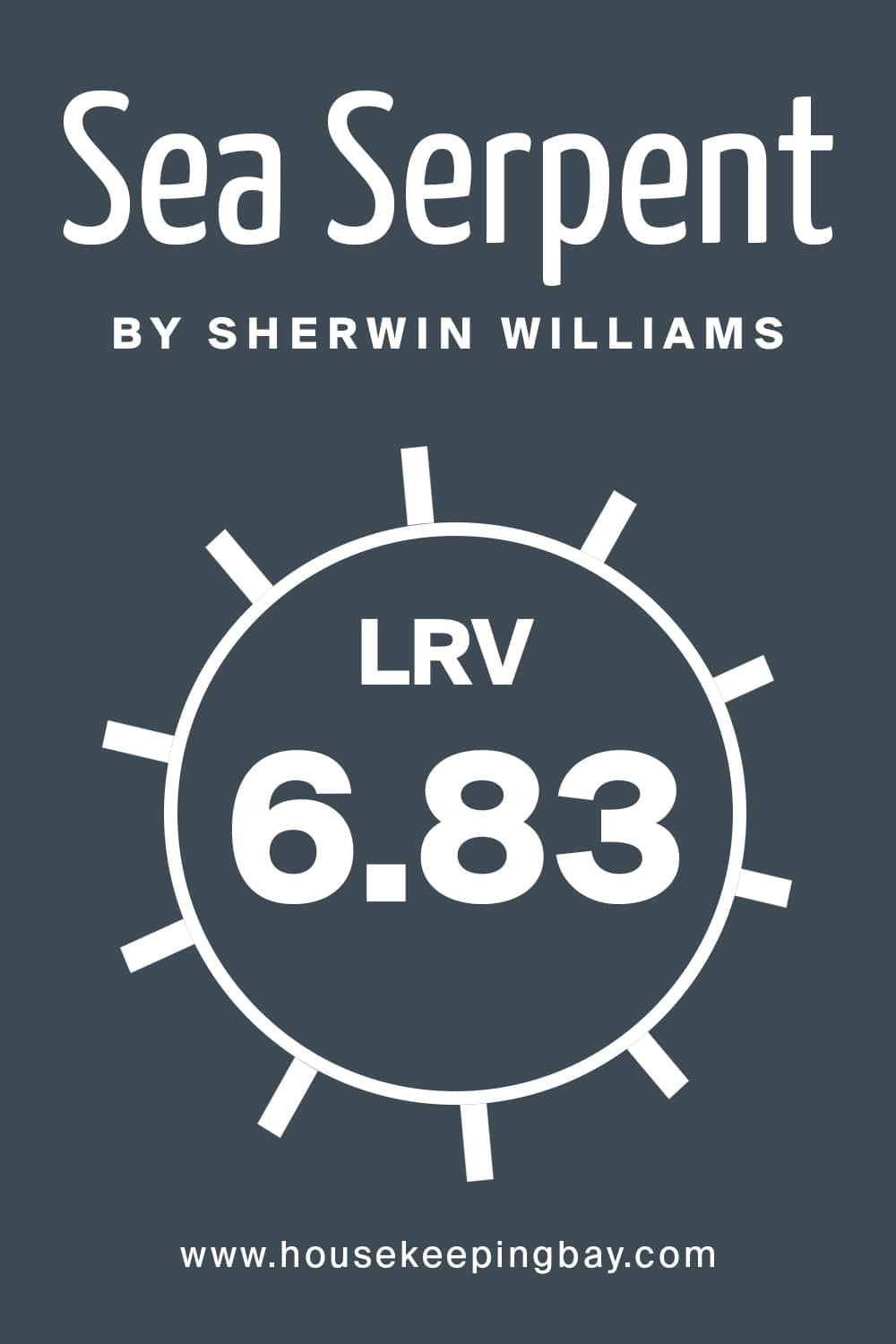 What is LRV? Read It Before You Choose Your Ideal Paint Color
Is Sea Serpent SW-7615 a Warm Or a Cool Color?
In some interiors, it is important to consider the level of warmth of the colors used there. Since if the entire color palette of the room is in cool toned colors, adding a warm toned one might ruin the balance.
As for the SW Sea Serpent blue paint color, it leans closer to warm toned colors than the opposite. But still, pay attention to the lighting in a room and the surrounding colors, since they might affect the way this blue works on the walls.
Like this, you know a bit more about this wonderful blue color by Sherwin Williams now. But this is just the general information. To be more knowledgeable, we suggest you read on and learn more details.
SW Sea Serpent Coordinating Colors
Being aware of the paint's coordinating colors gives you a lot of advantages. When you know what colors work as coordinating ones for the paint you choose, you can make your living space more harmonious and better balanced in terms of color.
For dark blues, in particular, the best coordinating colors are whites with cooler bases, as well as lighter grays, burnt umber, mustard, and powder light blues. And if you are curious about the exact colors, here are a few suggestions for the different color schemes and palettes you might want to try.
SW Sea Serpent for a Monochromatic Palette
If you prefer monochromatic color schemes in your home, try using these paint colors as coordinating ones to pair with SW Sea Serpent.
SW 6257 Gibraltar
SW 6256 Serious Gray
SW Sea Serpent for a Contrasting Color Palette
In case you opt for contrasting color schemes in your interiors, we would recommend you consider the following alternatives:
SW 6252 Ice Cube
SW 6356 Copper Mountain
Now that you know more about the coordinating colors, you will find the most matching colors to pair them with the SW Sea Serpent much easier and faster.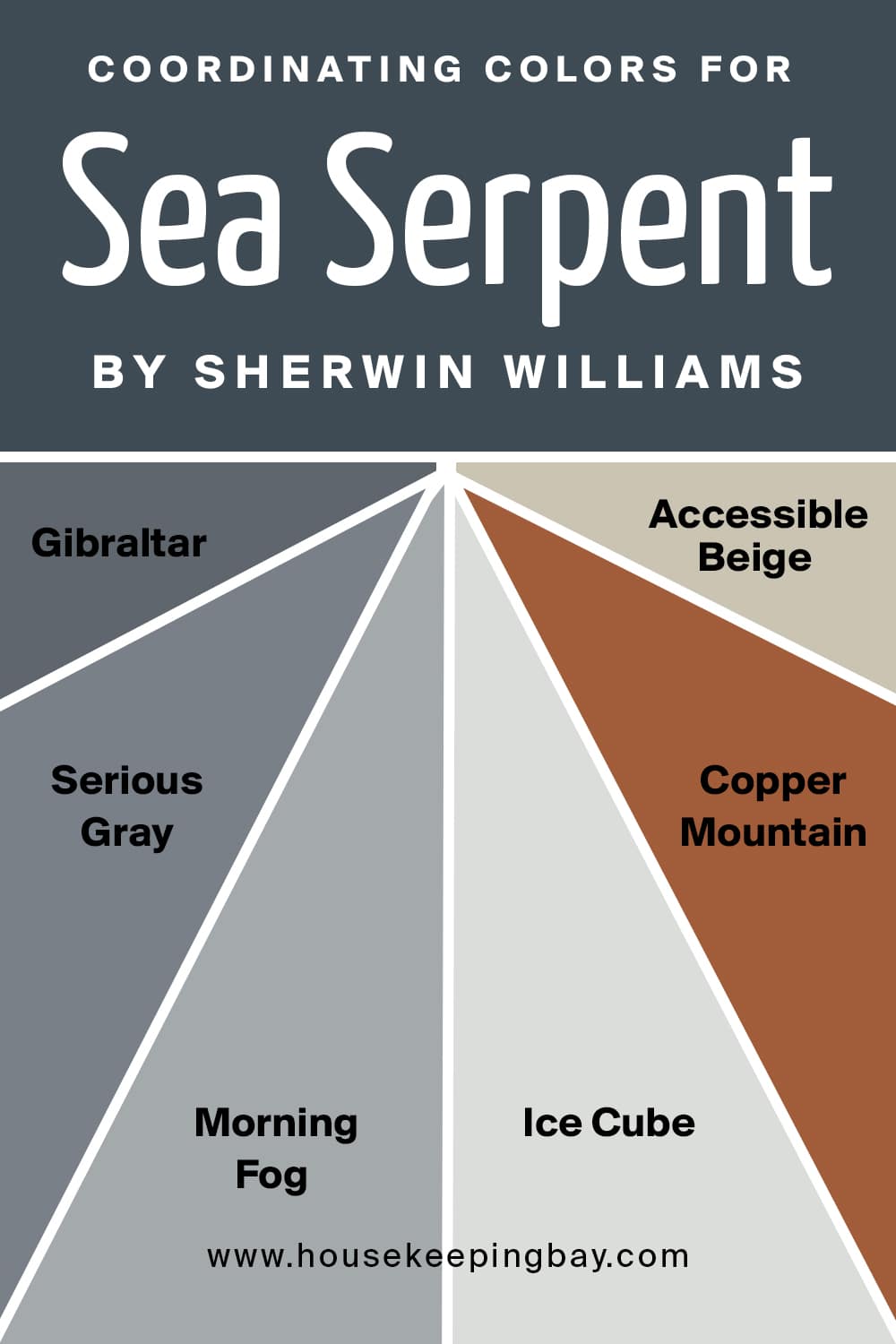 What's the Best Trim Color For SW Sea Serpent?
We all know that the best and the most universal trim color is white. This color works ideally for nearly any other paint color when applied to the trims. And luckily, SW Sea Serpent is not an exception.
If you are not sure what paint color to choose to combine with this wonderful deep blue, consider using SW Extra White or SW Pure White. They will help you protrude a true hue of the SW Sea Serpent.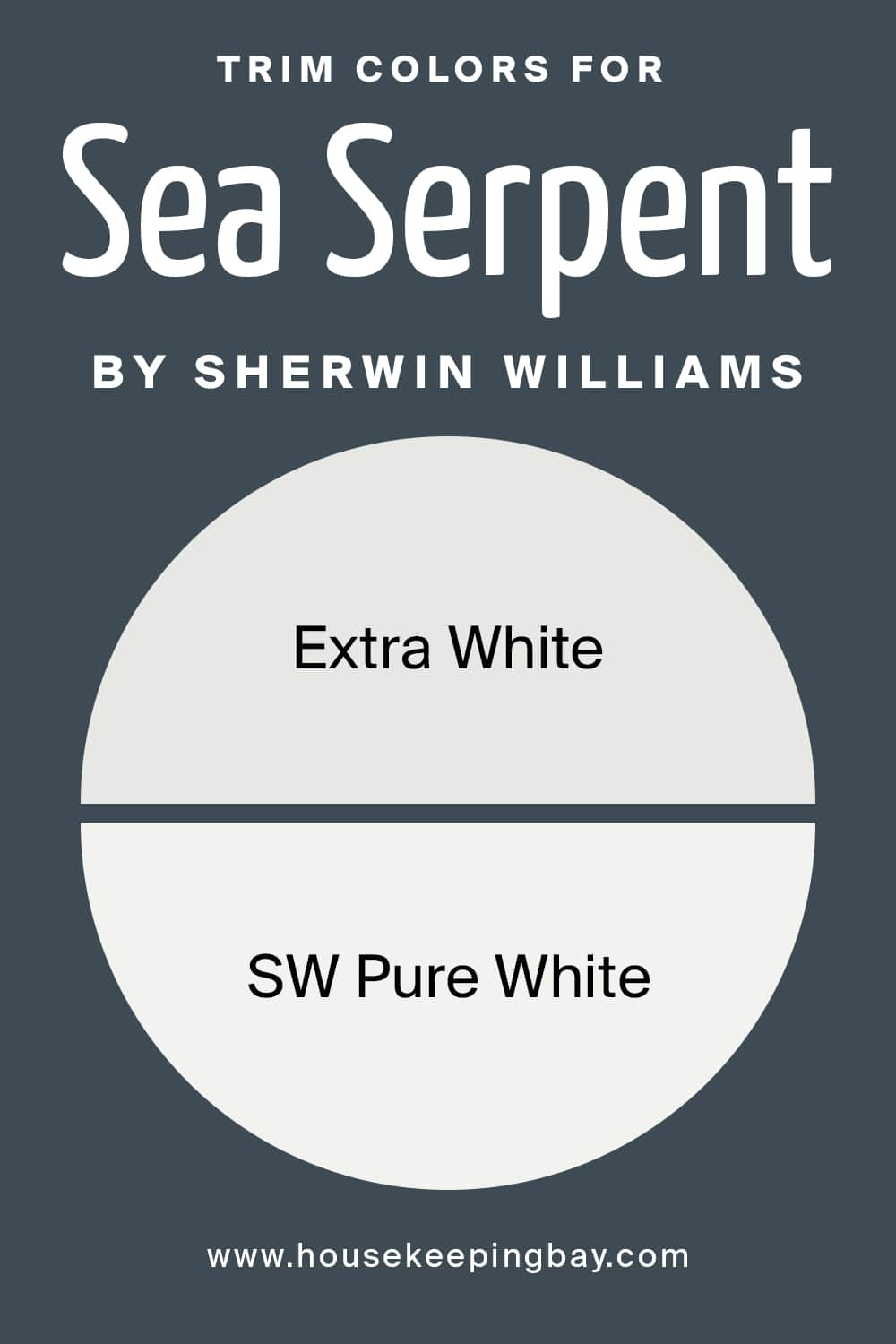 housekeepingbay.com/pure-white-sw-7005-sherwin-williams
Paint Colors Similar to SW Sea Serpent
Sometimes, it is good to know what other colors you can use instead of the one that you are planning to apply on your walls. This information might be handy, for example, if you can't find exactly the color you thought of initially.
Anyway, no matter the reason, being aware of similar paint colors is a good idea. In particular, even though these colors look similar, they might still differ in undertones or reflectivity.
As for the SW Sea Serpent, this blue paint color has several similar color alternatives that you should take into consideration.
Sea Serpent Vs Mount Etna
SW Mount Etna is a blue that you should consider for your home as the Sea Serpent alternative. It is subtle, balanced, and quite relaxing. Moreover, it has an LRV of 6, which makes it an equally dark paint color. It will best pair with whites, beiges, mustards, and also corals, and quirky pinks.
Sea Serpent Vs Hale Navy
Even though these two have similarities, the major difference is the undertones. Hale Navy has prominent navy blue undertones. And with an LRV of 6.83, these two are closely related in terms of reflecting away natural light. As for the colors that they can be best paired with, true whites and golden tints will be the ideal solutions.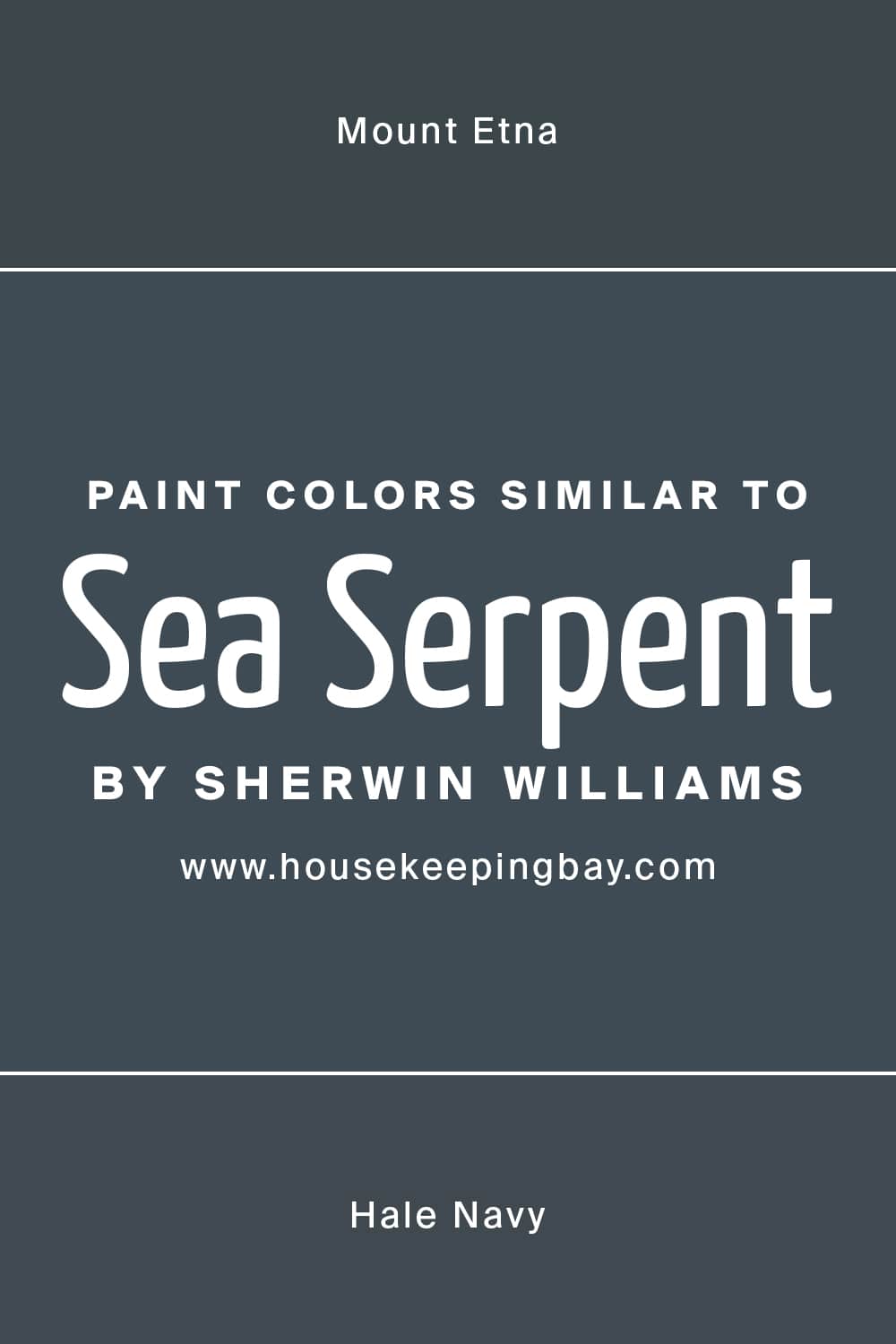 Areas Of Use In Your Home – SW Sea Serpent
When choosing a paint color, it is good to know what rooms and areas it will work better in. For example, such a dark color as SW Sea Serpent might not be the best option for a very small space. But except for this nuance, this blue will suit any corner of your home!
Sea Serpent for the Living Room
Those of you who have a transitional, modern and contemporary style living room will find this dark blue paint color a number one recommendation! You can paint the accent wall with it, for example, and let the remaining walls be crisp whites. But it will also work great on all the four walls if your living room is big enough and has enough light.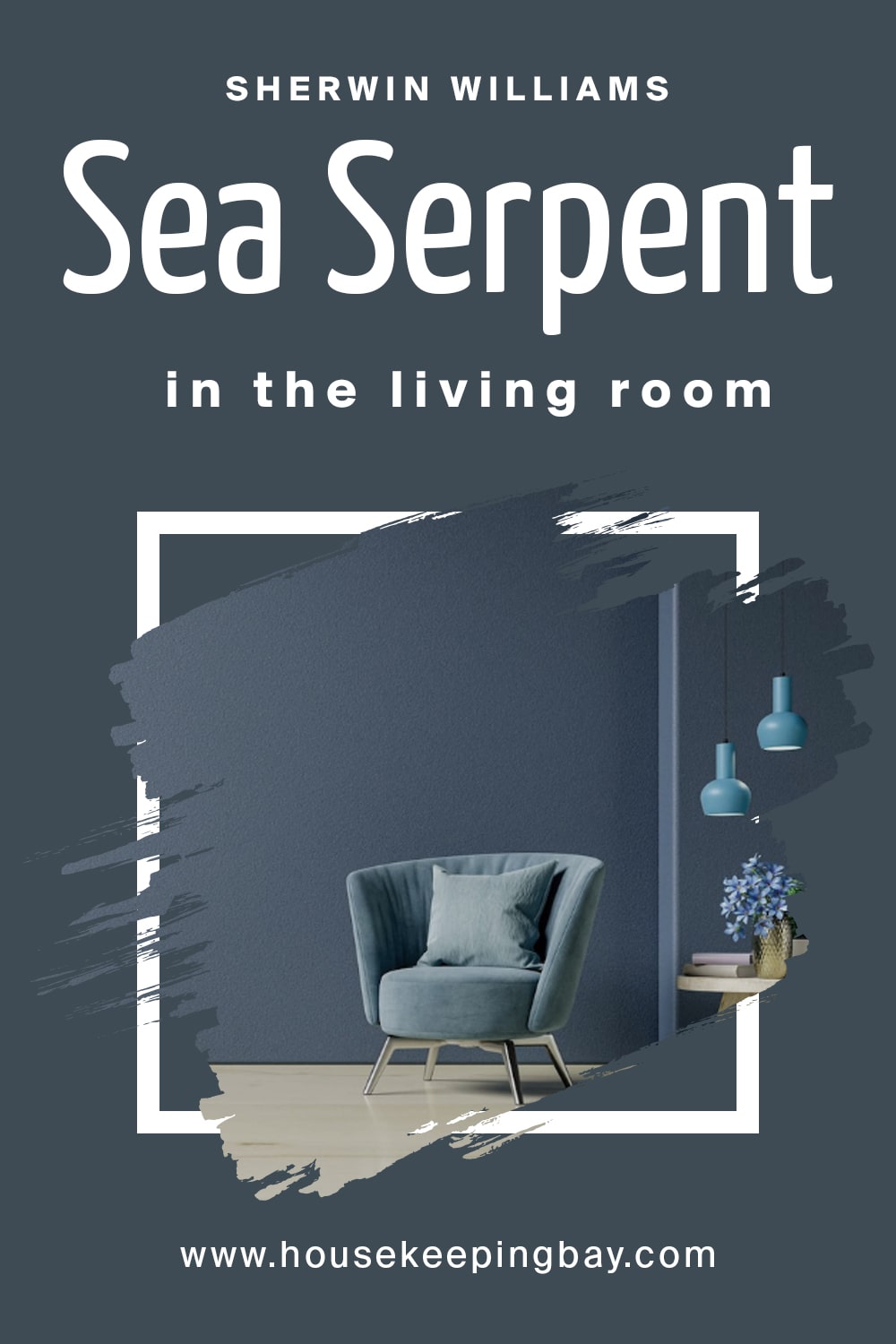 Sea Serpent for the Cabinets And Kitchen Cabinets
For such a bold paint color like Sherwin Williams Sea Serpent, you need to make sure that you add a fresh coat on the cabinets, especially the lower ones, for a sense of contrast. For this purpose, you can either choose to pair it with whites or lighter grays for the upper cabinets and backdrop wall.
A brass or gold-tinted finish for the handles and drawers will complete the entire look of the area.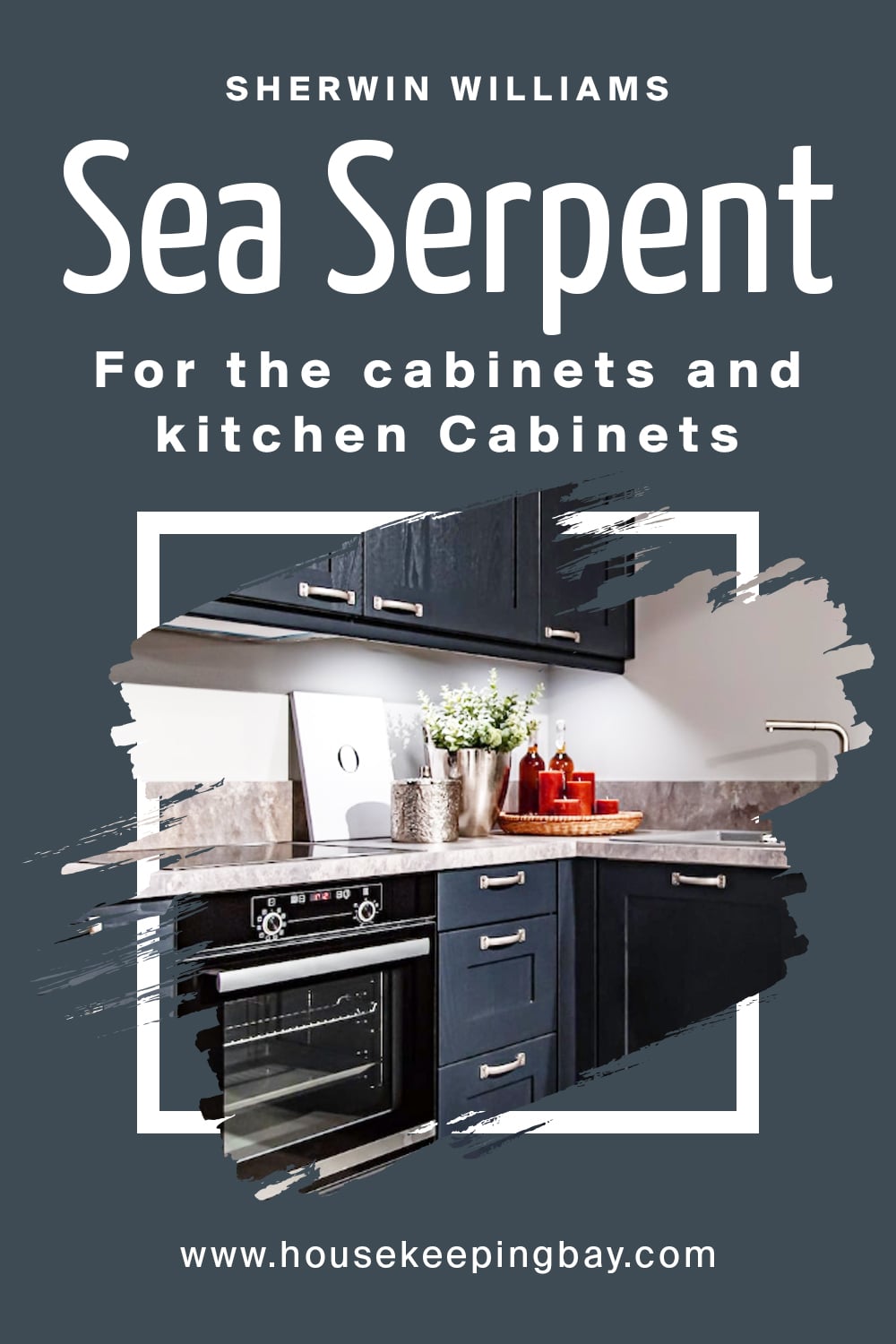 Sea Serpent for the Kitchen
For the kitchen, this color should be used with caution. Since it is rather dark, we would say you should avoid painting all the four walls with it unless the room allows that in terms of space and lighting.
For the ideal effect, paint an accent wall with the SeaSerpent only.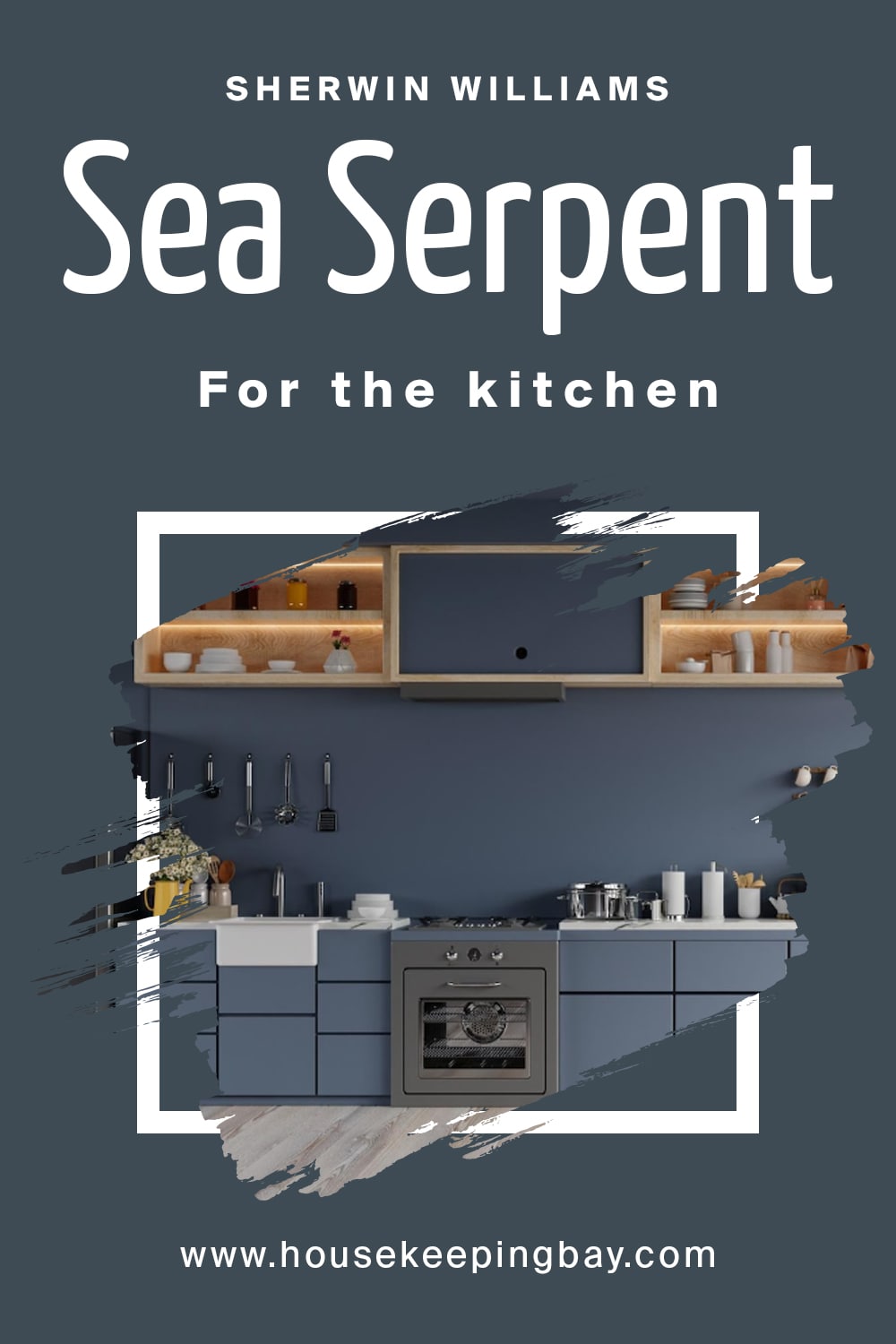 Sea Serpent for the Bedroom
Surprisingly, such a dark blue will fit your bedroom as well! It creates a very tranquil and calming vibe which is ideal for this space.
You can paint the focal and headboard wall with this color with whites for the adjacent wall. Moreover, it is welcome to add patterns like polka dots to make the room feel more interesting!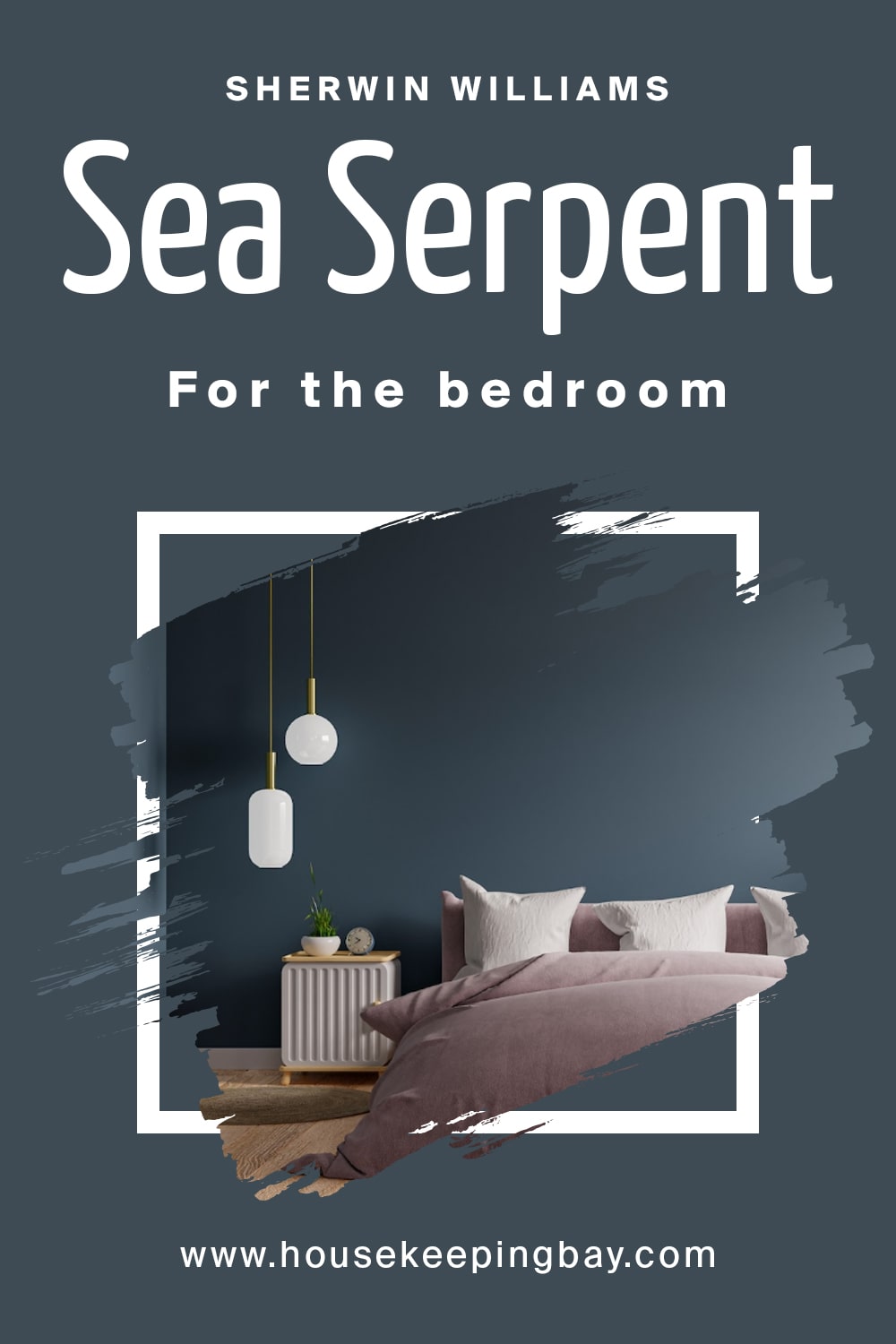 Sea Serpent for the Exterior Use
Whether you have a traditional style, a ranch style, or basically any other exterior home style, Sherwin Williams Sea Serpent will always be a wonderful color choice for each. You can paint the shiplap walls with it and paint the trims and moldings in pure white, for example. And if you want to make your home look even more interesting, simply add cherry reds or burnt umber on the front door!
With all this in mind, we are sure that deciding where and how to use this wonderful deep blue paint color will not be an issue for you.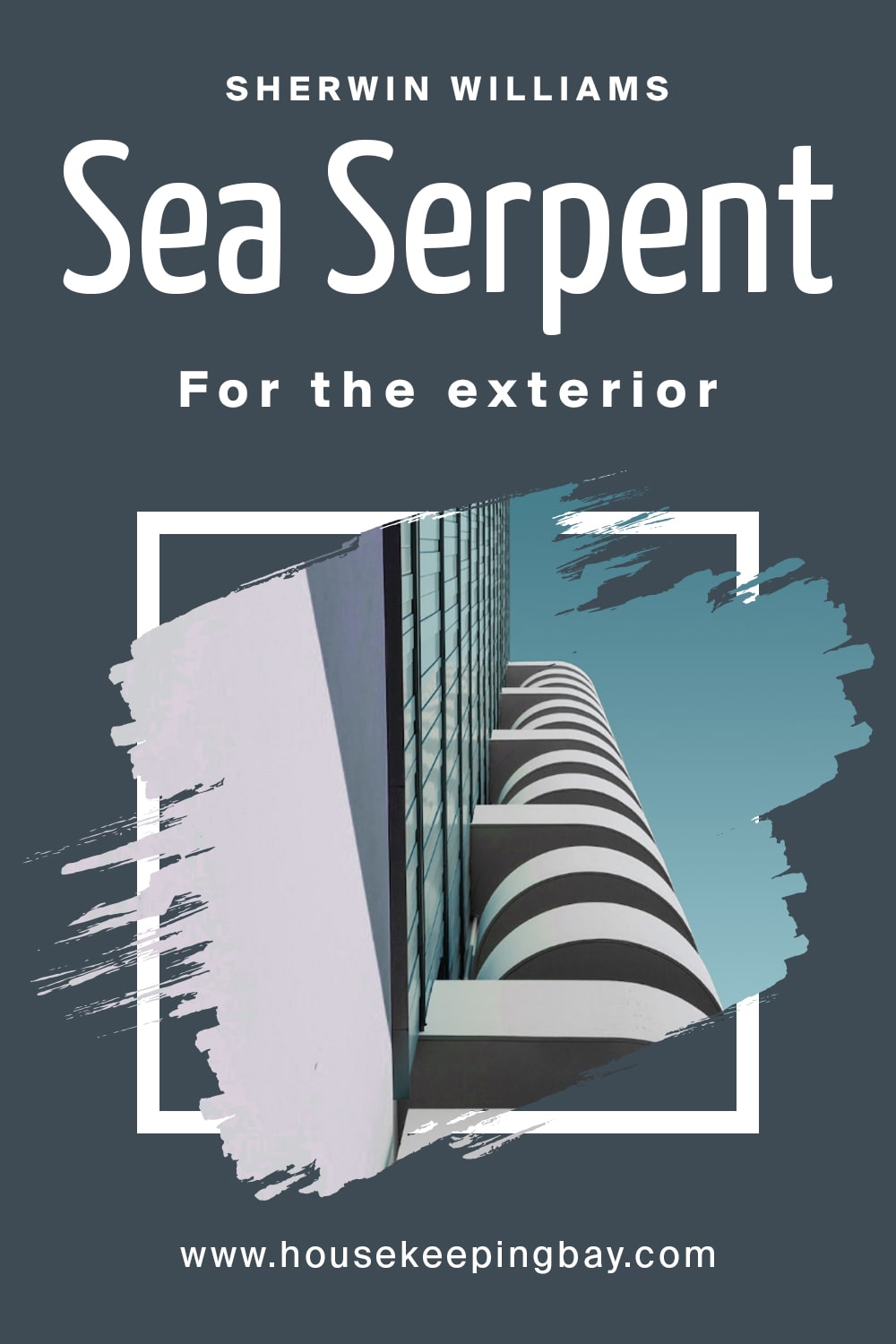 Colors That SW Sea Serpent Goes With
When you decide what paint color to apply to your walls indoors, it is good to note what other colors it could go with harmoniously. It will allow you to create a balanced color palette in your interior. So let's see what colors could be considered matching for the SW Sea Serpent.
Sea Serpent vs Hale Navy
Even though they share certain similar features, these colors have one major difference which is their undertones. Hale Navy color has notable deep navy blue undertones. It makes it more inclined towards the other category of blues.
However, since an LRV of these colors is 6.83, they reflect natural light pretty similarly.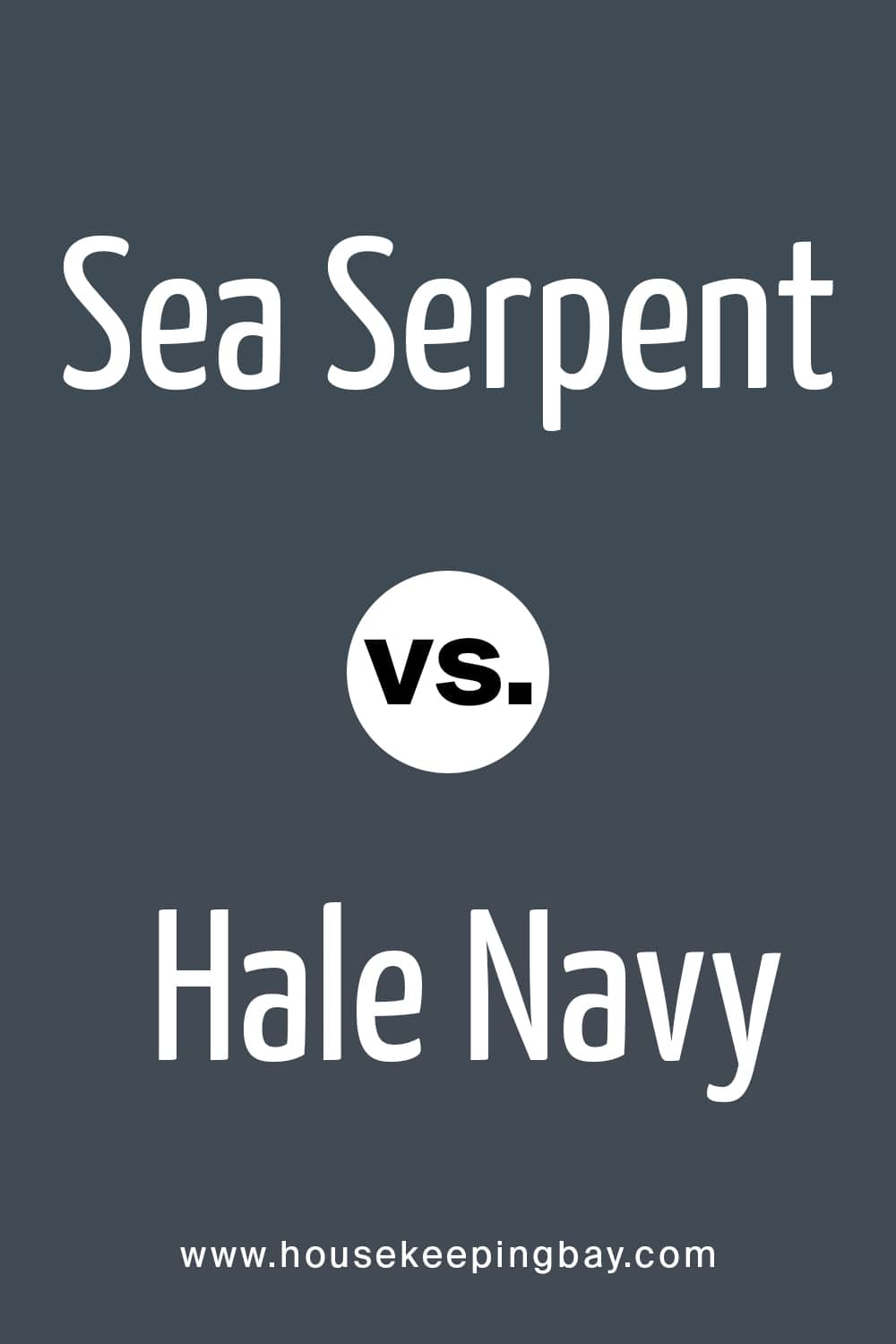 Sea Serpent vs Naval
Naval is way darker with more prominent deep blue and blue-green undertones. Compared to Sea Serpent, it looks darker and more intense, with a more noticeable blue hue. Sea Serpent, on the other hand, looks more muted and greenish when put beside the Naval paint color.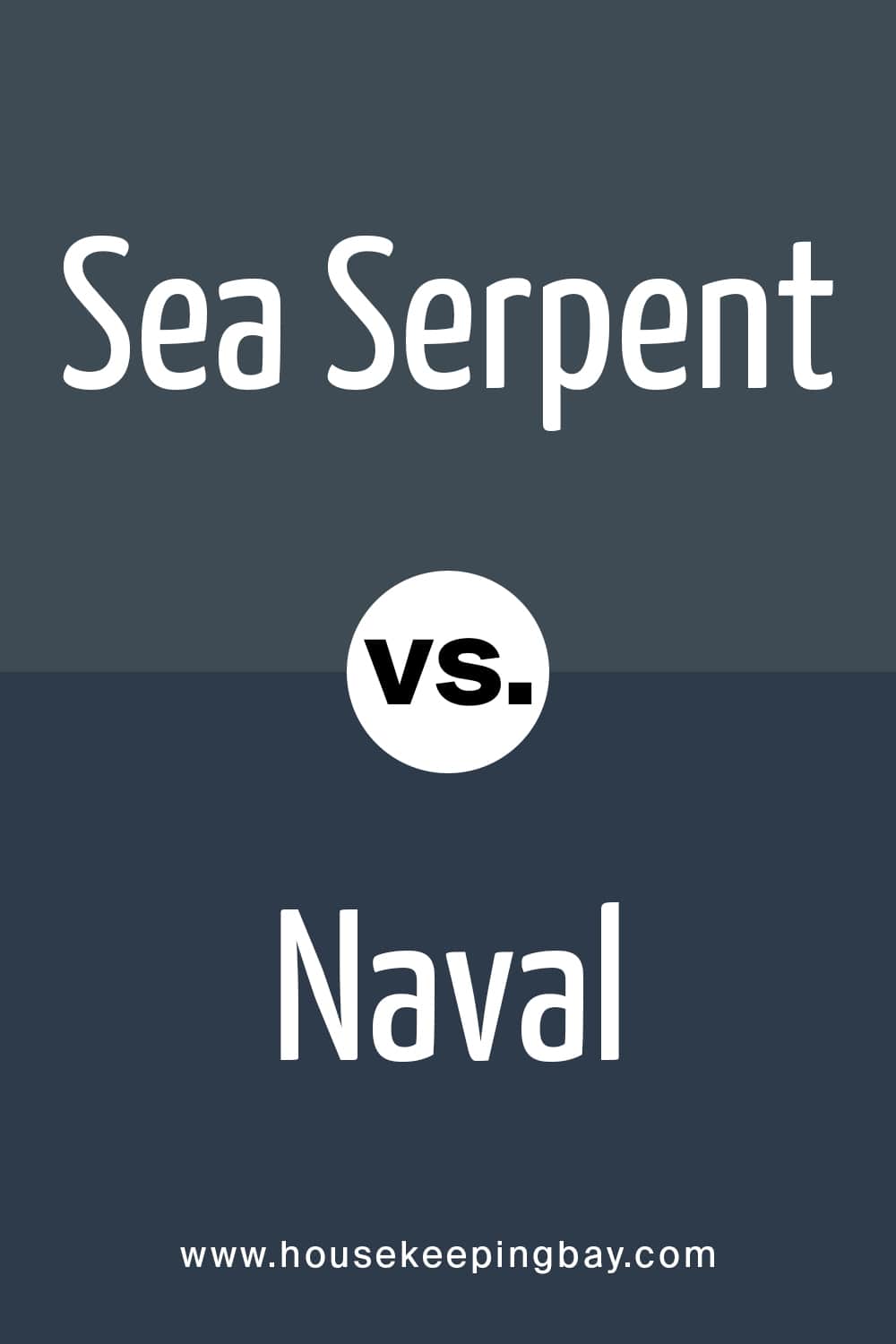 So, this is all that we wanted to share with you on the subject of SW Sea Serpent paint color. Now that you know where and how to use it, what undertones it has, and what colors can be used as coordinating ones, you will easily make this color work for your home.
Frequently Asked Questions
⭐Is SW Sea Salt a pale color?
No, it is rather deep and quite intense. Of course, the way it looks on the walls will depend on the way the room is lit.
⭐Will Sea Salt color pair well with greens?
Basically, yes. This color has greenish undertones, so darker and muted greens might be a good option.
⭐Will Sea Serpent pair well with off-whites?
Yes, it will. This color is pretty versatile in terms of being combined with other colors, and whites usually pair with it well.