Choosing proper colors for your home can be tricky and complicated because you have to know how colors cooperate with each other and what effect you might get if you use certain colors with each other.
And even if you are going to use, let's say, a neutral paint color, you need to learn more about the particular shade you consider to be aware of how it will work in your home precisely.
This is why today we would like to talk about one of the most popular neutral colors that's called Greek Villa by the Sherwin-Williams paint brand. We will tell you what kind of white color it is, what undertones and LRV it has, and what trim color will work best of all with it.
Also, you will learn how to use this color in your home so that it does its best. In particular, we will explain what colors it is best to be paired with and what rooms will benefit from having this white on their walls.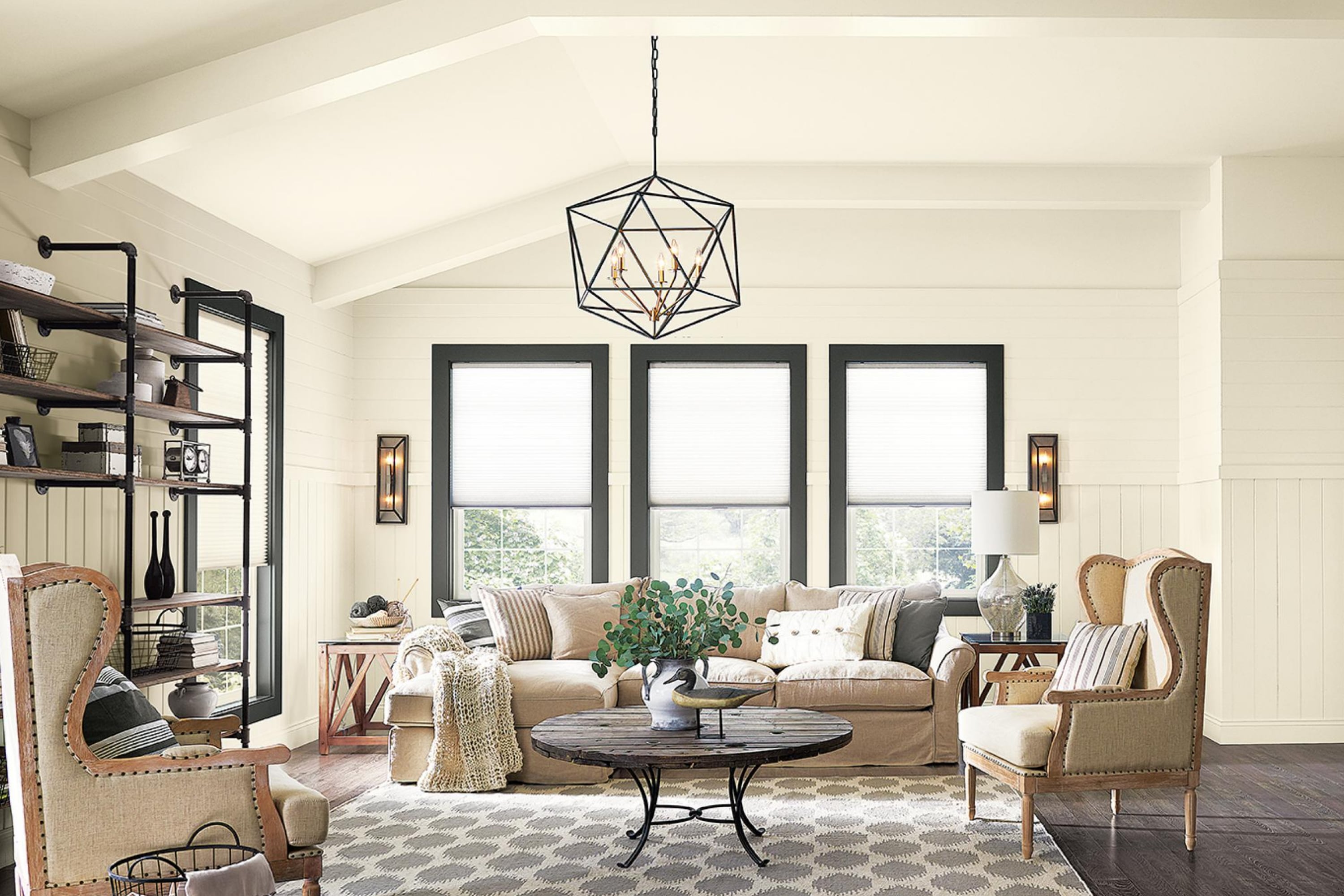 Greek Villa SW-7551 by Sherwin-Williams. What Kind Of Color Is It?
So first things first: Sherwin-Williams Greek Villa paint color is typically considered neutral. But technically, this magnificent color belongs to the white color family. However, don't be afraid of seeing cool tones in it! On the contrary, SW Greek Villa is pleasantly warm-toned, as Encycolorpedia says.
Why would Greek Villa be considered a warm paint color?
See, the hue family of this paint leans more towards the yellow side, that's where its warmth comes from. But although Sherwin-Williams Greek Villa is a warm white, it is not the warmest white that exists.
At this point, some homeowners may get worried that due to its warmth, the Greek Villa color can read yellowish on their home walls, but you should not be afraid of that! This color is definitely not the one that looks too yellow.
But in certain situations, the warmth of the paint color can be enhanced – for example, if you have cool tones throughout a room and you incorporate Greek Villa there, the cool tones will lead to a yellow tinge. Also, in certain lighting, this neutral white may look too warm for some of you.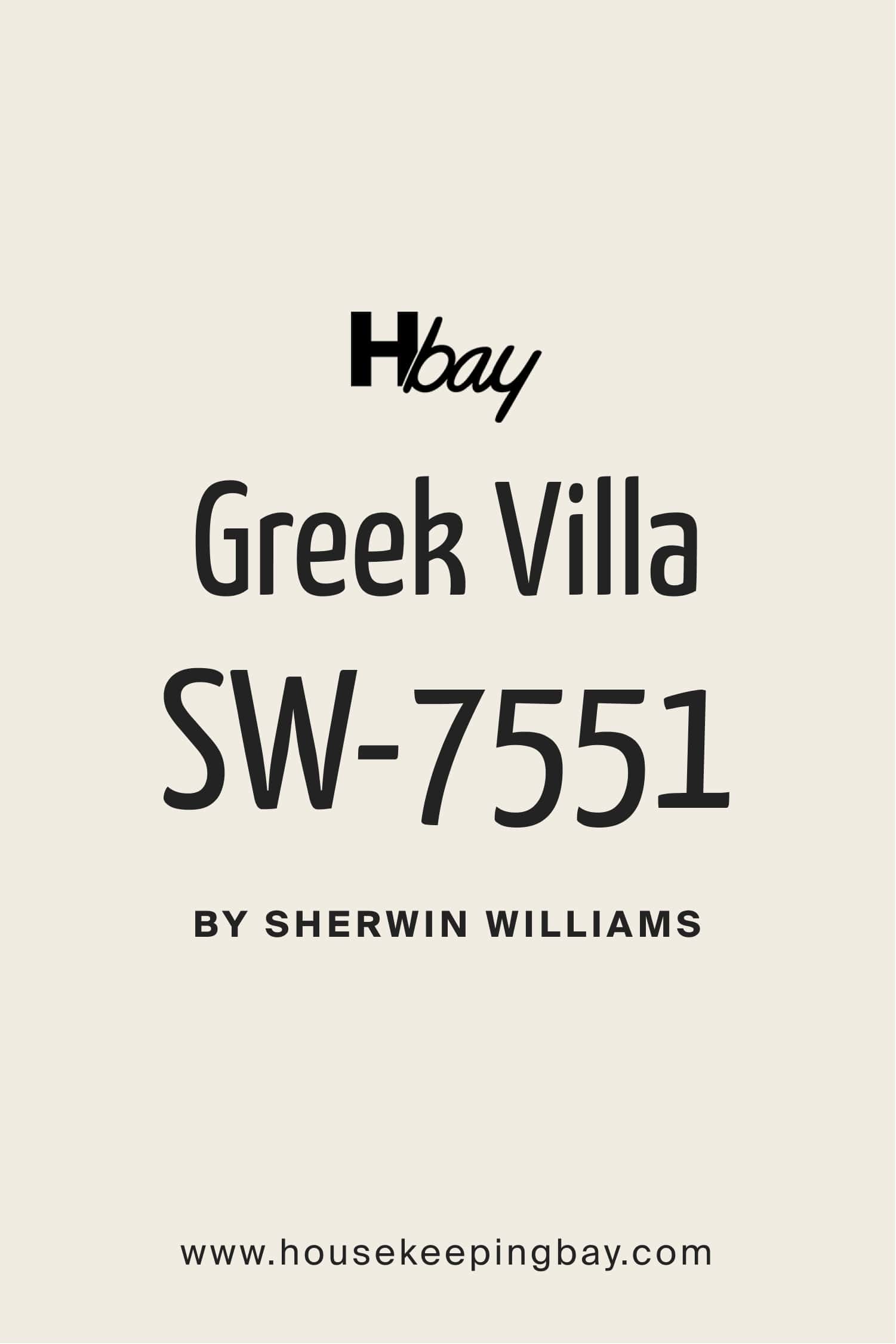 What Undertones Does Greek Villa by Sherwin-Williams Have?
Being aware of the color's undertones is mandatory since it allows you to predict how it will read on your walls in different lighting. Sherwin-Williams Greek Villa has mild yellowish-beige undertones. But this is not the bright yellowness.
Instead, the undertones this color has are quite soft and subtle, providing the color with a delicate warmth.
However, you need to note that sometimes, the undertones of this color may read almost clear beige.
But it is still important to keep in mind that the way this color will read in your home depends on the lighting in a space. In addition, the particular elements also matter, for example, other colors that are present in a room.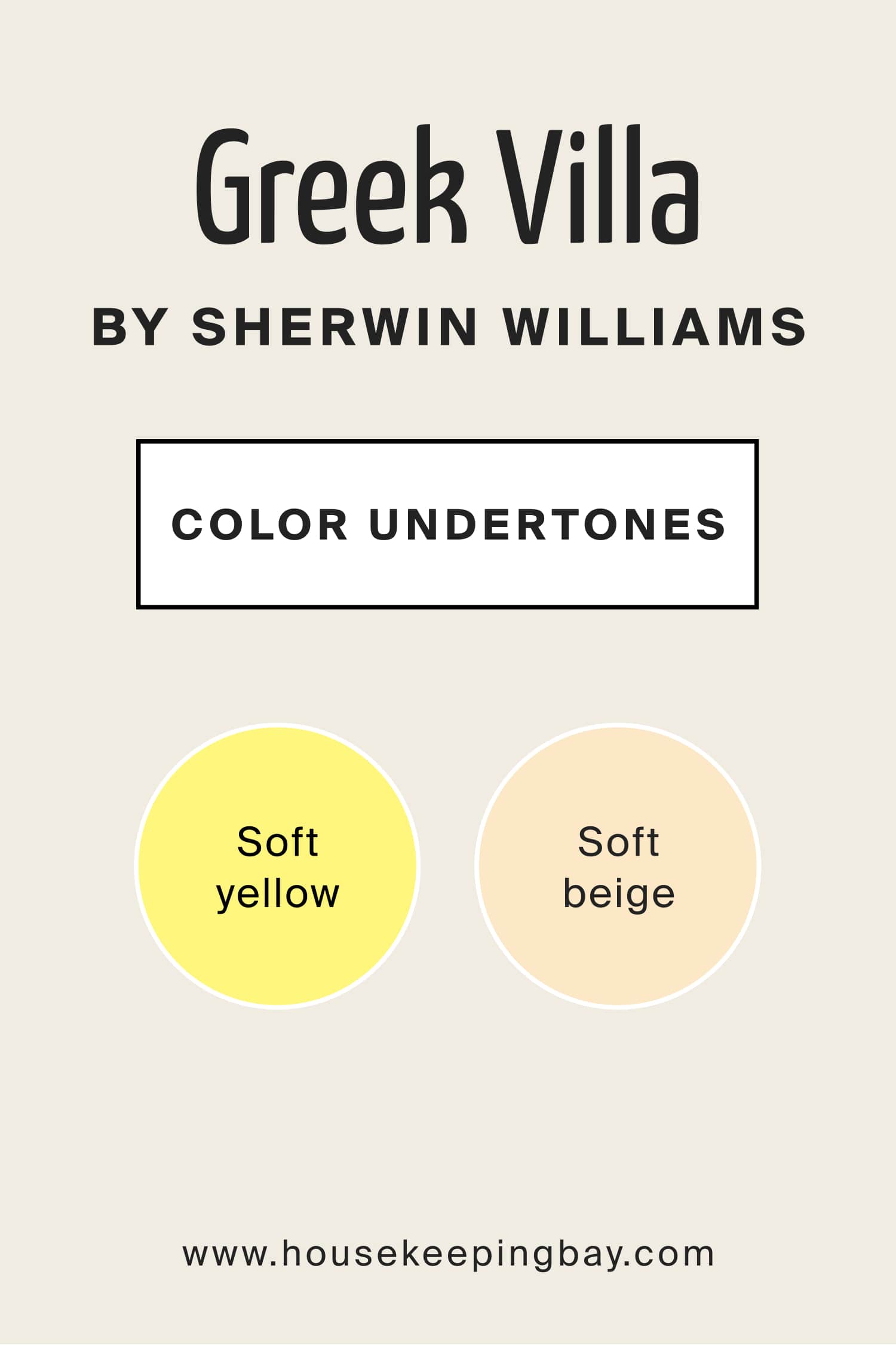 LRV Of Greek Villa by Sherwin-Williams
When you are going to use Sherwin-Williams Greek Villa paint color in your home, being aware of its LRV is a must. SW Greek Villa has an LRV of 84, which means it is a light color that is going to reflect a fair amount of light when you apply it to the wall.
But why is being aware of colors' LRV so important though?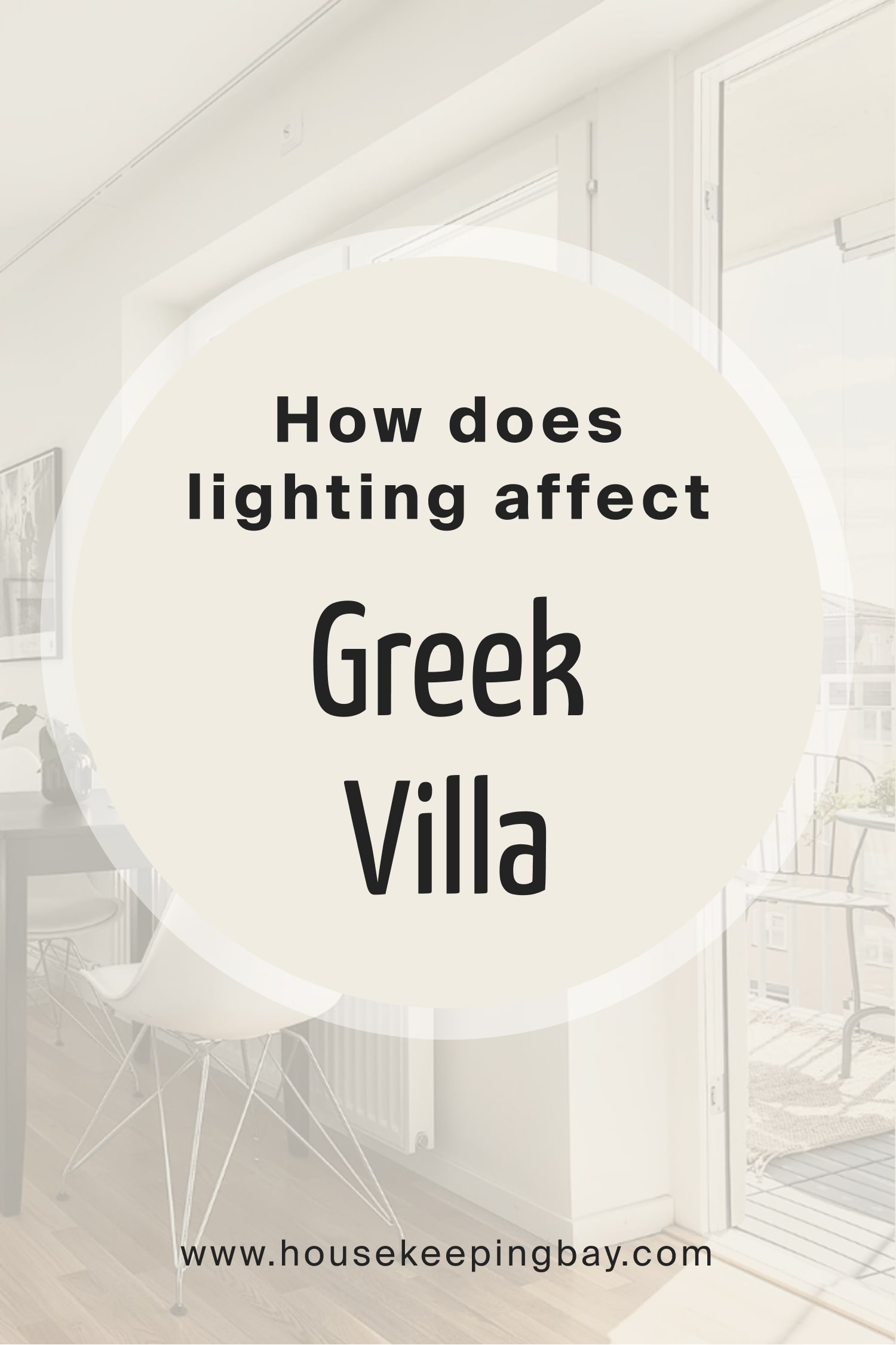 The key reason is that when you know the LRV of the paint color, it becomes handy when you are trying to decide whether this color is too dark for a space or not.
For those of you who don't know or don't remember what LRV is, here is a reminder.
LRV or Light Reflectance Value is a measurement that is commonly used to measure the amount of light reflected from or absorbed into a surface. LRV ranges from 0 to 100, with 100 being pure white and 0 being pure black. Essentially, the higher the LRV of paint color, the more reflective the color will be.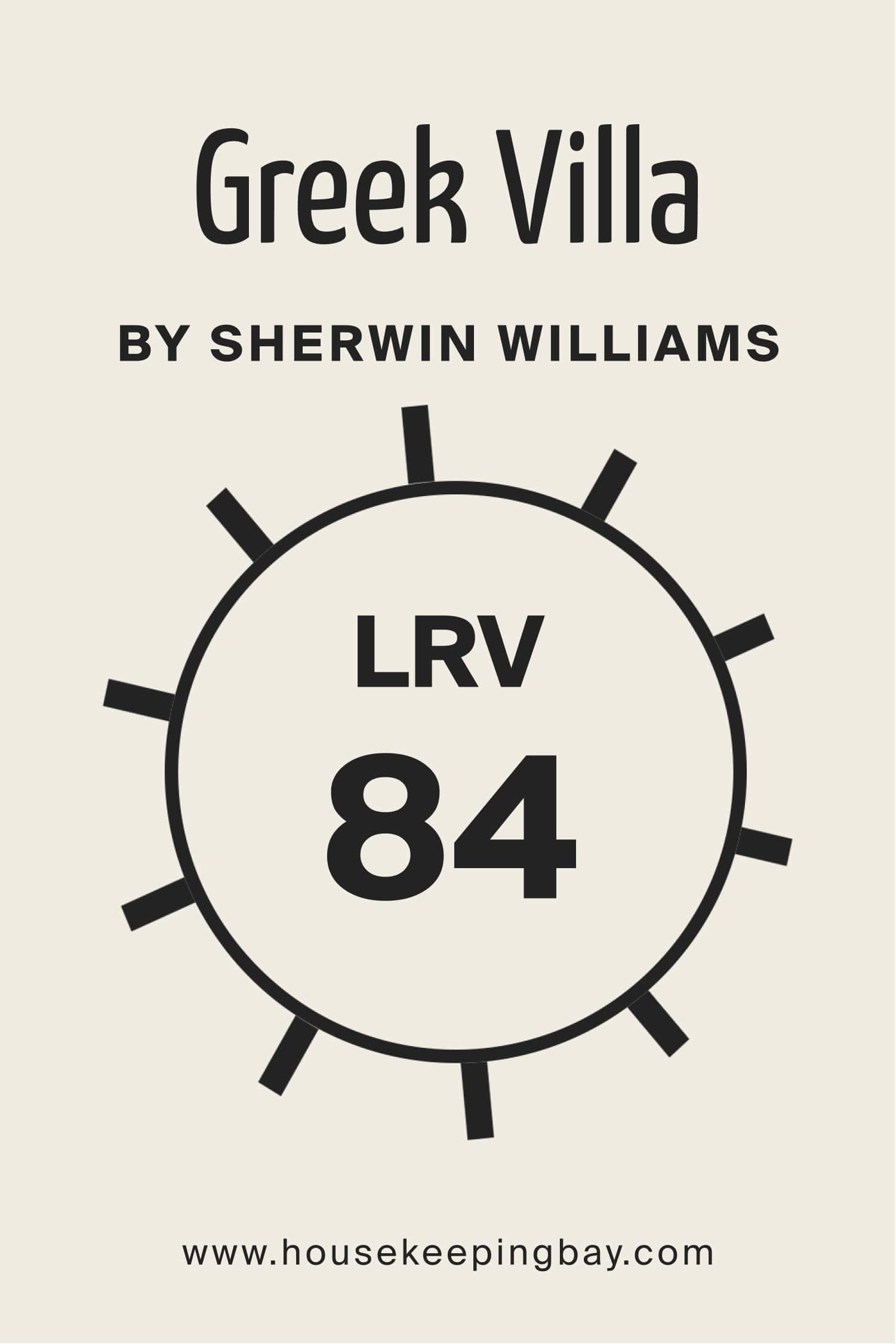 What is LRV? Read It Before You Choose Your Ideal Paint Color
Coordinating Colors For Greek Villa SW-7551 by Sherwin-Williams
People tend to think that since Greek Villa is a neutral paint color, it will be easy to pick coordinating colors for it. However, despite being neutral, this color can sometimes be quite confusing to create a coordinating color palette!
That's why we would love to share a few color options with you that will work harmoniously and well with SW Greek Villa. In the list below, you can check out the colors that coordinate with Sherwin-Williams Greek Villa:
Illusive Green SW 9164
In The Navy SW 9178
Rosemary SW 6187
Hopsack SW 6109
Little Blue Box SW 9044
Sashay Sand SW 6051
Black Fox SW 7020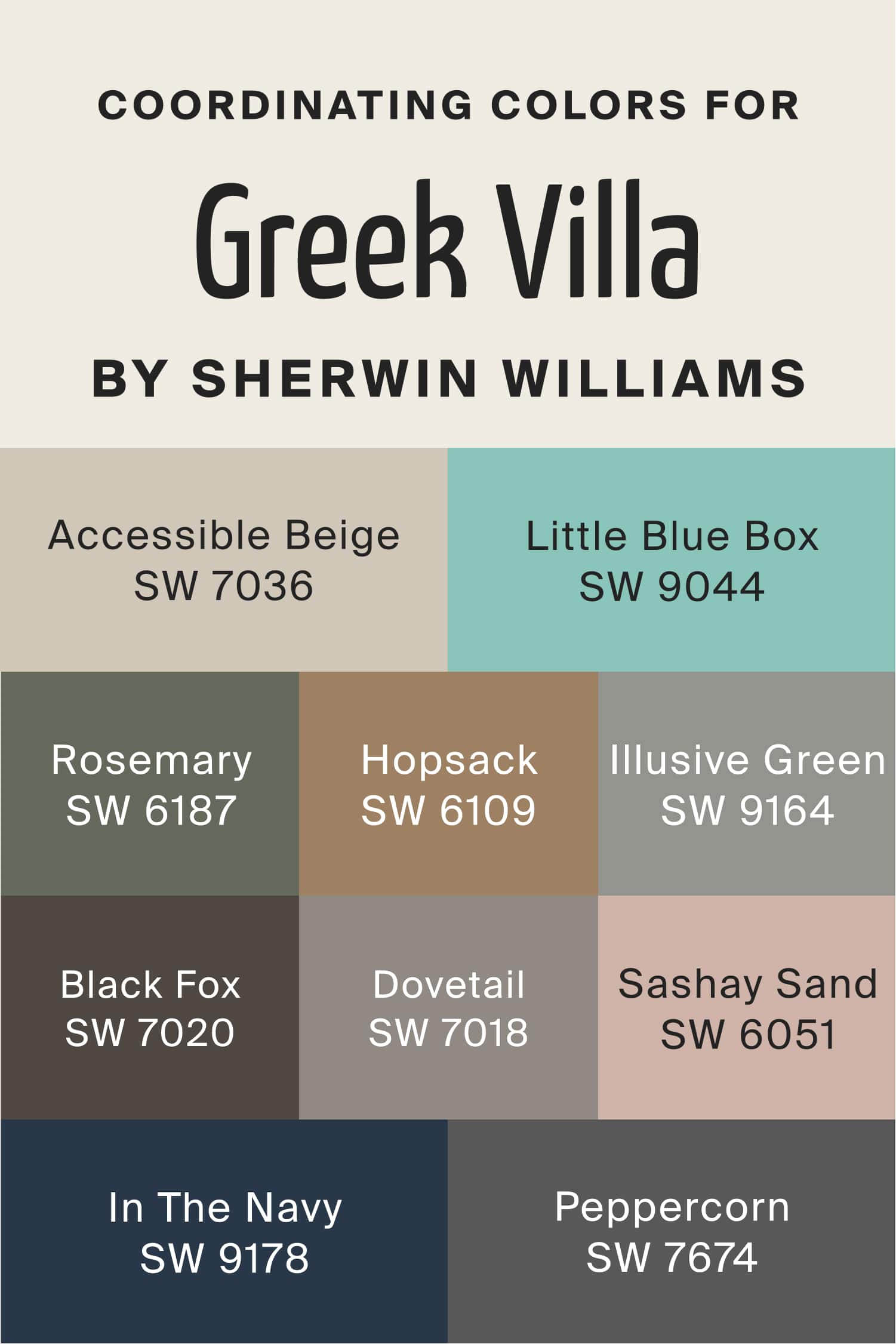 What Is the Best Trim Color For Greek Villa SW-7551?
You will be surprised to hear that the best Sherwin-Williams Greek Villa trim color is Greek Villa itself! Don't think we are joking, it's true. See, people often ask what paint color to use for trims if the wall color is white. In this case, the simpler the better. This means you should use white for both walls and the trim!
Let's say you are using SW Greek Villa on the walls. In this case, opt for Sherwin-Williams Greek Villa as a trim color as well! How would you tell the difference between the color here and there? The trick is to use the color in different sheens of finishes.
For example, a popular paint finish for the walls is typically eggshell or flat. In this case, for the trim, use a durable finish like semi-gloss. If you use Greek Villa in different finishes, it will give you a noticeable difference between the walls and the trim. As a result, you will not have it looking of all one flat color.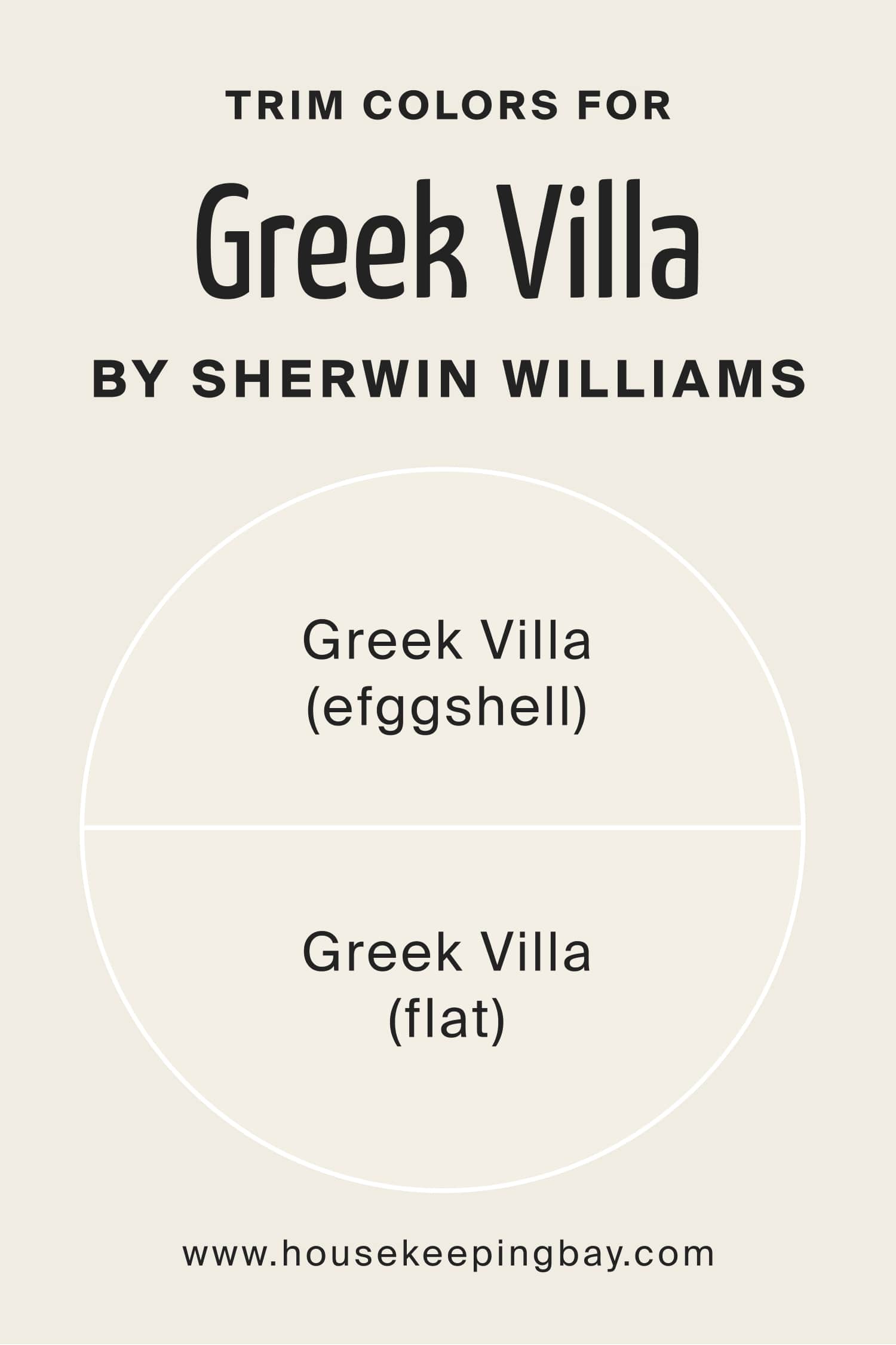 Paint Colors Similar to Greek Villa by Sherwin-Williams
Why is it a good idea to be aware of similar paint colors? See, at some point, it can be useful should you suddenly decide to use a bit different paint color than the one you were initially going to. Or you may suddenly realize that the color you initially choose does not work well enough with the rest of the colors in the room.
But if you are planning to use white color on your interior walls, it can be tricky to choose colors that read the same or nearly the same. If this is the complication you have faced during your painting project, grab a few color ideas that might be handy for you if your major wall color is SW Greek Villa:
Cotton SW 9581
Cold Foam SW 9504
Shell White SW 8917
White Flour SW 7102
Marshmallow SW 7001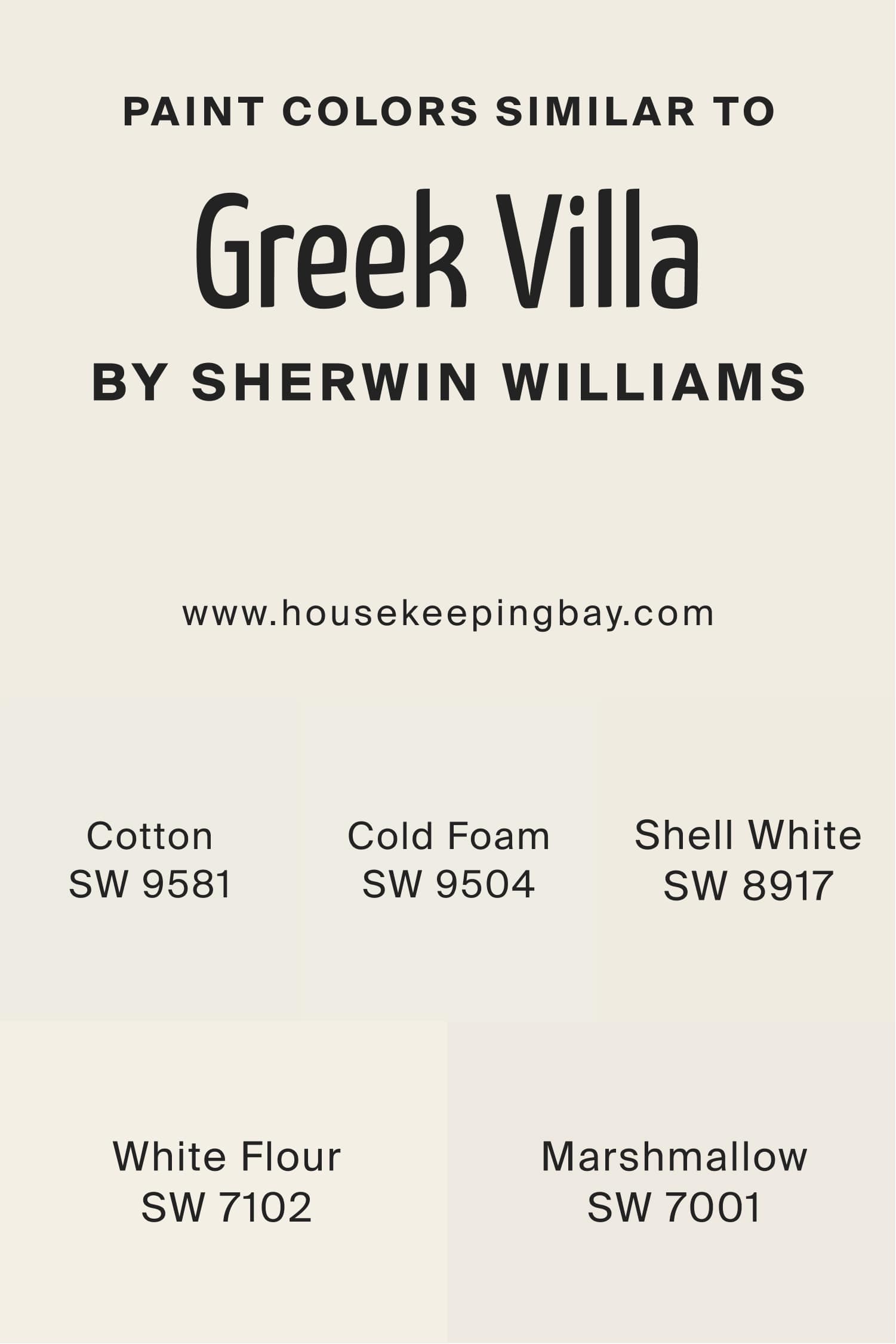 Colors That Go With Greek Villa SW-7551 by Sherwin-Williams
To be able to create a harmonious color palette in your home, you should know what colors can be harmoniously used with the color you want to use on the walls. If you want to use SW Greek Villa as your leading wall color, you might want to consider the following colors as those that will work the best with it:
Adaptive Shade SW 7053
Grays Harbor SW 6236
Samovar Silver SW 6233
Pacer White SW 6098
With these colors in mind, you will be able to create not only a harmonious but also a varied color palette in your home that is perfectly balanced.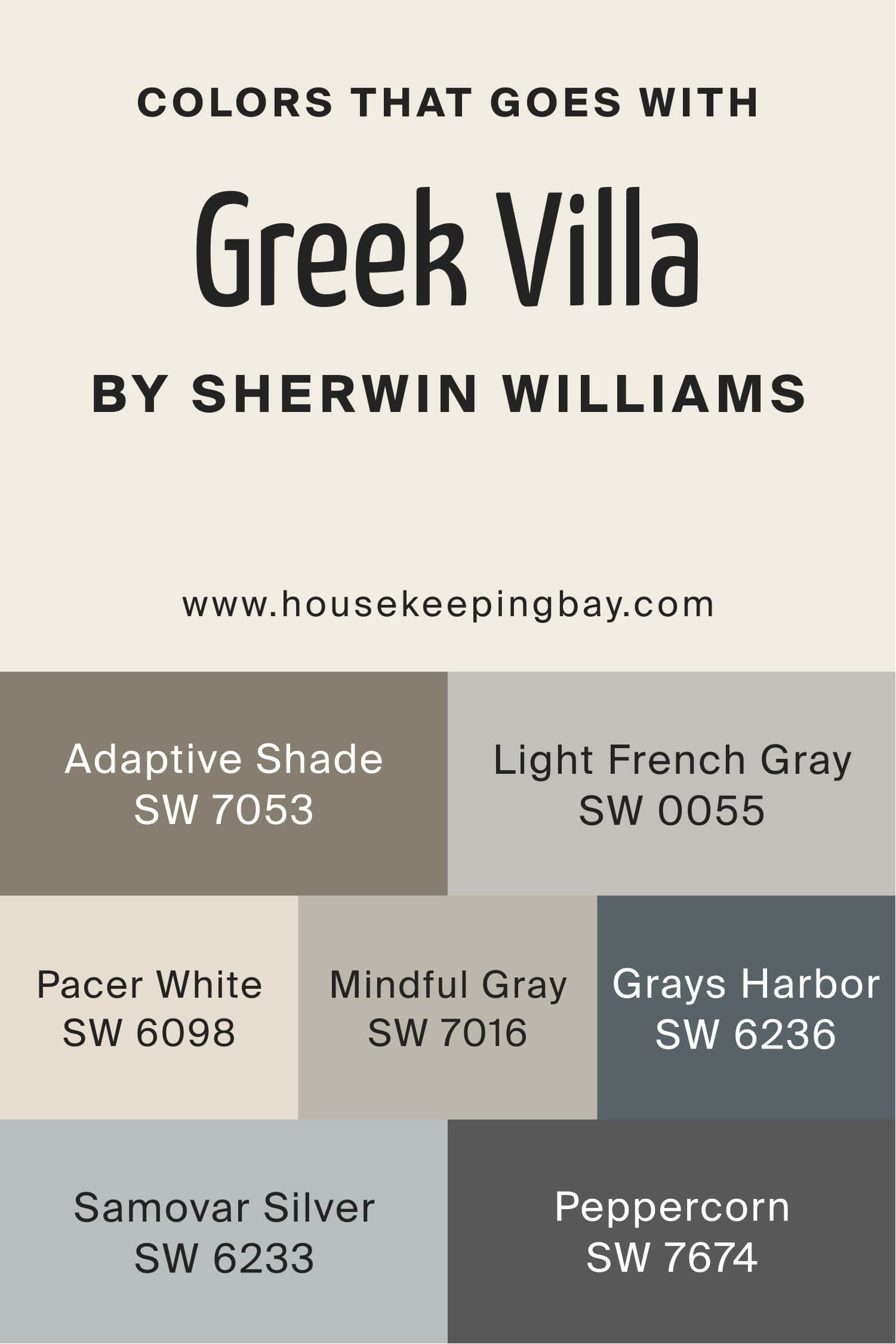 Where Greek Villa SW-7551 Can Be Used In Your Home
People often believe that warm colors are difficult to incorporate into their homes, however, SE Greek Villa is not like that! This white is rather versatile, so you won't have problems finding where to use it. To prove this statement, we have described how this color may work in different rooms of your home.
Can I Use Greek Villa by Sherwin-Williams For My Kitchen?
Absolutely! Although such warm white might not be the most common color choice for kitchens, the Greek Villa color is still working really nicely on kitchen walls. It is in fact so versatile that you can use it either on the walls or on other surfaces like kitchen cabinets.
Due to its wide compatibility, the Greek Villa color will work well with wooden surfaces and different colors from neutrals to black. You just need to be careful with whites since the only white that Greek Villa will accept is itself!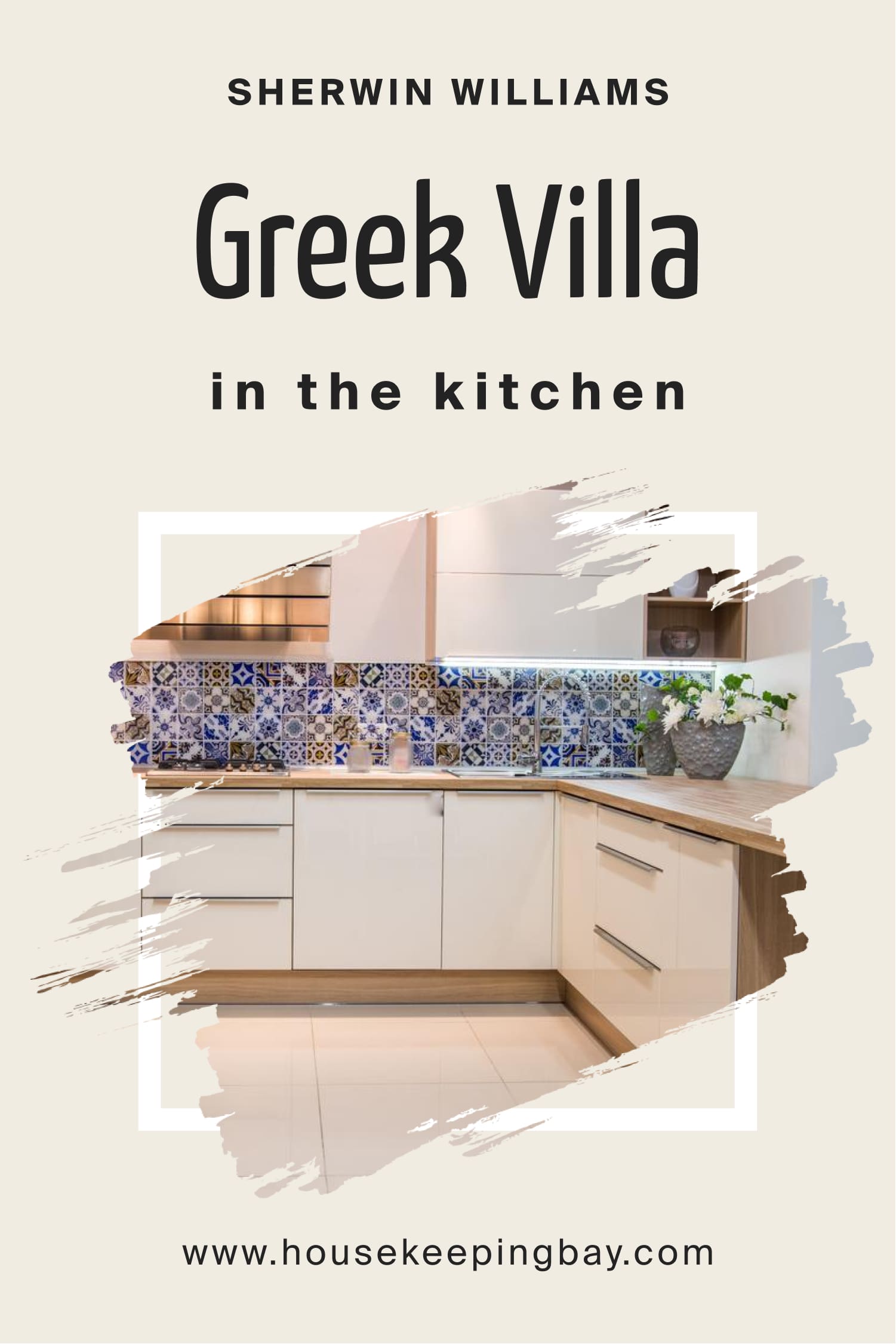 How Will My Bedroom Look With Greek Villa by Sherwin-Williams?
This color is ideal for bedrooms thanks to its warmth and coziness. It creates a classy yet very homey vibe in your bedroom, making it comfortable and spacious. Also, this color pairs exceptionally well with quite many textures and fabrics which makes an additional bonus for it as a bedroom wall paint color.
You might want to try and pair it with golden decor elements and wood, as well as with linen, cotton, and silk to create a rich and luxurious atmosphere in your bedroom.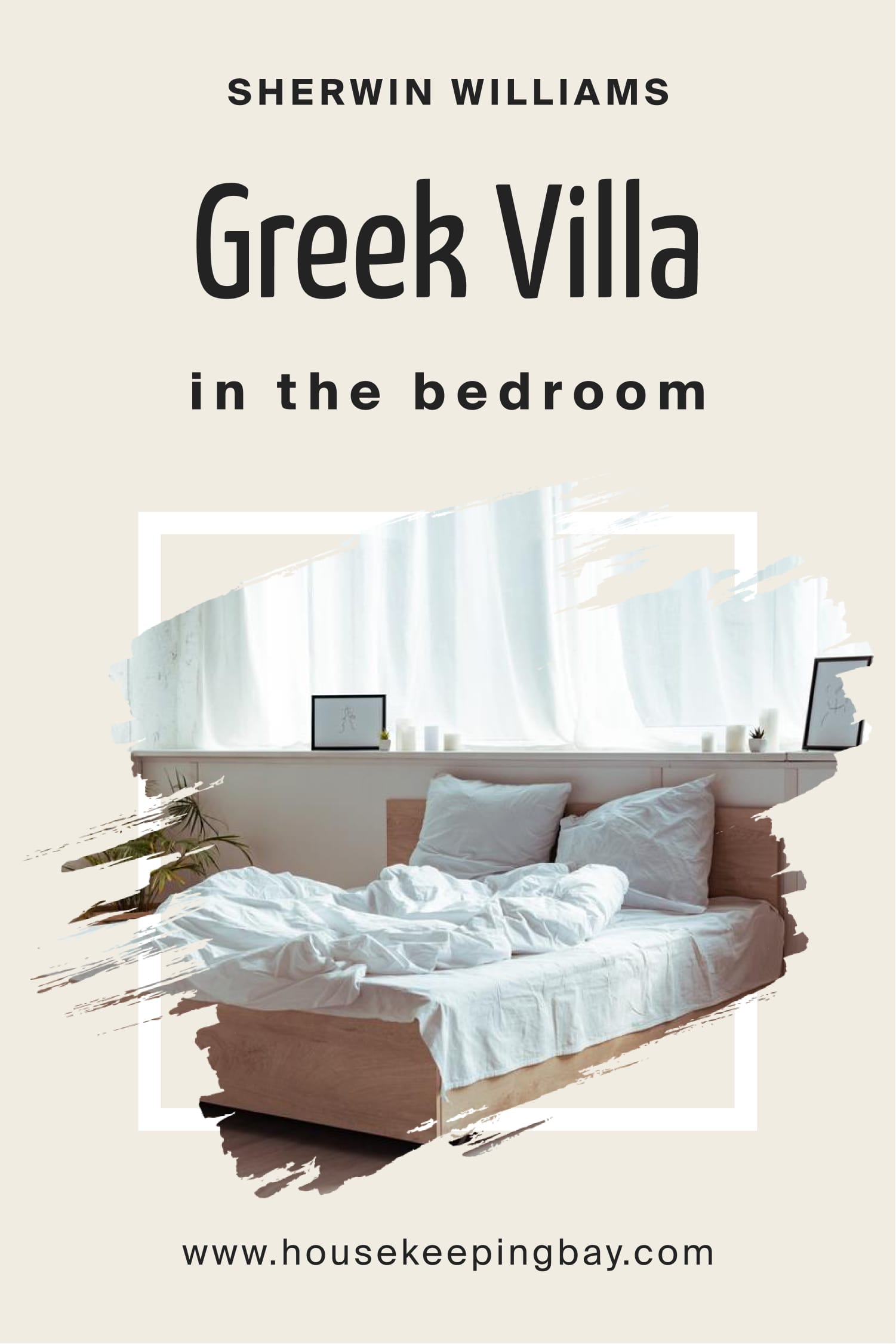 How Greek Villa by Sherwin-Williams Works In a Bathroom
Sherwin-Williams Greek Villa is a good color option for a bathroom even though it is quite warm. The only thing you should be careful with is lighting since this warm white may read yellowish if there is poor light in your bathroom. Also, if the bathroom is very small, this color may read less bright and clear.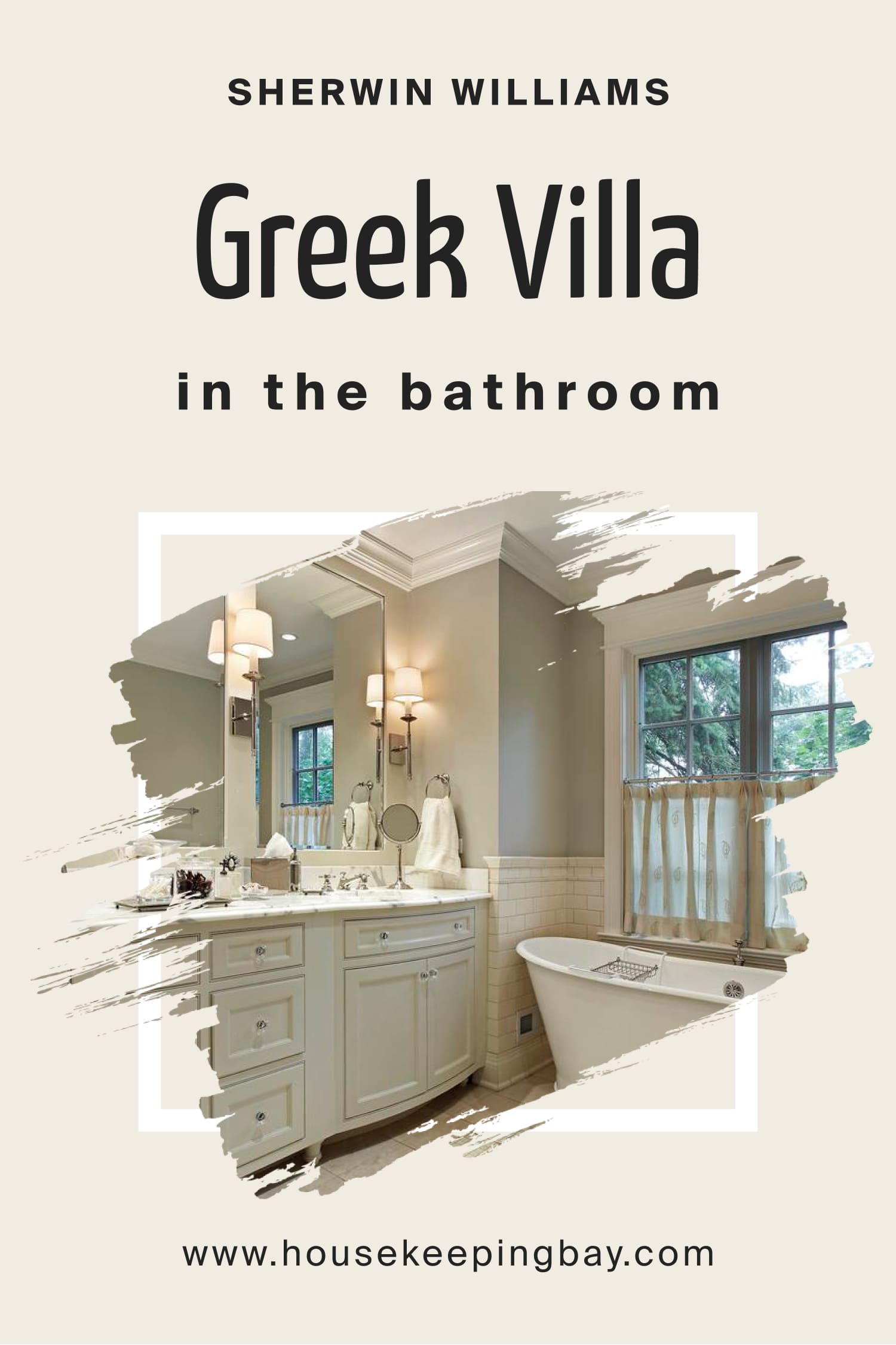 Is SW Greek Villa a Good Color For Living Rooms?
Definitely, it is! In fact, this warm white is one of the best color options for those who want to create a timeless and classy atmosphere in their living room. When paired with wood and gold elements like handlers, switchers, etc., Greek Villa can turn your living room into a posh palace-style space!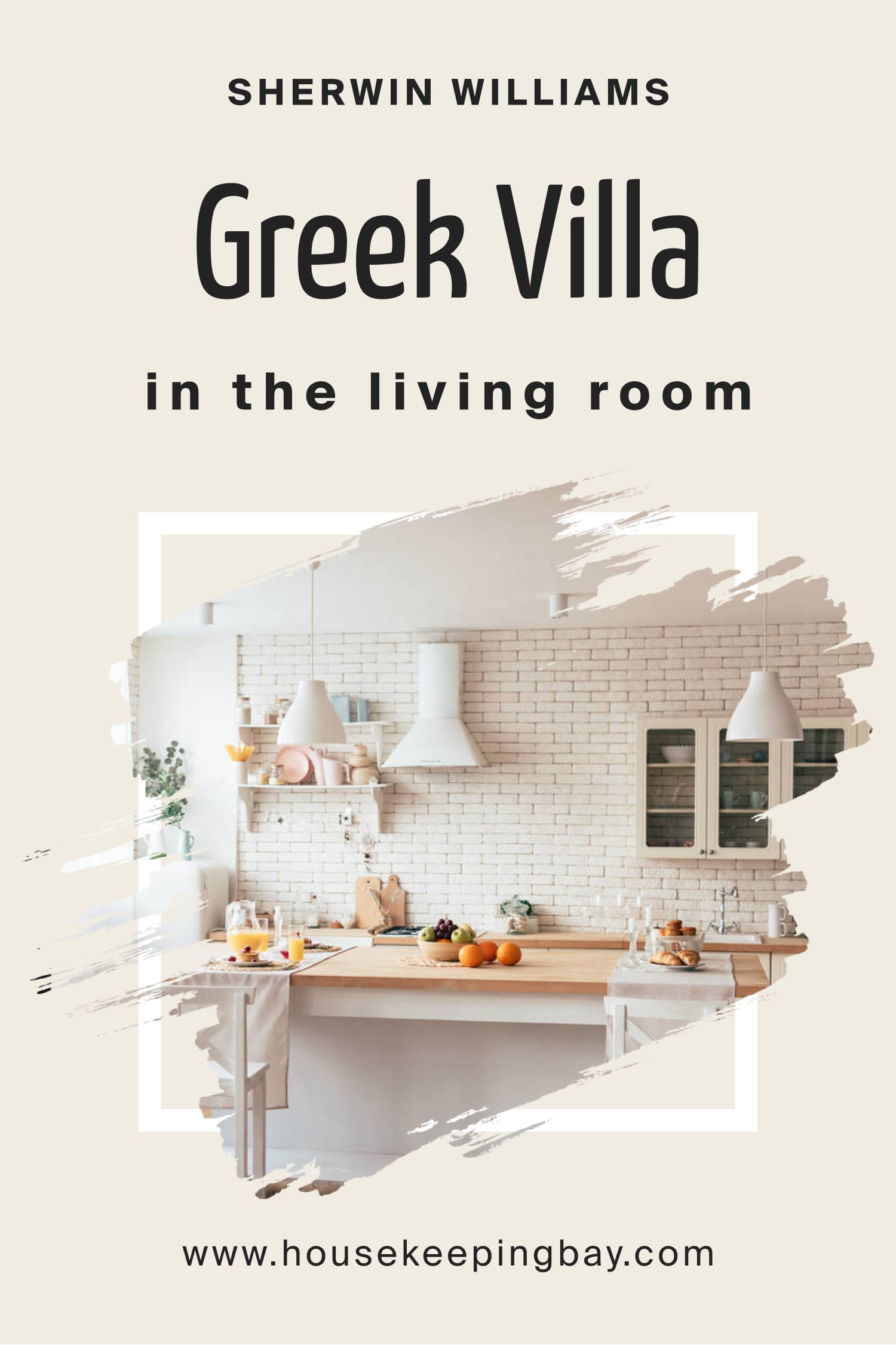 Can Greek Villa by Sherwin-Williams Be Used As Exterior Paint Color?
Greek Villa paint color by Sherwin-Williams is an excellent exterior paint color. The color has enough warmth to not look like a very bright and striking white. Instead, it will read a beautiful soft white on your home's exterior walls.
But you should keep in mind that every color you use on the exterior will lighten up! This means that SW Greek Villa will not read the same warm on your exterior walls as it would read on interior walls.
So, now you have a better and deeper understanding of what kind of color SW Greek Villa is. We told you what undertones it has and what LRV this color has as well. And now you have a clear understanding of what rooms will benefit from having this warm white on their walls.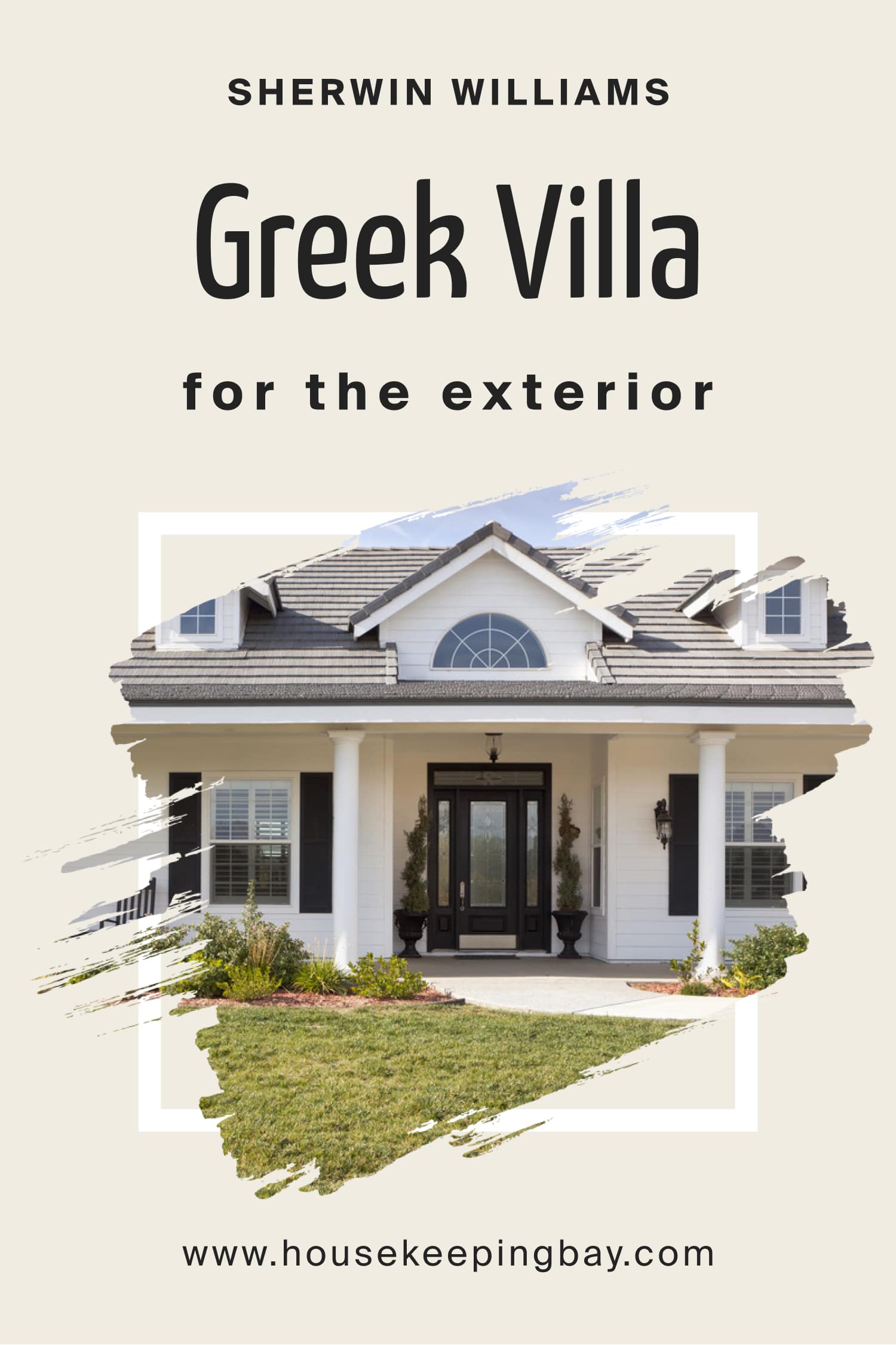 Greek Villa SW-7551 Color Comparisons
One of the best and most effective ways to decipher the undertones of paint color is to compare it to other colors. It can also help you figure out whether you like the color or not. So we suggest you read on and see how a few popular colors compare to Greek Villa by Sherwin-Willaims.
Sherwin-Williams Greek Villa vs Alabaster
These two colors are similar. They are both warm white colors that belong to a green/yellow hue family closer to yellow. They even have very similar LRVs: Alabaster has an LRV of 82 and SW Greek Villa has an LRV of 84.
The difference is that although Alabaster has some yellow undertones, it also contains a bit of gray. Greek Villa color, in its turn, reads a bit more of a creamy white compared to Alabaster.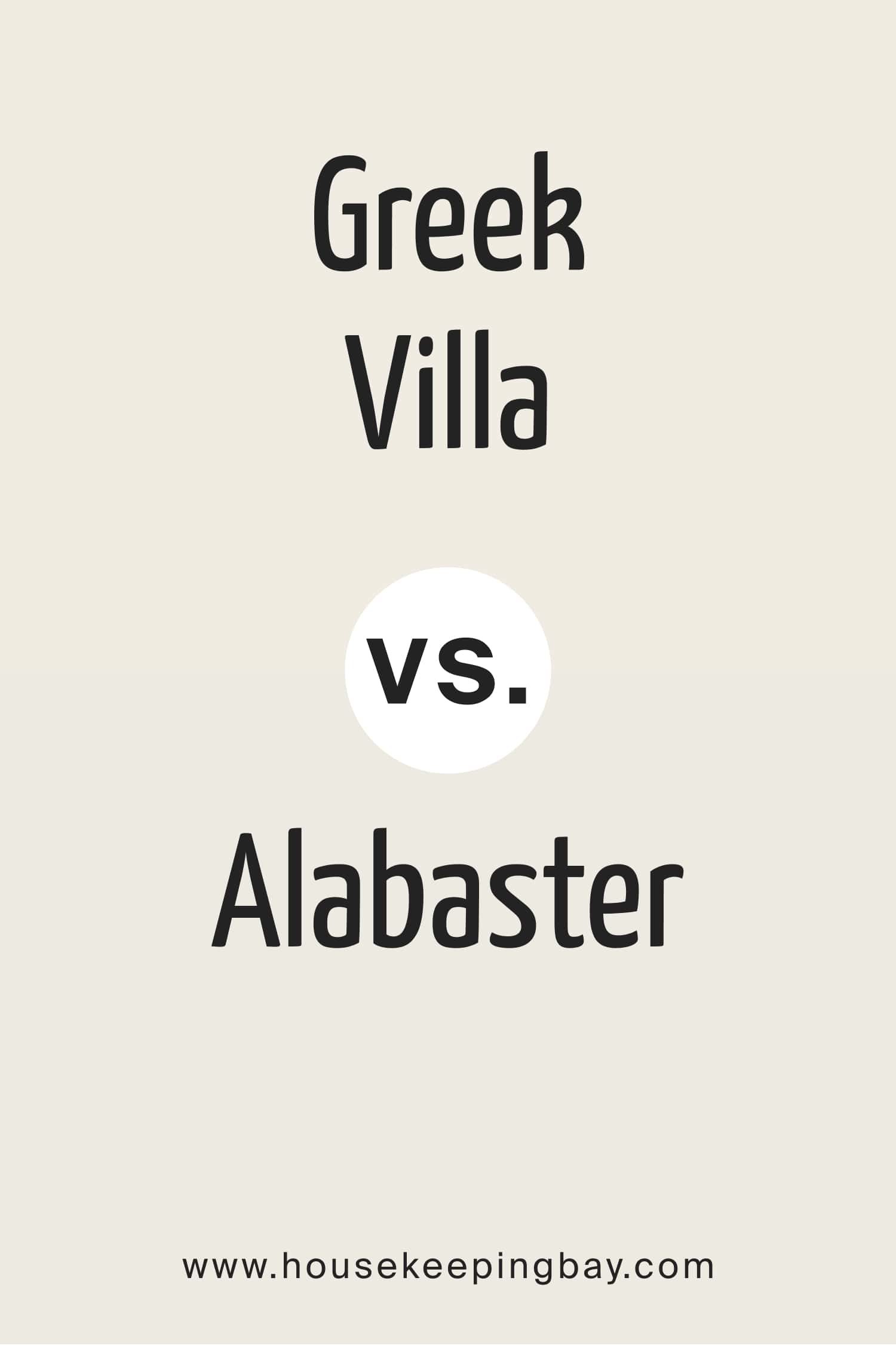 Greek Villa vs Swiss Coffee
With this pair of colors where both are considered warm, Greek Villa is in fact the lighter of the two. In terms of LRV, it is also quite close for both: Swiss Coffee has an LRV of 83.93, and SW Greek Villa's LRV is 84.
What makes them distinct is that Swiss Coffee is a part of Benjamin Moore's Off-White Collection whilst Greek Villa color is of the Sherwin-Williams brand.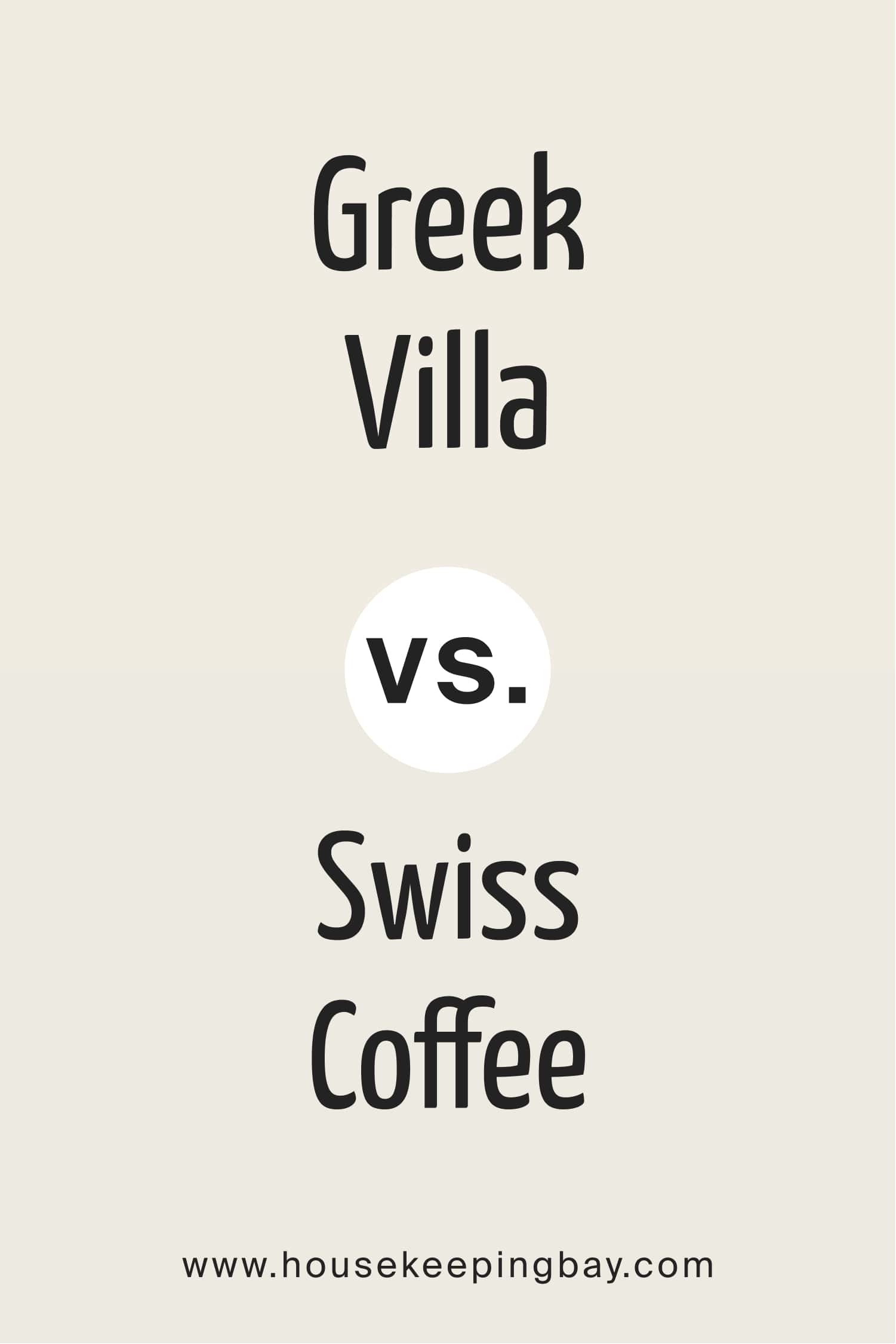 Greek Villa vs White Dove
If we compare these two paint colors, we will see that BM White Dove reads cleaner and more like white than its counterpart. SW Greek Villa, on the other hand, is the lighter of the two colors. Another distinction between these two is that Greek Villa paint color reads more creamy compared to White Dove. But in general, both are considered off-whites.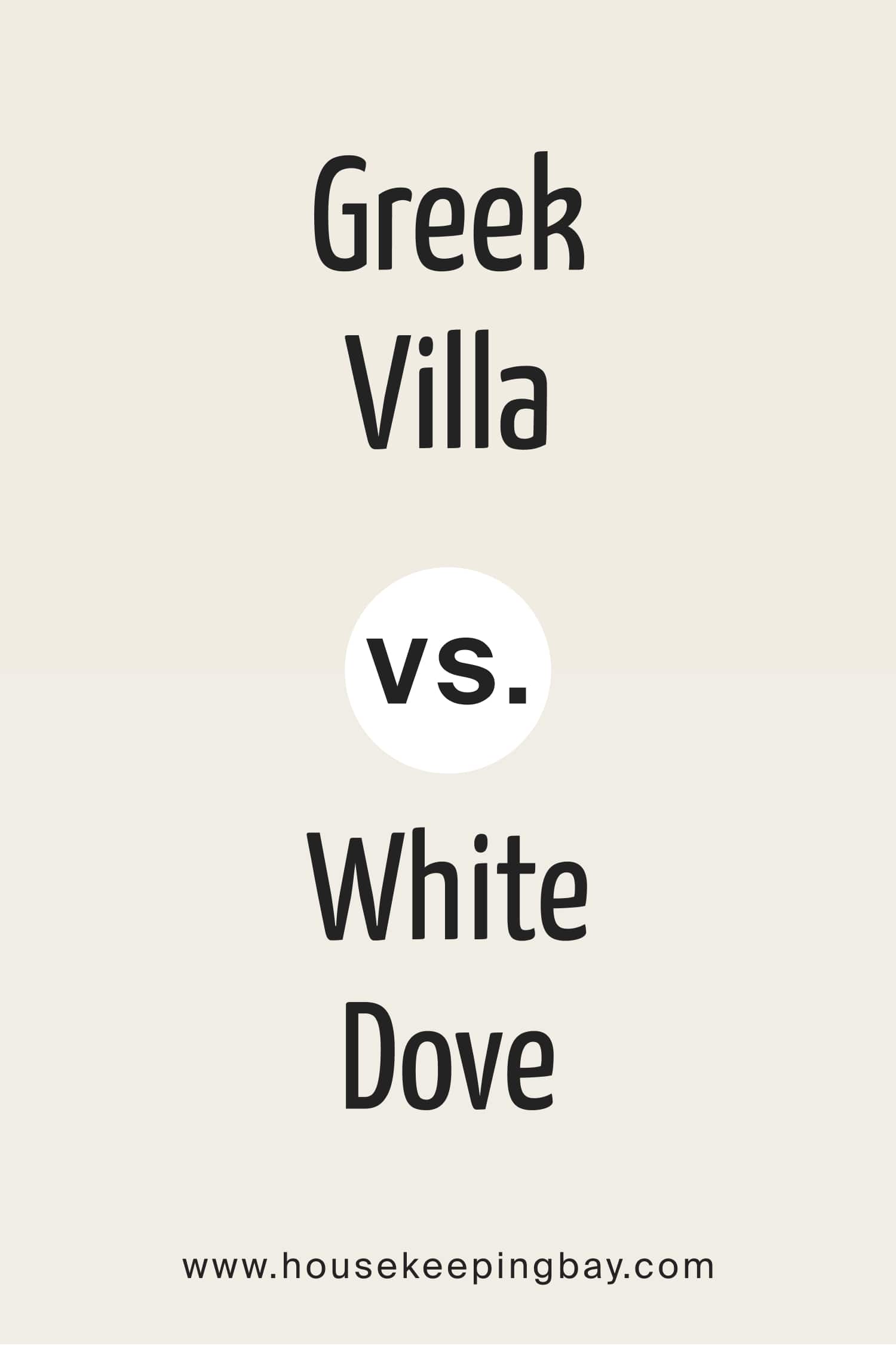 Greek Villa vs Shoji White
These colors are somewhat similar because both are warm. In particular, Shoji White is a warm white that has beige and gray undertones. It also has a nice creaminess to it. Greek Villa color is also warm but it has no gray and beige undertones. If compared to Shoji White, Greek Villa paint color reads yellower, creating a noticeable contrast with a beige-like counterpart.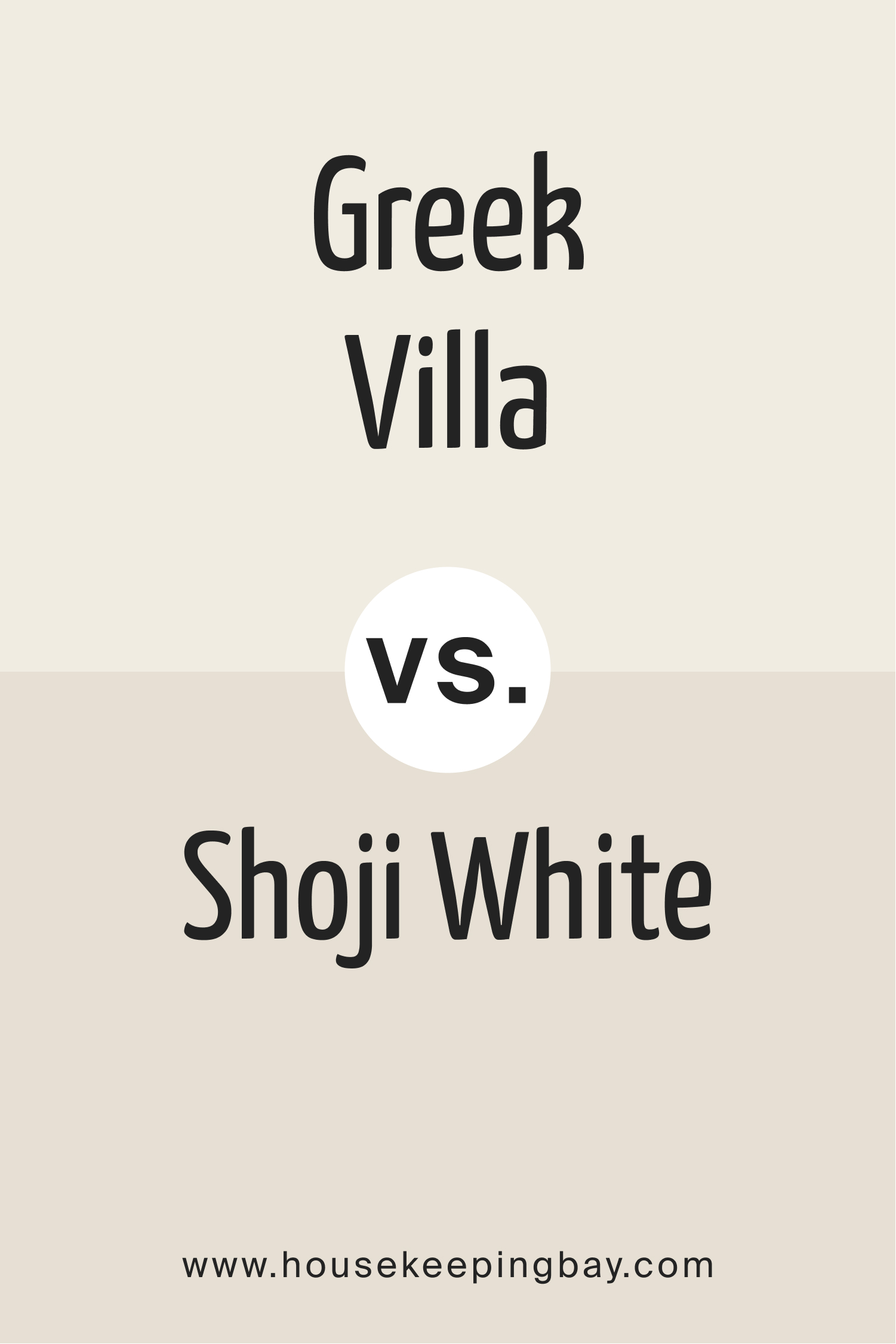 Greek Villa vs Snowbound
Snowbound is a crisp white that has a slight gray undertone, which means it has a cool-toned look. In comparison, SW Greek Villa reads warmer. Also, a gray undertone of Snowbound becomes very noticeable when we put it side by side with Greek Villa color which reads creamier (but with no "buttery" yellowness in it).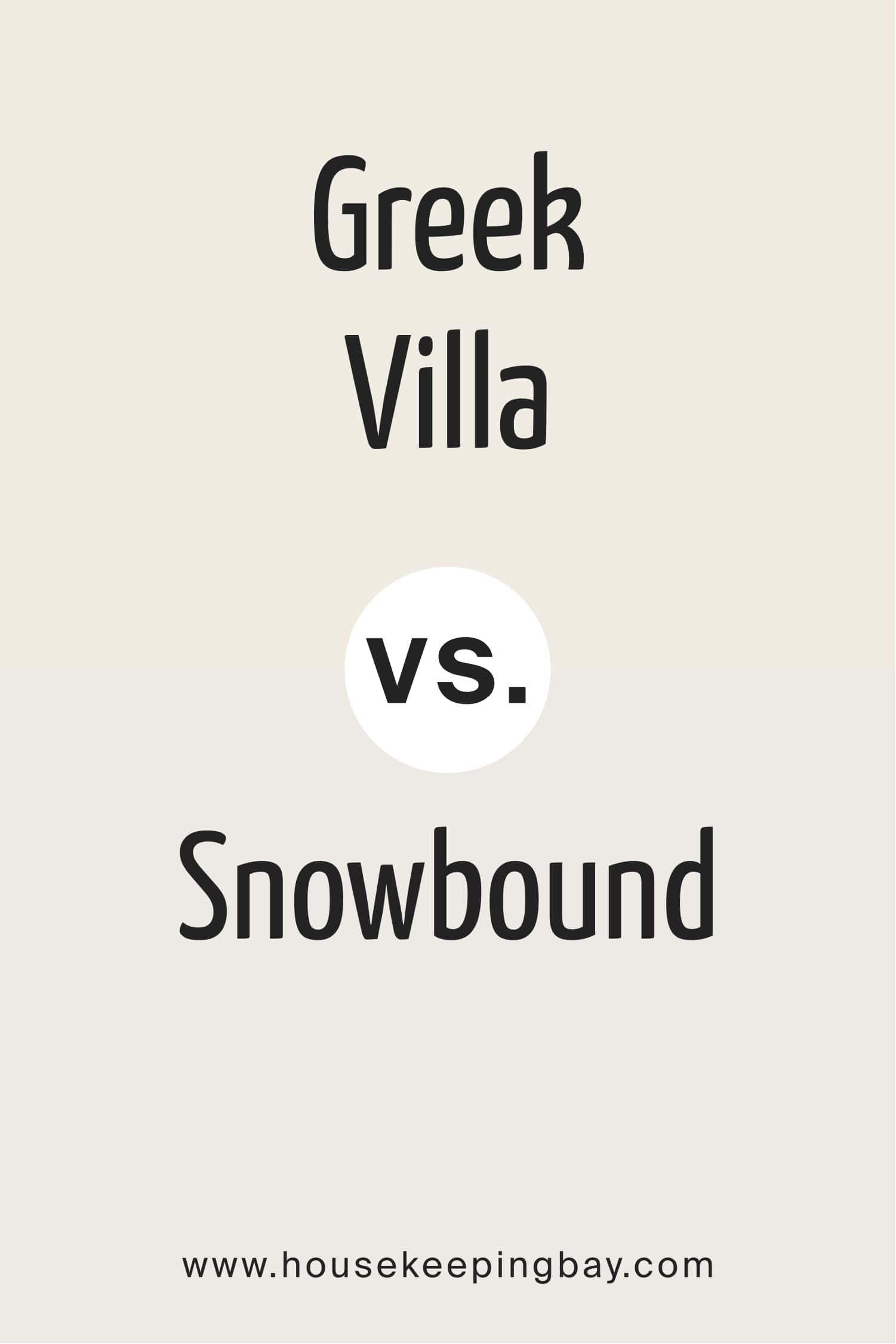 Well, this is the full Greek Villa by Sherwin-Williams Review. Now you know what kind of color it is, how it reads on the walls, how it reacts to light, and what undertones and LRV it has.
Also, we told you how this color may work in different rooms in your home and we even compared it with alternative colors to let you see its uniqueness better.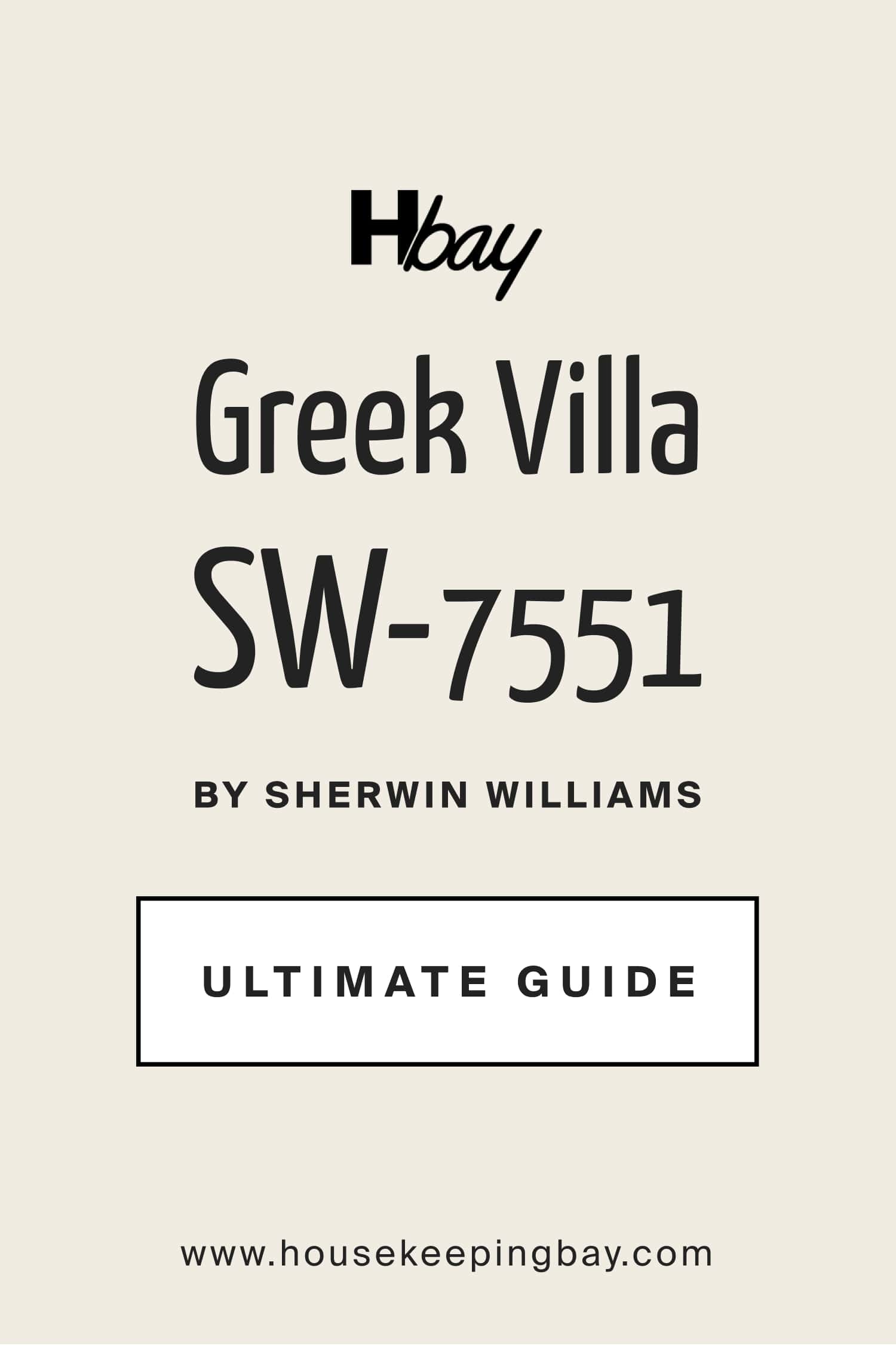 Frequently Asked Questions
⭐Is SW Greek Villa too yellow?
Greek Villa doesn't look too yellow, but in straight natural lighting – especially on exteriors – it can look a touch yellow/cream.
⭐Which color - greek Villa or Alabaster - is whiter?
Greek Villa and Alabaster are both creamy off white paint colors but Greek Villa is slightly lighter and closer to white than Alabaster.
⭐Does SW Greek Villa work with black?
Yes, since it's white, it will read nicely with black, especially with the warm blacks.