Sometimes when we are choosing what paint color to paint our interior walls with, we often stumble because certain colors seem not what they are in fact. For example, you might be sure that the color you choose is gray when in fact it is a shade of green…
This is exactly what will happen if you decide to use SW Oyster Bay paint in your home. So in order to help you out with this tricky paint, we are here with this article today! You will learn what color exactly Oyster Bay is, what undertones it has, and whether it is cool or warm.
Also, we will explain how it reacts to light and what colors it is best to be paired with. Finally, you will get a few handy tips on what rooms might win from being painted with this paint.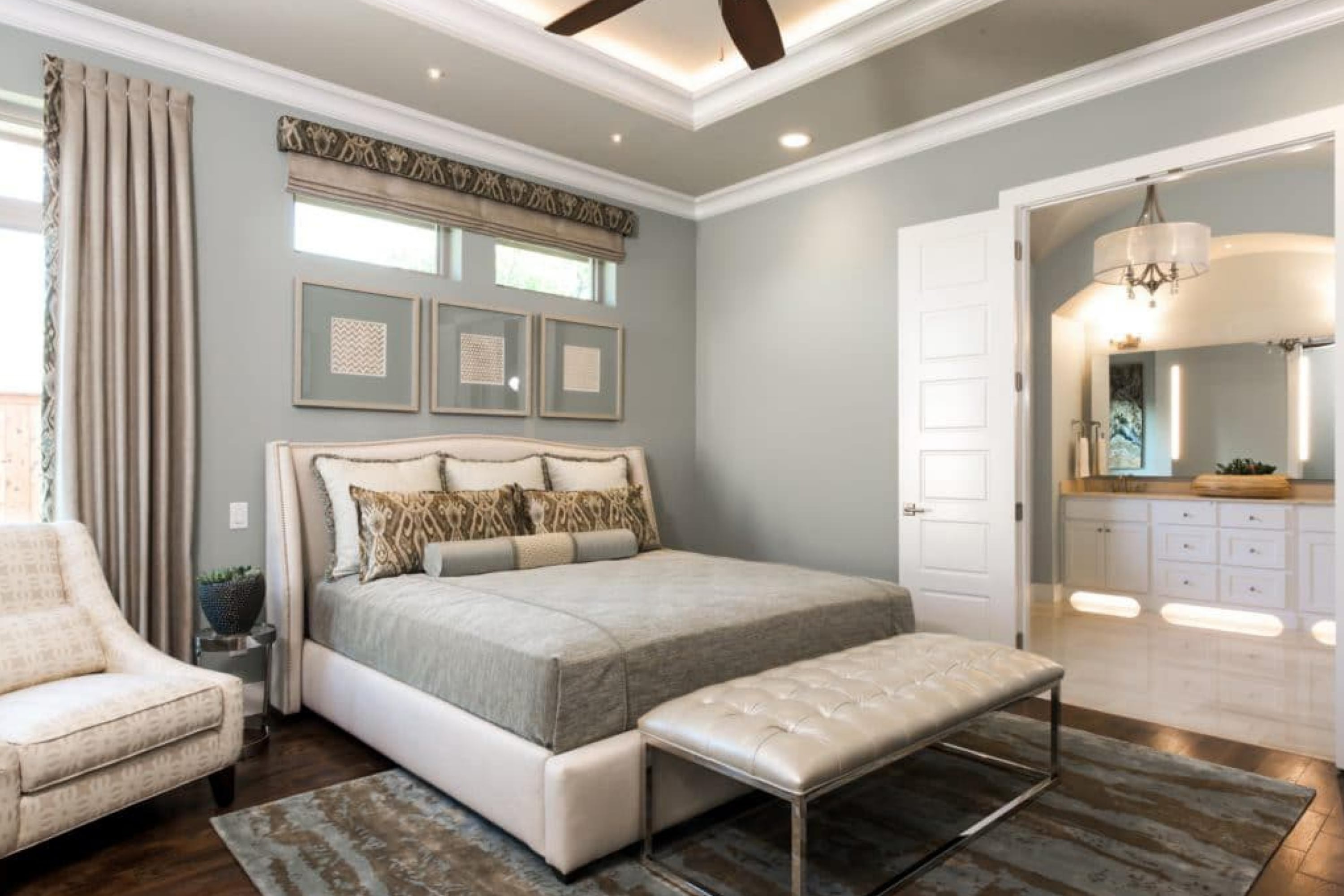 What Kind Of Color Is Oyster Bay SW-6206?
First of all, let's make it clear once and for all: is it gray or is it green? Most of you might say this color is gray with quite prominent greenish undertones, and…you will be wrong! Because Sherwin Williams Oyster Bay is a crisp green paint color with slight tinges of gray.
This color is absolutely lovely and nice because, thanks to its timeless and classic appearance, it creates an elegant and graceful touch to it. So if you consider using it for painting all the walls in your house, you can absolutely opt for this shade of green, especially for painting the walls of a Farmhouse Style home.
However, we find it much better as an accent color, not a bold accent but rather slight tints. Oyster Bay is not really very bold! Instead, it has a calm and soothing appearance which makes it look more neutral, as Encycolorpedia says.
Besides, it is slightly leaning towards the "cool" end of the scale. So if you don't renovate your home often, this green might be a really good option for you since you will never get tired of it.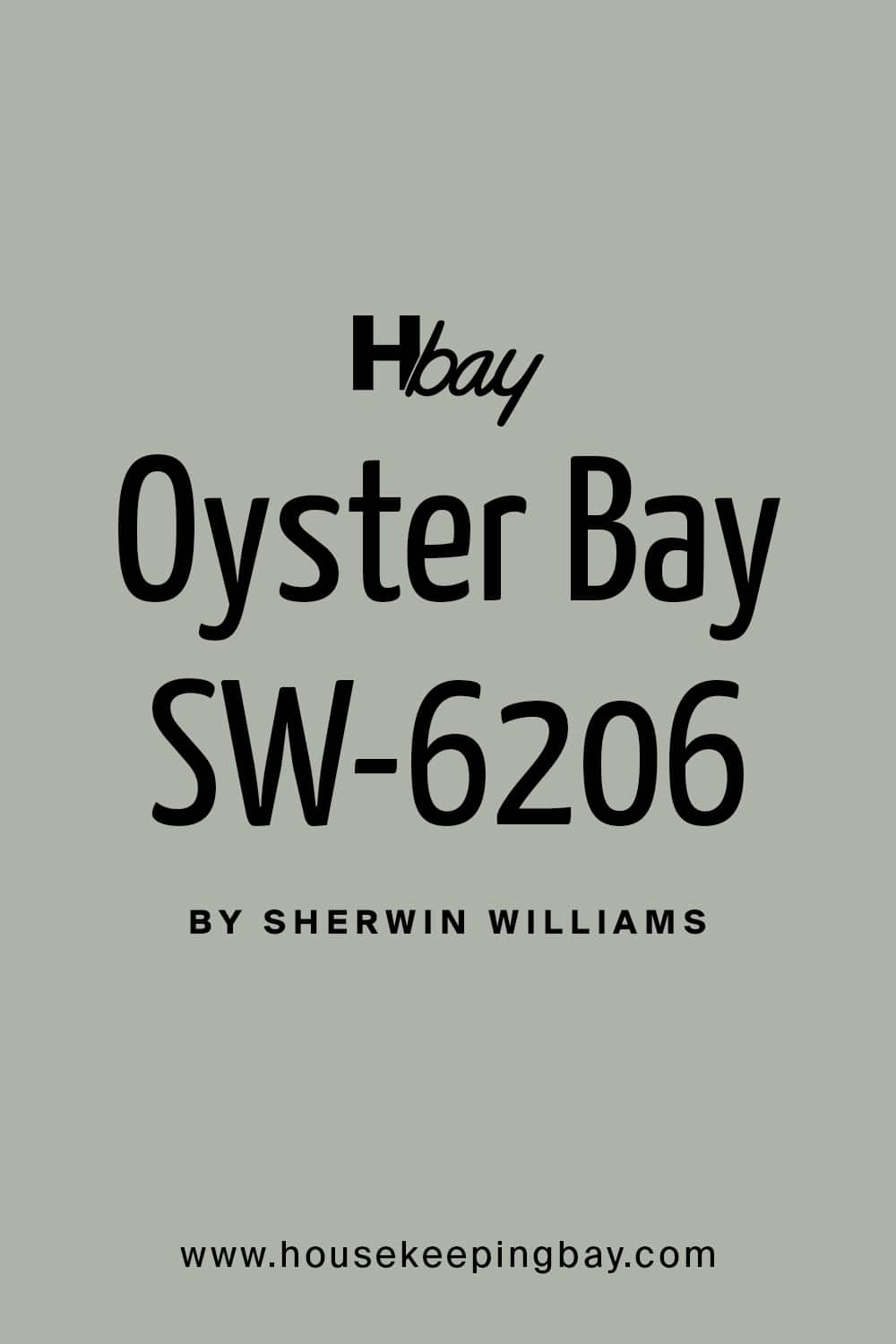 Undertones of Oyster Bay SW-6206 by Sherwin-Williams
Being aware of the undertones your paint color has is a must since it will help you clearly see how this color might read on your walls and other surfaces. Also, you should know its LRV (light reflectance value) which shows how much light each color can reflect when applied to the wall.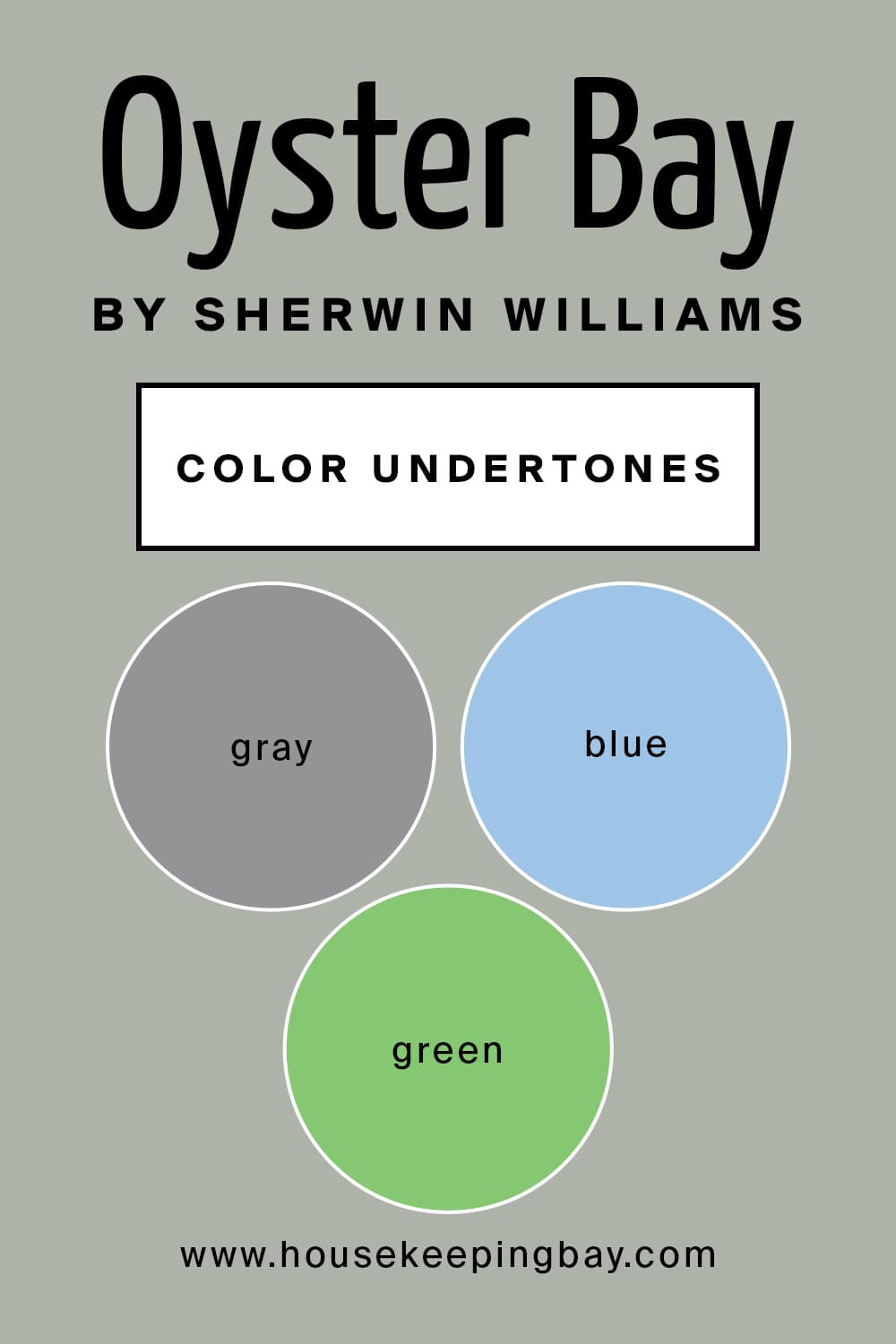 Speaking of SW Oyster Bay, this color has prominent grayish and blue undertones. However, its green tone makes this paint also look slightly warm in a way. Also, you need to know that the LRV of this color is 44.
Since 1 is the darkest and 100 is the lightest on the LRV scale, you can see that 44 is somewhere closer to the darker side of it. That means it is not going to reflect a lot of light, rather it will absorb it. So if you are not quite sure how this paint will work in your home, you'd better sample it.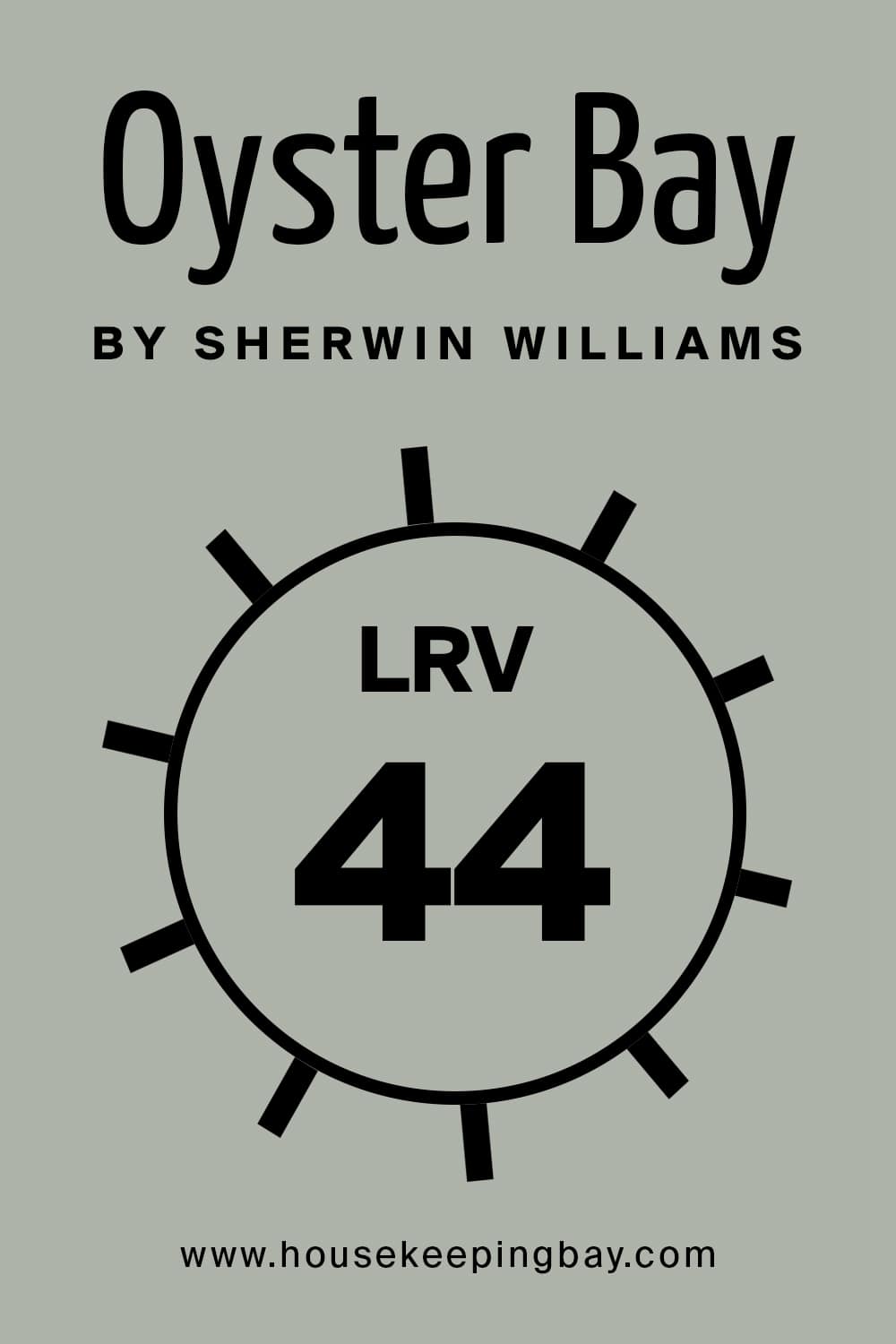 What is LRV? Read It Before You Choose Your Ideal Paint Color
Is Oyster Bay Warm Or Cool Color?
To be able to pair a certain color with others successfully and get a harmonious color palette in the end, you should know whether the color is warm or cool. Oyster Bay is a cool green color with blue and gray undertones. But anyway, it would pair well with warm colors thanks to its earthy green tone.
Coordinating Colors of Oyster Bay SW-6206 by Sherwin-Williams
Most of us feel uncertain when we need to choose coordinating colors. That's because it can be rather difficult to figure out what colors will be a good match for the color on the walls.
So if you want to paint your interior walls with SW Oyster Bay, here are a few tips for you regarding the proper coordinating colors to pair it with. For a monochrome color palette, you can opt for the following colors:
If you are more into contrasts and pops of colors on your home walls, pair this timeless green with the following colors:
Warm neutrals like Pearly White or Pure White
Natural wooden textures
Subtle grays like Olympus or the calm and cool SW Reflection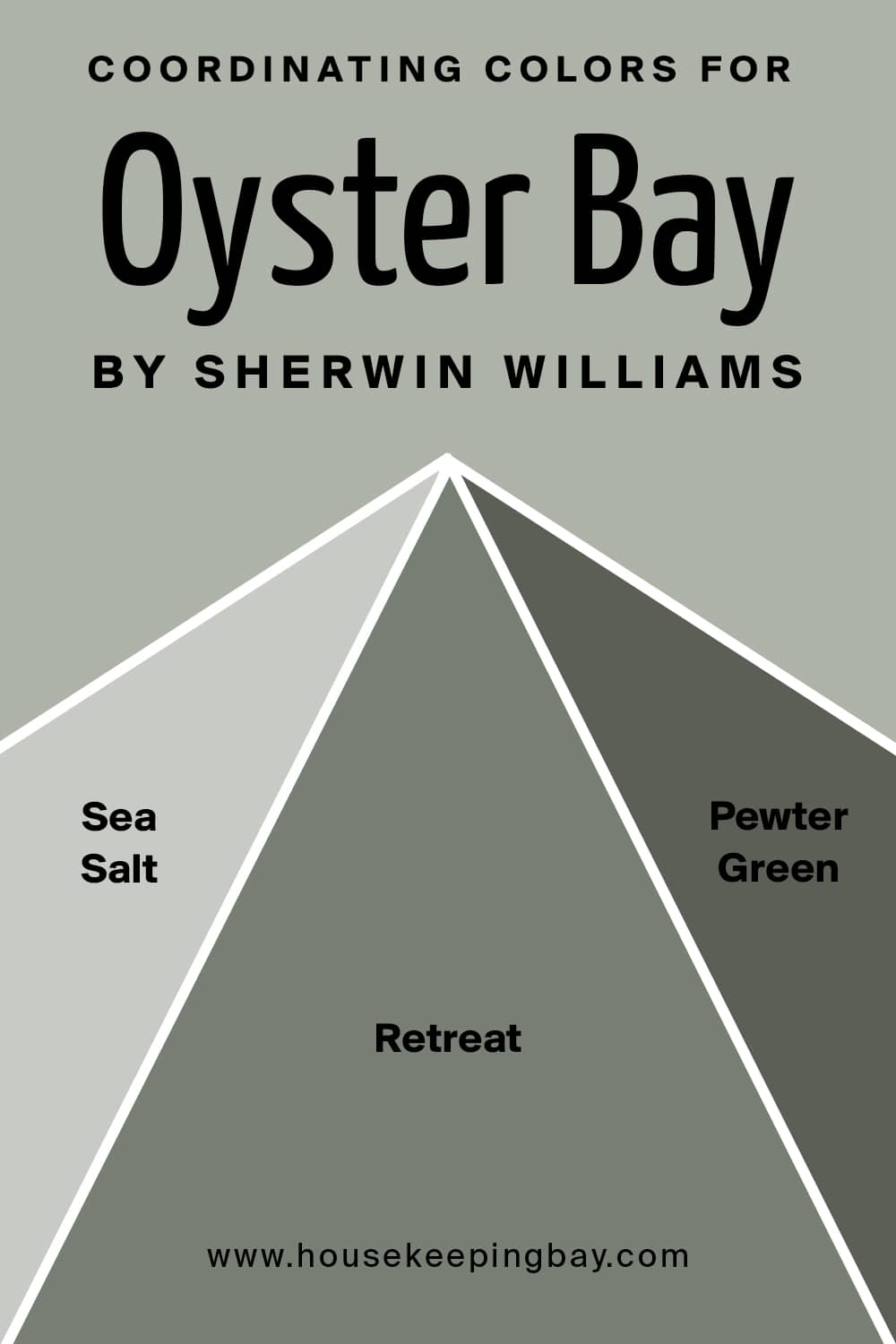 How Does Lighting Affect Oyster Bay Color?
Any color is affected by the light, but this particular one does depend on lighting! Even natural lighting affects this color by making it look light and bright. So to get the best results, we recommend you try this color on North-facing rooms or west evening faded sunlight.
It will also work well in small rooms, but you need to remember to pair it with whites and off-whites through your furnishings. And even if you want to use it in a large room, Oyster Bay will read wonderfully calm and balanced alongside other bold accents.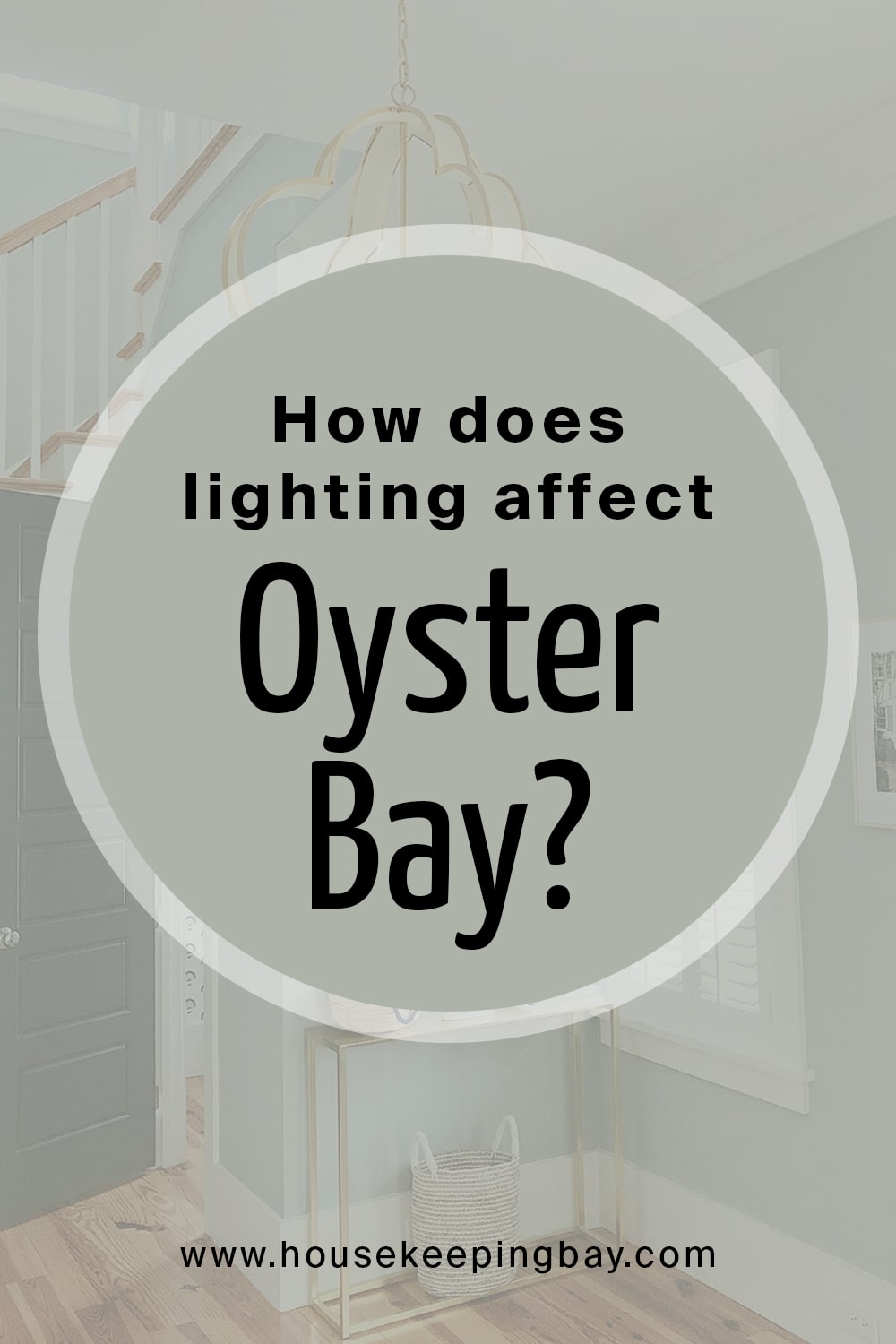 What's the Best Trim Color For SW Oyster Bay Paint?
Choosing the correct trim color is essential because if you select the wrong one, it may ruin the impression the major color creates. This is why, if you want to enjoy the most of Oyster Bay, you should opt for the trims and moldings painted with SW High Reflectance White.
Now that you know a bit more about this shade of green, let's dig deeper and find out how it will work with other colors in your home and what rooms it is best to use.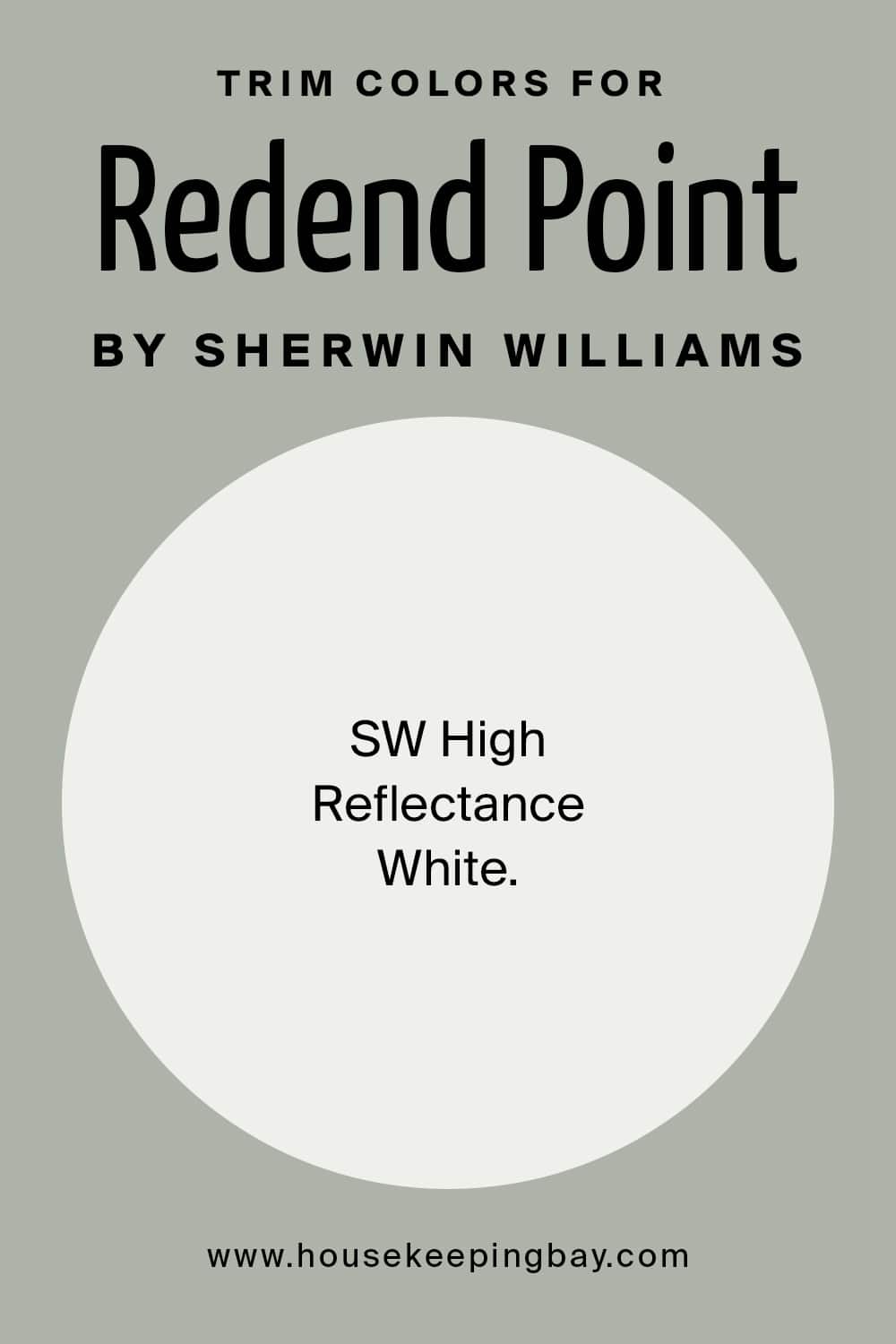 Paint Colors Similar to SW Oyster Bay
When it comes to selecting similar colors that look almost the same as the color you are considering for your walls, you need to realize that it will be hard (if not impossible) to find the exact same shade.
Luckily, you can still find the nearest ones. As for the SW Oyster Bay, some of the similar shades are the following:
SW Escape Gray
SW Contented
Escape Gray is a more subtle version of green-gray with a highly cool background. Contented is a much brighter alternative to Oyster Bay being more like sage-green with a slightly creamy texture. So if you want to make your space look lighter and much brighter, opt for Contented instead of Oyster Bay.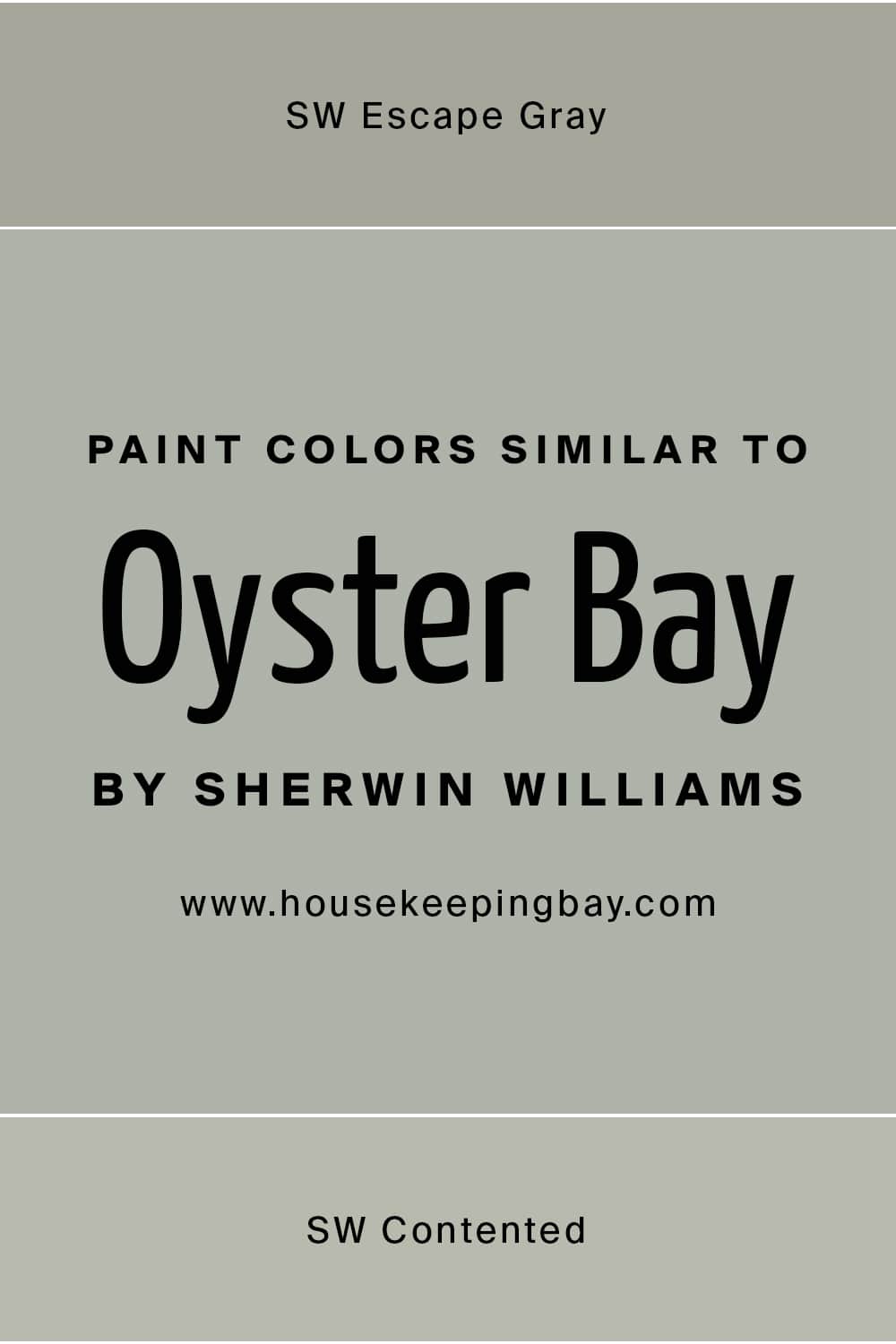 Сolors That Go With Oyster Bay
If you know what colors go well with the paint color on your walls, you will be able to create a harmonious and well-balanced color palette in the space. As for SW Oyster Bay, this green might be a bit complicated to pair with other colors, so grab a few ideas on what to use it with:
SW-6449 Topiary Tint
SW-462 Vintage Vogue
SW-6322 Intimate White
SW-6258 Tricorn Black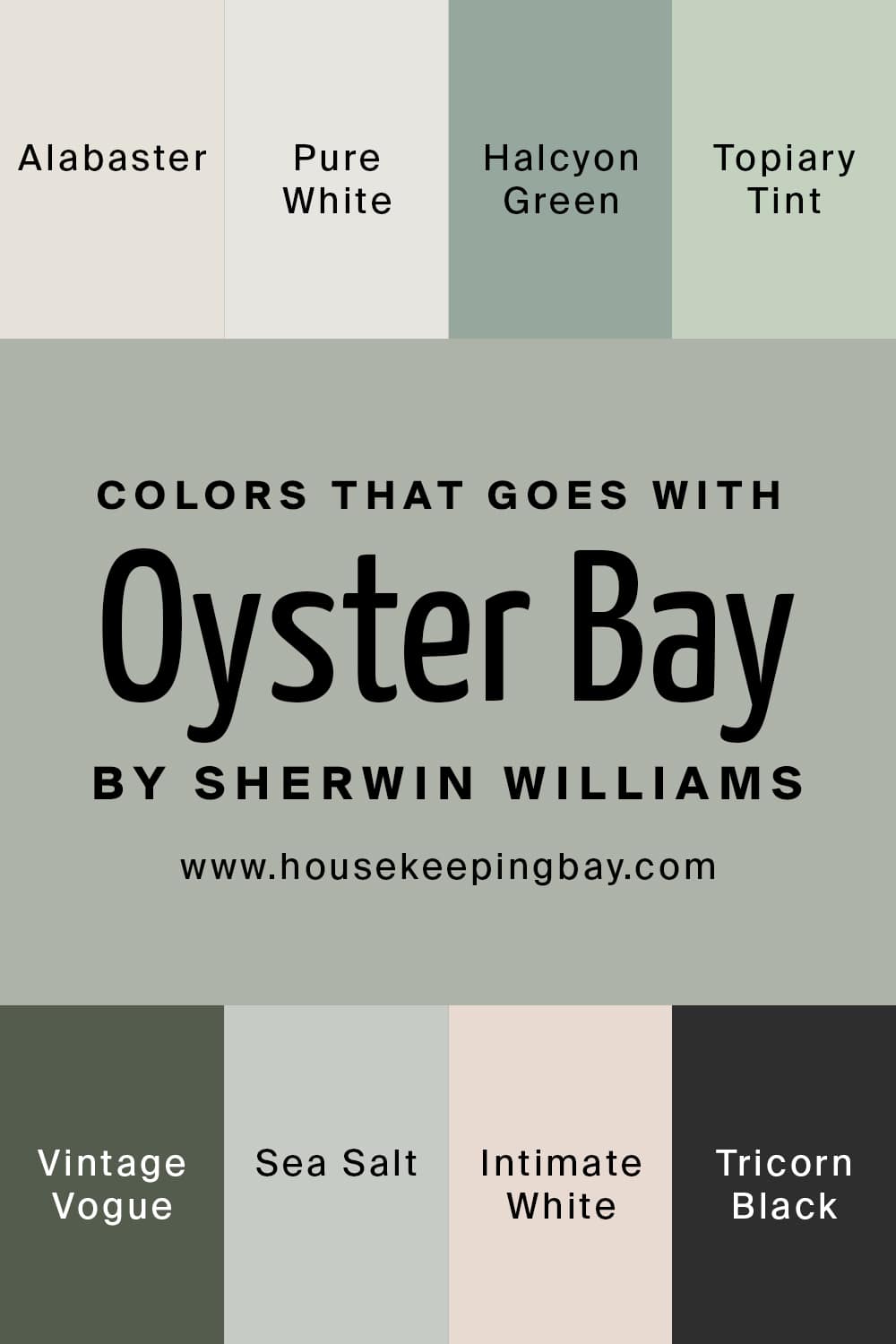 Where to Use Oyster Bay?
This shade of crisp green has surprisingly many options regarding the spaces it can be used in! In fact, since the color is classified as both interior and exterior, you can use it anywhere around your home. But still, we will explain what to expect from Oyster Bay in different rooms of your home.
Oyster Bay SW-6206 by Sherwin-Williams in the Living Room
Oyster Bay can absolutely be used in a living room, just pair it with wooden textures and stark whites, as well as off-whites. Then this color will make your living room a welcoming space.
Oyster Bay SW-6206 by Sherwin-Williams in the Cabinets/Kitchen Cabinets
This shade of earthy and crisp green works on kitchen cabinets well enough, especially if you pair this paint with whites on other surfaces (e.g. walls, countertops, etc.).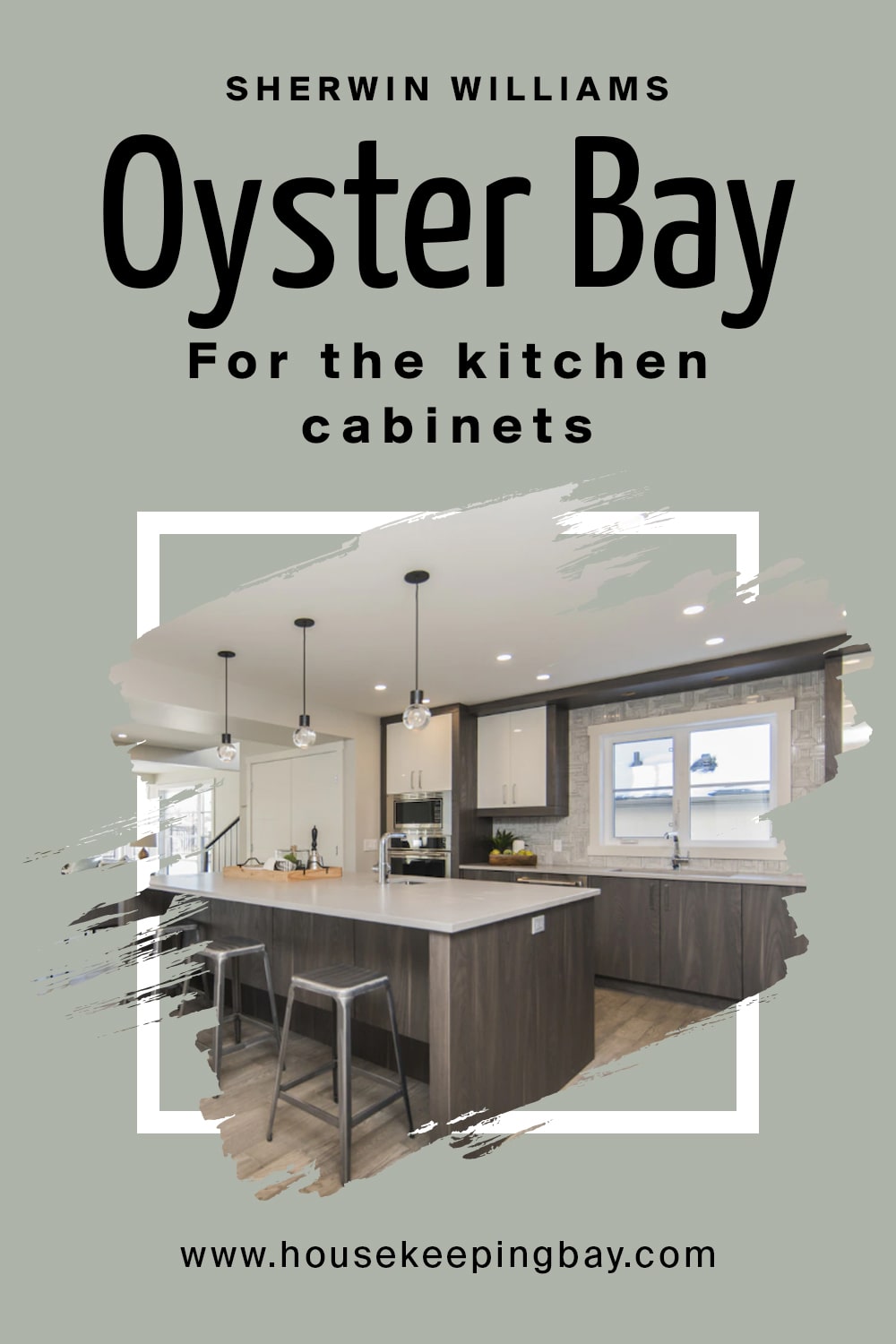 Oyster Bay SW-6206 by Sherwin-Williams for Kitchen
In your kitchen, Oyster Bay can be used anywhere! You can paint your walls in Oyster Bay and leave the cabinets stark white or off-white. Or you can have your countertops in white marble or granite and pair them with cabinets painted Oyster Bay!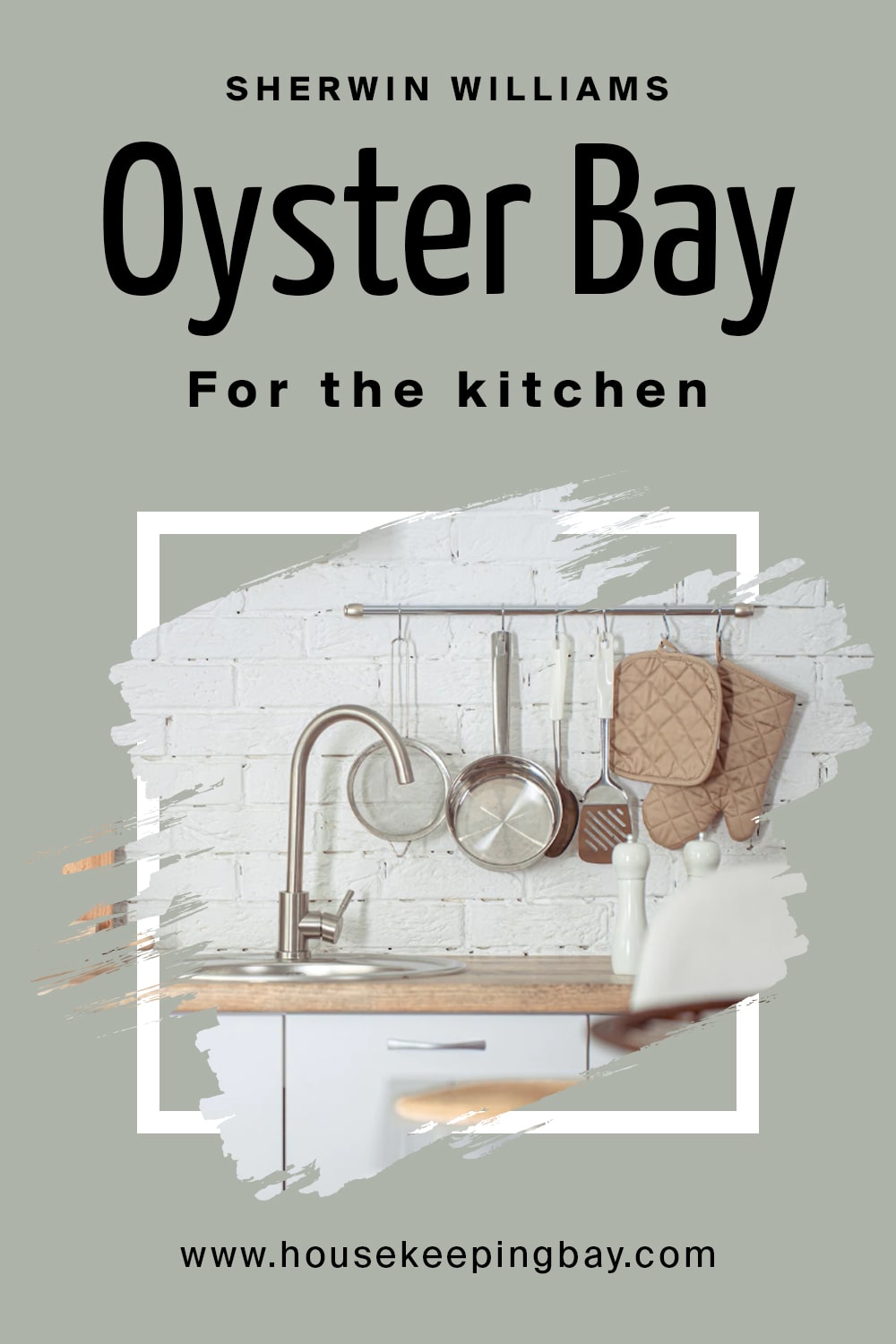 Oyster Bay SW-6206 by Sherwin-Williams for the Bedroom
Since this color is very calming and balanced, it makes an ideal choice for your bedroom that demands to be soothing and relaxing. If you decide to use this color on your bedroom walls, pair it with white headboards or side tables, or even use matte-black tinted floor lamps to achieve cohesiveness! Besides, this green will also pair well with browns and off-whites.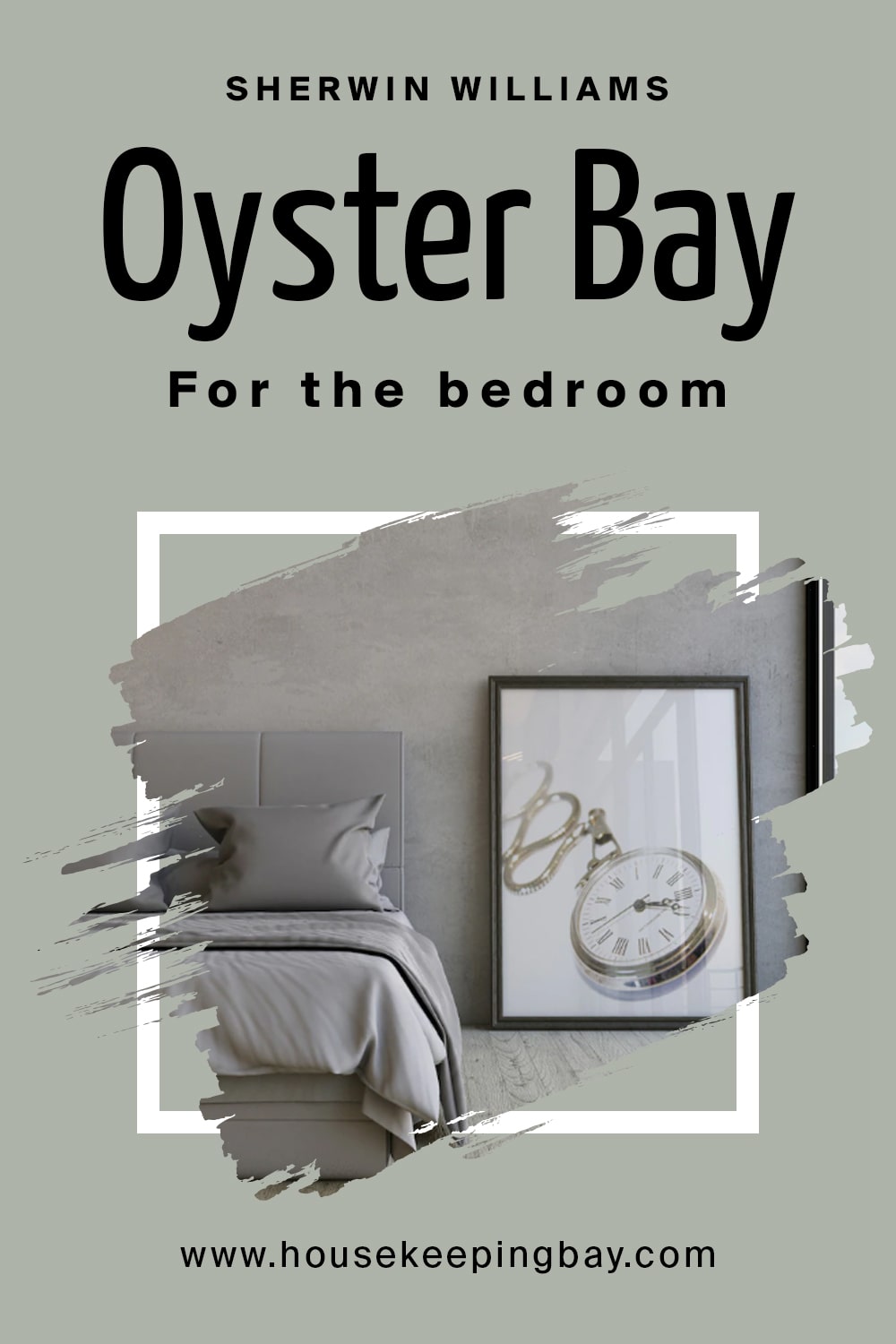 Oyster Bay SW-6206 by Sherwin-Williams for the Exterior
You might be wondering how this color could read on your exterior walls, but no worries! It actually works quite well. If you have plenty of natural light, this color will appear to be even lighter and brighter. You will have a grayish-green hue on your walls that's both modern and homey.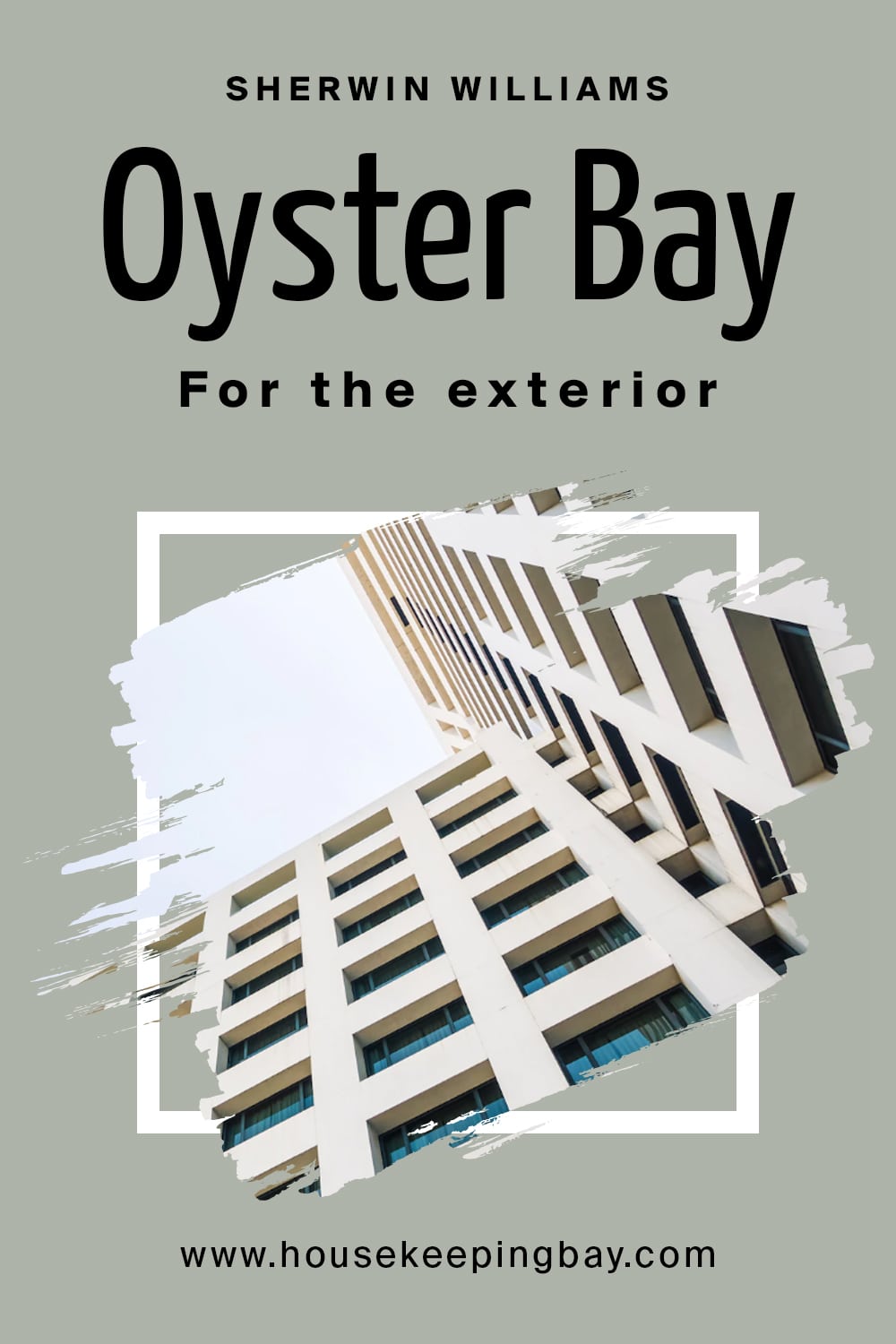 Colors to Compare With SW Oyster Bay
In order to form a clearer understanding of this color, we recommend you read a few comparative descriptions below. They describe Oyster Bay color and compare it with a few other shades of gray.
Oyster Bay vs Comfort Gray
Comfort Gray is significantly lighter than Oyster Bay. Also, Comfort Gray has more prominent gray undertones whilst Oyster Bay has blue and green ones. They can hardly be used interchangeably unless you're searching for a much lighter version of Oyster Bay.
Oyster Bay vs Acacia Haze
Acacia Haze has more noticeable green undertones in comparison with Oyster Bay which reads much lighter in addition. However, since Oyster Bay has a green tint, it can be used as a lighter version of Acacia Haze, or vice versa.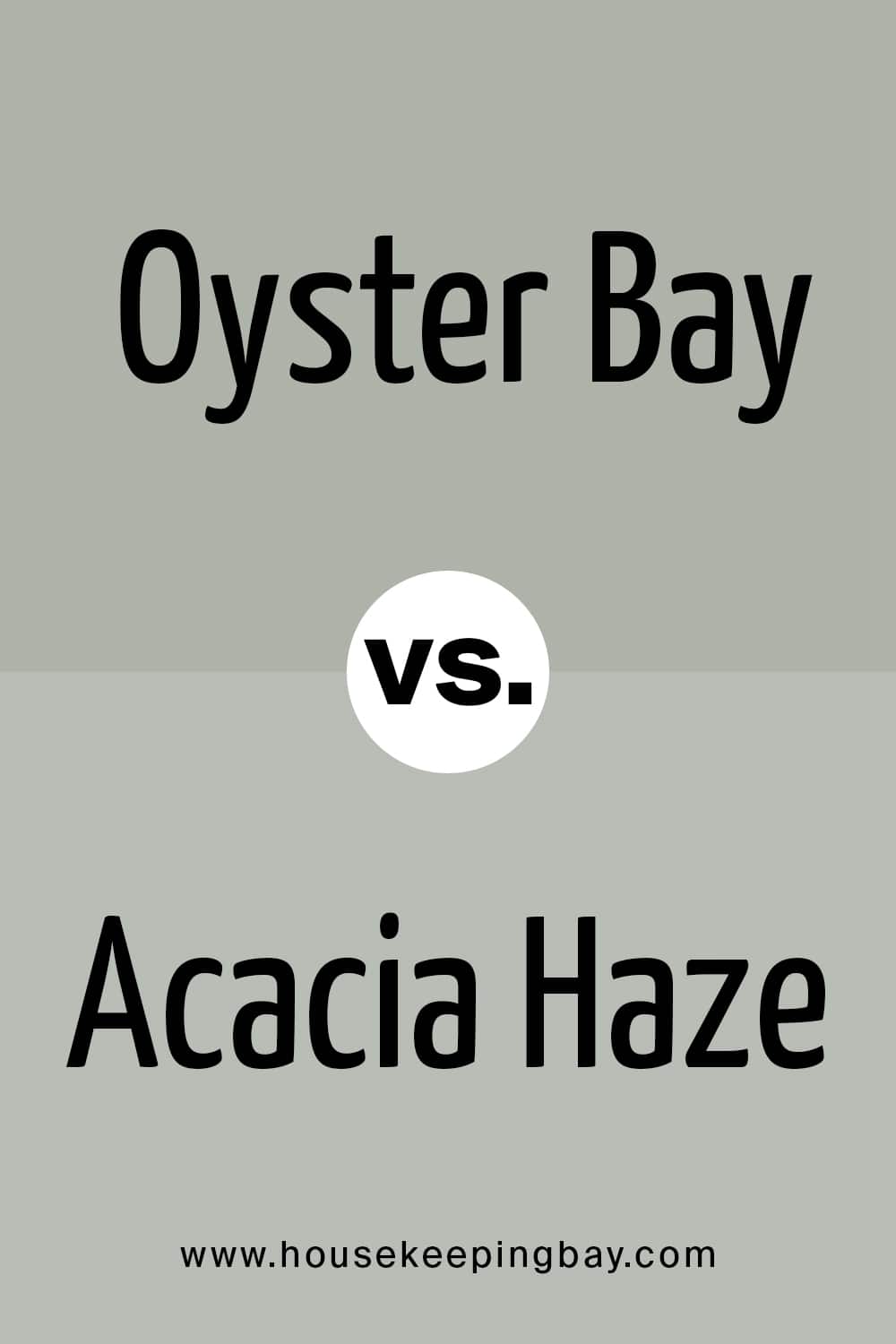 Oyster Bay vs Rainwashed
Unlike oyster Bay, Rainwashed reads almost clear blue with a slight hint of greenish in it. Besides, it is much lighter than its counterpart! Oyster Bay, on the other hand, reveals its gray side with a greenish hue when placed side by side with Rainwashed color.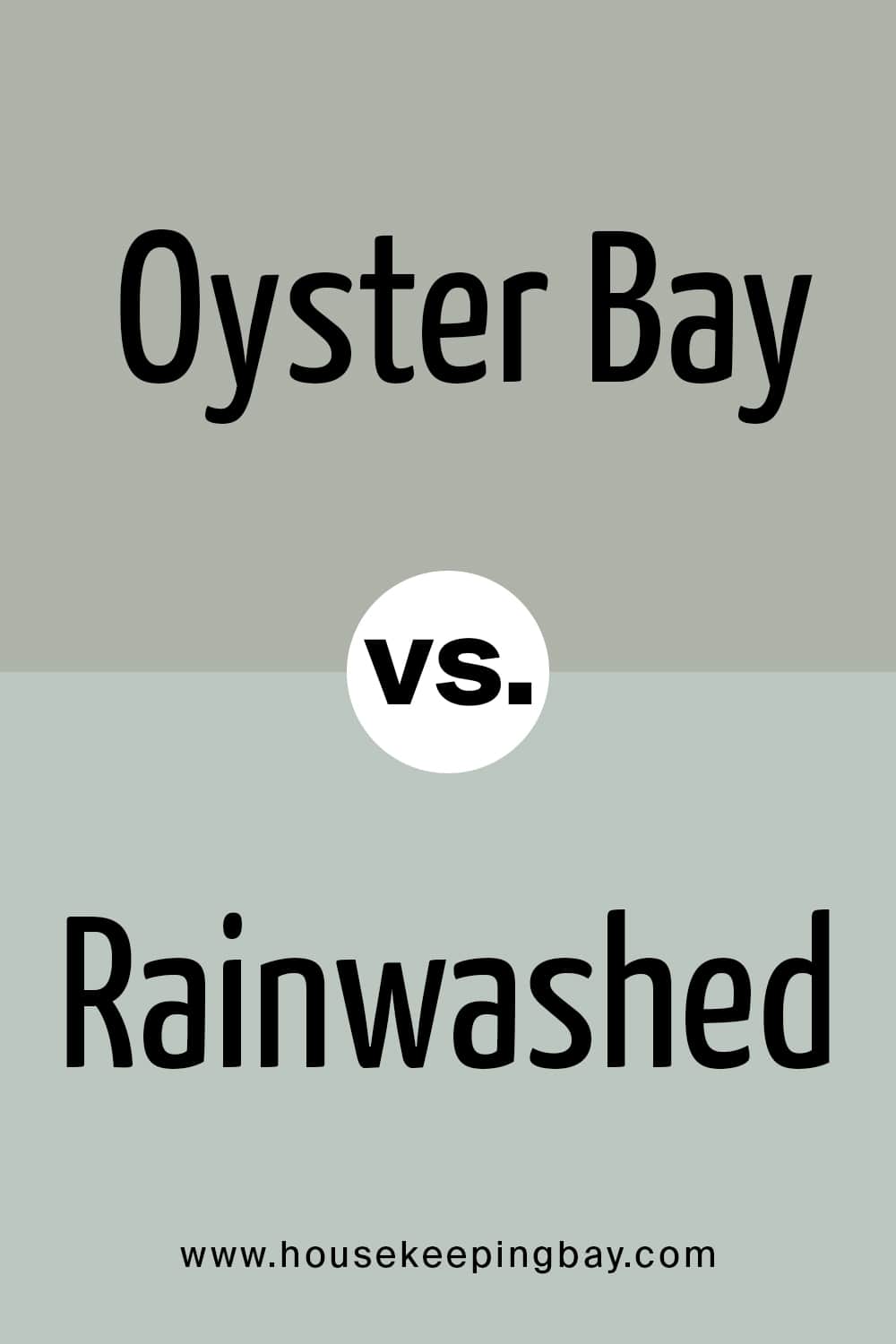 Oyster Bay vs Escape Gray
Escape Gray is a green color just like Oyster Bay, but Escape Gray has gray undertones whilst Oyster Bay has both gray and blue. This is why Escape Gray reads darker and grayer in comparison with Oyster Bay.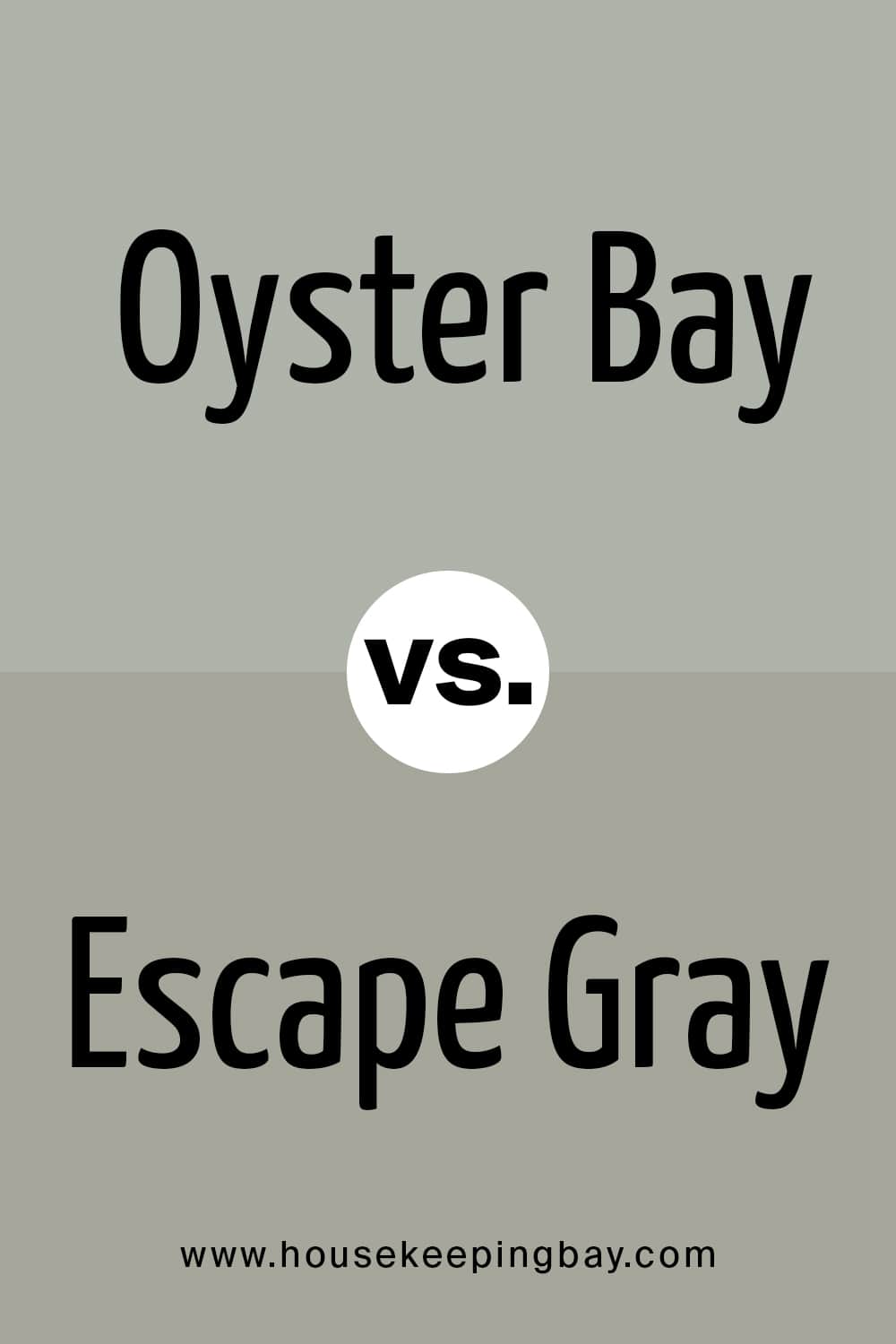 So, now you know a lot about SW Oyster Bay paint color. You learned what type of color it is, where it's best to be used in your home, and what other colors it may work well with. In addition, you learned how to combine it with other paint colors to create a successful mix, and what trim colors and coordinating colors it has.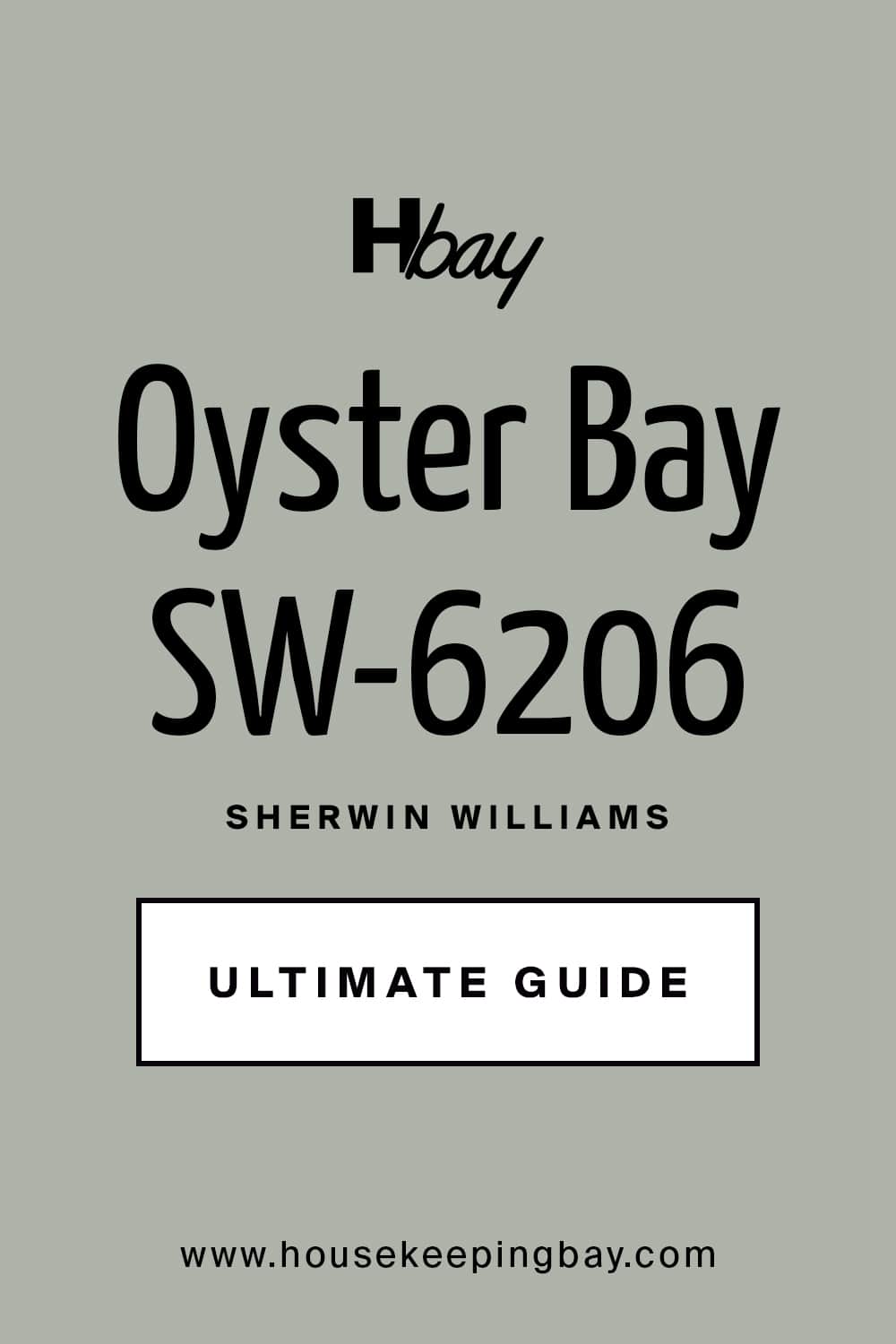 Frequently Asked Questions
⭐What are coordinating colors for SW Oyster Bay?
This paint's coordinating colors are SW Greek Villa, SW Prairie Grass, and SW Spare White.
⭐Can Oyster Bay be paired with gray colors?
Absolutely! This color contains gray undertones so it will work well with many shades of gray.
⭐What is the darker version of SW Oyster Bay?
If you need darker colors, try SW Pewter Green or SW Retreat.