With the variety of interior paint colors available on the market today, no wonder people often find it complicated to choose the most suitable color to match their home interiors. This is why it is important to understand at least the basics of how different paint colors can work on the walls and read in your living space.
Being informed about such nuances is especially important if you are going to use any complicated shades of paint for your interior design projects.
For example, such paint color as Modern Gray SW-7632 by Sherwin Williams brand. This color may seem simple at first, but in fact, it has several nuances that one should be aware of in advance before using it.
With the help of this article, you will find out what type of color Modern Gray is, what its undertones and coordinating colors are, how this color reacts to different types of lighting, and what trim colors would be better than others to match with it.
In addition, we will tell you what rooms it is best to be used in, and what similar paint colors can be taken into consideration instead of this particular one.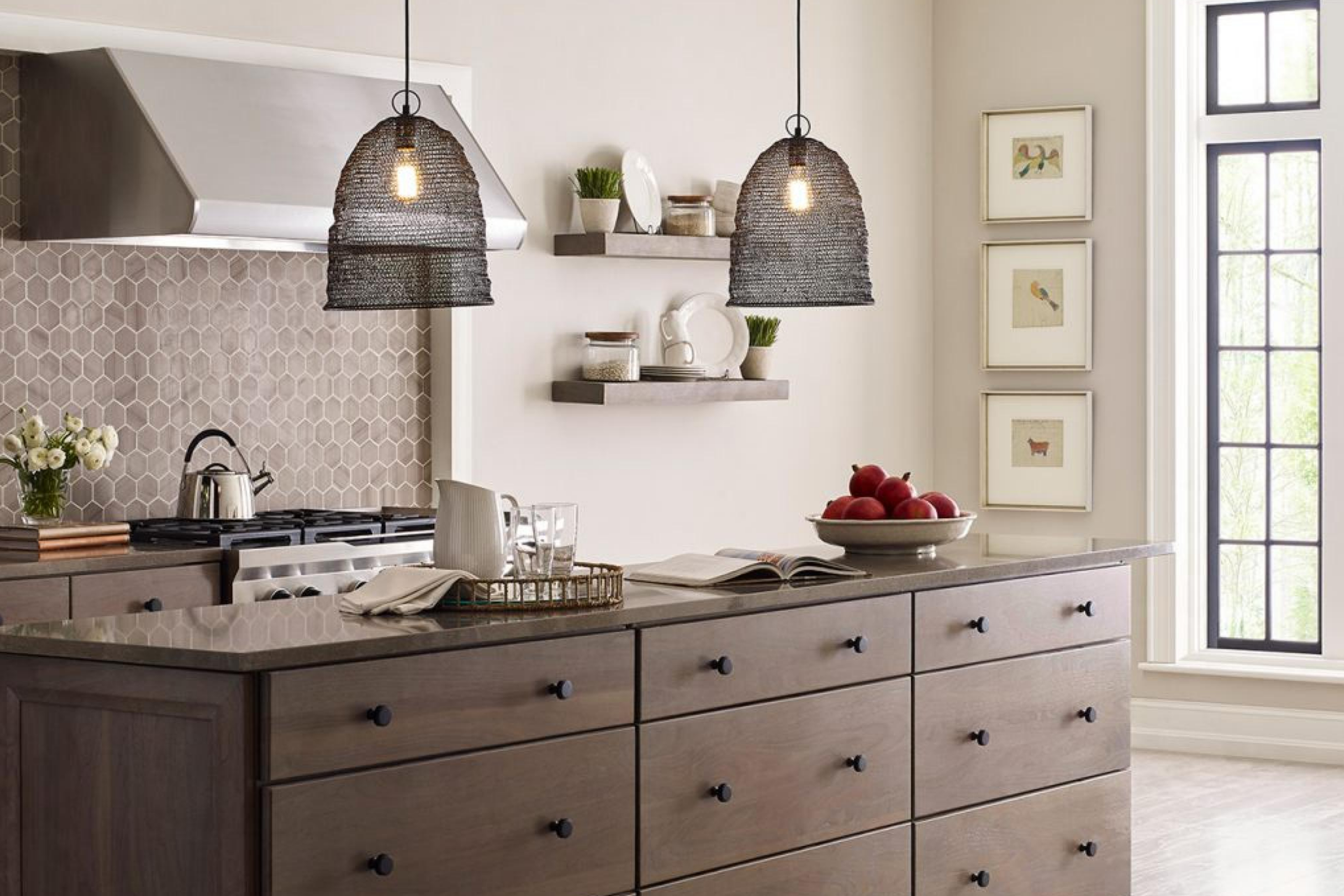 What Kind Of Color Is SW-7632 Modern Gray?
Nowadays, it is trendy to paint your home's interior walls with all sorts of subtle and light colors. All shades of white, gray, greige and light beige are typically among the favorite paint colors on the market now! And it's pretty clear why: these colors are easy to use with other ones, besides, they often have simple undertones that won't cause you any trouble.
No wonder most people think that using these colors is very simple! They are often presented as those that are able to match any color palette and any design. However, when you decide to use a light paint color on your walls, you should be aware of a few factors that will influence the way the color reads in the room:
Its undertones
The way it reacts to light (e.g. daylight, bulb light, etc)
Whether this color is warm or cool
With SW Modern Gray, using it might not be as simple as you thought! See, this color is a warmer-toned gray (or taupe) that is not too dark nor too light. However, as Encycolorpedia says, this delicate shade of gray plays a great chameleon – all due to its tricky undertones, which we will talk about very soon.
So, is SW-7632 Modern Gray the paint color you are considering as your next top color for the home walls? Then we suggest you read on to find out what's waiting for you should you really decide to use it.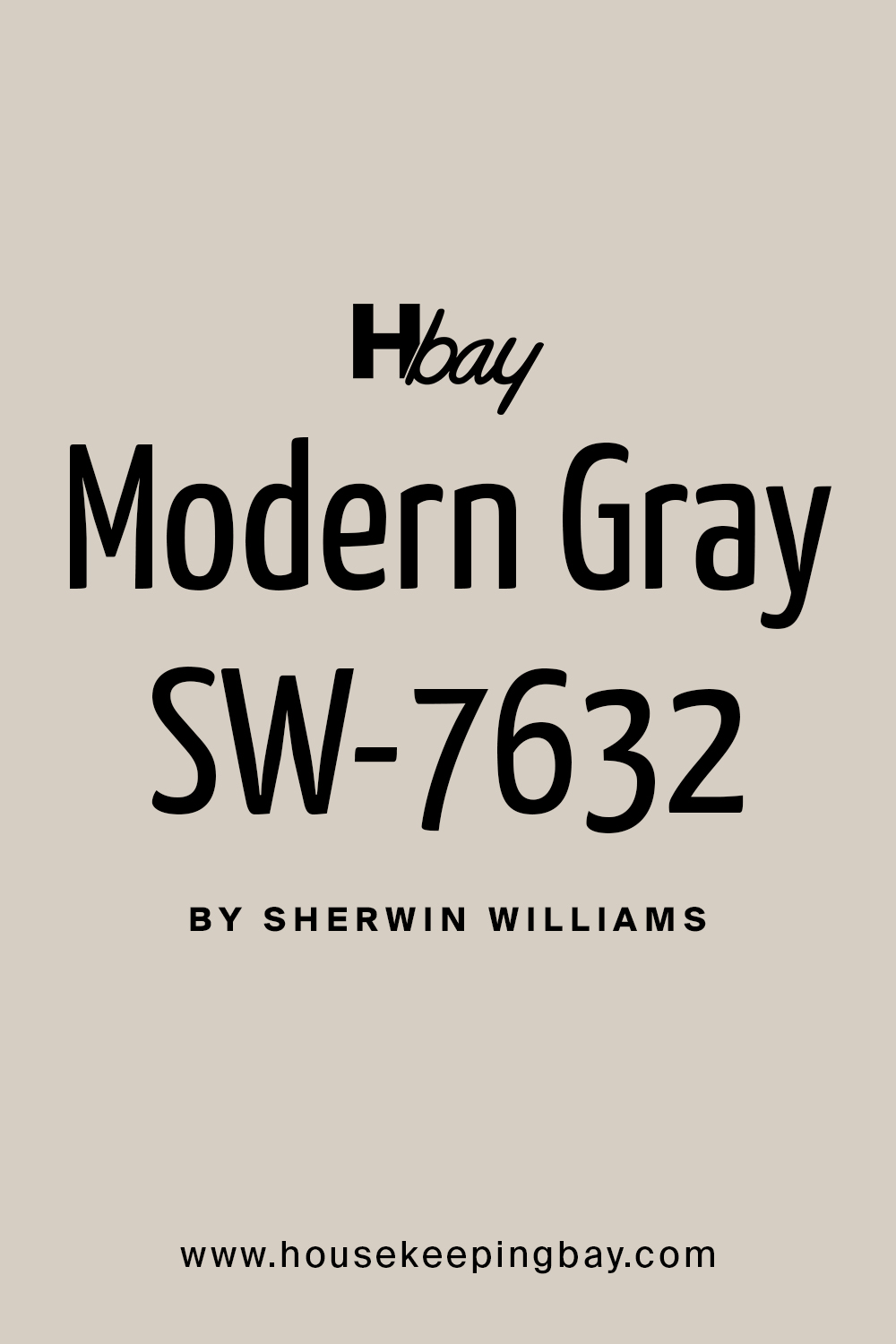 SW Modern Gray Color's Undertones
Before you buy the paint, you need to be fully aware of its undertones. Undertones are one of the trickiest parts of any paint and if you don't know what undertones your paint has, chances are you will be very surprised with what you get on your walls in the end!
But when you know what undertone (or undertones) your paint has, you will be able to tell in advance how exactly the particular color will read on your walls after you apply it.
As for the Sherwin Williams Modern Gray color, this warm-toned gray comes with mostly red and orange undertones. This is why this color is a tricky one and you will have to be very careful with it, especially when it comes to natural light and functionality!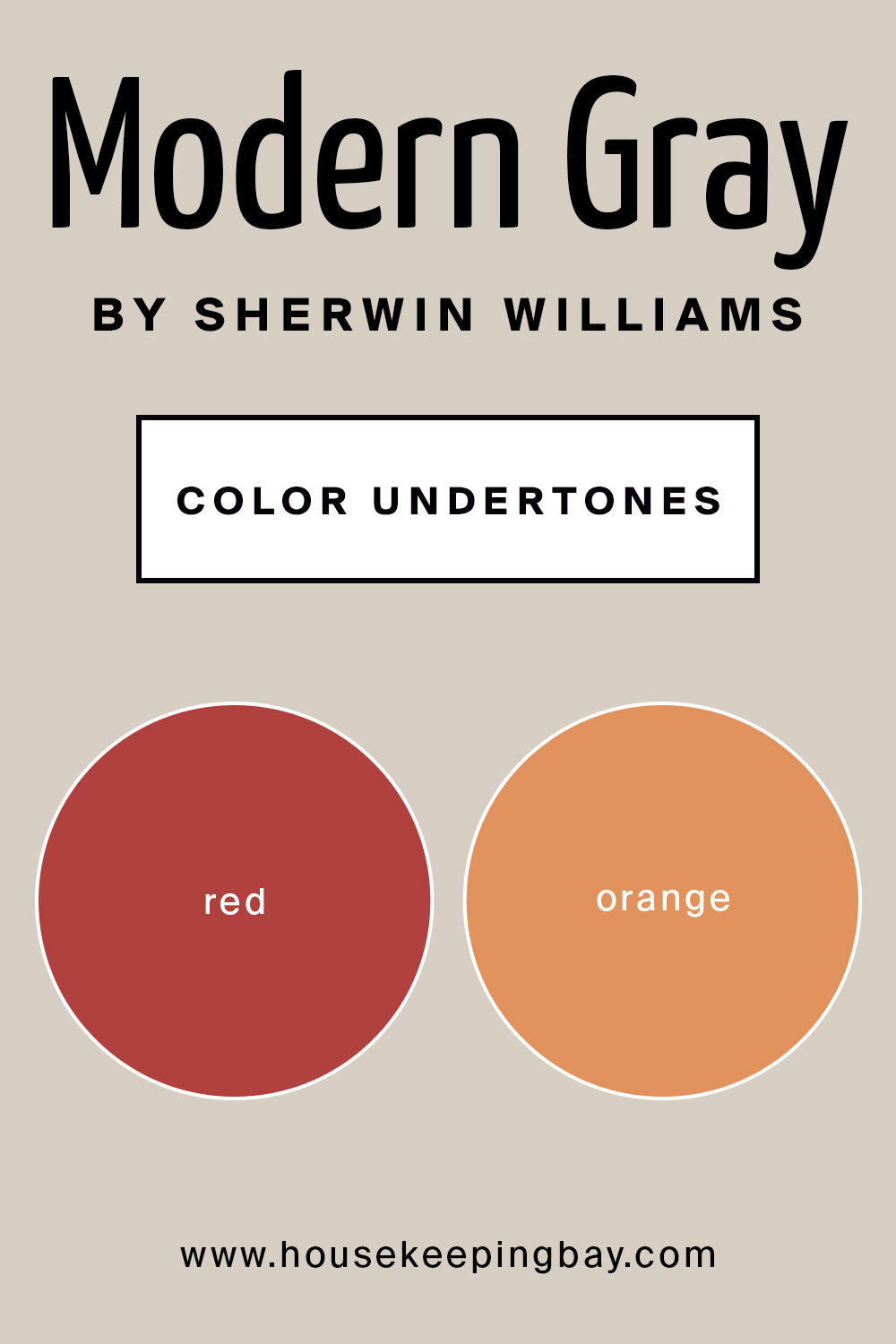 LRV Modern Gray SW-7632
LRV stands for Light Reflectance Value and it shows how much light a color reflects when applied to the wall. The lower the LRV the darker the color, with the scale ranging from zero (black) to 100 (pure white).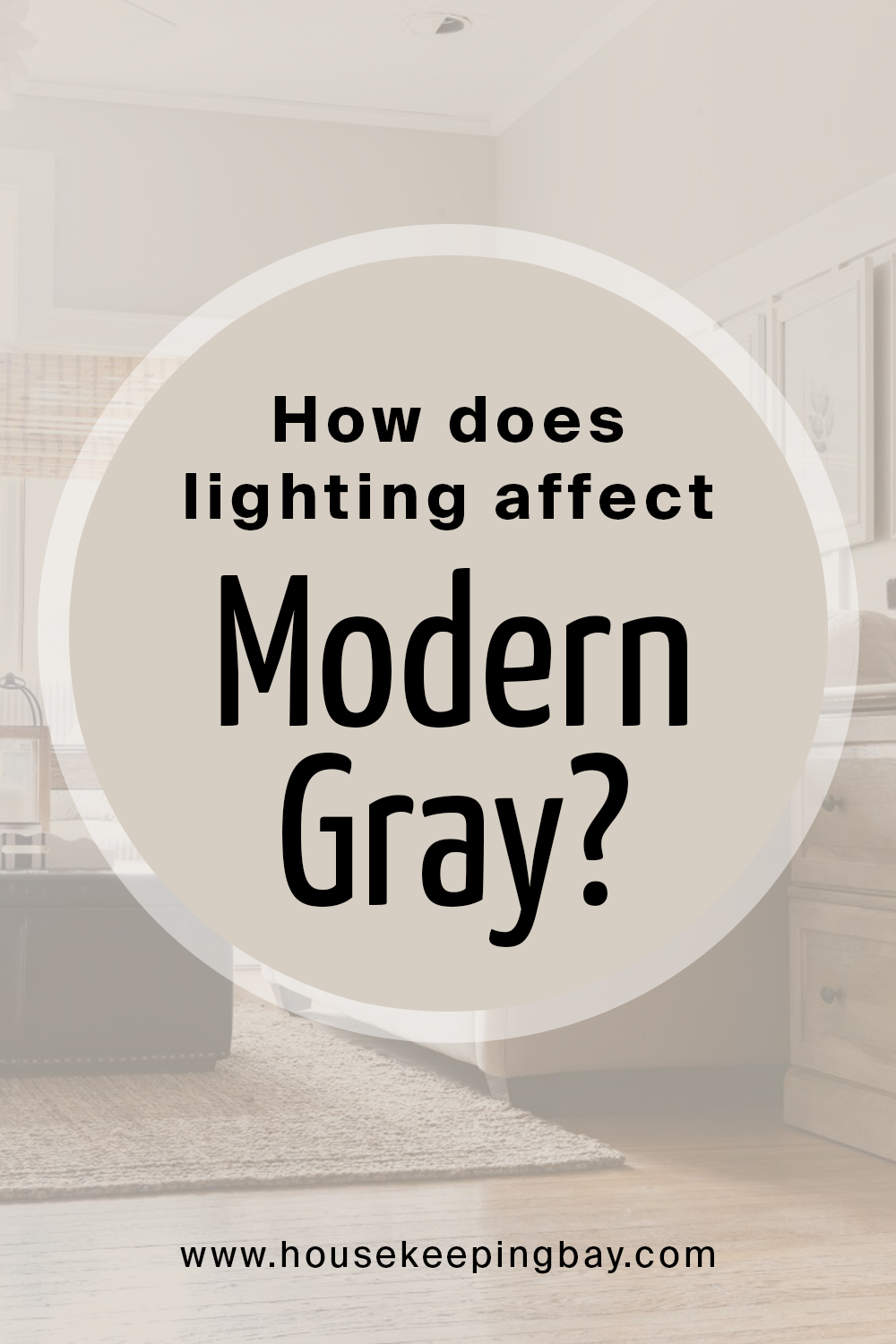 Speaking of SW Modern Gray, the LRV of this color is 62. This means it is a medium to lighter-toned paint color that can be used as a potential base and a neutral in almost any sized room.
Due to its warm undertones, this gray will feel creamier and at the same time, quite warm in a room. So, if you want to avoid that, it is crucial that you analyze both the size of your room and the incoming natural light. Depending on the light, this color will read differently.
In the south and west-facing rooms, it will feel warm – almost like beige and deeper tan
In the north-facing rooms, the same hue will appear with its natural undertone without feeling too cool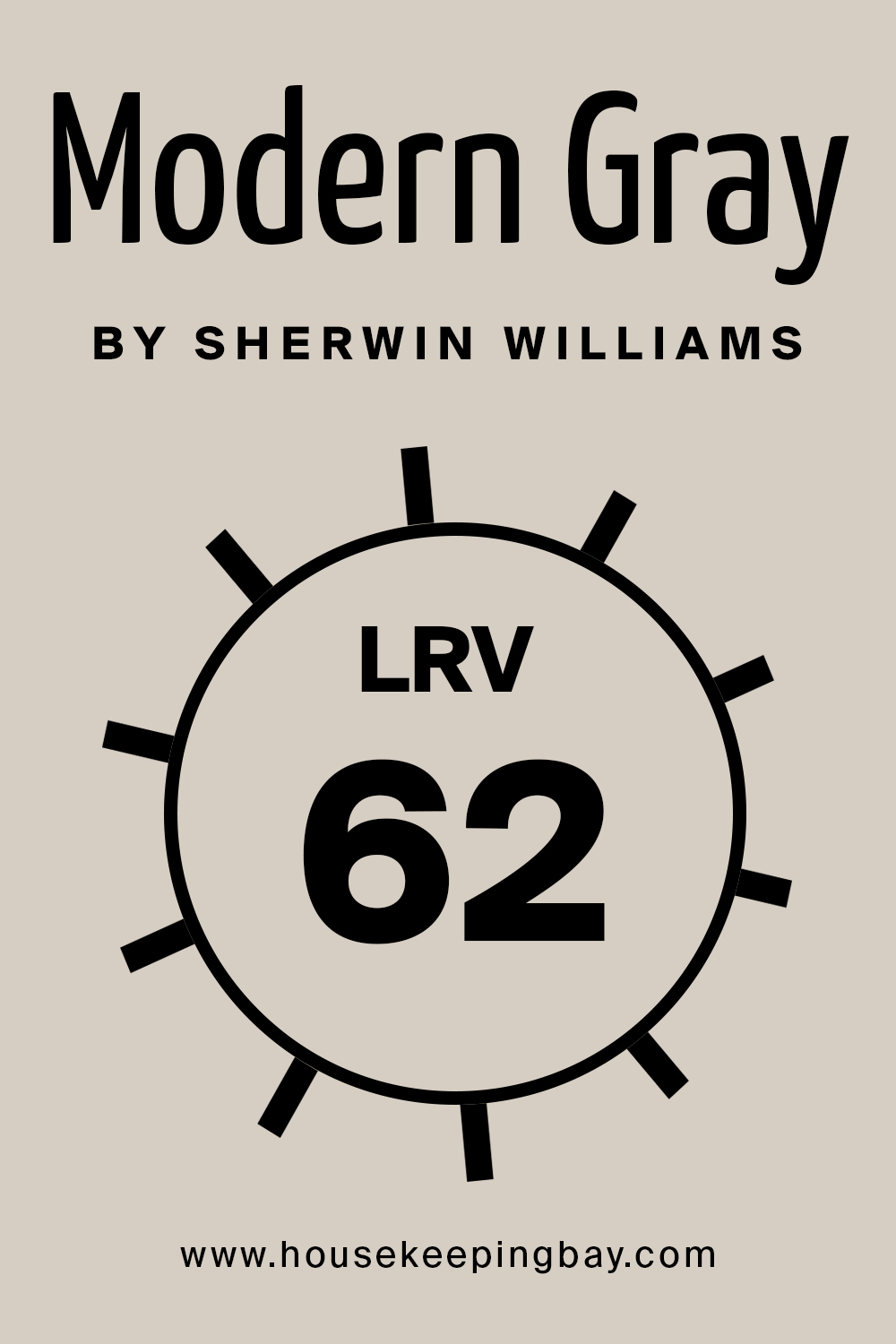 What is LRV? Read it Before You Choose Your Ideal Paint Color
What Is the Best Trim Color of Modern Gray SW-7632?
It is a well-known fact that the best and the most universal trim color is white. White can match almost any other paint color, which makes it an effortless solution when you need to find a good trim color option.
In the case of trims and moldings – we recommend you make use of SW Pure White or SW High Reflectance White to protrude the true undertones of this delicate gray color!
Now that you know more about this complicated yet very interesting and beautiful gray paint color, you will be able to figure out whether it could be a suitable choice for your home. And if you decide that it is exactly what you need, we suggest you read on to find out how it might work with other colors in different rooms of your home.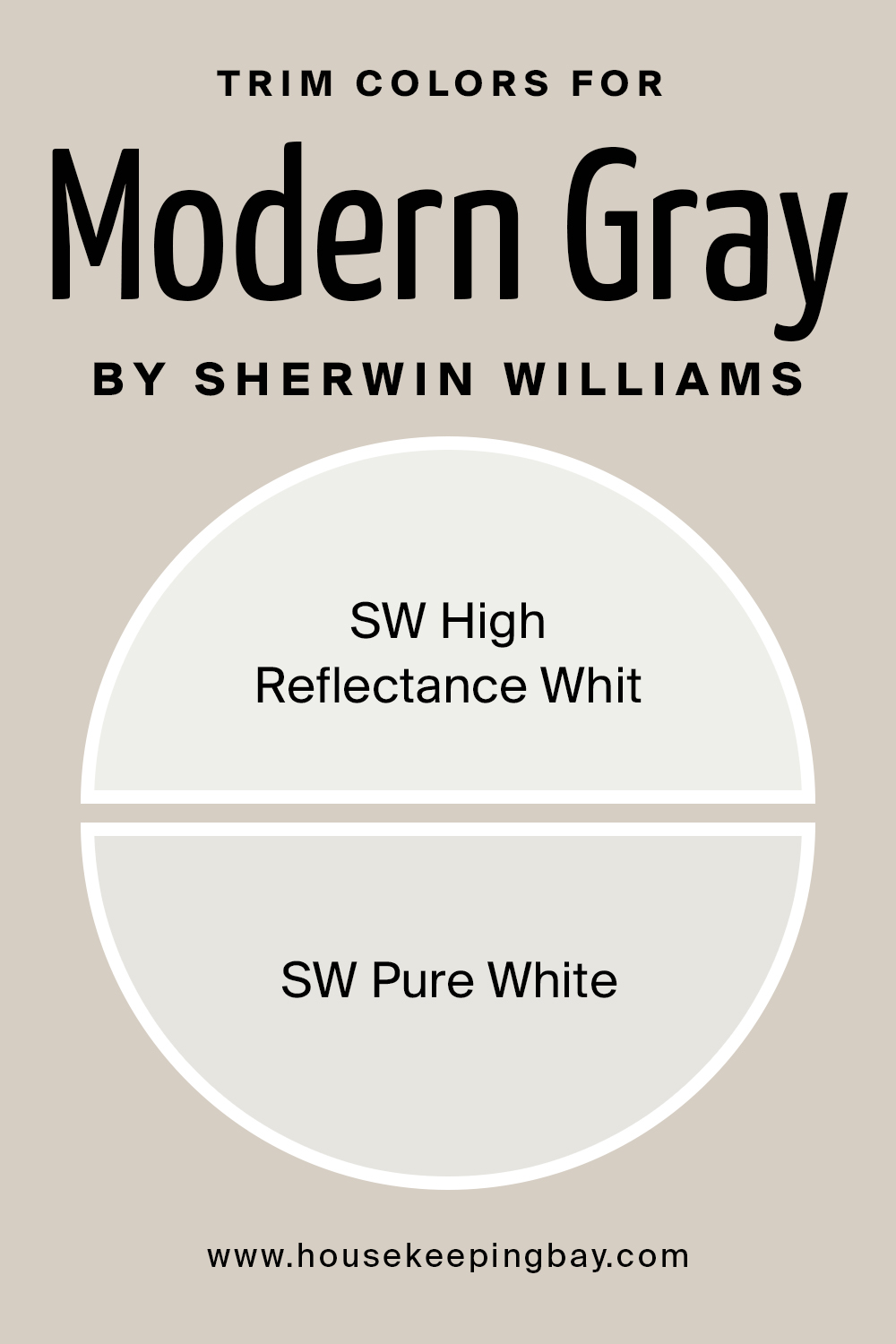 Sherwin-Williams Modern Gray Coordinating Colors
It can sometimes be quite a challenge to choose proper coordinating colors, especially if you are not very knowledgeable in paint colors and shade combinations, as well as in color theory. However, we can help you out with that.
If you decide to use Sherwin-Williams Modern Gray paint color in your interiors, and you are looking for proper colors to coordinate with it, here are a few ideas that you might want to take into consideration:
If you stick to a monochromatic color scheme, opt for the following colors:
SW Taupe Tone

SW Plum Dandy
Since they are different, you will be able to pick up the color you need to reach a desired atmosphere in your living space.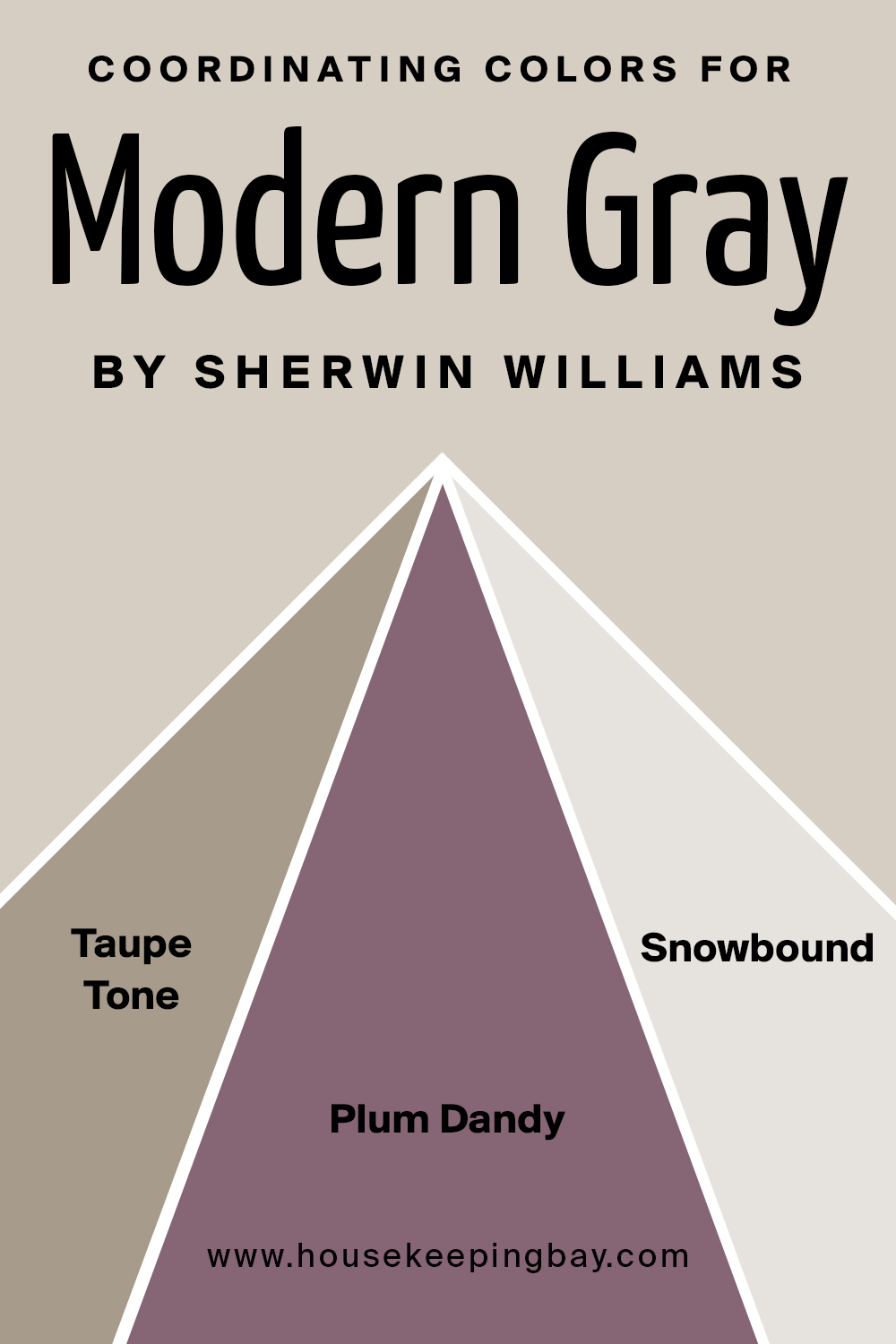 Colors That Go With SW Modern Gray
It is very important to pick the colors that will work well with the main color in a room. So if you are going to paint your walls with SW Modern Gray, you have a couple of options to choose from.
You could choose either a monochromatic or a contrasting color scheme depending on the interior design style and your personal color preference. Below, you can find a list of colors for a contrasting scheme that you might find interesting:
SW-6023 Insightful Rose
SW-9174 Moth Wing
For a monochromatic scheme, refer to the following paint colors instead:
SW-7631 City Loft
SW-7038 Tony Taupe
SW-7633 Taupe Tone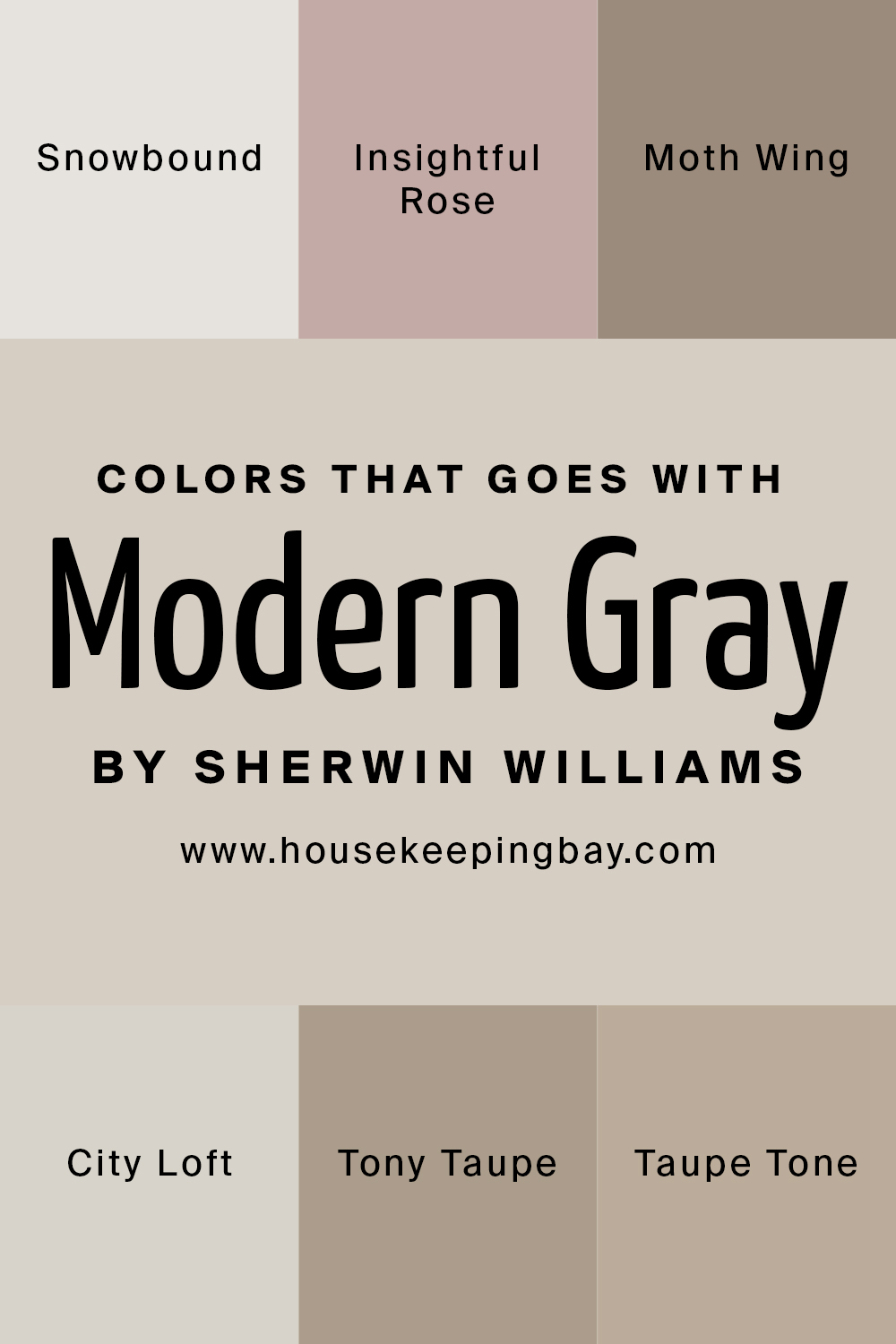 Paint Color Similar to Modern Gray
Sometimes you might want to consider other paint colors instead of the one that you initially wanted to use. Should this happen to you, it's better to be aware of at least a couple of alternative paint color options. Speaking of Sherwin Williams Modern Gray color, it also has several alternative options:
SW-9165 Gossamer Veil
SW-6071 Popular Gray
But before you choose one of these colors, make sure you sample them to see which one exactly suits your interior color scheme since each color differs slightly from the others!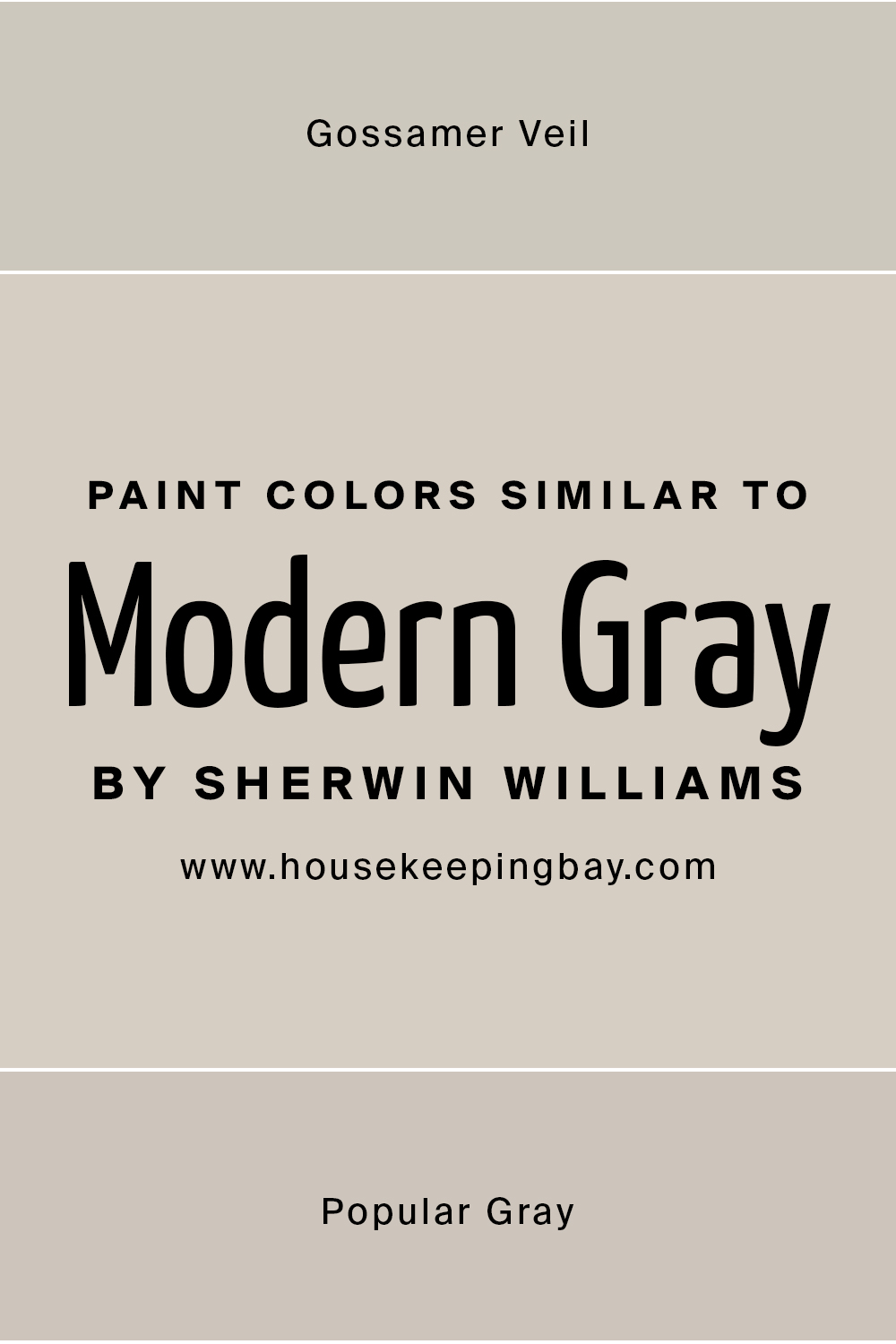 Compare of Modern Gray SW-7632 With Other Colors
To help you better understand and see the nuances of this wonderful and versatile soft and warm-toned green by Sherwin Williams, check out the comparison of it to a few other colors. Like this, you will be able to see the distinctions clearly.
Modern Gray vs Agreeable Gray
Agreeable Gray reveals more of its beige undertones whilst Modern Gray shows more of its red-and-orange ones. If you put them side by side, you'll see that Agreeable Gray reads a bit darker despite being the same warm as Modern Gray.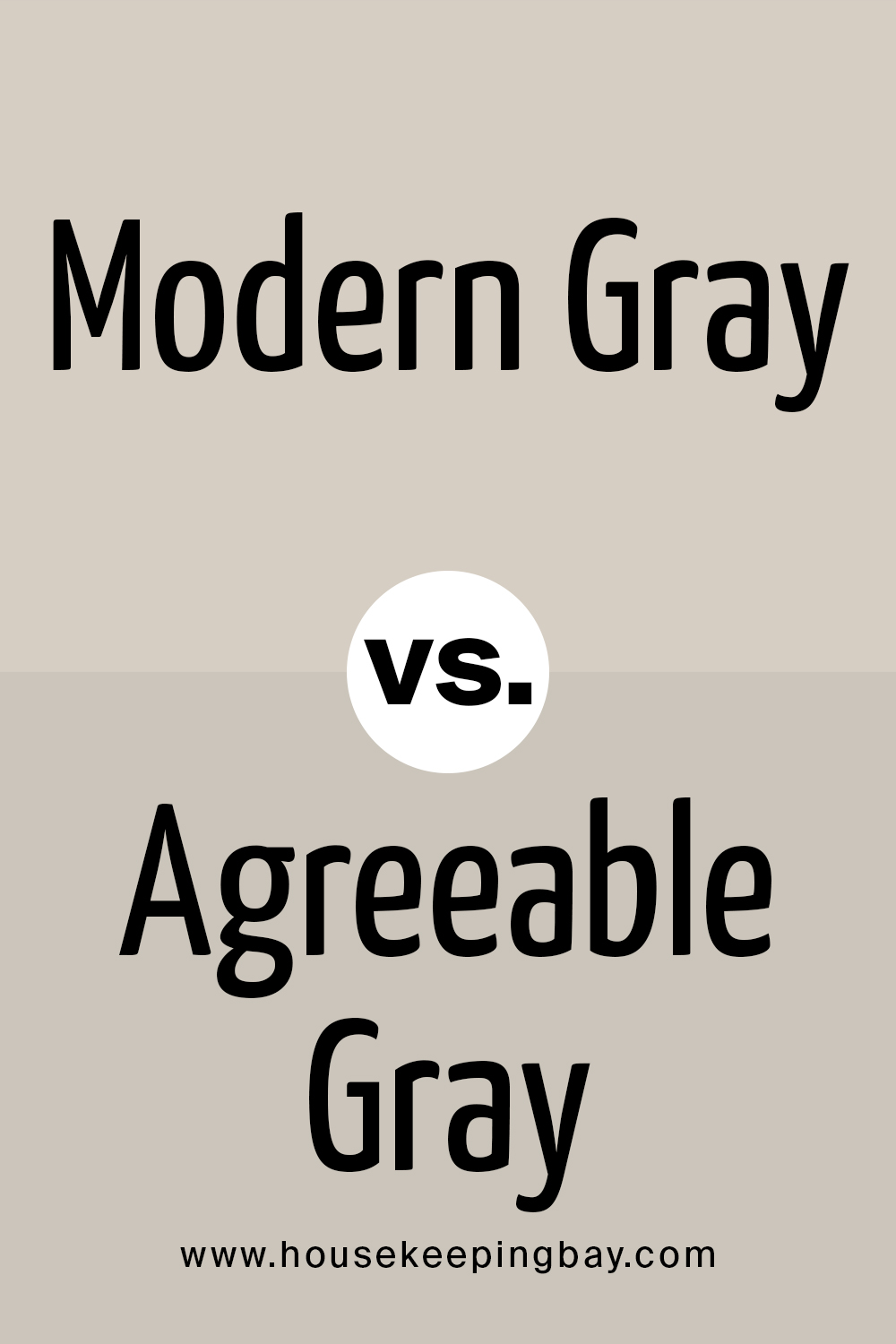 Modern Gray vs Repose Gray
In comparison with Modern Gray, Repose Gray SW 7015 reads, well, gray. It is also a warm-toned color but with a more prominent gray side than the Modern Gray shade. No wonder people often think Modern Gray is greige when they see it side by side with Repose Gray!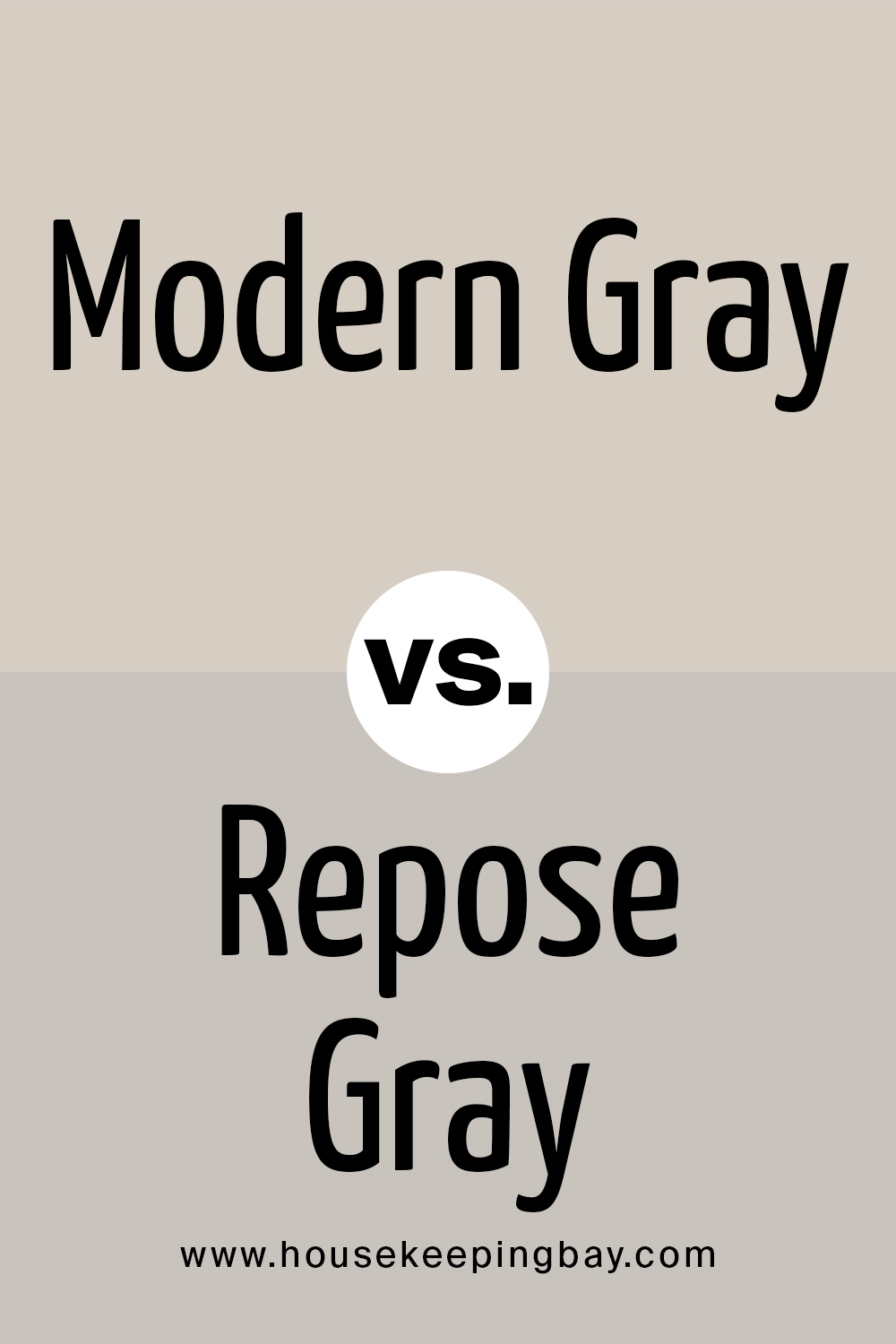 Modern Gray vs Revere Pewter
Revere Pewter reveals quite noticeable gray tones (some might say they are greige) whilst Modern Gray reads noticeably reddish (though in a very subtle and muted sense). both are warm-toned, but the red and orange undertones of Modern Gray make it impossible to use these colors interchangeably, for example.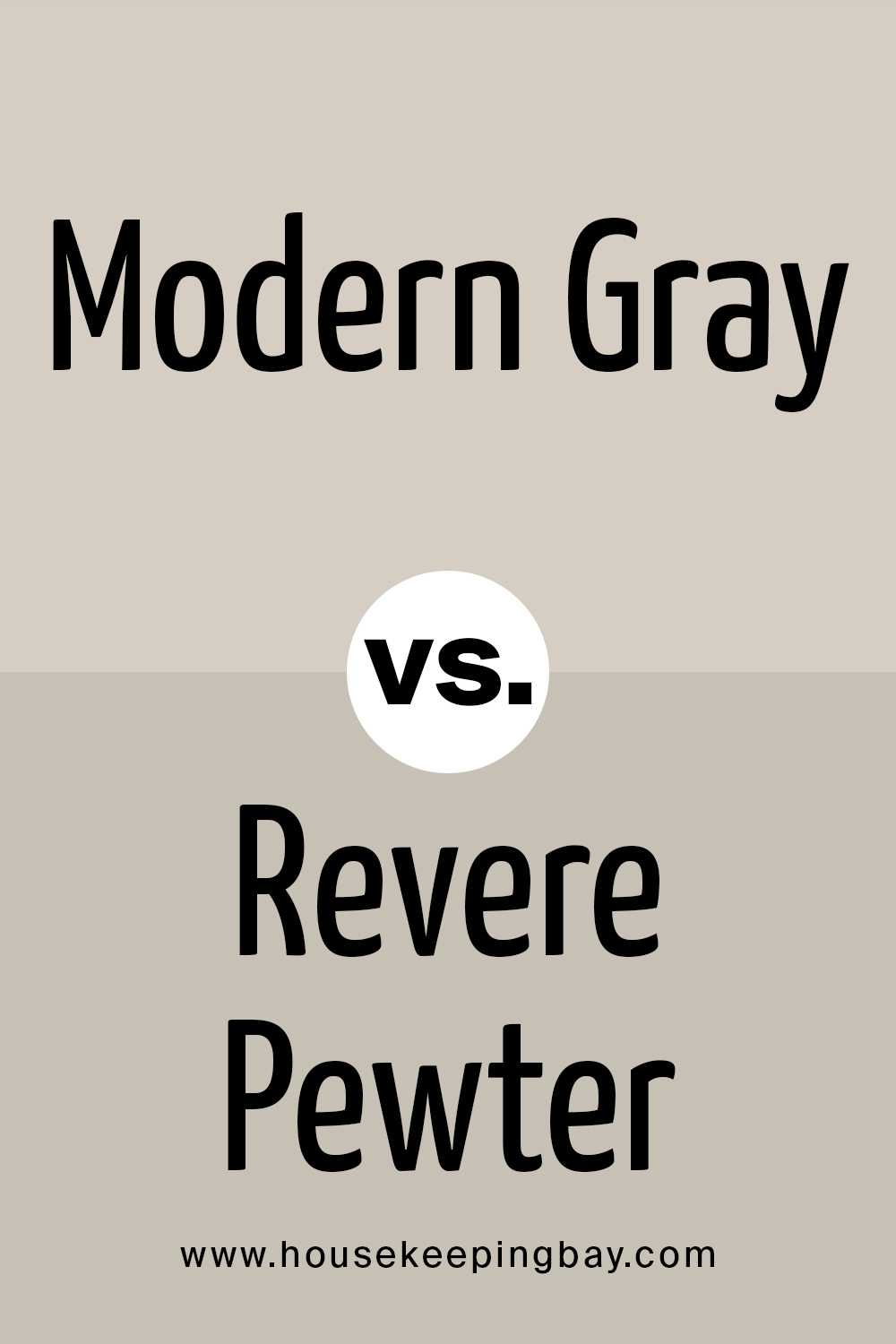 Modern Gray vs Worldly Gray
These colors are warm-toned but Worldly Gray reads grayer than Modern gray, which shows its red-orange undertones pretty much. However, you can consider Worldly Gray if you need a darker color than Modern Gray.
So, now you know how this tricky gray may read along with other gray paint colors. We hope this comparison will help you learn how to see the difference between very similar paint colors and choose the right shade for your home.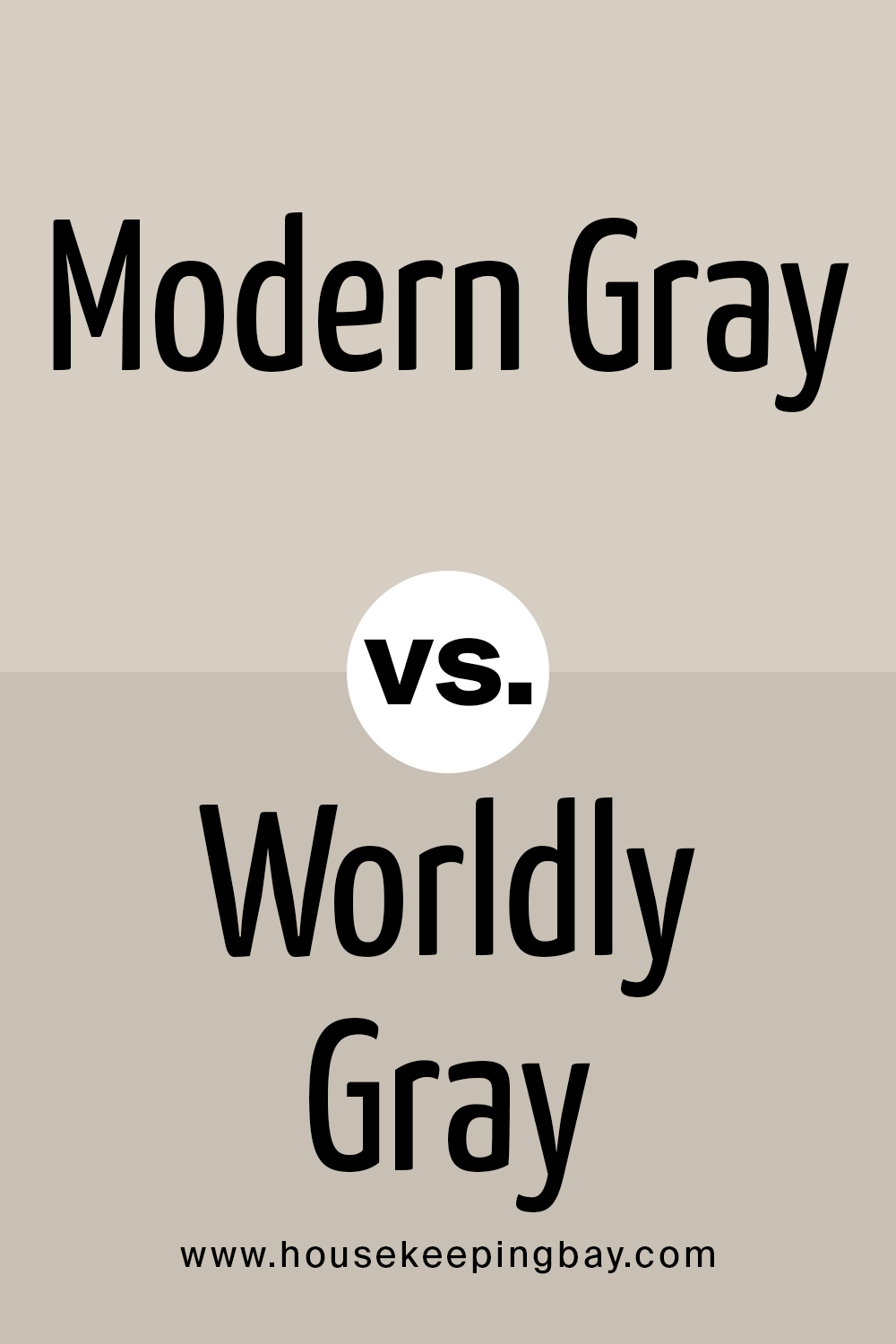 Where to Use Modern Gray SW-7632?
Now you might be wondering in what rooms it is possible to use this tricky color if it needs so caution! However, you will be surprised to learn that SW Modern Gray is rather versatile and has the potential to be used in quite many rooms! It will work great in homes of all kinds – whether it is a crisp style like modern, minimalist, contemporary, and Scandinavian, or a maximalist like Bohemian, Country, and Modern Farmhouse.
However, you should keep in mind that you can't still apply it in any room you want. Below, we will explain how it might work in different areas and spaces in your home.
Modern Gray SW-7632 in the Living Room
In a living room, pair it with clean whites, some cooler and muted tones, and metals to create a balanced look. You can paint all the walls in this gray color, thus using it as a neutral and base. It will also look nice with wooden furniture with light beige upholstery and white curtains.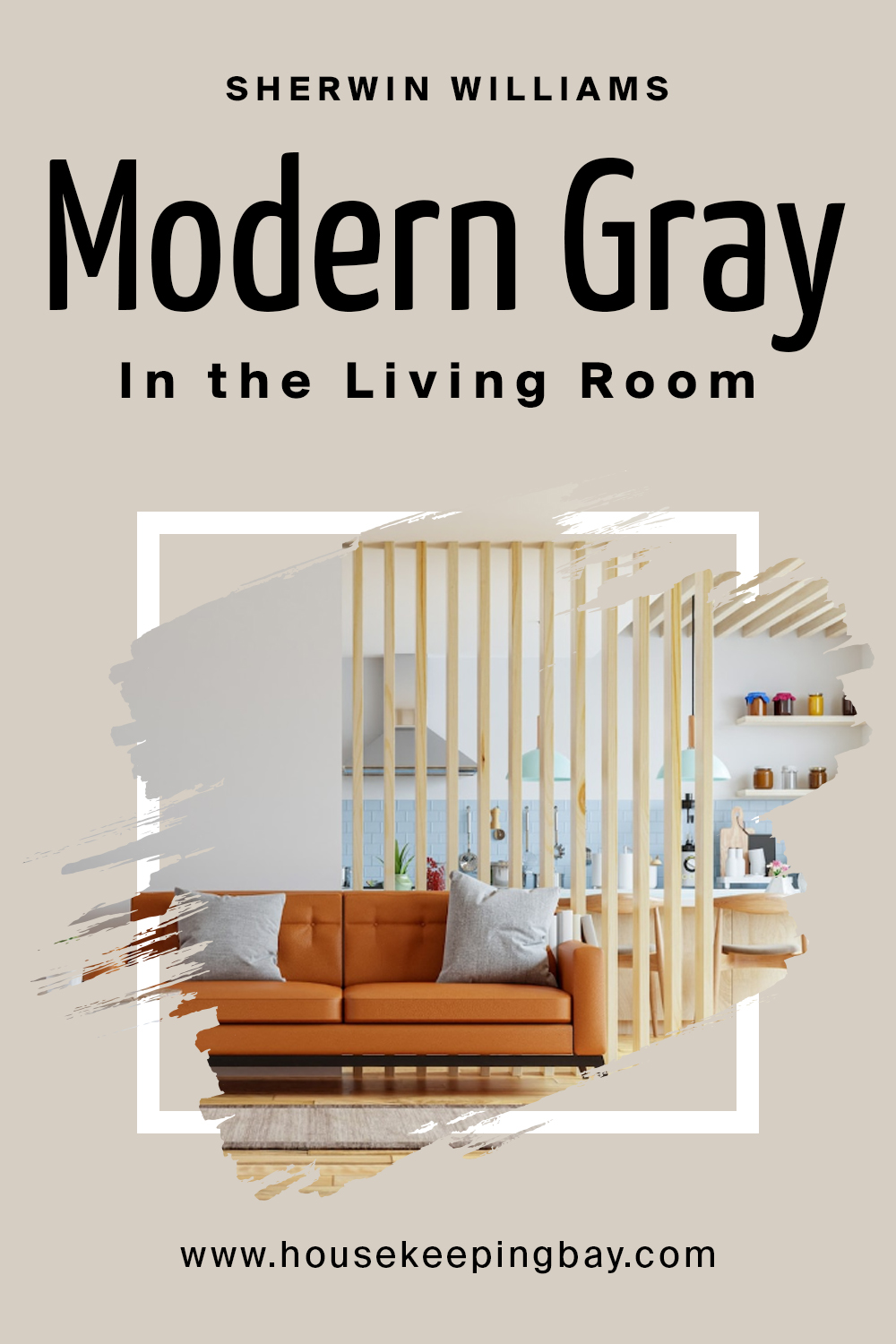 Modern Gray SW-7632 in the Bedroom
If you like the color itself, feel free to use it in your bedroom. However, we would recommend avoiding it in bedrooms that have too much sunlight! In such rooms, it may cause your space to heat up quite fast. But apart from that, this gray can always be paired with cooler tones and some glass and chrome-finished metals for a refined look.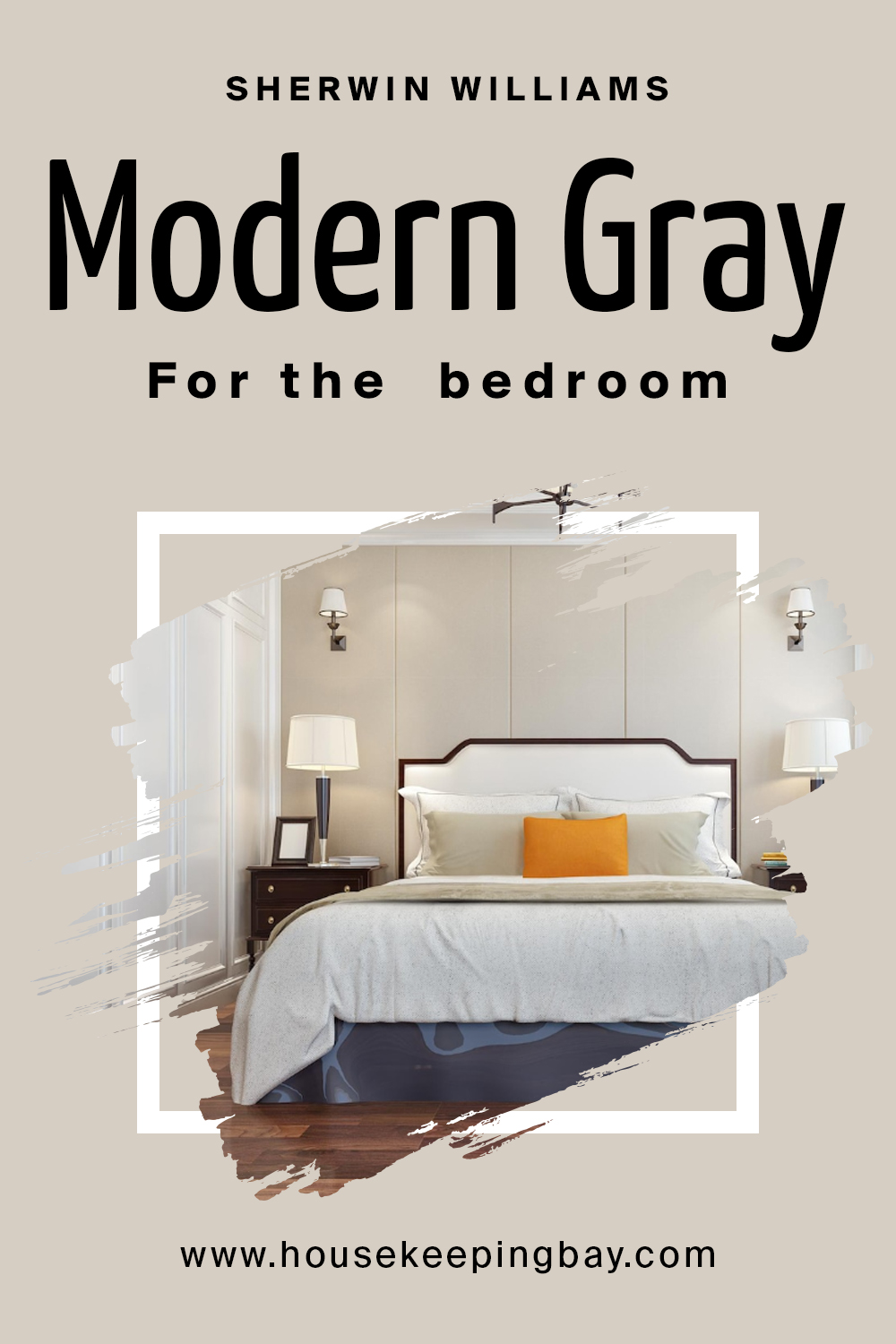 Modern Gray SW-7632 in the Kitchen
This gray is rather suitable for kitchens, especially if your kitchen is small and congested. In this case, you can use Modern Gray to make it look larger and spacious.
This color will work great with white marble countertops, white backsplashes, and chrome or matte black-finish pull handles and fixtures. Besides, you could either paint the kitchen cabinets in this color and leave the backdrop wall pure white or go vice versa!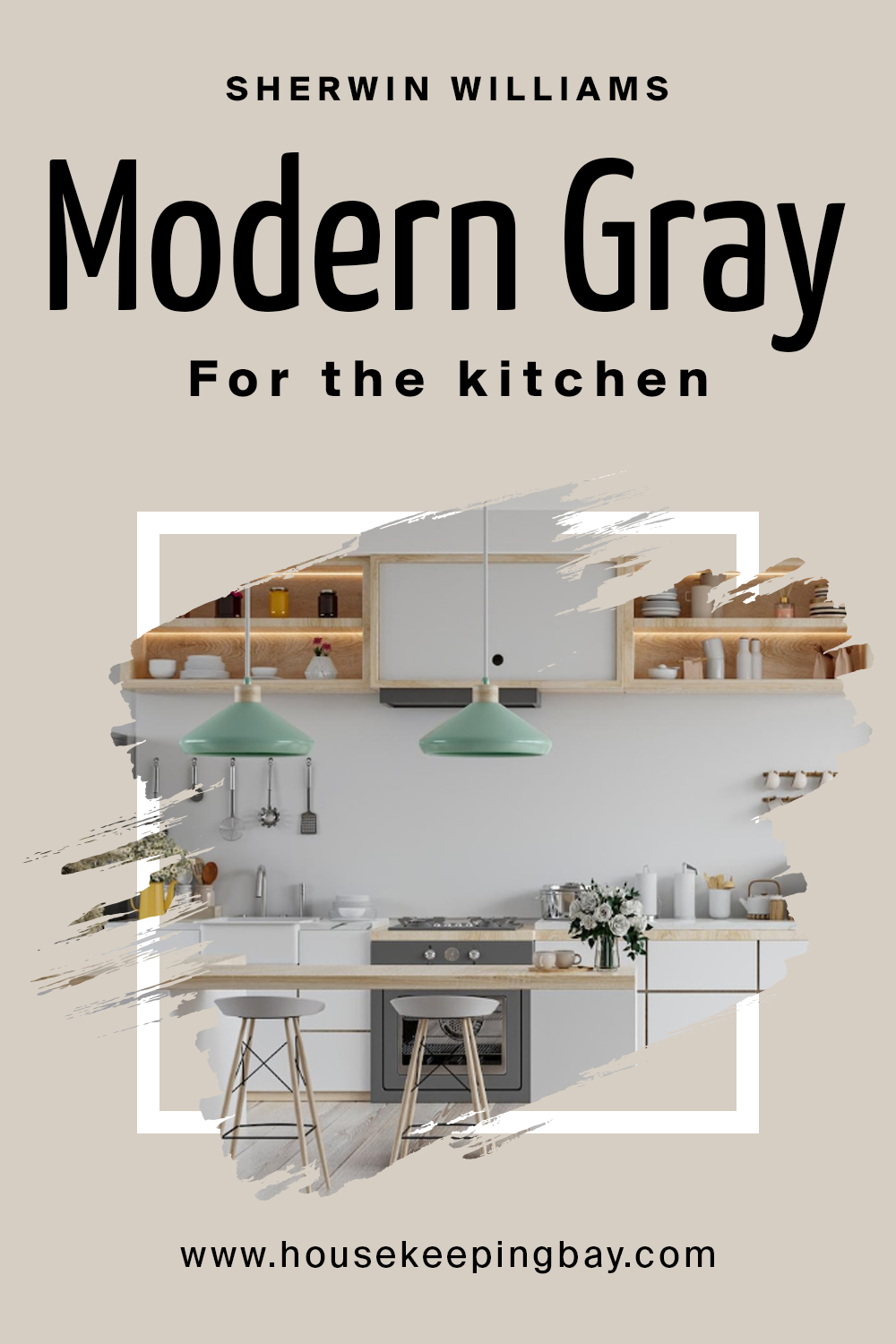 Modern Gray SW-7632 for the Exterior
Modern Gray is a very popular option on the exterior walls amongst homeowners these days due to its classic and timeless appearance. It can be best paired with dark brown or beige shades and used for trims, moldings, and door and window frames.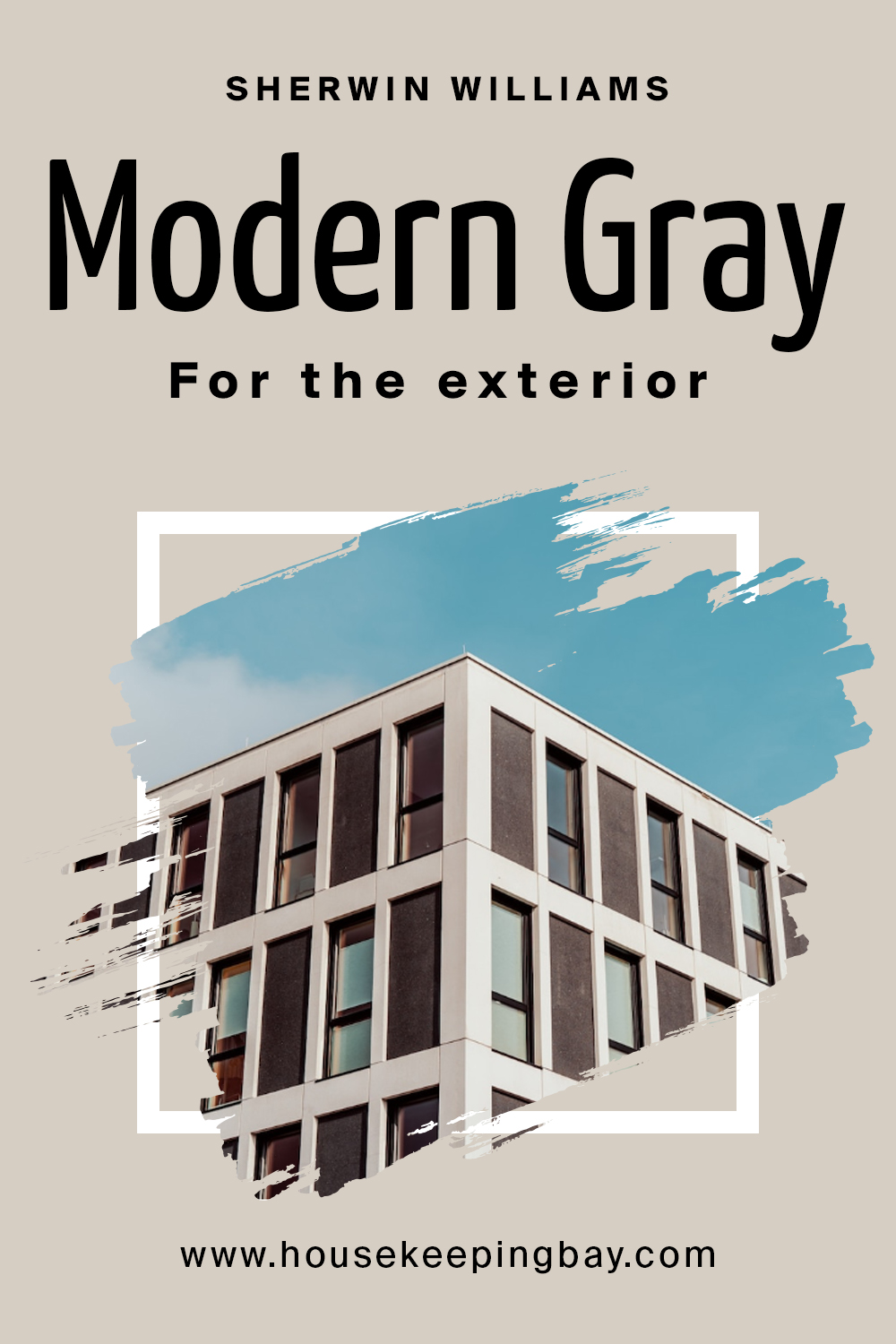 Modern Gray SW-7632 in the Bathroom
For your bathroom, this gray will be a good option if the space is not too small. Also, the room should be well-lit. But if your bathroom is not too spacious and you'd like to make it look bigger, Modern Gray can help with that.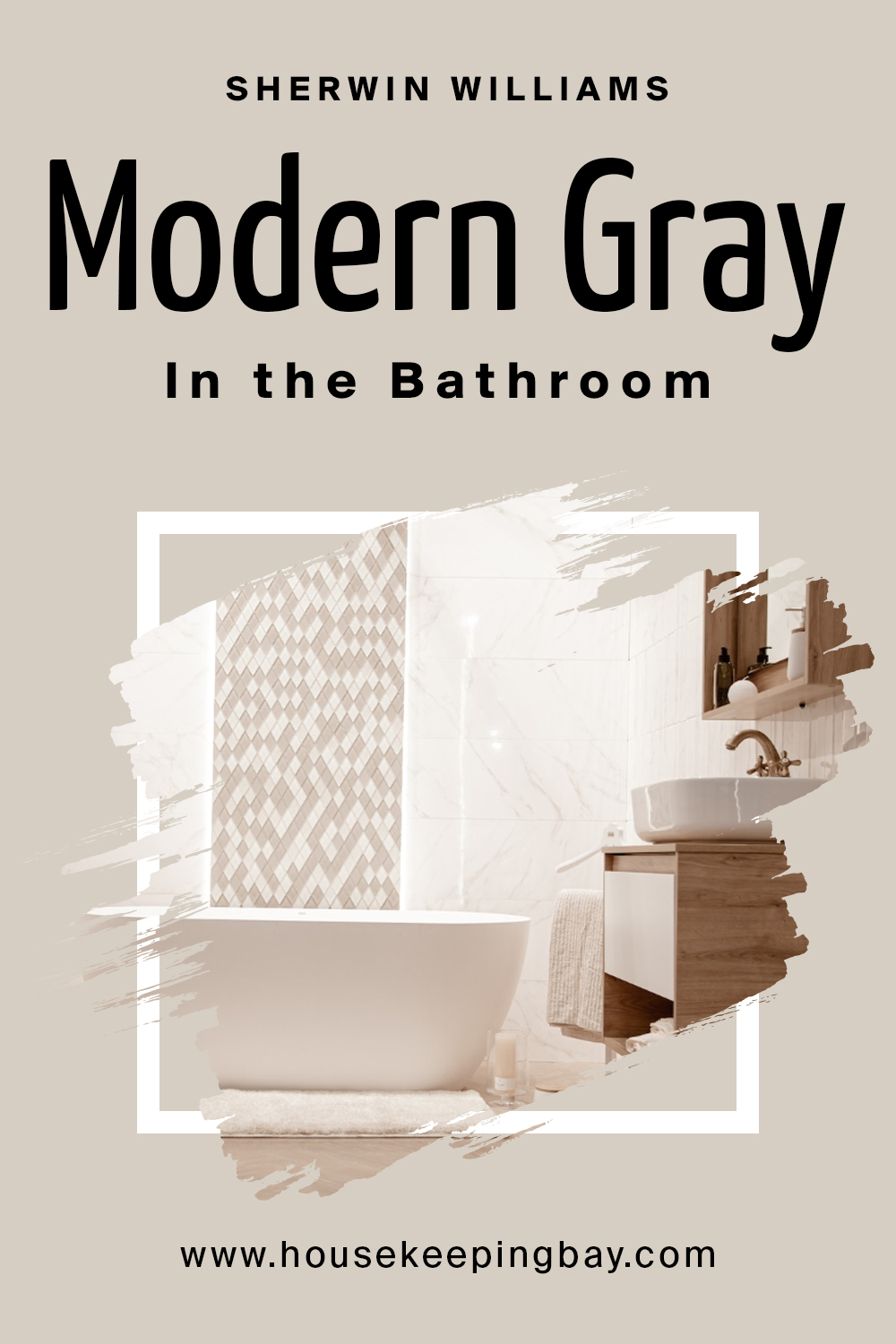 Well, now you are aware of all that a common homeowner might need to know regarding the use of paint color. You learned what color SW Modern gray is, what undertones it has, and why it's considered tricky even despite being so multipurpose.
Also, you learned what rooms will win from this color and what trim colors will work great with it. Finally, you are now aware of the paint colors that can be used with this gray to create successful and balanced color palettes!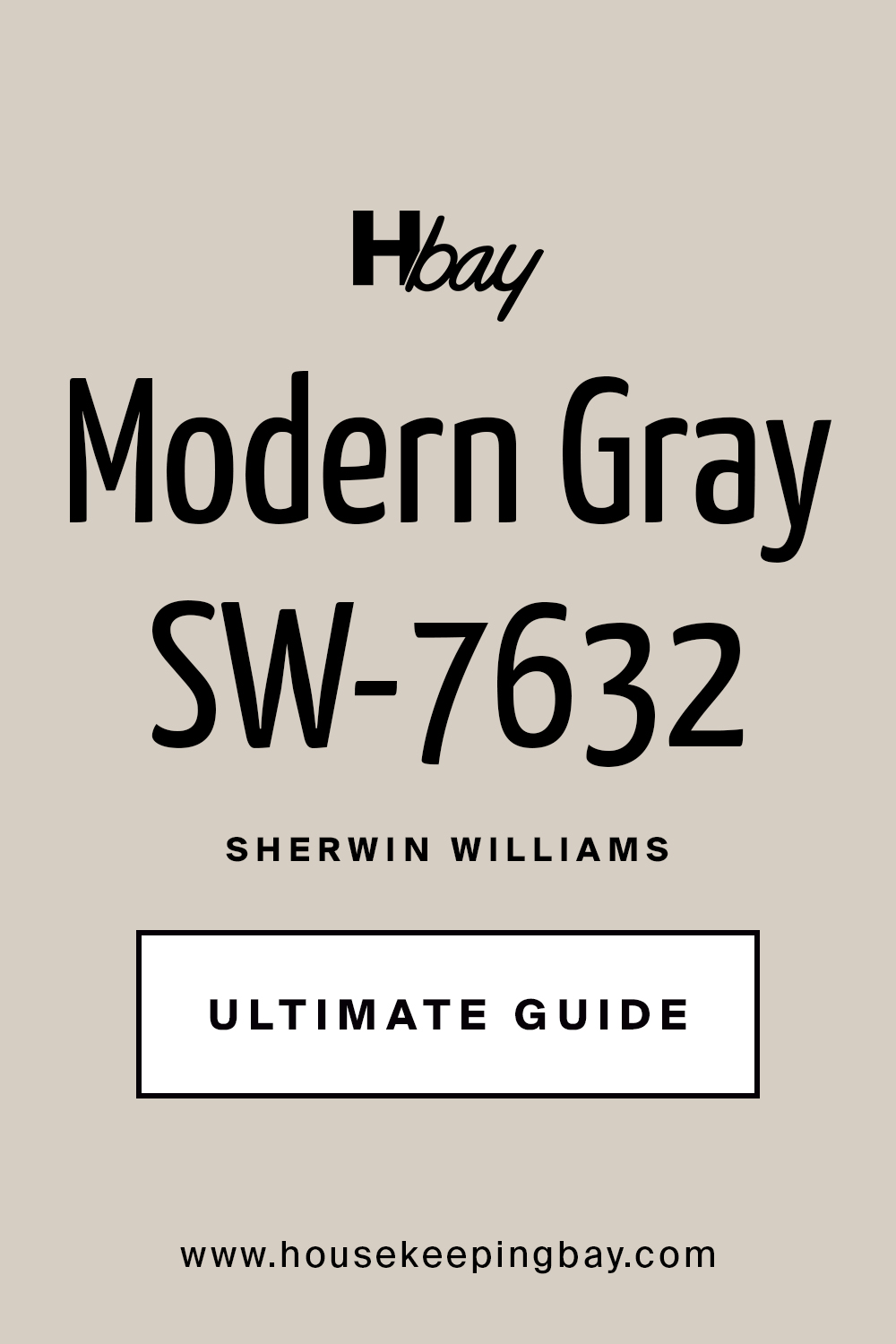 Frequently Asked Questions
⭐What are SW Modern Gray's coordinating colors?
They are SW-7633 Taupe Tone, SW-6284 Plum Dandy, SW-7004 Snowbound.
⭐Is SW Modern Gray an interior or exterior paint?
The manufacturer considers it to be both interior and exterior paint.
⭐Can SW Modern Gray be used in hallways?
Of course it can! Just avoid using it there if the hallway is too dark and narrow.