Picking a paint color for your home painting projects may seem to be easy, however, if you are not knowledgeable about paint colors and you don't have an eye for colors and shades, choosing what color to use on your walls might become quite an issue for you!
And one of the paint colors that you may feel somewhat uncertain is Swiss Coffee paint color by the Benjamin Moore brand.
At the first sight, this color may appear to be very simple, nice and pleasant to the eye white, but in fact, we would say it is a bit tricky!
This is why, if you are considering using it in your home, we suggest you read this article first. In it, we will tell you more about what type of color it is.
Also, you will learn what undertones this delicate white has and how this paint color reacts to different types of lighting.
Finally, we will compare BM Swiss Coffee with a few other similar paint colors so that you could better understand their distinctions.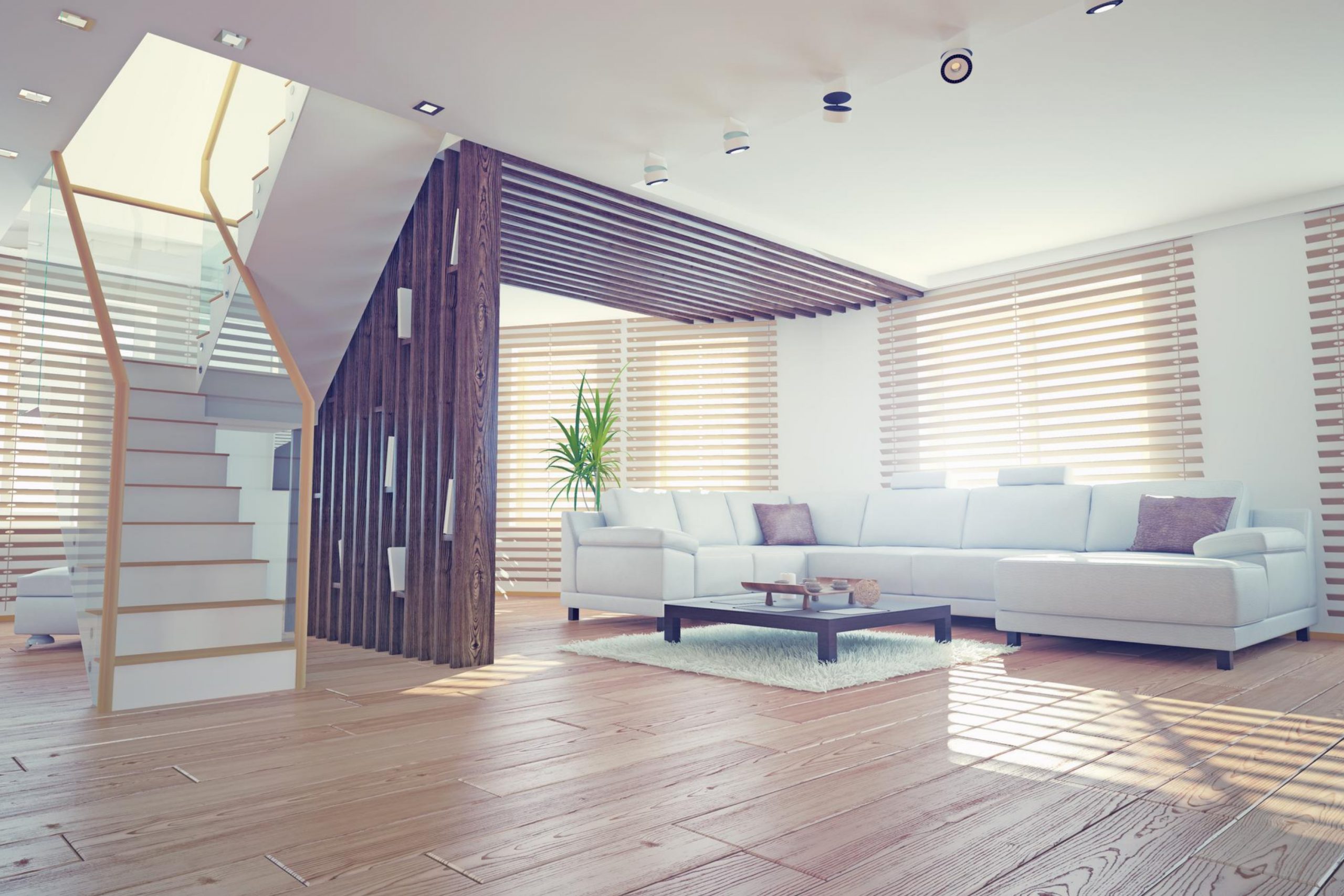 What Color Is Swiss Coffee OC-45 by Benjamin Moore?
If you have never wondered about Benjamin Moore Swiss Coffee color palette, and you have never seen this color in real life, you might be wondering what type of color it is.
Well, in a few words, Benjamin Moore Swiss Coffe belongs to so called off-white colors of interior paint. This color is very delicate, sophisticated and warm on the walls.
It is also rather bright and light, so if you are not a fan of dark or deep paint colors, this option will probably be one of the best choices for you.
Also, this off-white would be a good option for those homeowners who don't like using whites because some of them tend to reveal yellowish hue once you apply the paint onto the walls.
As for the Benjamin Moore Swiss Coffee, even though it is soft and creamy, it is not yellowish though, as Encycolorpedia says.
In addition, thanks to a high light reflectance value, this color will be ideal for the spaces that don't have much natural light (for example, basements).
But except for that, this off-white will work great in spaces that are well lit naturally, so this color can be called rather versatile.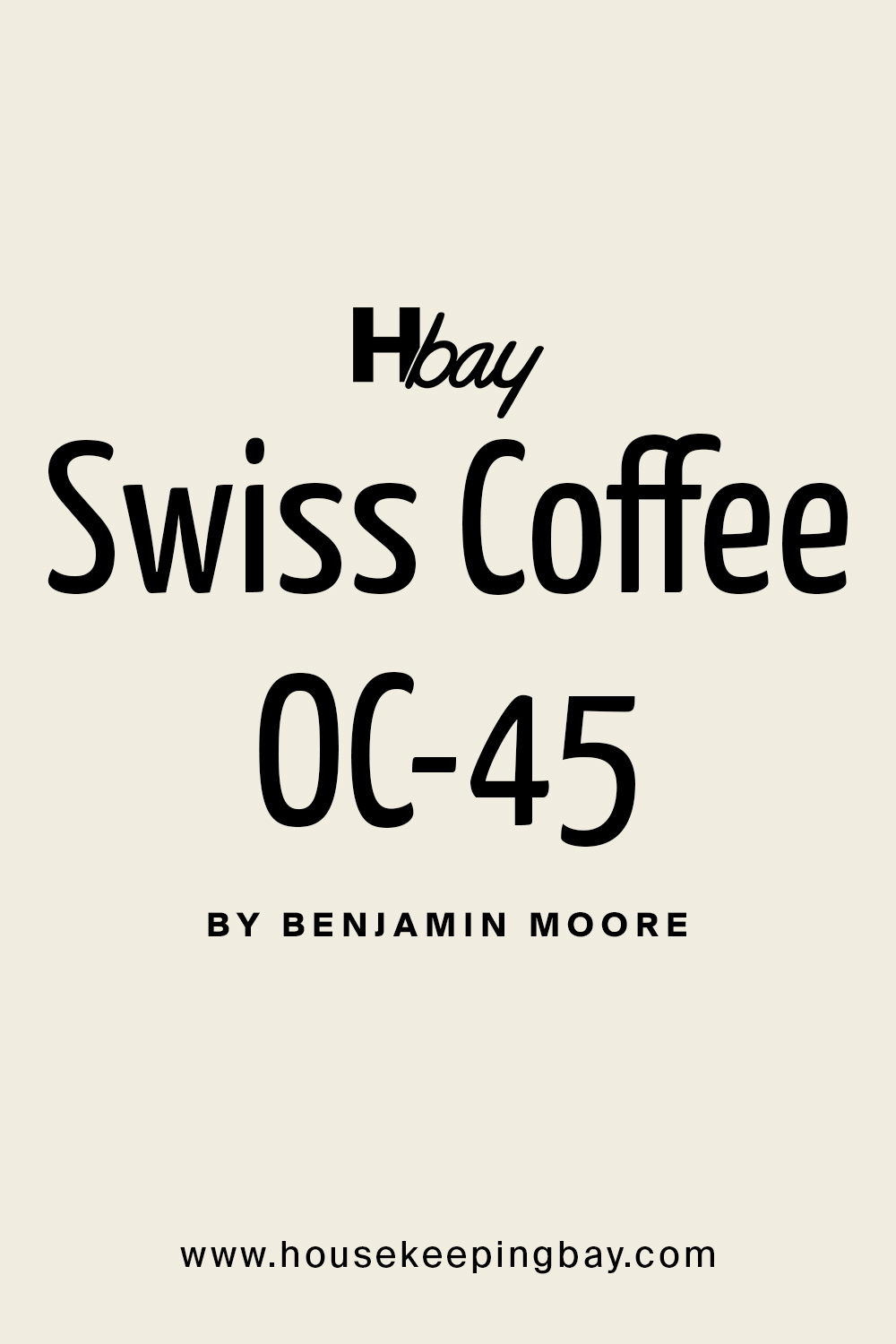 Get a sample of SWISS COFFEE (get a sample from Samplize )
Undertones Of BM Swiss Coffee
Undertones always matter since they decide how exactly certain paint color will look on your home interior walls. This is why you should always take this nuance into consideration when choosing the paint for your home renovation projects.
As for the undertones of Swiss Coffee paint color by Benjamin Moore, they are more of a golden yellow tone.
They can look and read differently in different light, so you need to be sure that you test a swatch on your walls before buying cans of paint.
Also, take the following nuance into consideration: when contrasted against a truer white trim, the yellow undertone can be more pronounced.
This is why we recommend you be aware of this when you are sampling BM Swiss Coffee.
And since we have mentioned the undertones of this paint color, as well as the way it may look in different types of light, let's take a closer look at this side of BM Swiss Coffee paint.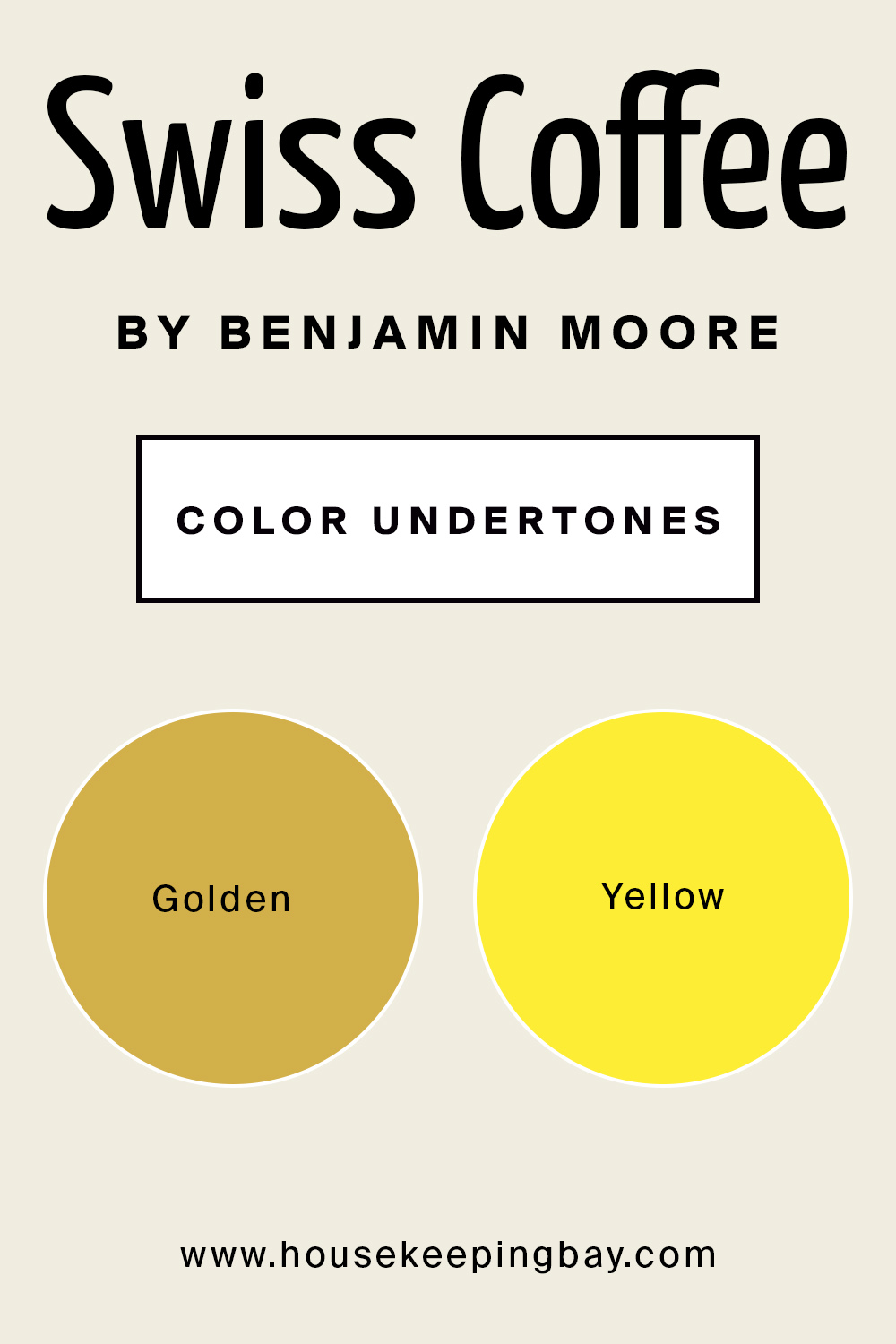 How Does Swiss Coffee OC-45 Color React to Light?
When you choose what paint color you want to have on your interior or exterior walls, it is essential to keep in mind that the same color can look different depending on how it is lit.
It happens because of the LRV rate of the paint color.
Just to remind you, LRV, (also known as Light Reflectance Value) is the percentage of light it reflects. It is also a scale that is used by design professionals.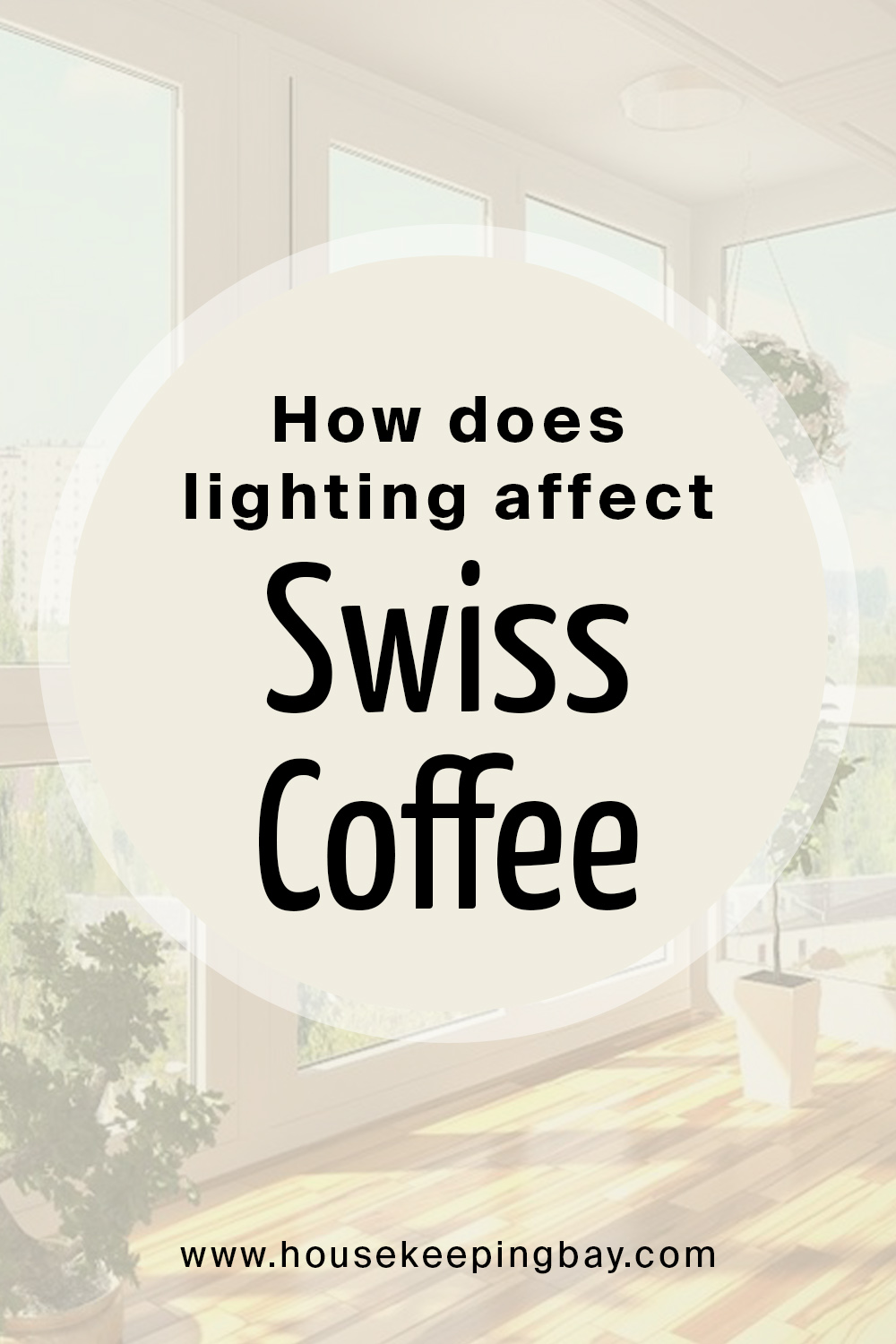 Basically, if you take a look at this scale, you will see that zero is the darkest black and 100 is true white paint color.
Swiss Coffee's paint color has an LRV of 83.93, which is considered high.
It means that Benjamin Moore Swiss Coffee color applied to your walls reflects nearly 84 percent of light making spaces appear lighter and brighter.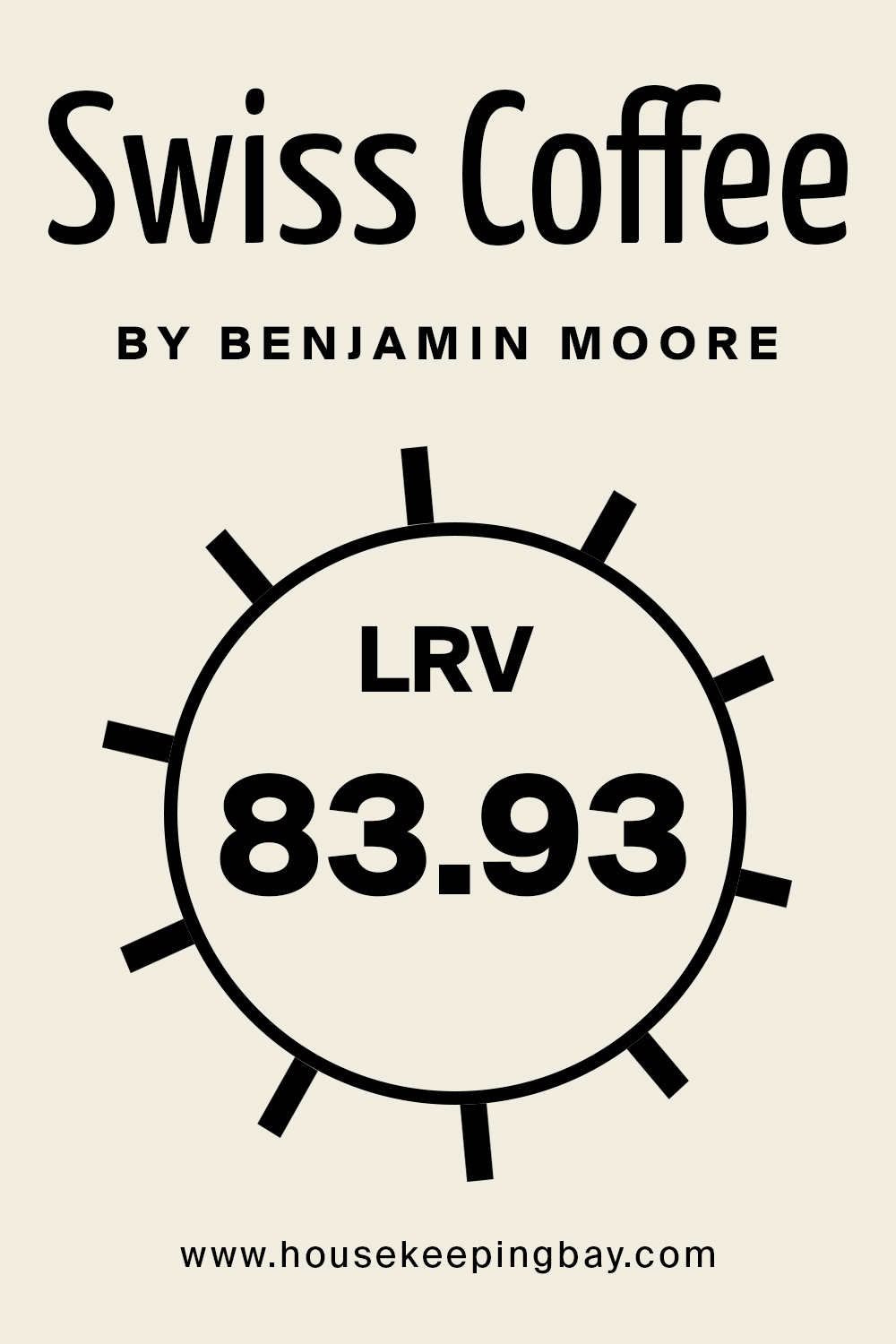 What is LRV? Detailed Guide
Coordinating Colors of Swiss Coffee OC-45 by Benjamin Moore 
Picking the correct coordinating color or colors to match with the major color in a room is a tricky task unless you have a sharp eye for colors, hues and shades.
This is why so many homeowners feel a bit frustrated when it comes to figuring out what coordinating colors would be the best for the paint they choose to apply to the walls.
Below, you can find a few color suggestions that will become a perfect match for Benjamin Moore Swiss Coffee paint.
They will create a calming yet very delicate and stylish color palette since they differ in terms of tones and intensity of color.
Like with every paint colour, We highly recommend using SAMPLIZE.  Samplize is a peel & stick paint sample that you can easily move around your room for over HALF THE COST of traditional samples – and they deliver right to your front door!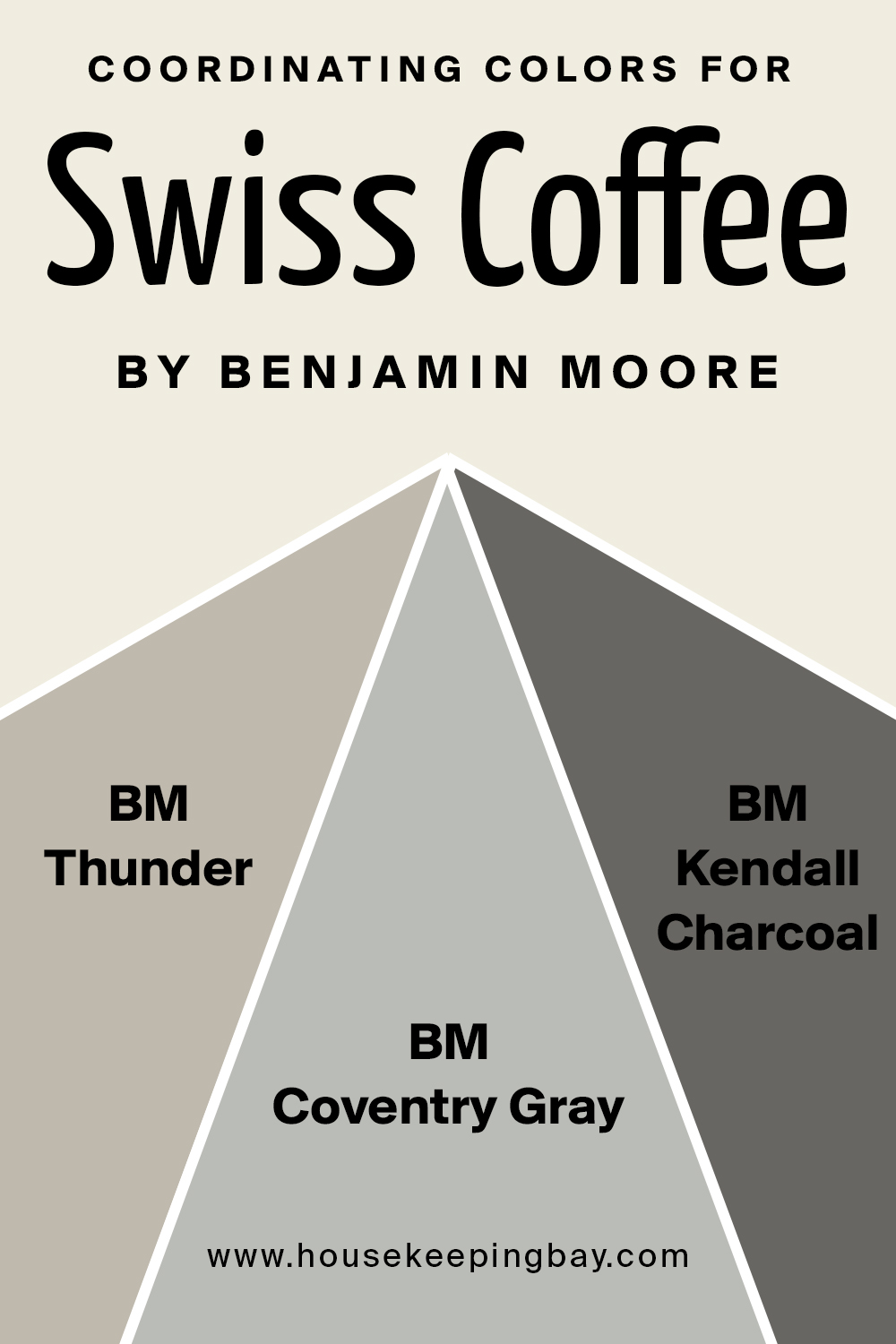 Colors That BM Swiss Coffee Goes With
When you are going to use a certain color in your home, you should be aware of a few other colors that might look good when paired with it on the walls or other interior surfaces.
Like this, you will be able to create a more harmonious color palette in your space.
For the BM Swiss Coffee paint, homeowners often find it difficult to find the colors that will go well with this interior paint. Luckily, if you are a bit lost about this issue, there is an easy way out!
If you are going to use Swiss Coffee color in your home, consider these color options as those it will go well with:
Benjamin Moore Lush AF-475

Benjamin Moore Fossil AF-65

Benjamin Moore Newburg Green HC-158
Thanks to the versatility of their palette, you will easily find the color or colors that will highlight the significant features of your living space and make it look unique and personalized.
What is SAMPLIZE?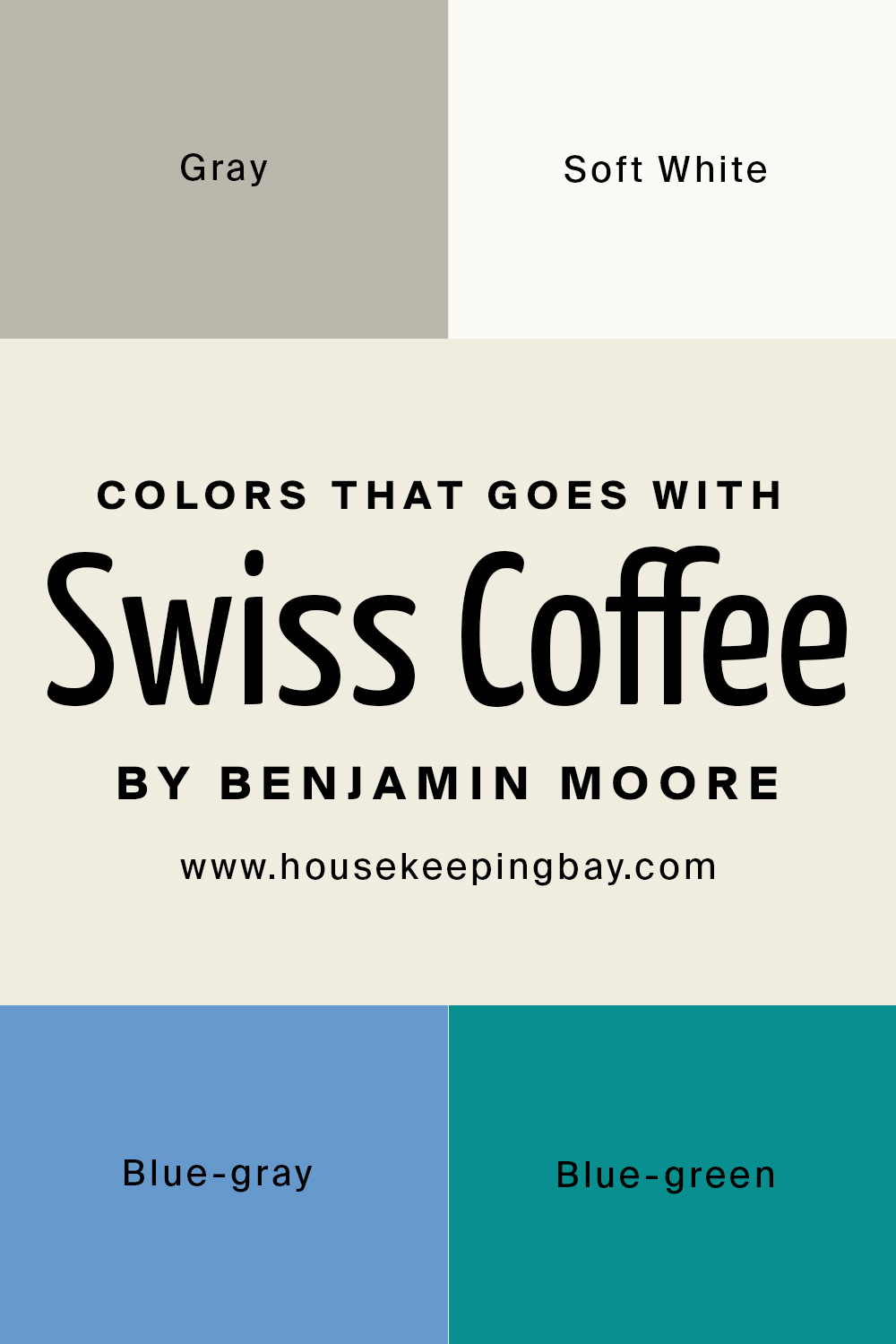 What Is the Best Trim Color For BM Swiss Coffee?
When you decide to refresh your home's interiors a bit, you might need not only the basic color or colors to apply them to the walls. Picking a suitable trim color is also essential. Benjamin Moore Swiss Coffee works well with Benjamin Moore White Dove and Benjamin Moore Cloud White as trim colors.
You can also try it in a tone-on-tone method, which means painting trim and walls the same color.
This can actually help to tone down any undertones in the paint, because the comparison of a clear white to a cream white is so much stronger.
In addition, simply using an un-tinted white paint throughout many rooms of our home can also be a good and simple solution.
It is always a fresh, clean white that contrasts exceptionally beautifully with the creamy-toned paint colors.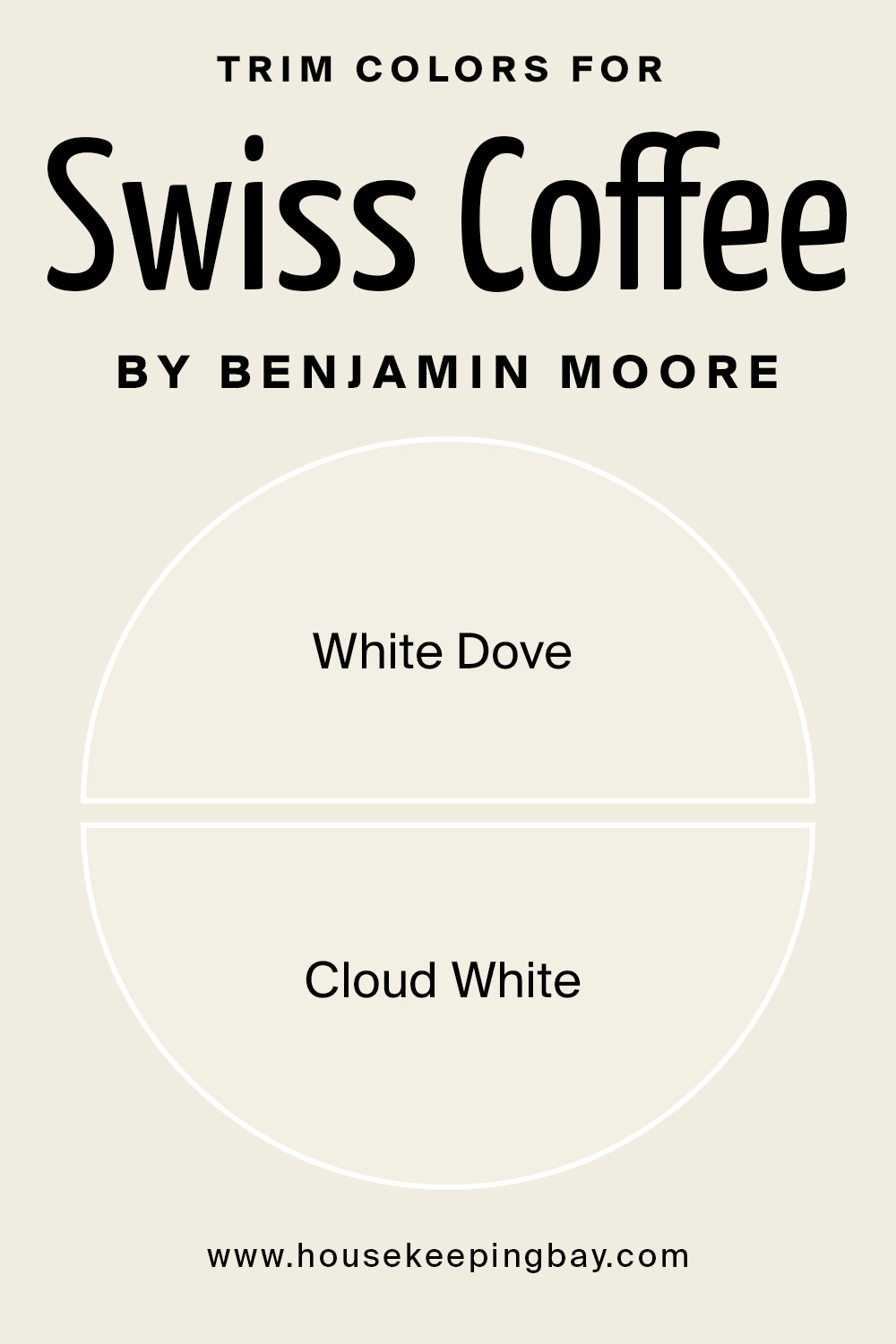 Paint Colors Similar to BM Swiss Coffee
Sometimes we might need to look for other paint colors instead of the one that was going to be used initially.
The reasons could be different: you might not find the color you need in a local store, or you realized that it would work on your walls the way you'd rather not want to.
No matter the reason, being aware of a few alternative similar colors is always a good idea.
And if you want to know what other shades of off-white paint color you can opt for instead of the Swiss Coffee, grab the following suggestions:
If you put the m all side by side, you will hardly notice any significant distinction unless you really have a sharp eye for hues and shades and tones!
However, these colors may indeed react to light somewhat differently, so consider these options in case you might need more alternatives.
And now we suggest you learn a bit more about in what rooms and areas in your home BM Swiss Coffee will work better than in others.
With this in mind, deciding where to apply this paint will be easier for you.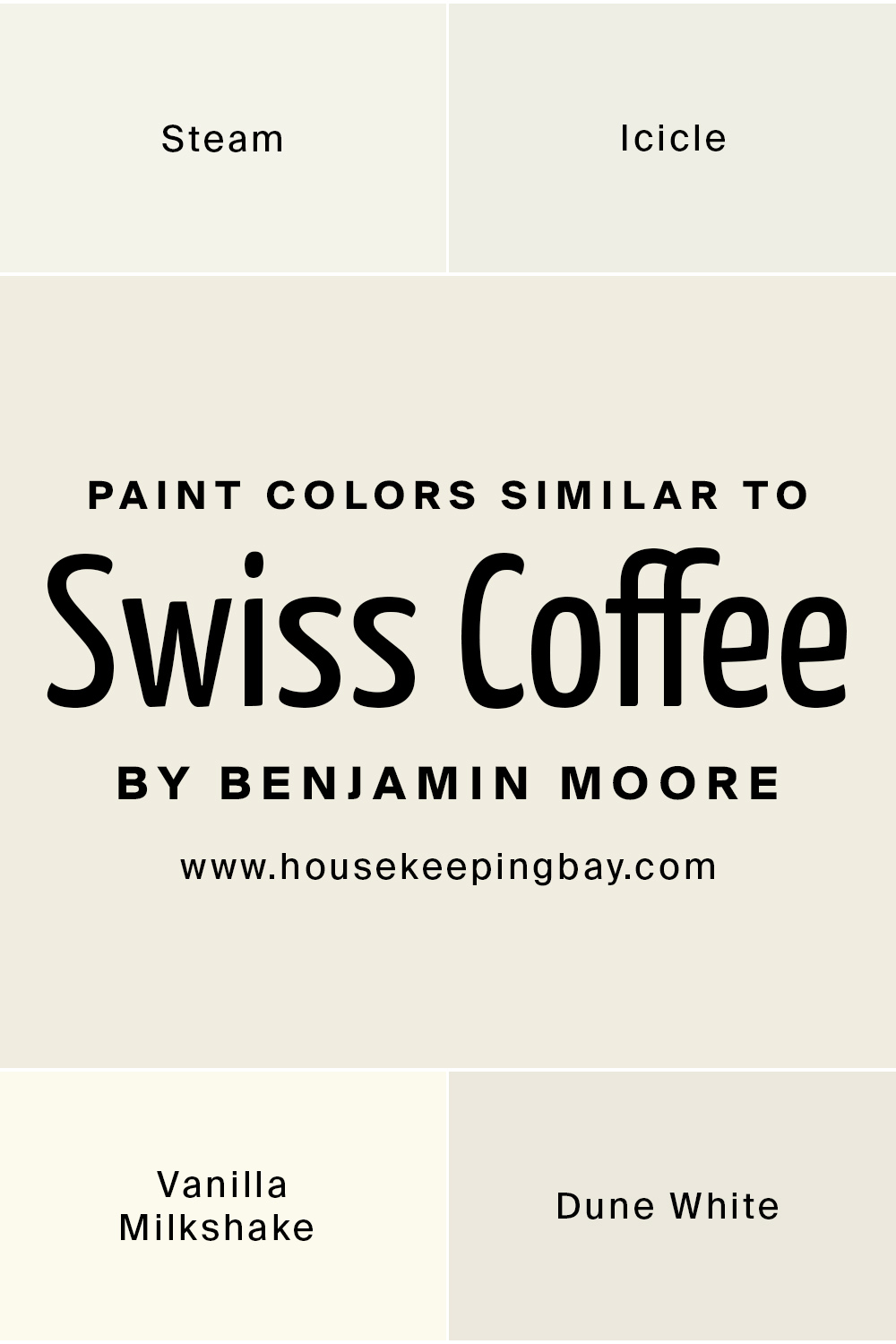 Where Swiss Coffee OC-45 by Benjamin Moore Can Be Used?
In order to make the most out of paint color in your home, you need to consider in what rooms and spaces it will work better than in others. This is why we are going to tell you where BM Swiss Coffee paint color will be more suitable and look harmoniously in your living space.
Swiss Coffee OC-45 by Benjamin Moore in the Living Room
Benjamin Moore Swiss Coffee is a great color for your living room. This delicate and warm white will create a very cozy and calming atmosphere in this room, especially if it has plenty of natural light.
But even in artificial lighting, BM Swiss Coffee will not look worse.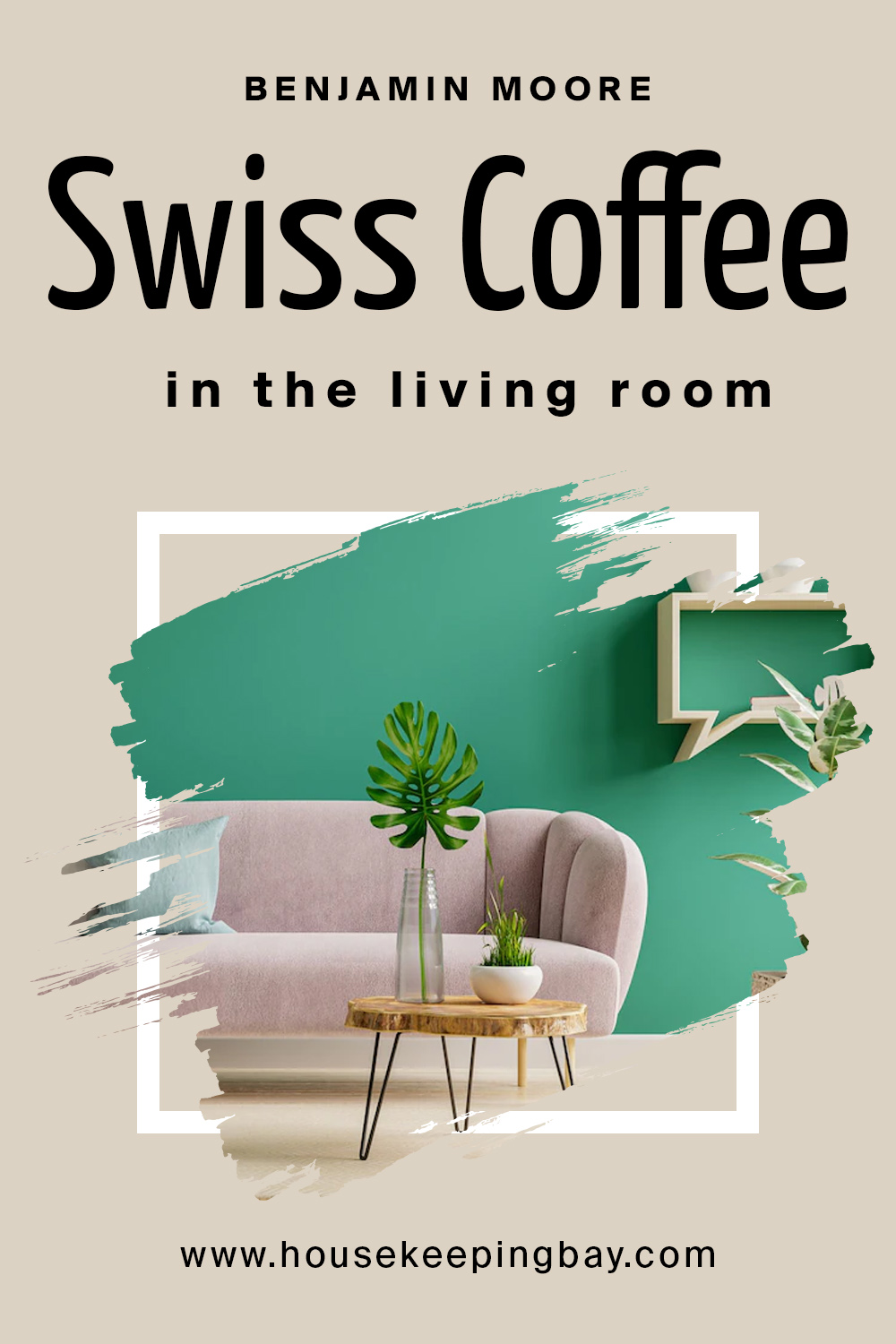 Swiss Coffee OC-45 by Benjamin Moore for the Bedroom
For your bedroom, Benjamin Moore Swiss Coffee is also a very matching color.
Since this room is expected to have calming and tranquil atmosphere, this off-white will work perfectly for this purpose.
You can combine it with wooden decor or furniture, as well as with brightly-colored cushions or carpets in your bedroom.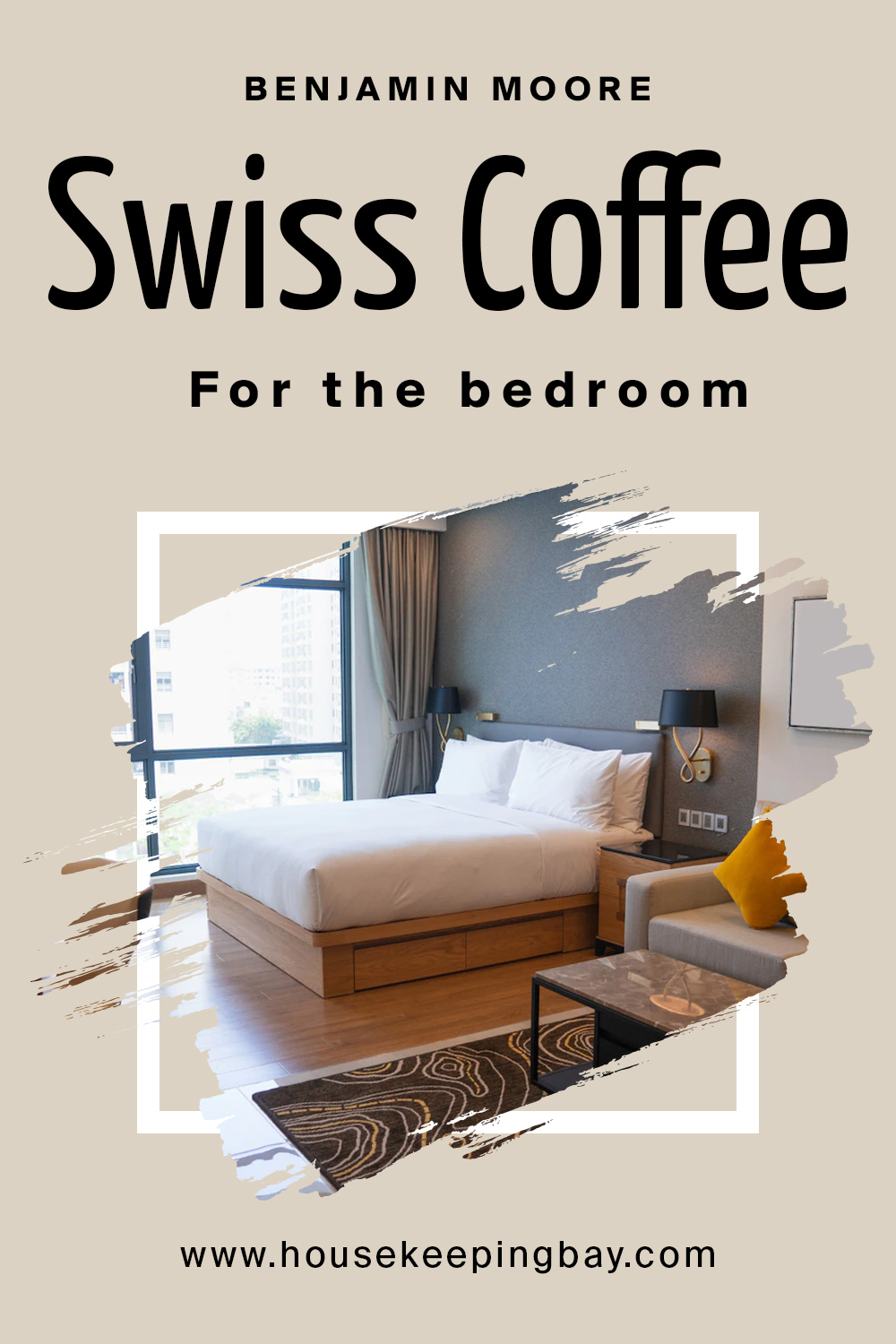 Swiss Coffee OC-45 by Benjamin Moore for the Kitchen
If you prefer light-colored kitchens, consider using this off-white in yours.
It can be paired with many other colors, such as browns, beiges, and greiges, as well as darker and more intense ones (blacks, etc.).
So as a basic color on the walls, BM Swiss Coffee will definitely fit any kitchen.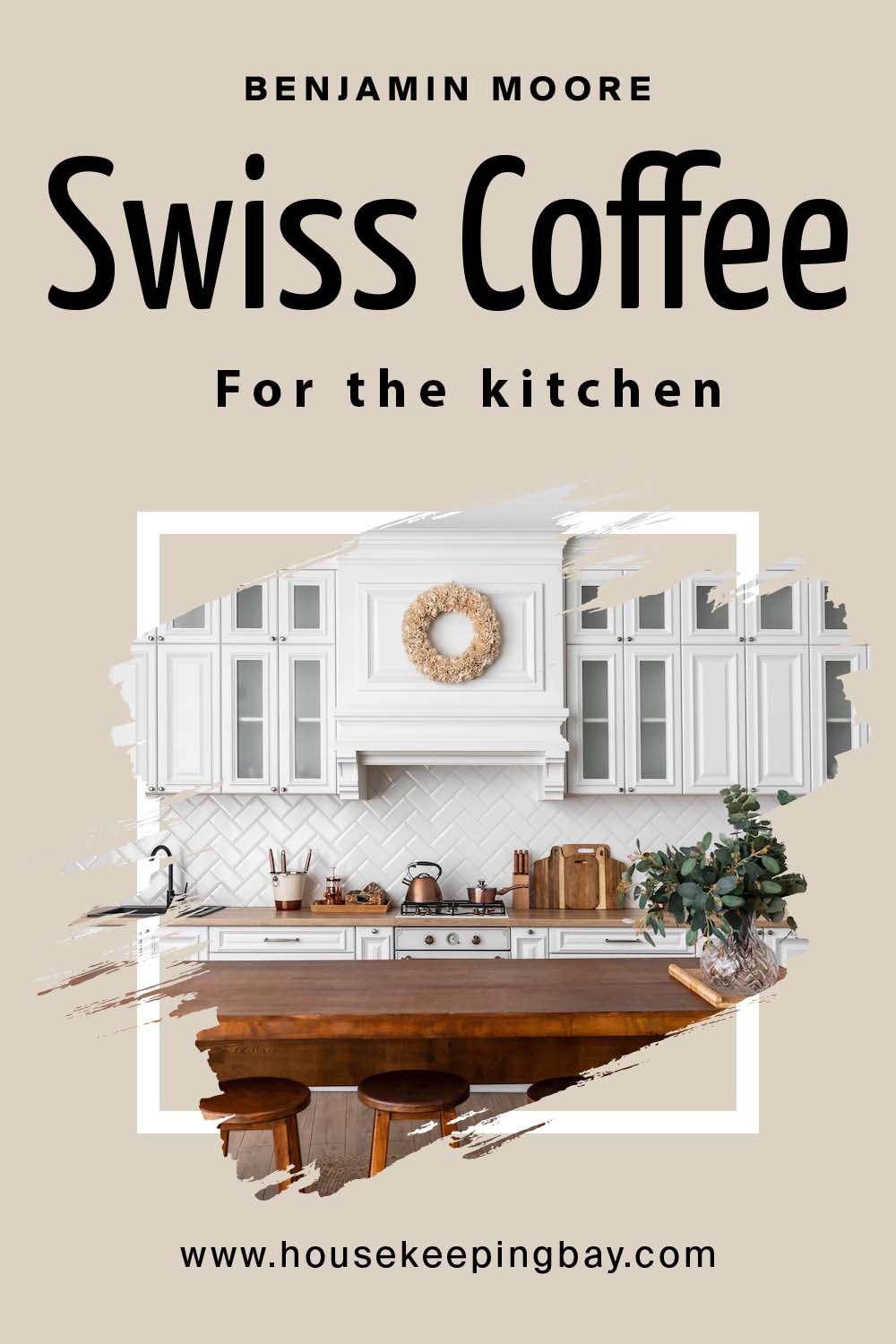 Swiss Coffee OC-45 by Benjamin Moore in the Bathroom
To make your bathroom look bigger and more spacious, consider using Swiss Coffee paint color on its walls.
It will make the room look brighter (especially if it has no windows), and also, this white can easily be paired with many other colors.
So you will not have to worry about finding matching shades for your towels or drawers!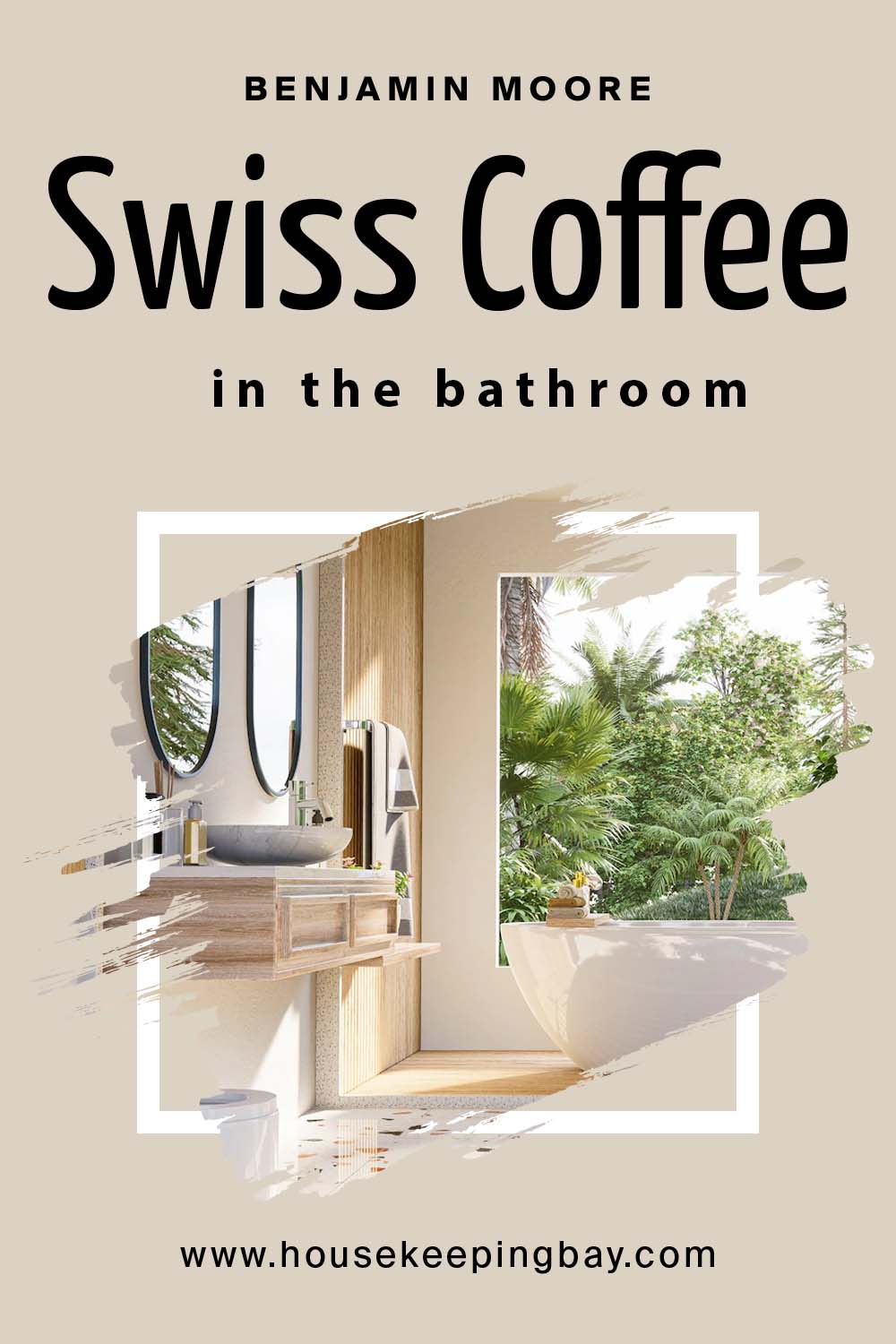 Swiss Coffee OC-45 by Benjamin Moore for the Exterior 
Benjamin Moore Swiss Coffee is so versatile that you can use it as an exterior paint as well!
And since this color does not change much depending on the type of light, you can use it both for the house that is located in an area with plenty of warm daylight and in the areas with more gloomy lighting.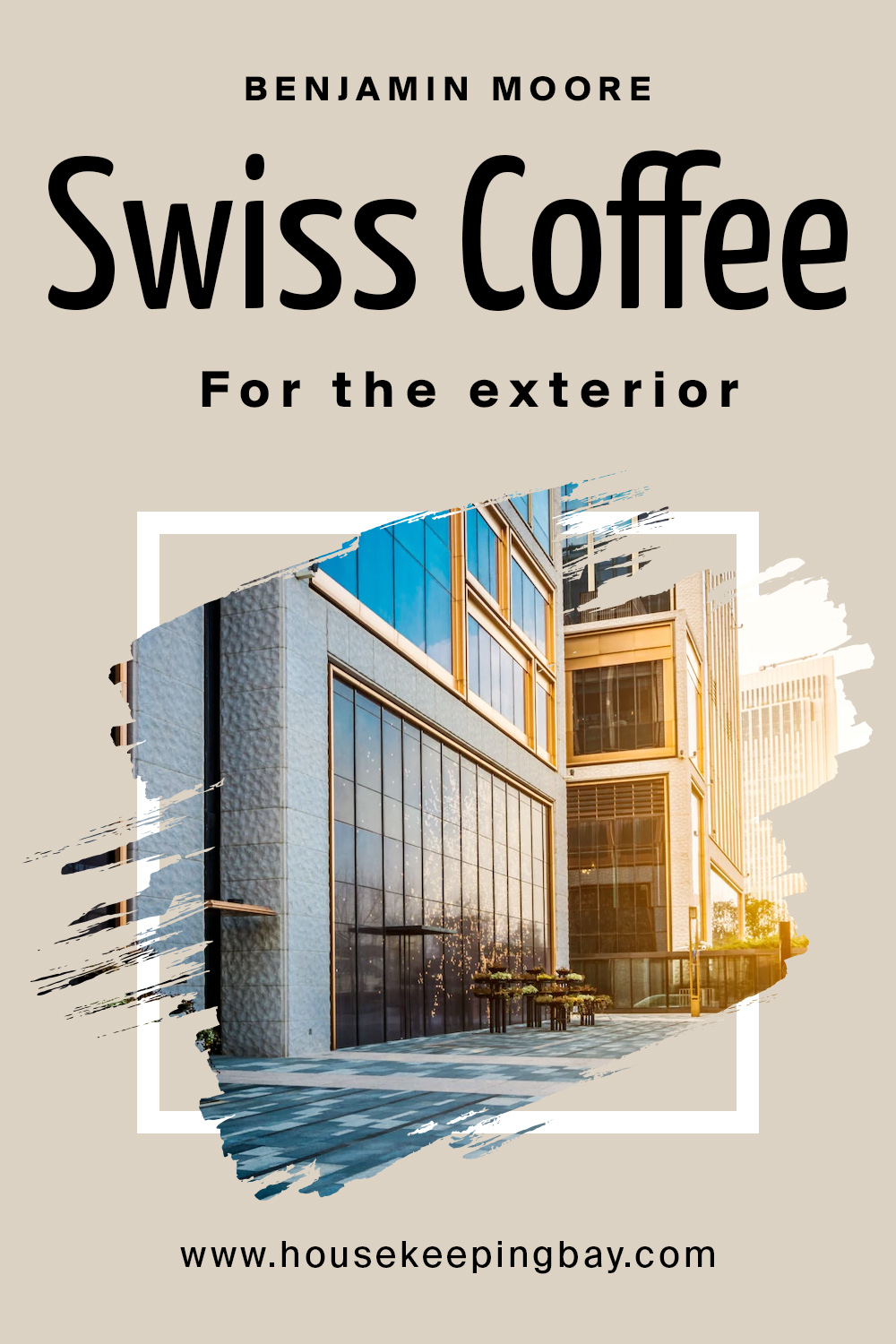 Comparing Swiss Coffee With Other Colors
In order to make it easier for you to see the true nature of Benjamin Moore Swiss Coffee paint color, and realize what makes it different from other similar colors, we recommend you check out a brief comparison of this soft and warm off-white with a few other paint colors of the similar shade.
Swiss Coffee vs.Alabaster
Unlike Swiss Coffee which has golden yellow undertones, Alabaster paint color by Sherwin Williams has subtle beige undertones.(get a sample of ALABASTER)
This is why Alabaster looks somewhat cooler than Swiss Coffee, and also, if you place them side by side, you will see that Alabaster looks like very light beige with a greyish hue whilst Swiss Coffee reveals a warmer hue.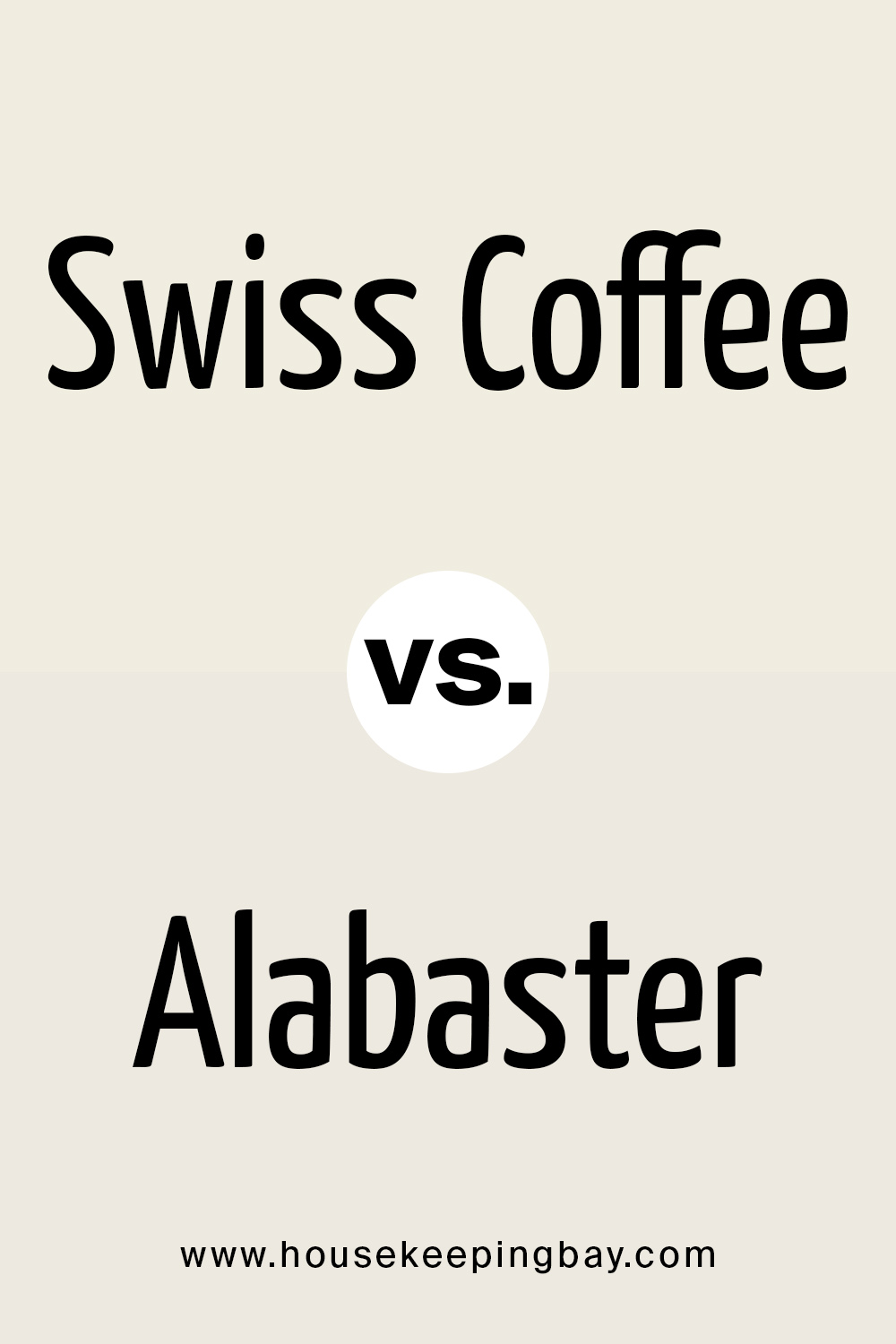 Swiss Coffee vs White Dove
These colors have very similar undertones. White Dove by Benjamin Moore has warm creamy yellow undertones, and Swiss Coffee has golden yellow ones. (get a Sample of White Dove)
However, this golden hue of Swiss Coffee is exactly makes it looks warmer if you compare these two colors closely.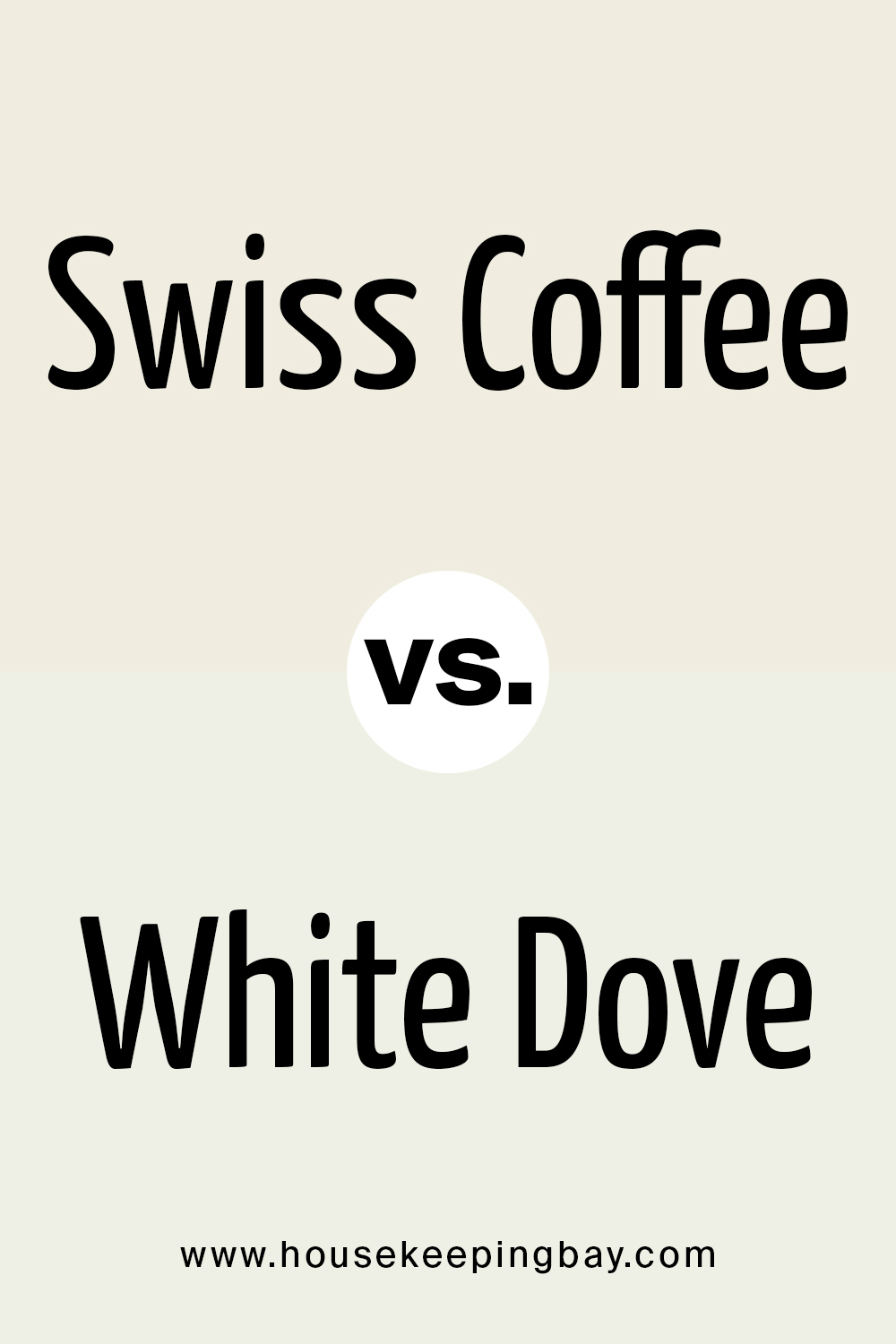 Swiss Coffee vs Simply White
If we compare Benjamin Moore Simply White color vs Swiss Coffee paint of the same brand, we will see that even though both are white, Simply White paint color has yellow undertones that are pretty subtle. (get a sample of Simply White)
In comparison, Swiss Coffee has prominent golden yellow undertones which makes this color warmer and a bit more intense.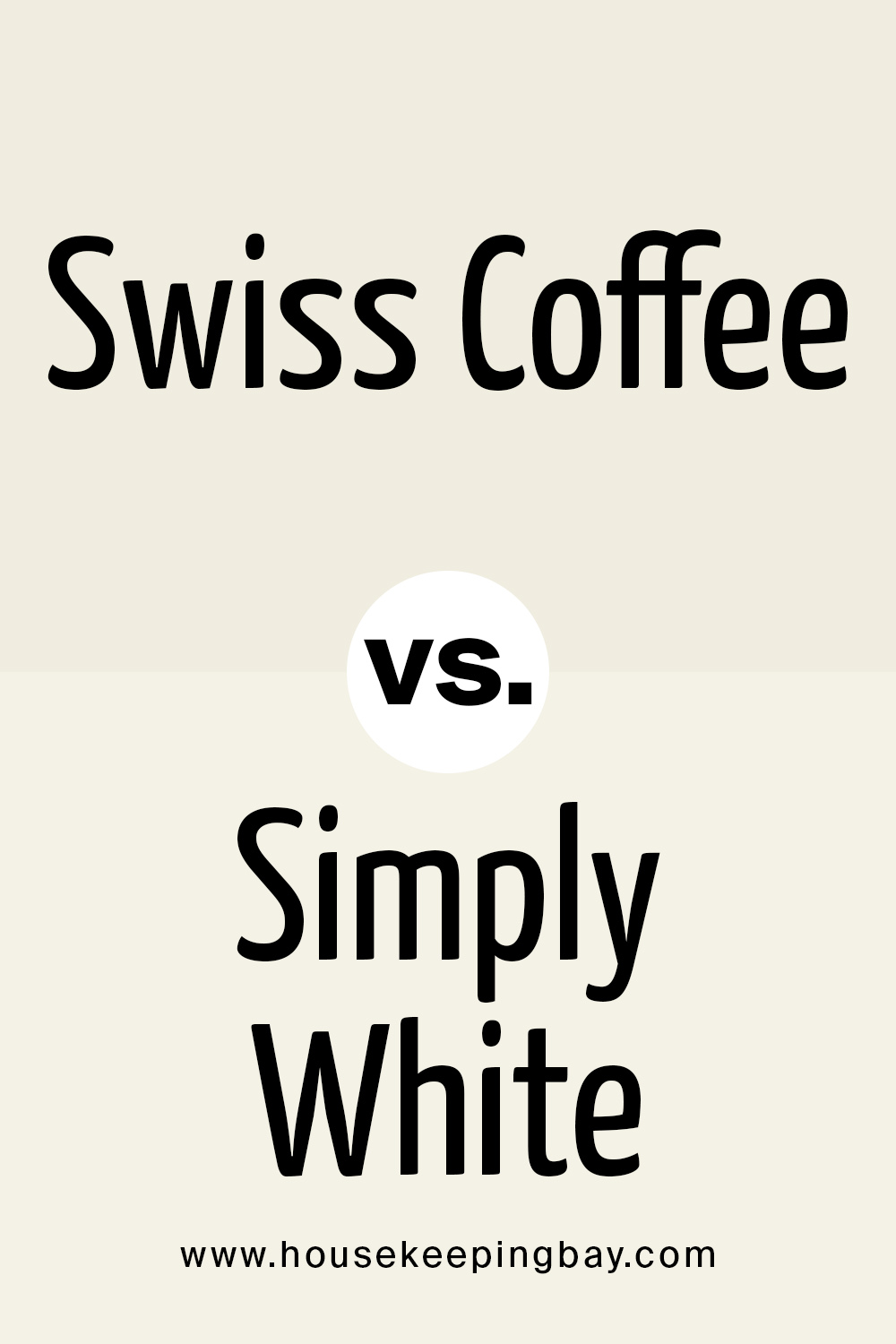 Swiss Coffee vs Pale Oak
Pale Oak paint color by Benjamin Moore looks noticeably gray in comparison to a warmer and more yellowish off-white Swiss Coffee. (get a sample of Pale Oak)
These two can hardly be called a harmonious duo to use along with each other since Pale Oak looks rather cool-toned, and Swiss Coffee is much warmer.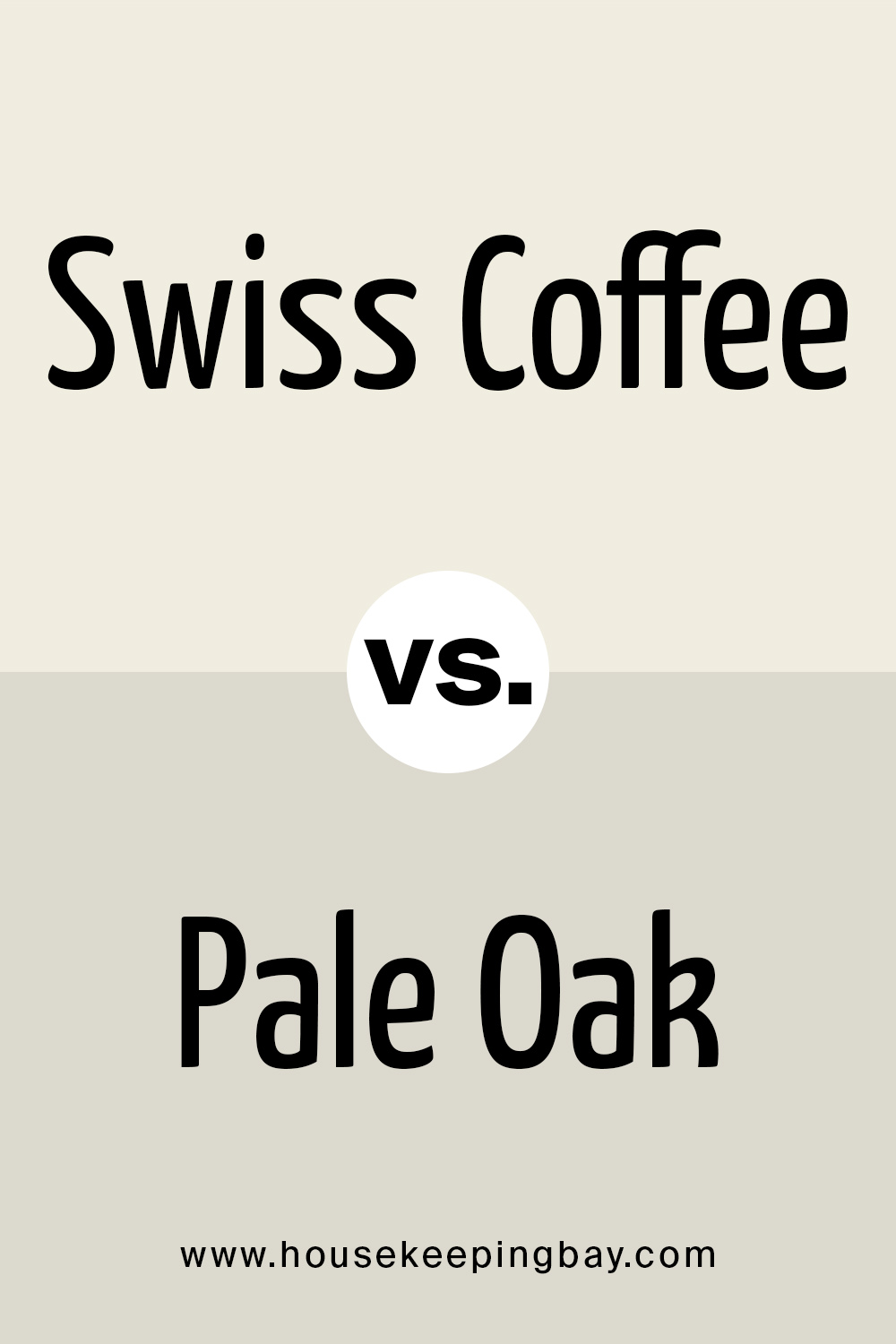 Swiss Coffee vs Pure White
Pure White is a tricky color since it actually has no prominent undertones. This white has a neutral base.
But if you compare it to Swiss Coffee color, you will see that Pure White looks nearly light greige with a noticeable grayish tint. (get a sample of Pure White)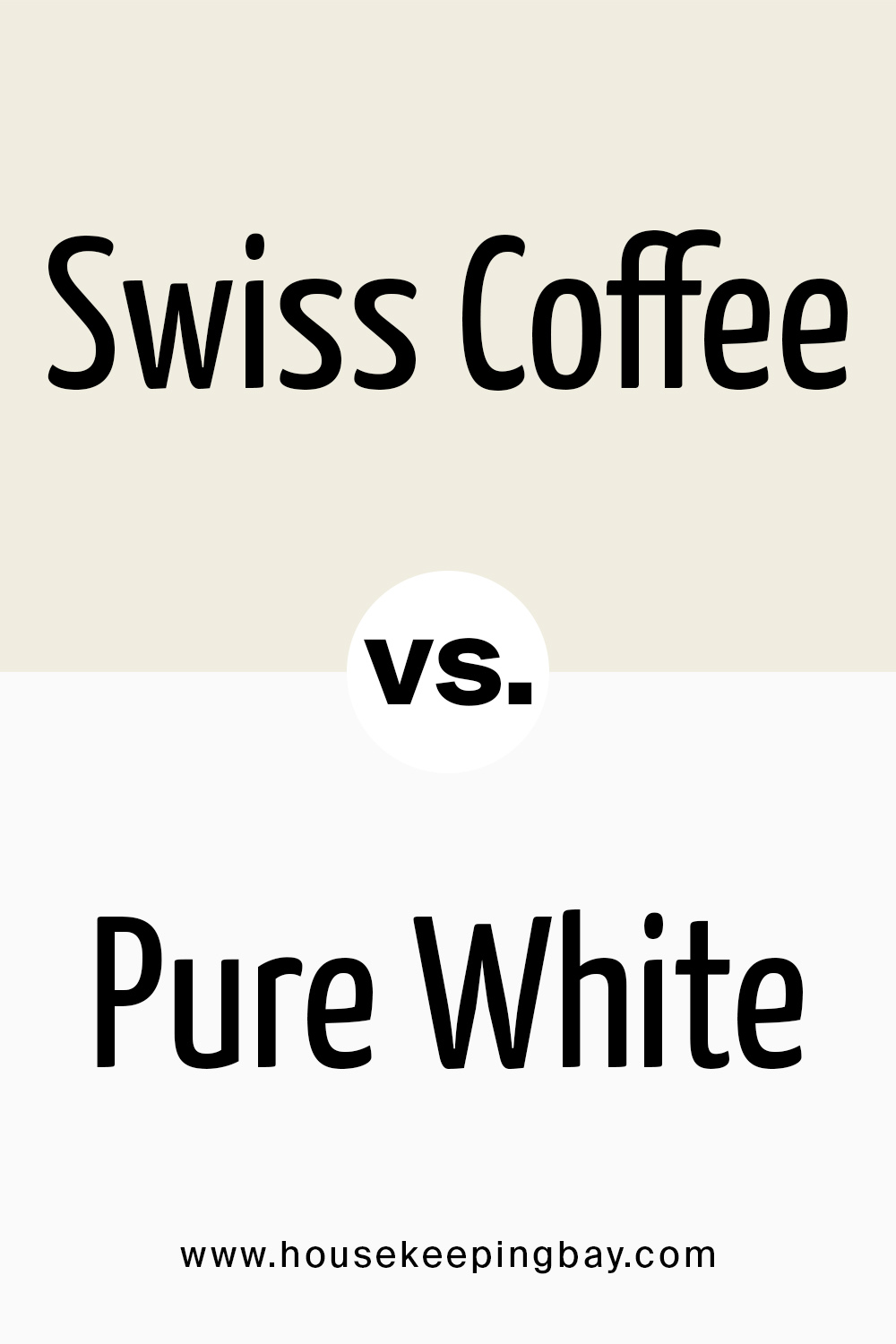 Swiss Coffee, instead, shows more of its warm and golden yellow undertones in this pair of colors.
Like this, you have now learned a bit more about the beautiful, delicate and sophisticated Swiss Coffee off-white color by Benjamin Moore brand.
Now you know what rooms it will work the best, what undertones and LRV it has, and what similar colors you can use instead.
Get a sample of SWISS COFFEE (get a sample from Samplize )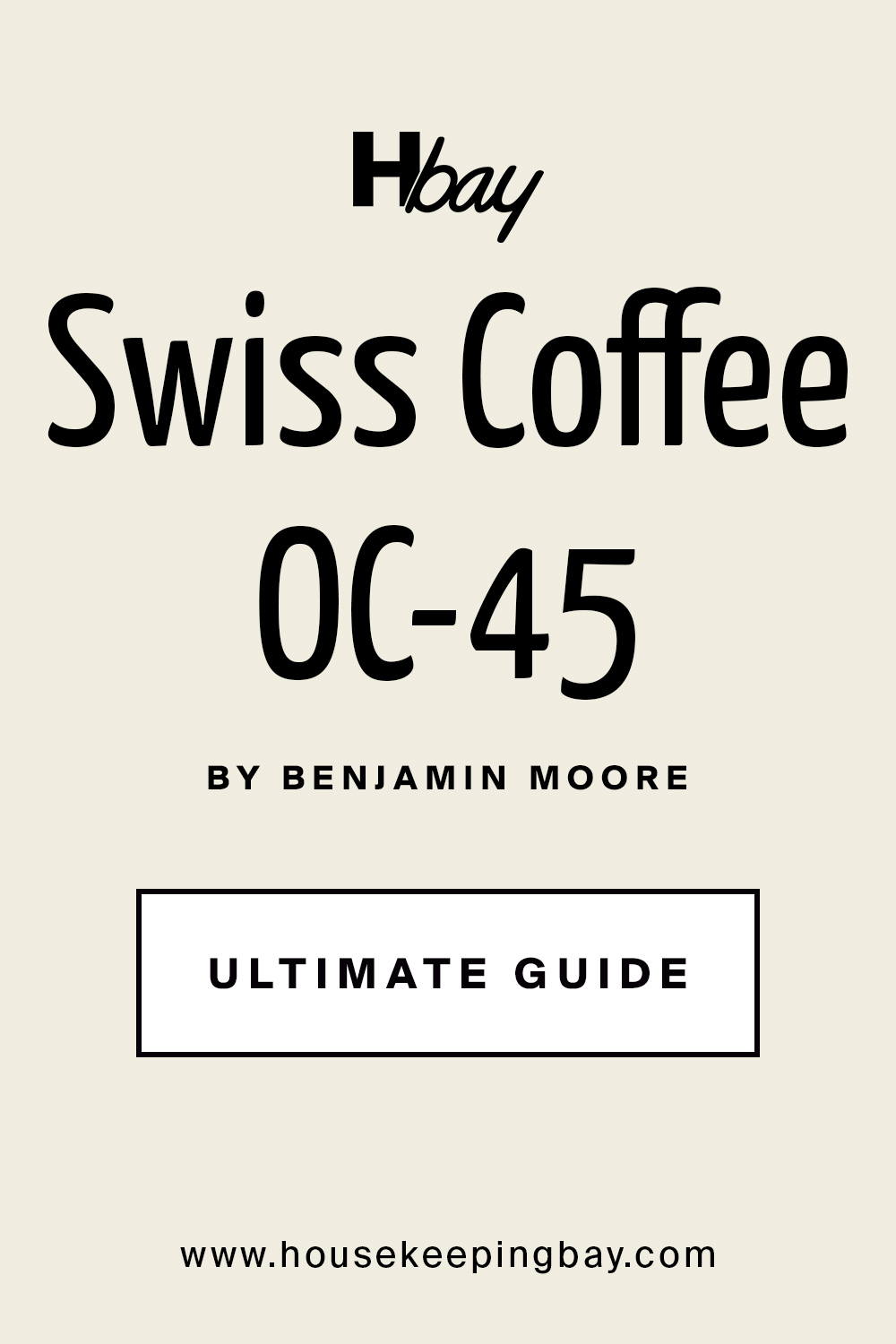 Frequently Asked Questions
⭐Is BM Swiss Coffee a greige color?
No, it is an off-white. It might seem greige because of yellow and golden undertones.
⭐Can BM Swiss Coffee be used for painting a garage?
Why not? You can use it on both interior and exterior walls of your garage easily.
⭐Will Swiss Coffee look good with golden kitchen hardware?
Yes, it will. The color has golden undertones so it will match golden holders and other items well.