Most of us think white is a plain and boring color that can't add life to a room. We tend to believe that rooms painted all white look too sterile and hospital-like. However, this is not true! And today, we are going to prove that to you.
In this article, you will find information about a beautiful white paint color called Aesthetic White by the Sherwin-Williams brand. In particular, we will tell you what kind of white it is, what undertones it has, and how it may react to different types of lighting in your home.
Also, you will learn how to coordinate it correctly and what colors should be used for it. We will explain in what rooms the Aesthetic White color will work best of all, and many more valuable things!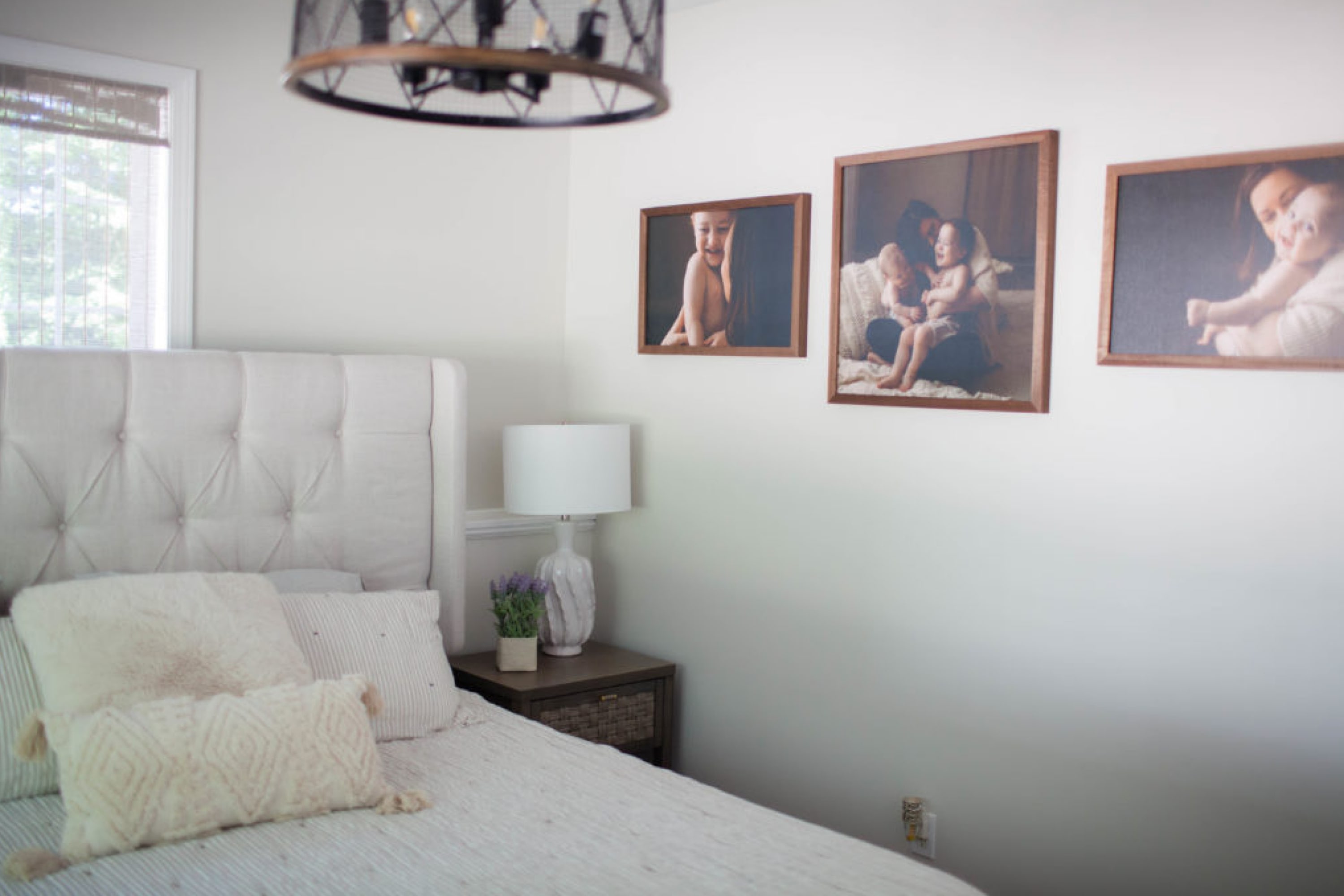 What Kind of White Color is Aesthetic White SW-7035?
Aesthetic White SW-7035 paint color can be considered the perfect shade of off-white, as Encycolorpedia says. It is warm enough, but it can still brighten up a room in a way only white paint can.
Sherwin-Williams Aesthetic White will bring a calm and relaxed vibe into any space you use it in. And since it is an off-white paint color, it will create an illusion of a larger space. This is why you should definitely consider this white if you need to paint a small room to make it seem bigger!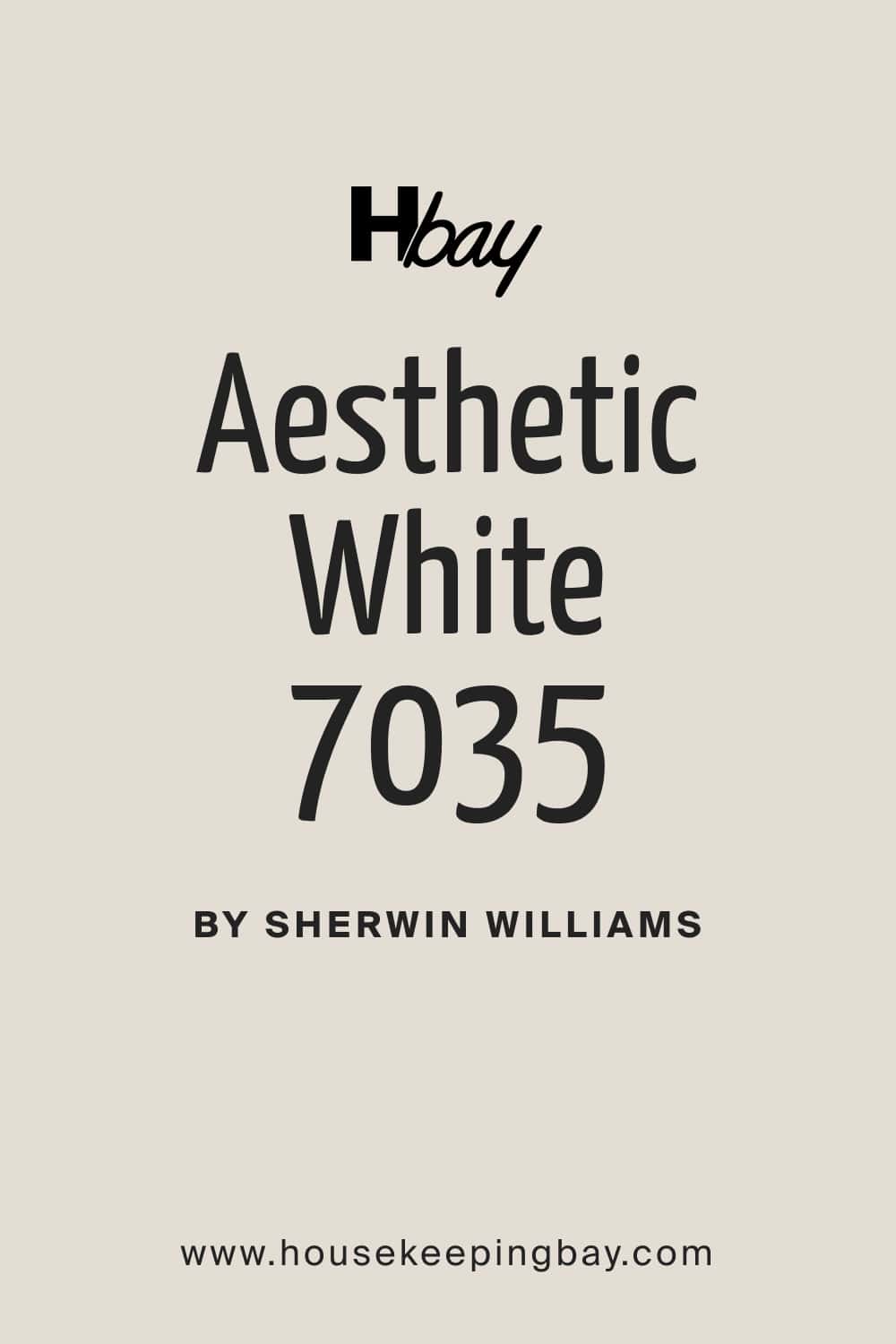 Aesthetic White SW-7035 Undertones
Before you use paint on your walls, you should remember that any color has undertones. Well, almost any. And those undertones can be pretty complex, showing up at the most inappropriate time and place! This is why you should always learn what undertones the color has in advance. This way, you will avoid regretting your color choice later.
Speaking of SW Aesthetic White, this color is a chameleon! Depending upon the lighting in a room and architectural conditions, this white can either look beige or gray! But this is exactly what makes it so challenging because beiges and greiges are known as "shapeshifters" among the colors.
This is why we strongly recommend you use color samples to try them at home to see how exactly this off-white may read in your space since, in different rooms and different lighting, it will definitely look a bit distinct.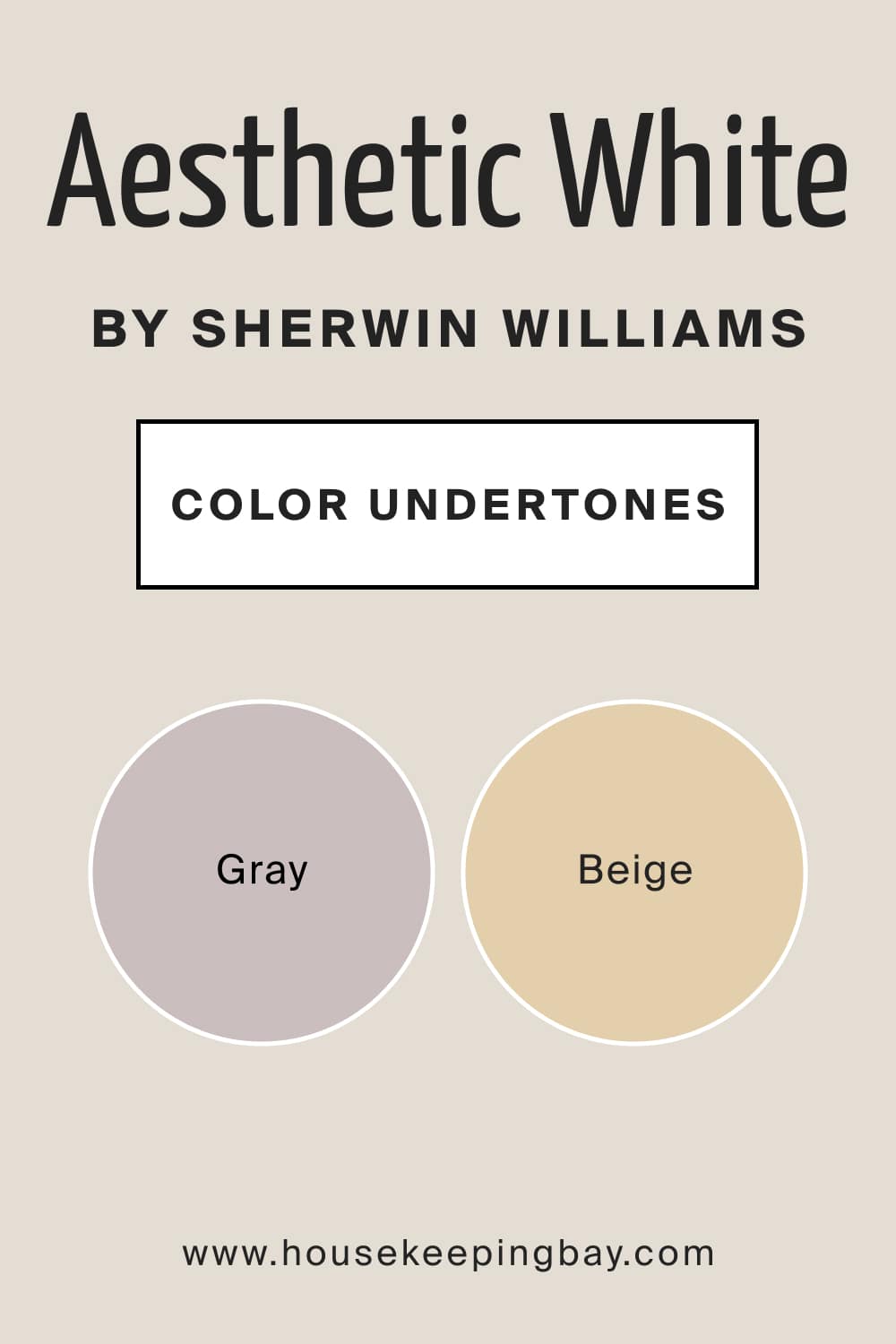 Aesthetic White SW-7035 Coordinating Colors
Coordinating colors help you create a more balanced and eye-pleasing color palette in your home. If you want to use SW Aesthetic White color on your walls, consider these paints as coordinating colors:
SW Chelsea Gray
SW Aquaverde
SW Balanced Beige
SW Tony Taupe
SW Krypton
SW Filmy Green
You can use one of them or all three, it depends on your preferences and taste. In any case, they will look fabulous with the Aesthetic White paint.
In general, SW Aesthetic White pairs great with sky blues, lighter teals, lighter or darker grays, lemon yellow, browns, bronze, and sage greens. If you want to add some metallic accents, choose matte black, brushed brass, or even chrome and nickel.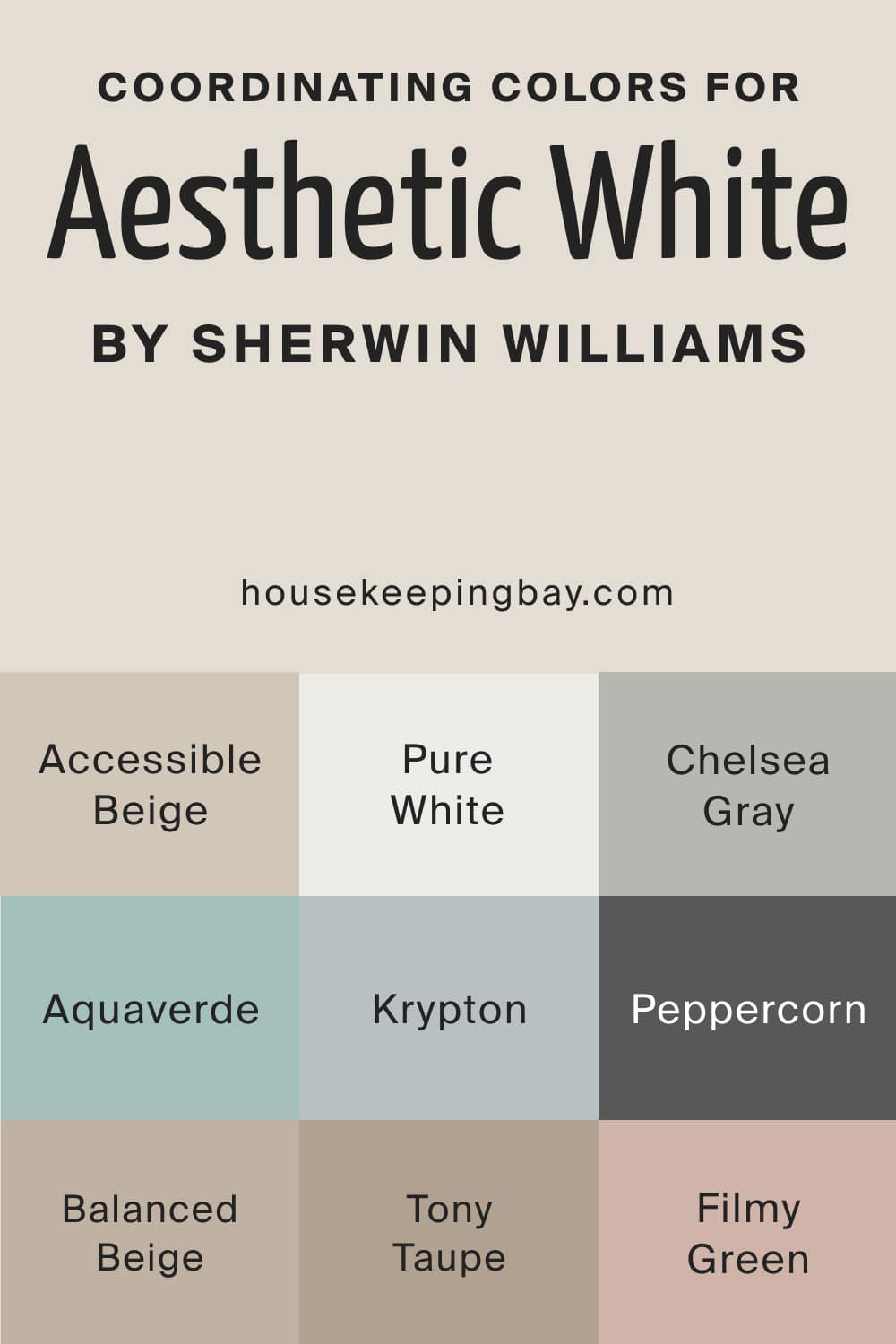 What Is an LRV of Aesthetic White SW-7035?
LRV stands for Light Reflectance Value. This measurement shows how much light a color can reflect when it is applied to the wall. The higher the percentage of the LRV, the lighter the color, and vice versa.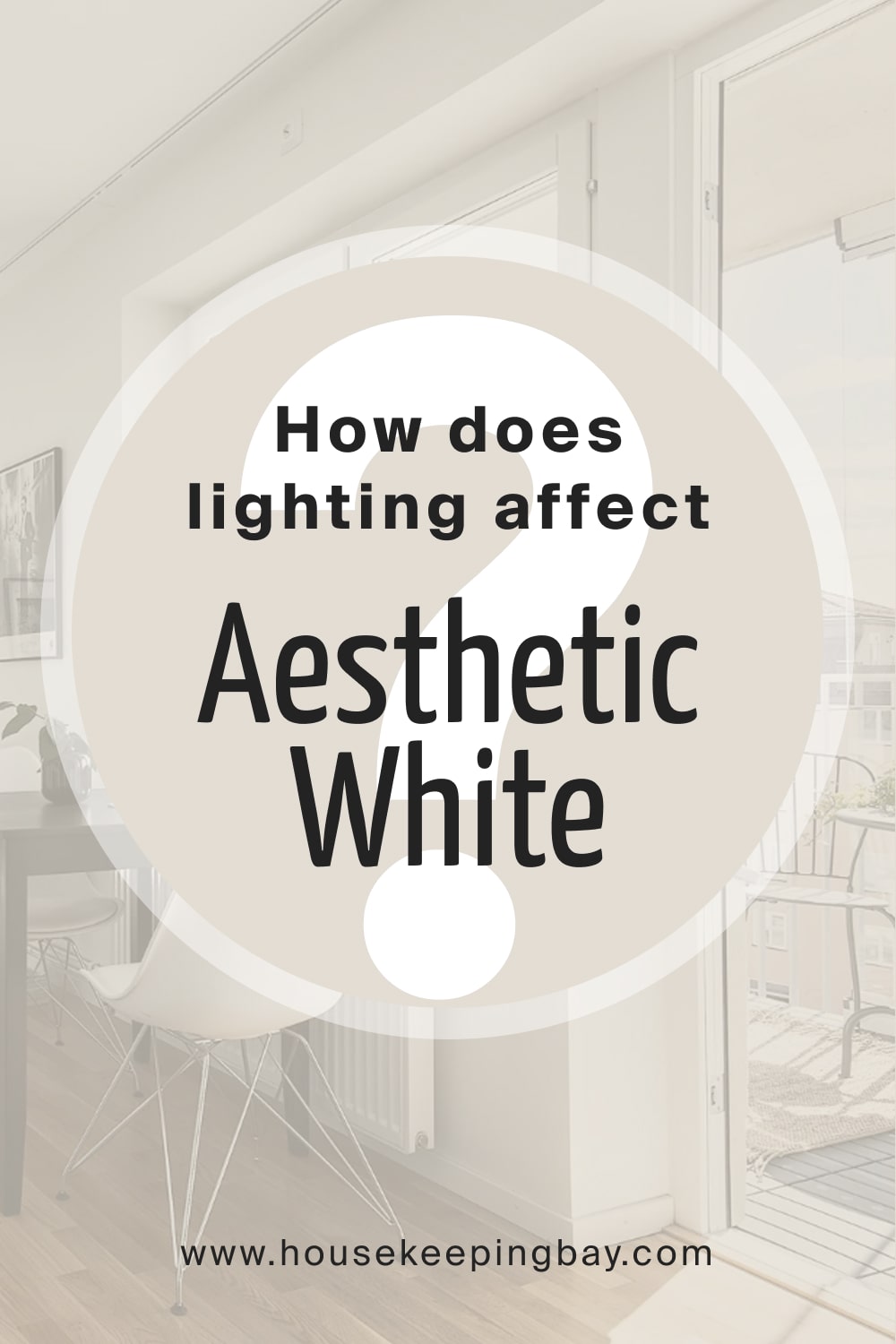 The LRV of Sherwin-Williams Aesthetic White is 73, which means this white is bright enough, but it will not be glowing on your walls like a lantern! Also, when this white gets in direct contact with natural hitting light, you should expect the undertones to get washed away.
And don't forget that this paint color will work differently in different lighting conditions. For instance, in the north-facing rooms, it will appear slightly cool and grayish. On the other hand, in the west or south-facing rooms, this white paint color will appear slightly warmer.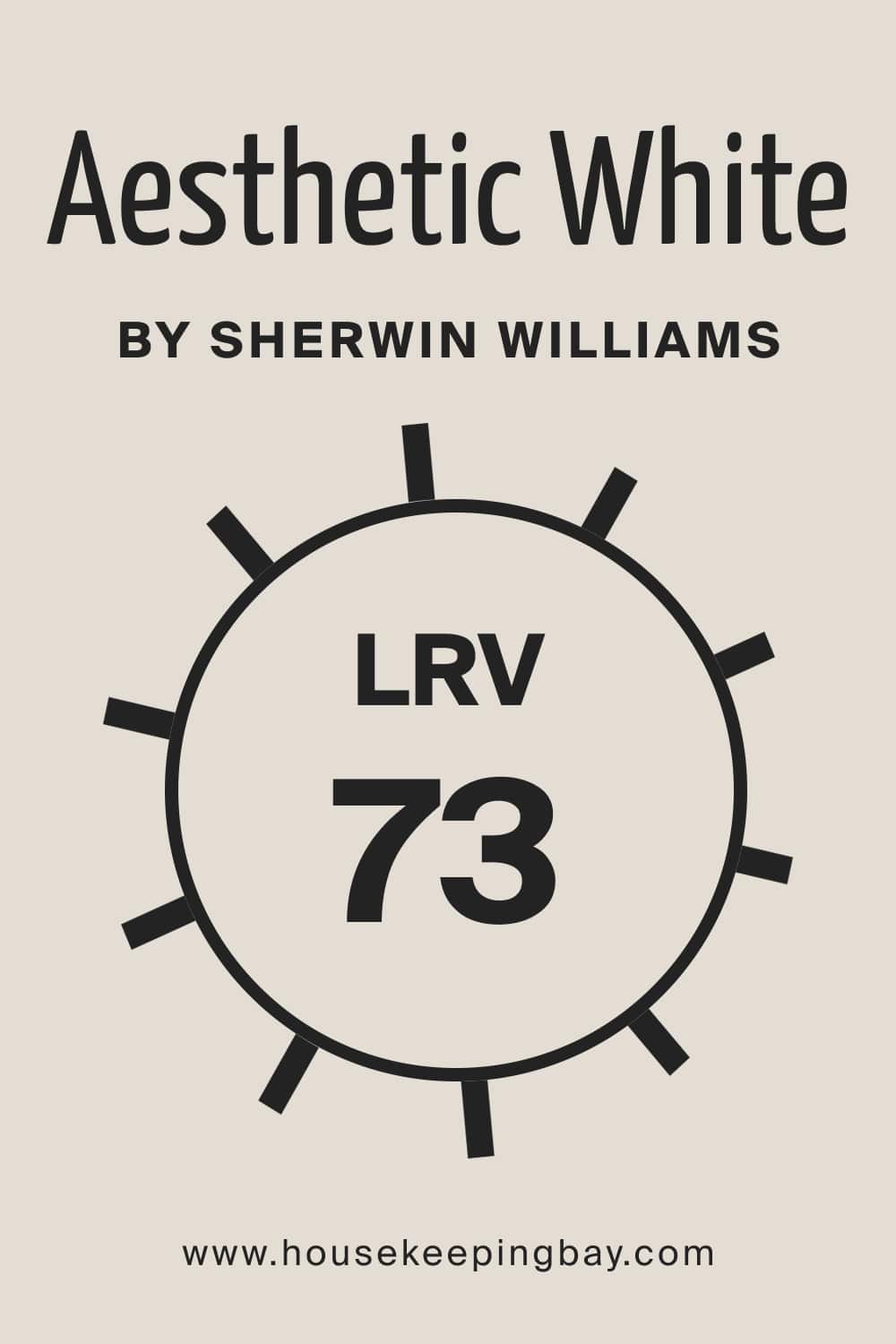 What is LRV? Read It Before You Choose Your Ideal Paint Color
Colors That Go With SW Aesthetic White Color
To create a stylish and balanced color scheme in your home, you should be able to combine paint colors respectively, depending on their undertones, LRVs, and other factors that matter. Below, we have prepared a list of paint colors that you can use with the Aesthetic White paint color, and be sure that they will work together.
SW Downing Slate
SW Salty Dog
SW Beach Haven
SW Starry Woods
SW Woodlawn Blue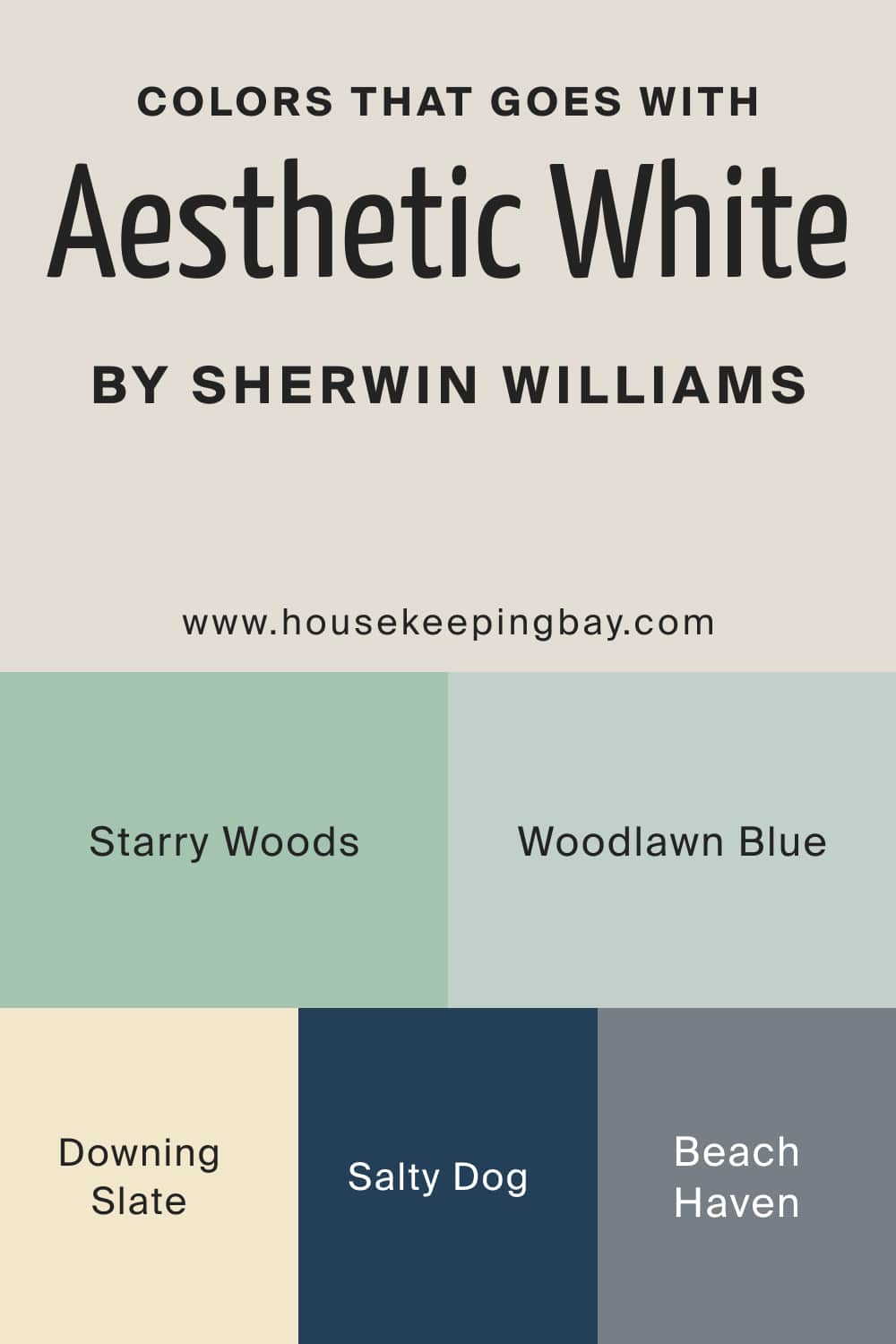 What Is the Best Trim Color of Aesthetic White SW-7035 ?
White is a traditional trim color that can be used with any color on the walls. And since SW Aesthetic White is soft and warm enough, you should use a brighter and lighter white but not too stark. Stick to warmer whites without the yellow hue, for example: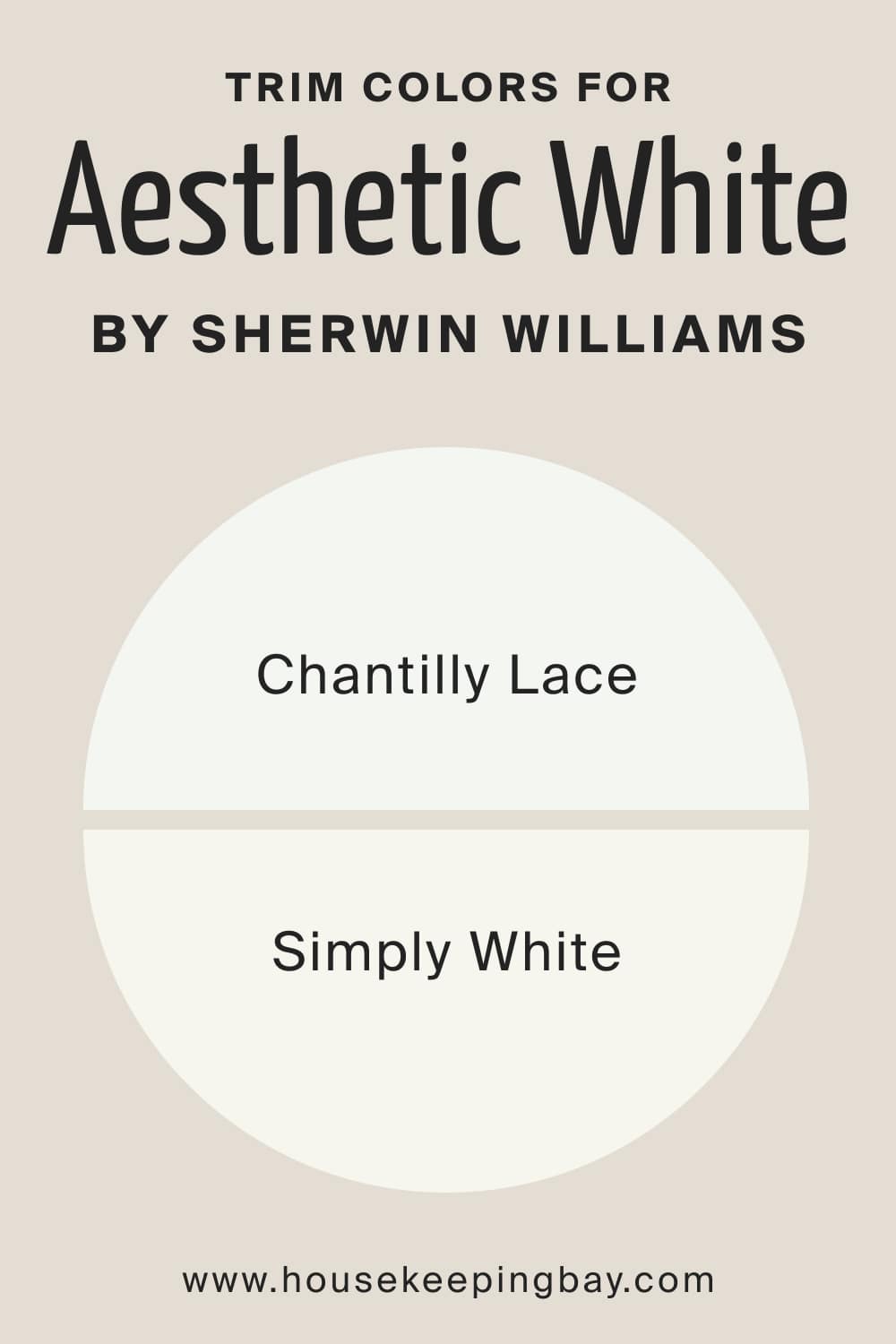 Similar Colors to Use Instead Of Aesthetic White SW-7035
Even if you are sure you want this particular white on your walls, you should still have a couple of substitute colors to use instead of it. This will help you to choose the right shade of white in case you decide that the existing one is not quite suitable. For SW Aesthetic White paint color, the following ones can be sued as similar colors:
SW White Duck
SW Soft Chamois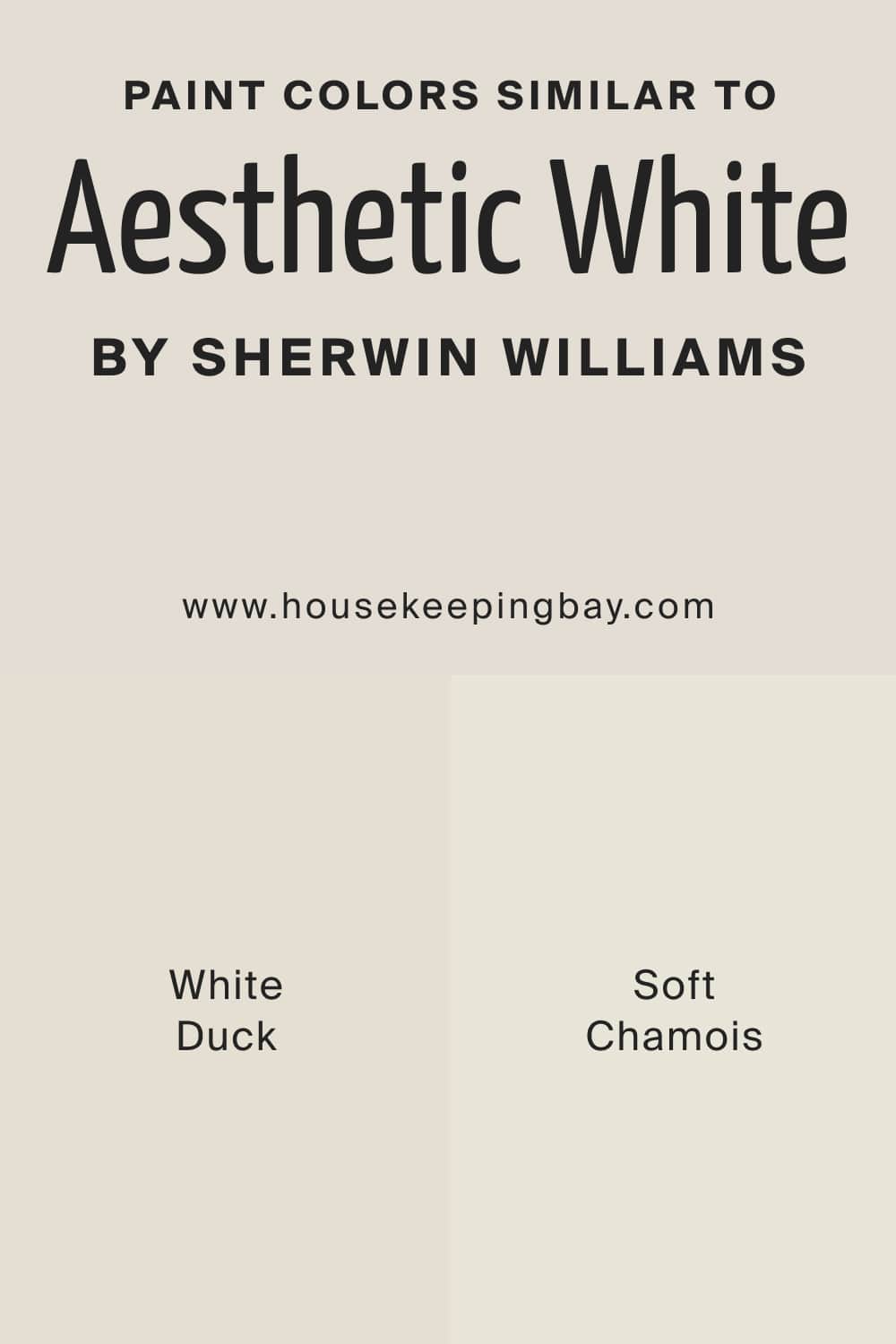 Where In Your Home to Use Aesthetic White SW-7035 Paint?
Although white is considered a universal color, it doesn't mean you can use it anywhere in your home with the same significant effect! Depending on undertones and lighting, different shades of white may read differently and work differently in various rooms and areas of your home.
This is why we recommend you check out how SW Aesthetic White will read in your home, depending on the room it's used in.
Aesthetic White SW-7035  in the Living Room
SW Aesthetic White can give your living room a perfect modern vibe. Since it is a warm white, it will make your space feel warmer, cozier, and brighter. Generally, SW Aesthetic White works best with gray and beige upholstery and other decorative accessories of these colors.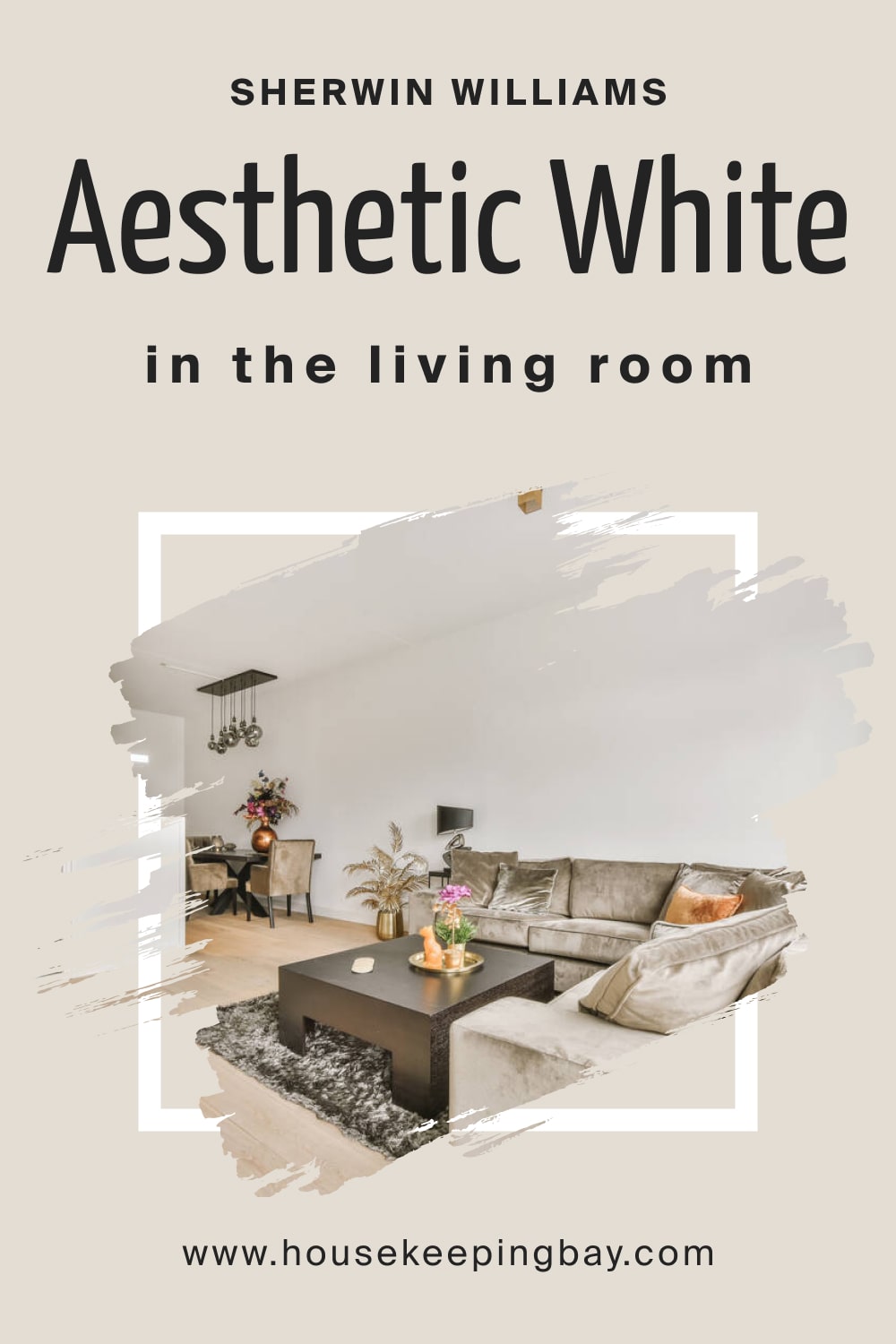 Aesthetic White SW-7035 and Bedroom
This off-white color will look lovely on the walls of your bedroom. Of course, you might want to add some color to the room not to make it look boring! You can add contrast and make the space read visually interesting and varied by using shades of dark gray, blue, or dark green on the throw pillows, artwork, or rugs.
Faux fur, woven materials, and indoor plants will also be successful solutions.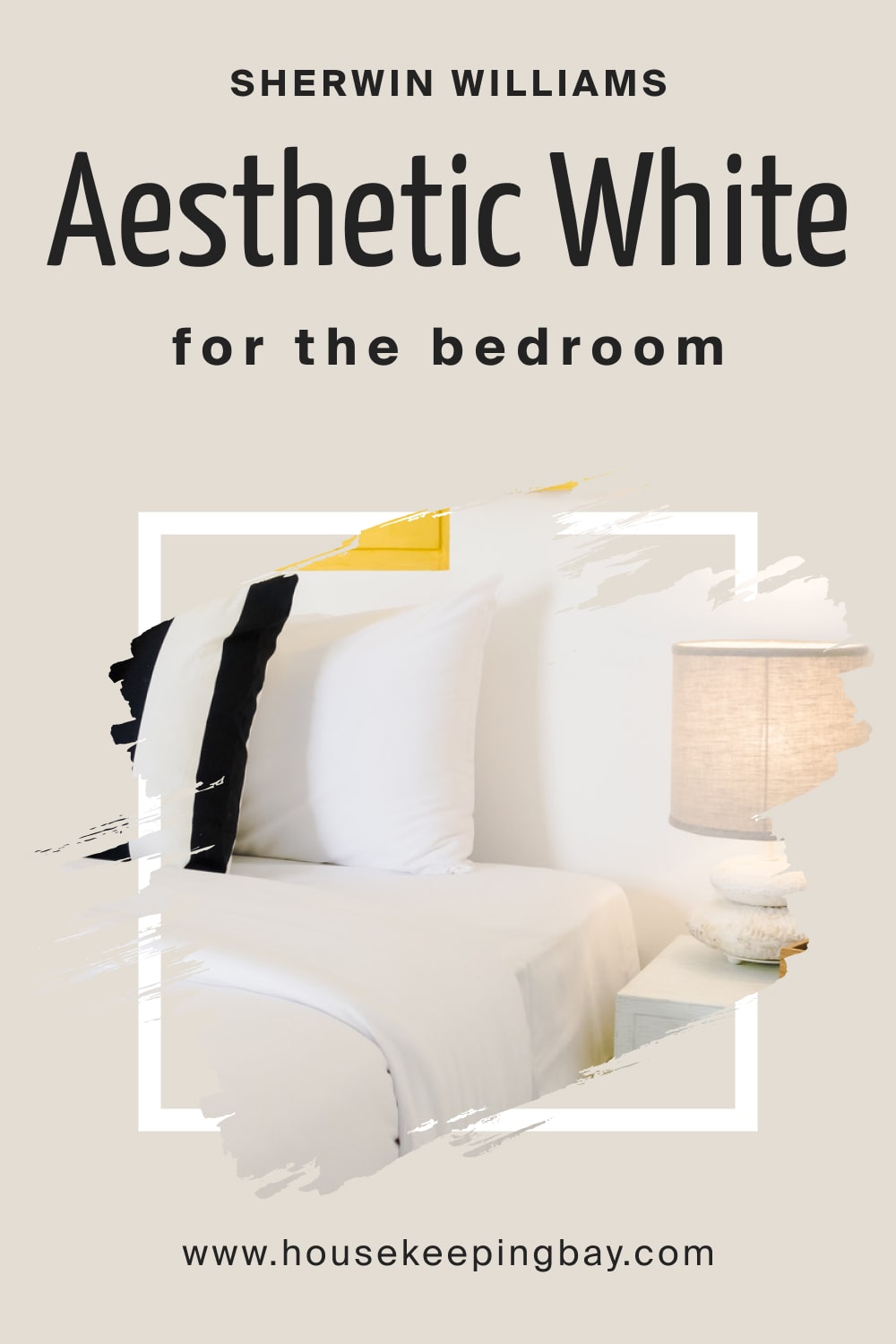 Aesthetic White SW-7035  for the Kitchen
SW Aesthetic White will always be trendy in kitchens. It will create a warm and welcoming atmosphere, making your kitchen feel lighter, airier, and brighter. If you have brass, matte black, or chrome knobs and pull handles in your kitchen, they will look great with this white!
For your backsplash, you can either choose a contrasting emerald green or deep blue tile, but something subtle like off-white or beige will also be nice.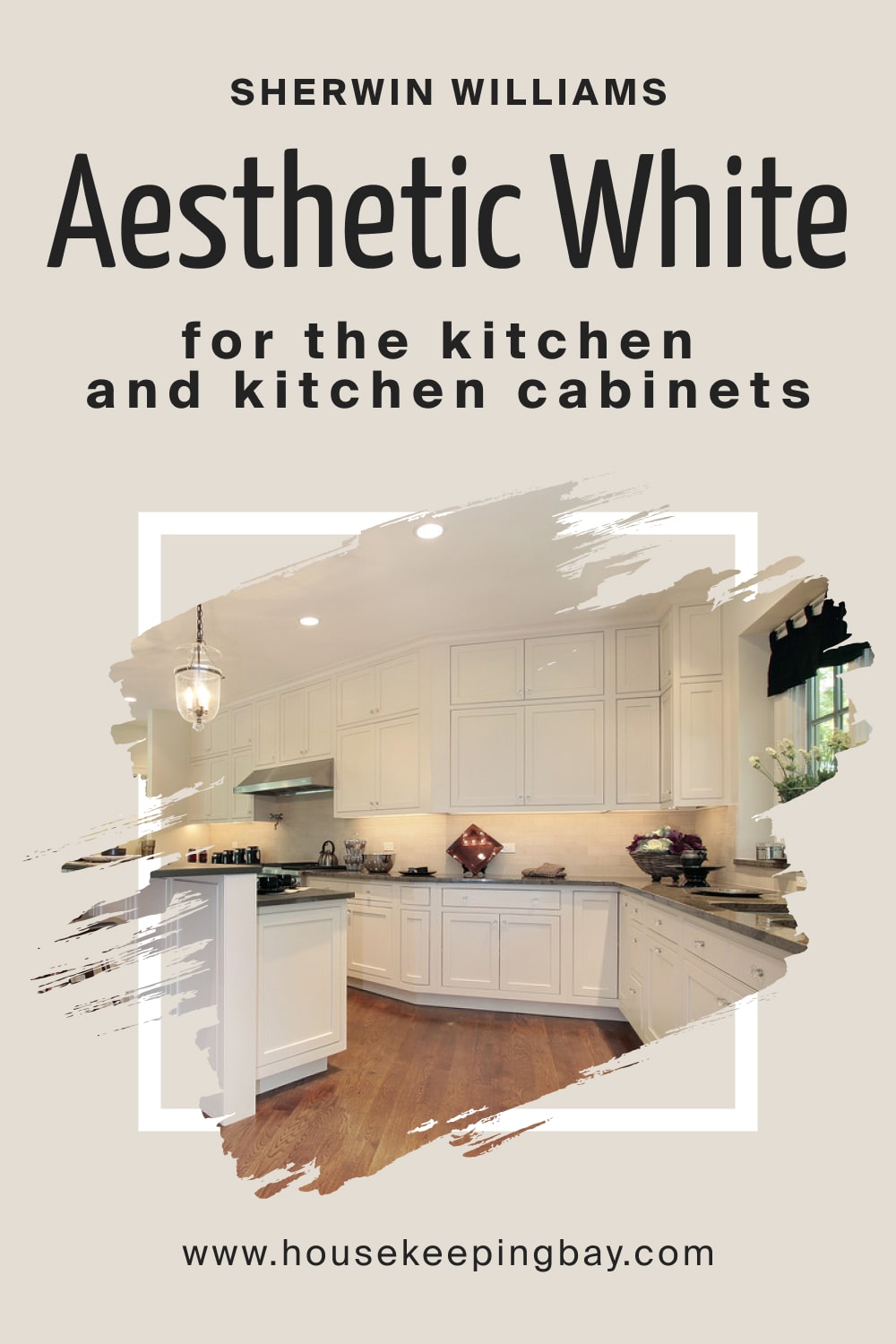 Aesthetic White SW-7035  for the Exterior Use
Since this white color is timeless, feel free to use it on most exterior design styles. It will work particularly well for transitional, farmhouse, Tudor, and classical design styles. Besides, you can always choose this off-white paint color for trims, moldings, and door or window frames.
Now you know the basics about this white color that can help you use it correctly both indoors and outdoors.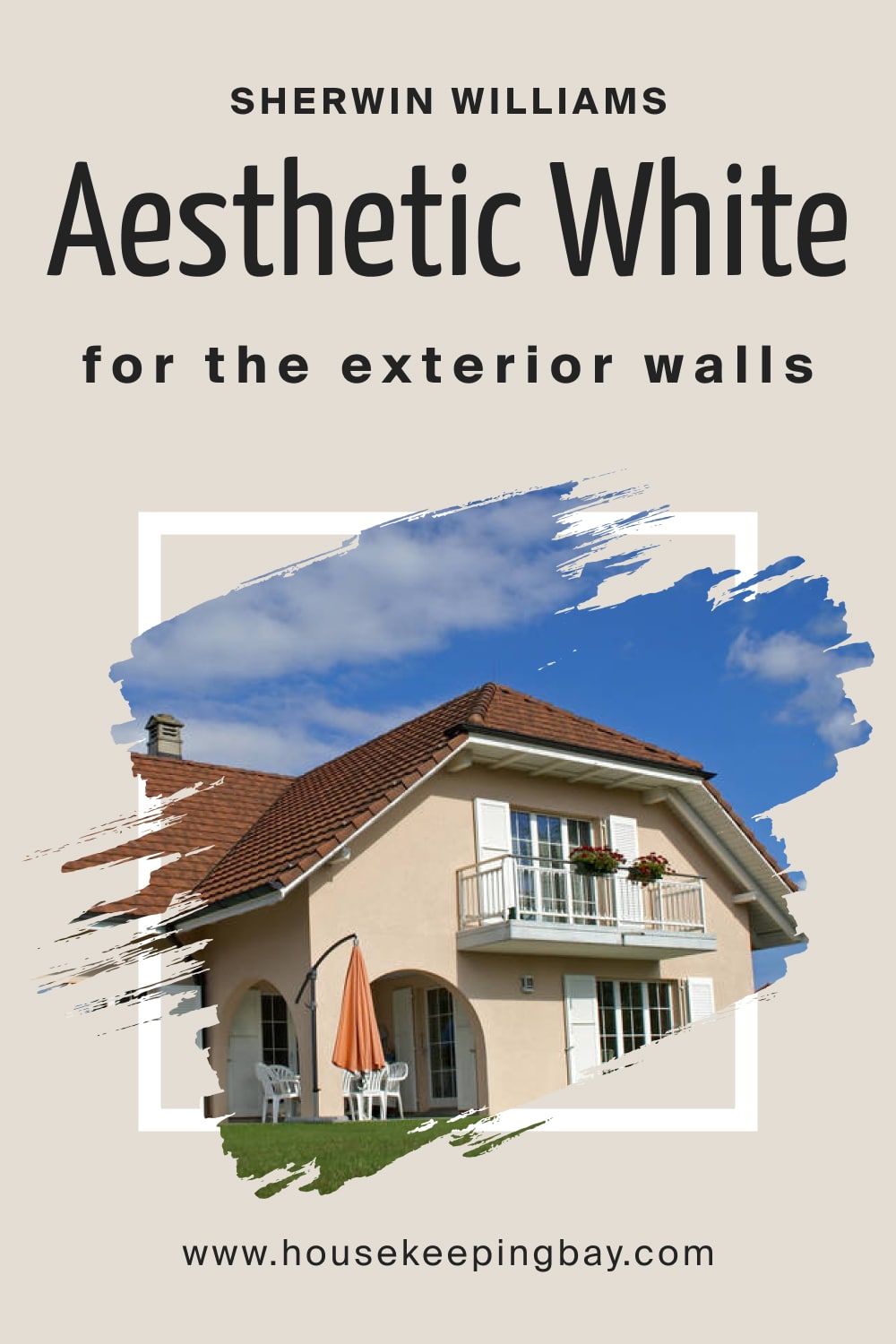 Comparing SW Aesthetic White With Other Whites
This brief comparative guide will help you see how different shades of white may work together and what makes seemingly the same color look so distinct. This way, you will train your perception and imagination to be able to tell the difference between distinct shades of white in the future.
Aesthetic White vs. Alabaster
These colors are soft and warm-toned, but SW Aesthetic White reads more beige than its counterpart. Also, Alabaster is lighter, although it also has beige undertones (which are much lighter). However, these two can be used together since they look pretty well.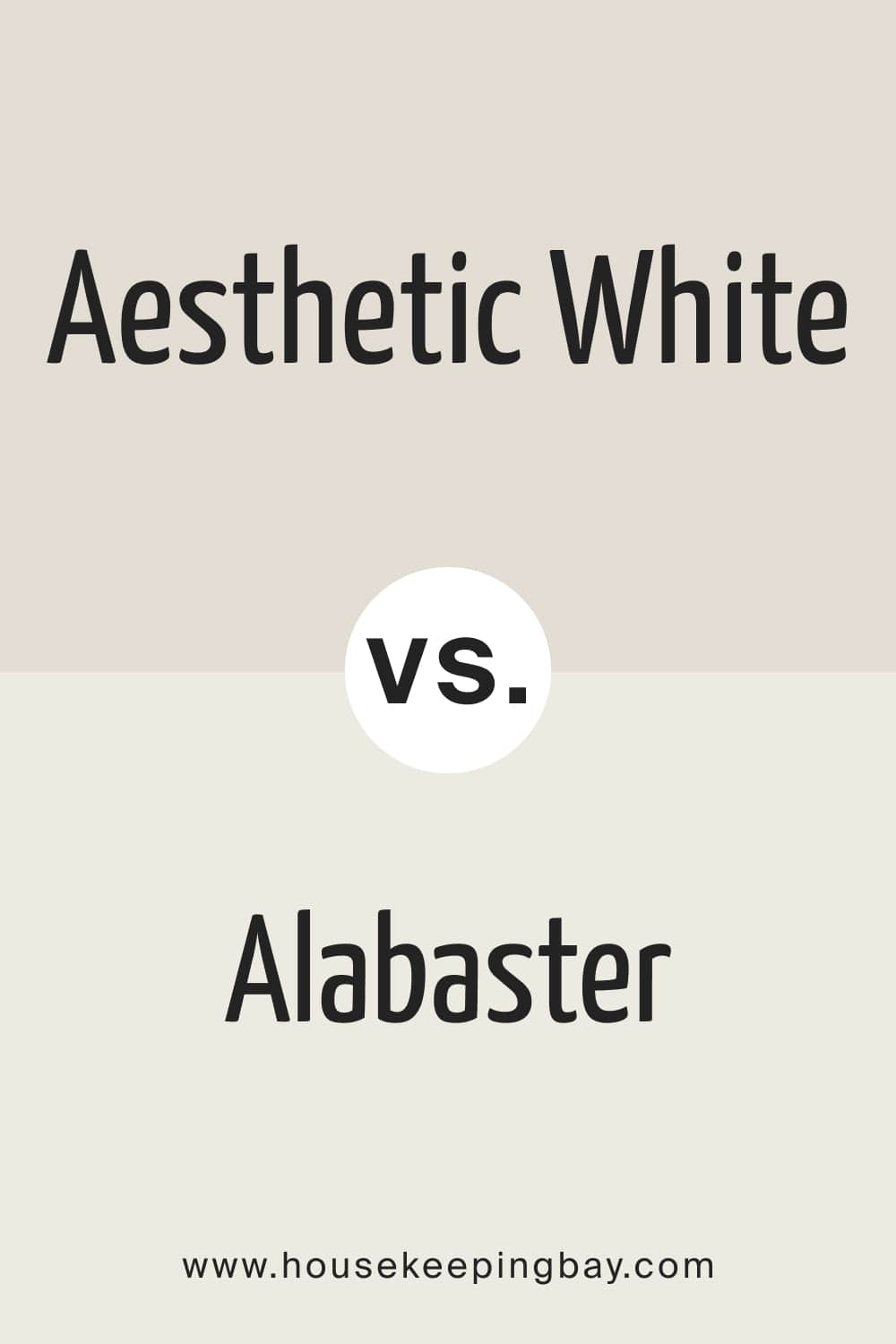 Aesthetic White vs. Shoji White
While Shoji White and Aesthetic White have similarities. They have almost the same LRVs, are warm, neutral paint colors, and both belong to the greige family. However, Shoji White has more beige than Aesthetic White. Also, Shoji White is a bit creamier with a bit more yellow to it.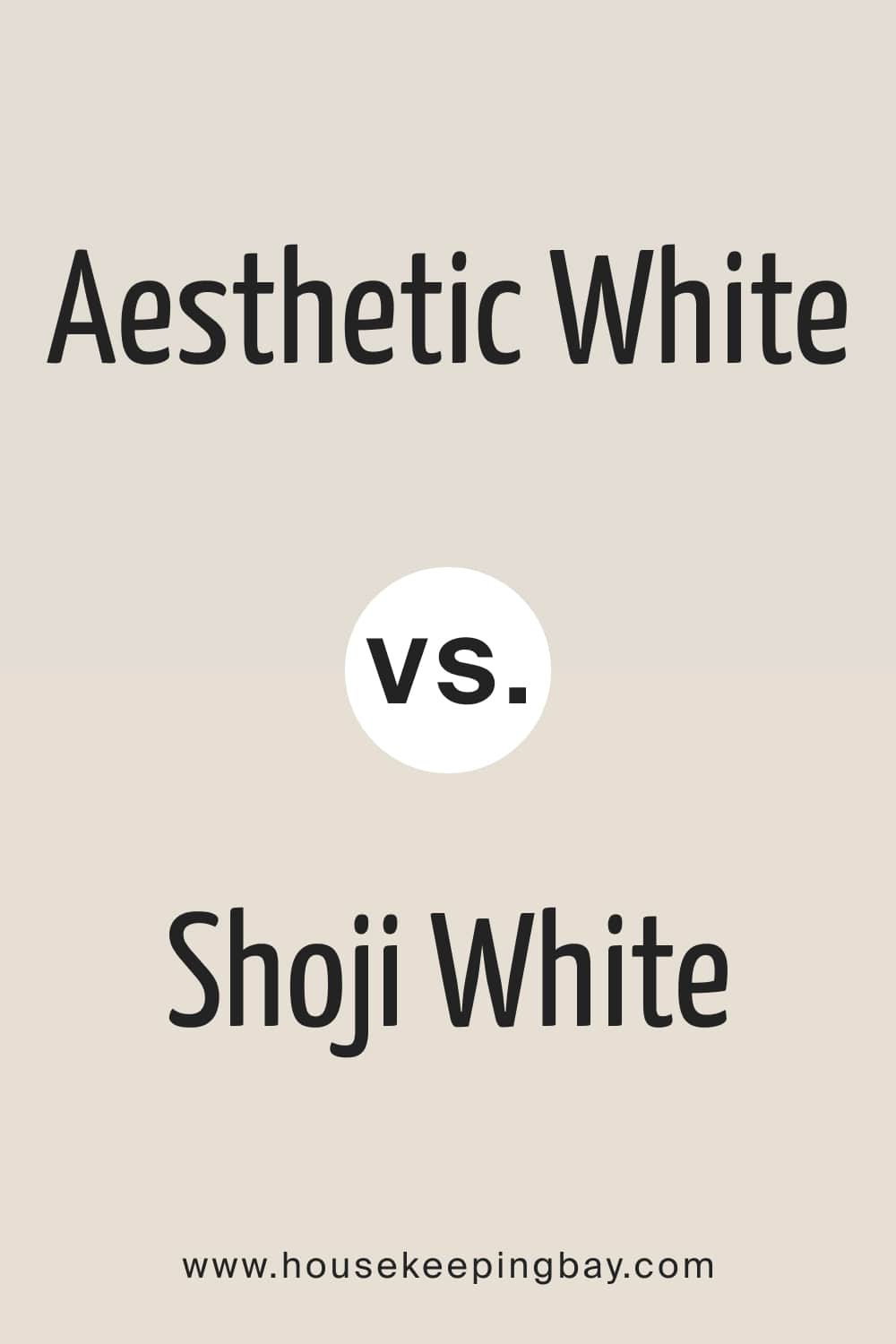 Aesthetic White vs. Agreeable Gray
Agreeable Gray is a warm greige paint color with green undertones. Due to its warmth, it reads deeper and somewhat darker than SW Aesthetic White. Also, Agreeable Gray shows its greenish undertones quite noticeably if you put it side by side with the Aesthetic White paint color.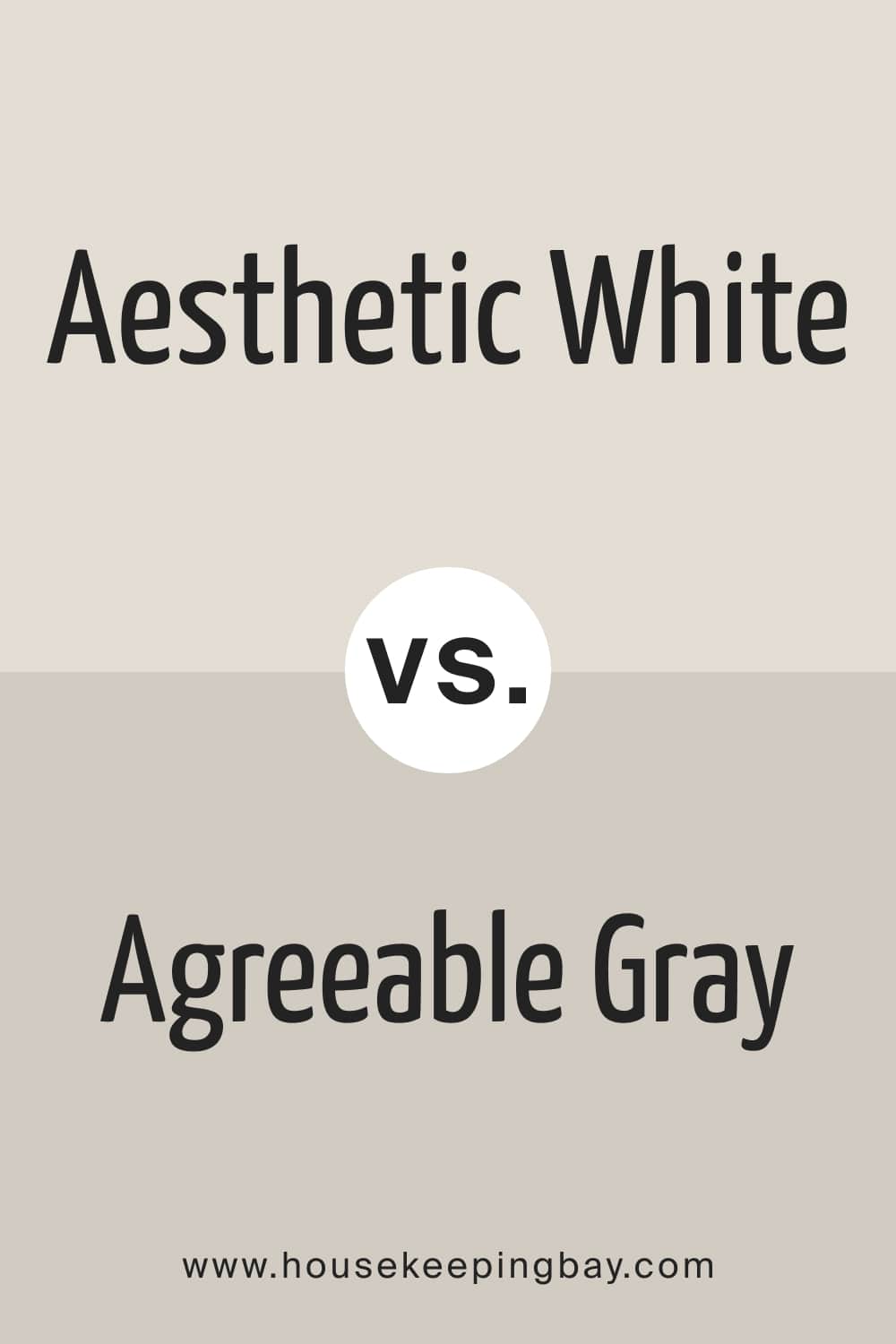 Aesthetic White vs. Accessible Beige
The Accessible Beige color is beige with gray undertones. Compared to SW Aesthetic White, it reads darker and warmer, with a pronounced beige hue (looks almost like cocoa!). In comparison, SW Aesthetic White reads grayer next to it.
Aesthetic White vs. Pale Oak
The Pale Oak color by Benjamin Moore can be described as a light greige with warm, yellow undertones. But next to SW Aesthetic White, it's very hard to notice that yellowness. Instead, the color reads a pronounced greige.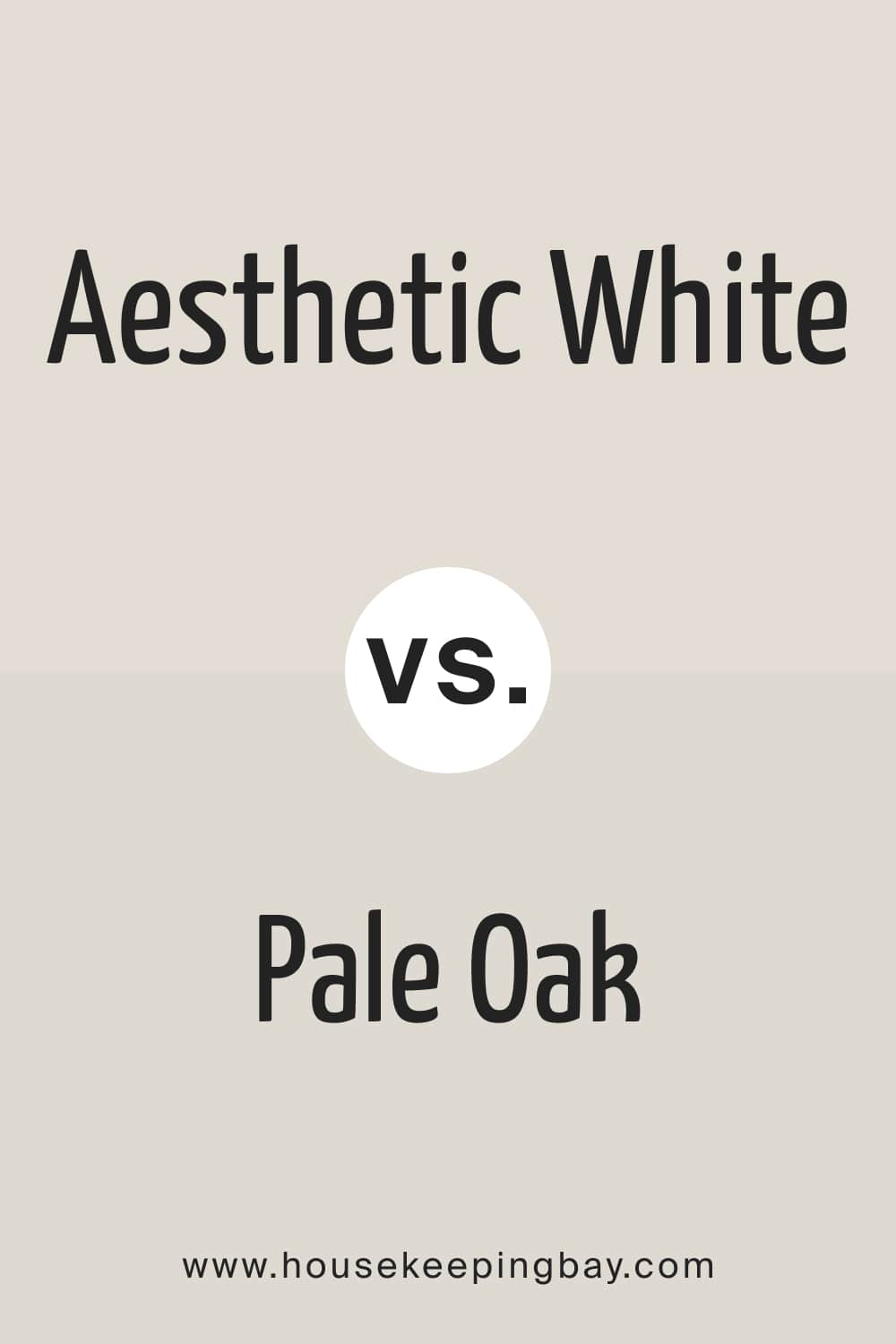 Aesthetic White vs. Swiss Coffee
Benjamin Moore Swiss Coffee is a warm and welcoming color with slight gray, yellow, and green undertones. Compared to SW Aesthetic White, it reads a bit lighter with a barely noticed green-yellow back.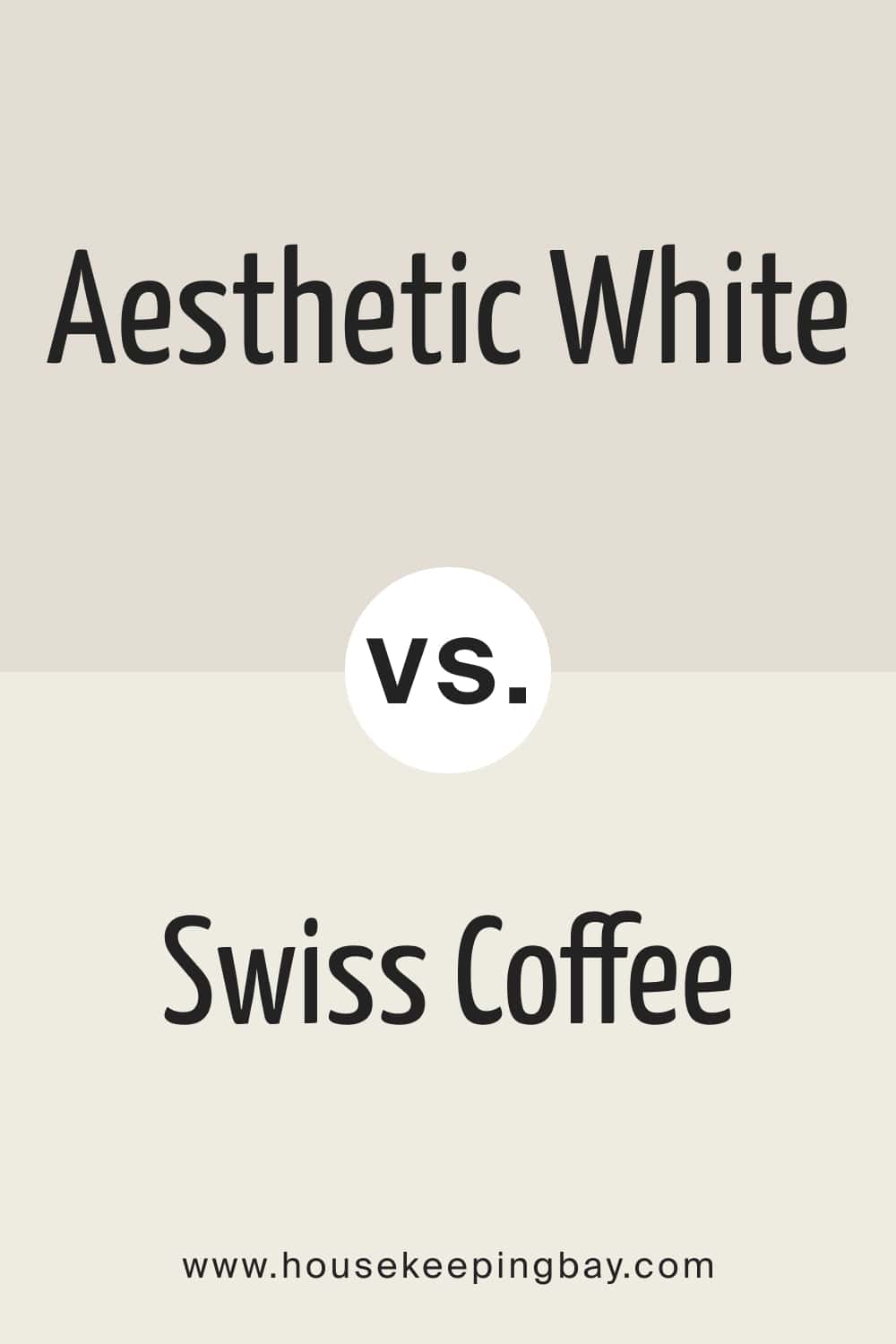 Well, this is a complete guide on the Aesthetic White paint color by Sherwin-Williams. Now you know what kind of white it is and how to use it in your home correctly to make this color show its beauty and style.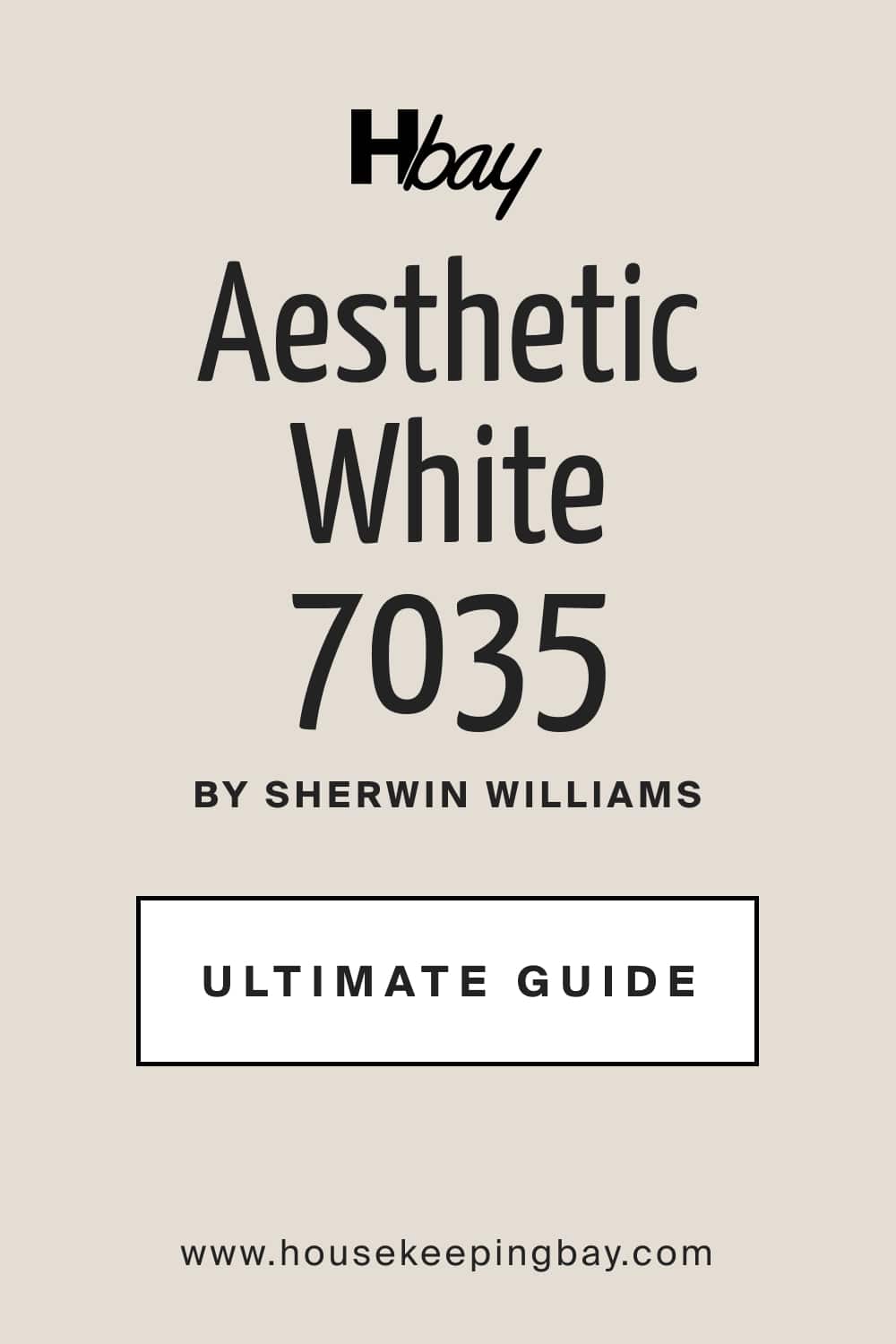 Frequently Asked Questions
⭐Does SW Aesthetic White read too warm?
No, it doesn't. This color is moderately warm and reads nicely on interior walls.
⭐Will SW Aesthetic White work with neutrals?
Yes, this white can work nicely with such neutrals as grays, blues, and greens.
⭐Is Aesthetic White a lighter version of Accessible Beige?
Yes, it is. SW Aesthetic White will be a lighter alternative to Accessible Beige. Its LRV is 73, as compared to Accessible Beige's 58.