When we think of white, we typically imagine an icy-crisp, sterile-looking color that resembles snow and makes the entire space glow. However, the white color family is much more varied than that! And today, we want to tell you more about one of its members.
Meet SW Shell White! This lovely and soft white color will enchant you with its delicacy and tenderness!
Read on to learn what colors it works best with, how to coordinate it, and how this hue may react to light in your home.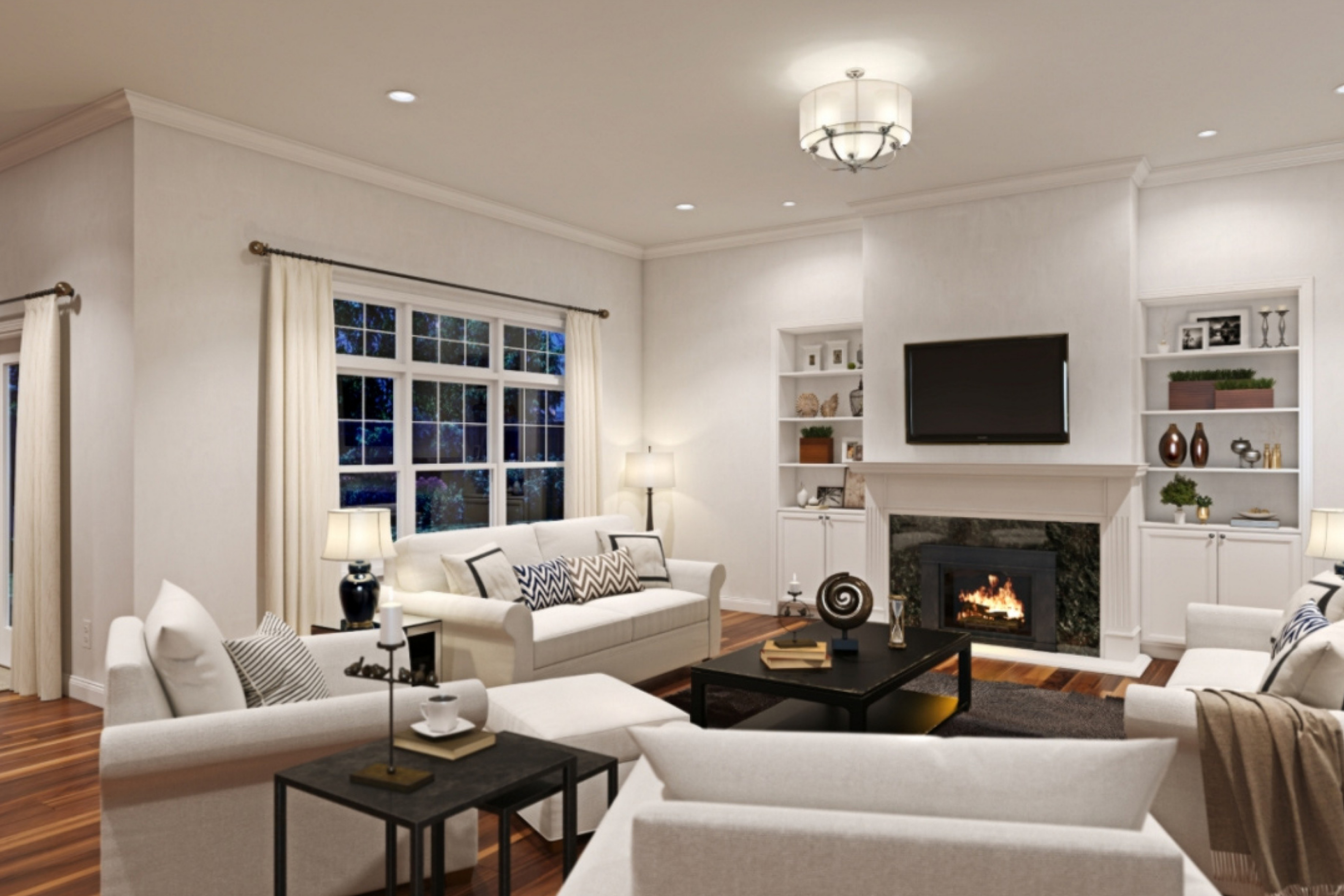 What Kind of Color Is SW 8917 Shell White?
SW Shell White is a light and soft white color that reads pleasantly warm on the walls. Despite its warmth, this hue is pretty versatile, which makes it easy to incorporate into almost any home. As Encycolorpedia says, SW Shell White has become a favorite color for interior designers because it provides a clean look without reading too stark or boring.
This white color will pair nicely with many textures and materials (for example, it looks great against dark wood). Also, SW Shell White can be used in many interior styles and designs. It's a great and versatile white to use as a base and combine with other hues!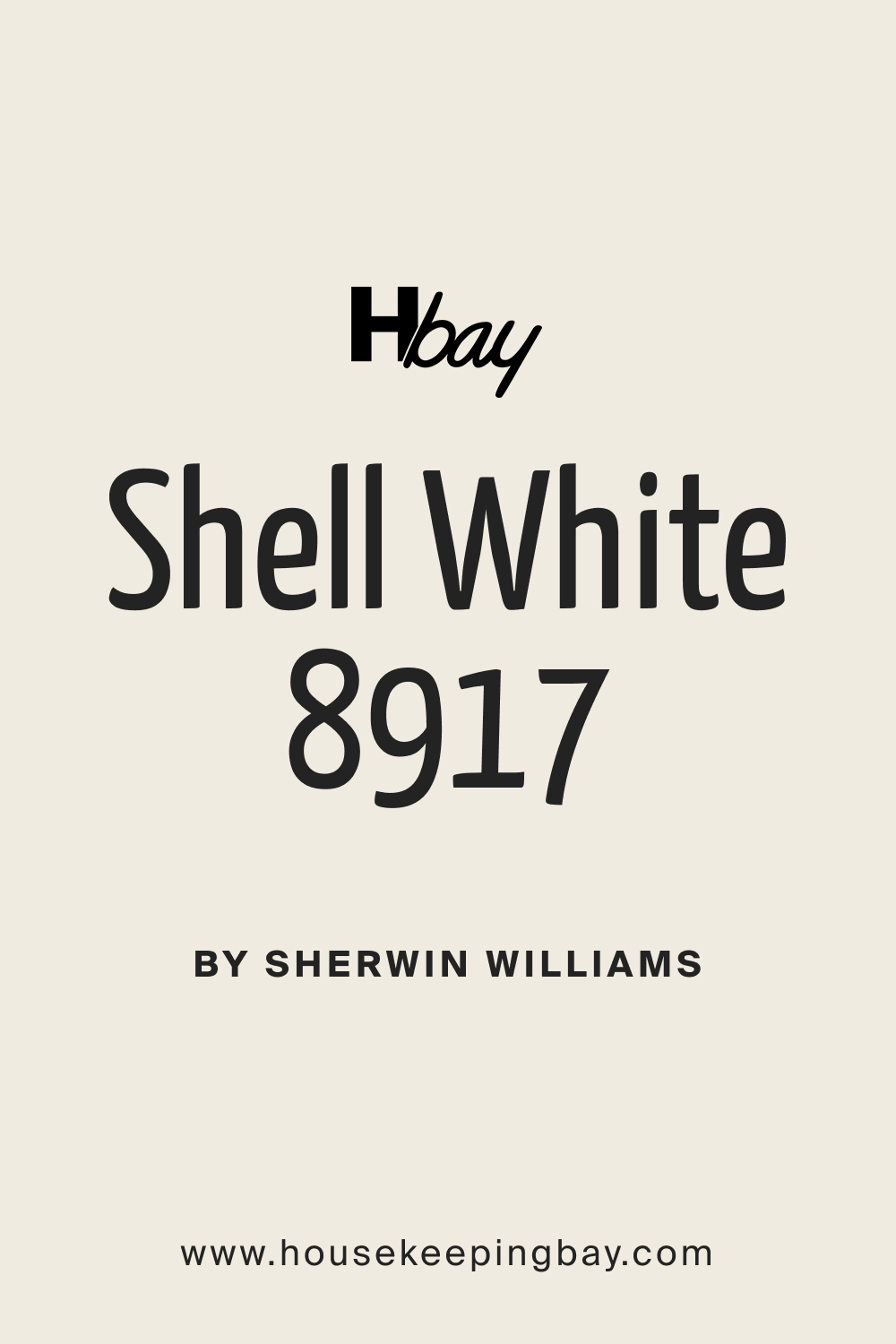 Is It a Warm or Cool Color?
Is this color warm or cool? Definitely, it's warm! This white color has warm undertones of yellow and beige, which is why it reads and feels more traditional than cool-toned whites. Also, this warm tone makes SW Shell White a more versatile color compared to its cooler "relatives."
What Undertones Does SW 8917 Shell White Paint Color Have?
Each color has undertones, but they often make paint colors tricky to use in your home. One of the most frequent issues homeowners face is when they buy paint that reads differently in a catalog/swatch and on their walls. All because they didn't sample it in advance, and undertones showed up unexpectedly.
SW Shell White also has undertones. To be precise, this soft white hue has a slight and barely-there hint of peach undertone. But it's so delicate that the hue doesn't read pink at all! Instead, it gets a lovely blush that adds charm to it!
Moreover, this color has yellow and beige undertones that give it this delicate warmth.
Due to such complex undertones, we recommend you sample this white in advance to ensure it reads exactly as you want! See, in specific lighting conditions, SW Shell White may display its yellow-beige tint more prominently, which is not always welcomed by homeowners.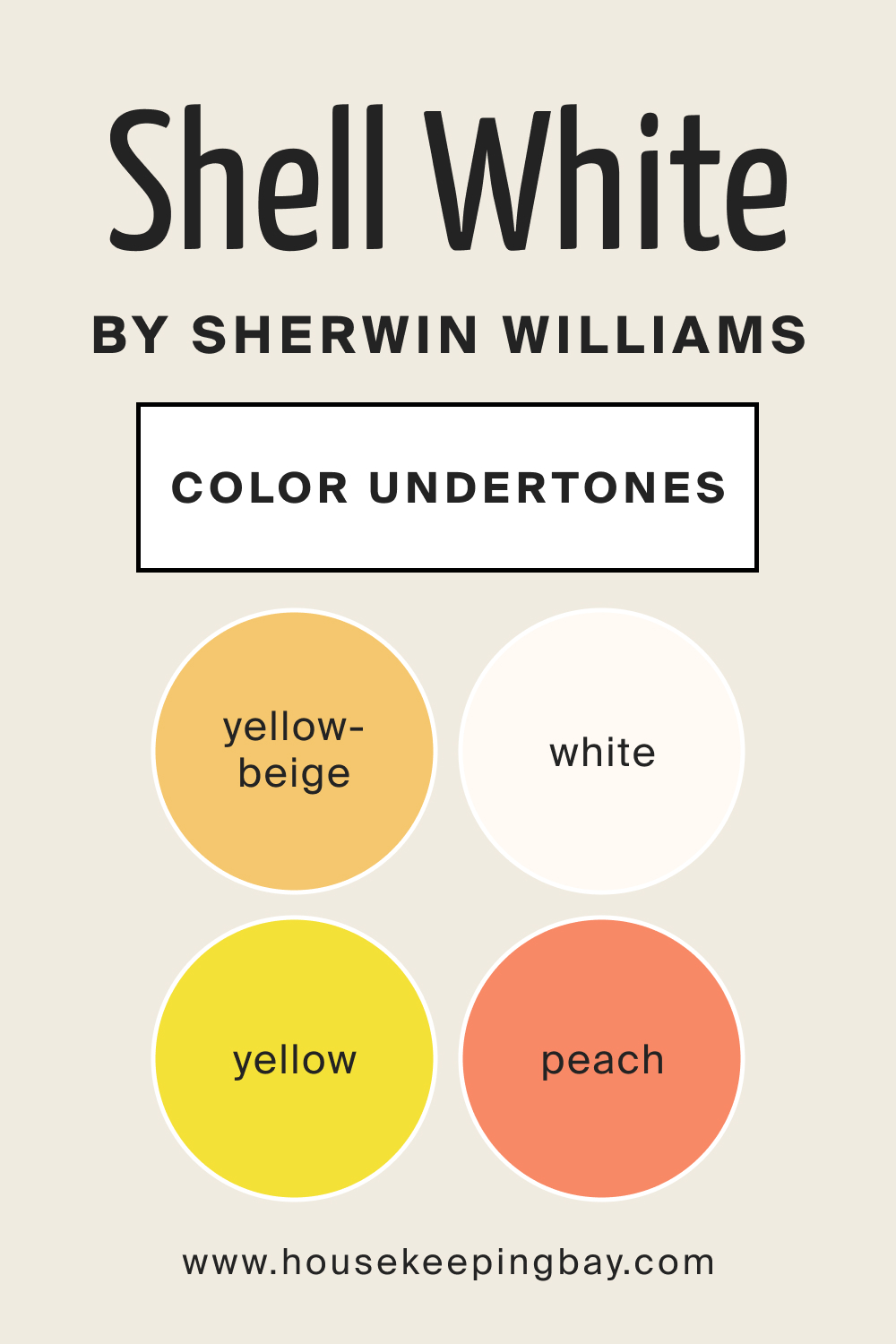 Coordinating Colors for SW Shell White
Picking up coordinating colors for your wall paint hue can be fun and creative as long as you have at least a basic understanding of color theory. But if you deal with the SW Shell White, whose undertones are so complex, knowing the correct coordinating colors is a must! Below, you can find a couple of color suggestions that will always work!
SW 7025 Backdrop
SW 9156 Gris Morado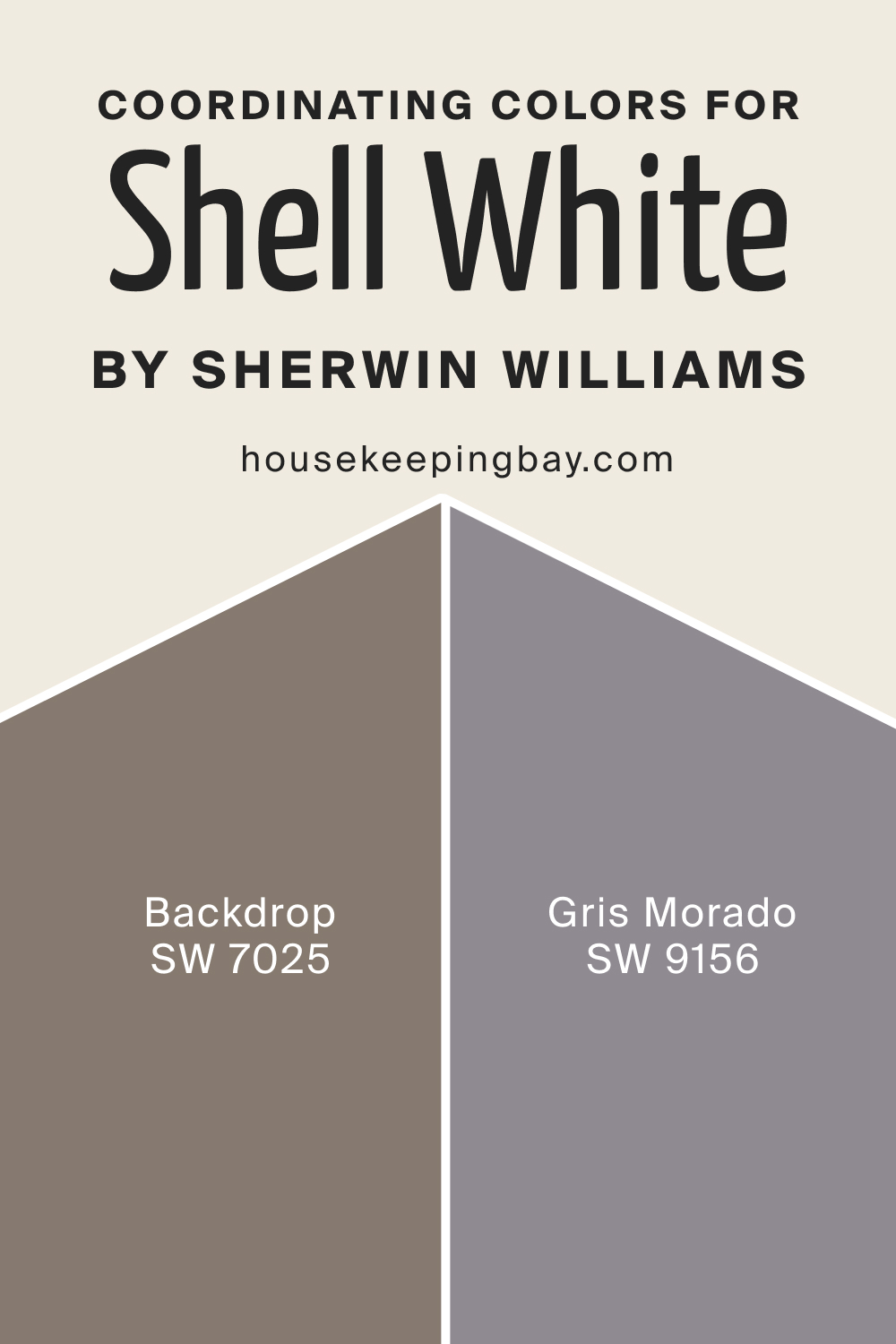 What LRV Does SW Shell White Have, and How Does It React to Light?
LRV (Light Reflectance Value) is a measurement that shows the amount of light paint colors can reflect from a surface and absorb. LRV values range from 0 to 100, with 100 being pure white and 0 being absolute black. Respectively, the closer the LRV is to 100, the brighter and lighter the color, and vice versa.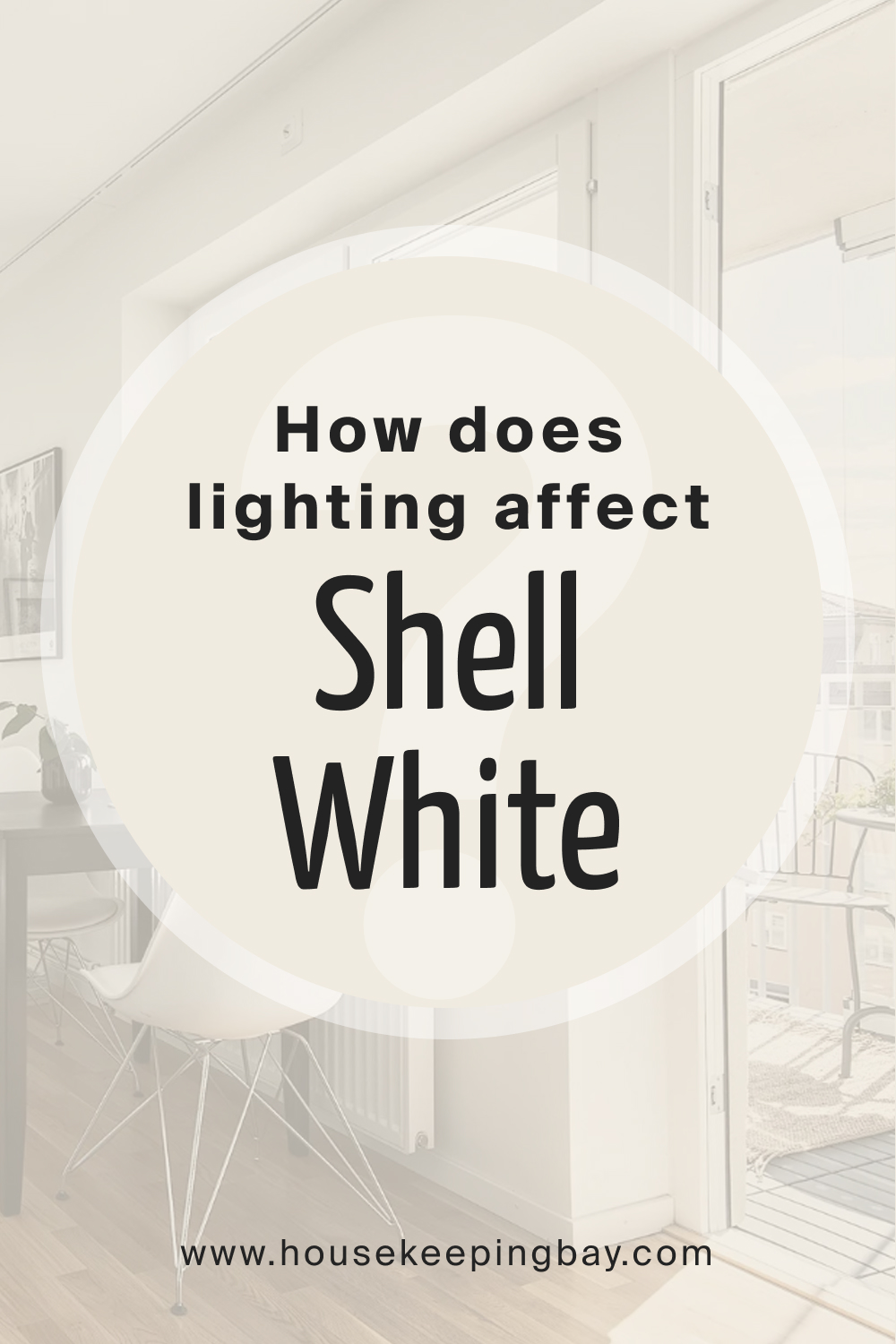 SW Shell White's LRV value is 83, which places this white on the lighter end of the LRV scale. Indeed, despite its warmth, this white is light enough to make a space feel airier and brighter!
Also, this color is pretty reflective, which is why it works well for creating an illusion of space enlargement in a room where you use it. Thanks to its lightness, SW Shell White is a great color choice for north-facing rooms or rooms with low light.
Also, note that this color is pretty dependable on light. For example, in a room with ample daylight, SW Shell White will read nearly pure white with almost no yellow-beige tint left.
However, in a room with warm artificial light, this color will display its warm tint more prominently!
In artificial lighting, SW Shell White will also show its beige base in a more pronounced way.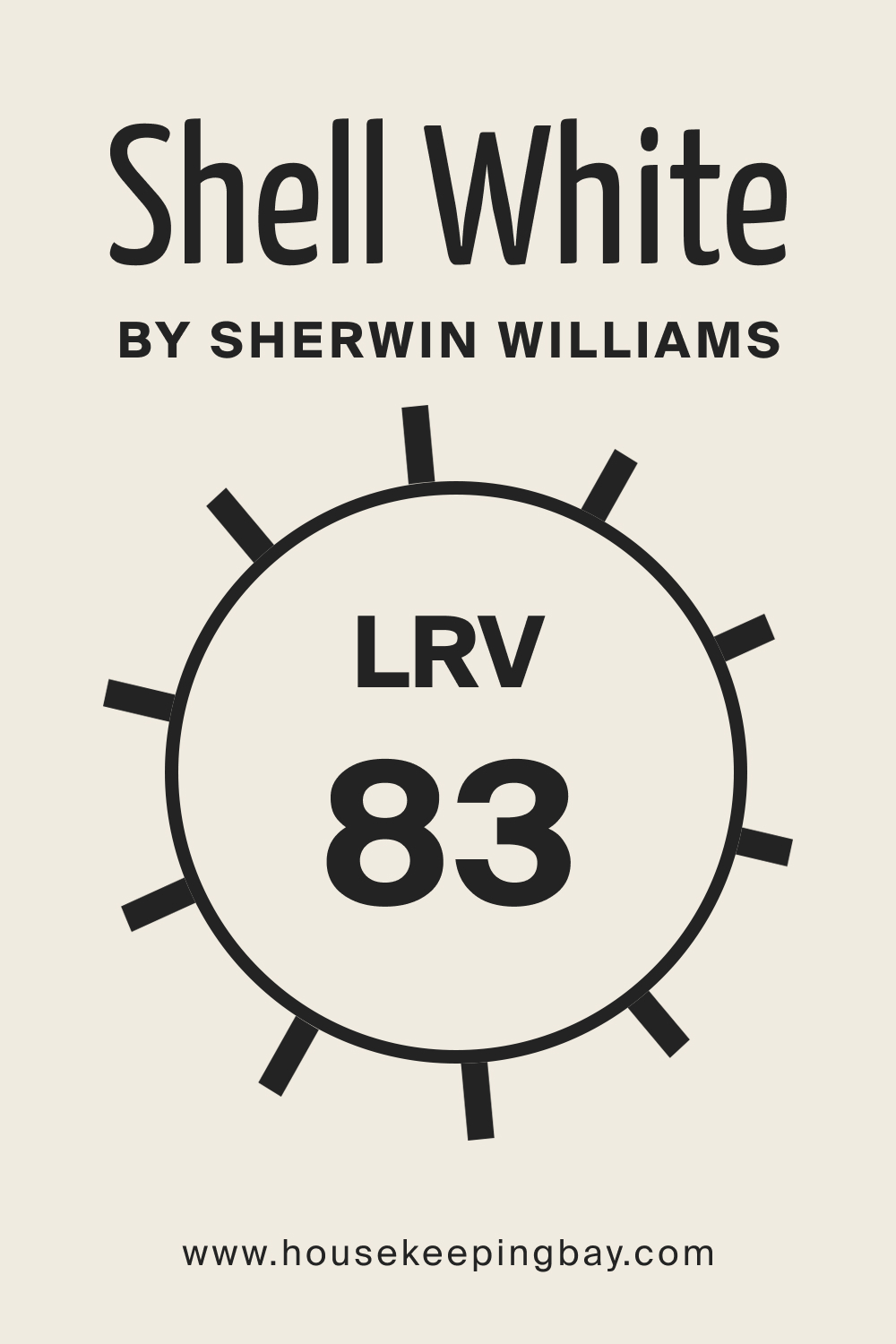 What is LRV? Read It Before You Choose Your Ideal Paint Color
What Is the Best Trim Color to Use With SW Shell White?
Selecting trim colors for white walls is uneasy. Usually, we recommend people choose brighter whites if they have warmer/softer hues on their walls. This way, they can create a more enhanced contrast that still looks balanced.
What about SW Shell White, you may wonder?
This hue can work great on all the walls and the trim at the same time, which will make the task of picking the trim color much easier for you! But if you want a more sharp contrast, try brighter whites for the trim. However, avoid cool and crisp hues since they won't pair well with this soft white.
The ideal solution is brighter whites that still read softly.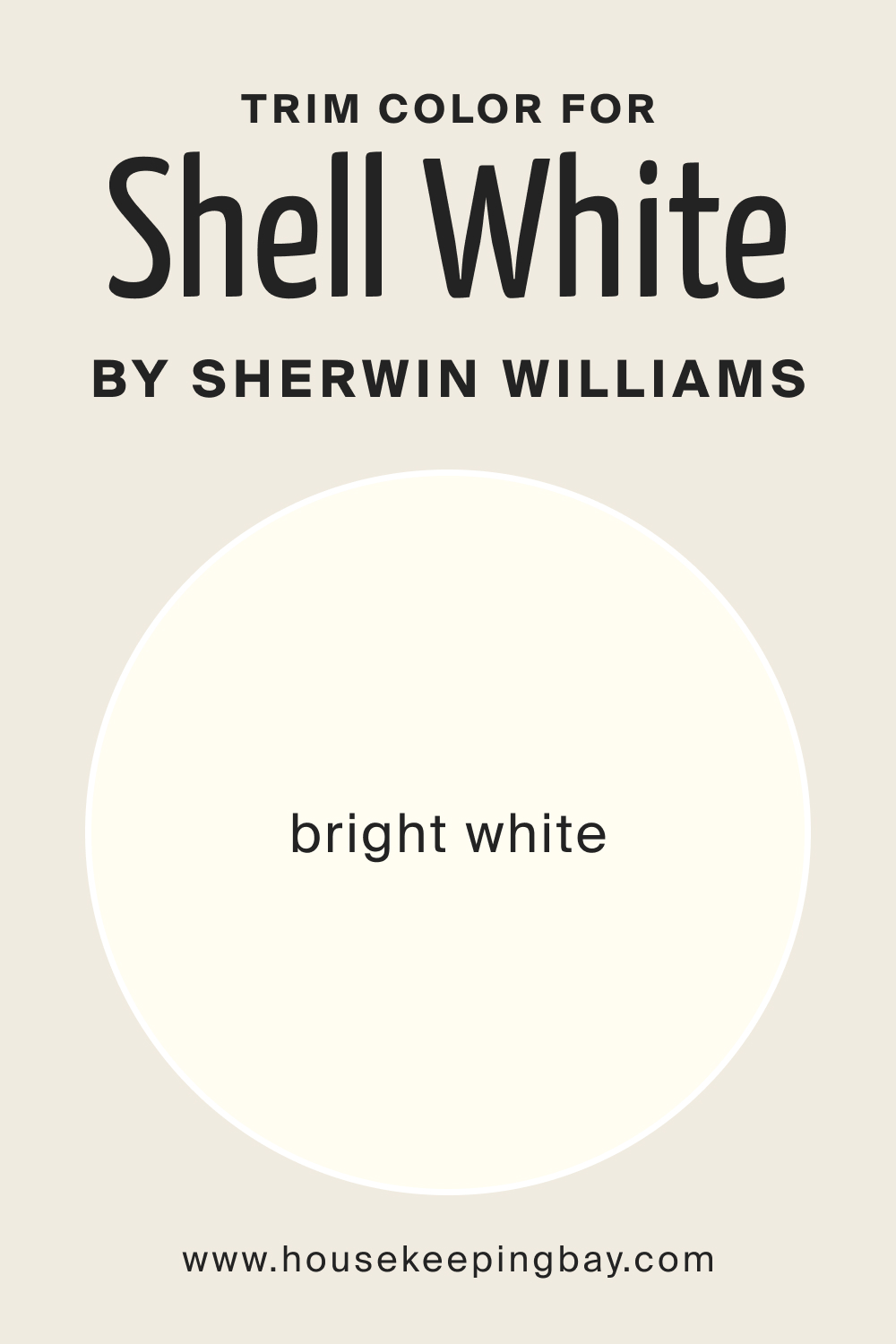 Similar Colors That Can Be Used Instead of SW Shell White
Knowing similar colors can help you out in case you realize the color you choose doesn't work well in your home. But if the wall color you choose is SW Shell White, picking the most suitable substitute whites can become a great challenge for you!
This is why we prepared a short list of alternative colors that will work instead of this soft and warm white with a slight creamy note:
Of course, each of these substitute whites will vary slightly due to the distinct undertones and LRV values, but in general, they are the closest matches to be used instead of SW Shell White.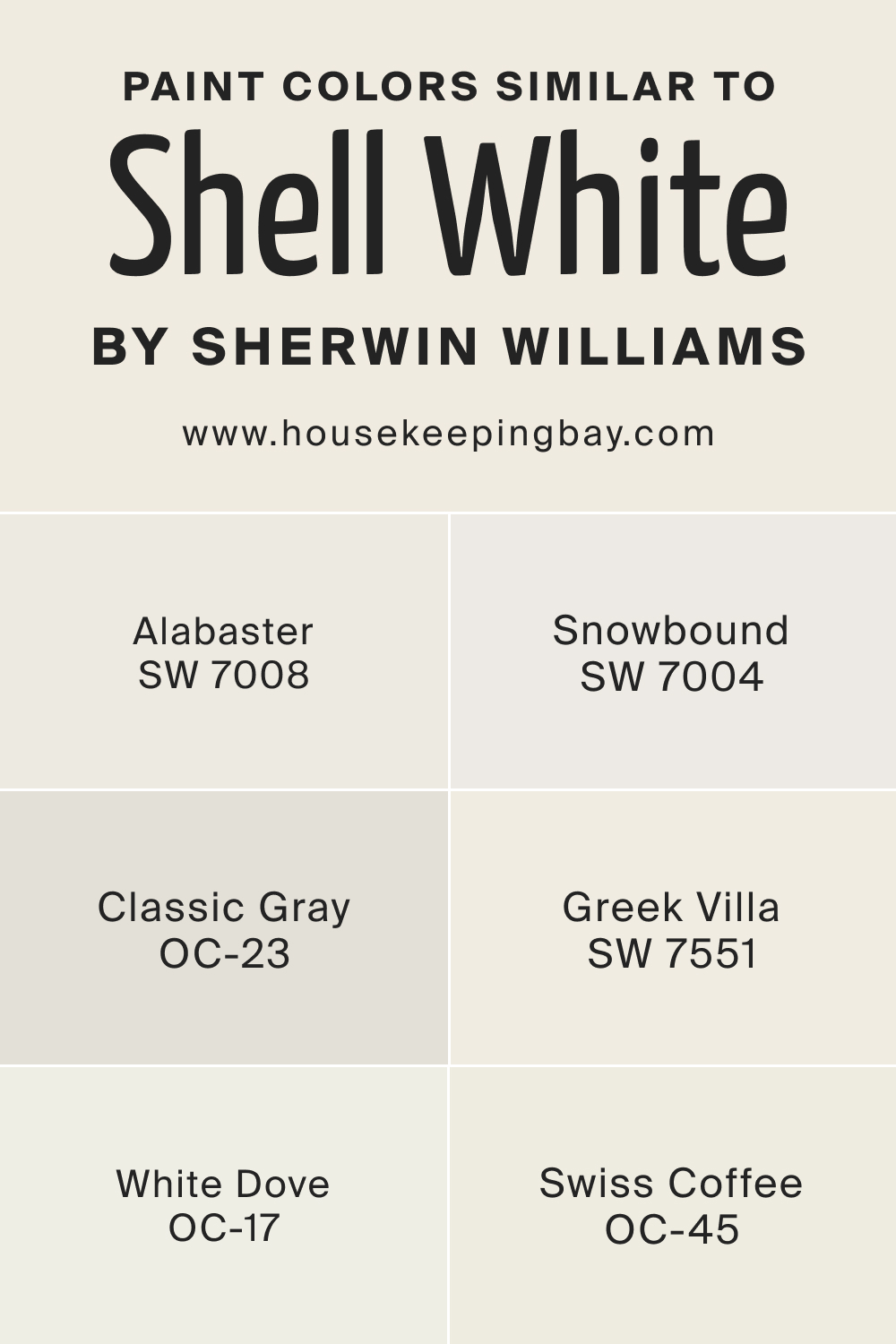 Colors That Go Well With SW Shell White
To a non-professional, it can be challenging to select colors that work best with SW Shell White, creating a balanced and harmonious palette. This is why below you can find several color suggestions that can create a lovely, cozy, and, at the same time, personalized palette:
SW 7025 Backdrop
SW 9156 Gris Morado
SW 9153 Moonlit Orchid
SW Night Owl
SW 7017 Dorian Gray
SW 6523 Denim
SW 9053 Aqua Fria
SW 6514 Respite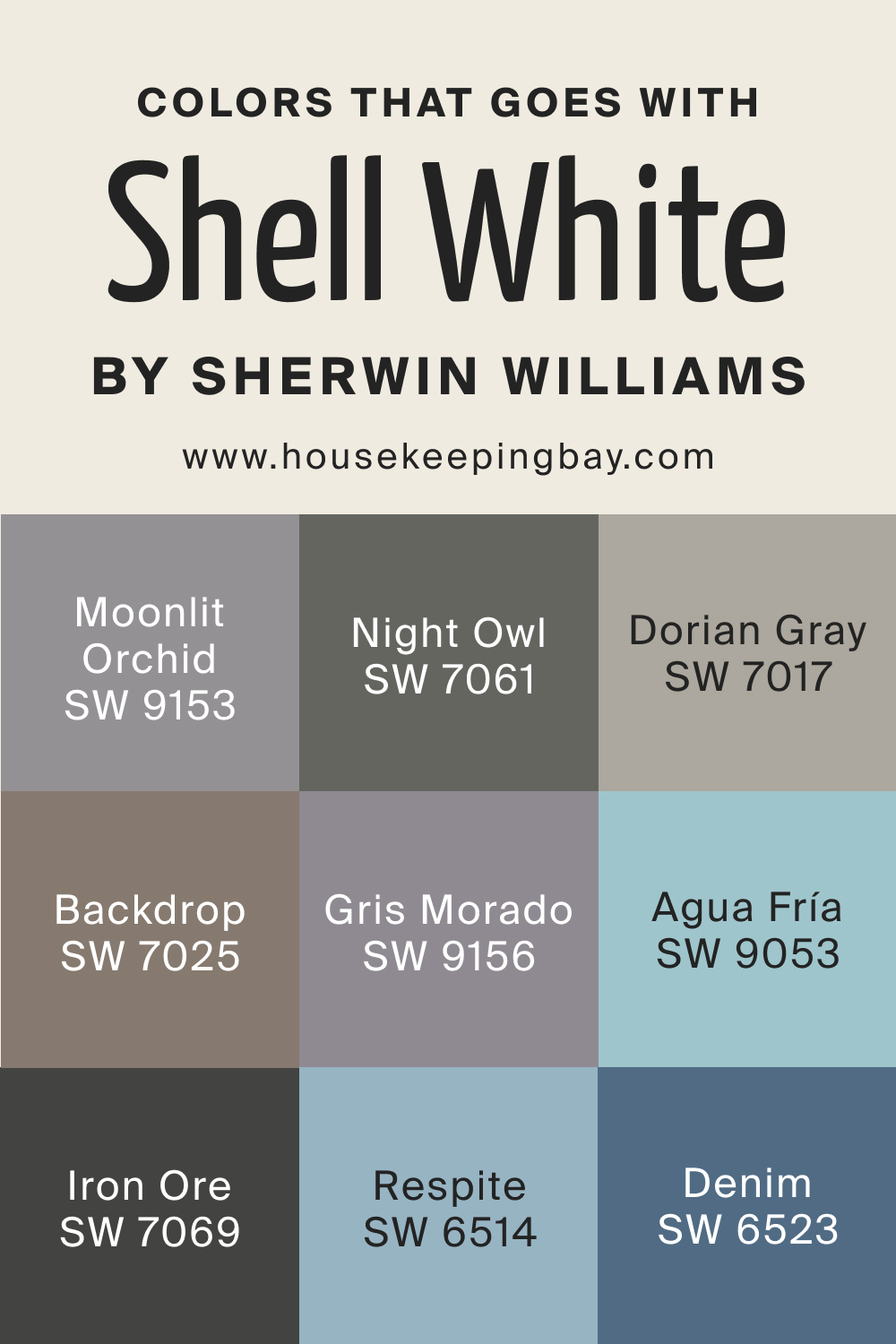 Where to Use This Paint Color In Your Home?
You may think that SW Shell White has a limited number of rooms where it can be used because of its warmth. However, this white is surprisingly versatile! Below, we describe how it may read in different spaces of your home.
Shell White SW 8917 in the Living Room
Definitely yes! This white will make your living room look bright and infuse it with the feel of pleasant warmth and coziness. SW Shell White works well with wood and upholstery of neutral colors. Also, you can pair it with golden decor elements and fixtures to enhance the homey vibe.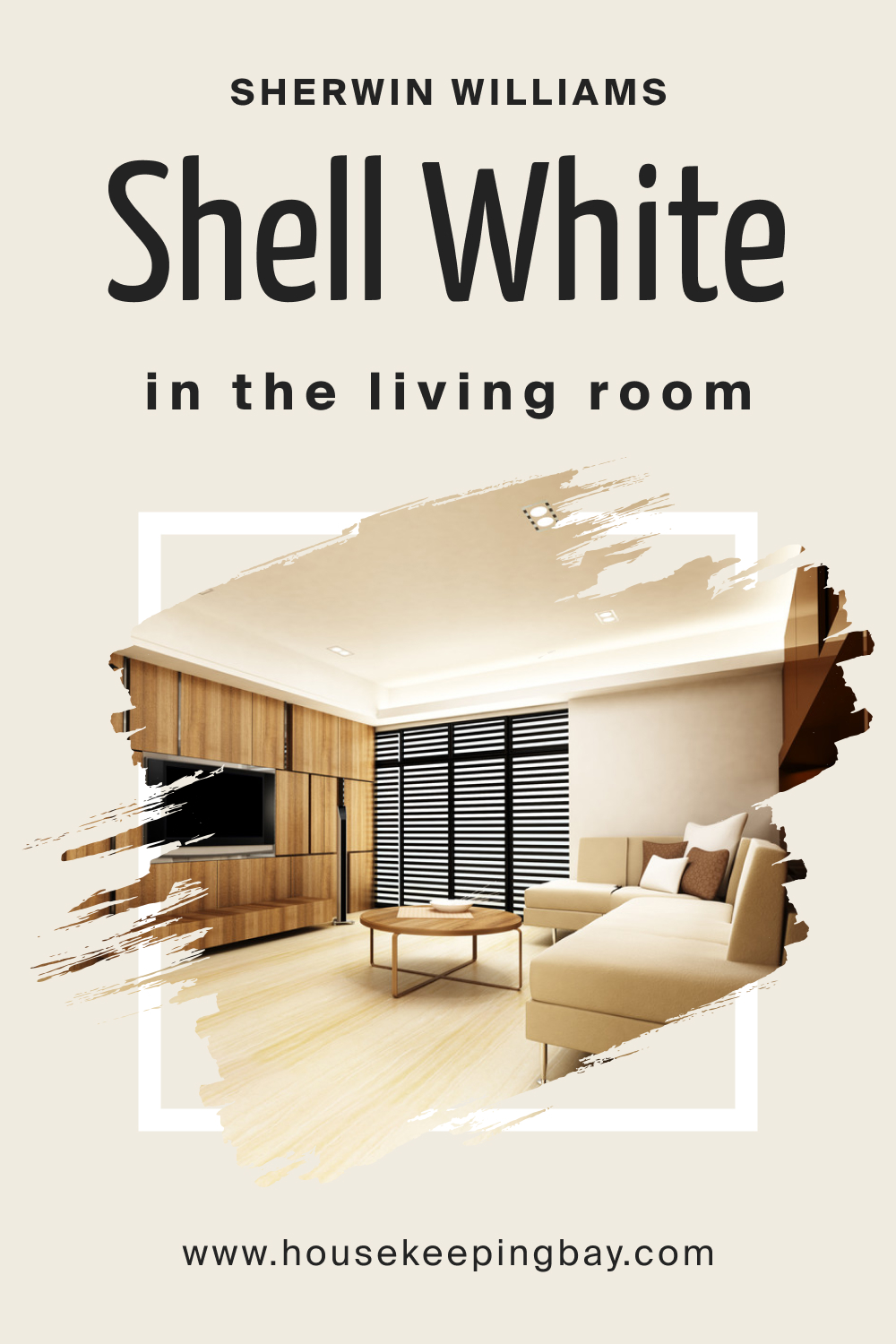 Shell White SW 8917 in a Bedroom
This soft white will work great in bedrooms too! Use it on all the walls along with neutral-color or clean white bedding and curtains, and add lampshades or furniture made of rattan to add a nature-like and more relaxed vibe.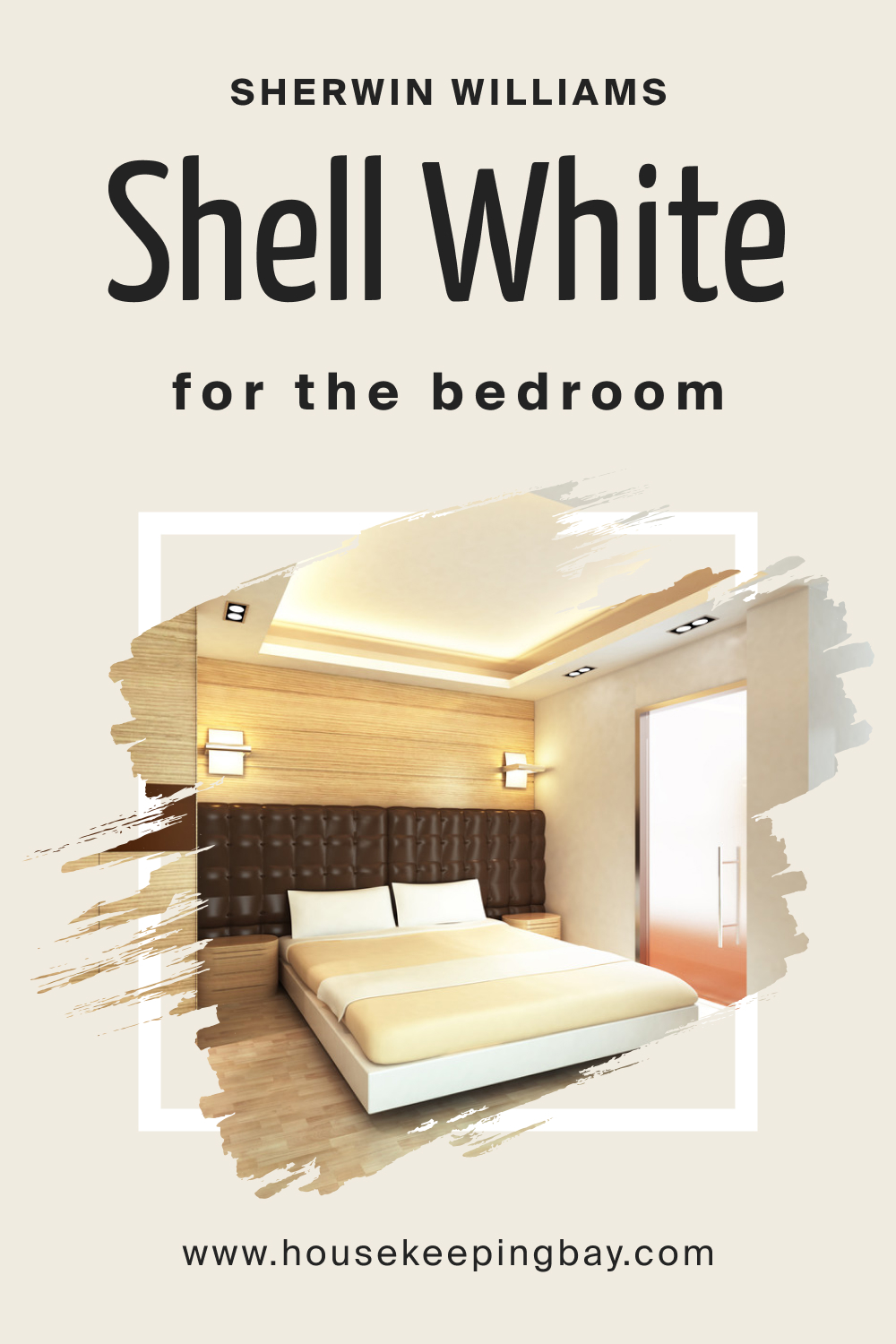 Shell White SW 8917 on the Bathroom
If your bathroom has plenty of natural light, don't hesitate to use SW SHell White on its walls! This color will make the room feel cozy without creating an enclosing effect. But in a small and poorly-lit bathroom, you might want to limit its use to only one accent wall or even use it on the vanity and drawers only.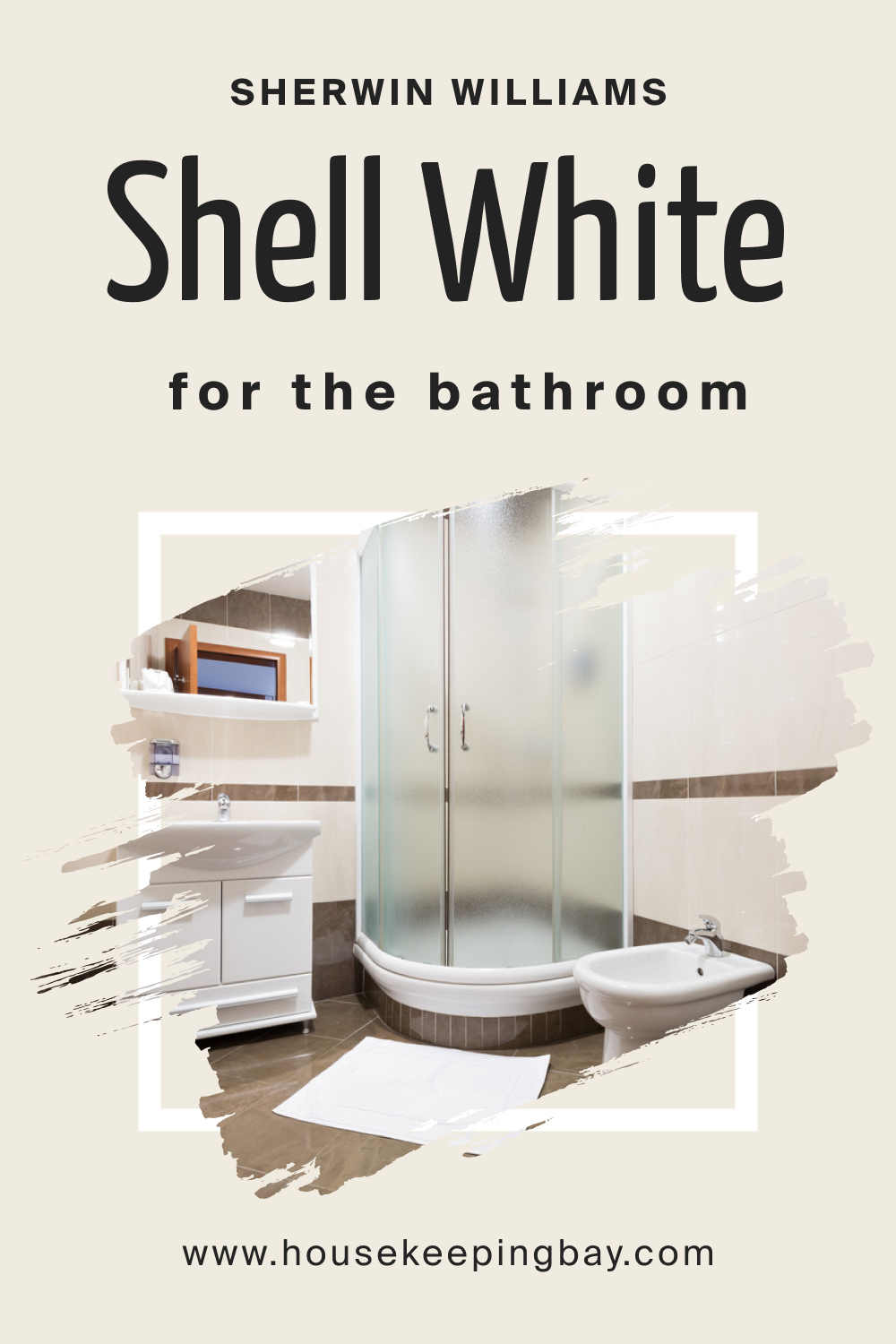 Shell White SW 8917 and Kitchen
Need to make your kitchen feel homier? Then SW Shell White is your color! It works great with tiles, wood, marble, and brass, which means you can incorporate this white into almost any kitchen interior smoothly. Also, consider polished brass pull handlers to highlight the delicate creaminess of SW Shell White.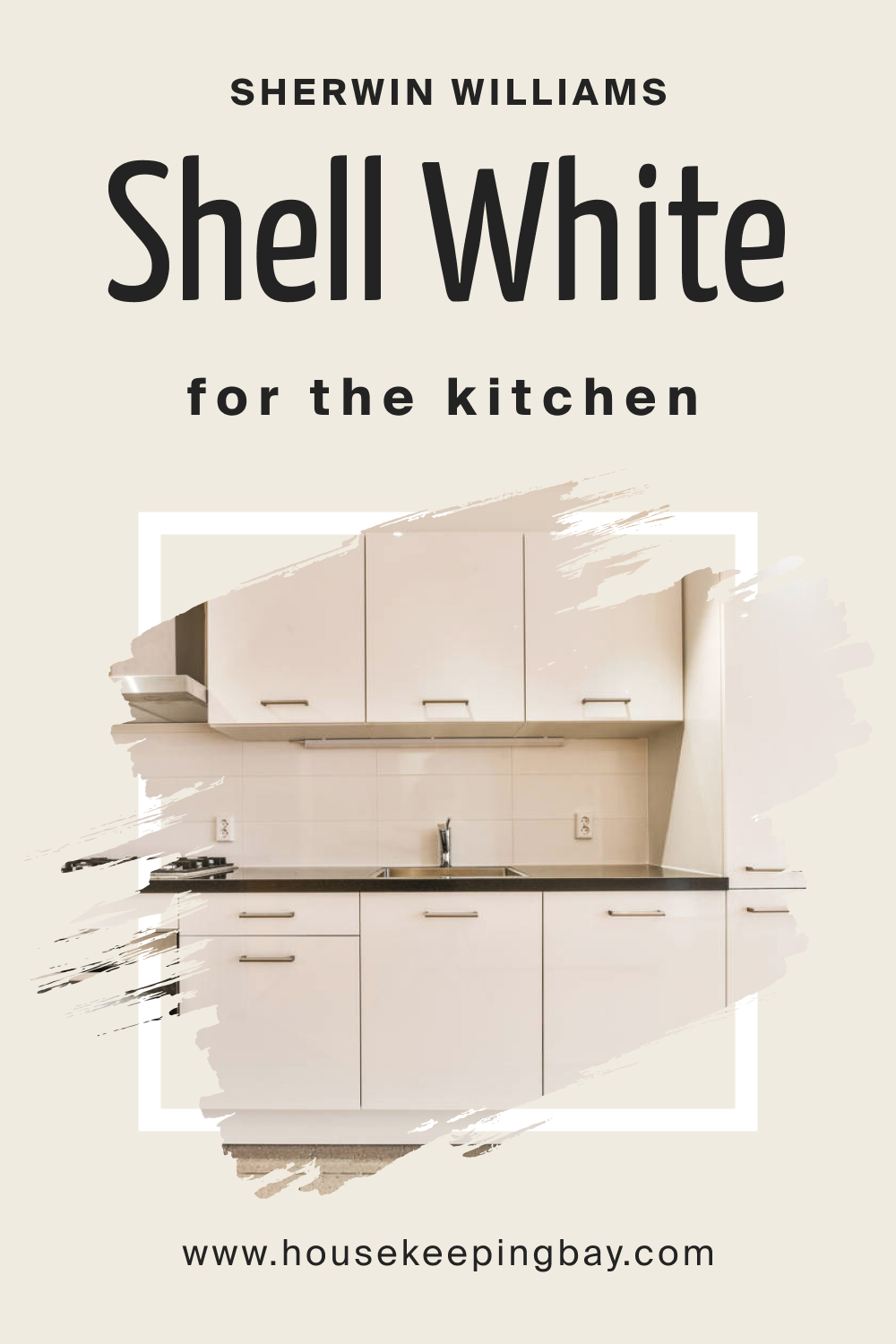 Shell White SW 8917 for the Exterior Use
This white is so versatile that it will also work on exterior walls. You just need to ensure it reads the way you need it. In broad and bright daylight, SW Shell White will look brighter and whiter, but in less bright light, it will read warmer and creamier.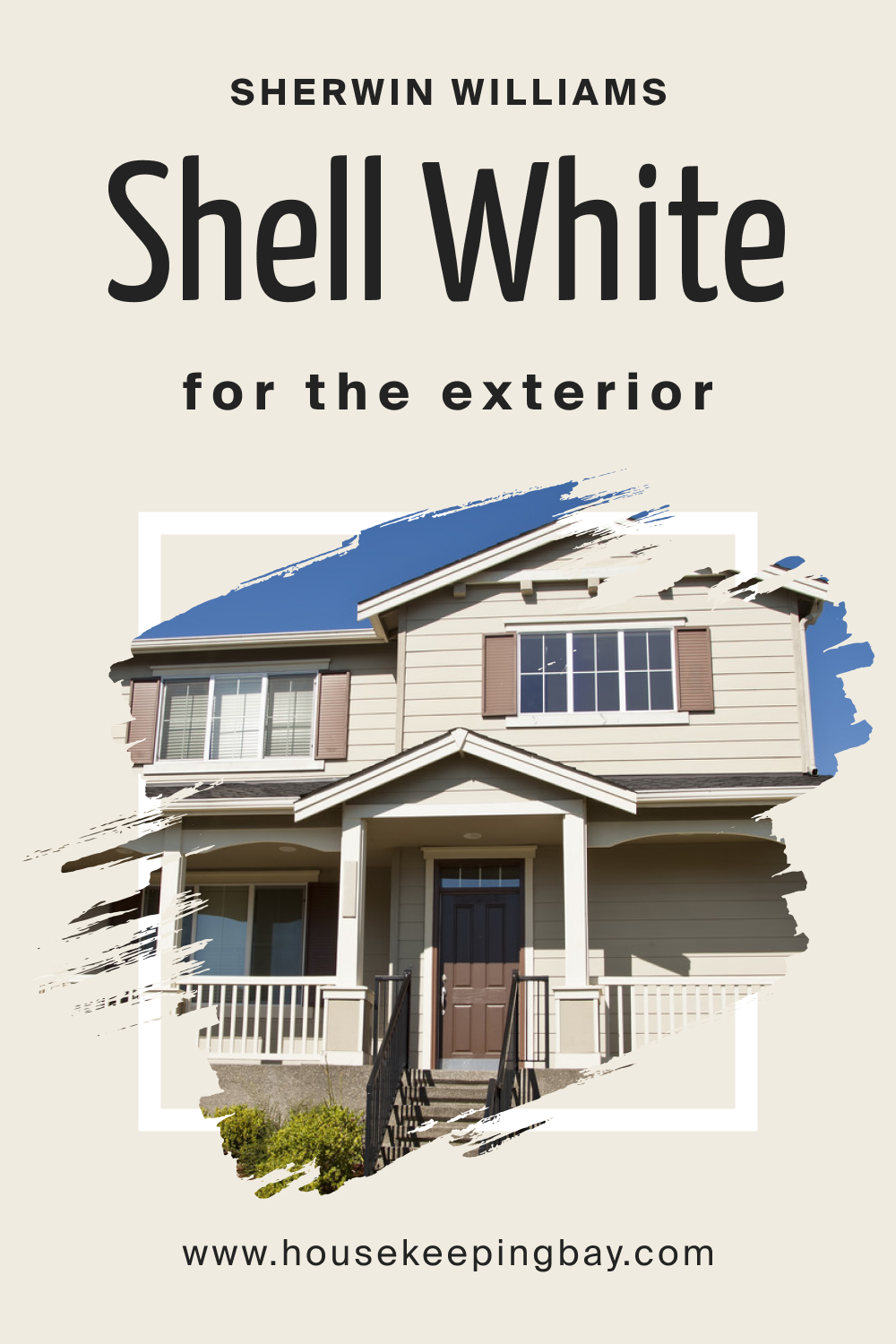 Comparing SW Shell White With Other Colors
What is the best way to see what makes colors from the same hue family distinct? Of course, by comparing them! Below, we compared SW Shell White and several similar whites with the same soft and creamy appearance. Check out how differently they can read!
Shell White vs. SW 7008 Alabaster
SW Alabaster has a similar LRV to SW Shell White, so it's pretty close in how light it will read on the walls. However, SW Alabaster has cooler gray undertones and will give your space a slightly more modern feel than its counterpart.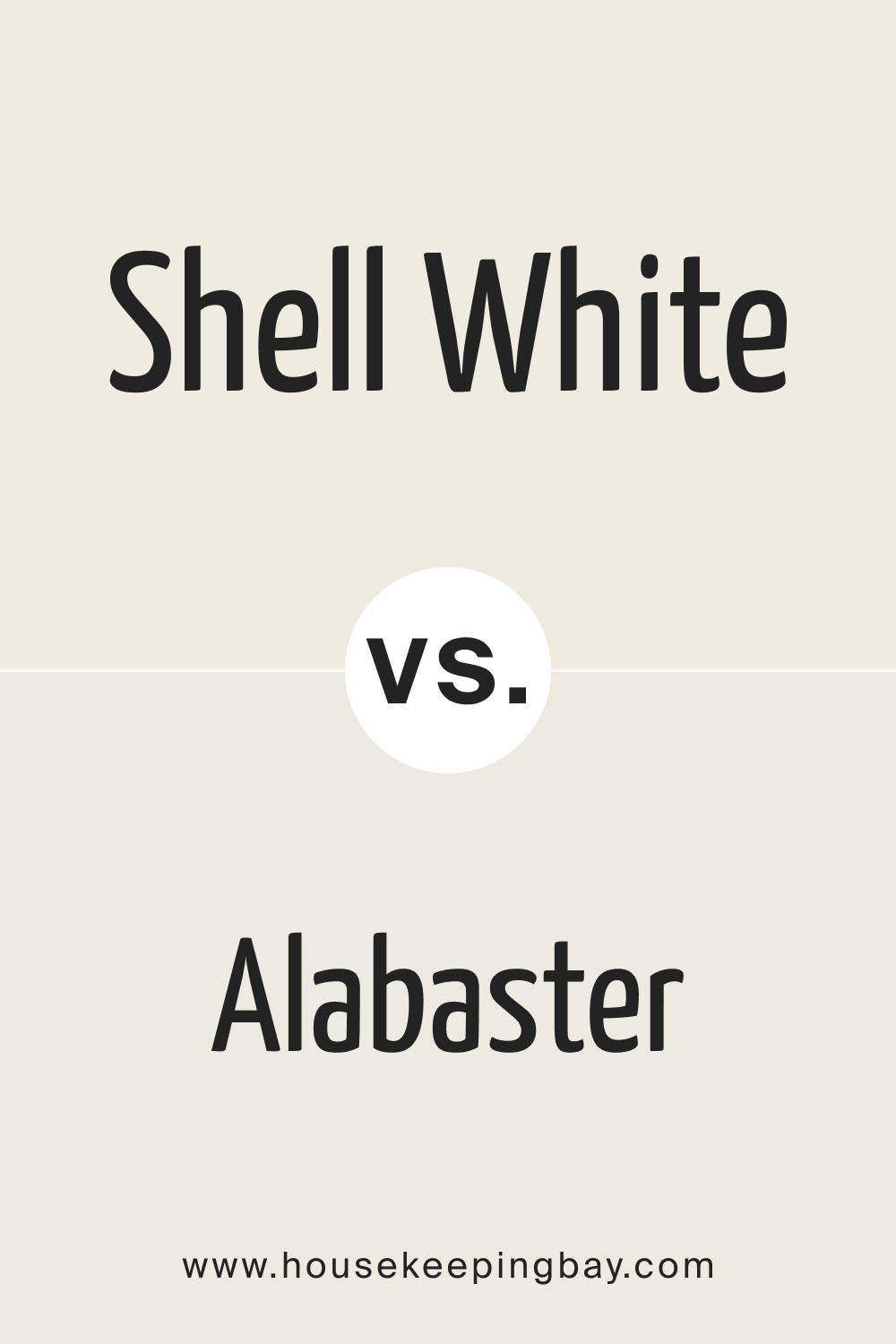 Shell White vs. BM OC-45 Swiss Coffee 
These two have very similar LRVs (83 for SW Shell White and 84 for BM Swiss Coffee), which means the colors read the same bright. However, BM Swiss Coffee has warm beige undertones with a slight hint of pink, whilst SW Shell White has yellow and peachy undertones, with beige being barely there.
This is why BM Swiss Coffee reads more beige, and SW Shell White displays a more noticeable yellowish tint.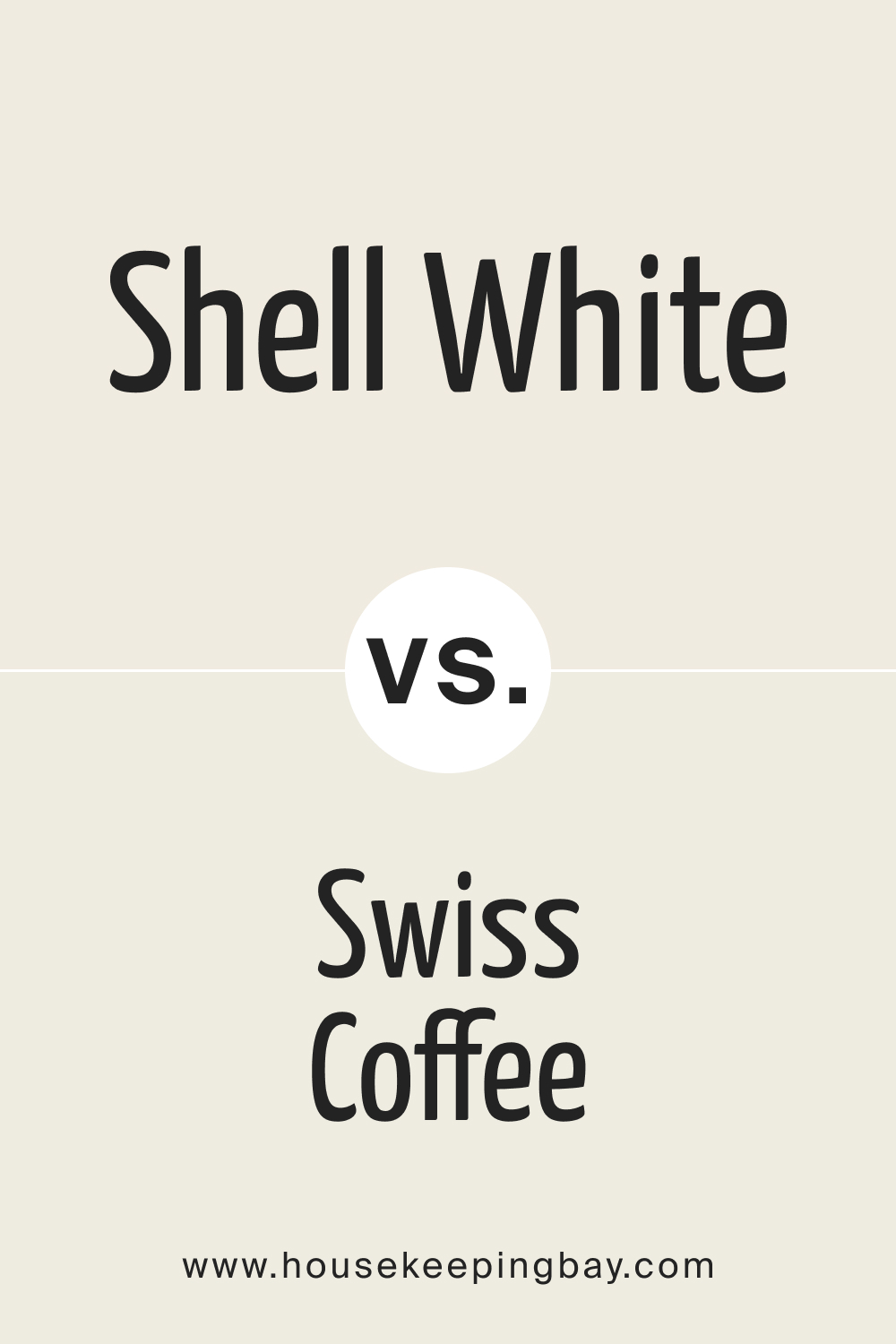 Shell White vs. SW 7012 Creamy
SW Creamy comes from the same color collection as SW Shell White. However, they differ because of the more pronounced pinkish hue that SW Creamy displays. Also, SW Creamy has an LRV of 81, which makes it read darker than SW Shell White, whose LRV is 83.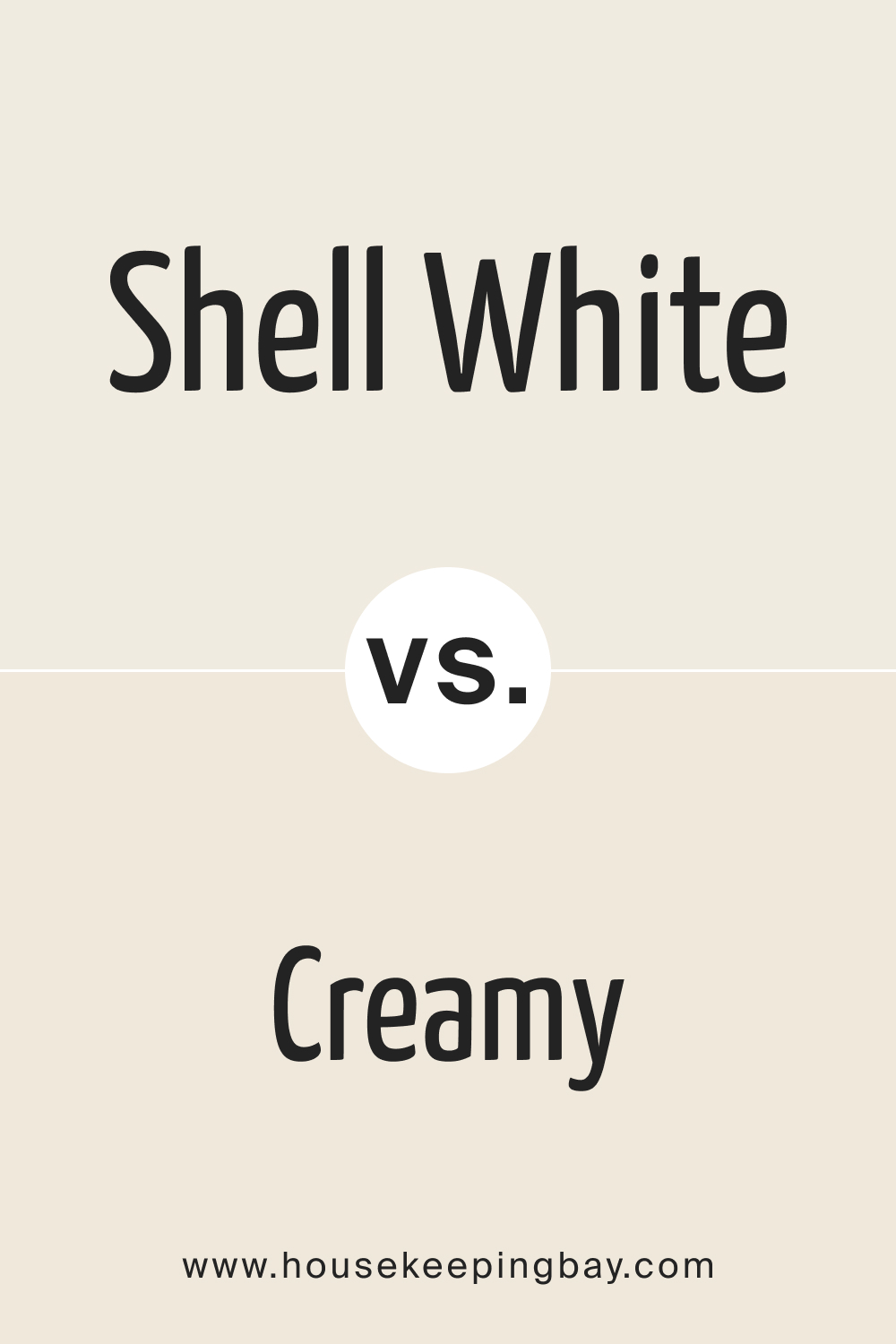 Shell White vs. SW 7029 Agreeable Gray
Despite being absolutely different (SW Agreeable Gray is greige), these two look pretty nice together! With an LRV of 60, SW Agreeable Gray reads much darker and grayer, creating a lovely and smooth contrast with SW Shell White. What unites them is a beige undertone.
Thanks to it, SW Shell White reads soft enough, complementing SW Agreeable Gray.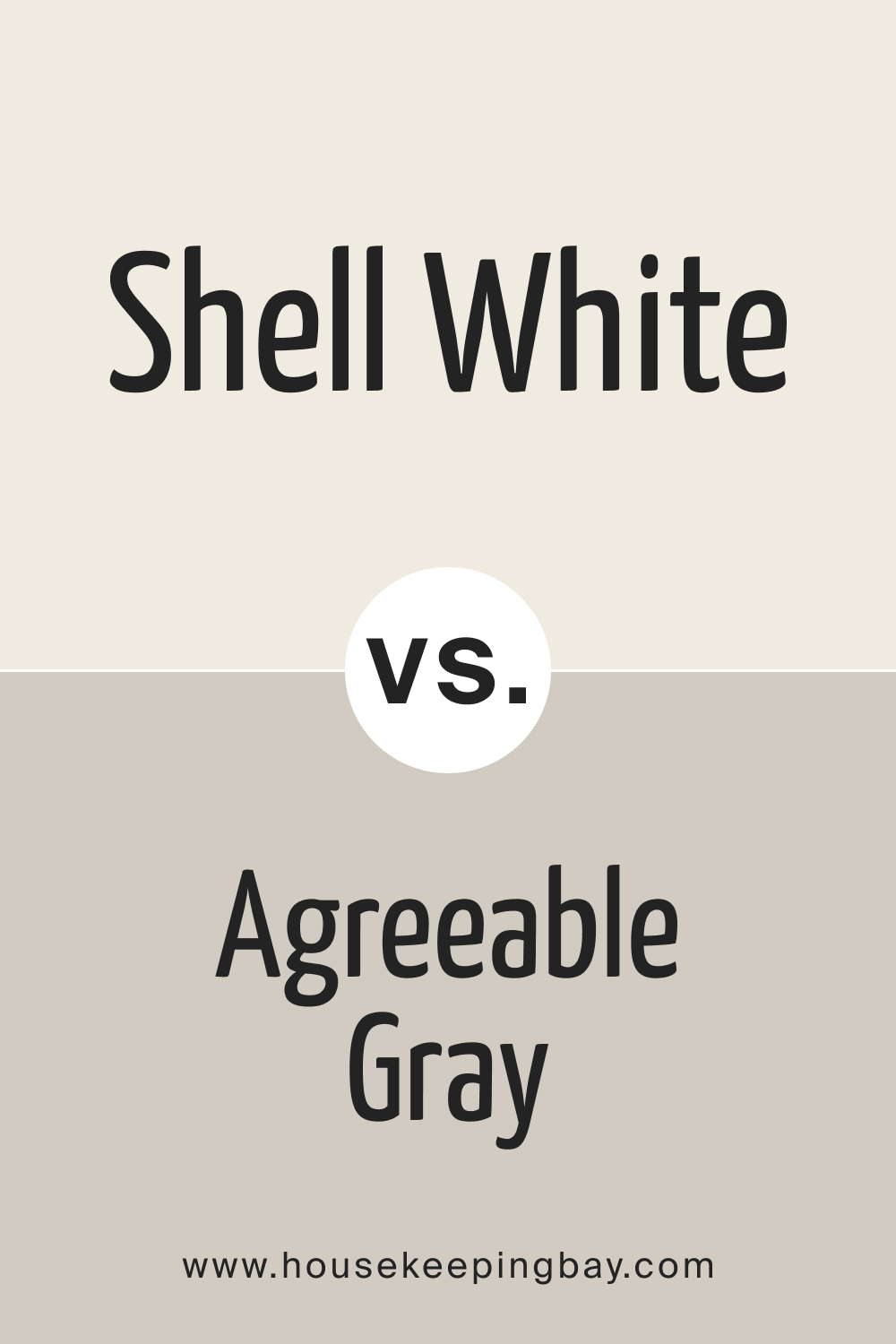 Shell White vs. BM OC-20 Pale Oak 
BM Pale Oak has an LRV of 69 and taupe undertones. Compared to it, SW Shell White reads much lighter (thanks to the LRV 83) and may display its peachy hue more noticeably.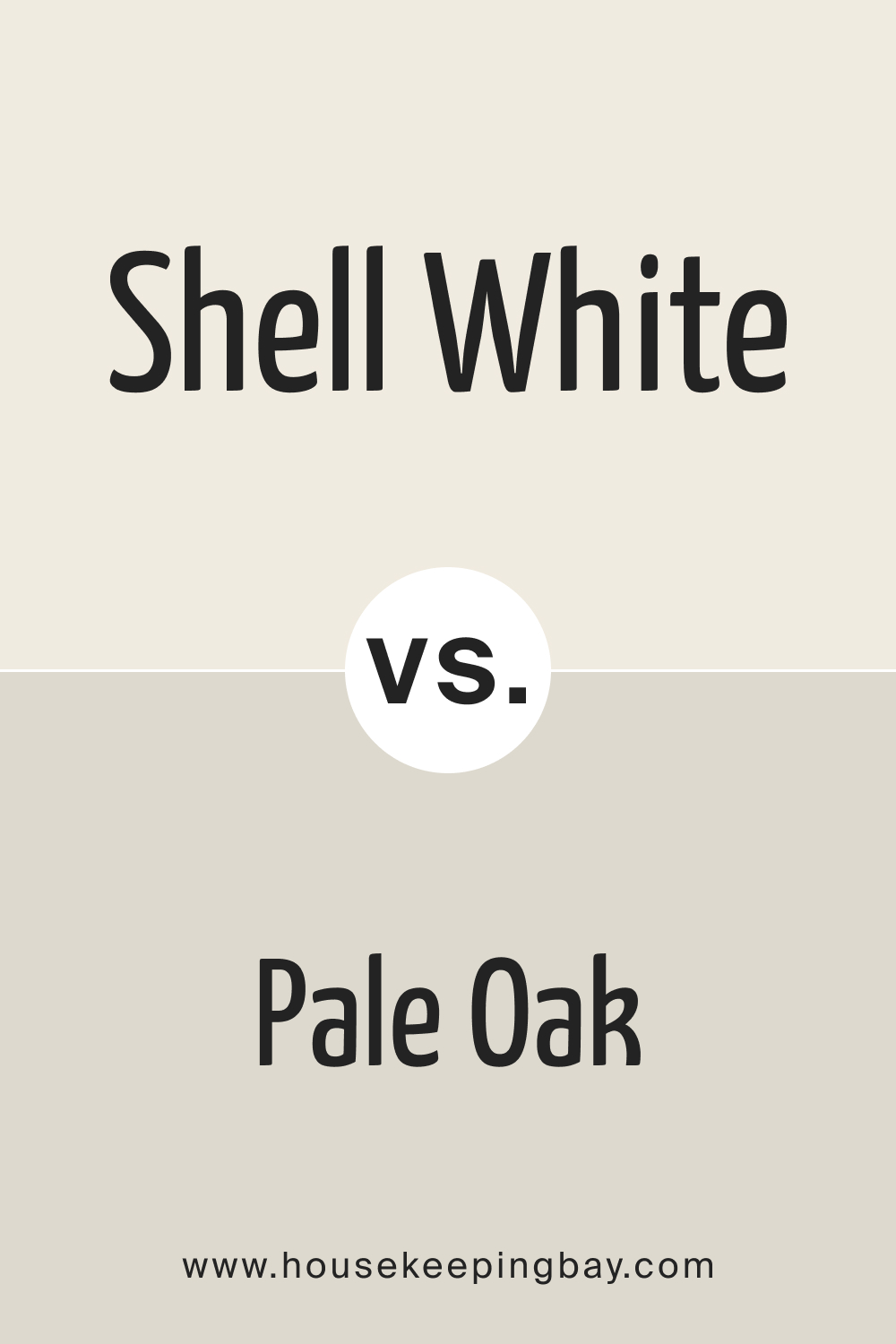 Shell White vs. BM OC-17 White Dove 
Both BM White Dove and SW Shell White have yellow undertones and read warm. However, BM White Dove is a bit lighter due to the LRV of 85. Also, compared to BM White Dove, its counterpart reads creamier and displays its peachy-pink hue more.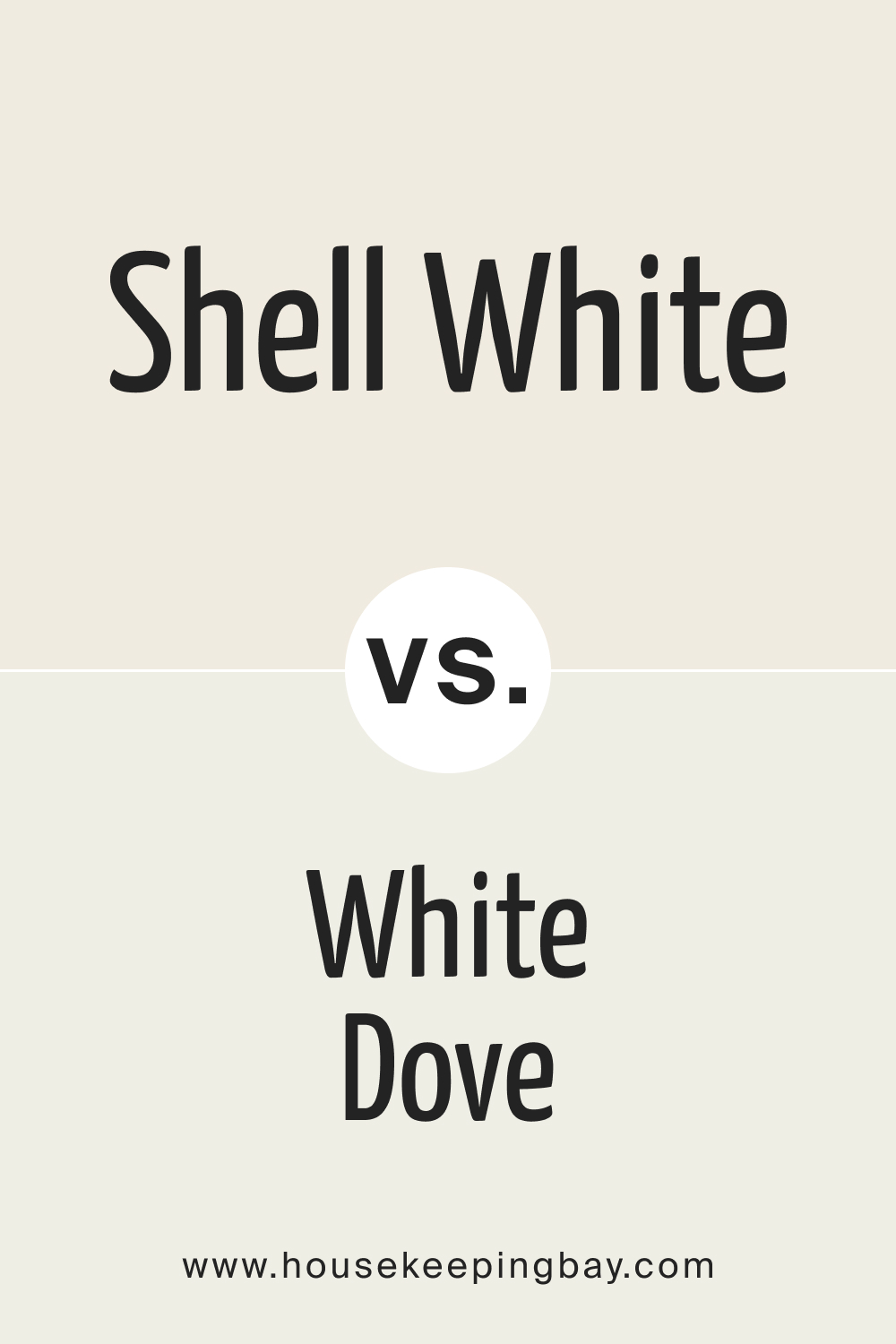 Now you have a better understanding of this lovely and cozy white! SW Shell White may seem to be a tricky color to use, but with the information you have now, using this soft and tender hue in your home will be easy for you. It's versatile and can work in many rooms.
Besides, this white color pairs nicely with many textures and materials. Thanks to such versatility, it will incorporate into most interior designs and styles successfully.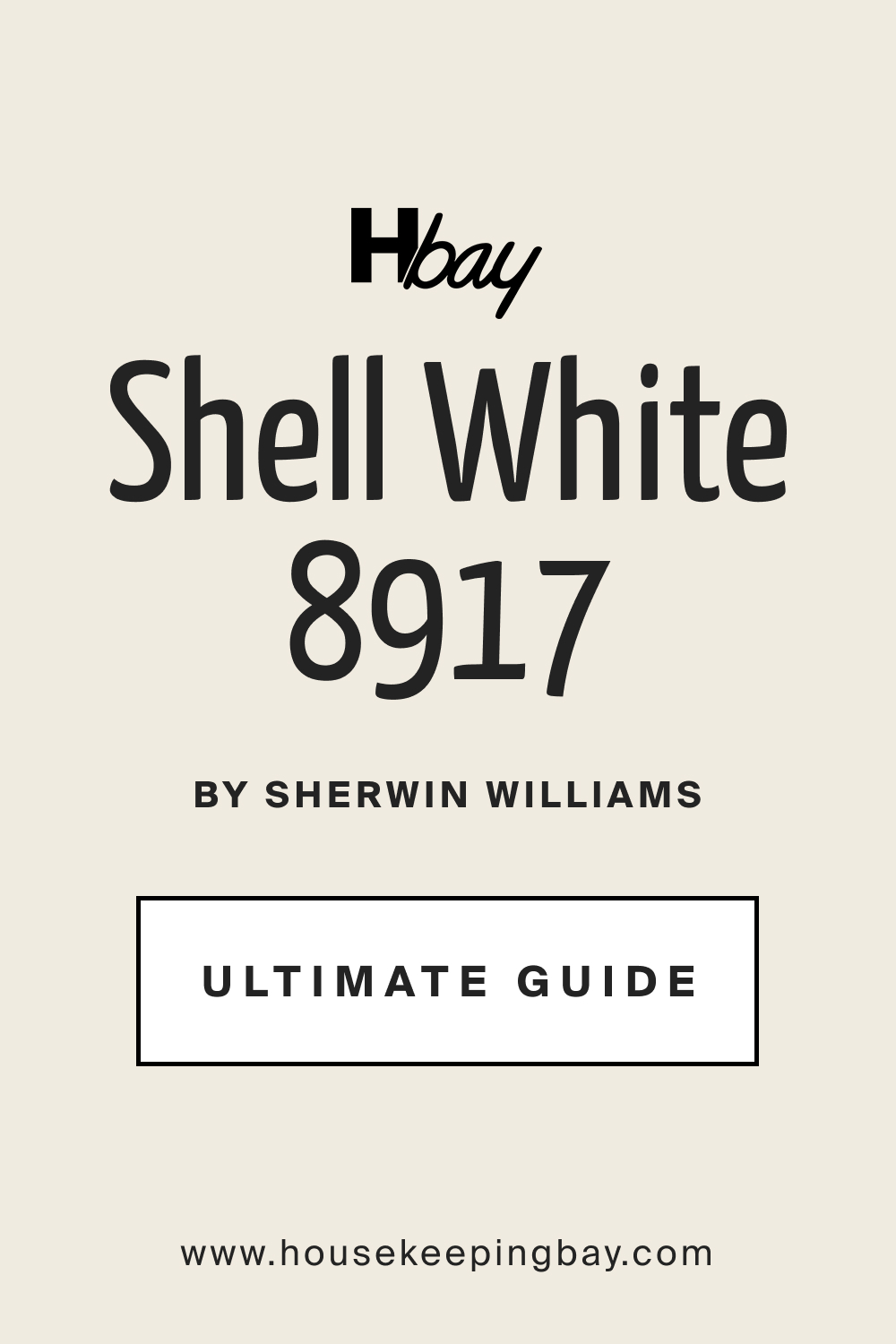 Frequently Asked Questions
⭐What color collection does SW Shell White belong to?
This white is part of the 2018 Sincerity, Living Well, Timeless White, and Finest White color collections.
⭐Is it a popular color?
Well, yes! It was even named Sherwin-Williams' color of the month in 2018!
⭐What is lighter than Shell White?
SW 7103 Whitetail is very similar to SW Shell White and is lighter. Its LRV is 86.