What color do you imagine when you think of white? We bet it's a crisp and bright, snow-white hue that makes the entire space glow. However, the white color family is much more varied than that! And today, we want to introduce you to one of its members.
Meet SW Marshmallow! This white color is so delicate and soft that you will fall in love with it immediately! Its delicacy and tenderness are enchanting, and we are going to explain how it works.
Read on to learn what colors it works best with, how to coordinate it, and how this hue may react to light in your home.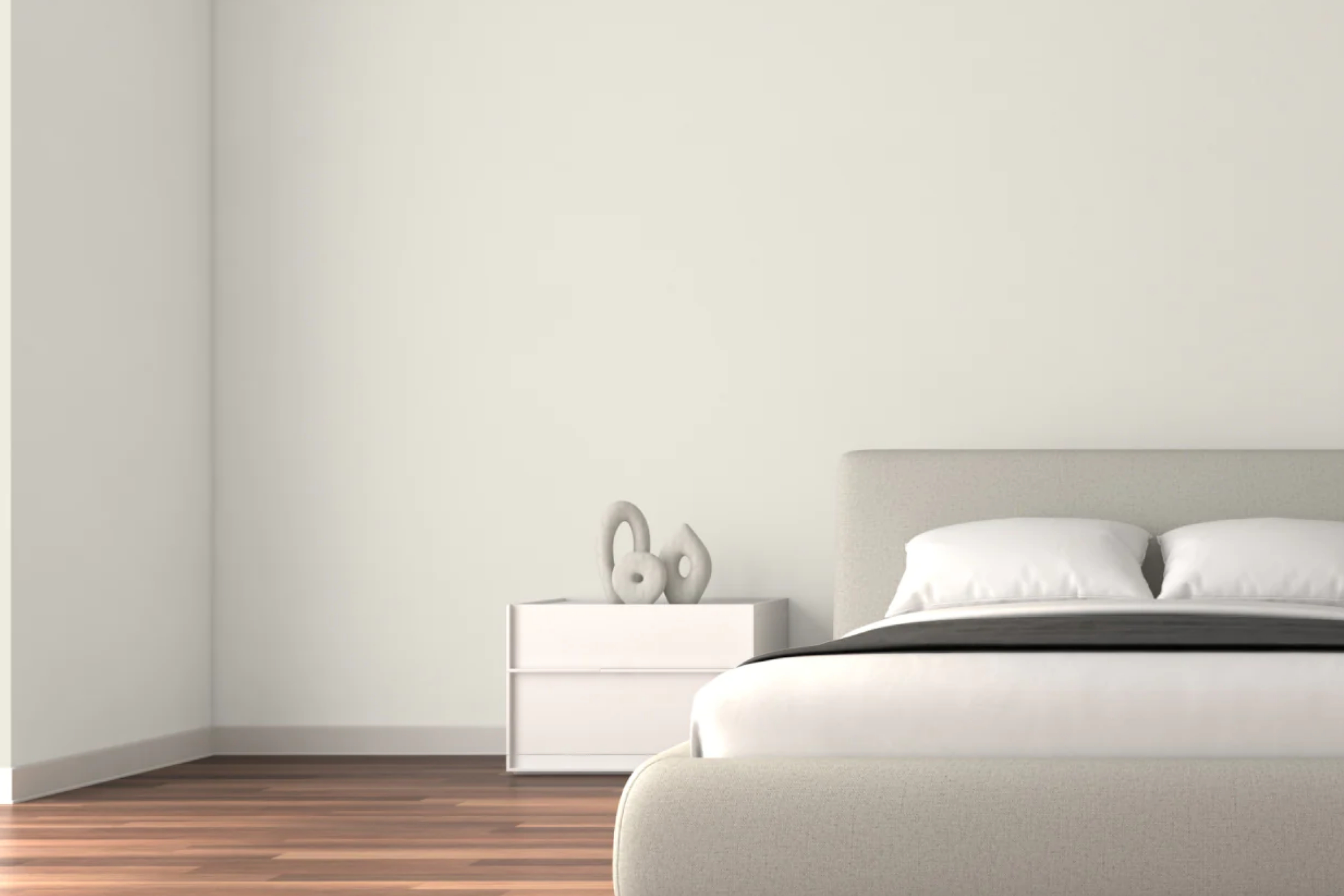 What Kind of Color Is SW 7001 Marshmallow?
First of all, SW Marshmallow belongs to the white hue family. However, this color doesn't read typical white. It's not crisp and sterile, but it still gives off a bright look. As Encycolorpedia says, SW Marshmallow balances in between soft creamy whites and cleaner whites, reading pleasantly warm and embracing you with its pillowy feel.
SW Marshmallow can also be considered an off-white color being in the middle of this category. Sometimes, it can even work instead of lighter greiges, so if you are looking for a light, warm greige/beige color, this white might be a good color to sample!
Its pearly appearance is a great fit for Boho Chic, Shabby Chic, Contemporary and Modern styled homes.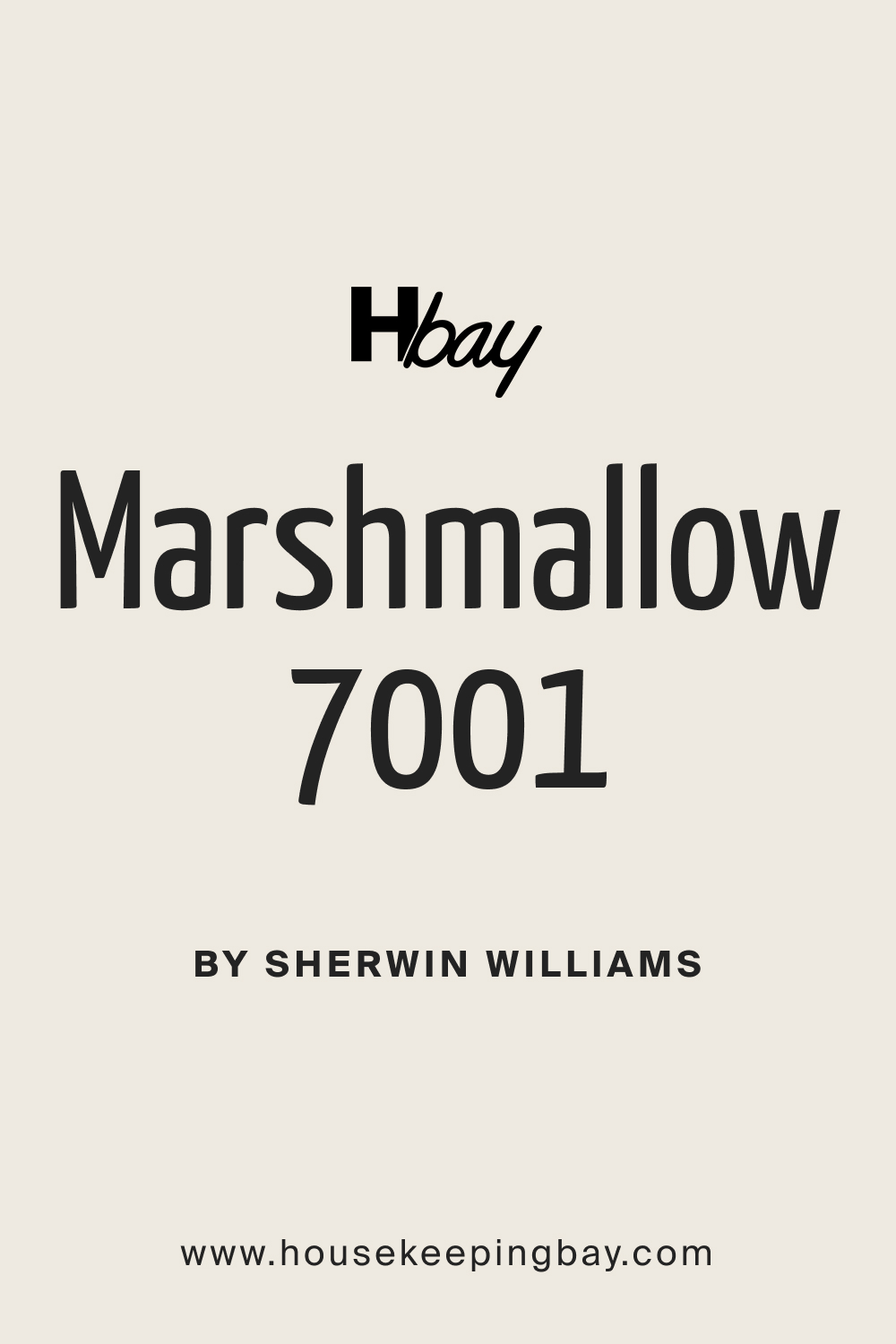 Is It a Warm or Cool Color?
This off-white is definitely a warm color. However, you won't find that creamy and yellow warmth that you might be expecting. Instead, SW Marshmallow will please you with a balanced warm hue that gives your space a touch of coziness, remaining bright enough not to make a room feel too creamy.
What Undertones Does SW 7001 Marshmallow Have?
Each color has undertones. Some of them are more pronounced, and others are less. But undertones often make paint colors tricky to use in your home. One of the most frequent issues homeowners face is when they buy paint that reads differently on a color swatch and on their walls.
This happens because they didn't sample the color in advance, and undertones showed up unexpectedly.
SW Marshmallow's undertones are beige with a very delicate and barely-there hint of pink. Thanks to such undertones, this color reads pleasantly warm and soft, giving off a tender blush of pink hue, which adds tenderness to this white color.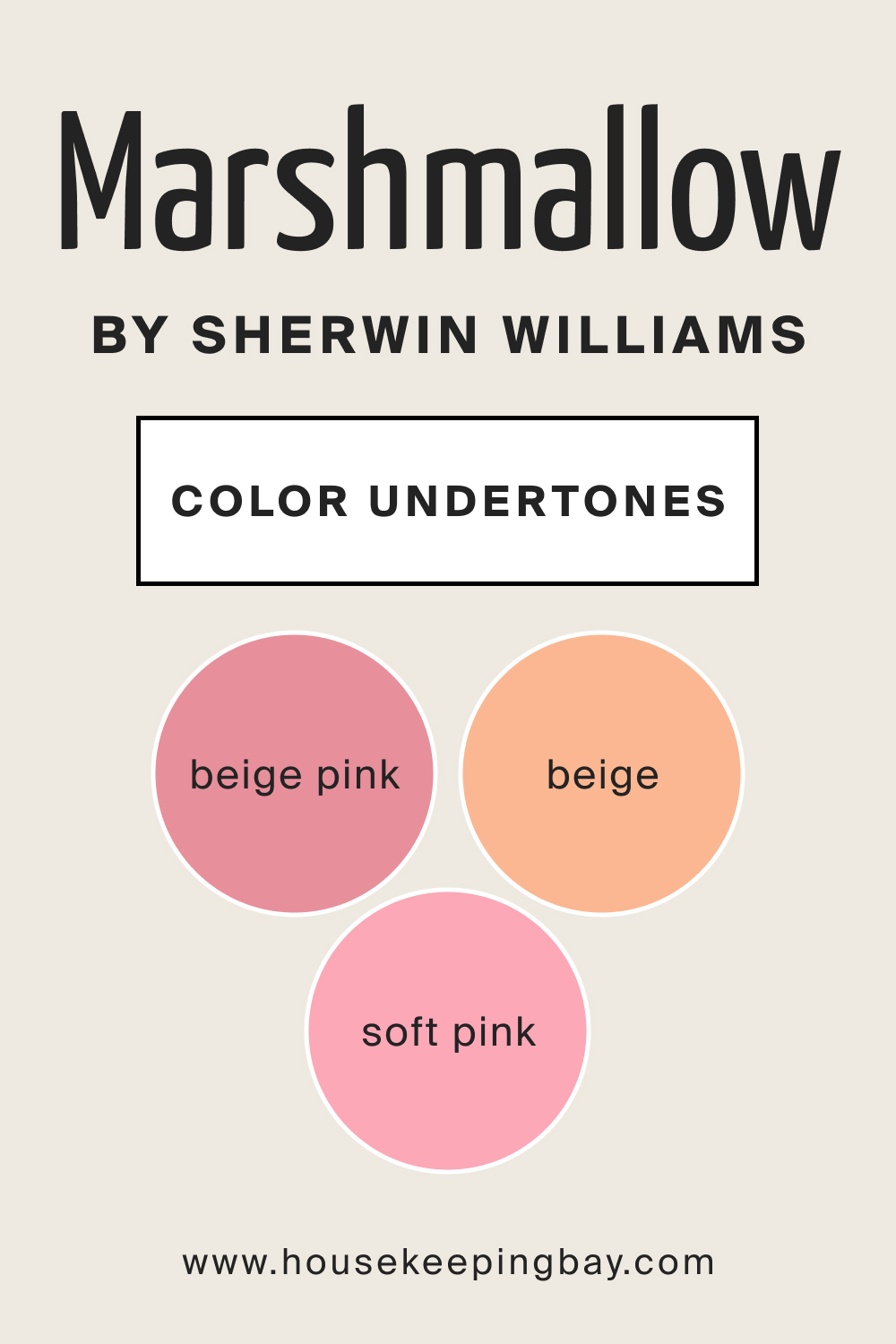 What Coordinating Colors to Use With SW 7001 Marshmallow?
Picking up coordinating colors for your wall paint hue can be fun and creative as long as you have at least a basic understanding of color theory. But if you want to use SW Marshmallow on your walls, you need to take its complex undertones into account!
Below, we have prepared several coordinating color palettes that will help you avoid making mistakes. These colors are typical coordinating ones that will work with SW Marshmallow anyway:
If you prefer monochromatic palettes, try out the following color suggestions:
White Flour SW 7102
Downy SW 7002
Modest White SW 6084
For a contrasting color palette, we recommend you pay attention to these colors instead:
Abalone Shell SW 6050
Tavern Taupe SW 7508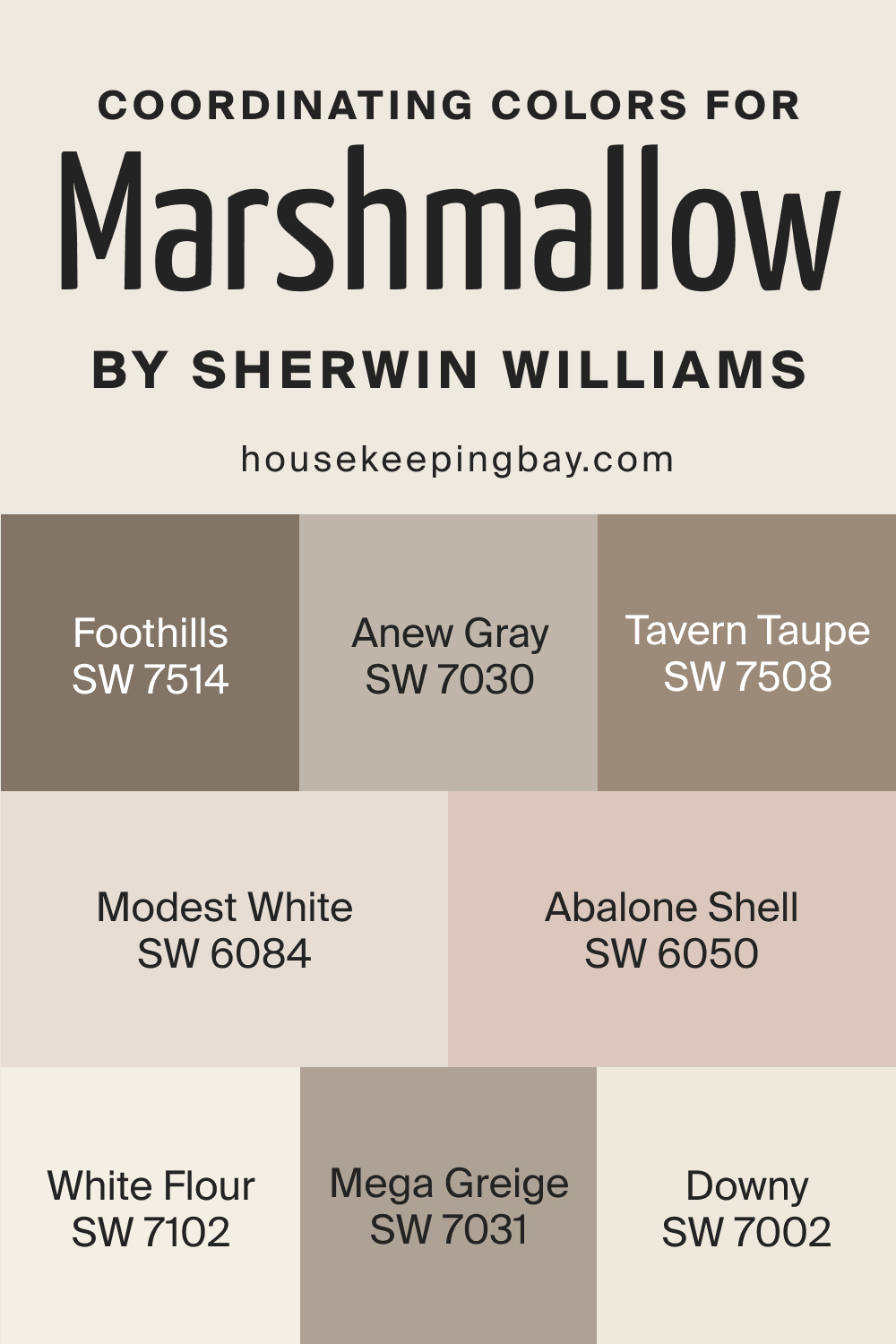 What LRV Does SW Marshmallow Have, and How Does It React to Light?
LRV (Light Reflectance Value) is a measurement that shows the amount of light paint colors can reflect from a surface and absorb. LRV values range from 0 to 100, with 100 being pure white and 0 being absolute black. Respectively, the closer the LRV is to 100, the brighter and lighter the color, and vice versa.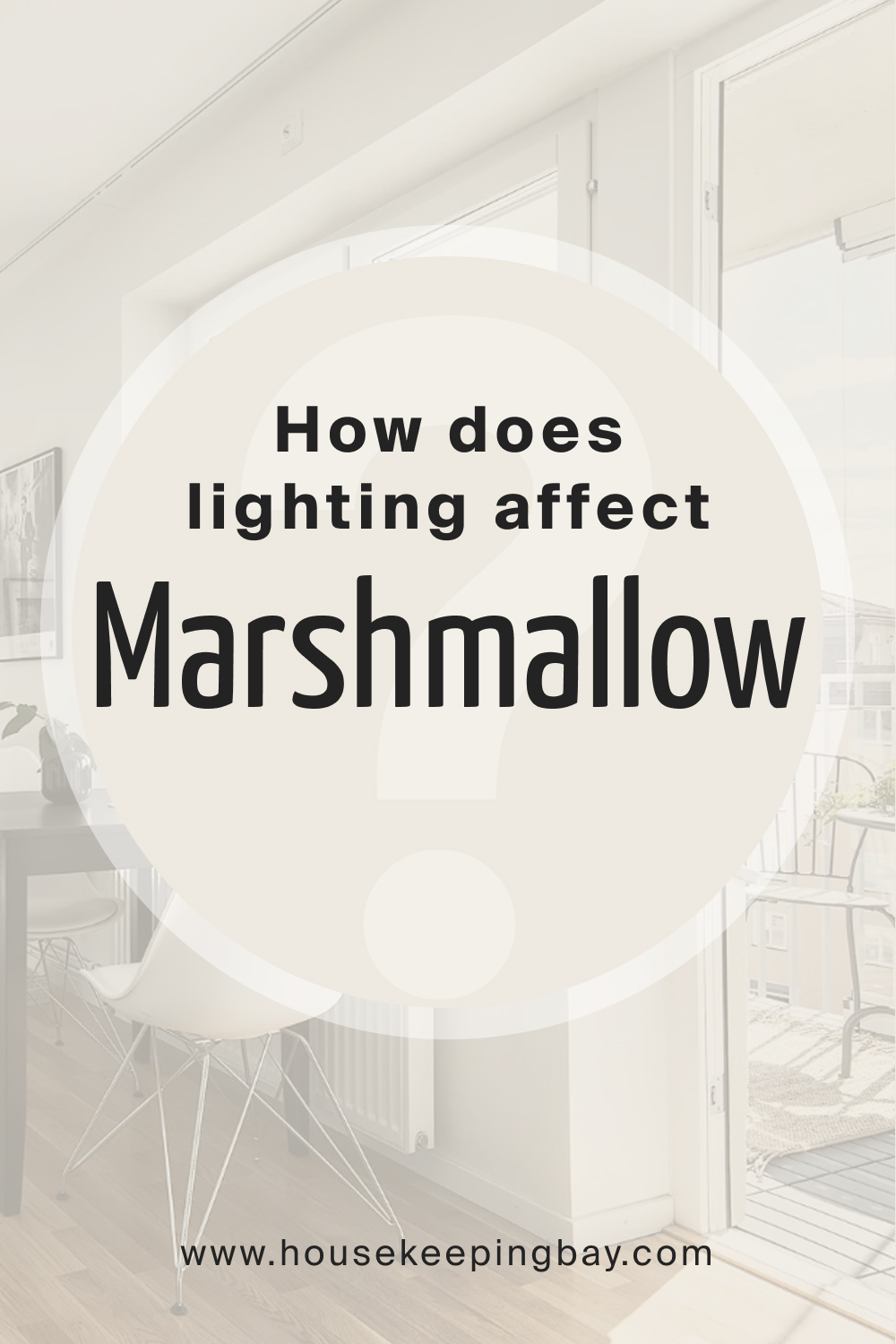 The LRV value of SW Marshmallow is 82, which makes this color bright and highly reflective. This is why it typically appears bright white when used in well-lit spaces. In a room with natural light, SW Marshmallow will look light and bright too.
But if you want to use this off-white color in north-facing rooms, note that it will most likely appear crisp and clean. In the south-facing rooms, SW Marshmallow will appear to be slightly yellower and creamier instead.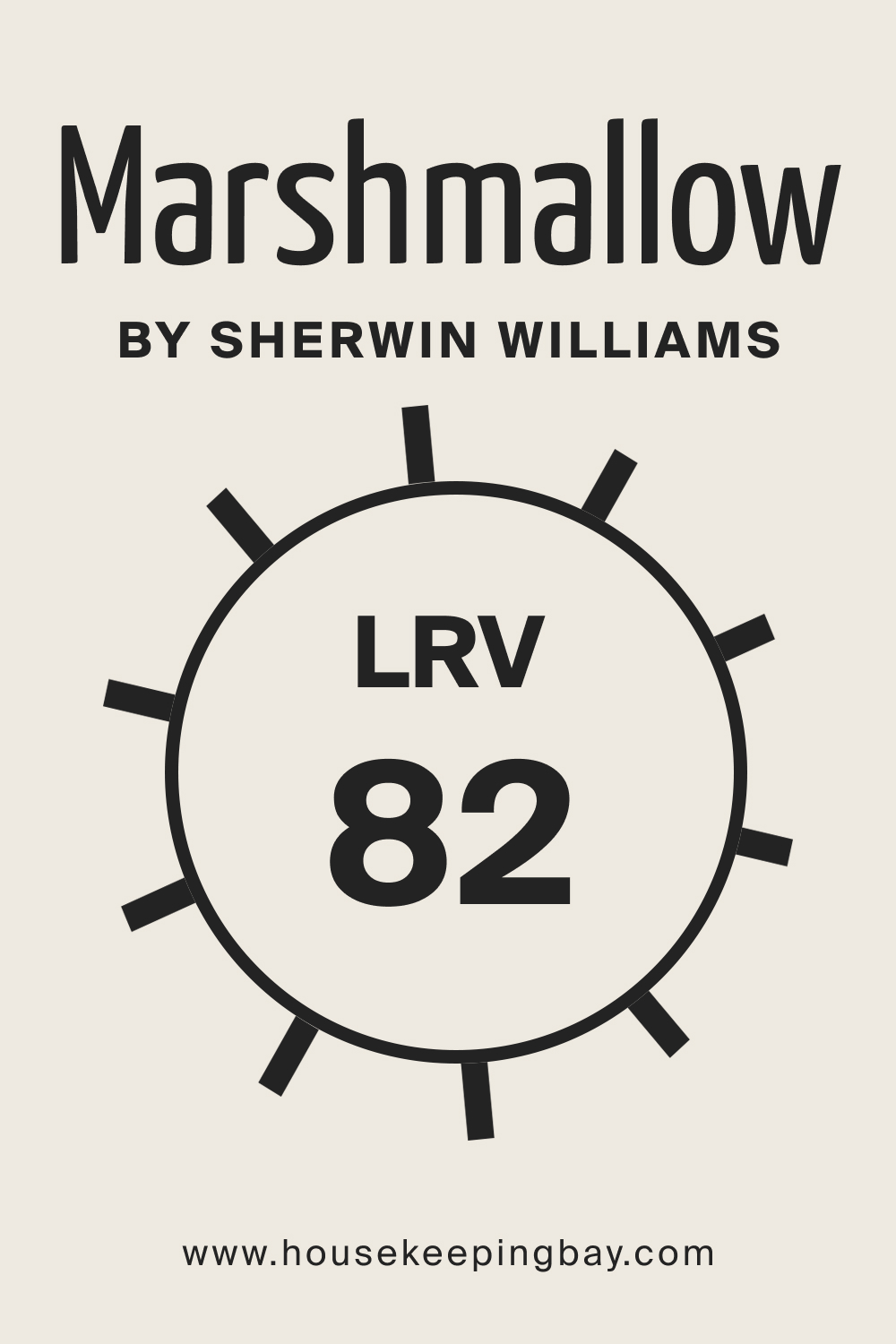 What is LRV? Read It Before You Choose Your Ideal Paint Color
What Is the Best Trim Color to Use With SW Marshmallow?
Selecting trim colors for white walls is uneasy. Usually, choosing brighter whites is a good option if you have warmer/softer hues on your walls. This way, you can create a more enhanced contrast that still looks balanced. For SW Marshmallow, we recommend you use SW High Reflective White in the case of ceilings and trims due to its much higher reflectivity.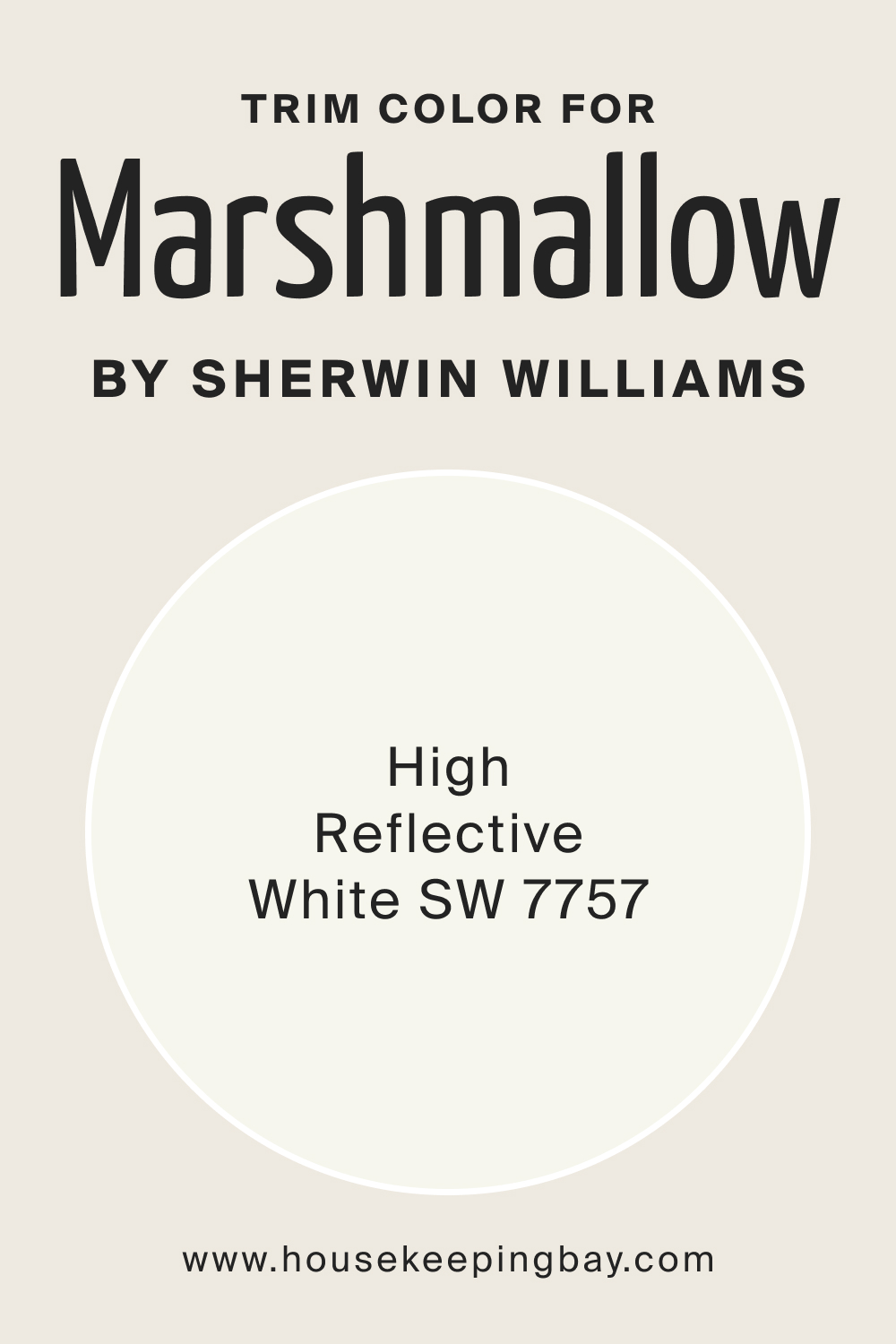 Similar Colors That Can Be Used Instead of SW Marshmallow
If you are not happy with how SW Marshmallow works in your space, consider having second and third options. When you have alternative hues you can opt for, it is easier to adjust the palette without the dramatic changes in it.
Speaking of SW Marshmallow, this off-white can be substituted with one of the following colors:
SW 7002 Downy
SW 7000 Ibis White
Of course, each of these substitute whites will vary slightly due to the distinct undertones and LRV values. Now let's see what kind of colors they are.
SW Downy has an LRV of 81, which makes it comparatively darker than SW Marshmallow. Also, SW Downey has slightly warm undertones. As a result, in excessive natural light, this paint color will appear warmer and even brighter.
Another alternative to SW Marshmallow is SW Ibis. This white makes a great neutral alternative to SW Marshmallow since it also has slightly red and pink undertones. But you should note that with an LRV of 84, the SW Ibis paint color reads lighter and much brighter than SW Marshmallow.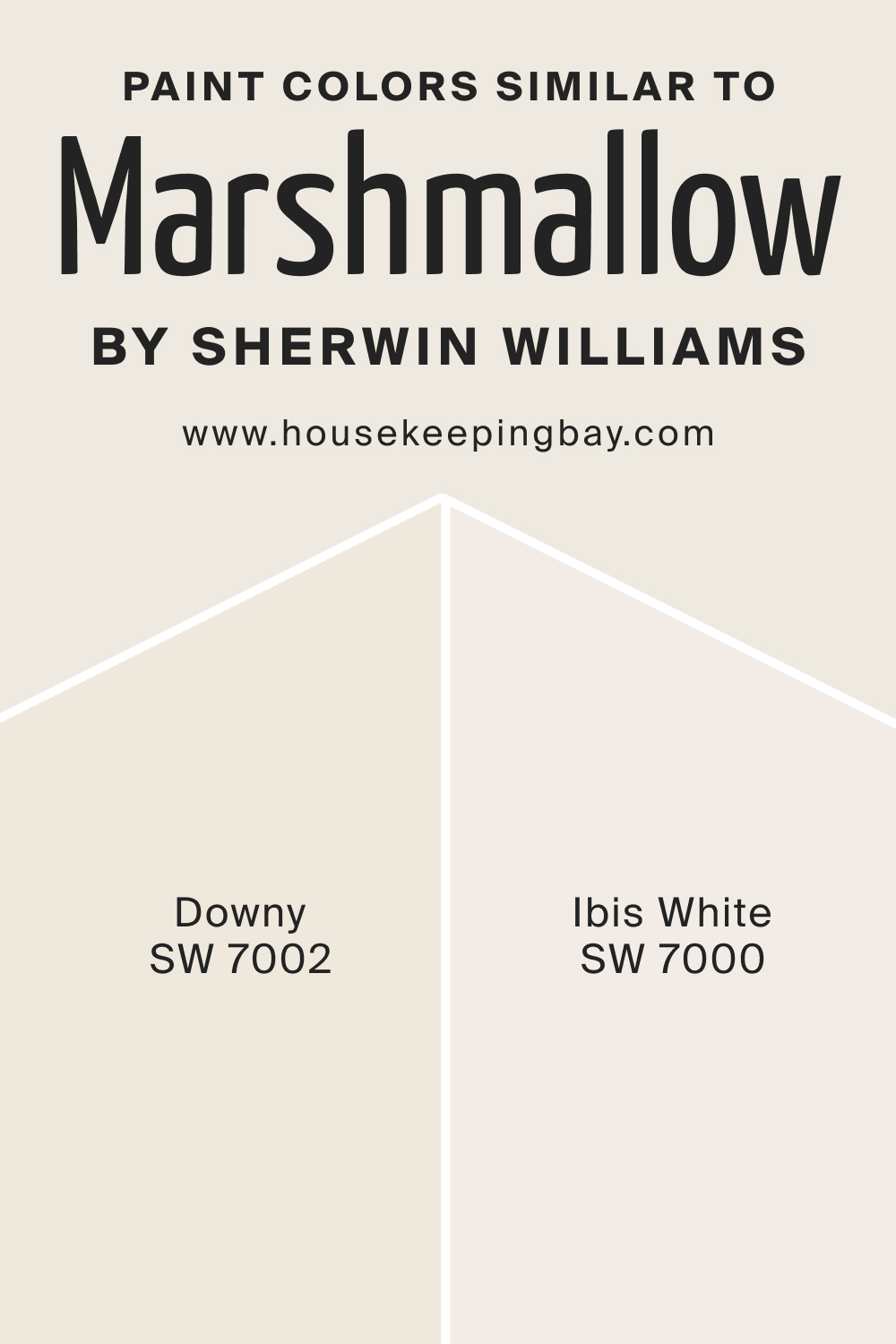 Colors That Go Well With SW Marshmallow
SW Marshmallow works well with taupe, off-whites, and blush colors. They will highlight the warm appearance of this white and help you add coziness to any space. For example, you might want to consider one of the following hues:
SW 7508 Tavern Taupe
SW 6050 Abalone Shell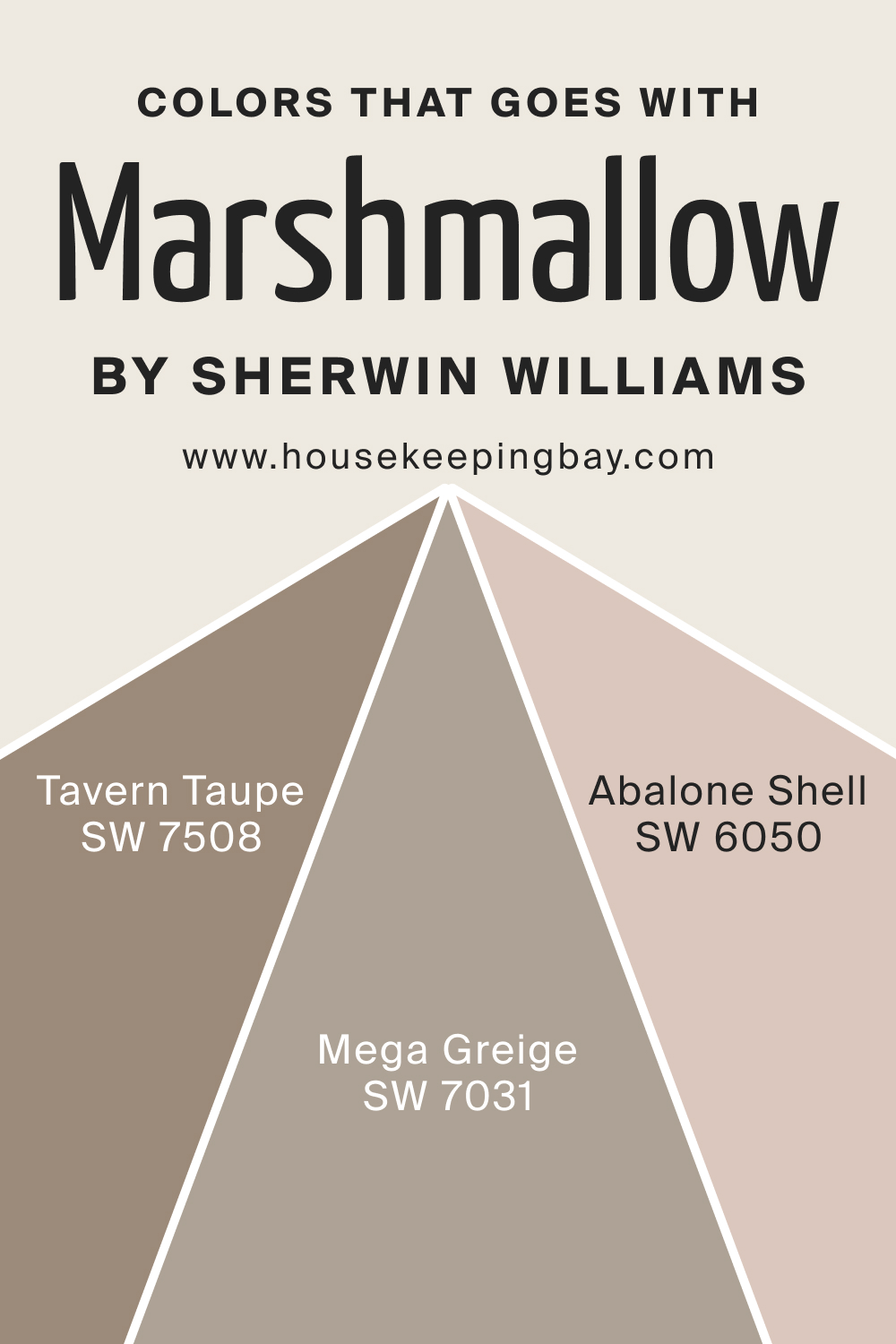 Where This White Can Be Used In Your Home?
This soft white is surprisingly versatile when it comes to using it indoors! Whether it is Scandinavian, Modern, Contemporary, Minimalistic, Shabby Chic, or Japanese, SW Marshmallow will complement all these design styles perfectly well. Below, you can read how exactly it might work in different rooms.
Marshmallow SW 7001 in the Living Room
It's an absolutely great color to use in your living room! You could either paint all the walls in SW Marshmallow or use it as a base along with a darker accent wall. To create a contrast, use rust or brown blocking curtains along with white sheer.
Also, definitely consider SW Marshmallow as your living room color if you have hardwood floors or wall-to-wall carpeting.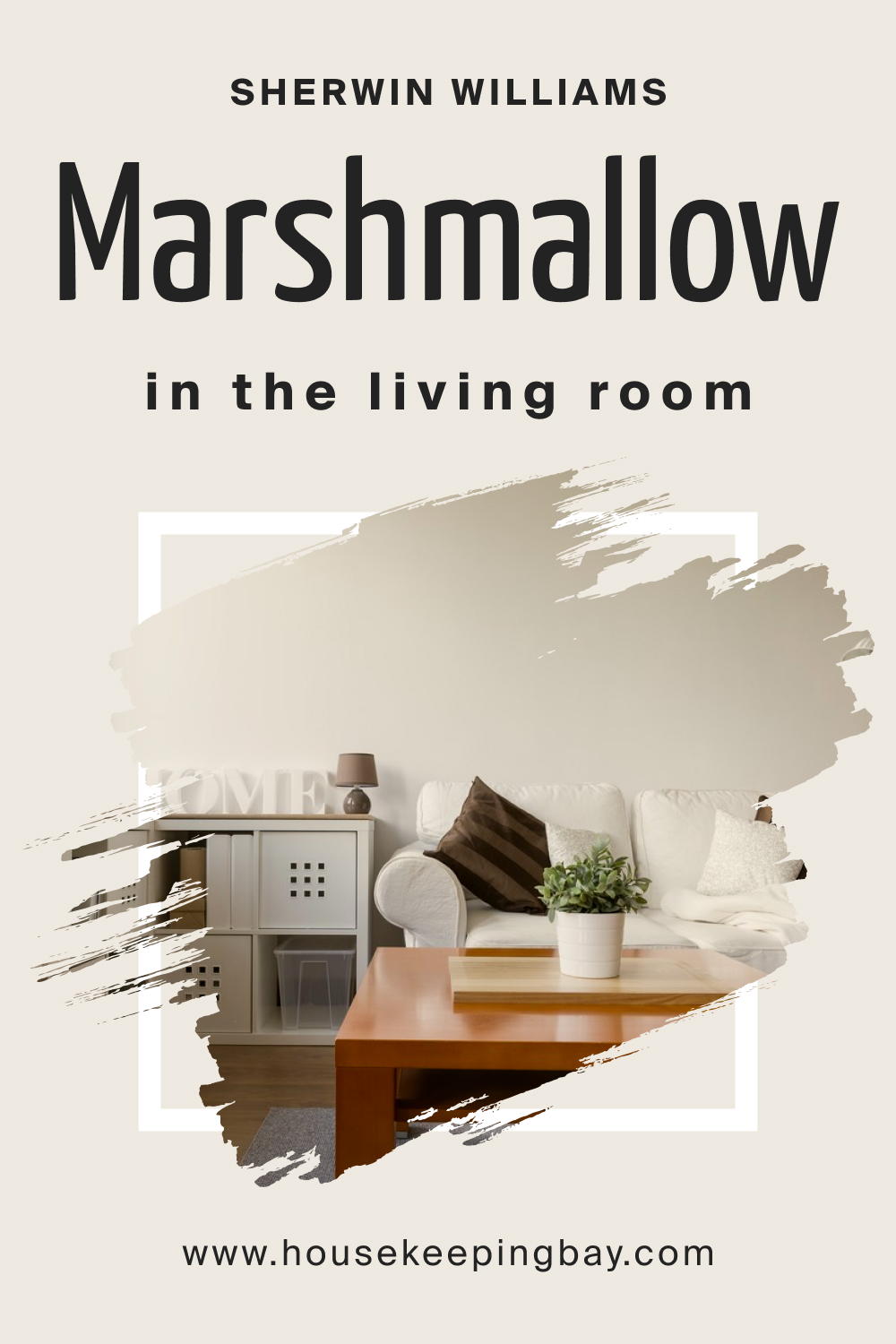 Marshmallow SW 7001 in a Bedroom
Yes again! If you have a smaller bedroom or if you like pastel walls, don't hesitate to use SW Marshmallow on the walls. White distressed furniture will help you refine the looks of your bedroom if it has SW Marshmallow on its walls. Also, rose gold decor elements can help you highlight the delicacy and tenderness of this hue.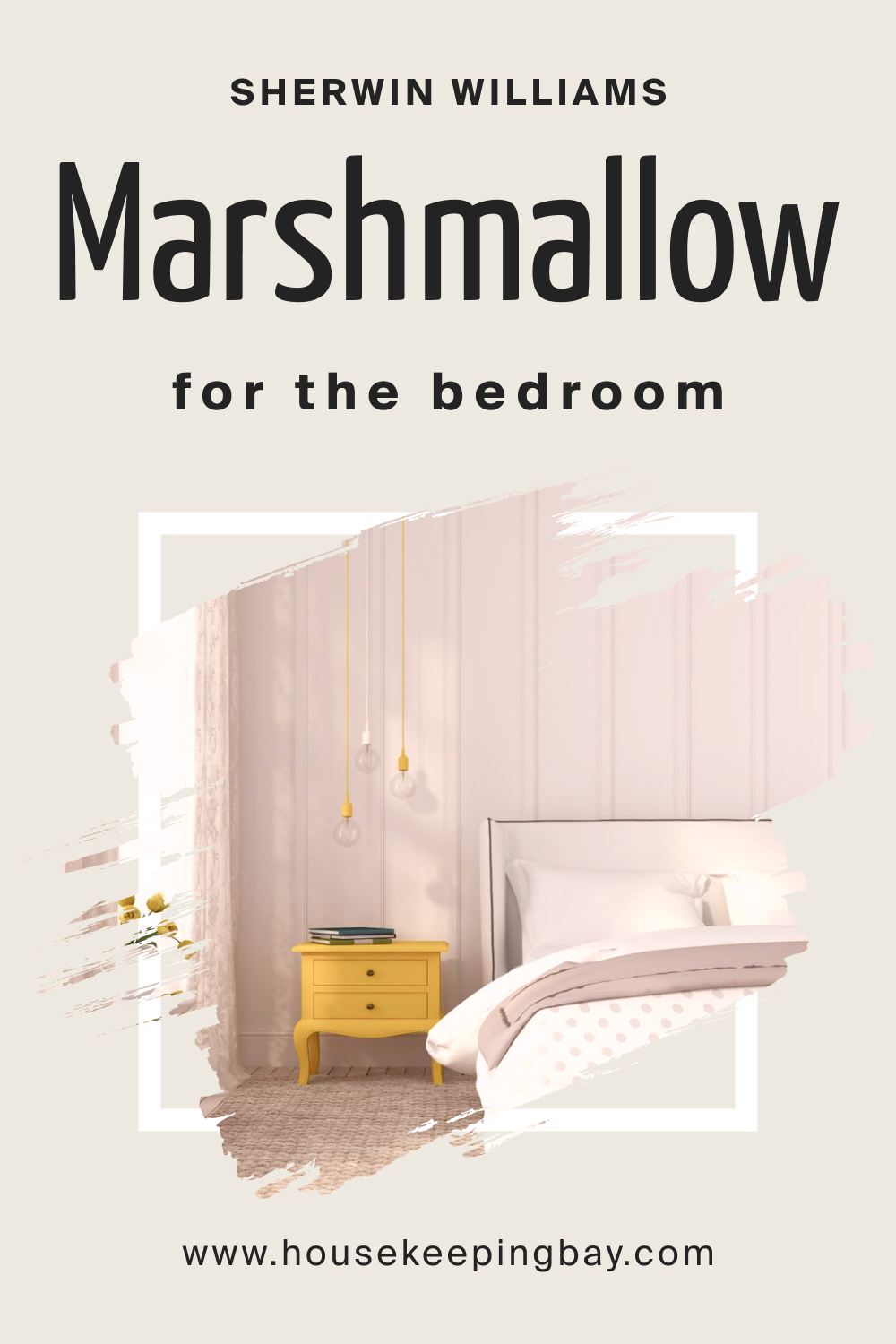 Marshmallow SW 7001 on the Kitchen
Whether it's an open-space kitchen or not, SW Marshmallow will work on its walls perfectly well! This color will work on the kitchen cabinets, with the walls being stark white or darker gray. Or you could do the opposite by painting the wall in SW Marshmallow and the cabinets in stark white or even any darker grey.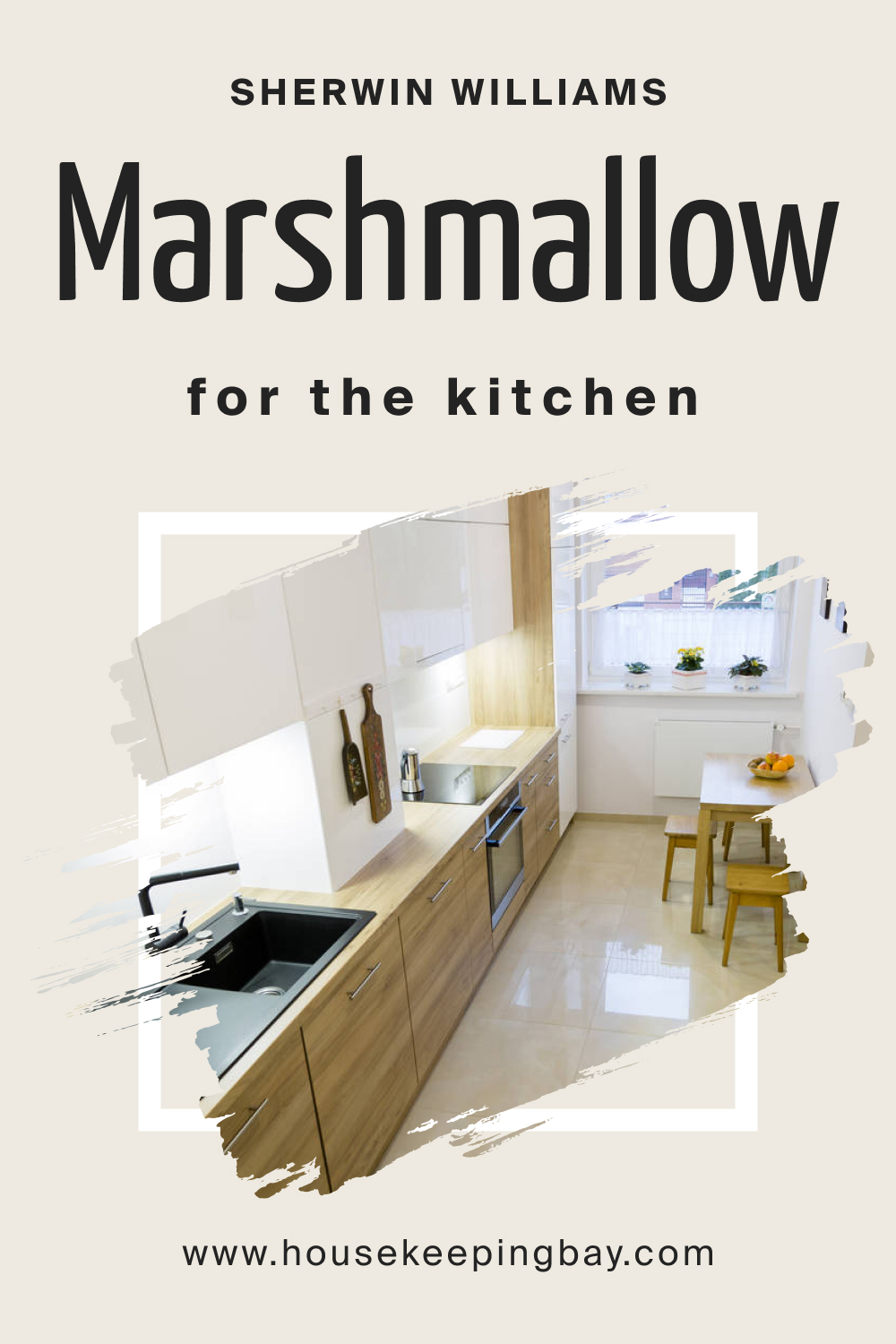 Marshmallow SW 7001 and Bathroom
Due to its high LRV, this color can be used in bathrooms even if they don't have ample natural light. However, note that in such spaces, SW Marshmallow will most likely read warmer and creamier, releasing its yellow tint more.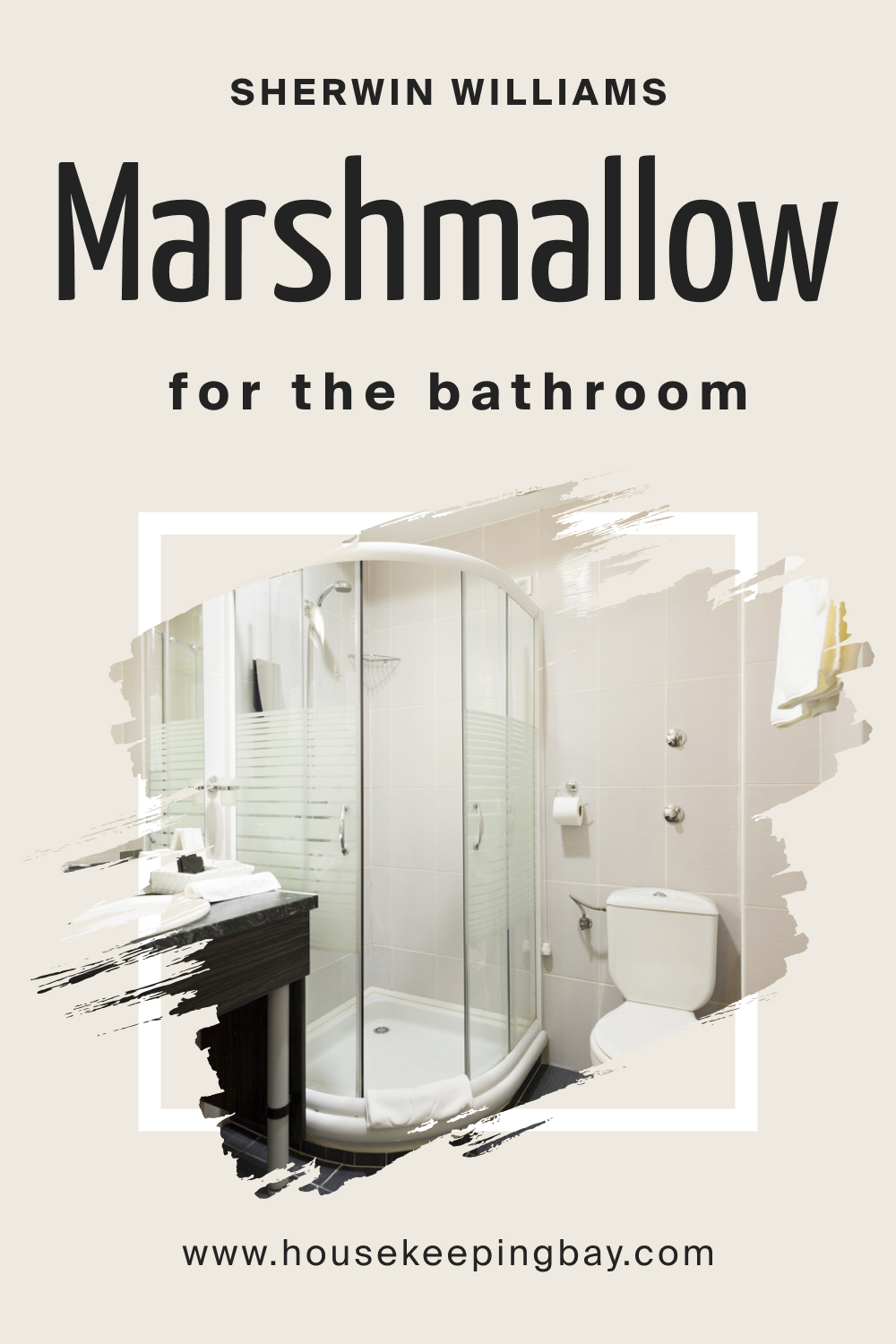 Marshmallow SW 7001 for the Exterior Use
This paint color will look lighter on the exterior walls. To be precise, SW Marshmallow may even look slightly light pink or white when used outdoors. We recommend you pair this off-white with darker shades of slate and stone on the roof and stone wainscotting on the porch and columns.
Your trims and moldings can be of a darker shade, too, to create a contrast.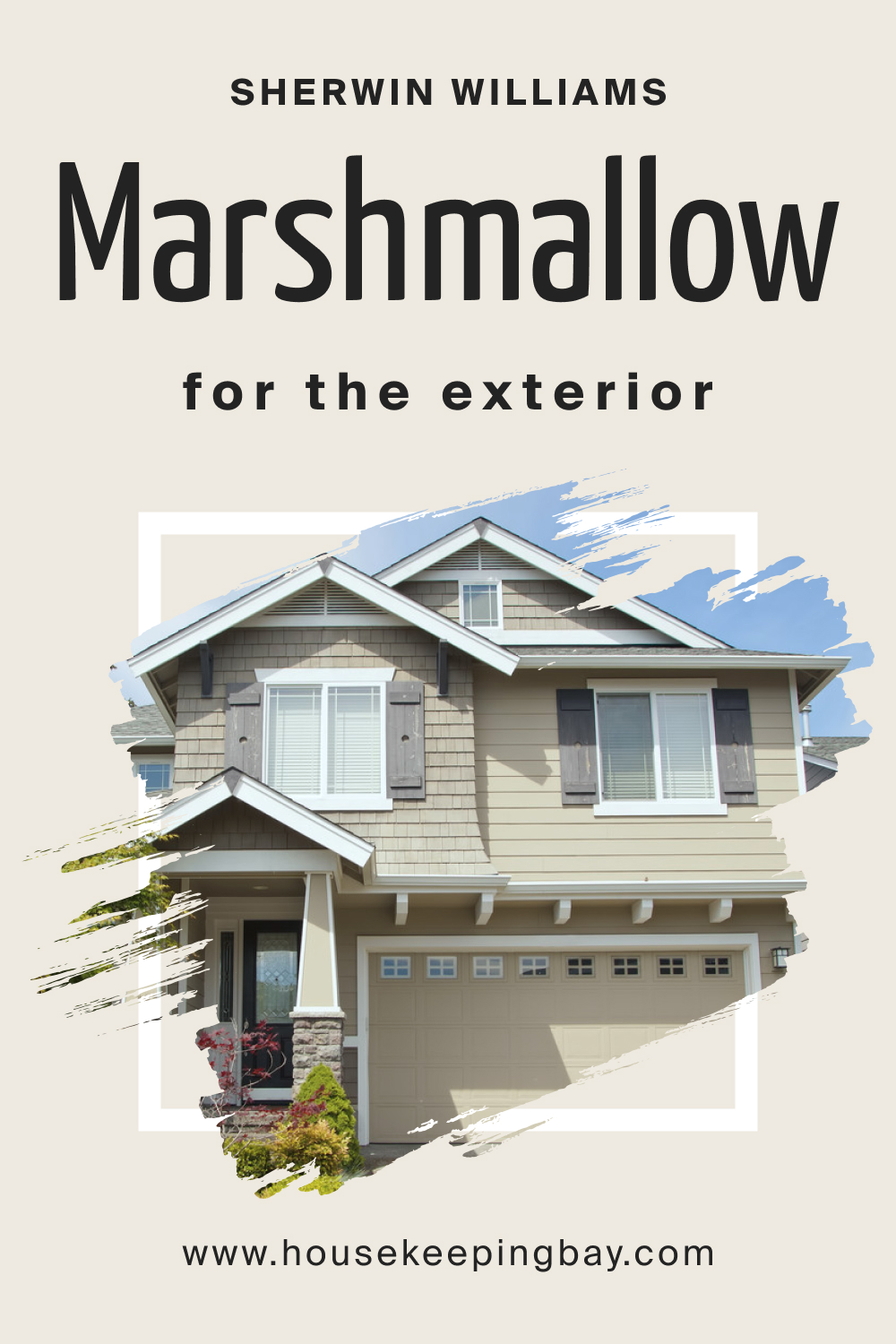 Comparing SW Marshmallow With Other Colors
Do you think all off-whites are the same? No, they are not! And below, you can see how it works. Here we compare SW Marshmallow with several colors that read very close to it. This comparison will help you see the distinctions between them better.
Marshmallow vs. SW 7008 Alabaster
These colors come from the same color collection, but they are a bit different. SW Marshmallow reads slightly pinkier, whilst SW Alabaster reveals its beige undertones more noticeably. However, both colors have the same LRV of 82, which makes them read equally bright.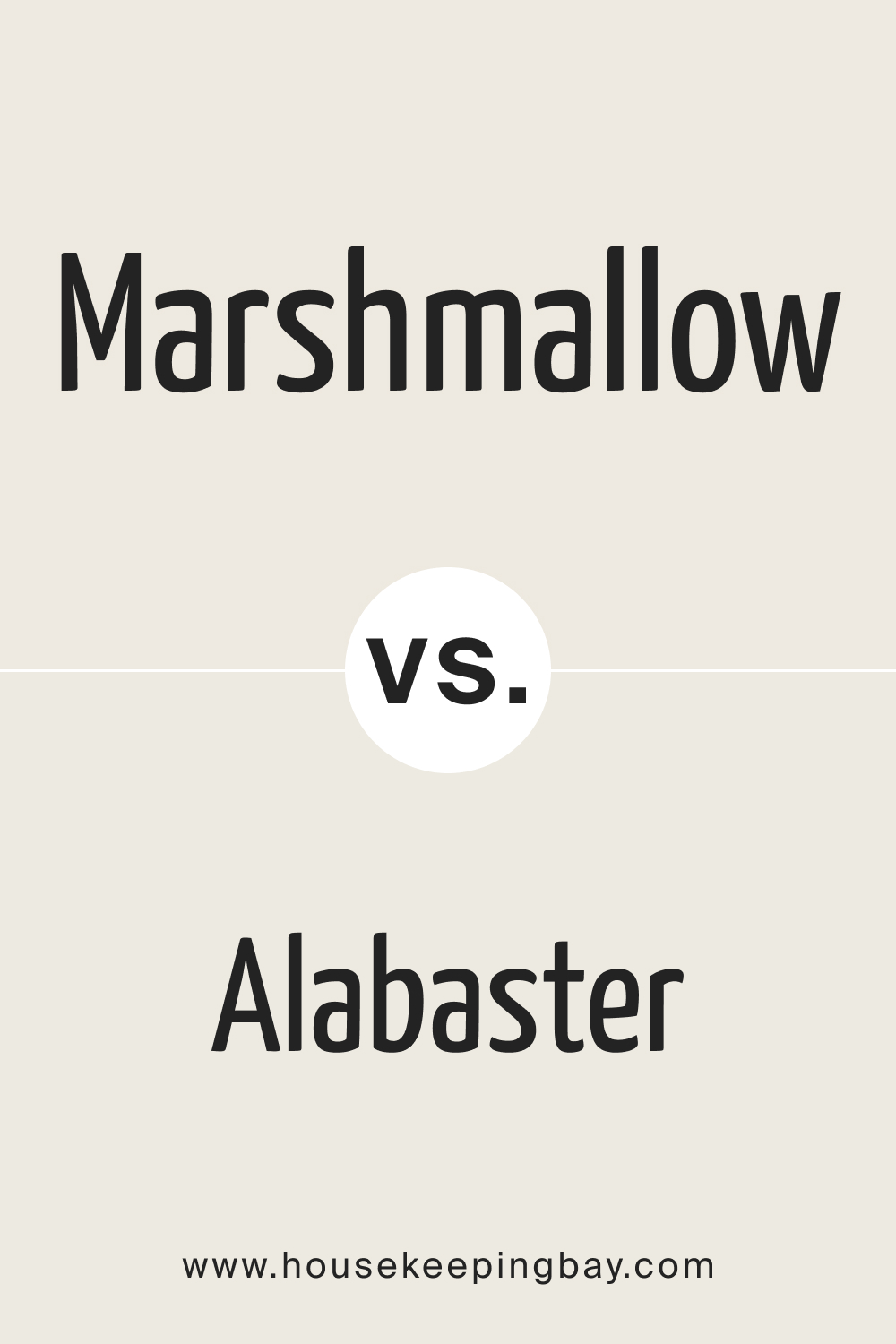 Marshmallow vs. BM OC-45 Swiss Coffee 
Benjamin Moore Swiss Coffee has slight gray, yellow, and green undertones. This makes it appear warm and inviting. Also, its LRV is 84. Compared to it, SW Marshmallow looks a bit darker due to the LRV of 83. Also, its pink-beige undertones come out more prominently.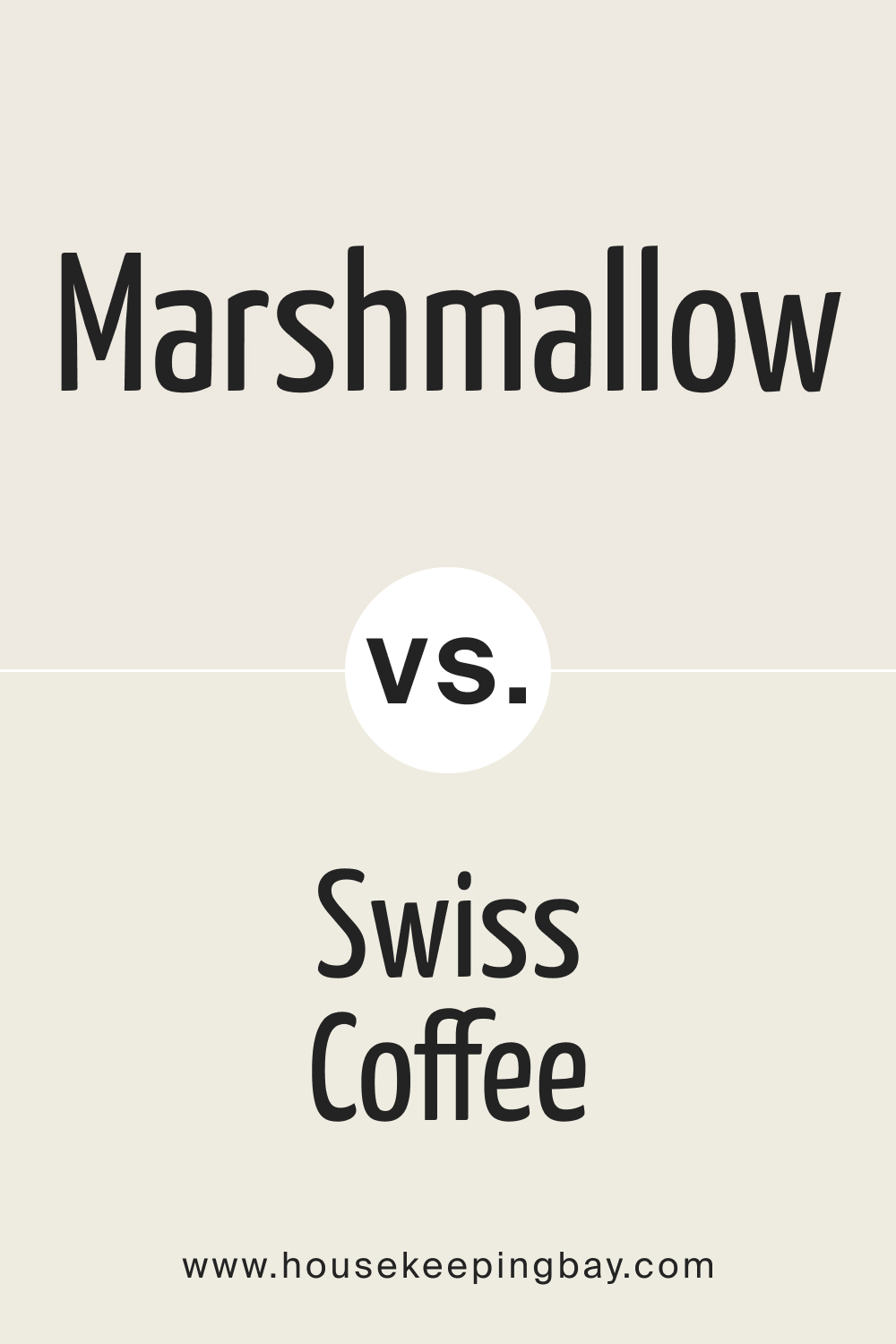 Marshmallow vs. SW 7004 Snowbound
SW Snowbound has a beautiful, slightly taupe (violet-pink) undertone and an LRV of 83. Compared to SW Marshmallow, it reads brighter and whiter, whilst its counterpart looks warmer and more beige.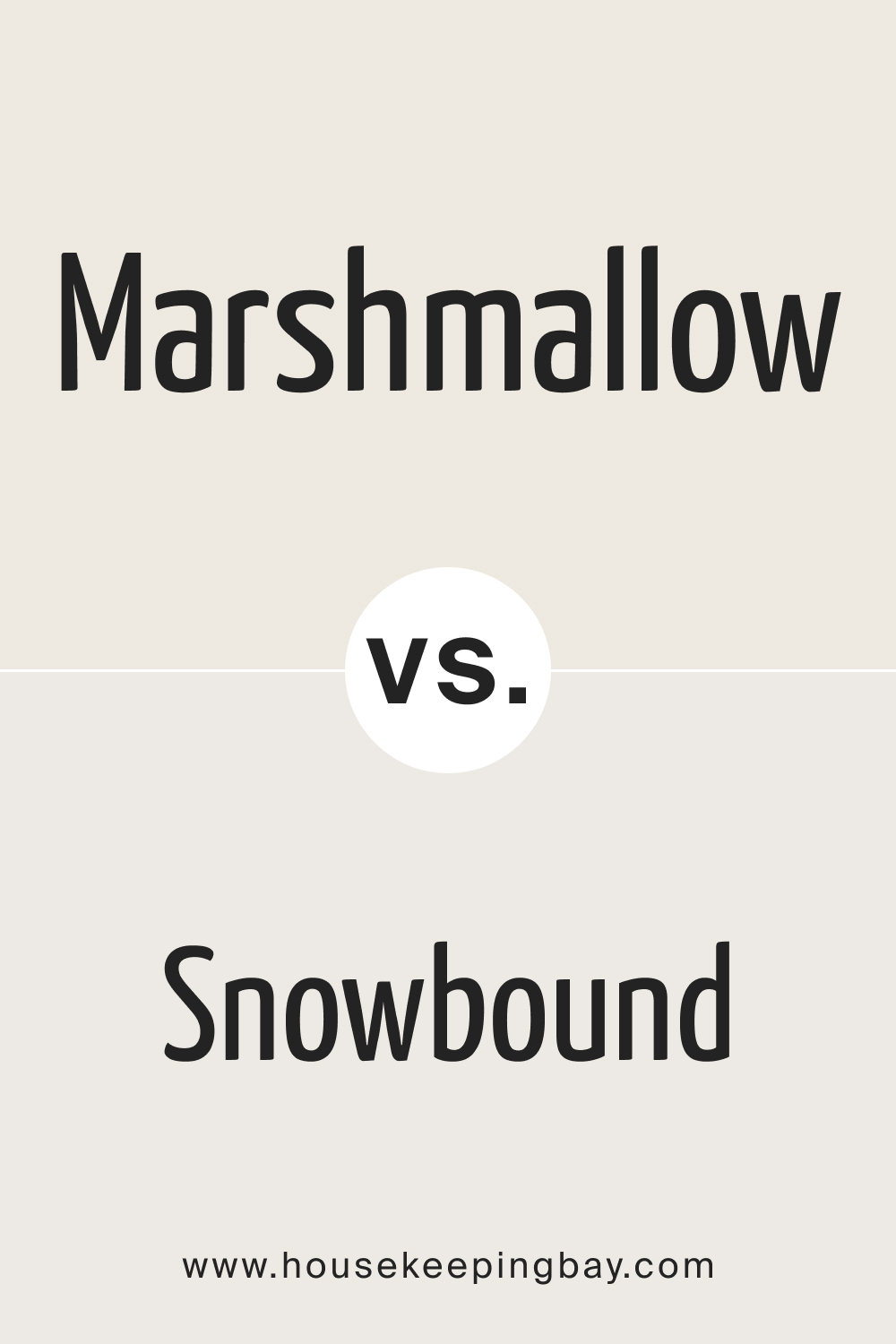 Marshmallow vs. SW 7636 Origami White
SW Origami White reads cooler in tone and may even seem slightly gray due to its grayish and tan undertones. With an LRV of 76, it reads somewhat darker than SW Marshmallow, whose LRV is 83.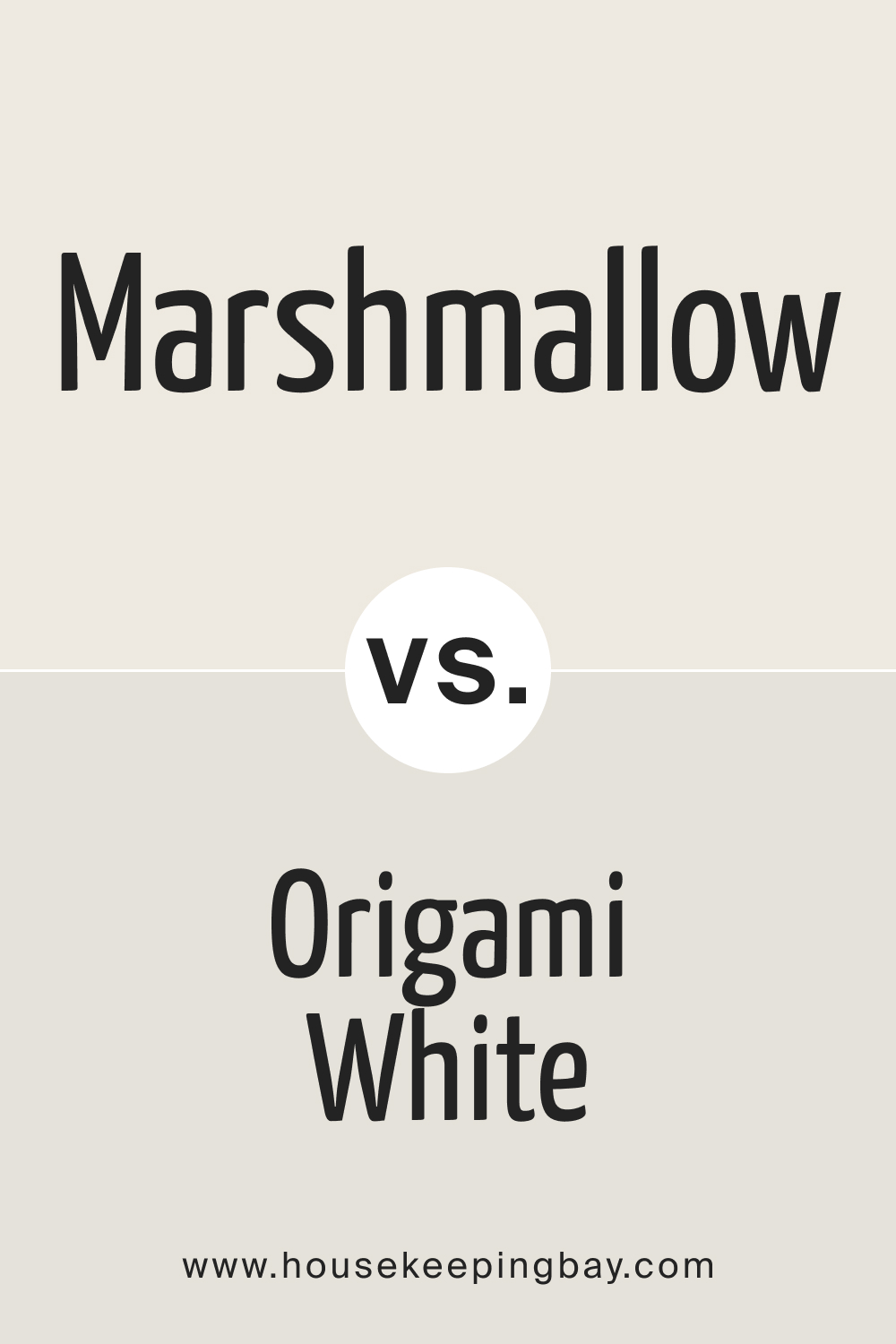 Marshmallow vs. SW 6385 Dover White
Sherwin-Williams Dover White has creamy and yellow undertones, and they are very noticeable compared to SW Marshmallow, which reads less warm in this pair of colors. Also, compared to SW Dover White, its counterpart displays its pinkish tint more prominently.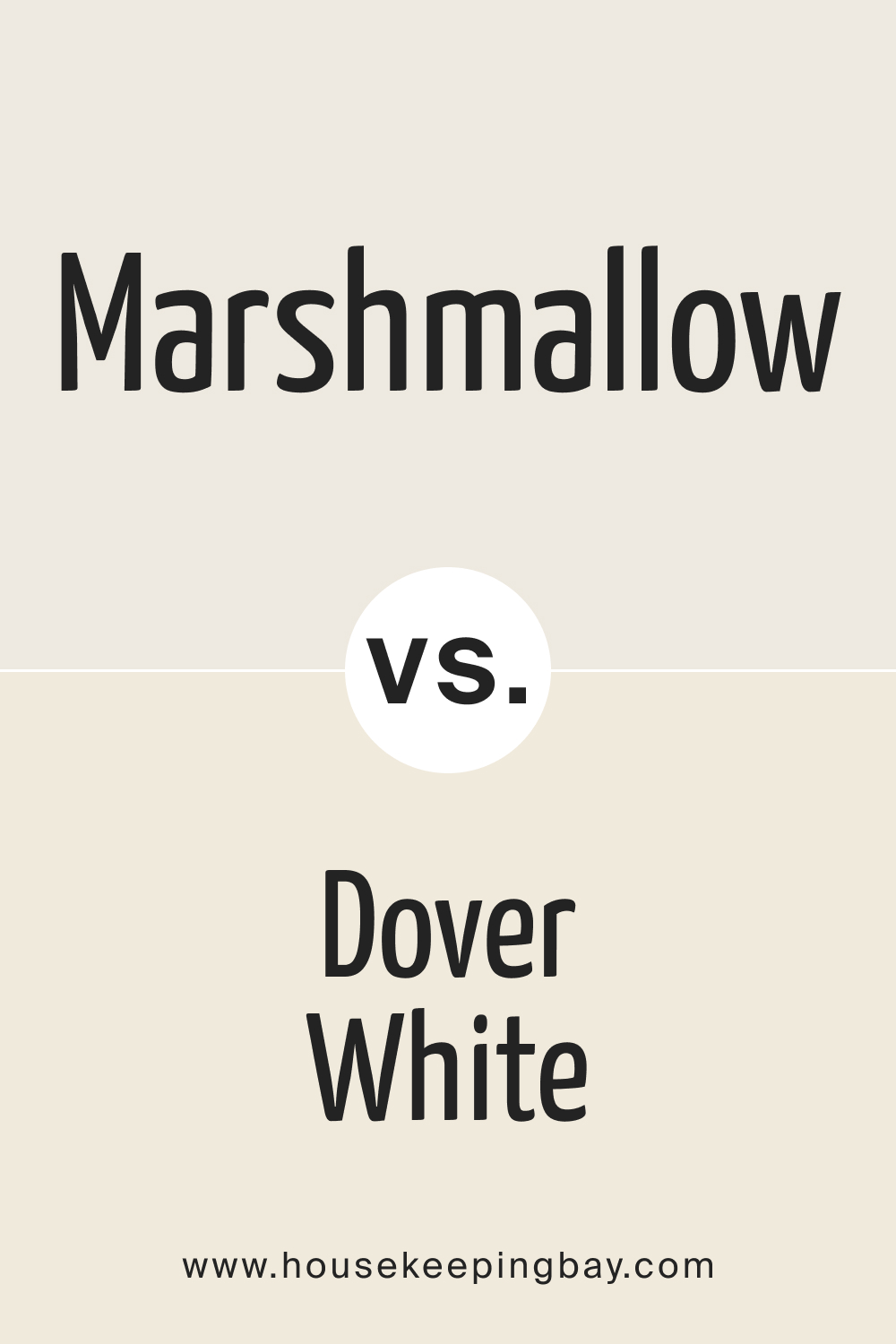 Marshmallow vs. SW 7666 Fleur de Sel
SW Fleur de Sel is a gray color that has a barely-there undertone of green and blue, as well as an LRV of 69. Compared to it, SW Marshmallow reads brighter (with an LRV 83) and warmer, displaying its pinkish-beige tint better.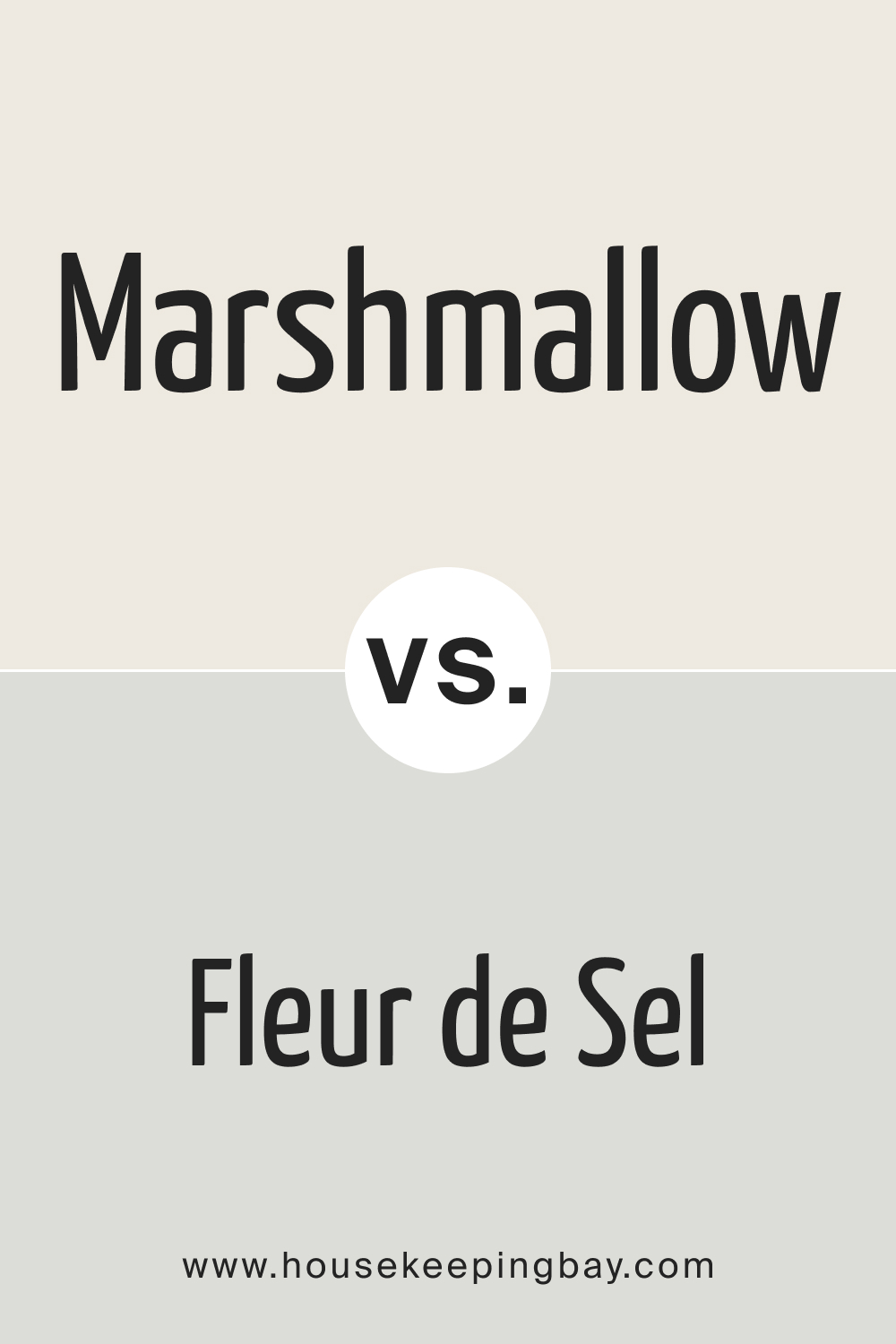 Now you know what kind of white SW Marshmallow is. You know what undertones it has, how it reacts to light, and how to coordinate this color correctly.
You also learned in what rooms it will work best in your home. With all this, using this beautiful off-white won't be a big deal!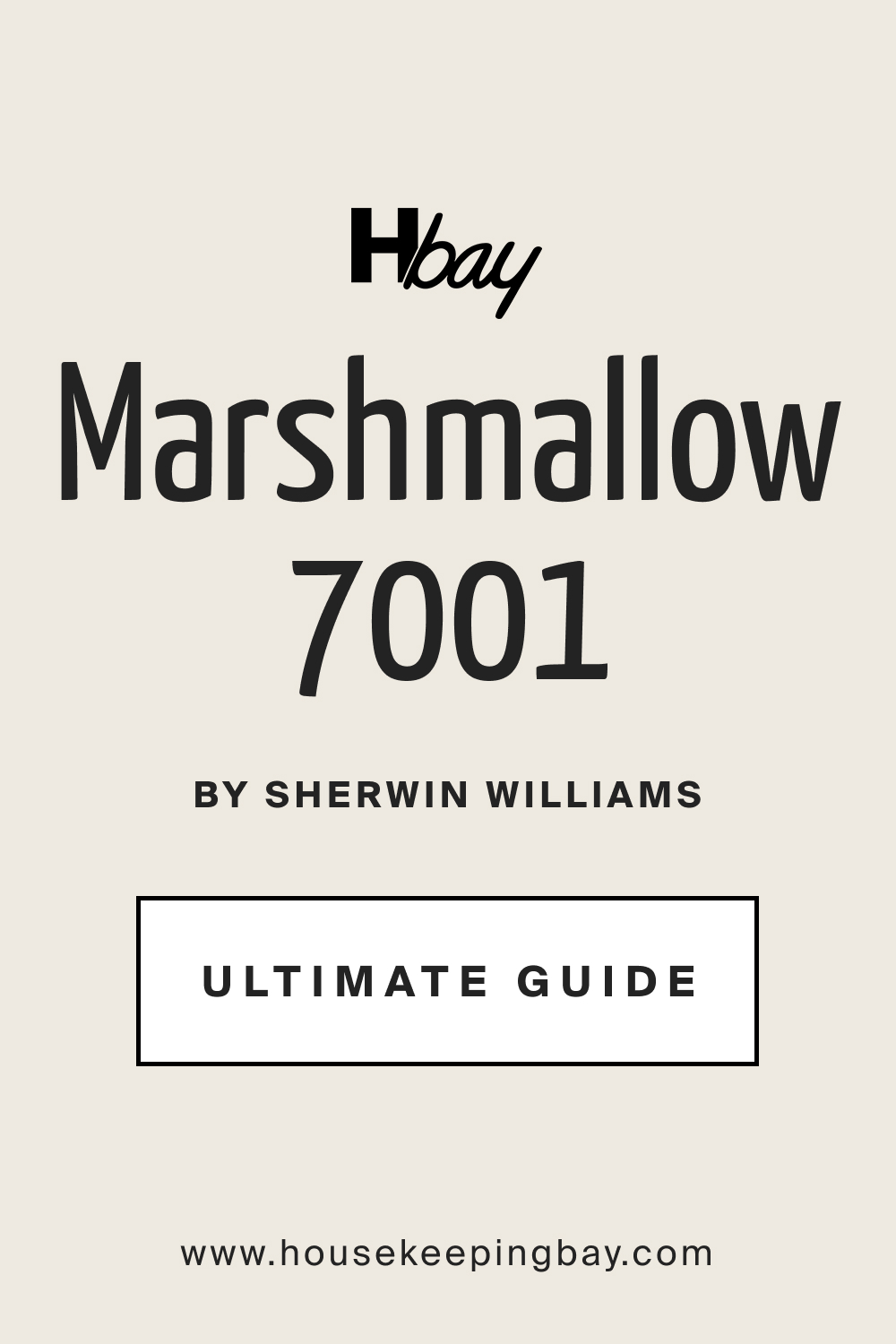 Frequently Asked Questions
⭐Does SW Marshmallow read yellow?
No, it doesn't. This color reads soft and slightly beige.
⭐Does this color have gray undertones?
No. SW Marshmallow has beige and pinkish undertones.
⭐Does this off-white look crisp?
Basically, it's fairly crisp. However, it's not a glowing tintless white.