Taupe is a lovely paint color for your home if you are fond of warm-toned interiors and the cozy feeling this hue gives. However, there are still quite many people that often feel concerned about taupe colors due to their tone. Homeowners often think this color will make their rooms read darker and "muddy" if used on the walls.
In this article, we will introduce a lovely taupe color by the Sherwin-Williams brand. This paint color is called the Taupe Tone. You will learn what kind of taupe it is and how it may read on the walls.
Also, we will explain what factors should be considered if you want to use this paint color for your next home painting project. After you learn how it works in a space, what colors should be used with it, and how to coordinate it, you will never fear taupe again!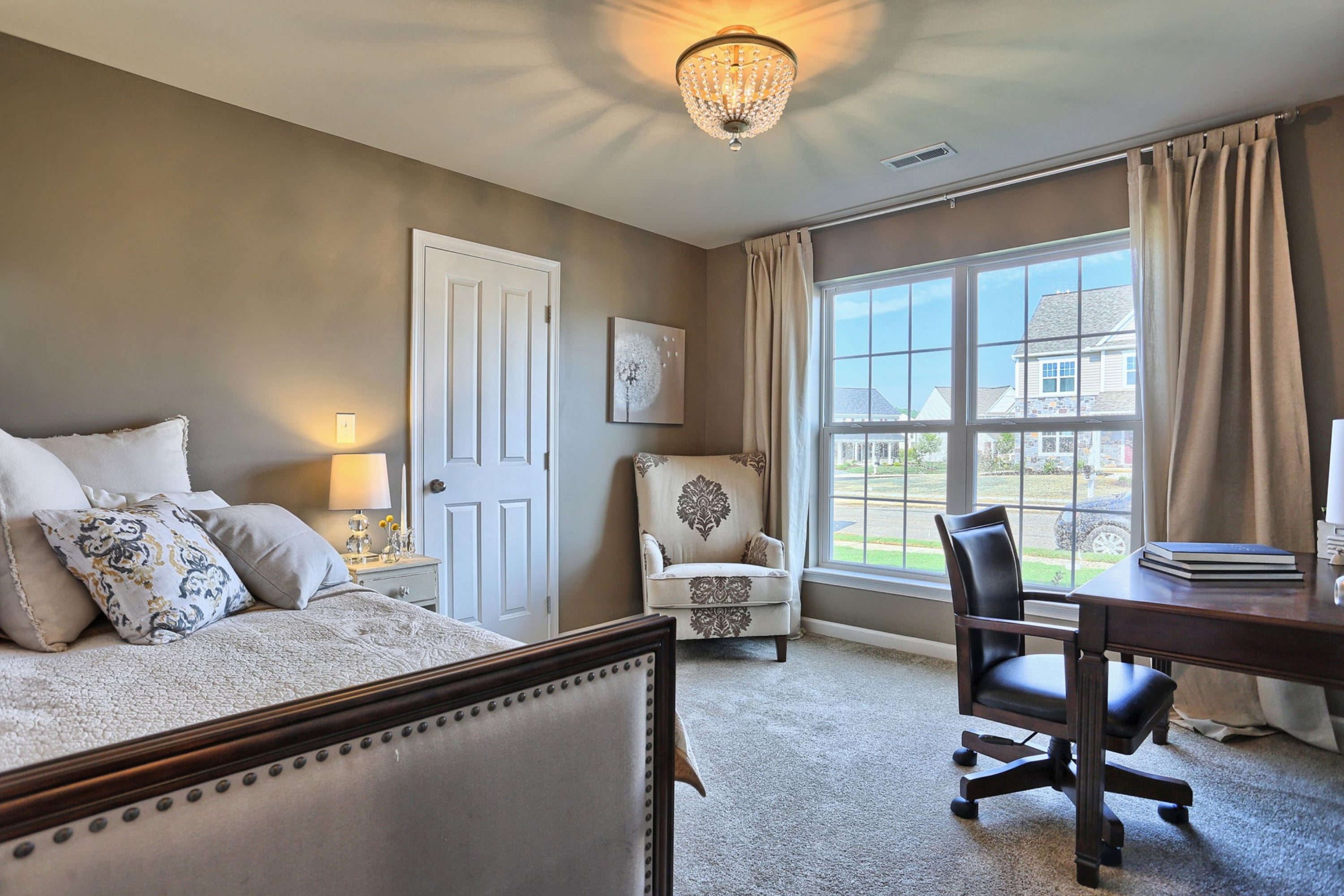 What Kind of Color Is SW Taupe Tone?
Taupe is a hard-to-categorize color since it's challenging even for professionals to define the variations between its hues. Like any neutral, this color unites properties of brown and gray, as well as different undertones. This color can feel warmer, showing hints of red, or cooler with hints of green. This feature makes it highly versatile and popular.
So, what kind of color is SW Taupe Tone As you can see from its name, this is one of the taupe shades. To be precise, the Taupe Tone by Sherwin-Williams is a lovely and balanced subdued color that combines both the best parts of brown and gray in it.
As Encycolorpedia says, SW Taupe Tone belongs to neutrals. This means it can serve as a backdrop to bolder decor or be used as a wall color. SW Taupe Tone will work wonders for home interiors of any style and taste!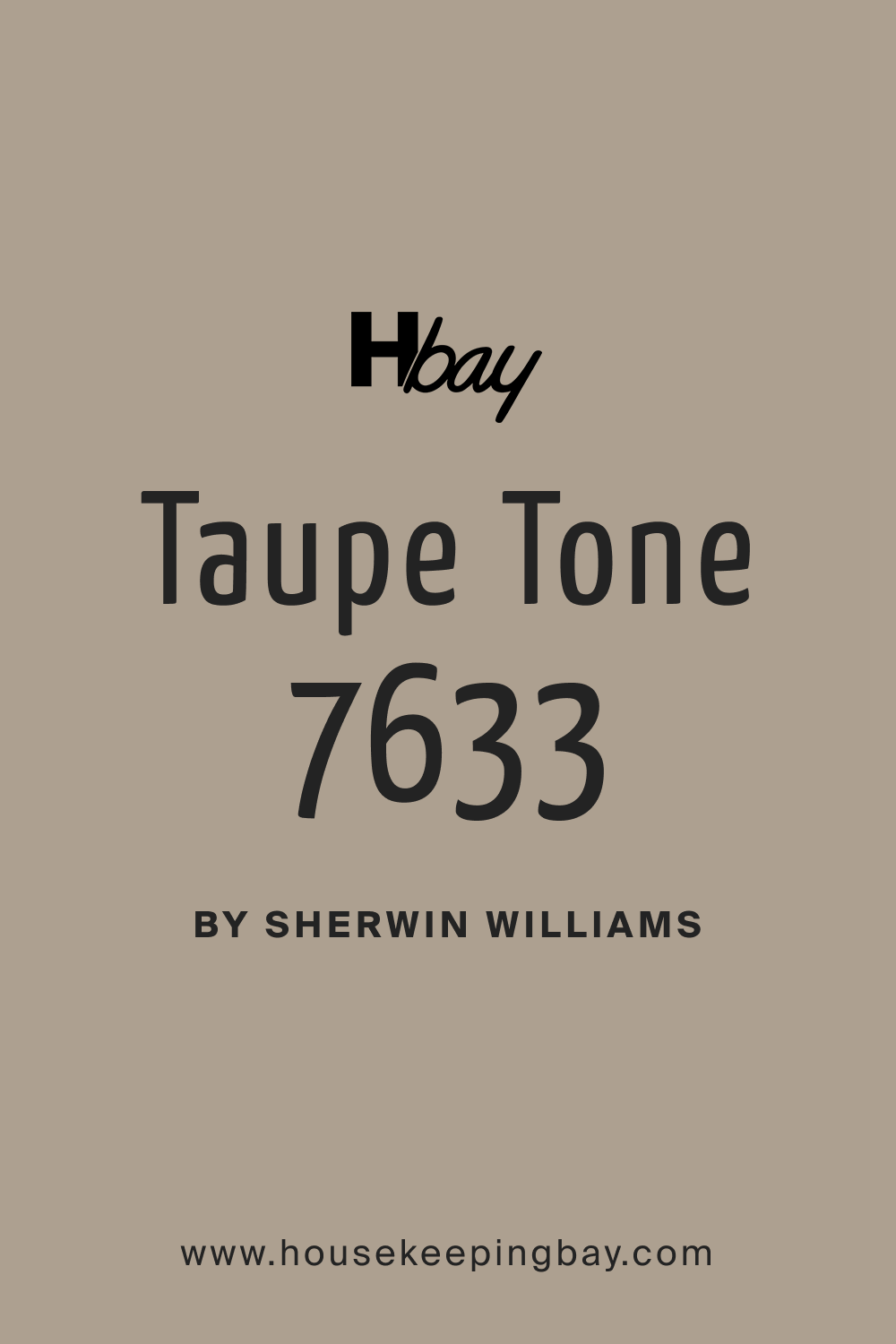 Is SW Taupe Tone a Warm Or Cool Color?
The trick with taupe colors is that they can read either warm-toned or cool-toned depending on the lighting in a room and other colors used in the space. Sometimes, the same color may read warmer on a color swatch and suddenly look cooler when you paint the wall with it!
Speaking of SW Taupe Tone, we would say this paint color reads warm. If you look at it on a swatch, you will hardly see it as a cool-toned taupe color.
However, since it is a part of the taupe color family, it can also show its cooler side in certain types of light! Consider this when you choose SW Taupe Tone as your interior wall color.
Undertones of Sherwin-Williams Taupe Tone SW-7633
As you already know, taupe colors have both gray and brown hues in them. However, depending on a specific color, it can read browner or grayer. If you look at the Taupe Tone paint color by Sherwin-Williams, you will see it has stone gray undertones, although the first impression might be that it reads brown.
In a room with cooler lighting (e.g., in a room with northern light), SW Taupe Tone will show its cooler gray hue. However, it will not read absolutely cold. At the same time, in a room with warm lighting, natural or artificial, it will read warmer and browner.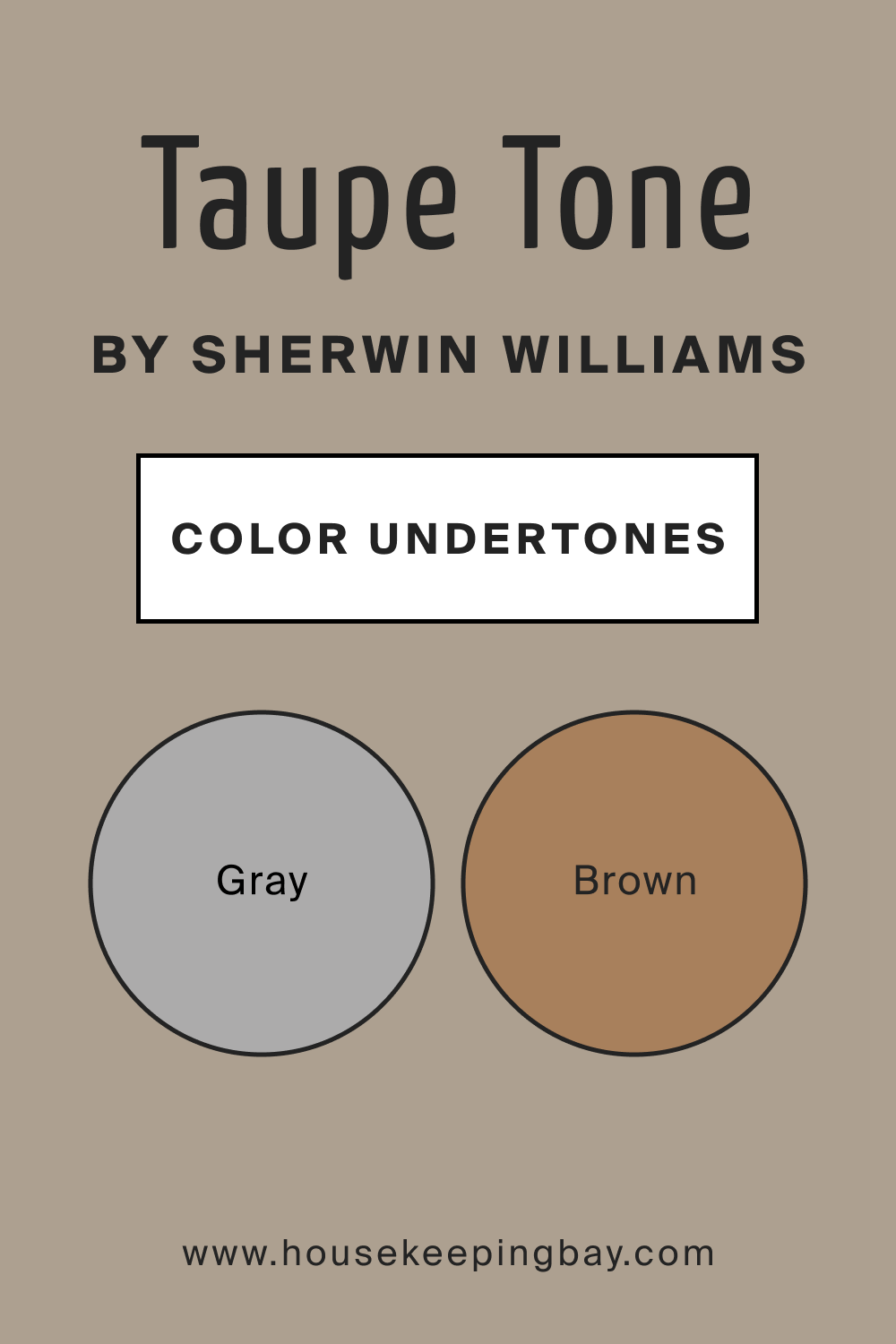 SW Taupe Tone Coordinating Colors
When you know what colors to use to coordinate the wall color, it is a guarantee of a successful color palette for the whole living space around you. However, the problem is often with finding suitable coordinating colors. The task becomes even more complicated if you deal with such tricky colors as neutrals, specifically taupe.
For SW Taupe Tone paint color, we recommend you the following colors to use as coordinating ones:
Since some of them are lighter, and others are darker, you can quickly choose the best color option to highlight the beauty of the Taupe Tone color.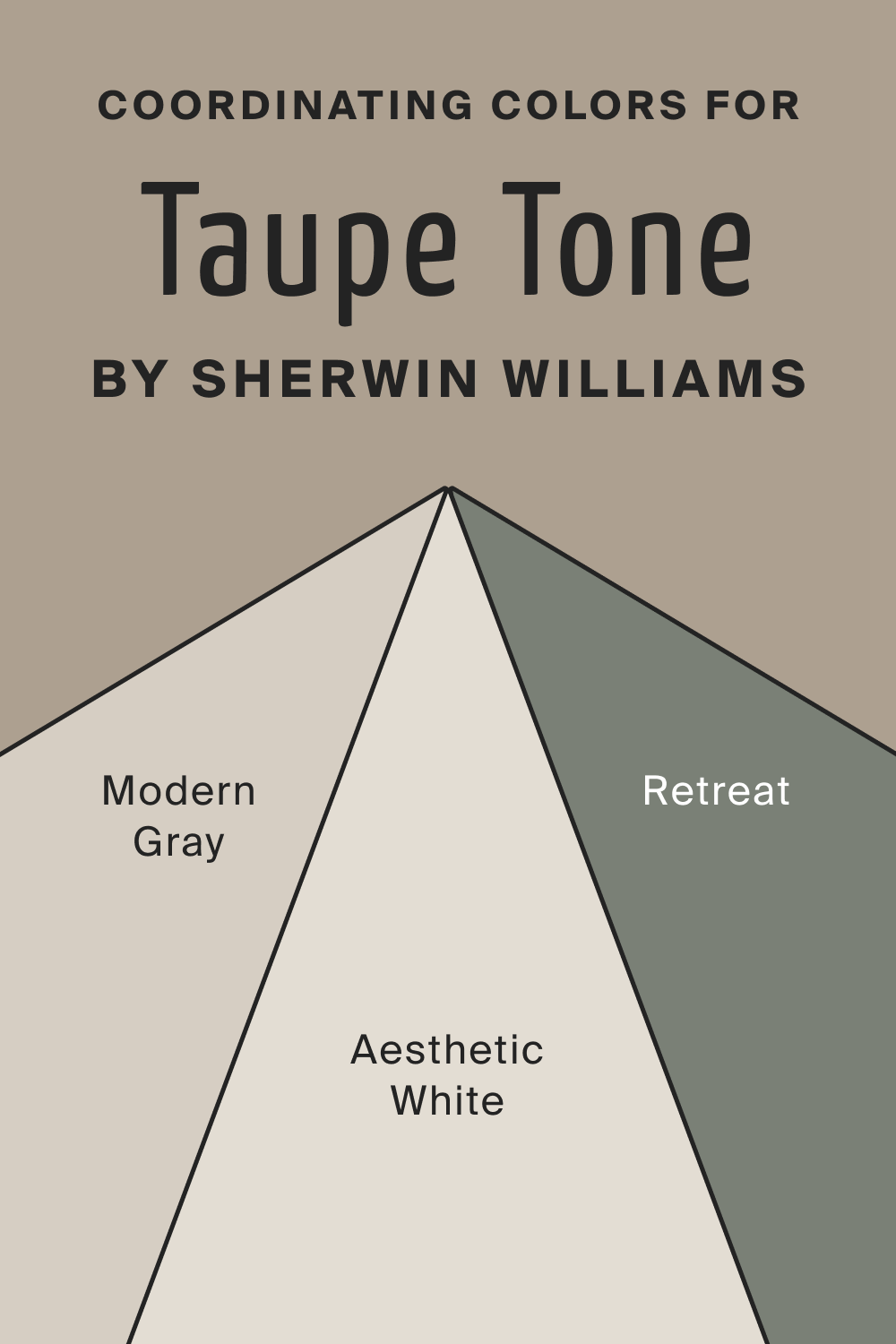 What's the Best SW Taupe Tone Trim Color?
Traditionally, white is considered an ideal and versatile trim color that can be used with almost any color on the palette. However, you should still be able to pick the right shade and tone of white to pair it with the wall color precisely.
For SW Taupe Tone, you should use warmer whites since this color mostly reads warm. For example, SW Snowbound can be a good option. However, neutral whites can also be used thanks to their versatility successfully, and also thanks to the fact that SW TAupe Tone is basically neutral as well.
Just avoid too crisp and cool-toned whites since they won't create a harmonious color match with this taupe.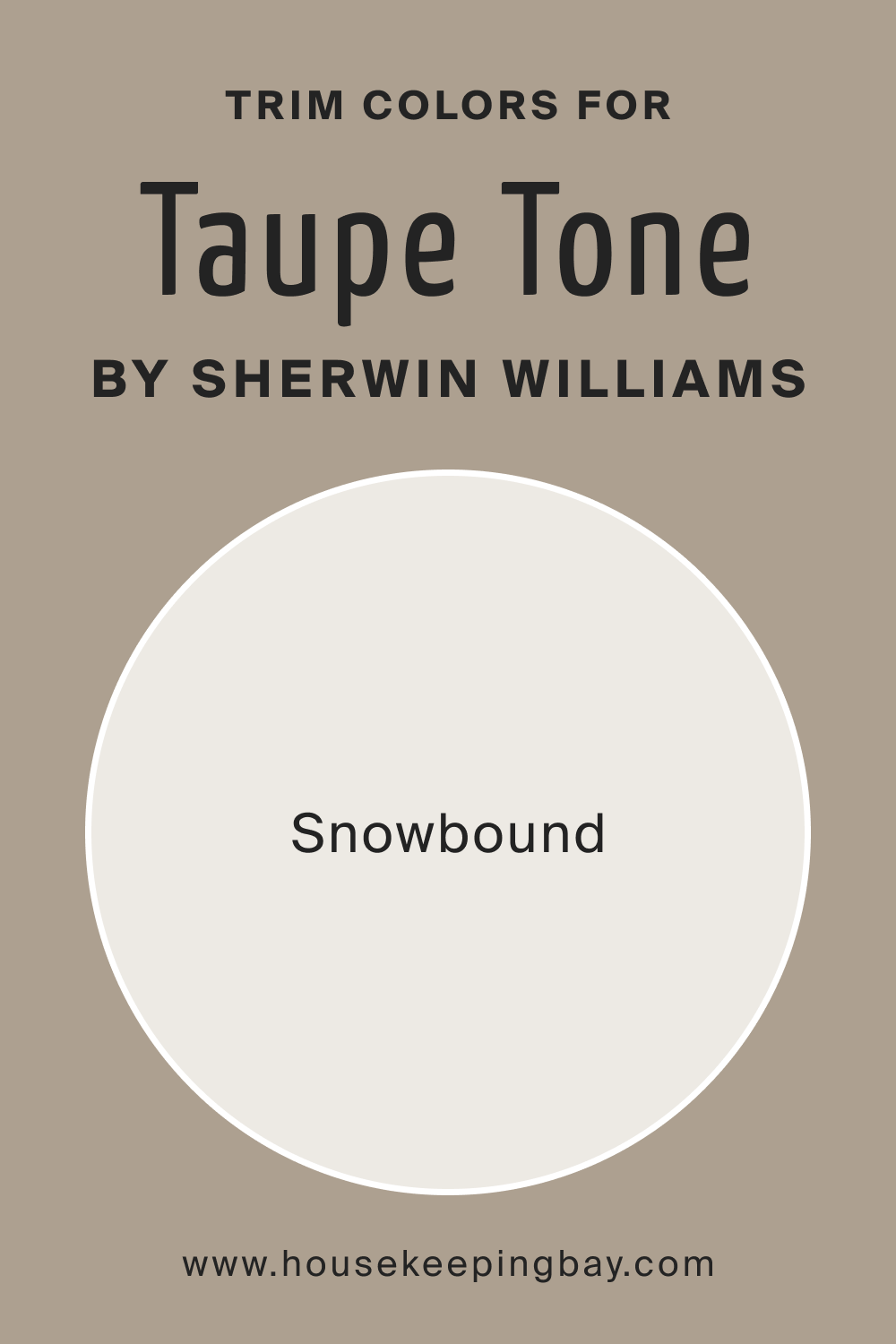 What LRV Does SW Taupe Tone Have?
First, let's remember what LRV is. LRV stands for Light Reflectance Value. This measurement shows the amount of light (measured in percent) the color can reflect when applied to the wall or another surface. The LRV scale ranges from zero to 100, where zero stands for black and 100 is the purest white.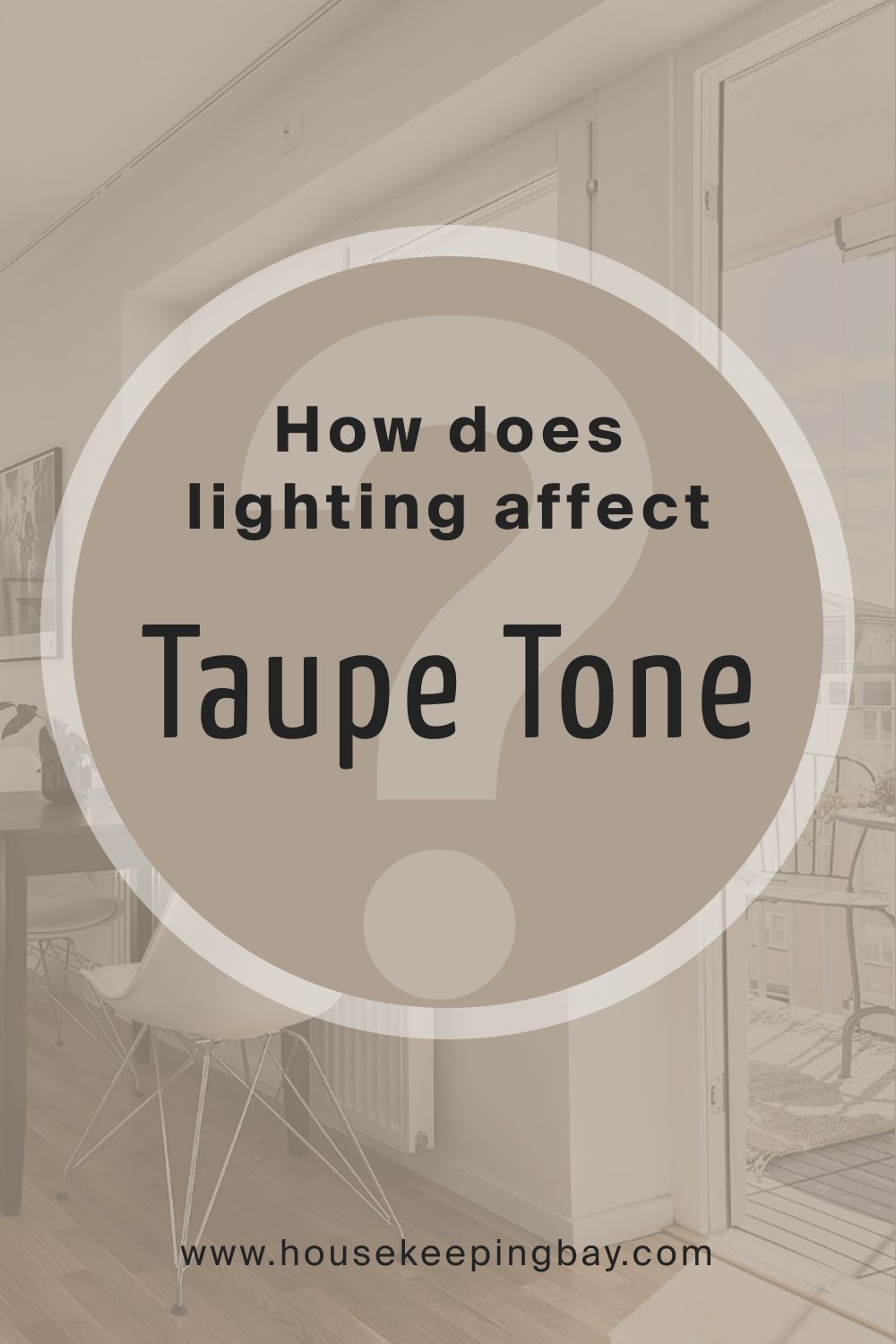 The LRV of SW Taupe Tone is 36. It means this color doesn't reflect a lot of light. This is why you should not use it in rooms with dim or poor lighting, as well as in small rooms. In any of these situations, this taupe can make the space read smaller and show that unwanted "muddy" effect.
However, if you want to make a spacious and well-lit room look a bit smaller and cozier, SW Taupe Tone might be your option! Just ensure you take its undertones into consideration, and this color will make the space work wonders!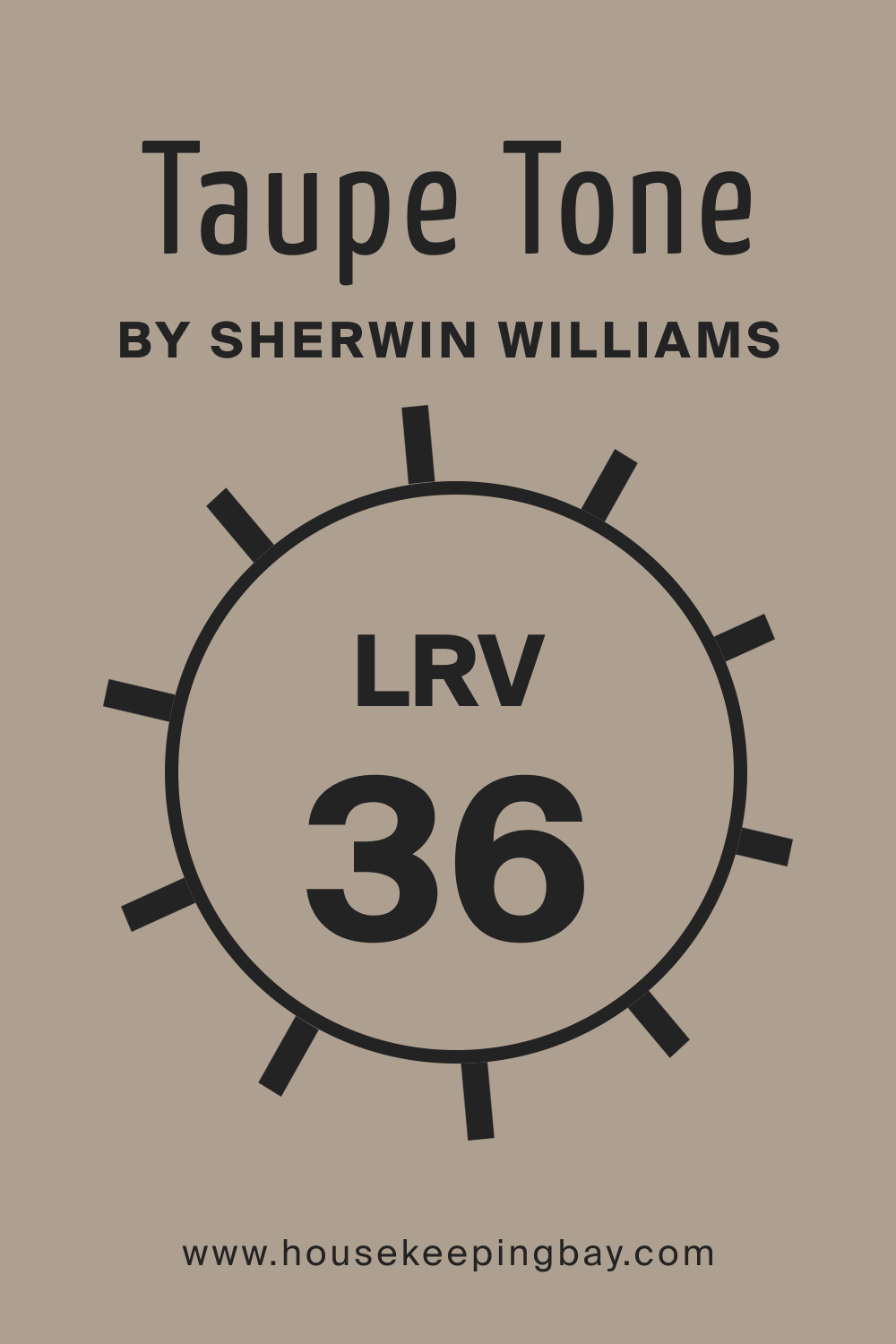 What is LRV? Read it Before You Choose Your Ideal Paint Color
Paint Colors Similar to Taupe Tone by Sherwin-Williams
When you know what alternative colors you can use instead of the one you initially chose for your home walls, you can quickly adjust it to the rest of the palette in the space. This might be necessary if the original color appears to not pair nicely with other colors in a room. Also, you might need alternative colors if you realize you want slightly distinct undertones.
If you plan on using SW Taupe Tone color on your home walls, we recommend you the following paint colors that can be successfully used instead of it:
Behr Sierra Sand
BM Indian River
PPG Cuppa Coffee
Valspar Arid Planes
Although they are of different paint brands, they look almost the same as SW Taupe Tone. So, unless you have a very sharp eye for color shades, you will hardly notice any difference!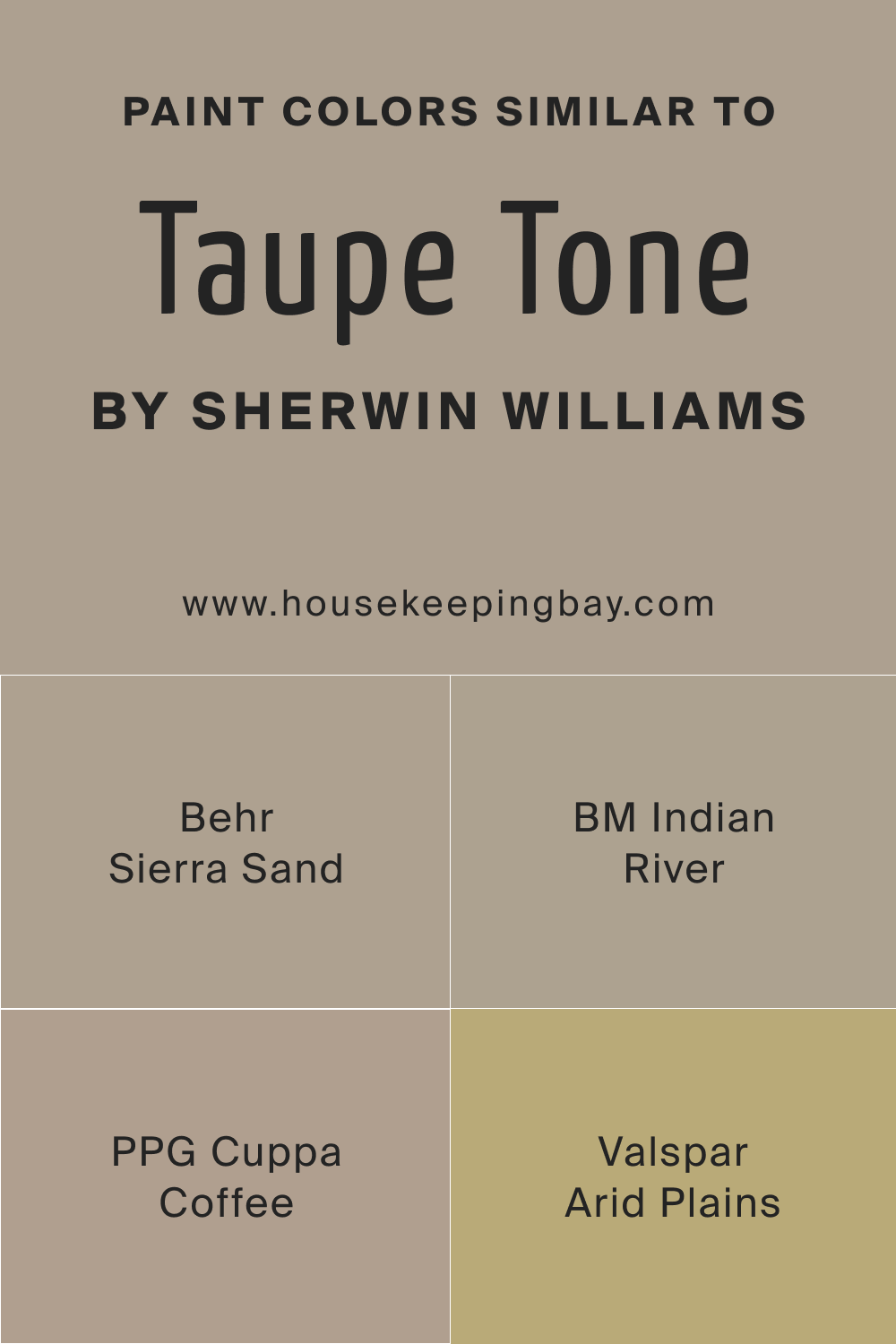 Сolors That Go With SW Taupe Tone
To create a harmoniously-looking and balanced color palette in your living space, you should pair colors respectively. They should highlight each other's beneficial sides and conceal downsides. This is why being aware of colors that go with the wall color is a must! For SW Taupe Tone paint color, we recommend you these colors.
SW Homestead Brown
SW Mount Etna
SW Breezy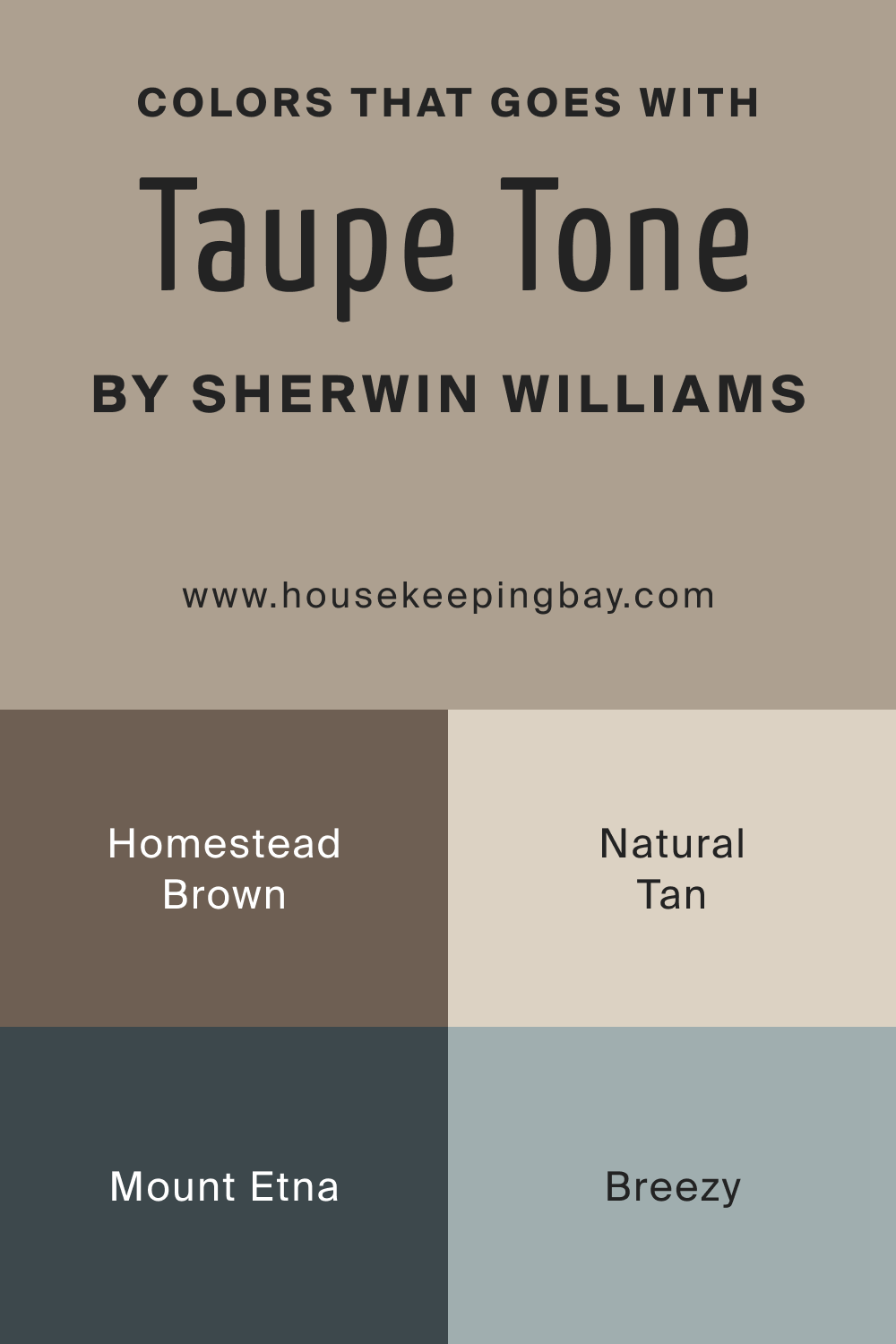 Comparing SW Taupe Tone With Other Colors
To help you better define the distinction between colors' undertones, we have compared SW Taupe Tone with a few other colors that look similar to it. This way, you can see what makes this neutral taupe different from other alternative colors.
Taupe Tone vs. Shiitake
Both SW Shiitake and SW Taupe Tone are neutrals. However, there is a big difference between them. The LRV of the SW Shiitake color is 55.81, whilst the Taupe Tone color has an LRV of 36. It means the SHiitake color is much lighter than its counterpart.
Another distinction is that SW Shiitake is greige, and SW Taupe Tone is taupe. Finally, the undertones of these colors also differ. The Shiitake color has greenish and slightly red undertones, whilst the Taupe Tone color has stone gray undertones.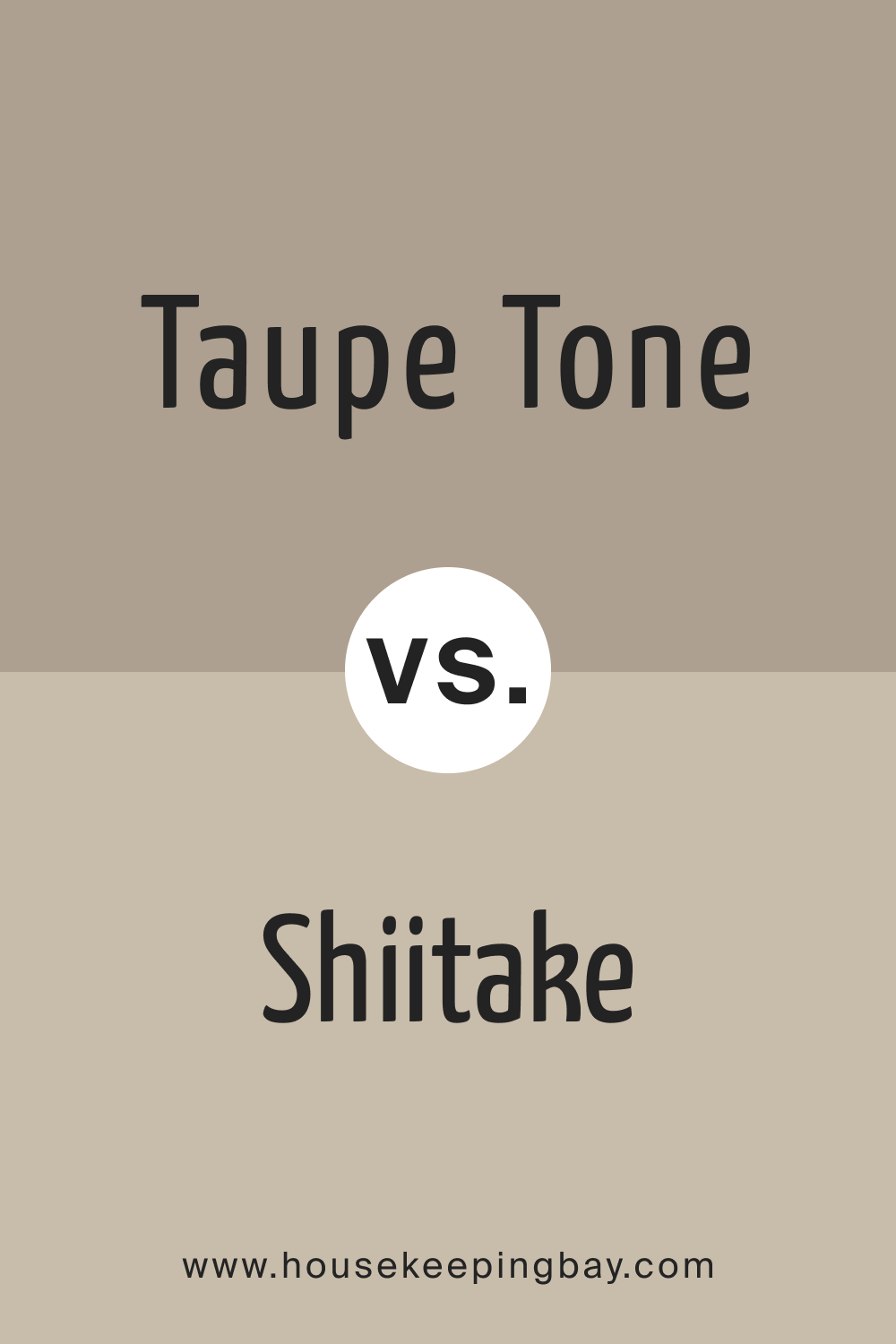 Taupe Tone vs. Accessible Beige
The Accessible Beige is a beige color with a grayish undertone. On the other hand, SW Taupe Tone is a taupe color with a gray undertone. Their LRVs also differ. SW Taupe Tone's LRV is 36, and SW Accessible Beige has an LRV of 58 (which means it's a much lighter color).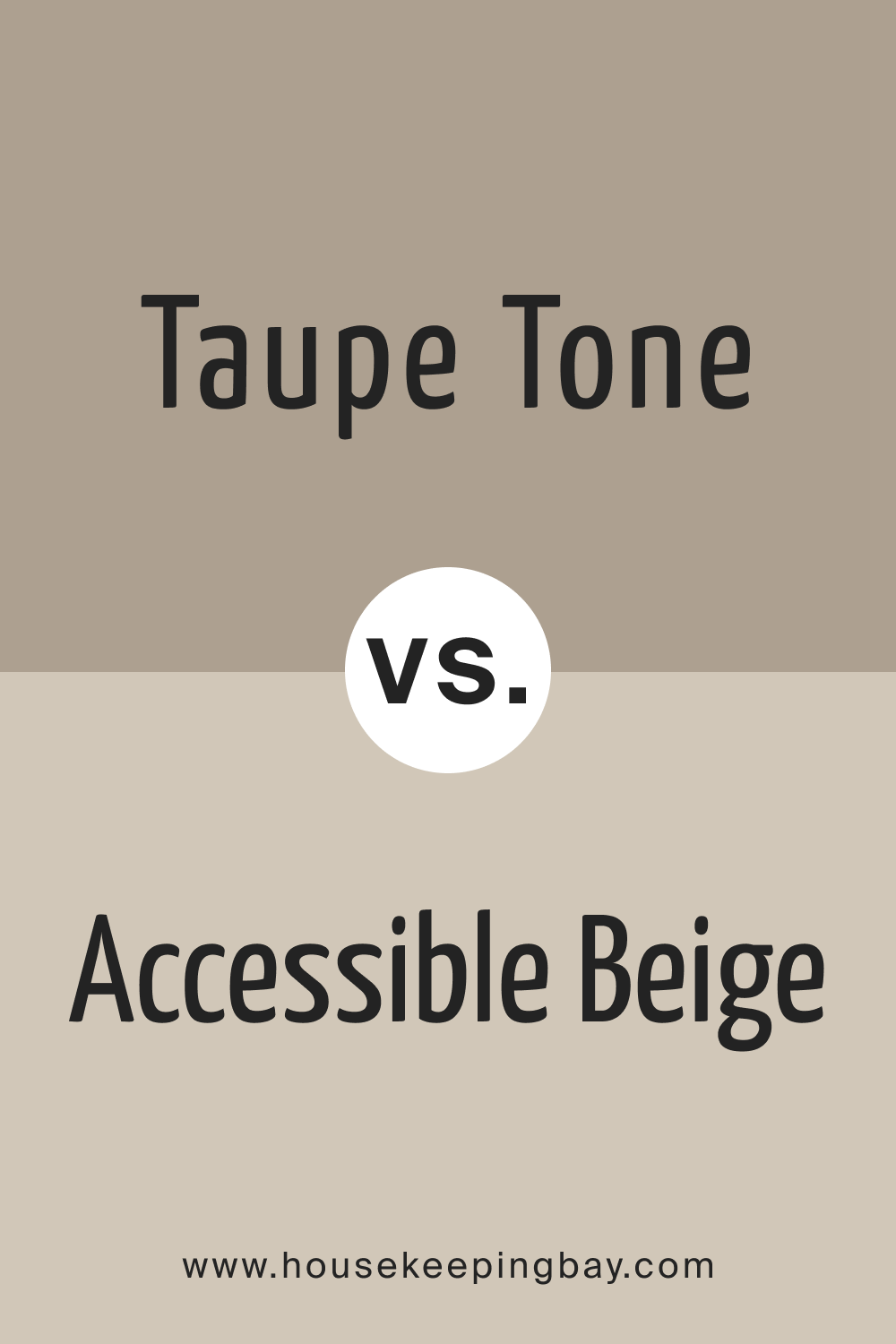 Taupe Tone vs. Bungalow Beige
Although these colors are both neutral, they do have a distinction. SW Taupe Tone's LRV is 36, and SW Bungalow Beige has an LRV of 53. This means that SW Bungalow Beige is significantly lighter, being able to reflect more light. As a result, they create a significant contrast if you place them side by side.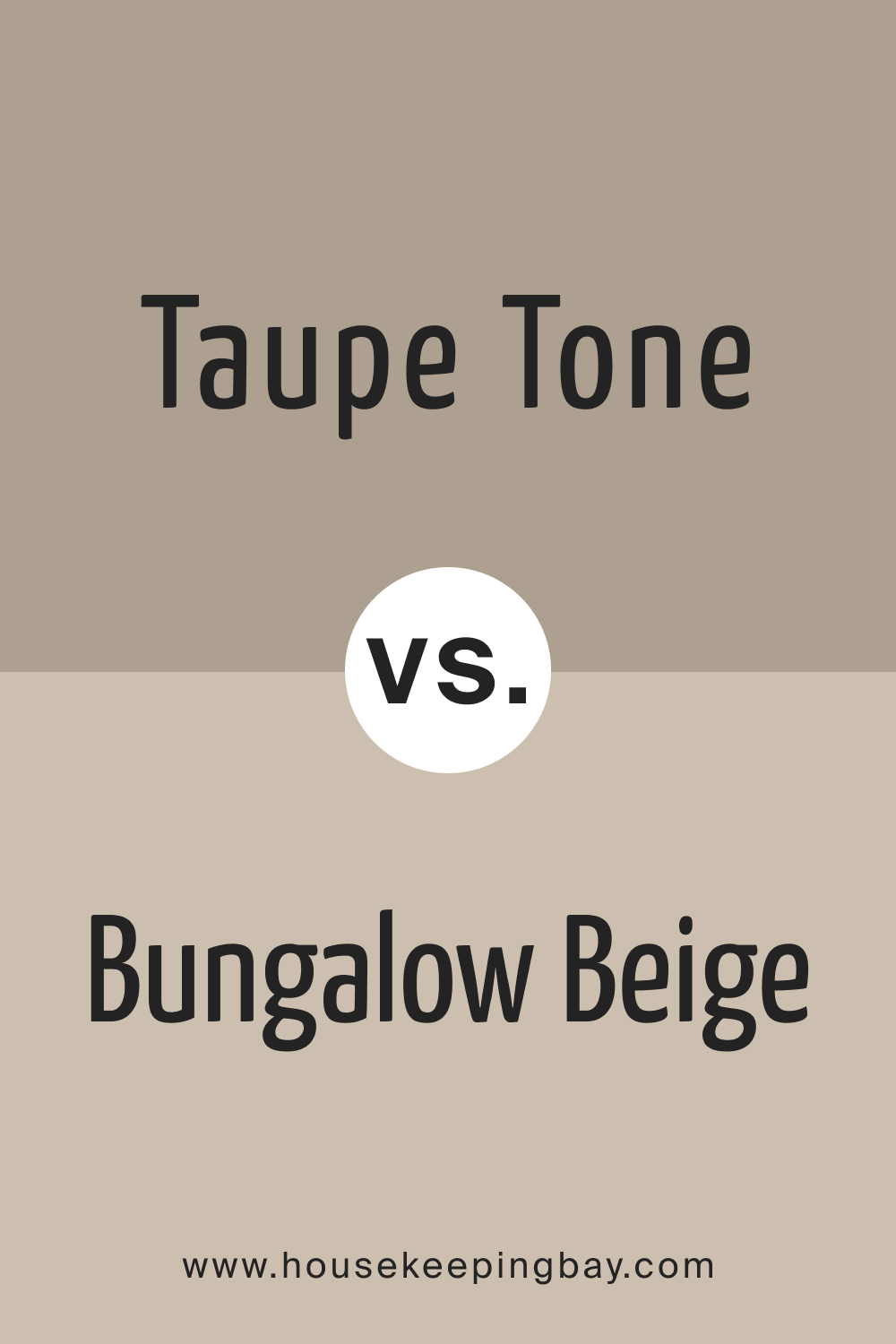 Taupe Tone vs. Sandbar
SW Sandbar is neutral, just like SW Taupe Tone. However, their undertones differ. SW Sandbar has cool and green-gray undertones, whilst its counterpart has gray undertones. Also, these colors reflect the different percentages of light. The LRV of SW Sandbar is 53, which is higher than the LRV of SW Taupe Tone (which is 36).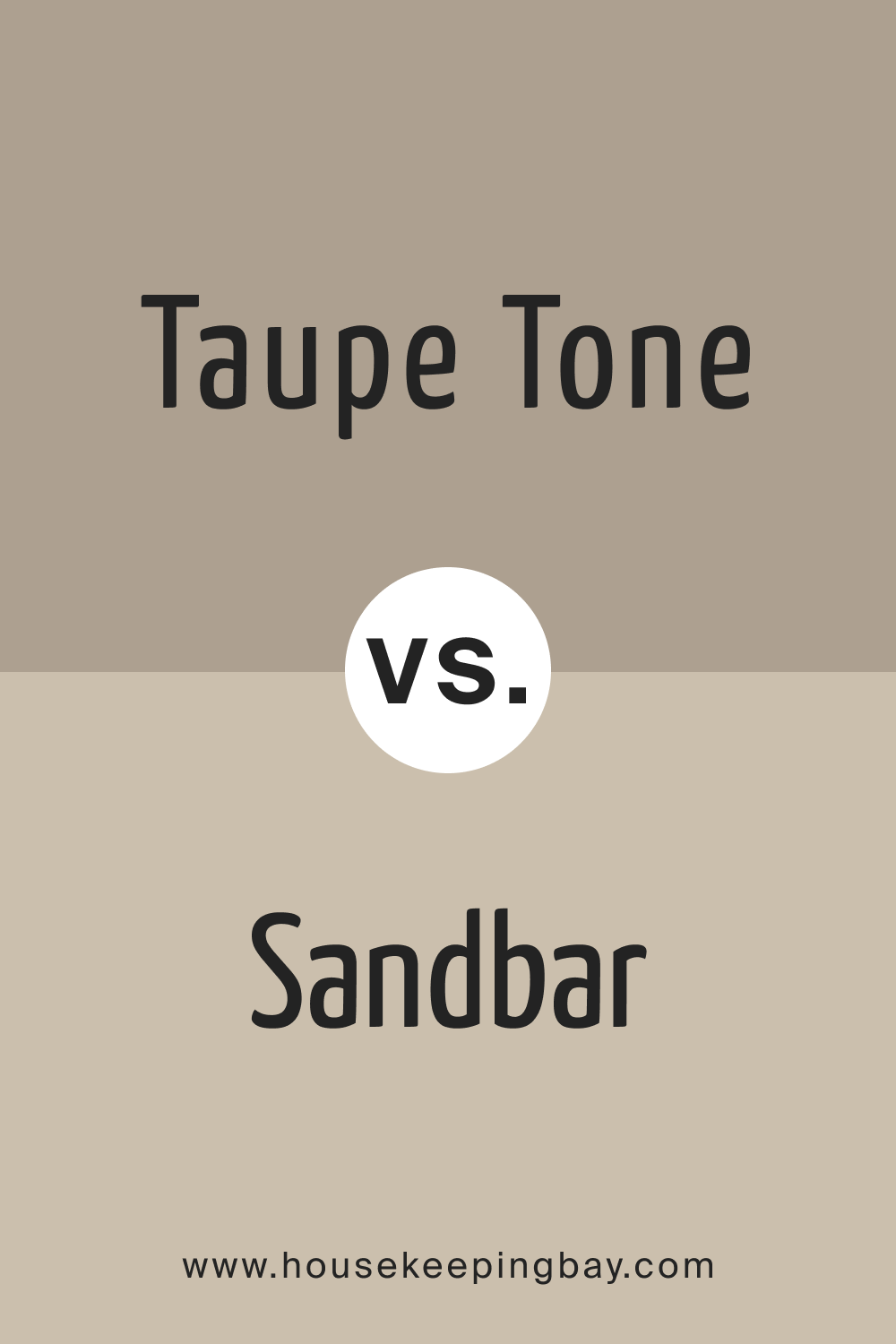 Where to Use SW Taupe Tone In Your Home?
It may seem to you that incorporating a taupe color into your interior is uncomplicated. However, when it comes to this group of colors, one of the hardest things for homeowners is to pick the room/rooms where this color will work and read best.
Even though it is neutral, taupe often has tricky undertones. This is why we have explained how SW Taupe Tone may read in different rooms of your home to make it easier for you to make a decision.
Taupe Tone SW-7633  in the Living Room
This neutral can look great in your living room only if the room is spacious and has plenty of natural light. Also, it is desirable that this light is not too warm or too cold. Otherwise, SW Taupe Tone can show its colder or warmer side more prominently.
But in balanced lighting, this neutral will look perfectly balanced. And thanks to its versatility, you can pair it with different textures and materials, as well as different colors.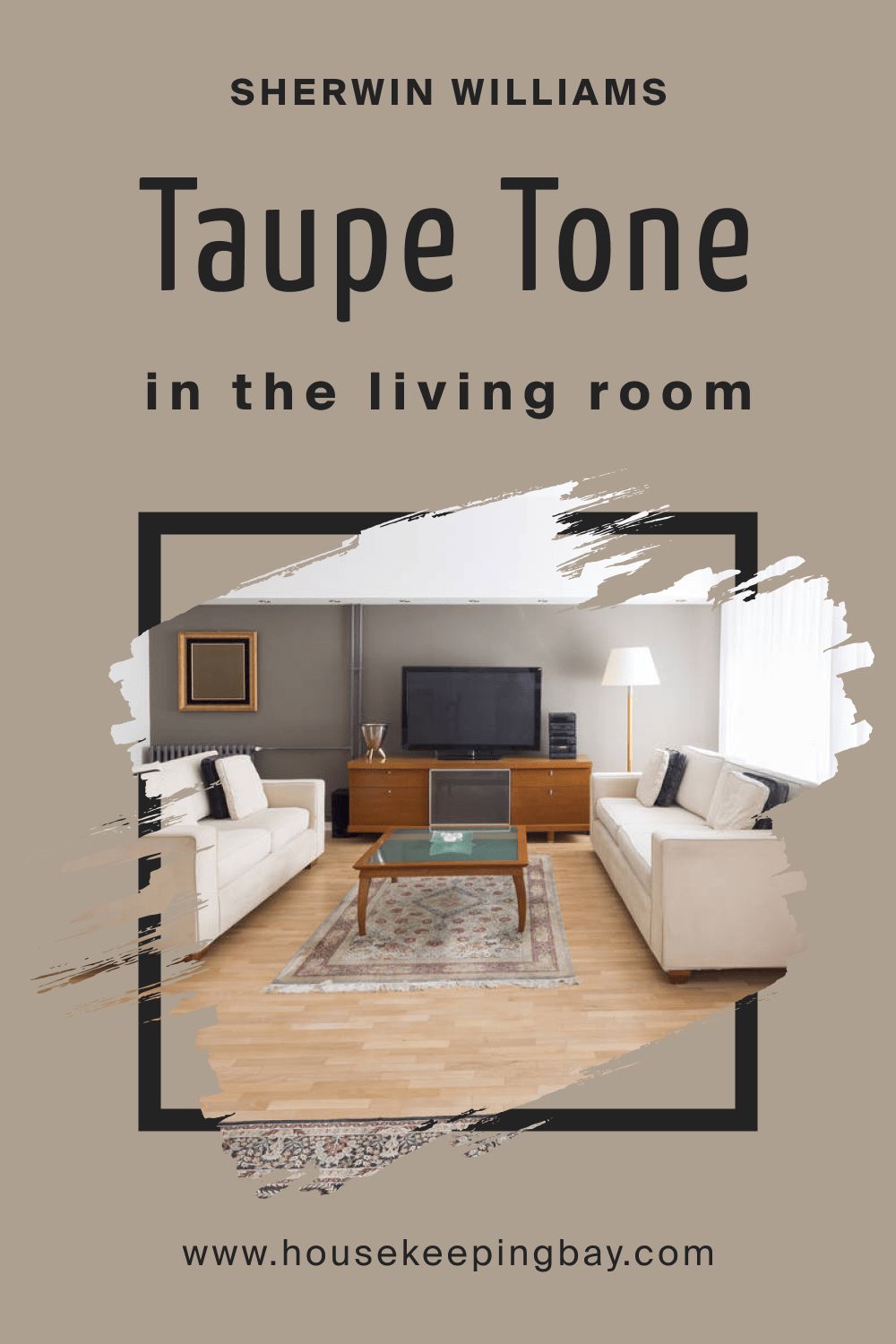 Taupe Tone SW-7633 in a Bedroom
If you strive for a cozy atmosphere in your bedroom, you should take this neutral into account. SW Taupe Tone will make the room read pleasantly warm and calming, which is the ideal vibe for the space where you sleep.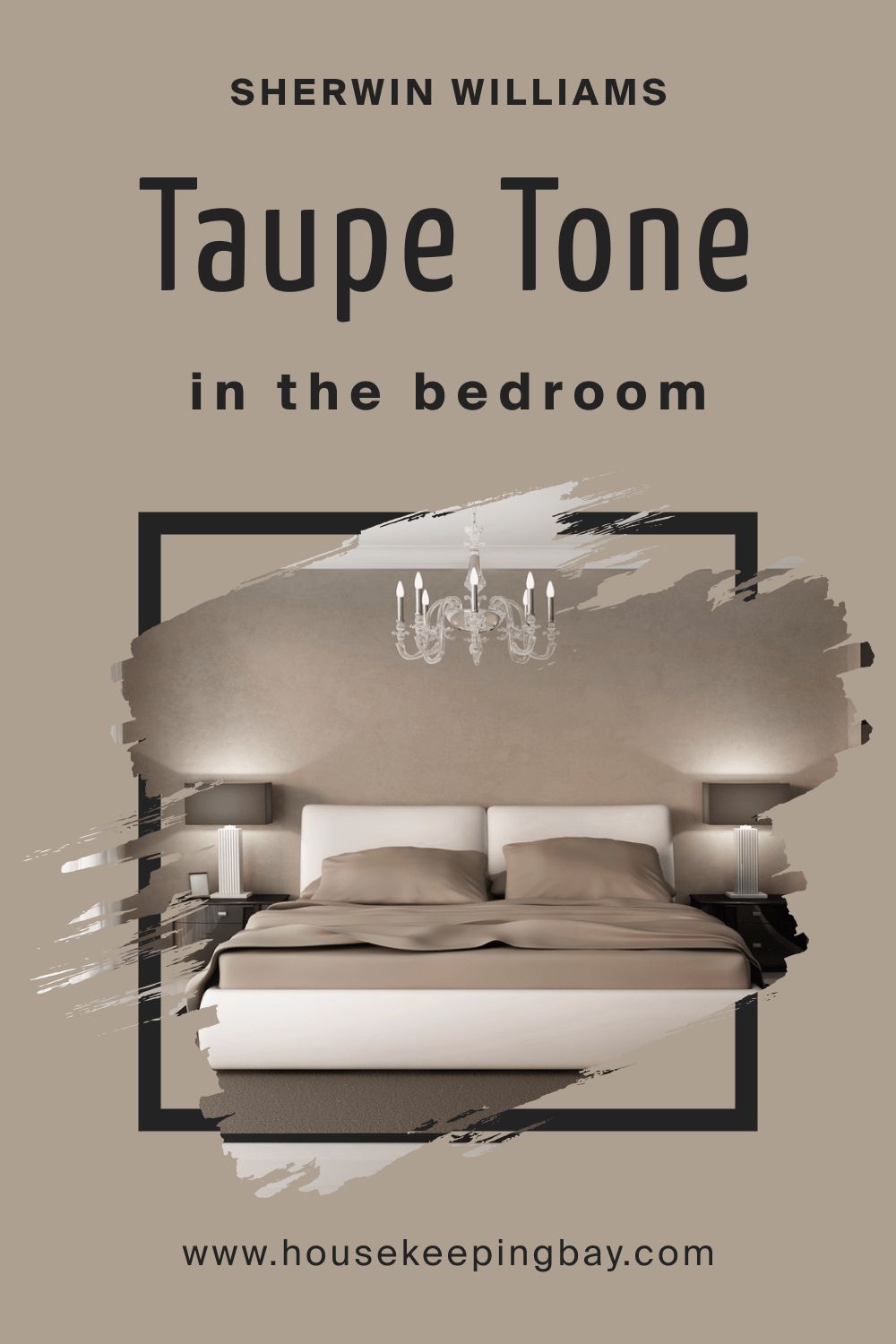 Taupe Tone SW-7633  for Kitchen
This taupe might not be the best color choice for the kitchen walls, but you can still use it to paint cabinets and your kitchen island (if you have it). Since this taupe pairs nicely with whites, we recommend you use as much white as possible to make the room look more spacious and airy.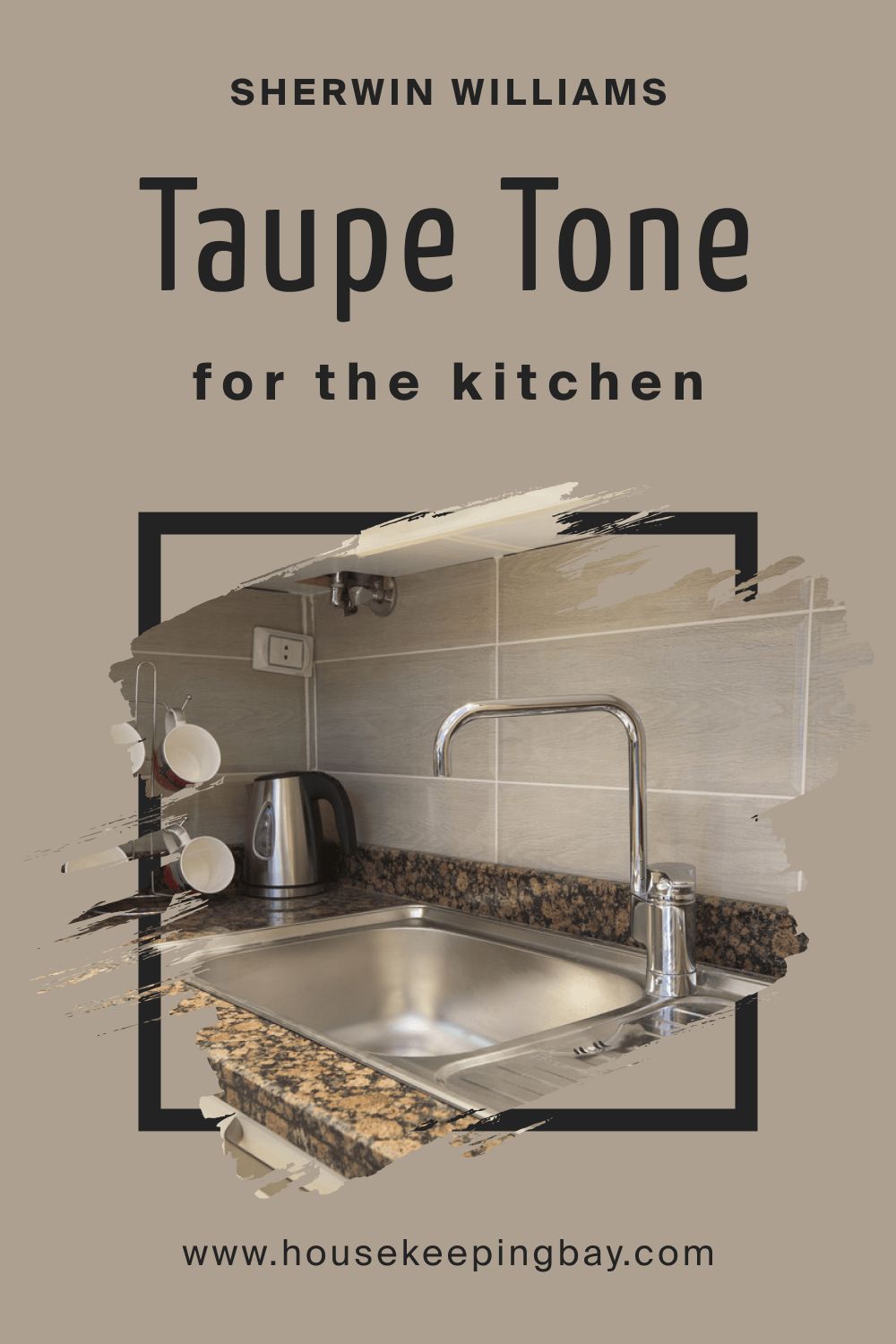 Taupe Tone SW-7633 and Cabinets
SW Taupe Tone is a good color for cabinetry. It will create a noticeable yet warm and delicate accent without drawing too much attention to the painted surfaces. This color is perfect for cabinets in a room with white walls and a lot of light.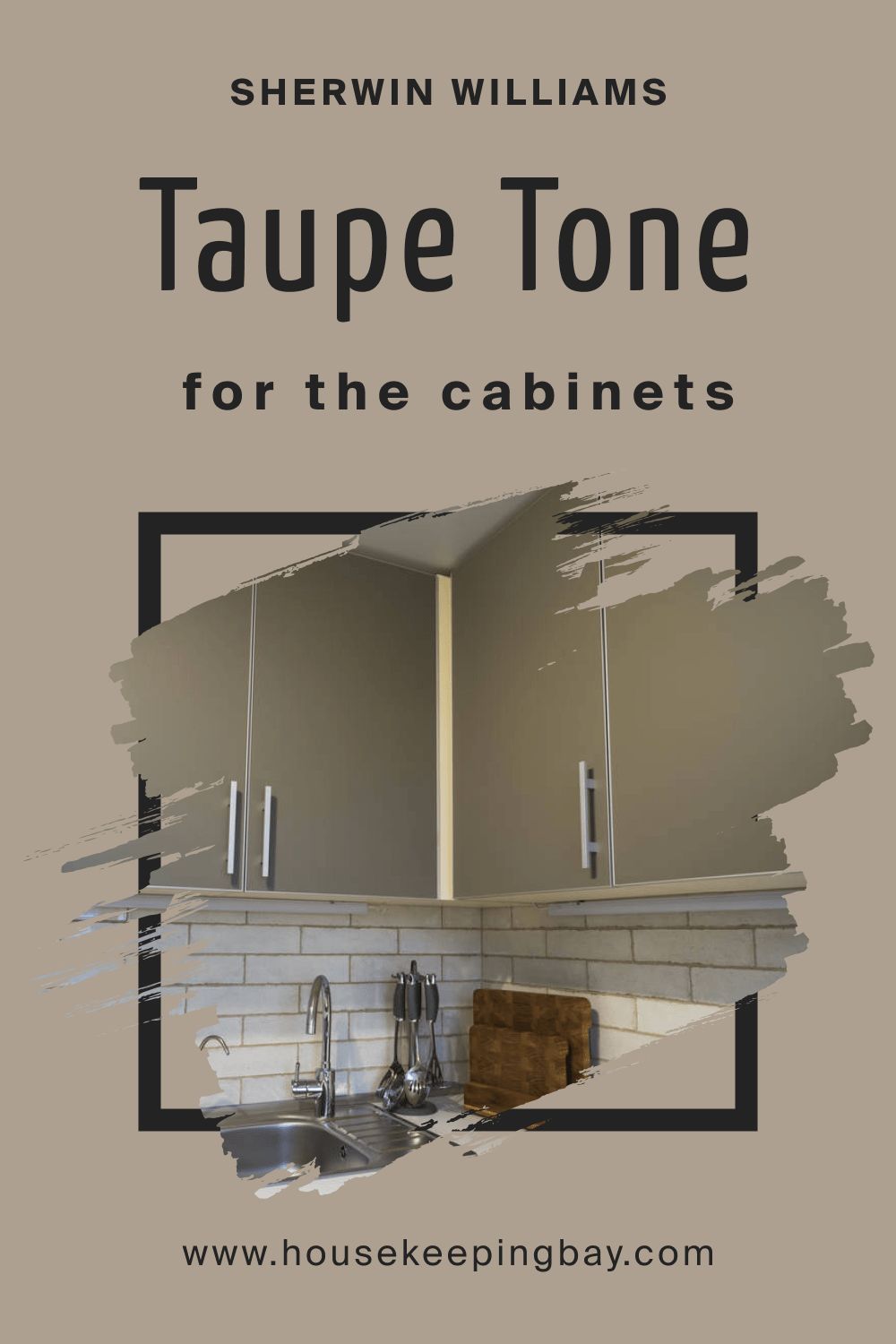 Taupe Tone SW-7633  for Exterior Use
Some people say SW Taupe Tone will make your house look "muddy," but this is not quite true. In an area with predominant sunny weather, this neutral will read balanced and welcoming. If you also paint your trim and shutters (or even the front door) white, these bright accents will make the taupe facade read more lightweight.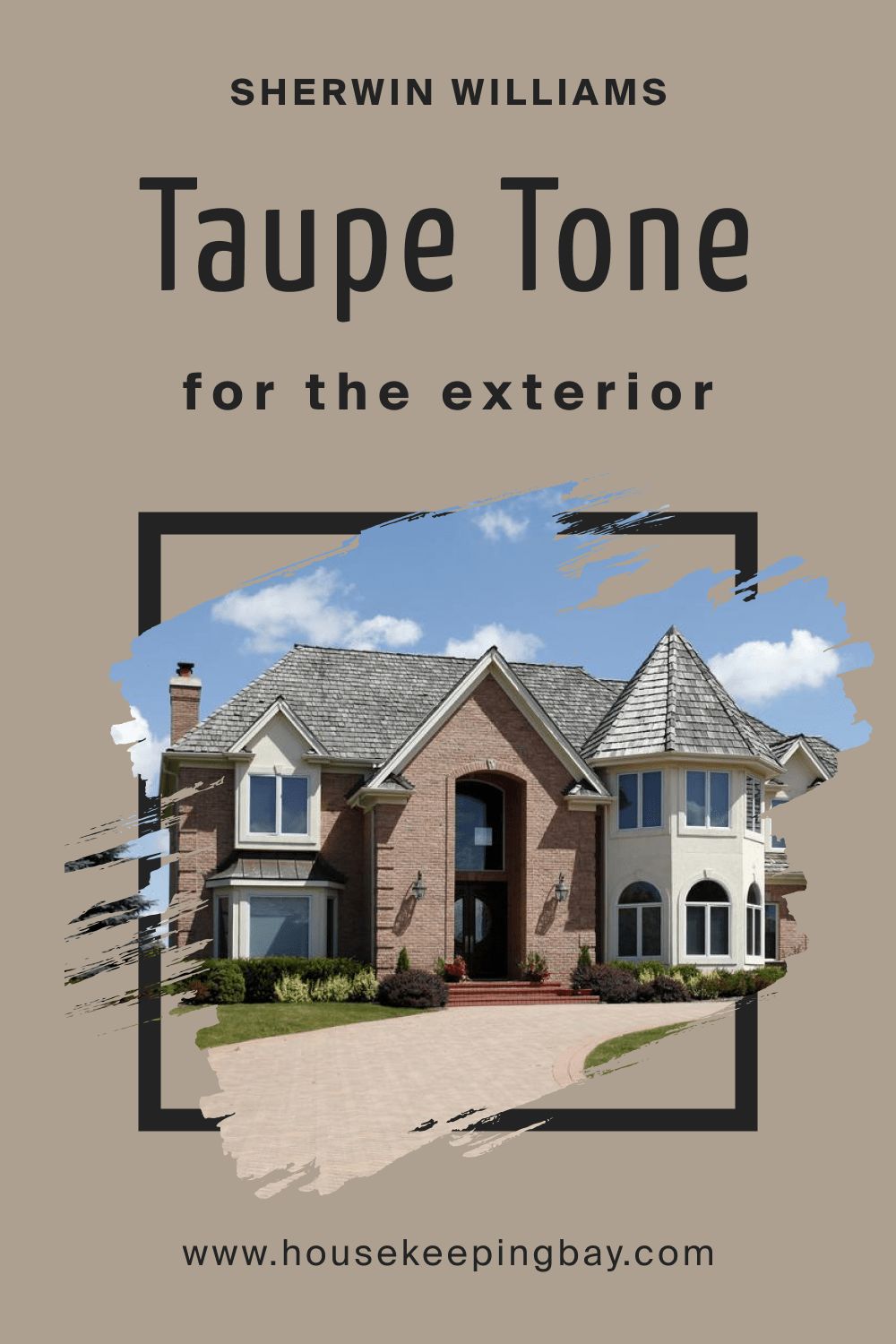 Conclusion
This was the guide that led you through all the nuances and features of a lovely neutral color called Taupe Tone by Sherwin-Williams. Now you know what kind of color it is, how it reads in different rooms, and what colors will work best with it. You also know its LRV and undertones, which means using this tricky taupe won't be a big deal for you.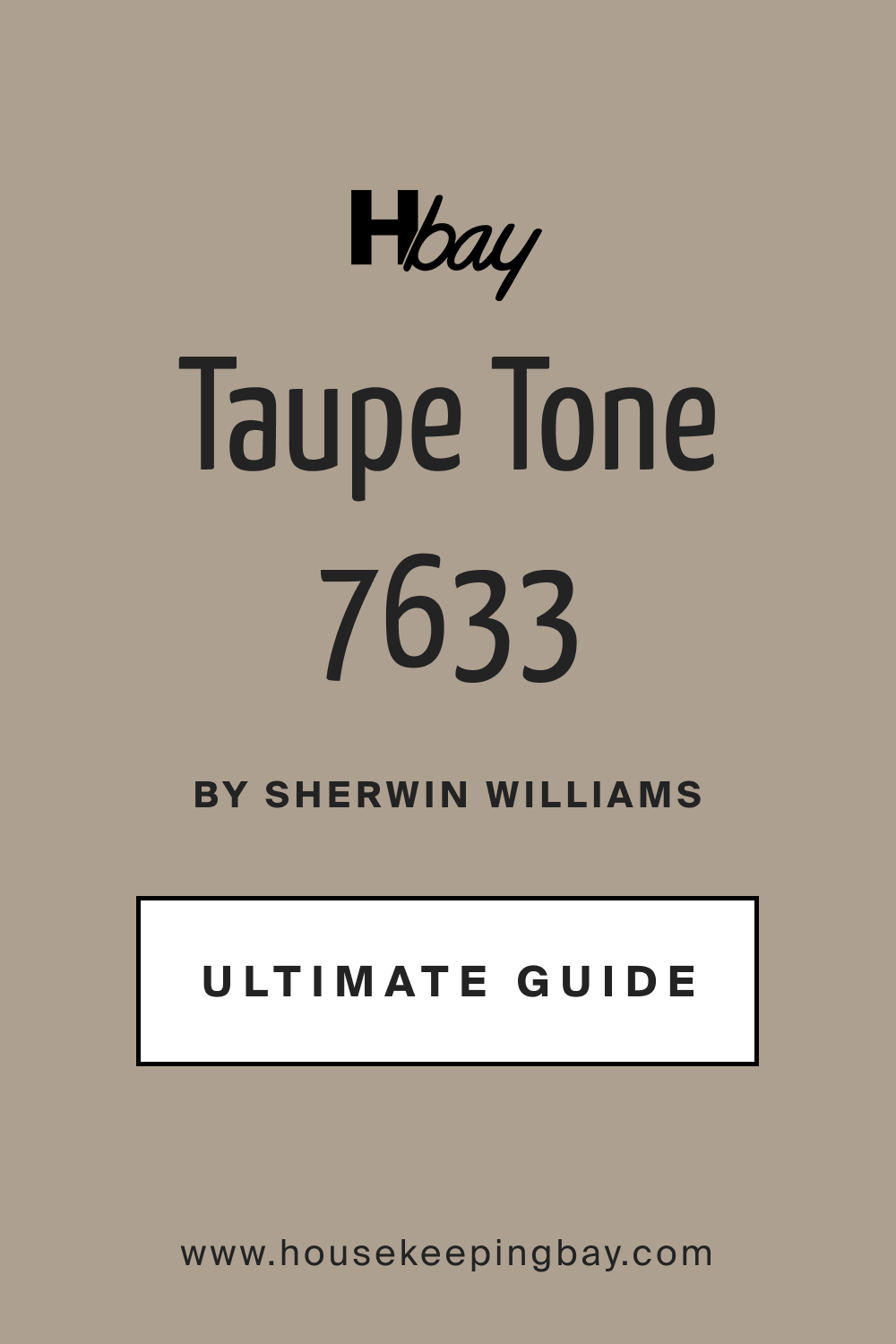 Frequently Asked Questions
⭐Is SW Taupe Tone a suitable color for a mud room?
Since mud rooms are typically very small, this color might not be the best choice. It can make the room look even smaller.
⭐Will SW Taupe Tone look good on exterior walls on a cloudy day?
Due to lack of light, this color may read somewhat darker and dull.
⭐What is the best roof color for a house with Taupe Tone walls?
You should choose a darker color for the roof, e.g., a dark brown. It will create a lovely and stylish contrast with the walls, especially if you add white trim.