In the world of home design and decor, color plays a significant role in shaping the atmosphere and feel of a space. Among the myriad of paint colors available, SW 9504 Cold Foam stands out as a unique and popular shade.
Let's delve deep into understanding this shade, its undertones, its relationship with light, and how to coordinate it with other colors.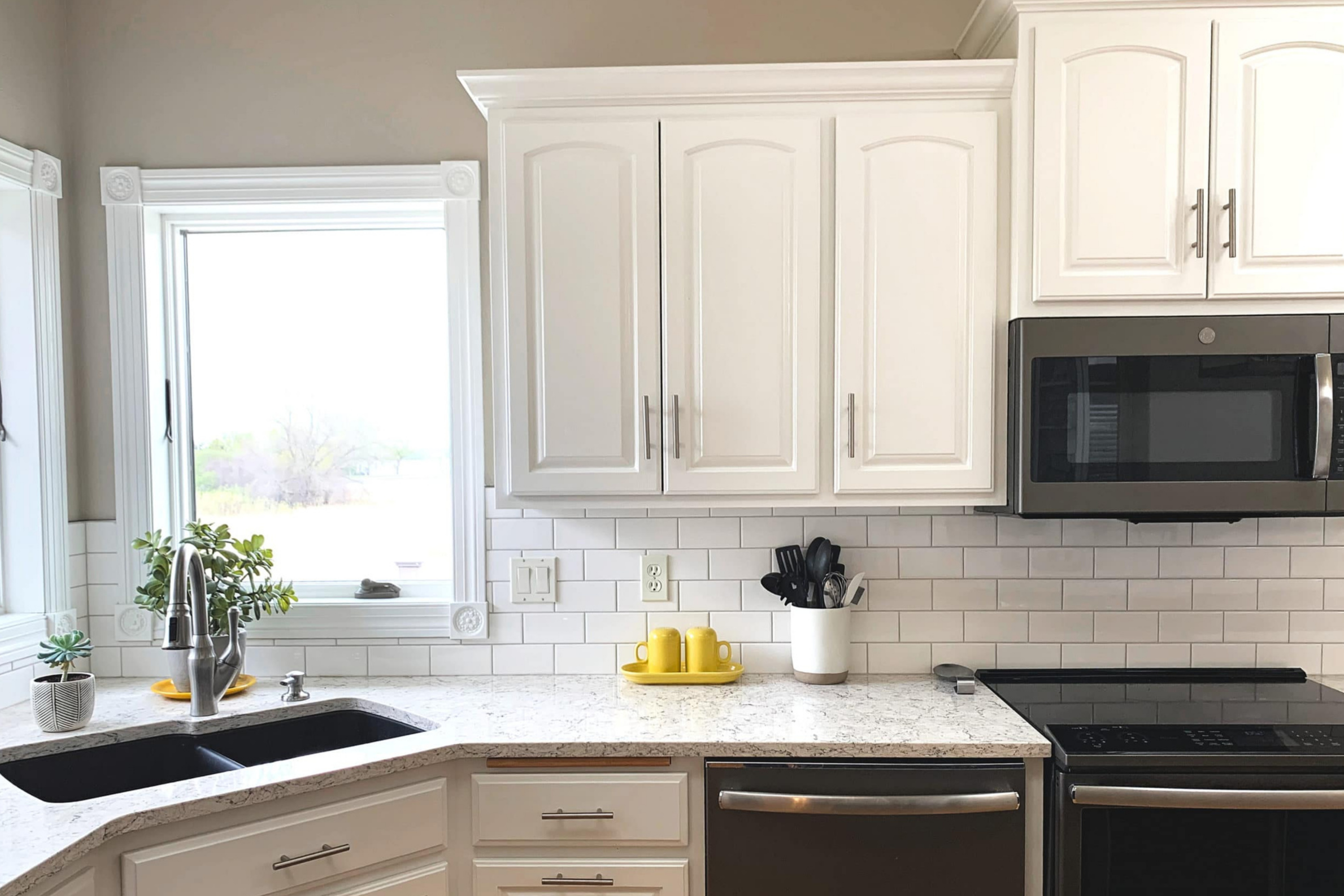 What Color Is SW 9504 Cold Foam?
SW 9504 Cold Foam exudes an almost ethereal blend of softness and depth. Its muted nature makes it adaptable, allowing it to either take center stage or play a supporting role in interior design. The serenity it offers echoes a comforting whisper reminiscent of a calm and misty morning.
When you picture SW 9504 Cold Foam, think of a delicate fusion of neutral tones with a subtle hint of color. Its versatility can be attributed to its perfect balance of light and shade, making it a fitting choice for various spaces and designs.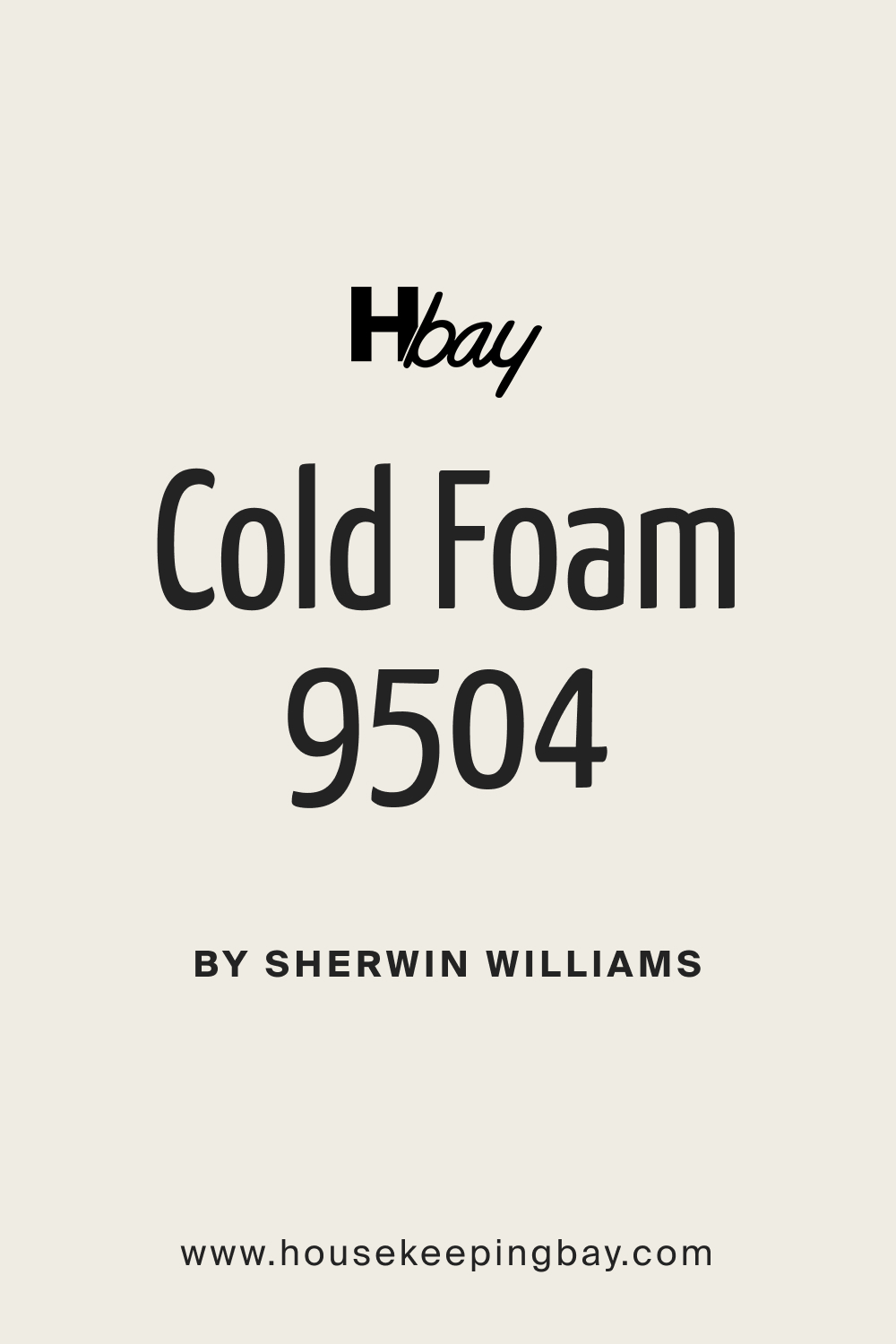 Is It a Warm Or Cool Color?
SW 9504 Cold Foam leans towards the cooler spectrum. Cool colors, in general, tend to recede in a space, giving an illusion of a larger room. The cool undertone in Cold Foam offers a sense of calm and serenity, making spaces feel tranquil and open.
Undertones of SW 9504 Cold Foam
Every color boasts undertones that subtly influence its overall appearance. In the case of SW 9504 Cold Foam, this color has no noticeable undertone. Of course, the undertones are there, but they are very gentle, leaning towards cooler nuances.
This is why in general, SW Cold Foam reads pleasantly cozy without an overwhelming warmth to it.
Undertones play a crucial role in how we perceive a color, affecting its depth and how it contrasts or complements other shades. The cooler undertones in Cold Foam offer flexibility, making it a great neutral choice for diverse palettes.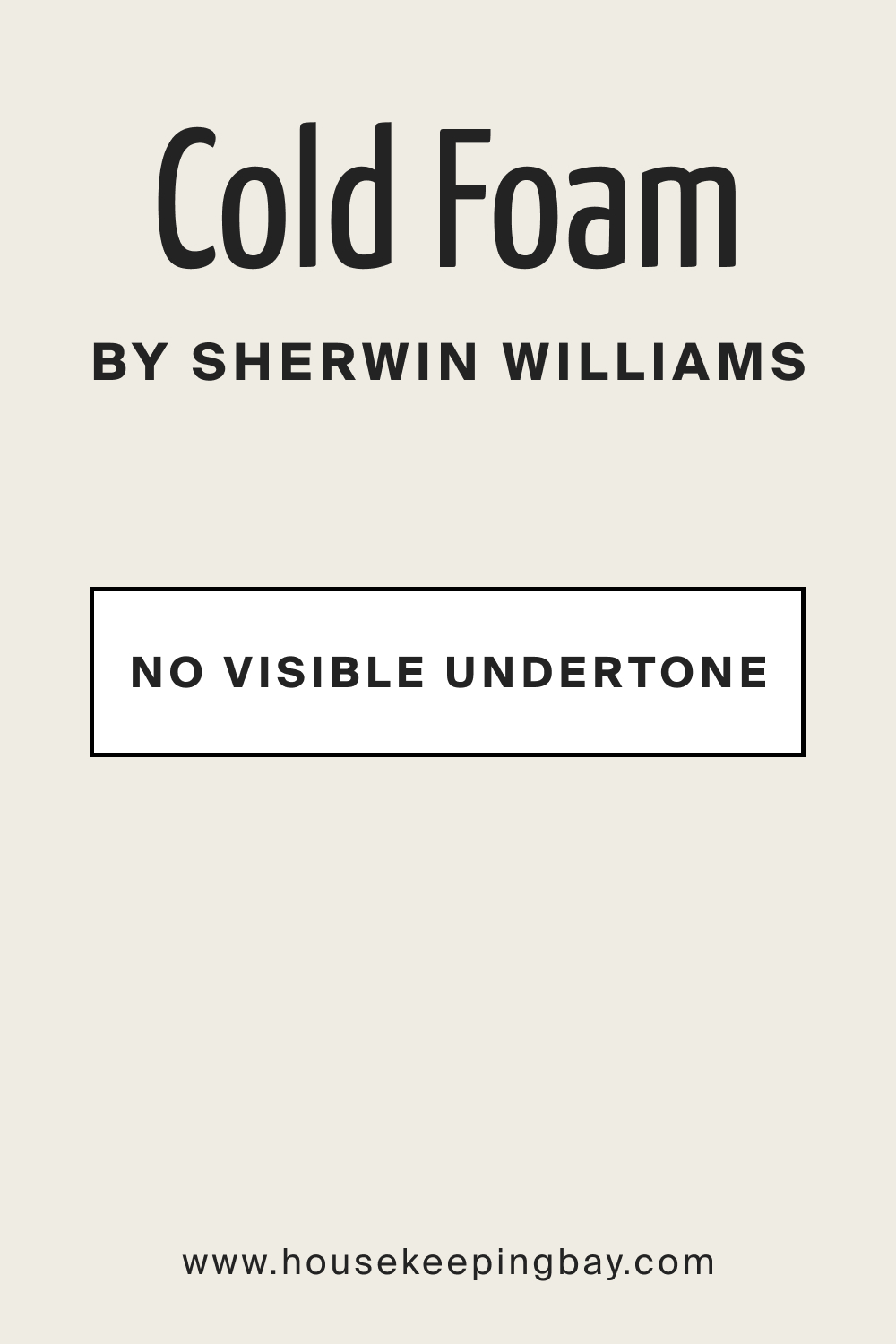 Coordinating Colors of SW 9504 Cold Foam
Understanding coordinating colors is essential for a cohesive design. These are colors that share a harmonious relationship with the primary shade.
SW Antimony – A rich, elegant color that complements the softness of Cold Foam, offering depth to spaces.
SW Rojo Dust – With its earthy essence, it brings warmth, creating a balanced juxtaposition with Cold Foam.
SW Agreeable Gray – A neutral gray that seamlessly blends with Cold Foam, enhancing its cool characteristics.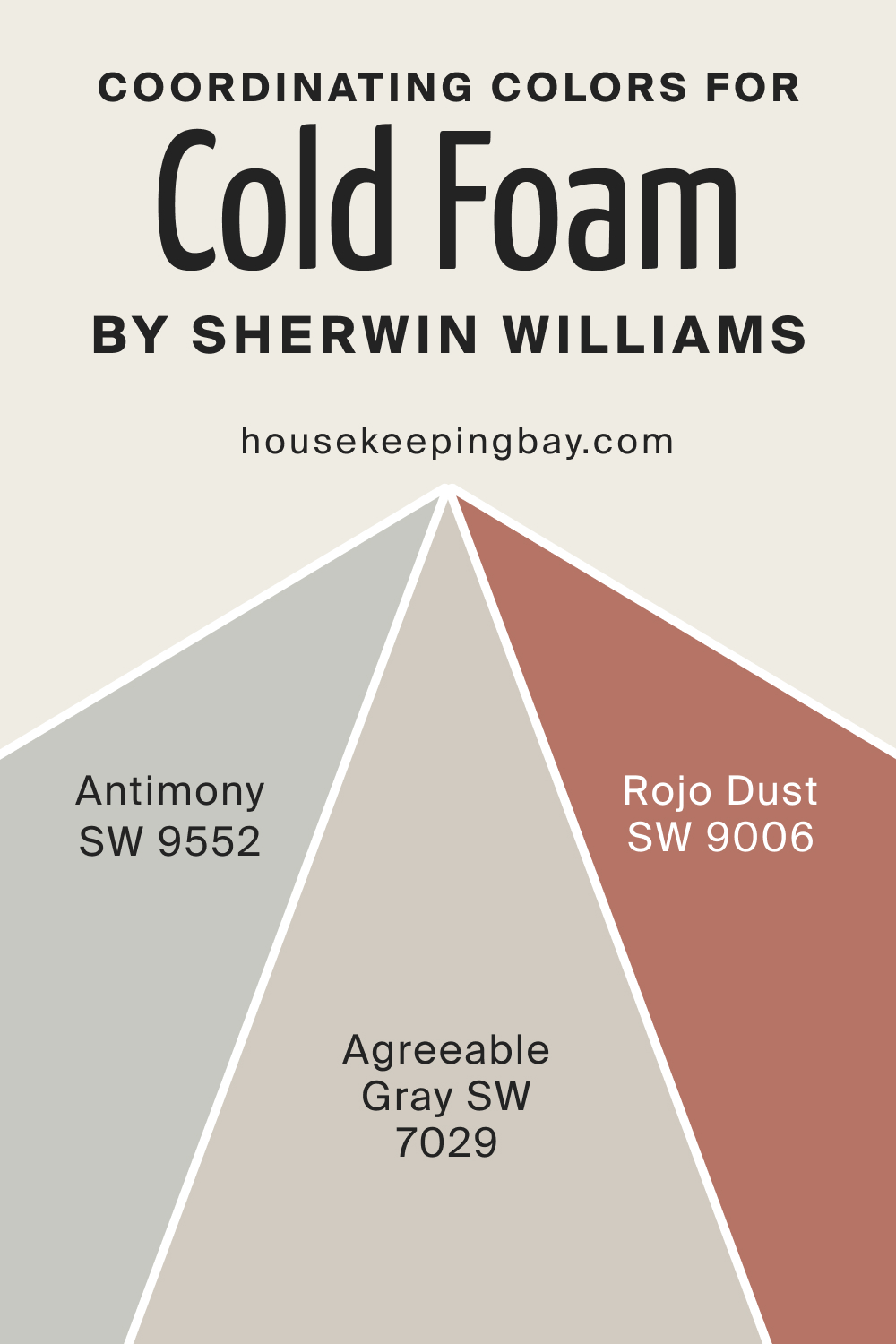 How Does Lighting Affect SW 9504 Cold Foam?
Lighting, both natural and artificial, has a profound impact on SW 9504 Cold Foam. In abundant natural light, its cooler undertones become pronounced, giving spaces a fresh and airy feel. Conversely, in dim, artificial lighting, Cold Foam may appear slightly deeper, but its serene nature remains consistent.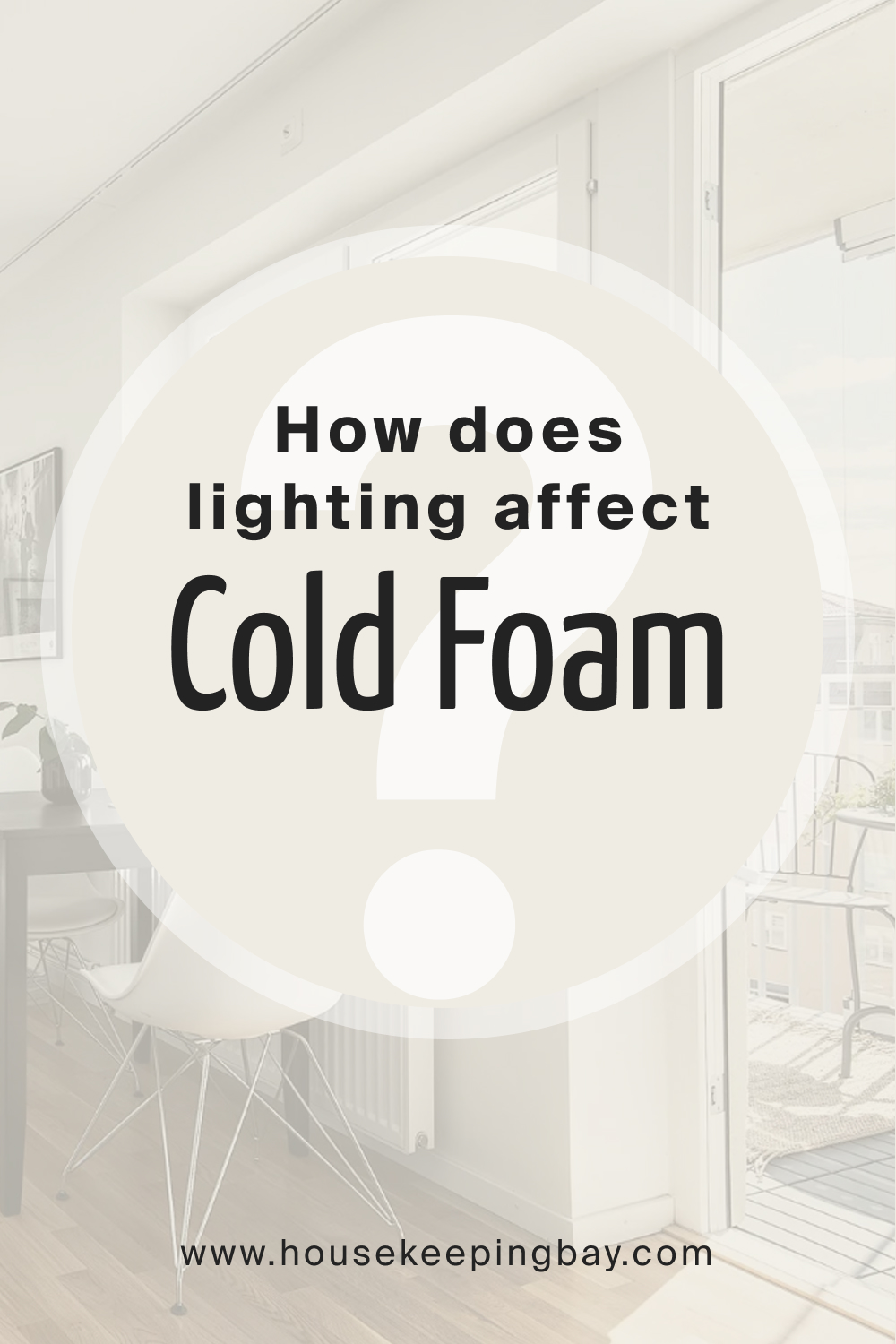 LRV of SW 9504 Cold Foam
Light Reflectance Value (LRV) measures the percentage of light a paint color reflects. With an LRV of 84, Cold Foam is on the higher end of the spectrum. This implies that it reflects a significant amount of light, making spaces appear brighter and more expansive.
Such a high LRV value makes it an excellent choice for smaller rooms or areas with limited natural light, helping to give the illusion of a more spacious environment.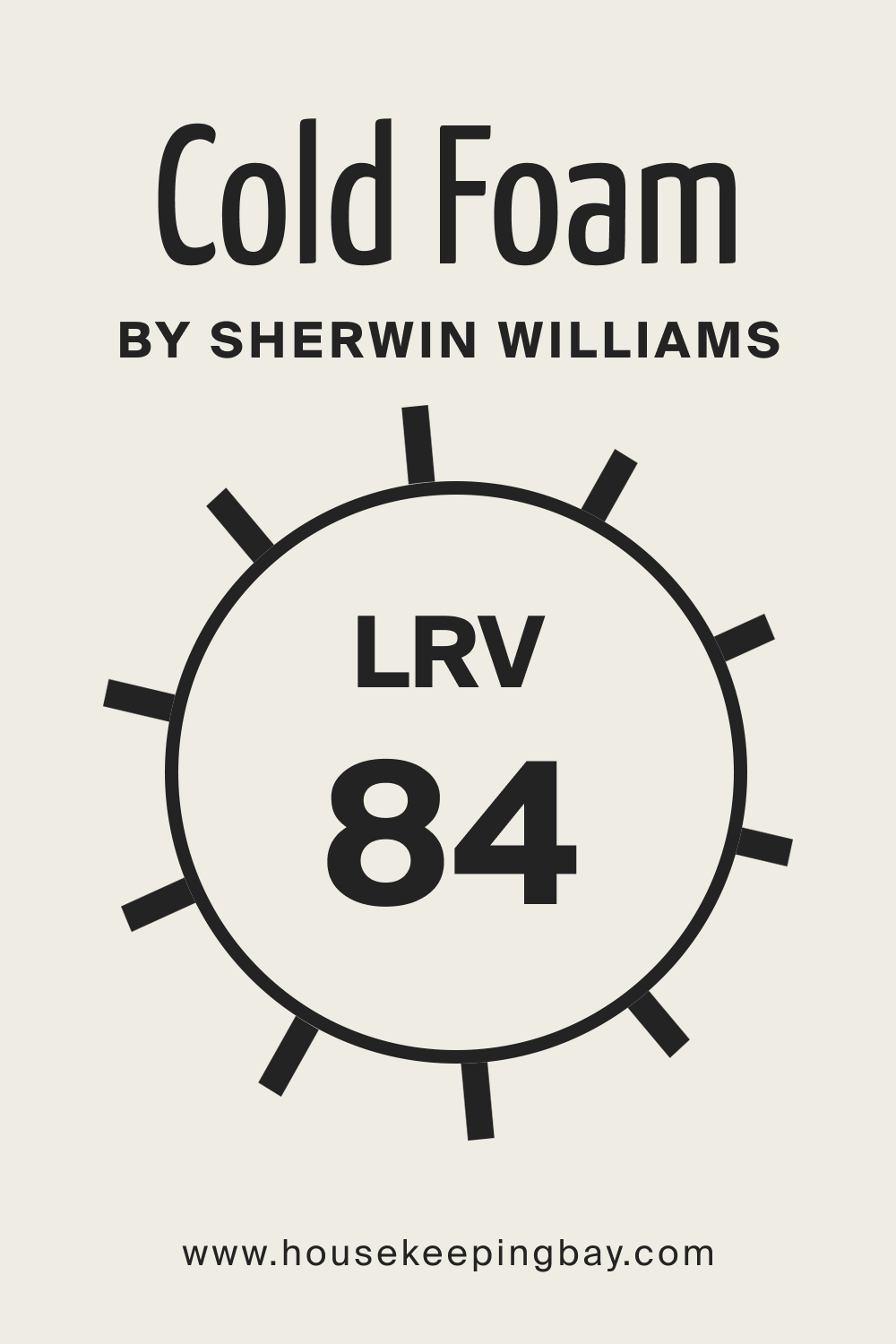 What is LRV? Read It Before You Choose Your Ideal Paint Color
Trim Colors of SW 9504 Cold Foam
Trim colors accentuate and define architectural details. Using shades of white from the same brand can provide a crisp contrast and a polished look on your trim, along with SW Cold Foam on the walls.
SW Pure White – A stark, clean white that offers a sharp contrast, highlighting Cold Foam's cool undertones.
SW Alabaster – A creamy, warm white that adds depth and a touch of warmth.
SW Extra White – Bright and radiant, this white accentuates the freshness of Cold Foam.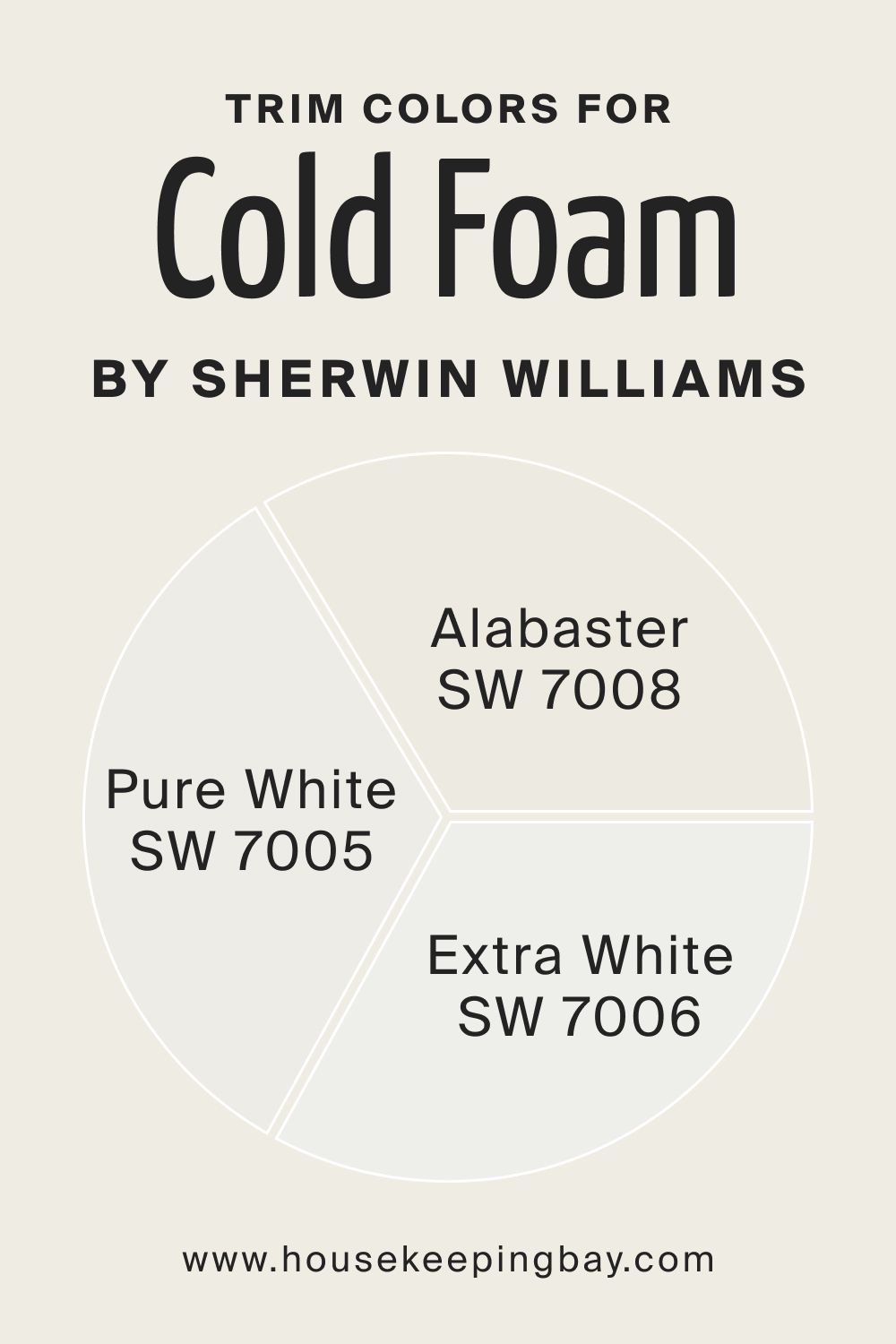 Colors Similar to SW 9504 Cold Foam
Understanding similar colors allows for flexibility in design choices. For SW Cold Foam, we recommend the following alternative colors:
SW Cotton – A pristine neutral with a touch of warmth.
SW Greek Villa – A shade richer, blending beige and white harmoniously.
BM Sand Dollar – A soft beige with hints of gray.
Note that each color on this list has slightly distinct undertones and a unique LRV, which is why each of these alternative colors will differ a bit from SW 9504 Cold Foam.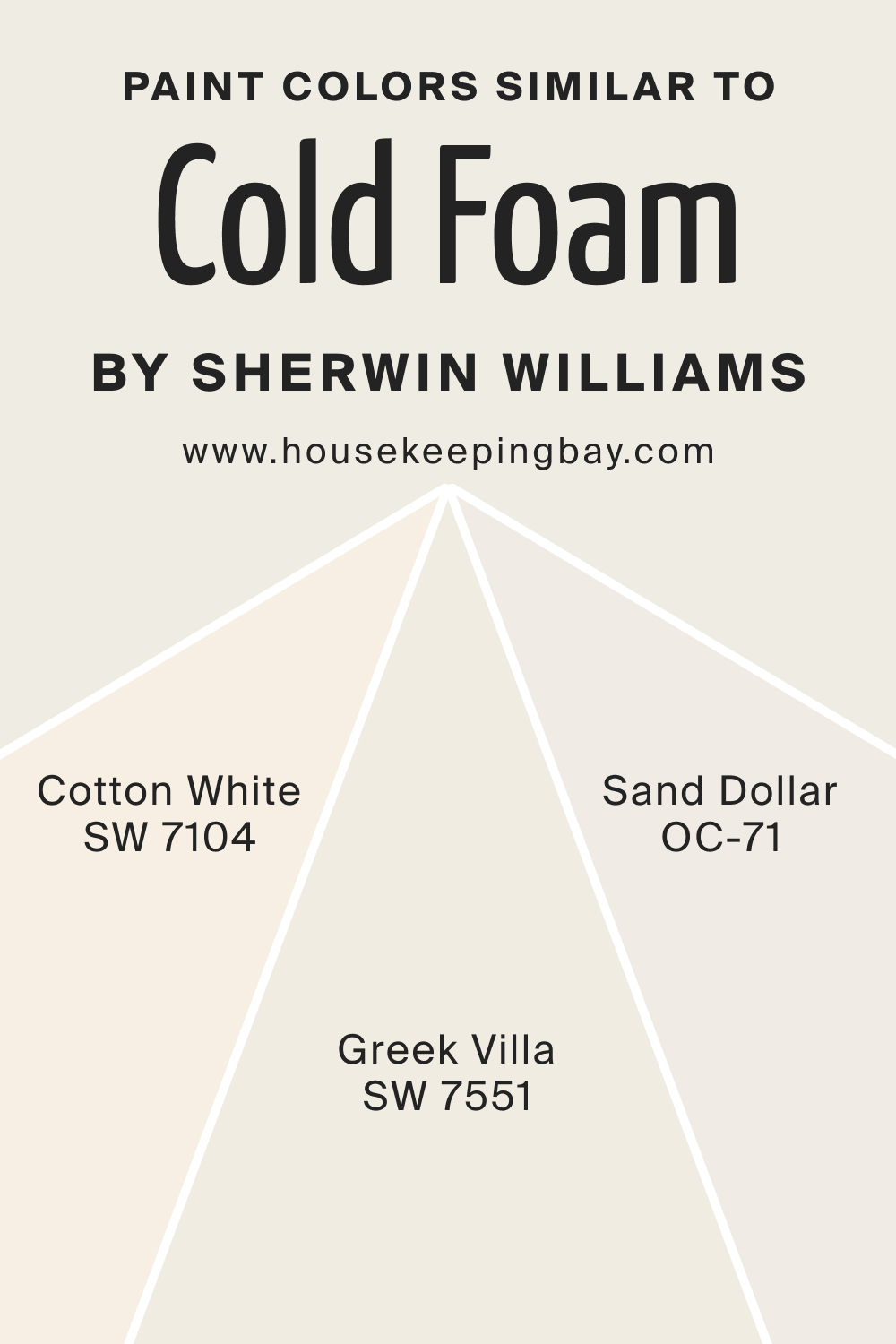 Colors That Go With SW 9504 Cold Foam
Combining complementary colors creates a harmonious ambiance. For SW 9504 Cold Foam as a wall color, try out the following colors to create a harmonious palette in your home:
SW Timber Beam – A deep, earthy brown that adds depth.
SW Big Dipper – A muted blue, enhancing the cool undertones of Cold Foam.
SW West Highland White – A soft, off-white providing brightness.
SW Accessible Beige – Neutral beige that offers a balanced foundation.
SW Rosemary – A subtle green that brings in a touch of nature.
SW Sashay Sand – A warm beige with pinkish undertones, adding a hint of coziness.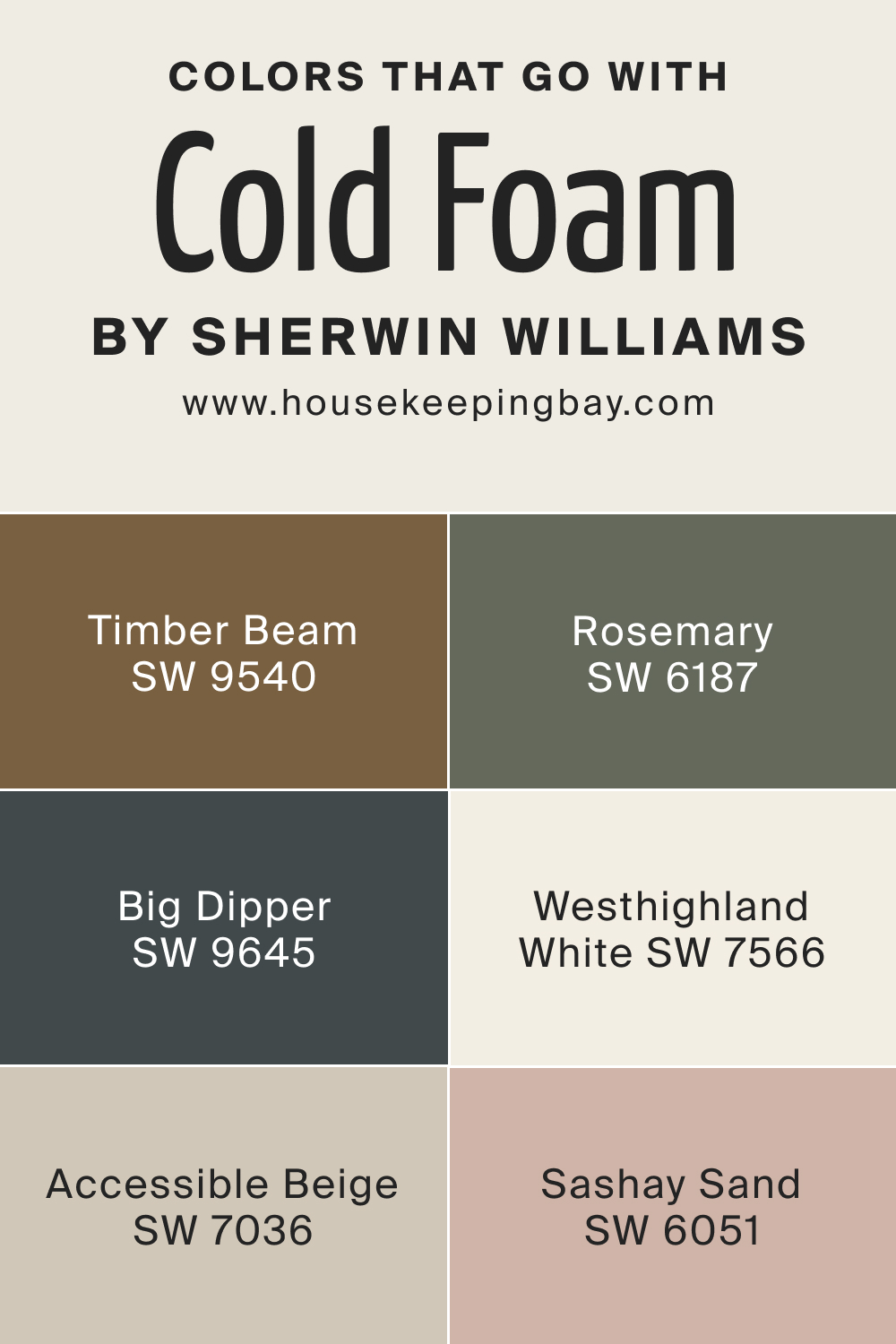 How to Use SW 9504 Cold Foam In Your Home?
The versatility of SW 9504 Cold Foam lends itself beautifully to various rooms and design aesthetics. This color, with its balanced cool undertones, can transform a space, making it feel calm, expansive, and modern. Let's dive into the specific ways you can incorporate this color into different areas of your home.
Cold Foam SW 9504 In the Bedroom
Bedrooms are sanctuaries, places where we recharge and find solace. SW 9504 Cold Foam can turn your bedroom into a peaceful retreat. Its calming undertones invoke a serene ambiance, making it a suitable backdrop for a place of rest. Paired with soft textiles, like light gray or lavender beddings, the color elevates the room's coziness, creating a delicate and harmonious blend conducive for relaxation and sleep.
Further enhancing its appeal, SW 9504 Cold Foam pairs beautifully with both dark wood tones and metallic accents. Whether it's a mahogany bedside table or copper lamps, these contrasts bring out the depth and sophistication of the shade, making the bedroom both tranquil and luxurious.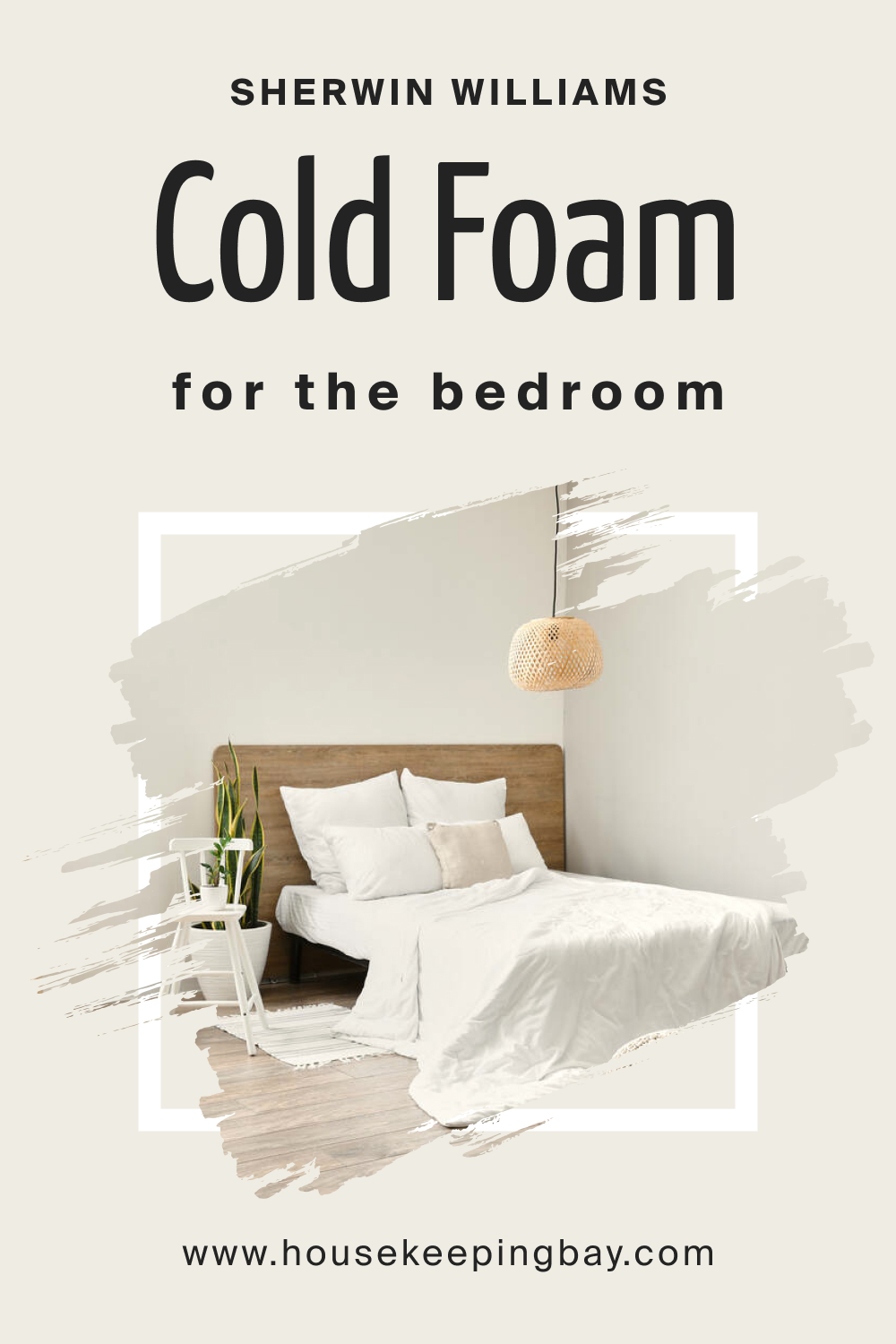 Cold Foam SW 9504 In the Bathroom
Bathrooms are evolving from mere functional spaces to places of rejuvenation. SW 9504 Cold Foam, with its soothing quality, can make the bathroom feel like a modern spa. The color's clean and crisp aura lends itself well to white fixtures, reflecting light and making the space appear larger and brighter.
Additionally, Cold Foam works wonders with marble or granite countertops. The color's understated elegance complements the natural patterns of such surfaces, giving your bathroom a touch of nature and luxury. Throw in some silver or gold accents, and you've got a chic, timeless bathroom design.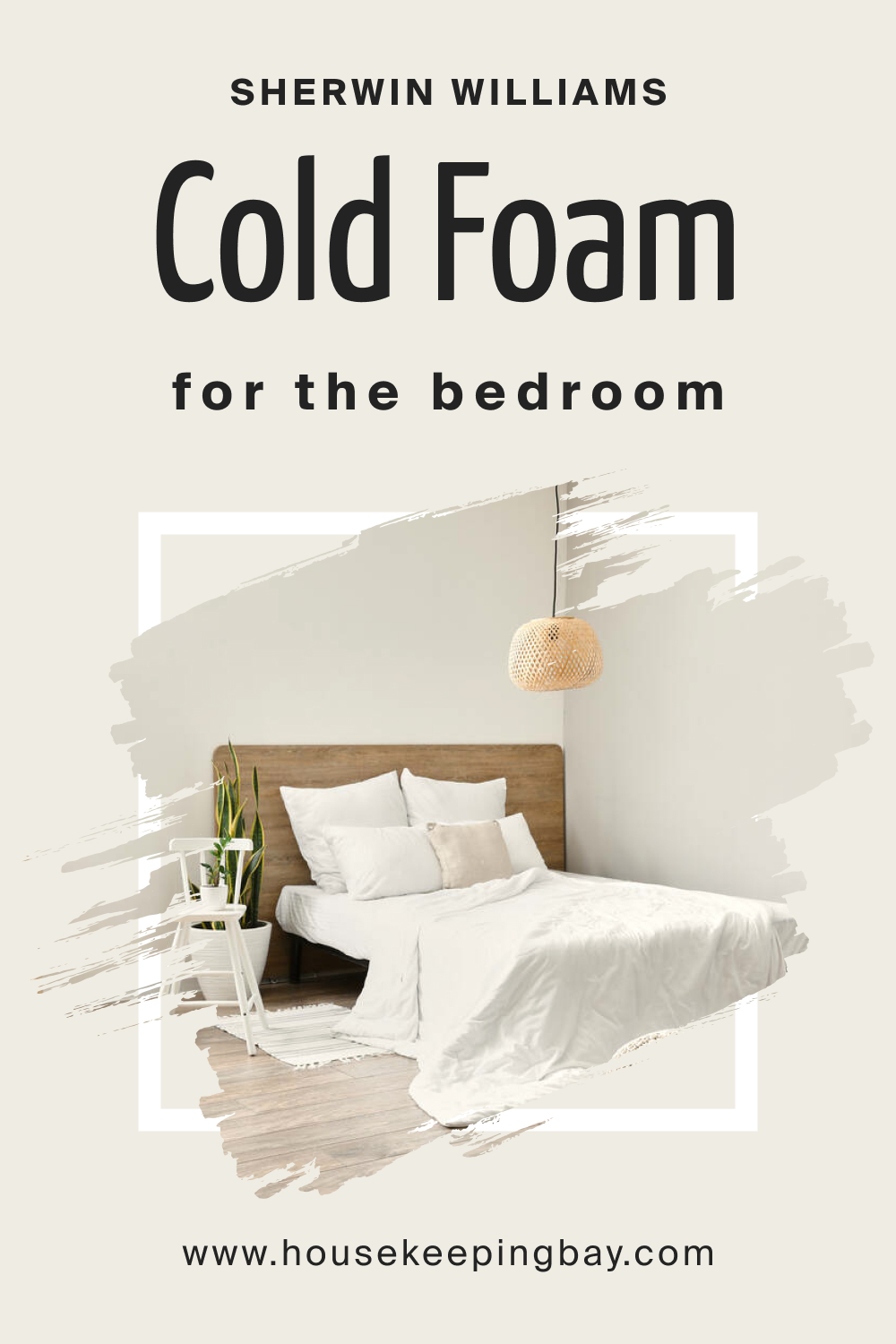 Cold Foam SW 9504 In the Living Room
The living room, often the heart of a home, requires a color that can adapt to varying moods and functions. SW 9504 Cold Foam serves as a neutral canvas, allowing decorative elements to shine. With its cool undertones, it pairs well with both vibrant and muted accent colors, offering design flexibility.
Imagine a living room with Cold Foam walls offset by rich navy or emerald green drapes. The contrast can be both dramatic and inviting. For a minimalist approach, sleek modern furniture with metallic frames and glass surfaces will complement the color, giving the room a contemporary edge.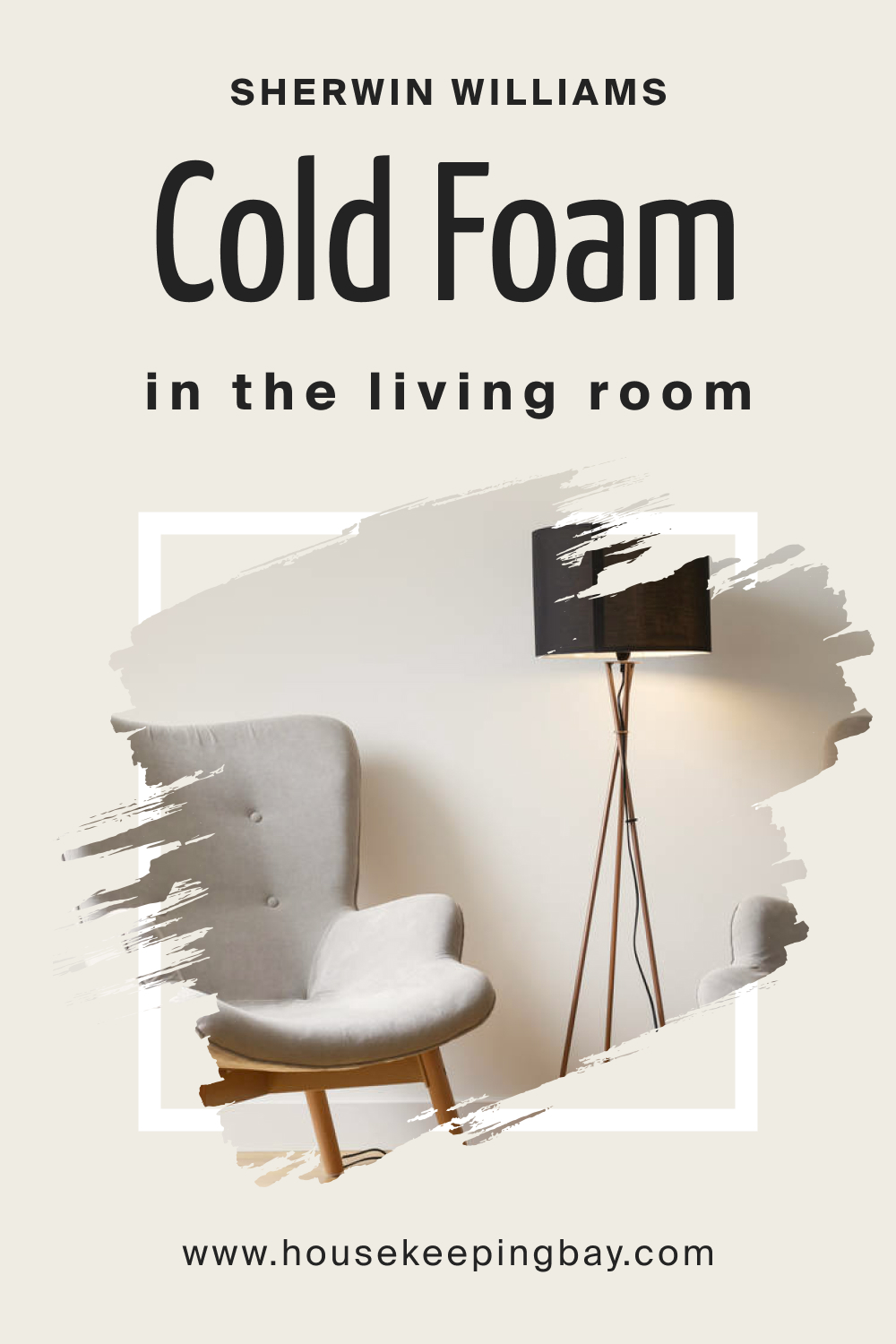 Cold Foam SW 9504 For an Exterior
The exterior of a home is its first impression. Using SW 9504 Cold Foam can give your home a modern yet timeless appeal. The color looks especially striking in homes with lots of natural light and green landscaping. Its cool undertones shimmer subtly in daylight, providing a refreshing and inviting ambiance.
For those with brick or stone pathways, Cold Foam offers a pleasant contrast, harmonizing the natural and built aspects of the exterior. Paired with white or deep gray trims, the color can redefine your home's architecture, making it stand out in the neighborhood.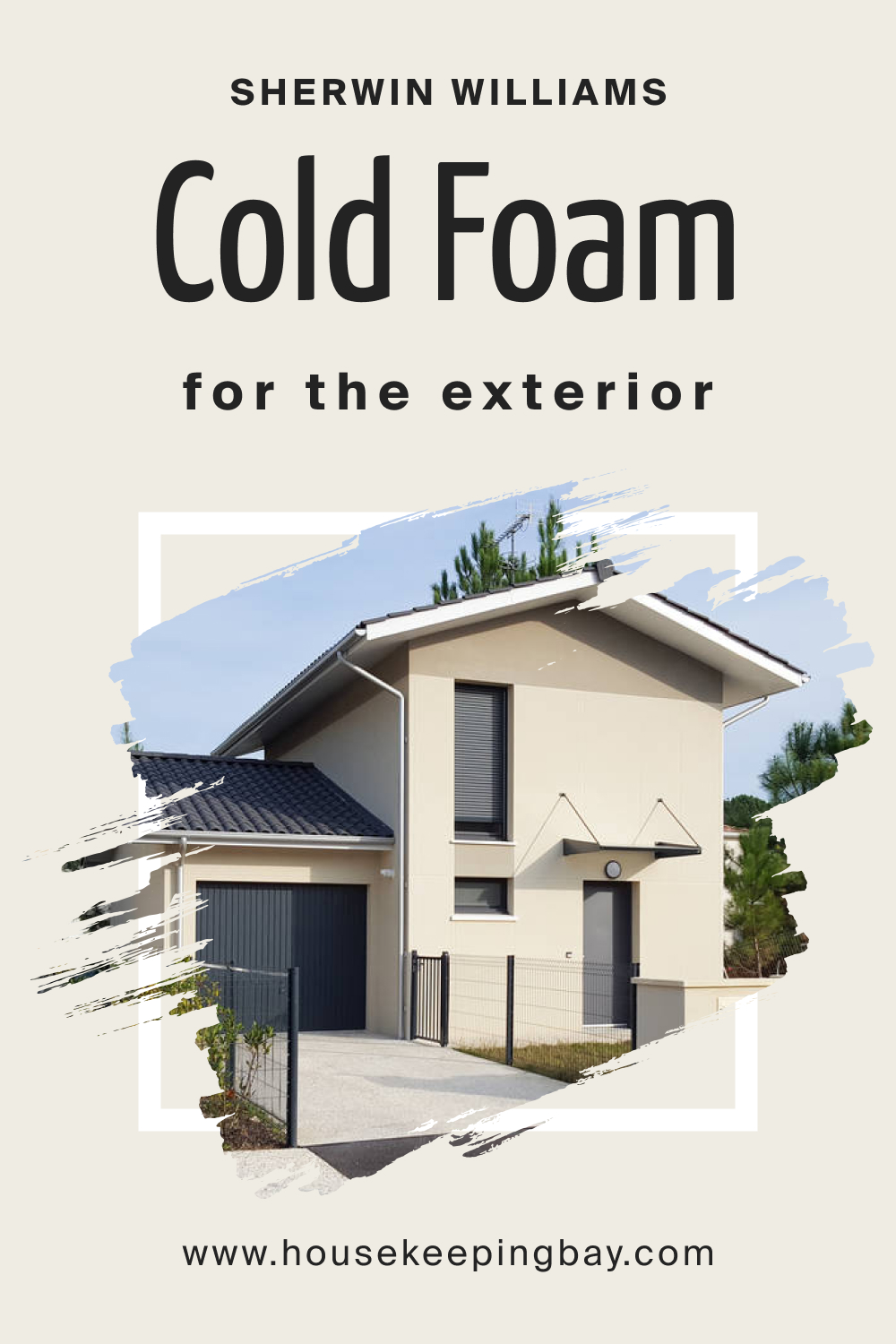 Cold Foam SW 9504 For the Kitchen
Kitchens are places of creativity and communion. SW 9504 Cold Foam can turn your kitchen into a canvas, a space where culinary adventures begin. Its neutrality allows for colorful kitchenware, tiles, or backsplashes to pop, adding vibrancy to every mealtime.
Couple Cold Foam with stainless steel appliances, and the kitchen achieves a balanced, modern aesthetic. For those who love a touch of rustic, wooden countertops or island bases contrast beautifully, merging tradition with contemporary.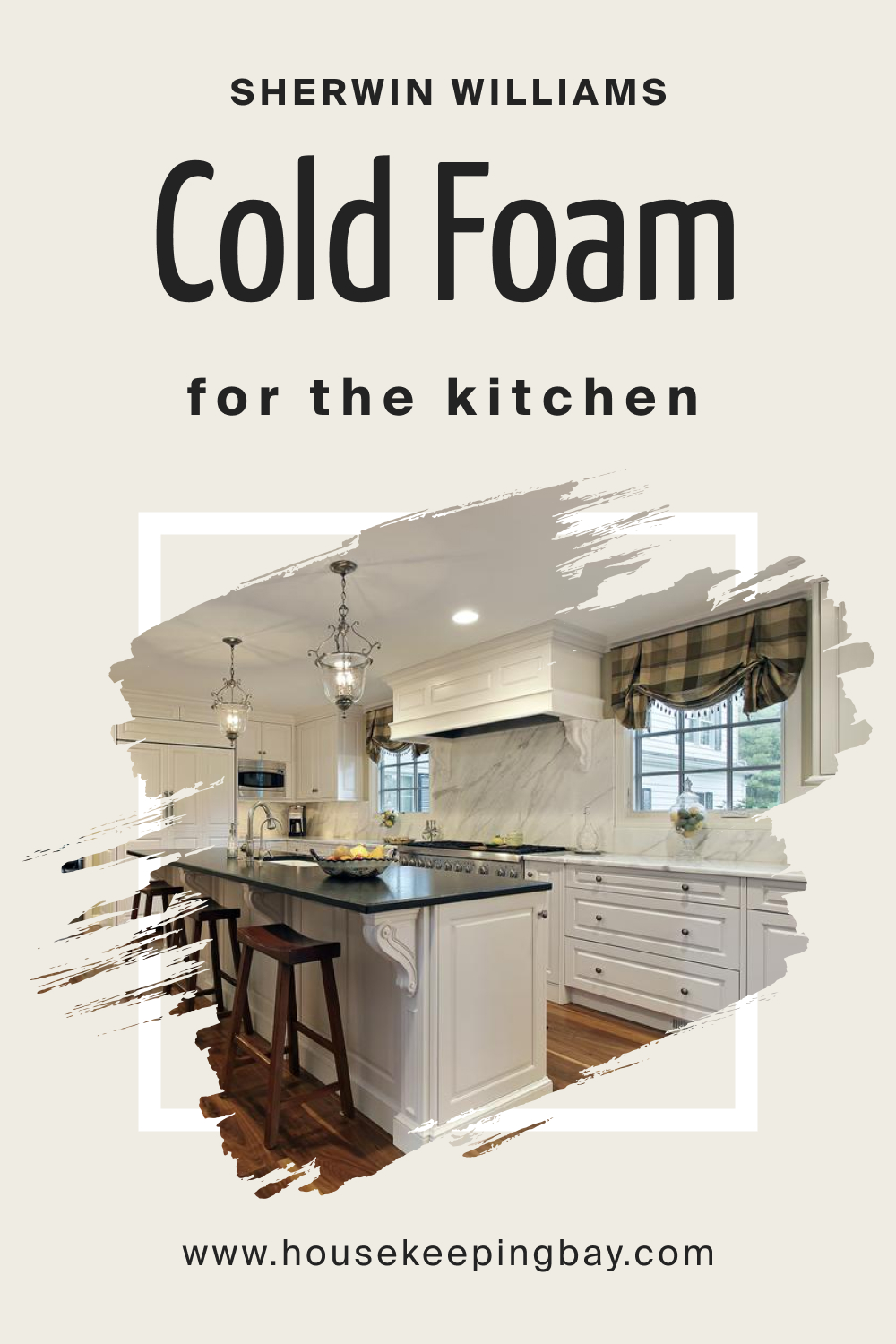 Cold Foam SW 9504 For the Kitchen Cabinets
Cabinets play a pivotal role in the kitchen's look and feel. Painting them in SW 9504 Cold Foam can instantly uplift and modernize your kitchen. The color, being neutral yet distinct, allows countertops, whether granite, wood, or quartz, to stand out, creating layers of design depth.
To further elevate the look, consider pairing Cold Foam cabinets with sleek handles or knobs, preferably in matte black or brushed gold. The combination will bring in a touch of luxury, transforming your kitchen cabinets from mere storage spaces to design statements.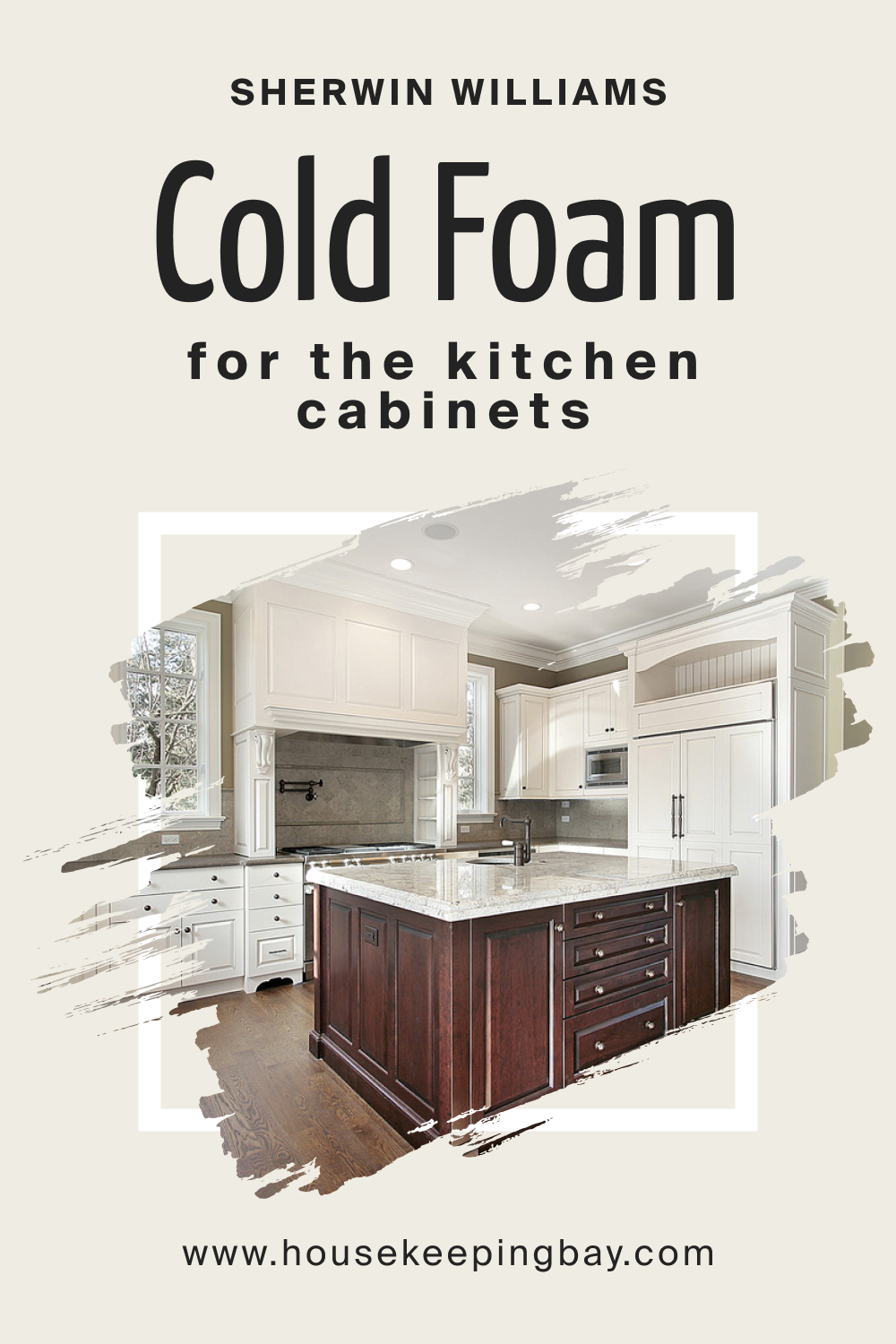 Comparing SW 9504 Cold Foam With Other Colors
Colors create the backdrop against which we experience our living spaces, impacting our perceptions and emotions. By comparing colors, we can discern subtle differences and nuances that might be imperceptible at first glance. This process assists designers, homeowners, and artists in choosing the ideal shade that aligns with their vision and the ambiance they aim to create.
SW 9504 Cold Foam vs. SW 7004 Snowbound
SW Snowbound is a bright, pure white that exudes clarity. When compared to SW 9504 Cold Foam, Snowbound lacks cool undertones, presenting a crisp, neutral backdrop.
Cold Foam, on the other hand, has a misty aura that gives spaces a soft, serene quality. Where Snowbound can be seen as more direct and clear-cut, Cold Foam offers depth and versatility.
The beauty of Snowbound lies in its universality; it can fit virtually any decor without imposing a specific mood. In contrast, Cold Foam imparts a specific atmosphere, making spaces feel calm, expansive, and slightly cool.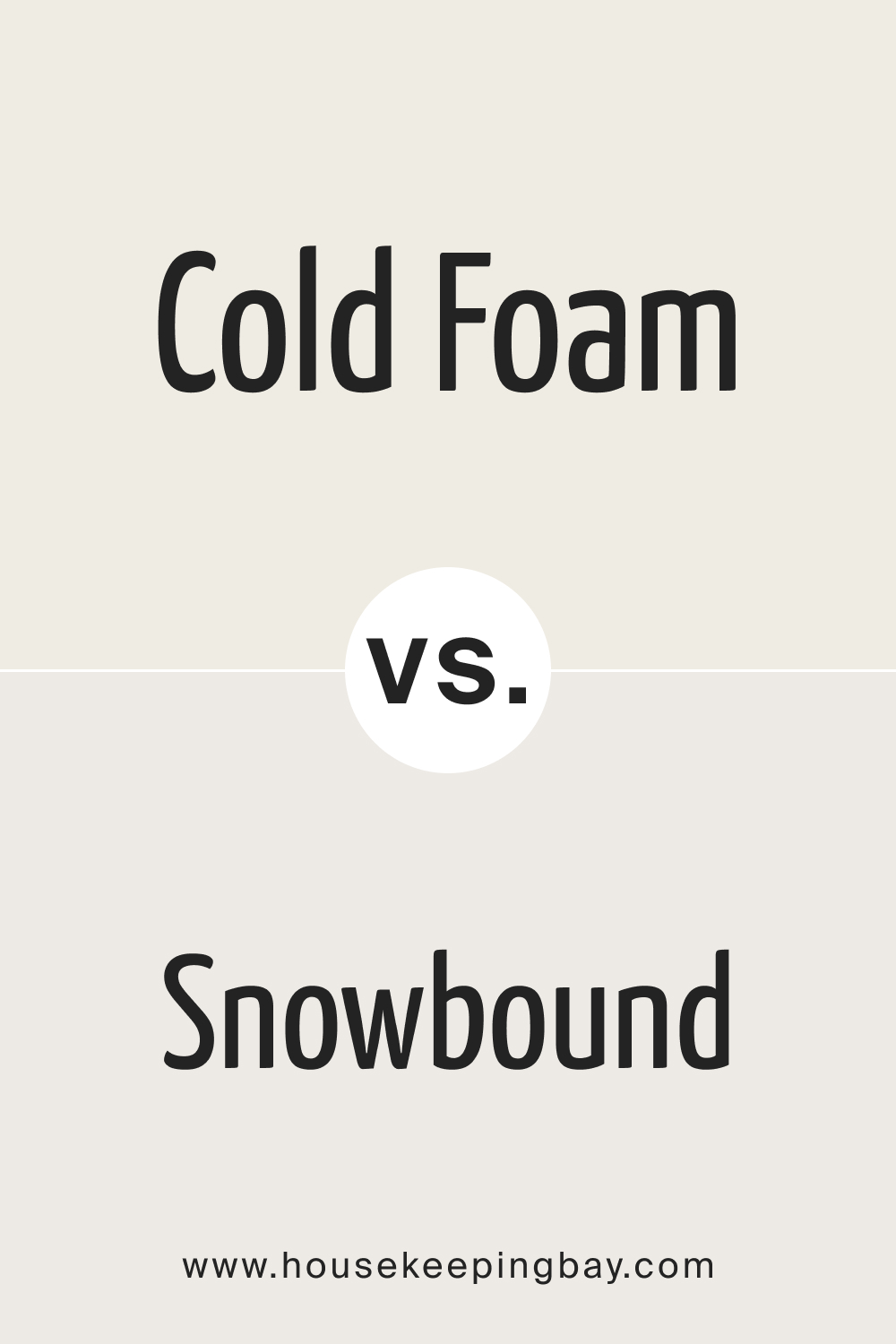 SW 9504 Cold Foam vs. SW 9623 Snowbelt
SW Snowbelt carries a more pronounced cool undertone than Cold Foam. This shade leans closer to a gray-white, exuding a frosty winter morning feel. Cold Foam, though also on the cooler side, is subtler, offering more flexibility in pairing with other hues.
In spaces where a dominant cool presence is desired, Snowbelt stands out. Cold Foam, however, acts as a bridge between cool and neutral tones, harmoniously blending with a variety of design elements.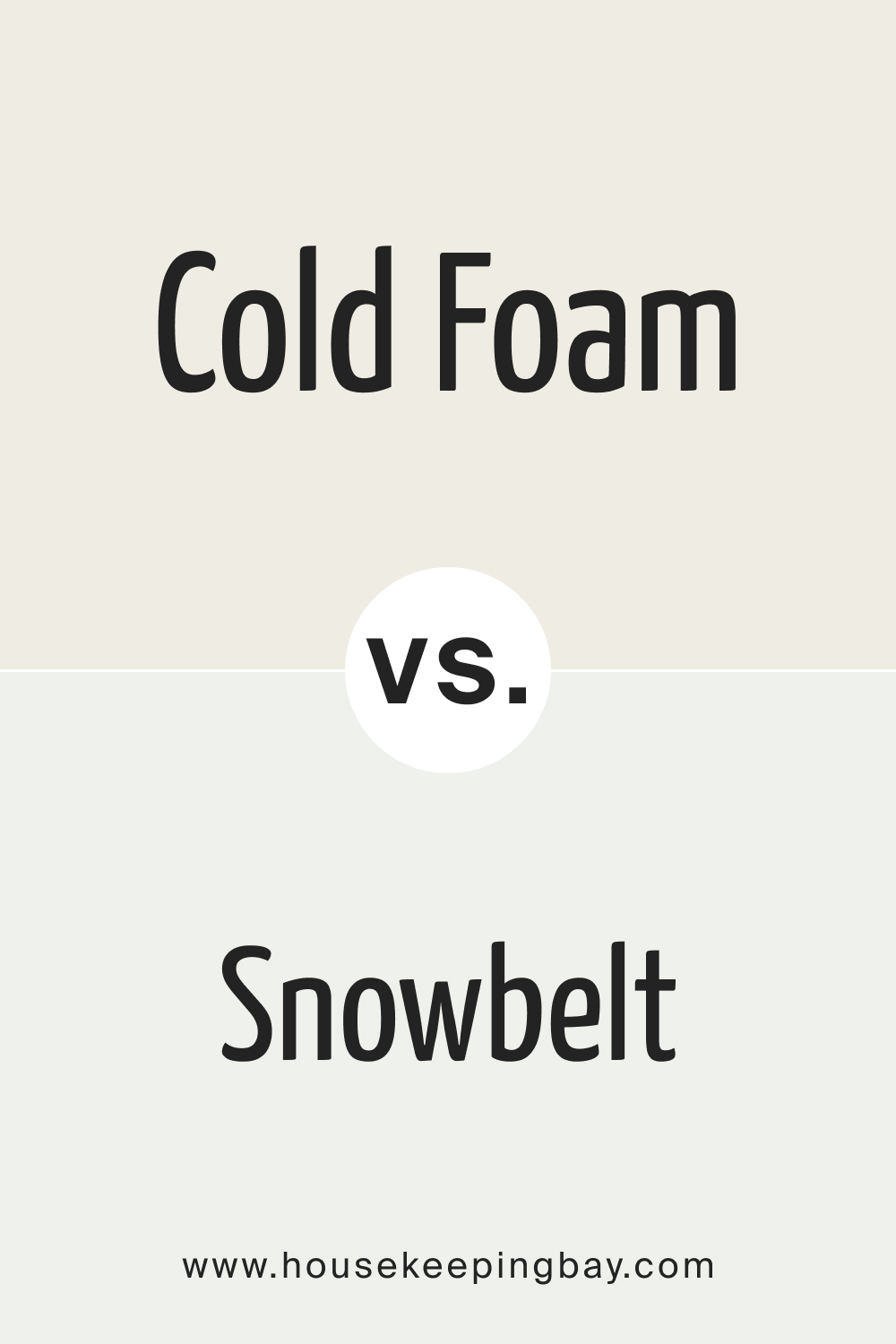 SW 9504 Cold Foam vs. SW 6511 Snowdrop
SW Snowdrop is a delicate, almost ethereal shade of white. Its softness is reminiscent of Cold Foam, but Snowdrop leans towards a warm undertone. This warmth brings an innate coziness reminiscent of early spring.
SW Cold Foam, in its coolness, provides a contemporary and open feel. The distinction between these two lies in the mood: Snowdrop is inviting and tender, while Cold Foam is modern and expansive.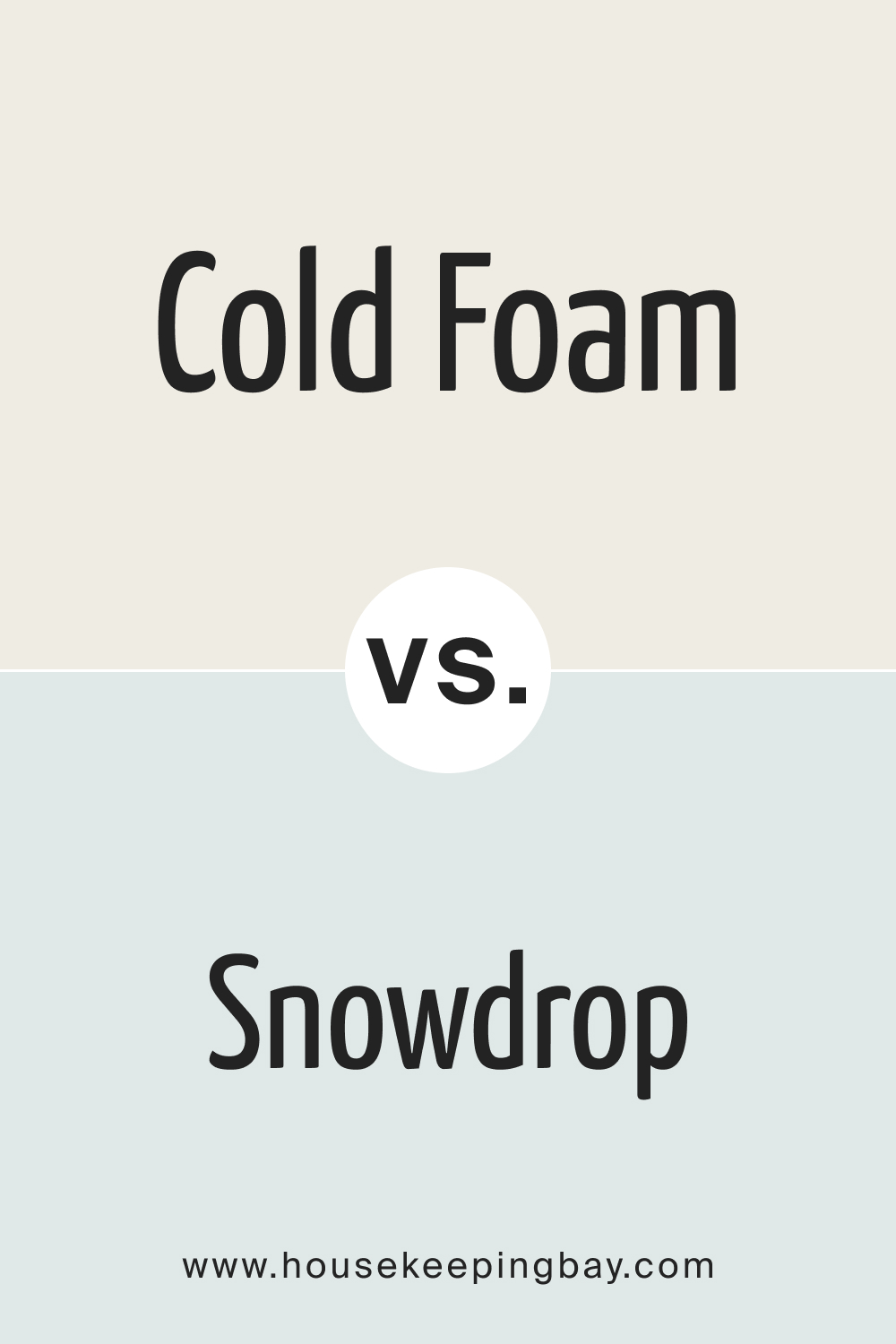 SW 9504 Cold Foam vs. SW 9541 White Snow
SW White Snow is a vibrant, clean white. Its purity stands in contrast to the nuanced subtleties of Cold Foam. Where White Snow serves as an unambiguous, refreshing backdrop, Cold Foam introduces an atmospheric quality to spaces.
Using SW White Snow can make spaces feel energetic and lively. In contrast, Cold Foam infuses tranquility, making rooms feel like peaceful sanctuaries.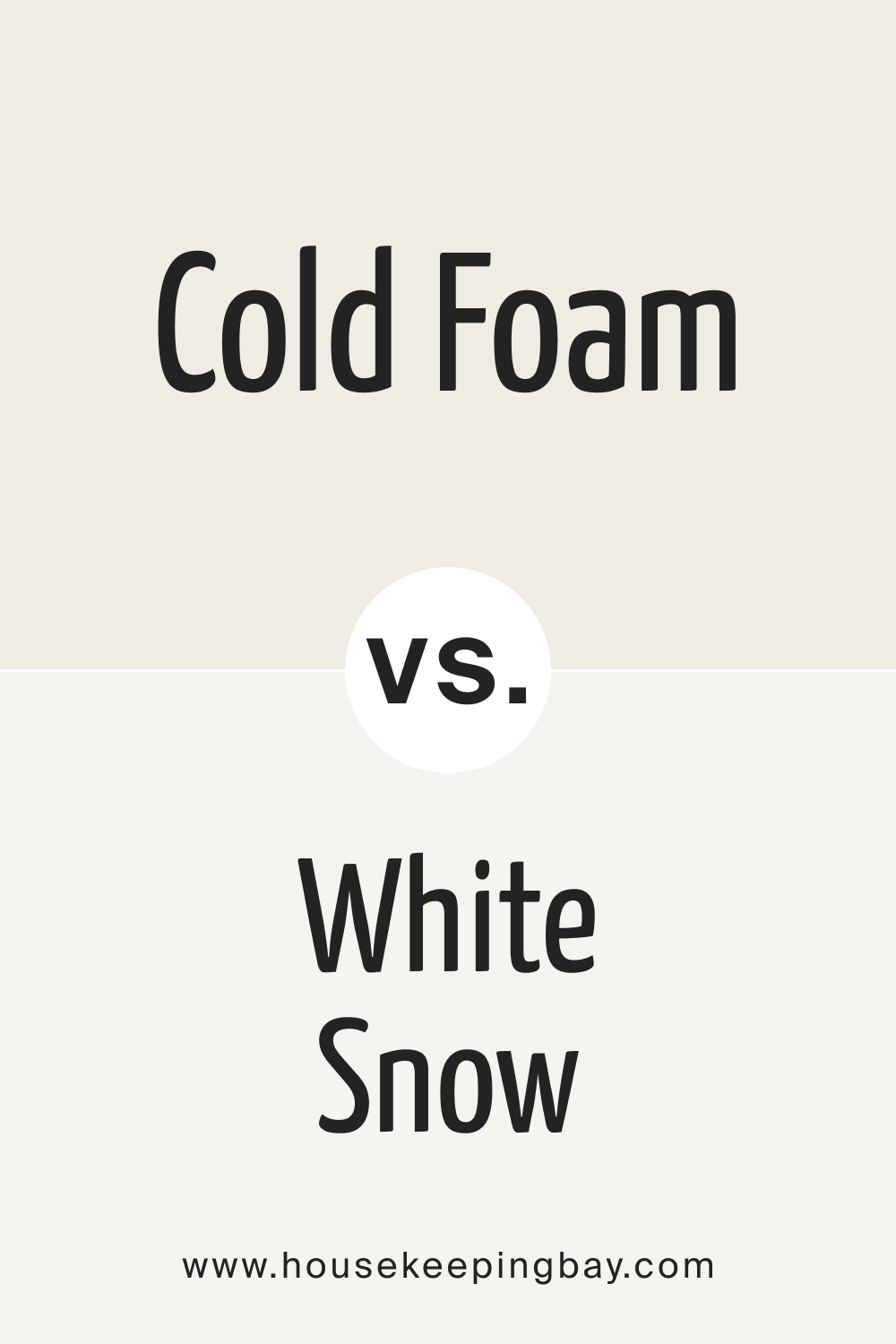 SW 9504 Cold Foam vs. SW 9543 Gypsum
SW Gypsum leans into beige undertones, introducing warmth and earthiness. When juxtaposed with Cold Foam, Gypsum feels more grounded and traditional. The beige hints in Gypsum make spaces feel cozy and intimate.
SW Cold Foam, with its cooler aura, provides a sense of openness and modernity. While both colors have their unique charm, the choice between them boils down to the desired ambiance: warm and homely with Gypsum or serene and contemporary with Cold Foam.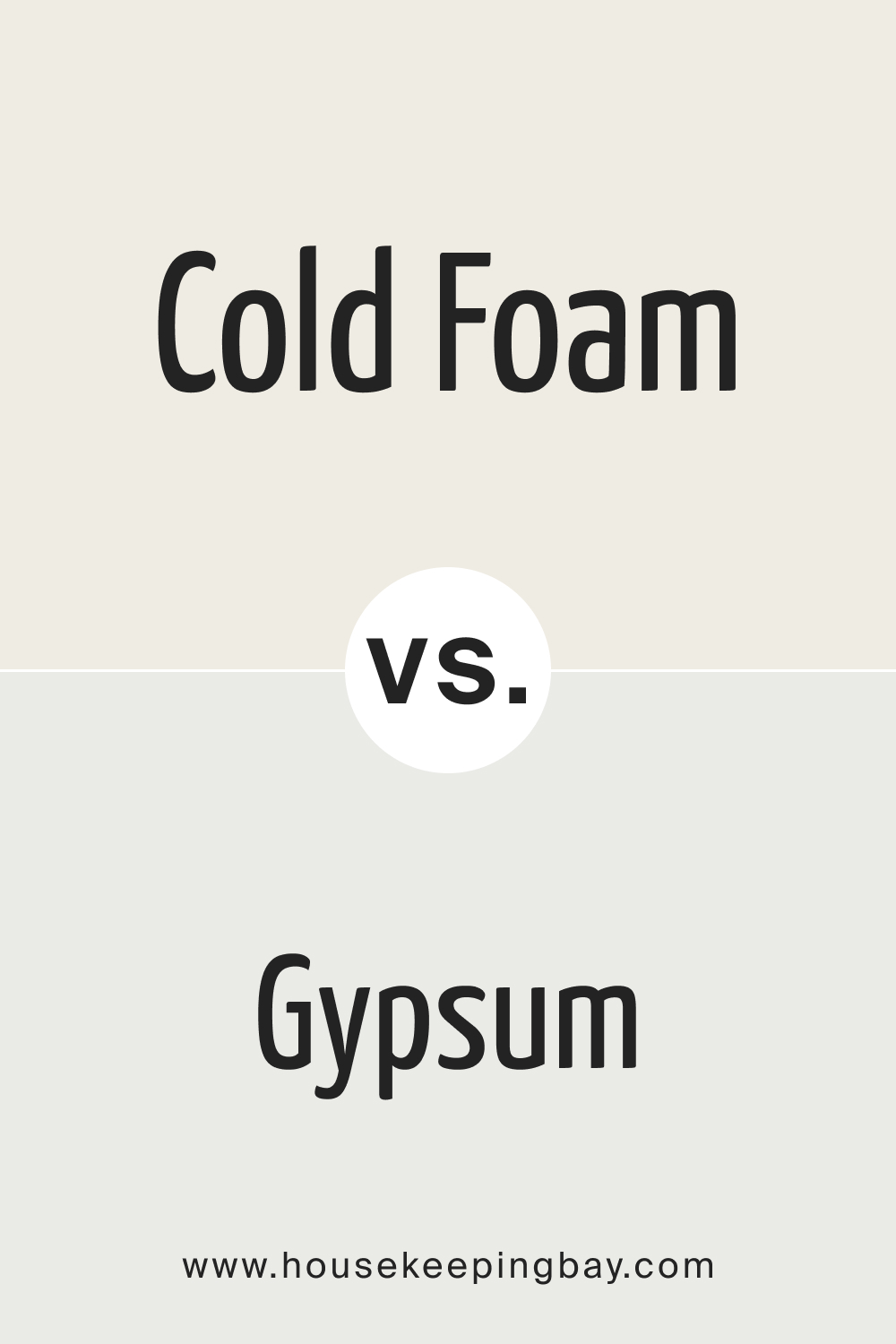 SW 9504 Cold Foam vs. SW 6000 Snowfall
SW Snowfall, as its name suggests, evokes the purity of freshly fallen snow. This shade has a balanced neutrality, neither too warm nor too cool. Next to Cold Foam, Snowfall feels neutral, with an innate brightness.
While SW Cold Foam adds a serene coolness to rooms, Snowfall illuminates spaces with its natural luminosity. It's a choice between atmospheric depth with Cold Foam and radiant neutrality with Snowfall.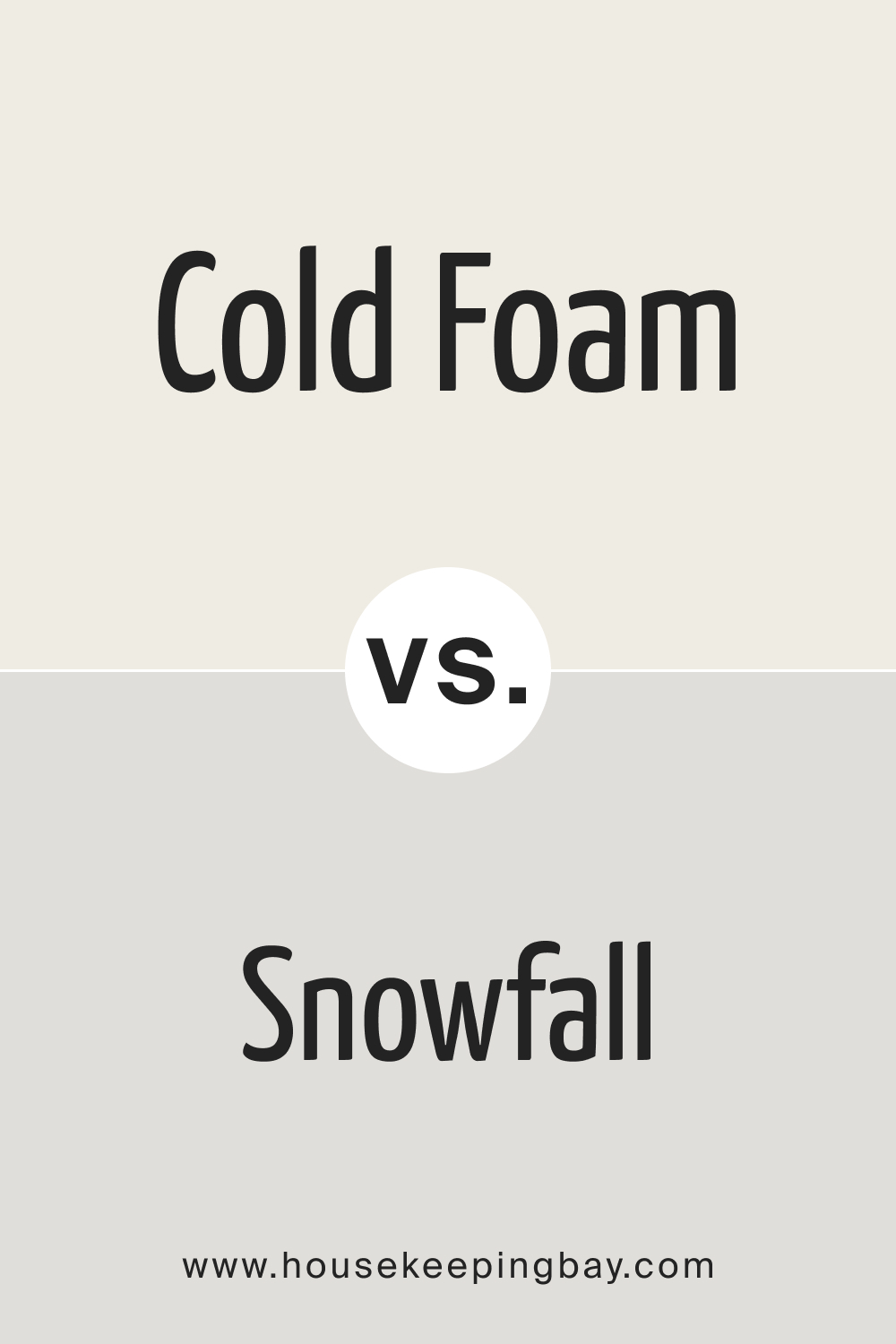 Conclusion
The world of whites and neutrals is vast, with each shade bringing a unique blend of undertones and moods. SW 9504 Cold Foam, with its distinctive cool undertones, offers spaces a calm and modern ambiance. By comparing it with other shades, we can truly appreciate its unique charm and versatility.
Whether you're designing a new space or renovating an old one, understanding these nuances can help in crafting the perfect environment.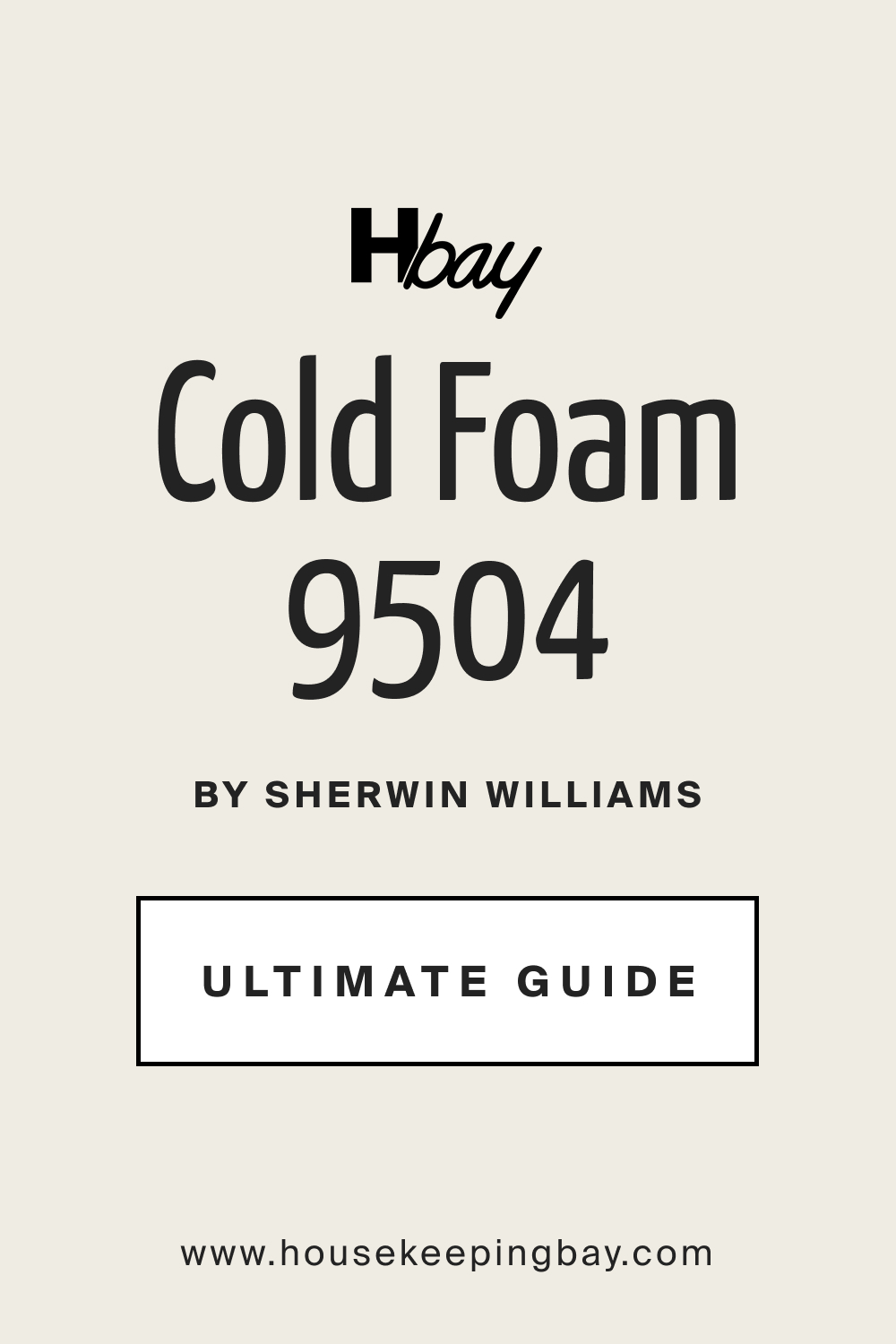 Frequently Asked Questions
⭐What kind of undertones does SW 9504 Cold Foam have?
SW 9504 Cold Foam carries cool undertones, giving it a serene and calming quality that's great for creating tranquil spaces.
⭐Is SW 9504 Cold Foam a good color for small rooms?
Absolutely! Its light value and airy quality can make small rooms appear larger and more open.
⭐How does SW 9504 Cold Foam compare to other whites?
Unlike some pure whites, Cold Foam has cool undertones, providing depth and a sense of serenity, making it unique in the spectrum of white shades.
⭐Can SW 9504 Cold Foam be used as exterior paint?
Yes, its versatility extends to exteriors, offering a modern yet timeless appeal, especially when paired with contrasting trims.
⭐How does lighting affect the appearance of SW 9504 Cold Foam?
Different light sources can bring out the cool undertones of Cold Foam more prominently. Natural daylight emphasizes its calmness, while warmer lights may slightly soften its cool quality.