Planning your design is always such a time-consuming process. However, fashion never sleeps, and some styles are extremely popular nowadays.
We are inspired by such festivals as the Coachella music fest, celebrity parties, and fashion shows to create something new in Boho style!
Boho or boho chic is a design for those who want their home to be filled with life, free spirit, and bold colors. Incorporating all the most relaxed and unusual tones, this space design option is perfect for creative personalities who are not alien to the free flight of fantasy.
Only here can you see a unique combination of oriental and French vibes or a luxurious antique mirror next to a colorful homespun rug.
Overall, this design is made to fully represent the inner world of the inhabitants of the house and create a glamorous atmosphere for creativity.
However, Boho color palette includes millions of combinations that will work together perfectly and inspire absolutely different eras.
What is so cool about boho style is that you can design any room in this direction.
In this article, we will cover three blocks: boho by era inspiration, boho by color, and boho in a specific room design. Keep reading to find out everything you need to have a perfect Boho color palette in your design!
70's Boho Color Palette
The fashion world has been looking back at the bohemian style of the 70s for years.
Popular clothing brands collect collections from the attributes of this era.
The interior design isn't far behind either.
The relaxed boho style is no longer a rarity in modern design. Still, interior designers see even more potential in it and, at the same time, room for creativity.
Boho exists not only at the expense of the 70s of the last century.
This interior mixes eras and styles, harmoniously uniting in bizarre eclectic compositions. A riot of colors and ornaments, vintage and folk art live here.
The manifestation of boho in the interior is very diverse. But, like any style, it has its characteristics.
So, specifically, the 70's Boho color palette is known for its quite unusual and, from first sight, impossible-to-mix colors.
The most common of them are violet, blue, red, and green shades.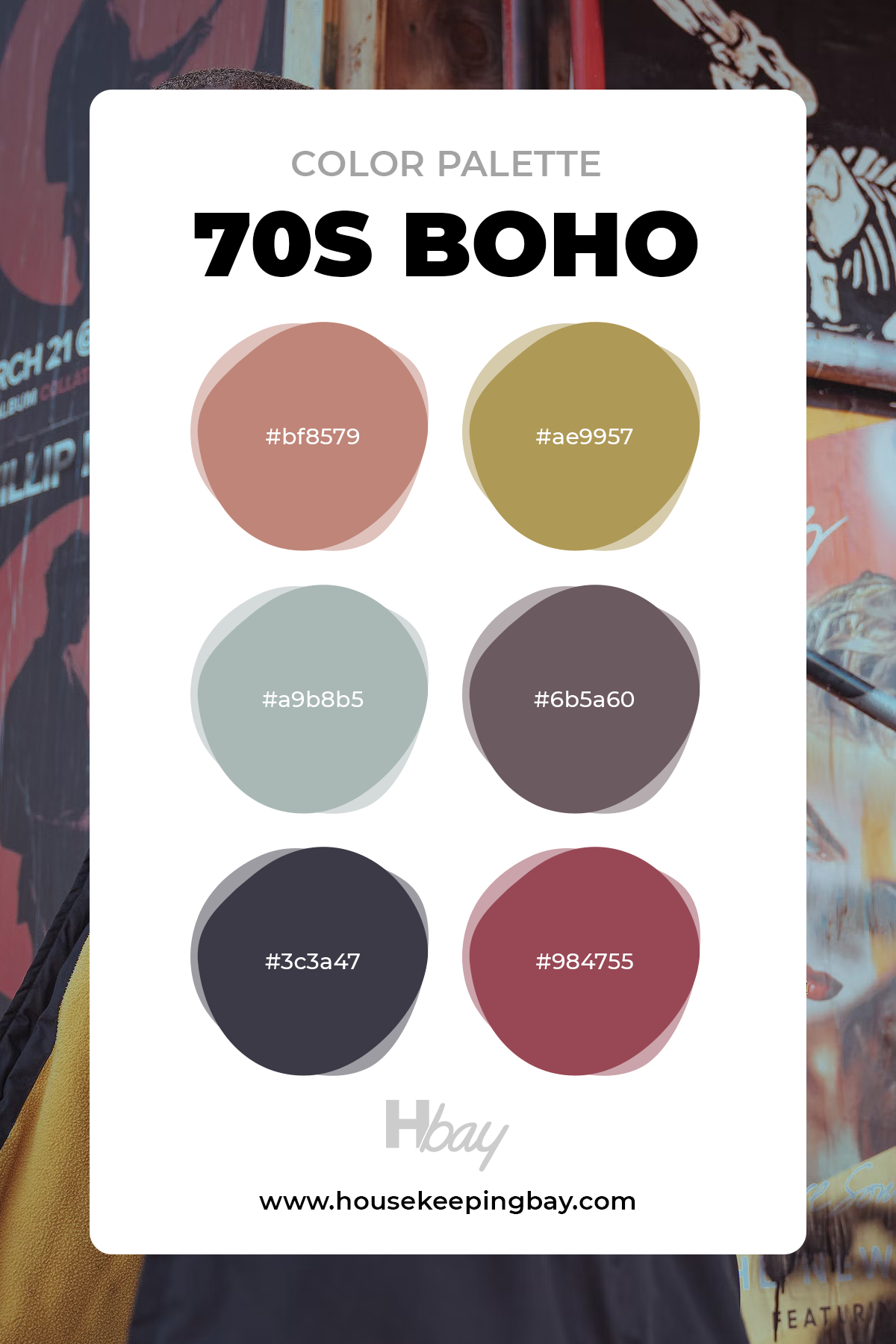 Boho Chic Color Palette
Boho style is formed not only by decoration but also by accessories. Aristotle argued that nature does not tolerate emptiness.
Be Unique! Small, simple but eye-catching Boho pins that look great on anything else you would like to decorate! 
Create your own Boho customized pins based on your favorite Boho art. The great decoration to form your Boho style.
Similarly, the boho style in the interior does not tolerate space.
There are many objects in the boho interior.
Their arrangement in the room may seem messy, but the mess is not boho-chic.
The line is sometimes thin but always clear. If staying in a cluttered room is fraught with psychological discomfort, then a boho space is conducive to creativity and relaxation.
Bohemian comfort is largely due to textiles. Here and there, assorted pillows, scarves, and patchwork bedspreads are scattered in a creative mess, carpets and mats cover the floor, tablecloths and napkins are on the tables, windows, and doorways are decorated with curtains.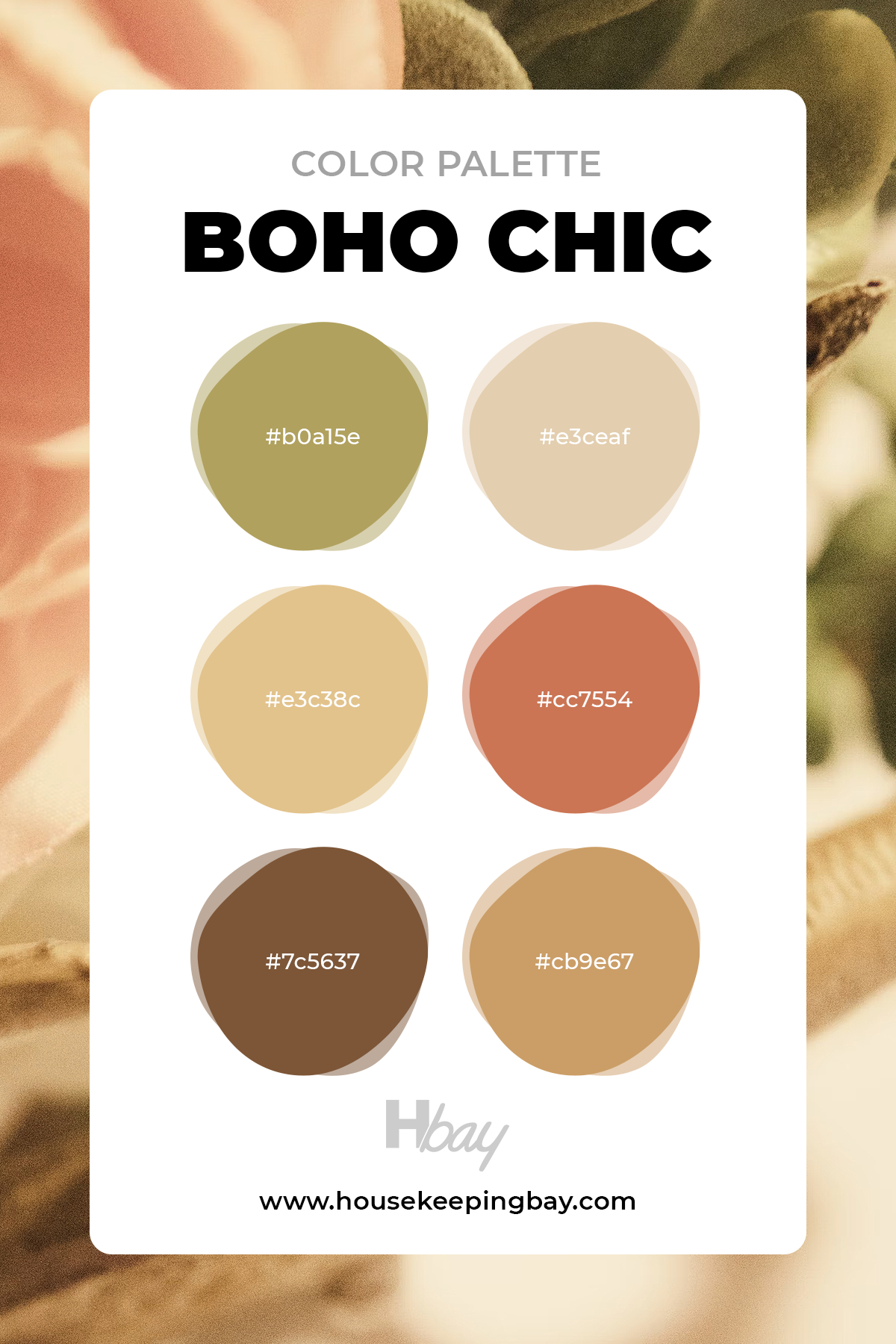 Perhaps the most sophisticated and planned in the variety of boho is boho chic. The style does not involve worn vintage chairs and antique decor: only high-quality decor and furniture items, precious metals, expensive fabrics, and luxurious accessories.
The color palette is bright, but the shades are softer, and the transitions are smoother than the classic version. All items are carefully selected and combined with each other.
That is why the Boho Chic color palette includes most colors which could be similar to each other such as beige, sandy, brown, and in contrast, to make those accessories pop, you could use such bright colors as green and orange.
How to Decorate Boho
Boho Vintage Color Palette
Boho is an interior that tells stories. Sewing machines, suitcases, and chests that you inherited from your grandmothers will come in handy.
Time-worn furniture, the piano that your great-grandmother played, your uncle's old radio, porcelain figurines from the past – all these things will breathe soul into the boho interior, making it original and unique.
Not everyone and not always has the opportunity to assemble an interior from objects "with history".
In this case, deliberately aged textures and vintage-style furniture will come to the rescue – finding such products in the mass market today is not difficult.
A worthy company for vintage in the interior will be made by hand-made decor.
Dreamcatchers, crocheted napkins, macrame, patchwork pillows, patchwork quilts, rag dolls – all your hand-made items will find their place in a bohemian interior.
In order to place hand-made products in a boho space, it is not at all necessary to be a master of all trades – drawings and crafts of your children will perfectly fit into the interior.
Boho Vintage style color palette includes shades of gray, beige, light blue, and amber orange.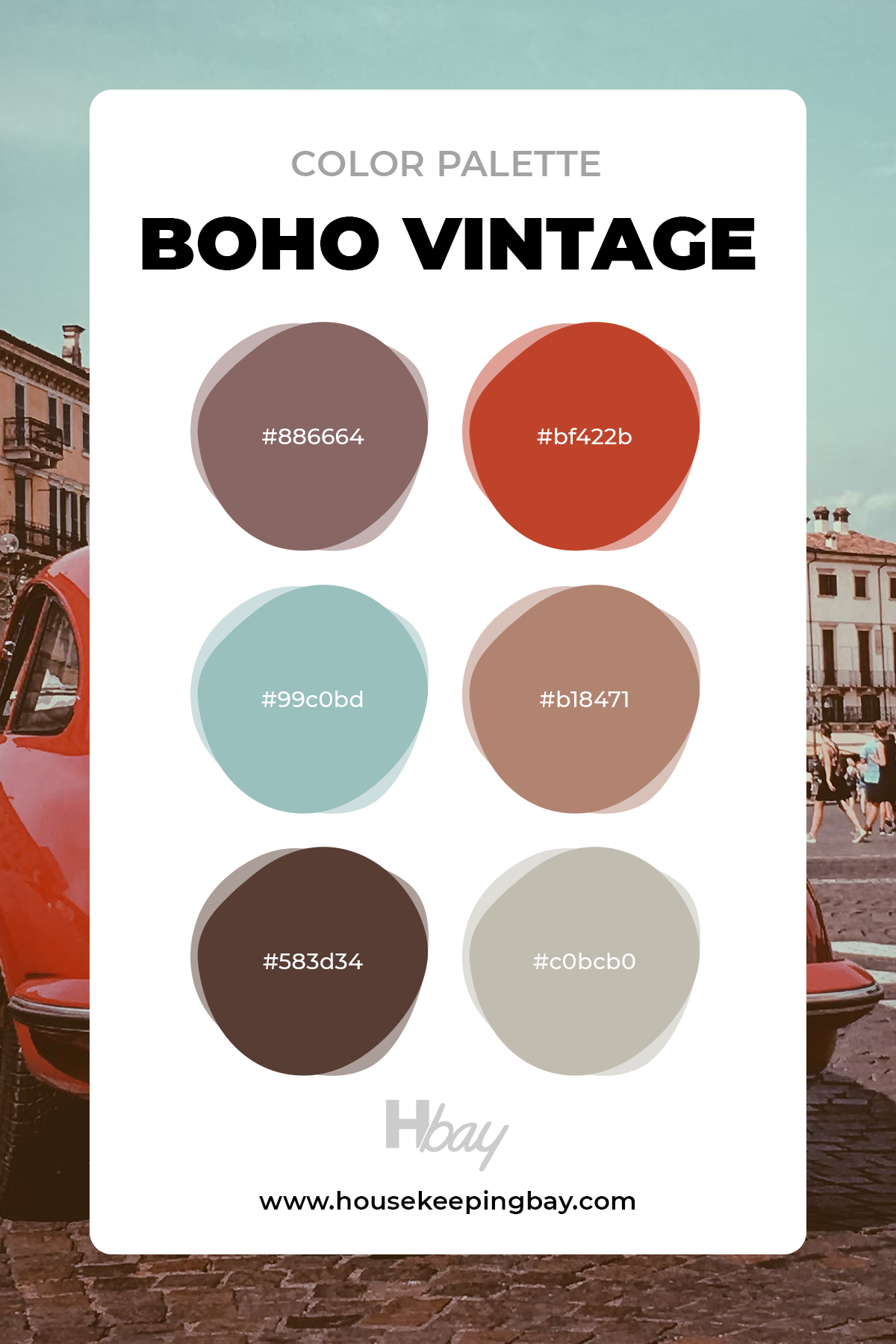 Boho Retro Color Palette
Seashells from the beach, crystal threads, and, of course, retro posters.
Ceramic figurines or wooden figurines. Pictures painted by street artists. Oriental lanterns. Caskets and many other trinkets will only complete the interior.
You can hang bunches of bulbs and dry flowers under the ceiling of any room.
The main thing for retro boho is not to be afraid to experiment with rich colors and original patterns, incongruous materials, shapes, and textures.
A boho retro room necessarily reflects the owner's inner world, its uniqueness, and refined taste!
That is why the Boho Retro color palette is so random but unique. It includes shades of blue, gray, amber, orange, and gold.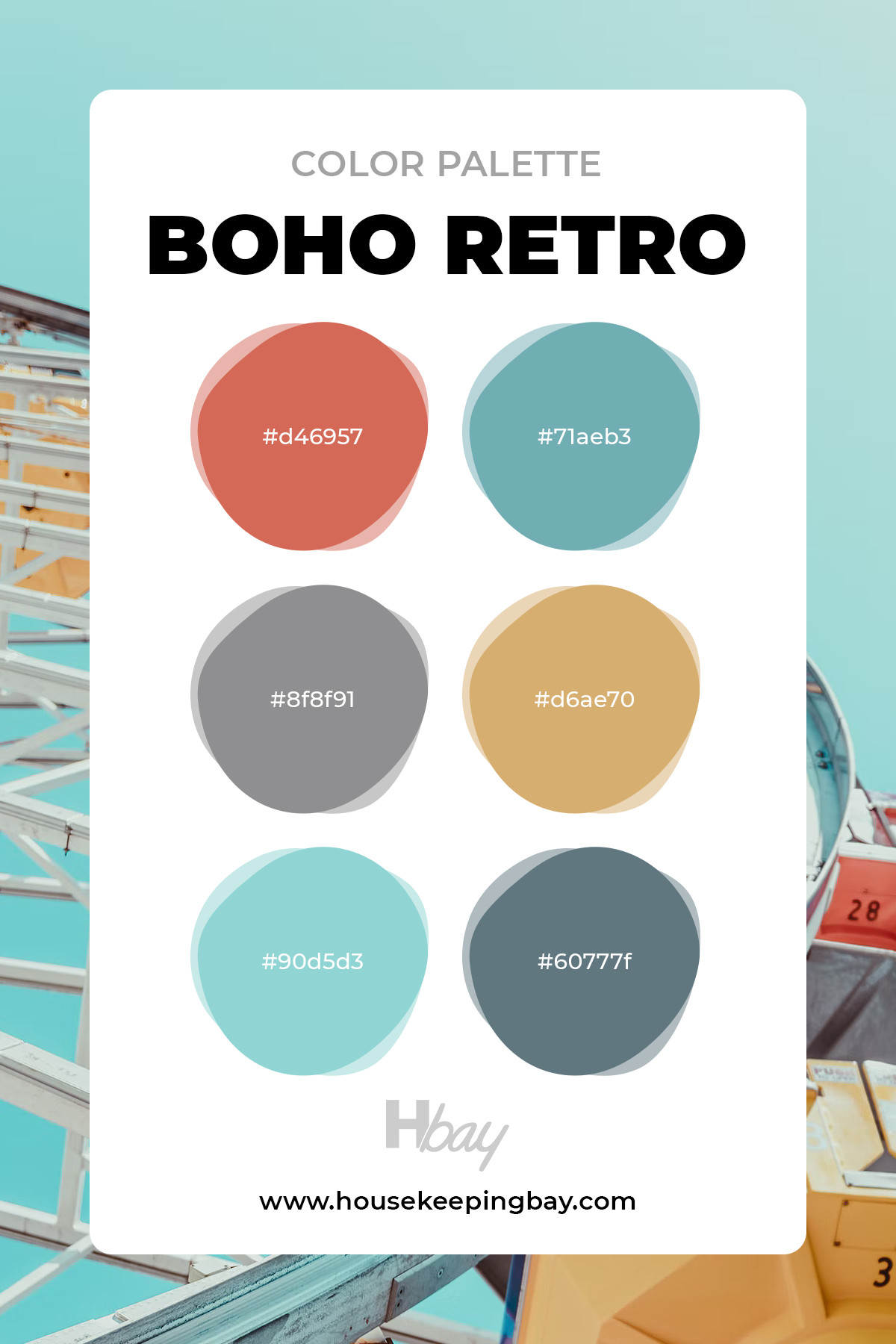 Boho Bedroom Color Palette
The bedroom in this style is exceptionally comfortable and a place for creativity.
A bed is optional (you can even get by with just a mattress), but if you choose one, then get spacious bedding sets and a large colorful blanket.
The lines of bedspreads and curtains falling to the floor seem to be created in order to create an atmosphere of ease and relaxation, making every day a day off.
When decorating, use natural materials and do not forget about the original decor: pillows, souvenirs, and woven rugs.
The more ornaments you can collect, the better the idea will be conveyed.
Interestingly, Boho Bedroom doesn't include too much of bright colors.
Most of them are rather serene and light, such as beige, sandy, camel, light gray, creme.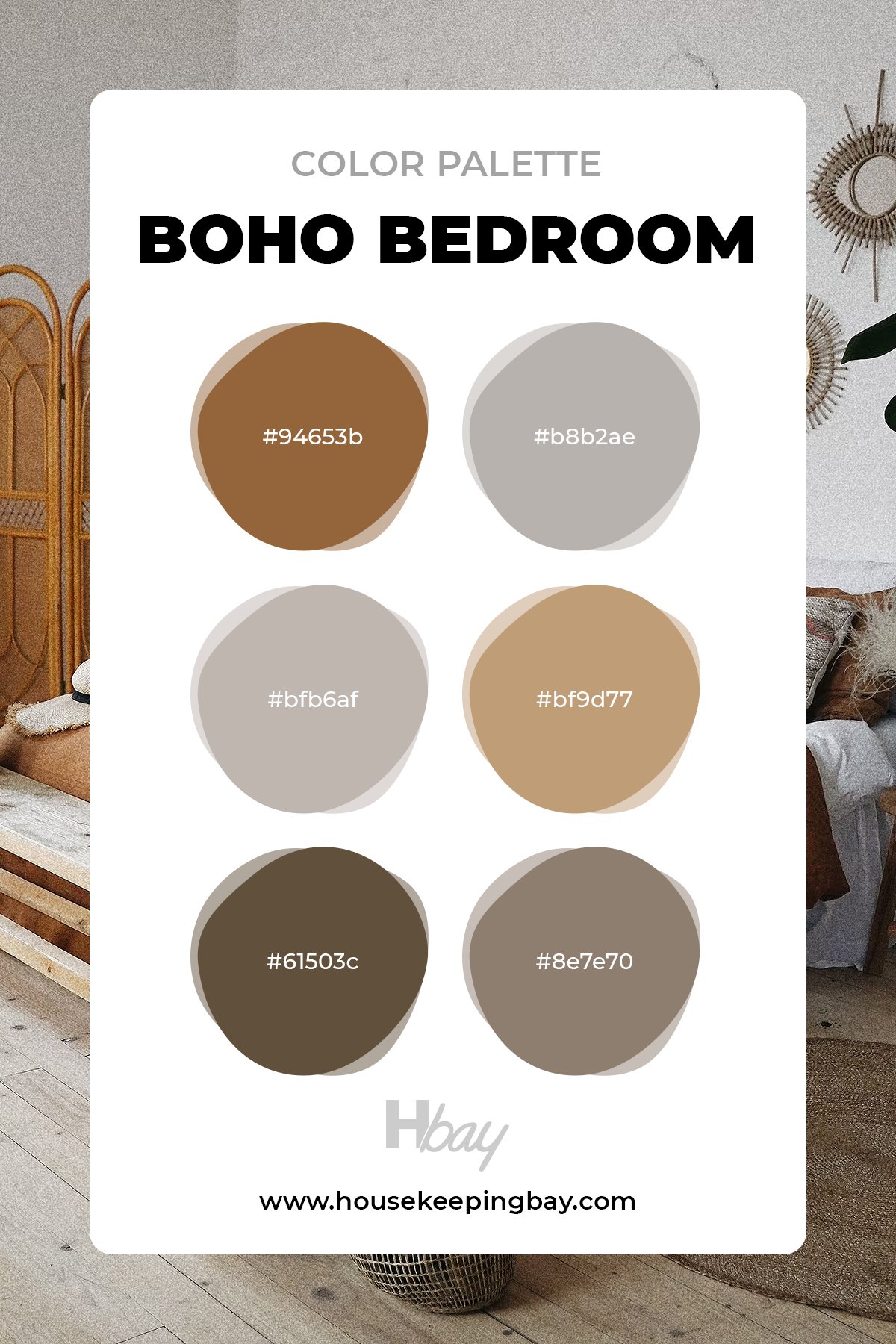 Boho Farmhouse Color Palette
Not all households may like the boho style in the exterior or interior of the house, so it is worth discussing with family members before deciding to furnish the whole house in this way, especially when it comes to your little farmhouse.
If there is no single solution and the whole bohemian-style house does not take place, then you can stop at the living room, dining room, or bedroom.
And so that the interior does not fall apart, the space can be combined with common style elements – for example, colors, decor, bright accents, plants.
The farmhouse is usually that one cozy place that you would visit in the summer to see your grandma or clear your mind from the megapolis rush.
Obviously, it is understandable why it should be relaxing and pleasurable in the first place.
However, with boho style, your farmhouse will be not just simple and boring but still glam and soft.
Boho Farmhouse color palette is a variety of beige, camel, dark brown, peachy, violet, and sea blue.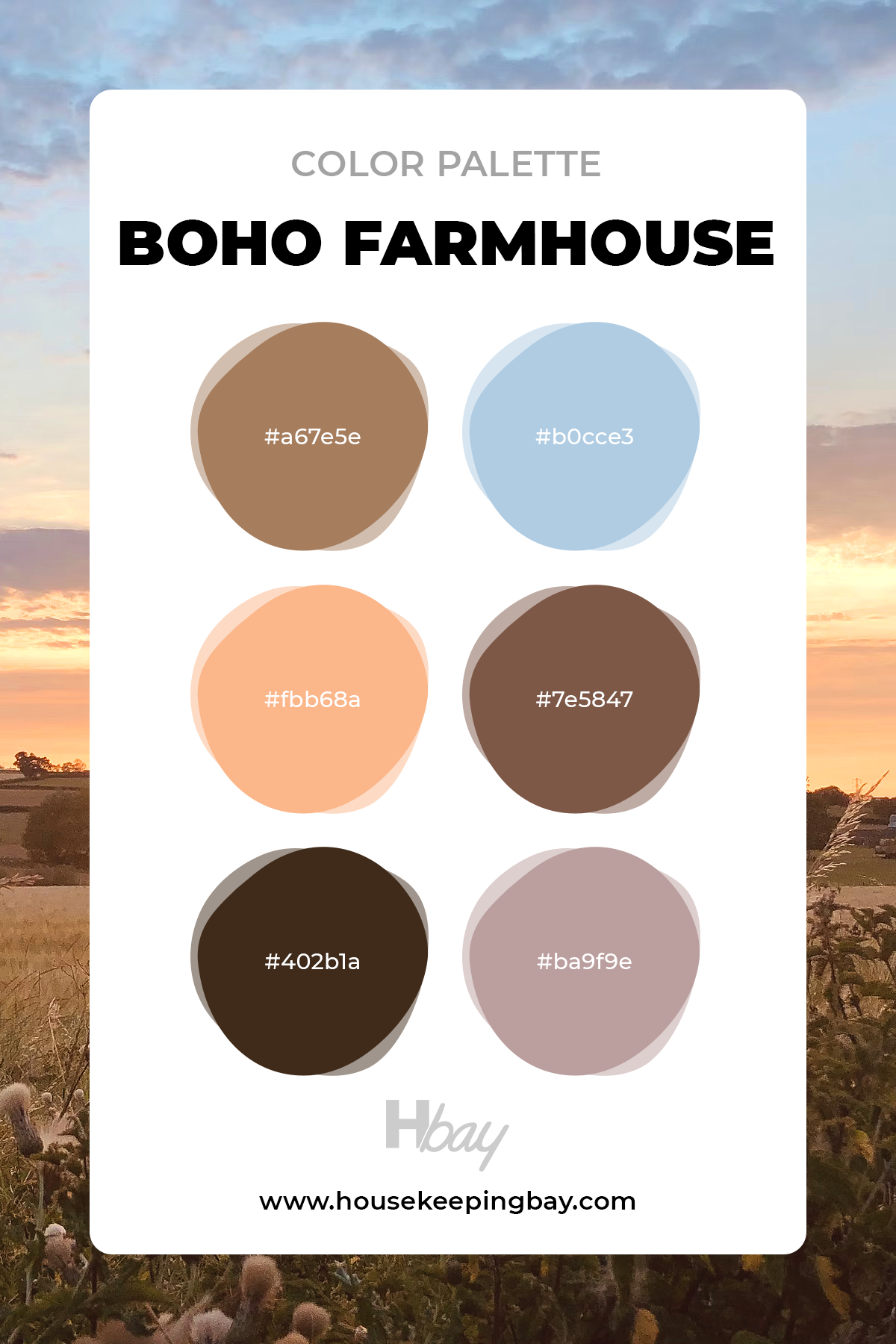 Boho Kitchen Color Palette
Have you always dreamed of a colorful set of kitchen utensils or pink curtains?
The kitchen in boho style is a place where colors can be combined. You can safely make a color accent on the countertop or kitchen cabinets.
In the kitchen, let's allow chaos in the form of jars located in plain sight, conservation, multi-colored kitchen utensils, and dried herbs.
Plants in pots, as well as fresh herbs in flowerpots, will help to decorate the kitchen.
The most common colors in Boho Kitchen usually are celery green, dark brown, rust orange, charcoal gray, sandy and beige.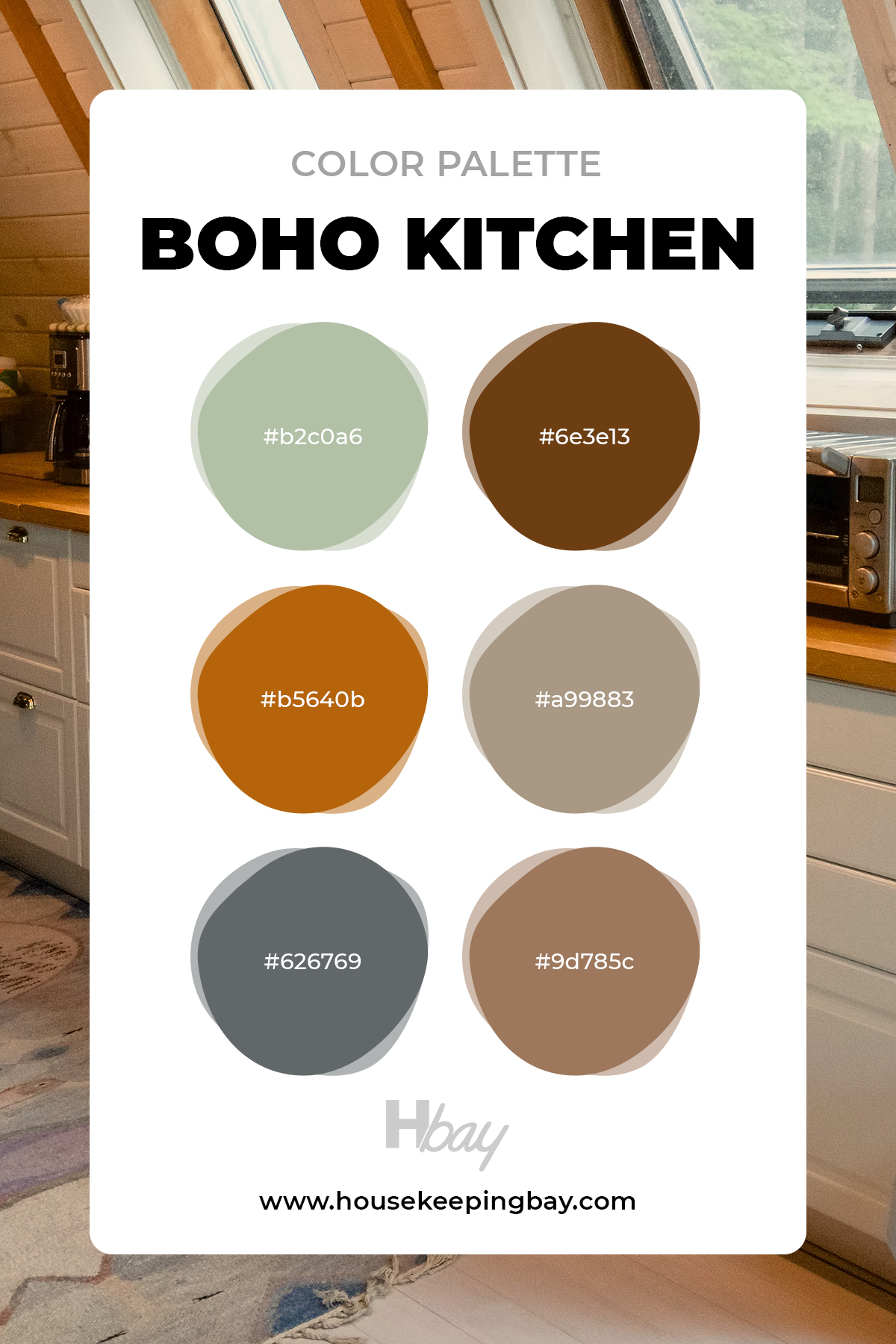 Boho Home Color Palette
Before you start applying the boho style in the interior of the house, you can prepare it: plaster the walls in relief, paint in the main color of the interior, or stick wallpaper with a bright print.
You can focus on one of the walls and apply patterns to it with a stencil.
Wallpaper can be glued even on the ceiling.
If the walls are brick – emphasize them, do not close them. Also, do not hide "communications" – pipes, beams, batteries.
For the floor, it is better to choose natural materials – boards, parquet, tiles, you can have a rough finish, aged.
For home decor in the boho style, various stained glass windows and mosaics are great. Interestingly, the most popular colors for the Boho
Home are such shades as light blue, cobalt, gray, bone, chartreuse, and copper.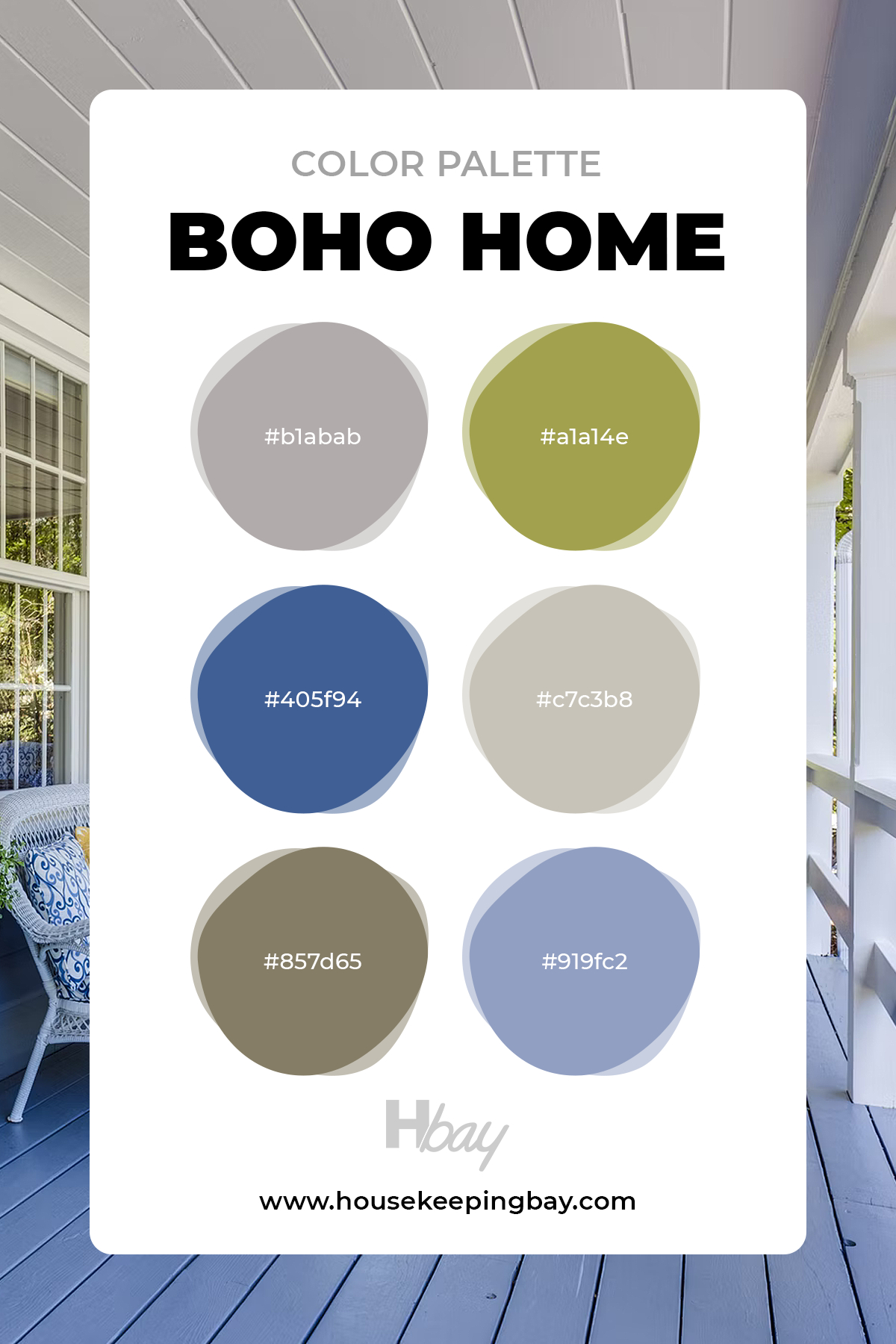 Boho design by color
However, even when you have decided that your flat, farmhouse, or just a kitchen will be designed in any variation of boho style, you don't have to mix random colors with different undertones.
You can actually get a perfect monochrome design even in boho style!
Boho Emerald Color Palette
Having a little house near the ocean or in a seaside area would be quite inspiring to design its interior in boho emerald colors.
Here is a list of shades that will look perfect mixed:
light blue;
olive;
hunter;
emerald;
blue-green;
teal.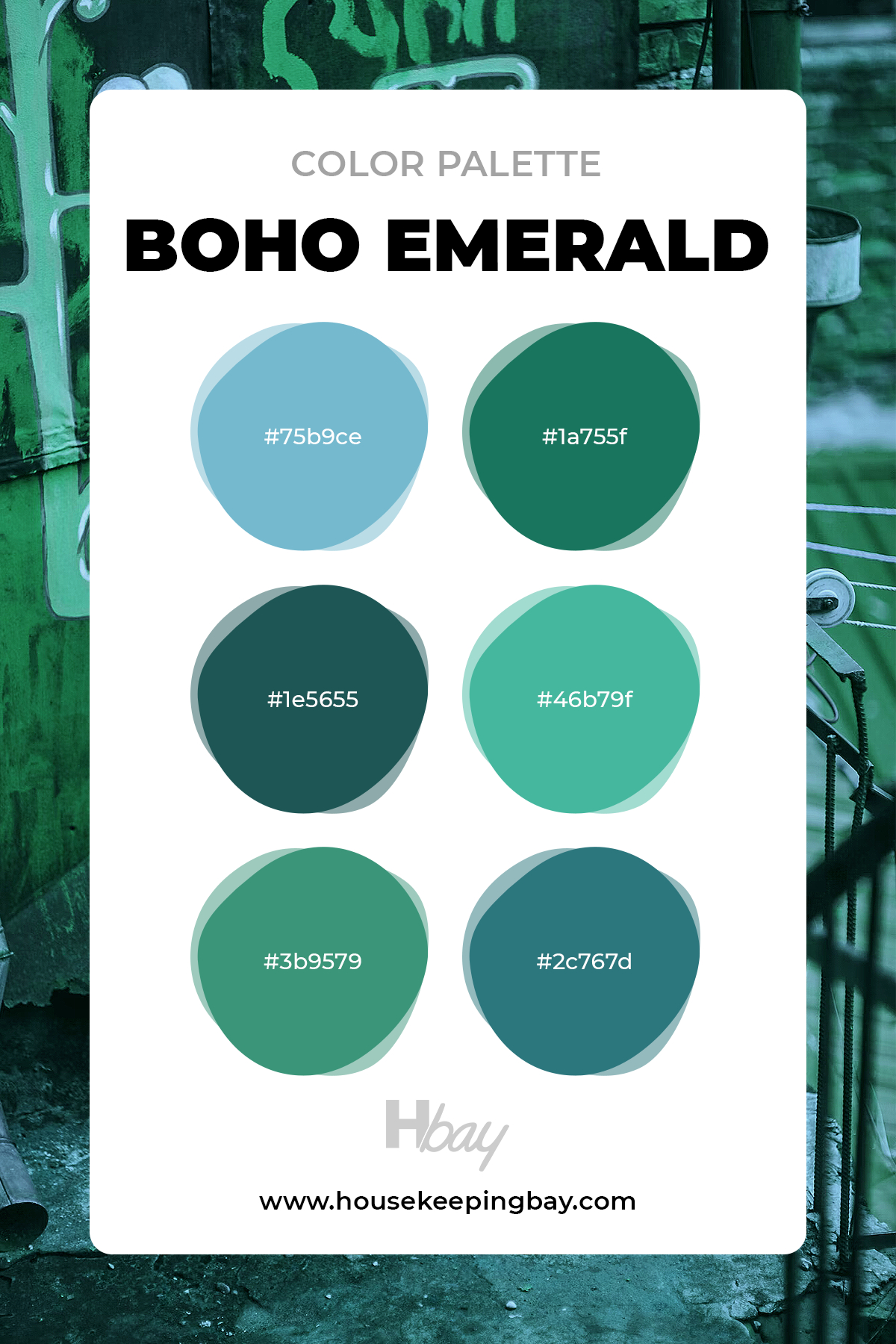 Boho Neutrals Color Palette
Boho Neutrals is quite warm and calming color variation. It will work perfectly for those who don't want to have too many bright colors.
Because of the decor and additional accessories, the interior in neutral colors will not look too simple or minimalistic and will stick to Boho style! Such Boho Neutrals are:
brown;
camel;
beige;
bone;
bronze;
dark brown.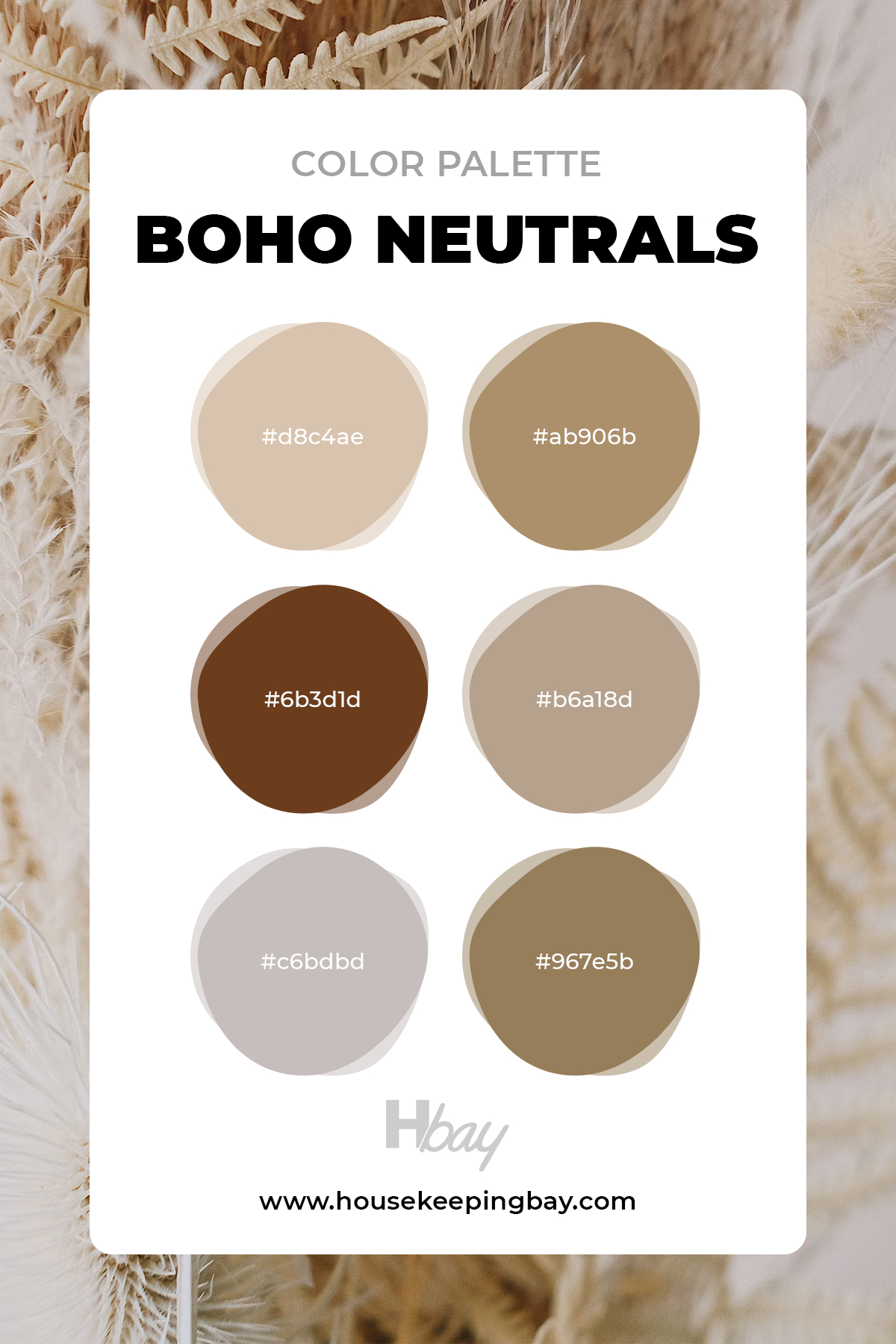 Boho Rainbow Color Palette
On the other hand, if you are a fan of a really bright and unique mix of absolutely polar and opposite colors, then the Boho Rainbow mix is definitely for you!
Inspired by mother nature and classic boho, rainbow boho does include:
red;
yellow
blue;
pink;
green;
cobalt.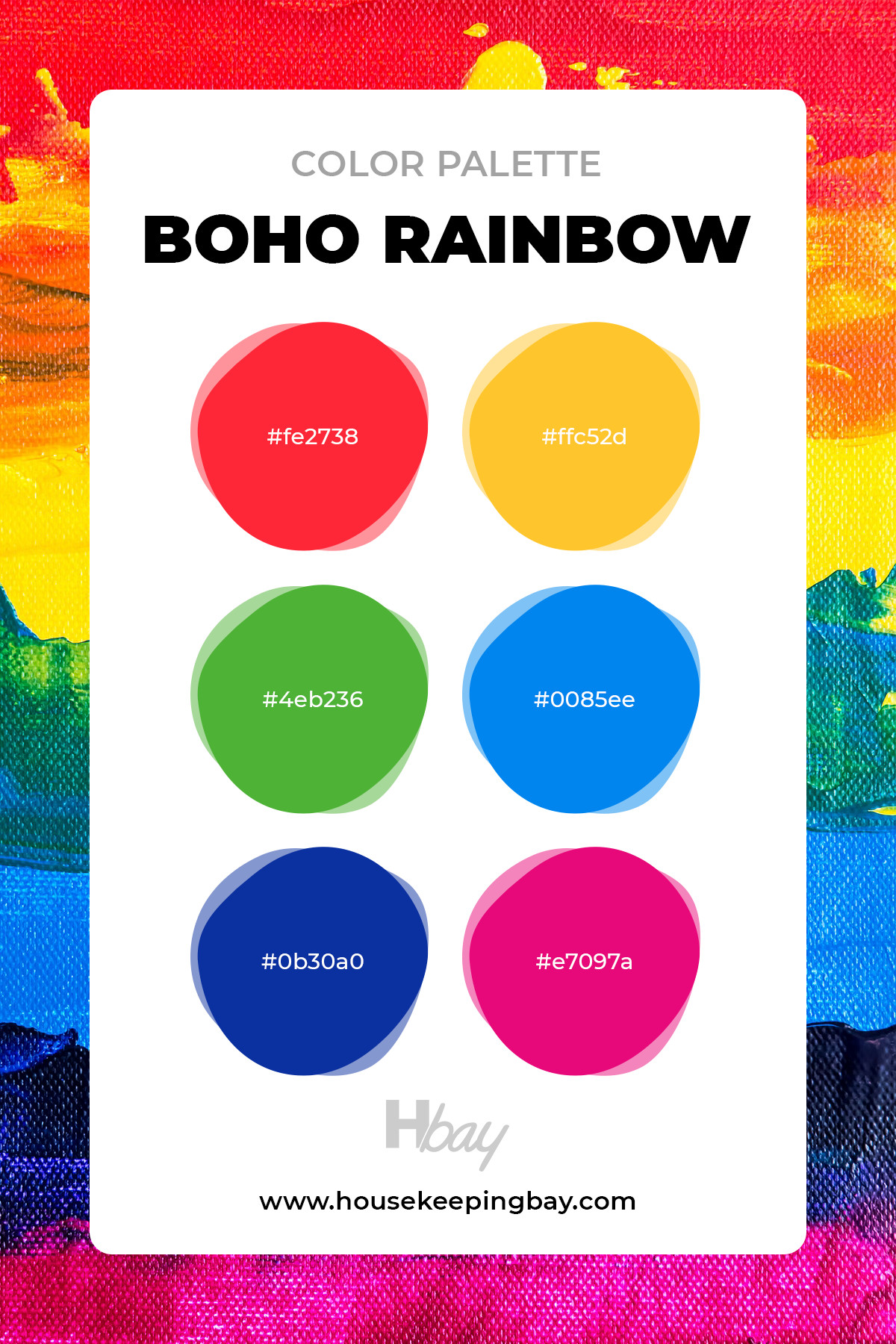 Boho Terracotta Color Palette
Those who can't wait to express their passionate personality in the interior or exterior design really adore the boho terracotta color palette.
It is a mix of high fashion, fire, and bright sunsets.
It is fair to say that only bright and expressive people would make a choice for Boho terracotta shades:
amber orange;
rust;
copper;
peachy;
mauve;
orange.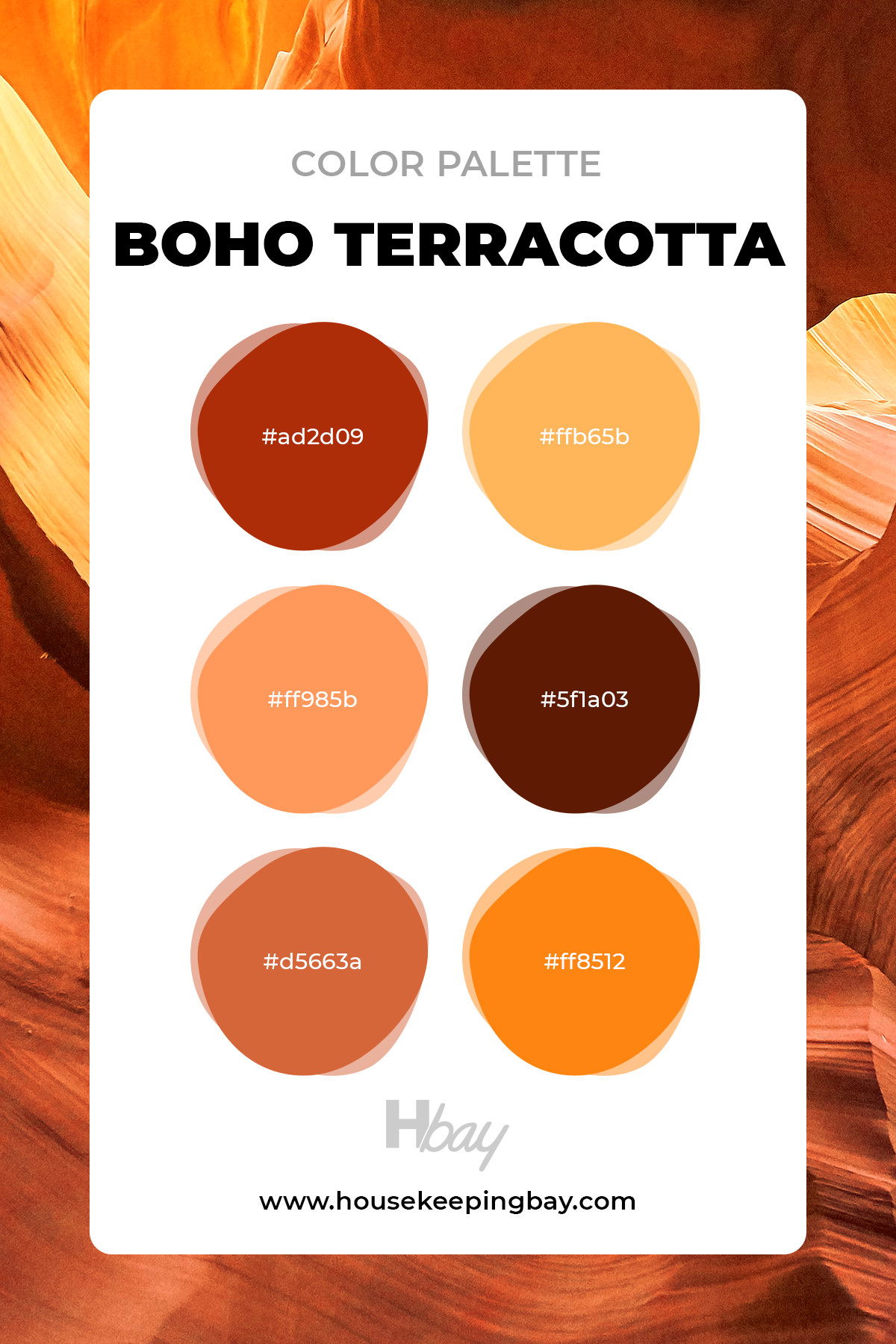 Boho Yellow Color Palette
When it comes to yellow undertones and shades, we could really imagine a sweet kid's bedroom in such colors.
The Boho Yellow direction is actually so cute and feels like the sun is always shining in this room.
Those colors are:
must;
copper;
yellow;
mustard;
banana;
light brown.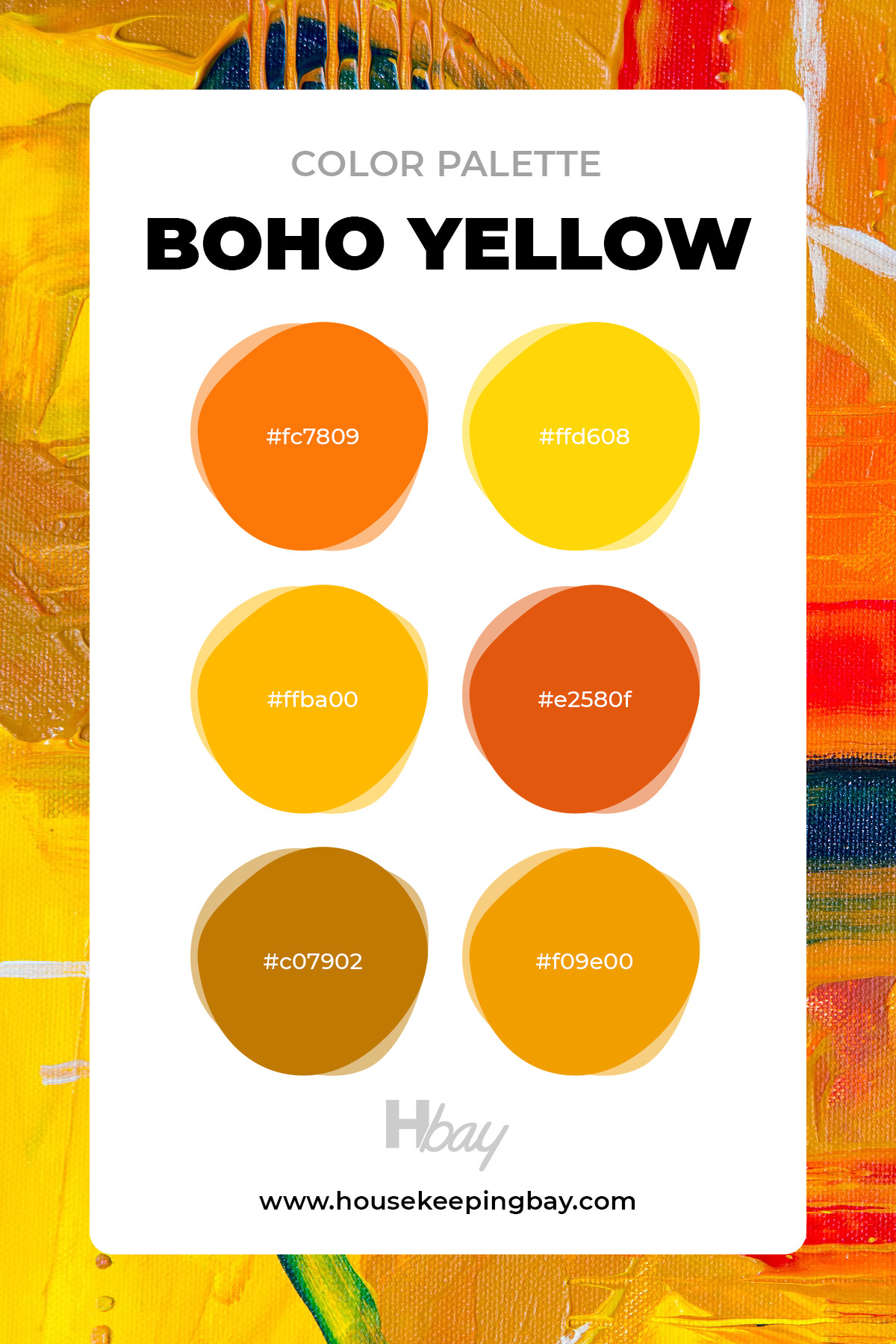 Bright Boho Color Palette
Finally, there is this one mixture that allows you to put literally anything you want in your design and not be called weird or crazy because you can always answer that this is Bright Boho!
So, if you're not sure what exactly you want, but your soul wants to live in a fantasy world full of positivity and creativity, then you should go with a Bright Boho color palette:
fuchsia;
yellow;
orange;
plum;
cobalt;
green.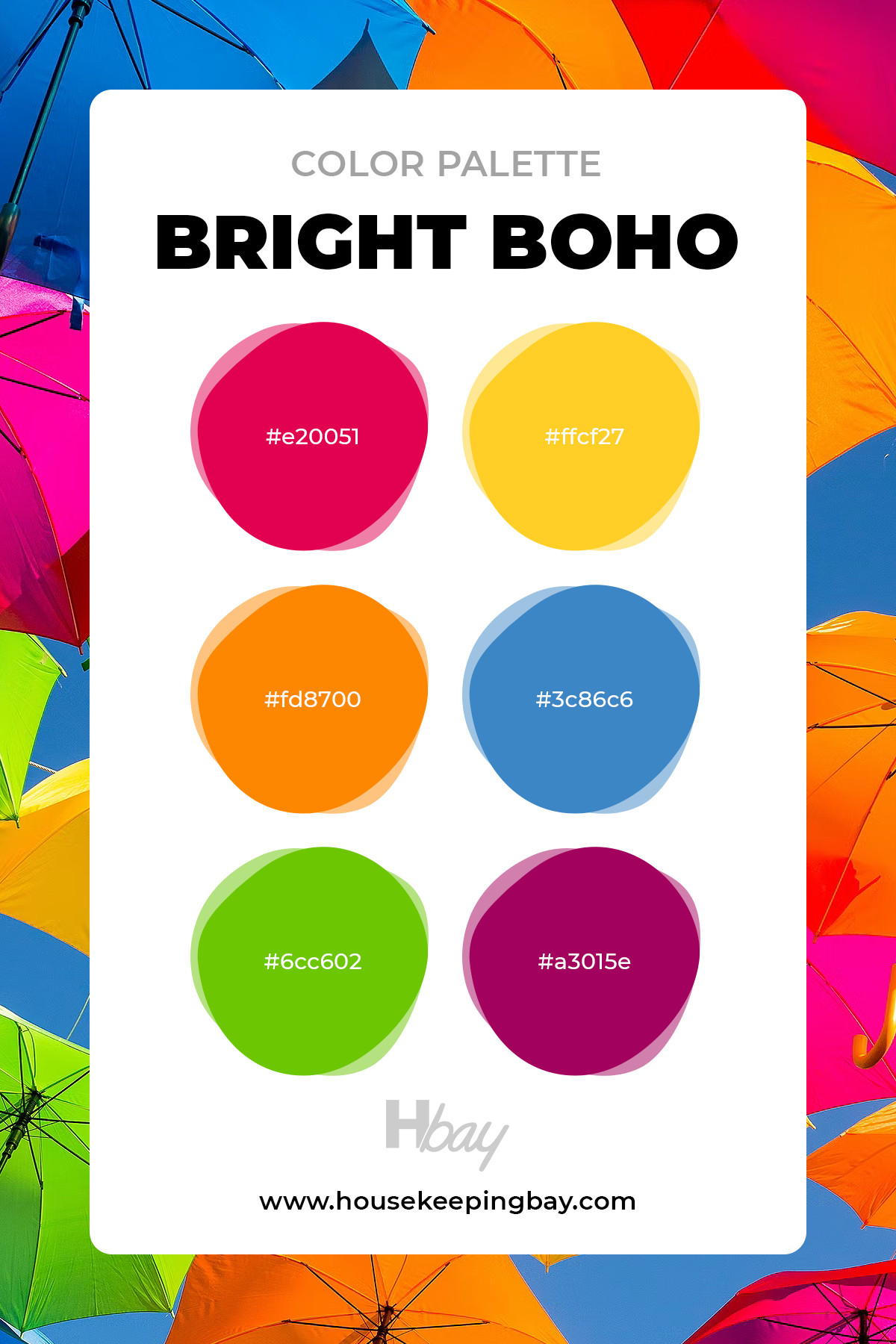 Related: 12+ Ideas For Your Living Room Color Palette
Desert Boho Color Palette
If any of the previous variations seemed to be too much for you, then there is a perfect option to choose boho in calm and warm monochrome.
The mix of such colors is called Desert Boho and consists of:
dark brown;
camel;
charcoal;
beige;
bone;
bronze.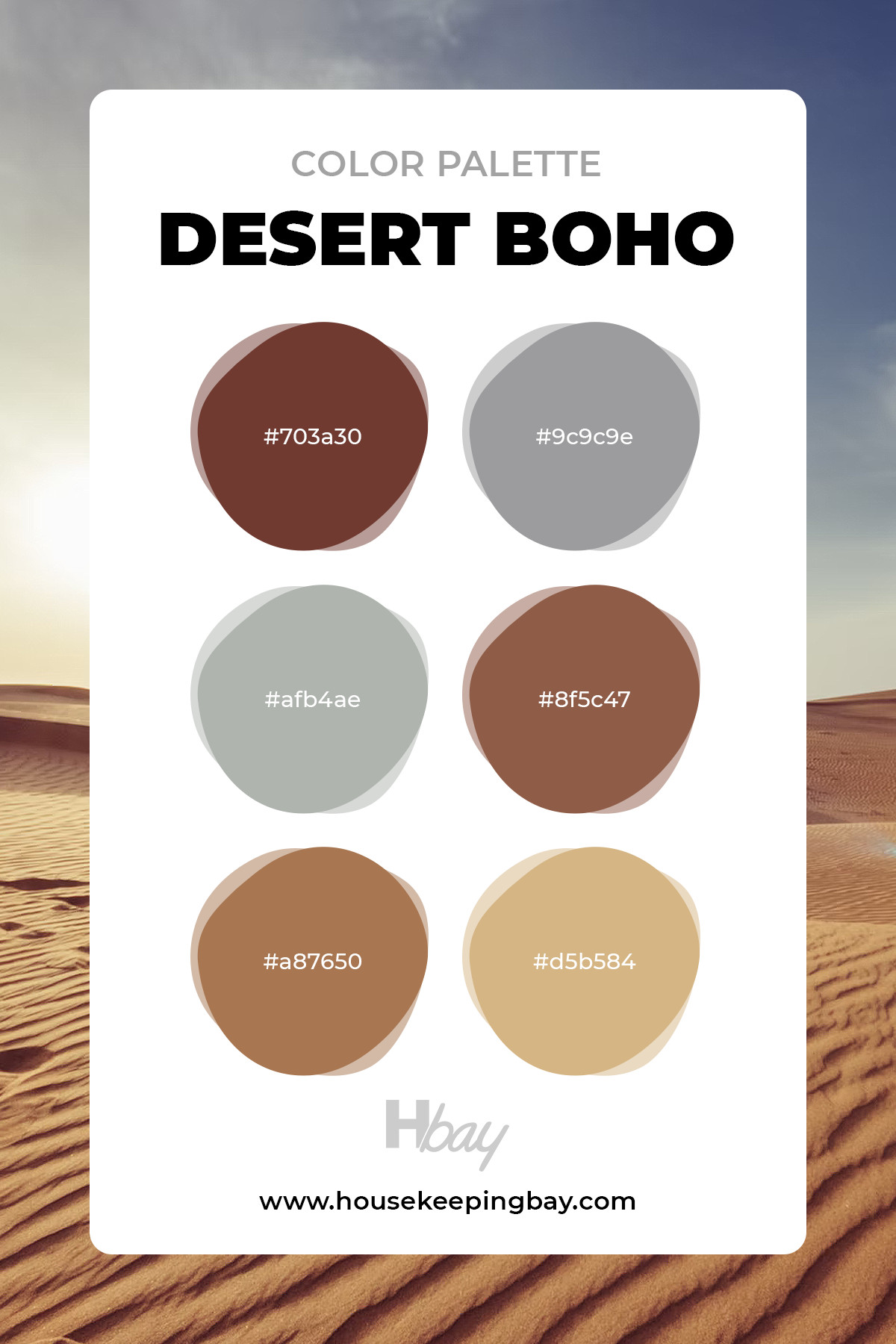 Related: 65+ Benjamin Moore Exterior Paint Colors
Earthy Boho Color Palette
Mother nature was so generous to gift us with so many truly beautiful colors which will be pleasant for each soul and personality.
Thanks to that, the boho style has a special direction which is called Earthy Boho and includes such calm and serene shades of brown and gray as:
beige;
bone;
cream;
dark brown;
dark gray;
camel.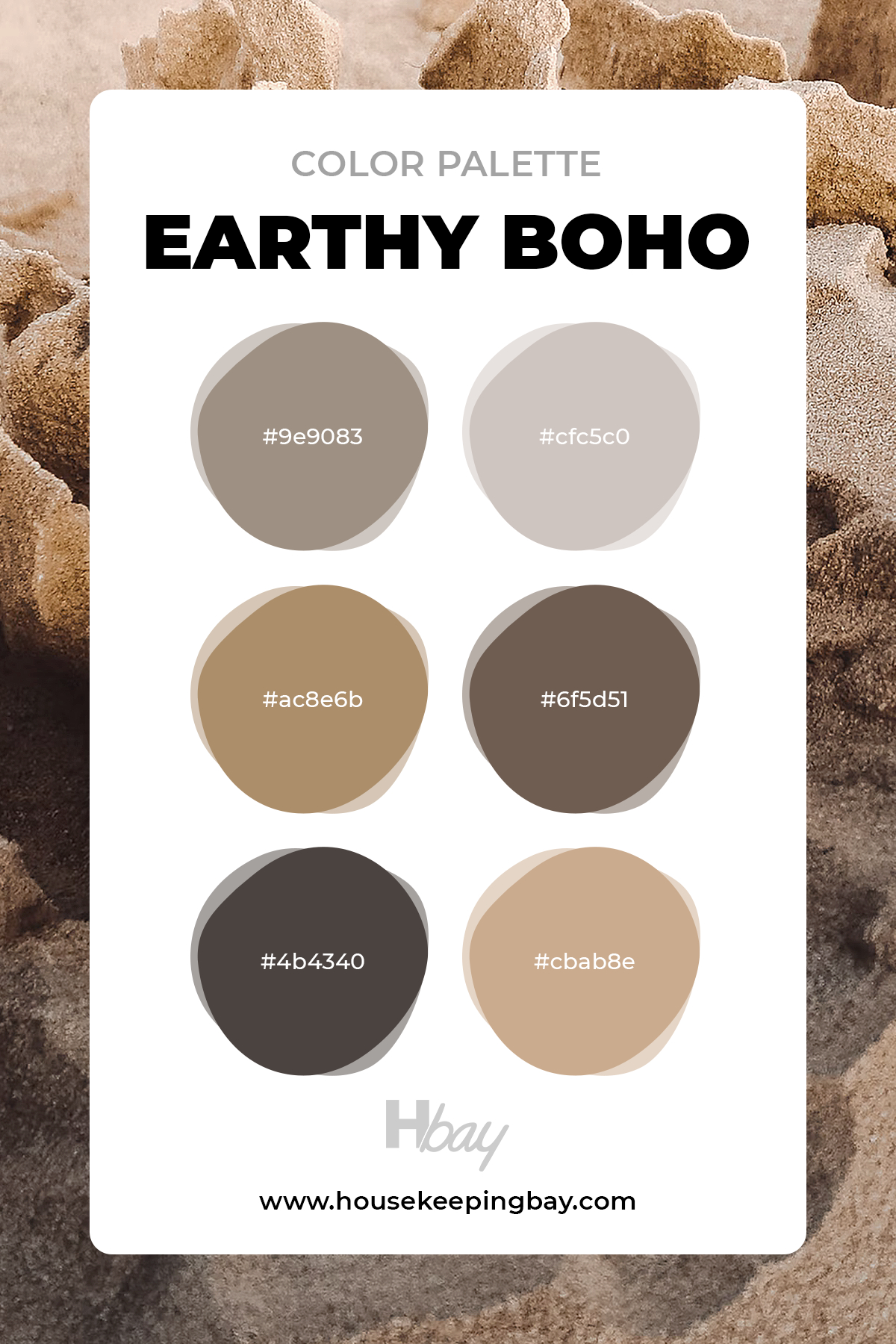 So, now you understand why Boho style is actually for everyone, and the Boho color palette varies from the most unusual and unique mixes such as Boho Rainbow or Bright Boho to calming Earthy Boho and Boho Neutrals.
Boho color palette works perfectly in any room and was popular even in the 70s.
Frequently Asked Questions
⭐ Can I use old interior accessories in Boho?
Yes, old accessories work best in Vintage and Retro Boho styles.
⭐What is Boho Emerald color palette?
Boho Emerald color palette includes light blue, olive, hunter, emerald, blue-green and teal.
⭐ What is special about Boho Chic style?
Unlike any other Boho direction, Boho Chic is usually perfectly planned, looks tidy, not messy.